Circus news from Denmark 2000

29 December 2000

The magazine The Artist published by The Danish Artist Union (The trade union for professional artists) contains in its New Year Issue 2000/2001 an article by Esben Aerius of Duo Aerius on the duo's visit to Berlin in November 2000. Click here to read the article (Language Danish)

26. december 2000
Circus Benneweis 2001. According to Swedish circus magazine Cirkuläre Notiser Diana Benneweis will present a female only performance in 2001. Among the performers is Spanish antipodist Conzuela Reyes. Conzuela performed first time with Bennewe4is in 1983, with circus Arena in 1987 and in Copenhagen's famous Tivoli gardens in 1995.

17 December 2000
The clown Bello has died. According to the Danish newspaper Politiken the clown and magician Bello (Erling Elo Birkevang) has died, 65 years of age.

6 December 2000
Esben Aerius from Duo Aerius (see under 14 October 2000) has received Peter Lie's scholarship to cover part of the cost for his study at the Moscow Circus
School from January to March 2001.

5 December 2000
Dubsky-Rivels clown will retire. According to Swedish circus magazine Cirkuläre Notitser rumours say that Josétte Rivel and her husband Josef Dubsky has decided to retire. Their son Janos being the whiteface clown in the troupe has taken over the Dubsky's football dogs from her sister Tina and her husband Jonny and will continue with this act.

4 December 2000
New books. A most interesting book written by estimated Danish circus historian Anders Enevig: "Cirkusposters of Scandinavia" should be published in 2001 (language English). Many illustrations. - Leif Damsgaard Jensen (the magician Mr. Swan) are working on a book about circus Arena. This book should be published in 2001 to celebrate Benny Berdino's 25 years anniversary as circus owner.

15. November 2000
According to the excellent Swedish circus magazine Cirkuläre Notitser Kim Benneweis will present no less than 9 elephants in circus Arena's 2001-performance. The elephants will be leased from the Italian Togni-family's circus Americano.

14.oktober 2000
The Danish trapeze-duo AERIUS has been invited to perform at CHAMÄLEON VARIETÈ's special performance in connection with a meeting for European Circus Schools in Berlin on 3 and 4 November 2000. Maja Aerius, newly educated artist from AFUK, Copenhagen, and Esben Aerius, established AERIUS in March 2000. Esben performed last season at CirkusVarieté2000 in Copenhagen (December 1999 - January 2000).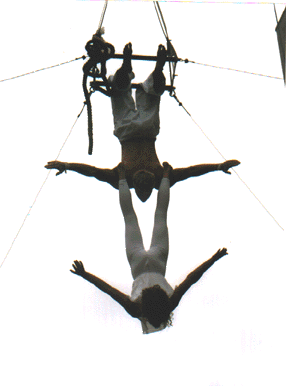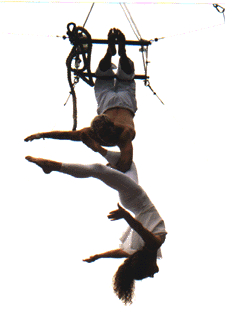 The brothers Asger and Rasmus Steenholdt composed the music for their performance. Kenneth Kreutzmann (Kreutzmann Dance) is the choreographer. AERIUS has received technical instruction from Valentin Glazyrin from the Moscow Circus School, now instructor at AFUK in Copenhagen. After Berlin the Duo AERIUS will be studying at the Moscow Circus School from January to March 2001. AERIUS is Latin and means: belonging to
the air. AERIUS can be contacted at email: esben@ce-publishers.dk.

11 September 2000
Agnete Louise Enoch (born 1957), eldest daughter of circusowner Haddy Enoch of Circus Dannebrog and ringmistress with the said circus since 1977, married Austrian hand stand acrobat Walther Wasil (born 1947) on 11 September 2000 in Christians Church in Copenhagen. The couple met first time 30 (!) years ago. Walter works mainly with circuses and nightclubs in Spain. It is the couple's intention to settle in Spain when circus Dannebrog has finished the year 2000 season on 29 September.

13 August 2000
For the fifth year in row The International Clown Festival was held 7 - 13 August at Dyrehavsbakken (Denmark's oldest amusement park, north of Copenhagen). 12 world-class clowns participated in the festival. Benny Schumann is the man behind the Clown Festival. The clown Fransesco Caroli (born 1922 and this year celebrating his 60th year as a white face clown) was awarded the Charlie Rivel award. In 1998 the great Russian Clown Oleg Popov received this honorary price. In 1999 it went to Konrad Thur.