'
From Denmark
and other Scandinavian countries
Special feature: It all happens in Paris (when relevant)
A weekly updated internet magazine
Last updated : 19. April 2019
18 April 2019
Obituary: Marta Carbayo, also known as Cantaclown, passed away Maundy Thursday in the morning after some time of illness. Marta Carbayo was born in Spain and has since 1992 lived by getting adult people guffaw. Living in Aarhus, Denmark she travelled all over Denmark and Europe to spread laughter and joy. She communicated without words from heart to heart and created a universe where everything could happen. Her amazing mime and sublime timing made her an eminent clown and one of the few female clowns.
Surviving relatives is her spouse the artist and juggler Jon Skjerning-Rasmussen and their 2 sons Felix and Sylvester.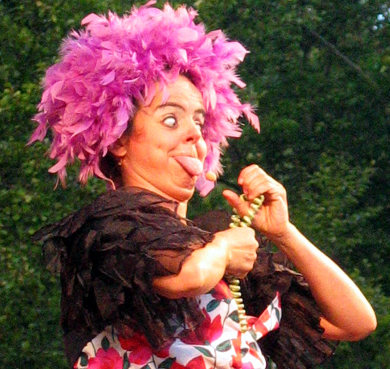 Marta Carbayo at the clown festival at 'Bakken' in 2006

17 April 2019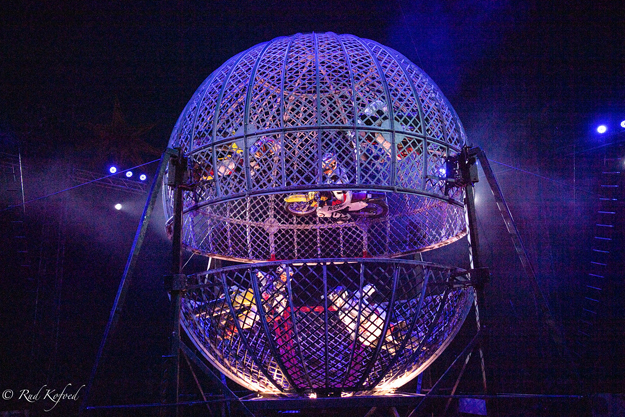 Stolen motorcycles. Cirkus Arena has since Saturday put up their tent at 'Tangkrogen' in Aarhus. The night between Monday and Tuesday there was burglary at the lot, where the six yellow Suzuki motocross motorcycles of 125 ccm that Diorios use in their globe of death was stolen. Later Tuesday, 3 of the motorcycles were found. On Wednesday, Circus Arena managed to get hold of three motorcycles similar to the stolen ones from a dealer in Horsens. Thus Wednesday's performance could be carried out with the usual five riders in the globe of death. The media coverage of the theft has hardly damaged the ticket sales! Photo: Rud Kofoed / Ajour Press

15 April 2019
Small Danish Circus Krone takes a break from the summer tour in 2019.
Director Frank Thierry writes: (my translation)
After careful considerations I have, together with my family, decided that not to take Circus Krone on a summer tour 2019.
This is because I, Frank Thierry, have undergone a longer course of disease with cancer. I have been through an operation that fortunately went well and I am currently declared healthy. But not without temporary injuries so I need time to recover, which we have chosen to prioritize very high.
All of our other activities such as workshops, stand-alone events, productions, tent rental and the like continue as before. Therefore, you are still very welcome to contact us.
It does not mean that Circus Krone closes, on the contrary. We have just successfully completed our annual Winter Circus in the Aarhus Music Hall.
It just means that you have to wait for the summer tour, as you know it, until next year.
We already have a number of workshops, tent rentals and single events on the program in 2019, which we look forward to fulfil.
Circus Krone returns fit for fight with a summer tour 2020!
Loving greetings from the whole family in Circus Krone

15 April 2019
World Circus Day 2019. On Saturday 13 April, Danske Circus Friends Association for the 10th year in row took the initiative to celebrate World Circus Day in Denmark. Again this year in co-operation the Circus Museum in Hvidovre, Copenhagen, and Cirkus Baldoni. In addition to the possibility of museum visits, the day offered juggling training in Circus Baldoni's ring, an entertaining lecture and a formidable show with the magician Henning Nielsen as well as a well-attended gala performance in Cirkus Baldoni.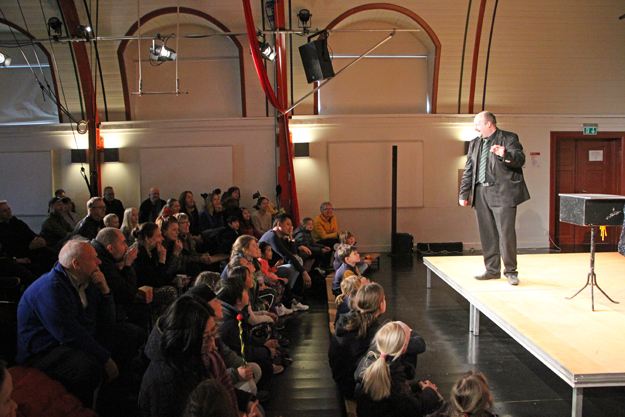 Henning Nielsen in the museum's Fencing Hall. Photo: Ole Simonsen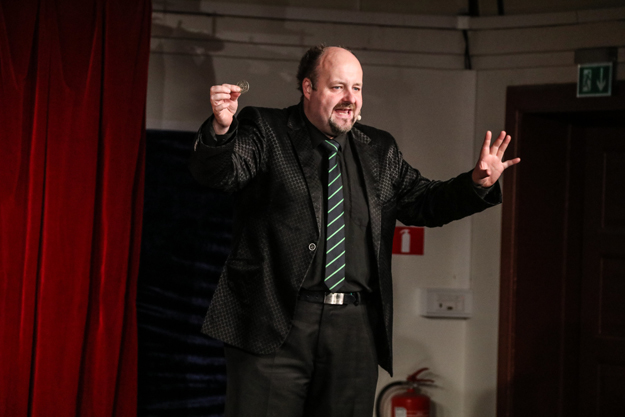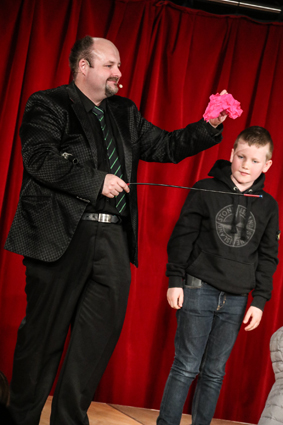 Show with Henning Nielsen. The boy on the stage is my 11-year-old magic interested grandson Sebastian. Photo: Jacob Boas Leitisstein. Click here to see more of Jacob's photos from the day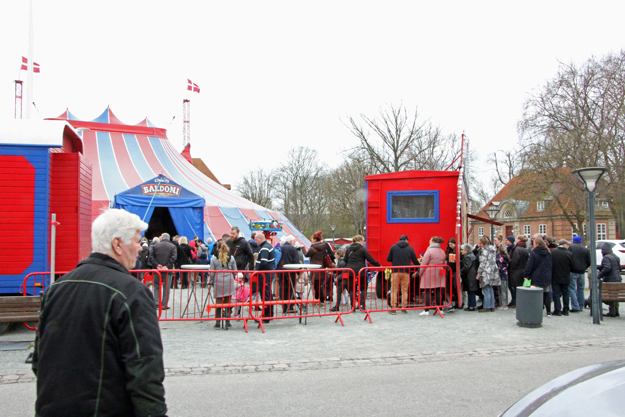 Queue in front of Circus Baldoni. Photo: Ole Simonsen
Actually, the international circus day is held on the 3rd Saturday in April. It's this year's Easter Saturday. Easter is in Denmark celebrated from Maundy Thursday to Easter Monday. Due to this the circus friends moved the Danish celebration one week ahead.
In Sweden, they also believe that fewer people will come if you celebrate the day on Easter Saturday. Thus, they have moved the celebration of the day to a week after Easter, where the Swedish Circus Academy in co-operation with Circus Olympia celebrates the event in Växjö in the days 25 to 27 April. Program:
Thursday April 25th
Kl. 17.00 - 20.00 Shopping evening in Växjö City. All stores in town have extended opening hours with CIRCUS theme. Speakers Corner: balloons, face painting for children, sale of Circus Olympia tickets, etc. On the stage in the middle of Storgatan, circus artist Johanna Abrahamsson occasionally performs with hula hoop.
Friday April 26th
Kl. 15.00 - 16.00 Circus parade through central Växjö. Artists, animals, circus orchestra.
Kl. 18.30 Circus show, Spetsamossen.
Kl. 21.15 Mingle with dinner at Restaurant La Castellina (Hotel Royal Corner), Liedbergsgatan 11 for everyone interested together with members from the Circus Academy and artists from Circus Olympia. 3-dishes SEK 350: - incl. a glass of beer, wine or water with Skagenrøre, Grilled steak, Marmängswiss and coffee.
Saturday April 27th
Kl. 10.00 - 11.00 Open house at Circus Olympia. See training with artists, horses and dogs in the ring.
Circus artist and circus teacher Johanna Abrahamsson (Charlie of the Year 2018) tells about the Association Reinos Friends, Cirkusexpressen and Project Cirkuskvarnen.
Kl. 12.00 Service in the Circus tent with Bishop Fredrik Modeus and dean of the chapter Jens Linder. The Östrabo singers conducted by Anna Holmström. Mona G song. Artists from Circus Olympia participate. Free admission, collection.
Kl. 16.00 Circus performance at Spetsamossen. Buy ticket in Cirkuskassan, 070-338 11 88.
Kl. 19.30 gathering at Restaurant La Castellina (Hotel Royal Corner) over a piece of food.
Registration for dinner with Roy Himsel tel. 070-6998944 or roy.himsel@telia.com no later than 22/4. (Notify if you don't want meat)
Make link to email active
Welcome to celebrate the 10th World Circus Day with the Circus Academy in Växjö!

15 April 2019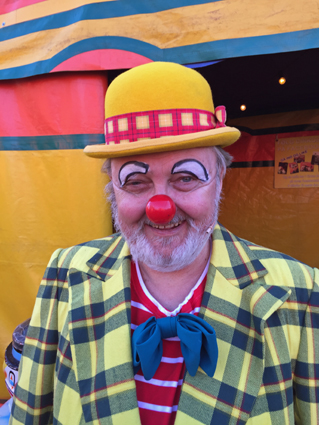 Again this year, Alexander Arli has participated in Jan Schou's revue-variety Schou-tour at Østergaards Hotel in Herning. In April, with performances 5, 6, 12 and 13. Those days, Martin Arli therefore took over Alexander's part as clown in Circus Arli, and the main clown entrée "The art shooting entrée" was performed by Martin and Bettina Arli. The run-in where Alexander is tap-dancing was replaced with foot juggling Miss Edita, sister of Alan Sulc and partner of Yuriy Mamchych. While antipodists lie on their backs when juggling their feet, Edita stands up. In her final trick, she climb a sort of ladder, every time she goes one step up, with her foot throwing an elongated cylinder over to the other foot, see photo.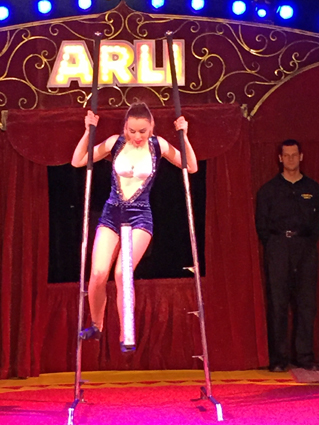 15 April 2019
It was the very heart of the city of cities -- Paris -- that was hurt when Notre Dame on 15 April was hit by a violent fire. Paris has, after all, during the latest years, been heavily stricken by terror, giant demonstrations (the yellow vests) and now the fire devastating much of a worldwide known symbol of the city. However, Paris and the Parisians don't surrender, neither does my Paris correspondent for many years -- ZARRO ZARRO. Thus - please enjoy another write up about artistic shows in Paris.
IT ALL HAPPENS IN PARIS - always interesting, appealing and hilarious shows, -- just now COMEDIE NATION proudly presents a very sympathetic and festive magic show geared at the small fry and their parents - magic entertainer CLEMENT treats us to ZYGOMAGIQUE, where the title makes us expect a funny and surprising show.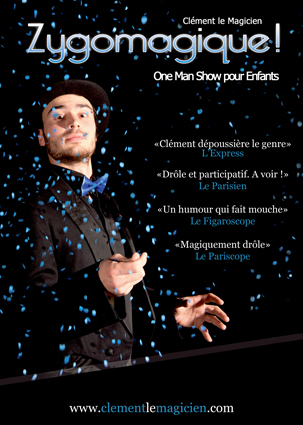 COMEDIE NATION is a rather small theater, nicely refurbished in a classical style, it sports a large span of programs, many artists have here had their first encounter with the public.
The program is based on magic, but the numerous funny stunts are what really carry the show, as it is performed with lots of energy and dynamics, everything contributing to the children's joy; they take part by laughing and shouting magic words.
Elegantly dressed in a black suit, CLEMENT features his effects, at a brisk pace and using lots of interaction with the kids, he treats them all in a friendly and humorous way, making them all feel safe and in a good mood, which is appreciated by their parents.
A wonderful afternoon sporting funny stunts, LIVE ENTERTAINMENT, and all see that a festive, hilarious and entertaining show can be produced without - electronics.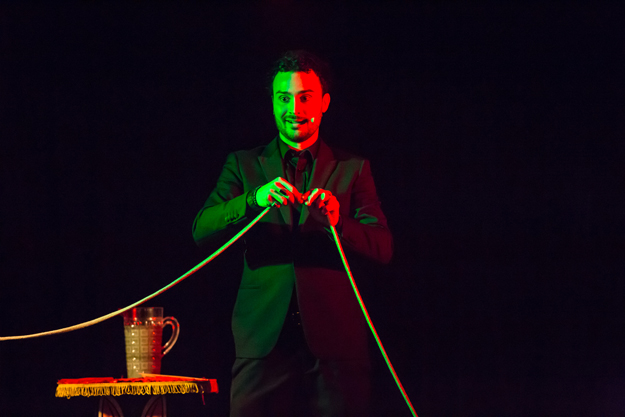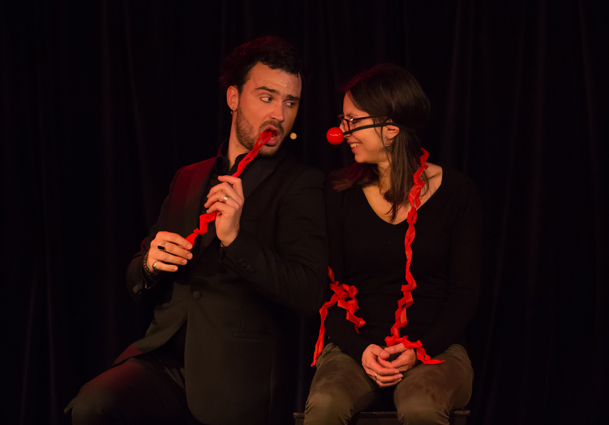 Photos by courtesy of Clement
Absolutely worth seeing!!
See more: www.clementlemagicien.com
Venue: COMEDIE NATION, 77 rue de Montreuil, 75011 Paris. Metro: NATION.
Sometimes news from Paris may appear when the show is closed. However, such shows
keep touring the world and often come back to Paris.
IT ALL HAPPENS IN PARIS!!!
............................................ reported by ZARRO ZARRO.

12 April 2019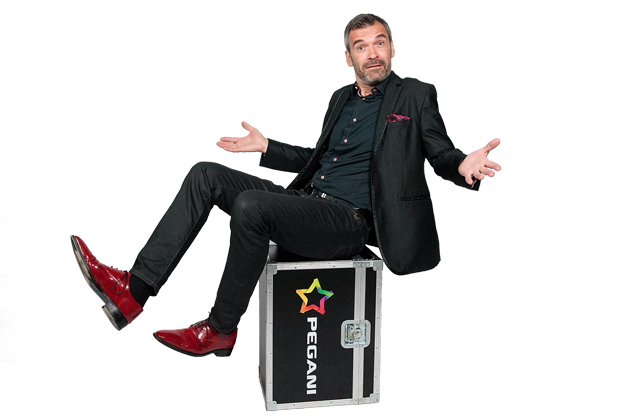 Steen Pegani 50 years. Tuesday, April 16, Steen Pegani, Horsens, middle-sized town in Denmark, celebrates his 50 years birthday.
He got hooked on magic in early childhood. Together with a friend he performed magic shows in the family garage, and then - being inspired by Leo Topp, a well-known dealer in magic props in Saxköbing, Denmark, he started at 16 selling magic props. At 18 he opened a magic shop in Horsens, which during the years has grown to be the leading one in Scandinavia.
To prop up the interest for magic he has organized numerous conventions, starring Danish and foreign magic entertainers, and he has created a system for coaching beginners.
He is frequently called upon as a specialist by TV, cinema, theater, circus and other shows.
Happily married to Bettina, children Josefine 14, Victor 16, 0liver 20, he acts as a magic entertainer, as well as the manager of his shop.
For 18 years he edited the Scandinavian magic magazine Pegasus, sporting lots of competent writers and a generous lot of photos.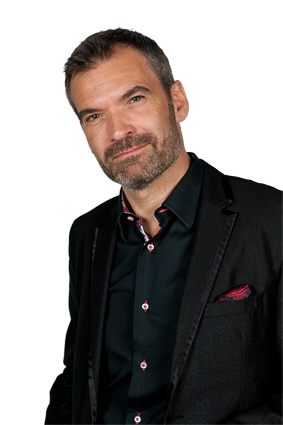 A particular greeting from ZARRO ZARRO, Paris:
PEGANI turns 50 - that is nice, but possible for all and sundry ... I take pleasure congratulating to that mature age, but rather more to a brilliant career both as a business man and a magic entertainer.
Following in the footsteps of other great promotors of the magic art in SCANDINAVIA: LEO TOPP, DK - EGELO, N - HARRIES, S - who all had a great impact, PEGANI keeps the flag flying high, an important event was - and still is - the Scandinavian magic magazine PEGASUS, where I was happy to contribute - although we didn't always have the same opinion - this magazine was an appreciated part of Scandinavian culture.
MANY HAPPY RETURNS OF THE DAY and BON ANNIVERSAIRE from PARIS and ZARRO ZARRO!!!

11 April 2019
Swedish Circus Olympia 35 years - with a fun filled show!
Martin Lasson Berglund saw the premiere performance and writes (my translation):
Circus Olympia opened the season on April 6 in a warm Oskarström outside Halmstad. It is a pleasant tradition to go there and meet all circus friends, employees and the management. This year, you have a newly renovated box wagon, larger than before and very beautiful made in wood. At the premiere, one had also set up a fine fence in the facade with light chains that gave a welcoming impression. Another detail was that a couple of horses grazed in front of the foyer tent. This also looked very nice when you entered the circus lot.
The program this year, which is the 35th anniversary, offers the Swedish clown Cito whose character is played by Albin Ganovic from Helsingborg.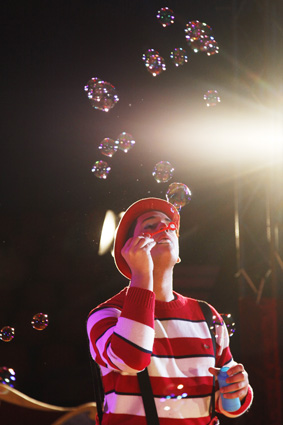 The clown Cito. All photos are press photos from Circus Olympia. Photographer: Linda Himsel
Despite his young age, he has already produced winter circus and set up fantastic cabaret shows (both in Helsingborg and Malmö). I highly recommend the Cabaret show which usually is set up during the autumn. This year he works as a clown at Olympia, which also has the clown Tito Medina (who some years ago performed in Danish Circus Benneweis) on the program.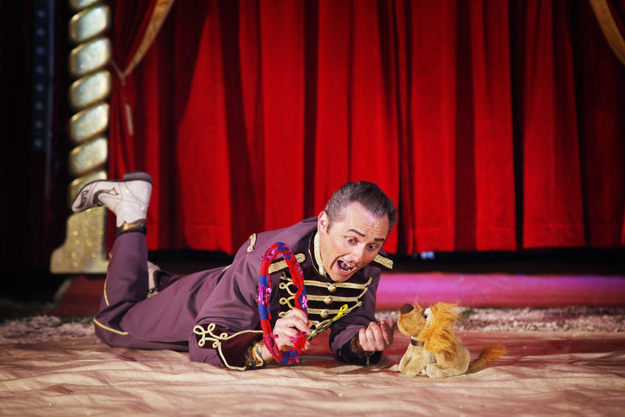 Tito Medina
Niklas Bengtsson presents the circus' own Frisian horses and ponies. His spouse Natascha Jarz presents the riding dog Lekzsi and Henrika Bengtsson the circus' playful dogs.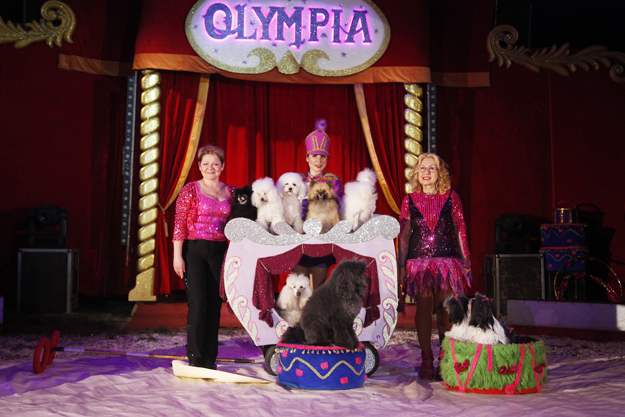 Henrik Bengtsson with dogs and assistants
Jessica Bengtsson is not in the ring this year but stays at home in the winter quarter to take care of the animals that have "season off" and stay home.
The Medina family starts with a quick-change act where even the family's children change clothes. Duo Lameth performs in aerial straps and later in an impressive entrée in trapeze.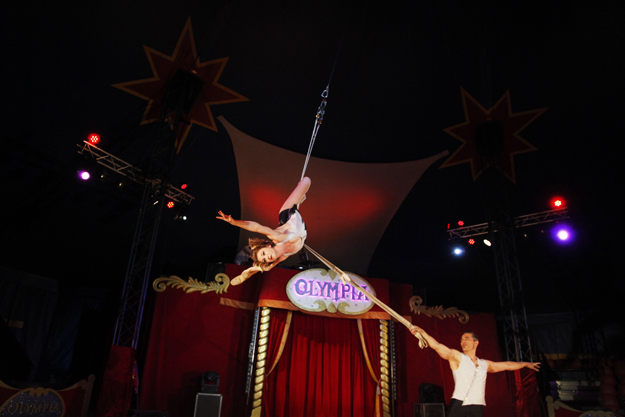 Duo Lameth in aerial straps
Other artists who participate in the year's performance are Irena Lagroni as foot juggler, Miss Nanou as equilibrist and Duo Lagroni with knock-about table acrobatics.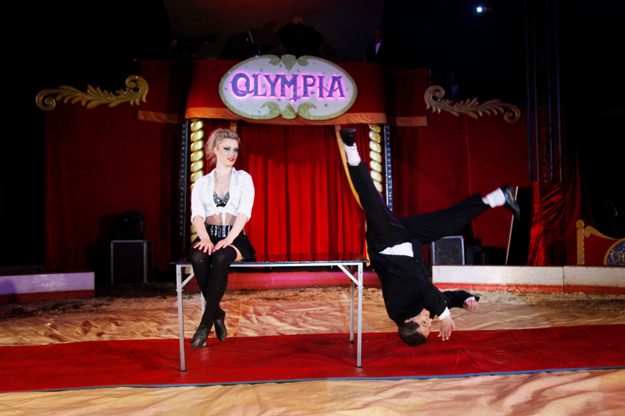 Duo Lagroni
Last but not least, Circus Olympia's large band, 6 piece led by Valentin Smirnov who have been with Olympia for many years.
Let's just stop here! It is actually unique to have orchestra today for looking around in Europe there are very few circuses who have live music in relation to how many circuses there are. More and more circuses use pre-recorded music and the music is not really given priority, which is a pity. I personally love when there is live music and musicians playing. Circus Maximum's former bandmaster Krzysztof Majewski, for example, works this year at Danish Baldoni but only as a drummer i.e. he plays together with recorded music. Parts of Maximum's orchestra can be heard in Norwegian Arnardo and others elsewhere in Europe, but the gang will play together again at the circus festival in Lille as they did in previous years. Circus Krone in Germany this year has a circus orchestra during their tour which plays together with pre-recorded music so here's a little bit the other way around, going from just recorded music to hiring an orchestra during their tented season.
So don't miss this year's performance of Swedish Circus Olympia where you get to experience real circus in modern vintage!

7 April 2019
IT ALL HAPPENS IN PARIS -- a super original show -- SPEAKEASY -- is in Paris proudly presented by LA CIGALE, located in the Pigalle area, earlier a sleazy spot for crime and hookers, today a tourist area without real interest, although there are several theatres, also LA CIGALE, formerly a dance hall, now refurbished to an elegant theatre and concert hall.
SPEAKEASY refers to the clandestine beer halls that appeared during THE PROHIBITION, 1919 - 1933 in USA, the period when all trade with alcohol was illicit; however those who managed to find and drink this very alcohol - didn't risk anything!
SPEAKEASY created and performed by THE RAT PACK, a group of excellent acrobats and comedians, all round artists; CLARA HUET dance, comedy, aerial ring, / ANN-KATRIN JORNOT acrobatics, voltige, equilibrist/ ANDREA CATOZZI acrobat, Chinese mast, comedy /GUILLAUME JUNCAR acrobat and CYR WHEEL, /XAVIER LAVABRE acrobatic stunts/ VINCENT MAGGIONI acrobat, Chinese pole.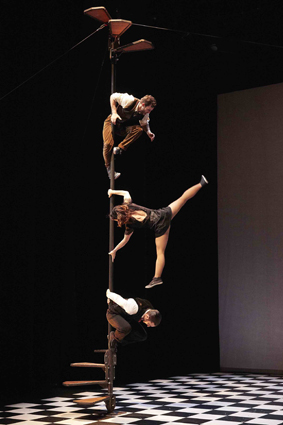 Photographer: Jumo Photography. By courtesy of KI M'AIME ME SUIVE
Stage setting REGIS TRUCHY // Live music by the French Music collective Chinese MAN.
SPEAKEASY gives us a good idea of the special surroundings and environments in the thirties, it is very dynamic, sporting incredible acrobatic stunts, and it does hit the target when visually describing this very special community, the costumes, haircuts and the interior of these speakeasies are perfectly depicted.
Absolutely worth seeing - they do tour just about everywhere in the world! Back in Paris from June 13 to August 10, Tuesday to Saturday at 19:30, this time at Palais de Glaces, 37 Rue du Faubourg du Temple, 75010 Paris.
Se mer: www.kimaimemesuive.fr and www.lacigale.fr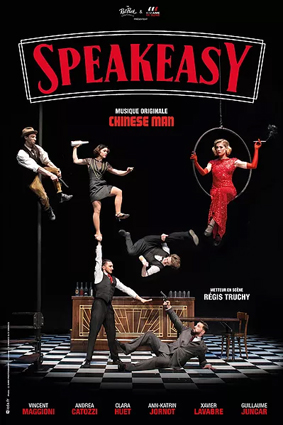 Poster for the performance. Click here to see a video teaser for the upcoming performance
Venue: LA CIGALE, 120 Boulevard ROCHECHOUART, 75018 Paris Metro: Pigalle. From 3 June to 10 August: Palais de Glaces, 37 Rue du Faubourg du Temple, 75010 Paris.
IT ALL HAPPENS IN PARIS!!!
---------------------------- reported by ZARRO ZARRO.

5 April 2019
World Circus Day 2019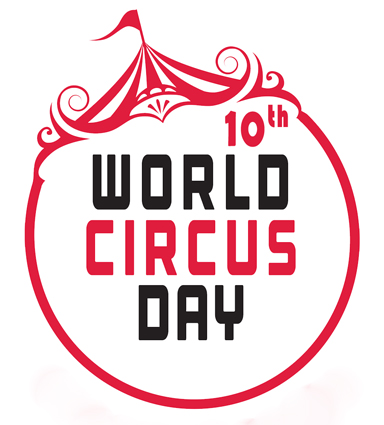 Saturday April 13th we celebrate World Circus Day in Denmark for the 10th consecutive year.
The World Circus Day is celebrated on the initiative of the Federation Mondiale du Cirque, which has Princess Stephanie of Monaco as honorary president. The day is usually celebrated the third Saturday on April. Since it this year is Easter Saturday which in Denmark is a public holiday with many on vacation we have in the Copenhagen region moved the highlighting of the day one week ahead.
World Circus Day is celebrated at the Circus Museum in Hvidovre, Copenhagen. It is in cooperation between Danish Circus Friends Association, the museum and Circus Baldoni.
On the World Circus Day, the museum is open from 10-14. This day there will be free admission.
From 11 to 12.30 there is Circus Fun in Cirkus Baldoni's ring. A true hit for kids! You can experience the magic of circus and among other things learn how to juggle with the help of professional artists. Circus Baldoni's tent is put up at the square just behind the Circus Museum. Free admission.
At 11:15, the magician Henning Nielsen tells about his life, including about his experiences, when in 2015 he took the judging panel and the whole family Denmark by storm, when he achieved a nice 3rd place in the Danish version of "Got Talent". The lecture takes place in the Auditorium in the Avedøre camp, close to the Circus Museum. Free admission.
At 13 o'clock Henning Nielsen presents his magic show in the Fencing Hall which is located next to square behind the museum. Free admission.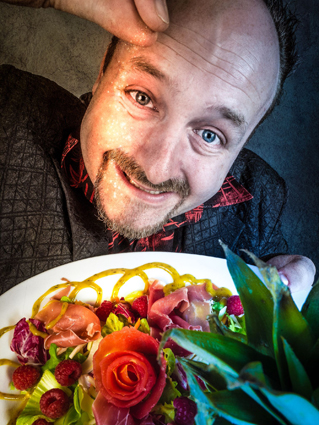 You can meet Henning Nielsen twice: first as a lecturer and then as a magician
At 14:15 there is a gala performance in Cirkus Baldoni. To celebrate the day all ticket prices are reduced by 30 DKK.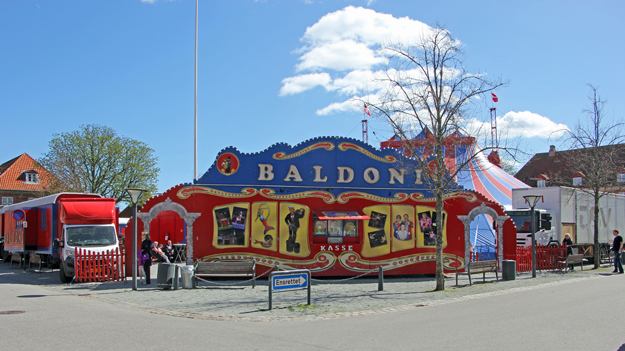 Circus Baldoni puts up their red / blue tent on the square just behind the Circus Museum

5 April 2019
Circus Brazil Jack 2019 – an excellent anniversary performance. 5 stars out of 6 possible if I had been a newspaper reviewer.
This year it is 120 years since the Swedish artist Brazil Jack (Carl Max Alexander Rhodin) established his circus. So even though the current Circus Brazil Jack was first established in 1982, they choose to celebrate the anniversary. For in the circus industry you are always celebrating anniversaries with extra strong programs and a little "noise and bang in the advertisement".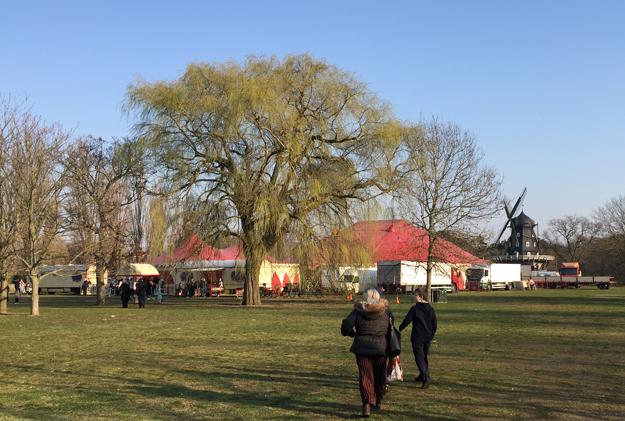 Circus Brazil Jack opened the season at the Mill Square in Malmö on 4 April
The tent is worn, and before the performance you almost feel that you look up in a starry sky, which is not just painted on the tent dome. But when the performance starts, it is certainly nothing worn over it: a beautiful and fast-paced performance with several top acts. And accompanied a well-playing band and not just pre-recorded music.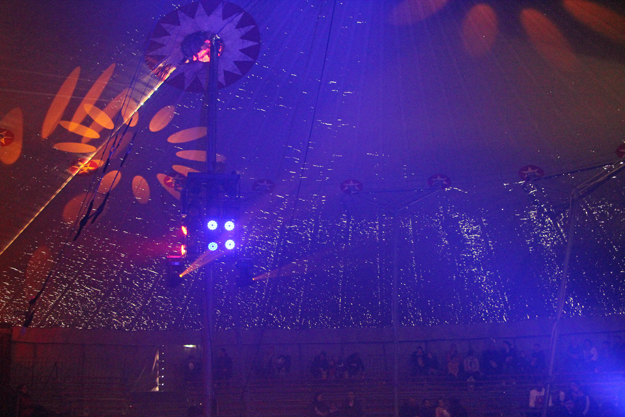 The white spots are not stars on the canvas or errors in the picture, but the places where the big top is worn. A new tent is on the wish list
This year's clown is Tony Florees. He has several run-ins where he gets members of the audiences in the ring and is trying to direct by the frequent use of is pea whistle. In his first run-in he masked an audience member as a lion and wanted him to jump through a ring of fire. However, Tony himself had to take the jump when David Wolff of Wolff Brothers took over the command.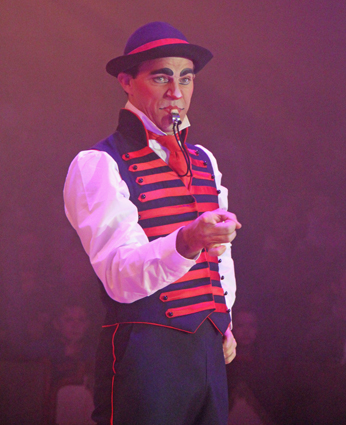 Tony Florees is fond of his pea whistle!
Next came a colourful and fast-paced skipping act with 8 artists from Compania Havana, who also delivered artists to Brazil Jack last year. They mastered, among other things, skipping with a "pyramid" of 4 people, something I not previously remember having seen.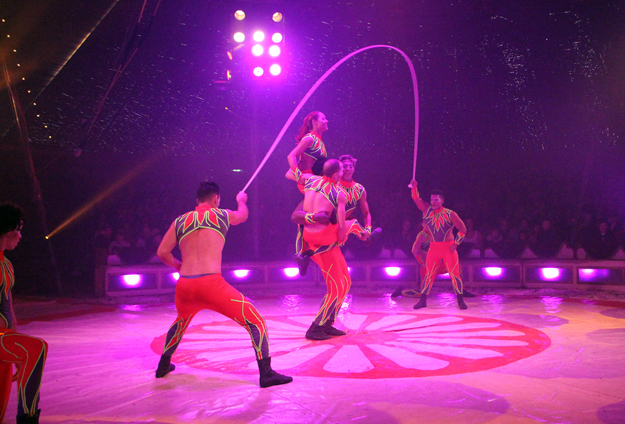 Compania Havana can skip in many different ways
After a brief welcome by the director Trolle Rhodin III, one of the show's top acts came in the ring: the only 18-year-old Frenchman Vioris Zoppis, with an impressive number in aerial straps. An act which last year brought him gold at the New Generation festival in Monte Carlo. It made the act extra spectacular that in the ring was placed a flat basin with a little water in which he could dip when he was down and which sprayed off him when he hurriedly came up again.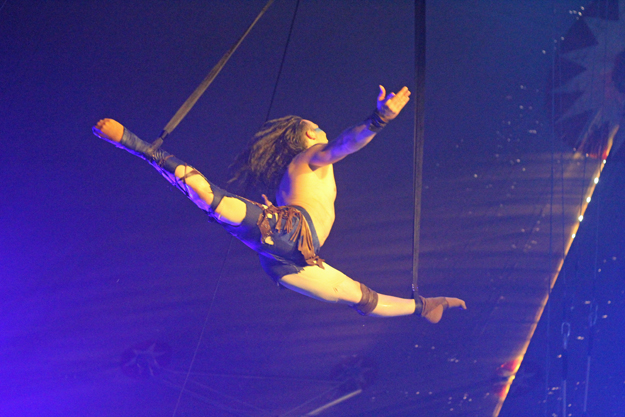 Vioris Zoppis - a master of aerial straps
In the latest 3 years in a row Wolf Brothers has been with Brazil Jack. Last year they tried their luck with new entrées. This year has gone back to their main acts, which is also is their best. Their first entrée was the comic trapeze act where younger brother David, a head taller than the elder brother Richard, as a trapeze star tries to reach a trapeze. They are actually brothers despite the difference in height.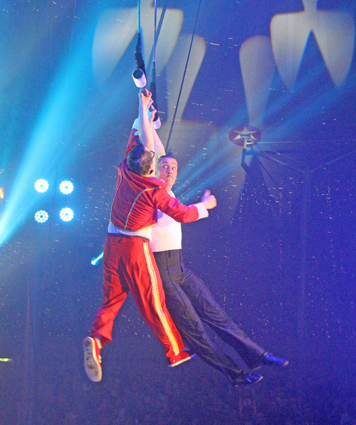 Wolff Brothers. The Danes know them from several seasons in Circus Arli
After a short run-in with Tony, 4 members from Compania Havana came again in the ring this time with a hand-to-hand number presented in a quiet pace.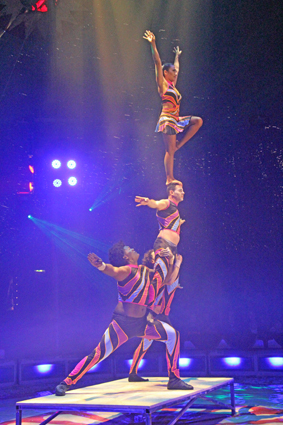 A girl at the top
Most male contortionists look very grave during their act and not everyone find such acts aesthetic. George from Ghana, however, had a smile on his lips, while turning his elastic body in every possible and impossible direction.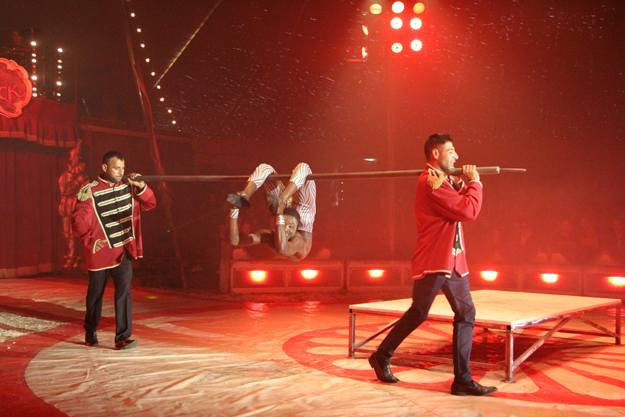 A smiling contortionist
The first act after the intermission was a reunion with Wolffs Brothers, now dressed as Scots in their well-known knock-about table act.
They were followed by Raisa from Compania Havanna with an aerial act in hanging perch.
After another run-in with Tony - the one with the baby in the pram - we met his wife: Maud Florees Gruss on tight wire with an act which was far better than what most female tight wire artist usually does. In addition to various balances and split the act included cycling on one-wheeled bike, skipping and toe dancing. Even while the wire was being lowered, ending up as a slack wire. A very impressive act!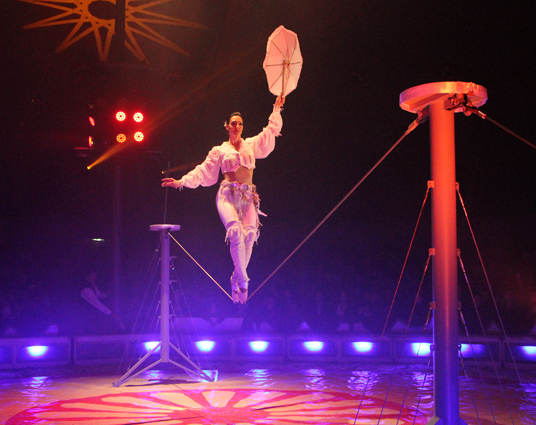 Tony now had a new run-in with 3 members of the audience: the version of the rock band entrée where the musicians are pulled out behind the curtain and shot one by one.
The performance last act was Compania Havana with Russian swing. During the mounting of the swing Wolff Brothers entertained with a comic springboard act. The number in Russian swing offered several great jumps and were levels above what the Cheban troupe this year shows in Danish Circus Arena. Among the spectacular tricks were leaps through a ring of fire and jump to a chair as known from the springboard acts.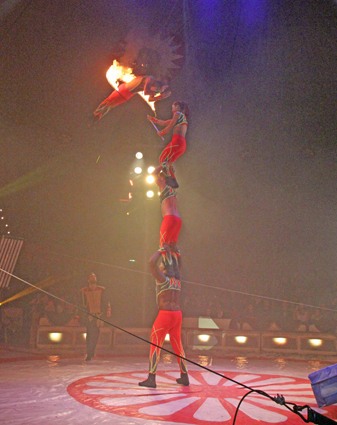 From Russian swing and into the fire
As usual with Brazil Jack there was no ringmaster. Only by purchasing a program in the circus kiosk you could you see the names of the performers. "We're Brazil Jack, a show and not individual artists," Trolle Rhodin III explained.

5 April 2019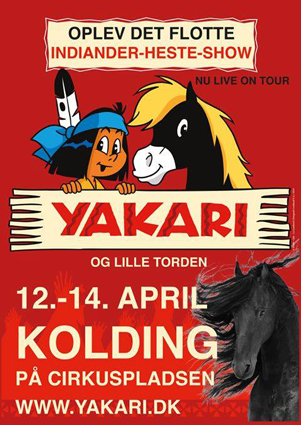 Circus Trapez chooses this year chooses to market themselves as "The beautiful Indian-horse-show Yakari and little Thunder". The role as the Indian boy Yakari, who can talk with the animals, is performed by the 12-year-old Nynne, who had her circus debut in Isabella Enoch's Sosman's winter circus. There is premiere in Kolding April 12th.
Usually children under the age of 13 must not work. However, the police chief of the Central and Western Jutland Police may, on application in each case, allow children under the age of 13 to take part in, participate in or participate in cultural and similar activities, including circus performances.

2 April 2019
Arli in top form - Circus Arli 2019. Last summer, Martin Arli got a detachment of the retina in one eye. Such detachment can cause that you to a greater or lesser extent lose sight of the affected eye. It is treated with surgery, which sometimes have to be repeated. Martin has had four eye surgeries during the last year and has been told not to overstrain his eye before it is okay again. That is why this year he is forced to omit some of the things he usually does, including playing on the trumpet and using make up.
Due to this have been a few changes in Circus Arli's usual concept. The clown and the magician Martino are replaced by Alejandro aka Alexander Arli, and Martin himself has taken over the role as ringmaster from Mrs Bettina.
However, the many Arli friends and fans need not fear that the mood and elegance that characterize an Arli performance has been lost. Arli is in top form this year an even present a world-class artist act.
The opening spectacle is according to Lotte Arli the most expensive horse act ever presented in Arli - the costumes were expensive! And at the same time something that even the most fanatical animal welfare activist can't complain about.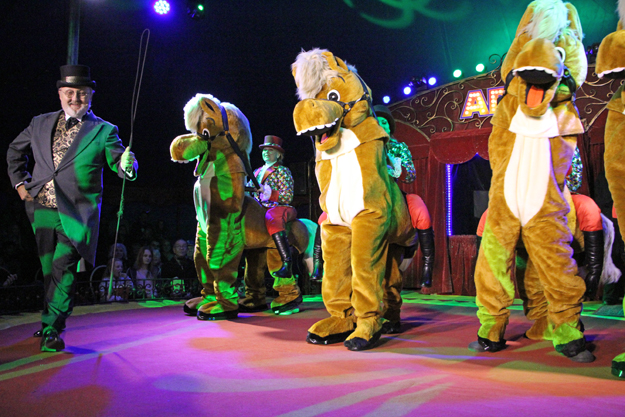 Gee up all my horses!
Then Duo Bench entered the ring with an elegant and well-presented act with balance on and around a bench. "Don't I not know them from last year?" I asked after the performance. And yes: The couple was also with Arli in 2018, where he did handstand on a "penny-farthing" and she appeared in tissue and with hula hoop, where she was hoisted up in the air.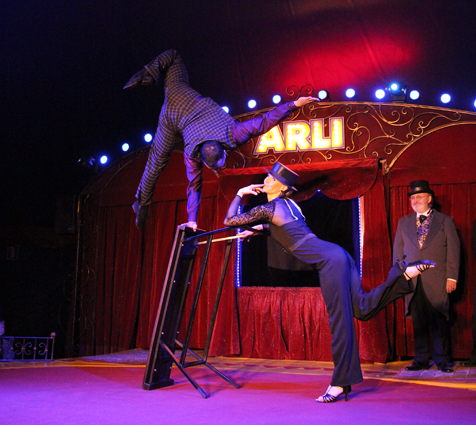 Duo Bench
After a short run-in with Alejandro - "Don't play here" - Yuriy Mamchych came in the ring with an aesthetically extremely elegant number in aerial straps performed to classical music.
Now another run-in followed with Alejandro, who by the way this year can celebrate 30 years anniversary as artist. He was only 2 years old when he had his debut! In the run-in he tap-danced on a platform he brought with him. But the spotlight constantly changed direction and Alejandro had to move to a new place.
The tap-dancing was followed by Jelena Vasiljeva – the female partner in Duo Bench - with graceful artistry in the ringstand, see photo.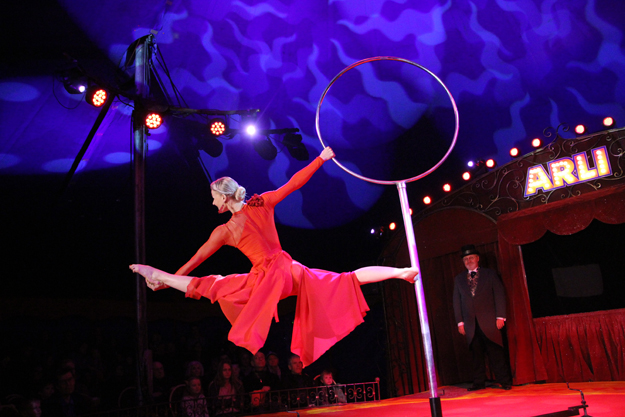 Jelena with ringstand
Last number before the intermission 28-year-old Alan Sulc, who presented an act of a standard which rarely is seen in a small circus. It was 15 years since we first saw him in a Danish circus: Benneweis, where he bounced balls into his podium with incredible speed and security and became the top act of the year. Already in 2001 he won only 12 years old with the late Nelly Jane Benneweis in the jury gold at the European Youth Circus festival in Wiesbaden. In January 2004, he was one of the youngest artists ever to get a bronze clown in Monte Carlo, and later that year he was as mentioned at Benneweis. He certainly has not deteriorated over the years, and Martin Arli can with good reason be proud being able to present his audience for such a world class act.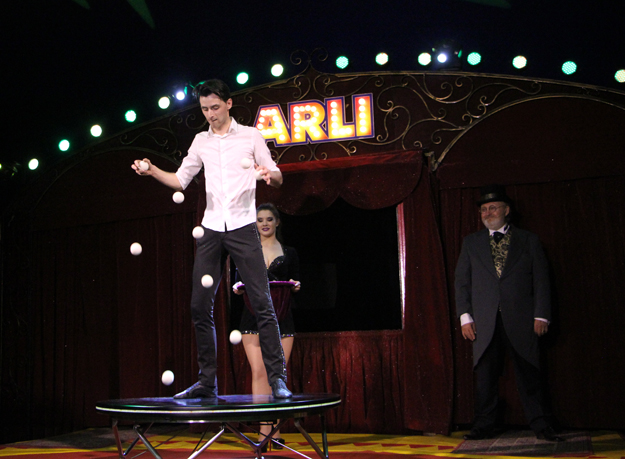 Alan Sulc - a world class star at Arli. Jackie Berdino from the large Circus Arena was also impressed.
"Alan works with his hands and his wife with her feet." In this way Martin presented Miss Veronica alias Mrs Sulc, who with her feet juggled first one, then two, since three and finally four scarves. There were also a few handstand elements in her entrée.
Next came a "slinky" in the ring. It turned out to contain Bettina Arli, who later flew over the ring - even hanging in her hair! Something the former lady hairdresser first time tried 35 years ago.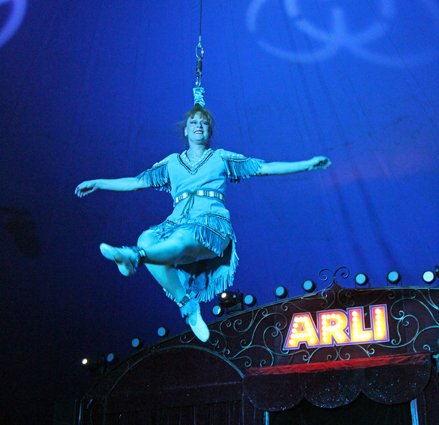 She is flowing over the ring
Under the name of the Polupans, Sergeis Populans and Mrs. Jelena presented a short, but well-performed illusion act with props that they have borrowed from the Arli family. "Where did she go?" my wife asked when Sergeis made his tall wife vanish from the boxes.
For many years, the clowns in Circus Arli have been called Martino & Co aka Martin and Alexander Arli. This year, the troupe is called Alejandro & co. The many who have loved Martino & Co, however, should not despair - Martino alias Martin and Alexander are still in the duo, Martin however without make up. Their main entrée this year was one of the couple's most beloved entrées: the art shooting entrée.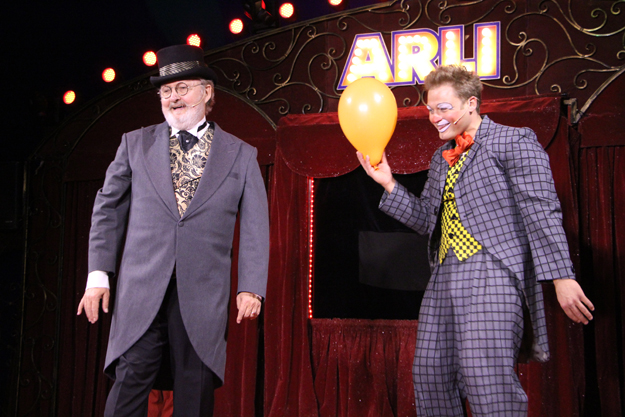 Alejandro & co.
The performance last act was an elegant number in tissue, also called silks. Duo Mamchych consists of Yuriy - the one with the aerial straps - and his wife Edita, who by the way is the sister of Alan Sulc.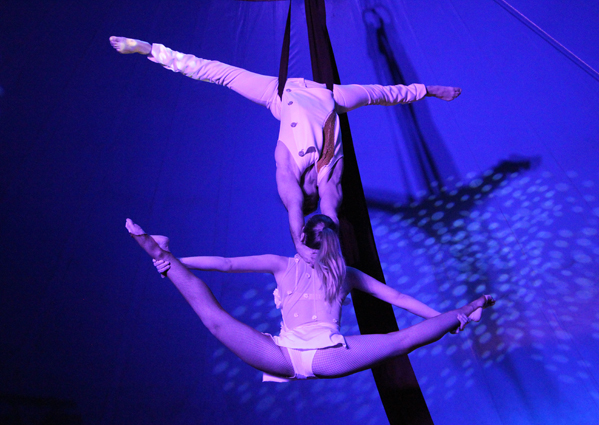 Duo Mamchych - elegance in the air
The performance runs for a little less than 2 hours.
Click here to see Jacob Boas Leitisstein's photos from the performance
Click here to read Rud Kofoed's review with many photos

1 April 2019
Circus Arnardo 2019. Thorbjørn Klæbo Flo saw the season opening performance in the Norwegian Circus and writes (my translation):
Circus Arnardo with 70th anniversary. Norwegian Circus Arnardo premiered in Arendal with an almost full tent and well deserved standing applause. Many good artists of high quality.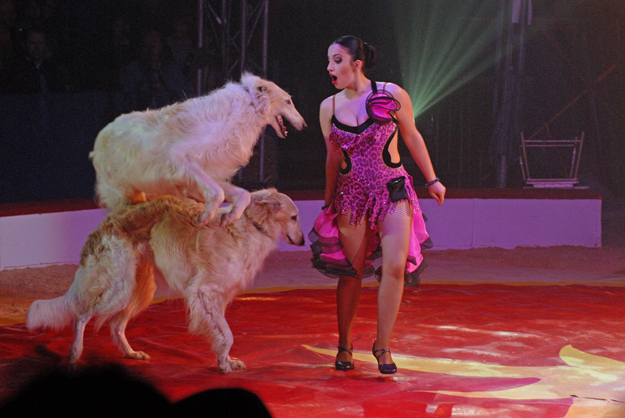 Laura Urunov's dogs are a quality act. All photos: Thorbjørn Klæbo Flo.
Are and Paolina stick to grandfather Arne's magical traditions. Priscilla Errani with a strong hula hoop act. Trixi & Roy's pony act for the second time in Arnardo's ring, presented in a playful way.
Mikhail Milla is a tempo juggler with more than a glimpse of the eye, high tempo absolutely.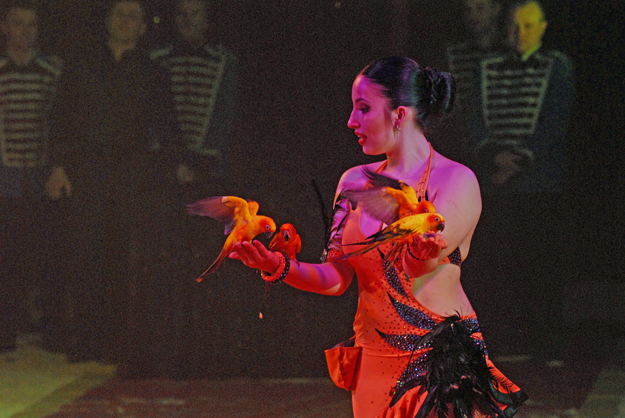 Laura Urunov's parrots were also a highlight and worthy to be in a jubilee performance.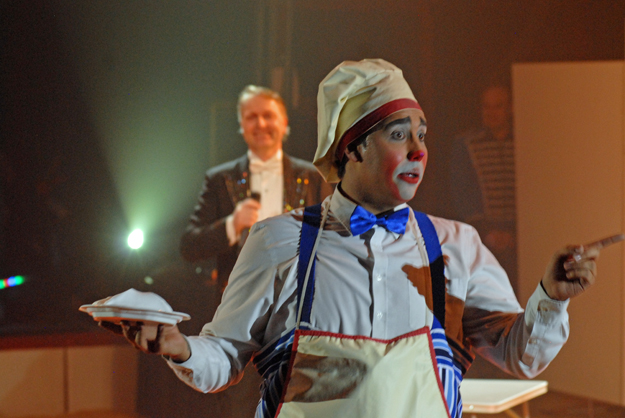 Los Sito's custard pie humour was well received at the opening night. I noticed that also Are Arnardo did a great job. Not all ringmasters are good assistants to clowns.
Interval of about 15 min. Los Sitos back with merry tricks.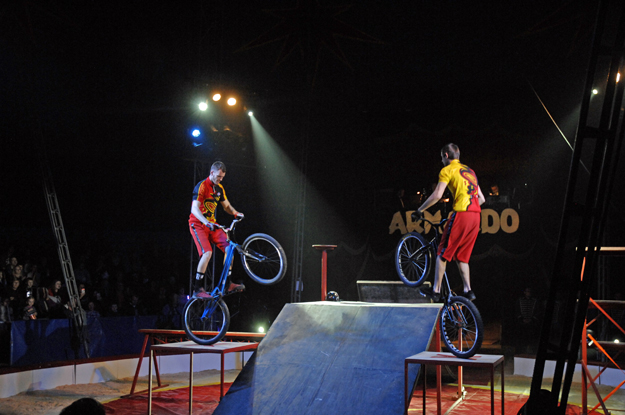 Jan Extreme bike show, BMX and trail action sports in a spectacular show. With many highlights and high jumps. Well done and well presented.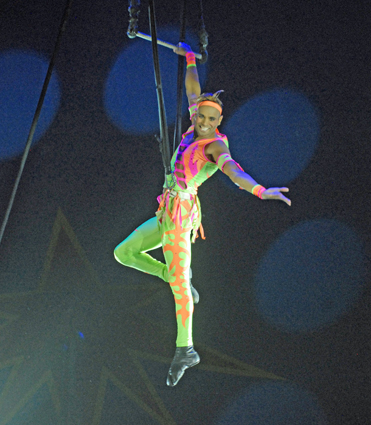 Swedish David Hammarberg worked very well in bungee-trapeze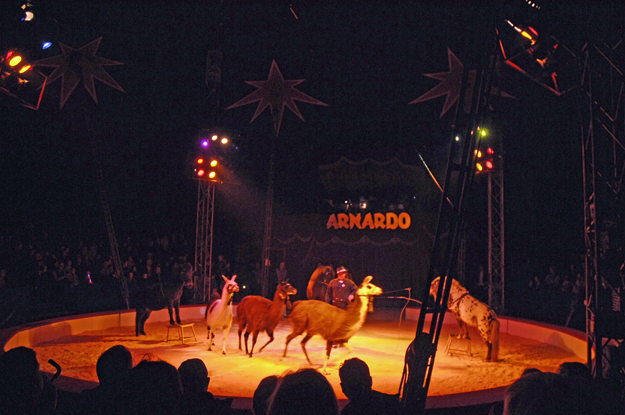 Trixi & Roy was back with ponies and llamas in nice dressage. It's great that Arnardo chooses to keep the animals in a time where other circuses skip the animals. With this quality of animal husbandry there is everything to be won.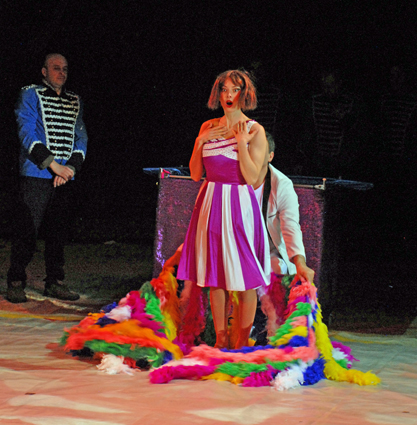 Duo Urnov with the fastest quick-change .... excellent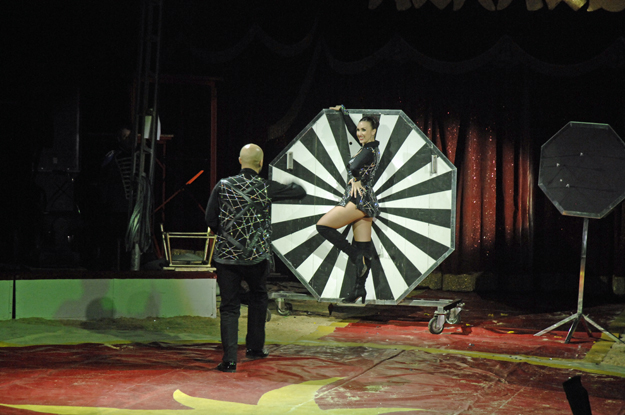 Double risk - Marco and Priscilla is the last act in this year's performance with both knife throwing and crossbow shooting with high risk level. High tempo and a lot of charm
Circus Arnardo was established in 1949, not the easiest time to build a circus. Since it has toured every season and is thus the circus in the Norwegian circus history which has survived for the longest time. Let's hope for another 70 another years!
***
A sad addition: Since the mid-1980s, the circus lot in Oslo has been in Tøyen next to the Munch Museum. For more than 30 years the district's residents have been able to see Cirkus Arnardo's arrival as a safe sign of spring. But now lot have been built on, and the Oslo municipality has not been able to find another circus lot. Thus, no more circuses in the Norwegian Capital Oslo. The city's new slogan may be: "We focus on nature and not on culture"! Oslo is certainly the only Nordic capital that does not have room for circuses.

29 March 2019
Circus Baldoni 2019 - the flying circus. The flying circus is the title of a Danish film from 1912 and on a Danish novel from 1914written by Carl Muusmann. However, it is doubtful if is the film or the novel that have inspired René Mønster Baldoni to let a trip in a flight be the theme of this year's performance. Rather, it is René's love for ultralight aircrafts and his helicopter.
In any case, this year's performance got a "flying start", when Captain Baldoni welcomed the audience to Baldoni Airways and as in an aircraft got through a special flight safety instruction. For example "In the event of a decompression due to convulsive laughter an oxygen mask will automatically appear in front of you". And "Smoking is only allowed outdoors in a parachute". When the flight crew - 3 stewardesses and the purser Paczo - came on stage (Baldoni's ring is a circular stage), they were wearing aircraft uniforms. The same was true of Captain René himself and even his lion Leonardo (a ventriloquist's doll).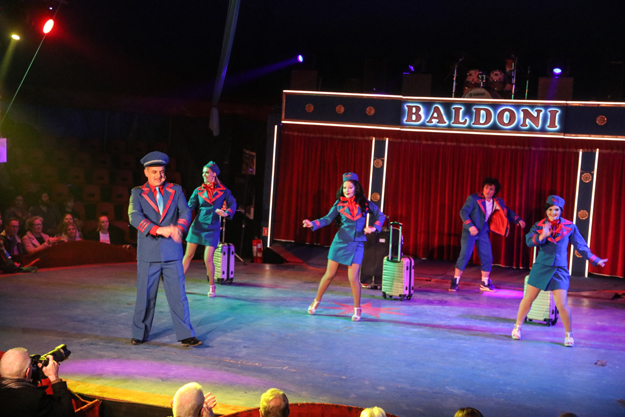 The crew at Baldoni Airways. Photo: Jacob Boas Leitisstein
The purser Paczo (Peytchev Plamen Metodiev) was the clown in the performance. He replaces Danilo, who after 10 years at Baldoni tries something else. Baldoni's audience also met Paczo in 2006, 2011 and 2017, where he as Mr. Jumping appeared in the classic comic trampoline act with the pool.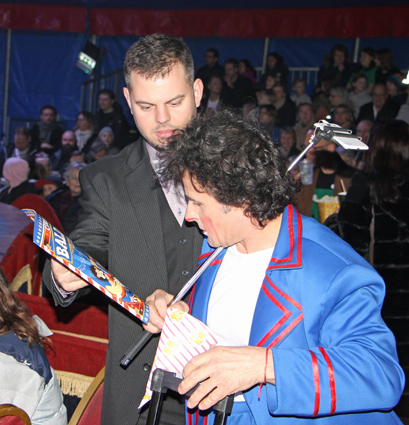 An old and a new clown. For the last 10 seasons, Baldoni's house clown has been Danilo aka Daniel Dimitrijevic. Despite his surname he is Danish. This year he is replaced by Paczo (Peytchev Plamen Metodiev) from Hungary. Baldoni's audience met Paczo as Mr. Jumping in 2006, 2011 and 2017 in the classic comic trampoline act with the pool. Photo: Ole Simonsen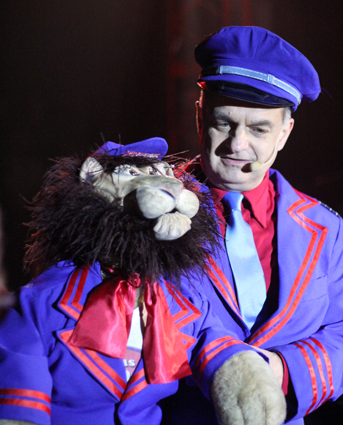 Not everything is new. Here you see Leonardo and director Baldoni, who have their well-known remarks. However, they have both got new uniforms that fit the theme of this year's performance: Take a trip with Baldoni Airways. Very appropriate in a circus whose owner loves to fly in an ultralight plane and helicopter. Photo: Ole Simonsen
After the safety instruction and Baldoni's traditional welcome song, the audience met an old acquaintance: the Czech all-round artist Eduard "Eddie" Janacek. It's his fourth season at Baldoni. In previous years, he has worked as juggler, with rola bola and as a clown. This year he presented a classic and well-performed juggling act with rings, clubs, hats and cigar boxes.
Next came Hungarian Adrienn on the stage – or rather above the stage. She presented a nice act in trapeze. (Not swing trapeze).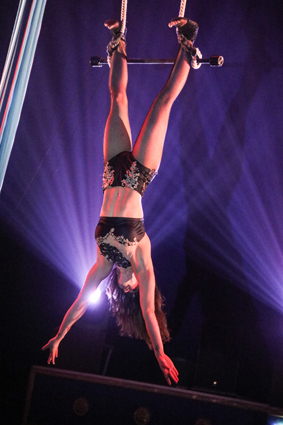 Adrienn. Photo: Jacob Boas Leitisstein
Then it was time for comedy in the form of a run-in with René and Pazco and a springboard. It became obvious that Paczo has a past as a knockabout acrobat.
The flight had now reached Ireland where, under the title of Ireland Riverdance, we met the Bulgarian foot juggler Suliana Tomova with hula hoops, balls and cylinders.
Then Baldoni Airways reached Las Vegas, where you saw elegant magic with the Danish magician Kim Kenneth and his 3 girls, primarily the assistant and girlfriend Jessica. With one exception, Kim presented tricks that were neither on the program when he in 2018 was with Baldoni or when he was with the now closed Circus Benneweis in 2009, 2010 and 2015. Among other tricks he presented an elegant but updated version of the classic number with the lady who gets sawn in half. Eventually, he made Jessica float out of the ring.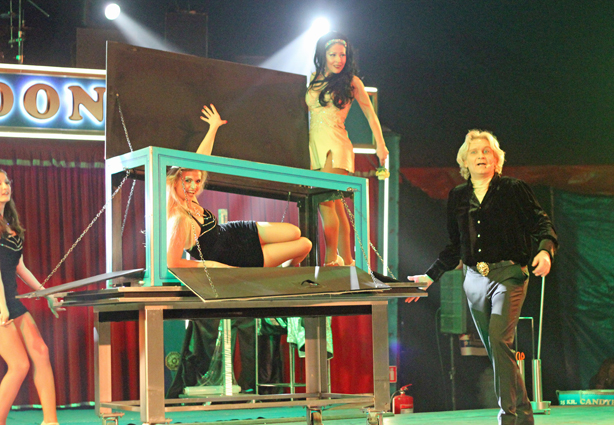 Kim Kenneth and his girls. Photo: Ole Simonsen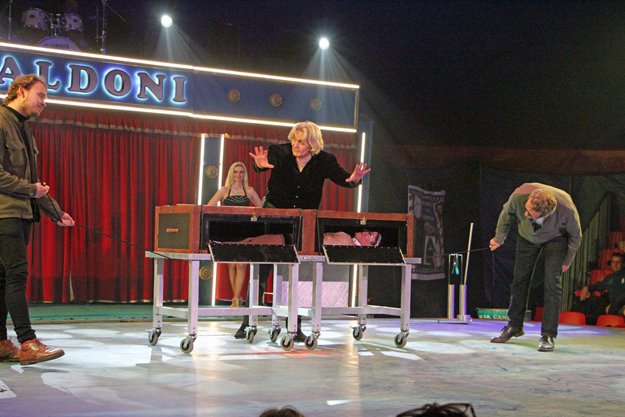 Ready to saw the pretty Jessica in half. Photo: Ole Simonsen
Now Captain Baldoni and Leonardo announced that there were problems with the engines - it was a Boing 737 Max! So you had to land on an airfield where, incidentally, there were well-stocked kiosks!
After the break, the captain came again on the stage, this time on the segboard and "wearing" a little Cessna with which trip would continue.
The first country on the further trip was Japan, where we experienced Japanese tight wire dancing with Bulgarian Stiliana Tomowa, who mastered to walk on the wire with wooden blocks on the feet.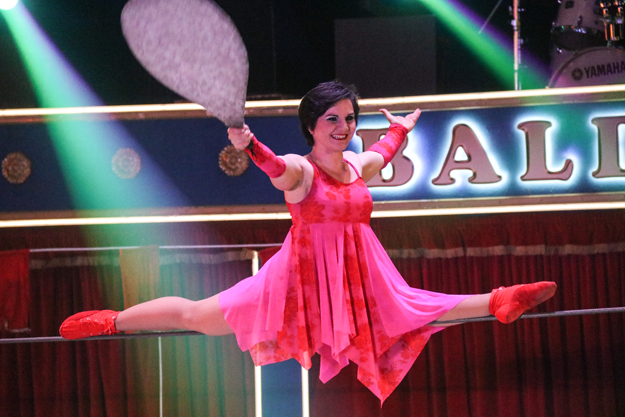 Splits on the wire. Photo: Jacob Boas Leitisstein
Then we came to the Wild West, where the whole Janacek family entered the stage: papa Eddie, Mama Maria and the son Karel (Kaya), who last year were among the nominees for the Danish Circus Award's talent prize. The family did whiplashing, lasso spinning and knife throwing. The last thing even with mama Maria clinging to a rotating disc.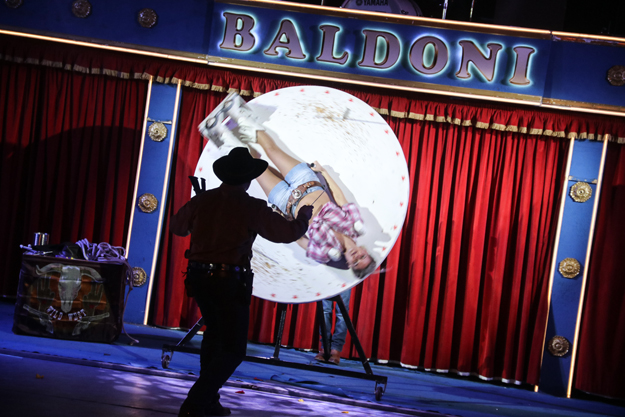 Buffalo Family aka the Janacek family. Here Eddie throws knives at his wife. Photo: Jacob Boas Leitisstein
Kim Kenneth, like many magicians, has a weakness for card tricks. Helped by a gentleman from the audience - at the premiere the Danish Strictly come dancing-jury member Jens Werner - he presented a trick where Jens Werner, by shooting after a card pile, should hit a card exactly similar to what he had previously pulled without showing it to Kim. The act was presented with charm and elegance and a few of the gimmicks that Kim both loves and masters.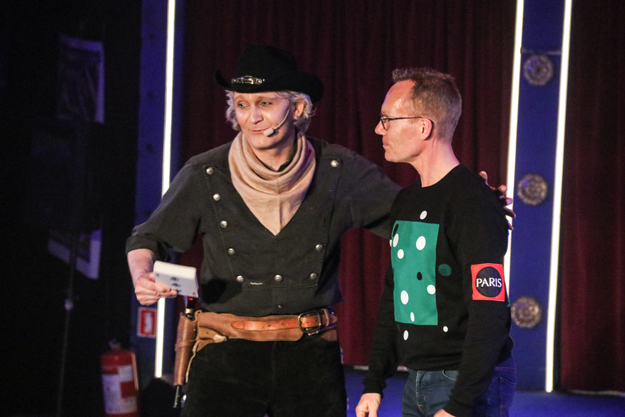 It always does well with a "celebrity" on the stage - here the Strictly come dancing jury member Jens Werner. Photo: Jacob Boas Leitisstein
The next act was called King of Air in free dressage. Unfortunately, he king didn't show up, and Pazco tried, with greater or less luck, to replace him in an entrée which start could remind us of Wolff Brothers' comic trapeze act. Whether Pazco succeeds in getting up into the trapeze or not you will have to visit Circus Baldoni to see.
The last act of the show should have been Ababa Brothers / Abu Boys, who in 2015 excited Baldoni's audience with an excellent Risley act. Unfortunately, they have jobs on a cruise ship, so René had to use another couple from Ethiopia, which he presented under the name Ethiopian Brothers. Although they may not be quite in line with their countrymen from 2015, they did a nice and fast-paced act which ended with the flyer performing 29 somersaults.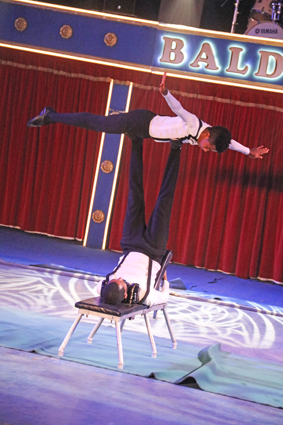 Ethiopian Brothers. Photo: Jacob Boas Leitisstein
It was a well-composed and well-produced and smoothly running performance without acts which was too lengthy or of second rate. The performance was staged by Kim Kenneth and René Mønster Baldoni.
There is no doubt that the audience through the season will feel well entertained in Circus Baldoni. So find the flight socks and go to the circus!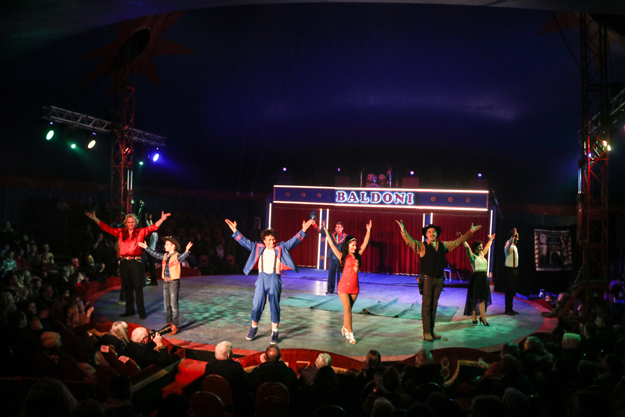 After the performance, an enthusiastic audience greeted the 11 performers with standing ovations. Photo: Jacob Boas Leitisstein. Click here to see more of Jacob's photos from the show

26 March 2019
Performers in Swedish Circus Brazil Jack 2019. Sweden's largest circus opens the season at the Mill Square in Malmö on Thursday 4 April. On facebook they have presented some of the performers in the upcoming performance: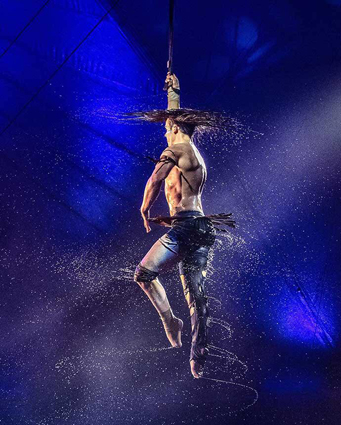 The 18-year-old Vioris Zoppis comes from Italy. He is a sixth generation circus artist and trained as an aerial acrobat at the Accademia D'arte Circense in Verona. In January 2018, he won gold at the 7nd New Generation Festival in Monte Carlo. Click here to see a video clip. All photos are press photos from Cirkus Brazil Jack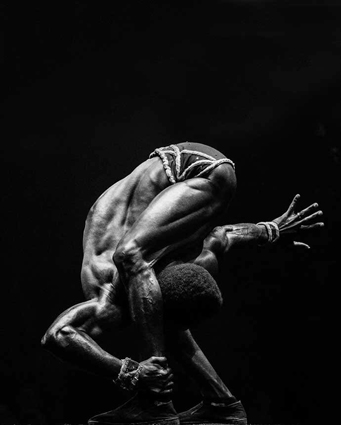 The rubber man George Faining was born in Accra in Ghana. He discovered early on that he had incredibly agile joints and spine, which along with his interest in acrobatics made it easy to choose a career as an acrobat. Unlike many other male contortionists he presents his act with a smile on his lip.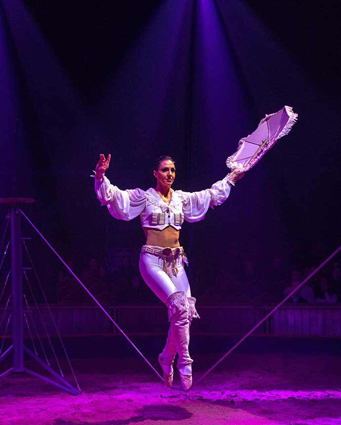 Maud Florees Gruss is daughter of Alexis and Gipsy Gruss of the large great French circus Alexis Gruss. She is the 6th generation of the famous French circus family. Both her mother and her grandmother were excellent tight wire dancers, and that Maud Floress Gruss is as well. She was born in 1982 and is married to the comedian and multi-artist Tony Florees, who is also a part of this year's Brazil Jack performance.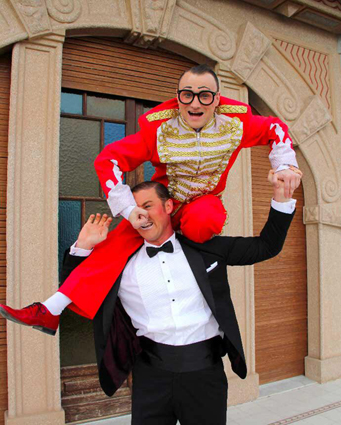 After spending the winter season in Paris' famous Cirque D'hiver Bouglione, the Wolf Brothers are back at Brazil Jack with new exciting and funny features. They were also with Brazil Jack in 2017 and 2018. The Danes know them from Cirkus Arli 2011 and 2014
Of course there is more artists in the performance than those mentioned.

24 March 2019
IT ALL HAPPENS IN PARIS -- always interesting and thrilling events - THEATRE DE L'ATELIER proudly presents a show of international interest: BELLS AND SPELLS, by VICTORIA THIERREE CHAPLIN/ dotter till den store CHAPLIN/, the actors are her daughter AURELIA THIERREE and JAIME MARTINEZ.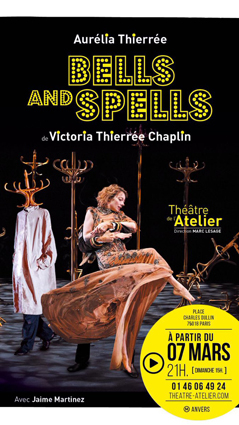 THEATRE DE L'ATELIER is a beautiful theatre, in traditional style, red velvet and gold - pleasing !
This show can't be described exactly, as it goes beyond common frames, using an abundance of surprises, particularly the stage- props that, apparently on their own, appear on stage.
The nearest we can come a description - is a personal idea of the scenario, viz. an
individual interpretation of the play.
The stage illusions do remind us of magical illusions, although it is not an illusion show.
Professional magic entertainers might get some inspiration from it. The performers are trained professional dancers, to a great extent. They display a clear joy of performing and the audience responds willingly.
An important detail: the accompanying background music is limited to a discreet and low level, thus a pleasant little extra.
Absolutely worth seeing !! // Playing until MAY12. Folowing that perforamces in UK, Russia and Switezerland.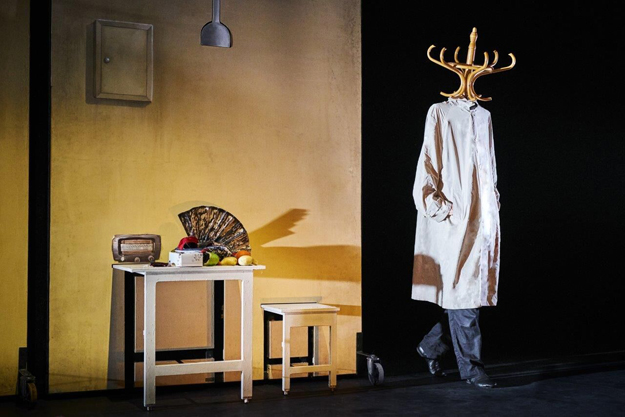 Photo by courtesy of Theatre de L'atelier. Photographer : Richard Haughton
See more : http://www.aureliathierree.com/bells-and-spells/
Click here to see a short video clip
VENUE: THEATRE DE L'ATELIER, 1 Place Charles Dullin, 75018, Paris. Metro: PIGALLE or ANVERS.
IT ALL HAPPENS IN PARIS !!!
-----------------------------------------reported by ZARRO ZARRO.

22 March 2019
Circus Arena 2019 – season opening. Rud Kofoed from Ajour Press was as me and my youngest son and grandson among the guests at the premiere of this year's performance on Wednesday 20 March. Rud gives this year's performance 5 stars and writes (my translation):
YOUNG WOMEN'S INTERNATIONAL BREAKTHROUG - KOLEV SISTERS IS GIRLPOWER AGAINST STRONG MEN IN BUBBER'S EXCELLENT PERFORMANCE
The fact that two young sisters, the youngest is 19, should become an outstanding top act is one of the dreams that Bubber makes come through in the season's Circus Arena show. And no, it is not just because they are good-looking, which of course is no disadvantage. Well, the fact is that the chain of at least 250 years of strong men in the ring here is severely broken by girlpower hardly seen before.
Kolev Sisters' hand-to-hand acrobatics is so beautiful, powerful and incredibly impressive that they triggered standing applause from the excited premiere public in the Arena at Bellahoj (the circus lot in Copenhagen). We guess it will continue throughout the summer. Nicole and Michelle Kolev have been on the road for some time, but a little in the shadow of their parents from Flying Wulber which fortunately also is part of the show.
Here Kolev Sisters really for the first time stands on own feets and is the main act in a performance. They have the power and elegance - without looking as artificially inflated testosterone bombs that have just left the gym with unclean doping flour in the muscles. It is hard to spot from where they get all the power and all the suppleness, but they both has it and present it with a peace and security that can take everyone's breathe away.
In 2019, the girlpower was introduced into the Danish circus ring!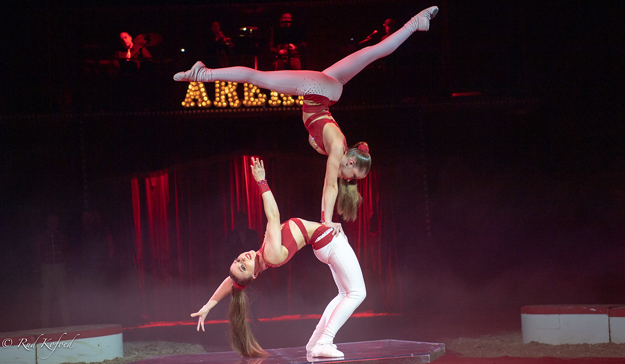 The Kolev sisters - a surprising top act. It is not a regular gymnastics lesson we are witnessing with the two sisters. Photo: Rud Kofoed / Ajour Press
However, it should now not get the performances other handstand artist, the Russian Oleg Izossimov to pack his suitcase, even though you ask yourself: 'Why another handstand act?' However, it is justified because he is an elegant and balanced hand stand acrobat when he as light as a feather is dancing and floating over the ring. I noticed that he lit strikingly many girls desire for taking smartphone photos!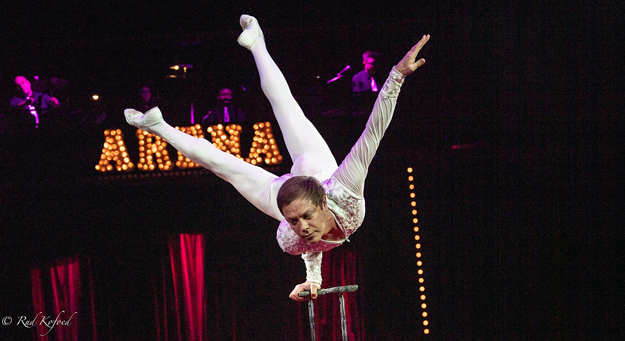 Oleg Izossimov. Photo: Rud Kofoed / Ajour Press
But there were more great experiences in the performance, Firstly, Bubber is back 29 years after he first jumped into Circus Arena's ring with his bathtub. (Bubber' Bathtub was at that time a popular serial in Danish children TV). It was fun then - and for the next seven years when he continued as ringmaster. Now he is back in the ring with an equally enthusiastic childish circus enthusiasm. He justifies the poster cry: "Circus according to Bubber".
Niels Christian Meyer has become 54 old. But as the uncrowned king of the circus ring he is the incomparable, always curious and warmly engaged show- and ringmaster. Bubber is born to unite generations.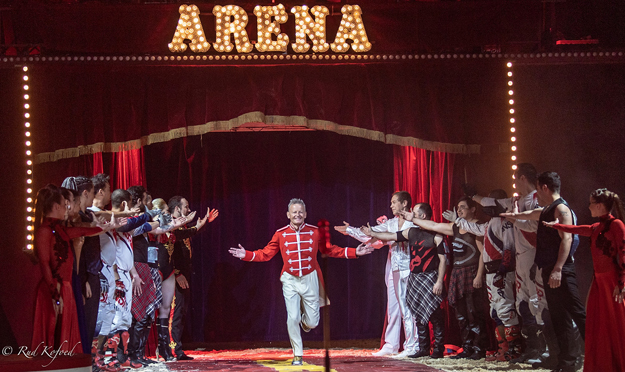 Bubber is back after 29 years. Photo: Rud Kofoed / Ajour Press
The experiences continue with yet another top act. The pigeons flying for Andrejs Fjordorovs from Latvia are an almost incomprehensible but beautiful and deeply fascinating experience of what can happen when man and bird find each other in a symbiosis which is difficult to understand.
It was Andrejs Fjodorovs when he, as an autodidact pigeon whisper in 2008, humbly appeared in the small, Danish circus Arli and surprised everyone, at least this reviewer, with his act with pigeons. He had learned their 'language' so he could train them to do the most incredible, which triggered a five-star review in the tabloid Ekstra Bladet, where I allowed myself to write: -No doubt that this is a world class act we here is witnessing . It's just so new that very few have discovered it yet.
The artists - the pigeons - flew freely around in the nature during the day and only came in cages at night and when the circus moved from lot to lot. Andrejs just called them when they were going to 'sleep'.
It was a world class act born in Arli! A foreign circus agent spotted the sensation. Already two years after - in 2010 - I met Andrejs Fjodorovs once again, this time under the greatest possible conditions, namely at the international circus festival in Monte-Carlo, where 4,000 audiences each evening sat and "dissected" the act. There he repeated with an equally eye-catching security his art with pigeons.
It did not trigger a metal clown at that time, which says more about the fierce competition than about Andrejs Fjodorovs. However he received the distinguished "Prix de l'Association Monegasque Des Amis du Cirque". Now the world had seen him, and the international breakthrough was a reality. The pigeon act has been "a sensation" ever since at the biggest festivals and in the major circuses.
Ten years later, Fjodorovs is back to Denmark, where it all started - this time in Scandinavia's largest circus. The number has been so developed, beautiful and fantastic that I had to bite my arm and contact a credible circus expert to confirm that it really is the same Andrejs Fjodorovs it was all about. It was!
The act is difficult to describe. The Lord of the pigeons makes it impossible not to get reincarnation thoughts! He must have been pigeon in his past life.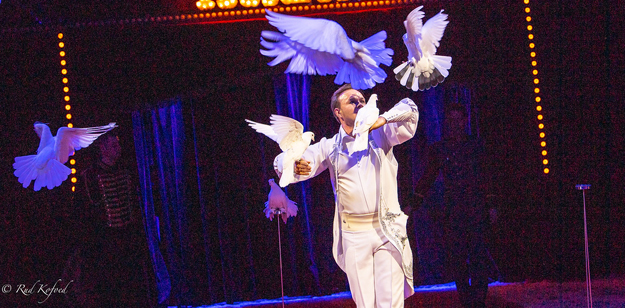 Andrejs Fjodorovs - the lord of the pigeons. Photo: Rud Kofoed / Ajour Press
Year 1 after the elephants has left the Danish circus rings such an act mitigates.
In addition, Karsten Berdino - father of the Arena triplets - provides an exotic supplement with a desert walk with one hump camels, also known as dromedaries. They are beautiful, well-kept animals. It is the beautiful brown Arabian stallion presented by the circus princess Laura Berdino also. They are almost as elegant and lovely as their trainer.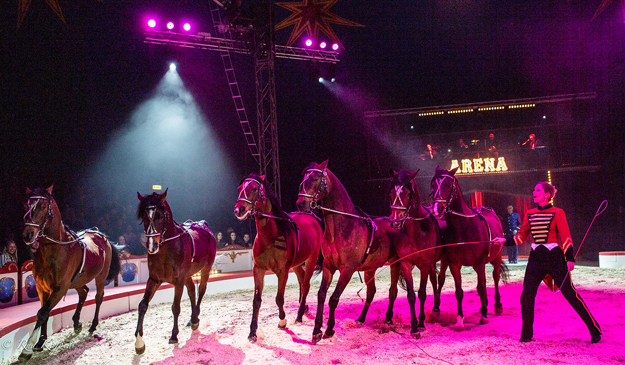 Laura Berdino with 6 brown Arabien stallions. Photo: Rud Kofoed / Ajour Press
Finally, Laura's and Jackie Berdino's daughter, 6-year-old Scarlett, enter the ring - with a Shetland pony, a popular win in any ring. Now Arena has not only one but two circus princesses in the sawdust this year. On the other hand, the Crown Prince Patrick Berdino has gone on leave to experience something new for the first time in his 27 years in circus.
We can't ignore it: The five cool riders in Diorio's petrol-burning globe of death are the best in the industry and evoke the same thrill every time - this year with even greater speed. It's an audience hit - every time!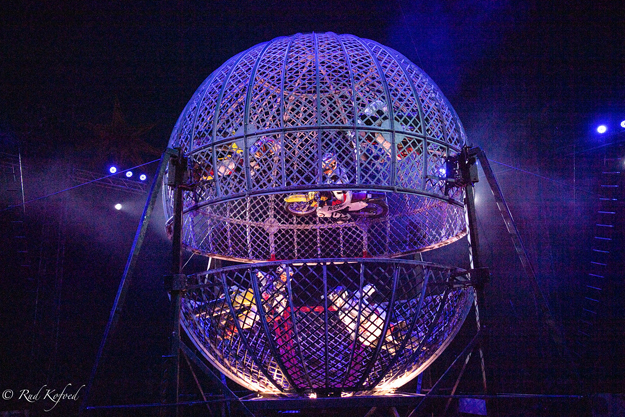 It takes contempt for death and not a single bad day to embark on this race, which takes place with five motorcyclists for full blowout is in the globe of death which opens here in the middle of the race. Photo: Rud Kofoed / Ajour Press
The weakest act in the performance is probably Cheban with their Russian swing and the jumps on inflated giant wheels from an airplane, but there are entertaining moments in it. Part of the explanation for the slightly low-fire effort may be that two men from the troupe have not arrived due to problems with the work permits. They will come in a few days, it is said.
In return, Duo Costache is back with a new trapeze act. It is risky but they stay on the safe side. It failed in 2017 when the "Iron Lady" Vita took a crash when she had to climb her husband, Leonardo's "Jaws" Costache's shoulder-carried perch in Viborg. Luckily, she escaped without major injuries. This year, the very tough attitude is taken out of the act. Good!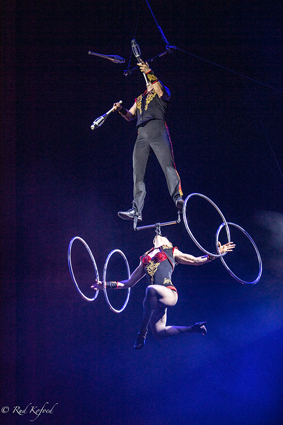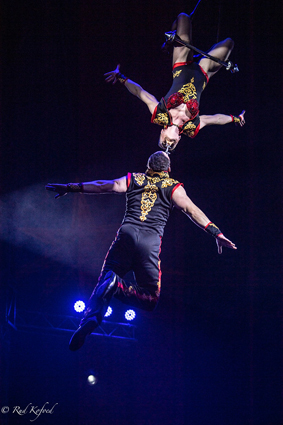 Duo Costache. Photo: Rud Kofoed / Ajour Press
Otherwise, it is the Flying Wulber that dominates in the air with triple summersaults, great "jumps" and what you might otherwise want from a traditional flying trapeze act.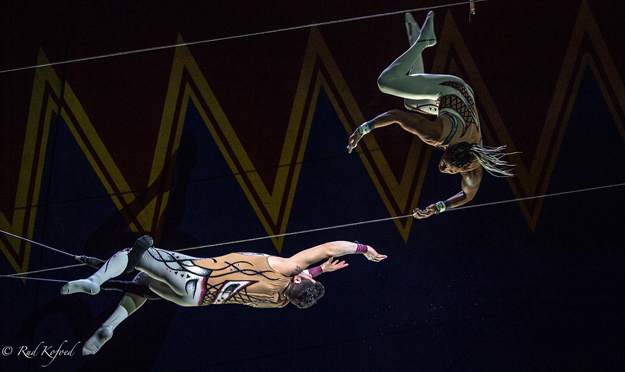 The triple. Photo: Rud Kofoed / A
Whether you like the reprice clown Jimmy Folco or not is a question of taste, also the good one. One cannot ignore that he fights for the case with Italian charm. But when he says: "On with the boxing gloves" in an audience-driven entrée it becomes a bit long-drawn-out.
This year Benny Berdino'son Jackie Berdino has taken over the task as production leader after the daily manager Klaus Jochumsen, who has retired - however, no more than Jochumsen has helped introducing the new people to their tasks. And his wife Kitt Jochumsen, continues as a tour manager.
The soundman Lasse Nørager, also known as the clown Bonbon, has, together with Jackie Berdino, been responsible for a successful putting on stage of this year's performance.
The old male 'elephant' Benny Berdino is still the circus director and can take a round of honour in the ring whenever when he wants, but mainly he can he be happy for the fact that the circus for the future is in good family hands. We too can be happy for this fact - especially with such a splendid performance with three top acts.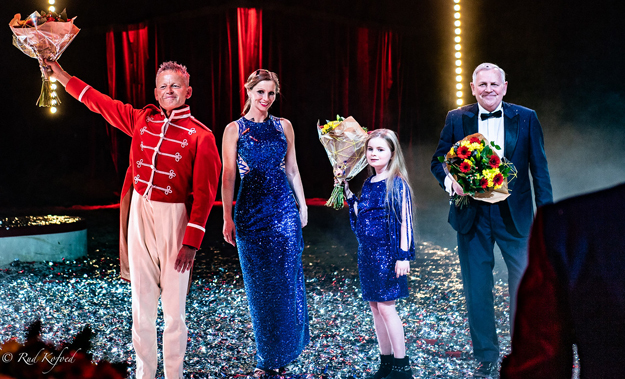 Bubber, Laura and Scarlett and the old circus director Benny Berdino, who are delighted to see his circus in safe hands. Photo: Rud Kofoed / Ajour Press
To see more of Rud Kofoed's photos: Click at https://ajourpress.smugmug.com/CIRKUS-ARENA-2019-GIRLPOWER-I-F%C3%98LGE-BUBBER/

20 March 2019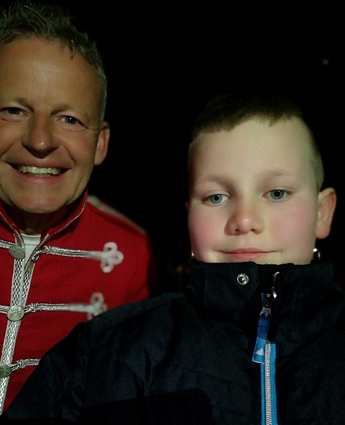 "May I take a selfie with you", my grandson Sebastian asked Bubber after the premiere of Circus Arena's 2019 performance. As you can see, he was allowed to take such selfie.
For the first time in many years, there were no elephants in the Arena performance. Arenas 3 elephants are at home in their barn in Aarslev and are waiting for an agreement to send them to retirement in Knuthenborg Safari Park. This presupposes partly that funds are provided for an elephant facility in the safari park and partly that agreement is reached on a reasonable compensation to Circus Arena. Although a broad majority in the Danish Parliament wants elephants banned from circuses and would like to see the country's four circus elephants retired under good conditions, politicians' focus is currently more on the coming parliamentary election (there has to be an election before the middle of June) than on the fate of four circus elephants. (The 4th circus elephant belongs to Circus Trapez)

19 March 2019
Circus with and without animals. When Philip Astley "invented" the circus in 1768, the performance consisted of horse acts with inserted performances of clowns and acrobats. Looking at programs from the Copenhagen Circus building's first 25 years, the emphasis was on horses. Including high school, where in every performance there were riders who fought for the public's favour. Slightly hard to understand today, where high school is not the big draw, and where virtually no spectators have knowledge to judge the difficulty and many find such acts boring.
Some circus friends, especially the slightly older ones, believe that animal acts are a "must" in a performance and that a performance without animals should really be called variety and not circus. For others among the audience, animal acts are not important and some even prefer non-animal performances.
Of the Danish circuses, Baldoni has no animal acts. The last season, when they had many animals with - season 2013 with the Igen family with dogs and goats - became looking at the number of visitors one of the worst seasons in Baldoni's history. René Mønster Baldoni found out that his audience would rather see clowns, acrobats and comic acts than acts with animals. "In every business one must listen to the wishes of the customers," René says. Therefore, he has the last couple of years opted out having animal acts in the performances. "But I don't want to criticize other circuses for making another choice," René says.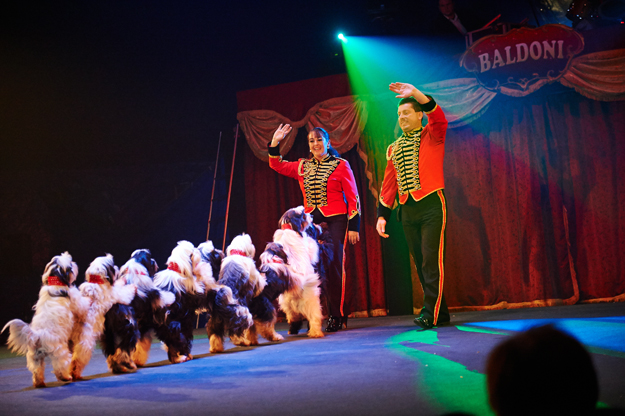 Although both the act and animal welfare were good it was audience wise not a success when Circus Baldoni in 2013 presented the Igen family with dogs and goats. Baldoni's audience would rather see clowns, acrobats and comic acts. Due to this René Mønster Baldoni dropped the animal acts. Photo: Rud Kofoed / Ajour Press
Among the other Danish circuses, Arena, Mascot and Trapez always have animals in the performances. Cicus Arli and Zirkus Nemo have sometimes animals in the performances. But far from every season. "Animal acts are not a must for us," says Martin Arli. "But if we are offered numbers of sufficiently high quality and where animal welfare is in order, we do not in advance say no to present an act with eg. dogs or cats. However, we have no animals in our 2019 performance."
In Sweden, Circus Brazil Jack in 2018 opted out of having animals in the show. Not because they oppose animals in a circus or have made an alliance with the Animal Protection. But because they like Baldoni in Denmark realised that their audience became less and less interested in animal acts.
In addition, a circus which like Brazil Jack is touring all over Sweden, also in the northern part of the country, comes to many lots where the foundation is asphalt or concrete. In other words, not grassy lots as we know it from Denmark.
"It makes it difficult to give large animals such as horses and camels optimal conditions," Carmen Rhodin says. "All that meant that my son Trolle III, who today is the owner of Circus Brazil Jack, last year decided not to have animals in the performance. It was appreciated by our audience, and in 2018 we had clearly more spectators than the year before. Therefore, there are no animal acts in our 2019 performance."
Both Carmen, her spouse Trolle Jr. and their son Trolle III respect the fact that other circuses continue to have animals, and have no doubt that the Nordic circuses, which have animals, treat their animals well.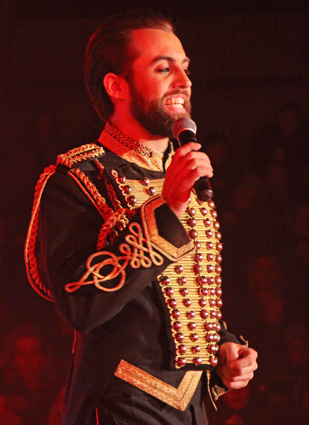 In Swedish TV4's program "Malou after ten", Malou von Sivers on March 19 had a visit by Trolle Rhodin III, who told how he as a teenager, after his brother tragic suicide gradually took over responsibility for the circus, which got more spectators after they dropped animal acts. Click here to see it approx. 14 minutes long interview (Language: Swedish. No subtitles)
Internationally, the trend is towards no or fewer animals in the performances. One of the most successful circus companies of the past decades, Cirque du Soleil, has, with one exception, never included animals, and the German cult circus Circus Roncalli has also chosen to drop the animals.
You can make excellent performances both with and without animals. We should be pleased about that. And for the fact that those who want to see animals still can do so. And those who are preferably free of animal act can find a circus that suits their taste. Personally, I judge a performance based on its quality, whether it is with or without animals. And I love good performances. With or without animals.

18 March 2019
IT ALL HAPPENS IN PARIS -- a super-original show on the theme GEORGES MELIES, pioneer in the cinema industry, an inventor of what we today call SPECIAL EFFECTS, he operated in PARIS and NEW YORK, organizing magic performances as well.
GEORGES MELIES, 1861 - 1938, created a great number of cinema and magical features, some of them are reproduced in the show GEORGES MELIES CABARET MAGIQUE, they have been featured a number of times at the THEATRE LA VIEILLE GRILLE /today disappeared/ PARIS, direction LAURENT BERMAN and ANNE QUESEMAND, recently it was performed at the THEATRE EL CLANDESTINO, direction DIEGO STIRMAN, located in the BELLEVILLE quarter, that by the way, also houses the big CHINATOWN of Paris.
This show displays a number of GEORGE MELIES' films, featuring special effects and magical stunts, the old copies are nicely restaurated, giving us an excellent picture of the cinema of that time.
Alternatively we are treated to a magic entertainer, who entertains in between the 4 cinema sequences, performing different magical stunts, there are live music and hilarious jokes.
When I saw the show, magic entertainer PAUL MAZ appeared performing excellent magical effects.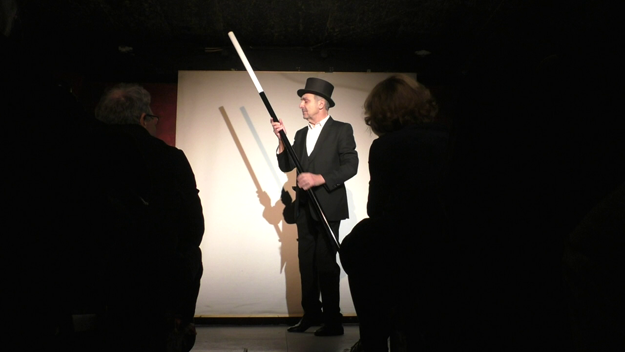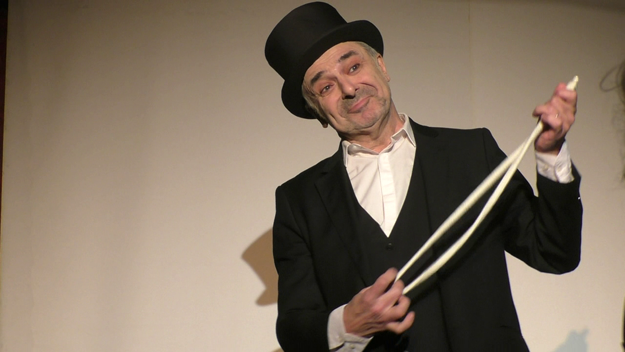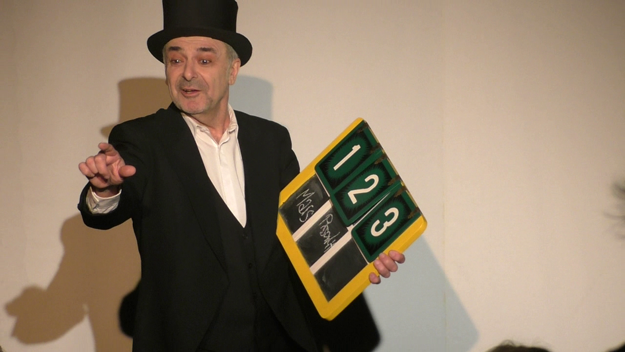 Paul Maz. Photos by courtesy of Charlotte Popon
All in all, a wonderful and unique cultural experience, particularly as GEORGES MELIES is fairly unknown to the general public.
About George Melies : see https://www.youtube.com/watch?v=L8is28gAOTcA or try to google.
Om Diego Stirman and the performances he present : see http://www.familia-stirman.com/el-clandestino
IT ALL HAPPENS IN PARIS!!!
.................................... reported by ZARRO ZARRO.

15 March 2019
Anna Conradi turns 85. Saturday, March 16, the former bike acrobat Anna Conradi, Copenhagen, can celebrate her 85 years birthday. From 1950 to 1988, she and her husband Leif Conradi toured Europe, the Middle East and Japan as the bike acrobats Les Conradis. In Denmark, the couple worked in Circus Arli, Circus Arena and Circus Belli. The couple also worked as jugglers under the name 2 Maxelli. But their main act was their bike number which they developed over the years and which ended with Leif jumping up a staircase with many steps on a one-wheeled bike. After stopping the tour life, they for a while still went around and performed at fairs, in exhibition centers etc., but just in Denmark. Later, they both as other former acrobats got jobs as attendants in Copenhagen's Tivoli Gardens.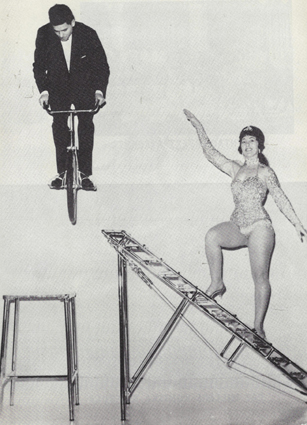 Les Conradis. Photo from the 1971 program for Swedish Circus Ray Miller

14 March 2019
Circus Mascot 2019. The Deleuran family's small circus opens the season in Roslev on Wednesday 27 March. This year's performance is called Går Amok (Crazy). Circus Mascot writes (my translation):
This year's performance we have chosen to call « CRAZY » - and what does that really mean? In short, we once again spare no efforts in order to deliver a hit of a show.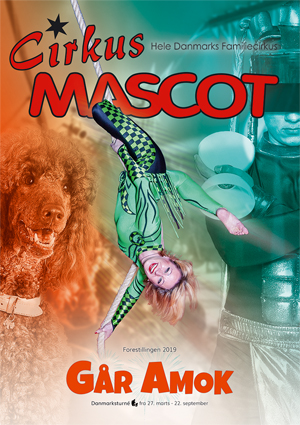 We look forward to introducing you to outstanding aerial acrobatics, fast-paced diabolo, a great dog show, adorable ponies, our TALENT pig Yrsa and her girlfriend Sille, funny goats and lots of fun with our absolutely funniest clown, Gulio.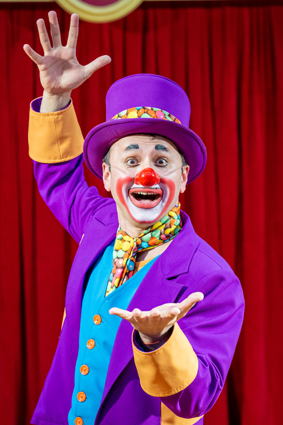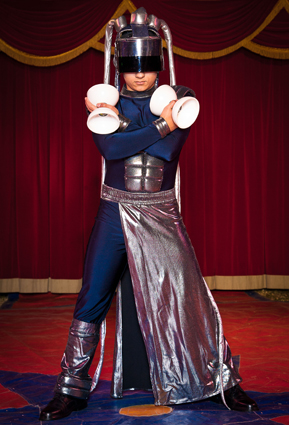 To the left Circus Mascot's beloved clown Gulio. To the right his son Husik, who this year works with diabolos. All photos are press photos from Circus Mascot
This year's new circus artists are 2 brothers, whom we have brought to Denmark from Ethiopia. Abebe and Dessta are a two talented young boys with charm, self-confidence and delicious hair. Still, they are happy to wear a WHOLE lot of hats - at the same time. We have no doubt that t it will be hair-raising when one brother with his feet throws the other around in series of fast-paced somersaults. #WORLD CLASS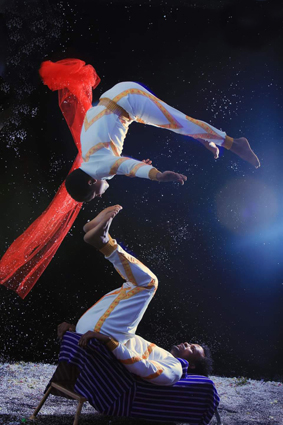 Abebe and Dessta come from Ethiopia
This year's show is "CRAZY" and it's all in honor of you and for the circus magic we insist on bringing to our audience!
The season will close on 22 September. During the season Circus Mascot will visit Jutland, Funen, Lolland-Falster and Zealand

14 March 2019
Summer artists at Lalandia Rødby. The children's friend, the tropical holiday center Lalandia's regular entertainer Mr. Plys, writes that this summer's artists at Lalandia Rødby are Duo Creative. The duo consists of Ina Sopova and Kristaps Pavlovs-Lipinskis from Latvia. They appear with quick change, foot juggling and dachshunds. The couple must not be confused with Polish Duo Creative, who performed at Wallmans in the Copenhagen Circus Building in season 2016/17 and 2017/18.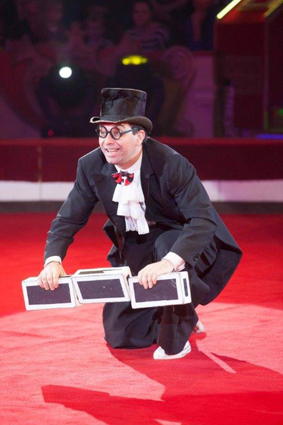 Kristaps can juggle with cigar boxes
From 28 June to 9 August you can see them on the stage in Rødby every Monday, Wednesday, Friday and Sunday at 8 pm, where they replace Mr. Plys, who these days appear at Lalandia Billund. The show lasts approx. 30 minutes and is for the entire family.
You can read more about Duo Creative at www.creativeduo.lv.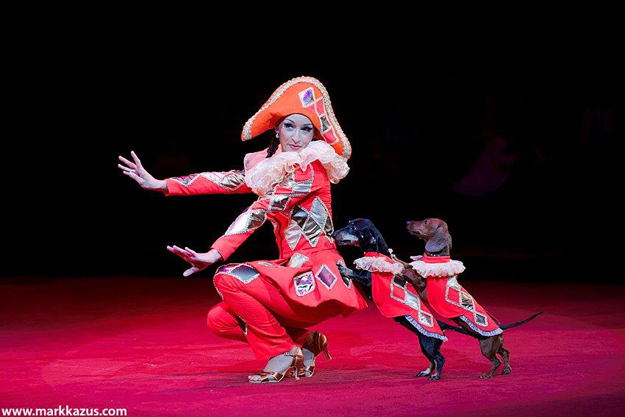 Ina and her dachshunds

14 March 2019
Circus Olympia 2019. The Swedish Circus Olympia is this year celebrating their 35th anniversary. This year's program is:
Circus Olympia's orchestra led by Valentin Smirnov
Duo Lameth – Aerial acrobats aerial credle
Clown Cito - Circus Olympia's funny clown
Duo Lagroni - Comic knock-about table acrobatics
Tito Medina - Comic run-ins
Henrika Bengtsson - Circus Olympia's charming dogs
Miss Nanou - Equilibrist
Medina Family - Quick Change
Niklas Bengtsson – liberty dressage with Circus Olympia's beautiful horses and ponies.
Duo Lameth- Aerial straps
Irena Lagroni – foo juggler
All participating in a color-filled Grand Finale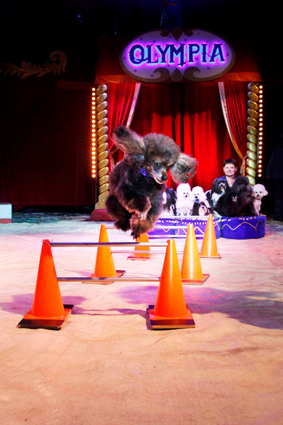 Helena Bengtsson's playful dogs are an "Olympia Classic". Photo: Linda Himsel
The performance is presented as follows (my translation): The Swedish clown Cito, engages both children and adults with laughter and joy. The aerial acrobats Duo Lameth presents two amazing aerial acts: one in aerial craddle and another in the circus discipline aerial straps where the artists work in long straps, which hang from the circus dome. From the Czech Republic, juggler Irena Lagroni comes presenting an antipod number, which means she juggles with her feet! The ekvilibrist Miss Nanou presents a beautiful and advanced handstand act and The Medina Family presents a magical Quick Change act. The show has a clear comic emphasis and we get to know both the Clown Cito and the Spanish run-in clown Tito Medina and the comic knock-about table acrobats Duo Lagroni. Circus Olympia's own horses and dogs have of course their obvious place in this year's performance. Niklas Bengtsson presents his beautiful Friesian horses and big Tinker horses and small Shetland ponies and Henrika Bengtsson pressent her playful dogs.
Clown Cito's civil name is Albin Ganovic. He is known as the producer of Helsingborg's Cabaret Candy Club and the recent winter circuses in Malmö and Helsingborg.
Duo Lagroni was also at Olympia in 2011, where they performed in aerial straps.
The Danish audience saw the clown Tito Medina in Circus Benneweis 2011, where he and a partner among other things presented a comic number in low-hanging flying trapeze and Tito appeared with an inflatable elephant.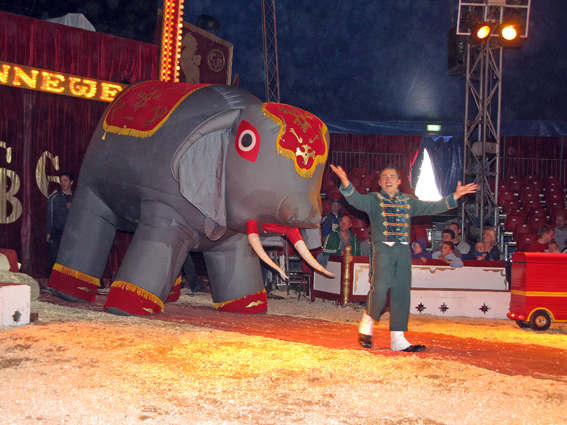 Not even opponents of animals in the circus can object to Tito Medina presentting this elephant!

12 March 2019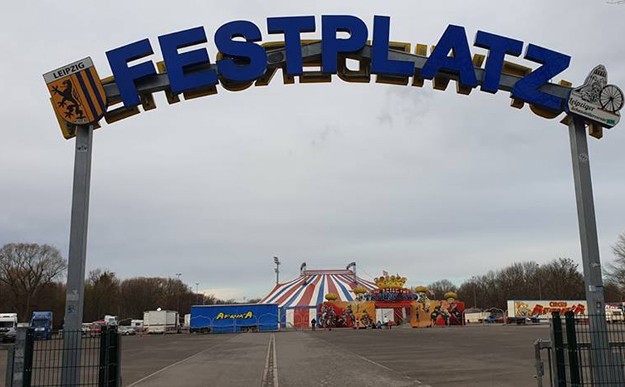 If you visit Circus Africa during their season in Germany, you may recognize the tent: It is the former Benneweis tent that Dawid Benneweis sold to Germany a few years ago. Circus Africa is owned by the Weisheit family and, like many other German family circuses, offers many animal acts: elephants, horses, camels, dromedaries, donkeys, llamas, zebras (a cross between a zebra and a pony), ponies and dogs.

10 March 2019
IT ALL HAPPENS ON A CRUISE The many cruise ships are a growing labor market for artists. The larger ships are a kind of traveling luxury hotels, where in addition to lots of restaurants and bars, there is also a theater with shows in the evening. During a cruise in February through the Panama Canal with Norwegian Star, I saw the Russian artists Duo Maria and Dmitry's show Marrambola, which among other things offered adagio acrobatics, aerial ring (hoop), straps (aerial straps) and tissue. The last two act were of such a quality that they could easily been used by one of the large Nordic circuses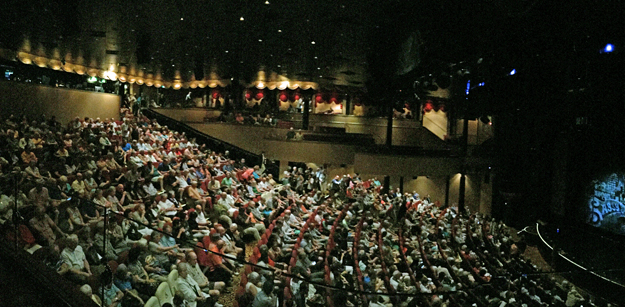 The Stardust Theater at Norwegian Star has room for 1,200 people. Unfortunately, it was not allowed to take photos during the performances. Norwegian Star has room for 2,348 passengers and an crew of 1,031.
Another evening, the English magician Michael White, along with his spouse Hulan from Mongolia, presented an impressive magic and illusion show "White Magic", where the audience between all the magic also saw a couple of Huan's great tricks as contortionist.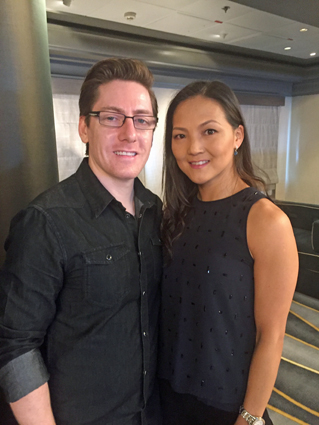 Michael White & Hugan. The latter was one of Kim Kenneth's assistants when he made a show in Blackpool Tower in England a few years ago.

10 March 2019
IT ALL HAPPENS IN PARIS -- THEATRE ALAMBIC proudly presents a great number of theatre plays for the adult audience and also plays geared at children, 2 - 8 years.
Out of the last mentioned, the numerous sketches, about 50, about the twins GABILOLO and MALOLOTTE are frequently performed at the ALAMBIC, they are a surefire institution that are played in the rest of France, the teams represent hilarious situations performed by GABILOLO and MALOLOTTE.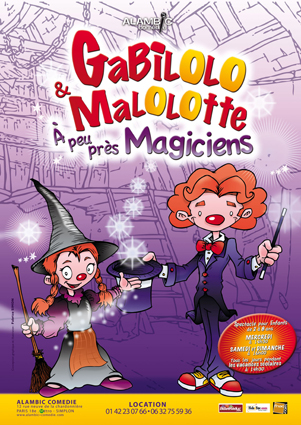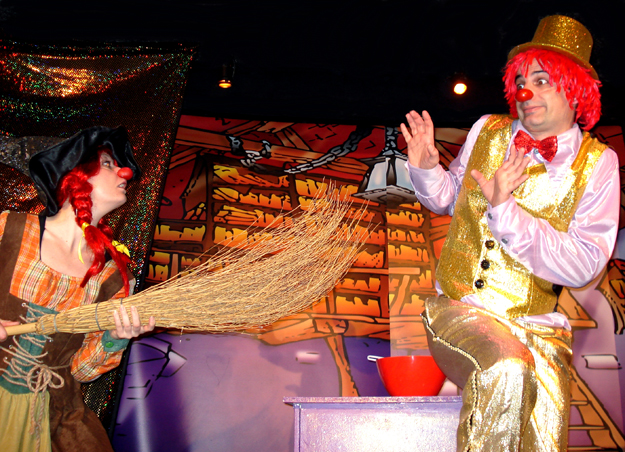 All photos by courtesy of Jérémy Martin/Gabilolo
The author CATHERINE DEGAY is indeed very productive, her activity has a confirmed and great success, all the sketches show a rich variety, including music, dancing, all kinds of hilarious jokes, magical effects, everything in a mixture of colorful costumes and theatrical props, making the audience wonder "what is going to happen with these interesting items ?"
It is a full package of dramatic actions, songs where the small fry can join in the singing, furthermore interaction that makes the children happy, and thus their parents are pleased as well, seeing their offspring in a good mood and laughing a lot.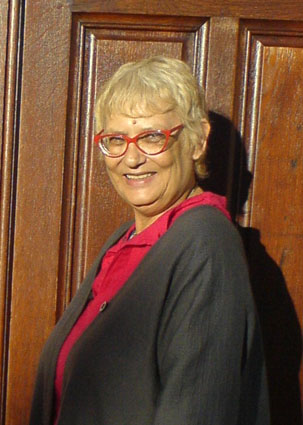 Catherine Degay
The stage setting is appropriate and pleasing, clearly showing the situation on stage, the PA system is good, the joy of performing is clearly displayed, nothing that might scare the kids is there, they all get an experience of live theater, as opposed to the electronic one, thus it is a unique experience of live theater - the sketches featured by GABILOLO and MALOLOTTE is an excellent alternative when parents want to give their children a wonderful afternoon !
The entire performance is visual enough to enable even children who might not know French - to follow, grosso modo.
THEATRE ALAMBIC is absolutely worth visiting !!
See more: www.alambic-comedie.com and www.gabilolo.fr
Venue: 12 rue Neuve de la Chardonniere, 75018 Paris. Metro: SIMPLON.
IT ALL HAPPENS IN PARIS !!!
............................................ reported by ZARRO ZARRO.

7 March 2019
Circus Arli 2019. This year's performance, which premieres at the Mill Hill in the Copenhagen suburb Fløng on March 31 with dress rehearsal the day before has the following performers:
Alan Sulc – juggler
Veronica - foot juggler (Alan's wife)
Duo Mamchych - Double tissue (consists of Yuiry and Edita, sister of Alan. They are engaged independently of each other)
Yuiry – aerial straps
Elena Vasiljeva - Stand ring
Duo Bench - handstand
The Polupans - illusions
Alejandro (Alexander Arli) as clown
Bettina Arli - comeback with hair hang
Martin Arli will himself present the show this year.
Alan Sulc is born in 1990 and comes from the well-known Berousek family. Only 12 years old he won gold in 2002 at the European Youth Circus festival in Wiesbaden. The late Nelly Jane Benneweis was member of the jury. In 2004, the Danes saw him in Circus Benneweis, where he bounced balls into his podium and clearly was the year's top act presented to Safri duo's music. A couple of special prizes from this year's circus festival in Monte Carlo show that he still belongs to the top of the juggling world. He got the German circus friends' prize.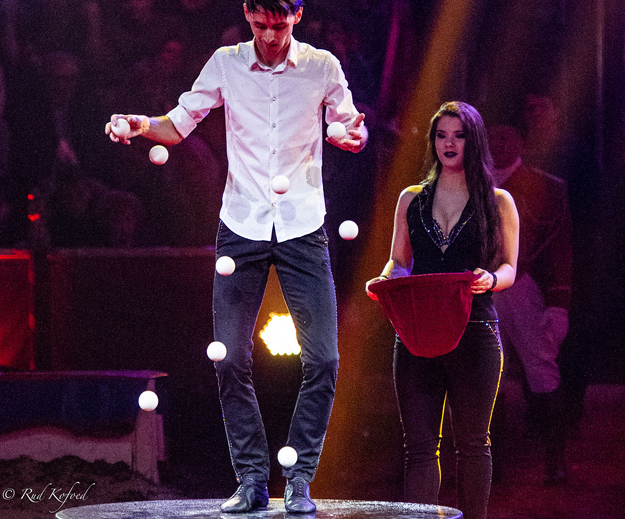 Rud Kofoed took this photo at this year's circus festival in Monte Carlo and wrote (my translation): There was a reunion with the young Czech, stylish juggler Alan Sulc in the second of the opening performances. He was only 14 when he in 2004 first time made his entrée at the festival with the act he had trained since he was five years old. Prince Albert handed him a bronze clown at that time. This time there was no metal clown, but on the other hand, several prominent special awards and giant applause for the development he can now present. 15 years later with a safety and finesse - with up to nine balls in the air at the same time. He uses both arms and legs when juggling - and has an exemplary and concentrated way to do it. It leaves respect - and admiration - and not least a belief in a future for the discipline.

6 March 2019
Circus in Sweden 2019 Circus Brazil Jack opens the season in Malmö on 4 April. Circus Olympia premieres in Oskarström on April 6th. Circus Diana Rhodin premieres April 7 in Åkarp.
Circus Brazil Jack writes (my translation): "We present an outstanding animal-free performance with artists from 4 continents. Gravity-defying aerial acrobatics, French tight wire dancing, international clowns and comedians, athletes from South America, a large live band and this year's sensation from Ghana: the rubber man George"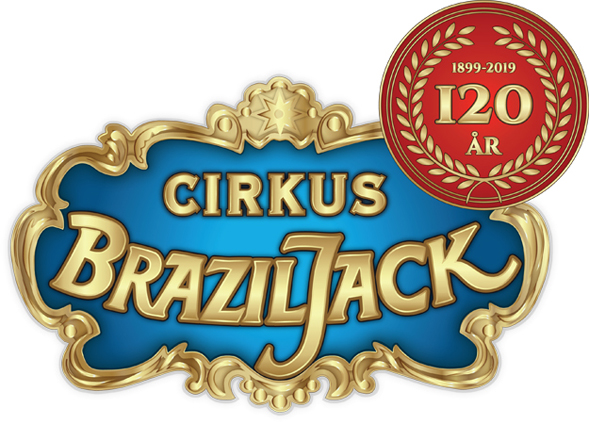 This year it is 120 ago since Brazil Jack established his circus
The names of the performers in this year's performances in Circus Olympia and Circus Diana Rhodin have not yet been published.
Circus Maximum takes as in 2018 a break. But the Swedish circus magazine Cirkuläre Notiser writes with the newspaper Hallandsposten as the source that Maximum might be on the roads in 2020 with a performance with smaller animals and artist acts, preferably with a comical twist. And it will be a performance with a high tempo. "But nothing is definite," says Maximum's tour manager Helena Schicht. "But if we come back, it will be with a changed concept."

6 March 2019
The Cheban troupe to Circus Arena. In addition to the artists whose names previously have been mentioned on this site Circus Arena has engaged the Cheban troupe from Moldova for the upcoming season. In 2011 they toured Denmark with Circus Benneweis with jumps on bouncing wheels (big black inflated rubber wheels) and jumps from Russian swing.

6 March 2019
Circus in Norway 2019
Circus Arnardo opens the season in Arendal on March 16th. The can this year celebrate their 70th anniversary.
About this year's artists, Cirkus Arnardo writes (my translation):
Enjoy when Priscilla Errani to lively rhythms increases the pace of dozens of hula hoops, watch out as 19-year-old Mikhail Milla from Chile is juggling fast with balls and rings, hold your breath while Steacy Giribaldi is approaching the top of a stand-alone ladder.
Get surprised and amazed by Duo Urunov's amazing Quick-Change where fashionable outfits disappear in the air right in front of your own eyes. Watch the crossbow shooter bend his bow while his partner is being fastened to a rotating disc.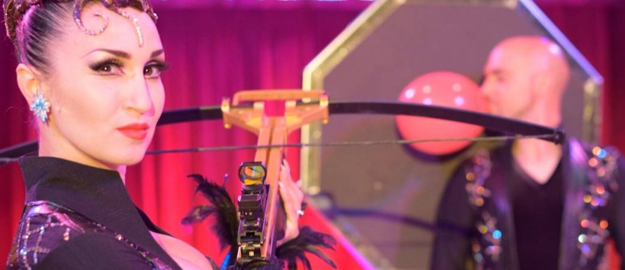 Marco and Priscilla present spectacular crossbow shooting and knife throwing acrobatics. All photos are press photos from Cirkus Arnardo.
Expect nifty backflips and spectacular jumps with BMX and Trial, tough bikes not much different from the ones you have at home.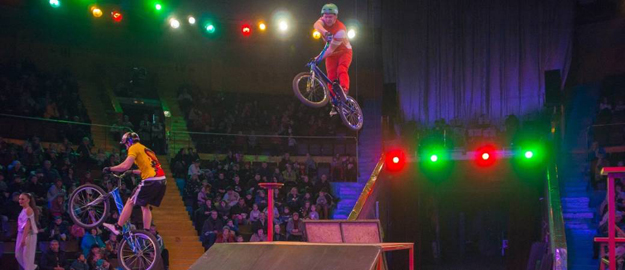 The stuntmen in the Jan Extreme Bike Show do bold tricks.
Watch and hear musical clowns with elegant Spanish twist. Enjoy the gags with Los Sitos. Experience Laura's magnificent parrots and an epic "ara-flight" you'll never forget. Be ready for a close encounter with Russian borzois and playful poodles with a whirlwind of ambitions.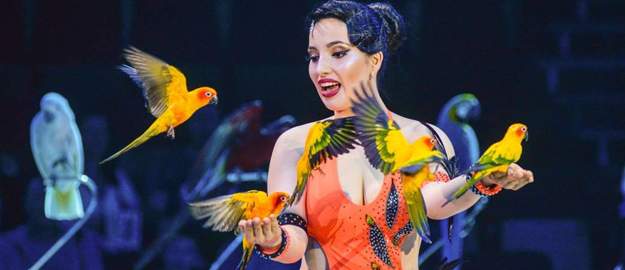 Laura Urunova presents both parrots and dogs
And say "Hi!" to Swedish David Hammarberg who flies in bungees high over the ring.
Trixi and Roy present ponies and llamas.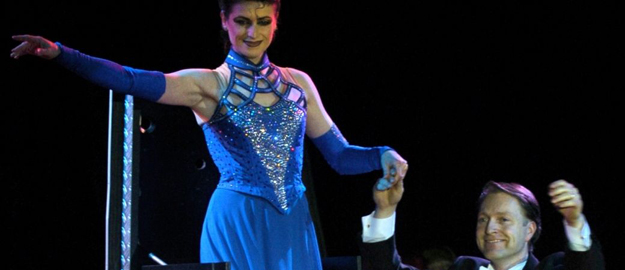 Circus Arnado's junior director Are and Mrs Paolina are this year in the ring with a completely new magic and illusion act. Are's grandfather, the late Circus King Arne Arnardo, is Norway's most famous magician through the ages.
Circus Agora 2019. Jan Ketil's Circus Agora opens the season in Straume on March 13th. This year's program features the soccer juggler Rafael De Carlo, Romanian Marius Gagiu in pole, Edi Laforte's dog show, Andreas Quaiser with his ponies Max and Moritz, Martyn Chabry with musical quick-change, the clown Francesco, Mr. Gagiu in aerial straps and Jan Ketil himself with balance with cups and dishes. A number he in his time presented on the slack wire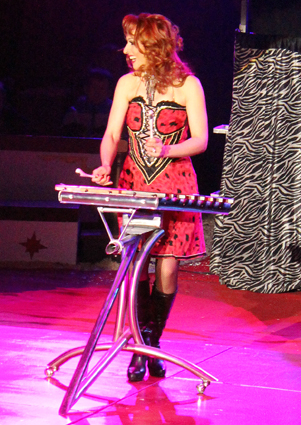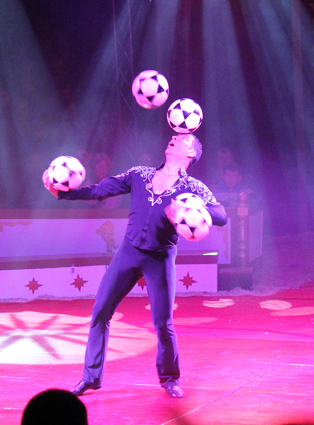 Martyn Chabry and her husband Rafael de Carlo toured Denmark with Circus Benneweis in 2014. Martyn, who is the daughter of the clown Toto Chabri, was also with Benneweis in 1998 and 2005.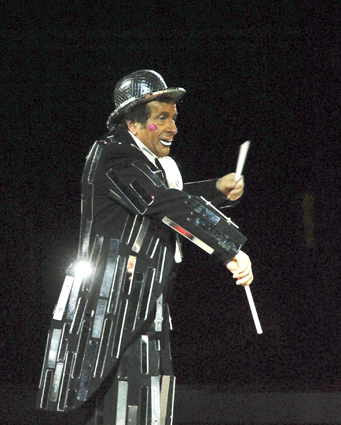 The clown Francesco (Francis Brunard) has had several seasons at Benneweis, most recently in 2005, and has also appeared several times in the Swedish circuses Brazil Jack and Maximum. Photo: Roy Himsel, shot in Circus Maximum in 2016.
Other shows in Norway. The Swedish contemporary circus Cirkör is on the new mini tour with a METOO theme. The Norwegian artist Christer Pettersen, who has previously performed at Monti, Soleil, the Olympics opening in London and Arnardo, is on tour in Norway with his girlfriend Mara with the performance Fisken and Plasten. Arr. Eskil Rønningsbakke.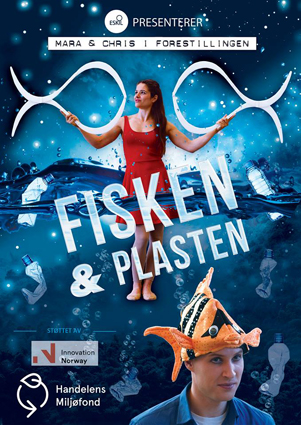 2 March 2019
Circus Baldoni in Ishøj Bycenter 2019. Jacob Boas Leitisstein saw the performance in week 8 (winter holiday week in some municipalities in the Køge Bay area) and writes (my translation):
Since 2016 every year there has been a winter performance with Cirkus Baldoni in Ishøj City Center. This year it was once again Baldoni who was responsible for the entertainment during the winter holidays.
When the performance began on February 21 there were lots of people round the ring. René Baldoni welcomed and suddenly, among the audience, one of the members of the Trio Sáközi appeared. He was dressed as a shoplifter and should of course be caught. This was done by the other two members, and it developed into a high speed acrobatic act.
Then René came back with his ventriloquist doll the lion Leonardo in order to present the clown in the performance. The clown Danilo is no longer with Baldoni, so the audience should meet a new clown: the Danish clown Don Carlos. He came straight from Aarhus, where he had participated in Circus Krone's winter performances. First entrée with Don Carlos was his violin act where he played the violin in many different ways.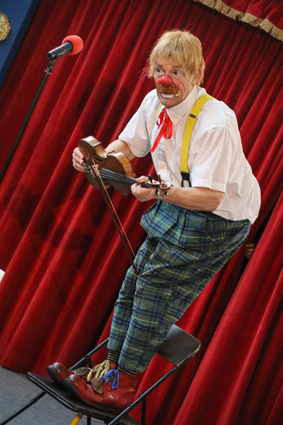 Don Carlos. All photos are shot by Jacob Boas Leitisstein
The next act was the Danish foot juggler Nathalie Enoch Fröchte. A nice act where she both juggled with scarfs, basketballs and hula hoops.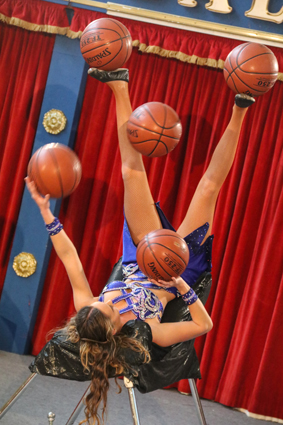 Nathalie Enoch Fröchte
After Nathalie's act Don Carlos was back again - this time as "graceful" tight wire dancer. He placed the wire on the floor, but the children shouted loudly that the wire of course should go up in the air. So it did, but he did quite not manage to show tight wire dancing …
Last act in the performance was a fast-paced juggler entrée performed by Trio Sáközi. A nice act that really filled the entire ring.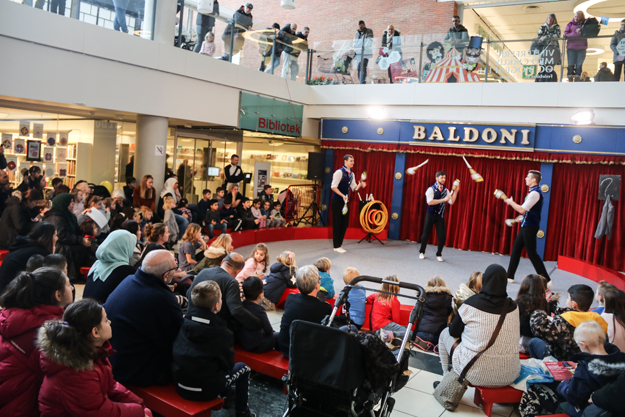 Trio Sáközi. Click here to see more photos from the show.
Finally, all artists came in the ring and sang Baldoni's farewell song.

Link to news from 2007

Link to news from 2006