'
From Denmark
and other Scandinavian countries
Special feature: It all happens in Paris (when relevant)
A weekly updated internet magazine
Last updated : 15. December 2018
14 December 2018
Circus Arena 2019. "Circus according to Bubber - Supercircus 2019" is the title of the Circus Arena's 2019 performance. Season opening will be at 'Bellahoj', Copenhagen, on March 20th. Cirkus Arena writes (my translation):
Experience an original story in an adventurous composition when Bubber present all the recess of the circus' magical world.
Together we will meet the strongest handstanders who show their incredible powers when the one after one turns the world upside down and Duo Costache who will leave you with chattering teeth during their new impressive act. We also meet the fearless motorcycle riders from Diorios, who are back in the ring in their globe of death. A fun and life-affirming adventure awaits the whole family when the Circus Arena comes to a city near you in 2019.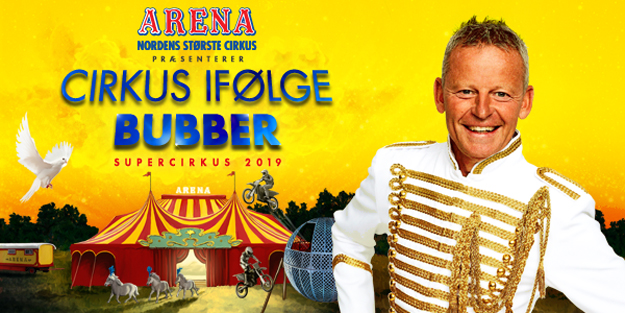 The Danish TV-host Bubber were ringmaster in Circus Arena in the years 1990 to 1998 and again in 2017 in the period when the ringmistress Motor Mille worked in the children theatre performance Circus Summarum.
Duo Costache was at Arena in 2017, where they worked in perch. In the 2019 they will present a brand new aerial act. They are skilled and versatile artists who can perform a variety of different acts. The duo consists of Leonardo Costache and his wife. Leonardo is the nephew of Carmen Rhodin from Swedish Circus Brazil Jack and has performed several times in Circus Brazil Jack, both alone and together with his wife.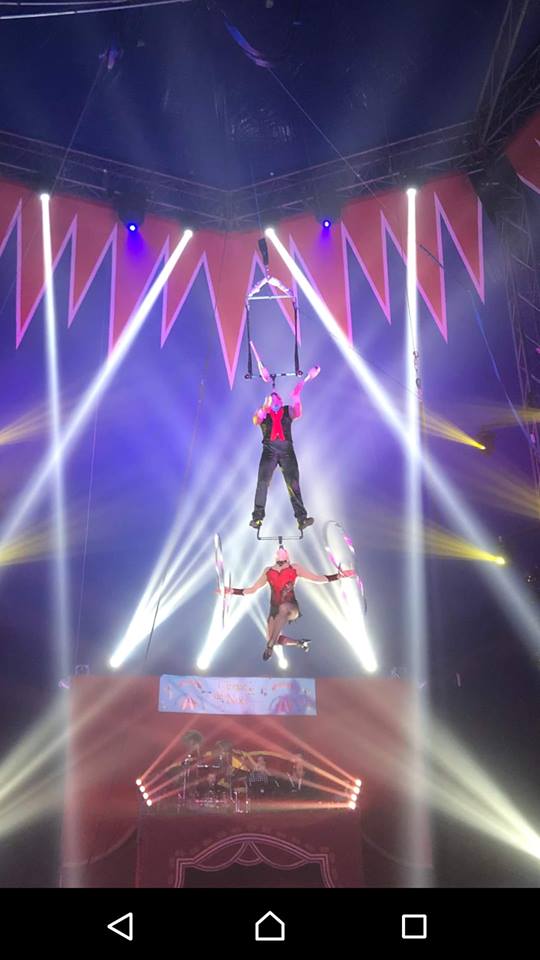 Carmen Rhodin has sent me this photo from Duo Costache's new act
Diorios was with their globe of death first time with Arena in 2002. Most recently they were with Arena in 2015, where there were 7 riders in the globe. Will there be 8 in 2019?
The other artists in the upcoming show are:
Andrejs Fjodorovs, who got his international breakthrough in Danish Circus Arli in 2008. In 2010 he attended the Monte Carlo Circus Festival, where he received several special prizes. Since then he has performed in a number of large international circuses. His latest performance in Scandinavia was at the Swedish Circus Maximum 2015, where there also was a dog in the act.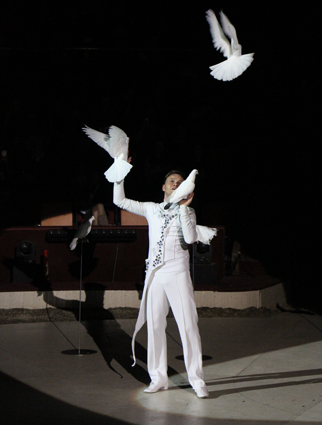 The Lord of the pigeons Andrejs Fjodorovs from Latvia started his international career with Einar Trie in the small Danish Circus Charlie. He got his breakthrough at Danish Circus Arli in 2008, where foreign circus directors saw him and spotted his unique talent. In 2015 he was with the Swedish Circus Maximum. This photo is from the Circus Festival in Budapest in January 2018, where he got a silver medal.
Oleg Izossimov presents a handstand act. An artist of the same name appeared at the open air stage in Copenhagen's Tivoli Gardens in 1996. I am not sure if the artist in the Arena is the same or a younger substitute for the Oleg, the Danes could see 22 years ago. Click here to see a video clip from 2010 with Oleg.
Kolev Sisters (Italian Michelle & Bulgarian Nicole) will present their outstanding hand to hand act. They started their circus career as members of The Flying Wulbers, which also can be seen at Arena in 2019. Click here to see a video clip with Kolev Sisters.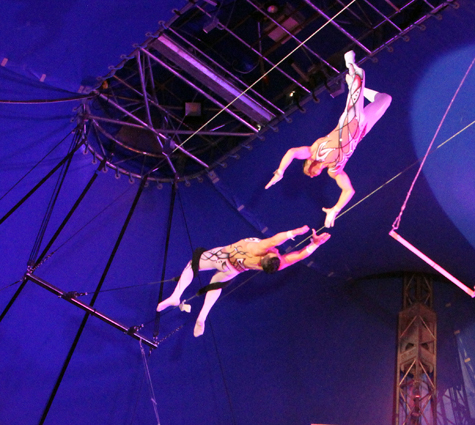 Flying Wulber was in season 2018 at German Circus Charles Knie, where they presented an excellent act in flying trapeze. The act included both a perfect triple with a backward jump, double passage and a dead leap where an artist hangs in a trapeze with his feet and drops down into the net. In 2019 the Danes can meet them in Circus Arena.
Laura Berdino with liberty horses
Exotics from circus Arenas stables, probably presented by Patrick Berdino.
Circus Arena's house clown Jimmy Folco. He was first time at Arena in 1997, and 2019 will be his 13th season at Arena. He had his Danish debut at Cirkus Dannebrog in 1994.
Cirkus Arena has previously considered replacing their now 10 year old tent with a diameter of 45 meters and seating for approx. 1,800 spectators with a new and slightly smaller tent with a diameter of 42 meters. It is rare that the tent is full, and many circus lots are too small to accommodate the present tent. However, it seems that Circus Arena will use the existing tent also in 2019.

12 December 2018
Obituary: Johnny Hart. The excellent English magician and illusionist Johnny Hart passed away on December 10 after long-term illness. He became 75 years old. Many Danes remember him from Benneweis in the Copenhagen Circus building in 1978 and 1990 and before that at Schumann in their last year in the building in 1969. At Benneweis he had Danish Vinnie Barning, who died a year ago, as partner. Johnny Hart lived for several years in Copenhagen, but moved later back to England. He was a sympathetic person, an excellent magician and always helpful and willing to share his knowledge with other magicians.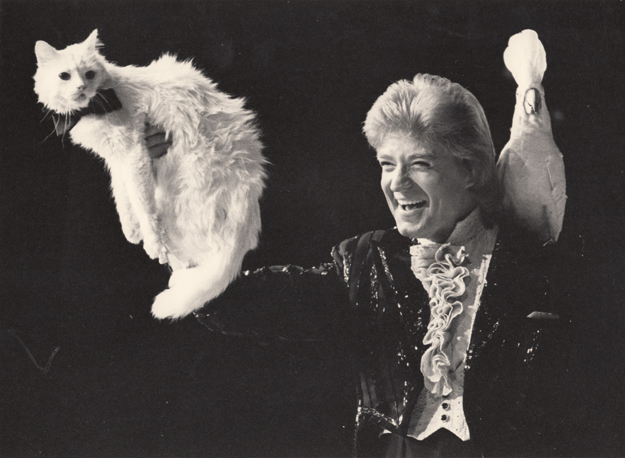 Johnny Hart. Photo from Kenny Quinn's collection
The Danish gentleman thief Kenny Quinn tells that in the years Johnny and Vinnie lived in Copenhagen, he met them both in Magic Circle Denmark and privately, sometime together with other Danish magicians such as Jørgen Samson, Viggo Jahn, Michael Deutsch and others for dining and cozy chat about of magic, circus and showbiz.
"Like many others in the magic world, Johnny Hart, with his English elegant gentleman style, has also been to me a hero, a star and a role model I looked up to. And, like everyone else, I got good help talking with Johnny, who was always helpful and willing to share his knowledge, " Kenny Quinn writes.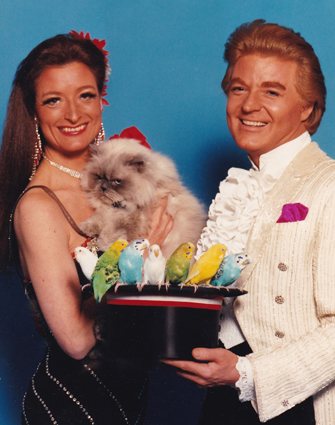 Johnny Hart and Vinnie Barning. Photo from Kenny Quinn's collection
Johnny Møller, who for many years was performance director in the Copenhagen Circus Building writes: "He was an amazing person in every way and a top professional magician. I had the pleasure of working with him in the Circus building. R.I.P. "
"I am sorry to hear that he has passed away! He was excellent," Diana Benneweis writes.
Johnny Hart's life and career are described in the book "Johnny Hart - International Star of Magic", published earlier this year. See www.johnnyhartbook.com

12 December 2018
Circus Trapez 2019. As last year, Circus Trapez publishes every Sunday in Advent names of one or more of the performers in season 2019. On first Sunday in Advent the presented the handstand acrobat Kelly Saabel, who in season 2013 sometimes dubbed for her big sister Alexandra Saabel at Circus Dannebrog. For a couple of later seasons the two sisters worked as a duo, among other places in Swedish Circus Brazil Jack. In 2018 Kelly toured with Norwegian Circus Arnardo.
On the second Sunday in Advent Circus Trapez wrote that the clown of the year will be the only 21-year-old silly and humorous Portuguese clown Michael Cadima. Click here to see a video clip with him.
Furthermore, Circus Trapez wrote that the Saabel family will present their large Siberian Husky dogs as they did at Circus Benneweis in 2011 and at Circus Dannebrog in 2013. The dog act will probably be presented by Kelly Saabel and her smaller sister Jennifer as is was the case this year in Norwegian Circus Arnardo.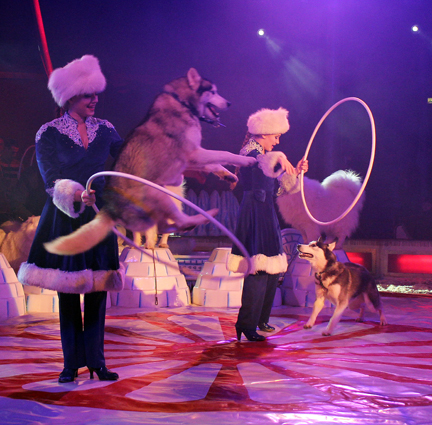 The Saabel family and their dogs. Photo from Cirkus Brazil Jack 2014
The Saabel family's dog act was originally presented by Tiziana and Bernard Saabel who also rode high school. Today, the dog act has been inherited to their children. And the act with horses skipped.

12 December 2018
Circus Mascot Christmas Show in Plantorama 2018. Jacob Boas Leitisstein writes (my translation):
Like last year, Circus Mascot presented a small Christmas show in a number of Plantorama garden centers - both in Jutland and in Zealand and Funen. The performances could be seen in the first two weekends in December.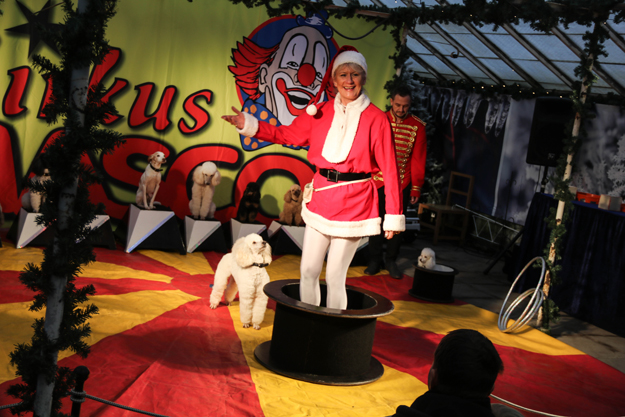 The pixie girl Marianne Deleuran and the dogs. Photo: Jacob Boas Leitisstein
In Plantorama in Kastrup on Amager on Saturday, December 8, a nice number of customers had found their way to the Mascot ring. Mascot presented a nice little performance that featured many of the same numbers as experienced in the autumn performance of Spinderiet in Valby - though the juggler Husik was not included in Plantorama performances. Daniel Deleuran welcomed and ensured that the audience came in a good mood. Then an inflatable version of the clown Gulio came in the ring. Next act was a Christmas edition of Mascot dog show with Marianne Deleuran - of course with a lot of happy and playful dogs. Gulio came back in the ring again, but this time with his daughter Juliya. They did their comic magic numbers. The hula hoop act which Husik used to present, was in this show performed by his mother Tatyana. In the end, Daniel and Gulio showed their clown entrée with crossbow and balloons.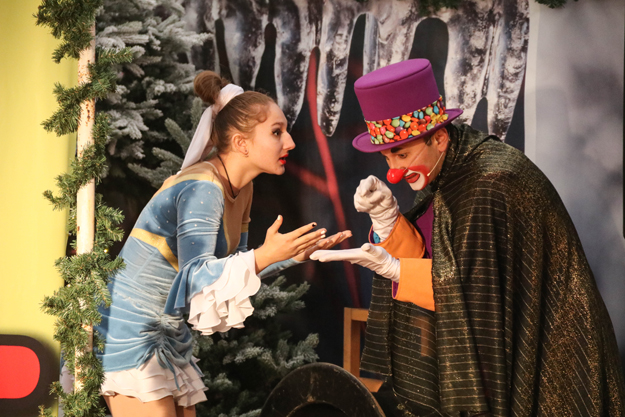 Juliya and Gulio. Photo: Jacob Boas Leitisstein. To see more of Jacob's pictures from the show: Click here

11 December 2018
IT ALL HAPPENS IN PARIS -- always interesting and original shows - now THEATER GAITE-MONTPARNASSE proudly presents a very festive and sympathetic show for kids and their parents - this theatre dates from end of 1700, it is decorated in traditional theatre style, entirely in red and gold, sporting 400 comfortable seats and an excellent PA ADDRESS SYSTEM.
Until Sunday, March 24, 2019 the present the performance COMMENT DEVENIR MAGICIEN EN MOINS DE 57 MINUTES… (In English: How to become a magician in less than 57 minutes ...)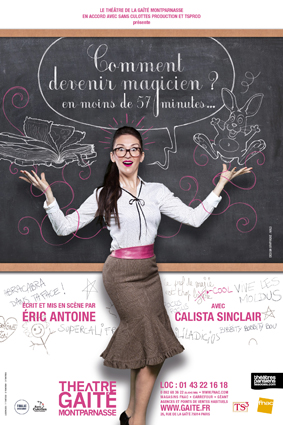 THE LEADING LADY, CALISTA SINCLAIR, AUSTRALIA, invites us to a show performed at a fast pace and appealing tempo, displaying her sparkling temperament, and her dynamic acting, she gets a warm reaction from the audience - thus a well-earned success!!
She gets everyone's sympathy using interaction with the small fry, and in fact this includes the adults as well, she is a confirmed professional dancer and she uses this skill to encourage the kids to take part in the show.
The magic effects she uses are integrated in several dancing stunts - to the joy of the youthful public.
THE GRANDE FINALE is a display of dancing on stage with the children!!
The scenario is created by ERIC ANTOINE, well known in France as a comedian and magic entertainer.
THEATER GAITE-MONTPARNASSE is located at RUE DE LA GAITE, a hot spot for entertainment in Paris.
Absolutely well worth seeing with the entire family!!
Click here to see a video clip from the performance.
Venue: THEATRE GAITE -MONTPARNASSE, 26 rue de la GAITE, 75014 Paris, METRO: MONTPARNASSE, then a few minutes' walk following RUE DE LA GAITE. See more: www.gaite.com
IT ALL HAPPENS IN PARIS!!!
.................................. reported by ZARRO ZARRO.

7 December 2018
I have previously mentioned Baldoni's Christmas Circus and Circus Mascot's performances in a number of Plantorama Garden centers. But December also offers other Christmas shows, etc. Among those are:
Circus Big Christmas Show: Sunday 9 December at 11 and 14 at Broen shopping centre Exnersgade 20, Esbjerg. Free admission. Circus Big writes: « Circus Big is the world's smallest circus with the world's largest names, and with a motto like: World Class entertainment in Subclass, No, Enternainment in World Class »
Christmas in the Old Beach City. Saturday 15 December from 12-16: The square, Løkken. Free admission.
Experience the mood of Christmas in the Old Beach City when the square is filled with stalls, animal visits from Katja Schumann's Circus farm, candy and Christmas tree sales.

1 December 2018
IT ALL HAPPENS IN PARIS -- the ALHAMBRA THEATER proudly presents an excellent children-and-family show: THE MAGICIAN OF COLORS, behind this title we find WILFRIED RICHARD, a sympathetic and clever comedian who, together with his friends treats us to a nicely composed show based on magic effects, certainly classic stunts that all change color, in a clear context and sporting lots of interaction and audience participation.
At my visit my mind made me remember the Danish couple HENRI AND ANN ALAKAZAM - who during lots of seasons, without any doubt - were on the hit-list for all children-and-family entertainers in DENMARK - you can't do it better.
The kids and their parents are all highly enthusiastic and do respond positively and gladly , all the time there is joy and liveliness, the small ones eagerly try to come up on stage and participate, they willingly don the magic costume that WILFRIED RICHARD puts on them and they enjoy participating.
This show, featured by WILFRIED RICHARD AND FRIENDS invites us to a feast rich in colours, magical effects, music on guitar and ukulele, instants of dancing as well as lots of jokes and hilarious happenings.
WILFRIED AND FRIENDS change costumes, they talk merrily to the audience and clearly love to perform - this their enthusiasm is contagious and finds its way out in the saloon.
This entire show has success due to the performers' humour and good mood!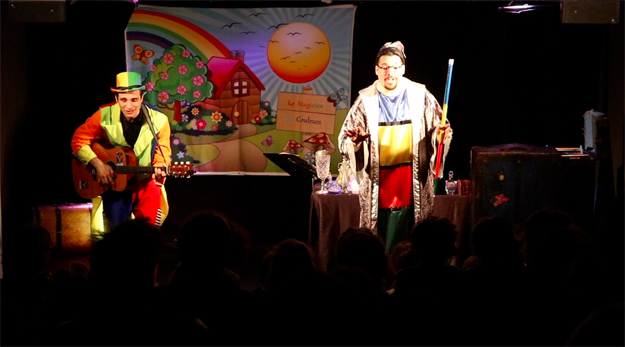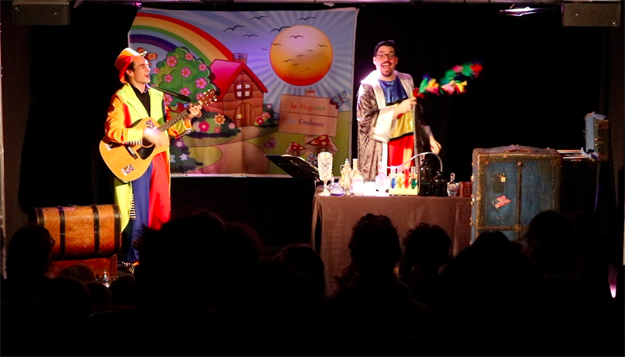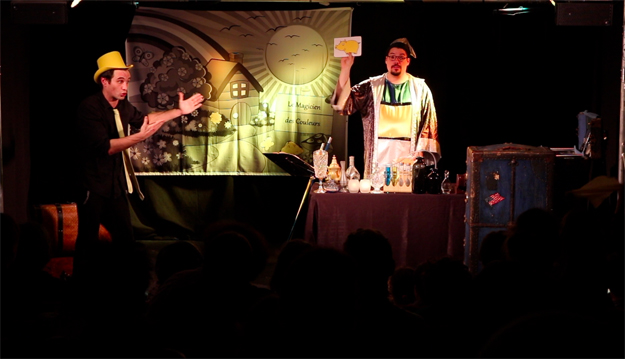 All photos by courtesy of Wilfried Richard. Click here to see a videoclip
The small fry enjoy LIVE ENTERTAINMENT !!
The ALHAMBRA is a relatively new building, located quite near the original one, where immortal artists like MAURICE CHEVALIER, MISTINGUETTE and others had their successes.
The saloon sports comfortable seats, with enough leg-room - and we all say thanks !
The performance can be seen on Sundays and certain other days untol 10 march. See mer : http://www.alhambra-paris.com/magicien-couleurs-lo1165.html
Venue: theatre ALHAMBRA, 21 rue YVES TOUDIC, 75010 PARIS. Metro: Republique.
IT ALL HAPPENS IN PARIS !!!
...................................... reported by ZARRO ZARRO.

30 November 2018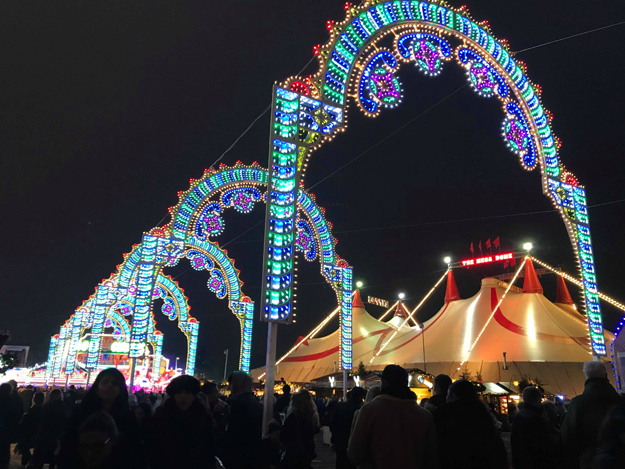 Jessica Caveagna has sent me these photos from Cirque Berserk in Winter Wonderland in Hyde Park, London. As previously mentioned, she and her boyfriend, the well-known Danish magician and illusionist Kim Kenneth, participate in the performances.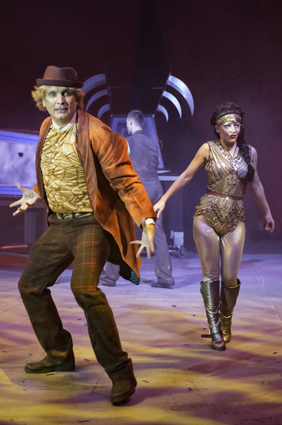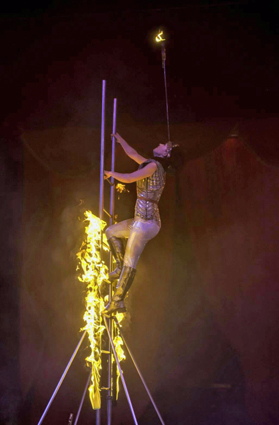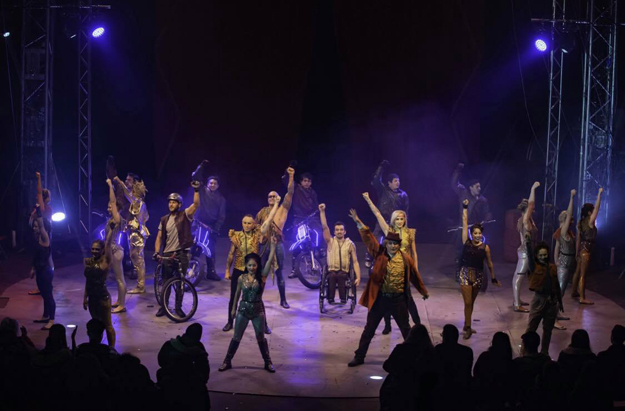 From the grand finale in Cirque Berserk. Jessica and Kim are seen in the foreground.

26 November 2018
Danish Circus Trapez in cooperation with Russian Rosgocirk. During the VII St. Petersburg International Cultural Forum Rosgocirk concluded a number of agreements with foreign companies, among those Danish Circus Trapez.
This will further expand the international relations of Rosgosirk, whose artists last year toured in 27 countries all over the world. Federal state-owned enterprise "Rosgocirk" claims to be the largest circus company, not only in Europe but also in the world. It has 36 stationary circuses and six tents across all Russia, which employs about 4.5 thousand employees.

25 November 2018
Adventure Circus at Christmas time in Sundsvall (Sweden). Cirkus Elvira produces a family performance with premiere on December 26th. Performances lasting approx. 60 minutes until 13 January at Svea Theater in Sundsvall.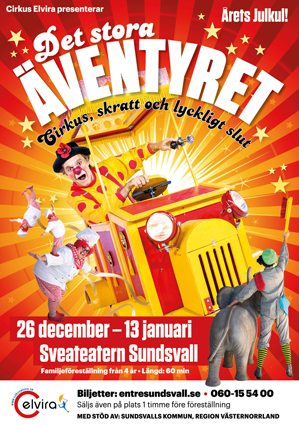 The performers are among others
The clown Daff-Daff aka Thomas Jerbo Circus Elvira
Rebecca Seward from Sweden
Tuk Frederiksen from Denmark. He is educated at AFUK and has, among other things, performed with his partner Sofie under the name Tuk & Sofie. In the Sundswall performance, however, he appears to be alone.
Lalla la Cour and Eivind Øverland from Denmark. Both graduated from in June 2017 from AMoC in Copenhagen. At the graduation ceremony they performed in double trapeze.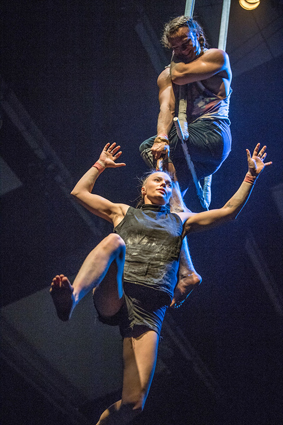 Lalla la Cour and Eivind Øverland at AmoC's graduation show in 2017. Photo: Rud Kofoed / Ajour Press
See more at https://entresundsvall.se/arrangemang/det-stora-aventyret/

25 November 2018
IT ALL HAPPENS IN PARIS -- the most and the best of LIVE ENTERTAINMENT -- featured in real theatres, the big and the small ones; FOLIES BERGERE an awesome theatre, inaugurated in 1869, proudly presents FASHION FREAK SHOW, a creation by the world famous high fashion creator JEAN PAUL GAULTIER, who has succeeded in realizing the dreams of his childhood, viz. to sum up his entire artistic career and bring it to FOLIES BERGERE, where all the great stars have performed, JOSEPHINE BAKER, MISTINGUETT, MAURICE CHEVALIER and .... all the others!!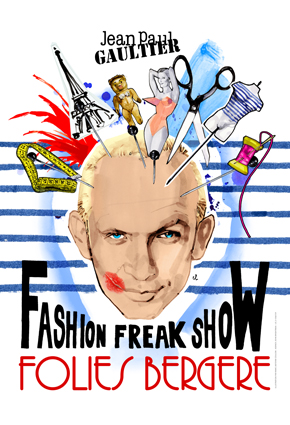 Already at the entrance, we are enthralled by LE FOYER / the corresponding EINLASS area at the circus - it is an aesthetic treat where we see historic costumes and items related to THEATER exposed, every object is beautiful, displayed with taste, and a well trained staff is ready to serve us at the welcome desk.
This show can't readily be described as it is comparable to none.
JEAN PAUL GAULTIER has left his fingerprint everywhere, the stage background is replaced by enormous video-screens that follow the artists' actions, top high tech has been brought into the stage settings, where we enjoy a firework of colors, dancing, high level acrobatics as well as modern music.
A really wonderful show, absolutely worth seeing, a feeling of spiritual composure is the result of this piece of history, as in a cathedral!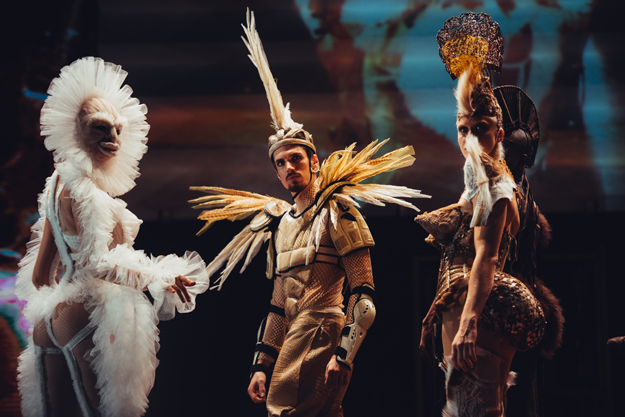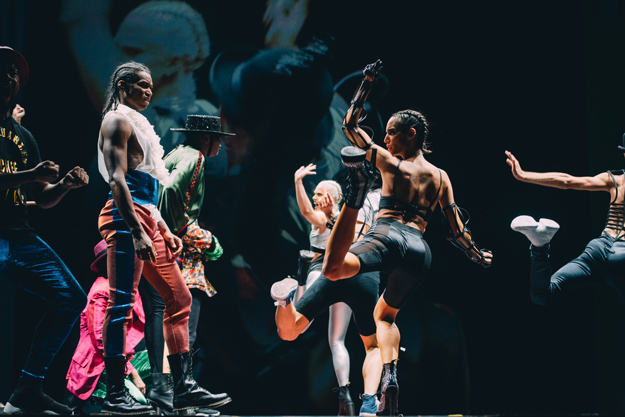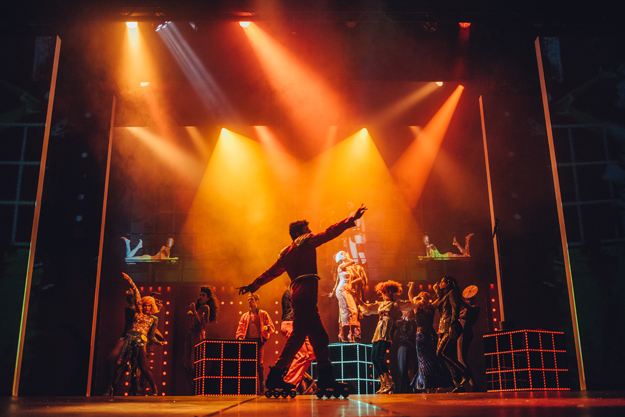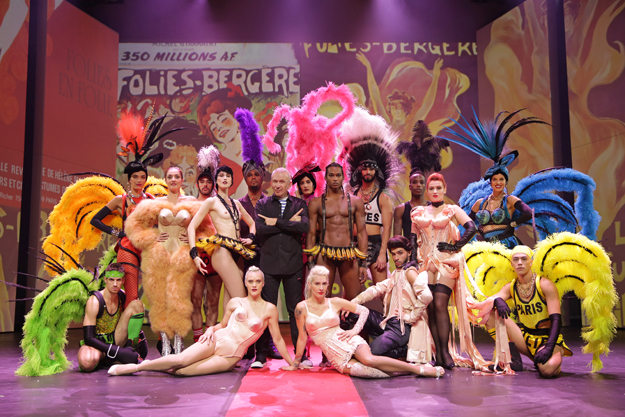 Al photos by courtesy of Pierre Laporte Communication
JEAN PAUL GAULTIER appears on a big screen and delivers us his credo: BEAUTY is not ONE conception - it is utterly pluralistic!!
This show might well be interpreted as an idea of DIVERSITY and TOLERANCE!!
The show can be seen until 10 March 2019. No performances on Mondays. See more: http://jpgfashionfreakshow.com/?lang=en
Venue: FOLIES BERGERE, 32 rue RICHER, 75009 Paris. METRO: GRANDS BOULEVARDS.
IT ALL HAPPENS IN PARIS!!!
.......................................... reported by ZARRO ZARRO.

23 November 2019
Zirkus Nemo 2019. The Danish comedian Søren Østergaard's Zirkus Nemo is a combination of a circus and a comedy show. About season 2019 Zirkus Nemo writes (my translation):
Zirkus Nemo returns next year with nothing less than the world premiere at the big 20th anniversary show. It will be a true firework of a show that in all its splendor offers a wealth of acts which will be remembered as some the highlights in Zirkus Nemo's proud story.
After finishing last year's season with record sales of more than 50,000 tickets, Zirkus director Søren Østergaard is ready to do his very best in order to lift the performance to an unprecedented high level.
"I am looking forward to returning to Horsens (the first city on Nemo's tour), and I know that the Smash Man (one of Søren's comedy characters) also does, even though he is not much to admit it," says Søren Østergaard.
In addition to the Smash Man and other of Søren Østergaard's glorious characters, you will in 2019 among other artists meet the rubber man Captain Frodo, the hand-to-hand balancing Duo Kvas, the tango juggling duo Menno and Emily van Dyke and the Finnish magician Marko Karvo.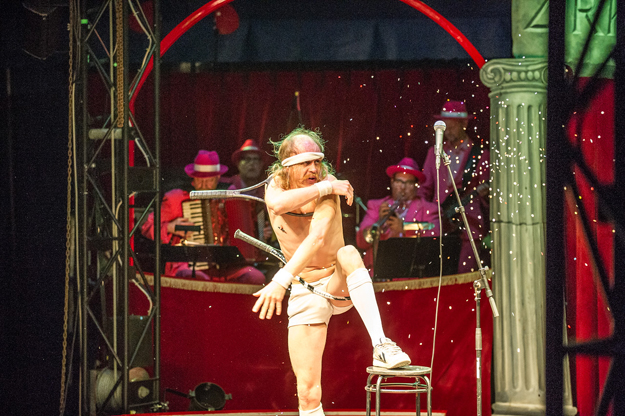 Norwegian Captain Frodo was with Nemo in 2014 and 2016. The latter year he received the prize for the best act of the year from the Danish Circus Award. In 2018 he headed Zirkus Barnly. Photo: Rud Kofoed / Ajour Press (Photo from Nemo 2016)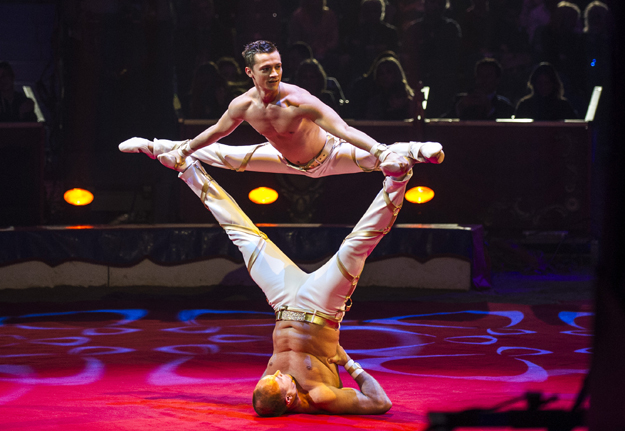 The Ukrainian Duo Kvas are smooth, hard-bodied muscle men with superb balance. They are new in a Danish circus ring. The duo consists of Vladimir Kostenko and Anton Savchenk. They got a bronze clown in Monte Carlo in 2014. Photo: Rud Kofoed / Ajour Press (Photo from Monte Carlo 2014)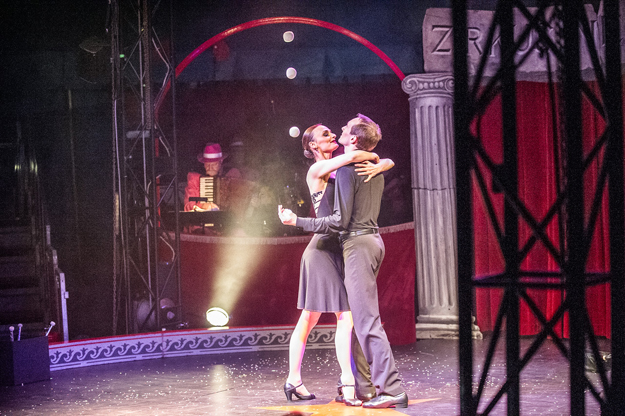 The tango dancing jugglers Menno and Emely van Dyke were with Nemo in 2016. Photo: Rud Kofoed / Ajour Press (Photo from Nemo 2016)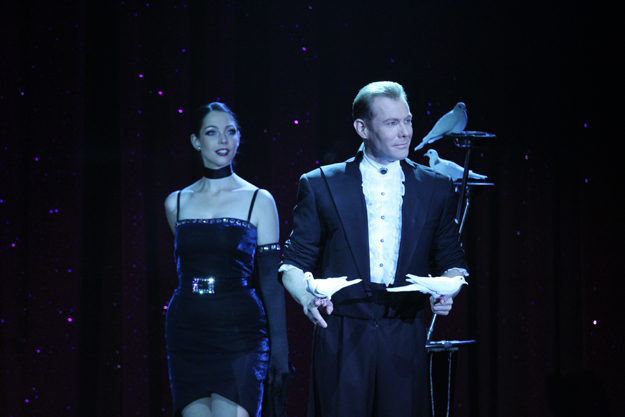 Marko Karvo is a true master of illusion. He conjures pigeons, cockatoos, and exotic parrots out of fluttering scarves. He was with Nemo in 2013 and 2015. Press photo from 2015 from Zirkus Nemo

23 November 2018
Circus Baldoni 2019. Circus Baldoni writes (my translation):
The tour starts on March 23 in Lyngby and lasts until 28 August. The tour list is under preparation. At the beginning of the new year, the tour list will be published, but we will try to maintain cities and times in the same periods as earlier years.
We have re-booked the Danish super illusionist Kim Kenneth for 2019. He comes with brand new magic acts and illusions that have never before has been seen in Denmark. we have also found a hit from our 2015-performace: the phenomenal Aku Brothers from Ethiopia juggling with each other. In addition, there is something as exciting as a real knife thrower, a high speed juggler and and something as exclusive as a Japanese tight wire dancer.
Of course, there will be a lot of humor. This year we have a new clown on the program and he definitely will make a hit and we think he's the funniest clown we ever have seen. Of course, we have a lot more to offer in the coming season. The lion Leonardo (a ventriloquist's doll) is of course also ready with new and old lines.
The new clown is Hungarian Peytchev Plamen Metodiev, also known as Mr. Jumping. He presented his comic trampoline act in Baldoni in 2006, 2011 and 2017. In the coming season he will replace the clown Danilo who has been with Baldoni since 2009 but in the coming season has wanted to try something new.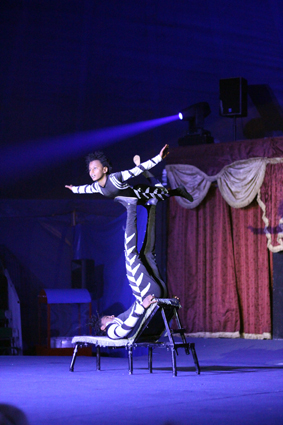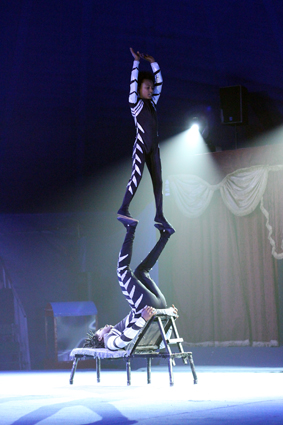 Abu Brothers at Baldoni in 2015. In the printed program René Mønster Baldoni called them Ababa Boys.

22 November 2018
Baldoni's Christmas Circus 2018.
While the German and Dutch Christmas circus circuses typically offers good artists combined with a finger touch of Christmas spirit the essence of Baldoni's Christmas performances has always focused more on Christmas spirit than on top-performing artists.
The target group is children up to 8-9 years with parents or grandparents, while the German and Dutch performances often focus on an adult audience.
As in previous years, there is a kind of story in Baldoni's Christmas performance, especially in the introduction: Santa is called to Greenland. Thus, it is the pixies Nis and Nisseline who, after being cured for pixie flu, must present the performers. And it always happens under pixie names as Mandarina, Cousin Guf and Cousin Gran. Only the special initiates know the correct names of the artists.
In the role of Nisseline, the audience meets again this year, Cindy Binau, who as always is excellent. Her partner as Nis used to be Daniel Dimitrijevic, better known as the clown Danilo. But he has jobs elsewhere and has been replaced by Frederik Vejs. He does it nicely, but does not have the same personal magnetism as Daniel.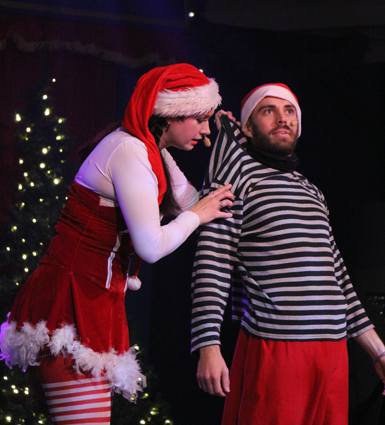 Nisseline and Nis - Cindy Binau and Frederik Vejs. Photo: Ole Simonsen
The replacement also means that the entrées with the Christmas pig Anton (a ventriloquist's doll) have been taken over by René Mønster Baldoni. He uses his slightly moody character from the summer season's entrées with Leonardo instead of Daniel's more charming character as clown and Nis. The lines are, however, almost the same as those used by Daniel.
The first artist act is Jelena Vasiljeva with hula hoop. In the summer season she toured with Cirkus Arli, where she was raised under the tent doom, while she did her act. Something like this is not possible in the arenas and theatres where Baldoni present their Christmas performance.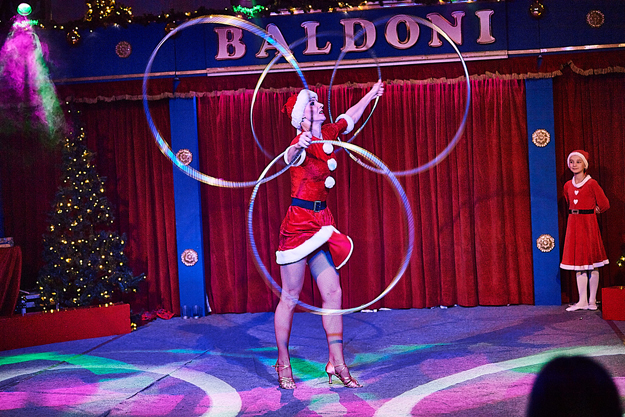 Jelena Vasiljeva. Photo: Rud Kofoed / Ajour Press
After a ventriloquist entrée with René and Anton, the couple Ekaterina Mikhailova and Gendadijs Kantorovics enters the ring with an excellent version of the act where he climbs into a giant balloon. In Denmark especially known from Lars Lottrup's and Mr. Toons entrées.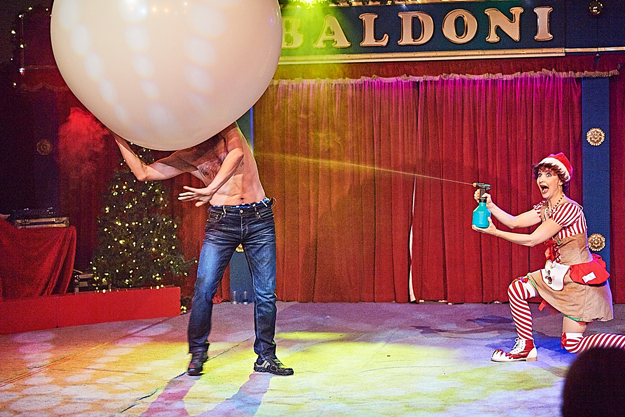 Gendadijs on his way into his giant balloon. Photo: Rud Kofoed / Ajour Press
After a short intermezzo with Nis and Nisseline, Sergei Polupans comes in the ring with the hand balance act on a large bike which he presented in the summer's performance in Circus Arli.
After the break, Santa Claus presents the little pixie girl Apolinarija Kantorovica with a nice contortion act.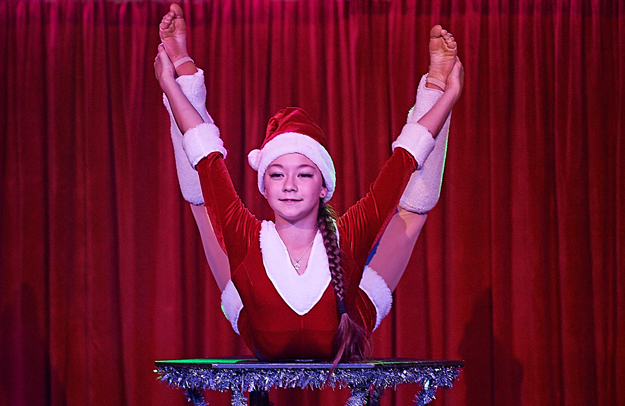 Apolinarija Kantorovica. Photo: Rud Kofoed / Ajour Press
She is replaced by her parents Gendadijs and Ekaterina, who probably uses the artist name Red & Blue. He shows an original clown entrée where he repeatedly dives down behind a curtain and with the speed of lightning is changing headgear. See photo. At the end of the number, it appears that Ektarina has helped him with the fast changes.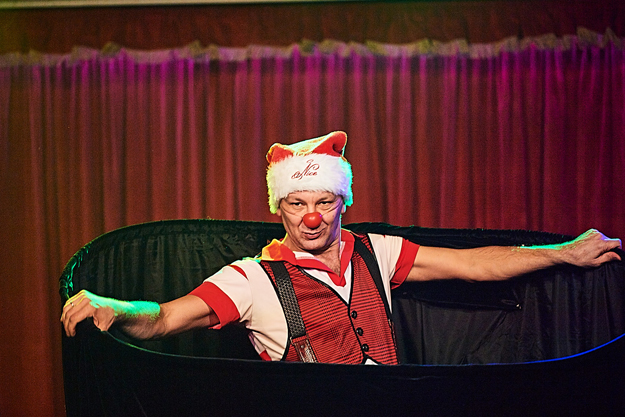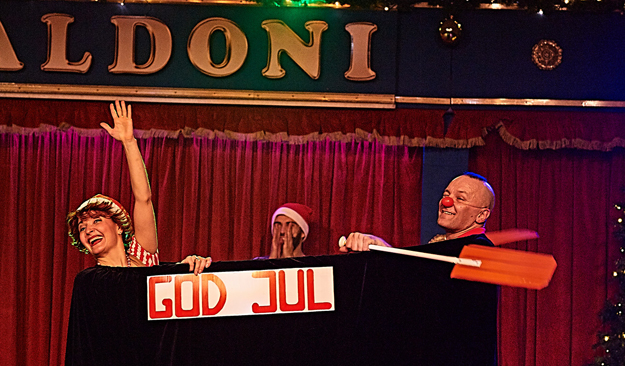 Red and Blue aka Gendadijs Kantorovics and Ekaterina Mikhailova. Photo: Rud Kofoed / Ajour Press
After a short dancing entrée with Nis and Nisseline comes the last act in the performance: acrobatics with a bench with Jelena Vasiljeva and Sergej Polupans. An excellent entrée which the couple not previously has shown in Denmark.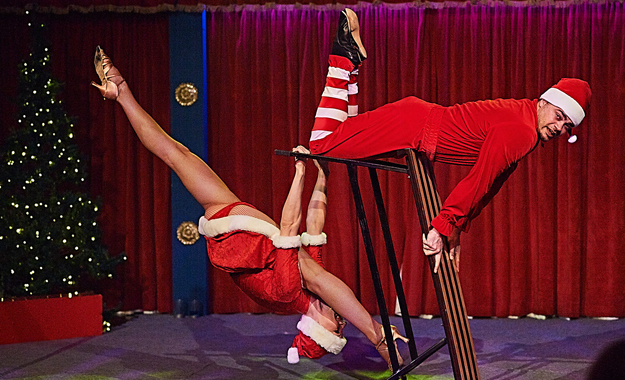 Jelena Vasiljeva and Sergej Polupans. Photo: Rud Kofoed / Ajour Press
Click here to see more photos from the show. And here to read Rud Kofoed's review with photos.

19 November 2018
IT ALL HAPPENS IN PARIS -- all the time there are new initiatives that continue the age-old theater tradition in PARIS that really was born in the churches. During years, CATHERINE DEGAY has written a number of funny sketches which are interpreted on stage by her team of actors, males and females.
They often perform in a somewhat smaller theatre, called THEATRE ALAMBIC - it is intimate and pleasant , the kids and their parents are sitting quite close to the stage, thus being able to follow at a close distance all that is going on - on stage.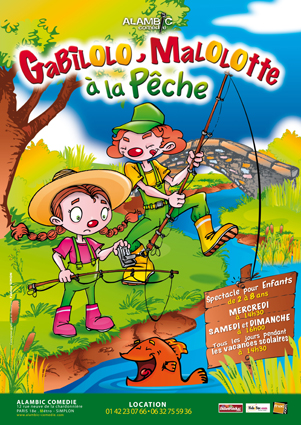 The sketches are featured by 2 actors- characters, viz. the boy GABILOLO and his sister MALOLOTTE , really a clown-duo.
They perform various sketches, dressed in colorful and funny clothes, they feature different hilarious situations, singing, dancing and pulling faces - always connected with the plays they perform: GABILOLO and MALOLOTTE go fishing ... nearly succeeding in being magicians...working on a farm ... this list is not exhaustive ...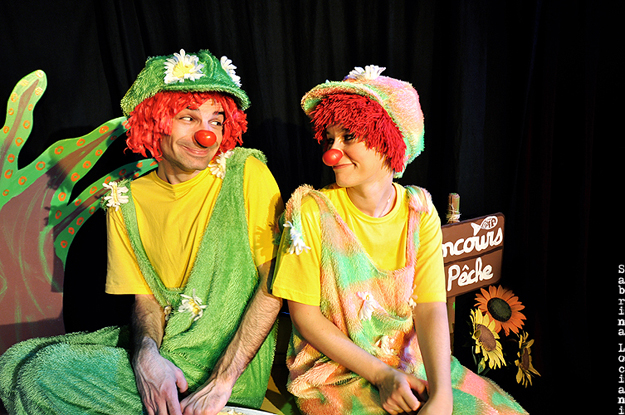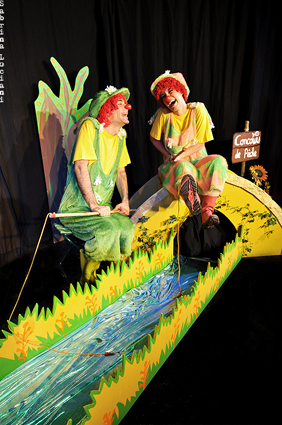 All these situational happenings are cleverly geared to the very young audience - everything ends happily with singing and dancing where the small fry can sing, clap their hands and thus feel that they are part of the show.
Point of interest: the young audience gets the opportunity seeing that amusing entertainment is LIVE and not necessary based on elektronic games, the children are the audience of tomorrow - and they should be prepared to continue the theatre traditions of Paris !!
See more: www.gabilolo.fr
Venue: THEATRE ALAMBIC, 12 rue Neuve de la Chardonniere, 75018 PARIS. Metro: SIMPLON.
IT ALL HAPPENS IN PARIS!!! But also in Nantes where performances from 7 November to 19 December can be seen at THEATRE DE JEANNE, 5, rue des Salorges, every Wednesday at 14:30 and Saturday at 16.
...................................... reported by ZARRO ZARRO.

16 November 2018
Hans Christian Andersen Christmas Market. Today opens Hans Christian Andersen Christmas Market at Nytorv in the central Copenhagen. Is is the fifth year in row that the Arli famliy is the organizer of this market, which until 21 Decemner is open Sunday to Thursday from 11 to 19 and Saturday and Sunday from 11 to 20.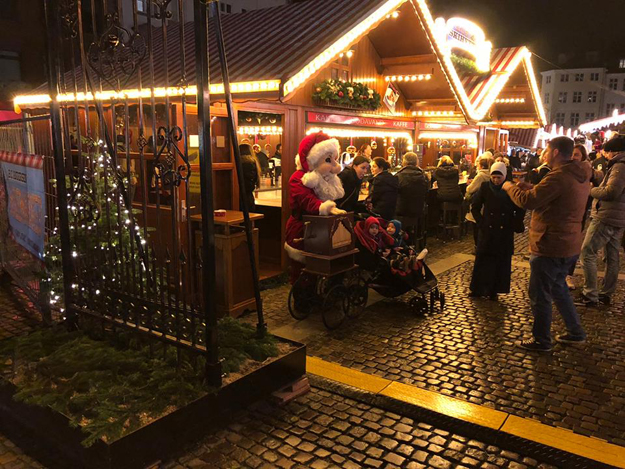 Hans Christian Andersen Christmas Market 2017. By courtesy of the Arli family. Click here to see a video teaser
The Arli family writes :
Come in for a real Christmas party and enjoy the Christmas scent, taste and atmosphere. The Christmas market is tastefully decorated with thousands of lights. Meet Santa and H.C. Andersen, who naturally sets up for photo and maybe a selfie. Lots of fun and exciting Christmas presents in the many Christmas-decorated huts. Donuts, gløgg, cocoa, glühwein, original German sausages from charcoal grill, roasted almonds, specialties from around the world, vikings with mead, and much more. - Something for the entire family.
Santa lives in his cozy house at H.C. Andersen Christmas Market at Nytorv. Here are all children welcome to greet and meet him and tell about their Christmas wishes and maybe take a selfie with him. In Santa Claus you can also cut elfs and H.C. Andersen figures out of paper. Meet Santa in his house Wednesday - Sunday 11 am - 4 pm.
The very best - admission to the Christmas Market is free.
14 November 2018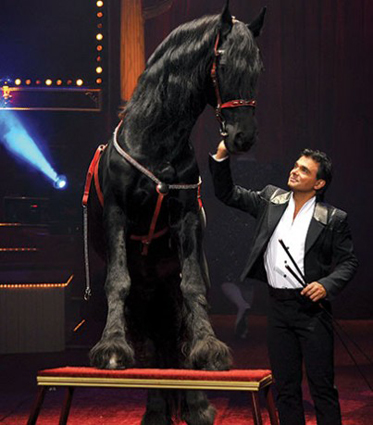 Danish horses in Paris. The horses that Joseph Bouglione is showing at Cirque d'Hiver Bougione are from Danish Circus Arena, so trained by Tim Delbosq. You could read Zarro Zarro's review of the performance on this page 3 November. Photo by courtesy of Cirque d'Hiver Bouglione

13 November 2018
IT ALL HAPPENS IN PARIS -- the CHRISTMAS SEASON is about to begin -- CIRQUE ALEXIS GRUSS proudly presents a unique circus program, they are an old circus family, I have tender memories of ANDRE "DEDE" GRUSS, a wonderful clown, I saw their show in 1973, just after coming back from my 30 months' contract in ZAMBIA, they were playing in a small square in central Paris.
Since then, CIRQUE GRUSS, now under STEPHANE'S direction, has made the public enjoy an entirely new show and on a new theme every year.
This very show is featured in a BIG TOP, elegantly and tastefully decorated, sporting comfortable seats, sufficiently heated in winter, you have the impression to be in a circus building.
Marvellous horse stunts and acts, I can only compare them to the horse acts that the family SCHUMANN treated us to before and during the sixties, mostly in SCANDINAVIA.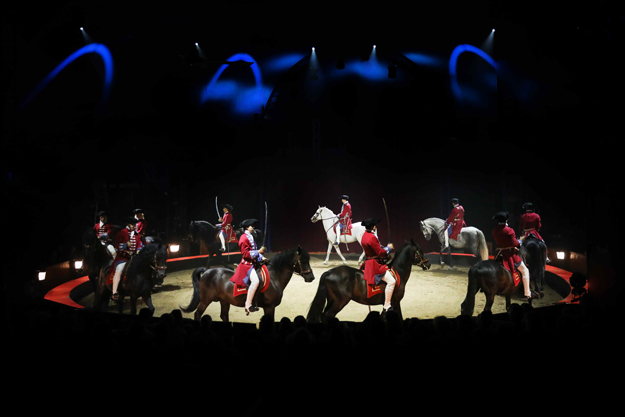 First act in the performance is a military parad anno 1765. The riders are Alexis, Gipsy, Stephan, Firmin, Charles, Alexandre, Louis and Joseph Gruss and Romuald Bruneau. All photos by courtesy of Cirque Alexis Gruss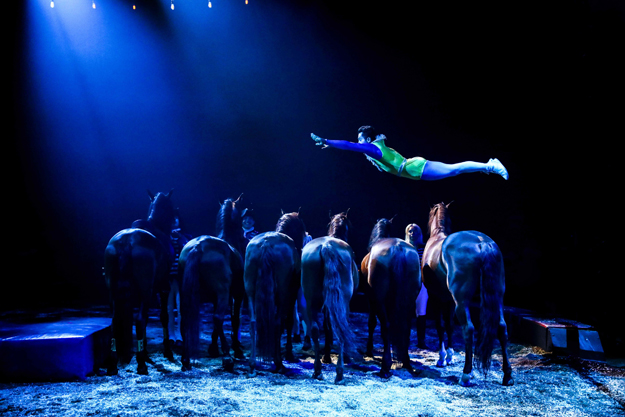 Romuald Bruneau jumping over 6 horses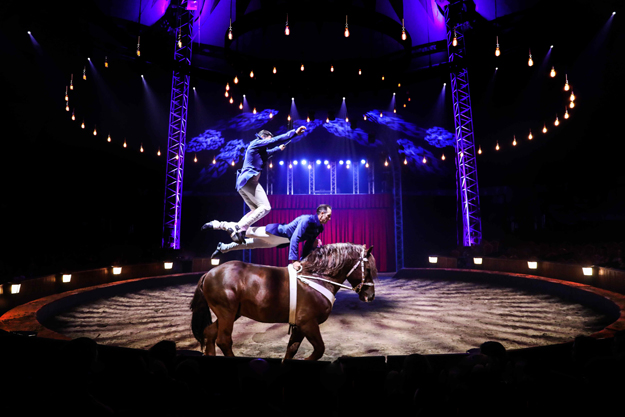 Stephan and Firmin Gruss with trick riding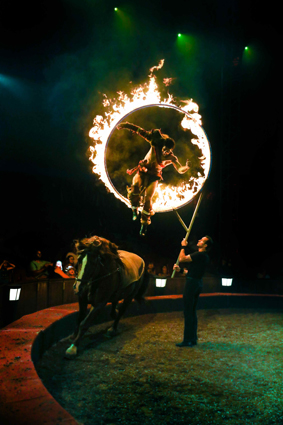 Charles Gruss as Romian gladiator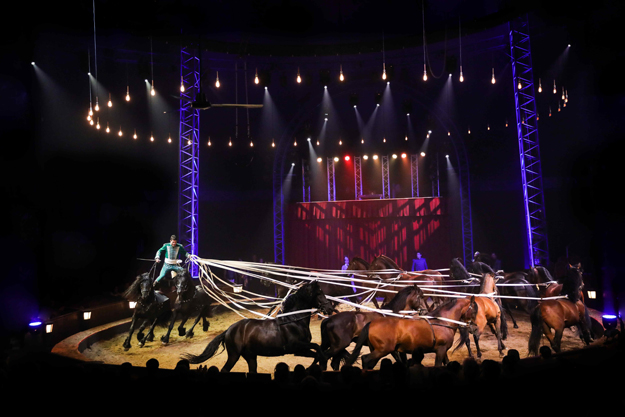 Charles Gruss with the Courier with 17 horses
After intermission, we enjoyed fantastic acrobatics, including a dare-devil tight rope act.
A nice stunt was the entrée that GYPSIE GRUSS, born BOUGLIONE, had with a dog - this allowed the show to have a human feeling, performing a classic dog act, in contrast to the acts that one could think be - impossible!!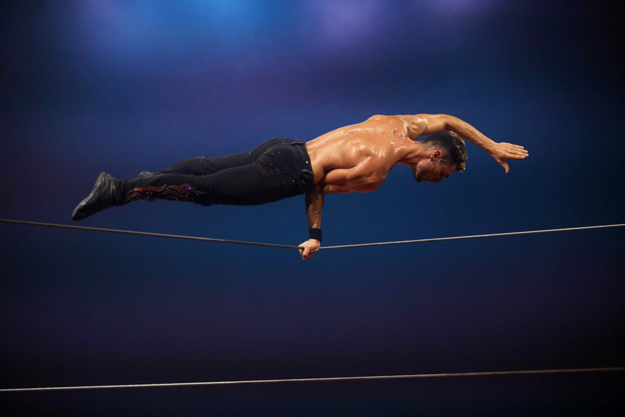 In the second part of the performande you will amongst others meet the tight wire acrobat Geoffrey Berhault.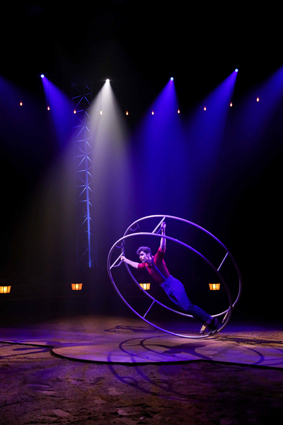 Louis Gruss in German Wheel is also one of the performers in the second part of the performance
The entire family performs in this show - absolutely worth seeing!!
CIRQUE ALEXIS GRUSS are in Paris until 3 March, however not with performances every day. See more https://www.alexis-gruss.com/ (French and English)
Venue: Carrefour des Cascades, BOIS DE BOULOGNE, big park near Metro LA MUETTE, free shuttle bus, or a nice walk, about 20 min.
IT ALL HAPPENS IN PARIS!!!
.............................................. reported by ZARRO ZARRO.

9 November 2018
Kim Kenneth goes Berserk. I have earlier mentioned that the Danish world class magician and illusionist Kim Kenneth and his girlfriend Jessica from 22 November to 6 January participate in the circus performances produced by Martin Burton in London's Winter Wonderland in Hyde Park. It was the intention that the couple should perform in the afternoon performances in Zippos Circus. But Martin Burton has now asked them to be part of the evening performances in Cirque Berserk's brand new show 'Inferno'. «We were happy to say OK – always interesting to try something new,« Kim Kenneth says. Cirque Berserk's Hyde Park shows lasts approximately 45 min. Session times are 18:00, 19:00 and 20:00. Not much time to rest during these 3 hours as Kim shall present several of his illusions and Jessica her sword balancing act!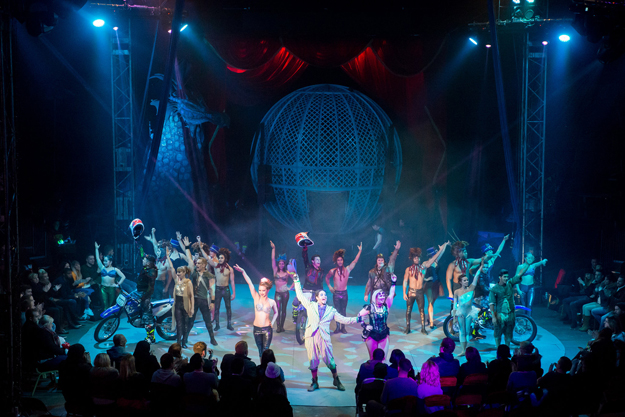 From an earlier year's finale in Cirque Berserk in Hyde Park. Photographer Piet Hein Out. Photo by courtesy of IMG PRESS and Winter Wonderland.
Kim Kenneth might e.g. in the performance act as a kind of gang leader for the 4 motorbikers who in end the show run their bikes in the globe of death. And all 5 of them might run their bikes through the cage with the chained Jessica, one of Kim Kenneth's signature tricks. "But don't expect to see me as a rider in the globe" the Danish world class illusionist says with a smile.
His girlfriend Jessica has promised to send me some photo from the show in Hyde Park.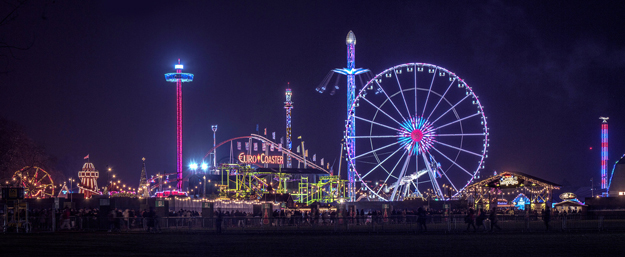 From Winter Wonderland. The performances in Zippos Circus and Cirque Berserk take place in in the largest circus tent in the UK, the MegaDome, which offers theatre-style comfort and a heated environment to keep you warm while you enjoy the show! Photo by courtesy of IMG PRESS and Winter Wonderland.

7 November 2018
Circus in Greenland. Normally, Circus Arena has been the only circus visiting Greenland. But this year, Greenland also gets a visit from an Icelandic circus: Circus Iceland Skinnsemi. About the performance they write (my translation): A circus cabaret show ONLY for adults. This show is not for delicate souls, but is a boundless and phenomenal cult sensation in Iceland. Imagine the circus in a completely new way and put through a blender. It is unpredictable on all plans. There is only one rule in Skinsemi: "What happens in Skinsemi, stays in Skinsemi".
There are performances in the culture house in Nuuk 9th and 10th of November.

5 November 2018
Extra stars in the Copenhagen Circus Building. When Danish Circus Friend's President KimThanning Olsen saw the Wallmans dinner show in the Circus Building on November 2, he was pleasantly surprised to see Benny Schumann on stage with his famous plate spinning act. Benny was in the previous show, which run from September 2017 to June 2018, but not in the new show. Wallmans Creative Director Johan Espeland confirms that for some performances as an additional feature, the audience has been able to see either Benny Schumann with the plates or Duo Creative with the great handstand/ hand-to-hand act they presented at Wallmans in season 2016/17 and for which they in 2017 was nominated to the Danish Circus Awards prize for the best act of the year. However, neither Benny Schumann nor Duo Creative are permeant artist in the new show URBAN NIGHTS.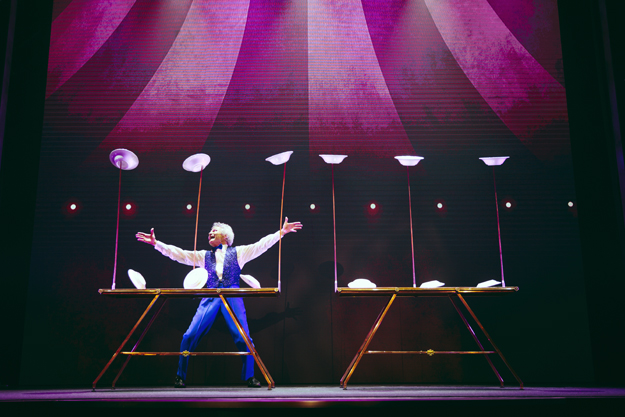 Benny Schumann. Photo by courtesy of Wallmans.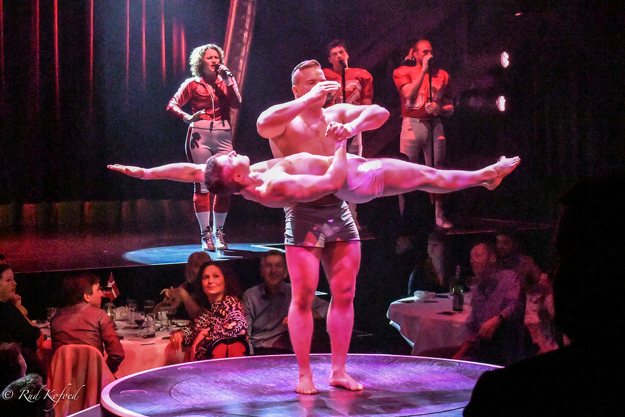 Duo Creative was one of the top acts in season 2016/17 with their handstand / hand-to-hand act. They were also at Wallmans in season 2017/18, where they presented an aerial act. Photo: Rud Kofoed / Ajour Press
The audiences and critically acclaimed Wallmans show URBAN NIGHTS can be seen until June 2019. "Top-class circus artistry," Frederiksborg County's newspaper wrote. «Top level» CPHCulture wrote. "Raw, sexy and super entertaining" the Danish business newspaper Børsen wrote. Check out What's on for session times and ticket ordering. Language in the show is English.

4 November 2018
Charlie of the Year to Johanna Abrahamsson. The Swedish Circus Academy has awarded their annual honor prize to Swedish Johanna Abrahamsson and writes (my translation):
On Saturday November 3, 2018, the Academy handed out the year's CHARLIE 2018 in connection with the Reino day in Uddevalla.
This award has been established by the Academy as evidence of the Circus Academy's appreciation and acknowledgment of the recipients' specific efforts or activities to promote the purposes of the Circus Academy, namely to preserve circus as a widely recognized art form, spread knowledge about and promote the interest in this art form.
This year's Charlie 2018 has been awarded to a person who has proven to be a dedicated circus friend and inspiration source for many young people. She has for a long time really promoted the interest in circus as art form.
The award jury of the Circus Academy has decided to award Johanna Abrahamsson "Charlie of the Year" 2018 for her cultural efforts for the conservation of circus art.
The award consists of a gilded sculpture representing the world-famous clown Charlie Rivel (1896-1983) and was created by sculptor Jan Hedh in Malmö.
The first Charlie of the Year was awarded in 1985 to Käte Bronett from Circus Scott.
The Swedish Circus Academy was established in Stockholm on March 16, 1973, and aims to preserve circus as a widely recognized art form in Sweden.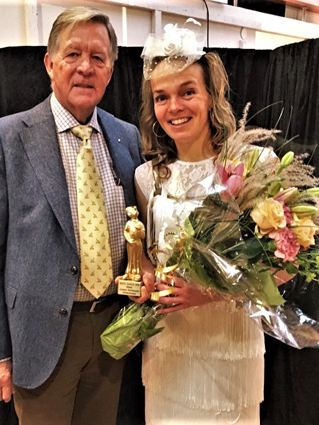 Johanna Abrahamsson photographed together with the Circus Academy's Schreibstallmeister Hans Lindgren

3 November 2018
IT ALL HAPPENS IN PARIS -- the Christmas season takes off in October, the traditional X-mas circuses turn up, now: CIRQUE D'HIVER /= winter circus/ offering a fantastic program in the ancient solid circus building, rue AMELOT, refurbished and splendid , well worth seeing.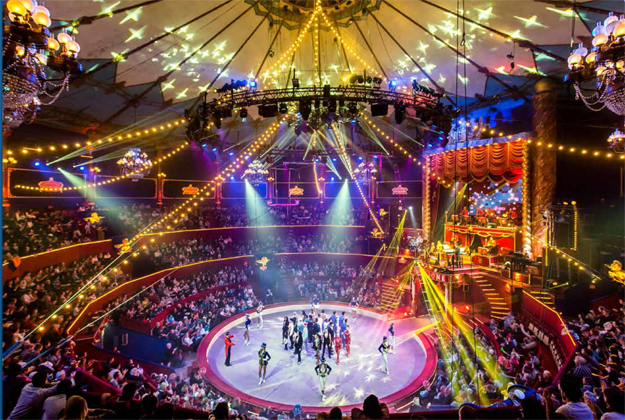 All photos by courtesy of Cirque d'Hiver Bouglione
PIERRE NOUVEAU, maestro , conducts brilliantly his circus band, an interesting detail is that this orchestra has a female violinist, rather seldom seen
Ringmaster MICHEL PALMER conducts the audience thru the program, having short and pertinent comments
JOSEPH BOUGLIONE features 6 beautiful horses
WOLF BROTHERS treat us to a hilariously funny acrobatic act
STEVE AND RYAN perform several entrées that are thoroughly funny
ANDREY ROMANOVSKY is a contortionist that features incredibly body positions outside and inside a high chimney-tube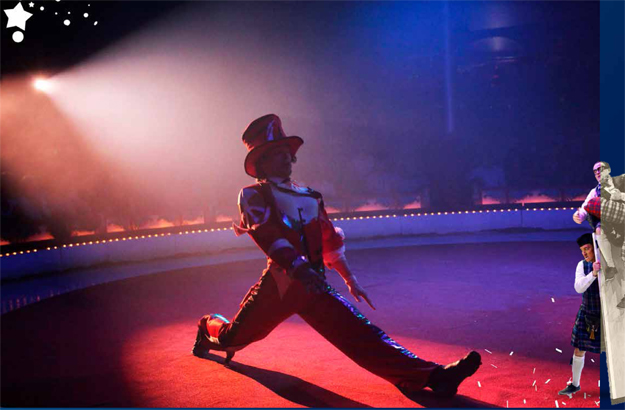 Andrey Romanovsky. The Danes met him in Circus Benneweis in 2014.
LIVIV TODOR performs an original juggling act where - his dog - plays a great part
CHLOE GARDIOL is graceful in aerial ring
DUO FRENESIE display an astonishing skill on the Chinese pole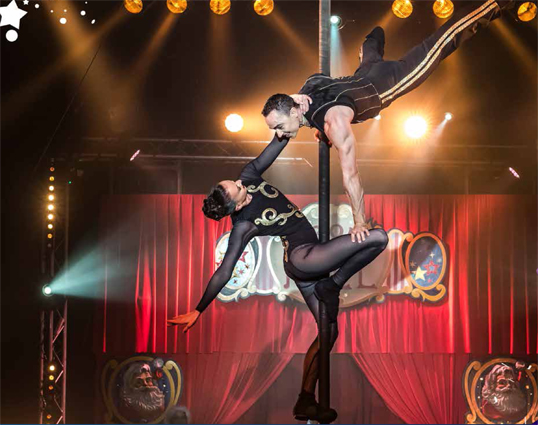 Duo Frenesie
GOLDEN DREAM, a couple in aerial tissue make us remember the act "living golden statues"
REGINA BOUGLIONE features an elegant and appealing dove act
FLYING MENDOZA are second to none, 6 passages without a single miss, the female partners were extraordinarily good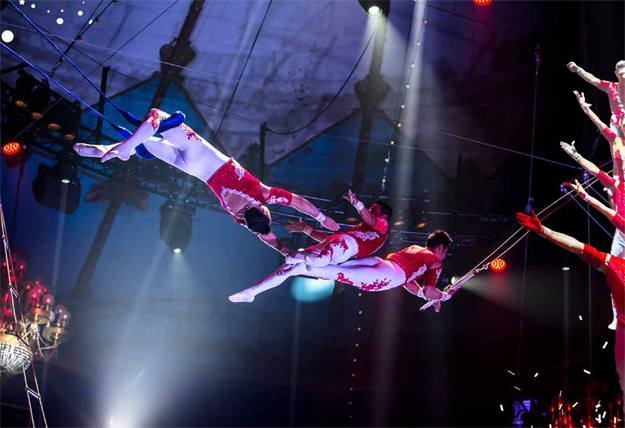 Flying Mendoza
ELVIS ERRANI displayed 3 Indian elephants, 3 dancers from the ballet took part enhancing the good impression.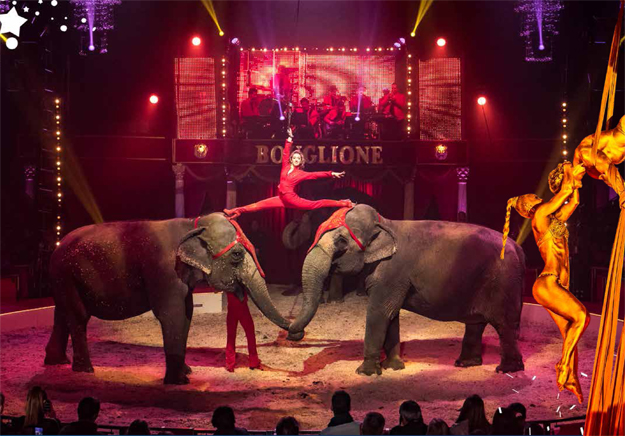 Elvis Errani with 2 of the elephants. The Danes met him in Circus Dannebrog in 2007, 2008, 2009 and 2012
The young juggler TY TOJO was very impressive, managing 7 balls in the air, I never saw the equivalent!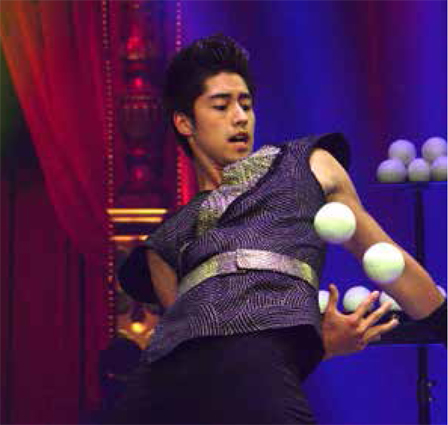 Ty Tojo
The performance can be seen until MARCH 17, 2019. The program is called EXTRA, featured mainly Saturdays and Sundays, as well as certain other dates. See more: www.cirquedhiver.com
Venue: Circus building, rue AMELOT, Paris, Metro: FILLES DE CALVAIRE.
IT ALL HAPPENS IN PARIS!!!
............................................ reported by ZARRO ZARRO.

2 November 2018
Baldoni's Christmas Circus 2018. Faith to tradition Circus Baldoni present Christmas circus in November and December. It is the only Christmas Circus in the Nordic countries.
There is premiere in the Fencing Hall at the Circus Museum in Hvidovre, Copenhagen, on Saturday 17 November at 15. They have also performances in the Fencing Hall on Sunday at 11 & 15. After that they will visit a number of cities on Zealand. You can find tour plan in What's on.
As the pixies Nis and Nisseline you meet Frederik Vejs and Cindy.
Of other artists there are 2 teams from Latvia. One is Ekaterina Mikhailova and Gendadijs Kantorovics, also called Red & Blue, and their daughter Apolinarija Kantorovica,. They have previously been with Baldoni in 2002 and 2003. Gendadijs as part of the troupe Baltic Jugglers/Skipping Baltics and Ekaterina under the artist name Katya with tissue and sword balance.
The others from Latvia are Jelena Vasiljeva and Sergejs Polupans, who this summer toured with Circus Arli. They will do the act with the large bike, hula hoop and an acrobatic number with a bench, which they have not previously presented in Denmark. Circus owner René Mønster Baldoni is ventriloquist with the Christmas pig Anton. Of course Santa is also part of the performance.

2 November 2018
Obituary: Viola Harston Meyer. Viola Harston Meyer passed away on 30 October in an age of 95. From 1948 and more than 20 years ahead she was a member of The Harston Troupe which had great success all over the world with their springboard act which included a fabulous trick where the flyer lands with his feet on one foot of an antipodist (foot juggler) who is lying on his back on his bench (trinka). See photo below.
Viola Meyer was born in Mariager, Denmark. As a young girl she met in Randers, Denmark, the artist Alfred Meyer, who was member of a springboard troupe. Later she moved to Copenhagen, where it was easier to find work than in the Mariager area. There had arisen "sweet music" between her and the five years older Alfred and they kept in touch by writing to each other. When Viola saw an ad after an artist trainee she replied and trained as an artist, however still keeping her regular job. As artist she worked as roller skate acrobat. In 1944 she married Alfred Meyer who together with his brothers Paul and Henry for 4 years had been apprenticed to an Italian springboard troupe. The 3 Meyer brothers formed their own springboard troupe, the Harston troupe, which also has a few other artists as members. The Harston troupe worked among other places in Danish Circus Benneweis in 1945 and 1948.
After season 1948 with Circus Benneweis Viola and her sister-in-law joined the Harston troupe. The troupe went to England, where they for a couple of years as "The Five Harstons" worked at theatres, music halls, etc. In 1949 they went to America, where they spend the next 3-4 years. During the winter seasons they worked in New York where the e.g. presented their act at the famous Waldorff Astoria Hotel and the Palace Theatre at Times Square. During the summer seasons they travelled around the U.S. and appeared e.g. in connection with sporting events. They left the United States because they had a contract with the large Swedish Circus Scott and toured one season with this circus.
Later Harstons went to Australia, where they spent 8 years.
Viola stopped as artist in 1973 to be home in Denmark making it possible for the 7 old Robert to join school.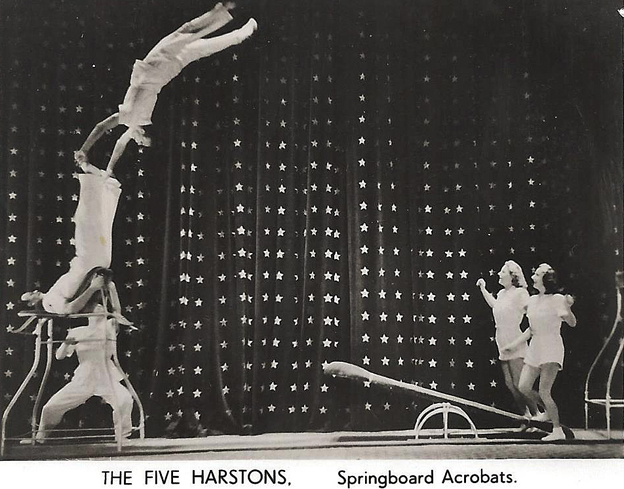 Five Harstons. Photo from London approx. 1949. The flyer lands with his hands on the hands of feet of an antipodist (foot juggler).

1 November 2018
MagicXmas - Christmas show. As in 2018, Robert Bronett, who in the years 2011 to 2015 without commercial success run Swedish Circus Scott, produce a Christmas show called MagicXmas in Stocholm. The show can be seen in the Viktoria Hall in Stockholm from 28 November to 15 December. The performance can be seen both as a dinner show and as a show without dining.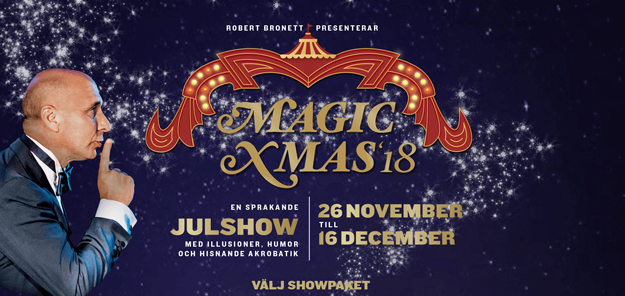 "Let Robert Bronett take you on a magical Christmas show packed with surprises. As a visitor, you step into a thriving Christmas landscape filled with expectations and activities. You enjoy a magical Christmas table and when the lights go out and the show starts, a whole world of circus art, magic, song and dance opens. Robert Bronett presents a variety of artists from all over the world!" is promised in the advertisement.
The names of the performers are not yet disclosed.

Link to news from 2007

Link to news from 2006