'
From Denmark
and other Scandinavian countries
Special feature: It all happens in Paris (when relevant)
A weekly updated internet magazine
Last updated : 27. November 2021
26 November 2021
Arcade Delight vol. 3. DYNAMO Workspace for circus and Performing arts from Odense writes:
A derailed interactive roller skating party and a return visit to the 80s arcade halls with a performance by Svalbard Company and the cinema concept Trash Cinema by Den Røvsmalle Biograf
Arcade Delight is an acidic interactive theater and circus universe created by, and under continuous development of DYNAMO. The venue forms the framework for equal parts performance, concert and installation. A sensory bombardment of sound, light and smell, circus artistry and scenarios which unfold above, below, around and among the audience while wearing roller skates whizzing around the post-apocalyptic amusement park.
Arcade Delight is a long-standing tradition, and this year the baton has been given to the Svalbard Company – an international performance company with world renowned artists.
Svalbard has previously visited DYNAMO Circus Festival and transformed the raw warehouse on Byens Ø into a site-specific cabaret with artistry and live music.
For Arcade Delight, they will team up with the electronic music duo 50øre, which consists of Anders Bo Eriksen and Sven Dam Meinild, who'll deliver a dreamy sound.
Later in the evening, the band YOSHI (UK) goes on with a concert that'll you on your skates, on the dance floor AND on stage, where they invite you to a Tekken4 battle on PS2 controllers.
BRING YOUR OWN WHEELS! (Roller skates, skateboards, walkers, etc.)
AGE From 16 years
DURATION From kl. 17 to the late hours
Link to ticket ordering

26 November 2021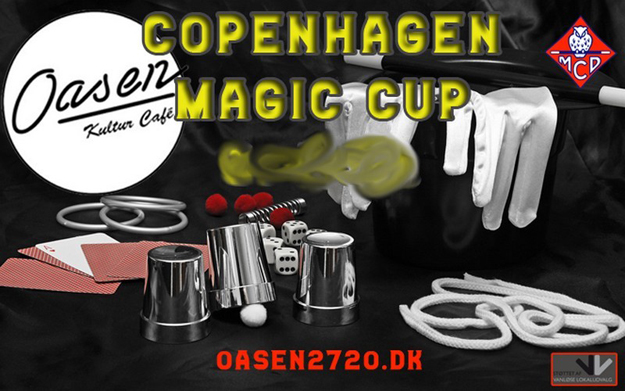 Copenhagen Magic Cup. Magisk Cirkel Danmark (Society of Danish Magicians) has in cooperation with Cafe Oasen, Copenhagen, invited a number of magicians to participate in the competition for the Copenhagen Magic Cup. Here is magic for both adults and children, young and old. There have been shows on September 23, October 21 and November 25. The final show takes place on December 16, 2021. At the show on November 26 you met the Swedish magician Anders Fox and the Danish magicians Mortenn and Anders Lassen. A great show with 3 skilled and very different magicians. Admission was free, but prior ticket reservation was required.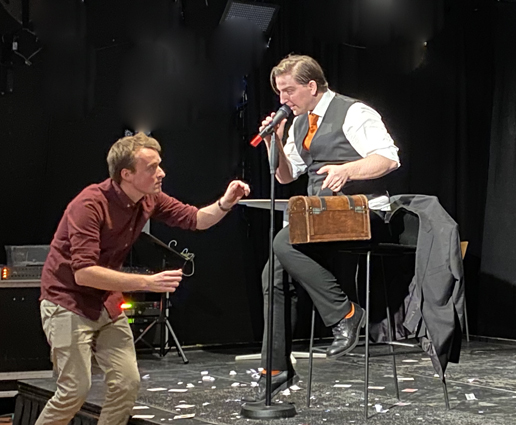 The Swedish magician Anders Fox. To the left the night's host.
Mortenn with won the night's competition and thus advanced to the final on 16 December. Click here to reserve a free ticket to the final.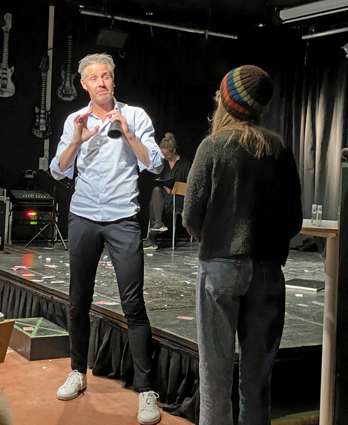 Anders Lassen presented impressive mental magic, where he could guess and predict what 2 from the audiences were thinking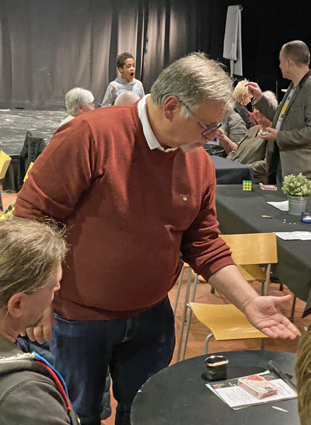 During the break and after the show, there was close-up magic at the tables. Among the performers was veteran magician Joachim Solberg

25 November 2021
Five artists and magicians honored with the Truxa scholarship. The Danish Artist Association writes (my translation):
Magicians and artists are masters at tuning in to audiences and creating magical moments. Five of them have just been honored with the Truxa Memorial Scholarship.
To back the artists pressured by the Corona crisis, the number of scholarships this year has been expanded to five.
The Foundation has awarded scholarships to these remarkable artists and performing artists:
Magician Jesper Grønkjær - conveys magical experiences for all types of audiences, regardless of whether the stage is a family party on Funen or a monastery in Tibet.
Magician Helle Lyngholm - involves the disabled in the magic and puts the audience at the center.
Joker and clown Henrik Rasmussen - works to spread comedy, jokes and engage the audience without words. As the clown Tapé, Henrik is engaging audiences without words.
Handstand artist Signe Anderskov receives Truxa's Memorial Scholarship 2021 for her work in perfecting and communicating her circus special handstand. Signe is both artist, producer and leader of the contemporary circus company Cirkaros.
Magician Rasmus Ebild - uses the language of magic to make the individual spectator feel seen.
The magician and illusionist Truxa had his debut in 1939 and became especially known for his mind-reading act, which he performed with his partner, Gulli, but also blindfolded car driving and newspaper headline predictions attracted attention. Truxa, who for a lifetime was Denmark's great, international magician with more than 100 TV shows, chose to bequeath his money to his colleagues, and therefore the Truxa Foundation can appoint scholarship recipients.

21 November 2021
Circus weekend in Lund, Sweden, 20-21 November. Almost 20 Swedish and two Danish circus friends attended the Swedish Circus Academy's event at the museum Kulturen in Lund.
Initially, the director of the Circus Academy, Janne Näsström, gave a lecture on circus through the ages in Sweden. The first circus performance in Sweden took place in Stockholm in 1787. It was an English circus, run by Peter and Rosalia Price. There were 20 performers performing equestrian tricks, acrobatics and pantomime. Circus Bergman was the first circus to have a Swede as ringmaster and owner. Their first performance was in Landskrona in 1891. In the 1930s, the so-called "frisksportrörelse" (Movement for Sport and Health) was popular in Sweden. Strength training and acrobatics were important elements and several Swedes without a circus background became acrobats and performed in circuses and varieties.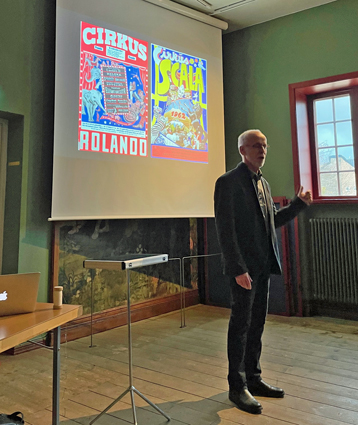 Janne Näsström told about Swedish circuses through the ages. Photo: Martin Lasson Berglund
After the lecture, the guests saw Kulturen's fine special exhibition about the circus. It can be seen until the end of February 2022. Below are some photos from the exhibition.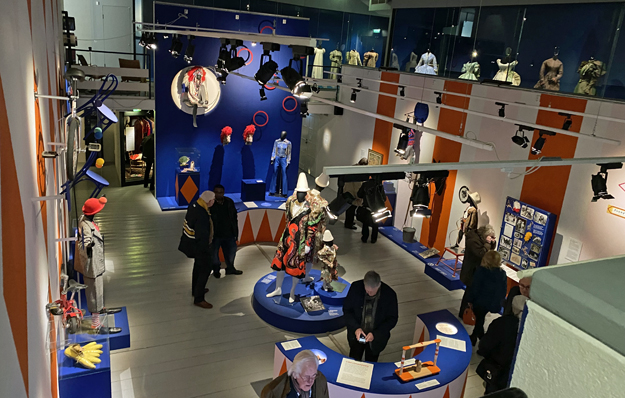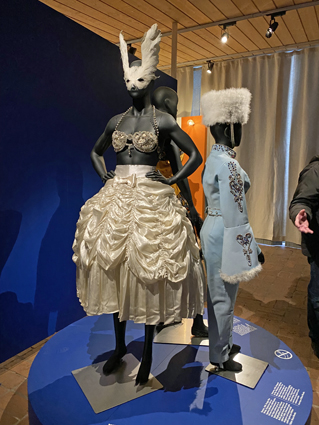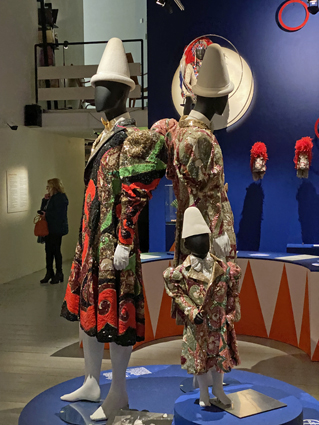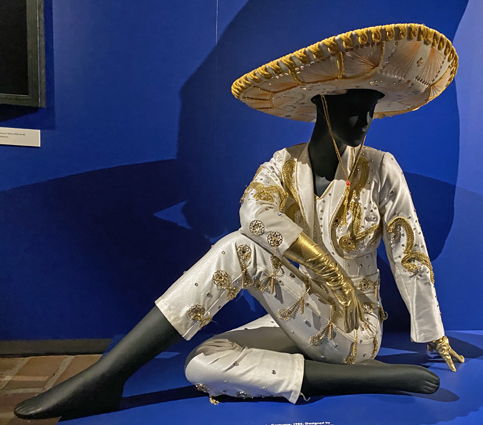 Photos: Ole Simonsen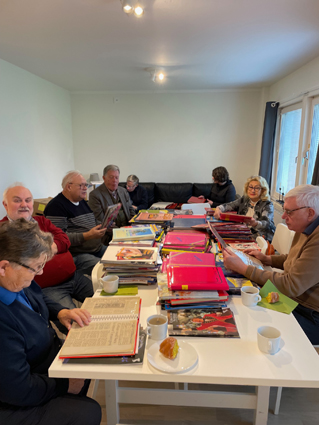 Some of the participants had dinner together Saturday evening and for those who stayed overnight, on Sunday there was the opportunity to look at a large collection of newspaper clippings with mention of circuses in Sweden as well as a large program collection. Photo: Martin Lasson Berglund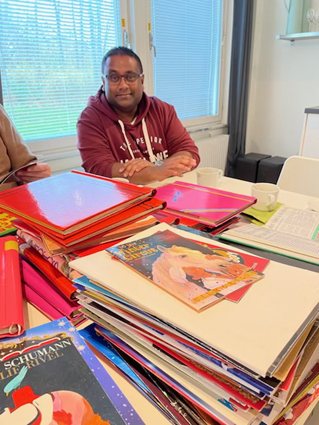 Martin Lasson Berglund, who was in charge of events, deserves great praise for his efforts. The corona was probably to blame for the fact that the number of participants wasn't higher. Photo: Hans Lindgren

20 November 2021
Circus Baldoni. Click here to see Jacob Boas Leitisstein's many good photos from Baldoni's Christmas circus, which were reviewed on this page on 19 November.
The director couple Camilla Frimann & René M. Baldoni write that Circus Baldoni in 2022 celebrates its 20th anniversary as they had their first season in 2002. "Our goal has always been to present the best show ever to you, which forms the foundation of our performance 2022, which will be the strongest show ever".
Season 2022 starts in Hillerød north of Copenhagen on 18 April 2022 and lasts until 7 September. Circus Baldoni will visit pretty much the same cities as in 2021 on Zealand, Lolland, Falster and Bornholm.

19 November 2021
Christmas Circus in Plantorama. As previous years, the garden centre Plantorama has made an agreement with Circus Mascot to perform in Plantorama's centers for the next 3 weekends. In some centres you will meet the clown Gulio and the Santa acrobat Tanya. But in the centres in Sønderborg, Vejle, Tilst, Egå and Hørsholm, customers will be able to see an entire Christmas Circus performance with i.e. Marianne Deleuran's lovely doggies. Take a closer look in What's on.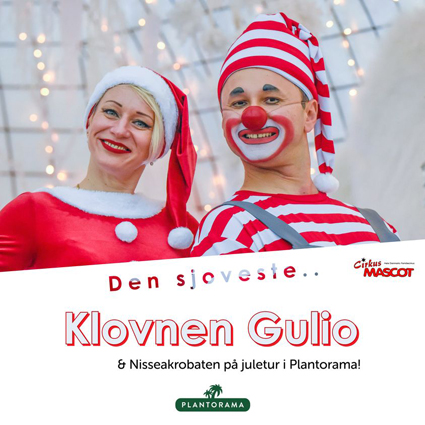 17 November 2021
Baldoni's Christmas Circus 2021. Jacob Boas Leitisstein saw one of the performances in the Fencing Hall at the Circus Museum and writes:
Christmas is just around the corner - and due to this Baldoni's Christmas Circus can once again be found in arenas, theatres and cultural centres on Zealand, Lolland and Falster. True to tradition, there was opening night in the Fencing Hall at the Circus Museum in Hvidovre on Saturday 13 November.
The performance consisted of a mix of old acquaintances and new faces - of course presented by Nisseline, Nissenova and Santa Claus.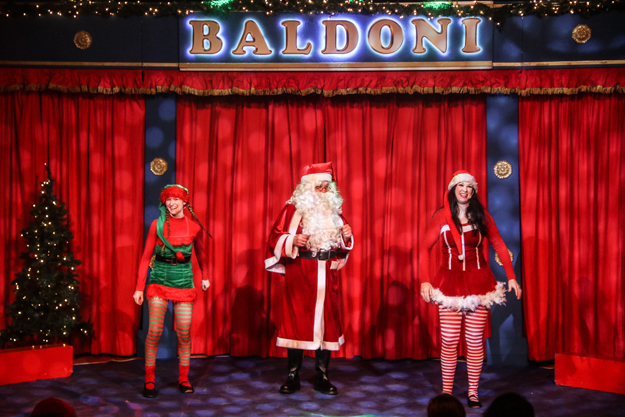 Nissenova, Santa Claus and Nisseline. All photos: Jacob Boas Leitisstein
Two beautiful acrobatic acts in the show were done by Duo Focus. The first act with the Duo Focus was in a classic partner acrobatics on the floor. Handstand, various formations and some dance. In the duo's second act a spinning wheel was used. Again a nice and powerful act.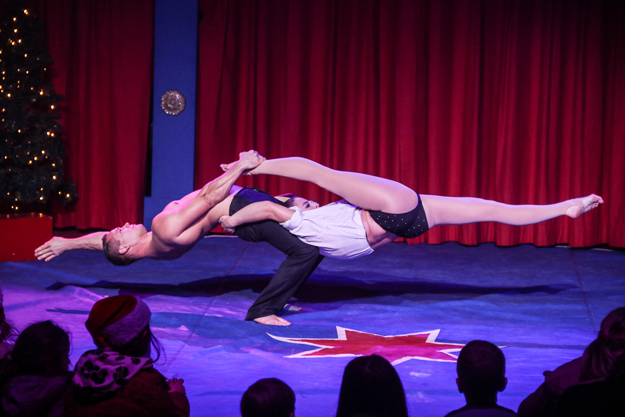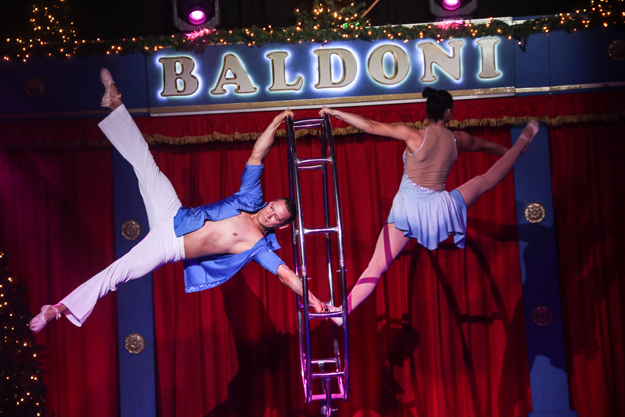 Duo Focus with partner acrobatics and in their spinning wheel, respectively.
If you are a regular guest at Baldoni, you definitely know the Janecek family, who have been in the ring for the last many years. Of course, they also took part in this year's Christmas show, where they presented two act. First, Maria and Eddie presented their acrobatics and balance numbers in quadrant. The same act which you could see in this year's summer show at Baldoni.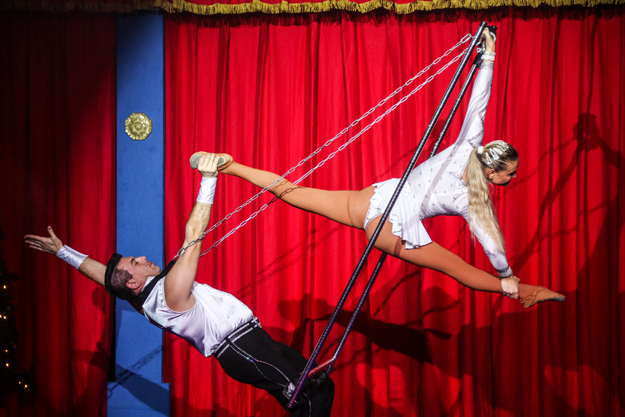 Marie and Eddie Janecek with their quadrant act
As the last act in the show, Eddie came in the ring with the two sons Kaya and Rudi. Here there presented a new knockabout table act.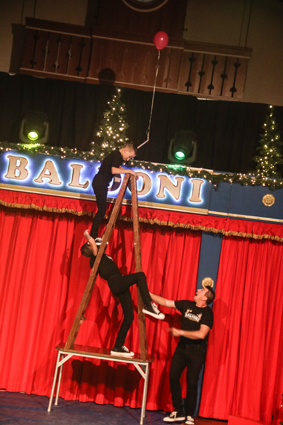 Eddie, Kaya and Rudi Janecek with their table act
Another old acquaintance from Baldoni's ring is Michail Mudrak. First with a juggling entrée with basketballs. In addition, Michail also presented his fine handstand act which ended with the impressive trick of handstand on bricks.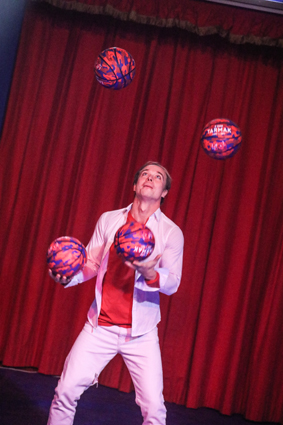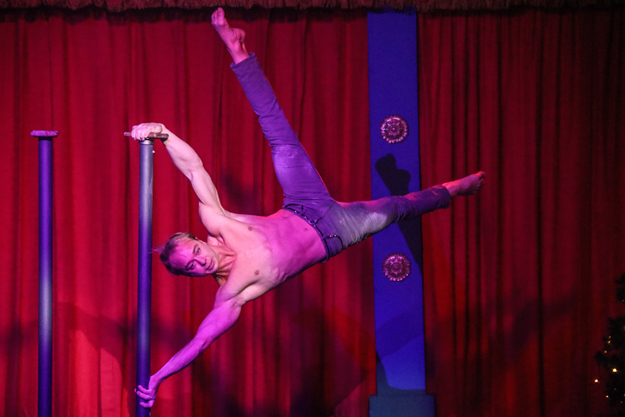 Michail Mudrak
As always, the show was nicely tied together by Nisseline, Nissenova and Santa Claus. Nisseline and Nissenova had a number of small cozy run ins between the artists' act - including a version of "you must not play here". This year, Santa Claus had brought his 12-string guitar with him and contributed to the Christmas mood by playing a number of Christmas songs.
All in all, a good, cozy and classic Baldoni performance. Baldoni's Christmas Circus can be seen on selected days until 19 December. More info in What's on

16 November 2021
Galimatias. Jorgen Lorenzen saw a comedy magic show at the theatre Svalegangen in Aarhus on 11 November at 20. Jorgen writes (my translation):
Christian Langballe is a popular and reputable senior master at Randers Upper Secondary School. He himself refers to his work there as his "human work". But his middle name Wilde reveals that he has other talents and desires than those belonging to a senior master and he is part of a circle of young magicians in East Jutland. They can hardly be called amateur magicians as their skills seem to be on a par with the best in the genre. As magician Christian Langballe use the artist name Christian de Wilde.
Christian spices up his tricks with storytelling. But it never becomes stand up - rather life-philosophical considerations about the strange and subtle course of life. His own life is woven into the narrative, and towards the end of the performance he spoke of his own midlife crisis. But it did not harm the show. On the contrary!
His flow of speech, jokes, puns, linguistic innovations and in general play with language and a lush imagination lead the mind to the late speed talker Johannes Møllehave (a Danish Lutheran priest, author and lecturer). Or perhaps even better: on Thierry, Trifolikom and Tribini – fair barkers who each should have had a prize for their linguistic knowledge and creativity in the spoken language.
He is also musical, which is why he begins with a self-composed song for guitar accompaniment. And he says in the introduction: when you are bitten by the magic bacterium, you never look back!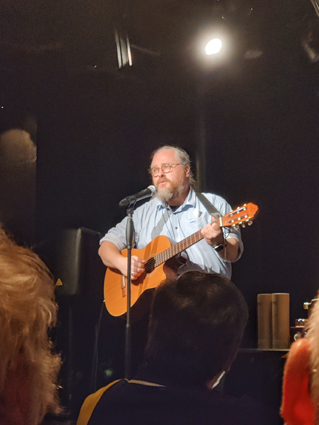 Christian Langballe began with singing to guitar accompaniment. All photos: Wenche Strömsnes / BetterMeetings
Then it goes forward – tearing along. He can do the trick of making a red handkerchief disappear into the blue air. And now he wants to lead the audience back in time. He has a magic machine. He uses wormhole energy in the atomic transformation box (or something like that - the imagination failed nothing!). It did not quite succeed, and smoke, sparks, minor explosions and light discharges led us back to reality and the present, for the wormhole radiation failed.
But it did not matter, because there was magic in the air anyway. Now he borrowed a hundred DKK bill from someone in the theatre. It was beaten and torn to pieces - and the banknote was transferred to an egg, which he broke. And there it was - in the same abused condition as when he curled it a moment ago and tore it in two. And it was wet from lying in the egg white.
And the many tricks came in row. It was also noticed that he had been visiting Pegani's magic shop. (Pegani is the leading Nordic dealer in everything that has to do with magic, juggling, balloons, artists- and santa equipment). And of course there were card tricks too - many! Amazing for the wondering audience. Deft with his fingers, art of seduction and technical knowledge of how to do it. No one knows, everyone can guess, but a magician never reveals his tricks, and the listener often knows that one is not asking about the secrets behind the individual manipulations. It becomes internal to the professional circles how and what to do.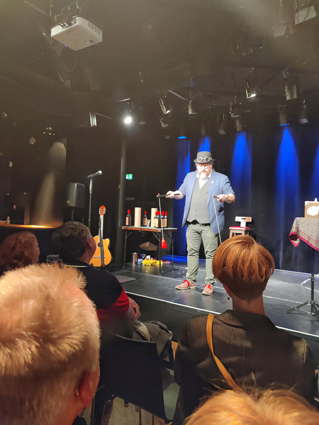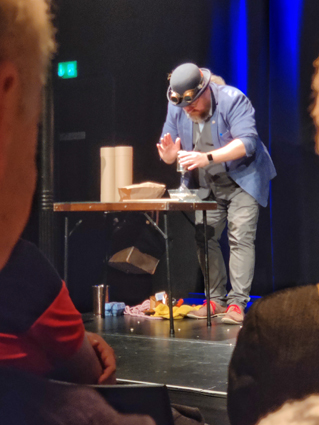 And there he stood in the end of the show - after an hour of varied, exciting, imaginative and enriching entertainment! With a bowler hat that had glasses, so one thought of Motor Mille from DR tv. With a beard, he looked like Soren Huss from the rock band Saybia.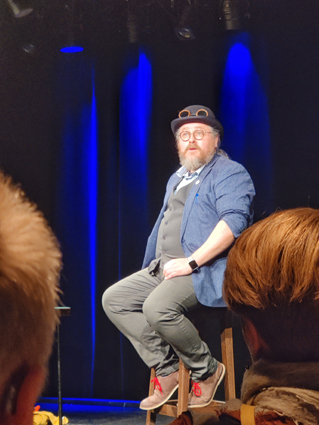 With bowler hat with glasses
And the next morning he was again the venerable senior master Christian Langballe at Randers Upper Secondary School. But he's still Wild (e)!
**
Jorgen Lorenzen himself has a past as a senior master at Randers Upper Secondary School.

14 November 2022
Christmas circus in Sweden. Cirkus Elvira writes (my translation)
Here comes a happy CHRISTMAS CIRCUS greeting!
Finally, we in Circus Elvira get the opportunity to present a new traditional Christmas Circus performance. After an involuntary break due to the corona, we are now taking new steps. We have gathered a skilled group of artists from Sweden, Finland and Germany. Premiere December 26! A total of 10 performances up to and including 2 January at the Concert Theater in Sundsvall. With 7 circus artists and specially written music, it offers a really wonderful Christmas performance for the whole family.
Performing artists:
Clown Daff-Daff (Thomas Jerbo)
Aerial artists Miranda Hedman, Manda Rydman,
Pole: Matilda Wiklund
Magician: Jonathan Seeing
Cyr Wheel / Icarian games: Aino Savolainen from Finland
Handstand / Icarian games: Imogen Huzel from Germany
Music: Kertsin Blomquist
Tickets: entresundsvall.se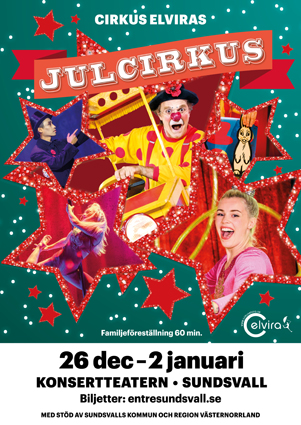 Circus Elvira was founded in 1984 by Ann and Thomas Jerbo. They are both educated at ¨The Commedia School¨ in Copenhagen. Ann is also educated at the Nordic Scenography School in Skellefteå. It is an "independent theater group with head quarter in Sundsvall".

14 November 2021
Kim Kenneth as Pierrot in Tivoli Friheden. In season 2022 season, it is the Danish magician Kim Kenneth who has the part as Pierrot in Tivoli Friheden. Tivoli Friheden is an amusement park located in Aarhus, Denmark. Kim Kenneth replaces Hasse Hjorth, who has worked as Pierrot since 1991. Hasse is also known as magician Ricky with his ventriloquist doll Nancy.
The Danish audience knows first and foremost Kim Kenneth as a magician at Circus Dannebrog, Circus Arena, Circus Baldoni and Circus Benneweis. The latter place he was also ringmaster and staged the very last Benneweis performance in 2015. He has also staged performances for Baldoni and Circusland and outside Denmark's borders performed in many circuses and at varieties. An English reviewer named him the Dane in the fast Lane.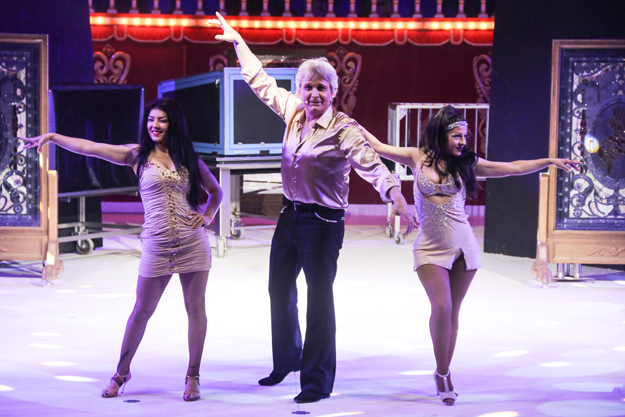 Kim Kenneth with assistants in Circusland summer 2021. Photo: Jacob Boas Leitisstein
But Kim has always had the courage to try something new. What few people know is that he has been working for Semler Group for some time in a project with self-driving buses and drones.
This summer, Kim could be seen in Circusland. But next summer, the Jutland audience will have the pleasure of seeing him. Not in his traditional role as a magician, but as Pierrot. A character which he for sure will give his very own twist. He was also Pierrot in Tivoli Friheden during the autumn holydays in week 42.
Pierrot is a stock character of pantomime and commedia dell'arte. In Denmark Pierrot has for more than 150 years been a fixture at Bakken, the oldest amusement park in the world, where he plays the nitwit talking to and entertaining children, and at Copenhagen's Tivoli Gardens where the Harlequin and Columbine act is performed as a pantomime and ballet. In the Jutland amusement park Tivoli Friheden Pierrot has entertained children and their families since sometime in the 1980'ties.

10 November 2021
Circuses and corona restrictions. With effect from 12 November 2021, coronapas must be shown if persons over 15 years of age want access to venues and events with over 200 spectators or participants indoors and 2,000 spectators or participants outdoors. This applies regardless of whether the persons are seated or standing.
This means that, for example, corona passes must be shown by anyone over the age of 15 who want to see Baldoni's Christmas circus. "This is not a new procedure for us as the situation was the same over the summer. So at Baldoni´s Christmas circus we are 100% geared for it," Circus Baldoni writes.
Also at Wallmans in the Copenhagen Circus Building visitors will have to show a coronapas when arriving to the building.
The coronapas requirement also applies to museums if more than 200 people are present at the same time. Something that probably never occurs in relatively smaller museums like Denmark's two circus museums. The museum in Rold is, as always, closed for the winter.

9 November 2021
Obituray: Karin Koch. The animal trainer Karin Koch passed away on 15 September after a long illness. She was 83 years old. For many years she worked with Lilian Daniels and among other things helped to train polar bears in Sweden in 1956, when Lilian Daniels stayed in Trolle Rhodin's winter quarters in Malmö. Karin Koch also took care of the sea lions and chimpanzees. Later, Karin Koch got other chimpanzees. She and Lilian Daniels bought a farm in Austria where they could have their animals when their circus life ended. In recent years, Karin Koch lived in Errindlev on Lolland.

8 November 2021
Zirkus Nemo Galla Extravaganza. On November 7, Zirkus Nemo opened the doors to a gala extravaganza at the Royal Arena in Copenhagen. Among the spectators was H.M. Queen Margrethe. Søren Østergaard presented a number of his own characters, both live on stage and on the big screen. In addition, Anders Lund Madsen participated. Peter Frödin should also have been present, but had resigned due to influenza. The performing circus artists were Captain Frodo and Duo Solys. The Danish Circus Award named them in 2016 and 2018 respectively the the best act of the year.
In connection with the performance, the audience got a flyer for Zirkus Nemo's 2022 performance. There you can see that Søren Østergaard will be assisted by ommy Kenter, who probably would also have been involved if it had not been necessary to cancel the 2021 performance. Tommy Kenter (born 15 April 1950 in Copenhagen) is a Danish actor and comedian. He had his debut already when he was 11 years old in the movie Circus Buster.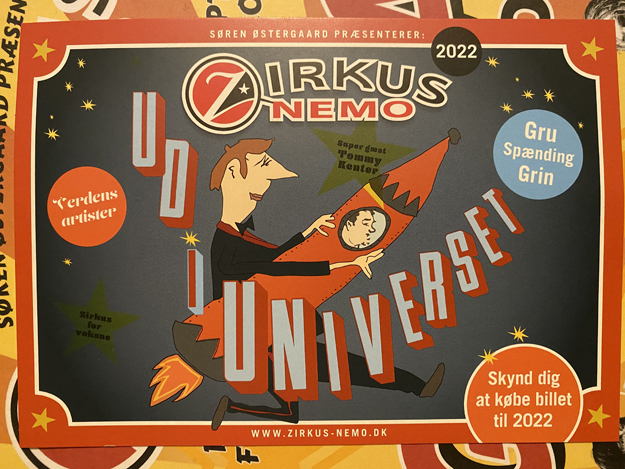 7 November 2021
IT ALL HAPPENS IN PARIS - now after a trying situation, CIRQUE D'HIVER BOUGLIONE proudly presents circus from October to March 2022.
The winter season's performance premiered on October 17 and can be seen until March 6, 2022. In part of the period, there are only performances on Saturdays and Sundays. The performance is called DINGUE and is artistically close to the performance, which premiered in October 2020, but after a few performances had to be canceled due to the corona. Also last year's performance, which was reviewed on this website 22 October 2020, had the title DINGUE = crazy and incredible.
About this year's performance:
It can't be done in a better way,although it is not particularly children-friendly, and practically without animals.
The program:
Adele Fame, aerial act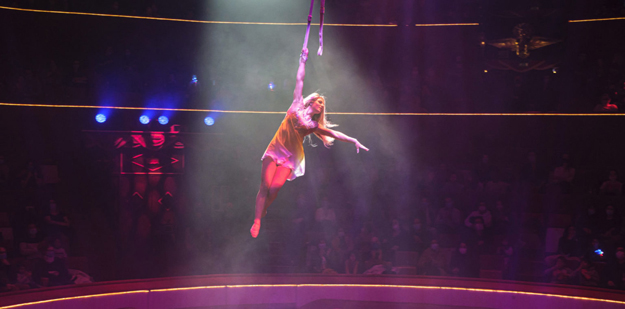 Adele Fame in aerial straps. All photos by courtesy of Cirque d'Hiver Bouglione
François Borie, tempo juggler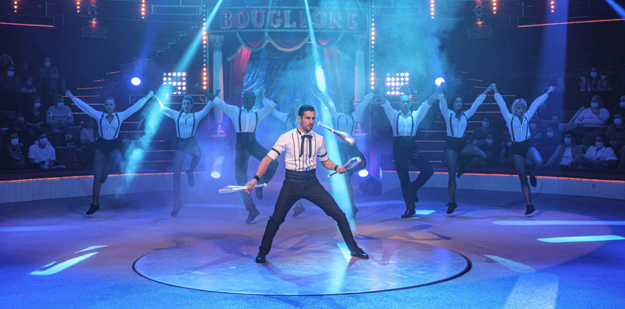 The French juggler François Borie.
Artem Luybanevych and Antonio Vargas, aerial stunts in hanging mast (aerial pole)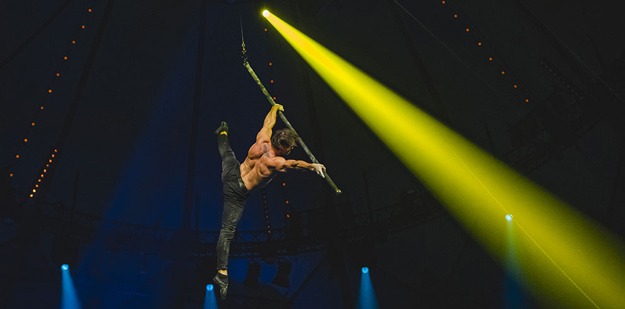 Ukrainian Artem Luybanevych in aerial pole.
Geraldine Philadelphia, hula hoop,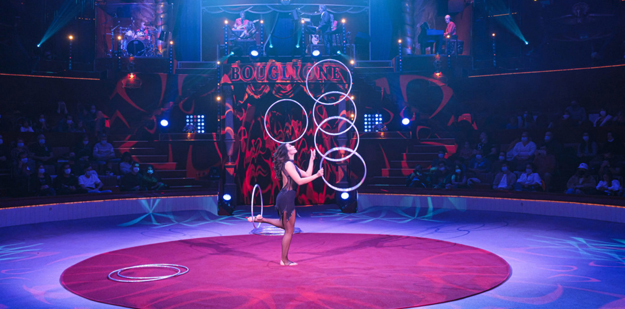 The Danish audience met Geraldine Philadelphia in Zirkus Nemo im 2018. Photo: Dominique Secher
Regina Bouglione, maxi/mini horses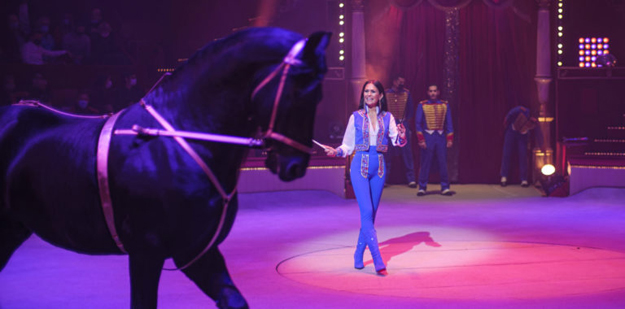 Regina Bouglione. Photo : Dominique Seche
Sergi Buka, shadowgraphy on bike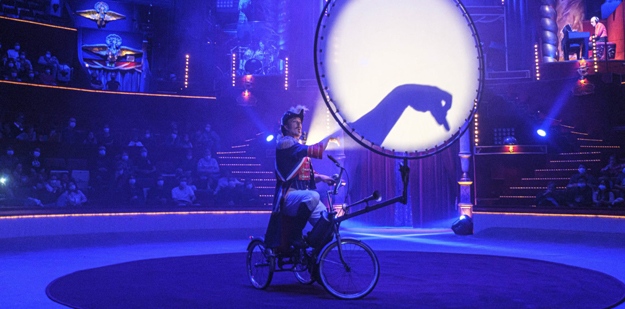 The Spanish illusionist, hand shadow player, circus performer and magic lantern projectionist Sergi Buka. Photo : Dominique Secher
Skating Medini, roller skating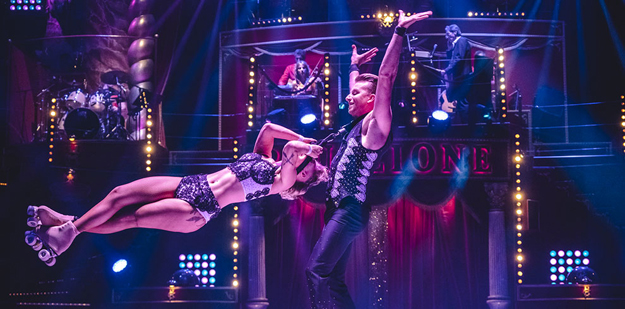 The Sieblings Dylan og Asia Medini perform a high speed roller skating act
Zore Espana, CYR wheel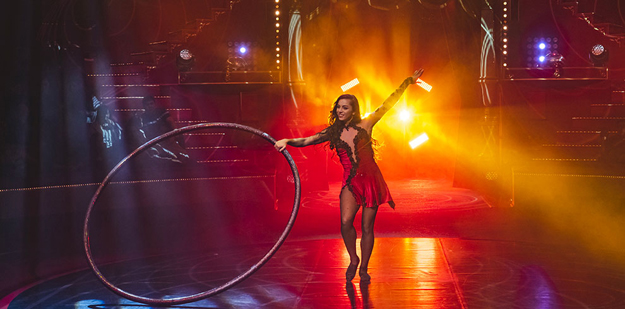 Zore Espana. Previous she was member of the trapeze duo Les Farfardais. Photo: Dominique Secher
Fratelli Caveagna, hand to hand acrobatics (main à main)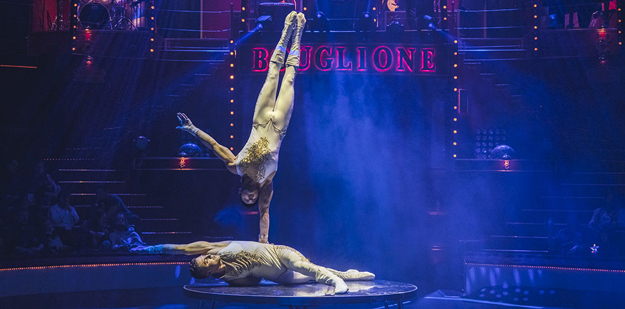 Andrea Caveagna Huesca and Davide Caveagna are Italian
Navas, wheel of death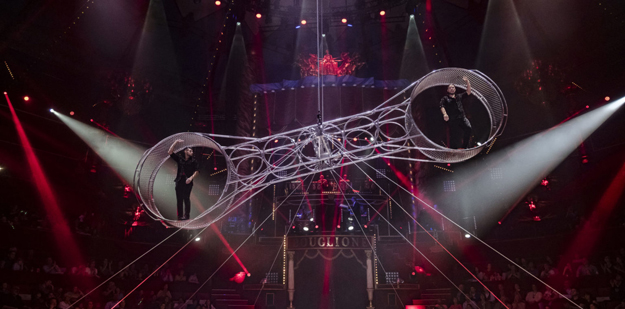 Navas Brothers (Ray and Rony Navas) got in 2013 a silver clown in Monte Carlo for their great act.
Clown TOTTI guides the audience thru the program, he is original, hilarious and excells in playing the trumpet.
The leading and main star is Totti Alexis, worldwide well known, also in the Nordic countries. Son of Toni Alexis he draws his talent from an ancient circus family so he has sawdust in his genes !
Pierre NOUVEAU, bandleader/maestro with an excellent orchestra, whereof a female violinist - rarely seen.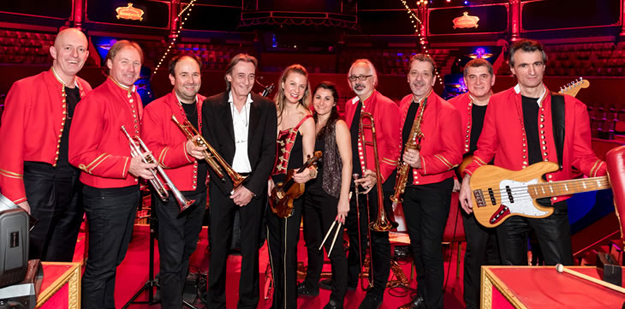 Pierre Nouveau and his large circus band
BOUGLIONE DANCERS do spice up the show , 6 female, 2 male dancers - Bravo !!
Ringmaster MICHEL PALMER , accompanies the show elegantly and with courtesy.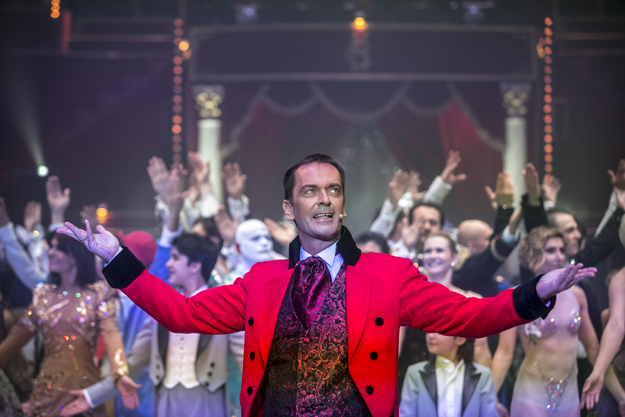 Michel Palmer is ringmaster (in France called Monsieur Loyal)
IT ALL HAPPENS IN PARIS !!!
Venue: the CIRCUS BUILDING 110 rue AMELOT, 75011 PARIS.
Metro: Filles du calvaire/Oberkampf.
See more: www.cirquedhiver.com/en/
Located in the heart of Paris, between the Place de la République and the Place de la Bastille, at the edge of the historical Marais, the Cirque d'Hiver is the world's oldest extant circus building. It is also the world's oldest circus still in activity: It opened its doors in 1852. Its address, at 110 rue Amelot, may seem inconspicuous, but at that precise point, the rue Amelot opens onto the Boulevard du Temple through the small Place Pasdeloup: The Cirque d'Hiver is therefore quite noticeable, practically «on the Boulevards» .Click here to read more about the famous circus building.
...........................................reported by ZARRO ZARRO.

5 November 2021
Baldoni's Christmas Circus 2021. It premieres in the Fencing Hall at the Circus Museum in Hvidovre, Copenhagen, on Saturday 13 November, where they will also be on 14 November. From then on and until 19 December, you can see the performance in a number of arenas on Zealand and Lolland-Falster.
Like last year, it is an artist performance where the performers wear their own costumes. But of course you also meet the elves Nisseline and Nissenova (Cindy Binau and her little sister Debbie) and Santa Claus.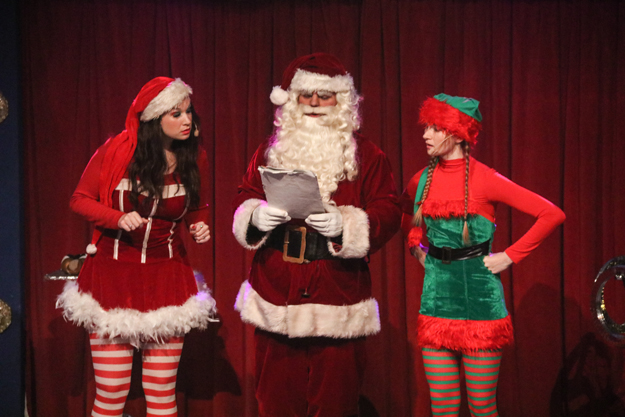 Nisseline (Cindy Binau) and Nissenova (Debbie Binau) with Santa. Photo from 2020, taken by Jacob Boas Leitisstein
The performers are the Janacek family, (table act and quadrant), Michail Mudrak, (juggling and handstand) and a couple from Poland, Duo Focus (hand to hand and spinning wheel).
The versatile Janacek family are old acquaintances in Circus Baldoni, where they first time performed in 2010.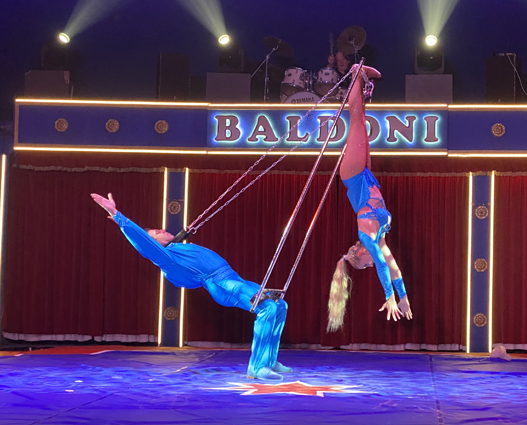 Maria and Eddie Janacek with their quadrant act, which you also could see this year in Baldoni's tent show.
Michail Mudrak is the male half of Duo Hands to Violin, which was with Baldoni in 2016. He was also featured in Baldoni's 2020 performance.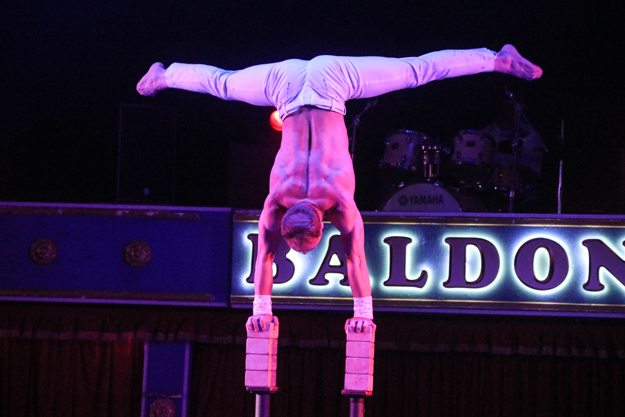 Michail Mudrak with handstand. Photo: Jacob Boas Leitisstein
Duo Focus (Agnieszka Pajewska and Grzegorz Pajewski) have to my knowledge not previously been in Denmark. Click here to read more about them and see video clips from their acts.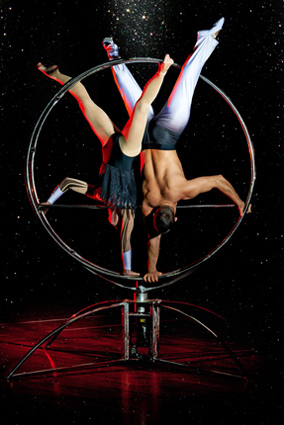 Duo Focus in their spinning wheel

5 November 2021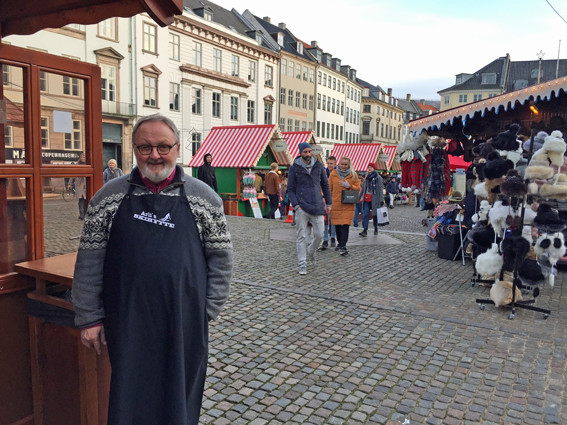 The Arli family are once again in charge of Hans Christian Andersen's Christmas market in Copenhagen. The location is at Nytorv in central Copenhagen. From 12 November to 21 December, the market is open Sunday to Thursday 11 am - 7 pm and Friday + Saturday 11 am - 8 pm. See more at www.julemarked.co
Due to the corona there was no market in 2020.

2 November 2021
Kolding Christmas Circus. Last year, Cirkus Trapez had planned to present a Christmas circus in a tent next to the Castle Lake in Kolding. But the corona meant the plans had to be abandoned.
Hoping for better possibilities this year, they are planning to present Christmas Circus in a heated tent next to the Castle Lake in Kolding from 10 December to 2 January. Before then, they have Christmas performances in some Jutland arenas.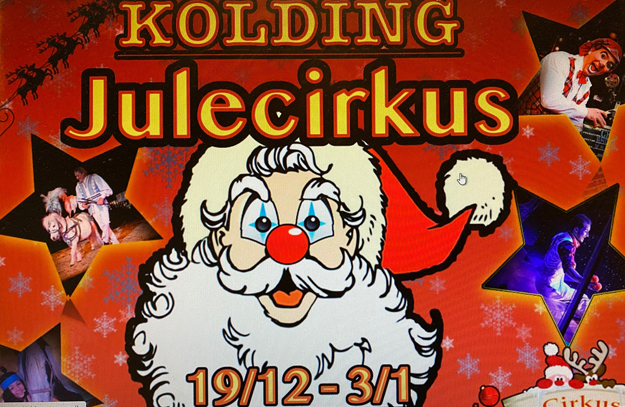 Poster from 2020

2 November 2021
IT ALL HAPPENS IN PARIS - you visit concerts, theatre and circus, following an age old tradition from the time of MOLIERE, now THEATRE GYMNASE MARIE BELL proudly presents THE AUGUSTIN SHOW: CLOWNING AND MAGIC STUNTS.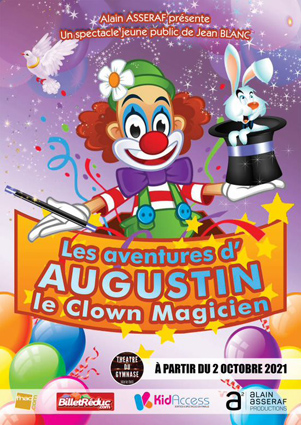 AUGUSTIN wears a colorful costume and his gentle attitude gives him at once the audience's attention and appreciation - a pre-requisite for success! This show is geared to the smaller fry - and their parents !
After some clowning featuring many funny ideas, and which amuse the children well as much as the magic stunts, we were treated to a BUBBLE SHOW, where giant soap bubbles were produced from a recipient containing water, then MAGIC STUNTS : all of them clear enough to make the small ones follow the action: color changing hankies, the soft rope that stiffens, goldfish does appear in a glass of water, a cute little brown rabbit pops up out of a box - and BIG SURPRISE - a PANDA BEAR, i.e. a partner wearing a PANDA outfit enters stage, singing and dancing with all the kids.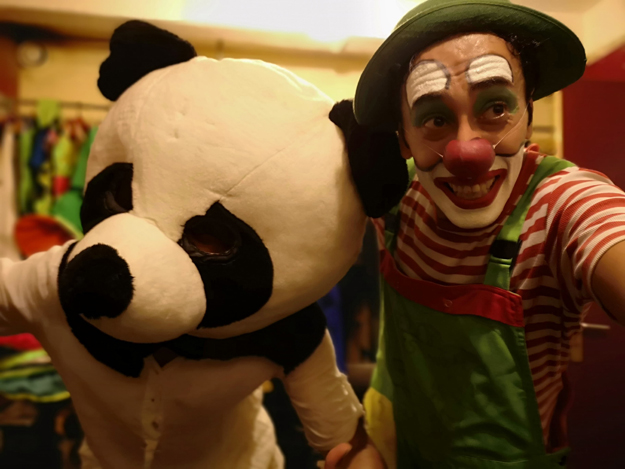 Augustin with the panda. Photo : Jean Blanc
GRANDE FINALE: a photo sequence is proposed: photos are shot by parents of their offspring - a glamourous finish very much appreciated by all. Everybody has a wonderful afternoon, certainly inspiring many to various games and plays later on.
IT ALL HAPPENS IN PARIS!!!
Venue: Theatre GYMNASE MARIE BELL, 38 Boulevard Bonne Nouvelle, 75010 Paris.
Metro: Bonne Nouvelle.
More info : http://theatredugymnase.paris/les-aventures-daugustin-le-clown-magicien/
The theatre is partially handicap-friendly, but the performance is shown at the small stage located in the basement, a super narrow staircase leading down to it, this is a bother even for non-handicapped people, for the handicapped ones, the access is impossible.
The theatre informs honestly about this hurdle.
...................................... reported by ZARRO ZARRO.

28 October 2021
Obituary: George Olsen. The Danish strongman George Olesen has suddenly left us, aged 60. He succumbed to a heart attack at his rural home in the Danish village Roost. His wife for 24 years, Jeanne, tried heart massage, but in vain.
During the nineties he was the strongest man in the world, scoring numerous records in Guinness, as many as 199 of the kind, some still standing.
In 2007 he was hit in a road accident, but this didn't really end his career, in spite of being in 2009, declared unfit for work.
ZARRO ZARRO remembers him from Bellahöj Kraemmermarked (a popular fun fair and jumble sale in Copenhagen) and writes:
BELLAHÖJ KRAEMMERMARKED, a popular spot for jumble sale and entertainment, near COPENHAGEN , where you find good and healthy fun !!
Strongman GEORGE OLESEN performed, featuring his stunts, I was very much impressed, about 25 years ago.
Unfortunately he recently passed away.
I have the best of memories of his show, a performance of stunts, lifting beer barrels with one hand, effects using ropes, chains and a nailbed!
The points of interest were many: the surroundings popular, festive and sympathetic, the atmosphere was pleasant , everything real as in circus, and - to my mind - a number of the male spectators got inspiration to further train their muscles !
Internet has a lot of text and photos.
R.I.P.

27 October 2021
Circuses in Sweden. Corona restrictions have meant that none of the three Swedish circuses came on tour in 2020 and 2021. But hopefully both Circus Brazil Jack, Circus Olympia and Circus Rhodin will be on the roads in 2022.
There are also plans to let Circus Scott revive with performances at Gärdet in Stockholm in the spring of 2022. Circus Scott has not toured since 2015. However, the owner Robert Bronett tried his luck in Stockholm for a few years with a Christmas show called MagicXmas.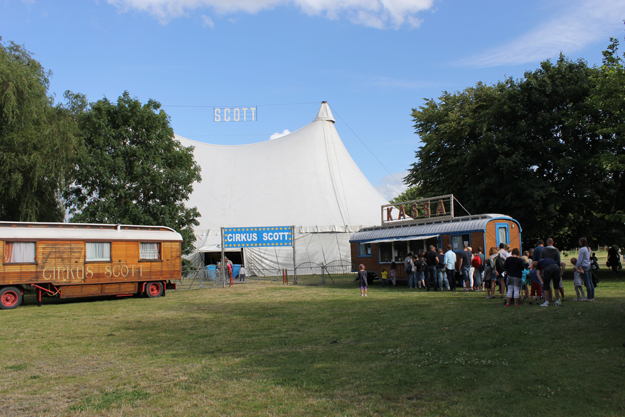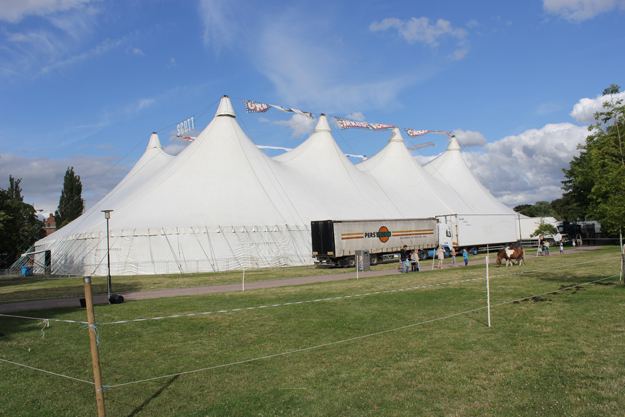 Circus Scott's oblong tent at the Mill Square in Malmö in 2015. One half of the tent housed a circus park with the opportunity to try pony riding, juggling, magic, riding unicycles and trapeze. The other half of the tent housed the ring and seating. According Robert Bronett they had room for 2,000 spectators. When I saw the show, however, there were hardly more than 200 in the tent.

26 October 2021
Circus Arnardo. The Norwegian Circus Arnardo started the season on 17 July in Lilledal and has since visited Arendal, Porsgrunn, Sandvika, Drammen and Larvik. They close season 2021 with a visit to Kristiansand from 28 to 31 October.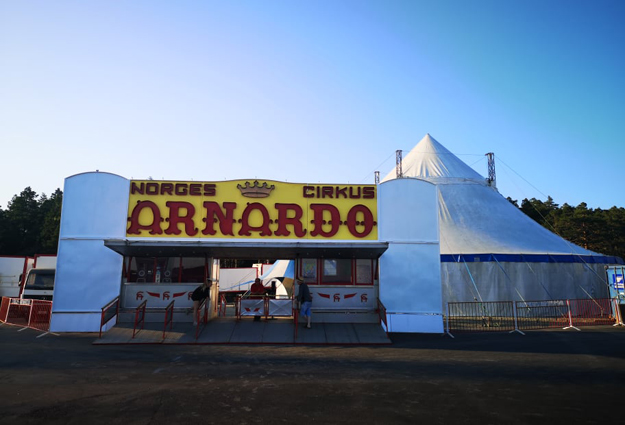 Circus Arnardo this year uses Kevin Probst's tent, which has a diameter of 26 meters and is a little smaller than Arnardo's usual tent. Photo: Thorbjørn Klæbo Flo.

26 October 2021
Obituary: Bo Rönnberg. The Swedish circus owner Bo Rönnberg passed away on June 15 after a some time of illness. He was 78 years old. He originally worked in the advertising industry. In 1982, Volvo celebrated its 150th anniversary and Bo Rönnberg helped them arranging a circus performance with the assistance of the Danish Circus M. Schumann, which visited Sweden that year. This gave Bo Rönnberg the idea of ​​selling circus performances to companies.
In 1984, Bo Rönnberg sent a circus on tour at his own expense under the name Circus Skogman. He chose the name because he had hired the popular Swedish singer and actor Thore Skogman as ringmaster. Tent and equipment were rented by Bo Rönnberg from the Danish Circus Arena, which also supplied most of the artists and simply stopped the tour in Denmark during the weeks that Cirkus Skogman was on tour.
The same model was used in 1985 and 1986. In the latter year, however, the name was changed to Circkus Skratt. Skratt is the Swedish word for laughter. From 1987 to 1993, Bo Rönnberg had Danish Circus Dannebrog as partner. Like Arena, they sent their tent, equipment and artists to Sweden, where they toured under the name Circus Skratt. In 1994, the contract went back to Circus Arena. Now, however, it was no longer Circus Arena which toured in Sweden under the Skratt name, but a completely different circus, for which Circus Arena provided tent, equipment and artists. Almost all performances were sold performances.
Times changed, and the financial crisis, etc. made it harder to sell performances to companies etc .. The coperation with Circus Arena stopped after the 2014 season. In 2015, Bo Rönnberg coperated with Manuella Scholl and Peer Jackson from Swedish/German Circus Madigan. Cirkus Skratt's last season was 2016. (Source: Cirkulära Notiser no. 5/2021 etc.)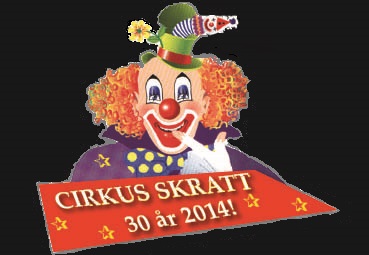 In 2014, Circus Skratt celebrated its 30th anniversary. But it had started to go downhill for Circus Skratt, and the program was a bit weak.

26 October 2021
The theme park Circusland in Cirkus Arena's winter quarter in Aarslev near Slagelse was open during the autumn holidays. As usual, in addition to the rides, there were several shows. They were staged by Kim Kenneth, who however due to other work was not himswelf in Circusland during the autumn holidays.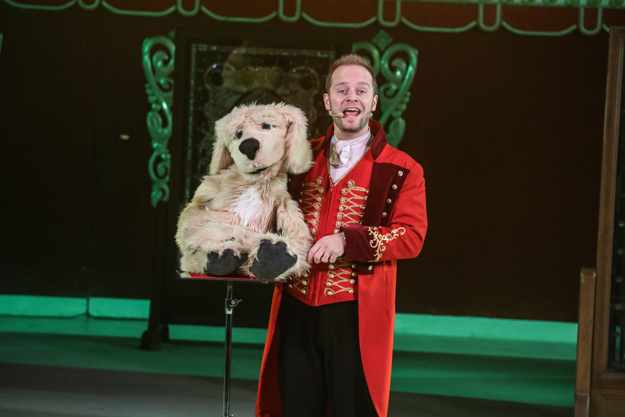 Peter Nørgaard, who has toured with Circus Baldoni throughout the summer, made a 20-minute ventriloquist show. All photos: Jacob Boas Leitisstein
Peter Nørgaard was also ringmaster for the performances in Circus Landino. The performers here were the clown Christian Folco and the Navratil family. Papa Jan with antipode, son Jimmy as juggler and inflatable strong man and Jan and Mrs. Vilma with cowboy act.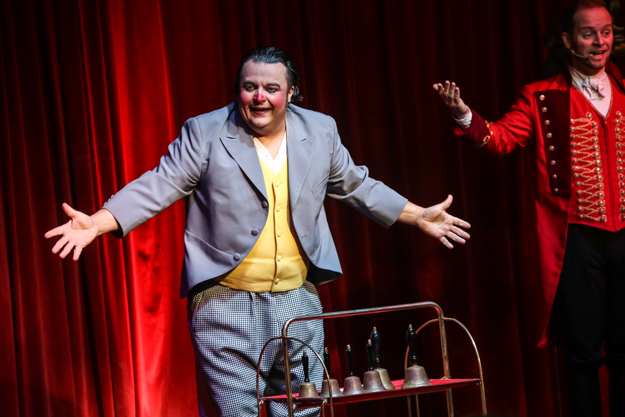 The clown Christian Folco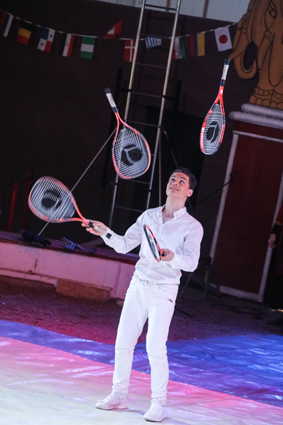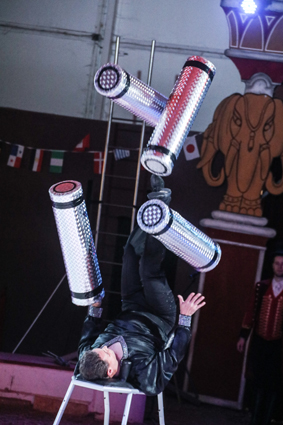 Left: Jimmy Navratil juggled with footballs and as shown in the photo tennis rackets. Right: His father Jan Navratil juggled using his feet.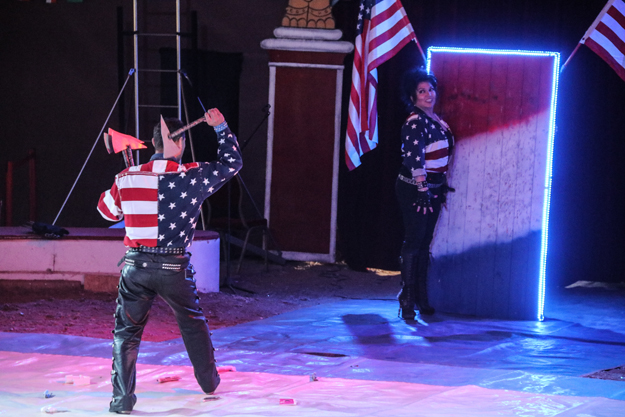 Jan Navratil and Mrs. Vilma had a cowboy act with whip and, as here, knife throwing.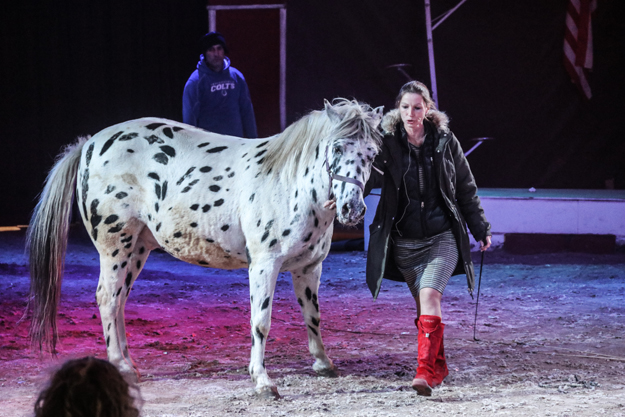 A little unusually, there were no animals in the performance in Circus Landino. But in another show, Benny Berdino's daughter in law Laura Berdino explained a bit about circus animal training. Click here to see more of Jacob Boas Leitisstein's photos from Circusland during the autumn holidays.

25 October 2021
Circus Big in Broen in Esbjerg. Finn Stendevad saw one of the autumn performances and writes (my translation):
Full house, many had to stand up. The overall theme was bullying and teasing. The performance took place in an empty shop. Mr. Big welcomed while Knud teased using the the drums. Later, they did small concerts on guitar and drums. Mr. Big juggled with hats, just as they played with stools in different ways. They cracked stones on Big's belly with a sledgehammer, then they ended up with Big's diabolo act. The performance lasted approx. 45 minutes.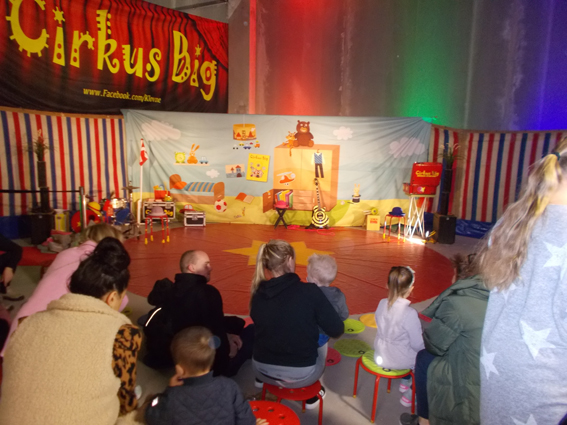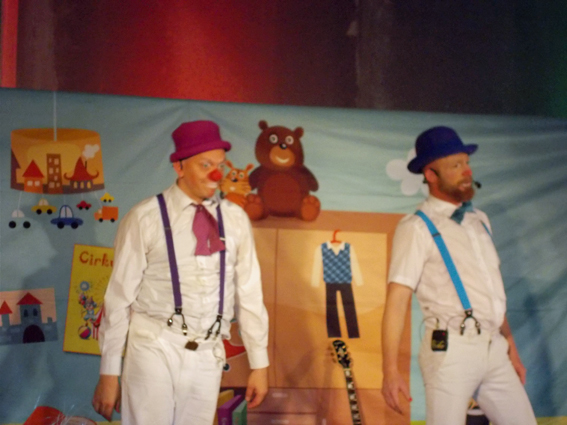 Photos: Finn Stendevad

25 October 2021
IT ALL HAPPENS IN PARIS. LA SCALA, an old theater rich in traditions, declined to a ruin, is re-furbished and offers us: theater plays, dancing, concerts, and just NOW: contemporaneous circus LA MACHINE DE CIRQUE, 6 male acrobats, QUEBEC, CANADA.
They perform partly par terre, partly in/on/sideways a kind of rather tall /my estimate/ about 4 meters tall structure, that resembles -- nothing -- it reminds me of the Danish cartoonist and comic ROBERT STORM PETERSEN / 1882- 1949/ who excelled in drawing such imaginary but non-existing objects.
Everything combined with acrobatics and comic stunts : springboard/schleuderbrett/, Chinese pole, trapez. Juggling in formation with good choreography.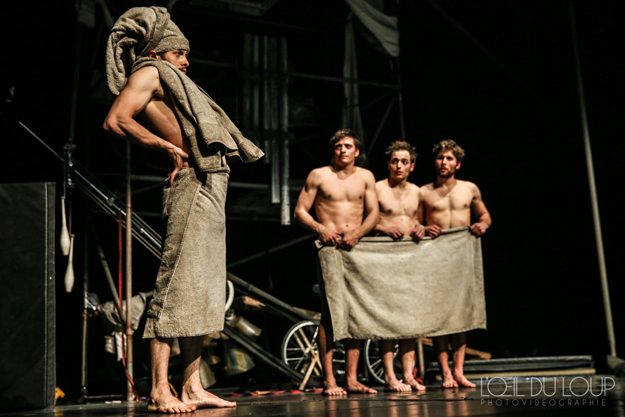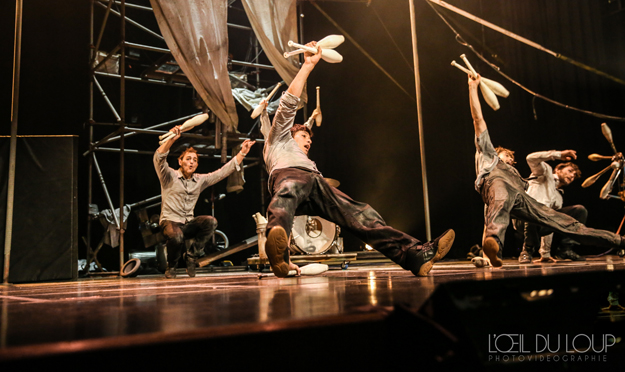 Copyright Machine de Cirque : Loup-William Théberge
But - why don't wear elegant costumes ?? and not everyday rather dull clothing !
Grande finale with springboard and a comic sketch-- BRAVO !!
Well worth seeing for all, except for the smallest fry.
Click here for more information and ticket booking
IT ALL HAPPENS IN PARIS !!!
Venue: LA SCALA, 13 BOULEVARD DE STRASBOURG, 75010 PARIS.
Metro: Strasbourg Saint Denis.
............................... reported by ZARRO ZARRO.

22 October 2021
Circus Arena's autumn performance. Jorgen Lorenzen saw the performance in Kolding Shopping Mall on 20 October at 13 and writes:
All buses and bus shelters in Kolding advertise for Circus Arena in Kolding Shopping Mall. Very good! And many families with children pay a visit to the event. But unfortunately, the mall has not provided a grandstand making it possible for everyone to get close and see something. With the result that hundreds of children either couldn't see properly or did not see anything at all. Too bad, because the square in the mall is big enough to make it possible to put up a grandstand.
The performance was presented by Bettina Arli. The show started with 6 ponies, presented by Karsten Berdino.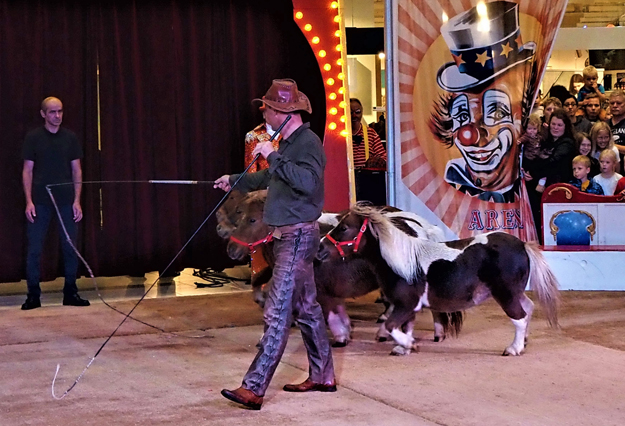 Karsten Berdino with ponies. All photos: Sara Pawelec
The next act was the juggler Mister Tom. He juggled by throwing balls down against a platform - what's called bouncing. In this performance, however, he was plagued by quite a few "drops". But it is known that when a juggler has lost a ball, the rhythm and concentration are broken, and one mistake is easily followed by several others.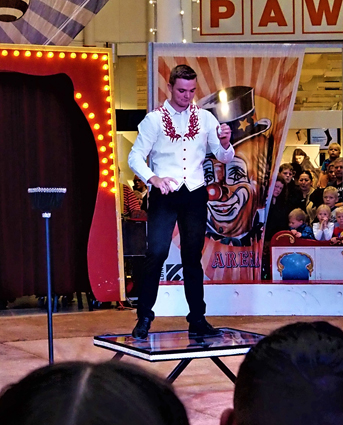 Mr. Tom
And then it was time for the clown Martin Arli. He was to hold balloons, which Bettina was to shoot to pieces. It succeeded after Martin had inflated several balloons - with various excuses and mishaps - and a lot of cheerful talk. The clown must explain why the balloon broke this time too - and defend himself when Bettina blames him for his clumsiness. And the balloon that Bettina finally hit was - of course - filled with water. Big cheers!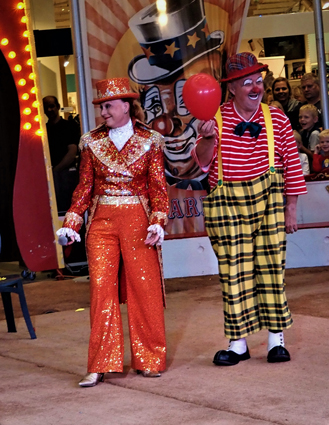 Bettina and Martin Arli
The aerial act in the performance was performed by Miss Jenny. She is from the circus family van Gool, and her aunt was named Linda and did in her time a beautiful act in swing trapeze. Jenny performed acrobatics in the trapeze, so it reminded me a lot of a number in aerial rope. But in the end, she flew - and showed what such a trapeze is actually made for.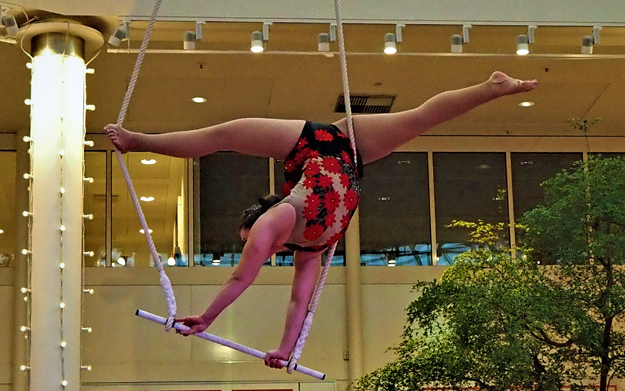 Jenny van Gool
Last act was the tempo juggler Rudy Janecek. He is an excellent and versatile juggler who can be studied on YouTube. Here he presented only part of his repertoire, but sufficiently to make one feel that one was in the company of a master of juggling.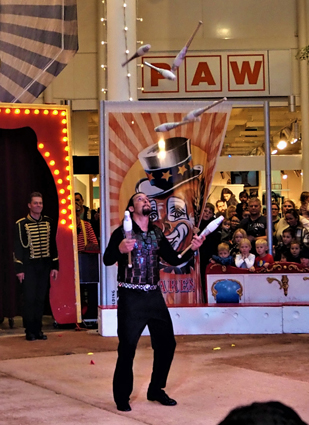 Rudy Janecek
The performance ended - a little unexpectedly - without the artists being called in for another round of applause.

21 October 2021
Bonbon & co. at the Circus Museum at Hvidovre, Copenhagen. There was great enthusiasm for the performances with the clown Bonbon and his family, which the Circus Museum presented during the autumn holidays. Actually, father Lasse, mother Tiina and children Julia and Joakim should have performed at the museum during the autumn holidays in 2020, but it had to be cancelled due to the corona. They were then booked for the winter holidays of 2021, but at that time the museum was also closed due to corona. But the third time lucky: now they managed to present a performance that both in terms of content and artistically was of a high standard. And great that for once we could experience the Danish world class clown in his homeland.
Joakim and an assistant prepared the ring with a blanket, and then he and Julia presented the famous clown Bonbon. It took a while before he entered the ring, but then it was in as 5 x Bonbon, see photo.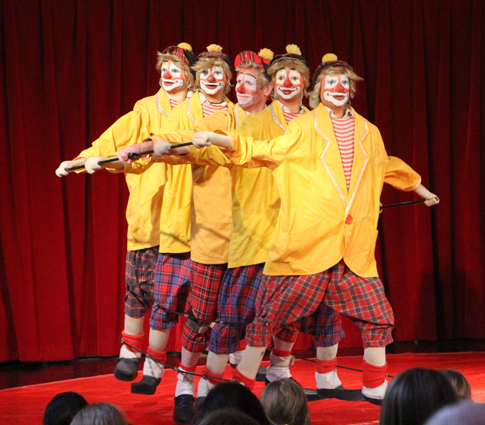 5 x Bonbon
Bonbon's next entrée was the one with the "heavy" suitcase.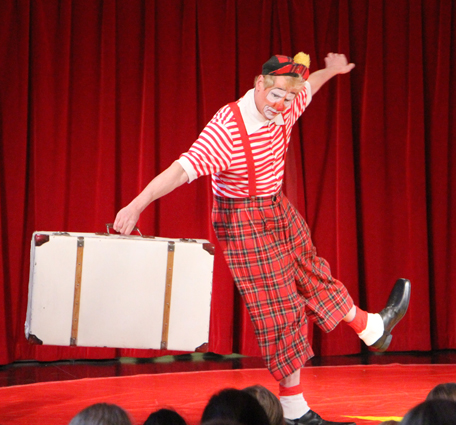 From Bonbon's mimic entrée with the suitcase
Next, Julia and Joakim presented the knockabout table act which Freddi Steckel has helped them make. A special twist is that the table is be used to reach a rope that hangs down from the ceiling. A great act. Freddi (who was among the spectators) can be proud of his trainees. (So ​​is he!).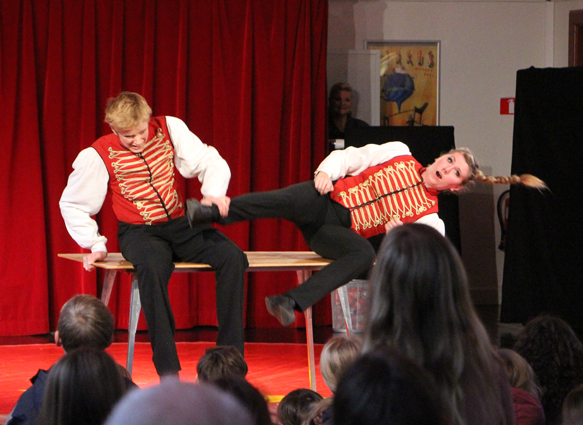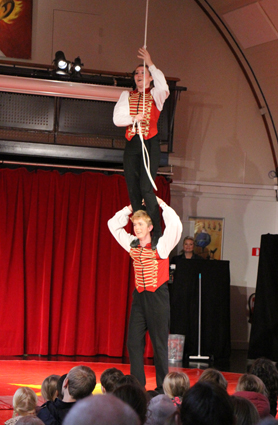 Julia and Joakim
Next, Bonbon entered the ring with his turtle. It cannot jump through a ring, but in return he can play music on its shell.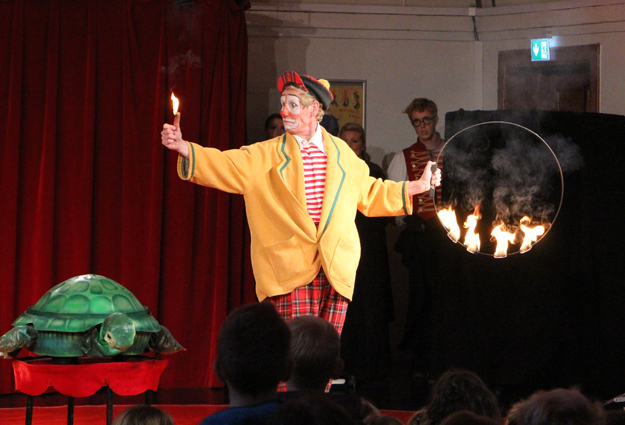 Watch out, there is fire in his thumb…
He was followed by Julia and Joakim with a fine juggling entrée.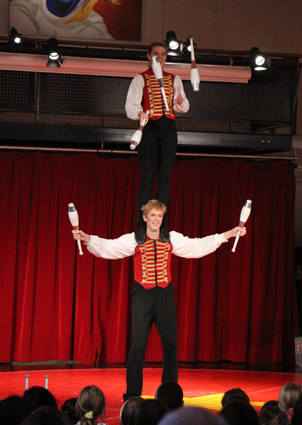 Julia and Joakim
The performance ended with Bonbon's and Tiina's signature act: the badminton entrée, which always brings great happiness. However, Lasse says that he is not very good at playing badminton…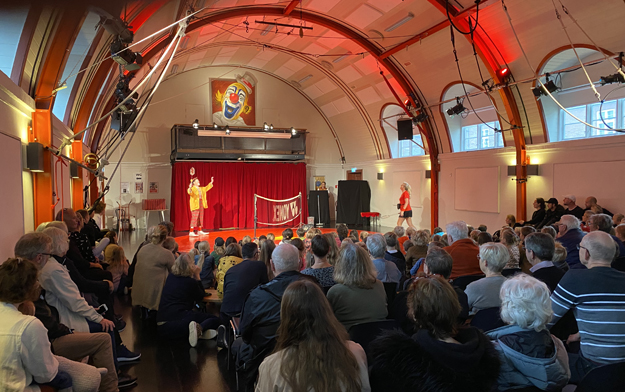 There was full house to the performance in the museum's Fencing Hall.

18 October 2021
Circus Trapez' autumn performance. Jørgen Lorenzen saw the performance in Forum, Bramdrupdam on 17 October at 3 pm and writes:
On their autumn tour, Trapez had reached Kolding. And the program was different from this summer's show. David Sosman, who was ringmaster, juggler and much more during the summer period, had travelled on to an engagement in Spain. Due to this it was his mother Isabella Enoch Sosman who presented the performance. She was wearing a beautiful suit in the colours dark red and blue, and these two colours were consistently also in the costumes of the other artists. It is a good idea to let colours help to connect the performance to a whole.
For this autumn tour was engaged a versatile artist family, the couple Veselka Metodieva and Nedyalko Vaskov and their daughter Yana.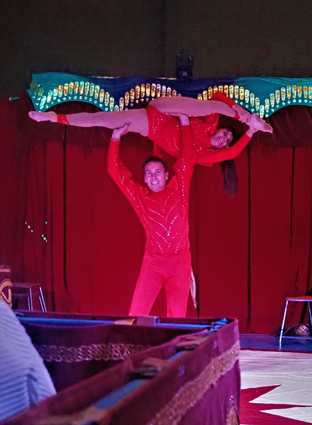 Duo Metodieva (Veselka Metodieva and Nedyalko Vaskov). All photos: Sara Pawelec
But it was two young, Danish artists who attracted most attention. Lasse Hasager is a talent in strong development. We have seen him as a diabolo juggler, but in this performance he was also a tempo juggler - at an amazing level. He mastered up to 7 balls in the air and he could juggle while one ball rested on his neck while others were in play around him. And his attitude has evolved - so he has the professional artist's charisma: proud, but never arrogant. Self-conscious, but never boastful.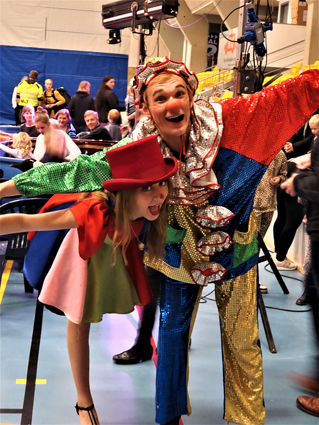 The clowns of the show were Nynne Hulsig Samuelsen and Lasse Hasager, who used the clown name Chino
That with great talent can also be said about Trapez's house artist Nynne Hulsig Samuelsen. She is an aerial artist and has taken over the trapeze after Isabella Enoch Sosman. This afternoon, she did not swing in the trapeze, but presented acrobatics in the trapeze. Here, too, it was noticed that she - in spite of her young age - had acquired the characteristics of the thoroughbred artist: it looks playfully easy and effortless, though it is very difficult.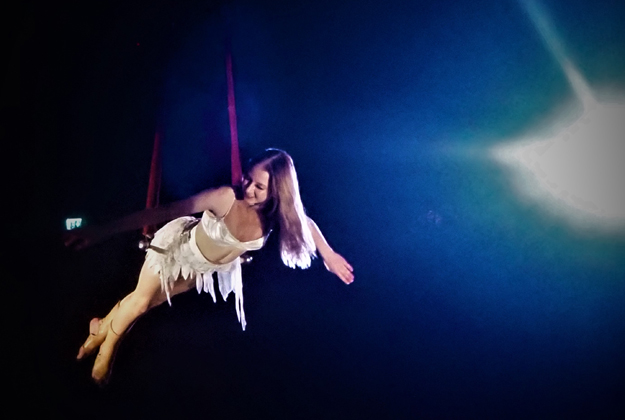 Nynne with grace in the trapeze
And then there was a surprise - a debut? Katja Enoch's son Josef participated in the diabolo act together with Lasse Hasager, and together with an 11-year-old jumping gymnast from Skive he also had an acrobat entrée. The couple Nedyalko had a good adagio number. Mother and daughter worked with hula hoop. The daughter, Yana, was also a contortionist. She wore glasses, and it is probably the first time in circus history that an artist wears glasses! (Editors comment: I have seen a few other artist with glasses).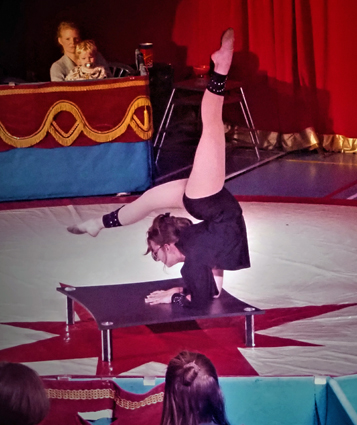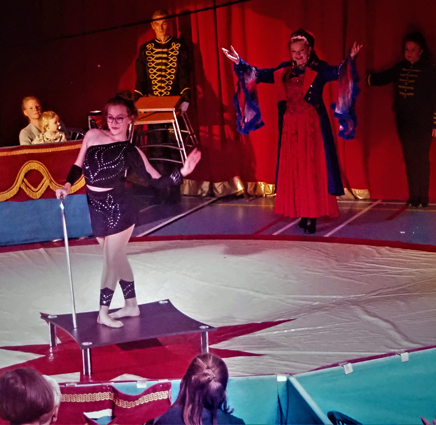 Yana. The bottom photo shows Isabella Enoch Sosman in the background
The clown presented Bernhard Kaselowski's 4 goats. Sympathetic as he walked around the ringside giving children popcorn which they could then give to the goats that followed. To many people, animals belong to circuses belong. Here not just goats, but also a pony. The act is called big and little ie. a horse and a pony, but the floor of the arena had been spared for the horse.
Real circus! Audience-friendly and true to the classic circus - with animals! Alive, honest, something for both young and old.. And the dark red and blue colours kept appearing, as on the way home one would remember what one had experienced.

14 October 2021
A birthday with a round figure: Conny Hende Lidal. The former trapeze artist Conny Hende, who from 1991 to 1995 together with Jorgen Hansen ran the small Danish Cirkus Scandinavia, turns 90 on 14 October. Before her time as a circus owner, she had worked as an aerial acrobat, among other places in the Belgian Vienna Circus. She also performed at markets and at amusement parks.

11 October 2021
IT ALL HAPPENS IN PARIS - now and always - NOW a great piece of news for all who love theatre, dance, concerts and - new circus, certainly of the greatest interest for followers of CIRCUS IN DENMARK.
Being promotors of all kinds of cultural events, MELANIE & FREDERIC BIESSY bought the premises of an old theater, rich in traditions, built in 1873, having had a successful period up to 1935, being one of the leading "café concert", featuring revues where the cream of French artists appeared.
In 1936 the premises were converted to a cinema "art deco", in 1977 new conversion to -a porno cinema.
After a short period of religious activities, these premises remained empty until they were bought by MELANIE & FREDERIC BIESSY, the aim was to create a place for - CREATION!!
Premiere in 2018.
Big problems linked to the pandemic situation.
So far great success with all initiatives, a mix of everything that is labelled ART, 900 seats in a modulated local.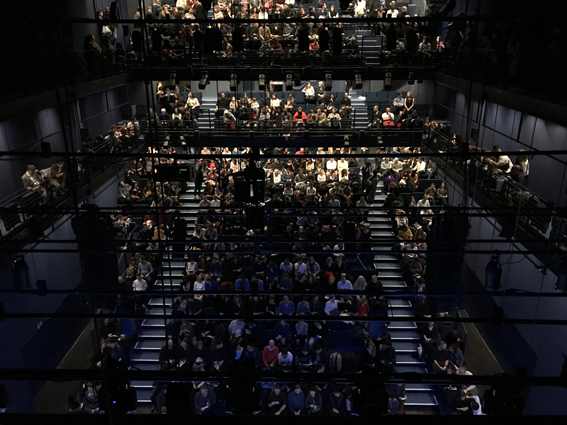 La Scala – the Auditorium © Studio ORJ
Together with this success, a new one is on its way: LA SCALA PROVENCE, situated in AVIGNON, Southern France, a center for theatre, particularly during the international theatre festival, each July.
This adventure is sponsored by numerous bodies, wanting to support CULTURE !!
IT ALL HAPPENS IN PARIS !!!
......................................... reported by ZARRO ZARRO.

Next update: 23 October
8 October 2021
Patrick Berdino turns 30. On Tuesday 19 October, circus artist Patrick Berdino, Slagelse, can celebrate his 30 years birthday. As Benny Berdino's eldest grandson, it was obvious that he should have a life in the circus. For many years he was part of Circus Arena's performances. The documentary The Circus Dynasty made Patrick nationally known after it was shown on television. The fame was expanded in 2015, when Patrick together with Jenna Bagge participated in the Danish version of Strictly come dancing. They did well, but did not reach the final. In 2016 and 2018, Patrick was co ringmaster in Circus Arena. After the latter season, he agreed with the family that it was wise to try life outside the circus for a while, and he has since worked among other things with kitchen fitting and as a driver.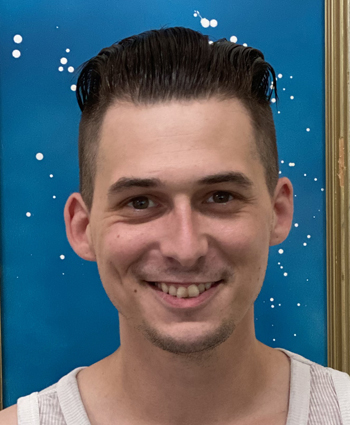 Patrick Berdino

8 October 2021
Circus during the autumn holidays. Danish schools are by tradition closed for autumn holidays in week 42. You can see circus or artist performances several places in Denmark during the autumn holidays.
The Copenhagen area
At the Circus Museum in Hvidovre, Copenhagen, you can 18 to 22 October at 11 meet the award-winning clown Bonbon, who together with his family gives a performance in the Fencing Hall. It was not in the cards that the teacher's son Lasse Nørager-Nielsen aka the clown Bonbon should choose circus life, but as a 16-year-old he made his international debut as a circus artist when he was employed in the small Swedish Circus Regal. He is today one of the most famous Danish clowns in the international circus arena. Bonbon is known for his creative and unique acts such as when he transforms from a clown badminton player to a star player or when he acts as the clumsy cannon king with severely limited flying skills. Tickets to the performance costs DKK 20 for both children and adults.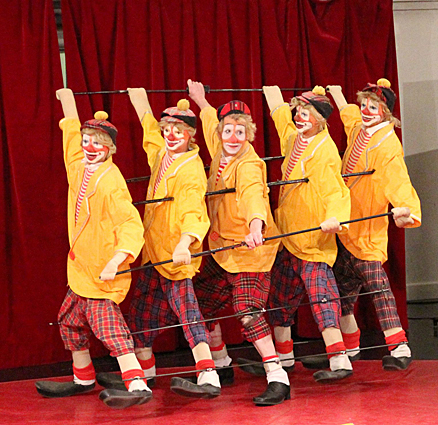 5 x Bonbon. Press photo from the Circus Museum
The Circus Museum is open Monday to Friday in week 42 from 10-15.
Benny Schumann in the shopping center Hvidovre C in Copenhagen. Performances Friday 22 October at 15:00 & Saturday 23 October at 11:00 & Sunday 24 October at 11:00 performances with Benny Schuman.15 min before the performance, a videofilm is shown on a large screen, where Benny Schumann tells about his life in Circus Schumann 1945-1967. Then Benny performs with his solo performance for approx. 40 minutes. Following that there is circus workshop for children. Free admission.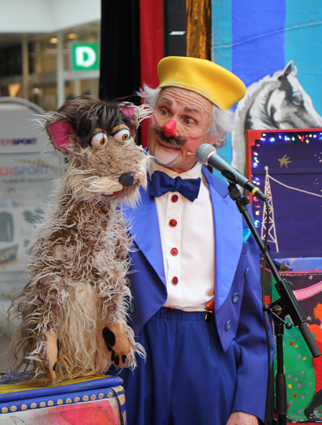 In the shopping mall Hvidovre C you can meet Benny Schumann, who here is seen with his ventriloquist's doll Hunni.
Region Zealand
Circusland in Aarslev near Slagelse is open from 16 to 24 October. During the day you can see the ventriloquist
Peter Nørgaard's children's show with the dragon Dennis, the dog Charlie and magic - all the laughter muscles will be touched. Christian Folco entertains with fun for young and old on the small show stage in playland. Kl. 14 there is a performance in Circus Landino with Peter Nørgaard as ringmaster.
Circusland is situated in Cirkus Arena's winter quarter in Aarslev near Slagelse. Driving directions: If you get off the highway turn off at exit 39. Take road 225 towards Jyderup. In Sonderup, turn left towards Aarslev. Then follow the signs. All activities and shows are free when the entrance to Circusland is paid. It is possible to buy food and drink in the park bistro. Circusland is open every day during the autumn holidays from 10 to 16.
In Circusland there are both shows and amusement rides. One of the shows is with the ventriloquist Peter Nørgaard, who has toured with Circus Baldoni during the summer season. Press photo from Circusland.
Jutland
Cicus Big in Broen Shopping in Esbjerg. From Monday 18 October to Saturday 23 October thee daily performances with Circus Big. The cast is Mr. Big and the clown Knud. Free admission.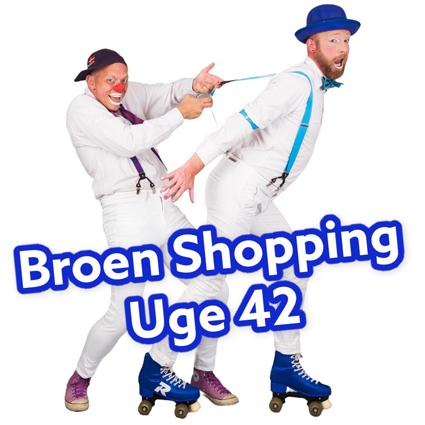 In the shopping center Broen in Esbjerg you meet as several previous years Mr. Big and the clown Knud.
Circus Arena in Kolding Shopping Center. From Monday 18 October to and including Sunday 24 October, you can see performances produced by Circus Arena every day at 11, 13 & 15. Free admission.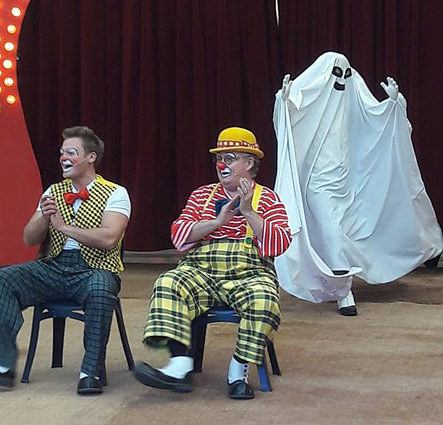 True to tradition, the Arli family is among the performers in the performance which Circus Arena present in Kolding Shopping center. Photo from 2018, taken by Jørgen Lorenzen.
Circus Mascot continues their late summer tour to a number of arenas in Jutland.
The performance is presented by Daniel Deleruan. The performers are Marianne Deleuran with dogs, geese and pigs, the clown Gulio and his family, Lui Nereus with handstand and as the man in the lantern and Miss Eva with glass balance. The performance was reviewed on this website September 8, where Jørgen Lorenzen called it "a good children's show, where parents and grandparents can rejoice - over the children's reactions and good circus entertainment."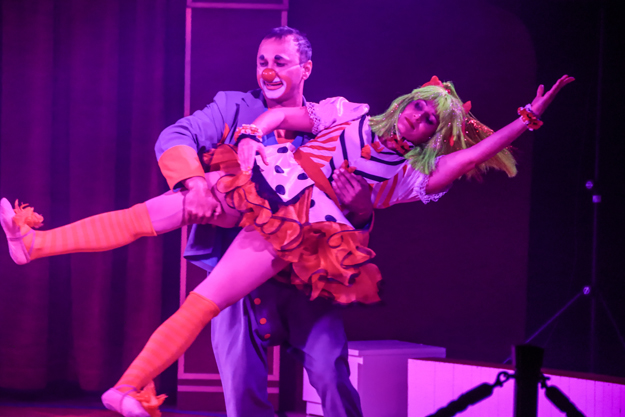 In Cirkus Mascot you meet, among others, the clown Gulio, here with his wife Tatiana as a "slap doll". Photo: Jacob Boas Leitisstein
Circus Trapez also offers performances in a number of Jutland arenas.
The performance is presented by Isabella Enoch Sosman. In the performance, you meet Nedyalko and Veselka (Duo Metodieva) and their now 13-year-old daughter Yana. She is a talented artist, who does contortion and hula hoops together with her mother Veselka. Nedyalko and Veselka have an adagio act and Nedyalko also cube juggling. They have previously performed at Circus Baldoni, Danish Circus Krone and in the holiday center Lalandia. Nynne Hulsig Samuelsen from Frederikshavn works in a trapeze or rotating ring if the isn't room for a trapeze act. She is also in the magic boxes together with Yana. Lasse Hasager performs with juggling and comedy. Isabella's nephew Joseph Enoch performs with diabolo and together with Gabriel Pedersen with jumping acrobatics. Bernhard Kaselowsky presents his goats as well as a pony and a horse as Mini / Maxi.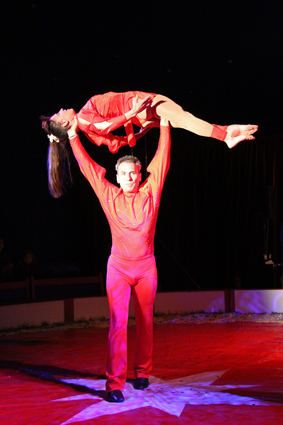 Among the performers in Circus Trapez' autumn performance is Duo Metodieva (Nedyalko Vaskov and Veselka Metodieva). They have in previously years toured with Circus Baldoni and Danish Circus Krone. The photo is from Circus Krone 2016.
The Circus Museum in Rold is open on Monday 18 October, where Katja Schumann takes over the ring in the Riding House. She presents her playful dogs, well-trained goats and the goose Wise.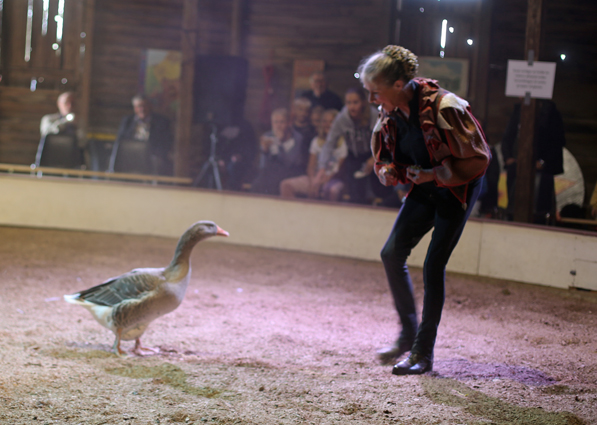 Katja with the goose Wise, who had the role as the goose in the movie Gooseboy. Photo: Jens Chr. Sørensen
Flying Superkids visit a number of Jutland arenas with their great show.
Tivoli Friheden in Aarhus is open from 9 to 24 October. You can every day at 16:30 experience cozy performances with Pjerrot on stage in Pjerrot's garden, where he entertains with magic and crazy stories.
From 16 to 24 October, Tivoli Friheden also offers Circus Dystopia, which is presented as follows (my translation):
Experience Denmark's biggest horror ride when we open the doors to 1,500 sqm. pure horror in Circus DYSTOPIA! Here you can join a dark journey behind the bloody curtain, where 25 scary actors are ready to give you the thrill of your life.
Anything can happen in Circus DYSTOPIA, where international circus artists from Dark Thrills Entertainment will present hair-raising circus acts. In the circus you can e.g. experience the two brand new haunts: Horror Cabinet and Freakshow! The two haunts can be experienced separately and have two different scare levels. Recommended minimum age 10 years for Freakshow and 12 years for the Horror Cabinet. In addition, there is also an activity area, with 4 performances daily, as well as actors moving around among the guests.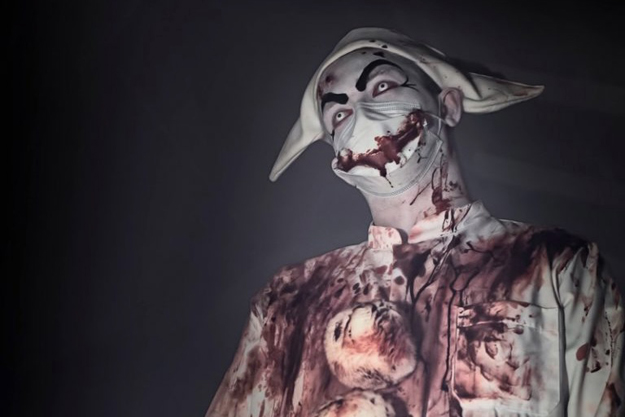 Circus Dystpioa. Press photo from Tivoli Friheden
Circus Dystopia is possibly inspired by the English Circus of Horrors.

3 October 2021
IT ALL HAPPENS IN PARIS. In more and more countries, under pressure from various animal welfare bodies there are proposals to ban the appearance of wild animals in circuses, including big cats, sea lions and elephants. Such prohibitions are e.g. implemented in the Nordic countries. In France, too, such a ban has been proposed in the ASSEMBLEE NATIONALE. Here is a brief summary of the situation:
The proposed ban on wild animals in circuses part of new French animal welfare legislation has been 'dropped' for the time being. Suggestions from diverse animal welfare bodies, were thoroughly scrutinized and then watered out or plainly refused, depending on failing real arguments and based on emotions only.
However the battle is far from over as the circus situation is to be reviewed by a cross party committee but the delay is a small victory indeed.
All of us do want the best possible welfare - also for animals !!
Agriculture and industrial food production are criticized; CIRCUS is the target of unjust and untrue complaints !!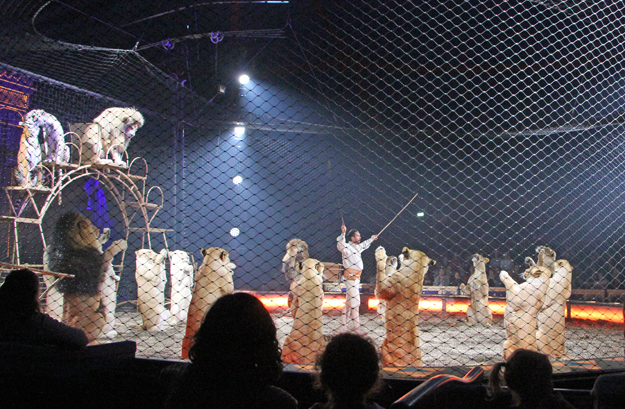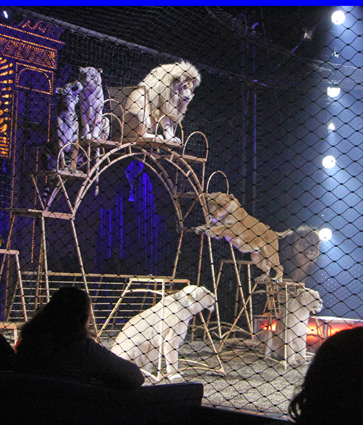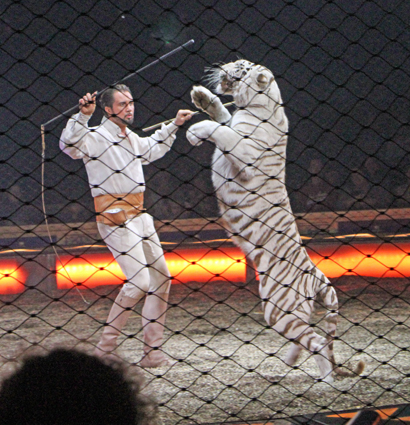 Should acts like this be banned? Martin Lacey Jr. and his big cats in German Circus Krone 2019.
The issue will be treated again, sporting a probable permission to have domesticated animals in CIRCUS, camels are the essential force of life for the desert people , and this has been so for thousands of years, including transport of people and goods, they support well the promenades with children on their back, in CIRCUS !!
Quote: THE DOGS KEEP BARKING---- THE CARAVAN PASSES !!
Respect for other opinions - but thanks for an objective and realistic debate !!
IT ALL HAPPENS IN PARIS !!!
---------------------------- reported by ZARRO ZARRO.

1 October 2021
Circus Mascot - now also during the autumn holidays. Both in terms of visits and quality, Cirkus Mascot's late summer tour have been a success. They started on 3 September, and the tour to Jutland's arenas was scheduled to stop on 3 October. Daniel and Marianne Deleuran have now also decided to have performances during the school children's autumn holidays from 16 to 24 October. The performers are the same as on the late summer tour. Take a closer look in What's on.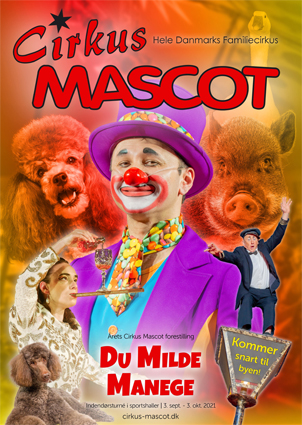 Circus Mascot's late summer performance can now also be seen during the autumn holidays

1 October 2021
Circus Trapez autumn circus. They write (my translation): In October, Circus Trapez visit a number of Jutland arenas with a completely new performance for the whole family. You can see acrobatics with Duo Metodieva from Bulgaria, the contortionist Yana who is known from Motor Mille on Circus Tour from DR tv's Ramasjang, where she was to help Motor Mille learning to do hula hoops in Danish Circus Krone, something you will also see Yana do in our show. From Frederikshavn comes 15-year-old Nynne Hulsig Samuelsen in trapeze. Lasse Hasager juggles both diabolos and balls high above the ring. In addition, see a cube act, magic and of course some lovely animals, Bernhard Kaselowsky present his lovely goats and horses. Duration: 1 hour. Take a closer look in What's on.

30 September 2021
Circus Bella Donna at Bellahoj Fair. Bellahoj Fair is the largest fair in Copenhagen, and after the corona closure, it is now possible to complete the market for the first time in almost two years. It happens in the days 1 to 3 October. Among the many things you can see at the market is the tiny Circus Bella Donna. Friday at 15 and 17. Circus workshop at 16. Saturday at 13 and 16. Circus workshops at 13:30 & 17. Sunday at 12 and 15. Circus workshop at 12:30 & 15:30. Admission to the fair 25 DKK. Circus is free when the entrance to the fair is paid.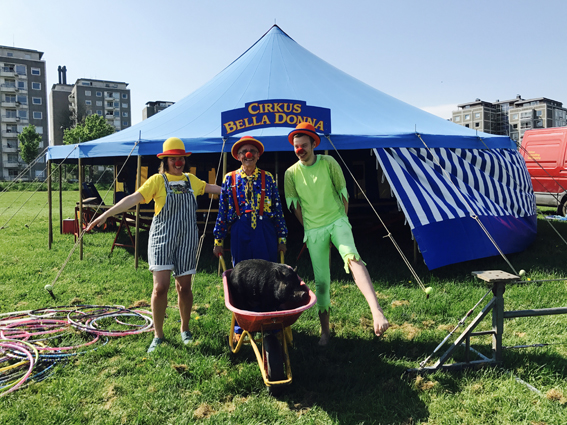 Circus owner Karsten Mathiasen, also called Karsten Clown, together with two of his artists.

29 September 2021
Circus Arnardo. The Norwegian Circus Arnardo, which started the season on 17 July in Lilledal and since has visited Arendal, Porsgrunn and Sandvika, continues the tour to Drammen, where they have performances from 30 September to 10 October. Among the performers in the approx. 1 hour long performance is the comedian and multi-artist Victor Rossi. Click here to see video clips from his entrees in Circus Arnardo.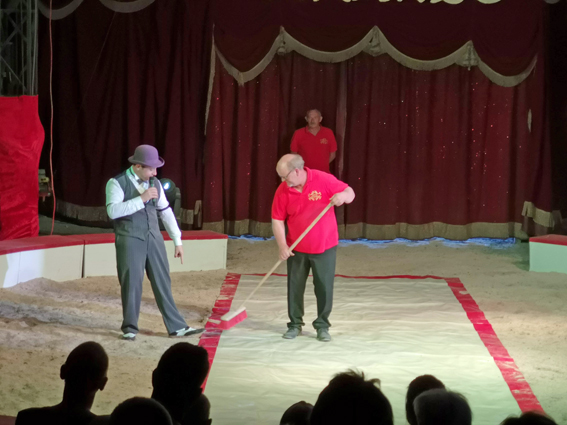 Victor Rossi together with Frank, who for many years has worked for Arnardo as tent worker, ticket collector and props. Photo: Thorbjørn Klæbo Flo.

28 September 2021
Circus in Lund, Sweden. The small Swedish Circus Rhodin states that they participate in the Culture Night in Lund on October 2, where you can meet Simona Rhodin. The circus' dogs and the clown Dimo are also part of the show. The mini-performance takes place in the Auditorium at Kulturen. There are performances
18.15-18.45
19.15-19.45
20.15-20.45
21.15-21.45
Tickets for the 4 mini shows are free, but must be reserved on Kulturen's website www.kulturen.com
During the culture night there are from 18 to 22 free admission to Kulturen, which currently has an exhibition about the circus.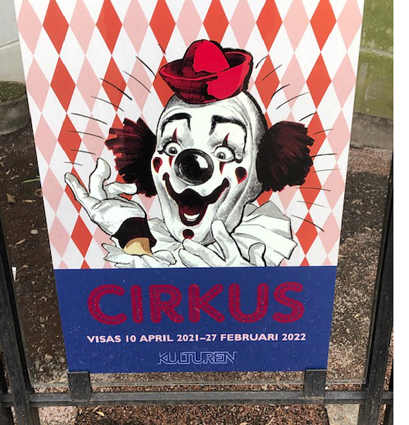 Neither Cirkus Rhodin nor the 2 other Swedish circuses, Brazil Jack and Olympia, have been on tour this year. Simona Rhodin has performed in Danish Circus Trapez 'Open Air Performances.

27 September 2021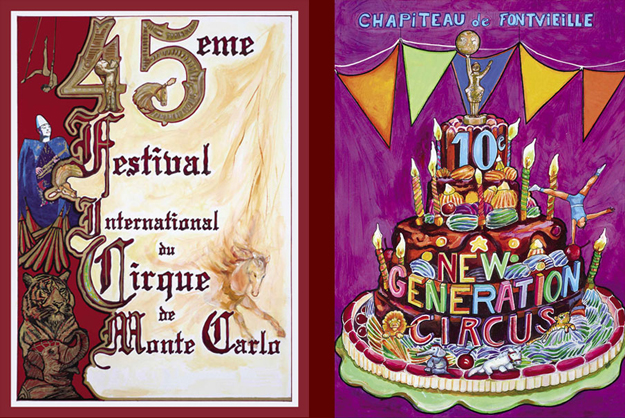 Monte Carlo Circus festival. The Organizing Committee of the Festival International du Cirque de Monte-Carlo is pleased to announce that the 45th edition of the Festival and the 10th New Generation will take place from 22nd to 30th of January 2022.
The Festival New Generation will be combined with the International Circus Festival of Monte-Carlo for common shows from 22nd to 30th January 2022.
The Festival and New Generation together in one ring for great Jubilee shows!
Due to Covid-19 there was no festival in 2021.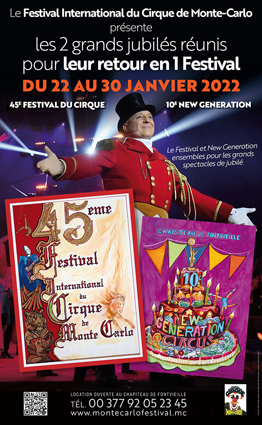 25 September 2021
IT ALL HAPPENS IN PARIS - elsewhere as well: one of the most public-friendly ACT is: the DOG ACTS, sometimes in combination with a donkey, a pony or smaller animals like pigs or geese.
Acts with animals fresh from the farm are likewise popular, coming mainly from GERMANY, "aus dem Bauernhof" as they rightly are labelled.
Below you will find a non - exhaustive sampling of those acts, you can find more if you surf on YouTube.
Here we go: ROSI HOCHEGGER, also with a comedy horse/, JOSEFINE & DANIEL IGEN, also goats/, PAT CLARRISSON with female partner PIP and his hot dogs/, SANDRO MONTEZ, also horses and exotic animals/, MARIANNE DELEURAN, also pigs and other smaller animals, Cirkus MASCOT, DK/, REGINA BOUGLIONE, also horses and pigs and various small animals/, WOLFGANG LAUENBURGER and daughter ALEXA/, OLD REGNAS, also with a donkey and female partner/. FAMILY SAABEL, sledge-husky-dogs in a winter setting/, MARQUIS POWELL always had a small dog in his appearances in his circus, SUZANNE BERDINO also with a Canadian minipig and thre duck.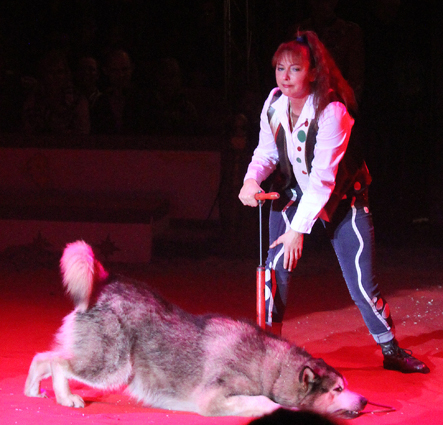 Rosi Hochegger with the trick where she pump up the dog. Photo from Circus Benneweis 2015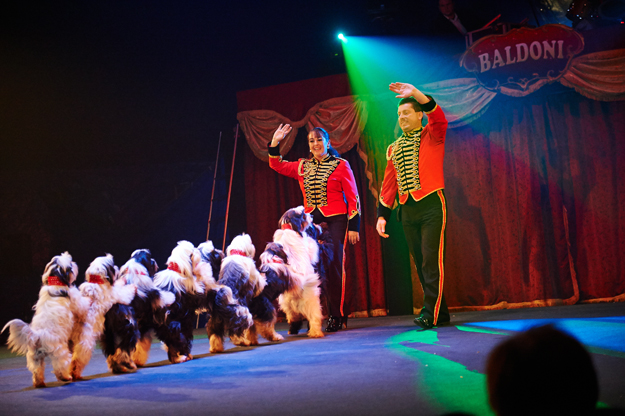 Josefine and Daniel Igen with their dogs in Circus Baldoni 2013. Photo: Rud Kofoed / Ajour Press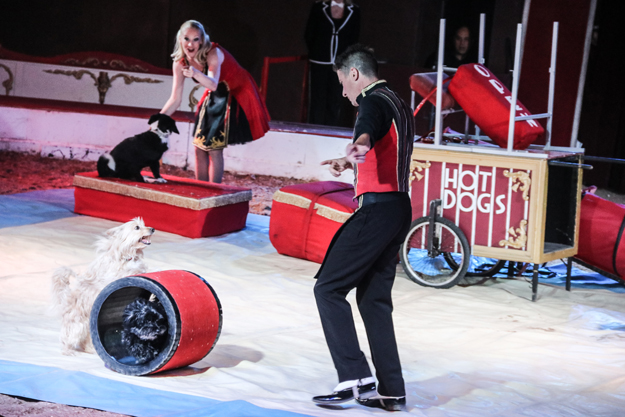 Pat aka Patrick Harrison with his girlfriend Pip and his Hot Dogs – an act he took over from his father Pete Harrison. Photo from Circusland 2020. Photographer: Jacob Boas Leitisstein.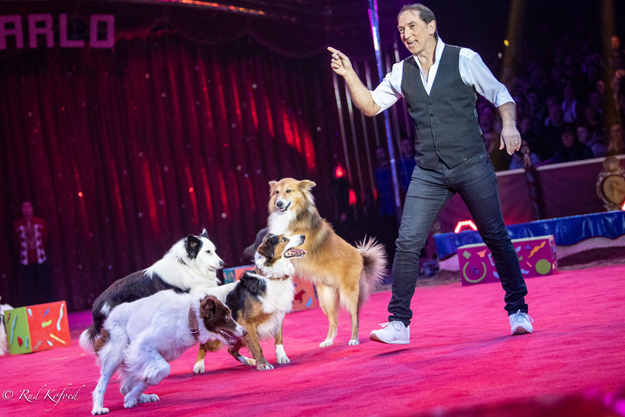 Sandro Montez with his dogs in Monte Carlo 2020 where he got the junior jury's award. Photo: Rud Kofoed / Ajour Press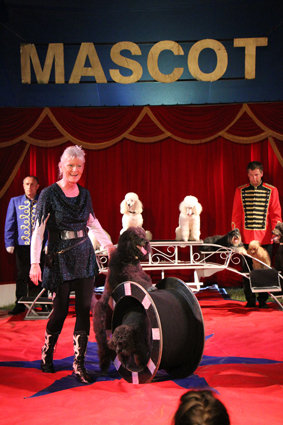 Marianne Deleuran and her dog is an indispensable part of a performance in Circus Mascot. Photo from 2016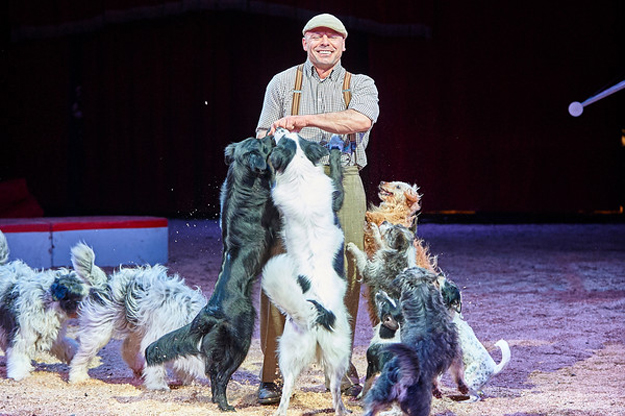 Wolfgang Lauenburger in Circus Arena 2015. Photo: Rud Kofoed / Ajour Press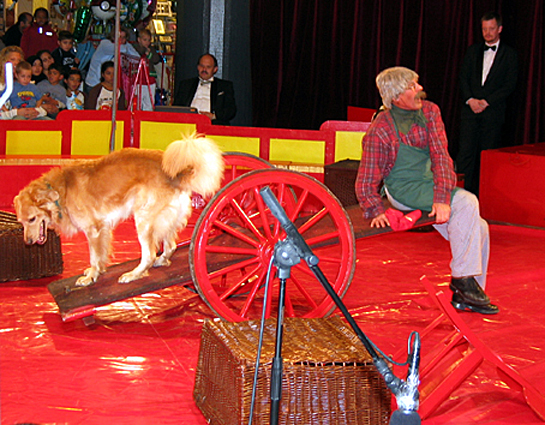 Old Regnas aka English Peter Freemann with his comical act in Circus Kenny 2006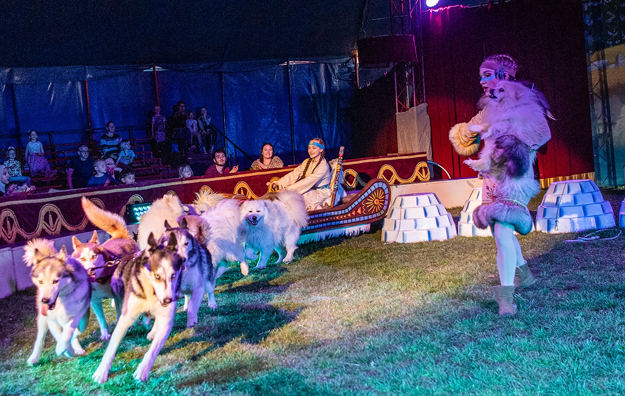 The Saabel family's dogs in Circus Trapez 2019. Photo: Rud Kofoed / Ajour Press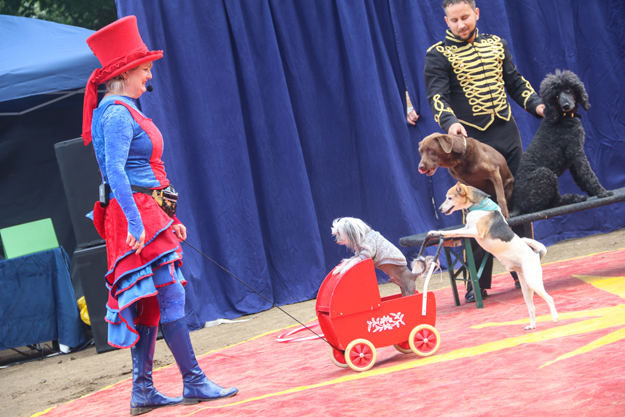 Suzanne Berdino and her dogs. Photo: Jacob Boas Leitisstein
These ACTS are indeed very sympathetic, always having success, producing hilarious reactions from any audience.
Nowadays they perform stunts that are natural for dogs: jumping obstacles, rolling around, pushing the performer, dancing around, inter-acting with the other dogs - all NATURAL, all PLAYING !!
Long gone are the days when dogs were dressed as people, acting as such, sitting at tables etc. - everything is for the better!!
An important point of view: CIRCUS and similar entertainment should be - joy and laughter only - nothing that might scare the young audience -or the adults - should be allowed - / quote ANNIE FRATELLINI/. Thus - feel free to enjoy those sympathetic and hilarious shows - all of them great achievements !!
IT ALL HAPPENS IN PARIS - and elsewhere !!!
....................................... reported by ZARRO ZARRO.

21 September 2021
Briano's late summer circus in Slagelse. On Saturday 18 September, the passionate Brian "Briano" Behrendt presented late summer circus at Frederikshoj open-air theater in Slagelse. Close to 1,000 guests enjoyed the nice and entertaining performance.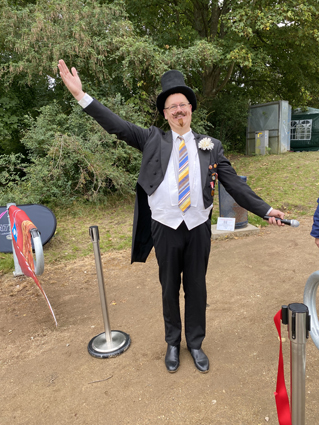 Briano welcomed at the entrance to the open-air theater. Photo: Ole Simonsen
When I approx. 20 years ago first met Brian, he worked at Lyngby Agricultural School. Brian also had a part-time job as a stable master for Benny Schumann, who at the time often had ponies in his performances. The meeting with Benny Schumann made Brian extra interested in the circus and show world. In August 2004, he arranged a bus trip for 22 Danish and Swedish circus enthusiasts to Circus Barum in Flensburg, and since then, under the name "Briano's circus tours", he has helped those interested with trips to foreign circuses, including to the circus festivals in Budapest and Monte Carlo.
In recent years, it has been possible to see him in Circusland in Slagelse, where he worked closely together with the former park manager Suzanne Berdino. In Circusland, he was seen as the Indian Talking Waterfall, the pirate Kalle Canonball, the fairy tale character Mister Tik Tak and Professor Briano.
The cooperation with Suzanne Berdino has continued after Suzanne was replaced as park manager by her brother and sister-in-law and went out with her own performances under the name Circus Berdino.
Due to the corona, 2020 and 2021 have been difficult years for all live entertainment, including for artists.
Under the Danish Agency for Palaces and Culture, the Ministry of Culture has a number of pools for the purpose of kick-starting cultural life. Brian got the idea to seek support from one of these pools. And he succeeded: he got funds to arrange a free late summer performance in Slagelse with Danish artists.
The performance was presented on 18 September at the Frederikshoj amphitheater in Slagelse and was a huge success for Brian and his team.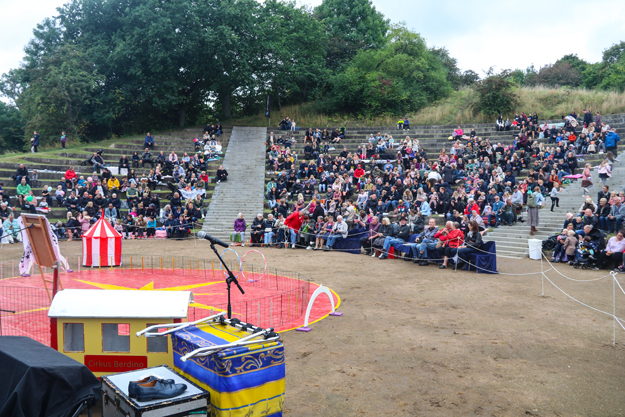 Frederikshoj open-air theater. Photo taken by Jacob Boas Leitisstein approx. 10 minutes before the show started, where many spectators had not yet found their seats.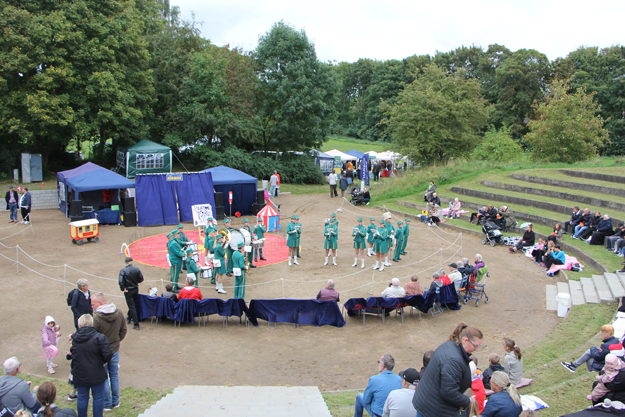 Before the performance, the Slagelse Guard was in the ring and proved that they are one of Denmark's best city guards. Their drum corps was also involved in the performance itself. Photo: Ole Simonsen. Click here to watch a video clip with one of the guard's numbers.
The performance lasted almost 2½ hours, incl. break. It was opened by Professor Briano, who with tail coat, a cane, and a pointer sang a newly written welcome song. He was accompanied by all the performers and dancers from Dansegulvet in Slagelse. A festive way to start the show.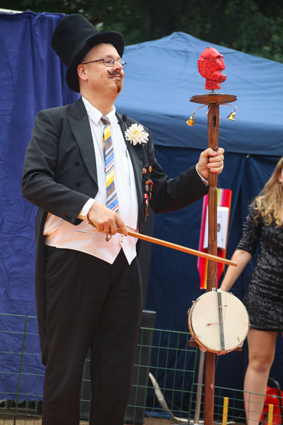 Professor Briano with high hat and pointer bar. Photo: Jacob Boas Leitisstein. Click here to watch a video clip with the opening song.
The first artist act was 3 trained ducks in liberty dressage, presented with charm and elegance by Madame Betty aka Suzanne Berdino.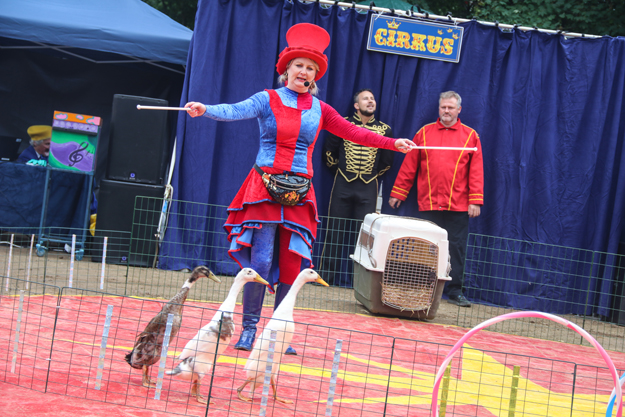 Ducks in liberty dressage. Photo: Jacob Boas Leitisstein
She was followed by the Danish circus world's grand old man Benny Schumann with balance tricks and comic magic. It's impressive to see how well 76-year-old Benny Schumann captures children and their accompanying adults in the audience. There are no others who do is as good as Benny! Benny Schumann finished the entrée with his ventriloquist doll Hunni.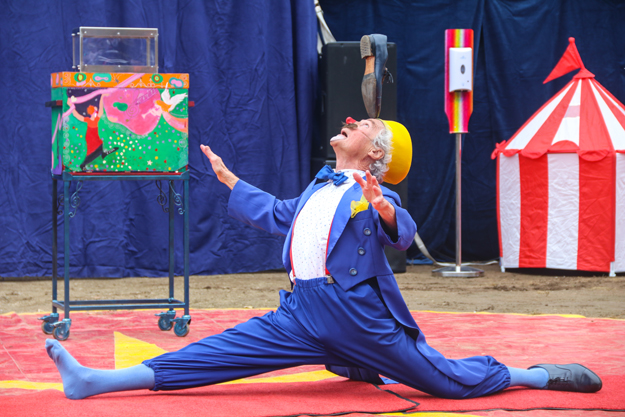 Despite being 76 years old Benny Schumann can still do the split. While balancing a shoe on his forehead. "That's why they call me Schumann." Schumann is pronounced like shoe man. Photo: Jacob Boas Leitisstein
Then Briano paid tribute to the guest of honor, Agnete Louise Enoch from the now closed Circus Dannebrog. It is from the Dannebrog performances that Brian got the idea to let talented dancers be part of his performance.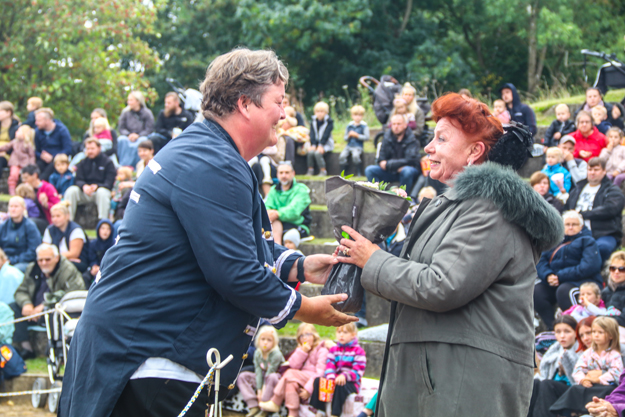 Tribute and flowers to the guest of honor Agnete Louise Enoch. Photo: Jacob Boas Leitisstein
Circus Kæphøj in Holbæk is one of Denmark's best youth circuses. From them came the young Miss Ida, who showed her skills on tight wire.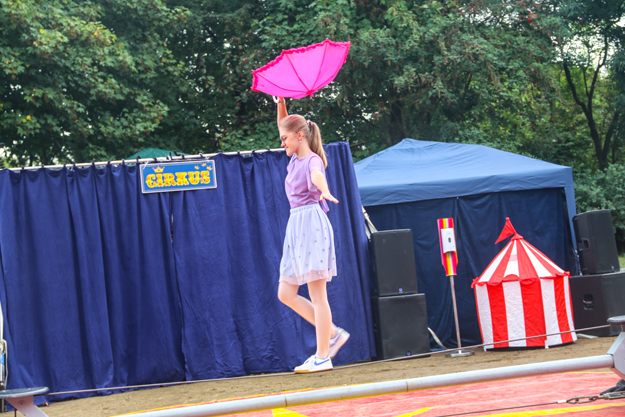 The tight wire dancer Miss Ida comes from Holbæk. Photo: Jacob Boas Leitisstein
Then Briano had a short magic entrée with a changer bag, assisted by Madame Betty, who ended the entrée by conjuring lots of wine bottles.
The time was now coming to Denmark's best ventriloquist Preben Palsgaard, who was accompanied by the vulture Galle, who fell in love with a girl from the audience. Like Benny Schumann, Preben has a fantastic contact with his audience.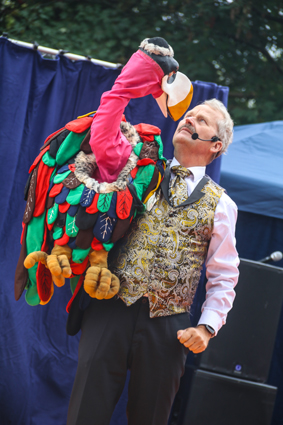 Preben Palsgaard and Galle. Photo: Jacob Boas Leitisstein
Preben and Galle were followed by Benny Schumann with his beloved entrée with the inflatable rock singer.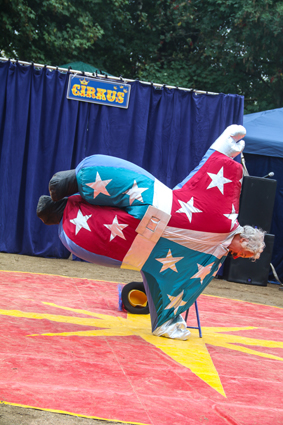 Rocking Benny Schumann. Photo: Jacob Boas Leitisstein
Briano now explained how the circus had started with horses in the ring and proudly introduced Charmaine Berdino, who a few years ago received the talent prize from the Danish Circus Award. Charmaine first rode high school, then jumped off the horse to advance it on foot and ended the entrée with a small pony. She has a formidable contact with her horses – she is probably together with Katja Schumann Denmark's best "horse whisperer".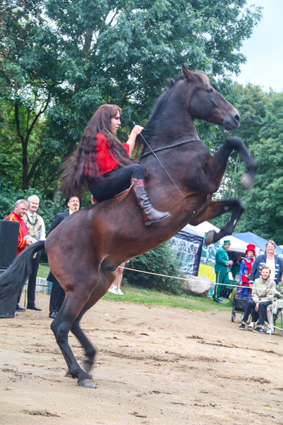 Charmaine Berdino. Photo: Jacob Boas Leitisstein
Next the Slagelse Guard's 5 piece large drum corps entered the arena.
Now it was time for another animal act: Madame Betty with the Canadian mini pig Gullig. A very charming entrée. Madame Betty (Suzanne Berdino) was followed by her daughter Charmaine with a hula hoop act.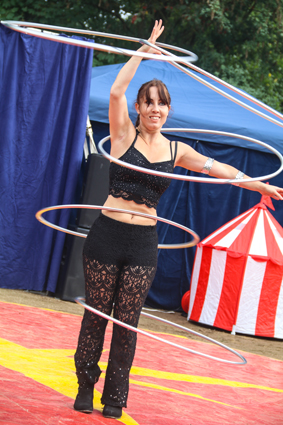 Charmaine with hula hoop. Photo: Jacob Boas Leitisstein
After approx. 30 minutes break, Briano had changed dress and appeared in the rest of the show as Mr. Tik Tak. He started the 2nd section with the song with the clock dancers, who then took over the arena as the skilled show dancers from Dansegulvet in Slagelse.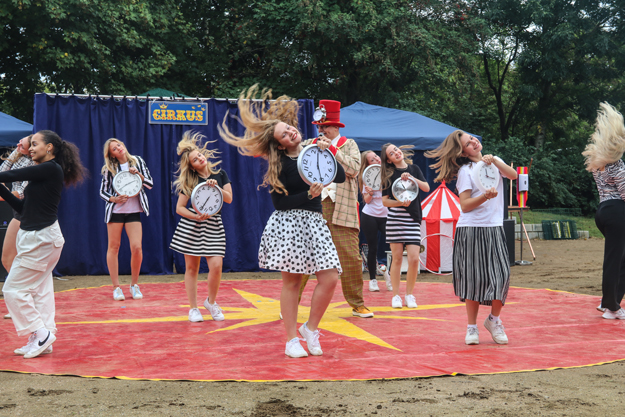 Mr. Tik Tak and the show dancers from Dansegulvet with the clock song. Photo: Jacob Boas Leitisstein
Next came Mr. Tik Tak's own entrée with giant soap bubbles.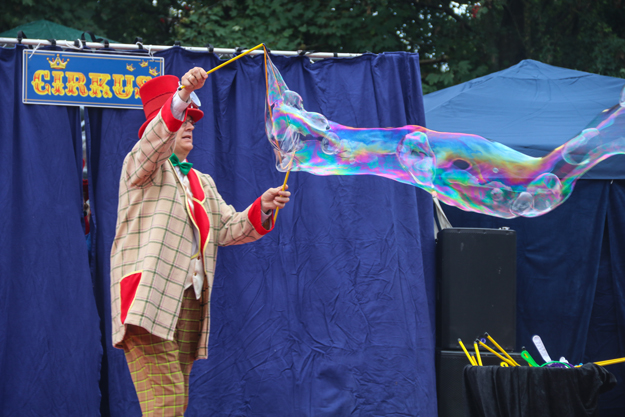 Huge soap bubbles. Photo: Jacob Boas Leitisstein
Time had now come for Preben Palsgaard's next entrée: a short run in with the dog Poppe, who went on to present real live dogs: 5 dogs of mixed breeds presented by Madame Betty in a way that showed that the dogs also thought it was fun .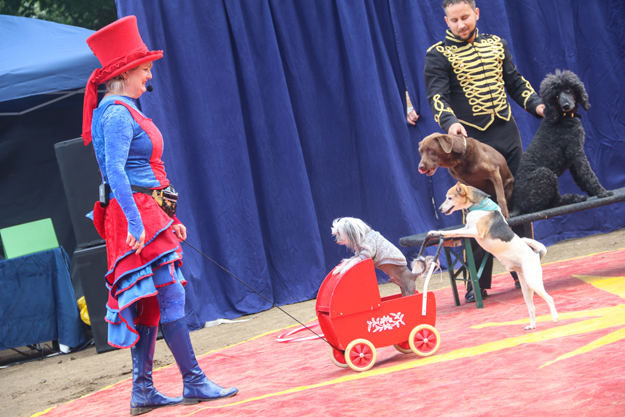 Suzanne Berdino and her dogs. Photo: Jacob Boas Leitisstein
Preben Palsgaard now took over the ring once again and got a gentleman from the audience to act as a ventriloquist's doll. The entrée, where the "doll" must open his mouth every time the ventriloquist press his hand, always makes great happiness.
The show's last act was what for many years was Benny Schumann's signature act: plate spinning. The entree ended with Benny having 11 plates in spin on table and sticks.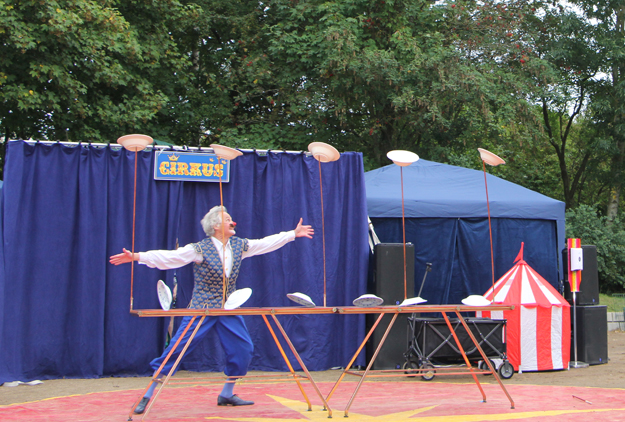 Benny Schumann and his dancing plates. Photo: Ole Simonsen
Now was the time for The Grand Finale, where Brian presented the performers thanked sponsors and helpers who had helped to put the great show on its feet.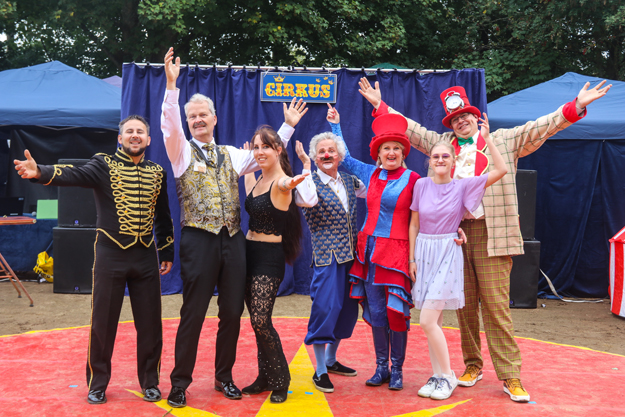 From the final. Photo: Jacob Boas Leitisstein. Clik here to see more of Jacob's photos from the performance.
Brian hopes that next year again it will also be possible to present a late summer circus at Frederikshoj in Slagelse.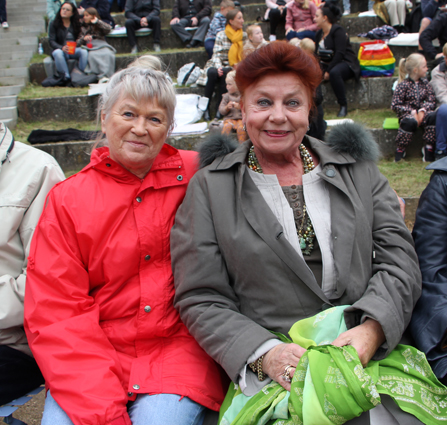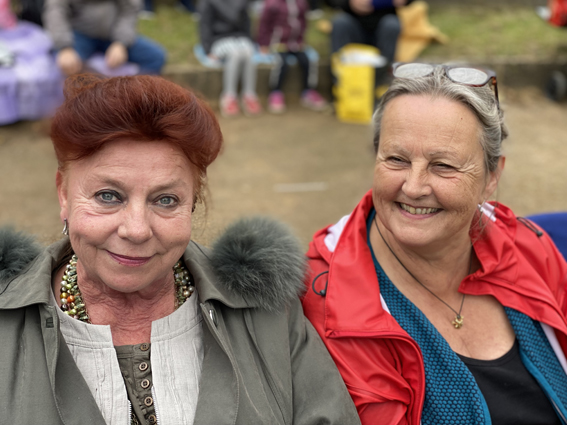 Among the many guests at the performance was the circus queen Agnete Louise Enoch, who in the top photo is seen with another circus queen: Irene Thierry, and in the bottom photo with Ulla Rønde Steckel, who has a past as a circus queen in Finland and later worked for Circus Arena. Photos: Ole Simonsen

20 September 2021
Rising Stars. Rising Stars was the title of the 40-minute performance, which the Circus Museum at Hvidovre, Copenhagen, presented on 19 September with 3 young Danish artists: Ylva Maia Havndrup, Jonathan "Gentleman Johnny" Bendtsen and Anna Emilie Pedersen.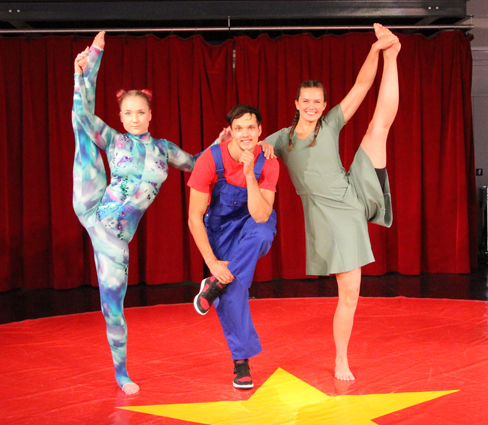 Ylva Maia Havndrup, Jonathan Bendtsen and Anna Emilie Pedersen.
Ylva Maia Havndrup is educated at the now closed artist school AMoC in Copenhagen and was among the artists who in 2017 brought AMoC the talent prize from the Danish Circus Award. For part of the 2018/2019 season, she performed at Wallmans in the Circus Building in Copenhagen. You can meet Ylva on video in the museum's exhibition, where you can learn more about her path into artistry. Anna Emilie Lauge Pedersen is educated at the artist school Codarts in the Netherlands. She works daily at the Aarhus School of Music and Theater. Jonathan Bendtsen has attended the Gøglerskolen in Aarhus and the artist school Codarts in the Netherlands. He is part of the contemporary circus company Volantes. Jonathan participated under the artist name Johnny in the Danish version of the TV show Got Talent in 2019, where he reached the final. He was also the best of the 3 performers in Rising Stars.
He opened the performance with a mimic / comic entrée with an umbrella and a hat. He was followed Anna Emilie Pedersen with a juggling entrée with 3 clubs. The entrée also involved some acrobatics.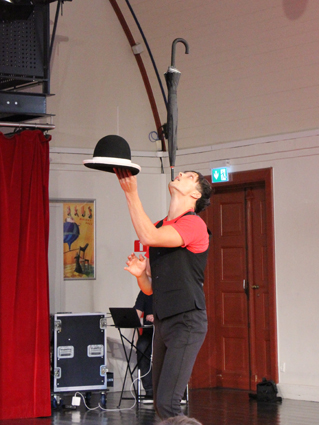 Gentleman Johnny with hat and umbrella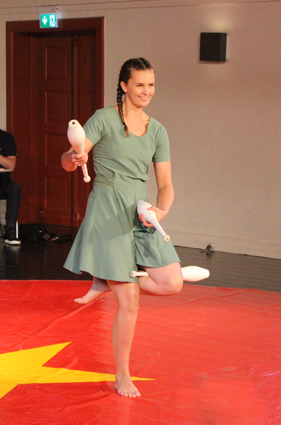 Anna Emilie Pedersen
Next act was a fine diabolo entrée with Gentleman Johnny aka Jonathan Bendtsen. The act was inventively started with the gag with the heavy suitcase, which among other things clowns Bonbon are known for. The suitcase contained 3 diabolos and with elegance and talent he got first one, then two and finally all three diabolos in the air. An entrée which also would do well in a classic circus or at Wallmans in the Copenhagen Circus Building.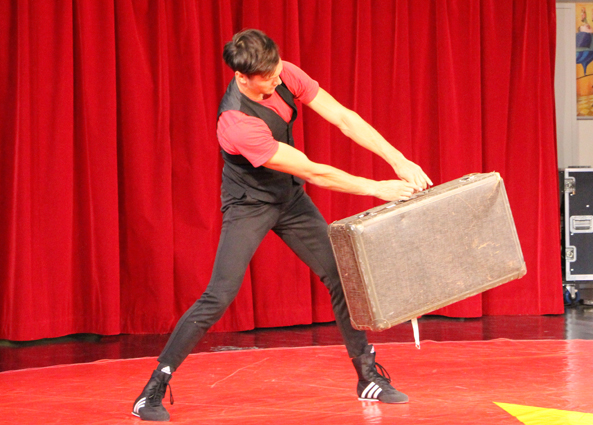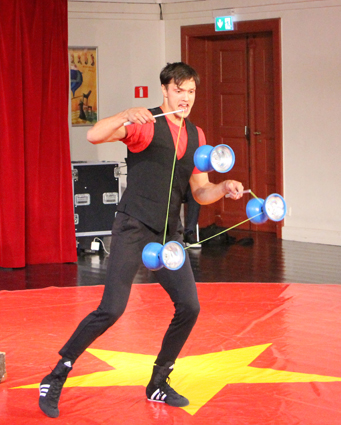 Gentleman Johnny with suitcase and diabolos
The next act was an act where Gentleman Johnny - now wearing a black wig - together with Anna Emilie Pedersen got "help" from an egg yolk, which "crawled" up Anna's left arm and then with an intermediate station in her mouth crawled down her right arm. It was what I will call a funny street performer entrée.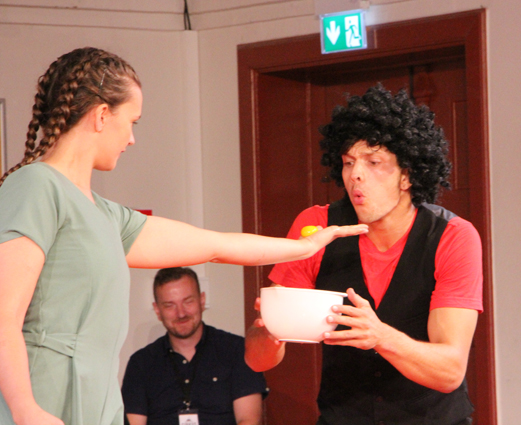 Egg yolk on the go
Now time had come for Ylva Maia, who partly showed some contortion and partly a fine entrée in trapeze. It is my impression that today she concentrates on the trapeze, which is hardly as hard on the back and body as acting as contortionist. Health wise a clever decision.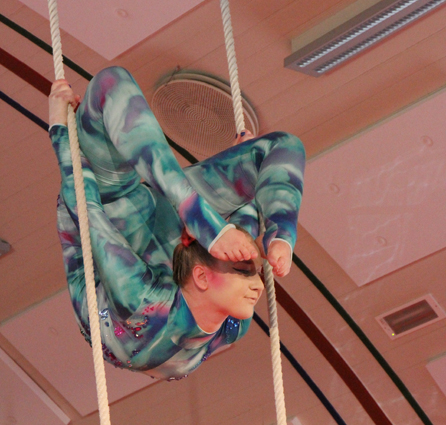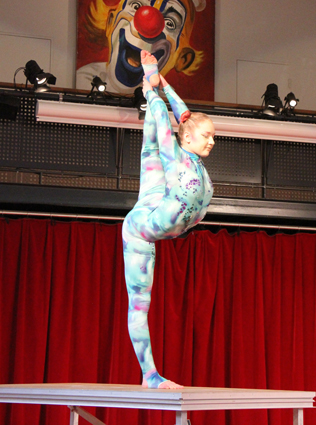 Ylva Maia
Gentleman Johnny was now in the ring again, this time with a good act with cyr wheel. Also a number that could be used in a classic circus, although he as the other performers seems more interested in contemporary circus.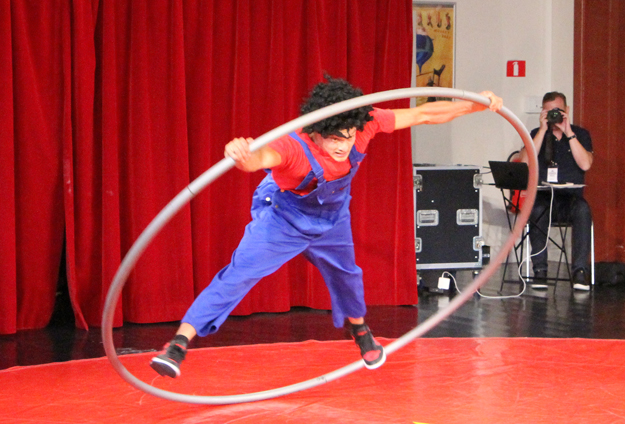 The performance was possible thanks to a grant from the Danish Agency for Culture and Palaces.

17 September 2021
OPEN BIRTHDAY LETTER TO THE ALWAYS CULTURALLY ACTIVE MASTER HAIRDRESSER CHRISTER NILSSON, town of NYKÖPING, SWEDEN -- aka MASTER MAGICIAN CHRISTER EL RICCO.
Dear CHRISTER –
Lots of well wishes and congratulations on this your D-DAY - turning 90 ! It is a privilege to have attained this venerable age, being still fairly fit.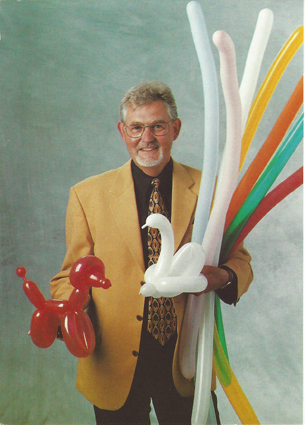 Christer Nilsson turns 90 on 22 September. He has the website https://magiarkivet.se/ with news from the Scandinavian Magic World
Behind each and every famous man, there is a strong and courageous woman - you have been lucky, always having had your wife GERTRUD to lean on for comfort and inspiration.
Most of our contacts have occurred by paper letters, particularly between ABIDJAN and NYKÖPING, 1975 thru 1985, later on by mail, during my travels I had the advantage of visiting you at SKOGSVÄGEN, your residence in Nyköping.
We were born on different planets, thus having different backgrounds, and rather different attitudes and points of view - in spite of this - you displayed tolerance and respect for my numerous licenciae poeticae, that popped up in my write - ups for TROLLKARLEN // magazine for Swedish Magic Circle// - and this during about 23 years, where you acted as Editor in an extraordinary way, never equalled, we all keep a deeply felt memory of it !!
We human beings are like ships that meet at night time - all different - but aiming at having good relationships.
Possibly without aiming at that goal, you continued the thoughts and teachings of French philosopher VOLTAIRE / 1694 - 1778 / : I will combat your opinions, but always also fight for your total right to express your convictions and personal views !!
We could, both of us, enjoy and appreciate mutual tolerance and respect in a civilized conversation !!
Your great interest in circus arts have benefitted many, as have your magnificent achievements: MAGIARKIVET / magic archives in Swedish/, several expositions, radio and TV appearances, and The MAGIC MUSEUM in the neighbourhood of Nyköping, a monument that we wish a long life.
Your great collection of honorary awards are mentioned elsewhere.
From my café and waterhole in Paris, I take pleasure in sending you virtually a bottle of bubbly - that you will enjoy with your wife and other family !!!
Many happy returns of the day - and lots of BARAKKA !!!
Your friend and colleague ROLF R. WOLLERT - aka ZARRO ZARRO .

17 September 2021
The historical corner
Small, funny circus silent films on STUMFILM.DK. Per Tofte Nielsen writes:
Keep an eye out for small, funny silent circus films on STUMFILM.DK
For example, the silent movie The Magic Sack from 1907, where two clowns perform acrobatic tricks on and with each other until they suddenly come up to fight. A large canvas sack, which one finds and hides in, turns out to have magical properties.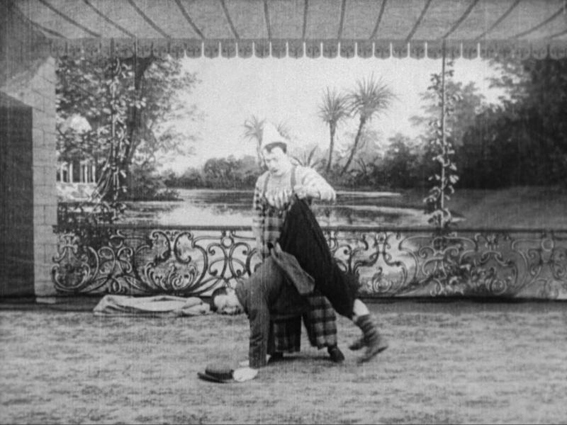 The magic sack
Among the many other silent films you can find at stumfilm.dk is Løvejagten (the lion hunt) from 1908. Two hunters are on a big game hunt in the jungle with a native servant as a pathfinder. They see zebras, an ostrich and a hippopotamus and catch a little monkey that they are playing with. They camp, but are awakened by a lion killing a kid. The lion also kills the hunters' horse. The hunters shoot the lion, which stands at the water's edge on a beach. They spot another lion and shoot it too. The lions are skinned and the skins appear. The hunters smoke a cigarette and also offer their black servants. The film was produced by Nordisk Films Kompagni and directed by Viggo Larsen after a script by Ole Olsen. The film became a worldwide success. It was sold in a total of 259 copies, which was a lot at the time. The recordings took place in August 1907 on the island of Elleore in Roskilde fjord in Denmark. Along the way, the Danish minister of justice Alberti banned the recording after an animal welfare association filed a complaint of animal cruelty. However, the producer managed to complete the filming and smuggle the film to Sweden, from where it was distributed. The two participating lions were purchased from Hagenbeck Zoo in Hamburg. They really should have been killed because of their advanced age. In addition, an old horse and a goat were purchased.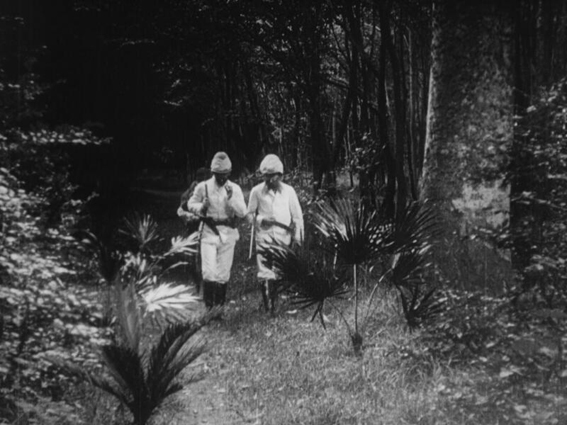 The lion hunt

14 September 2021
Photos and video clips from Circus Mascot's late summer tour. Photographer Per "Mr. Sputnik" Krogh Petersen visited Cirkus Mascot when they had a performance on Friday 10 September at Efterskole. Click here to see his photos and video clips from the show.

8 September 2021
Circus Mascot's late summer tour
A good show for children where parents and grandparents can rejoice - over the children's reactions and good circus entertainment. And wonderful that there is now once again a circus coming to town - to the lucky arenas which are allowed to give room for the jokes
Jorgen Lorenzen was to the national premiere on the autumn tour on September 3 at 17 in Arena Midt in Kjellerup, Jutland. Jorgen writes (my translation):
There were 600 expectant children and adults present. Close to the ring there were blankets and stools making it possible for children to get very close to the ring.
Juliya and Husik opened the performance with an act where they juggled with big triangles. And then Daniel Deleuran welcomed before the clown Gulio came in for the first time. That was lucky enough, because a package had just arrived for him. The package was leaking, so liquid ran out of it. Both Gulio and Daniel tasted the liquid - and offered the audience a tear. When they then opened the package, it turned out that it contained a small dog. The children responded: addr - or something like that, they shouted.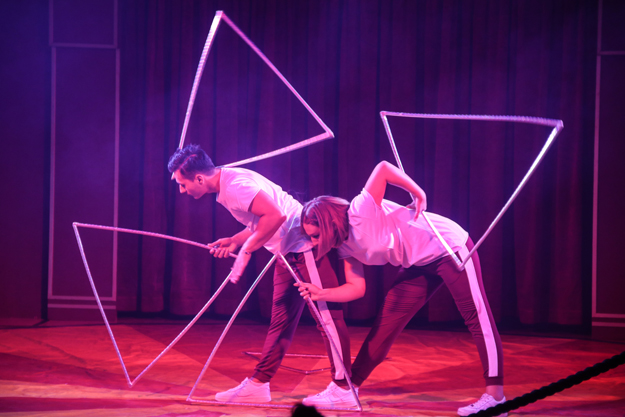 Husik and his sister Juliya. All photos: Jacob Boas Leitisstein
It continued with dogs. Marianne Deleuran and her dog show. Many dogs and many tricks. Really versatile and kid-friendly. Marianne's concern was well understood, because the dogs have not been in the ring for a long time. But it did not hurt the act that she occasionally had to wait a bit for them until they did what they were told to do. It was felt that it is and must be a play and that surprises can suddenly become part of the play.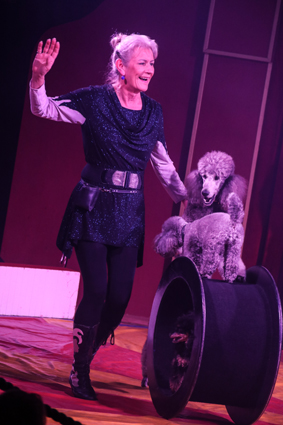 Marianne and her playful dogs
A beautiful glass balance act was presented by Miss Eva. The ability to balance and the degree of difficulty were emphasized as she lay down and got up again with the balance stick in her mouth and the glass standing on it. Or when she with the stick grabs the glass, which stands on top of a balloon that breaks, so the glass must search down on the stick and stay there.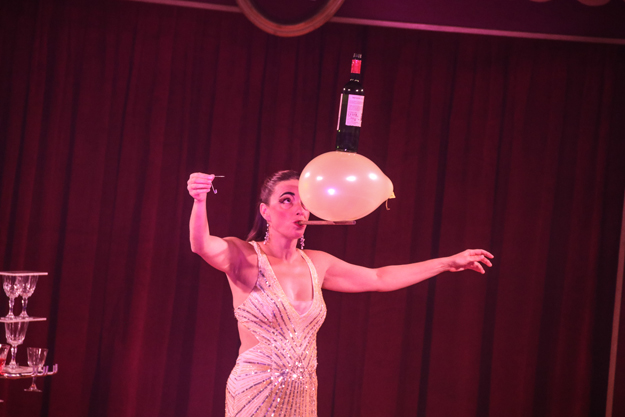 Miss Eva Vitzo
Gulio now enter the ring once again. Now he wants to play golf with imaginary golf balls, which have the property that they return in the same way as a boomerang. And when they land in a paper bag he catches them with, it gives a little bang. Several men from the audience have to come in to help him, and eventually disaster strikes when one of the balls hits the light board so all the light goes out.
Fortunately, the light can be quickly recalled so that everyone can see Lui Nereus, who has a handstand act, where he transforms the prop into a human figure, who becomes a subordinate in his handstand balances.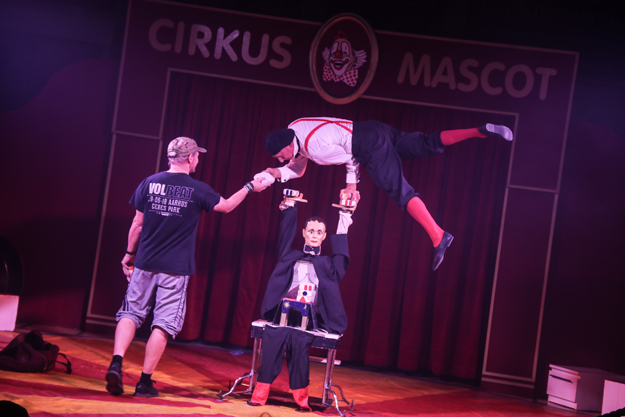 Lui Nereus
Then Husik enters, disguised as an alien. But soon it becomes a robust diabolo act.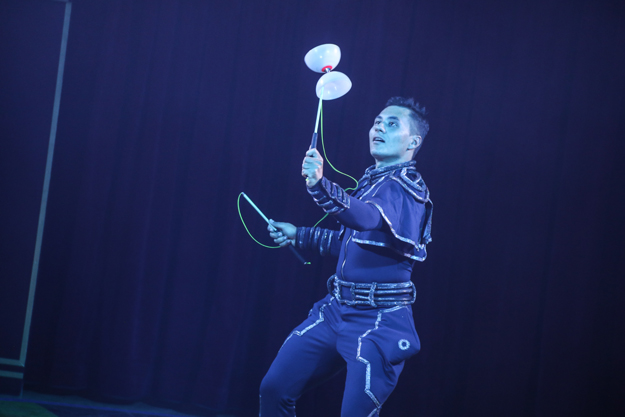 Husik
After the break, Gulio comes in with a statue, which turns into a living slapstick doll as the act goes on. The doll begins to mingle and tease, and eventually it strikes the hat of Gulio. The doll is the same as Tatyana, who is married to Gulio.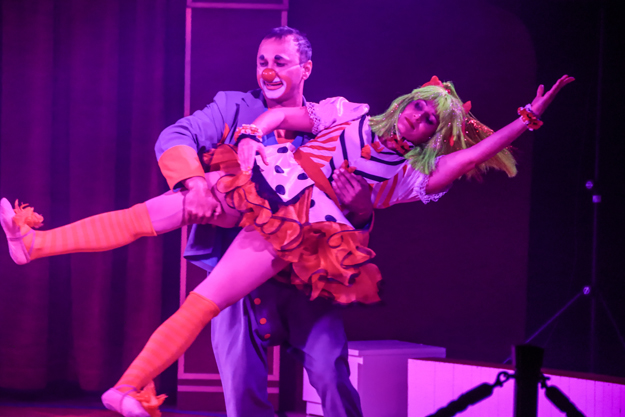 Gulio with his doll
And now it's the animals' turn again. Marianne has a tame goose that can cuddle on its tail down a board. And great cheers arouse the pig Sille, which can do many things - encouraged by Marianne. A wonderful children's act. What they can hear when their adults read goodnight fairy tales to them suddenly becomes true: animals behave as if they had human reason. Sille puts the flag to the top before tugging it out.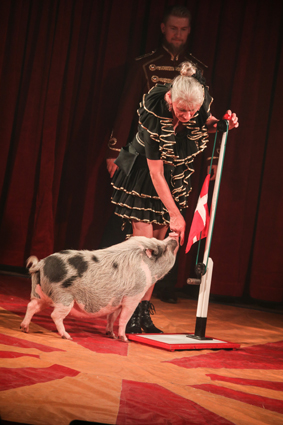 The flag must be hoisted!
Gulio does not give up. Now he will try to walk on tight wire. It only becomes an attempt, because the wire is on the floor. He calls in two spectators so that they can hold the wire, but suddenly he discovers that it can be used as a skipping rope, and he has two helpers on hand who can hold the rope. But the roles are reversed so that they become the ones who jump over the rope.
Lui has used the break to get drunk - or at least he pretends. He does the act: The Man in the Lamp post. Up in the lamp post he comes in spite of his intoxicated condition. Unbelievable that a 70 year old man has retained agility and strength and vitality to this act. The children loved it.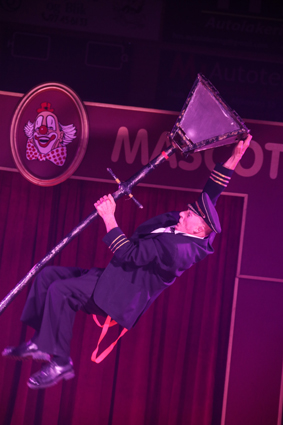 The man in lamp post. Click here to see more of Jacob Boas Leitisstein's photo from the performance.
The performance ends about as it began: Gulio and Daniel. Daniel wants to shoot balloons to pieces. Gulio has to hold them over his head, but they jump to pieces one by one before Daniel gets ready. In the end, however, it succeeds - and the balloon is filled with water, which Gulio gets over himself.
The performance can be seen until 3 October in a number of arenas in Jytland.

6 September 2021
Zirkus Nemo Galla - One Night Only! On November 7at 7.30 pm, Zirkus Nemo opens the doors to a gala extravaganza in the Royal Arena in Copenhagen. Due to the corona Zirkus Nemo hasn't been on tour in 2021.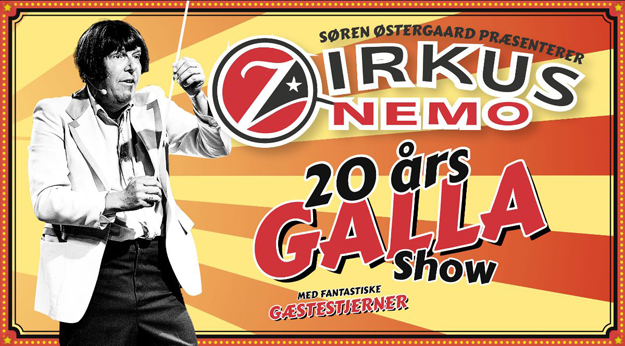 Soren Østergaard presents a completely unique show, where we will see highlights from the last 20 years, both live on stage and on the big screen. You will meet big stars such as Soren Østergaard, Anders Lund Madsen, Peter Frödin, Bager Jørgen, Målermanden, Lesley Boye Møller, Smadremanden and Duo Solys with handstand. The performance is accompanied by the Zirkus Nemo's band under the expert guidance of bandmaster Øyvind Ougaard.
Bager Jørgen (Baker Jorgen), Målermanden (The measure man), Lesley Boye Møller, Smadremanden (the smash man) are all aka the comedian and circus owner Soren Østergaard.

5 September 2021
Honorary award to Soren Østergaard. The Danish actor, comedian and owner of Zirkus Nemo Soren Østergaard received the ZULU Comedy Gala honorary award on 2 September. This is the third time that the honorary award has been presented at the ZULU Comedy Galla. The first time was in 2010, when the popular actor Ulf Pilgaard received the honorary award and the last time was in 2015, when the standup comedian Casper Christensen could go home with the award. It was Anders Lund Madsen who, after a tribute speech, presented the award to Soren Østergaard. And the two in particular have a long history behind them. They started Zirkus Nemo back in 1999 and were regular partners over three seasons.
The Queen has previously made Soren Østergaard a knight of Dannebrog. In 2017, he received the Danish circus and artist world's most prestigious award, the Danish Circus Award. Here, too, he was in distinguished company: the prize had previously been awarded only to Albert Schumann, Eli Benneweis, and Benny Berdino.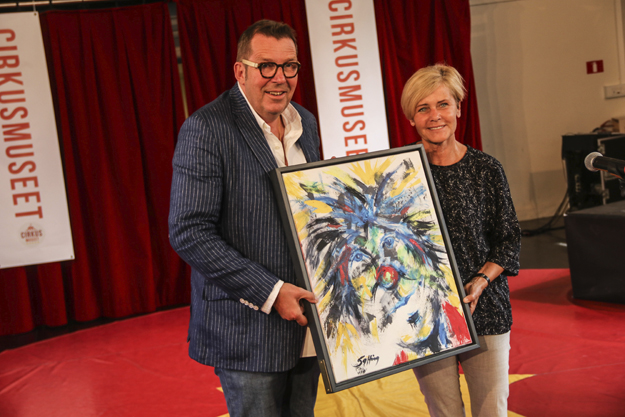 In 2017, Soren Østergaard received the Danish Circus Award. Here he is seen together with the then Minister of Culture Mette Bock with the visible proof of the honorary award: a painting by Viggo Salting. Photo: Jacob Boas Leitisstein

2 September 2021
Majestique. Majestique present themselves as a uniquely fresh evening of circus and cabaret bound to amaze you. A balance of larger-than-life, physically daring acts and cabaret... – See more at www.majestiquetheshow.com/
Jorgen Lorenzen saw their new performance in Spiegeltent Paradiso at Skraaen by Nordkraft, Aalborg, 29 August at 20 and writes (my translation):
There was a real nightclub atmosphere - when 13 international artists had gathered in Aalborg. Together they presented a show called Majestique, which this year once again had found its way to Aalborg
The nightclubs are today replaced by the discos. But the oldest of us remember the old variety theaters that most provincial towns had. There was dancing, live music - and artist performances during the evening.
Majestique seeks back to that time. And there is so much entertainment in variety and cabaret that it must soon come to a renaissance.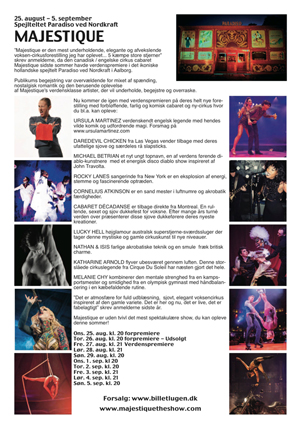 At one end of the stage was an elevator door. The artists disappeared into it - or they emerged from it and stepped out to present their skills. There was tradition - but certainly also renewals and a shift towards the sensual, sometimes also erotic.
There was e.g. a quick change act, Darededevil Chicken, where the two artists change costumes - like lightning and thunder, without making it possible for us to understand how it can be done. But the act surprises not only in the various costumes, but also with a deliberate "accident", where the male artist suddenly is naked. He runs around confused until he finds a sock that he uses to cover his precious parts with.
There is an act in aerial rope where a female artist, Katharine Arnold, climbs up and down while showing acrobatic skills. Such acts are shown in different versions, but are almost always unavoidable in a circus performance. Here is the surprise that the floodgates of heaven suddenly open so that it rains on the artist. The act gets a sensual expression at once - and becomes completely different. Before, it was the acrobat's skills that mattered. Now it suddenly becomes a soaked woman who is at the center.
And then there's Ursula Martinez. She probably won't be happy if you call her a stripper, and she doesn't have the sometimes vulgar expression of the stripper either. Ursula is wearing a gray walking suit, and she finds red scarves around her dress, which she conjures away. And all the while, the garments disappear one by one. She has a twinkle in her eye and the number is not vulgar, for the magic overpowers the stripper.
Surprising and different is also a puppet act, where the two actors themselves are dolls. They enter into many different disguises and erect small tableaux, often with adventurous and variegated figures, which live their own, colorful lives in a fantasy world. Both dolls and the two actors who hide behind masks and disguise.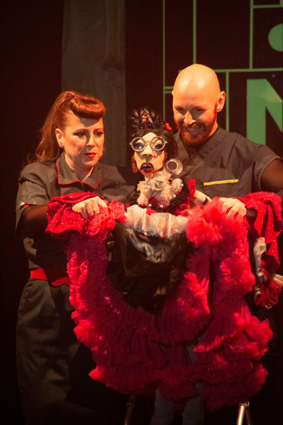 The puppet act with Canadian Cabaret Decadanse, who many Danes remember from Zirkus Nemo 2018. Photo: Pia Kirstine Foto / Skråen
And then there was a sword-swallower. It is quite strange to look at, and in the second part of the performance she came in again and swallowed a sword in which there was light. And yes, you could see the light, which gave a gleam in her stomach skin.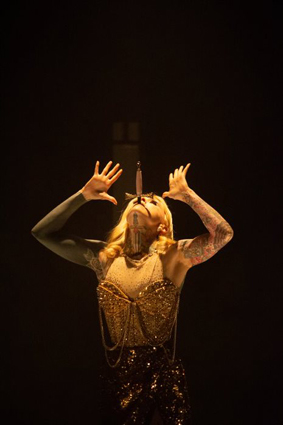 The Sword Swallower uses the artist name Lucky Hell. Photo: Pia Kirstine Foto / Skråen
There was also news. A combination of an aerial act and what is called par terre acrobatics. A man and a woman work together in a trapeze, which hangs a few meters above the stage floor, but not higher than the woman can reach a third man, who is standing on the floor. The number thus alternates between air and floor, between trapeze and stage, where handstand is made and various forms of lifting technique. A good combination that gives both disciplines new opportunities for expression.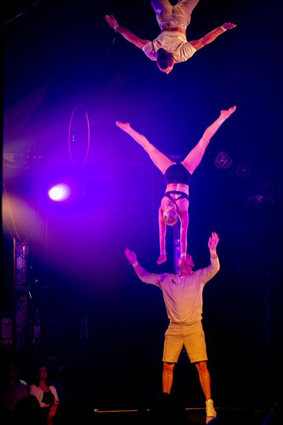 The aerial act Trio Vertex offers an innovation by combining an aerial act and a parterre act. The participating artists are Isis, Nathan and Cornelius, who also has other acts in the show. Nathan and Isis can be seen on the roller skates and Cornelius in the aerial strap act. Photo: Pia Kirstine Foto / Skråen
There's a nice guy, Cornelius Atkinson, with hair like a savage. He does exercises in what in the artist subject is called aerial straps - a further development of the gymnastics discipline: rings. The new thing is that he can twist up and down the straps which hang down from the ceiling. You cannot do that in the gym's rings.
There was a roller skate act, there was an act in what is called an aerial hoop, and there was a diabolo player, Michael Betrian. who, however, was clearly limited by the fact that he did not have a large air space above him that he could throw the diabolos up in.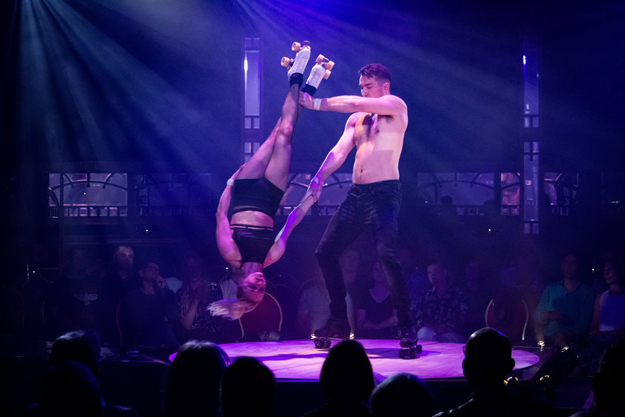 The roller skating artists Nathan and Isis came from England. Photo: Pia Kirstine Foto / Skråen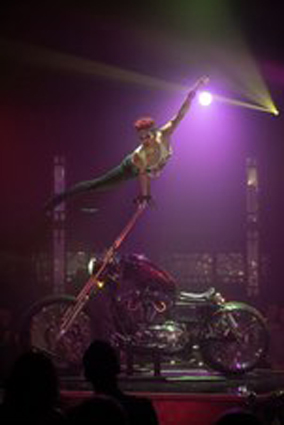 There was a female motorcyclist with a formidable appearance. She stopped the engine and made a handstand, standing on the motorcycle.
An old acquaintance from Circus Benneweis was the handstand acrobat Melanie Chy (Chy Mey Ling), who uses a motorcycle as a podium. Photo: Pia Kirstine Foto / Skråen
To chain it all together, there was a talented singer. The music was on tape, and for some seniors, live music would make the pleasure greater. But probably not for young people.
Many stars to Skraaen which insist on presenting the real variety / cabaret. And hopefully more people will realize that we are sorely lacking in this distinguished and sovereign genre in the Danish entertainment Parnassus.

1 September 2021
Circus Xanti. From Norway, Thorbjørn Klæbo Flo writes:
Circus Xanti is out with their Circus Village and has been in Sandvika in BI park 28 -29 August and is in Oslo in Torshovparken for the 13 time from 3 to September. See www.cirkusxanti.no for artist program.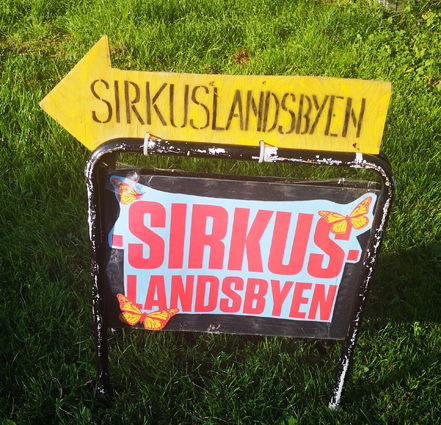 In Sandvika on a hot summer Sunday I saw the Norwegian Captain Frodos Magical Circus, E-Minor and Gangwifre from Finland + In your Face from Austria.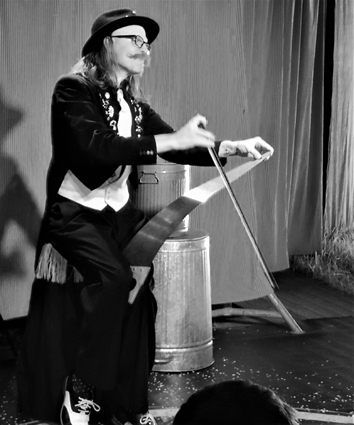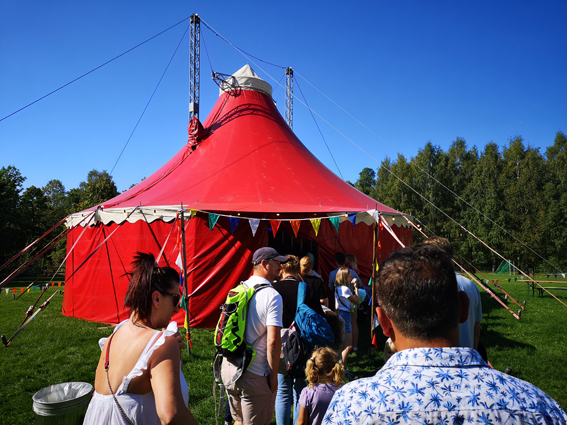 Captain Frodo performed in the small 2-master tent. All photos: Thorbjørn Klæbo Flo
Full house in relation to corona rules in the red 2 pole tent for Captain Frodo's show, great atmosphere here. In the large tent were the two last mentioned performances, possibly the heat was the cause of smaller number of spectators here.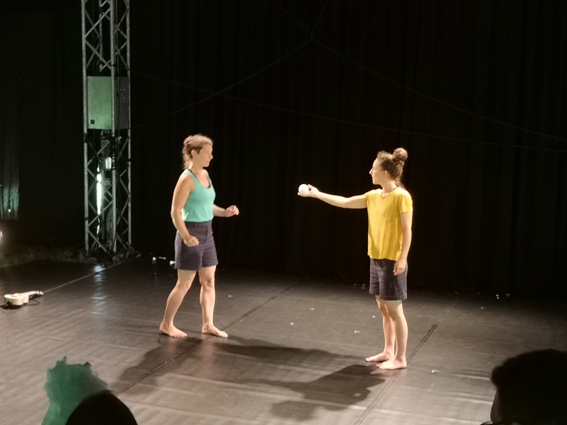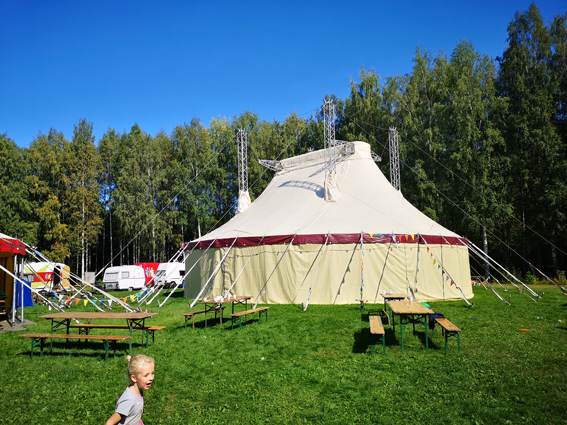 From performance in the large tent
Cirkus Xanti is the Norwegian contemporary new circus that has been most successful and built up a tent park with public support. The tents are built via Rune Berny Løken's tent rental company Maxi tent.

1 September 2021
Swedish Circus Olympia has not been on tour this year due to corona restrictions. But now they have started presenting short performances at nursing homes. They write (my translation): "We finally get to meet the audience again! An audience we usually do always reach. We present circus acts and our dogs in nursing homes around the country. Henrika and Natascha tour in Halmstad & David Hammarberg in Gävle. It is much appreciated and we are so happy for this! "
David Hammarberg is also part of the circus show "Circus On The Top" at Sundsvall's theater together with Circus Elvira and Sundsvall's city circus. It will be an hour-long circus show "THE SHOW HAS JUST BEGAN" with music by Sundsvall's pride YOHIO. The performances can be seen on September 17, 18, and 19.

30 August 2021
Circus Flik-Flak - gala performance on Friday 27 August at 20. Jørgen Lorenzen saw the performance and writes (my translation):
Odense's youth circus Circus Flik-Flak has an excellent framework for the children and youth. In the center of the disused factory building there is a large theater room with ring and seating. At the front of the building there are cafeteria and kitchen facilities. At the back there are many rehearsal and cloakrooms. Ideal conditions.
From 27 - 29 August there was a youth circus festival. 170 children and young people from Circus O'laiski, Circus Kæphøj, Circus Tværs, Salling Circus Kids, Circus Sceneskræk and of course also from circus Flik-Flak participated.
As a start to the festival, a gala performance was held with professional artists. The performance became possible because the Agency for Culture and Palaces had given a grant. The performance was presented by ringmaster Bjarne, who took over the microphone after Tommy Hardam's welcome.
First artist was Jimmy Enoch. And it's running for Jimmy - it's running around. A myriad of difficult balancing acts and a lot of cycling acrobatics challenge the centrifugal force and the law of gravity. But Jimmy masters his bike and plays his way through the difficult repertoire. He does it with smiles on his lips, and he has an ear out among the audience, whose response he responds to with a cheerful remark or another ride the ring around.
After Jimmy came the juggler Mads Jorgensen. He started his career in Flik-Flak and is on his way to becoming a champion. His entrée began differently than one usually sees: it was as if there was lightning and thunder, and the balls were snowballs and small globes, almost electric in the sonic storm. But soon the act became a traditional but versatile juggler act, and the audience experienced a cavalcade of the juggler's props and routines. There were 6 balls in the air. 5 clubs smoked the same way and he could throw the clubs behind his back and grab them with the other hand. He also mastered rings, shown 6 when it culminated. And he could put rings in rotation with his foot if one was lost and lying on the floor. Then he showed devil sticks and he finished with 3 cigar boxes.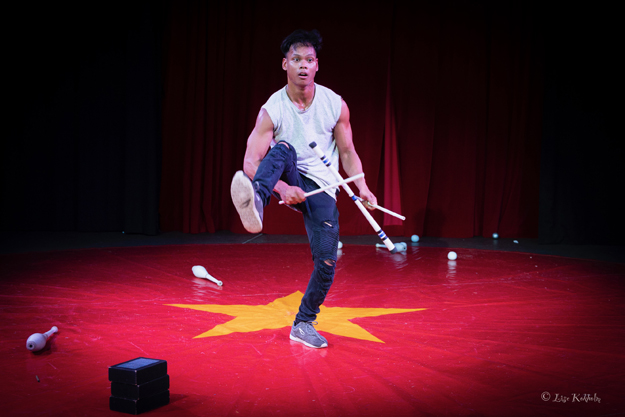 Mads Jorgensen. All photos: Lise Kokholm
Then came Sonja and Alfred. Sonia last name is Maros. Alfred is called von Kriegbaum. They are trained at AFUK, and they are thoroughbred handstand and parterre acrobats. Their approach to the many tricks and positions took the form of a kind of struggle - the struggle of the sexes? - where they slowly and circularly approached each other before uniting in an acrobatic symbiosis. And then followed a string of handstand positions and balances and difficult lifts, with one acrobat lifting the other. What aroused the greatest applause - and probably rightly so - is the exercise in which the woman stands in a split on the subordinate's spread legs. There is only contact with the feet, and it must be unbelievably difficult. One of those moments in a good circus show where the spectator thinks: that is impossible!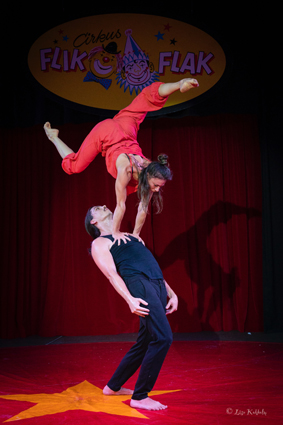 Sonja and Alfred
The magician Henning Nielsen comes from the southern part of Jutland. He presented his fast-paced and versatile show, where the manipulations and disappearance tricks stood in line and were well led by his festive and witty comments. He arrived at Flik-Flak in something that to me looked like everyday clothes - but which he wore during his performance: a tight, tight-fitting black shirt and a pair of black trousers, which were certainly not too large for him.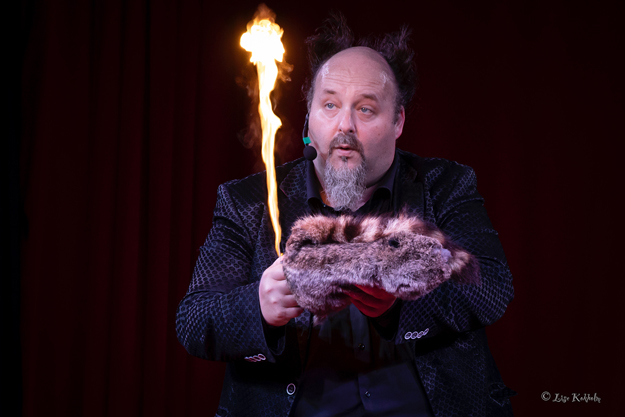 Henning Nielsen
Diabolo player Alexis Levillon is excellent. It goes fast, up and down and out and in, and one of the most difficult tricks is that he lets the rope with the diabolos fly freely around space before grabbing the handles again and continuing the act.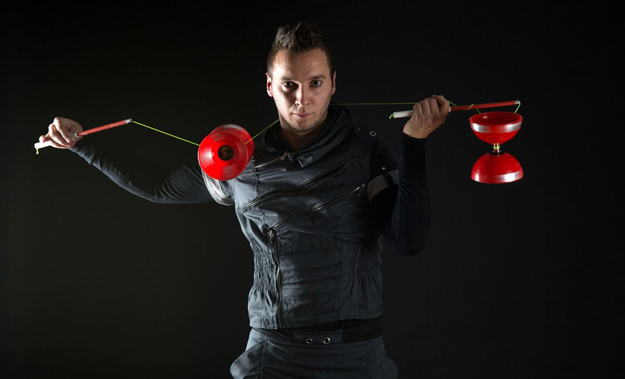 Alex Levillon
The final act was Jimmy Enoch, who presented his glass balance act. 20 layers with 4 glasses in each layer are balanced as he rides around on the unicycle. Great routine, safe skill and a nice combination of balance and movement.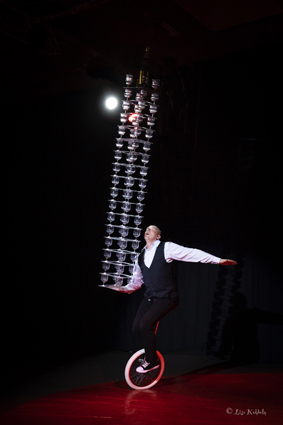 Jimmy Enoch with glass balance
The audience acknowledged with great enthusiasm when the artists were presented in the finale.

28 August 2021
Jessica Caveagna instructor at Circus O'laiski. Italian artist Jessica Caveagna is best known as assistant to Kim Kenneth and for her sword balancing act. Kim and Jessica live today in Denmark in Store Fuglede, and Jessica has spent the last year going to language school to learn Danish. The language school is located in the same building as Kalundborg's youth circus Cirkus O'laiski. That how Circus O'laiski and Jessica got to know each other. Click here to watch a short interview with Jessica. Impressive how well she speaks Danish!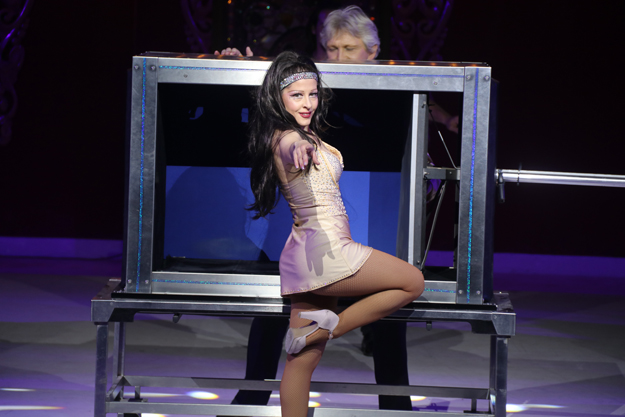 Jessica and Kim continue to perform with their own acts. Over the summer, they have been performing at Circusland in Slagelse. Photo: Jacob Boas Leitisstein

27 August 2021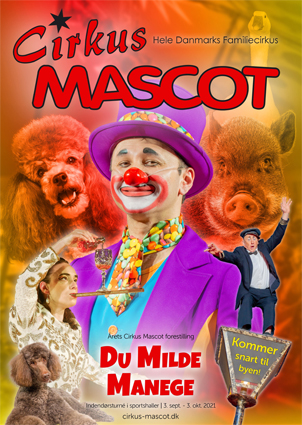 Danish Circus Mascot cancelled their tented summer tour due to Covid-19 restrictions. But from 3 September to 3 October they will tour arenas in Jutland with an indoor performance called "DU MILDE MANEGE" (Oh what a Ring), Circus Mascot writes (my translation):
Children's circus for the whole family! Live entertainment with talented artists, lovely animals and the funniest clown…
As the covid-19 situation not yet has made it possible for us to go on a tented tour, we have decided to move all the performances into local sports arenas etc. This year, we just visit 29 cities and have a total of 32 performances from September 3 to October 3. So there will great demand for the tickets!
See which cities we visit in What's on.
If you have circus blood in your vain you cannot imagine anything but a summer in the ring, so of course there is now the possibility to see circus in the late summer sun! Circus Mascot is going on the road - and there is good reason to rejoice, because their tour brings them around most of Jutland.
They could not wait any longer, the circus family, which has recently "dusted" the acts to unprecedented perfection - the longing for the audience, children and their adults, became too great, and therefore they will now present 14 perfect and amazing circus acts. In sports arenas around the country, which can easily accommodate the usual number of spectators and the associated enthusiasm.
The season opens in Arena Midt Kjellerup on 3 September and close in Salling Hallerne, Roslev, 3 October. A short, intense and entertaining tour where only 18 of the performances go on open sale. The rest of the performances are sold to local grocery stores where you can buy your ticket. Circus is true to tradition, and it's exactly the same magical ring you step into. You forget time and place once the clown Gulio plays with the muscles. This year's show is just as daring as it used to be – playful poodles, a balance art, clowning, two pigs and a goose, a young guy who has more balls in the air than the prime minister and a circus director with (lime) light in his eyes - finally, it's time for circus.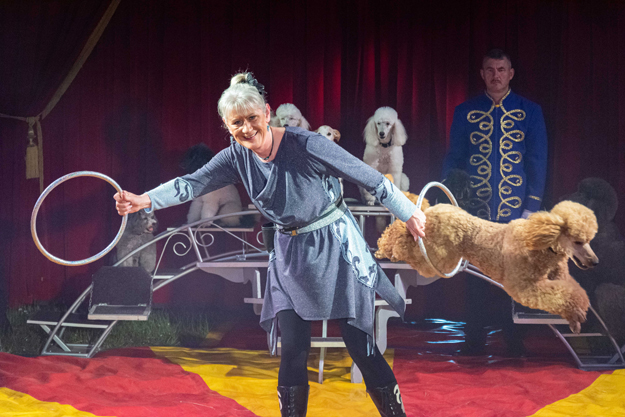 A most charming act - Marianne Deleuran and her playful dogs. All photos are press photos from Circus Mascot
A total of 8,640 tickets are for sale and every single one of them becomes a little magical memory. If you are easily provoked to laughter you have missed the clown Gulio - and if this is the first time you meet him, it will not be the last. This year's Circus Mascot performance is fabulous. Come, let's share the joy and the moment.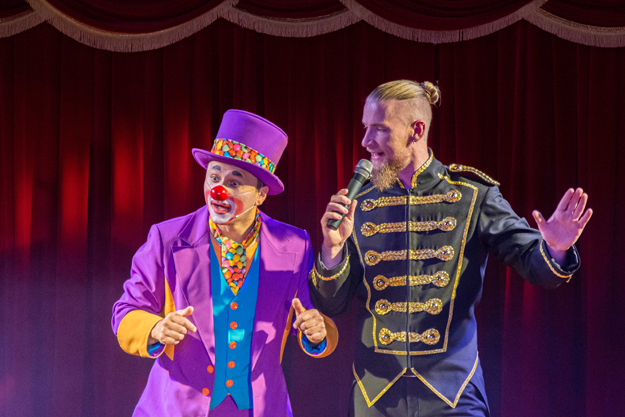 Gulio and ringmaster and circus director Daniel Deleuran
The performance lasts as usual 80 minutes plus a break. The sound and the light are the same, the popcorn tastes as it should, the candy floss melts in your mouth and you are surprised when you hear that the show's oldest artist has turned 70. He has got a bright idea and balances on the edge of the possible. It's part of the magic; that they cannot let go. You know it; the joy of recognition. Everything is as it once was - such a circus…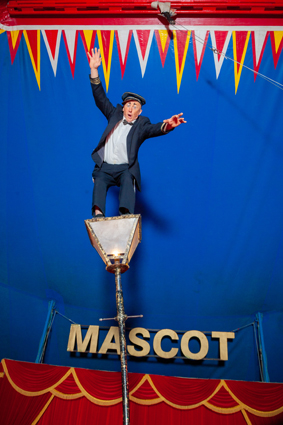 One of the absolute highlights of the show is the comedian and acrobat, Lui Nereus, from Hungary. Lui is a fresh young man of 70+ and climbs all the way to the top of a lamppost in his own comical way. Many Danes will probably remember him from Mascot's 2016 performance

25 August 2021
The Norwegian Circus Arnardo has decided to extend the season with a visit to Sandvika from 10 to 26 September. Sandvika is located close to the Norwegian capital Oslo, which no longer has a circus lot.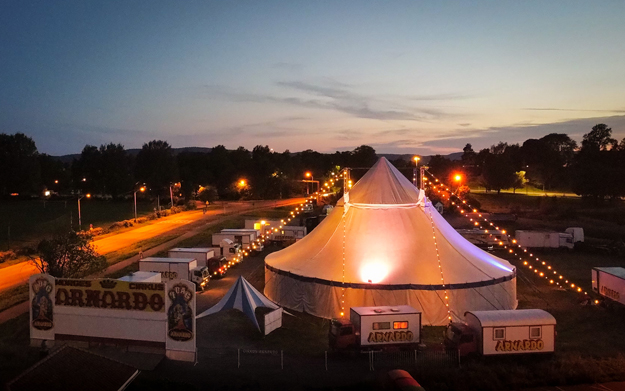 Circus Arnardo in Porsgrunn. Facebookphoto from Circus Arnardo

24 August 2021
Wallmans dinnershows in the Copenhagen Circus Building has, like everywhere else with live entertainment, been hit hard by the corona. The performance, which premiered in September 2019, should have played until June 2020, but had to be canceled from March 2020. The performances were resumed in September 2020 with a few changes, but now with a limited number of spectators and no nightclub after the performance. It lasted until December 10, when coronary restrictions meant that one had to shut down completely. Wallmans had hoped to be able to resume performances during the spring, but that was due to Covid-19 restrictions not possible.
But from 27 August, you can once again see Wallman's dinner show. Creative Director Johan Espeland says that it is, by and large, a resumption of the 2020 performance. However, they have created a new number called Scandinavian Song Contest. The participating artists in the performance apart from singers and dancers are Duo Pile of Face with their fine acts in sway pole and Cyr Wheel, the Swedish comedian and multi-artist David Eriksson and the drag queen Megan Moore.
The language in the show is English.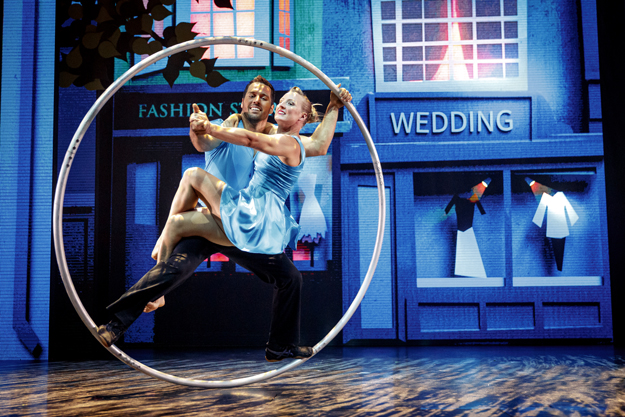 Duo Pile ou Face in Cyr Wheel. Press photo from Wallmans. Photographer: John Resborn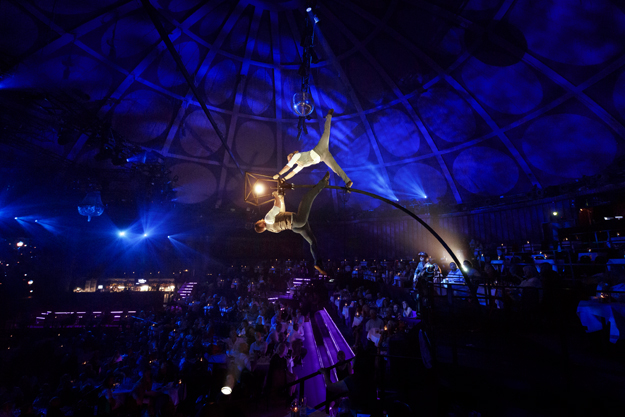 Duo Pile ou Face in sway pole. Press photo from Wallmans. Photographer: John Resborn
There has been a single change in the management of Wallmans in the Copenhagen Circus Building: after 9 years, Dorthe Fryd Ekelin has stopped as CEO and been replaced by Christian Sunn.

20 August 2021
Large free circus show at Frederikshøj in Slagelse on 18 September 2021
The fiery soul Brian Behrendt, formerly known from Circusland near Slagelse, has raised funds from the The Danish Agency for Culture and Palaces for a fantastic show with Danish circus artists and animals. A press release states (my translation):
Top class circus
The show will be filled with some of Denmark's most well-known circus artists. Together with ringmaster Briano you will i.e. meet the Danish circus world's grand old man, the clown and multi-artist Benny Schumann. He grew up in Cirkus Schumann and traveled as a young man around the world with his plate spinning act. For the last many years, he has traveled all over Denmark with his multi-artist show.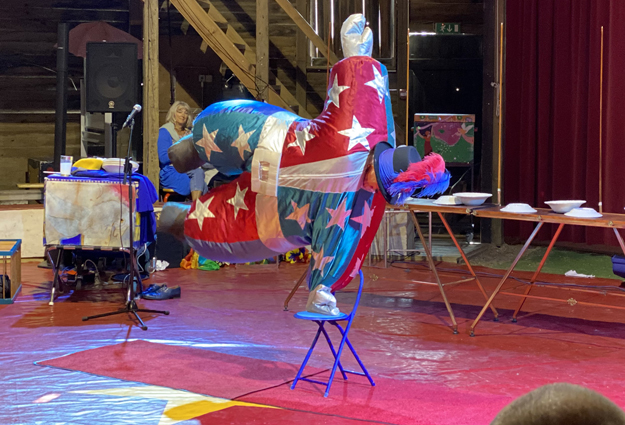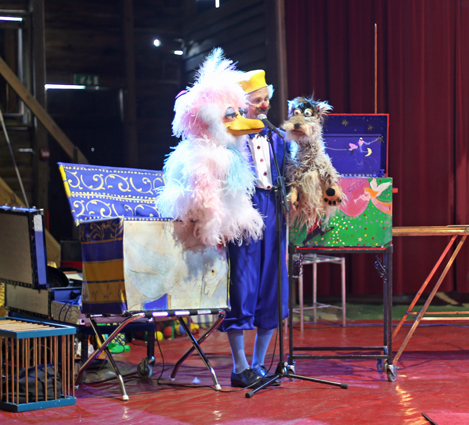 Three of Benny Schumann's beloved entrées. Photo from performance September 2020 in Ridehuset by the Circus Museum in Rold. Photos Jens Chr. Sørensen and Ole Simonsen
In a circus show, of course, there must also be animals, and you can experience this with the charming Charmaine Berdino with her lovely horses and other acts. For her act, Charmaine has received the talent prize from the Danish Circus Award. The ventriloquist Preben Palsgaard performs with funny acts and Suzanne Berdino will present her beautiful ducks, dogs and her pig. We has also a guest star who loves circus; Miss Ida from the youth circus Circus Kæphøj in Holbæk. The dance floor's fantastic dancers from Slagelse. And one of Denmark's best music guards, namely our local Slagelse Guard.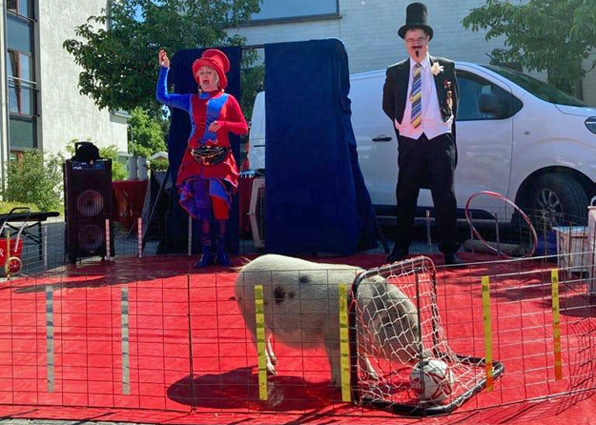 Suzanne Berdino and Briano. Photo from performance in Suzanne's Circus Berdino
You can see the show at Frederikshøj Amphitheater (an open air theatre) on Saturday 18 September at 13. Admission to the lot from 12 noon. In case of very bad weather, the event will be moved to Nordhallen, Nørrevangstorvet 8, 4200 Slagelse.
To participate, you have to order ticket at billetto.dk (They will charge you a small ticket fee)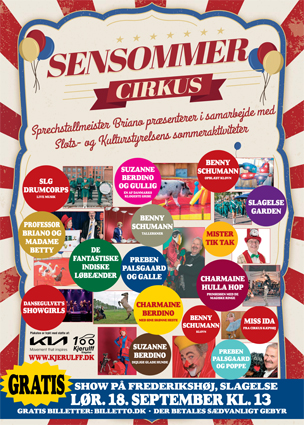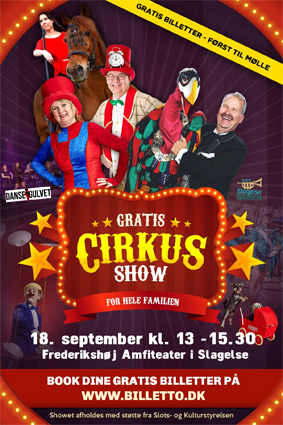 The posters for the show are created by Mogens Simonsen and Christopher Trung respectively.

18 August 2021
Circus days in Esbjerg. The Esbjerg City Trade Association offered from 29 to 31 July circus days with circus parades and short performances in Circus Trapez, circus workshops with Kai Jørgensen from Fugl Føniks, the make-up clown Victoria, Mr. Big from Cirkus Big, the multi-artist Kasper Jensen, the clown Don Carlos and Circus Skunk.
Finn Stendevad has sent me the following photos from the circus days in Esbjerg. An excellent initiative of the city's trade association - something other trade associations can learn from.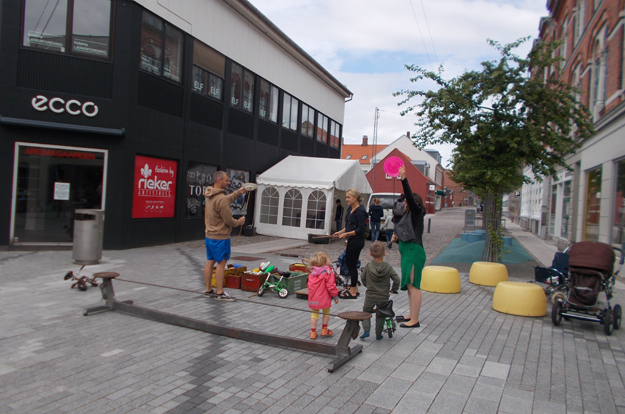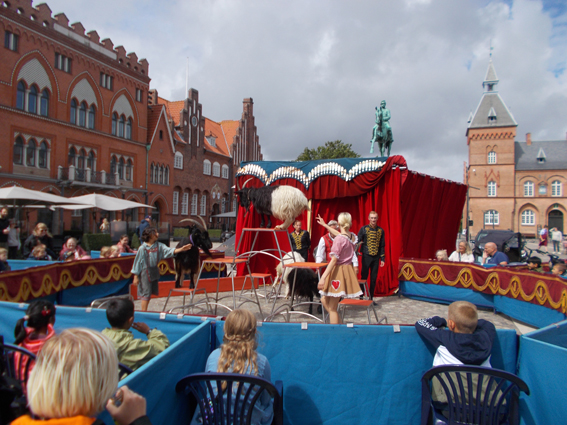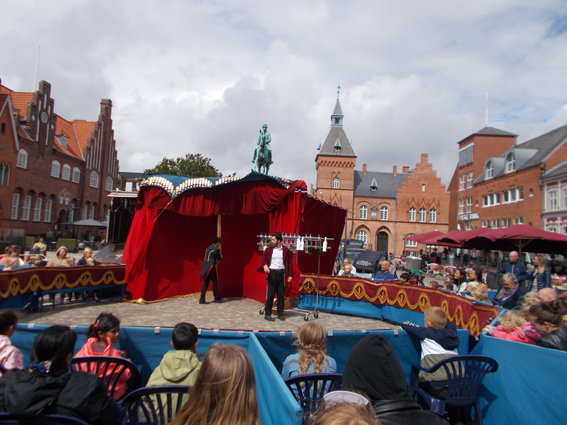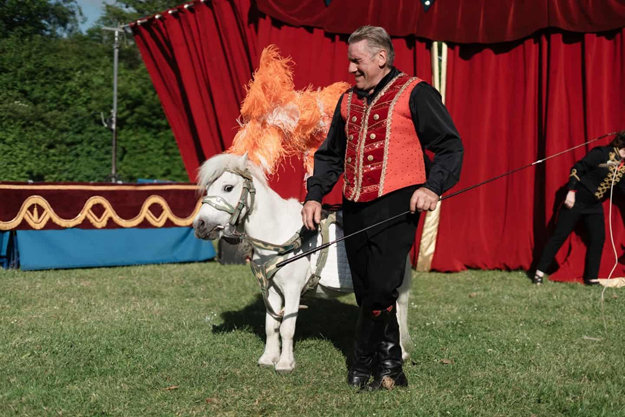 16 August 2021
RISING STARS. Sunday 19/9 at 12.30 you can have a unique experience at the circus museum at Hvidovre, Copenhagen, when they present the performance Rising Stars with three of the most talented young professional circus artists Denmark has to offer.
You will meet the contortionist and trapeze artist Ylva Maia Havndrup, the juggler and aerial acrobat Anna Emilie Pedersen and the multi-artist Jonathan Bendtsen in a terrific performance.
The three artists are trained in the genre of contemporary circus, but their work spans a wide range, and you may have experienced them in everything from street performances to TV shows, where Jonathan Bendtsen, among others has been in the final of Denmark's Got Talent. Tickets for the show can be purchased at https://www.place2book.com/da/sw2/sales/dn7ugf78bg

15 August 2021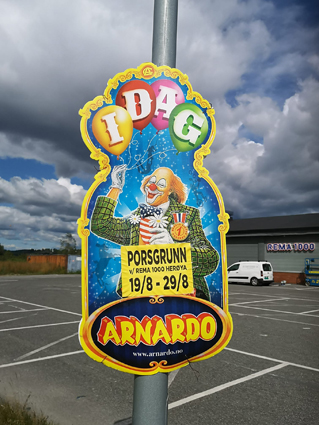 As mentioned on this website the 23rd of July, the Norwegian Circus Arnardo opened the season in Lillesand on the 17th of July. At that time it was unknown whether it would be the only city of the season. However, the number of visitors was so good that after Lillesand they continued to Arendal, and from 19 to 29 August they are in Porsgrunn. Thus the concept of staying longer time in a city rather than playing in many one-day cities and with a performance that only lasts an hour is perhaps not that crazy. They can manage with quite a few tent workers, props and artists and thus have much lower costs than with a usual tour. Photo: Thorbjørn Klæbo Flo.

13 August 2021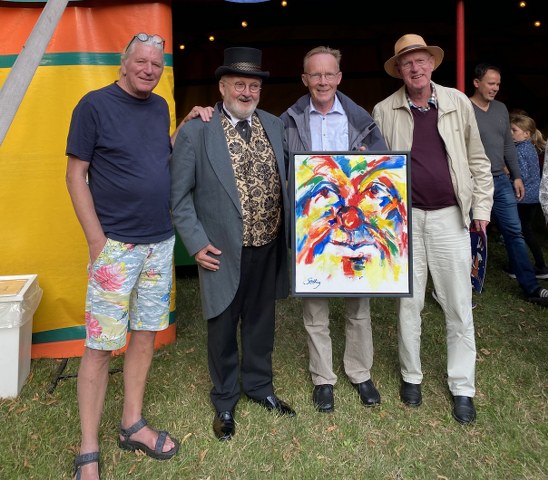 In connection with a performance on 12 August in Circus Arli, the chairman of the Danish Circus Award Ole Simonsen, was unexpectedly for himself presented with the Danish Circus Directors' Association's Effort Prize by the association's chairman Martin Arli. The effort prize is usually awarded at the same time as the other circus prizes, which, however, due to the corona, have not been awarded in 2020 or 2021. The effort prize consists of a painting by the Funen painter Viggo Salting, also known as the clown's master. Viggo Salting is seen to the left on the photo. To right the author and circus historian Jorgen Lorenzen. - In addition to being chairman of the Danish Circus Award the prize recipient is vice chairman of Danish Circus Friends Association and long-time editor of www.cirkus-dk.dk

12 August 2021
Danish Covid 19 related distance and area requirements are abolished. As of Saturday 14 August 2021, there will no longer be distance requirements for events with seated audiences or area requirements in cultural, sports and association life.
Thus, from 14 August 2021 it will no longer be a requirement that there must be at least 2 m2 per spectator. Furthermore, the requirement that there must be at least 1 meter or an empty seat between each seated spectator for indoor cultural and sporting events with seated audiences is abolished.
This means that Circus Arli and Circus Baldoni from 14 August are allowed to sell all the seats they have in the tent. Until now, they had only permission sell approx. 2/3 of the seats. Due to this they have had to reject spectators several times during the season. Circus Arli started the season on May 22 and has the last performance of the year on September 6. Circus Baldoni started the season on May 6 and has the last tented show of the year on September 6. Then they have a couple of arena performances before visiting the Faroe Islands from 13 to 22 September.
Neither Circus Arena nor Circus Krone or Zirkus Nemo has been on tour in 2021. The same goes for Circus Mascot, which however plan an indoor tour to arenas from 3 September to 3 October. Circus Trapez has only had short open air performances.

10 August 2021
Kick-Ass Cabaret. Jorgen Lorenzen saw the performance at the Port of Odense on 7 August at 21. It marked the end of the Dynamo Circus Festival, which took place August 4-7. Jorgen writes (my translation):
In the afternoon, there was life and small tableaux in an open lot close to Dynamo's circus building. There was an open air stage, market performers, stalls and heavy music. The mood pointed in the direction of hippie culture, hip-hop, freak, Archaos - and good, old-fashioned fun.
The performance in the evening took place in a beautiful, white tent with 4 poles. The tent came from Germany. There was high to the dome and a steep, 7-row seating. The tent was about 34 meters in diameter. Maybe a little more.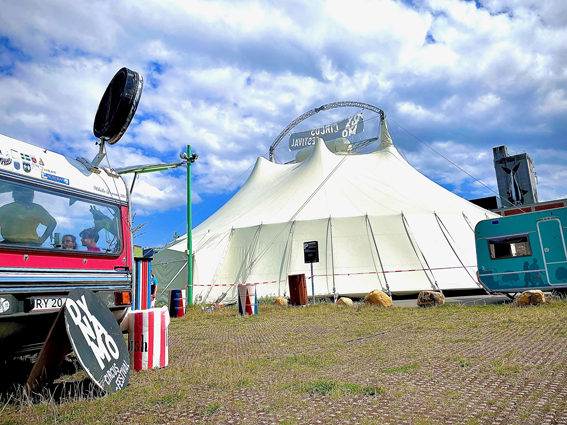 All photos: Lise Kokholm
For the gala performance, there was full house - approx. 5-700 spectators. The mood was positive and agreeable. The artists felt at home! And the show? Definitely innovative and different. But even if one missed a real juggler and a real clown, there was no doubt: we were in a circus!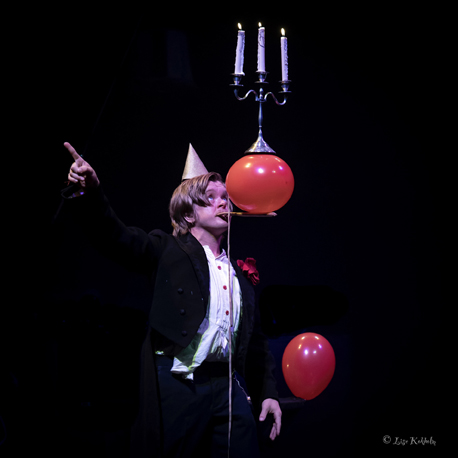 Although Jorgen Lorenzen missed a traditional juggler, the audience met Swedish Petter Wadsted, who among other things did a balance act.
There are many who miss the animals, but that's how it is in a contemporary circus. Animals are banned. But one felt a willingness to be different and innovative - to break boundaries and artist wanting to do more than just the presentation of an artistic skill.
But is it new? The "old" circus has also, to a large extent, put the performance into a theme and created a performance where the artist disciplines are bound together by an idea or a story. Think of the titles Party in Sct. Petersburg, Classic & New Wave, Supergirls, Dynamic Youth, Amazing Africa and The Hunt for the Lost Tear. In the performance here, there is not an overall common thread, but the individual numbers are inserted in a frame that leads the mind to theater.
Two examples can be mentioned - one successful, the other problematic. The successful: it's exciting - and new - that a female aerial artist comes staggering in, dressed as an old, decrepit bitch. But suddenly she throws off her old-fashioned costume and changes him and shines in her colorful costume - and rises into the air and is now a real aerial artist in solo trapeze.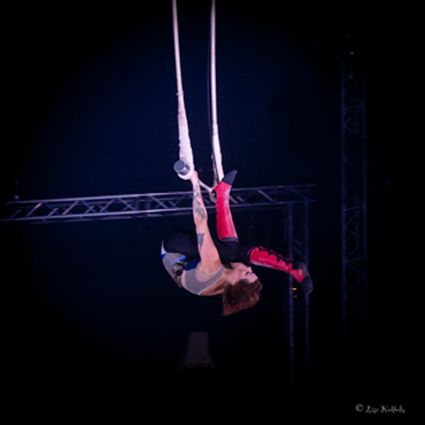 The aerial acrobat
The second example: two skilled parterre acrobats - one of each sex - start their number with a sketch from a toilet visit. It's funny - but not at all related to the following, where they show a long series of difficult tricks, where the man balances with the woman and she performs balance on him. They tricks come as pearls on a string, e.g. she can stand on one hand on his head. The act ends with her lying still - lifeless, dead, asleep? Why is she lying down, one must ask. But perhaps that is the point that the audience must be challenged and even interprets what is happening?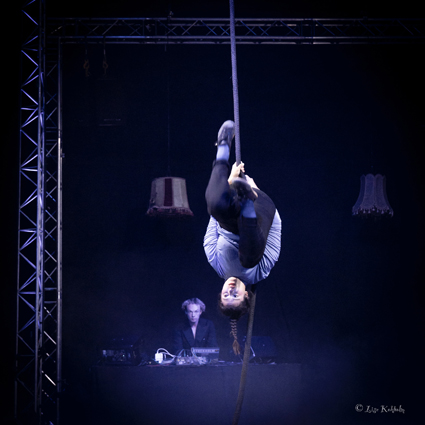 Artist in vertical rope
There is an act with Roman rings and rope tricks. There is glass balance combined with sword swallowing.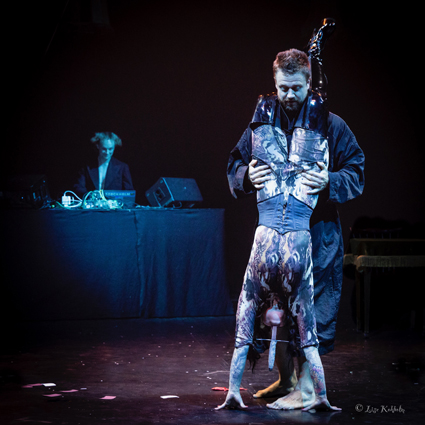 Sword swallowing - wild and hair-raising. Eventually, the man swings his partner around while she has a sword in her throat. And as here stands on hands.
There is a female contortionist who puts on make-up and smokes a cigarette held with her feet. And she can twist around her own axis.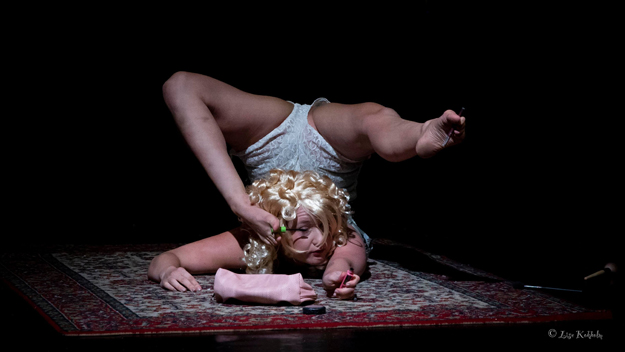 Contortionist.
There's an ingenious strange act with soap bubbles that are conjured into glass balls - and vice versa. The final act is a large aerial act with 6 acrobats swinging with each other. One artist stands on a bridge and throws his partners around, who he grabs and catches with his hands. The act begins with all the artists lying on the pillows, as if they are sleeping or dreaming. They wake up - slowly - one by one, and the act develops into violent movement and powerful turns with soon one, soon another of those who at the beginning of the number lay as if asleep.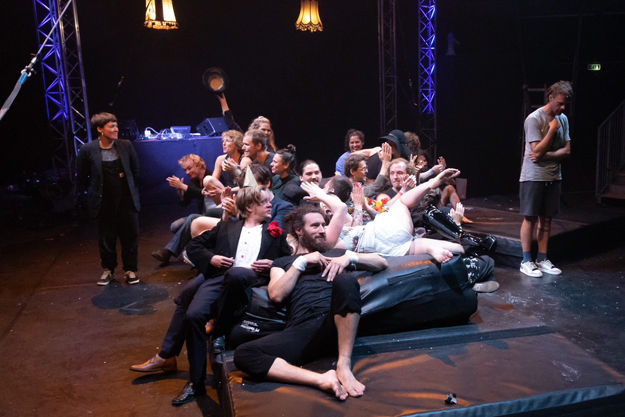 From the finale
There was almost live music - a young guy standing at a mixer behind the artists. He was very much involved in controlling the mood,
Unfortunately, the artists were anonymous. But the applause in the end was not to be mistaken. There was joy and excitement on both sides of the piste. And it was circus - real circus. Different, but genuine.
Perhaps a contemporary circus can be compared to a teenager who rebels against his parents (= the "old" circus) only to find out later in life that the old ones are actually good enough. One could sense the urge to rebel, but there were no wild excesses. It was just a successful attempt to renew and build on. And in a circus the artistic performance must always be at the centre. This was also the case here. The artists knew their subjects - mastered the classical disciplines - but gave them a twist.
It then remains to understand the truth of the wording attributed to circus connoisseur Jorgen Siegumfeldt. He said: Circus is the messageless message. Or put a little differently, apparently formulated by the clown and actor Arne "Jody" Bjørk: circus is meaningless, but at the same time bursting with meaning. After all, these formulations are a paradox, almost absurd - a mystery. After all, a message cannot be without a message, and something that is meaningless cannot at the same time radiate meaning. This is the riddle the contemporary circus is trying to solve. By going new ways, by challenging and maybe (but not in the show here!) also by provoking, the contemporary circus takes up the paradox.
One thing is for sure: you never become tired of circus.
The photographer Lise Kokholm also saw the performance and writes (my translation):
Rarely have I been so well entertained. The tent was a 4 master tent borrowed from a German festival and approved for use in Denmark.
Gry Lambertsen and Rune Vadstrøm Andersen have again created 4 days filled with different and fantastic good entertainment. All performances have been almost sold out. Impressive when you consider that many of the audience have not been able to imagine what they was going to see.

From the square
I take my hat off as there was nothing in the 8 different performances I saw which wasn't fantastic and beautifully performed. And the atmosphere was unique. Friday night I saw the Finnish show for the 2nd time and now with my 2 cousins ​​with their acquaintances. They laughed and amused themselves and this is not the last time they will come even though they did not before know about this art form.
Below are a few more of Lise Kokholm's photos from Dynamo's festival.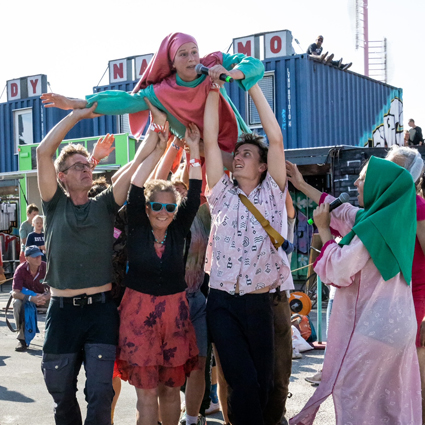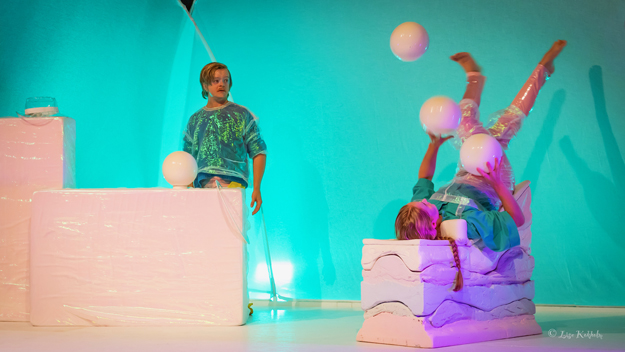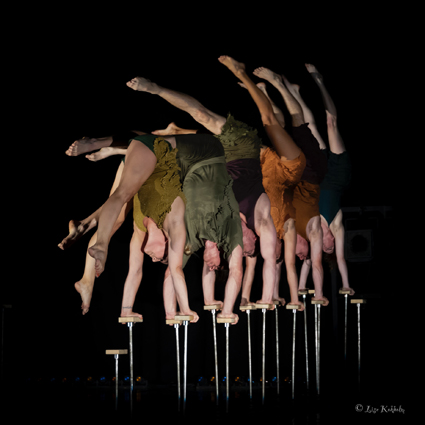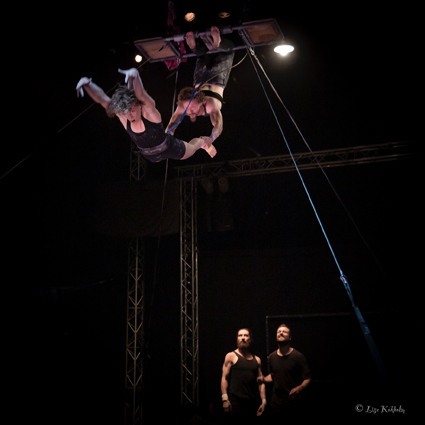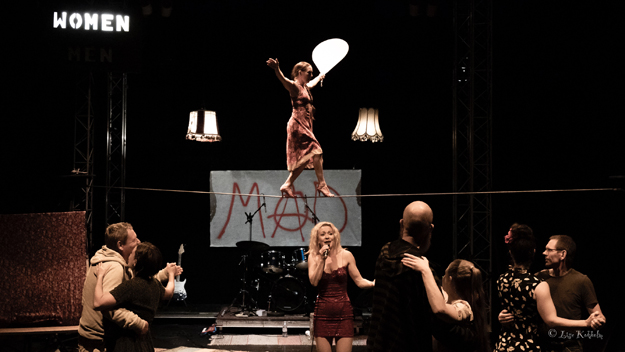 5 August 2021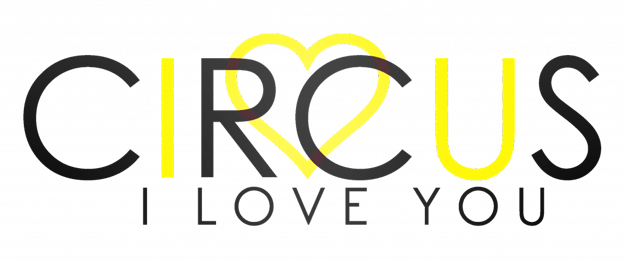 Free contemporary circus in Landskrona, Sweden. From 12-15 August, Slottsparken in Landskrona will be visited by Cirkus I Love You with performances and try-out circus for children and young people. Circus I Love You is a contemporary circus with live music and the performance "Circus I Love You" has been much talked about and loved by audiences throughout Europe. Now they are back with the new energetic and powerful performance "Utopia". Acrobatics at an international level, which amuses, touches and amazes the audience. Suitable for all ages! Tickets for Cirkus I Love You are free and can be booked at https://ilandskrona.se/besoka/evenemang/cirkus-i-love-you
Circus I Love You is "a circus without animals spreading enthusiasm and joy around Europe". It was established in the spring of 2016 by Sade Kamppila and Julien Auger. After a longer residency in Stockholm, Circus I love you came to meet the audience for the first time in January 2018. Summer 2018 was the first tour for Circus I love you, travelling from France to Lithuania and Sweden. In 2019 the company toured in The Netherlands, Belgium and France. Until today the performance has been seen by around 30 000 people during 86 performances in 18 cities.

4 August 2021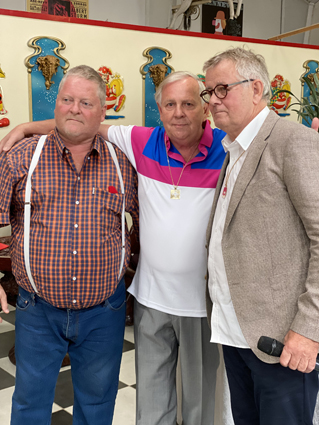 The Fair Performer Cross to Benny Berdino. In connection with Benny's 75th birthday on August 3, he received the Danish Tivoli Association's Medal of Honor Gøglerkorset (The Fair Performer Cross). The picture shows Benny together with Philip Rasmussen, who is vice chairman of the Danish Tivoli Association, and the association's chairman Kjeld Christensen. The only circus man who has previously received Gøglerkorset is the late Eli Benneweis. Other recipients include the late Prince Henrik and Crown Prince Frederik.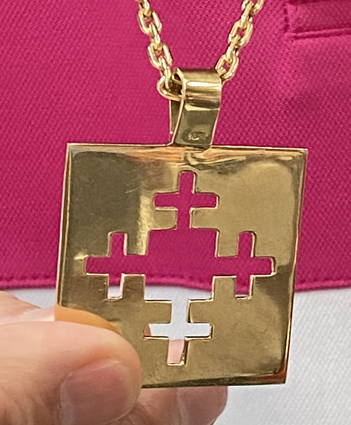 Gøglerkorset is designed by the goldsmiths Helga and Bent Exner. The initiators were the tent holder association's former and then chairman Otto Krüger and Valdemar Jessen. It is awarded by the Danish Tivoli Association. The Danish Tivoli Association was founded in 1920 as the "Association for Danish Market Travelers" by people who traveled to markets with performances, gingerbread etc. When the large carousel and ride owners, and soon also the circus directors, became members in the mid-1930s, the association changed its name to "Danmarks Teltholderforeing" (Danish Tent Holder Association). In 1985, the association changed its name to the Danish Tivoli Association after a general assessment of the knowledge of the term "tent holder".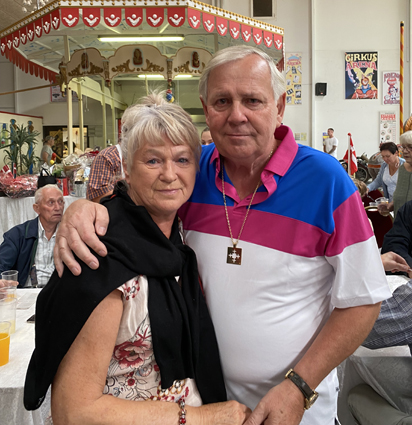 The photo shows Benny Berdino with one of the days many congratulators, Irene Thierry from Circus Krone. Benny and Irene he knew each other right from when they were kids.
Benny Berdino's old friend, the singer Dario Campeotto sang for the birthday boy. First Bent Fabricius-Bjerre's "A single melody for you" and then "It's fun as time suddenly spans" - a song that Rasmus Krogsgaard wrote to Dario a couple of years ago when he turned 80. For the sake of KODA and Gramex, you settle for the above photo instead of video clips with the songs.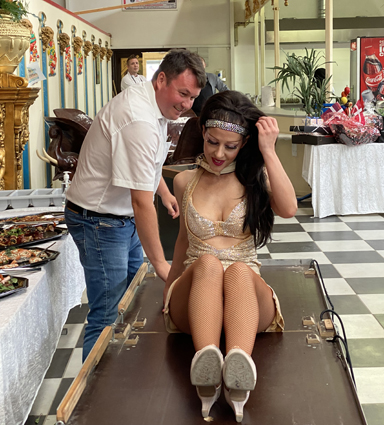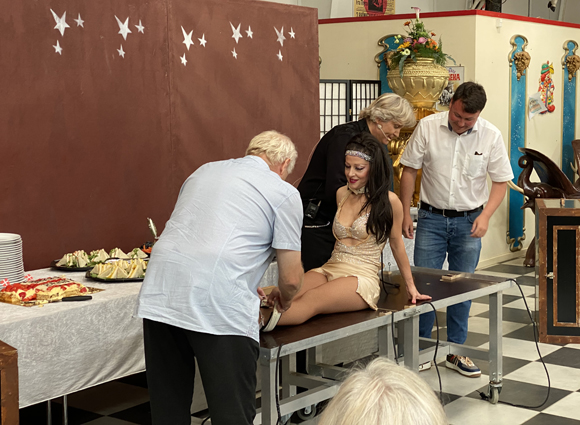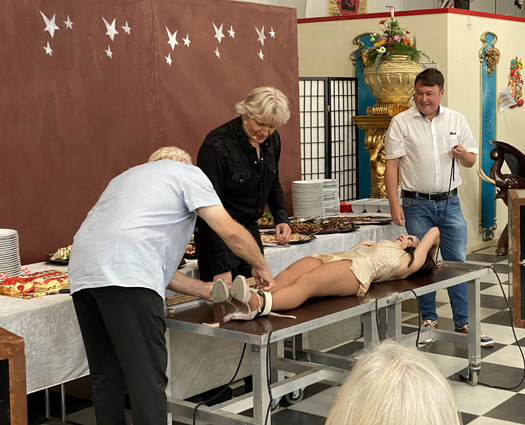 Kim Kenneth and Jessica Caveagna had a fun feature with the lady sawed in half trick, where they were assisted by both the Social Democratic MP Anders Kronborg and Arena's former public relation manager Christian Warrer. Click here to watch video of the rest of the trick.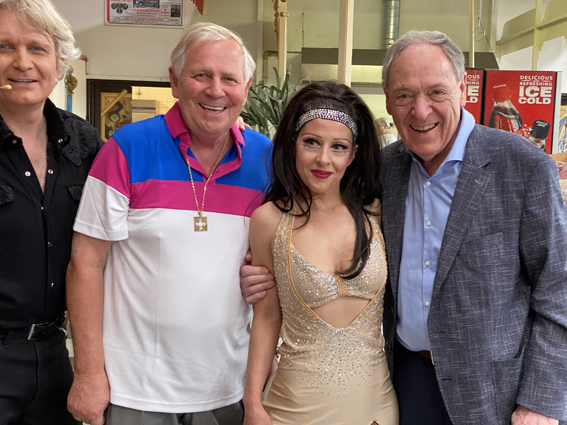 Kim Kenneth, Benny Berdino, Jessica Caveagna and Dario Campeotto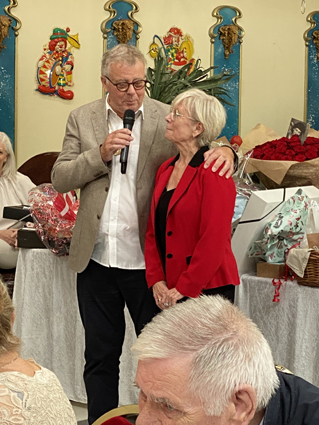 Behind every successful man stands a woman. In the case of Benny Berdino, his wife Hanne, who here is seen together with the Danish Tivoli Association's chairman Kjeld Christensen

2 August 2021
IT ALL HAPPENS IN PARIS - forever and ever ....please find a little sunshine story: funny, nice, and sympathetic - without any social misery!!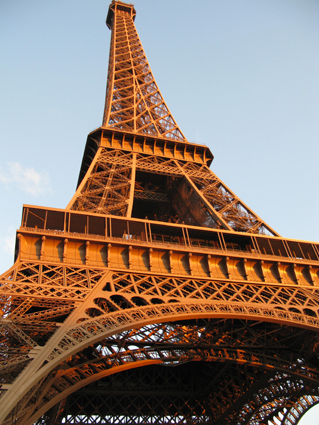 THE EIFFEL TOWER is the best possible representation of PARIS !!!
I am traveling in Paris' METRO, when a little lady, elegantly dressed, about 50, and clearly in a good mood enters the wagon holding a kind of scooter that she attaches to the center pole, using a piece of rope, she speaks French, conveys a sympathetic impression, - and takes from her pocket - 3 balls that she juggles, rather skillfully and precisely, she manages this stunt quite well in spite of the shaking wagon.
The trick lasted about 2 minutes.
The passengers /PAX/ were greatly astonished, not being used to this kind of entertainment - in the METRO !!
When passing the hat, she was rather successful, the passengers did find her sympathetic and - funny !!
I myself take it that she had had some kind of performing career, maybe she had picked up some juggling in another context - the future gym teachers and monitors do quite often have to learn basic juggling.
Never had I seen a juggler in a METRO wagon, but sometimes a puppet player, musicians to play in the long corridors, as a rule they have a licence
The little lady beamed of joy and happiness, when doing this kind of BUSKING - it was positive and - it made my day!!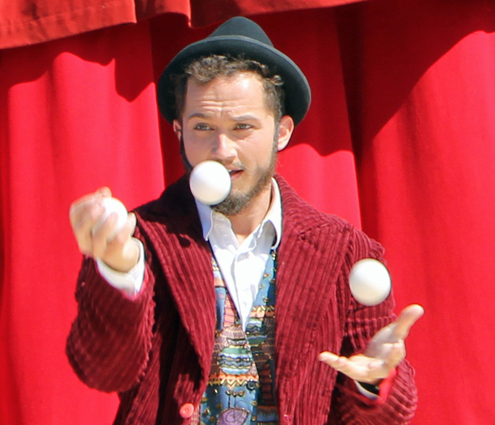 DAVID SOSMAN ENOCH / born in a DANISH-FRENCH circus family, carrying on the traditions/ juggles 3 balls, called the CASCADE -- impossible to shoot pics in the Metro wagon, this very photo is representative of the little lady's impromptu performance.
IT ALL HAPPENS IN PARIS - forever and always -- some fun and points of INTEREST!!!
------------------------------------- reported by ZARRO ZARRO.

30 July 2021
A circus king turns 75
Tuesday, August 3, Benny Berdino, Circus Arena, turns 75. His hometown is Aarslev near Slagelse. Both last year and this year, the corona has meant that Benny has spent most of his time in Aarslev, where Circus Arena has its winter quarter, which also houses the theme park Circusland. Usually, the busy circus director spends much of the year touring with his circus or hunting around the world for good artists.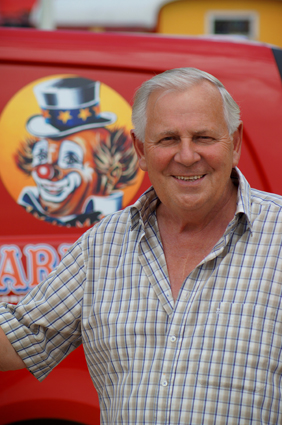 Benny Berdino is son of Arne "Berdino" Olsen and Mrs. Lydia. Arne Berdino founded Circus Arena in 1955 after several years as a market traveller. In its first years of life, Circus Arena was able to market itself as Denmark's smallest circus. The staff consisted of the director, his son Benny, his daughter Jytte and the strongman Abdullah. Later, the clown Larno joined. When Arne Berdino died in 1976, Circus Arena had become a nice medium-sized business. But the new director Benny Berdino did not just want to run a medium-sized business. His dream was to have the largest circus in the Nordic countries and to be part of the super league among circus owners in Europe. He has long time ago succeeded in realizing that dream with good help from his wife Hanne, who comes from an old artist family.
Although Benny Berdino is today the owner of the Nordic region's largest circus, he has also experienced something other than success. The circus industry has always been an industry where it goes up and down. But every time it has looked difficult Benny Berdino has managed to find solutions making it possible for Circus Arena to continue.
In 2020, he had been looking forward to celebrating Circus Arena's 65th anniversary. This was due to the corona impossible, and the celebration was postponed until 2021. But again this year, the corona blocked the way. The restrictions that applied made it simply impossible to carry out a financially sound tour with a large circus as Circus Arena. "But in 2022, we will celebrate the anniversary with a bang of a show," promises the always optimistic Benny Berdino.
In addition to the Danish tent tour, Circus Arena and Benny Berdino have been visiting Greenland every autumn for more than 30 years. But here too the corona blocked the way in 2020. Circus Arena has also visited Norway, the Netherlands, Iceland, the Shetland Islands and the Faroe Islands.
The expansion of the winter quarter in Aarslev near Slagelse into a theme-based experience park, Circusland, had a slow start, but in recent years has developed into a sensible business, which now has Benny's son and daughter-in-law Jackie and Laura Berdino as daily managers. The Berdino family plans to expand Circusland into a holiday and event venue with holiday accommodation for 600 overnight guests, an 8,000 m2 water park and a concert and event venue with room for up to 3,000 guests.
Benny Berdino is known as an outgoing person with a lot of show. After a double bypass operation a few years ago, however, he was forced to slow down a bit and has left an increasing share of the operational responsibility to his son and daughter-in-law Jackie and Laura, who are also co-owners of the circus empire.
As mentioned, Benny Berdino is today the owner of the Nordic region's largest circus. In 2008, the Queen made him a Knight of Dannebrog, an honour that in the circus world had previously only accrued to Albert Schumann. In 2016, he received the Danish Circus Award and also came here in distinguished company: the award previously just given to Albert Schumann and Eli Benneweis.
On the director's birthday family, friends & business associates are invited to a reception in Circusland from kl. 12 to 17.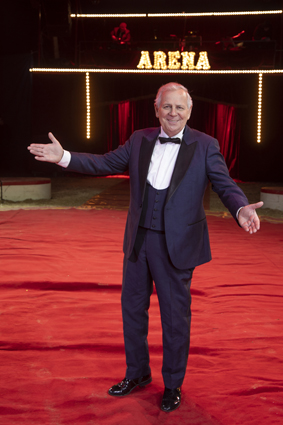 26 July 2021
Circus Jesper 2021. Lasse "Bonbon" Nørager has sent me the following photos from this year's performance in Circus Jesper in Kristiansand Zoo in Norway. Lasse is creative producer of the performance. As in previous years, the performance is a themed performance based on the character gallery from Thorbjørn Egner's When the Robbers Came to Cardamom Town. The book is a 1955 Norwegian children's book written and illustrated by Thorbjørn Egner. It is considered one of the most important works in Norwegian children's literature. The book is about the peaceful town of Kardemomme and the people there, as well as the only characters which stir up serious trouble. They are the three robbers, Casper, Jesper and Jonathan who live outside the town and regularly enter to steal the things they need. The robbers get arrested and are treated well in jail. In the end they are reformed, and in the final chapter, they become the heroes of the day when they extinguish a fire in the tower of the town. Finally, Casper becomes the town's fireman, Jesper becomes the town's circus manager and Jonathan becomes a baker.
In Circus Jesper there are professional artists among the performers. And this year with new acts - only Bonbon and Tiina's badminton act have been allowed to consist from previous productions.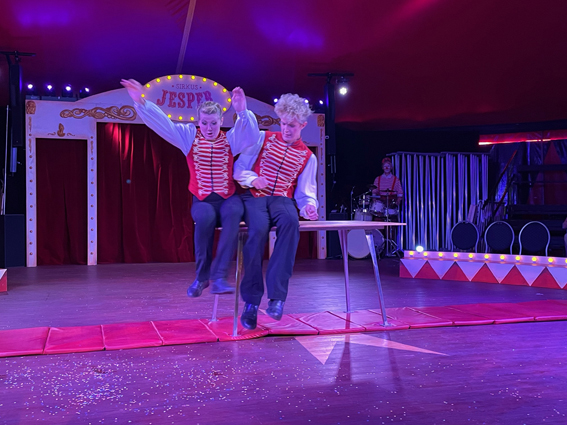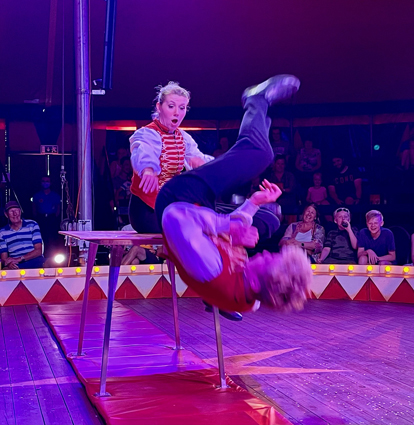 Lasse and Tiina's children Julia and Joakim show their very own table act which Freddi Steckel has helped them with the training for.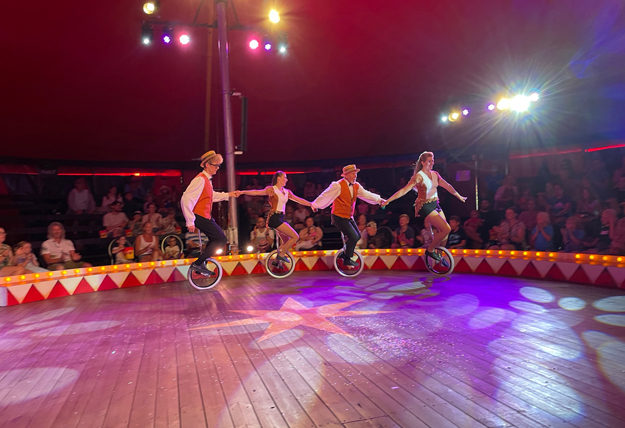 Together with Freddi and Finnish Nelma Pietela, Joakim and Julia make a one-wheeled bicycle at, with built-in surprises...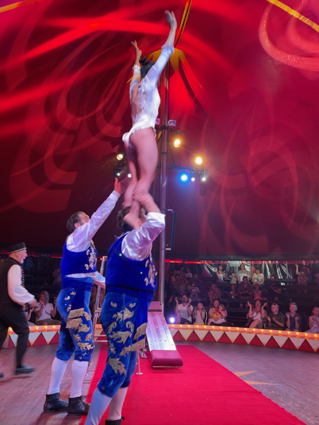 Trio Csaszar from Hungary makes springboard act. They have been with Circus Roncalli and various Bernhard Paul varieties for many years.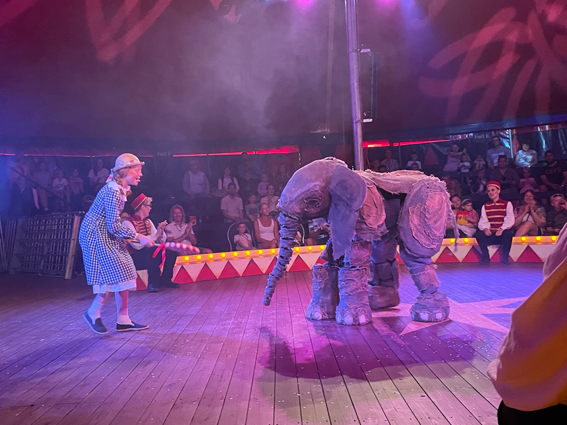 Circus Jesper's fine elephant Mimo (not a live elephant) is also part of the performance. Here seen with Aunt Sofie.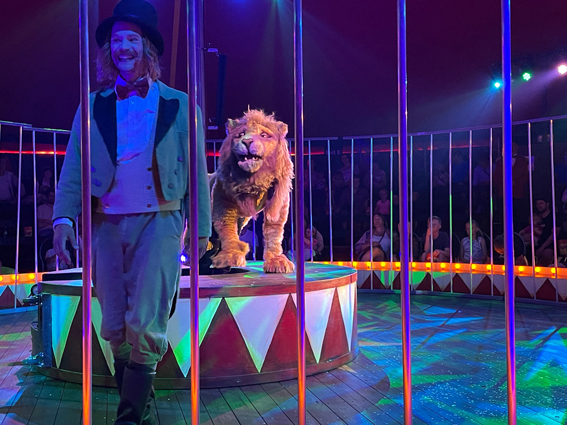 Circus director Jesper together with the lion - a brand new animatronic lion, which Lasse and his family we have spent the Corona winter producing at their home in Slangerup, Denmark.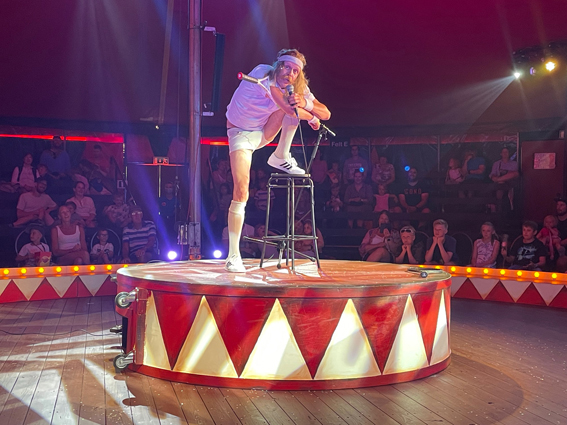 Captain Frodo is also in the show, here with his tennis racket act in a slightly more family-friendly version than we know from La Clique and Zirkus Nemo.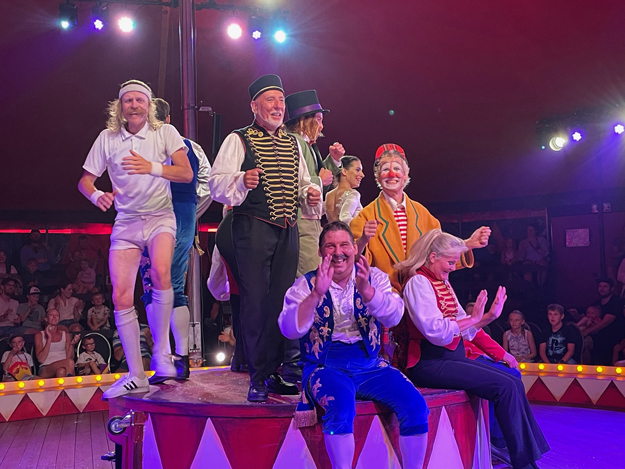 Circus Jesper will close the season on August 15th.
In addition to Sirkus Jesper, you have in Norway since 17 July been able to experience Circus Arnardo in Lillesand with approx. 1 hour long performances. After Lillesand, they continue to Arendal, where they will be from 5 to 15 August.

23 July 2021
Norwegian Circus Arnardo summer show 2021. Due to the corona Circus Arnardo was not on tour in 2020. One season without Circus Arnardo is enough for circus director Are Arnardo. Therefore, this year he invites to three weeks of summer circus in his hometown Lillesand, where Circus Arnardo premiered July 17.
Thorbjørn Klæbo Flo saw the performance on July 18 and writes (my translation):
After the corona outbreak just before the start of the season 2020 Circus Arnardo had to stay home in Arendal / Lillesand in 2020 without having any performances.
This year they open the season with 23 performances from 17 July to 1 August 2021 in Lillesand next to the climbing tower by the E18.
A little over an hour show with good artists and animals in classic form. They use a smaller tent than usual from Kevin Probst with a diameter of 26 meters. There are infection control restrictions, good distance and hand sanitizer.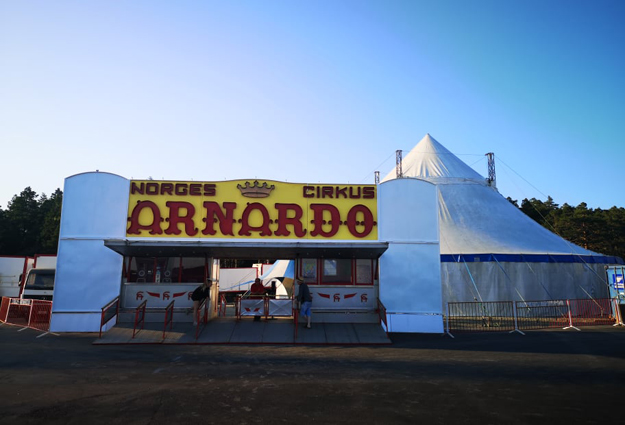 Circus Arnardo this year uses Kevin Probst's tent, which has a diameter of 26 meters and is a little smaller than Arnardo's usual tent. All photos: Thorbjørn Klæbo Flo.
The program consists of comedian / clown Victor Rossi, this year's debutant Shannon Folco Arnardo (4 generation Arnardo) with foot juggling, Kevin Probst with 8 donkeys in liberty dressage. Paola and Are Arnardo with magic, Victor Rossi and Frank in cooperation, Kevin Probst - solo horse, Luigi Folco Arnardo - diabolo, Victor Rossi and Frank, Tünde Szabo – aerial straps , Victor Rossi comic juggler, grand finale.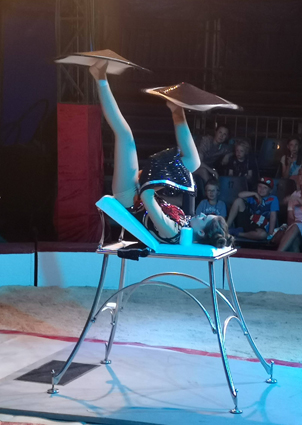 Shannon Folco Arnardo is 18 years old and debuts with her own act where she juggles with carpets with both hands and feet at the same time.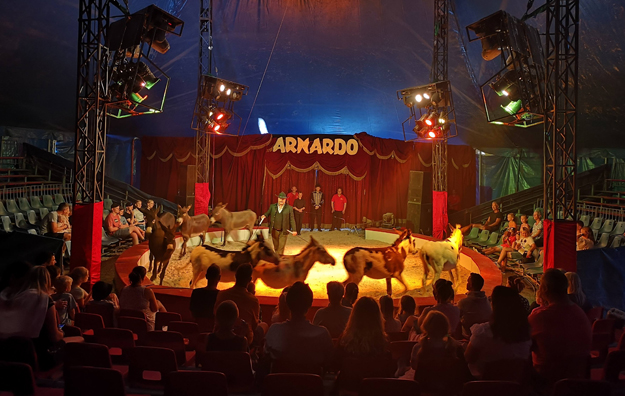 Kevin Probst and his 8 donkeys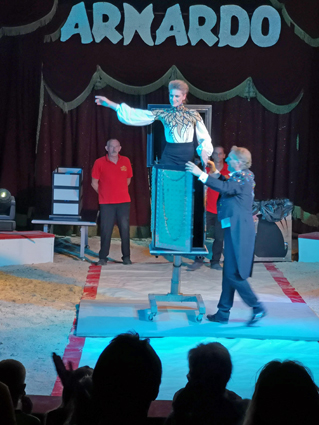 Are Arnardo and his partner and spouse Paola with a magic and illusion act. Are has brought the illusion and magic tradition from Grandfather Arne back into the arena. The circus king Arne Arnardo was Norway's most famous magician of all time.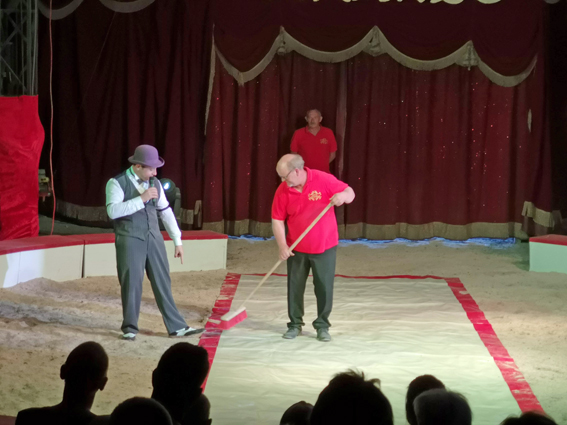 Victor Rosi and Frank. Frank is Norwegian. He worked for many years at Arnardo as a tent worker, ticket collector and props. He is a good friend of Fumagalli and participated in his entrées as a clown at Arnardo. Here he is seen in cooperation with Victor Rossi more as a prop, slightly comical.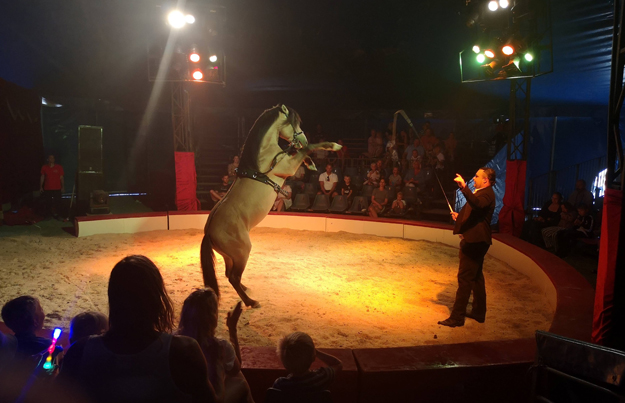 Kevin Probst with a single horse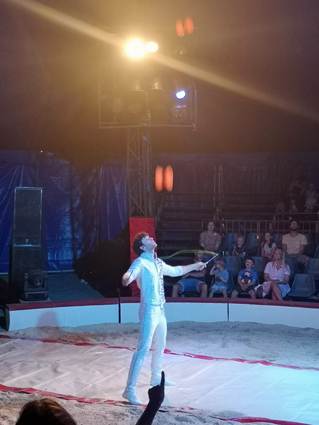 21 year old Arne Otto Luigi Folco Arnardo with diabolos.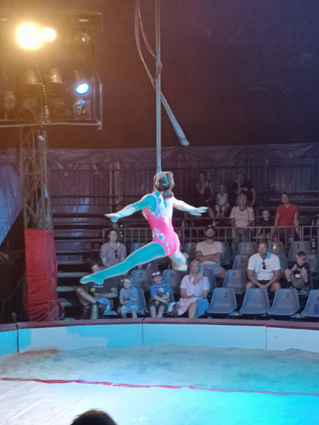 Tünde Szabo in aerial straps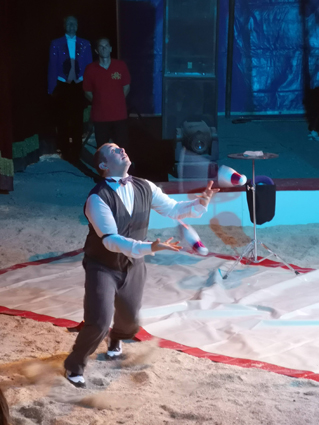 Victor Rossi as juggler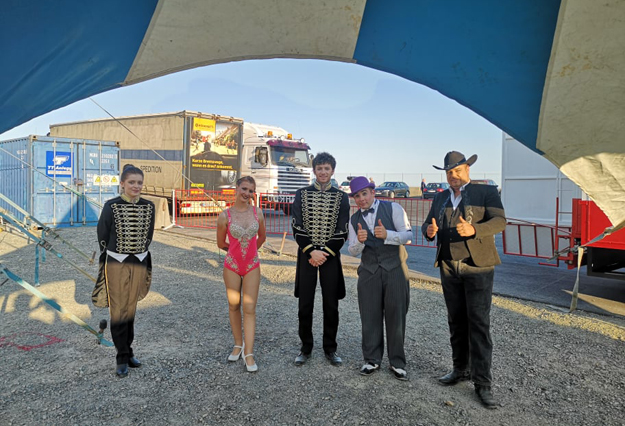 From left: Shannon Folco Arnardo, Tünde Szabo, Luigi Folco Arnardo, Victor Rossi and Kevin Probst
With possible reinforcement of the program and if there will be less Norwegian corona restrictions there might after Lillesand be a tour in southern part of Norway. Arendal and Sandvika is mentioned and possible Stavanger. Unknown when the season will close. I hope the best for the circus as the situation is now and that the audience also in Norway want to go to the circus.
The other Norwegian circus Circus Agora is at home and will probably not come on tour until 2022.

21 July 2021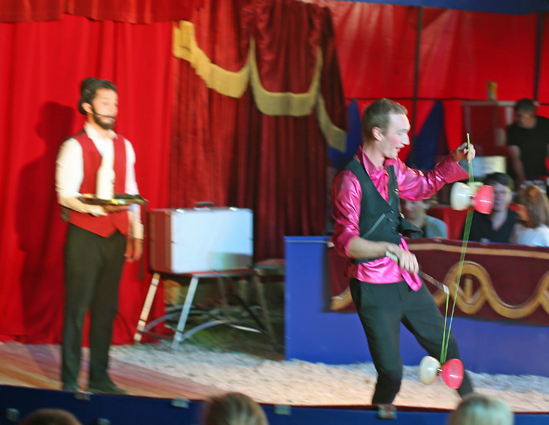 In Circus Trapez Open Air performances, there are some changes among the performers over the summer. The Dutch diabolo juggler Michael Betrian has continued to other engagements and been replaced by Danish Lasse Hasager. Photo: Jens Chr. Sorensen.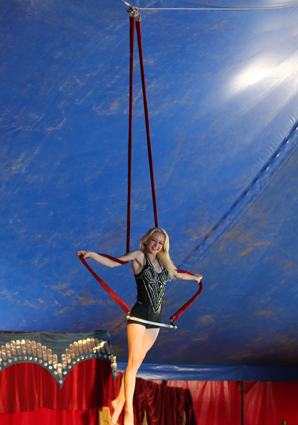 In Madsbyparken, where there is a roof on the tent, Nynne Hulsig Samuelsen has performed in trapeze. Photo: Jens Chr. Sørensen.

18 July 2021
IT ALL HAPPENS IN PARIS ---- I risk my hide telling my international followers: long time no show, long time no see - / disrespectful licencia poetica often used .../
But, but there is light at the end of this horrible lockdown.
Restrictions have been largely eased in Paris: my write up on CIRQUE GONTELLI was published on 12 July.
CIRQUE D'HIVER BOUGLIONE hopes to start the winter season on 23 October.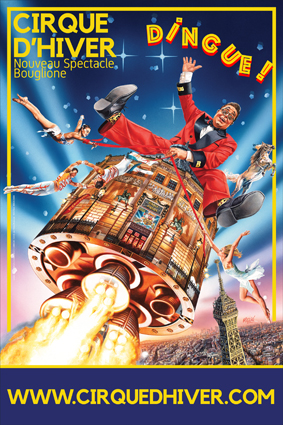 CIRQUE ALEXIS GRUSS hopes to be able to put up their tent in the Bois de Boulogne Park in Paris from 18 September till 6 mars 2021 using the brand LES FOLLIES GRUSS.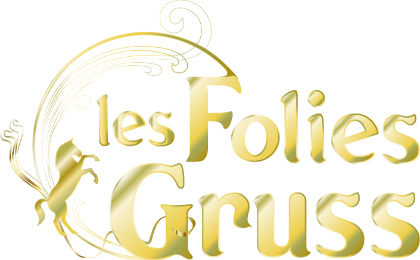 The following establishment has spread word that they will land in Paris before X-MAS: CIRQUE ARLETTE GRUSS from 3 to 12 December.
THEATRE LA SCALA features a contemporary circus in October/ OPERA MAGIQUE performs at theatre COMEDIE SAINT MICHEL/ OPERA + MAGIC STUNTS.
L'OFFICIEL DES SPECTACLES = a publicity paper on ALL events in Paris- announces the re-start of activities on September 1st - this is where I fish out and up all my infos.
I do hope that all of you are well alive and kicking !!!
IT ALL HAPPENS IN PARIS !!!
------------------------------------------------------ZARRO ZARRO.

13 July 2021
The Circus Farm in Løkken 2021. Jens Christian Sorensen has visited Katja Schumann's circus farm in the Danish seaside resort Løkken and sent me a number of photos, see below.
Jens Christian writes that the first part of this year's show is about training the animals, while the second part is a performance. Apart from the fact that Katja Schumann and her friend Luffe Bøgh take a little waltz as an extra number, all the acts are animal acts. Victor Høeg Abrahamsen, who in previous seasons performed with diabolo and magic, has become a reasonably good horse trainer. In addition to working at the Circus Farm, he has for a period worked for Circus Mascot which due to corona restrictions isn't on tour in 2021. He also works with ponies. The last performer is a girl who rides a pair of horses.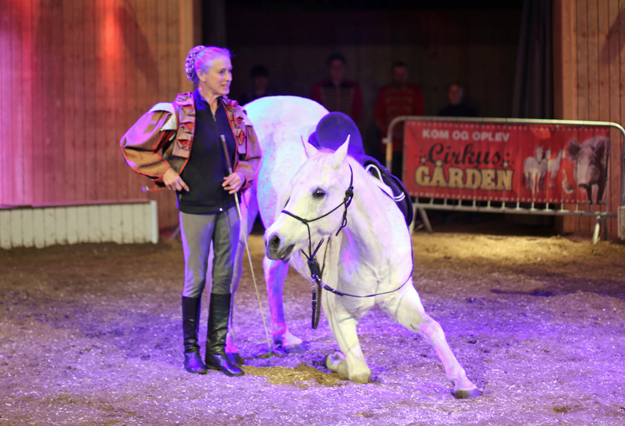 Katja Schumann and one of her horses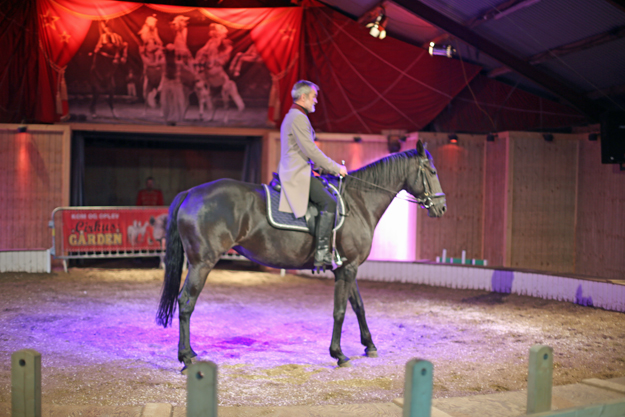 Luffe Bøgh rides high school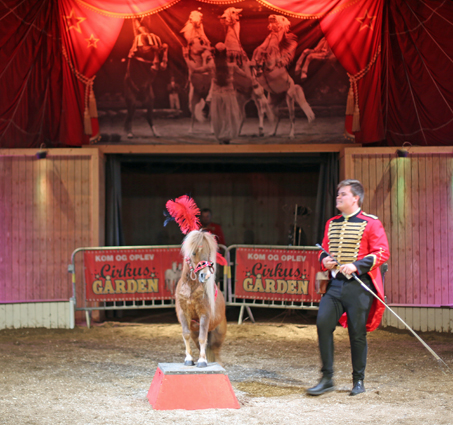 Victor with one of the ponies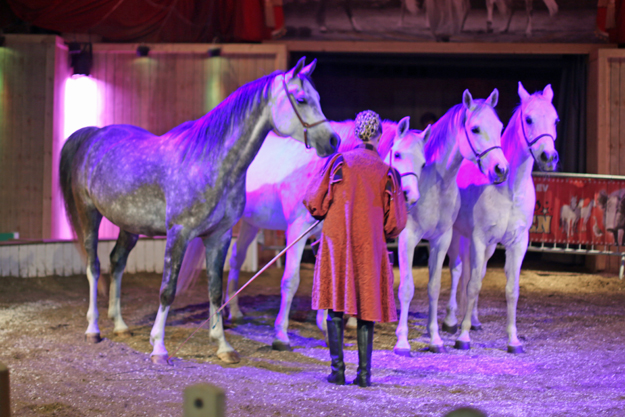 Katja with 4 beautiful horses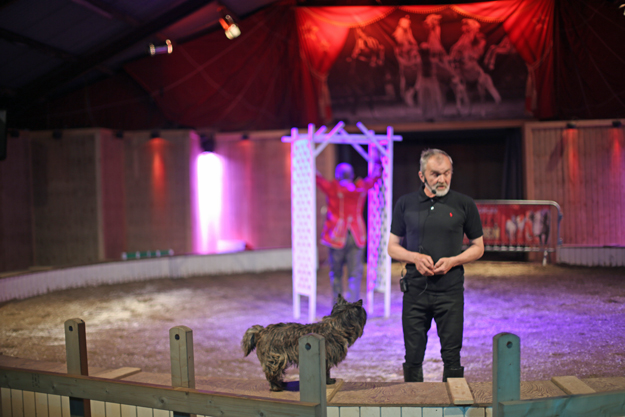 Luffe with a dog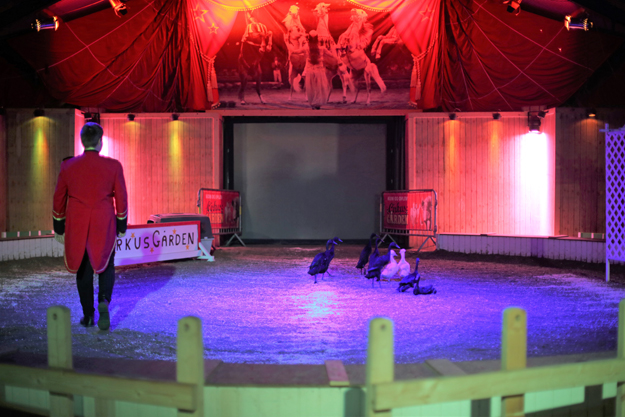 Victor with geese

12 July 2021
IT ALL HAPPENS IN PARIS - CIRQUE GONTELLI performs in a recently refurbished SMALL BIG TOP, thus offering comfortable seats in different sizes, as CIRQUE GONTELLI is geared mainly to the smallest fry, who always are accompanied by parents or other followers, to this cultural event.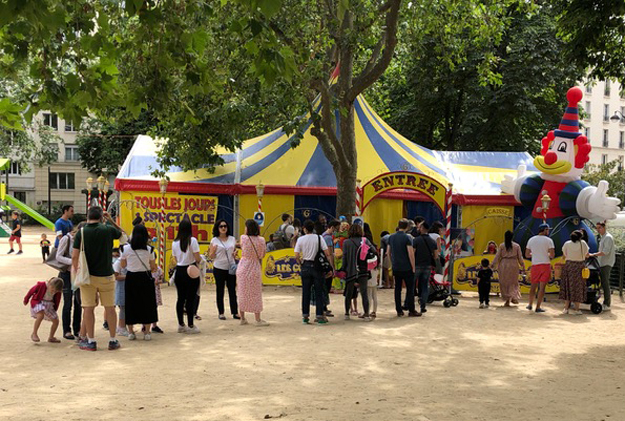 Line up at Einlass. All photos: Noufou Ouedraogo
The unique image of this little circus is that the programs /they do sport a number of them/ are composed for the joy of the smallest ones , aged 2 to 7- they have but little competition using this concept.
The program is super child-friendly, which means happy kids in an atmosphere of joy and trust, nothing that might scare them.
At the premiere we enjoyed a nice presentation by SERGE GONTELLI, assisted by wife FABIOLA, a good lasso act by youngest son CLINTON, a funny and amazing version of the spinning plates, by son CHRISTIAN, and a beautiful and well timed hula hoop act by daughter MARY, then it was time for intermission including the traditional sale of candies and funny toys.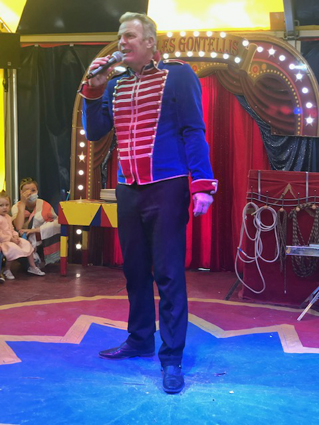 Serge Gontelli acts as MC (ringmaster)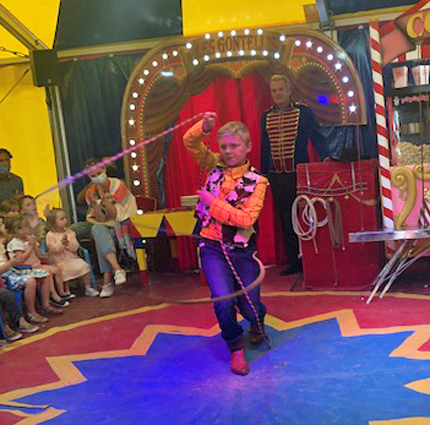 Clinton already a champion with lasso swinging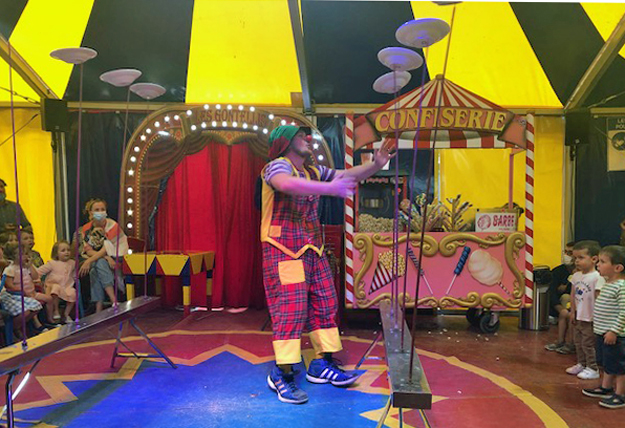 Christian comedy with spinning plates
Then MARY was back performing her SOAP BUBBLE ACT, where some kids were invited into the ring - to be clad in giant bubbles - a stunt seldom seen today.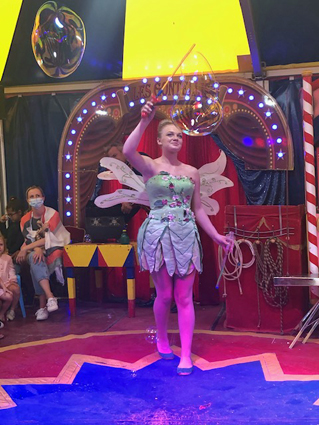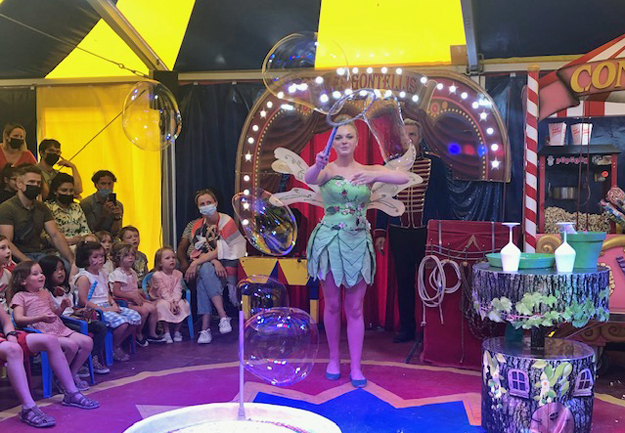 Mary with giant bubbles
After a clown act that produced much laughter - LOL - followed the GRANDE FINALE, the entire troupe in beautiful costumes.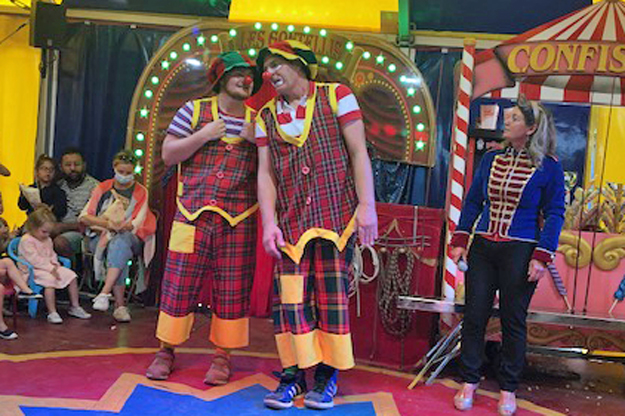 Gontelli clowns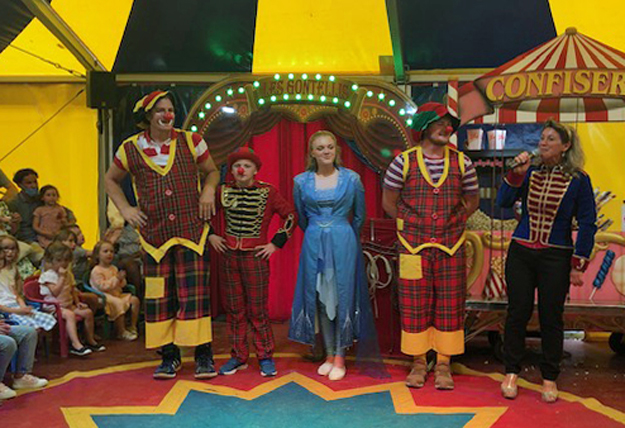 Grande finale
A great entertainment for children and, in fact, for their parents as well, who are happy seeing their offspring having a good time!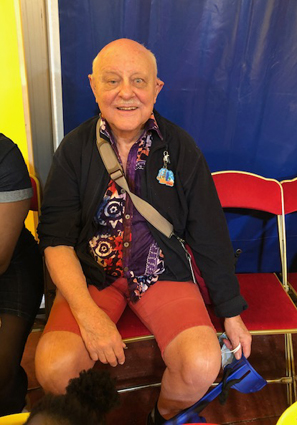 Zarro Zarro
IT ALL HAPPENS IN PARIS !!!
------------------------------.-------- reported by ZARRO ZARRO.

9 July 2021
Norway's largest circus Circus Arnardo opens the season on 17 July in Lillesand, where they until 1 August present approx. 1 hour long summer performances without an intermission. They put up their tent next to the Over Climbing and Viewing Tower. They promise "A real circus show with quality, romance, exciting and surprises !!! Let yourself be speechless !!!"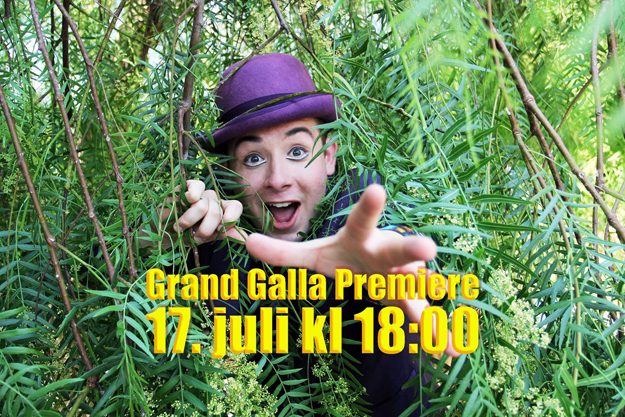 The show's clown, who can be seen at the photo and who prefers to call himself a comedian, is Victor Rossi. He is the 8th generation of the well-known French-Italian circus artist family. He is son of Hector Rossi from the clown duo Les Rossyan. Kevin Probst presents 8 beautiful asses. In addition, the audience meets the director couple Are and Paola Arnardo with magic illusions and their 19-year-old son Arne Otto Luigi Folco Arnardo with diabolo.
It has not yet been decided whether the season will continue after the 2 weeks in Lillesand. It depends, among other things, on how the pandemic develops. Lillesand is located in southern Norway, not far from Kristiansand, where Sirkus Jesper can be seen in Kristiansand Zoo.

5 July 2021
The large Finnish Circus Finlandia hopes to start the season on August 7 in Karjaa (Karis). Among the performers are Vlad Olander and his cats, Oleg Izossimov (handstand), Maria Cordwell Ignatova & Ignat Ignatov (horses), the clowns Trio Without Socks, The Flying Wulber, Pat & Pip Harrison with their hot dogs, Lajos Nereus (plate spinning juggler), Elite Showgirls and Angelika Varga (whip). Sebastian is ringmaster and the artists are accompanied by Finlandia's 7 pieces big band.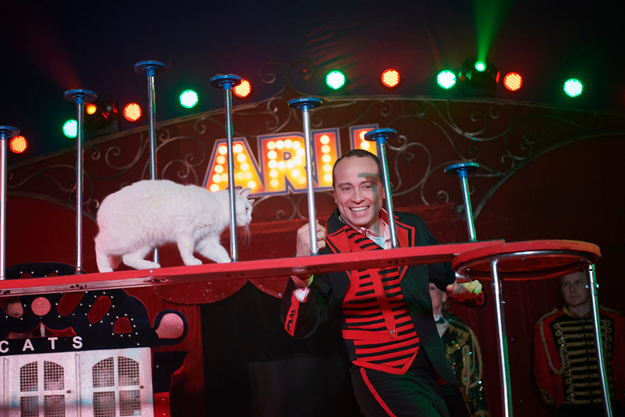 Vlad Olander's cat act is probably the best on the market. He has performed in several Scandinavian circuses, most recently in Danish Circus Arli in 2018. The Finns saw him in Circus Finlandia in 2012 and 2020. Photo: Rud Kofoed / Ajour Press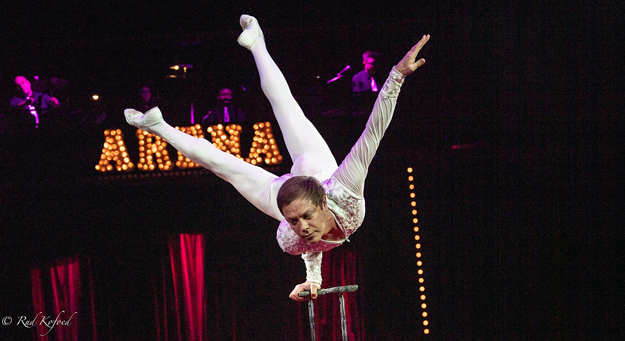 Oleg Izossimov performed at the Open Air Stage in Copenhagen's Tivoli gardens in 1996 and in Circus Arena in 2019. He was also with Circus Finlandia in 2020. Photo: Rud Kofoed / Ajour Press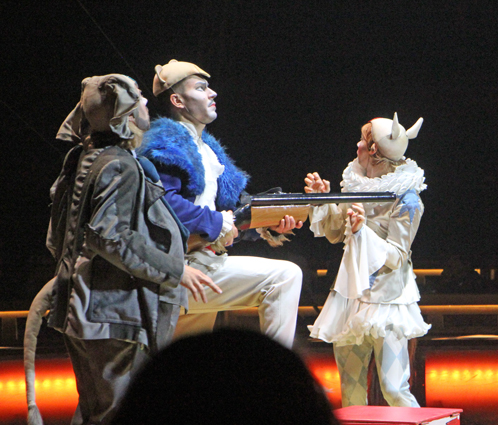 This year's clowns are the Russian Trio Without Socks. They made their international breakthrough at the Budapest Circus Festival in 2018, where they won silver. At the Monte Carlo festival in January 2019, they got a bronze clown and subsequently toured with the large German Circus Krone. They have not previously performed in the Nordic countries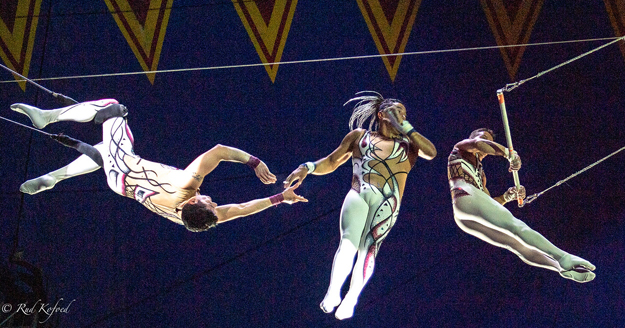 Flying Wulber during the double passage. The troupe was in Denmark with Circus Arena in 2019. Photo: Rud Kofoed / Ajour Press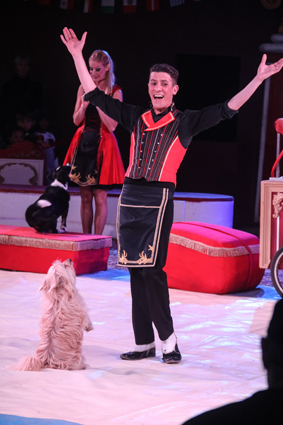 Pat Harrison and his hot dogs. An act he took over years ago from his from his father Pete Harrison. Pat Harrison is a well-known name in Scandinavian circuses. In 2020, he was together with his girlfriend Pip in Arena Circusland in Denmark. Photo: Jacob Boas Leitisstein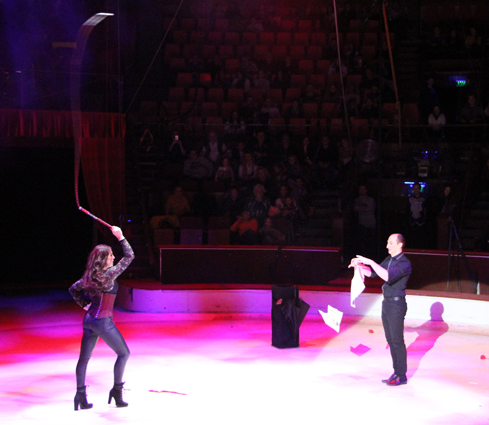 Hungarian Angelika Varga was last year part of the ensemble in Norwegian Circus Jesper, where Lajos Nereus with great success made his plate spinning act in the part of Barber Sorensen. (Circus Jesper is a theme performance based on the characters from a popular Norwegian children's book When the Robbers Came to Cardamom Town). The photo of Angie and Lajos is from Angie's performance at the Newcomer Festival in Budapest in 2020.

4 July 2021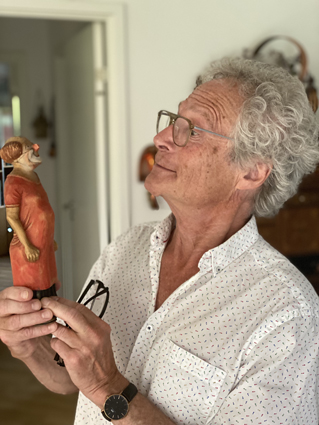 An old acquaintance has just given Benny Schumann this little wooden figure of his famous grandfather Charlie Rivel (1896-1983). The figure was made in 1978 by the sculptor Holger Chr. Pedersen. - Charlie Rivel was one of the world's most famous, popular and acclaimed clowns. He had his very own style. His trademark was a red jersey which was way too large for him. In Denmark he performed with Schumann in the Circus Building and in 1965 in Circus Moreno.

2 July 2021
Summer performances at the Circus Museum at Hvidovre, Copenhagen.
The Circus Museum offers a number of performances during the summer. The first performance took place on June 27 and was with magician Steen Pegani.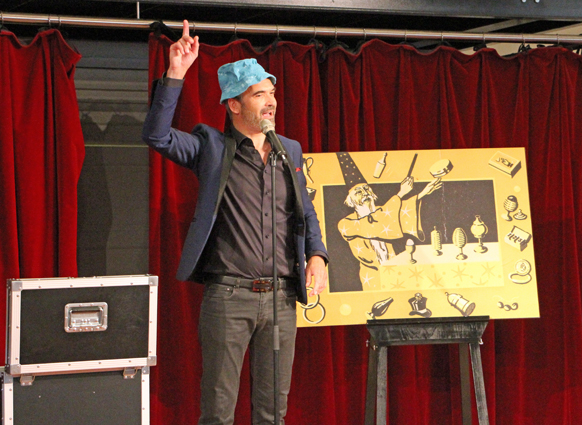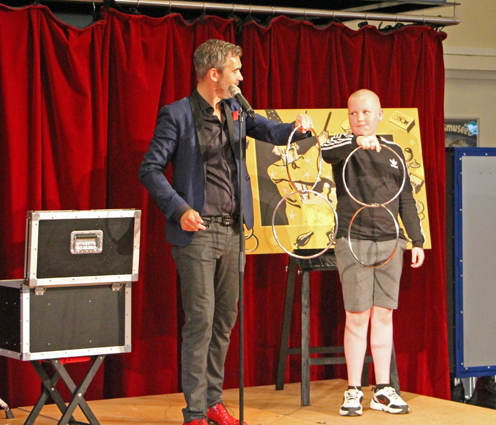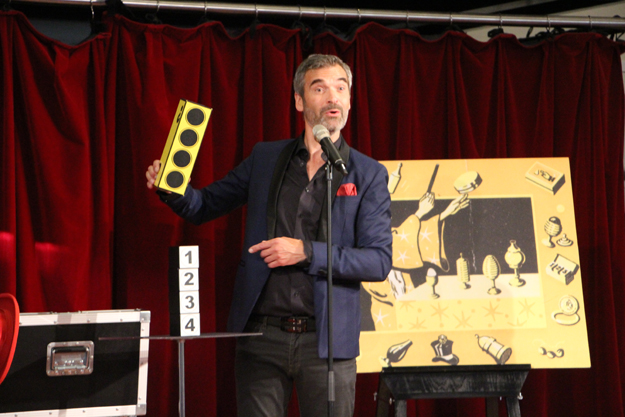 Steen Pegani in the museum's Fencing Hall. The trick that Pegani shows at the bottom photo is an old trick from the 20th century that he has taken up. It has been called many different names over the years (The Selbit Blocks, Magic Bricks, Bewildering Blocks, Mathematical Mystery or Cube-Libre). The (Spanish) version that Pegani shows is simply called CUBES. Photos: Ole Simonsen
Here is an overview of the upcoming events:
Thursday, July 8 at 12:30: The magician Michael Frederiksen. Humor and magic at a high level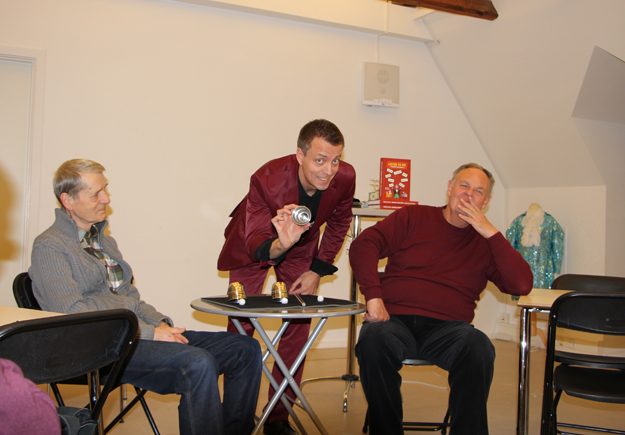 Michael Frederiksen. Photo from event for Danish Circus Friends in 2016
Thursday 15 July at 12:30 Circus Panic. A circus explosion in the ring with fun, gags and artistry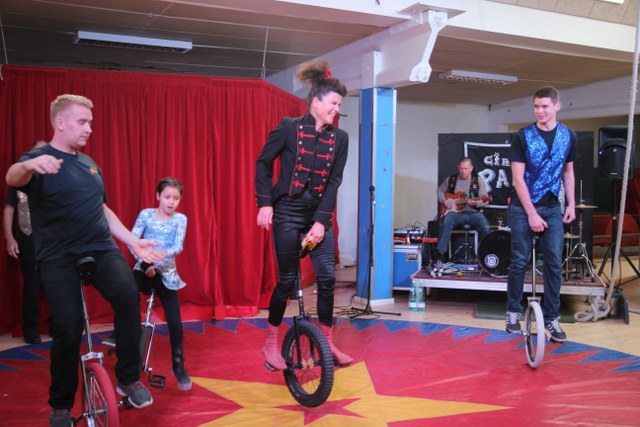 From a performance in Circus Panik. Photo: Per Krogh Petersen
Thursday 22 July at 12:30: Jon G. Lør. Denmark's probably funniest joker with a juggling talent beyond the usual.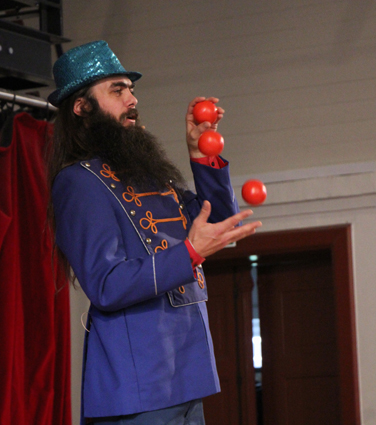 The comedian and juggler Jon G Lør.
Thursday 29 July at 12_ 30: The ventriloquist Sine with her doll naughty Rikke. Known from Danish TV. Started her career as a 4-year-old in the company of his father the former Pierrot from Bakken Kurt Flemming.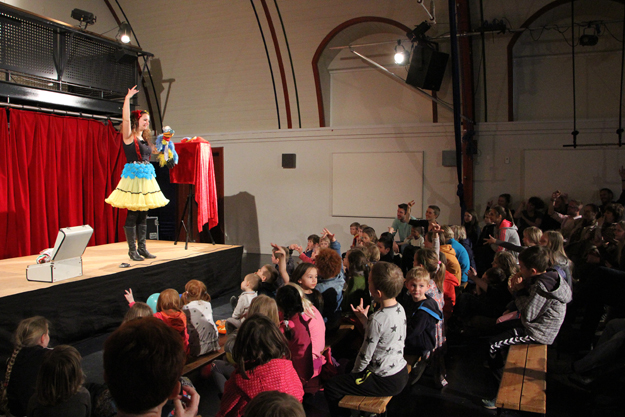 Sine performed in the Fencing Hall in connection with World Circus Day in 2016
Sunday, August 8 at 12:30: Kasper Jensen, Known from i.a. the Danish Got Talent and with a pace and energy that will make most people breathless. Both last year and this year, it has also been possible to meet Kasper in various places at the amusement park Bakken. If are in Jutland, you can 6 July at 13 and 15 see him at the Circus Museum in Rold.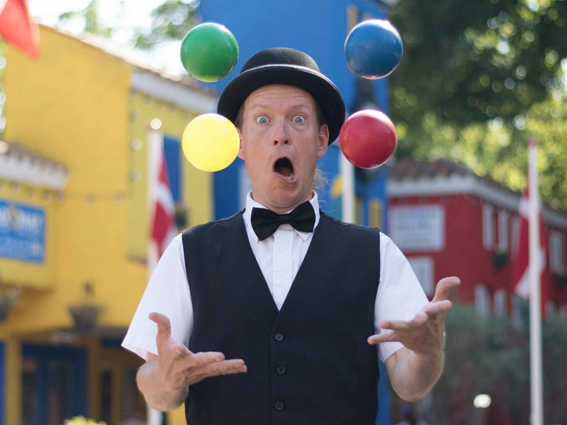 Kasper Jensen. Press photo
For all events, a ticket must be purchased on the Circus Museum's website www.cirkusmuseum.dk The ticket price is DKK 20 + entrance to the museum.

29 June 2021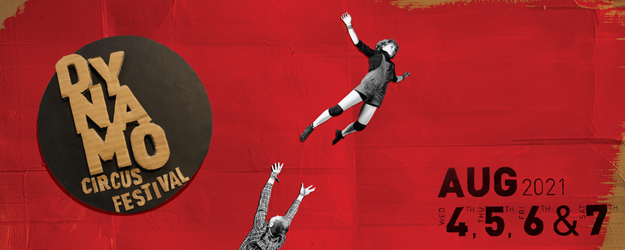 Dynamo Circus Festival. DYNAMO, Workspace for circus and Performing arts in Odense writes:
Welcome to a performing arts festival that celebrates shared experiences! Free from taste judgment and arbitrary avant-garde tyranny, this is a life-affirming embrace of the general human: the empathy, the fear, the redemption, the joy, the euphoria, the tension and the loss of control. Together we explore circus!
The fourth edition of the International Contemporary Circus Festival is packed with music, community, parties, unpredictable experiences and, of course, contemporary circus. It is a tour de force in intensity, poetry, humour and magic. Between abandoned silos and harbour industry, cultural life meets faded concrete – here, in August, DYNAMO presents an intense festival displaying this circus genre from its best side.
A circus festival needs to entertain, but must also challenge status quo! That's why this year's program contains astonishing contemporary circus performances, thrilling live music that sets the floor on fire, open stage, and a film program presented in collaboration with Odense International Film Festival.
DYNAMO Circus Festival is supported by Nordic Council of Ministers, Odense Kommune, William Demant Fonden, Finlands Kulturinstitut i Danmark, Statens Kunstfond, and the Creative Europe program of the European Union.
Click here to see the performance program for the festival

28 June 2021
PASSAGE Festival is a living street theater festival in constant evolution and expansion, especially in relation to our surroundings. Urban areas, audiences and artists are all focal points in street theater in the public space.
PASSAGE Festival has a large program with international artists. 78 Tours by French La Meute takes the audience on a hypnotic and ritualistic journey as they explore the legendary Wheel of Death. The three fearless artists have been a huge success at many European festivals.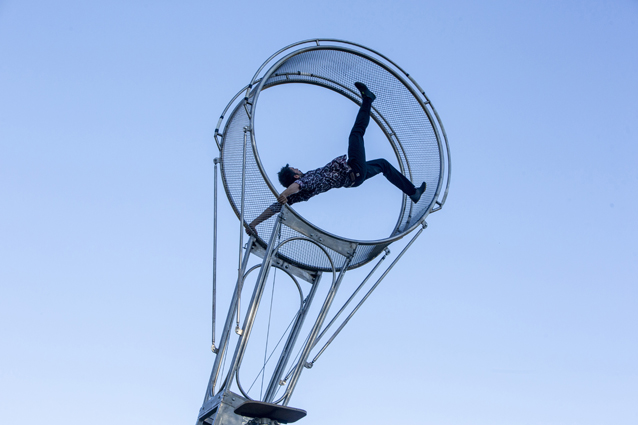 78 Tours. Press photo from Passage. Photographer Pierre Soissons
The same goes for Follow Me by the Belgian circus chameleons Be Flat, who transform Elsinore into a stage and invite the audience around among the scenography of the facades and the soundscape of the traffic.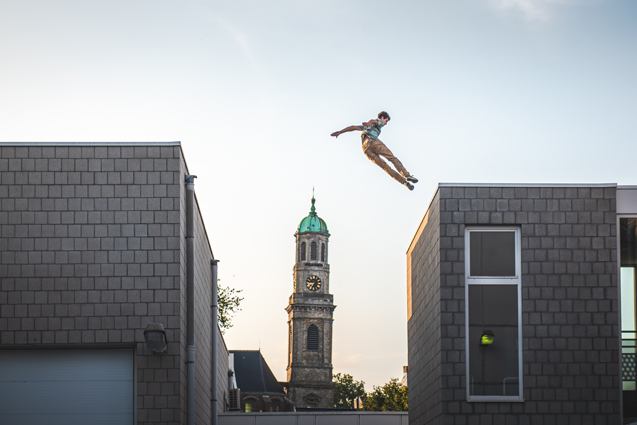 Press photo from Passage. Photographer: Yngwie Scheerlinck
In 2021, PASSAGE Festival explores the cosmopolitan heart of Elsinore in Europe. More than 50 European performers, poets, artists will present their works in Elsinore accompanied by almost as many cordially invited youths from 10 European countries.
The festival will be happening 26 to 31 July. Click here to see more.

25 June 2021
Circuses in the Nordic countries 2021. Corona restrictions continue to mean that far fewer circuses are on tour than usual. Here is a brief overview:
Denmark: As the only ones, Circus Arli and Circus Baldoni are on tented tours. Circus Trapez present short Open Air performances. There are also short performances in Circusland in Slagelse. Katja Schumann has performances at The Circus Farm in the seaside resort Løkken.
Finland: So far, the large Circus Finlandia has not started touring. The medium-sized Circus Tähti has as far as I know been touring since 1 June. The performers are
Devid Adam, Hungary, chair balance
Sebastian Foray, aerial straps
Silvia Orlando Ross, Hungary, hula hoop
Samir and Frida, Finland, illusions. Samir Abdelmeguid, who owns the circus, is also the ringmaster
Di lello´s, Holland, clown
Yris Cardinali, Portugal, aerial act
Enzo Cardinali, Portugal, juggler
Norway: There are performances in the stationary Circus Jesper in Kristiansand Zoo. Uncertain whether it will be possible later in the season for the two Norwegian circuses, Agora and Arnardo, to tour.
Sweden: None of the 3 Swedish circuses, Brazil Jack, Olympia and Rhodin, are on tour. Uncertain whether it will be possible later in the season to complete a shorter tour.
Also elsewhere in the world, circuses are affected by corona. In Germany, none of the large circuses are on tour, whereas several small and medium-sized circuses are trying their luck. You can find an overview at http://www.circus-gastspiele.de/

22 June 2021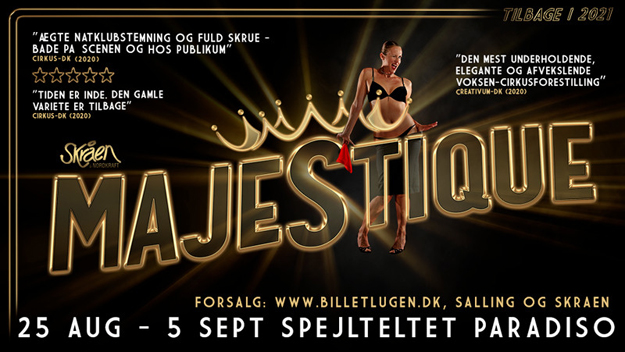 Majestique back to Aalborg. After the world premiere for a sold-out audience in Aalborg last summer, Majestique is now returning to Skraaen and Spiegeltent Paradiso in Aalborg from 25 August to 5 September.
More than ever before, we feel hungry for sheer excitement, nostalgic romance and a desire for an intoxicating experience to escape the realities of the world, even if it is only a few hours. Hunger is posed by Majestique's world - class artists who want to entertain, excite and surprise with amazing, dangerous and comic cabaret and contemporary circus for adults.
You can e.g. experience legendary Ursula Martinez with her comic magic. Among other things, she is known for the act Hanky ​​Panky, where a small red scarf is conjured away while she throws one piece of clothing after another. However, I do not know if she is still doing this act. Daredevil Chicken returns with their unbelievably funny raw slapsticks and Michael Betrian, who you can currently see in Circus Trapez Open Air Show, is one of the world's best diabolo artists.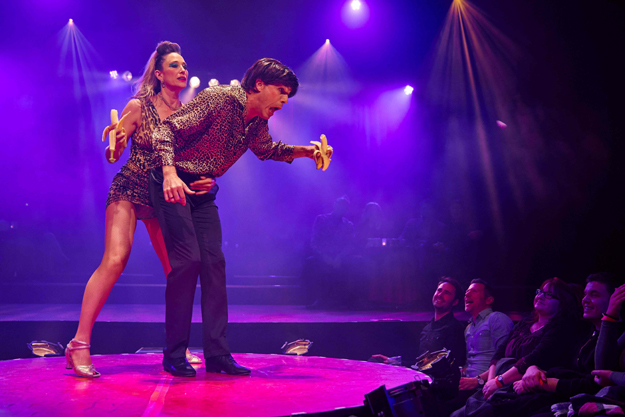 Daredevil Chicken. Press photo from Skraaen from 2019, where the two artists were part of the show which La Soiree presented in Aalborg.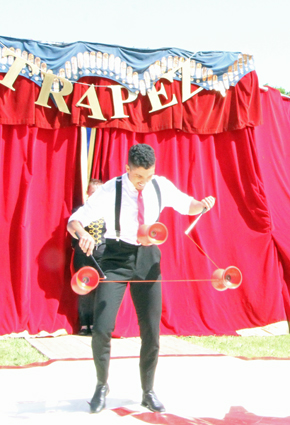 Michael Betrian
It's just a small foretaste of this genuine international production, direct from Australia / London / Canada. It's nightclub atmosphere for full blown, fun, elegant adult circus inspired by the old variety.
"A wonderful evening. Real nightclub atmosphere and going with a swing - both on stage and with the audience," wrote an enthusiastic Jørgen Lorenzen about last year's performance.

20 June 2021
Aarhus Festival was canceled last year due to the corona. But this year from 27 August to 5 September you can once again experience the unique atmosphere of Aarhus Festival, when music, art and cultural events take over the city for 10 days. With the theme "In It Together", the festival are celebrating togetherness and the magic we can create together – which is now more relevant than ever.
One of the highlights of the festival week is the night cabaret at Hermans in Tivoli Friheden. Comedians, magicians, acrobats and performers from all over the world is ready to take the stage in Hermans Theatre in Tivoli Friheden, and enchant the room with their unique shows, that you will never forget.
Before the show, you can choose to enjoy an aperitif and a three-course meal at Terrassen (restaurant in Tivoli Friheden). Wine and other drinks are available during the night.
Subject to changes you can in can in the performance meet:
ED ALONZO
The American is said to be one of the best comedic magicians there is. His shows don't always go according to plan, but in the funniest and grotesque way, before it all miraculously solves itself. He has been on more than 100 tv-shows, and has performed with Britney Spears as his assistant.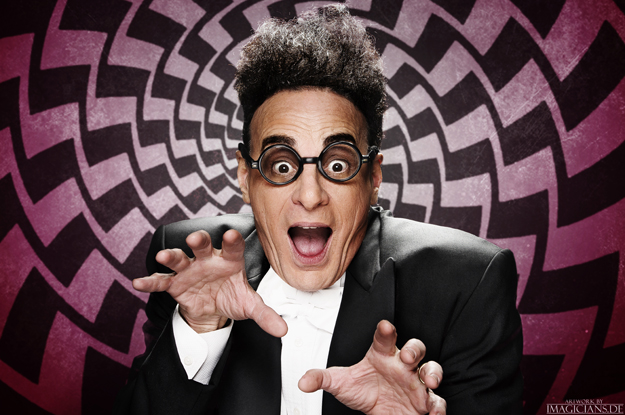 Ed Alonzo. Press photo from Aarhus Festival
MIYOKA SHIDA RIGOLO
The focus of the Japanese performer is balance. Under deep concentration, he balances one palm branch after the other, on top of each other, to make it appear as a larger piece of art. Experience a performance that expresses peace of mind, equilibrium and vulnerability.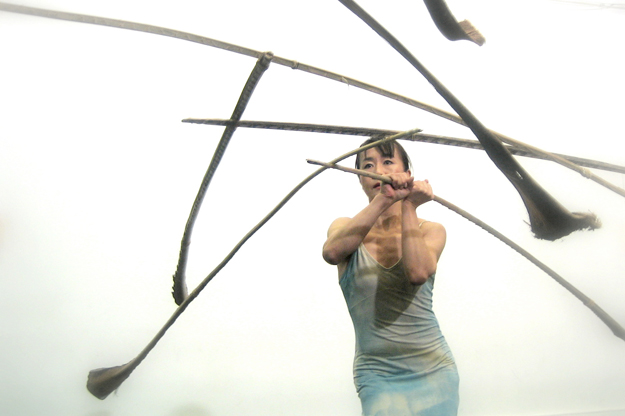 Sandorn balance with Miyoka Shida Rigolo.  Press photo from Aarhus Festival
MIKHAIL USOV
For the past nine years, The Ukrainian clown and comedian Mikhail Usov has performed with the world-famous Cirque du Soleil. Through his performances, he moves his audience, on top of making them laugh. Mikhail Usov is a clown by heart, and has won several circus awards.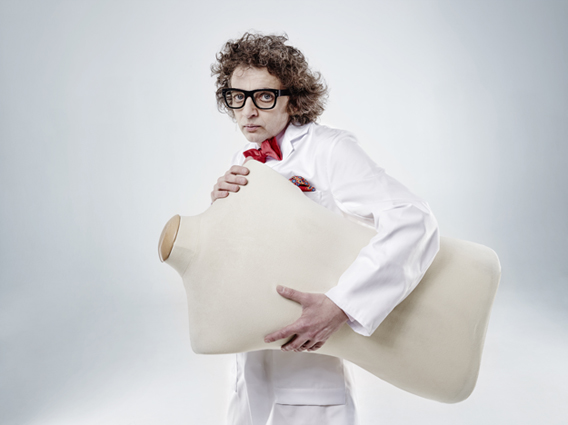 Mikhail Usov. Press photo from Aarhus Festival
VICTOR MOISEEV 
The enchanting Ukrainian takes the art of joggling to a whole new level, as he joggles horizontally. Large balls come flying from everywhere, he catches them, and almost makes it look as if they're levitating.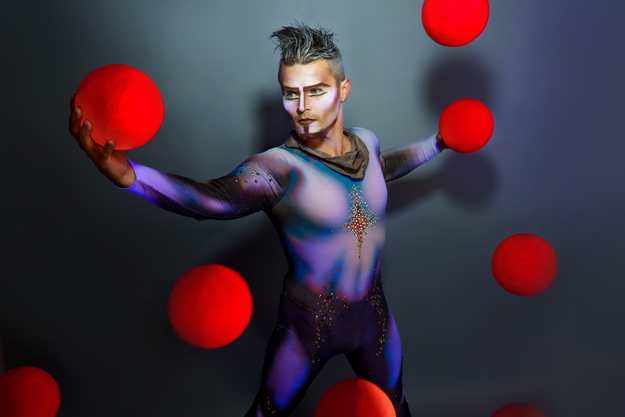 Victor Moiseev. Press photo from Aarhus Festival
DMITRIY & ANASTASIA
This passionate performance presents acrobatics, aesthetics and sensuality of the highest level. The Ukrainian/Russian duo almost flies around the room, while performing acrobatic moves. Their performance has won the prestigious Golden Clown at the Monte Carlo International Circus Festival.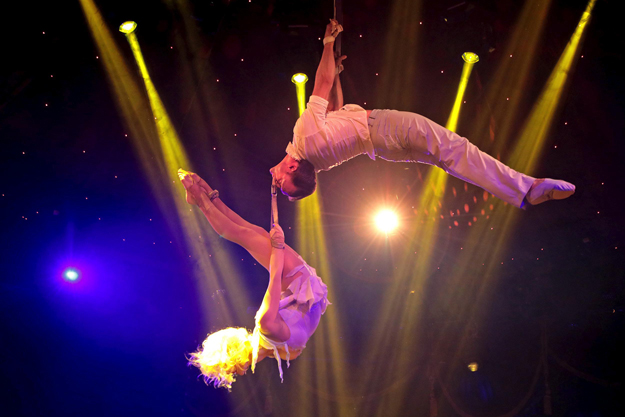 Dmitriy og Anastasia. Press photo from Aarhus Festival
HANS DAVIS
Hans Davis is a Belgian shadow master, who can portray hundreds of characters – from animals to politicians and other celebrities – as hand shadows. The audience will experience his amazing skills on a big screen.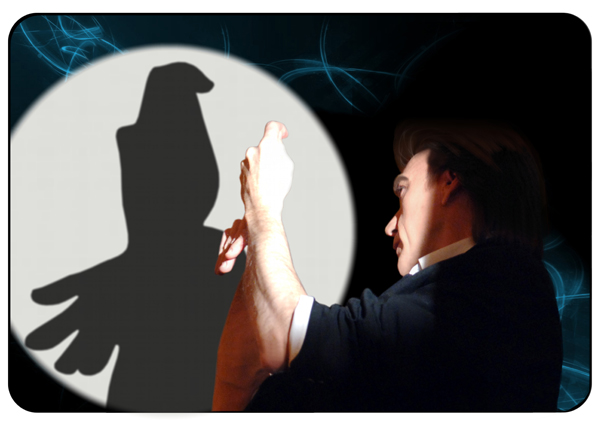 Hans Davis. Press photo from Aarhus Festival
MILA & YAROSLAVA
These two Ukrainian artists perform with their fantastic pole-show, which is a combination of strength, agility, acrobatics and beauty. It all comes together in aesthetic excellence – modern performance at its finest.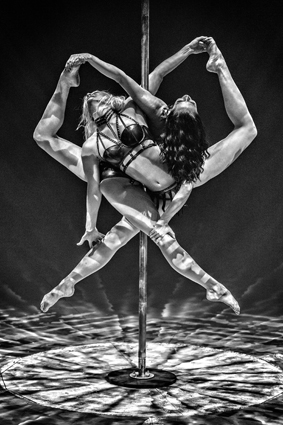 Mila og Yaroslava. Press photo from Aarhus Festival
HERMANS NATCABARET-TRIO
During the Night Cabaret, the music is provided by Marc Thierry's trio, which consists of himself, Jesper Daus and Jesper Gruschy.

18 June 2021

Flying Superkids will visit Copenhagen in August. Like many other shows, Flying Superkids has not been on tour since the corona hit Denmark last spring. But in August 2021, the audience can once again experience world-class gymnastics, enchanting acrobatics and great entertainment for the whole family, when Flying Superkids comes to Copenhagen with this year's new show! They will be in Copenhagen from Sunday 1 August until and including Sunday 8 August. They write (my translation):
This year's show is getting even wilder than usual. We have spent the entire corona break developing a new show for 2021 and practicing our wildest tricks. The result is an entertaining and breath-taking show, and we cannot wait to show it to you! It's going to be a bang of a party!

17 June 2021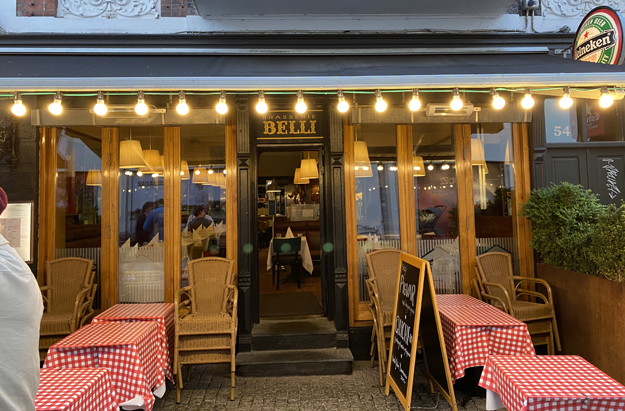 On Frederiksgade in the center of Denmark' second largest city Aarhus you will find the cosy restaurant Brasserie Belli.
The owner is Trine Belli and she has roots back to the old circus family. In her very young days she was an aerial acrobat in Danish Circus Krone. Her father Leo Belli was also an aerial artist and considers the long-time owner of Danish Circus Belli Meta Belli (1888 - 1953) as his grandmother, even though she was not purely biological. Meta Belli behaved like a grandmother to several members of the Belli family – such thing is also known from other circus families. Meta Belli was married to Giovanni Belli, who died in 1929. Meta then took over the languishing circus, which with the help of Willy Borchardt and later Fredy Wachmann, became Denmark's largest. When Meta died in 1953, the circus was sold to investors unrelated to the family. In 1955, the investors resold Cirkus Belli to Eli Benneweis. Circus Bellis' last season on the Danish roads was in 1957.
There are many posters and pictures from the circus era at Brasserie Belli. And the food and service are excellent. So the place can be recommended if you are looking for a good place to dine in Aarhus.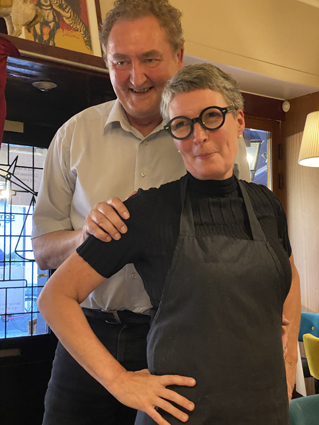 Trine Belli photographed together with The Danish Circus Friend's chairman Kim Thanning Olsen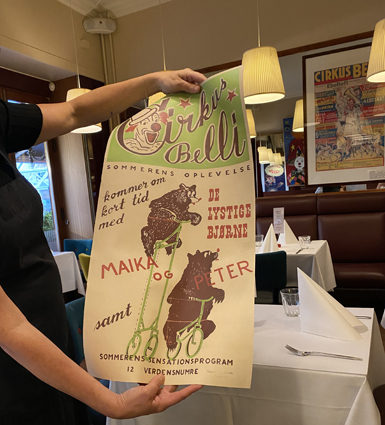 The poster shown is from 1954

13 June 2021
Circus Trapez Open Air. Due to the corona restrictions, Isabella Enoch Sosman's Circus Trapez has given up having a traditional tour with tents. Instead, they present approx. 1 hour long performances "open air", i.e. with the use of sidewalls but without a big top, see photo. This means that they can do without tent workers and do not need the many heavy trucks that transport tents and poles around. Until now, they have chosen to drive home to their winter quarter Mølby in the evening, so they do not have caravans around either. On weekdays, the performances are usually sold to nursing homes, etc. During the weekends there are "open" performances, for which you can buy tickets.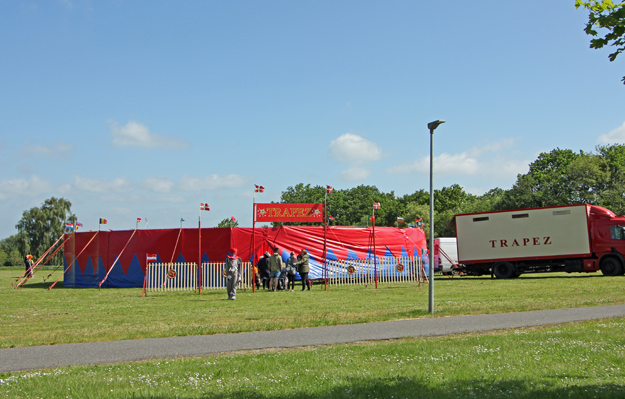 The audience sits partly on ringside chairs and partly on 2 seatings with benches. Ticket prices are reasonable: DKK 110 (approximately 15 Euro) for a chair and DKK 90 for a seat on the benches.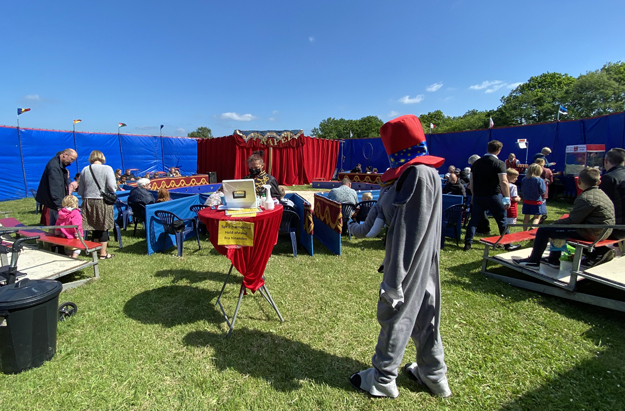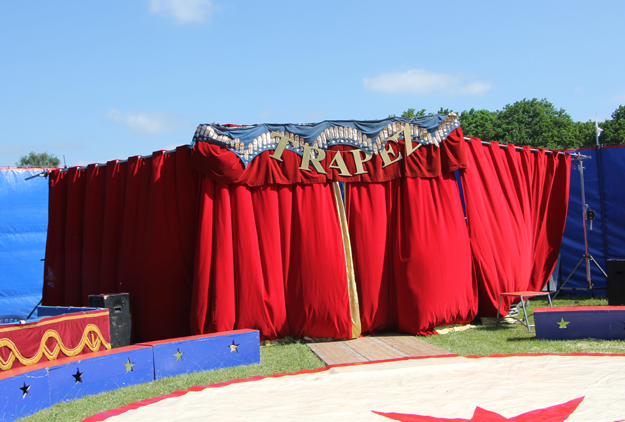 The performance starts with a large box being pulled in right in front of the backdrop. Bernhard Kaselowsky and a prop show that the box is empty. However, you can later see that it contains both the show's ringmaster David Sosman and the circus princesses Nynne Hulsig Samuelsen and Simone Rhodin.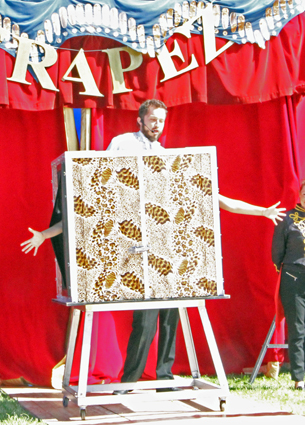 Next Welsh goats enter the ring, presented by Nynne with the assistance of Bernhard Kaselowsky.
The next act is a humorously presented juggling entrée with David Sosman, who with charm and elegance juggles first with balls, then with a knife and a pair of axes and finally with a ball, a bowling ball and an apple, which he eats during the juggling. He also shows how he can take off his jacket while juggling.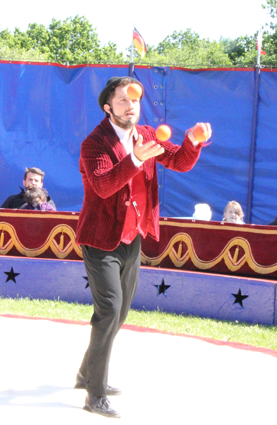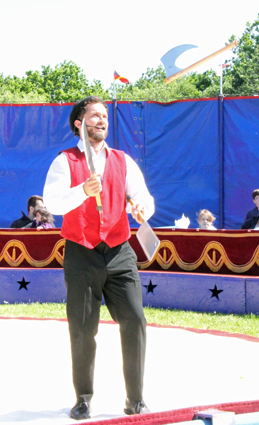 A version of the illusion trick substitution trunk conjures up Simone Rhodin from the small Swedish Circus Rhodin, which is currently isn't on tour due to the Swedish corona restrictions. She present a nice act in an aerial ring set on pole. The entrée ends with her getting down into a box and being conjured away.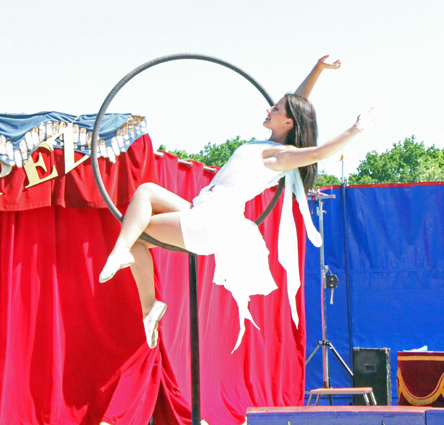 Now David Sosman is back. He first plays on bottles. Then he juggles and balances with Malibu bottles and balances with glasses on a stick in his mouth.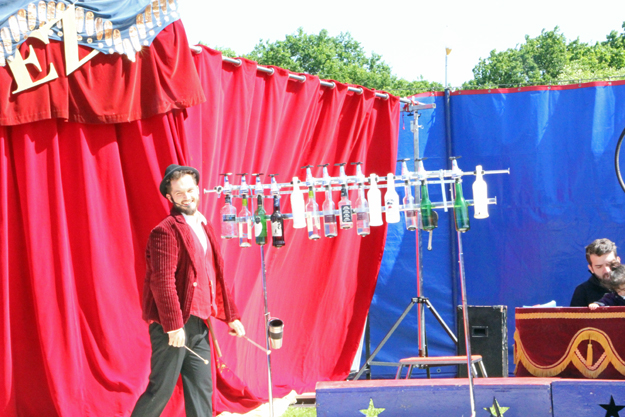 The next act is the young Dutch diabolo juggler Michael Betrian in an elegant and fast-paced track, where he juggles with up to 4 diabolos. Later in the season, you can see him as part of Majestique's performance in the mirror tent Paradiso at Nordkraft in Aalborg. Too bad for him that no Danish Circus Awards are handed out this year. He would have been a good bid for a nomination for the talent prize or the prize for best act of the year.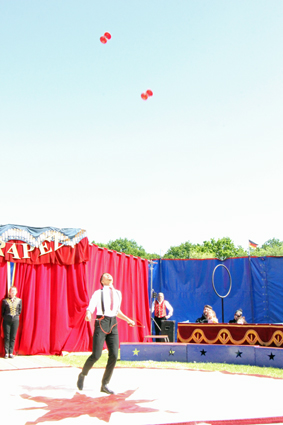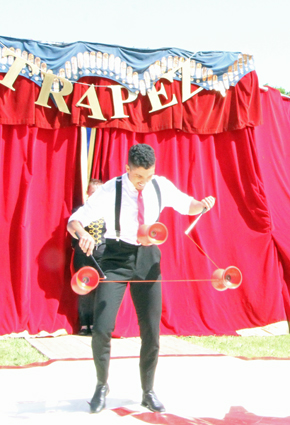 Michael was replaced by Simone Rhodin with a spectacular hula hoop act.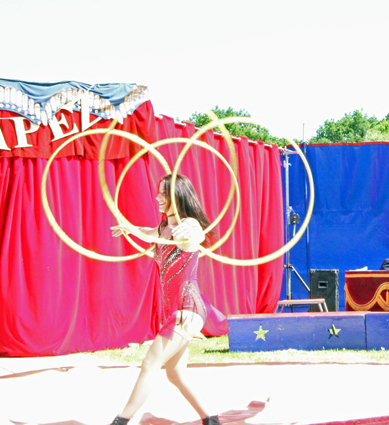 Then David introduced his 8-year-old cousin Joseph, who does some tremendous somersaults and other jumps. In some jumps assisted by Nynne.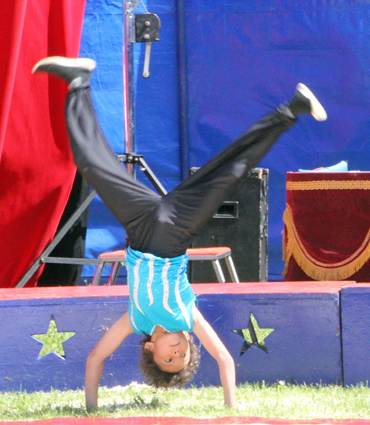 Then David was back with his bouncing juggler entrée.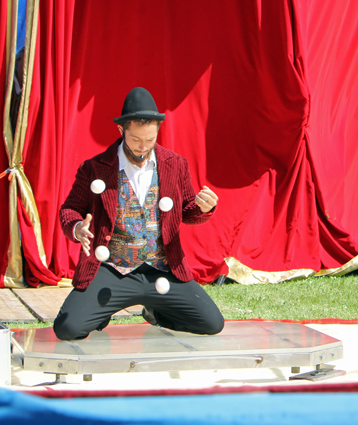 The last act in the performance was the horse act Big and Little, presented by Bernhard Kaselowsky.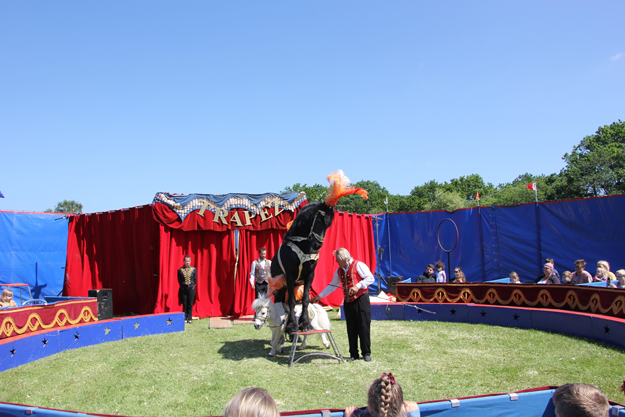 No doubt that the approx. 75 people who, like me, saw the morning show on Sunday 13 June in Vamdrup, Jutland, felt that they had a good circus experience.

12 June 2021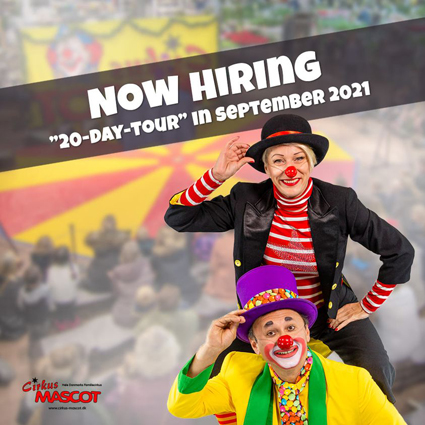 As previously mentioned, Circus Mascot has abandoned its Denmark tour and summer opening in the winter quarter in Roslev due to Covid-19 restrictions and the authorities' unusually inflexible and slow processing of the application for a work permit for their longtime clown Gulio and his family. However, they are now planning a short tour in September. Daniel Deleuran writes on a Facebook page where circus is looking for artists and artists are looking for jobs:
"We are looking for an artist family from EU with MINIMUM 3 different acts to join our "20-day-tour" in September 2021. Please note that we do NOT need the following acts: clown, hula-hoop, aerial acts, silks, diabolo or juggling! Send us an e-mail with your videos and information to daniel@cirkus-mascot.dk. We are looking forward to hear from you."

12 June 2021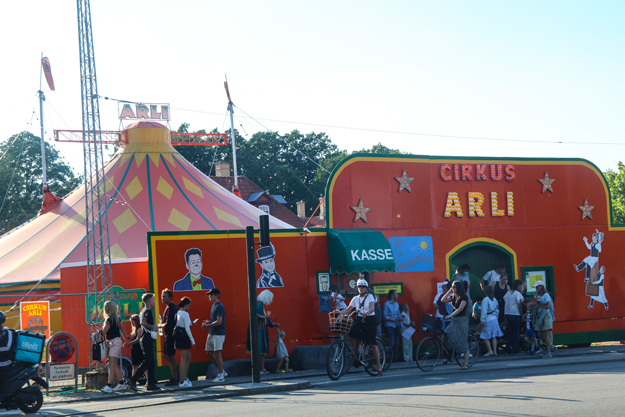 Jacob Boas Leitisstein from Cirkusportalen visited Cirkus Arli in Frederiksberg. Click here to see his photos from the show.

11 June 2021
Not any longer requirement for face mask in circuses in Denmark. So far, the authorities have required everyone over the age of 12 to wear a face mask when moving around in the tent. When you sat in your seat, however, you were welcome to take off the face mask. With effect from Monday 14 June, the requirement for face masks has been dropped in all areas except for standing passengers in public transport. Thus, from Monday you do not have to wear a face mask when visiting a circus. However, until 1 August, it is still a requirement that everyone over the age of 15 presents coronapas and ID.

11 June 2021
Circus Berdino is not a traditional touring tent circus, but the name for a number of performances which Suzanne Berdino has produced for residential homes etc. in the last few years. About the current performances she writes (my translation):
In the performance, we take you back in time, to the marketplace with antics of the best kind, from the time when Grandpa was young. Experience the singing Professor Briano, who loves magic and soap bubbles, Denmark's smartest cuddly pig Gullig, Indian ducks in liberty dressage, and last but not least happy dogs with enjoyable tricks. It's all linked together by Circus Director Madame Betty. This performance is aimed at senior centers and last approx. 30 minutes or by appointment, possibly with several guest artists. To get in the right circus mood, popcorn can be purchased. If you want further information or prices, you are welcome to contact us, on telephone 40 33 12 13 or send an email to Suzanneberdino@gmail.co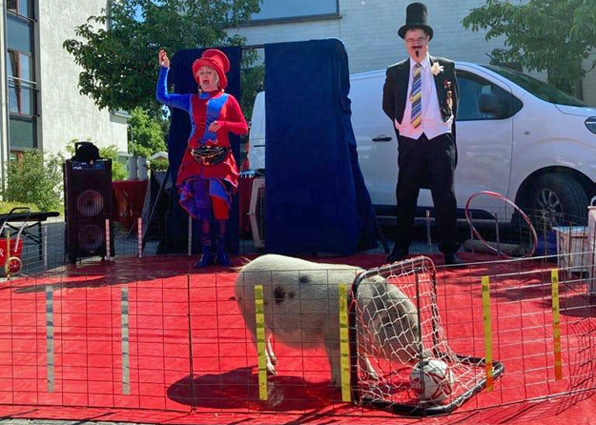 About one of the performances, a senior center in Broendby Municipality writes: "On Thursday afternoon, 45 residents watched Cirkus Berdino. Circus Berdino had a magic act, a soap bubble act, a pig that could clean up and bowl as well as dogs that could do tricks. There were smiles on lips, twinkles in the eyes and laughter along the way. Everyone stayed seated for the 45 minutes the show lasted despite the icy wind, only heated by the hot cocoa (thanks to the kitchen J) and the warm smiles and laughter. "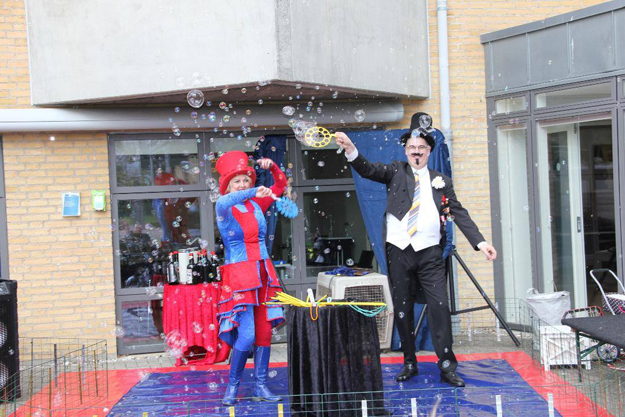 Lots of soap bubbles with Madame Betty aka Suzanne Berdino and Professor Briano aka Brian Behrendt. Both known and loved from i.a. Circusland, where they however not are this year,

8 June 2021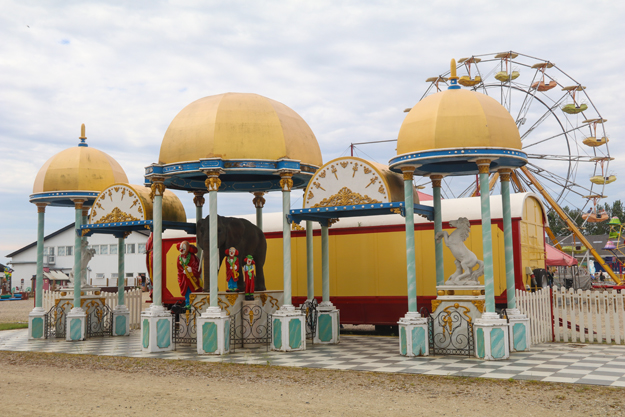 Since Easter, the theme park Cirkusland in Aarslev near Slagelse has been open on weekends and at public holidays. In the beginning only with rides, but since May 22 also with a number of shows. All photos: Jacob Boas Leitisstein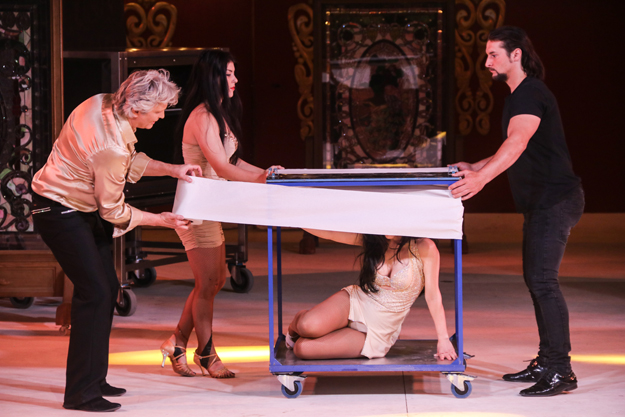 A magic show with Kim Kenneth and his assistants offers, among other things, Kim's very own version of the trick which in the magic industry is known as substitution trunk.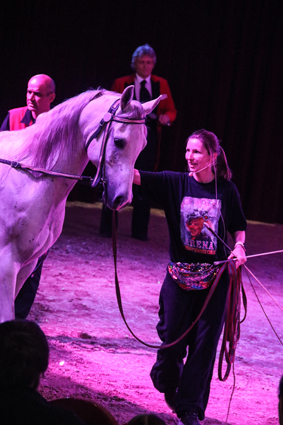 Laura Berdino shows how to train horses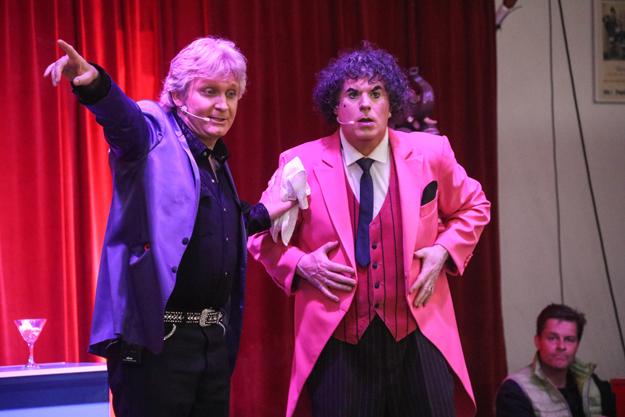 On the small stage in the playground, you meet Kim Kenneth and the clown Jimmy Folco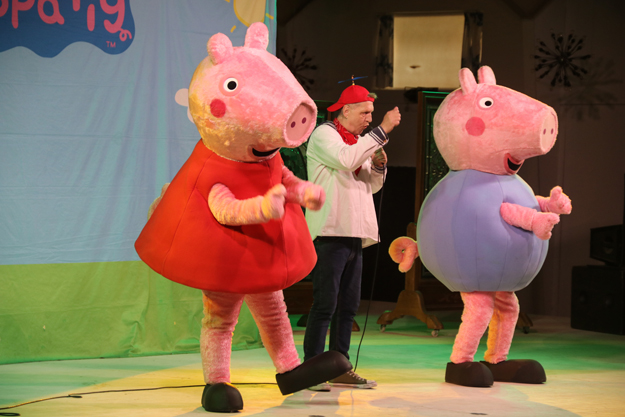 There is a children's show, here with Peppa Pig. Kim Kenneth is compère. Other days, children's shows can be with, for example, Curious George or Paw Patrol.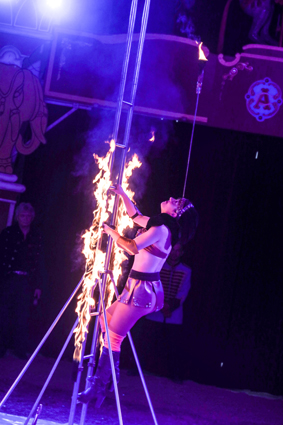 In Cirkus Landino you meet, among others, Jessica Caveagna with sword balance over a flame-laden ladder.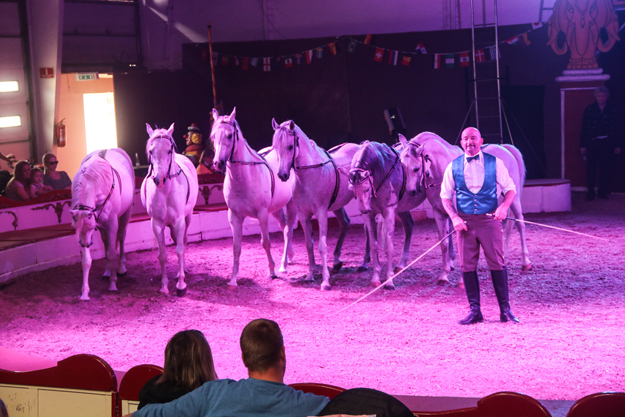 Rudy Althoff presents 6 beautiful Arabian horses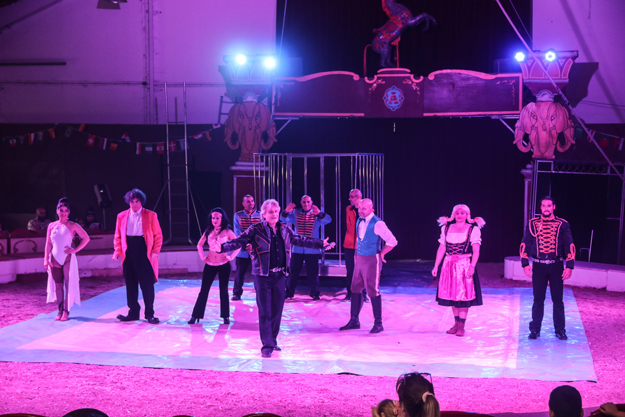 From the final in Circus Landino. Click here to see more of Jacob Boas Leistisstein's photos from Circusland.

3 June 2021
Michaël Betrian to Circus Trapez Open Air. For a number of this summer's performances, Circus Trapez has booked the young Dutch diabolo talent Michaël Betrian. The Danes saw him in 2014, when he participated in Circus Dannebrog's performance Dynamic Youth and to a very high degree lived up to the show's title. At a time he had up to 4 diabolos in the air at the same time. In 2014, he also had a bronze clown from that year's Monte Carlo New Generation Festival in his luggage.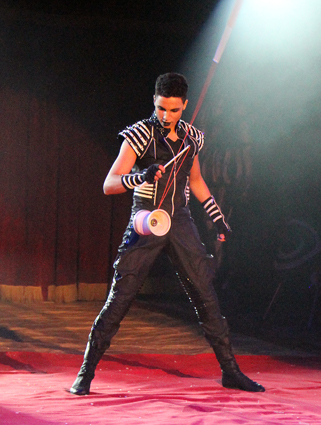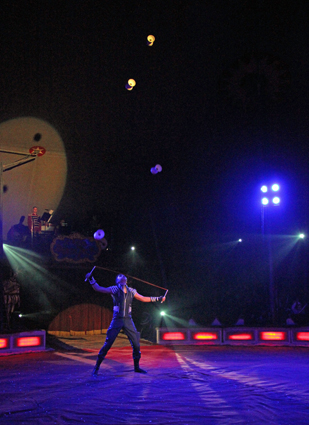 Michaël Betrian. Click here to see a number of photos from a guest appearance in 2016 in the Swedish Circus Brazil Jack

3 June 2021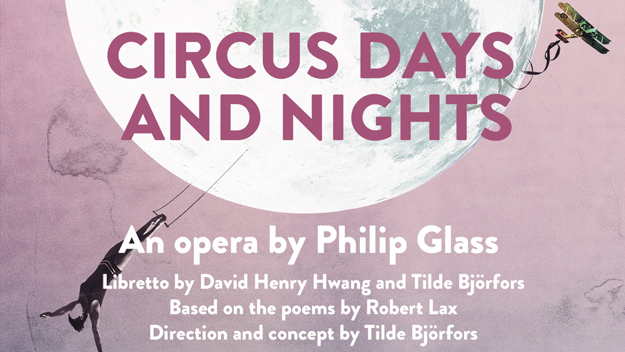 Circus Days and Nights. Several Danish newspapers have published reviews of the circus opera Circus Days and Nights, which can be streamed for a fee from Malmö Opera in Sweden. Even though the same Danish newspapers have not reviewed any of this year's Danish circus performances. The Swedish circus friend Martin Lasson Berglund has sent me the following review of the performance:
"Circus Days and Nights is a newly written opera that is performed at Malmö Opera from 29 May to 13 June. Through livestreaming you could buy tickets and see the show at home on the booked show day. This Circus Opera was art and in my opinion not a circus! Isn't circus art? Of course, but if you have seen the opera you may understand what I am thinking of. Thanks to a text machine (Surtitles) you can follow the story which would elsewise been impossible. In short, it's about circus life and artists and that circuses move from city to city. Circus Cirkör is involved in setting up this opera, but I am not impressed.
The artistry is OK but not much more if you compare with the artists I have seen at the circus. The music has been composed by Philip Glass in cooperation with Circus Cirkör's circus director Thilde Björfors and I have a hard time understanding the choice of music as it feels like they are playing the same gloomy melody for two hours! Even if it is to be an opera, the music could have been happy because circus is and should be joy, but not here and that is probably the very art of this opera.
Fun with a circus opera but I had hoped for more joy and wonderful circus music."
Click here to see a video teaser.
Until 12 June you can livestreame the performance at www.malmoopera.se/circus-days-and-nights-streaming . Language: English – surtitles both in Swedish and in English

2 June 2021
No circus awards this year. The jury of the Danish Circus Award has, after careful consideration, decided to skip this year's award ceremony. They write:
After the corona-related break in 2020, we had been looking forward to resuming the award ceremony this year. But since Covid-19 restrictions have meant that 5 out of the 7 Danish circuses have given up touring this year, we have chosen to take a break again this year. We believe and hope to see all the circuses on the roads again in the spring of 2021. We hope to return in August 2022 with a bang of an award ceremony: the awarding of the honorary award, the prize for best act of the year, the talent prize and the effort award.
Until then, we can highly recommend a visit to the two circuses that are on tour in Denmark: Circus Arli and Circus Baldoni. Or is a visit to Circusland in Aarslev near Slagelse, which offers short circus performances and other shows. Or a visit to one of the short Open Air performances which Circus Trapez present in Jutland. During the school holidays, you can also see performances at Katja Schumann's Circus Farm in the seaside resort Løkken in the northern part of Jutland.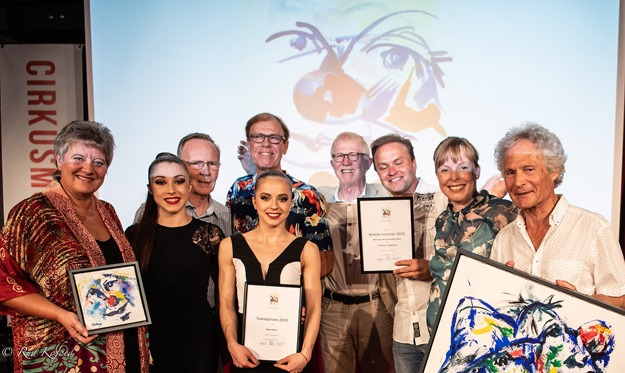 From the award ceremony in 2019. Photo: Rud Kofoed / Ajour Press

2 June 2021
Circus Jesper 2021 - theme performances in Kristiansand Zoo, Norway. Again this year, Kristiansand Zoo will have performances in their stationary circus, Circus Jesper, throughout the summer. Lasse Nørager, also known as the clown Bonbon, writes (my translation):
The premiere is June 19 and with performances through August 15.
We do not hope that Corona will create further difficulties this season, with local shutdowns or whatever else one can imagine.
In order to meet the applicable requirements for distance, we currently only sell 50% of the seats in the tent. Due to this we have again this year planned double as many performances as usual for most of the season. The pre-sale is going much better than the previous years, so we hope that we are gaining a good reputation in Norway. With the limited number of seats, we have actually already fully booked to more half of all our performances. We do hope that the restrictions may loosen up a bit during the summer so we can get even more guests...
This year's performance is a completely new production. Only my wife Tiina and mine badminton act is allowed to consist from previous production, otherwise all acts are new, although many of the characters go again, including of course former robber and now circus director Jesper. Chief of Police Bastian from Cardamom City is also present. Jesper and the Chief of Police makes together a breakaway trick (in the form of the illusion Substitution trunk). I have polished my cannon, which has otherwise been collecting dust for a few years.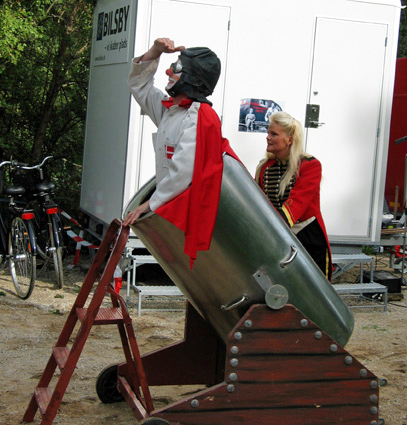 Bonbon and his cannon. Photo from 2004
Tiina's and mine children Julia and Joakim will for the first time ever show their very own knockabout table act. They are trained by Freddi Steckel. In addition, together with Freddi and Finnish Nelma Pietela, they will make a unicycle act with built-in surprises ...
Trio Csaszar from Hungary does a springboard act. They have been with Circus Roncalli and the various Bernhard Paul varieties for many years.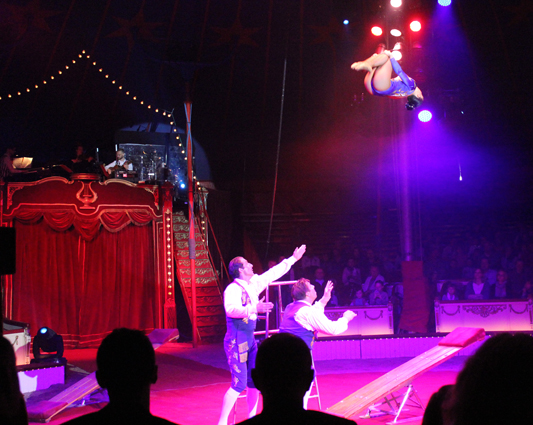 Trio Csazar
Our fine elephant Mimo (not a live elephant) will be with us and will now be accompanied by a brand new animatronic lion, which we have used the Corona winter to construct at home in Slangerup. (Lasse and his family have their home in Slangerup, Denmark).
And last but not least, we have the pleasure of having Captain Frodo in the show, both with his bucket balance and with the tennis racket act in a slightly more family-friendly version than we might know from the cabaret/variety La Clique and from Danish Zircus Nemo, though without losing Frodo's crazy and funny way of performing.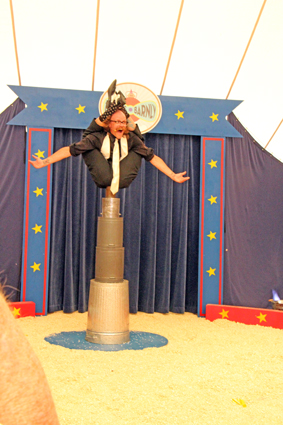 Captain Frodos and his buckets. Photo from Danish Cirkus Barnly 2018
The tent is put up, and we are now going to finalize details and getting ready for the new production.
Looking forward to getting started after another very strange year for all of us....

Link to news from 2007

Link to news from 2006