'
From Denmark
and other Scandinavian countries
Special feature: It all happens in Paris (when relevant)
A weekly updated internet magazine
Last updated : 12. October 2019
11 October 2019
Circuses etc. during the autumn holiday. All schools in Denmark are closed in week 42. During the school's autumn holidays you can see circuses and artists in some shopping centres etc.
Here is an overview of the events I know of:
In Jutland
Kolding Shopping Mall is visited by Circus Arena from Monday 14 October to Friday 18 October. Short performances at 11, 13 & 15. Free admission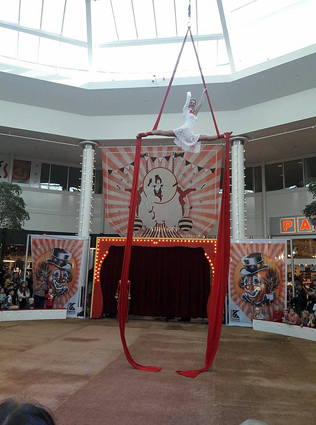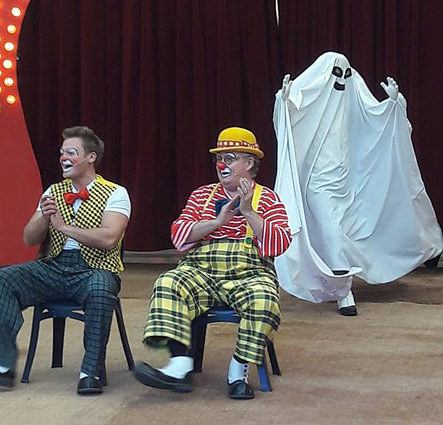 Photos from last year's performance in Kolding Shopping Mall
In Broen Shopping Centre in Esbjerg, Circus Big has performances from Monday 14 October to Saturday 19 October, every day at 13 and 16. Free admission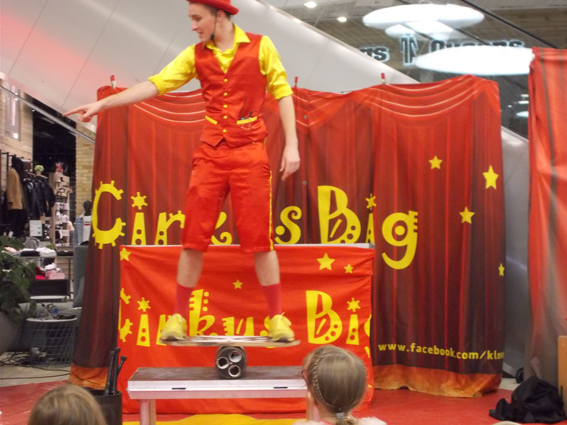 Circus Big at Broen in 2017. Photo: Find Stendevad
From 13 to 20 October, the Circus Museum in Rold is open from 11 to 16. Following that the museum will as usual closed during the winter season and not be open until 1 May 2020.
In Copenhagen and elsewhere at Zealand
At the Circus Museum in Hvidovre, Copenhagen, you can from 14 to18 October every day at 11 see a show with the comedian, acrobat and juggler Gugge.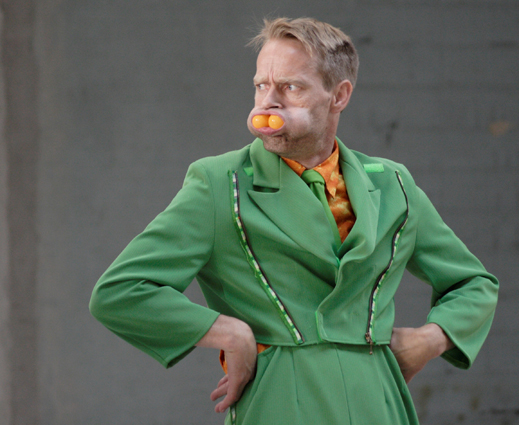 Gugge
In Spinderiet Shopping Mall in Valby, Copenhagen, Circus Mascot has performances in the days 14 to 20 October. Performances Monday to Friday at 11, 13 & 15, Saturday and Sunday at 11 & 13. In the approx. 30 minutes long performances you will meet the clown Gulio and his family and Marianne Deleuran with her poodles. Free admission.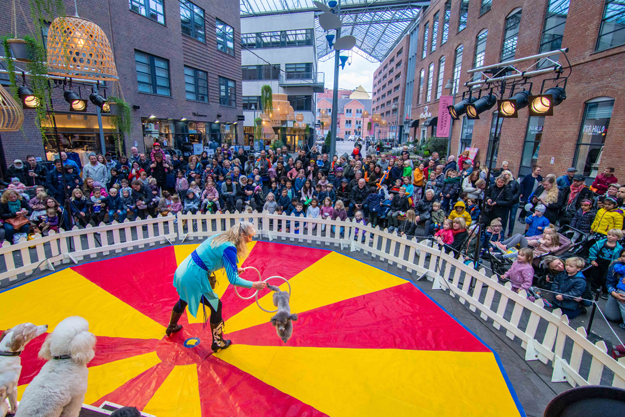 As can be seen at this photo from 2018 the was a large audience watching Marianne's dog show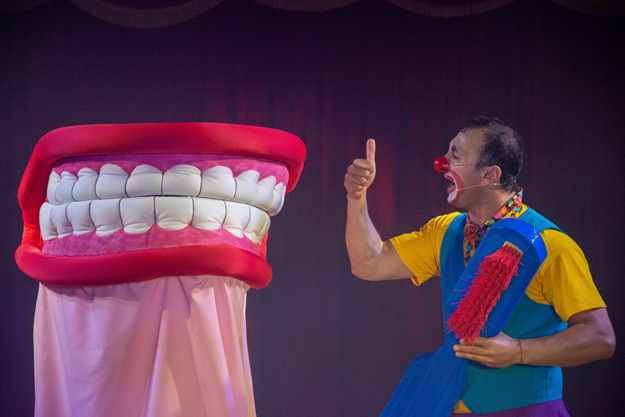 Gulio and the toothbrush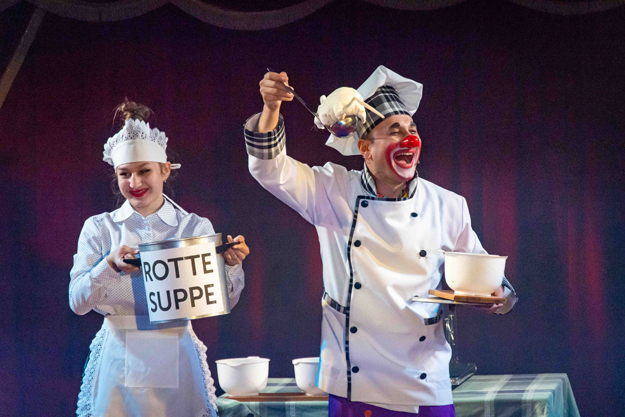 Juliya and her father is preparing rat soup
Glostrup Shopping Centre in Copenhagen is visited by Benny Schumann's Mini Circus from Monday 14 to Saturday 19 October. In addition to Benny Schumann, you will meet Florin and his dog Cato. Performances Monday - Friday every day at 13:00. Saturday 11 and 13. Free admission.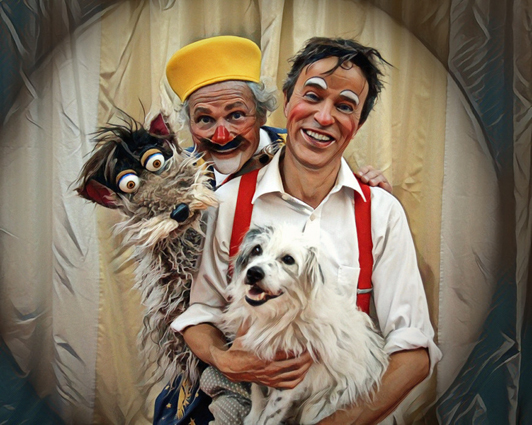 The ventriloquist's doll Hunni, Benny Schumann, Florin and Cato. Photo Per "Mr. Sputnik" Krogh Petersen, edited by Benny Schumann. Click here to see a video teaser for the show.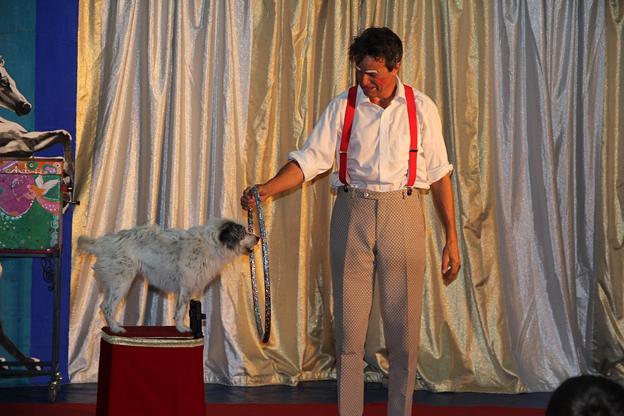 The German clown and comedian Florin and his dog Cato are old acquaintances of the Danes, who first saw the act in Circus Dannebrog in 1990. The photo above is from a performance in Benny Schumann's Mini Circus 2014. Photo: Per "Mr. Sputnik" Krogh Petersen. - PS: the current Cato is not the same dog the one that appeared 29 years ago in Circus Dannebrog!
Circusland in Årslev by Slagelse. Circusland is open 12 to 20 October. During the day you can see different shows in the park. Among other things Mister Tik Tak's children's show and a festive circus parade through Circusland, which concludes with an adventurous circus performance at 13:30 Circusland is situated in Circus Arena's winter district in Årslev by Slagelse. Driving directions: If you come off the motorway, turn off at Exit 39. Exit 225 to Jyderup. In Sønderup, turn left towards Årslev. Then follow the signs.
All activities and shows are free when admission to Circusland is paid. It is possible to buy food and drink in the park's bistro. Circusland is open every day during the autumn holidays from 10 to16.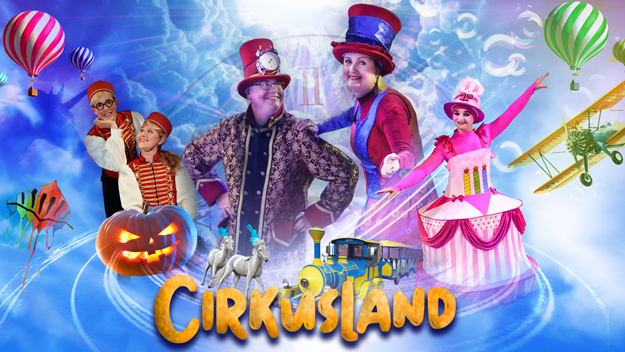 Among the performers during the autumn holidays are the artists Julia and Joakim from Denmark. The two siblings are children of the clown Bonbon and Mrs. Tiina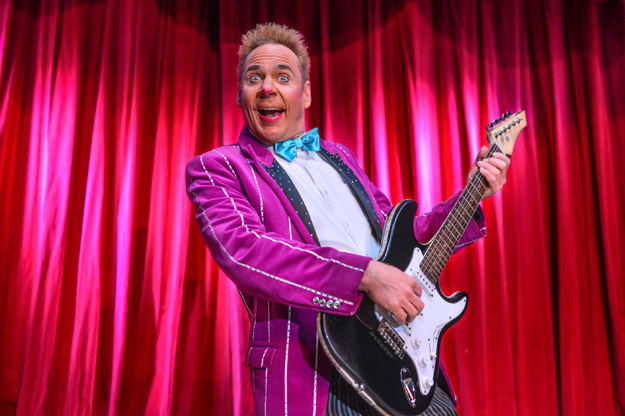 You will also meet the clown Don Christian from Austria. The Danes know him e.g. from three seasons with Circus Benneweis.

9 October 2019
Knuthenborg Safari Park will be the new home for Denmark's four circus elephants Ramboline, Lara, Djungla and Jenny.
As written on this website 4 September the Danish Government has bought the 4 circus elephants owned by Danish circuses.
The Government will transfer the ownership of the four Danish retired circus elephants free of charge to the applicant who achieves the highest number of points. The evaluation criteria are timely takeover of the animals and animal welfare. Only zoos and safari parks could apply. Deadline for application was Monday September 30th at 12.00 noon.
Knuthenborg Safari Park was the only one which offered to take over the elephants. Thus, the minister of Food Mogens Jensen has decided that the elephants go to Knuthenborg.
- Knuthenborg has made a really good offer, which will provide a fantastic framework for the good elephant life. I have said before that elephants do not belong in either a stable or a circus ring and I am happy because the four elephants soon will be able to frolic in mud or take a fresh walk in the grass, Mogens Jensen says.
According to Knuthenborg, the new elephant plant should give the guest in the park the feeling of standing and looking out over the African bush. The elephants will be allowed to move freely in an area of ​​about 110,000-150,000 square meter. They will be able to swim in water, take mud baths and sand baths, grass, eat branches and socialize with each other, as if on the savanna in Africa.
Construction work on the elephant facility will start as soon as possible, and according to the plan, the elephants can move into their new home in about eight months later. Meanwhile, the elephants will be housed in Circus Arena's winter quarter in Slagelse, where the Danish Animals Protection and Knuthenborg take care of them.
It is uncertain whether it is possible to put the lone elephant Ramboline together with the three Arena elephants. Inserting an elephant into an existing herd is not easy, not even in the wild.
While politicians and animal welfare people are happy with the solution achieved, some people with the knowledge of circus elephants believe that it would have been better for animal welfare to allow the elephants to spend the rest if their life in their usual surroundings.

7 October 2019
Obituary: Per Arne Wåhlberg. The author and dean of Swedish circus historians Per Arne Wåhlberg passed away on October 5. He was 87 old. He was one of the initiators of the establishment of the Swedish circus academy in 1973, and he became an honorary member of the academy in 2008.
Inspired by, among others, the Danish circus historian Anders Enevig, Per Arne Wåhlberg wrote several excellent books about circus and artists: Circus families in Gävle from 1978, Circus in Sweden from 1992 and Inte bara glitter ... meeting with circus artists from 2005. (Language of all books: Swedish).

5 October 2019
IT ALL HAPPENS IN PARIS -- the tradition of attending theatre plays is still alive and kicking, and this since the 17th century.
THEATRE LA BOUSSOLE proudly presents a pleasant show for the whole family, MAX ET LE GRAND MAGICIEN, the theme is that the great magician has - made himself disappear - and MAX wants him back!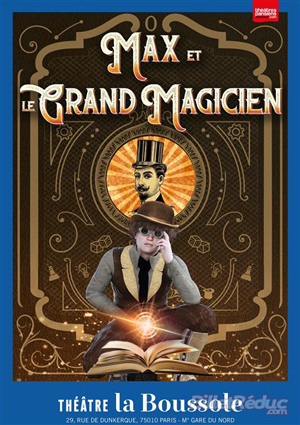 The stage setting is thoroughly attended to by TIMOTHY MEYERS who has done a remarkable piece of work, using modern technique - the background is made up of pictures that are projected on a film screen, and they relate to the magic effects.
This show is original, the actors CLEMENT GUSTAVE who alternates with CHRISTOPHE SELLIER perform acrobatic dancing, a hilarious mimic, an amazing costume quick change, about 10 magic effects, a lot of this using a festive interaction/ audience participation.
The audience was happy and applauded gladly one hour's excellent show!
Ideas and action by MAUD DELMAR.
Click here to see a video teaser for the show
THEATRE LA BOUSSOLE is located in an interesting and lively area, opposite GARE DU NORD, that is entirely refurbished, having brought generations of Scandinavians to Paris !!
Venue: THEATRE LA BOUSSOLE, 29 rue de DUNKERQUE, 75010 Paris. Metro: GARE DU NORD.
See more: www.theatrelaboussole.com where it is also possible to order tickets for the show, which will run until 19 January 2020.
IT ALL HAPPENS IN PARIS!!!
............................................. reported by ZARRO ZARRO.

3 October 2019
Proposal for new Danish Animal Welfare Act with ban against circus elephants. The former Food Minister's proposal for an Animal Welfare Act wasn't passed by the Parliament before a general election in June.
The new Food Minister Mogens Jensen will before the end of November this year present a revised proposal to the Danish Parliament. The forthcoming act will, among other things, authorize the Minister to prohibit the appearance of elephants, sea lions and zebras in circus. Such ban will probably enter into forth before the beginning of the circus season 2020.
As written on this website 4 September the Danish Government has subject to certain conditions bought the 4 circus elephants owned by Danish circuses.
The Government will transfer the ownership of the four Danish retired circus elephants free of charge to the applicant who achieves the highest number of points. The evaluation criteria are timely takeover of the animals and animal welfare. Only zoos and safari parks can apply. Deadline for application was Monday September 30th at 12.00 noon.
Knuthenborg Safari Park has made a bid for the elephants. The Ministry of Food does not want to state whether other bids have been received.
- First of all, we offer to take over the elephants, because we want to ensure them good animal welfare. If they go abroad, we do not know how welfare will be. In addition, we have the space and opportunities to create a unique elephant facility, Rasmus Nielsen, chief zoologist at Knuthenborg Safari Park, says.
Knuthenborg Safari Park estimates that the operation of the facility will cost two million DKK a year and that at least three keepers should be hired to take care of the elephants Ramboline, Lara, Djungla and Jenny.

27 September 2019
Trolle Rhodin named the Centre of the Year. Each year, the Academy of Scania, Sweden, appoints a distinguished person as the "Centre of the Year". The requirement for the recipient is that he or she "must have given weight and energy to the concept "Culture & Humor in Scania".
This year, the award goes to the circus director Trolle Rhodin, also called Trolle III. It is him who today runs the Swedish Circus Brazil Jack. Trolle III will receive the award on October 5 at Stiftsgaarden Åkersberg in Höör.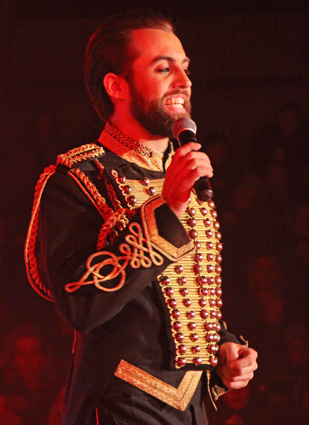 - The circus is part of the Scania cultural history, Martin Martinsson, director of the Scania Academy says. That is why Trolle Rhodin and Circus Brazil Jack are given the award as the Center of the Year.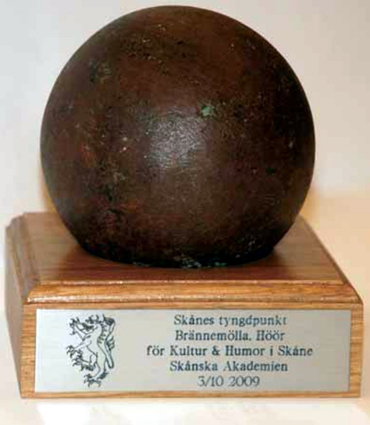 The visible expression of the award is this challenge cup. Former recipients include actress Eva Rydberg and film director Jan Troell
Circus Brazil Jack has been "all human" since the 2018 season, i.e. without animals. Not because they oppose animals in the circus, but because they found that the audience's interest in animal act was declining. The decision was criticized by many circus friends, but has so far been clever business wise: after several seasons with falling number of visitors the number increased last year and once more this year.

26 September 2019
German youth circus visiting Odense. Sunday October 6 at 16.00 Cirkus Flik-Flak will be visited by the German youth circus "Charivari" from Lübeck with their performance "PAGES - a circus library". 20 young artists invite you into a world of books, they tell stories about the universe, about spiders, about Pippi Longstocking, about Mary Poppins and about the 1001 night adventure. 10 young musicians accompany the poetic and fascinating circus tracks. All performers are between 13-18 years.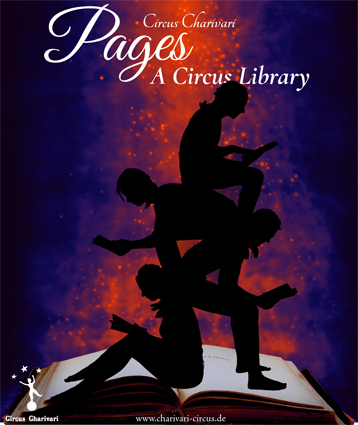 The performance is a poetic and temperamental contemporary circus performance.
Circus Charivari emphasizes solidarity and feels like a big family - the feeling they want to share with their audience. On their tour, they would like to meet people from all cultural backgrounds, because, as they say, circus is a language that can be understood by everyone and bridges between people.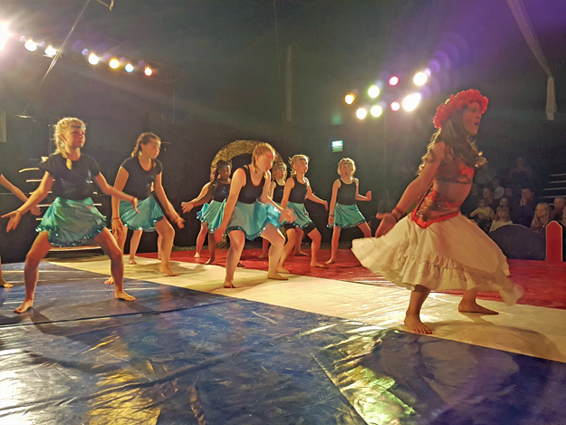 From the performance
The performance is organized in collaboration with circus Flik-Flak and ALL are warmly welcomed. Tickets are FREE but must be booked at www.cirkusflikflak.dk
The address is Circus Flik-Flak, Herluf Trolles Vej 138, Odense SØ

25 September 2019
Cirque du Soleil to Denmark with Corteo. In the spring, the Canadian Cirque du Soliel will visit Copenhagen and Herning with the performance Corteo. They play in the Royal Arena in Copenhagen from April 23 to 26 and in Jyske Bank Boxen in Herning from April 29 to May 3. Ticket prices range from 350 DKK to 695 DKK.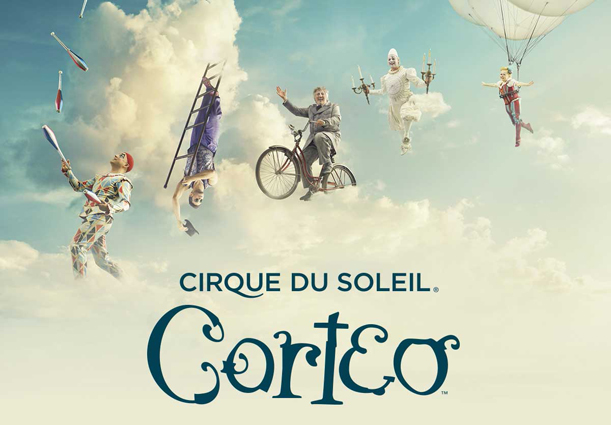 Corteo premiered in Montreal, Quebec, Canada on April 21, 2005. The show's final performance under the big top took place in Quito, Ecuador on 13 December 2015. On November 20, 2017, Cirque du Soleil announced that the show would once again set out on tour, this time in the arena format. The re-staged show premiered March 2, 2018 in New Orleans.

23 September 2019
Circus Mascot ended the season September 22. They have visited 144 cities since the premiere on March 27, had 212 performances and a total audience of 41,798. That corresponds to an occupancy rate of a little less 75. They write: "Thank you to our fantastic team for a great season and thank you to all of you who bought a ticket for this year's show - It has been an absolute pleasure to 'GET CRAZY' with you ".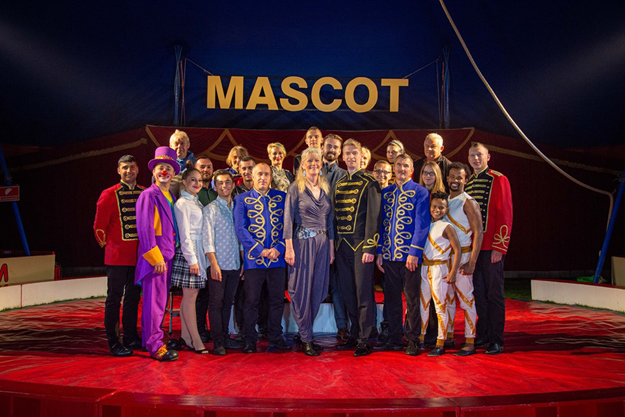 Circus Mascot's team 2019
However, the end of the season does not mean that the Deleuran family will be holidaying for the next 6 months, as their small circus also is active with various winter circus events. In the autumn holidays, they can be found in the center square in the Spinderiet shopping center in Valby with short performances for the center's customers.

19 September 2019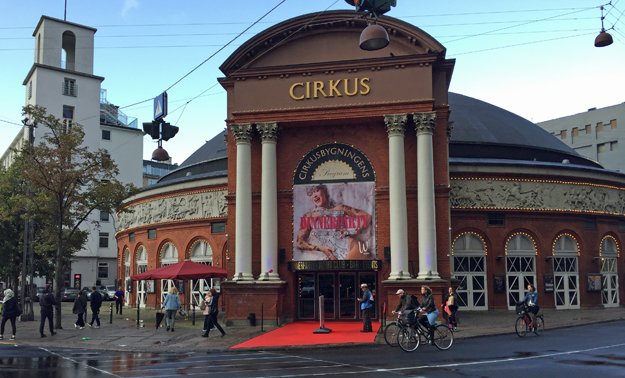 Wallmans Carnival - the hottest show in town. Since 2004 Wallmans have every year from late August to the middle of June presented dinner shows in the Copenhagen Circus Building with singers, dancers and a few circus artists. Usually there are performances Thursday, Friday and Saturday.
Every year Wallmans present a brand new show.
The new Wallmans show is called Carnival. There was gala premiere on Wednesday, September 18, but since August 23, the show has been shown at a number of dress rehearsals.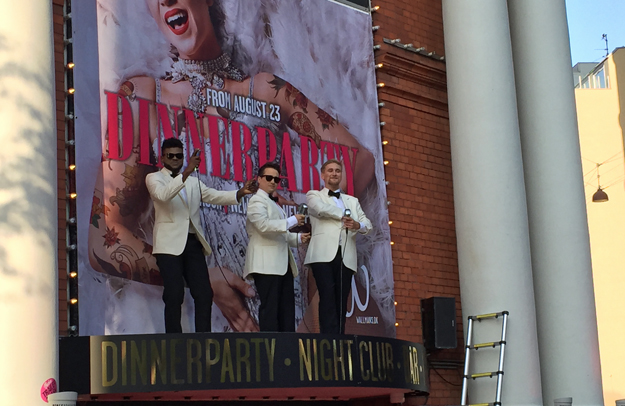 Three singers stand on the porch roof over the entrance and welcome the guests
This year the show is presented as a dinner party and not as a dinner show. It is not just a new name but indicate that the guests are not just spectators. At Wallmans you sit in the midst of the whole experience. Before you even have time to look around, you'll be part of the show. For example, a magician comes to the tables and present impressive close up magic with playing cards.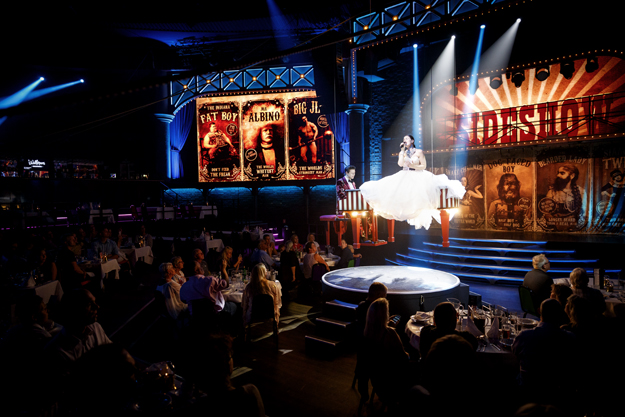 The first part of the show is with scenery from the sideshows which were part of The Greatest Show on Earth (Barnum & Bailey) as well with a grand piano that disappears under the circus dome with a singer on the cover. Press photo from Wallmans. Photographer John Resborn
The overall person in the show is the English comedian Abigail Collins. She is a talking waterfall and full of fun. She has a personality that fills the entire room, and as the character 'Peggy Sued' she makes the audiences laugh until their ribs ach. Sometimes with the help of spectators whom she chooses with talent from those who enjoy being part of the shows. A much-loved highlight at Wallmans is the evening's celebration number, when they cast the spotlight on guests who are celebrating something special. As the crazy, yet lovable character Peggy Sued, Abigail really goes for it and, accompanied by her witty saxophonists, overwhelming honoured guests with charm, champagne and unbridled humour.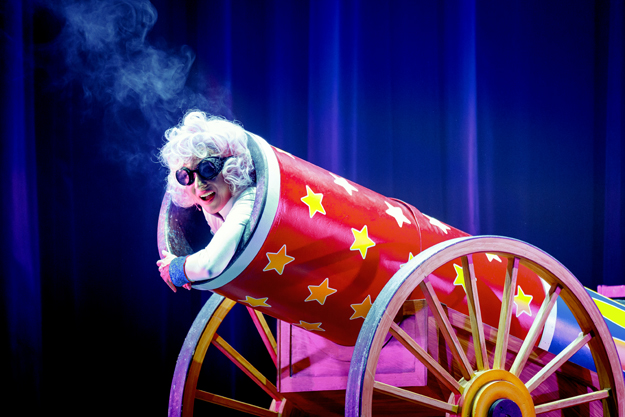 Abigail Collins makes her entry by climbing out of a cannon. Press photo from Wallmans. Photographer John Resborn
One of the persons she honoured at the gala premiere was Benny Schumann. Last year, Wallmans appointed him a guest of honour at Wallmans, and he got his very own private gold chair with his name on. It was of course made available to him at the gala premiere. Benny Schumann has recently received two prestigious awards: The Danish Circus Award (Abigail mentioned this in her tribute) and Truxa's Memorial Prize.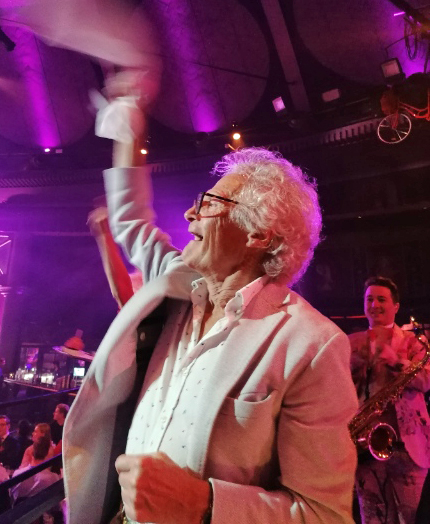 Benny Schumann was honoured. Smartphone photo, shot by his wife Marianne Schumann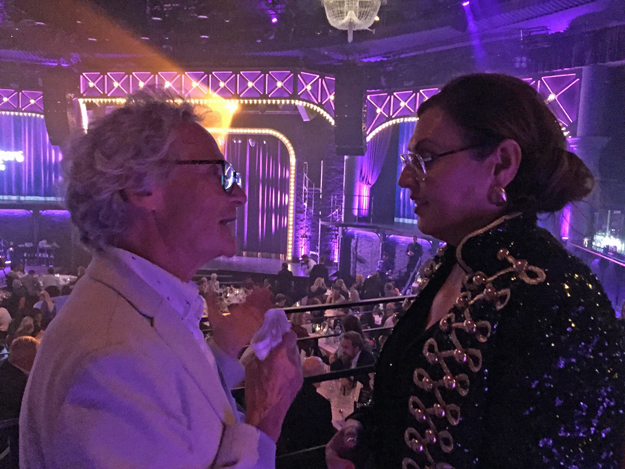 Benny Schumann talks with Wallmans CEO Dorthe Fryd Ekelin. Smartphone photo, shot by Ole Simonsen
As always, there are talented singers and dancers. As something new, several of them play this year either guitar or saxophone, both on the main stage and when performing on the many other stages in the hall.
All in all, you can say that the Wallmans show has been given a facelift. And note that it is an extremely successful facelift!
This year's circus artists, in addition to Abigail Collins, are the South African magician, musician & guitarist Daniel Rosenfeldt. He has been living in Denmark for several years, where he has participated in one of Rune Klan's shows, just as he last year was part of the Danish version of Got Talent!
In addition to making close up at the tables, he shows tricks on stage in the middle of the circus ring just as there is a feature where he plays guitar with "fingerstyle" with the guitar lying on his knees.
In addition, the audience at Wallmans meets the American-Canadian Duo Pile ou Face. First in an act in Cyr Wheel and then in an act in sway poles "dressed" as lampposts. A type of act which I don't remember seeing since the legendary Fattini's famous drunken -man entrée with the lamppost, which could be seen in the Circus Building at Circus Schumann in 1966 and at Circus Benneweis in 1974. Fattini's entrée was a comic entrée in a very high sway pole. The poles used by Duo Pole ou Face (Shannon Mcguire and Phillip Renaud) are hardly as tall and their entrée is not a comic entrée. However, at one point they are two in the pole, and later each of them they sway in his/hers own pole. No doubt the audience was impressed with the spectacular act. Both the act in pole and the ac in the wheel elegantly slipped into the performance and help to making it a whole and not just individual solo presentations.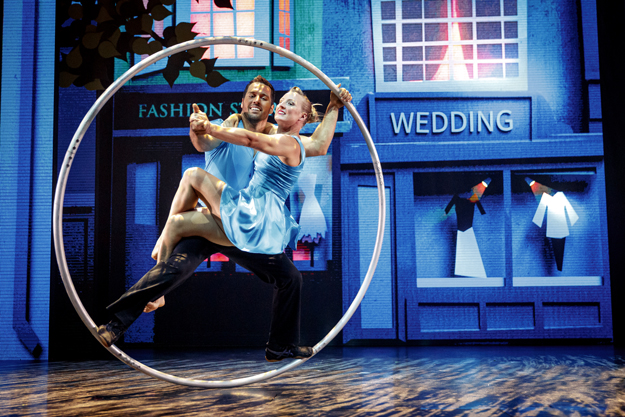 Duo Pile ou Face in Cyr Wheel. Press photo from Wallmans. Photographer John Resborn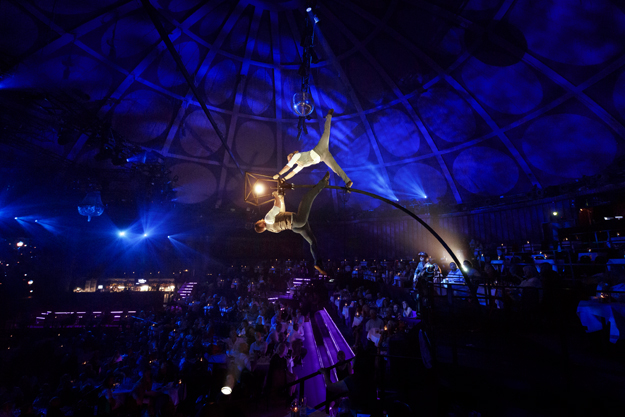 Duo Pile ou Face in sway pole. Press photo from Wallmans. Photographer John Resborn
As it is a dinner party, the food also deserves to be mentioned. It is served during breaks in the show and it is both fascinating and impressive to see how elegant and fast it is served to the up to 1,000 guests in the hall. The dinner consists of 4 delicious courses: first soup of the season. Next tasty and beautifully prepared platters with Italian antipasti. As main course where there are several choices. The guests as the premiere were offered delicious beef tenderloin in slices with truffle mayonnaise, served with Hasselback potatoes and red wine sauce. And for the dessert: Dark chocolate mousse topped with panna cotta. Everything was incredibly delicious. And the portions were large enough to make everyone satisfied.
The evening ended with the singers and dancers in a thrilling Quenn potpourri ending with We will rock you! and We are the Champions. The singers and dancers could for good reason have renamed the first song to We have rocked you. And they were together with the other performers champions in a wonderful and festive show.
Running time approximately 4 hours 30 minutes.
The language in the show is English making it interesting also for foreigners visiting Copenhagen.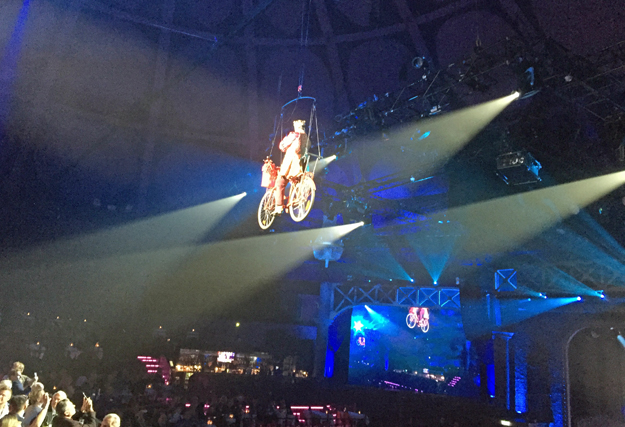 Bicyle Race was also part of the Quenn-potpourri. While an artist cycled over the heads of the audience. Smartphone photo, shot by Ole Simonsen

13 September 2019
Katja Schumann turns 70. On Monday, September 16, Katja Schumann turns 70. Katja is daughter of Max and Vivi Schumann. Katja made her first appearance in the ring in Circus Schumann in the Circus Building in Copenhagen at age 10, as a ballerina on horseback. In the following years, she was seen with other members of the Schumann family riding high school and presenting liberty horses. In one season Katja also presented parrots and in another season trained pigs. She and other members of the Schumann family spent the winter season in London with Bertram Mills Circus at the Olympia of Kensington
When Circus Schumann stopped in the Circus Building after the 1969 season, Katja found engagements with some of Europe's leading circuses. She participated in the first International Circus Festival of Monte Carlo in 1974, where she won La Dame du Cirque award, given to the best female performer of the Festival. In 1976, she won a Gold Medal at the Circus World Championships in London
In 1977, Max Schumann revived Cirkus Schumann supported by his children Philip and Katja, touring under a brand-new big top. In 1981 Katja appeared during the winter season, at the Big Apple Circus in New York with her high school act, and when Circus M Schumann closed after season 1982 she decided to settle in USA. She became a member of the Big Apple Circus's resident company and married its Director, Paul Binder. From 1983 on, she created a long list of original liberty and high-school acts, sometimes with the help of her father, Max (who rejoined her in 1992 and remained with the Big Apple Circus until 2003), or of Katherine and Max, her and Paul's children. She also presented her version of the equestrian classic, The Courier.
Katja and Paul separated in 2004, at which time Katja went to work with Circus Flora in St. Louis, Missouri, before returning to Denmark in 2008, where she presented liberty horses in Circus Dannebrog.
Then for a few years she was associated with Luffe Bøgh's No Name Circus project in Solbjerg north of Hadsund. In 2012 and 2013, Katja toured in the summer season with the Circus Mascot.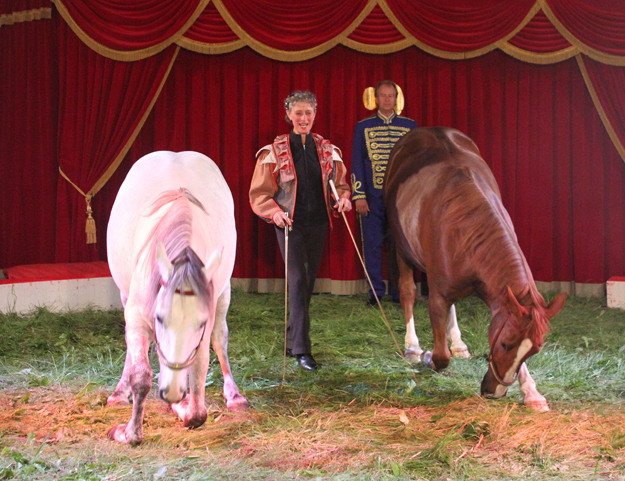 Katja Schumann in Circus Mascot 2012. Photo: Ole Simonsen
At one point disagreement arose between Luffe Bøgh and the No Name institution, and thus the No Name Circus stopped. However, sweet music had emerged between Katja and Luffe Bøgh and today they are a couple. They had a dream of creating an internationally recognized place where ideas could be translated into the benefit of the circus as a culture and where they could strengthen the interaction between animals and people. A place where the circus develops. Where you can sense the presence of history. Where the past is to form the basis for innovation and for shows where the audience can experience horses in the circus ring. And experience of the circus in a historical and modern light.
It might sound like an unrealistic dream. But in 2015 Katja Schumann bought a 21,000 square meter large abandoned agricultural property on Vrenstedvej outside the seaside resort Løkken. At that time the property looked like it was waiting for a bulldozer. But since then Katja and Luffe Bøgh have struggled to fix the dilapidated property and created an impressive circus farm focusing on animals. There is also an arena with a circus ring and an environment that attracts many visitors every summer. And thus the dream has come true.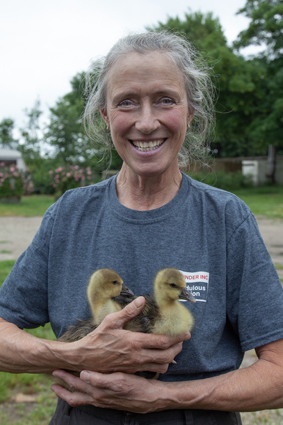 Katja Schumann 2018. Photo: Lise Kokholm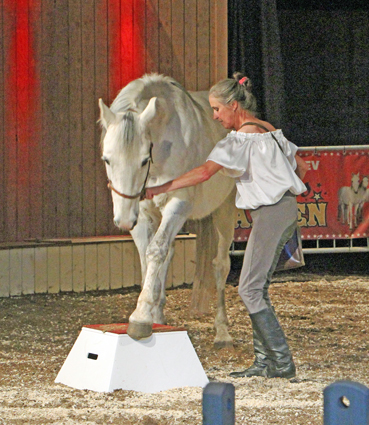 Katja Schumann at a performance in 2018 at her circus farm. Photo: Ole Simonsen
Katja and Luffe spend today most of their lives at their beloved Circus Farm. Although there is an apartment on the farm, Katja still lives in her parents' caravans from 1977 – that's what she prefer. However, Katja is also in the US every year to visit her and Paul Binder's two children Katherine and Max and the grandchildren Leo and Sonya.

13 September 2019
Truxa's Memorial Prize to Benny Schumann and Michael Frederiksen.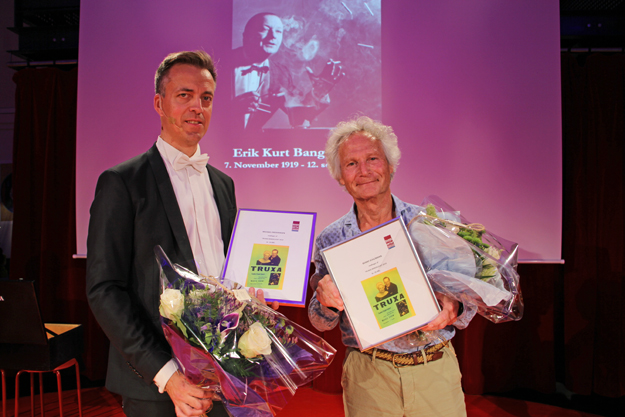 Every year, performing artists from Denmark and Sweden are honored with a memorial prize founded by the late Danish magician and illusionist Truxa. Usually it is handed out on Truxa's birthday on November 7th. But this year, the Danish Artist Association, which administers the prize, chose to hand over the award in connection with a Truxa matinée at the Circus Museum at Hvidovre, Copenhagen, on September 13.
Two prizes were awarded: one, which was accompanied by an amount of DKK 20,000, went to the Danish circus- and artist-worlds grand old man Benny Schumann, who a month ago also received the Danish Circus Award.
The second prize of DKK 10,000 went to magician Michael Frederiksen, who in connection with the matinée re-created some of Truxa's act while Museum Curator Mikkel Knudsen told about Truxa's exciting life on and off-stage.
Truxa (Erik Bang, 1919-1996) first appeared as magician in 1939 and became especially known for his mind-reading act which he performed with his wife and partner, Gulli, but also blind-folded car journeys and predictions of newspaper headlines caught the eye. He appeared on variety theatres throughout the Nordic region, allowed ladies to roam freely in the air and was a lifelong Danish major international magician with more than 100 television shows.
Michael Normann Frederiksen (born 1973) is a professional magician, lecturer and entertainer from Denmark. Since 1997 he has performed thousands of shows in Denmark and abroad. In 2006 and 2007 he was awarded 1st place in the close-up magic contest in the Magic Circle of Denmark. In 2008 he won 3rd place at the Nordic Championship of Close-up Magic in Oslo, Norway. His fifteen instructional DVDs have sold 10.000 copies in the Nordic countries. His 352-page book in English, Listen to Us! is about showbiz and can be ordered from Amazon. Today Michael resides in Copenhagen with his family.

10 September 2019
Circus Arena on Greenland. From September 3 to 8, Circus Arena visited a number of cities on Greenland. Among the performers were Don Christian, Bonbon and his children, Bettina and Martin Arli, Duo Costache, Alan Sulc & Veronika, Bubber and Julie Berthelsen. Benny Berdino was of course also with his circus. Martin Arli has sent me the photos below from the performances in Greenland.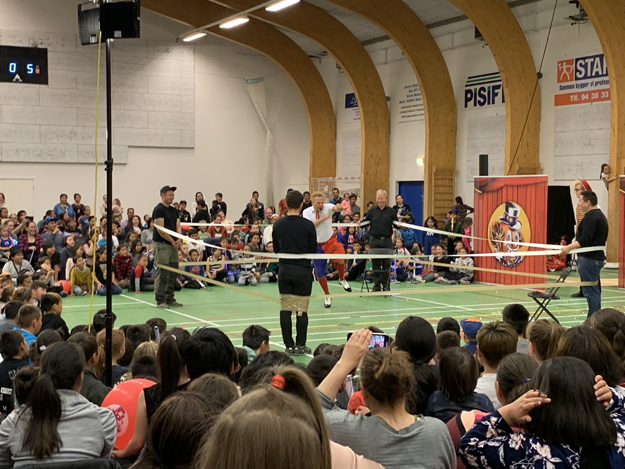 The Greenlanders saw Don Christian with the well-known boxing entrée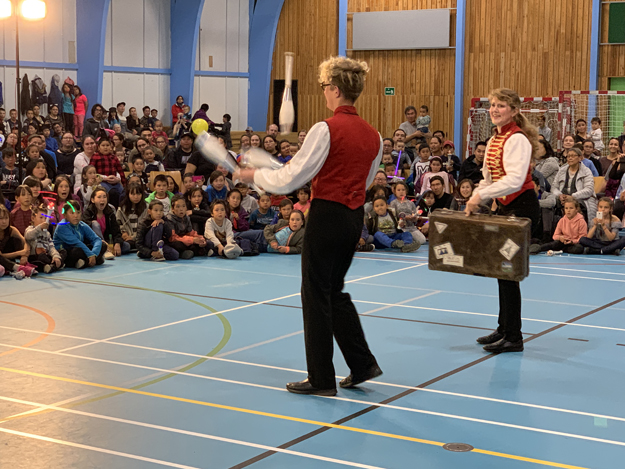 Julia and Joakim are daughter / son of the clown Bonbon and his wife Tiina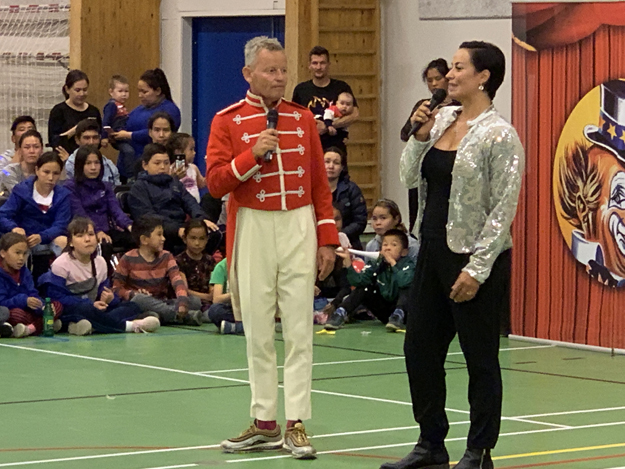 Ringmasters were Bubber and singer Julie Berthelsen who is daughter of a Greenlandic mother and a Danish father.

8 September 2019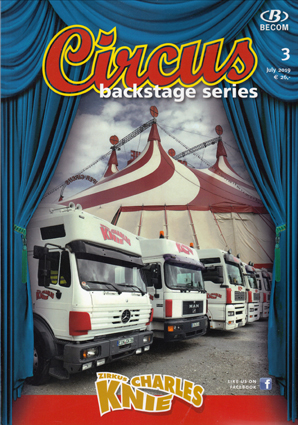 Many Danes, Swedes and Norwegians have visited the German Circus Charles Knie. Both when it was owned by Charles Knie and after Sascha Melnjak took over the circus. Dutch circus friend and author Henk van den Berg has just published a book about Circus Charles Knie. Over 124 pages in full colour. 550 pictures and posters. Pictures from show, build up, transport and wagons. Language English. Price including postage within EU 36 Euro. Send a mail to j.berg49@gmail.com if you want to purchase the book.

6 September 2019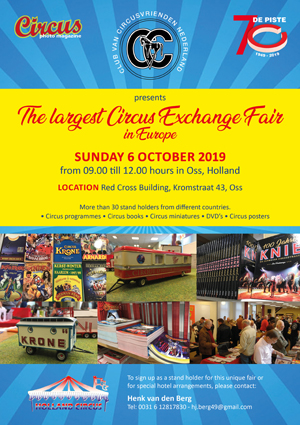 The largest circus exchange fair in Europe takes place in Oss in Holland on 6 October. There will be more than 30 stand holders from different countries offering cicus programs, circus books, circus models, DVD's and circus posters. Among the stand holders are the Dutch circus friend, collector and author of several circus books Henk van den Berg, who also has a number of Scandinavian programs and posters for sale.

4 September 2019
The Danish Government buys circus elephants. In a press release dated August 31, the Ministry of Environment and Food writes (my translation):
The Minister of Food Mogens Jensen has agreed with Circus Arena and Circus Trapez on the purchase of four retired circus elephants. The price is a total of 11 million DKK (1,475,000 Euro). That's another million DKK per elephant in compensation for housing expenses compared to the Government's first offer of 7 million DKK.
- We have come up with a really sensible solution ensuring that the elephants can get better living conditions. Wild animals do not belong to either a stable or a circus ring, and when the Danish Parliament opens, I will propose a new animal welfare law, so that we finally get a ban against wild animals in the Danish circuses, Mogens Jensen says.
- A solution has been quickly found, and this has been possible due to good cooperation both with the owners of the elephants, with the Animal Protection Denmark and with the other parties in the Danish Parliament. I am grateful for this the Minister says.
All the parties in the Danish Parliament support the agreement.
The elephants remain for the time being where they are, while the Ministry of the Environment and Food finds a good future owner of the elephants. As part of the solution, Animal Protection Denmark will help ensuring the welfare of the animals during this period.
In Animal Protection Denmark we are happy to be able to help get the agreement in place and at the same time ensure the welfare of Ramboline, Lara, Djunga and Jenny during the transitional period until their retirement facility is ready to receive them, says Britta Riis, CEO of Animal Protection Denmark.
The Ministry of Environment and Food will now initiate an application process where all interested parties can apply to take over the elephants from the Government free of charge. Only zoos and safari parks can apply, as you need a permission to acquire elephants. Such permission is not given to individuals. Applications will be evaluated and the elephants will be handed over to the buyer who can offer the highest level of animal welfare for the elephants.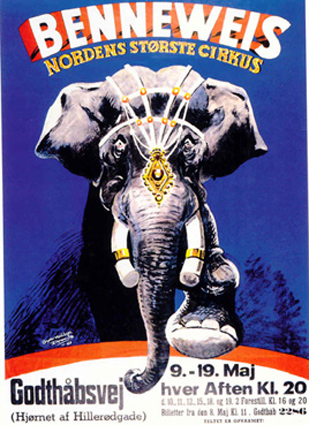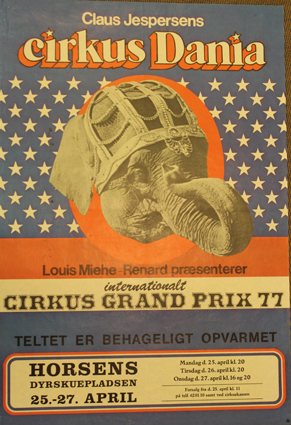 There will be no more elephants in Danish circuses. Many circus enthusiasts have been delighted to see the magnificent animals. But large majorities in the Danish Parliament and in the part of the population who never is visiting a circus have wanted a ban. They do not believe in circus professionals' statements that elephants have good conditions in a circus.
Animal Protection Denmark welcomes the agreement and says that they will contribute to the care and activation of the elephants and the establishment of a new outdoor area at Cirkus Arena's winter quarter. It will give the 3 elephants from Circus Arena access to the outdoors until elephant facilities at the future owner are completed. The Trapez elephant Ramboline has today access to an outdoor area.
As mentioned, The Danish Ministry of Environment and Food wishes to enter a contract on the transfer of ownership of the four Danish retired circus elephants. The transfer of ownership will happen in accordance with the planned ban on elephants in circuses in Denmark. The ownership of the four Danish retired circus elephants will be transferred free of charge to the applicant who achieves the highest number of points. The evaluation criteria are timely takeover of the animals and animal welfare. All interested parties are invited to apply. Deadline for application: Monday September 30th at 12.00 noon.
It is a minimum requirement that the applicant is able to take over ownership of all four elephants in 2019. The applicant may, if necessary, house the elephants under temporary conditions, in case the final elephant facilities are not ready in 2019.
The period before the future owner can have elephant facilities ready is expected to be 4 to 8 months. The Animal Protection Denmark and Knuthenborg Safari Park is working to establish a new and modern elephant facility as part of Knuthenborg Safari Park where the circus elephants can spend their retirement under the best conditions. Animal Protection Denmark's favorite to take over the elephants is thus Knuthenborg Safari Park. As far as is known, no other Danish zoo or safari parks are interested in the elephants. But of course, Knuthenborg will not start the construction of elephant facilities until they are sure that they will get the elephants.
The price per elephant ended up being 2.75 million DKK of which Cirkus Arena receives 8.25 million DKK. Benny's Berdino's initial request was 38.9 million DKK as he wanted compensation for the cost of establishing his elephant facilities. The request was later reduced to 20 million DKK. But as can be seen he got a much lower amount. Food Minister Mogens Jensen has stated that the 2.75 million DKK per elephant was the maximum the Government could give without conflicting with the state aid rules. The Government cannot discriminate against other circuses by providing support for specific circuses.
As more and more countries ban elephants from the circus, Circus Arena and Circus Trapez could hardly have achieved a better price from other purchasers as the bans obviously limit demand for circus elephants.
However, it is possible that someone believe that the price is so high that it in reality is some form of state aid to Arena and Trapez.
Some people with knowledge of circus elephants believe that the best solution for the elephants would have been if they had been allowed to spend the rest of their life in their habitual surroundings, and that the solution chosen only is the second best for the elephants. But such kinds of considerations have no support from Animal Protection Denmark and the politicians.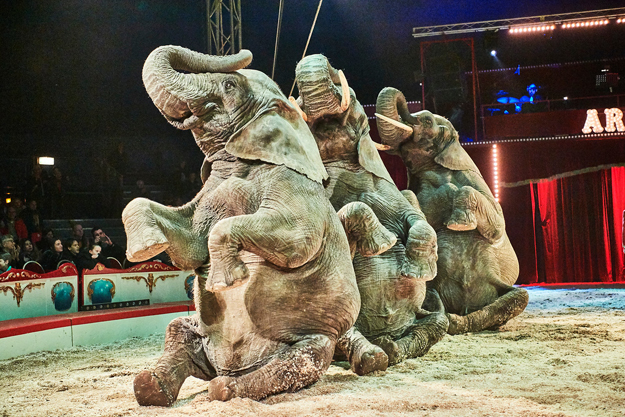 A sight like this you will no longer be able to see in a Danish circus. Photo from Circus Arena 2018, the last season they had elephants on tour. Arena took over the elephants from a Spanish circus in 2007. The first seasons they were rented out to other circuses, e.g. Swedish Circus Maximum. But after Arena's co-operation with the Casselly family stopped at the end of season 2010, Arena has every year had their elephants with them on tour in Denmark. However, the elephant act was never quite on par with the Casselly family's act. Photo: Rud Kofoed / Ajour Press
The 4 mentioned elephants are all African elephants. The biggest threat to these magnificent animals is not the circus, but African poachers. However, in a single African country, Botswana, the elephant population is so large today that it harms many farms where farmers are struggling to keep animals away from their fields. Over 135,000 elephants roam freely in Botswana's parks and nature areas. Due to this the Botswana government is considering reduction in the form of wildlife care. Botswana has even considered lifting the ban on elephant hunting. - Neighboring Zimbabwe has sold almost 100 elephants to China and Dubai in the past six years.

29 August 2019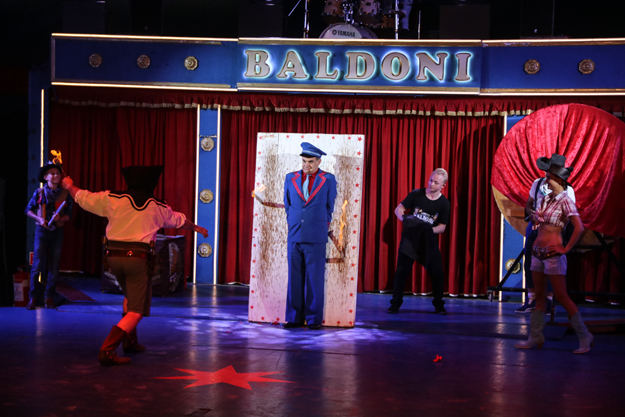 As always, there were some special gags in Circus Baldoni's last performance. Among other things circus owner René Baldoni as target in the knife throwing act and Baldoni's former clown Danilo as Benny from the Olsen Gang. (The Olsen Gang (German: Die Olsenbande) is a Danish comedy film series about the eponymous fictional criminal gang.) Photos: Jacob Boas Leitisstein. Click here to see more photos from the show on August 28 in Tureby, where Circus Baldoni has winter quarters.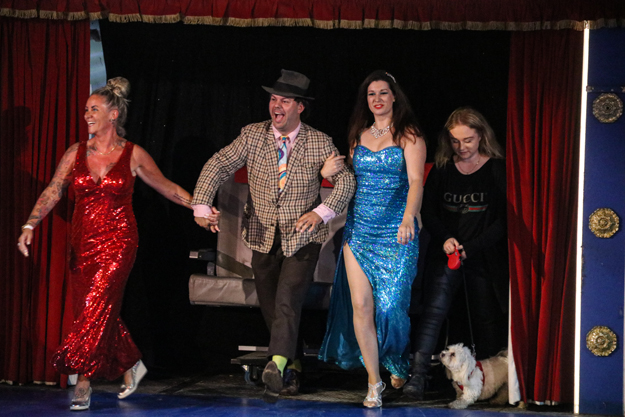 23 August 2019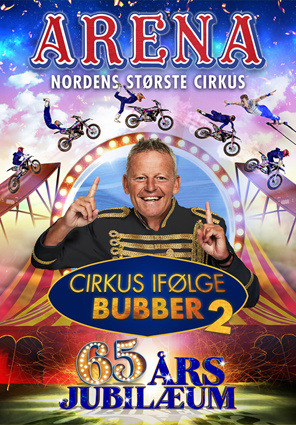 Circus Arena 2020. Circus Arena has just ended the 2019 season, but they have already started the presale for the 2020 season, where they can celebrate their 65th anniversary.
Circus Arena writes (my translation):
Circus Arena's 65th anniversary in 2020 is set to start with Bubber at the forefront and a selection of the world's best artists in Circus Arena's new show 'Circus according to Bubber 2'.
The anniversary program is composed of extreme world-class acts and some in a league never before seen in Denmark!
Together with Bubber you will meet the motocross group FMX Denmark, which makes the wildest ramp stunts across the ring and the tight wire dancers Danguir who impress their
7-man pyramid. It has never before been seen in Denmark.
Also look forward to world-class trapeze art, jumping acrobats, ballet girls and the cutest dogs.
A fun and life-affirming experience awaits the entire family in Circus Arena in 2020.
FMX Denmark call itself Denmark's only professional FMX (Freestyle Motocross) show. The troupe was founded in 2014 by Allan Porsing with the assistance of his good friend Kevin Rahbek, and they have performed at various events in Denmark and Germany. The have never before toured with a circus. Click here to read more about the troupe and its history.
The tight wire troupe Danguir is led by Mustafa Danguir from Morocco. They have toured with the now closed American circus Ringling Bros. and Barnum & Bailey.
Bubber aka Niels Christian Meyer is a well-known Danish TV-host. He was ringmaster in Circus Arena from 1990 to 1998 and has been back as ringmaster in 2019 and will have the same position in 2020.
Circus Arena has season opening in Copenhagen on Wednesday 25 March 2020. They will stay in Copenhagen until 13 April. Then, as usual, the tour goes to Aarhus and a number of other Jutland cities before arriving in Funen in June and then returning to Zealand until the end of the season in August.

23 August 2010
Aarhus Festival's International Night Cabaret. The Night Cabaret is one of the festival's highlights and this year again Aarhus Festival produces the entire show itself. There is a performance every night at 9 pm from 31 August to 7 September with the opportunity to enjoy a three course gala dinner before the performance. Dinner guests can keep same seats throughout the evening.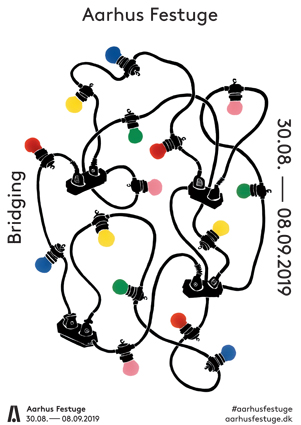 Aarhus Festival's International Night Cabaret with the title 'Magic Moments' includes some of the best dancers, comedians and artists from all over the world.
Arriving at the foyer of Hermans in Tivoli Friheden you are immediately greeted by live music, entertaining acts and hosts serving refreshments to put you in the right mood for a fantastic evening. After enjoying an optional three course meal you may sit back, relax and get ready to enjoy a magical show where you will meet…
Swedish magician and comedian Michael Halvarson. A real scoop for this year's Night Cabaret. He has performed with the popular Cirque du Soleil and appeared on the Broadway show 'The Illusionist', where he takes the art of pickpocketing to new levels.
Master of the spinning tops, German artists Jochen Snell, amazes with his ability to balance spinning tops on his hands, feet, head and even up the blade of a samurai sword.
Russia is also represented by Lina Lii. Watch as she creates magical stories live on stage using only sand.
On top of that you can look forward to Danish dancers Foxy Ladies and Marc Thierry's Trio. And loads more!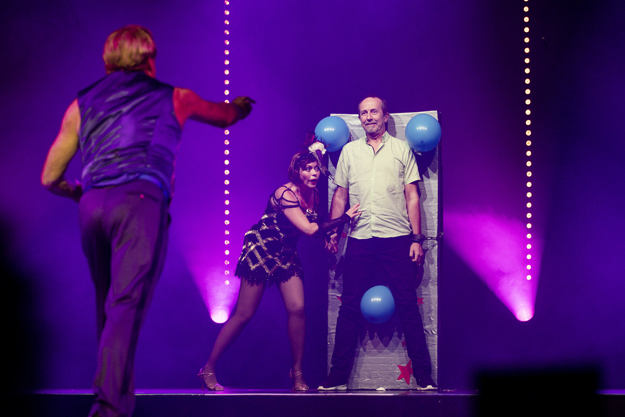 Photo from the Night Cabaret 2018. Photographer: Martin Dam Kristensen

22 August 2019
Circus Arena to Greenland. Circus Arena ended the tented season on August 20. But for the 36th time Benny Berdino and his circus visit Greenland after the tented season with a performance that unites children and adults in the magic of circus with the combination of music, adventure and world-class artistry.
However, it is not the summer performance that is on tour, but a special performance produced for Greenlandic arenas etc. Circus Arena writes (my translation):
"In the performance you will see equilibristic strong human bodies, aerial artists who can turn the whole world upside down, a juggler who can grab everything between heaven and earth and even an almost real elephant. The Bonbon clowns are pervasive figures in the performance with lots of crazy ideas which children of all ages will enjoy. Bubber, who is known from Danish TV, and the singer Julie Berthelsen lead the audience through the performance in both Greenlandic and Danish."
Julie Berthelsen is a popular Danish singer. Her father is Danish and her mother from Greenland. They divorced and Julie spend most of her childhood on Greenland.
The juggler is Alan Sulc, who was one of the 3 nominees for this year's award for the best act. He has during the summer season toured with. From Circus Arli also Bettina and Martin Arli are with Arena in Greenland.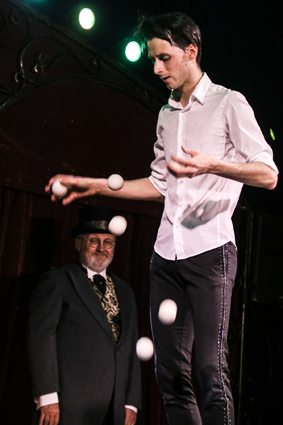 The Master juggler Alan Sulc is among the artists in Greenland. Photo: Jacob Boas Leitisstein
Circus Arena visits:
September 3 - Aasiaat at 6.30 pm in the sports centre (Julie Berthelsen does not attend this day)
September 4 - Ilulissat at 6.30pm in the sports centre
September 5 - Maniitsoq at 6.30pm in the sports centre
September 6 - Sisimiut at 6.30pm in the sports centre
September 8 - Nuuk at 1 pm and 4 pm 16.00 in Inussivik
Usually, Arena's visit to Greenland is not until the beginning of October. But this year, it is a month earlier.
Greenland is an autonomous country of the Kingdom of Denmark. And Mr. President – Greenland is not for sale! But maybe you will consider selling part of USA? The might be someone interested in buying Manhattan!

22 August 2019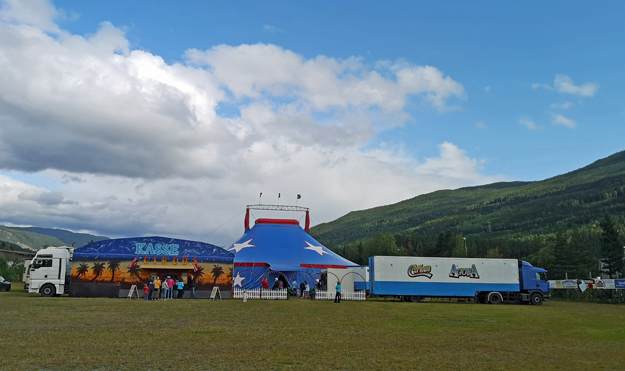 Circus Agora 2019. Thorbjørn Klæbo Flo saw the performance in the Norwegian circus in Gol and writes (my translation):
Performance at 4 pm, duration 2 hours with 20 min break. Pony riding for the audience + kiosk.
Opening Francesco, Anniversary Video, Martyn Chabry – Musical Quick Change, Mr. Gagiu – aerial straps, Edi Laforte - Dogs, Francesco reprise, Max Weldy - Comic Trampoline, Inverval, Andrea Quaiser with 2 ponies, Erika Hågensen – vertical robe, Francesco reprise, Marius Gagiu - vertical bar, circus owner Jan Ketil with his cup act on slack wire, Francesco reprise, Rafael de Carlo - juggler, Clown Xhiliphone, final.
Circus Agora started with a premiere at Hamar in 1989 and ran tented seasons in three different tents until 2009. Some bankruptcies along the way, most recently in 2008 and 09. After that Jan Ketil worked with a few hired artists for the Cultural Schoolbag in Norway. The Cultural Schoolbag is a national program designed to ensure that all school pupils in Norway experience professional art and culture of all kinds.
Circus Agora returned as a classic tent circus but in smaller format in 2017. A co-operation with German Andreas Quaiser who came with a tent, box office, two ponies, kiosk and toilet wagon.
This year Jan Ketil has invested in a brand new 24 meter tent. A wise choice, runs without an orchestra but has sound systems that follow the performance and good lighting. Due to the 30th anniversary, the program is costly.
Top artists like the clown Francesco from France, seen earlier at the largest circus in Scandinavia.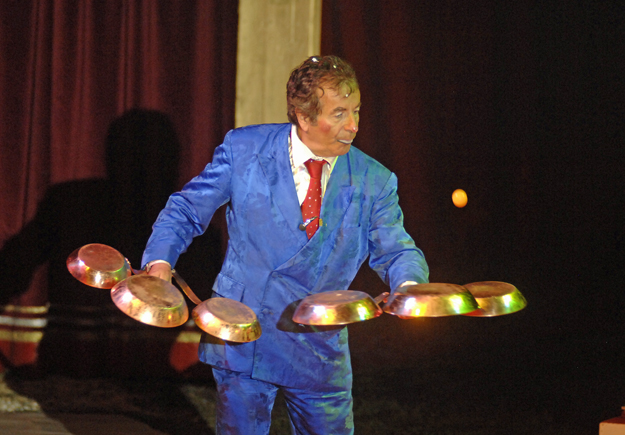 Francesco. All photos: Thorbjørn Klæbo Flo
Rafael De Carlos the world famous juggler from Cuba with his wife Martyn Chabry. daughter of equally famous clown from Belgium.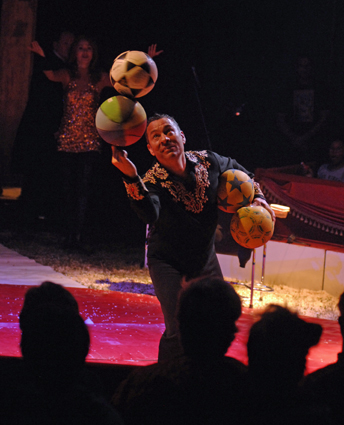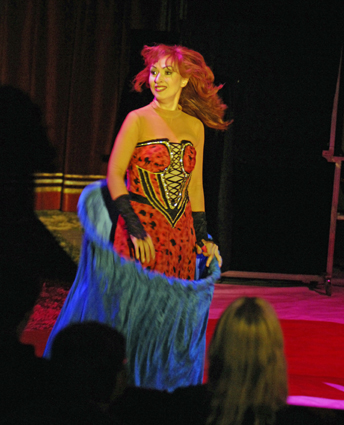 To the left: Rafael de Carlos. To the right Martyn Chabri
Edi Laforte and Max Weldy also good high-level artists in their disciplines.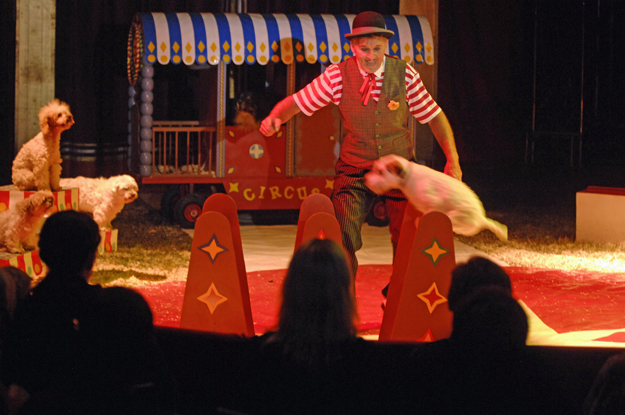 Edi Laforte and his dogs
Norwegian Erika Hågensen from Norway making her début. A nice act in vertical rope presented with charm. There are many such acts especially the contemporary circus world. I have seen many of these artists and Erika's act is one of the strongest I've seen.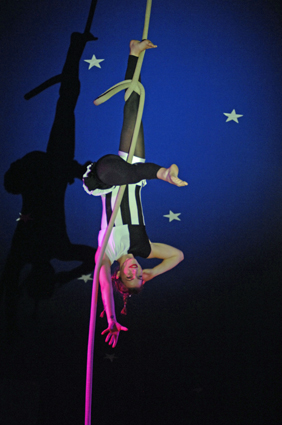 Erika Hågensen
An accident in Molde where the artist in the vertical bar fell down with equipment and couldn't work for a period. This act did not appear on Gol. The same goes for Andreas Quaiser's ponies who did not work because of some disease.
Jan Ketil has managed to build himself up to be a very good ringmaster and he "sells" the show well to the audience. Especially when he tell his story as an artist and ends with the well-executed cup balance act. Despite many injuries during a long artist career a slack wire artist, car accident etc...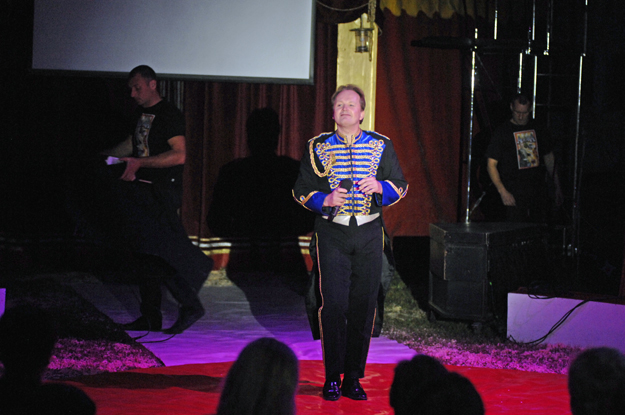 Jan Ketil
All in all, I would call it an artistically strong anniversary program and good atmosphere. About 130 visitors in Gol were impressed and ended giving standing ovations.
I will be exciting to follow Agora in the future.

20 August 2019
Ukrainian circus artist sues Cirkus Arena. Tetiana "Tanya" Koreneva fell 26 feet and broke her neck in four places when her cable broke last August during a performance in the Circus Arena. She now claims compensation, her lawyer tells Radio24syv.
"We are suing Cirkus Arena because they have a co-responsibility for Tetiana's injury when she got her on-the-job injury last year," attorney Søren Kroer of Kroer / Fink lawyers says. The lawfirm specializes in actions for damages cases where they only represent the injured party.
According to lawyer Søren Kroer, Tetiana Korenieva has been given legal aid. Leal aid means that the Treasury pays court fees and fees to Tetiana's lawyer. If she lose the case, the Treasury will also pay the costs of Circus Arena's lawyer.
The lawyer cannot yet put a figure on how much compensation the circus artist is looking for.
Circus Arena has previously declined to be responsible for the accident, as artists themselves are responsible for the maintenance and assembly of their equipment. Tetiana was not employed by Circus Arena, but by Circus Theater Bingo in Ukraine, from whom Circus Arena had booked the troupe in which Tetiana performed.
She worked in tissue, also called silks. Tissue acts are usually not dangerous. But if the wire in which the tissues hang is broken, it can as here go terribly wrong.
It may take several years before the courts decide on the case. When Circus Arena receives the subpoena, their lawyer gets a while to make a defense. Once Tetiana's lawyer has seen it, he makes a so-called reply. When Arena's lawyer gets it, he makes a so-called rejoinder. And there may be further exchange of letters before the courts find a time for hearing.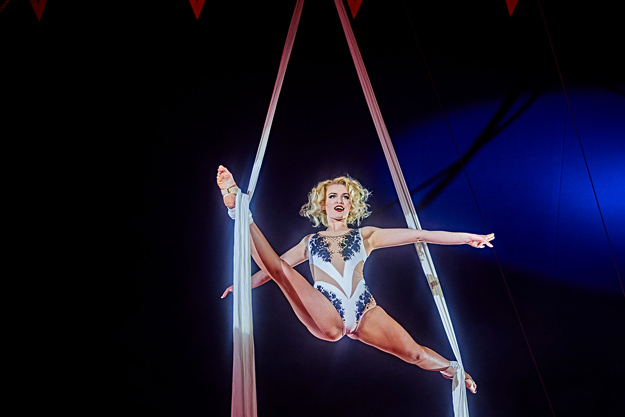 Tetiana at the season opening in Copenhagen in March 2018. Photo: Rud Kofoed / Ajour Press

15 August 2019
Danish Circus Krone. For the first time in many years, the Thierry family's small Circus Krone has not had their usual summer tour. They have in 2019 only been active in February when they had performances in the Music Hall in Aarhus as well as recently for 5 days in connection with The Randers Festival.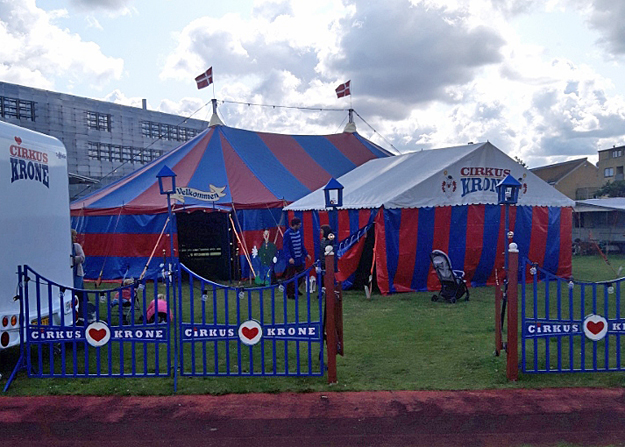 Circus Krone in Randers. Smartphone photo shot by Jørgen Lorenzen
Jørgen Lorenzen saw the performance at Randers Festival on August 14 and writes (my translation)
Circus Krone is back! At least for one week during the Randers Festival.
There were two performances on the 14th in the morning. Most of the audience was children who participated with heart and soul. Circus Krone is in the middle of a generation change. Irene Thierry presented the performers. Everything looked as in the old days. But it was not so: you could feel that Frank Thierry slowly is treading new tracks. His subtle but contagious humor and his linguistic skills are impressive and greatly contributing in making Krone Denmark's coziest circus. This slogan is one of two. For Circus Krone is also: Circus with heart.
E.g. Frank notes that the band has not met on time. So you play with the aid telepathy. Thus he sets himself to the piano and lets the thoughts and notes flow freely. And quite rightly, it is Circus Krone's signature tune that comes to him from the atmosphere.
Irene Thierry and her two assistants Kate and Zitha, are dressed in fancy dresses with lots of sequins - a mix of a buffoon and a white-faced clown. The clown Don Carlos has optimal working conditions when he delights the children and gets them divided into two groups where one shouts: no and the other: yes. His problem is that he doesn't dare get up on a unicycle, but eventually the kids agree to shout no – don't dare. But precisely this no makes the clown do just the opposite: he enters the bike and the children cheer for joy. So he wheels off - on his one-wheeled vehicle, which he calls a discount bike because one wheel is cut!
But most attention is awakened by the dog whisper Leo Beljakov. He has two entrées. First with a solo dog, and then with 5 dogs of different breeds. You will inevitably think of pigeon trainer Andrejs Fjodorov, who recently received this year's Danish circus award for the best act of the year. Both are capable to interact with the animals so that unexpected situations arise - and the audience has to ask the question: how can this be possible? How to get a dog to balance on a wire, to run backwards, to stand on the hind paws and on the front paws in Leo's hand and to climb around him as if he were a prop or a stand. But he is not, and his dressage goes beyond the art of possible. And a circus performance must have a moment when the audience thinks almost unanimously: that's impossible; one cannot do that. But yes, we are in the circus, and here everything is possible.
And Circus Krone keeps to the forms and traditions. Grandpa's pole is still tied to one of other poles. And you probably don't end up attending a Krone performance unless you get the story of that pole.
One must sincerely hope that Circus Krone will be back on the road. For Krone is an indispensable part of the Danish circus world.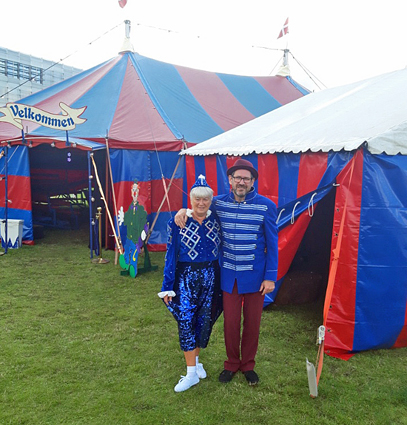 Irene Thierry with her son Frank who last year took over ownership from his mother. Smartphone photo, taken by Jørgen Lorenzen

14 August 2019
The Kolev Sisters. This year's Talent Prize from the Danish Circus Award was given to the two Italian sisters Nicole and Michelle Kolev for their impressive hand-to-hand act. They are daughters of Gilda Vulcanelli and Miltcho Kolev. The latter is one of the flyers from The Flying Wulber, who from 2016 to 2018 toured with the large German Circus Charles Knie. The same was the case for the Messoudi Brothers. It was by training with them Nicole and Michelle created their amazing act. It was only shown a few times in Circus Charles Knie. But in December 2018, the girls had great success with their act in Cirque de Noel Christiane Bouglione in Paris. From February 15 to March 9 this year they performed in the prestigious American Circus Sarasota. One reviewer wrote that they were the outstanding hit of the whole show. The season with the Circus Arena has been their first full season as a solo artist. Their amazing talent and charm will undoubtedly make them a sought-after act in the circus world.
The Danish talent prize was their first award ever. But it will undoubtedly not be the last!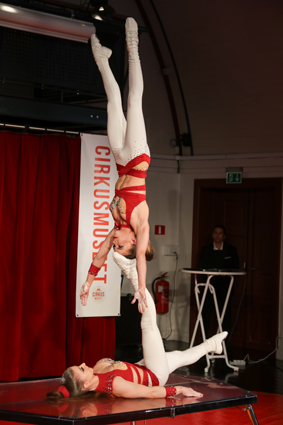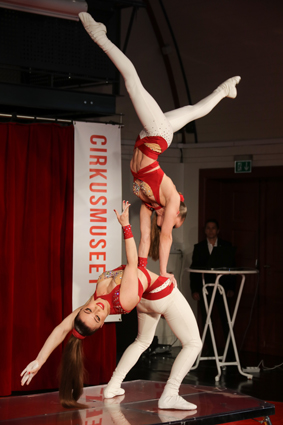 The Kolev Sisters presented their act at the awards ceremony for the Danish Circus Award on August 8. Photos: Jacob Boas Leitisstein

13 August 2019
Circus Dannebrog's grandstand sold to Germany. A few years ago, Circus Benneweis sold their tent and grandstand to a German circus. Now also Circus Dannebrog's grandstand has landed in Germany, where it was bought by Circus Voyage. They even bought both the grandstand used by Circus Dannebrog in their last season (2016) and an older grandstand. – Circus Benneweis has not toured since 2015 and Circus Dannebrog stopped touring after a bankruptcy in 2016.

12 August 2019
Circus Rhodin 2019. Jörgen Börsch has visited the Swedish circus and writes (my translation):
Circus Rhodin tours Sweden as the country's third and smallest circus, currently in the Gothenburg area. Under Diana Rhodin's management, the family name is upheld under the motto: Circus as at Grandpa's time which probably doesn't relate to Circus Brazil Jack's style. (Editor's comments: Brazil Jack, which for the time being is the largest circus in Sweden, is owned by Diana Rhodin's nephew Trolle Rhodin III. In 2018 and 2018 Brazil Jack have been an all-human circus)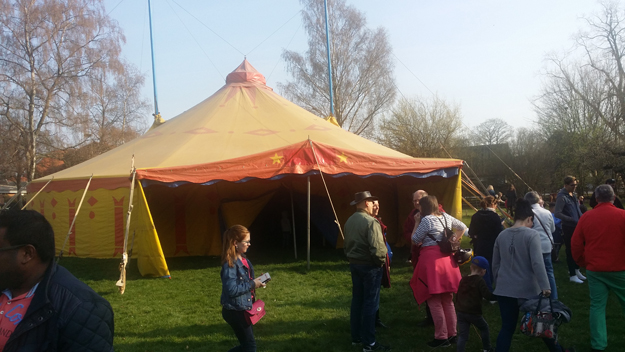 Does the tent seem familiar for Danes? So is it - Diana Rhodin bought one of Circus Arli's old tents a few years ago. Photo: Jörgen Börsch
Diana opens the performance with liberty ponies. Jindra Faltyni jr. does glass-balance with mama Edita Faltyni as assistant. The clown Jerry hides under the mask Jindra Faltiny snr. Diana's daughter, Simona, shows a hula-hoop routine. And then Diana lives up to the concept of the circus, with another animal act: the dog Bosse. Clown Jerry pop up as a snake charmer. The first part of the performance ends with of Edit Belitzky-Arrieta and Raul Angel Arrieta's Argentine Drum and Bola act.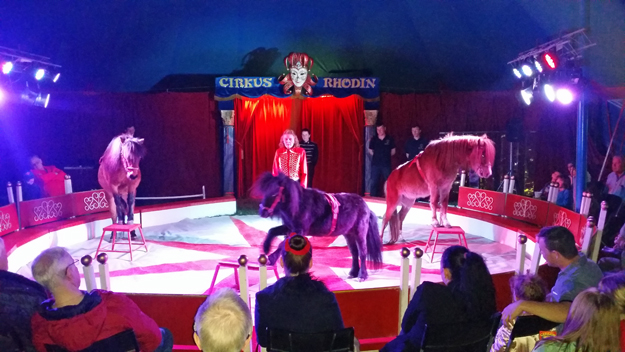 Diana Rhodin with ponies in the ring. Photo: Jörgen Börsch
Jerry clowns as a prelude to the second part of the performance followed by Simone on the tight wire. Clown Jerry draws (?) a spectator, and Diana shows that she has taught the dog Bosse to ride a pony. Jindra jr. has a rola bola act and Simona shows magic. And then Edit & Raul Arrieta end the performance with their crossbow act, followed presentation of the artists and thank-you words from Diana.
See more at www.cirkusrhodin.se

12 August 2019
IT ALL HAPPENS IN PARIS – OR NOT!!!
Please see a summing up of just about everything carrying the label CIRCUS, particularly since the eighties.
Paris boosted the slogan PARIS AIME LE CIRQUE / Paris loves circus.
Paris sports lots of spaces to welcome the different circuses: the large park PELOUSE DE REUILLY, the park BOIS DE BOULOGNE nearby, not to mention other facilities.
The presence of wild animals can be discussed, but on serious and knowledgeable grounds.
LA MAIRIE / the TOWNHALL/ has chosen not to welcome circus with predators any more.
They are not habilitated to decide, the issue is on the Government's table, however they have other more urgent problems, their decision is not for tomorrow.
Since about 1980 I have seen and mentioned numerous circus productions: ALEXIS GRUSS, /horsemanship not seen since the SCHUMANN days, PINDER, /lions and tigers in classy acts/, ARLETTE GRUSS, /traditions combined with renewed ideas/, CIRQUE D'HIVER BOUGLIONE, /super circus in the ancient and magnificent building/, CIRQUE DE NOEL, CHRISTIANE BOUGLIONE, / family-friendly circus/.
Earlier we could enjoy up to 8 different circus productions, i.e. CIRQUE ROMANES, now at a different location when playing in Paris, CIRQUE PAUWELS, having moved to BRUXELLES, CIRQUE MORENO BORMANN, now located near Metro Balard, CIRQUE KINOS, closed, CIRQUE ZAVATTA, large circus family operating several productions, FRATELLINI proposing a circus school on the outskirts of Paris, CIRQUE GONTELLI, small family circus for the smallest fry, playing PARIS summertime, MARSEILLE wintertime.
This Christmas season Cirque PHENIX, is playing at PELOUSE DE REUILLY sporting super clever Chinese acrobats, elite -gymnastics, not circus, if you ask me, I respect other opinions.
As for classical circuses we will in the coming X-MAS season just see ALEXIS GRUSS and CIRQUE D'HIVER BOUGLIONE - a shrinking number, I regret to say. And CIRQUE D'HIVER BOUGLIONE will not any longer present big cats of elephants. Sad.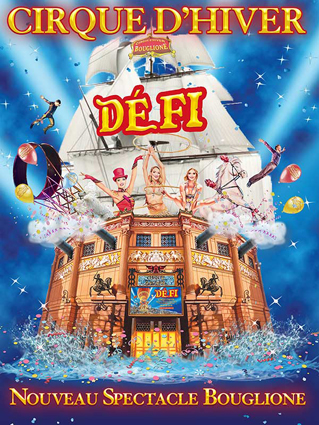 This winter's performance in the famous Cirque D'hiver Bouglione is called Défi. There are premiere October 12th. Last day March 15, 2020. For part of the season only performances on Saturdays and Sundays.
In addition to the two circuses you can from 16 November to 15 December see CIRQUE DE NOEL CHRISTIANE BOUGLIONE in Porte de Passy.
ARLETTE GRUSS won't turn up, since last year's audience ... didn't!
PINDER that has cancelled its usual tour, will come, without lions, and according to relevant info, has a show based on newly examined artists /circus school/, and apparently having given in to a trend that is not supported by all public, they also have to deal with an economic situation that is plummeting thus producing a bust, i.e. they have lost a great deal of their school shows, as the school scheme for the minors has been changed, thus making these economically speaking necessary school shows next to impossible.
I close this résumé in a rather sad mood, thinking of the time when real circus was popular and highly appreciated - on a large scale it still is ... a pious thought : MAY IT COME BACK - and eventually a quotation from DANISH UNION OF ARTISTS: LIVE ENTERTAINMENT --
FOR LIVE PEOPLE!!!
IT ALL HAPPENS IN PARIS -- OR NOT !!!
PARIS, AUG 2019.
ZARRO ZARRO.

8 August 2019
The Danish Circus Award 2019 to Benny Schumann. Talent Prize to Kolev Sisters. Best Act Prize to Andrejs Fjodorovs.
The Danish Circus Award 2019 was today by the Danish Minister of culture Joy Mogensen given to Benny Schumann.
Benny Schumann is born in 1945. For 40 seasons he has toured all over Denmark with his kid-friendly clown- and artist show. A couple of years ago we saw him with his famous plate spinning act at Wallmans in the Copenhagen Circus building, where he 50 years earlier he had his debut as a plate spinning juggler and where he as member of the famous Schumann family spent his childhood and teenager years.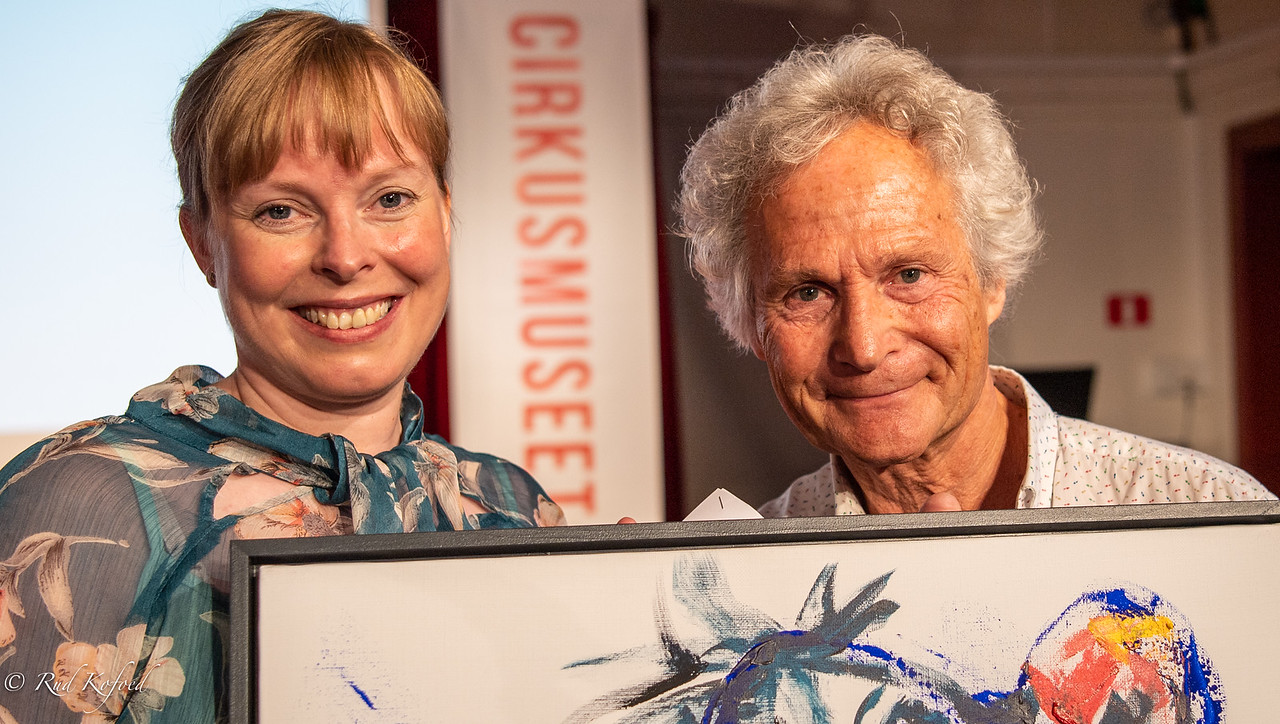 The Danish Minister of Culture Joy Mogensen presented the biggest honor in Danish circus world, the Danish Circus Award, to the clown and artist Benny Schumann. The visible evidence of the award was a painting by Viggo Salting. Photo: Rud Kofoed / Ajour Press
The Minister of Culture Joy Mogensen took the opportunity for a very personal and warm talk about how important it is to dare something - and also fail. Often you will find out how much can be done - even from what you did not think possible. The young people have never been under greater pressure than now. Therefore, they prefer not to throw themselves into something they are not sure they can, the minister said.
-I hope they go to the circus and feel the energy - and feel that they can, Joy Mogensen added in her speech to Benny Schumann,
She praised him as a clown for making us laugh both together and also a little bit of ourselves and found his efforts to bring the circus on to the new generation important.
Benny Schumann humbly thanked for the distinguished award which has a very special meaning to him. His famous father, Albert Schumann, was the first to receive it. It happened in 1968, and shortly after, Albert Schumann left the circus and never returned to the ring.
Benny Schumann will never do the same, he assured. His greatest role model throughout his life has been his maternal grandfather, the world-renowned clown Charlie Rivel, who stayed on until the last breath.
Benny Schumann took the opportunity to highlight that, in his opinion, banning many different animals from the circus, most recently with a bill banning elephants, is crazy.
-There have been animals in the circus for hundreds of years. Instead of one ban after another, some animal psychologists should go out and study how artists and animals communicate in a circus, Benny Schumann said.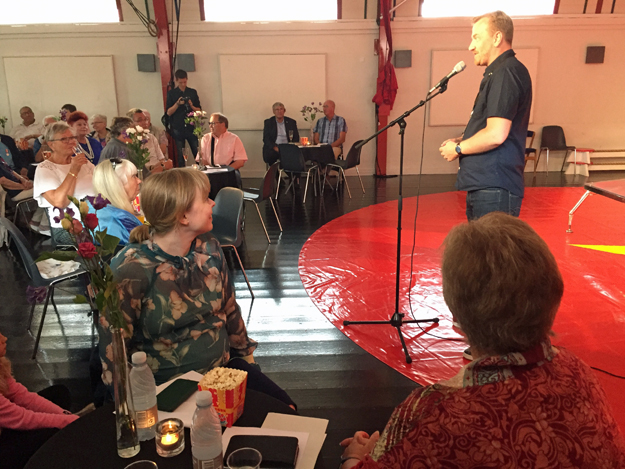 The circus museum hosted the awards ceremony and museum curator Mikkel Knudsen welcomed. In the foreground the Minister of Culture Joy Mogensen. Smartphone photo taken by Ole Simonsen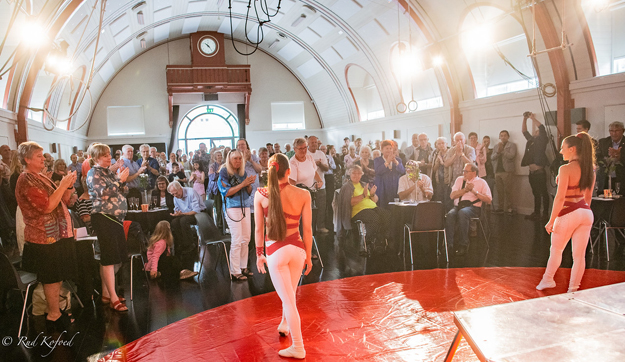 As previous years, many artists and circus friends had found their way to the awards ceremony. Here they salute with standing applause Kolev Sisters, who presented their act before the awards was handed over. Photo: Rud Kofoed / Ajour Press
The awards ceremony again this year became a festive event, which for the fourth consecutive year took place in the Fencing Hall at the Circus Museum in Hvidovre, Copenhagen. The actor and stage director Jan Hertz, who is a member of the award jury, was compére.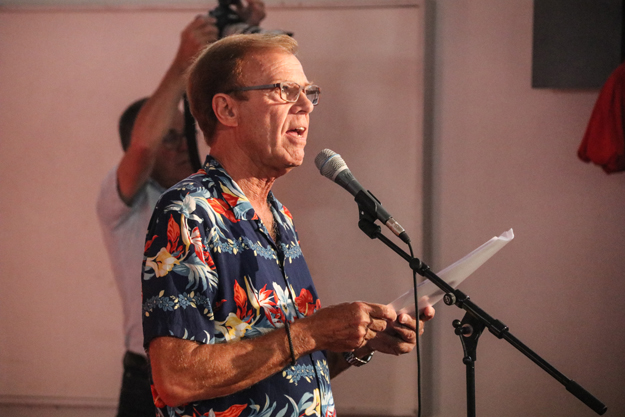 Jan Hertz was the events good-humored compére. Or ringmaster / sprechstallmeister, as it is called in the circus world. Photo: Jacob Boas Leitisstein
Jan recalled that the large Danish circuses of the 1950'ties were Benneweis, Belli, Louis, Moreno, Miehe and Schumann. He continued:
"Today, all the mentioned circuses have disappeared, but new ones popped up. This is how it has always been in the circus industry: some disappear and others come. And remember: the traveling Danish circuses are unique privately owned businesses that receive no state aid.
During my childhood, we met in in the ring in addition to artists and clowns lots of animals including lions, tigers, bears, chimpanzees and elephants.
The predators disappeared from the Danish rings in 1963 and the chimpanzees in 1980. Now the elephants are also on their way out. Let's hope there is a solution that will guarantee them a good future when they can no longer perform in Danish rings.
But we have talented artists and wonderful clowns. Some circuses also feature horses, dogs, cats, pigs, goats and parrots in the performances. This year we have even been able to experience both pigeons and rats in the Danish rings. Common for all the Danish circuses - Arena, Arli, Baldoni, Barnly, Mascot, Nemo and Trapez - is that they create wonderful performances, which every delights hundreds of thousands of Danes."
This year's Talent Award went to Kolev Sisters from the Circus Arena. It was sponsored by the Simon Spies Foundation and was presented by the mayor of Hvidovre Helle Adelborg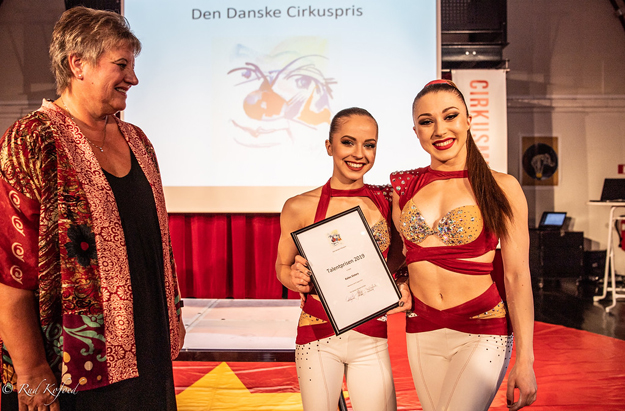 The Sisters Nicole and Michelle Kolev had a breakthrough with hand-to-hand acrobatics with international girl power, triggering the Talent Award in 2019. The two Italian sisters can undoubtedly look forward to more awards at upcoming circus festivals, etc. Their act which they presented as an introduction to the awards ceremony is unique and never before performed by female artists. Nicole and Michelle are the daughters of two of the artists from The Flying Wulber and tell that during the three years where Flying Wulber toured with German Circus Charles Knie, they trained with the excellent handstand and hand-to-hand acrobats Messoudi Brothers. Photo: Rud Kofoed / Ajour Press
The award for the best act of the year went to Andrejs Fjodorovs from Circus Arena. Jan Hertz revealed that the choice between the three nominated acts which were all was very good had been difficult. The jury had looked not only the technical difficulty but also the artist's personal magnetism and whether there was anything that made the number very special. The award, which was sponsored by the Circus House Museum Association and Danish Circus Friends, was handed over by representatives from the two associations: Leif Andersen from the Museum Association and John Lington from the Danish Circus Friends.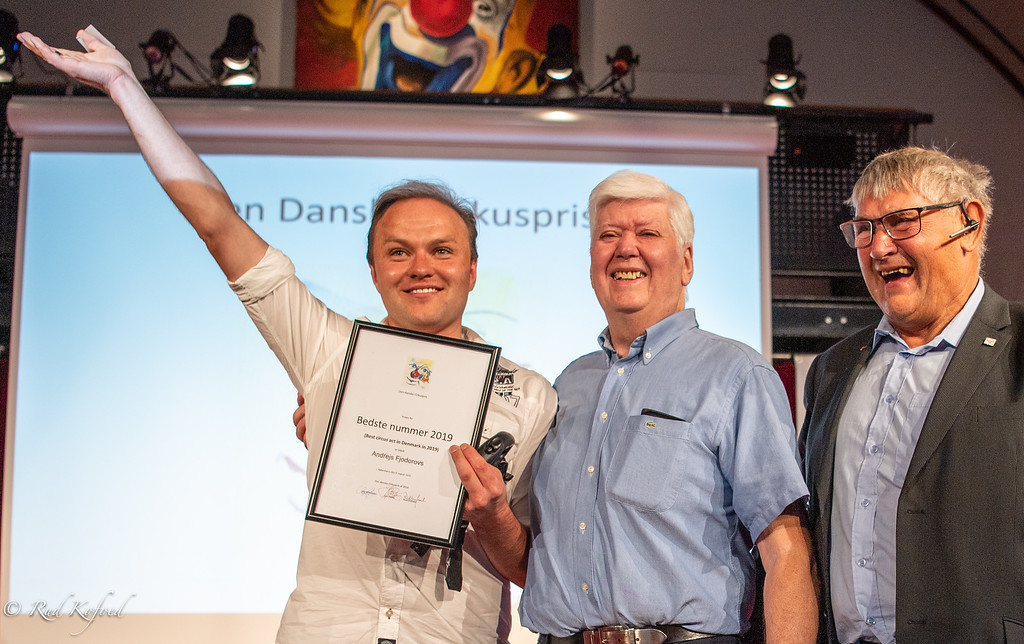 Andrejs Fjodorovs surprised everyone when he appeared as a self-taught pigeon whisperer in 2008 in the small Circus Arli. A foreign circus agent spotted him. Two years later, he performed at the International Circus Festival in Monte-Carlo, and the international breakthrough was a reality. This year, Fjodorovs is back in Denmark, this time in the Circus Arena. The lord of the pigeons knows the impossible so convincingly that you get reincarnation thoughts! He must have been a dove in his past life. The jury found that Fjodorov's act is absolutely unique and light years better than any other pigeon numbers they have seen. John Lington from Danish Circus Friends and Leif Andersen from Circus House Museum Association presented the diploma
The chairman of the Association of Danish Circus Directors Martin Arli presented the Effort Award to Mayor Helle Adelborg. The award goes to the politician or public person who has done the most for the circus in the past year. Hvidovre municipality, where Helle Adelborg is mayor, has through the operation of the Circus Museum in Hvidovre, Copenhagen, made a unique effort to preserve the history of the Danish circus and created a combination of activity and museum that makes the experience unique and something more and more than that traditional museum visits.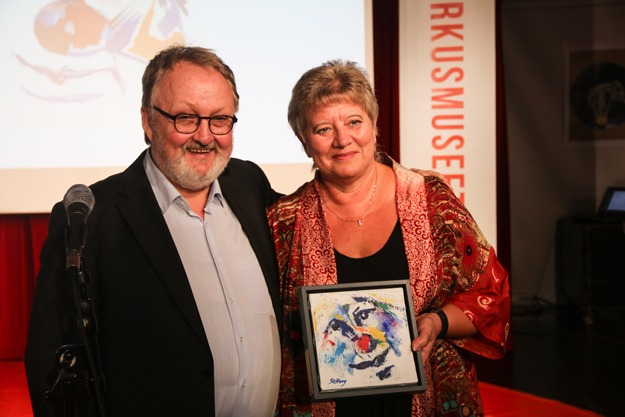 Martin Arli and Helle Adelborg. Photo: Jacob Boas Leitisstein. Click here to see more of Jacob's photos from the awards ceremony.
The Danish Circus Award 2019 consisted of a painting, created and donated by the painter Viggo Salting.
The Talent Prize consisted of a diploma and an amount of DKK 10,000.
The prize for the best act of the year consisted of a diploma and an amount of 500 Euro.
The Effort inaugural prize consisted of a painting by Viggo Salting.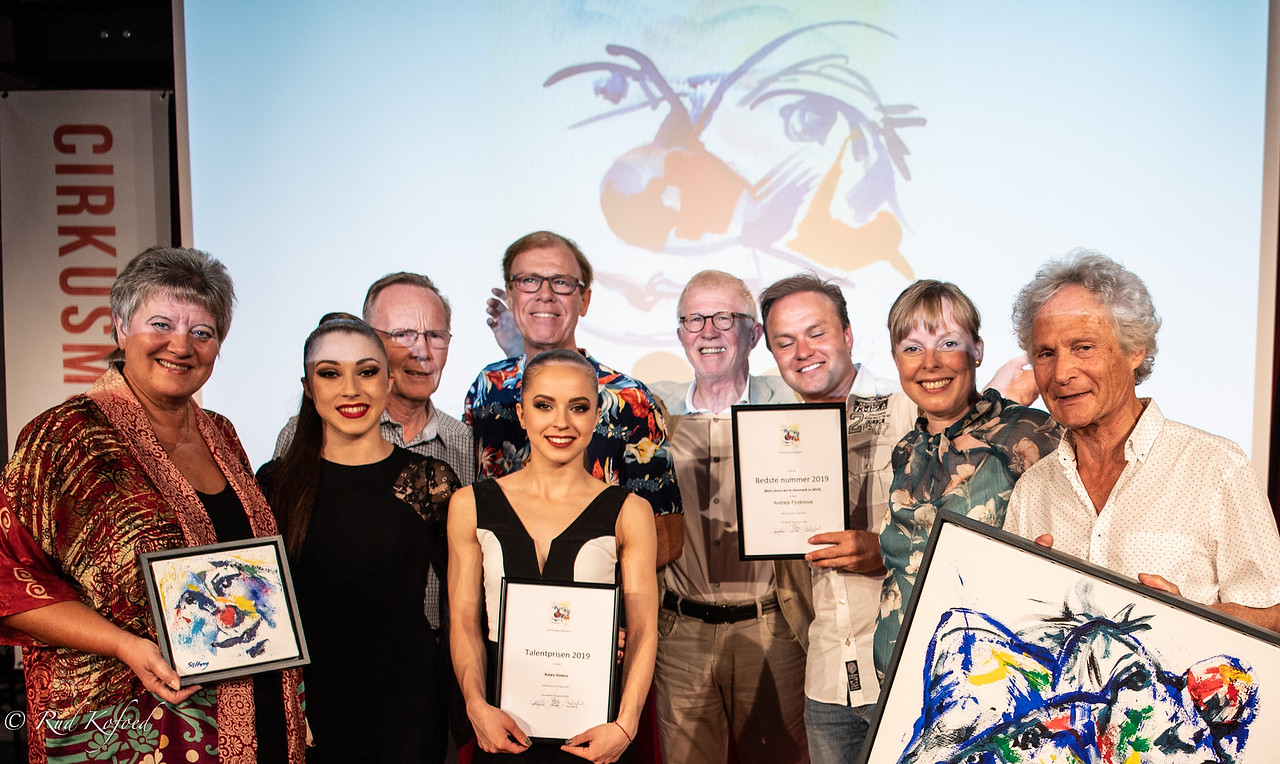 The winners from the left: Helle Adelborg, Kolev Sisters, Andrejs Fjodorovs, Joy Mogensen and this year's recipient of the Danish Circus Award Benny Schumann. Behind them the prize jury: Ole Simonsen, Jan Hertz, and Rud Kofoed. Photo: Trine Kofoed / Ajour Press
In his closing speech, jury chairman Ole Simonsen said:
"We are a little proud that this year, for the fourth year in a row, we have been able to award well-deserved awards to a few artists and circus people. The original circus award from 1968 only survived for two seasons. We have ensured that at least for the fifth time in 2020, we will be able to award prizes to honor the industry that every year delights hundreds of thousands of Danes with their performances.
Choosing recipients of the prizes has not been easy. The year has offered a lot of great numbers and talented circus people who deserve recognition. But as a jury, we have to make a choice. And I am glad that today we have had the opportunity to honor a few of the talents that we have met in this country since the awards ceremony last year."
Finally, three cheers for the Danish circuses."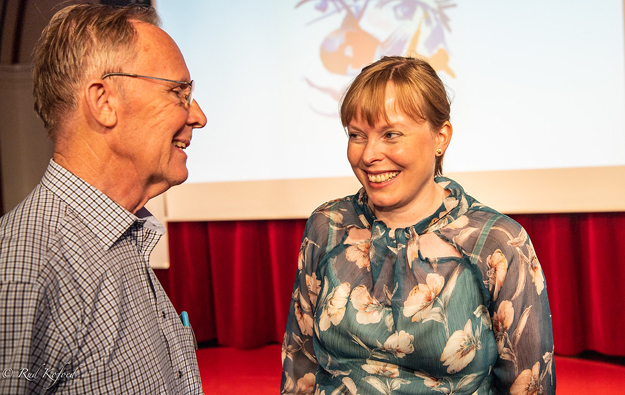 I am delighted that you, as everyone can see, are in an advance stage of pregnancy thus doing your part if ensuring that there will also be a future generation of circus happy children, Danish Circus Award's chairman Ole Simonsen said with a twinkle in his eye to the Culture Minister Joy Mogensen. Photo: Rud Kofoed / Ajour Press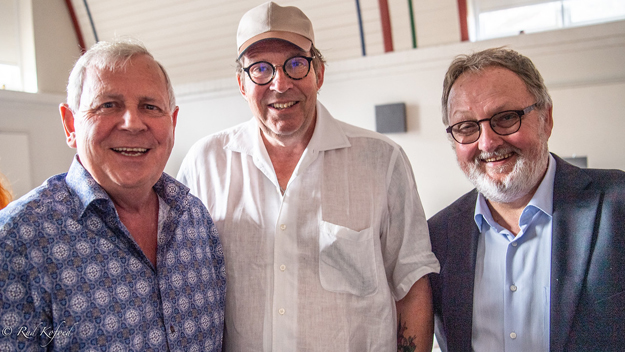 Three former recipients of the Danish Circus Award. Benny Berdino from Circus Arena received the award in 2016, Søren Østergaard from Zirkus Nemo in 2017 and Martin Arli from Circus Arli in 2018. Photo Rud Kofoed / Ajour Press. Click here to see more of Rud's photos

4 August 2019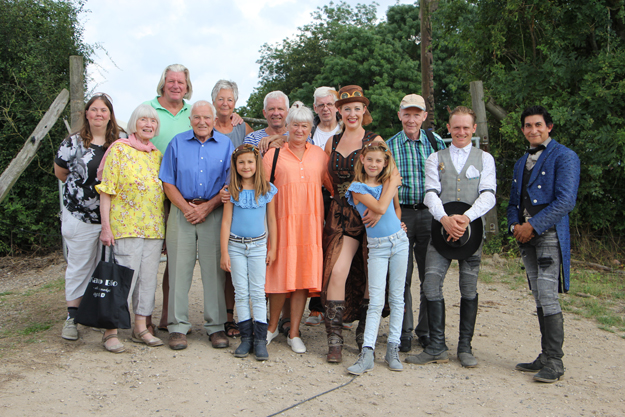 On Saturday, August 3, a group of Danish circus friends visited Laura and Luis Torres Schumann excellent horse show at Ditlevsdal Bisonfarm in Morud on Funen. On the photo you can see some of the circus friends together with Laura, Luis and the couple's 2 children as well as standing second from the right Daniel Hamre, who was one of the performers in the show.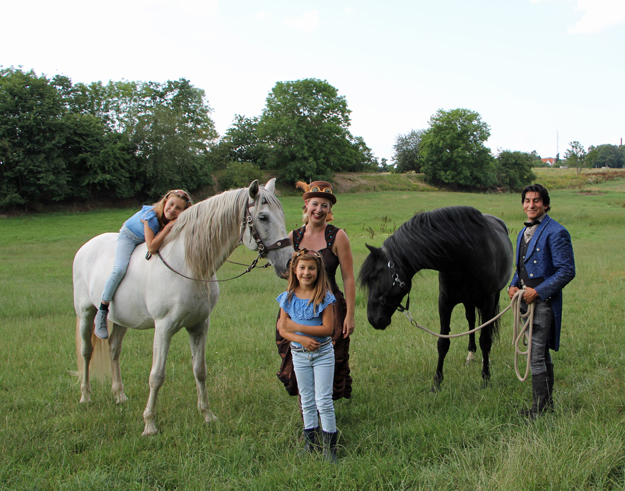 The Schumann Torres family: Laura, Luis, Natalia and Adriana, photographed after the show at Ditlevsdal Bisonfarm. Click here to see photos from their show.

1 august 2019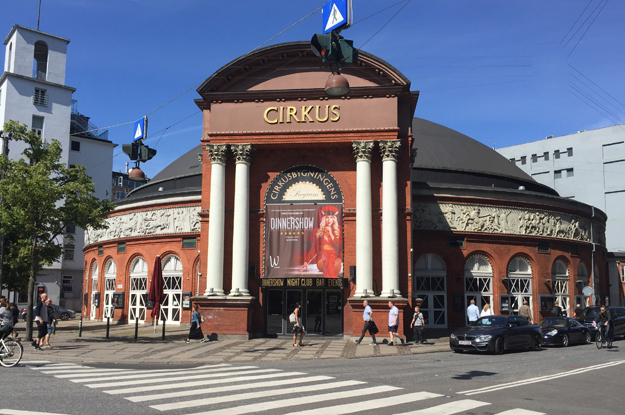 Wallmans season 2019/2020. About the upcoming show in the Copenhagen Circus Building Wallmans writes:
NEW SEASON, NEW SHOW, NEW PARTY: CARNIVAL – THE BIGGEST DINNERPARTY IN TOWN!
Get ready! It'll be action all the way and there'll be no sitting still at the biggest dinner party in town – a sparkling cascade of laughter, excitement and amazing surprises from start to finish. Do you have something special to celebrate or do you just fancy an evening packed with magic, celebration and colour? Welcome to Wallmans' Dinnerparty!
NOT JUST A SPECTATOR – PART OF THE EXPERIENCE
You and your fellow guests will enjoy a delicious 4-course menu. But make sure an artiste doesn't land in your soup! Like a firework display, the performers will surround you, filling every conceivable nook and cranny in the huge Circus hall. You'll no longer be a mere spectator. At Wallmans you sit in the midst of the whole experience. Before you even have time to look around, you'll be part of the show.
We guarantee several breaks in the course of the evening to allow you to enjoy your food, the chilled drinks and the company of your friends and family. Mind you, you can never be sure! Before you know it, you might just be joined by a magician…
CRAZY HUMOUR IN A LEAGUE OF ITS OWN
We've listened to our guests and this time we're featuring even more humour – including the totally off-the-wall variety. Look forward to the the one-of-a-kind Abigail Collins, who has performed in the West End and at the National Theatre in London, receiving nothing but the highest of praise from the British media. She has a personality that fills the entire room, and as the character 'Peggy Sued' she has made thousands and thousands of audiences laugh until their ribs ached.
DO YOU WANNA ROCK?
The circus hall will really hot up, when an amazing American-Canadian circus duo performs their stunning act on two swinging sway poles way up under the Circus dome. It's an award-winning act, which will have the whole audience holding their breath in a state of intense excitement.
We'll also take you on a sensational, whistle-stop journey, featuring artistes on live instruments and some of the most talented singers and dancers in the business! Let your hair down and step on it as the pace really picks up with a funky Bruno Mars medley and a selection of the Eurythmics' greatest hits.
Time flies at the best party in town, but we'll end with a huge bang that will simply blow the roof off! Now it's time to stamp your feet and party your heart out, as the whole company goes berserk in a torrent of song, dance and artistry, to the explosive tones of the greatest rock legend of them all: Queen! We will rock you!
Welcome to the biggest party in town at Wallmans Circus Building!
CARNIVAL is an international show that is performed in English and can be enjoyed by everyone.
CARNIVAL can be seen Thursday - Saturday from August 23, 2019 through mid-June 2020. Ticket prices vary depending on the day, period, category and menu you choose.
Wallmans Creative Director Johan Espeland tells us that the American-Canadian circus duo is Duo Pile ou Face. The two artists Philippe Renaud and Shannon Maguire have been working together since 2014. Philippe received a bronze medal bronze at the Cirque de Demain festival in 2009. Shanon got the audience award at the Latina Circus Festival in 2012. They are very versatile and can do several acts. At Wallmans you will in addition to the entrée in sway pole see them with Cyr Wheel (see photo) and adagio / hand to hand acrobatics / dance. The act in the swing pole is probably a bit like the legendary Fattini's famous comic entrée with the lamppost, which visitors to the Copenhagen Circus building enjoyed both in the Schumann years and in the Benneweis years.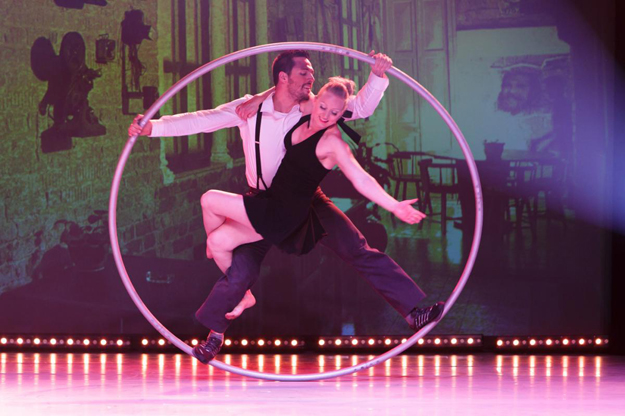 Duo Pile ou Face. Photo: Pablo Wünsch Blanco
25 July 2019
German Circus Krone 2019. Many Danish circus friends visited Circus Krone when they visited Flensburg just south of the Danish/German border from 16 to 23 July. We know that another group of Danish circus friends and a group of Swedish circus friends will visit them when they visit Kiel from 8 to 19 August.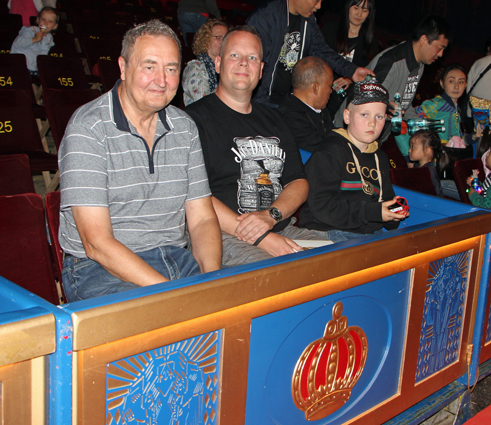 Among the guests for the afternoon performance Sunday were Danish Circus Friends' chairman Kim Thanning Olsen and this website's webmaster Lars Simonsen and his son Sebastian
Circus Krone is Europe's largest circus and probably also the world's largest touring tented circus.
Last year, there were rumours that Circus Krone would purchase a slightly smaller tent. But in Flensburg they still used the old slightly oblong tent, which probably has room for 3,500 spectators. However, it is rare with that many visitors.
Their new performance is a themed performance entitled Mandana - Circuskunst neu geträumt. The story is about the horse princess who falls in love with the lion prince and eventually gets married to him. Just as it happened to current Circus Crone owner Jana Mandana Lacey Krone and the big cat trainer Martin Lacey Jr. Jana Mandana took over ownership to Circus Krone when her adoptive mother Christel Sembach-Krone passed away in 2017.
Small sketches between the artist's acts tied the performance together.
There may be different opinions as to whether it is an advantage with some form of theme in a circus performance. It works best if the artist numbers are good, and that is certainly the case in the 2½ hour performance at Circus Krone. But the performance might be just as good, even if you dropped the theme.
Circus Krone's ringmaster for many years Nikolai Tovarich welcomed and bid farewell but did not present the individual acts.
Several acts deserve to be highlighted.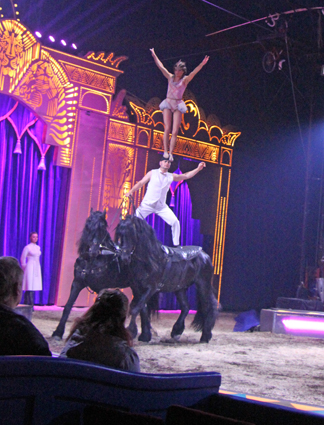 Duo Stipka (Eliana and Daniel Stipka) rode an elegant pas de deux, where Eliana ends up standing on Daniel's head. The couple got a bronze clown in Monte Carlo in 2012. Photo: Ole Simonsen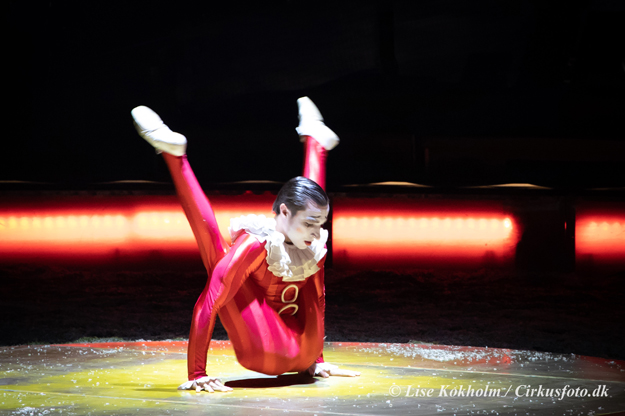 Aleksandr Bautuev did a good and not too long contortion act. He got a bronze clown in Monte Carlo in 2017. Photo: Lise Kokholm / Cirkusfoto.dk
Jana Mandana and Hans-Ludwig Suppmeir rode beautiful high school.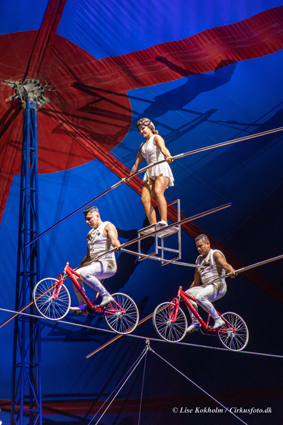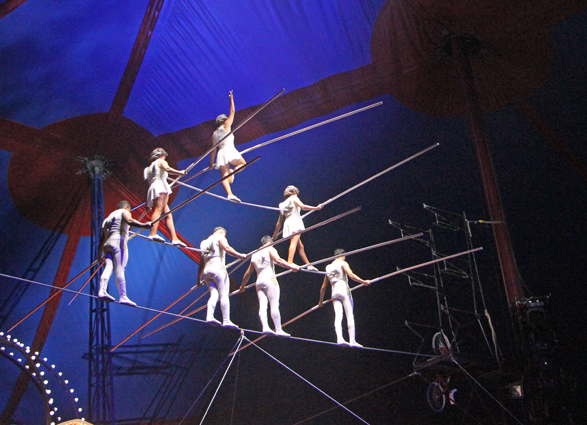 The Colombian troupe Los Robles presented an impressive number on high wire. There were both dancing, leapfrog over other acrobats, skipping and two men on a bicycle with a female artist in between on a bar, see photo. And we got rid of the faked fall, where the artist grabs the line at the last minute, which many high wire artist seems to love. The act ended with the famous 7-man pyramid. They must be obvious candidates for awards at the big circus festivals. Photos Lise Kokholm / Cirkusfoto.dk (bike) and Ole Simonsen (pyramid)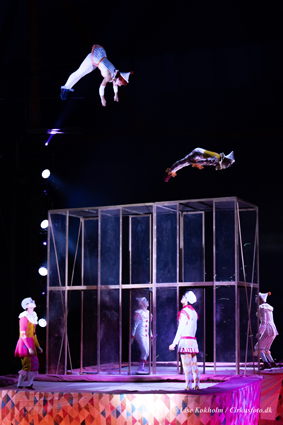 Troupe Non Stop presented dressed as travelling entertainers a trampoline against wall-entrée. It is probably the same troupe which that the Danes experienced in the Circus Arena in 2016. Photo: Lise Kokholm / Cirkusfoto.dk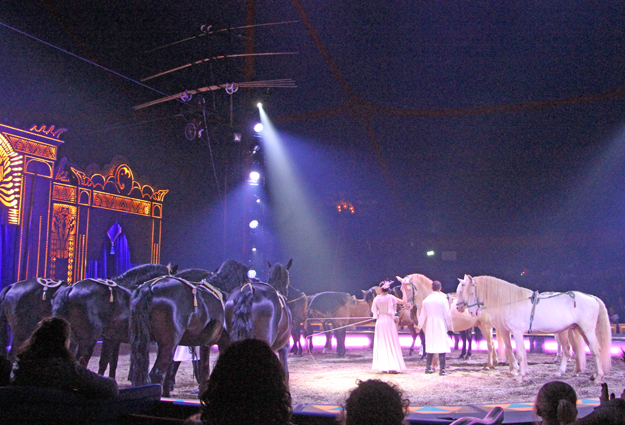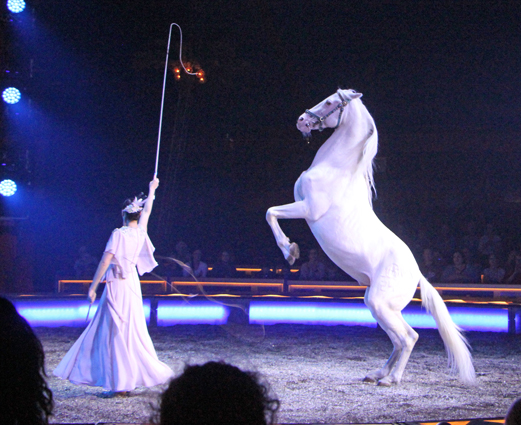 Jana Mandana presented beautiful horses in liberty. At one time, there were 15 horses in the ring and a total of about 30 horses in the ring in the various entrées with horses. Photos: Ole Simonsen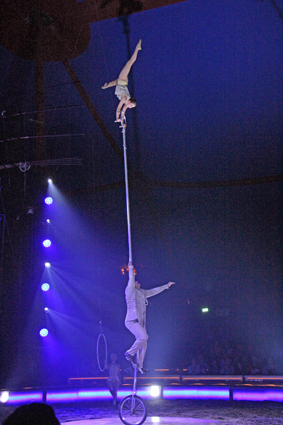 Duo Stauberti (Ditmar Stauberti and his niece Nancy) showed their impressive perch act, with Ditmar ending up balancing the perch while riding a mono bike. The Swedes saw them last year in Circus Olympia. They got a silver clown in Monte Carlo in January 2018. Photo: Ole Simonsen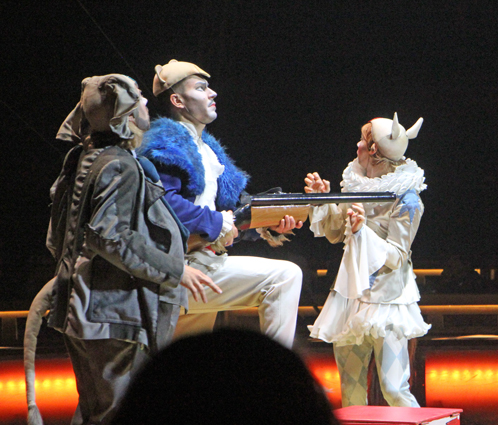 The main clowns in the performance were the Russian Trio Without Socks, which had a number of fine entrées with much new ideas. They made their international breakthrough at the Budapest Circus Festival in 2018, winning silver. At the Monte Carlo festival in January this year they got bronze. Some believe that clowns should have red noses and will call Without Socks for comedians and not for clowns. However, I found it excellent with a little renewal instead of Fumagalli and his give me the honey-entrée. Photo: Ole Simonsen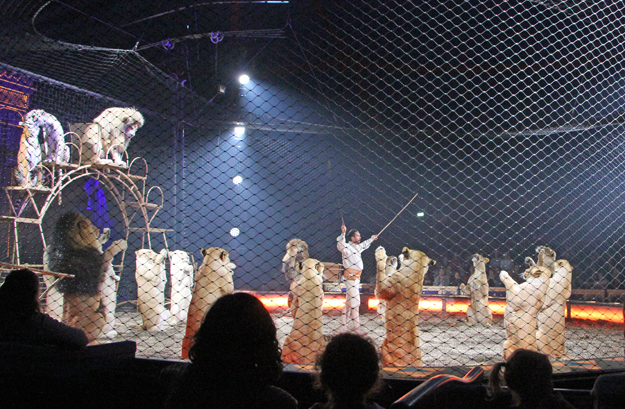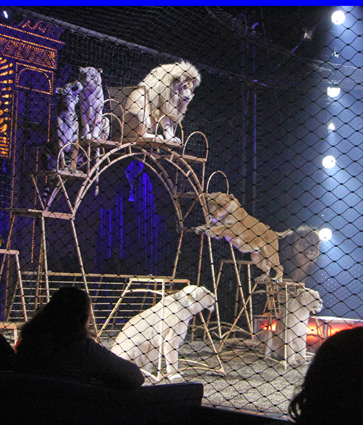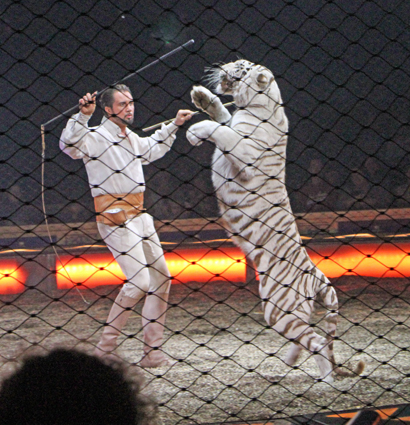 The show's last act was Martin Lacey Jr. with lots of lions and a few tigers. Impressive, not least because of the number of animals – I believe there were at least 15. For his act he has several times been awarded a gold clown in Monte Carlo. Photos: Ole Simonsen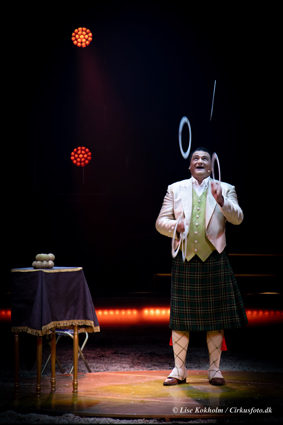 One artist did not appeal to me: the Hungarian comedian Steve Eleky, who laughed more at his own whims than the audience did. It is fair to say, however, that a Danish family sitting right behind me laughed very much at him. Photo: Lise Kokholm / Cirkusfoto.dk
As something new, this year there was a "live" orchestra in Circus Krone. Slightly unconventional placed on a bandstand above the audience entrance. However, they only played during a few acts, including the clown entrees. For most of the performance, the music was pre-recorded as in previous years.
The Danes and Swedes who visit the Circus Krone in Kiel or elsewhere in Germany have something to look forward to. Many will probably think it's the best circus performance they've seen this year.

22 July 2019
IT ALL HAPPENS IN PARIS -- even in summertime – for the benefit of the small fry who have not yet left for school holidays -- a rather small avant-garde theatre : COMEDIE NATION proudly presents an hilarious sketch, 45 min, called ABUDADABEL – a fancy name for a show by and with BALTHAZAR GAULIER and SUSANA ALCANTUD who between stage and audience ramble around , performing all kinds of funny actions - mostly clowning , easy to understand and very lively – thus allowing the youngest kids to follow all that happens, the entire show is spiced up by magical stunts, as well as a large portion of interaction with the lot of the public.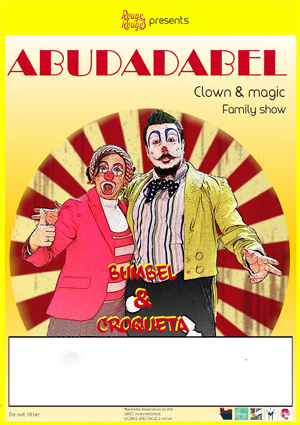 Using the stage names of BUMBEL and CROQUETA these allround artists produce a lot of laughter and the audience is captivated.
In the grand finale, Croqueta loses her right arm in a box, I never saw before ...it appeared that BUMBEL had bought it from Norwegian international magic entertainer FINN JON !!
Stage setting : Pablo Gomis /Cirque du Soleil.
Well worth seeing!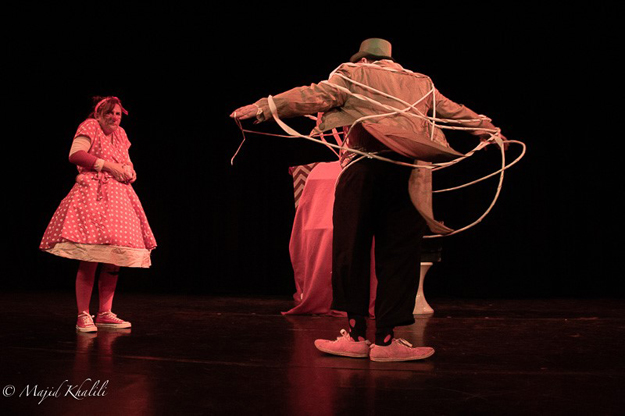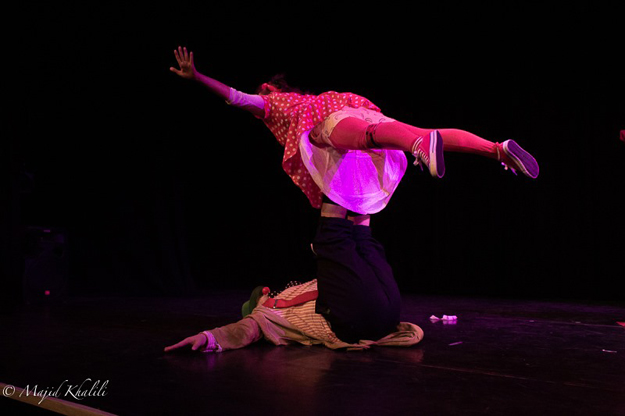 Photos by courtesy of Balthazar Gaulier. Photographer Majid Khalili
Abudadabel is touring internationally. They will be back in Paris from 11 September
See more: www.comedienation.fr/content/abudadabel
Venue: COMEDIE NATION, 77 rue de Montreuil, 75011 Paris. Metro: Nation, then a short walk, there are plans of the area in each Metro station.
IT ALL HAPPENS IN PARIS !!!
................................ reported by ZARRO ZARRO.

19 July 2019
Nominations for this year's Danish circus award.
Since last year's awards ceremony in August 22, 2018, members of the jury have seen more than 60 artists / artist acts in Denmark.
The jury has now decided which of these will be nominated for the prize for this year's best act in Denmark and the year's talent prize.
For the prize for the best act of the year is nominated:
Andrejs Fjodorovs, Circus Arena
Duo Kvas, Circus Nemo
Alan Sulc, Circus Arli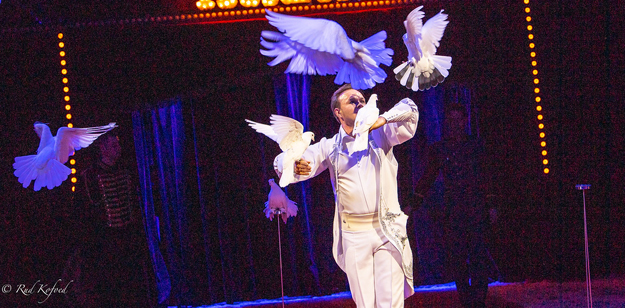 ANDREJ'S FJODOROVS surprised everyone when he in 2008 appeared in the small Danish Circus Arli as an autodidact pigeon trainer. A foreign circus agent spotted the sensation. Two years later, he appeared at the international circus festival in Monte-Carlo, where he received the distinguished "Prix de l'Association Monegasque Des Amis du Cirque". Now the world had seen him, and the international breakthrough was a reality. The pigeon act has been a sensation ever since at the biggest festivals and in the major circus rings. This year, Fjodorovs is back to Denmark. The lord of the doves can make it impossible to not get reincarnation thoughts! He must have been pigeon in his former life. Photo: Rud Kofoed / Ajour Press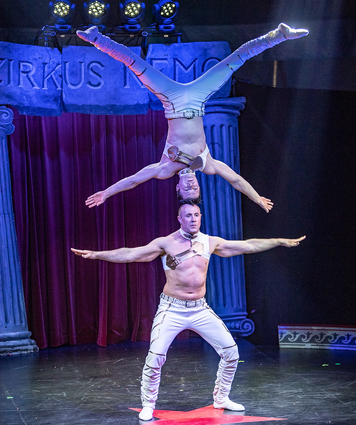 DUO KVAS is with their fantastic balance head to head in the literal sense the head act the year's performance in Zirkus Nemo. It is their neck vertebrae that you can almost hear the crunch when the two Ukrainians Vladimir Kostenko and Anton Savchenko present their absolutely incredible acrobatic strength. There is a more than usual good head on Vladimir, because not only can manage that Anton stands on his own head on top of it, but at the same time Vladimir can go to his knees and up again. The power demonstration is world class. Photo: Rud Kofoed / Ajour Press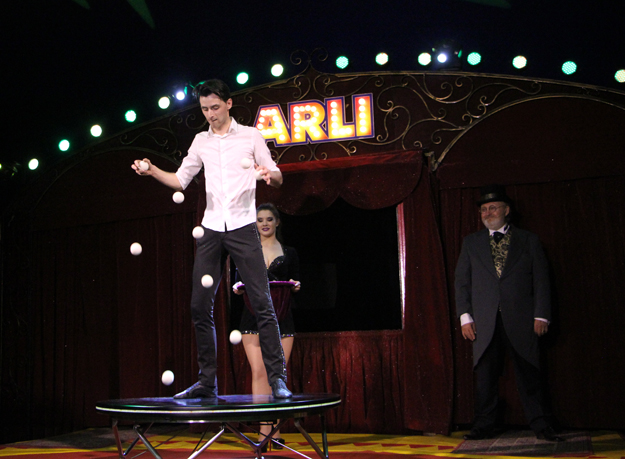 ALAN SULC is 28 years old, from the Czech Republic and one of the best tempo jugglers you can think of. In discreet little-flowered, white shirt and black pants with mica edging in the side seam, he jumps up on his little podium, while his girlfriend, Miss Veronica, stands ready with a bag of balls. That's all he uses. Alan Sulc's style is pure - and so sure you think it's a lie. He juggles up to nine balls - and they are all in play and rushing around and up and down in tight-fitting patterns. In 2004, as a 14-year-old, he got a bronze clown in Monte Carlo. Shortly after, Alan appeared in Circus Benneweis before continuing into the world and becaming a world class star. That he now is back in Denmark seems miraculous.
For this year's talent prize has been nominated:
Adrienn, Circus Baldoni
Kolev Sisters, Circus Arena
The brothers Ikaros (Dessto and Abebe), Circus Mascot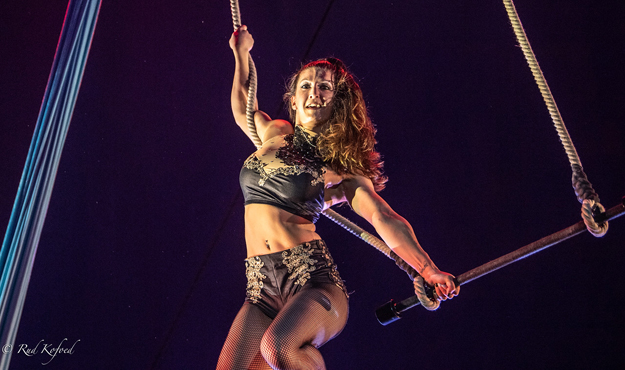 ADRIENN with the surname Fehérgyamati comes from Hungary and is a delight to the eye in the good old-fashioned circus discipline: trapeze. Her act is done with talent, charm and elegance and in a way that makes her much more than "just another trapeze acrobat" when she makes elegant acrobatics with elements of contortion and high above the ring is using her trapeze as a somersault bar. Photo: Rud Kofoed / Ajour Press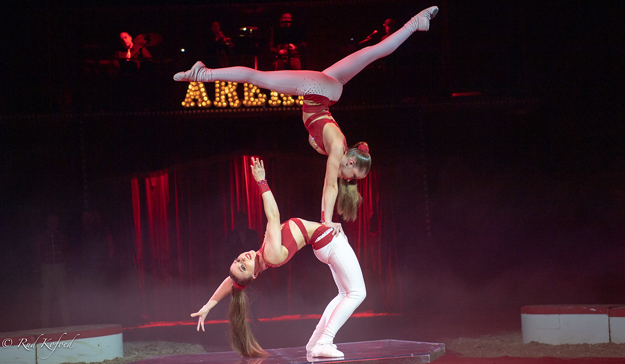 KOLEV SISTERS are girl power! The fact that two young sisters, the youngest is 19, should become an outstanding top act is one of the dreams that comes through in the season's Circus Arena show. And no, it is not just because they are good-looking, which of course is no disadvantage. Well, the fact is that the chain of at least 250 years of strong men in the ring here is severely broken by girl power hardly seen before. Kolev Sisters' hand-to-hand acrobatics is so beautiful, powerful and incredibly impressive that it every night trigger standing applause from the excited audience. Photo: Rud Kofoed / Ajour Press.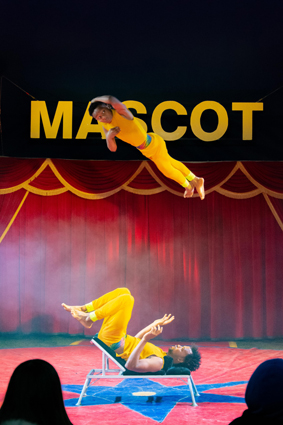 IKAROS BROTHERS - the two Ethiopian "brothers" Abebe and Dessta - are this year's guest artists in Circus Mascot. They start with a juggling entrée with hats, but it is in the final Risley act that is going on. Big brother Dessta juggles with his charming little brother Abebe at a furious pace - and here everything goes really crazy. For he does it with his legs, lying on his back, and with a security and a talent that promise good for the future and shows that not only European and Asian circus schools can produce young talents. Photo: Daniel Deleuran
The awards ceremony will take place on Thursday, August 8 at 10 in Fencing Hall at the Circus Museum in Hvidovre, Copenhagen. with the participation of the Danish Minister of Culture Joy Mogensen and Hvidovre's mayor Helle Adelborg.
Four prizes will be awarded: The Honorary Award "The Danish Circus Award ", the Talent Prize, The best act of the year prize and an effort award to the politician or public person who has done the most for Danish circuses in the past year. There is no nomination for the honorary award and the effort award

15 July 2019
Obituary: Calle Jernström, Circus Finlandia. The founder of Finland's largest and oldest circus, Carl-Gustaf "Calle" Jernström, passed away Sunday 14 July after some time of illness. He started Cirkus Finlandia in 1976 and would have turned 75 late July. He was known as a fine and noble person. Several years ago, the management of Circus Finlandia was handed over to Calle Jernström's son, Carl "Calle" Jernström junior.
Circus Finlandia is touring all over Finland and has each year more than 200 performances in approx. 100 different cities. The annual number of visitors is approximately 200,000. Circus Finlandia offers every year an international performance of high quality.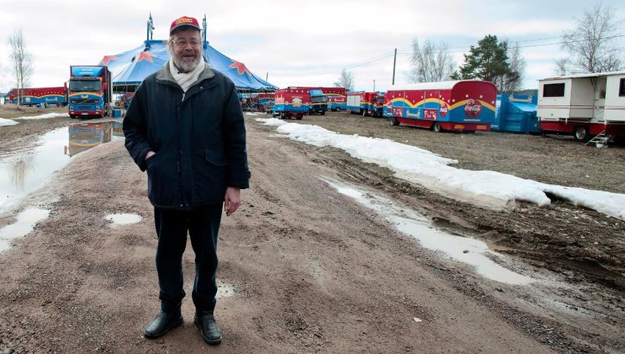 Carl-Gustaf "Calle" Jernström in front of Circus Finlandia

14 July 2019
IT ALL HAPPENS IN PARIS -- also in summertime - THEATRE DE L'ATELIER proudly presents a fantastic, original and sympathetic show: CIRCUS INCOGNITUS by and with JAMIE ADKINS, a US-Canadian multi-artist, who elegantly and skillfully performs on slack wire, with and without juggling, acrobatics on a surprising ladder, an incredible sequence juggling 5 ping pong balls using his mouth .... and a chair!!!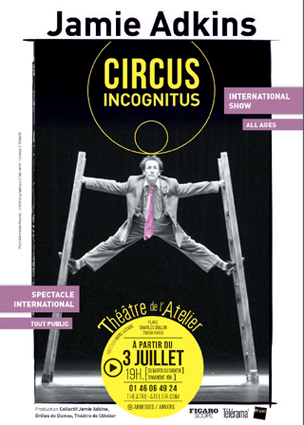 Furthermore a kind of hilarious comedy, mime, movements, - everything perfect and well worked thru, particularly one remembers the stunts with the red chair!
A great deal of interaction is displayed, JAMIE ADKINS, holding a fork in his mouth, catches a number of oranges that are thrown towards him - by the spectators!
The entire show reminds me of BUSTER KEATON and of STAN LAUREL as well, / LAUREL AND HARDY/, surely for all of us, having seen these comedians.
THEATRE DE L'ATELIER is a place, worthy of this magnificent show, while waiting for the curtain to rise, we were treated to a kind of happy-jazz-music, the theater is decorated in traditional style, red and gold - and all that makes the audience turn into a happy mood.
JAMIE ADKINS show is clearly inspired by the American VAUDEVILLE and likewise by all Music Hall entertainment of quality - you feel like shouting BRAVO!!!
See more: www.jamieadkins.com & www.theatre-atelier.com/circus-incognitus-lo2774.html
Click here to see a video clip
Venue: Theatre de l'Atelier, Place Charles Dullin, 75018 Paris. Metro: Pigalle, then 10 min. walk.
Playing until AUG 11, 2019. 65 min. show.
IT ALL HAPPENS IN PARIS!!!
...................................... reported by ZARRO ZARRO.

11 July 2019
Circusland 2019. The theme park Circusland in Circus Arena's winter quarter in Aarslev close to Slagelse offers far from as many rides as other Danish amusement parks as Bakken, Bonbonland, Legoland, Tivoli and the various summer parks. On the other hand, it offers live entertainment what many miss in most of the other amusement parks. The summer edition of Circusland makes it an obvious place to visit for families with smaller children.
And it's even cheap. The entrance fee is just 129 DKK (17.5 Euro), parking is free, free admittance to all shows and the large playground. It is allowed to bring your own lunch basket. There is also a bistro with reasonable prices.
Last year's theme was pirates. This year there are two themes. In the morning, the theme is pirates, and in the afternoon the fairy-tale country Esdelot.
The first show of the day is a pirate and sea lion show. Kalle Cannon Ball (Brian Behrendt) welcomes and the show is presented by pirate mummy Suzanne Berdino.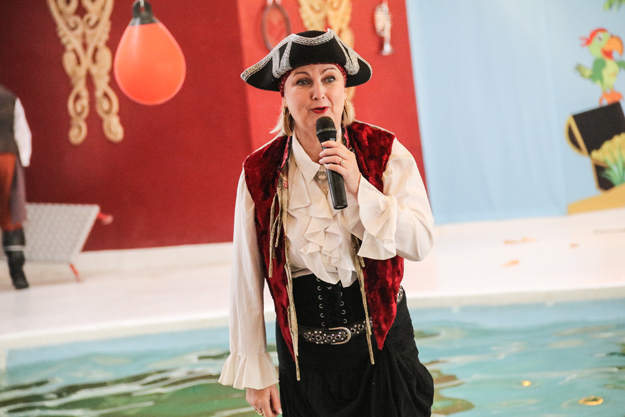 The Pirate mummy presents the performance. All photos: Jacob Boas Leitisstein
The approx. 20 minutes long show offers foot juggling with Sylvana Biasini, sword-fighting and pirate acrobatics with all the 8 performers, an act in pole with Katja Kaiser as well as the sea lions Luna and Sally, presented by Chang. The large male sea lion Oscar is in rut and for this reason not part of the performance. Towards the start of the season, the sea lions have been trained by veteran Addie Jepsen, who in her younger days was one of Europe's best sea lion trainers.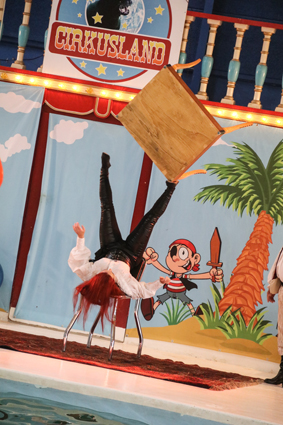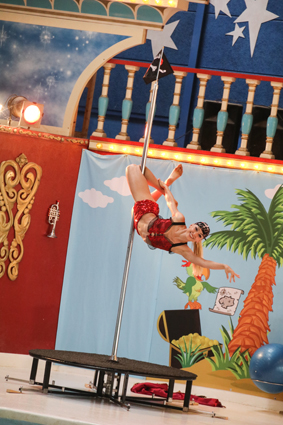 To the left: Sylvana Biasini. To the right: Katja Kaiser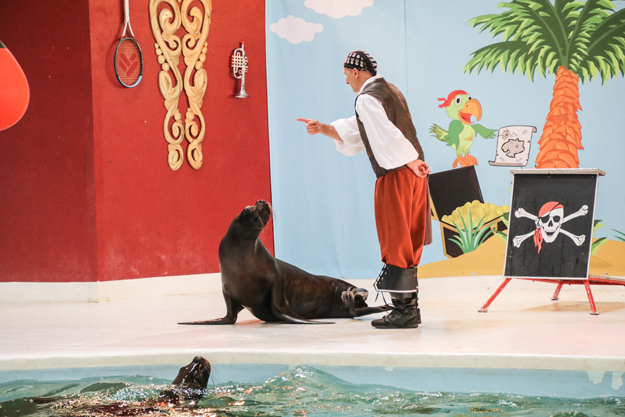 Chang and the sea lions. The coming ban against sea lions in circuses might make it the last chance to see performing sea lions in Denmark.
The children's show on the stage in the large playground is presented by Brian Behrendt, who now has changed artist name and costume to Mr. Tik Tak. Together with the clown Berty Balder he does a little magic and makes balloon animals.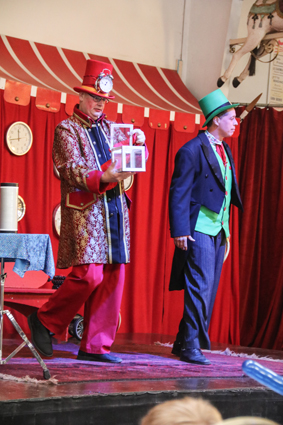 Mr. Tik ​​Tak and Berty
Next, Madam Betty (Suzanne Berdino) presents a nice little dog show, assisted by Berty's daughter Delilah and another small girl. The last act in the show is the robot Bumblebee, known from the movie of the same name. First, Berty shows him as a little doll, and then he is transformed into a 2½ meter tall robot which asks the children to dance just like him. Inside in the robot is the artist Paolo Kaiser. After the show, the children can be photographed for free with Bumblebee. (Parents / grandparents can take photos their smartphone or camera).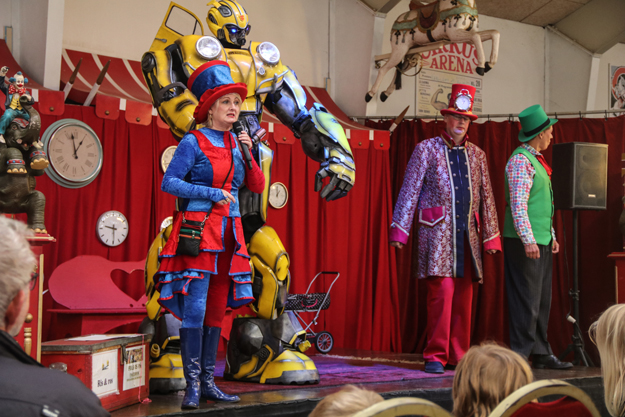 Bumblebee and Madam Betty, Mr. Tik ​​Tak and Berty
A little later there is a festive fairy-tale parade with many beautiful fairy-tale figures. The beautiful and colourful costumes are as far as know made by Sylvana Biasini.
At 13:30 there is an approx. 40 minutes long performance in Circus Landino. It is a circus fairy-tale performance that begins with Mr. Tik Tak entering the ring together with the Tigger Tiger Lilly (not a live tiger and not her from the Peter Pan film). The performance is presented by Madame Betty (Suzanne Berdino) and begins with Circus Arena's long-standing chief animal trainer Tim Delbosq presenting an act with a dromedary, a knabstrupper-horse, a zebra and a pony and finally a two lamas.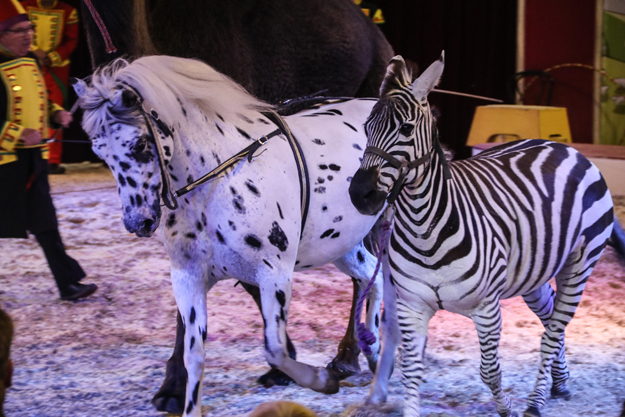 A Pippi Longstocking horse (the breed is called Knabstrupper) and a zebra. The coming ban makes it perhaps the last chance to see a zebra in a Danish circus ring.
Then the clown Berty enters the ring with a nice little entrée where he makes a painting of two spectators who are invited into the ring. Next come Claude and Sylvana Biasini in the ring with an entrée which combines quick change with magic.
Then, Mr. Tik Tak tries his luck as big cat trainer with Tiger Lilly, followed by Suzanne Berdino's entrée with her 4 dapple-grey Arabian horses.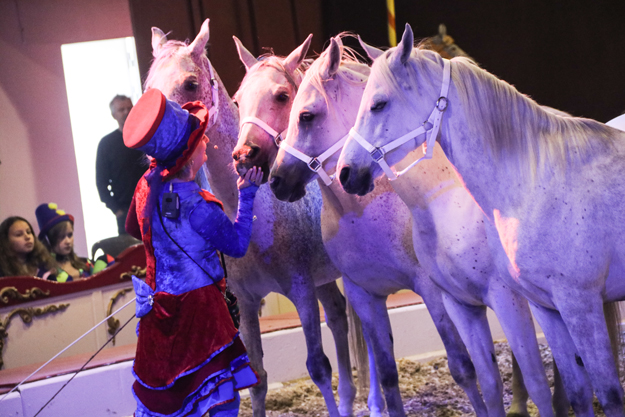 Suzanne Berdino and her horses
Berty then enters the ring with his "ostrich" who wants popcorn.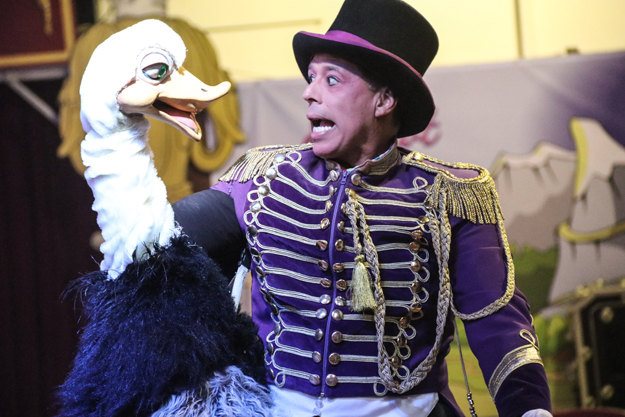 Berty and his ostrich
The performance last act is the rola-bola acrobat Paolo Kaiser, who many Danes remember from Circus Arena 2016. He shows, as at Arena, great and bold jumps from one rola bola podium to the other, concluding with a backward summersault from one board to the other. Tough!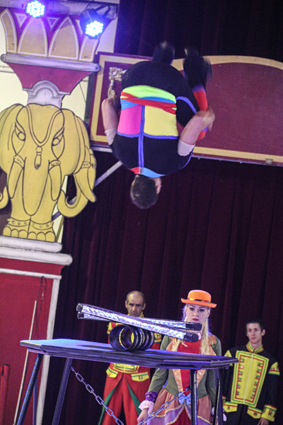 Paolo Kaiser doing a backward summersault from board to board. Click here to see more of Jacob Boas Leitisstein's photos from Circusland.
All the performers are wearing colourful fairy-tale costumes.
Circusland is open until 11 August, daily from 10-16. Driving directions: If you come at motorway E20, turn off at exit 39. Take road 225 towards Jyderup. In Sonderup turn left towards Aarslev. Then follow the signs. To the GPS: the address is Aarslevvej 6, 4200 Slagelse.

9 July 2019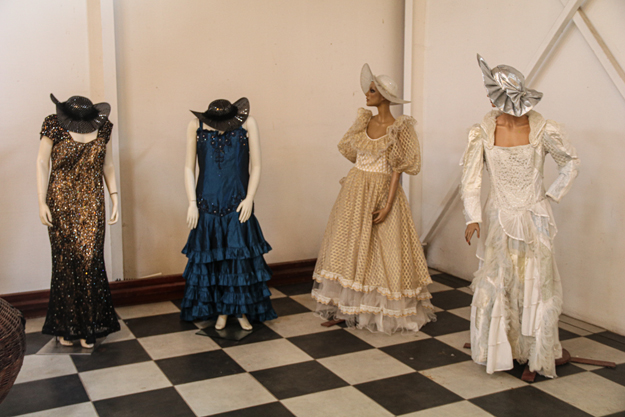 In the small circus museum in Circusland in Aarslev near Slagelse 4 of the circus queen Agnete Louise Enoch's beautiful dresses from her time as ringmaster in Circus Dannebrog is exhibited during the summer season. Today, Agnete Louise Enoch works e.g. with tour planning for a Monster Truck Show, which visits Denmark. The show, which is owned by the German Aranis Klaas family, also visited Denmark in 2017 and 2018. Photos: Jacob Boas Leitisstein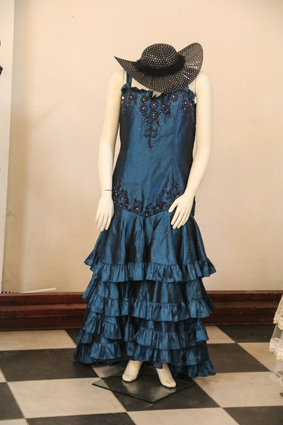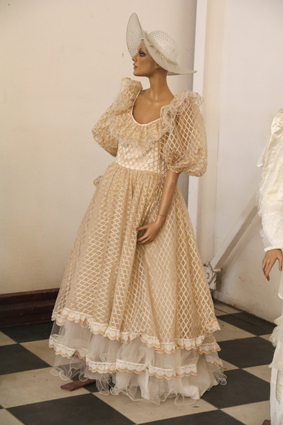 7 July 2019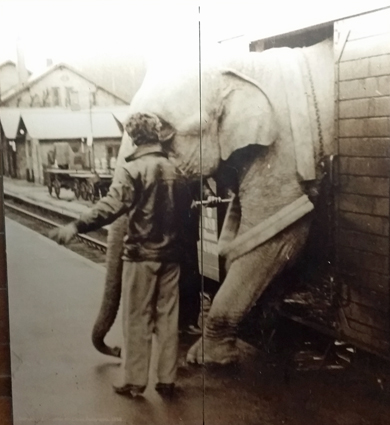 The subway under the railway track at Holte Station is decorated with a number of Photostats - local rail-historic photos. At the door on the Vejlesøvej entrance, Sonny Benneweis is seen getting one of the circus' elephants out of his railroad wagon at Holte Station in 1958. Photo: fantastica-cirkus@borsch.dk

7 July 2019
IT ALL HAPPENS IN PARIS -- LA SCALA, formerly a legitimate theater that went bust, ending as a porn-cinema - and closed - after being entirely refurbished in a nice blue colour, proudly presents excellent shows, now a contemporary circus program "5es HURLANTS" , a creation by RAPHAELLE BOITEL, co-operation by TRISTAN BAUDOIN.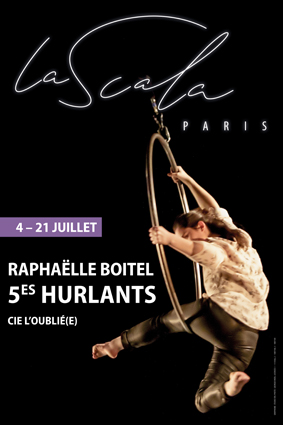 PROGRAM/CASTING: JULIETTA SALZ, aerial ring, SALVO CAPPELLO, straps, ALEJANDRO ESCOBEDO, juggling, LOIC LEVIEL, tight and slack wire, CLARA HENRY, acrobatics.
Performing excellent acrobatic stunts, RAPHAELLE BOITEL wants to show us solidarity within a group, thus human behaviour at its best. Emotions are supposed to be felt by all these moving stunts and at the same time it says BRAVO to the circus art.
An entirely original show where each spectator can feel a personal interpretation.
Show 65 minutes.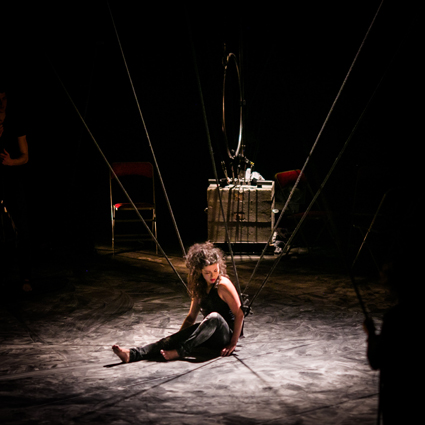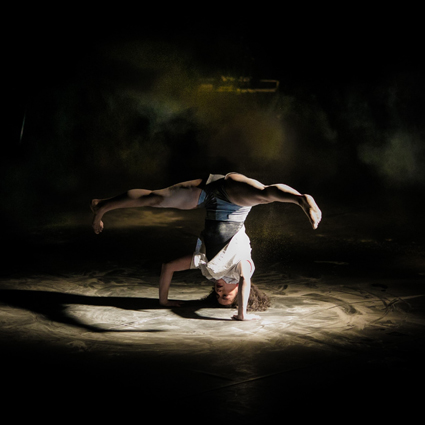 Photos by courtesy of Dominique Racle Consultants. Photographer: Sophian Ridel
To my mind it is essential to refer to the printed program to seize the messages entirely, this is true concerning all contemporary circus mixing visual effects with theatrical messages!!
Well worth seeing!
The performance can be seen from 4 to 21 July.
See more https://lascala-paris.com/
Venue: LA SCALA PARIS, 13 BOULEVARD de STRASBOURG, 75010 PARIS.
Metro: Strasbourg Saint Denis.
IT ALL HAPPENS IN PARIS!!!
................................. reported by ZARRO ZARRO.

4 July 2019
The Danish Circus Award 2019. This year's awards ceremony will take place on Thursday, August 8 at 10 in the Fencing Hall at the Circus Museum in Hvidovre. The Danish Minister of Culture, Joy Mogensen, has promised that, like her two predecessors, she will be present and hand over the Danish circus world's most distinguished award The Danish Circus Award. The name of the prize recipient is first published in connection with the award ceremony. Everyone is welcome to attend the award ceremony. Apart from the Danish Circus Award there is a talent prize and a prize to the best act of the year.

2 July 2019
Circus show at Lalandia Rødby. Again this year, the tropical holiday centre Lalandia in Rødby present an artist performance during the summer holidays. This year the performers are Ina Sopova and Kristaps Pavlovs-Lipinskis as well as the couple's 10 year old son Aleksis. They come from Latvia, where Kristraps' mother was the manager of the now closed circus building in Riga. The couple appeared in Circus Arli in 2006 and 2010.
There was premiere of this year's show on Friday 28 June. Kristaps started with a little comical magic followed by his and Ina's excellent quick-change act which also offered a little comedy.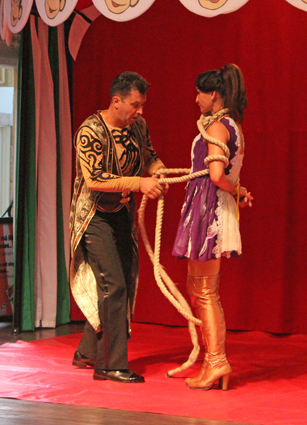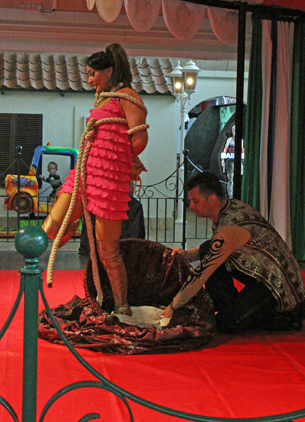 Even after being tied with ropes, Ina can change her dress with (almost) lightning speed
Then the couple's son entered the stage in a nice entrée on a one-wheel bicycle and some acrobatics.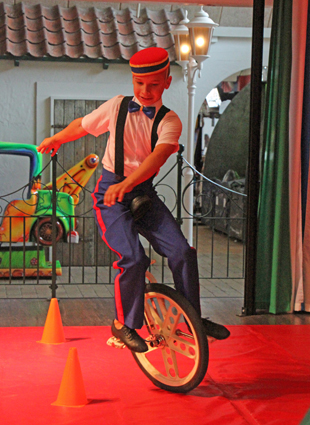 Aleksis on monobike
Next, Ina and Kristaps were back with comical magic - the trick with the hangers on the string, where they were assisted by one of the many children who saw the show. Then Ina took over the stage with two dachsdogs.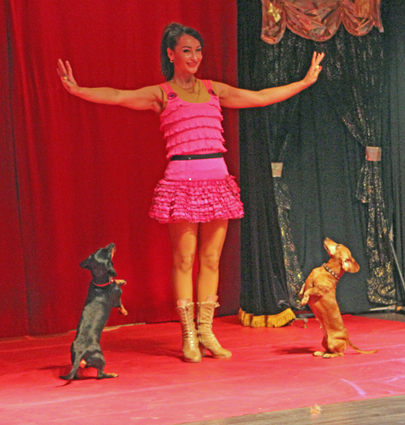 Ina Sopova and her dachsdogs
The next act was Kristaps' well-executed cigar box juggling with a good deal of humour in the trick with the many boxes.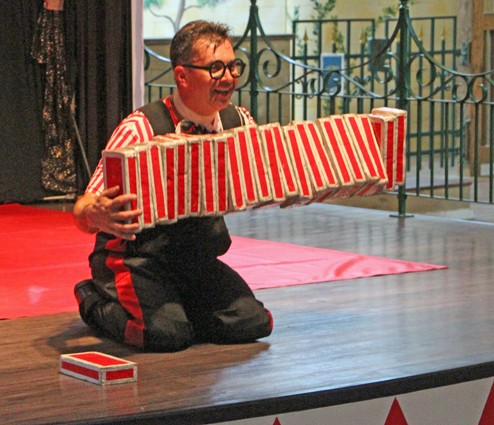 Kristaps - can he also handle box no. 22?
The performance ended with a couple of nice quick-change tricks.
At the premiere, the circus show lasted approx. 40 minutes. But it will probably be tightened up, so it takes 30-35 minutes.
Up to and including 9 August, the show can be seen on the square in Lalandia Rødby every Monday, Wednesday, Friday and Sunday at 20. Free admission for everyone, i.e. not just for guests at Lalandia. The rest of the days, Lalandia's regular entertainer Mr Plys appears. His civil name is Niels Lærkegaard, and he started as attendant at Lalandia in 1988. After he had booked a not too successful magician to entertain in 1990, he realised that he could do better. And it was the beginning of his career as an entertainer, balloon clown and magician, both at Lalandia and elsewhere.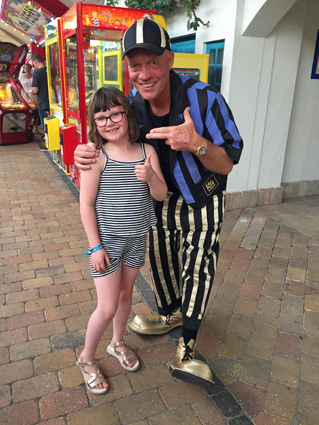 Mr Plys photographed together with my 8 year old granddaughter Pernille

2 July 2019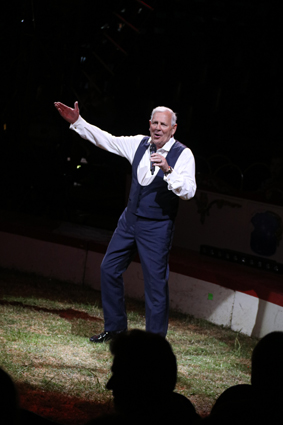 This year it is the entertainer Bubber who is ringmaster in Circus Arena. There are, however, a few days where he cannot participate, and Benny Berdino takes over position as ringmaster. This was the case at the performance in Nykøbing Sjælland on July 1, when Jacob Boas Leitisstein took this photo of Benny in his old star part. Benny concluded by saying that next year's performance will be a "Circus according to Bubber 2".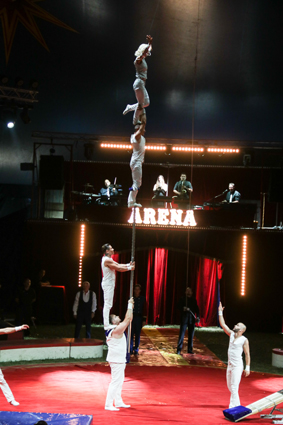 Jacob Boas Leitisstein also took this photo of the Alexander troupe, which in mid-May replaced the Cheban troupe in this year's Arena performance

2 July 2019
Marvelous Moments in Hansapark. The northern German amusement park Hansapark, which is located just north of Lübeck, offers besides the many rides also an artist show in their variety theater Fiesta del Mar. This year's show is called Marvelous Moments. Before that approximately 30-minute long show a well-playing 5-man band warmed up the audience. For the show itself, however, the music was pre-recorded. The first act was springboard with the troupe 4 Happy Boys, who primarily used the springboard as a seesaw and a kick-off for high jumps. Several of the jumps were with somersaults, but no one ended with the flyer landing on the shoulder of one of the other acrobats.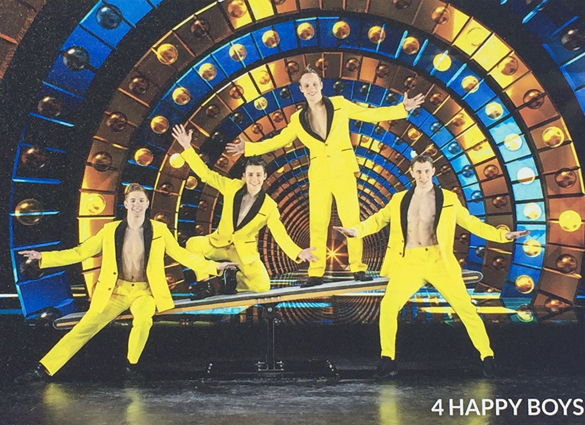 4 Happy Boys. All photos reproduced from poster in Hansapark. It was not allowed to take photos during the performance
The next act was Stepan Melnyk in aerial straps.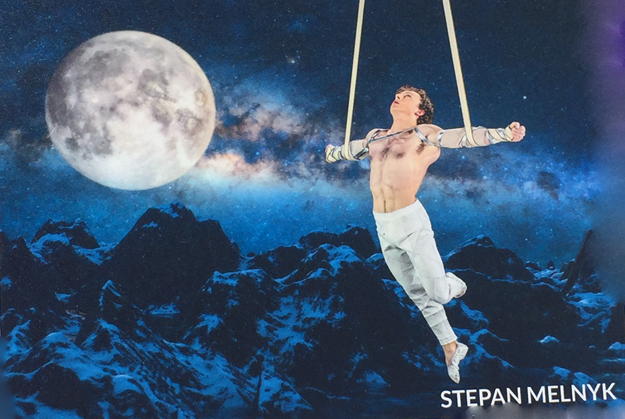 Stepan Melnyk comes from Ukraine and is trained at the Circus School in Kiev (Kyiv Municipal Academy of Circus and Variety Arts)
Third and best act was Trio Liazeed. The Danish audience saw them on the open air stage in Copenhagen's Tivoli Gardens in 1991 and 1998 and on the open air stage at Bakken in 2001. In 2008 they toured with Circus Benneweis and in 2012 with Circus Dannebrog. In the two circuses, the troupe consisted of Papa Omar, daughter Zaida and her boyfriend Francisco. In 2012, however, one could sense that Omar was on his way to retire from the act... In Hansapark the troupe consisted of Zaida and Francisco and his son Armando. The latter the Danes met in Circus Dannebrog in 2016, where he among other things jumped on his head and on one hand up and down a staircase. He was one of the three artists who The Danish Circus Award Jury nominated for the prize for 2016's best act. He did the same impressive tricks as part of the Liazeeds 2019 act. You don't reveal the age of ladies, but Zaida was probably 10 years old when she had her artist debut in 1969...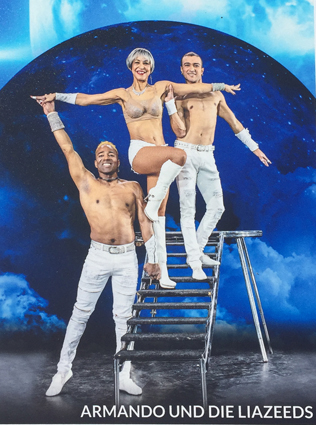 Trio Liazeed
The fourth and last act was an aerial act with 3 Ferreiras.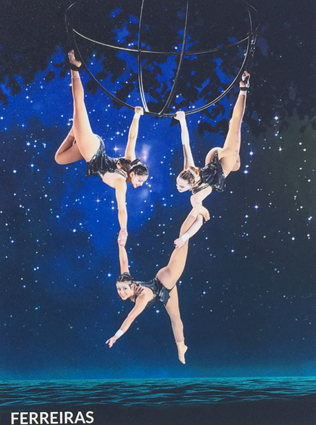 3 Ferreiras
It is an excellent idea that an amusement parks in addition to all the rides also offers artist entertainment. Something many miss in Copenhagen's Tivoli Gardens and at the amusement park Bakken north of Copenhagen.

Link to news from 2007

Link to news from 2006