'
From Denmark
and other Scandinavian countries
Special feature: It all happens in Paris (when relevant)
A weekly updated internet magazine
Last updated : 9. April 2021
9 April 2021
Danish Guidelines for cultural productions and cultural events with seated audiences. In principle circuses in Denmark can open the season on 6 May. However the have to follow the above mentioned guidelines. An updated version of the guidelines, which will be prepared by the Ministry of Culture after discussion with the sectoral partnership for seated entertainment, will hopefully be ready during the coming week. The guidelines are expected to include both a limitation of the total number of spectators and a certain square meter requirements per spectator. They guidelines can be crucial for the possibility for a circus to come on tour in 2021. If the max income in the box office due to the guidelines are less than the daily costs is doesn't make sense to go on tour.
Here are the premiere plans as they look right now:
Circus Arena: 6 May in Nykøbing Mors
Circus Arli: awaiting the guidelines
Circus Baldoni: 6 May in Hillerød
Circus Krone: awaiting the guidelines
Circus Mascot: awaiting the guidelines
Circus Nemo: 12 May in Herning
Circus Trapez: no tour in 2021

7 April 2021
Circus Days and Nights. Circus Days and Nights is a circus opera in three acts, written by the composer Philip Glass. Its inspiration is Robert Lax's Circus Days and Nights, a collection of poems that draws us into the poet's fascination with acrobats and the circus lifestyle and takes us on the road with him when he "runs away" and joins a circus in 1940s America. For Lax, the circus becomes a metaphor for life itself – the cycle of life and death – and for human yearning and striving. Circus Days and Nights will be a boundary-crossing performance that brings the circus ring into the opera house.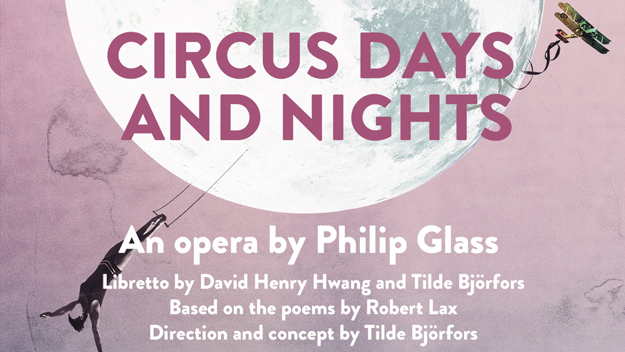 Circus Days and Nights is a co-production between Swedish Circus Cirkör and Malmö Opera. Swedish Circus Cirkör is considered by many to be Scandinavia's leading contemporary circus company.
The performance should have had its world premiere on May 29 at Malmö Opera and play until June 13. But due to the corona, the opera in Malmö has no performances in the spring with the audience in the opera. Instead, the performance is now launched as a performance, which for a fee of 100 SEK can be livestreamed on Thursday 29 May at 18, so you can see it at home. The language is English, but it is subtitled in both English and Swedish. It lasts approx. 2 hours.
See more at https://www.malmoopera.se/in-english (text in English)

4 April 2021
Swedish TV broadcast about the youngest generation in Circus Olympia. Martin Lasson Berglund writes (my translation)
Swedish Television has made a very good and interesting broadcast about Simon Bengtsson, son of Niklas and Natascha of Swedish Circus Olympia!
A broadcast about growing up in a circus from a children's perspective. Simon usually tour Sweden with his family and Circus Olympia, which consists of both people and animals from all over the world. But he also goes to a Swedish school just like all other children in Sweden!
Right now it's a pandemic and unfortunately Olympia cannot tour but we all hope that they can soon open the season and once again entertain Sweden!
Follow the link below to see the program which can be seen all over the world!
https://www.svtplay.se/video/30757890/sa-lever-jag/sa-lever-jag-sasong-1-simon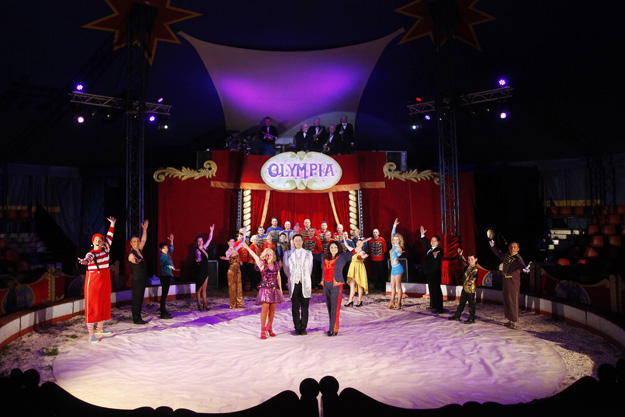 Just like the other Swedish circuses, Circus Olympia due to the corona break didn't have a tour in in 2020. This photo shot by Linda Himsel, is from the grand finale 2019. Circus Olympia hopes that it will be possible to complete a tour this year.

2 April 2021
The circus princess from Viborg. On Friday 9 April, Laura Berdino, Aarslev at Slagelse, turns 40. As daughter of the Jutland business matador John Staaling from Viborg, it was not written in the stars that she would become a circus princess. But already as a little girl she loved horses, and one of the highlights of the year was when Circus Arena visited Viborg. "I wish it was me," she thought when she saw with what elegance, trainers presented liberty horses.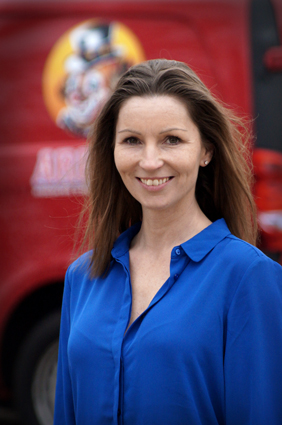 Laura Berdino
In 1992, the Berdino family invited her to be a holiday visitor. Day after day she saw day how Alexia and René Cassely trained their horses and elephants and performance after performance got great applause for their great act. Also in the following years she was a holiday visitor at Circus Arena. Later, education and work came first, and the holidays with Circus Arena were put on hold. However, Laura was still a regular guest at the circus lot in Viborg when Circus Arena visited her hometown. Every year she was invited once again to be spending her holiday with Circus Arena. In 2007, Laura said yes to be a holiday visitor when Circus Arena toured Bornholm. And at Bornholm she and Benny and Hanne Berdino's son Jackie fell in love. They got engaged in December 2008 in Paris at Restaurant Le Jules Vernes in the Eiffel Tower and got married in 2009.
Since 2010 season, it is Laura who has presented Circus Arena's beautiful horses. In 2011, Laura and Jackie got a daughter, Scarlet, who made her debut in the ring with ponies in 2019. Laura Berdino is chairman of the holding company behind Circus Arena, Berdino Holding. In the autumn of 2020, Laura and Jackie also took over the day-to-day management of the theme park Circusland in Aarslev. The corona meant that Circus Arena did not come on tour in 2020, and that the 2021 season could not as planned start in March. "I'm looking forward to being on the road again," Laura says. And I am sure that there is hundreds of thousands of Danes who are looking forward to seeing the pretty Viborg girl and her beautiful horses in Circus Arena's ring again.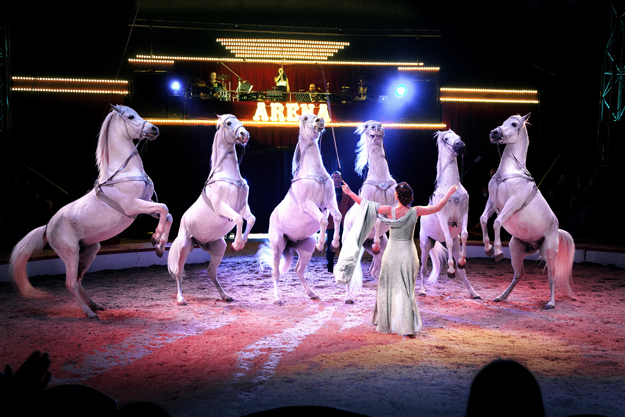 30 March 2021
World Circus Day is usually celebrated every year on the 3rd Saturday in April. For many years, Danish Circus Friends Association has celebrated the day in cooperation with the Circus Museum at Hvidovre, Copenhagen, and Circus Baldoni. However, the corona meant that the day could not be celebrated in 2020. Neither in Denmark nor in other countries.
3rd Saturday in April is this year April 17th. But according to the latest Danish Covid-19-restrictions, museums cannot open until 21 April, and the Danish circuses cannot start the season earlier than 6 May.
Due to this Danish Circus Friends, the Museum and Circus Baldoni have decided to postpone the celebration of the World Circus Day until Saturday 22 May. Subject to possible new restrictions.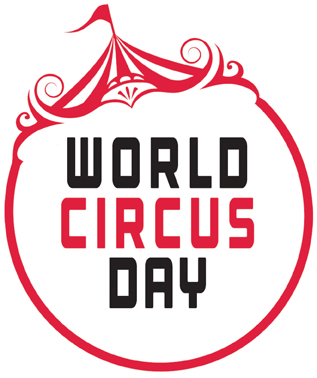 The Circus Museum will be open from 10 to 14. This day free admission
At 11:15 Kurt Flemming tells about his life as Pierrot at 'Bakken'. Free admission
At 13 there is an artist performance in the Fencing Hall. Free admission.
At 14:15 there will be a gala performance in Cirkus Baldoni, which as in previous years has pitched the tent at the lot behind the Circus Museum. Ticket price this day reduced by DKK 30

30 March 2021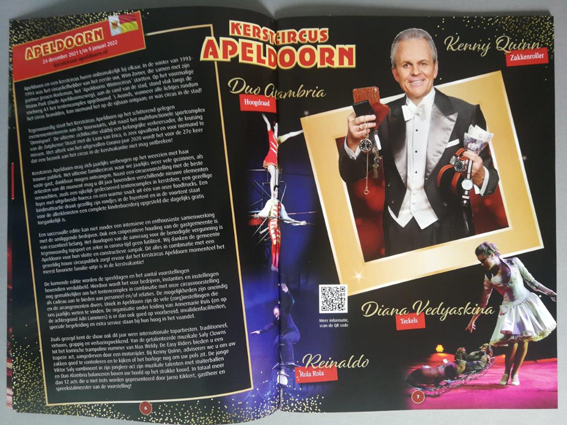 Kenny Quinn to Holland. In the Netherlands, there are more visitors to the Christmas circuses than in the circuses that tour during the summer season. For the 2020/21 season, the Danish gentleman thief Kenny Quinn was engaged to Kerstcircus Haarlem. But due to the corona the season was cancelled. The Dutch Christmas circuses expect the corona to come so much under control that there will be performances in the 2021/22 season. They have already engaged several of the artists. Kenny Quinn and Mrs. Joan are engaged to Wintercirkus Apeldoorn. Apeldoorn is a town in Gelderland in the central part of the Netherlands with a population of 160,000

29 March 2021
Circus Agora 2021. Jan Ketil from the Norwegian Circus Agora writes (my translation):
Circus should be an experience of joy, humour and excitement. However, Covid-19 has given circus people a little too much excitement! We're still wondering when we can get on tour. The circus' management has now made a decision. For the sake of the public, employees and partners, Cirkus Agora will look at the progression in the vaccine program and the development of infection before starting a tour in Norway. Due to this we have decided to postpone the premiere, which usually takes place in mid-March. But if the vaccination goes according to plan, we are ready to go on the road again sometimes during the spring. We hope it will be as soon as possible!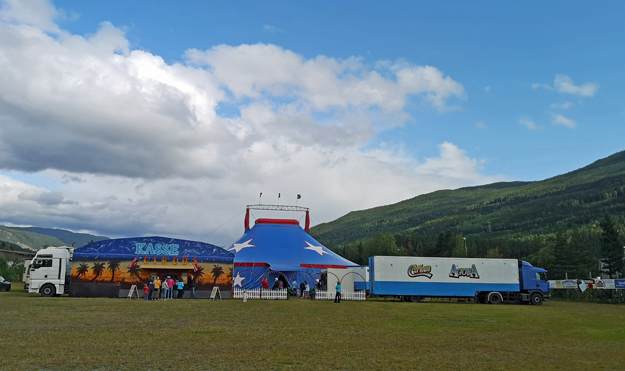 Photo: Thorbjørn Klæbo Flo

28 March 2021
The large Swedish Circus Maximum, which was one of the leading circuses in the Nordic region, closed their 2017 season in September at Heden in Gothenburg. And it became their last season. For 35 seasons, Bengt Källquist had toured with his circus. The first years under the name Circus Minimum, but the last many years under the name Circus Maximum.
The April issue of the Swedish circus magazine Cirkuläre Notiser contains an interview with Bengt Källquist, who is now 62 years old.
He says that everything went well for Cirkus Maximum until the 2015 season. But suddenly something happened. The newspapers stopped writing about circuses TV stopped broadcasting circus performances. Many companies that used to buy tickets stopped buying tickets, and animal rights activists promised to run Circus Maximum down. All this affected the number of visitors and the economy. Bengt Källquist went in with personal capital to avoid bankruptcy. But the 2017 season was a pure disaster: reasonable visitor numbers in Stockholm, Gothenburg and Malmö, but far too few in the rest of Sweden.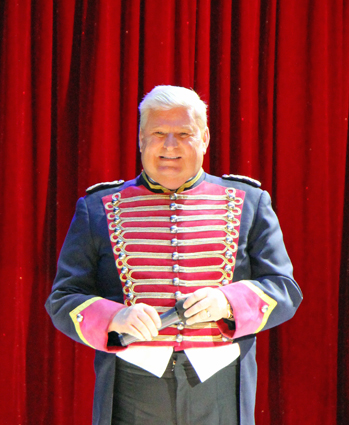 Today, Bengt Källquist run Källquist Equestrian AB, a wholesale store with riding equipment etc.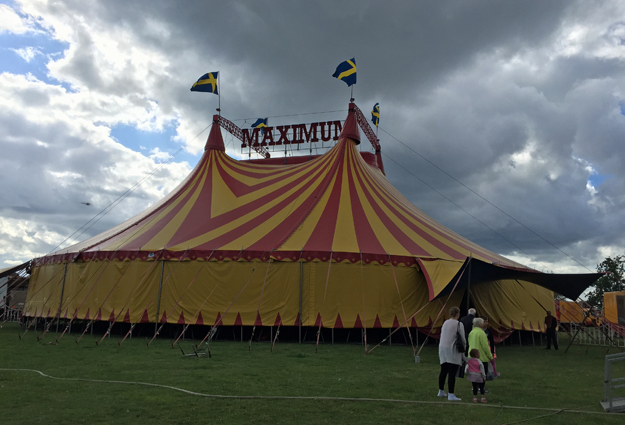 Dark clouds over Cirkus Maximum in 2017, which was the last season for the large Swedish circus.
Circus Maximum is not the only large Scandinavian circus which is closed. Norwegian Circus Merano closed after season 2014. Danish Circus Benneweis closed after season 2015. Swedish Circus Scott stopper touring after season 2015. Danish Circus Dannebrog closed after season 2016.

26 March 2021
Season opening in Denmark - updated overview.
Circus Arena should have premiered at Bellahoj in Copenhagen on March 24. Time and place have now been changed to 6 May in Nykøbing Mors in the northern part of Jutland. They write (my translation):
The government's reopening plan was presented the day before yesterday, and here a date was presented for when Denmark's cultural institutions and venues may once again have an audience. The date is May 6th.
We are happy that a date has now been set for when the indoor culture can start to open up, but we are also sorry that the performances before this date can unfortunately not can take place as originally planned.
We are working on finding new dates on which we can play the cancelled performances. In the same way as the performances in Copenhagen, where we should have been in March and April, have now been moved to August and September 2021.
We are still anxiously awaiting the precise guidelines for how large an audience may be, as well as any restrictions that may apply in the Circus Arena after 6 May. The authorities expect to be able to present these in 2 weeks at the earliest, and we will return as soon as possible when we know more about how we can best gather around the ring in Circus Arena for this year's anniversary show.
Our winter quarter 'Circusland in Slagelse' is facing a reopening. The outdoor cultural institutions - including amusement parks - have been allowed to open now! From Saturday 27 March and throughout the Easter holidays, Circusland in Slagelse opens all outdoor rides and activities every day from 10 to 17. Circusland's indoor facilities with shows are still closed, but outdoors all carousels are in full swing.
We look forward to seeing you all again - we have missed you.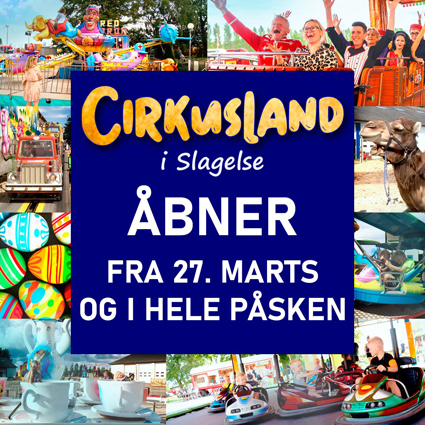 Circus Arli had planned to start the season at The Mill Hill in the Copenhagen suburb Fløng on 27 March. They write (my translation):
We should have started our 51st season on March 27th. Unfortunately, the government's restrictions make this impossible. We are ready, so when we get the "green light" we will start. Take care of yourselves. We look forward to seeing you again.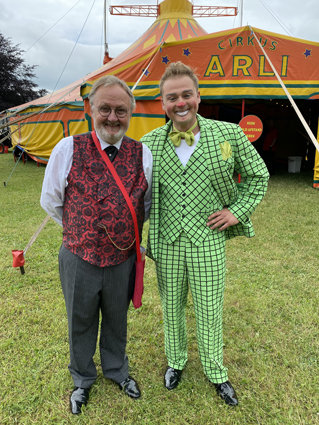 With a little bit of luck, Martin Arli, who is seen here with his son Alexander, can take his circus on tour in May. But Martin Arli waits with an announcement until he has seen the guidelines for how large an audience may be etc.
Circus Baldoni had planned to start the season on April 4, but has postponed the start of the season to May 6, where they are in Hillerød (40 kilometres north of Copenhagen).

Circus Baldoni was established in 2002. Thus it's their season No. 20. They call this year's show It's too wild
Circus Mascot had planned to start the season in their hometown Roslev on 31 March. They have postponed season opening until further notice.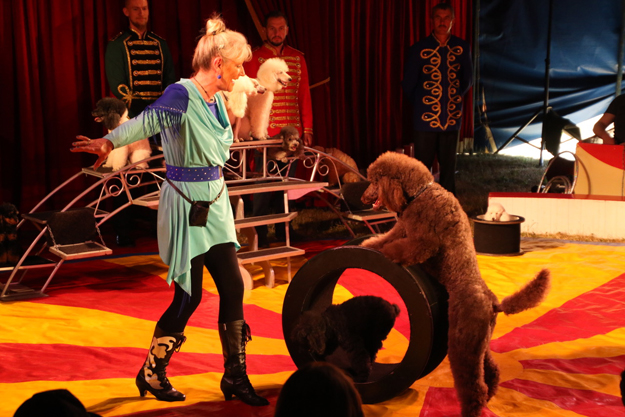 Marianne Deleuran and her playful doggies are looking forward to getting back in the ring. Undoubtedly, there are also many who look forward to meeting them again in Circus Mascot. Photo: Per "Mr. Sputnik" Krogh Petersen
Zirkus Nemo had planned to start the season on April 11 in Horsens. As the restrictions looks now look, they cannot start earlier than May 6th.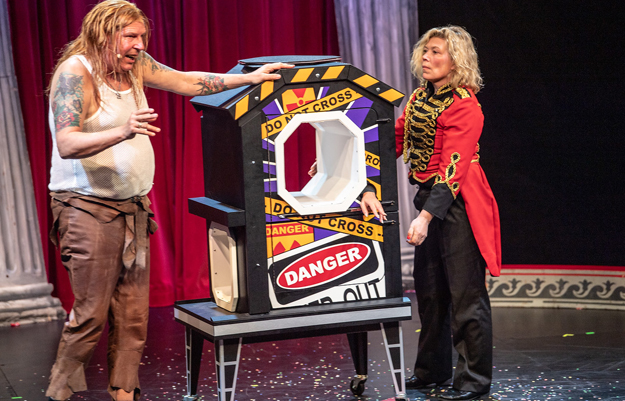 Not sure when you can meet The Smash Man aka the circus owner and comedian Søren Østergaard and his assistant Laura in the ring again. Photo: Rud Kofoed / Ajour Press
Circus Krone writes that a season 2021 is conditional on them being able to follow and comply with the guidelines, which have not yet is known. They are following the situation closely and hope they soon can take a decision.
Circus Trapez writes (my translation):
Unfortunately, we have decided to cancel our usual 2021 circus tour, due to the Corona restrictions. Instead, we present for the first time, Cirkus Open Air - a small compatible outdoor circus show that can be performed at home in your gardens! The show is suitable for parks, care centres, SFOs, birthday parties and much more. If you are interested in supporting us in these difficult times, while having a great experience, please contact us on telephone 40 10 39 39, or at Info@Cirkus-Trapez.dk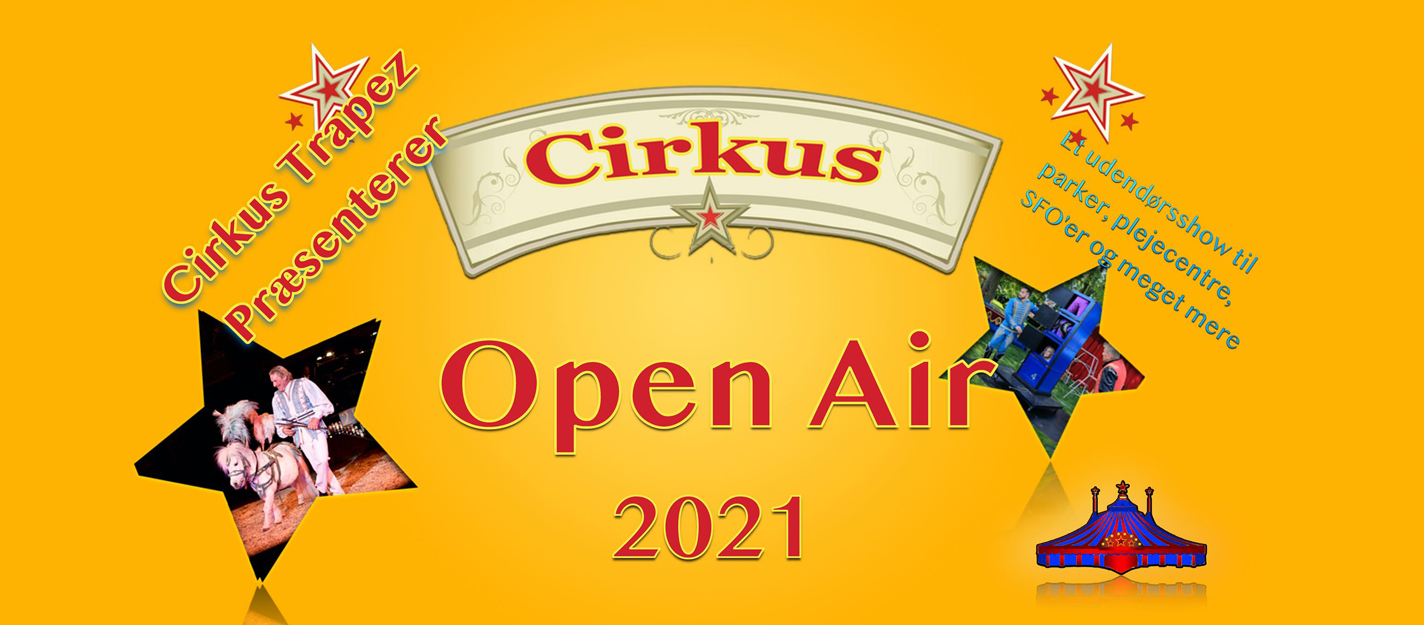 23 March 2021
Small change in program at Circus Baldoni. The season should have offered a reunion with the duo Hands to Violin (Daniella Virtova, who plays violin and handstand acrobat Michal Mudrak). They were the top act at Cirkus Baldoni in 2016, where they were among the nominees for the prize for the best act of the year from the Danish Circus Award. Unfortunately, Michal is injured during training, so it will not be until 2022 that you can meet them at Circus Baldoni.
Instead Circus Baldoni has engaged the Italian hat juggler Sage Macaggi. He won silver for his performance at the 21st International Circus Festival of Italy Latina in 2020. The prestigious festival is usually held every year in October as a physical festival. Due to the corona, it was in 2020 held as an online festival.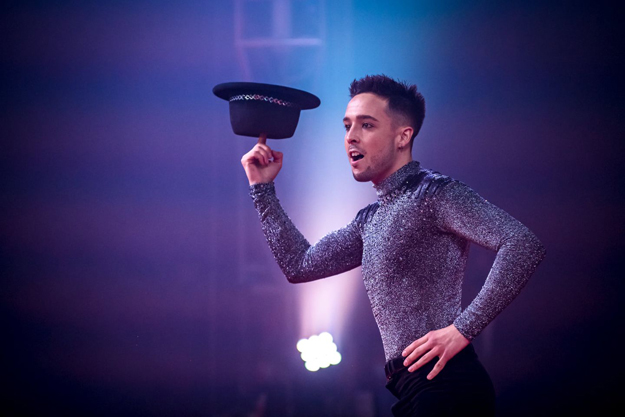 Sage Macaggi. Click here for video with clips from Sage Macaggi's entrée.
In addition, Circus Baldoni has engaged the contortionist Sheyen Caroli, who is listed in the Guinness Book of Records for shooting with a bow and arrow with her feet. She calls herself Mistress of Contortion and is 25 years old. She comes from Italy.

22 March 2021
Circus and reopening. The framework agreement on a plan for the reopening of Denmark which a broad majority in the Danish Parliament agreed on last evening propose that venues, theatres and cinemas and the other premises where cultural activities are carried can open on 6 May. This also applies to circuses.
For all spectators over the age of 15, there is a requirement for showing a coronapas which show that the spectator has been vaccinated, has passed infection or has been tested negative within 72 hours (both PCR and antigen test).
Relevant infection prevention measures will apply. These will be discussed in the sectoral partnership for seated entertainment on the basis of proposals from the authorities. The Circus Directors' Association is represented in the sector partnership.
For example there will be square meter requirements, requirements and recommendations for the use of mouthpieces. limitation of the total number of spectators and guidelines will apply regarding distance, hygiene, etc. The Ministry of Culture states that it is unknown when the guidelines will be ready.
Due to this it is difficult to know how the conditions will be for the Danish circuses. The development in the corona epidemic may also result in the mentioned start date of 6 May.
The public aid packages will be extended in the light of the gradual reopening in the coming months now being valid until 30 June 2021. Companies that have been subject to closure as a circus will be able to assess that it is not appropriate to open. In such situation, they can receive up to 90 percent in compensation for the fixed costs.

21 March 2021
The floor i lava, Cirkör style! The Swedish contemporary circus Cirkus Cirkör writes:
This is the circus artist Aaron Hakala's contribution to Cirkus Cirkör's 25th anniversary!
Aaron Hakala applied to Cirkus Cirkör's upper secondary school so he could carry on with his greatest passion, parkour, but he quickly fell in love with contemporary circus. Now he works as a professional circus artist.
Cirkus Cirkör has spent 25 years pushing boundaries and changing society with circus art by making the impossible possible. Through hard work, facing our fears, using every failure as a lesson, stubbornly continuing to see the next opportunity round the corner and being the best version of ourselves every day. Life is an obstacle course and every day is a wonderful challenge.
Click here to watch the clip.

19 March 2021
Season opening for Circus Baldoni. René Baldoni and Camilla Frimann have decided to start the season on April 6 at the circus lot at Firskovvej in Lyngby. Unless there are restrictions that prohibit it or make it impossible. They will open the season even if there should be a slightly lower cap of spectator than in 2020, where you had to have 1 spectator per 2 square meter area of ​​the tent. The Ministry of Culture's guidelines for cultural productions and cultural events with seated audience suggests that the requirement in 2021 may be 7½ square meter per spectator.
Circus Baldoni will also start if there will be a requirement to present a negative Covid-19 certificate.
Assuming that Cirkus Baldoni can get started as mentioned, they are at the lot next to the Circus Museum in Hvidovre, Copenhagen, on World Circus Day 17 April.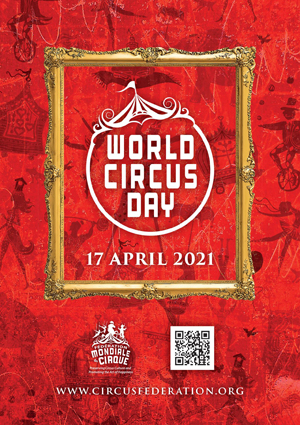 World Circus Day is usually celebrated at the Circus Museum in Hvidovre in cooperation between the museum, Danish Circus Friends Association and Circus Baldoni. Doubtful if it will be possible this year. But Circus Baldoni is planning to have performance on the square behind the museum on April 17.
This year's Baldoni performance is staged by the magician Kim Kenneth. He has previously with great skill staged circus performances both in Denmark and abroad. For example performances in English/Irish Circus Vegas and the 2015 performance in Danish Circus Benneweis. He has also had a hand in the game at recent years' Baldoni performances. And this year he is engaged to put the performance on stage. Kim Kenneth himself are not among the performers.

18 March 2021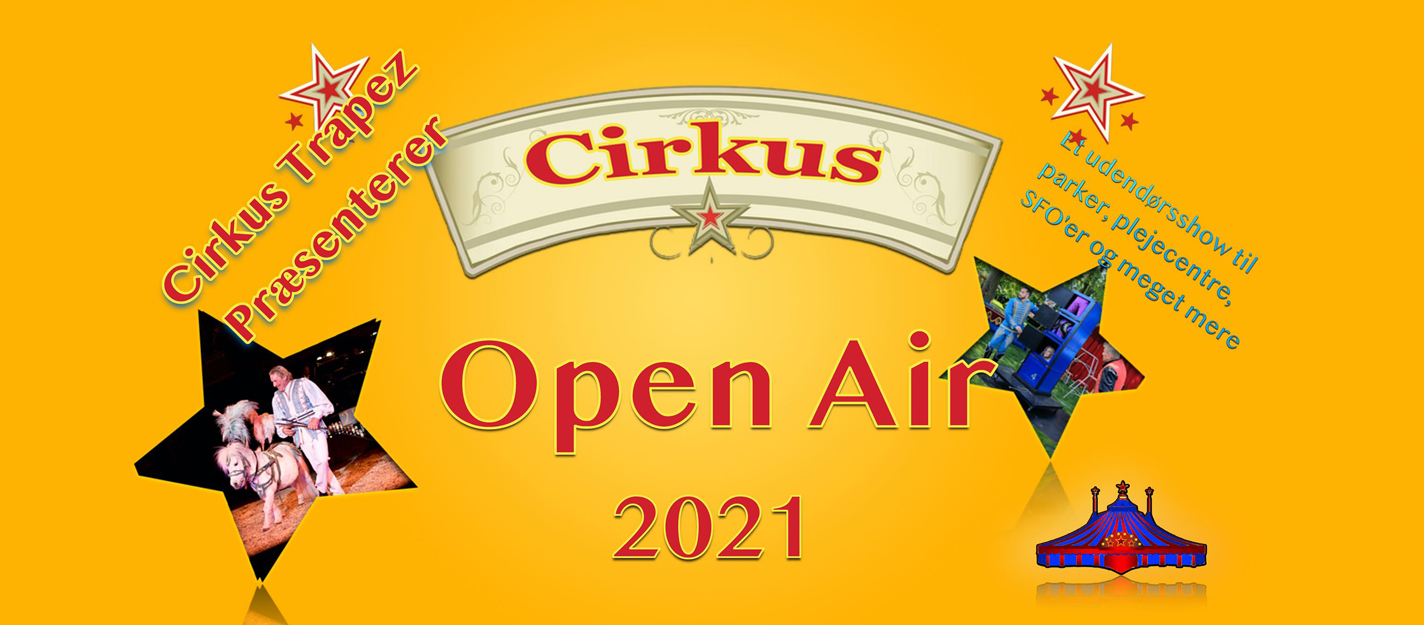 Just as in 2020 Circus Trapez hopes to be able to sell some outdoor performances to nursing homes, parks, etc.

17 March 2021
Retired circus tigers to Knuthenborg Safari Park. Last year, Knuthenborg Safari Park and Animal Protection Denmark built Europe's largest elephant facility for four retired circus elephants. Three of them came from Circus Arena and one from Circus Trapez.
Now Knuthenborg Safari Park is working together with Animal Protection Denmark and with support from the QATO Foundation on establishing a facility that will house retired circus tigers and in the long run other so-called 'rescue tigers'. The facility will be the largest of its kind in Europe, where tigers can be out all year round. The first new resident will be a retired circus tiger from Spain.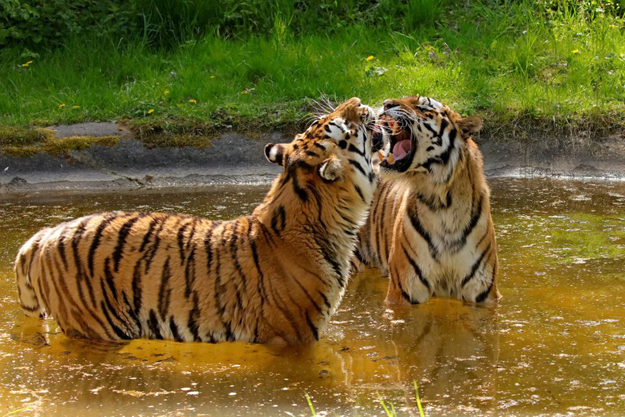 Photo by courtesy of Animal Protection Denmark
None of the circus tigers will come from Denmark, as there since 1963 have been a ban against presenting predators in Danish circuses. In the wild, a tiger turns 12-20 years old. In zoos up to 26 years. Thus the tigers which have performed in Danish circuses have died many years ago. The tigers that you can see today in circuses in a number of countries are all born in "captivity" and are cubs of tigers which also were born in "captivity".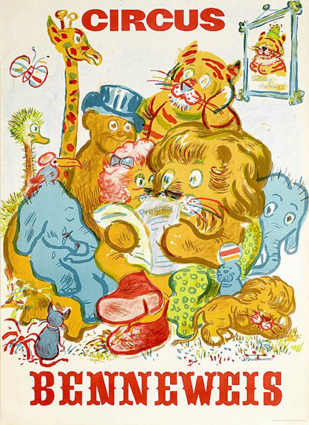 You have not been able to see lions and tigers in the Danish circuses since 1962. In Germany, there are big cat acts in several of the large circuses, and the animals have far better conditions than the circus and zoos offered them in the old days.
The tiger is a so-called endangered animal, and there are probably more tigers in "captivity", including in zoos, than in nature.
The QATO Foundation is non-profit and was founded in 2012 by Signe and Thomas Kirk Kristiansen. The QATO Foundation supports projects that contribute to promoting and ensuring animal welfare.

12 March 2021
Arne Björk aka the clown Jody turns 80. Today Arne Björk can celebrate his 80 year birthday. He has for many years been associated with Odense Theatre. But he is also known as the clown Jody. Arne Björk was educated at Odense Theatre's Dramatic Arts School in 1970. In 1971 he had under the stage name Jody his debut as a clown in Circus Benneweis. From 1983 - 1987 he was with Benneweis the Copenhagen Circus Building and on tour with their tented outfit. He has also toured Sweden, Germany, Hungary and Japan. In recent years, Arne Björk has worked with his poetic one-man-show "The Smallest Circus".
In the autumn of 2020, the audience could see him at Odense Theater with the performance "Den stille klovn" (The Silent Clown), built on Arne Björk's critically acclaimed book "Den stille klovn". Arne Björk and his wife hope that the performance on the other side of the corona can be shown in selected theaters and in smaller contexts.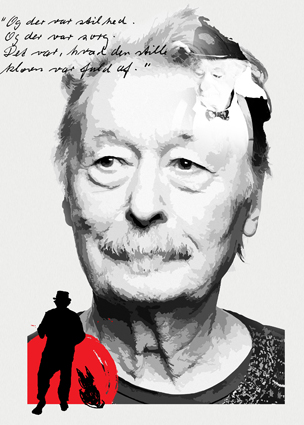 12 March 2021
Postponed circus premieres. All the Danish circuses which had planned to open the season in March or early April have now pushed the season opening due to the Covid-19 restrictions.
Circus Arena should have premiered at Bellahoj in Copenhagen on March 24 with dress rehearsals from March 19. They should have been at Bellahoj until 11 April. But corona restrictions force them to change plans. About the performances in Copenhagen they are writing the following (my translation):
Circus Arena's upcoming national premiere and tour has like all other indoor culture activities been temporarily shut down due to the authorities' extended COVID19 restrictions and the assembly ban. We have to be patient and we are looking forward to welcoming the audience to this year's circus show. The restrictions currently have consequences for our performances in Copenhagen until 11 April.
We are currently working on moving these performances in Copenhagen to August.
Take good care of yourselves until we can meet again.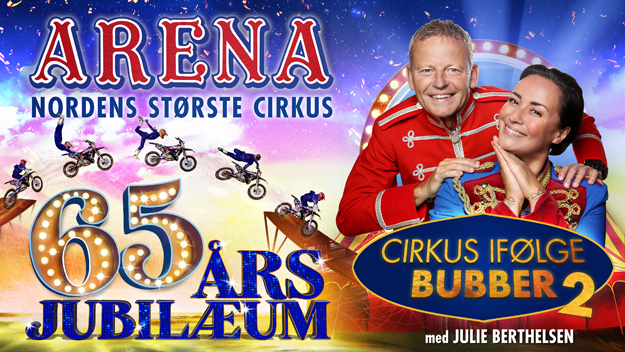 As it looks now Circus Arena's first performance in 2021 will be on 13 April in Holbæk.
Circus Arli had planned to start the season at the Mill Hill in the Copenhagen suburb Fløng on 27 March. They write (my translation):
We should have started our 51st season on March 27th. Unfortunately, the government's restrictions at the moment make this impossible. We are ready, so when we get the green light we start. Take care of yourselves. We look forward to seeing you again.
Circus Baldoni had planned to start the season on April 4th. They write (my translation):
We are counting down to the start of the season this year. Pt. we expect it to be Tuesday, April 6. Due to the uncertainty, it is not possible for us to open up for ticket sales, as the guidelines are expected to be revised during March. We are working on a solution so that we can at least disclose our planned tour schedule. However, there will not be the big changes compared to previous years, so if you usually come to Baldoni during the summer holidays, we will be there at about the same time as last year.
Cirkus Mascot had planned to start the season in their hometown Roslev on 31 March. They write (my translation):
As it still not is known when cultural institutions, such as the circus, will be allowed to open we are temporarily postponing our premiere and tour of Denmark. We will be back with new dates as soon as we know more!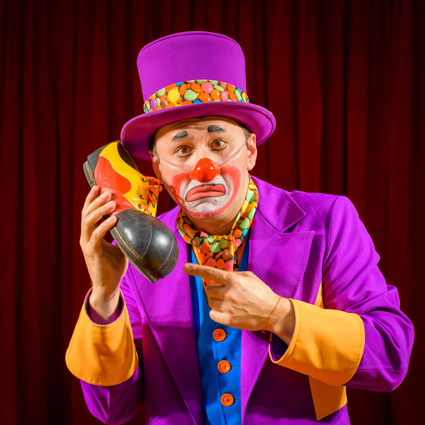 Circus Mascot's house clown Gulio and his family were looking forward to open the 2021 season in the Deleuran family's Circus Mascot on March 31st. But due to the corona pandemic the start of the season has been postponed.
Zircus Nemo still hopes to be able to start the season as planned on April 11 in Horsens.
Circus Krone and Circus Trapez have not yet announced premiere dates.
Danish Prime Minister Mette Frederiksen has announced that on 23 March she will present a plan for reopening of Denmark, subject to the Covid-19 pandemic still being under control. A so-called script that will make it possible for everyone to know when Danes again can go to a restaurant, to a concert or visit the hairdresser. The government is now convening the political parties for negotiations. Hopefully on March 23 we will get an indication of when the Danish circuses can start their season 2021.

10 March 2021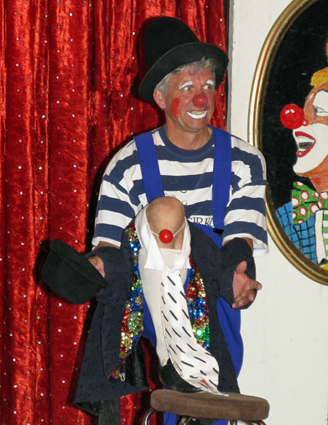 New clown in Circus Baldoni. When Cirkus Baldoni starts the season, it's with a new clown in the ring. At least new to persons from Zealand. The clown is Alando (Jan Allan Hansen), who for many years was a recurring figure in the performances in the small Jutland Circus Krone.
About the other performers Cirkus Baldoni writes (my translation): "You will meet a number of top artists, among others the Italian Ferrandino's who have a breath-taking roller skating act and a bold aerial act on the program. From the Czech Republic you will meet the super talent Kaja Janacek with the balancing art Rola-Bola and his parents Eddie and Maria in a whole new acrobatic discipline that has never been seen before. Duo Hands to Violin in a new and modern composition with violinist Daniella, who plays up to the super strong handstand artist Michal. As ringmaster we have the ventriloquist and musical star Peter Nørgaard, who leads the audience through the performance, of course accompanied by the lion Leonardo (a ventriloquist's doll)."
Ferrandinos toured Denmark in 2011 with Circus Arli. The versatile Janacek family has been house artists with Baldoni since 2016. Hands to Violin was with Baldoni in 2016.
In 2021 circus owner René Baldoni will not be responsible for the performance himself but has passed the duty over to Peter Nørgaard. Cirkus Baldoni writes (my translation): "René has many projects up his sleeve in addition to Cirkus Baldoni. Thus he takes a year away from the spotlight to explore and try new things, and of course there must also be room for that in Baldoni, so he has handed over the director role to his partner Camilla Frimann. However, René still has a finger in the pie when it comes to Circus Baldoni, and of course you will still be able to meet him around the country. The new projects and adventures he is going to embark on are something René has wanted for many years, and NOW it shall be. "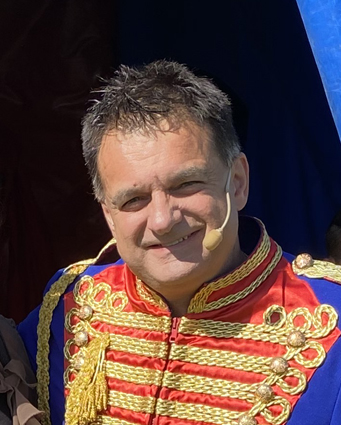 In 2021 it is not as in the former years circus owner René Baldoni who is ringmaster in Circus Baldoni

9 March 2021
Big plans for Circusland. Benny Berdino has big plans for expanding the theme park Circusland in Circus Arena's winter quarter in Aarslev near Slagelse. He wants to turn it into a holiday and event venue with holiday accommodation for 600 overnight guests, an 8,000 m2 water park and a concert and event venue with room for up to 3,000 guests. Already last year, Benny told friends and acquaintances about his plans.
According to TV2 Øst Slagelse Municipality has now given the green light for the first step on the road for Circus Arena, which has applied for permission to build a holiday and event venue.
- We want to make even more out of Circusland. This must be a "lighthouse" for Slagelse, Benny Berdino says to TV2 Øst. He continues:
- Now we have had a break from thinking during Covid-19 and all of a sudden have been in a situation where we have had to think about what we should do if the circus cannot be basis for our income in the future. And then we thought that Circusland could be expanded and be something for the benefit of the region and for ourselves.
TV2 Øst quotes the chairman of Slagelse municipality's Environment, Planning and Rural Affairs Committee Jørgen Grüner for saying that they are generally positive about the idea, even though there are some things which shall be investigated before the municipality possibly approves a local plan.
Circus Arena does not know what exactly it will cost to expand, but according to Benny Berdino, the costs quickly run up to 50 million DKK (6.7 million Euros). It may take up to a year before a local plan permitting the expansions is approved.
Circusland opened in November 2006.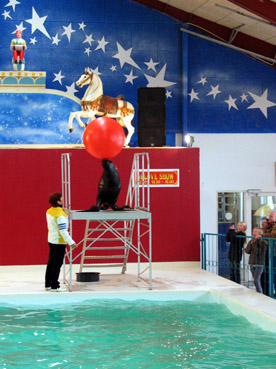 Until sea lions in 2020 were banned from circuses there was performing sea lions in Circusland. This photo from 2007 shows sea lions with their trainer Addie Jepsen.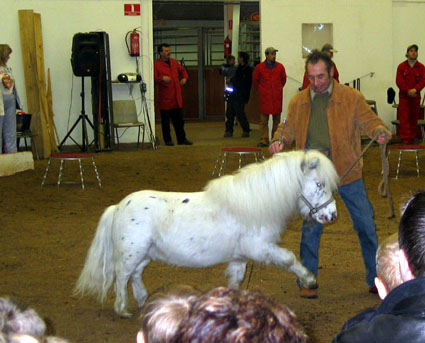 Tim Delbosq with a pony. Photo from 2007.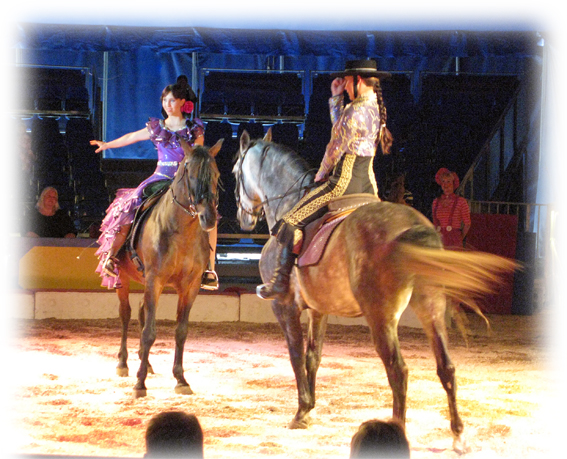 Circusland always offers performances in Circus Landino. Here photo from 2011 where Charmaine and Stephanie Berdino rode high school.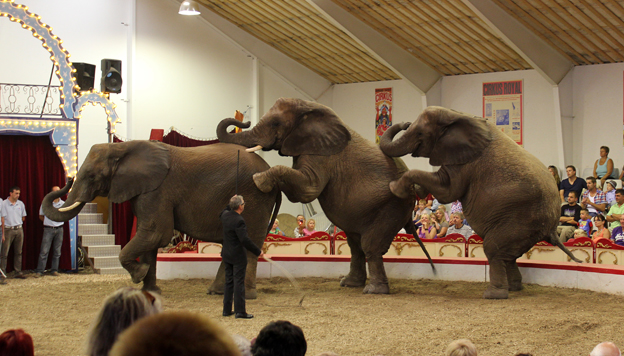 During the autumn holidays of 2012, guests could see the Berdino family's own elephants. As there is a ban against performing elephants in circus the elephants are now in Knuthenborg Safari Park.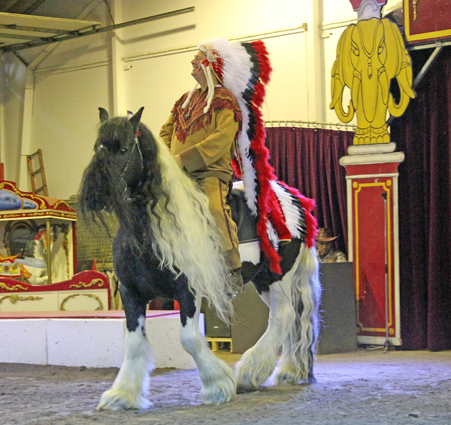 In 2015 you met Chief Taking Waterfall aka Brian "Briano" Behrendt on horseback.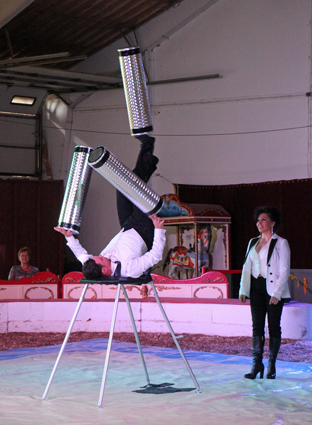 Jan Navratil who the audience remembers from Circus Benneweis and Circus Arena. In 2016 he performed at Circusland.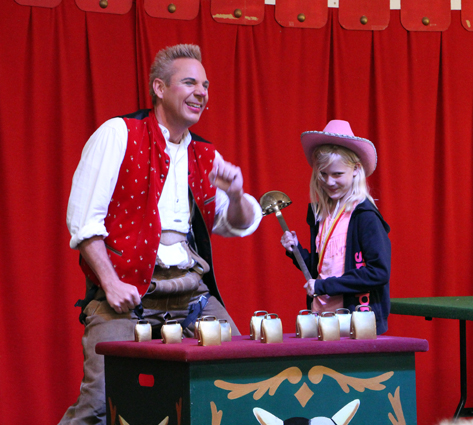 In the summer of 2017, the Austrian clown Don Christian was among the performers. The audience remembered him from several seasons in Circus Benneweis.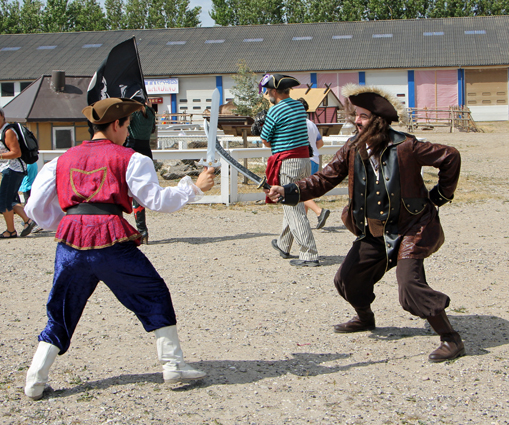 In 2018, the theme in Circusland was "The pirates are coming"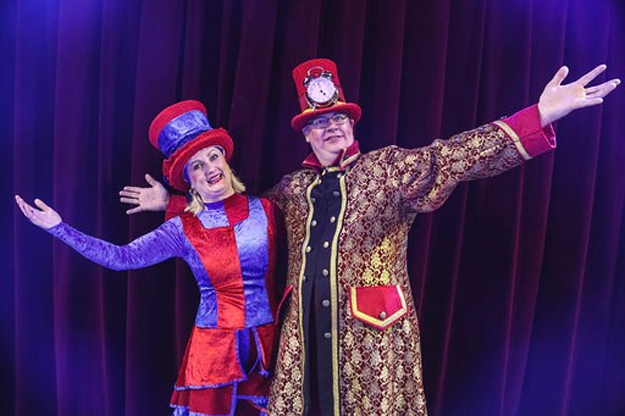 Suzanne Berdino and Mr. Tik Tak (Brian Behrendt) in 2019. Press photo from Cirkusland
Since opening in 2006 Circusland has usually been open during the winter holidays, summer holidays and autumn holidays. For some years, Finn Bendixen was the general manager. Since then, the task was taken over by Suzanne Berdino assisted by her husband Daniel Koscik and the dynamic Brian "Briano" Behrendt. In the summer of 2020, there were several new mechanical rides, and from the fall of 2020, Laura and Jackie Berdino took over the management. In addition to artist performances, there were now shows with Bubber as host, just as the budget for artist performances and thus the artists' quality was increased.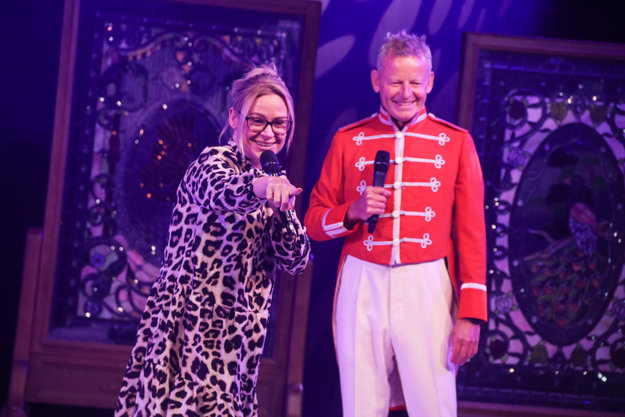 An innovation in the fall of 2020 was shows hosted by Bubber. Here he is seen with Silja Okking. Photo: Jacob Boas Leitisstein.
Circusland was supposed to have stayed open during the 2021 winter holidays but that prevented Covid-19 restrictions. The Berdino family now hopes that Circusland can be open on all weekends from 22 May - 20 June and every day during the summer holidays from 26 June - 8 August as well as on all weekends from 14 August - 12 September. They have expanded with brand new rides, carousels and new shows and concerts.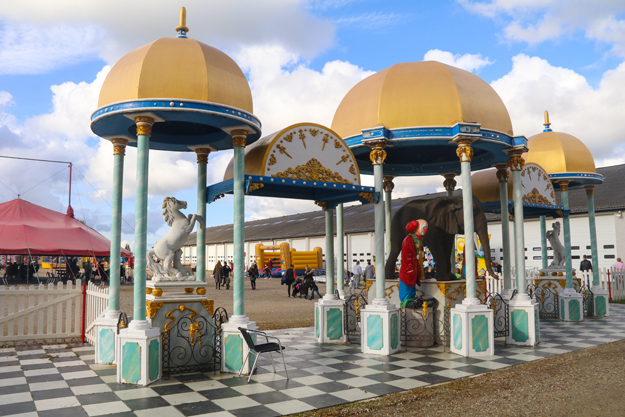 The entrance to Circusland 2020. Photo: Jacob Boas Leitisstein

8 March 2021
Female circus directors. Today on the International Women's Day, there may be reason to mention that the circus industry is one of the industries where we over the years have seen many female managing directors.
When the founder of Circus Dannebrog Theodor Enoch died in 1909, it was his wife Wilhelmine Enoch who took over the management of Circus Dannebrog. It was probably even before Theodor's death Wilhelmine, who was the "main force" behind Circus Dannebrog. She ran Circus Dannebrog until her death in 1922.
From 1902, Heinrich Miehe handed over responsibility for the operation of Circus Miehe to his wife Louise and daughter Dora Miehe. However, it was soon Dora who became the managing director. Until her death in 1945, she was the director of Cirkus Miehe.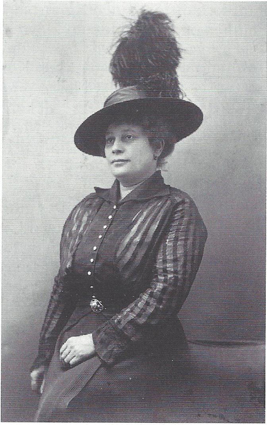 Dora Miehe. Although Cirkus Miehe never became Denmark's largest circus it was for many years one of the leading Danish circuses
When Giovanni Belli died in 1929, his wife Meta Belli took over the management of Circus Belli, which during her time as owner became Denmark's largest circus. She was the director of Cirkus Belli until her death in 1953.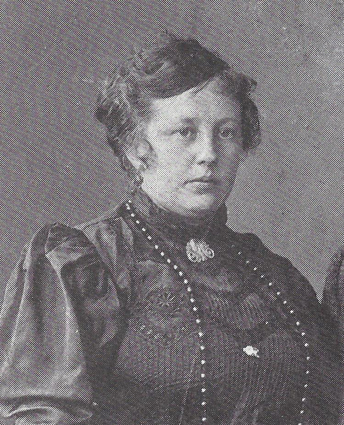 Meta Belli was daughter of a rag dealer from Grenaa, but ended up as director of Denmark's largest circus
When Eli Benneweis died in 1993, his daughter Diana Benneweis became owner of Circus Benneweis. Benneweis stopped touring by the end of the 2015 season after for some years, like other major circuses in Denmark and abroad, having experienced a significant decline in the number of spectators.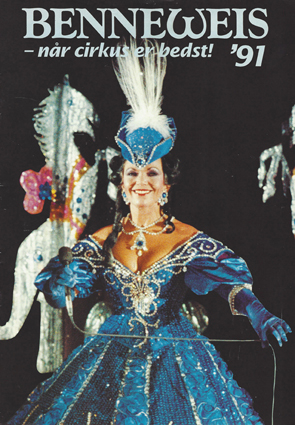 Diana Benneweis. The beautiful blue dress can now be seen at the Circus Museum in Hvidovre
From 1984 to 2017, the small Jutland Circus Krone was run by Irene Thierry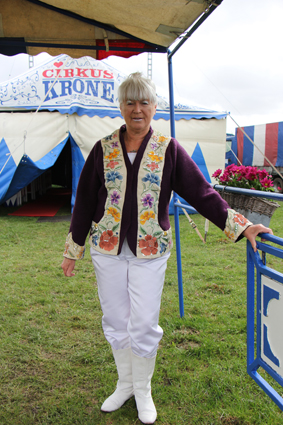 Irene Thierry. The costume is a gift from Thyra Miehe
Click here to read more about the mentioned Danish circus families.
Also outside Denmark we have met prominent female circus directors. Europe's largest circus, the German Circus Krone, was run by Christel Sembach Krone from 1995 until her death in 2017. From 1984 to 1995, it was run by Christel together with her mother Frida.
From 1952 to 1991, the now closed Swedish Circus Scott, which for many seasons could fight with Circus Benneweis over which was the largest in the Nordic region, was led by Käte Bronett. From 1982 assisted by her son Francois.
As you can see there have certainly been strong women in the circus industry. In addition to those mentioned there have also been a number of spouses to male directors, which has been an absolutely invaluable help to the individual circus.
Of course, there have also been men who have been an invaluable help to female circus directors.

8 March 2021
IT ALL HAPPENS IN PARIS - but also in LEBANON and IRAQ, where particularly the children suffer from a cruel and dangerous environment.
LEBANESE CLOWN FARHAN tries his best to bring relief, joy and happiness to the kids in the sinister and dangerous refugee camps.
Here is the story: THE CHRISTIAN COMMUNITY is threatened in IRAQ. CLOWN FARHAN/ the name means JOY / performs in front of children to make them feel happy, relieved and experiencing good feelings, like in normal life. While performing, CLOWN FARHAN has eased the lives of thousands of children in LEBANON and IRAQ.
He achieves good results in a region where the Christians are under pressure.
It is sad to follow the development of Christianity in IRAQ that is several thousands of years old.
Ten years ago more than a million of Christians lived in IRAQ. Today we count about 300,000, who for the greatest part are pushed into the Kurdish area in the north, ERBIL.
Here is where the Lebanese clown FARHAN performs his one-man-show.
The situation in IRAQ: oil-related problems and local warlords mix with religious problems, between sunnie and shiite Muslims where radicalized groups attack Christians.
A number has left for US, CANADA, EUROPE and AUSTRALIA, i.e. those who could do so.
The modern history of LEBANON and IRAQ is tainted by war, terror, corruption and instability, affecting daily life. Local demonstrations have occurred in the streets.
CLOWN FARHAN says: Throw your worries into the bag - thus promising that GOD will care for the oppressed.
By his performances FARHAN has invited thousands of refugee kids to get rid of their fear, both in LEBANON and IRAQ.
FARHAN is a clever young man and a professionally trained entertainer/clown, nursing the belief that by having faith in GOD, can make man /in the sense of human beings/ support spiritual hardship.
FARHAN grew up during the civil war in LEBANON and got to know only too well - about fear when hearing the noise of shelling getting nearer.
But how do you convey ethical values and the faith in a loving GOD - to refugee kids who are impatient and hardly remain quiet for more than a few minutes ?
FARHAN succeeds - offering a mixture of ventriloquism, dolls and dummies, easily understandable stunts and selected stories from the BIBLE.
Clown FARHAN entertains using serious topics that make the message of the Bible clear. Sometimes biblical texts are handed out after the show. Photo from the Danish Bible Society. Click here to see more photos.
The juvenile audience roars with laughter !!! When performing on a large scale, he can easily play for more than 500 children.
Christians are exposed to danger in IRAQ.
Clown FARHAN invites the children to get rid of their sorrows.
Throw your worries into the bag, he says, while promising that GOD will certainly receive them and protect the kids.
FARHAN: "I do try to create an atmosphere of joy and happiness by introducing the message of the BIBLE, in a simple and creative way, Give your worries to JESUS !"
On stage FARHAN inflates a heart-shaped balloon.
A boy is invited up on stage and is asked to hold the balloon.
FARHAN is holding a brown paper bag - everybody is following the scenario, all are deeply concentrated!
A moment later FARHAN seizes the balloon, making it burst and a big noise is heard!
Such things do happen, he explains. We are hit by sorrows in our hearts. FARHAN makes another balloon burst to visualize when something terrible happens in our lives.
Now he seizes the brown bag, putting short questions, each time met by loud cries.
The church echoes from the loud YES, followed by attentive looks, the children are eagerly waiting.
FARHAN distributes his own worries by hand, to the children.
THROW MY WORRIES DOWN INTO THE BAG - DO IT !!
The boy gets the worries, putting them down into the bag, several children come up on stage putting down theirs, FARHAN says: now I throw all our worries up to JESUS -
one-two-three --- now they are all gone !!!
All the children clap their hands and shout for joy.
After the show FARHAN explains: the kids can concentrate only for a few minutes.
He chooses a new topic for each year.
This year it deals with worries, made by other people, it is about forgiveness and GOD'S LOVE.
It is a remedy for broken hearts.
This topic is very important as many children in our region have been exposed to violence.
As a child, I suffered and was very afraid, but I felt better - believing in GOD'S protection.
JESUS gave me the strength to love even the people who had made me suffer earlier.
Wise of his own experiences, FARHAN tries to help refugee children in LEBANON and IRAQ.
The small ones need not only food, medical care and a safe place they can call home; they need as well a clown like FARHAN to heal psychological disorders, learning from one of the world's most inspiring stories - the BIBLE.
FARHAN succeeds entirely, using his humour and charming and likeable character.
IRAQ is one of the busiest oil-producing states that should be able to allow people to live a happy life.
Alas, it is not so.
There are some peaceful pockets, but the majority of people suffer from lack of stability.
Around ERBIL, Christians live in refugee camps, sporting but few facilities for a decent life.
Many children suffer from traumatic events.
Realizing that, the Lebanese BIBLE SOCIETY decided to organize events for the most vulnerable ones.
CLOWN FARHAN went to ERBIL, where he entertained and backed up the most exposed little ones.
Synne Garff of DANISH BIBLE SOCIETY saw a FARHAN show in BEIRUT, performed for Syrian refugee kids - never had she seen such an enthusiastic audience.
The Danish Bible Society continuously supports projects aimed at persecuted Christians, fugitives and bible translation- and distribution. Click here to read more.
========================================
Text from the DANISH BIBLE SOCIETY, published in Danish at www.circus-dk.dk
March 02, 2021,
Text in ENGLISH, somewhat a free version, not a word to word translation, by ZARRO ZARRO, Paris correspondent for www.circus-dk.dk The text has been read and certified corresponding to the reality in the concerned region.
====================================================================

5 March 2021
Circus and Covid-19 restrictions. As of 1 March most Danish shops could open again. However, there are still a number of restrictions. Among restrictions extended to April 5 is the ban on indoor cultural activities. Outdoor cultural institutions such as zoos had the opportunity to reopen from 1 March. However, visitors are required to present documentation for negative COVID-19 testing (maximum 72 hours old).
If there were circuses hoping that they could call themselves "outdoor cultural institutions" and be allowed to open the season, possibly after removing the sidewalls of the tent, they must change their mind. The Ministry of Culture has stated that the assembly ban of 5 also applies to cultural activities that are held outdoors. This means that not even open air performances can be presented. Unless the restrictions are eased the assembly ban of 5 applies up to and including 5 April (Easter Monday). It may be prolonged.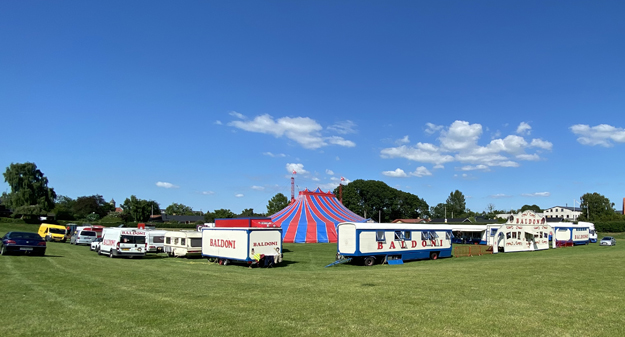 Circus Baldoni had planned to open the season on April 4 which is impossible due to the extended restrictions. Now they are hoping for a season opening on Tuesday, April 6th. However, they will not open up for ticket sales, as the guidelines for cultural activities are expected to be revised during March.

3 March 2021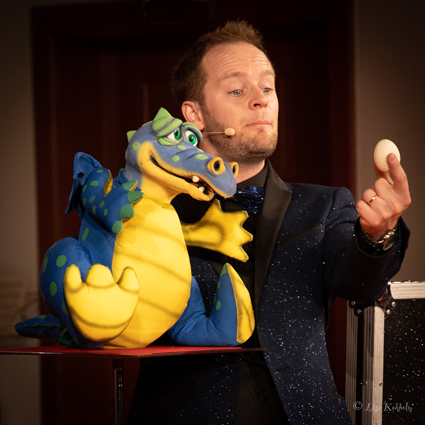 Usually you meet the Danish ventriloquist Peter Nørgaard with the dragon Dennis. But in the coming season you will meet him in Circus Baldoni, where he replace circus owner René Moenster Baldoni as the lion Leonardo's "father" and will be this year's ringmaster. Photo: Lise Kokholm

25 February 2021
Circus and Covid-19 restrictions. Although the Danish lockdown was somewhat eased as from 1 March there is still a large number of restrictions. Among restrictions extended to April 5 is the ban on indoor cultural activities. This means e.g. that Wallmans has cancelled all dinner shows in the Copenhagen Circus Building during the period. They hope to be able to resume their shows on April 8th.
Outdoor cultural institutions have the opportunity to reopen from 1 March. However, visitors are required to present documentation for negative COVID-19 testing (maximum 72 hours old).
The Ministry of Culture has previously stated that they do not consider a circus tent as "outdoor". If that interpretation is maintained, those circuses that had planned to have performances before 6 April must cancel these performances, unless further easing of restrictions occurs. These are Circus Arena (scheduled for first performance on 19 March), Circus Arli (scheduled for first performance on 27 March), Circus Mascot (scheduled for first performance on 31 March) and Circus Baldoni (scheduled for first performance on 4 April).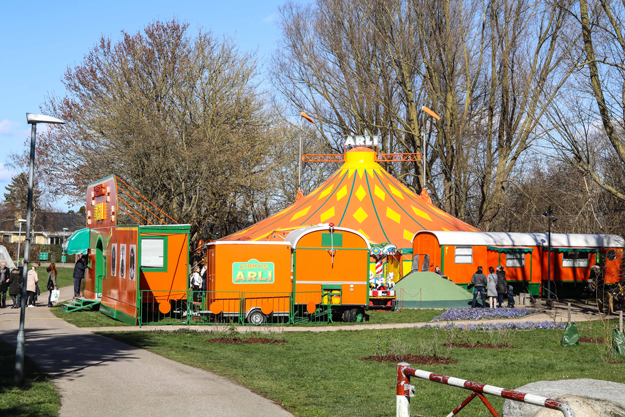 Circus Arli has taken the consequence of the extended restrictions and writes (my translation): We should have started our 51st Season on March 27th. Unfortunately, the government's restrictions make this impossible. We are ready to open the season as soon as we get the green light. Until then take care of yourselves. We look forward to see you again. Photo: Jacob Boas Leitisstein
When last year's restrictions were eased in June 2020, it became possible for cultural events with seated audiences such as circuses, cinemas and theatres to have performances if they lived up to the following requirements:
· A maximum of 500 people for each event, including staff and performers.
· Every 2nd seat empty or 1 meter distance between the members of the audience measured from the centre of the seat. Groups that already have close contact can sit by contiguous seats, even if there is less than 1 meter between them.
· Maximum access for 1 visitor per 2 m2 floor area in the room / tent. This is exclusive staff and performers. The floor area is calculated wall to wall regardless of furniture, stage, etc.
Circus folks and other organizers of events for seated audiences were highly praised by the authorities for complying with the rules, and not a single case of infection was found that had occurred in connection with a performance with seated audiences.
When the current restrictions hopefully are eased with effect from 6 April, there may again be rules on the number of visitors in relation to the area and a cap on the total numbers of visitors. The rules might be stricter than in 2021. It may have an impact on whether it will be profitable for a circus to go on tour at all.

19 February 2021
The Danish lockdown. Some of the present restrictions, which for the time being make it impossible to take a circus on tour, will lapse by the end of February. However it seems likely that at least some restrictions will be prolonged. Is has to be seen if it as planned is possible for Circus Arena to open the season on 19 March and for the other circuses to open the season late March or in the beginning of April.

18 February 2021
A Finnish circus. January 29, 2021 I brought a list of circuses in Norway, Finland and Sweden. As far as Finland is concerned, Peter Lindfors has made me aware that also Sirkus Valentino had a 3-month tour in Finland in 2020.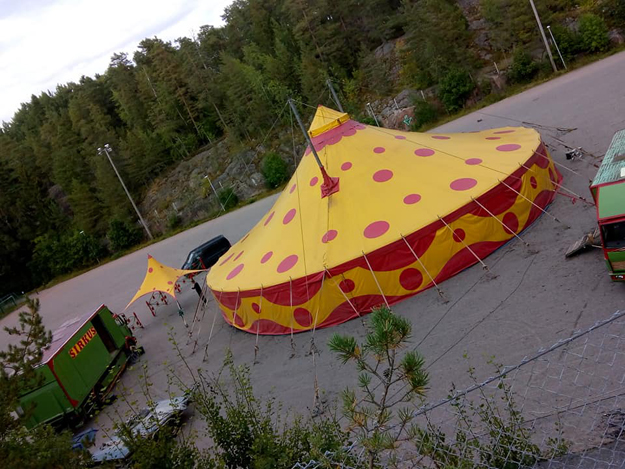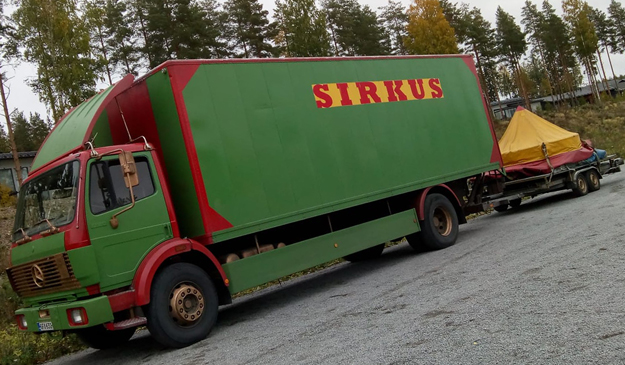 Circus Valentino is a small circus that used to use the name Circus Caliba. It is owned by Ines Ullmann-Dimitrova, who also is ringmistress. She writes on Facebook that she hopes that there will be another tour in 2021.

14 February 2021
Europe's culture hard hit. A new study has been published, commissioned by GESAC (European Grouping of Societies of Authors and Composers): 'Rebuilding Europe: The cultural and creative economy before and after the COVID-19 crisis'.
According to the report, revenues in the sector – which includes TV, cinema, radio, music, publishing, video games and the performing and visual arts such as circuses – plunged by 31.2% last year compared with 2019. It was hit even harder than tourism, which lost 27% of its income.
• The total turnover of cultural and creative industries in the EU28 is reduced to €444 billion in 2020, a net drop of €199 billion from 2019.
• With a loss of 31% of its turnover, the cultural and creative economy is one of the most affected in Europe, slightly less than air transport but more than the tourism and automotive industries (-27% and -25% respectively).
• The shockwaves of the COVID-19 crisis are felt in all cultural and creative industries: performing arts (-90% between 2019 and 2020) and music (-76%) are the most impacted; visual arts, architecture, advertising, books, press and AV activities fell by 20% to 40% compared with 2019. The video games industry seems to be the only one to hold up (+9%).
• All sectors are affected: even those that seemed to be protected by home consumption faced a sharp drop in income, given the central role of physical experiences and sales
in their business models, as well as uncontrollable production and distribution costs.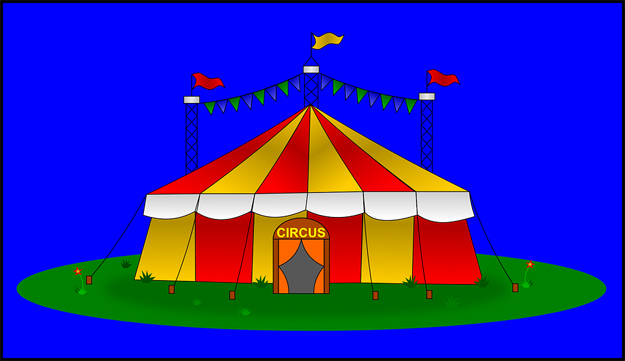 The performing arts industry, which also includes circuses, is among the industries hardest hit by the effects of the corona pandemic. Since we in Denmark in 2020 only had 2 of the country's 7 circuses on tour, and even with a shortened season, the loss of turnover for the Danish circus industry has undoubtedly been more than 75%. Also keep in mind here that neither Circus Arena nor Zirkus Nemo, which usually has the highest turnover, were on tour in 2020.
The COVID-19 crisis will have a massive and lasting impact on the entire cultural and creative industries value chain, and the report mention 3 challenges:
Challenge 1 – "Finance"
Provide massive public funding and promote private investment in cultural and creative businesses,organizations, entrepreneurs and creators – two indispensable levers to support and accelerate their recovery and transformation.
Challenge 2 – "Empower"
Promote the EU's diversified cultural offering by ensuring a solid legal framework to allow
for the development of private investment in production and distribution, providing the
necessary conditions for an adequate return on investment for businesses and guaranteeing appropriate income for creators .
Challenge 3 – "Leverage"
Use the cultural and creative industries – and the multiplied power of their millions of individual and collective talents – as a major accelerator of social, societal and environmental transitions in Europe
Click here to read the report

12 February 2021
John Thur turns 75. Thursday, February 18, John Thur can celebrate his 75 years birthday. He is perhaps better known as JohnJohn Thurano. For 54 years he presented together with his father Konrad Thur the comic wire act Die Thuranos. Father and son did a formidable act, where they used the wire as a prop, while the wire by many other tight wire artists almost is the "main character". JohnJohn has told me that he and his father actually never needed to train together! Impressive when you think of the many years when Die Thuranos was one of the artist world's most demanded acts. (John John trained himself, of course).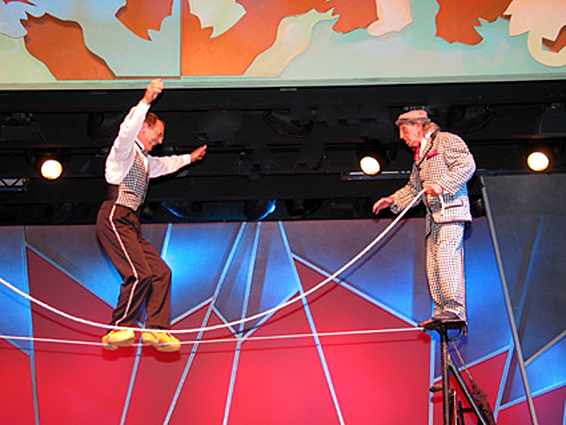 JohnJohn and his father Konrad. Photo from the International Clown Festival 2004.
Last time the Danish audience met Die Thuranos was at the international clown festival at the amusement park Bakken in 2006, where Konrad was deservedly the audience's favorite. However, he could not get the festival's honorary award, the World Clown and Artist Reward as he had already received it in 2004! Konrad Thur passed away in 2007. After his father's death, John, who at that time was turned 61, chose to retire as an active artist. However, he continued to teach young people about juggling and wire numbers.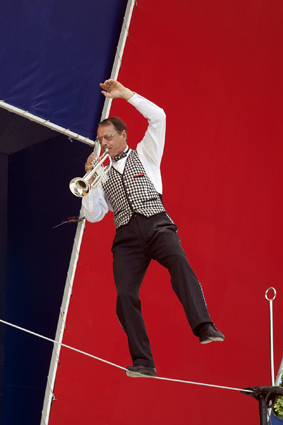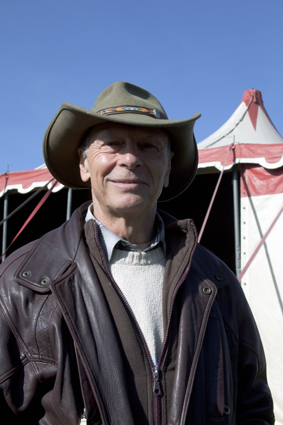 JohnJohn Thur. Photos: Lise Kokholm
JohnJohn is actually christened Johannes. The name JohnJohn was used as an artist name when performing as a plate spinning juggler. Many circuses and varieties wanted artists to have two acts. Also as a plate spinning juggler, he insisted that the plates were props and not the "main characters" in the entrée.
For many years he has lived in Svindinge on Funen, Denmark.

10 February 2021
The Circus Museum's annual poster 2021. Many circus enthusiasts have a weakness for circus posters. In recent years, there have not been many new posters because many circuses use the same poster year after year. For poster collectors, it is therefore great that the Circus Museum in Hvidovre, Copenhagen, present a new poster every year. This year's poster has just arrived...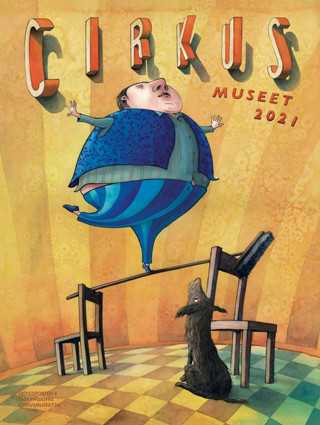 The artist behind this year's poster is Oliver Streich. Oliver Streich was born in 1968 in Bern, Switzerland. After a year at the school of arts and craft in Bern, he was trained as an illustrator and graphic artist at the school of arts and craft in Kolding. In 1990, he received a scholarship for a one-year stay at the Art Academy in Bratislava. Here he met his girlfriend / partner Els Cools from Belgium. In the following year, the couple lived in both Switzerland and Belgium, before moving to Faaborg in Denmark in 1992 and starting their drawing studio and a small gallery. Oliver has illustrated many books, teaches at Billedskolen and the high school in Faaborg and has participated in numerous exhibitions.
The poster can be ordered via email: info@cirkusmuseet.dk. It costs 50 DKK, - and 45 DKK in postage and 35 DKK in handling fee. The postage to other countries than Denmark will be somewhat higher than 45 DK.
When the museum reopens, the annual poster can of course also be purchased in their museum shop. In the museum shop, they have a wide selection of circus posters, including reprints of historical posters from old Danish circuses such as Benneweis, Moreno, Miehe, Dannebrog and Arena. In addition, they have for sale the museum's own annual posters since 2006 created by various Danish artists such as Leif Sylvester, Carl Quist Møller, Nelly Jane Benneweis and Adam O. See more at https://cirkusmuseet.dk/butik/plakat/
In the old days, circus posters were printed on paper and were, for example, put up on lampposts with crayons or staples, where they remained for a long time after the circus had left the city. Often the poster told something about program of the year. See e.g. this poster from Circus Renard 1955. It was by the way Cirkus Renard's only season - they went bankrupt after a few months. A copy of the poster can be purchased in the Circus Museum's shop.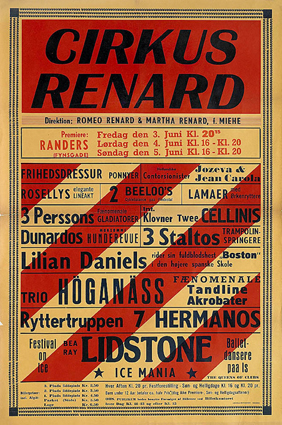 Today, a circus has a duty to remove their posters shortly after the performance, and the posters are often printed on long-lasting plastic sheets. This makes the unit price much higher and means that posters can be used for several years, as long as they are affixed with a streamer with venue and date. And the idea of ​​mentioning the names of the performers does not quite work when a poster is just something you see from a fast passing car and not like in the old days on foot, by bike or from a horse-drawn carriage.

7 February 2021
Historical review of the music in Benneweis! Martin Lasson Berglund writes (my translation):
Stig Vognsen from Ringsted, Denmark, has a great interest in circus and circus music! He asked Diana Benneweis if he could be allowed to film the musicians during a performance, just to show how the musicians feel on the orchestra podium. A good and interesting idea that was realized in 2014 and 2015. You can see the result below.
Stig's father, Axel Johansen, played the trombone in Benneweis' band in the 1950s and worked in the circus for about 10 years. Axel borrowed a caravan from Eli Benneweis, and for four seasons Stig got the opportunity to travel with his father and get a real insight into circus life. During this time, one of his playmates was Diana Benneweis.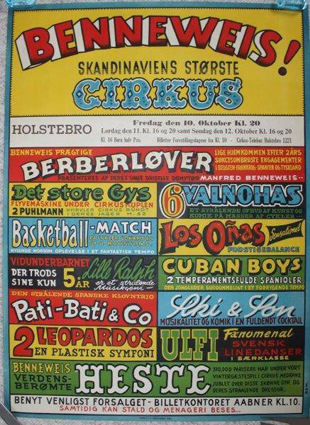 Stig Vognsen's father was a member of the Benneweis Orchestra in the 1950s, where the bandmaster was Orla Thomsen. The poster shown is from 1952
For many years, the Benneweis Orchestra was led by pianist Bogdan Szlachcic from Poland. Together with his musicians, he delivered wonderful circus music in Benneweis' tents. Circus Benneweis stopped after the 2015 season, and now Bogdan plays in the Swing & Blues Jazz Orchestra in Poland.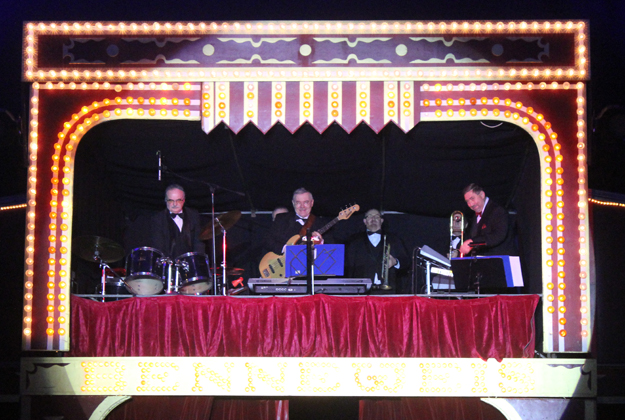 Bogdan Szlachcic and his 6 pieces Benneweis Band. Photo from 2015. Bogdan is seen to the right. He became bandmaster at Benneweis in 1994. At that time he had 8 men in the orchestra. In 2001, he was replaced by an English bandmaster, as the Danish Musicians' Association had succeeded in preventing a work permit from being given to musicians from non-EU countries. However, it did not create jobs for Danish musicians: the 23 Polish musicians, who in 2000 had provided the music in Danish circuses, were replaced by 9 Englishmen. Several circuses switched to using taped music and Circus Arena and Circus Benneweis, who were the only ones to keep an orchestra, employed 4 and 5 English musicians respectively. Poland joined the EU in 2004, and the following year Bogdan was back in charge of the Benneweis Orchestra.
When circuses disappear or change, there are also more orchestras that disappear, and in the Nordics and Europe today it is quite rare with orchestras, if you compare with how it was 20-30 years ago. A piece of circus history worth remembering!
Below you will find the video clips with the orchestra, which Stig Vognsen made!
So turn up the volume and enjoy the music!
https://www.youtube.com/watch?v=NSFe5I2D54A
https://www.youtube.com/watch?v=zYx0W8vrMf8
https://www.youtube.com/watch?v=ErCz1NrW_tE
https://www.youtube.com/watch?v=r-nyD1oY6lI
https://www.youtube.com/watch?v=YKlukZ2iHJ8

5 February 2021
Josette Dubsky turns 90. On Thursday 11 February Josette Dubsky can celebrate her 90 year birthday. Josette Carmen Dubsky was born in Boulogne-sur-Mer on 11 February 1931 as daughter of Charlie Rivel's brother Polo. Thus, she is cousin to Paulina Schumann and worked for many years as an August clown together with her spouse Joseph Dubsky and with their son Janos as white-faced clown. Joseph in Josette's father's Polo Rivel's costume with the little black nose, Josette as her uncle Charlie Rivel in the long red wool sweater with a red nose and red wig. She was good, with very beautiful feeling for the August-role. Josette and Joseph's last season as clowns were in 2000 when they toured Demark with Circus Dannebrog. However in the winter holidays in week 8 in 2004 they had a single week's comeback in Circus Kenny in Rosengaardcentret in Odense. Joseph Dubsky passed away in September 2016.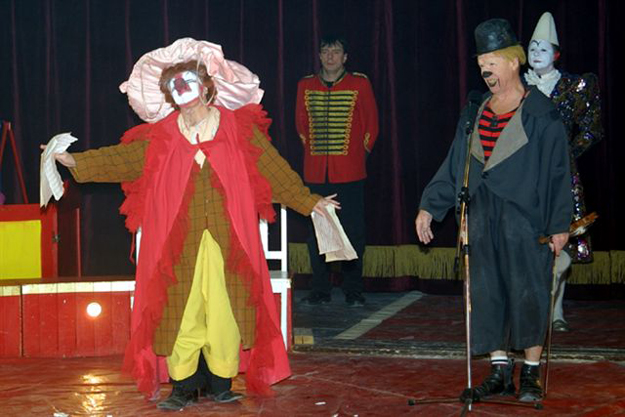 Josette and Joseph Dubsky in Circus Kenny in 2004. Photo: Lise Kokholm

3 February 2021
Circusland does not open during the winter holidays. Circusland is a theme park owned by the Berdino family and situated in Circus Arena's winter quarter in Slagelse. They write (my translation):
Circusland is following the authorities' extended restrictions against covid-19. Due to this we can unfortunately not as planned open during the winter holidays in week 7 and 8.
We are sorry to disappoint you, but the most important thing in this situation is that we all listen to the authorities and take good care of each other.
We look forward to seeing you again in Circusland when we open again for the spring and summer months - this year from May 22 and on all weekends up to the summer holidays and every day during the summer holidays from June 26 - August 8 and on all weekends from 14 August to 12 September.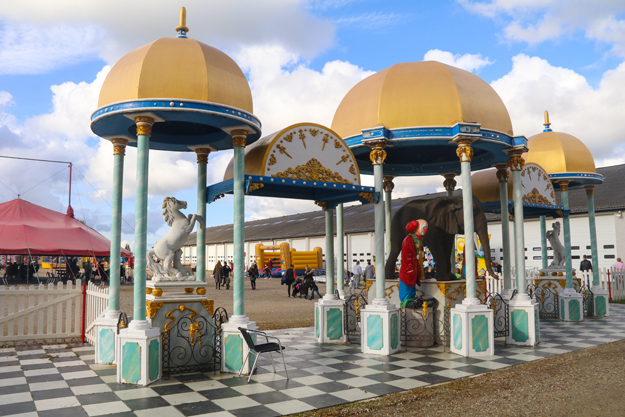 The entrance to Circusland. Photo: Jacob Boas Leitisstein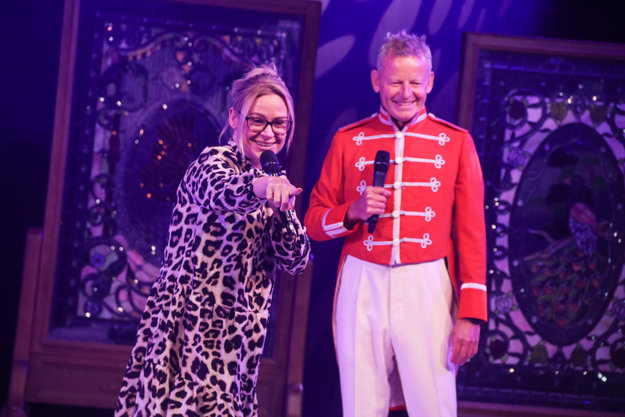 Just as during the autumn holidays, Circusland had in addition to other activities during the winter holidays planned a large number of shows with the TV host Bubber as host. Among the guests in the autumn was the Danish singer, actor and TV host Silja Okking who in this photo from the autumn 2020 is can be seen together with Bubber. Other winter guests should have been other popular Danish singers and entertainers. Photo: Jacob Boas Leitisstein

2 February 2021
Save the art of circus from covid-19. The Swedish Circus Academy writes (my translation):
Swedish circuses take their responsibility and have cancelled their tours due to the corona pandemic.
The country's three remaining touring circuses (Brazil Jack, Olympia and Rhodin) are hardest hit as they do not receive any public grants or public commissions. Contemporary circuses which is largely financed by public support, is better equipped for this extreme situation.
The Circus Academy take note of the fact that the circuses meet all the requirements set for taking part in the SEK 500 million that the government has set aside in support of culture. In other grants, social values ​​are unfortunately taken into account, but this time we expect the support to be distributed on the basis of objective criteria. If that happens, the touring circus will survive the pandemic.
During April and May, to which the 5000 million grant applies, the three remaining circuses would have played 180 performances. Many of these in places where the event would be the year's only cultural visit with performing professional artists and musicians.
It is the circus that brings the whole of cultural Sweden to life.

29 January 2021
Circuses in Denmark 2021 – an update. The Danish lockdown has been extended until 28 February. Due to this it is not possible to have circus performances during the school children's winter holidays in week 7 and 8. Most likely also theme park Circusland has to give up being open to the public during the winter holidays.
Only time will tell if it will be possible for the Danish circuses to open the season as planned. According to the plans, they will have their first 2021 performances as follows:
Circus Arena: March 19th
Circus Arli: March 27
Circus Mascot: March 31st
Circus Baldoni: April 4th
Circus Nemo April 10th
Circus Krone: not stated
Circus Trapez: not stated

29 January 2020
Circuses in Norway, Finland and Sweden. There is great uncertainty about what will be possible this year.
2020
In 2020, neither of the two traditional Norwegian circuses toured. The stationary Circus Jesper in Kristiansand Zoo and Amusement Park had performances from 16 June to 9 August. The Norwegian contemporary Circus Xanti with the Circus Village had a mini tour in Sandvika and Oslo.
In Sweden, only the small German-owned Circus Bambino was on tour in 2021. The tour lasted almost 7 months, but there had to be a maximum of 50 spectators in the tent.
Things went better in Finland, where the large Circus Finlandia managed to complete an approx. 3 month long tour. The somewhat smaller Circus Tähti had a 4 month long tour.
2021
In Norway, both the large Circus Arnardo and the medium-sized Circus Agora hope that it will be possible to get on tour this year. Uncertainty about restrictions means that none of them have announced a date for season opening. Circus Jesper hopes to be able to complete the usual summer performances in Kristiansand Zoo and Amusement Park with a premiere on 19 June and then performances until 15 August.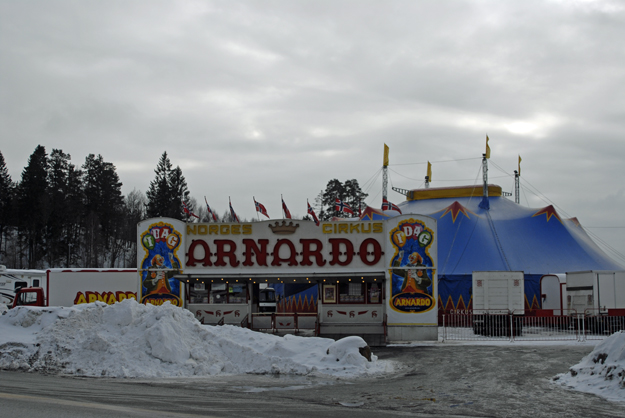 Circus Arnardo in snow. Photo from March 10, 2018. Doubtful whether it this year will be possible to open the season as early as March. Photographer: Thorbjørn Klæbo Flo.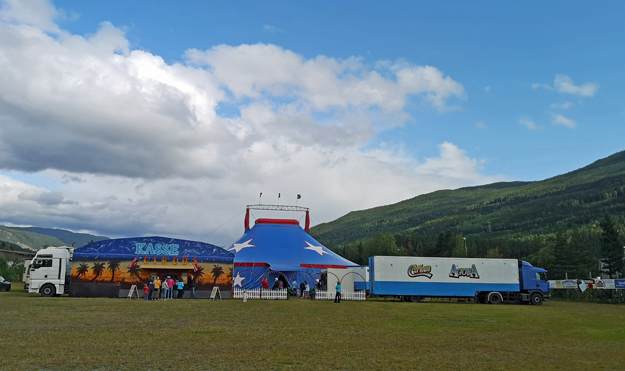 Circus Agora 2018. Photo: Thorbjørn Klæbo Flo
In Sweden the large Circus Brazil Jack, the medium-sized Circus Olympia and the small Circus Rhodin are hoping it will be possible get on tour. But like their Norwegian colleagues, they are waiting to announce a premiere date. As Trolle Rhodin III from Cirkus Brazil Jack writes: "Until the government decides on opening for larger gatherings, we simply have to be patient and wait quietly." When the family Weisheit's small Circus Bambino closed the 2020 season, they wrote: "We hope that we can continue our tour (in Sweden) next year 2021".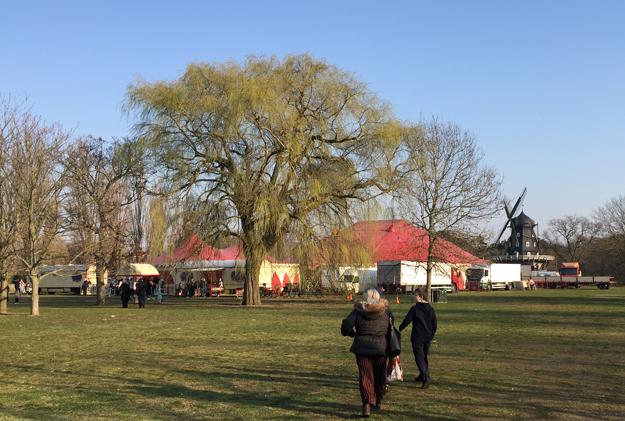 Circus Brazil Jack at The Mill Hill in Malmö at the premiere on April 4, 2019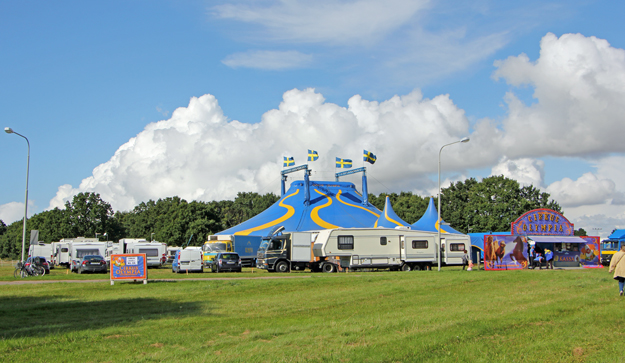 Circus Olympia is known for its many well-groomed animals: dogs, horses, ponies and camels. Photo from 2017
In Finland, Cirkus Finlandia has not yet announced the date for season opening. Their season usually starts in April. Circus Tähti hopes to be able to start the season on April 9 in Jalasjärvi. Only time can tell if it will be possible.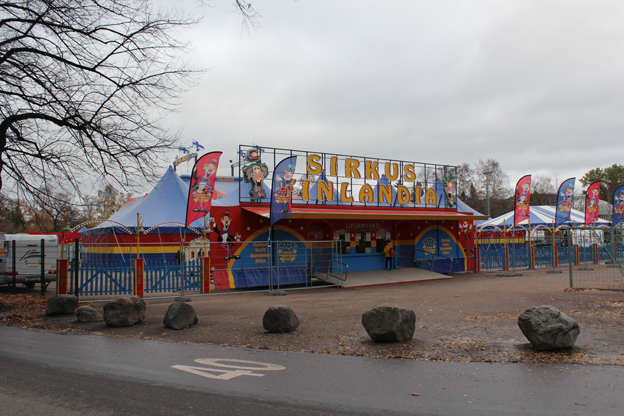 Circus Finlandia in Helsinki. Photo from 2013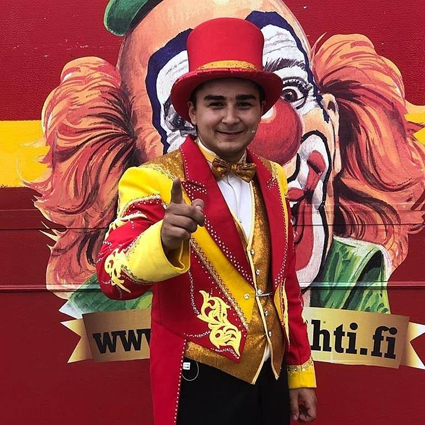 The Magician and musician Samir Abdelmeguid in front of his Circus Tähti, which had its first season in 2015 or 2016.

21 January 2021
A circus prince is born! Tara Toya and Alexander Arli got on Saturday 16 January at 18:30 a little circus prince. The little boy measured 49 cm at birth and weighed about 3600 grams. "We are extremely happy now to be grandparents," Bettina and Martin Arli write. It is their first grandchild.
Congratulations to both the proud parents and the grandparents.

20 January 2021
Circus Mascot 2021. The corona meant that the only activity Circus Mascot had in 2020 was the winter holiday performances in February in shopping centres in Herning and Aalborg. The tented summer tour was abandoned.
Like the other Danish circuses, Circus Mascot hope that this year it will be both legal and justifiable to have a summer tours. The usual winter holiday performances in shopping centres in February have been abandoned. But they hope to be able to open the tented season in their hometown Roslev on 31 March and continue until 26 September. This year's performance is called FOR FULL EXHAUST.
Circus Mascot writes (my translation): "We still believe in the value of gathering around experiences that are taking place right here and now. We believe it is important to give children the opportunity to rejoice - and we know that something very special happens between people when they take a seat on the circus bench".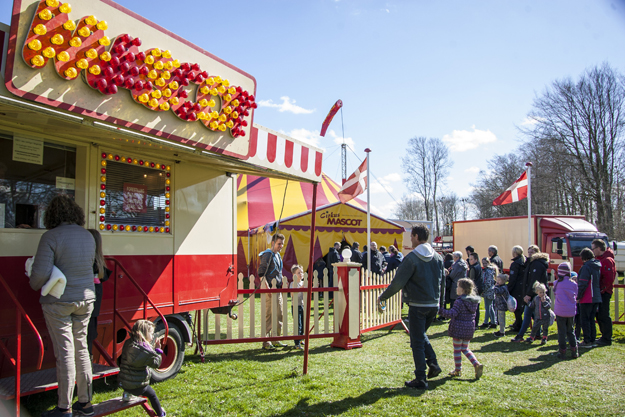 Audience on their way into the two pole tent
Daniel Deleuran is ringmaster. He also presents the small circus' ponies. His mother and co-director Marianne presents the many other animals: dogs, goats, geese and pigs. Because in Circus Mascot, they believe that happy and well-groomed animals are an indispensable part of the show.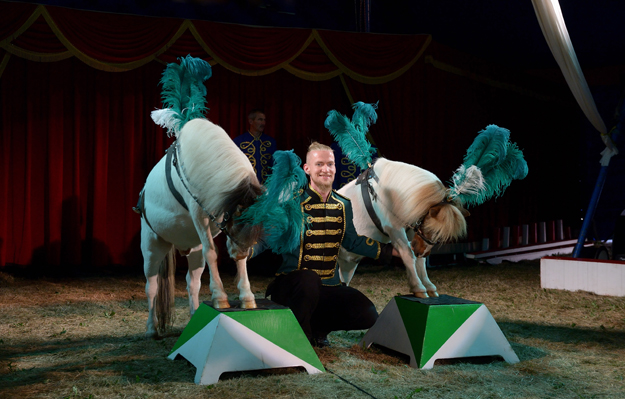 Daniel Deleuran and two of the ponies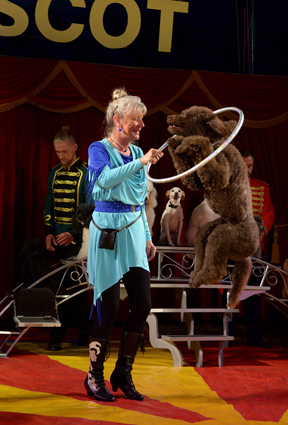 Marianne Deleuran is an excellent dog trainer
The clown Gulio and his family have been associated with Circus Mascot since 2003. Also this year you will experience the beloved clown and his family: Mrs. Tetyana and the children Husik and Julia in the ring. Rumour tells that Gulio this year not will be the only clown in the ring!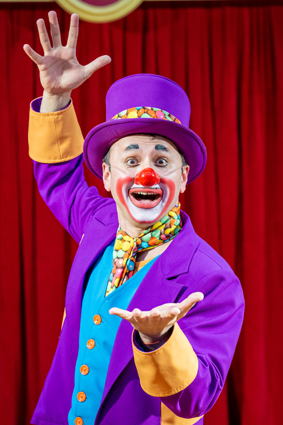 Mascot's regular house clown, the colourful and happy wag Gulio.
The circus tent is 18 m in diameter and can accommodate 270 circus guests. As their tour in 2020 was cancelled due to Covid-19 restrictions season 2021 will be No. 27 and the purpose is just as from the start in 1994 to provide happy and lively entertainment that the whole family can enjoy together!

15 January 2021
Danish Circuses and Covid-19. The corona pandemic meant that only two Danish circuses were on tour in 2020: Circus Arli and Circus Baldoni. Both with a shorter season than usual and with a ceiling on the number of spectators. Baldoni had also in November started their usual Christmas performances, but had to cancel the last 12 performances due to new restrictions. Circus Trapez had planned to make a Christmas circus in Kolding. But it had to be cancelled due to the restrictions. The restrictions also meant that Wallmans had to cancel the last 6 Christmas dinner shows in the Circus Building in Copenhagen and that the Circus Museum in Hvidovre had to stay closed.
The prevalence of the more transmissible B.1.1.7 strain is increasing in Denmark. The health authorities find that there is a considerable risk that the number of infections with this virus strain will escalate. Accordingly, the extensive lockdown in Denmark will continue and both cultural events and museum visits are prohibited until and including 7 February. This means that both the Circus Museum and Wallmans are closed until and including the said date. If the restrictions are extended, they must extend the closing period.
The restrictions have also resulted in cancellation of other events. E.g. the contemporary circus performance Only Bones v.1.0 was supposed to be shown on a number of stages around the country in the second half of January, but it has been cancelled.
Circusland in Slagelse plans to be open from 15 to 28 February. If the restrictions are extended, they will this year have to give up their winter holiday opening in whole or in part.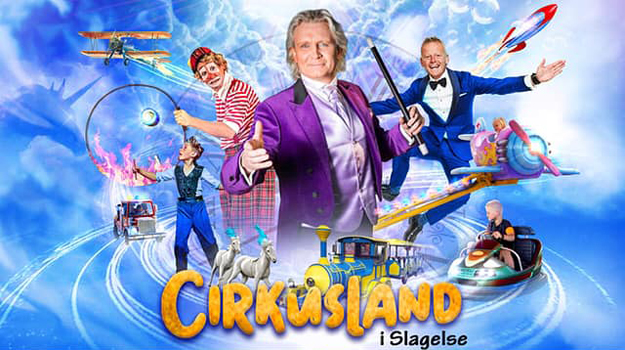 Let's hope it will be possible to visit the theme part Circusland in week 7 and 8. The Danish schools are closed for winter holidays either in week 7 or in week 8.
The Danish circuses plan to open the season by the end of March / beginning of April. With Circus Arena as the first with the first dress rehearsal on March 19 and Circus Arli as the next with dress rehearsal on March 27. All circuses hope that the Covid-19 situation at that time is such that it is both legal and justifiable to start as planned. Let's hope so. Until then take care!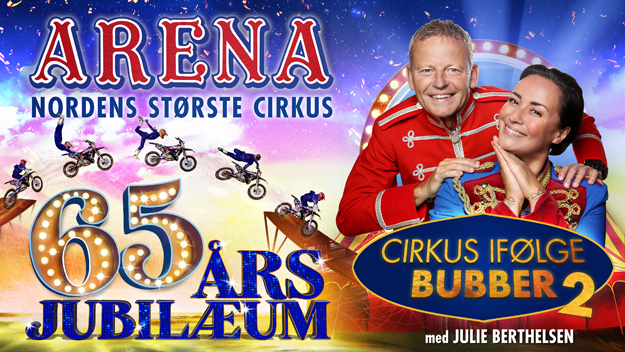 Ringmaster Bubber and singer and ringmistress Julie Berthelsen hope to be able to welcome to the first circus performance in 2021 in Denmark on 19 March.

15 January 2021
Three birthdays with a round figure:
Jörgen Börsch 80 years. On January 18, Jörgen Börsch turns 80. Jörgen's father owned a large men's clothing store in Hillerød north of Copenhagen. But Jörgen wanted to do something else. Thus, it was his two older brothers who took over the business. Among other things, Jörgen has worked as a promoter and artist agent. In the latter capacity, he has e.g. booked artists for Danish circuses such as Baldoni, Krone and Mascot. In 1993, he was the producer and daily manager of Danish Circus Fantastico, which only toured this season. He also assisted Bossle Monster Truck Show for many years with their touring in Denmark. For many years he has been a regular guest at the Circus Festival in Monte Carlo, where he is one of the few Danes who have been in the ring. However, not as an artist, but as an audience participant in Fausto Scorpion's entrée. The year was 1989. Click here to watch a video clip.
Ordinary Jörgen spends his birthdays in Monte Carlo, where there usually is a circus festival in January. But this year's festival has been cancelled due to the corona, so he has to stay in Denmark.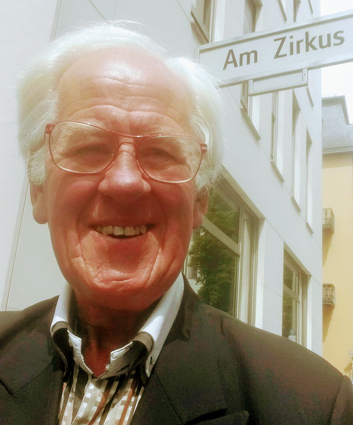 Jörgen Börsch
Bernhard Kaselowsky 60 years. On January 19, Bernhard Kaselowsky, Mølby in the southern part of Jutland, turns 60. He was born in Germany, where his family ran their own circus, Circus Kaselowsky. Like other circus children, he was trained with everything possible in circus and artistry. The only thing he did not work with was animals! When Bernhard was 20 years old, the family began a cooperation with another circus, Circus Hercules. Here Bernhard began working with animals. In 1983, he bought the elephant Ramboline, which he had until the ban on elephants in the Danish circuses in 2019 forced him to part with the elephant, which is now in Knuthenborg Safari Park. Ramboline was barely 2 years old when she came to Bernhard. Later he acquired horses, oxen and camels. With his animals he performed in the following years in a number of circuses: Arlette Gruss and Christiane Bouglione in France, Circus Agora in Norway (several seasons), Circus Americano in Ireland (several seasons), just as he performed at a number of galas. The Danes first time met him in 2001 in Circus Dannebrog, where he presented horses and elephants. He stayed at Circus Dannebrog until the 2006 season. In 2009 he performed at Circus Benneweis. From 2010 to 2015 he was back in Circus Dannebrog.
In 2016, he and his spouse Isabella Enoch Sosman established Circus Trapez, which tours in Jutland and on Funen. Due to the corona, Circus Trapez did not tour in 2020, but had just a few short performances in Madsby Playground in Fredericia, in nursing homes and during the autumn holidays in Arrild Ferieby. A Christmas circus in Kolding had to be abandoned due to the corona.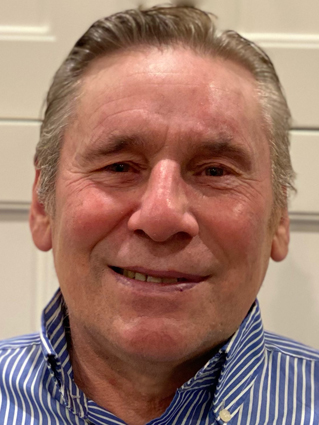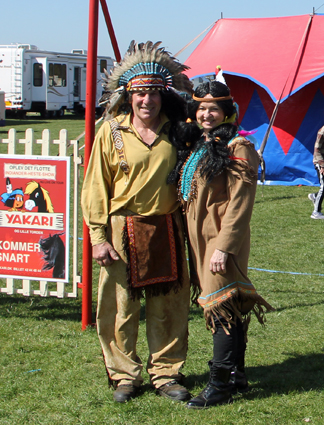 To the left: Bernhard Kaselowsky. To the right Bernhard and Isabella Enoch Sosman in front of their circus, which in 2019 featured the Indian performance Yakari.
Judy Glosted 60 years. When you see the elegant Judy, you can't believe it! But the baptismal certificate dislose the truth: Judy is born in 1961 and turns 60 on January 21st. Judy Glosted became nationally known in Denmark 2006, where she became singing ringmistress in Circus Benneweis. She kept that position until 2008, when she wanted to get a few years break. She was back again with Benneweis in 2011 and stayed this time until the 2014 season. For a period in 2017, she was ringmistress in Danish Cirkus Trapez.
Judy's mother was a circus performer and appeared as an acrobat and dancer, until she got children. Judy's father was a musician. Her sister is the Danish actress Betty Glosted. The parents never lost their interest in circus, and both Judy and Betty were dragged along when Circus Benneweis visited in Funen. Judy took a business degree and had her first job as a host at a local TV channel TV Aarhus. Later she came to TV-Funen. After that she became marketing manager of Kolding Shopping Centre. As an artist Judy is autodidact. Besides the above jobs she travelled in around in Denmark and entertained with singing and music and cabaret. In 2003, Judy decided to put the uncertainty of nomad life on the shelf and said yes to a job as manager of Schur Conference Centre in Glud at Horsens. But when you have the fascination of the circus in your blood, you don't say no to an offer from Diana Benneweis - and Judy said yes in 2006.
But today, Benneweis is closed, and Judy Glosted was not quite happy in the somewhat smaller Circus Trapez. So in 2018 she made another career change and became a singer in the Danish band Fat Finn & Funny Boyz. When the corona does not prevent it, she also has a number of jobs with senior entertainment in nursing homes, etc.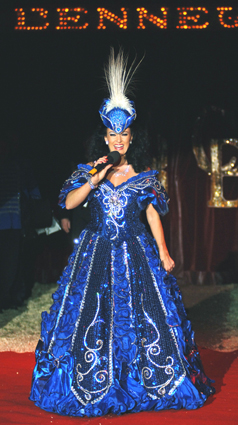 Judy Glosted in Benneweis' ring. The beautiful blue dress, which was previously used by Diana Benneweis, can today be seen at the Circus Museum in Hvidovre, Copenhagen.

11 January 2021
IT ALL HAPPENS IN PARIS -- this pandemic has closed down all theatres and circuses / the result is financial hardship, but on the human side as well it has caused a number of people to develop psycho ailments, by distress and loneliness, in turn due to lack of interaction with peers and people. Some surgery interventions have been postponed, as the troubles caused by the pandemic have priority.
Theatres as well as CIRCUS, including MAGIC SHOWS/which indeed is a kind of theatre/ should have been allowed to open per JAN 07, a decision that was cancelled, then JAN 20 was cancelled as well, the latest but sure enough not the last info says: end of JAN.
The famous Cirque d'Hiver Bouglione opened the season on October 17 (see my review here on this website dated 22 October, 2020), but restrictions meant they had to close after a few weeks. The season was supposed to last until the beginning of March, but it is doubtful whether they can resume the performances this winter.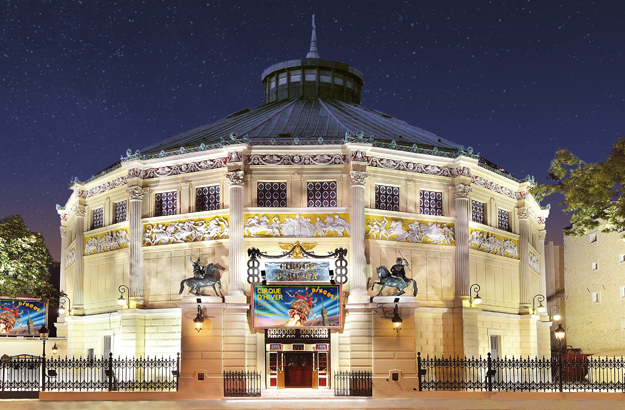 The Cirque d'Hiver in Paris was opened by Emperor Napoleon III on 11 December 1852 as the Cirque Napoléon. The theatre was renamed Cirque d'Hiver in 1870. Henri de Toulouse-Lautrec repeatedly found inspiration in rehearsals and performances at the Cirque d'Hiver. Photo by courtesy of Cirque d'Hiver Bouglione
CATASTROPHE for all ENTERTAINMENT, the smaller cafées/ outlets within CATERING BIZ - are closing down in numbers.
Apparently necessary, but bringing personal tragedies in numbers: Paris has lots of performers who are stuck without being paid - and thus having but little chance of getting home.
IT ALL HAPPENS IN PARIS !!!
-------------------------------------------Feedback/info by ZARRO ZARRO.

8 January 2021
Orbituary: Erik Christgau. On January 7, Erik Christgau passed quietly away after a long illness. He would have turned 90 in February. In 1972, he married Vivi Schmidt. She was daughter of Louis Schmidt from Circus Louis, which was closed after the 1960 season. In 1963, Vivi started with the assistance of Erik Christgau Cirkus Vivi, which toured Denmark until 1967. The tent was a brand new 6 pole tent with room for about 1,200 people, and the equipment was new and modern. The performances were always of good quality. Vivi Schmidt was known as a skilled sea lion trainer, and after 1967 she continued for a couple of seasons presenting her sea lions in other circuses, assisted by her assistant and niece Addie Jepsen. Later, Addie took over the act which continued to be presented as Vivi's sea lion. It was Vivi who owned the animals.
Also after Circus Vivi was closed and Mrs. Vivi had stopped with the sea lions, Erik and Vivi kept their interest in the circus and had especially close relationships with the Berdino family from Circus Arena. Vivi passed away in 2015, but Erik Christgau maintained his close connection to Circus Arena.
The Berdino family writes (my translation):
The friendship with Erik meant a lot for us in Circus Arena. As recently as the summer of 2020, Erik welcomes the audience, while checking tickets at the entrance to Circusland in Slagelse, just as he has for many years faithfully helped to welcome the audience during Cirkus Arena's Denmark tours. Despite his advanced age, Erik loved to travel around with us in his caravan and we always enjoyed having visits from him. R.I.P.

7 January 2021
Obituary: Yrsa Zidla. The former Danish trapeze artist Yrsa Zidla passed away on December 31, 2020. She was 93 years old. She was married to the Austrian master juggler Eric Zidla who in his acts was assisted by Yrsa. Eric Zidla passed away in 1984. In Denmark we saw him with Yrsa as assistant in Cirkus Moreno in 1959 and in the variety theatre Lorry in 1963. It was Yrsa Zidla years ago taught Bettina Arli of Danish Circus Arli to perform in trapeze.

5 January 2021
A birthday with a round figure: Violet Ørum turns 90. On January 6, the former trapeze artist Violet Ethel Ørum turns 90. As a young woman she wanted to become an acrobat and worked for a season with Professor Tribini at Danish funfair garden Bakken north og Copenhagen. But she was too heavy and inflexible in the bones and instead she became a trapeze artist. In 1949, she signed a contract with the Lazana sisters, who performed in Danish Circus Moreno with the act 3 Lazana. It was the start of a decade with lots of travel and experiences. She performed all over the Middle East. In connection with performances Lebanon, Iran and Iraq in 1958 and 1959, she met the bike artist couple Haddy and Solveig Enoch and has since maintained close contact with the Enoch family. Violet Ørum stopped as an artist in 1959 and went to Australia, where she married a childhood friend. However, the marriage did not last, and she returned to Denmark with her daughter. 45 years ago, she started practicing karate at Shotokan Karate Academy in Copenhagen, where she quickly became known as Mama San and where she is still active. They would have held a reception for her on Saturday, January 9, but it has been postponed due to the corona restrictions. For many years she was also a regular crew member with Jørgen Friland for the Oldboys sailings in Sundby Sailing Club.

3 January 2021
Large exhibition in Lund about classic circus. If possible due to corona restrictions Kulturen in Lund opens a large exhibition on circus on 10 April. It will be Kulturen's largest exhibition this year. According to the plan, it can be seen until the end of February 2022.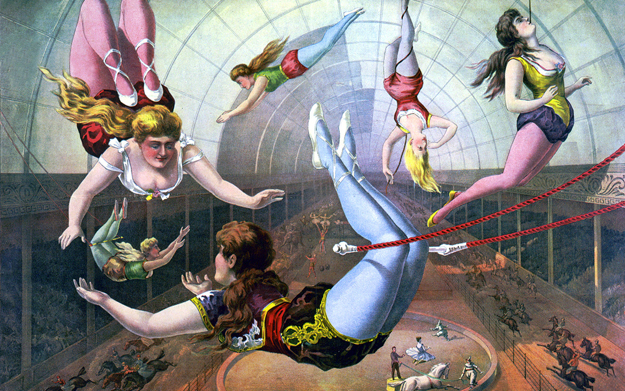 Older illustration of female trapeze artists. Unknown Artist.
Kulturen writes (my translation):
The next large exhibition at Kulturen in Lund is about the circus' exciting and enchanting world. We will present circus history from the 19th century to today.
Among other things, we borrow beautiful handmade costumes from Cirkus Rhodin, which is based in Scania and is one of the few traditional circuses left in Sweden. The owner Diana Rhodin's grandfather Brazil Jack and her father Trolle Rhodin were also two of Swedish circus world's great personalities during the 20th century. For the exhibition we have also borrowed exciting items and costumes from other lenders.
We will also present the photographer Åsa Sjöström's magical circus pictures and parts of her documentary The Last Circus Princess.
For the exhibition, Kulturen has borrowed various effects from the Swedish Circus Academy, including from the Swedish Circus Museum in Ingelsträda.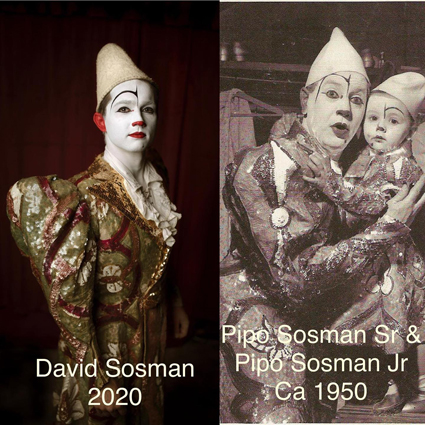 The juggler David Sosman tells the exhibition features some of his grandfather Pipo Sosman Sr.'s costumes. David, who is the son of the late clown Eddy Sosman and Isabella Enoch Sosman, was in Lund a few months ago, where he was photographed in his grandfather's costume. The photo to the left shows David in the costume. Photos to the right: Pipo Sosman Sr. along with David's uncle Pipo Sosman Jr.
Kulturen (full name, Kulturhistoriska föreningen för södra Sverige) is a non-profit organisation founded in 1882 and currently has around 3,500 members. They curate Sweden's largest collection of cultural objects from southern Sweden, major collections of comparative artefacts from around the world and the largest number of mediaeval archaeological finds in northern Europe. Kulturen runs museums in Lund and Sjöbo municipalities.

2 January 2021
IT ALL HAPPENED IN PARIS - and elsewhere - MAGICAL STUNTS & EFFECTS 5:
IT ALL HAPPENED IN PARIS -- but elsewhere as well - viz. at a JUMBLE SALE , near the big circus lot in COPENHAGEN, I was hired to create a sympathetic atmosphere and put the people in a good mood - in a catering-and-beer tent, in fact not necessary as the local guests had already tasted the evil alcohol, happily enough there were a lot of foreign people, sober enough, who were expecting ENTERTAINMENT: I had chosen an old circus act: THE LADY WHO WALKS THRU SOLID MATERIAL, in this case, walking right through a circle of ropes.
As my entré I made 2 playing cards disappear, one re-appeared in a photo frame, the appearance of the other one needed som ABSTRACT THINKING: using a pair of scissors and knowing a certain technique, you can by a simple cut make 3 diagonal holes, that are identified as THREE OF DIAMONDS - by adult people.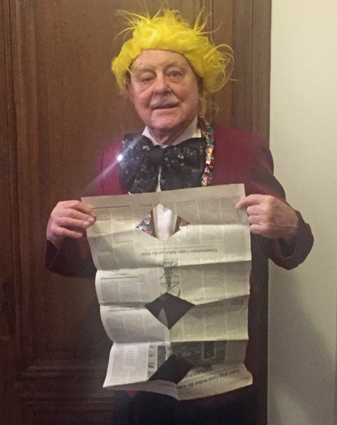 Zarro Zarro with Three of Diamonds. Photo : Marie Louise Djomguem
After show, a little boy came up to me, asking in a broad Copenhagen dialect:
WHAT ABOUT THE THREE OF DIAMONDS ?
He seemed troubled and worried, I chose to explain the phenomenon to him, he became visibly relieved, leaving the spot having had a good time, so had I -
HAPPY ENDING - ABSTRACT THINKING !!!
---------------------------------------------- ZARRO ZARRO.

1 January 2021
Danish circuses in 2021. Below find an overview in alphabetical order of the circuses which we hope to see on the Danish roads in 2021, as well as the planned opening dates. Of course, subject to corona-related changes and lockdowns.
Circus Arena: Season opening at 'Bellahoej' in Copenhagen on March 24. Ringmasters Bubber and Julie Berthelsen. The performing artists are Alex Porsing and his motocross team FMX Denmark, the Danguir troupe on the high wire, the rola-bola acrobat Paulo Kaiser, Wolfgang Lauenburger and his dogs, the Mustafa Danguir Tumbling Troupe, Laura Berdino with liberty horses, Duo Costace, Circus Arenas house clown Jimmy Folco and Circus Arena's dancers.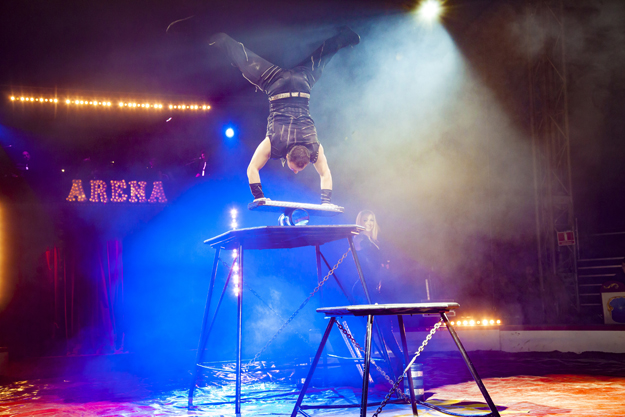 The rola-bola acrobat Paulo Kaiser was also at Arena in 2016. In 2019, he performed in Circusland. His specialty is jumping from board to board. Press photo from Circus Arena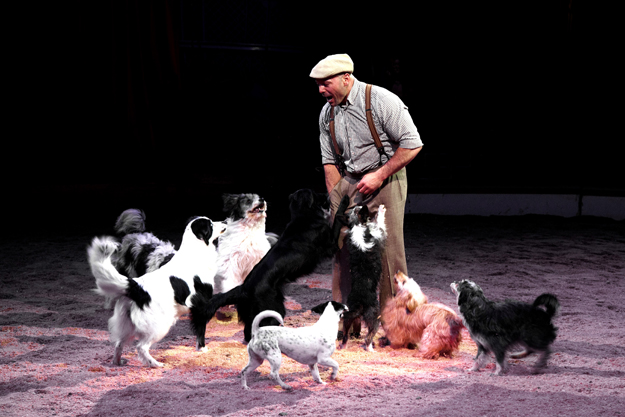 Wolfgang Lauenburger was also at Arena in 2010 and 2015. In 2008, he performed in Benny Schumann's autumn performance. Press photo from Circus Arena.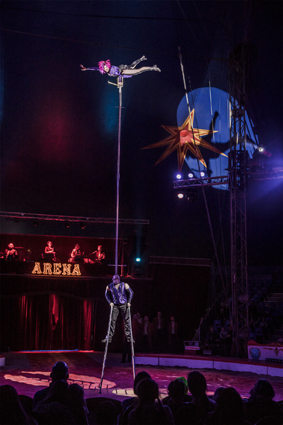 Duo Costache was also at Arena in 2017 and 2019 with respectively a perch act and an aerial act. Press photo from Cirkcs Arena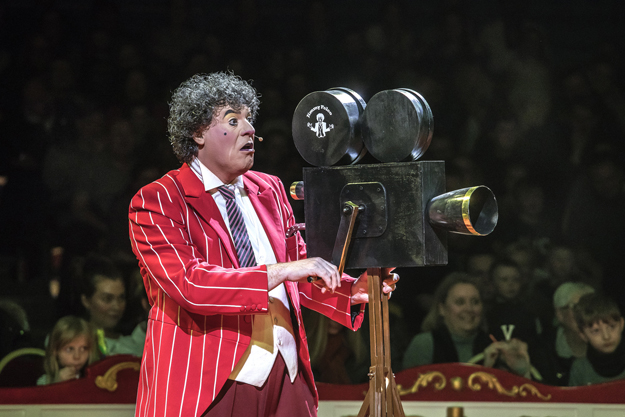 With a few exceptions, Jimmy Folco has been part of Arena's performances since 1997. Press photo from Cirkus Arena
Circus Arli: season opening in Fløng (Copenhagen suburb) March 27. In addition to members of the Arli family, you can meet the clown and multi-artist Francisco Fratellini. The names of other performers have not yet been announced.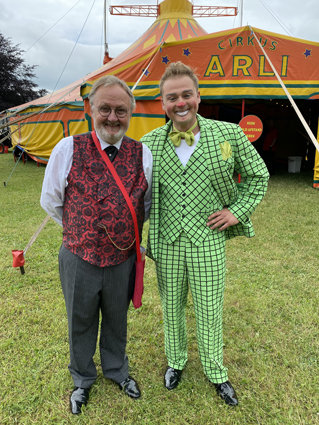 Martin Arli and his son Alexander are always among the performers in Circus Arli. Prior to the circus season, you can meet Alexander Arli in Jan Schous' REVY PICNIC SCHOU-TUR at Østergaard's hotel in Herning.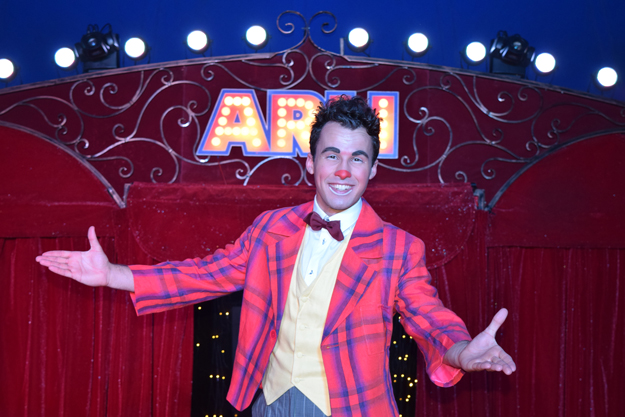 The Super talent Francesco Fratellini was also at Arli in 2017, 2018 and 2020. Press photo from Cirkus Arli.
Circus Baldoni: season opening in Lyngby (Copenhagen suburb) on 4 April. They write (my translation):
We are proud in 2021 to present our show no. 20. It will be a completely wild show so we rightly call it THAT TOO WILD !!!
You will meet a number of top artists, including the Italian Ferrandino´s who have a breath-taking roller skate act and a bold aerial act. From the Czech Republic, you will meet the super-talented Kaya Janacek with the balancing act rola-bola and his parents Eddie and Maria in a whole new acrobatic discipline that has never been seen before. The duo "Hands to Violin" in a new and modern composition with the violinist, Daniella, who plays up to the super strong handstand artist Michal and then of course we have lots of clowns and the lion Leo Leonardo (a ventriloquist's doll)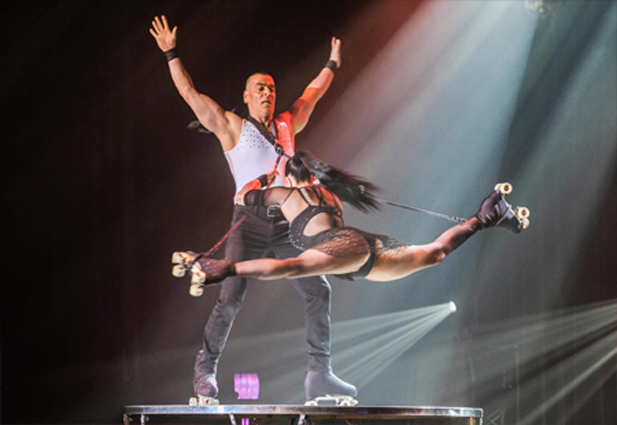 Duo Ferrandino consists of Michele Ferrandino and Marina Curci. In addition to the roller skate act they have an act in aerial cradle. Click here and here to see video clips of the two acts. They toured Denmark with Circus Arli in 2012. Press photo from Circus Baldoni.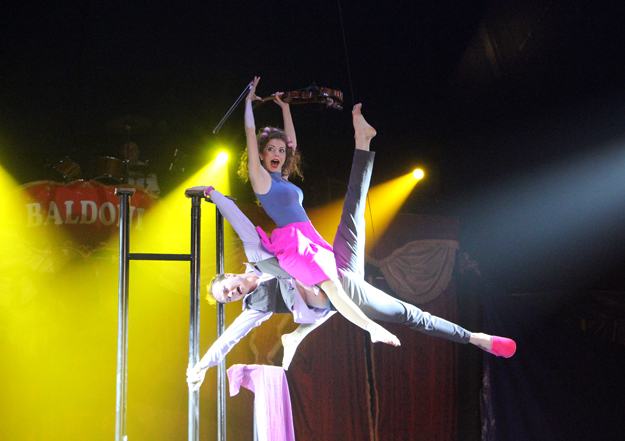 The duo Hands to Violin (Michal Mudrák and Daniella Vitová) were also with Baldoni in 2016, where they were among the nominees for the Danish Circus Award's prize for best act of the year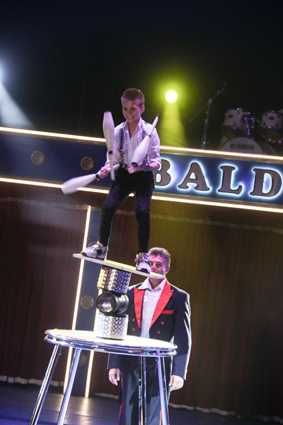 This is the 6th season in a row that the versatile Czech Janacek family (father Eddie, mother Maria and sons Kaya and Rudy) perform in Circus Baldoni. In 2018, Kaya was among the nominees for the talent prize from the Danish Circus Award. Photo: Jacob Boas Leitisstein
Circus Krone: no information.
Circus Mascot: if possible season opening in Roslev by the end of March. In addition to members of the Deleuran and Clown Gulio and his family, the names of the cast have not yet been released.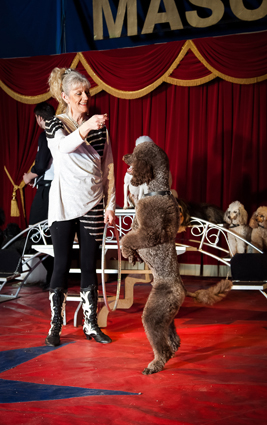 Marianne Deleuran and her playful doggies are an indispensable part of a Mascot show. Press photo from Cirkus Mascot
Zircus Nemo: season opening April 11 in Horsens. In addition to Søren Østergaard, the names of the participants have not yet been published. It is conceivable that to a greater or lesser extent it is those who were engaged for 2020 where the tour had to be abandoned: the Russian acrobat Vladimir Georgievsky in a comic trampoline act, the rola bola acrobats Meleshin Brothers, the super juggler Cladius Specht, the hula-hoop star Geraldine Philadelphia and the handstand acrobats Duo Solys.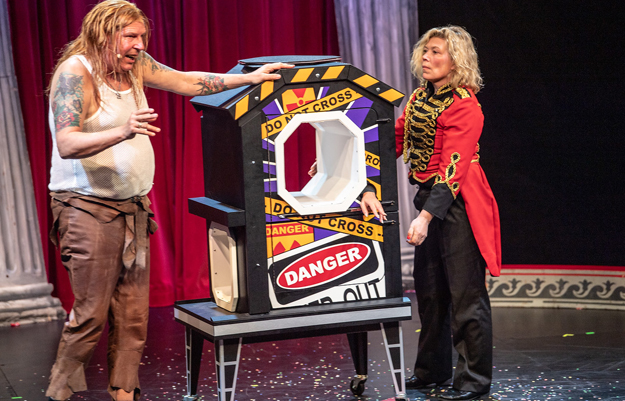 Although Zirkus Nemo offers excellent artists, it is first and foremost Søren Østergaard himself that the audience comes to see. Here as Smadremanden, seen together with his assistant Laura Kvist Poulsen. Photo from 2019. Photographer: Rud Kofoed / Ajour Press.

1 January 2021
Birthdays with a round figure in 2021. Several persons from the Danish circus and artist world can celebrate a birthday with a round figure in 2021.
18 January: Jörgen Börsch, artist agent etc., 80 years
19 January; Bernhard Kaselowsky, Circus Trapez, 60 years
18 February: John Thurano, artist, 75 years
9 April: Laura Berdino, Circus Arena, 40 years
3 August: Benny Berdino, Circus Arena, 75 years
19 October: Patrick Berdino, Circus Arena, 30 years
22 October: Michael Deutsch, magician, 60 years

1 January 2021
This website had approximately 27,000 visitors in 2020. The news section, being a weekly internet magazine and the tour list ("What's on) are usually updated every Saturday. Apart from news and tour list the website has pages with facts about Danish circuses, Danish circus families etc. Links to those pages can be found at the bottom of the opening page

Link to news from 2007

Link to news from 2006