'
From Denmark
and other Scandinavian countries
Special feature: It all happens in Paris (when relevant)
A weekly updated internet magazine
Last updated : 16. November 2019
12 November 2019
Five stars performance with one star. My good friend Jørgen Lorenzen had invited me to Silkeborg in Jutland on Saturday 9 November to see the performance L'Homme-Cirque (The One-Man Circus) with the Swiss artist David Dimitri. My expectations of what the organizers called "a unique contemporary circus performance, performed by only 1 person" was not great, and there is a quiet a distance from the greater Copenhagen area, where I live, to Silkeborg. But with cheap trains tickets on Saturdays and Sundays I decided to take the trip.
And the performance in David Dimitri's small tent became one of my best circus visits in 2019. Definitely worth 5 stars in the scale used for reviews in newspapers.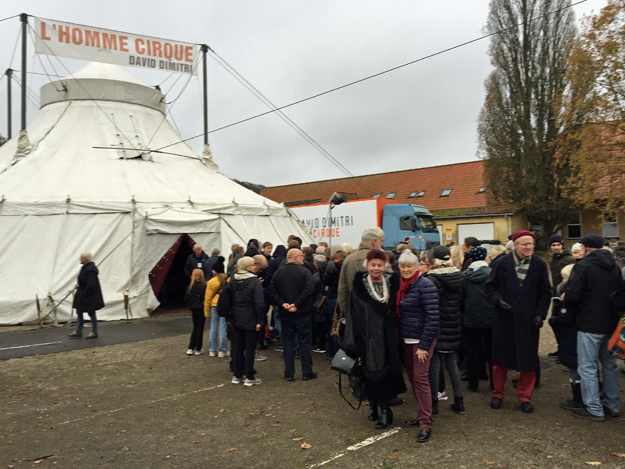 In the queue in front of the tent you can see Agnete Louise Enoch, Irene Thierry and Jørgen Lorenzen. All photos are smartphone photos, taken by Ole Simonsen
In the well-heated tent, 56-year-old David Dimitri turned out to be both a skilled and charming multi-artist. It was impressive what he as the sole performer could do. And there was plenty of humour and good ideas in the show which he started with changing shoes. Standing on one leg. If you don't think it sounds difficult, give it a try! David Dimitri also repeated the act with the shoe on an exercise treadmill!
All in all there was much inventiveness in the way a number of classic circus acts were performed. A vaulting horse, as we know it from school sports, was rigged like a real horse that could even make horse droppings! And a springboard number where Dimitri played harmonica during the jump could be done by dropping a sack on the other end of the springboard. After the first sack, David Dimitri released, hit him in the head. Of course not by mistake, but as part of the performance.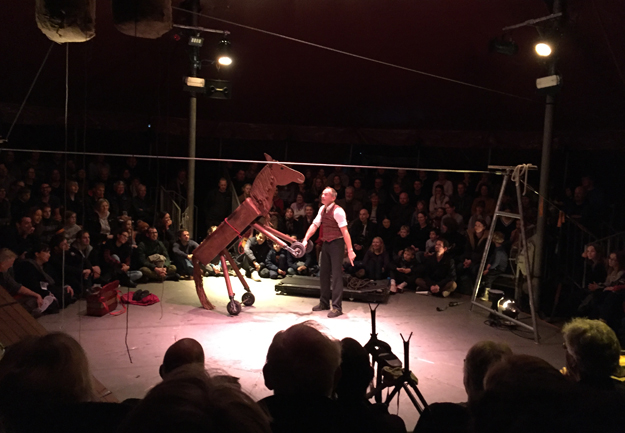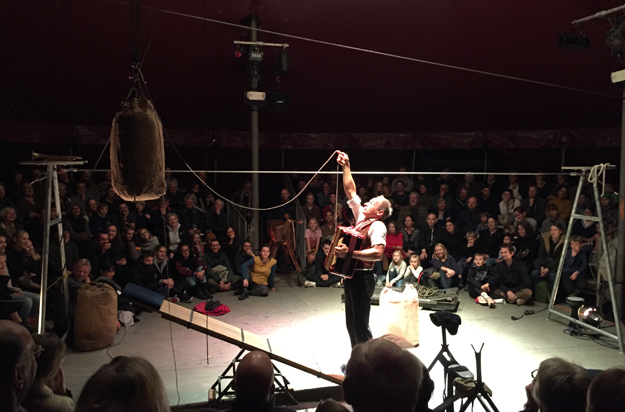 David Dimitri was originally trained as a tight wire acrobat. Thus the show also offered a tight wire act where he elegantly and stylishly performed first a backwards and later a forward salto. By the way, he also played the trumpet while lying on the wire.
In a cannon act many people probably expected to see him crawl out of the cannon with the clothing in rags, such as e.g. the clown Bonbon does. But no - he let himself be shot out of the cannon and then grabbed a rope (vertical rope), which hung down from the tent dome.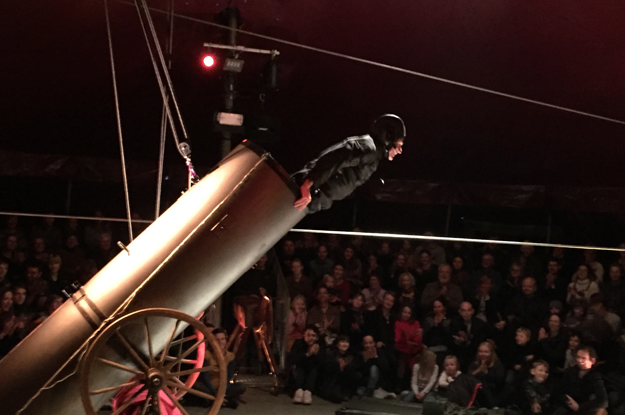 The approx. one-hour long performance ended with David Dimitri stepping out of the tent on a wire and continuing up to a high pole from which he, after taking some selfies, climbed down and greeted his enthusiastic audience. Click here to see video clips from this act.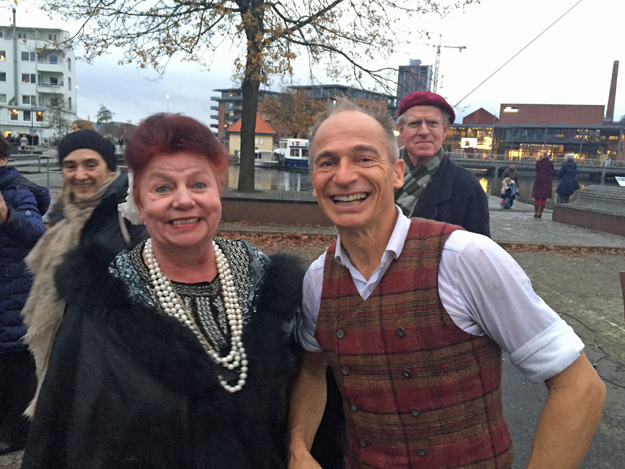 « Thank you for a Fantastic Performances in Silkeborg - You are Absolutely Amazing! » the circus queen Agnete Louise Enoch wrote. She was for many years ringmistress in Circus Dannebrog which closed after season 2016. Her she is seen with David Dimitri. In the background Jørgen Lorenzen.

10 November 2019
IT ALL HAPPENS IN PARIS -- THEATRE LA SCALA proudly presents an excellent show: MACHINE DE CIRQUE, LA SCALA is an ancient theatre, that had had its days of glory, but then went bust and declined, luckily it is now completely refurbished and ready to assume its former activities: theater, concert, circus.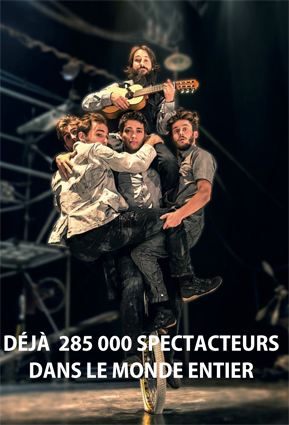 MACHINE DE CIRQUE: 4 acrobats, one multi-musician perform breath-taking acrobatic stunts, partly on an apparently custom-made four-level high structure, serving as bar and rail for the acrobatic features, partly directly on the floor.
A spring-board, a trapeze and a Chinese pole/mast allow them to perform stunts that one would think are impossible, on top of that they perform as outstanding jugglers, using Indian clubs.
A sequence of this show that lasts 90 min. consists of a super hilarious sketch where they quit their outfit, then in an incredibly funny way hide their private parts using white towels, and, mind you - they succeed in doing this, keeping within the borders of good taste and thus respect for the public.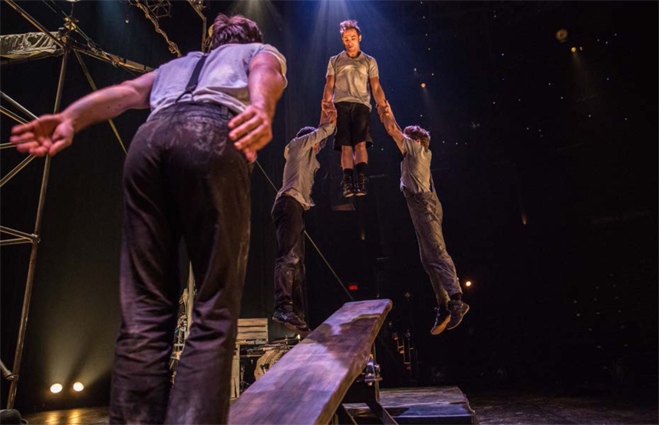 Photos by courtesy of Theatre La Scala
A masterpiece of comedy!!
Well worth seeing - - IT ALL HAPPENS IN PARIS !!!
See more: www.machinedecirque.com and short video clip at https://www.youtube.com/watch?time_continue=1&v=RNtU-Lht9Vg
The show was shown in Paris until November 2, is now on tour in a number of other French cities and will later also visit Lithuania, Germany, Canada, Italy and Belgium, see
https://machinedecirque.com/fr/calendrier/ 2019
..................................... reported by ZARRO ZARRO.

5 November 2019
What do circus people do in the winter season? If you think they are just enjoying holiday you are wrong. Everyone is preparing for the 2020 season. In addition to maintaining the equipment, there is a lot of time-consuming paperwork. Not only with booking of artists - many contracts are already in place - but also with obtaining necessary permits, preparing tour lists etc. Unfortunately, in recent years, the Danish system has become increasingly bureaucratic. E.g. in old days, reservations of a municipal owned circus lot could be cleared by a call to the one in the municipality that took care of that kind of tasks. Today, an application form must be submitted via a PC with a lot of attachments. If a circus is to use several lots in the same municipality, you often have to submit the identical material for each lot.
Many circus people are also active in other ways during the winter season.
Circus Baldoni has both a number of approx. 2 hours long performances under the name Baldoni's Christmas Circus as well as several teams touring Denmark with shorter performances under the name Circus Nissesjov.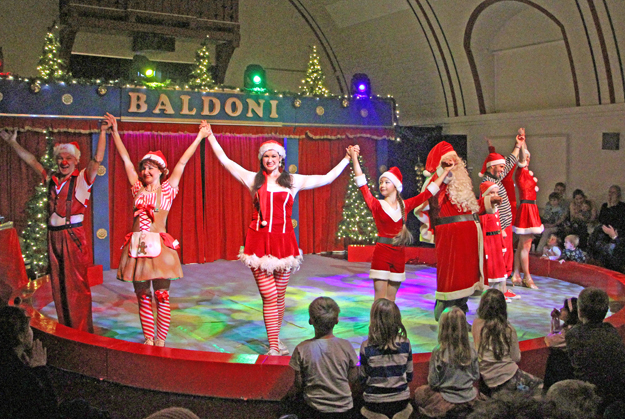 From the finale in Baldoni's Christmas Circus 2019
Circus Mascot has a number of performances in Plantorama's garden centres. Either short traditional performances or performances where e.g. the clown Gulio is in one of Plantorama's departments, making balloon animals and making lots of fish and fuss.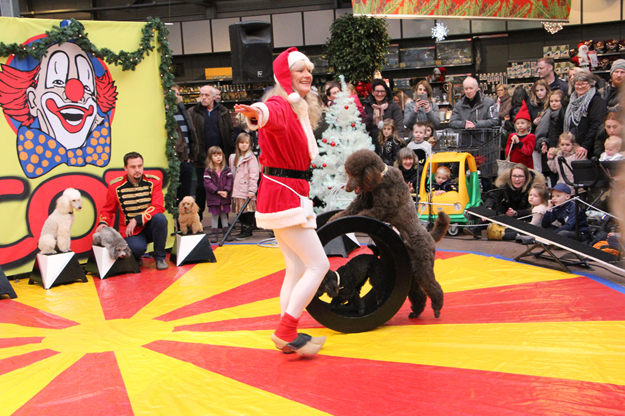 Photo from a previous Mascot performance in a Plantorama center
See What's on for info of time and place for Baldoni's Christmas Circus and Mascot's performances in Plantorama.
The Arli family are for the sixth consecutive year in charge of Hans Christian Andersen's Christmas market in Copenhagen. Just like last year, the location is at Nytorv in central Copenhagen. The market is open from November 15 to December 21. Sunday to Thursday 11am - 7pm and Friday + Saturday 11am - 8pm.
Martin Arli with Santa Claus. Photo from 2018

4 November 2019
Obituary: Esben Aerius.The Danish aerial acrobat and artist Esben Aerius (Esben Gregers Stahl Holck) passed away on October 22. He was 51 years old. He was educated at AFUK (the Academy for Untamed Creativity) in Copenhagen and later at the Moscow Circus School. From 1999 to 2008 he and his partner at that time Maja had great success as Duo Aerius, and they worked at a number of variety theatres in Germany and elsewhere in Europe. When the partnership stopped Esben went solo and worked as an aerial acrobat in metal chains with the act "Chains of Love". He also had an act called Sculpture in Motion and proved his talent as a multi-artist in some one-man performances. In 2010 he performed at AFUK Untamed Nightcabaret. In 2011, one could see him with the theater group De Slagfaste in the performance "The Circus Princess" about Kätchen Renz where he performed as the artist group Aerius Brothers with several fine acts: chains, tissue, handstand, balance, sculpture (the big white worm, also called Slinky) and as ostrich. In recent years he was teaching at Innercirq and AFUK in Copenhagen.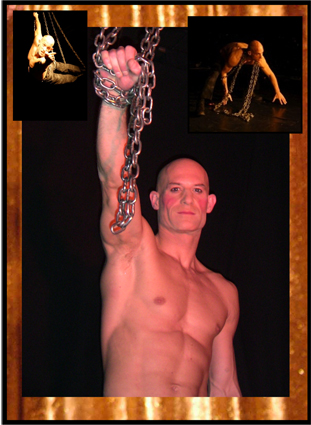 Esben Aerius with the act Chains of Love

4 November 2019
The Hungarian National Circus of the Jozsef Richter family. Usually we do only bring Scandinavian News + as a special feature news from Paris. However, one the main attractions in the Hungarian National Circus is the Casselly family, known by Danes for many seasons in Danish Circus Arena and by Swedes for some seasons in Swedish Circus Skratt. Furthermore several Danes have visited The Hungarian National Circus with Briano's CircusTravels. Due to this I have welcomed this write up from our British friend John Cooper:
A recent visit to the Hungarian capital of Budapest enabled me to see one of the season's last performances of The Hungarian National Circus of the Jozsef Richter family. This took place at the show's winter quarters, quite a distance from the city centre.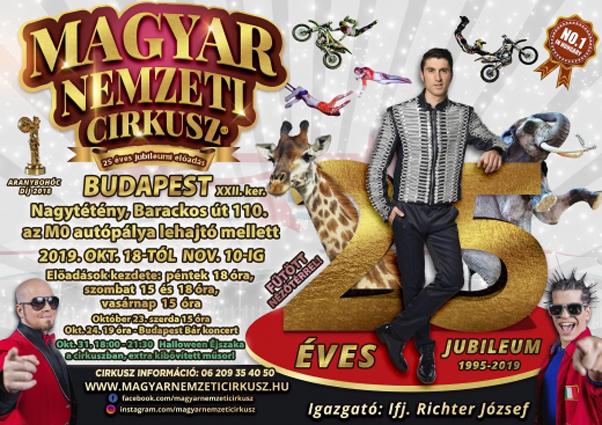 As many readers will realise, it was to this show that the Casselly family went with their elephants and horses after many years with Denmark's Cirkus Arena. That it is now their summer home has much to do with the fact that Merrylu Casselly has married Jozsef Richter Junior.
Both the elephant act and the riding act are joint efforts between the Richter and Casselly families, and feature Merrylu, husband Jozsef and brother Rene Junior as well as one or two other artistes.
Rene Casselly Senior directs his elephants as Jozsef Richter Senior (a former elephant man) looks on. The act highlights somersaults by the younger Rene from a springboard to the back of an elephant, a feat I first saw performed by The Richter Troupe several years ago.
The riding act is of jockey type, as well as including acrobatics on horseback. The horses are kept up by whoever is not riding at the time.
Alexia Casselly is on hand throughout both of these acts, but neither she nor her husband takes part in the show's finale.
The semaphore act of Laci Simet (billed here under his given name of Laszlo) and his two ladies was in Denmark with Arena in 2018 and continues to impress.
Additionally Laci presents a motorcycle on the high-wire act, with one of the girls on a trapeze beneath the wire. The rotation of the bike around the wire is included.
The final tour of Cirkus Benneweis in 2015 included the modern clowning of Italian brothers Steve and Jones. On Richter they repeated two routines I recall from Benneweis, as well as Steve performing a solo comedy number with audience participation. Steve also has a very good diabolo act with up to five diabolos.
As you may know, Steve and Jones are brothers to Jessica Caveagna, who is the partner (both in and out of the ring) of Danish illusionist Kim Kenneth.
See more including videoclips at www.magyarnemzeticirkusz.hu
Whilst in Budapest I saw the latest show at the Municipal Circus Building. It has no acts which have appeared in Denmark as far as I am aware, but I recommend it highly. It runs until 31 December.
Two weeks after my visit Florian Richter's Circus was due in Budapest, Florian being another son of Jozsef Richter Senior. Next time I shall check websites more carefully!
Good news (to my mind) is that the Hungarian Government has agreed plans for the building of a new circus building more centrally in the city. Once it has opened (and not before), the current building will close. No time scale has been announced.

4 November 2019
IT ALL HAPPENS IN PARIS -- we visit THEATERS -- THE ALHAMBRA proudly presents YOGANE MAGIC SHOW by and with YOGANE, one of the very few female magic entertainers, this happens in the very theater that replaces the ancient ALHAMBRA, same central area , referring to MAURICE CHEVALIER, still spiritually present in French theater life.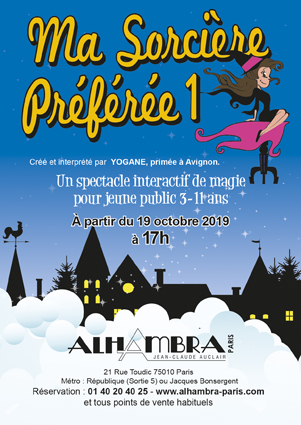 The performance is called "Ma Sorcière Préférée 1" ("My favorite witch 1"). All photos by courtesy of Yogane.
YOGANE meets her young audience with parents in a minor local sporting a likewise minor stage,filled with secret and interesting objects - what will happen when using these items?
This stage setting goes well with YOGANE'S dress, she is wearing an outfit becoming to an -elegant - witch.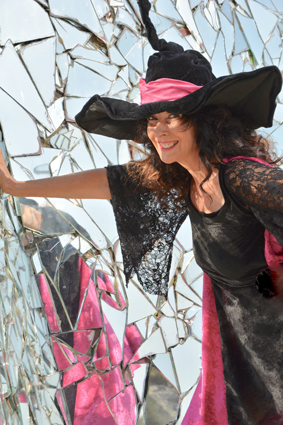 The witch Yogane
The highlight of the show is the presentation of the classic UMBRELLA ILLUSION, as well as THE FLOATING TABLE.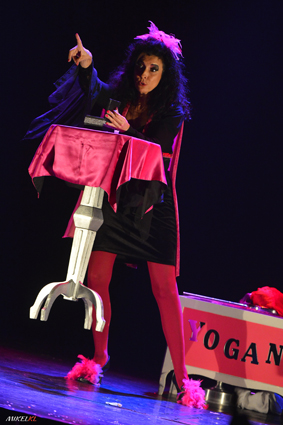 A classic magic trick: the floating table
YOGANE uses a lot of interaction with the kids, they are enthralled, as are their parents, always happy to see their offspring having - a great and happy time !
The approx. 1 hour performance can be seen until January 5, 2020, in most weeks, however, only Saturday and Sunday.
See more: www.yogane.fr
Venue: ALHAMBRA THEATRE, 21 RUE YVES TOUDIC, 75010 PARIS. Metro: Republique.
IT ALL HAPPENS IN PARIS !!!
........................................... reported by ZARRO ZARRO.

1 November 2019
Circus Baldoni 2020. René M Baldoni has disclosed the name of some of the performer in Circus Baldoni 2020. Season opening will be in the end of March. He writes (my translation):
"The 2020 performance will be titled POWER. This is not without reason. We have engaged one of the world's most powerful strongmen, Denis Ilschenko. Every day when he works out in the gym he lifts 420 kg and in the ring he spins a tree trunk around his the neck with 6 people on the tree trunk. You also get to see the powerful woman Martyn Chabri, multi-musician and quick-change, and the handstand artist Michael Mudrak, who with his raw strength impresses everyone. Of course we have lots of clowns and the lion Leonardo (a ventriloquist doll) who probably also have had a walk in the fitness centre. It will be our strongest program ever."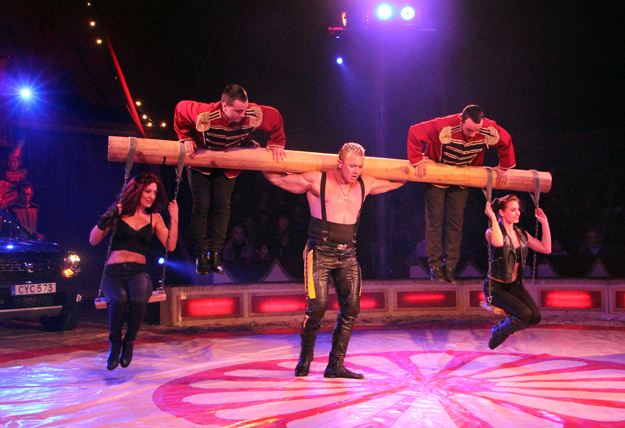 Deniz Ilchenko was with Swedish Circus Brazil Jack in 2017. He juggled with tires, pulled a car by a bit and spun a tree trunk around his the neck. A feat, which he then repeated with 4 people on the tree trunk, see photo. At the end of the entrée he was run over by a car. In 2018 he toured with the Norwegian Circus Arnardo, and this year he has been in Finland with Circus Finlandia. In 2020, the Danes can meet him.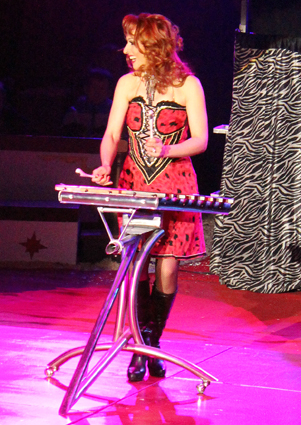 Martyn Chabry with the Christian name Martine Gombert is daughter of the clown Toto Chabri and Mrs. Nora. She spent much of her childhood in the Circus Building in Copenhagen, where her father was no less than 7 seasons. The first time the Danes saw Martyn Cabry's musical act with smart costume changes, variations and personality was at Circus Benneweis in 1998. She was back at Benneweis in 2005 and 2014.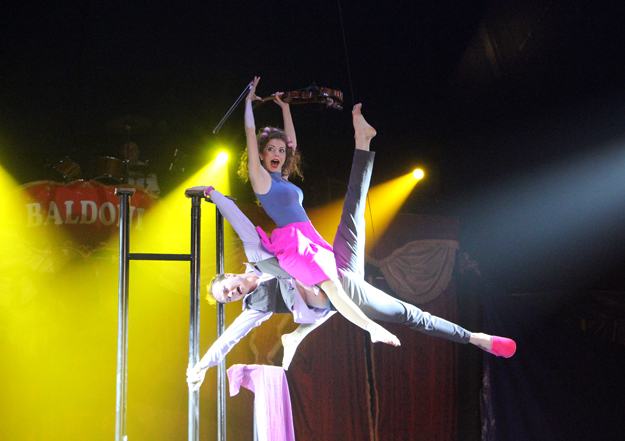 Michel Mudrak was the male partner of the duo Hands to Violin, which was with Baldoni in 2016. The duo was nominated for the award for best act of the year. In season 2020 you will meet Michel with a strong handstand act which probably ends with Encho's trick where the bricks fall down.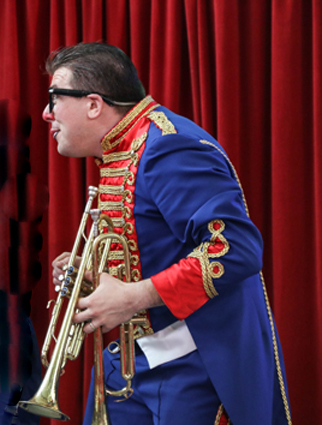 The very musical Eddie Janacek will as in the 2018 season be one of the clowns. In one of the entrées he is in the ring with René Baldoni, who plays a saxophone, which he bought earlier this year from John Lington.

Link to news from 2007

Link to news from 2006