'
From Denmark
and other Scandinavian countries
A weekly updated internet magazine
Last updated : 22. September 2023
22 September 2023
★★★★★★ Wallmans in top form
Since 1991 The Copenhagen Circus Building has only occasionally been used for the purpose for which it was built in 1886. Swedish owned Walllmans Nöjen took over the Circus Building in January 2003. Since the building has undergone a modernization. The old stables now function as restaurant kitchen and banqueting rooms respectively, while the elephant hallway has been turned into the artists' wardrobe. Wallmans use the building for dinner shows with singers, dancers and artists.
Apart from the corona years 2020 and 2021, every year since 2004, Wallmans has offered a new dinner show. All shows have been great and spectacular and played from the end of August to the middle of June. Every time they premiere a new show, you ask yourself: "Can they do it again?"
The answer is a clear yes, they can! All shows have deserved 5 reviewer stars. Last year, when the pre-recorded music was replaced by a live band, it gave an extra reviewer star. This also applies to their new show Cake, where the live music has been kept –
sometimes slightly supported by pre-recorded music.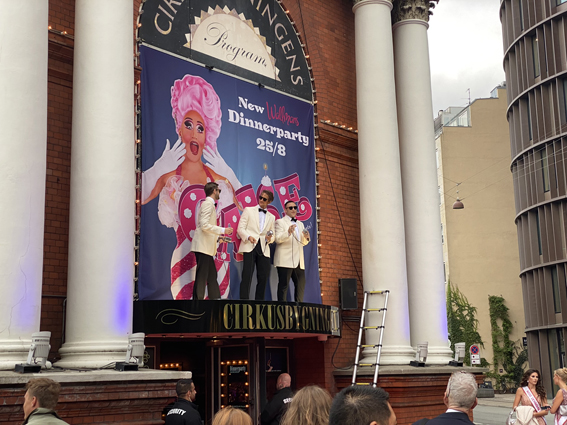 The guests are welcomed by 3 singers who, using the canopy over the entrance as a stage, give a few numbers.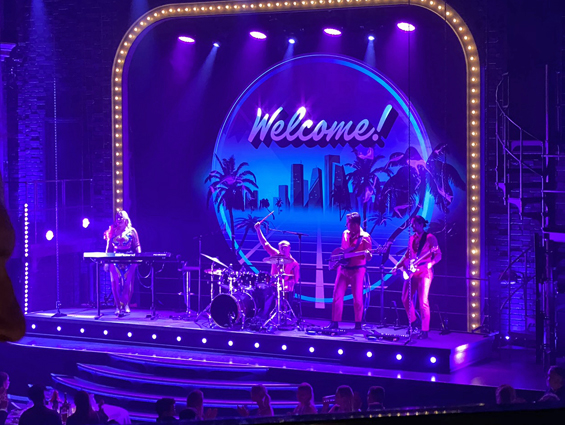 The well-playing live band with keyboard, drums, bass and guitar. Smartphone photo taken during the gala premiere on 20 September
As in recent seasons, the evening's hostess is the fast-talking Danish drag Quinn Megan Moore, who solves the task excellently. As always, the language at Wallman's is English, as there are always a number of foreign guests.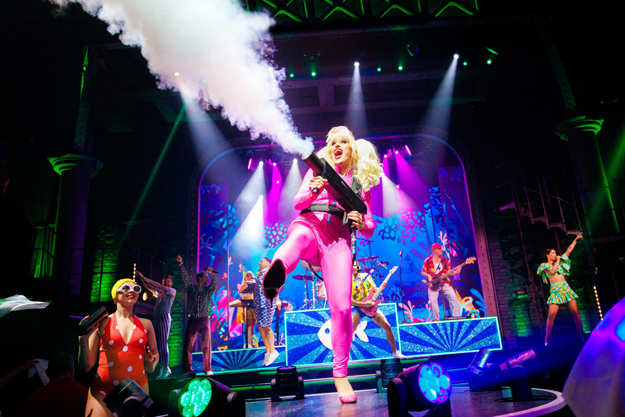 Megan Moore. Press photos from Wallmans. Photographer: John Resborn
The team of singers and dancers put on a great show again this year. Last year it was built around Elvis and ABBA hits. This year it's Michael Jackson and George Michael songs as well as some of Danish/Norwegian Aqua's hits. With all due respect to those mentioned, there may not be as many ear hangers as last year.
As always, impressive lighting and performance on several different stages and around the hall. For people who have been to Cuba, it brings back memories of Havana's famous Tropicana Show. Some of the scenes seem a bit inspired by horror circuses, such as when ghosts with daggers chased Megan Moore and you come along on a creepy and rocky forest trip.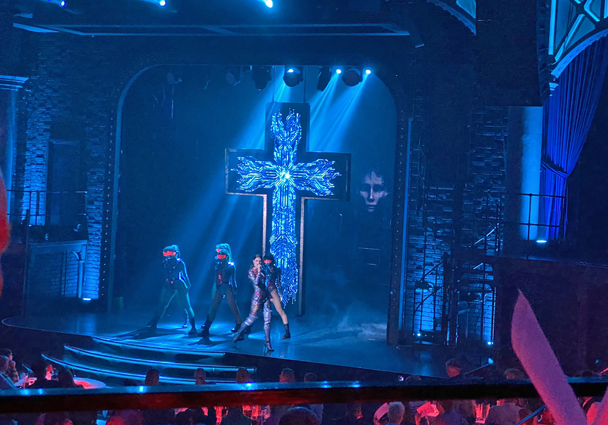 Some of the scenes seem inspired by horror circuses. Smartphone photo taken during the gala premiere on 20 September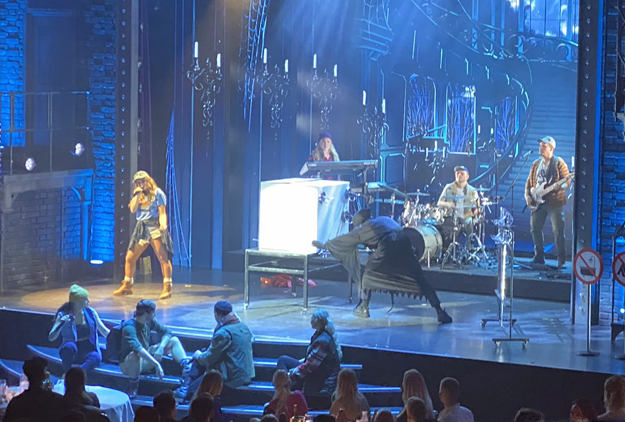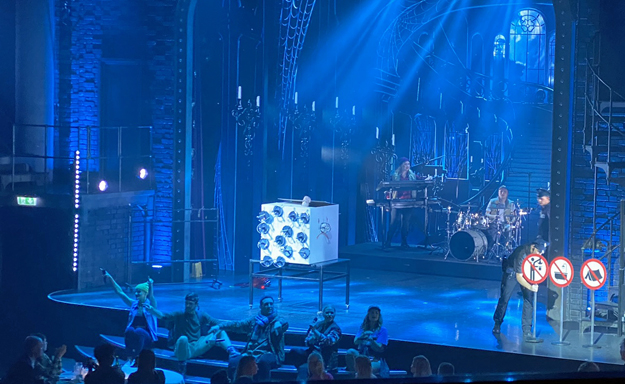 A ghost chases Megan Moore into a large box, which is then pierced with swords. Smartphone photos taken during the gala premiere on 20 September
As always, there are circus performers in the performance. This year, muscular Dmitriy Karpenko from Ukraine and the Swedish twins Duo Vilja.
Dmitriy first shows a number in tissue (black silks hanging down from the circus dome). Later he has a short entrée in aerial ring.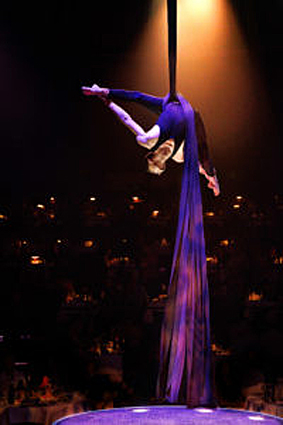 Dmitry Karpenko. Press photos from Wallmans. Photographer: John Resborn
Most impressive however, are Duo Vilja, which consists of the Swedish twin sisters Jenny and Sara Haglund. Last year, the Danes saw them in Zirkus Nemo, where they showed an impressive contortion act. It earned them a nomination for the Talent Prize from the Danish Circus Award. At Wallmans, they first present a fine act in aerial ring and later their contortion entrée. They might be considered when the Danish Circus Award next year nominates artists for the award for the year's best act.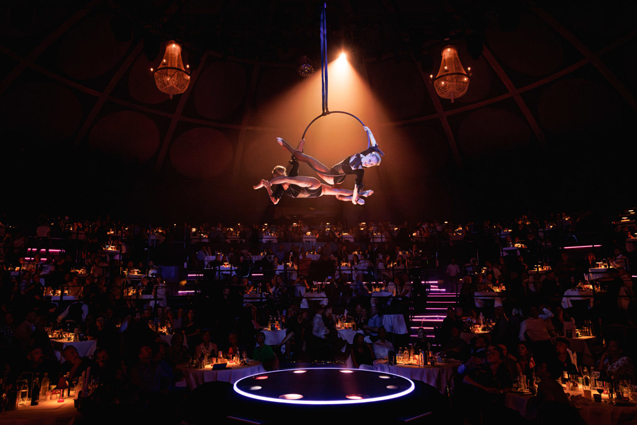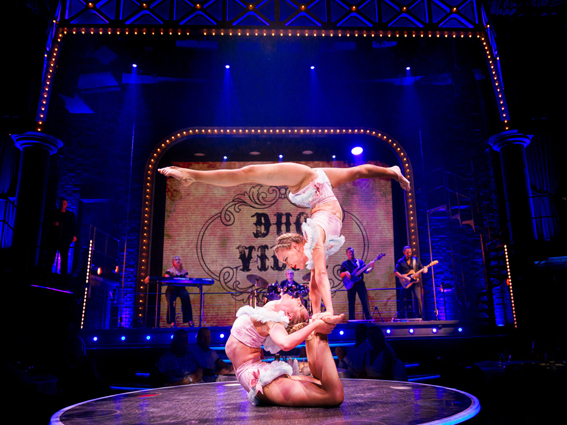 Jenny and Sara Haglund were born in 1984. At the age of 13, they caught the circus bug and joined a children's and youth circus. Later they went to circus school. First in Sweden, then in Montreal. Since then, they have appeared in a large number of varieties shows and circuses. Press photos from Wallmans. Photographer: John Resborn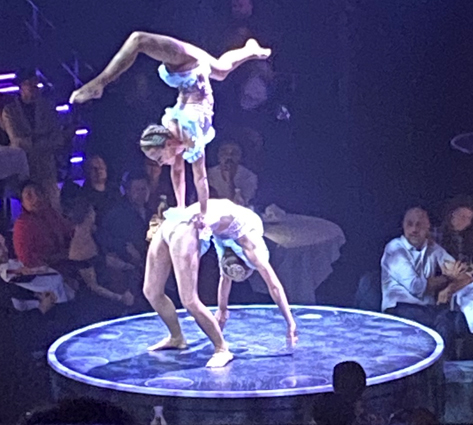 Duo Vilja – smartphone photo taken during the gala premiere on 20 September
As I wrote a great and well-staged show, where the waiters elegantly and quickly serve a delicious 4-course menu between the acts. The show lasts almost 4½ hours. Prices are from DKK 699 and up, depending on the choice of day of the week, location and menu.
Wallmans dinnershow is certainly worth a visit if you come to Copenhagen. And as I wrote: the language is English.
​

21 September 2023
Program change in Circus Mascot. The 73-year-old Hungarian artist Lui Nereus, who did handstand on a doll and performed as the man in the pole, has not been able to complete the tour for personal reasons. He has returned to his home country Hungary with his somewhat younger wife Eva Vitzo, who performed with glass balance, and son Lori, who performed with rola-bola. As a replacement, Cirkus Mascot has booked Yuriy and Editha Mamchych, who have just finished the season in Swedish Circus Olympia. There, under the name Duo Sunshine, they had a fine entrée in aerial straps, and Editha furthermore showed a hula-hoop act of a standard that is far above what you see elsewhere. Since Circus Mascot performs indoor in sport centers etc., they cannot show the act in aerial straps. But instead, the Machiko's present their adagio act just as Editha shows her hula-hoop entrée and Yuriy performs with cube juggling. The people of Zealand experienced the couple in Circus Arli in 2019. And now it is the turn of the people of Jutland to see the 2 talented Czech artists. – Circus Mascot will close the 2023 season on 21 October.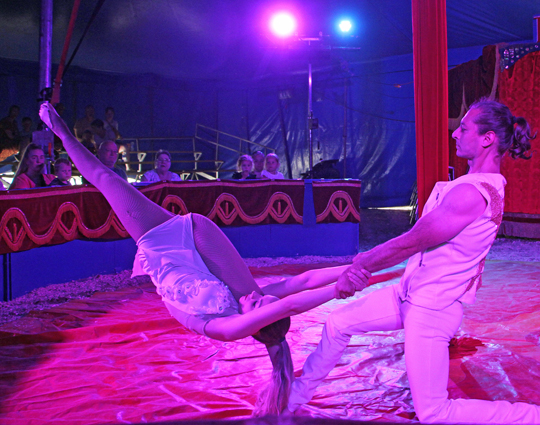 Duo Mamchych. Archive photo

12 September 2023
Artists Appreciation to Line Vittrup. On 7 September Line Vittrup had received the Artists' Appreciation Award from the Artists' Association.
This is a completely new award, which was first awarded in connection with the Artists' Association's summer party on 7 September.
The award focuses on innovation, and the award recipients all have a renewed approach to the dissemination of music and performing arts. They have each been frontrunners in their field and used their platform to make art more diverse, accessible and sustainable.
Line Vittrup received the Artists' Appreciation for her work in communicating the circus profession at eye level. As a working artist at the Circus Museum at Hvidovre, Copenhagen, she gives visitors an understanding of what it takes to be a circus performer. She masters a wide range of disciplines, and uses the entire palette to involve users. Line Vittrup has performed with circuses in many different countries and is now one of Denmark's few permanently employed circus teachers.
There were also awards for 4 others, though none connected to the circus world: drag performer Michael Bjerring, choreographer Sunniva Byvard Løvland, the band Lukas Graham and jazz guitarist Jakob Bro.
The prizes included DKK 20,000 and an original print by illustrator Pauline Drasbæk.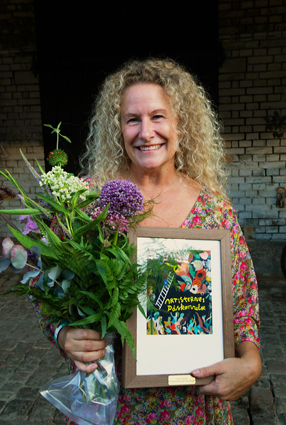 Line Vittrup with her prize. Photo: Rita Blue.

11 September 2023
Profile of Trolle Rhodin. The Swedish magazine Chef has published a profile of the 34-year-old Trolle Rhodin III, who is the director of the Swedish Circus Brazil Jack, being the largest circus in Sweden. A circus which today has neither animals nor clowns in the show, and which is cashless meaning that the visitors pay with credit cards and not with banknotes. And whose power supply for environmental reasons is primarily batteries and not a diesel generator. Trolle also reveals that the family has roots among the Romanies (what used to be called gypsies).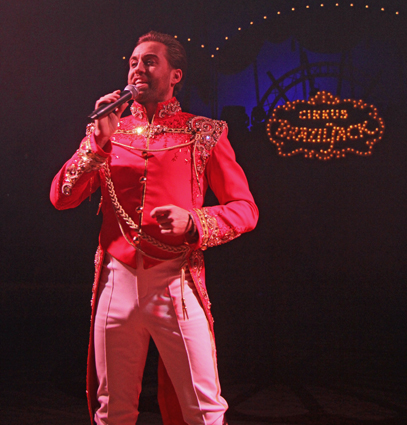 Trolle Rhodin welcomes you to this year's performance. Apart from his welcome and farewell there is almost no speak in the performance, and the artists are not introduced by name. There is no printed program.
About the decision in 2018 to make the circus animal-free, Trolle Rhodin tells that it was really only about domestic animals such as horses and dogs. Elephants and other wild animals had for several years not been presented in Swedish circuses.
Troll Rhodin acknowledges that there are places in the circus world where animals are treated well, even very well. But he also believes that there are places where they don't treat animals well. He did not want to be associated with animal husbandry. At the same time, he feels that today's audiences are not at all interested in seeing animals perform.
He never thought that clowns were funny. With their thick make-up and grotesque appearance, they frighten many children. That is why he has chosen to create comic figures who use their body language to make contact with the audience.
Click here to read the article. The language is Swedish!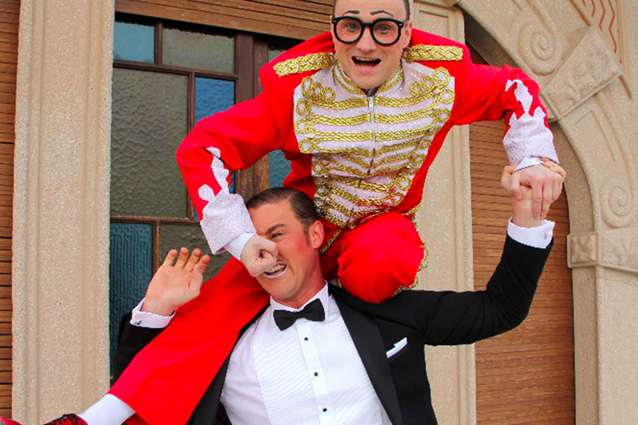 In recent seasons, the comic feature in Circus Brazil Jack has been the Wolf brothers, whom the Danes e.g. has seen in Circus Arli. The tall and muscular David and his somewhat smaller older brother Richard.

11 September 2023
"Tipping Point – Balancing in a Time of Change". The Swedish contemporary Circus Cikör writes:
"Tipping Point – Balancing in a Time of Change" is a circus show that challenges and stretches structures – our human structures and what holds our societies and democracies together. Why do they look the way they do? What keeps them in balance?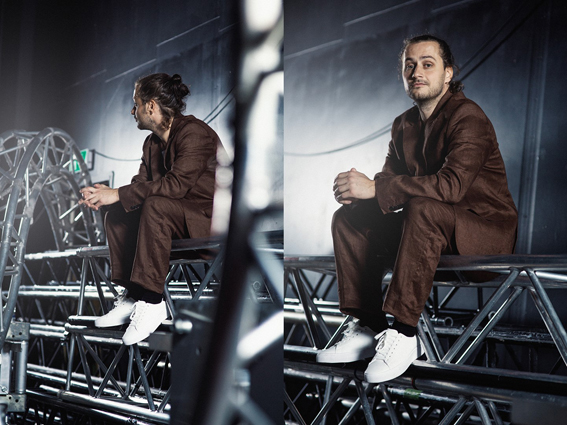 In a tensegrity structure, the form is held together by tension, balance and forces that pull in different directions. The slightest change can cause the entire building to fall.
And what happens when the most fundamental collapses? Who gets trapped, and who finds freedom? Tipping Point serves as a reminder that nothing is inevitable and that change is possible. We can harness each other's power and build stronger together towards more inclusive and fair systems.
Actually, it's pretty simple. Regardless of size, every action can be part of a larger change.
Director is Alexander Weibel Weibel, a circus artist who has been involved in several productions with us directed by Tilde Björfors, such as Borders, Satyagraha, and Knitting Peace.
On February 16, 2024, the performance will have its world premiere in collaboration with Riksteatern as part of CirkusExpo and CirkusMania. Following that, there will be a Swedish tour during the spring, with a continuous performance period at venues such as Stora Teatern in Gothenburg, and then the production goes on tour internationally. Tickets and more information are to come in the fall.
Ensemble
Delia Ceruti: Hair hanging and Rope
Morgane Stäheli: Duo Trapeze
Sébastien Klink: Duo Trapeze
Kalle Pikkuharju: Contortion and Foot Juggling
Quentin Dubot: Chinese Pole

8 September 2023
The Danish 2023 circus season is closing. Circus Arena and Circus Arli have already finished the season. Circus Baldoni is at the Faroe Islands, where they end the summer season on September 12. Zirkus Nemo has performances in Charlottenlund in Copenhagen up to and including 9 September, before ending the season in Odense with performances from 13 to 17 September. Circus Mascot has performances in Jutland sports and cultural centres up to and including 22 October. Circus Trapez performs partly in sport centres and partly in a tent until 1 October. They also have a unit which visits a number of care homes etc. with short performances.
From Sweden, the Swedish Circus Academy writes (my translation):
A circus season in Sweden goes fast, very fast!
Therefore, the final performances of the season are approaching at our Swedish touring tent circuses. Here are the last performances:
CIRCUS RHODIN, Saturday 16 September at 16.00 at the sports field in Degerberga
CIRCUS BRAZIL JACK, Sunday 17 September at 13.00 at Heden in Gothenburg
CIRCUS OLYMPIA, Sunday 17 September at 15.00 at Mammarpsgatan in Klippan
CIRCUS I LOVE YOU, Sunday 17 September at 14.00 at Strandvägen 2 in Simrishamn
With reservation for possible changes
A big thank you to all the Swedish circus operators who ensure that we can see live entertainment and preserve the cultural heritage CIRCUS!

4 September 2023
Sophie's Surprise. The performance Sophie's Surprise premiered on 5 August at the Edinburgh Festival Fringe. It got fantastic reviews both in the press and with the audience.
The Fringe is a three-week festival of performing arts that takes place in Edinburgh every August. Its story dates back to 1947, when eight theatre groups turned up uninvited to perform at the Edinburgh International Festival.
Next stop for Sophie's Surprise was Skraaen Theatre in Aalborg, Denmark. Jørgen Lorenzen attended the Danish premiere on 3 September at 20 and writes (my translation):
This year, Skraaen's annual late evening performance has been put into the theater. The Belgian spiegeltent (mirror tent), which usually is put up in Aalborg, was rented out to others.
And what did you experience? Difficult to summarize in one word, but the word contemporary circus is probably the one that covers it best. There were 6 young English artists who mastered many artistic disciplines at an excellent level.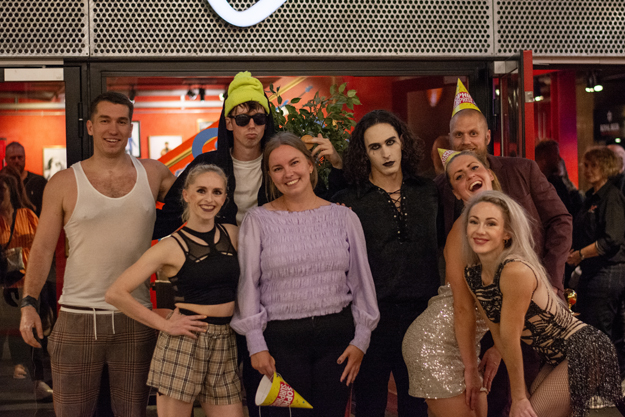 The ensemble. The girl in the middle is a guest they invited into the show as Sophie, who gets a surprise. On the right of the picture is Ståle from Skraaen, who helps with practical things in connection with the show. Pia Kirstine Photo
And quite clearly the troupe worked beyond the traditional framework, where circus, variety show and clown walk side by side. But is that something new? Or is it really a return to the foolery and artistry that took place in the Middle Ages? The performance leaned towards the grotesque and burlesque and gritty, but it never became twisted or vulgar. And quite clearly the 6 artists worked with soul and heart. They wanted something different from what you usually see in circus tents and on variety shows. And what they wanted was to create renewal and shake up rigid forms and routines.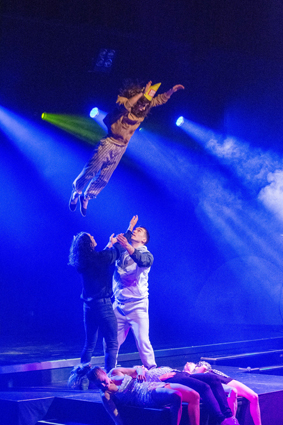 Pia Kirstine Photo
You could see it most clearly in their clothing. No uniforms, no requirement for costumes, but all kinds of clothes. One in a jogging suit, one in a smock, one in dark clothes, but he was however make up like the Master of Ceremonies in Cabaret. Everything was permitted – no conventions. Away from the glitter of the arena, into the careless and relaxed clothing style of everyday life.
There was interaction with the audience. Before the performance and many times during. Mostly when a man in the front row had to go on stage twice. The first time to tie a knot on his shirt so that his stomach was exposed. The second time when he had to share biscuits with a unicyclist. Literally like that: a bite for each while the biscuit is held in the mouth.
And then there were unfathomable, symbol-laden props. For example, an artist who walked around with a cloth rabbit. Why? What was it supposed to be for? Or was the intention for the audience to find the meaning themselves? Could it have been a stuffed elephant or any other animal? And why should it? What was the animal's role?
But then suddenly we were back in the old circus. E.g., when the aforementioned smock-clad old person with an overbite came limping in - and proceeded to strip. Suddenly she was in a beautiful costume, and we witnessed a very nice and stylish number in aerial ring. Suddenly we were in the classic circus - but only for a while.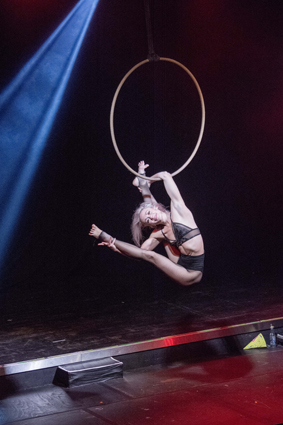 Pia Kirstine Photo
And a roller-skating act was presented as such act should be done. Classic! Stylish! But suddenly new thinking entered. As the roller-skating woman whirled around the man, she dived down and grabbed a bottle in the middle of the podium with her mouth. It has never been seen before.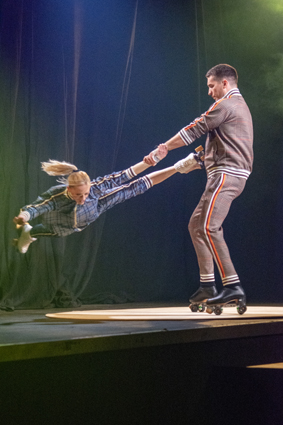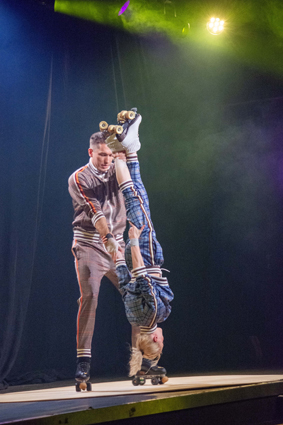 Pia Kirstine Photo
There was a fine and classic number in aerial straps - with the enigmatic rabbit standing in a corner.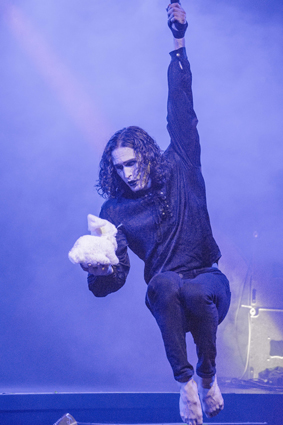 Pia Kirstine Photo
And an act on a unicycle was completely grotesque and burlesque. Monocycle acts can otherwise easily become a bit monotonous. But not here. The artist came in on a bicycle, with bare ass and almost nothing else. His performance then consisted of getting dressed while balancing on the bike. And to help himself and to strengthen himself with refreshments along the way, he had to have his audience assistant up on stage again. And they ate biscuits, almost mouth to mouth. Surprisingly, with a disarming sense of humour – not vulgar or lewd. And great fun down in the theatre.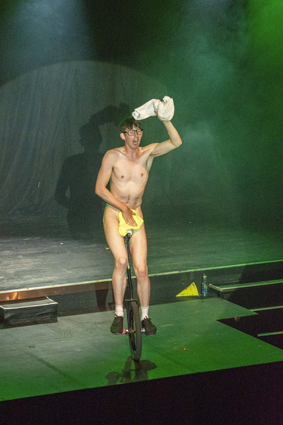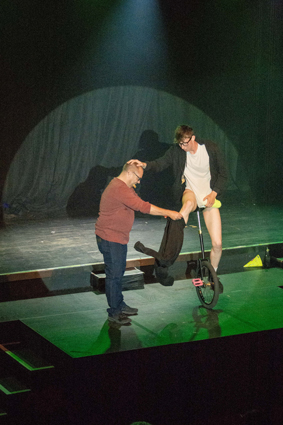 Pia Kirstine Photo
And the performance was loaded with symbols, unfathomable and whimsical props, awkward costumes, and along the way a little guess-a-song competition, a little reading of a fairy tale and a little stand up. With English irony, because why did we still like the English even if they had opted out of the EU? It was a kaleidoscope of something we know from other media – especially TV – and from other scenes.
And another innovation: an artist hung upside down for approx. 4 meters high. On the floor stood an artist who lifted a third artist up to him, who was hanging in an aerial cradle. Aerial act and parterre acrobatics at the same time.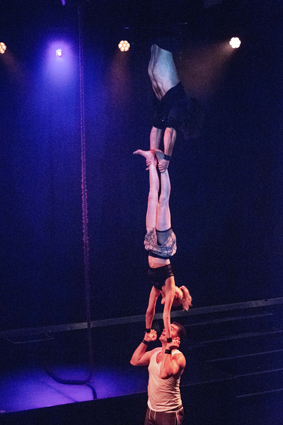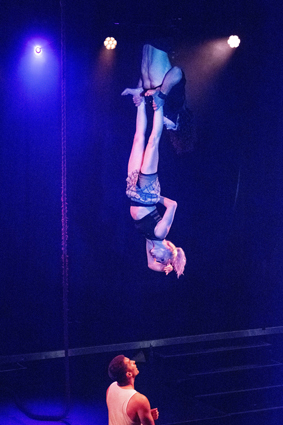 Pia Kirstine Photo
The performance ended with Sophie having to go on stage and having to choose between two men. Something we recognize from popular TV series: the choice of partner.
There are many paths to the circus. Circus has many forms of expression. Here was one of them. Kaleidoscopic and confusing, challenging-
You can read more about the performance and the performers at www.sophiessurprise29th.co.uk/

3 September 2023
Circus Baldoni in the Faroe Islands. It was originally the idea that the performances in Faroese arenas in the days 4 to 13 September should be reminiscent of the summer tent performances, although Martyn Chabri was to be replaced by a strong woman Georgiana, who juggles kettlebells and Diana Boiachin, who blows soap bubbles, and the now 13-year-old Rudi Janeček was to present for the first time ever his acrobatic pole and handstand act. As has been the case over the summer, the performance was to be presented by Amin Jensen with Tøffe as the clown.
Unfortunately, Tøffe has broken his foot in several places after falling on an uneven circus ground. Initially, despite visits to the doctor and the casualty department on a hospital, they were not aware that the foot was broken, so Tøffe completed the tent season. After this, a podiatrist suspected that the foot was broken, which an X-ray confirmed. Tøffe has now had his leg in plaster and is due to this replaced on the Faroe Islands by Eddie Janeček, who is already with his family is part of the as The Buffalo Family. Eddie has performed as a musical clown before. Amin Jensen, who was supposed to present the performance, has withdrawn, as the interaction with Tøffe was indispensable for him. The performance is presented instead, as in previous years, by circus director René Baldoni.
"Very sad season ending for me. I was really looking forward to the Faroe Islands", writes Tøffe, who is now on long-term sick leave. "However, traveling with a touring tent circus has generally been a fantastic experience, and I have no regrets. I have also gained both experiences and wonderful friends for life."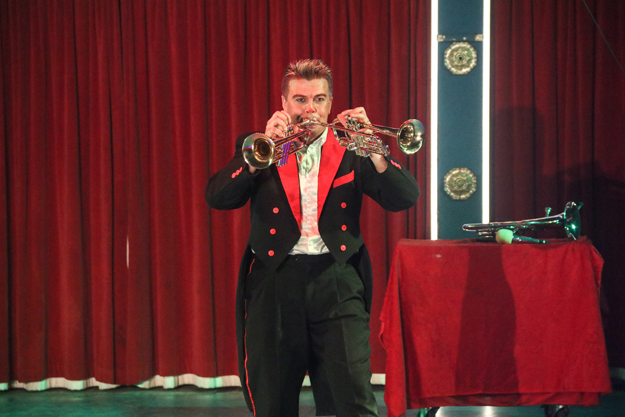 At the Faroe Islands, Eddie Janeček has replaced the injured Tøffe as the show's clown.

28 August 2023
International Night Cabaret. Jørgen Lorenzen saw the performance in Hermans, Tivoli Friheden in Aarhus, 26 August at 21 and writes (my translation):
Excellent night cabaret. If I were giving out reviewer stars, there would be 5 or 6 well deserved stars.
The performance was entitled Mind the Magic - and was part of Aarhus Festival. It began with something incredible. A snake-man, disguised as a green frog with an indeterminate ornament on his belly. But with a bathing cap and flippers. Oleksandr Yenivatov could bend forward so much that he could literally lick his own neck. And put himself in all sorts of positions while the body was folded: stand on hands, jump like a frog, take the legs on the neck. All with a splash of humour, so the number moved from the macabre to the humorous.
And the magic then took on another expression. The magician Filberto Selvi played the violin until the violin shattered and broke into a thousand pieces. But he was able to afford a new violin with lights because he conjured up banknotes. But before he got the violin, sheets of music had to be obtained. Thus, he conjured musical notes, making them dance and almost come to life, all the while conjuring things from his bare hand and letting them disappear into thin air - to finally get his new violin.
We saw Lotte and Stina two times in the performance. First with a hula hoop entrée. Disguised as chatty, bickering housewives, they had to have the hoops dance around their bodies. It didn't always work out when the hoops bounced up between the legs or broke. However, they could be put back together - with help from the audience. Their main act in the second division was a combined balance and acrobatics act. The act took place on a board which stood on a cylinder. Rola bola is what it's called in professional language. The underman/underwoman balanced on the board while her colleague stood on her shoulders. And not just standing, but balancing on her. For example, she stood in a one-hand position on her head. It was – like the first of their acts – performed with a splash of humour and a little bit of striptease, but virtue prevailed.
And then there was music on the agenda. Flute virtuoso Gabor Vosteen was a master of the recorder. Not just one, but two, three, four and five. Two and multi-playing. And to get air in the whistles he had to use both nostrils. 3 in the mouth and two in the nose!
In the second section, he invited three members of the audience up on stage to play along. It is always difficult to pick up the audience, because not everyone is equally suited, and some may feel uncomfortable. But if they were, Gabor, with his relaxed attitude, made everyone relax and play along – in both senses of the word. So much so that one flutist could hardly play because she was laughing, and the male cymbal player quickly fell into the role and joined in with wild bucking.
After the break, there was silence in the theatre when Young-Min from South Korea came in. He was dressed in a black jacket and had long, black hair. He looked like a cross between a wizard and a necromancer. And he conjured sand, which ran between his fingers and materialized and became silver rings and jewellery. And the opposite way: metal rings were pulverized and went up into sand and smoke. The stage was gradually filled with stardust, which glittered and shone, as if you were being led into another, secret and super sensible world - enchanted by mysterious forces.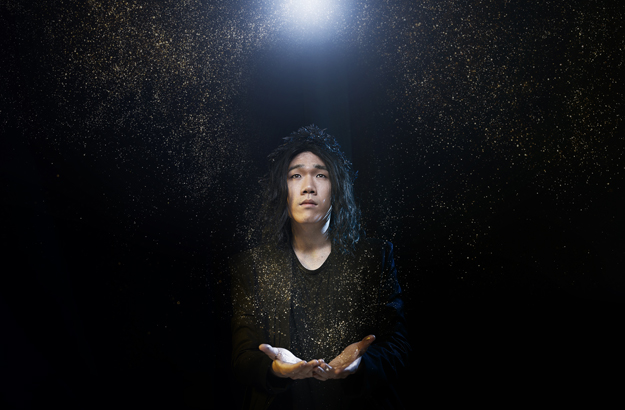 Sand, sensuality and breathtaking magic merge into a higher unity with South Korean Young-Min Kim. Press photo from Aarhus Festival
And more pointed beyond the world beyond the human. Aurelia Brua swung her body between two masts – called poles or, in popular parlance, stripper poles. She did it with such elegance that one thought of the Danish astronaut Andreas Mogensen, who was on his way in a weightless state. She almost floated when she held on with just one foot or one hand or tied herself to the mast with a knee hook. Unbelievably difficult, and incomprehensible that she had the energy to make it look as if she was light as a feather and what she did was the easiest thing in the world.
My companion named the next number the best of the evening. Krisztina and Bettina were two unusually well-shaped women. They were aerial acrobats in an aerial act where they hung from loops that were tied around their foot or hand. It seems to be called aerial straps in the professional language. And they swirled away from each other and into each other and intertwined in a swirling dance – in beautiful pastel-coloured costumes that matched their bodies. They met, parted, embraced each other and wrapped themselves around each other. Or the underwoman hung with only one hand on the upperwoman's foot. Or a single foot in the superior woman's hand. Separation and close union. A whirlwind dance, light, elegant, aesthetic - that's what it looked like.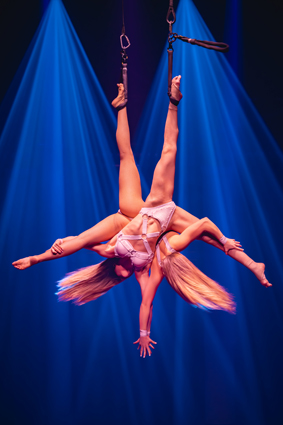 Hungarian Kristina and Bettina elegantly combine power and grace when they fly high above under the doom
And the final act. You've seen quick change before. It is always done by the changing taking place while a helper hides the person changing clothes, or it takes place behind a screen. But not here. Lea Kyle did it for open stage. Before the eyes of the spectator, the clothes changed colour and shape to disappear the next moment, while a new dress sprang out of nowhere. And patterns formed on the clothes while waiting for what the next costume would be. And she picked up dresses from a rack and in a split second the dress jumped onto her body. It is, of course, not only about dexterity, but also about technique of one kind or another, which is and must be opaque to the spectator, who is left with his mouth open.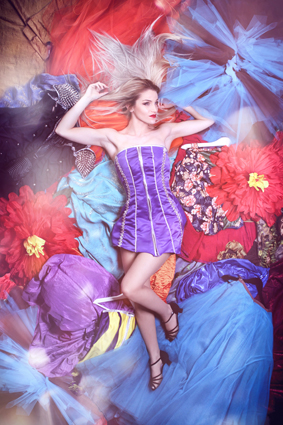 French Léa Kyle has nothing less than "the world's fastest woman to change clothes" on her CV. Press photo from Aarhus Festival
Some of the acts were accompanied by recorded music. It was probably necessary for the artists' timing of the individual tricks. But fortunately, there was room for you to feel the pulse of the performance, which is live music. Marc Thierry's eminent drumming formed the basis of a trio, where Jesper Daus played the saxophone and Jesper Gruschy operated the keyboard.
It was an evening that the spectators will not forget. Entertainment at its finest. And you don't have to travel out into the wide world to see it. It happens right before one's eyes. It's all happening in Aarhus!

26 August 2023
Circus of Torment is coming back to Denmark. They visited Denmark in February this year with performances in Vejle and Aalborg. Now they return, this time with performances in Esbjerg (September 1 to 10), Aarhus (September 15 to October 1) and Odense (October 27 to November 5).
About the performance in Aalborg, the digital media migogaalborg wrote "Perfect combination of horror, laughter, horror and screams" and gave the performance 5 stars.
On this website Jorgen Lorenzen wrote, among other things: "There was so much that at the end you wanted to see it all again. And as in a good theater performance, the performance posed questions to the audience: what did we see here? How should we interpret it? There was not just, as in a good circus performance, a bombardment of the senses, a joyful demonstration of the many facets of circus art and its beauty".
Between the performances in Aarhus and Odense, the cast and crew go to Spain to perform at the Fiesta del Pilar festival in Zaragoza, where they will be from 6 to 22 October.
Click here to read more about the performances in Denmark.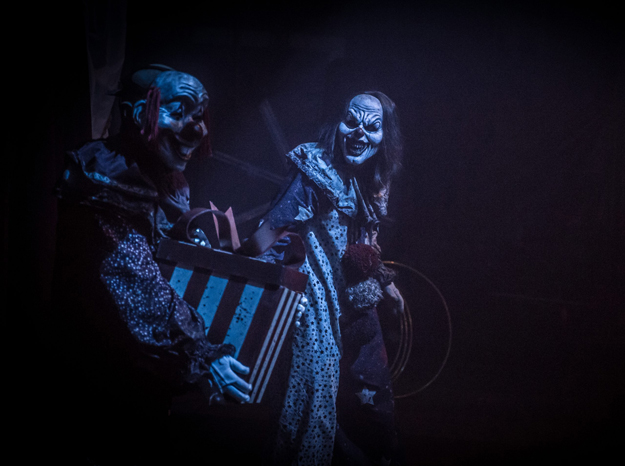 25 August 2023
The Danish Circus Award 2023 was on 21 August by the Danish Minister of culture Jakob Engel-Schmidt given to Marianne Deleuran of Circus Mascot. The talent prize was given Kaya Janeček from Circus Baldoni. The prize for the best act of the year was given to Los Ortiz from Circus Arena. The effort prize was given to the Circus Museum at Hvidovre, Copenhagen. A bursary of 10,000 DKK was by the Nelly Jane Benneweis Foundation given to each of the siblings Julia and Joakim Myllykangas.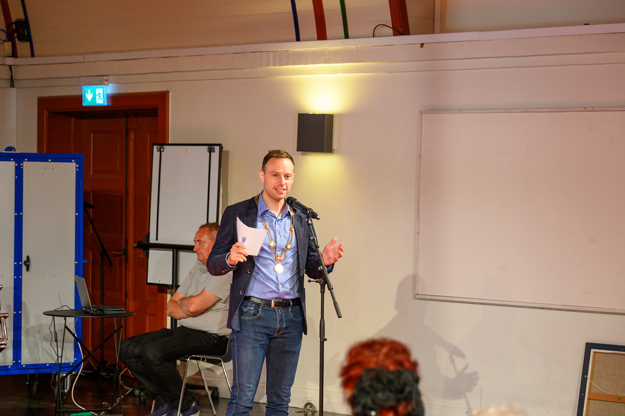 Hvidovre's mayor Anders Wolf Andresen welcomed to the award ceremony, which for the 6th time in a row took place in the Fencing Hall at the Circus Museum in Hvidovre, Copenhagen. Photo: Bent Hjarbo
The Danish Circus Award 2023 to Marianne Deleuran
Since 1994, Marianne Deleuran has run Circus Mascot - first together with Jess and then together with the eldest of the couple's sons Daniel, who has been Circus Mascot's ringmaster in recent years. Marianne had no idea that her future husband Jess could do magic when she met him in 1987, when they were both employed at Jysk Telephone. She discovered by chance that he had a closet full of magic props and suggested they should put together a magic show. They did, and over the years they got a dream of having their own circus.
They tried to borrow money from the bank - without success, and instead they were allowed to work with a circus from Germany. It was a bit of a show... And it stopped three weeks before the season ended. In 1991, the couple got a job in the small Danish Circus Scandinavia. They had to do an illusion act as well as an act where Marianne was the mind-reading phenomenon Lizette. After 3 months, Circus Scandinavia run out of money, and the couple had learned something about how not to run a circus.
Based on this knowledge, Jess and Marianne founded Circus Mascot in 1994. There was room for 270 in the tent - but the audience didn't exactly pour in. With them in the circus wagon they had their four-year-old son Daniel, a poodle and a couple of balloon dogs. Later, a couple of goats and several dogs were added. And geese, ponies and foreign artists. Circus Mascot slowly became a success, and Marianne found out that she has a special connection with animals, not least dogs. She can get them to do almost anything - and they can get her to do everything.
In 2013, Jess and Marianne divorced, and she and her son Daniel continue to run Circus Mascot together. They live in Roslev, Jutland. For many years they toured with a tent, but in the last few years they have chosen to perform in sports centers in Jutland and Funen.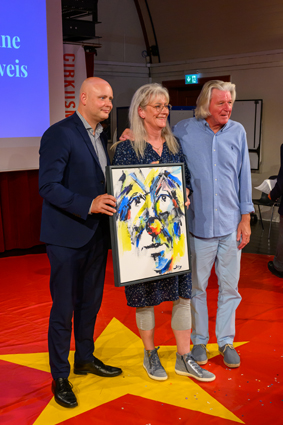 The honorary prize consisted of a painting created by the clown's master Viggo Salting. The photo shows Marianne Deleuran with the painting, surrounded by Culture Minister Jakob Engel-Schmidt and Viggo Salting. Photo: Bent Hjarbo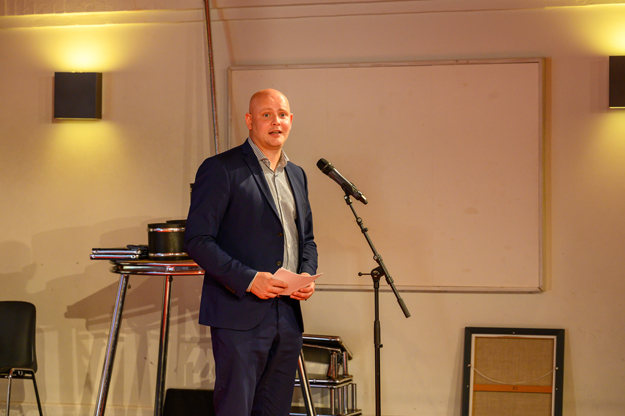 In his speech in connection with the award ceremony, the Minister of Culture said, among other things (my translation): "In circus you enter a fascinating universe. Under the big top you experience the laws of nature being put out of force. The circus is traveling and tour all over the country. Excites and entertains. Thanks to the circuses for giving all of us opportunity to see performances all over the country. I think that maybe we in the Danish Parliament needs to do a little bit more to ensure that future generations also get that opportunity." Photo: Bent Hjarbo
Previous recipients of the Danish Circus Award:
1968 Albert Schumann
1969 Eli Benneweis
2016 Benny Berdino
2017 Søren Østergaard
2018 Martin Arli
2019 Benny Schumann
2022 Katja Schumann
This year's talent prize to Kaya Janeček from Circus Baldoni.
KAREL 'KAYA' JANEČEK is the 8th generation of a well-known Czech artist family. In 2018, when he was only 11 years old, he was nominated for the talent prize for an impressive rola bola act, competing with his father Eddie Janeček for who was the best. In 2021 and 2023 he once again showed his rola bola act with the charm of youth. Despite his young age, he is one of the very best in the business.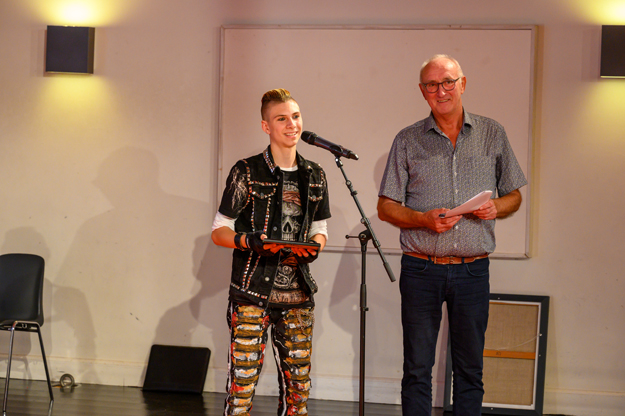 The talent prize was handed over by jury member Niels Chr. Hansen, who is also chairman of Cirkushuset's Museum Association in Rold. Photo: Bent Hjarbo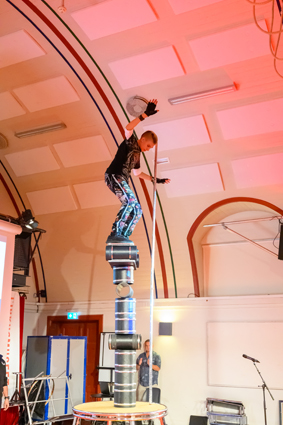 In connection with the award ceremony, Kaya presented his rola bola act. The photo shows his impressive final trick. Photo: Bent Hjarbo
The prize for the best act of the year to Los Ortiz from Circus Arena.
LOS ORTIZ performs on high wire. Two of the troupe's members have received a silver clown in Monte Carlo. High wire acts are considered among the most dangerous circus acts. Many meters above the ring, they dance and jump over each other on the thin wire. Their final trick is the famous and dangerous 7-man pyramid, which we not have seen before in Denmark. In addition to the high wire act two of the troupe's members appear on the wheel of death.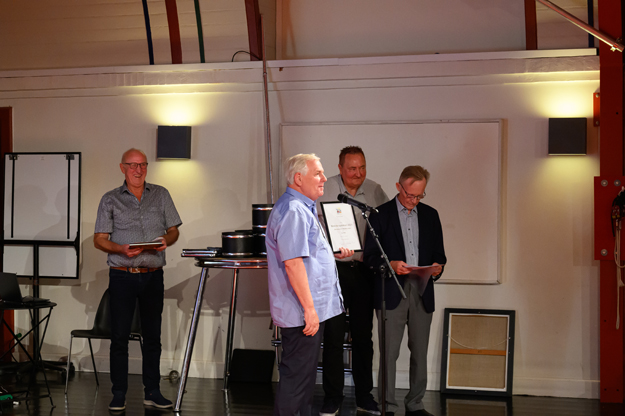 Circus Arena ended its season on August 5 and the Los Ortiz troupe had moved on to the next engagement. Thus, it was Benny Berdino who received the prize on behalf of the artists. Here he is seen surrounded by Niels Chr. Hansen from the Cirkushuset's Museum Association and Kim Thanning Olsen, who is chairman of Danish Circus Friends association. The prize is sponsored by the two associations. Photo: Bent Hjarbo
The effort prize to the Circus Museum in Hvidovre, Copenhagen
Last year's recipient of the effort prize MP Anders Kronborg presented this year's prize to the Circus Museum in Hvidovre. The museum opened its doors in 2001 and has since made a unique effort to spread knowledge of the circus and artistry. The Circus Museum's collection is among the largest of its kind in Northern Europe. It consists of more than 100,000 different artefacts, including many thousands of photos and posters, costumes and props, personal notebooks, programs and newspaper clippings. The museum has not just exhibitions, but also Circus Fun, where visitors can try a number of different circus activities such as juggling, balancing, trapeze and more and get help from the museum's artist. The museum also holds a circus school for children and young people and arrange a number of workshops. The prize was received on behalf of the museum by Hvidovre municipality's culture committee chairman Kenneth Bak, who also is chairman of the museum's board.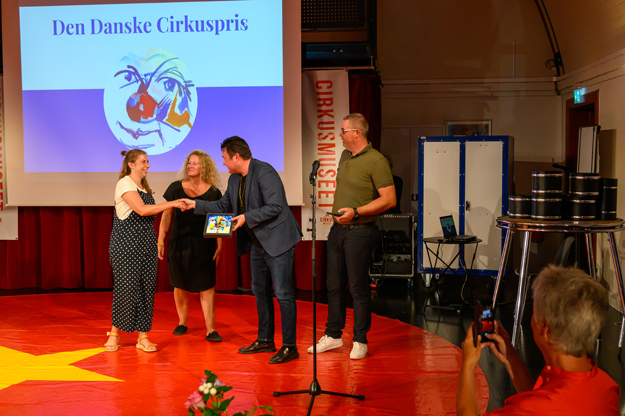 Anders Kronborg presents the effort prize. Photo: Bent Hjarbo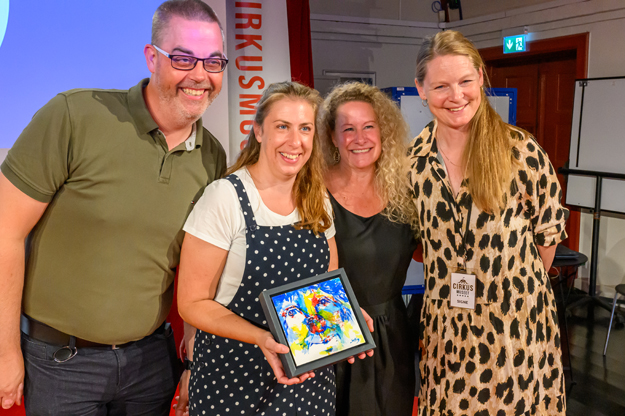 Kenneth Bak together with 3 of the museum's employees: Majken Bjaler, Line Vittrup and Signe Hoffmeyer. Museum curator Mikkel Knudsen was on holiday. Photo: Bent Hjarbo
Bursaries from the Nelly Jane Benneweis Foundation
In connection with the award ceremony, the Foundation after Nelly Jane Benneweis, gave a travel bursary of DKK 10,000 to each of the 2 siblings Julia Myllykangas and Joakim Myllykangas in recognition of the recipients' skill, interest and further potential, and thus also as an incentive to continue to improve their skills as circus performers. They are the children of the Danish clown Lasse "Bonbon" Nørager and his Finnish-born wife Tiina Myllykangas. In the last few seasons, Julia and Joakim have, among other things, performed in Circus Jesper in Kristiansand Zoo in Norway. Earlier they have e.g., been with Cicus Krone in München.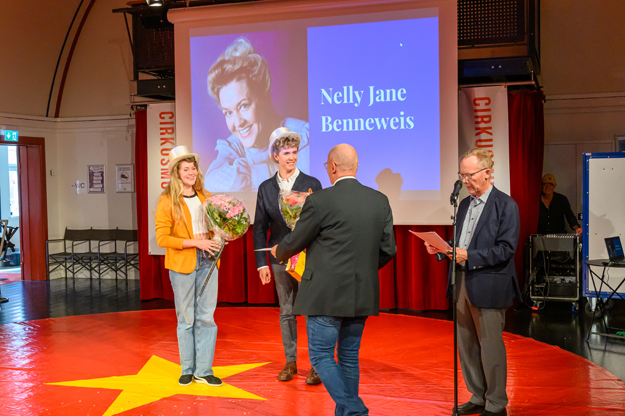 The bursaries from the Nelly Jane Benneweis Foundation were presented by jury member Lars Wallenberg. Photo: Bent Hjarbo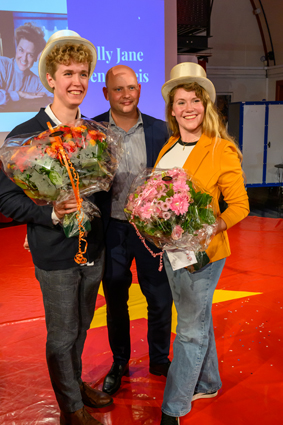 Joakim and Julia Myllykangas together with Minister of Culture Jakob Engel-Schmidt. Photo: Bent Hjarbo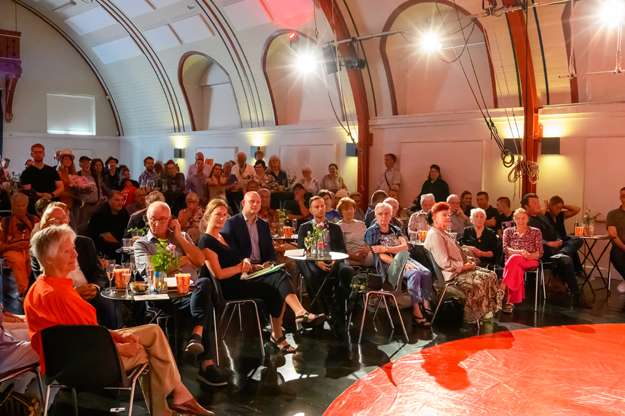 From the Fencing Hall. In the middle of the picture Minister of Culture Jakob Engel-Schmidt and Hvidovre's Mayor Anders Wolf Andresen. Photo: Bent Hjarbo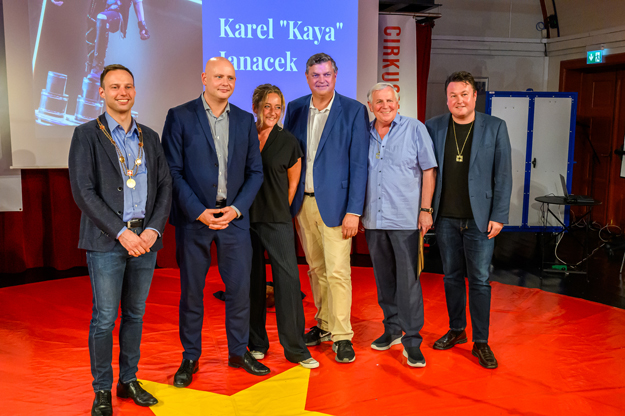 Not just the Minister of Culture, but also 3 other members of the Danish Parliament, had found their way to the award ceremony. From the left you can see mayor Anders Wolf Andresen (not a member of the parliament), culture minister Jakob Engel-Schmidt, Maria Durhuus (former chairman of the Circus Museum's board), social democrats' culture spokesman Mogens Jensen, circus director Benny Berdino and Anders Kronborg. Photo: Bent Hjarbo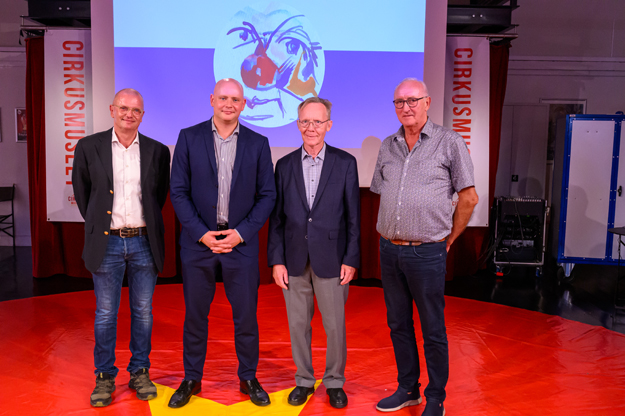 Three members of the Circus Award's board of directors (the "prize jury") are seen here together with Minister of Culture Jakob Engel-Schmidt. From left Lars Wallenberg, the minister, jury chairman Ole Simonsen and Niels Chr. Hansen. The last member of the jury, Jan Hertz, unfortunately did not have the opportunity to be present. Therefore, this year it was Ole Simonsen who had the task as compere. Photo: Bent Hjarbo

22. august 2023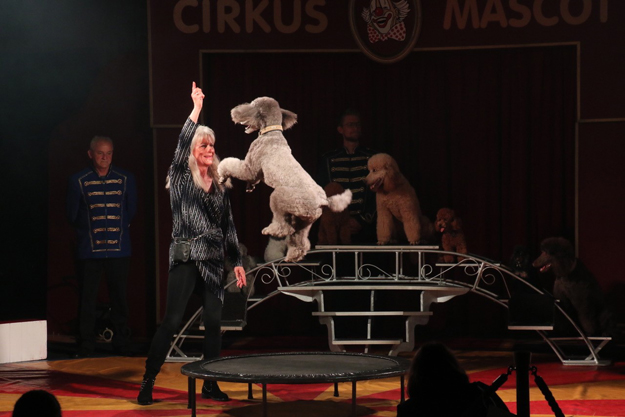 Per Krogh Petersen visited Circus Mascot in Svendborg on 21 August and writes: I was there with my camera. So now my Circus Mascot photo and video website has been updated. Thanks again for a lovely evening and a great show. Wish Mascot & Co a continued good Circus tour 2023. Click here to see Per's photos and video clips.

19 August 2023
Obituary: Miguel Ferreri. The Spanish tight wire acrobat Miguel Ferreri passed away on August 17. He was only 58 years old. The Danes experienced his elegant act in Circus Benneweis in 2007, where he with Spanish temperament mastered both skipping, jumping over obstacles and both the backward and the very difficult forward somersault. His two sons Michael and Steven toured Denmark with Circus Arena this year. Michael is an excellent juggler and Steven performs on tight wire and is trained by his father. His act was among the 3 acts nominated for this year's talent award. Miguel was with his sons for most of the season, but felt unwell and taken to a hospital when Circus Arena was in Rødovre, Copenhagen. After a few days he was back. But on the way home to Spain by car with his wife, he became sluggish again and ended up in hospital, where he passed away.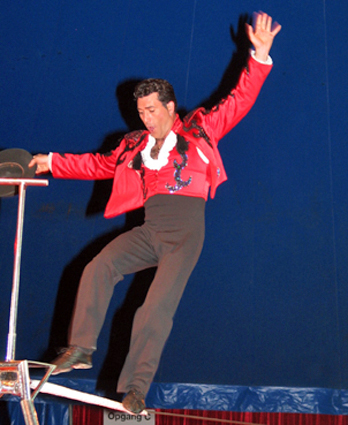 Miguel Ferreri at Benneweis in 2007
Obituary: André Nikolaev. The Russian clown André Nikolaev passed away in a hospital in Russia. He was 85 years old. The Danes saw him in Circus Benneweis in 1999 together with partners Galina and Pavel as Nico & co. His name is also seen spelled Amdrej Nicolajew

18 August 2023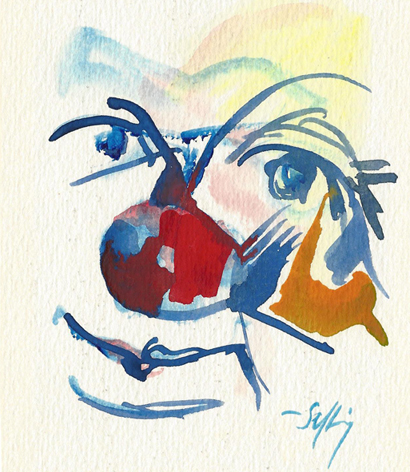 The Danish Circus Award 2023. This year's circus prizes will be awarded on Monday 21 August at 13 in the Fencing Hall at the Circus Museum in Hvidovre, Copenhagen. Everyone is welcome. The doors to the Fencing Hall open at 12:30, where the Circus Museum offers a glass of wine.
The Danish Minister of Culture Jakob-Engel Schmidt and Hvidovre's mayor Anders Wolf Andresen participate in the award ceremony. The following prizes will be awarded
· The Honorary Award, The Danish Circus Award, will be presented by the Minister of Culture
· The talent prize
· The prize for the best act of the year
· The effort prize, presented this year by last year's awardee MP Anders Kronborg
In addition to the mentioned prizes, the Foundation after Nelly Jane Benneweis, will award 2 travel grants to young Danish artists.
The names of the prize winners can from 21 August at 14 be seen on the Circus Award's Facebook page https://www.facebook.com/DenDanskeCirkuspris and later in the day in English at https://www.facebook.com/groups/30787928101

18 August 2023
Danish Circus Krone. Joan Dansberg writes (my translation):
My sister lives in Værum, south of Randers, and we had agreed a long time ago that I should visit her and stay with for a few days. The conversation fell on the circus, and my sister thought there was a circus in Randers.
On Tuesday 15 August, we went to Randers, which was decorated with several Dannebrog flags. Trucks filled up well both at the harbour and at the circus lot. Carousels, swings and much more were being set up in two different lots. It was Rander's Festival.
And in Tronholmparken there was a small blue/red circus tent. It was Circus Krone that was engaged by the municipality to have performances Monday to Thursday for the municipality's kindergartens. Three performances every day.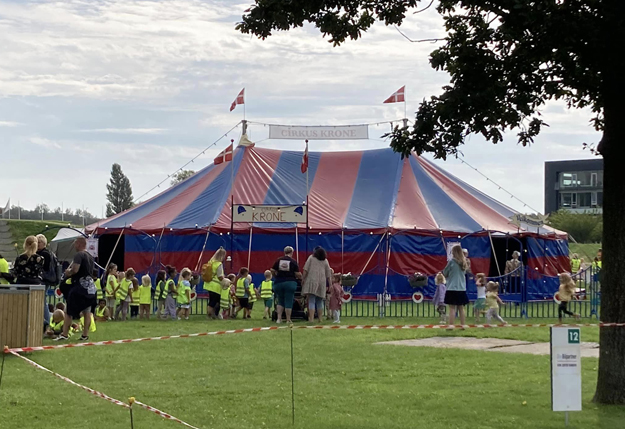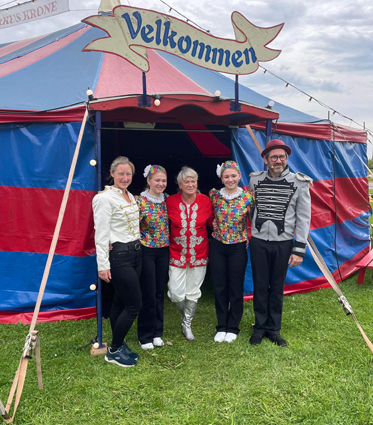 All photos: Joan Dansberg
My sister and I was invited to see the performance even though we are past kindergarten age, but our kid hearts were intact - we laughed with the little kids when Allando the clown let himself be tricked by one rabbit after another. He ended the act juggling plastic bags. It was beautifully done. I don't know why, but I thought of Charlie Chaplin.
The Krone family consists of: Irene, Jan Allan, Frank and Frank's girlfriend, Kate, as well as Frank's two beautiful twin girls aged 17. The twins were props. In addition, Leo (Germany) did two acts with his dogs.
Allando and Irene did a comic act together, where Irene was hidden in a penguin suit, and Irene could convey both humour, sadness and a little glee with her body movements.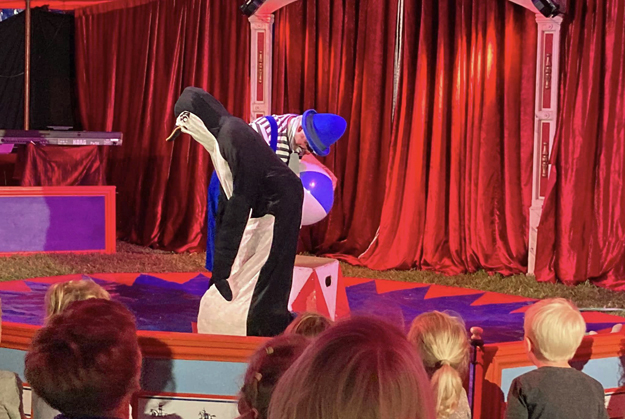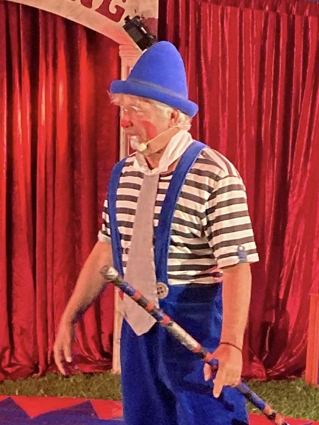 Frank Thierry was ringmaster and also had an entrée where a couple of children were invited into a circus school in the ring to be performers for a few minutes. Seeing the happy children's eyes was worth the entire performance.
Leo had trained his dogs well, and the humour was pervasive in both his acts. It was professionally done and a joy to watch.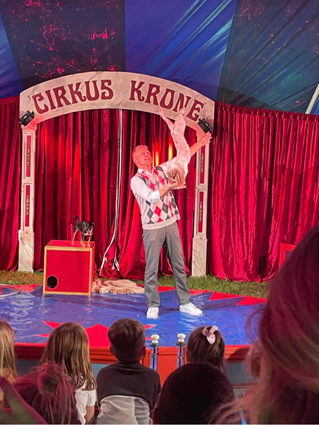 What I sensed clearly throughout the performance was that the Krone family put soul and warmth into their performance, both in their approach to the audience and to each other.
Frank Thierry is a pleasant ringmaster and I felt safe in his company from the first second. Perhaps especially because he did as his grandfather, Regner Thierry: He encouraged the audience to greet each other and the artists. Then we were all like one big family.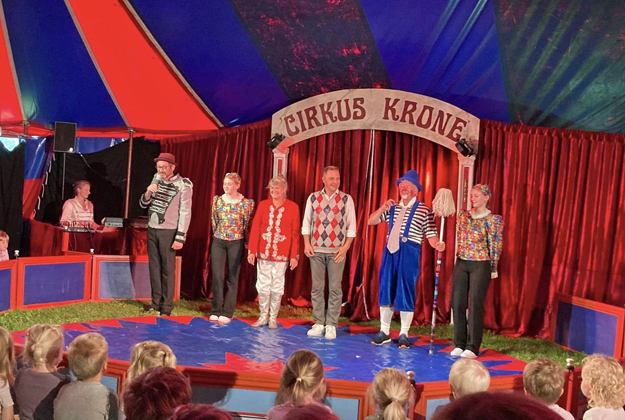 I do hope that Circus Krone has opened for a new epoch The family is talented, and the love of the circus can be felt by the audience. You leave the show happy.
**
The Thierry family's small Jutland Circus Krone has not been on tour since 2018. Thus, it was the first time in 5 years that you could see Circus Krone. Frank Thierry says that they would like to go out again in 2024. Without one-day cities and with a program running for one hour.

17 August 2023
Circus Baldoni tours the Faroe Islands from 4 – 13 September 2023. The tent season ends on 29 August in the winter quarters in Tureby. Then they have a single indoor performance on 1 September in Sørbymagle, before the trip to the Faroe Islands.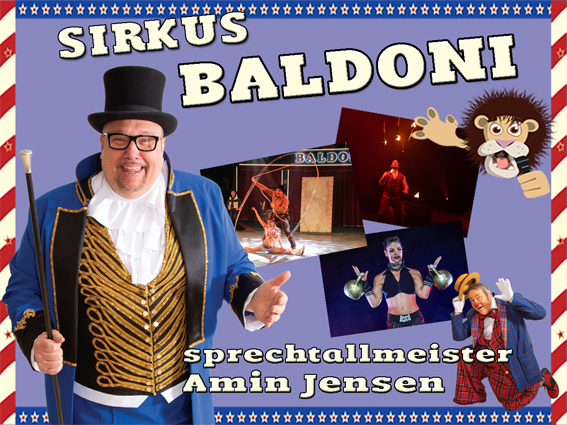 In 2023, it will be the 17th time for Circus Baldoni to visit the Faroe Islands. As in the tent performance it is the stand-up comedian, singer and actor Amin Jensen who presents the performance. Of course, he has Leonardo the Lion (a ventriloquist doll) on his arm, just like circus director Baldoni always had.
The performance in the Faroe Islands features cool acrobats, a strong woman who juggles kettlebells, the cowboy family Buffalo Family who swing lassos and throw knives. The circus princess Diana blows soap bubbles in formations that have hardly been seen before at the Faroe Islands. The now 13-year-old Rudi Janeček premieres with his acrobatic pole and handstand act. The clown is like in the tent show Tøffe with lots of funny elements, where he also does his part to get the ringmaster confused.
Read more at https://baldoni.dk/fo/

17 August 2023
Halloween Circus 2023. This year you can experience the Halloween Circus at Bellahoj in Copenhagen from 13 to 22 October. As last year, there is talk of a co-production between Clemens and Circus Arena.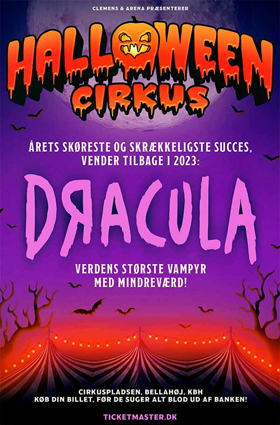 Circus Arena writes (my translation):
In a huge total show for the whole family created by Clemens, circus performers gather together with singers, actors, influencers and dancers.
Are you into musical ear hangers, dangerous circus tricks, fire cannons and sleazy acting? Or if you just want to see if this year will be even more raucous than the debut in '22, now is the time to secure tickets to the big event of the autumn holidays, HALLOWEEN CIRKUS with this year's disturbing tale:
Bram Stoker's well-known character, Dracula, has become too big for his anemic hometown, which just can't accommodate his grandiose format. He wants to go to London and hang out with real world vampires.
But when he realizes that the finer company is a blood orange juice-drinking, closed circle that ridicules his medieval vampire habits, he declares war. In a humorous revue, Dracula's hot-blooded temperament meets the icy and calculating western vampire union.
Dracula must stamp all his most dangerous (circus) warriors out of the ground to go to the big battle on the battlefield, where it must be decided once and for all who is the world's greatest vampire (with inferiority)!
Our own Patrick Berdino plays the role of the world's greatest vampire Dracula, and he is surrounded by, among others,Camilla Frederikke, Mattias Hundebøll and Ataf Khawaja.
The show is recommended for families with children aged 5 and up

4 August 2023
International Circus & Cabaret Show in Aalborg. Skraaen in Aalborg writes (my translation):
In the past few years, Skraaen has been able to present international Circus & Cabaret with Majestique in the mirror tent Paradise, put up next to Nordkraft. No less than 2,500 bought tickets last summer and the reviews were super good.
This year, both Paradiso and Majestique are out trying new challenges elsewhere in the world. At the same time, both we and they have already ticked the calendar at Aalborg 2024.
On the other hand, it makes it possible for Skraaen to present a smoking hot piece of news for September.
Directly from London, a brand-new international Circus & Cabaret Show Sophie's Surprise.
The show premieres this Friday at the Fringe Festival in Edinburgh, where they will then perform for the rest of August.
They then fly to Aalborg, where they are ready at Skraaen from 3 - 7 September.
Sophie's Surprise promises the craziest and wildest surprise party you will ever attend.
Sophie turns 29, and it is celebrated with Circus & Cabaret, Music & Comedy.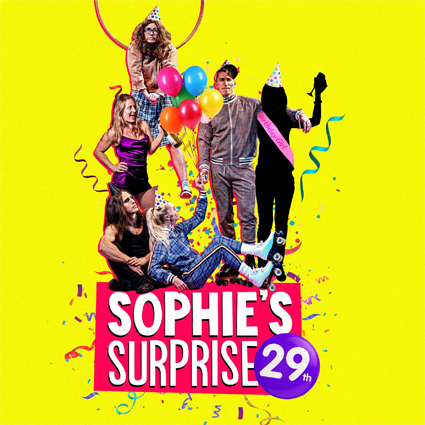 Imagine if The Spice Girls never broke up, Cirque du Soleil had sunstroke and Downing Street No. 10 had actually known how to throw a party.
Look forward to the international Circus & Cabaret Show from London with world-renowned young energetic artists from e.g., Cirque du Soleil, Britain's Got Talent and Majestique.
Expect Twilight fan fiction, one-wheeled drug dealers and death-defying exploits
World-renowned young artists.
Trio Vertex was formed in 2021 and has performed all over Europe in several TV shows. In 2022, they participated in the Young Stage circus festival in Switzerland, where they won the Gold Star and the audience award. The cast of Sophie's Surprise 29th also includes aerialist Katharine Arnold, hand-to-hand and roller-skating acrobats Nathan Redwood Price and Isis Clegg-Vinell, aerialist Cornelius Atkinson, bicycle acrobat and comedian Sam Goodburn, acrobat Nella Niva and, of course - Sophie.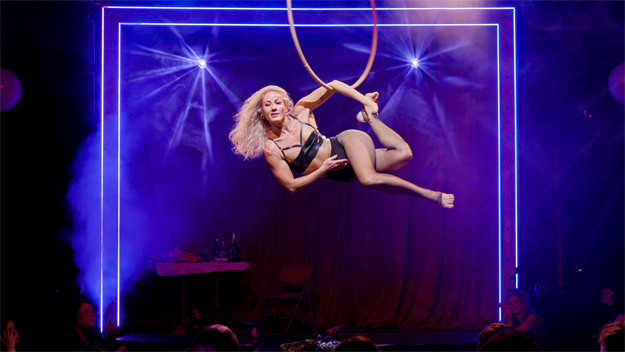 Aerial artist Katharine Arnold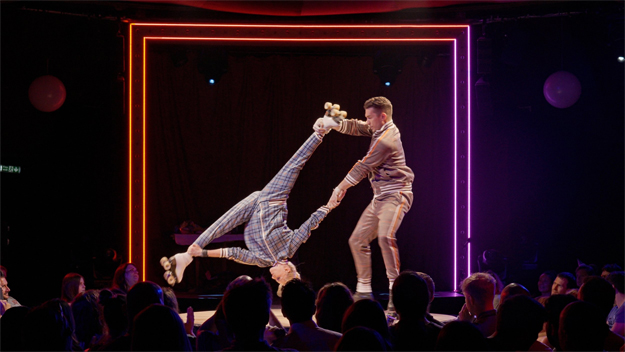 Roller skating acrobats Nathan Redwood Price and Isis Clegg-Vinell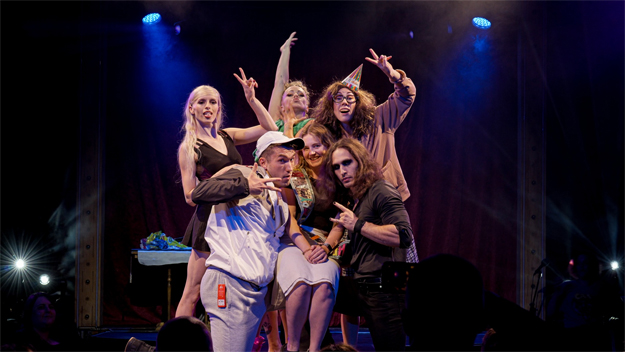 Put on your acid wash jeans and halter tops. The party starts at 20 sharp – but remember, don't tell Sophie.

3 August 2023
Contemporary circus performances all over the country.
Denmark's International Street Theater Festival has existed since 2013 and offers free performing arts in the middle of the street scene from 12 to 27 August. Their performances fall within genres such as contemporary circus, acrobatics, juggling, street parade, puppet theatre, comedy and much more. During August they visit Aabenraa, Esbjerg, Gentofte, Ikast-Brande, Nykøbing F, Randers, Silkeborg and Valby and present approx. 200 performances free of charge for the public. They are i.e., supported by the Ministry of Culture, A.P. Møller Foundation and a number of municipalities.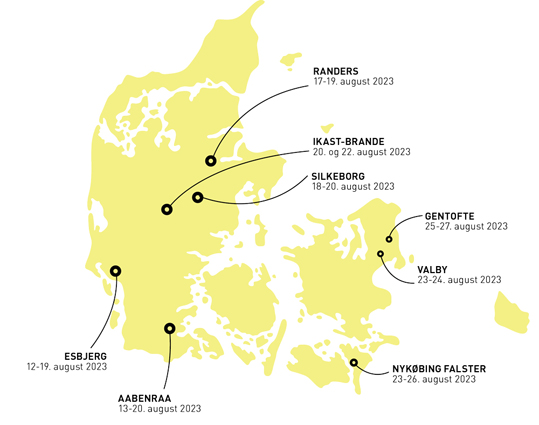 Vordingborg has its very own festival: WAVES, which takes place on the days 20 - 26 August. The local theater in Vordingborg Municipality has organized the WAVES Festival every second year since 1991. The festival presents the latest in a wide range of performing arts genres, including contemporary circus.
Although Denmark has several contemporary circus companies, all the performers in the contemporary circus performances during the street theater festivals and Waves come from abroad. One can wonder why. Do the festivals think it's better with foreign artists? Or that the Danish contemporary circus performances aren't good enough?

2 August 2023
Circus Trapez. Over the summer, Circus Trapez has had two units which have presented approx. 1-hour long performances. One unit in a tent in Madsbyparken in Fredericia and the other unit with Open-Air performances at campsites in Jutland and Funen. From 8 August, the two units will be merged into one approx. 2-hour show that usually plays in indoor arenas on weekdays and in a tent at the weekend. All the performances are in Jutland.
During the summer Circus Trapez had two talented young Danish aerial acrobats aged 14 in the performances. Rasmine Tomasevic Olsen in the tent circus in Madsbyparken and Jasmin Nørgård in the Open-Air performances. Both girls now have to go back to their school. Jasmin, who comes from Viborg, is going to post-secondary school, and then she hopes to go to one of the foreign circus schools.
Below are some photos from the Open-Air performance.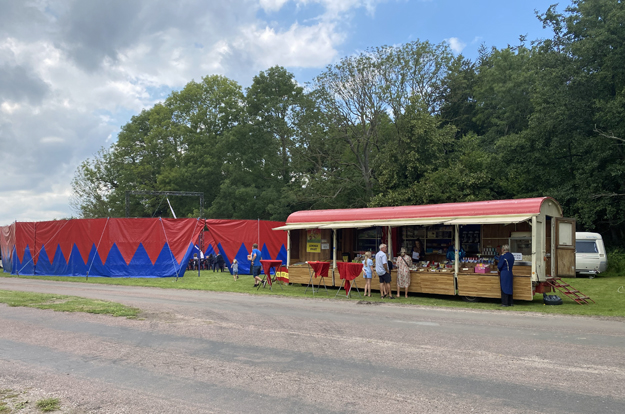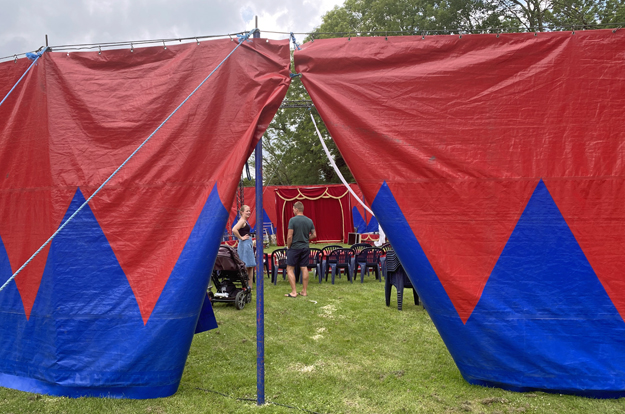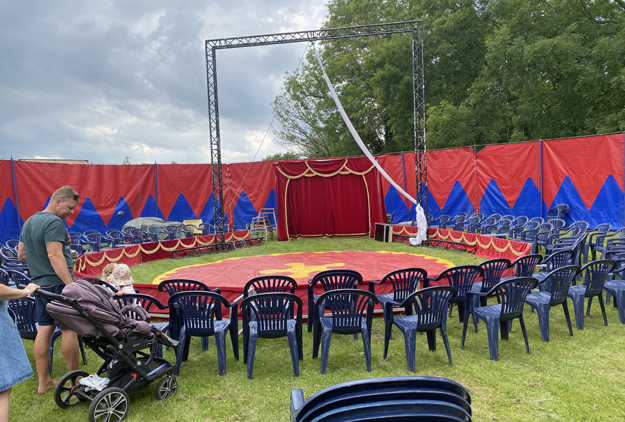 Photos from Bøsøre Strand Camping, where Circus Trapez had 2 Open Air performances on July 28 with good attendance for the afternoon performance and a little sparser attendance for the evening performance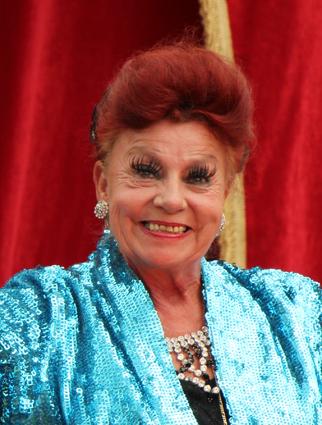 The Open-Air performances were presented by the old Dannebrog ringmistress Agnete Louise Enoch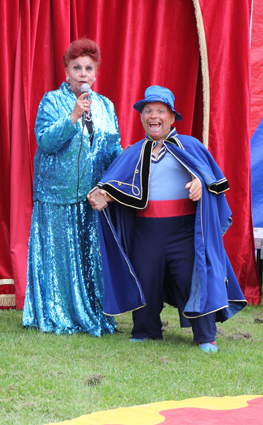 The central character of in the performance was the Hungarian run-in clown Gabor. He is 52 years old and has performed in a large number of circuses, including for several seasons at Ringling Bros & Barnum and Bailey in USA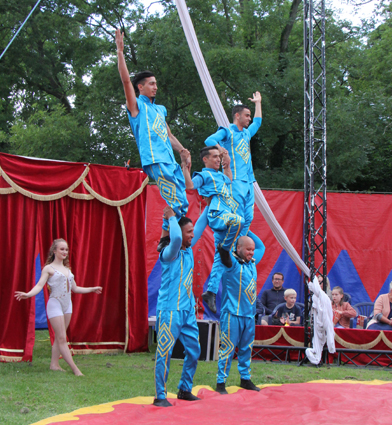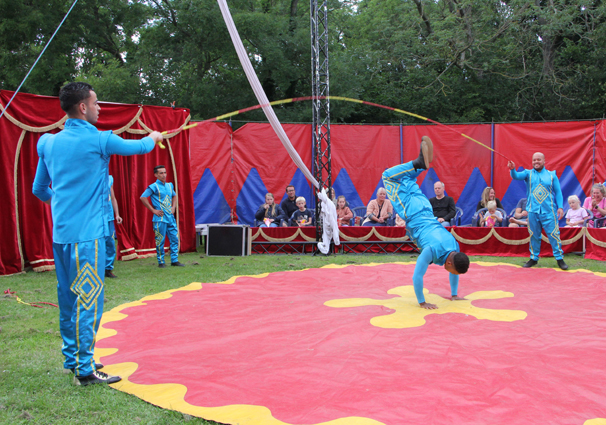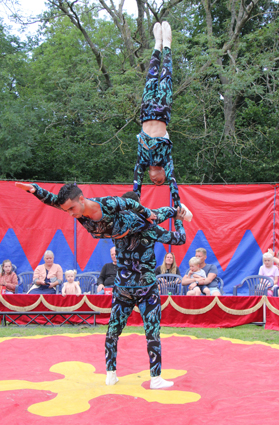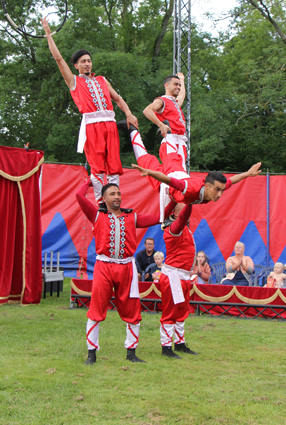 Several times during the performance we met a troupe from Morocco with either 3 or 5 members. They were presented under different names. The circus director Isabella Enoch Sosman calls them The Said Amazigh troupe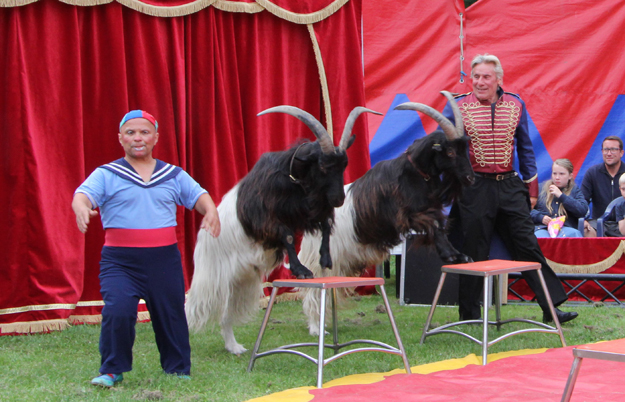 An act with 2 Swiss goats was presented by Bernhard Kaselowsky, assisted by the clown Gabor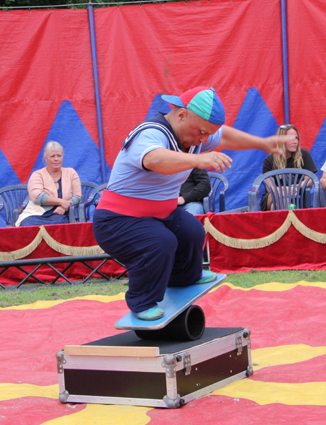 In one of Gabor's entrées he appeared, among other things. on rola bola. In another entrée he had two boys in the ring for the well-known skipping entrée. In a third entrée he had 4 men lined up for the entrée with the 4 stools, which are removed one by one. However, I do not bring photos of the audience members in the arena.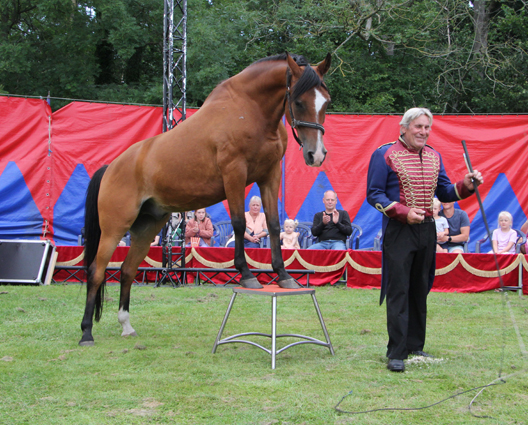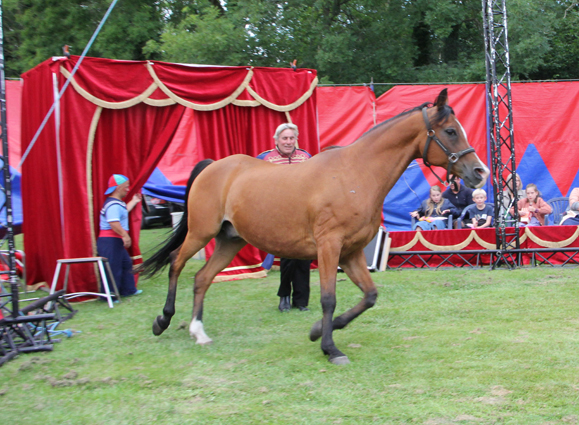 Bernhard Kaselowsky with a horse in liberty dressage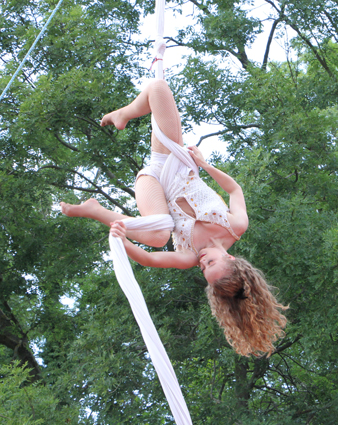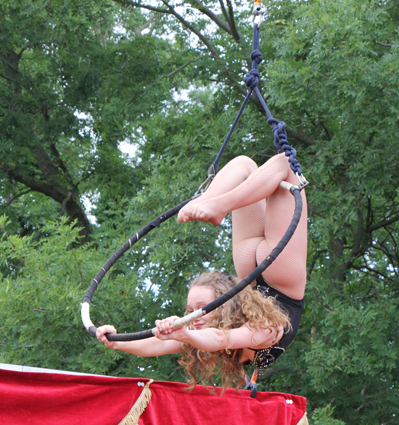 The talented young Danish aerial acrobat Jasmin Nørgård first performed in tissue and then in aerial ring.

29 July 2023
Circus Solvej. Jens Chr. Sørensen has visited the tiny Circus Solvej and writes (my translation):
I saw Circus Solvej's performance, which was excellent. It is well done by two people to make such a coherent performance. There was a full house. Could hear that people were happy with what they saw. There were 3 ponies, as there was only room for 1 at a time, Zora Nikodemova with a giant balloon, a dog act, different juggling, Victor Høegh Abrahamsen as a clown, etc.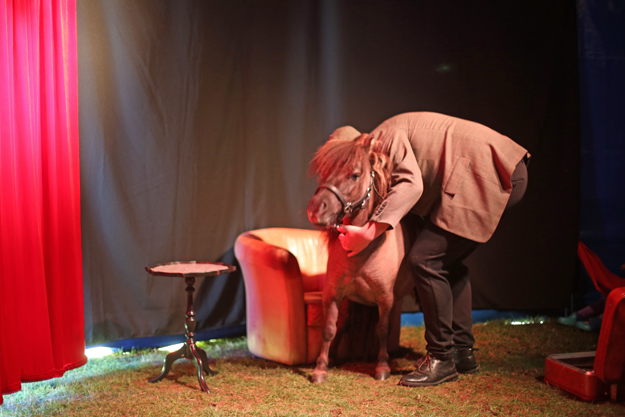 Victor Høegh Abrahamsen with pony. All photos: Jens Chr. Sorensen. The lighting conditions in the tent made it difficult to photograph.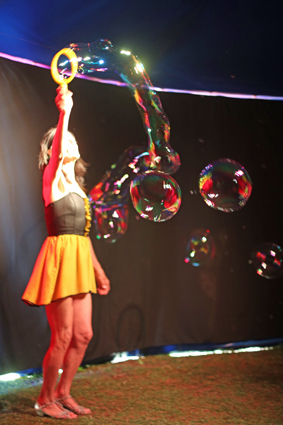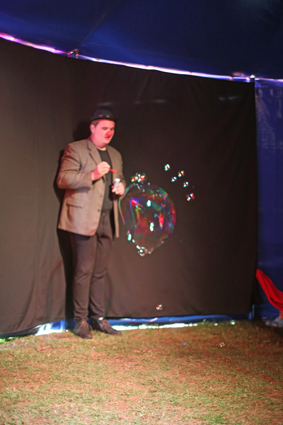 Both Zora and Victor appeared with soap bubbles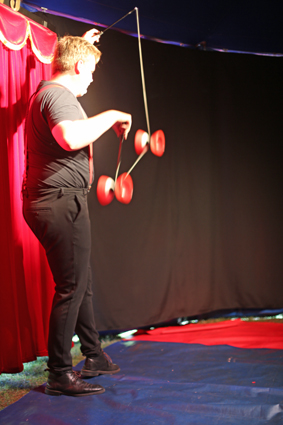 Victor with diabolo
The final act with Zora took place outside the tent for fire safety reasons

28 July 2023
The Southern Sweden Circus Festival is planned for September 2024. But in the days 7 to 10 September this year, you get off to a flying start with a series of events in Malmø and Lund. The festival is organized by Circus Syd in collaboration with Malmø municipality and Lund municipality. The idea is that from 2024 the Southern Sweden Circus Festival will be a recurring event in even years, i.e., 2024, 2026, 2028, etc.
Circus Syd is a network platform for international research, development and innovation based in Lund, Sweden.
You can read more about the festival, including the 2023 programme, at https://www.cirkussyd.com/southernswedencircusfestival

24 July 2023
Obituary: Carl Mundeling. The big cat trainer Carl Mundeling has passed away. He was 54 years old. He was son of Viola Mundeling and the Norwegian bandmaster Odd Buvik. Carl grew up in Arhus and had his A-levels from Aarhus Cathedral School in 1986. Actually, he would have been a helicopter pilot, but he chose the circus life and thus followed in the footsteps that his family had followed before him. "Circus life is my backbone and my whole life", he said himself.
For 6 years he travelled with the Norwegian Circus Merano, and then with Danish Circus Arena - a total of 3 years. In both circuses he worked on the administrative side. In the autumn of 2000, he became an apprentice of the English big cat trainer Dick Chipperfield, and he quickly took over a group of big cats which at one point consisted of 14 tigers. Carl thus became the last Danish big cat trainer. For 3 years he travelled with Circus Busch-Roland in Germany before switching to Italian circuses. In 2004 he was in the Italian Circus Darin Togni. He later dropped the big cats. In 2013 he was an administrative employee first at Danish Circus Baldoni and then at Danish Circus Dannebrog.
After this season, he went back to Italy with his mother and his girlfriend Clorinda Varrichio to resume his career as tiger trainer. For a year and a half, he worked for Circus Wonderland in Spain, where he presented the circus's six tigers and a mixed big cat group. Later he bought five tigers, which he presented Circus Delle Stelle in Italy. In December 2016, he married Clorinda, who had success in a comic act with a large pig. In recent times it is probably Clorinda who has presented the tigers. In addition to Clorinda, Carl Mundeling is survived by his 85-year-old mother Viola.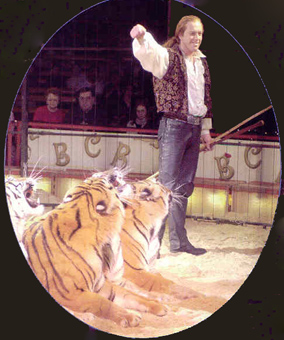 Carl Mundeling was born in Norway, where his mother, together with her mother Erna and his aunt, who was also called Viola, were involved in the operation of Circus Löwe. He therefore, like his father Odd Buvik, became a Norwegian citizen and retained this citizenship, even though he grew up in Denmark.

21 July 2023
Circus Landino (Circusland). Brian "Briano" Behrendt writes (my translation):
On 15 July I visited my good old place of work Circusland in Circus Arenas winter quarter in Aarslev by Slagelse, where I had many fantastic years when I worked there together with Suzanne Berdino and a wonderful team. I have many good memories from those days. And I still love all circuses.
I saw a very nice performance with international artists and 6 well-groomed ponies.
The performance started with the white-faced clown Yann Rossyan playing a nice musical number. After this, a charming ringmaster Patrick Berdino welcomed and started the performance with Arena's 6 Shetland ponies, which he presented in a fine liberty dressage.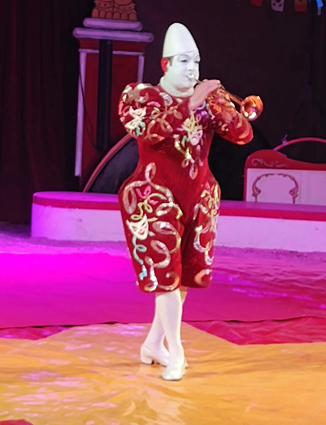 The white-faced clown Yann Rossyan. All photos smartphone photos taken by Brian Behrendt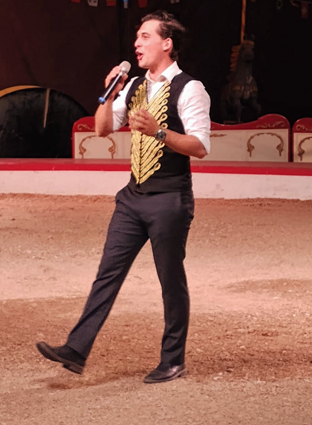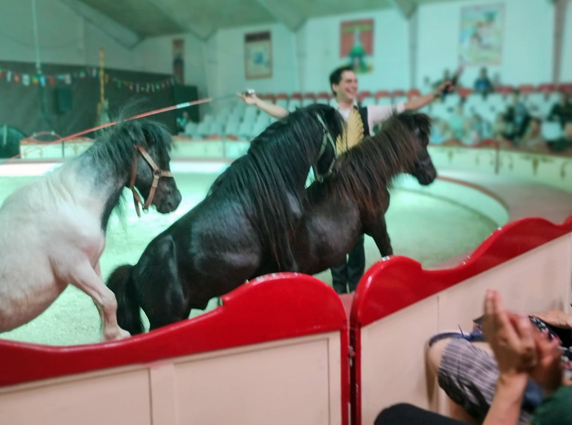 Benny Berdino's eldest grandson Patrick was the performance's ringmaster. He was also the one who presented the ponies.
Afterwards we saw the juggler Vanessa Berousek in a completely new style. Afterwards, a short musical clown run-in with bells.
Then Vioris Zoppis entered the ring with his beautiful handstand act in a completely new style, performed in a small water bath. Good effect and nice trick.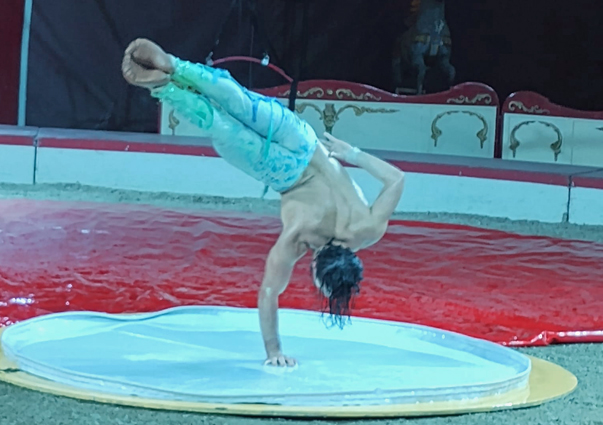 Spectacular that Vioris showed his handstand act in a pool with a little water at the bottom
Then a good clown entrée with Yann Rossyann and his wife Alexandra – the well-known entrée with bullet and plates. Yann and his wife are among my favourites as white-faced clown with August. They are really good in all entrées and super musical - that's one of their trademarks. Fantastic. I hope to see them in Arena's touring unite sometime.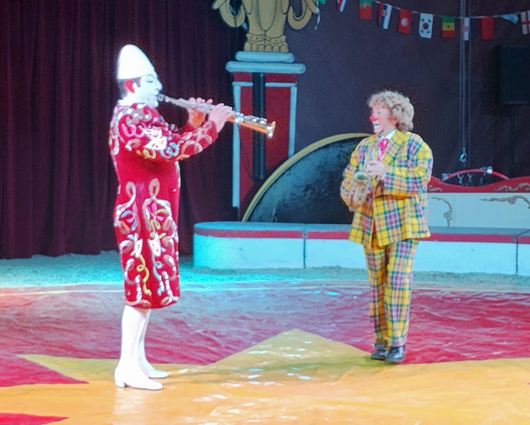 Yann and Alexandra Rossi aka Duo Rossyan. Years ago, Yann had his brother Hector as a partner.
Afterwards, a ring trapeze act with Katarina, to which the clowns' daughter Camila sang beautifully. After this, a longer musical clown entrée where Yann plays the Circus Renz March faster and faster on the xylophone. Then both clowns.
Last act was Vioris Zoppis with his act in aerial straps, for which he won gold in the Monte Carlo Young Generation Festival in 2018. A really strong act.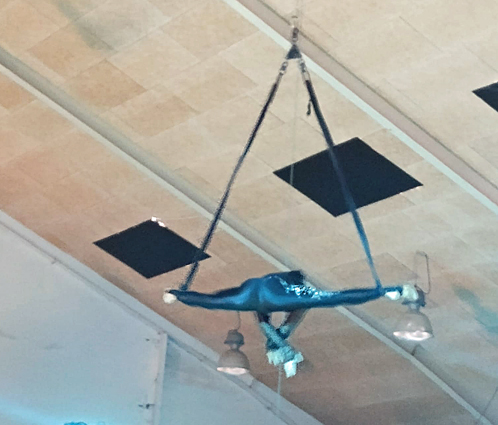 Vioris Zoppi in aerial straps
All acts were presented by the super ringmaster Patrick Berdino. There was music with drums, played by the clown's son, to pre-recorded music. It worked really well. Light and sound were controlled by Fabio, who for many years played drums in Circus Arena's orchestra when English Alex Bozic was bandmaster.
Thank you all for a great show, which I hope many will visit. There was a Circus workshop some time before the circus performance in the newly decorated training ring.

18 July 2023
Viggo Salting and Helle Abildgaard in Vendsyssel. The painter couple Viggo and Helle have lived in Kerteminde on Funen for many years, but at the same time had a house in France. They sold that in 2022 and soon after bought a small idyllic house in Rodhus in Vendsyssel in the northern part of Juland. It is currently being transformed into a working gallery, which is scheduled to open its doors to the public in August. The address is Rødhusvej 240, Pandrup. The hope is later to be able to build a gallery building of 80 square meters where the painting can be displayed.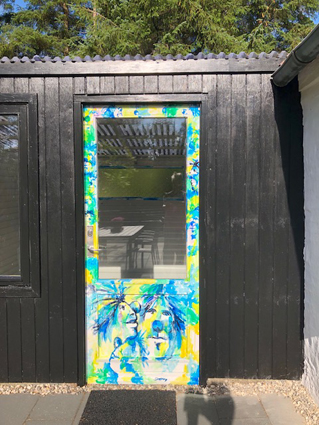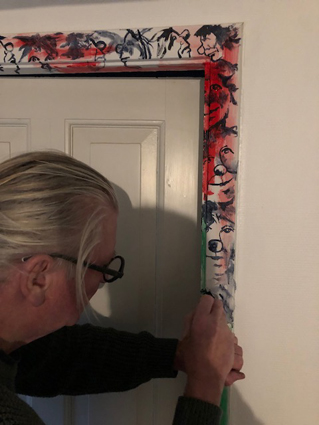 To the left: Entrance door to workshop. To the right: Viggo Salting paints door frames with his clown portraits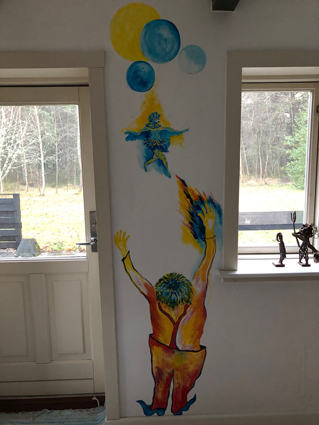 Helle Abildgaard calls her painting of the clown grabbing the angel Corteo
Initially, the gallery will be open Thursday, Friday, Saturday and Sunday from 12-4 pm for the rest of July and in August.
- Our wish is to transform the place into an experience centre where guests can come and see how we work and experience our paintings, Viggo Salting says.
Until now, Helle and Viggo have lived a life as colourful as their many paintings, which have been created over a long life, including some years when they travelled with Circus Benneweis. Viggo is in artist circles known as the master of the clowns. Among other things, he has created the logo for the Danish Circus Award and the paintings that the recipients of the prestigious award have received.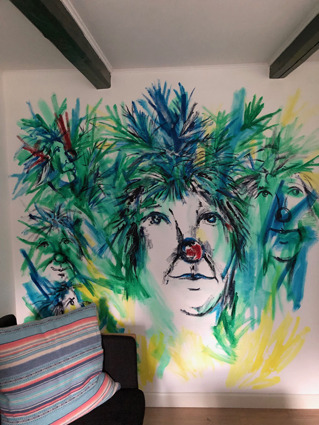 Viggo Salting's painting The Forest Clown

17 July 2023
Nominations for this year's Danish circus award. Press release from The Danish Circus Award (my translation).
Members of the jury have seen more than 50 artists/acts in Denmark this year. The jury has now decided which of these will be nominated for the prize for the year's best act and the year's talent prize.
The nominees for this year's talent prize are:
Steven Ferreri, Circus Arena
Karel "Kaya" Janacek, Circus Baldoni
Rasmine Tomasevic-Olsen, Circus Trapez
The nominees for the prize for the year's best act are:
Skating Ramos, Circus Arli
Duo Stauberti, Zirkus Nemo
Los Ortiz, Circus Arena
The award ceremony will take place on Monday 21 August at 13 in the Fencing Hall at the Circus Museum in Hvidovre, Copenhagen, with the participation of the Danish Minister of Culture Jakob Engel-Schmidt and Hvidovre's Mayor Anders Wolf Andresen.
4 prizes are awarded:
The Honorary award "The Danish Circus Award"
The talent prize
Best act of the year
The effort prize
Nominations are not made for the honorary award and the effort prize.
About the prizes
The board of the Danish Circus Award selects each year the nominees and award recipients based on the following criteria:
The honorary award is given to a person in recognition of his/hers particularly meritorious efforts to promote circus art in Denmark. The honorary award can just be received once. Nominations are not made for this award. The honorary award consists of a painting by the "master of the clown", the painter Viggo Salting.
The prize for the best act of the year is awarded to the artist which, in the opinion of the board, is the best who this year has performed in Denmark. The prize consists of a diploma and a lump sum of 500 Euro.
The talent award is mainly awarded to a younger artist. The prize consists of a diploma and a lump sum of DKK 10,000.
The effort prize goes to the politician or public person who has done the most for the circus in the past year. The prize consists of a small painting by Viggo Salting.
About the nominees
STEVEN FERRERI is a tight wire acrobat. He is the 4th generation from a well-known artist family and trained by his father Miguel Ferreri, who was also an excellent tight wire acrobat. Steven masters all the tricks a skilled tight wire artist must do. Including the forward somersault, which is much more difficult than the backward one, because you can't see the wire before you land, as well as jumping through a ring with knives.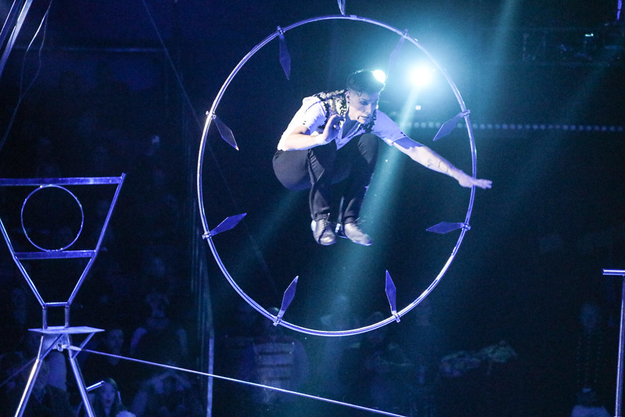 Steven Ferreri. Photo: Jacob Boas Leitisstein
KAREL 'KAYA' JANACEK is the 8th generation of a well-known Czech artist family. In 2018, when he was only 11 years old, he was nominated for the talent award for an impressive rola bola act, competing with his father Eddie Janacek for who was the best. In 2021 and 2023 he once again presented his rola bola act with the charm and radiance of youth. Despite his young age, he is one of the very best in the business.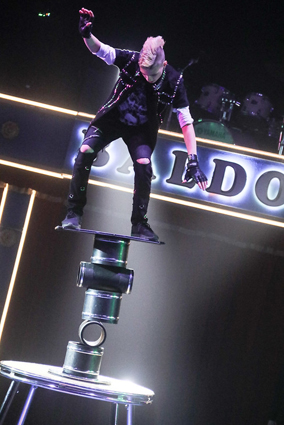 Kaya Janacek. Photo: Jacob Boas Leitisstein
SKATING RAMOS aka Adrian and Jenniffer Ramos present an impressive and fast-paced roller skate act which offers all the tricks that a great roller skate number should show. In addition, the couple has a number in aerial straps, where it is sometimes Jennifer who carries her husband. In most other strap duos, it is the man who is the supporting force.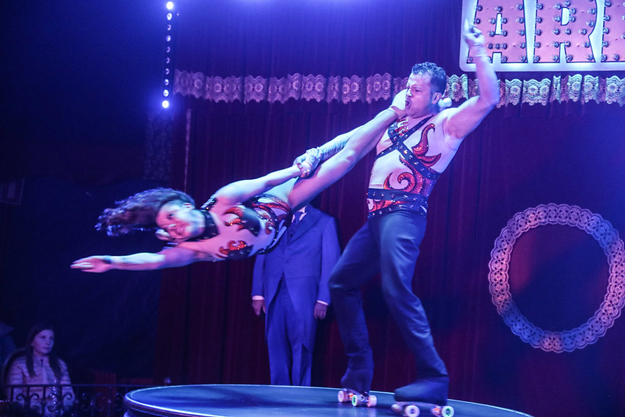 Skating Ramos. Photo: Jacob Boas Leitisstein
LOS ORTIZ performs on high wire. Two of the troupe's members have received a silver clown in Monte Carlo. High wire acts are considered among the most dangerous circus acts. Many meters above the ring, they dance and jump over each other on the thin wire. Their final trick is the famous and dangerous 7-man pyramid, which we have not seen before in Denmark. In addition to the high wire act, two of the troupe's members appear in the wheel of death.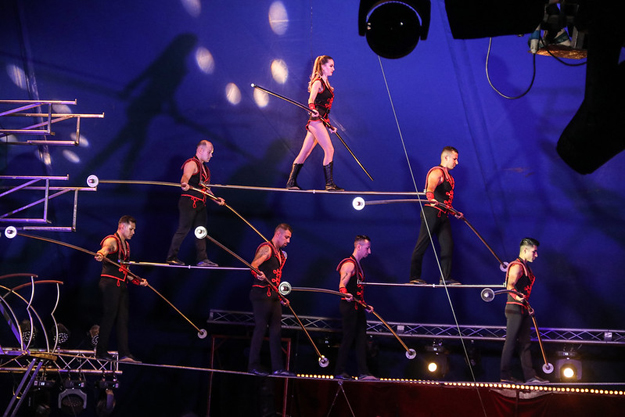 Los Ortiz. Photo: Jacob Boas Leitisstein
DUO STAUBERTI consists of Dimitri Stauberti and his niece Nancy. First trick is Nancy in a handstand on top of a perch, which Dimitri balances on his forehead while climbing up two ladders. In the next trick, Dimitri again balances a perch on his forehead, while Nancy stands upside down on top of the perch while rotating a kind of barbell with her feet. Later she stands on her head while Dimitri sits down and turns around. In the final trick, Dimitri rides a tall unicycle while balancing a perch on his forehead. At the top of the perch, Nancy stands in a handstand with ding the splits.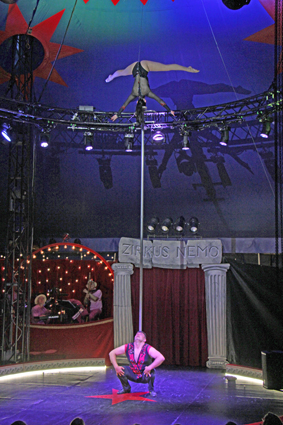 Duo Stauberti. Photo: Ole Simonsen
RASMINE TOMASEVIC-OLSEN works in trapeze. In connection with the presentation of the circus awards in 2022, she was the first artist ever to receive a grant from the Nelly Jane Benneweis Foundation in recognition of her interest and talent and as an encouragement to continue improving her skills. And the now 14-year-old girl has done so! Denmark has had a strong tradition of skilled female artists working in solo trapeze. Isabella Enoch and Nynne Hulsig Samuelsen are the last shots on the line. But it is as if Rasmine takes the discipline one step further. She does acrobatics in a swing trapeze. She is a huge talent.

14 July 2023
Circus Trapez in Madsbyparken. Over the summer, Circus Trapez has chosen to offer 1-hour long performances without a break. Partly in a tent in Madsbyparken in Fredericia, partly as an Open-Air performance on Jutland and Funen campsites. Ticket prices are lower than for the usual 2-hour performances: DKK 95 (approx. 13 Euro) for children and DKK 125 (approx. 17 Euro) for adults.
The performance in Madsbyparken is presented by circus director Isabella Enoch Sosman. At the Open-Air performances, her older sister Agnete Louise Enoch is ringmistress.
In Madsbyparken, Isabella welcomes being interrupted by Ursula, who tells that the artists has not yet arrived. Katja Tomasevic Olsen has the part as the comic character Ursula. She has several run-ins during the performance.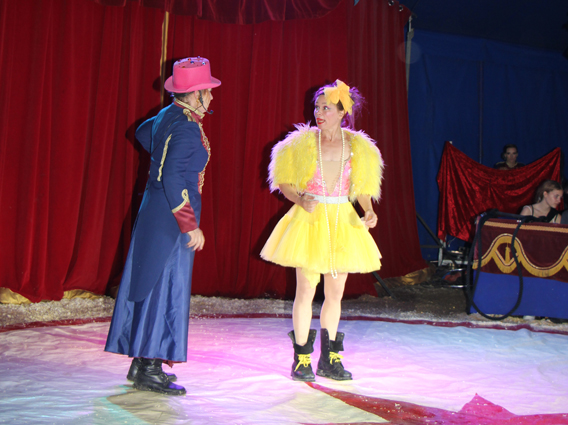 Ursula tells Isabella that the artists hasn't arrive
The first artist act is her 14-year-old daughter Rasmine, who last year in connection with the distribution of Danish circus prizes as the first artist ever received a grant from the Nelly Jane Benneweis Foundation. She shows a nice number in tissue (aerial silks).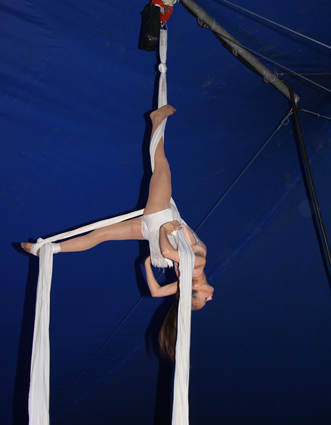 Rasmine Tomasevic-Olsen
The next act is the comic acrobats Duo Gancho, which we meet several times during the performance. Their first entrée ended with juggling champagne bottles.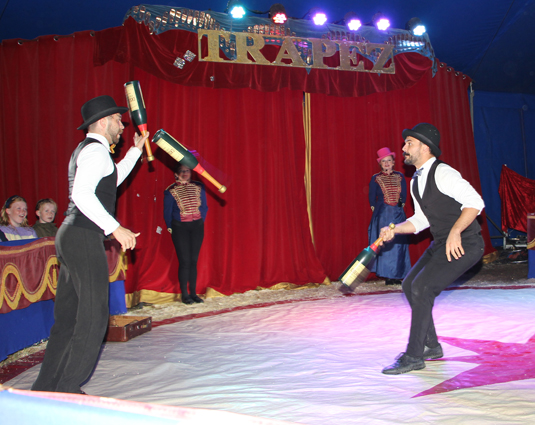 Duo Gancho
Ursula now has a short comic entrée where she balances on her head. Then it's Isabella's 10-year-old nephew Joseph, who shows his skills with the diabolo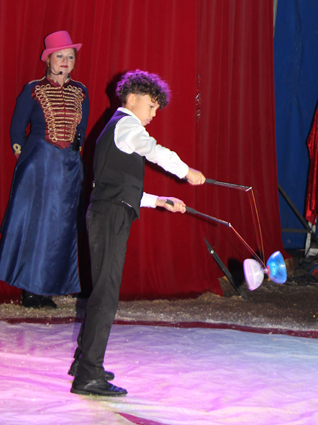 Joseph is son of Isabella's younger sister Katja
Duo Gancho now comes back with a nice entrée where one uses the other as a musical instrument: piano, guitar, drum, etc.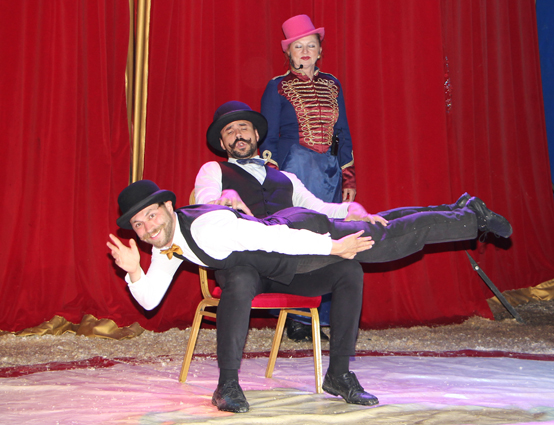 Duo Gancho
They are followed by Ursula wearing a bicycle helmet and a spectacular red/white dress. She ended up standing on her head and spinning around, and the dress now changed appearance, see photos.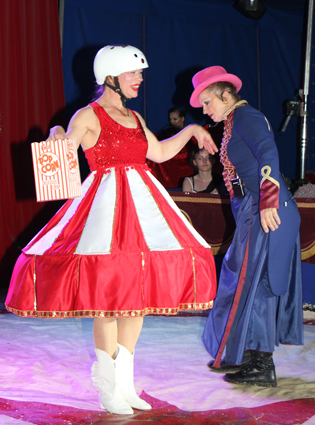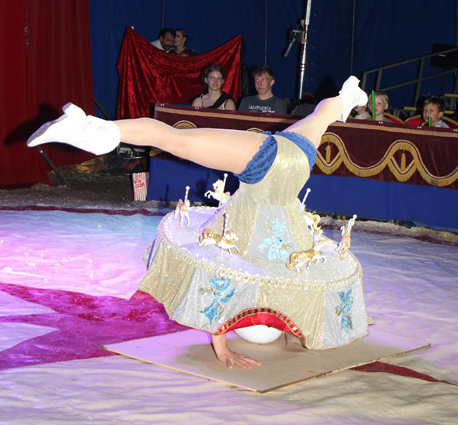 The next number is the performance's top act: Rasmine in trapeze. Last year's grant from the Nelly Jane Foundation was given to her in recognition of her talent and as an encouragement to continue to improve as a circus performer. And she has done that to the highest degree. Her number in the trapeze is excellent. Rasmine is a rising star who also will do well in a large circus.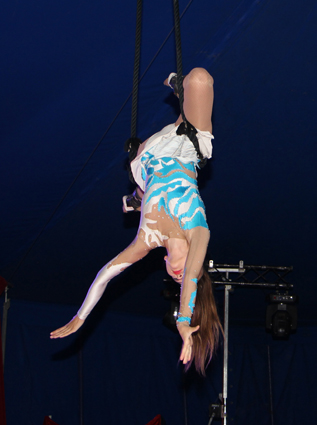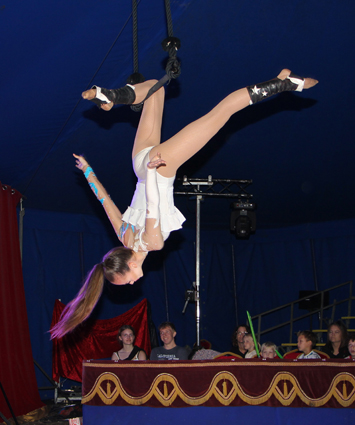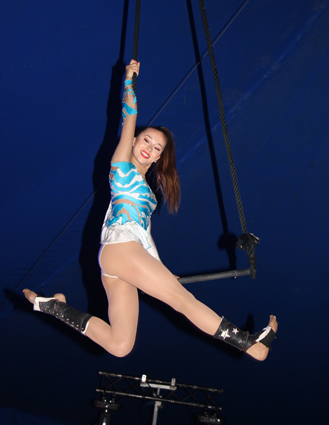 Rasmine – a rising star!
Duo Gaucho now comes back with a knock-about table act which also contains elements from the well-known spaghetti entrée.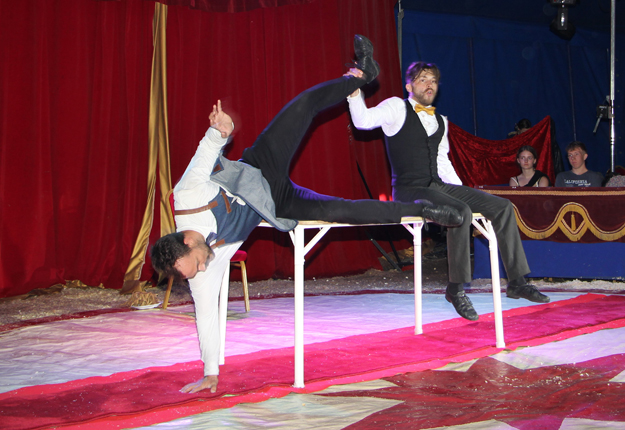 Duo Gancho
The performance next act is with horses: first a pony presented by 5-year-old Nikolaj and then Big and Little presented by his mother Stine-Marie Greisen.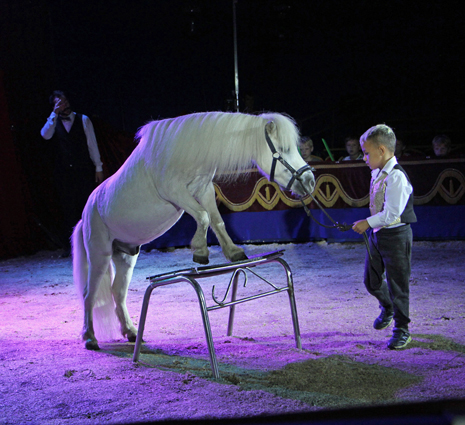 Nikolaj with pony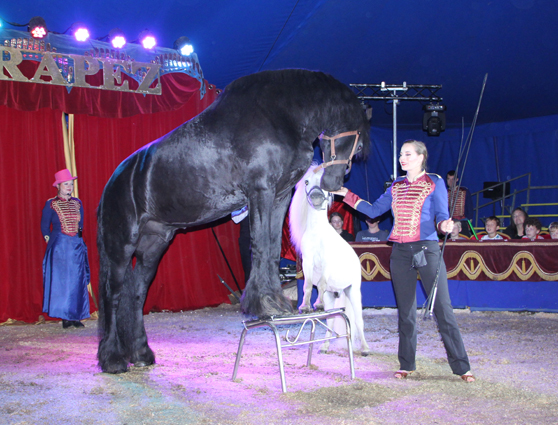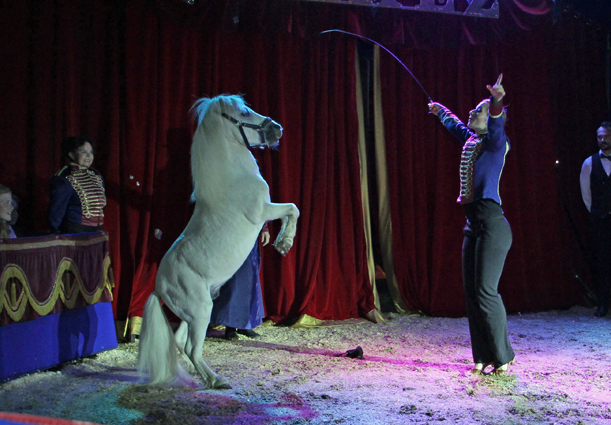 Stine-Marie Greisen
The last act in the performance is Ursula, who now shows her skills in a low-hanging Washington trapeze and thus shows that she can do something more than being a comedian.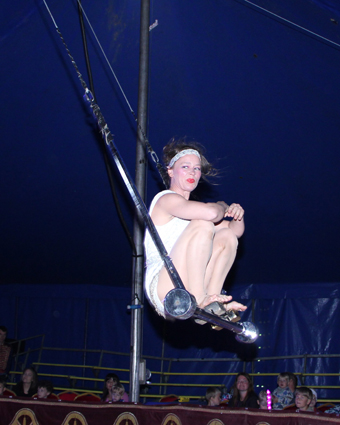 Ursula alias Katja Tomasevic Olsen in Washington trapeze. The name does not come from the American capital, but from the inventor of the trapeze, Keyes Washington (1830-1882). It is much heavier than the classic trapeze.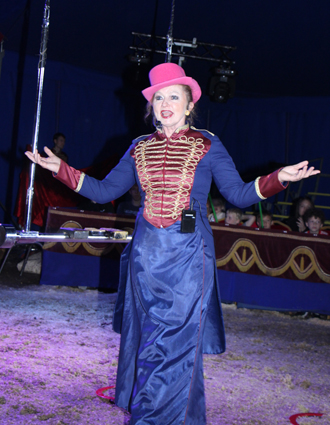 Isabella waves goodbye and thanks to the audience
Up to and including August 6, there is a performance every day at 11:30 and 14:30. After the last performance, there is an opportunity for a circus workshop, led by Isabella's little sister Katja.
There are good parking options at Madsbyparken. And it's also easy to reach by train: if you go out from the backside of Fredericia Station, you can see the lake in the park with the circus tent in the background.

13 July 2023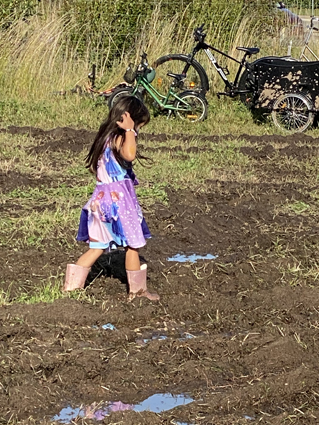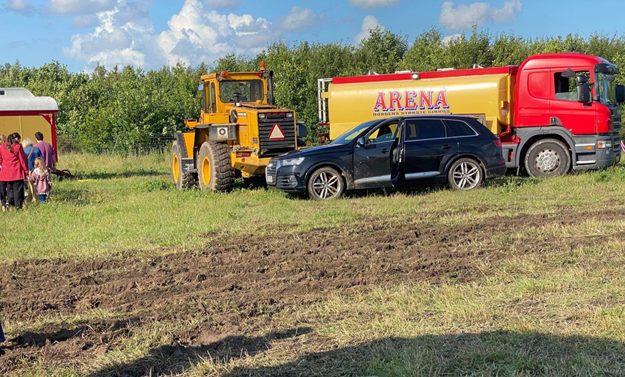 The heavy downpour in recent days has turned some of the country's circus lots to puddles. The above photo is from the lot next to the fire station in Allerød, where Circus Arena had a performance on 12 July. It had rained heavily since the morning, and there was also a downpour shortly before the show started.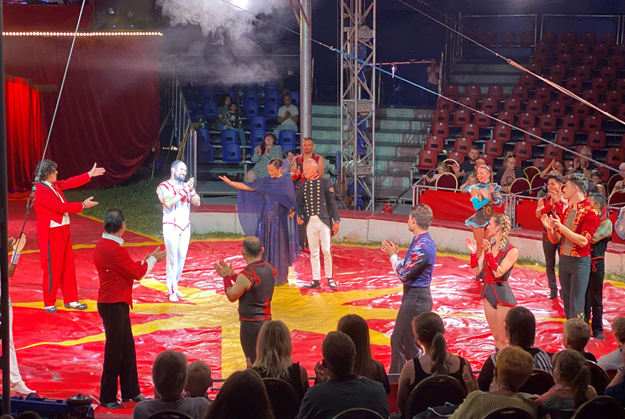 There was even a birthday child in Allerød: Leonardo Costache turned 40. And of course they sang Happy Birthday in the finale. Leonardo is a versatile artist. We have seen him and Mrs. Vita in previous seasons with a perch act.

7 July 2023
The Danish Circus Award 2023. The award ceremony will take place on Monday 21 August at 13. The venue is the Fencing Hall at the Circus Museum in Hvidovre, Copenhagen, just as has been the case at all award ceremonies since 2016.
The Danish Minister of Culture Jakob Engel-Schmidt has promised to come and present the honorary award The Danish Circus Award. The visible proof of the award is a painting by the artist Viggo Salting, also known as the master of the clown. It is also Viggo, who created the circus award logo.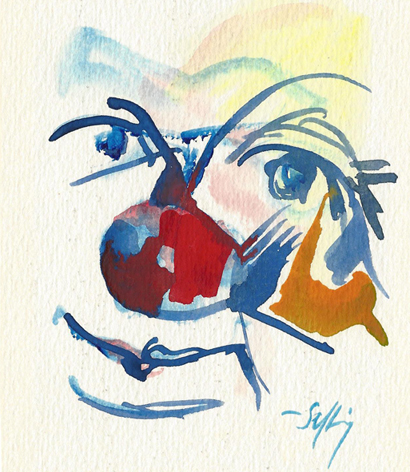 The Circus Award's logo is created by the internationally renowned painter Viggo Salting, also known as the Master of the Clown.
In addition, there are prizes for the year's best act, a talent prize and, on recommendation from the Circus Directors Association, an effort prize.
Each year, 3 artists/acts are nominated for the award for best act and the talent award. This year's nominations will be announced on 17 July at 12:30 and can be seen on the Circus Award's Facebook page and in English at the Facebook page Cirkus – Circus - Zirkus.
Here is an overview of the previous award recipients:
The Danish Circus Award
1968: Albert Schumann
1969: Eli Benneweis
2016: Benny Berdino
2017: Søren Østergaard
2018: Martin Arli
2019: Benny Schumann
2022: Katja Schumann
The prize for the best act of the year
2016: Captain Frodo, Circus Nemo
2017: Rafaella Honden, Circus Mascot
2018: Duo Solys, Zirkus Nemo
2019: Andrejs Fjodorovs, Circus Arena
2022: Leosvel & Diosmani, Zirkus Nemo
The talent prize
2016: Alexander Arli, Circus Arli
2017: The contemporary Circus School AMoC
2018: Charmaine Berdino, Circus Arena
2019: Kolev Sisters, Circus Arena
2022: Francesco Fratellini, Circus Arli
The effort prize
2017: Minister of Culture Bertel Haarder
2018: Mayor Anders Gerner Frost, Gribskov municipality
2019: Mayor Helle Adelborg, Hvidovre municipality
2020: Due to the corona, there were no awards in 2020 and 2021. However, the Circus Directors' Association's Effort prize was given to the Circus Award's chairman Ole Simonsen, who is also deputy chairman of the Danish Circusfriends Association and long-time editor of www.cirkus-dk.dk.
2022: MF Anders Kronborg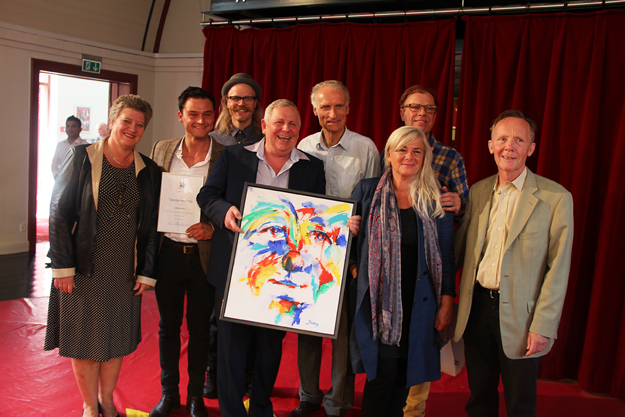 From the award ceremony in 2016. From left you can see Hvidovre's mayor Helle Adelborg, Talent of the Year Alexander Arli, Best Act of the Year Captain Frodo, recipient of the honorary award, The Danish Circus Award 2016, Benny Berdino, Minister of Culture Bertel Haarder, prize jury members Pia Jette Hansen and Jan Hertz as well as the chairman Ole Simonsen. Photo: Jacob Boas Leitisstein.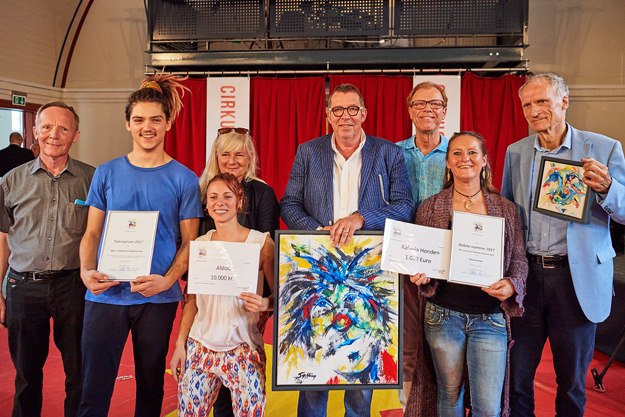 From the award ceremony in 2017: The chairman of the Danish Circus Award Ole Simonsen, AMoC as winner of the Talent Award of the Year, represented by the acrobats Alfred Hall Kriegbaum & Sonia Matos. Behind Sonia is jury member Pia Jette Hansen, Søren Østergaard, compère and jury member Jan Hertz, Best Number of the Year: Rafaela Honden and Effort Award of the Year: Bertel Haarder. Photo: Rud Kofoed / Ajour Press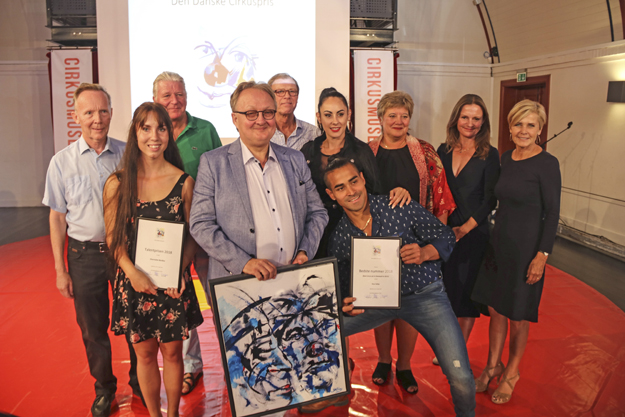 Photo from the award ceremony in 2019. From left you can see jury chairman Ole Simonsen, talent prize recipient Charmaine Berdino, painter Viggo Salting, honorary award recipient Martin Arli, jury member Jan Hertz, Tatiana and Hector from Duo Solys, Hvidovre's mayor Helle Adelborg, museum curator Anja Olsen and culture minister Mette Bock. Photo: Jacob Boas Leitisstein.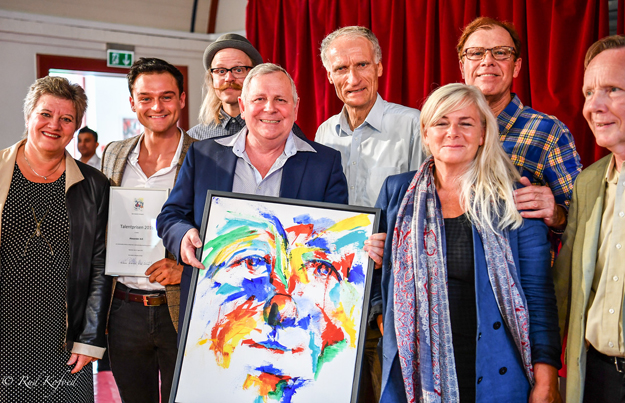 The award winners in 2019: Helle Adelborg, Kolev Sisters, Andrejs Fjodorovs, Joy Mogensen and this year's honorary award recipient Benny Schumann. Behind the prize jury: Ole Simonsen, Jan Hertz, and Rud Kofoed. Photo: Trine Kofoed / Ajour Press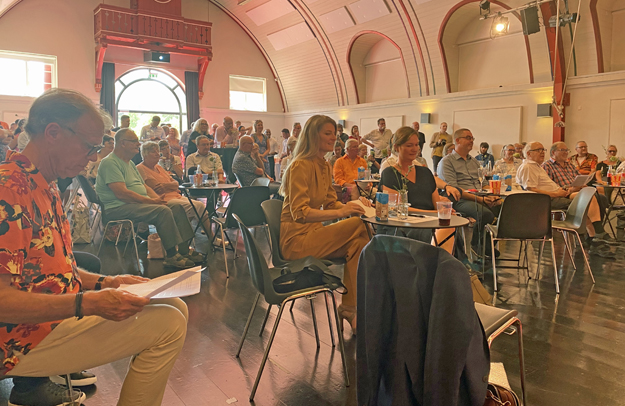 Despite almost tropical heat, there was a good turnout for the award ceremony in 2022. Tv. can be seen the compère speaker Jan Hertz, who is also a member of the award jury. In the middle of the photo is Minister of Culture Ane Halsboe-Jørgensen

6 July 2023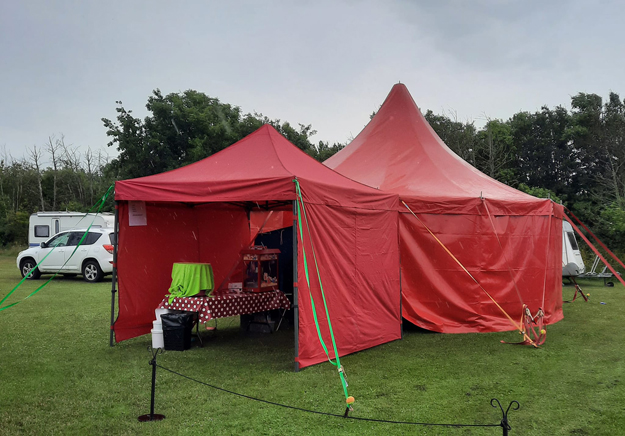 The weather was not on the side of the tiny Circus Solvej when they had their season opening at Tornby Strand Camping in Hirtshals on July 5: It was pouring down. To make matters worse, the power went out at the end of the performance. But the tent, which can accommodate approx. 60 spectators, was quickly filled, and the audience experienced acts with the circus directors Victor Høeg Abrahamsen and Zora Nikodemova. Danish circus must be preserved and preferably also in a bit of the spirit that goes back hundreds of years, the two directors believe. "We will fight to keep the circus culture alive in Denmark," they say and focus on creating an intimate and present circus experience for guests at campsites in Jutland and Funen. You can see their tour schedule under "Other events " in What's on

Link to news from 2007

Link to news from 2006