'
From Denmark
and other Scandinavian countries
Special feature: It all happens in Paris
A weekly updated internet magazine
Last updated : 22. September 2017
22 September 2017
Standing ovation for Benny Schumann. There was a standing ovation for Benny Schumann, when Wallmans had their gala opening night on the dinner show Entourage on September 20th. In the show one spectacular act follows after another, like a string of pearls. A show that clearly is for the 6 stars, which is the maximum a reviewer can give. The show can be seen in the Circus building in Copenhagen until mid-June 2018 with performances every Thursday, Friday and Saturday. In November and December also performances on Wednesdays. The language in the show is English making it perfect alto for non-Danes.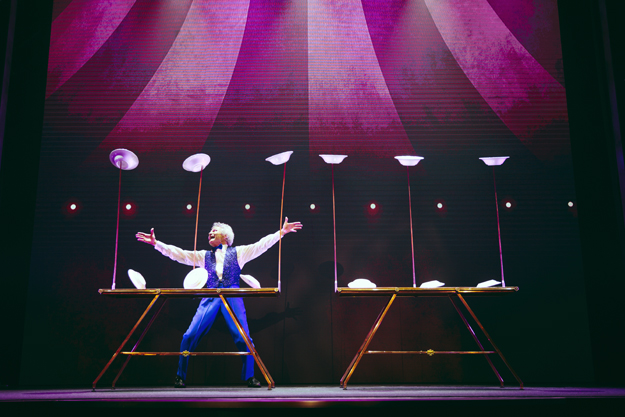 Benny Schumann. Photo by courtesy of Wallmans
It is 50 years since Benny Schumann had his debut as spinning plate juggler. It was in Circus Schumann in the Copenhagen Circus building, which he left by the end of season 1967 for the next 10 years to travel around the world with his plate spinning act under the artist name Ric Benny.
It was with pride that Wallmans' CEO Dorthe Fryd Ekelin welcomed Benny back to the building after 50 years of absence.
Benny's entre started some movie clips from his childhood in the Circus building.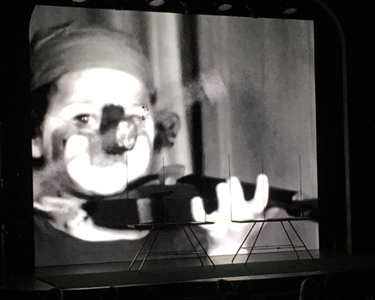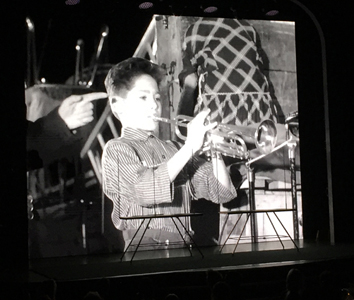 A young Benny Schumann. Smartphone photos
Then Benny entered from the door to the left of the stage and first presented plate spin and then after entering the stage the trick where he spits while balancing a shoe on his forehead.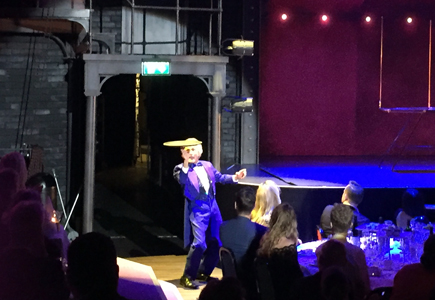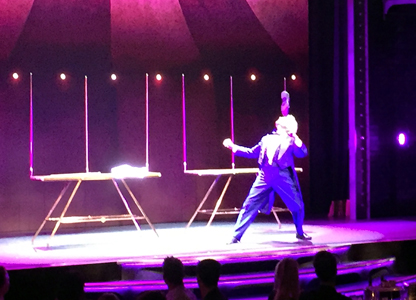 Smartphone photos
Then he presented the elegant act with the 6 spinning and 6 rotating plates. As the only performer in the show Benny was rewarded with standing ovation. My side lady refused to believe me when I told her that Benny was 72 and age wise could be father or even grandfather to a large part of the other performers.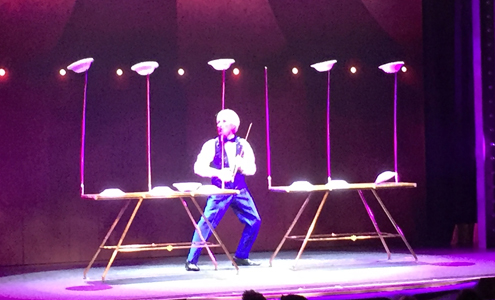 Smartphone photo
In the break after the act Benny went around among the audience, who were allowed to try their luck as plate spinners.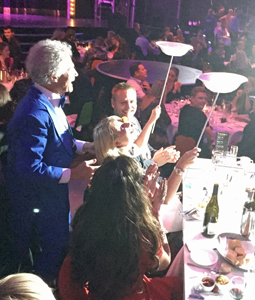 Smartphone photo
The performance also provided a reunion with Polish Duo Creative who was in Wallmans in season 2016/17 and who in summer was one of the 3 artist acts nominated for to the award for the best year of the year in Denmark. A clear quality stamp for both them and Wallmans, even though the award went to another act. In the Entourage show they did a fine act in aerial straps. Before joining Wallmans in the autumn 2016 the two talented artists have among others places performed in Great Yarmouth Hippodrome Circus in England and at Caesar Palace in Las Vegas.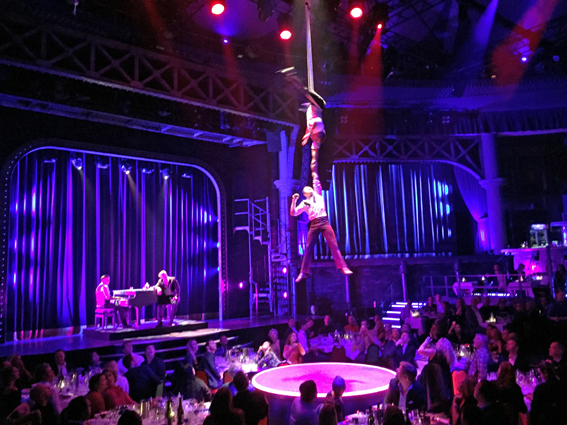 Duo Creative. Smartphone photo
The evening's third artist act was Finnish Veera Kaijanen who previously has been touring with Cirque du Soleil. At Wallmans she present a wire act where the wire is put up over the hall's lowest section, see photo. For the sake of the audience sitting under the wire she uses a safety lounge.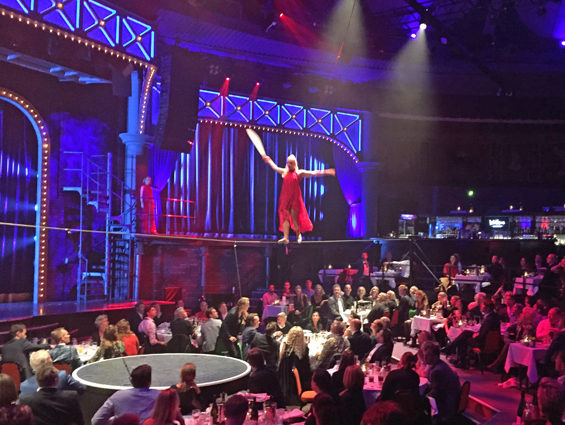 Veera Kaijanen. Smartphone photo
In addition to the three artist acts the show presents talented young dancers and singers with tribute to stars as Leonard Cohen, George Michael, Prince, David Bowie and Madonna. There is no doubt that not only the premiere audience but also the tens of thousands of visitors who will see the show in the next 9 months will feel that they have had a wonderful evening at Wallmans.

17 September 2017
Circus Trapez owned by Isabella Enoch Sosman and Bernhard Kaselowsky has been in the media spotlight several times over the year. The stories in the medias has usually – deserved or undeserved - been negative. Under the heading Circus clowns around: Safety for employees and the public sailing, the tabloid Ekstra Bladet writes today with Avisen.dk as the source that, over the summer, episodes with failing security have put both employees and the audience at risk. This has resulted in a number of orders from the Danish Working Environment Authority.
In June, three people were injured after a tribune crashed crowd in Blokhus, and a few weeks later a Polish man who was affiliated with Circus Trapez was kicked down by a camel during the stay in Bjerringbro. There has also been a case about employees who had to lift heavy ring sections manually and a forklift with broken tower chains that had not been inspected for nine years.
According to Avisen.dk Isabella Enoch does not believe there is a security issue for the public and employees and denotes the accidents as minor accidents. The Danish Working Environment Authority smiley page gives Cirkus Trapez a yellow (unhappy) smiley and tells that they have received 4 direct orders, 2 of which have not been met. This may lead to fines, which may well be in the range of DKK 100,000 or more.
Circus Trapez is not a member of the Danish Circus Owners Association. The Association find it deeply regrettable that Circus Trapez has given reason to many negative stories in various media. "It is very difficult for people to know the difference between the various circuses in Denmark. That's why the stories about Circus Trapez hurts all of us" said the associations chairman Martin Arli recently in a press release. The Circus Owners Association's members have had a work environment consultant with advice to target the work on safety and the preparation of Workplace Evaluations (APV), thus ensuring that there are neither security problems for the public nor the employees in their circuses. The members of the association work together to make demands on each other in order to enhance the quality and safety and thus the experience of Circus in Denmark. Circus Arena, Circus Arli, Circus Baldoni, Circus Mascot and Circus Krone are members of the association. The same goes for the two circuses that have not has toured this year: Benneweis and Dannebrog.

14 September 2017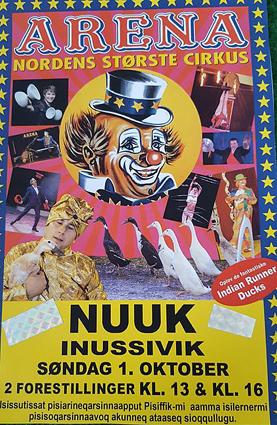 Traditionally in the beginning of October Circus Arena visits a number of cities in Greenland with a special performance. From this year's poster you can see that Daniel Koscik dressed as an Indian shall present Indian Runner Ducks. You can also see the knockabout table acrobats Patrick and Oliver Berdino, the juggler Kris Kremo, the hula hoop star Yelena Larkina, the clown Martin Arli, the foot juggler Sylvana Biasini and the clown Christian Folco. In addition, there is a picture of a young diabolo juggler whose name I don't know. - Kris Kremo and Patrick and Oliver Berdino toured this summer with Circus Arena. Sylvana Biasini performed this summer in Circusland in Circus Arena's winter quarter.

11 September 2017
Kenny Quinn to Cabaret Candy Club in Helsingborg and Malmo. Again this year, the Danish gentleman thief Kenny Quinn will be part of Albin Ganovic's Cabaret Candy Club Show "Ohlala", which this year can be seen both in Malmö and Helsingborg from 9 November to 9 December. In addition to Kenny Quinn, the audience will meet Duo Hand2Stand. They come from Canada and have, despite their young age, joined the circus festival in Monte Carlo as well as worked in Cirque Du Soleil and Circus Roncalli. In addition, the audience meets Albin Ganovic himself as well as his Candy Boys and Candy Girls.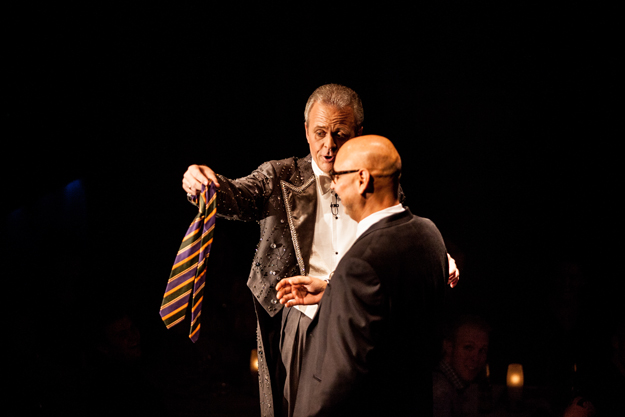 Photo of Kenny Quinn taken during the Candy Club show in 2014.

9 September 2017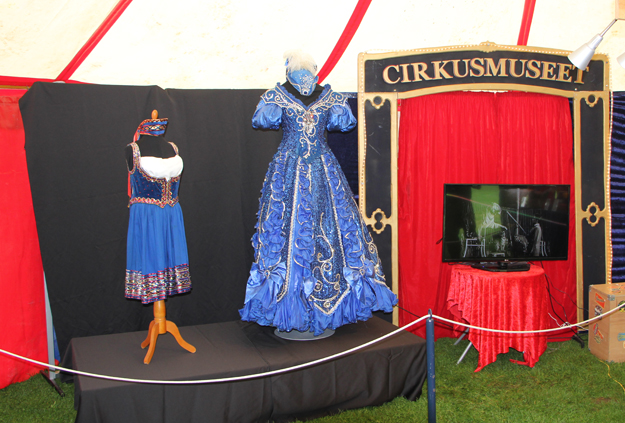 Benneweis exhibition. In connection with an event in Hvidovre, the Circus Museum had made a special exhibition about Circus Benneweis in the museum's small tent. In the exhibition you could see two of the beautiful costumes the museum recently has received: The small dress is a gift from Princess Eleonore-Christine zu Schaumburg-Lippe, who told the museum it was Diana Benneweis' first costume. The beautiful blue dress is a gift from the Benneweis family. It has been used by Diana Benneweis and later by ringmistress Judy Glosted. After the event the two costumes become part of the museum's permanent exhibition.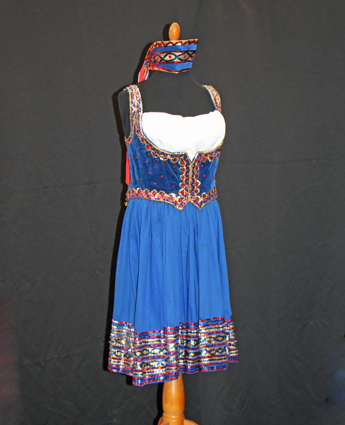 Diana Benneweis tells that she was about 14 years old when she used this small blue dress, which the museum got from Princess Eleonore. The dress was used together with an embroidered white blouse.

7 September 2017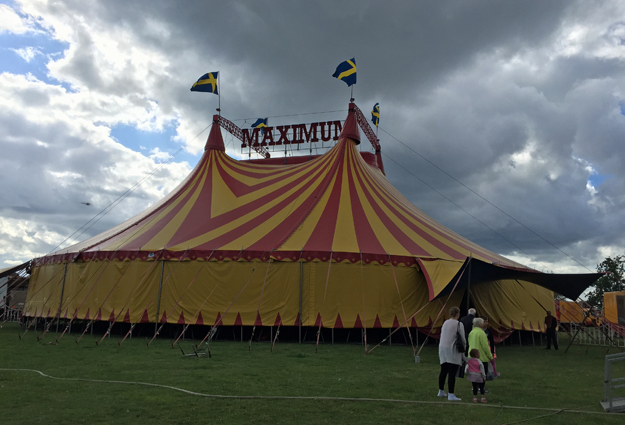 Circus Maximum. After 3 weeks summer break in August, the Swedish Circus Maximum has resumed the tour. The season will close in Gothenburg on September 24th. It is common knowledge that the season 2017 did not meet the expectations of circus owner Bengt Källquist, and that he felt that he without reason through the season was pursued by animal rights activists.
There are many rumours about what will happen in the season 2018. Circus Maximum's Tour Manager Helena Schicht writes: ""Rumors are rumors and these are not to be believed." Until there is something concrete, I will refrain from reproducing the rumours on this page.
Bengt Källquist established his circus in 1983 under the name of Circus Minimum. A few years later, he changed the name to Circus Maximum. He can thus celebrate his 35th anniversary as circus owner in 2018.

5 September 2017
The Swedish Circus Scott has not been touring this year. In 2016, the "tour" consisted just of a couple of weeks visit to Stockholm with musical circus built up over the Swedish children's book figures Babblarna. This year, Robert Bronett tries something new: the performance MagicXmas, which can be seen at Stockholmsmässan from 16th - 26th November. The performance can be seen both as a dinner show and as a show without dining. The performing magicians are
Jidinis, known from several seasons in Circus Benneweis and Circus Arena, last season 2017 at Arena
Aaron Crowe "The Silent Mentalist"
Jean Garin - Modern Digital Magic
Sonambul "The Art of Mind Reading"
Gérald le Guilloux "Master Manipulator"

3 September 2017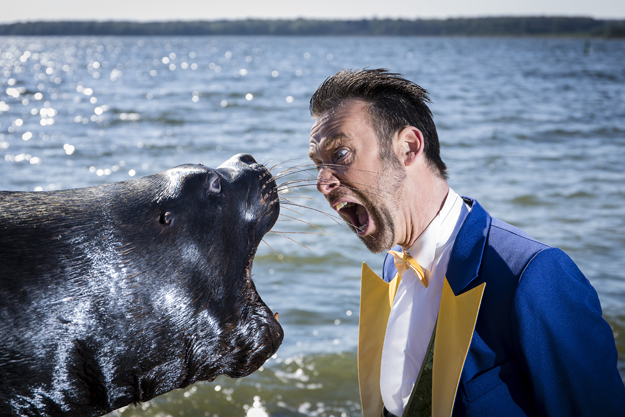 Sea lion retires. When Ingo Stiebner and his sea lion Lappy on September 16 finish the season at Zirkus Nemo, Lappy will retire. Ingo presented for many years with two sea lions, but one, Lola, died shortly before Zirkus Nemo began their season. Lola was the one whom Ingo was known to dance with. Now, Ingo has decided that the last sea lion Lappy after many years of faithful service will be allowed to retire. Ingo Stiebner's sea lion act is known as one of the best in the market. His mother Claire presented for many years the excellent sea lion act Clarrison's together with Ingo's stepfather Peter Harrison whom she met in the Copenhagen Circus Bulding where he was run-in-clown. Claire had taken over the sea lion act from Captain Max Morris. In 1992 it was Ingo Stiebner who presented Clarisson's sea lions in Circus Benneweis. Ingo had his Danish debut with his own sea lions in Circus Benneweis in 1998. Since the turn of the millennium, Ingo Stiebner has spent 5 seasons with Danish Circus Arena. He has spent three seasons with the Swedish Circus Maximum. Season 2017 is his third season with Zirkus Nemo, where you until September 16th can see him and Lappy in the tent at the fairground in Odense. Ingo Stiebner does not intent to train new sea lions but have other plans. - Press photo from Zirkus Nemo. Photographer Jesper Voldgaard.

2 September 2017
IT ALL HAPPENS IN PARIS. You've probably noticed that there currently is less news from Paris than in earlier years. That is partly because it is not in the summer the most exciting things happen in Paris, and part because my senior correspondent in Paris ZARRO ZARRO has had 2 surgical interventions due to arthritis, both knees. Following a long re-education, he can now walk around (nearly) as well as before. But I have asked my old friend to take good care of himself and only cover what he find most interesting.
However, I can promise you that you during the autumn still will get reports from Paris, including from some of the exciting circus performances, Paris offers every autumn: Cirque d'Hiver Bouglione, Circus Alexis Gruss, Circus Arlette Gruss and Circus Pinder.
The winter circus in Paris, Cirque d'Hiver, is perhaps the world's most famous circus building. It was opened by Emperor Napoleon III on 11 December 1852 as the Cirque Napoléon and has ever since been a prominent venue for circuses and other events.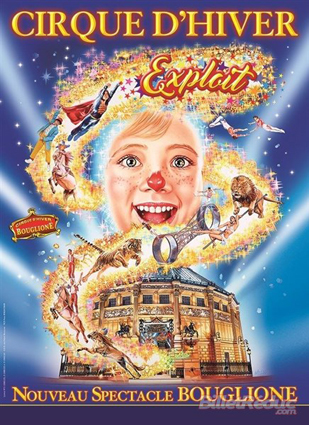 This year's performance is called Exploit. The season will open on 14th of October and close on 11 March 2018. The performance is tied together by the clown Rob Torres's and offers a number of world class artist including several we have met in circuses in Scandinavia: Robin Valencia (Arena 2007, Scott 2013), the jockey riders Donnert family (Benneweis 2013, Brazil Jack 2014 and 2017), the trampoline comedian Max Weldy (Benneweis 1991, Red Inn Theatre 2003, Tivoli 2004, Arena 2010, Maximum 2011 and 2016, Arnardo 2015) Encho (Arena 2006 and 2017) and the diabolo juggler Pierre Marchand (Brazil Jack 2015, Arena 2017).

30 August 2017
Swedish Circus Brazil Jack closes the season in Malmo. The Swedish Circus Brazil Jack finishes this year's nationwide tour at the Mill Square in Malmö with performances Friday 8 September at 18 and Saturday 9 September at 16. Malmö is the third largest city in Sweden, after Stockholm and Gothenburg, and the fifth largest city in Scandinavia, with a population of above 300,000. There is a bridge/tunnel from Copenhagen, Denmark, to Malmö.
"Circus Brazil Jack 2017 - classical circus when it is best. Brazil Jack opened the season in Malmö in the southern part of Sweden on Thursday 16 March. The approximately 2 hour long performance is a very strong performance presented in a brisk pace and without any superfluous breaks. There is not a single act of the kind you sometimes sees just as a "filler" I wrote on this page after their season opening in Malmo on March 16th.
Among the attractions is the 32-year-old Ukrainian strongman Deniz Ilchenko. Strongmen in circus are today a rarity – Danish Circus Baldoni had, however, in 2016 the not quiet young Hungarian Hercules Jozsef Pakuza in their performance. Deniz is clearly better - but also much younger - than his Hungarian colleague. He juggles with tires, pull a car by a bit and spins a tree trunk around his the neck. A feat, which he then repeats with 4 people on the tree trunk, see photo. At the end of the entrée he is run over by a car.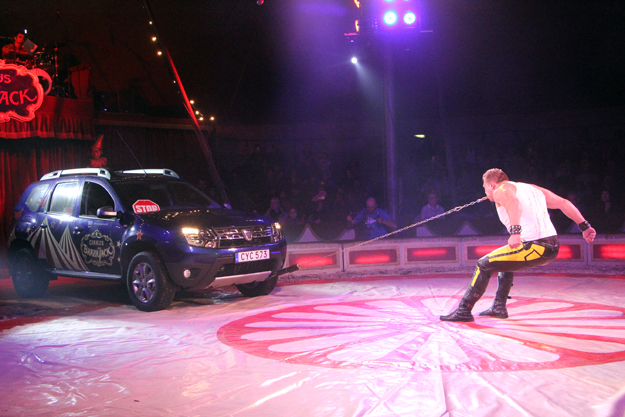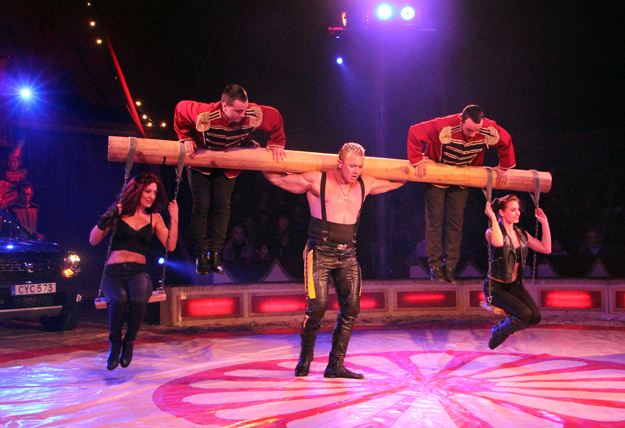 Deniz Ilchenko, Click here to see more photos from the show.
Earlier in July Deniz with his teeth pulled three Dacia cars in Visby harbor. Click here to see a video clip.

28 August 2017
The Swedish Circus Olympia has been in the province of Scania in the southern part of Sweden during most of August. They offer an excellent performance that is completely on par with what you meet in the other major Nordic circuses: Arena in Denmark, Brazil Jack and Maximum in Sweden, Arnardo in Norway and Finlandia in Finland.
Saturday the 2nd of September at 14 and Sunday 3 September at 14 and 17 there are performances in Löddeköpinge just north of Malmö.
Then, the Circus Olympia leaves Scania. The season ends on September 17th in Veddige.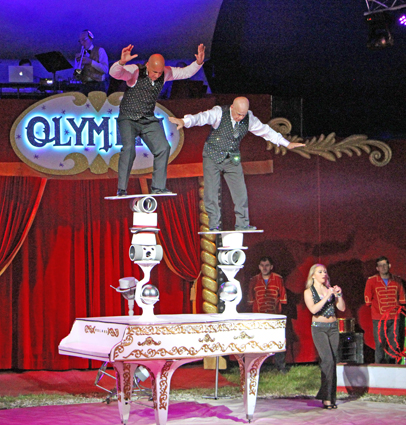 Among the performers in Circus Olympia are Trio Gaspar, which the Danes met in Circus Benneweis in 2008. In addition to their rola bola entre, they present as at Benneweis their act with the comic taxi.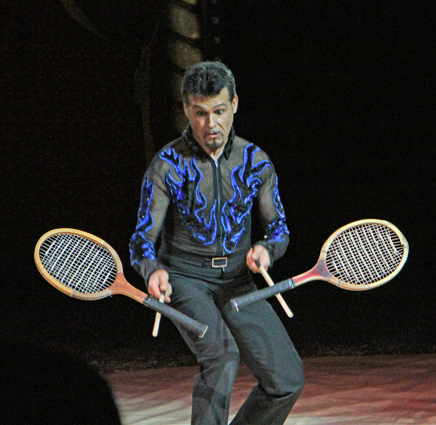 You will also meet the excellent juggler Rogerio Goncalves, who circus fans from Denmark probably remember from Circus Dannebrog 2009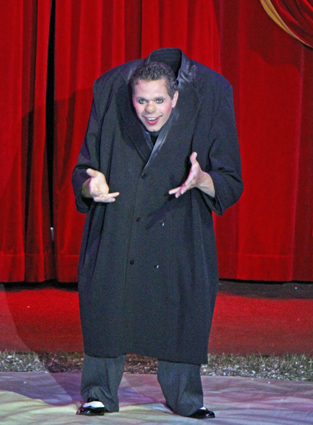 The clown Sidney Balder are probably also a name familiar to many. Together with his two brothers, he was with Circus Dannebrog in 2008 and 2009 and before that with Circus Barum in Germany. Some years ago the brothers split up, because a circus today for economic reasons rather engages a solo clown than a clown trio. At Olympia he presents a number of brand new gags which are not just copies of other clowns' gags.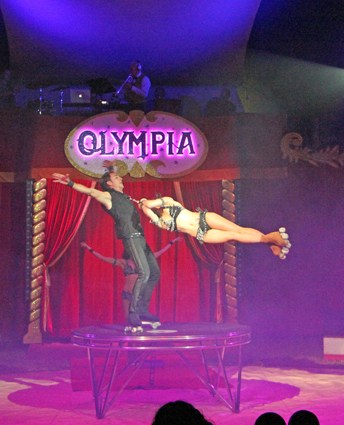 We have not yet met the skating Trio Nistorov in Denmark. But they present a nice act which I would like to see in a Danish circus

27 August 2017
Magic Night 2017 in Lund, Sweden.
Northern Europe's largest magic congress, with 400 magic interested participants, is scheduled for the 31st time in Lund in October 2017. Lund is a city in the province of Scania, southern Sweden.
During the congress some of the world's most creative and original magicians will perform. The organisers have managed to engage them all for a unique magic show at the Scandic Star Hotel in Lund on Thursday 5 October.
Vlad Kryvonogov from Ukraine is a manipulator who is equally skilled in manipulating the playing cards with his feet as with his hands. It's unique.
Chris Torrente from France is a prize winner of Comedy Magic from the World Championships 2015. A unique and crazy magic show, where an invisible dog plays one of the main roles.
Miguel Muños from Spain is a winner of the World Championships 2015. Unique magic with glass balls and running water.
Manolo Costa & Mindanguillo from Spain are award winner in Comedy Magic from the European Championships in 2017. With magic mixed with physical comedy, clowning and drama, they end their act with a unique and strong final message.
Nestor Hato from France won the Grand Prix at the European Championships in 2017. A very fast-paced and skilled act filled with amazing and unique surprises.
There will be 75 magic minutes that you will soon forget.
Tickets for the show 5/10 at 20 at www.juliusbiljettservice.se

28 August 2017
KRAN - a strange performance. The Danish contemporary circus company GLiMT had premiere on the 26th of August on the show KRAN (Crane) on the southern pier of Kastrup Marina. KRAN was created specifically for Kastrup Harbour in collaboration between GLiMT, Kastrup Haber and Taarnby municipality, which probably covered all the costs.
"Come and experience modern circus, air acrobatics, physical theatre and live music, as acrobats, musicians and performers occupy the harbour's room and its impressive mobile crane" the press release wrote.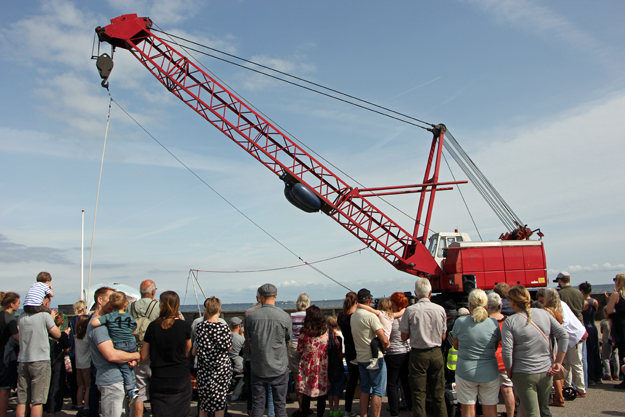 The performance took place around a medium-sized mobile crane
The idea of ​​using a crane in connection with aerial acrobatics is good, but the crane was not used much in the performance. It starts with the crane driver polishing the crane and tying a sack into a rope that is attached to the hook of crane via a waistband. Then she has an a bit lengthy entrée with a suitcase which she use for acrobatic stunts.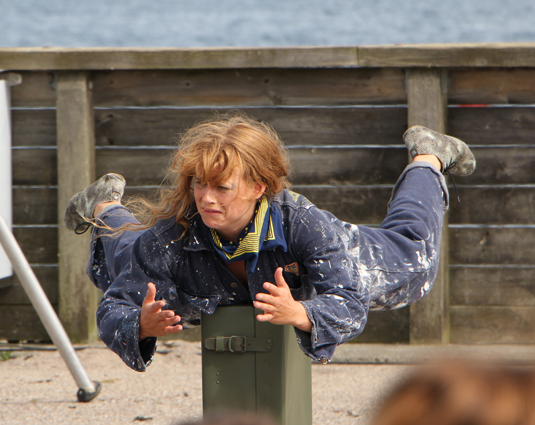 Then she pulls a mermaid out of the bag using the waist, and the mermaid present hair hanging, which simply means she is hanging in her hair without doing any tricks.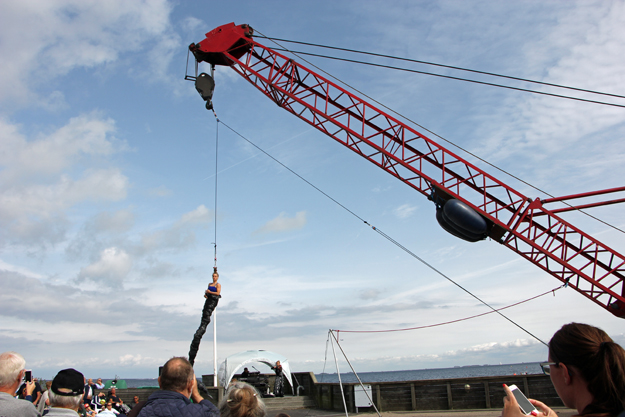 Now a new artist comes across railing behind the crane and makes a nice, but not sensational, act on the slack wire.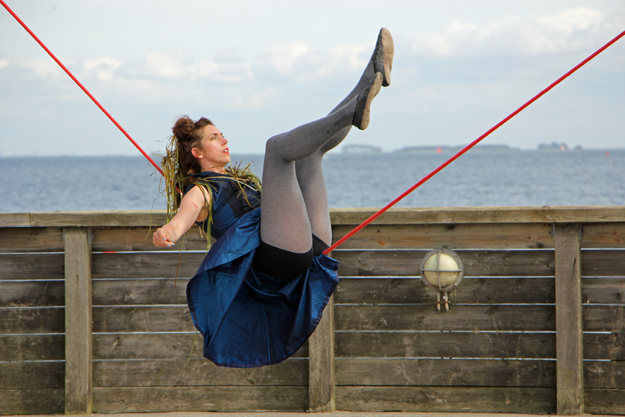 When the act is over, she draws the tail of the mermaid, who hurriedly catches a rope hanging from the hook on the crane.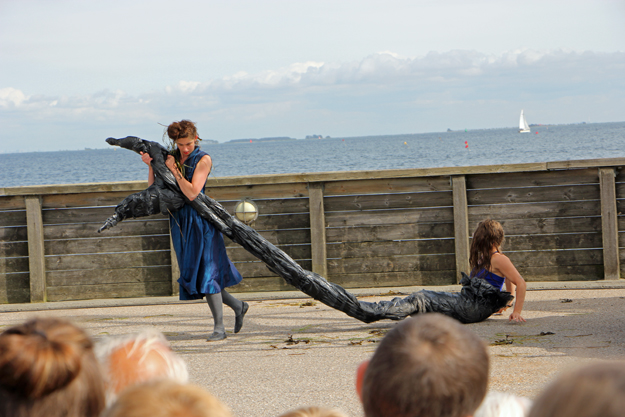 The now tailless mermaid then has a nice but not sensational entrée in the vertical rope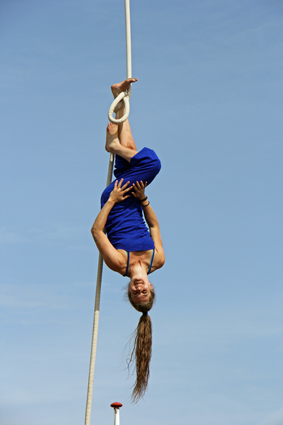 The crane driver then packs her into a bag and has an entrée in a cyr wheel while the singer in the performer turns on the drum.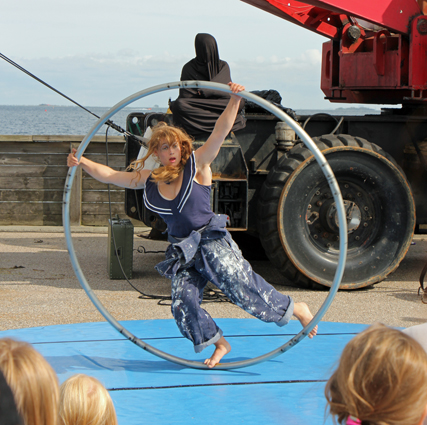 Eventually, the artists disappear in the sea behind the crane.
A little more than 200 children and adults watched the 45 minute long performance, which was rewarded with nice applause. There was free access. The performance was repeated on Sunday, August 27th, at 14.

24 August 2017
Circus Fun and Benneweis exhibition in downtown Hvidovre (Copenhagen suburb). The circus museum in Hvidovre, Copenhagen, writes (my translation):
Saturday 9/9, the Circus Museum comes to downtown Hvidovre. More specifically the area at Risbjerggaard, Hvidovrevej 241. Here you can try artistry, you can see the local youth circus Circus Arcus and the museum's own amazing young artists, and above all you can see the juggler Anders Stehr. He is one of the first educated artists from Denmark's approved circus school AMoC, and will present his amazing skills,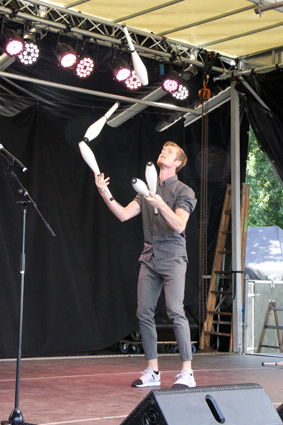 Anders Stehr
The museum has activities from kl. 10.30-13.30, but during the day you can also see other activities.
You can also see an exhibition in downtown Hvidovre about Circus Benneweis. It can be seen from 10 to 13.30 in the museum's tent. Here you can read about the unique circus, see movie clips from some of the performances and see one of Diana Benneweis beautiful costumes. There is a free entrance to the exhibition.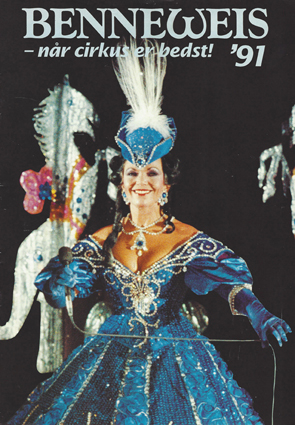 It is this beautiful blue dress you can see in the exhibition about Circus Benneweis. First Diana Benneweis and later Judy Glosted used it for several seasons.
The event is part Vestegnens Cultural Week.

19 August 2017
Classical circus and new wave circus, Benny Schumann called the performance which he presented on Saturday, August 19, in connection with Hirschholm Cultural Day 2017.
The classic part of the performance was some of the most beloved entrées from Benny Schumann's solo performance Hi Clown!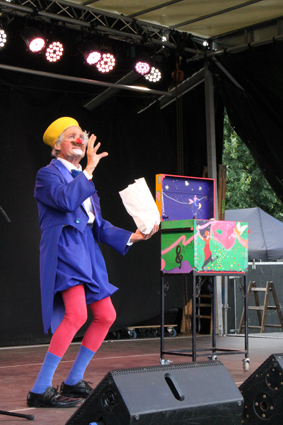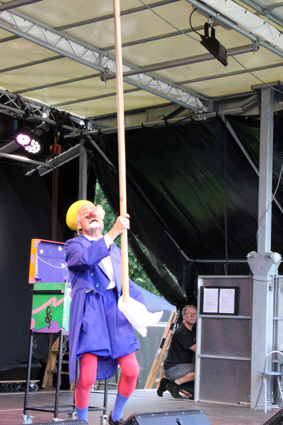 Benny Schumann's gag with the mast in the bag
The new wave circus part of the show was 3 of the newly-educated artists from the AMoC circus school: the juggler Anders Stehr and the acrobats Alfred Hall Kriegbaum and Sonia Matos. All three can be seen later in the week in the contemporary circus performance Circus on my mind. Alfred Hall Kriegbaum and Sonia Matos will later in the year be part of a new setup of GLiMT's contemporary circus performance Empty Steps.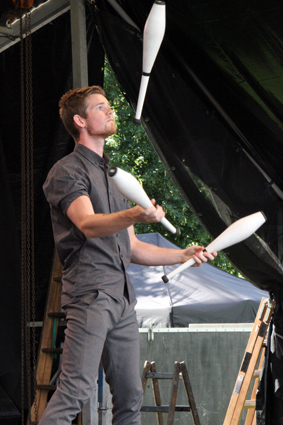 Anders Stehr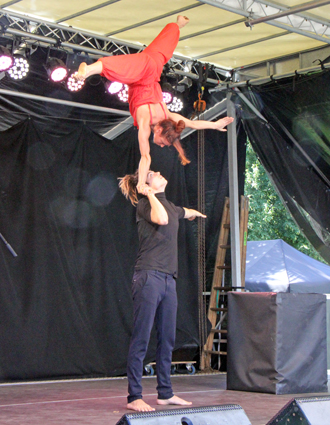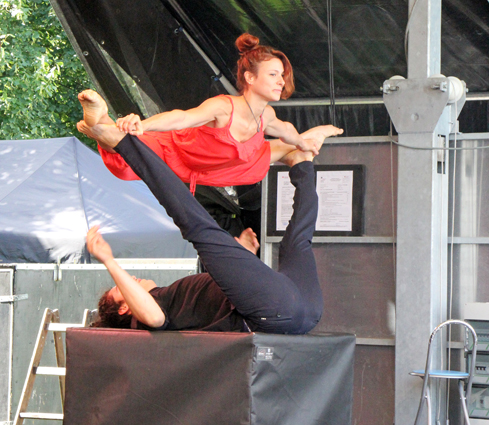 Alfred Hall Kriegbaum and Sonia Matos
After the show, there were workshops.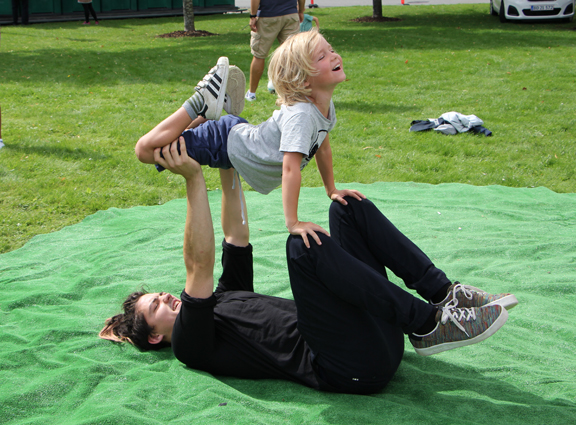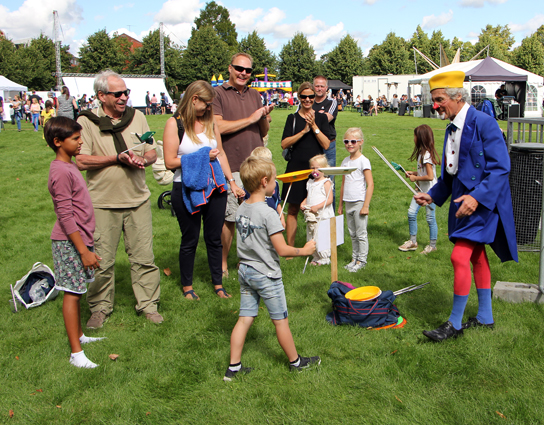 Alfred Hall Kriegbaum and Benny Schumann
From September 1st, every Thursday, Friday and Saturday, you can see Benny Schumann in the Wallmans show ENTOURAGE in the Circus building in Copenhagen. In week 42 (the schoolchildren's the autumn holidays) you can also meet him with his solo performance at the Circus Museum in Hvidovre, Copenhagen.

19 August 2017
Aarhus Festival International Night Cabaret: 20-year Jubilee show
Aarhus Festival is among the largest cultural events in Scandinavia and showcases both local, national and international artists. Aarhus Festival is highly esteemed and recognized both in Denmark and abroad.
The Night Cabaret which is one of the festivals recurring highlights celebrates this year its 20 years anniversary. It is celebrated with a magnificent anniversary performance, which from 25 August to 2 September present an impressive number of world class artists. It will be a performance that will both impress and surprise, and where you can meet:
CABARET DÉCADANCE
Human size dolls become alive on stage in this humorous performance of the Canadian group who has performed worldwide and won several international awards.
VICTOR KEE
It is a scoop for the festival to present one of the world's best jugglers when Ukrainian Victor Kee throws acrobatics, dance and classical juggling up in the air and uses both hands, head and feet to hold it together in a blazing show. He has performed in Cirque de Soleil, at The Mirage in Las Vegas and at Moulin Rouge in Paris - and now at Aarhus Festival!
THE MAIERS
Comic and acrobatics merge into this almost absurd number, where the trapeze swings end in the most embarrassing and grotesque situations. The German couple has surprised the audience around the world for the past 25 years.
DUO YINGLING
It requires concentration and body control of absolute highest quality to juggle 10 umbrellas at once, or perform handstand on one's head while juggling blankets ... with your feet! This and more is nevertheless what Duo Yingling from China does with ease and elegance on stage. They are educated at the famous circus school in Shanghai and Harbin and have participated in shows around the world. In 2004 they toured Denmark with Circus Dannebrog and in 2013 with Zirkus Nemo.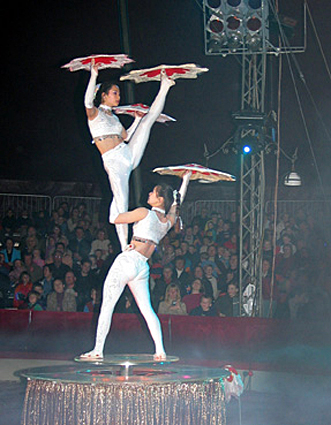 Duo Yingling in Circus Dannebrog 2004
MICHAEL DEUTSCH
Michael Deutsch is one of Europe's leading in the world of magic and a modern response to Harry Houdini.
DOMITIL AILLOT
The Frenchman is in Denmark for the first time and performs with his impressive Chinese Pole act. His skills are almost unprecedented in the industry, and after 12 years in the United States, the festival can proudly present him to this year's Night Cabaret.
LES FRÉRES TAQUINS
An appearance with the Belgian comedians is both touching for the heart and good for the laughter muscles. The act is nice and poetic, and when you are not touched by the good storytelling, you are busy laughing. The duo has among other things won a gold medal at the Circus Festival in Paris and performed in the Big Apple Circus in New York. They have also participated in Benny Schumann's Clown Festivals on the amusement park Bakken north of Copenhagen and in Aarhus Festival's Night Cabaret in 2012.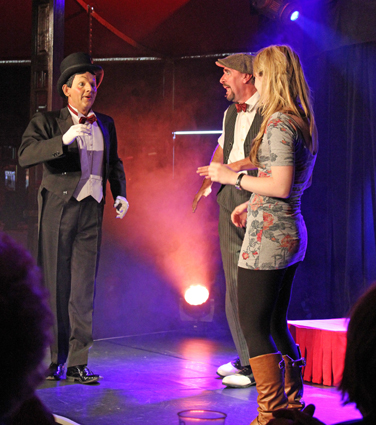 Les Fréres Taquins at the nightcabaret in 2012
JEFFREY WARD LITTLE
Directly from Las Vegas, Jeffrey Ward Little present his act which take place partly in a bath and partly under the dome and unites masculine strength, raw power and beauty in an impressive demonstration of the human body's ability.

18 August 2017
The Danish circus season 2016 is coming to an end. In the Scandinavian countries the circus season usually ends in August or September.
Circus Arli ends as the first of the Danish circus season on 22 August. The season started on 25 March in Fløng.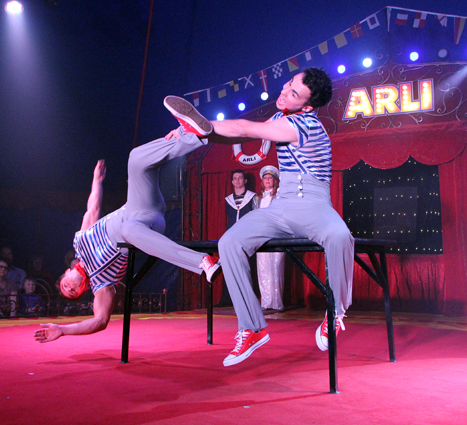 Among the performers in Circus Arli are Alexander Arli and Francesco Fratellini with a knock about table act. Alexander got the talent award from the Danish Circus Award in 2016. His partner Francesco was this year nominated for the same award. A clear hallmark of quality even though the award was given to another of the three nominees.
Circus Baldoni has the last tented show on 30th of August. The season started on March 18 in Lyngby. From 4 to 12 September, Circus Baldoni visits for the 10th year in row the Faroe Islands where they have performance in a number of arenas. The program is almost the same as during the tented tour. However, Mombasa Boys goes back to Kenya, and Fatime's cat act will not be presented at the Faroe Island. Instead Patrik Veres will present a magic act. Eddie and Maria Janacek's 10 year old son Kaya will do a rola bola act.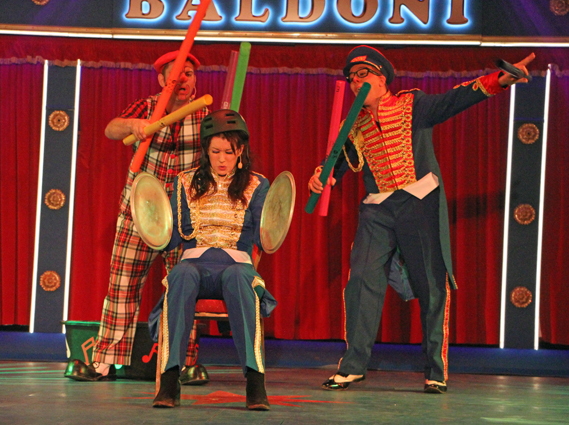 In Circus Baldoni the audience meets the clown trio Danilo, Cindy and Eddy
Danish Circus Krone ends the season on 3 September. The season started April 17th. It is Irene Thierry's last season as circus director. From next year her son Frank Thierry will take over. However, it is still the intention that Irene and her spouse Jan Allan aka the clown Allando will be part of the performances.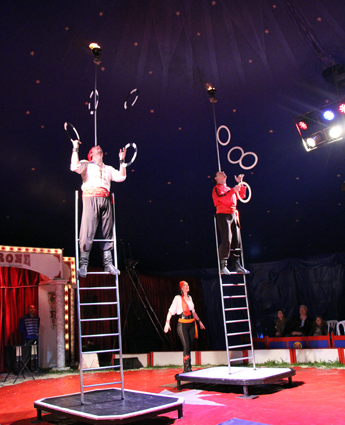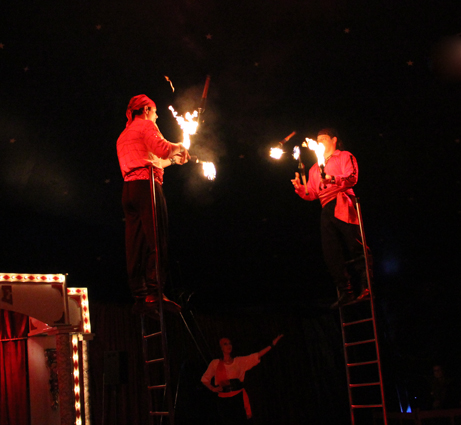 The Wolf family, which tour with Circus Krone, master both ladder balancing and juggling.
Cirkus Arena started the season on 17 March and has the last performance of the season on 4 September.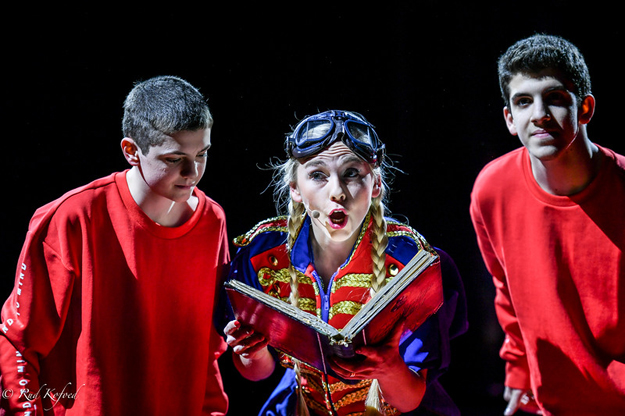 In Circus Arena the audience's favourite have been the ringmistress Motor Mille, extremely popular from DR' televisions children channel Ramasjang. In a period in the middle of the summer she was replaced another TV star: Bubber. Photo: Rud Kofoed / Ajour Press
Zirkus Nemo which is a combination of a circus and a comedy show opened the season on April 26th. The season ends in Odense on September 16th. Where the other circus has many one-day cities, Zirkus Nemo is never in a city for less than a week. And there are never performances Sunday and Monday.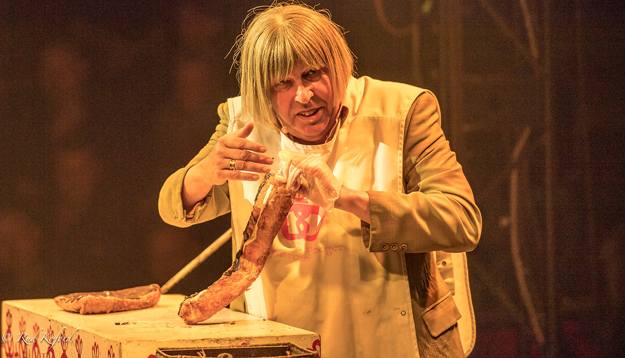 Although Zirkus Nemo has excellent artists the owner Soren Ostergaard himself is the very big drawcard. Baker Jorgen is one of Soren Ostergaard's most beloved characters. Photo: Rud Kofoed / Ajour Press
Circus Mascot opened the season on March 29th. The season ends on September 24th. As previous years, they have short performances in the shopping centre Bytorv Horsens during the schoolchildren's autumn holiday in week 42.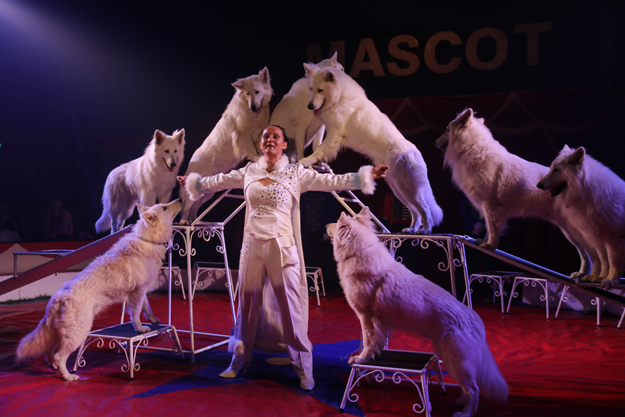 In Cirkus Mascot you will meet Rafaela Honden with her beautiful Swiss shepherd dogs. Recently she got the award as the best circus act of the year in Denmark. Photo: Jacob Boas Leitisstein.
Circus Trapez ends as the last Danish circus their season on September 29th. However, that also started a little later than most of their colleagues: April 12th.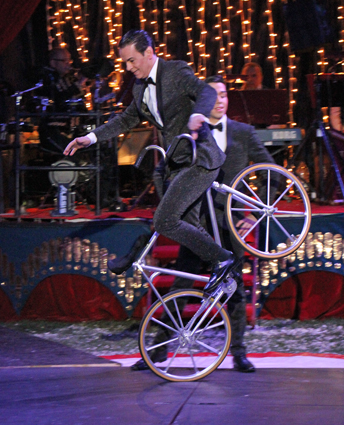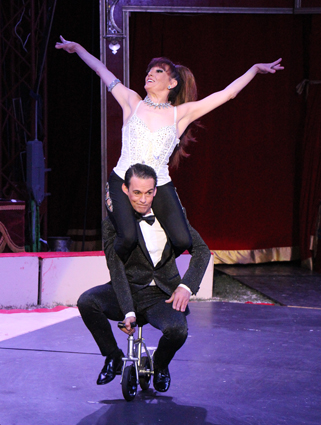 Amongst the stars in Circus Trapez is the Jackson family with their bike act.

15 August 2017
Swedish Circus Maximum takes a break. Last performance in the southern part of Sweden was Sunday, 13 August. Then they have decided to take a summer break until September 1, where they resume the tour in Svenljunga. The season ends probably September 10th in Arvika.

14 August 2017
"KRAN" - special performance at Kastrup Harbor, Copenhagen. The performing arts company GLiMT aim to combine contemporary circus, dance and physical theatre in order to create new and challenging performances. GLiMT writes:
KRAN is a performance for the entire family, created especially for Kastrup Harbour by GLiMT.
Press photo from GLiMT
On the 26th and 27th August, both days at 2pm, you can come experience contemporary circus, aerial acrobatics, physical theatre and live music, as acrobats, musicians and performers take over the harbour and its impressive, red mobile crane.
The performance is being created in a collaboration between GLiMT, Kastrup Harbour, Tårnby Main Library and the Tårnby Council.
The performance will take place on the South pier of Kastrup Lystbådehavn (Kastrup Marina), by Restaurant Kastrup Strandpark, and will be playing as follows:
Saturday 26th August, 2pm
Sunday 27th August, 2pm
It's not necessary to book a ticket – just come and experience the show!
The team behind the performance is:
Director: Camila Sarrazin
Performers: Kajsa Bohlin, Moa Asklöf Prescott, Karoline Aamås
Musician/composer: Henriette Groth
Assistant: Sara Simonsen
You can read more about GLiMT and their performances at http://glimt.info/

14 August 2017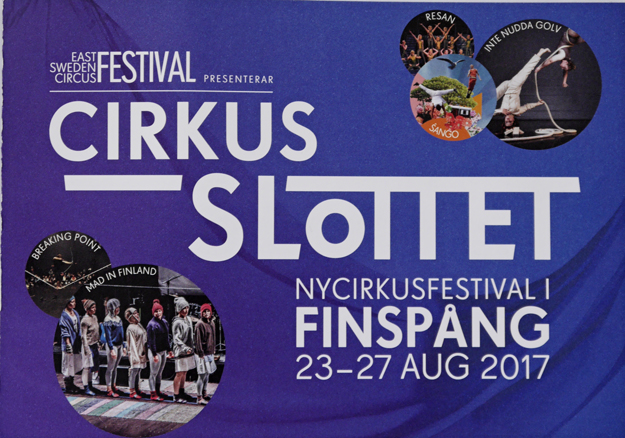 Swedish Contemporary Circus Festival. East Sweden Circus Festival presents THE CIRCUS CASTLE a contemporary circus festival in Finspaang 23-27 August 2017. They write:
Welcome to Sweden's first annual recurring international circus festival! This year's festival in Finspaang, the Circus castle, is a festival for the whole family on 23-27 August, with world class artists from Spain, France, Finland, Morocco, Denmark, Sweden and Argentina.
Read more at http://www.ostgotateatern.se/pa-scen/139

10 August 2017
The Danish Circus Award 2017
The award ceremony took place on Wednesday 9 August in the fencing hall at the Circus Museum in Hvidovre, Copenhagen, with participation of the Danish Minister of Culture Mette Bock.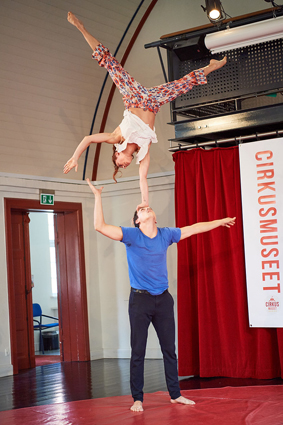 Before the award ceremony the young acrobats Alfred Hall Kriegbaum and Sonia Matos presented their excellent act. Photo: Rud Kofoed / Ajour Press
The honorary award ("The Danish Circus Award") was given to Soren Ostergaard of Danish Zirkus Nemo. The award was handed over to Soren Ostergaard by the Danish Minister of Culture Mette Bock. Soren Ostegaard is a popular and well-known Danish actor and comedian. Since 1999 he has run Zirkus Nemo which is a combination of a circus and a comedy show.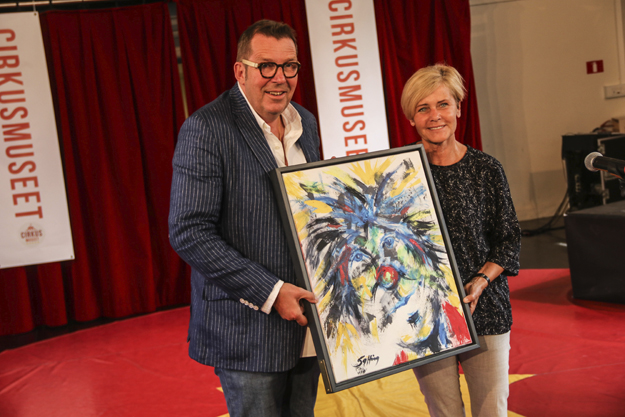 Soren Ostergaard and the Minister of Culture Mette Bock with the award: a painting by Viggo Salting. Photo: Jacob Boas Leitisstein
A talent award was given to the Danish Academy of Modern Circus in recognition of their talent for educating artists with skills that can be used both in contemporary circus and in the classical circus and at theatres.
An award for the best cicus act in Denmark in 2017 was given to the Belgium animal trainer Rafaela Honden for her beautiful act with 9 large Swiss sheepdogs. See tours in season 2017 with Circus Mascot.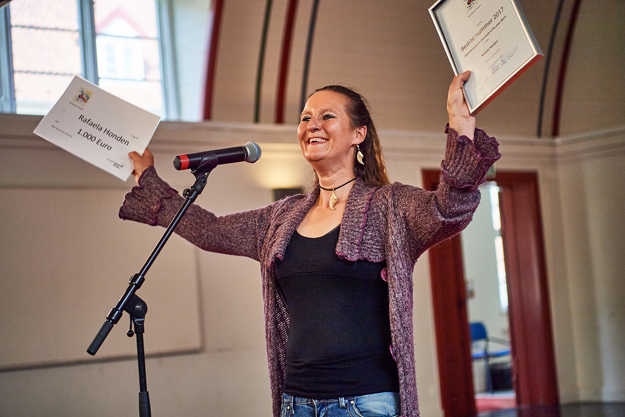 Rafaela Honden. Photo: Rud Kofoed / Ajour Press
The association of Danish circus owners' chairman Martin Arli presented a new special effort award to former Minister of Culture Bertel Haarder. The award goes to the politician or public person who has done the most for circus in the past year. For many years the responsible ministry for circuses was the Ministry of Justice. This was unsatisfactorily for the circuses which wanted to have the Ministry of Culture as responsible as circuses just as theatre, ballet, opera, film and literature is part of culture. Several ministers rejected a request from the circuses to get the minister of culture as responsible. But in the spring 2016 Bertel Haarder, who at that time was minister of culture, with approval from the Danish Prime minister accepted the request and made the ministry of culture the responsible ministry for circuses.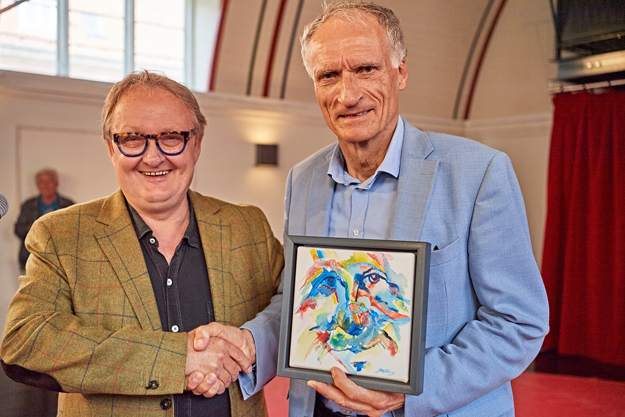 Martin Arli and Bertel Haarder with the award: a small painting by Viggo Salting. Photo: Rud Kofoed / Ajour Press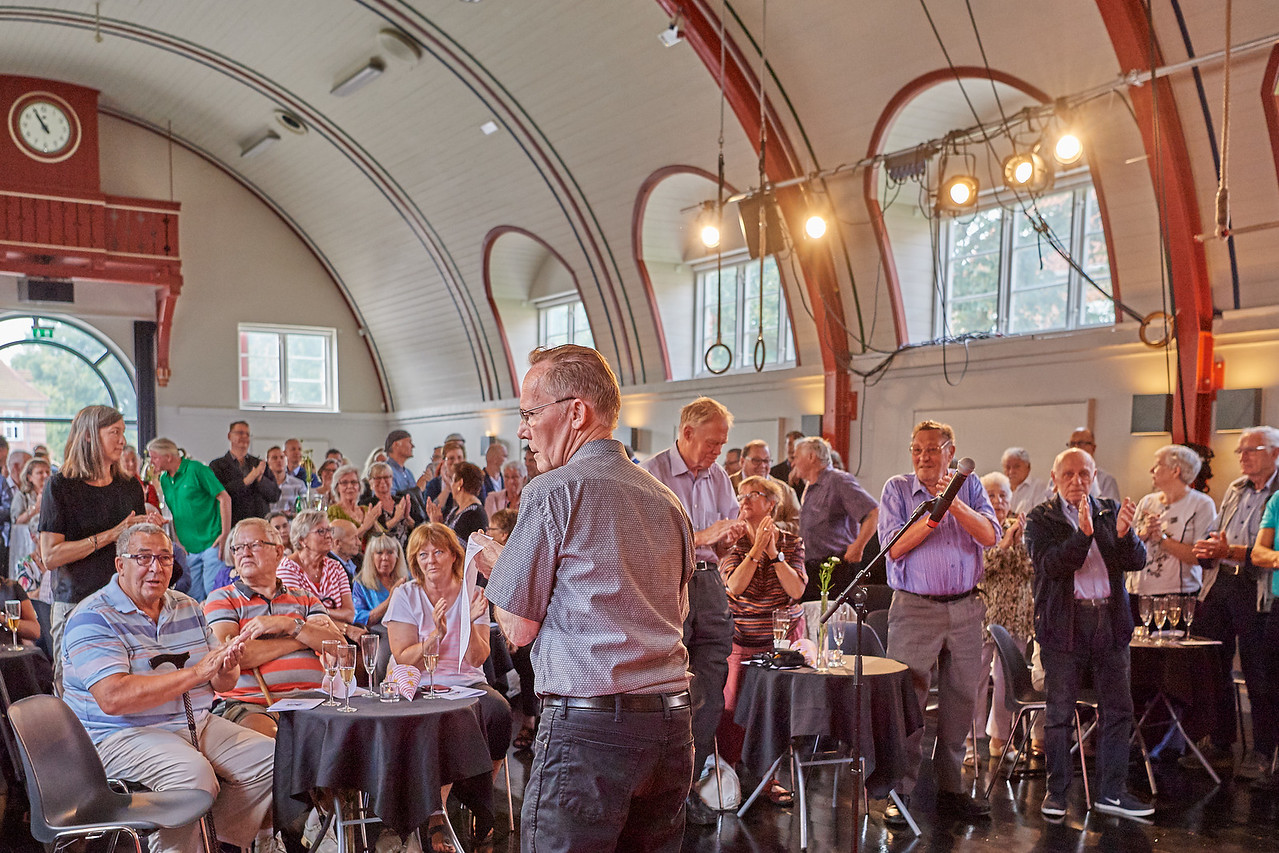 The chairman of the Danish Circus Award Jury Ole Simonsen completed the award ceremony by calling for three cheers for the Danish circuses. Photo: Rud Kofoed / Ajour Press
The Danish Circus Award 2017 consisted of a painting created by painter Viggo Salting, accompanied by an amount of 10,000 DKK (approximately 1,350 Euro).
The talent award consisted of a diploma and a sum of 10,000 DKK.
The award for the best number of the year consisted of a diploma and an amount of 1,000 Euro.
The effort award consisted of a small painting of Viggo Salting.
Click here to see Jacob Boas Leitisstein's photos from the award ceremony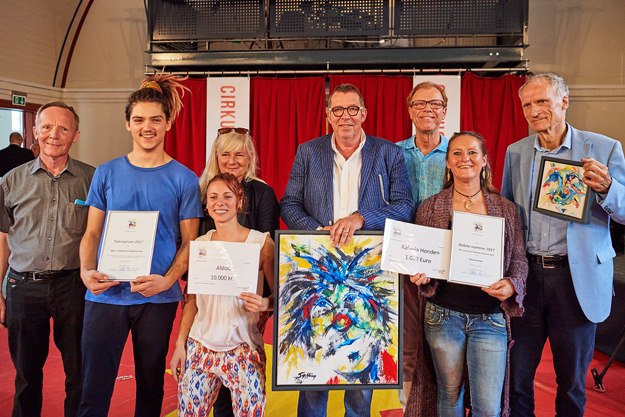 From the left: the chairman of the jury Ole Simonsen, AMoC as winners of the talent award, represented by Alfred Hall Kriegbaum & Sonia Matos. Behind Sonia the jury member Pia Jette Hansen. Then Soren Ostergaard, the compere and jury member Jan Hertz, Rafaela Honden and Bertel Haarder. Photo: Rud Kofoed / Ajour Press

6 August 2017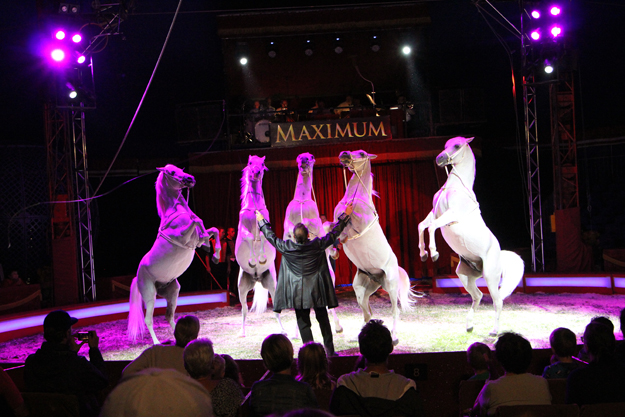 Circus Maximum 2017. In the last few weeks you have been able to see one of the best circus performances of the year, namely the performance of the Swedish Circus Maximum, in the southern part of Sweden. Above you can see Maximum's faithful, talented and sympathetic animal trainer Anton Frank with 5 beautiful white Arabs.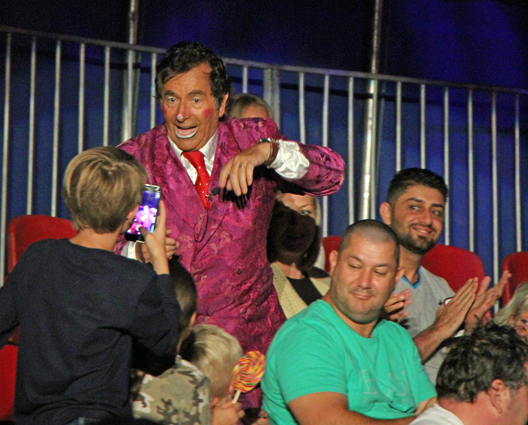 Maximum's clown is, as in 2016, the poetic clown Francesco (Francis Brunard), who, also along with director Bengt Källquist, has put the performance in stage. Francesco opens the year's performance with an entrée from the back rows. Danish circus friends met Francesco in Circus Benneweis in 1995, 1996, 2004 and 2005.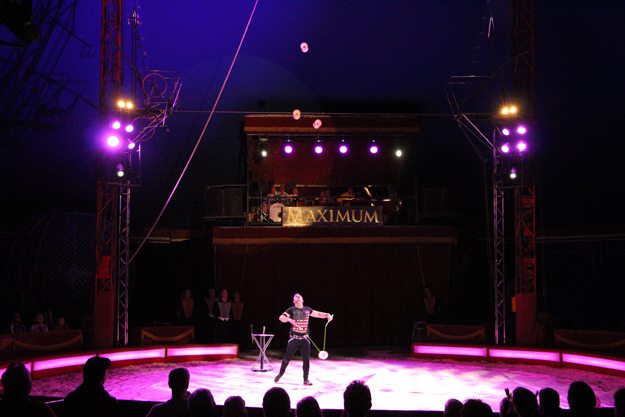 Not many diabolo jugglers manage to have 4 diabolos running. But such does Georgio Hromadko. The Danes saw him in the Circus Arena in 2012. His face painting with black-eyed eyes with devilish spikes is a bit strange! The act would be more elegant with a less distinctive makeup!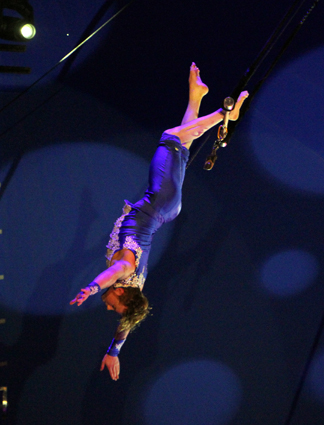 Alexander Lichner does an excellent act in the swing trapeze. On the photo he hangs in one heel. His entrée begins with a short trick where he balances on a mouthpiece in a Washingtontrapeze. Impressive, but completely unrelated to the rest of the entrée which isn't in Washington trapeze. I believe his act would look better if he skipped the Washington trapeze trick. Rumours say that the Danes can meet Alexander Lichner in Circus Arena next year.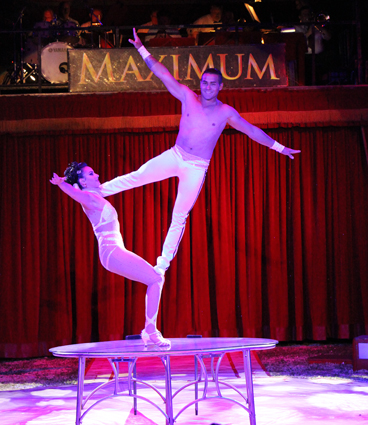 Danes probably remember Duo Soly's elegant act from Zirkus Nemo 2017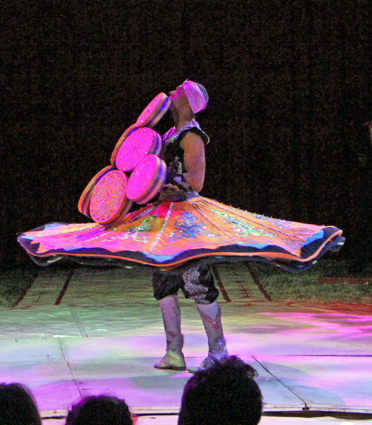 Kimo shows "Egyptian dance". It has nothing to do with belly dance. He is spinning for a long time while he after the principle of the Russian Babushka dolls finds one round dish after another. The entrée concludes with spinning while he is wearing different types of luminous robes. He also runs around among the audience while he "spins" such a robe on a finger. An unusual act in a circus. A bit long-lasting according to my taste. But the audience loved it! So Kimo's repeated calls for more applause were not necessary at all. By the way is it a bad habit that an artist again and again asks for applause!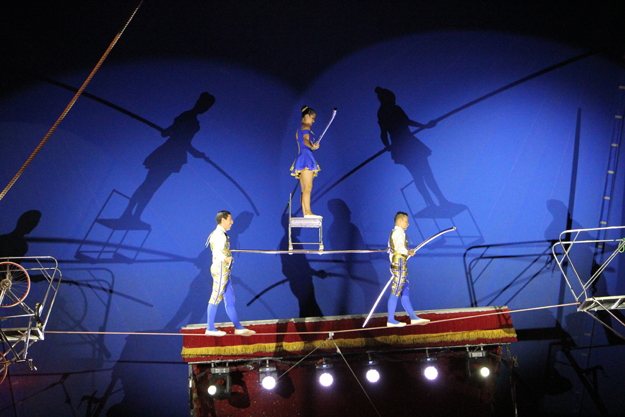 Trio Alambria shows a traditional but nice high wire act
In addition to the artists mentioned the audience in this year's performance meets Ramon Maatz with a dog act which is clearly inspired by Wolfgang Lauenburger, and Diorios in their death globe. At the start of the season with 4 riders, but at least when I saw the performance in Limhamn only with 3 riders. Apart from horses Anton Frank also presents donkeys.

5 August 2017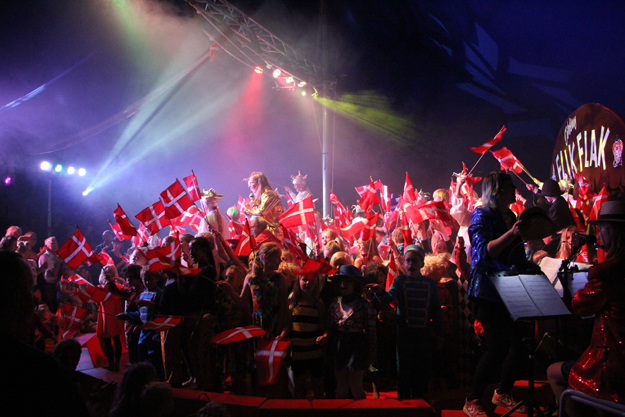 Festive 30th anniversary performance in Circus Flik-Flak. It was a beautiful and life-provoking performance, Odense's youth circus Flik-Flak presented Friday afternoon. As always at Flik-Flak, it was a varied and well-staged performance which the audience the packed tent rewarded with standing ovation. It is wonderful to see the enthusiasm of the young artists. As well as seeing that Flik-Flak maintains the principle that there must be room both for super talents as well for those are not that talented. The performance was accompanied by Flik-Flak's own big band, which by far is Denmark's best circus band.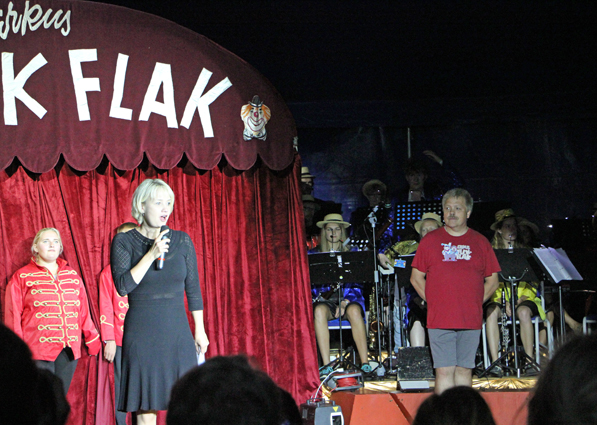 Alderman Jane Jegind of the City Council of Odense Municipality welcomed the audience. To the right circus manager Tommy Hardam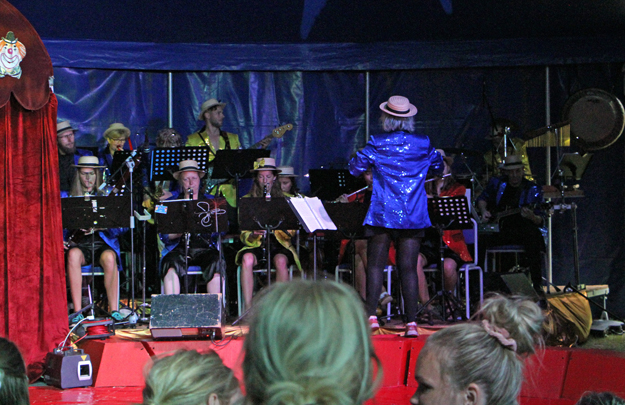 Denmark's largest and best circus band: the Flik-Flak bigband with bandmaster Mette Toftdal. The music was arranged by Elsebeth T. Cohrt
Below a few photos from the premiere show.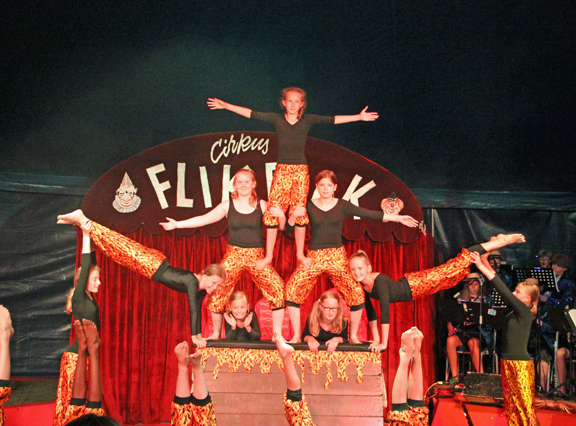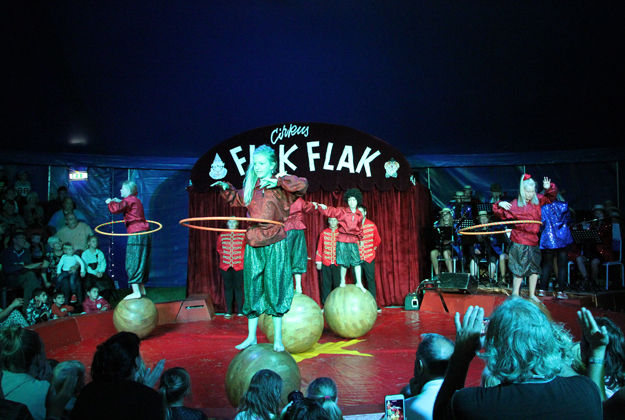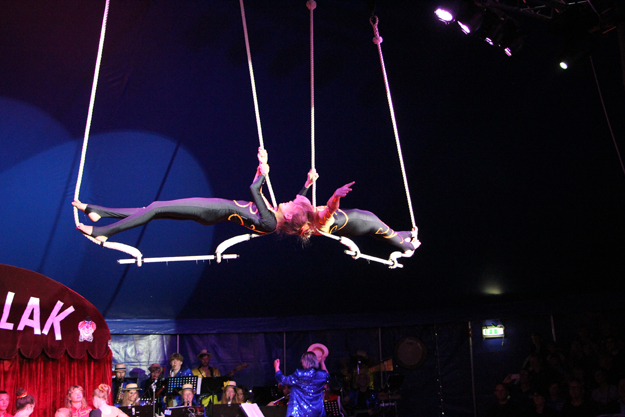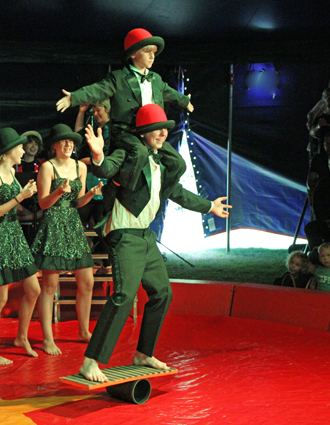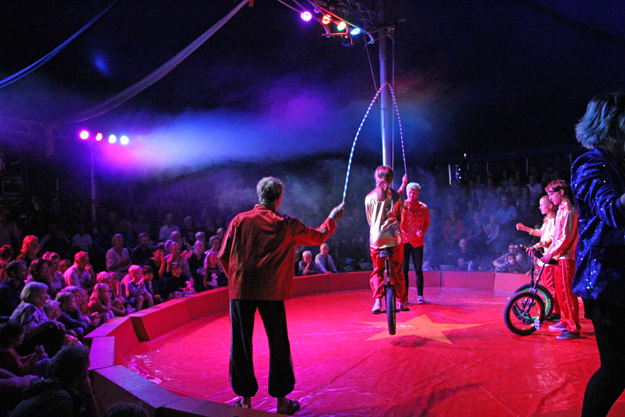 Link to news from 2007

Link to news from 2006