'
From Denmark
and other Scandinavian countries
Special feature: It all happens in Paris (when relevant)
A weekly updated internet magazine
Last updated : 19. May 2018
18 May 2018
Argentinian artist in Esbjerg. Saturday, May 26 is a market day at the Sædding Shopping Center in Esbjerg. In addition to good deals to the customers, the center has provided a poetic street performance at the Center Square with the Argentine artist Martin Denda who performs, and he attaches great importance to get children and adults laughing together.
Martin Denda is also responsible for the Mission of Smile activity - where he performs free of charge for poor children in Asia, South America and Africa. According to Martin Denda, there is a special value in creating amusement without material things and in offering laughter against pain and hatred.
On May 26 at 19 you can see Martin Denda at the Circus Square, next to Circus and the Theater Group Phoenix Bird's Theater and Culture House at Amagervej 10-12 in Jerne, Esbjerg.

18 May 2018
Walmanns dinner show Entourage can be seen in the Circus building in Copenhagen until 23 June. In show you will amongst others meet Benny Schumann and Duo Creative, who last year were among the nominees for the award for the best act of the year in Denmark.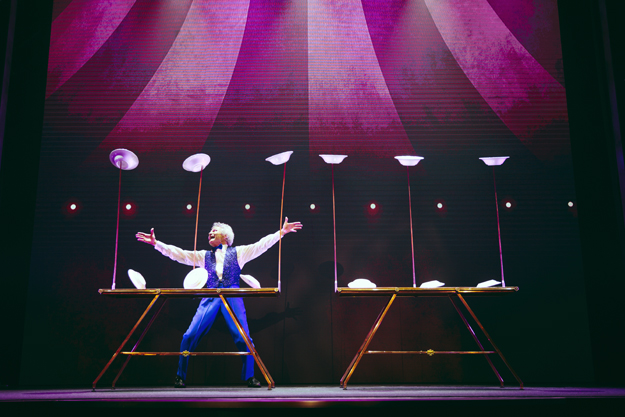 Benny Schumann and his spinning plates. Photo by courtesy of made Wallmans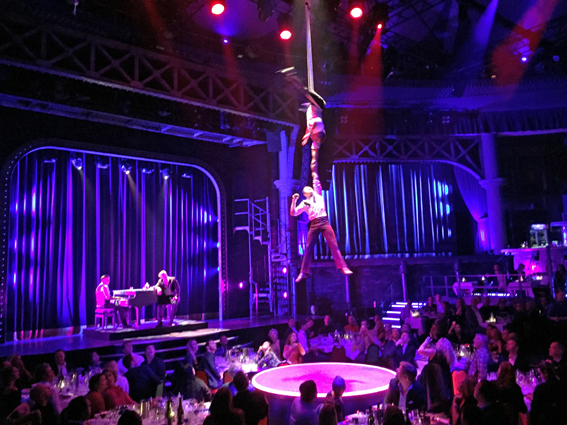 Duo Creative. Smartphone Photo. Before their time with Wallmans the two talented artists have worked at Great Yarmouth Hippodrome Circus in England and at the Caesar Palace in Las Vegas.
From June 24th there is summer break until August 24th, where there is a premiere at Wallmanns' new show Urban Nights. Wallmans writes: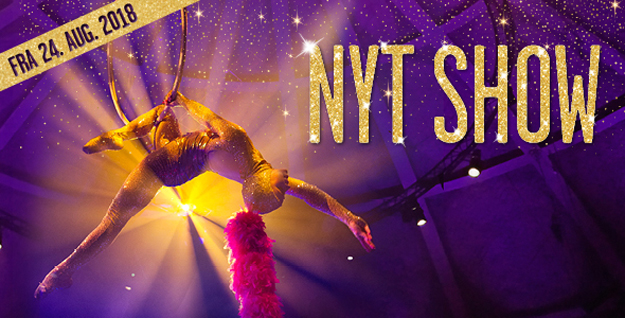 NEW SHOW FROM THE 24TH OF AUGUST 2018
Prepare yourself for an irresistible journey in Wallmans at the Circus Building along with your friends, colleagues or family. The show URBAN NIGHTS will transport you through a fantastic universe of lavish music, stunning artistry and impressive, top-notch acrobatics.
FROM ADELE TO ACDC
Hold tight as we wow you with an incredible show, glittering costumes and interpretations of numbers by some of today's greatest stars such as ACDC and Adele, and legendary songs from the Great American Songbook.
You can also look forward to a magnificent, effervescent opening number to get the party going, and a moving musical and visual journey featuring the classic musical West Side Story.
AMAZING ACROBATICS
Nor is there any shortage of spectacular acrobatics and artistry this season. But when it comes to the amazing circus acts we have up our sleeve, we're keeping them to ourselves for now!
FINAL WITH POWERFUL WOMEN
URBAN NIGHTS culminates in a colorful, pinball pop finale, in which great female artistes such as Christina Aguilera and Pink join forces – a terrific kick-off for the party in the nightclub!
URBAN NIGHTS RUNS UNTIL JUNE 2019.

16 May 2018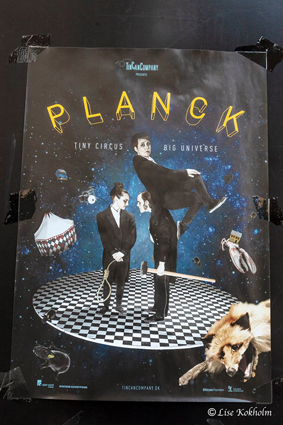 Planck. Lise Kokholm saw the contemporary circus performance Planck at the harbor in Odense in a brand new circus tent located within a large old harbor building. Lise writes (my translation):
Rune welcomes the audience and sends us down on knees to get into this little intimate tent.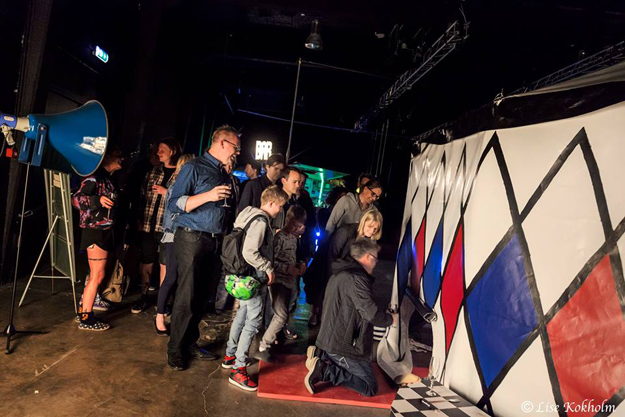 On the way into the tent. All photos: Lise Kokholm
In the tents there was quite dark and magical, and Gry puts the show in motion. A performance blend of classical circus acts, from the run inn clown, the magician, the horse, the acrobat, the aerial act ... all just put together for a fun comic, sour and amazing little theater performance. Only great praise for the 3 artists Rune Vadstrøm Andersen, Gry Lambertsen, who generally runs TinCanCompany, and Camilla Bang, who were hired specifically for this performance.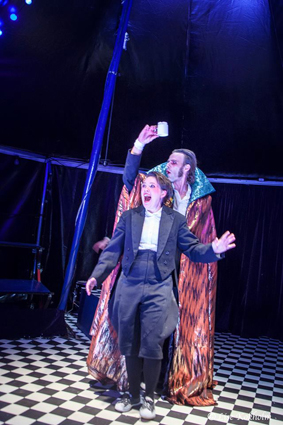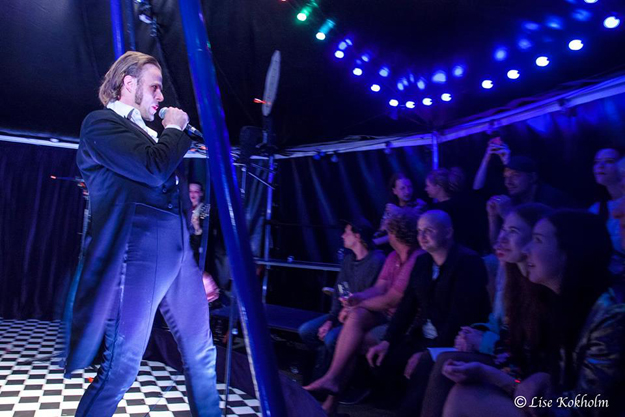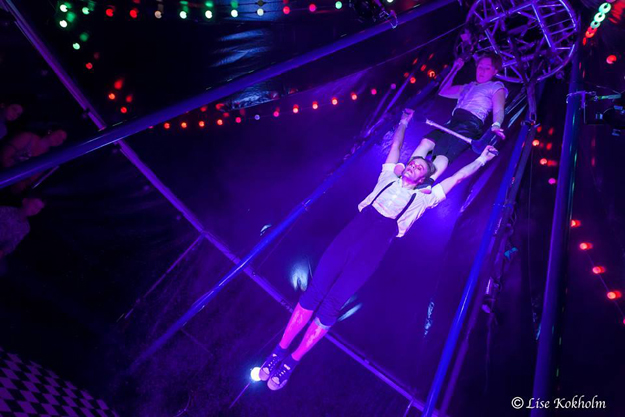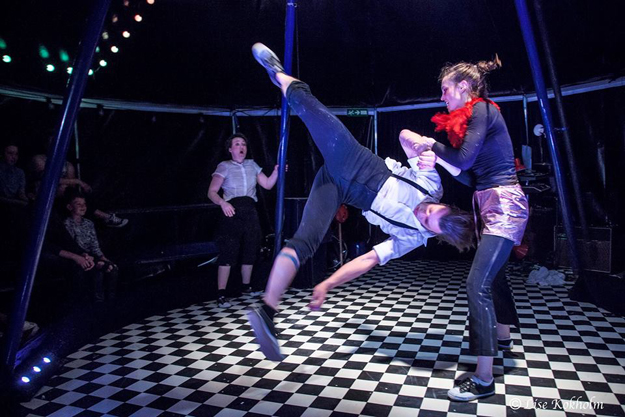 From the show. You can see more of Lise's photos on her facebook page.
Planck can be seen in Copenhagen 31 May to 2 June at Cphstage.dk, Nørrebrogade 37, Copenhagen.

15 May 2018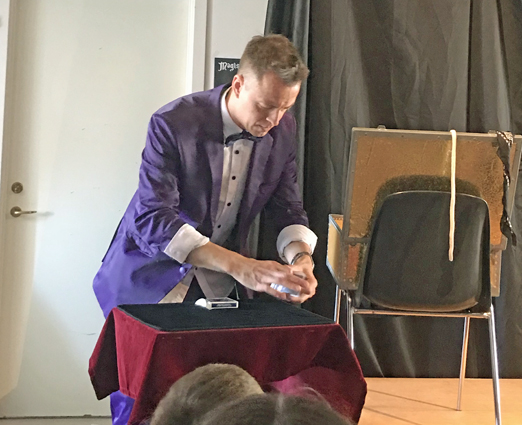 Magical Michael at the Circus Museum. About 40 spectators being 8-10 adults (mostly grandparents) and 25-30 children had found their way to the Circus Museum in Hvidovre when they on Sunday, May 13th, offered a magical Sunday with one of Denmark's funniest and most talented magicians: Michael Frederiksen. Michael presented a good and entertaining show of approx. 45 minutes duration. Two of my grandchildren saw it together with their father and enjoyed themselves.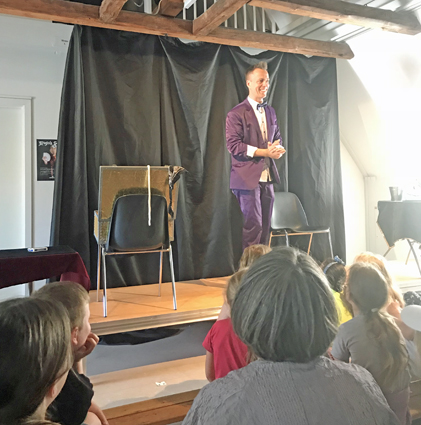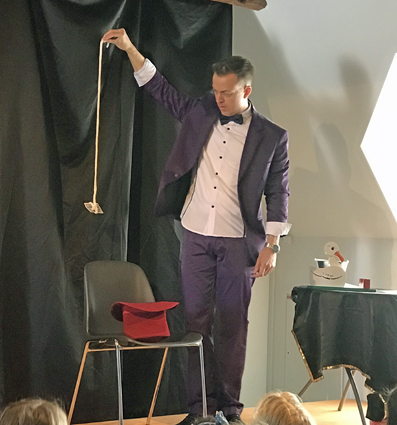 Smartphone photos taken by Lars Simonsen

13 May 2018
IT ALL HAPPENS IN PARIS -- Theatre COMEDIE NATION proudly presents a MAGIC SHOW, called ZYGOMAGIQUE / the name refers to the hilarious and funny character of the show/, it is performed by CLEMENT THE MAGICIAN - a young, very clever magic entertainer.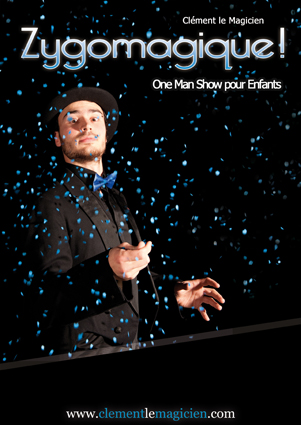 Photo: Olivier Pendu. Al photos by courtesy of Clement
CLEMENT is dynamic, enthusiastic and has plenty of patience with the small fry - and their parents -- he keeps a good contact with the audience through the entire show and he is wearing an elegant suit - and we all say: THANK YOU!!
He plays a lot on interaction, both with the kids seated in the saloon, and with those - necessarily few - who are invited up on stage.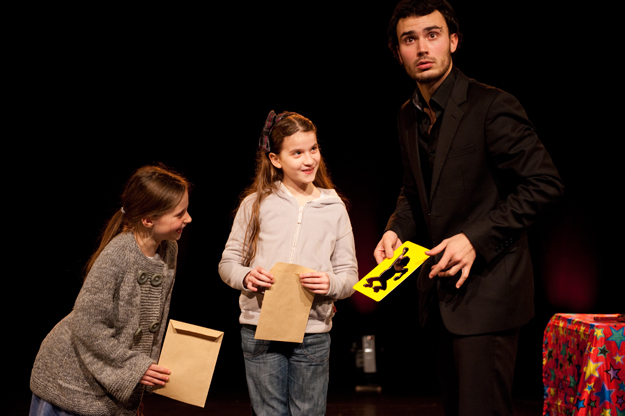 Excellent interaction with kids. Photo: Olivier Pendu.
I noted particularly: his funny entrance, good stage presence, excellent use of facial- and mime-expressions, and plenty of effects that could interest the young audience, for example THE UMBRELLA ILLUSION, having added a moment of rain, i.e. water from a small bottle in top of the umbrella / the milk that a girl from the audience just had swallowed - is retrieved from one elbow, for sure a classical effect, but it always receives a great reaction.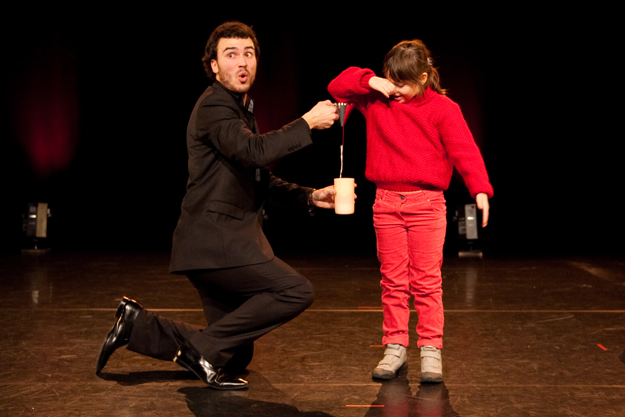 Milk from the elbow. Photo: Olivier Pendu
Grand finale, after having invited a lady up on stage, red lights twinkle, come and go, apparently from nowhere and - everywhere!
Well worth seeing, and the entire family can together enjoy - a nice and pleasant afternoon, watching a healthy entertainment.
IT ALL HAPPENS IN PARIS!!!
Venue: COMEDIE NATION, 77 rue de Montreuil, 75011 Paris. Metro: NATION.
See more: www.clementlemagicien.fr
............................... reported by ZARRO ZARRO.

10 May 2018
This summer's artists at the circus stage at the tropical holiday centre Lalandia Rodby come from Bulgaria: Veselka, Nedyalko and their daughter Yana. In Denmark, they are known from Circus Baldoni 2013 and Circus Krone 2015, 2016 and 2017. They can be seen from 29/6 to 12/8 at the Circus stage where also Lalandia's children's entertainer Mr. Plys can be seen.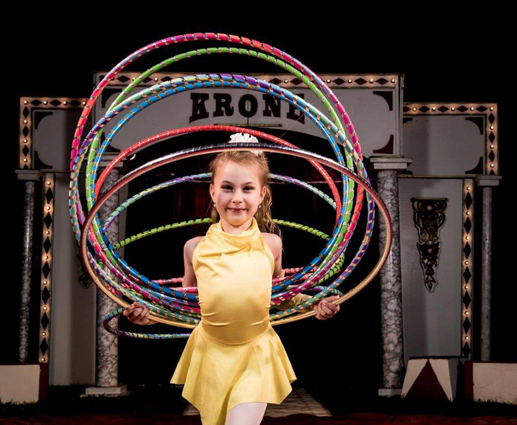 Yana in Danish Circus Krone 2017.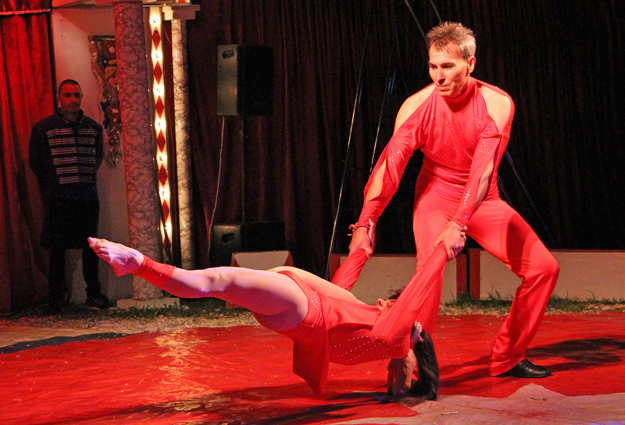 Veselka and Nedyalko in Danish Circus Krone 2017

9 May 2018
Memorial to Trio Hoganas. Trio Hoganas (Danish-born Bente and her Swedish spouse Egon Larsson together with Swedish Gert Karlsson) was a Swedish artist number of world class. They had their grandeur in the late 1950s and until 1975, when they chose to retreat.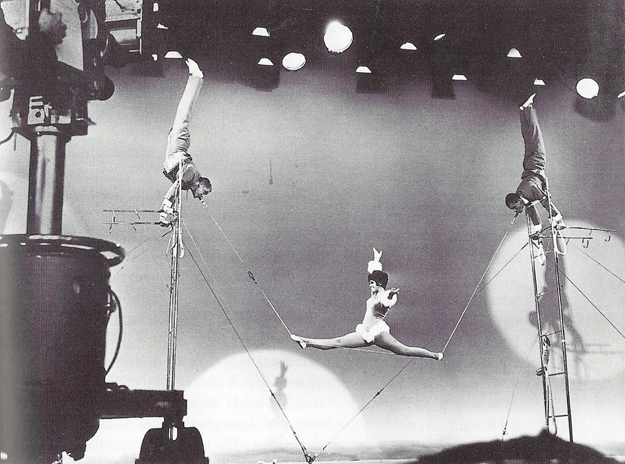 Trio Hoganas. From the collections of Per Arne Wåhlberg
The municipality of Höganäs now set up a monument in memorial of Trio Hoganas. The Swedish Circus Academy writes (my translation);
Welcome to Höganäs Saturday the 26th of May 2018!
Finally, the official unveiling of Höganäs municipality's photographic memorial of Trio Hoganas will be held at. 11:00.
This solemn moment will take place in front of the sports centre Höganäs Sportcenter at Lerberget. The memorial consists of three enormously enlarged black and white photographs of Trio Hoganas, which are mounted with polyurethane lacquer, that is to say glued on a plate of aluminium. The work measures about 40 sqm and is signed by the artist Thommy Svensson and the engineer Henrik Rasmusson.
After the ceremony, a new documentary about Trio Hoganas can be seen in the hall. It is a documentary made by Torbjörn Dencker.

8 May 2018
New exhibition at the Circus Museum at Rold, Jutland. Jørgen Lorenzen writes (my translation):
On May 3rd at 14 the Circus Museum in Rold had inauguration of two newly restored caravans. The wagons have been Olga and Alfred Fiedel's home. They have barely put their wheels in a traveling circus, but they are a fine example of how "cheapjack's other travellers lived and resided.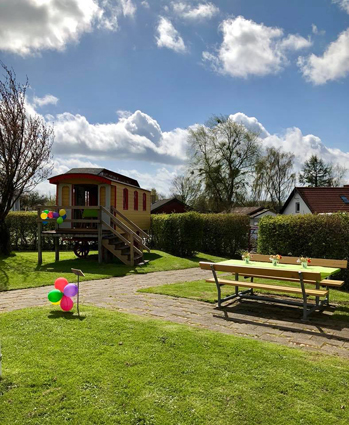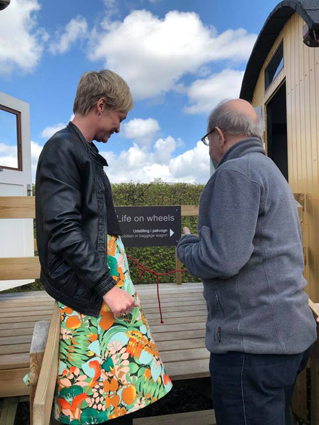 All photos by courtesy of the Circus Museum in Rold
Museum director Lars Chr. Nørbach welcomes the approx. 70 guests welcomed before the conservator Per Hadsund explained the caravan's restoration and decor and described the caravan as "an ordinary apartment in an uncommon home."
Museum inspector Dorte Kook Lyngholm thanked the Fiedel family, who had readily provided information about the family. Special thanks went to Olga and Alfred's grandson Reno Fiedel, who was present - along with other members of the family.
The chairman of the museum friend's association Jørn Rasmussen told how the two wagons had come from Aarhus to Rold.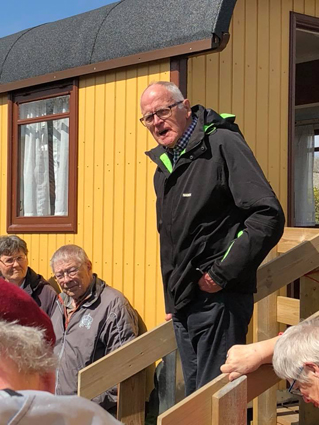 Jørn Rasmussen
Then there was access to the two wagons, and in the luggage van there is a small but very instructive wall sheet exhibition about the traveling people's lives and work on the roads.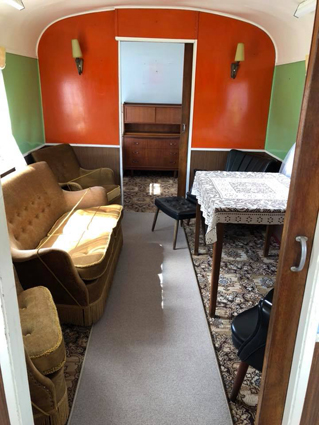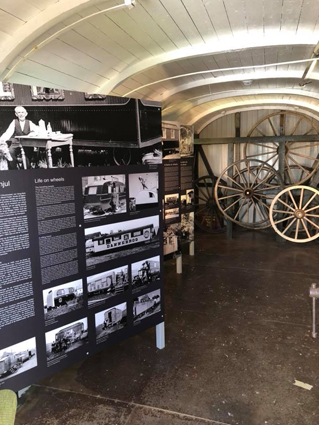 The Circus Museum in Rold is situated in Rold in the northern part of Jutland. The museum was established in 1982 in connection with the riding-school builded in 1912 to Circus Miehe. The museum has a nice but not very large collection and is a part of The Historical Museum of Northern Jutland. The museum is from 1 May to 30 September open daily from 10 to 16. Monday closed. Address: Østerled, Rold, 9510 Arden.

7 May 2018
IT ALL HAPPENS IN PARIS -- shows that are interesting, funny, and worthwhile seeing --
Now - COMEDIE SAINT MICHEL proudly presents OPERA MAGIQUE, where magic entertainer ALFREDO, also being a famous singer, performs an act, where he blends songs and music from VERDI'S opera LA TRAVIATA together with stunning magical effects , and with an excellent result. This show is colorful, amazing and esthetic and utterly original, as a journalist, I take it that it is about the only one of the kind.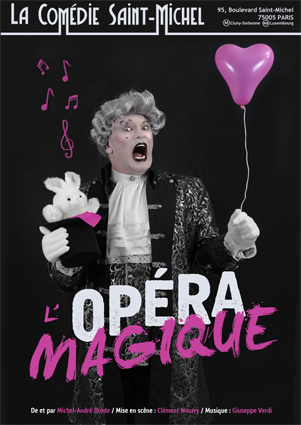 Photo: Michel-André Drode. Al photos by courtesy of La Comédie Saint-Michel
The positive impression is strengthened by the fact that ALFREDO is wearing a costume from Verdi's epoch, complete with a suitable wig. The effects are seldom seen, i.e. the color changing gloves, it fits into the scenario as colors play a large part in this show.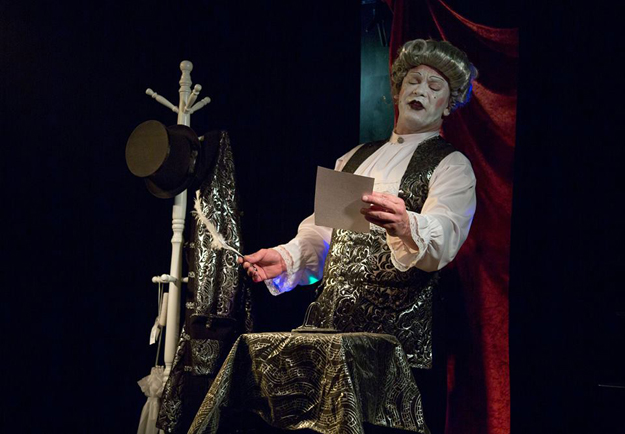 Alfredo. Photo: Michel-André Drode
When shows for a family audience are featured, it is common that some kids, or even adults, are invited to come on stage - to participate.
Not so here, and to my mind, it is a good way of performing as the artists thus avoid the unforeseen behavior of these individuals - difficult sometimes to control.
An excellent performance, original, funny and pleasing!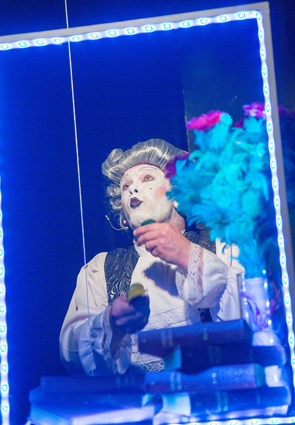 Alfredo. Photo: Michel-André Drode
The show can be seen on selected dates until 27 June. Click here for link to ticket order
IT ALL HAPPENS IN PARIS!!!
Venue: COMEDIE SAINT MICHEL, 95 Boulevard SAINT MICHEL, 75005 PARIS.
RER /local train/ station Luxembourg.
See more: http://www.comediesaintmichel.fr/?q=node/439
............................. reported by ZARRO ZARRO.

4 May 2018
Circus Mascot 2018. Jørgen Lorenzen saw the performance in Stevnstrup on May 1 at 18 and writes (my translation):
The show has two "foreign" artists - the Polish couple Waldemar and Pawel. In the first part of the performance they do parterre acrobatics on mat combined with knockabout acrobatics. In the second part of the performance they are trampoline jumpers. Trampoline acts are festive acts - a "fireworks" of jumps and gags which brings high spirits and joy. It's a good number to have as the last act in the performance. And it confirms that a performance last act shall be a strong act - like a climax.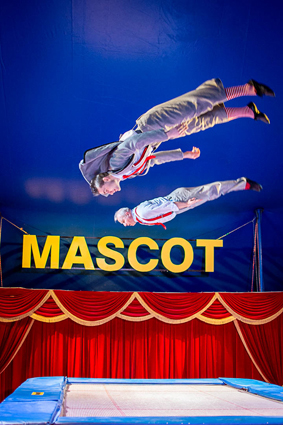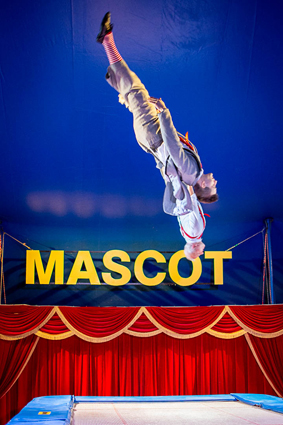 Waldemar & Pawel. All photos by courtesy of by Circus Masco
And then the families Deleuran (the owner family) and Primachenko / Gulyamov do the rest of the performance. The Clown Gulio has for many years been the house clown in Circus Mascot. But he always tries something new. His entrées are original and presented with charm. He seems to mingle with his audience. And he reaches out to the children, but also others with a childish mind smile when he shares out of his crooked clown universe. This year, it is especially an entrée where he persuade a man to enter the ring and with his voice imitates a lot of sounds as you hear them when drinking from a bottle. And after the two players have drunk, it ends in a hearty boxing match. Gulio's tools are simple - but that's exactly what characterizes a good clown.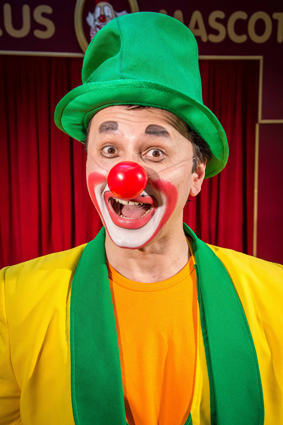 Gulio aka Ulmas Gylyamov and his wife Tetyana Primachenko have been with Circus Mascot since 2003. The later years also their children Husik and Julia have been part of the performance.
The beautiful Tetyana is aerial acrobat - in an aesthetic act with silks (tissue). Husik further develops his juggling entrée as we also saw last year, and his sister Julia, together with his father Gulio, makes a magic number.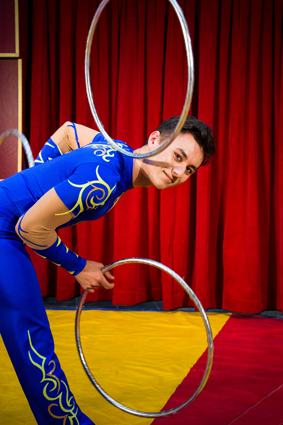 Husik
And then there are the animals! There were many who saw Marianne Deleuran in the Danish version of Got talent! Her involvement in several broadcasts was a good publicity for circus - and proof that animals in circus are treated well. Nobody was in doubt that the animals were Marianne's pets. The dog number is - again this year - versatile, and with an innovation: two dogs drive round in a self-propelled mini-car. And there was a reunion with the reckon dog Bobby, who has not forgotten what it learned as a puppy. And of course, the pig Yrsa, who not always want to move in the right direction. But that's funny, especially when it finally finds the goal. Circus Mascot ponies were included - 4 pieces. And the goats were there. You can make a circus without animals. But the animal acts give a performance a lift and remind you of the fairy tales where animals act as if they had humanity and own will. And if can't be large animals due to the diameter of the ring then at least as at Mascot smaller animals.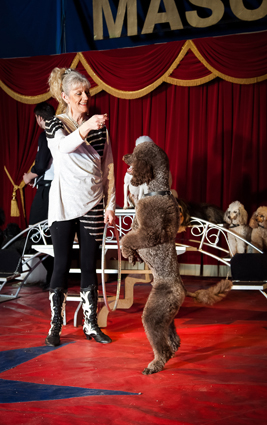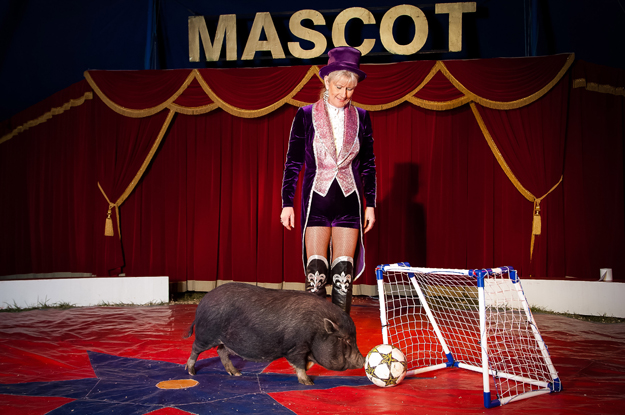 Marianne Deleuran with dogs and pigs

3 May 2018
German Zirkus Charles Knie 2018. When Charles Knie after a couple of seasons with the German circuses Barum and Cirkus Fliegenpilz in 1995 established his own German circus it was a nice medium-sized business. In 2006, he sold his circus to Sascha Melnjak, who in 1999 had started the Heilbronner Weichnactscircus which quickly became Germany's leading Christmas circus. Sascha invested significant funds in new equipment for Circus Charles Knie and quickly made it one of the three leading circuses in Germany. The other two are Krone and Roncalli.
28 April to 2 May Zirkus Charles Knie visited Flensburg close to the border between Denmark and Germany and several Danes paid a visit to the circus.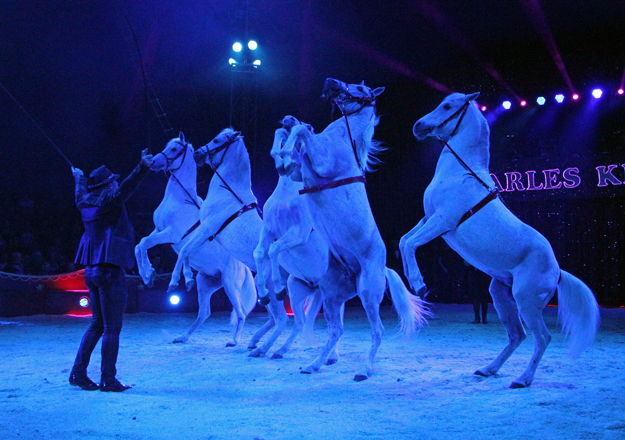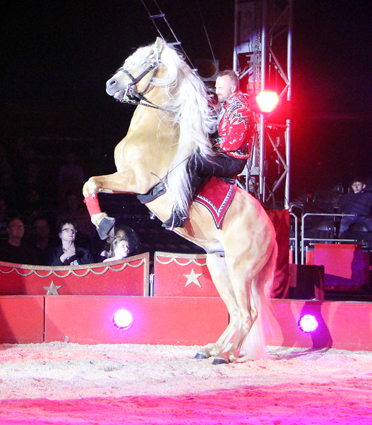 Animal acts with beautiful and well-groomed animals are essential elements of Zirkus Charles Knie's performances. The chief animal trainer in Charles Knie is Marek Jama. At the photo at top, he is seen with 5 white Arabs, who originally belonged to Danish Circus Arena. They sold them to Swedish Circus Maximum, which again sold them to Circus Charles Knie. Also some exotic animals were bought from Circus Maximum. The photo at the bottom shows Marek Jama riding high school.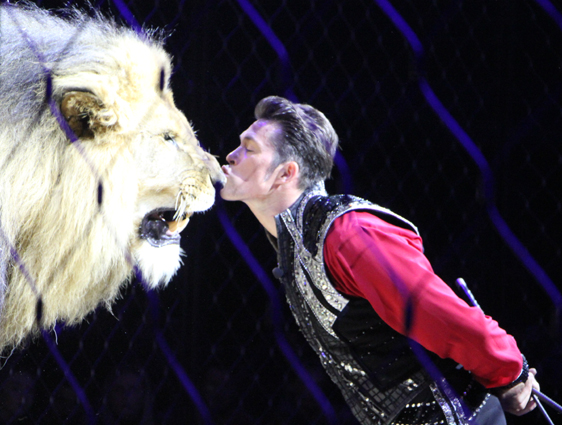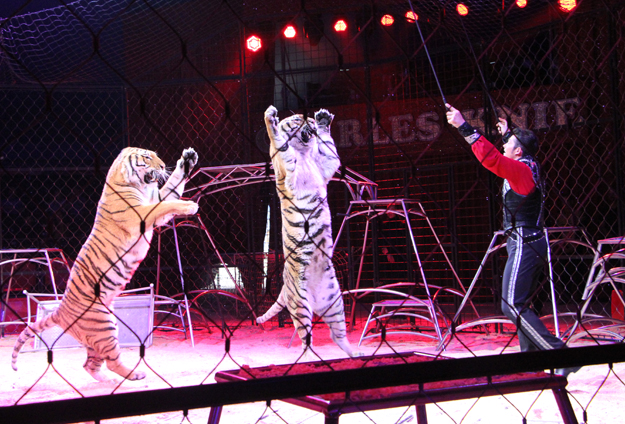 In the hope of getting rid of the animal welfare activists who always stand outside the large German circuses, Zirkus Charles Knie tried last year with a season without big cats. But the protesters still came because they believe that there also should be a ban against presenting horses, dogs etc. in a circus. And at the same time a large part of the audience skipped the circus visit as Germans love seeing a lot of beautiful lion and tigers in the ring. This year, Circus Charles Knie has booked Alexander Lacey, who was with them for several seasons before going to the United States where he for six seasons was the main star in the Ringling performance Legends. After Ringling closed last year, Alexander Lacey returned to Europe and Zirkus Charles Knie, where he now presents an outstanding act with 11 lions and tigers. You could clearly feel the close and loving relationship between Alexander and his big cats.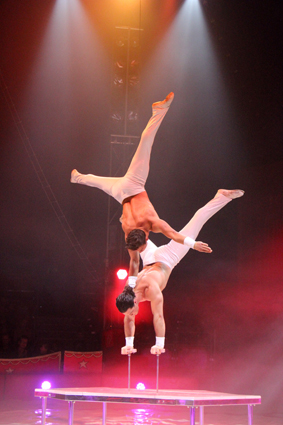 Many Danes remember Messoudis, who was with Circus Dannebrog in 2008 and 2014. The Swedes know them from Circus Maximum 2010 and Circus Brazil Jack 2015. And the Finns from Circus Finlandia 2013. Normally they are 3 brothers in the acts, sometimes assisted by their father. One brother has recently been injured. Thus, at the performances in Flensburg they did not present their juggling act and only 2 of the brothers took part of the handstand entrée. The 2-person edition was rehearsed just 5 minutes before the show on Saturday afternoon. But the 2 brothers did it excellent. Those who did not know the original entrée could not see that there was a missing artist in the act.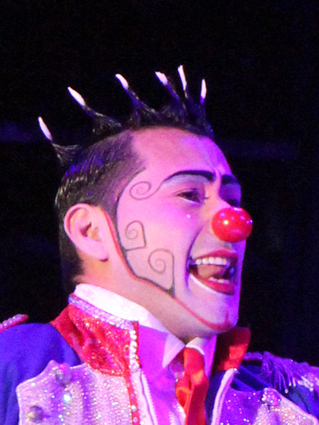 The clown in the performance is Henry. He is presented as The Prince of Clowns. He is from Venezuela. In Flensburg he had (too) many run ins, including a not too impressive version of the orchestra entrée. The explanation was that Messoudi's juggler number had been taken out and Henry required making an extra entrée. Most successful was his version of the well-known spaghetti entrée to which he had added a couple of original elements: there was a spaghetti fight between him and the audience, and he used a gag going down to a basement which I have only seen a single time before.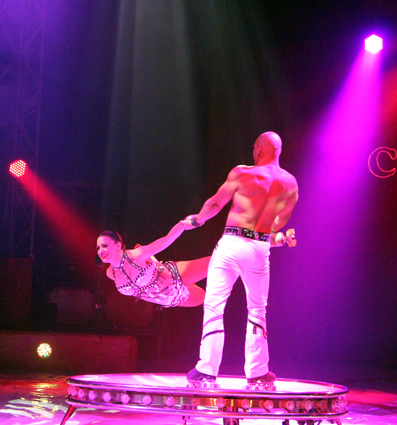 Duo Medini did a nice and fast-paced roller skating number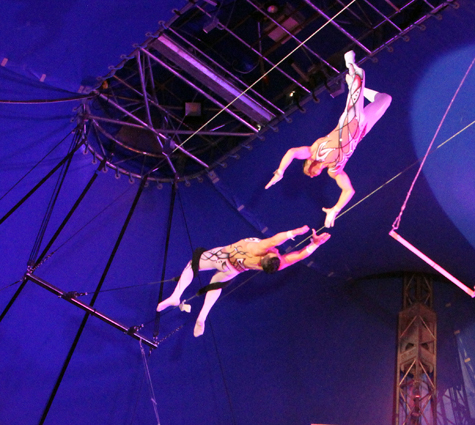 Flying Wulber had a great act in flying trapeze. The act included both a perfect triple with a backward jump, double passage and a dead leap where an artist hangs in a trapeze with his feet and drops down into the net. The male members of the troupe also did a number in trampoline.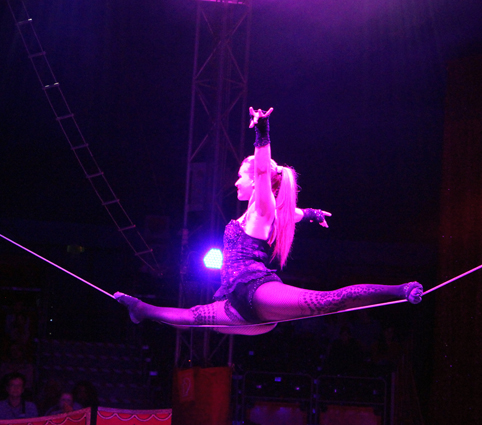 Tatiana appeared on the slack wire.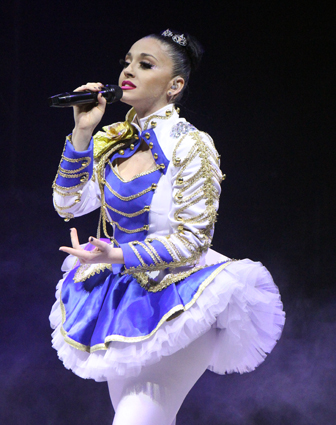 Can you recognise her? Katie Azzario-Lacey was one half of the famous Azzario Sisters, daughters of the clown José Michel and his wife. Azzario sisters dissolved when Katie a couple of years married Alexander Lacey. At Charles Knie she turned out to be a good singer. She is pregnant. That's why she not like her sister Quincy did a handstand act. Click here to see more photos from the show.

Link to news from 2007

Link to news from 2006