'
From Denmark
and other Scandinavian countries
Special feature: It all happens in Paris
A weekly updated internet magazine
Last updated : 16. March 2018
16 March 2018
Circus Brazil Jack (Sweden) 2018. There was icily cold at the Mill Square in Malmö, when Circus Brazil Jack opened their season on March 15th. But the tent was very well heated and the atmosphere of the audience at the top when Trolle Rhodin III welcomed to this year's performance.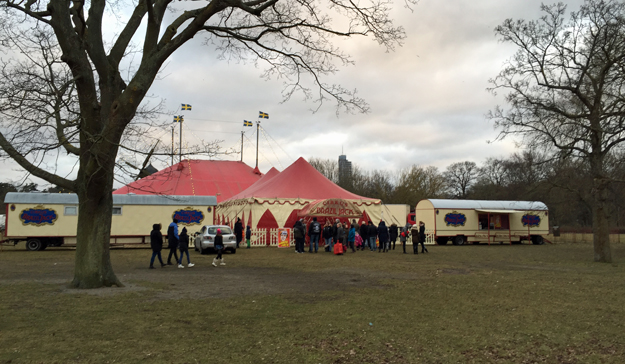 The season opening was at the same time a generational change, as Trolle Rhodin JR and Mrs. Carmen Lupasco Rhodin this year have handed over the responsibility for daily operation to their son, Trolle III. At the same time there was a change in concept as Trolle chose not to have animals in the performance this year. It's not because he thinks that animals in circus not are treated well but because he feels that audience's interest in seeing animals in circus is reduced. He has probably also been a bit tired of the so called "animal friends" who in recent years has been standing outside the Swedish circuses and attempted to make the visitors believe that circus is maltreating their animals. The "animal friends" have usually rejected dialogue with persons of another opinion, just as they have rejected by self-esteem to see how the animals are treated.
This year "animal friends" could not be seen. Neither as pickets nor as circus visitors. They are only AGAINST animals in circuses, not IN FAVOUR of circuses without animals.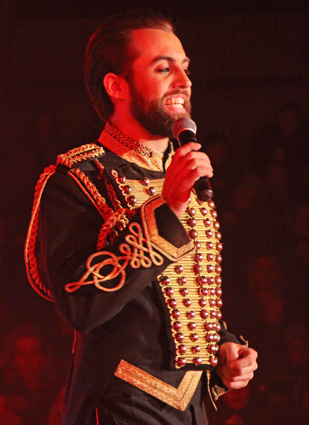 28-year-old circus director Trolle Rhodin welcomes the audience
The performance was opened by this year's run-in clown Emiliano who comes from Argentina and never before has performed in Europe. Several of his run-ins were original, such as one with a "horse" and one with an invisible ball. He held the audience's attention well and will probably get even better after he has learned the Swedish audience's reactions. From other clowns, I know that from country to country there is a big difference between the audience's reactions.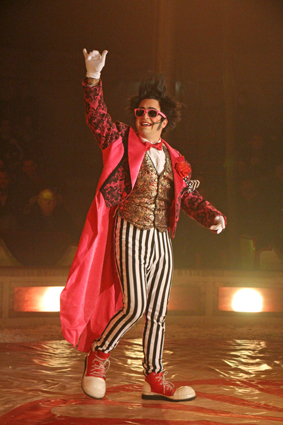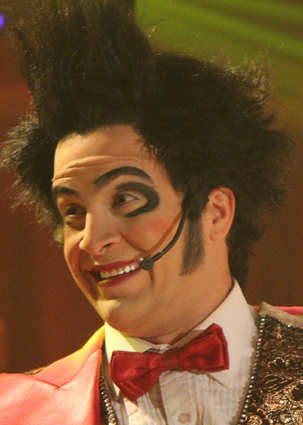 Emilano
After Trolle's welcome, two artists from Compania Havana entered the ring: Isabella and Aylin who, under the name of Duo Bella, did hair hanging i.e. an aerial act where they hang in their hair. Normally, these kinds of acts consist of the artist being raised in the hair and doing some juggling. But Duo Bella could do more than that: they made an exciting aerial act. For example, one headed down in a kind of aerial cradle and carried with her hair an aerial hoop in which the other made acrobatics in (see photo). In another trick, they hung "hair to hair", while the lady below rotating with high speed.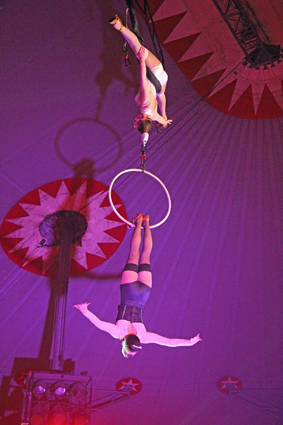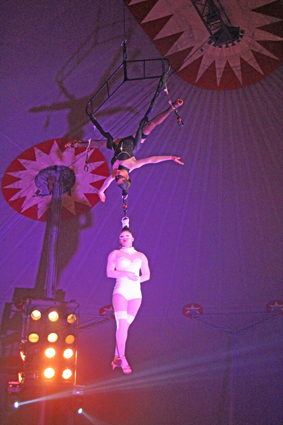 Then followed a comic juggler act with the Wolff brothers, who also were with Brazil Jack last year and who the Danes knows from Circus Arli. In this act big brother Richard constantly disturbed his little brother David, who is more than a head higher than his big brother!
After Emiliano's reprice with a "horse" - or was it another animal? - Compania Havana came in the ring with their main number, where the 6 female acrobats did spectacular acrobatics in 2 Chinese poles.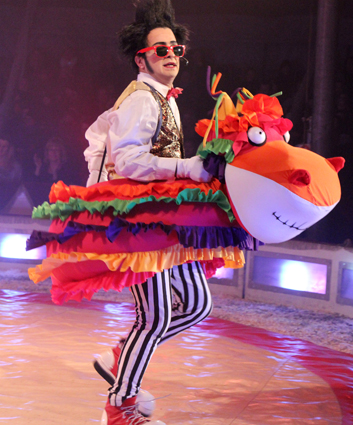 Emiliano on horseback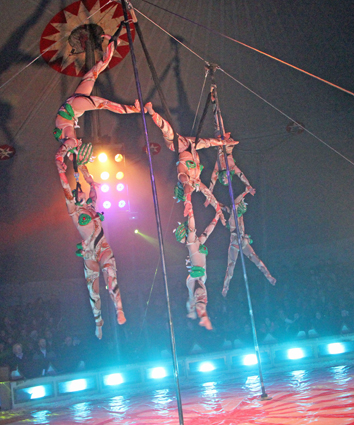 Compania Havana
Then David and Richard Wolff returned with a comic human cannonball entrée. Clearly inspired by one of the Danish Clown Bonbon's entrées.
Following this act followed a real human cannon ball: Italian Jody Bellucci who Trolle Rhodin discovered in a small Italian circus. From his cannon he is shot as a human cannonball over the ring and lands in an inflatable airbag at the audience entrance. An old fair act which has now found its way to Brazil Jack's ring. Children and adults among the audience cheered, although the preparation of the cannon took a long time in comparison with the few seconds the human cannon ball was in the air.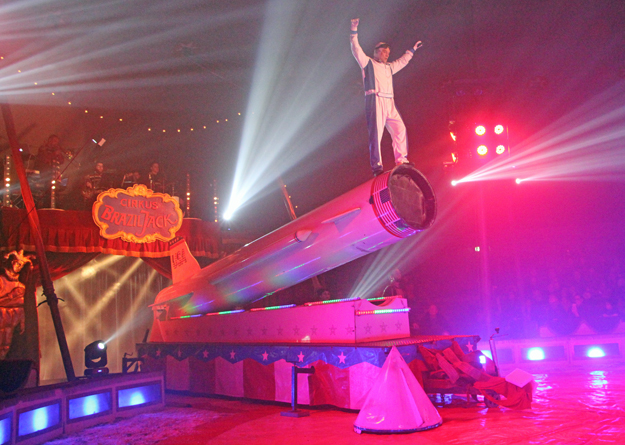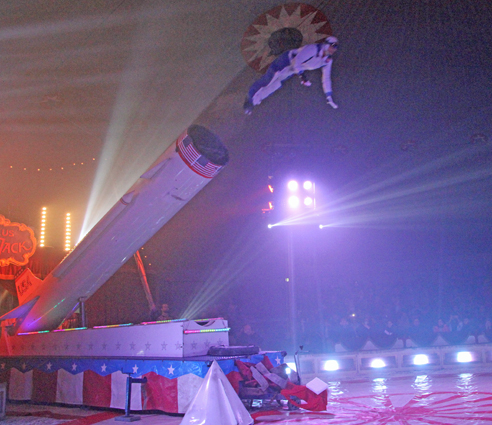 Jody Bellucci
After the break, Anaisi and Norely from Companie Havana (probably the same as Isabella and Aylin) under the name of Duo Capricorn did an act aerial hoop.
Emiliano then had a run-in with a fictional ball which he throwed to and from spectators.
In a comic magic number, the Wolf brothers were assisted by David's wife.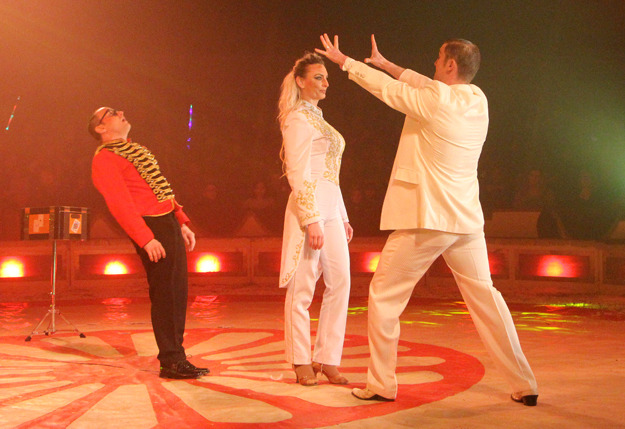 David tries to hypnotize his wife, but it is Richard who is being hypnotized and collapse
You have to save the best thing to the last. And according to the audience's reactions, the last two acts in the performance were the best of the year.
First Emiliano with the well-known camera routine.
"Oh no, not again", many circus freaks might think.
But Emiliano's version of the act is clearly one of the best versions of the act which I have seen. And when choosing volunteers he is working with tactfulness and accepted a "No". Some other clowns could learn from that! I know people who never again will visit a circus after reluctantly being dragged in the ring by an insisting clown. Something every circus director should forbid his clowns to do.
The last act in the performance was a reunion with the marvelous diabolo juggler Pierre Marchand. He was last time in Brazil Jack in 2015 and last year at Arena in Denmark. His talent and charm are amazing and he "sells the act" better than any other diabolo juggler.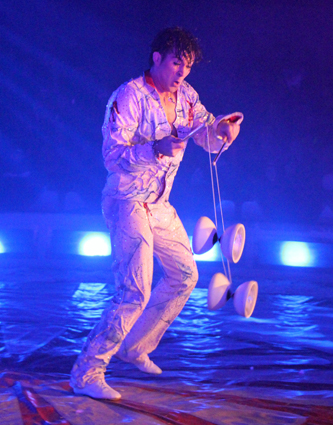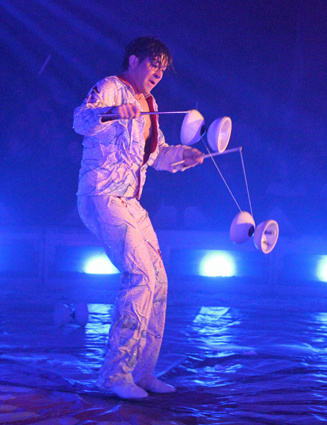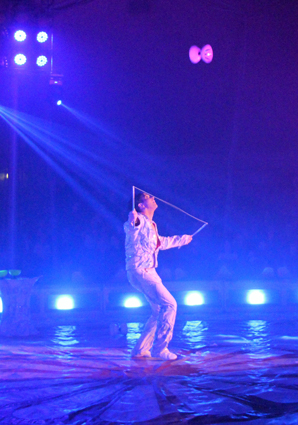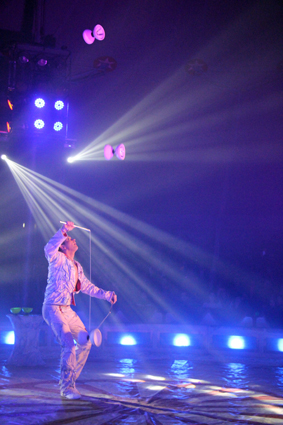 Pierre Marchand
Did you miss animals in this year's performance? The answer must be a clear no: Trolle has proved he easily can produce a good show without animals. When a couple of minor errors are corrected - there is always a premiere nervousness and some of the artists did not arrive until the day before the premiere - this year's performance will be remembered as another fine Brazil Jack performance.

15 March 2018
Circus Arnardo (Norway) 2018. Circus Arnardo had as the first Scandinavian circus premiere on 10 March in Arendal.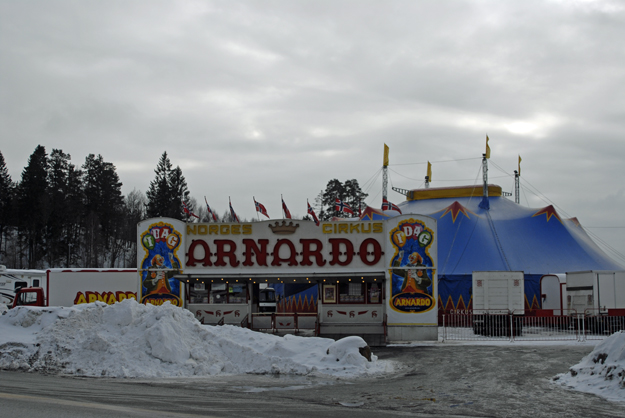 There was snow at the lot when Cirkus Arnardo opened the season on March 10th. All photos: Thorbjørn Klæbo Flo.
Thorbjørn Klæbo Flo saw the performance and writes (my translation):
A number of fine artists this year with Duo Costache with perch and an aerial act where they hang in their teeth. Great artists whom we have seen at Merano and Brazil Jack.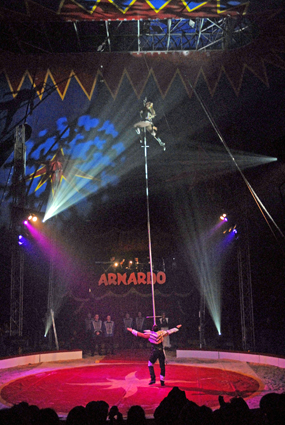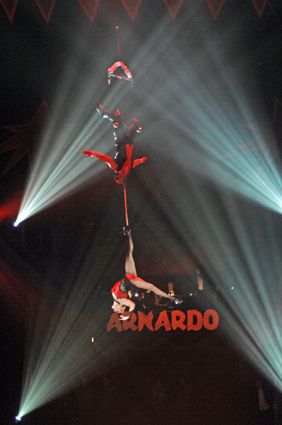 Duo Costache. The Danes saw their perch act in Circus Arena in 2017.
An excellent Siberian Husky and Samoyed dogs act. Earlier seen at Brazil Jack and Benneweis.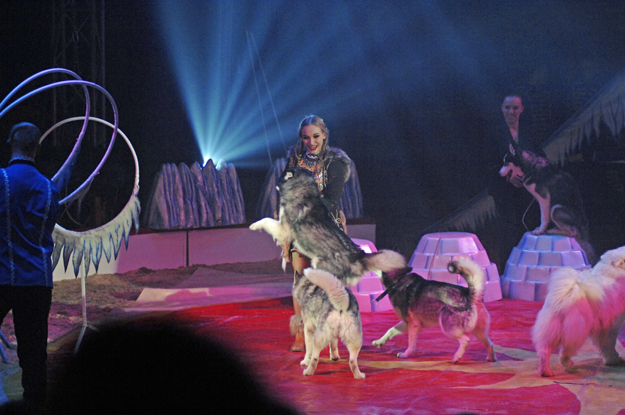 The Saabel family's great dog act could be seen by Danes in Circus Benneweis in 2011 and in Circus Dannebrog in 2013. In Circus Arnardo, it was the young generation, the sisters Jennifer & Kelly Saabel, who presented the act.
Nandor Varadi has become even better since I last time saw him a few years back at Arnardo. An amazingly good artist.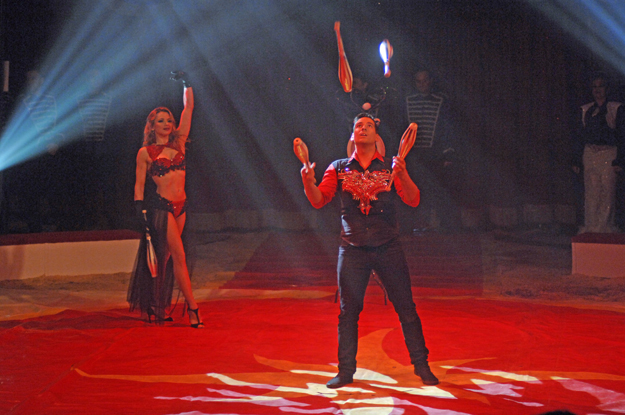 Nandor Varadi. The Danes have met him in Danish Circus Krone in 2007 and at Circus Baldoni in 2008 and 2010. Already at that time he was good, but today he is even better.
The clown André binds the performance together with original reprices reprices and a few classic run-ins. Pleasant appearances, for the first time in Norway. Seen early at Scott.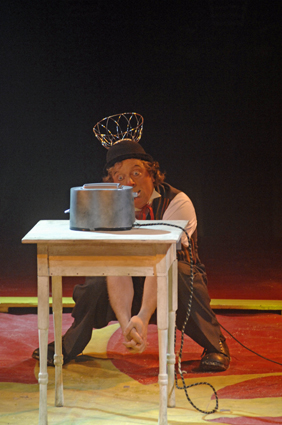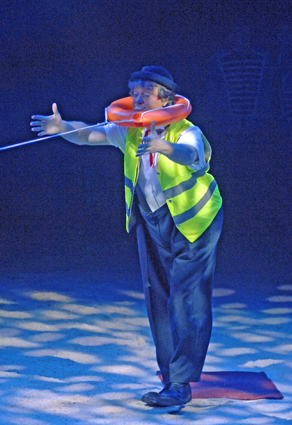 The talented Swiss clown André. His only performance in Denmark was in Jimmy Enoch's Winter Circus last year in the Rosengaard Shopping Center.
The Are and Poulina Arnardo Family work with their illusions and include a new variant of Houdini's mysterious box with a blanket. Smooth and fast performed at the premiere.
The ponies had opening night nervousness and were presented by Yvonne Lübben. The nervousness is definitely over in a few days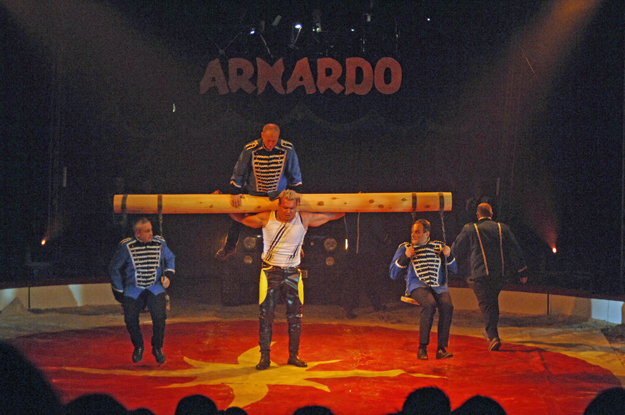 The strongman Denis Ilchenko was last year in Sweden at Brazil Jack. This year, it is the Norwegians who can meet him

9 March 2018
Circus Olympia 2018. The Swedish Circus Olympia is Sweden's second largest circus. Season opening takes place in Oskarström, Saturday, March 24th at 15.
Ever since Herbert Bentgsson (1947-2014) established his circus in 1985, animal acts have been an important part of the performance. Always Circus Olympia's own animals: horses, camels, bulls, goats, alpacas and dogs. Animals which the Bengtsson family has trained to ensure that the animals are raised and trained under good conditions and are treated well and careful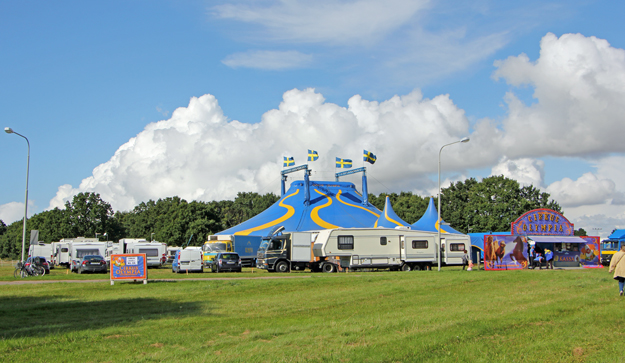 In this year's performance, the siblings Jessica & Niklas Bengtsson present an exotic mix of camels, llamas and bulls and liberty dressage with horses and ponies. Their mother Henrika Bengtsson presents her playful dogs. Niklas spouse Natascha Jarz presents alpacas and goats, assisted by David Hammarberg.
The other performers are:
Robert Cawley - Laser show from England.
Nancy Stauberti – aerial acrobat from the Czech Republic, hanging in her hair.
Duo Stauberti – Perch acrobats from the Czech Republic. They received 2 special prizes at this year's circus festival in Monte Carlo.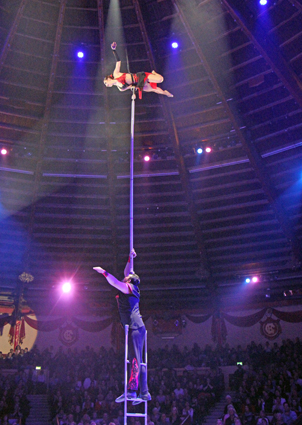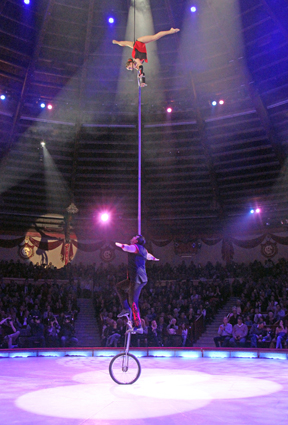 Duo Stauberti. Photos from performance in the German Circus Krone in Munich March 2017
David Hammarberg - Aerobatics in the bungee-trapeze. He was last time with Olympia in 2015. In season 2016/17 Danes saw him at Wallmans in the Circus Building in Copenhagen.
Martti Peltonen – crossbow marksman from Finland. He was also with Olympia in 2014
Liina Aunola - Vertical rope. She was with Olympia in 2003 and 2014
The Rivolinos clowns. The Danes met them in Circus Arena in 2002, 2003, 2005, 2007 and 2009 and the Swedes in Circus Maximum in 2000 and 2006. However, there may have been changes in the troupe. Another troupe from the Rivelino family, the Pedro Rivelono troupe, will spend season 2018 with the Norwegian Circus Agora. The Rivelino family is NOT the same as the famous Rivel family.

9 March 2018
Circus Agora 2018. Jan Ketil's circus, Norway's second largest, has season opening in Straume on March 14th.
The performers in this year's performance are presented as follows (my translation):
Jan Kjetil. Our beloved circus director is always ready to welcome the audience to Circus Agora, and this year, like any other year, he has surprises on the nap. Rejoice!
Bianca Renz. Hula hoop. Everyone knows the traditional hoop. This lady rocks a little more hoops than most people. Bianca Renz comes from one of the large circuses in Switzerland to Norway and Circus Agora. Hula hoop is grace, pace and grace at its best.
Tony Garcia. From Spain, Agora receives visits by the world-class high speed juggler Tony Garcia. He has impressed tens of thousands of people in some of Europe's largest and most renowned circus and has received honours after honours at festivals, among critics and from the audiences.
Brad Garcia. Comic trampoline. On the trampoline, Brad shows acrobatic masterpieces combined with a good dose of humour. He is shot in the air and returns ... with a lovely and comical twist.
Miss Sandra. The princess of the air. High under the dome, Sandra Quaiser from Germany takes us on tense turns in a chandelier and in tissue. Elegantly and graciously, she takes the breath of the audience with her risky twists. It is not without reason that she is referred to as the princess of the air.
Irena. Foot juggler. World-class balance art. The world is turned upside down for our young promising juggler, where she uses her legs instead of her hands to juggle. Her technical skills are probably second to none in the world in this exciting and demanding discipline. Only Irena knows how it's feasible!
The knockabout table acrobats Duo Lagroni. These two knockabout acrobats works with pace and humour, when they make jumps that gets the even the saddest of us to giggle and to pull on a big smile. You get in a good mood when seeing this act.
Sandra Quaiser with her ponies. Meet our four-legged charmers Felix and Alex, presented by Sandra Quaiser.
Los Rivelinos. Award winning clowns. Rivelino clowns are award winning clowns from Spain. With live music and a lot of humour, they create laughter and joy in our circus ring.
Pedro. Agora's funny run-in clown.
Peter Taylor's dog show. Peter's best friends are the dogs Leon, Sky, Sammy, Blue and Zorro. Peter is a postman and the dogs are his assistants. Whatever Peter is trying to do, the playful dogs interrupt him and show us who's really the boss. An act with a lot of humour and a lot of charm!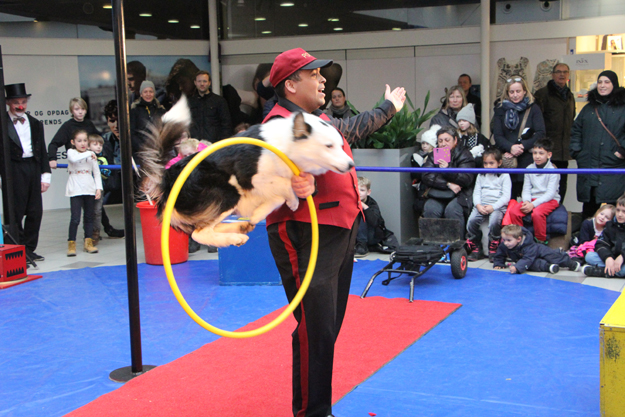 The Danes saw Peter Taylor's dog show in the performances which Benny Schumann presented during the winter holiday in Elsinore City Centre. However, Peter Taylor has more dogs in the Agora show than in Elsinore.

4 March 2018
Artist names at Circus Mascot. The 2 Polish artists, who participate in this year's performance, are Waldemar Solek and Pawel Dziki. They have two entrées: Trampoline and a comic acrobatics act.

3 March 2018
Bonbon & Co. in Munich. The ongoing artists in the German Circus Krone's February program in the circus building in Munich were the clowns Bonbon & Co. The Danes know Danish Bonbon (Lasse Nørager) and his Finnish wife Tiina from several seasons, first in Circus Benneweis and later in Circus Arena. But since 2009, you have not seen them in a Danish circus.
Thus, it was a great pleasure to see them at Krone in Munich. And now the couple's children, Julia at 20 and Joakim of 18, have joined their parents. They have run-ins with papa Lasse and mother Tiina and a number of fine run-ins of their own.
It is said that a photo says more than a thousand words. Therefore, you can below see a number of photos from Bonbon's, Tiina's, Julia's and Joakim's entrées.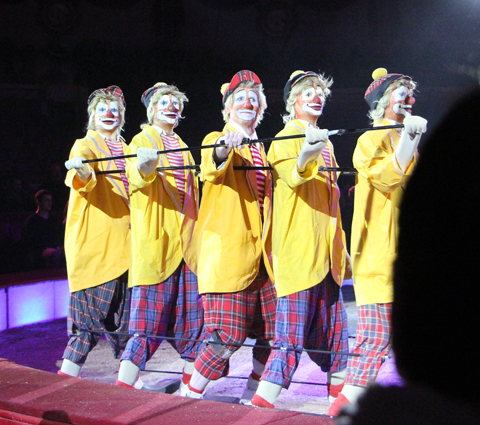 A happy reunion with 5 x Bonbon - it's the real Bonbon in the middle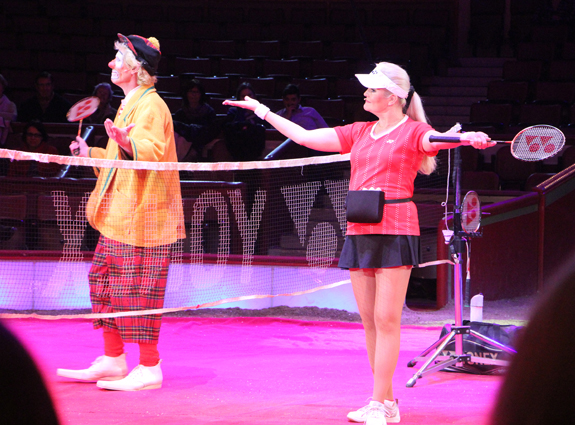 Of course, we saw Bonbon and Tiina with their signature act: the one with the badminton match. Bonbon has told me that actually he isn't a good badminton player...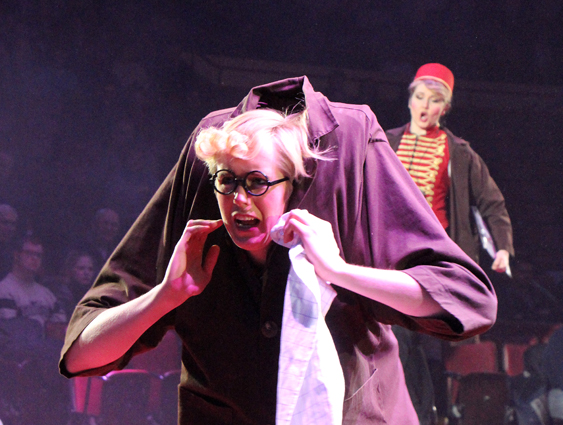 Julia has hit the head into the stomach of her younger brother Joakim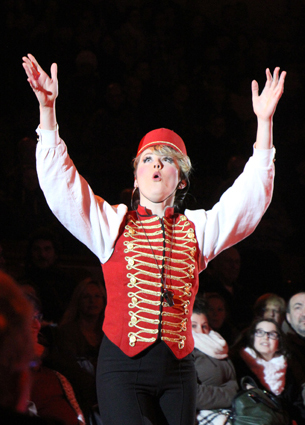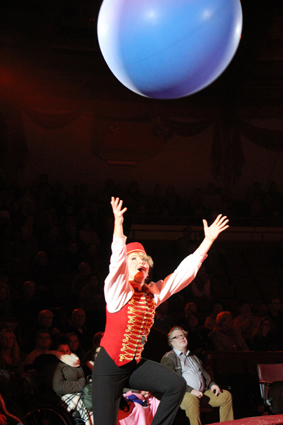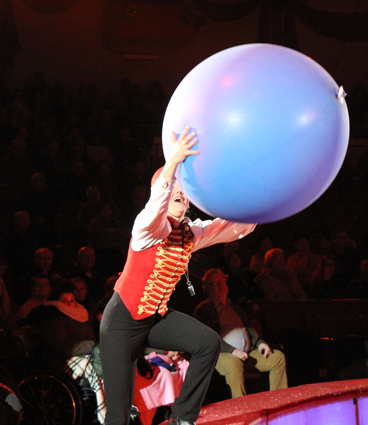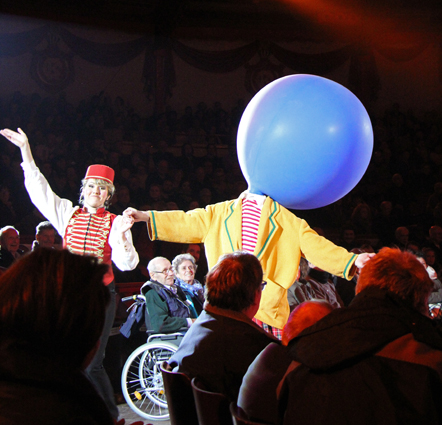 Julia and the big balloon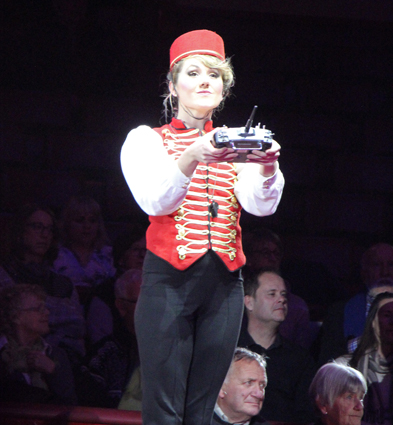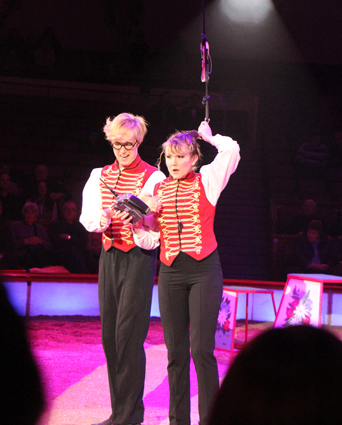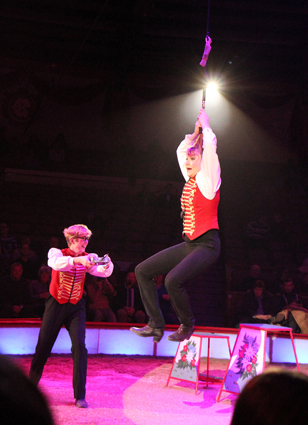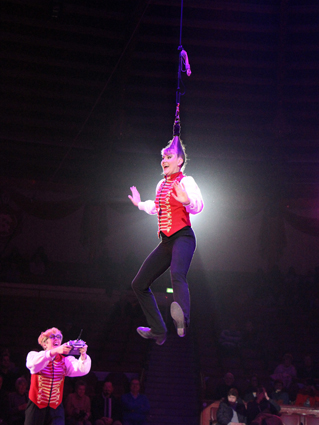 How to control a big sister...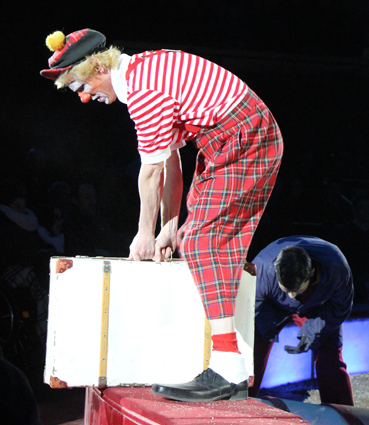 Bonbon and the heavy suitcase which a child can move …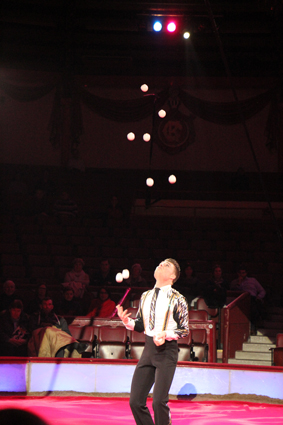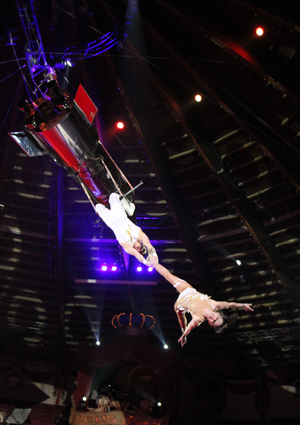 In Circus Krone's February program, Danes also met some other old acquaintances: the juggler Michael Ferreri, even better than when we saw him in Circus Arena in 2015 (he has just got a bronze clown in Monte Carlo) and Duo Garcia with their rocket, known by Danes from Circus Arena 2001 and Circus Dannebrog 2008 and 2014.

3 March 2018
A small change in Circus Arena's program. Due to an injury, the Chinese slack wire acrobat Zang Fan has been forced to terminate his contract with Circus Arena. The Swedes saw his impressive act which is a bit similar to his countryman Cong Tians act in Circus Maximum 2014. The Danes knows Cong Tian from Circus Benneweis 2010 and the first part of the season 2015.

3 March 2018
Circus Brazil Jack 2018. Circus Brazil Jack is today the largest circus in Sweden. There is season opening the Mill Square in Malmö, Sweden on Thursday, March 15th. The performers are:
Diabolo juggler Pierre Marchand
The Argentine clown Emiliano
The human cannonball Jody Bellucci
The Wolf brothers with brand new routines
Compania Havana from Cuba. Their main act is 6 artists in Chinese Pole.
Duo Bella - acrobatics hanging in the hair
Duo Capricorn from Cuba in aerial hoop
The performance is child-friendly and this year without animal acts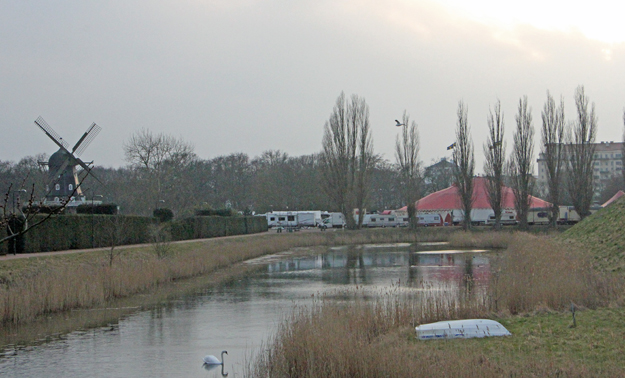 Circus Brazil Jack at the Mill Square in Malmö. Photo from 2016
Circus Brazil Jack presents the artists as follows (my translation):
Pierre Marchand: From the world famous Lido in Paris comes our diabolo artist. The diabolo originates from China, where it is considered as the world's second oldest toy, next to the ball. Pierre already fell in love with the art of circus when he was 7 years old. The following year he began at Anna Fratellini's circus school in Paris. Ten years later, he graduated and afterwards had an outstanding career all around the world.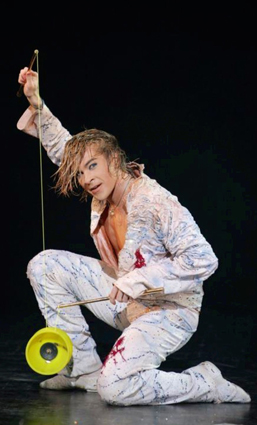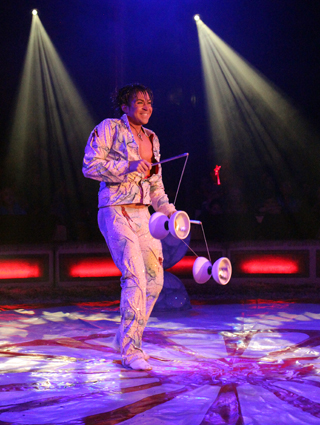 Pierre Marchand, who many consider as the world's best diabolo juggler, was also with Brazil Jack in 2015. Last year he toured Denmark with Circus Arena
Emiliano: In the circus world you value what we call generation artists. Our clown's family has been working in circuses for 4 generations. Born in Argentina but with the world as a workplace, he gained star status in South America's largest Circus Tihany with his innovative clown gags yet still respecting the classic tradition. Now for the first time in Europe, we welcome this merrymaker.
Jody Bellucci: On a trip in southern Italy, our director Trolle Rhodin met a family circus that caught his interest. The circus which was rather primitive had a human cannonball. The flight was limited by the modest size of the tent, but Trolle saw the potential of the act. He thought that in a tent of our size this number could have been a sensation. Now after mathematical calculations and corrections of material, this daredevil will fill the airspace over Brazil Jack's ring...
Wolf Brothers: With a solid background in the circus culture, 4 generations back bursting from the Wolf family's own great circus, our 2 comedians are back. What they do not master in classical circus disciplines is not worth mentioning. Juggling, acrobatics, tight wire and magic but the desire to make people laugh eventually took over and led to the two characters that we met last season. Now they are back with completely new routines ready to gym your laughing muscles.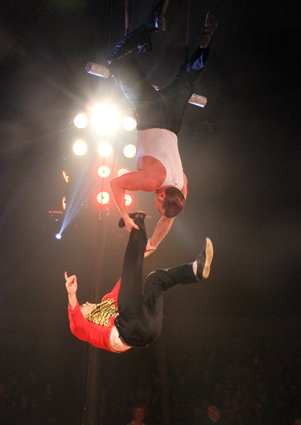 Wolff Brothers was also at Circus Brazil Jack in 2017. But this year they have brand new entrées. The Danes know them from Circus Arli 2011 and 2014
Compania Havana: This year, Circus Brazil Jack has chosen to extend their hands across the Atlantic and invite a cultural exchange with the Cuban Acrobatics Companion Havana. In their main act all 6 artists participate in an act with so-called Chinese poles. An ancient Chinese art form which has got a much more modern look. The artists who are aged from 21 to 26 come from the world of gymnastics, but this collective was formed due to a desire to appear for an audience.
Duo Bella: Isabella and Aylin do not belong to those who have pain in their hair. Even this act is taken from the ancient Chinese artistic culture, but is here turned to suit the taste of a modern audience. The secret lies in the method of binding one's hair. Properly trained and with the hair properly bound the artist can hanging in the hair carry much more than her own body weight and also perform acrobatics at a high level. This is certainly not something you should try at home!
Duo Capricorn: Beauty grace and elegance high under the circus dome. Here we will once again see some of our Cuban acrobats in a classic circus act. There are many sorts of aerial acts. There are Roman rings, the trapeze, the double trapeze and many other tools. Yanaisi and Norelys appear in a so-called aerial hoop which gives the artist more varied opportunities to do their arts.

2 March 2018
Circus Arli 2018. This year's performance is called "Long Live The Circus". Season opening will take place at Møllebakken ('the Mill Hill") in the Copenhagen suburb Floeng in the weekend 31 March / 1 April. From then and until the end of August Circus Arli will tour Zealand with Faxe Ladeplads as the southernmost point. The performers in the upcoming season are:
Sergei Populans, handstand on a special bike - from Latvia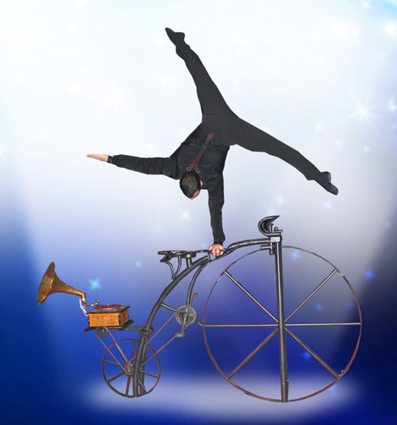 In 2018 we can celebrate the 250th anniversary of the modern circus. For Circus Arli it is 48th season they are on the road. In their brand new 2018 program you can see handstand acrobatics in top class on this very special prop. All photos by courtesy of Circus Arli.
Jelena Vasiljeva, hula hoop in the air as well as tissue.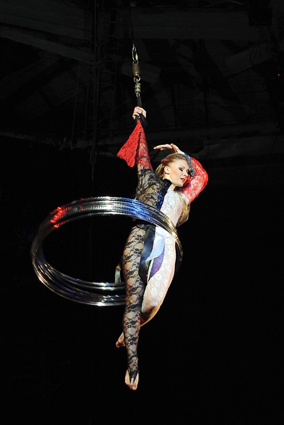 This year we will see hula hoop in a whole new way: in the air. From Latvia comes adorable Jelena Vasiljeva. She the wife of Sergei Populans
Vlad Olandar's trained cats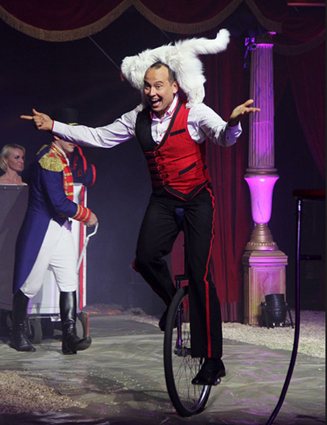 In Circus Arli they are very selective with the choice of animal acts. Animal welfare and the quality of the act must be on a high level. Therefore, they are proud to present Russian Vlad Olandar and his cats which is one of the best such act in the circus world. Vlad and the cats come directly from Cirque Bouglione in France. In 2009 and 2013 they toured Denmark with Cirkus Benneweis. In Sweden they have been with Circus Maximum (2008) and Circus Brazil Jack (2011).
Alexander and Francesco, - Chinese pole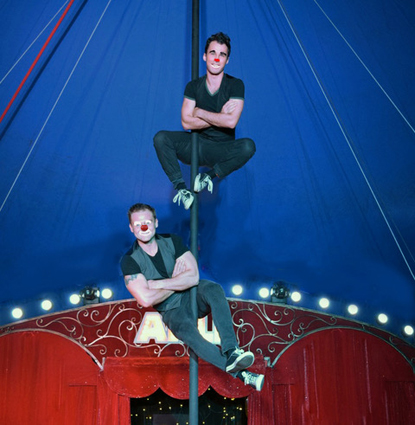 In this year's performance, you can see French Francesco Fratellini and Danish Alexander Arli in a brand new act in Chinese pole
Sarah Florees in the fishing net
The Arlinis club juggling - Sarah, Francesco & Alexander.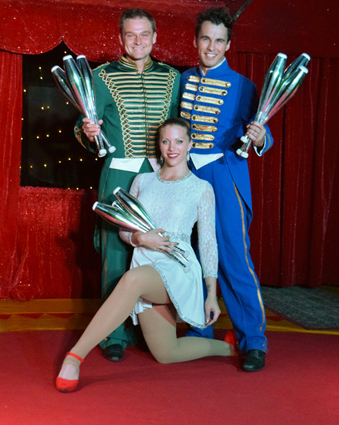 The Arlinis - the name is a combination of Arli and Fratellini
Martin Arli, the magic circus director (50 years anniversary as magician)
Francesco Fratellini with new reprices
The clowns Martino & Co.

2 March 2018
Circus Mascot 2018. The Deleuran family's small circus opens the season in its hometown Roslev on 28 March. This year's performance is called "High Mood". As in recent years, Daniel Deleuran is ringmaster. It is also him who presents Circus Mascot's ponies while his mother presents her lovely poodles as well as pigs and goats.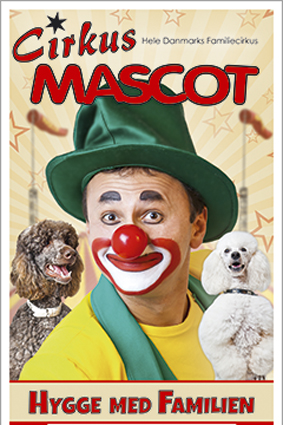 The versatile clown Gulio and his family are also an important part of the performance, just as they have been since 2003. Gulio himself is the overall figure of the performance. His son Husik performs with hoops and juggling and mom Tatyana does an aerial act. Two few male artists perform in trampolines and with comic acrobatics. Season 2018 lasts until September 23rd. During the 6 month season, Circus Mascot visits the whole country with the exception of Bornholm. The performance lasts 1 hour 45 hours incl. a break of approx. 15 min. In July, Circus Mascot will again this year be in Sommerland Zealand as free attractions for the visitors in the amusement park.

Link to news from 2007

Link to news from 2006