'
From Denmark
and other Scandinavian countries
Special feature: It all happens in Paris (when relevant)
A weekly updated internet magazine
Last updated : 14. September 2018
14 September 2018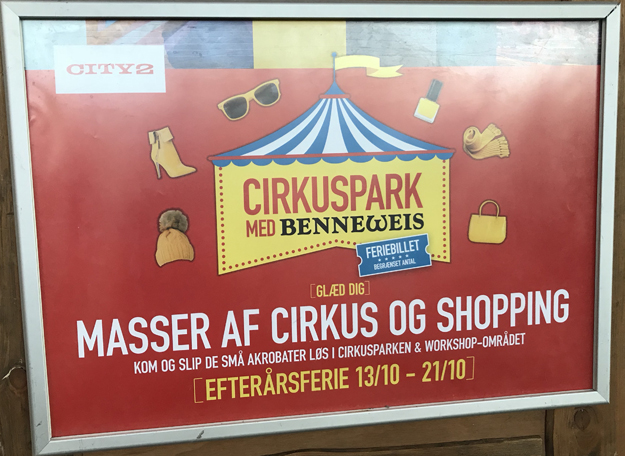 As the poster shows the City 2 Shopping Center in the Copenhagen suburb Hoje Taastrup presents during the Danish autumn holidays in week 42 "Cirkuspark with Benneweis". There are workshops and short circus performances. In 2016 and 2017 the name of the autumn holiday event was "City 2 Circusland" and the producer was Karsten Mathiasen and his small Circus Bella Donna. This year the circus park and performances are produced by Nadia and Dawid Benneweis. – Circus Benneweis toured every summer from 1887 to 2015, but has not been on tour since 2015. The twins Nadia and Dawid Benneweis (born 1987) hopes later to resume Circus Benneweis' long run.

10 September 2018
Kenny Quinn to Chemnitz. It is almost tradition for the Danish gentleman thief Kenny Quinn and Mrs Joan to have job in Germany in the winter months. Often in one of the many German Christmas circuses. But this year it is the audience is in the dinner show Moments 2 in Chemnitz who can see the elegant gentleman thiefs. There is premiere on 18 November and the show runs until 6 January 2019.
Chemnitz is a city with approx. 250,000 inhabitants in the German Land Saxony. It was named Karl-Marx-Stadt between 1953 and Germany's reunification in 1990.
The show's title Moments 2 is due to last year's successful show being called Moments.
You can read more about Moments 2 at www.moments-chemnitz.de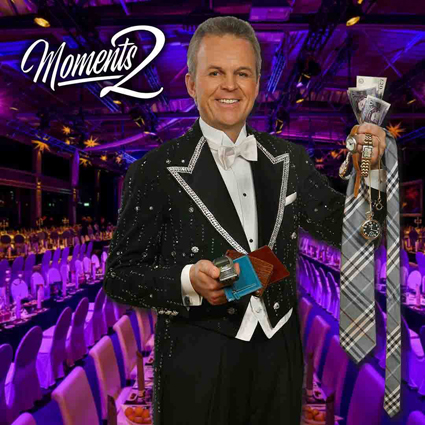 The producer of the show is Guido Gentzel, the long-time leader of the German Rock-'n'-Roll-Band The Firebirds. Guido Gentzel also produces dinner shows in Dresden and Leipzig. Kenny Quinn had a couple of years ago had great success in Guido Gentzel's dinner show Mafia Mia in Dresden.

8 September 2018
Support performance for the injured artist Tetiana Koreneva. On Friday 14 September Circus Arena has a performance in Charlottenlund, Copenhagen, where all ticket revenues go to the artist Tetiana Koreneva from the Bingo Circus Theater. On 1 August Tetiana was injured under her aerial act when a wire holding her tisues broke.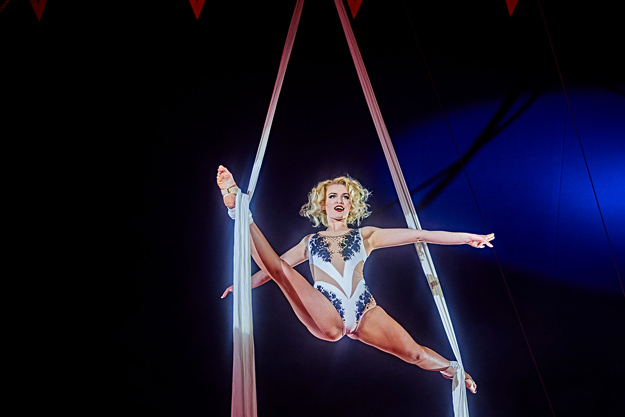 Tetiana photographed at the premiere in Circus Arena in Copenhagen. It was during during her act in tissue a wire broke and she fell into the ring. The wire was part of the Bingo Circus Theatre's own equipment. Photo: Rud Kofoed / Ajour Press
Cirkus Arena writes (my translation):
Tetiana has subsequently undergone a successful operation and is getting better. However, the fractures she suffered during the accident requires time to heal up and all of Tetania's former source of income as an artist is for this reasons put on hold. In order for Tetiana to get rest, both physically and economically, so she can recover in the most optimal way, it is with great pleasure that all artists and all staff in Circus Arena can present this special performance, where all ticket income will go to Tetiana and her future treatment.
The performance of the 14th of September in Charlottenlund will be a completely normal version of this year's performance "The Clown and Crown Prince - The Search for the Lost Tear".
If you have not yet seen this year's performance, or would you like to see it again, there is the opportunity to do it now and support Tetiana. We hope to see as many of you as possible so that we together can contribute to the already ongoing collection ❤
Tetiana is employed by the Ukrainian circus company Bingo Circus Theater, which Circus Arena has booked to do two acts in this year's performance. The Bingo Circus Theater receives a salary and pay the wage to the members of the troupe. "It is the Bingo Circus Theater, which unkoown to us has stopped paying her salary after the accident. Previously the Bingo Circus Theater had told us that she would still be paid," Kristoffer Ditlevsen, Press Officer at Circus Arena, says to TV 2 Lorry.
Tetiana has now been moved to a hospital in Germany where her boyfriend Sebastian Hoffman lives. He has told TV2 Lorry that Tetian's doctor says she should be happy if she can get a normal job in a year. But to become a circus artist again or do extreme sports the doctors do not expect to be possible. But we maintain our hope, Sebastian Hoffmann said. He told TV2 Lorry that fr the time being more than 150,000 DKK (equivalent to aprox 20,000 Euro) have been collected in support of Tetiana.

8 September 2018
IT ALL HAPPENS IN PARIS -- now the season is starting up --CIRQUE GONTELLI is here - they are a UNIQUE circus, albeit rather small, sporting 120 seats, they specialize in shows for the youngest kids and as the tent is a small one, it has a human dimension that makes the small fry feel safe and at home.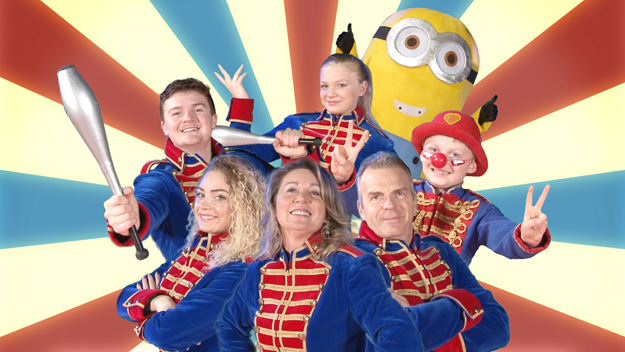 All photos by courtesy of Serge Gontelli
The kids participate in the show and do so happily as they are treated very nicely - a prerequisite for success!
SERGE GONTELLI with wife FABIOLA take turns in MC-ing the show, SERGE performs an elegant antipode /footjuggling/ act, ending it by turning a big table on his feet. Furthermore: their son CHRISTIAN juggles and balances on a rola bola and makes lasso tricks, dressed as a cowboy. OPHELIE shows off beauty and grace, performing in trapeze, aerial ring and on tight wire, she also is an elegant QUEEN OF DOVES, together with beautiful white doves.
Her sister MARY performs on a rolling giant globe as well as with hula hoops, the youngest son CLINTON amuses the audience with various clown stunts, and.... with the beginning of acrobatic skills.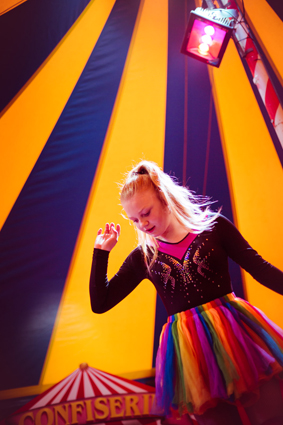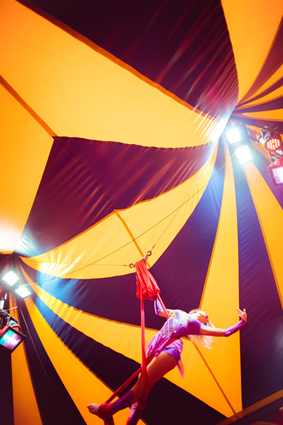 All join in featuring the classic sketch MUSIC IS HERE FORBIDDEN; sometimes they perform THE WATER ENTREE.
The program also includes a cat, some white mice /but not together with the cat, there is a goat that mainly shows herself eating pop -corn..... these animals basically do as they want, the atmosphere is relaxed, everybody enjoys it all, and the kids mainly want to pat the goat!
When the show, lasting 90 minutes, is over, it doesn't mean that no more effort is needed:
publicity posters have to be put up, and later pulled down, licence to perform must be obtained from the local TOWN HALL, the tent is pulled down, and many other menial tasks.
This circus is UNIQUE, the only competition may come from the PUNCH AND JUDY SHOW.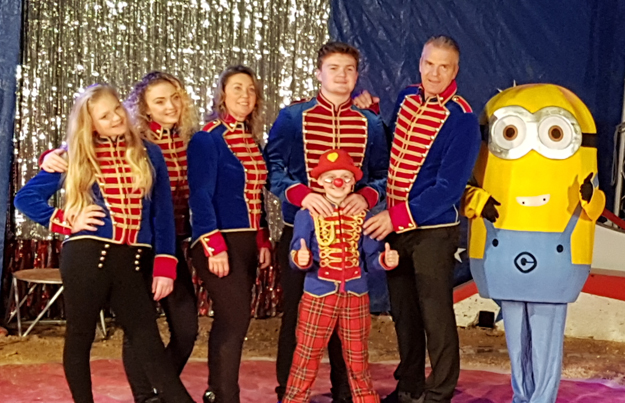 IT ALL HAPPENS IN PARIS!!!
See more: http://les-gontellis.e-monsite.com/
Venues: squares/parks in Paris, summertime, idem in Marseille, wintertime.
You find addresses in L'OFFICIEL DES SPECTACLES, in all newspaper stalls, Euro 1.
......................................... reported by ZARRO ZARRO.

7 September 2018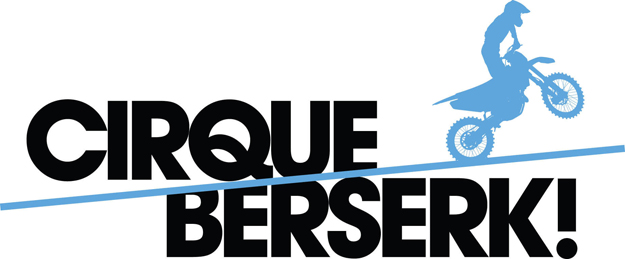 Cirque Berserk is coming to Denmark. From 9th to 14th of October, Horsens, Randers and Esbjerg will be visited by the large English circus made for theatre Cirque Berserk. Some of the performances are sold performances, but for the performances in Horsens October 12, Randers October 13 and Esbjerg on October 14, it is possible to buy a ticket. Check out in What's on.
Cirque Berserk is produced by Martin Burton, who also owns England's largest touring circus, Zippos Circus.
Cirque Berserk has every year season opening at the Winter Wonderland in Hyde Park in London. Winter Wonderland is a large Christmas market in London, which, in addition to various rides also offers entertainments and shows, including special Christmas performances in both Cirque Berserk and Zippos Circus.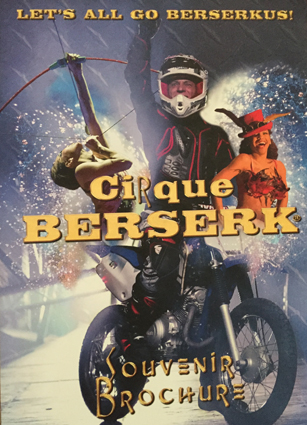 Front page of the printed program
After Winter Wonderland, Cirque Berserk tours with performances at a number of theaters in England and Ireland. And this year the tour is expanded with performances in Denmark and Belgium.
Showcasing the finest in traditional circus thrills and skills, Cirque Berserk celebrates the 250th anniversary of the invention of Circus by bringing this treasured form of live entertainment bang up-to-date in a jaw-dropping spectacular created especially for the theatre.

Combining contemporary cirque-style artistry with adrenaline-fuelled stunt action, this astoundingly talented international troupe includes over thirty jugglers, acrobats, aerialists, dancers, drummers and daredevil stuntmen.

Featuring the world's most hair-raising circus act – the legendary motorcycle 'Globe of Death'.
English The Daily Express gave the performance 5 stars and wrote: "This amazing show is like Cirque du Soleil on steroids ... brings the big boys to the big top in an outrageous, death-defying circus that will leave you gasping for breath. and outrageous, this is gripping grown up fun that makes you wish you were a kid again so you could run away and join the circus. "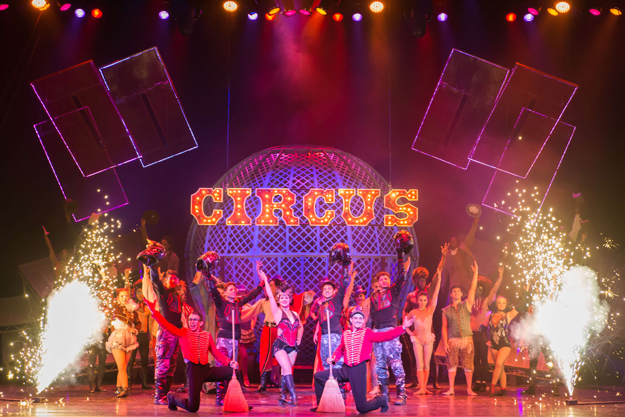 From the finale in Cirque Berserk. Press photo from Cirque Berserk. Photographer: Piet Hein-Out. Click here to see the official video trailer for the performance.

6 September 2018
A Bag of Laughs. Jørgen Lorenzen saw the year's edition of Aarhus Festivals nightcabaret at Hermans, Tivoli Friheden, Aarhus, 5th September at 18.30 and writes (my translation):
The dining guests were situated at 10-peron tables. Thus there was good opportunity for talk and conversation over the tables. The menu was delicious, the surroundings aesthetic, black walls with golden skylights from small bulbs. And there was a good acoustics – also important.
At my table in the sold-out hall we agreed that the concept was very good: delicious food - followed by great entertainment. Not revue, not stand up, not theater - but artists and comedians. The printed program uses the word cabaret the performance. It is a question of definition.
The show began at 21. The director was circus director Frank Thierry (Danish Circus Krone), who had put on stage in such way that the artists used the entire hall as a stage - also during the dinner, where they entertained at the tables. Frank's brother Marc Thierry and his trio played live music to most of the performance and played in the foyer before the event began. A live orchestra gives the performance rhythm and pulse and should be mandatory!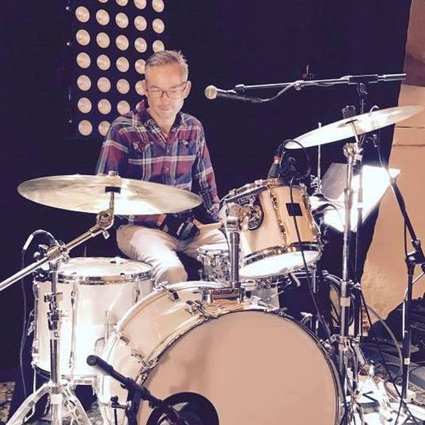 Marc Thierry. Photo by courtesy of Aarhus Festival
I told my companions that a performance can be judged by two criteria: the severity of the individual number and the way it is "sold". A slightly weaker act can easily be improved if it is presented correctly. And a top act may lose effect if "wrapping" is not okay. This Frank Thierry obviously knows better than most and the performance was excellent. Nothing less!
Royer and Emelie started with a classic roller skating act. Naked Lunch turned out to be two cheeky comedians who ate vegetables and played on frying pans - with a multitude of gags, whims and comic sounds and chats with the audience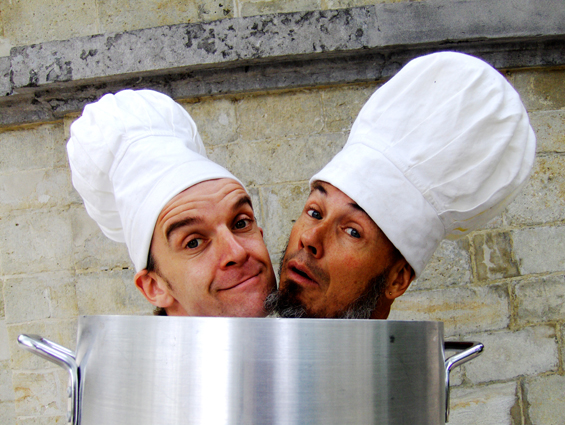 Naked Lunch. Photo by courtesy of Aarhus Festival
Men in Coats were also two male comedians. They were wearing a duffel coat, and they thrilled with themselves and a bunch of cheeky props inside a large black box made of fabric which they used to go in and out of, while various props and finally body parts flew up around the black box.
Camille and Louis Marc worked in two aerial straps that hung down from the ceiling, or rather: two big loops. A prop, which was a gap between tissue, aerial rope and straps. A good idea. The act was a superb presentation of power, beauty and movement. And at the same time it contained elegant aesthetic where which colors, light and motion went into a unity with the costume and the individual tricks.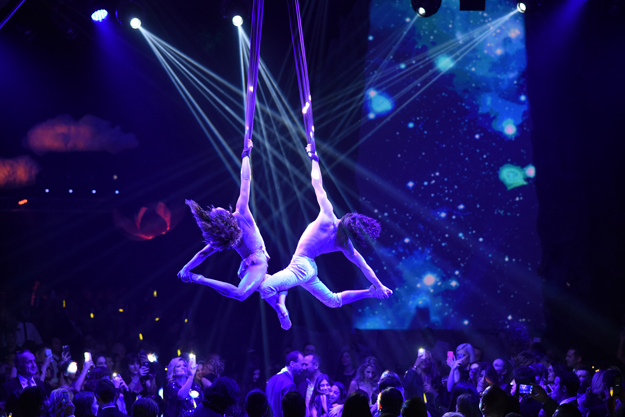 Camille and Louis Marc. Photo by courtesy of Aarhus Festival
Galina and Sonny Hayes were comedians, or maybe better: eccentrics. A multitude of gags, bitches, misunderstandings and ideas were presented in a live dialogue with the audience.
And then the main act: The Swedish juggler Johan Wellton juggled with balls - what is called bouncing in the technical language, throwing the balls into the ground instead of throwing them into the air. He juggled on a table, but could get the juggling balls to jump under the table - and even find their way back. It was as if they were living and had their own will. He also juggled against a chair that was slanting. 5, 6 and 7 balls. In the end, he covered his eyes with black tape stood on the chair, which was put up at table, bouncing with 7 balls. And then he had a nice contact with the audience. Highlight of the performance.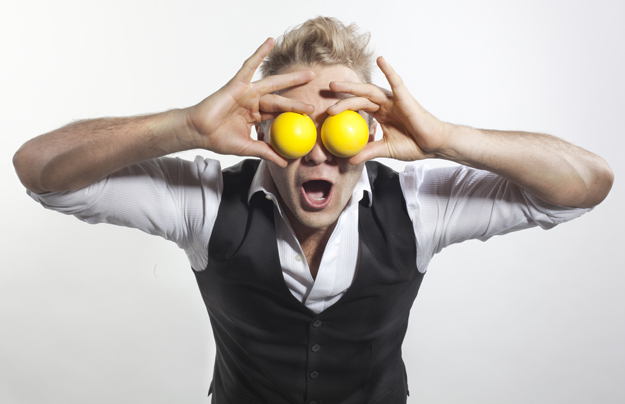 The Swedish juggler Johan Wellton. Photo by courtesy of Aarhus Festival. Johan
Wellton won a well-deserved Silver Pierrot for his comedy juggling act at the Budapest Circus Festival in 2012.
2nd part of the performance was opened by Galina and Sonny Hayes as unsuccessful magicians. They performed the trick with the 3 buckets on a table where a head pops up. Here done with fresh variations and surprises.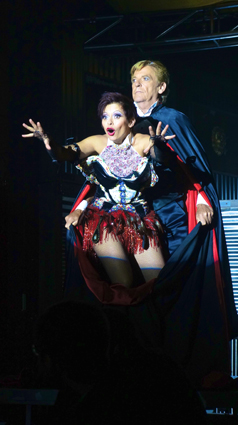 Galina and Sonny Hayes. Photo by courtesy of Aarhus Festival.
Camilla and Louis-Marc were back again. Now with a handstand act with added acrobatics. Difficult, but extremely aesthetic. Great!
Men in Coats was back with new gags. Naked Lunch turned up undressed, only with a fig leaf, or rather: a frying pan. At the beginning there were 4 pans, but on the way they lost three, and even managed to hide their noble body parts, even with a single frying pan. Funny, but not vulgar. And a nice timing so it did not end in embarrassment.
The teeterboard artists Step Out consisted of 3 artists, if you saw the picture of them in the printed program. This evening there were only two, maybe because the third had an injury. But the two remaining did well. Double salto with twist and jumps in long series, where they ran from one end of the board to the other and thus changed position.
A lovely evening. The guests at the table will come again. Some were already "regular customers". The rest will be. And in the final there was a glimpse of Preben Palsgaard, who had a role behind the stage.
Big applause! Adoration, enthusiasm and gratitude.

4 September 2018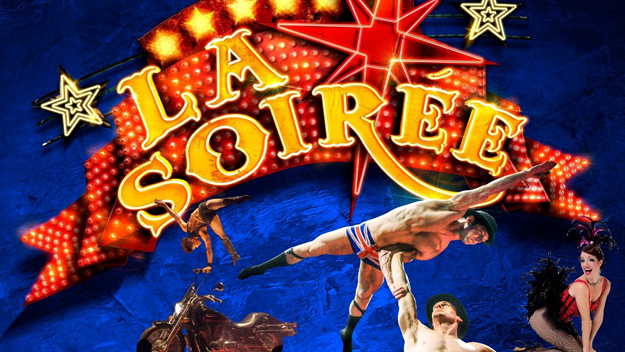 La Soiree. Jorgen Lorenzen saw the performance in the Mirror Tent Paradiso - at Skråen, Aalborg on 30 August at 20. Skråen is a theatre and music venue in Aalborg. Jorgen writes (my translation):
The Belgian mirror tent, which has been used in both Aarhus and Copenhagen, is the ideal setting for a show: well proportioned, intimate, aesthetic and atmospheric. This wooden tent was the framework of Skråen's music hall performance La Soiree - a performance almost in the cabaret genre. There were daily performances from 16 August to 1 September. Before the show started, there was a banquet for those who wanted to dine before the performance.
You ware welcomed by a compère before the excellent Elvis-like singer Mikelangelo sang his first song - accompanied by a local pianist. He appeared several times in the performance, and his repertoire was versatile. His diction was fine, his voice was good and he sang with a technical surplus. A few times he sang the duet with the other performers. His feature gave the impression that for a while you were moved to the cabaret world.
The performance began with a strong number - acrobatics in the pole. The genre is from China, and it is based on the sailor's jumps from mast to mast. Here the mast was a wooden pole. The two artists coming from India was named Rajesh Amrale and Rajesh Rao. Their costumes and the entire outfit also pointed to India. And their ability was impressive. Jump on, to and from the mast - individually, in pairs, synchronously and individually. The strongest act of the show.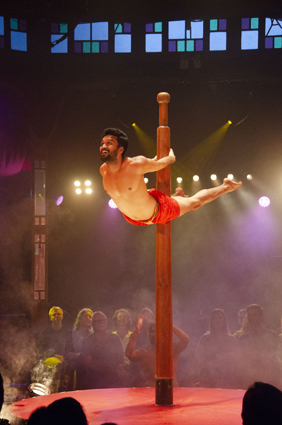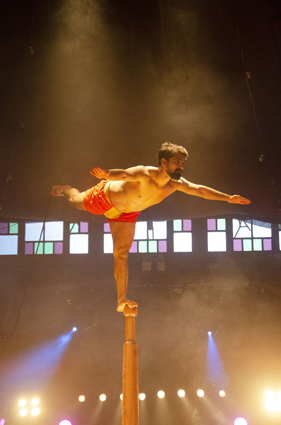 Pole-acrobatics. Photo by courtesy of Skråen. Photographer: Pia Kirstine Langgaard
The multi-artist Victor Rossi was - along with the singer - a main figure. He was a good juggler who mastered up to 7 balls in the air. He could play on xylophone and clarinet. He performed an escape act number with a touch of comedy. For such act can also be funny. His run-ins was spiced with humor, gags, and comic ideas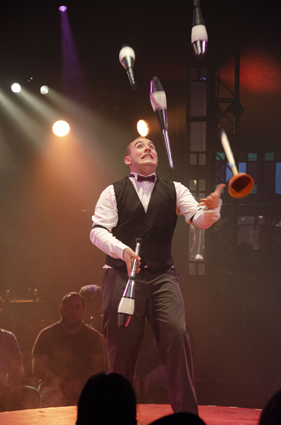 Victor Rossi. Photo by courtesy of Skråen. Photographer: Pia Kirstine Langgaard
An act in tissue and aerial straps ended on the floor of the ring where the female artist turned into a snake girl. Another woman did hair hang and floated like an angel over the audience. However, the angel lost her wings and angel costume and turned into an attractive woman.
The 2nd part of the performance started with dance before the artist ascended in a ring trapeze that could rotate across the audience. There was hula hoop dance with luminous rings. There was a male air artist in fishing net. Strong, virile and fast-paced. Perhaps an aerial act like this works better for a man than for a woman as you usually see. The masculine strength gives more expression possibilities and stronger pace in the individual tricks.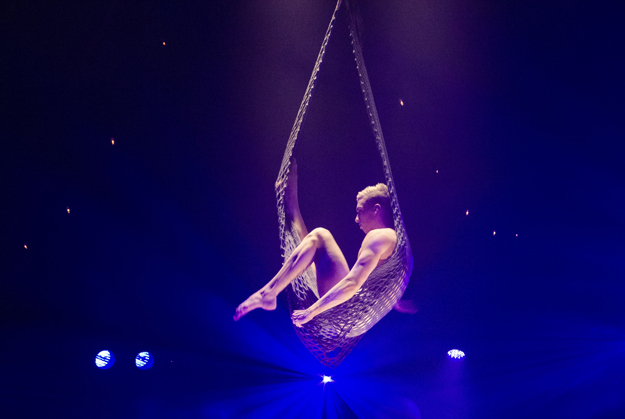 A gentleman in the fishing net. Photo by courtesy of Skråen. Photographer: Pia Kirstine Langgaard
The performance ended with a female contortionist who could take her legs on her neck. But she could do more. In handstand she could shoot with a bow - that's with her feet as her hands had already been used for the handstand. With her back to her goal, which she could not see, and a bow that was served by her feet, she hit the bull's eye - and even in the first attempt.
Embitter your joy in a performance that was really good. Mirror's interior design and design appeal to romance, poetry and beauty. Why, then, turn the sound up as if you were into a hard rock concert? My companion said: that's because they want the youngsters into the show. But it seemed disharmonious and disturbing with such a loud noise. When the compère welcomed, no-one could hear what he said because the music was too high. But as my companion also said, maybe it's us that have become too old.

31 August 2018
Obituary: Egon Larsson from Trio Hoganas. At the age of 91, Egon Larsson, passed away on 29th of August in his home in Höganäs, Sweden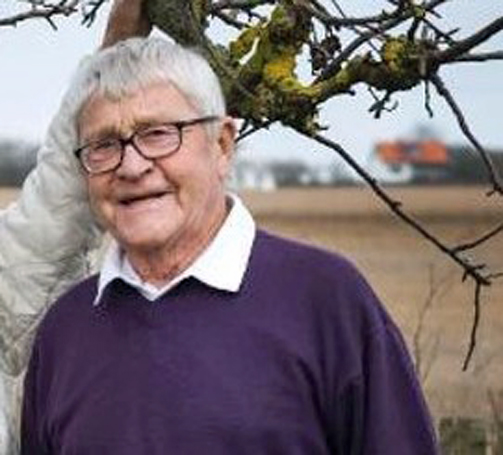 Egon Larsson. Photo: The Swedish Circus Academy
Egon Larsson was one of the members of the world-famous Swedish Trio Hoganas. The troupe had their heyday at the end of the 1950s and until 1975.
In May this year, the municipality of Höganäs now set up a monument in memorial of Trio Hoganas.
Egon Larsson was honorary member of the Swedish Circus Academy.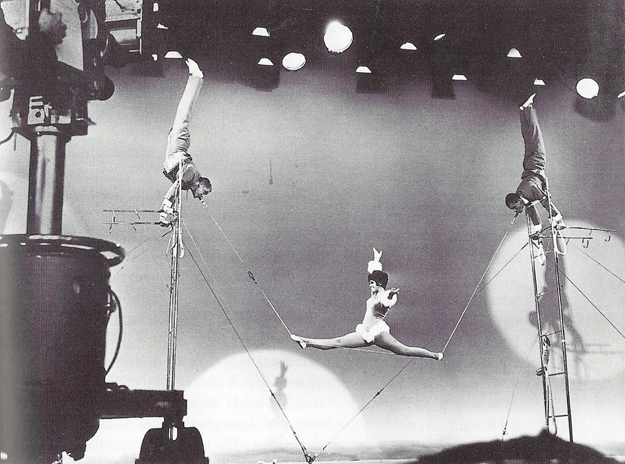 Trio Hoganas. From the collections of Per Arne Wåhlberg

Link to news from 2007

Link to news from 2006