'
From Denmark
and other Scandinavian countries
A weekly updated internet magazine
Last updated : 13. August 2022
12 August 2022
Now again updates every Saturday. In recent weeks, due to holidays, there have been 14 days between updates. But now the holidays are over and the news page is again updated every Saturday.

12 August 2022
Cirkus Arena presents Halloween circus. Circus Arena writes (my translation):
From 13 to 31 October you can see a magnificent, unique Halloween show, the likes of which you have never seen at Bellahoj circus lot in Copenhagen.
With Denmark's Szhirley, Clemens and Patrick Spiegelberg at the front and the world's scariest circus artists. Clemens is a writer and stage manager and Patrick Spiegelberg, who has created Halloween monsters for Copenhagen's Tivoli Gardens and the Halloween success Horror Drive Thru, ensures that it will be an scaring and impressive experience.
The show is for the whole family and mixes the excitement of the circus with the art of storytelling from the theater with new music added. A total experience with the best circus performers and an exciting story at children's level.
Horror for the whole family & Hiccup from Hell!
This year's spectacular Halloween Circus is about circus director Owen Hall (Patrick Spiegelberg), who has assembled a group of the circus world's biggest freaks to create the biggest Halloween show ever.
Owen, who is a former victim of bullying, wants to teach those who bully a lesson by proving that queer existences actually have more fun than those who point fingers at others. To Owen's horror, however, his show is ruined when one by one his performers suddenly disappear into the underworld with a clown (Clemens). The clown hopes that the performers, with their impressive stunts, can hopefully give his horrifying wife (Szhirley) such a shock that her hiccups from hell are cured.
A humorous and horrifying Halloween show where all creatures have something to learn. But what that entails will not be revealed until Halloween.
The performance is a co-production between Clemens and Circus Arena.
The performance is recommended for families with children aged 5 and over.
Everyone is invited to show up in Halloween costume, as scarily good prizes will be awarded for the best and worst costume of the day.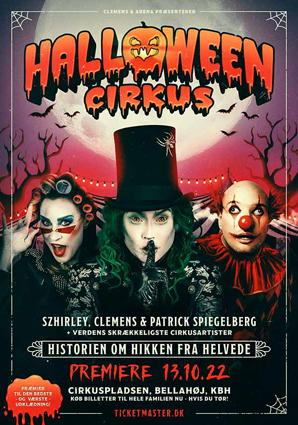 Ticket prices are from DKK 210 to DKK 400.
Szhirley Nova Bianca Rokahaim, simply known as Szhirley, is a Danish singer and actress. She is also a jewelery designer and founder of the jewelery brand
Dropps By Szhirley, where she sells her own designs.
Clemens Telling, better known by his stage name MC Clemens or simply Clemens, is a Danish rapper, singer, producer, theater director and lyricist. In 2018 he toured with Cirkus Arena, where he helped presenting the show.
Patrick Spiegelberg is a Danish singer, songwriter, dancer, choreographer and show producer.
The idea of ​​showing the circus as a horror show instead of as cozy circus performance is not new. For example, the English Circus of Horrors has been successful with this kind of performance for several years. It was founded in 1995 by rock singer Dr Haze and circus producers Gerry Cottle and Brian Austen. Horror circuses have also been seen in the Netherlands and Germany.
Last autumn Cirkus Dystopia gave performances in Marselisborghallen in Aarhus with live ghosts. And Odense's children's and youth circus Cirkus Flik-Flak has shown many Halloween performances.
There is no doubt, however, that Circus Arena's upcoming Halloween performance will be Denmark's biggest Halloween production to date.

10 August 2022
Alan Sulc to Circus Trapez. Alan Sulc, who is one of the artists who received most applause in this year's performance in Circus Arena, can be seen in Circus Trapez in the coming weeks, where Alan's sister Edita Sulc is already performing, both solo as a foot juggler and together with her spouse as Duo Mamchych.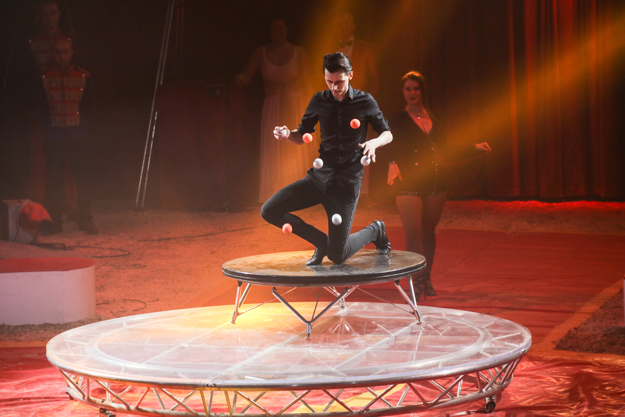 Alan Sulc photographed at the premiere of this year's Arena performance. Photo: Jacob Boas Leitisstein

10 August 2022
Cirkus Arena had its season opening on 4 April and closed the season on 7 August. The season was approx. 1 month shorter than in 2019. But they are satisfied with the number of spectators and write (my translation): "The last performance of the season has been played. It has been a fantastic journey through Denmark and a pleasure to play for you all. 110,000 spectators helped celebrate our 65th anniversary this year - and what a party we had. Thank you all – each and every one".

9 August 2022
Closure of the Lido de Paris. The famous Parisian cabaret closed its doors for good on 30 July 2022.
Many celebrities have performed on the stage of the Parisian cabaret: Edith Piaf, Marlene Dietrich, Josephine Baker, Laurel and Hardy, Dalida, Shirley MacLaine, Elton John and many others. The last of the 27 revues in the history of the Lido de Paris - Paris Merveilles, created by Franco Dragone - has been performed every night since 2015 (outside of lockdown). There have also been a number of top artists as the diabolo juggler Pierre Marchand (known by Danes from Circus Arena) and the magician Marku Kova (known by Danes from Zirkus Nemo).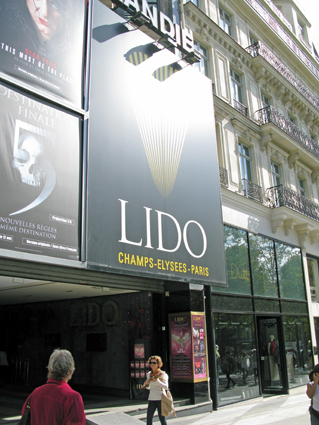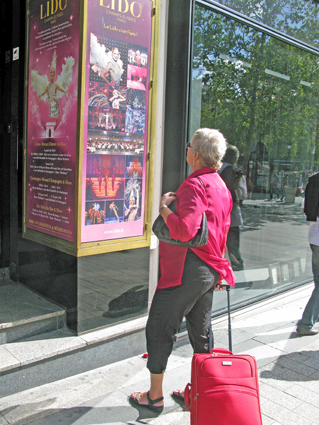 From Paris my friend Zarro Zarro writes:
LIDO DE PARIS is closing down.
The whole world has enjoyed their shows.
Lifetime: 76 years.
It might be interesting to know some details.
The giant hotel chain ACCOR has bought the lot, wanting to produce MUSICALS.
A PARIS icon disappears.
LIDO had for years suffered losses.
My old friend Danish artist agent etc, JÖRGEN BÖRSCH, writes about LIDO:
LIDO is passed, sad but logical, the show eventually was an uninteresting event.
PARIS still has MOULIN ROUGE/ PARADIS LATIN, apparently mainly working with Dutch tourtist buses./
CASINO DE PARIS produces various shows, not revues.
CRAZY HORSE sporting classy strip tease.
FOLIES BERGERE doesn't sport any revues but - occasionnally - various shows.
The minor cabarets are closed.
CIRCUS has a downtour, also in PARIS.

28 July 2022
Circuses in the southern part of Sweden and in Flensburg and Hamburg, Germany.
The large Swedish Circus Brazil Jack opened the season in Malmö on 15 April. "Circus, when it's at its very best" we wrote on this page in the review on April 18 of this year's performance. From 12 to 14 August, Brazil Jack is back in Malmö. There is a bridge and tunnel from Copenhagen, Denmark, to Malmö, Sweden.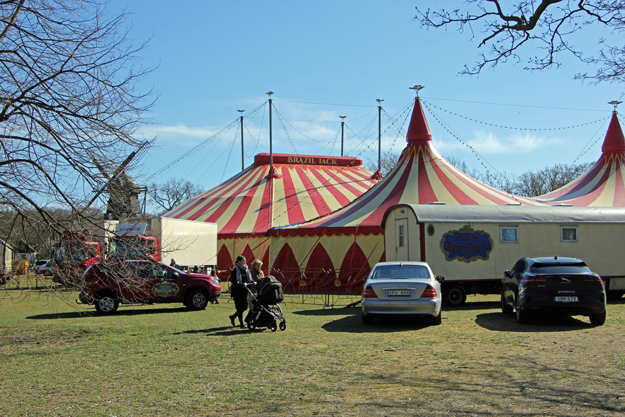 Circus Brazil Jack at the Mill square in Malmö
The performance in Swedish Circus Olympia, which is known for its many well-kept animals, was reviewed by Martin Lasson Berglund on this page on 11th April. On the tour, they have now reached the southern part of Sweden where there are performances on August 11 and 12 in Landskrona and August 13 in Helsingborg. There is a ferry from Elsinore, Denmark, to Helsingborg, Sweden. The trip takes just 20 minutes.
From 19 to 21 August, Flensburg shortly south of the Danish/German border will be visited by Circus Probst, which is one of Germany's large circuses.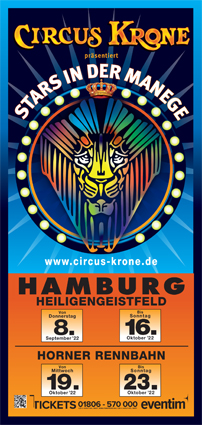 It was uncertain for a long time whether Europe's largest circus, the German Circus Krone, would have a tented tour this year. But now they have decided to have a late summer tour under the title Stars in der Manege. There is premiere on 18 August in Hanover, where they will be until 4 September. From 8 September to 23 October they are in Hamburg, first at the Heiligengeistfeld (until 16 October) and then at the Auf der Horner Rennbahn (19 to 23 October). After Hamburg, they visit Apolda and Coburg, where the season ends on 6 November.

23 July 2022
Cirque du Soleil in Copenhagen. Our English friend John Cooper writes:
As many of you will know, the Corteo production of Cirque du Soleil is due to visit Copenhagen in November, following which it returns to North America. Having seen the show at London's O2 Arena recently, I am able to give you a preview.
Corteo is staged to be presented in an arena rather that a tent, although I believe it did start its life in such an environment. It took me a while to realise why off-stage space was necessary for the current version. A great deal of aerial rigging, plus the fact that seeing pre-performance preparation would spoil things for the audience.
As usual with Soleil, circus skills seldom differ from the norm although they are often approached in an unusual manner, and always performed to a very high standard. For me, the stand-outs were the juggling act and an aerial sequence with giant balloons which must last for "as long as it takes" each time.
Comedy can be weak in CdS productions but in Corteo it is effective and amusing if not hilarious (although comedy is always a matter of taste) and does contribute to the story behind the show. Personally I have no need for a story connected with any circus-style show and will not look for one. Or else I will ignore it. Nor do I seek any educational value. All I want is to be entertained. In that aspect, Corteo succeeds magnificently.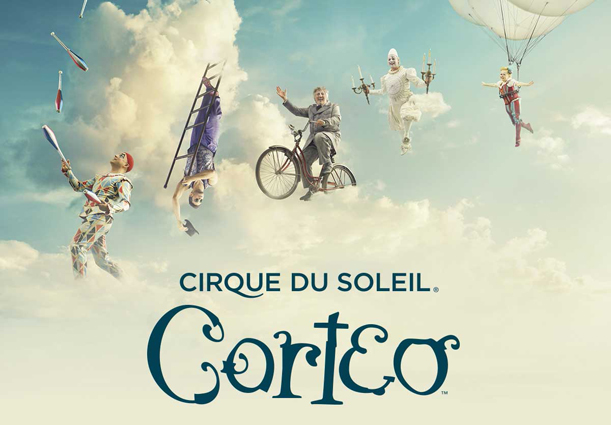 Here is what Cirque du Solil writes about the story behind the show: Corteo (pronounced core-té-o) is a touring Cirque du Soleil production written and directed by Daniele Finzi Pasca. Corteo, meaning "cortège" Italian or procession is about a clown who watches his own funeral in a carnival-like atmosphere. It was partly inspired by The Grand Parade: Portrait of the Artist as Clown displayed at the National Gallery at Canada and the movie Clowns by Federico Fellini. Corteo premiered on April 21st, 2005 in Montreal Quebec, Canada. It's final performance in the Grand Chapiteau was on December 13th, 2015 in Quito, Ecuador. The arena version of the show premiered on March 2, 2018 in New Orleans, LA.

17 July 2022
Nominations for this year's Danish circus award. Press release from The Danish Circus Award (my translation).
Members of the jury have seen more than 50 artists/acts in Denmark this year. The jury has now decided which of these will be nominated for the prize for the year's best act and the year's talent prize.
The nominees for this year's talent prize are:
Francesco Fratellini, Circus Arli
Karel "Kaya" Janacek, Circus Baldoni
Duo Vilja, Zirkus Nemo
The nominees for the prize for the year's best act are:
Line Carol, Circus Baldoni
Duo Costache, Circus Arena
Leosvel and Diosmani, Zirkus Nemo
The award ceremony will take place on Monday 15 August at 12:30 in the Fencing Hall at the Circus Museum in Hvidovre, Copenhagen, with the participation of the Danish Minister of Culture Ane Halsboe-Jørgensen and Hvidovre's Mayor Anders Wolf.
4 prizes are awarded:
The Honorary award "The Danish Circus Award"
The talent prize
Best act of the year
The effort prize
Nominations are not made for the honorary award and the effort prize.
About the prizes
The board of the Danish Circus Award selects each year the nominees and award recipients based on the following criteria:
The honorary award is given to a person in recognition of his/hers particularly meritorious efforts to promote circus art in Denmark. The honorary award can just be received once. Nominations are not made for this award. The honorary award consists of a painting by the "master of the clown", the painter Viggo Salting.
The prize for the best act of the year is awarded to the artist which, in the opinion of the board, is the best who this year has performed in Denmark. The prize consists of a diploma and a lump sum of 500 Euro.
The talent award is mainly awarded to a younger artist. The prize consists of a diploma and a lump sum of DKK 10,000.
The effort prize goes to the politician or public person who has done the most for the circus in the past year. The prize consists of a small painting by Viggo Salting.
About the nominees
LINE CAROL grew up, so to speak, in the Circus Building in Copenhagen, where her parents Toto and Norah Chabri performed for many years with their clown entrées. She made her own artist debut in 1984, where she started her juggler entrée with a formidable drum solo, just like with Baldoni this year. Since then, she has developed the act, which she today present assisted by her husband Stefan Platskov. She has a formidable charm and there is huge applause night after night when she ends her entrée by playing the piano with the help of balls.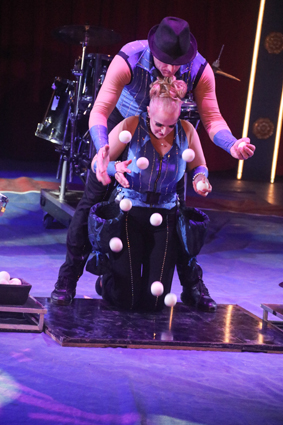 Line Carol. Photo: Jacob Boas Leitisstein
DUO COSTACHE consists of the couple Vita and Leonardo Costache. He is from Romania, she is from Ukraine. They are versatile artists who both master aerial acts where they carry each other by the mouth or who as this year in Circus Arena demonstrate extreme muscle power and balance in the air on their perch. Perch acts are a bit of a rarity these days. Finally, in the entrée, Leonardo appears with a perch carried on his shoulders, which contains a 'wheel of death' at the end, in which Vita drives.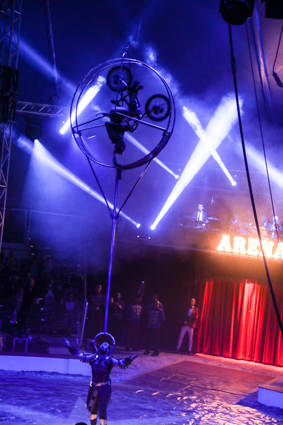 Duo Costache. Photo: Jacob Boas Leitisstein
FRANCESCO FRATELLINI is the 8th generation of a famous French artist family. He has worked for several years in the large French Cirque Alexis Gruss, and the director's wife Gipsy Gruss is his godmother. There he has received an all-round artist education, which means that he can perform many different things with talent and skill, including as a clown. He has also performed in Switzerland in the famous Circus Knie. He made his Danish debut in Cirkus Arli in 2016, and his talent and charm is the reason why he this year is part of the performance in Circus Arli for the 6th time.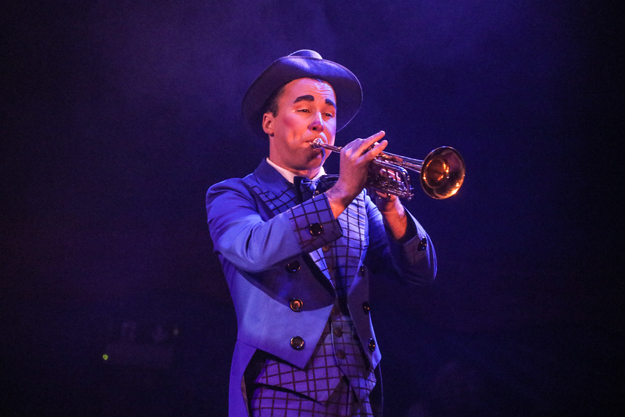 Francesco Fratellini. Photo: Jacob Boas Leitisstein
KAREL 'KAYA' JANACEK is the 8th generation of a well-known Czech artist family. In 2018, when he was only 11 years old, he was nominated for the talent award for an impressive rola bola act, competing with his father Eddie Janecek for who was the best. Last year he presented his rola bola act, which had improved even more than in 2018, in Circus Baldoni's summer performances, and in February this year he did it in their winter circus in Ishøj Mall. In this year's Baldoni performance, he shows his charm and talent together with his father and younger brother in a knockabout table act but he has also done his rola bola act several times during the season when other artists have been prevented from performing.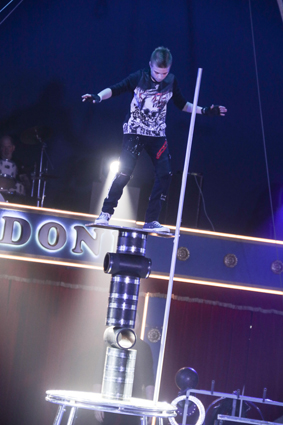 Kaya Janacek. Photo: Jacob Boas Leitisstein
LEOSVEL & DIOSMANI come from Cuba and perform in Chinese Pole. They got a silver clown in Monte Carli in 2013 and toured the following year with the Swedish Circus Brazil Jack. There they presented the best pole act that we have ever seen in Scandinavia, and they still do so this year in Zirkus Nemo! Their final trick, where one artist stands in a horizontal handstand on the pole, while the other stands on his hands on his upper body, is absolutely fantastic. This is the first time we have seen them in Denmark.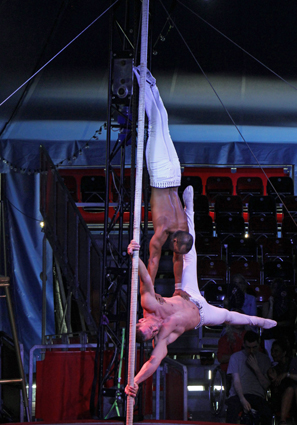 Leosvel & Diosmania. Photo: Ole Simonsen
Under the name DUO VILJA, the Swedish twin sisters Jenny and Sara present an impressive acrobat and contortion act. Only 13 years old, they were caught by the circus bug and joined a children's and youth circus, where they performed as clowns with a small pig. Later they went to circus school. First in Sweden, then in Montreal. Since then, they have taken the whole world by storm and performed in a large number of leading variety shows and circuses. This year you have been able to see them in Zirkus Nemo.
Duo Vilja. Photo: Ole Simonsen

15 July 2022
The Danish Circus Award 2022 - nominations. 4 prizes are awarded: the honorary prize, the talent prize, the prize for the best act of the year and the effort prize. For the talent prize and the prize for best act, 3 artists / numbers are nominated. The prize jury states that the names of the 2 x 3 nominees will be announced on Sunday 17 July at 10. From that time the names can be seen the Danish latest news peage (the language is in Danish but you can see the names of the nominees).
There are no nominations for the honorary award and the effort award.
The award ceremony will take place on Monday 15 August in the Fencing Hall at the Circus Museum in Hvidovre, Copenhagen. The Danish Minister of Culture Ane Halsboe-Jørgensen and Hvidovre's Mayor Anders Wolf Andresen will participate in the award ceremony. The doors to the Fencing Hall open at 12:00. Everyone is welcome.
You can read more about the Danish Circus Award at www.danskecirkuspris.dk (also in English)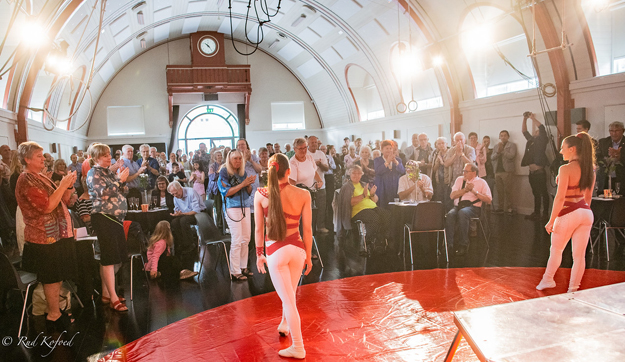 From the award ceremony in 2019. Photo: Rud Kofoed / Ajour Press

14 July 2022
Circus Trapez in Madsby Legepark in Fredericia. As previously mentioned, Circus Trapez has in the last 3 weeks of July put up their tent in Madsby Legepark in Fredericia, where there every day is 2 or 3 performances of one hour duration. Family friendly ticket prices.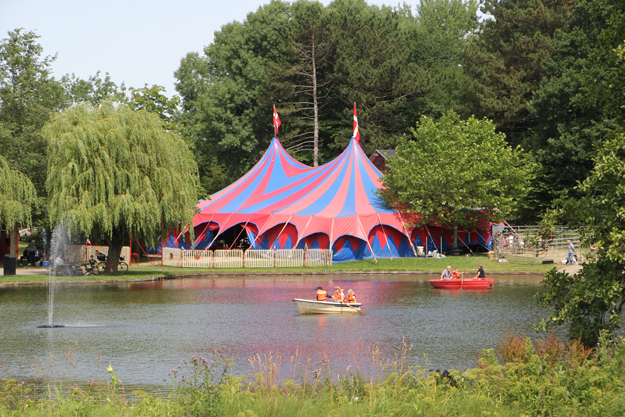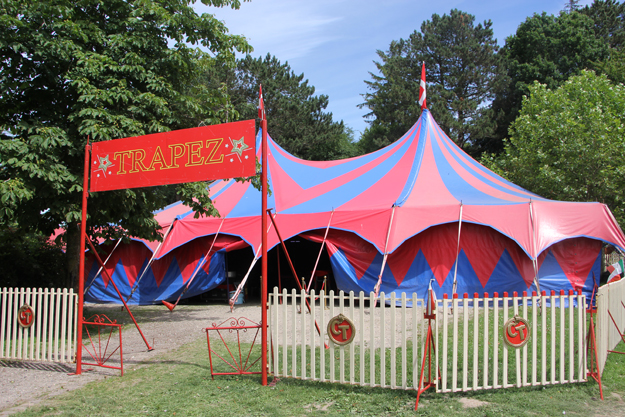 The tent in Madsby Legepark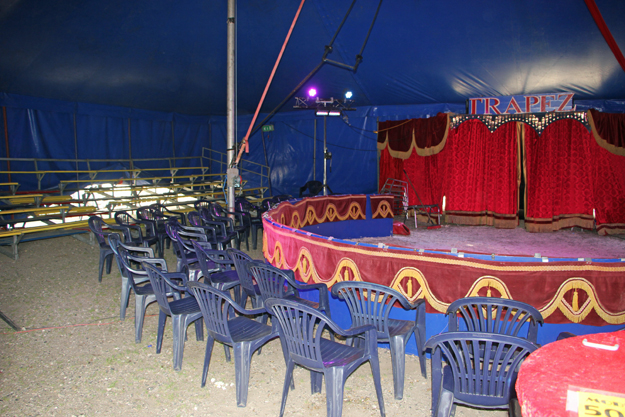 There are two rows of ringside chairs and a gradin with five rows of benches
Circus Trapez's 2022 performance started as an 2 hour indoor performances in sport arenas etc. and was reviewed on this page on 13 April. Later they have played open air and now for a few weeks in a tent. During the season, there have been a few pre-planned replacements among the performers. Below are some photos from the performance on July 12.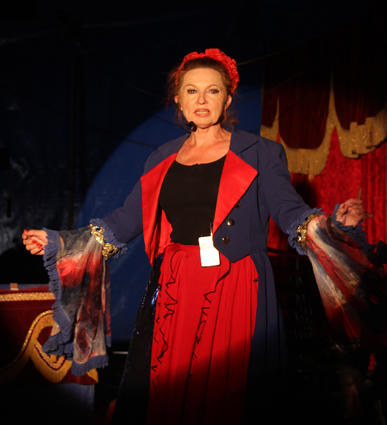 Isabella Enoch Sosman welcomed and was the show's ringmistress.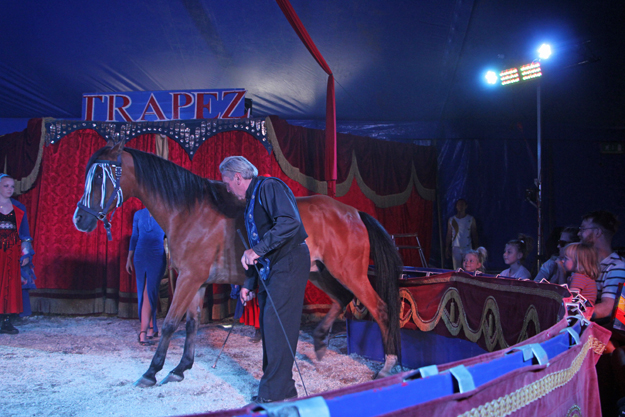 Isabella's spouse and co-director Bernhard Kaselowsky presented the Arabian stallion Sitan.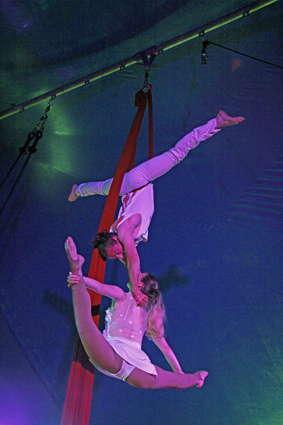 Duo Mamchych had an entrée which combined parterre acrobatics with aerial straps and tissue. The couple toured with Circus Arli in 2019.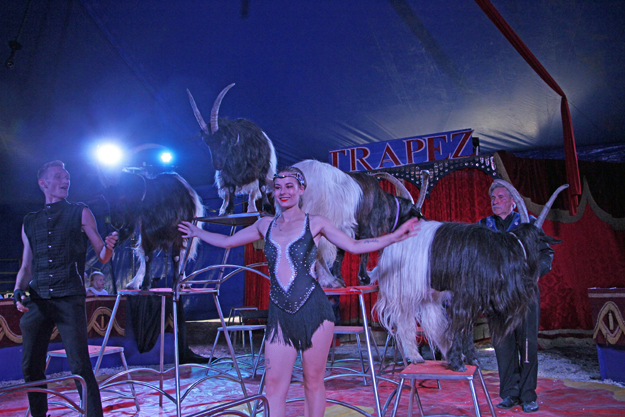 Bernhard Kaselowsky's goats were presented by Lasse Hasager and Stine Marie Greisen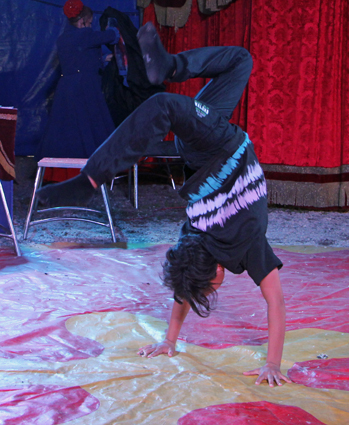 The young jumping acrobat Gabriel Pedersen from Skive had a short entrée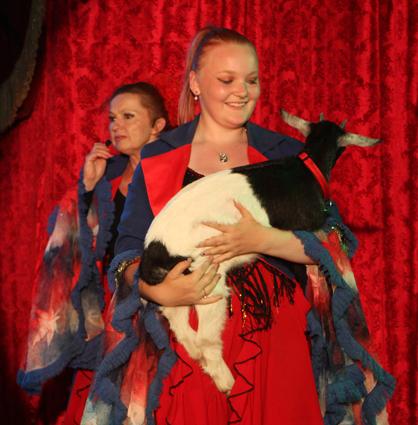 Also a cute little kid was for a short while in the ring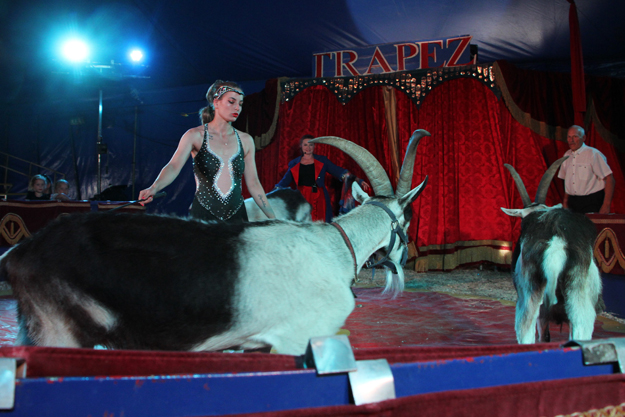 More goats, presented by Stine Marie Greisen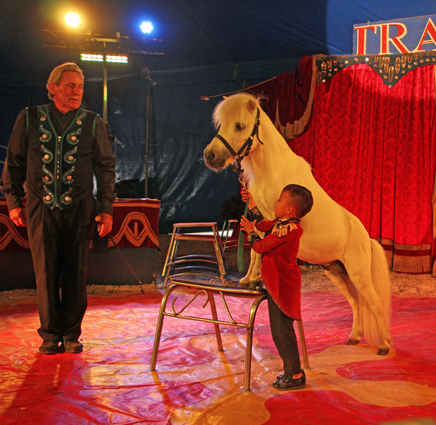 Stine Marie Greisen's 4 year old son Nikolaj was in the ring with the pony Bonoti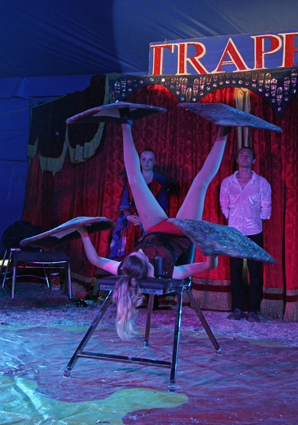 Edita Sulc juggled scarves using her feet. She is the female partner of the Duo Mamchych. She is from the Czech Republic and the sister of the juggler Alan Sulc, who this season tours Denmark with Circus Arena. Her husband Yuriy is from Poltave, Ukraine.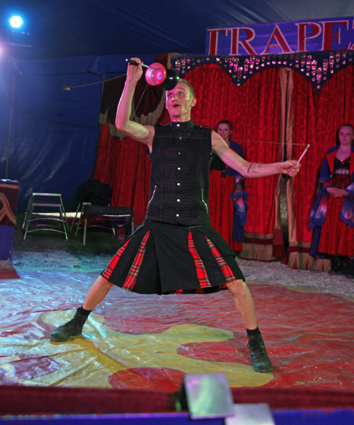 Lasse Hasager juggled with diabolos and later in the performance with balls and knives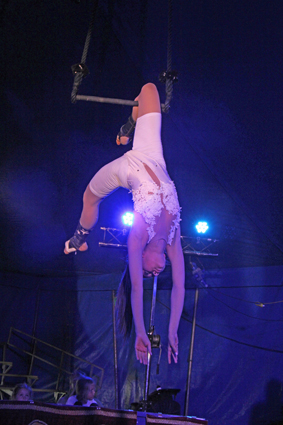 Rasmine Tomasevic-Olsen works in trapeze. She has been affiliated with the Circus Museum's circus school, been both a trainer and a student at the Circus Factory at Mors and now performs in Cirkus Trapez. She has promised to perform in connection with the awarding of this year's Circus Awards on 15 August.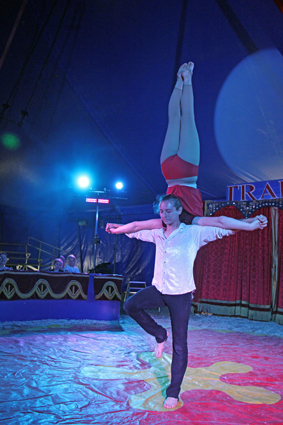 Duo Mamchych's second entrée was an adagio act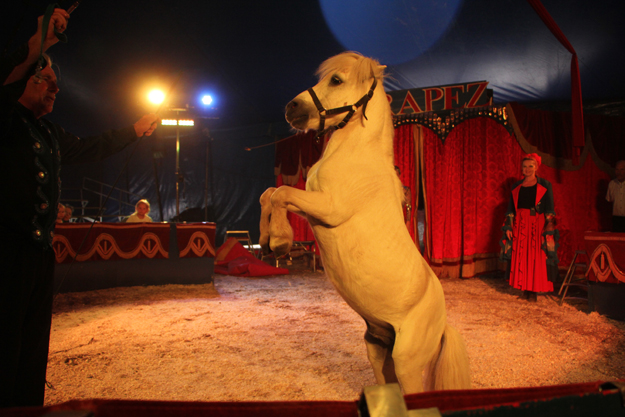 The performance's last act was "Big and little" with a big Arabian horse and a small pony. At the end of the act the pony stands on its hind legs.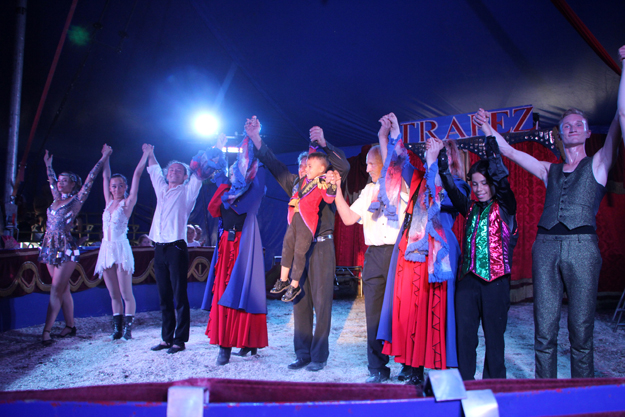 Grand finale. The performance lasted approx. 1 hour and there was no interval.

13 July 2022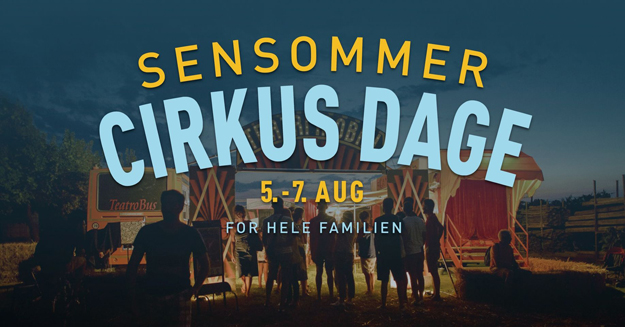 Late Summer Circus Days in Odense. Dynamo, Workspace for circus and Performing arts Workspace for circus and performing arts, writes:
Experience a magical circus atmosphere at Odense Harbour when the Italian Teatri Mobili come to town with circus trucks and theaters on wheels. Teatri Mobili is a whole circus family for 3 generations traveling together around Europe.
Experience the enchanting performances of MANOVIVA and ANTIPODI, experience mime and puppet theater, performed in cosy travelling theatre wagons, and hear music in the open air, with lots of nostalgic circus magic.
Presented in collaboration with Passage Festival and GLIMT Amager.
Read more at https://dynamoworkspace.dk/program/manoviva-antipodi/?lang=en

8 July 2022
Circus Trapez in tent. In recent weeks all performances in Circus Trapez have been open air. But when they are in Madsbyparken in Fredericia from 8 to 31 July, they have put up their tent making it possible to have performances also case of rain. There are 2 or 3 daily performances, all of approx. 1 hour duration. Take a closer look in What's on.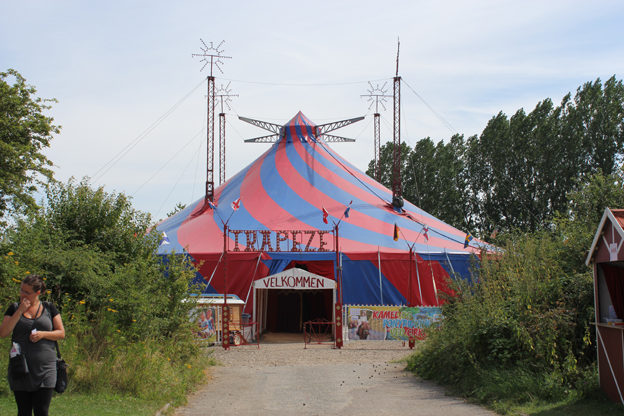 Archive photo from 2014, which was the first year Circus Trapez had performances in Madsbyparken

6 July 2022
New dinnershow at Wallmans in the Copenhagen Circus Building. On September 21, Wallmans' has gala premiere of their new show in the Circus Building. There are dress rehearsals from August 26 and as usual with performances every Thursday, Friday and Saturday.
The new show is called Viva and offers a vitamin injection of party, colours and exuberant energy. Get ready to experience the biggest hits of Elvis and Abba, a fierce live band, humour, dance and world-class acrobatics. It is all accompanied by a delicious 4-course dinner.
Just like last season, Thomas Rosendal alias the Danish drag queen Megan More is the shows compère,
Johan Espeland, who is Creative Director at Wallmans, tells that this season's circus artists are:
Jamie & Beata. Jamie Swan is from Scotland and Beata Surmiak from Poland. They perform i.e. with a fantastic Hand to Hand act.
Jonathan Young, who is born in England. He's doing an act on Vertical Pole / Chinese Pole.
Wallmans' marketing department presents the artists as follows (my translation):
On the artist side, guests can look forward to international acrobats Jamie & Beata with their impressive and daring "hand-to-hand" act. Jamie also performs with a phenomenal, internationally recognized bathtub act. The audience will also have the pleasure of meeting Jonathan Young, who presents his comic "Chinese Pole" act on a six meter high pole.
Jonathan Young has previously worked in i.e. the German Circus Flic-Flac and at Roncalli's Apollo Variety.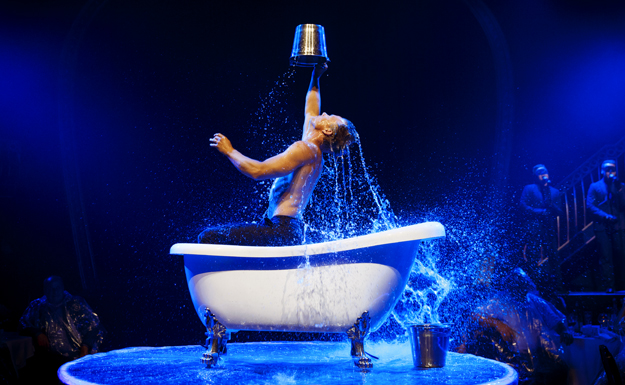 Beata Surmiak in the bathtub. Press photo from Wallmans. Photographer: John Resborn

5 July 2022
Winter circus in Malmö and Helsingborg, Sweden. In 2013, Albin Ganovic arranged a Christmas circus in downtown Helsingborg with a great numbers of visitors. But the year after, where a lot had been assigned on the outskirts of the city, the number of visitors was disappointing. In January and February 2019, Gabin tried his luck again, this time with a winter circus first in Malmö and then in Helsingborg.
This year, Albin has once again plans for a winter circuses. First in Malmö with a premiere on 25 November and the last performance on 4 December. And then in Helsingborg with a premiere on 9 December and the last performance on 18 December.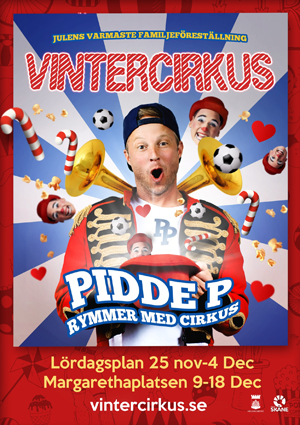 The central person in the performance is the Swedish singer and entertainer Pidde P (Petter Hedwaller), who is especially known and popular among children. In the presentation Albin writes (my translation):
Pidde P escapes with circus!
Helsingborg Winter Circus is finally back and this year we are accompanied by the children's favourite, the artist Pidde P. This year's performance is a musical and exuberant experience in the large, well-heated circus tent.
The scent of freshly popped popcorn with Scania's favourite clown the clown Cite, our world-famous acrobats in a colourful interplay with the large ensemble, circus orchestra and the whole of Sweden's Pidde P is a guarantee of circus success!
The trend setter Pidde P has travelled all around Sweden and created a good atmosphere everywhere. With energy and charisma, he always gives himself 100% on stage, which makes both the children and adults rock, but now he escapes with the circus! With songs like "Parelli", "Tiktok", "you kick and I freak out" and the hit "Ba da boom", Pidde P and the circus artists fill the arena with love and energy.

4 July 2022
Kim Kenneth in Aarhus Tivoli. As previously mentioned, the Danish magician Kim Kenneth has this year replaced Hasse Hjort as Pierrot in Tivoli Friheden in Aarhus. Kim presents a magic show and two daily Pierrot performances. A group from Danish Circus Friends Association saw his performances on Monday 27 June. Unfortunately it rained. But the stage in front of Pjerrot's house is covered, so even in case of rain, there are performances on the small stage in Pjerrot's Garden.
Where we perhaps know him best from great illusion shows with pretty girls who are conjured in and out of boxes, both the magic show and the Pierrot show in Friheden are solo shows. The stage is simply not big enough for illusion acts. But Kim certainly also manages his solo magic show and his Pierrot show with the skill, charm and elegance he is known for. Below are some photos from the show, where due to the weather there were only a few spectators.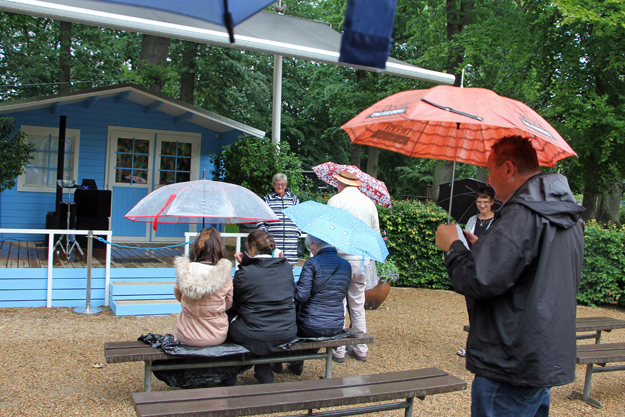 Some of the circus friends in front of Pierrot's house. The stage is covered, but not the spectator seats.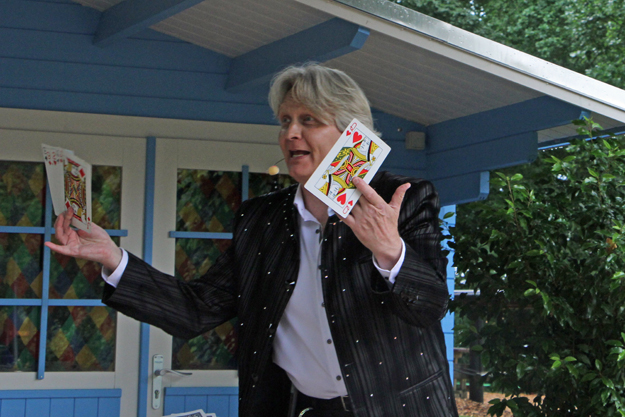 You have 6 large playing cards and then throw 3 of them into a hat. So how many are left? A mathematician will say 3, but for the magician the answer is 6. Even after he has thrown 3 cards into the hat a few more times!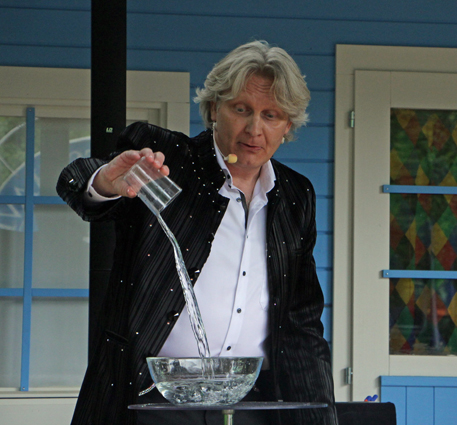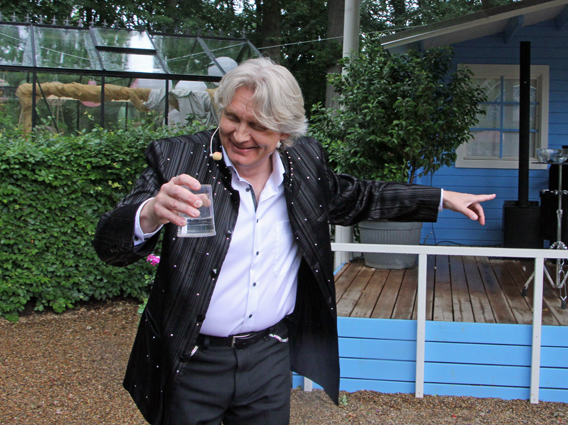 You pour the water out of a glass, refill it and turn it upside down without the water running out!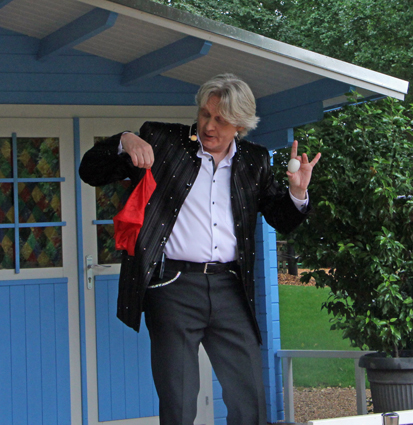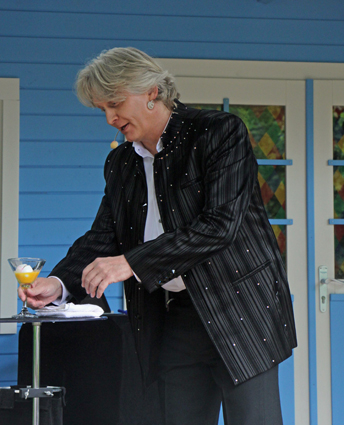 A scarf is conjured into a magic egg, i.e. a plastic egg with a hole for the scarf. But suddenly the egg has turned into a real egg, which is broken into a glass!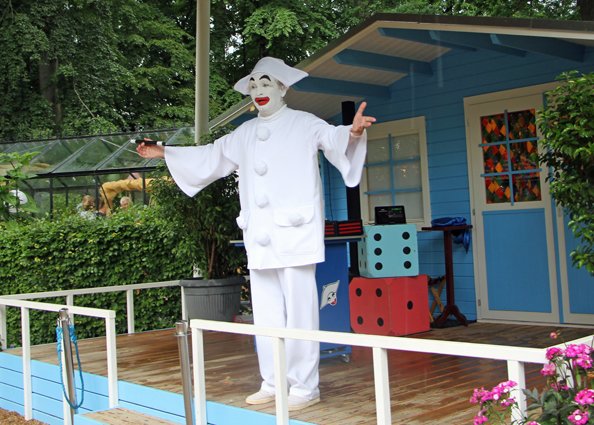 Pjerrot welcomes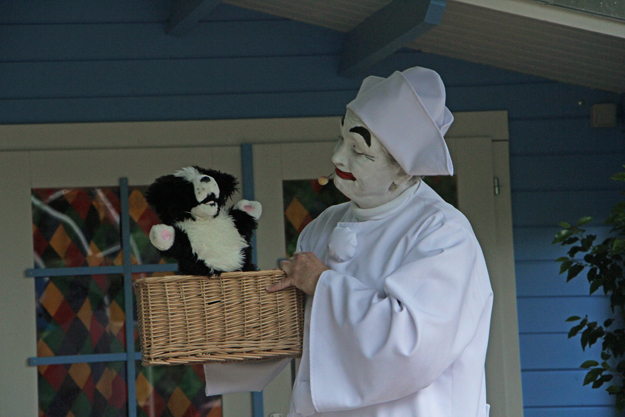 A playful teddy bear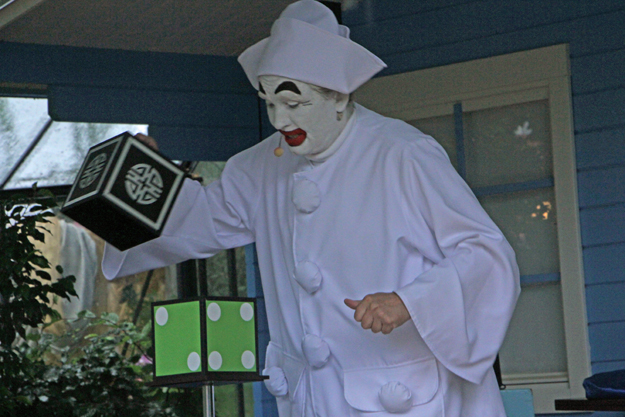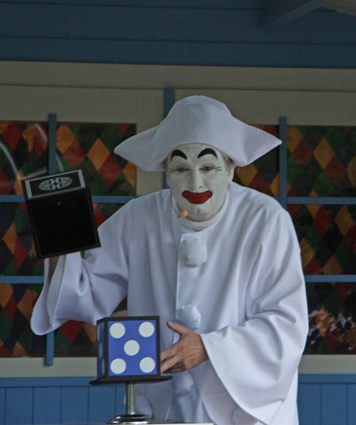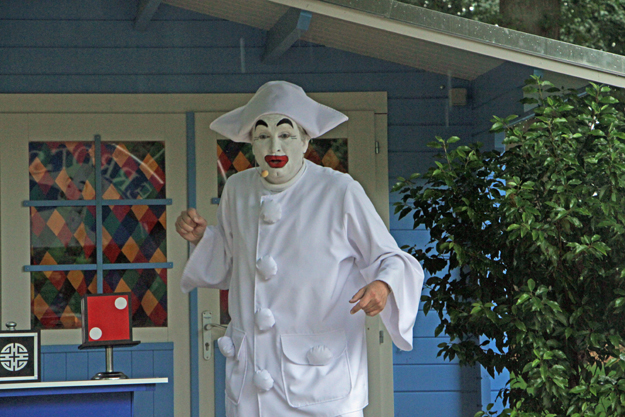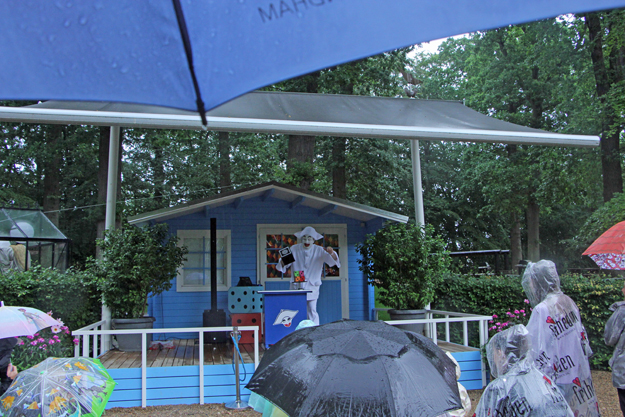 The cube changes colour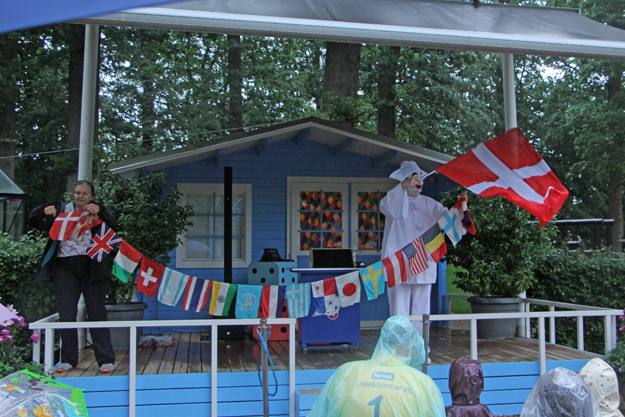 Finale, where Pjerrot usually gets help from a child among the spectators. Due to the rain, there were not many of them, so instead he got help from Jenny Abelgren, who was among the participants in the circus friends' visit.
In addition to magic, Kim has previously worked on a drone project, which has been mentioned in the Danish medias: the drones now fly with blood samples from the small island Ærø to Svendborg, so doctors and patients can get answers to the tests much faster than before. That job has now been completed, and in addition to the Pierrot job, Kim has instead been hired as head of Kalundborg's Children and Youth Circus Cirkus O'laiski, where his wife Jessica Caveagna has worked as a trainer for some time. The couple lives in a small village not far from Kalundborg. During the season with daily Pierrot performances, however, they live in their caravan, which is set up with their good friend Jan Allan (The Clown Allando) in Danish Circus Krone's former winter quarters.

1 July 2022
VIGGO SALTING circus painter (The Master of the clowns) turns 70 on 3 July.
Throughout his life, VIGGO SALTING has worked as a professional painter with woodcuts, lithographs and paintings. The works have been exhibited in Denmark and abroad. Since 2009, Viggo Salting has been well received in New York with a permanent gallery. Basak Malone published in 2012 his book "The Smile That Last a Mile".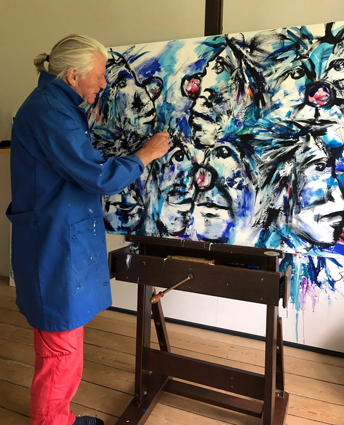 At home in Kerteminde. Denmark, Viggo Salting and his wife Helle Abildgaard wrote the book "KOM KLOVN". The book was published in 2019 with support from i.e. Denmark's great circus historian Anders Enevig's Foundation.
The book is a chronicle that humorously tells about Salting's fascination with the circus, which he got during a season at Cirkus Benneweis in 1985. The work stay with canvas and brushes in the traveling circus changed Viggo Salting's art and life. The Danish Circus Award was revived in 2016, and at a large celebration at the Circus Museum in Hvidovre, Copenhagen, the award is presented annually with the participation of the Minister of Culture together with i.e. a new award: The Effort Award. Viggo Salting is the artist behind both awards, which consist of a painting. The Master of the Clown is proud of through his art helping to spread knowledge about the circus and the Clown.
The birthday with a round figure is celebrated privately with the family.

30 June 2022
Zirkus Nemo 2022. The late Rud Kofoed would undoubtedly have given this year's performance the top rating of 6 stars and would be annoyed that the star system did not allow him to give Soren Østergaard & co. an extra seventh star. And the many who like Soren Østergaard's characters are certainly not cheated: they meet the Planet Man, the Balloon Man Lesley Bøje Møller, Baker Jorgen, Kim Tim, the Smash Man - who in these times of equality may be called the Smash Person - and the Meter Man. With him in the ring is Soren's old friend the actor Tommy Kenter, who, among other things, conjures the head of a woman and plays the tuned piano.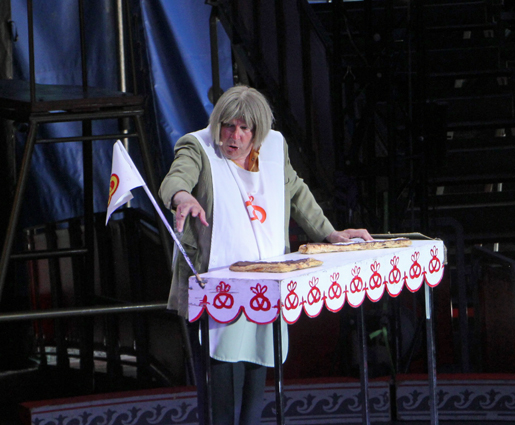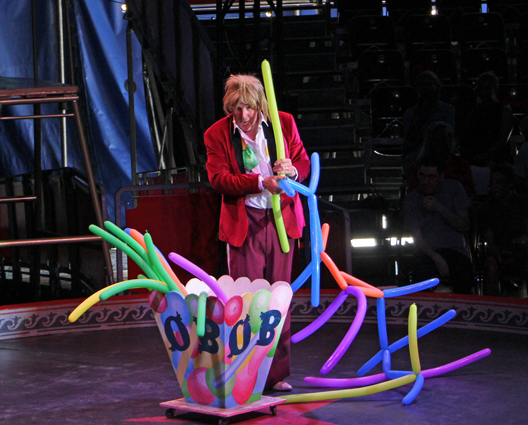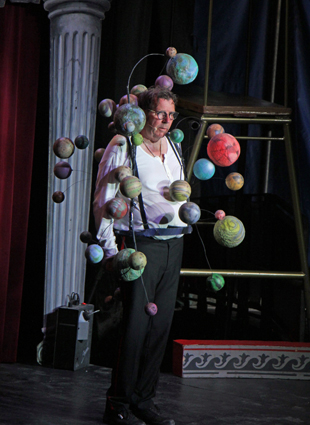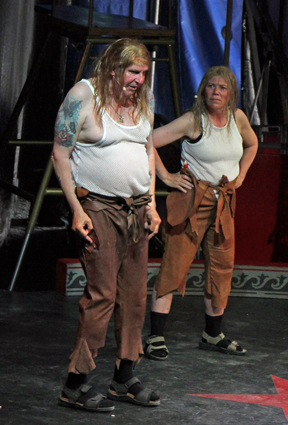 Baker Jorgen, the Balloon Man, the Planet Man and the Smash Man. The latter together with Soren Østergaard's PA Laura Kvist Poulsen, who apparently also has the task as PA to the Smash Man…
But in addition to these beloved characters, the show features world-class artists:
Mario Berousek is known as the world's fastest juggler. He was with Circus Benneweis in 2007, with Circus Arena in 2016 and with Zirkus Nemo in 2018. He still impresses, not least when he gets down on his knees and juggles with 3 clubs at incredible speed.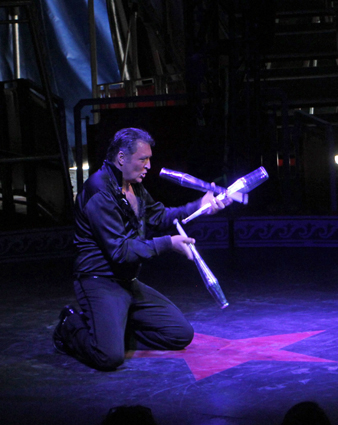 Mario Berousek is included in the Guinness Book of Records with several records, including 735 rotations in one minute!
Hector, who is one half of Duo Solys, has a moody entrance, where he is "transformed" into a girl when he walks on his hands.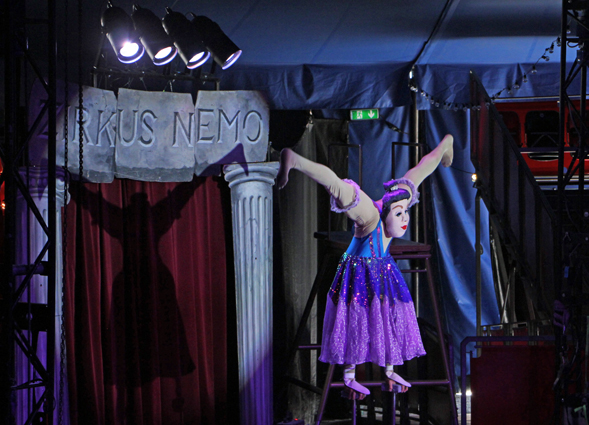 Hector Yzquierdo is from an old Cuban circus family and educated at Circuba, which is Cuba's national circus school
New in Circus Nemo are the Swedish twin sisters Jenny and Sara, who as Duo Vilja present a beautiful contortion act.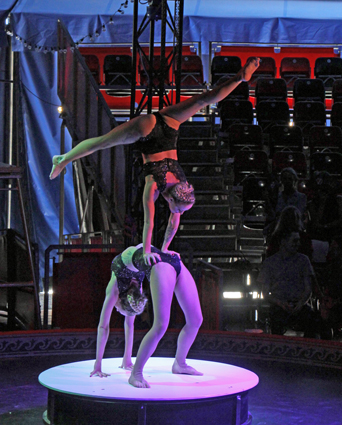 Jenny and Sara is born in 1984. At the age of 13, they were caught by the circus bacillus and joined a children's and youth circus. Later they was educated at a circus school. First in Sweden, then in Montreal. Since then, they have performed at a number of varieties and circuses. This is their first season with a Danish circus.
Professor Wacko's trampoline entrée is the well-known one with the trampoline disguised as a swimming pool with a springboard. Often the artist appears in such numbers as "drunken", but Wacko chooses instead to be a distracted professor type.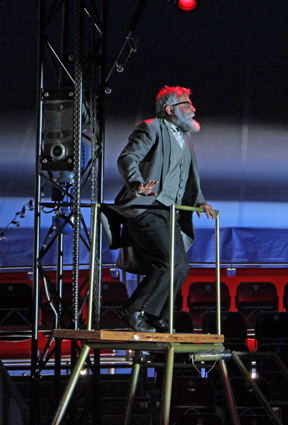 Professor Wacko has not previously shown his current entrée in Denmark. But in 1993 he toured Denmark with Circus Fantastico, where he was one of the 4 artists in the troupe Trampolino Veneziano.
In 2018, the Danish Circus Award named Duo Solys as the best act of the year. They are the most beautiful example that body and love can merge into a higher, artistic whole. During a tour to New Caledonia in the middle of his complicated handstand act, the Cuban Hector Yzquierdo made eye contact with a beautiful girl in the audience. He had difficulty concentrating, but still escaped unscathed through the performance. When he looked for the girl afterwards, she was gone - until he had to leave the place. She waited at the exit. Shortly after, Tatania left her family and office job and became a worldwide circus artist. Today, the couple is married and has a daughter, Freya. They are an acrobatic pleasure. They were also at Nemo in 2016 and 2018.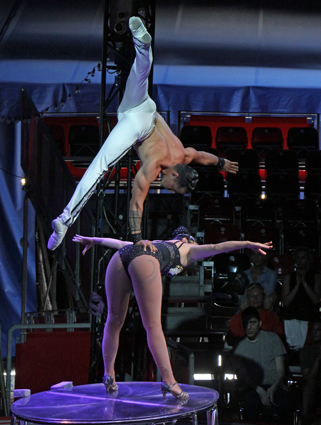 In 2018, Duo Solys got the Prize as the best act of the year
The show's last artist couple also comes from Cuba. Leosvel & Diosmani appear in Chinese pole. They got a silver clown in Monte Carli in 2013 and performed the following year in Swedish Circus Brazil Jack. At that time, they presented the best act in pole that I have ever seen, and they still do! Their final trick, where one artist stands in horizontal handstand on the pole while the other stands on hands on his upper body, is absolutely amazing.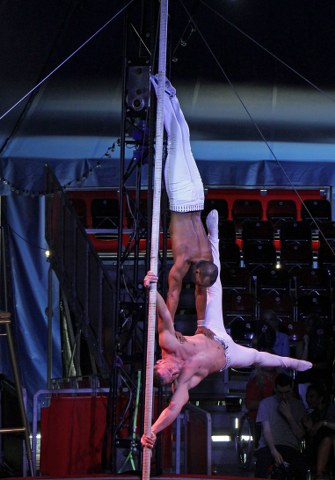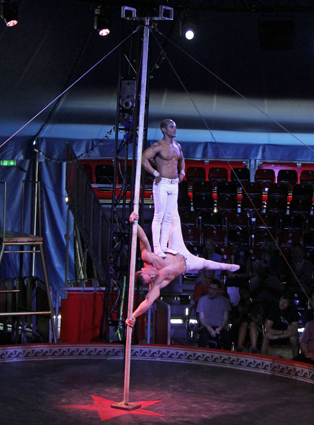 Leosvel & Diosmani – probably the world's best act in Chinese Pole.
Audiences love Circus Nemo, both the comic features and the artists. A very special Nemo friend is Her Majesty Queen Margrethe of Denmark, who was among the visitors to the performance on June 29 in Aarhus.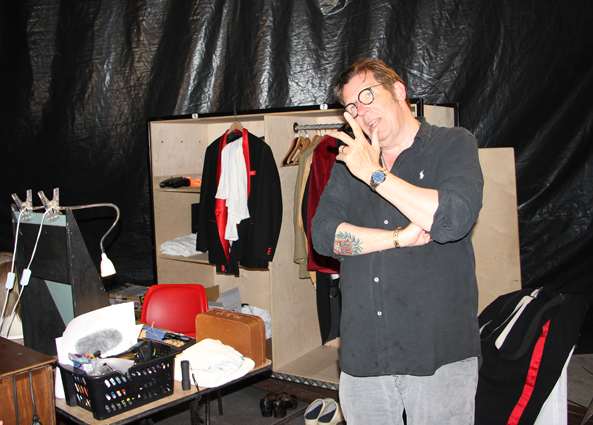 HM The Queen is not the only Nemo fan. On 26 June, a group from Danish Circus Friends Association visited Zirkus Nemo in Aarhus, where Soren Østergaard before the performance took the guests backstage. Here Soren is seen in front of his «wardrobe», where Laura Kvist Poulsen during the performance helps him with the many costume changes. The circus friends congratulated Soren Ostergaard and his team on producing such an entertaining show in these challenging times.

24 June 2022
Solveig Enoch turns 85. On Saturday, June 25, the former owner of Circus Dannebrog, Solveig Enoch can celebrate her 85 years birthday. As small girl Solveig Enoch dreamed of becoming a circus artist. The dream came true when she in her childhood home met the bicycle acrobat Haddy Enoch. In 1951 Solveig and Haddy formed a bike trio together with Solveig's sister Grete. Later Grete chose a career as an aerial artist, and Solveig and Haddy continued as 2 Haddies. Their breakthrough came in December 1951, when they won first prize at a talent competition at National Scala in Copenhagen and the second price at a similar competition at Lorry, Copenhagen. National Scala and Lorry was at that time leading music halls. This led to an engagement in Danish Circus Moreno for season 1952. In 1953 the Haddies worked in Alhambra Music Hall at the amusement park "Bakken" north of Copenhagen and later the same season in Danish Circus Brdr. Schmidt, before they got a new engagement in Circus Moreno for season 1954.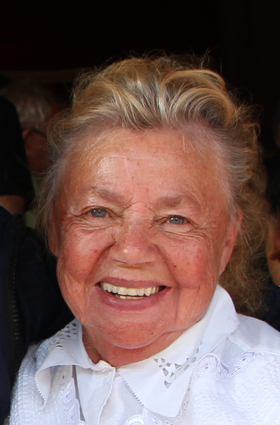 Then they went abroad, where the Haddies for season 1955 was engaged in Circus Löwe in Norway. The same year, Haddy and Solveig was married. And now began a trip all around the world, where Solveig and Haddy worked in circuses, music halls, ice shows and on TV. There was all in all contracts and engagements in 32 different countries. Their favorite place was the Hansa Theatre in Hamburg, where the Haddies worked 18 times. When the 4 children Dennie, Agnete, Isabella and Katja grew up, they were became part of the bike act. In 1977 the Enoch family re-established Circus Dannebrog, which had belonged to the Enoch family until it closed in 1928. But now if was successfully re-established by Solveig and Haddy Enoch.
After Haddy Enoch passed away in November 2009, first Solveig and later the four children took over the circus. After a difficult season 2016, they chose to let Circus Dannebrog take a break. Thus it has not been on tour since 2016.
The family means a lot to Solveig, and she is most happy when she has children, grandchildren and great grandchildren around her.

23 June 2022
Circus Elvira in Sundsvall. The Swedish circus writes (my translation):
For the 14th year in a row, we are in Sundsvall's northern city mountains. This year, everything looks as it usually does with circus tents and performances.
New for this year is a very own magic show! Jonathan Seing as Mr Zing gives a close-up magic show. Premiere June 27.
In addition, we invite you to a pre- and post-season with TA-DA! A real audience favourite. Circus Elvira's own clown Daff-Daff together with the aerial acrobat Miranda Hedman gives a 40 minute long and well-filled circus performance with, among other things, cycling on a wire, aerial hoop, hula hoop and enchanting clown entrées.
On July 2, it is the PREMIERE of the summer big CIRCUS SHOW. Participating in this year's edition are the Clown Daff-Daff, Miranda Hedman, aerial hoop and tissue. Matilda Wiklund, swinging pole and tissue. Bobbo Jäderfeldt juggles with bowling and Emma Hörnfeld, juggler with hula hoops.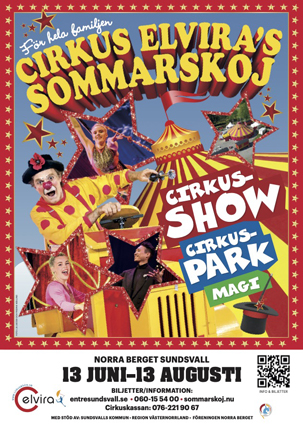 All times and dates can be found on the website www.sommarskoj.nu

20 June 2022
Norwegian Circus Jesper 2022. Again this year you can experience Circus Jesper in Kristiansand Zoo in Norway. It premiered June 19 and there are daily performances until August 14.
As in previous years, the performance is a themed performance based on the character gallery from Thorbjørn Egner's When the Robbers Came to Cardamom Town, where the robber Jesper ends up being a circus manager.
The show's daily manager Lasse Nørager, also known as the clown Bonbon, has put the performance on stage and tells (my translation):
This year's Circus Jesper is a fine-tuning of the performance from last year. Exciting to be able to work with the very small details during the rehearsals. This means that something can go from good to sublime.
Brand new are 4 acrobats from Ukraine who at a tremendous pace make hand-held, 3 1/2 man high pyramids with single-handstand on top etc. They belong to a larger group that has the name Crazy Flight. Another team from Crazy Flight has been with Danish Zirkus Nemo several times with different acts.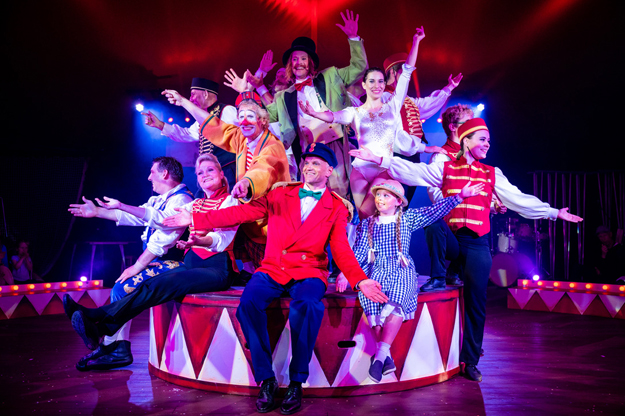 The performers in this year's performance. All photos provided by Lasse Nørager
Running order Circus Jesper 2022:
Warm-up (preshow) v. Joakim, Captain Frodo and Freddi Steckel.
Opening (Chief of Police Bastian, Little Kamomilla and Jesper and all artists)
Captain Frodo, Bucket Balance
The big bike act with Julia, Joakim, Nelma (Pietala) and Freddi Steckel.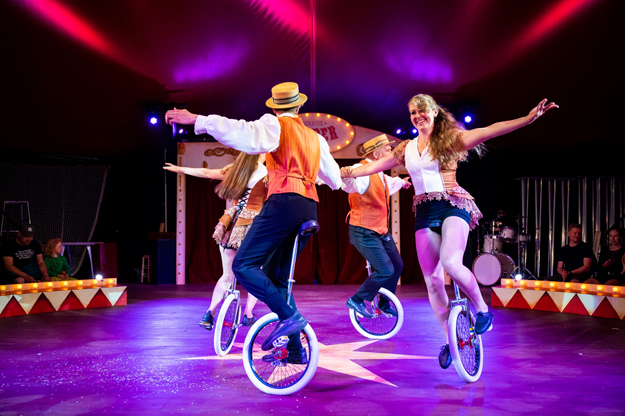 The big bike act
Bonbon, live cannonball.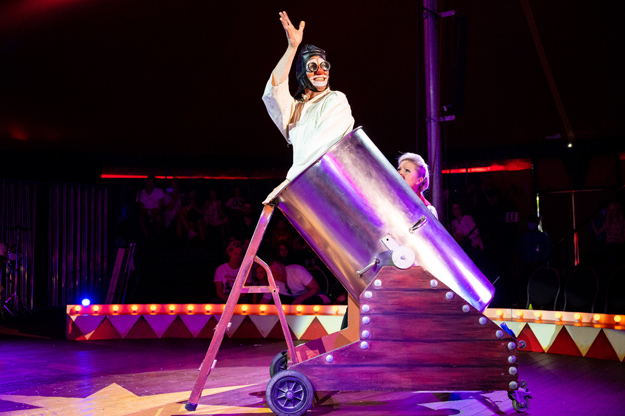 Bonbon as live cannonball
Lionman presented by Jesper and Kamomilla.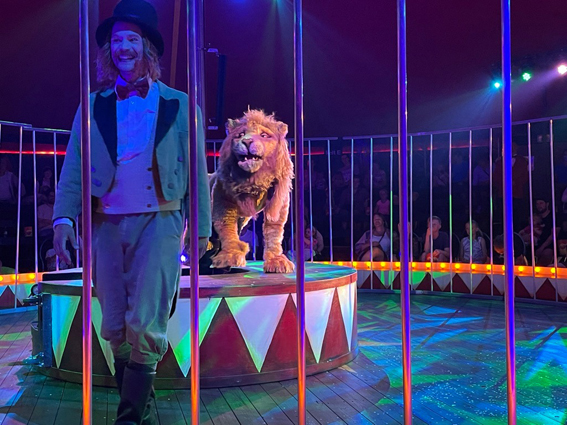 The dangerous lion
Breakout act (substitution trunk) with the Robber Jesper and Chief of Police Bastian.
Julia & Joakim knockabout table act.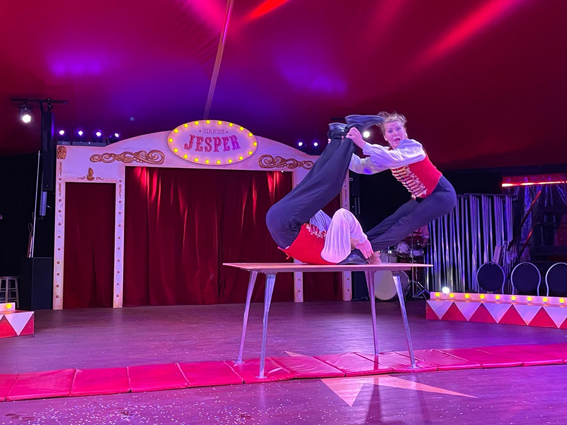 Julia and Joakim with their knockabout table act - an act they have been taught by Freddi Steckel
Bonbon & Tiina Badminton.
The intelligent baby elephant Mimo with Kamomilla.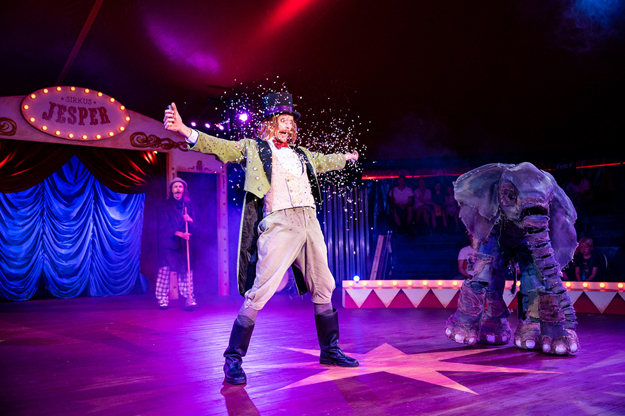 Captain Frodo and the elephant
The Godfathers (Crazy Flight) hand voltage
Bonbon with the Flea.
Captain Frodo Tennisact.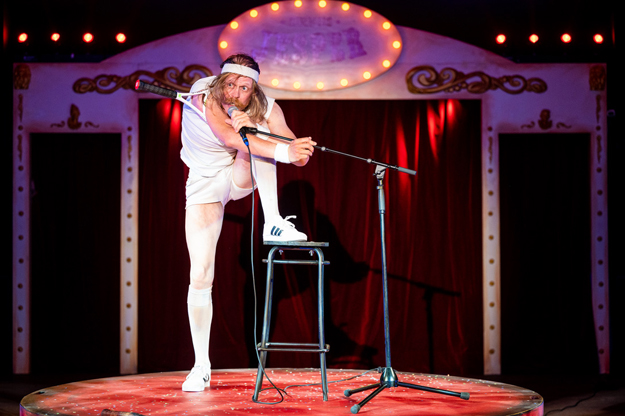 Captain Frodo climbing through a tennis racket
Finale
Many circus friends know this, but just in case: Finnish-born Tiina Myllykangas is Lasse's wife. Together they have children Julia and Joakim.

16 June 2022
Circus Trapez - 35-minute open air version, which was presented at Mergeltoften Nursing Home in Nivaa for more than 75 residents and 40 children from kindergartens in the neighbourhood.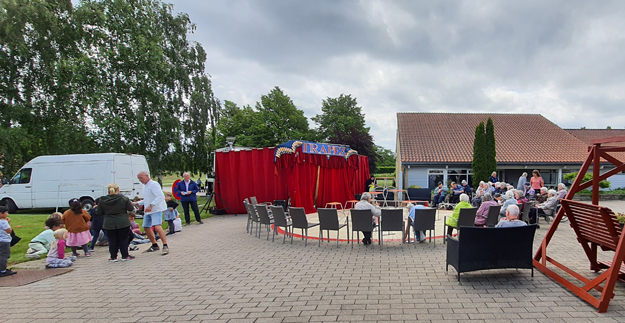 The plastic carpet forms a ring; red carpets with Trapez name on a stand, as well as speakers are the simple "circus set-up".
Bernhard Kaselowsky, who also acts as an efficient prop, enjoys the visitors and also distributes popcorn to the nursing home residents.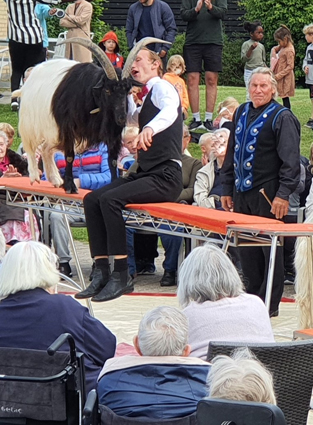 After his welcome as this morning's ringmaster Lasse Hasager presents Trapez's long-horned goats, which can both jump from podest to podest and trip on their hind legs. As an introduction, one of the goats is led around the ring so that residents and children can pet it.
Edita Sulc present her foot juggling act with - in between the tricks - "standing split" and other gymnastic poses.
The mini-dog Molly, a Chiquita, is presented with a "now comes a very dangerous predator from Mexico" by an enthusiastic Lasse. And a spectator help Molly jump (!) through a ring.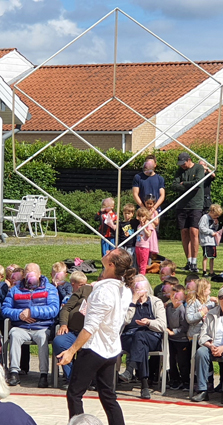 Ukrainian Yuriy Mamchych shows his cube act very experienced and with a good flow.
Lasse keeps the pace of the show with his juggling with more and more balls (up to 8?) And even daggers.

Edita & Yuriy impress with their equilibrist act with unusual tricks - also "neck balance", where Edita balances "upside down", with her legs up, on her neck against Yuri's neck.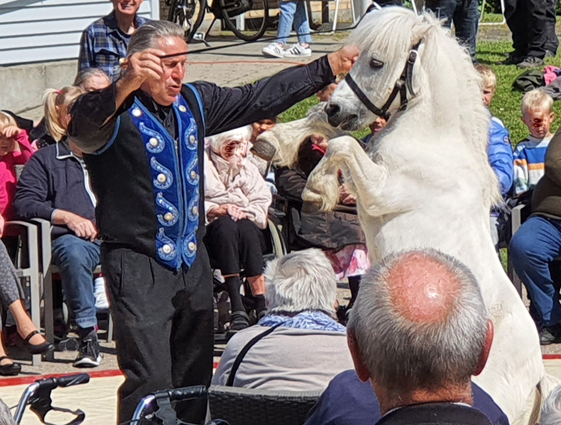 And finally, Bernhard Kaselowsky arrives in the ring with one of his ponies in his usual casual style.
Finally, after 35 minutes, "la grande finale", where Lasse presents all the artists: Yuriy Edita, himself and discreetly in the background, Bernhard.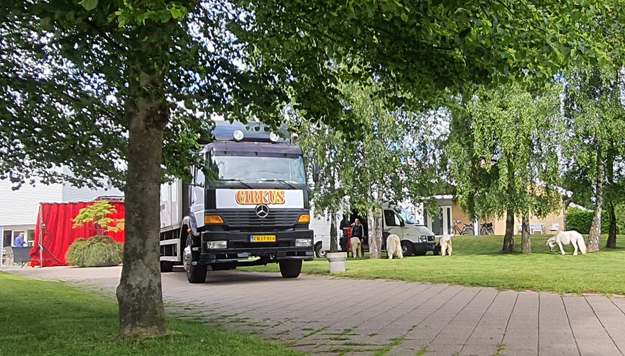 2 trucks contain equipment, props, animals and artists - quite rational!
(Text and smartphone photos: Jörgen Börsch)
Isabella Enoch Sosman tells that Bernhard, where it is possible, also has a big horse in the final act making it Big and Little.
Isabella also tells that the program in the 55-minute long public Open Air performances, which are shown at a number of campsites and in most of July in Madsbyparken in Fredericia, looks like this:
Isabella welcomes
Opening with Lasse Hasager, who conjures up Stine Marie Greisen from a small lion cage. Then the five goats. They are presented a little modern and naughty.
Foot juggling with Edita
The only 4 year old Nicolaj Greisen presents the pony Bonito. Then his mother Stine Marie presents the Arabian stallion Sitan.
Lasse Hasager diabolo in a comic Scottish style, where also Joseph, Katja Enoch's son usually is present on all weekends and summer holidays. But he has unfortunately just broken his arm, so it is probably not possible for him to perform.
Contortion in straps, very beautiful act performed with classical music by Yuriy Mamchych.
Lasse Hasager with Chiquita Molly (the little mini dog). While Molly is inside, our big new goats and alpacas come in.
Gabriel Pedersen, the jumping acrobat from Skive.
Duo Mamchych adagio
Tempo juggler Lasse Hasager
Ballet in the air by Rasmine Tomasevic-Olsen
Big and Little presented by Bernhard Kaselowsky
Finale

10 June 2022
Diana Benneweis turns 75. On June 12, Diana Benneweis turns 75. Circus Benneweis closed after season 2015 and Diana withdraw from the limelight and lives now a peaceful life in Sweden and Denmark. Her home is in Sweden, where she can get the respite and the peace and quietness that has been important to her for 25 years. Here she lives in close contact with the beautiful nature and the animals, which provide renewed energy and recharge the batteries.
The charged batteries are widely used with the family. Therefore, after several years in Switzerland, where she has lived in and of the fresh and healthy mountain air, Diana chose to buy a holiday cottage in Denmark close to children, grandchildren and old friends.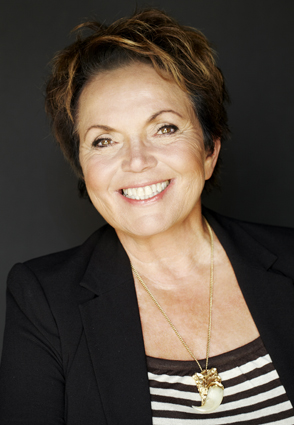 Diana Benneweis. Photo: Anne Kring

9 June 2022
Circus Trapez 2022. Most Danish circuses use a model in which the artists are engaged for an full season, lasting between 4 and 6 months. Artistically, the performances are the same throughout the season, unless there are acts which for example due to injury has to be replaced.
Circus Trapez has chosen a different model this year. At the start of the season, there were many performances in arenas of duration of about 2 hours. But since May 15 they have as last year had Open Air performances lasting 50-55 minutes. Since the start of the season, Trapez has also had a number of performances in nursing homes of approx. 35 minutes duration. Where arena performances were only in Jutland, nursing home performances have also been presented on Zealand. For example, Frederiksborg County's newspaper told a few days ago about a performance on 15 June at the nursing home Mergeltoften in Nivaa, where Cirkus Trapez comes by with Open Air Cirkus with 4 artists and animals, magic and everything that belongs to the circus. Circus Trapez also visited Mergeltoften last year.
The fact that they now have performances with duration of 35 or 50-55 minutes means that there has been a change in the artist staff. In the 50-55 minutes performances, in addition to artists and animals from the nursing home performances, the audience meets Stine Marie Greisen, who present an Arab horse, her 4-year-old son Nikolaj, who performs with a pony, and Rasmine Tomasevic-Olsen, who makes a solo trapeze. In addition, Circus Trapez alpacas and Welsh goats are also in the ring.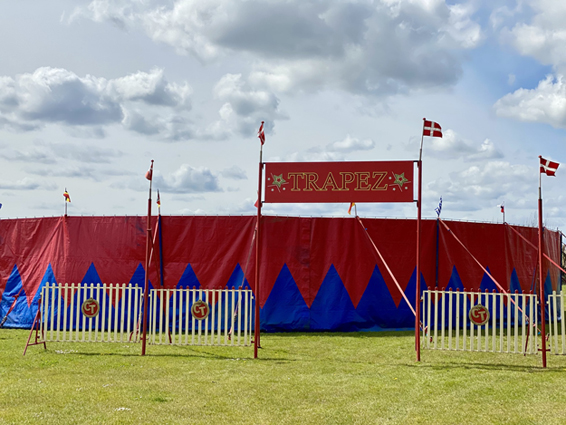 Circus Trapez Open Air
From 9 to 31 July, Cirkus Trapez has performances in Madsbyparken in Fredericia, Jutland, where there every day are 2 or 3 performances lasting almost an hour. Madsbyparken is a large green area in western Fredericia of approx. 80 ha., Containing Madsby Legepark, Fredericia Sport Centre, the historical mini city and Monjasa Park.

6 June 2022
Circus Mascot. For the summer season this year, Circus Mascot had engaged the clown Gulio, his spouse Tatyana and their son Husik. The family has been associated with Circus Mascot since 2003. When not on tour, they live in Kyiv, Ukraine. Despite the war, they managed to get out of Ukraine even though bombs fell only a few kilometres from their apartment. Gulio is born in Uzbekistan and Tatyana in Ukraine. Circus Mascot had also engaged the artist couple Oleksii Trunov and Gege Ganbold (artist name Geege), who also live in Ukraine. They were with Mascot in 2014. He is from Ukraine, she is from Mongolia. The war meant that Oleksii could not leave Ukraine, so only Gege is part of this year's Mascot performance. She does partly a slinky act together with Guilo and partly a solo number with contortion, where she ends up shooting with a bow and arrow, which is held with her feet while she balances on her forearms.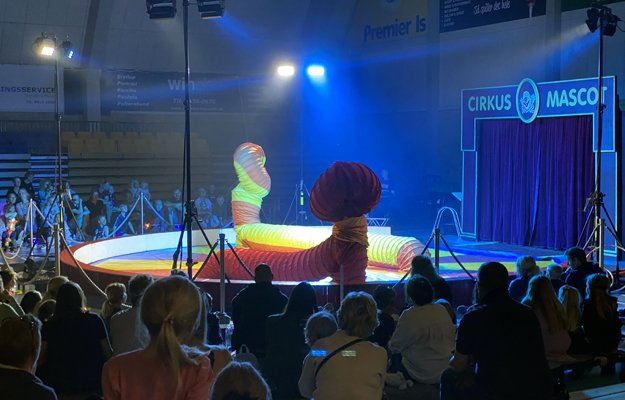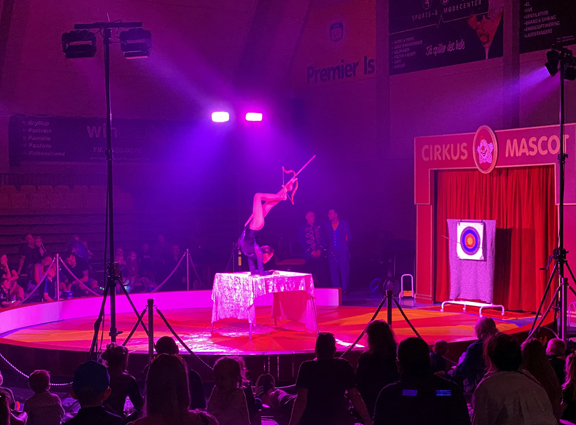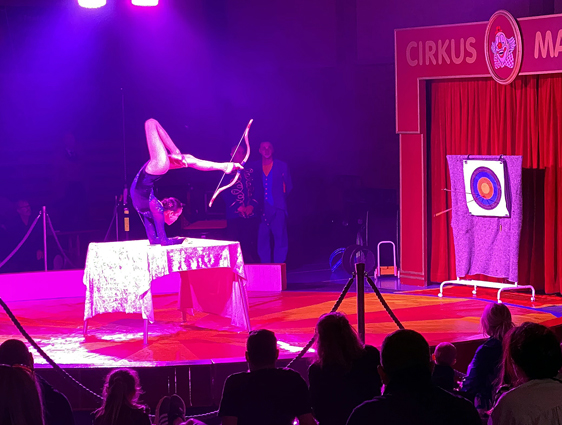 Geege as resp. Slinky and contortionist. Smartphone photo
Circus Mascot started this year's tour on April 2 and has this year chosen to tour in arenas. Until now, they have only toured in Jutland. They take a summer break from June 24 to August 7. After this break, the people of Funen can also look forward to Mascot coming to town. The concept of playing in arenas has been well received - for most performances they have had more spectators than there would be room for in the tent. At the same time, they can manage with slightly fewer trucks and fewer tent workers / props than on a tent tour. The Danish circuses say that this year it is difficult to get hold of the number of workers they want. In particular, there is a shortage of workers with driving licenses for trucks.

3 June 2022
Bettina Arli of Circus Arli turns 60 on Sunday 5 June. Bettina Storgaard was born in Hørsholm. Her father was a lawyer and her mother a nurse. After school, Bettina was apprenticed as a hairdresser, and all indications were that the sweet young girl would find a good bourgeois man and have a good bourgeois life. So if Bettina had not met Martin Arli at a private party in 1981, one would undoubtedly today have had a "Salon Bettina" in one of the Copenhagen suburbs, where the hairdresser Bettina and her staff had cut, dyed and arranged the local ladies' hair and the men had come because the hairdresser had such a nice smile.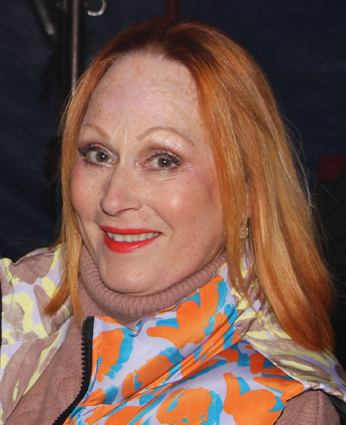 But now the 19-year-old Bettina met Martin Arli, and sweet music arose. The first year, she continued to work as a hairdresser but visited through the circus season Martin every weekend. After the end of the season, the couple moved together, and in the 1983 season, Bettina got her circus debut as a "target" in a knife-throwing act, where it was Martin who successfully placed the knives around his fiancé.
After the end of the 1983 season, Bettina and Martin were married on 11 September 1983 in the Groendal Church on Hulgaardvej in Copenhagen where the Arli family has their permanent address.
After the change from hairdresser to circus princess, the audience has met Bettina in a number of roles. She has presented pigeons. She has presented goats. She has conjured. She has hung in her hair. She has performed in vertical rope. She has performed in trapeze. She's been a clown.
In 1987, Bettina and Martin got a son, Alexander. Today they are also the proud grandparents of Noah at almost 1½ years and Jamie at 3 months.
In 2004, Bettina got a whole new task: She became the elegant ringmistress who with charm and elegance leads the audience through the performance. When she says "here you are" we know that we have reached the climax of an act. As ringmistress she also became the natural opponent for the two Augusts from the clown troupes Martino & co. and Alejandros.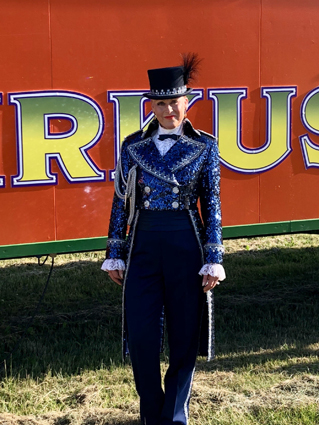 On the birthday with the round figure Bettina and her family are in Lyngby, where Circus Arli has a performance at 15. You cannot cancel a show just because it is a birthday!

1 June 2022
Magic show in Circusland. Last year, Denmark's great international illusionist Kim Kenneth and his assistants were in charge of the magic show in Circusland. But this year, Kim Kenneth works at Tivoli Friheden in Aarhus. Partly as Pierrot, partly with a magic show. Instead, Circusland has booked the Italian illusionist Jimmy Seylon to be in charge of this year's magic show. Click here to watch a video clip with him - however, it is not sure that it is the same tricks he present in Circusland.

Link to news from 2007

Link to news from 2006