'
From Denmark
and other Scandinavian countries
Special feature: It all happens in Paris (when relevant)
A weekly updated internet magazine
Last updated : 19. June 2021
18 June 2021

Flying Superkids will visit Copenhagen in August. Like many other shows, Flying Superkids has not been on tour since the corona hit Denmark last spring. But in August 2021, the audience can once again experience world-class gymnastics, enchanting acrobatics and great entertainment for the whole family, when Flying Superkids comes to Copenhagen with this year's new show! They will be in Copenhagen from Sunday 1 August until and including Sunday 8 August. They write (my translation):
This year's show is getting even wilder than usual. We have spent the entire corona break developing a new show for 2021 and practicing our wildest tricks. The result is an entertaining and breath-taking show, and we cannot wait to show it to you! It's going to be a bang of a party!

17 June 2021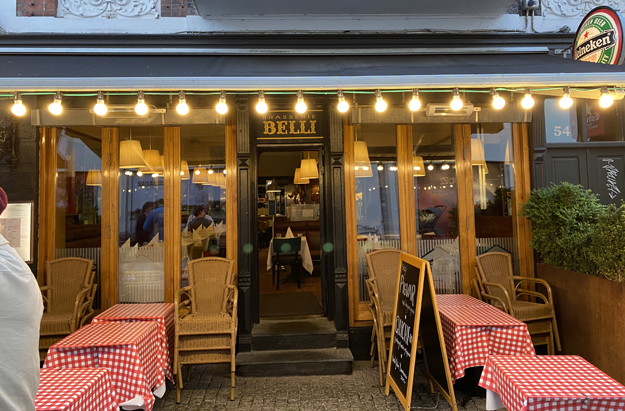 On Frederiksgade in the center of Denmark' second largest city Aarhus you will find the cosy restaurant Brasserie Belli.
The owner is Trine Belli and she has roots back to the old circus family. In her very young days she was an aerial acrobat in Danish Circus Krone. Her father Leo Belli was also an aerial artist and considers the long-time owner of Danish Circus Belli Meta Belli (1888 - 1953) as his grandmother, even though she was not purely biological. Meta Belli behaved like a grandmother to several members of the Belli family – such thing is also known from other circus families. Meta Belli was married to Giovanni Belli, who died in 1929. Meta then took over the languishing circus, which with the help of Willy Borchardt and later Fredy Wachmann, became Denmark's largest. When Meta died in 1953, the circus was sold to investors unrelated to the family. In 1955, the investors resold Cirkus Belli to Eli Benneweis. Circus Bellis' last season on the Danish roads was in 1957.
There are many posters and pictures from the circus era at Brasserie Belli. And the food and service are excellent. So the place can be recommended if you are looking for a good place to dine in Aarhus.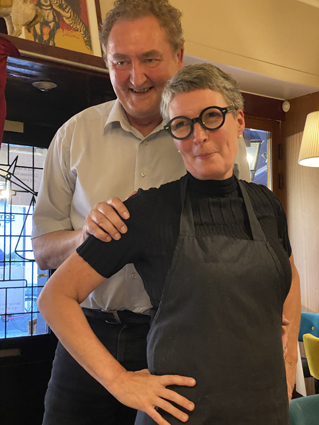 Trine Belli photographed together with The Danish Circus Friend's chairman Kim Thanning Olsen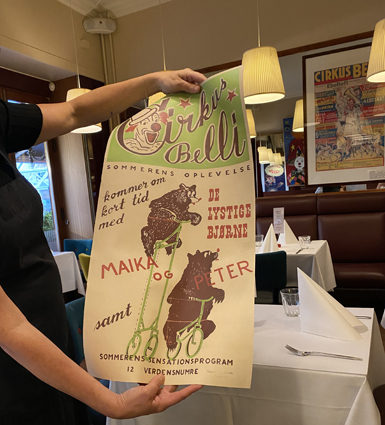 The poster shown is from 1954

13 June 2021
Circus Trapez Open Air. Due to the corona restrictions, Isabella Enoch Sosman's Circus Trapez has given up having a traditional tour with tents. Instead, they present approx. 1 hour long performances "open air", i.e. with the use of sidewalls but without a big top, see photo. This means that they can do without tent workers and do not need the many heavy trucks that transport tents and poles around. Until now, they have chosen to drive home to their winter quarter Mølby in the evening, so they do not have caravans around either. On weekdays, the performances are usually sold to nursing homes, etc. During the weekends there are "open" performances, for which you can buy tickets.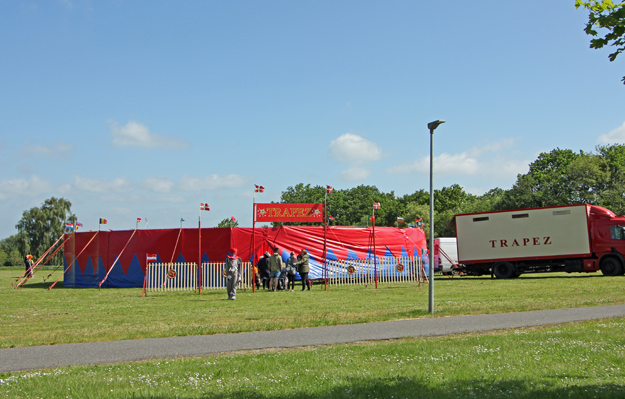 The audience sits partly on ringside chairs and partly on 2 seatings with benches. Ticket prices are reasonable: DKK 110 (approximately 15 Euro) for a chair and DKK 90 for a seat on the benches.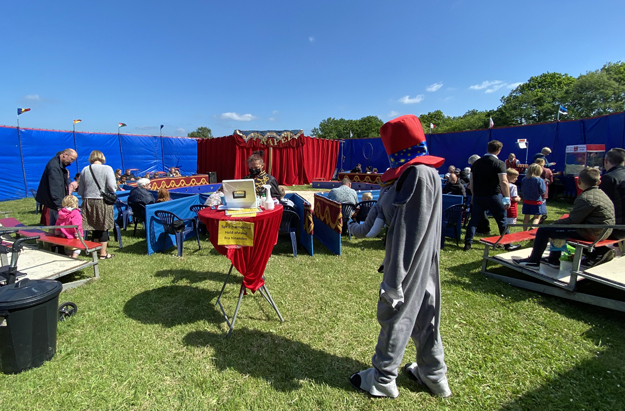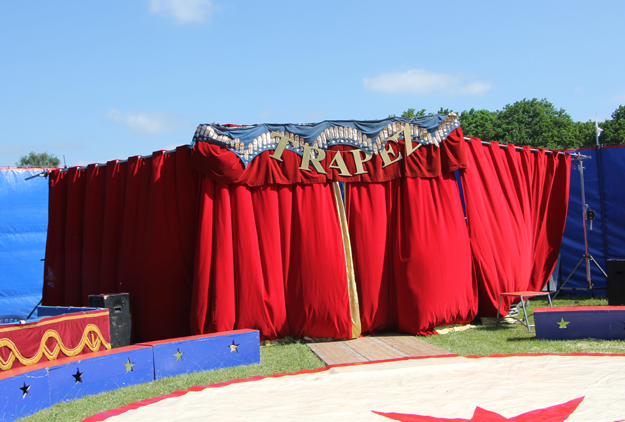 The performance starts with a large box being pulled in right in front of the backdrop. Bernhard Kaselowsky and a prop show that the box is empty. However, you can later see that it contains both the show's ringmaster David Sosman and the circus princesses Nynne Hulsig Samuelsen and Simone Rhodin.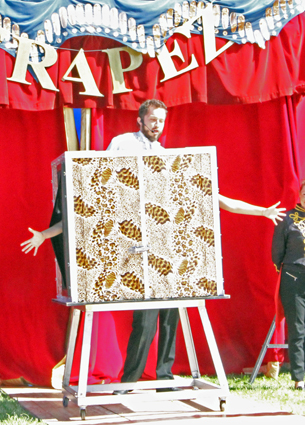 Next Welsh goats enter the ring, presented by Nynne with the assistance of Bernhard Kaselowsky.
The next act is a humorously presented juggling entrée with David Sosman, who with charm and elegance juggles first with balls, then with a knife and a pair of axes and finally with a ball, a bowling ball and an apple, which he eats during the juggling. He also shows how he can take off his jacket while juggling.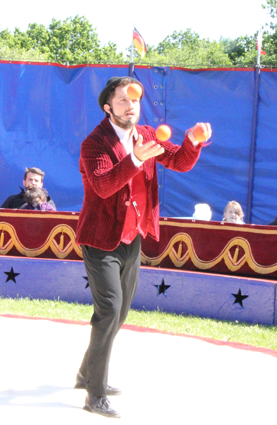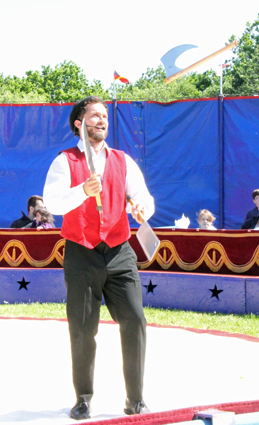 A version of the illusion trick substitution trunk conjures up Simone Rhodin from the small Swedish Circus Rhodin, which is currently isn't on tour due to the Swedish corona restrictions. She present a nice act in an aerial ring set on pole. The entrée ends with her getting down into a box and being conjured away.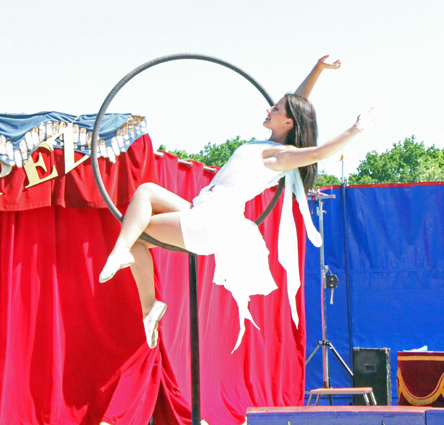 Now David Sosman is back. He first plays on bottles. Then he juggles and balances with Malibu bottles and balances with glasses on a stick in his mouth.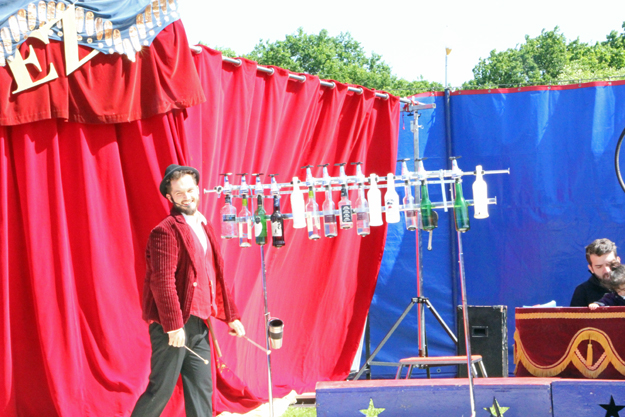 The next act is the young Dutch diabolo juggler Michael Betrian in an elegant and fast-paced track, where he juggles with up to 4 diabolos. Later in the season, you can see him as part of Majestique's performance in the mirror tent Paradiso at Nordkraft in Aalborg. Too bad for him that no Danish Circus Awards are handed out this year. He would have been a good bid for a nomination for the talent prize or the prize for best act of the year.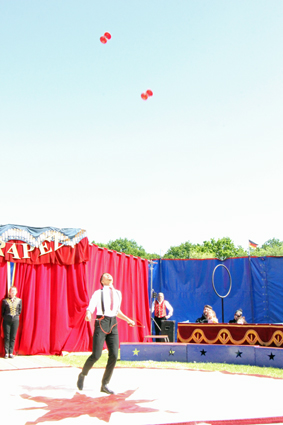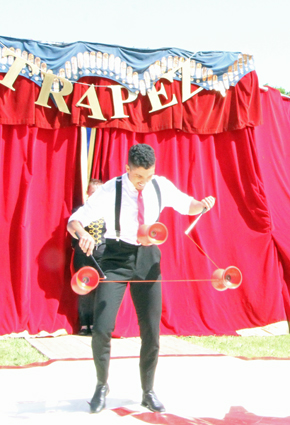 Michael was replaced by Simone Rhodin with a spectacular hula hoop act.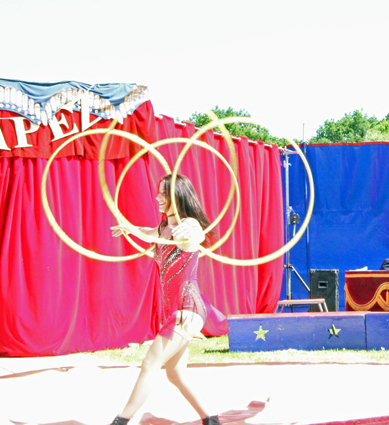 Then David introduced his 8-year-old cousin Joseph, who does some tremendous somersaults and other jumps. In some jumps assisted by Nynne.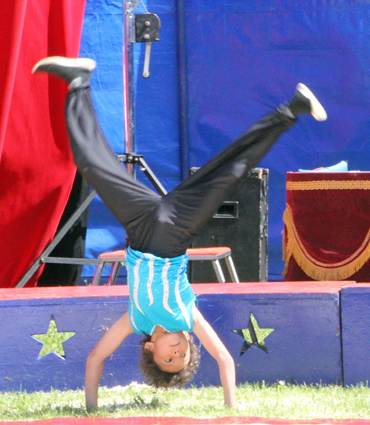 Then David was back with his bouncing juggler entrée.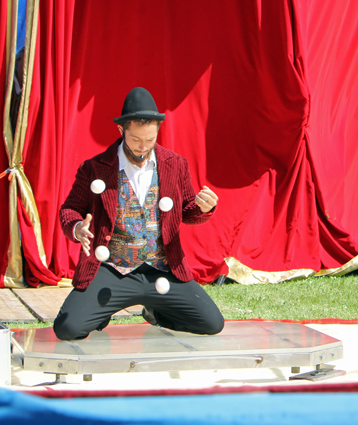 The last act in the performance was the horse act Big and Little, presented by Bernhard Kaselowsky.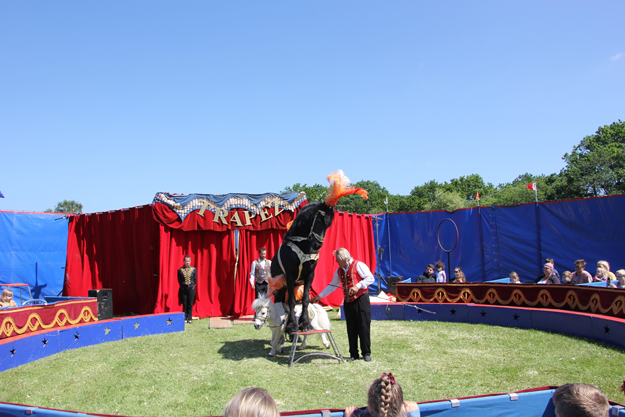 No doubt that the approx. 75 people who, like me, saw the morning show on Sunday 13 June in Vamdrup, Jutland, felt that they had a good circus experience.

12 June 2021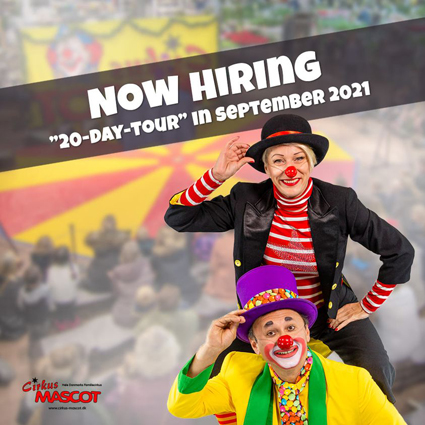 As previously mentioned, Circus Mascot has abandoned its Denmark tour and summer opening in the winter quarter in Roslev due to Covid-19 restrictions and the authorities' unusually inflexible and slow processing of the application for a work permit for their longtime clown Gulio and his family. However, they are now planning a short tour in September. Daniel Deleuran writes on a Facebook page where circus is looking for artists and artists are looking for jobs:
"We are looking for an artist family from EU with MINIMUM 3 different acts to join our "20-day-tour" in September 2021. Please note that we do NOT need the following acts: clown, hula-hoop, aerial acts, silks, diabolo or juggling! Send us an e-mail with your videos and information to daniel@cirkus-mascot.dk. We are looking forward to hear from you."

12 June 2021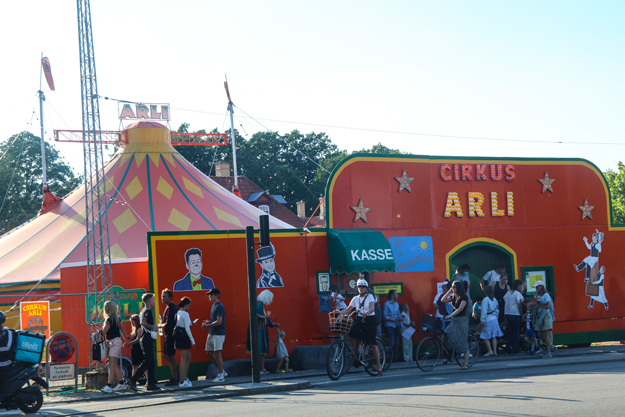 Jacob Boas Leitisstein from Cirkusportalen visited Cirkus Arli in Frederiksberg. Click here to see his photos from the show.

11 June 2021
Not any longer requirement for face mask in circuses in Denmark. So far, the authorities have required everyone over the age of 12 to wear a face mask when moving around in the tent. When you sat in your seat, however, you were welcome to take off the face mask. With effect from Monday 14 June, the requirement for face masks has been dropped in all areas except for standing passengers in public transport. Thus, from Monday you do not have to wear a face mask when visiting a circus. However, until 1 August, it is still a requirement that everyone over the age of 15 presents coronapas and ID.

11 June 2021
Circus Berdino is not a traditional touring tent circus, but the name for a number of performances which Suzanne Berdino has produced for residential homes etc. in the last few years. About the current performances she writes (my translation):
In the performance, we take you back in time, to the marketplace with antics of the best kind, from the time when Grandpa was young. Experience the singing Professor Briano, who loves magic and soap bubbles, Denmark's smartest cuddly pig Gullig, Indian ducks in liberty dressage, and last but not least happy dogs with enjoyable tricks. It's all linked together by Circus Director Madame Betty. This performance is aimed at senior centers and last approx. 30 minutes or by appointment, possibly with several guest artists. To get in the right circus mood, popcorn can be purchased. If you want further information or prices, you are welcome to contact us, on telephone 40 33 12 13 or send an email to Suzanneberdino@gmail.co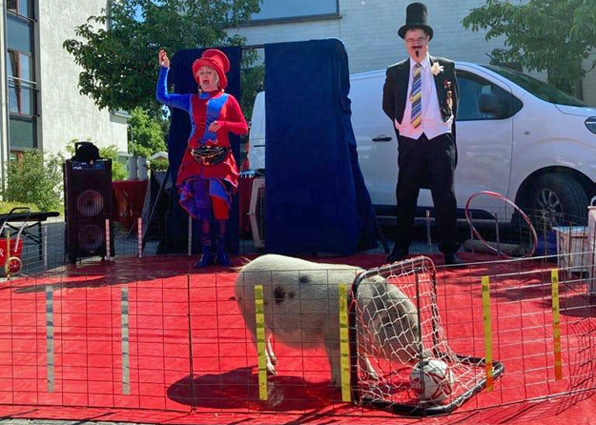 About one of the performances, a senior center in Broendby Municipality writes: "On Thursday afternoon, 45 residents watched Cirkus Berdino. Circus Berdino had a magic act, a soap bubble act, a pig that could clean up and bowl as well as dogs that could do tricks. There were smiles on lips, twinkles in the eyes and laughter along the way. Everyone stayed seated for the 45 minutes the show lasted despite the icy wind, only heated by the hot cocoa (thanks to the kitchen J) and the warm smiles and laughter. "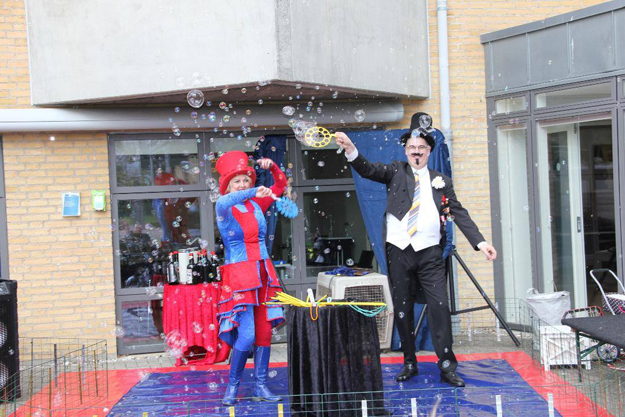 Lots of soap bubbles with Madame Betty aka Suzanne Berdino and Professor Briano aka Brian Behrendt. Both known and loved from i.a. Circusland, where they however not are this year,

8 June 2021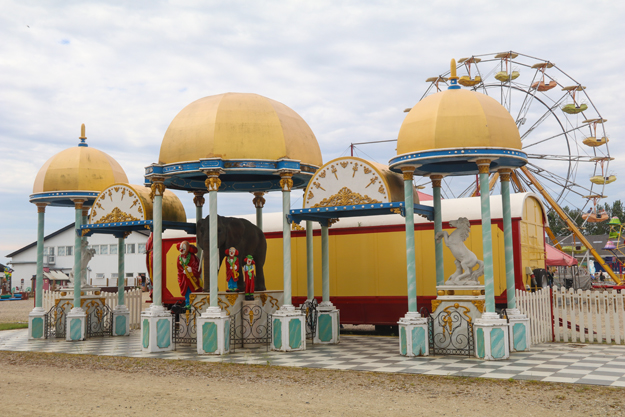 Since Easter, the theme park Cirkusland in Aarslev near Slagelse has been open on weekends and at public holidays. In the beginning only with rides, but since May 22 also with a number of shows. All photos: Jacob Boas Leitisstein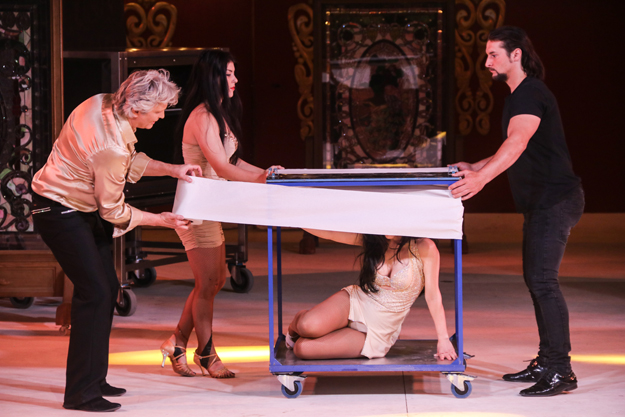 A magic show with Kim Kenneth and his assistants offers, among other things, Kim's very own version of the trick which in the magic industry is known as substitution trunk.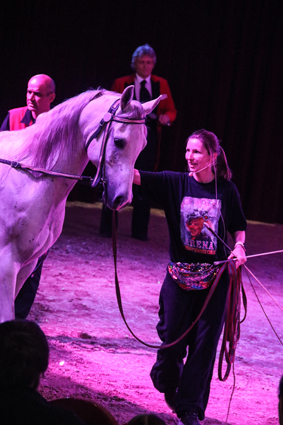 Laura Berdino shows how to train horses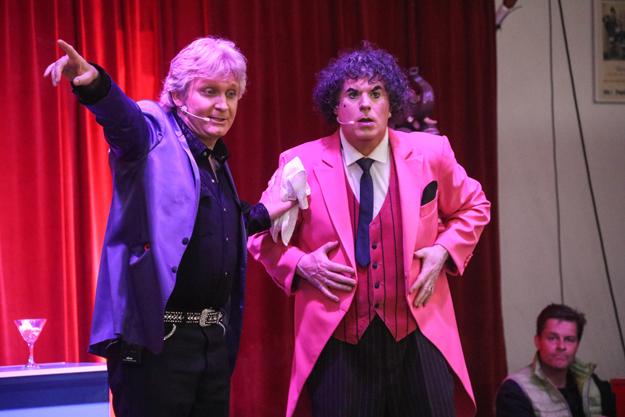 On the small stage in the playground, you meet Kim Kenneth and the clown Jimmy Folco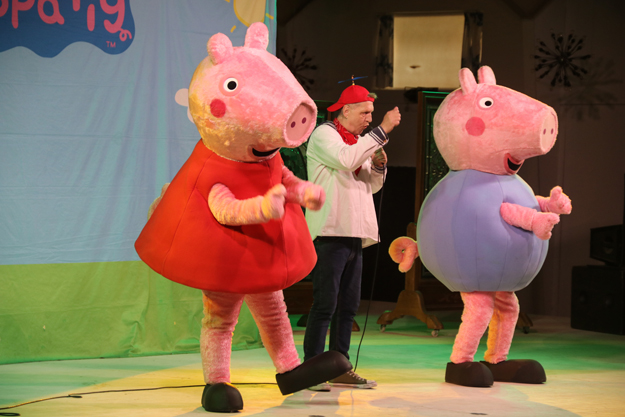 There is a children's show, here with Peppa Pig. Kim Kenneth is compère. Other days, children's shows can be with, for example, Curious George or Paw Patrol.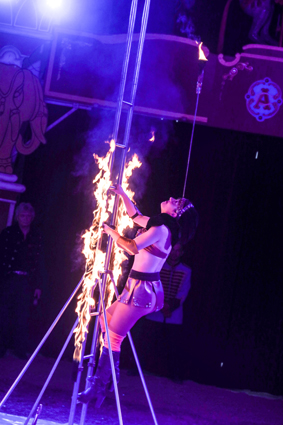 In Cirkus Landino you meet, among others, Jessica Caveagna with sword balance over a flame-laden ladder.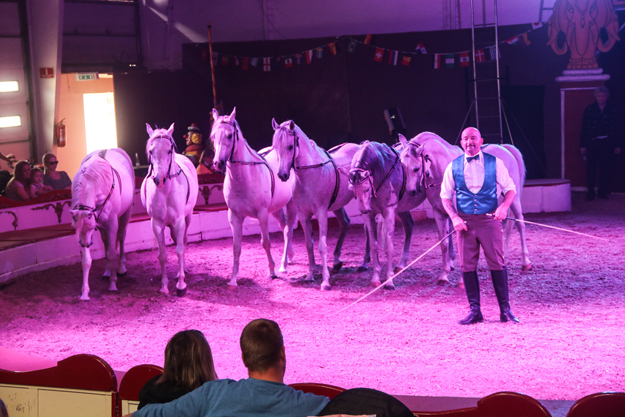 Rudy Althoff presents 6 beautiful Arabian horses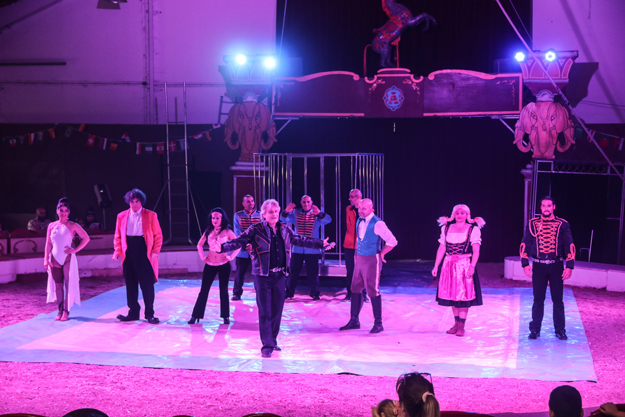 From the final in Circus Landino. Click here to see more of Jacob Boas Leistisstein's photos from Circusland.

3 June 2021
Michaël Betrian to Circus Trapez Open Air. For a number of this summer's performances, Circus Trapez has booked the young Dutch diabolo talent Michaël Betrian. The Danes saw him in 2014, when he participated in Circus Dannebrog's performance Dynamic Youth and to a very high degree lived up to the show's title. At a time he had up to 4 diabolos in the air at the same time. In 2014, he also had a bronze clown from that year's Monte Carlo New Generation Festival in his luggage.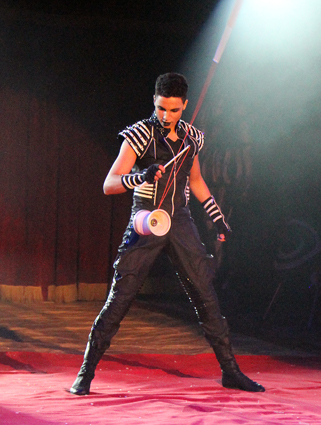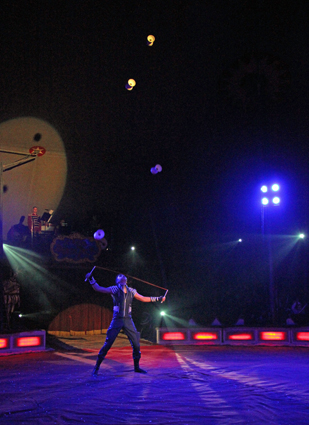 Michaël Betrian. Click here to see a number of photos from a guest appearance in 2016 in the Swedish Circus Brazil Jack

3 June 2021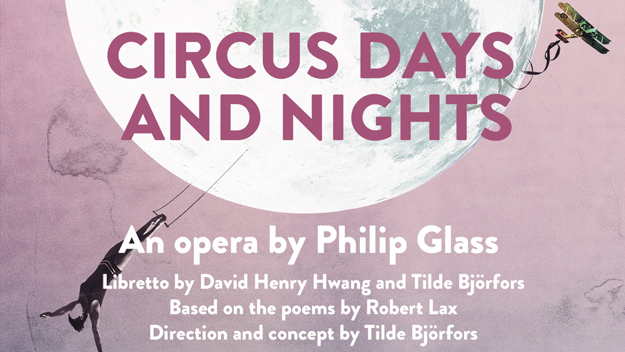 Circus Days and Nights. Several Danish newspapers have published reviews of the circus opera Circus Days and Nights, which can be streamed for a fee from Malmö Opera in Sweden. Even though the same Danish newspapers have not reviewed any of this year's Danish circus performances. The Swedish circus friend Martin Lasson Berglund has sent me the following review of the performance:
"Circus Days and Nights is a newly written opera that is performed at Malmö Opera from 29 May to 13 June. Through livestreaming you could buy tickets and see the show at home on the booked show day. This Circus Opera was art and in my opinion not a circus! Isn't circus art? Of course, but if you have seen the opera you may understand what I am thinking of. Thanks to a text machine (Surtitles) you can follow the story which would elsewise been impossible. In short, it's about circus life and artists and that circuses move from city to city. Circus Cirkör is involved in setting up this opera, but I am not impressed.
The artistry is OK but not much more if you compare with the artists I have seen at the circus. The music has been composed by Philip Glass in cooperation with Circus Cirkör's circus director Thilde Björfors and I have a hard time understanding the choice of music as it feels like they are playing the same gloomy melody for two hours! Even if it is to be an opera, the music could have been happy because circus is and should be joy, but not here and that is probably the very art of this opera.
Fun with a circus opera but I had hoped for more joy and wonderful circus music."
Click here to see a video teaser.
Until 12 June you can livestreame the performance at www.malmoopera.se/circus-days-and-nights-streaming . Language: English – surtitles both in Swedish and in English

2 June 2021
No circus awards this year. The jury of the Danish Circus Award has, after careful consideration, decided to skip this year's award ceremony. They write:
After the corona-related break in 2020, we had been looking forward to resuming the award ceremony this year. But since Covid-19 restrictions have meant that 5 out of the 7 Danish circuses have given up touring this year, we have chosen to take a break again this year. We believe and hope to see all the circuses on the roads again in the spring of 2021. We hope to return in August 2022 with a bang of an award ceremony: the awarding of the honorary award, the prize for best act of the year, the talent prize and the effort award.
Until then, we can highly recommend a visit to the two circuses that are on tour in Denmark: Circus Arli and Circus Baldoni. Or is a visit to Circusland in Aarslev near Slagelse, which offers short circus performances and other shows. Or a visit to one of the short Open Air performances which Circus Trapez present in Jutland. During the school holidays, you can also see performances at Katja Schumann's Circus Farm in the seaside resort Løkken in the northern part of Jutland.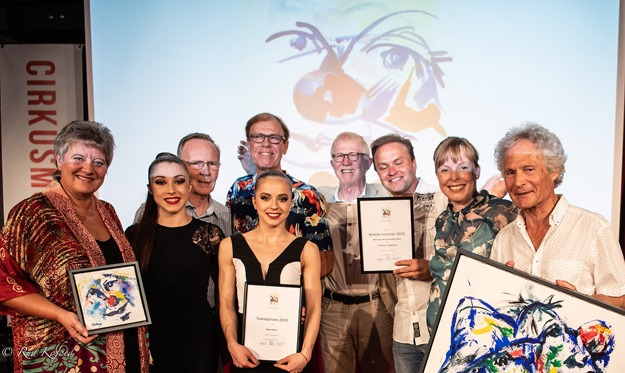 From the award ceremony in 2019. Photo: Rud Kofoed / Ajour Press

2 June 2021
Circus Jesper 2021 - theme performances in Kristiansand Zoo, Norway. Again this year, Kristiansand Zoo will have performances in their stationary circus, Circus Jesper, throughout the summer. Lasse Nørager, also known as the clown Bonbon, writes (my translation):
The premiere is June 19 and with performances through August 15.
We do not hope that Corona will create further difficulties this season, with local shutdowns or whatever else one can imagine.
In order to meet the applicable requirements for distance, we currently only sell 50% of the seats in the tent. Due to this we have again this year planned double as many performances as usual for most of the season. The pre-sale is going much better than the previous years, so we hope that we are gaining a good reputation in Norway. With the limited number of seats, we have actually already fully booked to more half of all our performances. We do hope that the restrictions may loosen up a bit during the summer so we can get even more guests...
This year's performance is a completely new production. Only my wife Tiina and mine badminton act is allowed to consist from previous production, otherwise all acts are new, although many of the characters go again, including of course former robber and now circus director Jesper. Chief of Police Bastian from Cardamom City is also present. Jesper and the Chief of Police makes together a breakaway trick (in the form of the illusion Substitution trunk). I have polished my cannon, which has otherwise been collecting dust for a few years.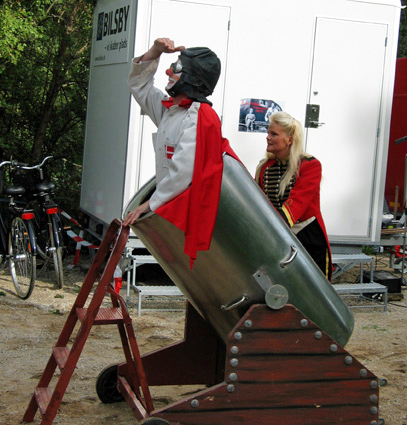 Bonbon and his cannon. Photo from 2004
Tiina's and mine children Julia and Joakim will for the first time ever show their very own knockabout table act. They are trained by Freddi Steckel. In addition, together with Freddi and Finnish Nelma Pietela, they will make a unicycle act with built-in surprises ...
Trio Csaszar from Hungary does a springboard act. They have been with Circus Roncalli and the various Bernhard Paul varieties for many years.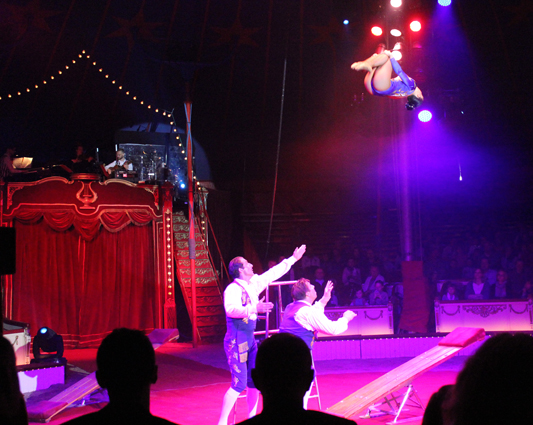 Trio Csazar
Our fine elephant Mimo (not a live elephant) will be with us and will now be accompanied by a brand new animatronic lion, which we have used the Corona winter to construct at home in Slangerup. (Lasse and his family have their home in Slangerup, Denmark).
And last but not least, we have the pleasure of having Captain Frodo in the show, both with his bucket balance and with the tennis racket act in a slightly more family-friendly version than we might know from the cabaret/variety La Clique and from Danish Zircus Nemo, though without losing Frodo's crazy and funny way of performing.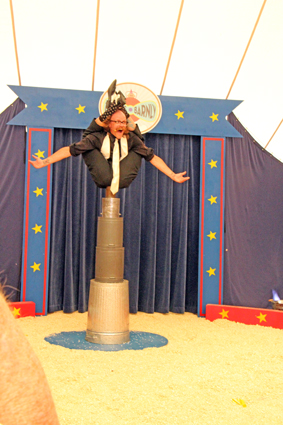 Captain Frodos and his buckets. Photo from Danish Cirkus Barnly 2018
The tent is put up, and we are now going to finalize details and getting ready for the new production.
Looking forward to getting started after another very strange year for all of us....

Link to news from 2007

Link to news from 2006