'
From Denmark
and other Scandinavian countries
Special feature: It all happens in Paris (when relevant)
A weekly updated internet magazine
Last updated : 27. November 2020
27 November 2020
Circus Baldoni 2021. They write (my translation)
Circus Baldoni can proudly celebrate its 20th anniversary in 2021. We have chosen to call the performance IT'S TOO WILD !!! And so it will be. We have put together a bang of a show with top performers on roller skates, powerful acrobats, daring aerial acts, difficult balance acts and of course we have lots of clowning and the lion Leonardo (a ventriloquist's doll).
The tented season starts at Easter on April 4 in Lyngby (Copenhagen suburb). Then the tented tour continues to cities at Zealand, Funen and Lolland-Falster until the end of August. Then we continue indoors in sports centres first at the Faroe Islands, then northern, central and eastern Jutland, after which we close the season on Bornholm by the end of September.
You can buy tickets from February 1st and we expect to announce the tour list sometime in December.
We look forward to seeing you again for a few enjoyable hours.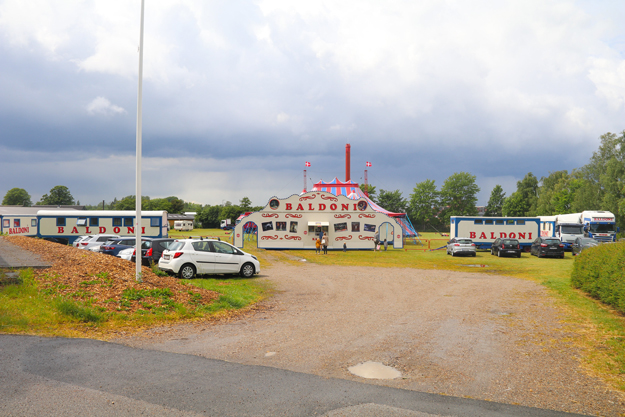 In 2020 Circus Baldoni changed the colour scheme of their wagons. They are now white with blue edges and the Baldoni name in red. Previously, they were red with blue edges and the Baldoni name in yellow. Photo: Jacob Boas Leitisstein
Circus owner René Mønster Baldoni has previously stated that he does not expect to be in the ring in 2021, as he will prioritize his career as coach for personal development. It is not known who will replace him as ringmaster etc. One possibility could be Daniel Dimitrijevic, who for several years was Baldoni's popular clown Danilo, and who during the 2020 season a couple of times has acted as a substitute for René.

23 November 2020
End of season for Circus Bambino. Billy and Ariane Weisheit's small Circus Bambino started their season in Sweden in April and had planned to end of the season in Steffanstorp close to Malmö from 20 to 22 November. However, they chose to cancel the days in Steffanstorp and are now returning to their home country of Germany. They write: «We thank all visitors for this season. We hope to see you again next year. »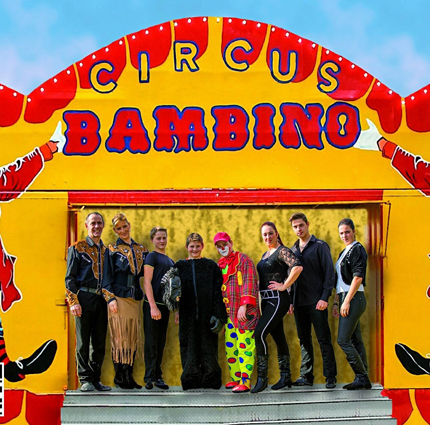 There were perhaps fewer performers than shown at this PR photo.
Throughout the season, Circus Bambino has due to Swedish corona restrictions only been allowed to have 50 spectators in the tent. With a ticket price of 100 SEK, the maximum daily income is 5,000 SEK (approx.500 Euro) + income from kiosk sales. With a 8 month tour they might be the European circus which has had the longest season in 2020.
Click here to see a video of their arrival at the circus lot in Sankt Olof, Sweden. Their rolling equipment consists of 3 trucks, one of which pulls two caravans.
Click here and here to see short video clips from this year's show

23 November 2020
IT ALL HAPPENED IN PARIS - but it happened in STOCKHOLM as well, the forties, I was 14, 88 today, but I remember this show as it were yesterday :
THE INDIAN MUSCLE PHENOMENON ABDULLAH, but he was an Egyptian, born in 1910, he featured his show at LITTLE VARIETY, located in the fun fair NÖJESFÄLTET in Stockholm, in the summer 1946, it was warm, stuffy, the heat produced smells of makeup and perspiration, it was thrilling, exotic, an appealing show, the audience came in crowds, ABDULLAH featured a show sporting muscle stunts and fakir performances - I was enthralled, never having seen such a show, it was a great experience.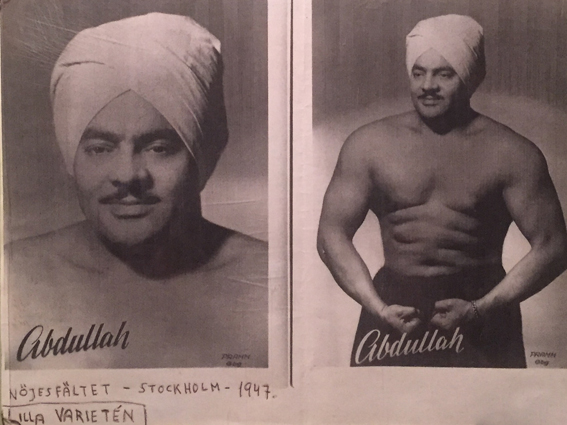 Abdullah. PR-photo from his performance at Nöjesfältet, Lilla Varieteen, in 1947. Zarro Zarro's photo of pictures from the collection of the Circus Museum at Hvidovre, Copenhagen
Now after /soon/ an entire life watching visual shows, I can point out that this was what left me both appreciating and bewildered, that such things are possible, surprises, exotism, human strength, incredible muscle stunts: ABDULLAH broke chains wired around his biceps, he was the human muscle model, la Grande Finale: lying down on a nail-bed, he held a wooden plank carrying 10 adult men on it - and did so with great success - HAPPY ENDING !!
ABDULLAH was able to stop his heart beat for a while - a fakir stunt, seldom featured today.
----------------------
Abdullah was in GERMANY during part of the WW2, as Egypt was ruled by UK, he went for a while to prison, escaped and came to Denmark and neutral Sweden, where he performed at fun fairs and circuses.
(Editor's note: In Denmark, he performed at the amusement park Bakken north of Copenhagen. He was also for several seasons at Danish Cirkus Arena, most recently in 1973, where he also starred in the slightly naughty film «The hottest show in town», which was recorded in Circus Arena's tent).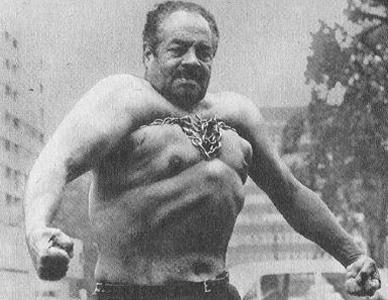 Abdullah with the chains. Unknown year
He eventually settled down in Swedish town GÖTEBORG, married a Swedish girl and worked as a yoga teacher.
All his life he spoke a mixture of Danish and Swedish.
He died in 1984 and was buried in Västra kyrkogården in Gothenburg. His grave is adorned with a blasted chain.
See more at https://www.gravsted.dk/person.php?navn=abdullahel-hag
--------------------------------
THE STRONG MAN, a classical circus act:
DENIZ ILCHENKO, known from Danish and Swedish shows//
URSUS from ICELAND/ ROSLAGSBJÖRNEN and STRONGMAN ARVID from SWEDEN, now passed away -
strongman and tent-master HERKULES, was with CIRKUS ASTORIA, SWEDEN, in the forties.
They all deserve being remembered !!!
------------------------------- ZARRO ZARRO.

18 November 2020
Baldoni's Christmas Circus 2020. Jacob Boas Leitisstein saw the performance on November 14 and writes (my translation):
Christmas is coming and true to tradition, Baldoni's Christmas Circus is ready with a cozy Christmas show. The Christmas season kicked off on Saturday 14 November, when the Fencing Hall in Avedørelejren, as always, formed the setting for the Christmas premiere.
The premiere took place safely and securely with a good distance between the members of the audience.
The show is as always presented by Nis and Nisseline (Daniel Dimitrijevic and Cindy Binau), who this year has brought a new Santa friend with them: Nissenova (Debbie Binau). The focal point of this year's performance is that the Christmas barometer has gone all the way to the bottom and therefore a lot of Christmas atmosphere must be gathered together so that the Christmas barometer can once again go all the way to the top.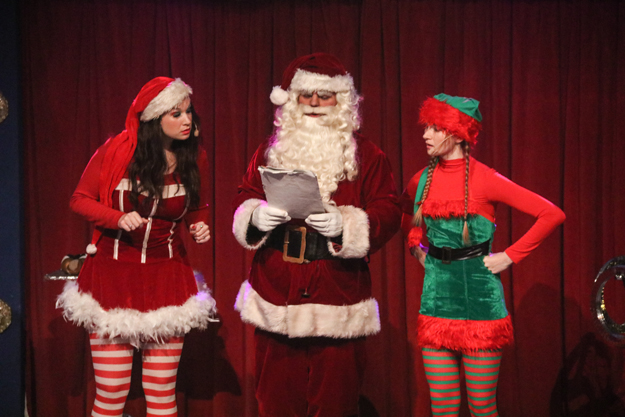 Nisseline (Cindy Binau) and Nissenova (Debbie Binau) along with Daniel Dimitrijevic, who has the dual role as Nis and Santa Claus. All photos: Jacob Boas Leitisstein
The first act in the ring was Trio Janecek with a fast-paced juggler entrée. The trio consisted of father Eddie together with sons Kaya and Rudi, who juggled with clubs, balls, rings and table tennis balls.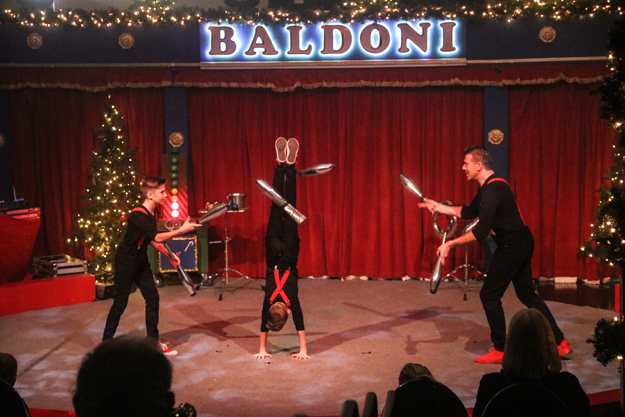 Trio Janecek
Then Nis and Nisseline entered the ring with came with song and magic and presented the next artist: Ernita Ronzalli. Ernita did a nice act with hula hoop and was followed by Christmas song with Nis and the Christmas pig Anton (a ventriloquist's doll). And then Duo Platschkov - Aline Caroll Chabri and Stefan Platschkov – was ready in the ring. They presented a fine ladder balance act filled with balance, precision and juggling.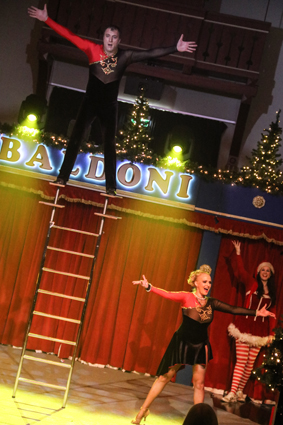 Stefan Platschkov with ladder balance
The last act before the break was a reunion with the Janecek family's cowboy act from Cirkus Baldoni's 2019 performance. A number that offers loud whiplash, big lasso throws and thrilling knife throwing.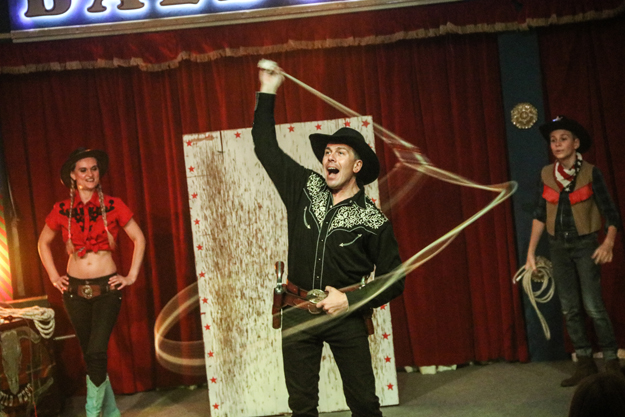 The Janecek family as cowboys
After the break, Santa Claus (Daniel Dimitrijevic) came in through the ring and presented the next number. This time Stefan Platschkov was alone in the ring presenting his act with cube juggling.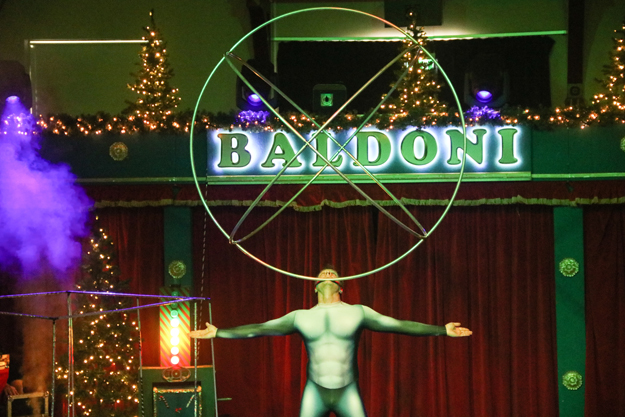 Cube juggling with Stefan Platschkov
Then Nis and Nissenova came and did a short magic act before welcoming Eddie Janecek. Eddie entered the hall with his humorous plate spinning act.
The spinning plates were followed by a powerful number from this year's Baldoni performance: the strong man Denis Ilchenko. Here, one power performance was surpassed by the other. During the act you can e.g. experience Denis bending iron and lifting a tree trunk with his teeth. The act ends with as many as 10 people standing on top of Denis.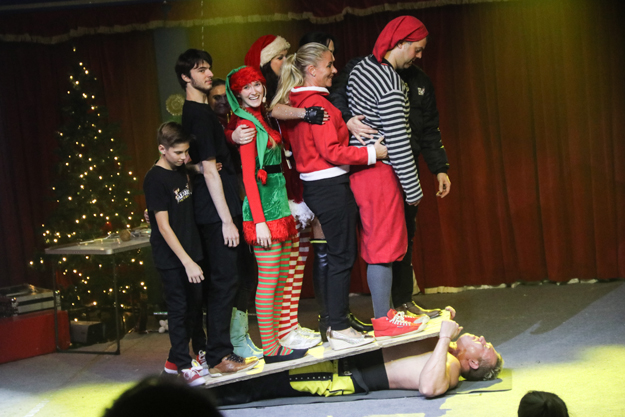 The muscleman Deniz Ilchenko with 10 people on his stomach. Slightly older circus visitors may remember that Abdullah did a bit in the same style in Circus Arena's infancy.
Before the last act of the show, Nisseline and Nissenova were ready with a dance entrée. After this, Duo Platschkov presented their strong juggler number, where they i.e. were juggling bouncing balls. The act ended with an impressive piano concerto, where Aline Caroll Chabri played several different melodies with the balls on a keyboard.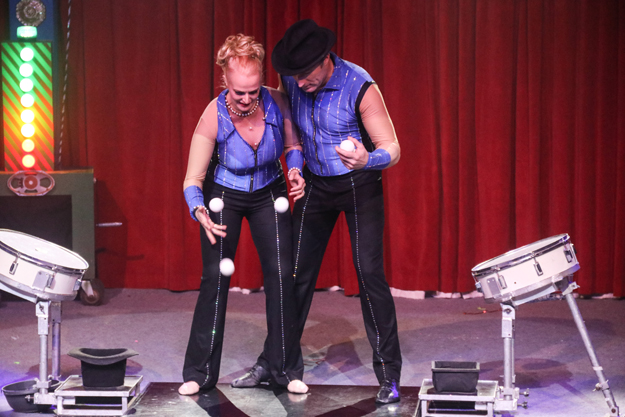 Duo Platsckov. Click here to see more photos from the show
Baldoni's Christmas Circus can be seen indoors in sport centers etc. on Zealand and Lolland-Falster until and including Sunday 20 December.

17 November 2020
Obituary: Arild Arnardo. The Norwegian circus director Arild Arnardo passed away in his hometown of Lillesand in Norway on November 16 in the afternoon. He was 78 years old.
Arild Arnardo was seven years old when his father Arne Arnardo in 1949 started Circus Arnardo, which today is Norway's oldest and largest circus. In 1987, Arild and his wife Bjørg took over the management of Circus Arnardo. No one has run a circus in Norway as long as Arild Arnardo.
He started his circus career as a tent worker in his father's circus. He later developed an act, where he appeared as a vagabond on bouncing rope. An act, he had been taught by the Danish artist Linon. For the past many years, however, it has been the operation of the circus he has taken care of, in recent years with the good support of his son Are.
As the only Norwegian, Arild Arnardo has twice been a performer at the Circus Festival in Monte Carlo: one time with his wire act and one time with his elefant Sandra. In 2015, he and Bjørg received the Norwegian King's Medal of Merit, followed by an audience with the King and Queen at the castle in Oslo.
Arild Arnardo is survived by his wife Bjørg, their son Are, their daughter Helen, their daughter-in-law Paoline and her and Ares' two children.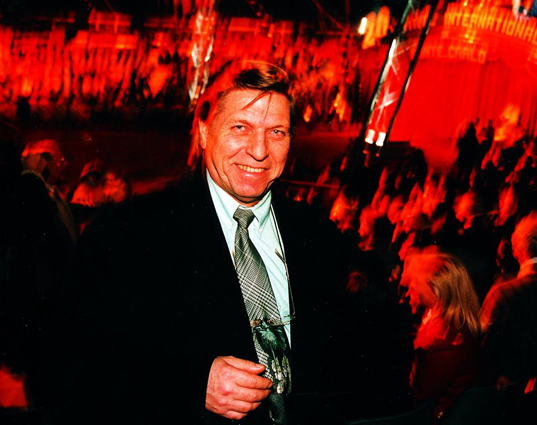 Arild Arnardo

16 November 2020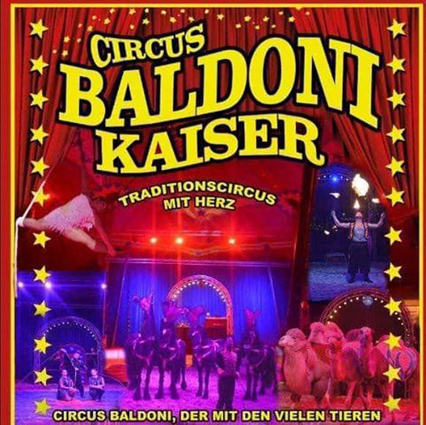 René Mønster Baldoni's Danish circus is not the only circus using the Baldoni name. In Germany there is a circus called Baldoni Kaiser. The owner is Anton Kaiser. In contrast to the Danish Circus Baldoni which is an all-human circus, he calls his business the circus with the many animals. However, they do not have wild animals such as predators or elephants. During the summer and autumn, they have had performances in Bogenhausen (a district in Munich). Several times with free admission. Of course hoping for voluntary contributions from the spectators. - The German circus is probably older than René's circus. However, René had no idea that others were using the name Baldoni when he chose it in 2002. A couple of years ago René changes his surname to Baldoni.

16 November 2020
News about the 2020 season in Norway. I have previously mentioned Sirkus Jesper in Kristiansand Zoo. Thorbjørn Klæbo Flo has sent me information about a Norwegian contemporary circus. He writes (my translation):
The circus village (Cirkus Xanti) has been on a mini tour. Sandvika and Oslo. With only their three smallest tents. The two slightly larger tents were not used as they are heavy built and they lacked a professional tent crew.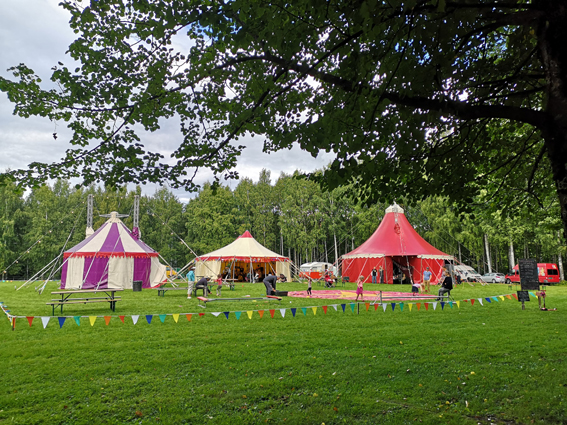 The circus village with the 3 tents. All photos: Thorbjørn Klæbo Flo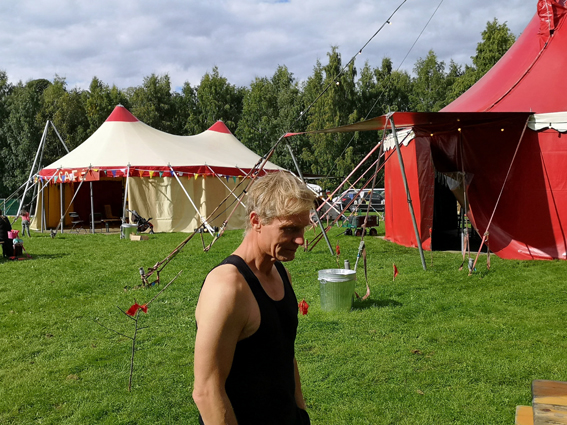 The world's smallest 2-pole circustent with a diameter of only 6 meters.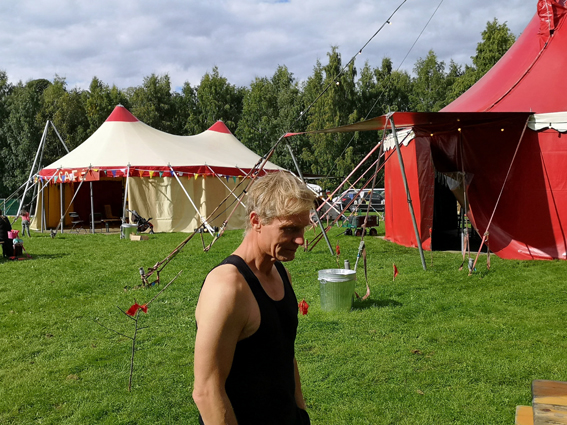 The Danish artist Palle Bay Henriksen aka Mr. Toons was among the performers. Here he is seen at the circus lot.
Sverre Waage from Cirkus Xanti still cooperates with Rune Berny and he only had two tent workers at work. Sandvika 28 - 30 August and Oslo 4 - 6 August. They were also on a mini tour in Oslo's districts x 4. One was canceled due to rain as they worked without tents. After a tent tour they was again out in some districts and the Norwegian well-known contortionist Captain Frodo worked in the show. The circus village with 5 tents is Norway's largest contemporary circus and is supported by cultural funds. Therefore they do not have the 6 month tour which is usual for most classic circuses. They have no governmental corona support but as I said operation based on support from culture funds as it is the case for most Nordic contemporary circus companies.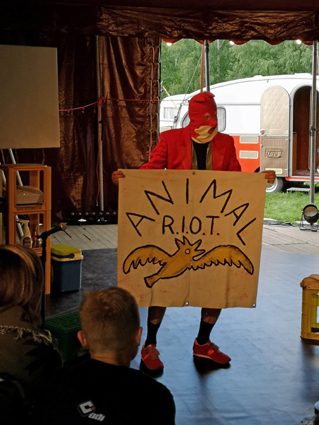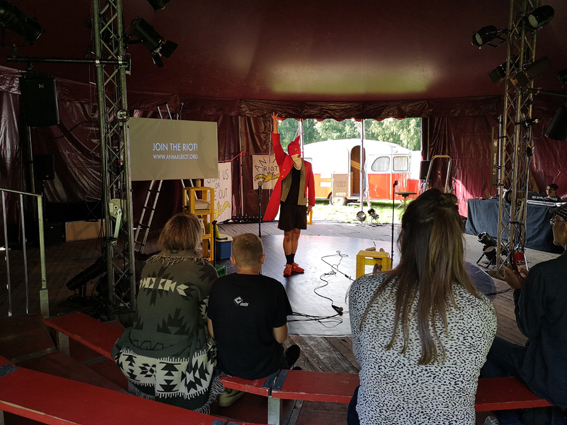 Figure theater performance. Animal R. I. O. T. Mr Toons from Denmark, now living in Oslo, was also amongst the performers. But I did not make it to the performance. But it was time for a nice chat. - Animal R.I.O.T. is a group of people from all over the world advocating for an Animal Resurgence In Our Time.
You can read more about Cirkus Xanti / Sirkuslandsbyen at https://www.cirkusxanti.no/

15 November 2020
IT ALL HAPPENED IN PARIS -- MAGICAL STUNTS & EFFECTS 2:
I responded to the challenge: finding the land of ENTERTAINMENT, not easy but necessary if you want to stay in business.
I like to look at the concept of ENTERTAINMENT as one or more interesting, rather funny and sympathetic moments and experiences.
Having spent much time and many considerations on this topic, I discarded - CARD TRICKS.
Knowing that I am pretty much alone having this opinion, I risk my skin saying that "finding a chosen card" - is an experience that would come at the very end of a list of possible events, listed in a sociological research list, using scientific methods.
To me this action is of poor interest, I take it that few people would be enthralled.
The card performer usually choses a young, goodlooking woman, who responds smiling brightly when her card re-appears.
Most probably she is indifferent to the happening, but - maybe not getting too much attention and appreciation in every day life - she is now THE PERSON - and this is a booster to her personality and self esteem, hence the big smile !
I have been pondering a lot on how to make a card stunt palatable and interesting - no easy task !!
Eventually I found a possible way out of the dilemma: Change the NAME.
GOING FISHING !!
The card that is found at the end of a rope dropped down into a hat -- can be refreshed:
A shopping bag, decorated with a shark, is shown empty, a number of cards are dropped into it, a person is asked to say STOP, this card is shown clearly for later identification, it is thrown into the bag, the performer goes fishing using a rope - and, using much strength, he withdraws a toy-shark that is holding the very card in his mouth !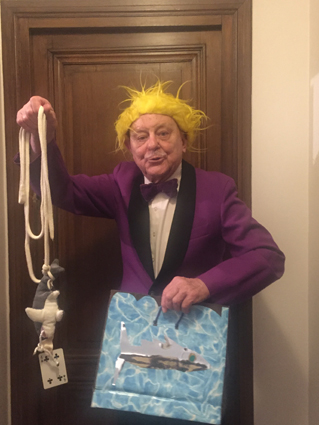 Zarro Zarro with the props for Going Fishing. Photo : Marie Louise Djomguem
GOING FISHING demands a minimum of acting, is well received by both adults and kids.
It can be prepared with JUMBO CARDS, clearly seen even at big locations.
I DID IT MY WAY -- the audience enjoyed a good moment.
-----------------------------------ZARRO ZARRO.

13 November 2020
Baldoni's Christmas Circus. It premieres in the Fencing Hall at the Circus Museum in Hvidovre, Copenhagen, on 14 November. After that, 24 cities will be visited on Zealand, Lolland, Falster and Moen until the tour ends on 20 December in Gilleleje.
There have been some changes in relation to the performers I mentioned on this page on October 23, as it was doubtful whether some Latvian artists could come to the Denmark. Instead, Cirkus Baldoni has engaged Duo Platschkov aka Aline Chabri and her husband Stefan Platschkov.
Aline is daughter of the clown Toto Chabri. Under the artist name Line Carol, she made her debut with Benneweis in the Copenhagen Circus Building in 1984 with a formidable juggler entrée which she started playing drums. With the same act, she was with Circus Arena in 1986 and 1987, with Circus Dania in 1989 (short season as the circus went bankrupt), with Circus Benneweis in the Copenhagen Circus Building in 1990 and with Benneweis in the in 1998 and 2001. In the autumn of 2004, Danes saw her at Charley Kaye's Red Inn Theater in Copenhagen. Sometimes she uses the artist name Lynn Carol or Lynn Caroll Chabri. Aline has many good memories from the seasons in Denmark, and she has for a long time dreamed of coming back. She is the older sister of Martyn Chabri, who was with Baldoni this summer.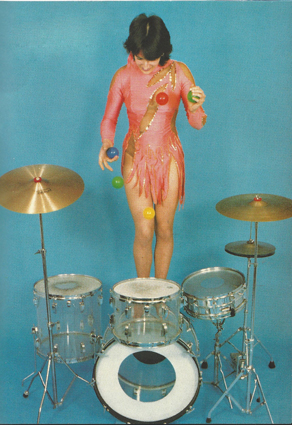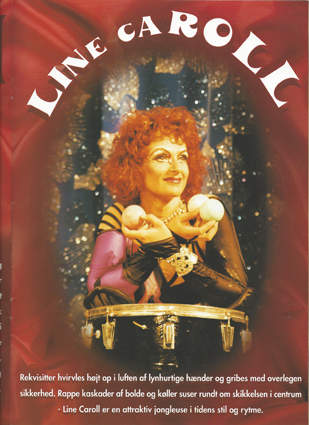 Line Caroll Chabri. Photos from Benneweis' printed programs 1984 and 1998
Her husband Stefan Platschkov's specialty is juggling (or rather rotating) large cubes. He was a member of the Moisseeva troupe, which toured with Circus Dannebrog in 2002, and performed just as Aline at Red Inn Theatre in 2004 using the artist name Stefan Kubik.
Today, the couple often performs under the name Duo Platschkov. Under this name, the Danes met them in Cirkus Arena in 2012, where they presented a juggler / bounching act where Alina, among other things, played a piano concert with five tennis balls hammered down on a large keyboard. Today, the couple's acts also include ladder balance with juggling on the ladder.
This year's Christmas show is presented by Daniel Dimitrijevic, also known as the clown Danilo, and his girlfriend Cindy as Nis and Nisseline.

12 November 2020
Obituary: Audrey Dorothy Dahl. As artist she worked with trained dogs and horses. She was born 21.09.1951 and passed away 14.10 2020
She worked for the first time in Norway in 1973 with Rosaire's dog show in Cirkus Berny's ring. The same year she also assisted David Rosaire when he presented his dog act at Circus Benneweis in the Copenhagen Circus Building.
In 1975 she came to Norwegian Circus Merano under the name Miss Audrey Duval with 12 dogs. Direct from Cirque du Hiver Bouglione in Paris.
Circus Merano's first season was in 1975. She felt in love with circus owner Knut Dahl and she stayed in Norway and married Knut Dahl. In 1977, she presented the circus' 8 Shetland ponies. She continued to work with horses in Merano's ring for many seasons. Norwegian Fjording horses and Arabian horses. Later she designed and sewed high quality costumes. Among other things to Jan Ketil Smørdal's very first circus season at Circus Merano in 1982, later also costumes for the magician Roy Bjerke.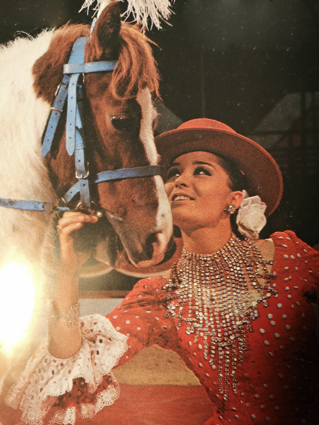 Audrey Dahl. Photo: Turid Beth Hansen, press agent for Merano
Later she retired from the ring and had a flower shop famous for creative flower arranging.
I remember Audrey as an always cheerful and welcoming warm person. Thank you for good conversations in Fredrikstad and Oslo with Cirkus Merano for many seasons and when I visited Knut Dahl at Fetsund.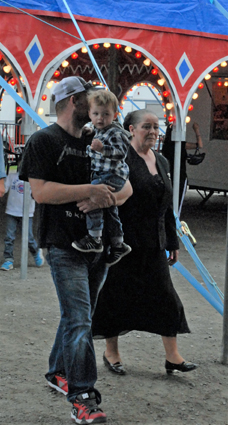 Audrey Dahl with her son Knut André and a grandchild. Photo: Thorbjørn Klæbo Flo
R.I.P. Audrey, sympathizes with Knut, Knut Andre and Merete and the grandchildren and Audrey's family in England.
Most heartly
Thorbjørn Klæbo Flo and family.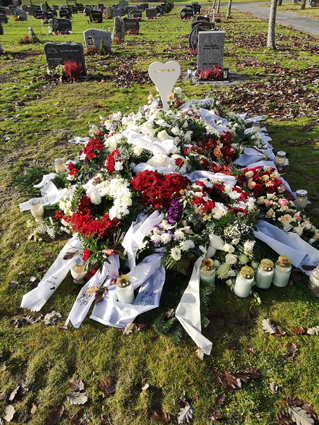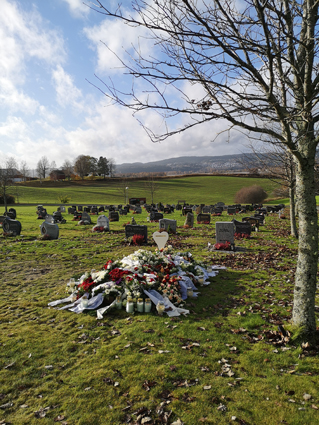 Photos from the Fet churchyard in Fetsund

6 November 2020
Circus in the Nordic contries 2020. The only large circus which was on tour this year was Finnish Circus Finlandia. They started the season on August 6 and ended on November 1 in Helsinki. Among the performers were Fumagalli, the cat trainer Vlad Olander and the super juggler Alan Sulc.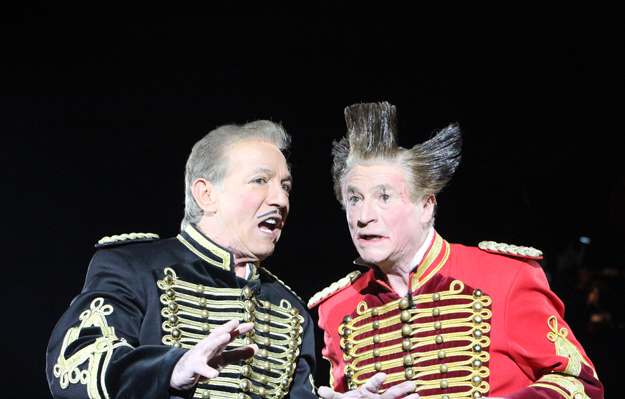 The Danes saw Fumagalli and his brother Darix first time in Circus Benneweis in 2003 and 2006. The Swedes in Circus Scott in 2002 and 2012. The couple's most popular entrée is Fumagalli's drunken man version of the classic Busy Bee, give me the honey. The photo is from German Circus Krone in Munich 2018.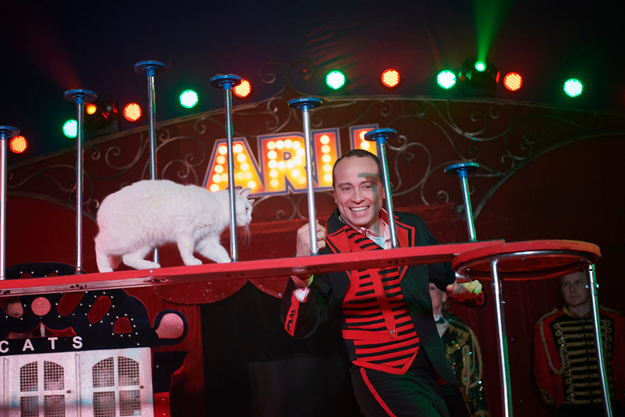 Vlad Olander and one of his cats. Photo: Rud Kofoed / Ajour Press. Vladislav Olander was with Danish Circus Benneweis in 2009 and 2013 and with Danish Circus Arli in 2018. The Swedes met him in Cirkus Maximum in 2008 and in Cirkus Brazil Jack in 2011. In 2012, the Finnish audience saw him for the first time in Cirkus Finlandia. His cat act is considered one of the very best on the market. In 2018, it was nominated for the award for the best act of the year by the Danish Circus Award.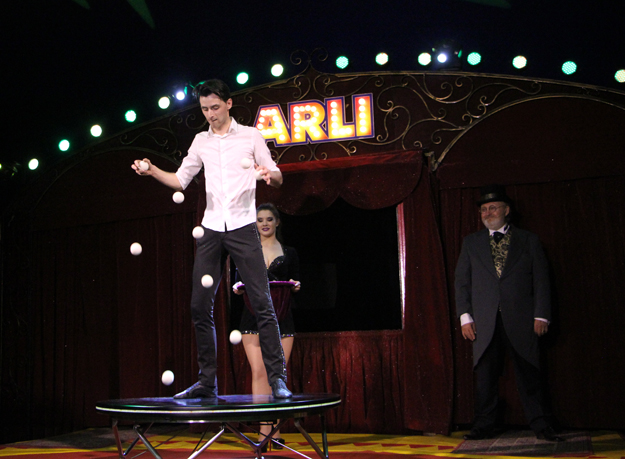 Alan Sulc - a world class star. Only 12 years old, Allan Sulc won gold at the European Youth Circus festival in Wiesbaden. In January 2004, as one of the youngest artists ever, he got a bronze clown in Monte Carlo. Later that year he was with Danish Circus Benneweis, where to the tunes of Safri Duo's music he bounced the juggling balls down in his podium with incredible speed and safety and became the top act of the year. In 2019, he was with Danish circus Arli and was among the nominees for the Danish Circus Award's prize for the best number of the year.
The small Circus Tähti was also on tour in Finland with tour starting in June. The season ends November 7 in Koskue. Among this year's performers are the Di Lello clowns, known from Cirkus Dannebrog in 1999 and 2004.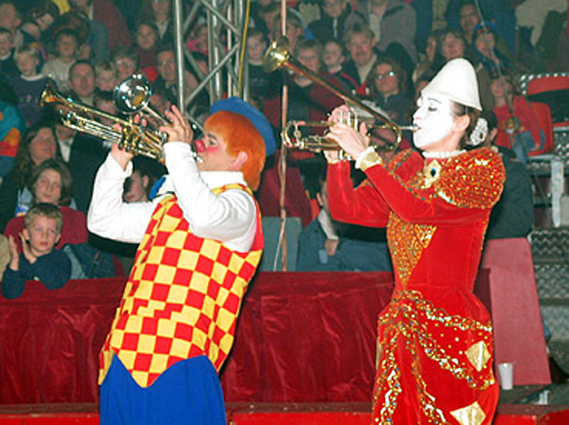 Alan and Jenny Di Lello in Cirkus Dannebrog 2004
The first circus which came on tour in the Nordic countries was the German Weisheit family's very small Circus Popcorn, which toured in Sweden from 7 to 19 March.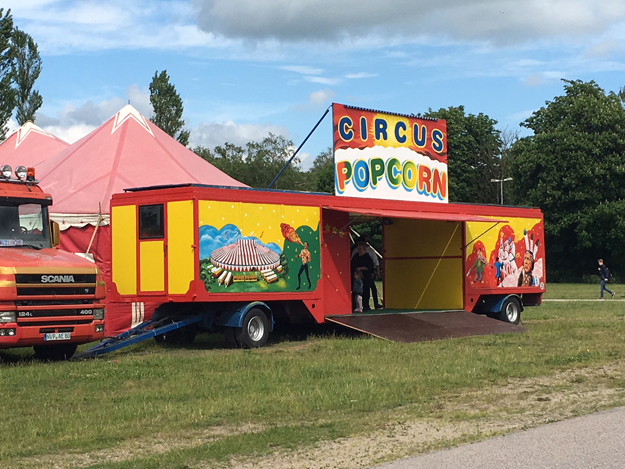 Circus Popcorn. Photo shot by Martin Lasson Berglund in 2017
Billy and Ariane Weisheit's little Circus Bambino got a longer season. They have been touring in Sweden since April and accepted that according to the Swedish rules, there must be a maximum of 50 spectators in the tent. The performers have probably been Billy and Ariane Weisheit and their children. On November 5, they had reached Kivik in Scania. Unknown how long the season will continue.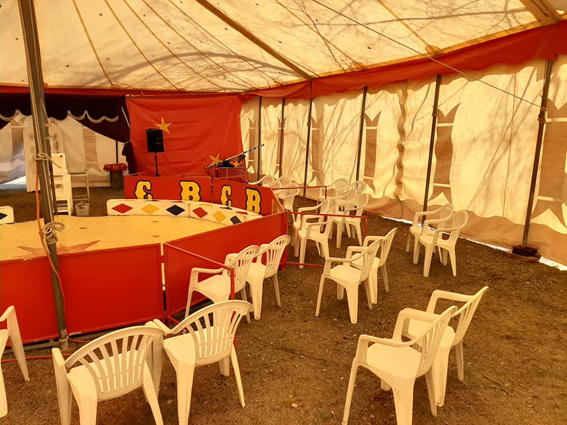 As can be seen from the picture, the corona meant that only a few chairs were put up in the tent.
The only circus in Norway was the stationary Circus Jesper in Kristianstad Zoo. They premiered June 16 and ended the season on August 9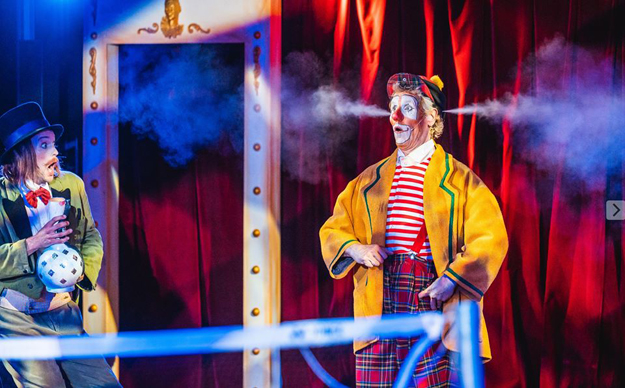 Lasse "Bonbon" Nørager writes: "With 8 weeks, and almost 100 shows of this "corona-edition version 2.1." (with a limited number of seats in the tent), we actually manage to top the number of visitors from last year! Thank you to our fantastic team of artists, actors and crew". Sirkus Jesper is a theme performance based on characters from Thorbjørn Egner's When the Robbers Came to Cardamom Town.
In Denmark, only Cirkus Arli and Cirkus Baldoni toured. Both had to live with the fact that they only could admit a reduced number of spectators into the tent, as there had to be only 1 spectator per 2 square meters.

5 November 2020
Kolding Christmas Circus. Circkus Trapez intent to present a Christmas circus in Kolding from 19 December 2020 to 3 January 2021. Davis Sosman writes (my translation):
Cirkus Trapez presents the 1st Kolding Christmas Circus. For the first time ever, you can experience a real Christmas Circus performance next to the Castle Lake in Kolding, in a cozy well-heated circus tent. The performance last a little less than 1 hour and is with Santa himself. Look forward to experiencing fantastic Santa Artists, and not least our lovely goats and horses. Step into our magical Christmas universe and enjoy our show together with those you love.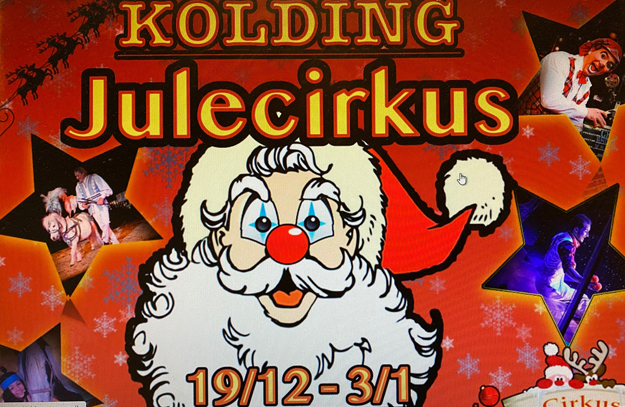 Kolding is a Danish seaport located at the head of Kolding Fjord in the Region of Southern Denmark. With a population of 90,066 (1 January 2014), the Kolding municipality is the seventh largest in Denmark.

5 November 2020
Fewer Christmas performances at Wallmans. Usually, Wallmans in the Copenhagen Cicus Building has presented shown a special Christmas edition of their dinnershow every Wednesday, Thursday, Friday and Saturday in November and December until Christmas. The corona has meant that many Christmas parties have been canceled. That is why Wallmans has chosen to cancel some of the performances. In November, the show can only be seen on Fridays and Saturdays. From 3 to 19 December it can be seen Thursdays, Fridays and Saturdays. Due to the corona there is only a limited number of seats per. evening.
Wallmans takes Covid-19 security seriously: The circus building is disinfected on arrival. All guests are fever scanned at the entrance. Each party is shown directly to the cloakroom and then to their table on arrival. Companies on min. 4 people get their own table with good distance to other guests. Distance controllers & Corona Maids are looking for distance, safety and spraying. Everyone should wear a mouthpiece, however not when sitting down.

4 November 2020
IT ALL HAPPENED IN PARIS but as well elsewhere in the world, I performed mainly in a cabaret context. inspired by OLE SIMONSEN, editor of www.circus-dk.dk I have put together some of the - apparently - magical stunts and effects, elaborating on the modus operandi /WHAT THE AUDIENCE SEES/, of said effects.
No revelations of secrets, that are no longer so - if at all they were - being explained in books and YouTube for all to see.
My entire career as an artist /semi-pro/ was geared to the common public, the key word: ENTERTAINMENT !
My comments are mine - based on experiences from soon an entire life span, with PUBLIC AUDIENCE, ups and downs, and - a couple of OOHPS.
Colleagues surely have different options, that I respect, without engaging in a sterile debate.
RESPECT !
ZARRO ZARRO.
MAGICAL STUNTS AND EFFECTS 1
THE SPIRIT CABINET
Description of the act / WHAT THE AUDIENCE SEE AND HEAR:
Two performers, usually a man, presenting the act and a woman, playing the role of the medium.
One man from the public is invited up onto the stage to act as a controller.
The cabinet is inspected, the man from the audience ties the "medium's" hands and feet, she is led into the cabinet where various objects are displayed: a whistle, a tambourine, a candle, a long rope, some balls, a newspaper, a pair of scissors.
The curtain covering the front of the cabinet is closed, at once there are whistling sounds and noise from the tambourine, the candle is lit, the rope is thrown out but now having several knots, balls are likewise thrown out as well as the newspaper where a big star has been cut out.
The cabinet is opened, everything is controlled, the "medium" is still firmly tied !!
This scenario is repeated, but now the "medium" gets a trumpet on her lap, the curtain is pulled, the presentator starts playing a few bars from the opera AIDA on his trumpet, but is interrupted by - the same melody being played inside the cabinet !!
The curtain is opened, the "medium" is still firmly tied !!
The last stunt:
The man from the audience gets dressed in a black waistcoat, it is pointed out that the lining is white .. his hands are tied and he gets a blindfold, preventing him from seeing anything.
He enters the cabinet where the "medium" is.
A few seconds pass, a signal is heard, the curtain is pulled open, the man is still wearing the waistcoat but it is now turned inside-out so the white lining is seen !!
In a different presentation the man keeps his jacket on, enters the cabinet, curtain is pulled, when it is opened the "medium" is wearing the man's jacket --- UNDER the tied ropes !!!
The knots are examined, they are still firmly tightened.
The assisting man gets a big thank you - and there is a strong applause !!!
The success of THE SPIRIT CABINET is based on a lively, interesting, clear and humorous presentation which all the same should be delivered as quickly as possible, and on the quick work and somewhat contorsion-like performance by the medium.
Click here to read more about the spirit cabinet.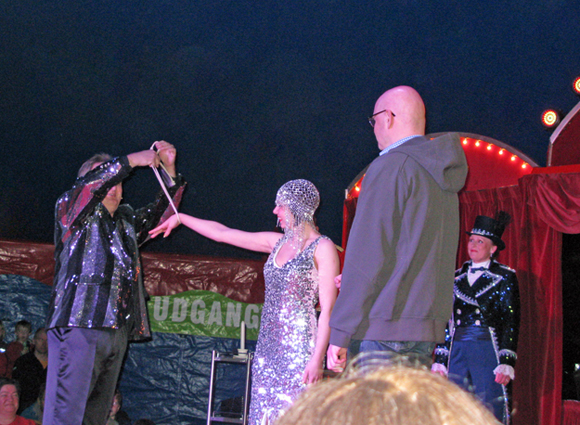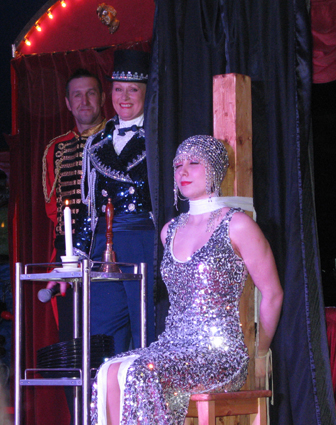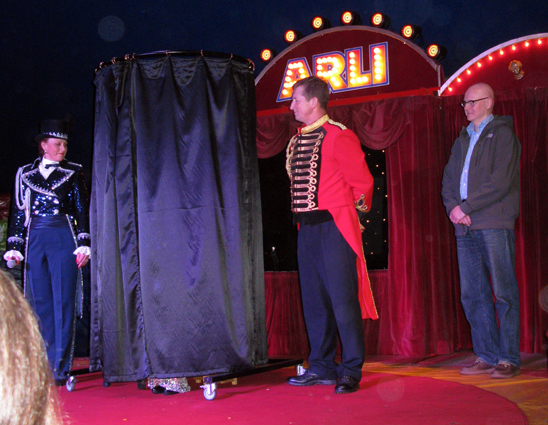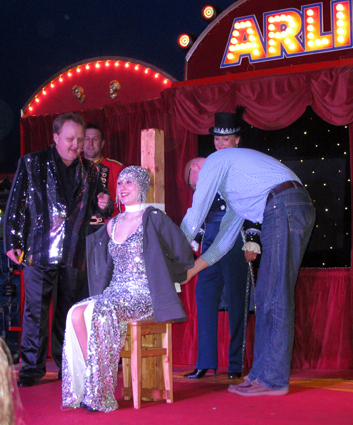 THE SPIRIT CABINET featured in 2011, by Director of Danish Circus Arli, Martin Arli and performed with circus artist Miss Evgeniya as medium. They used the version where the man with the jacket enters the cabinet, curtain is pulled, when it is opened the medium is wearing the man's jacket.

29 October 2020
Assembly ban and circuses. Denmark has reduced the maximum number of people who are allowed to gather in public from 50 to 10. However a number of exceptions apply to the assembly limit. In circuses, theaters and cinemas where people are sitting facing the screen, stage or ring there can be 1 visitor per. 2 m2 floor area, however a maximum of 500 people. Mouthpieces are required. However, the requirement for mouthpieces does not apply when the audience is sitting down.
It is recommended to keep at least 1 meter distance to each other and 2 meters for physical activity, physical exertion and for strong exhalation. This means that in a circus there should be at least 2 meters distance between the performers and the closest seated spectators.

27 October 2020
René Mønster Baldoni stops as circus director. René still owns Danish Circus Baldoni, which continues to run with René's girlfriend Camilla Frimann as daily manager. But René himself will no longer be in the ring as the one presenting the show - someone else has been found for that task. Instead, René will dedicate his career to be a lecturer and coach in personal development. He says he always has dreamed of telling others about how they can live out their potential.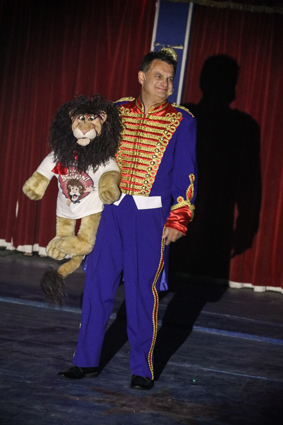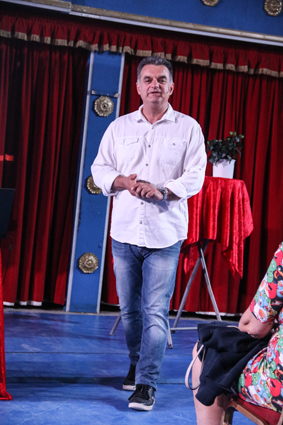 From circus director and ringmaster with the lion Leonardo to lecturer and coach. Photos: Jacob Boas Leitisstein

26 October 2020
More photos from Circus Trapez Mini show. David Sosman has sent me some photos from the autumn performances in Arrild Holiday Centre. They can be seen below with supplementary texts about the performers. Finn Stendevad-Nielsen wrote about the performance on this website on 23 October.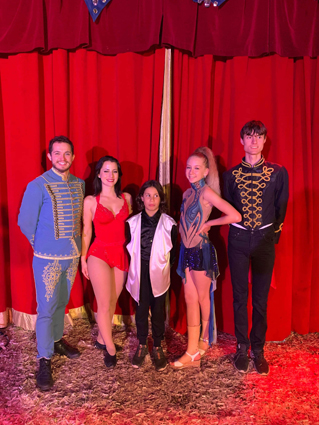 The performers: From left to right David Sosman, Simona Rhodin, Gabriel, Nynne Hulsig Samuelsen and the assistant ring master Magnus. In addition to them, also Bernhard Kaselowsky was in the ring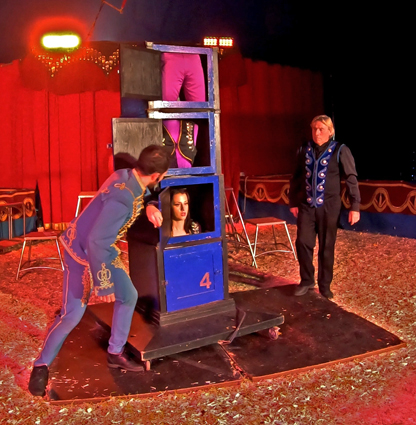 The start act with the artist as an assembly kit. Pictured are David Sosman, Bernhard Kaselowsky and inside the second box from the bottom the head of Simona Rhodin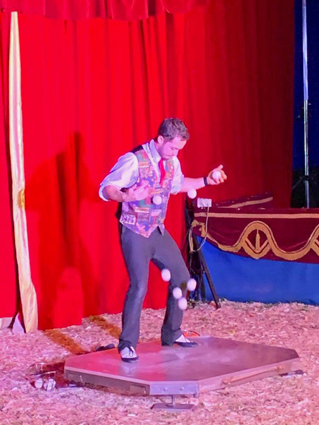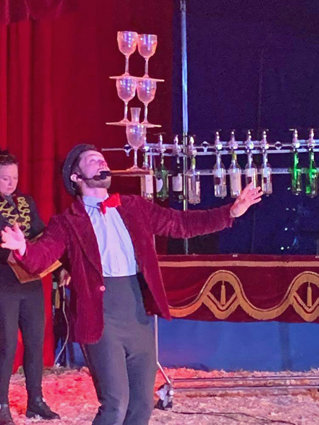 David Sosman with resp. balls and glass balance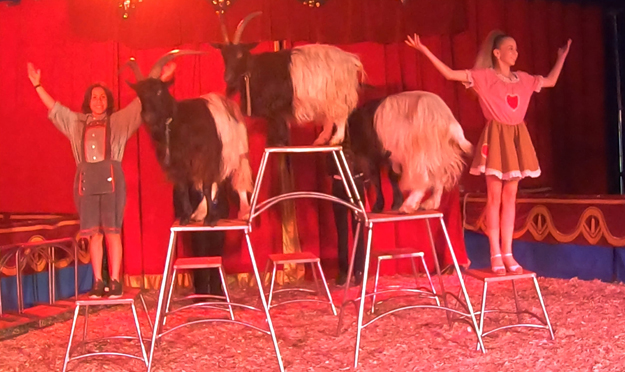 Gabriel and Nynne with the goats. Nynne, who is from Frederikshavn, had the character of the Indian boy Yakari in Cirkus Trapez' 2019 performance and should also have been with them this summer. It was about her that Finn Stendevad-Nielsen wrote: The girl from the goat number now made a terrific solo trapeze act. One could clearly see she had had a good teacher in Isabella Enoch Sosman"

26 October 2020
The Casselly family has lost two elephants. In the circus world it has been known for a while that two of the Casselly family's elephants died. The Casselly family and their elephants toured for many years with Danish Circus Arena, most recently in the 2013 season. Their act has for many years been the circus world's best elephant act. It brought them a golden clown at the Monte Carlo Festival in 2012.
In the Arena years, the Casselly family had 4 elephants in the ring. They have since then acquired additional elephants. One of the dead elephants was the large male elephant Mambo, who was with them all the years at Arena. It turned 37 years old. The other of the dead elephant is Betty, who was one of the elephants the Casselly family acquired after leaving the Circus Arena.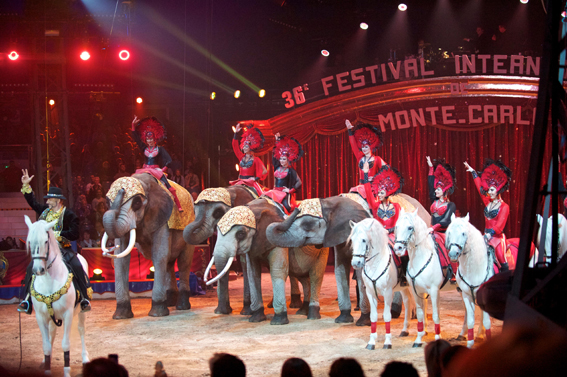 The big elephant Mambo stands to the left of the other elephants in this photo from the Monte Carlo festival in 2012. Photo Rud Kofoed / Ajour Press
There have been several rumors about the cause of death. However, it is worth pointing out that the cause of death was certainly not negligence by the Casselly family. They have always taken very good care of their elephants.
When the Casselly family is not touring with their animals, they are often housed in the Szada Safari park in Hungary. The park is owned by the Richter family.
René Casselly writes:
"Mit gebrochenem Herzen muss ich euch leider mitteilen, das Mambo und Betty verstorben sind und das Leben von Tonga konnten wir noch retten. Es war ein dreitägiger Kampf.
Es ist noch unklar was die genaue Ursache war. Aber sobald ich mehr Informationen habe, werde ich euch darüber informieren. Es tut vom Herzen weh, Sie waren ein großer Teil meines Lebens, sie waren mehr als nur Elefanten, sie waren Familien Mitglieder. Die ganze Familie ist am Boden zerstört.
Es ist eine Tragödie die sich nicht in Worten beschreiben lässt, wir bitten um Verständnis das wir uns nicht schon vorher gemeldet haben, aber uns fehlte einfach die Kraft. Ihr werdet immer in meinem Herzen weiterleben, ich werde euch vermissen. RIP Mambo & Betty "

26 October 2020
IT ALL HAPPENS IN PARIS LA SCALA, prestigious theatre in Paris - has got an offspring: LA PICCOLA SCALA !!!
History: Having had its glorious days during LA BELLE EPOQUE, it became a cinema,
beautifully decorated, but alas - it went down to be a porno cinema, and went bust -when people could get everything on the INTERNET.
In 2018 the new magnificient theatre opened, created by MELANIE and FREDERIC BIESSY with the option of being a stage, welcoming artists from all disciplines , thus including circus and other visual specialities, and -of course- music.
900 spectators can be accommodated in the big location, backed up by a restaurant/bar.
However, it was obvious that a more intimate space was badly needed, and VOILA -
LA PICCOLA SCALA was born, a creation in amphi-shape that will welcome a number of artists of all kinds. I just got a mail from DOMINIQUE RACLE, public relations, informing me that the entire team is working on a new and better adapted program planning, taking into consideration the actual pandemic, that implies special thoughts and practical measures, considering the restricted working conditions that THEATER facilities face today.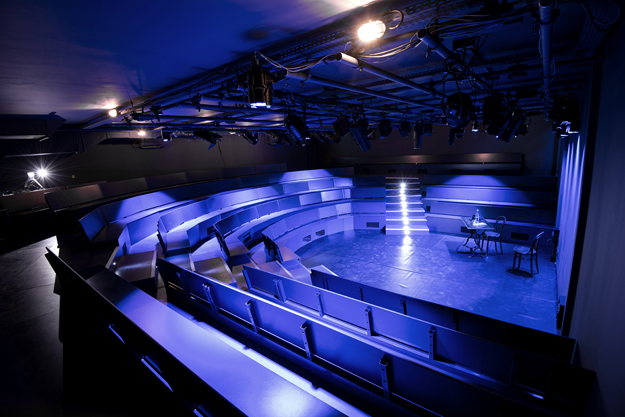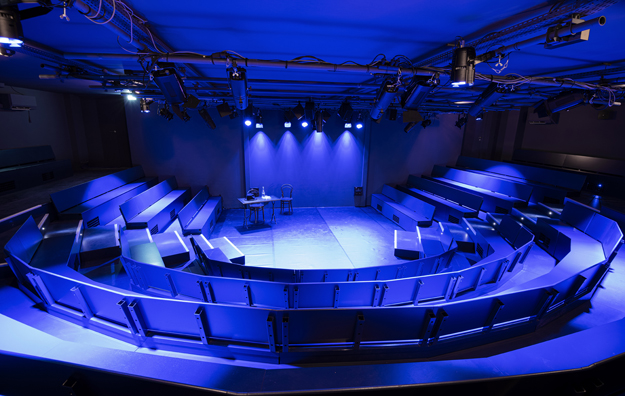 La Piccola Scala. Photo : Alexei Vassiliev. By courtesy of Dominique Racle
I will come back to this issue, in www.circus-dk.dk - when VISUAL acts are scheduled.
LA PICCOLA SCALA is a little jewel, very sympathetic, that undoubtly will harvest a merited success !!
See more: https://lascala-paris.com/
------------------------- reported OCT 2020, PARIS, by ZARRO ZARRO.

23 October 2020
Circus Baldoni ended the summer season on October 18 with a performance in the AVK Arena in Galten. The season should have started in Lyngby on March 24, but due to corona restrictions they did not start until June 6. The tented season ended on 24 September and the plan was originally then to visit the Faroe Islands. But this was impossible due to the corona. Instead, René Mønster Baldoni chose to end the season with some indoor performances in sports centres etc.
René Baldoni says that it has been a good season, which in the tent stopped the day before the Danish assembly ban was lowered to 50. Although the lowered limit did not apply to the number of spectators in circuses, cinemas and theatres, it got a clear effect on the number of visitors. "People go into a state of fear when the prime minister tells about increasing corona problems," René says. However, the number of visitors rose somewhat again.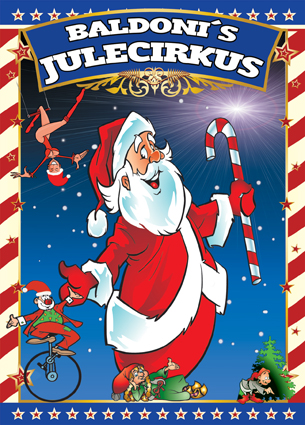 Baldoni's Christmas Circus. In December 2006, Circus Baldoni presented Christmas circus at 'Trianglen' in Copenhagen. In 2007 and 2008, Circus Baldoni presented the Christmas circus in various sport centres etc. on Zealand. Then came some years where there was only a Christmas circus in the last weekend in November in the Fencing Hall at the Circus Museum in Hvidovre, Copenhagen. Since 2016, they have once again shown Christmas circus in a number of sports centres etc. on Zealand. They plan to do so again this year from 14 November to 20 December.
This year's Christmas show will be presented by Daniel Dimitrijevic, also known as the clown Danilo, and Camilla Frimann as Nis and Nisseline. The Janacek family are also amongst the performers as well as Gena, Katya and Polina, who were also Baldoni Christmas Circus last and second last Christmas, as well as Deniz Ilchenko and Ernita with respectively a strongman act and hula hoop.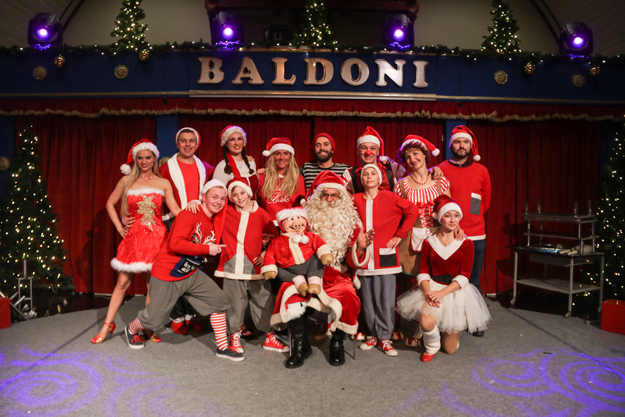 The grande finale from Baldoni's Christmas Circus 2019. Photo: Jacob Boas Leitisstein

23 October 2020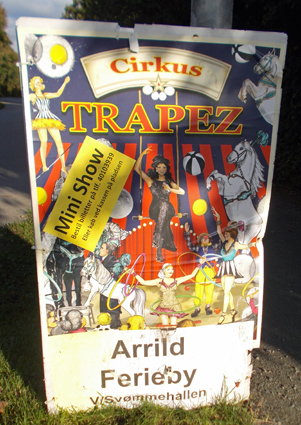 Circus Trapez Mini Show. Finn Stendevad-Nielsen saw the performance on Friday 16 October and writes (my translation):
On the lawn, behind the cafeteria in Arrild holiday resort Circus Trapez had put up their tent. The tent was well heated.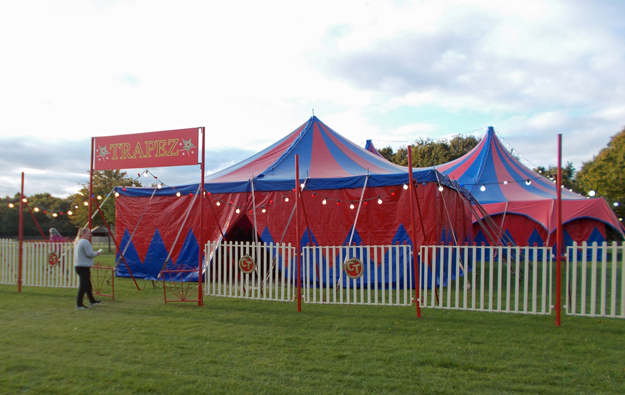 The performance started at 17. David Sosman led us through the show and presented a number of good acts. He is gradually becoming a good all-round artist. There were approx. 50-55 spectators, which is OK as the circus had been in Arrild Holiday Centre since last Friday.
They opened with a nice act telling that they had bought an artist in IKEA and that David and Bernhard should now assemble that artist. IKEA is a multinational group of Swedish origin that designs and sells ready-to-assemble furniture etc. The artist in question was in 4 boxes, which they, of course, with a guide from IKEA could not put together properly when the boxes were opened. Finally, with a lot of fumbling and pushing around, they were able, after many attempts, to open all the doors and an entire artist stepped out. (The Swedish artist Simona Rhodin, Diana Rhodin's adopted daughter).
The next act was goats presented two children from Aarhus, who should have been the main characters in the cancelled summer show. A cosy and gracious number.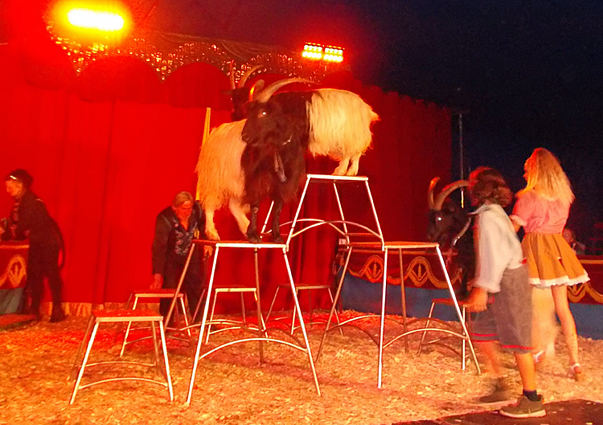 Berhard Kaselowsky's goats. All photos: Finn Stendevad-Nielsen. Unfortunately, the lighting conditions inside the tent made photography very problematic
Now David took over the ring where did nice clowning, played music on bottles, juggled with bottles, balanced with glass on several floors and finally with glass on top of a couple of large soup spoons.
Then a rotating trapeze came in. In it, Simona Rhodin did a number of good tricks.
Then one of the young children from Aarhus made a good parterre entrée with many difficult tricks. Very good.
David Sosman now took over once again with a terrific juggling entrée with balls. His mother Isabella Enoch Sosman was his assistant. He used up to an 8-9 balls and made both shower, cascade and more. Excellent.
Simona Rhodin made a nice act with more and more hula hoops. Good and in a suitable length.
The girl from the goat number now made a terrific solo trapeze act. One could clearly see she had had a good teacher in Isabella Enoch Sosman.
In the end, Bernhard presented a sure hit: Big and little. The children cheered over the small pony and the large shire stallion.
An hour of really good, loving, warm, nice and gracious entertainment.

22 October 2020
IT ALL HAPPENS IN PARIS - in spite of the terrible pandemic, CIRQUE D'HIVER BOUGLIONE plays in the ancient, tradition-bound, historical and refurbished circus building /Metro FILLES DE CALVAIRE/, this very show carries the name DINGUE/ approx.: incredible, unbelievable.
As usual BOUGLIONE opens by letting in a CHARI VARI BALLET, this year composed of some of the female artists + a few other dancers, they feature a nice warming -up, and re-appear in the 2nd part after intermission.
REGINA BOUGLIONE with her horses MAXI & MINI, always drawing applause.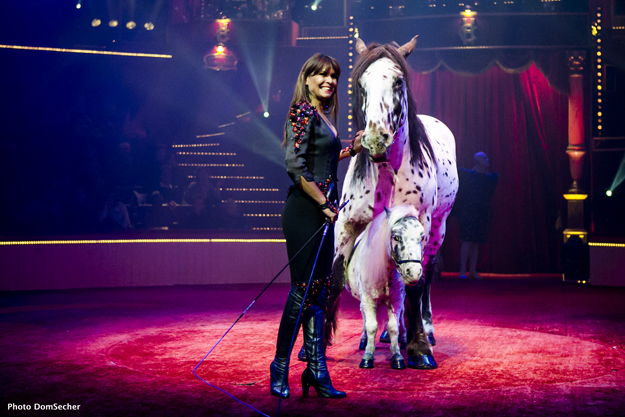 Regina Bouglione. Photo by courtesy of Cirque d'Hiver Bouglione
ADELA FAME, an attractive act in straps, very elegant.
SERGI BUKA, shadowgraphy, riding a 3-wheeled bike, he produces many pictures on a round screen, attached at the front of the bike, the lighting comes from a light-source, attached to the rear of the bike. ORIGINAL !!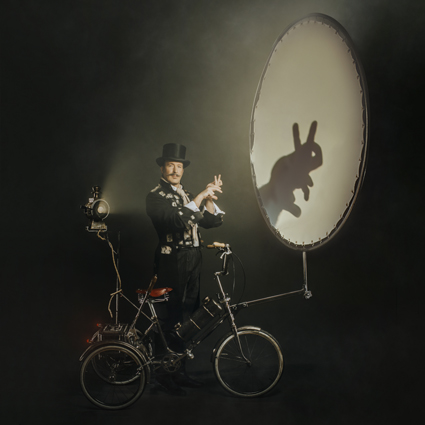 Sergi Buka. Photo: David Ruano. By courtesy of Cirque d'Hiver Bouglione
GERALDINE PHILADELPHIA, elegant and extremely skilful swinging and juggling hula hoop rings.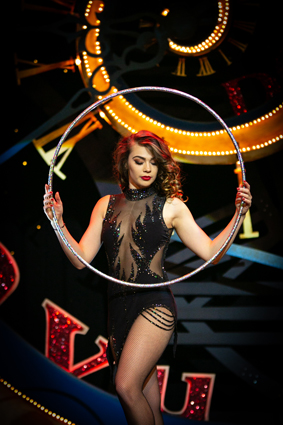 Geraldine Philadelphia. Photo by courtesy of Cirque d'Hiver Bouglione
DUO EBENEZER, Nardelus and Rey, handstand, adagio, they have their place at the OPERA.
GEORGE FAINIG, incredible, super contorsion, smiling artist from ACCRA, GHANA.
FRANCOIS BORIE, French tempo-juggler sporting an acrobatic/dancing style, sympathetic !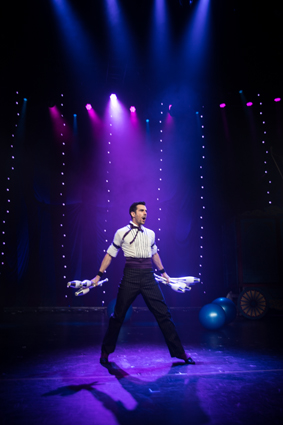 Francois Borie. Photo by courtesy of Cirque d'Hiver Bouglione
THU HIEN NGUYEN, fantastic acrobatics on slack wire.
ALEX MICHAEL, spider man, walking upside down high under the cupola, jumping salto between 2 trapezes - impressive, thrilling, ORIGINAL !!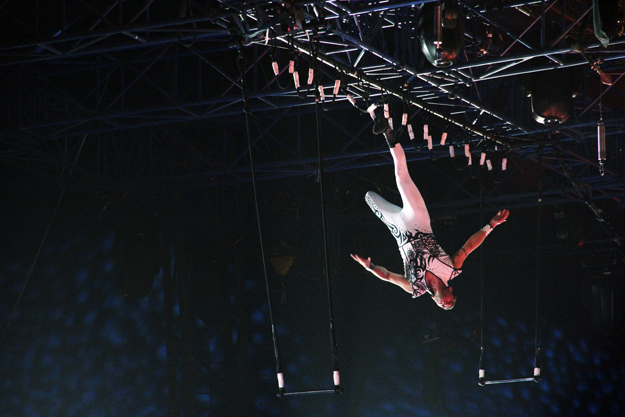 Alex Michael. Photo by courtesy of Cirque d'Hiver Bouglione
DOU SHOCK, Sonny and Petrica, featuring THE WHEEL OF DEATH in an impressive way !
CLOWN TOTTI, has a personal charm, he is a poet, a musician, a comedian, whatever he does, he is the favourite of the audience, having several run-ins, and many costumes, he is the STAR of any show, based, I am pretty sure, on his palpable love of his audience !!!
RINGMASTER MICHEL PALMER follows us nicely through the entire show.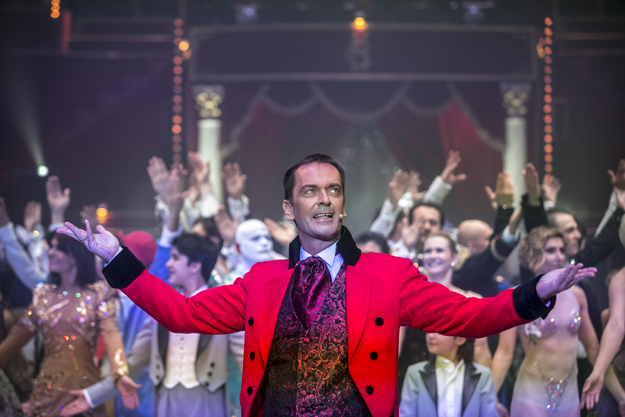 Michel Palmer is ringmaster (in France called Monsieur Loyal). Photo by courtesy of Cirque d'Hiver Bouglione
MAESTRO PIERRE NOUVEAU, and his 9 musicians / whereof a female violinist --! BRAVO/- accompany this memorable and excellent show, in a professional way, elegantly and beautifully !!
STANDING OVATION !!!
See more on www.cirquedhiver.com/en/
----------------- reported by ZARRO ZARRO.

17 October 2020
INCIDENTS/ EVENTS / and ACCIDENTS - an international look into my rear mirror. By ZARRO ZARRO
Part 4 (last part)
More out of AFRICA:
ZAIRE, presently CONGO /again/, the town of LUBUMBASHI, ex ELISABETHVILLE, a cabaret had hired me, I drove out just after nightfall, what you normally avoided, missed a road, got astray, found a military and police station, where the soldiers were ready to help out, thus I arrived at the cabaret under military escort, soldiers ready with machine guns, I was safe !
TANZANIA, town of DAAR ES SALAAM, cabaret patronized mainly by Indians, BEIRA, town in MOZAMBIQUE, cabaret sporting camels, Kenya, capital NAIROBI, cabaret/night club STAR LIGHT, where MILES DAVIS played his trumpet with the Congolese band,
MOMBASA on the brim of the INDIAN OCEAN, I had to perform outdoors, between palm trees and lit by the tropical moon. ZAMBIA, town of LIVINGSTONE, NEW YEAR show at the HOTEL MOSHE OU TUNIA, local name of the VICTORIA FALLS. Capital LUSAKA show at luxurious hotels, patronized by an international crowd.
Deeply grateful to have all this luck bestowed on me, I am now looking backwards in the rear mirror, as a retired man, I humbly bow my head, saying:
THANKS FOR THE RIDE- IT WAS WONDERFUL !!!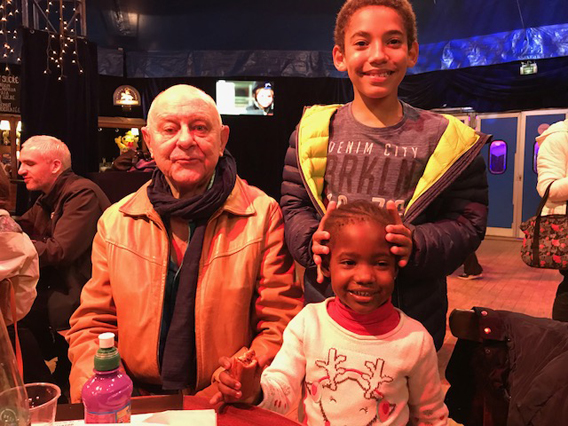 Zarro Zarro loves to invite other friends, particularly kids, to circus shows.
Here we bring a photo, shot at Cirque Alexis Gruss of Zarro Zarro together with Malik and Sarah, children of his faithful it-assistant Noufou and his wife Valentine.

16 October 2020
Isabella Enoch Sosman is 60 !! Thursday, 22 October, Isabella Maybritt Enoch Sosman, Mölby, Sommersted, Denmark, turns 60 ! Since 2016 she has together with her life companion Bernard Kaselowsky, been running Cirkus Trapez that tours Jutland and Funen, Denmark. Due to the corona issue, Cirkus Trapez has not been on the road this year, but featuring only a few shows in Madsby Play Park, at a few care homes, and during the autumn holiday in Arrild Holiday Village /Denmark/.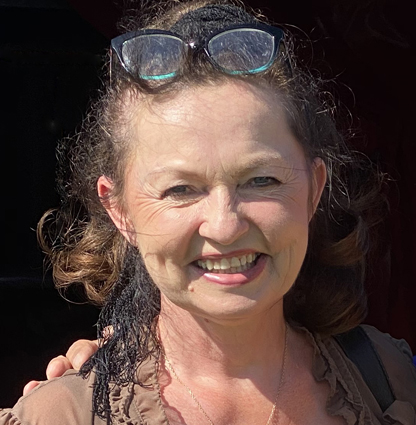 Isabella was born in Copenhagen, as the third child to the circus performers Haddy and Solveig Enoch. Her parents were touring the world as the Haddies, bike equilibrists. Isabella and her siblings thus spent their childhood touring the world.
In 1972 the Haddies featured their act in Ecuador, when the circus they had joined suddenly needed a trapeze artist, to replace a trapeze star who had left.
Isabella thus got a flying start at the tender age of eleven! Mum and dad were not reassured, judging the activity dangerous. However, Isabella was enthusiastic, and her parents had to give in.
Later on Isabella became an international trapeze star, like La Norma Fox and Greta Frisk, both of them equally born in Denmark. Isabella featured all the elegant but dangerous stunts that can be performed in swinging trapeze: knee-hang/also holding on by one knee only/, heel-hang, gliding from knee-hang to heel-hang, neck-hang and the spectacular change of position from sitting and down, catching the ropes by her legs.
At the prestigious French Festival of the Circus of Tomorrow, Isabella got a great award: Le Prix Du Manege /Ring award/. After that she performed at the best circus and variety shows world-wide. Isabella was 3 seasons with the big German circus BARUM.
When Haddy and Solveig in 1978 breathed new life in Circus Dannebrog, she performed for some seasons there, travelling every now and then elsewhere. Isabella acted as an artistic director and coach for several seasons with Dannebrog.
In 1989 she married the famous French clown Eddy Sosman, they had the sons Edward and David. Eddy passed away, far too early, in 2002.
On top of her artistic activities with circus, Isabella is a frequently nominated jury member at many circus festivals, and this world-wide. She was a proud member of the jury for the International Circus Festival in Monte Carlo, where she together with Princess Stephanie was in charge of and responsible for the judgment of some of the best performers in the world.
------------------------
Danish text by editor OLE SIMONSEN, COPENHAGEN, English version by ZARRO ZARRO, Paris.
---------------------------------------

15 October 2020
ARENA CIRKUSLAND DENMARK -- AARSLEV, near SLAGELSE, location in DK/.
On OCT 13, JORGEN LORENZEN and the President of Danish Circus Friends, KIM THANNING OLSEN and OLE SIMONSEN, PRESIDENT and Chairman for the body DANISH CIRCUS AWARD as well as editor for www.circus-dk.dk attended this CIRCUSLAND.
IMPRESSIONS and a few nostalgic memories:
Some elderly people surely remember the pleasant circus acts that were featured on the open air stage PLAENEN/the platform/ at the COPENHAGEN's TIVOLI GARDENS. 3 elegant acts, accompanied by the TIVOLI BIG BAND.
Unfortunately sacrificed on the holy altar of Economy and Cutting Costs, this fate was also bestowed on the popular PROMENADE BAND.
In AARHUS, 2nd largest city of DK, TIVOLI FRIHEDEN /FREEDOM/ was hit by the same restrictions.
The FUN FAIR PARK DYREHAVSBAKKEN / BAKKEN/ outside Copenhagen featured variety shows and open air stage performances, now these popular events have almost disappeared. Now PIERROT/a Danish version of the classical theatre figure, sporting shows for the youngest fry, and BAKKENS HVILE, presenting female burlesque singers, are about the only survivors.
The big open air stage is used occasionally, mainly for concerts.
Formerly the provincial fun fair park BONBON LAND had circus shows, CIRCUS CHARLIE performed in JESPERHUS FLOWER PARK, TINA DUBSKY featured her sea lions in FARUP SUMMERLAND.
Today only CIRCUS MASCOT is playing in SUMMERLAND, SJAELLAND/ZEALAND/ during school holidays. LALANDIA TROPICAL HOLIDAY CENTRE WITH WATERPARK has now and then performing artists. These events are cancelled in 2020 because of the actual pandemic.
But in ARENA CIRCUS LAND: you will find it all: circus acts, street-related shows, fun fair attractions of all kinds, including stables holding many animals. There are museum items, reminding us that the popular market-and-fun-fair culture is indeed an ancient one, calling to our minds that it all does belong to an ancient culture, part of our History.
The tickets carry a reasonable price, allowing us to enjoy a cascade of pleasant events, filling our minds and souls with impressions of the incredible, the rarely seen, beauty and wondering over all the marvels of CIRCUS including much laughter and joyful thoughts!
In the morning, while animals are trained, all and sundry can see that these activities are carried out with LOVE, encouragement and rewards, never ever using beatings and threats.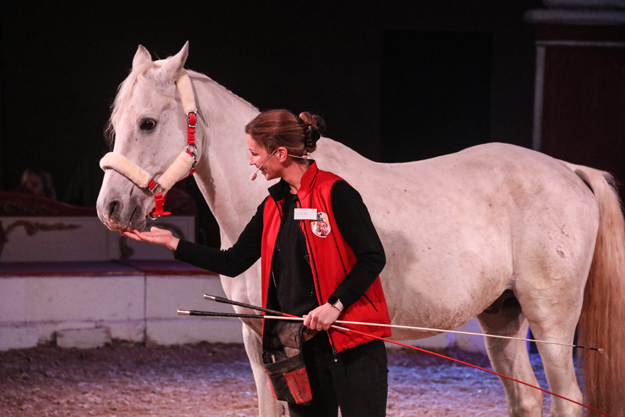 Laura Berdino was among those who told about training animals. Photo: Jacob Boas Leitisstein
At 11:40 - MAGIC SHOW, when KIM KENNETH and 3 partners on the big stage in the hall/formerly a basin for the sea lions/ displayed some big illusions - always so amazing!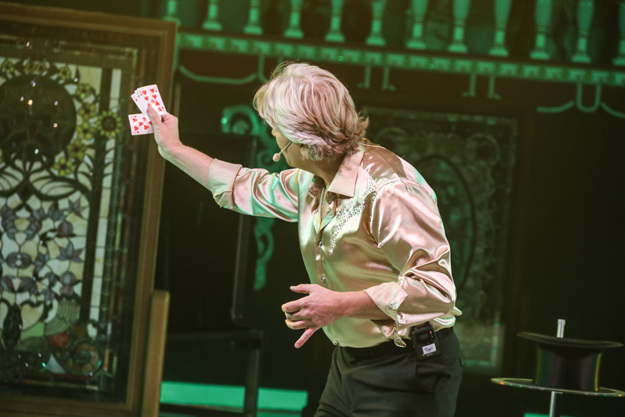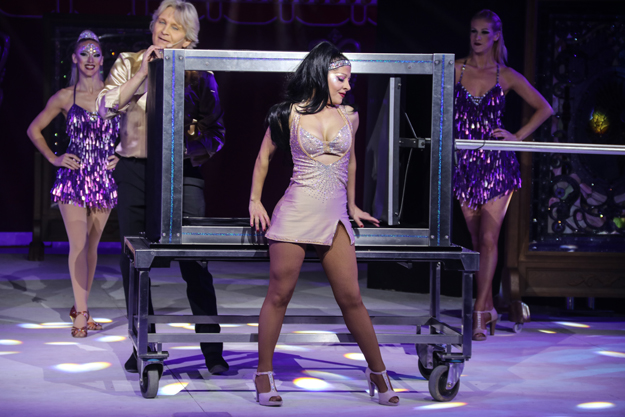 Elegant magic with Kim Kenneth and assistants Veronika, Jessica and Pip. Photos: Jacob Boas Leitisstein
At 13:00 on the small stage located in the coffee shop, KIM KENNETH acted as host and ringmaster. Clown BONBON was present with his children JULIA and JOAKIM, as well as members of the ERNESTO FAMILY: hula hoop by VERONICA, diabolo by her son DANIEL.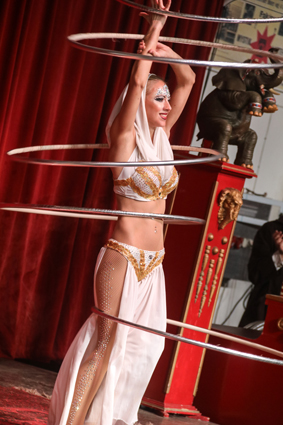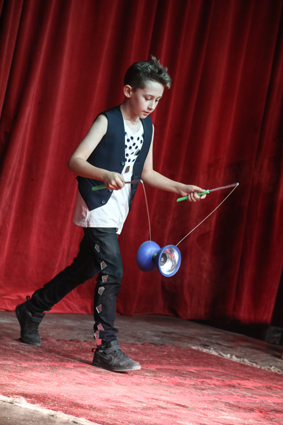 To the left Veronika Ernesto. To the right her son Daniel. Photos: Jacob Boas Leitisstein.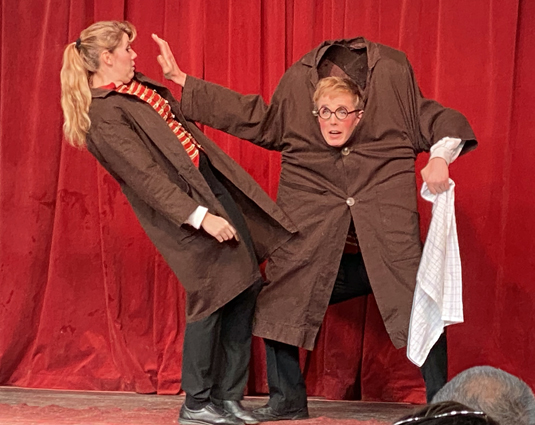 Julia and Joakim. Photo: Ole Simonsen
After showtime there was a PARADE, like in the good old days: an ancient tradition, upon the arrival of CIRCUS in town, geared to catching the attention of plausible spectators. Click here to see a short video clip from the parade.
At 14:00 we were treated to the highlight of our day: CIRCUS LANDINO that performed in the big hall, sporting a real ring, plus a seating allowing 500 people.
KIM KENNETH again, professional, knowledgeable and enthusiastic, guided us through the show: BONBON and TIINA presented their funny parody of a Badminton game, drawing laughter and applause. As his grande finale BONBON entered with his mechanical and musical TURTLE, a wonder of an animal!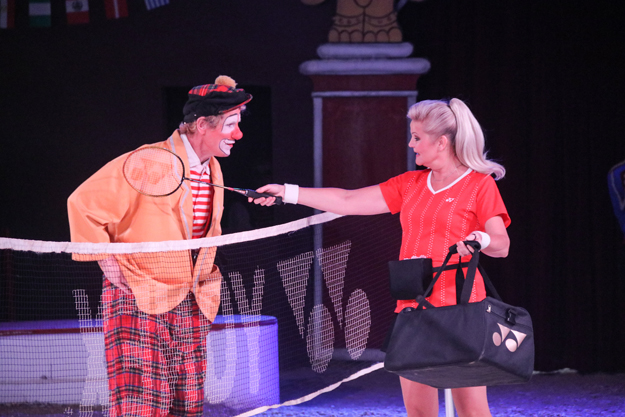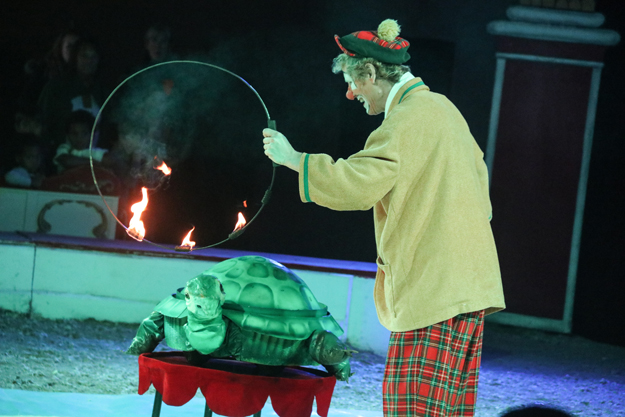 Bonbon with his wife Tiina and his turtle. Photos: Jacob Boas Leitisstein
The ERNESTO FAMILY skated around on a small, round elevated podium, displaying elegant acrobatics, where speed, centrifugal force and strength appeared at a fast pace.
The female member of ERNESTOS treated us to a good act in tissue.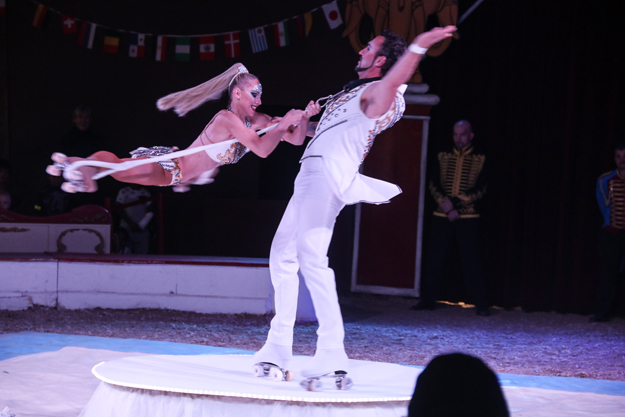 Skating Ernestos. Paolo is son of the clown Bubi Ernesto JR. Veronika comes from the Faltiny family, known for their bike act. The couple met at Cirkus Dannebrog in 2005, where both Bubi Ernesto JR and the Faltiny family were among the performers. Photo: Jacob Boas Leitisstein
JESSICA CAVEAGNA performed her act, balancing sabres/swords standing vertically on a dagger that she was holding in her mouth, mounting a ladder, and descending the opposite side, this time having added some fire stunts.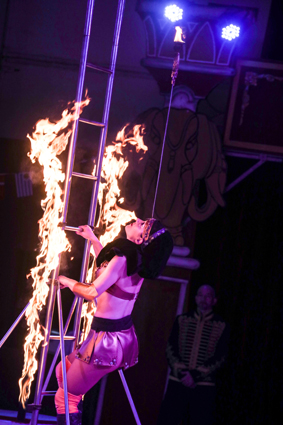 Jessica with sword balance. Photo: Jacob Boas Leitisstein
KARSTEN BERDINO presented camels, PATRICK HARRISON had brought his playful HOT DOGS for our entire pleasure.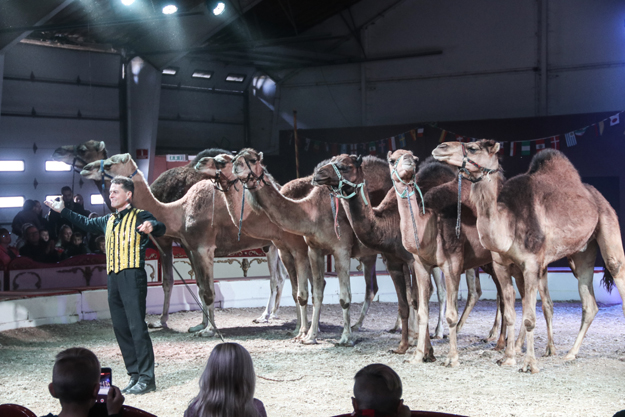 Karsten Berdino with dromedaries. Photo: Jacob Boas Leitisstein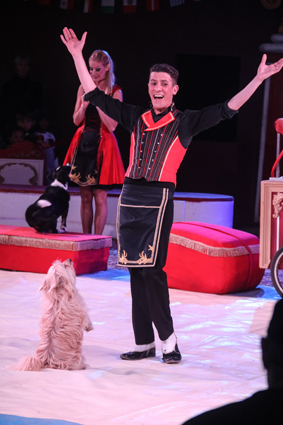 Pat Harrison and his hot dogs. An act which he years ago took over from his father Pete Harrison. Photo: Jacob Boas Leitisstein
Circus Landino's performance ended with a couple of KIM KENNETH'S illusions, including his signature trick where he rides a motorcycle through a cabin with the chained Jessica.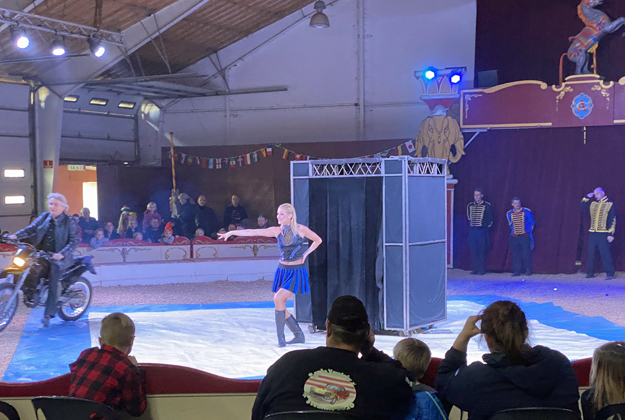 Ready to run through the cabin. Photo: Ole Simonsen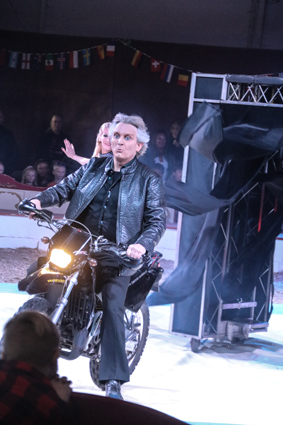 Through the cabin. Photo: Jacob Boas Leitisstein
At 16:00 BUBBER /well known from Danish TV/ made a short appearance, before leaving the stage to female singer SILJA OKKINE, with her back up.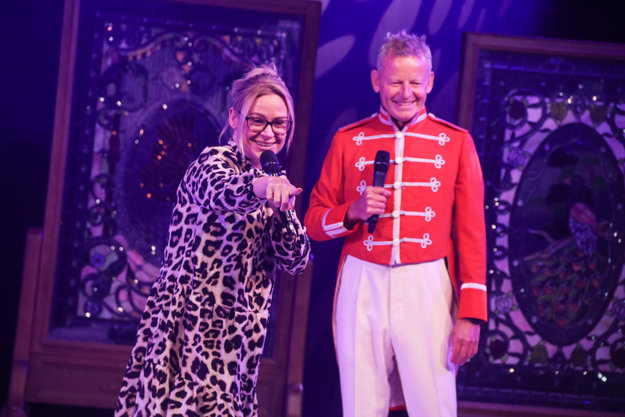 Silja Okking and Bubber. Photo: Jacob Boas Leitisstein. Click here to see more of Jacob's photos from Circusland.
ARENA CIRCUSLAND is an exquisite goal and well worth an outing for the entire family !!!
Similar enterprises would do well learning from this success, offering really popular, good and healthy entertainment!
----------------------------
Text by JORGEN LORENZEN, interpreted in ENGLISH, by ZARRO ZARRO.

12 October 2020
CIRQUE D'HIVER BOUGLIONE, starring TOTTI ALEXIS, Spanish clown/ comedian, CHRISTMAS PARIS, 2020.
Times are hard for all of us with these pandemic issues, the entertainment world, already substantially fragile - has got tremendous blows. France has established heavy restrictions, not allowing circus under BIG TOP to perform, however - theatres in concrete buildings are authorized to play.
This allows CIRQUE D'HIVER, run by the BOUGLIONE FAMILY to feature their wonderful show, in their historic circus building, fairly recently refurbished.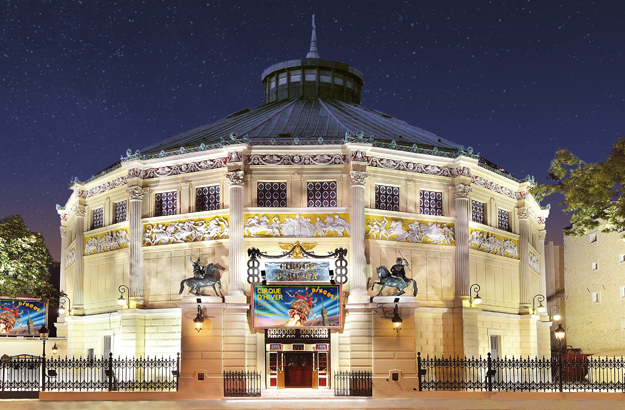 The Cirque d'Hiver in Paris was opened by Emperor Napoleon III on 11 December 1852 as the Cirque Napoléon. The theatre was renamed Cirque d'Hiver in 1870. Henri de Toulouse-Lautrec repeatedly found inspiration in rehearsals and performances at the Cirque d'Hiver. Photo by courtesy of Cirque d'Hiver Bouglione
The BOUGLIONE show this year is called in French: DINGUE = crazy and incredible.
The premiere is OCT 17, then shows are scheduled: WEDNESDAY thru SUNDAY until NOV 1. From them until DEC 20 SATURDAY and SUNDAY. Then daily until JAN 03, 2021.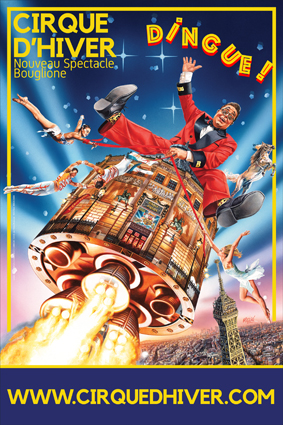 By courtesy of Cirque d'Hiver Bouglione
The leading and main star is TOTTI ALEXIS, worldwide well known, also in the Nordic countries. Son of TONI ALEXIS he draws his talent from an ancient circus family so he has sawdust in his genes !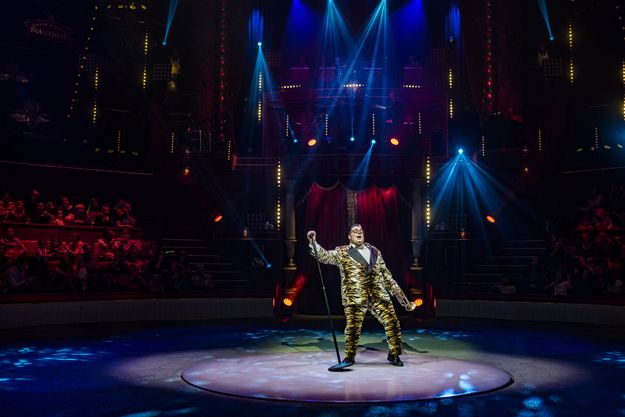 Totti Alexis. By courtesy of Cirque d'Hiver Bouglione
Totti Alexis has been asked: What human qualities does it take to be a good clown? His answer was:
I have pondered this question for many years. To become a good clown,
you must have :
- The head of an old man
- The energy of a young person
- And the soul of a child
To be a clown is not just a profession but a way of life.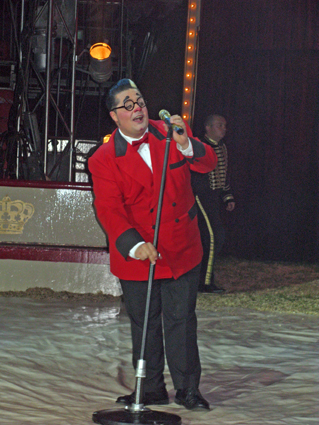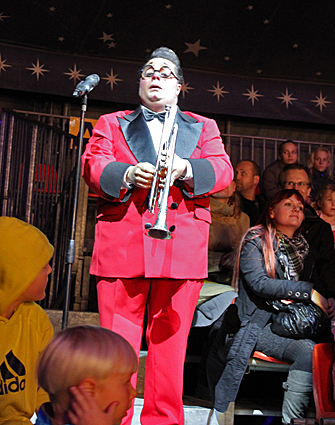 To the left: Totti Alexis at Danish Circus Dannebrog in 2011. To the right: Totti Alexis at Finnish Circus Finlandia in 2013
The rest of the program features star-studded performers from all over the world.
My ever present Paris correspondent ZARRO ZARRO is as usual on the spot, having got a press invitation for OCT 21- please look FW to his write up !!

11 October 2020
INCIDENTS, EVENTS and ACCIDENTS - an international review by ZARRO ZARRO
Part 3:
OFF TO AFRICA:
MAURITIUS ISLAND : trouble while I had 2 doves, quite a comedy, for not so much...
Cabaret/restaurant LE DRAGON: patronized by a public representative of the population of this island: several ethnic groups: Creoles,Chinese, Indians, Africans - they had a good time, dining and wining, dancing but never mixed in between them.
Nice reception of my ACT, unfortunately my 30 meter colorful streamer coming out of - nowhere - was pulled out and disappeared, but was handed back on my request!
The TAX MAN called me, threatening to withhold me at the airport on departure, on charges of tax fraud,which was not true - but as everywhere in Africa, the problem was solved between gentlemen - so HAPPY ENDING.
Abidjan, the economic capital of IVORY COAST, offered a lot of possibilities for shows, I taught as a teacher training professor, but there were many holidays, 40 % MUSLIMS, 40 % CHRISTIANS, we celebrated ALL the religious holidays, people were free and wanted to watch shows.
EDI/ the state energy company threw a big X-MAS party at the prestigious HOTEL IVOIRE - I was in the wings to go on - when the power/electricity went out !!
The people present panicked, I felt afraid for the first time - it could have been a disaster: panicking people trampling on each other when rushing out.
This didn't happen - and I was subsequently paid - having done nothing.
My daughter MADELEINE had her own little ACT, we had the honour of being hired for the PRESIDENT's Christmas party, in the presidential palace, I missed out on some doors and found myself - in the presidential wife's private flat - it could have been a serious issue but we got out safely.
My stint was 1975 thru 1985, the security conditions went downhill, at many events there were local guards and watchmen, armed with bow and poisoned arrows, at some events I saw male patrons and guests carrying pistols; I often held my breath, less hilarious happenings could occur.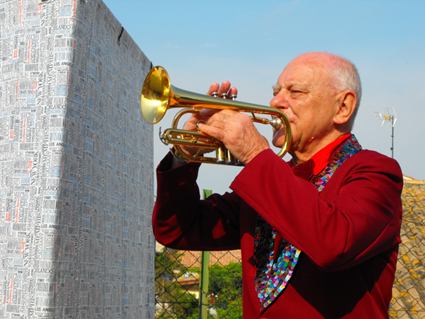 For the photographer Zarro Zarro shows how his show began when he appeared as a street performer: he blew the trumpet to make the audience aware that there was now something exciting to watch. His female assistant is his daughter Madeleine. Photos BONNET, ARLES.

9 October 2020
Obituary: Paulina Schumann. One of the circus world's legends Paulina Schumann passed away 9 October in the morning after a short time of illness. For many years she has been living in Barcelona and was able to take care of herself until she chose to go to the nursing home by herself a year ago. She would have turned 100 in February 2021.
Paulina was born in Barcelona, Spain, on 17 February 1912 as daughter of the famous clown Charlie Rivel and his wife Carmen Busto. Her Christian name was Paulina Luisa Andreu Busto. Paulina got as her three younger brothers an all-round artist training. Only 5 years old she got her breakthrough in 1926, where she thrilled audiences at Empire Circus Theatre in Paris with a parody of Josephine Baker.
In the following year she appeared with the family in circuses and music halls throughout Europe. She was already a well-known artist when she and her family came to Circus Schumann. Albert Schumann fell in love with the beautiful Spanish girl, and in November 1946 the couple was married in the Oscar Church in Stockholm. In the Schumann family, Paulina learned to perform with horses, and in 1949 she got her ring debut in the Circus Building in Copenhagen with dressage riding.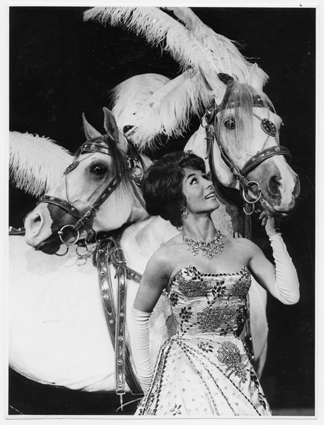 Paulina Schumann. Photo by courtesy of Benny Schumann
Paulina soon proved to be a super talent in the presentation of horses and especially dressage riding. In addition she introduced an uncommon sophistication in lighting, costume design, musical arrangements, and thematic presentations and thereby added an extra flair to the Schumann family's technically brilliant horse acts. Up to and including 1968 season an enthusiastic audience saw the beautiful Paulina in splendid robes and with dressage riding and liberty horse acts of a quality that you saw nowhere else.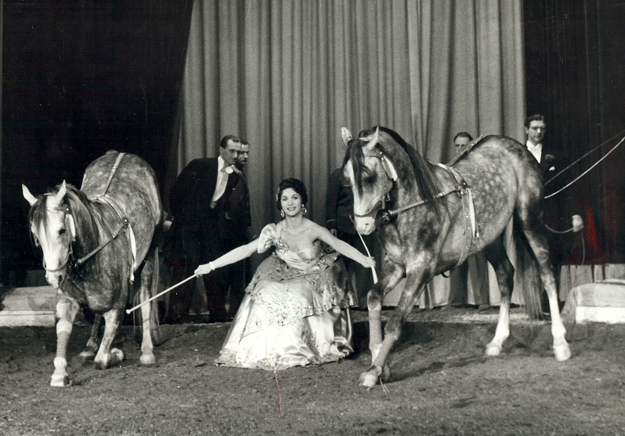 Paulina Schumann. Photo by courtesy of Benny Schumann. Click here for short video made by Benny Schumann in memory of his beloved mother.
Together with her husband Albert and his brother Max, and later the sons Benny and Jacques and the niece Katja Paulina developed what the family called Schumannship to a concept of the finest horse acts you could see anywhere. Besides in the Circus Building in Copenhagen the audience met Paulina, the family and their horses in the circus buildings in Gothenburg and Stockholm, in Bertram Mills Winter Circus in London and several other places.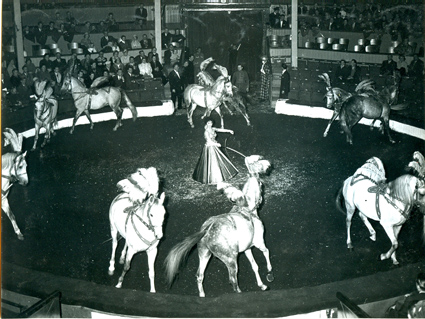 Paulina Schumann had her debut with liberty horses in the circusbuilding in Gothenburg, Sweden, in 1951. Photo: Bengt Wall. By courtesy of Lennart Strandner
Season 1968 was Paulina and Albert Schumann's last at the Circus Building in Copenhagen. The couple had also drifted away from each other and were later divorced. They settled both in the Barcelona area and kept in touch until Albert's death in 2001. Despite many offers from the circus world, neither Paulina nor Albert returned to the work with horses. Paulina took a different role: she became an assistant to her father Charlie Rivel and assisted him from 1972 until he shortly before his death in 1983 stopped his career. Also in the role of her father's assistant Paulina showed a clear talent.
In 2008, she was awarded the Medalla de Oro de las Bellas Artes from the hands of H.M. Juan Carlos, King of Spain.

8 October 2020
A very special anniversary season. On Sunday, October 4, Circus Arli ended their 50th season. It was a somewhat different season compared to what the Arli family had expected. They had planned to open the season on Sunday 28 March at the Mill Hill in Fløng. But the corona forced them to change plans and for several months it seemed as it was impossible to get on tour this year.
With the reductions of public restrictions that came into force in early June, however, it proved possible to carry out a tour, albeit with a lower ceiling on the number of spectators than usual. Most circuses gave up touring this year, but like their colleague from Cirkus Baldoni, the Arli family decided to go on tour, even though the season was shorter than usual. Thus, they opened the season at the mill hill in Fløng on June 20, almost 3 months later than usual. In return, they extended the season by 6 weeks.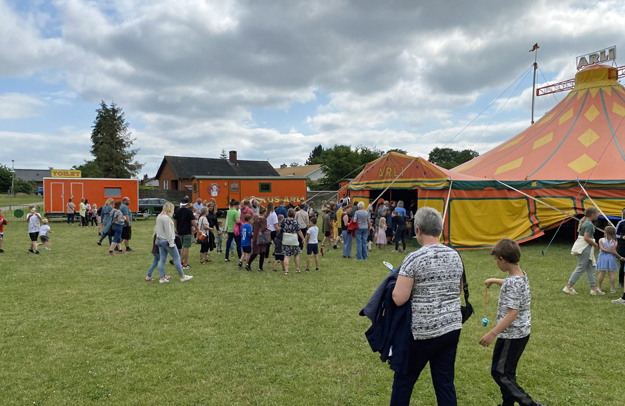 Circus Arli's season lasted this year from June 20 to October 4. During the season, they visited 65 cities and had 106 performances.
Martin Arli says (my translation): "I was just 7 days old when my parents took me on tour with a circus. I started performing as a 2 year old kid and have been doing it ever since. Circus is our profession, but at the same time so ingrained a way of life for us. So great was the joy when we had the opportunity, despite Covid-19 / Corona, to go on tour with our 50th anniversary show, with a 3 month delay. We were imposed certain restrictions, which we have of course complied with - i.a. with limited spectator capacity, distance requirements between members of the audience, etc.
Of course it was a great chance to take - did people dare go to the circus? Luckily we got an overwhelming, supportive and warm reception from the audience, so we have at no time regretted that we took Circus Arli on tour. I am a member of the "Sector Partnership for Seated Entertainment" under the Ministry of Culture and we, together with cinemas and theaters, have received great praise for administering current rules in a safe manner. "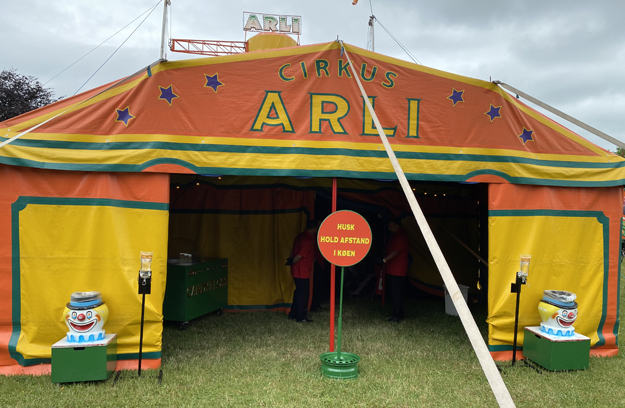 There was both hand alcohol and encouragement to keep distance at the entrance to the tent
The corona necessitated a single change in Arli's program: Russian Diana Vedyashkina and her dachshunds should have been part of this year's Arli show. But even though both contract and work permit were in place, Russian corona restrictions prevented her from getting out of Russia. Instead, the Arli family booked Helena Rapolli with a small dog and together with her husband Antonin in the juggler act Duo Rapolli. The couple was otherwise committed to a large German circus, but the corona meant that the German circus cancelled the season and left the Rapollis without a job. For this reason they were open to offers when Circus Arli contacted them.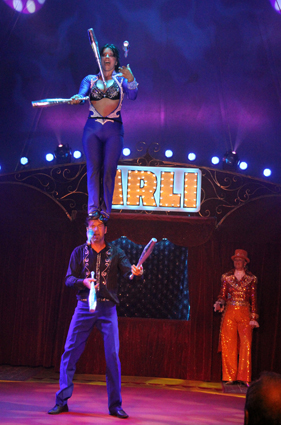 Duo Rapolli. Click here to see a short video from the Grand Final in Circus Arli
"We hope that it will be possible for us to have a normal season in 2021, where the plan is that we open the season at the Mill Hill in Fløng on March 27," Martin Arli says. At the same time, he allows me to reveal that the clown and multi-artist Francesco Fratellini will also be among the performers in 2021.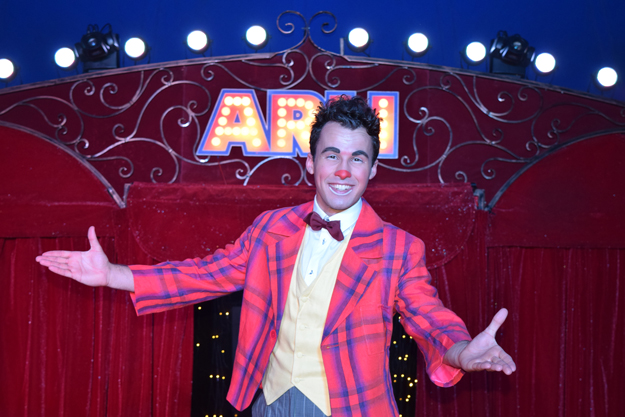 Also in 2021 you can see the multi-talented Francesco Fratellini in Circus Arli's ring
This is what the Danish rules / recommendations say about performances in theaters, cinemas and circuses. Rules / recommendations that are strictly adhered to by both Circus Arli and Circus Baldoni:
• Maximum access for up to 500 people to the individual events can be allowed. This includes staff and performers.
• Every second seat should be empty, or a distance of 1 meter between the audience measured from the center of the seat should be ensured. Groups that already have close contact can sit by contiguous seats, even if there is less than 1 meter between them.
• A maximum of 1 visitor per person may be allowed per 2 square meter floor area in the room / tent. This is exclusive staff and performers. The floor area is calculated wall to wall regardless of furniture, stage, etc.
Both Cirkus Arli and Cirkus Baldoni have been visited by the authorities several times during the season, and the authorities have been satisfied with their compliance with rules and recommendations.

4 October 2020
Circus Trapez during the autumn holidays. In addition to the autumn events, which were mentioned on this page on 2 October, you can see Cirkus Trapez with a mini-performances in Arrild Ferieby in Toftlund in the southern part of Jutland. David E. Sosman writes (my translation):
Unfortunately, this year's circus tour was canceled in April 2020 due to Covid19. However, we do not think that you should be cheated for good circus entertainment in 2020. Due to this we have trained hard throughout the summer to be able to present a mini show during the autumn holidays. The show can be seen in Arrild Ferieby. Come and have a nice time with us with everything that belongs to a traditional family-friendly circus. You can i.a. see juggling, acrobatics, magic, clowning / comedy, goats and horses - a mini performance lasting 45 minutes.
Of course, we follow the Danish Health Authority's guidelines to help prevent the spread of Covid19. There will be 1 meter distance between the each member of the audience unless you have are joined families / groups, where you are welcome to sit together. Mouthpieces should be used while you are standing - but while you enjoy the performance, the mouthpiece may be removed. Remember to bring your own mouthpiece.
There are performances from 9 to 18 October. Ticket price DKK 75. Showtimes: Fridays - 15:00 & 17:00, Saturdays - ONLY 10:30, Sun, Mon, Wed, Thurs, - 11:00 & 14:00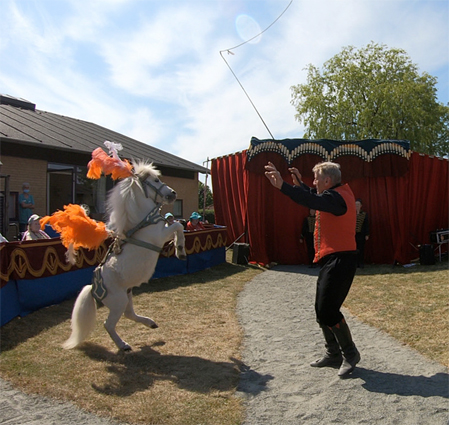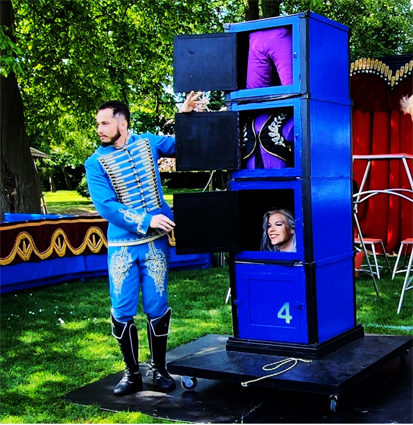 Press photos from outdoor performances in Circus Trapez

3 October 2020
INCIDENTS/ EVENTS / and ACCIDENTS - an international look into my rear mirror.By ZARRO ZARRO
Part 2:
Off to ITALY, Cabaret KURSAAL, LIDO DI JESOLO, that was run by an ill-tempered manager who frequently had fits of rage, but the tourists/spectators, mostly from GREAT BRITAIN, were pleased and had a nice evening out there!
PARIS street shows, where anything can happen - and surely it does so !
On one occasion when featuring THE LADY WHO WALKS THRU SOLID MATERIAL /ropes/- the lady whom I had pulled out from the crowd belonged to a tourist group
that apparently had but little time for amusements, she got free of the ropes and disappeared, when I was to proceed she was gone but everyone was in good mood, I could thus resume with another person - happy ending !
Street shows are the very best of schools, an appreciating audience hands out applaus and some money, if they don't like the show they just leave.
This was in the SAINT GERMAIN area, a lively spot, I remember an American dad who left me a considerable amount of dollars, thus thanking me for having entertained his two daughters, a nice gesture !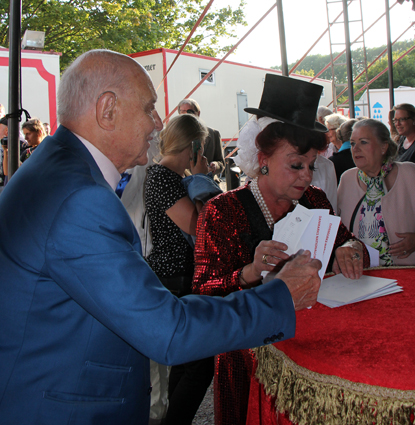 Zarro Zarro photographed during a visit to Cirkus Dannebrog in 2016. Agnete Louise Enoch is seen to the right. Circus Dannebrog was Zarro Zarro's favorite circus, where he was always welcomed as a dear old friend. Zarro Zarro has not visited Denmark since Cirkus Dannebrog stopped at the end of season 2016.

2 October 2020
Circus during the autumn holidays. Usually you have been able to see circus or artist performances in several places in Denmark during the autumn holidays in week 42. But COVID-19 / corona means that this year there are far fewer such events than usual. For example, this year there are no performances at the Circus Museum in Hvidovre, in Kolding Shopping Mall, in Spinderiet in Valby Copenhagen or in Glostrup Shoppingcenter, which or all in 2019 offered fine performances. Flying Superkids have also canceled their autumn performances.
Here is subject to corona-related changes an overview of what you can see in Denmark during the autumn holidays this year.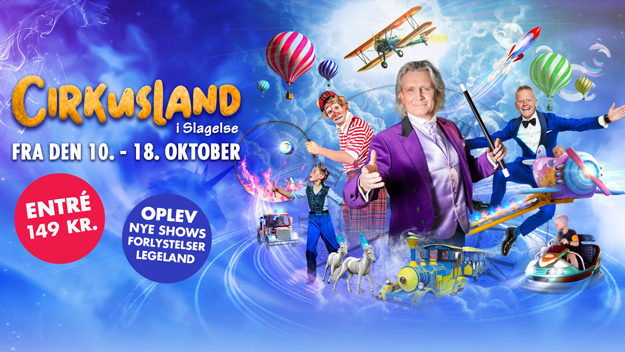 The theme park Circusland in Aarslev near Slagelse is open from 10 to 18 October, daily from 10-17. For several years, Suzanne Berdino has been park manager, but she has now been replaced by her brother Jackie Berdino and his wife Laura. During the day you can see various shows in the park. In addition to performances in Circus Landino, they offer magic shows with Kim Kenneth, shows with the clown Bonbon and the show Bubber & Friends, where Bubber is visited every day at 4 pm by a new guest:
• Sigurd Barrett (Oct. 10)
• Mek Pek and Oh Abe (Oct. 11)
• HipSomHap (Oct. 12)
• Silja from Ramasjang (Oct. 13)
• Mika and Tobias (Oct. 14)
• Called World Tour (Oct. 15)
• MGP concert with Karla, Johannes and Xenia (Oct. 16)
• Vera alias actor Michel Castenholt (Oct. 17)
• HipSomHap (Oct. 18)
All of them popular names in Denmark but hardly known abroad.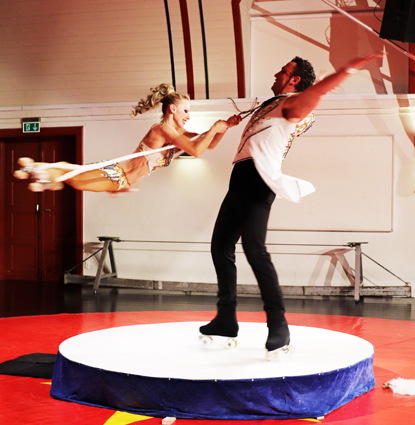 Skating Ernestos is among the performers in Circus Landino. Photo: The Circus Museum in Hvidovre
Circusland also offers pony riding, indoor playground, mechanical rides, animal stables with many animals and a circus museum. The food can be bought at reasonable prices in Circusland's bistro - remember mouthpiece!
All activities and shows are free when the admission to Circusland is paid. The admission ticket costs DKK 149.
The Circus Museum in Rold, which is otherwise closed until 1 May, is open for a single day, namely 12 October from 12 to 16. At 13 they offer an approx. 45 minute long show with Katja Schumann: Show with dogs, goats and the goose Kloge (Danish word for wise). Due to the corona limited number of participants - ticket booking is required. Click here to take a closer look.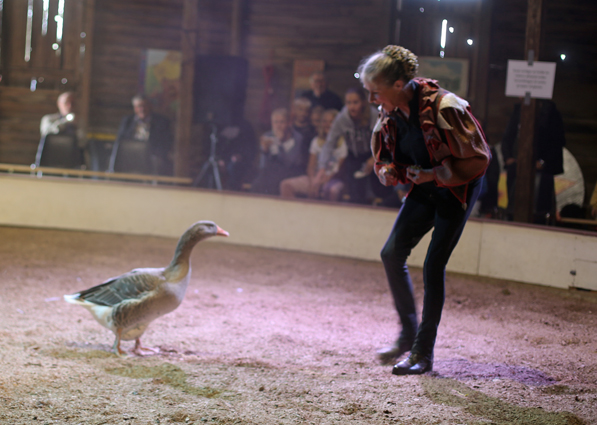 Katja and the goose Kloge. Photo: Jens Chr. Sørensen
In Broen Shopping Esbjerg, you can meet Circus Pink (the clown Knud and the Circus Director Mr. Big) from 12 to 17 October. Not everything is as it used to be - not even at Cirkus Big! It has gone wrong when the costumes had to be washed and now they have turned pink. Then what do you do? Cirkus Big is renamed Cirkus Pink. Therefore, during the autumn holidays you can see the 2 actors from the world's most pink circus Circus Pink in small mobile pop-up circus shows around BROEN Shopping. You can meet them in the center between 11 and at 16.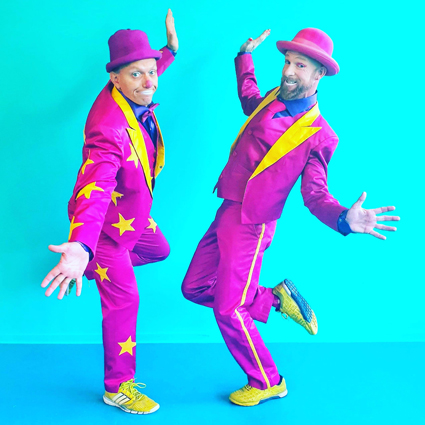 The clown Knud and Mr. Big
Frederiksberg Center, Copenhagen. Saturday 10 October to Sunday 18 October from 12 to 15 you can meet the clowns Gulio and Tanya at level 3 in the Frederiksberg Center. They make funny balloon animals and clowning. Gulio and his wife Tanya, who come from Ukraine, have since 2003 along with their children been among the performers in Circus Mascot.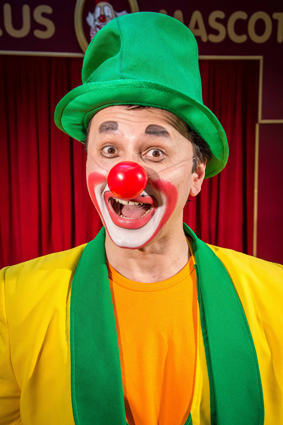 Gulio. Photo: Circus Mascot
Circus Baldoni ended the tented tour on 24 September but has until 18 October performances in a number of sports centers etc.

1 October 2020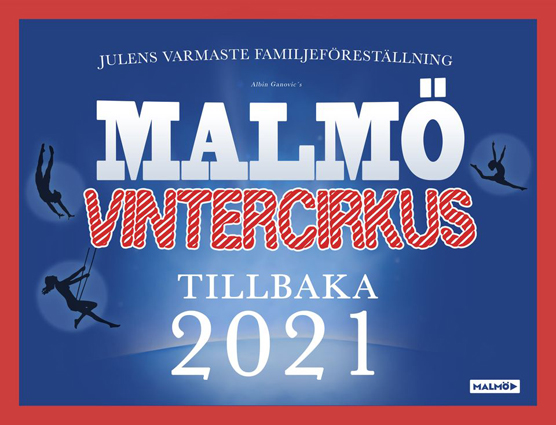 Albin Ganovic had hoped that he this year, towards Christmas, could present a winter circus in Sweden in Helsingborg and Malmö. But restrictions due to the corona have meant those plans have now been abandoned. Albin is instead hoping it will be possible to present a winter circus up to Christmas next year. Albin Ganovic is also the producer of Helsingborg's Cabaret Candy Club. But also Cabaret Candy Club has had to give up having performances this year.

Link to news from 2007

Link to news from 2006