'
From Denmark
and other Scandinavian countries
A weekly updated internet magazine
Last updated : 25. November 2022
24 November 2022
Circus of Torment to Denmark. Both in England, Germany and the Netherlands, the audience has been able to see horror circuses for a number of years. The first was probably the English Circus of Horrors, which was founded by John Haze and Gerry Cottle and had its first performance in 1995. A horror circus mixes horror with dark humor, rock music or horror film-inspired electronic music and artistry.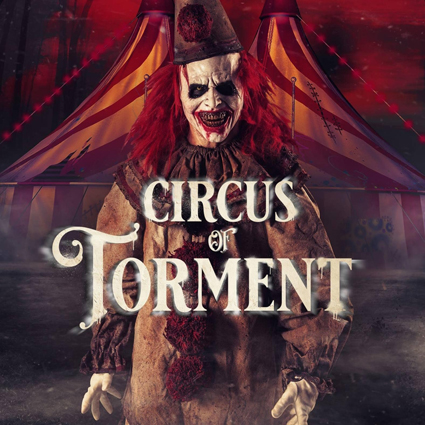 The closest we have been to a horror circus in Denmark so far is Circus Arena's Halloween circus in October. But because the target group was children from 5 years and up it was more children's theater than horror circus.
But in February 2023 you can see a real horror circus in Denmark. The juggler and entertainer David Sosman writes (my translation):
I am super happy to finally be able to announce that Dark Thrills Entertainment's horror circus show - Circus of Torment - is coming to Denmark in 2023! Since our debut with Circus of Torment in Holland back in 2018, I absolutely wanted this unique show to be presented in my native country Denmark! A show in this style has never been seen in Denmark before!
We debuted with Circus of Torment in 2018 and have since established Dark Thrills Entertainment, which produces circus acts and circus shows in horror style - among other things for Tivoli Friheden in Aarhus, which we have now done two years in a row for their Halloween event. This year we debuted with our new show Madhouse in Europe's biggest Halloween event - Movie Park Germany's Halloween Horror Festival!
In cooperation with Dystopia Entertainment and Fango, Circus of Torment visits Vejle and Aalborg in February. In Vejle with performances from 11 to 18 February.
Circus of Torment is a horror show produced by Dark Thrills Entertainment with Michaël Betrian in the lead (the Danes could see his diabolo act in Circus Dannebrog in 2014 and in Circus Trapez in 2021). I myself have the role of Gustavo, the insane juggler!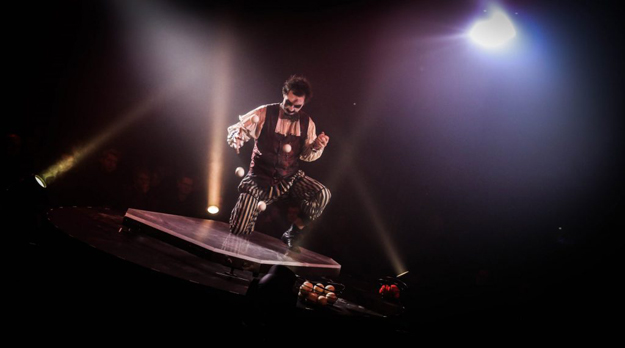 David Sosman as Gustavo, the insane juggler. All photos press photo from Dark Thrills Entertainment
Prepare to travel back to a dark time of mysterious fortune tellers, terrifying freak shows, psychopathic performers and murderous clowns. This show is not for the faint hearted and is a guaranteed hair-raising experience and is not recommended for children under 12.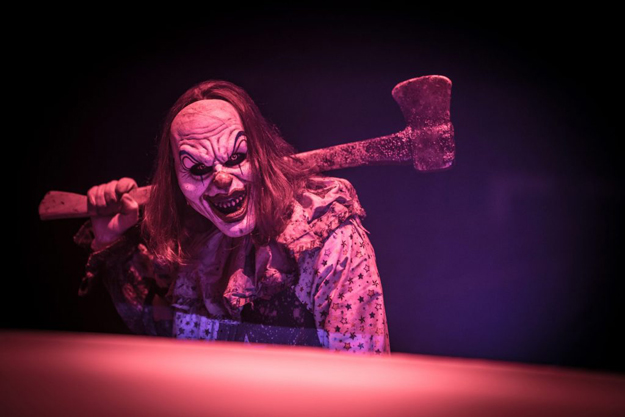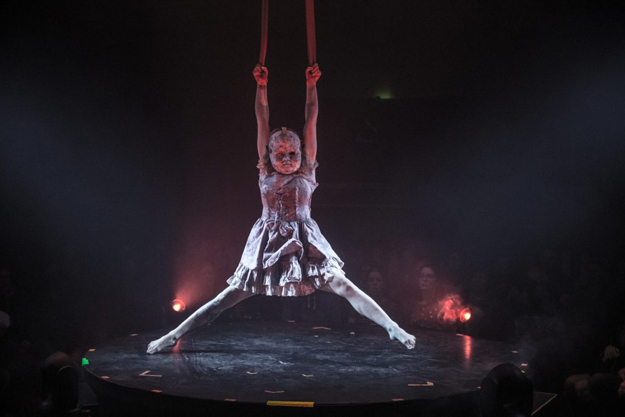 You can read more about the show and buy tickets at https://www.circusoftorment.com/

22 November 2022
David Hammarberg to the 20th Festival du Cirque. The Swedish acrobat David Hammarberg participates with his bungee trapeze act in the 20th Festival du Cirque (20ème Festival du Cirque Auvergne Rhône-Alpes Isère 2022 à GRENOBLE), which takes place in Grenoble, France from 1 – 4 December 2022. David says modestly that it's probably one of the biggest shows he'll ever perform in.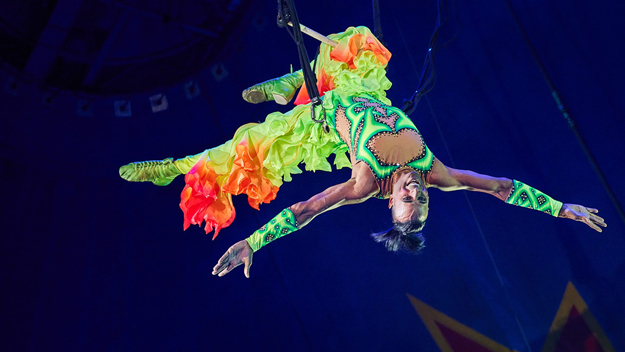 David Hammarberg has performed in the Swedish Cirkus Olympia for several seasons. In the 2016/17 season he performed at Wallmans Dinnershow in the Copenhagen Circus Building
Among the other artists is the juggler Juan Pablo Martinez, whom the Danes saw in Circus Arena in 2005 and 2018 and the Swedes in Circus Maximum in 2012. You also meet the clowns Steve & Jones Caveagna, who were with Circus Benneweis in 2015. Steve also participates with his diabolo act.
Click here for a link with information about the performers.

20 November 2022
Circus Trapez in Rudkøbing. On Saturday 19 November, the Danish Island Long Island was visited by Cirkus Trapez's Christmas performance, which was presented in Langelandshallen in Rudkøbing. Below some photos shot by Per Krogh Petersen.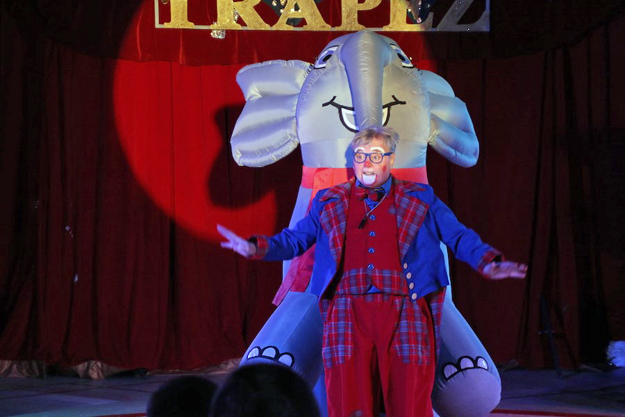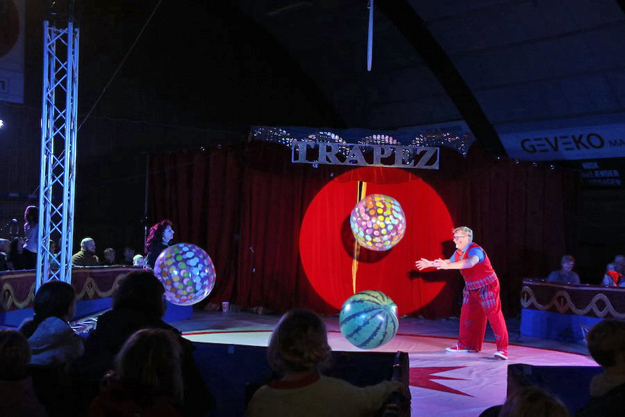 The show's clown Franz Sulc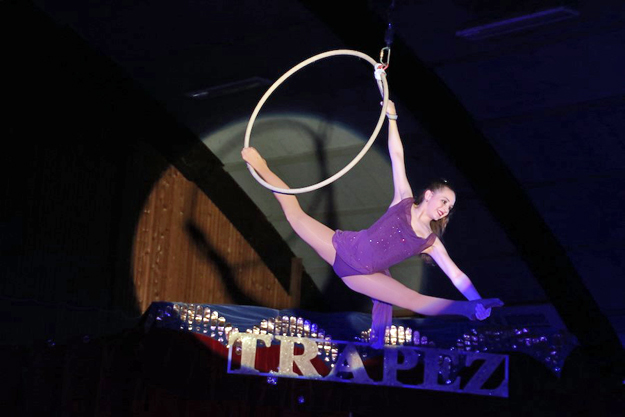 The clown's daughter Vanessa in aerial ring.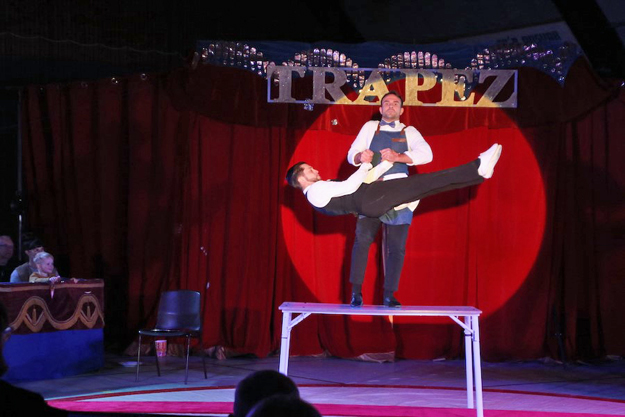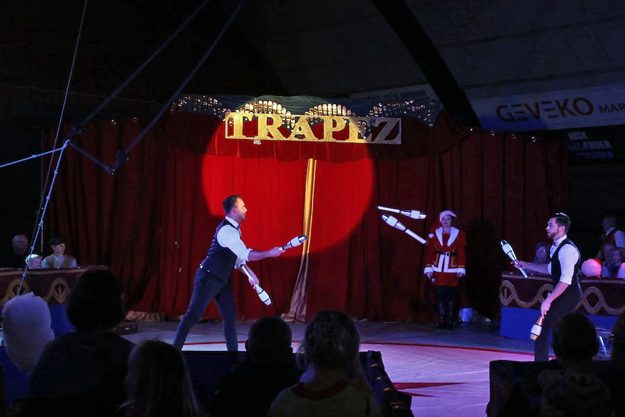 Duo Gancho had several entrées – here photo from their knockabout table act and their juggling entrée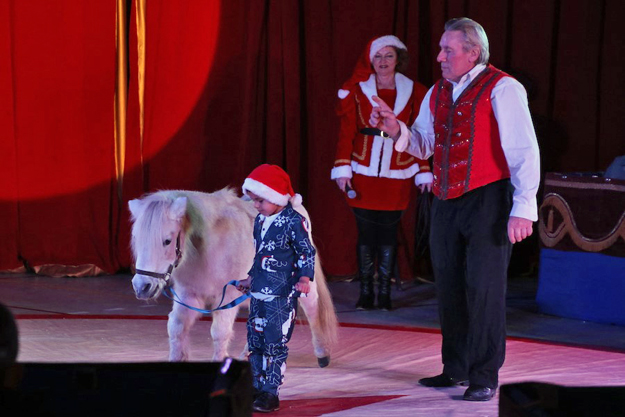 Stine Marie Greisen's son Nikolaj, aged 4, presented the pony Bonoti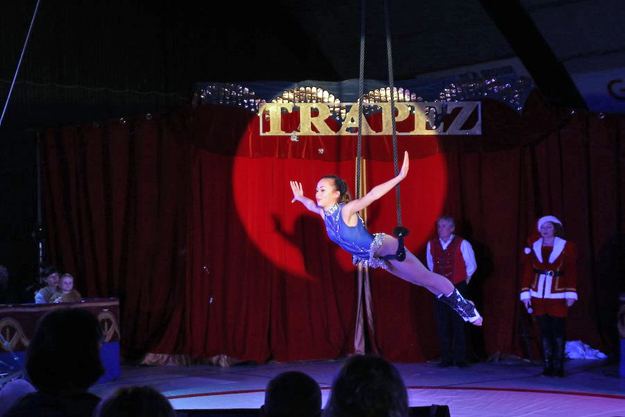 Rasmine Tomasevic-Olsen in trapeze. In August, she was the first Danish artist to receive a grant from the foundation after the late Nelly Jane Benneweis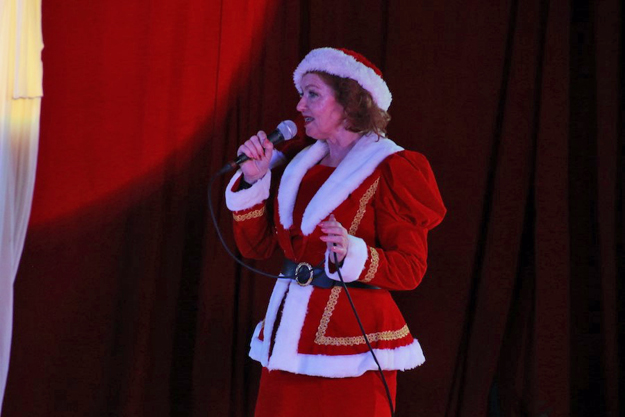 The performance was presented by Isabella Enoch Sosman. Click here to see more of Per Krogh Petersen's photos and video clips from the performance

18 November 2022
The circus queen from Roslev - Marianne Deleuran turns 60 on 25 November.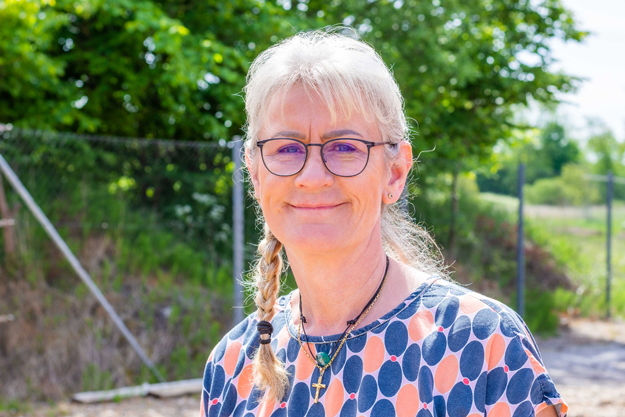 Marianne Deleuran has never been a circus princess. She is an originator, circus director, mother and more and magical in the ring. Since 1994, Marianne has run Circus Mascot – until 2013 then together with Jess, who is the father of Daniel and Andreas, and from 2013 together with the eldest of their sons, Daniel, who has been Circus Mascot's ringmaster in recent years. Andreas helps from Aarhus, where he studies at the university. Circus Mascot is a family business.
Marianne had no idea that her future husband Jess could do magic when she met him in 1987, when they were both employed at Jysk Telefon. She discovered by chance that he had a closet full of props, and it was then that she suggested they used it for something…
They did. They went out to perform magic, and over the years they shared a dream of their own circus.
They tried to borrow money from the bank - without success, and instead they were allowed to tour with a circus from Germany. It was a bit of a show... And it stopped three weeks before the season ended. In 1991, the couple got a job in Conny Hende and Jørgen Hansen's small Danish Circus Scandinavia. They had to do an illusion act as well as a number where Marianne was the mind-reading phenomenon Lizette. After 3 months, the coffers at Cirkus Scandinavia were empty, and the couple had learned something about how not to run a circus.
Based on this knowledge, Jess and Marianne founded Circus Mascot in 1994. There was room for 270 in the tent - but the audience didn't exactly pour in. With them in the circus wagon they had their four-year-old son Daniel, a poodle and a couple of balloon dogs. Later, a couple of goats and several dogs. And geese, ponies and foreign artists. Circus Mascot slowly became a success, and Marianne found that she has a special connection with animals. She can get them to do almost anything - and they can get her to do everything.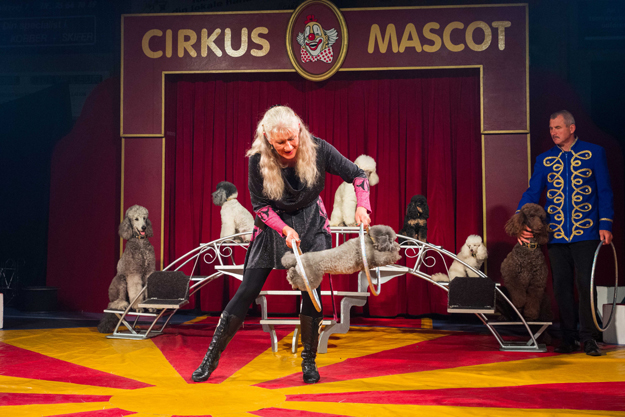 The animals in Circus Mascot must have fun. What looks playfully easy must be driven by desire and play, and this is how she trains the animals with which she thrills the circus audience year after year.
Daniel has been in the ring since he was small. Andreas was born on an August day in 1997, in the middle of the season, so when the water broke, Marianne was taken to a small town some distance from the circus lot, where she was picked up by her parents so that she could be taken to the hospital. The circus had to go on, so the circus column continued on, and Marianne took care of herself. Andreas was born on a Sunday. Marianne was back in the circus on Friday.
In 2013, Jess and Marianne divorced, and she and her son Daniel continue to run Cirkus Mascot together. They live close to each other – Marianne at the circus farm with her boyfriend, who by the way has his hands on properly and is therefore a great help – and Daniel in the house next door. The product is basically the same; precious moments for children and their adults. Circus Mascot has grown bigger, but it is still appropriate for the smallest. The staff numbers a couple of twenty, and along the way some ponies, geese, pigs, dogs and goats. Marianne has been with circus since she was 32 years old. Now she turns 60, and she is still magical in the ring.
Cirkus Mascot tours every summer - and has performed in sports centres in Jutland and Funen in the past year. Their core audience is the youngest and their parents and grandparents, they enjoy themselves in the arenas where circus and fun can be combined in the finest way.
Marianne has spent almost half of her life making circuses. Her speciality is the animals. She can do something special in their company; and most of the country could see the talent for themselves, when in 2018 she participated in the Danish version of the TV program 'Got Talent' with the dog Bobby and the pig Yrsa. It went well. It goes well. Marianne loves her family business; circus with – and for – those you care about most.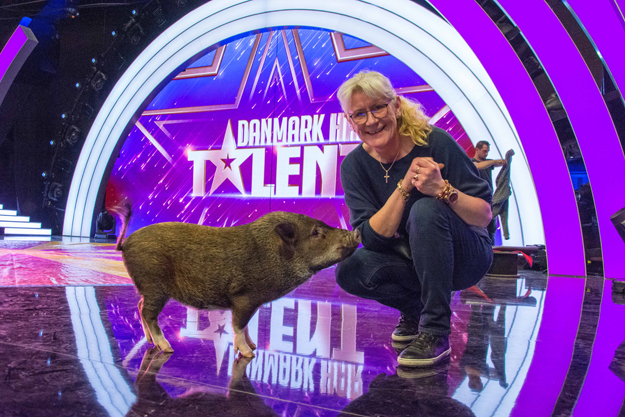 16 November 2022
Performing artists in Circus Trapez Christmas Circus.
The first half of the tour is in sport centres and other arenas and here you can meet:
Duo Gancho, knockabout table act, cyr wheel, passing juggling and musical acrobatics.
The Sulc family: Franz makes clown run-ins and his daughter Vanessa juggles with balls and perform in aerial ring.
Stine Marie Greisen: the goats and illusion.
Rasmine Tomasevic: trapeze at the weekends
Jasmin Nørgaard: tissue on weekdays
Nynne Hulsig Samuelsen: hula hoop at the weekends
Frida Nørskov: acrobatics together with Jasmin on weekdays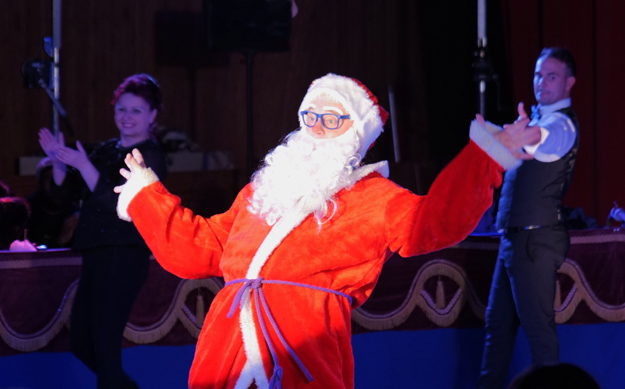 Santa Claus aka Franz Sulc
In the tent nest to the castle lake in Kolding 17 December to 1 January
Kata and Mark: super different and nice hula hoop duo, they also do a handstand act. They are artists from Cirque du Soleil, so the hula hoop act in particular is very different from the usual acts.
Rasmine Tomasevic: trapeze
Rasmine, Stine Marie and Nynne: pixie girls in triple aerial ring
Duo Klimchyk: double juggling, knife throwing and whip act.
Nynne Hulsig Samuelsen: traditional hula hoop
Stine Marie Greisen and Nynne with the goats
Nikolaj and Bonito
Bernhard with the horses Mini, Maxi and Zitan
Joseph Enoch El Messoudi: diabolo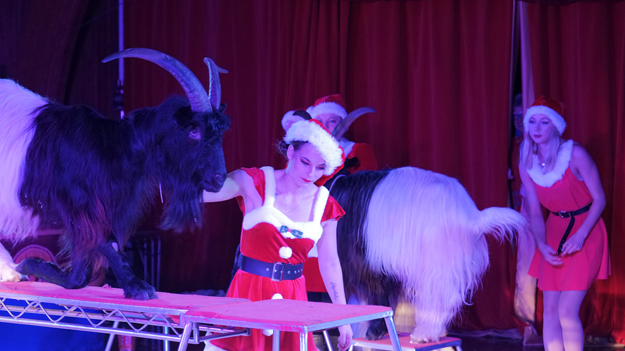 Goats and pixie girls

14 November 2020
Baldoni's Christmas Circus 2022. Jacob Boas Leitisstein writes (my translation):
At Circus Baldoni, it has since long become a tradition to present a Christmas show in November and December: Baldoni's Christmas Circus. And this year is of course no exception. On the weekend of 12 and 13 November, the Christmas tour kicked off with four performances in the Fencing Hall at the Circus Museum in Hvidovre, Copenhagen.
Baldoni's Christmas Circus will visit 29 sport centres, theaters and cultural centres on Zealand year - the last performance will be given on 18 December.
As in previous years, the show's three main characters are Nisseline, Nis and Santa Claus. This year, Nisseline is performed by Helena Neumann, and René Baldoni has the roles as Nis and Santa Claus. Nis and Nisseline nicely tie the performance together with various small run-ins between the artists' act: magic, ballet dancing and belly dancing with the Christmas pig Anton Antonius. In addition, Nisseline also sings a number of Christmas carols during the performance, which the audience can enjoy.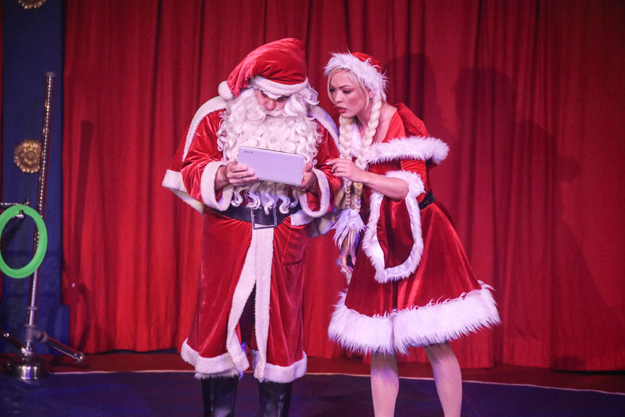 René Baldoni has the double role of Santa Claus and Nis. Nisseline is this year the well-singing Helena Neumann. All photos: Jacob Boas Leitisstein
In this year's Christmas performance, you can also look forward to meet the Janacek family, who are a regular part of the Baldoni performances - both in the summer and at Christmas. Eddie Janacek has the task as the show's clown, who repeatedly tries to impress the audience by throwing a number of spoons into some glasses.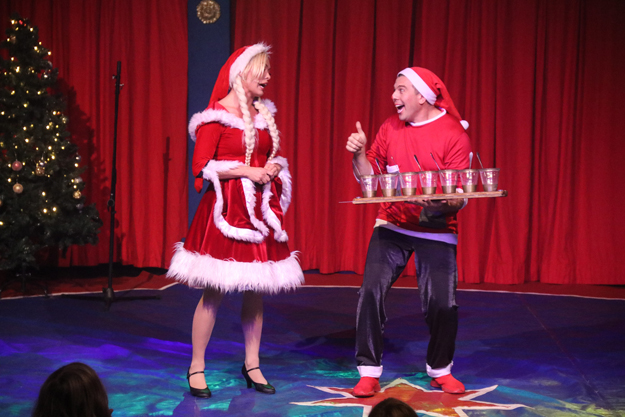 Nisseline and Eddie after that he manages to get the spoons into the glasses.
Eddie is also ready with a number of instruments when, together with Nisseline and Nis, he presents the well-known clown entrée "Don't play here". Maria Janacek presents her hula hoop act, while her sons Kaya and Rudi take the stage with their tempo juggling act, in which clubs, rings and balls are juggled.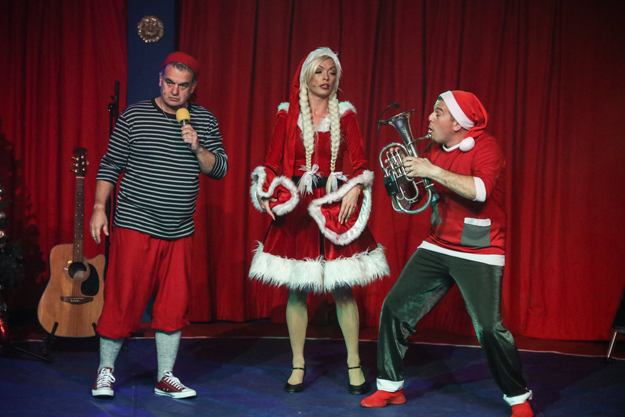 "Don't play here" with René, Nisseline and Eddie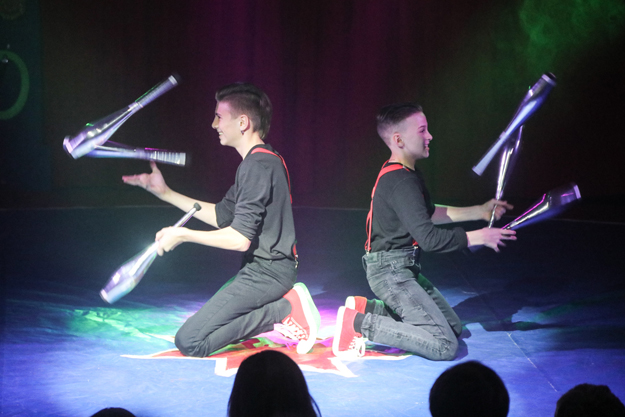 Janacek kids – the young jugglers Kaya and Rudi
Gena, Kathya and Polina Kantarovics are also on the team for this year's Baldoni's Christmas Circus. Polina shows a nice acrobatic act, where she shows a wide range of positions in a rotating ring. And later in the performance, the lights are turned off, and both Gena, Kathya and Polina enter with a beautiful visual Christmas light show with both luminous costumes, umbrellas and hula hoops.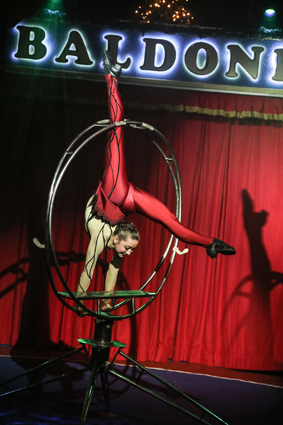 Polina Kantarovics in rotating ring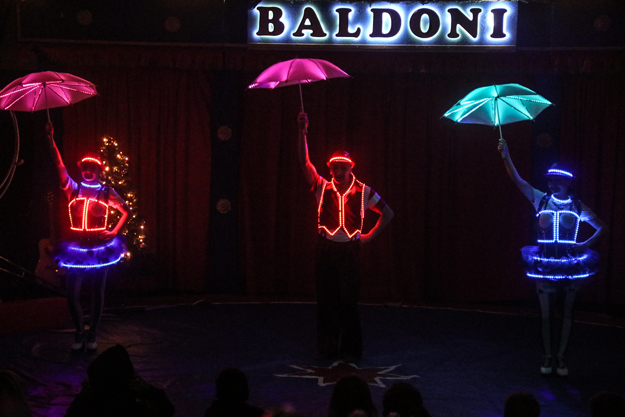 Gena, Kathya and Polina Kantarovics with their spectacular light show
The couple Katrina Markevich and Anton Tarbeev have previously been in Baldoni's summer and Christmas performances - and this year you will have a happy reunion with Katrina and Anton. In the first part of the show, Katrina presents her foot juggling act, where she juggles blankets, two giant umbrellas and a table with her feet. The last act of the performance is Katrina and Anton's diablo act. A fast-paced entrée where Katrina and Anton make the diablos fly through the air. Anton ends the entrée with his trick, where he throws "cups" with his foot on a tall unicycle, after which they are piled one by one on his head.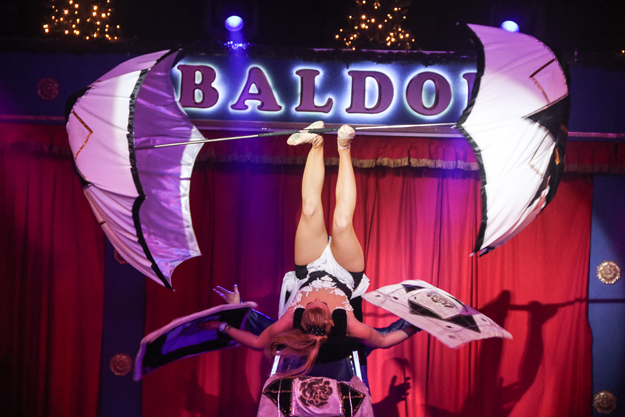 Katrina Markevich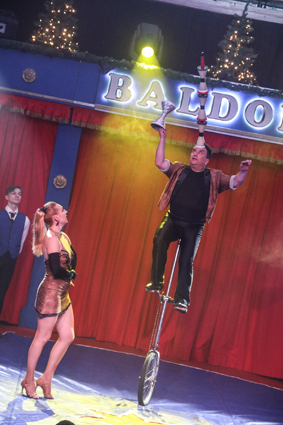 Anton Tabeev
The performance is rounded off with a festive Christmas finale. Here, Nisseline sings an atmospheric potpourri of a number of well-known Christmas songs, after which all the artists and Santa Claus dance around the Christmas tree. All in all, a Christmas performance filled with good circus acts, cozy Christmas atmosphere and lots of smiles and good mood.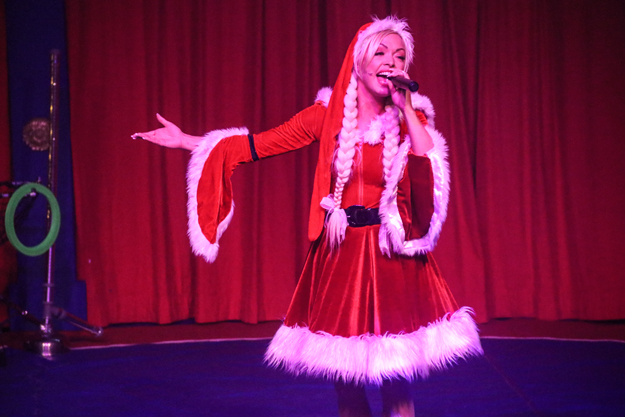 The part as Nisseline has been performed by Cindy Binau for the past several years. It is a little different this year, as Helena Neumann has taken over the role. She is a musical performer, dancer and actor and sings very well, which is good for the performance :-)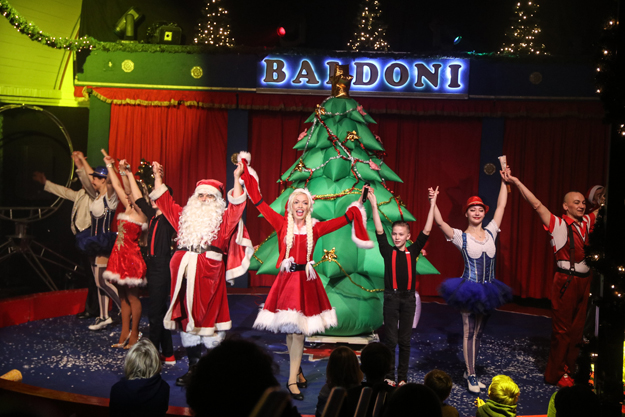 Finale

14 November 2022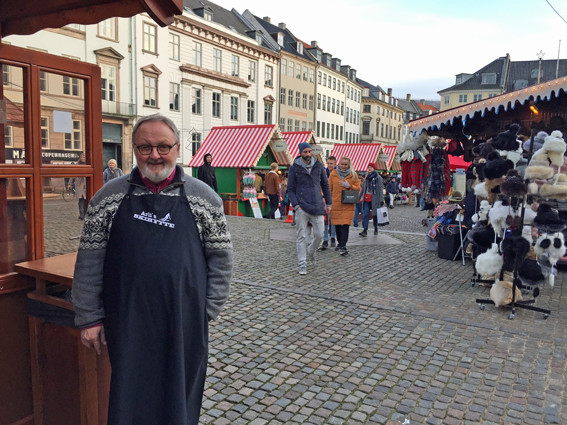 The Arli family are once again in charge of Hans Christian Andersen's Christmas market in Copenhagen. The location is at Nytorv in central Copenhagen. From 17 November to 21 December, the market is open Sunday to Thursday 11 am - 7 pm and Friday + Saturday 11 am - 8 pm. See more at www.julemarked.co

12 November 2022
Hansi Hinterseer to Circusland. This summer, Cirkusland in Slagelse had a number of outdoor concerts with the title "Sommerrock" with well-known Danish names. For the coming season's summer rock concerts, they have booked an international star: the Austrian pop singer Hansi Hinterseer, who will give a concert in Cirkusland on 6 August 2022.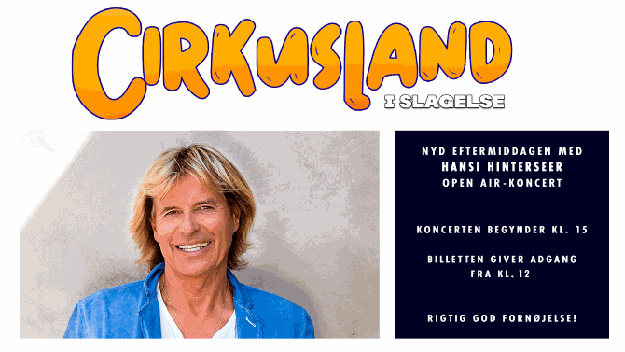 Hansi Hinterseer was supposed to give a concert in the KB-hallen in Copenhagen on 29 October. The concert was moved at short notice to June 3, 2023. Thus, it looks as if the Danish audience net year will have the opportunity to meet the Austrian hit king twice.

11 November 2022
Winter circus in Malmö and Helsingborg, Sweden. In 2013, the young Albin Ganovic took the initiative to present Christmas circus on the harbour square in central Helsingborg. It was a success. The same was not the case in 2014, when the circus was relegated to a dull location a few kilometres south of the city centre, to which not many found their way. In January 2019, Albin Ganovic presented a winter circus, first in Malmö and then in Helsingborg. And he does the same this year: first in Malmö from 25 November to 3 December and then in Helsingborg from 9 to 18 December. In both cities only with performances on Friday, Saturday and Sunday.

Despite the season, it is presented as a winter circus and not as a Christmas circus.
The performance is called Pidde P runaway with the circus. The central figure is the Swedish singer and children's entertainer Pidde P (formerly Pidde Pancake – his civil name is Petter Hedwall). Undoubtedly assisted by Albin Ganovic as the clown Cito.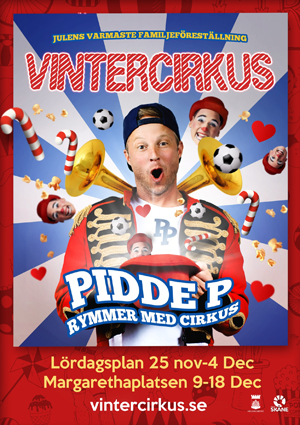 According to Facebook, the performance features the juggler Erico, who comes from a well-known Spanish circus family. The tight wire dancer José also comes from Spain. The artists' surnames are not mentioned, but it is likely that they are the Munõz brothers, whom the Danes saw in the small Danish Cirkus Krone in 2010 and 2011.
The circus princess Cajsa is educated at Lund's dance & musical high school, in Los Angeles, New York and at the Ballet Academy in Stockholm.
The Flying Family consists of Swedish Anna & Jimmy with their sons Hugo 11 years & Hannes 7 years. With their act in tissue, they were in the final of the Swedish TV Got Talent. The boys have grown up backstage when their parents performed on some of the biggest cruise ships in the USA, in the Circus Building in Copenhagen and on TV in the Eurovision Song Contest.
Ludvik is 27 years old and is a contortionist. He comes from Italy.
We know Mr Fat Man in Denmark as the award-winning artist Konstantin Muravyov, who appeared several times in both Circus Arena and Zirkus Nemo with his comic act in German Wheel (Rhönrad).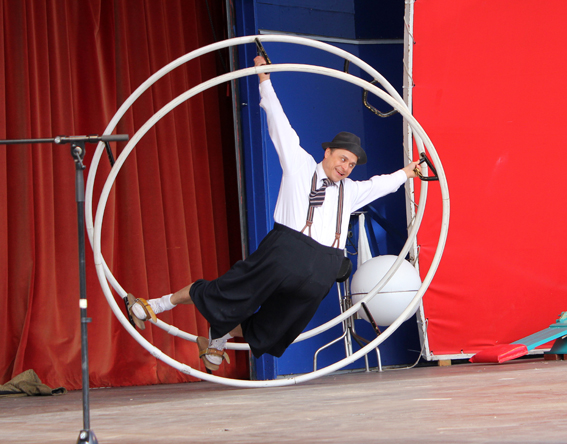 Konstantin Mouraviev at the amusement park Bakken in 2012
The dancers Alva Modig and Karolina Brun come from respectively Lilla Ljungby and Helsingborg.
The performance is accompanied by a 4-piece circus band: Ida Baskvist on bass, Rasmus Ringdahl bandmaster and drummer, Karin Pilhage on guitar, Axel Johansson on piano and saxophone.

10 November 2022
Obituary: Zarro Zarro. IT ALL HAPPENS IN PARIS -- my reliable and trustworthy Paris correspondent Zarro Zarro passed away on 7 November. He would have turned 90 on 26 November. His civil name was Rolf R. Wollert and he lived in Paris since 1993. He had a PhD in French and served as a senior teacher in Gothenburg in his native Sweden. In 1970, Zarro Zarro found that he was ready for international challenges and got a contract as an expatriate teacher in Zambia where he taught until 1973.The educational system, inherited from British rule, meant three months' of work, then a month's holiday - this was the annual cycle.
During holidays, Zarro Zarro found gigs as a magic entertainer: Zaire /ex-Congo/, Tanzania, Mozambique, Mauritius Island, Kenya - both night clubs and family shows. As of 1973, he returned to Gothenburg, until he in 1975 landed a contract with Ivory Coast /Cote D'ivoire/, formerly French West Africa, where he remained for the next ten years, teaching at secondary and superior level.
The summer holidays were spent in Paris, where he performed his Cabaret Act, as well as featuring The Spirit Cabin, as a street entertainer, together with his daughter Madeleine.
The Spirit Cabin is a trick that Zarro Zarro was proud of - it is thoroughly described in
Swedish and English at http://www.cirkus-dk.dk/htm/dk/artikler.htm with photos.
Zarro Zarro was resident correspondent for the Scandinavian Magic Magazine Pegasus, DK. Since electronics and lack of support from the Danish authorities made Pegasus disappear, his write ups on Paris visual shows have appeared on this page.
Zarro Zarro was very concerned that, among other things, the corona in recent years harmed the entertainment life in Paris, and that many of the small theaters and other venues that he loved are closed. In addition, his health was not the best for the past year and he was hospitalized several times. He is survived by his daughter Madeleine. He will be cremated on November 16 and the ashes will be spread in Saintes-Maries de la Mer, just as happened with his wife's ashes.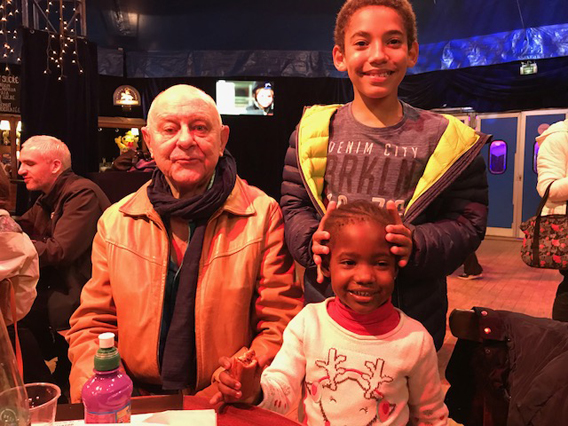 aZarro Zarro loved to invite other friends, particularly kids, to circus shows.
Here we bring a photo, shot at Cirque Alexis Gruss of Zarro Zarro together with Malik and Sarah, children of his faithful it-assistant Noufou and his wife Valentine.

10 November 2022
THE BALANCE - a contemporary circus performance about the search for balance. In the classic circus, the purpose of an artist act is to impress and entertain. And the artists do this for the 5-10 minutes their entrées last.
It is different with many of the performances in what is called contemporary circus. Instead of entertaining, they want to present something thought-provoking or spread a message.
The performance The Balance is an approx. 50-minute-long one-woman performance with Danish handstand artist Signe Løve Anderskov. It is about falling and getting back up; about staying in motion if you want to stand stable. And about what it's like to work with something that never gets completely under control. In a speak to the performance, it is stated: "She does not keep the balance - she restores it. Balance is a state of constant falling. Of constantly falling. She restores it. She's falling."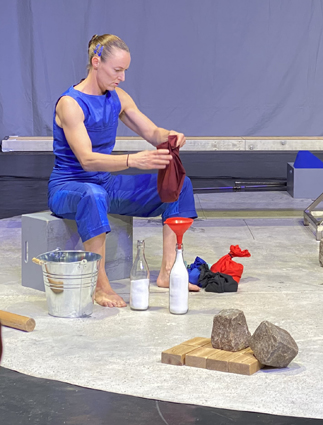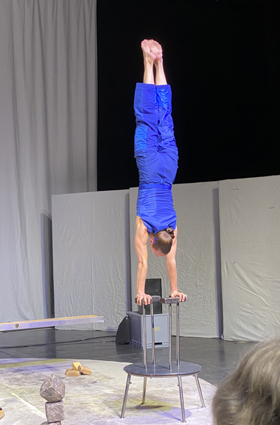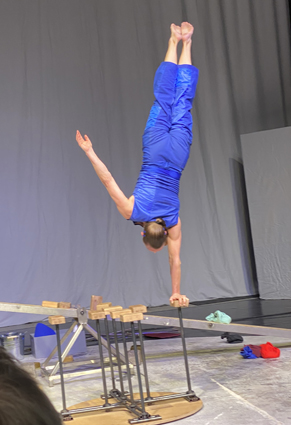 The performance includes several handstand tricks and it is impressive for how long time Signe Løve Anderskov manages to stay in handstand. She also balances with other things, including cobblestones, and uses, among other things, a see-saw, where she eventually builds up a mobile which is a simplified version of the artist act known as Sanddorn Balance.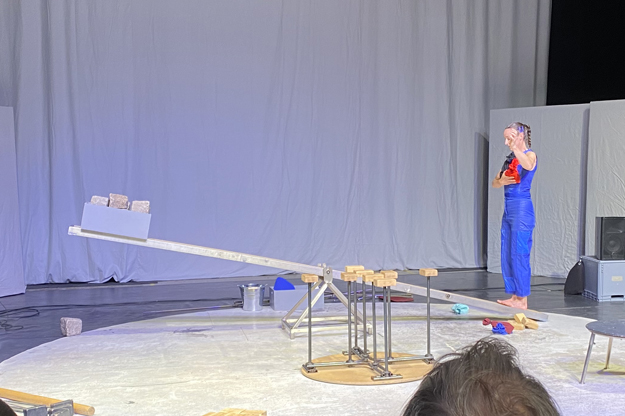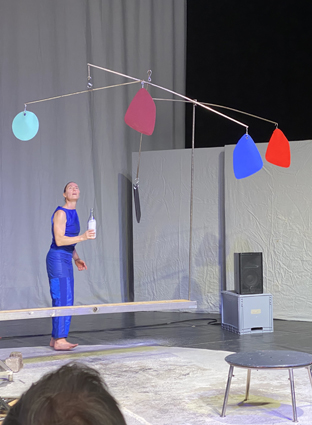 The Balance is a new production of The Balance, which premiered in June 2017. The new edition had its premiere on 9 November at AFUK on Enghavevej in Copenhagen, where it can be seen until 12 November. From 1 to 3 December it can be seen at Dynamo in Odense.

6 November 2022
Cirque du Soleil Corteo. The performance Corteo should have been shown in Copenhagen and Herning in April 2020. The corona meant that the visit to Herning was completely canceled and the visit to Copenhagen was pushed first to February 2021 and then to November 2022. Following the principle of third time lucky it succeeded this time where 7 almost sold-out performances were presented in the Royal Arena in Copenhagen from 3 to 6 November.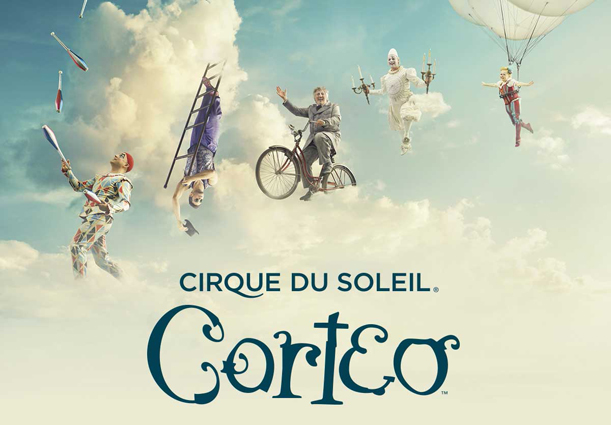 As always with Cirque du Soleil, there is a story in the performance. Briefly, Corteo is about a clown who dreams of his own funeral and remembers friends and colleagues whom he has travelled around with a kind of fantasy circus and who have now come to say goodbye to him. The story is not entirely easy to follow in Cirque du Soleil's performances, but Corteo, like their other performances, is impressively beautiful entertainment. It is far more important than whether there is a story.
In a traditional circus, artists are booked to show their own act. But just as actors are engaged to play a specific role and thus not to play themselves, Soleil's artists are engaged to play a specific role, where the use their artistic skills. Therefore, they do not "market" the individual artists in the same way as a traditional circus, and there are continuous replacements among the performers and adjustments in the performances.
However, it does not change the fact that you saw beautiful and spectacular artistic performances. In the version we saw in Copenhagen, we saw trapeze artists who used prism chandeliers as a trapeze, artists in the Cyr Wheel, flying trapeze from and to a fixed trapeze (fangstol), hanging pole, ladder balance, jugglers, trampolines disguised as beds, reck acrobats and a number of ​​jumpers and tumblers. The technical set up was fantastic. The well-known clown entrée, where the clown throws a large ball out to the audience, was replaced by a midget who with 3 large balloons on her back "floated" around the arena and asked the audience to push her back by pushing her feet. We also saw "flying angels" and "flying" bicycles. For copyright reasons, I cannot bring photos from the performance.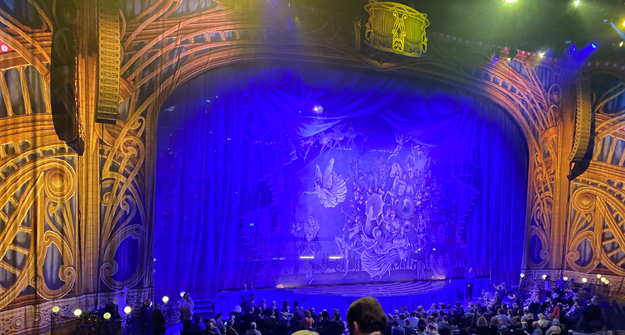 The front curtain in the Royal Arena, where the set-up was that the spectators were located on both long sides of the arena with the ring in the form of a huge revolving stage on the floor and with front curtains on both sides.
Corteo premiered in a tent in Montreal in 2005 and has since been seen by more than 9 million people in 19 countries worldwide. Click here to watch a short video teaser from the performance. And here to see a 30-minute-long video "Spotlight on Corteo" with many clips from the performance, including a tight wire act which was not included in the version we saw in Copenhagen.

4 November 2022
Christmas circus in Jutland and on Funen. Since 2006, Circus Baldoni has presented a Christmas circus on Zealand. The first time only in Copenhagen and the following years only at a few other places. Since 2016 they have presented Christmas circus in a large number of sport centres and other arenas on Zealand, Lolland, Falster and MN.
In 2020, Cirkus Trapez had planned to present a Christmas circus in Kolding. Kolding is a city in South Jutland and with its 61,638 inhabitants is Denmark's 7th largest city. The tent was put up next to the Castle Lake but the corona meant that the performances had to be cancelled. The attempt was repeated in 2021, but after only 5 days, corona restrictions meant that the rest of the performances had to be cancelled.
However, that has not discouraged Isabella Enoch Sosman and her team, who this year plan to show a Christmas circus in Kolding from 17 December to 1 January.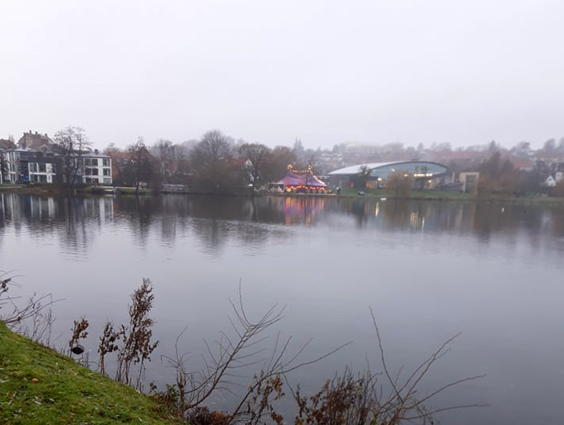 Circus Trapeze next to the Castle Lake in 2021. Smartphone photo, taken by Jørgen Lorenzen
Before then, they send the Christmas performance on tour to a number of Jutland and Funen arenas with a premiere on 12 November in Hedensted. The island Langeland is also visited.
They write (my translation): "Look forward to see talented pixie artists who do mind-blowing acrobatics, juggling, great aerial acts, cool tricks, our cute animals and much more. All to the tune of lovely Christmas music, and otherwise everything that belongs to Christmas and the circus."
See more in the What's on.

3 November 2022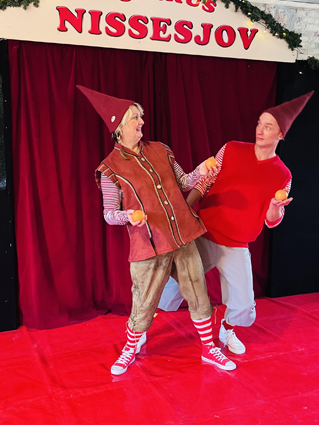 NOW WE CAN ALSO OFFER THE CHRISTMAS SHOW CIRCUS NISSESJOV, writes Circus Suzanne Berdino, who has taken over the concept from René Baldoni. Circus Baldoni previously used the name Circus Nissesjov for short performances in November and December for kindergartens and other institutions, but in recent years Circus Baldoni has concentrated on creating a "real" Christmas circus lasting a couple of hours.

2 November 2022
Kenny Quinn to Christmas circus in Switzerland. In both 2020 and 2021, the Danish gentleman thief Kenny Quinn was booked to perform in a Christmas circus in the Netherlands. But both times the corona meant that the bookings were cancelled. Let's hope it's third time lucky: Kenny Quinn is now booked for the Greenfelder Weihnachtszirkus in Switzerland to present his elegant act from December 8th to December 31st. It is the Stey family from the Swiss Cirkus Stey who are arranging the Christmas circus in Frauenfeld. Click here to read more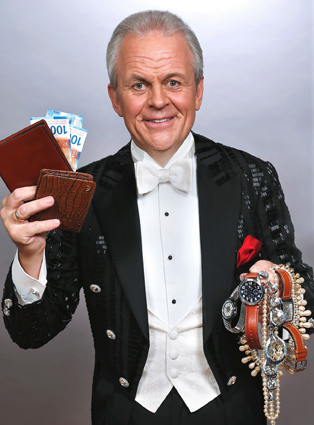 Kenny Quinn promo photo
"I had my very first international engagement with Zirkus Stey in 1986," Kenny Quinn says. "It was in a different time where Zirkus Stey's tent had a diameter of 36 meters and has its own circus zoo and many wagons.
Again in 1988, I was back in Switzerland on a 10-month re-engagement, this time with Joan as my assistant. It was our first year together."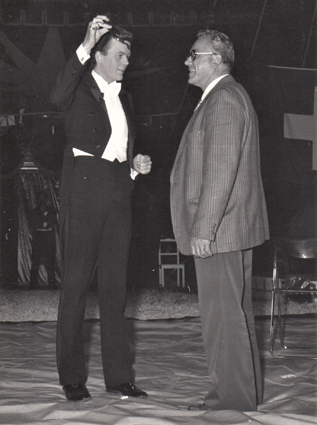 A young Kenny Quinn at Circus Stey in 1986

2 November 2022
New Swedish Facebook page. The Swedish Circus Academy has created a new Facebook page " Cirkusakademiens Arkiv ". There you can see photos, posters and other things from the circus, variety show, artists and other entertainment from the Circus Academy's large collection as well as from Sweden's Circus Museum. The Cirkusakademiens Arkiv can also be found on Instagram at @cirkusakademiensarkiv.

31. October 2022
The Danish contemporary circus company Cikaros presents a new staging of THE BALANCE - a modern circus performance about the search for balance
Cikaros writes in a press release (my translation)
The performance The Balance is about falling and getting back up; about staying in motion if you want to stand stable. And about what it's like to work with something that never gets completely under control:
She doesn't keep the balance - she restores it. Balance is a state of constant falling. Of constantly falling. She restores it. She's falling.
Experience equilibristic tricks and trembling excitement when handstand artist Signe Løve Anderskov balances herself and other objects in a whimsical balance laboratory, where poetic circus experiments meet facts, philosophy and biomechanics.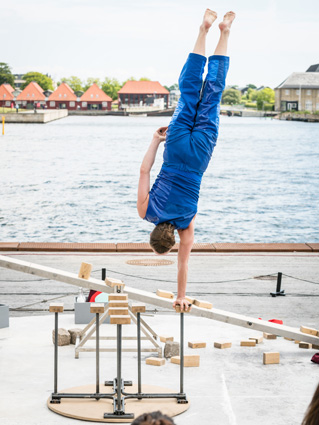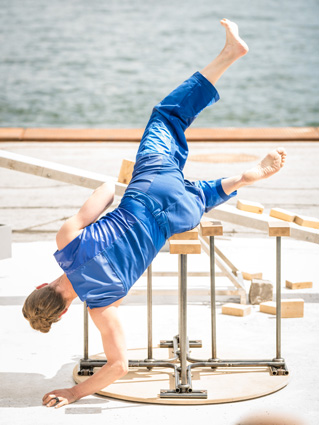 Signe Løve Anderskov. PR photos taken by Mathias Vejerslev
NOT EVERYTHING IS LEGENDARY EASY
Follow the concentration and immersion in the search for the magical balance point. See the heaviness meet the lightness in fragile balance positions and hold your breath when you feel that now it is there... almost.
Feel the circus magic in slow motion. Here gravity is not cancelled and not everything looks playfully light. Through patience and calm, but also frustrations and failure, we zoom in on the artist's constant search for balance in an honest and touching tribute to the sense of balance.
THE FACTS
Concept, staging, artist Signe Løve Anderskov Co-stager: Samuel Gustavsson Sound design Mika Forsling, Consultants Camilla Becker Madsen, Camilla Damkjær, Mikael Kristiansen, Lars Gregersen Costumes Michiel Tange van Leeuwen Photo Mathias Vejerslev Producer Cikaros Supported by the The Danish Arts Foundation Project Support Committee for Performing Arts.
The performance The Balance premiered in June 2017 at Ofelia Plads under the name The Balance.
Performances:
Wednesday 9 November at 20: AFUK SCENE, Enghavevej 82B, 2450 Copenhagen
Thursday 10 November at 20: AFUK SCENE, Enghavevej 82B, 2450 Copenhagen
Friday 11 November at 13: AFUK SCENE, Enghavevej 82B, 2450 Copenhagen
Saturday 12 November at 15: AFUK SCENE, Enghavevej 82B, 2450 Copenhagen
Link to ticket booking
The performance lasts 50 minutes. It is aimed at adults, young people and curious children from 8 years of age.
The performance can also be seen at the beginning of December at Dynamo in Odense:
1 December at 20 – DYNAMO, Finlandkaj 6, Odense
2 December at 20 – DYNAMO, Finlandkaj 6, Odense
3 December at 15 – DYNAMO Finlandkaj 6, Odense
Link to ticket ordering
Signe Løve Anderskov is a handstand artist and artistic director of Cikaros. She is educated at AFUK and at the Russian state circus school, and has since taken a Master of Fine Arts in contemporary circus practices at Stockholm's artistic university SKH.
Cikaros is a Danish contemporary circus company. As pioneers and one of the strongest profiles within Danish contemporary circus, Cikaros has, since its formation in 2005 produced and toured with performances in Denmark and abroad.

30 October 2022
IT PROBABLY DOESN'T EVEN HAPPEN IN PARIS - AND NOT ELSEWHERE EITHER - an old-fashioned circus tour, pulled /drawn/ by horses. From Paris Zarro Zarro writes:
Some events were possible in the old days, now not anymore.
We look together: in the old days, the rural population was predominant, they had little opportunities for entertainment: mostly fairs in autumn and then in May /autumn and spring/, the only opportunities to eat caramel and ride a carousel ...
People barely had radios.
It was a place for a traveling circus, albeit a primitive one.
The living conditions of the travellers were wretched: poverty, disease plus other things.
Today, artists have comfortable carriages with WC and shower /rolling bath/, as well as the DANISH ARTIST FORBUND similar unions as back up.
The last time you experienced a horse-drawn circus in Denmark was from 1984 to 1986, when Tonny Trifolikom and Folmer Kristensen and his then-girlfriend Marie Netterstrøm toured with the horse-drawn Cirkus Freja. Click here to read an article about Circus Freja (Text in Danish, but with many photos).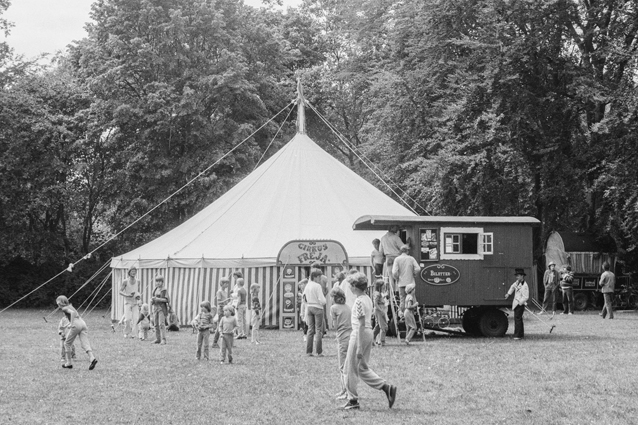 Circus Freja. Photo: Erik Vinther Andersen
Reviving the old seems to be impossible for - if nothing else - hygienic reasons.
The audience probably wanted to see TV, YouTube etc. and not events with which they lost contact a long time ago.
Correct me if I am wrong.
------------------------------------------ ZARRO ZARRO

28 October 2022
Baldoni's Christmas Circus 2022. Season opening is on Saturday 12 November in the Fencing Hall next to the Circus Museum in Hvidovre, Copenhagen. After that and until 18 December, Baldoni's Christmas Circus can be seen in at number of arenas on Zealand, Lolland, Falster and Møn.
This year it is director René Baldoni who has the roles as Pixie and Santa Claus. In the part as Pixieline you meet Helene Neumann, who is a musical performer, dancer and actress.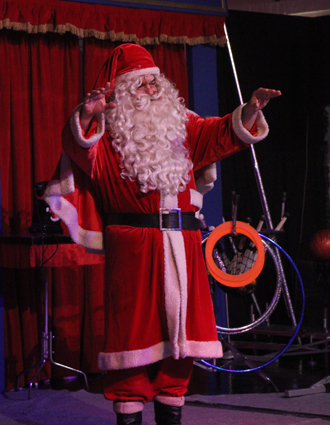 This year, it is René himself who is back in the role as Santa Claus
The artists in the Christmas performance are:
Gena, Kathya and Polina Kantarovics. Polina has a ring act on a standing pedestal and then they do their LED show, which Circus Baldoni brought to the Faroe Islands in September. They come from Latvia and have previously performed at Baldoni under the name Red & Blue.
The Janacek boys is juggling, mother Maria does hula hoop and father Eddie is clown together with René in e.g., the well-known entrée "Don't play here".
Katharina Markevich performs with foot juggling and together with Anton Tarbeev, diabolo ending with his tall unicycle. The couple have just been on tour with Trapez's autumn circus. In 2013 they toured with Circus Arli and were later in Baldoni's Christmas show. In 2015 they were on tour with Circus Baldoni.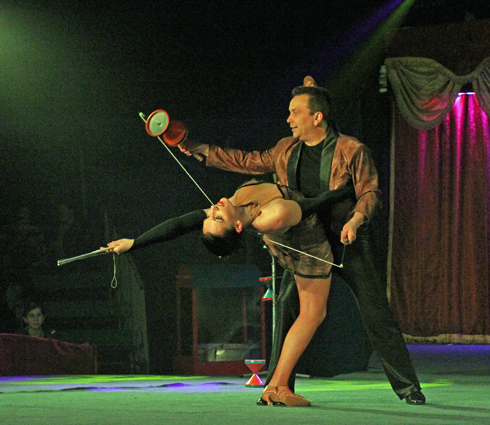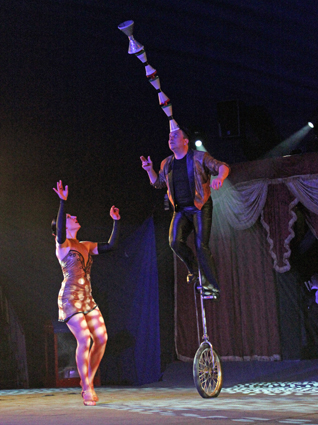 Katharina Markevich and Anton Tarbeev at Baldoni in 2015

25 October 2022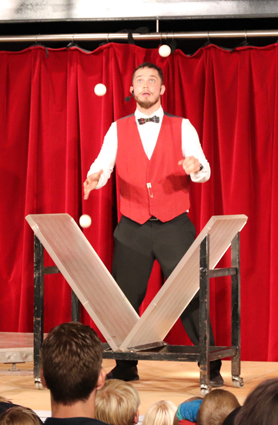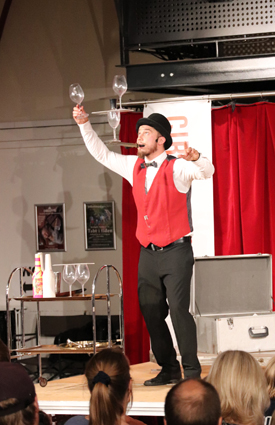 Monday to Thursday during the autumn holidays in week 42 the award-winning juggler and entertainer David Sosman gave it maximum gas in front of a well-prepared audience in the Fencing Hall at the Circus Museum in Hvidovre, Copenhagen. Photos: The Circus Museum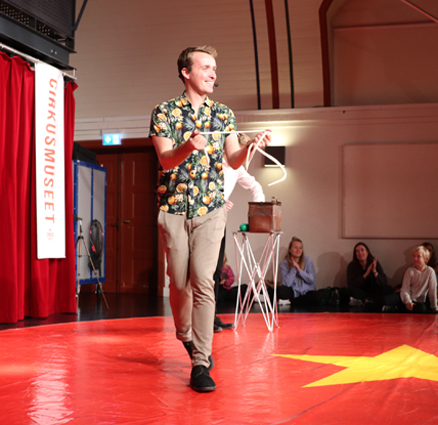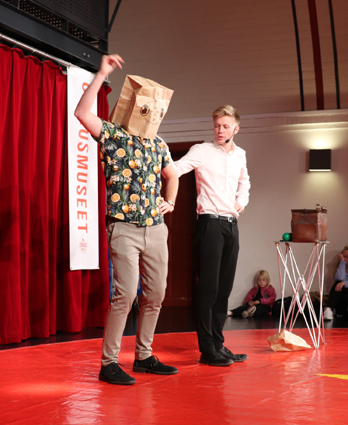 On Friday, the goofy duo Peter and Andreas performed for a jam-packed Fencing Hall. There was both mind reading, conjuring, cycling on unicycles and juggling in front of the gaping audience, who responded with generous applause and bursts of laughter. Photos: The Circus Museum

25 October 2022
Circus Trapeze autumn performance. Jørgen Lorenzen saw the performance in Langaa Sports Center on 23 October at 15 and writes:
Randers is close to Langaa. And that afternoon the soccer team Randers Freja played against FC Nordsjælland – it is for the time being the two best teams in the Danish Super Liga. All children were invited for free to the match at Randers stadium. And that was the reason for relatively few going to the circus in Langaa.
Randers Freja lost. But things went better in Langaa. And if a performance can win, then it was 2-0 to Circus Trapeze when the performance was over.
Isabella Enoch welcomed and Anton Tarbeev senior started the performance with diabolo juggling – together with Katrina Markevich.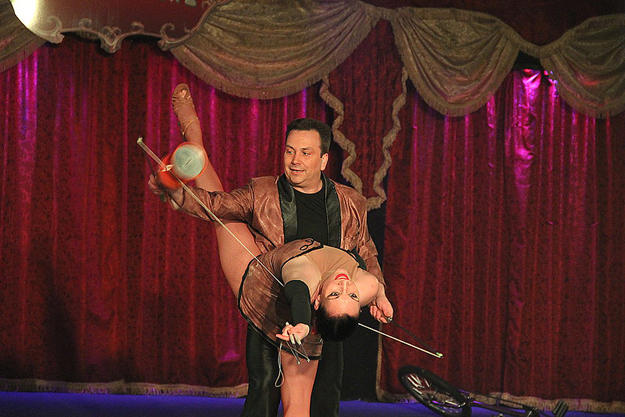 Anton Tarbeev and Katrina Markevich. Press photo from Circus Trapez
And then came the reprice clown Frantisek Sulc. He had many run ins during the performance, e.g. the chair game and the entrée where large balls are thrown out to the audience, who quickly return them. It's so simple, but it always causes great cheer. And then he had an entrée where he enters with an inflated/inflatable elephant. These plastic animals have gradually become common in most circus performances. But it is only a substitute for the real thing, which is a live animal. And then Frantisek Sulc made the 4 stools gag where 4 men from the audience balanced, lying on top of each other in a square. They held each other up - until fatigue set in, so the line-up collapsed. Which was also the meaning!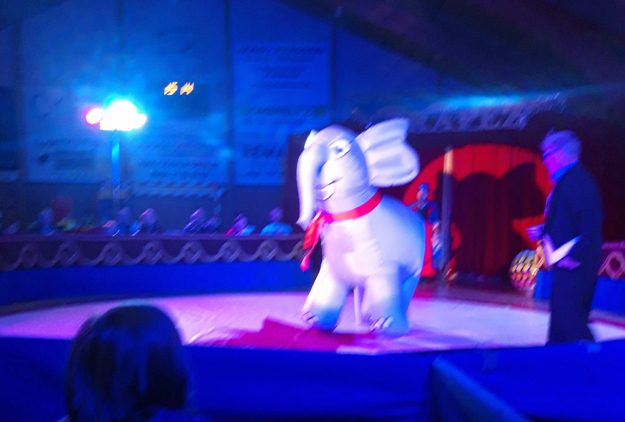 Frantisek and the elephant. Smartphone photo, taken by Jørgen Lorenzen
Vanessa is 13 years old. She is the sister of master juggler Allan Sulc. And almost as skilled as him. She juggled in a classic, clean, fast-paced ball juggling act. She could keep 7 balls in the air and keep them up for several rounds.
Katrina had her little dog with her. The dog could, among other things, stand on hind paws on her headdress and it could balance on front paws in her hand.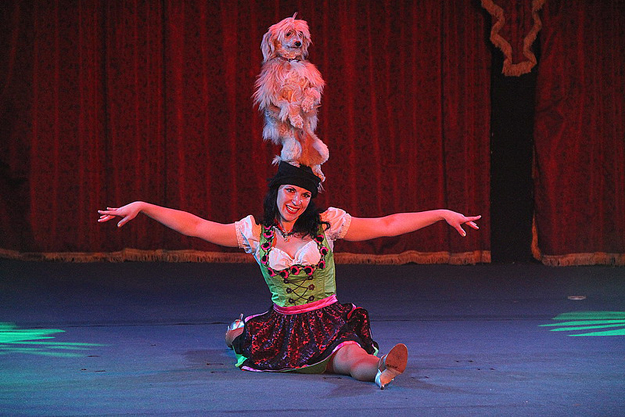 Katrina Markevich and the dog. Press photo from Circus Trapez
And the first part of the performance ended with Vanessa, who was in the air in the aerial ring.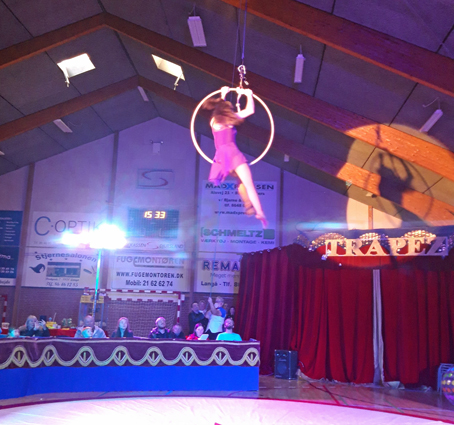 Vanessa Sulc in aerial ring. Smartphone photo, taken by Jørgen Lorenzen
1 – 0 to Trapez!
The 2nd part of the performance started with 3 goats, presented by Bine, after which Rasmine was conjured out of a box. And her aerial number in solo trapeze promises a great career. She doesn't swing much in the trapeze, but rather did acrobatics – emphasis on strength, but still graceful. Almost rhythmically and with smooth transitions between the different static positions. The old and beautiful act in solo trapeze, which has so many eminent performers among female Danish artists - i.e., La Norma, Greta Frisk and Isabella Enoch - got new life. It will be exciting to follow Rasmine – the last shot in the long line of queens of female Danish aerial artists. Happily, she recently received a grant from the Nelly Jane Benneweis Foundation at the annual awards ceremony at the Circus Museum.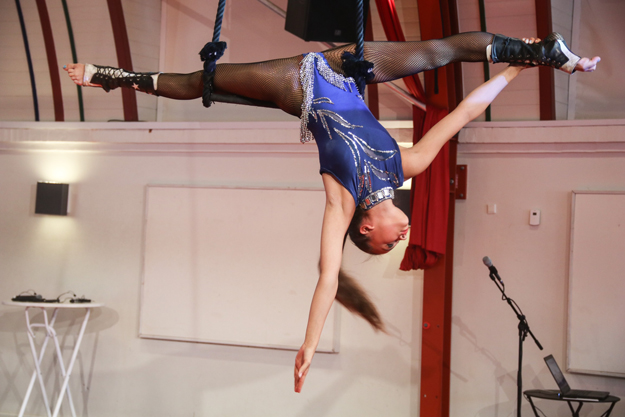 The 13-year-old Rasmine Tomasevic-Olsen received a grant from the Nelly Jane Benneweis Foundation as the first Danish artist ever at this year's distribution of circus awards. Photo: Jacob Boas Leitisstein
Anton JR, son of Anton Tarbeev, rode a unicycle - rode, jumped with the bike and juggled while riding. And the performance ended with the foot juggler Katrina Markevich, who juggled tablecloths, balls and unfolded umbrellas. Stylish and with a lovely harmonious color combination in costume and props.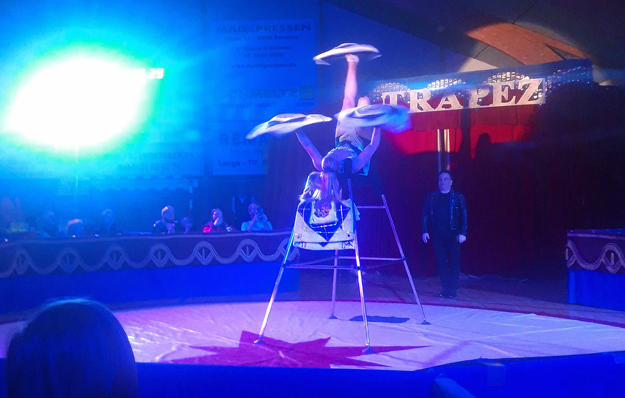 Katrina Markevich. Smartphone photo, taken by Jørgen Lorenzen
Isabella Enoch presented the artists in the final and thanked the audience. And as she said during the performance: all good artists are related to me! If not in the carnal sense, then in a figurative sense, as artists in flesh and blood.
2-0 to Trapez. And as mentioned, Randers Freja lost to FC Nordsjælland.

21 October 2022
New clown for Circus Baldoni. For several seasons, first Lars Larna and then Danilo (Daniel Dimitrijevic) were the house clown at Circus Baldoni. In 2021 and 2022, it was Jutland's Alando (Jan Allan Hansen) who had task as clown. For the 2023 season, Circus Baldoni has engaged Tøffe as a clown.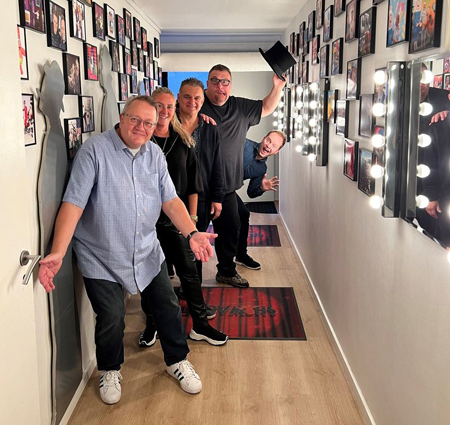 Circus Baldoni writes (my translation): First brainstorm about next year's program with the show's ringmaster Amin Jensen, our new clown Tøffe, Peter Nørgaard (who will put the performance on stage) and the management Camilla Frimann and René Baldoni. We dare to promise that it will be hilarious with these two capacities in the program. Photo: Circus Baldoni
Tøffe, whose civil name is Per Tofte Nielsen, has worked for several years as a Media Technician / Film & AV operator at the Danish Film Institute / Cinematheque. He has been granted leave during the months in 2023 when Cirkus Baldoni is on tour. The audience has previously seen him as a comedian and as clown, for example at Benny Schumann's clown festivals at the amusement park Bakken north of Copenhagen. Tøffe has also appeared in numerous commercials, short films and feature films both in Denmark and abroad. Most recently in "Journal 64" and "A fortunate Man". For a number of years, he was together with the Swedish comedian Yan Swahn and the singer Gitte Johnson in the show group "Two tons of fun". Tøffe also had some good seasons with Bakkens Andy, Kai Løvring and Bjarne Lisby in Restaurant "The four Oaks" at Bakken.
"SURPRISE! - On tour with Circus Baldoni. A wonderful opportunity that I simply couldn't say no to. I'm really looking forward to it!" writes Tøffe on Facebook (my translation).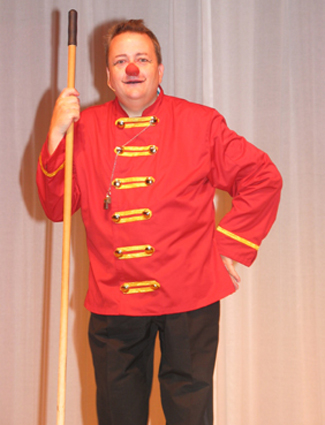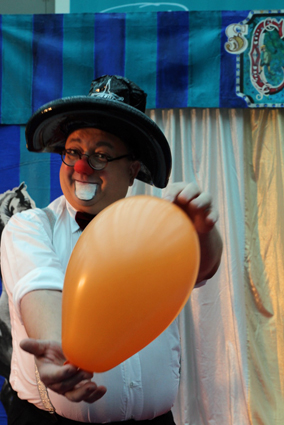 Tøffe - photos from respectively 2006 and 2014
Tøffe has also been Santa Claus at H.C. Andersen's Christmas market in Copenhagen. Here he is seen together with Martin Arli. Photo from 2018

20 October 2022
Cirkus Big's performance in Broen shopping centre, Esbjerg, 19.10.22 at 16 lasted 30 minutes.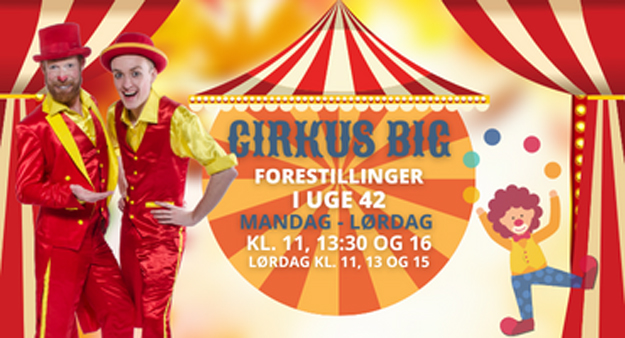 Full house, both seated and standing audience. Mr. Big welcomed.
For the first time, they managed to create a more or less completely cast and completed performance. They started with a roller-skating trip as PR and prelude to the performance. After that, it was battle after battle with the teasing about who was going to make the children laugh etc. But they took turns accompanying each other. They did "don't play here, so I play there". Good old classic. Mr. Big did a balancing act, which clown Knud eagerly disturbed. Knud played the cowbells ravishingly. Mr. Big appeared with a magic wand and balloons, which Knud eagerly popped. Mr. Big conjured a snot rag from his hand and into the balloon. Finally, he finished with diabolo. It was a nice performance.
Sincerely, Circus News seconded employee
Find Stendevad
(My translation)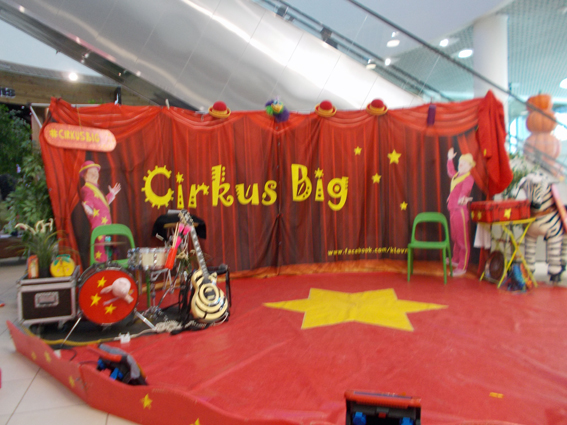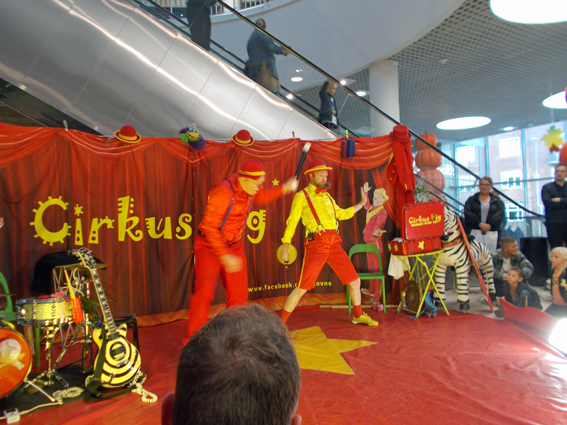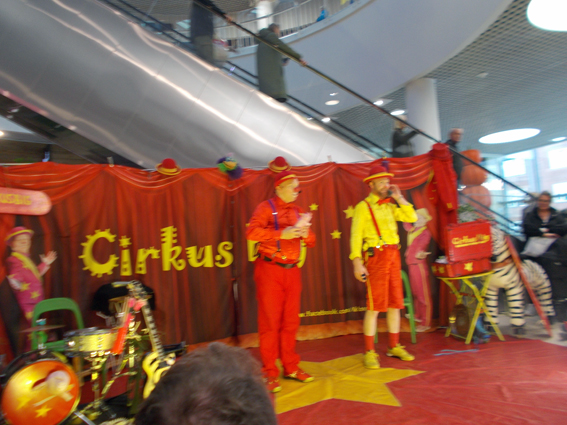 Circus Big in Broen. Photos: Finn Stendevad

19 October 2022
Circus Arena in Kolding Shopping Mall. Jørgen Lorenzen saw the performance on 18 October at 14 and writes (my translation):

There was a lovely concentration in the audience, and there were many children when circus Arena presented its autumn performance in the shopping center. No shopping trolleys blocking the view, no disturbing traffic behind the spectators. Everybody wanted to see the real circus.
Bettina Arli welcomed. The first artist was David Hammarberg, who did chair balancing. He is a versatile artist, highly trained, and he masters many of the disciplines of the profession – including the classic act with chairs that are stacked on top of each other, while the artist stands in a handstand at the top of the set-up.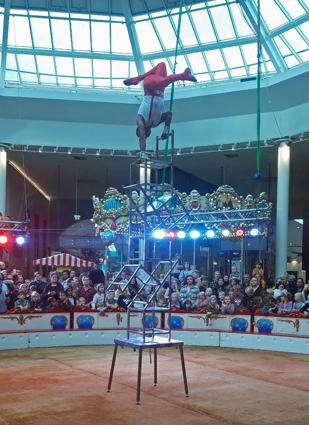 David Hammarberg. All photos smartphone photos taken by Jørgen Lorenzen
Then came the animals, 6 ponies presented by Karsten Berdino. And from Norway came two artists who never before has performed in Denmark - both of them youngest members of the Arnardo family. First came Shannon, whose last name is Folco Arnardo. And sure enough: it's her uncle Jimmy Folco, who is the house clown at Circus Arena. Shannon entered in a suit that brought to mind Columbine. But she quickly transformed herself into a skilled foot juggler. Lying on her back, she balanced and juggled small "blankets", or if you like: tablecloths.
And now Martin Arli entered the ring. As long as he can walk in the ring, the world is not completely lost. On hunk horns he played Kim Larsen's: We just ask the gods for good weather. And the weather is always good when he's a clown. With a grandfatherly warmth and charm he spreads joy, coziness and life. Very life-affirming! He is joined by the world's best sharp shooter. It is Bettina who wants to shoot a balloon which Martin has to hold. She succeeds only after Martin has "killed "several balloons: one is on a diet, one has lost his breath, etc. His timing is excellent. Slow, so everyone can follow, because a good clown has to be slow. He has great routine and above all: he likes the people who look at him - and looks at him.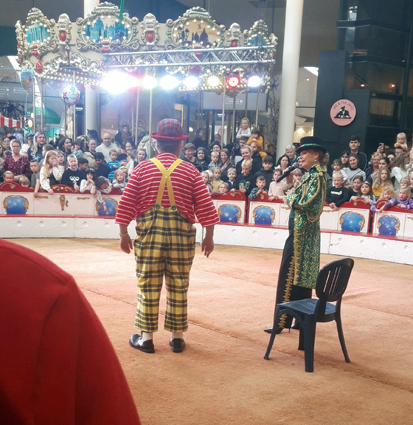 Martin and Bettina Arli
And then it was Luigi's turn - Shannon's brother. His full name is Arne Otto Luigi Folco Arnardo. You would think that he is royal with the long name, and in a certain sense he is, because the name Arnardo is as well known in Norway as the name Benneweis or Schumann is in Denmark. Kings in the circus kingdom! He performs diabolo juggling with 3 diabolos towards the end of the act.
And David Hammarberg closes the performance with an aesthetic act in tissue (aerial silks). An act where he shows acrobatics and balance in two "curtains" that hang down from the ceiling.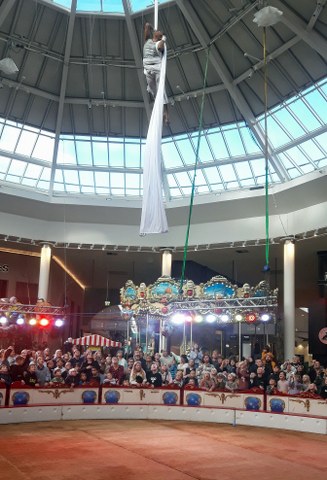 David Hammarberg in "curtains"
There was no presentation of the artists in the final. But it was real. And it ended where a good performance should end, namely where the audience thinks: we wish there has been more.

18 October 2022
Cirkus Landino in Circusland in Slagelse present the master juggler Alan Sulc, his spouse the foot juggler Veronica and the clown Bonbon during the autumn holidays. Alan and Bonbon are therefore not in Kolding Shopping Mall as I wrote on 7 October. Instead, in Kolding, together with Martin and Bettina Arli, you can see Luigi and Shannon Arnardo, son and daughter of the director couple Are and Paola Arnardo from Cirkus Arnardo. Luigi performs with diabolo and Sharon is foot juggler. This is the first time they are performing outside Norway's borders. Also in Kolding is the Swedish multi-artist David Himmelberg.

17 October 2022
Gold medal for Maria Shevchenko. At the just concluded European Youth Circus Festival in Wiesbaden, one of the two gold medals in the 18 to 25 age group went to the 23-year-old Ukrainian aerial acrobat Maria Shevchenko. Maria also received the audience prize. The Swedes saw her this year in Cirkus Brazil Jack. If, in Sweden as in Denmark, you had a prize for the best act of the year, the award would undoubtedly have gone to Maria. She performs both in aerial straps and in tissue (aerial silks) and won silver at last year's artist festival in Latino. At Brazil Jack, she presented the best tissue act I've seen, both in artistry and difficulty.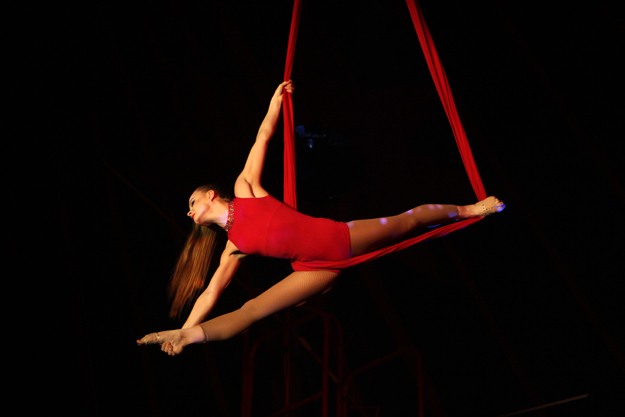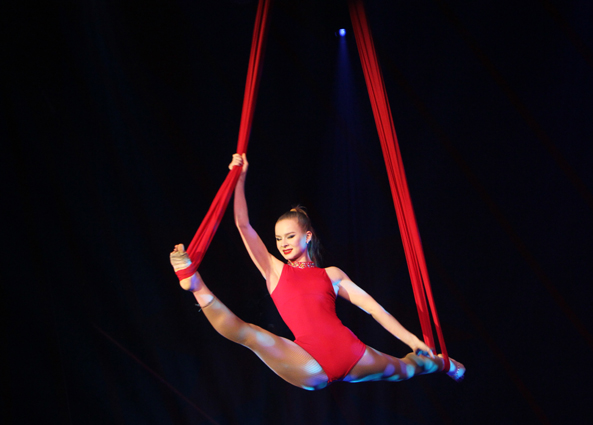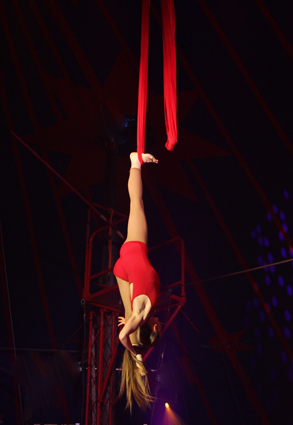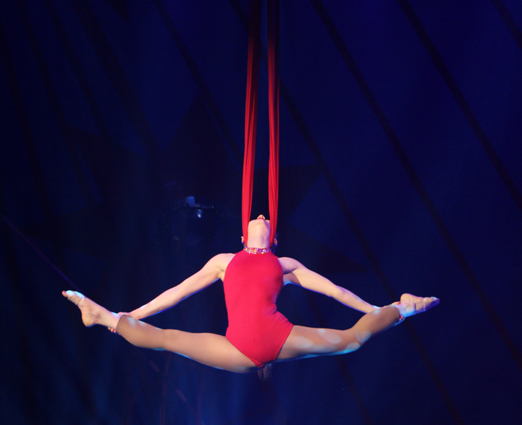 Maria Shevchenko at Circus Brazil Jack
The festival in Wiesbaden is in the circus industry regarded as the most prestigious festival for young talents. It is held every second year. Its roots go back to 1987, and many of the winners have had an international career, which has also brought them to Denmark. Fx. Farellos, who won silver in 1992 and was with Circus Benneweis in 2005 and 2010. Alan Sulc, who won gold in 2002, was with Circus Benneweis in 2004, with Circus Arli in 2019 and with Circus Arena this year. Pierre Marchand, who won gold in 2004, was with Circus Arena in 2017. Semen Kachinas, who won silver in 2006, was with Circus Benneweis in 2013. Michael Betrian, who won gold in 2012, was with Circus Dannebrog in 2014 and with Circus Trapez in 2021.
The late Nelly Jane Benneweis was a member of the jury in Wiesbaden in 2000, 2002 and 2004.

15 October 2022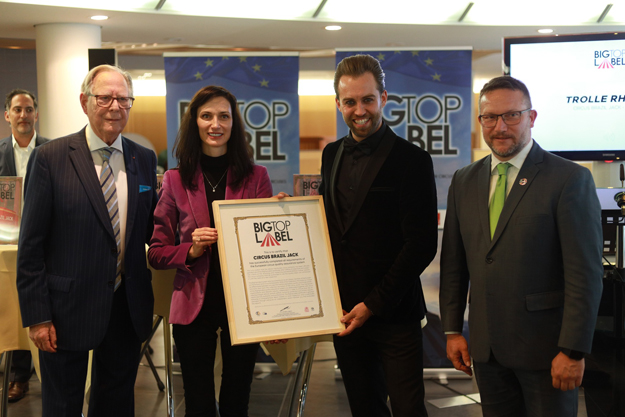 At a ceremony on 12 October in the European Parliament, the Swedish Circus Brazil Jack was presented with the prestigious Big Top Label award together with the Bulgarian Circus Balkanski and the German Circus Roncalli. The award is considered the Michelin star of circus art. Brazil Jack is the first Scandinavian circus to receive the award. The photo shows from left Urs Pilz from the Monte Carlo festival, the EU's culture commissioner Mariya Gabriel, circus director Trolle Rhodin III and the initiator of the award DR István Ujhelyi, Member of the European Parliament.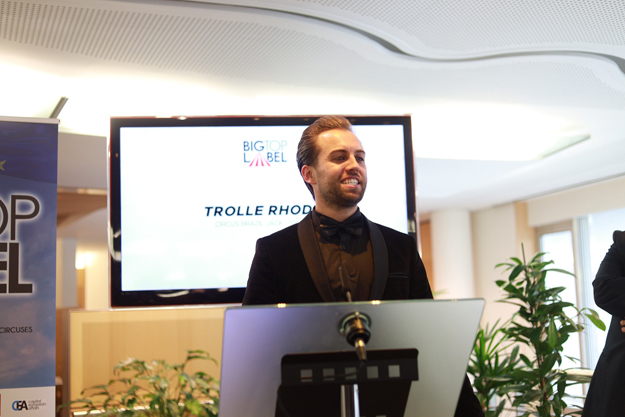 Trolle Rhodin III

14 October 2022
Halloween Circus – a very spectacular show. Halloween Circus is a themed show, produced in cooperation between Jackie Berdino/Circus Arena and the rapper Clemens (Clemens Telling). The latter is responsible for the script and has put the performance on stage.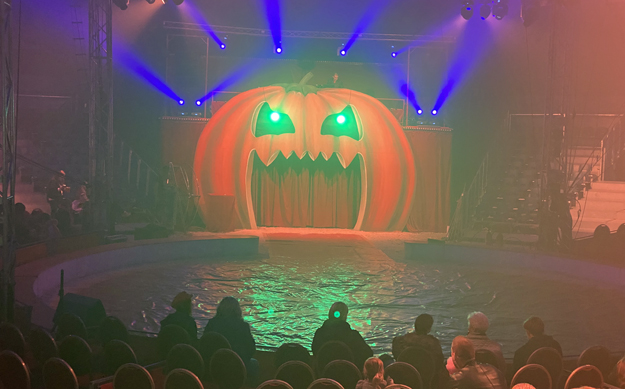 The artist entrance in Cirkus Arena's tent is masked as a giant pumpkin face with green eyes. The music for the performance is pre-recorded.
Over the years, several circuses have had themed performances, where the theme has been an outer frame around the artist acts. But since René Mønster Baldoni in 2002 changed the Circus Theater to be a more traditional circus in 2002, we have not seen performances where the theme and the action have been the main element.
But that is what we are experiencing in this year's Halloween Circus. The story, in short, is about circus director Owen Hall (Patrick Spiegelberg), who has gathered a group of performers to put on a Halloween show.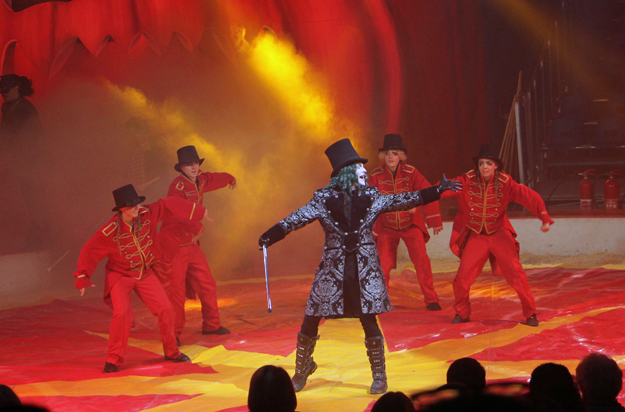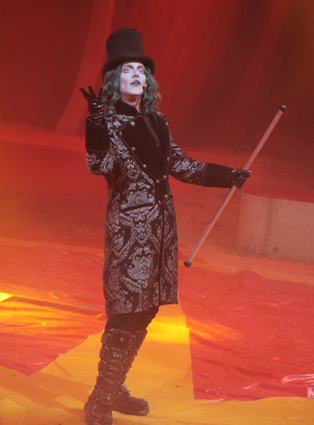 The circus director Owen Hall
But his show is ruined when his performers are suddenly kidnapped one by one by the mysterious McClawn (Clemens) and his horrifying spouse, Szkrækilda (Szhirley). She has had severe hiccups after being offered broccoli which she remembers from her childhood as a scarrying experience. McClawn hopes that the performers with their impressive stunts can give Szkraekilda (Szhirley) such a big shock that her hiccups from hell will be cured. And she hates children.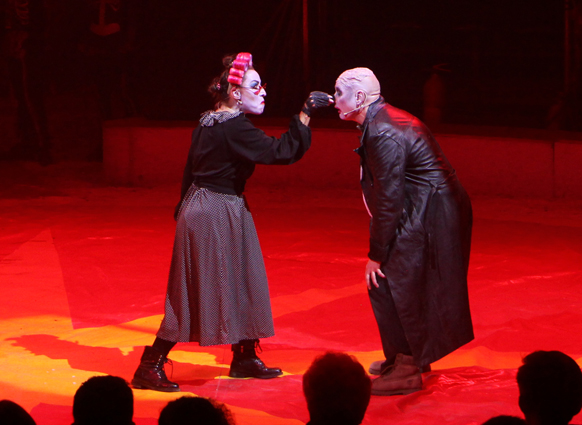 Szkraekilda and McClawn
Owen introduces the juggling Ms Rooffire (Patrick Berdino), the fire-breathing Mrs Dragonbreath (Zora Nikodemova), The Blind Knife Thrower (José Michel), The Bearded Twin Sisters (Duo Costache) and the trapeze artists Wuhan Clan (Flying Wulber). Costace and Wulber were also in this summer's Arena performance, while the clown José Michel was in Circusland.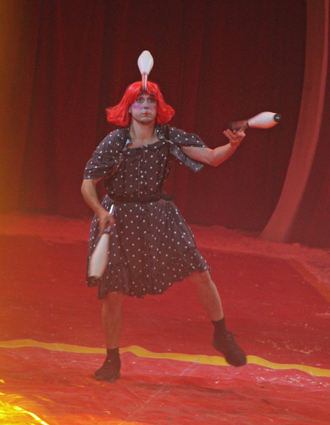 The slightly awkward juggler Ms. Rooffire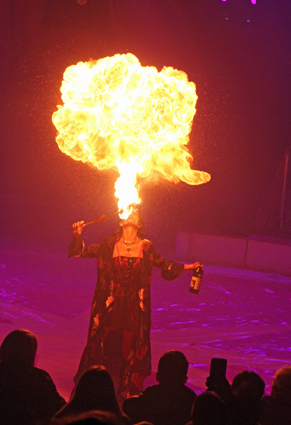 The fire-breathing Mrs. Dragonbreath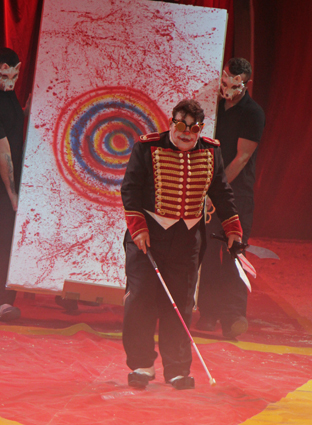 The blind knife thrower aka the clown Jose Michel, whose formidable funnel routine the Danish audience last experienced in Circus Arena in 2015. But in the Halloween circus he has a completely different role!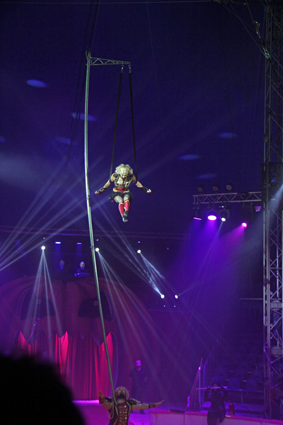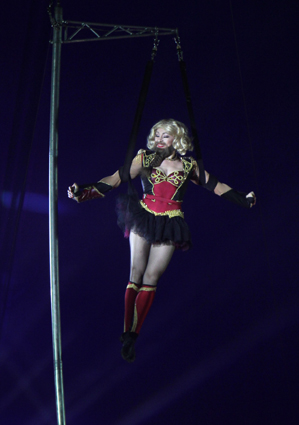 The bearded twin sisters aka Leonardo & Vita Costache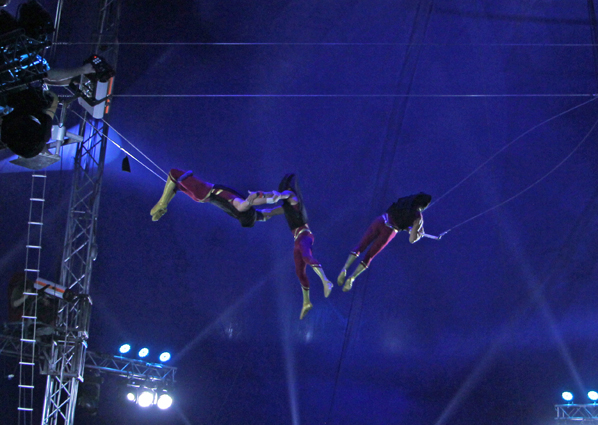 As in this summer's performance, Wuhan Clan aka Flying Wulber performed the double passage blindfolded!
However, no one manages to cure hiccups. It only helps when Miss Rooffire agrees to have one of her legs sawed off with a chainsaw, which the blind knife thrower drags around, and Szkraekilda gets a bit of the leg and finds out that she doesn't hate children at all. Very handy as the pregnant McClawn gives birth, just like Arnold Schwarzenegger in the 1994 moviehit Junior.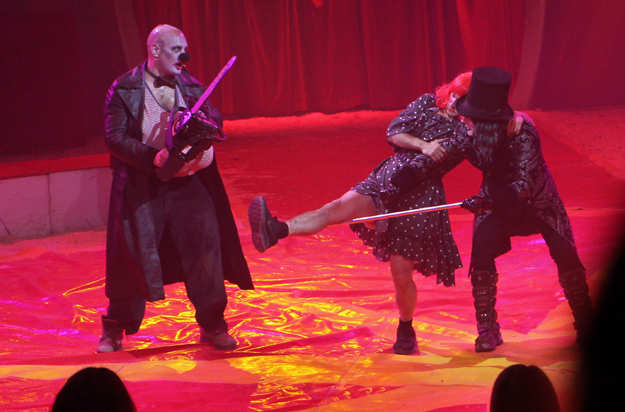 Ready to have the leg amputated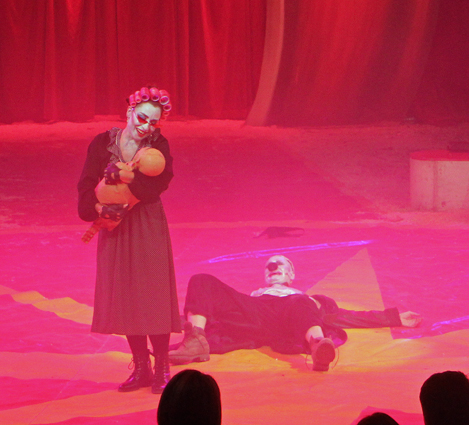 Szkraekilda with the child which her husband McClawn just gave birth to
The entire performance is tied into light, dance and music composed by Clemens, DJ Pumpkin aka Milad 'Genius' Gilani and Silje Kronow and can perhaps almost be called a musical. Steen Koerner is responsible for choreography.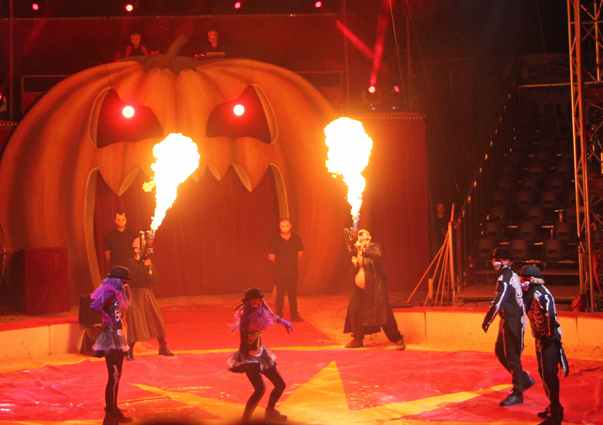 Spectacular feature with flamethrowers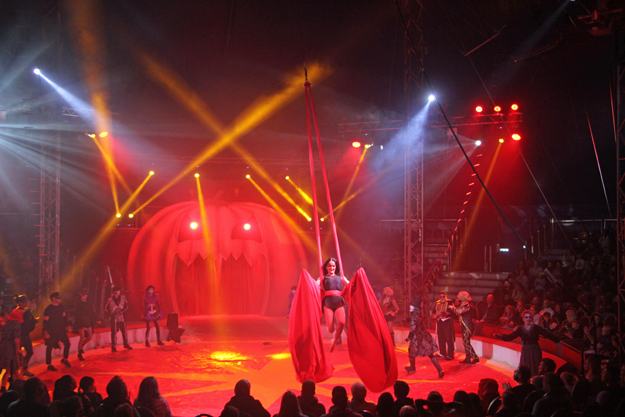 From the final
Both in England and Germany, horror circuses have been seen in recent years, which have certainly not been for small children. But Arena and Clemens have chosen a different target group and are betting on a family show for children aged 5 and up. Therefore, there are not the same horror effects and creepy acts as in the foreign horror circuses.
Circus Arena and Clemens hope to make Halloween Circus a permanent autumn tradition in Copenhagen. It can be seen at Bellahoj in Copenhagen until 31 October.

9 October 2022
Zirkus Nemo 2023. They write (my translation):
Zirkus Nemo is ready for 2023. Our show this year was a great success and we have had a fantastic tour around Denmark. Next year's tour and performance are in planned and you can look forward to a show that will be wilder than ever.
Zirkus Nemo's 2023 show will be a wonderful mix of world-class artists and of course also a number of Soren Ostergaard's beloved figures. Both the old familiars, but also news where we surpass ourselves. In short, you will be treated to entertainment at the very highest level.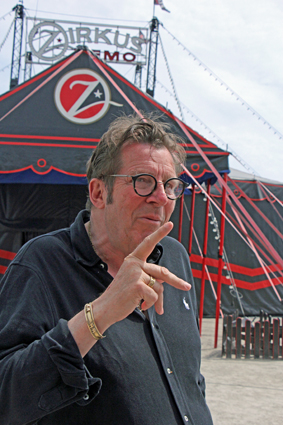 Soren Ostergaard in front of his circus
There is opening night in Horsens on 29 April. Zirkus Nemo will visit 14 cities before the season ends in Odense on 17 September.
Zirkus Nemo is owned by the Danish actor and comedian Soren Ostergaard. It is a combination of a circus and a comedy show. It was established in 1999 and was at that time mainly a comedy show with Soren as the main star. He is still the main star in the performance, but today also international top artist is part of the performance. Both in 2016, 2018 and 2022 the Danish Circus Awards prize for the best circus act of the year was given to artists working in Zirkus Nemo.

7 October 2022
Circus in October. This autumn you can see circus performances several places in the Denmark in October. And not just during the autumn holidays in week 42.
In the metropolitan area
Cirkus Arena, in cooperation with the rapper Clemens, is trying something completely new: In a tent at 'Bellahoj' in Copenhagen they are presenting Halloween Circus from 12 to 31 October. They present the performance as follows (my translation):
A family performance where musical, comedy and the thrill of the circus are mixed into a new, ground-breaking total experience in the form of humorous horror.
With Denmark's Szhirley, Clemens and Patrick Spiegelberg at the front and the world's scariest circus artists. Clemens is a writer and stage manager and Patrick Spiegelberg, who has created Halloween monsters for Copenhagen's Tivoli Gardens and the Halloween success Horror Drive Thru, ensures that it will be a scaring and impressive experience.
The show is for the whole family and mixes the excitement of the circus with the art of storytelling from the theater with new music added. A total experience with the best circus performers and an exciting story at children's level.
Horror for the whole family & Hiccup from Hell!
This year's spectacular Halloween Circus is the story about circus director Owen Hall (Patrick Spiegelberg), who has assembled a group of the circus world's biggest freaks to create the biggest Halloween show ever.
Owen, who is a former victim of bullying, wants to teach those who bully a lesson by proving that queer existences actually have more fun than those who point fingers at others. To Owen's horror, however, his show is ruined when one by one his performers suddenly disappear into the underworld with a clown (Clemens). The clown hopes that the performers, with their impressive stunts, can hopefully give his horrifying wife (Szhirley) such a shock that her hiccups from hell are cured.
Look forward to meet the artists Ms. Roof Fire (Patrick Berdino), The Bearded Twin Sisters, The Blind Knife Thrower, The Electric Boogiemen, the fire-breathing Mrs. Dragon Spirit and not least the trapeze artists Wuhan Clan.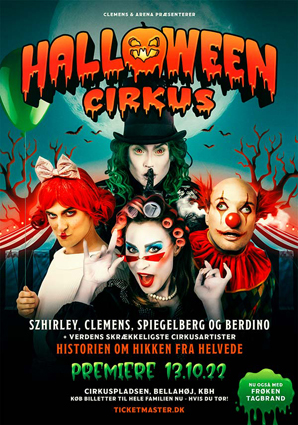 The performance is recommended for families with children aged 5 and over.
Among the artists in the Halloween Circus are Duo Costache and Flying Wulber, who also took part of this summer's performance in Circus Arena.
At the Circus Museum in Hvidovre, Copenhagen, you can meet the master juggler David Sosman, who will perform Monday 17/10 - Thursday 20/10, every day at 11 a.m. with an entertaining and fast-paced show, where he will show his skills in balance and juggling. Friday 21/10 at 11, the magicians and jokers Peter and Andreas Brunsborg will present a show full of wow effect and plenty of room for laughter. The museum is open Friday 21 as it is autumn holidays (normally they are closed on Fridays and Saturdays).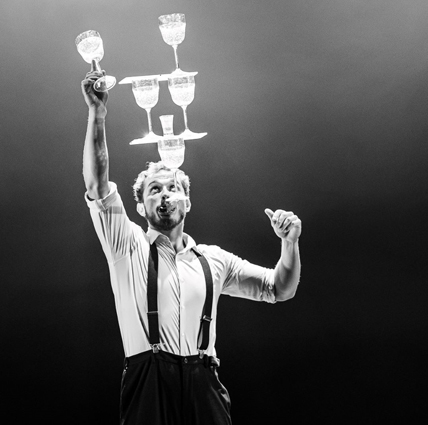 David Sosman. Press photo from the Circus Museum
In the Zealand region
The theme park Circusland in Aarslev by Slagelse is open from 15 to 23 October, every day from 10 to 17. They write (my translation): Witches, wizards, ghosts and monsters take over Circusland during the autumn holidays 2022. Go exploring the haunted house, experience the big Halloween show and meet the cute Halloween ghosts. At 13:30 you can see a performance where Count Dracula and his friends The White Ghost & The Red Devil present their Halloween show filled with song, music and cool competitions where you can win great prizes. At 15 there is a performance in Circus Landino with clowns, cute ponies, incredible aerial acts, playful dogs and much more.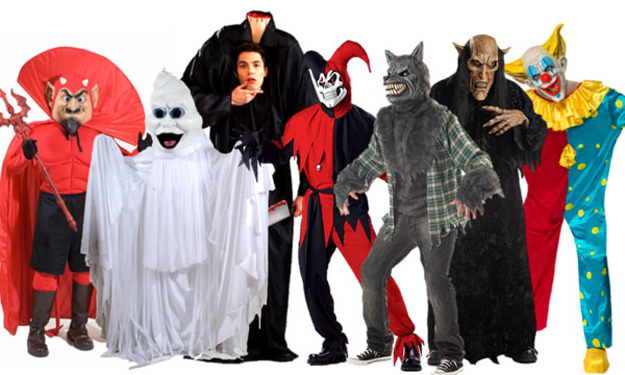 Photo: Circusland
Circusland is located in the Circus Arena's winter quarter in Aarslev by Slagelse. Driving directions: If you are coming from the motorway, turn off at exit 39. Take road 225 towards Jyderup. In Sønderup turn left towards Aarslev. Then follow the signs.
In Jutland
Circus Arena in Kolding Shopping Mall. From Monday 17 October to Sunday 23 October, you can see Circus Arena with performances on Store Torv at 11, 13 & 15. Free admission. The performers are Alan Sulc, David Hammarberg, Bettina and Martin Arli and the Bonbon clowns. Free admission.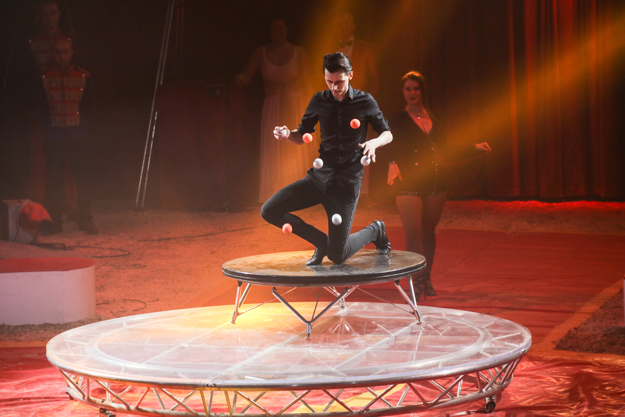 Alan Sulc photographed at the premiere of this year's Arena performance. Photo: Jacob Boas Leitisstein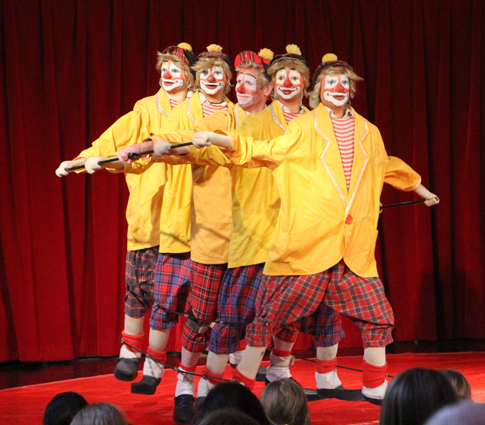 5 x Bonbon. Photo from a performance at the Circus Museum in October 2021
Circus Big with Mr. Big and Knud the clown has performances in Broen Shopping in Esbjerg from Monday 17 October to Saturday 22 October. Monday to Friday at 11, 13.30 & 16.00. Saturday at 11.00, 13.00 & 15.00. Free admission.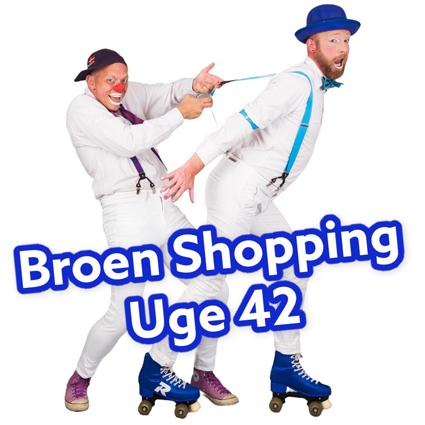 Circus Mascot has this year toured sports centres and other arenas with their show "Dyrebare øjeblikke". The tour continues until 23 October.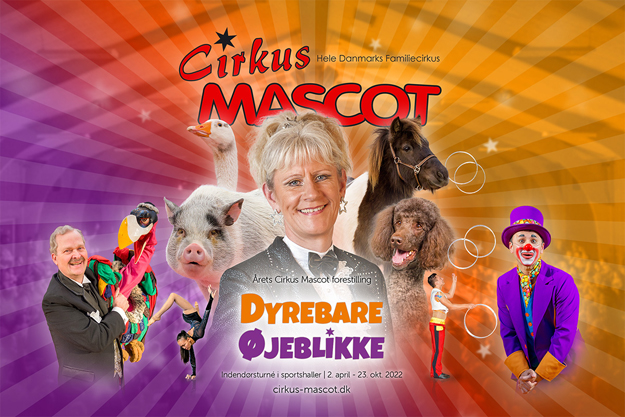 Katja Schumann's Circus Farm in Løkken has a performance at 16 every day during the autumn holidays, except Monday.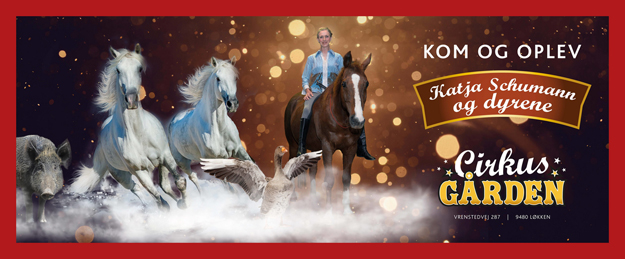 Cirkus Trapez has an autumn tour to a number of Jutland arenas from 14 to 30 October. They present the autumn performance as this (my translation):
This year's autumn performance has everything a real circus performance has to offer. Experience, among other things the only 13-year-old Vanessa Sulc from the Czech Republic. She comes from a Czech circus family, and started as a mere 5-year-old with rhythmic gymnastics and juggling. Ever since, Vanessa has been training and training to be able to perform this impressive juggling act, which she will present in this year's autumn performance. Also, from the Czech Republic comes the funny clown František Sulc. He comes from a 5-generation circus family. He started his career as an aerial acrobat, and for the following many years worked as a professional aerialist. After his long career, in his elder days he wanted to become a clown, and that is what he is now. František loves to entertain and make everyone in the audience laugh, and we dare to bet that all of you will have a smile on your face from his many funny antics. Partly from Denmark and Chile, meet 13-year-old Rasmine. Rasmine made her debut during our performance in Madsbyparken this summer, and was received with great enthusiasm by the audience. In August, she won a special award at the Danish Circus award. Rasmine got the award thanks to her enormous skill and willingness to train and perform everywhere. Look forward to being impressed by this talented and young aerialist. This year's performance also offers fantastic non-traditional balancing art, our magnificent Welsh goats presented by Bernhard Kaselowsky and much more.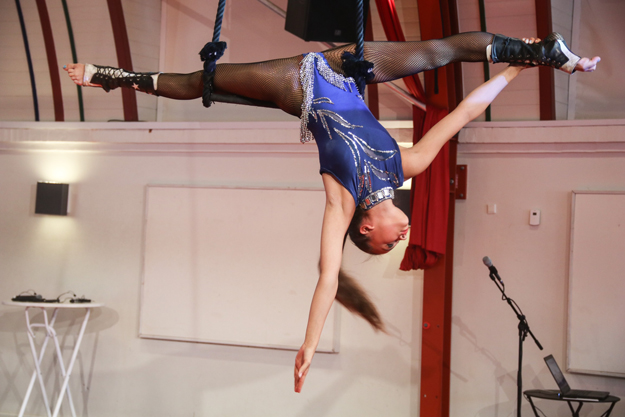 The 13-year-old Rasmine Tomasevic-Olsen received a grant of 10,000 DKK from the Nelly Jane Benneweis Foundation as the first Danish artist ever at this year's distribution of Danish circus awards. Photograph: Jacob Boas Leitisstein
František Sulc is the father of Vanessa, who is in the performance, as well as of the master juggler Alan Sulc and the foot juggler and acrobat Edita Sulc. In addition to those mentioned above, you will meet Anton Tarbeev with diabolo and on unicycle with cup balancing and Katrine Markevich with foot juggling and a dog act and their son Anton Jr. jumping/juggling on unicycle. Anton Tarbeev and Katrine Markevich have previously performed in Denmark with Circus Arli and Circus Baldoni. The performance is presented by Isabella Enoch Sosman.

4 October 2022
Distinguished award to for Swedish circus. At a ceremony on 12 October in the European Parliament, the Swedish Circus Brazil Jack will be presented with the prestigious Big Top Label prize together with the Bulgarian Circus Balkanski and the German Circus Roncalli.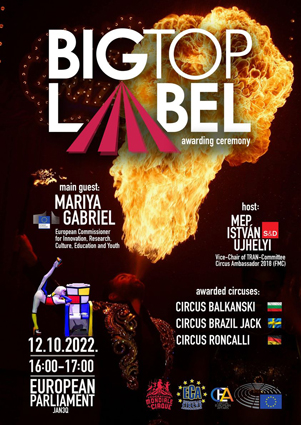 This is the third time the prize will be been awarded. The first time was in 2018.
"I shall propose the establishment of a quality assurance and accreditation certificate that would rate ensembles on their traditional, cultural, and artistic value, with special attention on how they meet animal wellbeing standards. Let us call this certificate the "Big Top Label", the Michelin star of circus arts, an independent quality assurance system guaranteeing quality circus art and no maltreatment of animals," said the promoter of the BigTopLabel program in the European Parliament.
It was Istvan Ujhelyi, Hungarian member of the European Parliament, who proposed the establishment of an objective quality assurance system that distinguishes between the various circus ensembles and institutions. Only those circuses receive this recognition that meet the conditions set by competent professional associations and experts in the European Parliament, including: legal requirements, requirements for employment and consumer protection rights, artistic standards and strict animal welfare aspects.
Within the framework of the program, detailed reports are prepared for all inspected circuses, which are then evaluated by an independent committee of circus professionals who decide which circuses are awarded the BigTopLabel recognition. The quality assurance system was launched as part of the European Year of Cultural Heritage 2018.
In 2018, three circuses received the prize: Cirque Arlette Gruss from France, Circus Krone from Germany and Blackpool Tower Circus from England.
BigTopLabel prizes were handed over in the European Parliament, for the second time on the 2nd of October, in 2019. This year, another three ensembles, the Finnish Sirkus Finlandia, the Swiss Zirkus Knie and the Hungarian National Circus led by József Richter Jr. received the recognition.
There were no prizes in 2020 and 2021.
Read more about Big Top Label at https://bigtoplabel.com/

30 September 2022
Obituary: Christer Nilsson. The swedish magician and magic historian Christer Nilsson passed away on September 27. He was 91 years old. In 2002 he was elected to the Swedish Circus Academy. His greatest interest was magic and he performed as the magician "Christer el Ricco". His large collection of magic props, costumes, posters, books and magazines was known as "Sveriges Magi-Arkiv" and was handed over to "Sverige's Trolleri-Museum" in Kolmaarden a few years ago and is a major part of the collections in the museum.
Christer wrote the books "Trollare och andra trollkarlar" (Magicians and other entertainers) and "Sveriges trollkarlar" (Swedish Magicians) and had for many years the blog (website) https://magiarkivet.se/ with news about both circus and magic. The blog is continued today by other people interested in magic. In 2000, the blog was the inspiration for creating circus-dk.
Christer Nilsson is survived by his wife Gertrud.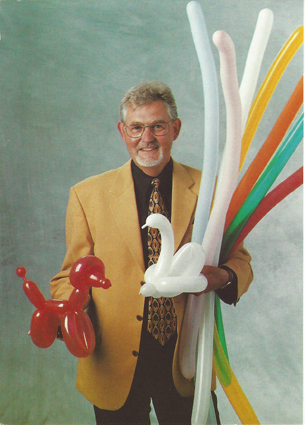 Christer el Ricco Nilsson

Link to news from 2007

Link to news from 2006