'
From Denmark
and other Scandinavian countries
Special feature: It all happens in Paris (when relevant)
A weekly updated internet magazine
Last updated : 22. June 2019
21 June 2019
Zirkus Barnly 2019. Zirkus Barnly is owned by the actor and comedian Søren Østergaard who also owns the very successful Zirkus Nemo which is a combination of a circus and a comedy show. Zirkus Nemo calls itself Denmark's only circus for adults. Zirkus Barnly is circus for children.
Jørgen Lorenzen saw the performance at 'Tangkrogen' in Aarhus on June 19th at 17 and writes (my translation).
Zirkus Nemo has got a little sister. Next to the beautiful Nemo tent a more humble two-pole tent is put up, a tent which certainly has been in use previously.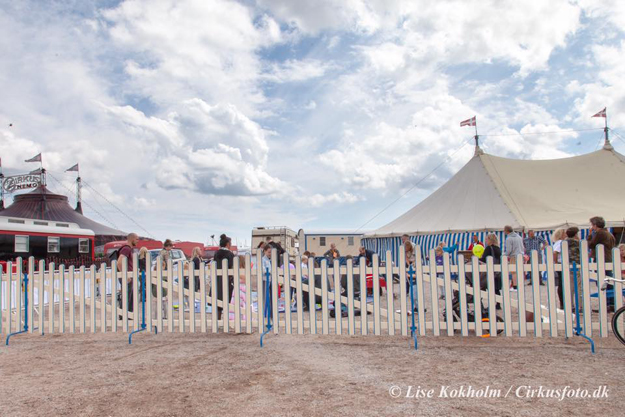 Zirkus Barnly's small 2 pole tent. Photo: Lise Kokholm
It's called Zirkus Barnly and the key performer is captain and is called Frodo. He is an indefinable mix of a wizard, artist, barker and oriental snake charmer - and much more. Some of what he does is successful in the first attempt. Others do not succeed at all or get messed up. But with humour and the gift of the gab he gets it turned into a complete success. He is indeterminate, can rattle off, rambling, subtle and first and foremost sympathetic when, with disbelief in his eyes, he tries make the children believe that this is how it is and how it should be - and so has it always been! And we adults is carried away - brought back to the lost childhood and lost faith of the childhood where everything was possible and nothing unlikely.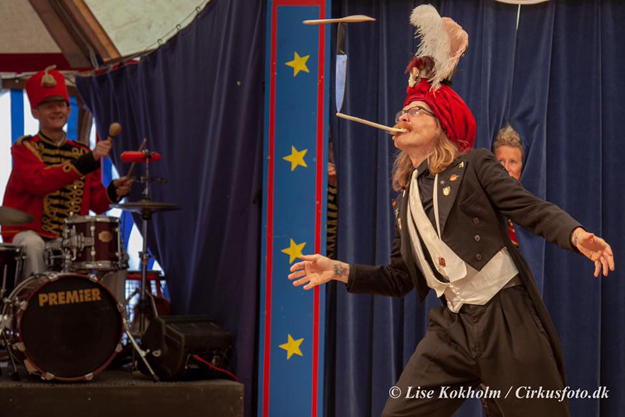 Captain Frodo welcomed and showed a completely different part of himself than the one known from La Clique, La Soirée and Zirkus Nemo. In Zirkus Barnly he was a very entertaining and talking as a waterfall. Photo: Lise Kokholm
He leads the fun in the 50 min. long performance. And he is well assisted by two female co-players and opponents. Captain Nemo bosses Line Vittrup and Jennie Mikaelsson about. He cannot do without them if he shall prevent the world from collapsing around him. And the multimedia musician Henning Amstrup is present everywhere - with new instruments and happy music.
And one should pay attention to the cascades of words that flow freely and that help to explain what is not successful - and to emphasize the successes that arise during the process. Such is the recommendation: a linguistic waterfall - and linguistic renewal. About the rope trick: "Why cut it when it has to be put together again?" Yes, honestly! About the bear cub Little Ole, a stuffed animal that is conjured up from the sawdust: "It is so stiff of fear that you cannot see that it is alive." on it, for it is invisible egg: "It comes from a hen that has had an imaginary pregnancy."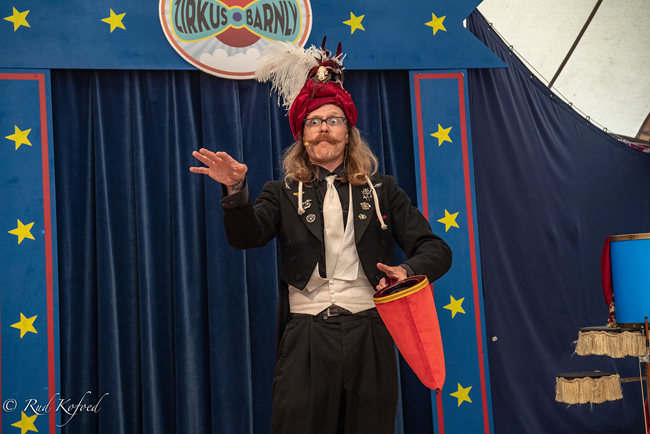 A large part of the performance consists of Frodo's cozy magic for children with the use of among other things the trick with the rope, cut into 3 pieces. He also got a lot of fun from the invisible egg. He is not a stranger of magic: he is the son of the Norwegian magician The Great Santini. Photo from 2018. Photographer: Rud Kofoed / Ajour Press
And finally he sets himself up on a pedestal. He does not sit on the barrel, which he has otherwise brought, but on a can - while taking his legs on his neck.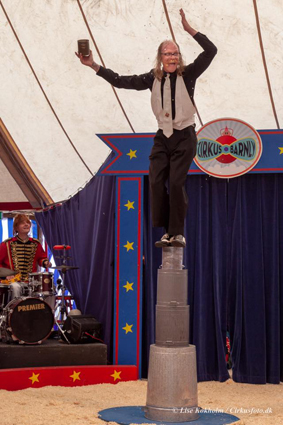 Frodo's famous act with buckets. Photo: Lise Kokholm. Click here to see more of Lise's photos from this year's performance
Good entertainment is characterized by the fact that it can create great and accurate expectation (the late Danish author Per Højholt's words). That's how it is here - just like in big sister Nemo. An accomplished, well-thought-out staging, which, however, is not tighter than there is room for improvisations and horny whims. A good example of this was last Wednesday in Nemo, where it was a terrible thunderstorm during the performance. Søren Østergaard had presence of mind enough to comment on the thunderstorm in a manner, so that the uneasiness in the tent passed away. The same was the case in Barnly. It must be a game and in the game you cannot foresee everything, even if the rules are set in advance. And the good artist and juggler is the one who - with a quote by Philip Schumann - shows what needs to happen - in a fraction of a second before it happens.
Great that Zirkus Barnly sticks to popular genuine fair performer and circus culture. For we need it!

14 June 2019
Circusland in Slagelse opens in the summer holidays from 6 July 2019. Circusland is a theme park situated in Circus Arena's winter quarter in Aarslev, Slagelse. In a press release, park manager Suzanne Berdino writes (my translation):
Take a break from the busy everyday life; get into the whimsical world where you are welcomed by Mister Tik Tak from Esdelot - the fairy-tale world where everything can happen. Suddenly you see Tiger Lilly who ran away from Mister Tik Tak. Or Flora Cake who is in search after Professor Magic, whom she has fallen in love with. Madame Betty is crazy about dogs, and together with little Miss Mynte she try to get control of them. Best as you think you saw them all, a real pirate suddenly appears. Namely Kalle Cannonball, who takes you to the pirate country, where you can meet the sea lions Luna, Sally and Oscar, who are frolicking in Denmark's largest sea lion basin.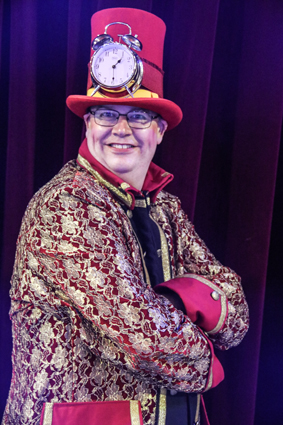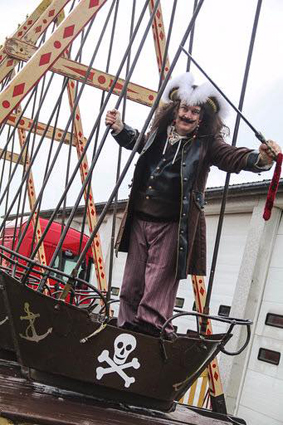 Mister Tik Tak and Kalle Cannonball. In civilian life also known as Brian Behrendt from Briano's Circus Travel. All photos by courtesy of Cirkusland
Throughout the day, you have the opportunity to explore Circusland and get close to all our lovely animals in their stables. We have among other things horses, sea lions, llamas, zebras, pigs, goats and ponies. Come and greet the robot Bumblebee which for the first time can be seen in Denmark, and participate in our new adventure hunt, where you can win a prize.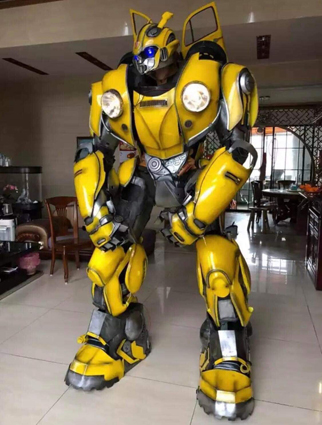 The robot Bumblebee
All activities and shows are free when the entrance to Circusland is paid. It is possible to buy food and drinks at reasonable prices in the park's bistro. Circusland is open in all kinds of weather, so remember clothes according to the weather as some of the activities take place outdoors.
Every day there is festive parade through Cirkusland - the parade ends with shows the stage. Every afternoon there is also a children's show, a pirate fairy-tale show and an adventurous circus performance with the park's figures.
Do you dream of becoming a juggler, tight wire dancer or diablo juggler? The visit our circus school and learn new tricks with the help of professional circus artists and Berty the clown. The funniest summer school for kids and adults - and learning a few new tricks does not cost extra!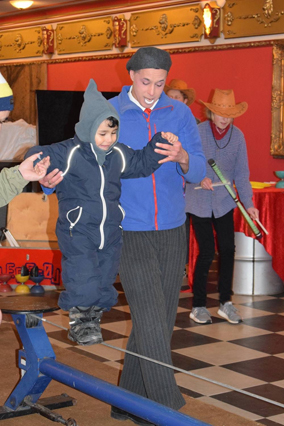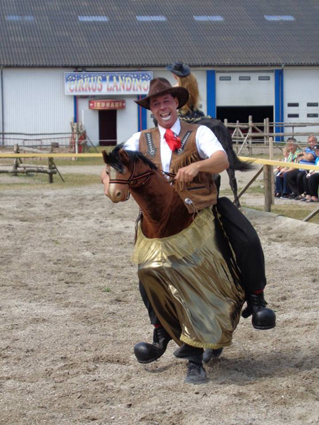 The clown Berty is one of the 3 Balder brothers who years ago worked at appeared as clown trio in e.g. German Circus Barum and Danish Circus Dannebrog.
Every day during the summer holidays, Circus Landino present an adventurous circus performance at 13:30. In the performance you can e.g. meet Professor Magic and Flora Cake who appear with their enchanting pigeons. There are also funny dogs and you can see cute unicorns in the ring. Access to the circus performance is free when the entrance to Circusland is paid.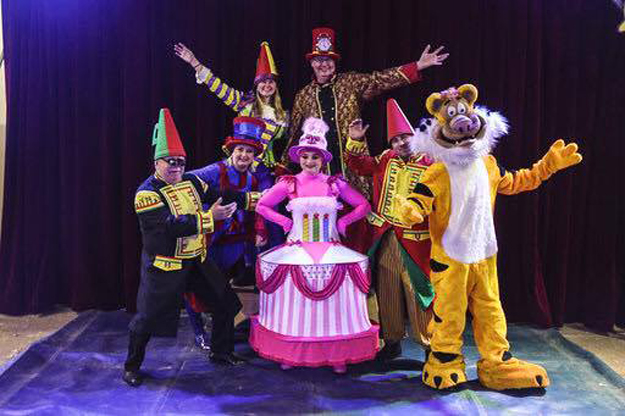 A number of performers in Circusland
Practical info about Circusland in Slagelse: From 6 July - 11 August. Open every day at. 10-16.
Entrance ticket per person 129 DKK. 25 DKK discount for members of Danish Circus Friends Association. Family entrance ticket 4 persons 476 DKK. Free entrance for children under 90 cm.
When the entrance fee is paid, all shows, rides, activities and parking are free.
Brian Behrendt, who in Circusland can be experienced seen as Mister Tik Tak and Kalle Kanonball, tells that the name of the fairy-tale country Esdelot is something that Circusland itself has made up with various characters from the fairy-tale and fantasy world. The name may be inspired by the song about the fairy tale land Camelot, where summer lasts from March to September, where it is never too hot and where it never rains until after sunset.
Brian will for the time being not disclose other performers than Berty Balder, Silvana and Claude Biasini and Suzanne Berdino and himself. But there will be more artists.
Circusland is located in Circus Arenas winter quarter in Årslev near Slagelse. Driving directions: If you come off the motorway E 20 turn off at exit 39. Take road 225 towards Jyderup. In Sønderup turn left towards Årslev. Then follow the signs. To the GPS: the address is Aarslevvej 6, 4200 Slagelse.
Be careful: There are 5 Danish villages called Årslev. 3 in Jutland, 1 on Funen and 1 on Zealand. Circusland is situated in the one at Zealand: it is a small village 9 kilometres north of Slagelse.

14 June 2019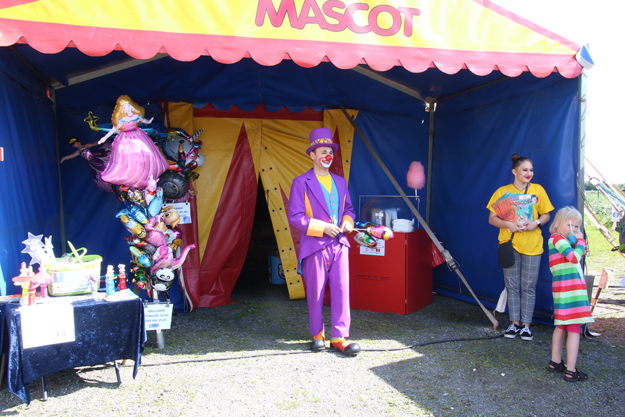 The photographer Mr. Sputnik (Per Krogh Petersen) saw Circus Mascot's performance in Gudme on 13 June. Click here to see his photos and video clips from the show.

10 June 2019
Markko Karvo stops at the end of the year. According to the Swedish website www.magiclund.se, the excellent Finnish magician Markko Karvo stops by the end of this year's end with his excellent act with pigeons. For the time being you can see him in Danish Zirkus Nemo where he also was in 2013 and 2015. His first performance in Denmark was in the fall of 1996, when he was at Charley Kaye's Red Inn Theater in Copenhagen.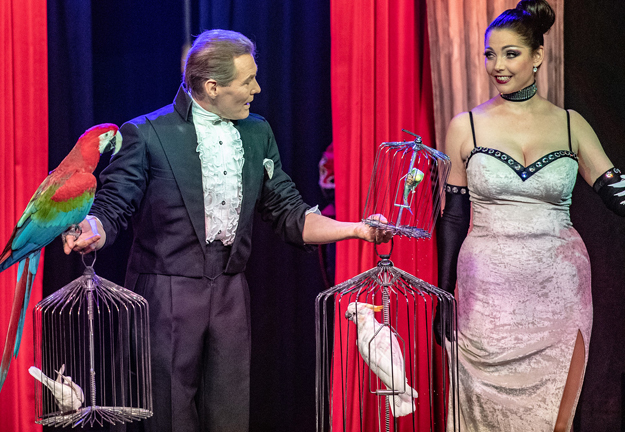 From the final in Markko Karvo and Mrs Vanessa's act. Photo: Rud Kofoed / Ajour Press
Markko Karvo was born in 1962. He mentions the English magician Johnny Hart as one of his role models. He has performed over most of the world and was among other places 6 years in the famous cabaret Lido in Paris. Click here to see a video with his act.

7 June 2019
Circus Jesper 2019. Norway has 3 circuses: the large Circus Arnardo, the medium-sized Circus Agora and Circus Jesper. The first two are traditional touring tent circuses. Circus Jesper is a stationary circus in Kristiansand Zoo and Amusement Park.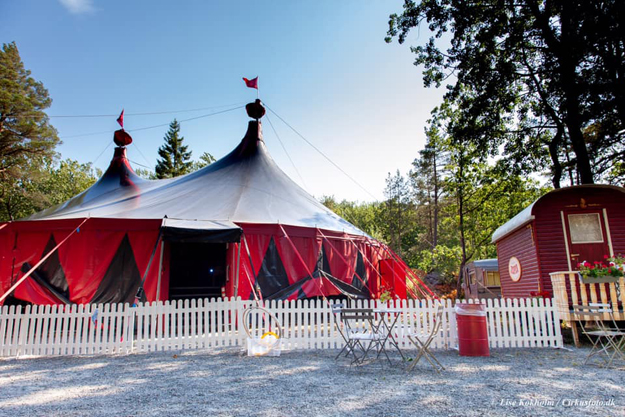 Sirkus Jesper's tent. Photo from 2018. Photographer: Lise Kokholm
The approximately on-hour long performances are a theme performance, based on the end of the book When the Robbers Came to Cardamom Town where the robber Jesper becomes circus director. Kristiansand Zoo and Amusement Park writes (my translation):
Jesper is proud as a circus horse over having got his own circus. This year, he invites you to a fun and spectacular circus performance out of the ordinary. Meet the funny clown Bonbon, hairdresser Sorensen with an impressive plate juggling act, the trampoline artist Costin, circus director Jesper with the elephant Mimo (not a real elephant), little Kamomilla and the Lionman. Moreover, it is rumored that Jesper has a plan to get a grumpy aunt to float ...
In Circus Jesper, there are professional circus artists from all around the world in a new and fun mix with famous characters from Cardamom Town. Circus Jesper certainly is for the entire family - let yourself be thrilled too! This is unparalleled circus exprrience!
Danish Lasse "Bonbon" Nørager, who is a creative producer of the performance, says that the performers in this year's performance are
Joakim (Comic)
Bonbon & Tiina badminton, turtle etc.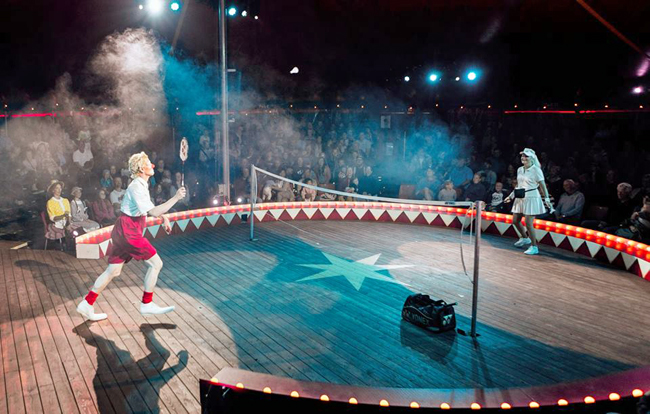 Bonbon & Tiina badminton. Bonbon turtles. All photos: Lasse Nørager
Nelma Pietela foot juggler from Finland in the part as Columbine
Lajos Nagy (Nereus) plate juggler in the part as of hairdresser Sorensen
Julia & Joakim juggling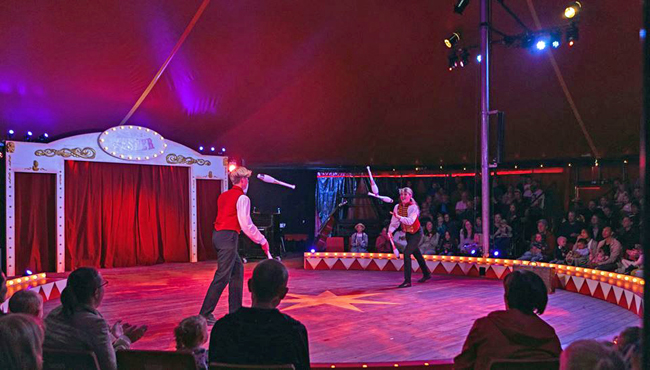 Julia and Joakim with their juggling act. They are daughter and son of Lasse Nørager and Mrs Tiina.
Costin Bellu trampoline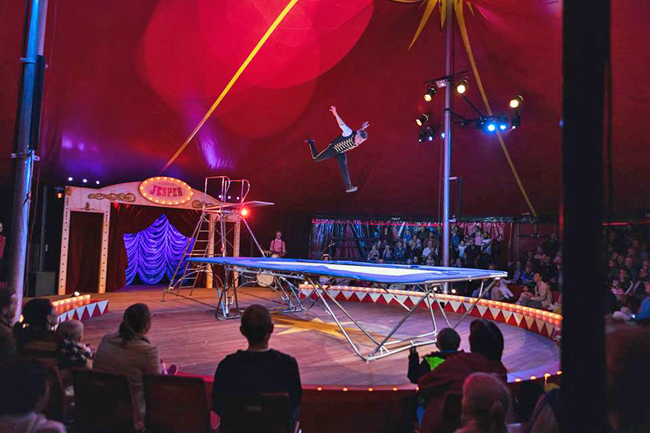 Costin Bellu on trampoline. The Swedes met him in Circus Maximum in 2013 and the Danes in Circus Benneweis in 2015.
Hairdresser Sorensen's miraculous hair cure, demonstrated by Julia (hair-hanging)
Piano virtuoso Kamomilla
Auntie Sofie (floating!)
(the robber) Jesper, circus director!
In the ensemble in various roles also Finnish Maria Jernström, Angelika Varga and Danish Freddi Steckel.
Director: Jostein Kirkeby-Garstad. Choreographer: Sindre Postholm. Lighting design: Bjørnar Skutleberg and Joakim Foldøy. Technical: Vegard Skretting and Mathias Gunnulfsen. Sound design: Lasse Nørager and Vegard Skretting. Music organizer: Nikolai Bøgelund. Music production: Lasse Nørager, All of Music (DK). Circus equipment: TL Production
The performance can be seem:
* June: 15 and 16 June. June 17-21: private performances. June 22 - June 31: Tuesday - Sunday.
* July: All days Tuesday - Sunday.
* August: 1st - 4th August.
* Performance start every day at 17.30
If you are on facebook: click here to see some of Lise Kokholm's photos from Sirkus Jesper 2018.

4 June 2019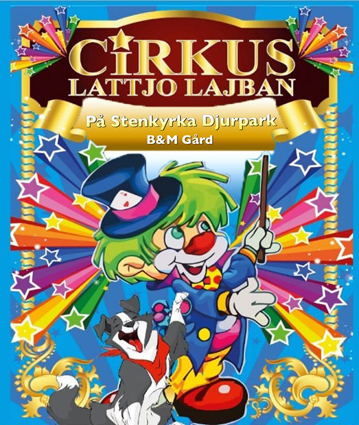 Circus on Gottland. The small zoo Stenkyrka Djurpark - B&M Gården, located on the northern part of the Swedish island Gottland, is from 14 June to 25 August visited by a small circus called Lattjo Lajban. The park promises "A entertaining show with people and their best friends the dog". B&M stands for Bongani & Malin, who bought the farm in 2010 with a dream of creating a zoo. The small circus has earlier toured in Germany under the name Cirkus Lattjo Lajban from Sweden. It is as far as I know owned by Anton Frank's daughter and son-in-law. Anton Frank was chief animal trainer in the Swedish Circus Maximum, who has not toured since 2017. - Lattjo Lajban was a children's program in Swedish TV4.

3 June 2019
IT ALL HAPPENS IN PARIS -- always a very lively theatre life, a tradition since MOLIERE / 17th century/, now: THEATRE DE L'ATELIER proudly presents MADEMOISELLE JULIE (Miss Julie) by AUGUST STRINDBERG /1849-1912/, famous Swedish author. Other Scandinavian authors, IBSEN, Norway, H.C. ANDERSEN, Denmark, are fairly often represented on the Parisian stages.
Usually I comment on visual shows only, but this play has a strong visual impact, that is what motivates me.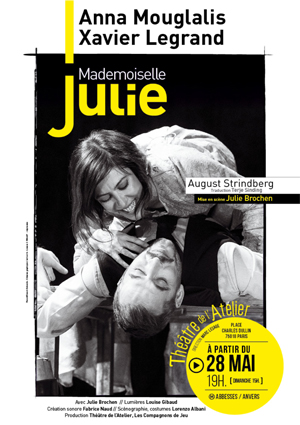 MADEMOISELLE JULIE is set on Midsummer's Eve on the estate of a count in Sweden. The young woman of the title is drawn to a senior servant, a valet named Jean. The action takes place in the kitchen of Miss Julie's father's manor, where Jean's fiancée, a servant named Christine, cooks and sometimes sleeps. On this night the relationship between Miss Julie and Jean escalates rapidly to feelings of love and is subsequently consummated.
There have been several screen versions of the play.
At the very first performance, it was met with an outcry of disrespect and disgust, it was seen as immoral and was, for a certain time, hit by interdiction.
MADEMOISELLE JULIE respects "the three units" i.e. time, place and action and remains of interest even today, a battle between the social classes and for the position of women in our society!
The stage setting gives us a real idea of that time, end of the 19th century, the costumes likewise, and the spectators are thrilled by the dramatic action, performed in the translation by TERJE SINDING, the stage scenery conceived by JULIE BROCHEN.
The actors: ANNA MOUGLALIS, XAVIER LEGRAND, JULIE BROCHEN are quite convincing in their interpretation - you leave the theatre having seen a masterly performance of a master piece!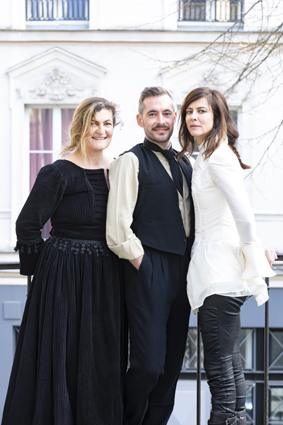 The three actors. Photo copyright Franck Beloncle, by courtesy of Dominique Racle Consultants
The performance can be seen until 30 June.
See more: www.theatre-atelier.com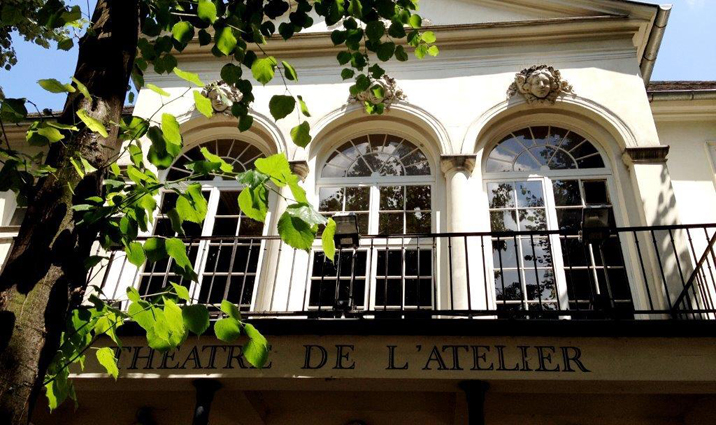 Venue: Theatre de l'Atelier, Place Charles Dullin, 75018, Paris. Metro: Pigalle or ANVERS.
IT ALL HAPPENS IN PARIS !!!
------------------------------------ reported by ZARRO ZARRO.

27 May 2019
News from GLiMT. The Danish performing arts and contemporary circus company GLiMT writes: "We look forward to busy and exciting summer - in fact, this will be one of our busiest summer ever!"
Among the summer's performances are:
On the 24th April, GLiMT travelled to Sandefjord in Norway, for the annual Market for Performing Arts – Markedet for Scenekunst I Sandefjord– specialized in performing arts for children and youths. They presented their show "Sisyphus Ascending" as part of the 30 other performances displayed during the 3 days of this showcase.
GLiMT presented its performance "Dance with me" in May 2019 at the Dance Pavilion by Karens Minde Kulturhus in Copenhagen's South Harbour, on the occasion of the next edition of CPH STAGE, the biggest theatre festival in Copenhagen.
On the 14 June GLiMT will travel to Kaunas in Lithuania in order to present its now famous performance "Sisyphus Ascending" on the occasion of the circus festival CIRKULIACIJA.
This summer, 60 children from 8 to 12 years old of the primary school Østerbro Lilleskole will create a site-specific performance around the theme "Colonization", guided and directed by artists from GLiMT. They will be introduced to circus and physical theatre disciplines by 3 professional performers, with whom they will also get to learn the basis of creation process. Finally in two intense working weeks, they will create their own site specific performance, which will be presented by the end of June.
On the 23 June, the performance "opHAV" will play in Ebeltoft, Denmark, at the site of the impressive old ship "Fregatten Jylland" in the harbour. It will be a part of the annual celebration of Sankt Hans, and be followed by a huge bonfire for the city. "opHAV" premiered last year and toured in waterfront cities all over Denmark and Sweden, and this year will be an updated version of the performance with a slightly changed cast.
From 7 - 10 August, the Denmark's second largest music festival Smukfest takes place in the beautiful surroundings of Skanderborg. This year, GLiMT will create a theatrical universe on "Never Land", close to the festival centre, where the festival guests can sail over to enjoy a different experience, away from music and crowds. GLiMT writes: "We lead the guests into a path to a relaxation area, through a portal to a different reality. We change the forest with sculptures and installations used by acrobats and performers, and we change the way the festival guests experience the forest and allow them to give their tired heads and bodies peace. The performance takes place over 5 hours every day, and is an immersive installation performance where every audience visiting the island gets a different experience."

27 May 2019
IT ALL HAPPENS IN PARIS - cultural events, minor and major:
CIRQUE GONTELLI is doubtless an important element, in spite of its small size, sporting a SMALL TOP, seating about a hundred persons, often a full house.
SERGE GONTELLI, born in an old Italian circus family, manages this circus together with wife FABIOLA and the children:
CHRISTIAN /juggler, circus cowboy, clown and acrobat/
MARY /acrobat with and without hula-hoop, performer with soap bubbles, clown/,
CLINTON, the youngest one who is being trained as an all-round circus artist.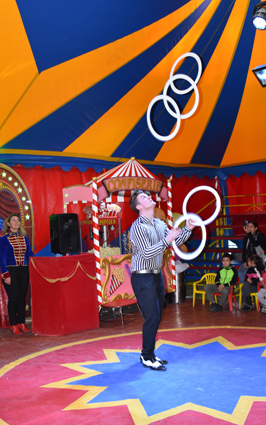 Christian as juggler. All photos by courtesy of Cirque Gontelli
OPHELIE, a promising tight rope walker and trapeze performer has married and left the circus.
SERGE has put in his excellent antipodean/footjuggling act that would easily qualify in any bigger circus, he also presents a MAGIC ACT where the kids may pat the magically produced rabbits - great success!!
FABIOLA acts as RINGMASTER and takes part with SERGE in the clown sequence that closes the show.
As a new feature 2019, MARY performs an act with small and big SOAP BUBBLES it is elegant and poetic and requires the interaction by several kids.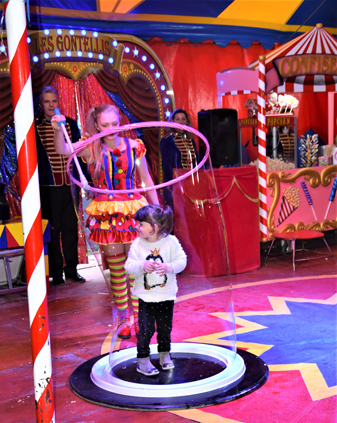 Mary has 'caught' a child in a soap bubble
This show that is geared to the small fry, 2 - 6, does also include another novelty: the well-known TV stunt LA PAT PATROUILLE (Paw Patrol) enters the ring to the delight of the children - imagine to be allowed to shake hands with a famous TV star who otherwise is out of reach behind his screen!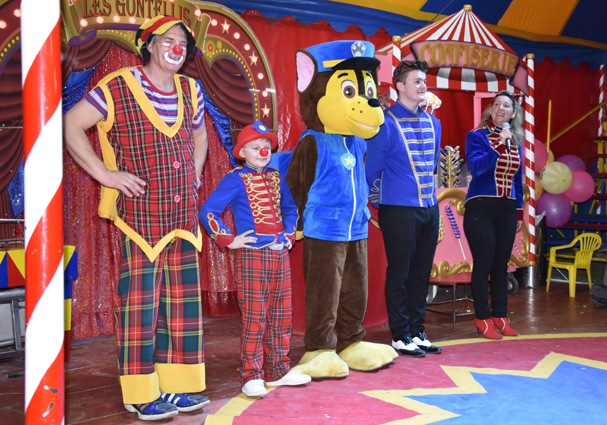 The performers with one of the cats from Paw Patrol
CIRQUE GONTELLI is second to none, i.e. in entertainment for the smallest ones, the only competition would be the PUNCH AND JUDY shows.
CIRQUE GONTELLI is a unique cultural event, presenting a challenge to all kinds of electronic entertainment, thus a healthy and human alternative to a world of robots.
Click here to see at video clip from the performance
Venues: consult L'OFFICEL DES SPECTACLES, in all newspaper stalls, playing in Paris, MAY thru NOV, playing in MARSEILLE, DEC thru APRIL, the winter weather being milder.
See more: www.les-gontellis.e-monsite.com
IT ALL HAPPENS IN PARIS!!!
-------------------------------- reported by ZARRO ZARRO.

24 May 2019
Cirque Éloize in Aarhus. The world-renowned Canadian Cirque Éloize visits 24 and 25 May Aarhus Music Hall with their new show SALOON. The show is a wonderful mix of dancing, acrobatics and theatre and is based on the tales from the Wild West of America.
The visit is part of Aarhus' international theater festival ILT.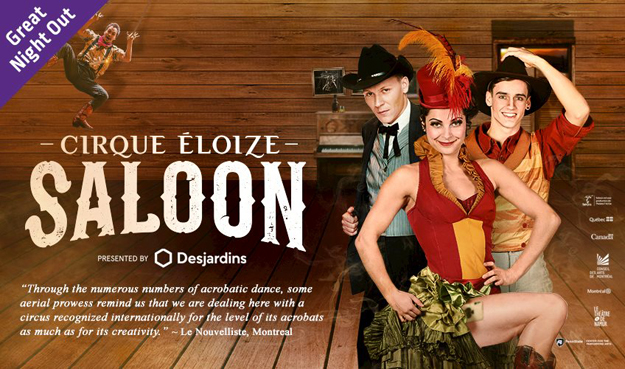 The producers write:
When you walk in the saloon doors, you will be met by a show that will amaze, entertain and excite you to the wonderful sound of folk music. A mythical world will appear before your eyes in a high pace filled with spectacular performances by the talented Cirque Éloizes ensemble.
Click here to see a video clip from the show.

24 May 2019
Circus from the Nordic Sea. Saturday 25 May at 19:00 and Sunday 26 May at 14:00 you can see a new contemporary circus performance called Circus from the Nordic Sea in Odense at Estlandskajen behind the skate park. Free admission.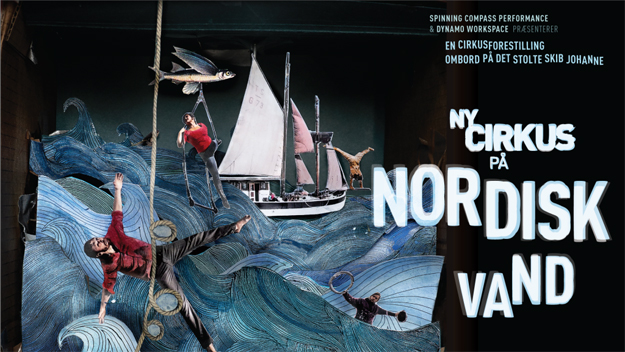 DYNAMO Workspace has produced the performance in co-operation the Swedish contemporary circus company Spinning Circus Performance. They write:
The wooden sailboat Johanne has sailed thousands of nautical miles from the North Sea through insidious Skagerrak, to the open Baltic Sea. Her hull has experienced madness and scurvy, and in the cover of the night, her crew has conspired, been drinking and taught themselves new tricks!
In strong gale the heroes of the sea fog stand weathered, raw and ready with a wild and beautiful circus-show! A mad and ingenious balancing act about life aboard, and the world on land.
With neck-breaking acrobatics from the mast, handstand in the wind, and precision second to none in everything that takes place, the crew of artists and musicians demonstrates what happens when the line of command disappears, and creative anarchy breaks free! CIRCUS FROM THE NORDIC SEA is an impressive and seductive circus-show with a duration of approximately 50 minutes with live music by Swedish electronica-artist Jenny Nilsson and is recommended for all ages.
CIRCUS FROM THE NORDIC SEA is the 2nd in line of DYNAMO's co-productions made with the support from the Danish Arts Foundation.
Cast: Andrea Hilario, Johannes Starke, Matthew Horton and Rebecca Seward. Live music by: Jenny Nilsson. Producers: Spinning Circus Performance og DYNAMO Workspace
The show is created with financial support from: the Municipality of Odense, the Danish Arts Foundation, Odense Havnekulturfestival, The Swedish Arts Council and the Region of Skåne.
The performance takes place on the old 18 meter long sailboat Johanne and at the quay in front of the ship. It is the plan that the performance after Odense will be on tour to other Danish harbors.
DYNAMO is a workspace for circus and performing arts located in the middle of Denmark at Odense city harbor. Dynamo facilitates the framework for artistic work in progress, development of ideas, residencies, and courses in master classes/open training.
DYNAMO is an important force for the development of the cultural life of Odense, primarily for contemporary circus and performing arts. Odense is Denmark's third largest city with a populations of 170,000.

17 May 2019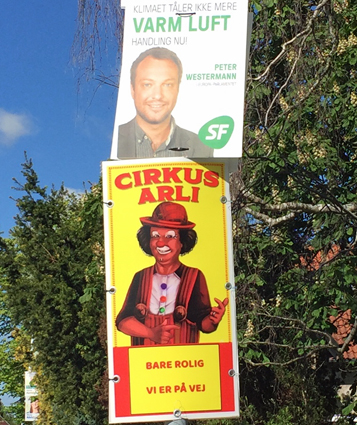 "Hot air - action now" requires the politician on this poster for the upcoming general election in Denmark. "Don't worry - we're on our way" Circus Arli calms down. - The election posters have in some places given problems for circuses as the politicians to get room for their own posters have pushed circus posters up to such a height that they cannot be removed using a regular ladder.

16 May 2019
Grand Circus Hotel in Malmö, Sweden. A new hotel, or perhaps rather a youth hostel, has opened at a former railway depot in Malmö. They advertise that you can spend the night in a circus wagon. The hotel is called Grand Circus Hotel and the address is Södra Bulltoftavägen 51, Malmö. On the website www.grandcircushotel.com the hotel is presented as: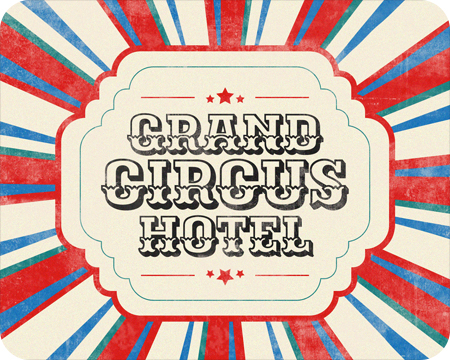 On a disused railway lot in Malmö, we've created a hotel consisting of circus wagons. Each wagon is one room, and all twelve rooms are decorated in different themes; the Clown's Wagon, the Manager's Wagon, the Magician's Wagon, and so on.
There is a built-in kitchen and bathroom in some of the wagons, and shared ones for others. Our facilities include a shared kitchen, a house with showers and lavatories, and a reception with a minimarket.
All the rooms come with two bikes, free to use during your stay. Additional bikes are available to rent. The hotel also has ten spaces for guest caravans, with access to electricity.
Nearby, there is a street food truck, a supermarket, pizzerias, laundry etc. The city centre can be reached by bus, train or a fifteen minute bike ride.
Welcome to Malmö's most spectacular accommodation!
The prices for an overnight stay are between 800 and 2,100 SEK (bases on current exchange rate from 75 Euro to 195 Euro)

14 May 2019
Small program change at Circus Arena. The Cheban troupe is not any longer part of this year's performance. That's not a big loss - in his 5-star review of the performance, Rud Kofoed wrote (my translation): "The weakest act in the performance is probably Cheban with their Russian swing and the jump on inflated giant hoses from landing wheels ..."
For the rest of the season, the Cheban troupe is replaced by the Alexander troupe with springboard. Undoubtedly a good bargain.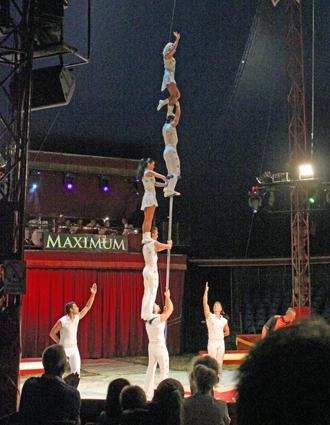 Five men high - the Romanian Alexander troupe in Swedish Circus Maximum in 2014. The year before they were at Cirkus Merano in Norway. Now you can meet them in Circus Arena. Jørgen Lorenzen writes that they are excellent. Click here to watch a video clip with the troupe.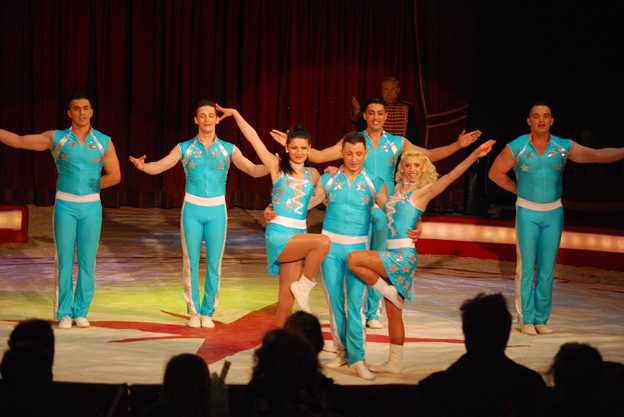 "A classic and fast-paced act with human pyramids to both four and five men high", Tobias Schött wrote about the Alexander troupe when they performed at Maximum in 2014. Photo: Tobias Schött

13 May 2019
Children in the ring are the title of a project that Cirkus Baldoni has been successful with since they launched it in 2017. It is cooperation between Circus Baldoni and schools which get a project to work with, which ends in a private performance with a combination of the school children and Baldoni's artists. For that performance, the children help to sell tickets to family and friends, who of course want to see their children and grandchildren's act. Circus Baldoni put up their tent and equipment near the school, and they come with all their artists and popcorn machines etc. which belong to a circus. On the performance day the children come to Circus Baldoni in the morning, where they, together with Baldoni's staff go through the acts with music, light and the practical issues such as taking props in and out, so that everything is ready when the children later in the day perform for parents, siblings , family and friends.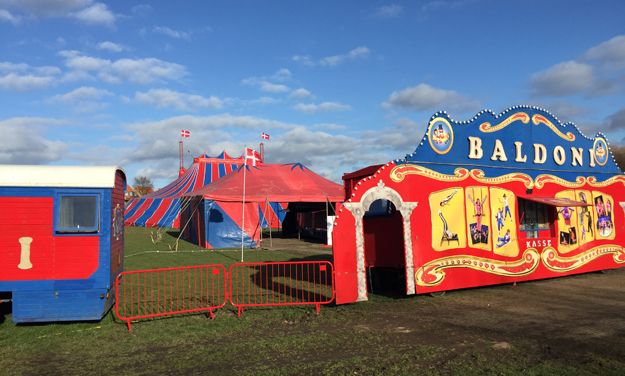 Circus Baldoni's tent forms the framework for a number of private performances, where both school children and Baldoni's artists are in the ring
"It has been a huge motivation for the children to perform in a real circus tent in front of a real audience," says a teacher from Høsterkøb School to Frederiksborg County's newspaper. The school has just had such a project, where 90 children from the school were actively involved in the circus's performance at the playing field in Høsterkøb. "We have had children, who from the beginning would not be involved, but who then have thrown themselves into it and found the joy of being really good at something," another teacher tells the newspaper.

8 May 2019
The Circus Farm 2019. There is premiere at the 2019 performance at Katja Schumann's Circus Farm in Løkken on Sunday 11 May at 16. At the Circus Farm horses and animals are the focus. The animals are presented in the theme "play - learn - masters".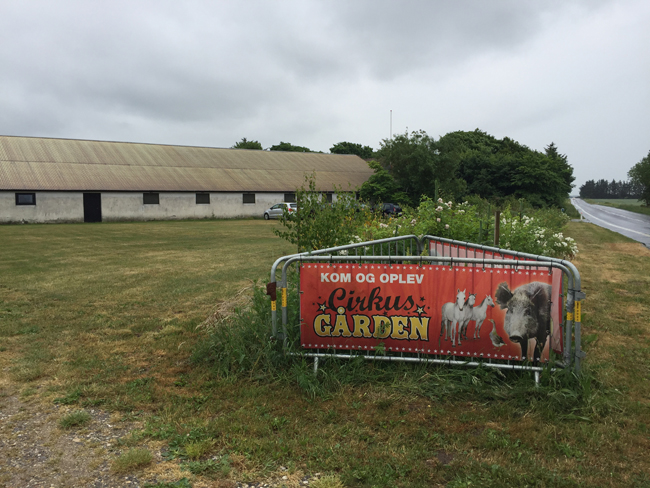 From May 11 to June 23 there is a performance every Saturday and Sunday at 16. In the holiday weeks 26 - 32 there is a performance every day except Monday at 16
The address is Cirkusgaarden, Vrenstedvej 287, 9480 Løkken.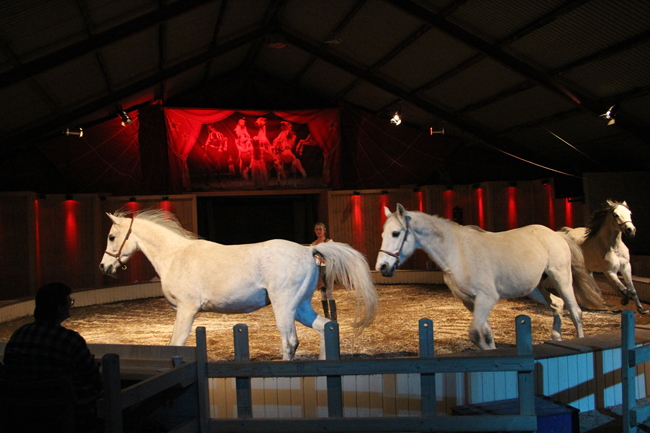 From the 2018 show
Løkken is a holiday resort in the in the northern part of Jutland. Katja Schumann bought the 21,000 m2 large former farm in 2014. At that time the property looked like it was waiting for a bulldozer. But since Katja and her friend Luffe Bøgh have worked hard to put the ramshackle property in order and to create a circus farm focusing on animals as well as a circus museum focusing on the Schumann family. The last goal has not yet been completed, but Katja and Luffe have certainly created a circus farm and an environment worth a visit. And they are also working to get the museum established.

7 May 2019
Ban against circus elephants postponed due to a forthcoming general election.
The Danish Prime Minister Lars Løkke Rasmussen has called for a general election to be held on 5 June 2019.
Elections for the Danish Parliament take place at least every four years, but a prime minister can call an election at any time. The last general election was on 18 June 2015.
When a general election is called for all bills which not yet have passed by parliament are withdrawn. And as a proposal for animal welfare bill with ban against circus elephants wasn't passed by the Parliament before the call for general election the proposal is withdrawn.
A large majority in the Danish Parliament are in favour of a ban against circus elephants. But there were elements regarding regulation of the agriculture sector in the proposed animal welfare bill which was more controversial.
After the general election the next ordinary session in the Danish Parliament will not start until October. At that time it is likely that a revised animal welfare bill will be presented to Parliament and can pass through parliament in December.
Conclusion: It is still allowed to present elephants, sea lions and zebras in Danish circuses. As for other wild animals such as big cats there has been a ban since 1963.
The two circuses which have elephants – Circus Arena has three and Circus Trapez one - have however chosen to leave the elephants in their winter quarters this year. They know that a ban is coming and seem more interested in getting financial compensation for the elephants than in letting them perform.

6 May 2019
IT ALL HAPPENS IN PARIS -- forever and ever -- a lot of visual shows that are thrilling, interesting and hilarious -- now THÉÂTRE ALAMBIC COMÉDIE proudly presents a family show based on magical effects and surprises.
THÉÂTRE ALAMBIC COMÉDIE is a rather small theater, nicely refurbished and sporting a middle-seized stage, an elegant curtain and a good sound-and-light-system, everything that happens on stage is clearly seen.
THE ACTOR MAGIC ENTERTAINER, OWAN NEMO calls his show "ET TOUT CELA POUR DES CHAMPIGNONS", free translation: "OUT IN THE FOREST TO PICK MUSHROOMS", a trip creating plenty of funny incidents, original as well as pleasant.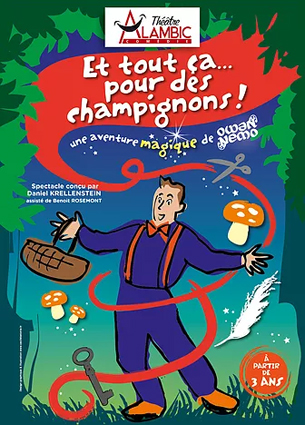 The small fry responds readily, some of them are invited up on stage, there is thus plenty of interaction, all of them are active.
Points of interest: the French and particularly Parisian tradition of going to the theatre is alive and kicking, one goes to the circus and the theater, and this since MOLIERE produced his plays, the children experience that funny and pleasant stories can be produced without electronics - LIVE ENTERTAINMENT has advantages!!
Absolutely worth seeing for both kids and parents!!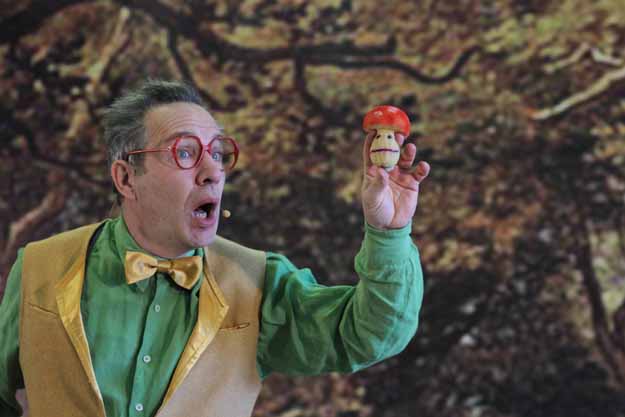 Photo by courtesy of Owan Nemo. Click here to see a video clip from the performance.
See more: www.owan-nemo.fr och https://www.alambic-comedie.com/
Venue: THÉÂTRE ALAMBIC COMÉDIE, 12 rue Neuve de la Chardonniere, 75018 Paris. Metro: SIMPLON.
IT ALL HAPPENS IN PARIS!!!
------------------------------- reported by ZARRO ZARRO.

2 May 2019
Circus Mascot. Jørgen Lorenzen saw the performance in Stevnstrup on May 1st at 17 and writes (my translation):
Circus is both tradition and innovation. Tradition, because the audience want to have the joy of recognition. It must be as it has always been. But if at the same time there isn't innovation - sometimes imperceptible - it feels stiff and irrelevant. The circus has to accommodate both.
Circus Mascot holds on to the traditions - quite literally. It is the two artist families Deleuran and Gulyamov who are responsible for most of the performance. Just like last year. And there are two new artists, two brothers from Ethiopia. They replace the two Polish artists who starred last year. And this year the performance has been titled: circus goes crazy.
But: both the Gulyamov family (father, mother, daughter and son) and the Deleuran family (Marianne and her son Daniel) surprise with completely new acts. Everything feels fresh, new and rejuvenated. And then the performance takes place in a tight and fast pace. It always strengthens the attraction.
The clown Gulio (Ulmas Gulyamov) is getting better and better. Every year, his entrées are brand new - and are a celebration of whim, creepy ideas and ridiculous, technical inventions. And he uses many lines - are periodically a speaking clown. But one proof of his abilities, for example, you get when he flings an enlarged bath ball to the audience. Many clowns do that, but Gulio makes it so subtle that the whole tent is full of joy and laughter – pure fun and games. Everyone is involved - everyone feels delighted. Only the good clown can act like this. And another original entrée: the clown comes up against a human-sized teeth in a giant mouth that can walk by its own power. It is then Gulio's job to make sure that the giant mouth's teeth are brushed. Not an easy tasks, because the giant mouth both can walk around, responds and bite.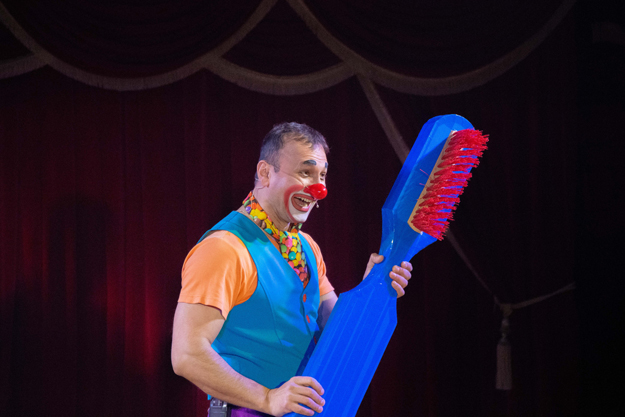 Gulio with toothbrush. All photos: Daniel Deleuran, Circus Mascot
And this year he has constructed an applause-board to measure the strength of the audience's applause. He does so, and the applause becomes so great that the machine explodes.
With his daughter Juliya, he has a priceless, funny entrée. It begins as the classic spaghetti entre, where the clown must serve for a restaurant guest. Here it goes completely grassy when the guest is served rat soup. Rat Soup! Who get such an idea? In the beginning, the soup floats with dead rats (of clothing), but soon the ring is swarming with rats. It's screamingly funny.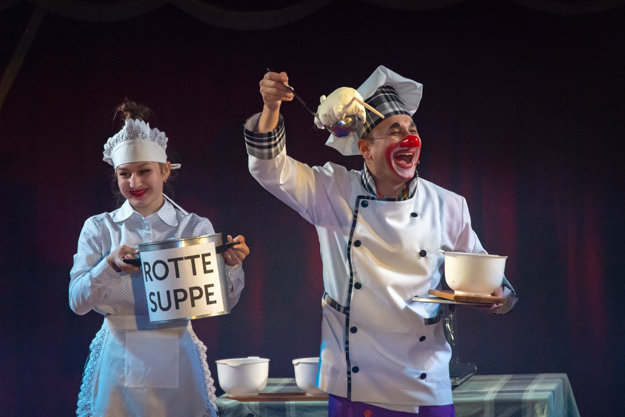 Juliya and Gulio will serve rat soup
Mrs. Gulyamov, who has kept her surname Primachenko, we have seen before - in a tissue act. This year she is still an aerial artist, but now in the vertical rope. And she does that superbly. with fast pirouettes while hanging in a foot, in an arm and in the neck. Strength, beauty and superb command of prop and body.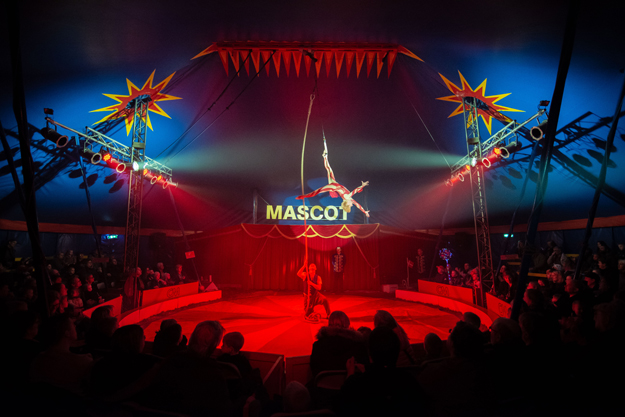 Tetyana Primachenko
Their son Husik appears in a costume that reminds one of an astronaut. Or is it a knight? He juggles with diabolos and makes it safe and convincing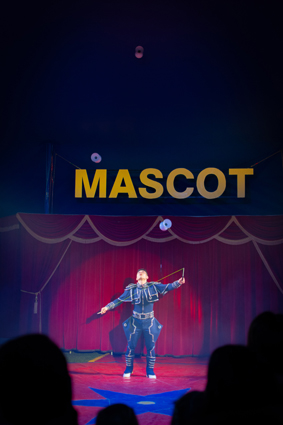 Husik with diabolos
There at lots of animals in the performance. For circus and animals belong together. You've seen Marianne's dog show before? But no, it feels fresh and new. Among other things because it starts with the dog Bobby which can do sums and this year also has learned to play piano. It does so - eagerly encouraged by Marianne's dog biscuits when it hits the right keys. And there are many other animals: ponies, the pigs Yrsa and Sille (presented by Marianne in a smart young girl outfit), goats, a goose, during the interval a donkey - and as mentioned rats.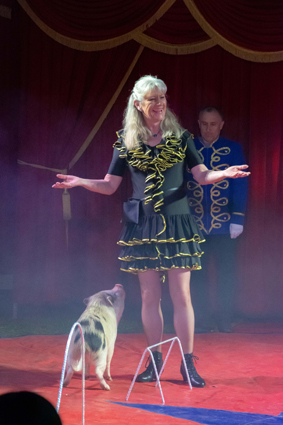 Marianne Deleuran and Sille
The two African artists appear in costumes that do not look like the classic European costume. It seems like a colourful sportswear and it is probably an Ethiopian dress. They start the show with a hat juggling and they end it with a fine Risley act.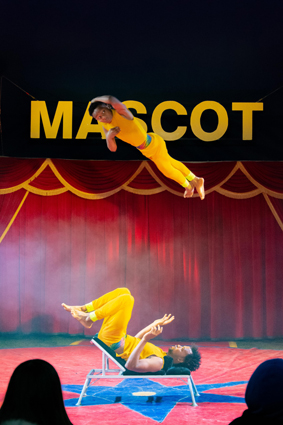 Abebe and Dessta with a Risley act i.e. foot-juggling with a partner while lying back on a trinka
In short: it's new, but it's classic. It's fast-paced and humour-filled mood-filled without being hurried. It's true circus. What the full house tent also acknowledged with warm applause. No one got tired. But many wished it would continue. That's what it does - next year! So just go crazy again next year.

Link to news from 2007

Link to news from 2006