'
From Denmark
and other Scandinavian countries
Special feature: It all happens in Paris (when relevant)
A weekly updated internet magazine
Last updated : 30. July 2021
30 July 2021
A circus king turns 75
Tuesday, August 3, Benny Berdino, Circus Arena, turns 75. His hometown is Aarslev near Slagelse. Both last year and this year, the corona has meant that Benny has spent most of his time in Aarslev, where Circus Arena has its winter quarter, which also houses the theme park Circusland. Usually, the busy circus director spends much of the year touring with his circus or hunting around the world for good artists.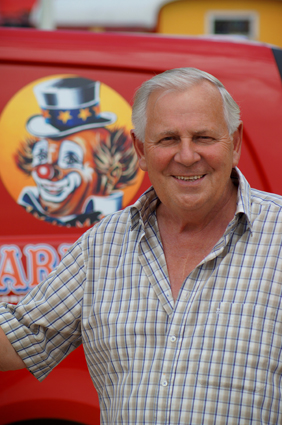 Benny Berdino is son of Arne "Berdino" Olsen and Mrs. Lydia. Arne Berdino founded Circus Arena in 1955 after several years as a market traveller. In its first years of life, Circus Arena was able to market itself as Denmark's smallest circus. The staff consisted of the director, his son Benny, his daughter Jytte and the strongman Abdullah. Later, the clown Larno joined. When Arne Berdino died in 1976, Circus Arena had become a nice medium-sized business. But the new director Benny Berdino did not just want to run a medium-sized business. His dream was to have the largest circus in the Nordic countries and to be part of the super league among circus owners in Europe. He has long time ago succeeded in realizing that dream with good help from his wife Hanne, who comes from an old artist family.
Although Benny Berdino is today the owner of the Nordic region's largest circus, he has also experienced something other than success. The circus industry has always been an industry where it goes up and down. But every time it has looked difficult Benny Berdino has managed to find solutions making it possible for Circus Arena to continue.
In 2020, he had been looking forward to celebrating Circus Arena's 65th anniversary. This was due to the corona impossible, and the celebration was postponed until 2021. But again this year, the corona blocked the way. The restrictions that applied made it simply impossible to carry out a financially sound tour with a large circus as Circus Arena. "But in 2022, we will celebrate the anniversary with a bang of a show," promises the always optimistic Benny Berdino.
In addition to the Danish tent tour, Circus Arena and Benny Berdino have been visiting Greenland every autumn for more than 30 years. But here too the corona blocked the way in 2020. Circus Arena has also visited Norway, the Netherlands, Iceland, the Shetland Islands and the Faroe Islands.
The expansion of the winter quarter in Aarslev near Slagelse into a theme-based experience park, Circusland, had a slow start, but in recent years has developed into a sensible business, which now has Benny's son and daughter-in-law Jackie and Laura Berdino as daily managers. The Berdino family plans to expand Circusland into a holiday and event venue with holiday accommodation for 600 overnight guests, an 8,000 m2 water park and a concert and event venue with room for up to 3,000 guests.
Benny Berdino is known as an outgoing person with a lot of show. After a double bypass operation a few years ago, however, he was forced to slow down a bit and has left an increasing share of the operational responsibility to his son and daughter-in-law Jackie and Laura, who are also co-owners of the circus empire.
As mentioned, Benny Berdino is today the owner of the Nordic region's largest circus. In 2008, the Queen made him a Knight of Dannebrog, an honour that in the circus world had previously only accrued to Albert Schumann. In 2016, he received the Danish Circus Award and also came here in distinguished company: the award previously just given to Albert Schumann and Eli Benneweis.
On the director's birthday family, friends & business associates are invited to a reception in Circusland from kl. 12 to 17.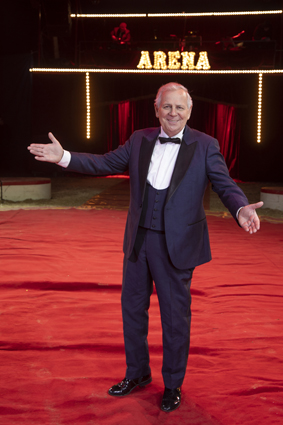 26 July 2021
Circus Jesper 2021. Lasse "Bonbon" Nørager has sent me the following photos from this year's performance in Circus Jesper in Kristiansand Zoo in Norway. Lasse is creative producer of the performance. As in previous years, the performance is a themed performance based on the character gallery from Thorbjørn Egner's When the Robbers Came to Cardamom Town. The book is a 1955 Norwegian children's book written and illustrated by Thorbjørn Egner. It is considered one of the most important works in Norwegian children's literature. The book is about the peaceful town of Kardemomme and the people there, as well as the only characters which stir up serious trouble. They are the three robbers, Casper, Jesper and Jonathan who live outside the town and regularly enter to steal the things they need. The robbers get arrested and are treated well in jail. In the end they are reformed, and in the final chapter, they become the heroes of the day when they extinguish a fire in the tower of the town. Finally, Casper becomes the town's fireman, Jesper becomes the town's circus manager and Jonathan becomes a baker.
In Circus Jesper there are professional artists among the performers. And this year with new acts - only Bonbon and Tiina's badminton act have been allowed to consist from previous productions.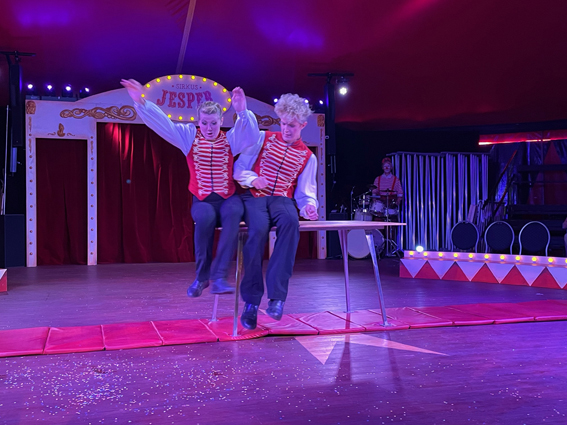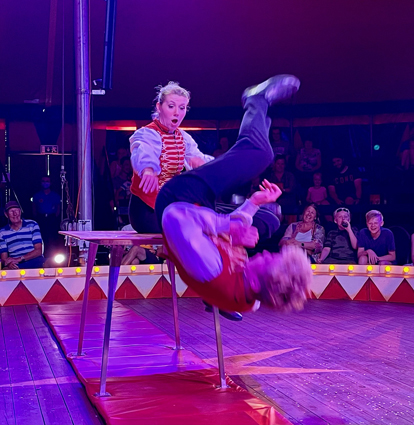 Lasse and Tiina's children Julia and Joakim show their very own table act which Freddi Steckel has helped them with the training for.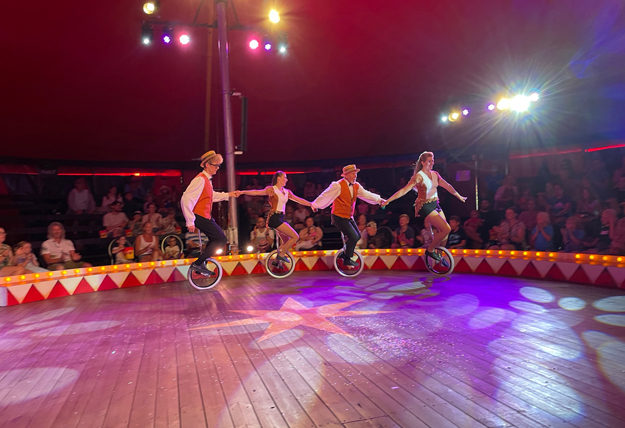 Together with Freddi and Finnish Nelma Pietela, Joakim and Julia make a one-wheeled bicycle at, with built-in surprises...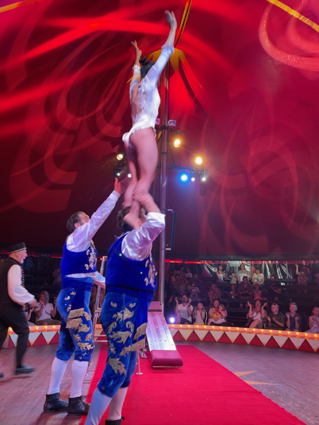 Trio Csaszar from Hungary makes springboard act. They have been with Circus Roncalli and various Bernhard Paul varieties for many years.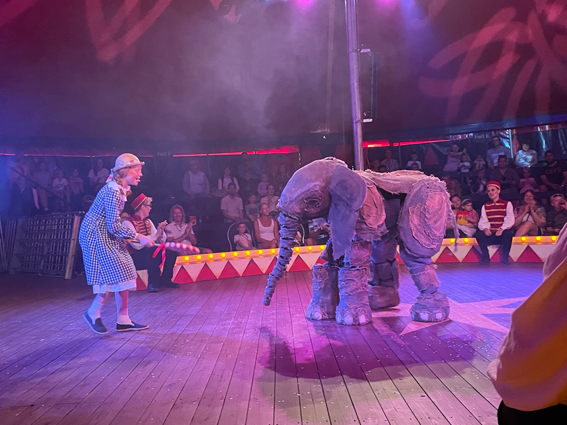 Circus Jesper's fine elephant Mimo (not a live elephant) is also part of the performance. Here seen with Aunt Sofie.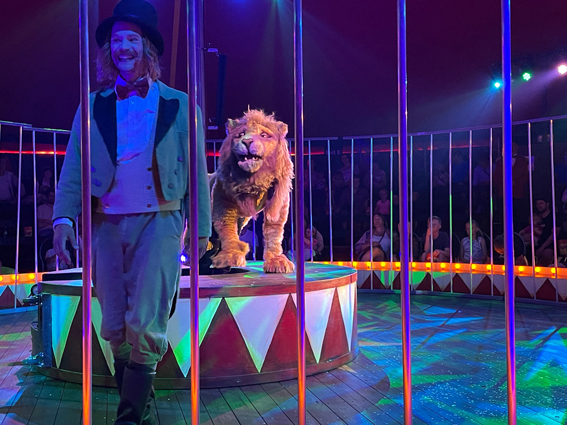 Circus director Jesper together with the lion - a brand new animatronic lion, which Lasse and his family we have spent the Corona winter producing at their home in Slangerup, Denmark.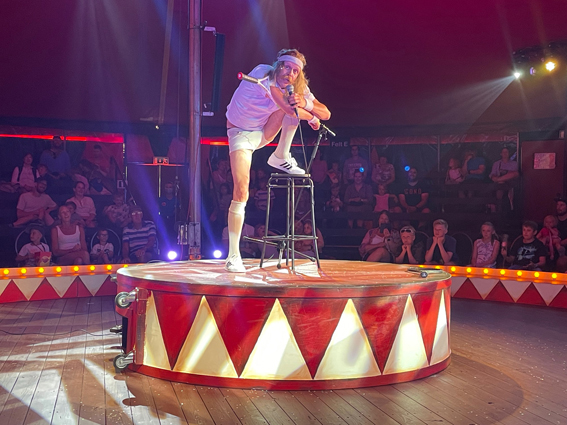 Captain Frodo is also in the show, here with his tennis racket act in a slightly more family-friendly version than we know from La Clique and Zirkus Nemo.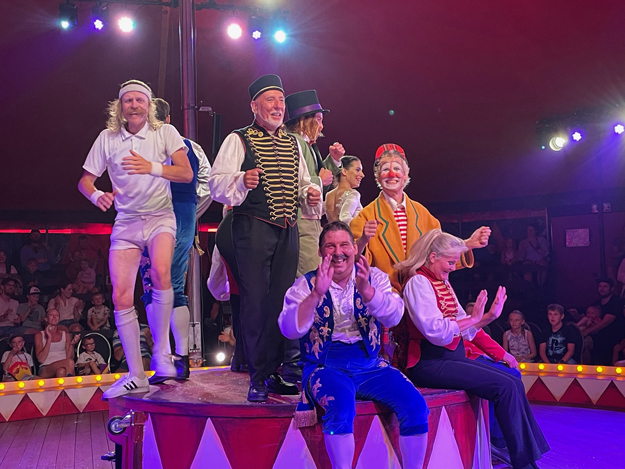 Circus Jesper will close the season on August 15th.
In addition to Sirkus Jesper, you have in Norway since 17 July been able to experience Circus Arnardo in Lillesand with approx. 1 hour long performances. After Lillesand, they continue to Arendal, where they will be from 5 to 15 August.

23 July 2021
Norwegian Circus Arnardo summer show 2021. Due to the corona Circus Arnardo was not on tour in 2020. One season without Circus Arnardo is enough for circus director Are Arnardo. Therefore, this year he invites to three weeks of summer circus in his hometown Lillesand, where Circus Arnardo premiered July 17.
Thorbjørn Klæbo Flo saw the performance on July 18 and writes (my translation):
After the corona outbreak just before the start of the season 2020 Circus Arnardo had to stay home in Arendal / Lillesand in 2020 without having any performances.
This year they open the season with 23 performances from 17 July to 1 August 2021 in Lillesand next to the climbing tower by the E18.
A little over an hour show with good artists and animals in classic form. They use a smaller tent than usual from Kevin Probst with a diameter of 26 meters. There are infection control restrictions, good distance and hand sanitizer.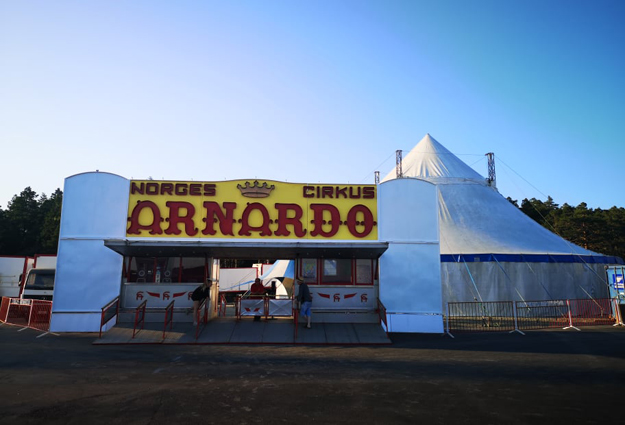 Circus Arnardo this year uses Kevin Probst's tent, which has a diameter of 26 meters and is a little smaller than Arnardo's usual tent. All photos: Thorbjørn Klæbo Flo.
The program consists of comedian / clown Victor Rossi, this year's debutant Shannon Folco Arnardo (4 generation Arnardo) with foot juggling, Kevin Probst with 8 donkeys in liberty dressage. Paola and Are Arnardo with magic, Victor Rossi and Frank in cooperation, Kevin Probst - solo horse, Luigi Folco Arnardo - diabolo, Victor Rossi and Frank, Tünde Szabo – aerial straps , Victor Rossi comic juggler, grand finale.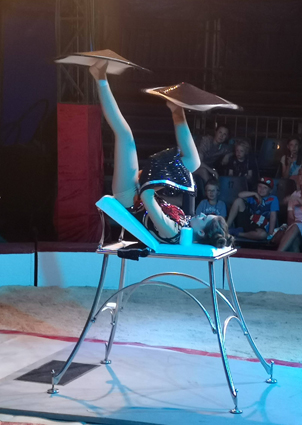 Shannon Folco Arnardo is 18 years old and debuts with her own act where she juggles with carpets with both hands and feet at the same time.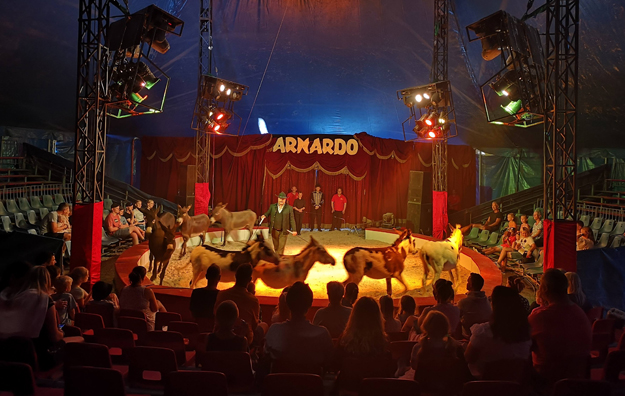 Kevin Probst and his 8 donkeys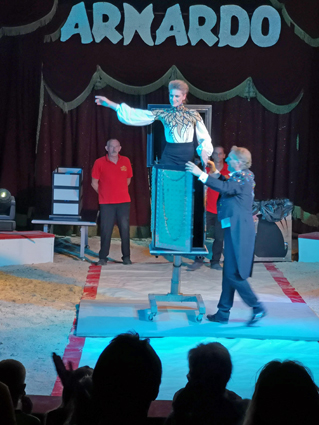 Are Arnardo and his partner and spouse Paola with a magic and illusion act. Are has brought the illusion and magic tradition from Grandfather Arne back into the arena. The circus king Arne Arnardo was Norway's most famous magician of all time.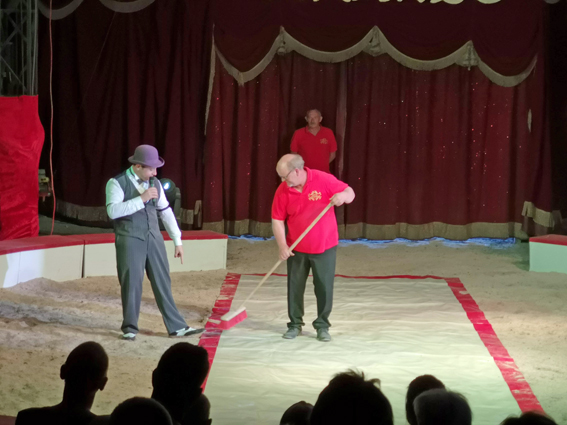 Victor Rosi and Frank. Frank is Norwegian. He worked for many years at Arnardo as a tent worker, ticket collector and props. He is a good friend of Fumagalli and participated in his entrées as a clown at Arnardo. Here he is seen in cooperation with Victor Rossi more as a prop, slightly comical.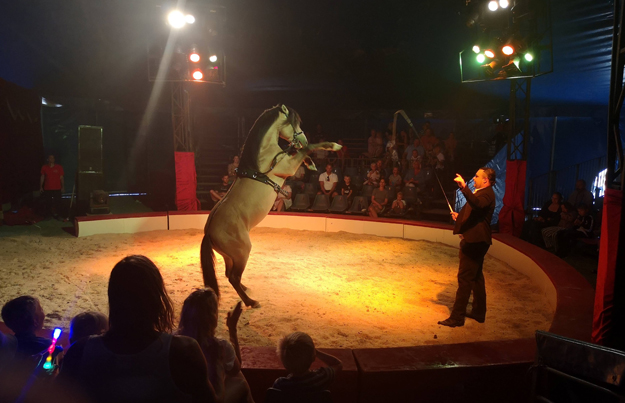 Kevin Probst with a single horse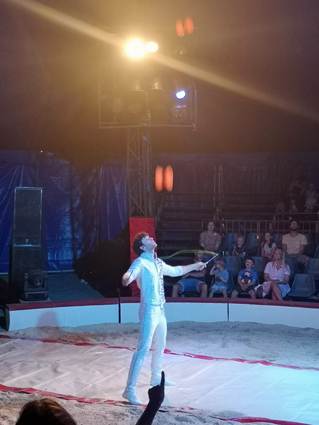 21 year old Arne Otto Luigi Folco Arnardo with diabolos.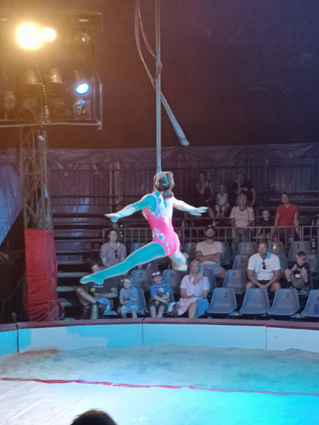 Tünde Szabo in aerial straps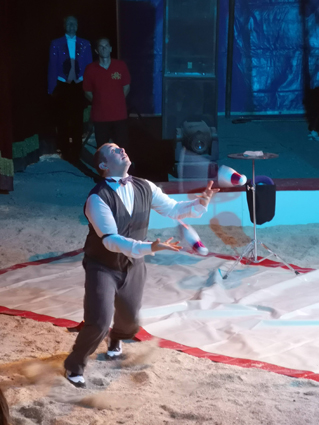 Victor Rossi as juggler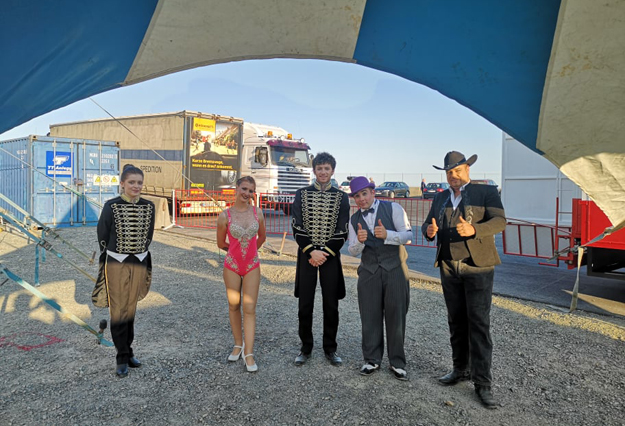 From left: Shannon Folco Arnardo, Tünde Szabo, Luigi Folco Arnardo, Victor Rossi and Kevin Probst
With possible reinforcement of the program and if there will be less Norwegian corona restrictions there might after Lillesand be a tour in southern part of Norway. Arendal and Sandvika is mentioned and possible Stavanger. Unknown when the season will close. I hope the best for the circus as the situation is now and that the audience also in Norway want to go to the circus.
The other Norwegian circus Circus Agora is at home and will probably not come on tour until 2022.

21 July 2021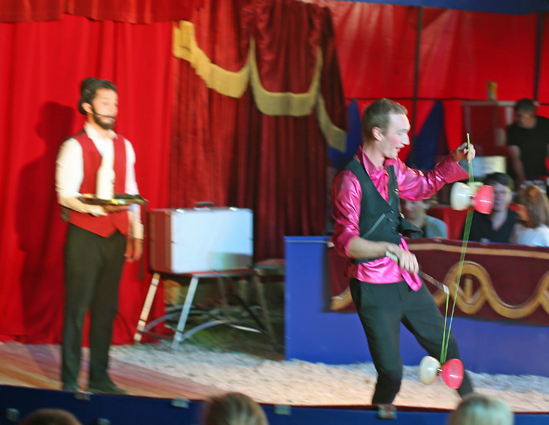 In Circus Trapez Open Air performances, there are some changes among the performers over the summer. The Dutch diabolo juggler Michael Betrian has continued to other engagements and been replaced by Danish Lasse Hasager. Photo: Jens Chr. Sorensen.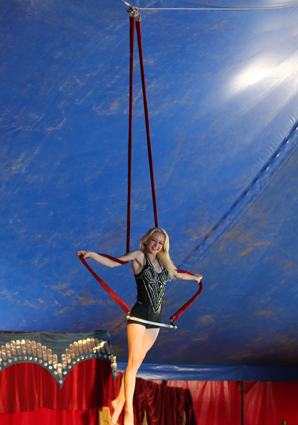 In Madsbyparken, where there is a roof on the tent, Nynne Hulsig Samuelsen has performed in trapeze. Photo: Jens Chr. Sørensen.

18 July 2021
IT ALL HAPPENS IN PARIS ---- I risk my hide telling my international followers: long time no show, long time no see - / disrespectful licencia poetica often used .../
But, but there is light at the end of this horrible lockdown.
Restrictions have been largely eased in Paris: my write up on CIRQUE GONTELLI was published on 12 July.
CIRQUE D'HIVER BOUGLIONE hopes to start the winter season on 23 October.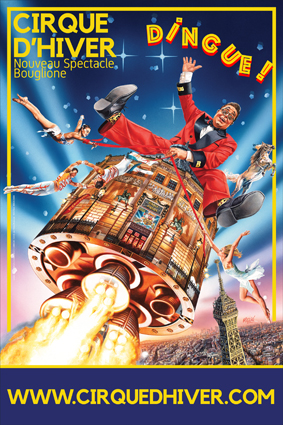 CIRQUE ALEXIS GRUSS hopes to be able to put up their tent in the Bois de Boulogne Park in Paris from 18 September till 6 mars 2021 using the brand LES FOLLIES GRUSS.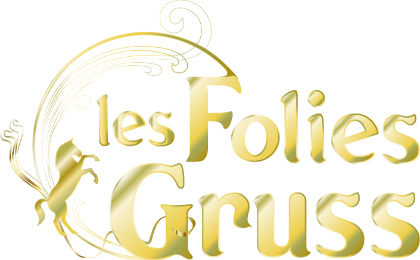 The following establishment has spread word that they will land in Paris before X-MAS: CIRQUE ARLETTE GRUSS from 3 to 12 December.
THEATRE LA SCALA features a contemporary circus in October/ OPERA MAGIQUE performs at theatre COMEDIE SAINT MICHEL/ OPERA + MAGIC STUNTS.
L'OFFICIEL DES SPECTACLES = a publicity paper on ALL events in Paris- announces the re-start of activities on September 1st - this is where I fish out and up all my infos.
I do hope that all of you are well alive and kicking !!!
IT ALL HAPPENS IN PARIS !!!
------------------------------------------------------ZARRO ZARRO.

13 July 2021
The Circus Farm in Løkken 2021. Jens Christian Sorensen has visited Katja Schumann's circus farm in the Danish seaside resort Løkken and sent me a number of photos, see below.
Jens Christian writes that the first part of this year's show is about training the animals, while the second part is a performance. Apart from the fact that Katja Schumann and her friend Luffe Bøgh take a little waltz as an extra number, all the acts are animal acts. Victor Høeg Abrahamsen, who in previous seasons performed with diabolo and magic, has become a reasonably good horse trainer. In addition to working at the Circus Farm, he has for a period worked for Circus Mascot which due to corona restrictions isn't on tour in 2021. He also works with ponies. The last performer is a girl who rides a pair of horses.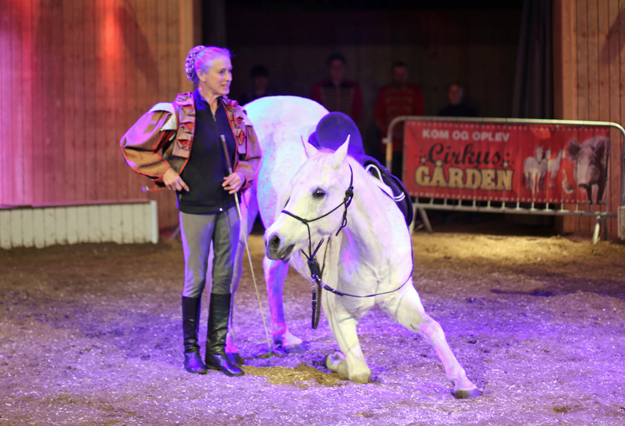 Katja Schumann and one of her horses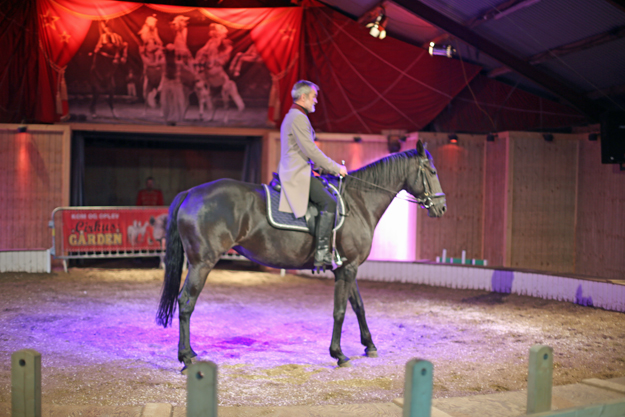 Luffe Bøgh rides high school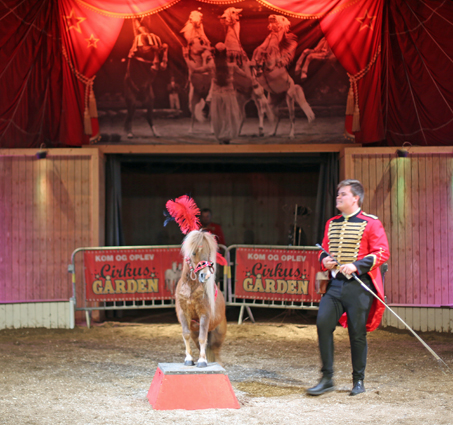 Victor with one of the ponies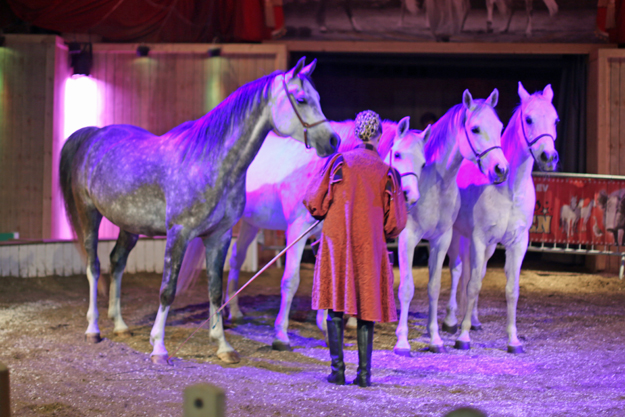 Katja with 4 beautiful horses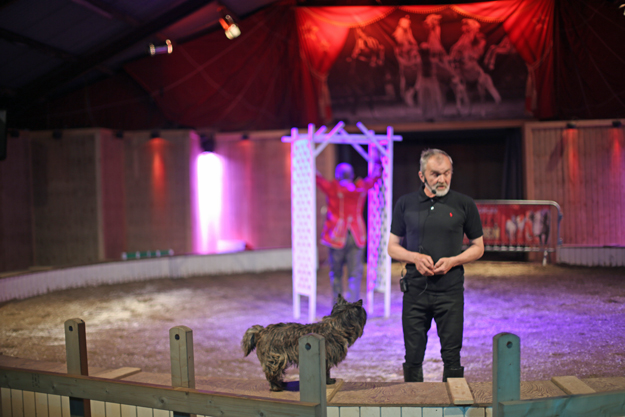 Luffe with a dog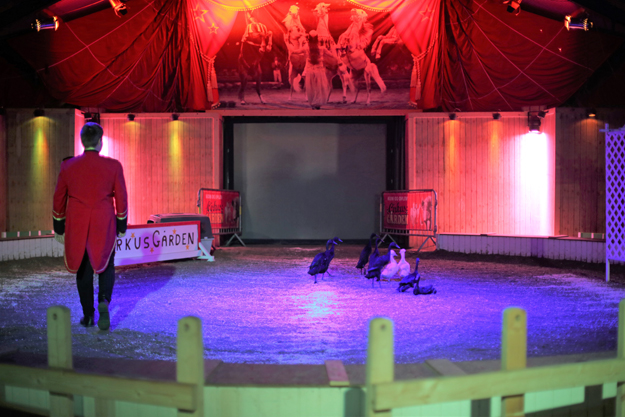 Victor with geese

12 July 2021
IT ALL HAPPENS IN PARIS - CIRQUE GONTELLI performs in a recently refurbished SMALL BIG TOP, thus offering comfortable seats in different sizes, as CIRQUE GONTELLI is geared mainly to the smallest fry, who always are accompanied by parents or other followers, to this cultural event.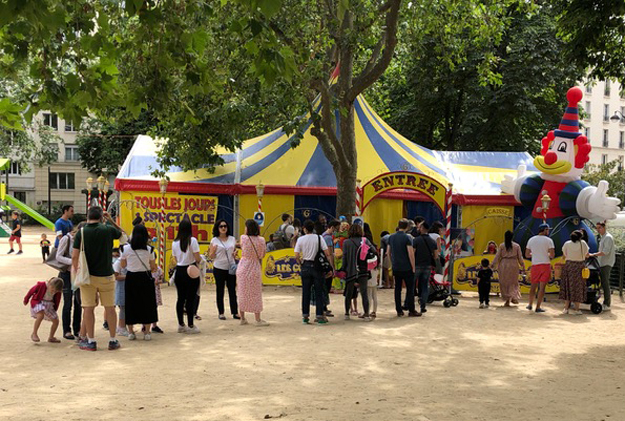 Line up at Einlass. All photos: Noufou Ouedraogo
The unique image of this little circus is that the programs /they do sport a number of them/ are composed for the joy of the smallest ones , aged 2 to 7- they have but little competition using this concept.
The program is super child-friendly, which means happy kids in an atmosphere of joy and trust, nothing that might scare them.
At the premiere we enjoyed a nice presentation by SERGE GONTELLI, assisted by wife FABIOLA, a good lasso act by youngest son CLINTON, a funny and amazing version of the spinning plates, by son CHRISTIAN, and a beautiful and well timed hula hoop act by daughter MARY, then it was time for intermission including the traditional sale of candies and funny toys.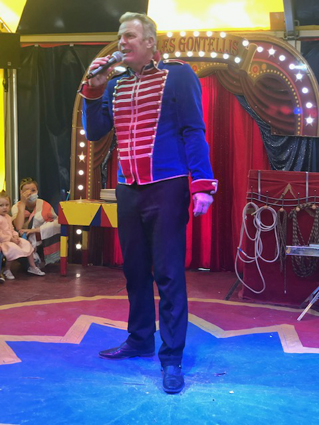 Serge Gontelli acts as MC (ringmaster)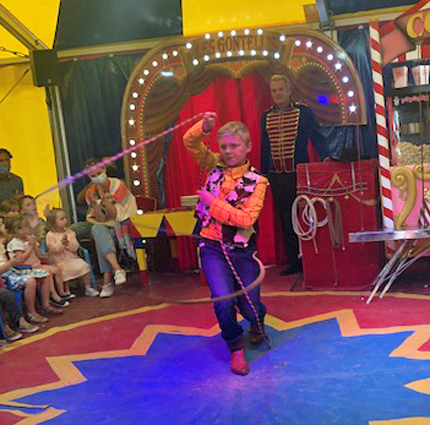 Clinton already a champion with lasso swinging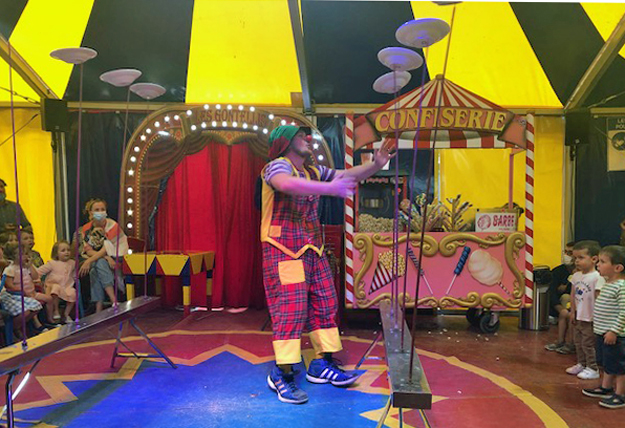 Christian comedy with spinning plates
Then MARY was back performing her SOAP BUBBLE ACT, where some kids were invited into the ring - to be clad in giant bubbles - a stunt seldom seen today.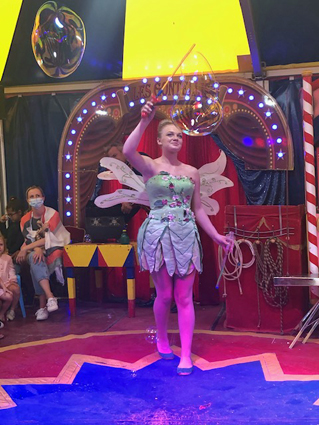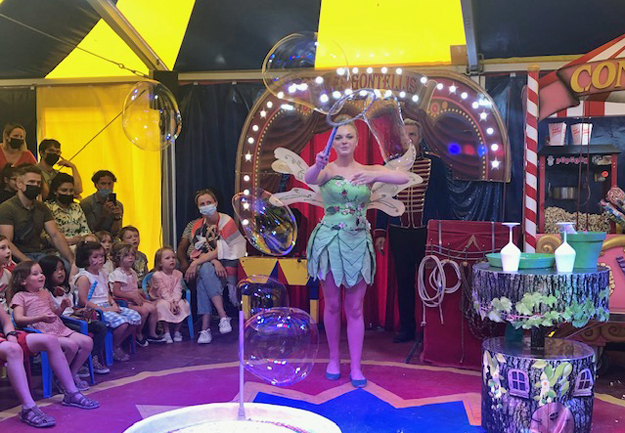 Mary with giant bubbles
After a clown act that produced much laughter - LOL - followed the GRANDE FINALE, the entire troupe in beautiful costumes.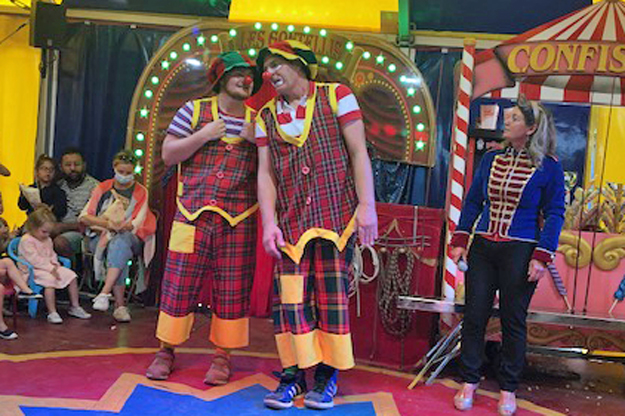 Gontelli clowns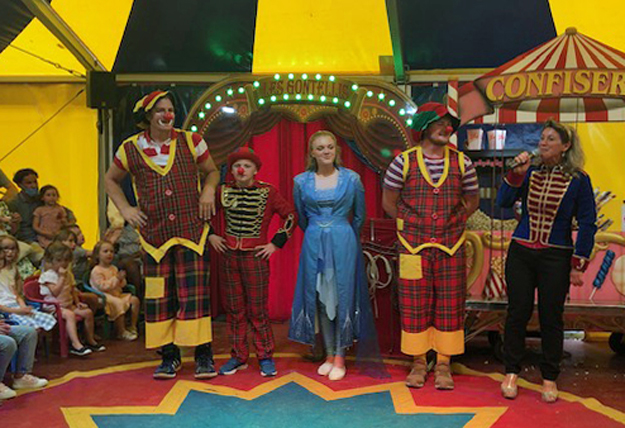 Grande finale
A great entertainment for children and, in fact, for their parents as well, who are happy seeing their offspring having a good time!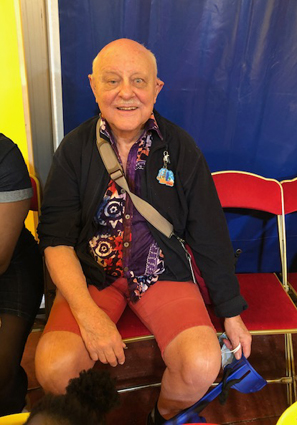 Zarro Zarro
IT ALL HAPPENS IN PARIS !!!
------------------------------.-------- reported by ZARRO ZARRO.

9 July 2021
Norway's largest circus Circus Arnardo opens the season on 17 July in Lillesand, where they until 1 August present approx. 1 hour long summer performances without an intermission. They put up their tent next to the Over Climbing and Viewing Tower. They promise "A real circus show with quality, romance, exciting and surprises !!! Let yourself be speechless !!!"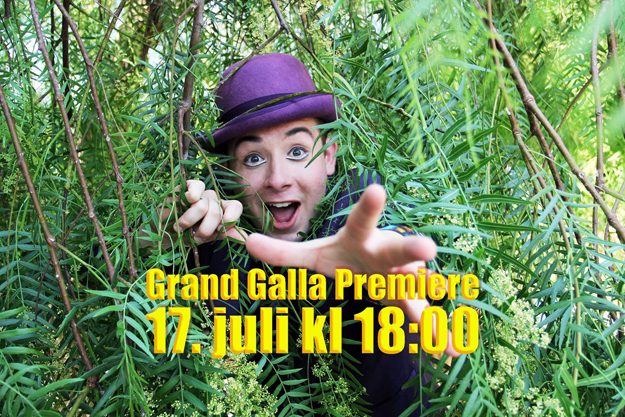 The show's clown, who can be seen at the photo and who prefers to call himself a comedian, is Victor Rossi. He is the 8th generation of the well-known French-Italian circus artist family. He is son of Hector Rossi from the clown duo Les Rossyan. Kevin Probst presents 8 beautiful asses. In addition, the audience meets the director couple Are and Paola Arnardo with magic illusions and their 19-year-old son Arne Otto Luigi Folco Arnardo with diabolo.
It has not yet been decided whether the season will continue after the 2 weeks in Lillesand. It depends, among other things, on how the pandemic develops. Lillesand is located in southern Norway, not far from Kristiansand, where Sirkus Jesper can be seen in Kristiansand Zoo.

5 July 2021
The large Finnish Circus Finlandia hopes to start the season on August 7 in Karjaa (Karis). Among the performers are Vlad Olander and his cats, Oleg Izossimov (handstand), Maria Cordwell Ignatova & Ignat Ignatov (horses), the clowns Trio Without Socks, The Flying Wulber, Pat & Pip Harrison with their hot dogs, Lajos Nereus (plate spinning juggler), Elite Showgirls and Angelika Varga (whip). Sebastian is ringmaster and the artists are accompanied by Finlandia's 7 pieces big band.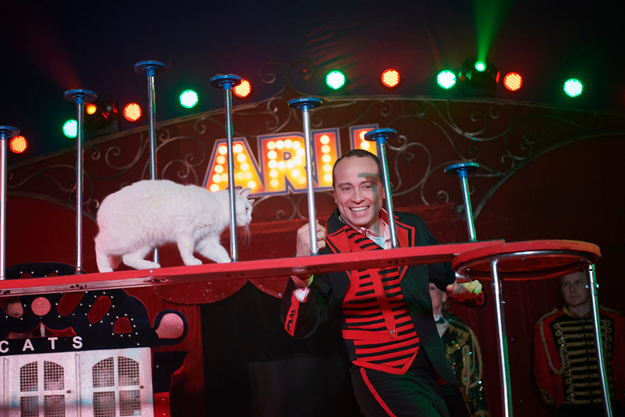 Vlad Olander's cat act is probably the best on the market. He has performed in several Scandinavian circuses, most recently in Danish Circus Arli in 2018. The Finns saw him in Circus Finlandia in 2012 and 2020. Photo: Rud Kofoed / Ajour Press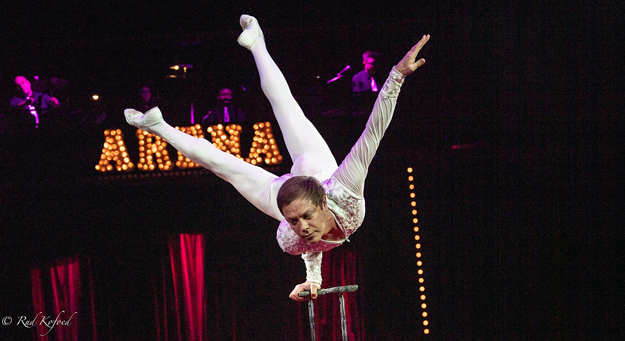 Oleg Izossimov performed at the Open Air Stage in Copenhagen's Tivoli gardens in 1996 and in Circus Arena in 2019. He was also with Circus Finlandia in 2020. Photo: Rud Kofoed / Ajour Press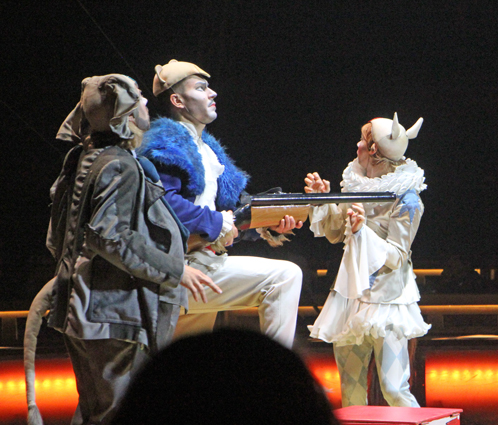 This year's clowns are the Russian Trio Without Socks. They made their international breakthrough at the Budapest Circus Festival in 2018, where they won silver. At the Monte Carlo festival in January 2019, they got a bronze clown and subsequently toured with the large German Circus Krone. They have not previously performed in the Nordic countries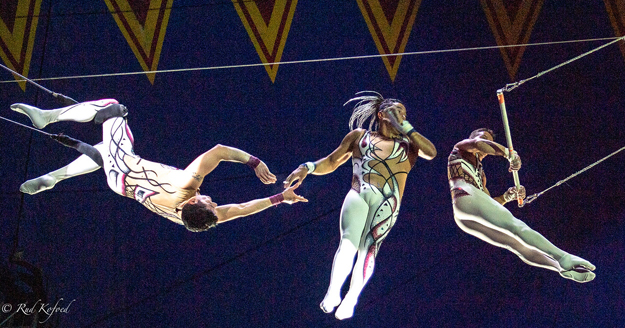 Flying Wulber during the double passage. The troupe was in Denmark with Circus Arena in 2019. Photo: Rud Kofoed / Ajour Press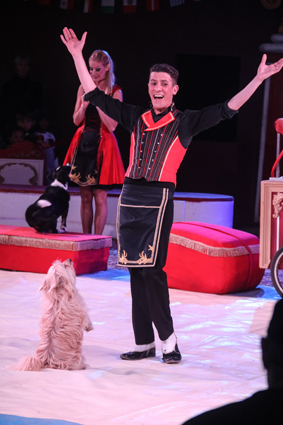 Pat Harrison and his hot dogs. An act he took over years ago from his from his father Pete Harrison. Pat Harrison is a well-known name in Scandinavian circuses. In 2020, he was together with his girlfriend Pip in Arena Circusland in Denmark. Photo: Jacob Boas Leitisstein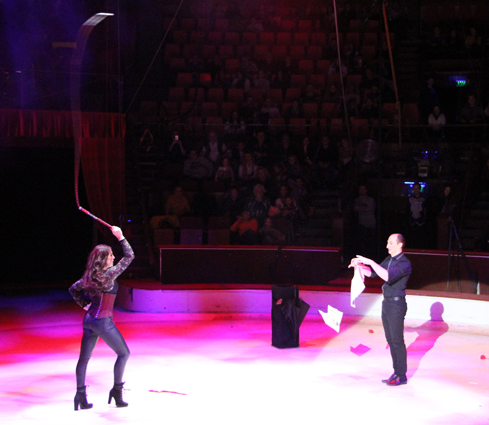 Hungarian Angelika Varga was last year part of the ensemble in Norwegian Circus Jesper, where Lajos Nereus with great success made his plate spinning act in the part of Barber Sorensen. (Circus Jesper is a theme performance based on the characters from a popular Norwegian children's book When the Robbers Came to Cardamom Town). The photo of Angie and Lajos is from Angie's performance at the Newcomer Festival in Budapest in 2020.

4 July 2021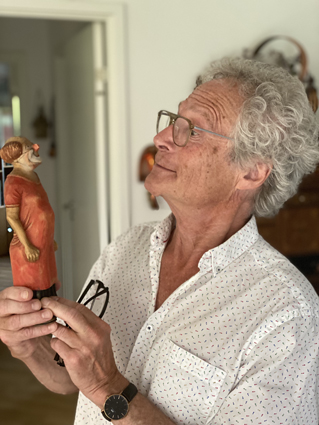 An old acquaintance has just given Benny Schumann this little wooden figure of his famous grandfather Charlie Rivel (1896-1983). The figure was made in 1978 by the sculptor Holger Chr. Pedersen. - Charlie Rivel was one of the world's most famous, popular and acclaimed clowns. He had his very own style. His trademark was a red jersey which was way too large for him. In Denmark he performed with Schumann in the Circus Building and in 1965 in Circus Moreno.

2 July 2021
Summer performances at the Circus Museum at Hvidovre, Copenhagen.
The Circus Museum offers a number of performances during the summer. The first performance took place on June 27 and was with magician Steen Pegani.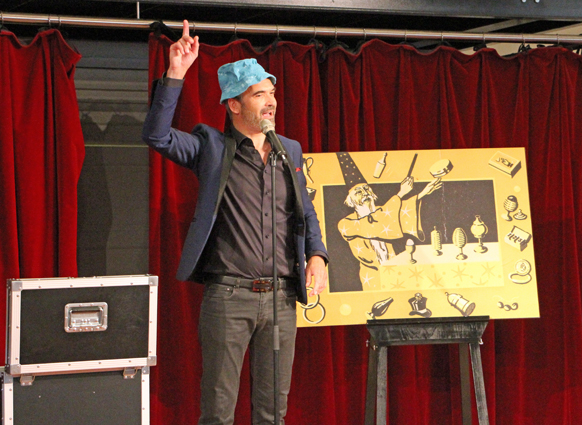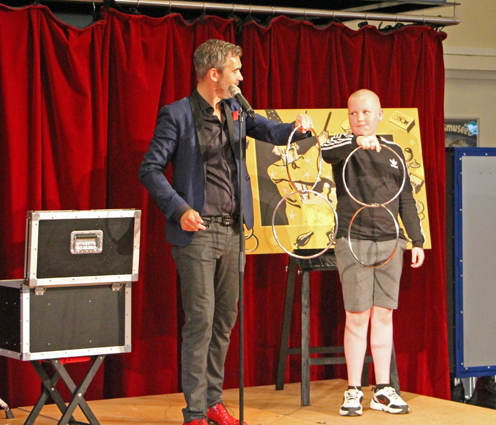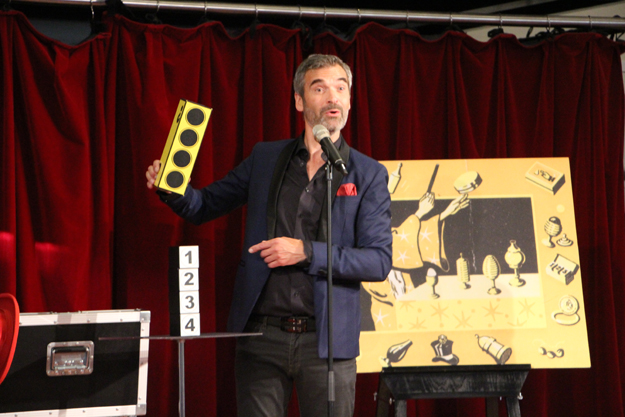 Steen Pegani in the museum's Fencing Hall. The trick that Pegani shows at the bottom photo is an old trick from the 20th century that he has taken up. It has been called many different names over the years (The Selbit Blocks, Magic Bricks, Bewildering Blocks, Mathematical Mystery or Cube-Libre). The (Spanish) version that Pegani shows is simply called CUBES. Photos: Ole Simonsen
Here is an overview of the upcoming events:
Thursday, July 8 at 12:30: The magician Michael Frederiksen. Humor and magic at a high level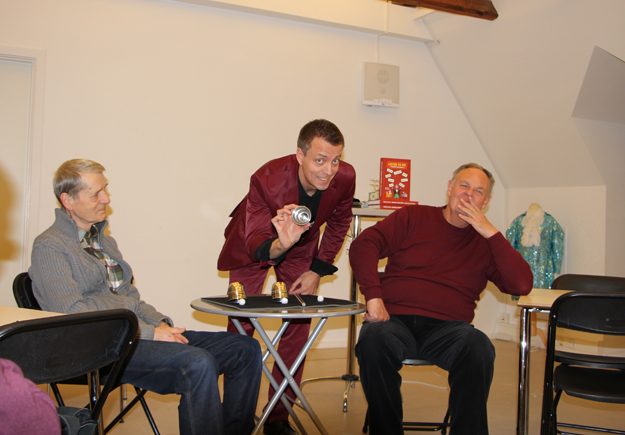 Michael Frederiksen. Photo from event for Danish Circus Friends in 2016
Thursday 15 July at 12:30 Circus Panic. A circus explosion in the ring with fun, gags and artistry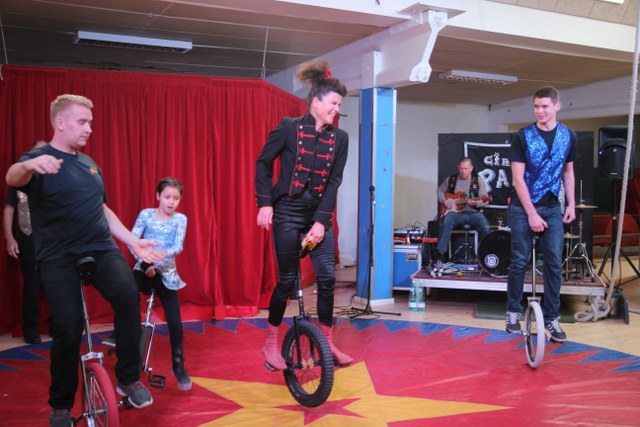 From a performance in Circus Panik. Photo: Per Krogh Petersen
Thursday 22 July at 12:30: Jon G. Lør. Denmark's probably funniest joker with a juggling talent beyond the usual.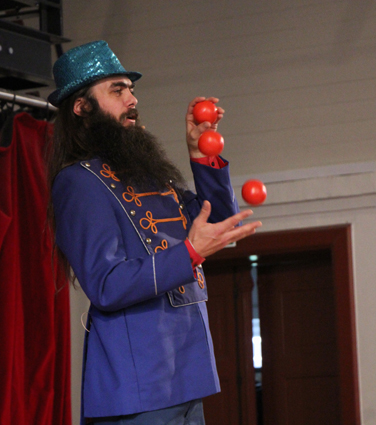 The comedian and juggler Jon G Lør.
Thursday 29 July at 12_ 30: The ventriloquist Sine with her doll naughty Rikke. Known from Danish TV. Started her career as a 4-year-old in the company of his father the former Pierrot from Bakken Kurt Flemming.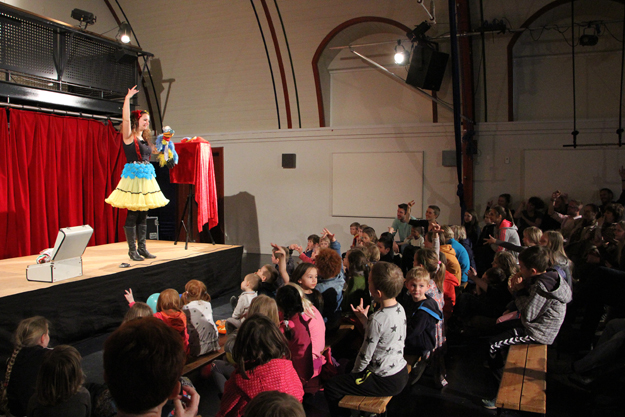 Sine performed in the Fencing Hall in connection with World Circus Day in 2016
Sunday, August 8 at 12:30: Kasper Jensen, Known from i.a. the Danish Got Talent and with a pace and energy that will make most people breathless. Both last year and this year, it has also been possible to meet Kasper in various places at the amusement park Bakken. If are in Jutland, you can 6 July at 13 and 15 see him at the Circus Museum in Rold.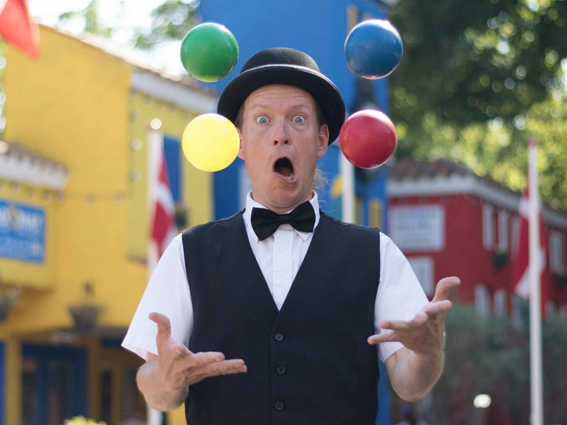 Kasper Jensen. Press photo
For all events, a ticket must be purchased on the Circus Museum's website www.cirkusmuseum.dk The ticket price is DKK 20 + entrance to the museum.

29 June 2021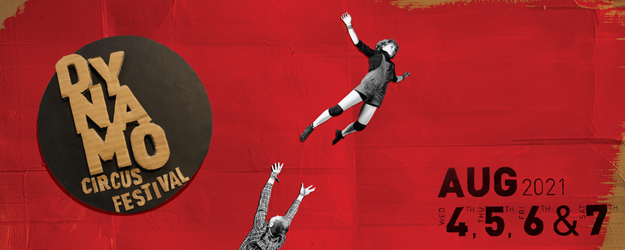 Dynamo Circus Festival. DYNAMO, Workspace for circus and Performing arts in Odense writes:
Welcome to a performing arts festival that celebrates shared experiences! Free from taste judgment and arbitrary avant-garde tyranny, this is a life-affirming embrace of the general human: the empathy, the fear, the redemption, the joy, the euphoria, the tension and the loss of control. Together we explore circus!
The fourth edition of the International Contemporary Circus Festival is packed with music, community, parties, unpredictable experiences and, of course, contemporary circus. It is a tour de force in intensity, poetry, humour and magic. Between abandoned silos and harbour industry, cultural life meets faded concrete – here, in August, DYNAMO presents an intense festival displaying this circus genre from its best side.
A circus festival needs to entertain, but must also challenge status quo! That's why this year's program contains astonishing contemporary circus performances, thrilling live music that sets the floor on fire, open stage, and a film program presented in collaboration with Odense International Film Festival.
DYNAMO Circus Festival is supported by Nordic Council of Ministers, Odense Kommune, William Demant Fonden, Finlands Kulturinstitut i Danmark, Statens Kunstfond, and the Creative Europe program of the European Union.
Click here to see the performance program for the festival

28 June 2021
PASSAGE Festival is a living street theater festival in constant evolution and expansion, especially in relation to our surroundings. Urban areas, audiences and artists are all focal points in street theater in the public space.
PASSAGE Festival has a large program with international artists. 78 Tours by French La Meute takes the audience on a hypnotic and ritualistic journey as they explore the legendary Wheel of Death. The three fearless artists have been a huge success at many European festivals.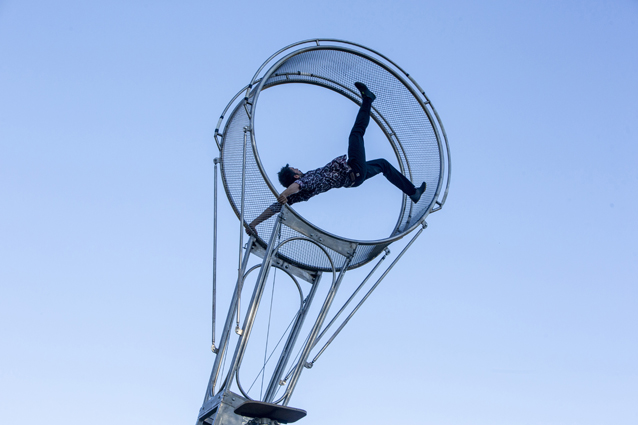 78 Tours. Press photo from Passage. Photographer Pierre Soissons
The same goes for Follow Me by the Belgian circus chameleons Be Flat, who transform Elsinore into a stage and invite the audience around among the scenography of the facades and the soundscape of the traffic.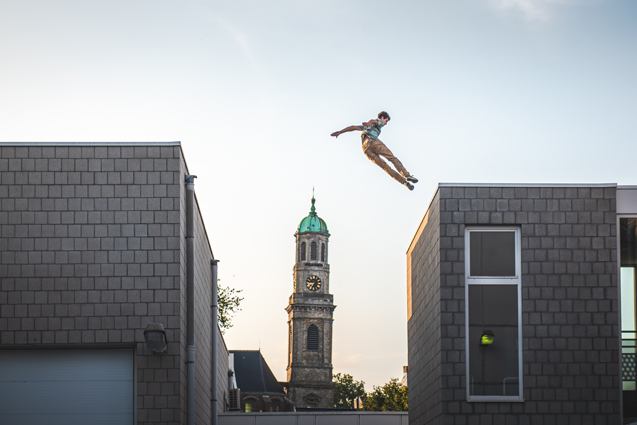 Press photo from Passage. Photographer: Yngwie Scheerlinck
In 2021, PASSAGE Festival explores the cosmopolitan heart of Elsinore in Europe. More than 50 European performers, poets, artists will present their works in Elsinore accompanied by almost as many cordially invited youths from 10 European countries.
The festival will be happening 26 to 31 July. Click here to see more.

25 June 2021
Circuses in the Nordic countries 2021. Corona restrictions continue to mean that far fewer circuses are on tour than usual. Here is a brief overview:
Denmark: As the only ones, Circus Arli and Circus Baldoni are on tented tours. Circus Trapez present short Open Air performances. There are also short performances in Circusland in Slagelse. Katja Schumann has performances at The Circus Farm in the seaside resort Løkken.
Finland: So far, the large Circus Finlandia has not started touring. The medium-sized Circus Tähti has as far as I know been touring since 1 June. The performers are
Devid Adam, Hungary, chair balance
Sebastian Foray, aerial straps
Silvia Orlando Ross, Hungary, hula hoop
Samir and Frida, Finland, illusions. Samir Abdelmeguid, who owns the circus, is also the ringmaster
Di lello´s, Holland, clown
Yris Cardinali, Portugal, aerial act
Enzo Cardinali, Portugal, juggler
Norway: There are performances in the stationary Circus Jesper in Kristiansand Zoo. Uncertain whether it will be possible later in the season for the two Norwegian circuses, Agora and Arnardo, to tour.
Sweden: None of the 3 Swedish circuses, Brazil Jack, Olympia and Rhodin, are on tour. Uncertain whether it will be possible later in the season to complete a shorter tour.
Also elsewhere in the world, circuses are affected by corona. In Germany, none of the large circuses are on tour, whereas several small and medium-sized circuses are trying their luck. You can find an overview at http://www.circus-gastspiele.de/

22 June 2021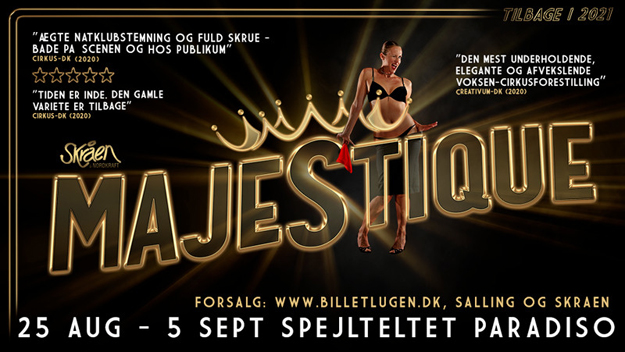 Majestique back to Aalborg. After the world premiere for a sold-out audience in Aalborg last summer, Majestique is now returning to Skraaen and Spiegeltent Paradiso in Aalborg from 25 August to 5 September.
More than ever before, we feel hungry for sheer excitement, nostalgic romance and a desire for an intoxicating experience to escape the realities of the world, even if it is only a few hours. Hunger is posed by Majestique's world - class artists who want to entertain, excite and surprise with amazing, dangerous and comic cabaret and contemporary circus for adults.
You can e.g. experience legendary Ursula Martinez with her comic magic. Among other things, she is known for the act Hanky ​​Panky, where a small red scarf is conjured away while she throws one piece of clothing after another. However, I do not know if she is still doing this act. Daredevil Chicken returns with their unbelievably funny raw slapsticks and Michael Betrian, who you can currently see in Circus Trapez Open Air Show, is one of the world's best diabolo artists.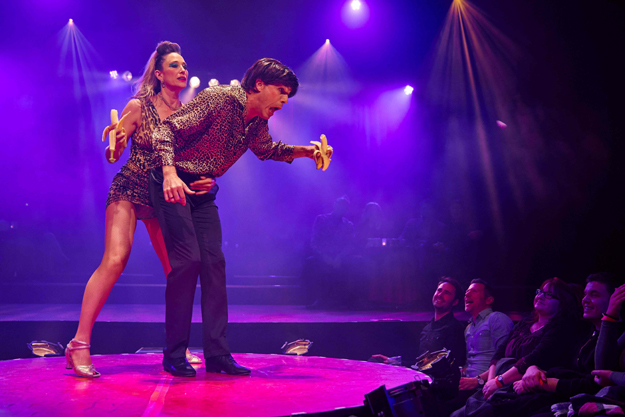 Daredevil Chicken. Press photo from Skraaen from 2019, where the two artists were part of the show which La Soiree presented in Aalborg.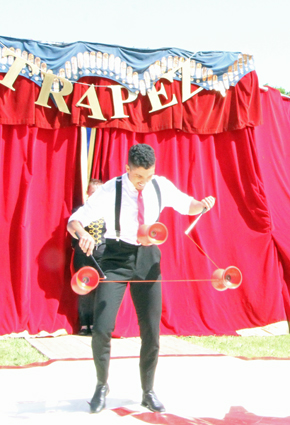 Michael Betrian
It's just a small foretaste of this genuine international production, direct from Australia / London / Canada. It's nightclub atmosphere for full blown, fun, elegant adult circus inspired by the old variety.
"A wonderful evening. Real nightclub atmosphere and going with a swing - both on stage and with the audience," wrote an enthusiastic Jørgen Lorenzen about last year's performance.

20 June 2021
Aarhus Festival was canceled last year due to the corona. But this year from 27 August to 5 September you can once again experience the unique atmosphere of Aarhus Festival, when music, art and cultural events take over the city for 10 days. With the theme "In It Together", the festival are celebrating togetherness and the magic we can create together – which is now more relevant than ever.
One of the highlights of the festival week is the night cabaret at Hermans in Tivoli Friheden. Comedians, magicians, acrobats and performers from all over the world is ready to take the stage in Hermans Theatre in Tivoli Friheden, and enchant the room with their unique shows, that you will never forget.
Before the show, you can choose to enjoy an aperitif and a three-course meal at Terrassen (restaurant in Tivoli Friheden). Wine and other drinks are available during the night.
Subject to changes you can in can in the performance meet:
ED ALONZO
The American is said to be one of the best comedic magicians there is. His shows don't always go according to plan, but in the funniest and grotesque way, before it all miraculously solves itself. He has been on more than 100 tv-shows, and has performed with Britney Spears as his assistant.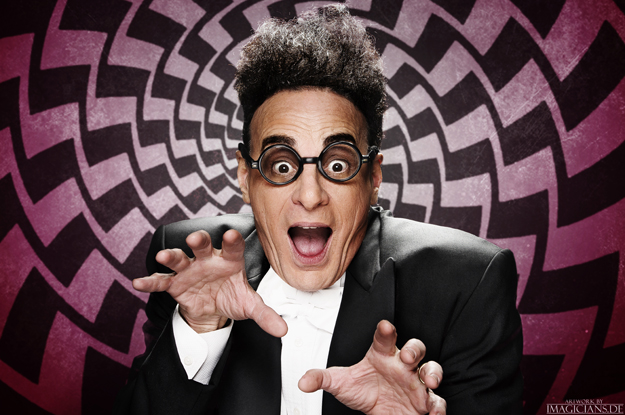 Ed Alonzo. Press photo from Aarhus Festival
MIYOKA SHIDA RIGOLO
The focus of the Japanese performer is balance. Under deep concentration, he balances one palm branch after the other, on top of each other, to make it appear as a larger piece of art. Experience a performance that expresses peace of mind, equilibrium and vulnerability.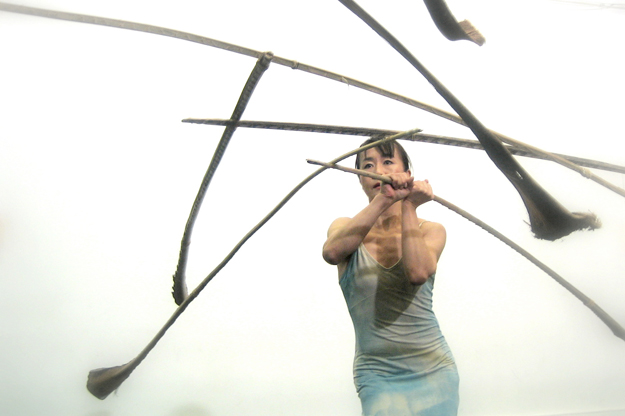 Sandorn balance with Miyoka Shida Rigolo.  Press photo from Aarhus Festival
MIKHAIL USOV
For the past nine years, The Ukrainian clown and comedian Mikhail Usov has performed with the world-famous Cirque du Soleil. Through his performances, he moves his audience, on top of making them laugh. Mikhail Usov is a clown by heart, and has won several circus awards.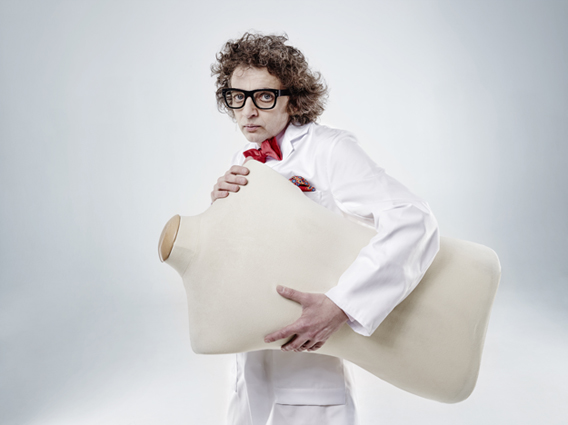 Mikhail Usov. Press photo from Aarhus Festival
VICTOR MOISEEV 
The enchanting Ukrainian takes the art of joggling to a whole new level, as he joggles horizontally. Large balls come flying from everywhere, he catches them, and almost makes it look as if they're levitating.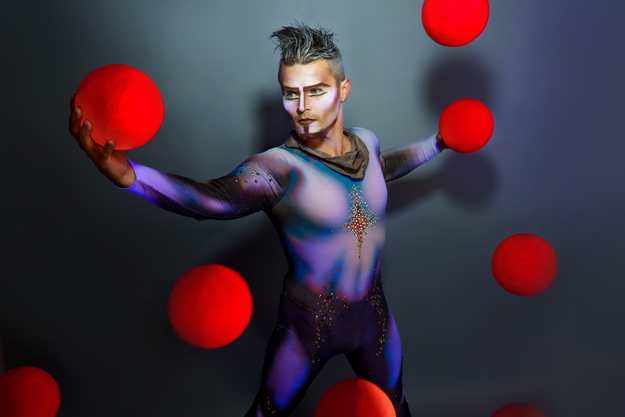 Victor Moiseev. Press photo from Aarhus Festival
DMITRIY & ANASTASIA
This passionate performance presents acrobatics, aesthetics and sensuality of the highest level. The Ukrainian/Russian duo almost flies around the room, while performing acrobatic moves. Their performance has won the prestigious Golden Clown at the Monte Carlo International Circus Festival.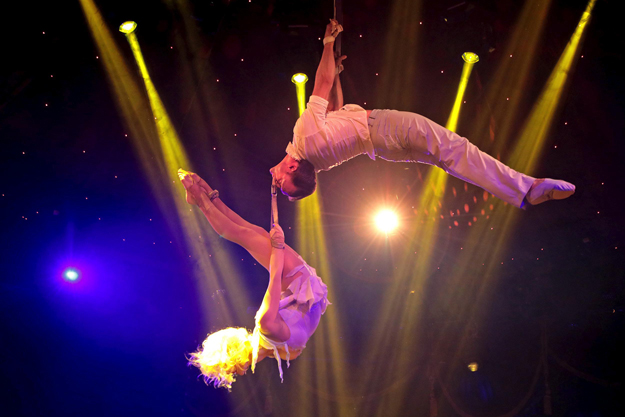 Dmitriy og Anastasia. Press photo from Aarhus Festival
HANS DAVIS
Hans Davis is a Belgian shadow master, who can portray hundreds of characters – from animals to politicians and other celebrities – as hand shadows. The audience will experience his amazing skills on a big screen.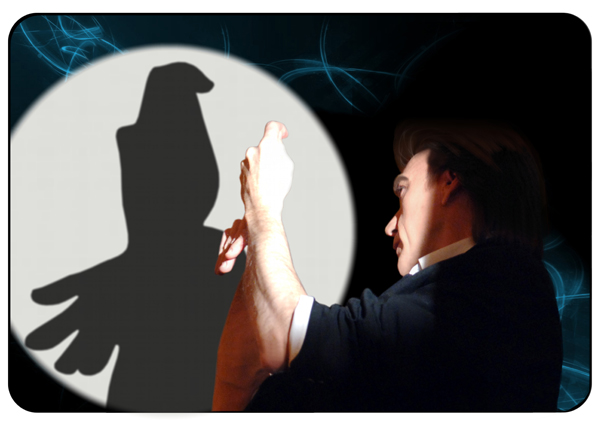 Hans Davis. Press photo from Aarhus Festival
MILA & YAROSLAVA
These two Ukrainian artists perform with their fantastic pole-show, which is a combination of strength, agility, acrobatics and beauty. It all comes together in aesthetic excellence – modern performance at its finest.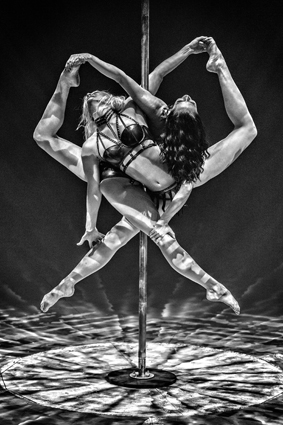 Mila og Yaroslava. Press photo from Aarhus Festival
HERMANS NATCABARET-TRIO
During the Night Cabaret, the music is provided by Marc Thierry's trio, which consists of himself, Jesper Daus and Jesper Gruschy.

18 June 2021

Flying Superkids will visit Copenhagen in August. Like many other shows, Flying Superkids has not been on tour since the corona hit Denmark last spring. But in August 2021, the audience can once again experience world-class gymnastics, enchanting acrobatics and great entertainment for the whole family, when Flying Superkids comes to Copenhagen with this year's new show! They will be in Copenhagen from Sunday 1 August until and including Sunday 8 August. They write (my translation):
This year's show is getting even wilder than usual. We have spent the entire corona break developing a new show for 2021 and practicing our wildest tricks. The result is an entertaining and breath-taking show, and we cannot wait to show it to you! It's going to be a bang of a party!

17 June 2021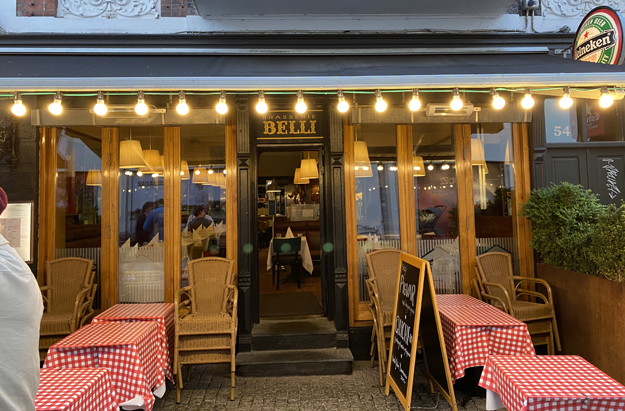 On Frederiksgade in the center of Denmark' second largest city Aarhus you will find the cosy restaurant Brasserie Belli.
The owner is Trine Belli and she has roots back to the old circus family. In her very young days she was an aerial acrobat in Danish Circus Krone. Her father Leo Belli was also an aerial artist and considers the long-time owner of Danish Circus Belli Meta Belli (1888 - 1953) as his grandmother, even though she was not purely biological. Meta Belli behaved like a grandmother to several members of the Belli family – such thing is also known from other circus families. Meta Belli was married to Giovanni Belli, who died in 1929. Meta then took over the languishing circus, which with the help of Willy Borchardt and later Fredy Wachmann, became Denmark's largest. When Meta died in 1953, the circus was sold to investors unrelated to the family. In 1955, the investors resold Cirkus Belli to Eli Benneweis. Circus Bellis' last season on the Danish roads was in 1957.
There are many posters and pictures from the circus era at Brasserie Belli. And the food and service are excellent. So the place can be recommended if you are looking for a good place to dine in Aarhus.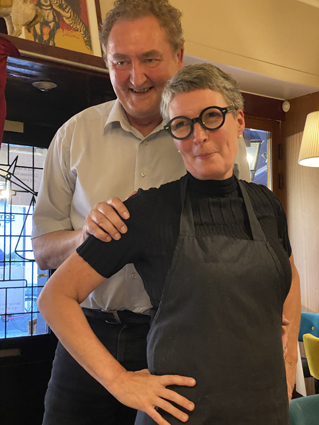 Trine Belli photographed together with The Danish Circus Friend's chairman Kim Thanning Olsen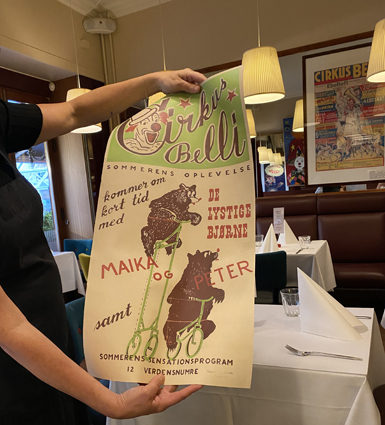 The poster shown is from 1954

13 June 2021
Circus Trapez Open Air. Due to the corona restrictions, Isabella Enoch Sosman's Circus Trapez has given up having a traditional tour with tents. Instead, they present approx. 1 hour long performances "open air", i.e. with the use of sidewalls but without a big top, see photo. This means that they can do without tent workers and do not need the many heavy trucks that transport tents and poles around. Until now, they have chosen to drive home to their winter quarter Mølby in the evening, so they do not have caravans around either. On weekdays, the performances are usually sold to nursing homes, etc. During the weekends there are "open" performances, for which you can buy tickets.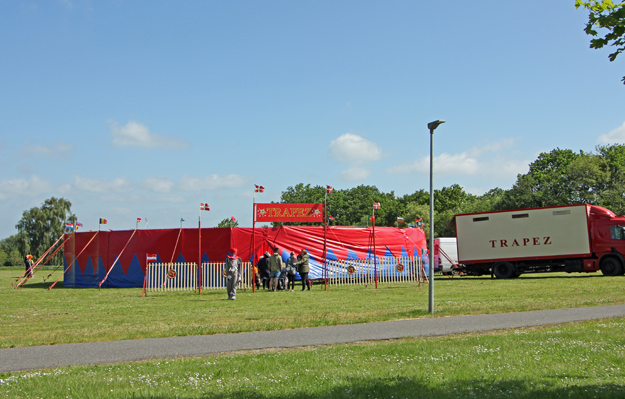 The audience sits partly on ringside chairs and partly on 2 seatings with benches. Ticket prices are reasonable: DKK 110 (approximately 15 Euro) for a chair and DKK 90 for a seat on the benches.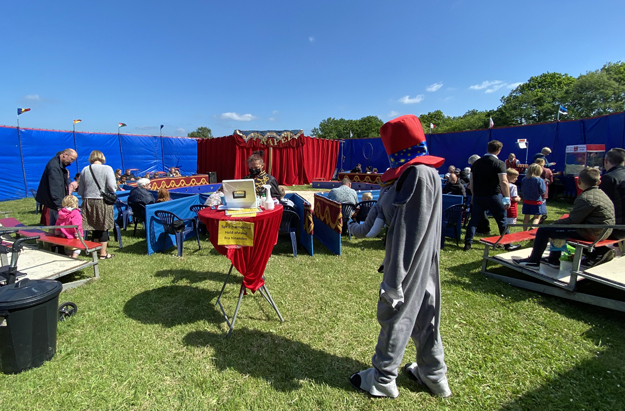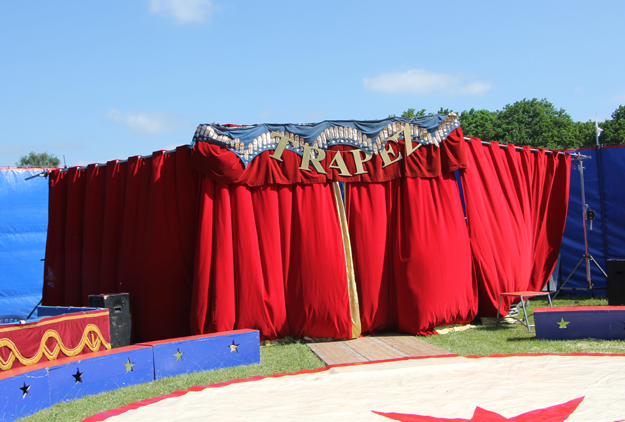 The performance starts with a large box being pulled in right in front of the backdrop. Bernhard Kaselowsky and a prop show that the box is empty. However, you can later see that it contains both the show's ringmaster David Sosman and the circus princesses Nynne Hulsig Samuelsen and Simone Rhodin.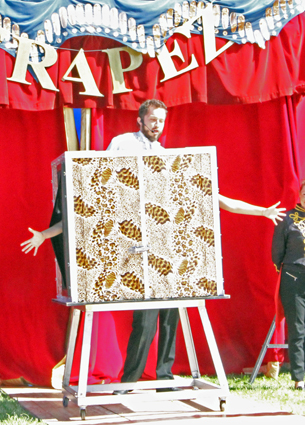 Next Welsh goats enter the ring, presented by Nynne with the assistance of Bernhard Kaselowsky.
The next act is a humorously presented juggling entrée with David Sosman, who with charm and elegance juggles first with balls, then with a knife and a pair of axes and finally with a ball, a bowling ball and an apple, which he eats during the juggling. He also shows how he can take off his jacket while juggling.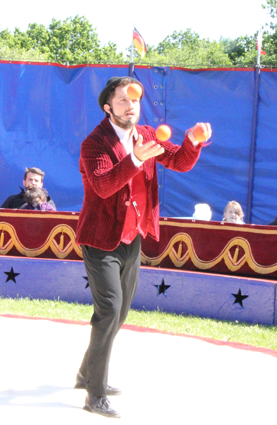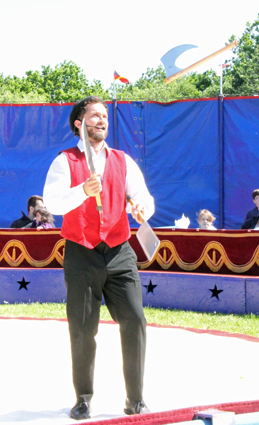 A version of the illusion trick substitution trunk conjures up Simone Rhodin from the small Swedish Circus Rhodin, which is currently isn't on tour due to the Swedish corona restrictions. She present a nice act in an aerial ring set on pole. The entrée ends with her getting down into a box and being conjured away.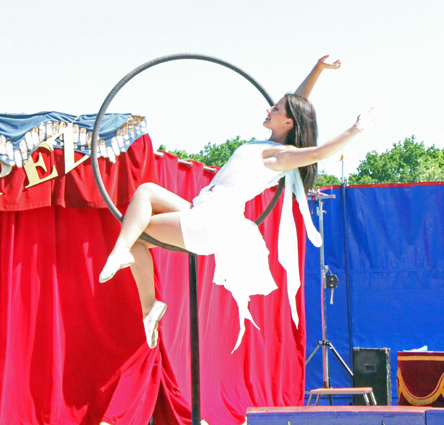 Now David Sosman is back. He first plays on bottles. Then he juggles and balances with Malibu bottles and balances with glasses on a stick in his mouth.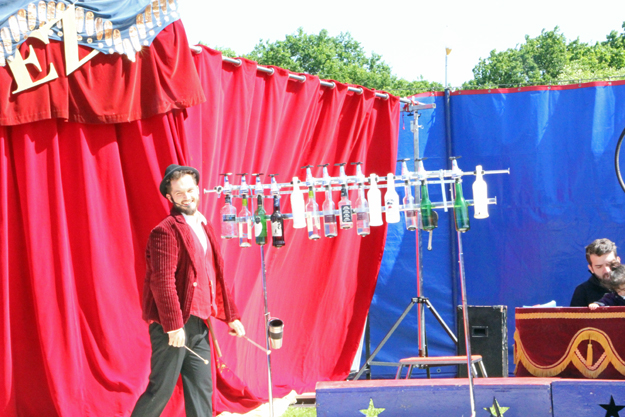 The next act is the young Dutch diabolo juggler Michael Betrian in an elegant and fast-paced track, where he juggles with up to 4 diabolos. Later in the season, you can see him as part of Majestique's performance in the mirror tent Paradiso at Nordkraft in Aalborg. Too bad for him that no Danish Circus Awards are handed out this year. He would have been a good bid for a nomination for the talent prize or the prize for best act of the year.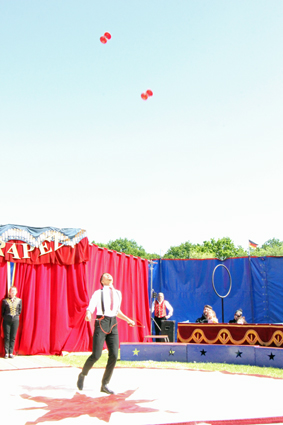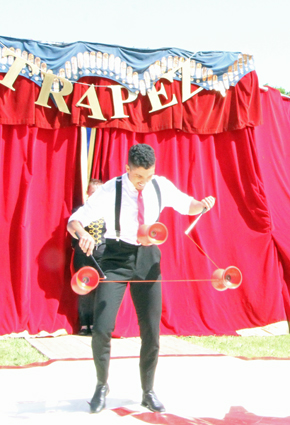 Michael was replaced by Simone Rhodin with a spectacular hula hoop act.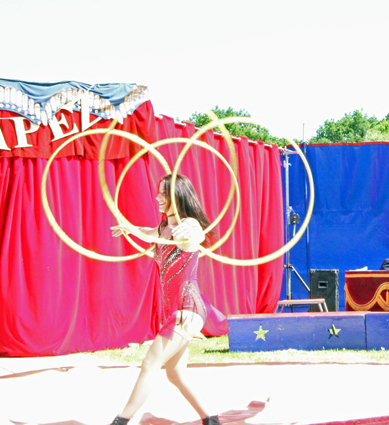 Then David introduced his 8-year-old cousin Joseph, who does some tremendous somersaults and other jumps. In some jumps assisted by Nynne.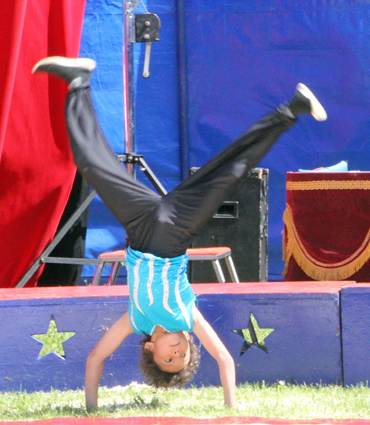 Then David was back with his bouncing juggler entrée.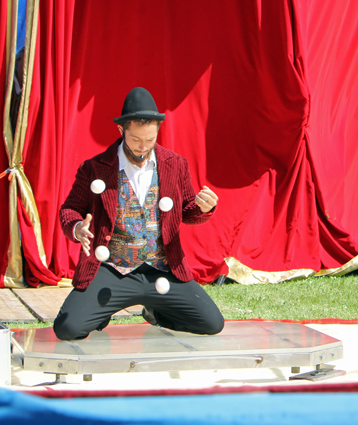 The last act in the performance was the horse act Big and Little, presented by Bernhard Kaselowsky.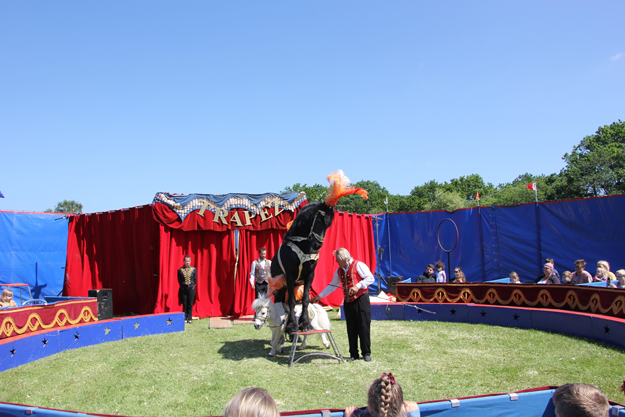 No doubt that the approx. 75 people who, like me, saw the morning show on Sunday 13 June in Vamdrup, Jutland, felt that they had a good circus experience.

12 June 2021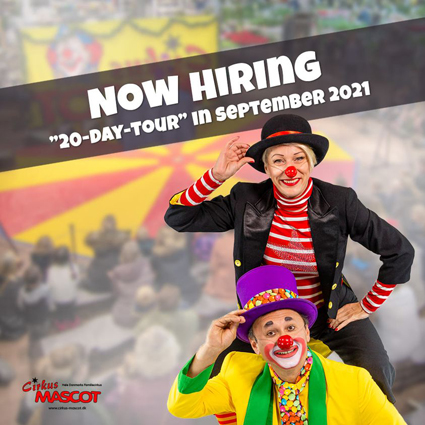 As previously mentioned, Circus Mascot has abandoned its Denmark tour and summer opening in the winter quarter in Roslev due to Covid-19 restrictions and the authorities' unusually inflexible and slow processing of the application for a work permit for their longtime clown Gulio and his family. However, they are now planning a short tour in September. Daniel Deleuran writes on a Facebook page where circus is looking for artists and artists are looking for jobs:
"We are looking for an artist family from EU with MINIMUM 3 different acts to join our "20-day-tour" in September 2021. Please note that we do NOT need the following acts: clown, hula-hoop, aerial acts, silks, diabolo or juggling! Send us an e-mail with your videos and information to daniel@cirkus-mascot.dk. We are looking forward to hear from you."

12 June 2021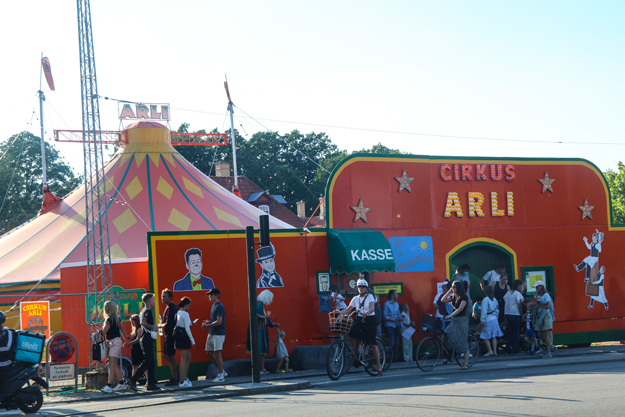 Jacob Boas Leitisstein from Cirkusportalen visited Cirkus Arli in Frederiksberg. Click here to see his photos from the show.

11 June 2021
Not any longer requirement for face mask in circuses in Denmark. So far, the authorities have required everyone over the age of 12 to wear a face mask when moving around in the tent. When you sat in your seat, however, you were welcome to take off the face mask. With effect from Monday 14 June, the requirement for face masks has been dropped in all areas except for standing passengers in public transport. Thus, from Monday you do not have to wear a face mask when visiting a circus. However, until 1 August, it is still a requirement that everyone over the age of 15 presents coronapas and ID.

11 June 2021
Circus Berdino is not a traditional touring tent circus, but the name for a number of performances which Suzanne Berdino has produced for residential homes etc. in the last few years. About the current performances she writes (my translation):
In the performance, we take you back in time, to the marketplace with antics of the best kind, from the time when Grandpa was young. Experience the singing Professor Briano, who loves magic and soap bubbles, Denmark's smartest cuddly pig Gullig, Indian ducks in liberty dressage, and last but not least happy dogs with enjoyable tricks. It's all linked together by Circus Director Madame Betty. This performance is aimed at senior centers and last approx. 30 minutes or by appointment, possibly with several guest artists. To get in the right circus mood, popcorn can be purchased. If you want further information or prices, you are welcome to contact us, on telephone 40 33 12 13 or send an email to Suzanneberdino@gmail.co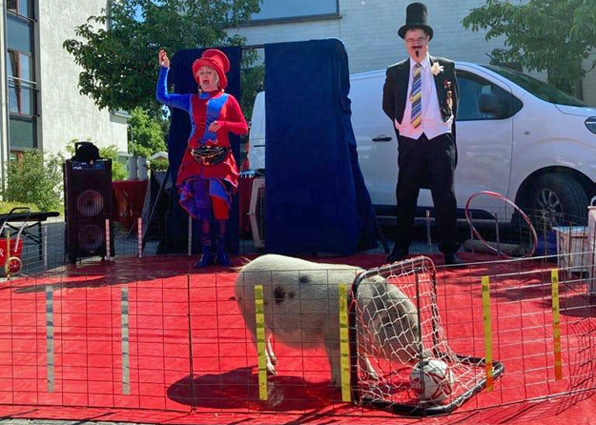 About one of the performances, a senior center in Broendby Municipality writes: "On Thursday afternoon, 45 residents watched Cirkus Berdino. Circus Berdino had a magic act, a soap bubble act, a pig that could clean up and bowl as well as dogs that could do tricks. There were smiles on lips, twinkles in the eyes and laughter along the way. Everyone stayed seated for the 45 minutes the show lasted despite the icy wind, only heated by the hot cocoa (thanks to the kitchen J) and the warm smiles and laughter. "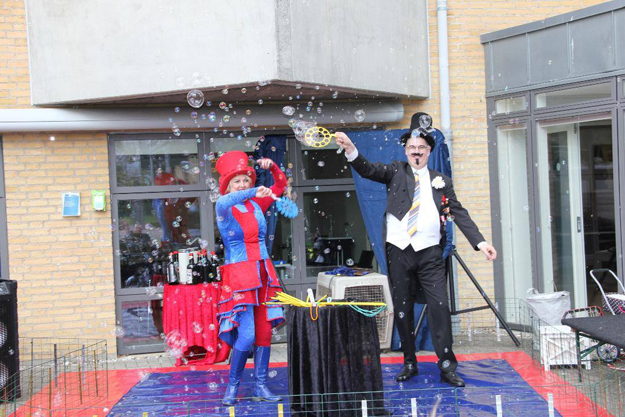 Lots of soap bubbles with Madame Betty aka Suzanne Berdino and Professor Briano aka Brian Behrendt. Both known and loved from i.a. Circusland, where they however not are this year,

8 June 2021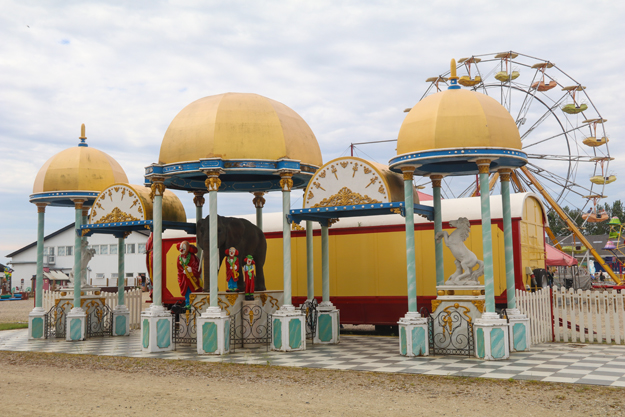 Since Easter, the theme park Cirkusland in Aarslev near Slagelse has been open on weekends and at public holidays. In the beginning only with rides, but since May 22 also with a number of shows. All photos: Jacob Boas Leitisstein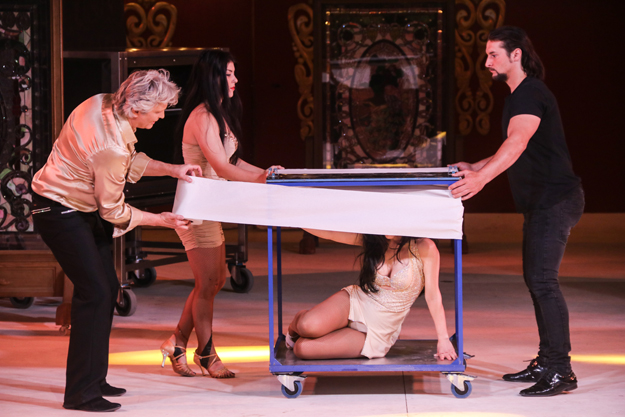 A magic show with Kim Kenneth and his assistants offers, among other things, Kim's very own version of the trick which in the magic industry is known as substitution trunk.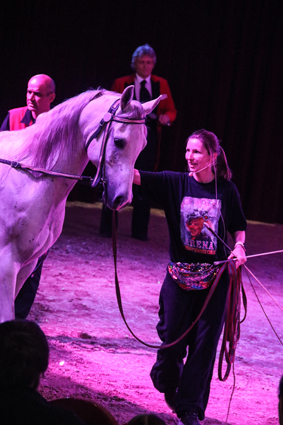 Laura Berdino shows how to train horses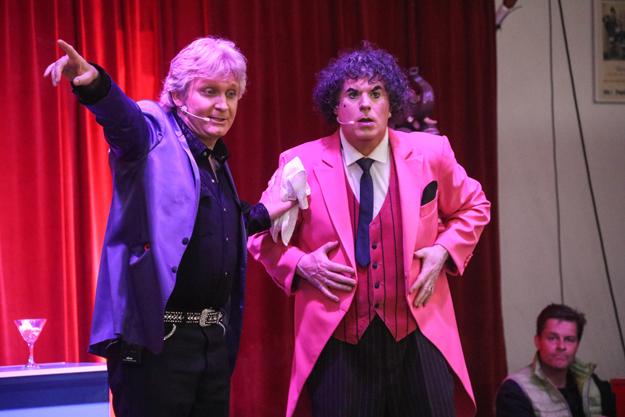 On the small stage in the playground, you meet Kim Kenneth and the clown Jimmy Folco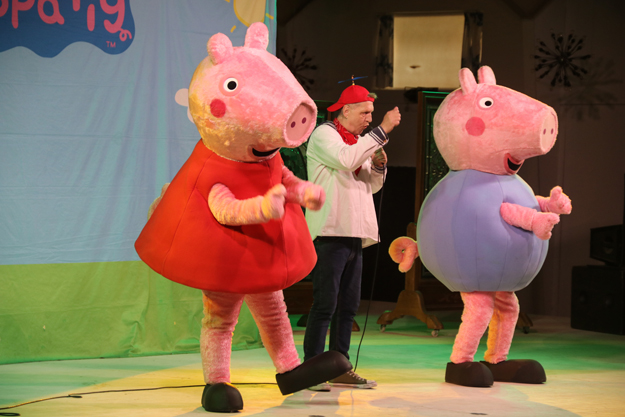 There is a children's show, here with Peppa Pig. Kim Kenneth is compère. Other days, children's shows can be with, for example, Curious George or Paw Patrol.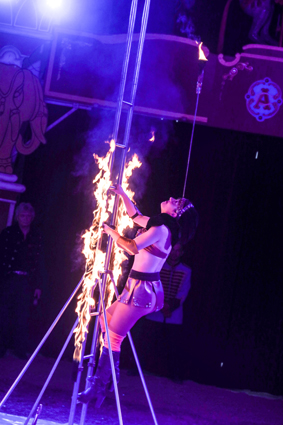 In Cirkus Landino you meet, among others, Jessica Caveagna with sword balance over a flame-laden ladder.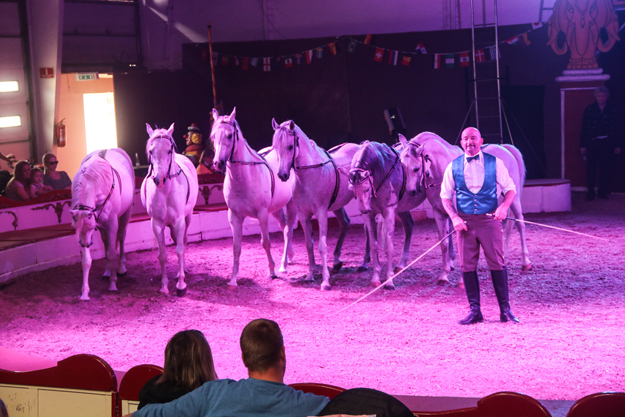 Rudy Althoff presents 6 beautiful Arabian horses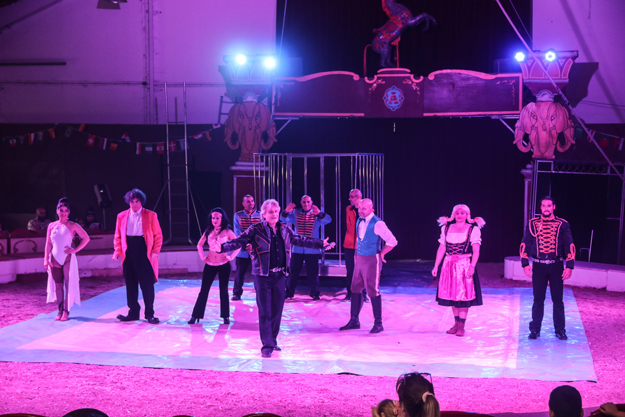 From the final in Circus Landino. Click here to see more of Jacob Boas Leistisstein's photos from Circusland.

3 June 2021
Michaël Betrian to Circus Trapez Open Air. For a number of this summer's performances, Circus Trapez has booked the young Dutch diabolo talent Michaël Betrian. The Danes saw him in 2014, when he participated in Circus Dannebrog's performance Dynamic Youth and to a very high degree lived up to the show's title. At a time he had up to 4 diabolos in the air at the same time. In 2014, he also had a bronze clown from that year's Monte Carlo New Generation Festival in his luggage.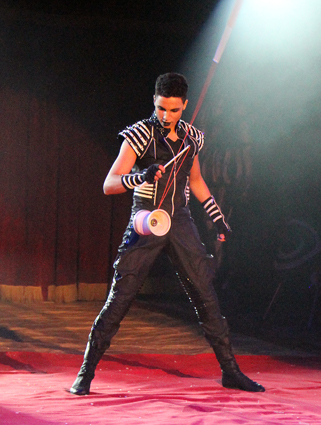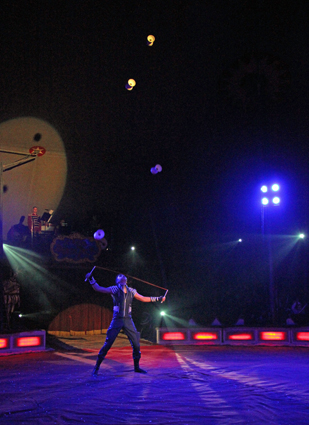 Michaël Betrian. Click here to see a number of photos from a guest appearance in 2016 in the Swedish Circus Brazil Jack

3 June 2021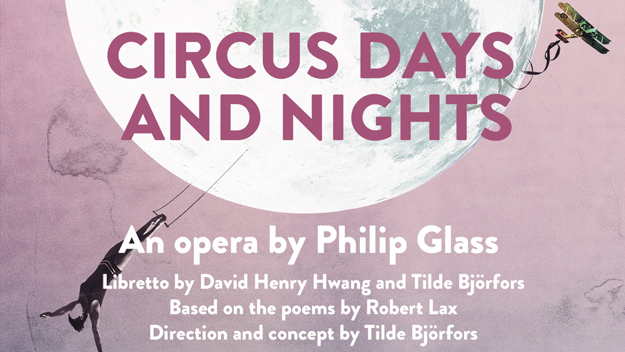 Circus Days and Nights. Several Danish newspapers have published reviews of the circus opera Circus Days and Nights, which can be streamed for a fee from Malmö Opera in Sweden. Even though the same Danish newspapers have not reviewed any of this year's Danish circus performances. The Swedish circus friend Martin Lasson Berglund has sent me the following review of the performance:
"Circus Days and Nights is a newly written opera that is performed at Malmö Opera from 29 May to 13 June. Through livestreaming you could buy tickets and see the show at home on the booked show day. This Circus Opera was art and in my opinion not a circus! Isn't circus art? Of course, but if you have seen the opera you may understand what I am thinking of. Thanks to a text machine (Surtitles) you can follow the story which would elsewise been impossible. In short, it's about circus life and artists and that circuses move from city to city. Circus Cirkör is involved in setting up this opera, but I am not impressed.
The artistry is OK but not much more if you compare with the artists I have seen at the circus. The music has been composed by Philip Glass in cooperation with Circus Cirkör's circus director Thilde Björfors and I have a hard time understanding the choice of music as it feels like they are playing the same gloomy melody for two hours! Even if it is to be an opera, the music could have been happy because circus is and should be joy, but not here and that is probably the very art of this opera.
Fun with a circus opera but I had hoped for more joy and wonderful circus music."
Click here to see a video teaser.
Until 12 June you can livestreame the performance at www.malmoopera.se/circus-days-and-nights-streaming . Language: English – surtitles both in Swedish and in English

2 June 2021
No circus awards this year. The jury of the Danish Circus Award has, after careful consideration, decided to skip this year's award ceremony. They write:
After the corona-related break in 2020, we had been looking forward to resuming the award ceremony this year. But since Covid-19 restrictions have meant that 5 out of the 7 Danish circuses have given up touring this year, we have chosen to take a break again this year. We believe and hope to see all the circuses on the roads again in the spring of 2021. We hope to return in August 2022 with a bang of an award ceremony: the awarding of the honorary award, the prize for best act of the year, the talent prize and the effort award.
Until then, we can highly recommend a visit to the two circuses that are on tour in Denmark: Circus Arli and Circus Baldoni. Or is a visit to Circusland in Aarslev near Slagelse, which offers short circus performances and other shows. Or a visit to one of the short Open Air performances which Circus Trapez present in Jutland. During the school holidays, you can also see performances at Katja Schumann's Circus Farm in the seaside resort Løkken in the northern part of Jutland.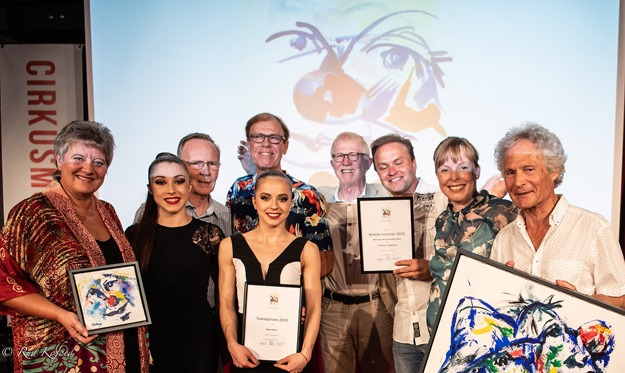 From the award ceremony in 2019. Photo: Rud Kofoed / Ajour Press

2 June 2021
Circus Jesper 2021 - theme performances in Kristiansand Zoo, Norway. Again this year, Kristiansand Zoo will have performances in their stationary circus, Circus Jesper, throughout the summer. Lasse Nørager, also known as the clown Bonbon, writes (my translation):
The premiere is June 19 and with performances through August 15.
We do not hope that Corona will create further difficulties this season, with local shutdowns or whatever else one can imagine.
In order to meet the applicable requirements for distance, we currently only sell 50% of the seats in the tent. Due to this we have again this year planned double as many performances as usual for most of the season. The pre-sale is going much better than the previous years, so we hope that we are gaining a good reputation in Norway. With the limited number of seats, we have actually already fully booked to more half of all our performances. We do hope that the restrictions may loosen up a bit during the summer so we can get even more guests...
This year's performance is a completely new production. Only my wife Tiina and mine badminton act is allowed to consist from previous production, otherwise all acts are new, although many of the characters go again, including of course former robber and now circus director Jesper. Chief of Police Bastian from Cardamom City is also present. Jesper and the Chief of Police makes together a breakaway trick (in the form of the illusion Substitution trunk). I have polished my cannon, which has otherwise been collecting dust for a few years.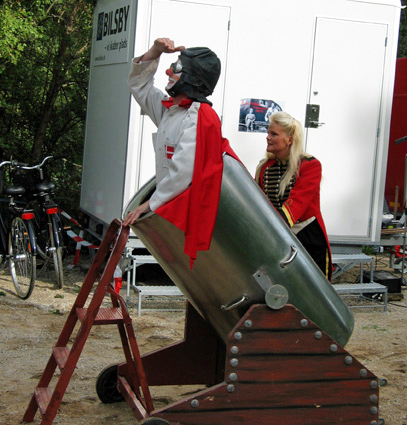 Bonbon and his cannon. Photo from 2004
Tiina's and mine children Julia and Joakim will for the first time ever show their very own knockabout table act. They are trained by Freddi Steckel. In addition, together with Freddi and Finnish Nelma Pietela, they will make a unicycle act with built-in surprises ...
Trio Csaszar from Hungary does a springboard act. They have been with Circus Roncalli and the various Bernhard Paul varieties for many years.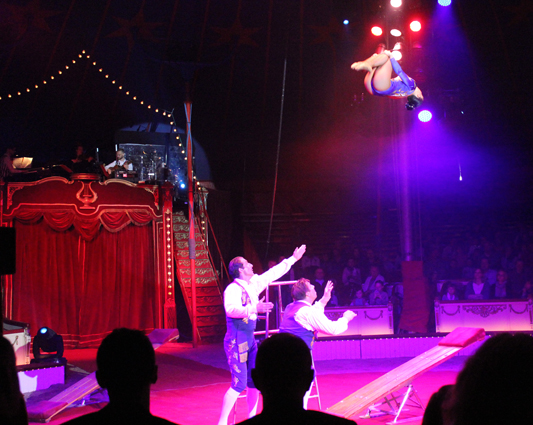 Trio Csazar
Our fine elephant Mimo (not a live elephant) will be with us and will now be accompanied by a brand new animatronic lion, which we have used the Corona winter to construct at home in Slangerup. (Lasse and his family have their home in Slangerup, Denmark).
And last but not least, we have the pleasure of having Captain Frodo in the show, both with his bucket balance and with the tennis racket act in a slightly more family-friendly version than we might know from the cabaret/variety La Clique and from Danish Zircus Nemo, though without losing Frodo's crazy and funny way of performing.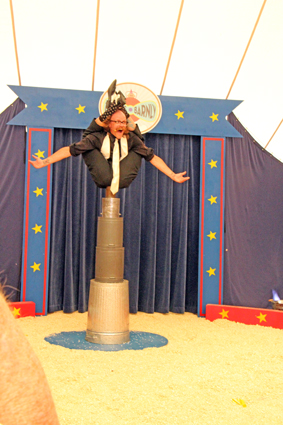 Captain Frodos and his buckets. Photo from Danish Cirkus Barnly 2018
The tent is put up, and we are now going to finalize details and getting ready for the new production.
Looking forward to getting started after another very strange year for all of us....

Link to news from 2007

Link to news from 2006