'
From Denmark
and other Scandinavian countries
Special feature: It all happens in Paris
A weekly updated internet magazine
Last updated : 25. March 2017
24 March 2017
Circus Arena 2017. Jacob Boas Leitisstein was among the visitors when Circus Arena opened the season on 23 March. Click here to see his photos from the show (slide show will not be completely ready until sometime Saturday 24 March).
You can read a review of the performance when this website is updated on 1 April.

24 March 2017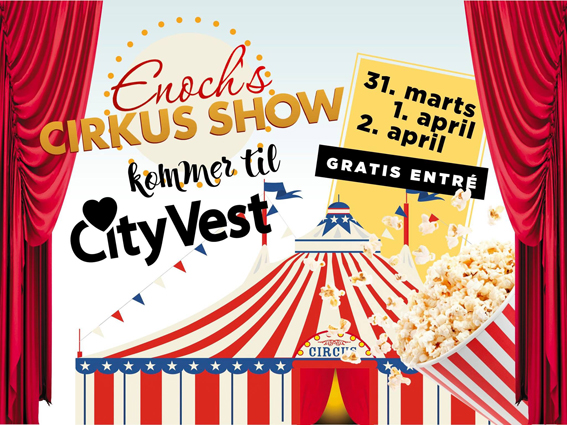 Enoch's Circus Show in City West, Aarhus. So far it has only been during the winter holidays you have been able to see Jimmy Enoch's Circus Show in various shopping malls. But the weekend 31 March to 2 April Jimmy produces a performance for City West shopping centre in Aarhus. In the show you can see Jimmy himself with glass balance on bicycle, Josefine Igen's dogs, the clown Don Christian and Flying Superkids Junior. Free admission. See time for the performances at What's on.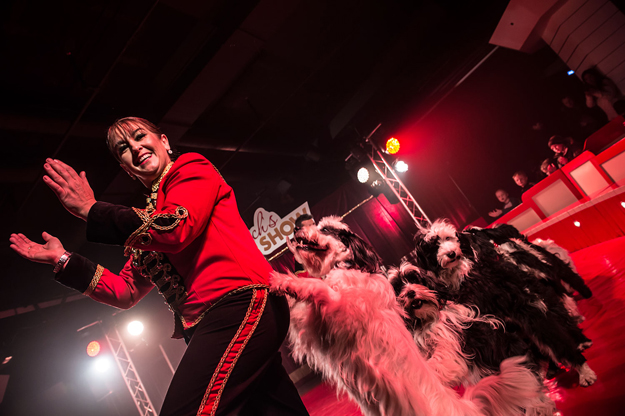 Josefine Igen's lovely dog ​​act could be seen in Denmark in Circus Dannebrog in 2006 and in Circus Baldoni in 2013.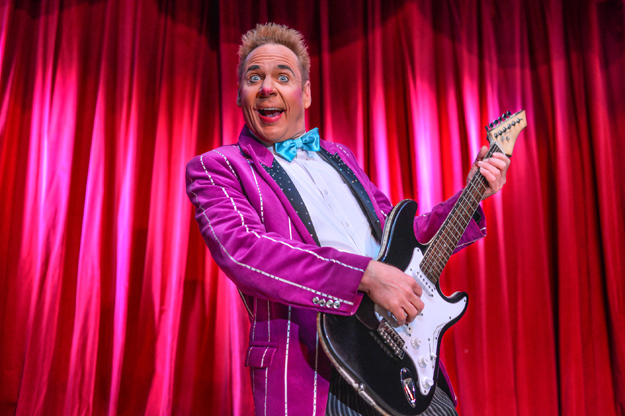 The Austrian clown Don Christian had great success in Circus Benneweis in 2010, 2013 and 2014.

24 March 2017
End for Circus Zorba. The Norwegian Circus Zorba has announced that it is definitely over. The Swedish magician and circusfriend Mr. Toledo tell that Ronja Gujord writes (my translation):
"Spring has come and many expect to see Cirkus Zorba on the Norwegian roads. Unfortunately, we have now taken the difficult decision to close down the operations of Circus Zorba. Thus, you will not any longer meet us on the Norwegian roads. It has been an honour to be allowed to take over the circus from my father. Running a circus is both difficult and hard but at the same time it has given me memories and experiences for a lifetime. Thank you so much to everyone who has supported us and visited our show - you have made it possible for us to bring unique and entertaining culture to people all over Norway!"
Cirkus Zorba was a medium sized circus which was started by Thor Gujord in 1991. They did not tour in 2014 and 2015, but resumed the tour in 2016 with Thor Gujord's daughter Ronja as director. But now it is definitely over. The only two circuses on Norway's roads this year is Circus Arnardo and the just restarted Circus Agora.

22 March 2017
Circus Baldoni - now with musical clowns. Baldoni was the first Danish circus to open the season. Season opening took place in Lyngby 22 March 2017. As something new they have plastic bucket seats instead of benches which have reduces the total number of seats on the two rows of ringside chairs and the 5 rows on the grandstand from 450 to 414. But it has clearly improved the comfort for the visitors. New this year is also a nice new backdrop. And the "orchestra" consists this year apart from pre-recorded music of a drummer with real drums and not just a few acoustic drums.
The 2017 performance is very nice. It is Baldoni in top form and with the features which is a "must" for Baldoni fans. For example their welcome song and their closing song. And then of course the lion Leonardo's dialogue with the circus director René Moenster Baldoni. Leonardo, who is a ventriloquist's doll must say "ladies and gentleman, things gets worse and worse" and tell that "I love children - with sauce and potatoes ".
As something new Circus Baldoni has this year musical clowns. Their usual clown Danilo is this year assisted by the super musical Eddie (Eduard Janacek) who the audience met last year as a juggler and rola bola-acrobat. Between the acts in the show, he also tries the classic juggling gag with throwing 7 teaspoons into 7 glasses. He fails again and again. Then to succeed at the very end of the performance.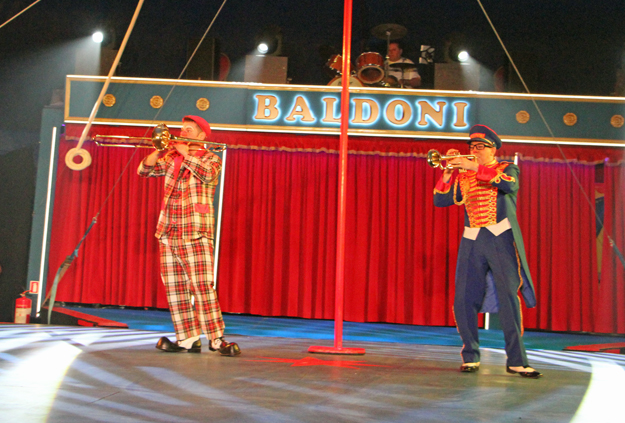 Danilo and Eddie opened the show with music, respectively on trombone and trumpet, which was followed by the opening with all artists in the ring which in Circus Baldoni is a scene. The artists waved with Danish flag and sang Happy Birthday as Circus Baldoni this year can celebrate their 15th year birthday (anniversary).
First artist act was Emmanuel Zuma and his 3 Mombasa Boys, who appeared in pole. Then we saw an elegant and charming act with trained house cats, presented by Fatime (Fatime Horvath) with the assistance of her spouse Peytchev (Peytchev Plamen Metodiev). Also, the cats seemed to enjoy the act! Years back Fatime did a great hula-hoop act where Peytchev lifted her in several positions. Then she switched to the act with cats, which is less physically demanding than her old entrée – nobody is getting any younger. Then outcome has been one of the best cat acts you can see today. .
Danilo and Cindy the had an entrée where Danilo first tried to shoot with arrows and Cindy then tried to throw knife with a member from the audience (on opening night the magician Robert Mark) as a target.
Next came Mombasa Boys back in the ring, this time with a well presented Limbo act.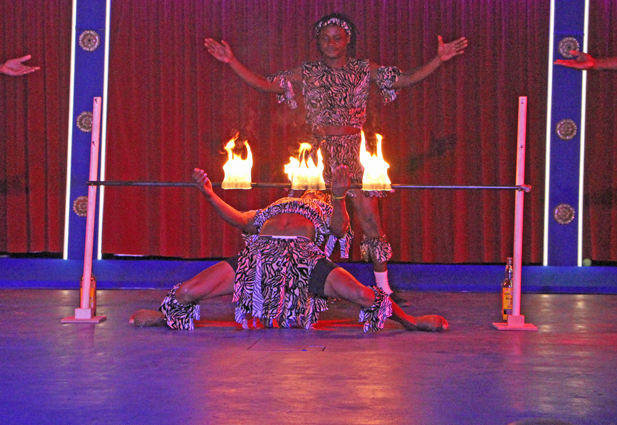 One of the four Mombasa Boys with great limbo
The last number before the break was Agnes Nemeth and Roland Dittmar's excellent entrée where Roland finds a girlfriend in a tiny house. As those wo has seen the act will know Agnes is much higher than Roland. Her height is above 2 meters and Roland is a but higher than 1.60 meters. The married pair both have big spoon spiced with humor… Last year they toured Jutland and Funen with Danish Circus Krone. This year time has come for persons from Zealand to be entertained by the odd couple. The couple toured Denmark with Circus Arena in 2008, but the number didn't work well in Arena's large tent. Furthermore Dittmar's act is today far better than in 2008. The Germans know the act from Circus Flic Flac.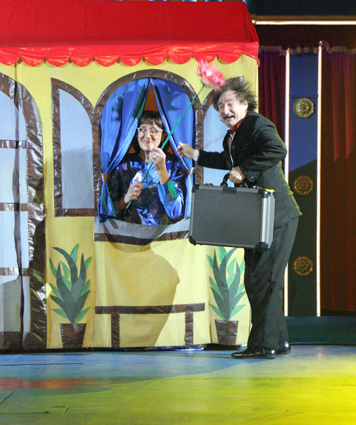 Roland sees a lovely lady in the window of the tiny house
The comical act with the trampoline, which is "dressed" as a swimming pool with a 3-meter diving next, is always a success. At Baldoni it was presented by Mr. Jumping aka Peytchev Plamen Metodiev. He has two times before been with Baldoni, but according to the printed program he is the artist which the audience most times have asked to be allowed to see again.
We've seen it before. But you can enjoy Danilo's version of Renée & Renato old 80's hit Save Your Love again and again. The gag with the mop as wig is as far as I know invented by the Swiss clown Andre Broger, but perhaps best known in José Michel's version.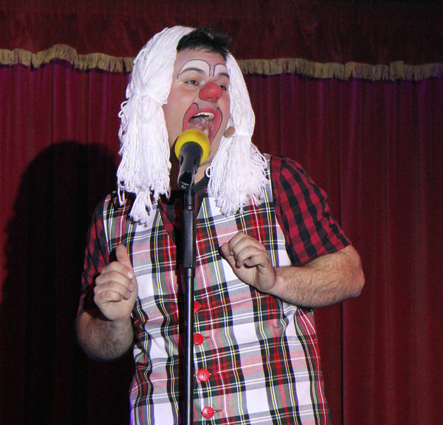 Danilo "sings" Renato's voice in Save your love my darling, save your love
Roland and Agnes Dittmar then came back with a follow-up to their first entrée. This time the crippled Roland find a lamp and the spirit of the lamp grants him 3 wishes. How he uses them, I will not reveal.
Maria Janacek had then a entrée in vertical rope.
Danilo and Eddie were then assisted by Cindy in the musical clown entrée "Do not play here" where Eddie managed to play many different instruments (even two trumpets at once) before Cindy was allowed to put head to " My hat, it has three corners ". See photo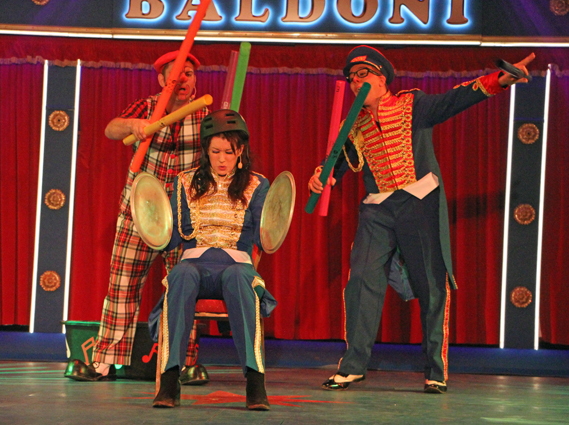 Last artist act was Mombasa Boys partly skipping and partly building impressive human pyramids.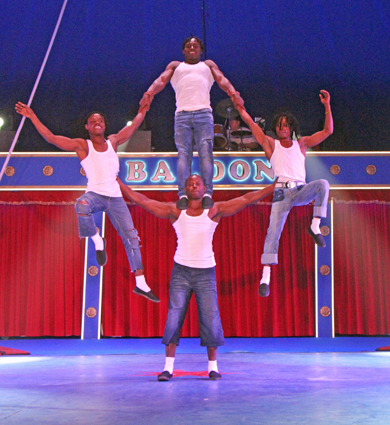 Mombasa Boys
The closing act was a kind of dance entrée with first Danilo and René and then all the artists wearing boxing gloves. It went into the grand finale with Baldoni farewell song "We've been the best of friends" and all the artists in ring.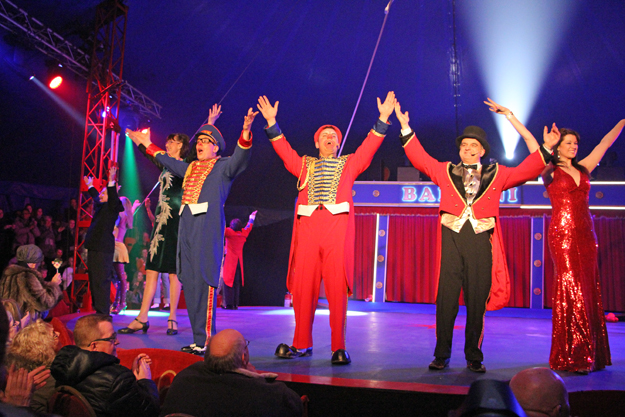 Grand Finale. All photos: Ole Simonsen. Click here to see a number of fine photos shot by the talented young photographer Jacob Boas Leitisstein.

22 March 2017
New tent for Circus Summarum. Enoch Show Production ApS has taking over the enterprise of renting tent to DR Television's Big Band's and the Muscular Dystrophy Foundation's performance Circus Summarum. Enoch Show Production has bought a brand new tent for the purpose. In previous years Circus Summarum has rented tent from Circus Arena / the Berdino family.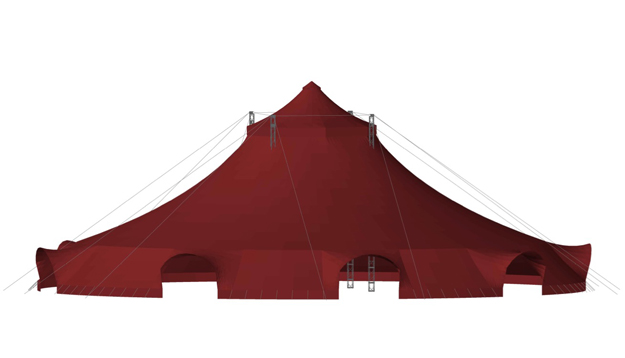 Drawing of the new tent
Jimmy Enoch has provided me with some facts about the new tent:
- Northern Europe's largest tent for events, entertainment, shows and circus
- The tent is the only of its kind in Scandinavia.
- Spectator capacity of 2,500 guests, all on fixed and numbered chairs
- Spectator capacity of 5,000 standing persons to concerts / events.
- The tent is 60 meters in diameter and has a height of 23 meters.
- The height of the side of the tent is 5.5 meters, which means that you without problem can drive a van and a semitrailer into the tent
- The tent dome has a diameter of 15 meters.
- You need no less than 10 semitrailers to transport the tent and the grandstand
- Everything is produced in Italy by some of the best tent specialists available. (The tent is a Scola Teloni tent. Poles and grandstand is made by Anceschi)
- Both tent and grandstand is of course, approved and certified.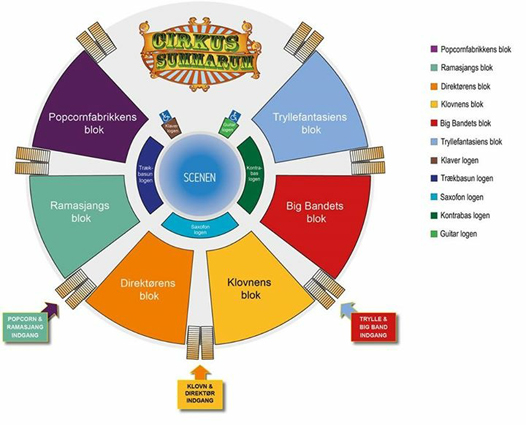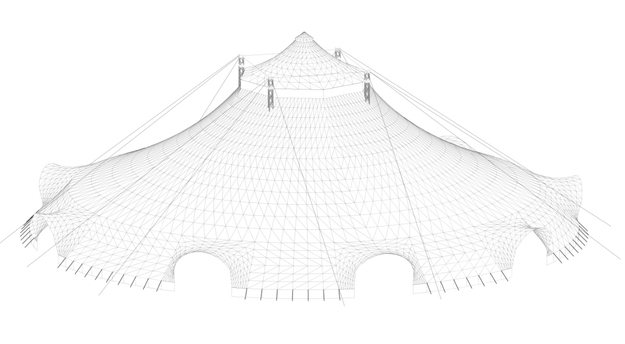 Another drawing of the tent and Summarum's seating plan in the tent.
Despite the name Circus Summarum is not at circus but a children's theatre performance taking place in a circus environment. The performers are actors, not artists.

18 March 2017
Katja Enoch turns 50 on 21 March. Katja Enoch is the youngest of Solveig and Haddy Enoch's 4 children. She is a real circus child who grew up in Circus Dannebrog, where she has participated in numerous performances since the Haddy Enoch family restarted Circus Dannebrog in 1977. Her versatile artist training allows her to know all the artist's basic disciplines and she has used her skills in many contexts: as part of the family bike act The Haddies, as aerial acrobat (vertical rope and Roman rings), with quick change and as a talented magician. She masters tap dance, and as a dancer, she has several times been part of Circus Dannebrog's circus ballet. For some years it was Katja who presented Circus Dannebrog's horses until the family after Haddy Enoch's death in 2009 decided not to have their own animals. In the following seasons Katja has been working in the ticket office and with kiosk sales. Until she and her husband Abdelaziz left Circus Dannebrog at the end of season 2016 she was head of the ticket office.
Today Katja and Abdelaziz lives with their son Joseph at nearly 4 years in Sdr. Hygym by Rødding in the southern part of Jutland. Katya's daughter Nathalie from a previous marriage goes in 3 grade at Ribe Secondary School and is as her father a skilled foot juggler. And the circus blood still flows in the veins of the family so they has not left show business although they no longer are traveling with a circus. Instead Katja and Abdel Aziz give lectures at schools, colleges and shopping centers, etc. all over Denmark. They train pupils in juggling, acrobatics and aerial acrobatics. The pair also offers entertainment with balloon animals, coin catch, adagio acrobatic and a fire show. The birthday is celebrated in the home in Sdr. Hygum.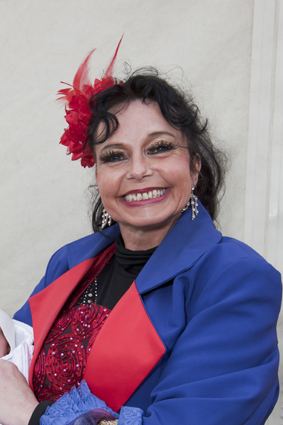 Katja Enoch. Photo: Lise Kokholm

17 March 2017
Circus Brazil Jack 2017 - classical circus when it is best. Brazil Jack opened the season in Malmö in the southern part of Sweden on Thursday 16 March. Everything went well and without the imperfections that sometimes can be seen on an opening night.
The approximately 2 hour long performance is a very strong performance presented in a brisk pace and without any superfluous breaks. There is not a single act of the kind you sometimes sees just as a "filler". As usual in Brazil Jack there's no ringmaster. Just the circus queen Carmen Rhodin, who welcomes and says goodbye when the performance is over. Brazil Jack deserved many full houses during this year's tour.
The tent is old with quarter pools and seating on wooden benches with and without backs. But the lighting is now with modern LED spotlights, and the 6-man orchestra is extremely well-playing.
This year's run-in clown is Mr. Lorenzo from Italy. He is clearly better than when I saw him at the Budapest Festival in 2016 and does not pull his entrées to long. And the few times he invites spectators in the ring, he has etiquette enough to accept a rejection. Many run-in clowns could learn something from that!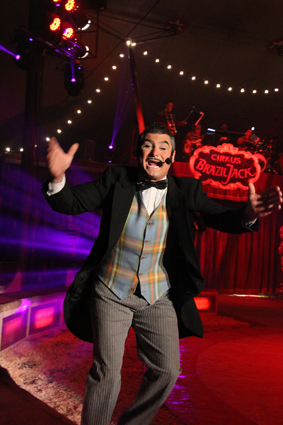 Mr. Lorenzo
The show begins with the well-known clap your hands gag where the clown divide the audience into 3 sections clapping / shouting in line - or at least trying to do so.
Then all the artists enter the ring, and Carmen Rhodin welcome.
First artist number is Steacy Giribaldi who with charm and elegance run up and down a ladder that stands freely in the air, She can even can go from podium to podium on her ladder (see photo). The Danes saw her last year in Zirkus Nemo.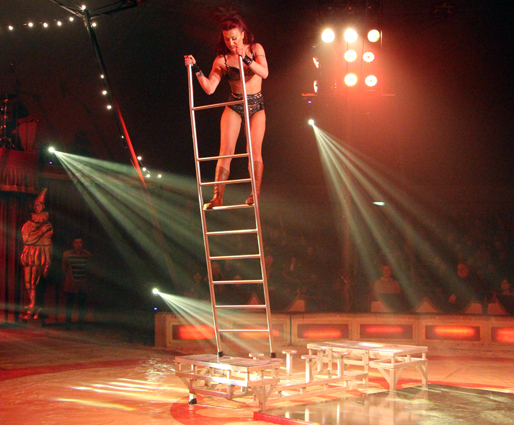 Steacy Giribaldi
Lorenzo now has a short reprice where he hunts a mosquito, tries his luck with ladder balancing and finally is stripping.
Next comes the Wolf brothers in the ring and show their formidable comedic trapeze entrée which could also be seen at this year's circus festival in Monte Carlo. The Swedish audience saw them last time in Circus Olympia in 2013, but since then they have become much better. Danes will remember them from Circus Arli 2011 and 2014.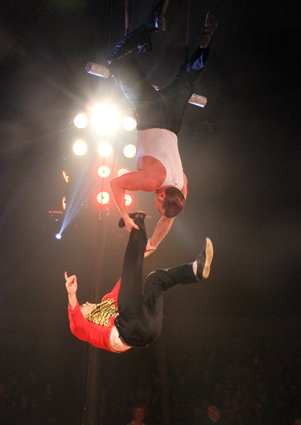 Wolf Brothers
Next act was Toni and Emilia from Donnert family riding pas de deux.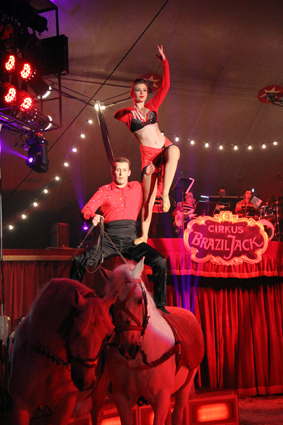 Toni and Emilia Donnert
Then we meet the 32-year-old Ukrainian strongman Deniz Ilchenko. Strongmen in circus are today a rarity – Danish Circus Baldoni had, however, in 2016 the not quiet young Hungarian Hercules Jozsef Pakuza in their performance. Deniz is clearly better - but also much younger - than his Hungarian colleague. He juggles with tires, pull a car by a bit and spins a tree trunk around his the neck. A feat, which he then repeats with 4 people on the tree trunk, see photo. At the end of the entrée he is run over by a car.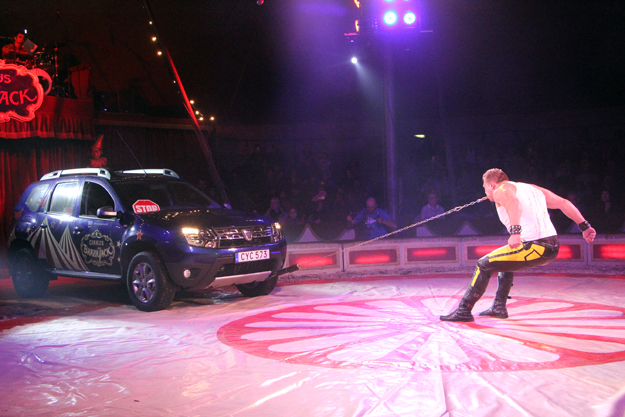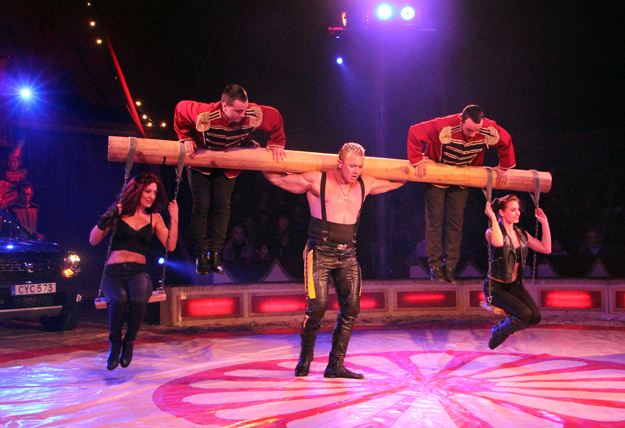 Deniz Ilchenko
The last number before the break is a kind of charivari, headed by Mr. Lorenzo together with the Wolf-brothers and three members of Donnert family. It is a cheerful entrée with human pyramids, Mr. Lorenzo's attempt to be a strongman and the classic gag where at springboard breaks as a spectator jumps down on it.
After the break we met Neyenne Frank who is also a member of the Donnert troupe with an elegant and spectacular contortion act.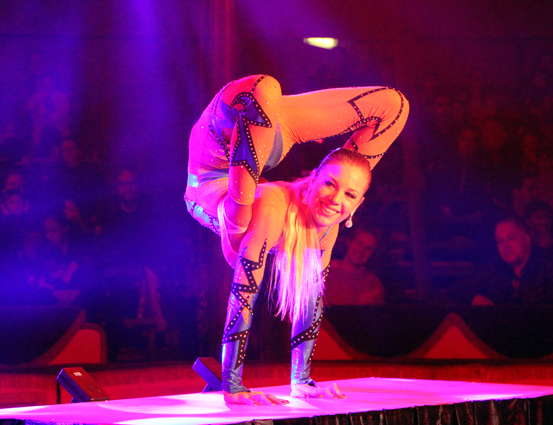 Neyenne Frank
After a short reprice with Mr. Lorenz time has come for the Wolf brothers' well-known knockabout table act where they are dressed as Scotsmen.
Then Mr. Lorenzo presents his version of the well-known entrée where first the clown and later members from the audience is playing O sole Mio on bells.
Last but not least the audience meets the Donnert family with trick-riding. They are today clearly better than when they were with Benneweis in 2013 and Brazil Jack in 2014. In addition to the classic jumps to and from horses they master both a forward and a backward somersault on horseback. They also master the backward somersault from horse to horse and even in a version where the jumper stands on the back of another acrobat.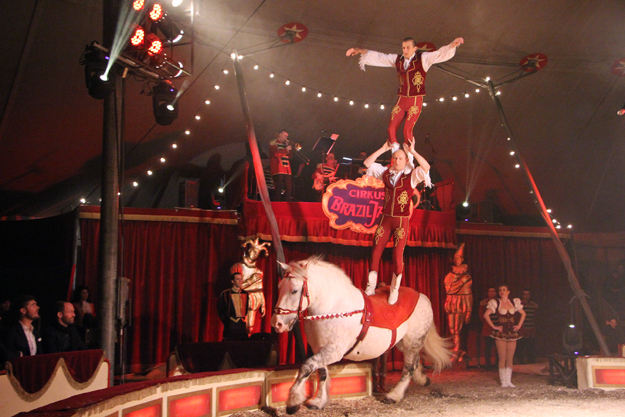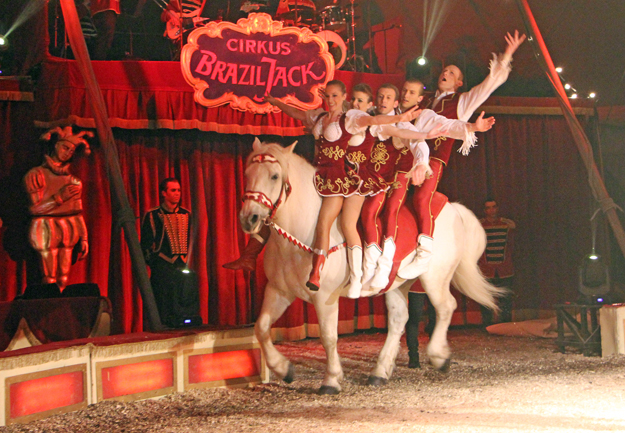 Donnert Family. Click here to see more photos from the performance.
In the grand finale you are surprised to realize that only 10 artists can make such a great circus. Well done. Hals- und Beinbruch as you say in the circus language.

13 March 2017
IT ALL HAPPENS IN PARIS As our readers surely have noticed, this headline has recently been brought less often than in earlier years.
Circus and other visual shows have lost a number of fans - this is true worldwide, thus also for Paris, that has lost a sizable portion of tourists, linked to the terror attacks Paris has suffered.
Together with my Paris correspondent ZARRO ZARRO, I have decided not to repeat write ups that grosso modo are the same as previous ones. However, ZARRO ZARRO will continue to send write ups on mainly visual shows, that deserve mentioning.

11 March 2017
On March 10, I mentioned Benny Schumann's 50th anniversary as a juggler with plates, etc. in spin. There are no video clips of the act as it looked in 1967. But Benny has found an 8mm movie from 1968, where he did the act at the music hall Lorry in Copenhagen. Click here to see the movie.
As you can see on the film Benny used at that time glass bowls and no plates on the sticks. At that point, he was inspired by Eric Brenn, who had been lucky to find some light weight glass bowls in U.S.A. with a small rim. Unfortunately, it was only possible for Benny to find bowls, weighing more than 1 kg per peace. It made the act more complicated in terms of both table and sticks concerned. This meant, unfortunately, that there was so much space to "play" during the act when bowls were about to fall down and Benny was tied to make sure everything just ran properly. It was not without danger with these bowls both if you got one in the head or if they fell down creating risk for large pieces of broken glass that could even hit members of the audience. Due to this Benny later switched from bowls to plates. "But I still look after bowls every time I come into a porcelain / glass store" Benny Schumann says.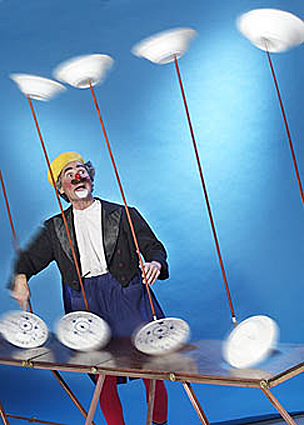 Here is a photo where glass bowls are replaced by plates

10 March 2017
50 years with spinning plates. Today, Friday 10 March, it is the 50 years ago since Benny Schumann first time presented his plate spinning act. It happened when Circus Schumann opened the season in Funen Forum in Odense. As son of Pauline and Albert Schumann he had had spent his entire life in circus and was trained as a horse trainer, rider and multi-artist. His aunt Adele had taught him to dance on the tight wire and when Circus Schumann in 1964 had the plate spin juggler Eric Brenn among the performers Adele said to Benny that it would be nice if he did such an act. A few weeks after, Benny started training. In 1967 the act was ready for presentation to an audience and he made his debut as plate spin juggler first under Circus Schumann's performances in Funen Forum and later during the season in the Copenhagen Circus Building. After this season started Benny Schumann his own carrier as a solo artist in Malmo on the Crown Prince, now using the artist name Ric Benny. With this act he toured worldwide for the following 10 years. Then Benny and his wife Marianne felt that it was time to stop travelling when the children Julia and Patricia were to begin school. They could see that there was many children's theater, which had great success with performances at schools, libraries, etc. But there were no artist performances for such institutions. This gave Benny Schumann the idea to begin making the child-friendly artist and clown performances, which he still does today. The plate spinning act is still included in his solo performances, but sometimes replaced by other acts when he is visiting a place where he has shown it several times before.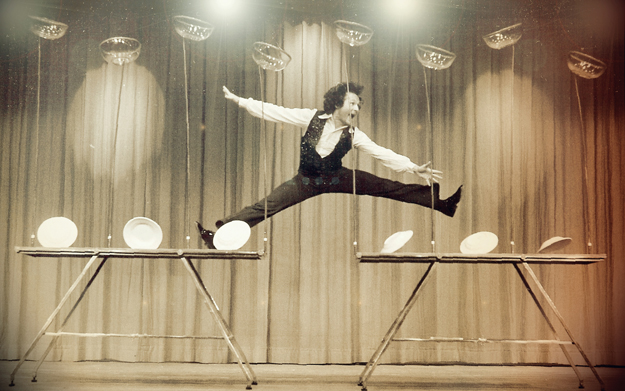 Benny Schumann with the flying plates. From Benny Schumann's collection.

8 March 2017
Circus Agora 2017. The Norwegian circus Agora was established in 1989 by the tight wire acrobat Jan-Ketil Smørdal, who then was 25 years old. It grew and quickly became a medium-sized business with nice programs. Since Agora got problems and was declared bankrupt in November 2008. It started up again in 2009, but the season ended with another bankruptcy. Since they have not been touring, but Jan Ketil has always had a dream to restart his circus. And he hopes this year to fulfill his dream with season opening in premiere at Straume Næringspark in Godvik close to Bergen on 22 March.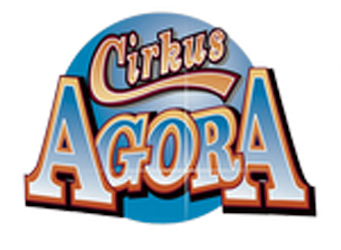 I quote from the website www.cirkusagora.no (my translation)
From Moldova Cirkus Agora gets a visit by the juggler Antonin Rapolli. Together with his partner Helena he has thrilled thousands of people in some of Europe's largest and most renowned circus.
Boffo is perhaps the world's smartest dog, and he loves to train and perform. Along with beautiful Helena from Slovenia Boffo present his unique tricks for the first time in Norway.
With his funny and silly gags the clown Pepino is this year funny highlight. Pepino comes from the Czech Republic.
Leroy Quaiser from Germany is an excellent hand stand acrobat. His technical skills are second to none in this exciting and demanding discipline.
High under the big dome Sandra Quaiser present her act in tissue.
Roberto from Italy serves pizzas on spinning plates at a furious pace.
David Roberto from Italy does breakneck balancing on rola bola.
Additionally there is a pony act, an adorable duo from Finland and a Slinky.
David Roberto is probably the same as David Robert, who in 2014 appeared in the Swedish Circus Brazil Jack and the following year in the Circus Arli.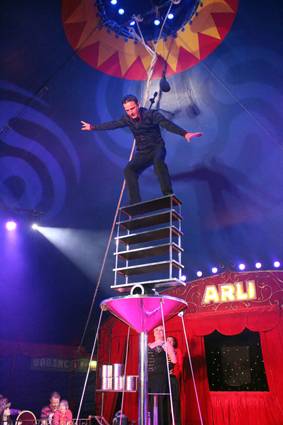 David Robert Circus Arli in 2016
The large Norwegian Circus Arnardo starts as mentioned earlier on this page the season on 11 April. Circus Minimax is on tour in 2017. The same applies probably to Cirkus Zorba. Circus Merano has not toured since 2014. Thus, Arnardo and Agora seems to be the only circuses which this year will be touring Norway.

4 March 2017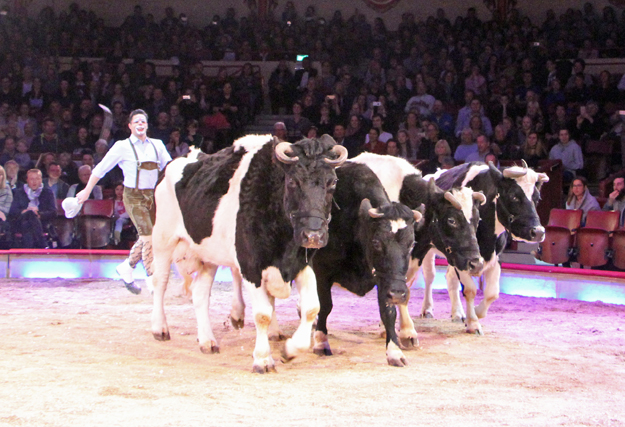 Danish stars in Munich. At the premiere on March program at Circus Krone in Munich the audience saw 4 Danish - or at least the Danish-owned - stars: 4 of Bernhard Kaselowskys cows sort funny interlude where they were presented by the star clown Tonito Alexis. On opening night with Bernhard standing in the background. Bernhard has six cows, but Bernhard's spouse Isabella Enoch Sosman of Danish Circus Trapez told med that the act worked best for Tonito with just 4 cows in the ring. Isabella Sosman was in Munich together with her son David and her staff members Judy Glosted and Louise Mandrup. Click here to see a number of photos from the performance.
Circus Krone's performances in the circus building in Munich are always some of the best you can see in Europe. There are 3 different programs: one in December / January (premiering 25 December), one in February and one in March. Click here to see various photos from the February show.

3 March 2017
Circus Arli 2017. Circus Arli's 2016-performance is a themed show, which is in the maritime component. The show is called "Ship Ahoy". It has of course the elegant ringmaster Bettina Arli as ringmistress
The signature act in Circus Arli has for all their 47 seasons been the clown act. In this year's show is the clown duo become a trio as Alexander and Martin Arli this year are joined by Francesco Fratellini - even with a brand new entrée.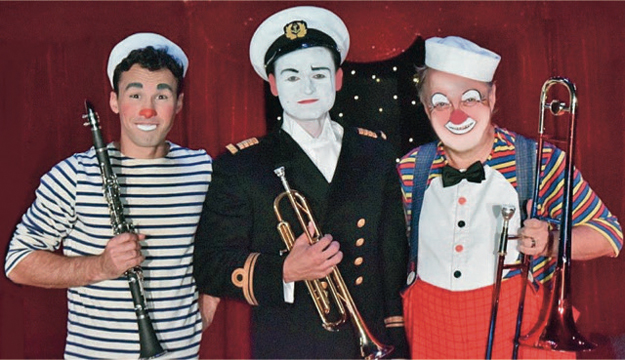 Francesco, Alexander og Martin. By courtesy of Circus Arli
The two crazy sailors "Francesco & Alexander" makes a terrific comical knock-about table act. Francesso Fratellini was also at Arli in 2016, but with completely different acts. But he began in 2016 together with Alexander to train on the knock-about act.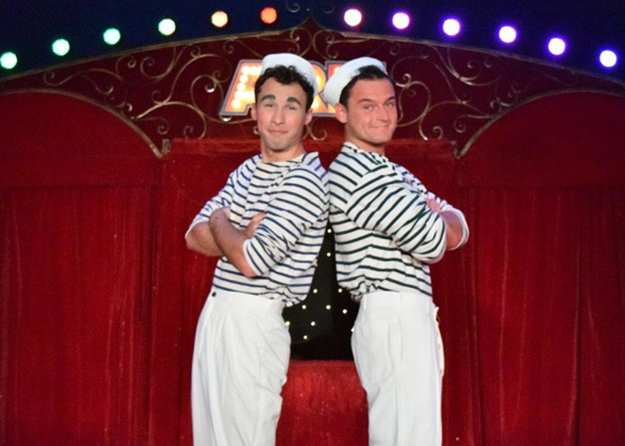 Francesco and Alexander. By courtesy of Circus Arli
Elegant floating under the circus dome the audience is meeting Francesco's girlfriend Sarah Florees in aerial hoop. Sarah also presents a dummy act. She was also with Arli in 2016, but with with hula hoop and contortion.
New to the audience in Circus Arli is the talented Hungarian foot juggler Eva Varadi. The audience in Jutland knows her from some seasons with the Danish Circus Krone. A single year, 2008, she was with Baldoni's Christmas Circus. Aside from this, she has not yet appeared on Zealand.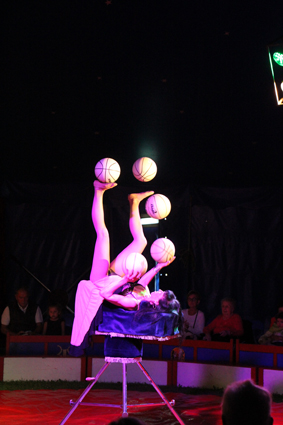 Eva Varadi. Photo from Circus Krone 2016
She brings her husband Richard Donnert. Together, the couple the present the fine quick-change act which you last year could see in the Danish Circus Krone, where the couple had their debut with the number.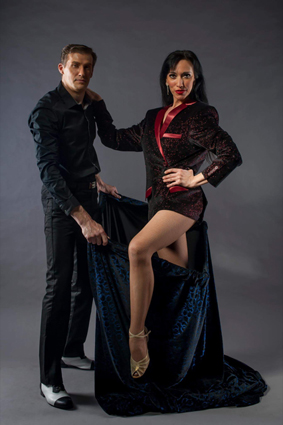 Quick Donnerts. By courtesy of Circus Arli
In addition to those mentioned the audience will meet Olga Makejeva from Latvia with vertical rope and acrobatics in the rotating ring. She was also at Arli in 2007 and 2008, but her surname was at that time Guseva. Previously, she has worked both in Danish Circus Baldoni and in Swedish Circus Olympia.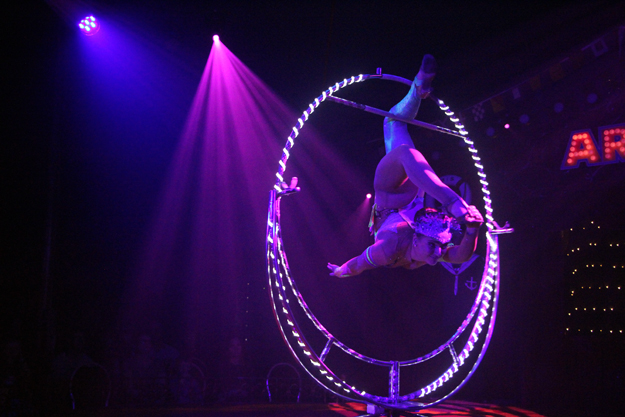 Olga Makejeva. By courtesy of Circus Arli
Circus Arli start the season on Møllebakken in Fløng (Copenhagen suburb) on 25 March.

3 March 2017
Circus Arnardo 2017. The Norwegian Circus Arnardo has published the names of the performers in the forthcoming season.
As usual, the circus princess Helen Arnardo will welcome the audience to this year's show. Among the performers are as earlier mentioned on this page the musical clowns Les Rossyann.
Further the audience will meet Zusana Smaha's Flying Dogs - three border collies on the Frisbee-hunt. Zusana Smaha is also one half of the juggling Duo Smaha which the Swedes met in 2014 in Circus Maximum.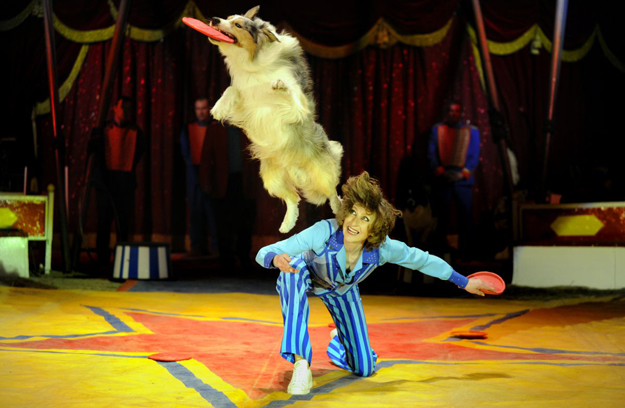 Zusana Smaha and one of the dogs. Press photo from Circus Arnardo. Photographer: Fridgeir Walderhaug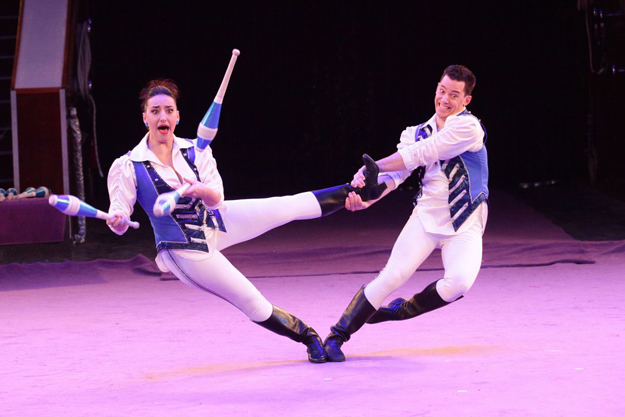 Duo Smaha. Press photo from Circus Arnardo
Nicoleta Badea does cloud wing high up under the big top.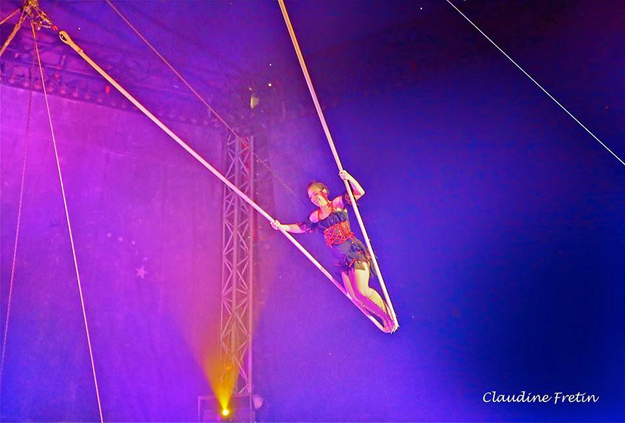 Nicoleta Badea. Press photo from Circus Arnardo. Photographer: Claudiene Fretin
Are and Paolina Arnardi enters this year in the ring with newly developed magic illusions. Ares grandfather, the Circus King Arne Arnardo, was Norway's most famous magician.
Their son Arne Otto Luigi Folco Arnardo present ponies in liberty dressage.
Peter & Klara shows a comical knock-about table act. I guess that it also is those who under the name of Adelina & Alex present a pole act which also includes hand-to-hand acrobatics.
From the Swedish Circus Olympia comes a group of camels, llamas and cows / oxen.
Truppe Cheban works partly in Russian swing, partly with a kind of rubber tires on which they jump. The Danes met the troupe in Circus Benneweis in 2011.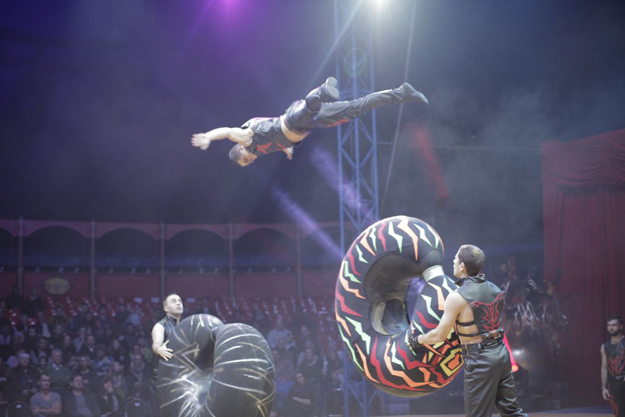 The Cheban troupe. Press photo from Circus Arnardo
Daniel Badea does with ladder balance.
Finally, the audience can look forward to see Duo Romance with a great romantic act in aerial straps.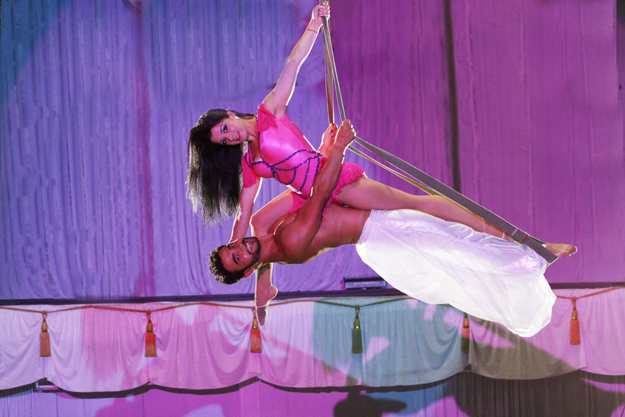 Duo Romance. Press photo from Circus Arnardo
There is season opening in Vaagsbygd (Kristiansand) on Saturday 11 March 11. From April 21 to 30 Circus Arnardo visits the Norwegian capital Oslo.

Link to news from 2007

Link to news from 2006