'
From Denmark
and other Scandinavian countries
A weekly updated internet magazine
Last updated : 25. March 2023
23 March 2023
Norwegian Circus Arnardo on March 18 in Grimstad.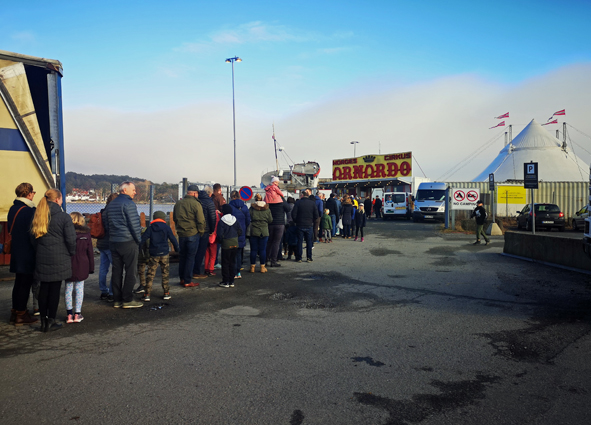 Always nice to see people queuing in front of a circus tent! All photos: Thorbjørn Klæbo Flo
Thorbjørn Klæbo Flo saw the performance and writes (my translation):
Program
Opening with Are Arnardo and Victor Rossi. Are tells a little about Arnardo's history, reads from a book.
Duo Stellare with roller skate act
Kevin Probst with donkeys and a solo horse
Victor Rossi comic
Are and Paola with magic
Tünde Szabo with aerial straps
Luigi Folco Arnardo with diabolo
Victor Rossi comic
Shannon Folco Arnardo with flying carpets, foot juggler
Kevin Probst with playful dogs
Victor Rossi juggler
Duo Stellare with aerial straps
Finale with artists
The performance lasted approx. 75 minutes without a break
Circus owner Are Arnardo opens the performance with a short story about Circus Arnardo, Victor Rossi participates in a comical way.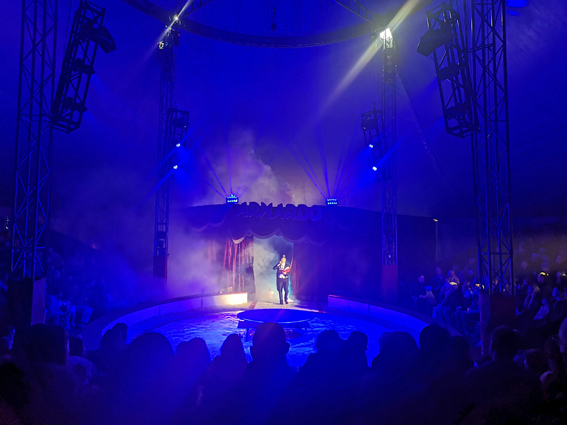 Are Arnardo welcomes.
Duo Stellare with roller skates.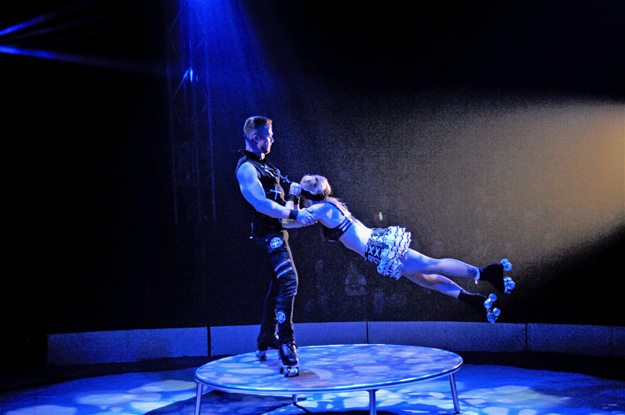 Duo Stellare
Fortunately, the animals are still with us and 8 donkeys are presented by Kevin Probst with expert performance in liberty dressage. Ends with a solo horse.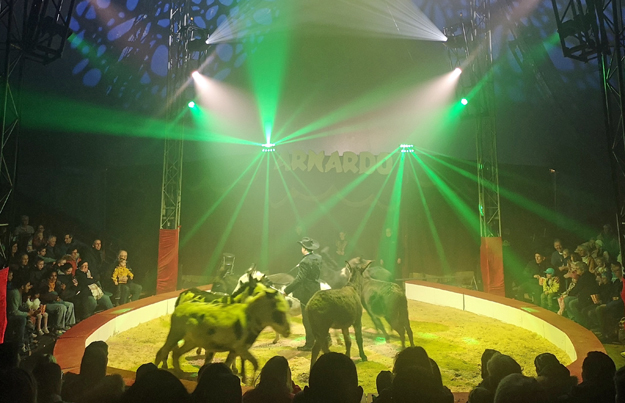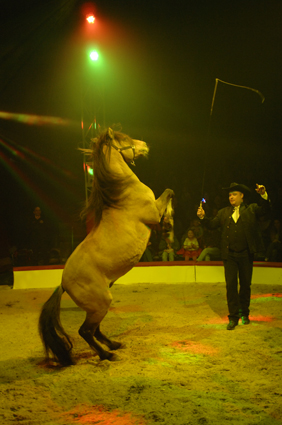 Kevin Probst and his donkeys and horse
Victor Rossi is back, (he was there briefly in the 2022 season) with new comic gags. He has a good grip on the audience and sells his acts masterfully.
Are and Paulina present magic as it is a tradition at Arnardo. The audience is constantly surprised.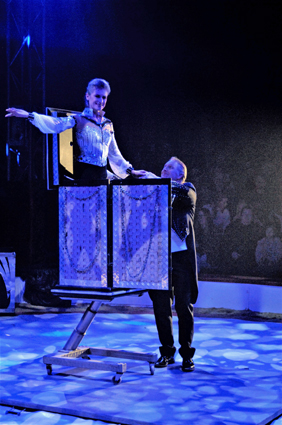 Illusion acts are a firm tradition at Arnardo, whose founder Arne Arnardo was Norway's best-known magician.
Tünde Szabo presents an elegant act in aerial straps, strongly performed.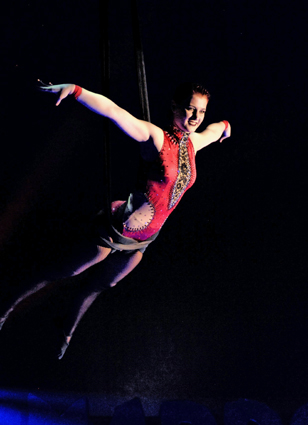 Tünde Szabo
Luigi Folco Arnardo performs fast-paced diabolo in rock music style. A hit with the young ladies.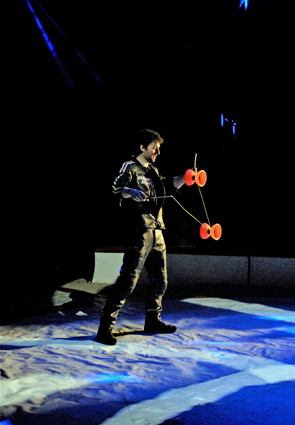 Not least the young girls liked Luigi!
Victor Rossi with new comic entrées.
Shannon Folco Arnardo with flying carpets, new costume and direction combined with dance. Harlequin style.
Kevin Probst with fast paced and very good dog act.
Victor Rossi as a juggler, strong number.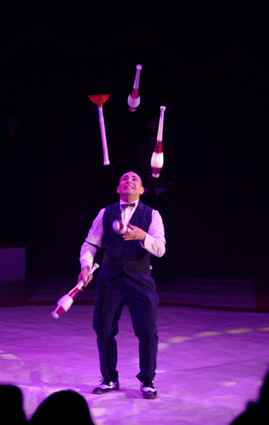 Victor Rossi
Duo Stellare is the last act before the finale with aerial straps, powerful and elegant in tango style. Great costumes and perfect music.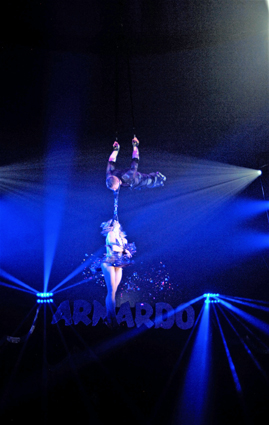 Duo Stellare
Finale with artists dancing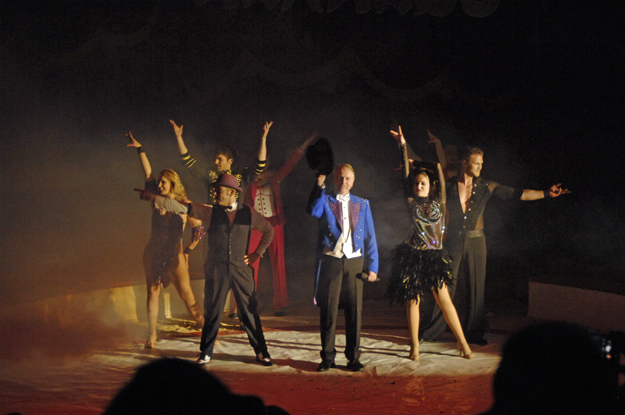 From the final
I saw two almost sold-out performances, over 400 at both. According to Are Arnardo, they take in about 450 per performance. Continuing with the same concept they have done for the last two years. Stay longer time at each lot. A concept they have been successful with. This year they are mainly visiting cities that were not visited last year and are hoping for the same success this year as in 2022.
I can strongly recommend the performance!

22 March 2023
Swedish Cirkus Brazil Jack has released the name of one more of the artists you will meet in this year's performance: Italian Susan Jasters, whose act is presented as follows (my translation)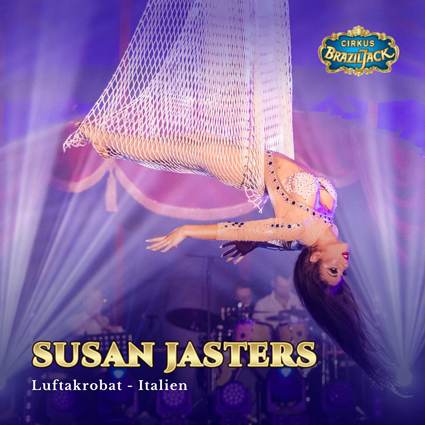 Back in 1957 Circus Brazil Jack presented water as a consistent artistic theme for that year's performance. To further explore this theme, in cooperation with Susan Jasters, over the winter we have created a unique act in air and water that combines her beauty, strength and acrobatic skills in what we think is the ultimate presentation. We are very proud of the end result and expect that the act will be a sensation during the summer's Swedish tour!
Susan Jasters is one half of the duo Skating Jasters, which the audience saw in
Circus Brazil Jack in 2022.

21 March 2023
A Circus Wedding – Jimmy Enoch and Melanie Kaselowsky. On March 20, Jimmy and Melanie were married in Oksenvad Church. They have been together for 20 years and have the children Emily, born 14/11 2013, and Jeremy, born 3/4 2015.
Jimmy Enoch is grandson of the late Haddy Enoch and grew up in the Enoch family's Circus Dannebrog, which closed after season 2016. Today Jimmy run Enoch Show Production. Melanie is daughter of the animal trainer Bernhard Kaselowsky.

21 March 2023
Circus Rhodin 2023. The small Swedish Circus Rhodin has now published the names of the performers for the season, which starts on 1 April in Aakarp in the southern part of Sweden.
Circus director Diana Rhodin presents her dogs and ponies.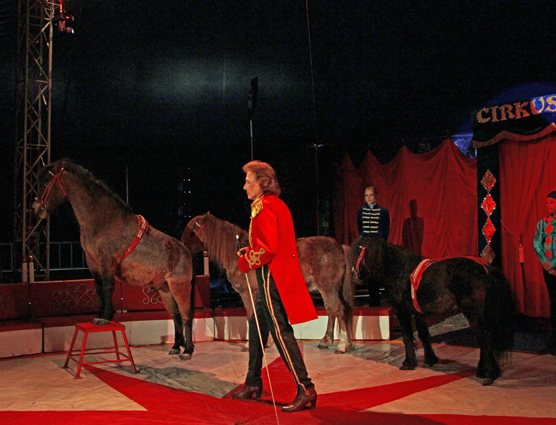 Diana Rhodin and her ponies
Her daughter Simona Rhodin has a new act with crossbow and also performs with hula hoop.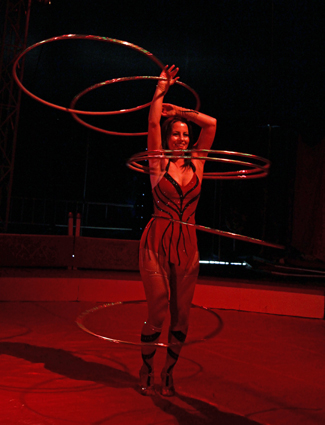 Simona Rhodin is daughter of Diana Rhodin and her partner
The young Danish artist Nynne Hulsig Samuelsen shows her skills in trapeze. She was also on tour with Cirkus Rhodin in 2022. She has previously performed in Danish Circus Trapez, where she had Isabella Enoch Sosman as teacher.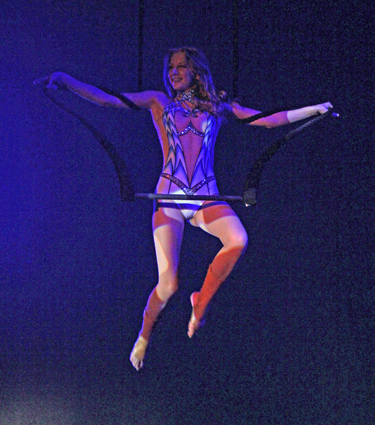 The young Danish trapeze talent Nynne Hulsig Samuelsen
Yayita Gasser from Switzerland performs in tissue and has furthermore an act with whips. Together with Declan, who is also from Switzerland, she presents a comic ballet entrée.
Benjamin Pfeiffer is juggler and presents his parrots. He was also part of Circus Rhodin's 2022 performance.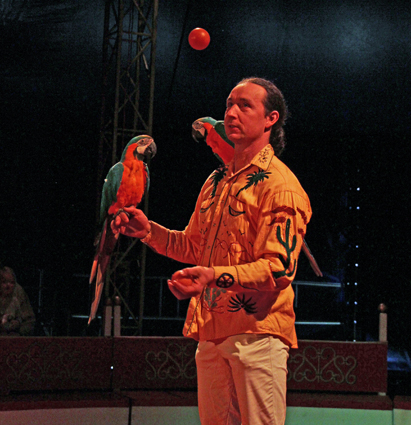 Benjamin Pfeiffer and his parrots
The performance's clown is just as in 2022 Dimo. He comes from Bulgaria.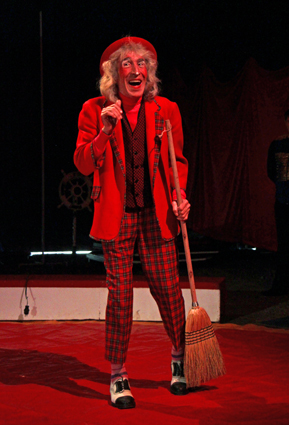 Dimo the clown

21 March 2023
50th anniversary with the Academy for the Preservation of Circus Arts in Sweden. On Saturday, March 18, the Swedish Circus Academy celebrated their 50th anniversary with an event in the Golden Hall at the Elite Hotel Marina Tower in Stockholm. The Academy's Schreibstallmeister Hans Lindgren writes (my translation):
The Circus Academy's award for Meritorious Contributions to the Circus Arts in Sweden was awarded to Björn Ulvaeus (ABBA) and Tilde Björfors (Circus Cirkör) for their fantastic set of "Pippi at the Circus". Bicycle acrobat Barbro Nordström (Ola & Barbro) also received such an award for founding Ludvika Minicircus. Johanna Abrahamsson and Merja Henning (spokesperson) represented Bohuslän's Cirkussällskap Reino's Friends, which was also awarded this award for the creation of the CirkusKvarnen in Grohed outside Uddevalla.
Award for Meritorious Contributions Within the Academy was awarded to Roy Himsel, now Honorary Director of the Circus Academy, and Linda Himsel, for many years editor of the Circus Academy's website.
The honorary award "Charlie of the Year 2023" could not be awarded because the recipient was prevented from attending.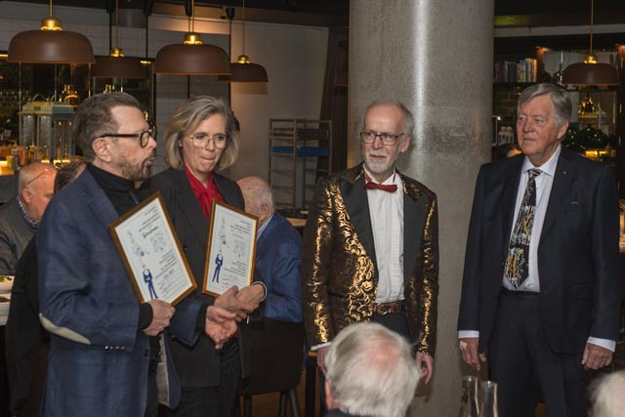 Björn Ulvaeus, Tilde Björfors, Janne Näsström and Hans Lindgren. Photo Janeric Dahlin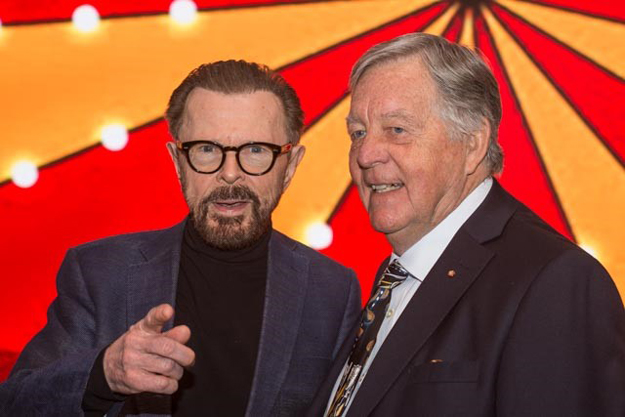 Björn Ulvaeus and Hans Lindgren. Photo Janeric Dahlin
About the performing artists for the arrangement, Björn Seger writes (my translation):
50th anniversary had several performances. David Hammarberg with a chair building act, the same as he showed in Circus Olympia. Furthermore, an act with hula hoops that started in the dark. Three young people from the Circus Academy in Stockholm showed their skills. A female artist Johanna Gorzellik with handstand. Two guys David Martin and Florimond Dumas juggling. Once with juggling balls. Second time playing the guitar while juggling clubs.

20 March 2023
The story of Circus Merano. Knut Dahl founded the Norwegian Circus Merano in 1974, and it quickly became one of the Nordics' leading circuses with performances with international top artists. Knut Dahl chose to stop after the 2014 season. The old website for Circus Merano www.merano.no is now changed to an impressively beautiful page that tells the story of Circus Merano with lots of pictures, programs and videos from the performances. The page can be read in several different languages, including English.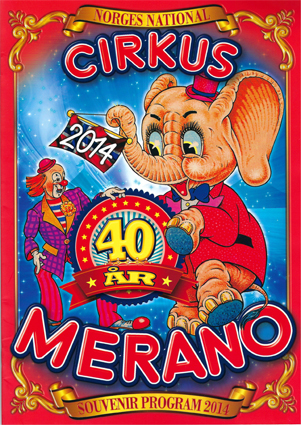 Circus Merano was on tour for 40 seasons before it stopped after the 2014 season
In Denmark, Dawid Benneweis has changed the content of the old website www.benneweis.dk to give a short historical story of Circus Benneweis with a number of photos. However, the site is not as extensive as Merano's site. And just available in Danish.

19 March 2023
DYNAMO COMNTEMPORARAY CIRCUS FESTIVAL 14 -17 JUNE. Dynamo Workspace for circus and performing arts in Odense writes: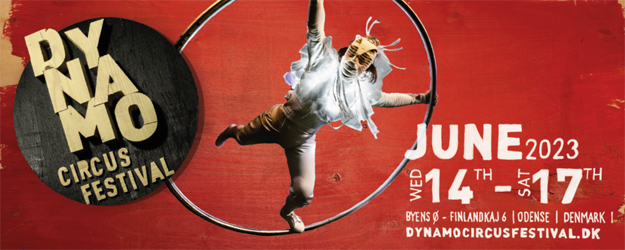 Dynamo Circus Festival returns the 14th-17th of June 2023! Welcome to a performing arts festival that celebrates shared experiences! Free from taste judgment and arbitrary avant-garde tyranny, this is a life-affirming embrace of the general human: the empathy, the fear, the redemption, the joy, the euphoria, the tension and the loss of control. Together vi explore circus.
WATCH PERFORMANCES BY:
Collectif Malunés (BE/FR)
Los Putos Makinas (ES/DE/UY/BR)
Kaaos Kaamos (SV, NCL, IL, DE, AR, BE)
Gustaf Rosell, Mikkel Hobitz & Sarah Lett (SE/DK/CA)
Dan Le Man (AU)
CirkusPerspektiv / Marie-Andrée Robitaille (SE/CA)
Karavan and LUR (SE/DK)
Luuk Brantjes (NE)
Read more at https://dynamoworkspace.dk/festival/?lang=en

18 March 2023
Clown Mathieu. My English circus friend John Cooper writes: With regard to the French clown Mathieu, who is in Norway with Agora this year: Mathieu Dallant is better established than you seem to realise, although maybe not in Scandinavia. He trained at the Annie Fratellini School in Paris. The first time I saw him was with Cirque Arlette Gruss way back in 1992, since when he's done many tours with Arlette Gruss. Two years with Circus Zippo in Britain. Several years for Gerry Cottle over here, as well as one season at Blackpool Tower Circus. He's done one season with Knie, although not as a principal clown. And certainly one year with Louis Knie Jr in Austria. - Mathieu Dallant is 51 years old and this is not his first season in Norway: he was on tour with Circus Arnardo in 2011.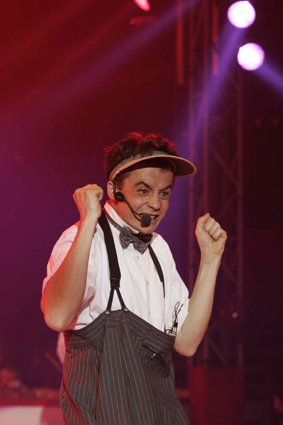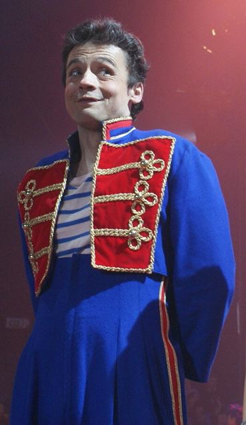 The French clown Mathieu is the playful artist of the smile, Circus Arnardo wrote in 2011, where Mathieu was among the performers.

17 March 2023
Easter circus in Blokhus 1 to 3 April. Circus Trapez visits the Jutland seaside resort Blokhus three days with mini performances. Not in their own tent, but in the city's tent. The performers in the Easter performances are
Duo Gancho, knockabout table act, German Wheel and comedy.
Stine-Marie Greisen with goats and quick change, which she makes together with Patrik from Duo Gancho.
Katja Enoch has short entrée with balloon animals, and her son Joseph Enoch performs with diabolo.
Nikolaj, Stine-Marie's son, present the little pony Bonito.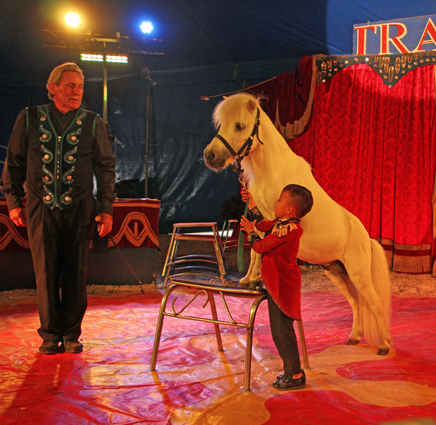 Stine Marie Greisen's son Nikolaj with the pony Bonito
And yes: even though it is called Easter performances, they are actually shown the week before Easter!

16 March 2023
Circus Trapeze summer tour. There is season opening in Kolding on Easter Saturday, April 8. This year they use both the old tent formerly owned by Circus Baldoni and in smaller towns the smaller tent they used last year in Madsbyparken in Fredericia. In some cities they perform in sport centres etc., meaning that they only have to put up a tent once a week.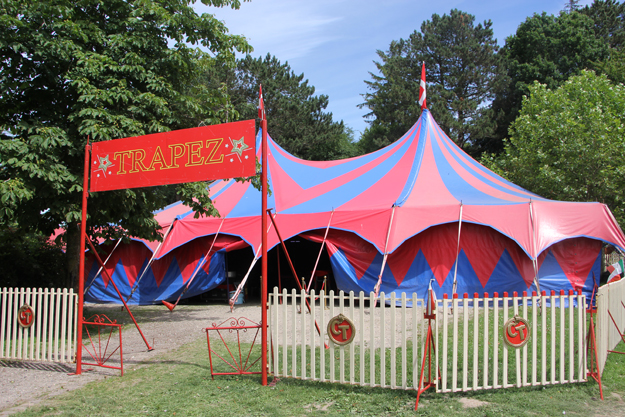 The small tent in Madsbyparken. Photo from 2022
In this year's performance, which is the same in sport centres and tents, you will meet:
Duo Gancho. Knockabout table act, formation juggling and comedy.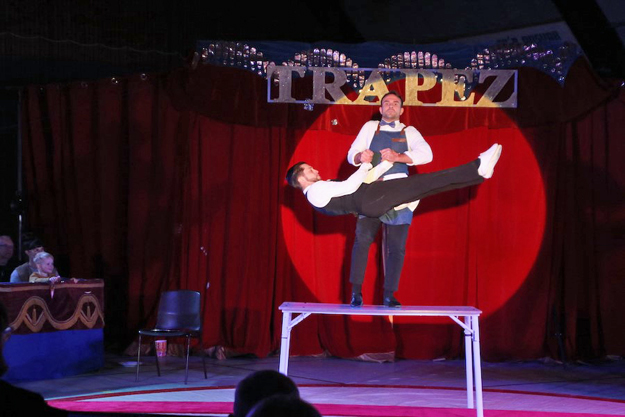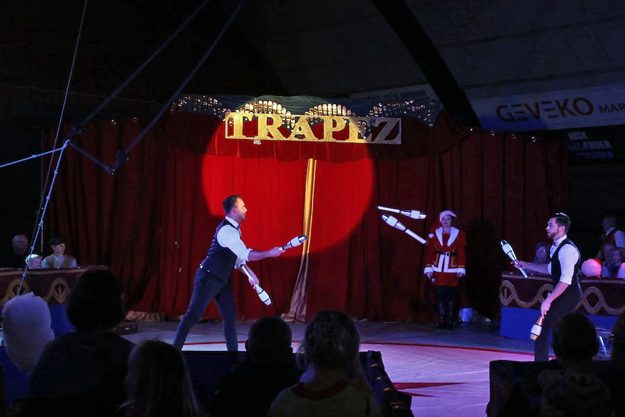 Duo Gancho was also part of some of Circus Trapez's performances in 2022 - here is a photo of their table act and their juggling entrée. Photo: Per Krogh Petersen
Stine-Marie Greisen with goats and in aerial ring together with Rasmine Tomasevic
Rasmine Tomasevic, trapeze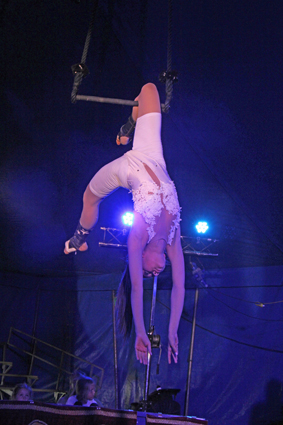 Rasmine Tomasevic-Olsen is 14 years old. In connection with the distribution of circus awards in 2022, she was the first artist ever to receive a grant from the Nelly Jane Benneweis Foundation
Nikolaj, Stine-Marie's son, present the pony Bonito.
Katja Tomasevic, Rasmine's mother, comedy i.e., with Washington trapeze and singing.
Bernhard Kaselowsky with Mini and Maxi
Gabor, but only until mid-August, with comedy and rola-bola
Said Amazigh Troupe with skipping, handstand and human pyramid building.
The performances are presented by Isabella Enoch.
When the small tent is put up in Madsbyparken in July with a 45-minute performance, Circus Trapez splits the group of performers in two, so that one half takes part in open air performances at campsites and the other half performs in the park.
During the spring, Circus Trapez also shows some nursing home performances with some of the artists who are performing in the regular show. Later, the idea is that the nursing home performances will be a separate small group with Agnete Louise Enoch as ringmistress and, among others, Bine Schönemann with Circus Trapez's big goats.

14 March 2023
Norwegian circuses 2023. Norway has two touring circuses: the large Circus Arnardo, which today is run by the 3rd generation Are Arnardo, and the medium-sized Circus Agora, which is run by the slack wire artist Jan Ketil Smørdal. In addition, in Kristiansand Zoo there is a stationary circus, Cirkus Jesper, which during the summer period shows a theme show built over the character gallery from When robbers came to Cardamom Town.
Círcus Arnardo premieres in Grimstad on March 17. In this year's performance you will meet
The comedian and clown Victor Rossi. He is the 8th generation of a French-Italian family of circus performers with roots dating back to 1732, when his ancestor Diego Rossi was employed as a court jester by the French King Louis XV. He is the son of Hector Rossi of the clown duo Les Rossyan. Victor Rossi was also with Arnardo in 2021.
The foot juggler Shannon Folco Arnardo, who is 20 years old and 4th generation Arnardo. She made her debut with Arnardo in 2021.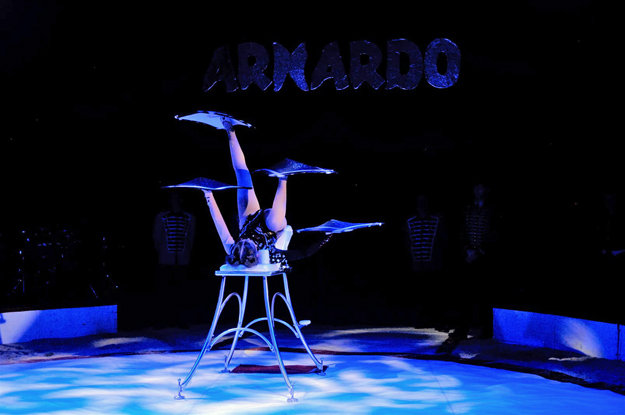 Shannon Folco Arnardo. Photo: Thorbjørn Klæbo Flo
Diabolo juggler Arne Otto Luigi Folco Arnardo, who is 23 years old and named after his great-grandfather, the Norwegian circus king Arne Arnardo.
The director couple Are & Paola with magical surprises. Are's grandfather, the circus king Arne Arnardo, is Norway's most famous magician of all time.
Tünde Szabó with elegant aerial acrobatics. She is educated at the Circus School in Budapest. In 2021 and 2022, she presented an act in aerial straps at Arnardo.
Roller skating artists Duo Stellare. The couple also appears in aerial straps. It is their first season in Norway. Duo Stellare consists of Sarah Jane Macaggi and Mattia Sartori.
Sarah Jane Macaggi is a 5th generation circus performer. Her family founded Circo Wonderland in Spain. Mattia Sartori has a background as a professional dancer. Now they have united their art with love, and are very successful as Duo Stellare with speed, excitement and elegance.
Kevin Probst with dogs, horses and donkeys. Kevin Probst was also with Arnardo in 2021 and 2022.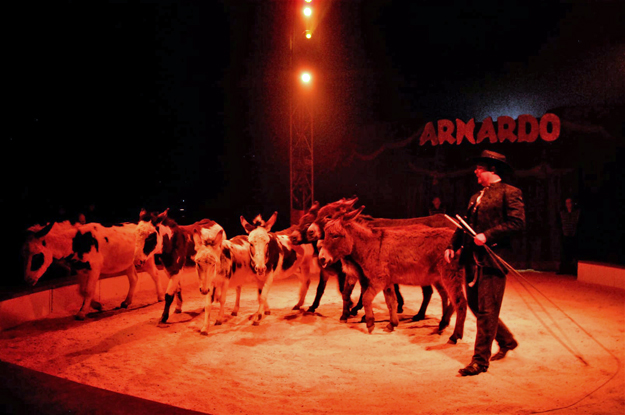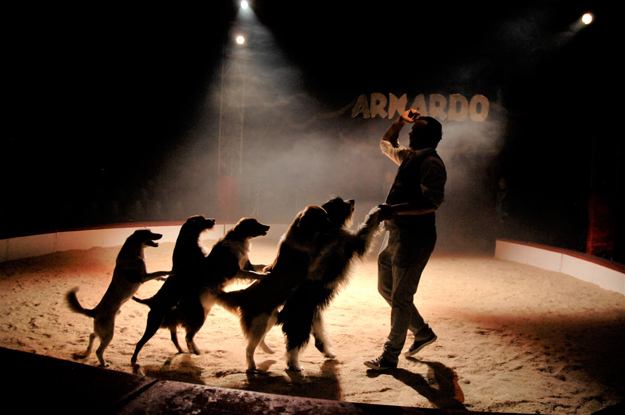 Kevin Probst with respectively 8 donkeys and dogs. Photos: Thorbjørn Klæbo Flo
The performance lasts approx. 75 minutes without intermission. Just as in 2021 and 2022, Circus Arnardo uses a tent that belongs to Kevin Probst.
Cirkus Agora premieres on 17 March in Bergen. In this year's performance you will meet
Duo Glavatskiy from Ukraine with quick change.
The young Norwegian aerial acrobat Helene, who is educated at the Circus Balance circus school in Bergen. which was started by Jan Ketil Smørdal's daughters.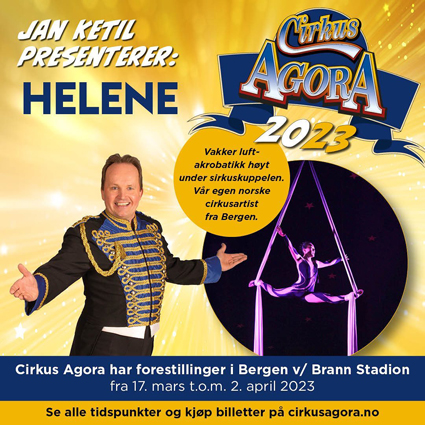 Peter Taylor and his dogs. The Danes have seen him several times in Benny Schumann's mini circus. He has also previously been with Agora.
The strong man Denis Ilchenko from Ukraine. The Danes experienced him in 2020 in Circus Baldoni. In 2017 he toured with the Swedish Circus Brazil Jack and in 2019 with the Norwegian Circus Arnardo.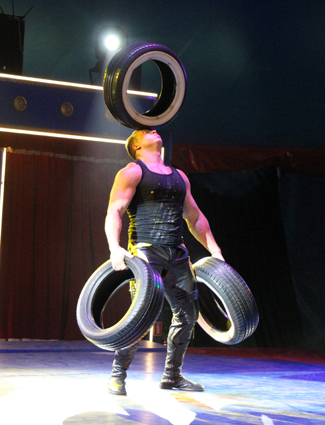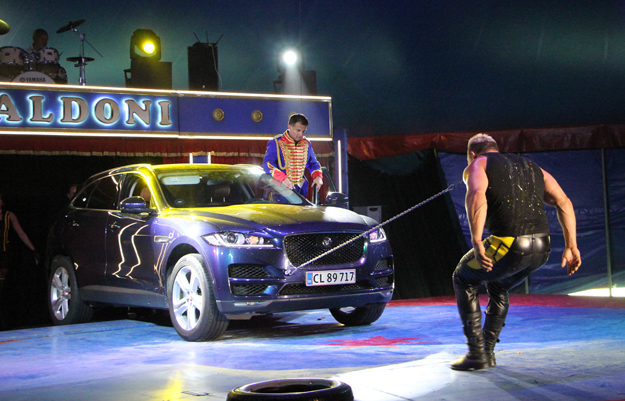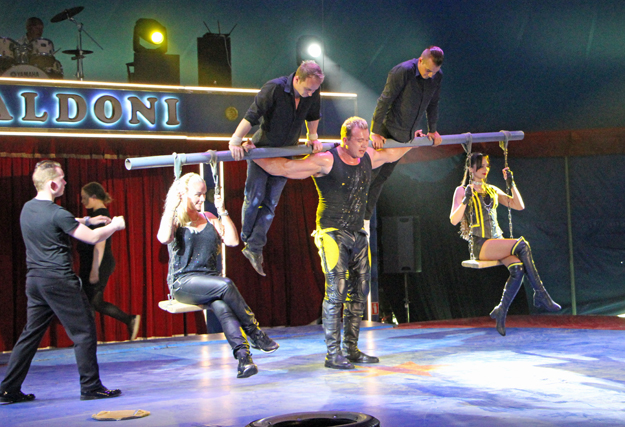 The Ukrainian muscle bundle Denis Ilchenko at Cirkus Baldoni, where you could see him juggling car tires, pulling a car with a bite of his mouth and carrying 4 people on a beam laid over his back, etc.
Ernita Ronzalli present hula hoop.
Axel Gottani comes from Italy. He performs with ladder balance.
Agora's ponies come from the Swedish Circus Olympia and are presented by director Jan Ketil Smørdal.
This year's clown is called Mathieu and comes from France.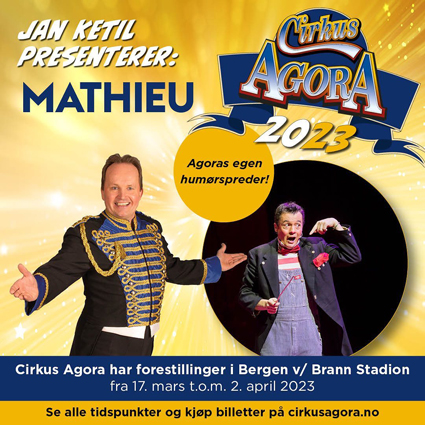 While the Danish circus has many one-day cities, both Circus Arnardo and Circus Agora, just like in 2022, have chosen, at least in the first months of the season, to be several days in each city and to have one or more performance-free days between the cities.
Cirkus Jesper premieres on 17 June and plays until 13 August. Among the cast are the Danish clown Bonbon (Lasse Nørager) and his family as well as Captain Frodo.

12 March 2023
Flying Brazil Jack. This year, the Swedish Cirkus Brazil Jack offers a flying trapeze performed by a newly assembled troupe, Flying Brazil Jack. Director Trolle Rhodin III writes on Facebook (my translation):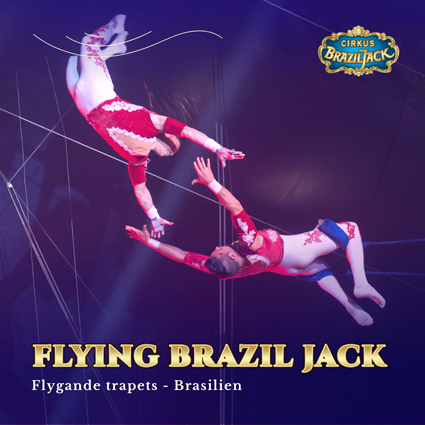 "We have long had a dream of creating our own acts of such beauty and magnitude that they can represent our name to an international circus audience in winter season. This year we have the pleasure of introducing several such acts. From Brazil and Italy, we have hand-picked the most outstanding aerial acrobats from the ancient circus families who for generations have produced the kings and queens of the air in the flying trapeze, the noblest of all circus disciplines. After a long winter's creative process focusing on choreography, costuming and training, it is with great pleasure that we can finally present our very own, spectacular aerial extravaganza "Flying Brazil Jack".
In addition to flying trapeze, this year's show offers, among other things, the globe of death. Here the audience meets the young artists from Diorio's troupe. The troupe has several units. The Swedes have previously met them in the now closed Circus Maximum. In Denmark, they have been several times in Circus Arena. It is not stated how many riders they will be in the globe at Brazil Jack. At Arena, they have been up to 7 riders in the globe at the same time.

10 March 2023
Zirkus Nemo 2023. Zirkus Nemo writes (my translation):
Zirkus Nemo Classic 2023 – a cornucopia of fun and madness
Now it won't be long before Zirkus Nemo, according to tradition, hits the stakes in the ground and premieres the wildest entertainment explosion of a show.
When Circus director Søren Østergaard sets out with the big Zirkus Nemo Classic show, there will be more of the well-known and beloved characters on the program than ever before.
For the audience, this will mean that every night will feel like a record attempt in laughter convulsions, shuddering and costume changes, and the director is considering installing a revolving door in his wardrobe.
There will, among other things, will have the opportunity to make acquaintances with old acquaintances such as Målermanden, Marianne, Baglænsmanden, Baker Jørgen, The Man who can't whistle, Kim Tim, the Smash Man and many more.
"Every year I have to make a decision about which of the characters will be part of the show, and every year there is someone I unfortunately have to choose from. This year I have taken the consequence so that virtually everyone, with a few exceptions, is involved," says Circus Director Søren Østergaard.
In addition, of course, the director has again this year hired some of the world's most talented artists, including break-neck acrobatics from Duo Stauberti, tempo juggler Claudius Specht and acrobats Duo Flash. Zoré España is ready to enchant the audience in her wheel, and last but certainly not least, the acrobat Hector, known to inveterate Nemo fans as the strong man from Duo Solys, will appear.
An evening in really good company in Denmark's only Zirkus for adults is in the works, and we look more than evet forward to seeing you.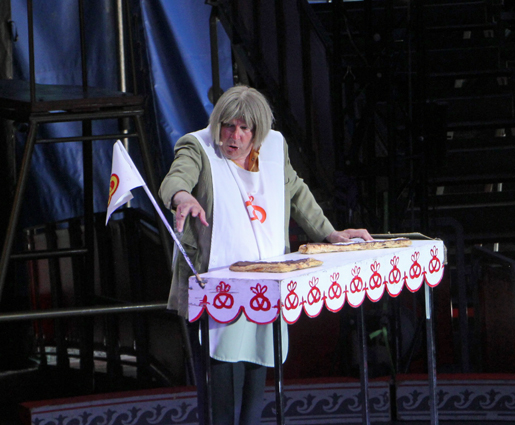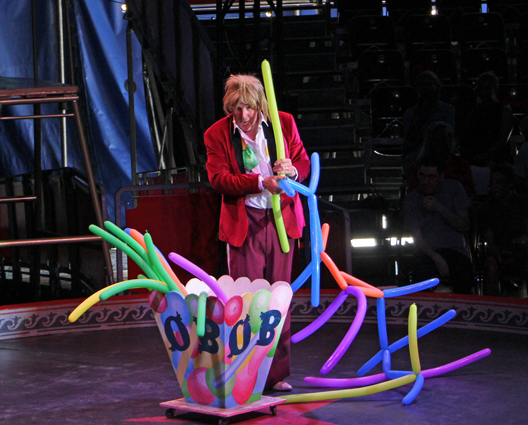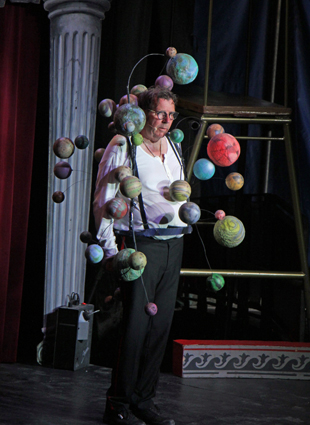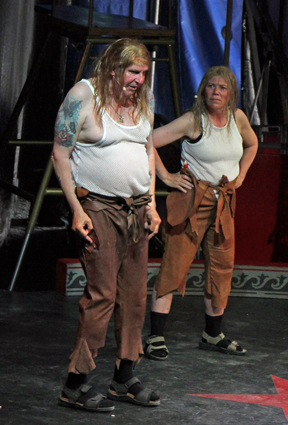 Baker Jørgen, The Balloon Man, the Planet Man and the Smash Man. The latter together with Søren Østergaard's PA Laura Kvist Poulsen, who obviously also has the task as PA for the Smash Man ...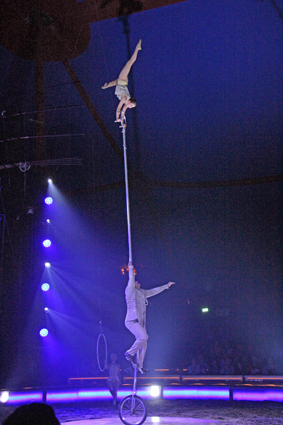 Duo Stauberti (Ditmar Stauberti and his niece Nancy) presents an impressive perch act where Ditmar ends up carrying the perch while riding a mono-bike. The Swedes saw them in Circus Olympia in 2018. They got a silver clown in Monte Carlo in January 2018. Photo from Circus Krone 2019.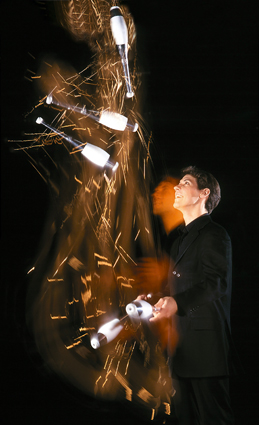 The juggler Claudius Specht was last time with Nemo in 2014.
The comic acrobats Duo Flash come from Ukraine and have performed, among other things, in the large German Circus Krone.
Zoré España performs in what in circus language is called the Cyr Wheel.

10 March 2023
Circus Arli 2023. This year's show is called Hopla-Mortale. There is season opening at the Mill Hill in the Copenhagen suburb Floeng on 2 April with a dress rehearsal the day before.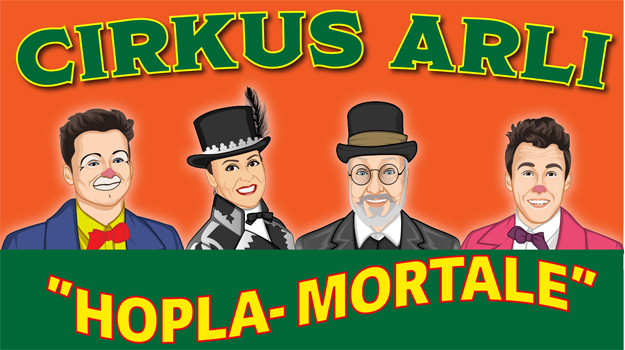 In this year's performance you will, as always, meet Martin, Bettina and Alexander Arli. Bettina can this year celebrate her 40th anniversary as a circus artist 😊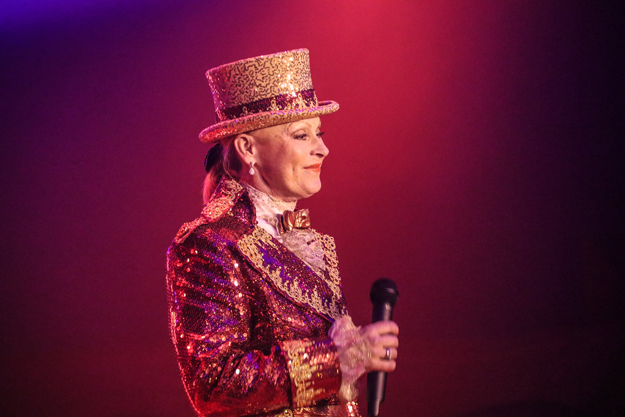 In 1983 Bettina Arli had her circus debut as a "target" in a knife-throwing act, where it was Martin who successfully placed the knives around the lady of his heart. For the past several seasons, she has been Circus Arli's elegant ringmistress
The performance also offers a dear reunion with the clown and multi-artist Francesco Fratellini, who last year very well deserved got the talent prize from the Danish Circus Award. This year, Francesco is doing his juggling act on a unicycle as well as various entrées and the main clown entrée together with Alexander Arli. His spouse Sarah Floores present acrobatics in the aerial ring and, together with Francesco, the entrée with the doll in the suitcase.
In addition to the aforementioned, The Skating Ramos performs with roller skates and under the name Jennifer & Adrian in aerial straps. They were most recently with Arli in the 2021 season.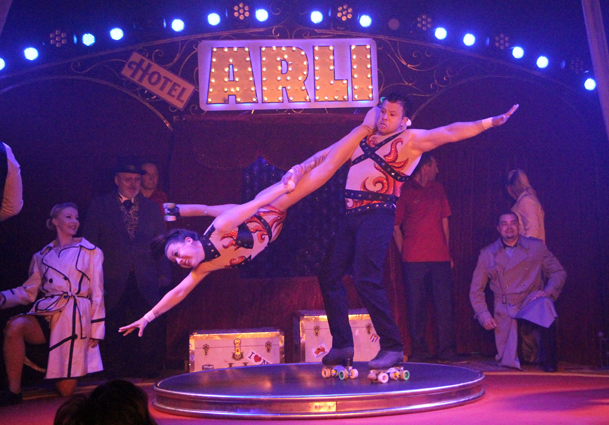 Skating Ramos
Jelena Vasiljeva does solo magic and a new illusion act. Her husband Sergejs Polupans is doing laser manipulation this year, something that has never before been seen at Arli. Jelena and Sergejs have also toured with Arli in the past, but with other entrées than the ones they present this year.

10 March 2023
Circus Trapez 2023. Circus Trapez has its season opening in Kolding on 8 April. Before then, they present the Easter Circus at Blokhus from 1 - 3 April.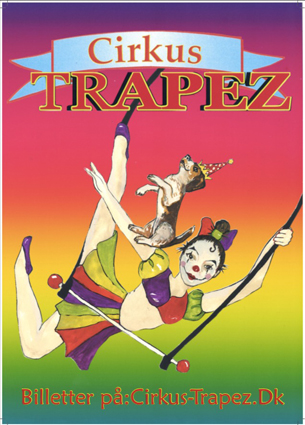 They call this year's performance The Sound of Circus 2023 and write (my translation):
Look forward to this year's Circus adventure when Circus Trapez tour with The Sound of Circus 2023. This year's show focuses on the fun, the impressive and the magical and unique moments that enchant the whole family.
The performance offers, among other things, fantastic neck-breaking acrobatics and impressive tricks from Hungary and Spain, respectively.
An amazing troupe comes all the way from Morocco, cool aerial artists, lovely animals and much more.
Look forward to 2 hours of live entertainment with The Sound of Circus 2023. We look forward to welcoming you.
In the month of April, some performances are given in tent and others in sports centres etc.

9 March 2023
GOING NOWHERE is presented as a new experimental and comic contemporary circus performance about the age of acceleration and the collapse of attention. In GOING NOWHERE body percussion, object manipulation and acrobatic dance meet the absurd, the funny and the grotesque through an individual's struggle to regain calm, focus and depth in his life. A physical comedy about the age of acceleration and the collapse of attention. The performance focus on our ever-increasing screen consumption, where the phone never leaves the thumb.
There is just one performer: Villads Bugge Bang, who among other things is educated at the now closed AMoC (Academy for Modern Circus) in Copenhagen.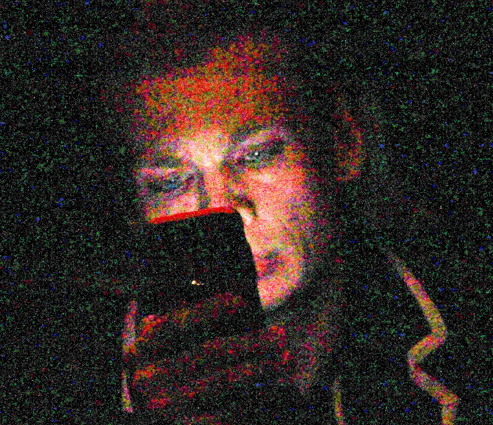 In the performance you experience, among other things, his skills as an artist and mimer. First, he eats an apple and then is disturbed by a mobile phone. As for so many people today, the mobile phone will take up a lot of his life - not as a telephone, but as a handheld computer. He dances to its music and then it runs out of power. He hunts for a plug for charging, and later tries to put the mobile away in both a waste bin and a cupboard. But without luck. He tries to eat it, but after a visit to the toilet it comes out again, and in a comical scene you see how difficult it is to wipe yourself behind with a mobile in hand. He tries to put the mobile in the cupboard again, but it falls out of the cupboard together with many other mobiles. The 1-hour long performance ends with him dropping on the floor, overcome by the mobile.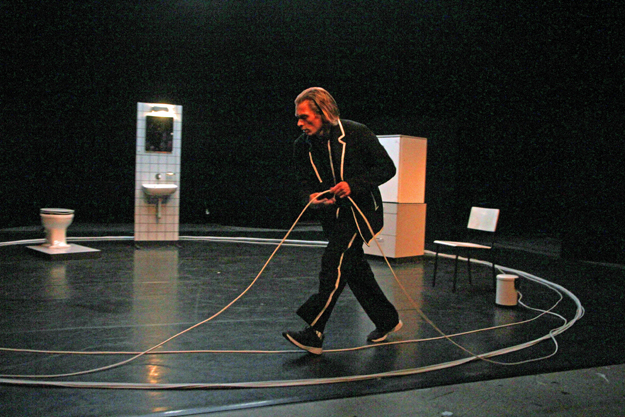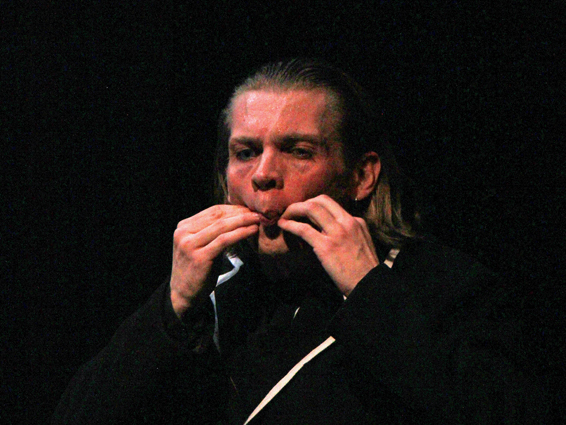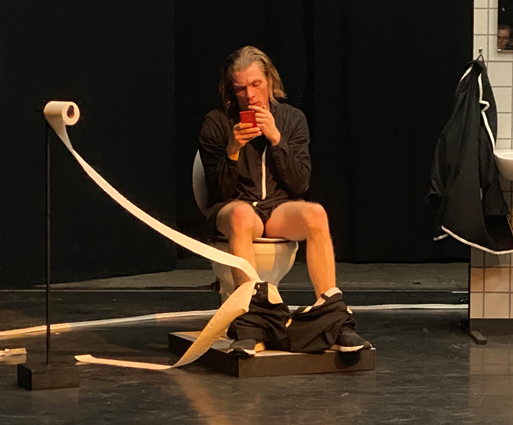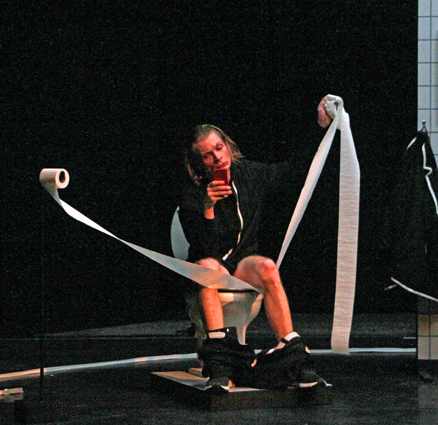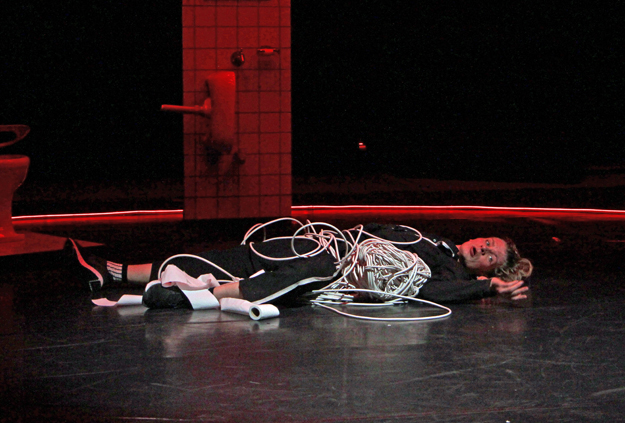 The thought-provoking performance is produced by the performing arts ensemble Out of Balanz and has received generous support from The Danish Arts Foundation and Odense Municipality and is being developed and produced in collaboration with DYNAMO Workspace for Circus and Performing Arts in Odense and AFUKScene in Copenhagen.
The audience for performances like this is hardly large enough for them to be presented without public subsidies.
The performance is directed by Troels Hagen Findsen with Katrina Bugaj as dramaturg. Mika Forsling and Kenneth Danielsen are responsible for an elegant sound and lighting design.

8 March 2023
Swedish circuses in 2023. There are 3 circuses in Sweden: The large Circus Brazil Jack, the medium-sized Circus Olympia and the small circus Rhodin. Circus Brazil Jack is run by Trolle Rhodin III with the assistance of his mother Carmen Lupascu Rhodin. Circus Olympia is run by Niklas Bengtson with the assistance of his mother Henrika Bengtson. Circus Rhodin is run by Diana Rhodin, who is the aunt of Trolle Rhodin III.
Circus Brazil Jack premieres at The Mill Square in Malmö on April 7. Here is what they write about this year's performance (my translation):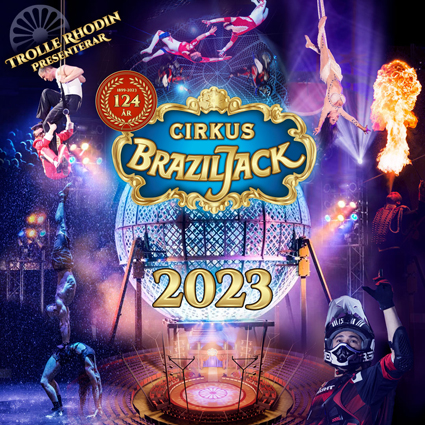 Brazil Jack presents its new animal-free program in 2023 with an extraordinary show. Forget everything you've seen before at the circus, because now we're taking the show to a new level! Outstanding circus artists from all over the world tackle the four elements: fire, water, air and earth in a show bursting with action, humour, beauty and festivity. The winged kings and queens of the circus sphere in the flying trapeze compete in bravery with the acrobats on their motorcycles in the globe of death defying the gravity of the earth itself. Tropical downpours overshadow an outstandingly spectacular program. Only in Brazil Jack's ring. Where else?
The show run for about 1 hour and 45 minutes long, including a 20-minute break.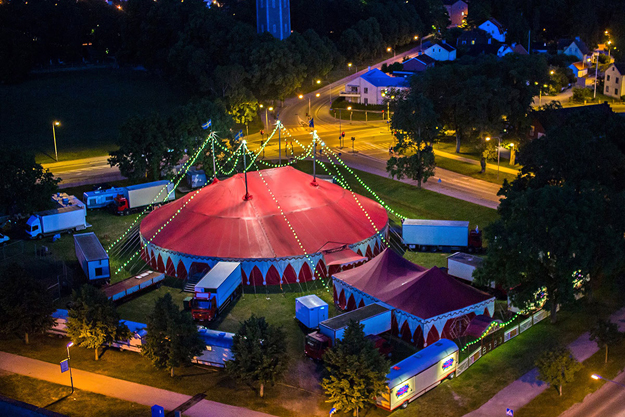 Brazil Jack's tent has a diameter of 36 meters and has ringside chairs and plastic bucket seats at the grandstand.
Cirkus Olympia premieres in Oskarström on April 1. This year's program looks like this:
Overture - Circus Olympia's orchestra under the direction of Valentin Smirnov
Abyssinia Troupe – Risley act
Nalle Clown – Circus Olympia's funny clown
Frida Evelina Persson - aerial acrobatics in a ring
Henrika Bengtsson - Circus Olympia's charming dogs
Nicolas Lagroni - bouncing ball juggling
Nalle Clown – Circus Olympia's funny clown
Irena Lagroni – foot juggler
INTERVAL
Daniel & Nahom - hand-to-hand acrobatics
Nalle Clown - Circus Olympia's funny clown is back
Duo Lagroni - comic knock-about table act
Niklas Bengtsson – liberty horses
Nalle Clown – Circus Olympia's funny clown
Abyssinia Troupe – acrobatics on a Russian pole
All performers in a colourful Grand Finale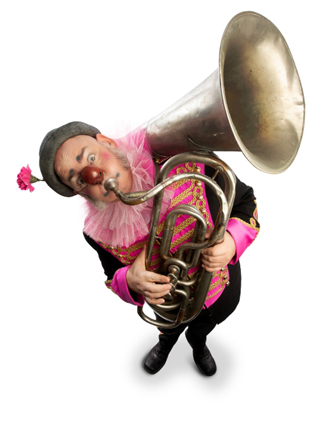 Nalle Clown (Nalle Laanela) is the founder of Clowns without Borders and has 30 years of experience in spreading joy to children and their families all over the world. It is his first tour with a tented circus. When Nalle is not on tour, he works internationally as a stage manager and teaches other clowns. He has written the book "The Clownmanifesto". Press photo from Circus Olympia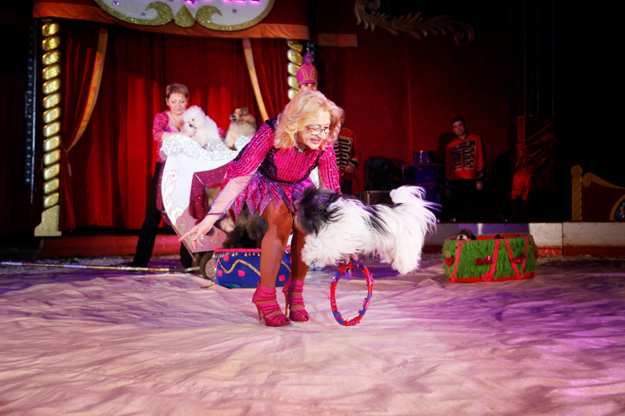 Henrika Bengtsson and her dogs are an indispensable part of Olympia's performance. Press photo from Circus Olympia. Photographer Linda Himsel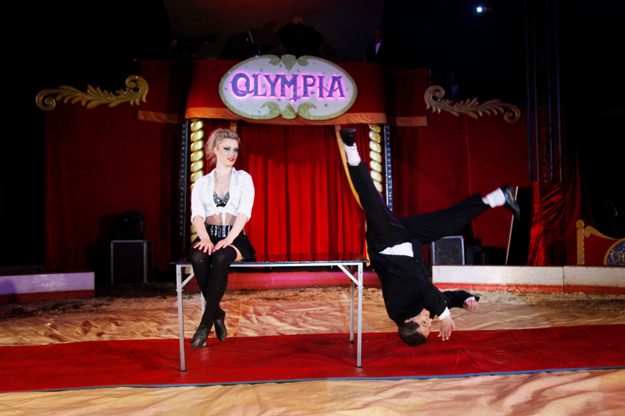 The comic stuntmen Duo Lagroni was also at Olympia in 2019. Press photo from Cirkus Olympia. Photographer Linda Himsel
Cirkus Rhodin premieres in Aakarp on 1 April. From 7 to 16 April, they will be on a lot at Per Albin Hanssonsväg in Malmö. The names of the performing artist is not yet disclosed.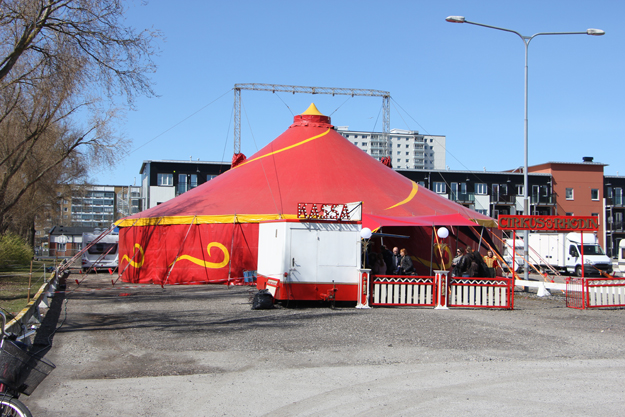 Circus Rhodin at the lot at Per Albin Hanssonsväg i Malmø. Photo from 2022

5 March 2023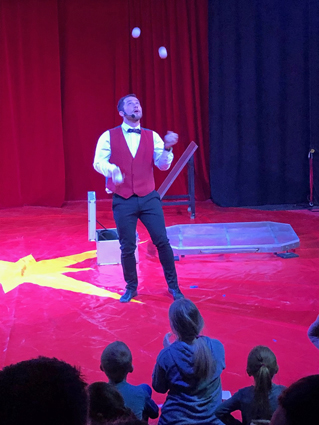 David Sosman visited the circus building of the youth circus Flik-Flak in Odense on 5 March. Here he presented a one-hour ONE MAN SHOW professionally, presentably and with great charm. Showed his skill in juggling balls, bottles and dangerous kitchen utensils.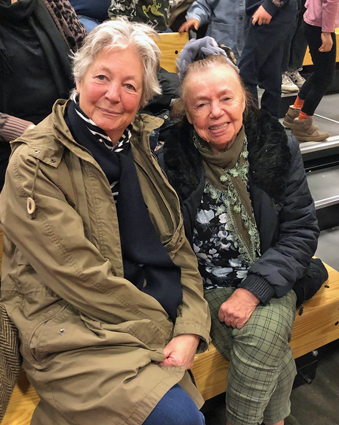 The eldest 'Dannebrog' Solveig Enoch was in the audience and proudly applauded her grandson David. Artists Helle Abildgaard and Solveig had a chat about the old days, when Circus Dannebrog toured all over Denmark. Circus Dannebrog has not been on tour since 2016. Text and photos: Viggo Salting

2 March 2023
Danish Circus Mascot will open the season on 1 April. They call this year's performance "GLAD I LÅGET". ("Happy Face"). They write (my translation):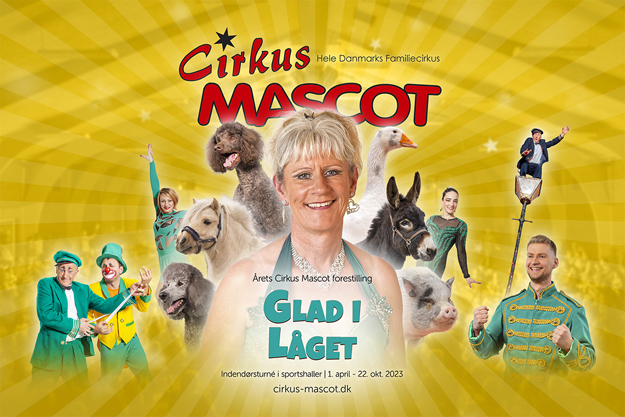 Get a "HAPPY FACE" in Circus Mascot 2023 - Indoor tour in sports centres 1 April - 22 October.
We still believe in the value of getting together around experiences that are happening in the moment. We believe it is essential to give children the opportunity to enjoy themselves - and we know that something very special happens between people when they take their seat around the circus ring.
This year's show is just as daring as always - silly poodles and dog tricks. Experience balancing act, clowning, two pigs, a pony and a goose, and a circus director with (lime) lights in his eyes - finally, it's time for the circus.
As usual, the performance lasts 90 minutes plus an intermission. The sound and light contribute to the circus magic, the popcorn tastes as it should, the candyfloss melts in your mouth, and you will be surprised when you hear that the show's oldest artist is 72. He has got a bright idea and is balancing on the edge of the possible.
It's cosy, really fun and present entertainment at children's level. It's a circus for everyone - and an experience you take home with you. Mascot 2023 will give you a "HAPPY FACE" – come and see it for yourself!
The 72-year-old artist is Lui Nereusz, who is both the Man in the Lamp Post and performs with handstand. He caused great excitement when he was part of Circus Mascot's autumn performance in 2021. You will also meet his young partner Eva Vitzo with glass balance. Eva and Lui were also with Mascot in 2016.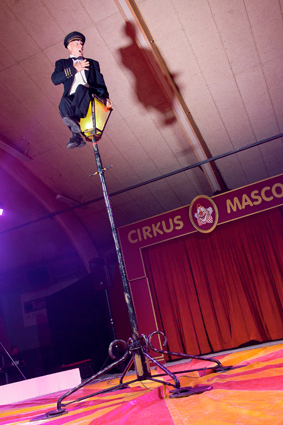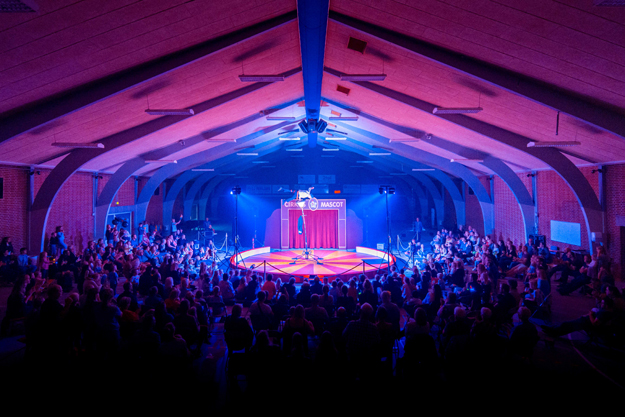 The Man in the Lamp Post aka 72-year-old Lui Nereusz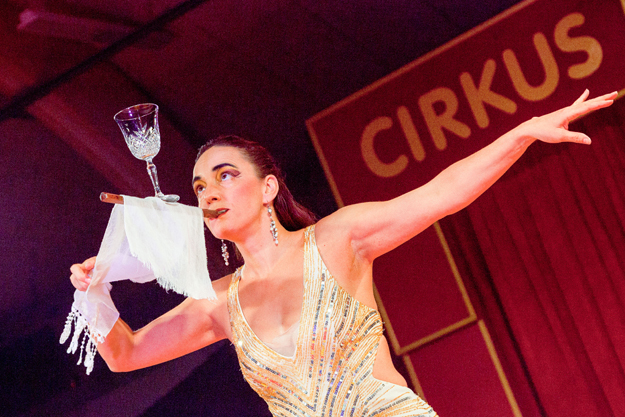 Eva Vitzo. Photos by courtesy of Circus Mascot.
Among the other performers are Circus Mascot's house clown Gulio and his family: Mrs. Tatiana and their son Husik. The show's animal acts are presented by Marianne Deleuran, and her son and co-director Daniel is ringmaster.

1 march 2023
Circus Arena 2023 - new artists in Circus According to Bubber and Julie 3. Circus Arena writes (my translation):
On March 31, Cirkus Arena begins this year's season with the show Circus according to Bubber and Julie 3. Julie Berthelsen and Bubber are back as this year's ringmaster and ringmistress and bring with them beautiful horses, the smell of sawdust and new phenomenal world class artists - this is real circus!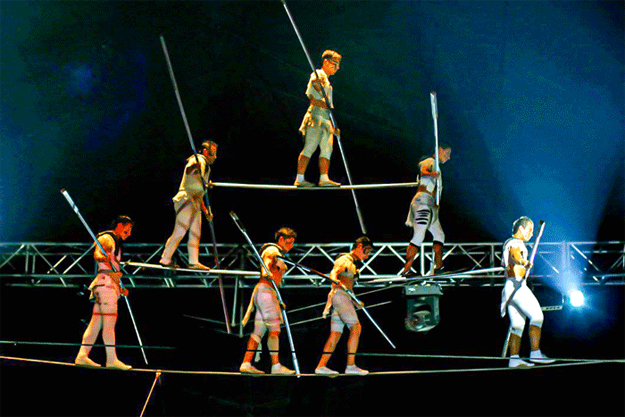 Ortiz with the balance on top. High up under the dome of the circus tent, you will be able to experience the high wire acrobats Ortiz, who both rides a bike, jumps and walks the 7-person pyramid - on the high wire of course. The 7-person pyramid has never before been seen in a circus in Denmark.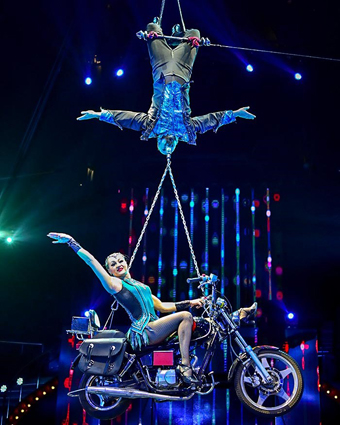 Duo Costache. You may have experienced the booming couple before in Circus Arena - but never before in this way. Duo Costache once again raises the level of what is possible in the arena, when Leonardo, among other things, carries Vita and a motorbike - with his teeth!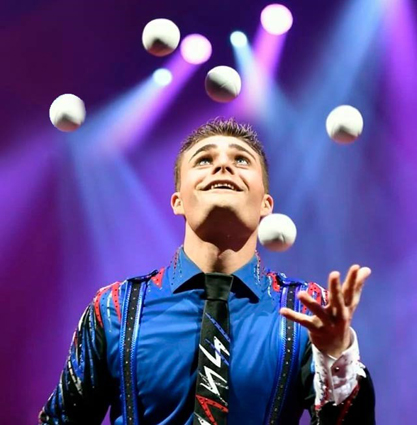 Michael Ferreri. See world-famous juggler Michael Ferreri, who has set several Guinness World Records for his ability to keep many balls in the air at an impressive pace - even when the lights go out.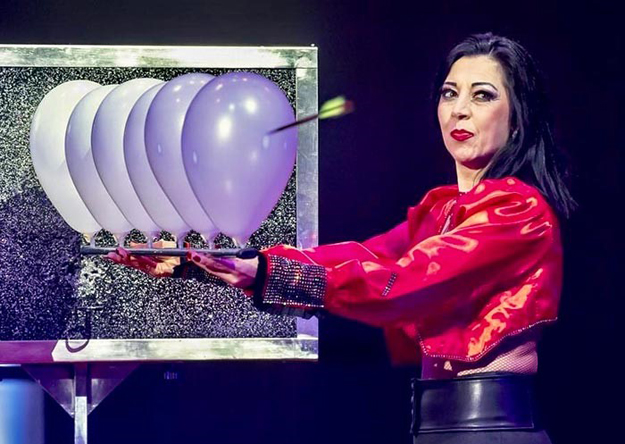 Duo Jasters. Duo Jasters throws knives and shoot bows and arrows with such incredible precision that you won't believe your eyes. Directly from the talent program Italy's Got Talent and the biggest circuses in the world.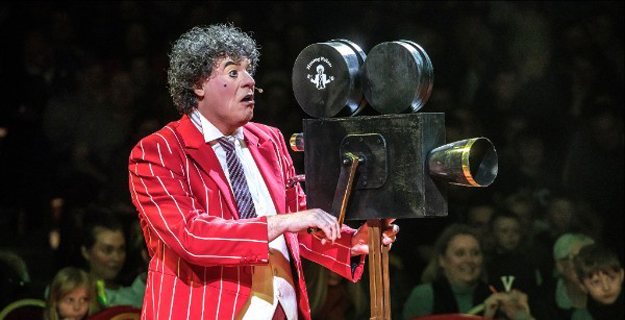 Circus Arena's house clown Jimmy Folco guarantees fun for young and old. Looking the audience in the eye and seeing them laugh is what Jimmy loves. Look forward to experiencing him with funny new inventions in the ring. - This photo and the above photos are all press photos from Circus Arena.
The high wire troupe Los Ortiz also performs in double wheel of death. In addition, the show features the tight wire dancer Steven Ferreri, Karsten Berdino with Arena's horses, the illusionist Jimmy Saylon and the aerialist David Hammarberg.
The 7-person pyramid, where the performers slowly walk over the wire in 3 levels was first time presented by a troupe led by German-born Karl Wallenda, who for many years performed in American circuses. But the 7-man pyramid is one of the most dangerous circus acts. On January 30, 1962, while performing at the Shrine Circus at Detroit's State Fair Coliseum, the front man on the wire, Dieter Schepp, faltered, and the pyramid collapsed. Three men fell to the ground, killing Richard Faughnan, Wallenda's son-in-law; and nephew Dieter Schepp. Karl injured his pelvis, and his adopted son, Mario, was paralyzed from the waist down. Dieter's sister, Jana Schepp, let go of the wire to fall into the quickly-raised safety net, but bounced off and suffered a head injury.
High wire acts are almost always performed without a safety net. In recent years, however, it has become common for safety reasons to place an inflated airbag under the wire. As Circus Arena writes, it will be the first time in Denmark that we can see the 7-person pyramid.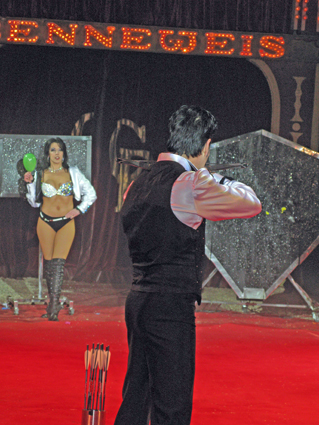 The Danes saw The Jasters in Circus Benneweis in 2011. The following year they were with Circus Arnardo in Norway and in 2016 with Cicus Brazil Jack in Sweden.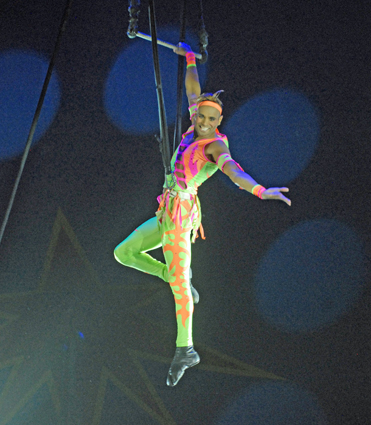 David Hammarberg has toured with the Swedish Circus Olympia for several seasons. In the 2016/17 season, he was in part of Wallmans' dinner show in the Copenhagen Circus Building. The photo is from 2019, when he toured with Norwegian Circus Arnardo. Photo: Thorbjørn Klæbo Flo.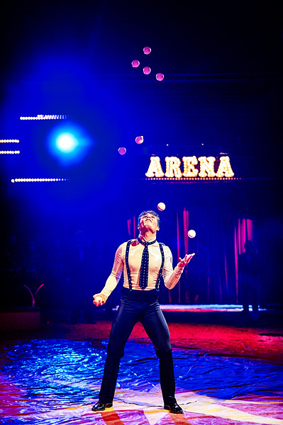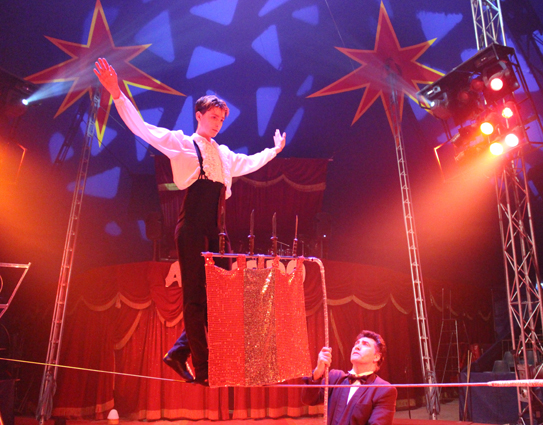 Michael Ferreri was also with Circus Arena in 2015. The following year, his younger brother Steven was first with Norwegian Circus Arnardo and then with Danish Cirkus Trapez. Top: Michael Ferreri in Circus Arena 2015. Photo: Rud Kofoed / Ajour Press. Bottom: Steven Ferreri in Circus Arnardo in 2016.
Cirkus Arena has its national premiere at Bellahoj in Copenhagen on 3 April with dress rehearsals from 31 March. The season ends on August 5 in Slagelse. The tour brings them to Funen, Jutland and Zealand and the islands. For the first time in many years, they are not visiting Bornholm.

1 March 2023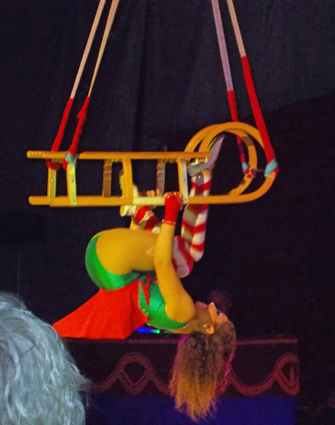 In connection with the review on February 21 of Circus Trapez's winter performance, I used a slightly blurry smartphone photo of Chantal Lutzny in her sledge-shaped trapeze. Finn Stendevad has now sent me the above somewhat better photo.

Link to news from 2007

Link to news from 2006