'
From Denmark
and other Scandinavian countries
Special feature: It all happens in Paris
A weekly updated internet magazine
Last updated : 15. July 2017
13 July 2017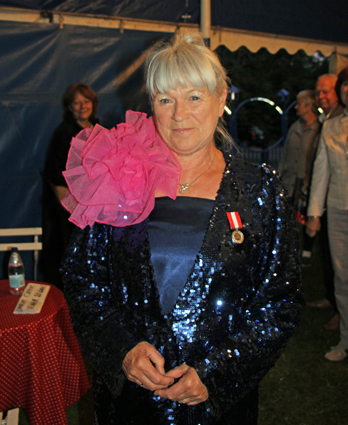 In connection with a performance on Wednesday, July 12, in the small Danish Circus Krone, Irene Thierry was appointed honorary member of Danish Circus Friends Association. A mark of honour which among circus directors so far only has been granted to the late Haddy Enoch of Circus Dannebrog. Irene Thierry's heart beats warmly for the circus. Not only her own but the whole industry. Irene has been owner of Circus Krone since 1984. She turned 70 in the spring and has announced that 2017 will be her last season in charge of the management of Circus Krone.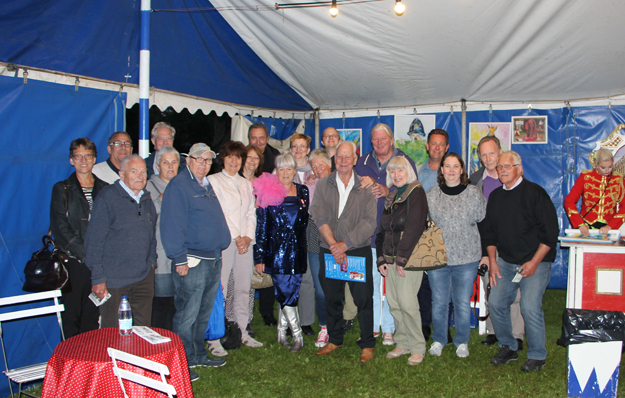 The performance was attended by 20 members of Danish Circus Friends Association. Some of the member had left before the group picture was taken after the show.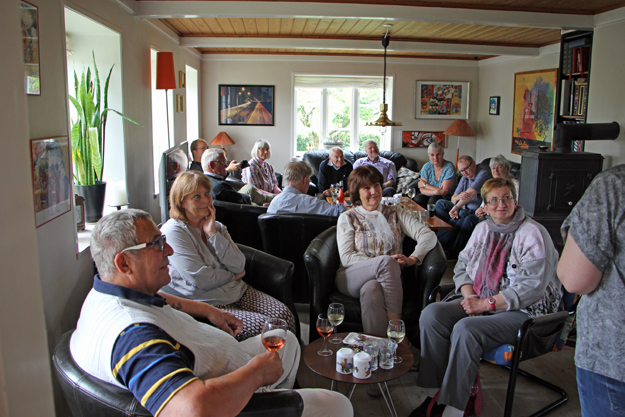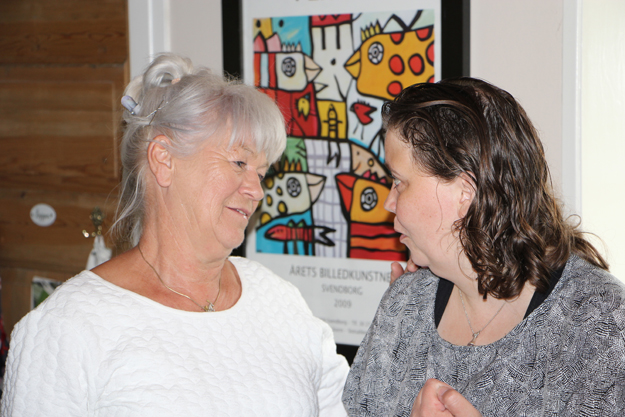 How is it possible to have 21 guests in an ordinary private home? Lise Kokholm tried this on July 12th where 21 members of Danish Circus Friends Association visited her private clown exhibition before continuing for dinner in Lundeborg harbour and performance in Circus Krone. On the bottom picture, Lise is seen in conversation with Irene Thierry of Circus Krone.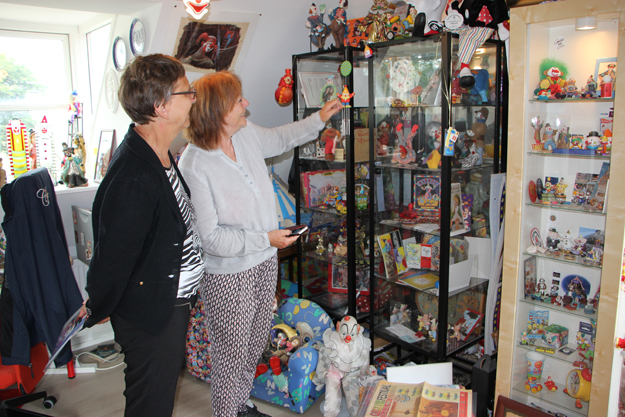 From Lise's clown exhibition. Click here to see more photos from the circus friends' rally to Funen.

10 July 2017
Benny Schumann back in the Copenhagen Circus Building. Wallmans, which are the producer of the dinner shows in the Copenhagen Circus Building, writes: "We are extremely proud to welcome Benny Schumann back here to the Circus Building, where he made his circus debut as a 5-year old. Benny will perform his thrilling plate-juggling routine, which first impressed audiences back in 1967.
Benny got his circus debut as a 5-year-old in in Circus Schumann in 1950. From 1951, he participated in the Matinée performances with different acts, including: as a 9-year-old cowboy on two ponies in full gallop and as a clown in handstand on his grandfather's arm. Circus Schumann started the season in Sweden, and in May the season started in the Circus Building in Copenhagen.
After Copenhagen, they performed in different places in Denmark and elsewhere in Europe, e.g. at the Bertram Mills Circus in London.
As a child, Benny learned to line dance and to train and perform with circus horses (his father was a famous horse whisperer). At the age of 13, he became a part of the evening performances in Circus Schumann. In 1965, he learned to juggle plates from the famous Erich Brenn, and in 1967, he premiered with this act in Circus Schumann.
At the end of 1967, Benny left Circus Schumann. Under the name of Ric Benny, he toured with his plate juggling act in Europe, the United States, Canada and Africa for the next 10 years.
In 1969, Cirkus Schumann was dissolved, and hereafter Benny travelled on tours in different contexts both in Denmark and throughout Europe.
In 1984, Benny successful solo performance "Hi Clown!" premiered. In the show, he performs as juggler, bugger, line dancer, magician, clown and with his own composed music and lyrics.
Since 1993, Benny has performed with Benny Schumann's Mini Circus, in addition to his solo show.
Over the years, Benny has received several awards for his efforts for the circus culture."
Benny Schumann will take part in the new show ENTOURAGE, which will premiere in September and run until June 2018.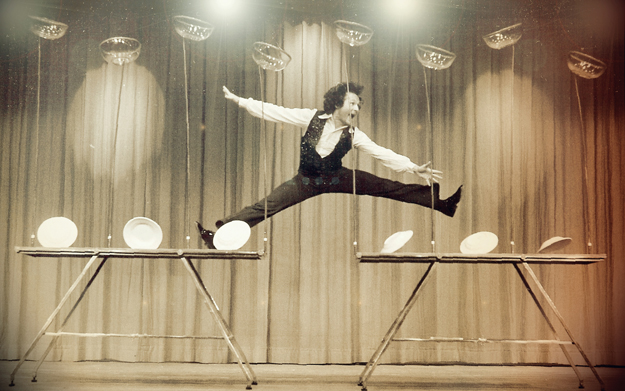 Benny Schumann and the spinning plates. Photo from approx. 1967. Benny Schumann's collection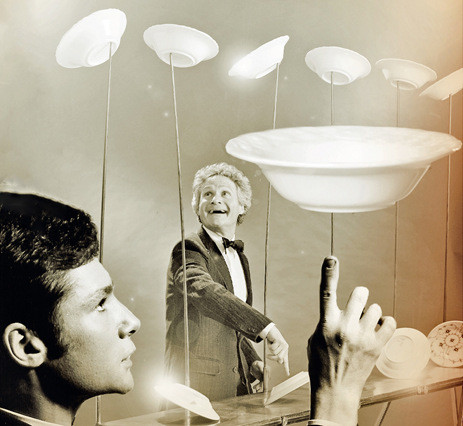 Photos from 1967 and 2017 mixed together. By courtesy of Benny Schumann.

10 July 2017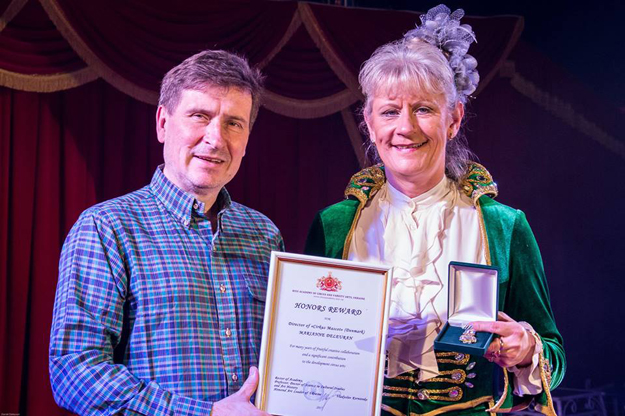 Honors Reward to Marianne Deleuran. Vladyslav Kornienko, head of the Kyiv Academy of Circus and Variety Arts in Ukraine, has been visiting Cirkus Mascot in Denmark. In that connection he presented the school's Honors reward to Marianne Deleuran as a reward for many years of creative cooperation and a significant contribution to the development of circus art.

10 July 2017
In the review on July 6th of a visit to Circusland, there was no link to photo albums, as I knew that the talented young photographer Jacob Boas Leitisstein would visit Circusland and create such an album. Now Jacob has been there - click here to see his photos.

9 July 2017
Obituary: David Jamieson, who for many years has been editor-in-chief of the English circus magazine King Pole, passed peacefully away on 9 July in the morning after a very long struggle with Parkinson's disease.
He was former president of the Circus Friends Association of Great Britain. His enthusiasm for circus has touched many people throughout his life, in person, through his many published works and 'King Pole', which he made a leading circus magazine. He will be sorely missed by many.

9 July 2017
IT ALL HAPPENS IN PARIS --- even during the summer season : a small theatre ESSAION, nicely decorated, seating about 100 spectators, proudly presents LE CLUB DES MAGICIENS, a family-friendly magic show featured by magic entertainer LOIC PIET and his rather burlesque partner JEAN SIFFERMAN.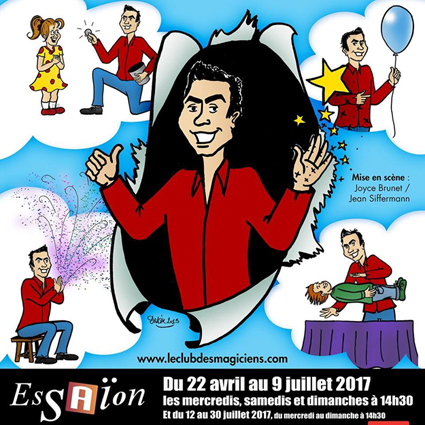 A big screen serving as back-drop displays pictures related to the effects, a certain novelty, not often seen in this context.
The show is performed dynamically, it is hilariously funny and LOIC PIET beams out joy to perform - the spectators are enthralled, both kids and grown-ups. LOIC PIET has adopted the efficient, commercial idea to hand out membership cards to all - LE CLUB DES MAGICIENS - it works as it should, everyone keeps the card - and many will surely return to similar shows.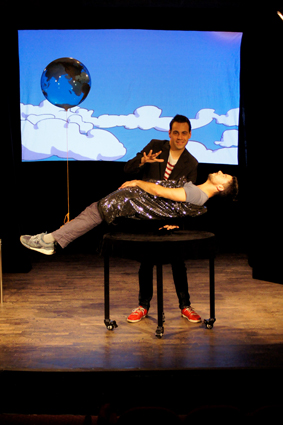 Photo by courtesy of Loic Piet
A most clever idea!!The effects are all classics - but presented in a personal way - the well-known SNOWSTORM IN CHINA has been dolled up as a Japanese feature - very impressive.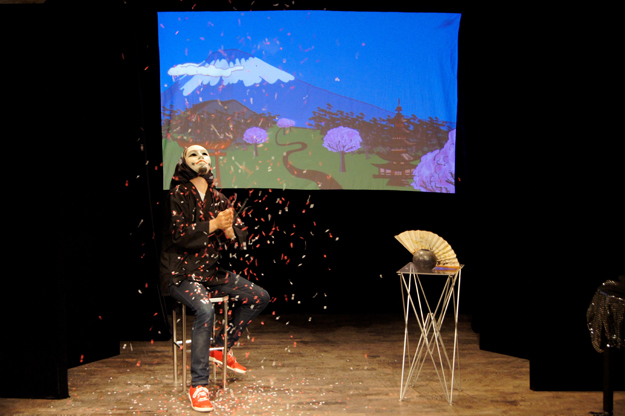 Snowstorm in China. Photo by courtesy of Loic Piet
The adults give a generous applause and they are happy to see their offspring having a good time.
Length of show: one hour, the small ones get a signed poster when leaving the premises.
Excellent entertainment for the entire family!!
Venue: Theatre ESSAION, 6 rue Pierre-au-Lard, 75004 Paris. Metro: Hotel de Ville /= Townhall/.
The performance play from Wednesday to Sunday until July 30, from August 23 to September 3 every day and then from September 6 to September 17 on Wednesdays, Saturdays and Sundays at 2:30 pm for all dates.
This present performance is directed by Joyce Brunet and Jean Siffermann.
This show is produced by the company "1,2,3 Spectacles" directed by Mr. Laurent Chevrier.
See more: Se mer: http://www.leclubdesmagiciens.com/
IT ALL HAPPENS IN PARIS!!!
------------------------------------------- reported by ZARRO ZARRO.

7 July 2017
On Thursday 13 July the twins Nadia and Dawid Benneweis can celebrate their 30 years birthday. Prior to season 2015, Diana Benneweis handed over the daily management of Circus Benneweis to Nadia and Dawid, and by the end of the season, Diana chose to retire. Nadia and David decided to take a break for a couple of years while they are working on a brand new concept for the estimated circus which was founded on 13 July 1887 by their great great grandfather Gottfried Benneweis.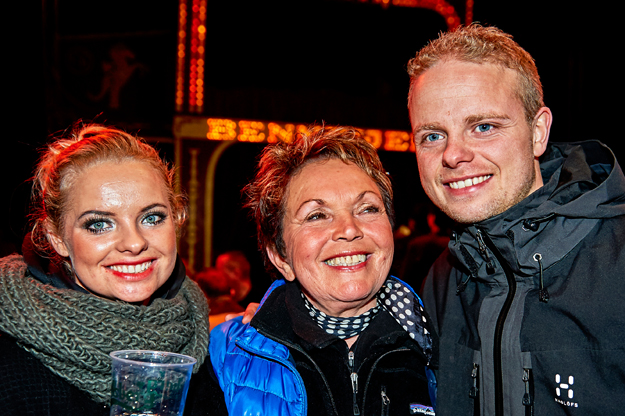 Nadia, Diana and Dawid Benneweis photographed after the premier in 2015. Photo: Rud Kofoed / Ajour Press

6 July 2017
Circusland 2017. Circusland is a theme part in Circus Arena's winter quarters in Aarslev by Slagelse. Is it as Circus Arena owned by the Berdino family. From 1 July to 6 August it is open every day from 10 to 16.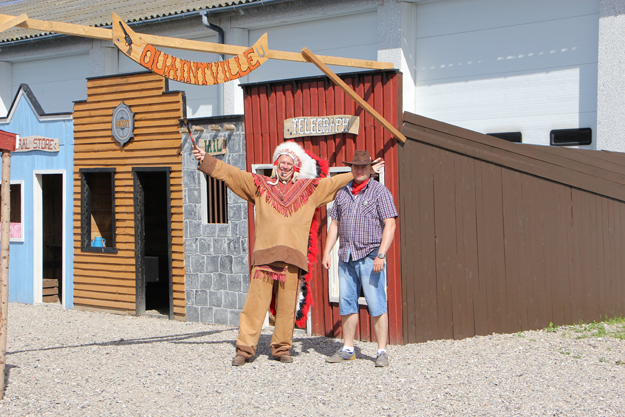 With a formidable mood Chief Talking Waterfall (Brian Behrendt) welcomes visitors to Circusland. Here is Brian and the sheriff photographed in front of the new Western city. With an entrance fee of just 119 DKK (16 Euro) and free parking as well as reasonable prices at the bistro and kiosks there is for families with children up to 10-11 years' better value for money in a visit to Circusland than in a visit to the amusement parks BonBon-Land, Tivoli and Bakken. At least my 9-year-old granddaughter and her girlfriend enjoyed the almost 6 hours spent in Circusland.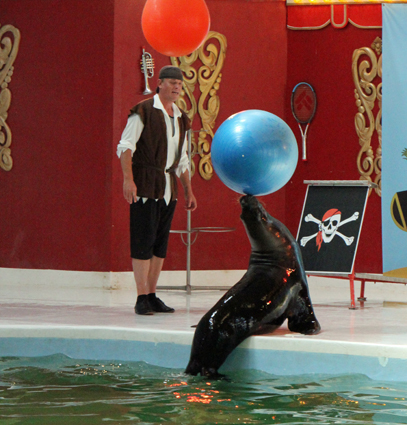 As in previous years, Circusland offers a sea lion show. This year with a pirate theme.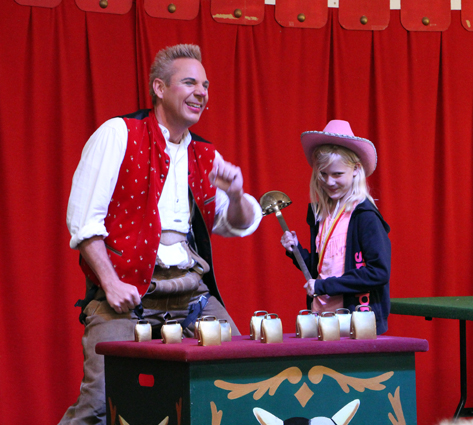 Where other amusement parks focus primarily on "rides" the main attractions in Circusland is live entertainment in form of a wide range of shows: sea lion show, western show, children's show and Cirkus Landino. The individual shows are free of charge when you have paid the entrance fee to the park. On the photo you can see one of the most beloved clowns in Scandinavia: the Austrian Don Christian, with one of his entrées at the children's show. He takes also part in the Western show and the performance in Circus Landino.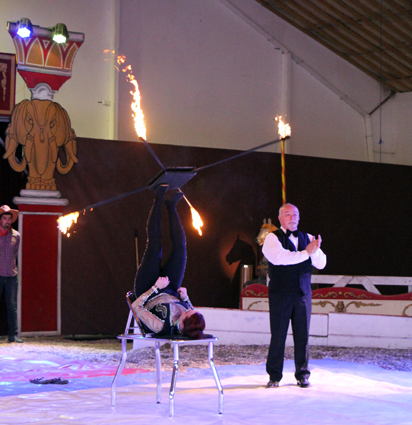 In the almost one hour long show in Circus Landino you will amongst others meet Duo Biasini (Claude and Silvana Biasini). Silvana, 44, has worked in trapeze for many years, but has now switched to the physically slightly less demanding antipode (foot juggling). Her mother, who now is 72, was known as an excellent foot juggler. "And she still can do her act," Silvana told me. Her family is known as bike artists with many seasons e.g. at Circus Schumann in the Copenhagen Circus Building and with Circus Benneweis. In addition to the antipode act she present together with Claude a magic act which also includes a bit of quick change.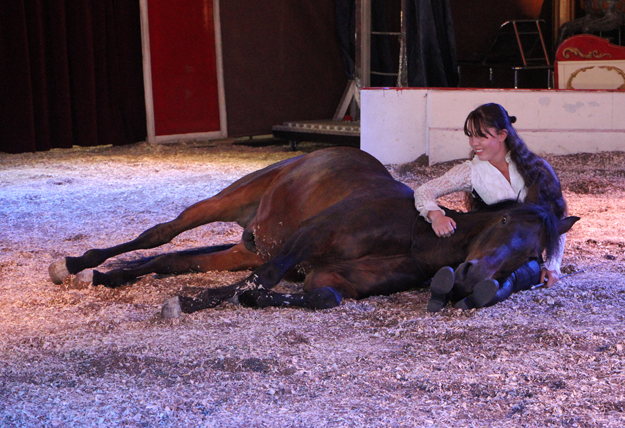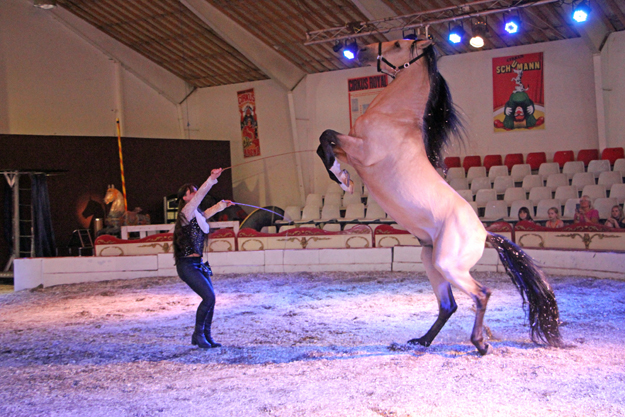 With the well-known horse trainer Suzanne Berdino as park manager there are of course horses in the shows. Suzanne's daughter Charmaine ends the performance in Cirkus Landino with a fine act with two Spanish horses. The act includes both high school riding and liberty dressage. Perhaps the best horse act we this year can see in a Scandinavian circus ring?

4 July 2017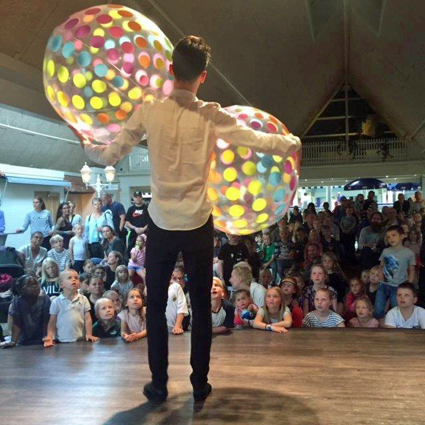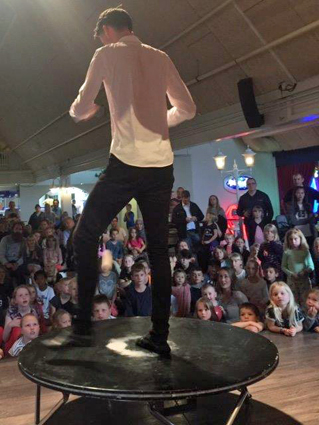 Throughout the month of July you can every Monday, Wednesday, Friday and Sunday at 20.00 see a 25 minute long circus show with Alan Sulc in the holiday resort Lalandia Rødby. Alan Sulc present a slinky show, high-speed juggling with new music as well as ball throwing to the public. Many Danes will probably remember Alan Sulc as the top act in Cirkus Benneweis in 2004. In the autumn 2014 his act was part of Circus Arena's performances in Kolding Shopping Mall just as he was on tour with Arena to Greenland. Photo: Mr. Plys

2 July 2017
New ringmaster in Circus Trapez. On their website, Circus Trapez writes (my translation): "David Sosman is son of the founder of Circus Trapez - Isabella Sosman. David has a glowing heart for circus and is an artist himself. David joins Cirkus Trapez in early July after completing his bachelor In Political Science and History from The University of Glasgow and take over the task as Ringmaster & Performance director".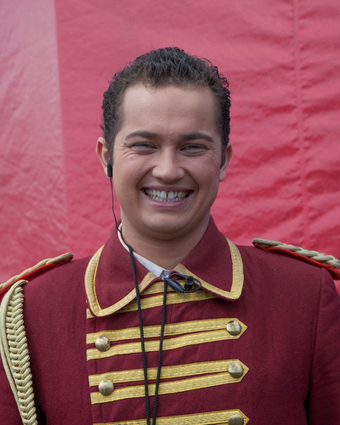 David Enoch Sosman. Press photo from Circus Trapez
Until now the former Benneweis ringmistress Judy Glosted have been ringmistress for Circus Trapez. Now she is replaced by David. Also Circus Trapez's former marketing manager Louise Mandrup has left Circus Trapez.

Link to news from 2007

Link to news from 2006