'
From Denmark
and other Scandinavian countries
Special feature: It all happens in Paris (when relevant)
A weekly updated internet magazine
Last updated : 31. July 2020
31 July 2020
Circus Arena 2021. As you know, the corona forced Circus Arena to cancel their 2020 tour, which would otherwise have marked their 65th anniversary. Instead they are celebrating the anniversary in 2021.
They write (my translation): "As a consequence of COVID-19 and the authorities' ban on gatherings of over 500 people until 31 August, we do not have the opportunity to have any of our planned circus performances for you in 2020. Therefore, Circus Arena's 65th anniversary will be celebrated in 2021 with Bubber, Julie Berthelsen, Alex Porsing and the rest of the star team of artists who should have participated in 2020. "
Cirkus Arena has already announced the tour schedule and opened for ticket sales via Ticketmaster.
Season opening will be on March 24 in Copenhagen. They will stay in Copenhagen until 11 April. Then the tour goes after stops in Holbæk and Kalundborg as usual to Jutland and Funen. From there via Langeland to Lolland and Falster, before they on 26 June is back on Zealand, where the season ends August 14 in Slagelse. Of course, they do not fail to visit Bornholm, where they are from12 to 18 July.
As it looks now, the performing artists are the same who were engaged for the 2020 season:
Ringmaster and ringmistress Bubber and Julie Berthelsen
Alex Porsing and his motocross team FMX Denmark
The Danguir Troupe on high wire (Mustafa Danguir Troupe).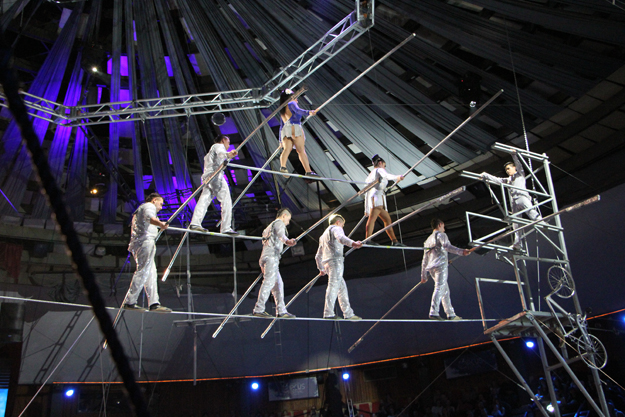 The Danguir troupe present among other tricks the famous 7-man pyramid. It has never before been shown in Denmark. The Danguir Troupe has been with Ringling in USA and in the German Circus Krone. The photo shows another troupe, Gerlings, with the 7-man pyramid. The Wallenda family, led by Karl Wallenda, were the first to perform this difficult and dangerous trick. In 1962, a terrible accident happened: the front man in the pyramid stumbled and 3 of the artists crashed. Two were killed.
Rola-bola acrobat Paulo Kaiser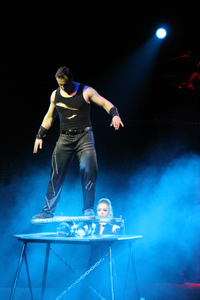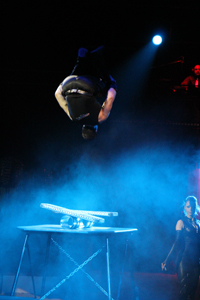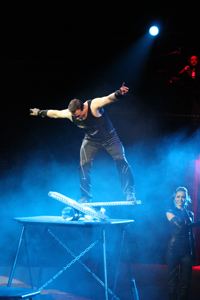 Rola-bola acrobat Paulo Kaiser was with Arena in 2016. In 2019, he performed in Circusland. His specialty is jumping from board to board
Wolfgang Lauenburger and his dogs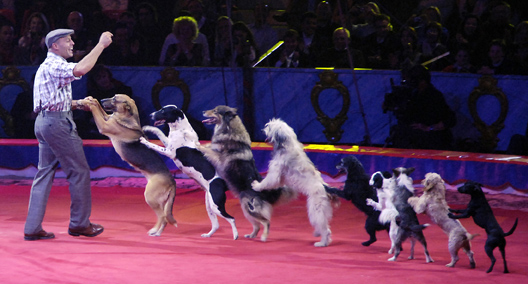 Wolfgang Lauenburger was with Arena in 2010 and 2015. Press photo from Circus Arena 2010. In 2008 he appeared in Benny Schumann's autumn performance.
The Acrobats Tumbling Troupe
Laura Berdino with liberty horses
Duo Costace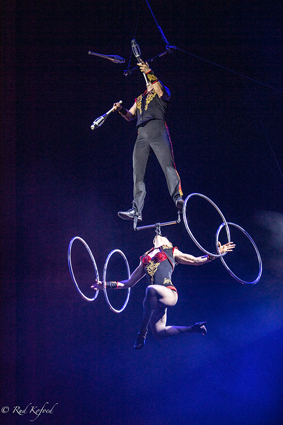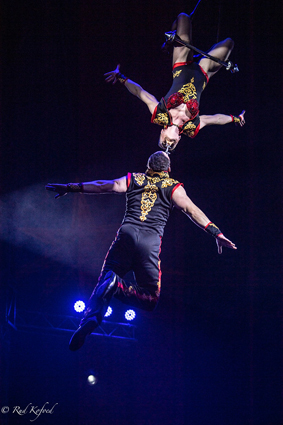 Duo Costache was also with Arena in 2017 and 2019 with respectively a perch act and an aerial act. Photo: Rud Kofoed / Ajour Press
Circus Arena's house clown Jimmy Folco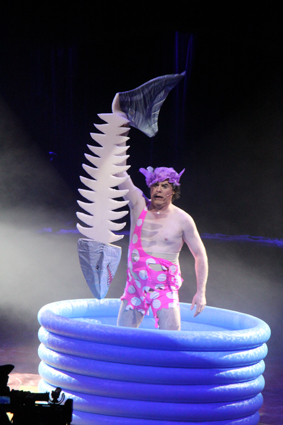 With a few exceptions, Jimmy Folco has been part of Arena's performances since 1997. Here he is seen in the well-known entrée with the shark in the bathtub. The entrée was probably invented by the Swiss clown André Broger, but with greater or lesser talent copied by many other clowns.
Circus Arena's dancers

30 July 2020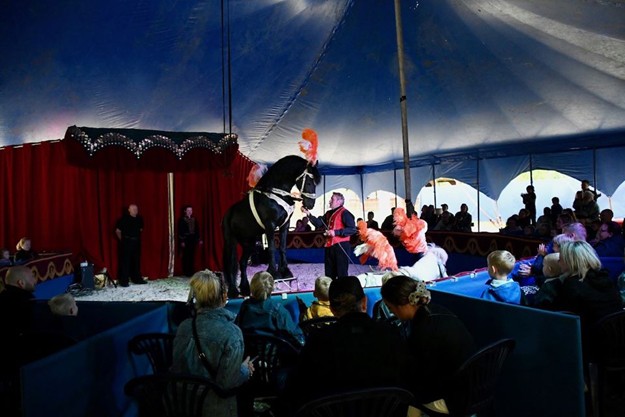 Circus Open Air has had success with their approx. 45-minute long performances in Madsby Playground in Fredericia. Due to this they continue to have performances all Fridays, Saturdays and Sundays in August and September. They do also have a number of performances in nursing homes and at various squares. Isabella Enoch Sosman from Cirkus Trapez run Circus Open Air. Click here to watch a nearly 10 minute long feature with Isabella from TV Syd (language Danish). And here to see a video with her son David, who also participates in the performances in Circus Open Air.

29 July 2020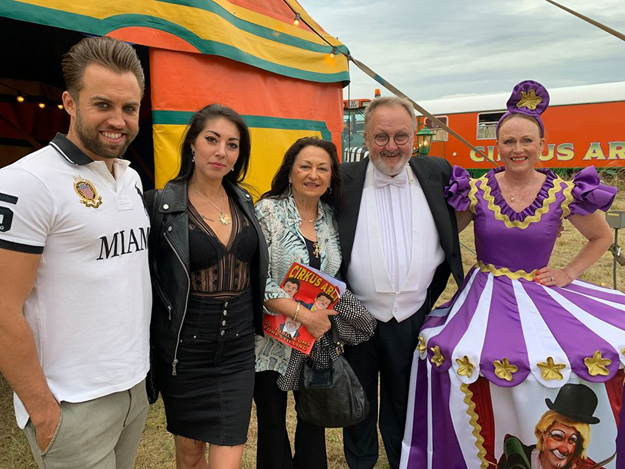 On July 27, Circus Arli had a visit by their colleagues from the Swedish Circus Brazil Jack, which not is on tour this year due to the corona. On the photo you can see Trolle Rhodin III, his girlfriend Susan Jasters, his mother Carmen Lupasco Rhodin and Martin and Bettina Arli. Susan is the eldest daughter of The Jasters (Elena Busnelli & Giacomo Sterza), whose fine act with knife throwing and crossbow the Danes could see at Circus Benneweis in 2011 and the Swedes at Circus Brazil Jack in 2016. In Brazil Jack, the audience also met Susan's little sister Jessyka Jasters with foot juggling. Susan herself has participated in the Cirque de Soleil performance TOTEM, where she and a partner presented a roller skating act.

28 July 2020
Circus Baldoni expands the tour to Funen and Jutland. On Facebook, Circus Baldoni writes (my translations):
A season that we had prepared for could be the hardest and toughest ever has become the season with the most visitors, the most smiling, clapping and laughing audience ever!!!
As you all know, we started 3 months later than usual, and therefore we have chosen to extend our tour a little bit. We are coming to Funen and Jutland. The performances on Funen will be in our tent (Tickets for some of the performances can already be purchased at www.baldoni.dk), while our visit to Jutland will be indoors in sports centers.
The visit to Funen is in the first half of September. Circus Baldoni visited Funen in the years 2002 to 2006. However, the number of visitors were a bit disappointing, which is why they since have stayed on Zealand. But this year, when no other circus has visited Funen or Jutland, they have decided to try their luck on the other side of the Great Belt.

28 July 2020
Circus Finlandia 2020. The Finnish Circus Finlandia, which this season can call itself the largest in the Nordic region, opens the season on 6 August in Karis (Karjaa). The season ends November 1 in Helsinki. In a normal season, they would have premiered in April and ended the season in mid-October.
The cast is
Fumagalli and his brother Darix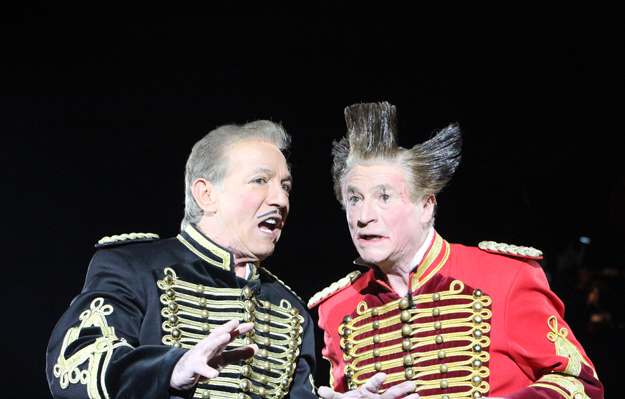 The Danes met Fumagalli and Darix in Circus Benneweis in 2003 and 2006. The Swedes in Cirkus Scott in 2002 and 2012. The couple's best known entrée is Fumagalli's drunken man version of the classic Busy Bee entrée. The picture is from German Circus Krone in Munich 2018.
Vlad Olander and his cats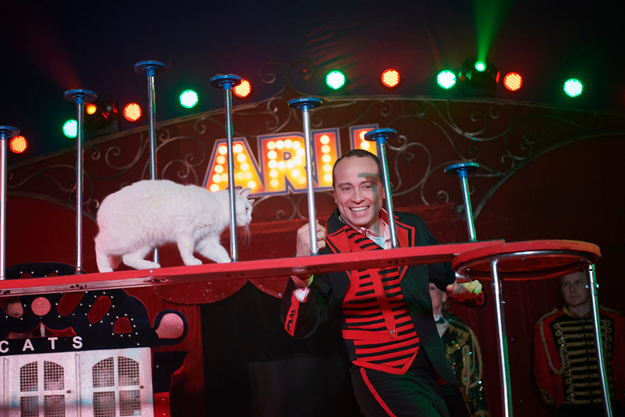 Vlad Olander and one of his cats. Photo: Rud Kofoed / Ajour Press. Vladislav Olander toured Denmark was with Circus Benneweis in 2009 and 2013 and with Circus Arli in 2018. The Swedes met him in Cirkus Maximum in 2008 and in Cirkus Brazil Jack in 2011. In 2012, the Finnish audience saw him for the first time in Cirkus Finlandia. His cat act is considered one of the best on the market. In 2018, it was nominated for the award for the best act of the year by the Danish Circus Award.
Oleg Izossimov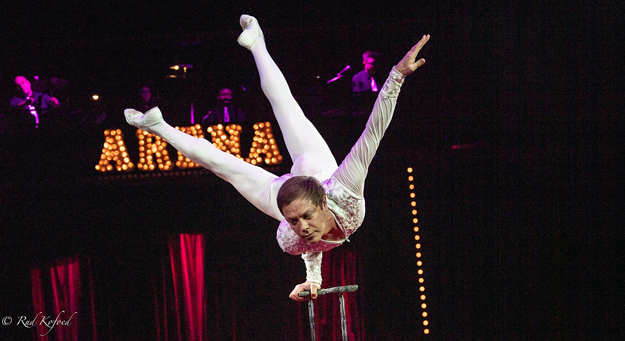 Oleg Izossimov performed on the Open Air Stage in Tivoli in 1996 and at Circus Arena in 2019. Photo: Rud Kofoed / Ajour Press
Allan Sulc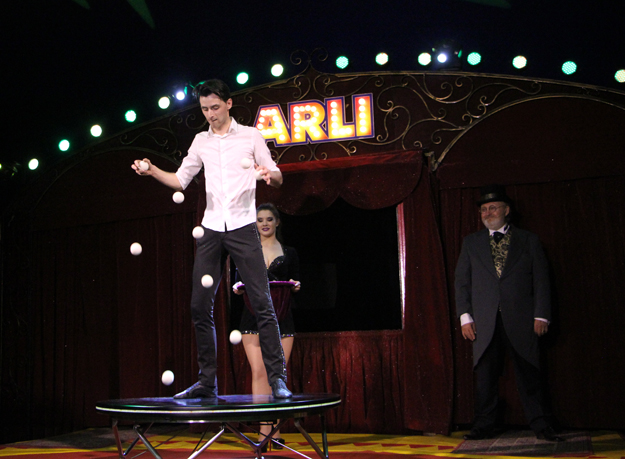 Only 12 years old, Allan Sulc won gold at the European Youth Circus festival in Wiesbaden. In January 2004, as one of the youngest artists ever, he got a bronze clown in Monte Carlo. Later that year he was in Circus Benneweis, where to the tunes of Safri Duo's music he bounced the juggling balls down in his podium with incredible speed and safety and became the top act of the year. In 2019, he was with Circus Arli and was among the nominees for the Danish Circus Award's prize for the best act of the year.
Lucky Hell, sword swallower
Sokolov troupe, springboard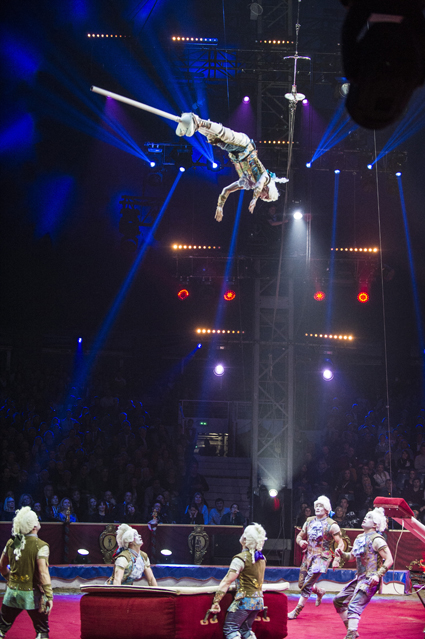 The rococo-dressed Sokolov troupe performs wild leaps with great certainty. Photo: Rud Kofoed / Ajour Press. The picture is from the Monte Carlo festival in 2014, where they got a gold clown. Click here to see a clip from their performance at the Monte Carlo Festival in 2016 (Golden Festival)
Alexander Batuev contortion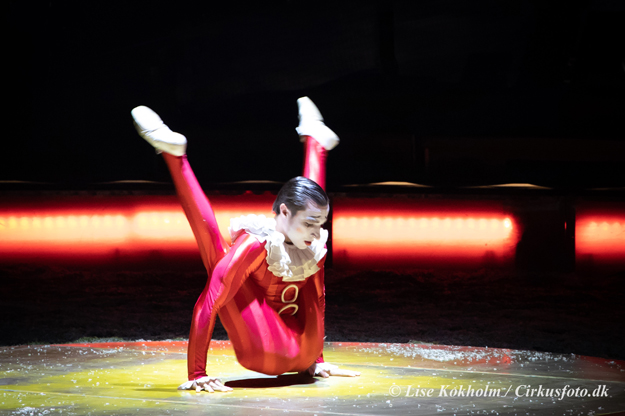 Alexander Batuev has performed several times in the German Circus Krone. Photo: Lise Kokholm from Krone's 2019 performance
Maria Cordwell-Ignatova & Ignat Ignatov. Ignat Ignatov comes from the well-known equestrian family and has worked for Circus Finlandia for several seasons. Maria is his daughter.
The performance is presented by the ringmaster Sebastian.

24 July 2020
Circus Hjemve (the Danish word for homesickness) Jørgen Lorenzen saw the performance at the harbor in Ebeltoft 22 July at 17. Jørgen writes (my translation):
Now there was a circus in Jutland this corona summer. Circus Krone and Tonny Trifolikom (Circus Mongo) had joined forces to have a number of performances in Ebeltoft during the month of July - in a place that Syddjurs Municipality had made available free of charge at the Marina in Ebeltoft.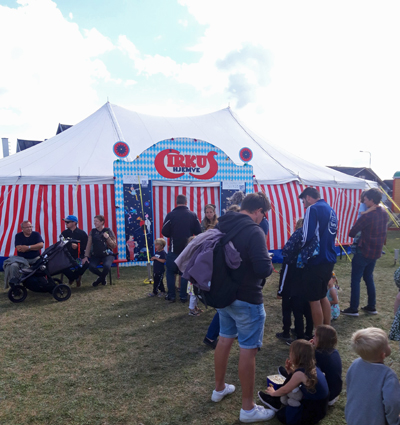 The equipment and the tent came from the Circus Krone circus, and Professor Trifolikom was responsible for most of the program. There was free admission, and at the end they passed the hat round.
Tonny Trifolikom is a source of power for humor, crooked and subtle ways of thinking and speaking, jokes and crazy ins and outs. It is all carried by a cordiality, warmth and good mood. Never ironic or sarcastic or mean. But always with a clown mind, where things are turned upside down.
Here is e.g. his warm-up remarks: "Those who have not come in - will they raise a hand? Those who have no hands let them down."
Frank Thierry was bandmaster and ringmaster.
Tonny Trifolikom started the show with an act which was inspired by George Carl's raving fight with the microphone stand. It turns into a cracked magic with ducks - which the children loudly commenting with good suggestions and helpful remarks.
Andreas follows - with a juggling act with clubs - up to 5. Andreas started his career in the youth circus Flik-Flak, received an education at AFUK and has traveled with Danish Circus Krone. And he is - together with his girlfriend Astrid, who was assistant stage manager – crazy with circus.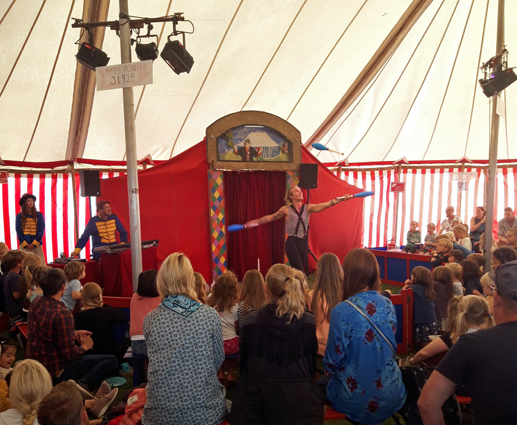 The juggler Andreas
Tonny has the next entrée where he wants to clean with a mop that comes almost alive and lives its own life. There are memories of Jose Michel, who adorns himself with a mop while he sings: Save my love. Eventually, Tonny gives up the odd fight and take a drink from a bottle named: booze.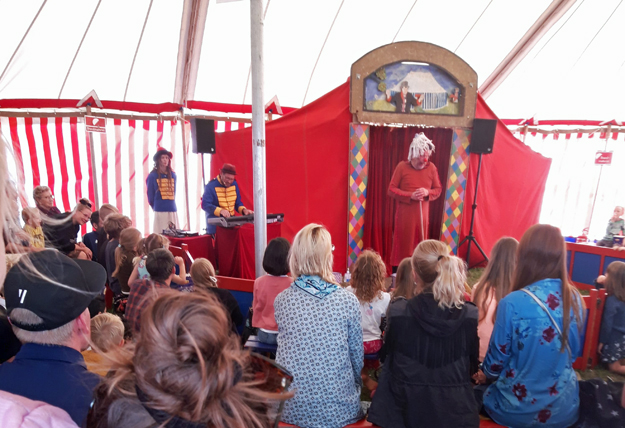 Tonny Trifolikom
Then it's Andreas' turn again. This time with a Russian stick / balance stick. Frank's comment: "It was bought in the discount DIY center jem & fix. We have put Tony's red socks at each end of the stick and you can smell it in a little while. "
And then comes the climax: Tonny Trifolikom dressed as Spiderman, who wants to make a human cannonball act. He gets a boy to help him. The boy is made ready for shooting. "Nothing happens - with me", Tonny comforts him. However, they do not have a fire, so Tonny has to go out to the audience: "Is there a lighter present?" And finally, he manages to set fire to a firecracker. And with that, it's the end of the show, and all 4 performers are presented before people go home for dinner.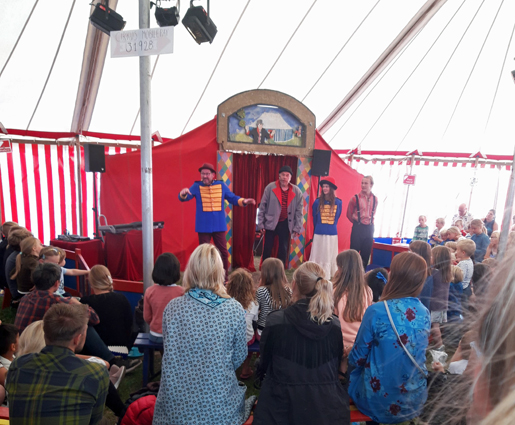 Finale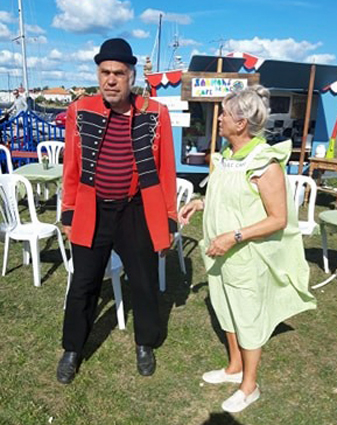 Tonny Trifolikom together with the "old" Krone director Irene Thierry, who had hoped to be able to celebrate her 70th artist anniversary this year in a circus ring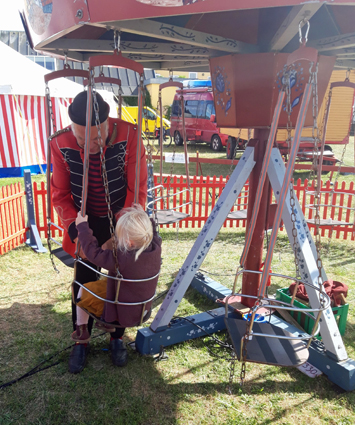 There are a few rides at the circus lot. All photos are smartphone photos shot by Jørgen Lorenzen

20 July 2020
Motorcross show in Circusland. Circusland in Slagelse hosted on 18 July what they called the world's first freestyle motocross show since coronavirus. Here, 25-year-old Alex Porsing in company with the 23-year-old motocross rider Christian Westh from Roskilde performed wild tricks in the air.
For 30 breathtaking minutes, guests could see the 25-year-old daredevil Alex Porsing pushing the boundaries of what is possible. He rode up a ramp and did tricks in the air while both hanging upside down - or completely letting go of the grip on the motorcycle.
Despite his young age, Alex Porsing is among the world's top 20 for FMX (freestyle motocross), and since he won TV2's popular talent program "Denmark has talent" (the Dabish version of Got Talent), he has become known throughout Denmark.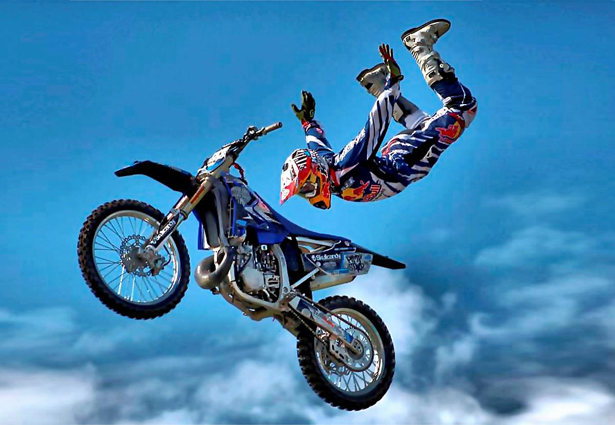 Alex Porsing. PR-foto
For the next three Saturdays, Alex Porsing will once again be in Circusland, where he will show new tricks every time. For the final show on Saturday, August 8, he will also try to break a world record by doing backflip over a lot of trucks. Click here to watch a video clip from TV2 East from the show on 18 July. - Alex Porsing and his troupe should have toured with Circus Arena this year. But the corona forced Arena to drop the season, which or would have been their 65th anniversary. Alex Porsing and the troupe are instead booked for Arena's season 2021, which premieres in Copenhagen on 24 March.
(Source: Cirkusland, Sjællandske Medier and TV2 Øst)

17 July 2020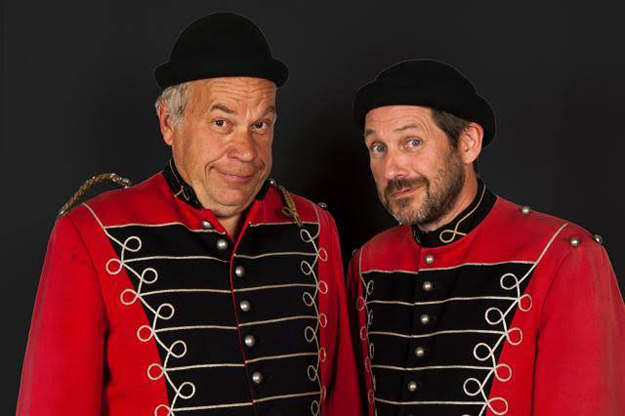 Tonny Trifolikom (Circus Mongo) and Frank Thierry (Danish Circus Krone) write: Circus Hjemve (the Danish word for homesickness). This year we are not allowed to travel, so we are 2 small circus families who have joined forces and put together a show in Ebeltoft at the harbor in our tent with plenty of room and with a 50 min. program for families. You will experience a versatile performance with surprises from near and far. We have chosen to say free admission but we will pass the hat round and hope for your support. There will be a kiosk, carousel and coffee and cake, so come in good time. - Circus Hjemve has performances 19 to 26 July at 17.

15 July 2020
Aarhus Festival's International Night Cabaret. For 10 days every year, Aarhus Festival collaborates with a number of external organisers to create a festive atmosphere in the city. 2020 has been very different from what anyone would have ever imagined. The Covid-19 situation gives rise to a number of challenges; however, Aarhus Festival 2020 will take place from 28 August to 6 September.
Therefore, we are doing everything we can to prepare some fantastic Festival experiences for all of you that will comply with the regulations of the Danish Health Authority.
Aarhus Festival's International Night Cabaret 'Together Into the Unknown' invites you to a spellbinding evening in Hermans, Tivoli Friheden. Since 1997, the International Night Cabaret has been one of Aarhus Festival's annual highlights. 'Together Into the Unknown' is the title of this year's Inter­national Night Cabaret, where you will experience enchanting performances by some of the most excellent artists from all over the world. The International Night Cabaret is a seductive, grotesque and surprising show.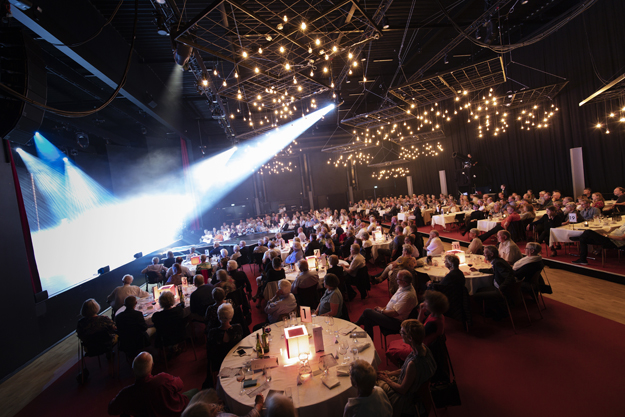 Press photo from Aarhus Festival. Photographer: Martin Dam Kristensen
The performers are (subject to change)
Alex Mihajlovski. Macedonian puppet master, who with his dexterity brings to life the big puppet Mr. Barti.
Mikhail Usov. Ukrainian clown and comedian who has performed in the world-famous Cirque du Soleil for the past nine years.
Duo Vilja. Swedish twins performing together in the most beautiful, acrobatic act.
Elan Koszuk. American comedian and mime artist who has performed all over the globe with the combination of eccentric dance, elastic movements and imaginative humor.
The Juju´s. French Julia and Julien perform their unique tight wire act, where they have to keep their balance, dance and jump over each other while drinking champagne. Click here to see a video clip.
Jérome Murat. French magician performing with his unusual number, where he acts as a statue coming to life in a fun, poetic and exciting act with a very surprising ending.
Hans Davis. Belgian "shadow geographer", known for his eminent ability to create hand shadows.
Tyrone Laner and Coral Cabanäs. The Spanish duo performs with a dramatic knife-throwing act combined with passionate dance.
During the Night Cabaret, Marc Thierry's trio plays, which in addition to Marc Thierry consists of Jesper Daus and Eskild Dohn.
See What's On for playing times and ticket booking.

15 July 2020
Exciting artist performances in Spiegeltent Paradiso in Aalborg. Skraaen in Aalborg offers two exciting performances at the end of August.
The creators of the legendary whiskey-soaked circus party SCOTCH & SODA are back from August 20 to 23 with their new show LE COUP. Skraaen writes: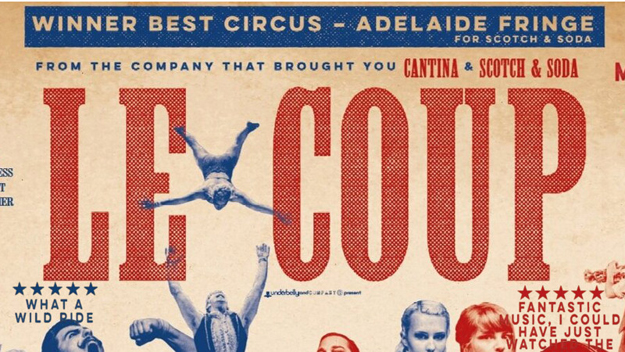 Enjoy the daring acrobats and musicians from Australia - you are invited to their fierce fight night in the boxing ring! Wild showmanship meets Neo-Vaudeville when LE COUP's daring combatants present their skills, such as hand-to-hand acrobatics, daring trapeze, falling in straps, hanging in hair, juggling bowling balls.
And to this original live music with the awesome bluegrass band Father Grant & The Blunt Objects and the singer Mary Murderess. A band that supports and gets the artists up to the highest level of wild tricks.
LE COUP is a tribute to the old markets and amusement parks, the traveling people, the showmen and the acrobats, who appealed to the audience's favor and support. So look forward to seeing The Boss, Ugly, Sally The Alley Cat, Sister, Barry and The King as they all step into the ring to win the victory.
In LE COUP it is not possible to just sit back and relax. You are enthralled and loudly encouraged to cheer on your favorite and place bets.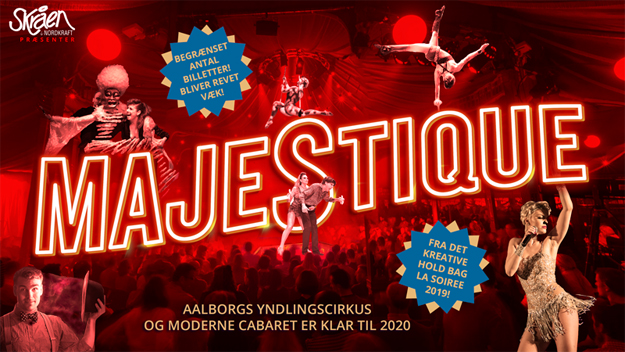 Directly from Montreal, the latest 'treasure' within Circus Cabaret in 2020 will come to the Spiegeltent Paradiso right here in Aalborg from 26 to 30 August: MAJESTIQUE!
From the creative team behind last summer's international hit La Soirée, this year comes their new creation, MAJESTIQUE, which invites you inside for an enchanting evening with sensuality and breathtaking performances.
Majestique is a tribute to the original circus cabaret consisting of international artists in absolute top class. Majestique is unique, fresh, fast, impressive and fun - and it's a show that will steal your heart.
Leave everyday troubles behind you - now is the time to grab your friends and family, get out of the house and escape directly into the Spiegeltent Paradiso for an evening of pure joy, entertainment and fascinating experiences that you just can't (or will not) !) miss.
See What's On for playing times and ticket booking.

14 July 2020
Circus Open Air. Under the name Circus Open Air Isabella Enoch Sosman presents approx. 40 minute long performances in Madsby Playground in Fredericia. Isabella writes: It is not Circus Trapez, we just call it Circus Open Air, because it is only a small performance, in fact only with ourselves and Heidi Mary. The performance was not supposed to be in a tent, but when the weather forecast said rain, we decided to set up part of our tent and it works great. We have no gradin only the ring side chairs, which we can move far apart, and some benches.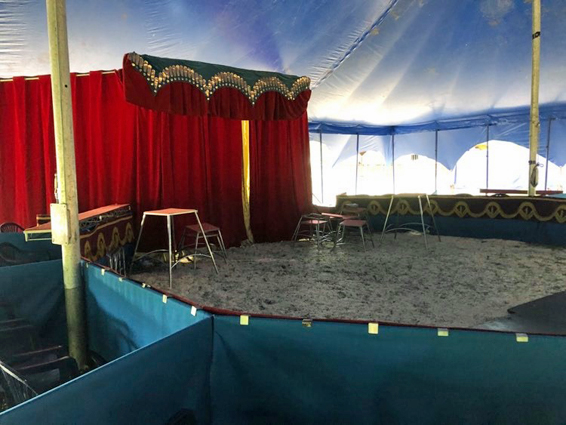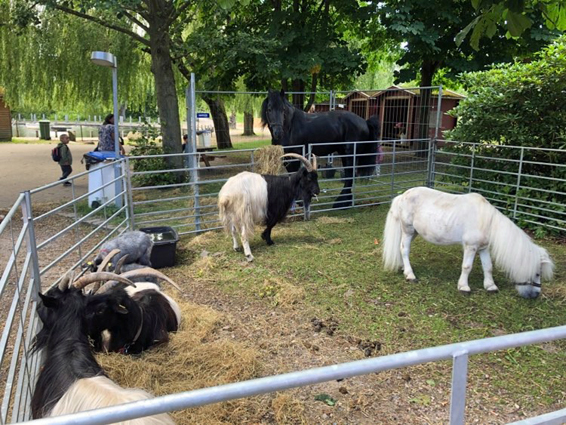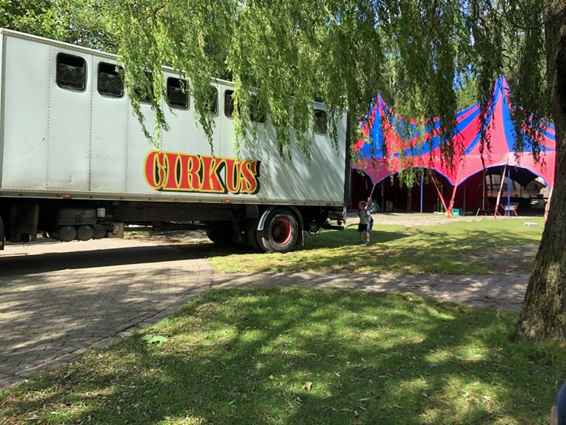 Photos: Søren Kastoft

12 July 2020
MANEGE FREI - magic acts in the circus ring : part 5
Please find a number of illusionists who have performed in the round spot: the circus ring. This write up continues some infos on the topic, it is to be noticed that it is not exhaustive, but - so I hope - it is interesting.
ARNARDO/ 1912 - 1995/, famous circusman and illusionist in his native NORWAY, featured THE LADY CUT IN HALVES, the following story is circulating: 2 ladies, wearing respectively a red and a green costume, were put into 2 cases/boxes - painted in matching colors, red and green, the operation of sawing was carried out, the pieces were pulled apart, then joined as before, the ladies popped out, but now wearing half and half green/red dresses ! ARNARDO said, my excuses, we have put the ladies wrongly together, but - no problem- we will fix it at our next performance !!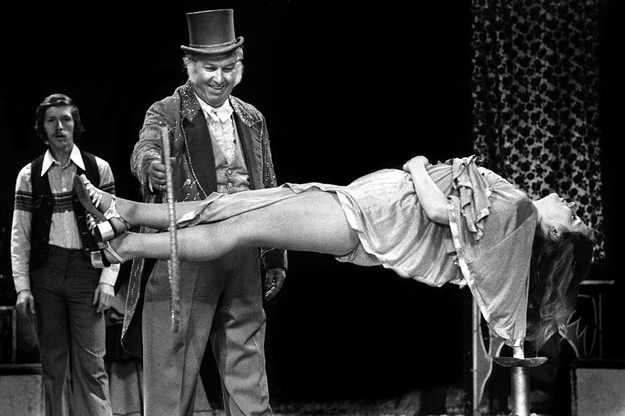 With his bushy sideburns, his Stetson hat, and his jovial personality, Arne Arnardo was a legendary figure in his native Norway where he was known as The Circus King—and in the European circus community. He created Cirkus Arnardo in 1949; it became Norway's largest and best-known circus. Today it is owned by his son Arild Arnardo. Arild's son and daughter-in-law Are & Paolina Arnardo present great illusion acts every year. Photo of Arne Anardo from approx. 1970. Photographer: Jarl Morten Andersen
DIANA RHODIN features every now and then her father TROLLE RHODIN's illusions, which make a great impression in the CIRCUS RING.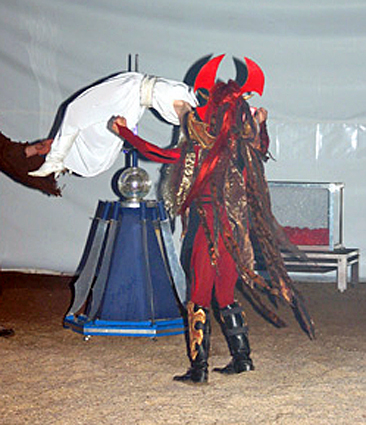 In the performance Hästpalatset from 2006 Diana Rhodin presented THE LADY ON THE SWORD: A girl is positioned lying down on a sword that is attached on a kind of support. A sound is heard - she is lowered on the sword that now is visibly sticking up on her stomach. She is then shown to be un-hurt. The illusion is also called The Impaled Girl Illusion.
VIGGO JAHN/ 1908- 2094/, performed his elegant manipulation act at CIRCUS BELLI, 1945, success although a manipulation act has great difficulties in a circus ring.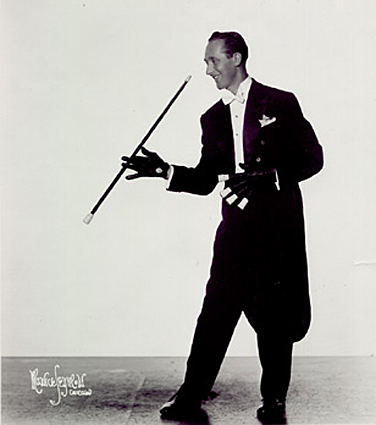 Viggo Jahn - "THE MAN WITH THE BLACK GLOVES"
TRUXA/1919 - 1996/ performed at CIRCUS BELLI 1954. TRUXA was surely the best known illusionist in SCANDINAVIA, in fact mostly in SWEDEN, he featured his famous mind reading act together with his wife and partner GULLI, in 1973 they performed at BENKENNY's CHRISTMAS CIRCUS. TRUXA'S life is remember in the book: TRUXA, in Danish by author, magic entertainer and lecturer MICHAEL FREDERIKSEN, a biography published earlier this year : 2020. Contains a great number of photos from TRUXA'S unique career.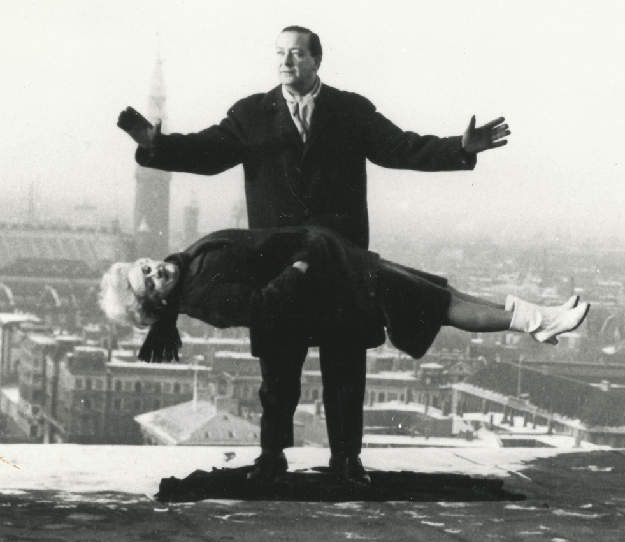 Truxa and Gulli
TERGOVAS/ JENS PFREBEN TERSKOV/ was at CIRCUS ARENA from 1974 thru 1984, first as illusionist, then as an administrative officer.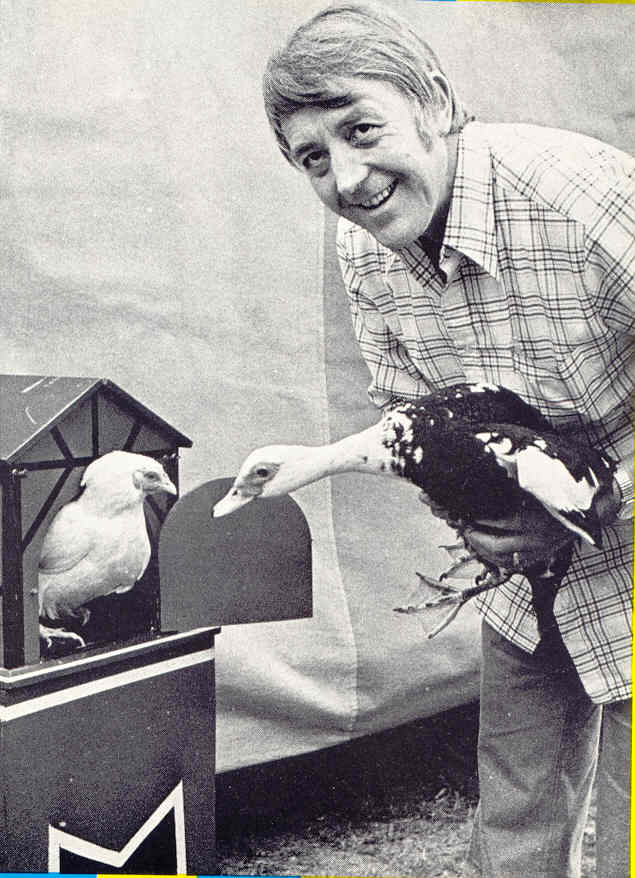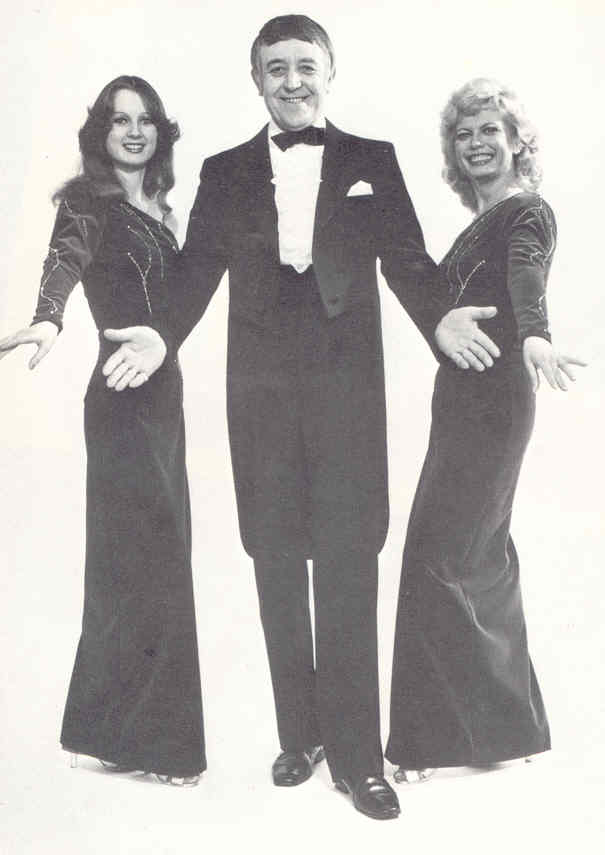 Out of Tergovas many magic stunts, the most popular was perhaps "THE BEWITCHED FARM", that was featured during several seasons. Already from 1963 thru 1966 JENS PREBEN TERSKOV was bound for circus - putting up posters for German CIRCUS BARUM, then owned by ELI BENNEWEIS. As of 1968, TERSKOV was manager for CIRCUS BENNEWEIS, then he returned to CIRCUS ARENA. In 1985, he resumed at CIRCUS BENNEWEIS, as a general agent, having stopped performing. He retired in 1990. JENS PREBEN TERSKOV was an eager collector, his huge collection held about 4000 posters, newspaper cuttings, photos and printed programs.
HANS ULRIK, performing his elegant dove act could be seen at the small Danish circus KRONE in 1999, 2008,2013. In 2015 he presented his act at CIRCUS ARENA.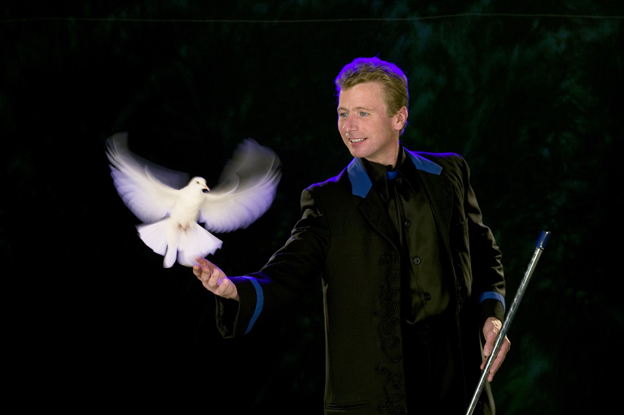 Hans Ulrik
SOLMU MÄKELÄ/1922 - 2018/, Finnish artist, had a long career as illusionist and juggler, with numerous amusement parks and circus. SOLMU MÄKELE was a great artist and a honorable man, appreciated and loved by all. I was fortunate enough to know him rather well, he was proficient in a number of languages, we communicated in GERMAN. In 1973 he brought me to HELSINKI to participate in a charity show in honor of disabled ex-soldiers from the winter war in 1939, it certainly was a honor to perform for these gentlemen. We subsequently met in BRUXELLES, in 1968 at the convention. Our friendship lasted lifelong.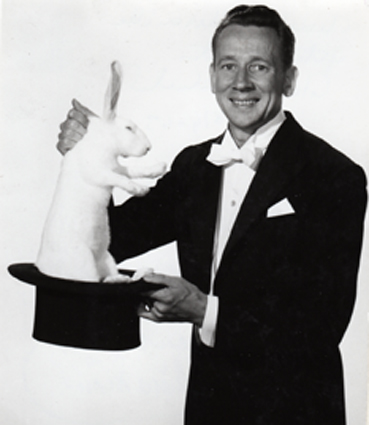 SOLMU MÄKELÄ
Magic stunts and Illusion effects can be adapted to the round spot -- the CIRCUS RING !!
MANEGE FREI has now been published 5 times, featuring a number of magic entertainers who performed in the CIRCUS RING. Surely there are others, deserving to be remembered and honoured. If you miss out on anyone - please send mail: circus@mail.tele.dk
-----------------------------------Bits and pieces puzzled together, unpretentiously by
ZARRO ZARRO.

10 July 2020
Circusland summer 2020. Despite the corona, the theme park Circusland in Circus Arena's winter quarter in Aarslev near Slagelse has chosen to stay open for most of the school holidays. In addition to the many shows, this year they have acquired a few more rides, which probably come from Kjeld Christensen's traveling amusement park Tivoliland. Among the new things are a couple of carousels and a bumper car track. There should also be plans for a Ferris wheel.
For circus enthusiasts, however, it is first and foremost the live entertainment in the form of shows that is of interest:
• The Animals' ABC, where you see how animals are trained.
• A jungle show in the old sea lion hall, where a large stage has now been erected over the old basin.
• Master Tik Taks Balloon School
• Circus Landino
• Master Tik Tak's children's show
No other Danish amusement park has a similar entertainment program. Sommerland Zealand, which usually offers free performances with Cirkus Mascot in July, interprets the corona rules in such a way that it is not possible this year.
In The Animal ABC, Charmaine Berdino shows how to train a pony. Her mother Suzanne shows how to train a mini pig. Finally, Pat Harrison shows how to train one of his dogs.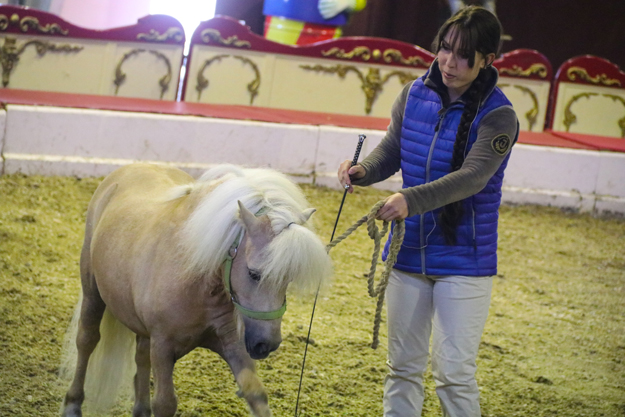 Charmaine Berdino. Photo: Jacob Boas Leitisstein
The jungle show is a fairytale theater with the safari guide Suzanne Berdino as the eloquent narrator.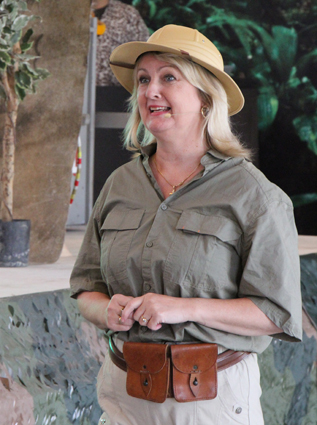 Suzanne Berdino guides. Photo: Ole Simonsen
Among the performers are Charmaine Berdino with hula hoop, Sylvana Biasini and her son with foot juggling and Robert Berousek with ladder balance. In addition, a single illusion number is presented by Claude Biasini. There are also "animals" in the entertaining show: Pat Harrison as tiger and elephant and his girlfriend Pip as gorilla.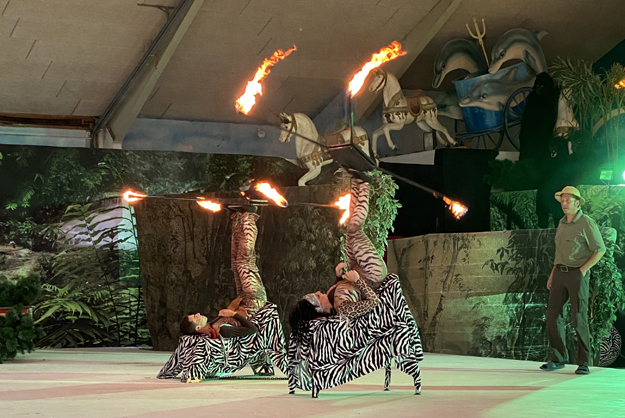 Son and mother with foot juggling. Photo: Ole Simonsen
Master Tik Tak's Balloon School was an entertaining show with Brian "Briano" Behrendt.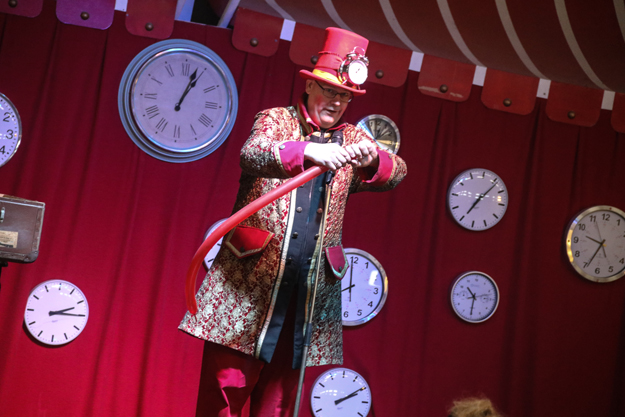 Master Tik Tak and his balloons. Photo: Jacob Boas Leitisstein
The main show is the almost 50 minute long performance in Circus Landino. First act was Benny Berdino's youngest grandchild, 9-year-old Scarlet Berdino, with no less than 12 ponies. A sweet and charming entrée.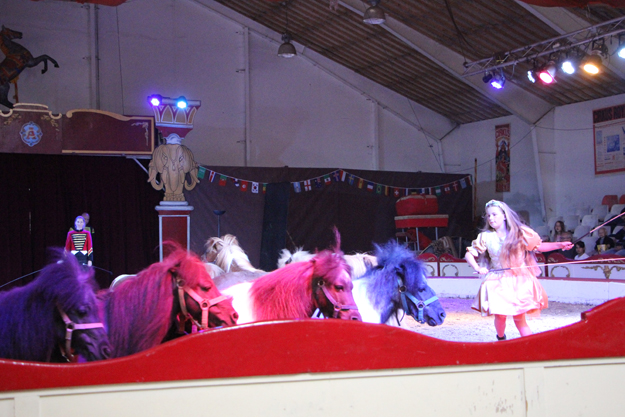 Scarlet Berdino. Photo: Ole Simonsen
She was followed by Robert Berousek, who this time juggled with tennis rackets.
Pat Harrison, also called Pat Clarrison, and his Hot Dogs should actually have been with the Norwegian Circus Agora. But like so many other circuses, Agora had to give up this year's tour due to the corona. Pat and his girlfriend Pip have instead got a summer job in Circusland with their funny and naughty dogs.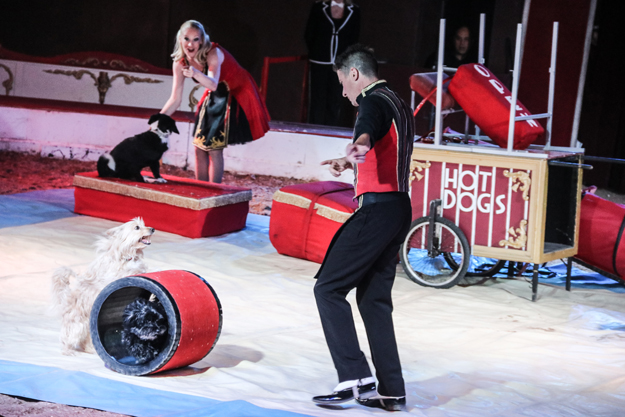 Pat and Pip and their hot dogs. Photo: Jacob Boas Leitisstein
Arena's bandmaster has for many years been Alex Bozic. But this year there is no Arena tour. He has instead got a summer job as a clown etc. in Circusland. In his first run-in he showed, along with Briano and Claude Biasini, the old Fumagalli gag with the floating man.
The clowns were followed by Claude and Sylvana Biasini with a few illusions.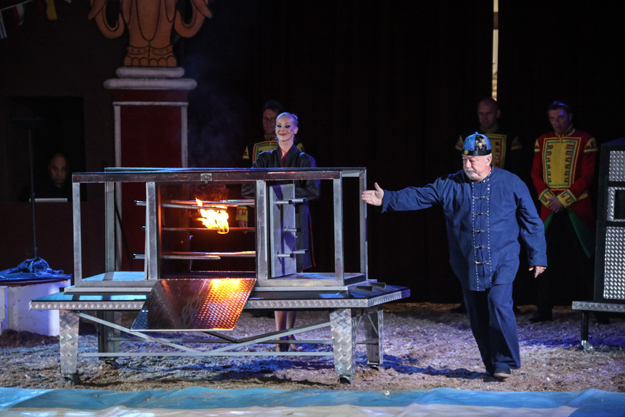 Claude has conjured his wife away. Photo: Jacob Boas Leitisstein
Now Charmaine Berdino entered the ring. First with elegant Spanish high school riding, assisted by the dancer Pip (Pat Harrison's girlfriend - she is a professional dancer), and later liberty dressage with one of her Spanish horses. Elegant!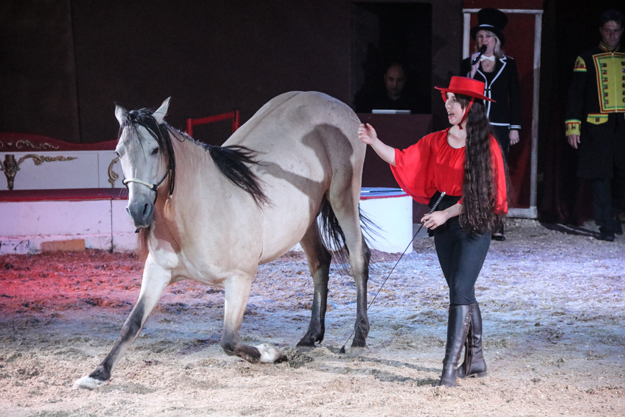 Charmaine and one of her horses. In 2018, Charmaine got the Danish Circus Award's talent award. Photo: Jacob Boas Leitisstein
Next act was Pat Harrison and Alec Bosiz with the decorators entrée. It is perhaps best known in Les Brizio's version, which the Danes have experienced at Benneweis, both in the tent and the Copenhagen Circus Building. Pat says that his father Peter Harrison also made the entrée, a few times together times with Pat. For several seasons, Peter was a run-in clown with Benneweis in the Copenhagen Circus Building, where he met Pat's mother Claire. Great to see the old entrée once again. Pat also thinks it's fun!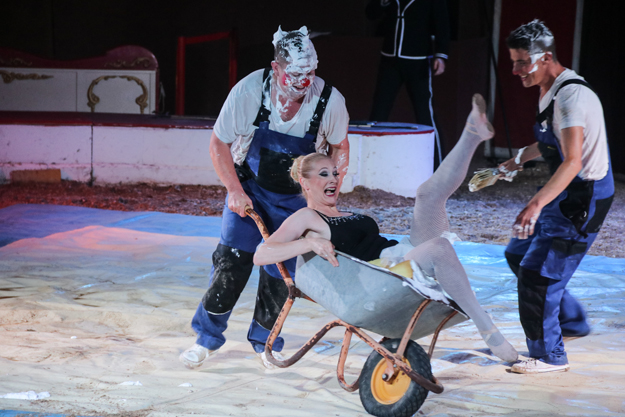 Pat, Alex and Pip in the decorators entrée. Photo: Jacob Boas Leitisstein
The last act in the performance was beautiful dromedaries, presented by Benny Berdino's daughter-in-law Laura.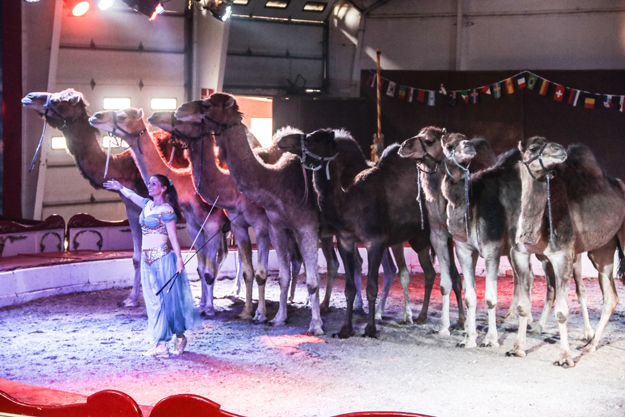 Laura Berdino. Photo: Jacob Boas Leitisstein. Click here to see more of Jacob's photos from Circusland
The last show of the day, Mester Tik Tak's children's show, featured magic and balloon figures.

8 July 2020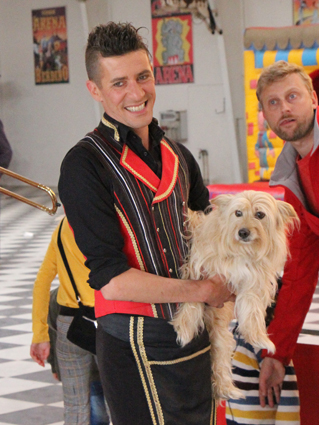 The dog trainer Patrick Harrison celebrated his 40th birthday on July 8 in Circusland, where he has a summer job after his engagement with Norwegian Circus Agora was canceled due to the corona. He is best known for his Hot Dogs, a act he took over from his father Peter Harrison.

7 July 2020
From bandmaster to clown. For many years, Alex Bozic has been bandmaster in Circus Arena's 4-pieces orchestra. But this year Arena is not on tour and therefore has not had a job for Alex in the touring circus. Instead, the 39-year-old Englishman works during the summer season as a clown in the theme park Circusland in Slagelse.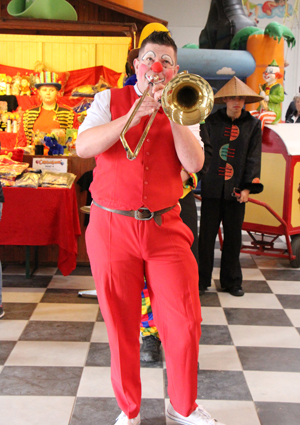 When the fairytale people from Esdelot march through the park and warm up to Circus Landino, Alex plays the trombone.

6 July 2020
Entertainment in Lalandia. In recent years the tropical holiday centre Lalandia in Rødby has during the summer holidays in addition to shows with Mr. Plys offered artist entertainment. But the corona has changed a lot of things, and this summer the artists have been replaced by 2 cute ponies that make the little ones happy with pony riding outdoors with distance.
In addition, there are performances by Lalandia's long-time entertainer Mr. Plys. He is on the stage at 19.00 Tuesday, Thursday and Saturday in Lalandia Rødby and Wednesday and Sunday at 19.00 in Lalandia Billund.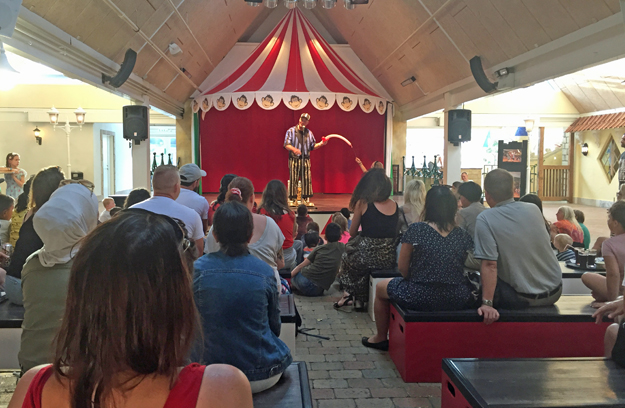 Mr. Plys on the stage in Lalandia Rødby. Photo from 2019

5 July 2020
MANEGE FREI --- illusions by magic entertainers in the CIRCUS RING ! Part four
I risk my sensitive skin, but here comes some pieces of info that may be of interest for those of you who love visual entertainment:
JIDINIS, big illusions show, where one point of interest is the presence of dynamic and festive chorus girls who really spice up the performance, SCHULZE is here quite right.
This beautiful show is suited to any circus ring, it needs a rather big stage though to be appreciated at its full value , like the open air stage PLAENEN at TIVOLI COPENHAGEN where I enjoyed it. In addition to Tivoli, we have in Scandinavia seen him at Circus Arena, Circus Benneweis and Circus Scott. Click here to see a videoclip from one of his acts.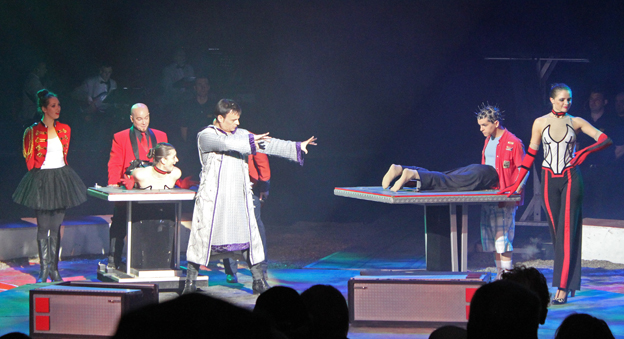 Jidinis
MARTIN ARLI: he always keep their promise to show a NICE AND SYMPATHETIC FAMILY MAGIC PERFORMANCE, unpretentious and tongue-in-cheek ,the small BIG TOP where they work contributes to the nice and familiar atmosphere they offer their audience. Classical magic entertainment, colored by their personal interpretation - THEY DO IT THEIR WAY !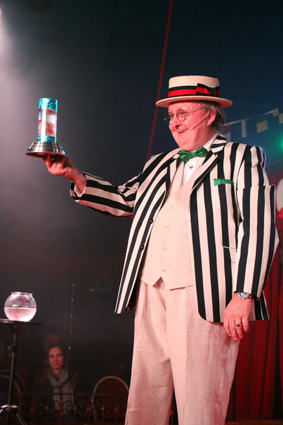 Martin Arli. From the 2017-performance. Photographer: Ole Simonsen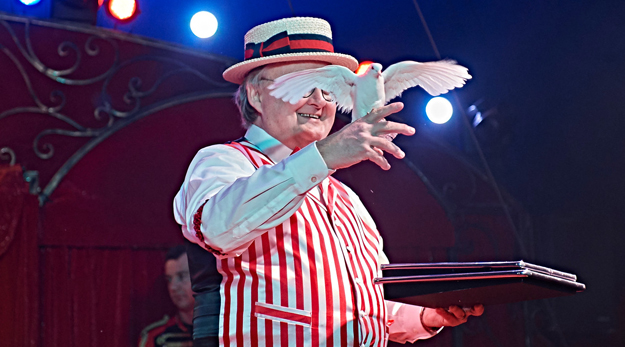 Martin Arli. From the 2018-performance. Photographer: Rud Kofoed / Ajour Press
MARKO KARVO: world champion performing the speciality: - magic stunts with flying doves and parrots, a technically perfect act but without any comedy, I interviewed him and his then partner, they remained for 6 years at LIDO DE PARIS, an achievement second to none, and this because they featured exactly what LIDO DE PARIS wanted: a technically perfect act without any funny gags, -- because the LIDO audience is basically made up of AMERICANS and JAPANESE - who really don't share the same sense of humour ! He has also appeared for several seasons in Danish Zirkus Nemo.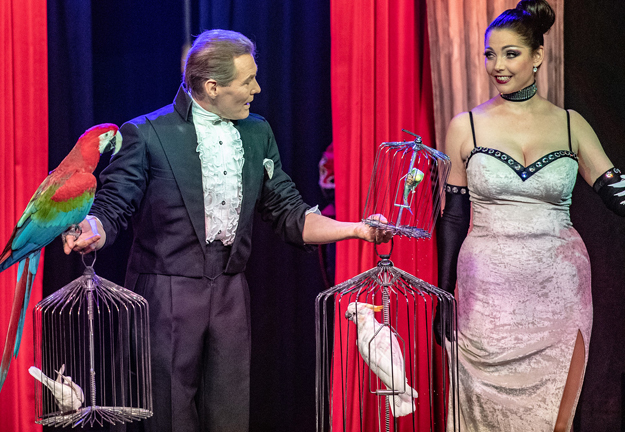 The elegant, mysterious Finnish bird king Marko Karvo makes his magic entrée. Photo: Rud Kofoed /Ajour Press
SPINOZA, real name JOHANNES RÖNDE KRISTENSEN, grand old man within Danish art of magic, he was welcomed everywhere, presenting his acts using his elegant and witty humour. He had a PHD degree in mathematics, but preferred performing both in DENMARK and abroad, he featured his art a lot in FINLAND. The MAGIC CONVENTION in COPENHAGEN, 1968, remains unforgettable, his talent had no limits.
SPINOZA /1914-1999/, performed as well in Danish circus: BRUNO BRUUN 1948, CIRKUS VIVI 1967, CIRKUS DANNEBROG 1980. Sometimes SPINOZA had both his wife and his 2 daughters KARINA and ULLA with him on stage. Daughter ULLA managed for several years, together with her husband, artist JACKI STECKEL, the Finnish CIRCUS STELLA NOVA. Later on she was busy doing the publicity for CIRCUS ARENA. JACKI was for several seasons administrative officer for Swedish CIRKUS SKRATT, and for one season tent master/chapiteau responsible/ for ZIRKUS NEMO. Click here to see SPINOZA perform the stunt TROUBLEWIT, a paper folding effect that is really - mind-troubling ! TV emission: HOKUS POKUS PILMARK / Denmark, with Danish actor SOREN PILMARK, hosting this emission, magic entertainer PAUL ARLAND, as well as magic props maker and dealer LEO TOPP.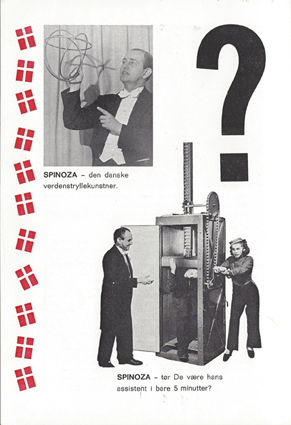 Spinoza as presented in the printed prograom from Circus Dannebrog 1980
A number of clowns have used tricks, stunts and effects that really belong to the realm of magic. This is fine as long as they don't reveal the modus operandi - to people who haven't asked to know! BELLINI is a super clown, everything is perfect - and nothing is revealed - gags, make up, costumes are appropriate, he was with the Italian clowns RASTELLI /as far as I know/, he performs rather often with BOUGLIONE and CIRQUE ARLETTE GRUSS, and others as well.
----------------------------festive experiences told by ZARRO ZARRO.

3 July 2020
Support to Norwegian and Swedish circuses. On May 1, I could tell that the Norwegian Cultural Council had supported the two Norwegian circuses which as a result of the corona had dropped this year's tour. Cirkus Agora had received 1,897,901 NOK and Cirkus Arnardo 4,767,056 NOK.
The Swedish State Cultural Council has now granted Circus Brazil Jack corona support of SEK 1,610,800. Circus Olympia received SEK 1,153,200. It will cover the costs of the two circuses since January 1. They must provide documentation of the size of the costs, and there must be no surplus to the owners, only cost coverage.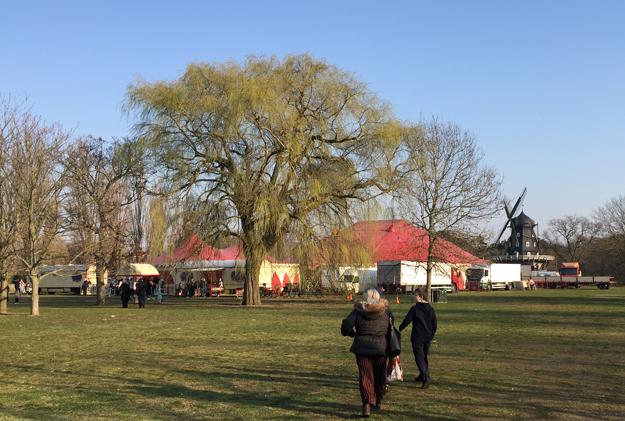 The Swedish Circus Brazil Jack has received SEK 1,610,800 in support. The photo shows their tent at the Mill Hill in Malmö in 2019. For the season 2020 they had acquired a brand new tent which they were looking forward to using. But season 2020 has been prevented by the corona.
In Denmark, there are a number of support schemes. It is not easy to see what support each circus has received.

2 July 2020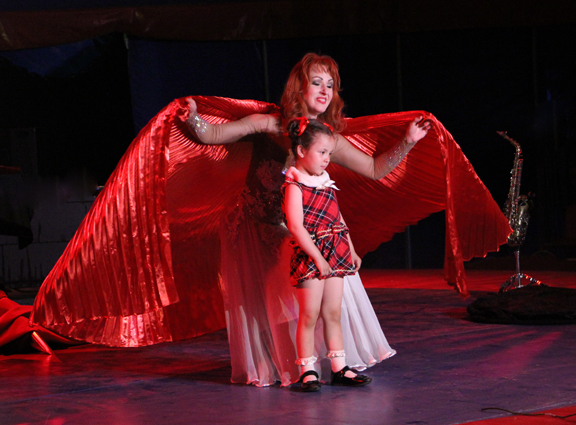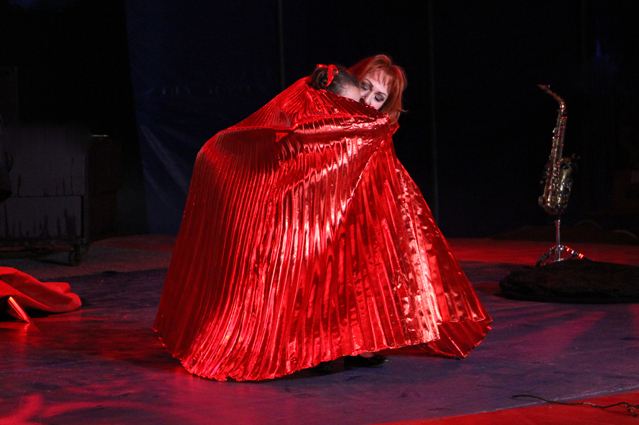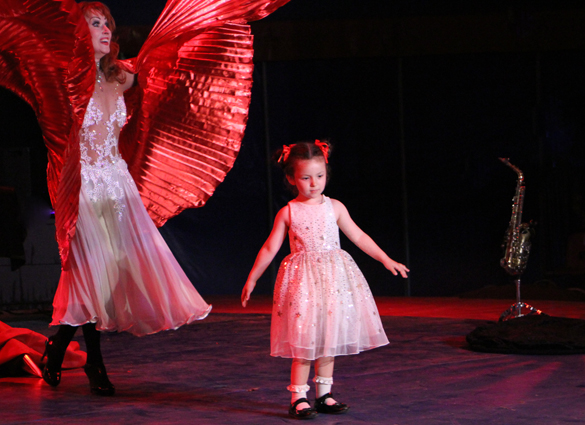 The youngest artist in 2020 in a Danish circus ring is 4-year-old Charlotte Chabry, daughter of Martyn Chabry and grandson of the famous clown Toto Chabri. She pops up at the end of Martyn's fantastic entrée with music and quick-change, which is clearly the top act in this year's Baldoni performance. Martyn has several times been in Denmark with Circus Benneweis.

Link to news from 2007

Link to news from 2006