'
From Denmark
and other Scandinavian countries
A weekly updated internet magazine
Last updated : 4. February 2023
3 February 2023
Winter circuses in Denmark 2023. In several places in the country, you can see circus performances in weeks 7 and 8. The Danish schools are closed for winter holiday either in week 7 or week 8.
Circusland in Aarslev by Slagelse is open from 11 to 19 February, every day from 10 a.m. to 5 p.m. They offer a magic show with Kim Kenneth and his assistants Jessica and Adriana. The performances in Circus Landino are presented by Kim Kenneth and feature Cirkus Arena's house clown Jimmy Folco, Jessica Caveagna with sword balance, Antonin "Tony" Navratil in Washington trapeze, Adriana Wolf with foot juggling and Karsten Berdino with liberty horses.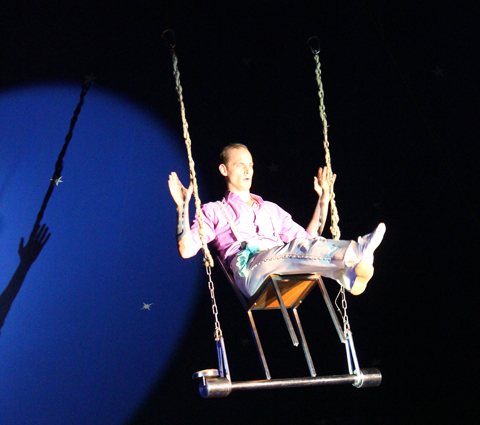 Antonin "Mad Tony" Navratil toured in 2014 with Danish Circus Krone.
In week 7 the shopping mall HerningCentret present Circus Mascot's winter circus. In the ring both children and adults can look forward to see Denmark's largest dog show with circus director Marianne and her 9 lovely doggies. The acrobat Tatyana takes her many hula hoops under her arm and demonstrates that through many years of practice you can go from just 1 hoop around your waist to holding over 20 up and running at once! Gulio the clown probably doesn't need much of an introduction. Everyone knows that it can be difficult to catch all the balls you have in the air - you must therefore allow yourself to be impressed by how everything comes together into a higher unity when the music plays and the incomparable juggler Husik throws the rings around, which he grabs again with impressive precision. Daniel Deleuran is ringmaster. The performance lasts approx. 30 minutes. Free admission.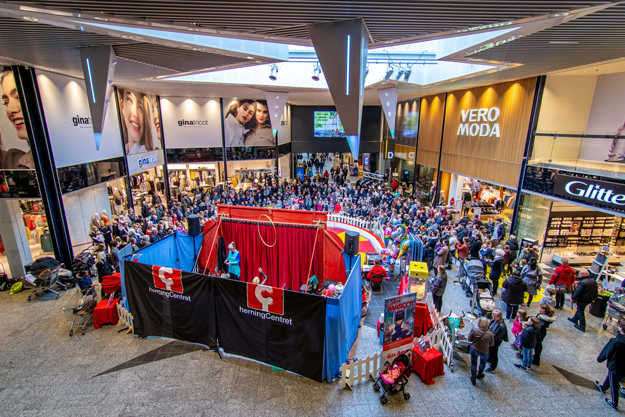 Archive photo from Circus Mascot's performance in the Herning Center in 2019
From 18 to 26 February, Ishøj City Center in Copenhagen present Baldoni's winter circus with two daily performances. The program features Danilo the clown, Katrina Markevich and Anton Tarbeev with foot juggling and diabolo, as well as Michal Mudrak with handstand. Free admission.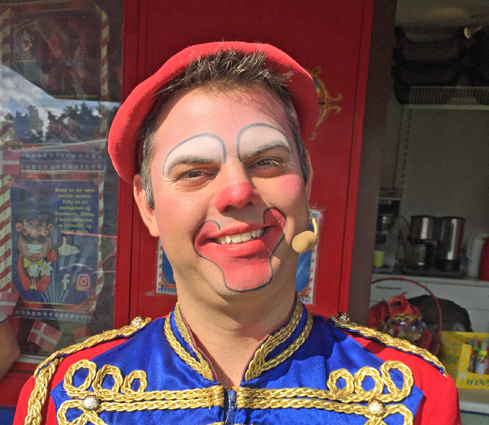 Danilo clown was from 2009 to 2018 a consistent figure in the Baldoni performances. During the winter holidays you can now again experience him in ring.
The Rosengaard shopping mall in Odense present in week 7 Enoch's Circus Show with 3 daily performances in week 7. Among the performers are Dutch Mr. Valentino with dogs, Eddy Carello as a drum juggler and Alexander Arli as a comedy/clown. The performance is presented by Jimmy Enoch. Free admission.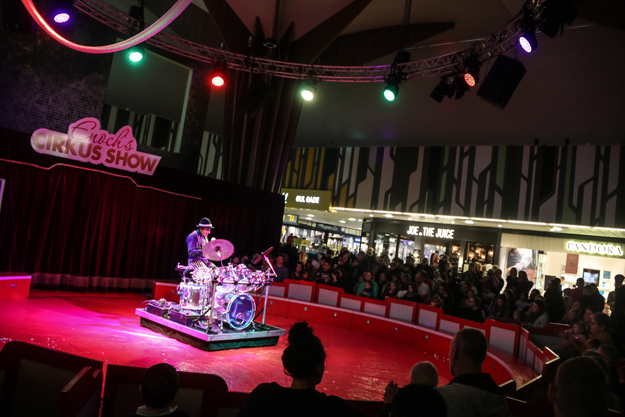 Eddy Carello at Enoch's Circus Show February 2020. Photo: Jacob Boas Leitisstein
The West Zealand center in Slagelse present Benny Schumann's Mini Circus from 13 to 18 February. Every day at 12 & 15. 20 minutes before the performance, Benny holds a circus workshop. In the show, he performs with his clowning, the chair balance number, magic, the ventriloquist dolls Hunni and Nina von Tutti and as the inflated dancer. In addition, the audience meets the Swedish artist Erik Ivarsson, who began developing his talent as a boy in the Swedish youth circus Ludvika Mini Cirkus. Erik Ivarsson is among the best bike artists and is also skilled in handstand / head balance and juggling. He also has a clown entrée with Benny Schumann. Free admission.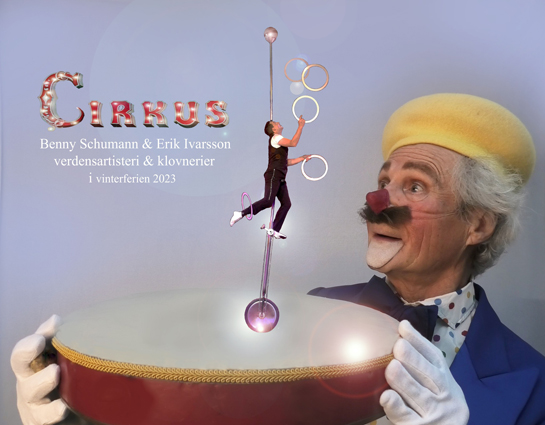 Circus Trapez winter circus has performances in a number of Jutland arenas from 10 to 26 February. The performers are Franz Sulc with clown run-ins, John and René Lutzny comedy, Sabrina Lutzny with goats and dogs, the Lutzny family with a cowboy show with knife throwing and spinning lassos, Chantal Lutzny contortion and hula hoop, Joel Lutzny juggling, Samantha Lutzny on floating sled and René Lutzny chair balance.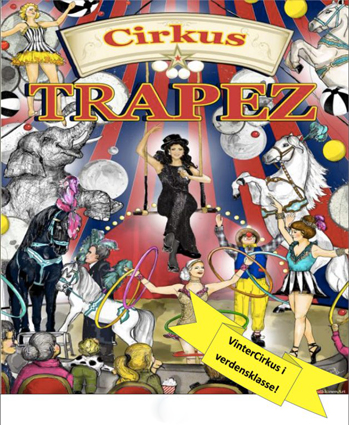 Link to ticket booking.
Cirkus Panik's 10-year anniversary performance can be seen in their Circus Building in Vanløse from 12 to 19 February. The address is Skjulhøj Allé 21, 2720 Vanløse. The performance was described in more detail here on this page on 15 January. Tickets via billetto for DKK 120 (excl. fee).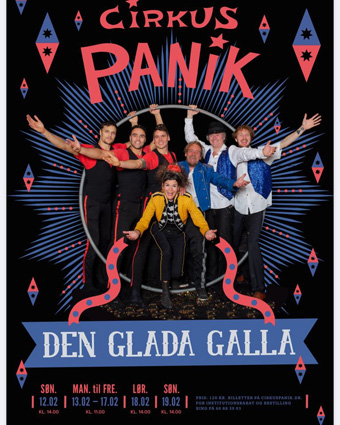 Circus of Torment (Horror circus) has performances from 11 to 18 February in Vejle and from 21 to 26 February in Aalborg. Both in England, Germany and the Netherlands, you have been able to see horror circuses for a number of years, but this is the first time we can see a real horror circus in Denmark. A horror circus mixes horror with dark humor, rock music or horror film-inspired electronic music and artistry.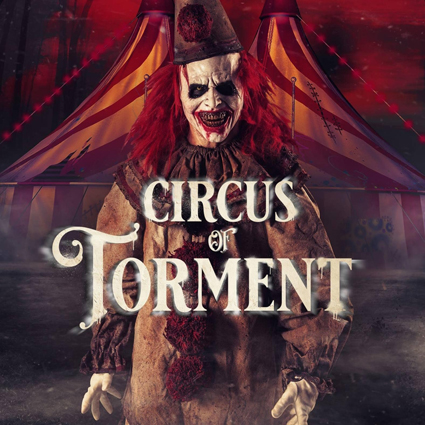 Circus of Torment is produced by Dark Thrills Entertainment with Michaël Betrian at the helm. The Danes could experience his diabolo number in Cirkus Dannebrog in 2014 and in Cirkus Trapez in 2021. David Sosman has the role of Gustavo, the insane juggler.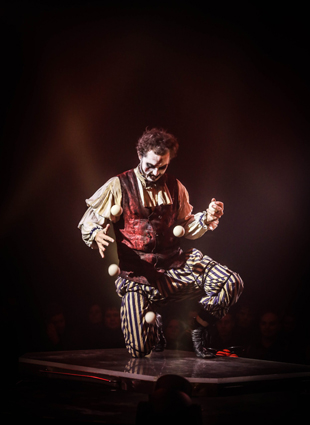 David Sosman as Gustavo, the insane juggler
You can read more about the show and buy tickets at https://www.circusoftorment.com/
The Circus Museum in Hvidovre, Copenhagen offers from Monday to Thursday 13 to 16 February every day at 11 on the crazy drum phenomenon Kalle Mathiesen's World Tour. Armed with loop station, drum set, bass, balloons, pied animals, knight's helmet, drill and a good dose of self-irony, he serves up world-class musical entertainment. Kalle Mathiesen trained as a drummer at Rytmisk Musikkonservatorium and has created his one-man show based on the motto that "There is music in everything and everything is music".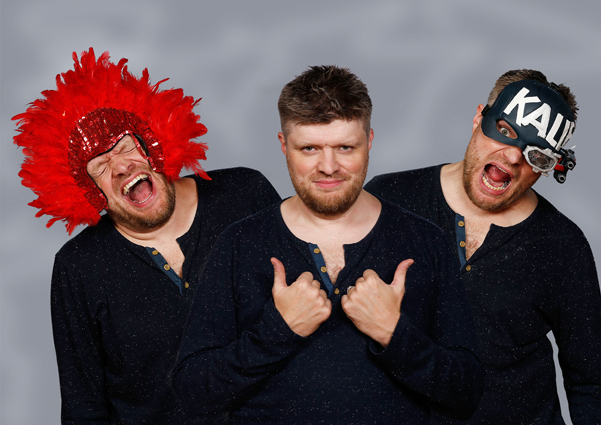 Kalle Mathiesen
On Friday 17 February, Kalle leaves the stage to Mugge, the Lizard Jester, who, with a fart in his cap and lots of enjoyable artistry, will entertain with jokes for all ages.

1 February 2023
New exhibition at the Circus Museum in Hvidovre, Copenhagen. Everyone is welcome to the opening of the museum's new exhibition "We don't live from it, we live with it" - an exhibition about circus culture, Friday 10/2 from 14 to 16 at the Circus Museum. The ventriloquist doll Charlie the dog and Peter Nørgaard will cut the cord, and there will be speeches by Martin Arli, chairman of the circus directors' association, Kenneth Bak, chairman of the culture and leisure committee Hvidovre Municipality and museum curator Mikkel Knudsen.

1 February 2023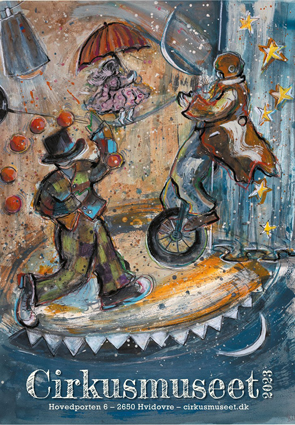 The Circus Museum's annual poster is the 18th in the series of annual posters, and this year the task has been put in the hands of an artist to whom the circus world is in no way a stranger. The artist Anne Marie Johansen has traveled with Circus Arena herself for a period of time to make studies for the picture book "Rundt og rundt sådan cirkus". The annual poster can be bought in the museum's shop, measures 60 x 80 cm and costs DKK 50. If you don't live nearby, you can order the poster by sending an email to info@cirkusmuseet.dk

30 January 2022
Swedish Circus Brazil Jack opens the Swedish Melodifestival 2023. Melodifestivalen 2023 will be the 63rd edition of the Swedish music competition Melodifestivalen, which will be organized by Sweden's Television (SVT) and take place over a six-week period between 4 February and 11 March 2023. The winner will represent Sweden in the Eurovision Song Contest 2023, to be held in Liverpool in May 2023. The first broadcast will be broadcast from Gothenburg on SVT1 on February 4 at 20. In the opening act, Circus Brazil Jack brings some of the world's leading circus artists from Ukraine, Italy and Brazil together to offer fire, aerial acrobatics and death-defying roller skating. The Swedish magician and entertainer Carl-Einar Häckner is also in the broadcast. And then, of course, the singers who are fighting to win the Swedish competition and go on to the Eurovision Song Contest in Liverpool.

23 January 2023
Winners at the 45th Festival International Du Cirque De Monte-Carlo & 10th New Generation.
Golden clown
This year, only onde golden clown was awarded. It went to the jockey riders René Casselly Junior, Merrylu Casselly and Quincy Azzario, who among other acts presented "pas de trois" on horseback.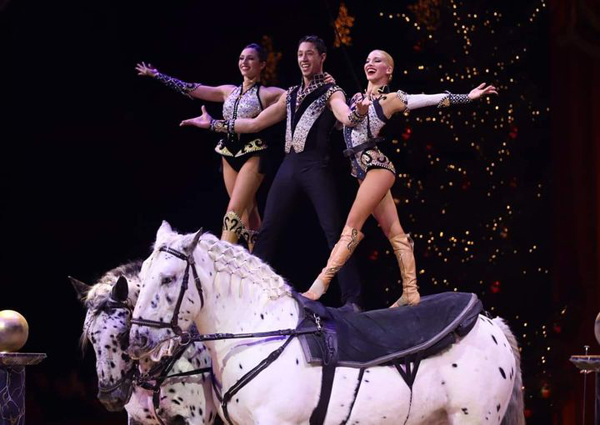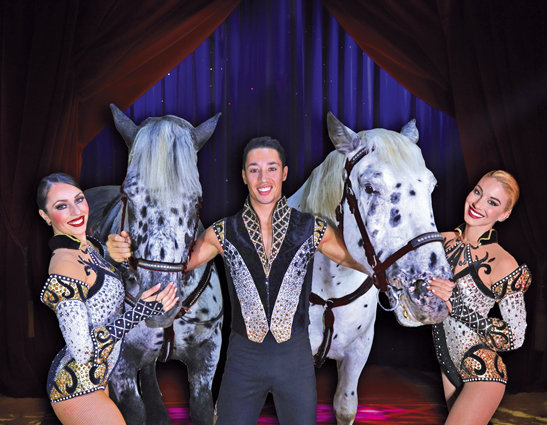 Quincy Azzario, René Casselly Jr. and Merrylu Casselly. Quincy is daughter of the clown José Michel and his wife Giulia. Together with her sister, she appeared as Azzario Sister in Zirkus Nemo in 2014. In 2012, the sisters were with Swedish Cirkus Brazil Jack. René and Merrylu Caselly's parents are René and Alexia Casselly. Until 2010, the parents and the two children worked for several seasons in Danish Cirkus Arena. Merrylu Casselly later married Joseph Richter Jr. and together with him won a golden clown in Monte Carlo in 2018. Today they are divorced.
There was a silver clown for the following:
Fleming Martini – flying trapeze
Bruno Togni – tigers. He also received the audience award
Alex Giona – horses in liberty
Victoriia Dziuba - equilibrist
Mustafa Danguir Troop – high wire and double death wheel
Secret of my Soul - ring trapeze
This year's bronze clowns went to
Mystery of Gentlemen - ball balance
Deadly Games - knife throwers
Elisa Cussadie - parrots
The Bingo Troupe.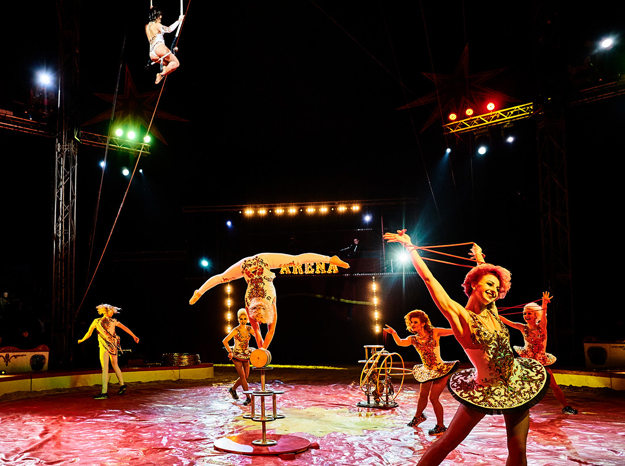 The Bingo Troupe is a large troupe, which is often divided into smaller units. They have also previously won prizes in Monte Carlo. In 2014, one of the troupe's units performed in Danish Circus Dannebrog. The photo is from 2018, when 8 of the troupe's female members worked for Danish Circus Arena. Photo: Rud Kofoed / Ajour Press
Junior Gold
Ameli Bilyk – slack wire
Junior Silver
Sofiia Hrechko - contortion
Vladyslava Naraieva - equilibrist
Junior Bronze
Kimberly Zavatta – aerial straps

21 January 2023
Circus Cirkör on tour in Norway. The Swedish contemporary circus writes:
Since its premiere in Marseille in 2013, Cirkus Cirkör's performance Knitting Peace has successfully toured both in Sweden and internationally. Last week, an attention-grabbing site-specific version of the performance was created at the Nordic embassies in Berlin on the occasion of the inauguration of Sweden's presidency of the EU. Knitting Peace, with its peace theme, is (sadly) highly topical and in March 2023 a larger Norwegian tour with four stops awaits: Nøtterøy, Skien, Haugesund and Stavanger.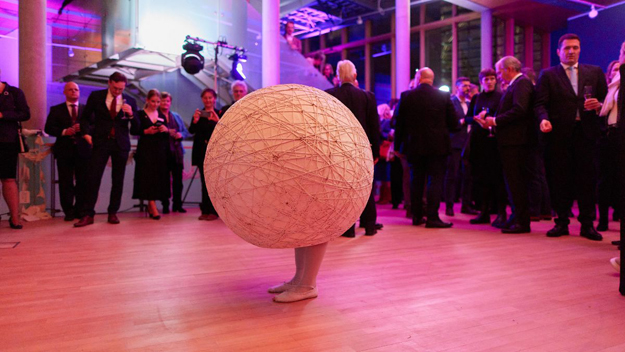 See more at https://cirkor.se/en/knitting-peace/

16 January 2023
Circus Arena 2023 – Jimmy Saylon. Some of the artist in this year's performance were mentioned on this page on 2 January.
Cirkus Arena says that in addition to those mentioned, you can meet the Italian magician and illusionist Jimmy Saylon. He enters the ring with his time machine and lets the adventure begin. The magic is alive, and before the eyes of the audience he conjures so that you cannot believe your eyes. Jimmy Saylon performed last summer in Cirkusland in Slagelse.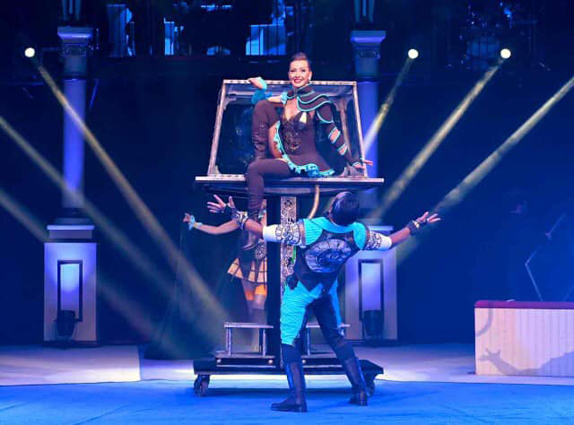 Jimmy Saylon. Click here to see a video clips from his act

15 January 2023
Circus Panik winter circus. The small circus writes (my translation)
Highly honored audience welcome to the celebration of Circus Panik's 10th anniversary performance, during the winter holidays in the Circus building in Vanløse, Copenhagen, in week 7. We present the performance "Den Glade Galla" (the Happy Galla) to mark this 10th anniversary. Experience Cirkus Panik in cooperation with the contemporary circus company Volantes, presenting a terrific gala performance for the entire family.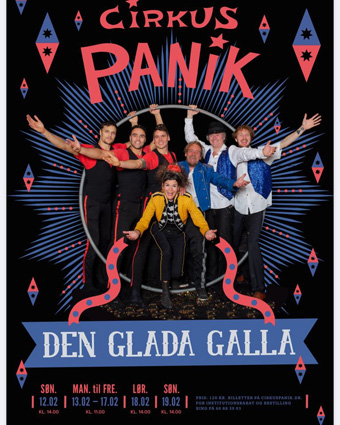 Experience a gala show filled with
Crazy flying Acrobatics
Amazing illusion
Gravity challenging juggling
Laughter convulsive clowns
Music and rhythms from all corners of the world
Signature Fire and Fakir finale
We are looking forward to seeing you! Entertainment for the whole family. but we recommend + 3 years.
Tickets via billetto for DKK 120 (excl. fee)
Venue: Circus Panik - Skjulhøj Allé 21, DK- 2720 Vanløse, Copenhagen. The circus building in Vanløse is situated within 10 minutes' walk distance from Vanløse station. The doors open one hour before the show starts.
There will be an opportunity to buy popcorn, something to drink, etc. in our cozy cafe.
We are extremely grateful for the granted support from Vanløse Local Committee, thank you for the support.

13 January 2023
Circus Trapez winter circus. The first circus performance of the year in Denmark is Friday 10 February at 17, where Circus Trapez premieres their winter circus in Thorhallen in Jels. They present the performance as this (my translation):
During the school's winter holidays in weeks 7 and 8, Circus Trapez carries out the tradition in a number of sport centres and other arenes in Jutland with a cozy Winter Circus performance that brings lots of fun and circus nostalgia for the whole family.
Look forward to see among other things a skilled juggler, a beautiful snake person (contortionist), great aerial acts, wild wild west show, lots of clowning, naughty goats, cute dogs and much more.
Take a seat around our enchanting ring and forget the stress and hustle and bustle of everyday life, while you let yourself be enchanted by our magical show.
We look forward to welcoming you to Winter Circus in World Class 2023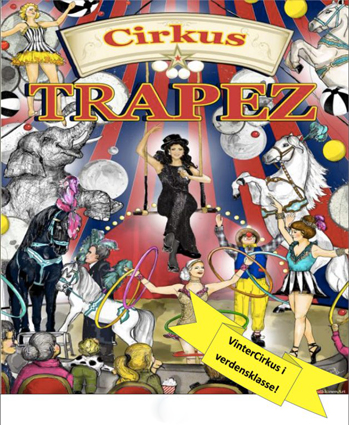 Isabella Enoch Sosman tells that the performing artists are:
Franz Sulc with clown awards
John and René Lutzny comedy
Sabrina Lutzny with goats and dogs
Sabrina Lutzny with dogs
The entire Lutzny family with a cowboy show with knife throwing and spinning lassos.
Chantal Lutzny contortion and hula hoop
Joel Lutzny juggling
Samantha Lutzny on a floating toboggan
René Lutzny chair balance
Franz Sulc was run-in clown in a number of last year's autumn and Christmas performances in Circus Trapez. The versatile Lutzny family, who in recent years have toured with the Austrian Circus Picard in the summer season, were also part of the Trapez Winter Circus 2022. This year, however, with several new acts. The family consists of René & Sabrina Lutzny with their children Samanta, Chantal and Joel.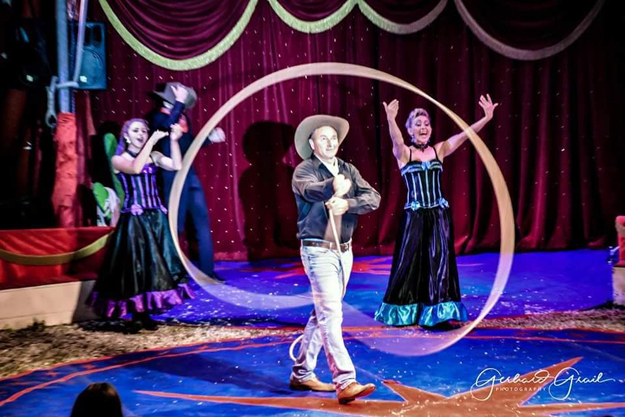 The Lutzny family with their cowboy show. All photos press photos from Circus Trapez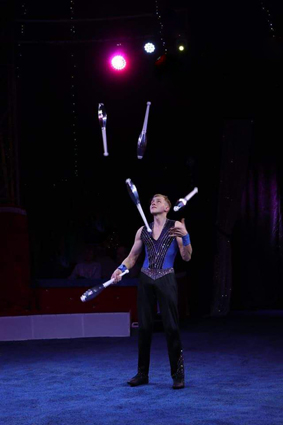 Joel Lutzny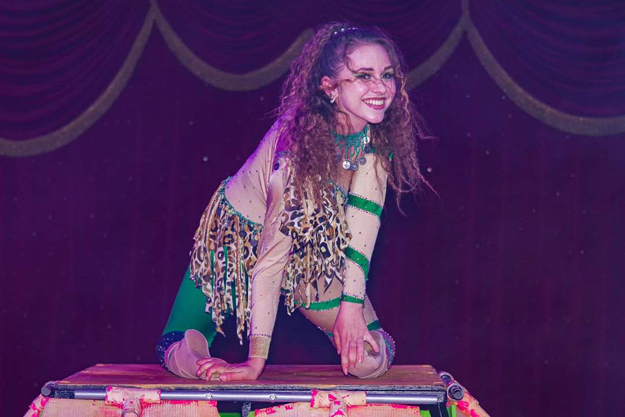 Samantha Lutzny on her floating toboggan

7 January 2023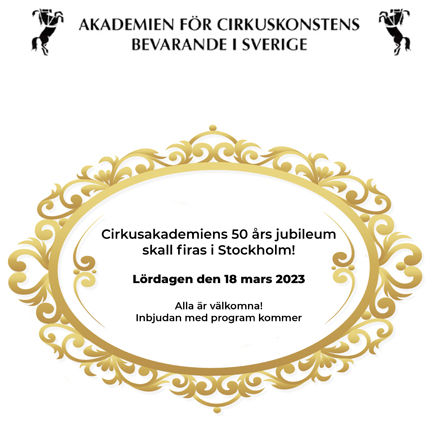 This year it is 50 years since the Swedish Circus Academy was founded. They celebrate it on March 18 in Stockholm, Sweden. The detailed program has not yet been published

2 January 2023
Circus Baldoni 2023. Circus Baldoni writes (my translation):
Season 2023 starts on Easter Monday, April 10. This time it will be with a completely new setup and with the comedian, singer and actor Amin Jensen as ringmaster and not least the one who has Leonardo (a ventriloquist's doll) on his arm. It will hardly be a problem as Amin has added voices to over 1,500 cartoons over the years.
Amin is looking forward to presenting a wide selection of super talented artists. You will, among other performers, meet Martyne Chabry with her formidable quick-change and musical act. Nandor Varadi and Diana Boiachin a Hungarian couple with juggling, acrobatics and air pole. Kaya Janacek our super talent within rola bola reaches completely new heights. The Western family Buffalo Family makes lassos, knives and axes flying through the air. We also have a brand-new clown on the programme. It is Tøffe who is making a comeback after a break of several years. Connoisseurs remember him for his unique comic impersonations and he is sure to bring smiles and laughter throughout the tent. In seasons 20 and 21, Peter Nørgaard was ringmaster. He is still assisting us as he put the performance on stage. All in all, plans have been made for another blast of an experience for the whole family.
The tented season lasts until August 29, after which we move indoors to sports centres visiting as always, the Faroe Islands.
Martyne Chabry is daughter of the clown Toto Chabri and Mrs. Norah. She performed in Circus Benneweis in 1998, 2005 and 2014 and in Circus Baldoni in 2020. Martyne Chabri is her stage name – she is christened Martine Gombert.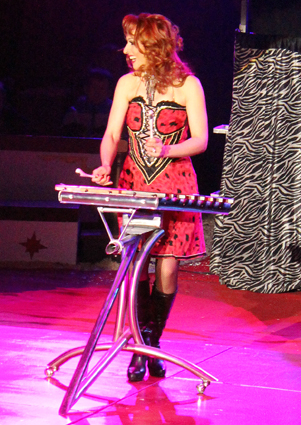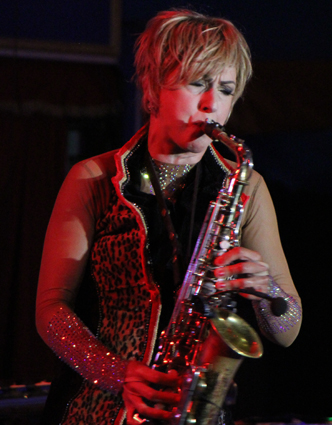 Martyne Chabri
The juggler Nandor Varadi was with the small Danish Circus Krone in 2007 and with Circus Baldoni in 2008 and 2010. In 2018, he was together with Diana Boiachin in the Norwegian Circus Arnardo - he as a juggler, Diana with aerial acts.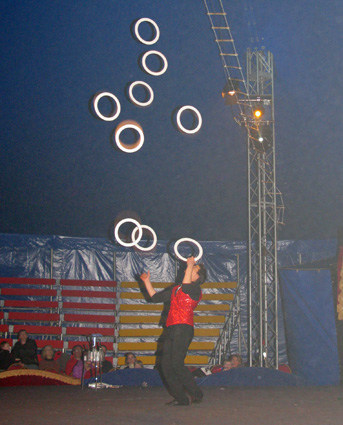 Nandor Varadi.
The Buffalo Family, also known as the Janacek family, has worked for Baldoni for several years. The eldest son Kaya last time presented his formidable rola-bola act in 2021. The act was also presented a few times in season 2022, when other artists couldn't perform.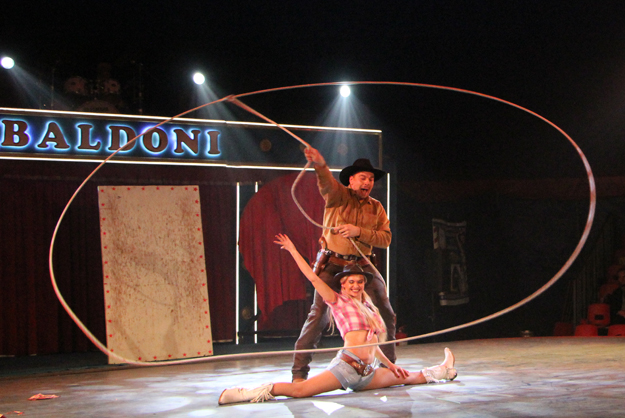 Maria and Eddie Janacek with lasso in 2019
The comedian Tøffe has previously entertained the audience at Benny Schumann's clown shows at the amusement park Bakken north of Copenhagen. Tøffe has also appeared in numerous commercials, short films and feature films both in Denmark and abroad. Most recently in "Journal 64" and "A fortunate man". For a number of years, together with the Swedish comedian Yan Swahn and the singer Gitte Johnson, he was part of the show group "Two tons of fun". Tøffe also had some good seasons with Bakkens Andy, Kai Løvring and Bjarne Lisby in Restaurant "The four Oaks" at Bakken. Most recently, in the run-up to Christmas, you have been able to meet him as Santa Claus at H.C. Andersen's Christmas market in Copenhagen.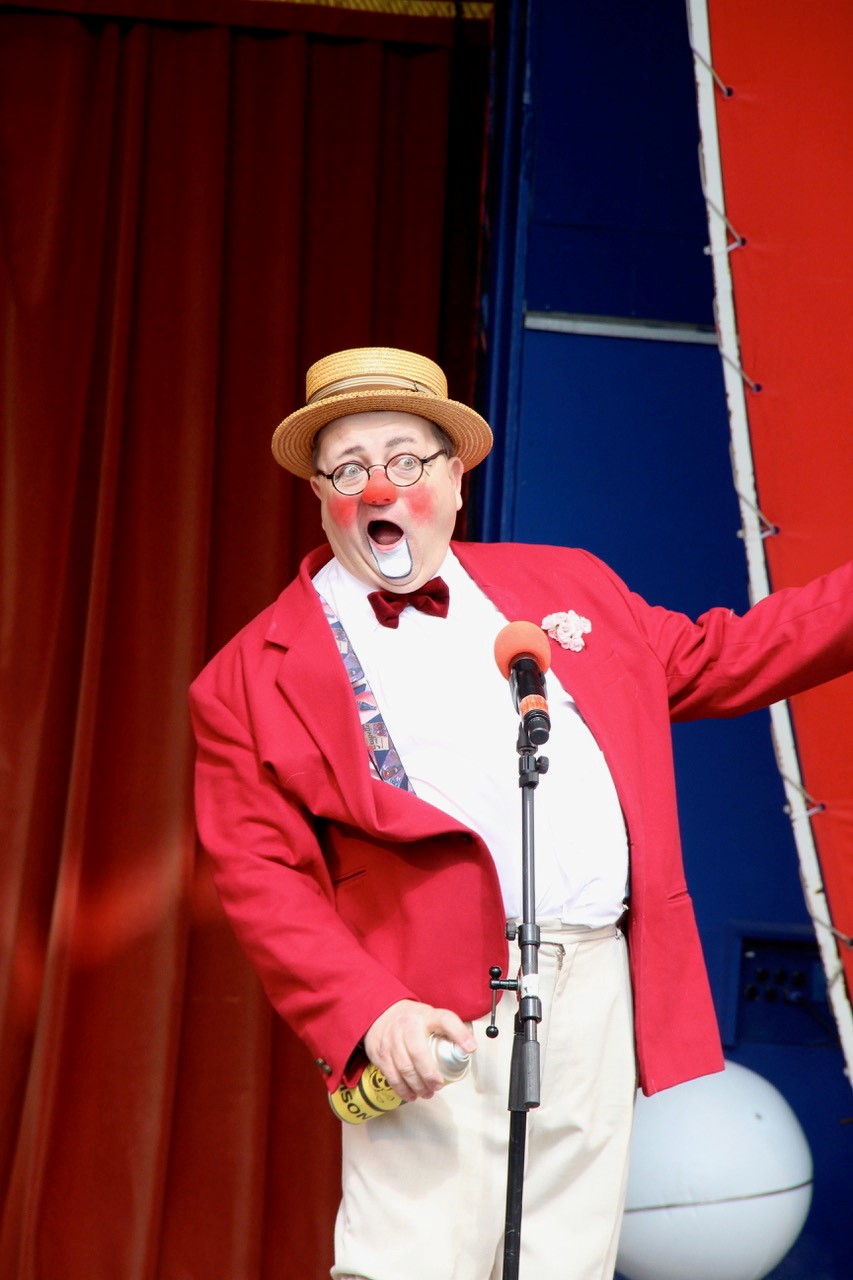 Tøffe. Photo from a clown show at Bakken 2011. Photographer: Per Krogh Petersen

2 January 2023
Danish circuses in 2023. Here is an overview in alphabetical order of the circuses that we expect to see on the Danish roads in 2023, as well as the planned opening dates.
Cirkus Arena: Season opening at Bellahoj in Copenhagen on 3 April. The performance will just as in 2022 be presented by Bubber and Julie Berthelsen.
Among the performers are the juggler Michael Ferrari, his brother the tight wire dancer Steven Ferrari, the high wire troupe Ortiz, who also perform in the wheel of death, the aerial acrobats Duo Costache and Circus Arena's usual clown Jimmy Folco. Changes may occur.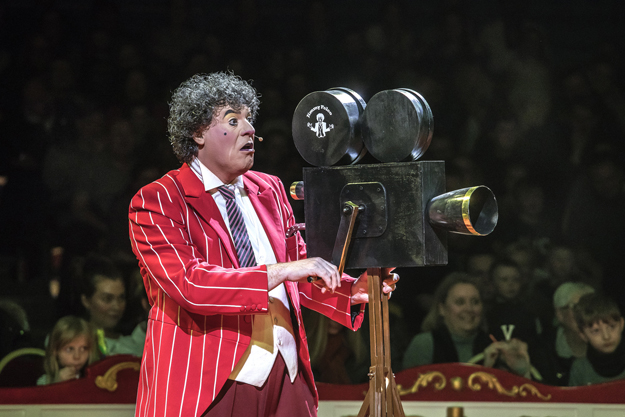 With a few exceptions, Jimmy Folco has been part of Arena's performances since 1997. Press photo from Circus Arena
Circusland in Circus Arenas winter quarter in Aarslev is next time open during the winter holidays from 11 to 19 February. This summer they have planned a series of open-air concerts: 23 June Kandis. 30 June Stig (Stig Rossen) and friends. 7 July Lars Lilholt band. July 28 Queen Machine. 6 August Hansi Hinterseer.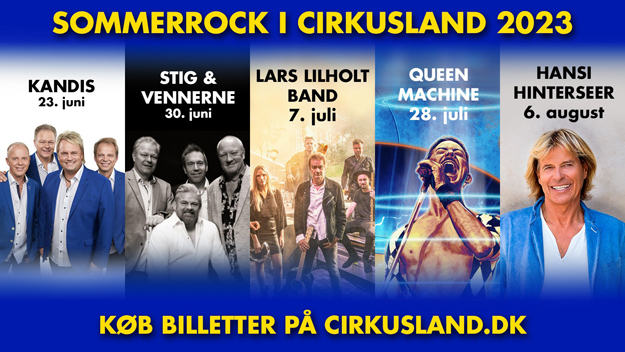 Circus Arli: season opening at the Mill Hill in the Copenhagen suburb Flong 2 April. The names of the performers have not yet been published.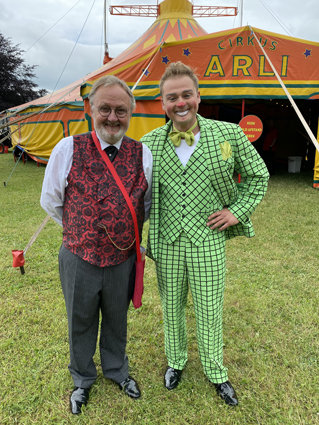 Martin Arli and his son Alexander are always among the main forces in Circus Arli.
Circus Baldoni: season opening in Hillerod 10 April. Names of the cast mentioned above.
Circus Mascot: no information about the summer tour yet. As in 2022, they will tour in sport centres and other arenas and not have tented performances. During the winter holidays in week 7, you can see them with short performances in the Herning Shopping Mall.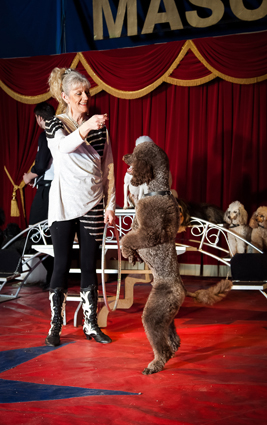 Marianne Deleuran and her playful doggies are an absolutely indispensable part of a Mascot performance. Press photo from Circus Mascot
Zirkus Nemo: season opening April 29 in Horsens. Apart from the circus owner, the actor and comedian Søren Østergaard, the names of the performers have not been published.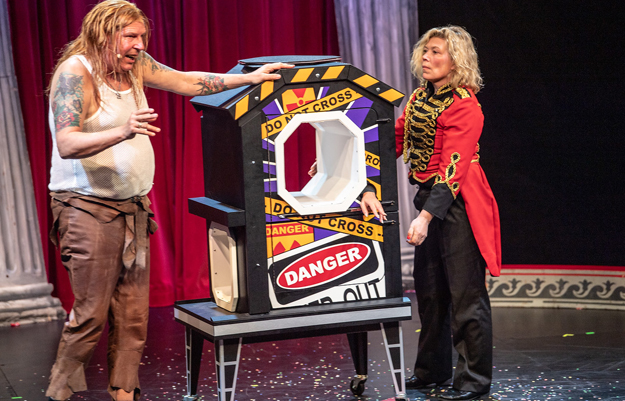 Although Zirkus Nemo offers excellent artists, it is primarily Søren Østergaard himself that the Danish audience comes to see. Here as the smash man together with Søren's PA Laura Kvist Poulsen. Photo from 2019. Photographer: Rud Kofoed / Ajour Press.
Circus Trapez: From 10 to 26 February winter circus in a number of Jutland sport centres and other arenas. No information about the summer tour yet.

1 January 2023
Birthdays with a round figure 2023. Several people in the Danish circus and artist world can celebrate a birthday with a round figure during 2023:
20 January 2023: Philip Schumann, former artist and ringmaster, 70 years old
3 April 2023: Camilla Frimann, Circus Baldoni, 50 years old
16 April 2023: Sonja Solberg, former aerial artist, 80 years old
7 September 7: Charmaine, Stephanie and Oliver Berdino, artists, 30 years
13 September 2023: Bjoern Schult-Bjornlys, former trick rider etc.
1 November 2023: Marc Thierry, bandmaster and musician, 50 years old
6 November 2023: Ole Bünger, ventriloquist, magician etc.,80 years old
18 December2023: Jacki Steckel, former artist and circus owner etc. 70 years old
18 December 2023: Michael Frederiksen, magician, 50 years old

1 January 2023
This website had approximately 26,000 visitors in 2022. The news section, being a weekly internet magazine and the tour list ("What's on) are usually updated every Saturday. Apart from news and tour list the website has pages with facts about Danish circuses, Danish circus families etc. Links to those pages can be found at the bottom of the opening page

Link to news from 2007

Link to news from 2006