'
From Denmark
and other Scandinavian countries
A weekly updated internet magazine
Last updated : 3. June 2023
2 June 2023
DYNAMO Contemporary Circus Festival 14 to 17 June 2023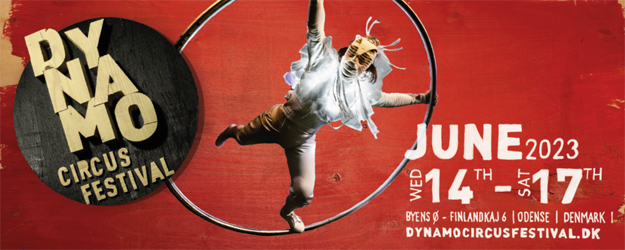 DYNAMO Workspace for Circus and Performing arts in Odense writes:
Welcome to a performing arts festival that celebrates shared experiences!
Free from taste judgment and arbitrary avant-garde tyranny, this is a life-affirming embrace of the general human: the empathy, the fear, the redemption, the joy, the euphoria, the tension and the loss of control. Together we explore circus.
It will be the fifth edition of Dynamo's international contemporary circus festival. You can meet:
Collectif Malunés (BE/FR)
Los Putos Makinas (ES/DE/UY/BR)
Kaaos Kaamos (SV, NCL, IL, DE, AR, BE)
Gustaf Rosell, Mikkel Hobitz & Sarah Lett (SE/DK/CA)
Dan Le Man (AU)
CirkusPerspektiv / Marie-Andrée Robitaille (SE/CA)
Karavan and LUR (SE/DK)
Luuk Brantjes (NE)
You can read more and order tickets at https://dynamoworkspace.dk/festival/?lang=en
DYNAMO Circus Festival is supported by the The Danish Arts Foundation, Odense Municipality, Nordic Council of Ministers, Øernes Kunstfond, William Demant Fonden, Region Syddanmarks Kulturpulje, Spar Nord Fonden, Royal Unibrew, and Wisti Fonden.

31 May 2023
Flying Superkids. Flying Superkids started out in 1967 as a traditional gymnastics team, but has evolved into an internationally renowned show ensemble. Today the show performed in more than 35 countries and is experienced by over 35.000 people every year. The show is a high tempo mix of acrobatics, gymnastics, dancing, singing, comedy, tumbling and of course twists, double and triple somersaults on trampolines and other crazy equipment.
Jørgen Lorenzen saw the performance in Aarhus on May 28 and writes (my translation):
Flying Superkids is so successful that extra performances have to be arranged - which quickly sell out. This was also the case today.
The tent is new and beautiful. It is provided by Enoch Show Production – a tented palace with a steep grandstand making is possible for everyone to see what's going on at the stage.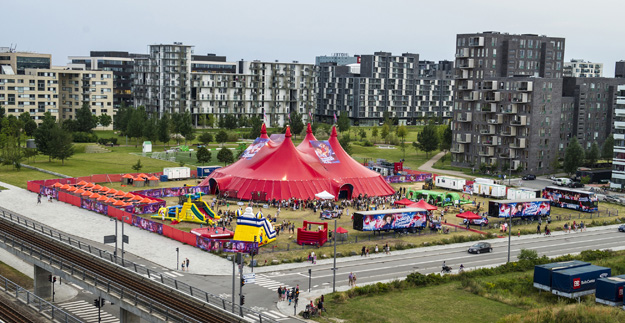 The tent seen from outside. Photo by courtesy of Flying Superkids
The performance is something between a gymnastic show, a dance show, a singing performance, a film on the big screen – and the circus. You can clearly feel Jimmy Enoch's circus ballast, which goes well with the compere Lars Godbersen's dynamism, humor, mood and subtleties. His ideas and whimsical whims are in line, and most importantly: you can feel the obvious joy of the children and young people performing and showing what they can do. Not only do they learn some skills as performing gymnasts and artists. They also learn to perform, i.e., show what they can do. With self-confidence, and behind the scenes with self-discipline, will and tenacity. And of course, also talent. It is all garnished by a tight, colorful and imaginative choreography and a beautiful lighting - with fireworks.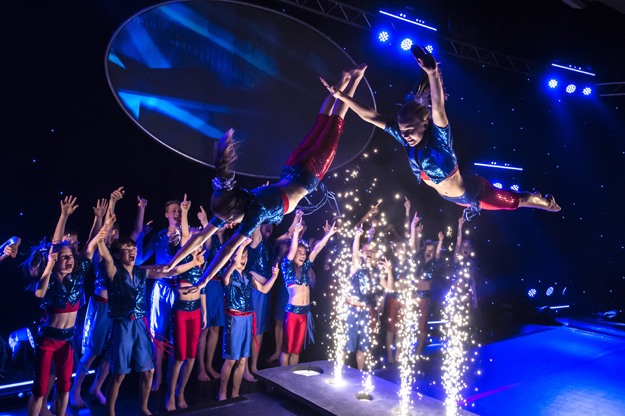 Superkids! Photo by courtesy of Flying Superkids
The performance begins when Lars Godbersen in a boiler suit and the young people in recycled clothes entering the stage. Lars explains that savings must be made in these times of crisis, so costumes have been sourced from thrift stores. An attempt to play the Danish national anthem goes wrong. But suddenly he says: "We're just joking!". And in a second everyone throws away their "outer clothes" and we're off to a good start. And get the first example of Lars Godbersen's subtle humor.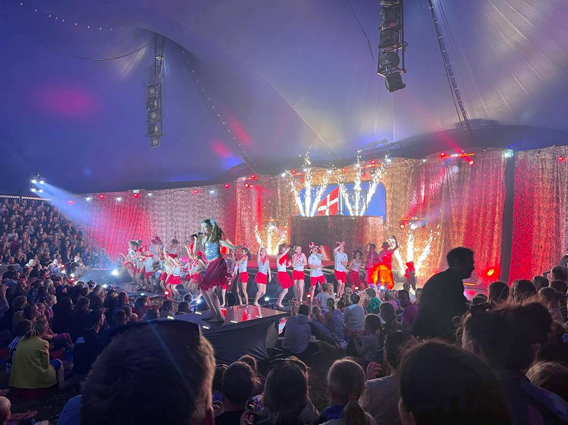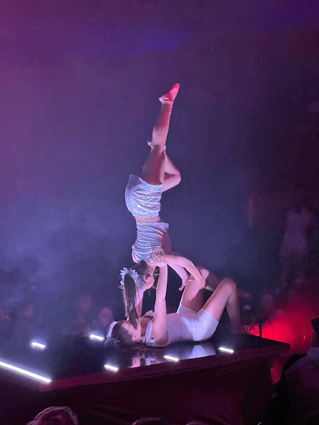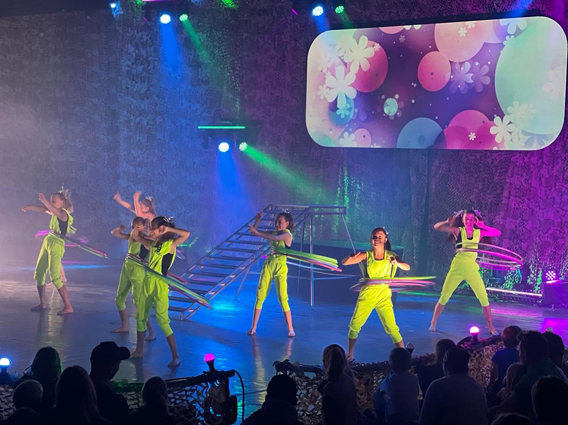 Photos: Maja Bisheim Terp
Among the many aspects of vaulting gymnastics, one thinks of gymnastic teams which of course also has show elements. During the included songs, the children's melody grand prix is reminded. And you see lots of circus art. There is cube juggling, hula hoop, trampoline, stuntman, skipping, street dance, handstand up and down stairs and there is a frog person. But the very best thing is that the Enoch family bike act is now flourishing in the 4th generation, as Jimmy Enoch cycles with his children Emily and Jeremy.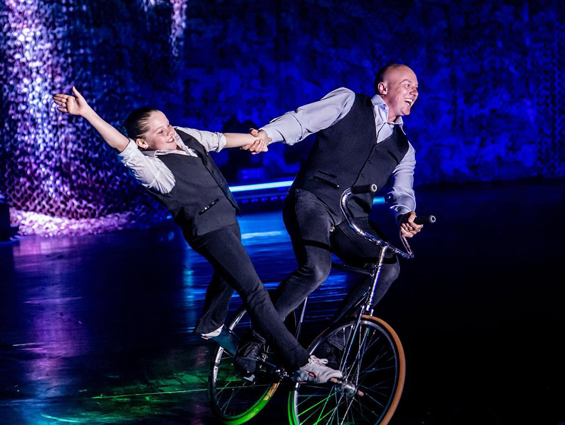 Jimmy Enoch with his daughter Emily. Photo by courtesy of Jimmy Enoch
Flying Superkids does not use the name circus, even though the performance is based on the "real" circus. On the other hand, the Circus Summarum uses the name circus even though Summarum has nothing to do with a circus. But the two performances are united in the way that it is Enoch Show Production that provides the tents.
(Circus Summarum is organized by the Danish Muscular Dystrophy Foundation and DR television's Big Band and is a tented performance for families with children, which is performed in Ballerup and Aarhus every summer. In the ring in the tent well-known characters from DR television's popular children program Ramasjang perform live together with the DR Bigband. DR is the leading Danish TV channel. The tent used for the performance is leased from Enoch Show Production).

29 May 2023
Circus of Torment is coming back to Denmark. David Sosman writes hat Circus of Torment will visit Denmark this autumn with performances in Aarhus, Esbjerg and Odense.
They visited Denmark in February this year with performances in Vejle and Aalborg.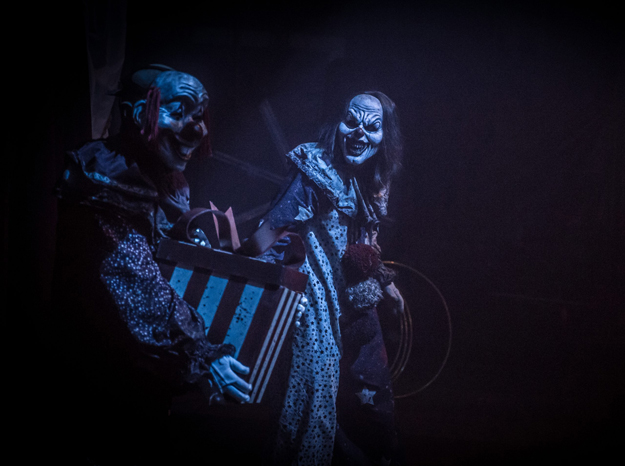 23 May 2023
The Clown Show. The circus museum in Hvidovre, Copenhagen, writes:
Have a good laugh when 8 clowns from all over the world visit the museum on Whitsunday 28 May at 12 noon.
The good clown has a childlike curiosity about the world and a heart as big as the biggest clown shoes. You can experience all that and much more in The Clowns Show, where both humanity and our folly are on display. Museum curator Mikkel Knudsen write (my translation):
"The good clown can, by exhibiting himself, arouse compassion, but also make us see our reflection and make us laugh at our own actions and behaviour. This is what the clowns in The Clowns Show are experts in, so don't expect acts with custard pie throwing and audience humiliation, but rather good laughs."
The clowns, who come from i.e. Finland, Italy, Lithuania, Germany and Denmark, come from the internationally recognized school for physical theater Commedia School. The school has started students on successful careers in many areas of performing – including stage, street theater, circus, puppet theater, magic, children's theater, performance, cabaret and film.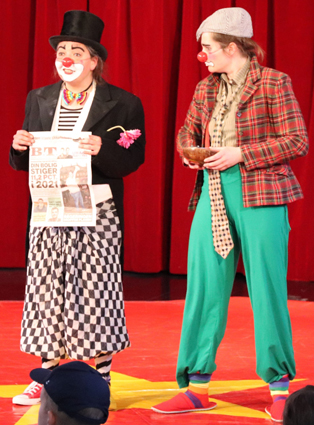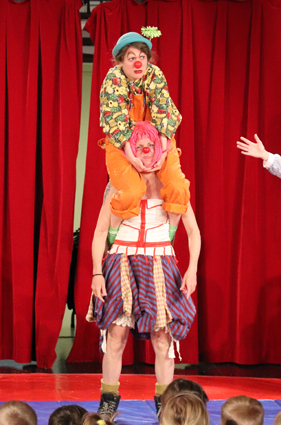 Before or after the show, you can learn more about the circus in the museum's exhibition.
Tickets for the show (which can be understood by everyone) costs DKK 20 for children DKK 90 for adults. Including entrée to the Museum.
The Commedia School is a 2-year actor training program founded by Ole Brekke and Carlo Mazzone in Copenhagen, Denmark. Each September since 1978, a new group of students from around the world have been attracted to Northern Europe's oldest physical theater school to develop themselves as performers.

21 May 2023
Circus Solvej is a tiny circus which, according to the plans, over the summer will tour Jutland and Funen with their small tent, horses, caravans and popcorn. Behind the small circus are the acrobat and multi-artist Zora Nikodemova and the young Victor Høeg Abrahamsen, who in recent seasons has been associated with Katja Schumann's Circus Farm in Løkken and for a period was a groom at Circus Mascot.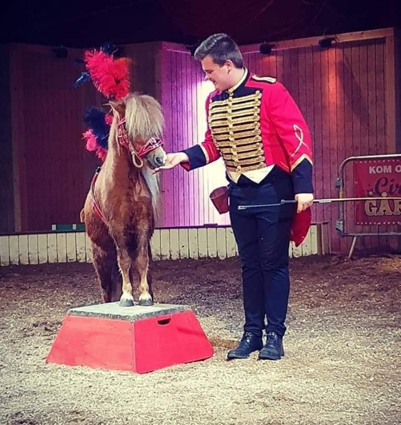 Victor with pony. Photo from the Circus Farm 2021
Zora is born in Prague, but has lived in Denmark for many years. Years ago, she was a partner with Freddi Steckel in his knock-about table act. Since then, she has performed at a large number of venues and has also worked for the Circus Museum in Hvidovre, Copenhagen.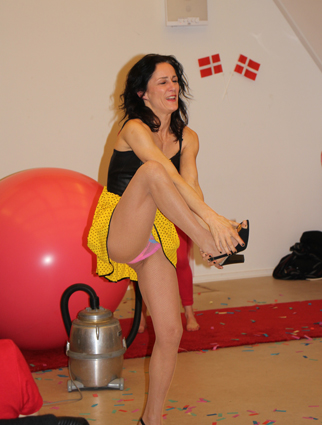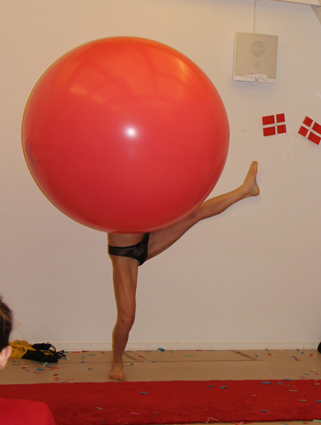 Zora has many different entrées. Here she is seen as a girl in the giant balloon
Victor and Zora have decided to call the small circus for Circus Solvej. "Because it's summer, sun and we're on the road," writes Victor in a Facebook post. "Sol" is the Daish word for sun and "vej" the Danish word for road. Victor and Zora are responsible for the entire performance themselves.
The small circus has not yet announced their tour schedule.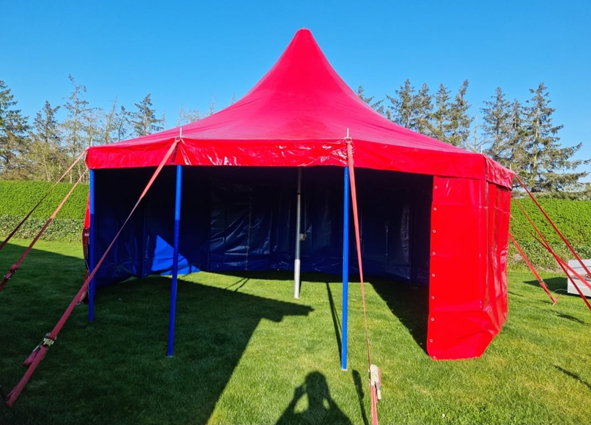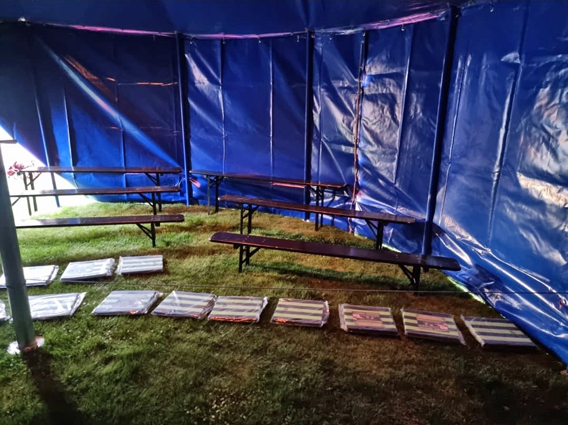 Zora and Victor have rented this small tent for this summer's performances.

20 May 2023
Los Ortiz on a wire from tent pole to tent pole. One of the main attractions in Circus Arena's performance is the high wire troupe Los Ortiz, who, among other things, present the famous 7-man pyramid.
On May 19 you could see some of the troupe's members with a completely different act during Circus Arena's visit to Aalborg: they walked on a wire from king pole to king pole and showed formations and jumps that have never been seen before in Denmark on a wire over a tent!
This outstanding performance left those present holding their breath, and they were enriched by an inspiring experience. The free outdoor high wire walking will probably be repeated in some other cities as a publicity stunt for Circus Arena.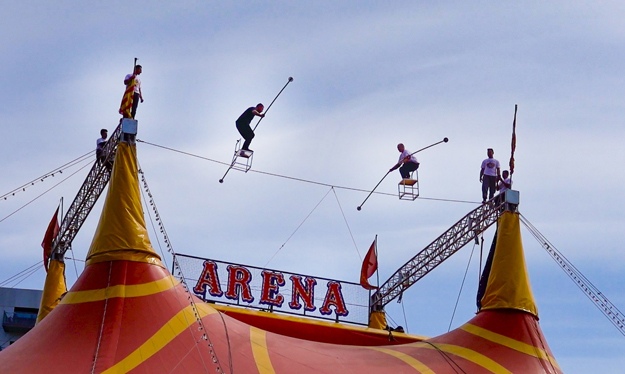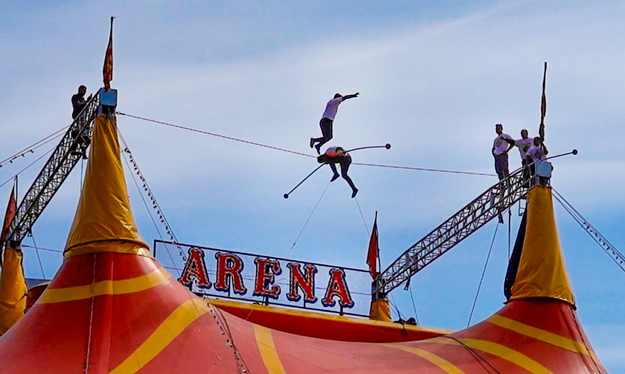 Los Ortiz. Press photos from Circus Arena

18 May 2023
Francesco Fratellini to Cirque Arlette Gruss. Don't worry: until Circus Arli ends its season in the last half of August, you can see the excellent clown and multi-artist Francesco Fratellini in the small circus. But from October 2023 to May 2024, he and his spouse Sarah Florees have signed a contract with the large French Cirque Arlette Gruss. Thus, next year you won't be able to see the couple in Denmark.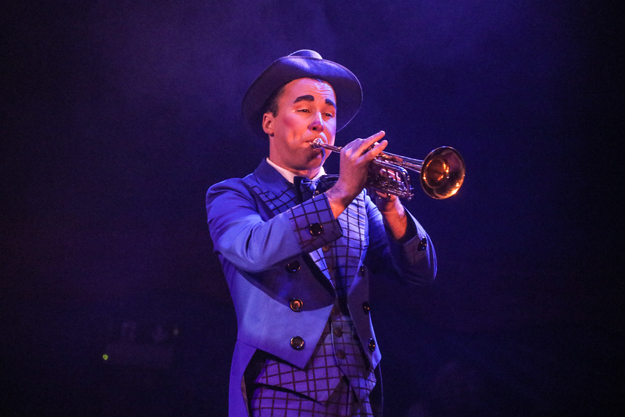 Francesco Fratellini. Photo: Jacob Boas Leitisstein
At Arlette Gruss, Francesco will make several clown entrées. Sarah will perform in the chandelier, just as she did in Circus Arli in 2020.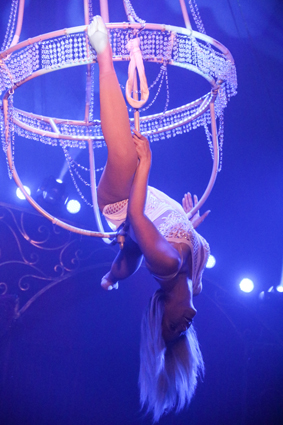 Sarah is hanging from the chandelier. Photo: Jacob Boas Leitisstein
Francesco Fratellini is the 8th generation of a famous French artist family. He has previously worked in another of the Gruss family's circuses, Cirque Alexis Gruss, where the director's wife Gipsy Gruss is his godmother. There he received an all-round artist training, which means that with talent and skill he can perform many different things, including as a clown. He has also performed in Switzerland in the famous Circus Knie. He made his Danish debut in Circus Arli in 2016, and his talent and charm meant that this year he is with Circus Arli for the 7th time.
In 2022, he received the year's talent prize from the Danish Circus Award.
Among the other performers with Arlette Gruss is the clown Pieric (Pierre Furic), whom the Danes experienced at Circus Dannebrog in 2013. Slightly older circus friends can also remember him from Circus Benneweis 1990, where he performed together with Pipo Sosman.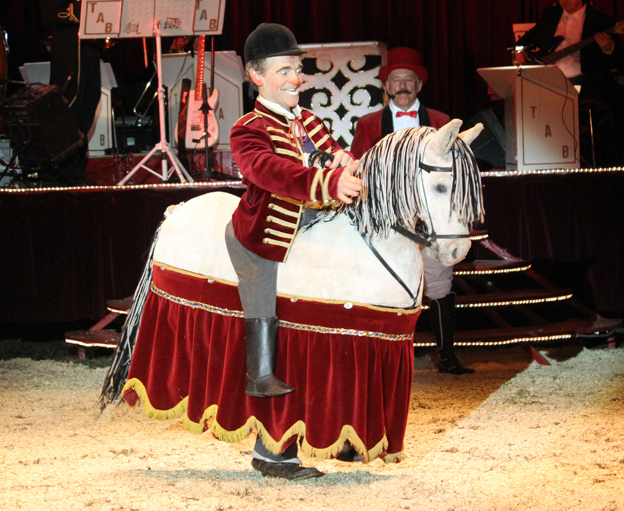 Pieric in Circus Dannebrog in 2013

15 May 2023
ON THE BENCH - - an acrobatic staging of a Copenhagen bench.
The contemporary circus company Cikaros writes (my translation):
The sun is shining and the CPH Stage festival is approaching. We will be there again this year and hope to see you out there. We would like to invite you to come and see the performance ON THE BENCH - - an acrobatic staging of a Copenhagen bench.
In cooperation with Capital of Architecture 2023 the performance is presented in a special edition, where we pay tribute to the Copenhagen bench as a unique urban space design. Before and after the performance, you can see pictures from the bench's history, read about the bench's creation, colour your own bench or be inspired by our practice sheet for choreographic displays on the city's benches.
The event lasts half an hour and is aimed at everyone who has sat on a bench. Or seen someone who did. The performance is outdoors, free and does not require a ticket reservation.
We have performances on
Saturday 3 June at 12, 14 and 16 at Israels Plads
Wednesday 7 June at 16 and 17 at the The Tower Playground, Frederik V's Vej 4, 2100 Copenhagen Ø
Saturday 10 June at 12, 14 and 16 at Israels Plads
On the Bench is a dance-acrobatic interlude in which two female contemporary circus artists Signe Løve Anderskov and Henriette Aarup stage the iconic Copenhagen bench. In a quirky and whimsical acrobatic duet with surprising choreographies and to the sound of Chopin, the familiar element from the urban space becomes a partner in a playful encounter between body, bench and city
With physical precision, in balancing and body-bending movements, the artists work on and with the bench, creating an abstract and magical moment in the everyday life of the city. On the occasion of the Capital of Architecture 2023, the performance is presented in a special edition, where we pay tribute to the bench as a unique Copenhagen urban design.
The city of Copenhagen has been officially designated as World Capital of Architecture for 2023 by the Director-General of UNESCO, Audrey Azoulay, on the recommendation of the General Assembly of the International Union of Architects (UIA).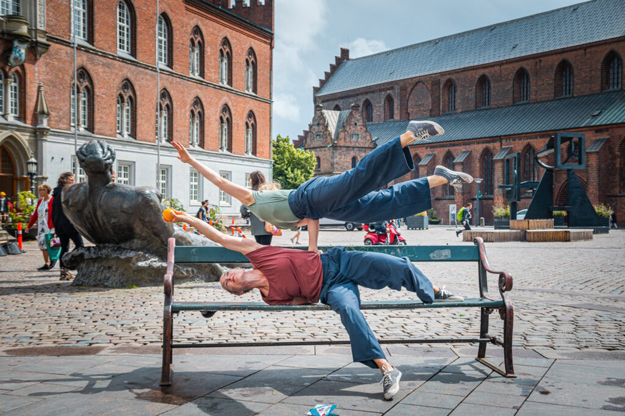 Photo: Cosmin Cistea
The performance premiered in 2021 and will be performance no. 100 during the CPH Stage festival.
In the event of widespread rain, the performance will be postponed or cancelled.
Cikaros is a Danish contemporary circus company, which was formed in 2005 and since then has produced and toured with contemporary circus performances throughout Denmark and in Sweden, Norway, Holland, France, Spain, Croatia, Russia, Egypt, the Czech Republic and Oman.

12 May 2023
Zirkus Nemo 2023 – a good vintage. Zirkus Nemo is a combination of circus and comedy show, owned by the Danish actor and comedian Søren Østergaard. There is no doubt that the biggest draw in Zirkus Nemo is Søren Østergaard and his well-known comedy characters. The audience simply love him. Søren certainly does not disappoint those who visit Nemo this year. Neither when he is "just" Søren nor when they meet him as the man who can't whistle, the man with the world's longest left arm, the ventriloquist Oleg Olansky, the Backward Man, the rat trainer Marianne, the Smashing Man, the Measure Man, the Magician with clapped flowers or Jørgen the Baker. Often with flabby comments to the spectators.
But in addition to Søren himself Zircus Nemo has world class artists in the performances.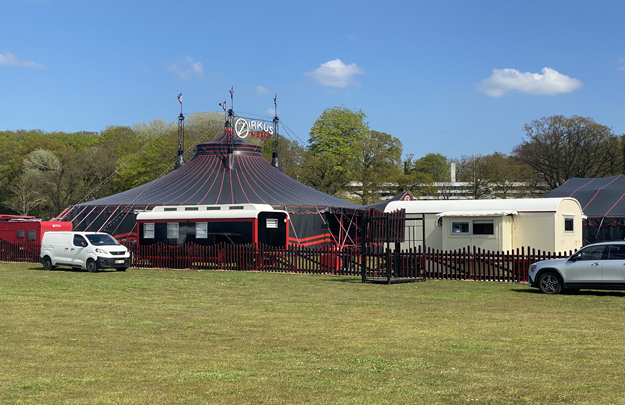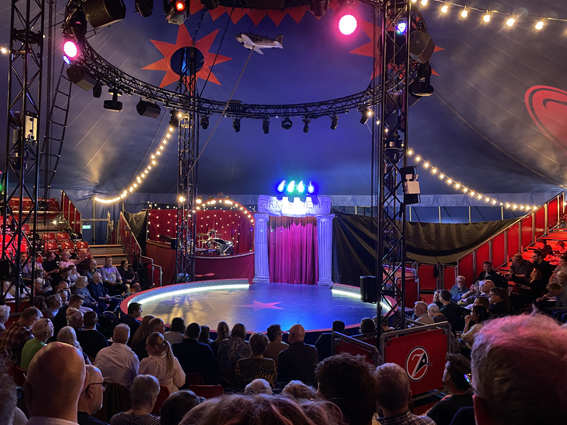 Zirkus Nemo at the lot under Little Belt bridge in Middelfart
This year's performance begins with Søren coming down from the grandstand. At the performance on 7 May in Middelfart, he had to announce that the bandmaster Øyvind Ougaard was sick but that the three other musicians would do it as best as possible. And they did so very, even though both the trumpeter and the drummer are new in Nemo. Søren also introduced the ring crew and sent one, Christian Mosbæk, out to change his clothes as he was not dressed up. Christian then returned in a girl guard outfit!
The ring crew, not least the former sea lion trainer Ingo Stiebner, are also active participants in the performance and not just props.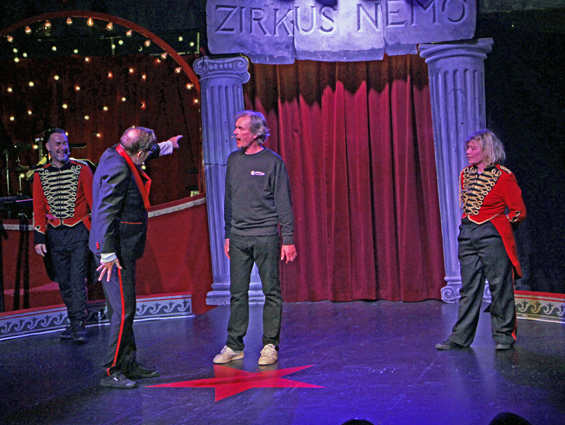 "You can't look like that when there is a performance. Out to put on your uniform"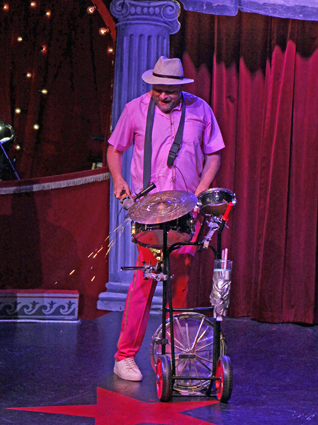 New in the Nemo is the drummer Kalle Mathiesen, who here operates the cymbals with a grinding machine!
The hand stand acrobat Hector Yzquierdo, from previous years known as the male partner of Duo Solys, has a number of run-ins during the performance. We first meet him in an illusion act, where he, assisted by Christian Mosbæk and Ingo Stiebner, crawls into a vertical box, which is both pierced and split in two, see photo.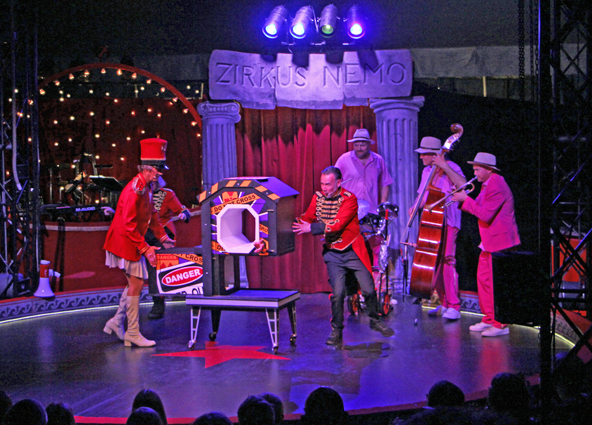 Hector is inside the box!
He is followed by Søren Østergaard in his beloved entrée as the man who can't whistle.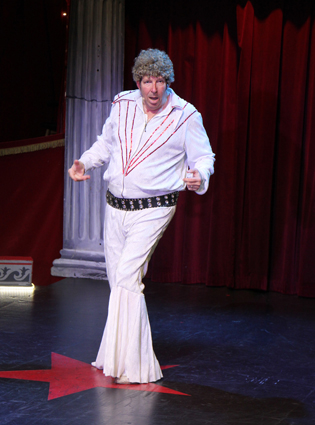 A World Star: The Man Who Can't Whistle.
The next number is Zorè Espana in a beautiful entrée in Cyr Wheel – a huge hoop that she swings around in. The entrée looks good in Zirkus Nemo's small ring which as Nemo connoisseurs know is an elevated stage.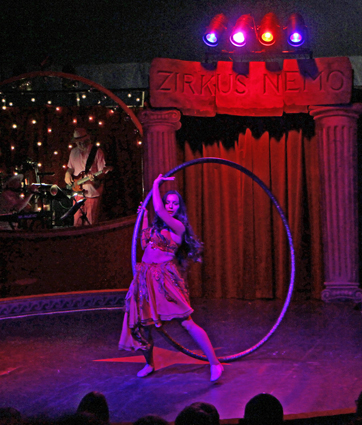 Zorè Espana
After a brief entrée with the man with the world's longest left arm, Hector has a brief run-in as the dancing gypsy couple.
Then Søren comes back on stage. This time as the clumsy ventriloquist whose doll falls apart more and more during the entrance.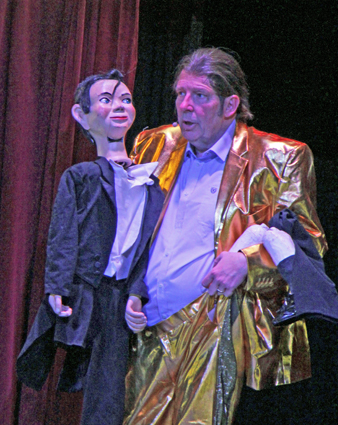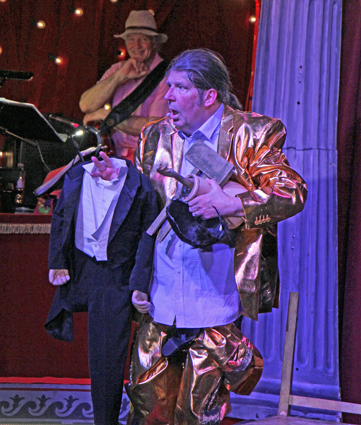 The clumsy ventriloquist
Hector then has another short dance before Backward Man, who is a member of DBU - Danish Backward Union - takes over the stage.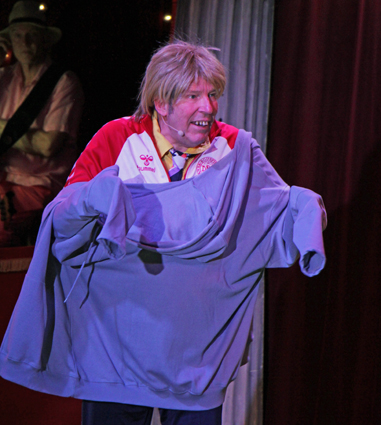 The Backward Man
Then it's time for a top-class juggling act: Claudius Specht, who juggles both clubs and cups. He was most recently with Nemo in 2014.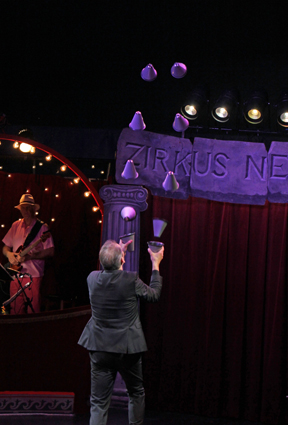 8 cups in the air and 2 in the hand
Next, we get a visit from Marianne, who, with the assistance of Ingo Stiebner, present her trained rats. And they are real live rats. Finally, one of them climbs up a rope to an airplane, from which it jumps. (Don't worry: no animal cruelty, it's a doll falling from the plane.)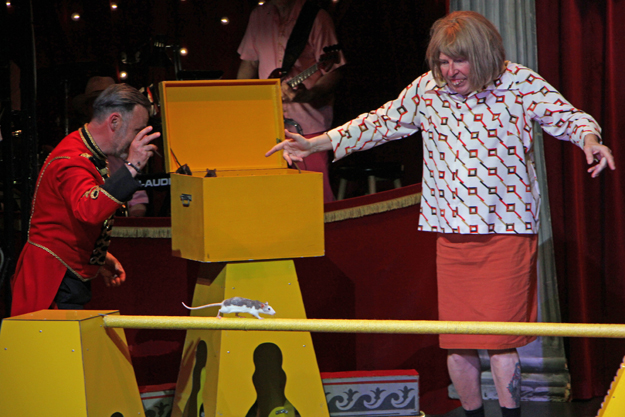 Marianne – she is done for!
The last phenomenon before the break is the man with the world's longest leg, where the leg is carried by the ring crew into the ring until it reaches the spectators in the ringside chairs!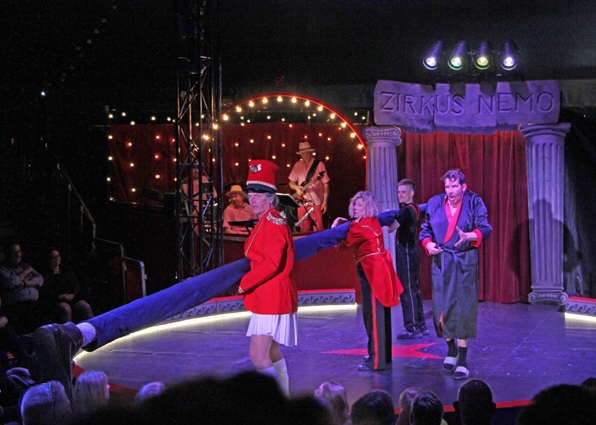 The world's longest leg!
The first act after the break is one of Søren's most beloved comedy entrées: The Smashing Man, who first plays heavy rock on his guitar and then starts smashing cream puffs and has to admit in frustration that there is a puff who doesn't want to play along.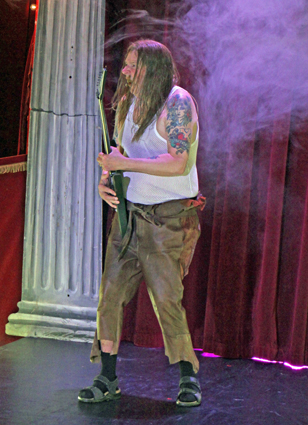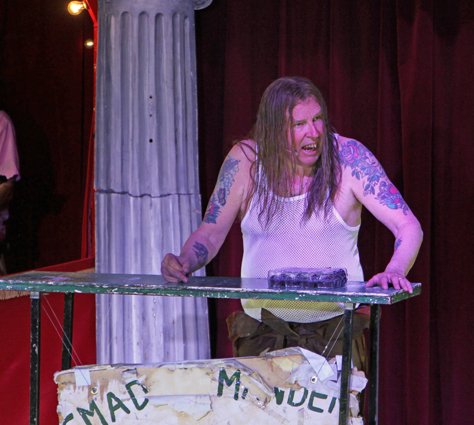 The Smash Man
Hector now has a nice handstand entrée where he both jumps from hand to hand and ends with Encho's signature trick, where he pushes bricks to the side. More and more artists are doing this trick. But aside from Encho himself, I don't recall anyone doing it with greater elegance than Hector.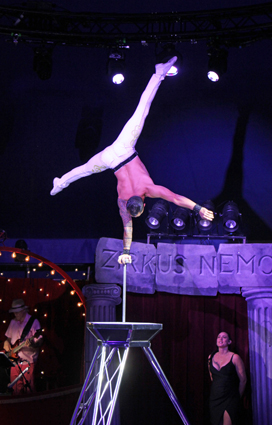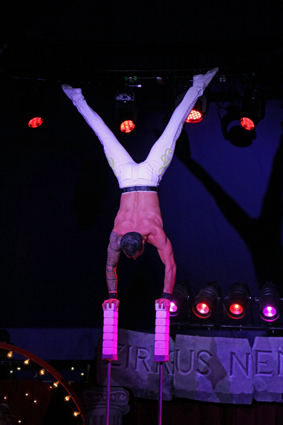 World class handstand!
Now it's the time for the Measure Man. And he finally succeeds in making a measurement with a brand-new super measuring tape, which the assistant Laura Kvist Poulsen brings.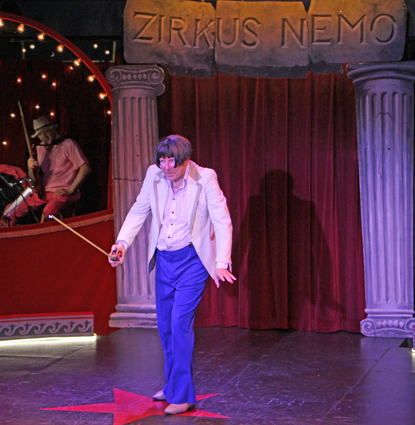 The Measure Man
After a short feature with the ring crew as girl guards, we meet the slightly awkward magician with lots of fold-up flowers from Pegani. (Pegani is the leading Nordis dealer in magic effects)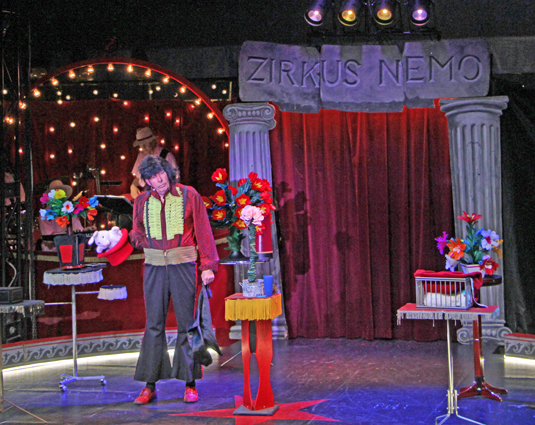 Magic with flowers
Now it's the turn of the comic acrobats Duo Flash. There are lots of slapstick and stunt elements in their number.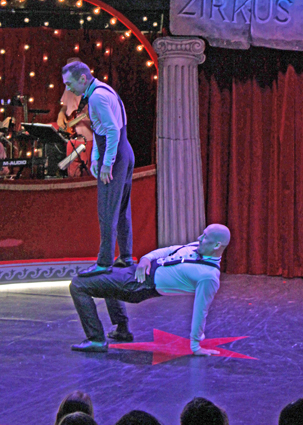 Duo Flash
When the orchestra tunes in with the Danish song "There's a baker", we know what's coming: Baker Jørgen, who can probably compete with the Smash Man as to who is Søren Østergaard's most beloved character. The entrée ends with dancing tartlets.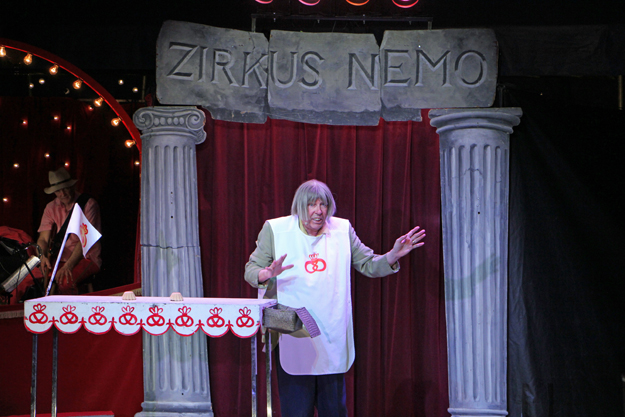 Ready to dance with tartlets
Next came the show's top artistic act: Duo Stauberti with perch. The duo today consists of Dimitri Stauberti and his niece Nancy. First trick is Nancy in a handstand on top of a perch, which Dimitri balances on his forehead while climbing up two ladders.
In the next trick, Dimitri again balances a perch on his forehead, while Nancy stands upside down on top of the perch while she rotates a kind of barbell with her feet. Later she stands on her head while Dimitri sits down and turns around.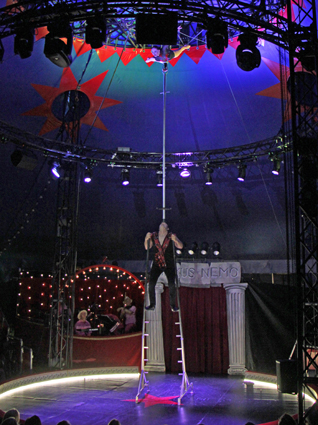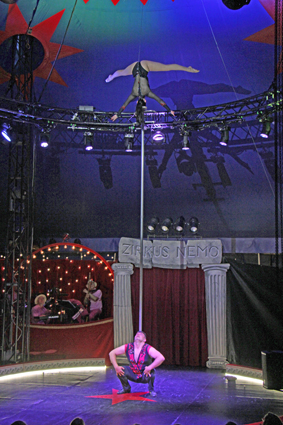 Duo Stauberti
In the final trick, Dimitri rides a tall unicycle while balancing a perch on his forehead. At the top of the perch, Nancy stands in a handstand with her legs in splits.
Impressive! The fact that Nancy uses the lounge for security reasons, which she did not need, certainly doesn't harm. We have come to the circus to be entertained, not for the performers to tempt fate to impress us.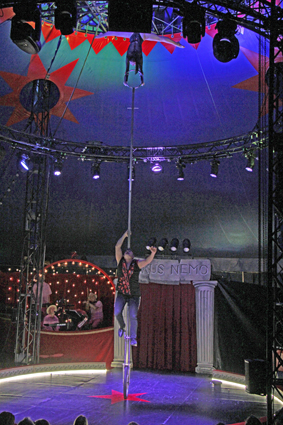 An impressive final trick that brought the couple a silver clown in Monte Carlo in 2018
The performance ends with Søren entering the ring as the poetic clown who first blows some soap bubbles and then has a giant head placed on top. "There is what I had in my head here today," says Søren before the grand finale, where the performance is rewarded night after night with a well-deserved standing ovation.
Søren Østergaard with his giant head

10 May 2023
Program change at Circus Trapez. Circus Trapez had, among other acts, booked the Said Amazigh Troupe from Morocco for the summer season with skipping, handstand and pyramid act. But it has proven much more difficult to get a work permit for them than Isabella Enoch Sosman had thought. On the whole, it is so difficult to get a Danish work permit for artists or tent workers from non-EU countries that several Danish circuses choose to only engage people with an EU passport.
As a replacement for the Moroccans, Circus Trapez has had, among others until last week had Vladimir Omelchenko with a nice rola bola number until last week, but he has now moved on to Circus Agora in Norway. They have also had the Danish comedian and juggler Jon G, Lør, belly dancers, girls from Einer Tries Circus Factory and Katja Schumann's Circus Farm. From the coming weekend, they have engaged the Hungarian duo Daniella and Lenard Matos, who last year toured Denmark with Circus Baldoni. At Trapez, in addition to the bike number from Baldoni, they show an aerial act.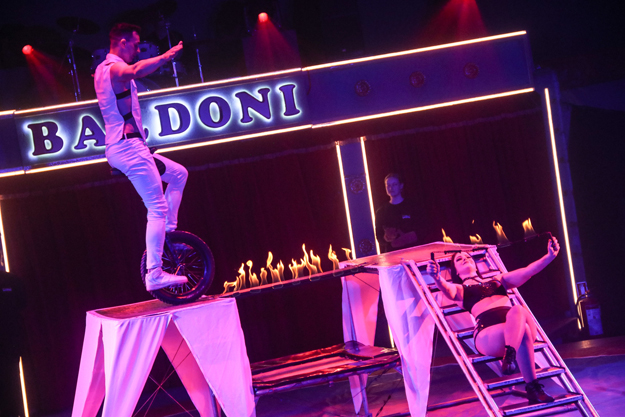 Duo Matos with their bicycle act, where Lenard jumps on a unicycle. Over Daniella, from podium to podium, up and down stairs, on a trampoline and across a burning rope. Photo: Jacob Boas Leitisstein.

8 May 2023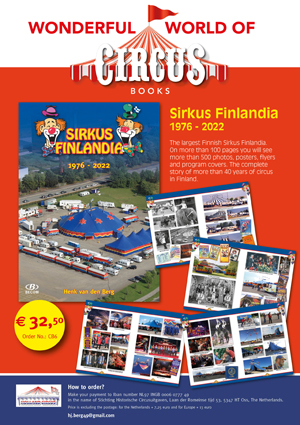 The Dutch circus friend and circus historian Henk van den Berg has published a number of richly illustrated books about different circuses. His latest book is about the large Finnish Circus Finlandia 1976- 2022. The book has more than 100 pages and has more than 500 photos, posters, flyers and program covers. The book is in English. It costs 31.50 Euro, plus shipping of 13 Euro when shipping within Europe (7.25 Euro in Holland). You can get more information about the book and how you can order it by writing to Henk at hj.berg49@gmail.com

7 May 2023
Obituary: Jan Richter. The Swedish Circus Academy writes (my translation):
The honorary member and Founder of the Academy for the Preservation of Circus Arts in Sweden, Jan Richter, Malmö, passed away Thursday, May 4, 2023. Now we have none of the founders left alive. Jan was 91 years old.

4 May 2023
Circus Mascot 2023. Jørgen Lorenzen saw the performance in Ulstruphallen on 1 May at 17 and writes (my translation):
170 spectators turned up - for a performance that offered a reunion with several of the artists we have seen before. After all, it's like that in the circus that the arrow has to point backwards. Circus is nostalgic and must remind you of childhood and the good old days. And the content must be a mixture of the artistic disciplines: juggling, acrobatics, balancing, tight wire dancing and dressage. Not necessarily all of them in every performance – but a section. And then there is an artist who is inevitable. The clown. No circus without a clown! And it is not unusual for an artist to appear again - in the same circus or in another circus. The recognition is part of the experience. Such was the case in Mascot this afternoon.
Circus Mascot offered a mix of new and old. The performance was opened by Lorry Nereus. In a nice, white piccolo uniform, the stage was set to a hotel and he led the audience through a rola-bola act. No one doubted how difficult it is.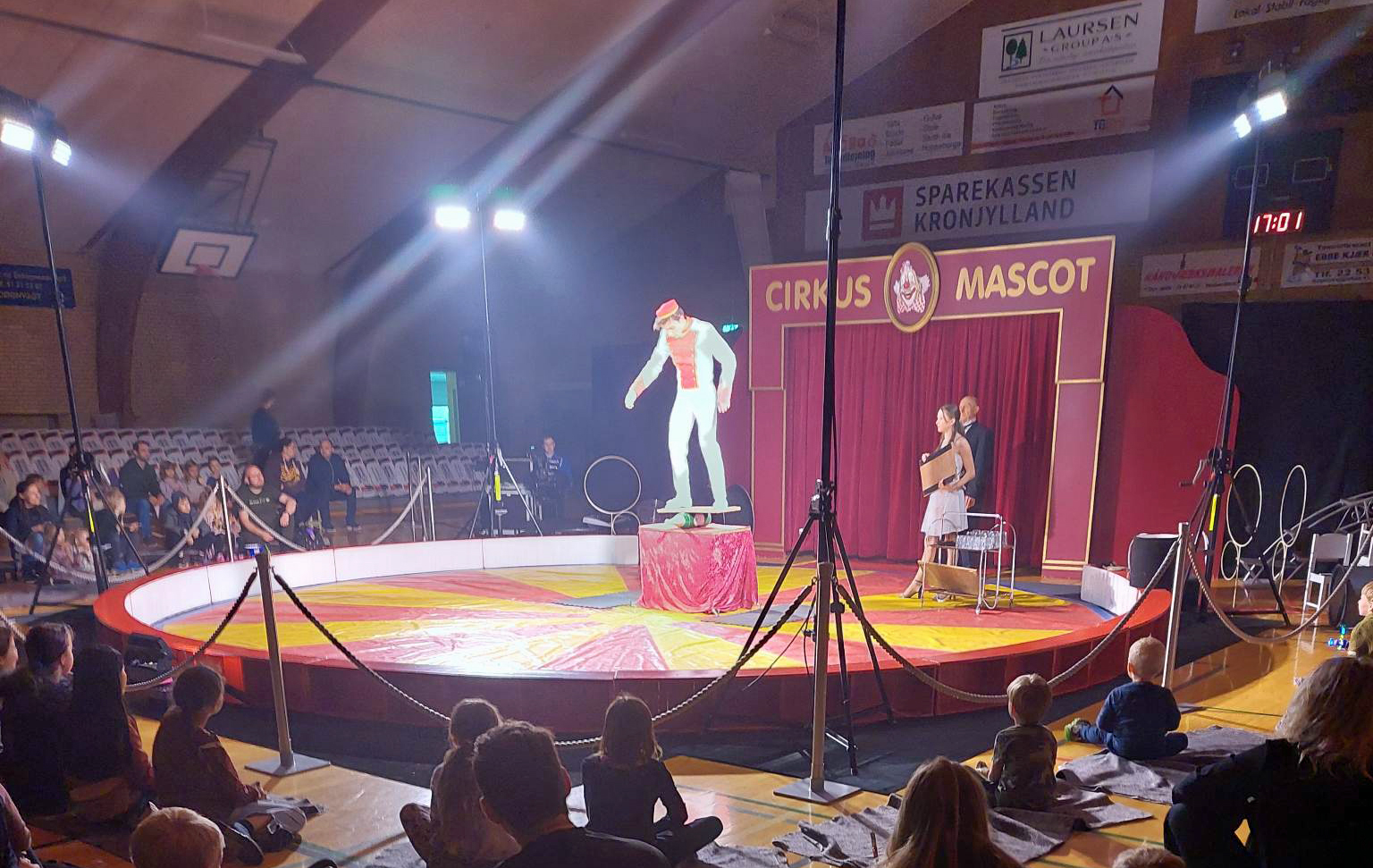 Lorry Nereus. Smartphone photo, taken by Jørgen Lorenzen
The ringmaster Daniel Deleuran introduced himself and Circus Mascot – completely "Glad I låget" ('Happy Face'), which is the motto of this year's performance. Gulio took over the ring with a clapper, which exploded to thunderous applause. Then the dog Pepsi gave a concert on the piano before Marianne's poodles entered the ring. In the old days, horse numbers were common, because people were used to horses - meeting them everywhere in the street. That time is over, but many keep dogs, and therefore the audience appreciate a dog act. And everyone could enjoy the free, unforced dressage, which rests on rewarding the playful animals – never and under no circumstances punishment. The dogs play – and enjoy it.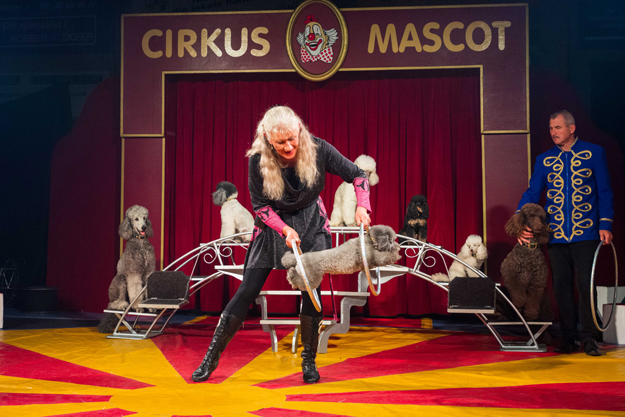 Marianne Deleuran and her playful doggies. Press photo from Circus Mascot
Guliojaki wants to show a dangerous Chinese martial art, and he needs to have a male audience to be his partner and opponent.
Brand new is Tatyana's soap bubble number. In a beautiful glitter suit, she created a poetic, fairy-tale atmosphere. The children enjoyed it, especially when the bubbles dissolved into smoke, and most of all when she spun a girl from the audience into a giant soap bubble.
Eva Vitzo showed her classic, stylish glass balance act. After the performance, the small girls accompanying me agreed that this number was the best in the performance.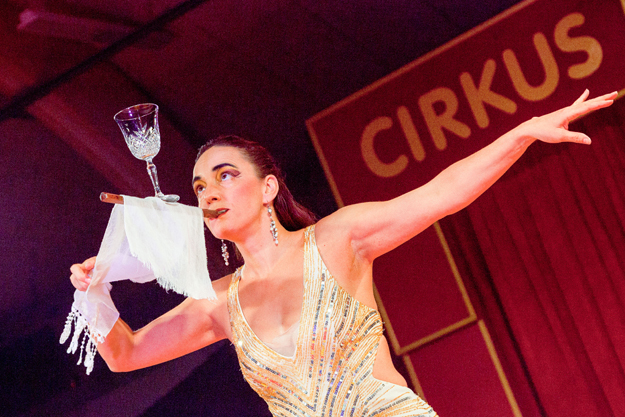 After the interval we saw Lui Nereus with his first act - handstand, where he built the number, using a doll as podium. A man from the audience was invited into the ring to help throwing the bricks up to him.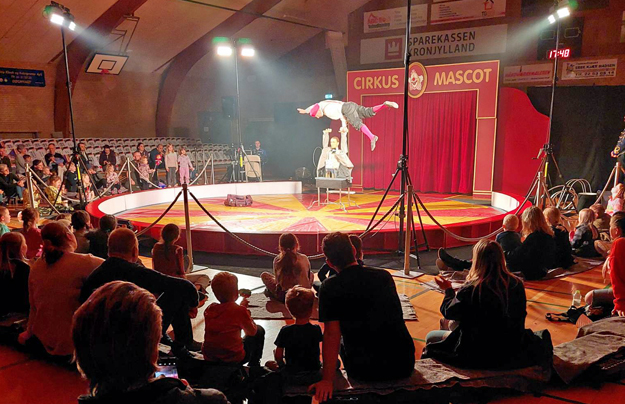 Lui Nereus with handstand on doll. Smartphone photo, taken by Jørgen Lorenzen
Mascot has many small animals. In the second part of the performance, we met Nemo the goose, Sille and Wilma the pigs and a pony.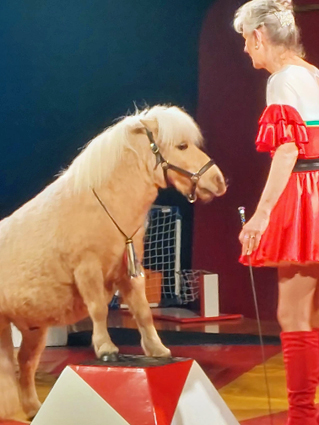 Marianne and her pony. Smartphone photo, taken by Jørgen Lorenzen
Gulio had several entrées with the participation of the audience. And together with Tatyana, he had a magic trick which turned into a game of 3 buckets, where one party crawls under the table and appears at the wrong times in the wrong holes. An entrée which is always amusing.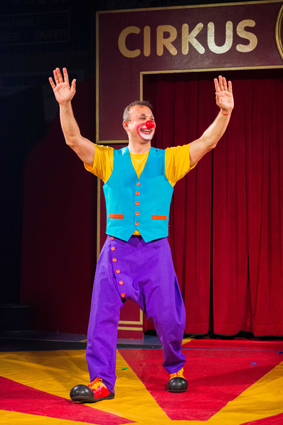 Gulio. Press photo from Circus Mascot
The final act in the performance was the 73-year-old Lui Nereus, who acts as a drunk man in a lamppost. One remembers The Great Fattini's number in sway pole. Here the pole is not so high, but gags, intricacies with clothes and braces and a lot of stunts are not spared. Unbelievable at the age of 73. He last time presented the act in Mascots during their short autumn tour in 2021. (Due to the corona there was no summer tour in 2021). Thus, there were many spectators who had not previously seen the act.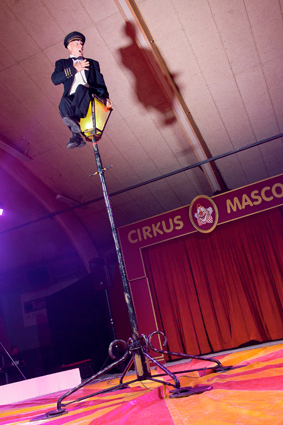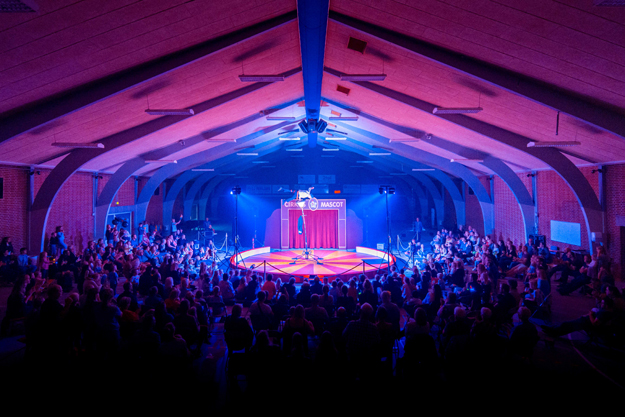 The man in the lamppost – 73-year-old Lui Nereus. Press photos from Circus Mascot
And then it was over. The performance lasted exactly 2 hours with an intermission. There was a good atmosphere throughout, and on the way out you could clearly sense that people were happy because they had experienced something, a lot of sensory impressions and wonders which a circus performance can give. It was real circus entertainment.

3 May 2023
The Danish Circus Award 2023. This year the award ceremony will take place on Monday 21 August at 13. The venue is the Fencing Hall at the Circus Museum in Hvidovre, just as has been the case at all award ceremonies since 2016.
Minister of Culture Jakob Engel-Schmidt has promised to come and present the honorary award The Danish Circus Award. The visible proof of the award is a painting by the artist Viggo Salting, also known as the master of the clown. It is also Viggo, who created the circus award logo.
In addition, there are a prize to the year's best act, a talent prize and an effort prize.
You can read more about the price at www.danskecirkuspris.dk (language Danish and English)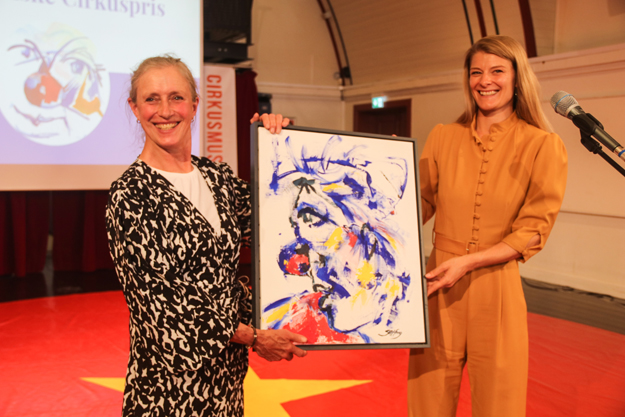 Last year, the honorary award went to Katja Schumann, seen here with the Minister of Culture at that time Ane Halsboe-Jørgensen. You can see Katja "live" in performances at Cirkusgården in Løkken.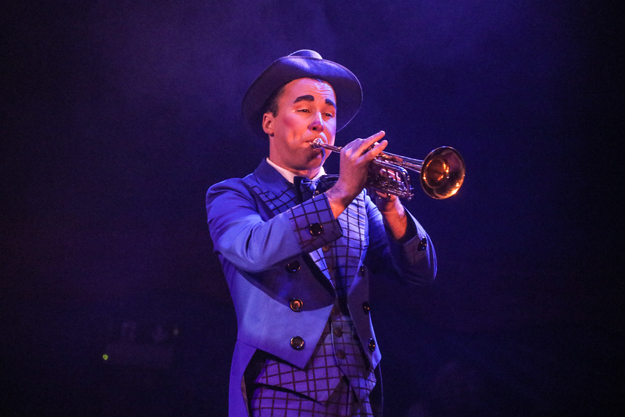 Last year, the talent prize went to the clown and multi-artist Francesco Fratellini, who you can see again this year in Circus Arli. The prize for the best act of the year went to Leosvel & Diosmani, who performed in Zirkus Nemo last year. All photos: Jacob Boas Leitisstein

3 May 2023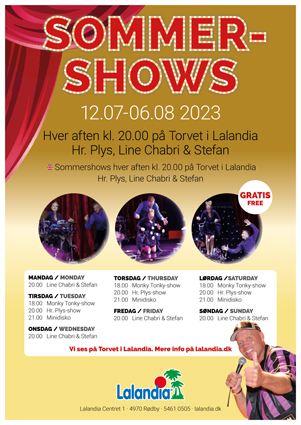 True to tradition, this summer you can see artists at Lalandia in Rødby on the days when Lalandia's regular children's entertainer Mr. Plys appears in Lalandia Billund. This year, the performers are juggler Line Chabry and her husband Stefan Platschov, who, among other things, master ladder balancing.

1 May 2023
Norrköping Youth Circus. The Swedish Circus Academy writes (my translation):
Soon Norrköping's Youth Circus will set up its nice tent on Tyska torget in the middle of central Norrköping!
There they will present the performance "Tales from Asgård" directed by Walter Berndt.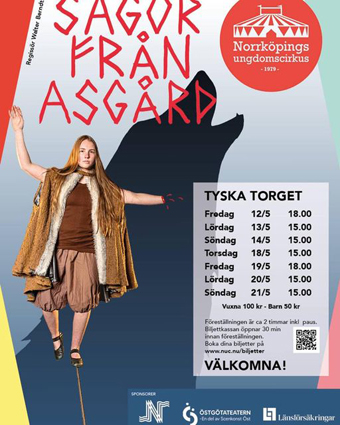 The premiere will be on Friday 12/5 at 18.00. Further performances will be Saturday and Sunday 13/5, 14/5 and Thursday 18/5 at 15.00 and Friday 19/5 at 18.00, also Saturday and Sunday 20/5, 21/5 at 3 p.m.
Tickets can be booked at www.nuc.nu/biljetter
Norrköping's Youth Circus received the Circus Academy's award Charlie of the Year in 1992. At that time it was called Norsholm's Youth Circus.

24 April 2023
Snowdrop. New contemporary circus performance produced by Copenhagen based Rapid Eye. Seen at Mungo Park Theater in Allerod on 23 April.
Snowdrop is in Russian the term for corpses that, due to an avalanche or for other reasons have been buried by snow and appear when the snow melts.
In January 1959, ten Russian students went on a long hiking and skiing trip in the Ural Mountains. One turned back early due to pain. The leader of the expedition was the 23-year-old Igor Dyatlov. After several weeks without a sound from the expedition, the relatives raised the alarm and a search team was sent out. The team found the students' tent, which had been cut open from the inside. Over the next days and months, the bodies of the students appeared all over the mountainside as the snow melted. After the group's bodies were discovered, an investigation determined that six of them had died from hypothermia while the other three had been killed by physical trauma. One victim had major skull damage, two had severe chest trauma, and another had a small crack in his skull. Some of the bodies were radioactive. There have since been many guesses as to what had happened: were there natural causes such as an avalanche, was there something criminal or were there completely different reason.
The story has fascinated the Swedish-born performer Samuel Gustavsson, who previously i.e. has worked for the Swedish contemporary circus Circus Cikör. He had planned a trip to the area, but it was prevented first by a pandemic and later by a war. Instead, he has now created the performance Snowdrop. It is presented as contemporary circus, which is perhaps a misnomer, as there are no notable artistic elements in the performance. I would rather call it modern theatre.
The performance begins with Samuel Gustavsson telling a little about the background, assisted by his friend, the magician and performer David Tholander. The floor and back wall of the stage are covered with a giant white sheet.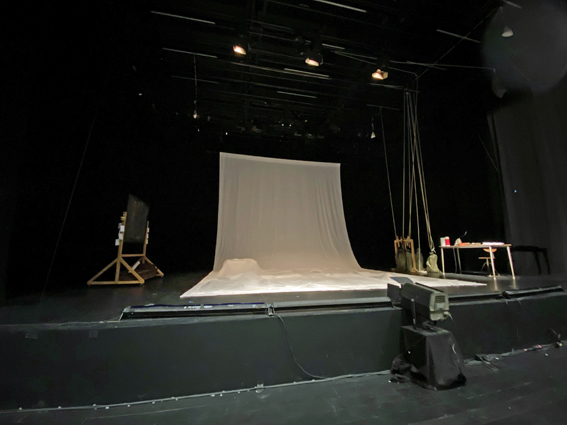 Slowly, the two performers carry in what looks like body bags. The first turns out to contain a pair of bear scissors and the next pieces of clothing from the dead persons. Later, using a revolving board and two small paper tents, they very quickly go through a number of theories about what happened. A forest is knocked over by a swinging bag. Later, David Tholander is bleeding from the mouth.
At the end of the performance, the stage is filled with hanging elements, and the two performers disappear in a flash that suggests the expedition's end.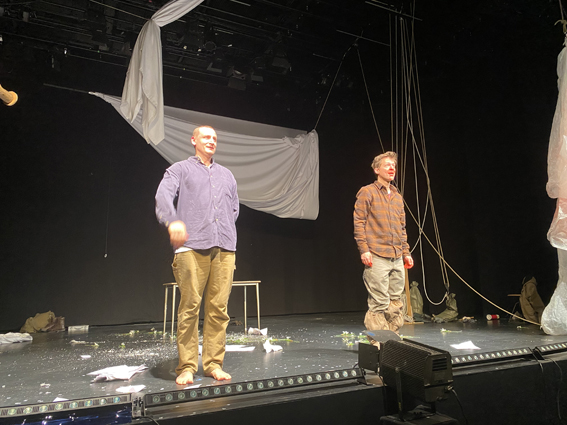 Samuel Gustavsson and David Tholander, the latter still with traces of the blood
It may sound a bit cryptic, but the performance is quite exciting. Even if, in my eyes, it does not fall under the contemporary circus category. The scenography and soundscape are impressive.
Playwright & outside eye: Léna Rondé. Composer: Pauline Högstrand & Ingvild. Scenographic consultant: Lisbeth Burian. Props & costumes: Signe Beckmann. Technique: Lasse Munk.
On 11 and 12 May, the performance can be seen at Dynamo Workspace for circus and performing art in Odense. It is perhaps the producer Rapid Eye's hope that it can later be sent on tour elsewhere, also outside Denmark.
It is thought-provoking that cultural support is given to performances like this, which are seen by only a few thousand spectators, while the traditional circuses with much larger numbers of spectators have to manage without any support of public funds!

24 April 2023
World Circus Day. The international circus day World Circus Day is usually celebrated on the 3rd Saturday in April. For many years, the day has in Denmark been celebrated by Danish Circus Friends Association in cooperation with the Circus Museum in Hvidovre, Copenhagen, and Circus Baldoni. It also happened this year, when due to Baldoni's tour schedule, the celebration was pushed from April 15 to April 22.
Those who found their way to the Circus Museum listen to an interesting lecture by Katja Enoch, where she talked about her circus life and about her father Haddy Enoch, who in 1977 restarted Circus Dannebrog. She was supplemented with comments from the old artist agent etc. Jörgen Börsch and Danish acrobats' grand old man Freddi Steckel.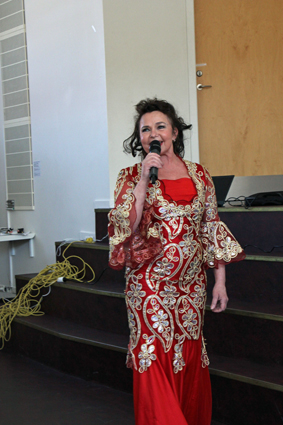 There were smiles and high spirits when circus princess Katja Enoch talked about her adventurous life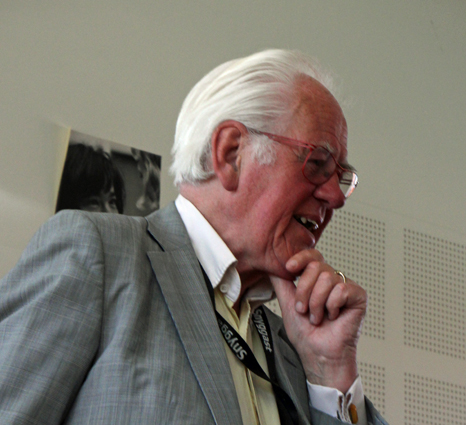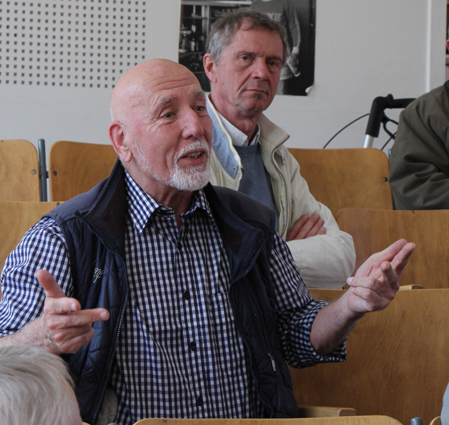 Both Jörgen Börsch and Freddi Steckel could supplement Katja's story
Later it was an entertaining ventriloquist show with Preben Palsgaard, where we both met the dog, the vulture and the talking shoes.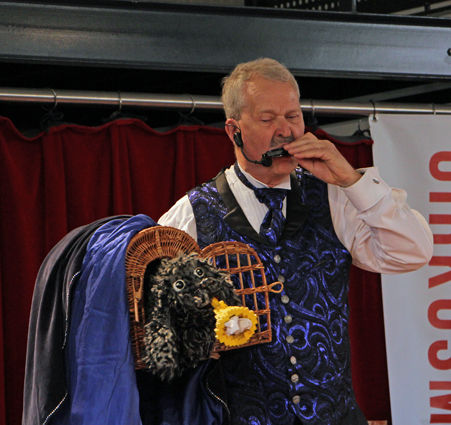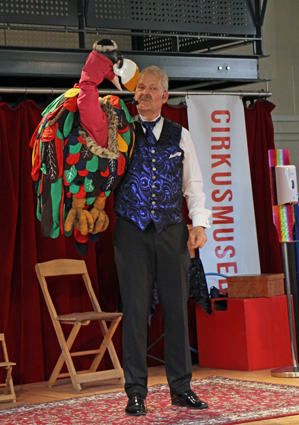 Preben's dog could play the trumpet at the same time that Preben played the harmonica. The vulture Galle did not master such feats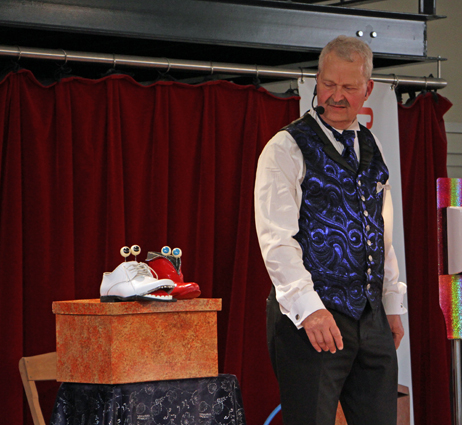 Preben and his talking shoes
We also saw the human ventriloquist puppet, where the ventriloquist holds a spectator's hand and asks him to open his mouth every time, he shakes his hand. Many may remember a film clip from Circus Benneweis 2002, where the ventriloquist Willer Nicolosi had the late Prince Henrik in the ring as a puppet, and where the prince had much fun!
Preben also presented his talking dog: a live dog which could talk. The dog's mouth movements are due to training and not, as you see with other ventriloquists, a false lower jaw or a "string" that gives impulses to the dog. Impressive!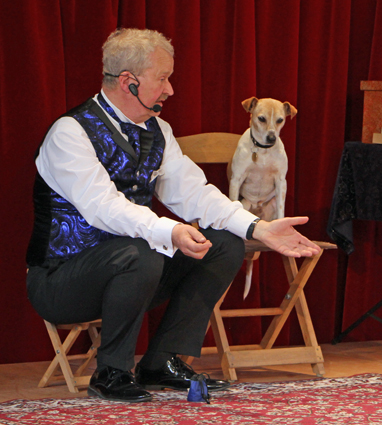 Preben and the talking dog. It is best for monosyllabic words!
The day ended with a festive gala performance in Circus Baldoni, where there were almost full house.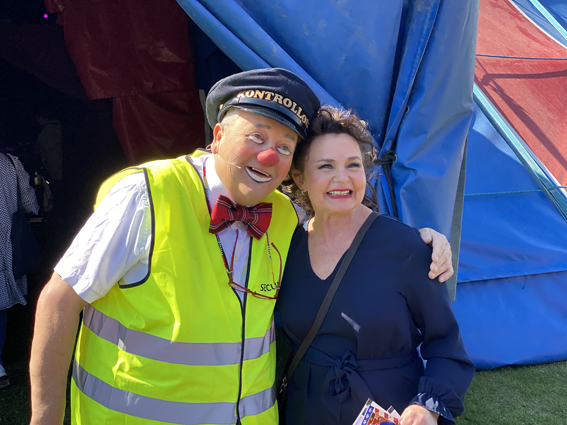 Tøffe is the clown of the year in Circus Baldoni. Here he is seen together with Katja Enoch at the entrance to the tent. (Katja is not part of Baldoni's performance)
Prior to the mentioned events, there was a general meeting of Danish Circus Friends. The members of the board who were up for election were re-elected. The board of directors therefore consists unchanged of
Kim Thanning Olsen, chairman. Also member of the board of the Circus Museum in Hvidovre
Ole Simonsen, deputy chairman. Also chairman of the Danish Circus Award
Søren Kastoft, treasurer
John Lington
Irene Hansen
Bente Puggaard-Müller
Joan Dansberg, Jacob Boas Leitisstein and Niels Erling Larsen were chosen as new substitutes. You can read more about the association at www.danskecirkusvenner.dk (language: Danish)

20 April 2023
Circus Finlandia 2023. The large Finnish circus, which is known for high-quality programs, started the season on April 11. The tour ends in Helsinki in October.
As in previous years, Danish Lasse "Bonbon" Nørager has had a hand in the game in connection with the preparation of this year's performance. However, his work in Finland is a little more assisting than when he puts on shows for Danish Circus Arena. The Finlandia director Calle Jernström is himself very involved in the rehearsals, and they have a very skilled lighting designer who does not need much input from Lasse. On the other hand, he makes a lot of use of his musical experiences and writes arrangements etc. during the rehearsals and co-produces with Calle when needed.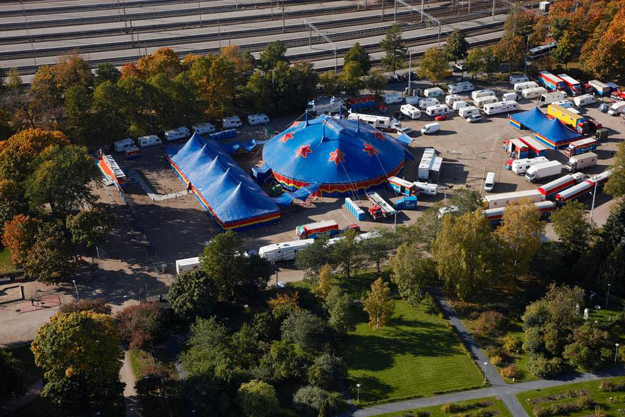 In this year's Finlandia performance you will meet:
The football juggler Helena Polach. The Danes saw her in Circus Benneweis 2012 and the Swedes in Cirkus Scott in 2013.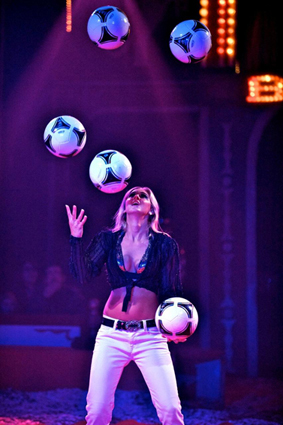 Helena Polach at Benneweis in 2012. Photo Rud Kofoed/Ajour Press
Ignat Ignatov and his daughter Maria Cordwell-Ignatova with synchronized high school riding.
Johanna Enäsu with ladder balance. You can read more about the Finnish artist at www.sirkusjohanna.com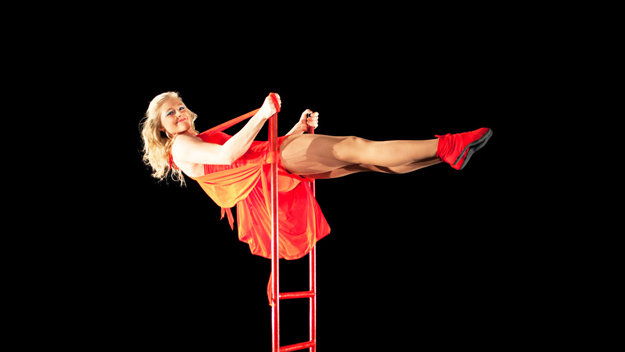 Johanna Enäsu. Press photo from Circus Finlandia
Lusesita Farrell present as Catwoman an aerial act in chains, which is used a little in the style of aerial straps. Furthermore, together with Matteo Farrell, she has a fine and fast-paced perch act.
Liina Aunola works in vertical rope and with cloud swing. The Swedes have been able to see her in Circus Olympia for several seasons: 2003, 2014 and 2018. She has also been with Ringling in the USA.
Marko Karvo & Vanessa with magic with pigeons and parrots. The Danes saw the couple in Zirkus Nemo in 2013, 2015 and 2019.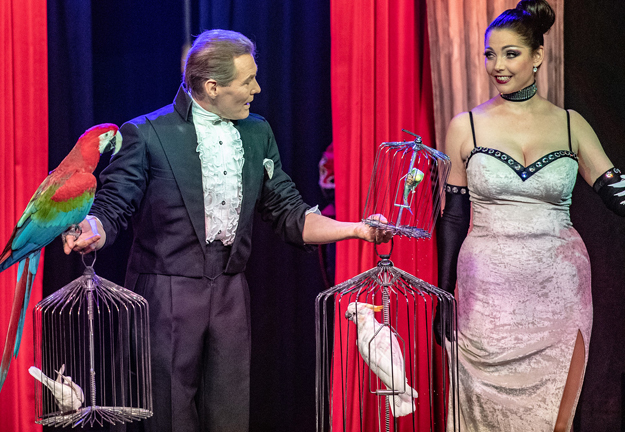 The elegant, mysterious Finnish bird king Marko Karvo makes his magical entrée. Photo from Zirkus Nemo 2019. Photographer: Rud Kofoed / Ajour Press
Michael Olivares is a multi-artist. The Danes saw him as a juggler in Circus Dannebrog in 2007. He comes from the Nicols family and is now working as comedian. Among other things he does a "comic" vertical juggling act with microphones, where it looks like 4-5 microphones are flying around him while he tries to sing into them.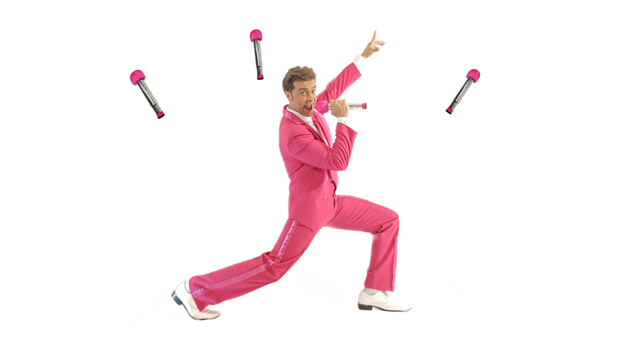 Michael Olivares and his mikes. Press photo from Circus Finlandia
Clown Misha Usov. The Danes saw him at Benny Schumann's clown festival at the amusement park Bakken in 2005.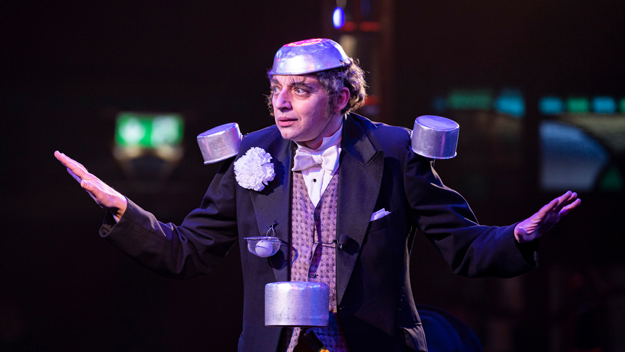 Misha Usov. Press photo from Circus Finlandia
The Mesa Group on high wire in two floors. The troupe has 4 members
The Diorios troupe with 5 riders in the globe of death
Aleksi Martin shoots with a crossbow. He has previously been with the Swedish Cirkus Olympia under the name Martii Peltonen.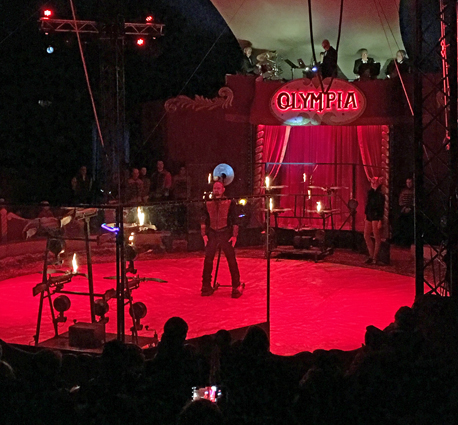 Martti Peltonen aka Aleksi Martin with his crossbows in Circus Olympia in 2018. Photo: Martin Lasson Berglund
As previous years, the ringmaster is the Finnish Sebastian (Seppo "Sebastian" Tauriainen)

14 April 2023
Circus Baldoni 2023 – Hit with the Circus. "Hit med Sangen" (Hit with the Song) was a popular television program that DR broadcast in the years 2000 to 2004 with the Danish actor and stand-up comedian Amin Jensen as host. It was based on the English TV-program The Lyrics Board. This year, Circus Baldoni has Amin Jensen as ringmaster. They have chosen to call this year's show Hit med Cirkus ('Hit with the Circus'), even though there may not be many children who have heard of the old TV show.
There was season opening in Hillerød north of Copenhagen on Wednesday 12 April.
Already at the entrance to the tent, the audience meets Amin Jensen, who checks tickets together with this year's clown Tøffe. Tøffe also carries out a security check, which i.e., revealed cell phones that have not been set to silent. A smart way to remind the audience about the phones!
The performance begins with Tøffe coming on stage dressed in a security vest, and repeats it with the cell phones and has a gag with a nappy for adults. Shortly after, Amin also enters the stage and welcomes. (At Baldoni the ring is a raised circular stage).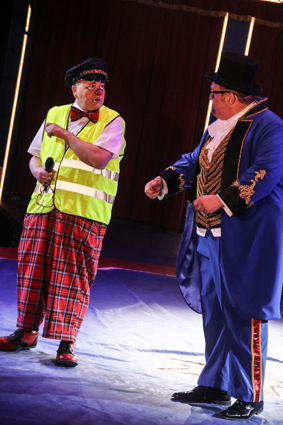 Tøffe and Amin Jensen. All photos Jacob Boas Leitisstein unless otherwise mentioned
First artist act is the juggler Nandor Varadi. He comes from Hungary and juggles up to 7 clubs as well as balls and rings. The entrée ends with him juggling 3 torches with fire. He was last time with Baldoni in 2010 and before that with the small Danish Circus Krone.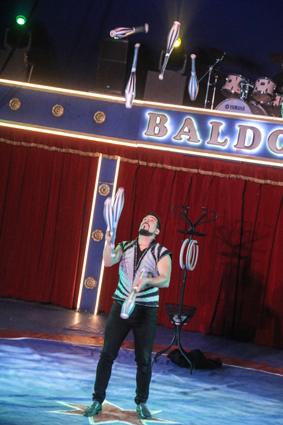 Nandor Varadi
Next, Tøffe came on stage in an entrée, built over the Little Per figure from the original Far til Fire movies and with playback songs from the films. Of course, he also had the elephant Bodil with him. Far til fire ('Father of four') was a popular Danish film family. 8 films were produced from 1953 to 1961. The youngest of the four children was Little Per. Since 2005 additional 11 films with the family has been produced, but not with the same actors as in the first 8 films.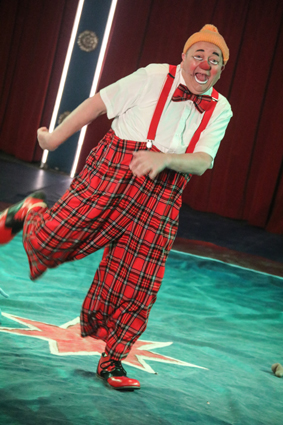 From Tøffe's Little Per-entrée
The next act was with an artist, who we have not seen before at Baldoni: Hungarian Georgina Szotko in a number in vertical rope, i.e., a rope hanging down from the circus dome. Nice to have such a number as a change from the all-too-often seen aerial acts, where the performer work in tissue (curtains). Amin Jensen sang during the act - his swift tenor suited the number very well.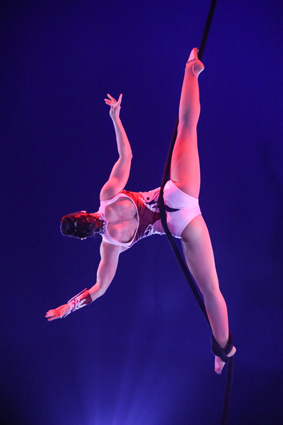 Georgina Szotko
Georgiana was followed by Tøffe, this time in an entrée as Elvis, and again with playback music and slapstick comedy.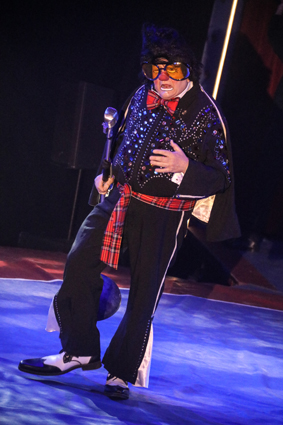 Tøffe as Elvis – the king of rock and roll
After a short run-in from the grandstand stage with Amin Jensen and the lion Leonardo (a ventriloquist's doll), it was time for one of the show's absolute top acts: Martyn Chabry's musical quick-change act.
Not all quick-change numbers are fast, but Martyn manages her costume changes with lightning speed and play between the dress changes drums, saxophone, xylophone and bottles. She was most recently with Baldoni in 2020 and before that with Circus Benneweis in 1998, 2005 and 2014. Thus, it's not the first time she has experienced a season opening Hillerød (Circus Benneweis always opened their season in Hillerød).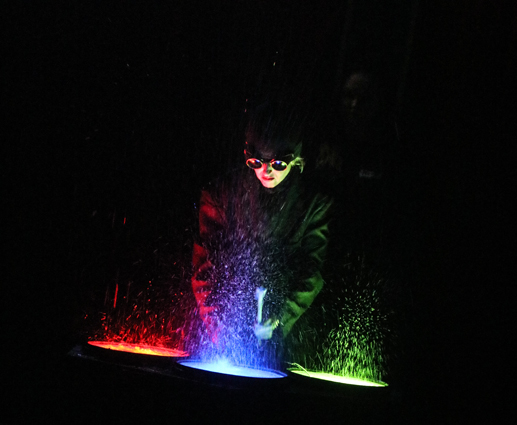 Martyn's entrée starts with her hitting drums in indirect lighting with liquid over the drumheads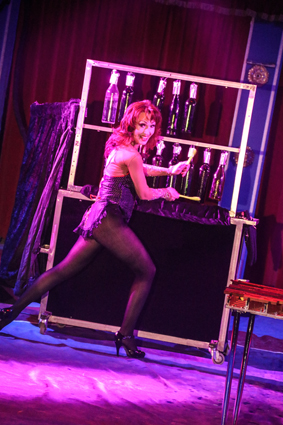 Martyn plays on bottles
She says herself that she is Made in Denmark. 9 months before she was born, her parents, the clown Toto Chabri and his wife Norah, worked at Benneweis in the Circus building in Copenhagen. She has also spent many of her childhood and teenage years in Copenhagen, where Toto has 5 seasons in the circus building after Martyn was born. And furthermore, as a child and teenager, she was with her parents in Denmark, when they had two seasons with Circus Benneweis' tented show.
Martyn's entrée ended with her bringing her little daughter on stage, where the daughter also made a quick costume change.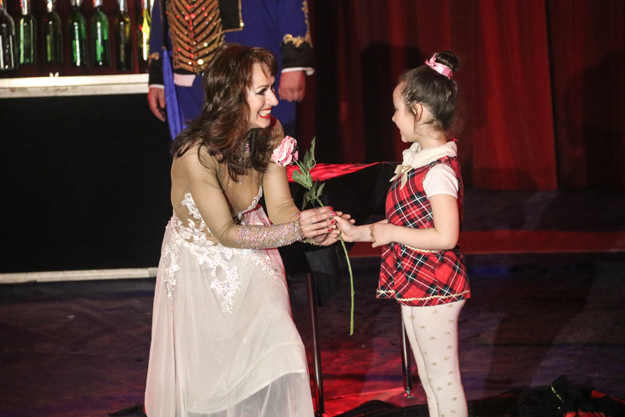 Mother and daughter
Martyn is the sister of Line Carol, who was with Baldoni for most of the 2022 season, and who you can see this July at the tropical holiday centre Lalandia in Rødby.
A short feature after Martyn's act, where Amin got her to show a slow version of a costume change and joked a little with Me Too, could be dropped without problems if Baldoni, as often happens after a premiere, chooses to tighten up the performance. A later entrée with Amin Jensen, where he presented some of the cartoon characters he voiced a few years ago, can also be omitted without major damage.
Martyn's act was replaced by an excellent adagio number, performed by Nandor Varadi and his wife Diana Boiachin.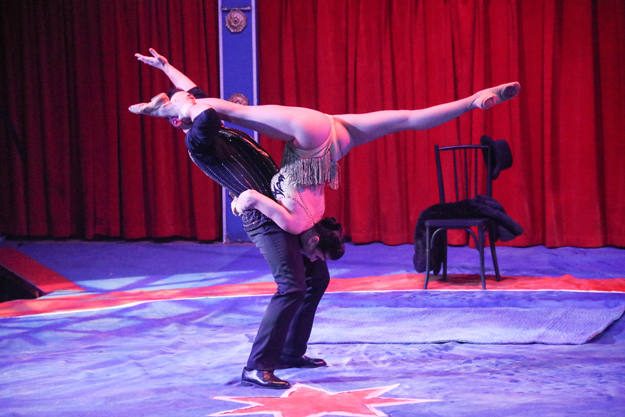 Nandor and Diana
It is a tradition that Baldoni's ringmaster also has his own entrées. Thus, the first number after the interval was an act with a stand-up-like elements, where Amin Jensen sings (he has an excellent voice), plays guitar and harmonica. Especially the adult part of the audience especially enjoyed the entrée.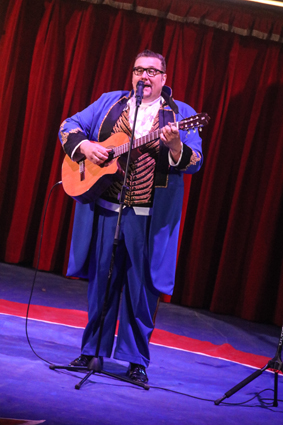 Amin Jensen
Next, Baldoni's house artists the Janacek family came on stage under the name Buffalo Family in a fast-paced entrée with whips, lassos and knife throwing.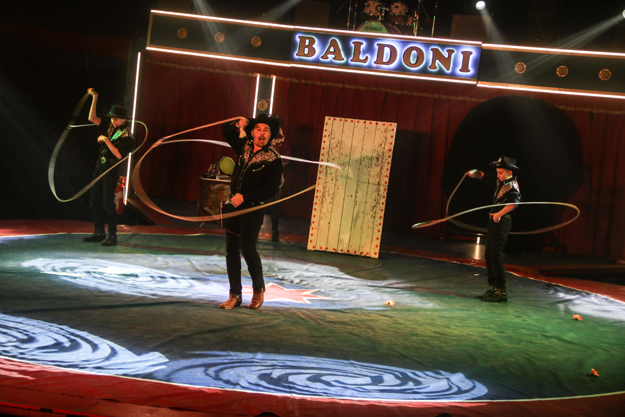 Buffalo Family
A short run-in with Tøffe on horseback went into Diana Boiachin's act in hanging pole, also called aerial pole. The number was inventively opened with the tip of the pole resting on a sort of ball bearing in the middle of the stage, while Diana performed tricks on the tilted rotating pole. The fine act ended with tricks in the pole, which hung down from the tent dome without touching the floor.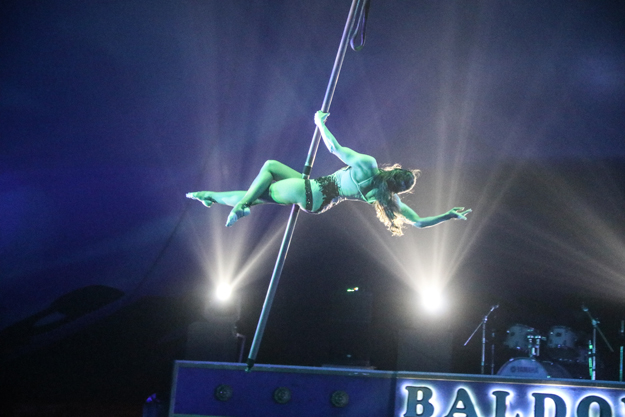 Diana Boiachin in hanging pole
Now Tøffe came in, this time in an entrée where he was on a picnic.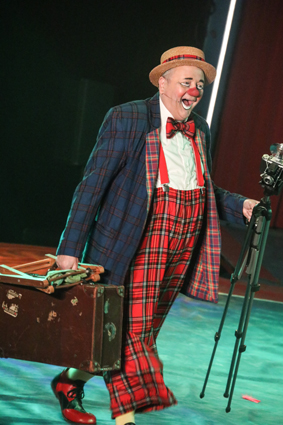 Tøffe on his way to picnic
He was followed by Amin Jensen with Circus Baldoni's mascot: the ventriloquist doll Leonardo. The entrée was somewhat shortened compared to previous years. Amin does not have the same experience as a ventriloquist and puppeteer as last year's ringmaster Peter Nørgaard.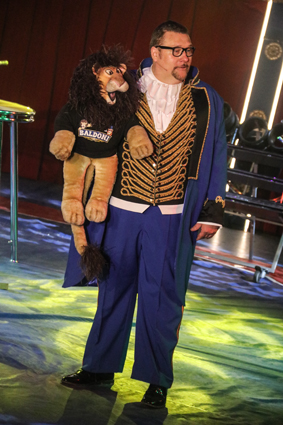 Amin Jensen and Leonardo
The performance's last act was 16-year-old Kaya Janacek with rola bola. We have seen the number before, but he is clearly a super talent and the number is getting better and better.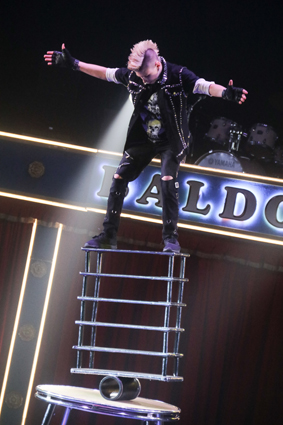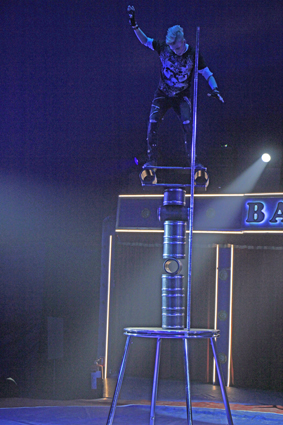 Super talent Kaya Janacek. Photos Jacob Boas Leitisstein and Ole Simonsen
In the final, we met, among others, Martyn Chabry, Amin Jensen and Kelly Janacek in a festive entrée with drums, which Tøffe also wanted to get involved in.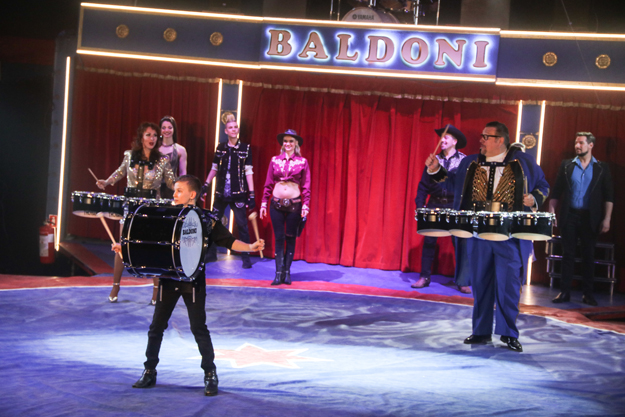 Finale with drums.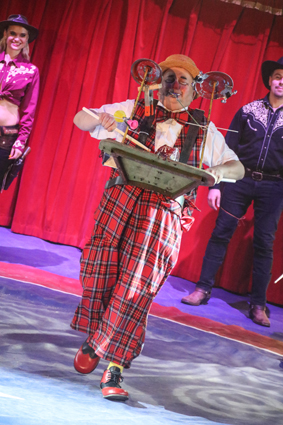 Tøffe also wants to play along! Click here to see more of Jacob Boas Leitisstein's photos from the show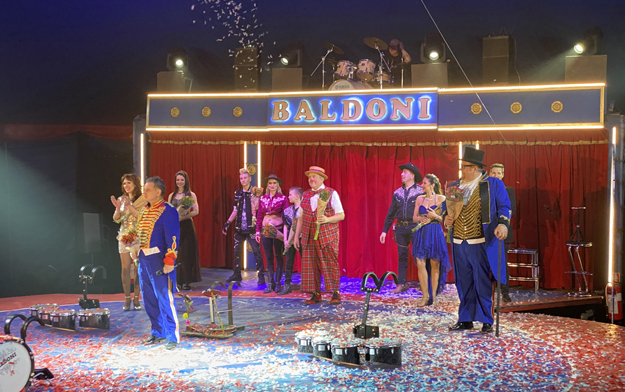 Circus owner René Mønster Baldoni is not on stage in this year's performance, but of course thanked the artist and the audience at the end of the premiere performance. Photo: Ole Simonsen

11 April 2023
Circus Brazil Jack 2023 – a great, spectacular and fast-running show! The large Swedish Circus Brazil Jack opened the season at The Mill Square in Malmö, Sweden on 7 April. Just like in 2022, the director Trolle Rhodin III presented a great and fast-running performance, which incl. interval lasted about 1 hour 45 minutes. They don't use a ringmaster. Instead, one act quickly transitions into the next, not least in the first section of the performance. Good sound and nice light. Just like in 2022, the music is pre-recorded, but it fits the numbers well.
Trolle Rhodin III is grandson of the late Trolle Rhodin (1917 -1977) who for several years was talent coordinator for Ringling and before that run his own circus in Sweden.
The overall characters in the performance are just like in 2022 the Wolf brothers. The tall and muscular David and his somewhat smaller older brother Richard. They open the performance with the well-known clapping entrée and later had a series of comic entrées. Not least the children love them!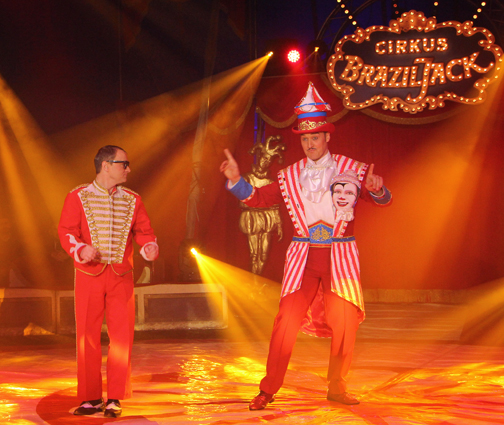 It is brothers David and Richard Wolf's 5th season at Brazil Jack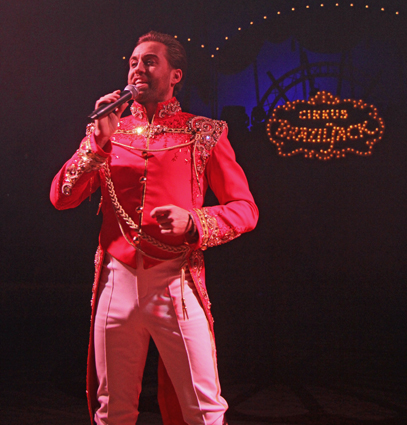 Trolle Rhodin welcomes. Apart from his welcome and closing, there is almost no speaking in the performance, and the artists are not introduced by name.
The first artist act after the director's welcome was a very strong number in hanging pole, performed by Daniil Byriukov, who probably comes from Ukraine. In recent years, he has, among other things, worked in the German Circus Flic Flac. He is married to Jenny Kastein, who is the daughter of one of Flic Flac's founders, Lothar Kastein. In his hanging pole, Daniil shows several of the tricks that are seen in the Chinese Pole, where the pole stands on the ground. As mentioned, a great act. If in Sweden as in Denmark there was a prize for the best act of the year, Daniil should be considered!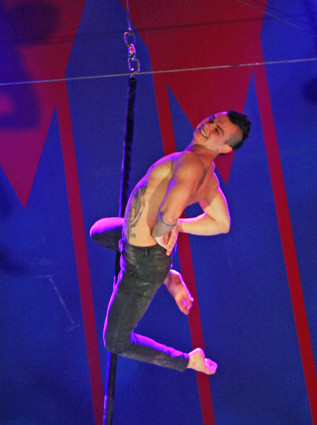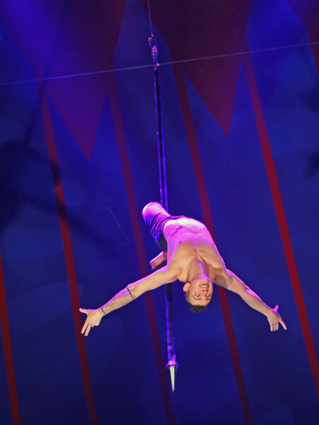 Daniil Byriyukov
The next act was Jessyka Jasters juggling up to four scarves with her feet. The act ended with her being hoisted under the circus dome while juggling four scarves. Extremely spectacular!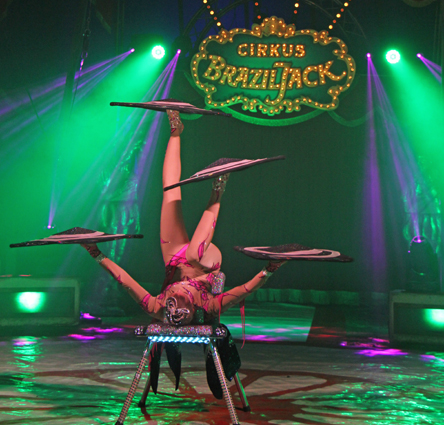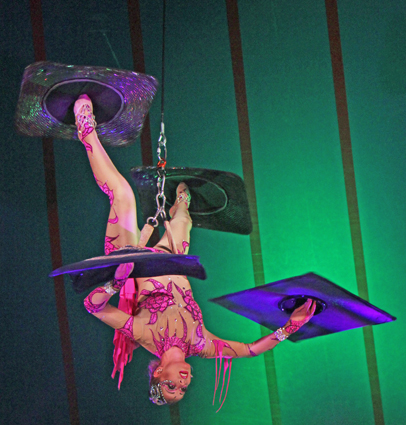 Jessyka Jasters
After a short run-in with David and Richard Wolf as fishermen, another spectacular act followed: Susan Jasters in an aerial net, where she several times dipped into a giant bathtub in the middle of the ring. It would normally be difficult to present such acts in a touring circus, as a giant tub of water weighs far too much for the props to carry. Brazil Jack has solved the problem by placing the bathtub on a small remote-controlled flatcar, see photo.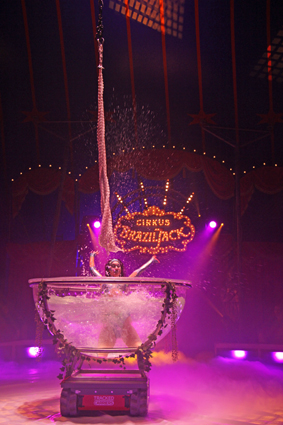 Susan Jasters in her "bathtub"
Then the Wolf brothers were back, this time with the entrée where David pours water into a hat, which he then puts on his head without getting wet. When Richard tries the same, the water spills out of the hat.
We stayed in the spectacular section: Under the name Duo Ice, Daniil Byriukov and Jenny Kastein performed a fine adagio and hand to hand act as the last number before the interval. Placed under a giant shower high under the tent dome, from which the water poured down onto the podium they were performing on! Impressive! The podium was equipped with a drainage system that continuously pumped the water away from the podium.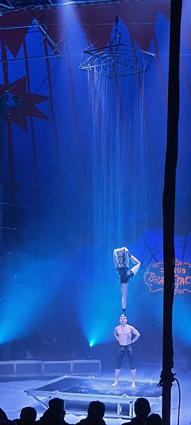 Jörgen Börsch's oblong photos show the entire jet of water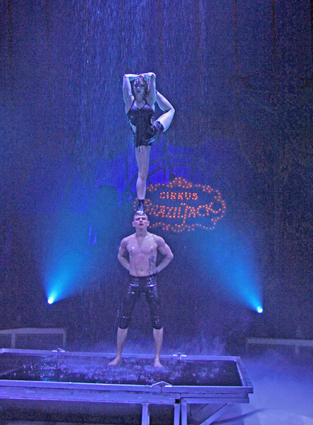 Close-up of Duo Ice
The first act after the interval was flying trapeze. Trolle Rhodin has put together a brand-new troupe, which performed under the name Flying Brazil Jacks. The 4 members – a catcher and 3 flyers (2 men and a woman) – showed the traditional tricks such as somersaults, double somersaults and double passage. A couple of attempts at the difficult triple somersault failed at the premiere and the flyer ended up in the net. There are very few troupes that can perform the triple somersault every single time. As in many trapeze acts, it ended with one of the flyers' "death jump", where he hangs from a trapeze with his feet and then lets himself fall into the net.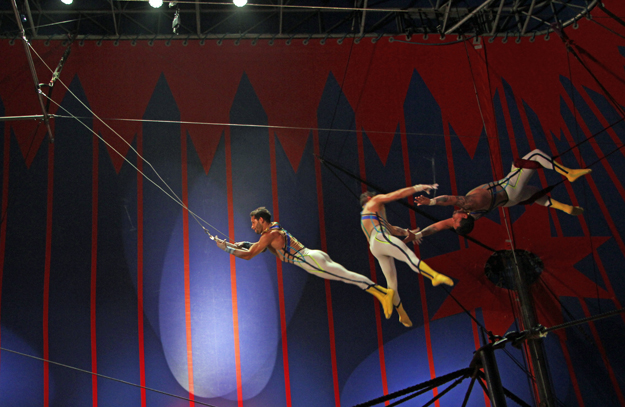 The double passage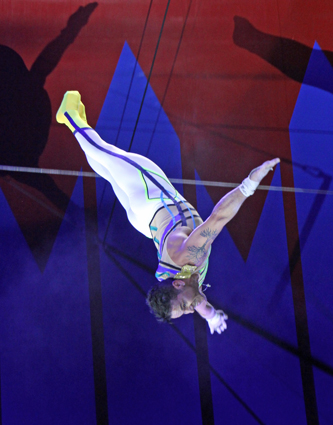 "The Death Jump"
While the safety net was taken down, the Wolf brothers were in the arena as "props". The entrée ended with them having to connect an electrical cable with another electrical cable that hung down from the tent dome. In their attempt to reach the cable, one saw many of the gags known from their comic trapeze act. In the end, of course, David got shocks that made his hair raise. (Of course, a fake shock).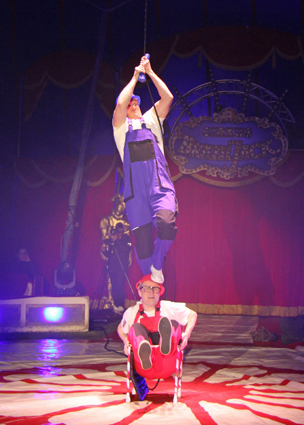 Wolf Brothers
The next act was the tempo juggler Sonny Caveagna, who juggled clubs, balls and rings. The rings could even change color! (They had a different color on each side, so the color change happened when he got them turned).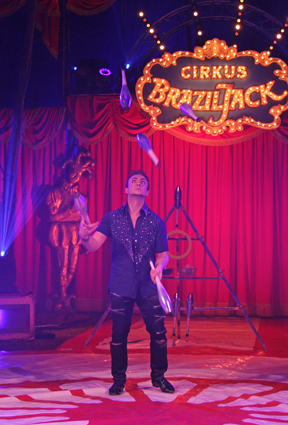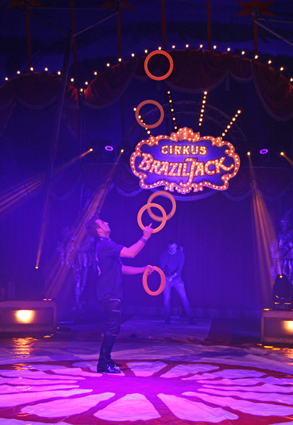 Sonny Caveagna
Next, the Wolf brothers were back in the ring, now with their well-known knock-about table act, dressed as Scots.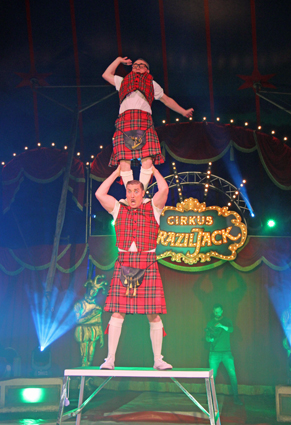 Wolf Brothers
The last act of the performance was Diorios troupe with their globe of death. It took some time to get the large globe into the ring. There were up to 4 riders in the globe which ended up as splitting globe with one rider below and three above. Not least young people like to see the brave stuntmen in this modern version of the fairground wall of death. By the mind: one of the riders was a woman – somewhat unusual in such a troupe. – The Diorios troupe has several units. Another of these is this year with Circus Arena in Turkey.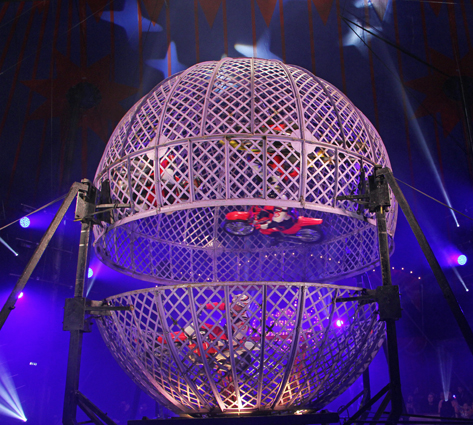 The Diorios troupe in their splitting globe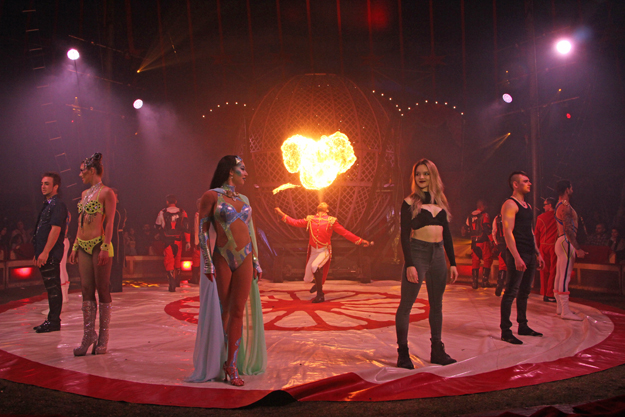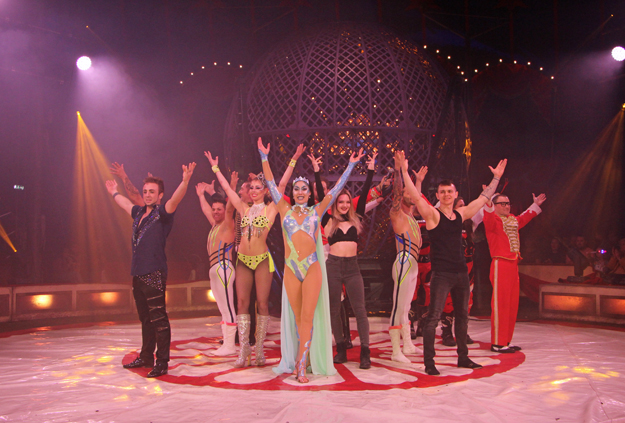 In connection with the final, Trolle Rhodin showed his skill as a fire-breathing fakir

10 April 2023
Circus Arena in Turkey. As mentioned on this website on March 31, Circus Arena has the summer over a stationary unit in the seaside resort Side in Turkey. The tent is the old red/yellow Arena tent that they used in Denmark until 2019.
Circus Arena writes: "Children of ALL ages! See Circus ARENA Now! In the all-NEW 2023 production, the world class family circus "IN SIDE" in their latest, greatest production, acrobat, clown, action, comedy…! This all-new high-energy, action-packed extravaganza delivers the ultimate live family entertainment experience for 2023! 40 artiste 2hours non-stop performance traveling from Denmark to give you the best experience. Arena world class family show since 1955".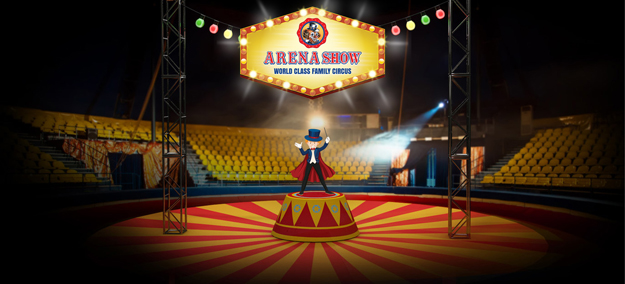 You can read more at www.arenasirkshow.com (language English) and watch a short video clip from the tent put up at www.youtube.com/watch?v=JqRb9S0vyOc
You can see a short video clip from the performance at www.facebook.com/cirkusarena/videos/1433652437455025. More video clips and photos at www.instagram.com/arenasirkshow

10. april 2023
Circus Rhodin 2023. Martin Lasson Berglund has seen the small Swedish circus and sent me the pictures below. Martin writes (my translation):
" I think Cirkus Rhodin was definitely worth seeing. I think based on ticket price SEK 150 and if you compare with Bambino and Popcorn, where ticket price also cost about SEK 150, Rhodin is much better. Here there is also a joy in the performance it is nice that Simona's charm." (Bambino and Popcorn are two small German family circuses that have toured Sweden in recent years).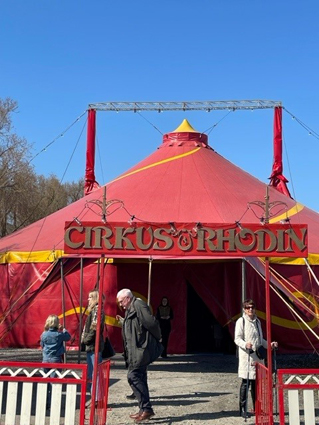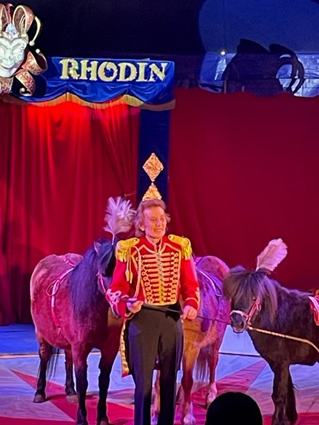 To the left Circus Rhodin's tent. To the right: Diana Rhodin with ponies. She is daughter of the late Trolle Rhodin.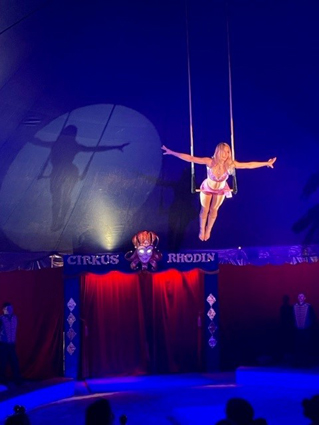 The young Danish trapeze star Nynne Hulsig Samuelsen. It is her second season with Circus Rhodin. She is trained by Isabella Enoch Sosman of Danish Circus Trapez.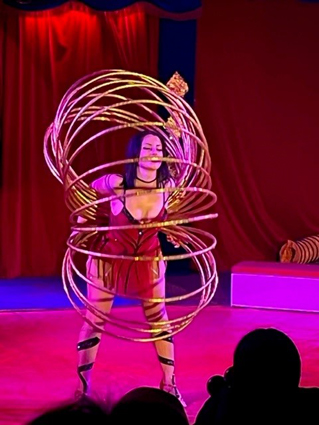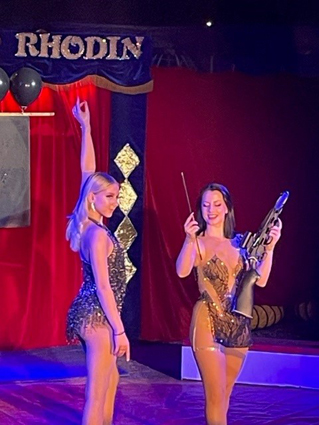 Simona Rhodin, daughter of Diana Rhodin and her partner

7 April 2023
Circus Arena at its very best. This year's performance, which is called Circus according to Julie and Bubber 3, is just like last year presented by the singer Julie Berthelsen and the TV host and entertainer Bubber. And with less mutual talk between the two than last year, when several thought there was a little too much talk. This year it goes much better for the couple to present the artists and not just themselves. But of course – and fortunately – there is time to hear Julie sing in the lovely performance, which has a good flow.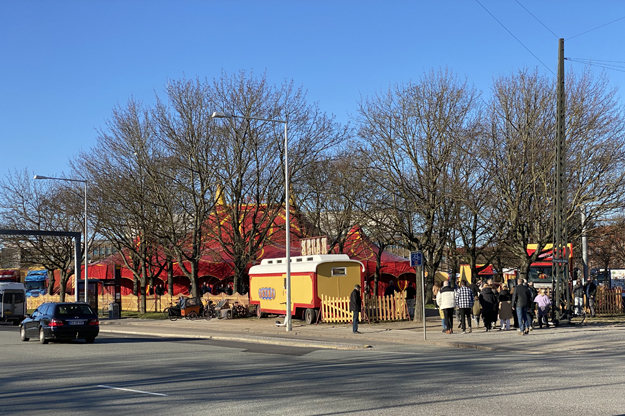 Circus Arena at 'Bellahoj' in Copenhagen
The first act was a slightly unconventional an illusion number, presented by the Italian magician Jimmy Saylon and his 3 assistants, one of whom was the female partner from Duo Costache. A traditional act where the assistants disappeared into or emerged from various boxes. In the end, it was Jimmy himself who disappeared into a box, only to later appear at the top of the grandstand. Jimmy Saylon worked last year in Arena Cirkusland in Slagelse.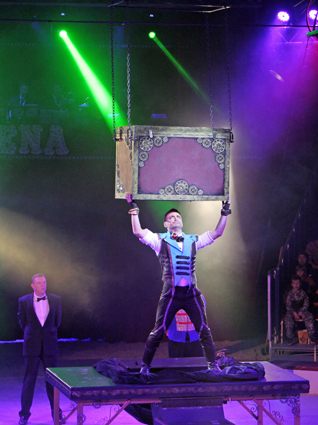 In Jimmy Saylon's final trick, he enters a box that is hoisted under the circus dome. The box later turns out to be empty, and Jimmy appears at the top of the grandstand.
Next, welcome by the two hosts, who sang Circus Arena's well-known song "Circus, circus, circus is in town".
The first artist act was the elegant young tight wire dancer Steven Ferreri, who masters all the tricks a skilled tight wire dancer must be able to do Including the forward somersault, which is much more difficult than the backward one, because you can't see the wire before landing, as well as jumping through a ring with knives. He is son of tight wire dancer Miguel Ferreri, who was with Circus Benneweis in 2009 and who has trained him. Steven previously had a season in Denmark with Circus Trapez.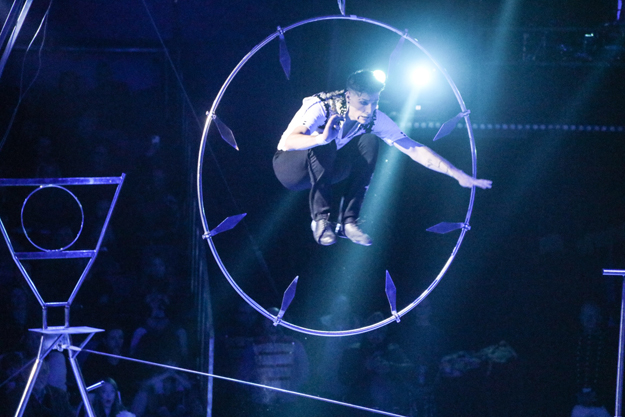 Jump through ring with knives. Photo: Jacob Boas Leitisstein.
After this, there was a short comic magic entrée with the house clown Jimmy Folco assisted by Mrs. Claudia.
Then there was action: the knife thrower and crossbowman Giacomo Sterza and his wife Elena Busnelli, who, under the name The Jaster, presented a great number ending with Giacomo safely placing knives around Elena, who was strapped to a rapidly rotating turntable. Great! The couple toured Denmark with Circus Benneweis in 2011, and they maintain the high standard from that time.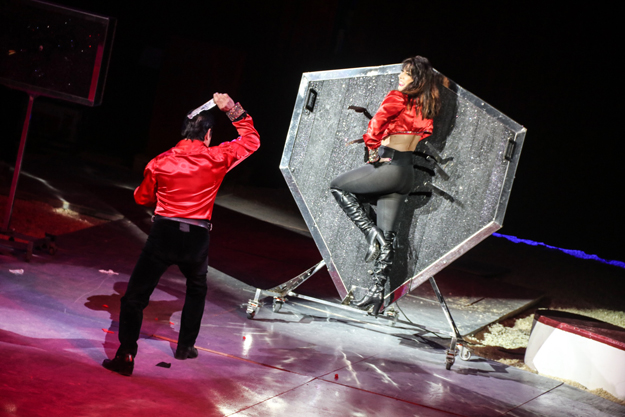 The Jasters. Photo: Jacob Boas Leitisstein
Now we met the young Swedish aerial artist David Hammarberg, who did a nice act in tissue with many "rolling down". Extra spectacular in a tent with such a large tent height as Arenas. While he presented his number, Julie Berthelsen sang League of light, which brought her 2nd place at the Danish Melody Grand Prix in 2019. David is a versatile artist, and his most spectacular number is a trapeze act in bungee elastics. Some wondered why it wasn't that number Arena used, but the elegant tissue act was a perfect match for Julie's song.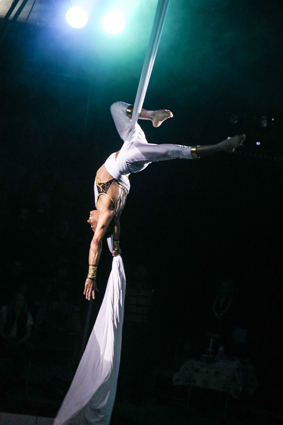 David Hammarberg. Photo: Jacob Boas Leitisstein
Next, we saw a clown entrée which I haven't seen for the last many years: the candy cooking entrée, where you make candy in a hat borrowed from a visitor. Probably one of the late August Miehe's entrées. At Arena it was performed by Jimmy Folco with Bubber and Julie. Excellent that you in this way experienced clown trio, and wonderful to see a nice entrée which is not shown every now and then.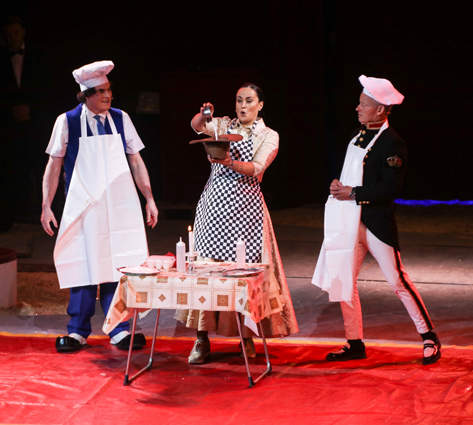 Nice to see the old candy cooking entrée. Photo: Jacob Boas Leitisstein
The last act before the interval was a number in the wheel of death, performed by two members of the Ortiz troupe. It was with very high speed on the wheel! As always, the number ended with one artist being the "motor", while the other ran on the outside of his wheel and both jumped, skipped and ran blindfolded. The act ended with many wildly high jumps. However, the artist did not master the salto which Crazy Wilson and Duo Vanegas is famous for. But definitely a great act in the super league of the wheels of death. After the number, Bubber explained why it's called the wheel of death. No reason to advertise the danger like that: we go to the circus to see artistry and not to be thrilling nervous on behalf of the artist. Bu the mind: fatal accidents on death wheels are – fortunately – a rarity.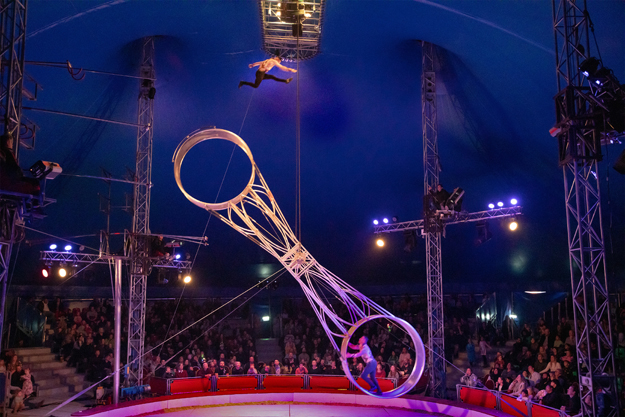 Los Ortiz. Press photo from Circus Arena
First number after the interval was horses: 6 handsome white Arabians presented by Karsten Berdino. The entrée ended with five – or was it six? – ponies in the ring, something that always arouses cheers from the younger part of the audience. Julie sang during numbers: first Jesus and Josefine and during the pony train Kim Larsen's We are the ones the others can't play with. The last song in particular suited the act perfectly.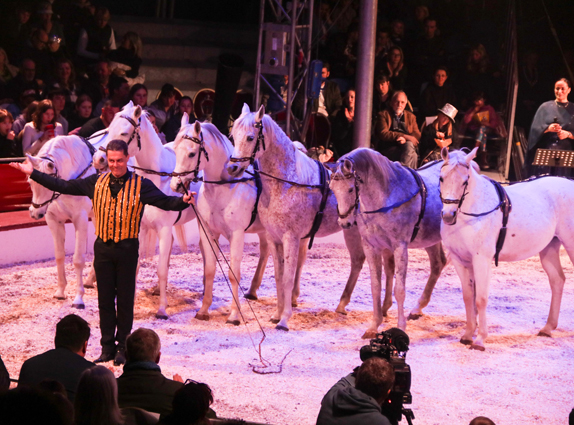 Karsten Berdino with horses. Photo: Jacob Boas Leitisstein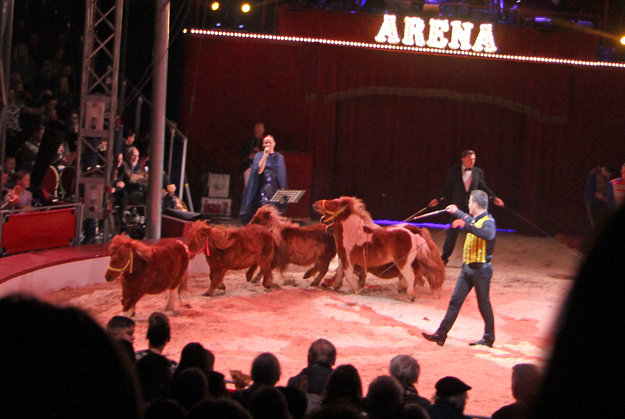 « We are the ones the others can't play with ». Photo: Ole Simonsen
Now Jimmy Folco came into the arena with 4 volunteer children from the audience. The 4 children had a great time. The same does not always apply to adults who are dragged into the ring! The entrée was the well-known chair game, where Jimmy chased the losers with a foam rubber club and, of course, ended up as a loser himself and being chased by the last boy.
Now it was time for old acquaintances: Vita and Leonardo Costache. We have previously seen them both with an aerial act and an act with a perch. This year they're showing an aerial act where Leo holds Vita with his teeth. The climax is when Leo carries Vita while she is sitting on a motorcycle! Spectacular! And impressive with such teeth strength. The act ends with a trick where it is Vita, who carries Leonardo by her teeth.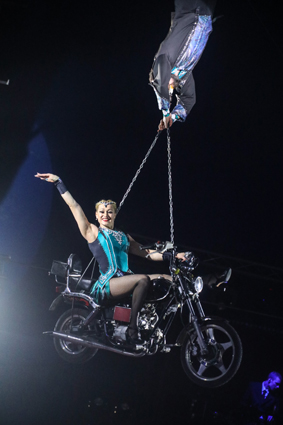 It takes strong teeth to carry your wife like this! Photo: Jacob Boas Leitisstein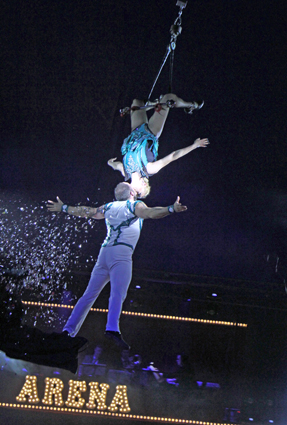 Here it is Mrs. Vita who carries Leonardo. Both use mouth bites! Photo: Ole Simonsen
After a brief entrée with Jimmy Folco, who was too shy to say he was in love with Julie and was assisted by a singing Bubber (Julie sings better than Bubber!), it was time for a juggling act.
Circus owner Benny Berdino himself is a former juggler, and there have always been jugglers in his performances. This year Michael Ferrari. Where last year's top name Alan Sulc bounced the balls down into a podium, Michael threw them into the air and ended up with 10 balls in the air. Fantastic! And something that has got him entered in the Guinness Book of Records. First attempt with 10 balls failed. I'm pretty sure it does the same at every performance during the year. It is not uncommon for an artist to make a "fake" fail before a difficult trick. It gives extra applause when it succeeds. As something new and original, the balls fell as Michael had to use them from a box high under the circus dome. Good idea! Usually, it is an assistant who throws them to the juggler. Michael Ferreri was most recently with Arena in 2015. He is the older brother of the tight wire acrobat Steven Ferreri.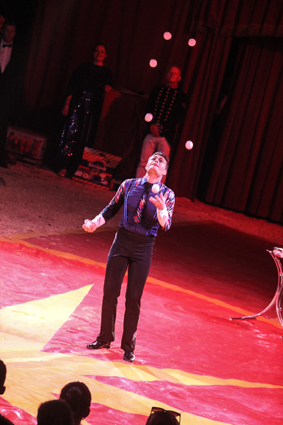 The world class juggler Michael Ferreri. Photo: Jacob Boas Leitisstein
The last act in the performance was the 7-man high wire troupe Los Ortiz. Bubber said they got a silver clown at the circus festival in Monte Carlo. It is not quite correct, but two of the troupe members have received a silver clown as members of another high wire troupe. High wire acts are considered among the most dangerous circus acts. It was nice to see a huge inflatable rubber pad was placed in the ring under the wire. Actually, nobody fell to the pad, although a few members failed their jumps - they managed, as they are trained to do when failing, to grab hold of the wire with their hands. The final trick was the famous and dangerous 7-man pyramid, which we have never before seen in Denmark. Nice to see that the female artist at the top of the pyramid was wearing a lounge. But the passage across the line proceeded without incident.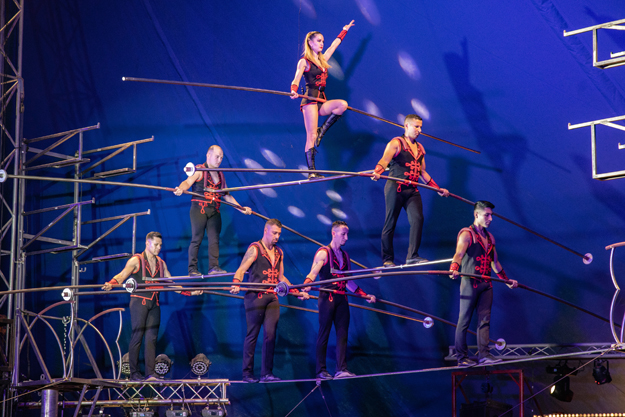 The difficult and dangerous 7-man pyramid. Press photo from Circus Arena
Just like in 2022, the performance was accompanied by an extremely well-playing 6-piece orchestra from Poland.
Grand finale, where Benny Berdino as always on an opening night was in the ring. Photo: Jacob Boas Leitisstein

6 April 2023
Olympic Olympia premiere! Jörgen Börsch saw the premiere in the Swedish Circus Olympia on Saturday 1 April and writes (my translation):
In short: Natascha & Niklas Bengtson's 2023 Olympia performance is a top-class performance.
Season opening in Oskarström, Sweden, on Saturday 1 April took place in a sold-out tent of paying, local audience! A detailed revies will come later.
Because the hula hoop and roller-skating acts with Duo Drive are only included in the show up to Friday 14 April, they should be mentioned here. The acts are worth traveling for to see and enjoy:
Duo Drive comes from Ukraine and replaces for 2 weeks Michael Rener, who will do resp. Whip/Lasso and knife throwing acts. Duo Drive will continue to Korea. They present an original costumed and untraditional Hula Hoop act with truly surprising and amusing tricks.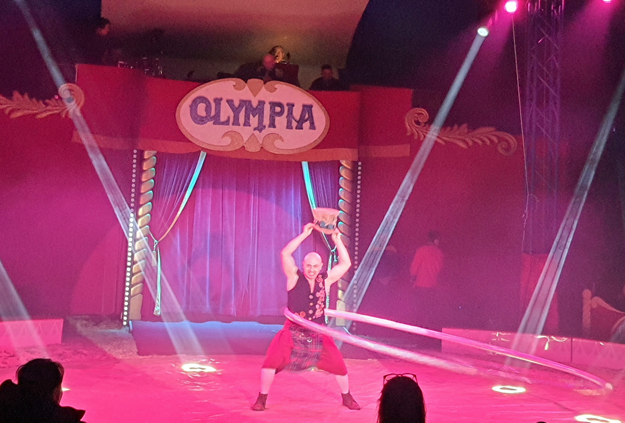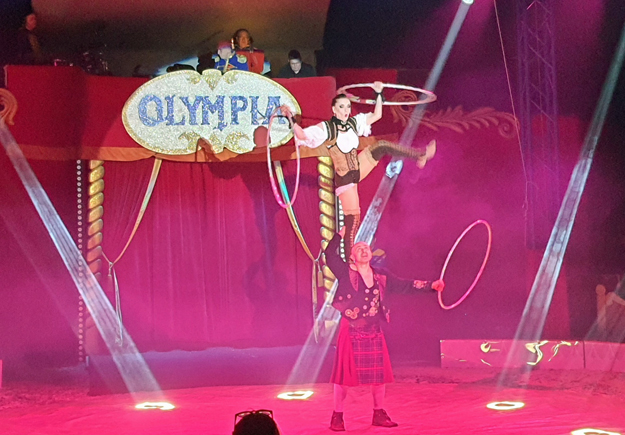 Smartphone photos shot by Jörgen Börsch
The roller-skating act is, to be honest, more traditional (the smartphone camera didn't work), but very fast, harmonious and effective.
Olympia's performance can certainly be seen 2 (or more) times. And you can see Duo Drive if you pay them a visit at the latest next Friday! Click here to see the tour schedule for April.
The Swedish circus friend Martin Lasson Berglund has also seen the performance and writes (my translation):
Circus Olympia 2023
Opening day was in Oskarström on April 1 and the tent was filled with an expectant audience! It was great to see such a large audience again this year on the premiere day!
This year there are two Swedes (apart from the Bengtsson family itself) in the ring. It is Frida Evelina Persson who performs aerial acrobatics in a ring and the clown Nalle. Both are new to Olympia's circus audience. It is noticeable that Frida Evelina Persson has experience and she does a very nice number. Nalle has several different entrées and he had the ability to get good contact with the children at the premiere performance. Nalle has previously i.e. had his own tour where he worked as a clown around Sweden.
The Lagroni family is back (2019 at Olympia) performing their hilarious stunt and well-executed footjugling number. New for this year is that son Nicolas performs juggling in an exemplary manner.
Henrika Bengtsson present her dogs in a new act with new music and new costumes, as has her son Niklas who present black and white horses in a new combined liberty act.
Soon there will also be an exciting number from one of Roncalli's productions and then Duo Drive will be replaced – they are now doing roller skating acrobatics.
Olympia is today one of the few circuses in Europe that has musicians, this year three, who together with pre-recorded music contribute to the atmosphere in the tent. New for this year is a lighting system that really makes a difference! With stronger show technology in the tent, it will be even better.

4 April 2023
Circus Arli in fine fettle. It was the 43rd time that the small circus had its national premiere at the lot next to the Mill Hill in the Copenhagen suburb Fløng. And 40 years after Bettina Arli made her circus debut on this very lot. Not in the role of ringmistress, which she has been for the past many years, but standing in front of the shooting target in a knife-throwing act where Martin Arli placed the knives – fortunately without hitting her.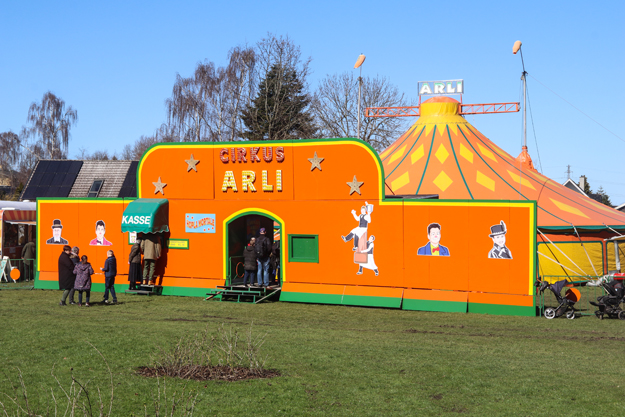 Circus Arli on the lot next to the Mill Hill in Fløng. Photo: Jacob Boas Leitisstein
This year's Arli performance is one of their very best. As always with elegant costumes and performed with a flow so that no one gets bored or leaves the tent before the performance is over. Something which sometimes happens in other circuses. Better that a show like Arli's lasts 1 hour and 45 minutes, than that it lasts well over two hours and families with children think "isn't it over soon".
All of this year's artists have previously been with Circus Arli. But this year in new costumes for both performers and props and with new entrées or entrées which had not been shown in recent years and have been updated. So, it certainly doesn't seem like a "recycled" show.
The performance starts with the well-known clap entrée in form of a competition between Alexander Arli and Francesco Fratellini. Good idea, and fortunately not as long-winded as you experience with other versions of this entrée.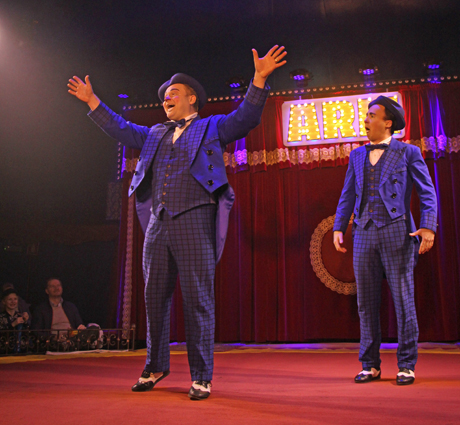 Alexander and Francesco. Photo: Ole Simonsen
It turns into a glorious charivari with all the artist apart from Martin and Bettina Arli. We experienced i.e., formation juggling with large rings, tug-of-war and a skipping entrée.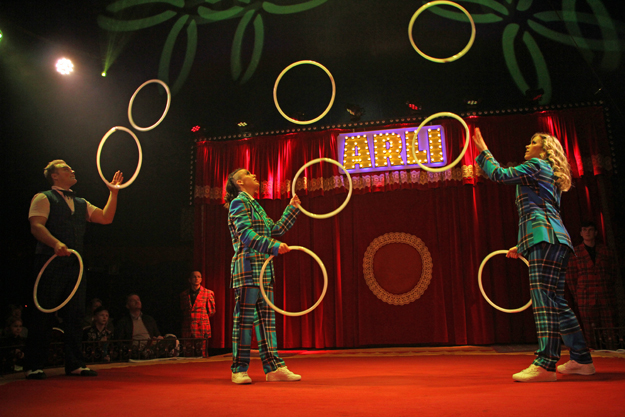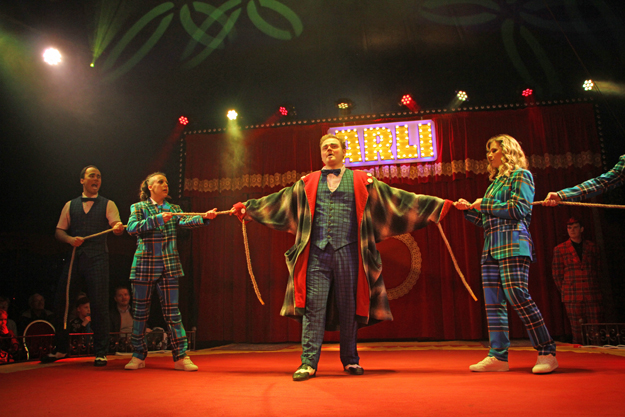 Charivari. Photos: Ole Simonsen
Next, Martin Arli welcomes in a new and beautiful blue dress and introduces the show's ringmistress Bettina Arli, who is wearing an elegant and brand-new suit with sequins. As always, Bettina manages what is the task of a ringmaster: to present and support the artists. In some circuses you sometimes find that the ringmaster makes the most of introducing himself!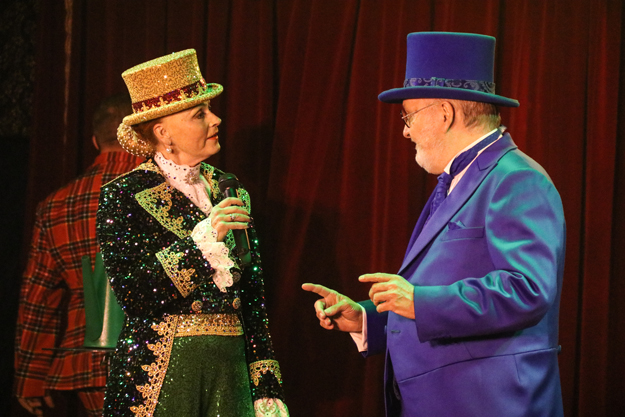 Bettina and Martin Arli. Photo: Jacob Boas Leitisstein
After a short gag where Martin places an apple under a hat and removes it without touching the hat, comes a magic act, performed by the dancing Jelena Vasiljeva. For many years, it was Martin who was responsible for Arli's magic entrées. But Jelena makes it very charming, even if several tricks are known from Martin's entrées, e.g., the trick with the inexhaustible water jar.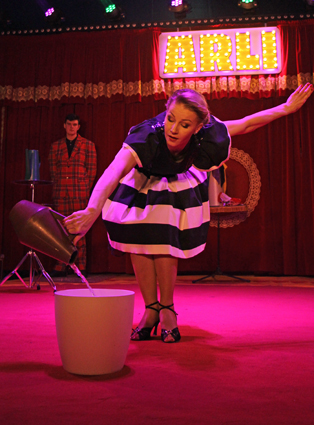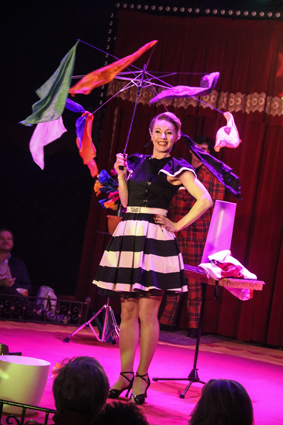 Magic Jelena. Photos Ole Simonsen and Jacob Boas Leitisstein
Now a large trunk comes on stage. It contains a rag doll, which Francesco tries to make perform with more or less success. A delightful comic stunt number. Unbelievable what he, at the end of the act assisted by Alexander, can get the doll to do. The doll eventually turns out to be live: Francesco's partner Sarah Floress.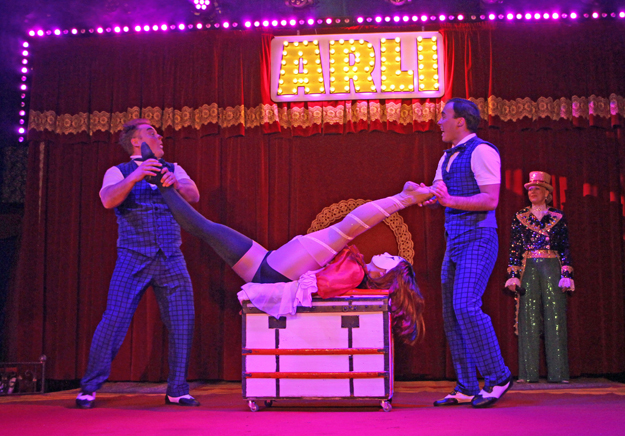 The rag doll. Photo: Ole Simonsen
They are followed by Adrian and Jennifer Ramos in a beautiful number in aerial straps, where it is sometimes Jennifer who carries her husband. In most other strap duos, it is the man who is the supporting force.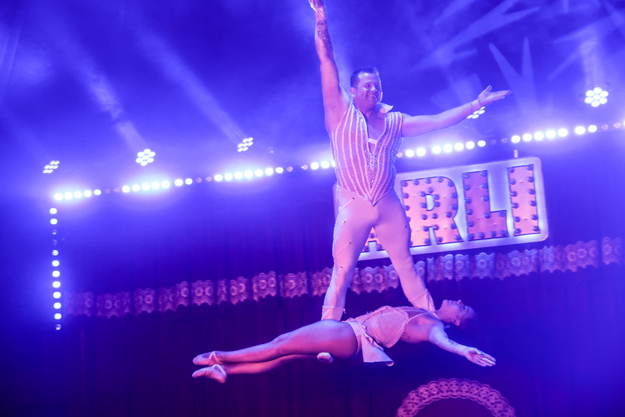 Duo Ramos in aerial straps. Photo: Jacob Boas Leitisstein
This is followed by a short run-in with Francesco, who absolutely wants to play the radio – his version of the well-known you must not play here entrée.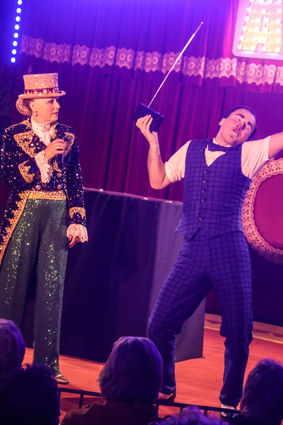 Bettina, Francesco and his radio. Photo: Jacob Boas Leitisstein
The last number before the interval is a number that has never been seen at Arli before: an impressive and spectacular laser show performed by Sergejs Populans. In Denmark this kind of act has only been presented at Benneweis in the Copenhagen Circus Building in 1990 and in Circus Arena in 2017.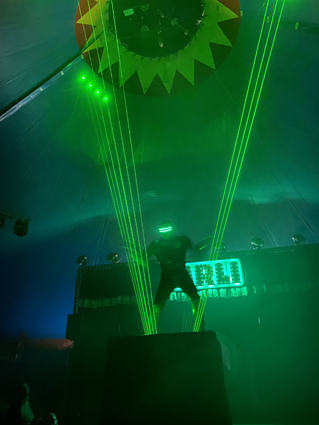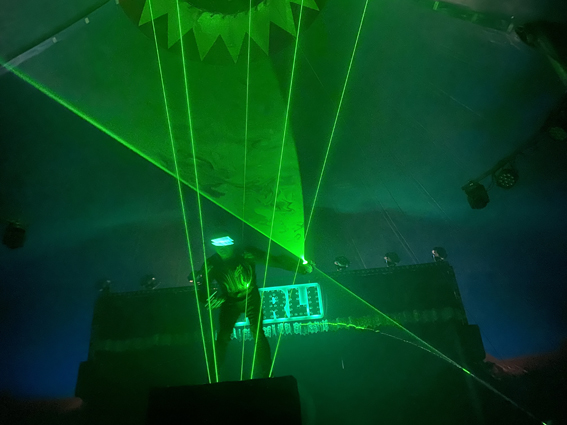 Photos: Ole Simonsen
The first act after the interval is Skating Ramos (Adrian and Jennifer) with a roller-skating act which offers everything that a good skating number should have. And luckily without eventually dragging a spectator up to make him go crazy on a swing – something that sometimes ruins the flow of a performance.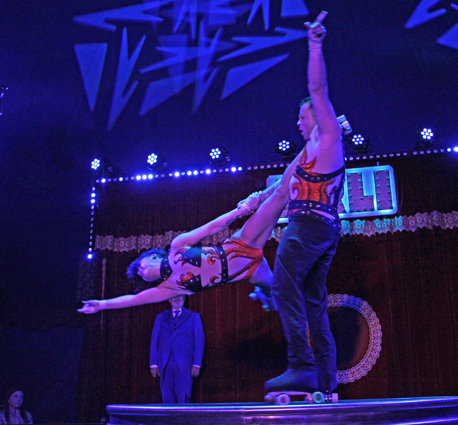 Skating Ramos. Photo: Ole Simonsen
"Do you want to see clowns," asks Martin Arli. And of course, we want to see clowns! Francesco and Alexandro (alias Alexander) with an updated version of the boxing entrée they had great success with in 2020. A season which, due to the corona, was somewhat shortened and with a ceiling on the number of spectators.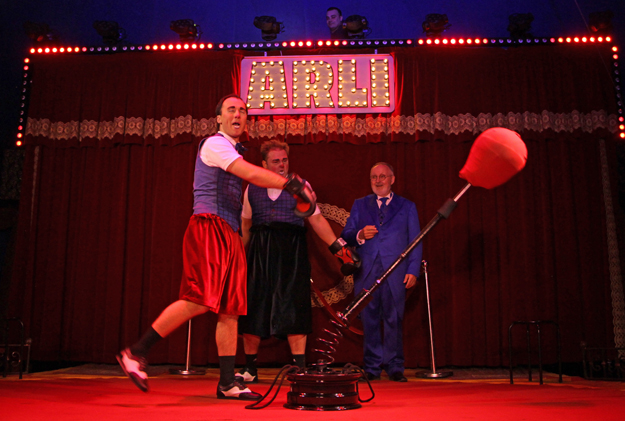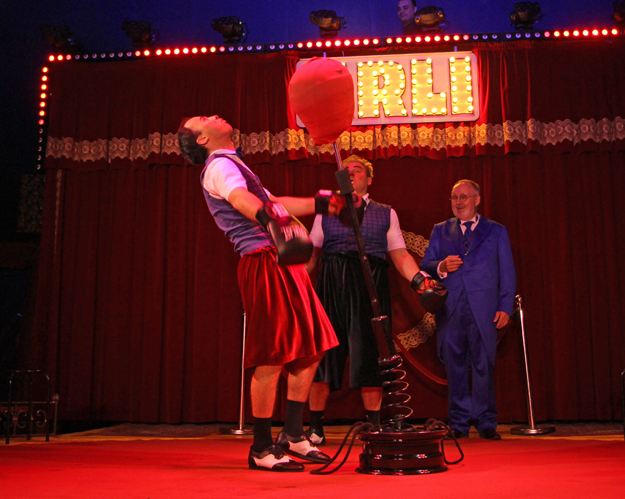 Francesco with boxing ball. Photo: Ole Simonsen
The next act brings us back into the air: Sarah Florees shows her skills in what is technically called an aerial ring.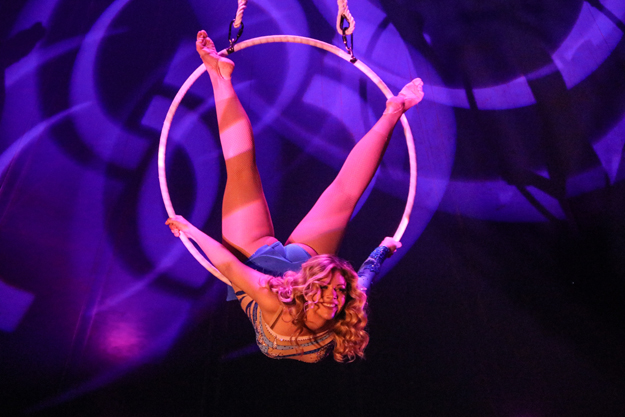 Queen of the Air Sarah Florees. Photo: Jacob Boas Leitisstein
After this comes a short magical entrée with Jelena Vasiljeva, where she magically enters and exits the "cage" of rings.
The last act in the show is the versatile Francesco, now on a unicycle. The number ends with his left foot hurling plates, cups and a teaspoon onto a flat hat he wears on his head. You fully understand why the clown and multi-acrobat Francesco got the Talent Award from the Danish Circus Award last year!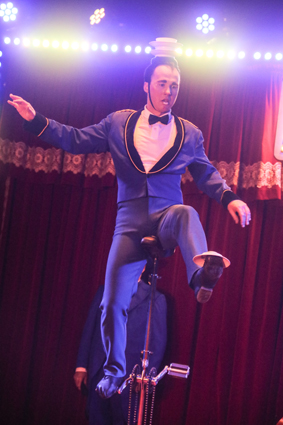 The super talent Francesco Fratellini. Photo: Jacob Boas Leitisstein
In the grand finale, all 9 performers came on stage and received a well-deserved standing ovation. Grandma and grandpa Bettina and Martin also had their grandchildren on stage: Jamie aged 1 and Noah aged 2. After the performance, the two children frolicked around the stage as if in a giant playpen together with, among others, Francesco and Sarah's daughter.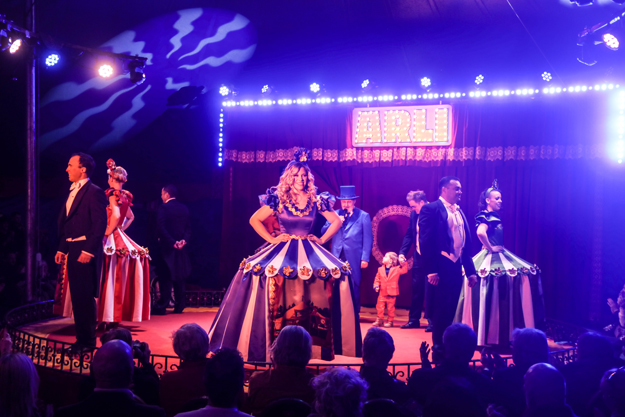 Grand Finale. Martin holds grandson Noah by the hand. Photo: Jacob Boas Leitisstein. Click here to see more of Jacob's photos.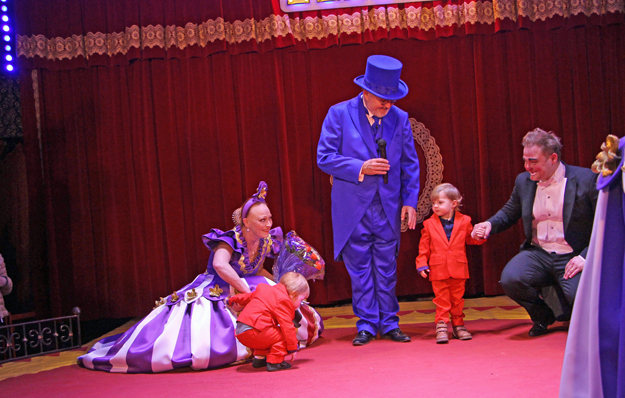 3 generations: Bettina, Jamie, Martin, Noah and Alexander Arli. Photo: Ole Simonsen

3 April 2023
Obituary: Dario Campeotto. The Danish singer Dario Campeotto passed away on April 1, 2023 after a long illness. He was 84 years old. In addition to being a singer, he was known as an actor. Among other things, he had been Captain von Trapp in Sound of Music at the Amager Theater in Copenhagen and appeared in several revues and in several Danish films. Dario also had a season in the circus: in 2005 he was together with Søs Fenger ringmaster at Circus Arena when they celebrated their 50th anniversary. Many may still have the CD with songs and music from the performance. Dario had a close friendship with Benny Berdino, who also managed to visit him on one of his very last days and say goodbye to his good friend of many years.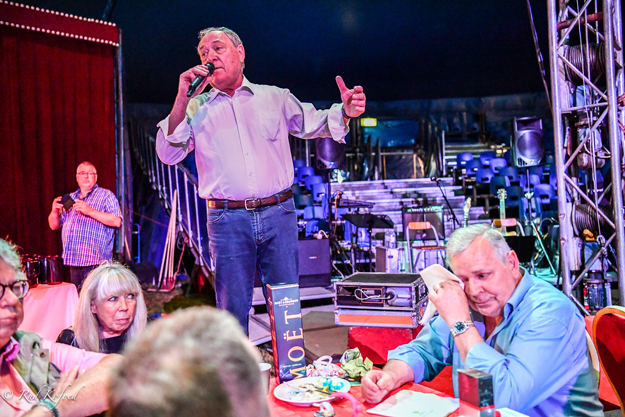 Rud Kofoed took this nice photo of Dario Campeotto when he sang for Benny Berdino on his 70th birthday in 2016. Click here for video clip of the song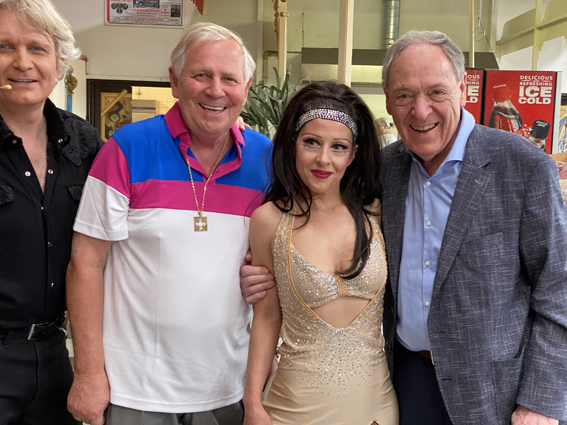 Dario with Benny Berdino, Kim Kenneth and Jessica Caveagna at Benny's 75th birthday 3 August 2021

3 April 2023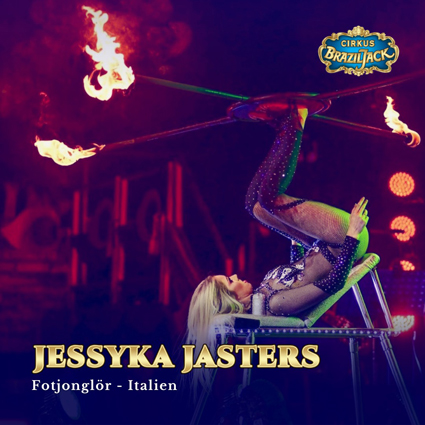 The Jasters family is well represented in this year's Danish and Swedish performances. At Arena in Denmark, you meet the knife-throwing couple The Jasters aka Giacomo Sterza and his wife Elena Busnelli. At Brazil Jack in Sweden, you meet the couple's two daughters: Susan Jaster in an aerial number and her little sister Jessyca Jaster as a foot juggler. An entrée she also showed at Brazil Jack in 2016, where her parents were also part of the performance. With her at Brazil Jack, Jessyca has her boyfriend, the Italian juggler Sonny Caveagna.

2 April 2023
Pippi at the Circus. Last summer, more than 55,000 people saw the new circus musical about Pippi Longstocking in the Circus Building at Djurgården in Stockholm, Sweden. It was written by Björn Ulvaeus from ABBA in cooperation with Tilde Björfors from Circus Cikör. With such good ticket sales, it is obvious that the musical will be staged again this year, maybe with a few small adjustments. The premiere is on 29 June and the performance will run until 18 August.
Circus Cikör writes:
Djurgården has felt empty, right? This summer, Pippi finally returns to Cirkus, premiering on June 15. After playing for over 55,000 people last year, we're SO excited about Pippi 2.0. Two dates have been added to the premiere week, and it seems that many have
already finished planning their vacations - tickets are already selling at a blistering pace!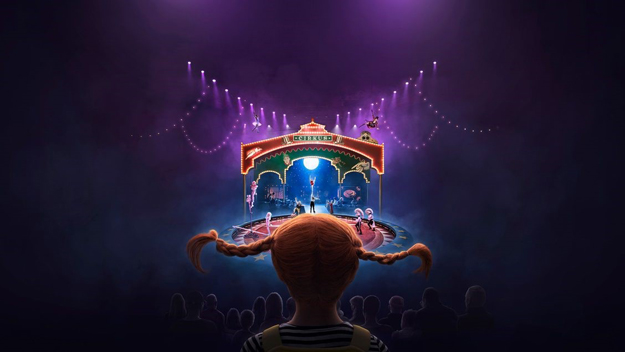 30 March 2023
Obituary: Björn Vinberg. The Swedish journalist and circus historian Björn Vinberg passed away on March 29. He was 90 years old. He was a co-founder of the Swedish Circus Academy and for many years associated with the Swedish tabloid Expressen, for a period as entertainment editor, including responsibility for reporting on e.g. circuses. He co-authored several books about circuses. He is survived by his sons Johan and Olle Vinberg.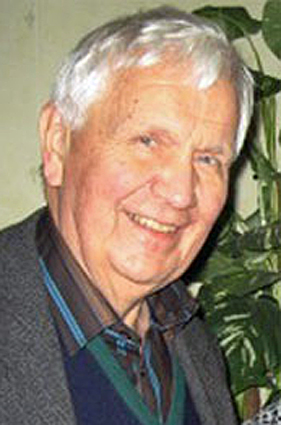 Björn Vinberg

28 March 2023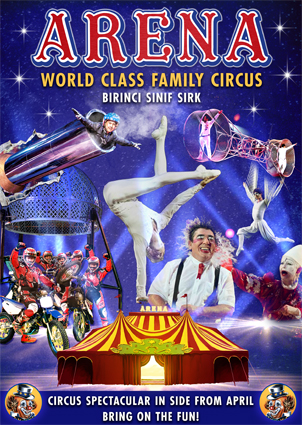 Circus Arena in Turkey. The Danish Circus Arena has for some time been working on presenting performances in one of the seaside resorts on the Turkish Mediterranean coast. And now the plans are realised. Press officer Kristoffer Ditlevsen writes (my translation):
There is season opening in the seaside resort Side in Turkey on Saturday 1 April. The city is located between Alanya and Antalya. A large circus production with i.e. The Diorios motorbikes in The Globe of Death, a wheel of death, Alan Sulc, José Michel Clowns, a cannon king, aerial acts, handstand, etc.
Sara Maria Franch-Mærkedahl will be ringmistress.
The performances take place until September in our large tent at the lot in Side with room for 2,400 visitors.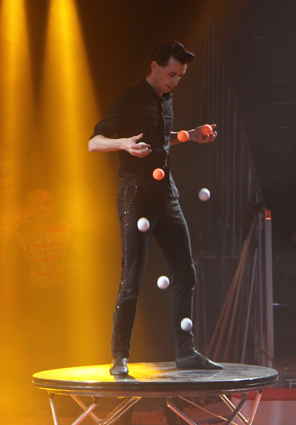 Among the performers is the bouncing juggler Alan Sulc, who was the artist who in 2022 got the biggest applause in Circus Arena's Danish performance. Just 14 years old he got a bronze clown in Monte Carlo in 2004.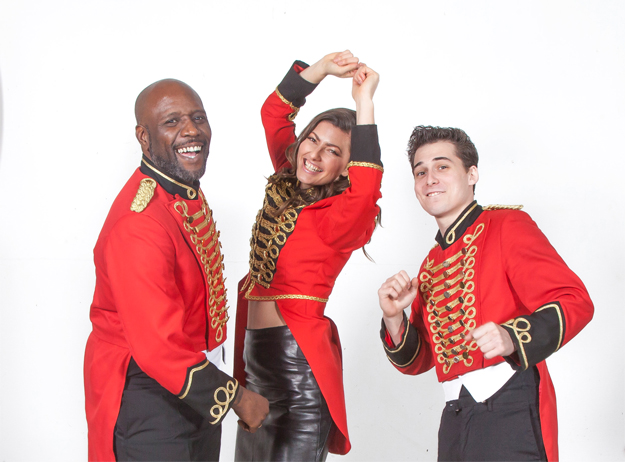 Today, Sara Maria Franch-Mærkedahl is best known as the host of Danish TV2's weather forecast. But she has tried being ringmistress before: in Circus Arena's 2016 performance Crazy about Circus. There she had the task together with Patrick Berdino and James Sampson. All three had participated in the Danish version of the TV program Strictly Come Dancing which Sara Maria even won in 2014! Photo: Circus Arena / Christian Warrer
Side is a seaside resort on the southern Mediterranean coast of Turkey, also known as the Turkish Riviera. It is roughly halfway between Alanya and Antalya, which is a well-known and loved charter holiday destination for sun-loving Scandinavians.

27 March 2023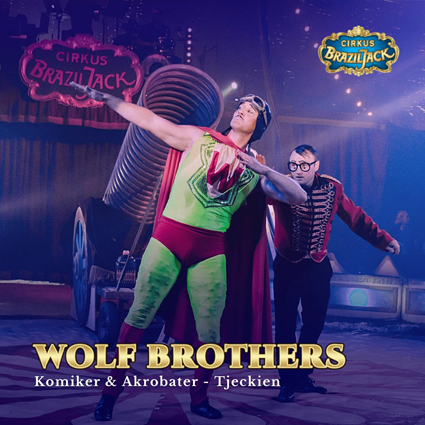 Swedish Circus Brazil Jack continues to announce some the names of the performers in this year's performance, which as you can see offers a reunion with the versatile Wolf Brothers: The tall and muscular David and his somewhat smaller older brother Richard. They were also with Brazil Jack in 2017, 2018, 2019 and 2022. The Danes met the two brothers in Circus Arli in 2011 and 2014. In 2013 they toured Sweden with the Circus Olympia. Season opening for Brazil Jack is on Good Friday 7 April in Malmö in the southern part of Sweden. There is a bridge and tunnel between Copenhagen, Denmark, and Malmö, Sweden.

23 March 2023
Norwegian Circus Arnardo on March 18 in Grimstad.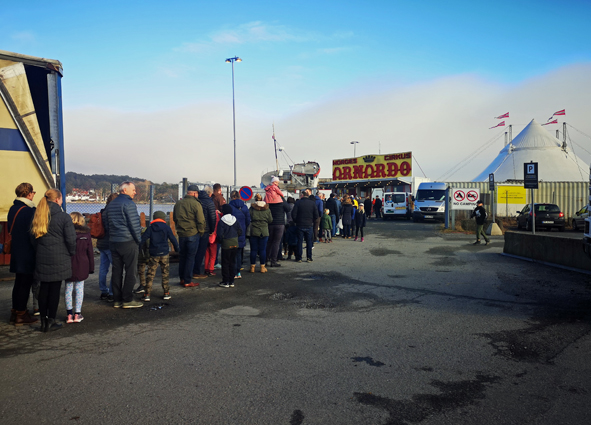 Always nice to see people queuing in front of a circus tent! All photos: Thorbjørn Klæbo Flo
Thorbjørn Klæbo Flo saw the performance and writes (my translation):
Program
Opening with Are Arnardo and Victor Rossi. Are tells a little about Arnardo's history, reads from a book.
Duo Stellare with roller skate act
Kevin Probst with donkeys and a solo horse
Victor Rossi comic
Are and Paola with magic
Tünde Szabo with aerial straps
Luigi Folco Arnardo with diabolo
Victor Rossi comic
Shannon Folco Arnardo with flying carpets, foot juggler
Kevin Probst with playful dogs
Victor Rossi juggler
Duo Stellare with aerial straps
Finale with artists
The performance lasted approx. 75 minutes without a break
Circus owner Are Arnardo opens the performance with a short story about Circus Arnardo, Victor Rossi participates in a comical way.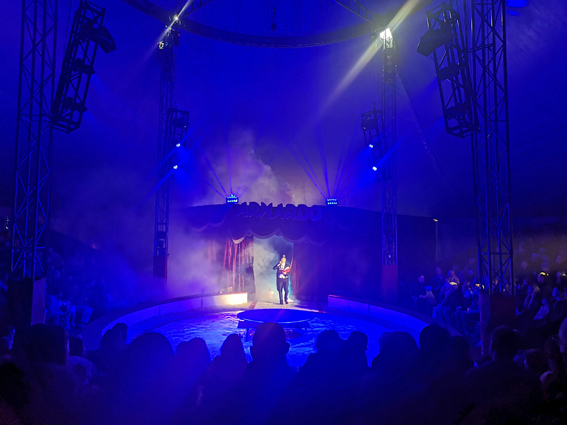 Are Arnardo welcomes.
Duo Stellare with roller skates.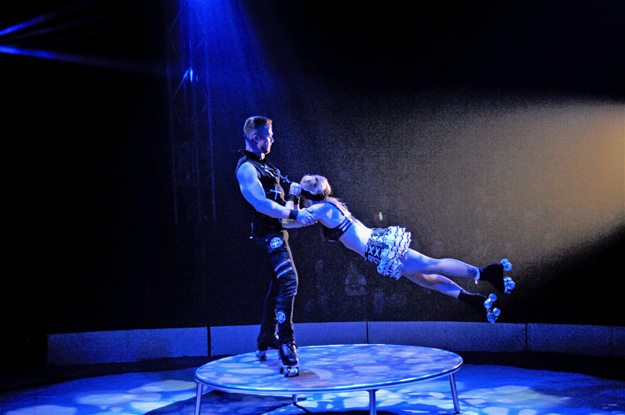 Duo Stellare
Fortunately, the animals are still with us and 8 donkeys are presented by Kevin Probst with expert performance in liberty dressage. Ends with a solo horse.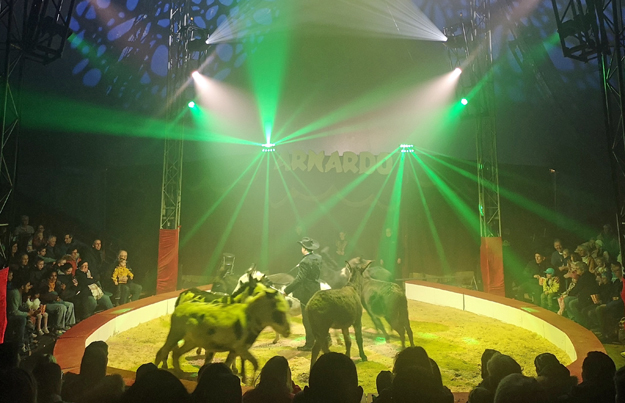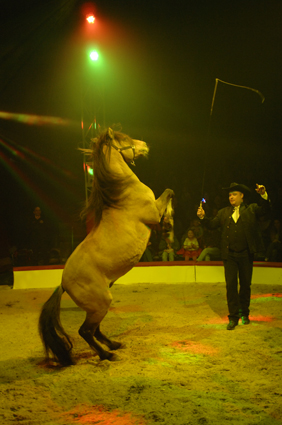 Kevin Probst and his donkeys and horse
Victor Rossi is back, (he was there briefly in the 2022 season) with new comic gags. He has a good grip on the audience and sells his acts masterfully.
Are and Paulina present magic as it is a tradition at Arnardo. The audience is constantly surprised.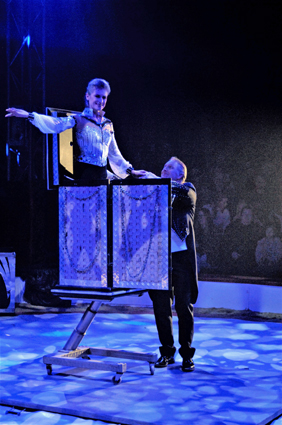 Illusion acts are a firm tradition at Arnardo, whose founder Arne Arnardo was Norway's best-known magician.
Tünde Szabo presents an elegant act in aerial straps, strongly performed.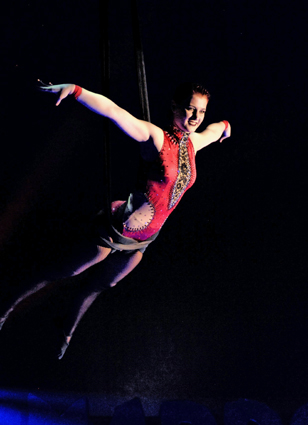 Tünde Szabo
Luigi Folco Arnardo performs fast-paced diabolo in rock music style. A hit with the young ladies.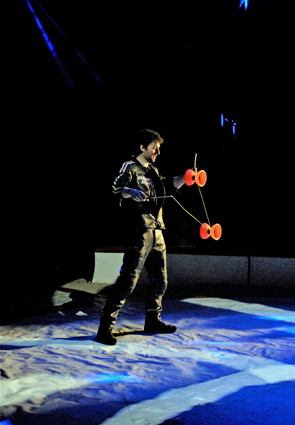 Not least the young girls liked Luigi!
Victor Rossi with new comic entrées.
Shannon Folco Arnardo with flying carpets, new costume and direction combined with dance. Harlequin style.
Kevin Probst with fast paced and very good dog act.
Victor Rossi as a juggler, strong number.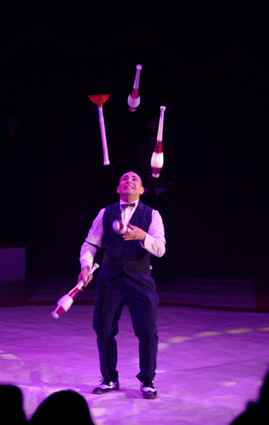 Victor Rossi
Duo Stellare is the last act before the finale with aerial straps, powerful and elegant in tango style. Great costumes and perfect music.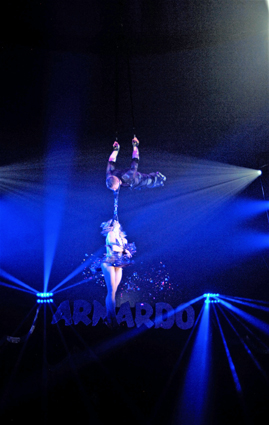 Duo Stellare
Finale with artists dancing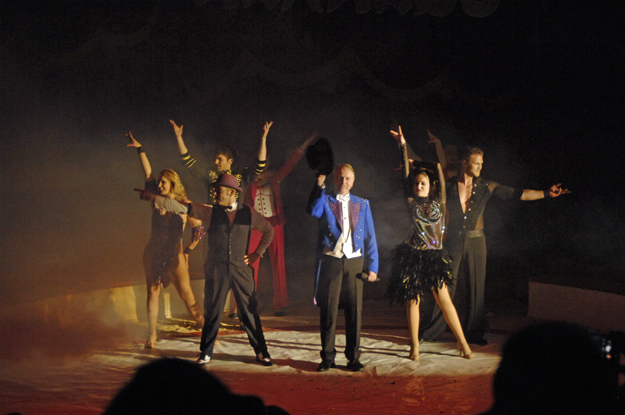 From the final
I saw two almost sold-out performances, over 400 at both. According to Are Arnardo, they take in about 450 per performance. Continuing with the same concept they have done for the last two years. Stay longer time at each lot. A concept they have been successful with. This year they are mainly visiting cities that were not visited last year and are hoping for the same success this year as in 2022.
I can strongly recommend the performance!

22 March 2023
Swedish Cirkus Brazil Jack has released the name of one more of the artists you will meet in this year's performance: Italian Susan Jasters, whose act is presented as follows (my translation)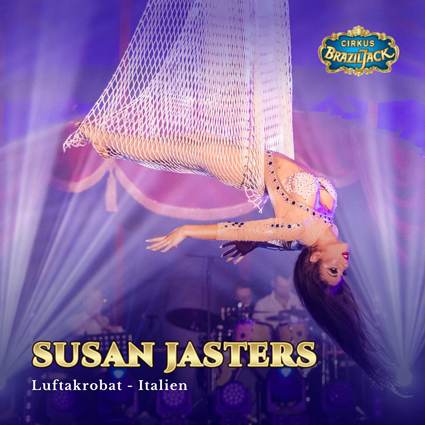 Back in 1957 Circus Brazil Jack presented water as a consistent artistic theme for that year's performance. To further explore this theme, in cooperation with Susan Jasters, over the winter we have created a unique act in air and water that combines her beauty, strength and acrobatic skills in what we think is the ultimate presentation. We are very proud of the end result and expect that the act will be a sensation during the summer's Swedish tour!
Susan Jasters is one half of the duo Skating Jasters, which the audience saw in
Circus Brazil Jack in 2022.

21 March 2023
A Circus Wedding – Jimmy Enoch and Melanie Kaselowsky. On March 20, Jimmy and Melanie were married in Oksenvad Church. They have been together for 20 years and have the children Emily, born 14/11 2013, and Jeremy, born 3/4 2015.
Jimmy Enoch is grandson of the late Haddy Enoch and grew up in the Enoch family's Circus Dannebrog, which closed after season 2016. Today Jimmy run Enoch Show Production. Melanie is daughter of the animal trainer Bernhard Kaselowsky.

21 March 2023
Circus Rhodin 2023. The small Swedish Circus Rhodin has now published the names of the performers for the season, which starts on 1 April in Aakarp in the southern part of Sweden.
Circus director Diana Rhodin presents her dogs and ponies.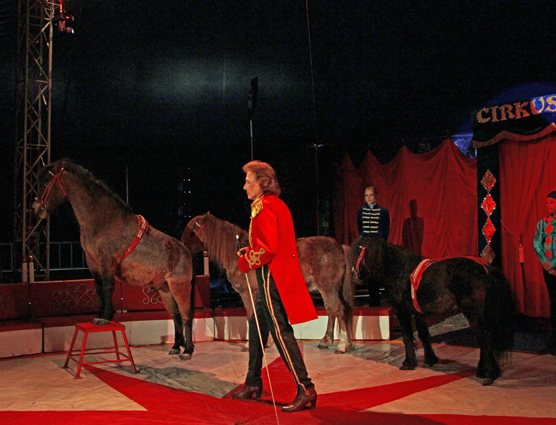 Diana Rhodin and her ponies
Her daughter Simona Rhodin has a new act with crossbow and also performs with hula hoop.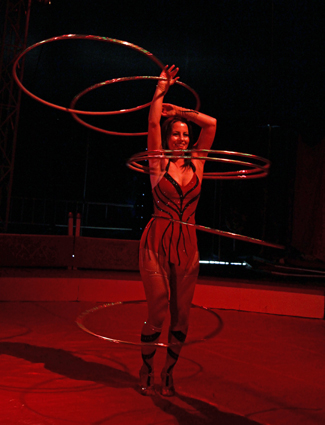 Simona Rhodin is daughter of Diana Rhodin and her partner
The young Danish artist Nynne Hulsig Samuelsen shows her skills in trapeze. She was also on tour with Cirkus Rhodin in 2022. She has previously performed in Danish Circus Trapez, where she had Isabella Enoch Sosman as teacher.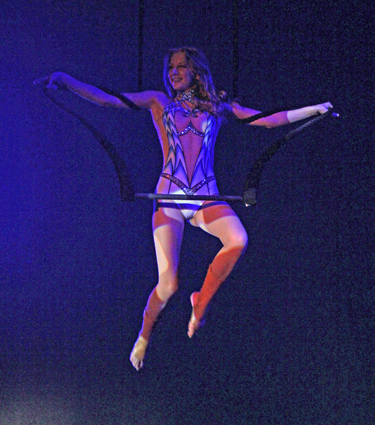 The young Danish trapeze talent Nynne Hulsig Samuelsen
Yayita Gasser from Switzerland performs in tissue and has furthermore an act with whips. Together with Declan, who is also from Switzerland, she presents a comic ballet entrée.
Benjamin Pfeiffer is juggler and presents his parrots. He was also part of Circus Rhodin's 2022 performance.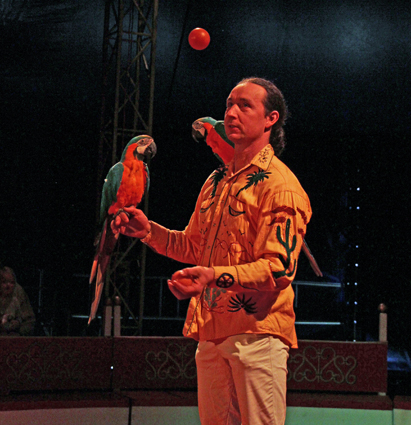 Benjamin Pfeiffer and his parrots
The performance's clown is just as in 2022 Dimo. He comes from Bulgaria.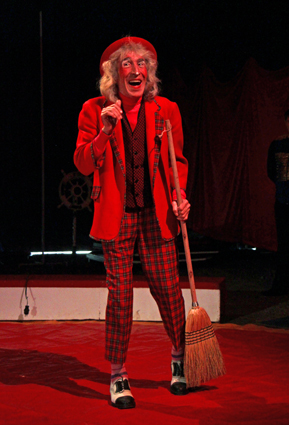 Dimo the clown

21 March 2023
50th anniversary with the Academy for the Preservation of Circus Arts in Sweden. On Saturday, March 18, the Swedish Circus Academy celebrated their 50th anniversary with an event in the Golden Hall at the Elite Hotel Marina Tower in Stockholm. The Academy's Schreibstallmeister Hans Lindgren writes (my translation):
The Circus Academy's award for Meritorious Contributions to the Circus Arts in Sweden was awarded to Björn Ulvaeus (ABBA) and Tilde Björfors (Circus Cirkör) for their fantastic set of "Pippi at the Circus". Bicycle acrobat Barbro Nordström (Ola & Barbro) also received such an award for founding Ludvika Minicircus. Johanna Abrahamsson and Merja Henning (spokesperson) represented Bohuslän's Cirkussällskap Reino's Friends, which was also awarded this award for the creation of the CirkusKvarnen in Grohed outside Uddevalla.
Award for Meritorious Contributions Within the Academy was awarded to Roy Himsel, now Honorary Director of the Circus Academy, and Linda Himsel, for many years editor of the Circus Academy's website.
The honorary award "Charlie of the Year 2023" could not be awarded because the recipient was prevented from attending.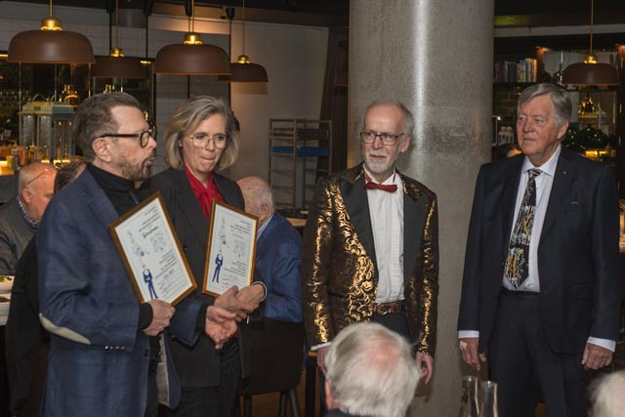 Björn Ulvaeus, Tilde Björfors, Janne Näsström and Hans Lindgren. Photo Janeric Dahlin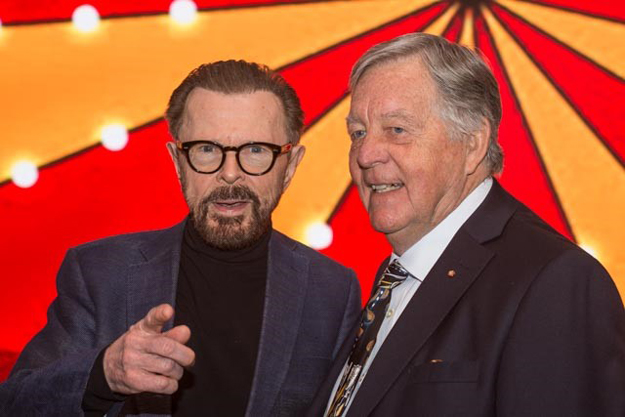 Björn Ulvaeus and Hans Lindgren. Photo Janeric Dahlin
About the performing artists for the arrangement, Björn Seger writes (my translation):
50th anniversary had several performances. David Hammarberg with a chair building act, the same as he showed in Circus Olympia. Furthermore, an act with hula hoops that started in the dark. Three young people from the Circus Academy in Stockholm showed their skills. A female artist Johanna Gorzellik with handstand. Two guys David Martin and Florimond Dumas juggling. Once with juggling balls. Second time playing the guitar while juggling clubs.

20 March 2023
The story of Circus Merano. Knut Dahl founded the Norwegian Circus Merano in 1974, and it quickly became one of the Nordics' leading circuses with performances with international top artists. Knut Dahl chose to stop after the 2014 season. The old website for Circus Merano www.merano.no is now changed to an impressively beautiful page that tells the story of Circus Merano with lots of pictures, programs and videos from the performances. The page can be read in several different languages, including English.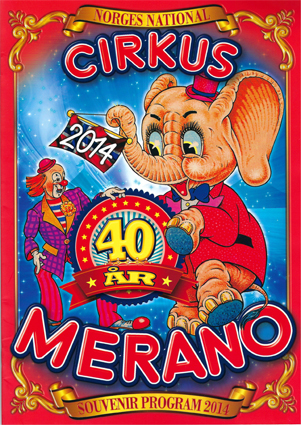 Circus Merano was on tour for 40 seasons before it stopped after the 2014 season
In Denmark, Dawid Benneweis has changed the content of the old website www.benneweis.dk to give a short historical story of Circus Benneweis with a number of photos. However, the site is not as extensive as Merano's site. And just available in Danish.

19 March 2023
DYNAMO COMNTEMPORARAY CIRCUS FESTIVAL 14 -17 JUNE. Dynamo Workspace for circus and performing arts in Odense writes: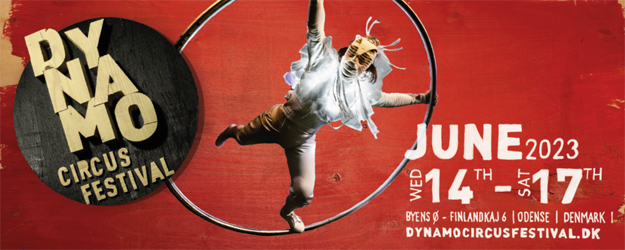 Dynamo Circus Festival returns the 14th-17th of June 2023! Welcome to a performing arts festival that celebrates shared experiences! Free from taste judgment and arbitrary avant-garde tyranny, this is a life-affirming embrace of the general human: the empathy, the fear, the redemption, the joy, the euphoria, the tension and the loss of control. Together vi explore circus.
WATCH PERFORMANCES BY:
Collectif Malunés (BE/FR)
Los Putos Makinas (ES/DE/UY/BR)
Kaaos Kaamos (SV, NCL, IL, DE, AR, BE)
Gustaf Rosell, Mikkel Hobitz & Sarah Lett (SE/DK/CA)
Dan Le Man (AU)
CirkusPerspektiv / Marie-Andrée Robitaille (SE/CA)
Karavan and LUR (SE/DK)
Luuk Brantjes (NE)
Read more at https://dynamoworkspace.dk/festival/?lang=en

18 March 2023
Clown Mathieu. My English circus friend John Cooper writes: With regard to the French clown Mathieu, who is in Norway with Agora this year: Mathieu Dallant is better established than you seem to realise, although maybe not in Scandinavia. He trained at the Annie Fratellini School in Paris. The first time I saw him was with Cirque Arlette Gruss way back in 1992, since when he's done many tours with Arlette Gruss. Two years with Circus Zippo in Britain. Several years for Gerry Cottle over here, as well as one season at Blackpool Tower Circus. He's done one season with Knie, although not as a principal clown. And certainly one year with Louis Knie Jr in Austria. - Mathieu Dallant is 51 years old and this is not his first season in Norway: he was on tour with Circus Arnardo in 2011.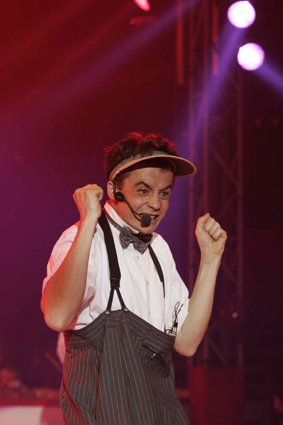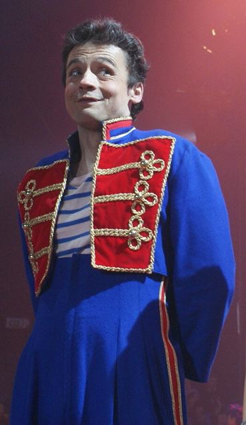 The French clown Mathieu is the playful artist of the smile, Circus Arnardo wrote in 2011, where Mathieu was among the performers.

17 March 2023
Easter circus in Blokhus 1 to 3 April. Circus Trapez visits the Jutland seaside resort Blokhus three days with mini performances. Not in their own tent, but in the city's tent. The performers in the Easter performances are
Duo Gancho, knockabout table act, German Wheel and comedy.
Stine-Marie Greisen with goats and quick change, which she makes together with Patrik from Duo Gancho.
Katja Enoch has short entrée with balloon animals, and her son Joseph Enoch performs with diabolo.
Nikolaj, Stine-Marie's son, present the little pony Bonito.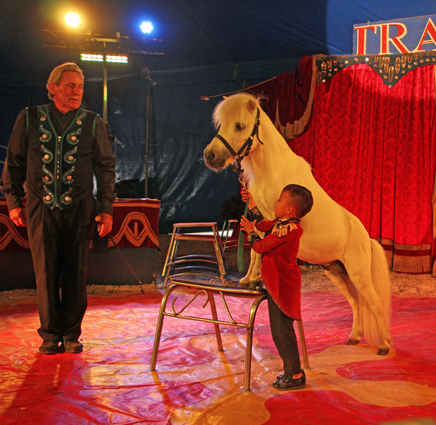 Stine Marie Greisen's son Nikolaj with the pony Bonito
And yes: even though it is called Easter performances, they are actually shown the week before Easter!

16 March 2023
Circus Trapeze summer tour. There is season opening in Kolding on Easter Saturday, April 8. This year they use both the old tent formerly owned by Circus Baldoni and in smaller towns the smaller tent they used last year in Madsbyparken in Fredericia. In some cities they perform in sport centres etc., meaning that they only have to put up a tent once a week.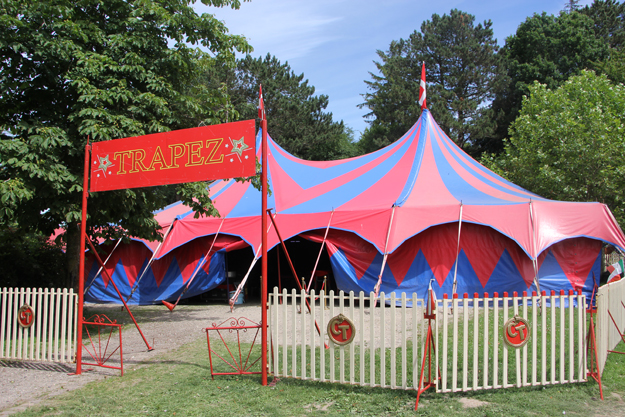 The small tent in Madsbyparken. Photo from 2022
In this year's performance, which is the same in sport centres and tents, you will meet:
Duo Gancho. Knockabout table act, formation juggling and comedy.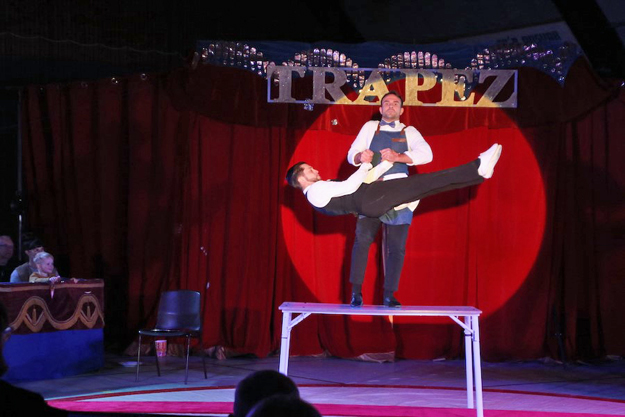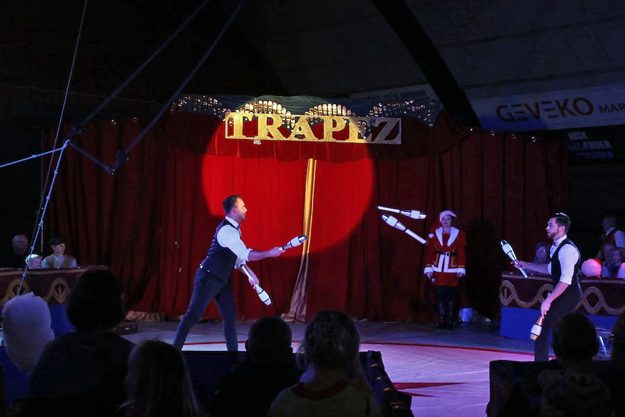 Duo Gancho was also part of some of Circus Trapez's performances in 2022 - here is a photo of their table act and their juggling entrée. Photo: Per Krogh Petersen
Stine-Marie Greisen with goats and in aerial ring together with Rasmine Tomasevic
Rasmine Tomasevic, trapeze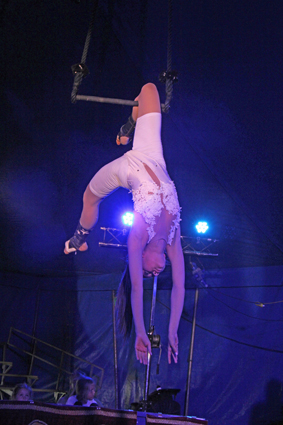 Rasmine Tomasevic-Olsen is 14 years old. In connection with the distribution of circus awards in 2022, she was the first artist ever to receive a grant from the Nelly Jane Benneweis Foundation
Nikolaj, Stine-Marie's son, present the pony Bonito.
Katja Tomasevic, Rasmine's mother, comedy i.e., with Washington trapeze and singing.
Bernhard Kaselowsky with Mini and Maxi
Gabor, but only until mid-August, with comedy and rola-bola
Said Amazigh Troupe with skipping, handstand and human pyramid building.
The performances are presented by Isabella Enoch.
When the small tent is put up in Madsbyparken in July with a 45-minute performance, Circus Trapez splits the group of performers in two, so that one half takes part in open air performances at campsites and the other half performs in the park.
During the spring, Circus Trapez also shows some nursing home performances with some of the artists who are performing in the regular show. Later, the idea is that the nursing home performances will be a separate small group with Agnete Louise Enoch as ringmistress and, among others, Bine Schönemann with Circus Trapez's big goats.

14 March 2023
Norwegian circuses 2023. Norway has two touring circuses: the large Circus Arnardo, which today is run by the 3rd generation Are Arnardo, and the medium-sized Circus Agora, which is run by the slack wire artist Jan Ketil Smørdal. In addition, in Kristiansand Zoo there is a stationary circus, Cirkus Jesper, which during the summer period shows a theme show built over the character gallery from When robbers came to Cardamom Town.
Círcus Arnardo premieres in Grimstad on March 17. In this year's performance you will meet
The comedian and clown Victor Rossi. He is the 8th generation of a French-Italian family of circus performers with roots dating back to 1732, when his ancestor Diego Rossi was employed as a court jester by the French King Louis XV. He is the son of Hector Rossi of the clown duo Les Rossyan. Victor Rossi was also with Arnardo in 2021.
The foot juggler Shannon Folco Arnardo, who is 20 years old and 4th generation Arnardo. She made her debut with Arnardo in 2021.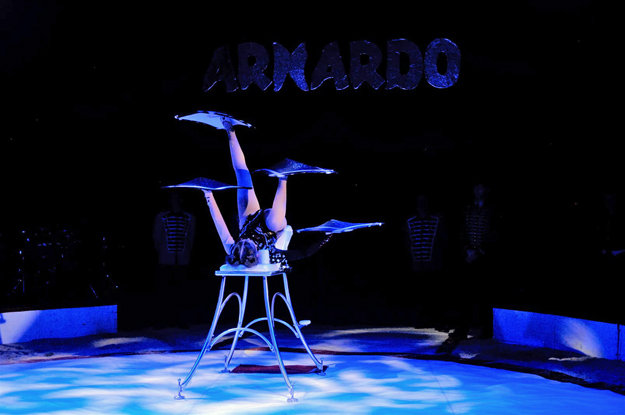 Shannon Folco Arnardo. Photo: Thorbjørn Klæbo Flo
Diabolo juggler Arne Otto Luigi Folco Arnardo, who is 23 years old and named after his great-grandfather, the Norwegian circus king Arne Arnardo.
The director couple Are & Paola with magical surprises. Are's grandfather, the circus king Arne Arnardo, is Norway's most famous magician of all time.
Tünde Szabó with elegant aerial acrobatics. She is educated at the Circus School in Budapest. In 2021 and 2022, she presented an act in aerial straps at Arnardo.
Roller skating artists Duo Stellare. The couple also appears in aerial straps. It is their first season in Norway. Duo Stellare consists of Sarah Jane Macaggi and Mattia Sartori.
Sarah Jane Macaggi is a 5th generation circus performer. Her family founded Circo Wonderland in Spain. Mattia Sartori has a background as a professional dancer. Now they have united their art with love, and are very successful as Duo Stellare with speed, excitement and elegance.
Kevin Probst with dogs, horses and donkeys. Kevin Probst was also with Arnardo in 2021 and 2022.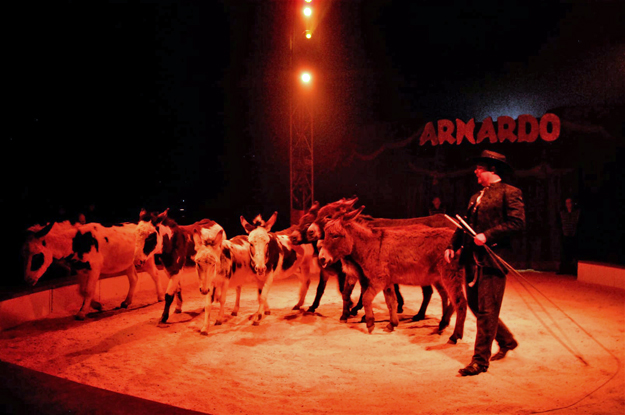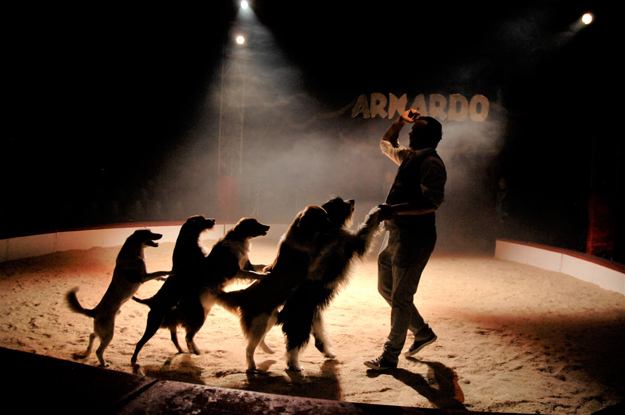 Kevin Probst with respectively 8 donkeys and dogs. Photos: Thorbjørn Klæbo Flo
The performance lasts approx. 75 minutes without intermission. Just as in 2021 and 2022, Circus Arnardo uses a tent that belongs to Kevin Probst.
Cirkus Agora premieres on 17 March in Bergen. In this year's performance you will meet
Duo Glavatskiy from Ukraine with quick change.
The young Norwegian aerial acrobat Helene, who is educated at the Circus Balance circus school in Bergen. which was started by Jan Ketil Smørdal's daughters.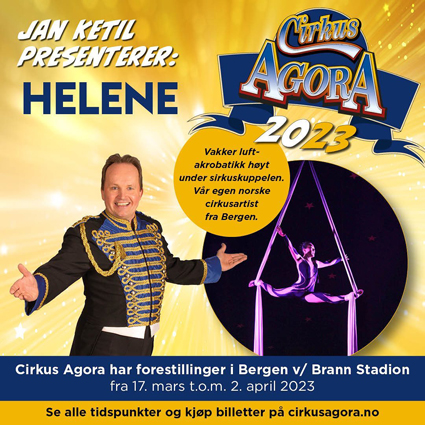 Peter Taylor and his dogs. The Danes have seen him several times in Benny Schumann's mini circus. He has also previously been with Agora.
The strong man Denis Ilchenko from Ukraine. The Danes experienced him in 2020 in Circus Baldoni. In 2017 he toured with the Swedish Circus Brazil Jack and in 2019 with the Norwegian Circus Arnardo.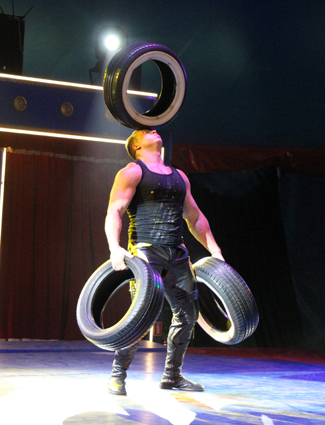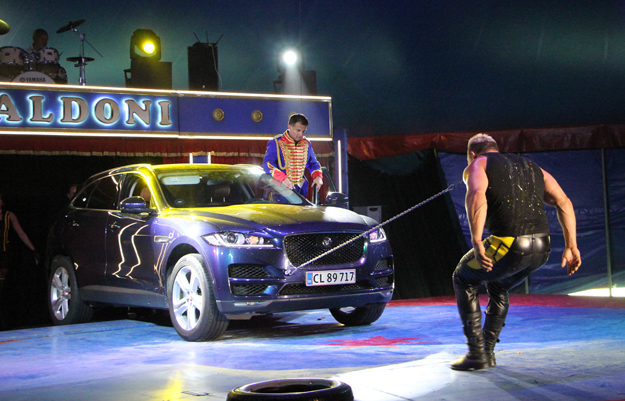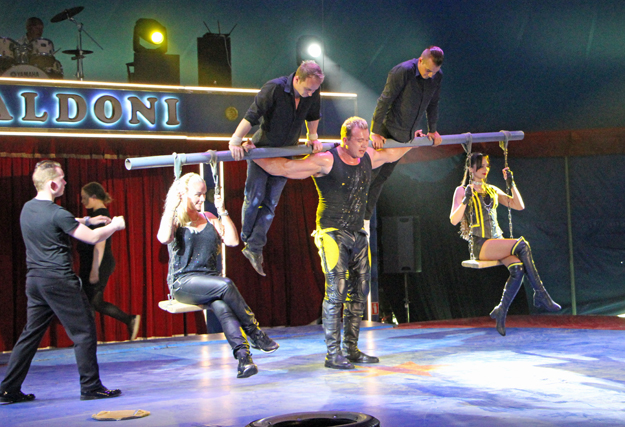 The Ukrainian muscle bundle Denis Ilchenko at Cirkus Baldoni, where you could see him juggling car tires, pulling a car with a bite of his mouth and carrying 4 people on a beam laid over his back, etc.
Ernita Ronzalli present hula hoop.
Axel Gottani comes from Italy. He performs with ladder balance.
Agora's ponies come from the Swedish Circus Olympia and are presented by director Jan Ketil Smørdal.
This year's clown is called Mathieu and comes from France.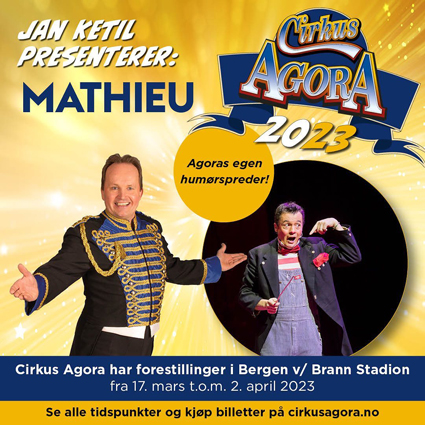 While the Danish circus has many one-day cities, both Circus Arnardo and Circus Agora, just like in 2022, have chosen, at least in the first months of the season, to be several days in each city and to have one or more performance-free days between the cities.
Cirkus Jesper premieres on 17 June and plays until 13 August. Among the cast are the Danish clown Bonbon (Lasse Nørager) and his family as well as Captain Frodo.

12 March 2023
Flying Brazil Jack. This year, the Swedish Cirkus Brazil Jack offers a flying trapeze performed by a newly assembled troupe, Flying Brazil Jack. Director Trolle Rhodin III writes on Facebook (my translation):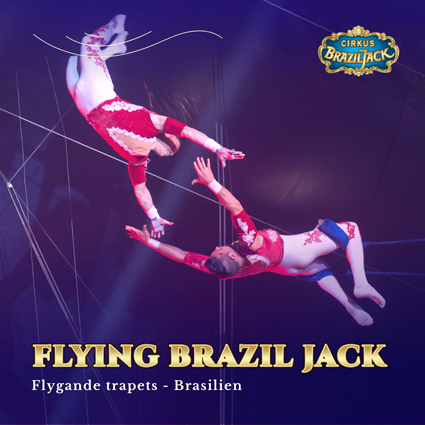 "We have long had a dream of creating our own acts of such beauty and magnitude that they can represent our name to an international circus audience in winter season. This year we have the pleasure of introducing several such acts. From Brazil and Italy, we have hand-picked the most outstanding aerial acrobats from the ancient circus families who for generations have produced the kings and queens of the air in the flying trapeze, the noblest of all circus disciplines. After a long winter's creative process focusing on choreography, costuming and training, it is with great pleasure that we can finally present our very own, spectacular aerial extravaganza "Flying Brazil Jack".
In addition to flying trapeze, this year's show offers, among other things, the globe of death. Here the audience meets the young artists from Diorio's troupe. The troupe has several units. The Swedes have previously met them in the now closed Circus Maximum. In Denmark, they have been several times in Circus Arena. It is not stated how many riders they will be in the globe at Brazil Jack. At Arena, they have been up to 7 riders in the globe at the same time.

10 March 2023
Zirkus Nemo 2023. Zirkus Nemo writes (my translation):
Zirkus Nemo Classic 2023 – a cornucopia of fun and madness
Now it won't be long before Zirkus Nemo, according to tradition, hits the stakes in the ground and premieres the wildest entertainment explosion of a show.
When Circus director Søren Østergaard sets out with the big Zirkus Nemo Classic show, there will be more of the well-known and beloved characters on the program than ever before.
For the audience, this will mean that every night will feel like a record attempt in laughter convulsions, shuddering and costume changes, and the director is considering installing a revolving door in his wardrobe.
There will, among other things, will have the opportunity to make acquaintances with old acquaintances such as Målermanden, Marianne, Baglænsmanden, Baker Jørgen, The Man who can't whistle, Kim Tim, the Smash Man and many more.
"Every year I have to make a decision about which of the characters will be part of the show, and every year there is someone I unfortunately have to choose from. This year I have taken the consequence so that virtually everyone, with a few exceptions, is involved," says Circus Director Søren Østergaard.
In addition, of course, the director has again this year hired some of the world's most talented artists, including break-neck acrobatics from Duo Stauberti, tempo juggler Claudius Specht and acrobats Duo Flash. Zoré España is ready to enchant the audience in her wheel, and last but certainly not least, the acrobat Hector, known to inveterate Nemo fans as the strong man from Duo Solys, will appear.
An evening in really good company in Denmark's only Zirkus for adults is in the works, and we look more than evet forward to seeing you.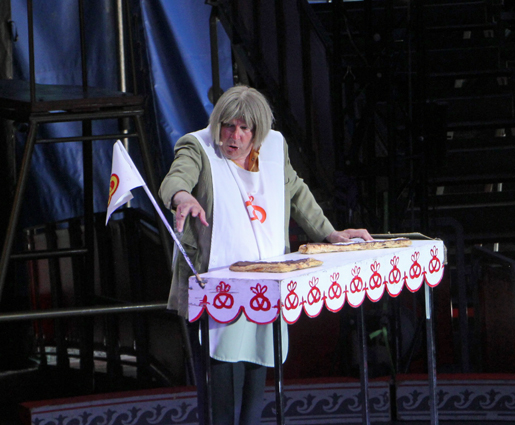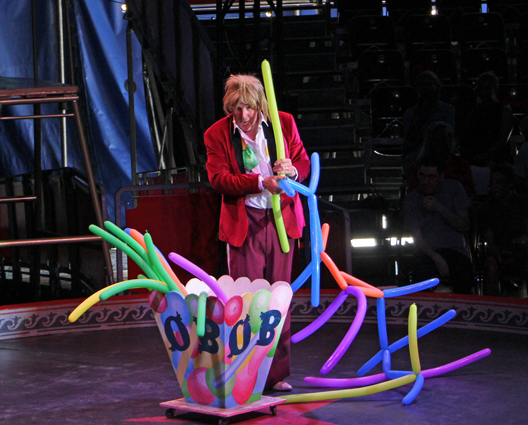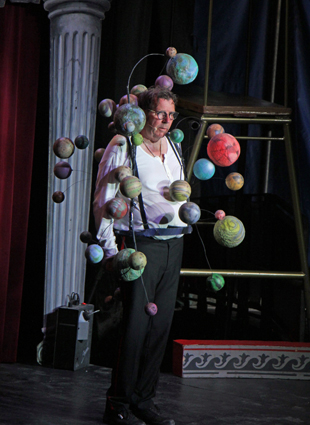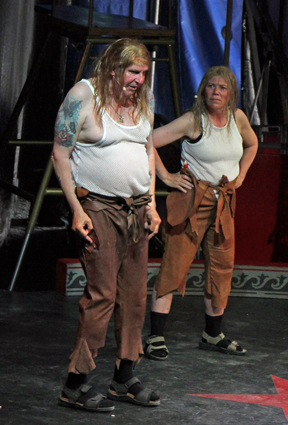 Baker Jørgen, The Balloon Man, the Planet Man and the Smash Man. The latter together with Søren Østergaard's PA Laura Kvist Poulsen, who obviously also has the task as PA for the Smash Man ...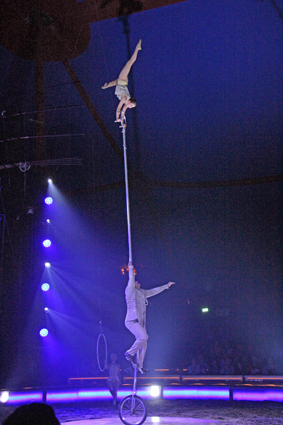 Duo Stauberti (Ditmar Stauberti and his niece Nancy) presents an impressive perch act where Ditmar ends up carrying the perch while riding a mono-bike. The Swedes saw them in Circus Olympia in 2018. They got a silver clown in Monte Carlo in January 2018. Photo from Circus Krone 2019.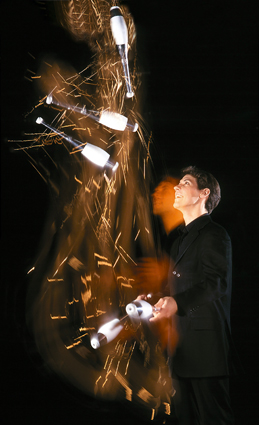 The juggler Claudius Specht was last time with Nemo in 2014.
The comic acrobats Duo Flash come from Ukraine and have performed, among other things, in the large German Circus Krone.
Zoré España performs in what in circus language is called the Cyr Wheel.

10 March 2023
Circus Arli 2023. This year's show is called Hopla-Mortale. There is season opening at the Mill Hill in the Copenhagen suburb Floeng on 2 April with a dress rehearsal the day before.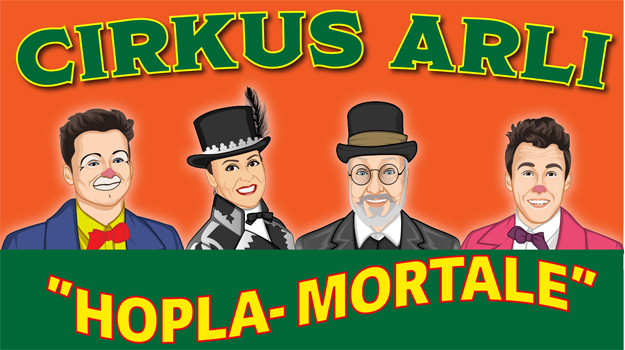 In this year's performance you will, as always, meet Martin, Bettina and Alexander Arli. Bettina can this year celebrate her 40th anniversary as a circus artist 😊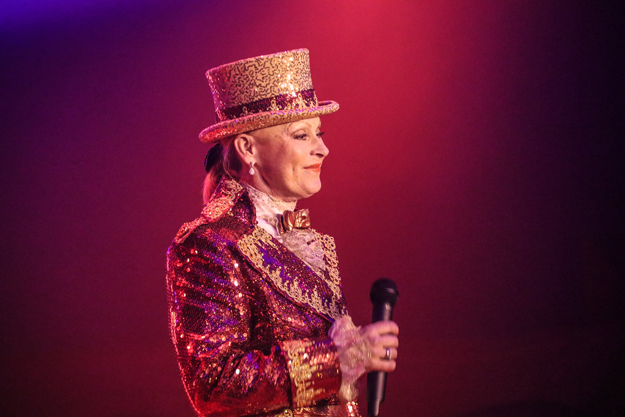 In 1983 Bettina Arli had her circus debut as a "target" in a knife-throwing act, where it was Martin who successfully placed the knives around the lady of his heart. For the past several seasons, she has been Circus Arli's elegant ringmistress
The performance also offers a dear reunion with the clown and multi-artist Francesco Fratellini, who last year very well deserved got the talent prize from the Danish Circus Award. This year, Francesco is doing his juggling act on a unicycle as well as various entrées and the main clown entrée together with Alexander Arli. His spouse Sarah Floores present acrobatics in the aerial ring and, together with Francesco, the entrée with the doll in the suitcase.
In addition to the aforementioned, The Skating Ramos performs with roller skates and under the name Jennifer & Adrian in aerial straps. They were most recently with Arli in the 2021 season.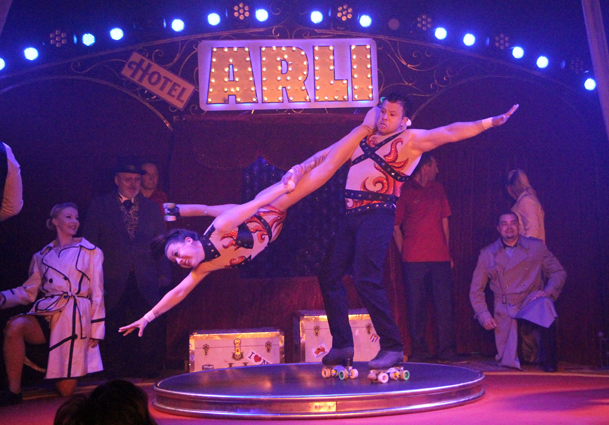 Skating Ramos
Jelena Vasiljeva does solo magic and a new illusion act. Her husband Sergejs Polupans is doing laser manipulation this year, something that has never before been seen at Arli. Jelena and Sergejs have also toured with Arli in the past, but with other entrées than the ones they present this year.

10 March 2023
Circus Trapez 2023. Circus Trapez has its season opening in Kolding on 8 April. Before then, they present the Easter Circus at Blokhus from 1 - 3 April.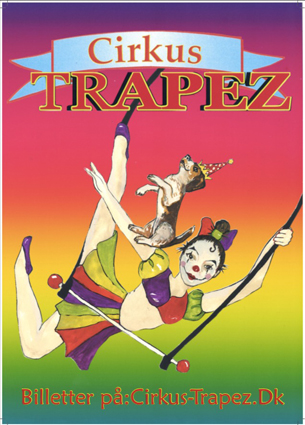 They call this year's performance The Sound of Circus 2023 and write (my translation):
Look forward to this year's Circus adventure when Circus Trapez tour with The Sound of Circus 2023. This year's show focuses on the fun, the impressive and the magical and unique moments that enchant the whole family.
The performance offers, among other things, fantastic neck-breaking acrobatics and impressive tricks from Hungary and Spain, respectively.
An amazing troupe comes all the way from Morocco, cool aerial artists, lovely animals and much more.
Look forward to 2 hours of live entertainment with The Sound of Circus 2023. We look forward to welcoming you.
In the month of April, some performances are given in tent and others in sports centres etc.

9 March 2023
GOING NOWHERE is presented as a new experimental and comic contemporary circus performance about the age of acceleration and the collapse of attention. In GOING NOWHERE body percussion, object manipulation and acrobatic dance meet the absurd, the funny and the grotesque through an individual's struggle to regain calm, focus and depth in his life. A physical comedy about the age of acceleration and the collapse of attention. The performance focus on our ever-increasing screen consumption, where the phone never leaves the thumb.
There is just one performer: Villads Bugge Bang, who among other things is educated at the now closed AMoC (Academy for Modern Circus) in Copenhagen.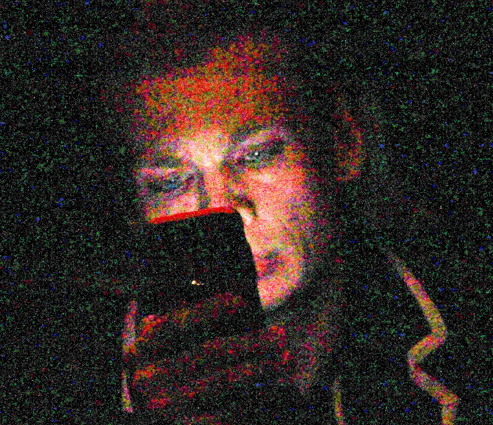 In the performance you experience, among other things, his skills as an artist and mimer. First, he eats an apple and then is disturbed by a mobile phone. As for so many people today, the mobile phone will take up a lot of his life - not as a telephone, but as a handheld computer. He dances to its music and then it runs out of power. He hunts for a plug for charging, and later tries to put the mobile away in both a waste bin and a cupboard. But without luck. He tries to eat it, but after a visit to the toilet it comes out again, and in a comical scene you see how difficult it is to wipe yourself behind with a mobile in hand. He tries to put the mobile in the cupboard again, but it falls out of the cupboard together with many other mobiles. The 1-hour long performance ends with him dropping on the floor, overcome by the mobile.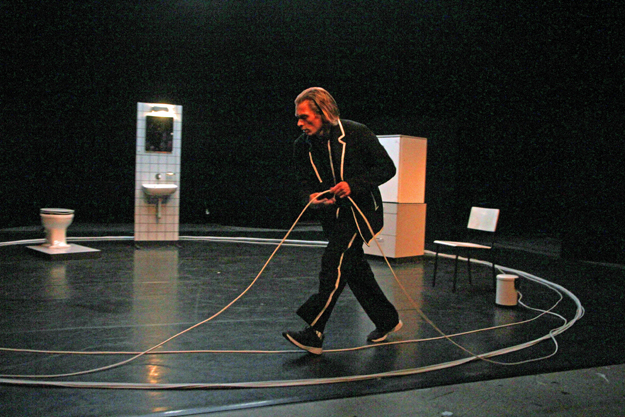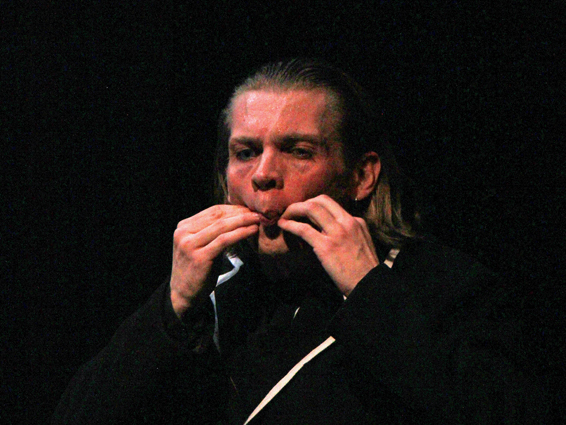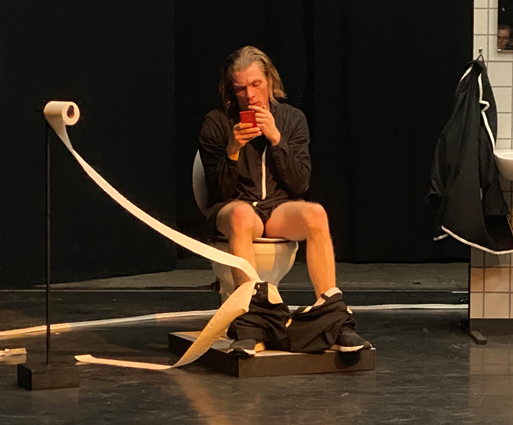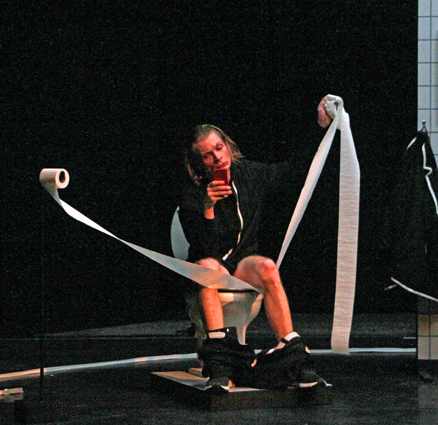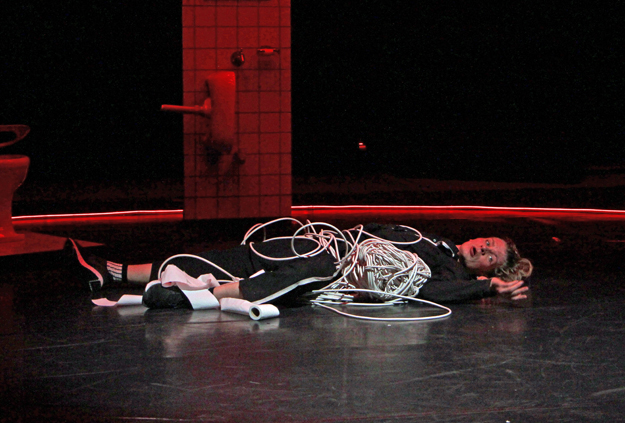 The thought-provoking performance is produced by the performing arts ensemble Out of Balanz and has received generous support from The Danish Arts Foundation and Odense Municipality and is being developed and produced in collaboration with DYNAMO Workspace for Circus and Performing Arts in Odense and AFUKScene in Copenhagen.
The audience for performances like this is hardly large enough for them to be presented without public subsidies.
The performance is directed by Troels Hagen Findsen with Katrina Bugaj as dramaturg. Mika Forsling and Kenneth Danielsen are responsible for an elegant sound and lighting design.

8 March 2023
Swedish circuses in 2023. There are 3 circuses in Sweden: The large Circus Brazil Jack, the medium-sized Circus Olympia and the small circus Rhodin. Circus Brazil Jack is run by Trolle Rhodin III with the assistance of his mother Carmen Lupascu Rhodin. Circus Olympia is run by Niklas Bengtson with the assistance of his mother Henrika Bengtson. Circus Rhodin is run by Diana Rhodin, who is the aunt of Trolle Rhodin III.
Circus Brazil Jack premieres at The Mill Square in Malmö on April 7. Here is what they write about this year's performance (my translation):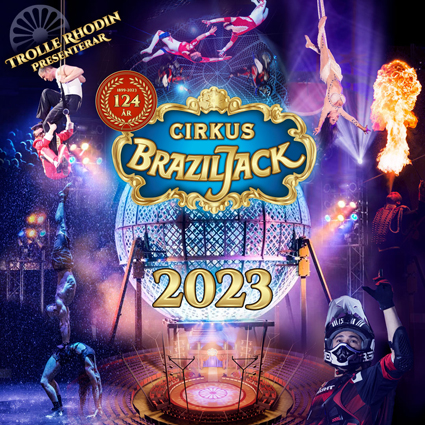 Brazil Jack presents its new animal-free program in 2023 with an extraordinary show. Forget everything you've seen before at the circus, because now we're taking the show to a new level! Outstanding circus artists from all over the world tackle the four elements: fire, water, air and earth in a show bursting with action, humour, beauty and festivity. The winged kings and queens of the circus sphere in the flying trapeze compete in bravery with the acrobats on their motorcycles in the globe of death defying the gravity of the earth itself. Tropical downpours overshadow an outstandingly spectacular program. Only in Brazil Jack's ring. Where else?
The show run for about 1 hour and 45 minutes long, including a 20-minute break.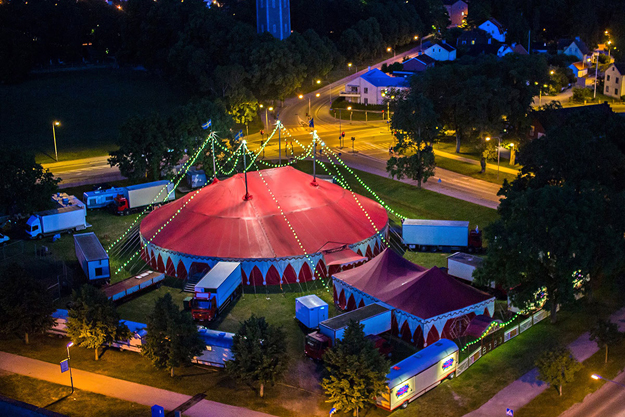 Brazil Jack's tent has a diameter of 36 meters and has ringside chairs and plastic bucket seats at the grandstand.
Cirkus Olympia premieres in Oskarström on April 1. This year's program looks like this:
Overture - Circus Olympia's orchestra under the direction of Valentin Smirnov
Abyssinia Troupe – Risley act
Nalle Clown – Circus Olympia's funny clown
Frida Evelina Persson - aerial acrobatics in a ring
Henrika Bengtsson - Circus Olympia's charming dogs
Nicolas Lagroni - bouncing ball juggling
Nalle Clown – Circus Olympia's funny clown
Irena Lagroni – foot juggler
INTERVAL
Daniel & Nahom - hand-to-hand acrobatics
Nalle Clown - Circus Olympia's funny clown is back
Duo Lagroni - comic knock-about table act
Niklas Bengtsson – liberty horses
Nalle Clown – Circus Olympia's funny clown
Abyssinia Troupe – acrobatics on a Russian pole
All performers in a colourful Grand Finale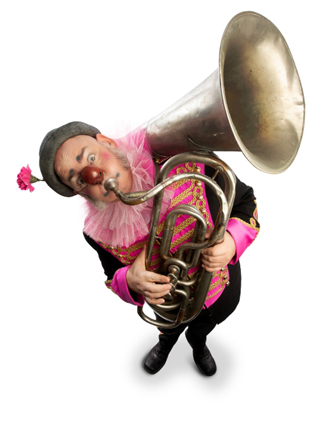 Nalle Clown (Nalle Laanela) is the founder of Clowns without Borders and has 30 years of experience in spreading joy to children and their families all over the world. It is his first tour with a tented circus. When Nalle is not on tour, he works internationally as a stage manager and teaches other clowns. He has written the book "The Clownmanifesto". Press photo from Circus Olympia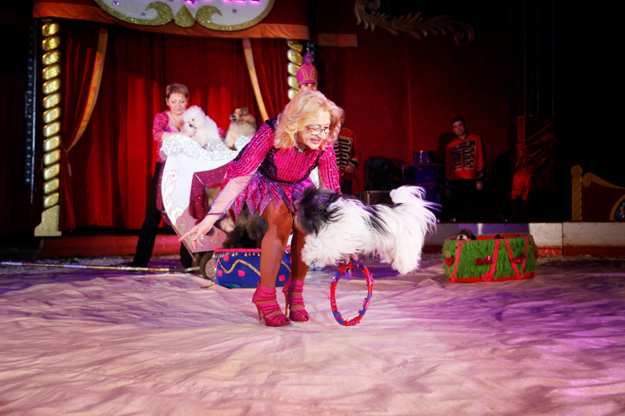 Henrika Bengtsson and her dogs are an indispensable part of Olympia's performance. Press photo from Circus Olympia. Photographer Linda Himsel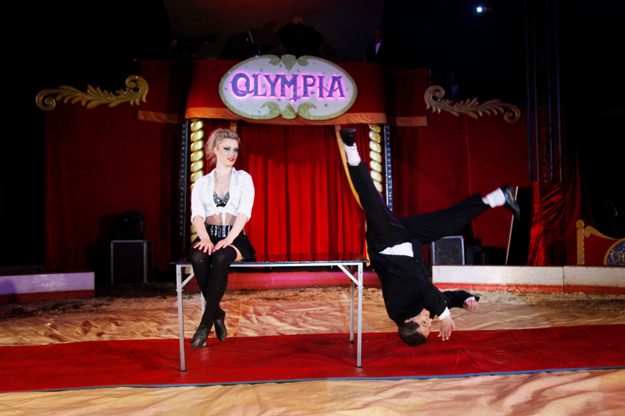 The comic stuntmen Duo Lagroni was also at Olympia in 2019. Press photo from Cirkus Olympia. Photographer Linda Himsel
Cirkus Rhodin premieres in Aakarp on 1 April. From 7 to 16 April, they will be on a lot at Per Albin Hanssonsväg in Malmö. The names of the performing artist is not yet disclosed.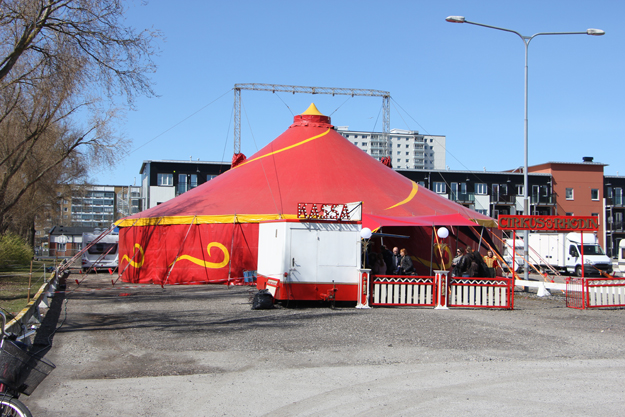 Circus Rhodin at the lot at Per Albin Hanssonsväg i Malmø. Photo from 2022

5 March 2023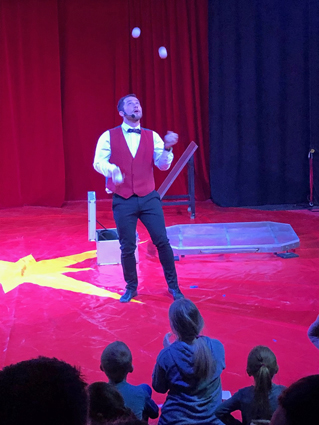 David Sosman visited the circus building of the youth circus Flik-Flak in Odense on 5 March. Here he presented a one-hour ONE MAN SHOW professionally, presentably and with great charm. Showed his skill in juggling balls, bottles and dangerous kitchen utensils.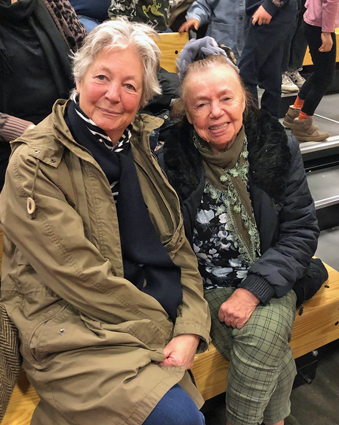 The eldest 'Dannebrog' Solveig Enoch was in the audience and proudly applauded her grandson David. Artists Helle Abildgaard and Solveig had a chat about the old days, when Circus Dannebrog toured all over Denmark. Circus Dannebrog has not been on tour since 2016. Text and photos: Viggo Salting

2 March 2023
Danish Circus Mascot will open the season on 1 April. They call this year's performance "GLAD I LÅGET". ("Happy Face"). They write (my translation):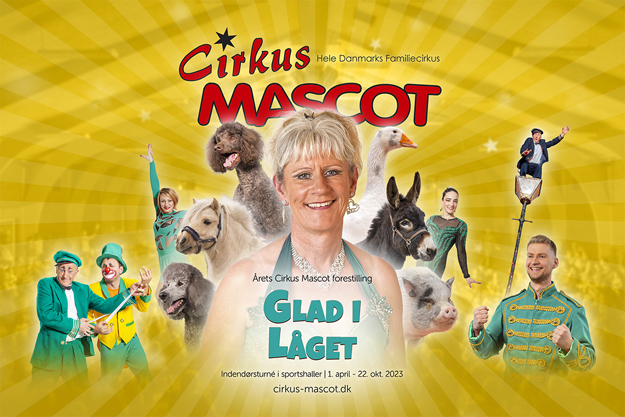 Get a "HAPPY FACE" in Circus Mascot 2023 - Indoor tour in sports centres 1 April - 22 October.
We still believe in the value of getting together around experiences that are happening in the moment. We believe it is essential to give children the opportunity to enjoy themselves - and we know that something very special happens between people when they take their seat around the circus ring.
This year's show is just as daring as always - silly poodles and dog tricks. Experience balancing act, clowning, two pigs, a pony and a goose, and a circus director with (lime) lights in his eyes - finally, it's time for the circus.
As usual, the performance lasts 90 minutes plus an intermission. The sound and light contribute to the circus magic, the popcorn tastes as it should, the candyfloss melts in your mouth, and you will be surprised when you hear that the show's oldest artist is 72. He has got a bright idea and is balancing on the edge of the possible.
It's cosy, really fun and present entertainment at children's level. It's a circus for everyone - and an experience you take home with you. Mascot 2023 will give you a "HAPPY FACE" – come and see it for yourself!
The 72-year-old artist is Lui Nereusz, who is both the Man in the Lamp Post and performs with handstand. He caused great excitement when he was part of Circus Mascot's autumn performance in 2021. You will also meet his young partner Eva Vitzo with glass balance. Eva and Lui were also with Mascot in 2016.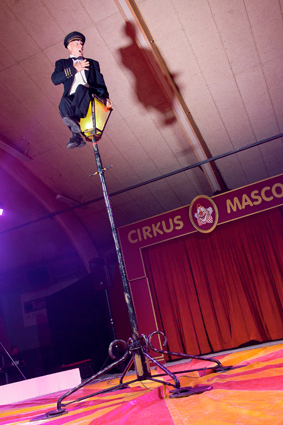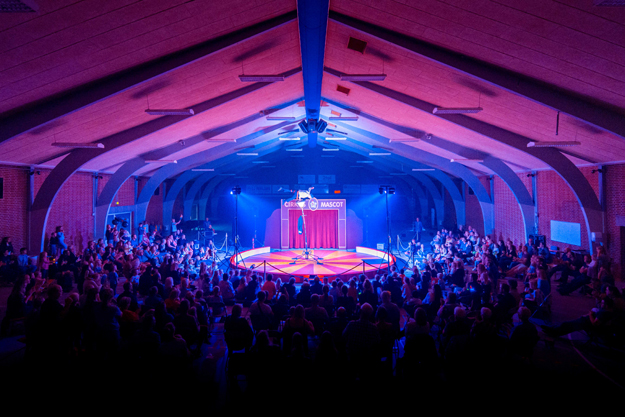 The Man in the Lamp Post aka 72-year-old Lui Nereusz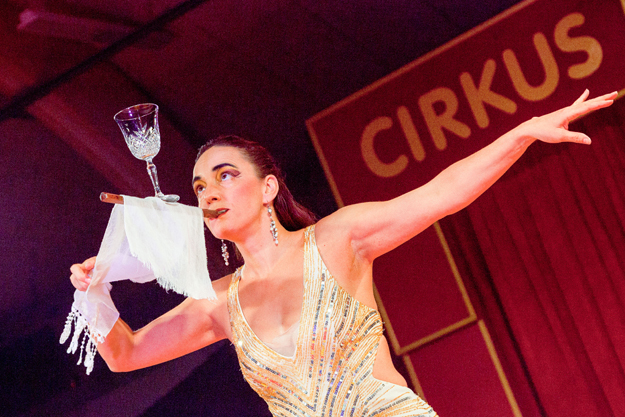 Eva Vitzo. Photos by courtesy of Circus Mascot.
Among the other performers are Circus Mascot's house clown Gulio and his family: Mrs. Tatiana and their son Husik. The show's animal acts are presented by Marianne Deleuran, and her son and co-director Daniel is ringmaster.

1 march 2023
Circus Arena 2023 - new artists in Circus According to Bubber and Julie 3. Circus Arena writes (my translation):
On March 31, Cirkus Arena begins this year's season with the show Circus according to Bubber and Julie 3. Julie Berthelsen and Bubber are back as this year's ringmaster and ringmistress and bring with them beautiful horses, the smell of sawdust and new phenomenal world class artists - this is real circus!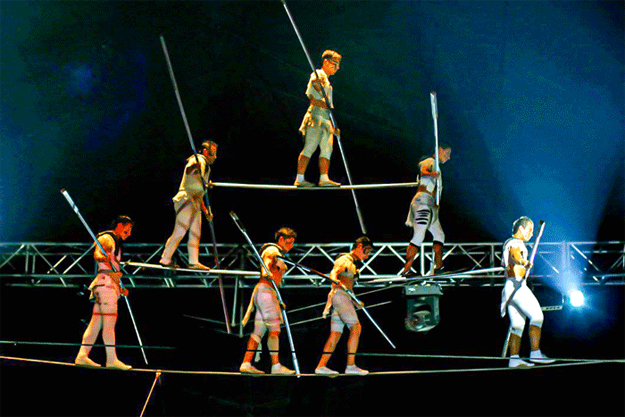 Ortiz with the balance on top. High up under the dome of the circus tent, you will be able to experience the high wire acrobats Ortiz, who both rides a bike, jumps and walks the 7-person pyramid - on the high wire of course. The 7-person pyramid has never before been seen in a circus in Denmark.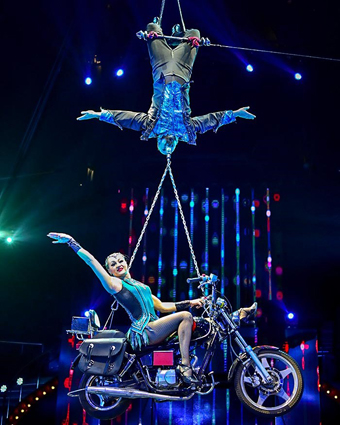 Duo Costache. You may have experienced the booming couple before in Circus Arena - but never before in this way. Duo Costache once again raises the level of what is possible in the arena, when Leonardo, among other things, carries Vita and a motorbike - with his teeth!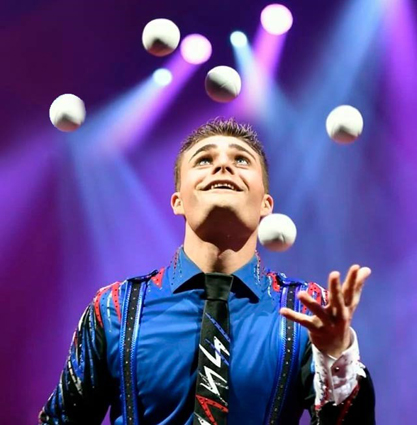 Michael Ferreri. See world-famous juggler Michael Ferreri, who has set several Guinness World Records for his ability to keep many balls in the air at an impressive pace - even when the lights go out.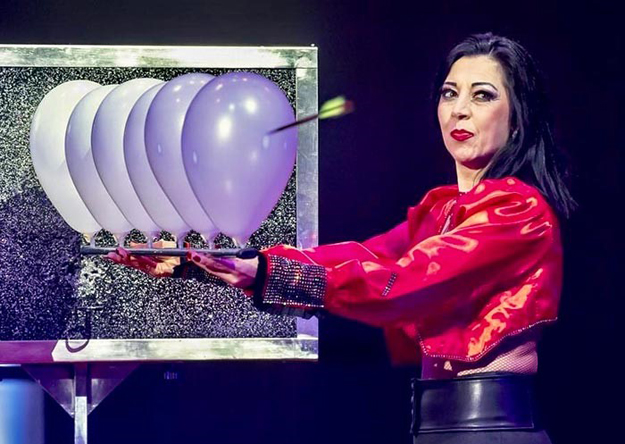 Duo Jasters. Duo Jasters throws knives and shoot bows and arrows with such incredible precision that you won't believe your eyes. Directly from the talent program Italy's Got Talent and the biggest circuses in the world.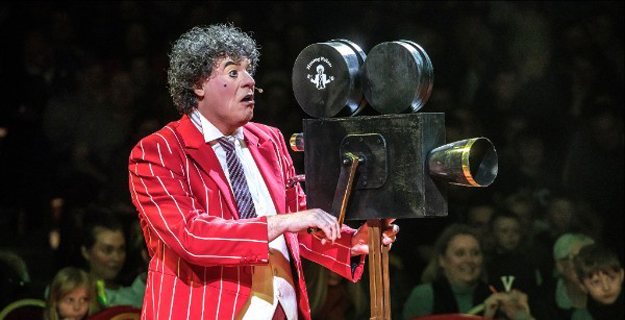 Circus Arena's house clown Jimmy Folco guarantees fun for young and old. Looking the audience in the eye and seeing them laugh is what Jimmy loves. Look forward to experiencing him with funny new inventions in the ring. - This photo and the above photos are all press photos from Circus Arena.
The high wire troupe Los Ortiz also performs in double wheel of death. In addition, the show features the tight wire dancer Steven Ferreri, Karsten Berdino with Arena's horses, the illusionist Jimmy Saylon and the aerialist David Hammarberg.
The 7-person pyramid, where the performers slowly walk over the wire in 3 levels was first time presented by a troupe led by German-born Karl Wallenda, who for many years performed in American circuses. But the 7-man pyramid is one of the most dangerous circus acts. On January 30, 1962, while performing at the Shrine Circus at Detroit's State Fair Coliseum, the front man on the wire, Dieter Schepp, faltered, and the pyramid collapsed. Three men fell to the ground, killing Richard Faughnan, Wallenda's son-in-law; and nephew Dieter Schepp. Karl injured his pelvis, and his adopted son, Mario, was paralyzed from the waist down. Dieter's sister, Jana Schepp, let go of the wire to fall into the quickly-raised safety net, but bounced off and suffered a head injury.
High wire acts are almost always performed without a safety net. In recent years, however, it has become common for safety reasons to place an inflated airbag under the wire. As Circus Arena writes, it will be the first time in Denmark that we can see the 7-person pyramid.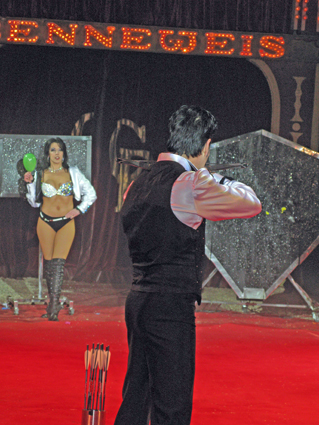 The Danes saw The Jasters in Circus Benneweis in 2011. The following year they were with Circus Arnardo in Norway and in 2016 with Cicus Brazil Jack in Sweden.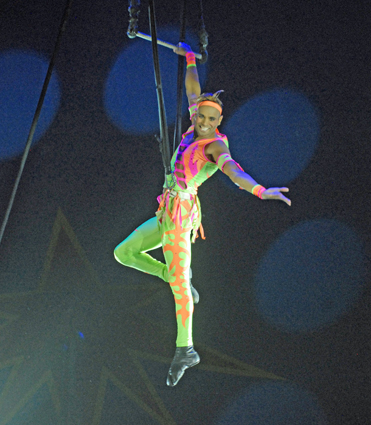 David Hammarberg has toured with the Swedish Circus Olympia for several seasons. In the 2016/17 season, he was in part of Wallmans' dinner show in the Copenhagen Circus Building. The photo is from 2019, when he toured with Norwegian Circus Arnardo. Photo: Thorbjørn Klæbo Flo.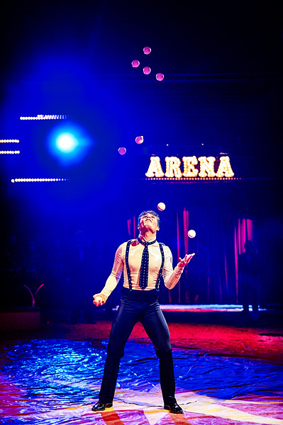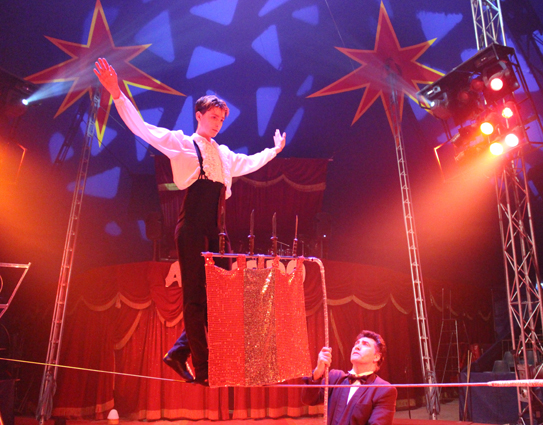 Michael Ferreri was also with Circus Arena in 2015. The following year, his younger brother Steven was first with Norwegian Circus Arnardo and then with Danish Cirkus Trapez. Top: Michael Ferreri in Circus Arena 2015. Photo: Rud Kofoed / Ajour Press. Bottom: Steven Ferreri in Circus Arnardo in 2016.
Cirkus Arena has its national premiere at Bellahoj in Copenhagen on 3 April with dress rehearsals from 31 March. The season ends on August 5 in Slagelse. The tour brings them to Funen, Jutland and Zealand and the islands. For the first time in many years, they are not visiting Bornholm.

1 March 2023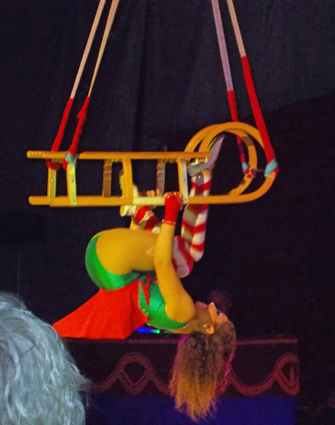 In connection with the review on February 21 of Circus Trapez's winter performance, I used a slightly blurry smartphone photo of Chantal Lutzny in her sledge-shaped trapeze. Finn Stendevad has now sent me the above somewhat better photo.

Link to news from 2007

Link to news from 2006