Older Circus news from Denmark 2020
31 July 2020
Circus Arena 2021. As you know, the corona forced Circus Arena to cancel their 2020 tour, which would otherwise have marked their 65th anniversary. Instead they are celebrating the anniversary in 2021.
They write (my translation): "As a consequence of COVID-19 and the authorities' ban on gatherings of over 500 people until 31 August, we do not have the opportunity to have any of our planned circus performances for you in 2020. Therefore, Circus Arena's 65th anniversary will be celebrated in 2021 with Bubber, Julie Berthelsen, Alex Porsing and the rest of the star team of artists who should have participated in 2020. "
Cirkus Arena has already announced the tour schedule and opened for ticket sales via Ticketmaster.
Season opening will be on March 24 in Copenhagen. They will stay in Copenhagen until 11 April. Then the tour goes after stops in Holbæk and Kalundborg as usual to Jutland and Funen. From there via Langeland to Lolland and Falster, before they on 26 June is back on Zealand, where the season ends August 14 in Slagelse. Of course, they do not fail to visit Bornholm, where they are from12 to 18 July.
As it looks now, the performing artists are the same who were engaged for the 2020 season:
Ringmaster and ringmistress Bubber and Julie Berthelsen
Alex Porsing and his motocross team FMX Denmark
The Danguir Troupe on high wire (Mustafa Danguir Troupe).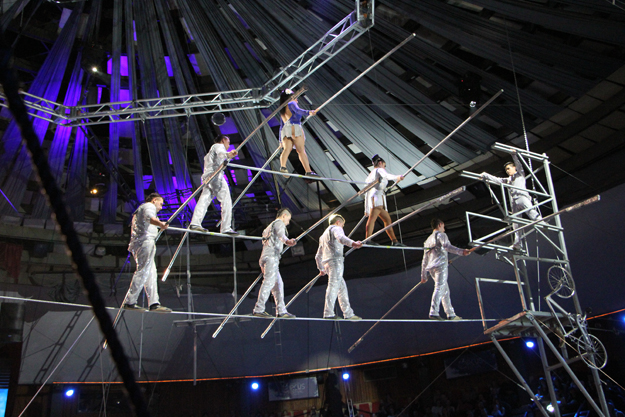 The Danguir troupe present among other tricks the famous 7-man pyramid. It has never before been shown in Denmark. The Danguir Troupe has been with Ringling in USA and in the German Circus Krone. The photo shows another troupe, Gerlings, with the 7-man pyramid. The Wallenda family, led by Karl Wallenda, were the first to perform this difficult and dangerous trick. In 1962, a terrible accident happened: the front man in the pyramid stumbled and 3 of the artists crashed. Two were killed.
Rola-bola acrobat Paulo Kaiser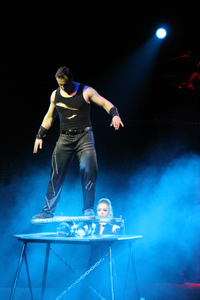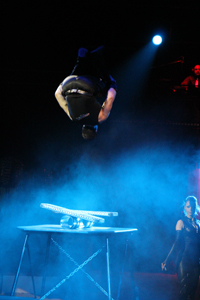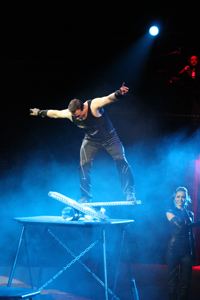 Rola-bola acrobat Paulo Kaiser was with Arena in 2016. In 2019, he performed in Circusland. His specialty is jumping from board to board
Wolfgang Lauenburger and his dogs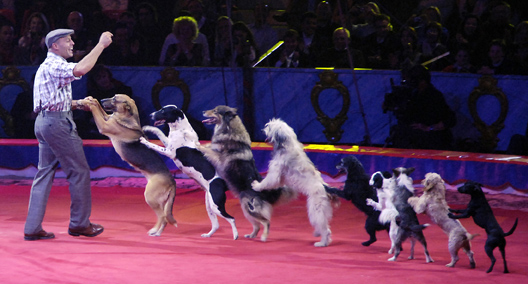 Wolfgang Lauenburger was with Arena in 2010 and 2015. Press photo from Circus Arena 2010. In 2008 he appeared in Benny Schumann's autumn performance.
The Acrobats Tumbling Troupe
Laura Berdino with liberty horses
Duo Costace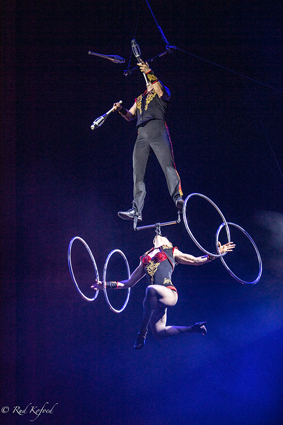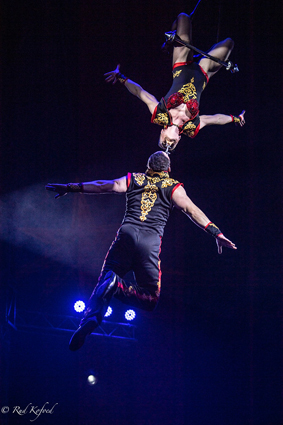 Duo Costache was also with Arena in 2017 and 2019 with respectively a perch act and an aerial act. Photo: Rud Kofoed / Ajour Press
Circus Arena's house clown Jimmy Folco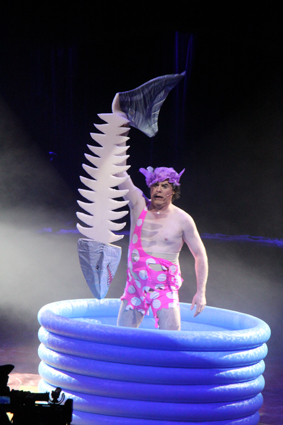 With a few exceptions, Jimmy Folco has been part of Arena's performances since 1997. Here he is seen in the well-known entrée with the shark in the bathtub. The entrée was probably invented by the Swiss clown André Broger, but with greater or lesser talent copied by many other clowns.
Circus Arena's dancers

30 July 2020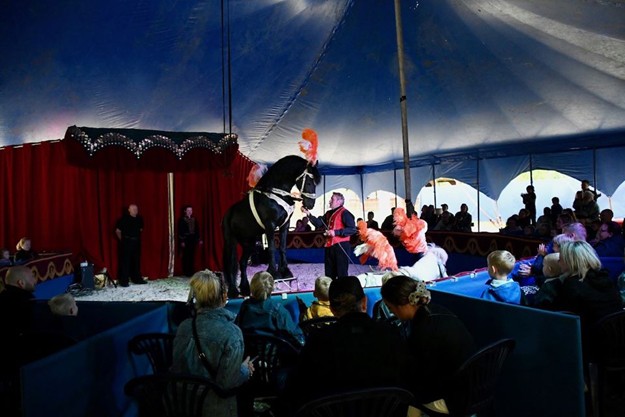 Circus Open Air has had success with their approx. 45-minute long performances in Madsby Playground in Fredericia. Due to this they continue to have performances all Fridays, Saturdays and Sundays in August and September. They do also have a number of performances in nursing homes and at various squares. Isabella Enoch Sosman from Cirkus Trapez run Circus Open Air. Click here to watch a nearly 10 minute long feature with Isabella from TV Syd (language Danish). And here to see a video with her son David, who also participates in the performances in Circus Open Air.

29 July 2020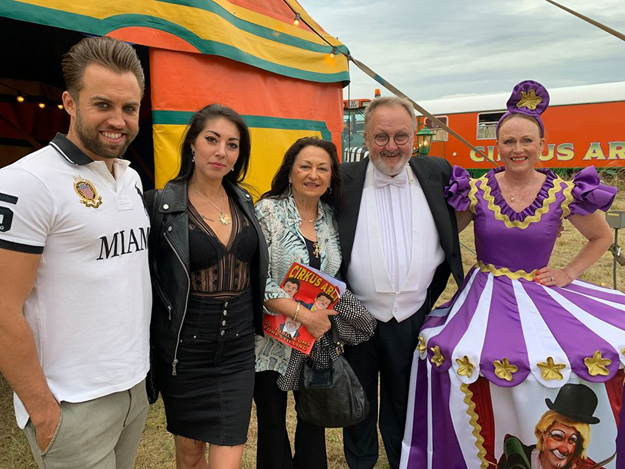 On July 27, Circus Arli had a visit by their colleagues from the Swedish Circus Brazil Jack, which not is on tour this year due to the corona. On the photo you can see Trolle Rhodin III, his girlfriend Susan Jasters, his mother Carmen Lupasco Rhodin and Martin and Bettina Arli. Susan is the eldest daughter of The Jasters (Elena Busnelli & Giacomo Sterza), whose fine act with knife throwing and crossbow the Danes could see at Circus Benneweis in 2011 and the Swedes at Circus Brazil Jack in 2016. In Brazil Jack, the audience also met Susan's little sister Jessyka Jasters with foot juggling. Susan herself has participated in the Cirque de Soleil performance TOTEM, where she and a partner presented a roller skating act.

28 July 2020
Circus Baldoni expands the tour to Funen and Jutland. On Facebook, Circus Baldoni writes (my translations):
A season that we had prepared for could be the hardest and toughest ever has become the season with the most visitors, the most smiling, clapping and laughing audience ever!!!
As you all know, we started 3 months later than usual, and therefore we have chosen to extend our tour a little bit. We are coming to Funen and Jutland. The performances on Funen will be in our tent (Tickets for some of the performances can already be purchased at www.baldoni.dk), while our visit to Jutland will be indoors in sports centers.
The visit to Funen is in the first half of September. Circus Baldoni visited Funen in the years 2002 to 2006. However, the number of visitors were a bit disappointing, which is why they since have stayed on Zealand. But this year, when no other circus has visited Funen or Jutland, they have decided to try their luck on the other side of the Great Belt.

28 July 2020
Circus Finlandia 2020. The Finnish Circus Finlandia, which this season can call itself the largest in the Nordic region, opens the season on 6 August in Karis (Karjaa). The season ends November 1 in Helsinki. In a normal season, they would have premiered in April and ended the season in mid-October.
The cast is
Fumagalli and his brother Darix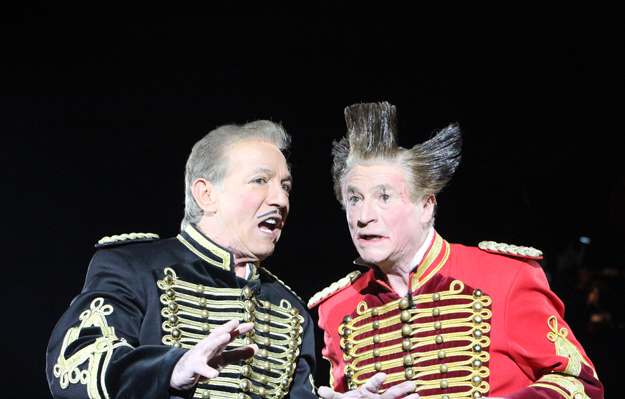 The Danes met Fumagalli and Darix in Circus Benneweis in 2003 and 2006. The Swedes in Cirkus Scott in 2002 and 2012. The couple's best known entrée is Fumagalli's drunken man version of the classic Busy Bee entrée. The picture is from German Circus Krone in Munich 2018.
Vlad Olander and his cats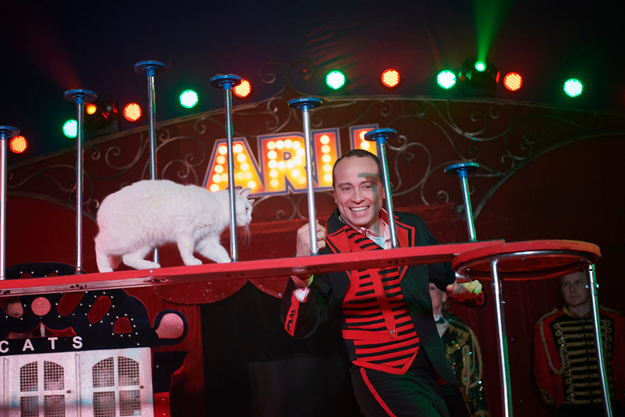 Vlad Olander and one of his cats. Photo: Rud Kofoed / Ajour Press. Vladislav Olander toured Denmark was with Circus Benneweis in 2009 and 2013 and with Circus Arli in 2018. The Swedes met him in Cirkus Maximum in 2008 and in Cirkus Brazil Jack in 2011. In 2012, the Finnish audience saw him for the first time in Cirkus Finlandia. His cat act is considered one of the best on the market. In 2018, it was nominated for the award for the best act of the year by the Danish Circus Award.
Oleg Izossimov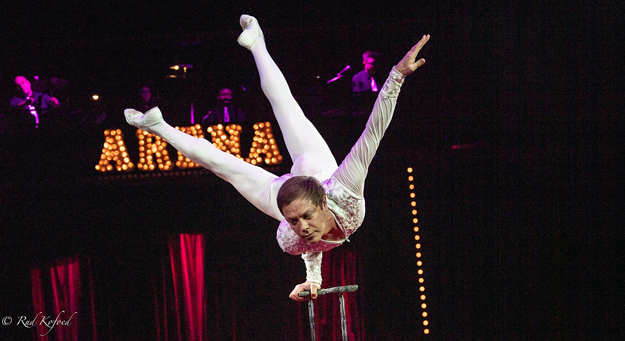 Oleg Izossimov performed on the Open Air Stage in Tivoli in 1996 and at Circus Arena in 2019. Photo: Rud Kofoed / Ajour Press
Allan Sulc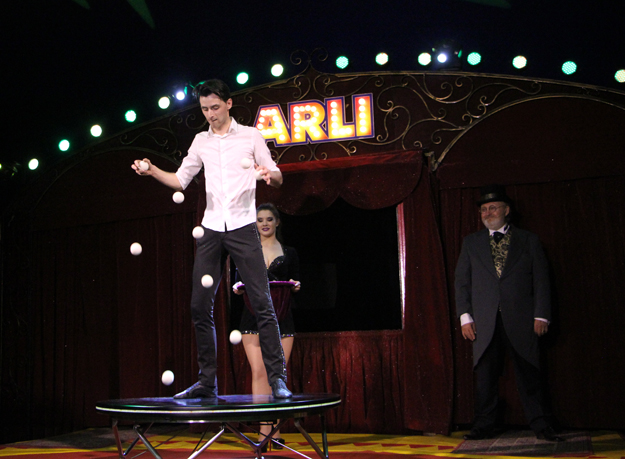 Only 12 years old, Allan Sulc won gold at the European Youth Circus festival in Wiesbaden. In January 2004, as one of the youngest artists ever, he got a bronze clown in Monte Carlo. Later that year he was in Circus Benneweis, where to the tunes of Safri Duo's music he bounced the juggling balls down in his podium with incredible speed and safety and became the top act of the year. In 2019, he was with Circus Arli and was among the nominees for the Danish Circus Award's prize for the best act of the year.
Lucky Hell, sword swallower
Sokolov troupe, springboard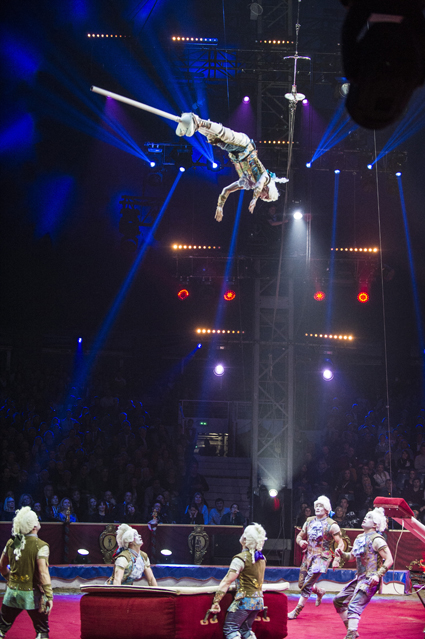 The rococo-dressed Sokolov troupe performs wild leaps with great certainty. Photo: Rud Kofoed / Ajour Press. The picture is from the Monte Carlo festival in 2014, where they got a gold clown. Click here to see a clip from their performance at the Monte Carlo Festival in 2016 (Golden Festival)
Alexander Batuev contortion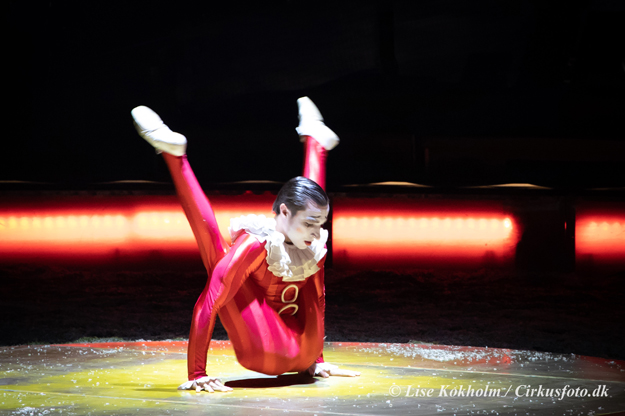 Alexander Batuev has performed several times in the German Circus Krone. Photo: Lise Kokholm from Krone's 2019 performance
Maria Cordwell-Ignatova & Ignat Ignatov. Ignat Ignatov comes from the well-known equestrian family and has worked for Circus Finlandia for several seasons. Maria is his daughter.
The performance is presented by the ringmaster Sebastian.

24 July 2020
Circus Hjemve (the Danish word for homesickness) Jørgen Lorenzen saw the performance at the harbor in Ebeltoft 22 July at 17. Jørgen writes (my translation):
Now there was a circus in Jutland this corona summer. Circus Krone and Tonny Trifolikom (Circus Mongo) had joined forces to have a number of performances in Ebeltoft during the month of July - in a place that Syddjurs Municipality had made available free of charge at the Marina in Ebeltoft.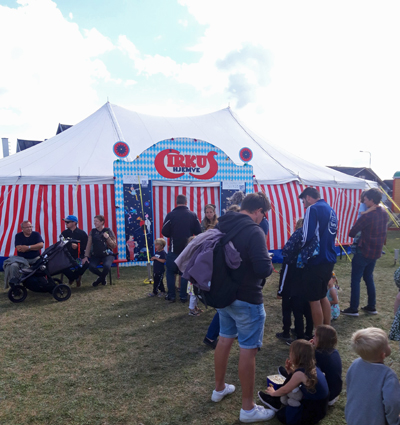 The equipment and the tent came from the Circus Krone circus, and Professor Trifolikom was responsible for most of the program. There was free admission, and at the end they passed the hat round.
Tonny Trifolikom is a source of power for humor, crooked and subtle ways of thinking and speaking, jokes and crazy ins and outs. It is all carried by a cordiality, warmth and good mood. Never ironic or sarcastic or mean. But always with a clown mind, where things are turned upside down.
Here is e.g. his warm-up remarks: "Those who have not come in - will they raise a hand? Those who have no hands let them down."
Frank Thierry was bandmaster and ringmaster.
Tonny Trifolikom started the show with an act which was inspired by George Carl's raving fight with the microphone stand. It turns into a cracked magic with ducks - which the children loudly commenting with good suggestions and helpful remarks.
Andreas follows - with a juggling act with clubs - up to 5. Andreas started his career in the youth circus Flik-Flak, received an education at AFUK and has traveled with Danish Circus Krone. And he is - together with his girlfriend Astrid, who was assistant stage manager – crazy with circus.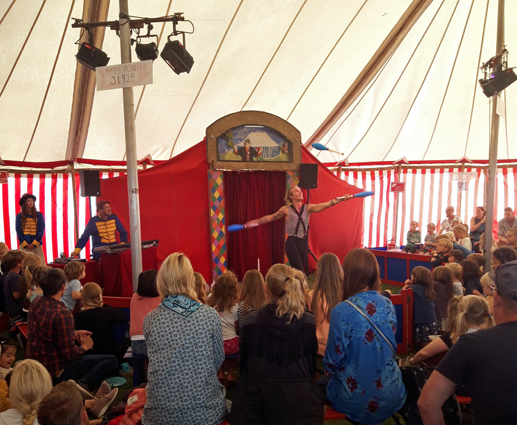 The juggler Andreas
Tonny has the next entrée where he wants to clean with a mop that comes almost alive and lives its own life. There are memories of Jose Michel, who adorns himself with a mop while he sings: Save my love. Eventually, Tonny gives up the odd fight and take a drink from a bottle named: booze.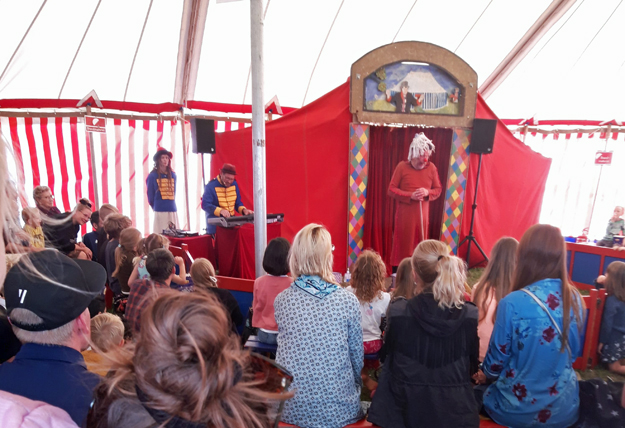 Tonny Trifolikom
Then it's Andreas' turn again. This time with a Russian stick / balance stick. Frank's comment: "It was bought in the discount DIY center jem & fix. We have put Tony's red socks at each end of the stick and you can smell it in a little while. "
And then comes the climax: Tonny Trifolikom dressed as Spiderman, who wants to make a human cannonball act. He gets a boy to help him. The boy is made ready for shooting. "Nothing happens - with me", Tonny comforts him. However, they do not have a fire, so Tonny has to go out to the audience: "Is there a lighter present?" And finally, he manages to set fire to a firecracker. And with that, it's the end of the show, and all 4 performers are presented before people go home for dinner.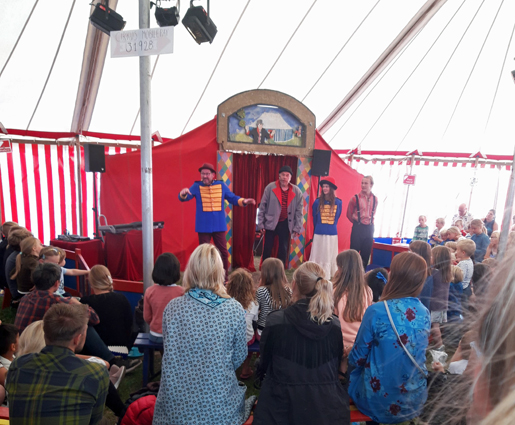 Finale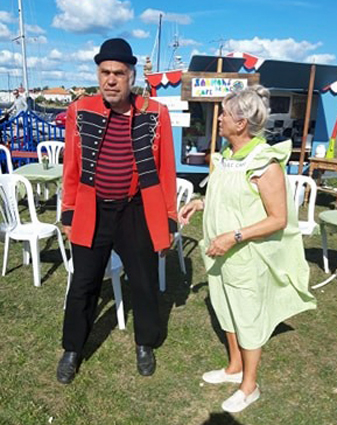 Tonny Trifolikom together with the "old" Krone director Irene Thierry, who had hoped to be able to celebrate her 70th artist anniversary this year in a circus ring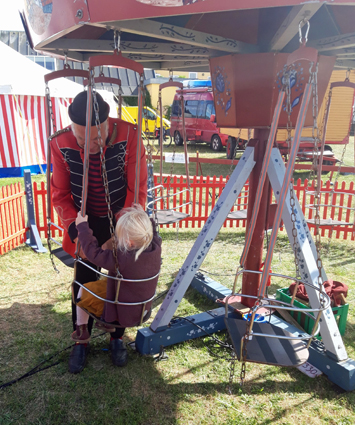 There are a few rides at the circus lot. All photos are smartphone photos shot by Jørgen Lorenzen

20 July 2020
Motorcross show in Circusland. Circusland in Slagelse hosted on 18 July what they called the world's first freestyle motocross show since coronavirus. Here, 25-year-old Alex Porsing in company with the 23-year-old motocross rider Christian Westh from Roskilde performed wild tricks in the air.
For 30 breathtaking minutes, guests could see the 25-year-old daredevil Alex Porsing pushing the boundaries of what is possible. He rode up a ramp and did tricks in the air while both hanging upside down - or completely letting go of the grip on the motorcycle.
Despite his young age, Alex Porsing is among the world's top 20 for FMX (freestyle motocross), and since he won TV2's popular talent program "Denmark has talent" (the Dabish version of Got Talent), he has become known throughout Denmark.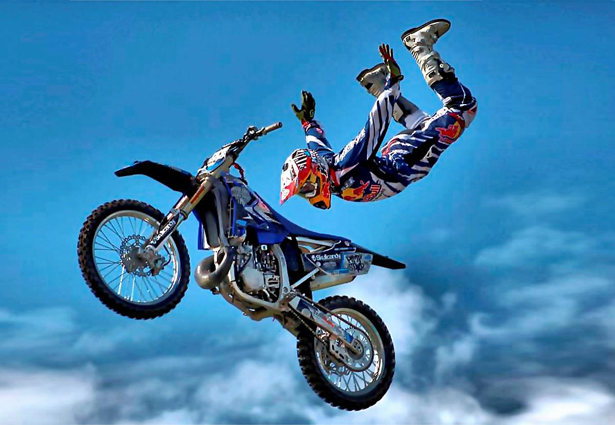 Alex Porsing. PR-foto
For the next three Saturdays, Alex Porsing will once again be in Circusland, where he will show new tricks every time. For the final show on Saturday, August 8, he will also try to break a world record by doing backflip over a lot of trucks. Click here to watch a video clip from TV2 East from the show on 18 July. - Alex Porsing and his troupe should have toured with Circus Arena this year. But the corona forced Arena to drop the season, which or would have been their 65th anniversary. Alex Porsing and the troupe are instead booked for Arena's season 2021, which premieres in Copenhagen on 24 March.
(Source: Cirkusland, Sjællandske Medier and TV2 Øst)

17 July 2020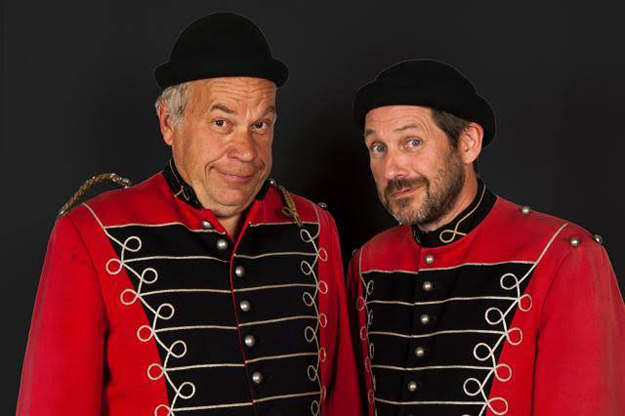 Tonny Trifolikom (Circus Mongo) and Frank Thierry (Danish Circus Krone) write: Circus Hjemve (the Danish word for homesickness). This year we are not allowed to travel, so we are 2 small circus families who have joined forces and put together a show in Ebeltoft at the harbor in our tent with plenty of room and with a 50 min. program for families. You will experience a versatile performance with surprises from near and far. We have chosen to say free admission but we will pass the hat round and hope for your support. There will be a kiosk, carousel and coffee and cake, so come in good time. - Circus Hjemve has performances 19 to 26 July at 17.

15 July 2020
Aarhus Festival's International Night Cabaret. For 10 days every year, Aarhus Festival collaborates with a number of external organisers to create a festive atmosphere in the city. 2020 has been very different from what anyone would have ever imagined. The Covid-19 situation gives rise to a number of challenges; however, Aarhus Festival 2020 will take place from 28 August to 6 September.
Therefore, we are doing everything we can to prepare some fantastic Festival experiences for all of you that will comply with the regulations of the Danish Health Authority.
Aarhus Festival's International Night Cabaret 'Together Into the Unknown' invites you to a spellbinding evening in Hermans, Tivoli Friheden. Since 1997, the International Night Cabaret has been one of Aarhus Festival's annual highlights. 'Together Into the Unknown' is the title of this year's Inter­national Night Cabaret, where you will experience enchanting performances by some of the most excellent artists from all over the world. The International Night Cabaret is a seductive, grotesque and surprising show.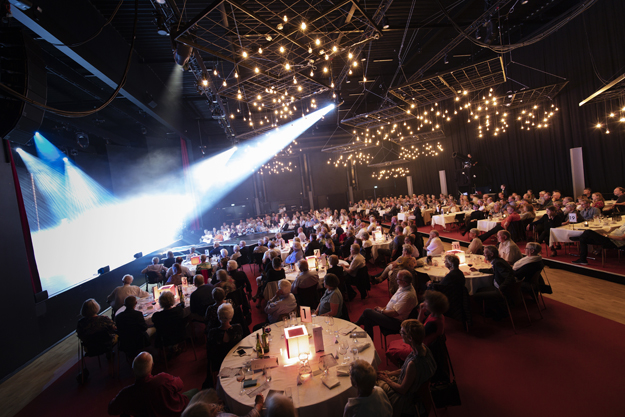 Press photo from Aarhus Festival. Photographer: Martin Dam Kristensen
The performers are (subject to change)
Alex Mihajlovski. Macedonian puppet master, who with his dexterity brings to life the big puppet Mr. Barti.
Mikhail Usov. Ukrainian clown and comedian who has performed in the world-famous Cirque du Soleil for the past nine years.
Duo Vilja. Swedish twins performing together in the most beautiful, acrobatic act.
Elan Koszuk. American comedian and mime artist who has performed all over the globe with the combination of eccentric dance, elastic movements and imaginative humor.
The Juju´s. French Julia and Julien perform their unique tight wire act, where they have to keep their balance, dance and jump over each other while drinking champagne. Click here to see a video clip.
Jérome Murat. French magician performing with his unusual number, where he acts as a statue coming to life in a fun, poetic and exciting act with a very surprising ending.
Hans Davis. Belgian "shadow geographer", known for his eminent ability to create hand shadows.
Tyrone Laner and Coral Cabanäs. The Spanish duo performs with a dramatic knife-throwing act combined with passionate dance.
During the Night Cabaret, Marc Thierry's trio plays, which in addition to Marc Thierry consists of Jesper Daus and Eskild Dohn.
See What's On for playing times and ticket booking.

15 July 2020
Exciting artist performances in Spiegeltent Paradiso in Aalborg. Skraaen in Aalborg offers two exciting performances at the end of August.
The creators of the legendary whiskey-soaked circus party SCOTCH & SODA are back from August 20 to 23 with their new show LE COUP. Skraaen writes: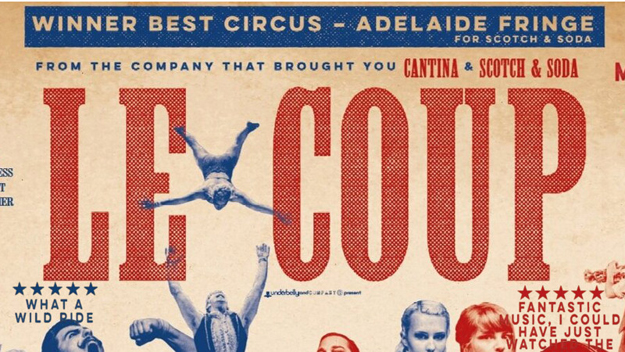 Enjoy the daring acrobats and musicians from Australia - you are invited to their fierce fight night in the boxing ring! Wild showmanship meets Neo-Vaudeville when LE COUP's daring combatants present their skills, such as hand-to-hand acrobatics, daring trapeze, falling in straps, hanging in hair, juggling bowling balls.
And to this original live music with the awesome bluegrass band Father Grant & The Blunt Objects and the singer Mary Murderess. A band that supports and gets the artists up to the highest level of wild tricks.
LE COUP is a tribute to the old markets and amusement parks, the traveling people, the showmen and the acrobats, who appealed to the audience's favor and support. So look forward to seeing The Boss, Ugly, Sally The Alley Cat, Sister, Barry and The King as they all step into the ring to win the victory.
In LE COUP it is not possible to just sit back and relax. You are enthralled and loudly encouraged to cheer on your favorite and place bets.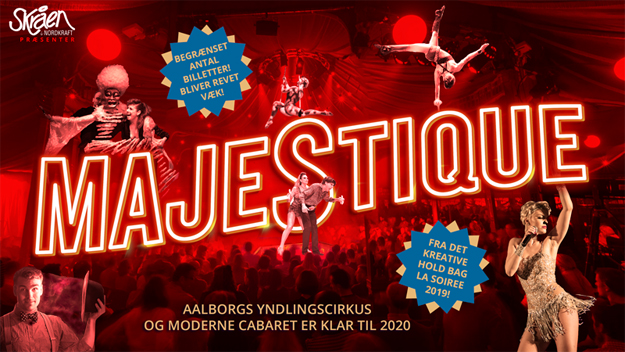 Directly from Montreal, the latest 'treasure' within Circus Cabaret in 2020 will come to the Spiegeltent Paradiso right here in Aalborg from 26 to 30 August: MAJESTIQUE!
From the creative team behind last summer's international hit La Soirée, this year comes their new creation, MAJESTIQUE, which invites you inside for an enchanting evening with sensuality and breathtaking performances.
Majestique is a tribute to the original circus cabaret consisting of international artists in absolute top class. Majestique is unique, fresh, fast, impressive and fun - and it's a show that will steal your heart.
Leave everyday troubles behind you - now is the time to grab your friends and family, get out of the house and escape directly into the Spiegeltent Paradiso for an evening of pure joy, entertainment and fascinating experiences that you just can't (or will not) !) miss.
See What's On for playing times and ticket booking.

14 July 2020
Circus Open Air. Under the name Circus Open Air Isabella Enoch Sosman presents approx. 40 minute long performances in Madsby Playground in Fredericia. Isabella writes: It is not Circus Trapez, we just call it Circus Open Air, because it is only a small performance, in fact only with ourselves and Heidi Mary. The performance was not supposed to be in a tent, but when the weather forecast said rain, we decided to set up part of our tent and it works great. We have no gradin only the ring side chairs, which we can move far apart, and some benches.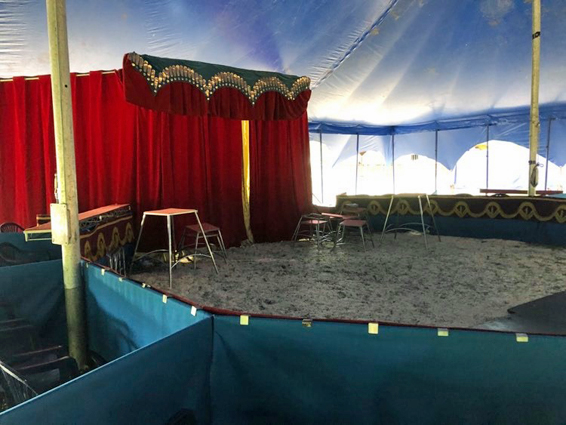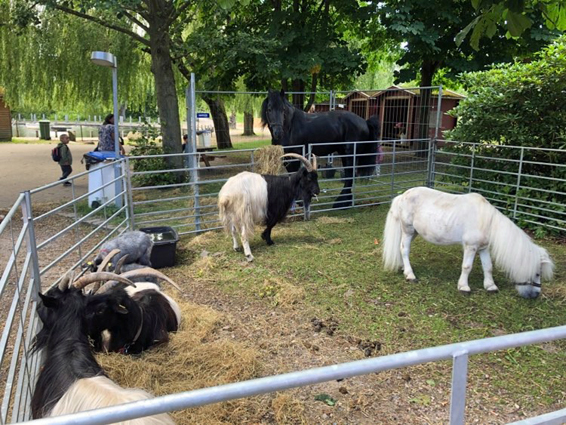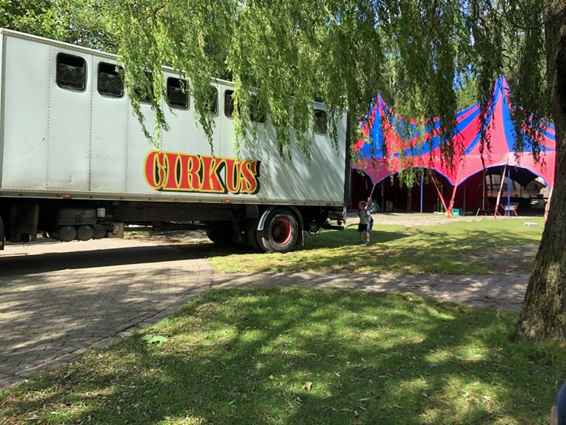 Photos: Søren Kastoft

12 July 2020
MANEGE FREI - magic acts in the circus ring : part 5
Please find a number of illusionists who have performed in the round spot: the circus ring. This write up continues some infos on the topic, it is to be noticed that it is not exhaustive, but - so I hope - it is interesting.
ARNARDO/ 1912 - 1995/, famous circusman and illusionist in his native NORWAY, featured THE LADY CUT IN HALVES, the following story is circulating: 2 ladies, wearing respectively a red and a green costume, were put into 2 cases/boxes - painted in matching colors, red and green, the operation of sawing was carried out, the pieces were pulled apart, then joined as before, the ladies popped out, but now wearing half and half green/red dresses ! ARNARDO said, my excuses, we have put the ladies wrongly together, but - no problem- we will fix it at our next performance !!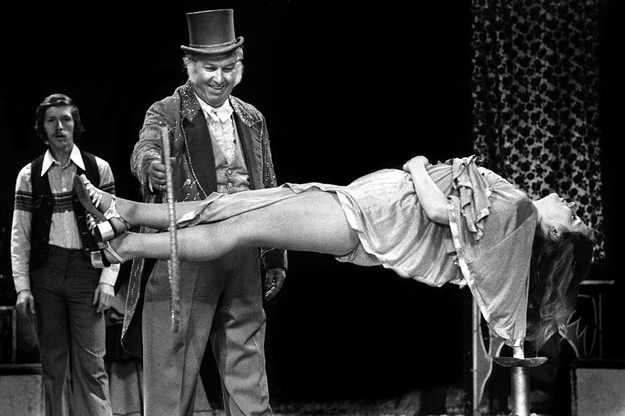 With his bushy sideburns, his Stetson hat, and his jovial personality, Arne Arnardo was a legendary figure in his native Norway where he was known as The Circus King—and in the European circus community. He created Cirkus Arnardo in 1949; it became Norway's largest and best-known circus. Today it is owned by his son Arild Arnardo. Arild's son and daughter-in-law Are & Paolina Arnardo present great illusion acts every year. Photo of Arne Anardo from approx. 1970. Photographer: Jarl Morten Andersen
DIANA RHODIN features every now and then her father TROLLE RHODIN's illusions, which make a great impression in the CIRCUS RING.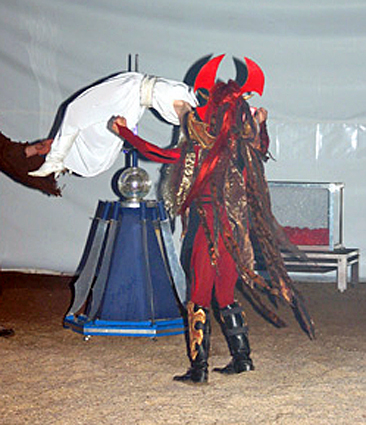 In the performance Hästpalatset from 2006 Diana Rhodin presented THE LADY ON THE SWORD: A girl is positioned lying down on a sword that is attached on a kind of support. A sound is heard - she is lowered on the sword that now is visibly sticking up on her stomach. She is then shown to be un-hurt. The illusion is also called The Impaled Girl Illusion.
VIGGO JAHN/ 1908- 2094/, performed his elegant manipulation act at CIRCUS BELLI, 1945, success although a manipulation act has great difficulties in a circus ring.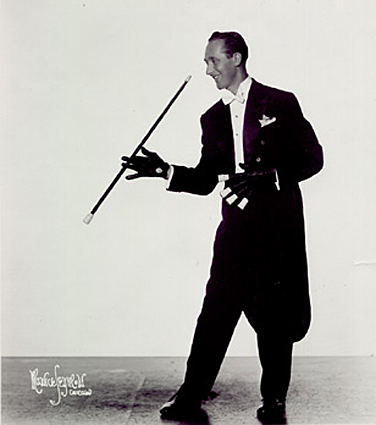 Viggo Jahn - "THE MAN WITH THE BLACK GLOVES"
TRUXA/1919 - 1996/ performed at CIRCUS BELLI 1954. TRUXA was surely the best known illusionist in SCANDINAVIA, in fact mostly in SWEDEN, he featured his famous mind reading act together with his wife and partner GULLI, in 1973 they performed at BENKENNY's CHRISTMAS CIRCUS. TRUXA'S life is remember in the book: TRUXA, in Danish by author, magic entertainer and lecturer MICHAEL FREDERIKSEN, a biography published earlier this year : 2020. Contains a great number of photos from TRUXA'S unique career.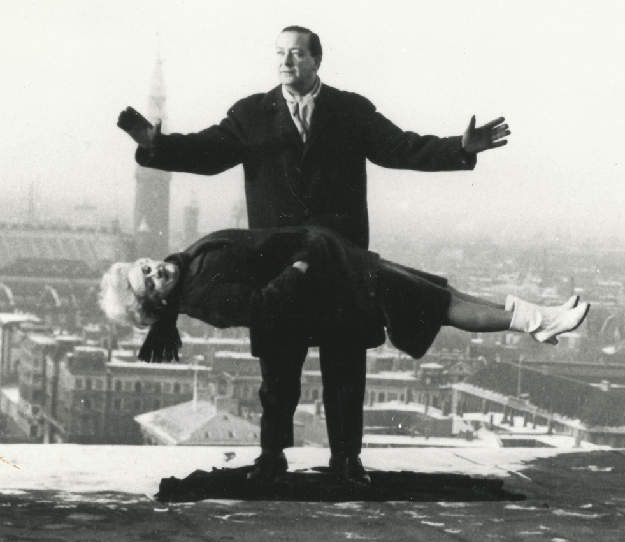 Truxa and Gulli
TERGOVAS/ JENS PFREBEN TERSKOV/ was at CIRCUS ARENA from 1974 thru 1984, first as illusionist, then as an administrative officer.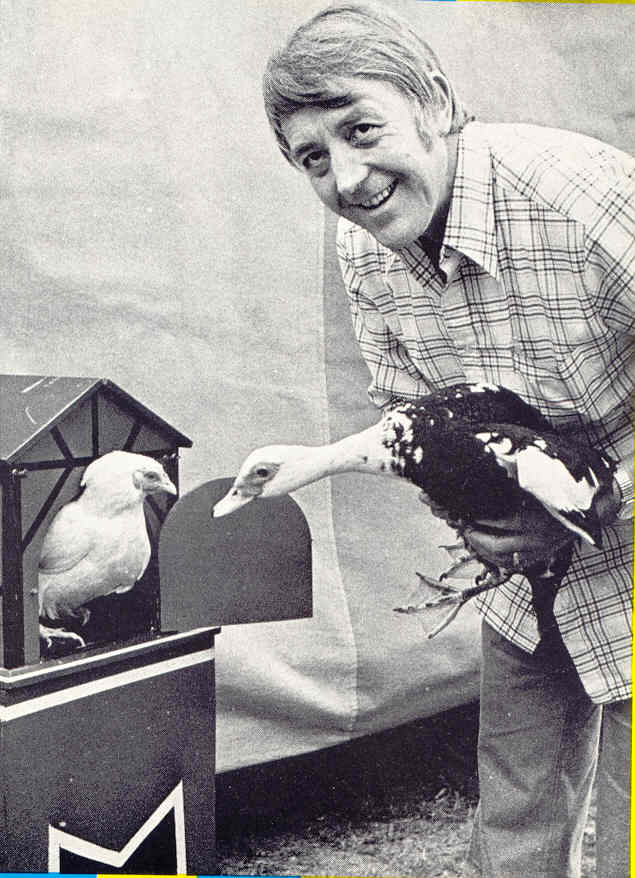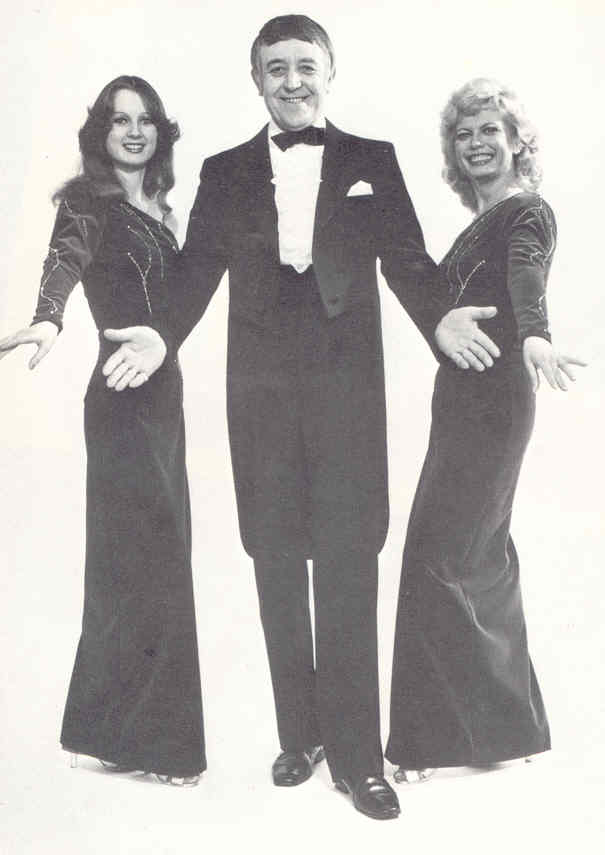 Out of Tergovas many magic stunts, the most popular was perhaps "THE BEWITCHED FARM", that was featured during several seasons. Already from 1963 thru 1966 JENS PREBEN TERSKOV was bound for circus - putting up posters for German CIRCUS BARUM, then owned by ELI BENNEWEIS. As of 1968, TERSKOV was manager for CIRCUS BENNEWEIS, then he returned to CIRCUS ARENA. In 1985, he resumed at CIRCUS BENNEWEIS, as a general agent, having stopped performing. He retired in 1990. JENS PREBEN TERSKOV was an eager collector, his huge collection held about 4000 posters, newspaper cuttings, photos and printed programs.
HANS ULRIK, performing his elegant dove act could be seen at the small Danish circus KRONE in 1999, 2008,2013. In 2015 he presented his act at CIRCUS ARENA.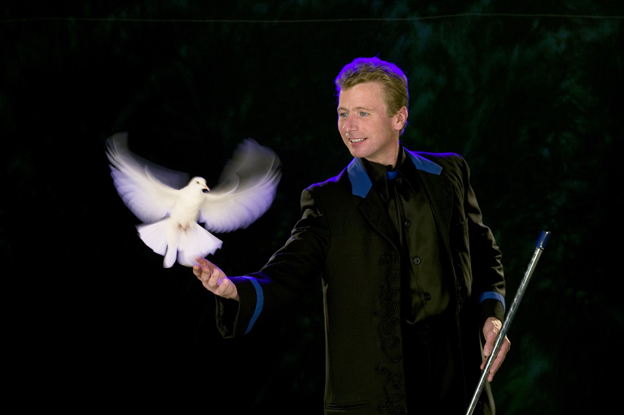 Hans Ulrik
SOLMU MÄKELÄ/1922 - 2018/, Finnish artist, had a long career as illusionist and juggler, with numerous amusement parks and circus. SOLMU MÄKELE was a great artist and a honorable man, appreciated and loved by all. I was fortunate enough to know him rather well, he was proficient in a number of languages, we communicated in GERMAN. In 1973 he brought me to HELSINKI to participate in a charity show in honor of disabled ex-soldiers from the winter war in 1939, it certainly was a honor to perform for these gentlemen. We subsequently met in BRUXELLES, in 1968 at the convention. Our friendship lasted lifelong.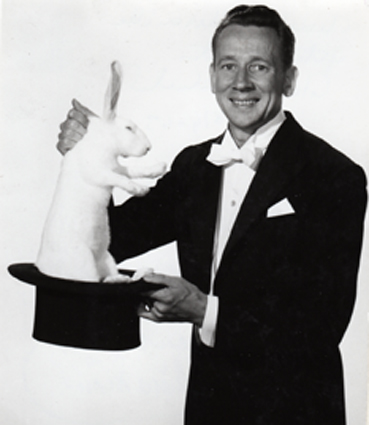 SOLMU MÄKELÄ
Magic stunts and Illusion effects can be adapted to the round spot -- the CIRCUS RING !!
MANEGE FREI has now been published 5 times, featuring a number of magic entertainers who performed in the CIRCUS RING. Surely there are others, deserving to be remembered and honoured. If you miss out on anyone - please send mail: circus@mail.tele.dk
-----------------------------------Bits and pieces puzzled together, unpretentiously by
ZARRO ZARRO.

10 July 2020
Circusland summer 2020. Despite the corona, the theme park Circusland in Circus Arena's winter quarter in Aarslev near Slagelse has chosen to stay open for most of the school holidays. In addition to the many shows, this year they have acquired a few more rides, which probably come from Kjeld Christensen's traveling amusement park Tivoliland. Among the new things are a couple of carousels and a bumper car track. There should also be plans for a Ferris wheel.
For circus enthusiasts, however, it is first and foremost the live entertainment in the form of shows that is of interest:
• The Animals' ABC, where you see how animals are trained.
• A jungle show in the old sea lion hall, where a large stage has now been erected over the old basin.
• Master Tik Taks Balloon School
• Circus Landino
• Master Tik Tak's children's show
No other Danish amusement park has a similar entertainment program. Sommerland Zealand, which usually offers free performances with Cirkus Mascot in July, interprets the corona rules in such a way that it is not possible this year.
In The Animal ABC, Charmaine Berdino shows how to train a pony. Her mother Suzanne shows how to train a mini pig. Finally, Pat Harrison shows how to train one of his dogs.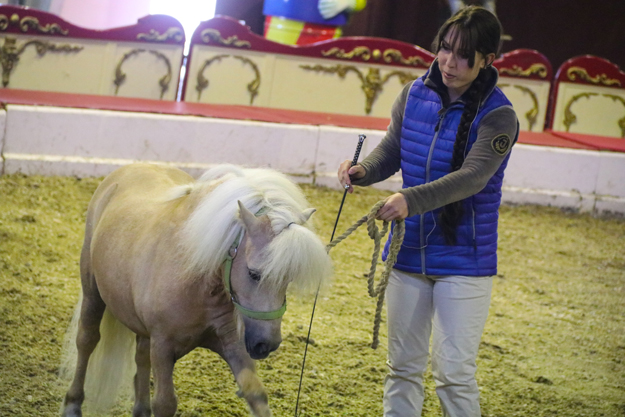 Charmaine Berdino. Photo: Jacob Boas Leitisstein
The jungle show is a fairytale theater with the safari guide Suzanne Berdino as the eloquent narrator.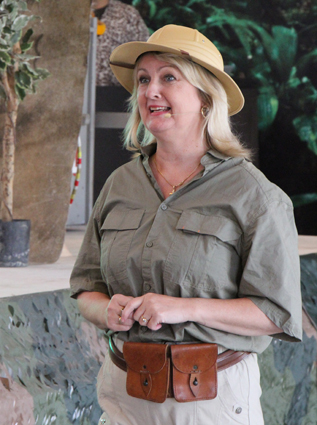 Suzanne Berdino guides. Photo: Ole Simonsen
Among the performers are Charmaine Berdino with hula hoop, Sylvana Biasini and her son with foot juggling and Robert Berousek with ladder balance. In addition, a single illusion number is presented by Claude Biasini. There are also "animals" in the entertaining show: Pat Harrison as tiger and elephant and his girlfriend Pip as gorilla.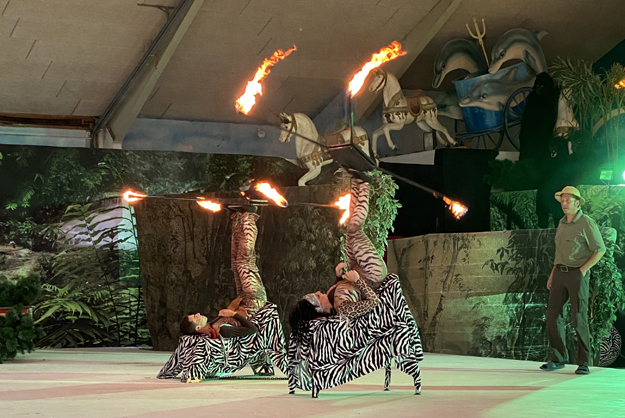 Son and mother with foot juggling. Photo: Ole Simonsen
Master Tik Tak's Balloon School was an entertaining show with Brian "Briano" Behrendt.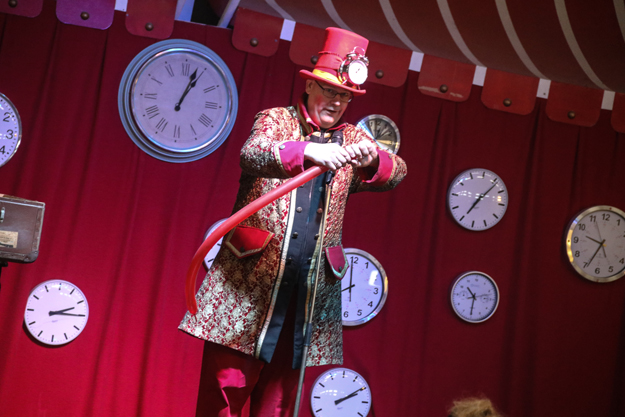 Master Tik Tak and his balloons. Photo: Jacob Boas Leitisstein
The main show is the almost 50 minute long performance in Circus Landino. First act was Benny Berdino's youngest grandchild, 9-year-old Scarlet Berdino, with no less than 12 ponies. A sweet and charming entrée.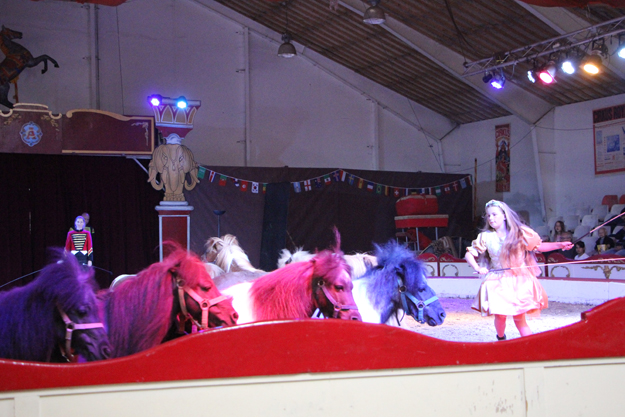 Scarlet Berdino. Photo: Ole Simonsen
She was followed by Robert Berousek, who this time juggled with tennis rackets.
Pat Harrison, also called Pat Clarrison, and his Hot Dogs should actually have been with the Norwegian Circus Agora. But like so many other circuses, Agora had to give up this year's tour due to the corona. Pat and his girlfriend Pip have instead got a summer job in Circusland with their funny and naughty dogs.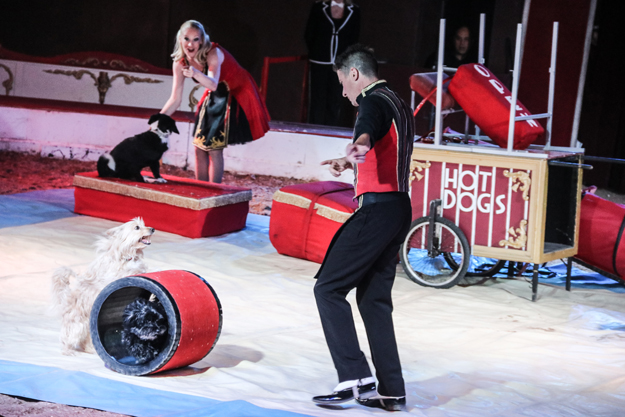 Pat and Pip and their hot dogs. Photo: Jacob Boas Leitisstein
Arena's bandmaster has for many years been Alex Bozic. But this year there is no Arena tour. He has instead got a summer job as a clown etc. in Circusland. In his first run-in he showed, along with Briano and Claude Biasini, the old Fumagalli gag with the floating man.
The clowns were followed by Claude and Sylvana Biasini with a few illusions.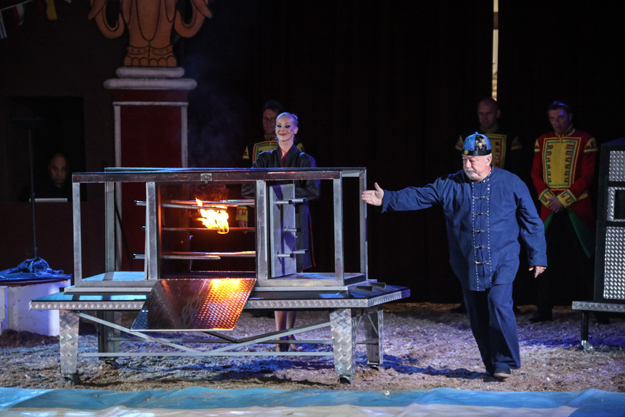 Claude has conjured his wife away. Photo: Jacob Boas Leitisstein
Now Charmaine Berdino entered the ring. First with elegant Spanish high school riding, assisted by the dancer Pip (Pat Harrison's girlfriend - she is a professional dancer), and later liberty dressage with one of her Spanish horses. Elegant!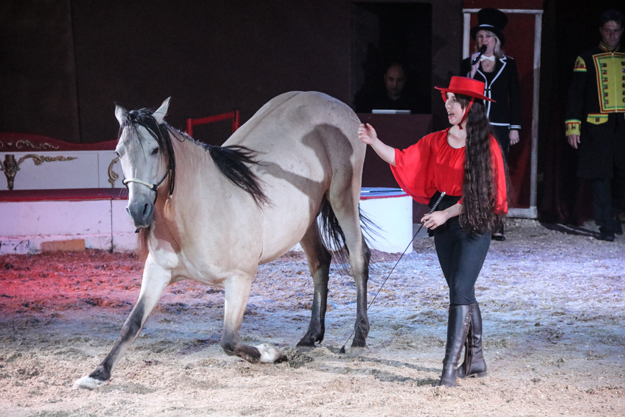 Charmaine and one of her horses. In 2018, Charmaine got the Danish Circus Award's talent award. Photo: Jacob Boas Leitisstein
Next act was Pat Harrison and Alec Bosiz with the decorators entrée. It is perhaps best known in Les Brizio's version, which the Danes have experienced at Benneweis, both in the tent and the Copenhagen Circus Building. Pat says that his father Peter Harrison also made the entrée, a few times together times with Pat. For several seasons, Peter was a run-in clown with Benneweis in the Copenhagen Circus Building, where he met Pat's mother Claire. Great to see the old entrée once again. Pat also thinks it's fun!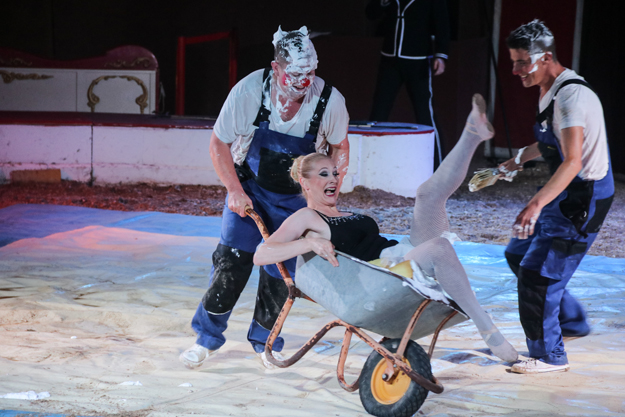 Pat, Alex and Pip in the decorators entrée. Photo: Jacob Boas Leitisstein
The last act in the performance was beautiful dromedaries, presented by Benny Berdino's daughter-in-law Laura.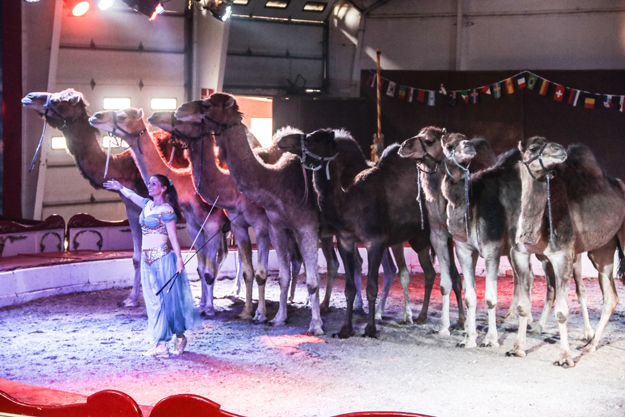 Laura Berdino. Photo: Jacob Boas Leitisstein. Click here to see more of Jacob's photos from Circusland
The last show of the day, Mester Tik Tak's children's show, featured magic and balloon figures.

8 July 2020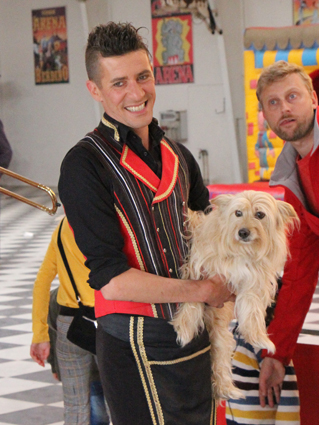 The dog trainer Patrick Harrison celebrated his 40th birthday on July 8 in Circusland, where he has a summer job after his engagement with Norwegian Circus Agora was canceled due to the corona. He is best known for his Hot Dogs, a act he took over from his father Peter Harrison.

7 July 2020
From bandmaster to clown. For many years, Alex Bozic has been bandmaster in Circus Arena's 4-pieces orchestra. But this year Arena is not on tour and therefore has not had a job for Alex in the touring circus. Instead, the 39-year-old Englishman works during the summer season as a clown in the theme park Circusland in Slagelse.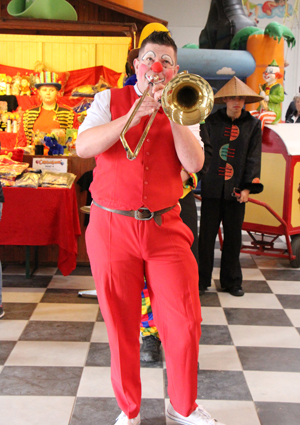 When the fairytale people from Esdelot march through the park and warm up to Circus Landino, Alex plays the trombone.

6 July 2020
Entertainment in Lalandia. In recent years the tropical holiday centre Lalandia in Rødby has during the summer holidays in addition to shows with Mr. Plys offered artist entertainment. But the corona has changed a lot of things, and this summer the artists have been replaced by 2 cute ponies that make the little ones happy with pony riding outdoors with distance.
In addition, there are performances by Lalandia's long-time entertainer Mr. Plys. He is on the stage at 19.00 Tuesday, Thursday and Saturday in Lalandia Rødby and Wednesday and Sunday at 19.00 in Lalandia Billund.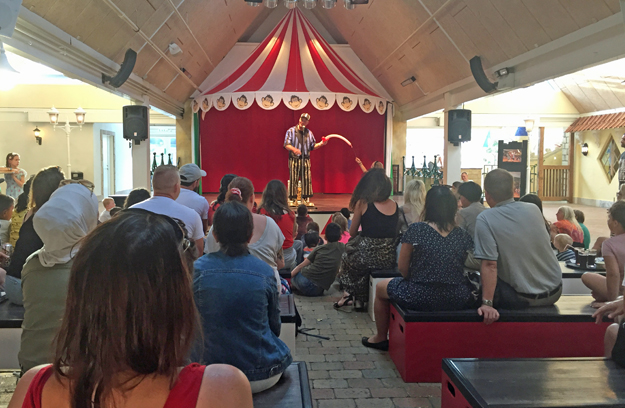 Mr. Plys on the stage in Lalandia Rødby. Photo from 2019

5 July 2020
MANEGE FREI --- illusions by magic entertainers in the CIRCUS RING ! Part four
I risk my sensitive skin, but here comes some pieces of info that may be of interest for those of you who love visual entertainment:
JIDINIS, big illusions show, where one point of interest is the presence of dynamic and festive chorus girls who really spice up the performance, SCHULZE is here quite right.
This beautiful show is suited to any circus ring, it needs a rather big stage though to be appreciated at its full value , like the open air stage PLAENEN at TIVOLI COPENHAGEN where I enjoyed it. In addition to Tivoli, we have in Scandinavia seen him at Circus Arena, Circus Benneweis and Circus Scott. Click here to see a videoclip from one of his acts.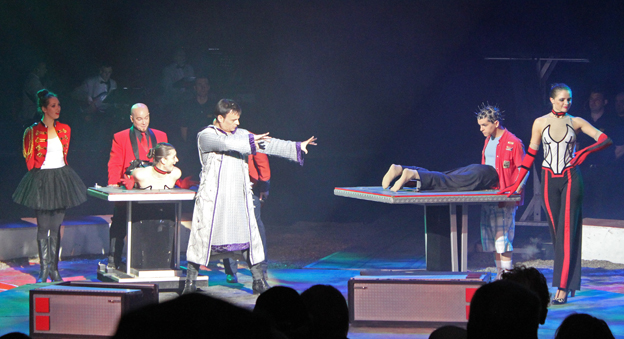 Jidinis
MARTIN ARLI: he always keep their promise to show a NICE AND SYMPATHETIC FAMILY MAGIC PERFORMANCE, unpretentious and tongue-in-cheek ,the small BIG TOP where they work contributes to the nice and familiar atmosphere they offer their audience. Classical magic entertainment, colored by their personal interpretation - THEY DO IT THEIR WAY !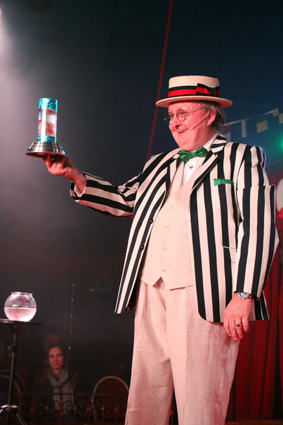 Martin Arli. From the 2017-performance. Photographer: Ole Simonsen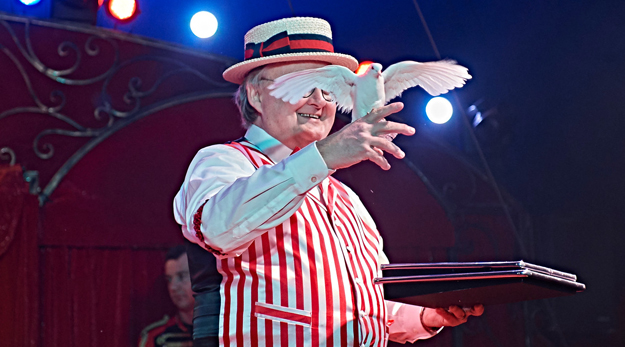 Martin Arli. From the 2018-performance. Photographer: Rud Kofoed / Ajour Press
MARKO KARVO: world champion performing the speciality: - magic stunts with flying doves and parrots, a technically perfect act but without any comedy, I interviewed him and his then partner, they remained for 6 years at LIDO DE PARIS, an achievement second to none, and this because they featured exactly what LIDO DE PARIS wanted: a technically perfect act without any funny gags, -- because the LIDO audience is basically made up of AMERICANS and JAPANESE - who really don't share the same sense of humour ! He has also appeared for several seasons in Danish Zirkus Nemo.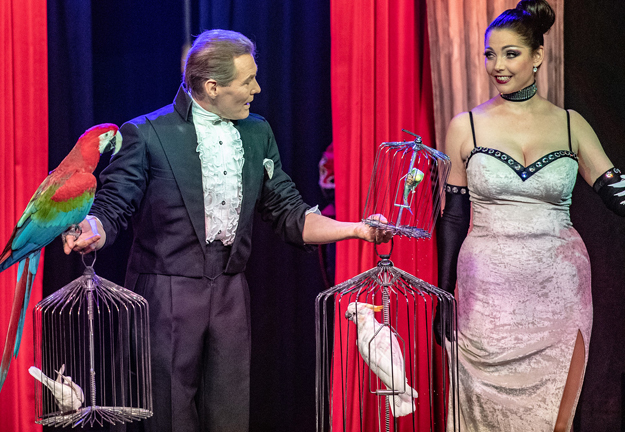 The elegant, mysterious Finnish bird king Marko Karvo makes his magic entrée. Photo: Rud Kofoed /Ajour Press
SPINOZA, real name JOHANNES RÖNDE KRISTENSEN, grand old man within Danish art of magic, he was welcomed everywhere, presenting his acts using his elegant and witty humour. He had a PHD degree in mathematics, but preferred performing both in DENMARK and abroad, he featured his art a lot in FINLAND. The MAGIC CONVENTION in COPENHAGEN, 1968, remains unforgettable, his talent had no limits.
SPINOZA /1914-1999/, performed as well in Danish circus: BRUNO BRUUN 1948, CIRKUS VIVI 1967, CIRKUS DANNEBROG 1980. Sometimes SPINOZA had both his wife and his 2 daughters KARINA and ULLA with him on stage. Daughter ULLA managed for several years, together with her husband, artist JACKI STECKEL, the Finnish CIRCUS STELLA NOVA. Later on she was busy doing the publicity for CIRCUS ARENA. JACKI was for several seasons administrative officer for Swedish CIRKUS SKRATT, and for one season tent master/chapiteau responsible/ for ZIRKUS NEMO. Click here to see SPINOZA perform the stunt TROUBLEWIT, a paper folding effect that is really - mind-troubling ! TV emission: HOKUS POKUS PILMARK / Denmark, with Danish actor SOREN PILMARK, hosting this emission, magic entertainer PAUL ARLAND, as well as magic props maker and dealer LEO TOPP.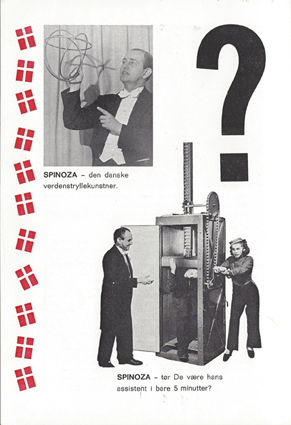 Spinoza as presented in the printed prograom from Circus Dannebrog 1980
A number of clowns have used tricks, stunts and effects that really belong to the realm of magic. This is fine as long as they don't reveal the modus operandi - to people who haven't asked to know! BELLINI is a super clown, everything is perfect - and nothing is revealed - gags, make up, costumes are appropriate, he was with the Italian clowns RASTELLI /as far as I know/, he performs rather often with BOUGLIONE and CIRQUE ARLETTE GRUSS, and others as well.
----------------------------festive experiences told by ZARRO ZARRO.

3 July 2020
Support to Norwegian and Swedish circuses. On May 1, I could tell that the Norwegian Cultural Council had supported the two Norwegian circuses which as a result of the corona had dropped this year's tour. Cirkus Agora had received 1,897,901 NOK and Cirkus Arnardo 4,767,056 NOK.
The Swedish State Cultural Council has now granted Circus Brazil Jack corona support of SEK 1,610,800. Circus Olympia received SEK 1,153,200. It will cover the costs of the two circuses since January 1. They must provide documentation of the size of the costs, and there must be no surplus to the owners, only cost coverage.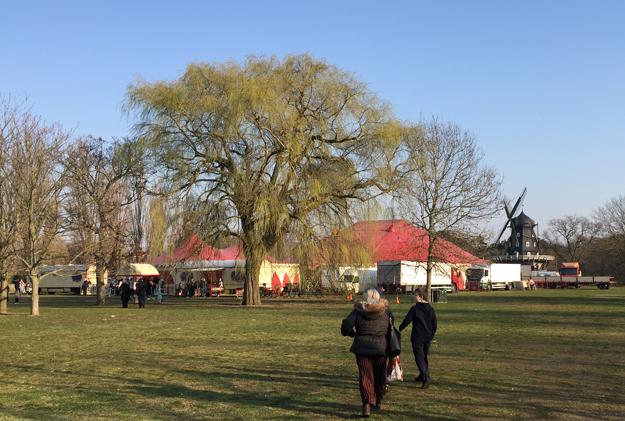 The Swedish Circus Brazil Jack has received SEK 1,610,800 in support. The photo shows their tent at the Mill Hill in Malmö in 2019. For the season 2020 they had acquired a brand new tent which they were looking forward to using. But season 2020 has been prevented by the corona.
In Denmark, there are a number of support schemes. It is not easy to see what support each circus has received.

2 July 2020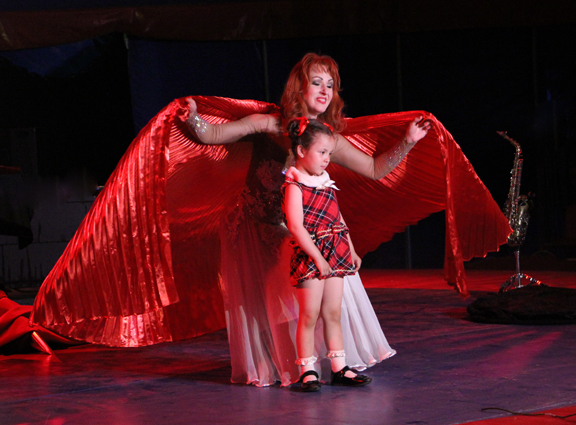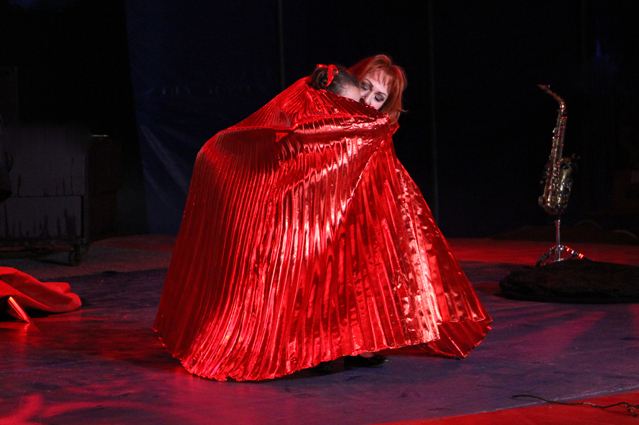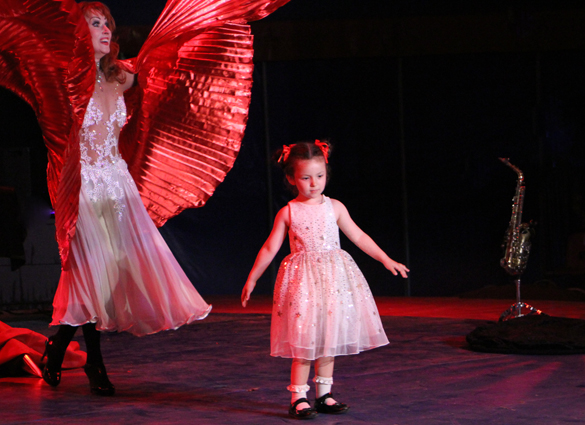 The youngest artist in 2020 in a Danish circus ring is 4-year-old Charlotte Chabry, daughter of Martyn Chabry and grandson of the famous clown Toto Chabri. She pops up at the end of Martyn's fantastic entrée with music and quick-change, which is clearly the top act in this year's Baldoni performance. Martyn has several times been in Denmark with Circus Benneweis.

30 June 2020
Rudy Althoff stopped at Knuthenborg. On May 24, 2020, I could tell that Knuthenborg Safari Park had hired Rudy Alfhoff, who from 2015 to 2018 took care of Circus Arena's elephants and who in recent months had looked after them and the former Circus Trapez elephant Ramboline. It's Rudy's merit that it went so well with putting Ramboline together with the 3 Arena elephants. Rudy Althoff expected to stay in Knuthenborg the year out and maybe a little longer. But the collaboration is now discontinued. It seems as the safari park prefers staff with academic knowledge of elephants rather than people who has their knowledge from practical contact with the big animals. Too bad for the 4 elephants that now have now lost an elephant man that they both knew and trusted.
The former owner of the elephant Ramboline, Bernhard Kaselowsky, has visited his old elephant in Knuthenborg several times. There is no doubt that he misses Ramboline and that she misses him. But he must only visit her at a distance, so that Bernhard and the elephant have no opportunity to touch each other. Hard to understand for an elephant who, since he was a few years old, has been looked after and cared for by Bernhard!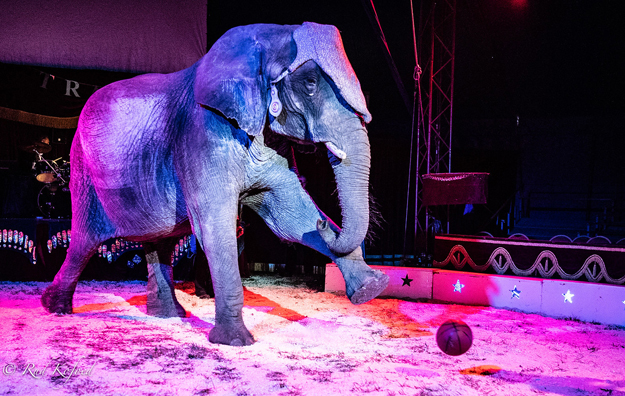 Is Ramboline happier in Knuthenborg than she was with Bernhard Kaselowky? Photo: Rud Kofoed / Ajour Press

28 June 2020
MANEGE FREI --- illusions by magic entertainers in the CIRCUS RING !
Here comes some more information, I would like to point out, though - that this is not the result of any scientific research, it is not exhaustive, but I trust it is overall correct, mainly based on personal memories and some reading of programs.
Please feel free to go on investigating.
RECHA, GERMANY, had a long career, featuring big illusions and stunts with smaller props as well: CIRCUS ROLANDO, CIRCUS ORLANDO, CIRKUS ALTENBURG, CIRCUS SCHUMANN, CIRCUS SCOTT, during the thirties, forties and fifties, he performed in VARIETY VALENCIA, COPENHAGEN as well.

This is how Recha was presented in Circus Schumanns 1952-program. Ufortunatelu no photo in the program. He was also with Schumann in 1934 og 1943 and in 1955 with Danish Circus Belli.
GIOVANNI OTTO, Danish although having an Italian forename, had trained his daughter YVONNE to perform some magic stunts, YVONNE was Denmark's answer to the American child star SHIRLEY TEMPLE, very popular at the time, sporting her characteristic curly hair-do. GIOVANNI himself, harvested great success featuring the INTELLIGENT DUCK, that kissed a lady's hand - after finding a chosen card, the duck was a dummy but looked very much alive and kicking. YVONNE OTTO was at CIRCUS BROTHERS SCHMIDT in 1947.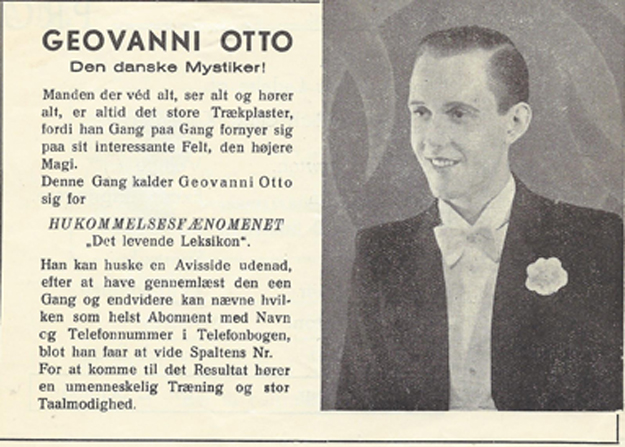 Photo of GIOVANNI OTTO in CIRKUS LOUIS' program of 1941. His full name was GIOVANNI OTTO ARENTOFT. He had featured his act in a dinner show in HOLLAENDERBYEN in 1935, where he performed with a tame lion. During a rehearsal this very lion entered the stage behind the singer SOFIE HOFFMANN who, upon seeing the lion, got a fit and nervous breakdown, then fainted falling to the ground. When falling she broke a bone in her rear end, and then filed a lawsuit against GIOVANNI OTTO. The High Court accepted her complaint. During editor Ole Simonsens time as law student 1965-1970, law students heard the story about the lion in HOLLAENDERBYEN !!
AAGE DARLING, a famous magic entertainer and grand old man in Danish magic, , performed at CIRCUS BROTHERS SCHMIDT in 1949: he had 2 white mice, called WHISKEY and SODA, when he called out GROG - they both popped up out of a kind of bowl - hilariously funny !!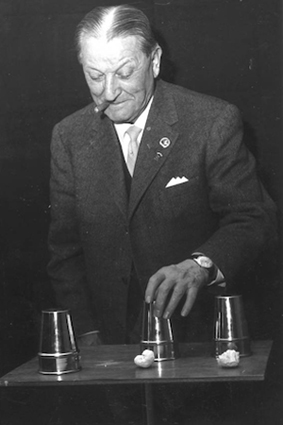 AAGE DARLING /1893 - 1987/, is according to MAGIC CIRCLE DENMARK the creator of several magic stunts and effects, that still are being used. TRUXA's famous system for mind reading was invented by AAGE DARLING. He sold it for DDK 25 to TRUXA, also to others.
LEE PEE VILLE and partner was a mindreader and illusionist, he had built a big kind of cage, out of which a number of persons could appear, this cage was placed at the entrance of the artists---and thus the entire troupe could pop out, waving farewell to the audience. He performed in THE COPENHAGEN CIRCUS BUILDING in 1974, 1976 and in
CIRCUS BENNEWEIS in 1977. After quitting as a magician, he has run LEE PEE VILLE International Artist Agency in Brühl, Germany. His partner Pia Ville has made a career as an art painter.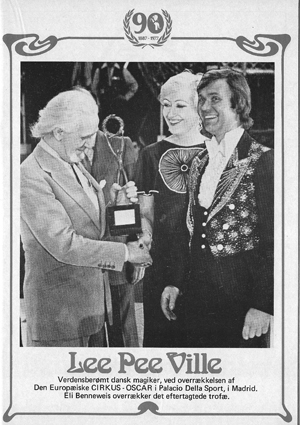 Lee Pee Ville
POUL ARLAND, "the merry angler" filled a big bowl contining water with fish, appearing on a fishing rod from nowhere, water splashed and dripped, nobody had seen such an act before, he never was copied. CIRCUS MORENO i 1949 och 1952.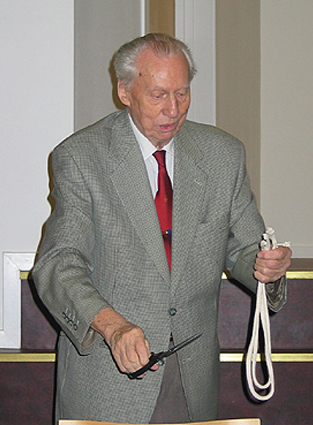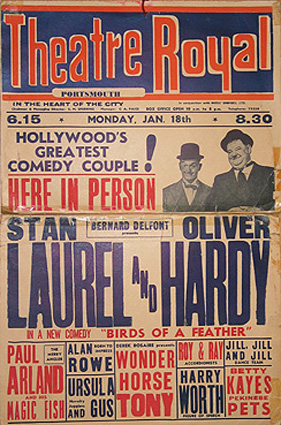 After completing a professional training as an office and warehouse agent, PAUL ARLAND (POUL ERIK BIRKHOLM ARLAND, 1921 – 2007) toured most of the world as a magic entertainer, mainly featuring the act THE MERRY ANGLER that took him to 46 countries. In 1953 and 1954 he toured GREAT BRITAIN as a support act to LAUREL AND HARDY /see poster/. When TV started in Denmark, he worked as a free lance agent for RADIO DENMARK, was hired for a permanent position in 1980 and quit in 1991.He was a honour member of the association DANISH CIRCUSFRIENDS. The photo dates from a conference at the Circus Museum in HVIDOVRE, DK, Oct. 2003.
JÖRGEN SAMSON featuring his act where he from nowhere - made small tables having table cloths and flower pots on top appear, he filled rather big stages/rings , never copied, he was an acrobat as well. CIRCUS MIEHE 1953, CIRCUS MORENO 1960 and 1962. Click here to see a video of his act. Always the last act in a show - it took time to clean up!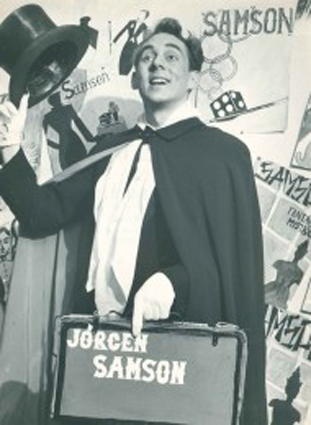 JORGEN SAMSON (1926 – 2002) was famous for his dazzling FLOWER ACT, where he concealed 42 kgs of props under his costume, consisting mainly of flowers and bouquets, folding tables, silks and more.Whithin no time, the stage was filled with flowers and small tables !! He was born in Copenhagen, where he successfully completed secondary school, then took a job as a bike delivery boy, while working on his FLOWER ACT. Subsequently he landed a post as a stage hand at the LORRY VARIETY, where he did fill-ins when an act was missing/delayed. He was hired as an apprentice by the famous PROFESSOR TRIBINI who had a tent variety at the amusement park DYREHAVSBAKKEN, where he featured clown stunts. In 1952 he started his career presenting his FLOWER ACT, which he performed until his death. He had trained as an acrobat as well, which allowed him to be active until the end. – Photo from the collection of the Circus Museum at Hvidovre, Copenhagen.
KATJA ENOCH, acrobat /trapez and tight wire/ performed a pleasant magic act, plucking coins out of the thin air in her parents CIRCUS DANNEBROG, 1992, 1996, 1997. An elegant and thus pleasant magic act.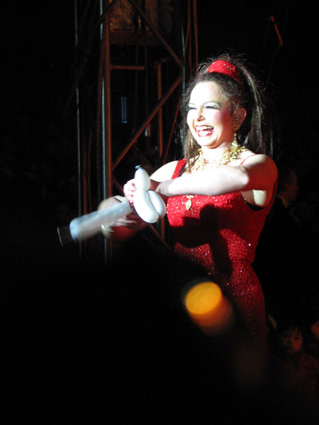 Katja Enoch
PRINCE YANCO, French, performed a beautiful oriental act, having gorgeous costumes and marvellous props, CIRCUS BENNEWEIS, 1986.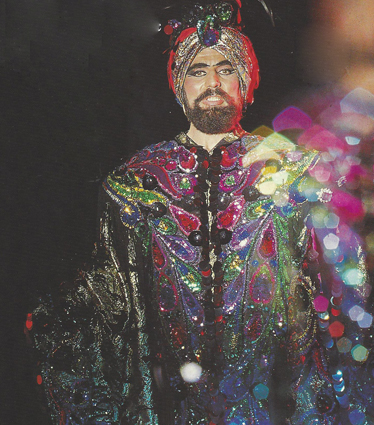 Prince Yanco. Click here to read more about him (French, can be translated by Google Translate)
------------------------
More may turn up, you can find a lot of books and DVD on this topic.
Bye for now - ZARRO ZARRO.

26 June 2020
Circus Arli in top form * * * * * *
"What is growing bigger and bigger without growing? It's Circus Arli, "Rud Kofoed writes in this year's printed program. He continues: "The experience in the small circus can be compared to the largest circuses, because family, nearness and intimacy play the main role. The ever-increasing quality of performances is supported by the family's own circus tradition. We've seen world class acts starting their career here. It is in Circus Arli children become adults - and children again. There is nothing similar to Arli - thank you and good luck with that. " (My translation)
The journalist Rud Kofoed was the dean of Danish circus and show critics. He passed away on March 22 after a cardiac arrest. So he didn't get to see Circus Arli's 50 years performance. I feel pretty confident that he would have given the 6 well-deserved stars: 5 for the show itself and the last one because this year, for the 50th time, they are presenting a wonderful performance. So in respect of both Rud and the Arli family, I give the show 6 stars, although I usually refrain from star awards.
The performance was started with the audience with the canopy as a canvas watching a short video about how it all began.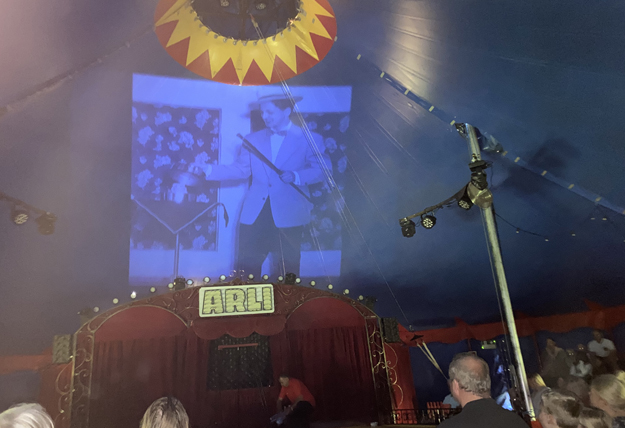 Next a singing Martin Arli entered the ring with the song Long live circus, which they also used when in 2018 they celebrated the 250th anniversary of birth of the modern circus. Martin himself has written both text and music - this year, however, the chorus has changed to Welcome in Circus Arli. And the audience certainly felt welcome in the small circus.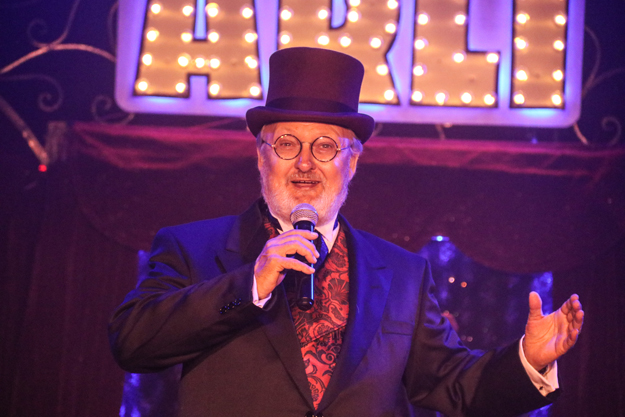 Where to meet in the very best mood - welcome in Circus Arli
That's what gives life a different colour - welcome in Circus Arli
When the tent at the lot toward the sky is raised - we celebrate the anniversary
And the audience shows the very right spirit - welcome in Circus Arli.
(My translation)
(Photo: Jacob Boas Leitisstein)
Following Martin's welcome, the elegant ringmistress Bettina Arli presented the first act: the Arlini troupe, consisting of 5 of the show's artists. They presented a great entrée that offered juggling, dancing, a pyramid and a springboard trick. A festive way to start the show. The costumes were elegant as always at Arli.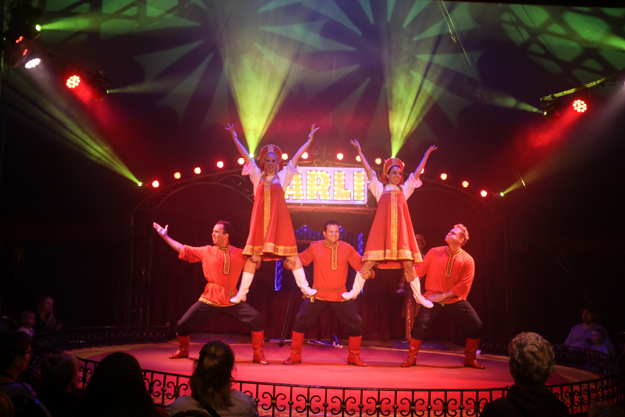 The Arlini Troupe. Photo: Jacob Boas Leitisstein
The next act was Martin's cozy magical entrée. This year with the inexhaustible jar with water from Ledøje and lots of flowers. Older circus friends remember the Danish magician Samson's act. However, Martin's entrée wasn't as long as Samson's which could last up to ½ hour!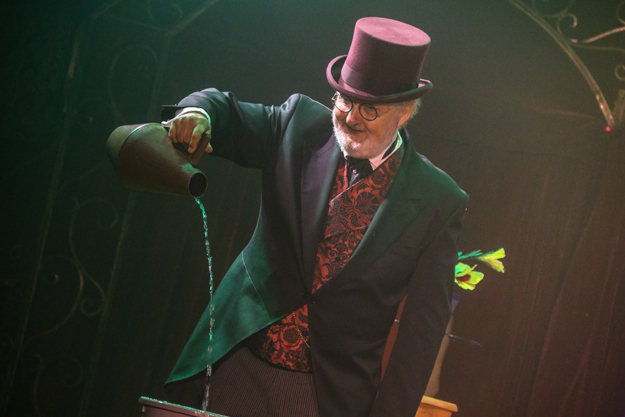 Cheap water supply - the jar can be emptied again and again. Photo: Jacob Boas Leitisstein
It is wonderful that this year Arli has brought back the clown and multi-artist Francesco Fratellini. The audience remembers him from 2017 and 2018. His first entrée was the one with the camera with self-timer. Together with Bettina presented with charm and elegance and without the act being too long. Something this entrée often is.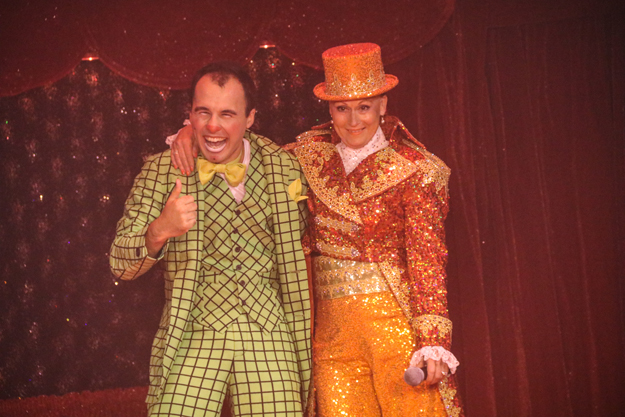 Francesco and Bettina. Photo: Jacob Boas Leitisstein
According to the printed program, the next act should have been Diana Veduashkina with dachshunds. But because of the corona, she could not leave her native Russia. Instead, Circus Arli has engaged Helena Rapolli with a cute and charming number with a small dog. I actually like this number better than Diana and her dachshunds. Helena and her husband were actually booked by Circus Carl Busch, one of the larger German circuses. But shortly after the season started, the corona put an end to Carl Busch's tour. The couple was therefore available when the Arli family had to replace the dachshund act.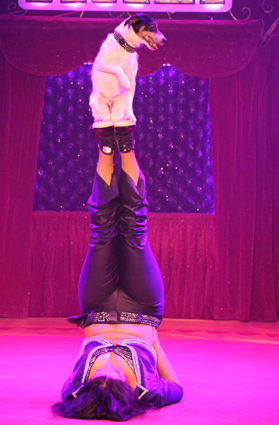 Helena and her dog. Photo: Ole Simonsen
Helena and her dogs were followed by Jennifer and Anthony Ramos in a handsome act in aerial straps.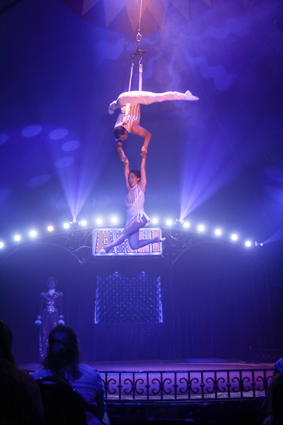 Elegance in the air. Photo: Jacob Boas Leitisstein
Last act before the break was Alexander Arli and Francesco's knockabout table act which faithful Arli visitors remember from 2017. It was certainly worth seeing once again.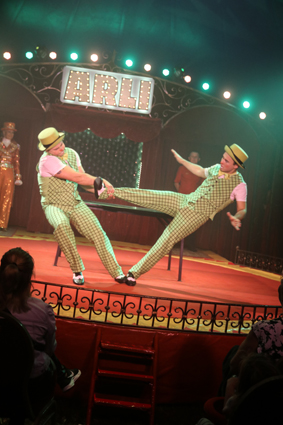 A comedy cascadeur act is an entrée where artists the fall in a funny way. Also called a table act because the artists often use a table as a prop. The trick is to fall without getting hurt. Not quite easy – better not try it! Photo: Jacob Boas Leitisstein
The first act after the break was a reunion with Jennifer and Anthony Ramos, this time with the roller skating act The Skating Ramos. The act offered everything that a good roller skate number should offer. And we escaped that sequence in many roller skating acts where an innocent audience member is "invited" to the ring and getting dizzy after a swing.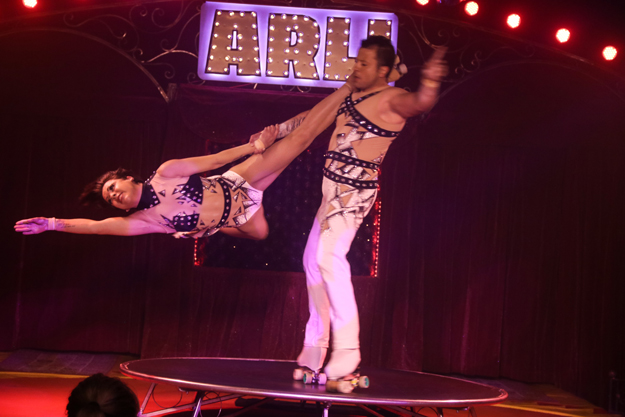 Skating Ramos. Photo: Jacob Boas Leitisstein
Sarah Florees and Francesco is a couple. One of the evidence is their almost one-year-old daughter, who however isn't part of the performance. Sarah, in turn, appears in an aerial act in a spectacular prop: a chandelier.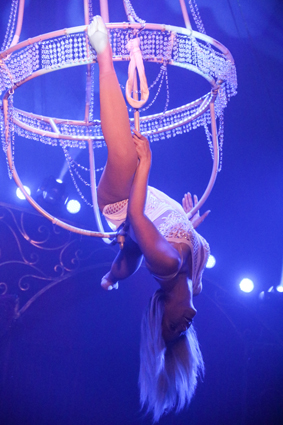 She swing in the chandelier. Photo: Jacob Boas Leitisstein
After a short run-in with Alexander and Francesco, Duo Rapolli (Helena and Antonin Rapolli) entered the ring with a very good juggling entrée where Helena not just is an assistant to her husband. In the final trick, Helena stands on the head of Antonin while they both juggle with 3 clubs. Impressive!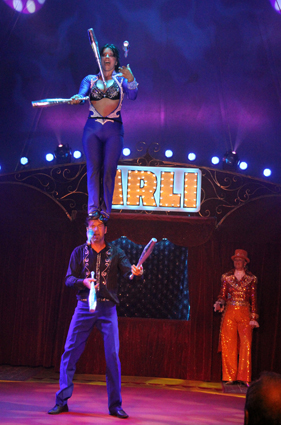 Duo Rapolli. Photo: Ole Simonsen
No circus without clowns! The last act in the show was Alejandro & Co, consisting of Alexander and Francesco, who would fight with each other. Martin separated the two hotsputs and gave them boxing lessons. With a lot of fun. It was a brand new entrée and not "just" the old celebrity with the boxing machine. Bravo!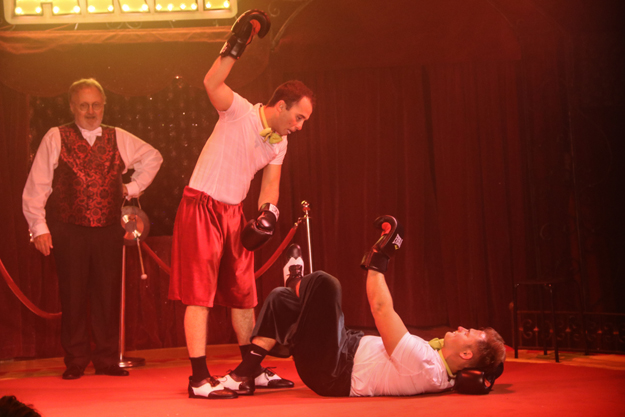 Do they have a future as professional boxers? Photo: Jacob Boas Leitisstein
Before the Le Grand finale, where the artists once again entered the ring in beautiful costumes that were not used earlier in the performance, there was a short film sequence, which paid tribute to the late Søren and Lotte Arli. They are no longer with us but in their spirit the circus continues and visits in a normal season 100 cities and has 150 performances. For life is circus and circus is life.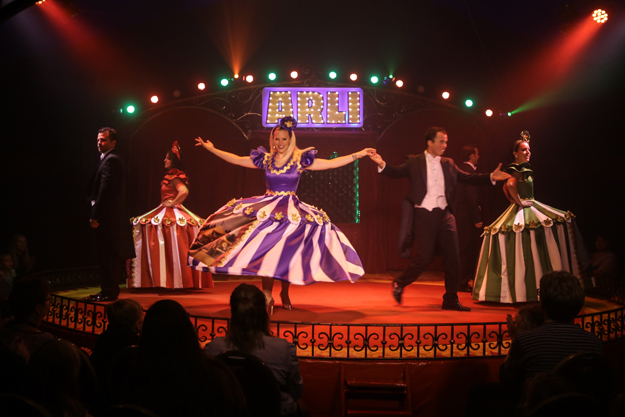 Le Grand Finale. Photo: Jacob Boas Leitisstein. Click here to see more of Jacob's photos from the show.

24 June 2020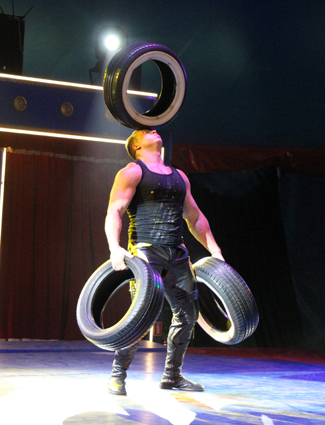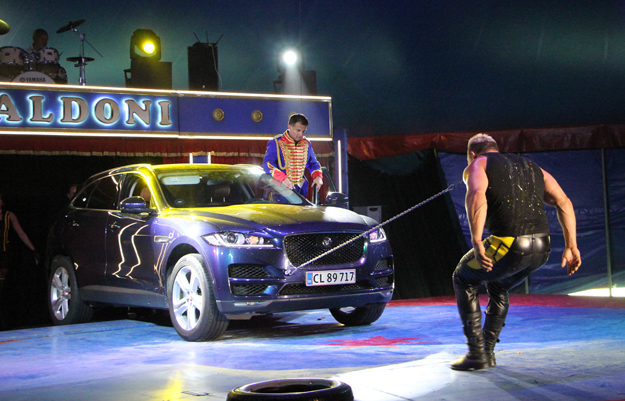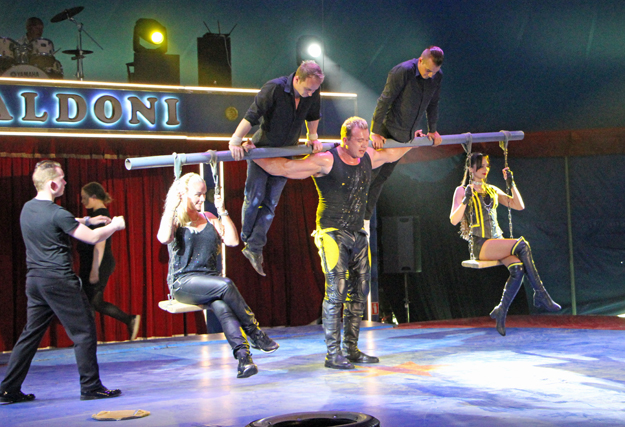 The Ukrainian strongman Denis Ilchenko had not reached the premiere of Circus Baldoni on June 6. But he arrived a few days later, and the audience can now see him juggling with car tires, pulling a car with a mouth bite and carrying 4 people on a beam laid over his back, etc.

23 June 2020
Circus in the Nordic countries - status
Denmark: In Denmark, Circus Arli and Cirkus Baldoni are touring. All other circuses pause in 2020.
Finland: The small Circus Tähti is on tour. The large Circus Finlandia hopes to start the season on August 6.
Norway: Circus Jesper gives performances at Kristiansand Zoo. Circus Arnardo has cancelled the season. The same goes for Circus Agora, which however has some small sold performances around.
Sweden: As it is now, there must be a maximum of 50 spectators in the tent. The only circus on the tour is the small Circus Bambino. Uncertain if it later will be possible for Circus Brazil Jack, Circus Olympia and Circus Rhodin to go on tour. This presupposes that the ceiling for the number of spectators is raised quite a lot!

19 June 2020
Circusland in Slagelse is a theme park owned by the Berdino family / Circus Arena. They open during the summer holidays from July 4 - August 9, 2020. They write (my translation):
Our guests' safety is very important to us. Therefore, in Circusland, we naturally follow the recommendations of the health authorities in connection with COVID-19.
New initiatives in Circusland during the summer holidays
Come to Mister Tik Tak's balloon school. Here, Mister Tik Tak will teach you how to make fun balloons.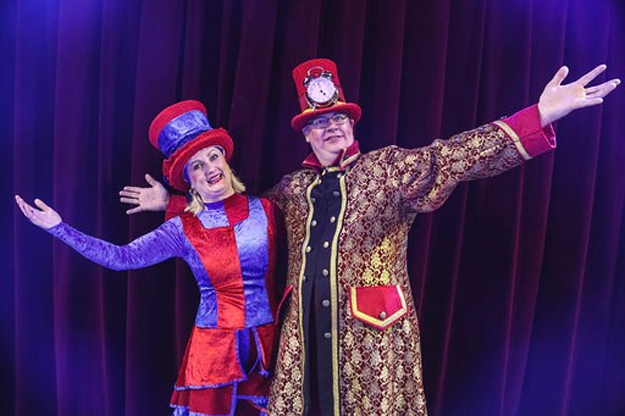 Park Manager Suzanne Berdino along with Mister Tik Tak aka Brian "Briano" Behrendt
The ABC of animals
Here you can meet the animal trainers with their lovely animals. Patrick Clarisson is born and raised with dogs and he will show you how to train them, maybe you will also be inspired to play / train with your four-legged friend at home? Charmaine is a horse trainer and specializes in liberty dressage and tricks, and she will demonstrate the training of her horses. Last but not least, you should meet the pig Gullig, who lives with Suzanne Berdino and is trained for small tricks.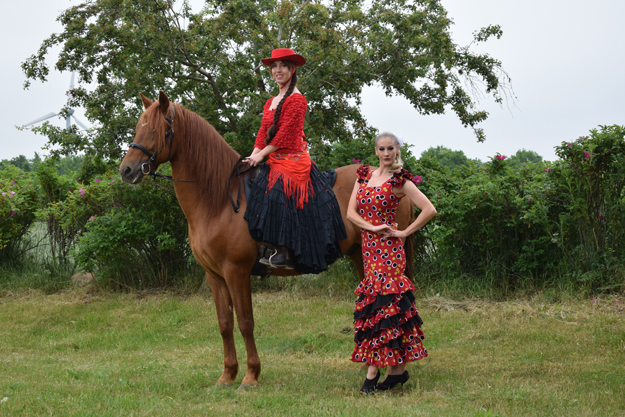 Charmaine Berdino. In 2018, she received the Danish Circus Award's talent prize
Circus performance for children and childish souls
Every day, Cirkus Landino has a performance at 13:30. During the summer holidays, the show is called Around the World with Circus. You can meet Denmark's youngest circus princess Scarlett Berdino, who performs with Circusland's little ponies. Charmaine performs with her Spanish horses, where she among is riding high school with Garrocha. Pip and Patrick Clarisson come with their naughty dogs and in addition you can meet the tennis juggler Robi Berousek, Alexus' clown trio, Circusland's dromedaries and much more.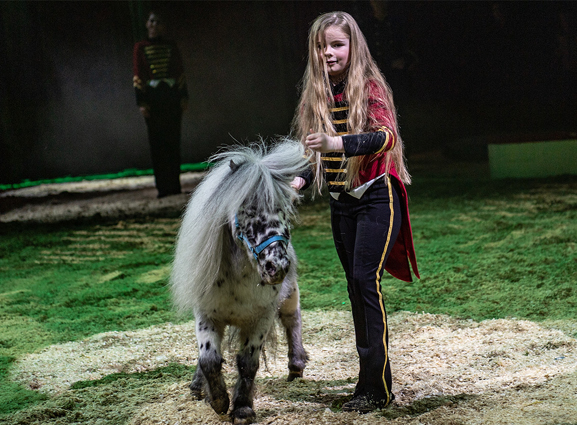 Scarlett Berdino is daughter of Laura and Jackie Berdino. She turns 9 on July 5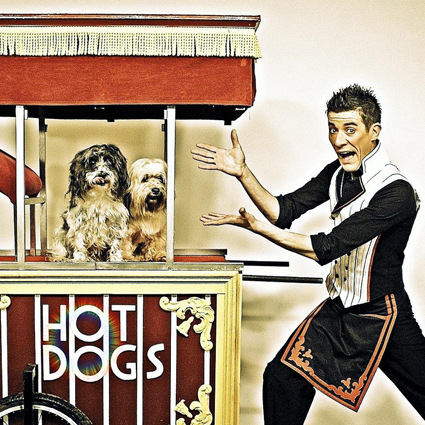 Pat Clarrison and his hot dogs. He has previously performed in Circus Benneweis, Circus Arena and with Benny Schumann, sometimes under his Christian name Patrick Harrison. He celebrates his 40th birthday on July 8, thus celebrating his birthday while in Circusland
Safari show on the big stage in Circusland
Here you can meet jungle guard Roger, Tiger Lilli and the gorilla Chuma who love to dance. Also meet the big game hunter Mister Claude, medicine lady Tilo and jungle princess Jessie.
Meet a world of fun experiences
All day you have the opportunity to explore Circusland and get close to our lovely animals in their stables. You can also visit our circus museum that oozes of nostalgia. Join our new treasure hunt where you can win a great prize. All activities and shows are free when admission to Circusland is paid. Buy food and drink at reasonable prices in the park's bistro.
Circusland is open every day during the summer holidays from 10-16 during the period July 4 - August 9. Remember clothes for outdoor use as several of the activities take place outdoors.

15 June 2020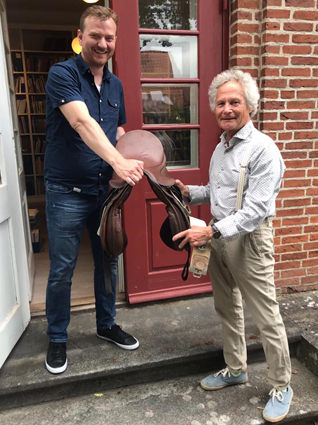 The Circus Museum at Hvidovre, Copenhagen, recently added a distinguished item to their collection, as Benny Schumann donated a saddle belonging to the late Albert Schumann to the Circus Museum. Benny is son of Albert, who was one of the world's best horse trainers. When Albert left his brother Max and Circus Schumann, the saddle and some photos were the only things he took with him.

14 June 2020
Although only two Danish circuses are touring this year, there are a few other places where you can see performances by artists etc.
Katja Schumann's circus farm in Løkken opens the season on June 27. From this day and for the rest of the school holidays there is a performance every day at 16, though not on Mondays. The main emphasis of the show is acts with horses and other animals. Løkken is a classical beach town on the west coast of North Jutland. The address of the farm is Cirkusgaarden, Vrenstedvej 287, DK-9480 Løkken.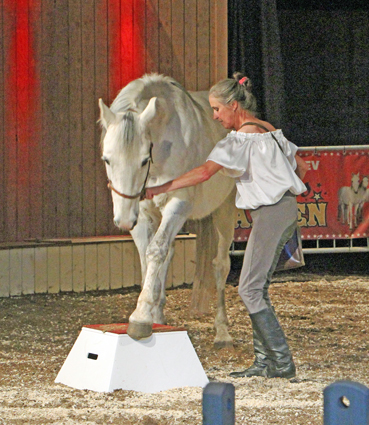 At Cirkusgaarden you will meet among other acts Katja Schumann and her horses
Circusland in Circus Arena's winter quarters in Aaslev by Slagelse is open from 10 to 16 during the period from July 4 to August 9. See separate information about Circusland's summer program. The address is Årslevvej 6, 4200 Slagelse

14 June 2020
MANEGE FREI -- MAGIC SHOW IN THE CIRCUS RING !!! part two
If you are used to perform your ACT on a stage, a smaller or a bigger one, a gig at the circus will present you with a multiple challenge: you have to perform in a circular structure, i.e. the CIRCUS RING , it means a circle that, unfortunately can turn out to be -- the evil circle !
The audience is seated farther away than they normally are in front of a stage, even those having a ringside seat are uncomfortably more or less out of reach, difficult to reach them physically while doing tricks involving interaction.
Any magic trick or stunt can't be featured if the secrets are revealed , should anyone pass on the rear/back side.
Those vulnerable tricks have mostly disappeared today from the illusionists' program, since a semi-circular structure like a horseshoe is now often used, presenting about the same problem, as the insight to the sides is free.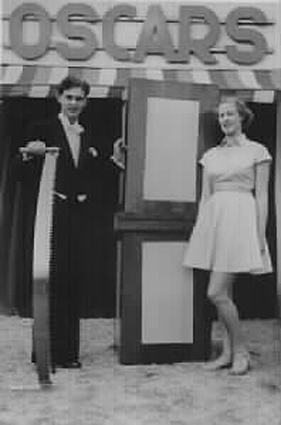 Swedish magic entertainer CHRISTER NILSSON, CHRISTER EL RICCO on stage, featured with his wife and partner GERTRUD - THE LADY SAWN IN HALVES - in Swedish youth circus OSKARS, years 1951, 1954 and 1955. CHRISTER was born in 1931, GERTRUD in 1932. He had his professional start in a popular amusement park in NYKÖPING, his home town, in 1949. Besides his artistic activities, he is an internationally well-known author and, historian dealing with all that concerns magic and circus.His blog /in Swedish/ : https://magiarkivet.se is largely the most popular in Scandinavia, dealing with the above topics.
On top of that inconvenience, there are frequently people running to and fro, behind the performer.
Yeps - it does occur, good order is nowadays a rare but precious item!
Eventually we have an ACT where the free for all backside is not a problem, but we are not
safe: all stage props must be clearly seen, also for the public that is seated far at the back or high up on the seating rows.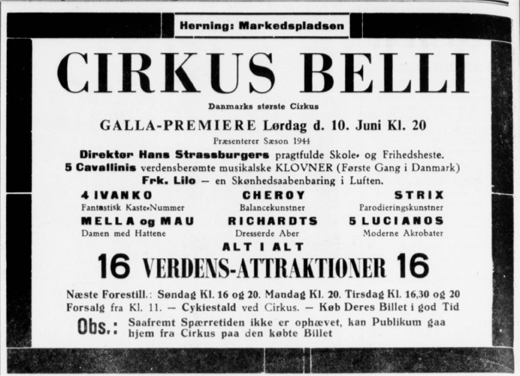 Calling himself STRIX, Swedish magic and comedy entertainer THEODOR JOHANSSON /1880 - 1954/ featured a magic, juggling and comedy act in several circuses, sometimes with his Norwegian partner RAGNHILD JOHANSON who earlier had had a career as a skating princess, calling herself RAGNHILD HEIDE. Playing in STRIX's act she had the role of a butler, dressed in a red costume. The best part of 1944, STRIX was at Danish circus BELLI, after the ending of their season, he he performed at CIRCUS SCHUMANN, that used to change its program, about each month. ZARRO ZARRO remembers having seen STRIX at CIRCUS SCHUMANN in October 1944, and tells: His ACT impressed me a lot, I was only 12, I wrote to his agent in COPENHAGEN, asking for a photo which I got, and to this day this remains a dear memory for me. STRIX had a good and sympathetic act: he juggled 3 balls in a hilariously funny way, produced colorful balls in a transparent glass-box, put these balls in a kind of barrel, threw the lot up in the air, opened the barrel, and pulled out and up several birds' cages containing budgies - for sure .... they were dummies. To end his act, he entered a kind of cabin, a tremendously big noise was heard - out came STRIX now wearing a different outfit - I do remembeer it as if it were yesterday ! STRIX featured his act at Swedish CIRCUS MIJARES SCHREIBER in 1946 and again at CIRCUS SCHUMANN in September 1951. Some juggling, magic, comedy - it was a unique act !!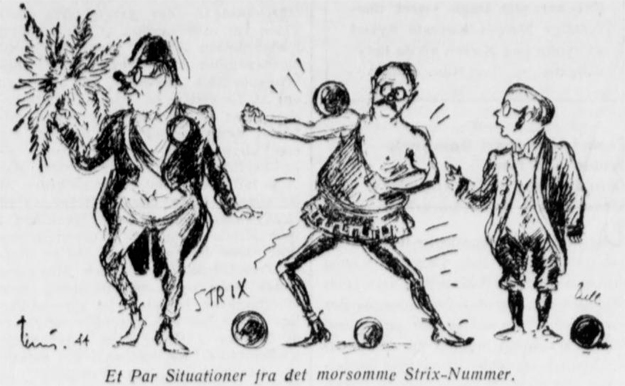 Unfortunately, I have not been able to find a photo of Strix. The above drawings are reproduced from the Aarhus newspaper The Democrat, who on July 21, 1944 interviewed Strix

I remember having seen magic entertainers who used ONE person from the audience up on stage, performing card tricks and the big idea /?/ was to make this very person be a witness to what had happened - and what the audience couldn't possibly see.
A crowd who could see virtually nothing, won't be long to leave in protest.
A nice MAGIC SHOW in the CIRCUS RING could be:
3 amazing illusions, type THE SUBSTITUTION TRUNK, attractive and performed at a brisk pace, featured by an elegant, well dressed couple, the act could be spiced up by a couple of tricks using smaller, but visible, props.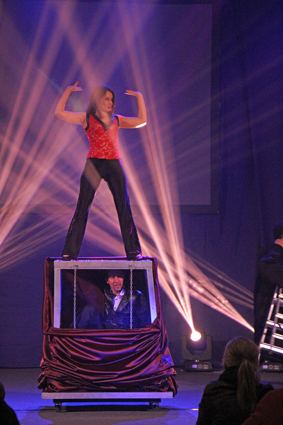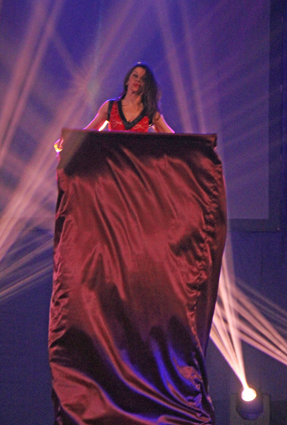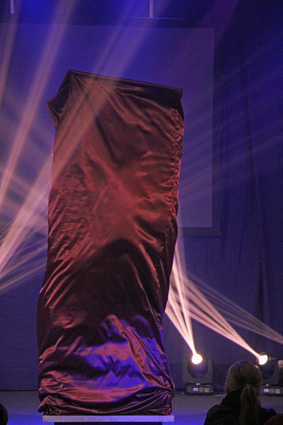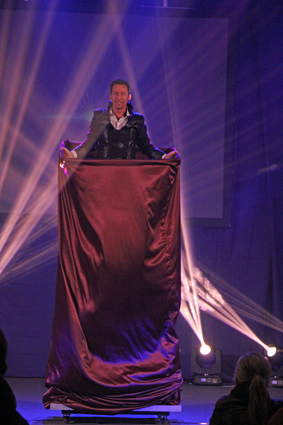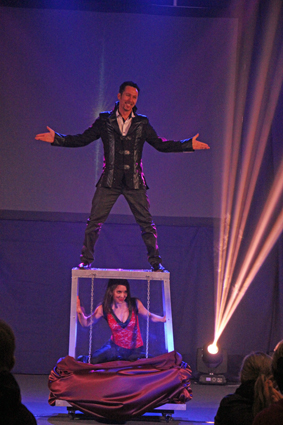 THE SUBSTITUTION TRUNK is a classic illusion, going like this: The performer, handcuffed and put into a kind of postal bag - is placed in a trunk that is locked and secured with ropes.His partner steps up onto the trunk, covering up using a curtain, a few seconds later- the curtain is dropped revealing the performer - and lo and behold ... the partner is found in the trunk, in the bag and handcuffed! Pics: CIRCUS BALDONI MAGIC SHOW, DK, 2016, performers: the VERES FAMILY.
------------------------ to be continued at the next updating, ZARRO ZARRO.

12 June 12 2020
Circus Baldoni 2020. On June 6, Circus Baldoni had as the first Danish circus premiere at this year's show. The Swedes have been able to visit the Weisheit family's small Circus Bambino for a few weeks, but now also Danes can go to the circus without having to travel to a country, to which the Danish Ministry of Foreign Affairs discourages all unnecessary trips.
Jacob Boas Leitisstein visited the season opening performance in Naestved and writes (my translation):
With three months delay it finally happened: The Danish circus season started on Saturday, June 6. It took place at the cattle show ground in Naestved, where Cirkus Baldoni presented their 2020 performance called "POWER!!!"
In addition to newly painted wagons in new colors and a beautiful new foyer tent, a number of new initiatives were met at the circus lot. Keep distance markings in the grass, Plexiglas in box and kiosk, hand rubbing alcohol, gloves, face shields and nice distance between the members audience. Nice to see that it is easy to make a circus where the safety due to the corona is top!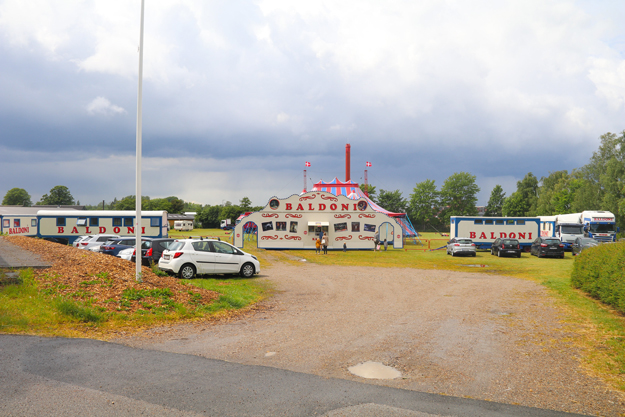 Circus Baldoni at Cattle Show Ground in Naestved. All photos: Jacob Boas Leitisstein
At the performance the tent was almost filled - of course due to the corona with empty chairs in front, behind and between the families. When the music started, the mood among the audience was great, and René Baldoni welcomed. All the artists of the show stood around the ring (in Baldoni a circular stage), and when presented they showed a little taste of what the audience could look forward to see later in the performance. However, this year the Baldoni audience must do without the well-known Baldoni start song.
The first act was juggling with Michal Mudrak. The number was built around a football theme that had fit perfectly with the European Football Championship atmosphere that should have affected Denmark this summer. Michal juggled with up to five footballs, and also went into split while juggling with four balls.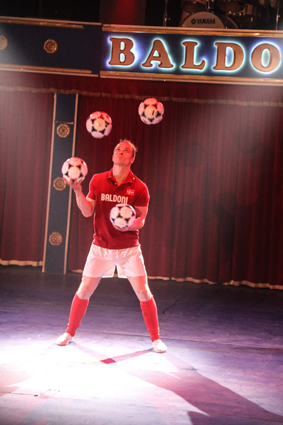 Michal Mudrak
The juggling was followed by an elegant aerial act with Szulita Szekrényes. Here the tent dome was used for beautiful acrobatics in aerial hammock.
After that, it was time for a reunion with two well-known artists from former Baldoni performances: Eddie and Maria Janecek. This year, Eddie acts as the show's clown. In the first section he showed the famous clown entrée with the mop and the song "Save Your Love". Afterwards Maria entered the ring and did her hula hoop act which this year was expanded with a new final trick, in which Maria was raised, while she had the rings spinning around her body.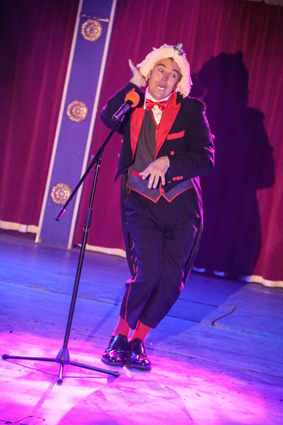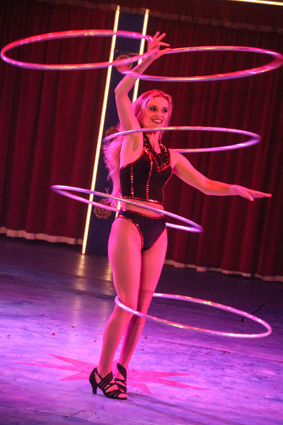 To the left: Eddie Janecek mimes to "Save my love". The entrée is probably developed by the Swiss clown André, but best known in Jose Michel's edition. At Baldoni it has been shown by their former clown Danilo. To the right: Maria Janacek
The last act before the intermission was an act that really fits the theme of the year "power": Martyn Chabry with quick change. Here there is power and speed from start to end. The mix of fast paced quick change and music with saxophone, xylophone, drums and bottles just works really well!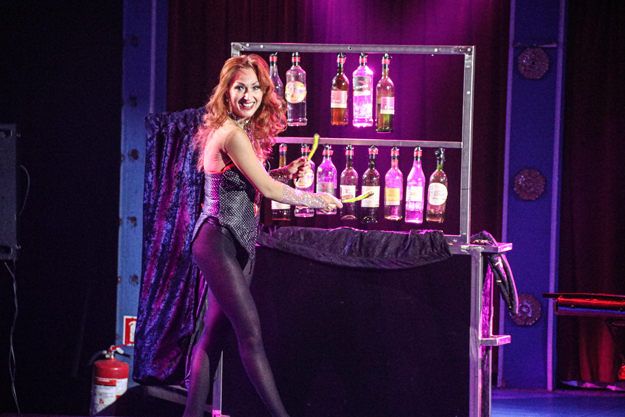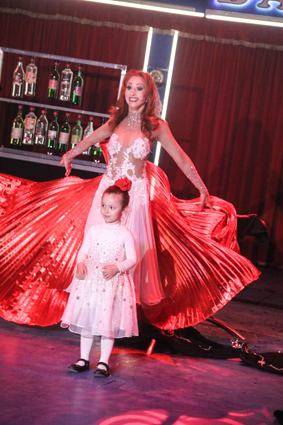 Martyn Chabry. At the end of her entrée, her 4-year-old daughter Charlotte pop up - one of the many good ideas from Kim Kenneth who has put the performance on stage.
After the break you could see a powerful act again. It was with Michal Mudrak who showed a really good handstand number.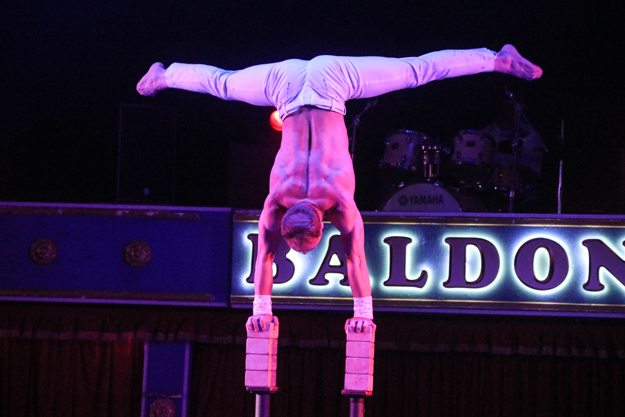 Michal Mudrak
In this year's program, the strong man Denis Ilchenko, should also have been included. But because of the corona situation, he had not yet managed to get to Denmark. Let's hope we can see Denis' strongman act in the Baldoni ring soon.
Instead, Eddie entered the ring and presented a comically strong man number. However, René didn't think the act was quite good enough to replace Denis Ilchenko. Thus Eddie's son Kaya Janecek quickly took over with his rola bola number. A fast paced and charming act which the audience knows from Circus Baldoni's 2018 season.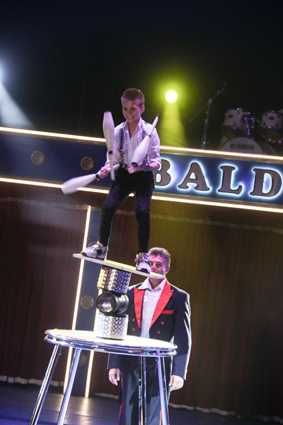 Kaya Janacek
Now it was time for the musical Baldoni Clowns, consisting of Eddie, Cindy Binau and René Baldoni, to enter the ring. They showed their version of the entrée "You must not play here". Here both saxophone and trumpets were played and popular Danish songs were sung.
The last act in the show was a nice aerial act performed by the duo Light for Life with Szulita Szekrényes and Dennis Kiss. An act that offered both impressive acrobatics and luminous suits with LED lights. Super great!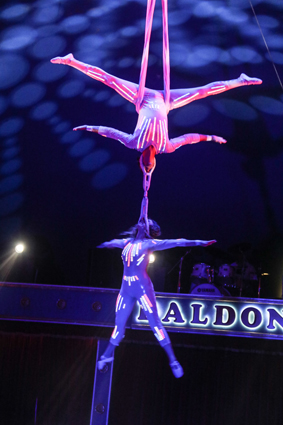 Duo Light For Life aka Szulita Szekrényes and Dennis Kiss. The were also with Baldoni in 2012 and 2016 under the name Pirates of the Circus.
Eventually, as always, all artists came to the grand finale.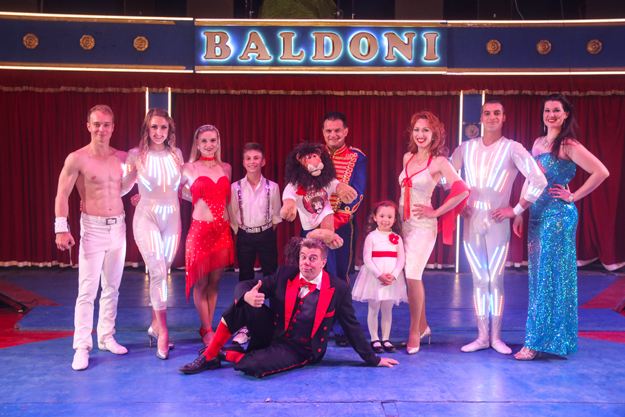 Click here to see more photos from the performance
***
The strongman Denis Ilchenko, who comes from Ukraine, came to Denmark on 10 June has probably been in the performances from 11 June.

12 June 2020
Small program change in Circus Arli. Russian Diana Vedyashkina and her dachshunds should have been part of this year's Arli performance. But even though both contract and Danish work permit were in place, Russian corona restrictions prevent her from coming. "Diana and we are sorry that she isn't able to come but have agreed that she will be with us in a later season," Martin Arli says and tells that Diana this year participated in Britain's Got Talent and was ready for a pre-finale when corona stopped the competition.
As a replacement for Diana, Circus Arli has engaged Helena Rapolli with a single dog and together with her husband Antonin in the juggling entrée Duo Rapolli. The couple was with the large Norwegian Circus Merano in 2014 - she by the name of Helena Joova. "An amazing dog act," Thorbjørn Klæbo Flo wrote in his review of the performance. Thus, the audience at Circus Arli has something to look forward to!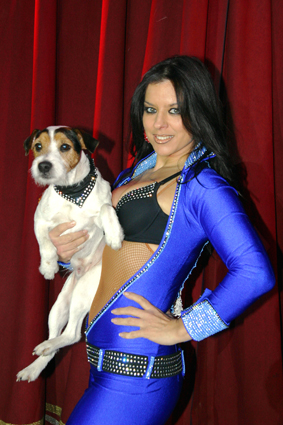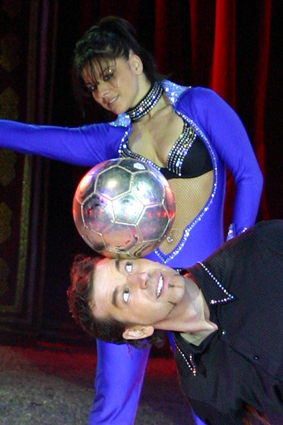 To the left : Helena Rapolli and her dog. To the right : Duo Rapollis. Click here to see a video from their performance in Circus Merano in 2014

7 June 2020
MANEGE FREI -- MAGIC SHOW IN THE CIRCUS RING !!!
The following write up is a summary of thoughts, experiences, points of view and ideas, collected during and after visits to circus shows, and this during decennial periods, while I did interview, as it were, common people, not specially fans of circus, but a large sampling of people, going to the circus to have a nice moment, a memorable outing, we call this = quality time.
Surely, this is not the last word on this issue, nor does it cover this wide topic in an
exhaustive way.
The spectators in circus are in majority parents and their offspring, also grandparents accompanying their grandchildren.
If you see somewhat elderly persons, without children, you can be pretty sure that they are circus friends or professional circus-people.
Teen-agers are seldom seen, their interests can be found elsewhere than in circus, while they are growing up and the hormonal system is awakening.
MAGIC, in its various interpretations, is not necessary a good circus act, but it may and can be adapted - to an excellent show.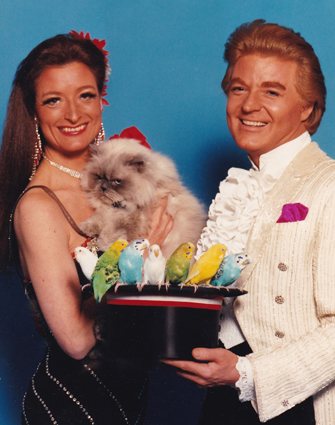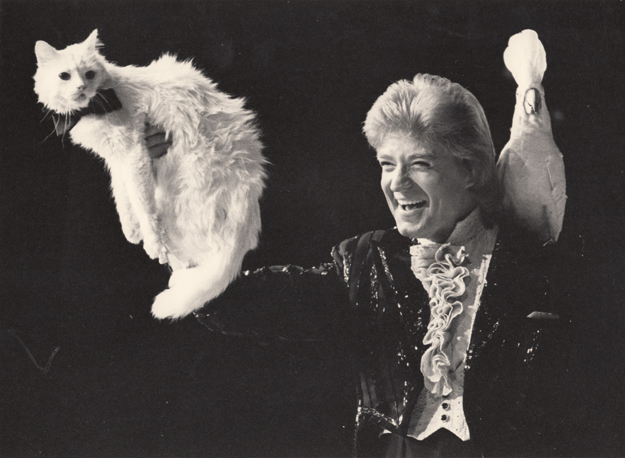 Many Danes surely remember the elegant English illusionist/sleight of hand expert /magic entertainer JOHNNY HART, who performed in the Copenhagen Circus Building at both SCHUMANN and BENNEWEIS shows. He lived for several years in Copenhagen, but relocated to England, Blackpool where he passed away in 2018, aged 75. JOHNNY HART'S life and career are depicted in the book "JOHNNY HART - international star of magic". For further info: www.johnnyhartbook.com
In older times, the magic performers were not particularly looked well upon, viz. by those performing physically challenging acts, and, not seldom, risky features like high wire acts high up in the air.
Circus was, and is, to some extent, even today, a closed circuit.
If you were not born in the circus and brought up in the sawdust - it is not easy to be accepted.
This reality is nowadays less common, as many artists now emerge from the population that circus people call "PRIVATE", which means they have been trained in the circus schools that obtain support from municipalities and state.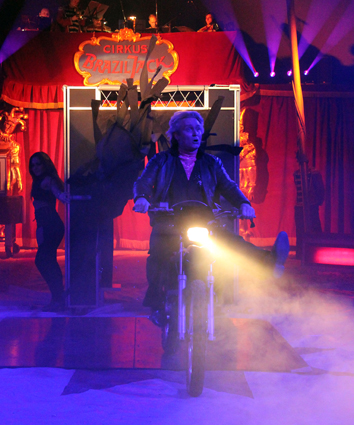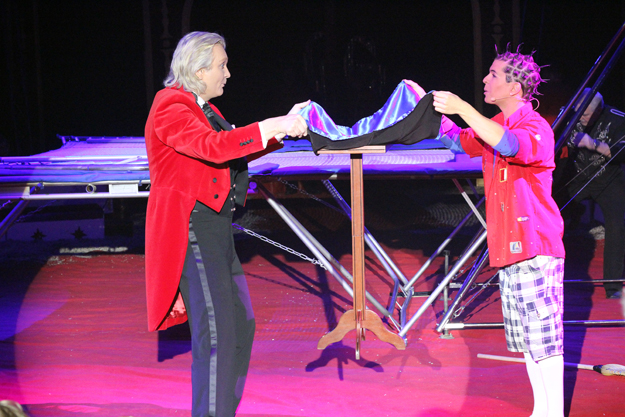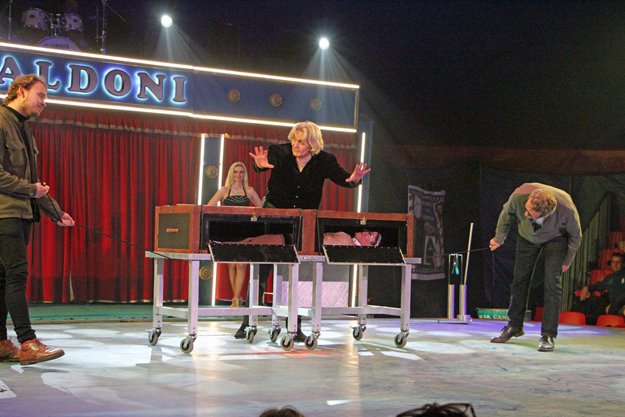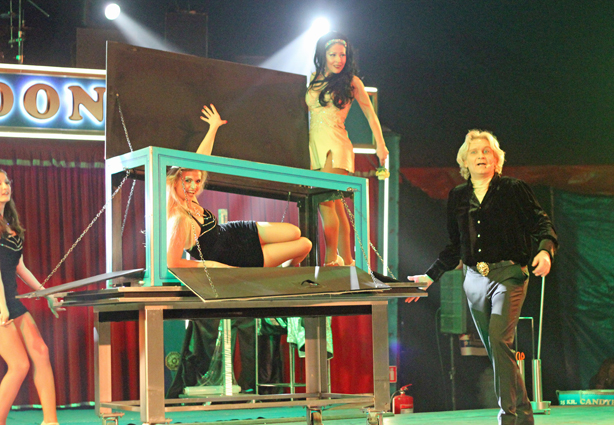 The Scandinavian illusionist/magic entertainer who for years has harvested the greatest success possible in the circus circuit is the Dane KIM KENNETH NILSSON, - the DANE IN THE FAST LANE. Born in 1966, he performed on stage featuring magic stunts at the tender age of 6, in fact this was his - successful - attempt to become a member of the MAGIC CIRCLE OF DENMARK. In 1989 he started his career in CIRCUS DANNEBROG, it proved a success, allowing him to travel both in Denmark and abroad where he has featured his acts: circus, casinos, music halls, amusement parks, on cruising ships and ice shows. In Scandinavia we saw him: in the circus rings of CIRCUS ARENA/CIRCUS BALDONI/CIRCUS BRAZIL JACK/ CIRCUS BENNEWEIS. Always a great performance backed up by his partner JESSICA. Click here to see a short video clip from some of his acts.
-----------------------to be continued next updating by ZARRO ZARRO.

5 June 2020
No strongman at Baldoni's season opening. When Circus Baldoni as the first Danish circus opens the season on 6 June, it will be without the Ukrainian strongman Denis Ilchenko. According to René Moenster Baldoni, Denis Ilchenko's departure from Ukraine is delayed due to the corona. As it looks now Denis will be coming to Denmark on June 7 and will be in the performances from June 9. Until he arrives, you can instead see 13-year-old Karel "Kaya" Janecek with rola bola. He has several times before done this act at Baldoni. In 2018, he was among the 3 artists nominated by the Danish Circus Award for that year's Talent Prize. – When this page is updated on 13 June you can read a review of this year's Baldoni performance with many photos.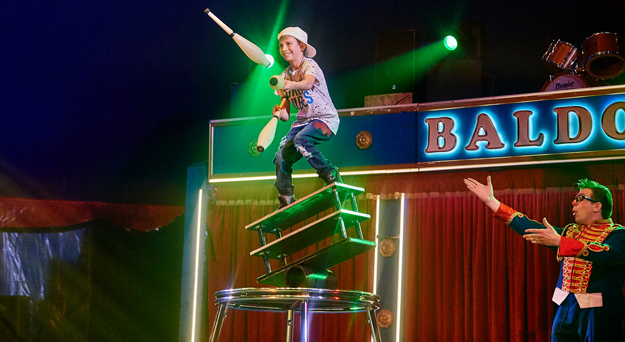 Baldoni's wonderkid Kaya Janacek in 2018. Photo: Rud Kofoed / Update Press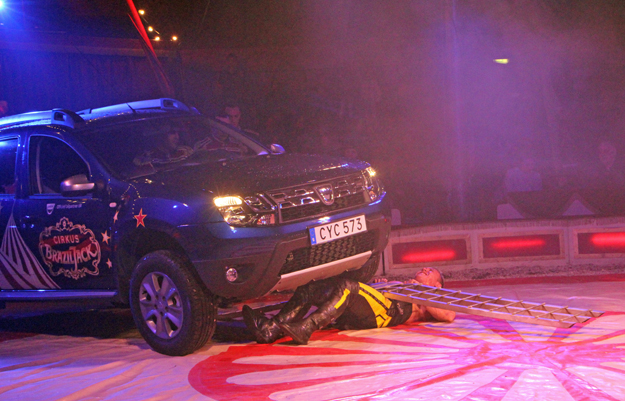 As it looks now Denis Ilchenko will be part of the performances from 9 June. Photo from Swedish Circus Brazil Jack 2017.

4 June 2020
Pierrot at Bakken. The amusement park Bakken north of Copenhagen opened the season Friday, May 29. This year with a new Pierrot.
Pierrot is a stock character of pantomime and commedia dell'arte whose origins are in the late seventeenth-century Italian troupe of players performing in Paris and known as the Comédie-Italienne; the name is a diminutive of Pierre (Peter), via the suffix -ot. The formula has proven enduring: Pierrot is still a fixture at Bakken, the oldest amusement park in the world, where he plays the nitwit talking to and entertaining children
Bakken's Pierrot for 23 years, Kurt Flemming, has embarked on new adventures, and in the 2020 season you will meet the actor Morten Eisner as Pierrot.
"Both children and childish souls can look forward to getting in a good mood and getting a smile on their lips. I look forward to getting started" Morten Eisner says and continues: "Standing in the middle of Bakken at eye level with children, adults and childish souls is just what I am looking most forward to it. "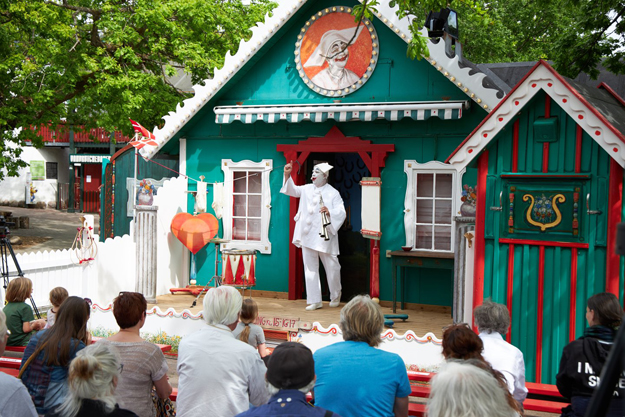 In front of his little green house, Pierrot entertains both children and adults with magic, music, play and a lot of storytelling every day at 15, 16 and 17 throughout the Bakken season. Press photo from Bakken

3 June 2020
No circus awards this year. The Danish Circus Award writes:
We had been looking forward to awarding this year's circus prizes for the fifth year in a row. But the corona has meant that 6 out of the 8 Danish circuses have given up touring this year. That is why we have chosen to pause this year. We hope to see all the circuses on the roads again in the spring of 2021. We will return in August 2021 with our awards: the award of honor, the prize for the best number of the year and the talent prize.

30 May 2020
Circus elephants. Today, Knuthenborg Safari Park let out the four former circus elephants in their new facility. Click here to see short video clips.
Knuthenborg's owner Christoffer Knuth is well satisfied and estimates that there have been about 10-20 per cent more visitors than at the same time last year.
However, there have been no problems with the guests being standing too close to each other.
- People have been good at keeping distance, and we really have many guards who make sure that people are not too close, says Christoffer Knuth to TV2 Øst.
Every morning and evening there is a former employee from Circus Arena, Rudy Althoff, with the elephants. Three of the four elephants come from Arena, and they have close relationships with Rudy.
However, the animals must get used not to see him over a few months. The idea is that Knuthenborg will learn the tame circus elephants to live as wild elephants and thus not have the close contact with people they have had since they were very young.
There are shared opinions as to whether it is best for the elephants!

29 May 2020
As it looks now only two of the Danish circuses will be on the road this year: Circus Arli and Circus Baldoni.
Circus Arli starts the season at the Mill Hill in Floeng (Copenhagen Suburb) on June 20. It's their 50th season.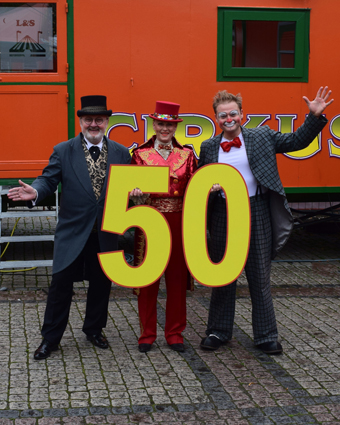 The main characters will be Alexander Arli and Francesco Fratellini. They make their knockabout table act as well as a new clown entrée together with Martin Arli. Martin furthermore presents a new magic act.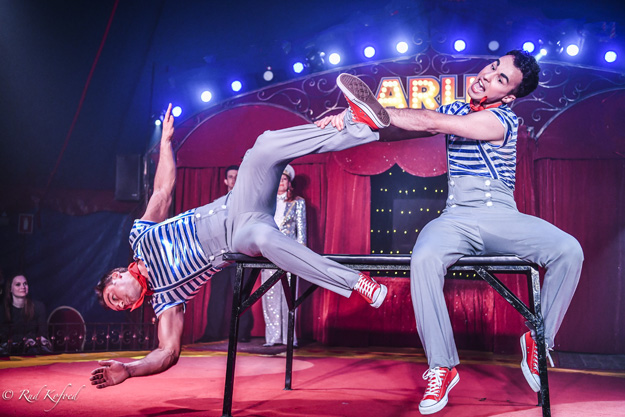 In 2017, the audience cheered at Alexander and Francesco's knockabout table act. It is the former artist Charley Kaye, who some year ago taught Alexander how to make such an act.
Francesco's wife Sarah Florees makes an aerial act in chandeliers. Francesco and Sarah, who had great success with Arli in 2017 and 2018, became parents of a girl last year. Francesco appeared in 2019 in the famous Swiss Circus Knie.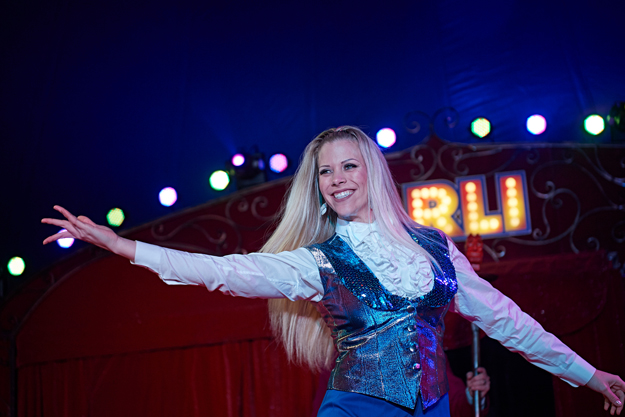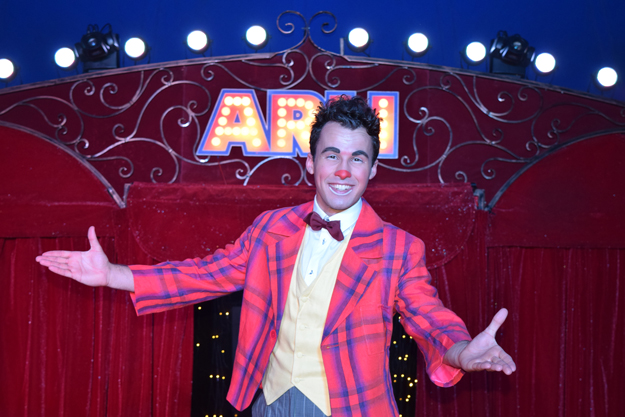 Sarah Florees and Francesco Fratellini
Diana Vedyashkina present two two dog acts. Her well-known number with dachshunds, which she showed at Cirkus Arena in 2017 and a short period at Benneweis in 2007. As well as an act with a single dog.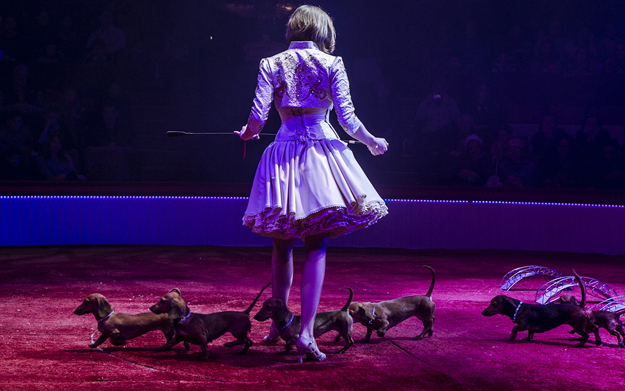 Diana Vedyashkina
The French couple Anthony and Jeniffer Ramos have two acts: roller skates and double aerial straps.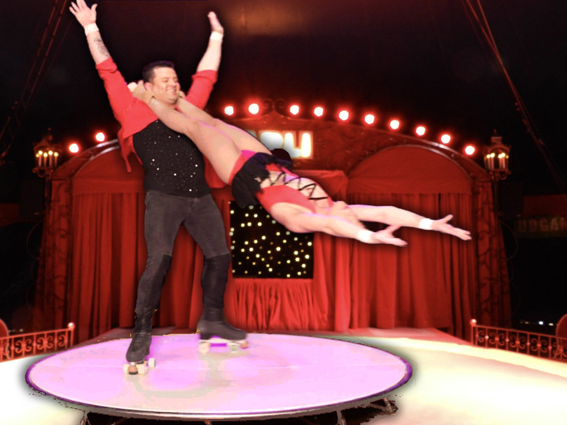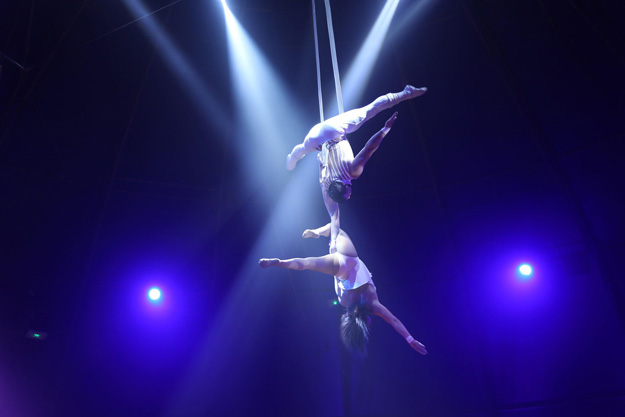 Duo Ramos has not previously performed in Denmark.
Bettina Arli is ringmistress.
Due to the corona situation Circus Arli offers a smaller number of tickets for sale than usual, so the audience can sit safely and securely with distance to each other in the circus tent.

Circus Baldoni open the season 6 June in Naestved.
Among this year's attractions are 35-year-old Ukrainian strongman Deniz Ilchenko. Strongmen are today a rarity. However, in 2016 Baldoni presented the not quite young Hungarian Herkules Jozsef Pakuza. Deniz is both better and younger than his Hungarian colleague. He juggles with car tires, pulls a car by a bit in his mouth and spins a tree trunk on his neck. A trick which he then repeats with 4 people on the tree trunk, see photo. Eventually in the entrée he is driven over by a car. ((The description is of the entrée he had in Swedish Circus Brazil Jack in 2017).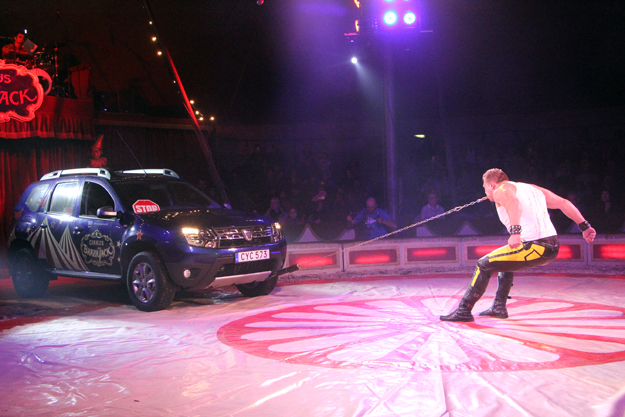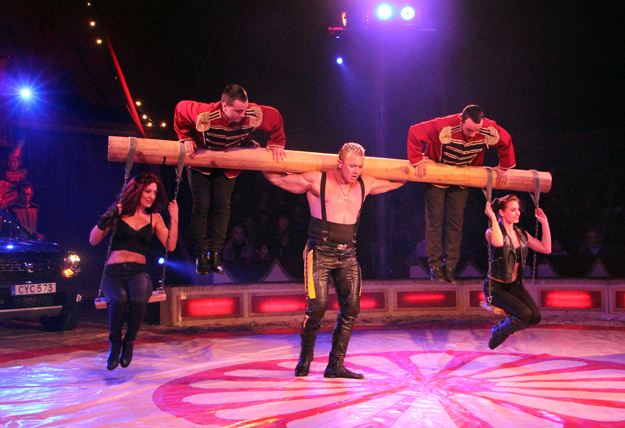 Deniz Ilchenko was with Swedish Circus Brazil Jack in 2017. In 2018 he toured with the Norwegian Circus Arnardo, and this year he has been in Finland with Circus Finlandia. In 2020, the Danes can meet him.
The show also features Martyn Chabri, multi-musician and quick-change artist, which the Danes have experienced several times in Circus Benneweis.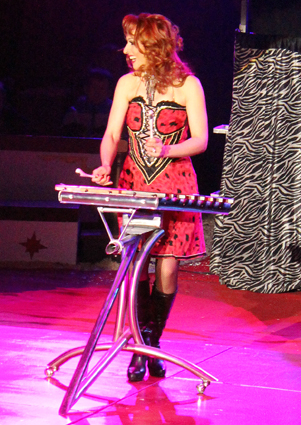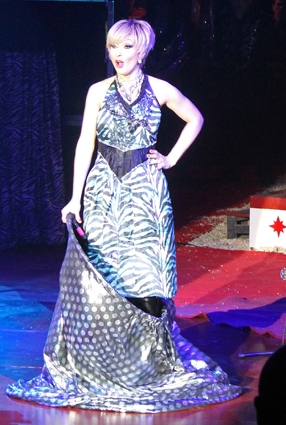 Martyn Chabri with the Christian name Martine Gombert is daughter of the clown Toto Chabri and Mrs. Nora. She spent much of her childhood in the Circus Building in Copenhagen, where her father was no less than 7 seasons. The first time the Danes saw Martyn Cabri's musical act with smart costume changes, variations and personality was in Circus Benneweis in 1998. She was back at Benneweis in 2005 and 2014.Click here to see Stig Vognsen's video clip with her from Benneweis 2014.
The handstand artist Michael Mudrak does an act which probably is inspired by the legendary Encho. Michel Mudrak was the male partner of the duo Hands to Violin, who was with Baldoni in 2016. The duo was nominated to the award for best act of the year
Baldoni clowns this year consist of René Moenster Baldoni, Cindy Binau and Eduard "Eddie" Janacek. Eddie Janacek and his family have been with Baldoni since 2016.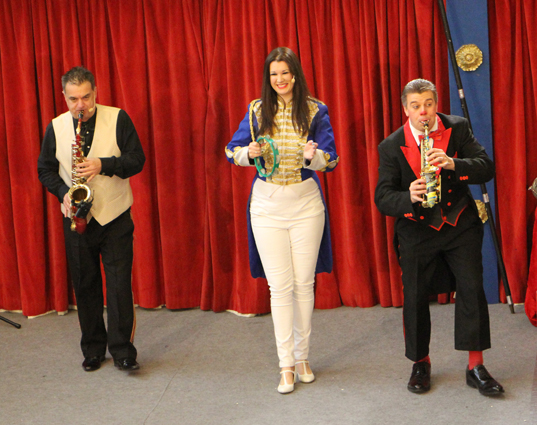 Baldoni clowns. Photo from winter performance in Ishøj City Center. René Baldoni plays a saxophone which he bought last year from John Lington
In addition to the above mentioned you meet in the performance Maria Janacek with hula hoop as well as an aerial act with Szulita Szekrenyes & Dennis Kiss.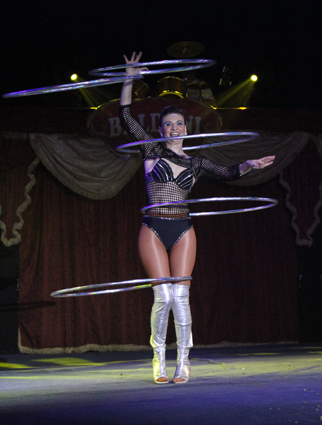 The Janacek family has been with Baldoni since 2016. Here, Maria is seen with hula hoop in season 2016. In later seasons she has appeared in vertical rope, in aerial ring and together with her husband Eddie in a knife throwing act.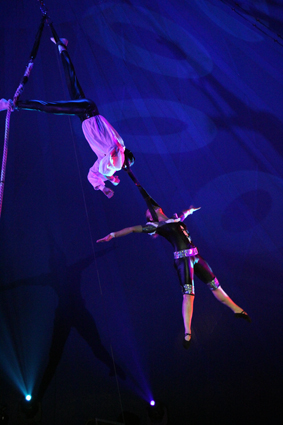 Under the name Pirates of the Circus, the Hungarian couple Szulita Szekrenyes & Dennis Kiss were with Baldoni in 2012 and 2016 with their act in vertical rope with several aerial cradle elements
Circus Baldoni usually seats 474 people. But this year, the figure has due to the corona situation been reduced to slightly less than 200 persons.
Both at Arli and Arena there may be changes to the program, if one or more artists are not able to get to Denmark. But as it looks now they expect no such problems.

28 May 2020
Circus Bambino on tour in Sweden. While the German Weisheit family's small Circus Popcorn canceled their Swedish tour on March 19, another small German circus is now on tour to villages in Småland (a province in southern Sweden), namely Cirkus Bambino. They have also toured in Sweden in previous years, and the performers have been the owners Billy and Ariane Weisheit and their children. It is probably the same you can see in the 2020 performance.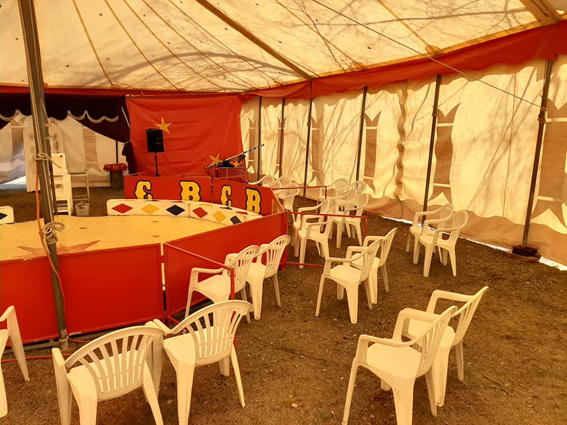 As can be seen from pictures, the corona threat means that only a few chairs are set up in the tent.
It is not known when the 3 Swedish circuses, Brazil Jack, Olympia and Rhodin, can start the season or whether there will be a 2020 season at all.

28 May 2020
Circus in Norway. From June 16 you can experience Circus Jesper in Kristiansand Zoo. Lasse "Bonbon" Nørager writes:
This year's show will be composed of the first two Circus Jesper performances (2016-2017 as well as 2018-2019).
Lajos Nagy as Simonsson the barber, plate spinning.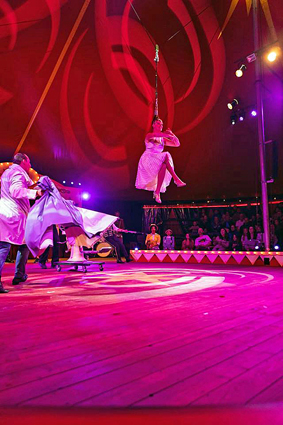 Lajos Nagy is plate spinning dressed as Simonsson the barber, who also has a sponsor feature for his new hair product, which is said to be so strong that people can hang in the hair when using this product (Julia demonstrates). All photos by courtesy of Lasse Nørager.
Julia & Joakim, juggling, hair hanging and div. comic features.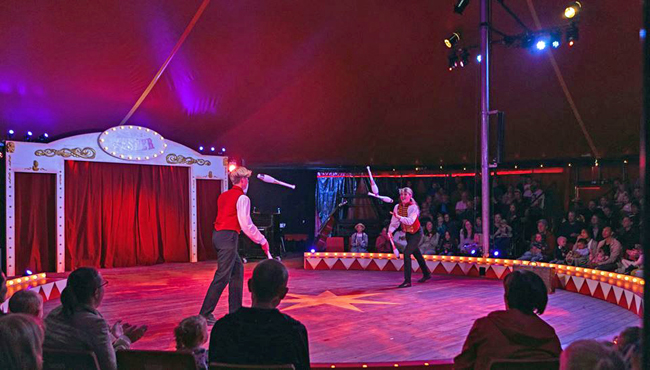 Julia and Joakim with tempo juggling.
Nelma Pietela, foot juggler
Bonbon & Tiina, Badminton and Turtles.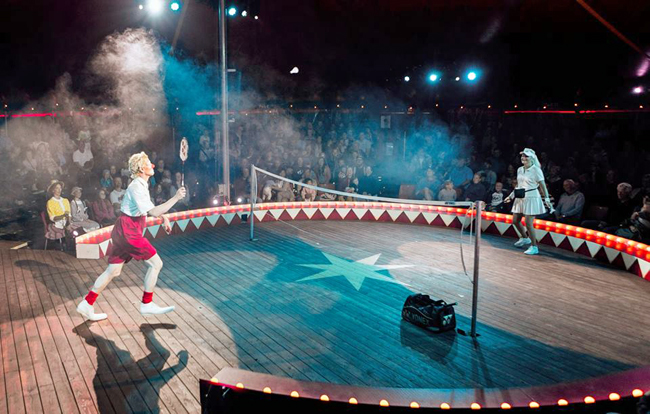 Bonbon & Tiina badminton. Bonbon with turtle
Konstantin Muraviev, Rhönrad.
Also in the ensemble are Freddi Steckel and Angelika Varga.
Sirkus Jesper is a theme performance based on characters from Thorbjørn Egner's When the Robbers Came to Cardamom Town
From the city of Cardamom comes circus director Jesper (former robber), Aunt Sofie and little Kamomilla, as well as Lionman (the robber's own lion) and elephant Mimo.

28 May 2020
Also Cirkus Trapez has now decided not to tour in 2020. "Maybe we could accommodate 150 people with good distance between them for each performance, but dare they come?" Isabella Enoch Sosman writes. She looks forward to be back on the roads again in 2020.

27 May 2020
As several other circuses, the small Danish Circus Krone has now announced that there will be no tour in in 2020. They had looked forward to the tour, which should have marked Irene Thierry's 70th artist anniversary.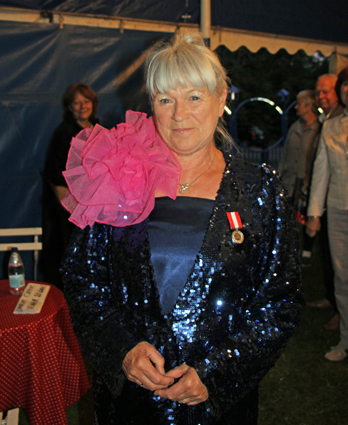 Irene Thierry had been looking forward to celebrating her 70th artist anniversary. The photo is from 2017 when Irene Thierry was named honorary member of Danish Circus Friends Association. The only other circus director to be honored is the late Haddy Enoch of Circus Dannebrog.

24 May 2020
Rudy Althoff to Knuthenborg Safari Park. The Safari Park has hired Rudy Alfhoff, who took care of Circus Arena's elephants from 2015 to 2018 and who has looked after them and Ramboline in recent months. As earlier mentioned on this page the three former Arena elephants and the former Circus Trapez elephant has been donated to the safari park after the Government bought them from their previous owner. By hiring Rudy Alfhoff the safari park has got an employee who knows both the elephants and understands circus elephants. Rudy Althoff expects to stay in Knuthenborg the rest of the year and maybe a little longer.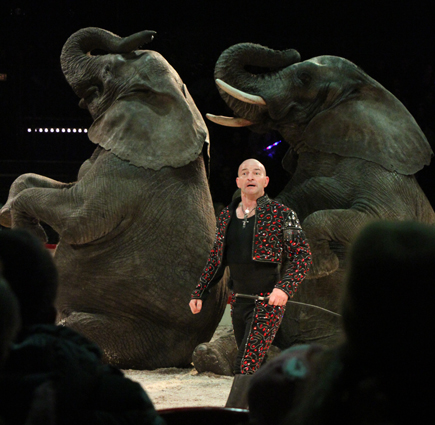 Rudy Althoff in Circus Arena 2018

22 May 2020
Possible for circuses to get on the road. It looks like the Danish circuses or at least some of them can get on the road. The agreement on further reopening in Phase 2, concluded on May 20 between the Government (Social Democracy) and all other parties in the Danish Parliament permits culture and activities such as museums, theaters, art galleries, cinemas, aquariums to open immediately. It includes circuses.
However, there are guidelines regarding distance, hygiene, etc. for all the companies which are reopening. The framework is organized in the sectoral partnerships, based on guidelines from the health authorities. The guidelines are dynamic and constantly adapted to the situation.
The guidelines stipulate, among other things, that there must be a maximum of 500 spectators and that every second seat must be empty or that a distance of 1 meter between the each members of the audience measured from the center of the seat must be ensured. Groups that already have close contact can sit at contiguous seats, even if there is less than 1 meter between them. Access is limited to 1 audience per 2 m2 of floor space in the tent. There must be a minimum of 2 meters distance between audience sitting in the first row in the ringside chairs and the performers.
Special steps should be taken as far as possible to avoid close contacts between employees and the public by, for example, payment (encourage purchase of tickets online, etc.).
Here are the latest announcements from each circus:
Circus Arena has given up touring this year, but looks forward to being on the road again in 2021.
Circus Arli will start the season on 20 June and continue their tour until late September.
Circus Baldoni plans to start the season on June 6 in Næstved. They will continue their tour until late September.
Circus Krone: I have no information.
Circus Mascot has given up this year's tented tour.
Zirkus Nemo has given up touring this year, but will return strongly in 2021.
Circus Trapez is considering the situation

21 May 2020
The circus elephants to Knuthenborg. Last autumn the Government bought the 4 elephants belonging to Circus Arena (3 bulls) and Circus Trapez (1 elephant) and later donated them to Knuthenborg Safari Park.
On Friday, May 15, the four former circus elephants Lara, Djungla, Jenny and Ramboline moved into their new stable in Knuthenborg Safari Park. The four retired elephants will now have to spend the next 14 days getting used to their new housing facility before being allowed to enter the large outdoor area. The facility officially opens to the public on June 1 this year.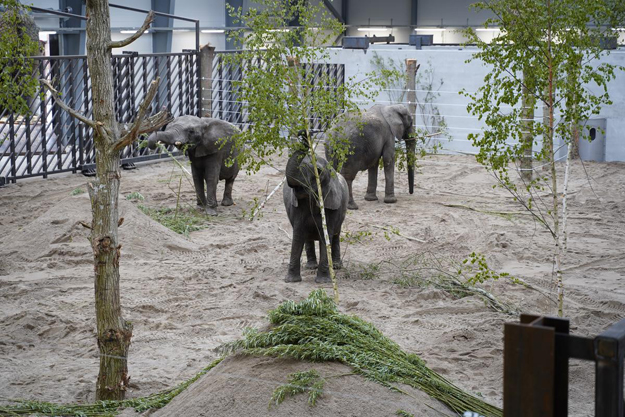 Lara, Djungla and Jenny in the new facility. Animal Protection (Dyrenes Beskyttelse)
Click here to see a short video presenting the new elephant plant.
Initially, Ramboline and the 3 former Arena elephants were placed in each end of the elephant stable. But since then they have been put together and so far it has gone smoothly. Click here to see a short video clip with the 4 elephants brought together.
The past 6 months the four elephants have spent in Circus Arena's winter quarters in Slagelse, where the Animal Protection has paid the Berdino family for taking care of the elephants. This was done with the assistance of the former Arena elephant trainer Rudi Althoff and others.
The Animal Protection, which has fought hard to both ban elephants in the circus and to secure them a good home, are happy.
- Today is truly a special day. Seeing the elephants walking into their new barn is just special. When they soon are allowed to walk out in in the large plant, it becomes the culmination of decades of hard work to get the wild animals out of the circuses. Especially for the last two years we have been struggling to ensure that the elephants could spend the rest of their days under the best conditions here in Knuthenborg Safari Park. So we are very happy today, says Britta Riis, CEO of Animal Protection (my translation)
- Today we set a final point for the journey of the four elephants. It is an important blow to animal welfare in Denmark, and we are really pleased that we have succeeded in finding a new home for the elephants, says Food Minister Mogens Jensen, who was also present when the elephants arrived at their new home. (My translation)
- It is important that the elephants get used to 'just being elephants' in the huge surroundings of Knuthenborg Safari Park. That's why we give them the most peace of mind to get used to their new home. We are really looking forward to being able to invite Denmark to experience the result of two years of work. These are really some very unique and beautiful frames we have created for these amazing animals, says Christoffer Knuth, CEO of Knuthenborg Safari Park. He owns Knuthenborg and probably also hopes that the elephants attract many extra visitors and thus raise money in the box. Just as the circus directors hoped the elephants would do to them.
Whether the four elephants are as enthusiastic as the animal welfare people and politicians is unknown. They may miss the close contact with people they have had since they were baby elephants. Not least Bernhard Kaselowsky and Ramboline have had a very close relationship to each other.
Economically, the circus owners are probably not bored of having sold the elephants, which were nowhere near as large an attraction as in the old days. And they had been expensive to care for and feed during the corona period where they could neither be rented out to other circus nor generate revenue for the owner's circus.

16 May 2020
IT ALL HAPPENED IN ABIDJAN, IVORY COAST, but in other spots as well, we boarded aircrafts taking us to a number of countries, but ABIDJAN remained the very place where we could find gigs - with a maximum of - uncertainty ... memories from Zarro Zarro
The CHRISTMAS events remained the BIG THING, everyone wanted them !
ABIDJAN'S iconic HOTEL IVOIRE frequently threw events and parties, so did HOTEL GOLF and the prestigious HOTEL DU PARC, located in the heart of the business center.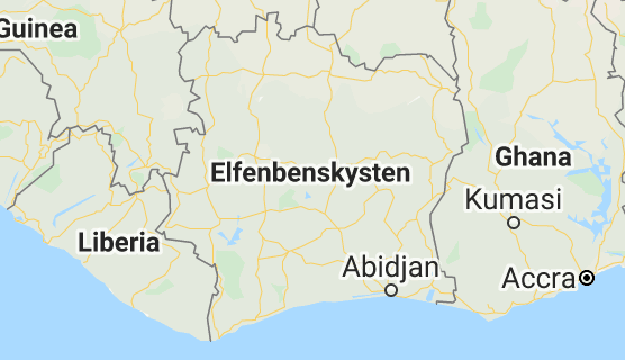 A memorable show was the one that I had at the HOTEL DU PARC, in front of an audience composed of the cream of French and Ivorian engineers celebrating some new construction, this was the French and Ivorian elite, it was a challenge - and a success.
The CHRISTMAS festivities: the enterprises invited their staff: distribution of gifts and sweets for the kids, a gorgeous buffet, SANTA CLAUS and ZARRO ZARRO, I had taken care of my publicity, my posters were in almost all shop windows, the competition was negligeable, some imported French performers and musicians.
I performed for free, and with great joy at CHARITY events, where kids and adults enjoyed a pleasant moment, socially an excellent idea.
The second town of IVORY COAST, BOUAKE, followed the trends, although on a minor scale.
In the popular area TREICHVILLE, there was a CABARET TREICHCANCAN, although a center for night life, it was - fairly- safe, the spot had artists, I performed there many times, as I could offer a reasonable price, having no travel expenses.
School shows were popular during school holidays, sponsored by the schools, the parents participated by dishing out a small contribution.
Here a problem appeared: the private schools were expensive, the public ones were for free, except that school uniforms, shoes /not sandals !/ and school stationery had to be paid!
This was a problem for African parents, having a number of kids, they were used to pay for education, but any form for entertainment was met with the question: NECESSARY ?
The Ivorian families had often, according to ancestral traditions, accepted to care for children from their extended family back in the village, this was a burden for them.
My customers consisted mainly of European expatriates and some Africans who held good jobs, I tried to get into the Lebanese society, alas - with little success, they brought singers and belly dancers from Lebanon, hard to enter this ethnic group.
Air conditioning did exist in many places, if not, I had to pull up my socks, and wring the perspiration out of my elegant stage costumes.
The temperature was swinging: C° 26 - C° 35, somewhat less hot during the rainy season.
An important part of the market was THE HAPPY BIRTHDAY parties, mostly in high society, here I had some IVORIAN customers, a sizeable middle class was on the rise, even some very rich people.
A drawback appeared as the years went on: most children had seen me, several times, and my possibilities to change were limited.
However it did work out during all my years !
At birthday parties I started by featuring 15 min., MADELEINE followed with 15 min., I closed by performing another 15 min., we were 2 - which made for variety, not too long -we finished in style !!
We could have limited our shows to ABIDJAN, but preferred to explore other planets:
ZAMBIA, fashionable hotels in Livingstone and Lusaka//TANZANIA, DAR ES SALAAM and ZANZIBAR, night clubs patronized mostly by Indians// MAURITIUS ISLAND, club LE DRAGON, several times, performing for different ethnic groups / Indians, Africans, Creoles, Chinese/ living side by side, but never mixing, not even when dancing! //
MOZAMBIQUE, night club in BEIRA, a wonderful place with ... camels //
KENYA, Nairobi, night club STAR LIGHT, an iconic place where American jazzmen played// MOMBASA, beach hotels on the shore of the Indian Ocean, I had to perform outside, surrounded by palmtrees and lit by the yellow moon !!//
CONGO, town of LUBUMBASHI, fashionable night spot, sporting a live band and chorus girls - the framework and setting could not have been better !
While playing those events, I was contacted to perform at parties, always on stage, I don't do the close up circuit.
When the tropical night , black and soft as velvet, spread over the Lebanese outlet where I downed a chilled beer, locally called "sundowner" - after mostly a busy day - I looked up to the nightly sky where the leaves of the palmtrees stood out quite visibly in the moonshine - it was of such a beauty ....
I am grateful to have seen, felt and lived it ----- memories for ETERNITY !!!
I humbly close these memories, by saying: THANKS FOR THE RIDE !!!
-------------------------------------
ZARRO ZARRO, Paris, May 2020.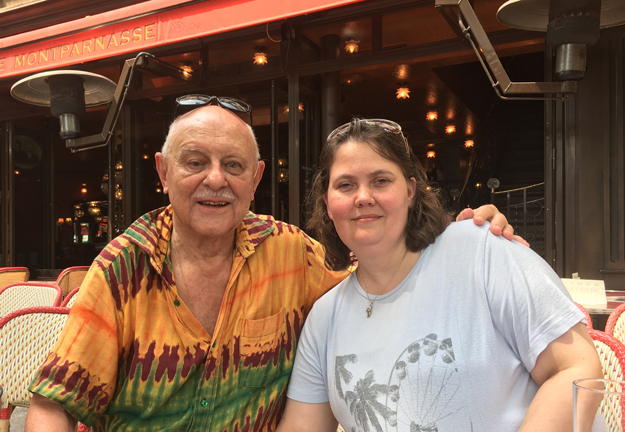 Zarro Zarro togerher with Lise Kokholm, editor and layouter of the Danish magazine Cirkusbladet

15 May 2020
Circuses in Denmark 2020 - status as per 15/5 at 12 noon
As it looks now earliest possible start of a tour is June 8, since until that date there is a ban on congregations of more than 10 people. The limit is then expected to be raised to 30-50 people. But there may be special rules for Culture - for example, museums, theaters, art galleries, cinemas, aquariums. It must also include circuses.
Here are the latest announcements from each circus:
Circus Arena has given up touring this year, but looks forward to be on the road again in 2021.
Circus Arli: awaiting info from authorities regarding the possibility to tour.
Circus Baldoni is optimistic and writes (my translation): "Circus Baldoni will be on the roads - for sure - and from June 8th. We do not yet know in what constellation. We have 3 scenarios. Scenario 1 Drive-in circus, we have created a sample set on the concept and it is feasible. Scenario 2 Circus open air, we have tried it before and it can be done - in good weather and scenario 3 which has the highest priority. Circus in tent and with social distance. No audience-involved numbers and our ticketing system are geared to e.g. keeping 2 seats vacant after each order. There are 3 entrances to the tent and ringside chairs are reserved for only one group where each box is separated by plexiglass. Ticket sales and kiosks also have plexiglas between the audience and staff and, of course, hand sanitizers."
Scenario 2 seems relevant only if a higher number of spectators are allowed for outdoor events than for events in a tent. Circus Baldoni had a few open air performances in 2015 when it turned out that they did not have a valid tent certificate and therefore only were allowed to put up the tent if they were granted building permission by the individual municipalities. And they didn't have such permission when they put up the tent in the Ordrup Park in Copenhagen. Thus, they were forced to put the tent down.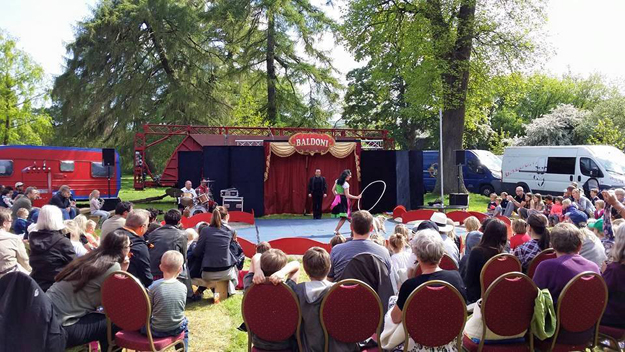 Circus Baldoni's open-air performance in Ordrup Park in 2015. Photo: Circus Baldoni
Circus Mascot has given up its tented touring this year
Zirkus Nemo will at the earliest start the season at the end of June.
Circus Trapez has canceled all performances until further notice.

15 May 2020
Benny Schumann turns 75 on May 23, 2020
Benny Schumann was born on May 23, 1945 in Gothenburg, Sweden. At his baptism, he was given the name Carmelo José Bienvenido Schumann. The Spanish-sounding name is because his mother Paulina was Spanish, the daughter of the world-famous clown Charlie Rivel. On a daily basis, he has never been called anything but than Benny or Benni.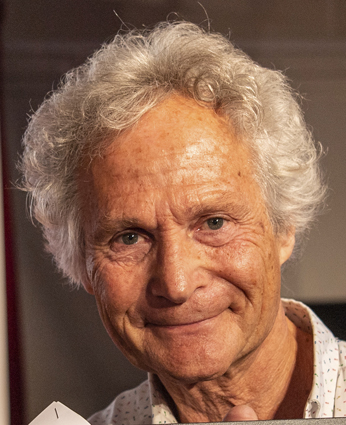 Photo: Jacob Boas Leitisstein
Benny Schumann was trained as a horse trainer, rider and multi-artist in Circus Schumann in the Circus Building in Copenhagen. His teachers were his parents Paulina and Albert Schumann. He made his debut in 1950. From 1951 he was participated in the matinee performances in Cirkus Schumann with various numbers, including as a 9-year-old cowboy standing on two full-gallop ponies and as a clown in handstand on his grandfather's arm. From Benny was 12 years old he became a regular part of Circus Schumann's program.
As Paulina and Albert Schumann's eldest son, it was in the cards that he eventually joined the management of Circus Schumann. But after the 1967 season, he left the family circus. It stopped two years later when the Schumann family could not agree with the circus building's owner at that time, the department store Anva, about the size of the rent, and Anva leased the building to Circus Benneweis.
From 1967 and 10 years on, Benny Schumann toured under the artist name Ric Benny with a plate juggling act in Europe, USA, Canada and Africa. In Denmark, you saw him in the touring circus M. Schumann, which was run by his uncle Max Schumann. Benny's father Albert Schumann was not involved in Max's circus, which closed at the end of the 1982 season.
In 1980 Benny Schumann and his wife Marianne started performing in Denmark with the artist and clown show Circus Clown. In 1984, Benny premiered on his one-man show "Hey Clown!", Appearing as a juggler, ventriloquist, tight wire dancer, magician and clown with gags and music he himself created. In 1993, Benny Schumann expanded the program to include guest artists.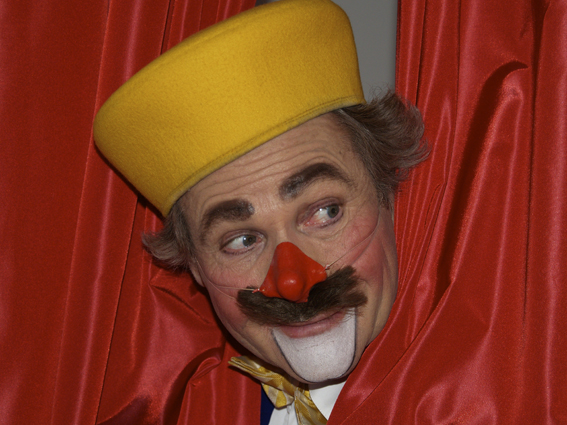 Photo: Per Krogh Petersen ("Mr. Sputnik")
In addition to performing with his one-man show, Benny Schumann became artistic director of the International Clown Festival in 1996, which was held in the years 1996 to 2006 every year in August at the amusement par Dyrehavsbakken north of Copenhagen. In 2005 he received the honour award « Bakken's Oscar ». From 2008 to 2012, Bakken offered instead a festival with international clowns, presented by Benny Schumann. In 2010, he was named honorary member of the Danish Artists' Association in recognition of his great career as an artist and creator and for his professional involvement for a number of years on the association's board of directors.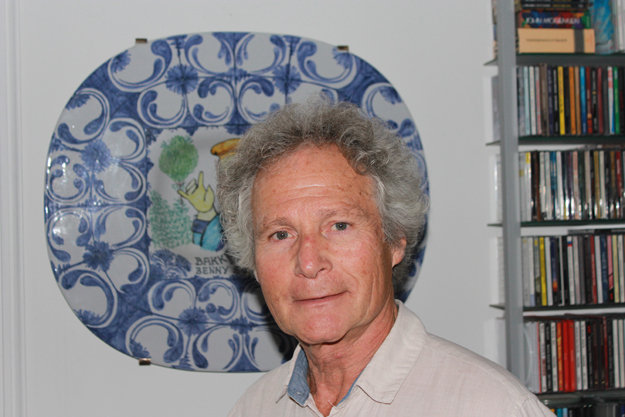 Benny Schumann. Photo: Ole Simonsen
Although Benny Schumann in Denmark is best known for his kid-friendly performances since sometime in the 1980s, in the 2017/2018 season he made a huge comeback as an "adult entertainer" at Wallmans in the Copenhagen Circus Building with the plate juggling act he first time presented in the same building 50 years earlier. In one of the reviews of the Wallmans show, it said: "As the only one of the premiere night's performances, Benny was rewarded with standing applause. My side lady refused to believe me when I told her that Benny was 72 years old and thus could be a father or grandfather to a large part of the other performers "
In August 2019 Benny Schumann received the Danish circus world most prestigiuos award, the Danish Circus Award, which was presented to him by Minister of Culture Joy Mogensen. His father Albert Schumann was the very first to receive the award back in 1968. Later that year Benny Schumann also received Truxa's Memorial Prize.
The Schumann family's artistic genes are inherited by Benny's and Mrs. Marianne's youngest daughter, the award-winning actress Patricia Schumann. Her elder sister Julia took as child part in some of Benny's performances, but as an adult, she chose to become a nurse as her mother.
Benny Schumann remains one of Denmark's most used artists. The corona epidemic has, however, meant a temporarily stop for performances. But Benny is looking forward to meeting his audience again.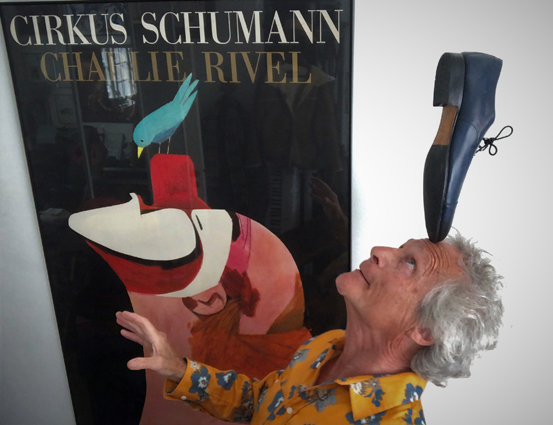 Private photo

14 May 2020
Circus Mascot cancels season 2020. TV2 Midwest tells that the Deleuran family has decided not to put up their the tent this year. Even if it ends up being possible later in the season to get off with some kind of tour.
- I don't think people are interested to come and sit close together in a circus tent, Daniel Deleuran says.
- After all, our audience is families with children, and grandparents with grandchildren, and grandparents are at risk. So I don't believe that they come with their grandchildren no matter even if it is allowed, adds Daniel's mother Marianne, who owns the small circus together with her eldest son Daniel.
An entire year without income is a tough game for Mascot, but they have experienced adversity before. Therefore, the family also believes that life with the traveling circus will continue next year.

9 May 2020
No circus performances in May. All Danish circus have now canceled the performances that were scheduled in May.
Zirkus Nemo, which until a few days ago had hoped for the premiere May 14 in Herning, writes (my translation) :
Unfortunately ... we are forced to change a large part of this year's tour. This means that we cannot carry out the planned performances in the next 6-8 weeks. All affected customers will be contacted in the very near future.
We are very sorry that we cannot implement the planned performances. At the same time, we have a great understanding of the situation we all face, and the decisions the government and the authorities have had to take to reduce the risk of infection.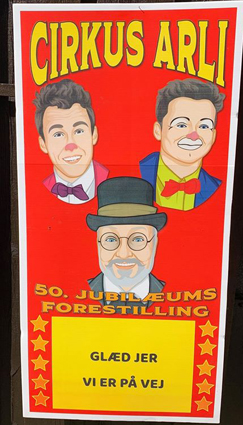 This year, Circus Arli should have celebrated their season no 50 and had made new posters with the clown and multi-artist Francesco Fratellini as well as Alexander and Martin Arli. Now it is doubtful whether they will be on the road before in 2021

9 May 2020
IT ALL HAPPENED IN THE IVORY COAST – memories from Zarro Zarro 1975 thru 1985.
Before that I had worked as a teacher of English and also a magic entertainer : NYBRO, GÖTEBORG, COPENHAGEN, PARIS, LIDO DI JESOLO /ITALY/ and ZAMBIA IN THE SUN, 1970 thru 1973/, teaching at CHIPEPO SEC. SCHOOL, really the bush, and magic shows in LIVINGSTONE and LUSAKA.
The culture of VIOLENCE that ZAMBIA got from SOUTH AFRICA where the apartheid system was still in use, was a real pest and put an obstacle to many activities.
Looking for a nice and pleasant niche, I landed a contract with THE IVORY COAST, in 1975, my first position was DIMBOKRO, a minor town located in between the savannah and the rain forest , I did some gigs when there were various festivities.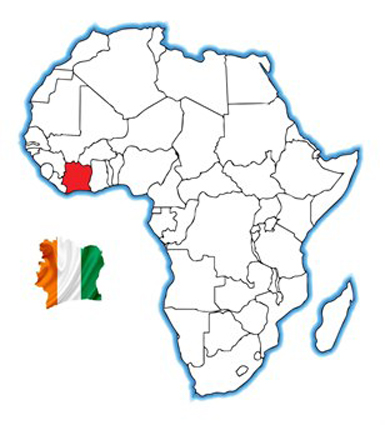 Ivory Coast, officially the Republic of Côte d'Ivoire, is a country located on the south coast of West Africa. It borders Guinea to the northwest, Liberia to the west, Mali to the northwest, Burkina Faso to the northeast, Ghana to the east, and the Gulf of Guinea (Atlantic Ocean) to the south
Here we found peace and quiet, the PRESIDENT FELIX HOUPHOUET-BOIGNY had chosen to call the country LAND OF DIALOGUE and HUMANISM.
Wife INGER LISE got a contract with a sec school, daugther MADELEINE was admitted to a good school, having a majority of Ivorian children.
Everything worked out!!
In 1977, an inspector turned up, as a result I was offered a post at ENS/ ECOLE NORMALE SUPERIEURE/, in ABIDJAN, it was a TEACHING TRAINING COLLEGE, we trained future sec school teachers.
In ABIDJAN, 40.000 expatriates were living and working, most of them French /historical and colonial reasons/, also many other nationalities, the Libanese arrived during and because of their hopeless civil war, mostly welcome since they had some professional knowledge.
We got a service flat in a highrise in one of the best areas, Madeleine went to schools sporting an international crowd of students.
We quickly understood that the name of the game were FLEXIBILITY and TOLERANCE:
The Ivorian people in the high rise, had, accordingly to AFRICAN customs and traditions, a number of female relatives from their village, those women were supposed to cater for food and meals, part of this implied the crushing of maize/corn/ in a wooden bowl, which made a thundery noise, the high rise shaked, it was said, even by the Ivorians that the high rise risked to be crumbling down.After some palaver/discussion/ , the Ivorian people living there, got the better of it, their sisters had to go downstairs to ply their business, like they do in the village !
DIALOGUE !!
The railway transport was quite good,at CHRISTMAS, I went by car to ABIDJAN, with MADELEINE, to do some festivities, INGER LISE was due to join me somewhat later.
The wagons were overcrowded with market mammies , and a goat or two, plus a load of chickens.
The number of people made for a difficult boarding of the train, a mammy loosened her baby from her back and -- leaning into the compartment by the window ... left it on INGER LISE's lap ....
This mammy got on board the train, dutifully got her baby back -- I have never had the courage to think of what we should have done, if my wife had turned up in ABIDJAN, carrying a baby, belonging to an IVORIAN mammy !
Occasionally I still have nightmares about this !!
------------------- end of 1st part, ZARRO ZARRO.

8 May 2020
Circuses in Denmark 2020 – status as of 8 May at 12 noon.
Earliest possible start of season 2020 is May 11, since until that date there is a ban on congregations of more than 10 people. The ban is expected to be extended to June 8 and then raised to 30-50 people. But as from 8 June there may be special rules for Culture - for example museums, theaters, art galleries, cinemas, aquariums. It must also include circus. But the maximum will be 500 persons.
Here are the latest announcements from each circus:
Circus Arena has given up touring this year, but looks forward to be on the road again in 2021.
Circus Arli: awaiting info from authorities regarding the possibility to tour.
Circus Baldoni is still hoping to start the season at Ordrup Park on May 21 and sell tickets online to this date and for the rest of the planned season.
Circus Mascot doubts that circuses will be on the road this year.
Zirkus Nemo is investigating the possibility of completing their tour starting May 14. They expect clarification in a very short time, and deeply regret the uncertainty we are currently in. It is still possible to buy tickets for shows from May 14 and the rest of the planned season.
Circus Trapez has so far chosen to cancel all performances until June 18. It is possible to buy tickets online for performances from 19 June and the rest of the season.

4 May 2020
Circus Arena gives up touring in 2020. They write (my translation):
NO CIRCUS PERFORMANCES IN THIS SEASON
This year, we should have celebrated our 65th anniversary, because since 1955 Circus Arena has every year brought children and adults together in the magic world of circus. We were really looking forward to see you, but this year, unfortunately, this will not be possible as we are not allowed to meet because of COVID-19.
As a result of the authorities' continued ban on congregations of more than 500 people until August 31 - the day after the last performance of the year should have been given - we do not have the opportunity to play any of our planned circus performances for you this year.
All affected ticket buyers who have purchased tickets through Ticketmaster will be contacted by Ticketmaster per. email with information on ticket procedures.
We want you all to get through this time in the best possible way, and we look forward to meet you in 2021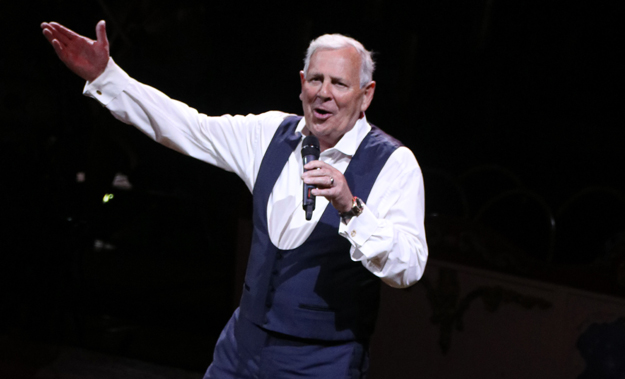 You will miss this view in 2020. Photo: Jacob Boas Leitisstein

3 May 2020
IT ALL HAPPENS IN PARIS -- during normal times, now suspended due to the pandemic.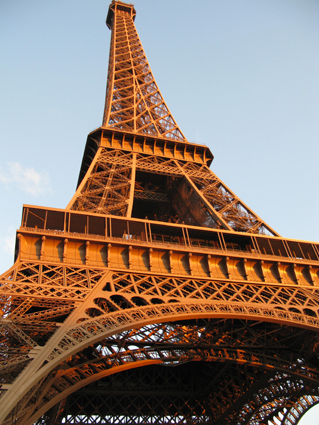 Paris is unique, sporting about 100 theatres, out of which about 50 regularly feature plays for the very young audience, French classics as well as foreign ones, for example tales by H.C. ANDERSEN.
Of course, new tales and plays are represented, also various programs including, music, dance, puppetry like PUNCH AND JUDY, there are about 10 of them, small showplaces that are to be found in the Parisian squares and larger parks.
Magic shows are well represented, as my readers have been able to see in my write ups, CIRCUS IN DENMARK, in fact from the very start of my contribution, years ago.
Other big cities don't have these possibilities viz. to give their offspring a taste and interest for -- theater and in some cases - opera.
The Danish capital COPENHAGEN has the PJERROT show in front of his little green house for the smallest fry, located in DYREHAVSBAKKEN, the world's eldest amusement park.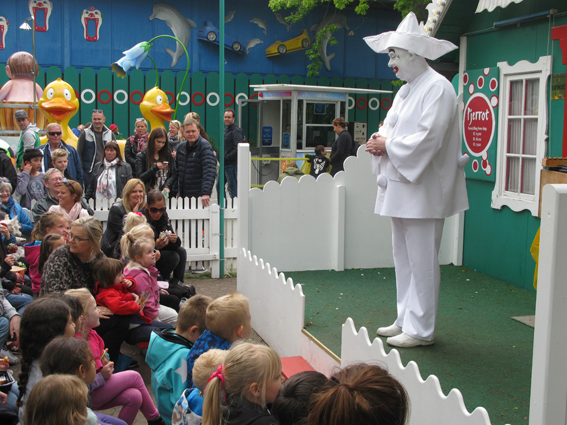 For 28 years in row the character as Pjerrot at the amusement park Dyrehavsbakken north of Copenhagen was performed by the artist and magician Kurt Flemming. But he chose to stop by the end of season 2020. He will be replaced by the actor Morten Eisner. Dyrehavsbakken should have opened season 2020 late April by due to the corona epidemic season opening is postponed. As it looks now they can open the season 8 June.
Unfortunately Paris has suffered from terrorist attacks, not frequently though. SECURITY has been beefed up.
The youngest children often go out on excursions, in an always relative security,together with their monitors and teachers, you can see them in the METRO, always wearing a cap of the same color and a vest carrying the name of the school, they move on hand in hand, 2 by 2, regrouping alongside the Metro walls as well as outside, the discipline is strict, all for their security and well-being - everyone is going to have a good experience and quality time, providing them with pieces of knowledge that can hardly be acquired in a school room.
One teacher supervises 15 kids, often some volunteering mums are present to help out.
All is done to make the children have a wonderful day and - learning a lot !

These excursions make all and sundry happy !!
IT ALL HAPPENS IN PARIS !!
------------------------------------ reported by ZARRO ZARRO.

1 May 2020
Circuses in Denmark 2020 – status as of 1 May at 12 noon.
Earliest possible start of season 2020 is May 11, since until that date there is a ban on congregations of more than 10 people. Unknown what the limit is after this date, however, it will not be more than 500. But many expect it to be lower. Unknown if there will be a requirement for a certain distance between spectators, which can make a tour unprofitable.
It is therefore very uncertain whether the Danish circus will be touring this year.
Here are the latest announcements from each circus (my translations):
Circus Arena. Ticket sale for performances in May is now stopped. Cirkus Arena writes: All ticket buyers at Ticketmaster to performances until May 28 have been contacted by email. If you have a ticket to a later date you will hear from us. If you have booked tickets by contacting our ticket office, there is also info on the way.
Circus Arena hopes that the season can start on June 3 in Fredericia. Tickets to performances to this and later dates can be purchased through Ticketmaster.
Circus Arli: awaiting info from authorities regarding the possibility to tour.
Circus Baldoni. René Mønster Baldoni writes: "As a circus director, this time is one of the worst I have ever experienced. We are stranded indefinitely and we can only wait for the government to announce that it is now safe to be on the roads again ... I hope we soon can meet in the circus tent. We have clear plans for how we can have performances and at the same time ensure that there is a social distance between audience members …"
Circus Baldoni hopes to start the season in Ordrup Park in Copenhagen on May 21 and sell tickets online to this date and for the rest of the planned season.
Circus Mascot doubts that circuses will be on the road this year.
Zirkus Nemo considers the situation and writes: Following the latest announcements, we are currently investigating the possibility of completing our tour starting May 14. We expect clarification within a very short time, and very much regret the uncertainty we are currently in.
It is still possible to buy tickets for shows from May 14 and the rest of the planned season.
Circus Trapez writes: In order to slow down the spread of corona and protect our visitors, artists and staff, we have chosen to cancel all performances until we are given the green light by the authorities. It is possible to buy tickets for performances online to performances from 19 June and the rest of the planned season.
In Norway Circus Arnardo has cancelled season 2020 and Circus Agora postponed the season opening until further notice. In Sweden Circus Brazil Jack, Circus Olympia and Circus Rhodin have postponed season opening until further notice. In Finland Circus Finlandia has cancelled all performances in April and May.

1 May 2020
Public support for Norwegian circuses. From Norway Thorbjørn Klæbo Flo writes (my translation): Circus news in Corona times. Circus Agora has received Corona support of NOK 1,897,901. Circus Arnardo has received NOK 4,767,056. As a result of the support the two Norwegian classical circuses survive the crisis so far. The grant comes via the Norwegian Arts council.
The Norwegian Arts Council support arts and culture across the country. The amounts for the two circuses match what they had applied for. 1,897,000 NOK corresponds to approx. 170,000 Euro. 4,767,056 NOK corresponds to approx. 420,000 Euro.
The money comes from the Ministry of Culture's compensation fund for organizers in the cultural sector, from which 232 organizers have received a total of NOK 217 million.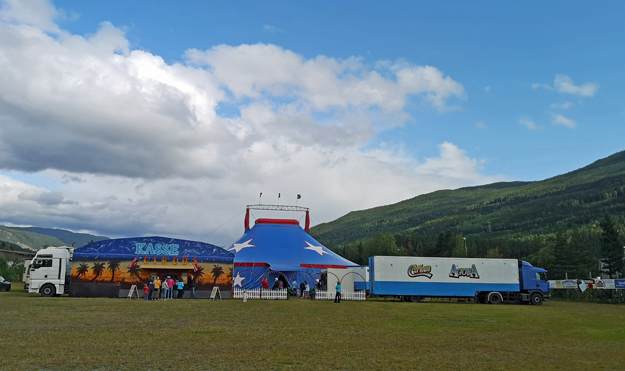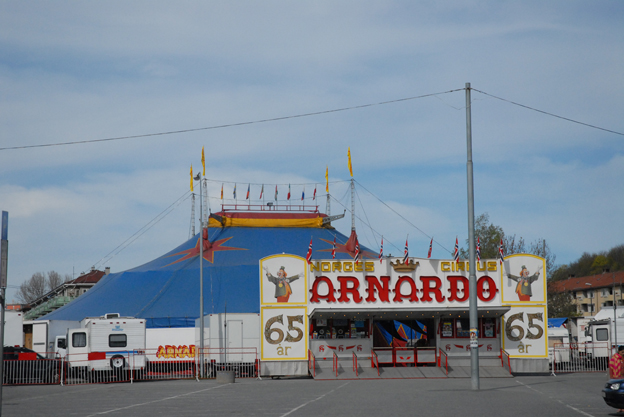 The public support makes is possible for Circus Agora and Circus Arnardo to survive despite missing income in season 2020

26 April 2020
IT ALL HAPPENS IN PARIS, part 2.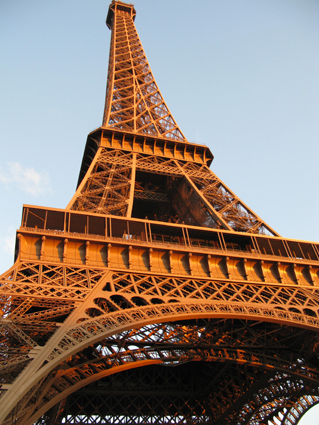 The city of PARIS used to say: PARIS LOVES CIRCUS, but unfortunately incidents have occurred: the local government has been pressed by "activists" who combat animals in circus, this issue is for the government to decide, and no decree has so far been conducted.
However, the damage is done, CIRQUE PINDER whose main attraction is FREDERIC EDELSTEIN, the owner GILBERT EDELSTEIN'S son, featuring his lions and tigers, has discarded the predators, presenting a rather meagre show, on top of their economic problems - losing the favours of their public, used to attend a marvellous show.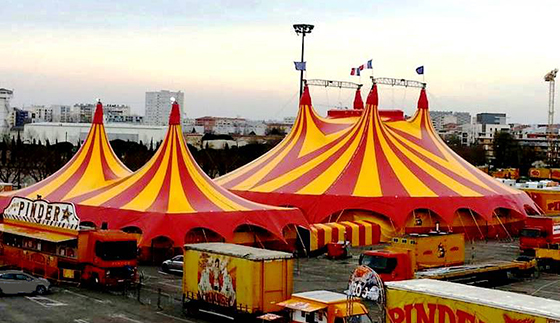 CIRQUE D'HIVER BOUGLIONE featured a program without wild animals, but their position is stronger than that of the other circuses.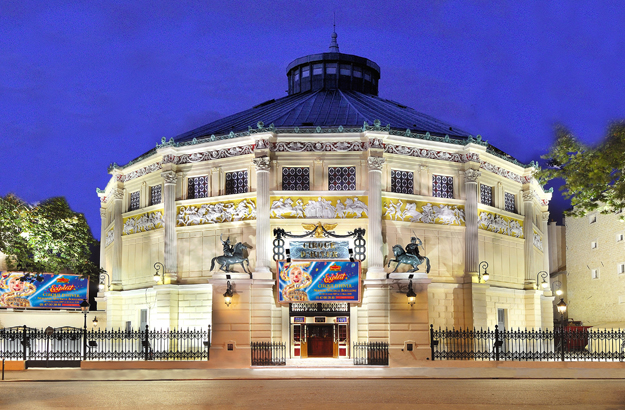 Cirque d'Hiver ("Winter Circus") opened in 1852
ARLETTE GRUSS left Paris last NOV, as the Metro went on industrial action.

ALEXIS GRUSS still has a strong position, featuring mainly horsemanship.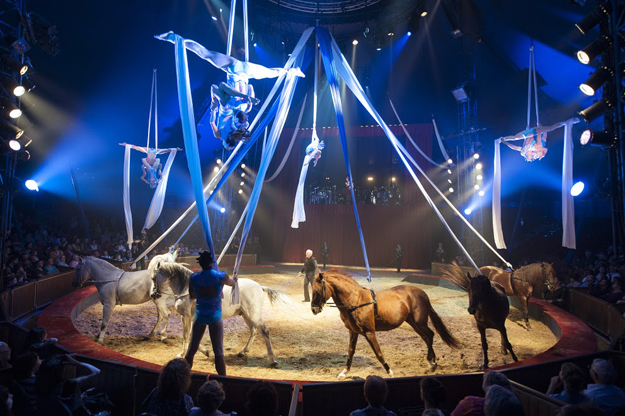 CIRQUE MORENO BORMANN remains in Paris all the year around, they seem to make it, as they do most of the program themselves, and having no transport expenses.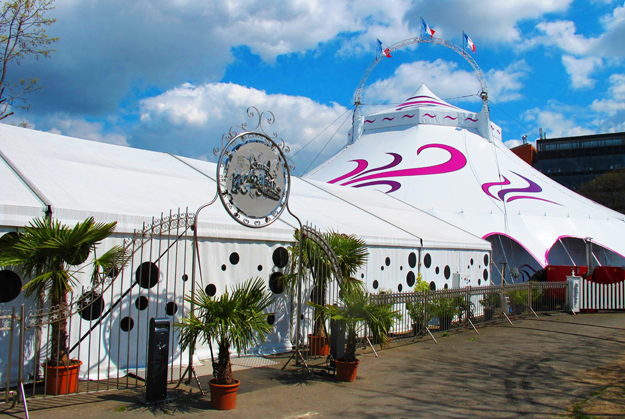 Photo: Piet Hein Out / Cirque Bormann Moreno
CIRCUS has always had difficulties, nowadays we see less circus enterprises turning up for the big X-MAS SEASON.
CIRQUE GONTELLIS is a small family circus, featuring a unique program geared to the smallest fry /3 - 6/, in a nicely decorated tent, holding 100 people, the program: juggling, rola bola, acrobatics on tight rope, cycling, hula hoop, magic, a goat, white mice, a little cat, a cowboy act, a CLOWN act that always brings the roof down - yuppie !!
This highly recommended circus plays in the parks of Paris summertime, in MARSEILLE area in winter.
See more: www.les-gontellis.e-monsite.com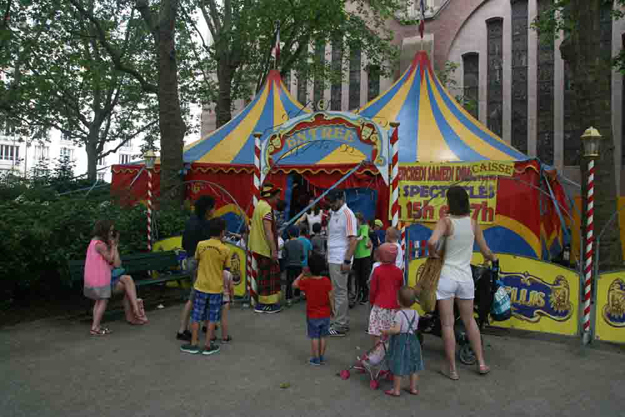 Photo: © Kent W. Dahl / Eyefish Media
THEATERS, about 100 , do play for adults and children, ATELIER THEATRE/ LA SCALA, a variety of programs, the minor theatres play for all public, in the afternoons /WEDNESDAY-SATURDAY-SUNDAY/ programs for the kids, THEATRE ALAMBIC/ COMEDIE SAINT MICHEL/GABILOLO sketches, OPERA MAGIQUE , opera + magic/ YOGANE family shows of magic/.
VOILA - a rich offering of cultural events, particularly important as it gives the children, our audience of tomorrow, an insight that tells them about the pleasure of LIVE ENTERTAINMENT, as opposed to the electronical one.
I quote Danish Artists' Union, being the Danish trade union for performing artists: LIVE ENTERTAINMENT FOR LIVE PEOPLE.
See more: OFFICIEL DES SPECTACLES, sold in all newspaper stalls and INTERNET.
--------------------------
End of this write up by ZARRO ZARRO.

24 April 2020
Circuses in Denmark 2020 - short status. Earliest possible start of season 2020 is May 11 as there until this date is a ban on congregations of more than 10 people. Unknown what the limit is after this date, however, it will not be more than 500. But it can also be lower. The final figure will not be published until a few days before 11 May. Unknown if there will be a requirement for a certain distance between spectators, which can make a tour unprofitable. For example, a requirement of 2 meters distance means that Circus Arli can just have 25 spectators in the tent!
Conclusion: Still very uncertain if the Danish circuses can tour this year.
Four of the Danish circuses continue to sell tickets for performances in May hoping a tour will be possible: Arena, Baldoni, Nemo and Trapez. Arli, Krone and Mascot will not sell tickets before they know a tour is possible.

24 April 2020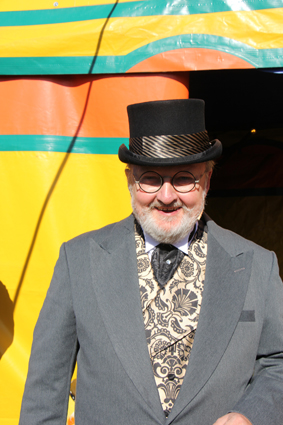 On 26 April Martin Arli of Danish Circus Arli can celebrate his 60 years birthday. When he was born his parents Lotte and Søren Arli worked for Danish Circus Moreno. In the following years Martin followed his parents when they worked in circuses in Denmark and abroad with their comical juggling act Lott & Arli. Furthermore Søren worked as white faced clown and Lotte as mind reader under the name Madame Zarina.
In 1965 Lotte and Søren was touring with Danish Circus Moreno. The main star this season was Charlie Rivel. Martin remembers how he every night sat in the dressing room and watched Charlie painting his face. That's when Martin decided that he wanted to be a clown.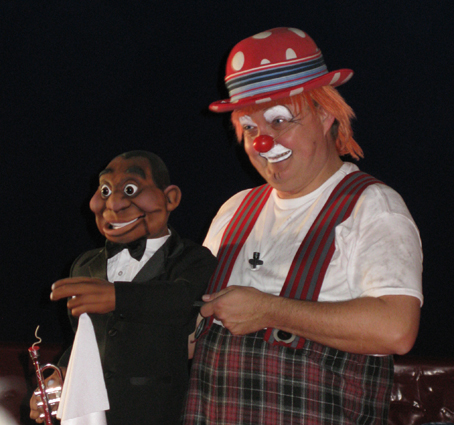 The clown Martino aka Martin Arli 2010
As many artists Søren and Lotte Arli had a dream about establishing their own circus. In 1971 their dream came through when they opened Circus Arli in a tiny 1-pool big top they had made themselves. The staff consisted of Søren, Lotte and their son Martin (born 1960). The first two seasons was spent in Jutland Mini Zoo in Haustrup.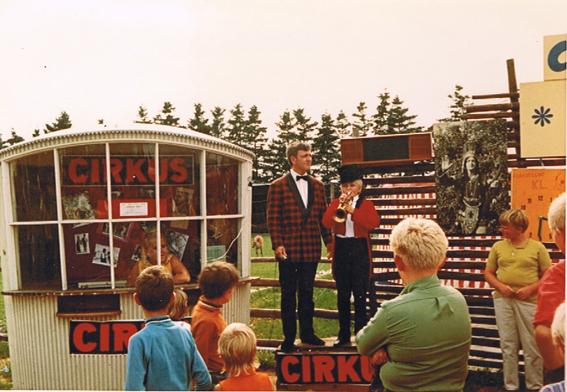 Søren and Martin Arli in front of the circus in 1971. Photo from the Arli family collection
Since 1973 Circus Arli has toured Zealand with a two pool big top with seating capacity of 220 people. Family members do the acts: Martin and his wife Bettina, their son Alexander (born 1987) assisted by a couple of foreign artist of good standard. The performance is charming and very friendly to children who especially seem to like the clown act Martino & co. However also grown up persons like the special atmosphere in the tiny circus and for many families it has been a tradition for many years every year to visit Circus Arli. They have visitors who started coming with their children and now bring their great grandchildren!
Søren Arli passed away in 2011. But already at that time a sliding generation change was in going on and fully completed before Martin lost his mother Lotte in the autumn 2019.
In recent years, the year has been divided between touring life from April to August and work with Hans Christian Andersen's Christmas market in Copenhagen, a market Martin Arli has been running since 2014. Both a circus tour and a Christmas market require a lot of preparation, so do not think that the other months of the year is pure vacation!
Since 2015, Martin has been chairman of the Association of Circus Directors in Denmark and has done a great job for the circus industry. In 2018, he received the Danish Circus World's most prestigious award, the Danish Circus Award which was presented by the minister of cultural affairs Mette Bock.
The 2020 season is Circus Arli's season no.50, and the family had looked forward to the anniversary season, which should have started on March 29 at The Mill Square in Fløng. However, the Corona virus has meant that the premiere has been postponed until further notice. As it looks now, it is doubtful whether any Danish circus will be on the roads this year.
Usually, the birthday with the round figure would be celebrated together with good friends. But just like the season opening the birthday party is postponed until we get more normal conditions in Denmark and the rest of the world.

21 April 2020
Ban against large congregation. The Danish government has decided that a ban on large congregations will be in force until 1 September 2020.
The limit for large congregations is set to 500 persons. The decision is made as a result of the health authorities' assessment that it is still uncertain how the corona epidemic will develop in Denmark over the coming months. However, the ceiling of 500 people for large congregations will for the time being not have any practical significance as the ban on gathering more than 10 people is extended up to and including 10 May 2020.
The government closely monitors the development of the epidemic and therefore also adjusts the limit on how many people are allowed to congregate on an ongoing basis.
It means that the limit very well can be lower than 500!
For the circus, this means that performances with room for more than 500 people can't take place until September. The circuses which can accommodate more than 500 may consider selling just 500 tickets. However, the situation remains uncertain for all circuses, even for those with less than 500 seats in the tent. As mentioned, it is not certain that the figure will be changed as early as May 11, and there may be special provisions on distance between each member of the audience.
Furthermore, the industry must take into account that the audience may not be motivated to sit as close to each other as they usually do in a circus tent. A large audience group is grandparents with grandchildren, and the authorities so far urge grandparents to avoid close contact with their grandchildren. It makes it impossible for a circus tour with grandchildren, unless you are so frivolous to blow on the advice.
So it remains doubtful whether there will be a season 2020 for the Danish circuses or not. And whether there are support packages which will make it possible for them to survive a season where they have expenses but no income.

20 April 2020
IT ALL HAPPENS IN PARIS -- during normal times -- but not now /APRIL 2020/ due to the CORONA epidemics: PARIS - the city that never sleeps, always swinging, loudly full of life -- is reduced to silence, emptiness and seems abandoned - PARIS is the main tourist attraction of the entire world, in fact number ONE, welcoming 29 million people each season.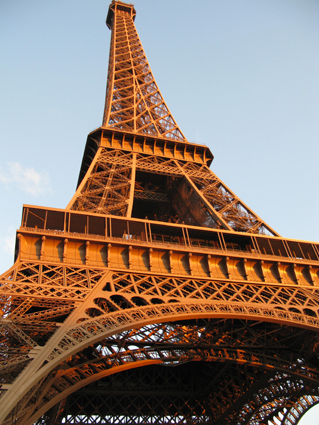 Below please find a résumé of.... normal life in PARIS:
The place in front of the MUSEE POMPIDOU, inaugurated in 1977, called BEAUBOURG, still sports some street performers, trends and fashion soar and plummet, however the area is still very much alive and kicking, having a bit of good luck you can see rather good acts, this being the case of the SAINT GERMAIN area as well, particularly near the cafés LES DEUX MAGOTS and FLORE.
More important showplaces: MOULIN ROUGE/LIDO DE PARIS/PARADIS LATIN all have great VISUAL SHOWS, dancing and tableaux vivants performed by numerous dancers, boys and girls, out of which some do refer to the history of Paris, --- CASINO DE PARIS/ CRAZY HORSE/ FOLIES BERGERE feature shows of great quality, FOLIES BERGERE recently had a unique show, inspired by the French fashion creator JEAN-PAUL GAULTIER and his life.
Frequently these houses do engage special acts, jugglers, acrobats, illusionists.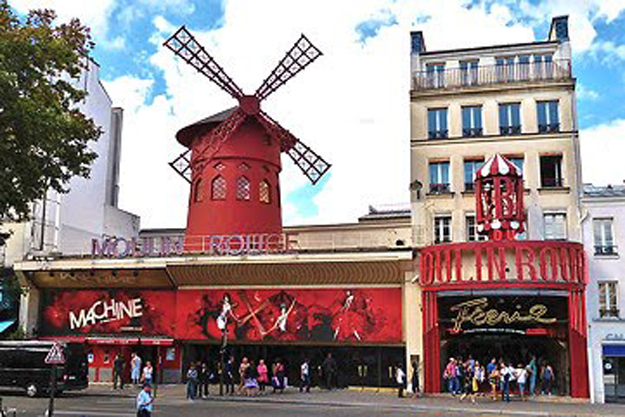 Moulin Rouge (French for "The Red Mill") is a cabaret in Paris, France. The original house, which burned down in 1915, was co-founded in 1889 by Charles Zidler and Joseph Oller, who also owned the Paris Olympia. Close to Montmartre in the Paris district of Pigalle on Boulevard de Clichy in the 18th arrondissement, it is marked by the red windmill on its roof. The closest metro station is Blanche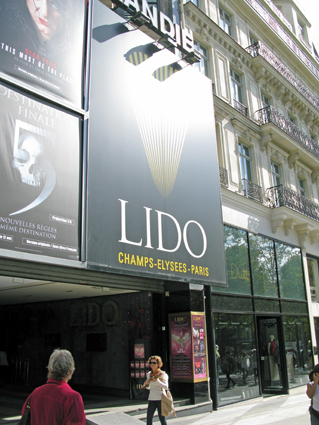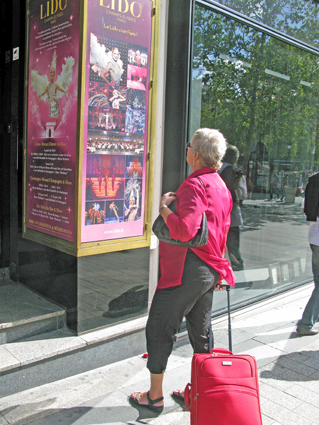 Le Lido is a cabaret and burlesque show located on the Champs-Élysées in Paris, France. It opened in 1946 at 78 Avenue des Champs-Élysée and moved to its current location in 1977. The entrance is not impressive and looks almost as an entrance to a cinema. But the auditorium inside is magnificent!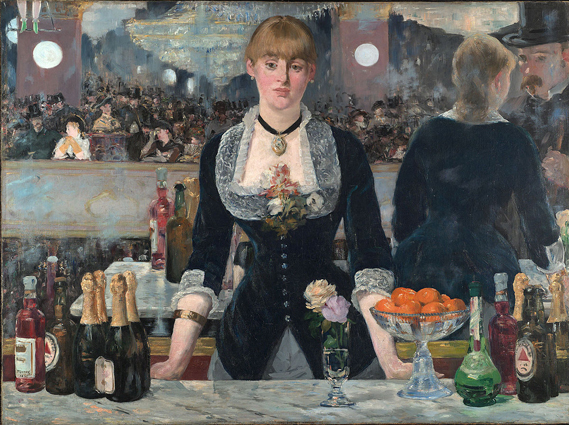 In 1882, Édouard Manet painted his well-known painting A Bar at the Folies-Bergère which depicts a bar-girl, one of the demimondaines, standing before a mirror.
The Folies Bergère opened on 2 May 1869 as the Folies Trévise, with light entertainment including operettas, comic opera, popular songs, and gymnastics. It became the Folies Bergère on 13 September 1872, named after nearby rue Bergère.
The smaller CABARETS /FOLIES PIGALLE/LA PARISIENNE/CABANA RYTHM/TOPLESS/ have to some extent disappeared, converted either to shops or to bars of which the latter ones sport hostesses who may.... offer discrete and tariffed services.
Working conditions were deplorably bad, socially speaking, the pay could be put on a very small spot, performers who loved to ...... perform - were exploited.
On the positive side one got into the habit of tackling a - sometimes - difficult audience, while doing several cabarets every night, and - very important - if you got registered with the TAX authorities / it didn't happen automatically, one had to insist /, both the cabaret and the performer paid a sum to benefit from NATIONAL HEALTH coverage, paid holidays and, later on a pension.
This procedure was used during the time when visual performers acted at the intermission between 2 films at the cinemas, now long gone.
When these cabarets had their highlights, they all were spots where people could spend an enjoyable evening - PARIS BY NIGHT - sipping champagne while enjoying good special acts, geared at a primarily foreign audience, but at people from the French provinces as well, - sympathetic and offering quality time, while visiting PARIS !!
END OF PART ONE. To be continued next week.
---------------------------------------- reported by ZARRO ZARRO.

17 April 2020
Season opening status. It remains unknown when the Danish circuses can start the 2020 season. The earliest possible day is as it looked 17 April at noon 10 May, but the date may very well be pushed. Furthermore, it remains uncertain when a congregation is considered as large and therefore banned until the end of August. If the date 10 May isn't pushed and the number of seats does not make a circus a large gathering, Circus Arena plan to open the season 11 May in Frederikshavn, Zirkus Nemo 14 May in Herning, Circus Trapez 18 May in Haderslev and Circus Baldoni 21 May at Ordrup Park in Copenhagen. The other Danish circuses will not decide on an opening day until they know what's possible.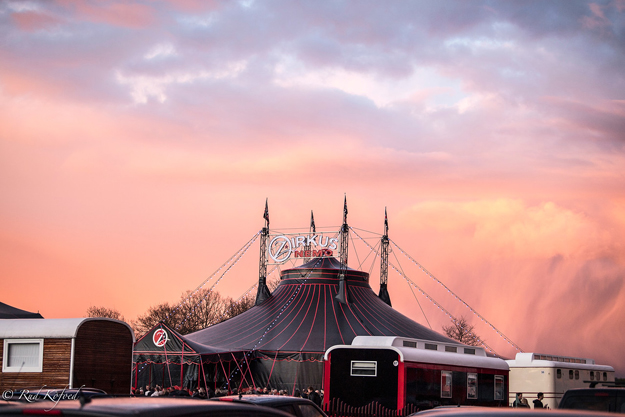 Circus owner Søren Østergaard hopes Zirkus Nemo can start the season on May 14 in Herning. Photo from 2017, shot by Rud Kofoed / Ajourpress

17 April 2020
The Corona epidemic is also affecting the artists. Danish circuses are as circuses in other countries severely affected by the corona epidemic, which prevents them from touring. But the epidemic affects not only the individual circus, but also the artists and other staff members.
Artists are usually paid per performing day and guaranteed a certain number of performing days per month. However, if the circus due to governmental orders is not allowed to have performance the guarantee will lapse and no salary is paid. The contracts used by Cirkus Benneweis stated as follows:
During public holidays, when no performances may take place according to existing law, no salary will be paid. The same goes for force majeure-situations. Storm which could tear down the circus tent, national mourning, war, fire, strike, police restrictions or other similar circumstances are "force majeure".
The contracts used by the Swedish Circus Maximum stated:
No salary will be paid on public holidays whence performances are prohibited by law. National mourning, fire, war, general strike, Acts of God, epidemics … which make it difficult to create circus or unadvisable to admit audience into the tent shall apply as force majeure.
With clauses like these, artists are not entitled to any salary if the circus is not allowed to have performances. In addition, due to travel restrictions, many artists have not been able to arrive to the circus which has booked them.
Some of the artists who should have participated in the Norwegian Circus Arnardo's performance had arrived before it was necessary for the large Norwegian to cancel this year's tour. They are now in their caravans in an industrial area in Lillesand, completely without income, and have to manage for saved funds. If they have saved funds!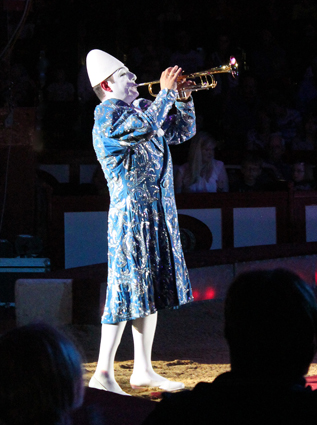 Among the artists stranded in Norway is the white clown Yann Rossyan (Yann Rossi) with his wife and son. "My family has been in the circus for seven generations. For three generations, "the white-faced clown" has been our specialty," he said to the Norwegian newspaper Verdens Gang. He continued: "If we can go out with the circus and work again, it's fine. But if not ... It will be difficult" (my translation)
As far as I known, none of the foreign artists who should have participated in this year's Danish performances had arrived to Denmark before the government closed the borders. But a group of 9 tent workers which Cirkus Baldoni had arrived and are now at Baldoni's winter quarters.
When or if the Danish circus can start season 2020, it is possible that it will be with other artists than originally planned

11 April 2020
My trustworthy and reliable Paris correspondent ZARRO ZARRO has sent me this write up of a show he saw before Paris' about 100 theatres were paralyzed by the pandemic. ZARRO ZARRO is looking FW to seeing the re-opening of the show- and theater life that normally flourishes in Paris. This time will come again - patience !!
IT ALL HAPPENS IN PARIS -- normally always possible to attend good shows, in my write -ups I give the main attention to visual events, also those that play all the year around.
L'ANTRE MAGIQUE / THE MAGIC PLACE/ is very active, and has been so for 25 seasons by and with magic entertainer CHRISTIAN GAMBIN, assisted and supported by CHANTAL CRUAUD, which translates into a programmation that not only features MAGIC SHOWS, but sketches and theater plays geared at the small fry.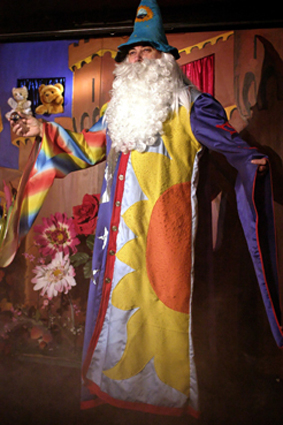 L'ANTRE MAGIQUE is a minor theater, already mentioned here, it is localized in an ancient shop, refurbished in red and gold, a good PA-system, theatre chairs in red and gold as well,
a sufficient stage surface, matching decorative pictures and posters on the walls, the theatre is authorized after control by Police and Firefight authorities, for less than 100 spectators.
Situated in one of the best areas in Paris, you can safely walk around, it is a little pearl of culture, displaying humour, human warmth, featuring live artists who care well for the kids and their parents, presenting hilarious, living programs without electronic items, it all boils down to happy kids who enjoy an unforgettable and thrilling afternoon - leaving the spot happily carrying a "magic" balloon.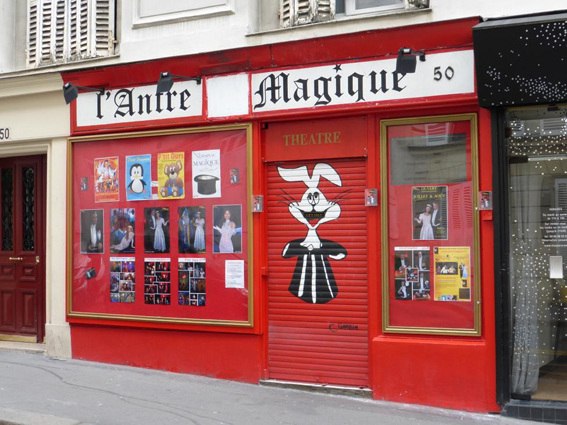 Absolutely worth seeing, very visual which makes that even not French speaking kids can enjoy this show !!
Click here and here to see two video teasers for Gambin's performances
IT ALL HAPPENS IN PARIS !!!
See more: www.antremagique.eu
Venue: L'ANTRE MAGIQUE, 50 rue SAINT GEORGES, 7509 PARIS. Metro: Saint Georges.
---------------------------------- reported by ZARRO ZARRO

10 April 2020
Season opening status. The Danish prime minister has announced that the ban on assemblies of more than 10 people will be extended until May 10. Due to this no circus can open the season earlier than May 10. Whether the assembly ban is extended further, no one knows. Furthermore, the Prime Minister has announced that there will be a ban on large assemblies until the end of August. She has not disclosed when an assembly is considered large. It is therefore unclear whether this ban will affect the Danish circuses. Circus Arena seats almost 1,800 spectators. Circus Arli has room for 220 spectators. Circus Baldoni has room for 483 spectators. The Circus Mascot can seat 270 spectators. Zirkus Nemo can seat 588 spectators. Circus Trapez seats 550 spectators. Arena, Baldoni and Nemo have chairs or plastic bucket seats on all seats. Arli, Mascot and Trapez have benches on the grandstand.
Here is a status of what the Danish circus had published about the season opening and tour on March 10 at 10 a.m. There may have been changes later.
Circus Arena writes (my translation): Unfortunately, due to the COVID-19 we cannot have performances as planned. We are currently working to find a solution. All ticket buyers will be contacted by our ticket office at mail. We hope you will be patient with us in this regard, as there are a large number of ticket buyers - but everyone should be notified. We also hope that you will support us and our colleagues during this difficult time. That way, there will continue to be a cultural life when we are on the other side of COVID-19. Take good care of yourself and each other until we see you again
Circus Arli has chosen to postpone the premiere of their 50th anniversary performance until further notice
Circus Baldoni hopes to start the season May 21 at Ordrup Park, Copenhagen. Subject to changes due to the corona situation.
Zirkus Barnly has chosen to take a break in 2020 and will therefore not be on the roads until 2021.
Danish Circus Krone, which paused in 2019 but had announced to tour again this year, has not yet announced the premiere date.
Circus Mascot has chosen to postpone their premiere until further notice.
Zirkus Nemo hopes to open the season 14 May in Herning. Subject to changes due to the corona situation.
Circus Trapez hopes to be able to start the season 18 May in Haderslev but anticipates that the season start may be even later.
Wallmans in the Copenhagen Circus Building has cancelled all performances until 29 May.
The Circus Museum in Hvidovre, Copenhagen is closed until further notice.
The circus museum in Rold usually has winter closed until May 1st. This year, however, they have postponed the season opening to June 2

4 April 2020
MEMORIES and SOUVENIRS --: Paris and elsewhere, as everything blends together !!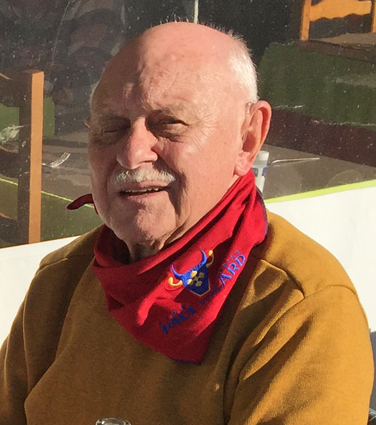 Swedish magic entertainer Zarro Zarro has since 2007 been a prolific contributor, sending write - ups about mainly visual shows in Paris to Circus in Denmark. Zarro Zarro, aka Rolf R. Wollert was born in Stockholm in 1932, and was busy as a Secondary School teacher in Sweden, then in Zambia and the Ivory Coast, where he acted as a professional tutor for teachers-to-be. He lives in Paris since 1993, teaching practical English to secretaries
Waiting for the reopening of Paris' showplaces, allowing me to resume my write ups, please find some memories that might provide you with a certain background.
Always have I attempted to occupy 2 seats, that of a teacher and that of an entertainer which sometimes has brought a few clashes. everything doesn't fit together.
Some flashes from a wonderful career: I had an act, basically geared at an adult audience, if kids were present, nobody bothered, and it was a clean and healthy entertainment, not pretentious, that went down rather well.
Before Paris - I had performed: GOTHENBURG, AARHUS, COPENHAGEN, ITALY etc...being accepted, I got the - possibly - crazy idea of getting some objective proof of the quality of my act.
I discarded the idea of competitions, as there is no way you can objectively judge any kind of art - judgements remain subjective.
In Paris I found the MUSEE POMPIDOU, called BEAUBOURG, where any artist could try his pot luck, if the program or the performer didn't please the very mixed audience, they just walked away.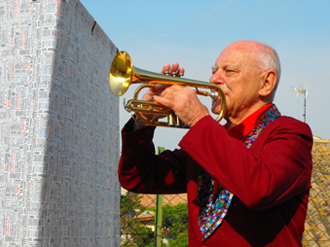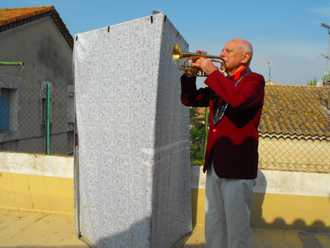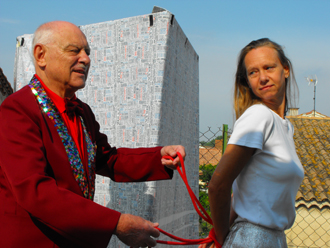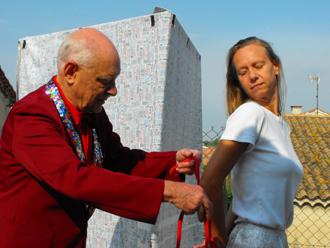 For the photographer Zarro Zarro shows how his show began when he appeared as a street performer: he blew the trumpet to make the audience aware that there was now something exciting to watch. Photos shot on the terrace of Zarro Zarro's in Arles. Photos BONNET, ARLES. Zarro Zarro's and his daughter's favorite act was The Spirit Cabinet. Click here to read his article about this act.
It proved to be the very best of schools - paid in cash and clear message !!
My act, 10 min. was accepted - which opened my mind to another challenge: CABARET in Paris.
I had studied this environment as well: drinks, show and dancing to live music, some rather discrete prostitution occurred, as performer one had max 10 min. on stage, the aim was to sell alcohol, mostly champagne, which gave an income, contrary to the performers who were there to make people happy, but didn't account for any financial gain.
Our payroll could be found on a very small spot, but we were, professionally speaking the winners, featuring sometimes several cabarets in one night, between 22 - 02.
The performers held a low profile, we were rather a financial burden, but necessary for the cabarets to call themselves so, tourist groups were happy to see PARIS BY NIGHT, always a good atmosphere and happy people!
This happened 1975 - 1985, always in AUGUST, when the house-performers went on holiday, in fact I was on holyday as well, as the school, ABIDJAN, IVORY COAST, where I taught, closed for summer.
ABIDJAN proved a good market: Europeans, mostly French/ for historical, colonial reasons/
were keen on entertainment, my daughter MADELEINE and I performed at hotels, commercial events, all kinds of festivities and schools, no real competition, we returned each year, featuring THE SPIRIT CABIN, Madeleine had her proper act, never assisted me.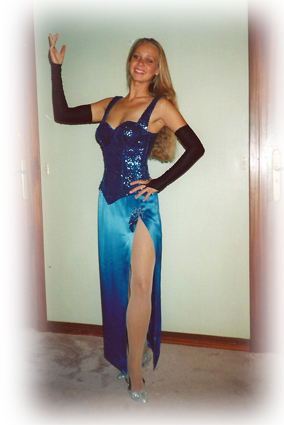 Zarro Zarros daughter Madeleine in her stage dress
We toured other African countries, having lots of short religious holidays / 40 % Moslems, 40 % Christians, never any problem/, but that is as RUDYARD KIPLING says: another story.
Now when lights are going out, slowly and rather pleasantly,
I feel comfortable stating in a humble way, and deeply grateful for all that it was given me to see: THANKS FOR THE RIDE !!
-----------------
Paris, April 2020.
ZARRO ZARRO.

2 April 2020
Obituaries of artist who has performed in Denmark
Christian Gärtner. In 2007 and again in 2008 and 2010, Circus Benneweis had engaged the brothers Alex and Christian Gärtner to present their two elephants. The first year, they also did an act in a wheel of death. Since the Benneweis seasons, they have performed in a number of other circuses. In recent years Christian Gärtner has toured with "Gärtner's Elephant Show" in some of the countries that were previously part of the Soviet Union. They had now arrived in Belarus, where Christian Gärtner lost control of his car near Minsk and died following the accident. He was just 36 years old and leaves behind his spouse Maily Monni and two children of 4 and 8 years respectively.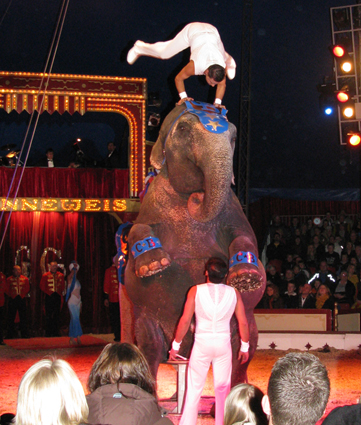 Alex and Christian Gärtner at Benneweis in 2008
Clown Fernando alias Sjaf Xhaflaire from the well-known clown troupe Fernandos passed away on March 31. He was 83 years old. Fernandos performed in a number of leading European circuses. In Denmark they were with Circus Dannebrog in 1979 and 1984, with Circus Arena in 1989 and with Circus Benneweis in 1996, 1997 and 1999. In addition to being a good clown, he was an excellent musician who could play on a wide variety of instruments. "Very sad news! We had many great, enjoyable moments with Fernando! R.I.P." Diana Benneweis writes (my translation).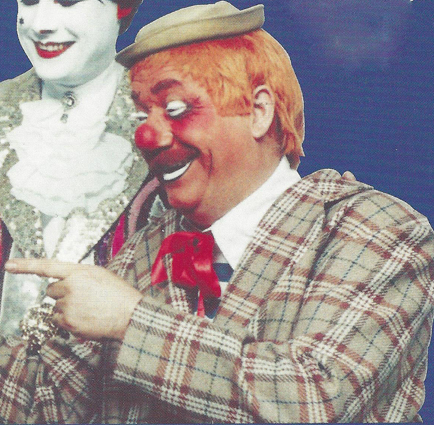 Fernando aka Sjaf Xhaflaire

2 April 2020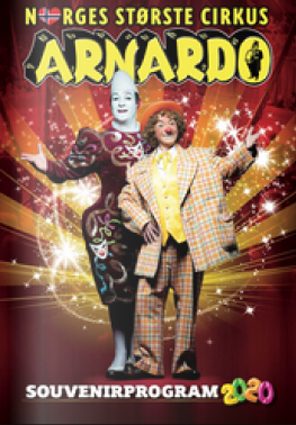 Circus Arnardo program 2020. Due to the corona virus, the large Norwegian Circus Arnardo has given up touring in 2020. But they had prepared this year's printed program, and they now sell it online in a digital version for 2.80 Euro. It is on 28 pages and includes:
Front page with photo of Duo Rossi (Yann Rossi and his wife) - you can read more about the popular clown duo inside the program.
Norwegian Minister of Culture and Equality Abid Raja's greetings and foreword.
Throughout 8 pages you can dive into the history of Circus Arnardo through old pictures and documents.
All the artists in this year's show are presented.
Circus director Are Arnardo's addresses in the foreword a highly relevant topic: Tomorrow's Circus! (Written before the corona crisis)
Click here for more info with the opportunity to buy the program.

31 March 2020
Juggling Festival cancelled. There will be no circus and juggling festival in Hangö, Finland, this year. They write (my translation):
The central organization behind the European Juggling Convention postpones the festival because of the corona epidemic.
The intention was that the world's largest juggling festival would be organized in Hank on July 11-19.
- We are of course hoping for free movement in July, but already the financial risks of booking trips here for the circus artists made the organization behind the European Juggling Convention to decide not to organize a festival in Hanko this summer, says Hangö's tourism manager Jon Lindström.
Instead, the festival will take place next year.

30 March 2020
New tent to Swedish Circus Brazil Jack. The Swedish circus has acquired a brand new tent for use in season 2020. The old was, to say the least, worn out, see photo. Whether there will be a 2020 season at all for Brazil Jack and other Swedish circus has to be seen.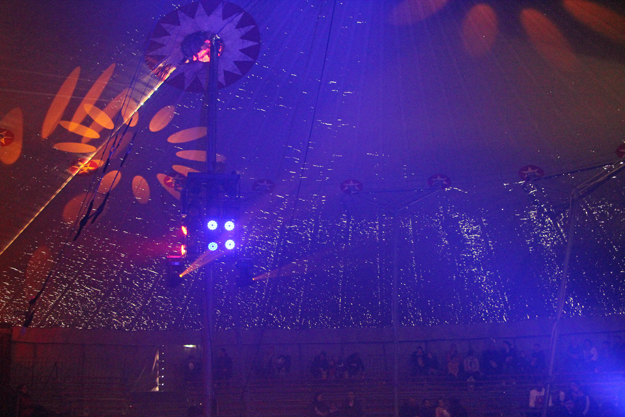 The white spots are not stars on the canvas or errors in the picture, but the places where the old big top was worn. Photo from 2019

27 March 2020
Changed season opening. Due to the corona situation, the Danish circuses have decided to push the opening days. Here's a status as of March 27 at 4 p.m. There may have been later changes.
Circus Arena hopes to premiere in Horsens on April 16. Subject to changes due to the corona situation. The cancelled performances in Copenhagen in March and April have been moved to August 20-30.
Circus Arli has chosen to postpone the premiere of their 50th anniversary performance until further notice.
Circus Baldoni hopes to start the season on April 25 in Roskilde. Subject to changes due to the corona situation.
Zirkus Barnly has chosen to take a break in 2020 and will therefore not be on the roads until 2021.
Danish Circus Krone, which paused in 2019 but had announced to tour again this year, has yet to announce the premiere date.
Circus Mascot has postponed their premiere until further notice.
Zirkus Nemo has pushed the premiere until May 14 in Herning. Subject to changes due to the corona situation
Circus Trapez hopes to premiere April 17 in Esbjerg. Subject to changes due to the corona situation
Wallmans in the Copenhagen Circus Building has cancelled all performances until 29 May.
The Circus Museum in Hvidovre, Copenhagen, is closed until April 14, 2020. The closing period may be extended.
The circus museum in Rold has, as always, closed winter until May 1st. The closing period may be extended.
Celebration of World Circus Day is in Denmark is pushed from April 18 to August 15. The day is usually celebrated all over the world the third Saturday in April by initiative of Federation Mondiale du Cirque. Due to the corona pandemic they have cancelled for the 18 April the WORLD CIRCUS DAY 2020 celebrations but leaves open the possibility to find an appropriate date in the autumn to held WCD 2020. The Federation writes:
Unprecedented situation requires unprecedented actions. COVID-19 has shaken the World and our life suddenly has changed from one week to another. Due to the pandemic all cultural events are cancelled; circuses had to close or postpone the opening of their season. Schools, universities, museums and public places are shut down too until further notice. Life is on a standstill for an uncertain time.

The Federation is very concerned about the wellbeing of the people of the circus, the artists, and the animals and about the future of the community. Circuses, artists and collaborators do face very difficult days as their livelihood and future are under attack. This happen to all who are engaged in performing arts. Culture is a promoter of the society and we have to safeguard it in the toughest times too.
FMC in collaboration with its members urges politicians, national governments to ease the losses our industry faces. Solidarity and coordinated actions are more important than ever among the stakeholders to raise attention and urge the governments to provide temporally financial support to the cultural sector, circuses included.

Under such circumstances the FÉDÉRATION MONDIALE DU CIRQUE feels responsible and obliged to CANCEL for the 18 April the WORLD CIRCUS DAY 2020 celebrations. Thanks for the registrations already done on FMC's website before the outbreak of the epidemics. We hope and wish that the pandemic finishes the soonest possible, and soon after normal activities could be recovered.
The Federation leaves open the possibility to find an appropriate date in the autumn to held WCD 2020 when we could demonstrate the unity of the circus community after the disastrous days celebrating together by paying tribute in a festive manner to our art-form.

Circus faced huge troubles many times in the 250 years of its modern history. But the circus people's endurance, devotion and capability always had been the token to overcome the problems.

Take care and stay safe!
In What's On we try to bring a weekly updated overview of premiere dates and tour plans. Further deferral of the opening days may be made at short notice.

26 March 2020
Norwegian Circus Arnardo cancels this year's tour. The Corona crisis means that the large Norwegian circus is now giving up to tour in 2020.They write (my translation):
Circus Arnardo must cancel this year's season after a stop order. Now the announced cultural compensation from the government will be decisive for our possibility to be back in 2021.
The promised compensation scheme for cultural organizers is therefore our only hope. Without compensation, we can drop completely to consider a tour in 2021, Are Arnardo says.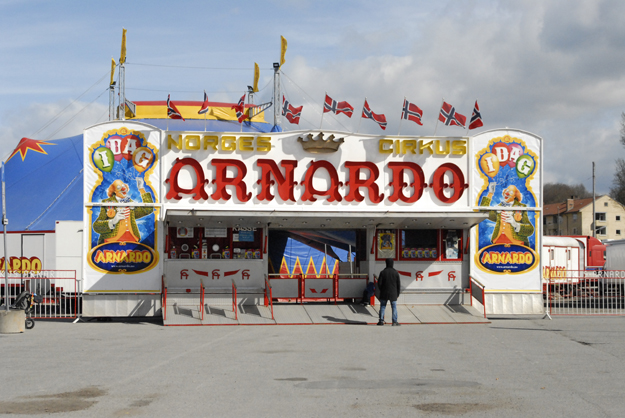 Photo from 2017. Photographer Thorbjørn Klæbo Flo

24 March 2020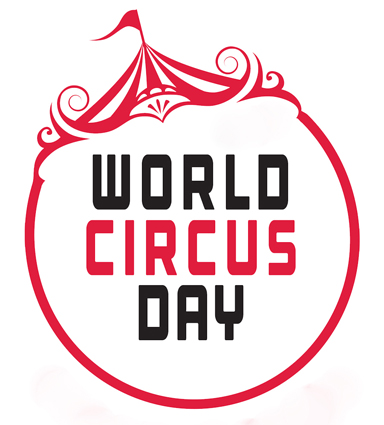 World Circus Day celebrations is postponed to August 15. Danish Circus Friends Association had as usual cooperation with the Circus Museum in Hvidovre, Copenhagen, and Circus Baldoni planned to celebrate the annual World Circus Day on April 18. But it seems unrealistic due to the corona situation. They have therefore pushed the celebration of the day until Saturday 15 August.

22 March 2020
Obituary: Rud Kofoed. The Danish Circus Award writes:
We just received the sad news that our board member Rud Kofoed died earlier today after a cardiac arrest. He was 74 years old. He was educated at the Danish School of Media and Journalism and was for many years a regular theater, revue and circus reviewer for the leading Danish Tabloid Ekstra Bladet, which until his death he was affiliated with on a freelance basis.
For many years Rud and his wife Trine was regular guest at the Circus Festival in Monte Carlo. This was also the case in January this year.
Rud had a genuine interest for circus and acrobats, and he was therefore an obvious candidate as a board and jury member when the Danish Circus Award 2016 was re-established after lying dormant for 47 years.
Rud - you will be missed
R.I.P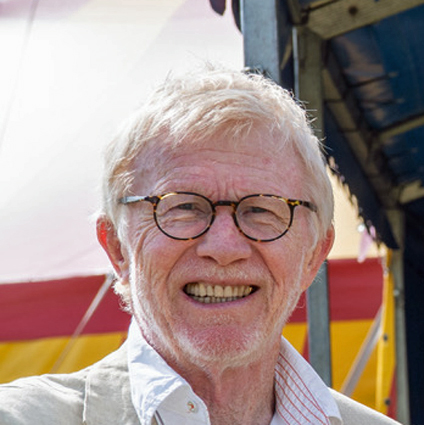 20 March 2020
The Corona situation means that all the Danish circuses which should have started the season in March have postponed their opening day. In What's On we try to bring an updated overview of premiere dates and tour plans. Further deferral of the opening days may be made at short notice.
As in so many other industries, the corona hits the circus industry hard. Once the season starts, there may be problems with bringing artists and tent workers to the country, which may necessitate changes in the programs and make it difficult to move tents from lot to lot.
We hope that all circuses will make it and stand up to the difficult time we have to go through. We send the best thoughts to all of them and look forward to seeing you in circus.
Circuses has also postpones their season start in the rest of the Nordic countries. Norway's two circuses, Agora and Arnardo, have both postponed the season start indefinitely. The same goes for Swedish Circus Olympia. Circus Brazil Jack will probably not publish a tour list before the situation is clarified, and the same goes for the small Circus Rhodin.
In addition to the three mentioned Swedish circus, Sweden is this year once again visited by the small German Circus Popcorn, which since 7 March has visited some cities in the southern part of Sweden, often with ticket sales in local supermarkets. I don't know if the still are on tour.
It is the Weisheit family who formerly run Circus Mustang, which travels with a small red and white tent and a few horses. Martin Lasson Berglund explains: "Circus Mustang was banned in Sweden in 2005 after a number of comments on animal husbandry, but the ban only applied for a certain time and after the ban expired, the circus has toured in Sweden ising the name Mustang or Popcorn but with fewer animals".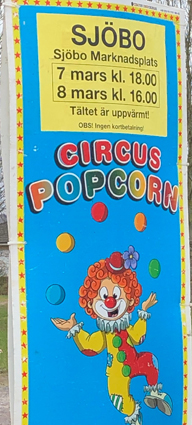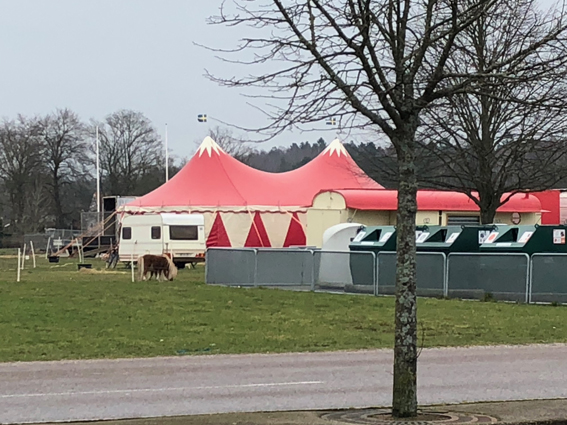 Circus Popcorn poster and tent. Note the text on the poster saying you cannot pay with a credit card. Photos: Martin Lasson Berglund
The large Finnish Circus Finlandia has canceled all performances in April.
Cirque du Soleil should in April and May have visited Copenhagen, Herning and Gothenburg with the performance Cortoe. Cirque du Soleil Entertainment Group has however temporarily suspended Corteo and a number of other shows.

2 March 2020
Before Europe seriously noticed the scourge of the corona, my faithful correspondent in Paris Zarro Zarro sent me the write up below. It may take a while before there are further shows to report from Paris, where almost everything is shut down. "When all this is over, be sure that there will come write ups again !!" Zarro Zarro promise.
IT ALL HAPPENS IN PARIS -- there are always theatrical experiences:
COMEDIE SAINT MICHEL proudly presents L'OPERA MAGIQUE , by and with MICHEL ANDRE DRODE, who as the singer/magician ALFREDO features an interpretation of GUISEPPE VERDI'S opera LA TRAVIATA, in a way that the children can understand.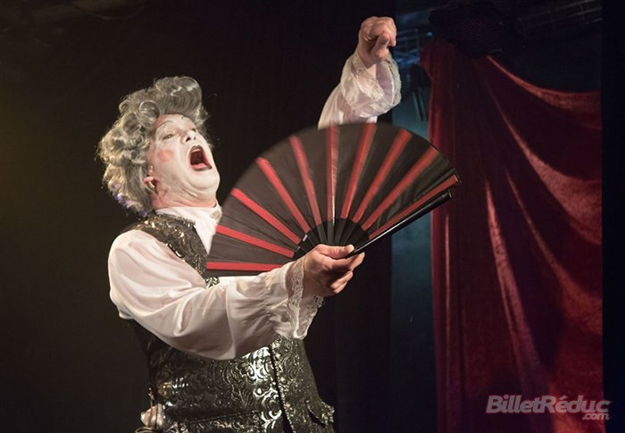 All photos by courtesy of Michel-André Drode
This masterpiece by GUISEPPE VERDI (1813-1901) is adapted to the situation today, leaving a great impression, as it is offered by COMEDIE SAINT MICHEL, a rather small theatre, sporting several stages, all having a proper performance surface, curtain and a modern PA-system.
We were treated to a piece of theatrical opera, having musical interludes, by ALFREDO who possesses a fabulous mimicry, dressed in the fashion of that time, wearing a wig, a good make up and beautiful props for the magical stunts, whereof THE TABLE FLOATING IN MID AIR got a lot of admiration.
The magical stunts are all very visual, colorful and amazing, the entire show is enhanced by an elegant lightning.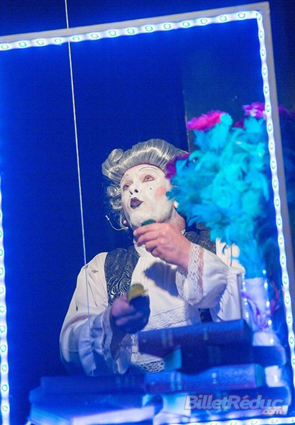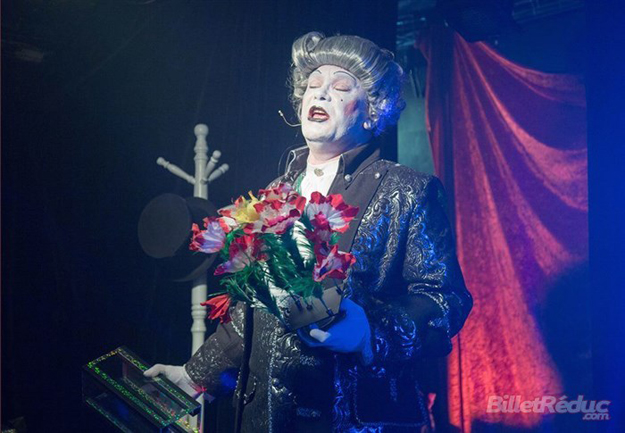 The point of interest is that here both kids and parents get a LIVE theatrical experience, as opposed to electronic entertainment - I find this - important !!
It was raining a lot, but the audience was on the spot - you go to the theatre in Paris that has 100 theatres, - - a tradition still live and kicking - since MOLIERE'S time !
Absolutely worth seeing !!
IT ALL HAPPENS IN PARIS !!!
See more: www.comediesaintmichel.fr
Venue: Theatre COMEDIE SAINT MICHEL, 95 Boulevard Saint Michel, 75005 Paris.
Metro: Cluny Sorbonne.
........................................... reported by ZARRO ZARRO.

27 February 2020
Obituary: Miller Benneweis. Miller Benneweis passed away on 21 February after a long time of illness. He was 62 years old. His baptismal name was Michael, but he was never called anything other than Miller. As the son of Sonny Benneweis and his first wife Lis Tolver Jensen, he was, so to speak, born to a life in circus. Like his father, he became an animal trainer and, in particular, casted his love on the horses, while his older brother Kim was more to elephants. However, there were a couple of seasons where Miller presented elephants in the Copenhagen Circus Building. But it was first and foremost the horses he became known for.
He made his debut as a horse trainer in Circus Benneweis tent in 1974, only 16 years old. The following year he was in the Copenhagen Circus Building, which was then run by Eli Benneweis, with both horses and elephants. Until 1995 he worked for Cirkus Benneweis, from 1987 together with his wife Anjes. They always presented elegant acts with beautiful and well-groomed horses. After the 1995 season, he left Circus Benneweis, and the marriage to Anjes didn't last either. From 1998 to 2001 he presented liberty horses in Circus Arena. In 2004 he was responsible for the horse acts in Circus Dannebrog. He has since worked as caretaker etc. in Circus Dannebrog's winter quarters.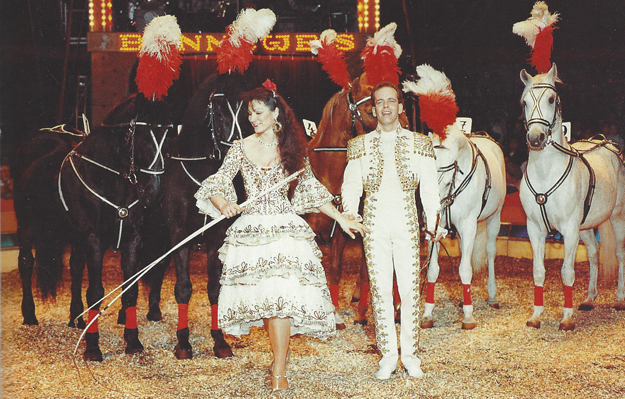 Miller as many Danes remember him, here in Circus Benneweis in 1991 together with his wife at that time Anjes.
The funeral service took place on Thursday, February 27 from the chapel on Hørregårdsvej in Haderslev. It became a worthy farewell to Miller. In attendance were amongst others Miller's siblings Kim and Jaqueline, his nephew and niece Dawid and Nadia Benneweis, Miller's son Joshua and his family, as well as members of the Enoch and Steckel families. The elephant and horse trainer Sonny Frankello was also present. There were flowers from amongst others his former wife Anjes and their son Mike, both of whom are living in Anjes' native country Holland.

25 February 2020
The Last Circus Princess is a new Swedish documentary about Diana Rhodin and her adopted daughter Simone and the small Circus Rhodin. In the press release the film is presented as follows (my translation):
Circus Rhodin is a small touring circus that every year is on tour in the southern part of Sweden. The lot where they put up their tent becomes a temporary residence. Simona is the seventh generation circus princess. She grew up on the circus, which today is run by her mother Diana and she has never worked anywhere else. The Last Circus Princess is a close-up portrait of a young woman and an extinct art form. We have to go backstage and follow the daily work to make the circus survive. The fight, the bodies and the love. A few years ago the three generations toured with the circus, now they are two. Is Simona the last one?
The film is in Swedish and English with English subtitles.
The film is directed by Åsa Sjöström and produced by Danish Ove Rishøj Jensen. It runs for 58 minutes and premiered in late January in connection with the Gothenburg Film Festival. It will also be shown in connection with the Tempo documentary film festival in Stockholm, which will be held from March 2 to 8. It will probably later be shown on Swedish TV.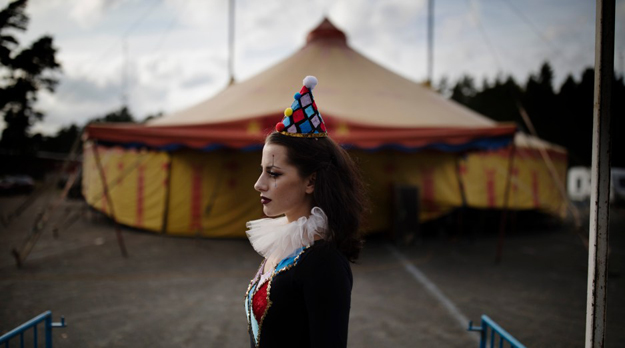 Press photo for the film. The tent is one of Danish Circus Arli's old tents which Diana Rhodin bought a few years ago.

24 February 2020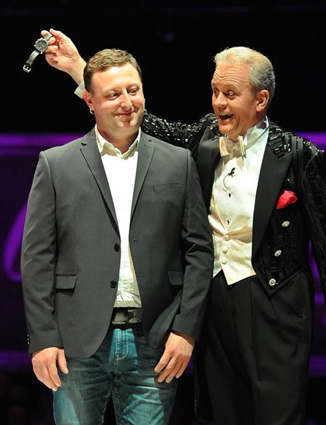 Kenny Quinn to Kerstcircus Haarlem. In the Netherlands, there are more visitors to the Christmas circuses than to the circus that tour in the summer season. One of the most successful Christmas Circuses is Kerstcircus Haarlem, which in 2019/20 had more than 24,000 visitors to their performances. For the upcoming season, which runs from 18.12.2020 to 3.01.2021, they have among other artist booked the Danish gentleman thief Kenny Quinn. For Kenny's, it's a re-contract as he and Mrs. Joan were also was in Haarlem in the winter of 1996/97.

24 February 2020
Circusland - Winter holidays 2020. Jacob Boas Leitisstein has visited Circusland in Circus Arena's winter quarters and writes (my translation):
As always during the winter holiday Circusland in Slagelse offered a lot of different shows. The theme was again built around the characters from the fairy-tale country Esdelot with Mister Tik Tak (Brian Behrendt) and Madame Betty (Suzanne Berdino) as the focal point.
On the new stage, built on top of the old sea lion pool, you could see an acrobat show with Madame Betty as ringmistress. In the show we met the clown Figaro, who had various small run-ins during the show: a short version of "you must not play here", an entrée with juggling with fire and finally the well-known entrée with the song "Save Your Love".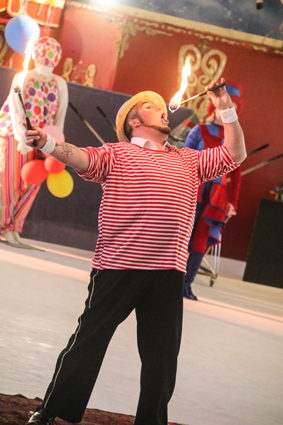 The clown Figaro. All photos: Jacob Boas Leitisstein
The show also featured a comic knock about act with Duo Parchenko and line dance with circus princess Ida. Like the clown Figaro the magic duo Biasini presented a number of short magic acts between the other acts.
The acrobat show ended with a nice sword balance act performed by Maria Bizzario. There were both sword balance on stage and walking up and down a ladder.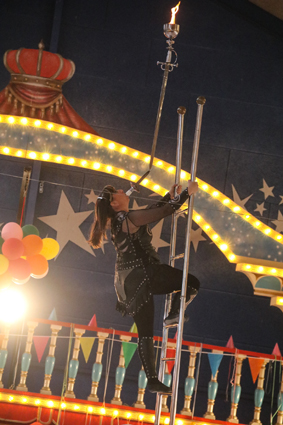 Maria Bizzario
As usual Circus Landino was also ready with a new performance during the winter holidays. The show started out with Anna Kucherenko, who showed great acrobatics in pole. Then came the circus award winner, Charmaine Berdino, in the ring and presented liberty dressage with her horses Inferno and Orion.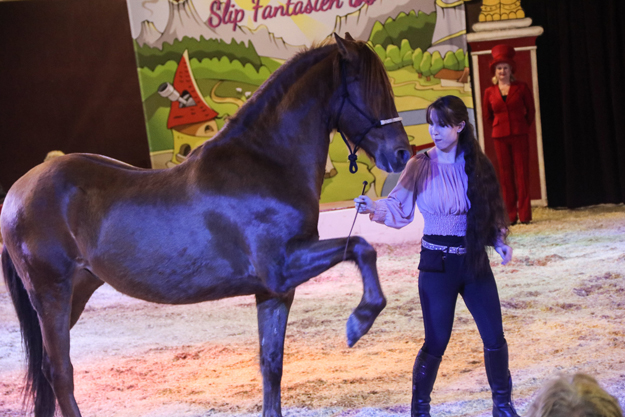 In 2018 Charmaine Berdino received the Talent Prize from the Danish Circus Award
The next feature was with the clown Figaro, who showed the entrée with bath and shark. Afterwards it was time for an old acquaintance from the Landino performances: foot juggling with Silvana Biasini. After her the clown Figaro was back.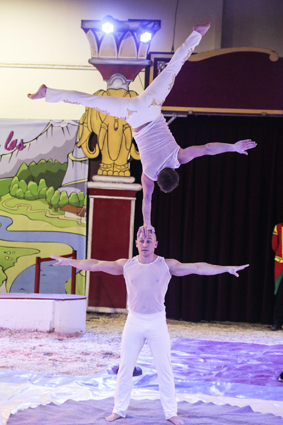 Duo Parchenko then presented really strong partner acrobatics. A nice number!
The show then ended with a preview of an act from Circus Arena's forthcoming 2020 performance: Arena's great black Frisian horses presented by Laura Berdino.
During the day, Mister Tik Tak also presented two small children's shows on the small stage in the playground. Here you could e.g. see a balloon show and hula hoop with Charmaine Berdino.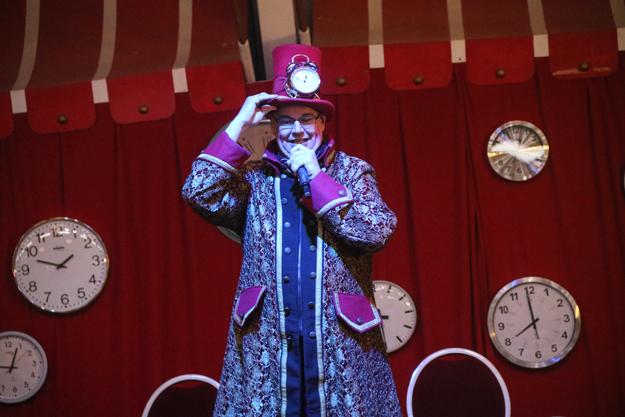 Mister Tik Tak aka Brian "Briano" Behrendt. Click here to see more photos from Circusland.

23 February 2020
IT ALL HAPPENS IN PARIS -- people visit the theatres -- it is an old tradition still alive and kicking since MOLIERE'S days -- here we find a great number of theatres, also minor ones, that perform in the afternoons offering plays and specialty acts to the great joy of children - and their parents!
THEATRE CLAVEL actually presents PAUL MAZ - magic entertainer using mainly paper, the entire program is conceived using paper as material.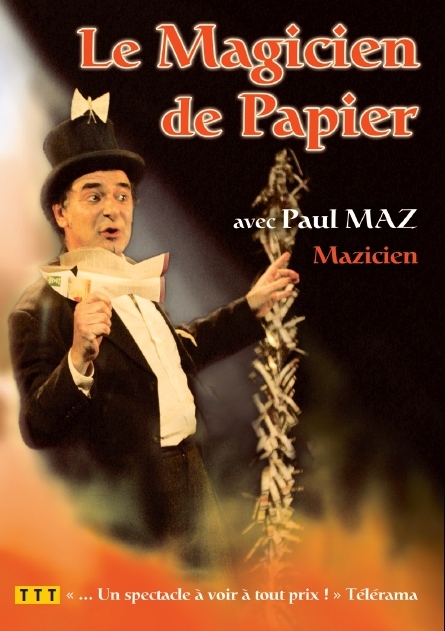 Photo by courtesy of Paul Maz
PAUL MAZ is also a fascinating FAIRY TALE TELLER, that is clear from his way of talking to his audience using an expressive and sympathetic mimicry, his program has a rather low rythm making it possible even for the smallest fry to follow the action.
His playing the CONCERTINA gives a nice break among all the magical stunts.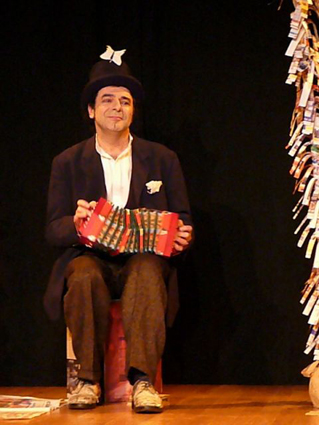 Photo by courtesy of Paul Maz
This instrument is nicely colored red, the music contributes to make this program original.
The stage setting is created using palms and other trees in many colors, everything is made from paper and at the very start, when PAUL MAZ magically produces a goldfish, the children react nicely - and so do their parents !
A great many clocks are produced from a very small paper bag, all are eager to mount on stage to help PAUL MAZ - this is called INTERACTION !!
An excellent ORIGINAL MAGIC SHOW - well worth seeing! Until 28 March she show can be seen every Satyrday at 16:30.
See more: www.paulmaz.fr
Venue: THEATRE CLAVEL, 3 rue CLAVEL, 75019 Paris. Metro: PYRENEES.
THEATRE ALAMBIC proudly presents actor, artist and magic entertainer OWAN NEMO who features his show: "ET TOUT CELA POUR DES CHAMPIGNONS", free translation: "OUT IN THE FOREST TO PICK MUSHROOMS".
The title refers to his entrance stunt, where he, to much laughter, manipulates mushrooms, like sponge balls/ used by magicians/.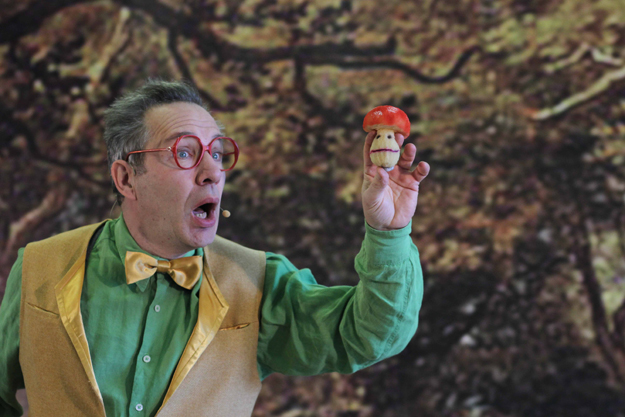 Photo by courtesy of Owan Nemo
THEATRE ALAMBIC, mentioned earlier, is a minor theater, well equipped, sporting a good stage, excellent PA-system, an elegant curtain and comfy seats, thus all programs are well
catered for, the various programs have their own stage decorations, with OWAN NEMO we see -- a forest where we can take a walk, while picking mushrooms!
OWAN NEMO features his nice program, talking slowly and gently to the small fry, they can thus follow while feeling confident and safe, an important element as many of them see a magical play - for the first time!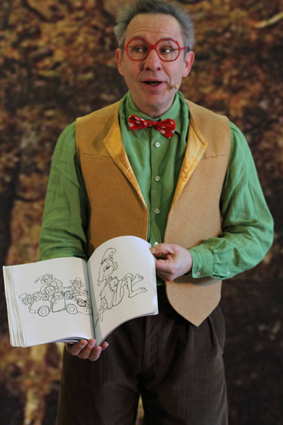 Photo by courtesy of Owan Nemo
A lot of INTERACTION is used, and within this safe bubble, the small ones don't hesitate to come up on stage - to "help out".
OWAN NEMO has an expressive mimicry and a gentle way to handle the kids, they all have a good time, laughing heartily, it is LIVE together with a present artist -- a great change from all that is electronics !!
ORIGINAL -SYMPATHETIC - ABSOLUTELY WORTH SEEING !!
See more: http://owan-nemo.fr
Venue: Theatre Alambic, 12 rue Neuve de la Chardonniere, 75018 PARIS. Metro: SIMPLON.
THEATRE DES BELIERS PARISIENS proudly presents a magic show, by and with SEBASTIEN MOSSIERE, who performs a show that is interesting, funny and sympathetic, during 1 hour.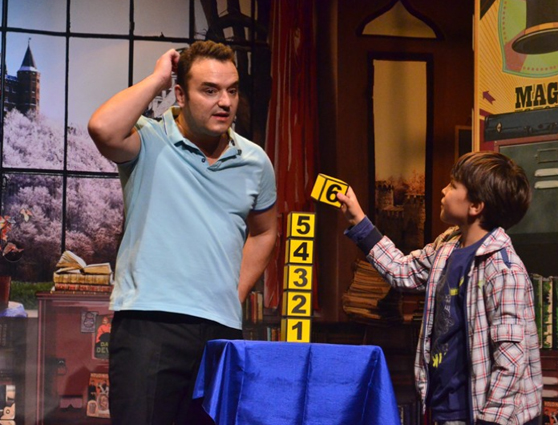 Photo by courtesy of Sebastien Mossiere
The show is named L'ECOLE DES MAGICIENS /SCHOOL FOR MAGICIANS/.
After a surprising entrance, SEBASTIEN MOSSIERE treats us to minor and major illusions, including hilarious elements, a dove turns into 2 by looking at a mirror, the mathematic riddle where a number of figures are mixed up, but at last they remain in good order.
Everything is performed using INTERACTION, some children are invited up on stage to ....help the performer, it is sympathetic, funny and does indeed stimulate the kids' imagination.
All and sundry of the kids respond with great laugther, seeing that LIVE ENTERTINMENT can well compete with the electronic one!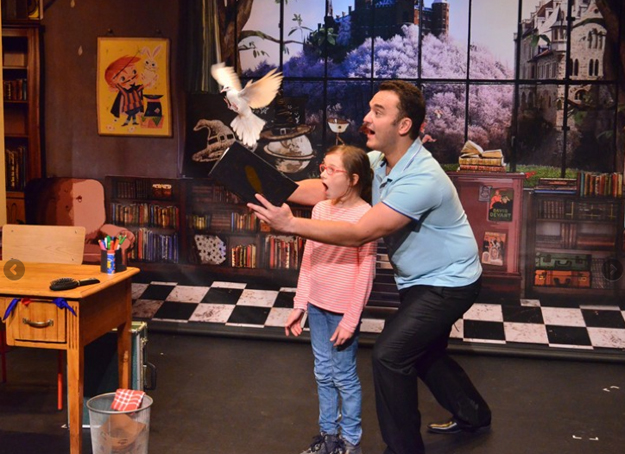 Photo by courtesy of Sebastien Mossiere
The parents are always happy, seeing their offspring having a great time!
Absolutely worth seeing !
See more: www.sebastien-mossiere.com
VENUE: Theatre des Beliers Parisiens, 14 bis, rue SAINTE-ISAURE, 75018 Paris. Metro: JULES JOFFRIN.
IT ALL HAPPES IN PARIS !!!
........................................ reported by ZARRO ZARRO.

20 February 2020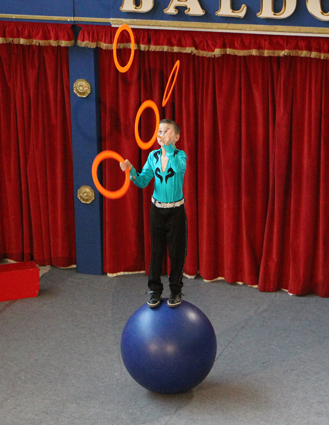 Most Danish schools have winter holidays in week 7. But in some municipalities, including Ishøj, the winter holidays are in week 8. Due to this Ishøj City Centre presented for the fifth year in row approx. 40 minutes long performances with Circus Baldoni. Among the performers this year was 9-year-old Rudi Janacek. Kaya's mother Maria did a hula hoop act.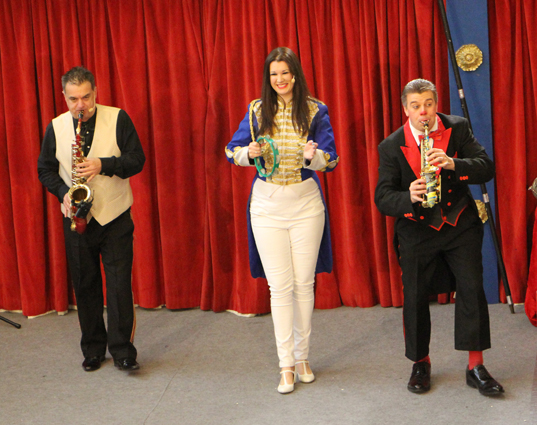 Kaya's father was one of the three members of Baldoni Clowns. The others were René Mønster Baldoni and Cindy Binau.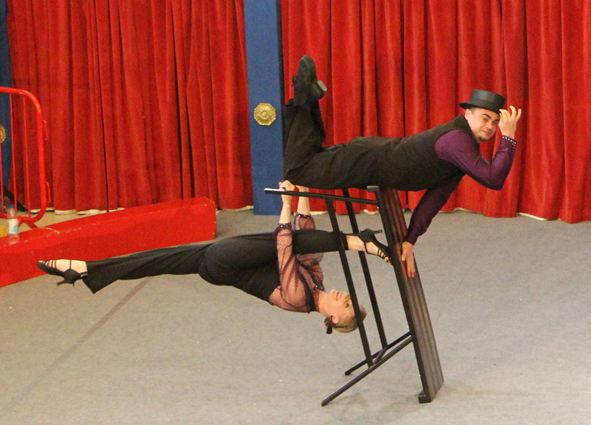 Duo Bench (Jelena Vasiljeva and Sergei Populans) toured with Circus Arli both in 2018 and 2019 and joined Baldoni's Christmas circus in 2019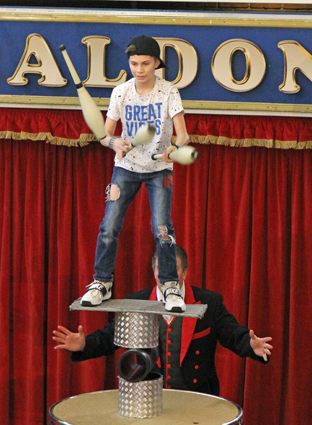 Last act in the show was Kaya with rola bola. Like at Baldoni in 2018, an entrée where he has to show that he is more capable than his father. Click here to see more photos from the show.

17 February 2020
Circus Mascot Winter Circus. Jørgen Lorenzen saw the performance at Herning Centre, 13 Feb. at 14. He writes (my translation):
The Herning Centre has acquired a beautiful, new seating with 5 rows of benches. This is a sign that the centre is taking it seriously with circus performances and other live entertainment.
The clown Gulio warmed up the crowd before Daniel Deleuran welcomed. The first act was Marianne, who started her dog show with a solo dog concert. And then it went on with 10 dogs of different sizes and colours. More playful dogs than trained dogs. Frisky and happy animals, showing all signs of well-being.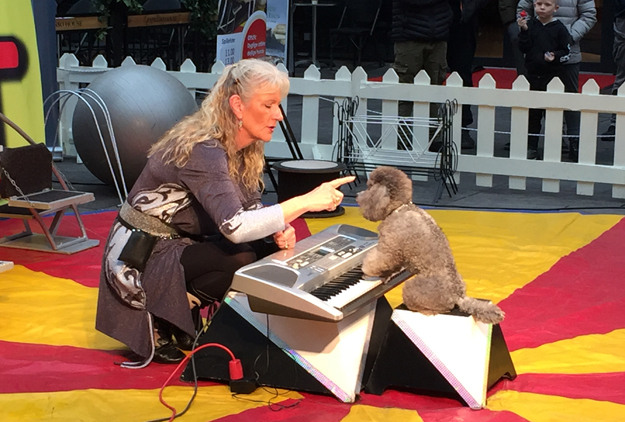 Among the stars in the show was Marianne Deleuran's dog Pepsi, who can play on her keyboard. Archive photo.
Then Gulio and Julia entered the ring with the entrée where Julia is disguised as an overgrown mouth. Gulio tries to brush its teeth with an oversized toothbrush, but the mouth stretches its tongue, says screeching sounds and sprinkles with water, so it doesn't turn into tooth brushing - but to much laughter and amusement.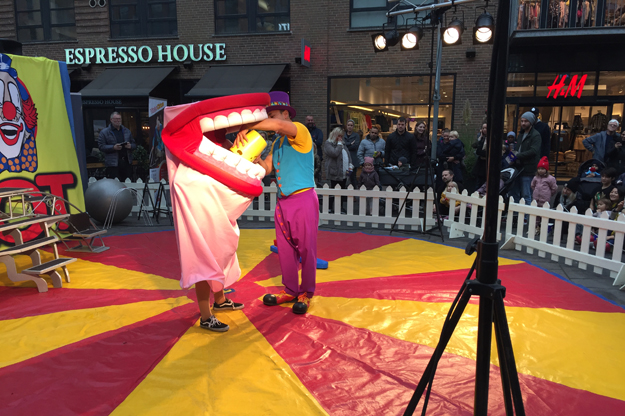 Rinse your mouth after brushing your teeth. Guess who got water in the head when spitting out! Archive photo
Tatjana is a versatile artist. She did a well composed hula hoop act.
The show ended with the lovely entrée where rat soup is cooked. There are live rats in the act, but they do not come in the pot. Gulio and Julia offer the children on the benches to put the rats into the pot, but the children stick with the rats - which saves their lives. The number is a further development of the classic clown entrée called the spaghetti gag where the clown should be a servant and serve food for a fine lady, but where everything goes wrong - or rather: everything goes in spaghetti.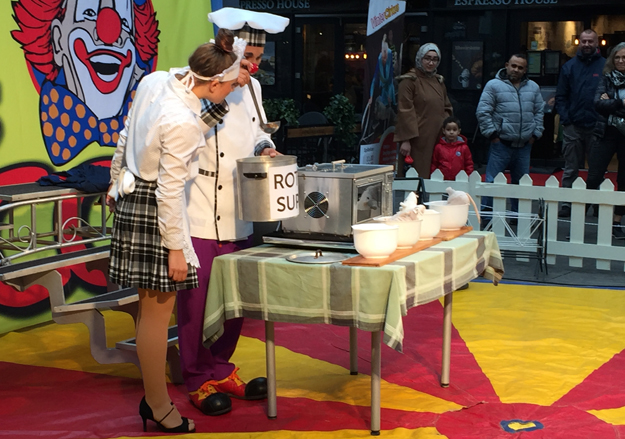 There are live rats in the entrée with rat soup
And then half an hour had passed and it was time to say goodbye. And you were left with the same feeling as the other day in Odense, where I saw Enoch's circus: you were filled up and satisfied - but still got the appetite for more circus. And fortunately, there is only one month until the tent season starts.

15 February 2020
Circus Arnardo 2020. This year's performance in the large Norwegian circus is called Harmony. Season opening in Arendal on March 14. In this year's show you will meet the following artists:
Desire for Light - Mara & Chris take the audience on a magical and musical journey. They handle 6000 LEDs in 28 lamps. They present an electric fireworks display of colourful lights that move in perfect synchronization with the music and sound effects.
Duo Rossi - the classical and musical clowns are back in the ring! The white clown is probably Yann Rossi, known from the clown duo Les Rossyans, where his partner was his brother Hector.
Are & Paolina Arnado with illusions
The foot juggler Adriana Kaiserova. She is the 8th generation of the Czech Kaiser family
The contortionist Suellen Sforzi
Chris Pettersen on slack wire with the goldfish Michelle.
Kevin's dogs and his 8 donkeys
Daniella Teibler & Lenard Matos are from Hungary. Lenard began cycling 10 years ago at the circus school in Budapest. He always had a desire to do something special and extreme on a unibike.
Mara Zimmerli in aerial straps
Steve Alessandrini in Chinese pole
Antonín Navrátil in Washington trapeze. He is the 7th generation of the Czech circus family Navratil.
Giordan Alessandrini is presented as a young promising handstand talent from Italy.

14 February 2020
Enoch's Circus Show. Jørgen Lorenzen saw the performance at Rosengaardcentret, Odense, 10 Feb. at 14 and writes (my translation):
A large gradin had been erected ensuring that many could get a good view. And already half an hour before the show started, all seats were occupied - mostly by children.
Despite his young age, Jimmy Enoch is fully experienced, both as an artist and organizer. This is clearly evident in the top professional show, where everything is perfect. Light and sound are matched to the individual numbers and the sound level is not too high. Jimmy welcomes on his unicycle: "You decide for yourself how good a show you want to see. The more you applause the better we will do it!"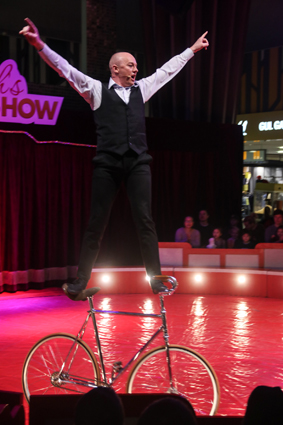 Jimmy Enoch. All photos: Jacob Boas Leitisstein
Pat Harrison's Hot Dogs start the show. 3 poodles and a terrier. In a furious pace and with lots of humour.
Then Berty Balder enters the ring with a naughty ostrich which steals popcorn from the kids - and throws them back in the heads of everyone sitting close to the ring.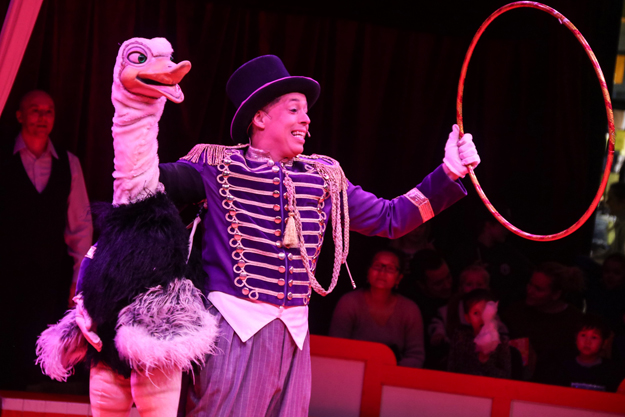 Berty Balder and his ostrich
Josefine Casselly is an aerial artist. With long, white gloves, white leggings, blue harness and diadem she does a formidable number in tissue. Dreamlike, almost unreal. But this is what the circus is like: the incredible, unpredictable and unmanageable is made real just before the eyes of the audience.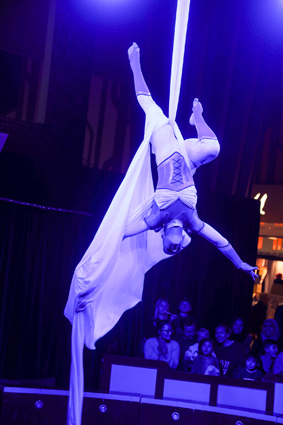 Jimmy Enoch's sister-in-law Josefine Casselly is a skilled aerial artist
Berty enter the ring with dustbin and broom and wants to sweep up, but a naughty little dog teases – overturning the dustbin and eventually Berty too. The dog takes over the control and the children cheer because they keep with the dog!
Alexandra dances with hula hoop rings. And while she twists, she balances a hoop on her forehead. And it remains standing throughout the whole act. An innovation in the popular hula hoop genre.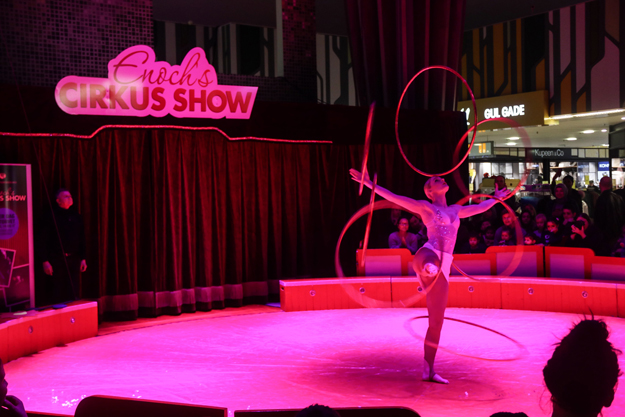 Miss Alexandra
In his third entrée Berty tries his luck as an art painter. He "borrows" a man and a woman from the audience. They must perform a courtship and the man is endowed with a giant flower that the carved one must have. Berty paints and when the artwork needs to be revealed, there is only the flower on the canvas.
Eddy Carello ends the show, dressed in yellow, with his safe, fast-paced juggling entrée, ending with playing drums and spitting out ping pong balls that land on the cymbals and enter his mouth again. Safe - and extremely professional.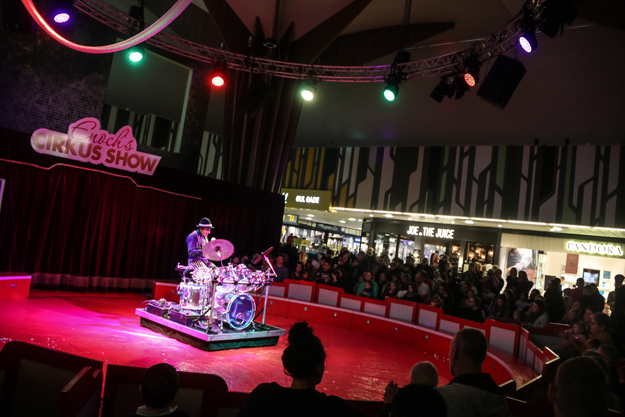 The first time the Danes saw Eddy Carello was in Circus Kenny in the autumn holidays in 2004. The location was as in 2020 the Rosengaard Centre in Odense. In 2006 and 2011 he toured with Circus Dannebrog. Click here to see more of Jacob Boas Leitisstein's photos from the show.
Then the 40 min. long performance is over. And that's how it should be done! And most important: the audience wants to see more circuses.

10 February 2020
Winter Circus, Bluewater dock in Esbjerg 2020. Finn Stendevad saw the performance 08.02.2020 at 15 and writes (my translation):
As there were no numbered seats, we arrived half an hour before the start of the show and set up in the long queues, for the influx was good.
The set up was perfect. The ring had been put up at the square end of the hall, closest to the entrance. It included three sides with spectator seats, in addition to the boxes. We estimate that somewhere between 300 and 350 people of all ages attended this performance being Circus Trapez's only winter performance in Esbjerg. A nice performance. Isabella and Bernhard can be proud.
The show started with a charivari, a potpourri of all act and with all performers in the ring, including a woman in vertical rope.
Then came the run-in clown for the first time. Unfortunately, the speaker system meant that at least I couldn't hear Isabella's welcome and presentation. (Editors note: The clown was Rudi Brukson. In the following, the artist names are inserted).
The clown used the audience in all his run-ins. In his first entrée he divided the audience into different parts, which were to do different things: clap, tramp, etc. when he gave signal.
Then four backyard cats came in – that how their makeup was made. Three girls who danced and a young guy who made a nice diabolo act. Then the run-in clown was back with a ragged doll which he pulled out of a box. The doll was eventually revealed as a beautiful young woman with high-heeled shoes. Well done.
Immediately after, two young girls Chantal and Samantha Lutzny appeared in a trapeze shaped like a cube. A nice act.
Bernhard now entered the ring and presented a Shire horse and a very small pony. Big and little is always a success. Bernhard is a prof and knows exactly how long time to pull the act.
Then the run-in clown entered the ring together four from the audience doing the 4 stools gag.
Next came Samanta Lutzny with a short but good soap bubble act.
The last act before the break was a formidable chair balance of up to 8 chairs, performed by fourteen-year-old Joel Lutzny, a real top act. The lower chair stood on 4 bottles, at a time of only 3.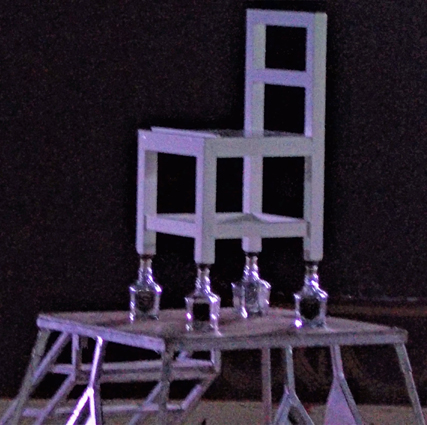 Joel Lutzny did chair balance where the bottom chair stood on 4 bottles. Unfortunately, the lighting conditions made photography difficult. All photos: Finn Stendevad
Then came the run-in clown with two picked up from the audiences. They were going out on an imaginary MC ride, the man was going to propose with a rose to the woman.The clown who now were a priest married them and then they were to carry her out.
This was followed by a great juggler entrée. Young juggler Rico Brukson juggled up to five tennis rackets. Later he made nice cascades with several tennis balls. A very good act.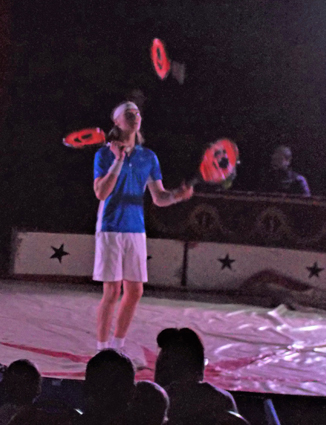 Rico Brukson
He was replaced by a beautiful woman, Elena Brukson, who worked in a kind of vertical rope which consisted of two red tissues. The act was beautiful, poetic and well composed.
The run-in clown now came back with a lot of cowbells. Partly there were some he had to use himself, and there were some he handed out to a number of people among the audience to play when he pointed them out. He himself was dressed up and acted like a slightly unbearable maestro.
Last ordinary number was Sabrina Spindler with a nice peasant act with goats, dogs, a hen, ducks and even a bull calf with the yellow ear tag. They may not have been perfect, but refreshingly different. They radiated joy of life and that it should not be taken for more than it was.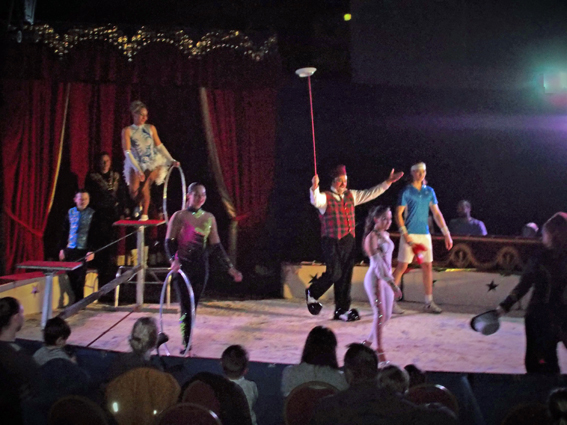 The performers

10 February 2020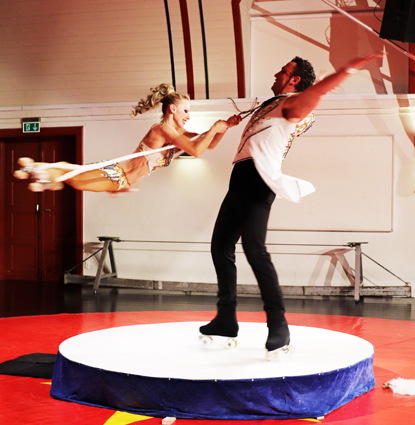 At the Circus Museum in Hvidovre, Copenhagen, you could during the winter holidays see Skating Ernestos. In addition to the roller skate act Paolo acted as a clown and Veronika worked in tissue and did hula hoop. The couple's son showed his skills as a diabolo artist. Paolo is the son of the clown Bubi Ernesto JR and Veronika comes from the Faltiny family, known for their bike act. They met at Circus Dannebrog in 2005, with both Bubi Ernesto JR and the Faltiny family were among the performers.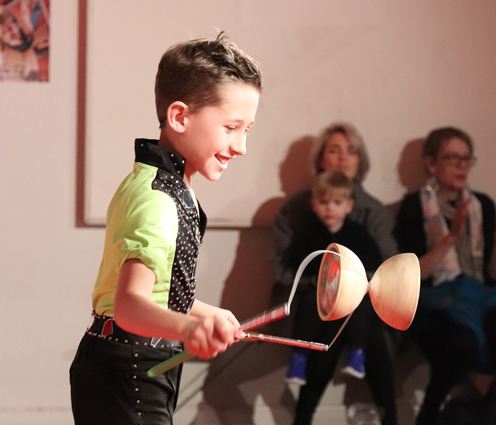 10 February 2020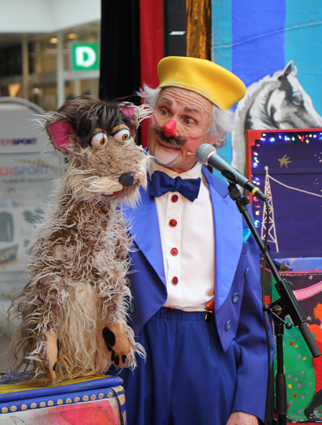 By tradition has the Danish circus world's grand old man Benny Schumann in the winter holidays performances in Elsinore Shopping Centre. Benny Schumann received last year both the Danish Circus Award and Truxa's Memorial Award. His contact with the audience, including the kids, it outstanding! In the performances in Elsinore you met besides Benny Schumann Zora Nikodemova with a megaballon act and Edi Laforte with juggling and his circus dogs. Click here to see photos from the show.

9 February 2020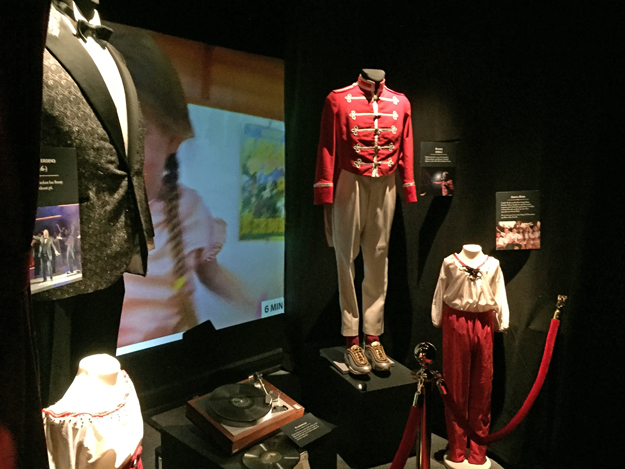 Today, the Circus Museum in Hvidovre, Copenhagen, opened a special exhibition about Circus Arena for 65 years. It is set up in the small room formerly known as Barly's room. The exhibition shows a few costumes and video clips about the history of Circus Arena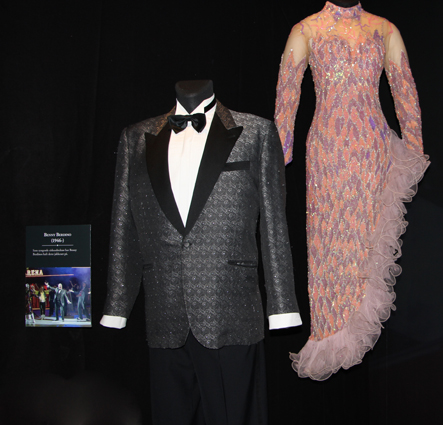 The jacket has been used by the singing circus director Benny Berdino. The dress by his daughter Suzanne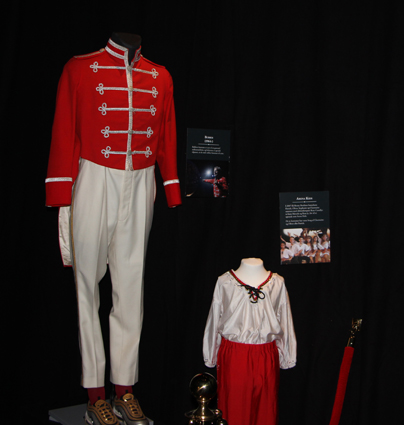 Bubber's ringmaster uniform. The small costume was used by one of Benny Berdino's grandchildren in the act Arena Kids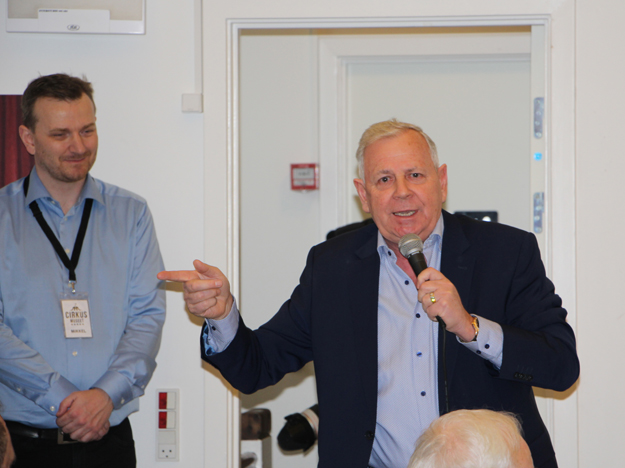 Before the exhibition opening, Benny Berdino being in good form gave a short speech. To his left is museum curator Mikkel Knudsen. Click here to see more photos from the exhibition opening

6 February 2020
Ban against elephants and sea lions. The new Danish animal welfare law passed through the Danish Parliament today. Food Minister Mogens Jensen received support from a unified Parliament to simplify the animal welfare legislation. The new Animal Welfare Act establishes the clear purpose of promoting good animal welfare and respect for animals as living and sentient beings and thus provides the framework for raising animal welfare for animals in Denmark. Among other things, the new Animal Welfare Act allows the Minister to ban all wild animals from performing in circus, including elephants and sea lions. In practice, it is only about elephants, sea lions and zebras, since other wild animals were banned as early as 1963.
As earlier mentioned on this website the two Danish circuses with elephants sold their elephants to the Government last fall and the Government then donated them to a Danish safari park. Circus Arena, which was the only circus to own sea lions, has sold their sea lions to a foreign buyer. So, even though the ban has not yet come into force, the circus industry has aligned with the wishes of the politicians.

4 February 2020
Norwegian Circuses 2020. There are just 2 circuses in Norway: the large Circus Arnardo and the medium-sized Circus Agora. Circus Arnardo opens the season in in Arendal on March 14. Circus Agora opens the season in Bergen on March 18.

1 February 2020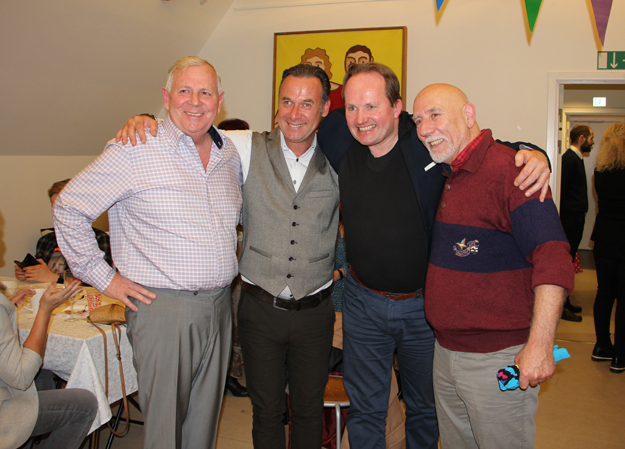 The artist and knock about table acrobat Freddi Steckel's 70th year's birthday was celebrated at a reception at the Circus Museum in Hvidovre on February 1st. In the picture Freddi (standing to the right) is seen with from left Benny Berdino, Ingo Stiebner and Jan Ketil. Freddi has worked in Benny Berdino's Circus Arena as well as Jan Ketil's Norwegian Circus Agora. Click here to see more photos from the reception.

1 February 2019
Circus during the winter holidays. As previous years, you can see circus performances etc. in many venues all-over Denmark in the weeks 7 and 8, where the Danish schoolchildren have winter holidays. The children only have one week's holiday. Whether it is in week 7 or 8 is different from municipality to municipality.
Here is an overview of what you can see this year. Further information on time of performances etc. in What's on.
In Copenhagen and on Zealand
Circus Panik's winter show (small family show)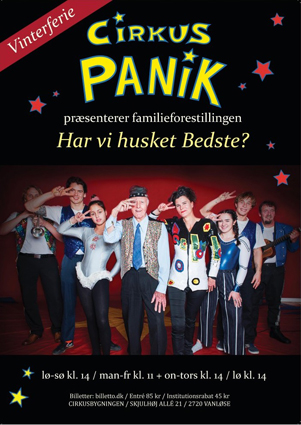 This year's winter show can be seen from 9 to 16 February in Panik's small circus building in Vanløse, Copenhagen. The address is Skjulhøj Allé 21, 2720 Vanløse, Copenhagen.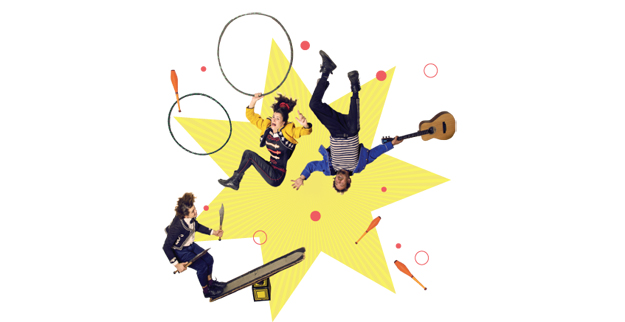 The Circus Museum in Hvidovre, Copenhagen
Performance with Skating Ernestos from Monday 10 February to Friday 14 February. Dailey at 11. Circus and creative workshop both in week 7 and week 8. In the weeks mentioned also open Friday.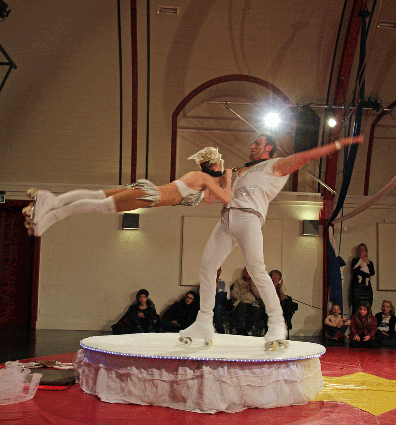 Skating Ernestos. Press photo
Benny Schuman's winter circus in Elsinore City Center
Benny Schumann present from 10 to 16 February winter holiday shows in Elsinore City Center. In addition to Benny, the performers are Edi Laforte with his dog circus and a short juggling entrée and Zora Nikodemova with a Mega-balloon act. Free admission.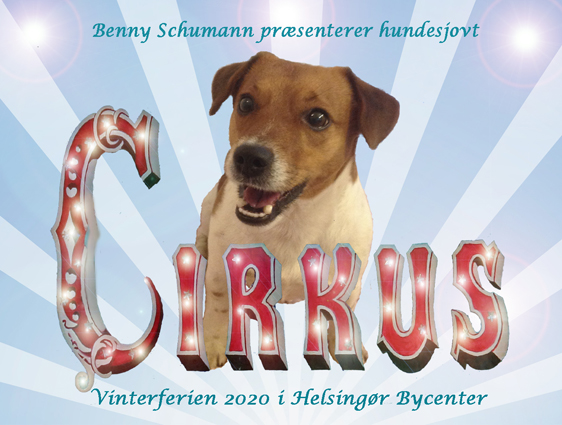 Circusland in Aarslev by Slagelse
Circusland is a theme park situated in Circus Arena's winter quarters. From 8 to 23 February open every day from 10 to 16.
Circusland writes (my translation):
New shows during the winter holiday.
In the carnival show you meet the court jester, who among other things will introduce you to the talented hula hoop princesses, the illusionists who show their magical abilities and the tight wire acrobat Miss Ida.
Mister Tik Tak will also enchant the visitors to Circusland.
Circus performance for children and adults
Every day at 13:30 there is performance in Cirkus Landino at 13:30. In the show you can see acrobats, the clown Figaro, the foot juggler Miss Silvana, and the winner of the Danish Circus Talent Prize 2018 Charmaine Berdino with her beautiful horses.
Meet a world of fun experiences
All day you have the opportunity to explore Circusland and get close to our beautiful animals in their stables. You can also visit our circus museum. Take part in our winter treasure hunt, where you can win a nice prize.
The clown Figaro's artist school for children and adults. Do you have a dream of becoming a juggler or a tight wire dancer? Then go to the circus school and learn new arts with the help of professional artists.
Remember warm clothes as some of the activities take place outdoors.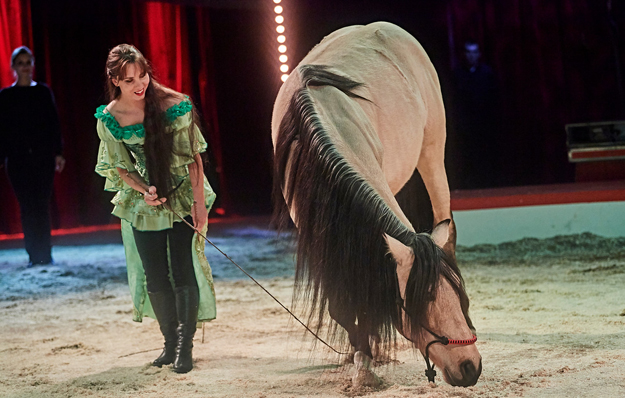 In 2018, Charmaine Berdino got the year's Talent Prize from the Danish Circus Award. Here she is photographed in Circus Arena in 2018. Photo: Rud Kofoed / Ajour Press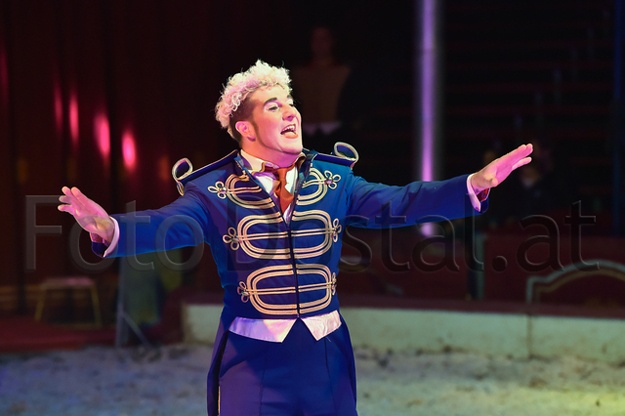 It is the clown Figaro first season in Denmark
Circus Big
February 10 to 15 in Vestsjællandscentret, Slagelse. The performers are Mr. Big with a partner. Free admission

Baldoni's winter circus
13 to 15 February: performances in arenas on Bornholm.
17 to 21 February: Ishøj City Center, Copenhagen.
The performers are René Mønster Baldoni, the Janacek family and Sergey & Jelena, who participated in Baldoni's Christmas circus 2018 and toured with Circus Arli in 2018 and 2019. At Bornholm, furthermore Julia & Joakim Myllykangas with juggling and other acts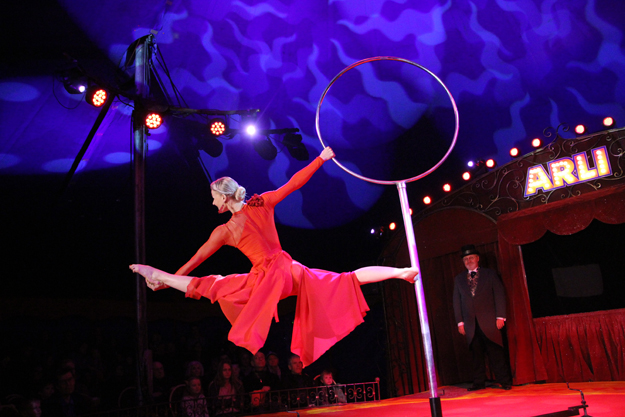 Jelena Vasiljeva will work in ring stand, just as she did at Circus Arli in 2019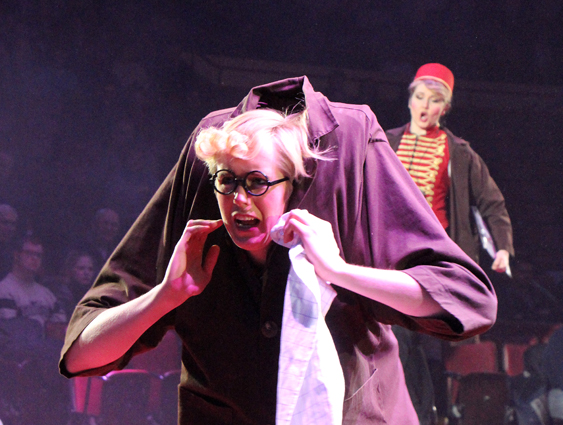 Julia and Joakim Myllykangas are children of the clown Lasse «Bonbon» Nørager and Mrs Tiina. Photo from Circus Krone in Munich, where they worked in February 2018
On Funen
Enoch's Circus Show is produced by Jimmy Enoch and can be seen in Rosengaardcentret in Odense from Monday 10 to Saturday 15 February. You can see everything from clowns and acrobatics to bike shows and dogs. Free admission
The performers are
Berty Balder, clown
Eddy Carello, jugger
Josefine Casselly, aerial act
Patrick Harrison, dogs
Jimmy Enoch, bike acrobatics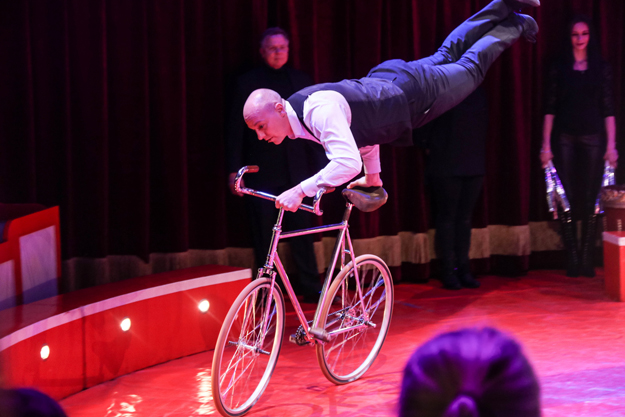 Jimmy Enoch. Photo from last year's show. Photographer: Jacob Boas Leitisstein
In Jutland
Cirkus Trapez Winter Circus.
Saturday 8 February 8 at 16.00: Blue Water Dokken, Esbjerg. Duration: 2x40 min. plus interval.
10 to 16 February: Borgen Shopping Center, Østergade 4, Sønderborg. Every day at 11 and 14. Free admission.
Ringmistress: Isabella Enoch Sosman
The performers in the Blue Water Dock:
Rudi Brukson and his wife Irena with new reprises.
Rico Brukson (with a different juggler entrée than last year).
Elena Brukson tissue at the same time as horses.
Chantal and Samantha Lutzny aerial act
Samanta Lutzny soap bubbles
Joel Lutzny diabolo and chair balance
Sabrina Spindler domestic animal act with cows, chickens, goats and dogs
Bernhard Kaselowsky Mini and Maxi
The performers at Borgen:
The Brukson family (see above under the Blue Water Dock)
Nynne Hulsig Samuelsen trapeze
Nynne and Nathalie Enoch Fröchte goats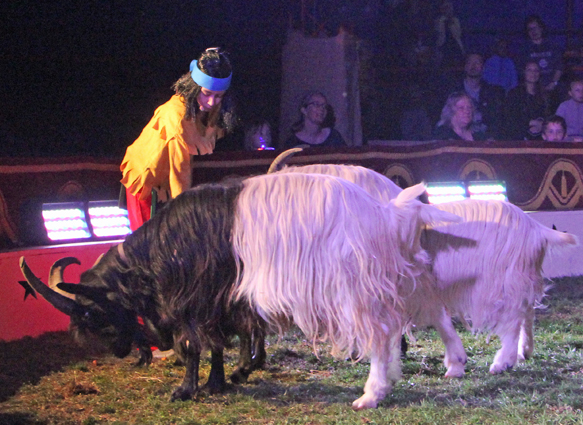 Nynne Hulsig Samuelsen with some of Bernhard Kaselowsky's goats
Circus Mascot
Circus Mascot visits Herning Center in week 7 and Aalborg Storcenter in week 8. Free admission.
The performers are members of the Deleuran family as well as the clown Ulmas / Gulio with family: Mrs Tatyana and their daughter Juliya.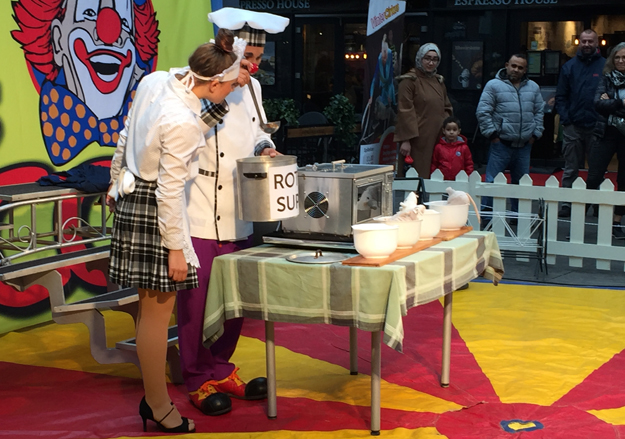 Gulio and Juliya serving rat soup.

22 January 2020
IT ALL HAPPENS IN PARIS - end of industrial transport action which rendered impossible trips to various show events, example: CIRQUE ARLETTE GRUSS/ HOUSCH ma HOUSCH, theatre DEJAZET/comic one-man-show in a silent mode/ SEBASTIEN MOUSSIERE, magic show, theatre LES BELIERS DE PARIS.
ARLETTE is on tour, HOUSCH ma HOUSCH stopped and joined MONTE CARLO,
MOUSSIERE is on tour - nobody wanted to wait for an end to this unrest, which in fact has happened now, to know the future - please come tomorrow!
As a poor substitute, I would like to recommend a trip surfing on the Internet:
ARLETTE GRUSS, HOUSCH ma HOUSCH and SEBASTIEN MOUSSIERE MAGIC, you will find many excellent pics!
I also refer to my write up 14 DEC, 2019 at www.circus-dk.dk
Now, as we expect law and order - you will see more write ups from my horizon in Paris!
IT ALL HAPPENS IN PARIS!!!
----------------------------- reported by ZARRO ZARRO.

21 January 2020
IT ALL HAPPENS IN PARIS -- this time: please find a resumé / not a translation/ of a write up by TOMMY HARDAM from the Danish Youth Circus Flik-Flak, originally written in Danish.
So here we go: The show BACKBONE is produced by GRAVITY & OTHER MYTHS, being an Australian circus company pushing the boundaries of contemporary circus.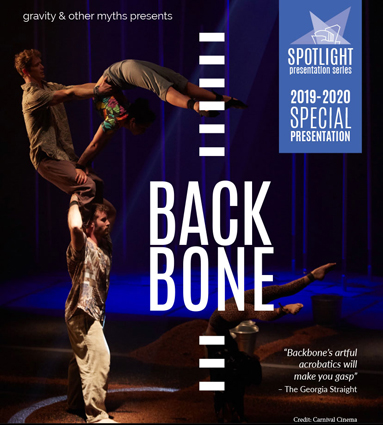 The cast consists of 10 acrobats, mostly from AUSTRALIA, though some from USA, accompanied by 2 musicians.
The entire show features new acrobatics, and very new at that, plenty of fresh ideas to put new life into traditional circus skills, precision, timing and great strength are performed, jokes by displaying changes of clothes in front of the audience, and the lightning that is perfect, contributes to the success of this show.

An excellent PA system gives a necessary back up.
The show played in PARIS in DEC., then on tour in FRANCE.
Another performance produced by Gravity & Other Myths comes to DENMARK 20 thru 22, March, 2020. It probably is a similar show, called OUT OF CHAOS.
For tickets please see What's on.
See more: https://gravityandothermyths.com.au/shows/backbone
--------------------------- resumé by ZARRO ZARRO.

17 January 2020
Freddi Steckel turns 70. On 29 January the talented Danish comedy cascadeur Freddi Steckel can celebrate his 70 years birthday. He was born in Elsinore on 29 January 1950. His parents were circus owner Frederik Schmidt of Circus Schmidt Brothers and his Norwegian wife Dina. Frederik Schmidt was also known as the clown Gugele. Frederik run until 1952 his circus jointly with his brother Arnold. Then Frederik left the circus and worked for three seasons at Norwegian Circus Empress. Following this he worked for many years as a clown in several circuses assisted by his wife and their 4 children Randi, Freddi, Jacki and Heidi. The 4 children did also have their very own act called 4 Steckels.
During the years Freddi changed his act and his is now the only of Frederik and Dina's children who still are active as an acrobat with his world class knock about table act Steckel's. In 2002 he toured with Circus Merano in Norway. In 2003 he was with short notice booked by Swedish Circus Maximum and had during the season no less than three female partners as his usual partner due to other engagements only could join him for part of the season.
In 2004 he toured with Danish Circus Dannebrog where Isabella Enoch was his partner. In 2008 and 2009 he toured in Denmark with Circus Baldoni having co-owner at that time Thessa Mønster as partner. I 2013 he was back in Circus Dannebrog, this time as ringmaster. He latest season in Denmark was 2018, where he toured with Circus Baldoi and had the owner René Mønster Baldoni as partner. Season 2019 was spent with Circus Jesper in Kristiansand Zoo and Amusement Park in Norway. During his many years as acrobat Freddi has also worked at Circus Krone in the Munich Building, at Bosswell-Wilke in South Africa, at Hansa Theatre in Hamburg, at Circus Finlandia in Finland, at the TV-show Le Plus Grand Cabaret and several other places all over the world.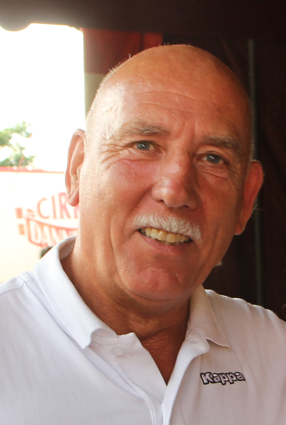 Freddi Steckel

15 January 2020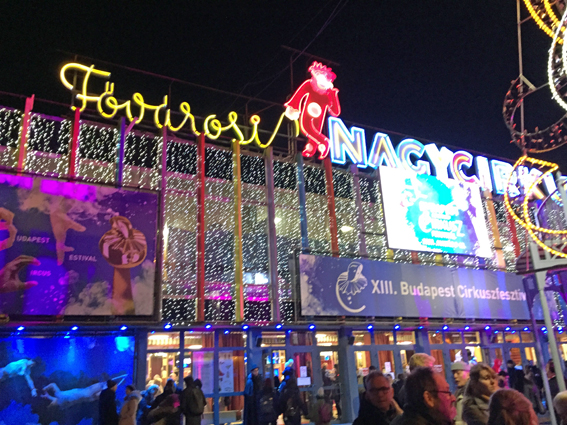 13th Circus Festival in Budapest. This year, the festival was held in the days from 8 – 13 January. Like the previous Budapest festivals it offered a wealth of great acts. The festival is being held in even years. It was the fifth time Briano's Circus Tours had brought a group Danes and a single Swede to the Budapest Festival.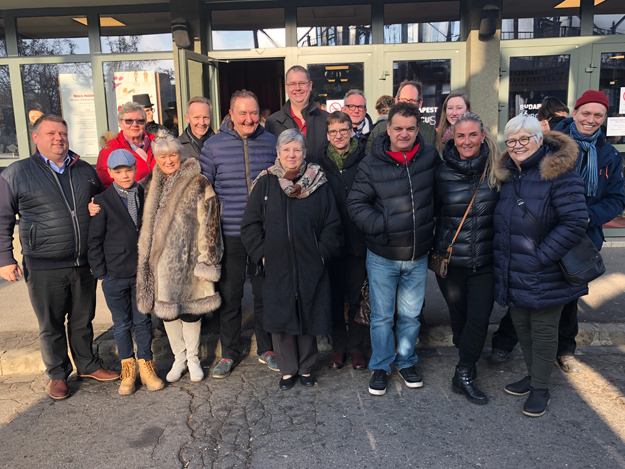 As usual there were many Danish guests in Budapest, among others 25 with Briano's Circus Tours. Here are some of Briano's guests. In the front row are seen as number 2 and 3 from left Denmark's youngest circus director Christian Gerner Frost from Circus Mondolino along with his older colleague Irene Thierry from Circus Krone. To the left of Christian his father the mayor of Gribskov Anders Gerner Frost. In the middle of the picture, tour operator Brian. To the left in front of him the Danish Circus Friends chairman Kim Thanning Olsen and to his left the Danish Circus Awards chairman Ole Simonsen. Also in the front row are René Mønster Baldoni and Camilla Frimann from Circus Baldoni. To the far right the former sea lion trainer Addie Jepsen. Photo: Lotte Ramsing
The festival, which next to the Monte Carlo Festival is one of the most prestigious in the world, was also attended by a large number of circus directors. As the late Calle Jernström from Circus Finlandia said to me a few years ago: "In Budapest you can find something you can use and pay. You can't do that in Monte Carlo. "
Two acts received very well deserved the festival's top prize, The Golden Pierrot:
- Merrylu & Jozsef Richter - Pas de Deux
- China National Acrobatic Troupe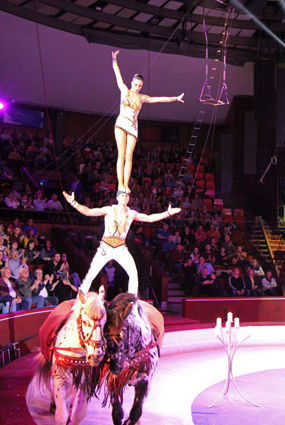 Merrylu, whose maiden name is Casselly, is well known in Denmark from the many seasons the Casselly family was at Circus Arena. For a while she was engaged to Patrick Berdino (Arena owner Benny Berdino's grandson), and in 2012 they rode Pas de Deux in the Arena performance. However, the act at Arena was far from on par with the impressive ride Merrylu presented in Budapest together with Jozsef Richter, whom she married in 2016. The act brought them a gold clown in Monte Carlo in 2018 and now also a top prize in the Richter family's homeland Hungary.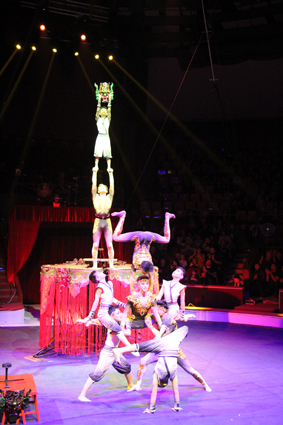 China National Acrobatics Troupe was established in 1950 and has since won numerous medals at various festivals. In Budapest, the Chinese acrobats presented two amazing acts: In one, called Black and White Fantasy, 9 artists did amazingly beautiful end impressive acrobatics, while the other act, Pagoda of bowls, offered hand voltige with throws of female acrobats carrying bowls of water.
Four acts received the 2nd prize, the Silver Pierrot
- Yves & Ambra - tissue
- Kolev Sisters - acrobatics
- Virtuoso 5 – aerial act
- Troop of Alania - Cossack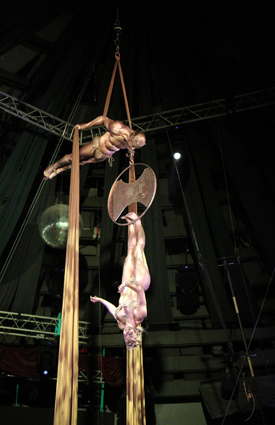 Yves & Ambra toured Denmark with Circus Benneweis in 2010. In the entrée they showed in Budapest, they used gold makeup, which made the great act extra spectacular.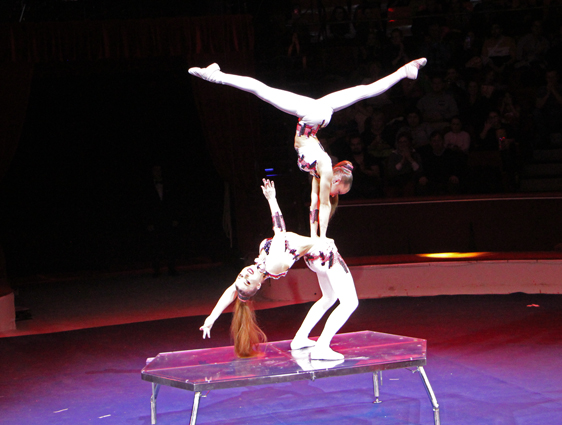 The two pretty young Kolov Sisters, who presented girlpower in exceptional class, were with Danish Circus Arena in 2019 and received that year's talent prize from the Danish Circus Award for their great act. Their first award ever. Jury chairman Ole Simonsen predicted it would not be their last. Since then they have also won awards at the Moscow circus festival and now also at the prestigious Budapest festival. And that will hardly be their last prize.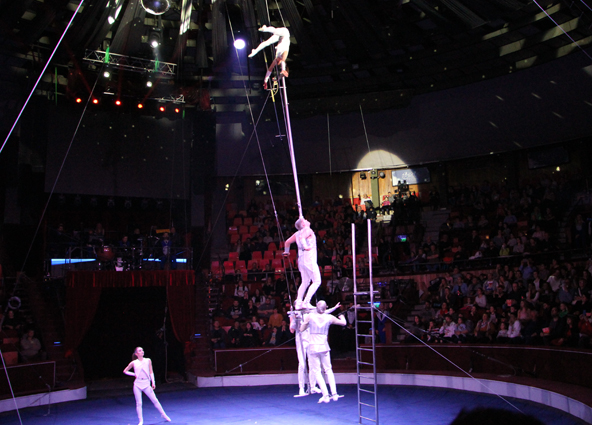 The Russian artists from Virtuoso 5 presented an act in which, on a platform on a swing that hung down from the circus dome, they swung between two ladders and, among other things, during the swing trip did 3 men high or performed with perch. The act is brand new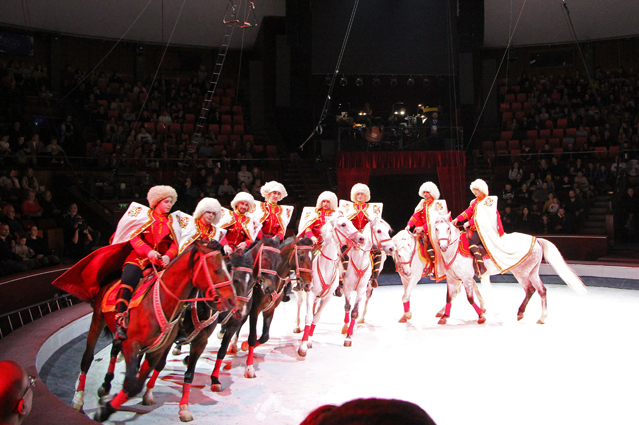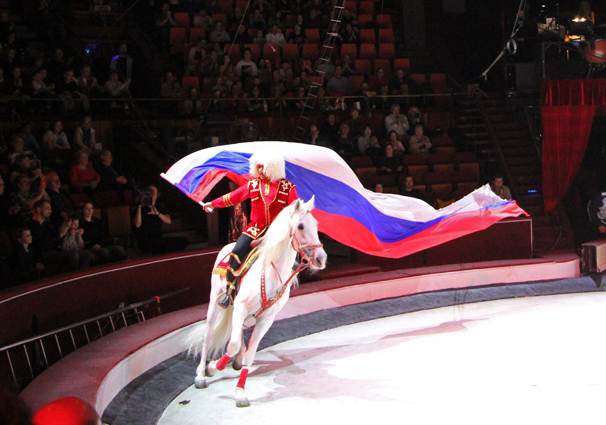 The Russian Alania troupe did nice Cossack riding which offered all the traditional tricks.
Four numbers received a bronze award, a bronze Pierrot
- Duo Vitalys - handstand / hand to hand
- Equivokee - clown trio
- Semyon Krachinov - juggler
- Fantastic Elves – aerial act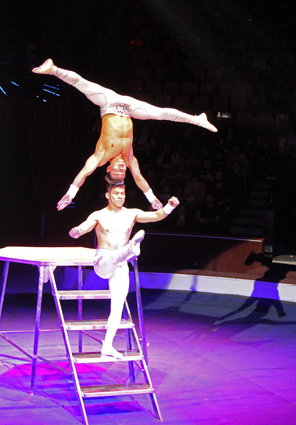 Due Vitalys' act was somewhat reminiscent of what Duo Kvas presented in Danish Zirkus Nemo in 2019 and thus also offered head-to-head balance while the underman sat down. But the two artists from Duo Vitalis, who come from Peru, did not end there: The underman walked with his partner on his head down the stairs and around the ring to finally go up to the podium again. Impressive!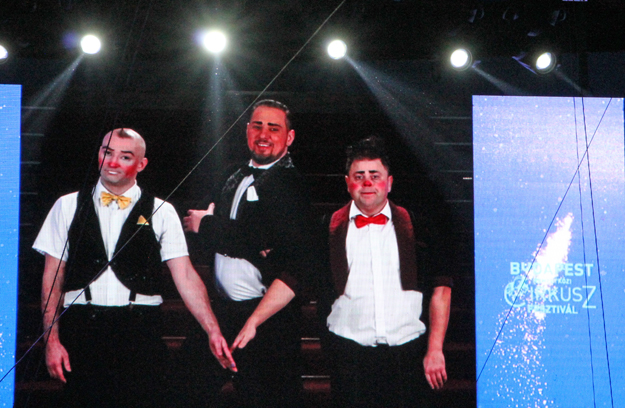 The clown trio Equivokee had several fine entrées with a lot of innovation.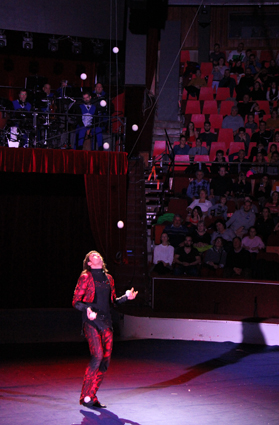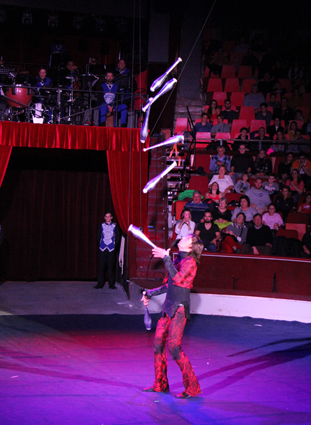 Russian juggler Semyon Krachnikov enthralled the audience at Benneweis in 2013 with his juggling act Krachnikov Fire of Juggling, which Dawid Benneweis had seen at Knie in Switzerland the year before. The act is still excellent and could have deserved a Silver Pierrot,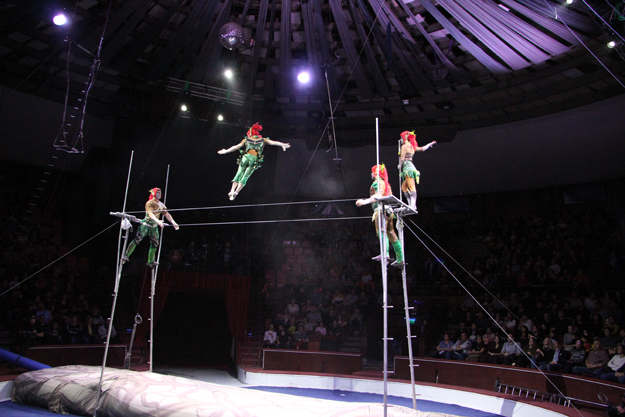 The troupe Fantastic Elves offered a throws of artists between two catchers, see photo. The act seemed a little monotonous.
The festival had many other acts which also could deserve to be mentioned. A single troupe, Evtushenko Group, however, not for the positive: during their entrée in the flying trapeze they did so many mistakes that they should train some more before setting up for an international festival. And the clown Emelin, who was with Danish Circus Benneweis in 2000 and the Swedish Circus Maximum in 2007, was nothing special.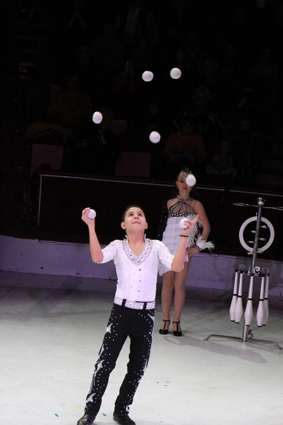 In addition to the artists who participated in the actual festival performances, there was also a Newcomer show for young talents. Here there were a well-deserved gold medal to the young juggler and child star Manuel Rico Varga, who had both talent and charm.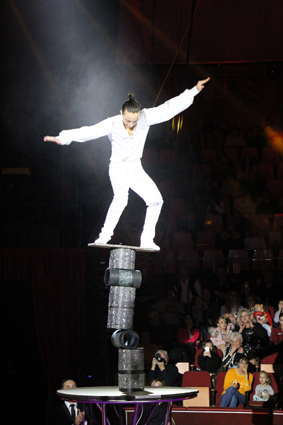 Another child star, rola bola artist Roberto Varga, on the other hand, had surprisingly to go home without a prize. He may not quite have the same charm as Manuel Rico Varga. On the other hand, his number would also be impressive if performed by an adult artist, while Manuel's number is probably most impressive because it was performed by a young kid.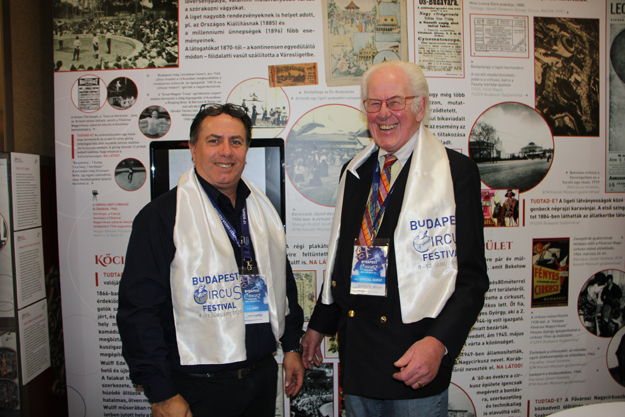 The Danish artist agent etc. Jörgen Börsch is a regular guest at the leading festivals. Here he is seen with one of the jury members Fabio Montico, who is chairman of the Italian circus festival (the Latina festival). It's Jörgen on the right.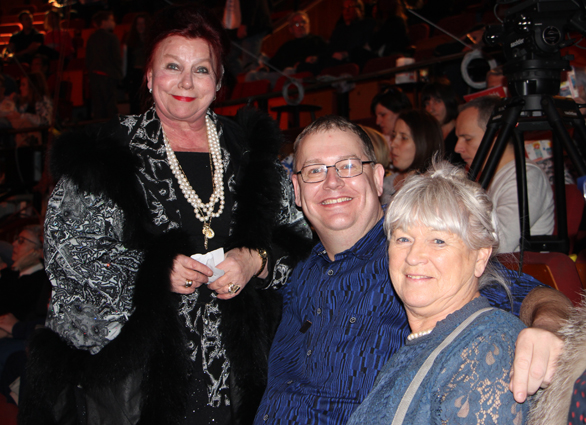 Tour operator Brian "Briano" Behrendt is surrounded by two circus queens: Agnete Louise Enoch from the now closed Circus Dannebrog and Irene Thierry, who hopes that the family's small Danish Circus Krone will be on the roads this year, where she can celebrate her 70th anniversary as an artist.

12 January 2020
Circus Trapez 2020. There is season opening in Kolding on April 8. As in 2019, they have once again chosen to partner with the Belgian Mediatoon to bring the cartoon figures Yakari, Little Thunder and all their friends to life. As in 2019, Yakari will be played by the young Nynne Hulsig Samuelsen.
Among the other performers is the Donnert family with their Hungarian trick riding. Two members of the Donnert troupe will also do Pas de Deux on horseback. The Danes saw Donnerts in Circus Benneweis in 2013 and the Swedes the following year in Circus Brazil Jack, where they were also in 2017. It is uncertain whether the troupe at Trapez has as many members as at Benneweis and Brazil Jack.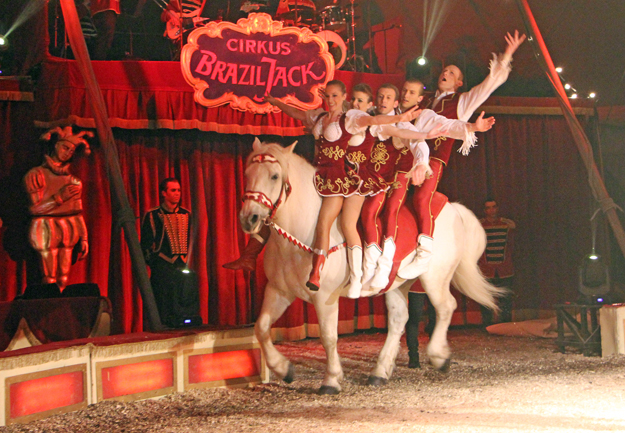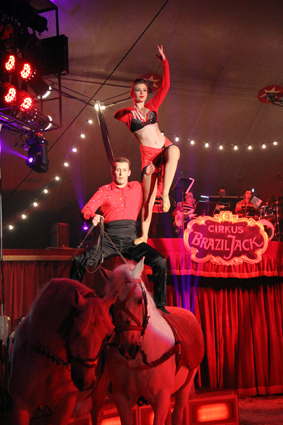 The Donnert family is among the performers of this year's performance in Circus Trapez
Bernhard Kaselowsky presents his Frisian horses and a big and little-act.
Richard Donnert and Eva Varadi will present the quick-change act which the audience in Jutland could see in 2016 in Danish Circus Krone and the audience on Zealand the following year in Circus Arli. Eva Varadi will also have a hula hoop-entrée. She comes from a well-known Hungarian artist family and is probably best known for her antipode number (foot-juggler), which she presented in Danish Circus Krone in 2002, 2003, 2007 and 2016, in Baldoni's Christmas circus in 2008 and in Circus Arli in 2017.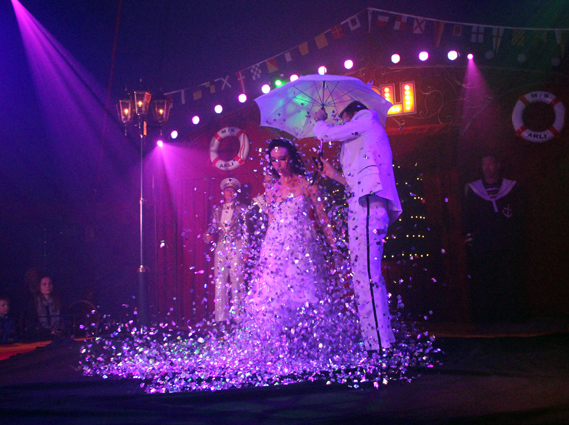 Richard and Eva Donnert with quick-change
Benjamin Pfeiffer, who has not previously performed in Denmark, is a tempo juggler and also presents a parrot act.

8 January 2020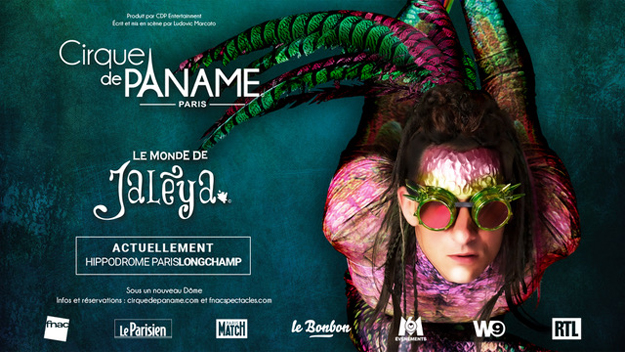 IT ALL HAPPENS IN PARIS -- please find a resumé, not a translation, of a write up in Danish by TOMMY HARDAM from the Danish Youth Circus Flik-Flak, after having seen:
CIRQUE DE PANAME JALEYA.
This show is pure contemporary circus, and very advanced at that : the base is an excursion into the world of imagination and story-telling, everything based on dancing and acrobatics, very elegantly featured.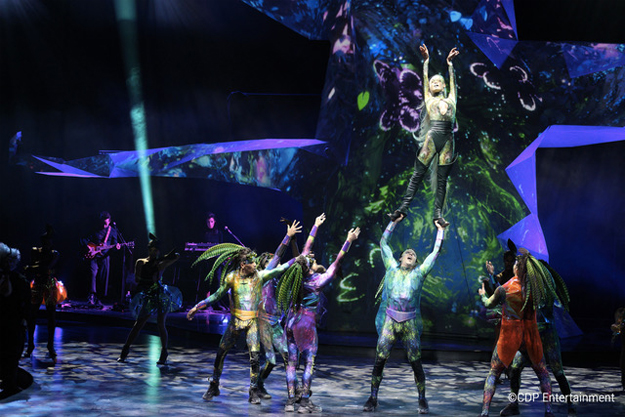 All photos are press photos from Cirque de Paname
Included are a number of technical stunts that enhance the impression of a good show.
Acrobatics in elastic straps, double trapeze, springboard combined with Chinese pole, aerial ring in the shape of a big bubble that can open and an amazing water fountain combined with a computer commanded wall of water that can do - anything!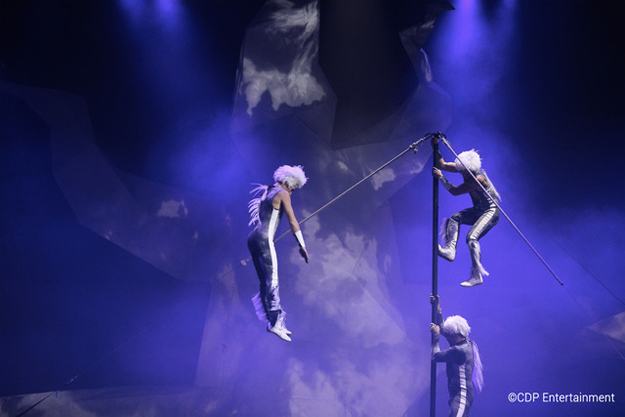 Pole acrobatic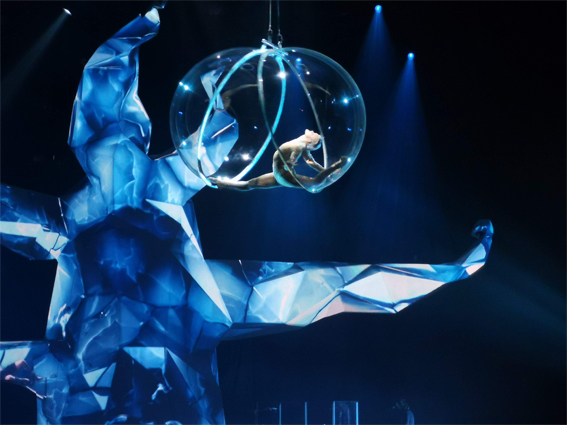 Aerial bubble
All this is impossible to describe, hopefully the above mentioned element do give an idea!
Live music and singing contribute to the pleasant impression that persists after the show.
JALEYA will be playing in Paris until FEB 23, located in the BOIS DE BOULOGNE, access by métro RANELAGH or PASSY, then a walk about 20 minutes/ taxi might be the best solution.
See more: https://www.cirquedepaname.com/en/the-world-of-jaleya/
------------------- resumé by ZARRO ZARRO.

3 January 2020
Danish circuses in 2020. Below you can see an overview in alphabetical order of the circuses touring in 2020, as well as an overview of the performers in each circus.
Circus Arena: Season opening in Copenhagen at 'Bellahoj' on March 25. The performance will be presented by Bubber and Julie Berthelsen. Performers: Alex Porsing and his motocross team FMX Denmark, the high wire troupe Danguire, rola bola acrobat Paulo Kaiser, Wolfgang Lauenburger and his dogs, the acrobats Tumbling Troupe, Laura Berdino with horses in liberty, Duo Costace and Circus Arena's house clown Jimmy Folco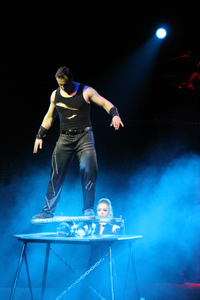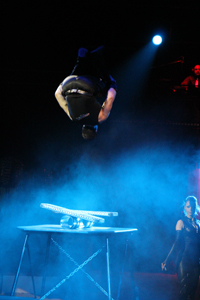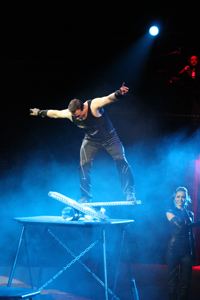 The rola bola acrobat Paulo Kaiser was also with Arena in 2016. In 2019 he performed in Circusland. His specialty is jump from board to board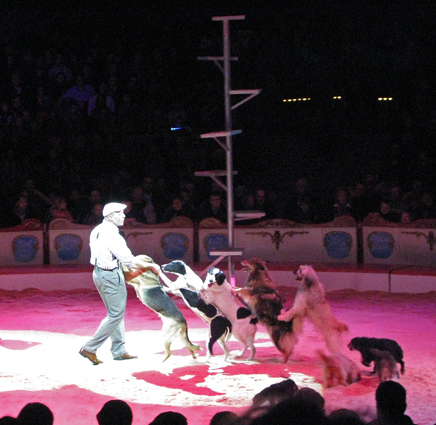 Wolfgang Lauenburger was also with Arena in 2010.
Duo Costache was also at Arena in 2017 and 2019 with respectively a perch act and an aerial act.
Circus Arli: season opening in the Copenhagen suburb Fløng 29 March. In addition to members of the Arli family, you can meet the clown and multiartist Francisco Fratellini. The names of the other performers have not yet been published.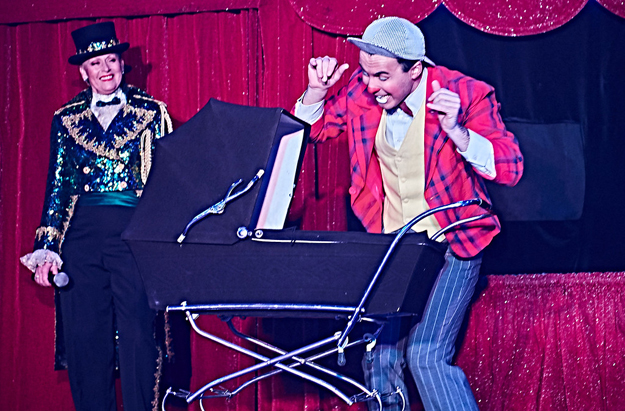 Francisco Fratellini was most recently at Arli in 2018. Photo: Rud Kofoed / Ajour Press
Circus Baldoni: season opening in the Copenhagen suburb Lyngby 24 March. In addition to director René Mønster Baldoni you will among others meet the strongman Denis Ilchenko, Martyn Chabry with costume change and as a virtuoso on instruments, handstand artist Michael Mudrak and Janacek family with Papa Eddie as run in clown as well as in a musical clown entrée with René Mønster Baldoni.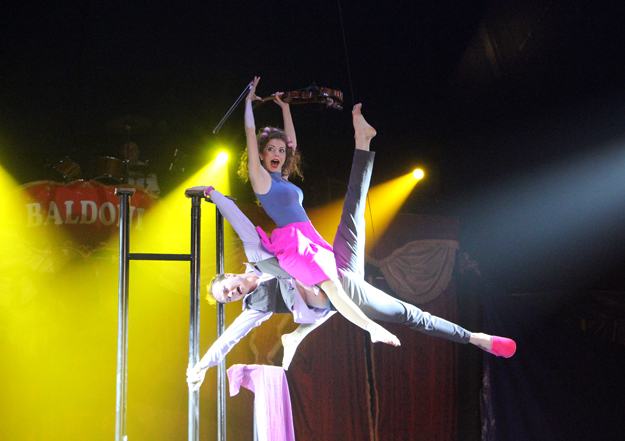 Michael Mudrak was the male half of Duo Hands to Violin, who was with Baldoni in 2016
Eddie Janacek was also clown in Baldoni's 2017 performance. The family has been with Baldoni since 2016.
Zirkus Barnly: no information.
Circus Krone: no information.
Circus Mascot: Season opening in Roslev on March 25. In addition to members of the Deluran families and the clown Gulio and his family, the names of the other performers have not yet been published.
Zirkus Nemo: season opening 11 April 11 in Horsens. In addition to Søren Østergaard, the names of the performers have not yet been published. However, under press photos on the Nemo website, there is a photo of the rola bola duo Meleshins Brothers, who not previously has worked in Denmark.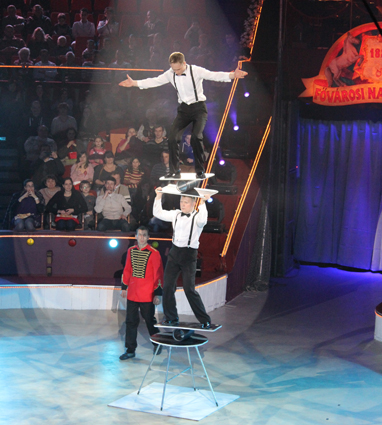 Meleshin Brothers master rola bola in "two levels". Photo from the Budapest Circus Festival 2012
In addition, there are photos of the juggler Claudius Specht, the hula hoop star Geraldine Philadelphia as well as handstand artist Duo Solys. All three of them have been with Nemo in previous seasons. Tatiane and Hector of Duo Solys got a daughter on December 25. The little girl will be named Freya. Tatiane expects to be ready to go in the ring when the season starts. Congratulations to Tatiana and Hector, who in 2018 got the Danish award for the act of the year.
Circus Trapez: Season opening April 8 in Kolding. The names of the performers are not yet published.

2 January 2020
Birthdays with a round figure in 2020. Several persons from the Danish circus and artist world can celebrate a birthday with a round figure in 2020.
29/1 2020: Freddi Steckel 70 years
29/3: Ann Alakazam 85 years
6/4 2020: Leif Conradi 90 years
26/4 2020: Martin Arli 60 years
23/5: Benny Schumann, 75 years
4/10 2020: Niels Plys 60 years
22/10 2020: Isabella Enoch Sosman 60 years
24/10: Palle Bay Henriksen (Mr. Toons) 50 years

1 January 2020
This website close to had 30.000 visitors in 2019. The news section, being a weekly internet magazine and the tour list ("What's on) are usually updated every Saturday. Apart from news and tour list the website has pages with facts about Danish circuses, Danish circus families etc. Links to those pages can be found at the bottom of the opening page