Older Circus news from Denmark 2018
27 February 2018
Judy Glosted as pop singer. From 2006 to 2008 and again from 2011 to 2014, Judy Glosted was singing ringmistress in Danish Circus Benneweis. For a few months last year she had the same job in the much smaller Circus Trapez. In the coming season she will be a singer in Danish dance band Fede Finn & Funny Boyz.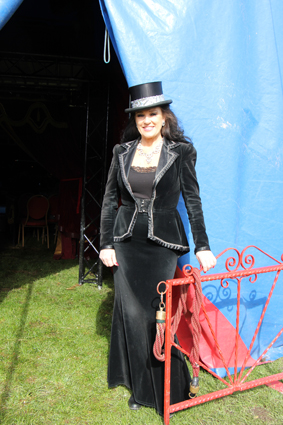 Judy Glosted in front of the Circus Trapez tent. In the coming season you can't see her in circus, but on various Danish pop music stages.

23 February 2018
Circus Arnado 2018. The large Norwegian Circus Arnardo has as the first circus in the Nordic region season opening on 10 March. In this year's performance you will meet Jennifer and Kelly Saabel with Siberian Huskies and Samojed dogs, the strongman Denis Ilchenko, Yvonne Lübben with pinto-colored ponies, Clown André (André Broger), Diana Boiachin in aerial ring and with soap bubbles, the African acrobats Kenya Boys, Duo Costache with perch and trapeze, the juggler Nandor Varadi and Are & Paolina Arnardo with illusions. Ares late grandfather, Arne Arnardo, the Circusking, is Norway's most famous magician throughout the ages and founder of Circus Arnardo.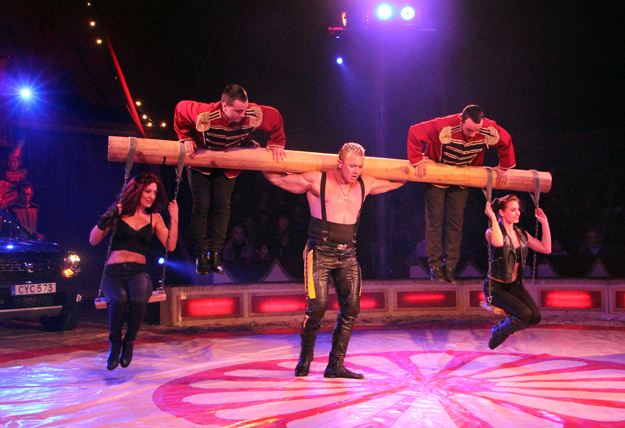 The strongman Denis Ilscenko spent season 2017 with the Swedish Circus Brazil Jack.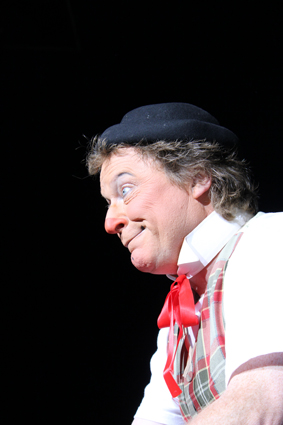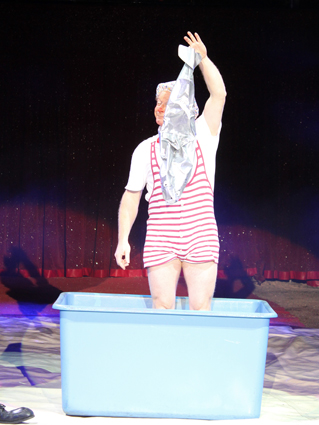 Although internationally known, the Swiss clown André Broger only once had a tour with a Nordic circus: in 2003 with Circus Scott. The photos above are from the German Circus Charles Knie 2012. Both the entrée with the shark in the bath and the entrée where a clown mime to "Save my love" was invented by André Broger, but with more or less talent copied by a number of other clowns
Duo Costache has performed in Swedish Circus Brazil Jack as well as in Danish Circus Arena. Nandor Varado has performed in the Danish circuses Krone and Baldoni.
"I am convinced that this year's performance is in the very best Arnardo tradition. An adventurous and magical world where the audience meets the joy, fascination and excitement of the around two hours they are our guests. And we know how to take care of our guests," director Arild Arnardo says. He has seen countless numbers of children and adults go into the circus tent with hopes in their eyes. They have opened their senses and given Arild and the artists the opportunity to fill them with sound, light, smell, excitement, fascination and not least laughter.

22 February 2018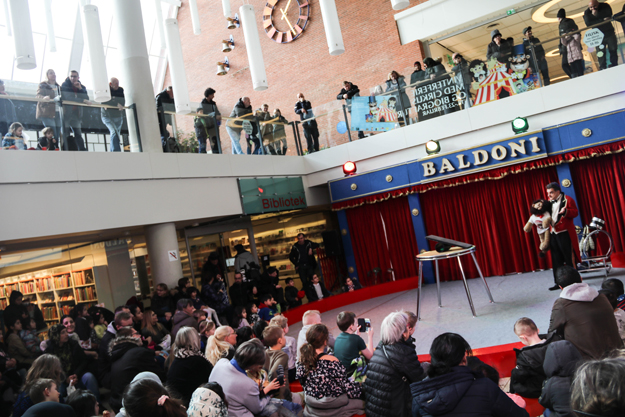 Baldoni's Winter Circus had performances in week 8 in Ishøj Shopping Center in the southern part of greater Copenhagen. The school children in a number of municipalities south of Copenhagen have winter holidays in week 8. Thus, it was in week 8 that the Ishøj Shopping Center for the third consecutive year presented Baldoni's winter circus. All the approx. 35 minute long performances were extremely well-attended and undoubtedly attracted many visitors and customers to the shopping centre. True to tradition the performance was presented by René Baldoni and his lion Leonardo. All photos: Jacob Boas Leitisstein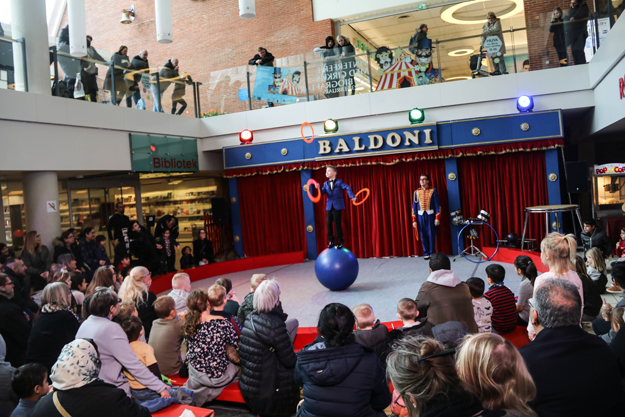 The first act in the performance was Rudy Janacek, who rolled into the ring on a large ball and then juggled.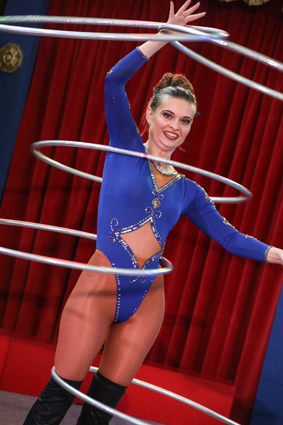 His mother Maria did fine hula-hoop artistry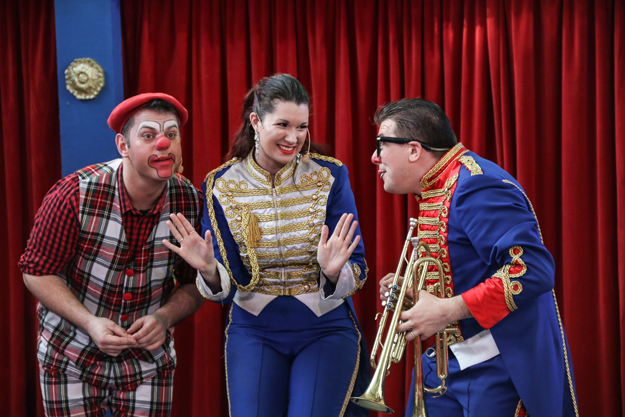 The Baldoni clowns - Danilo, Cindy and Eduard - got the laughing muscles started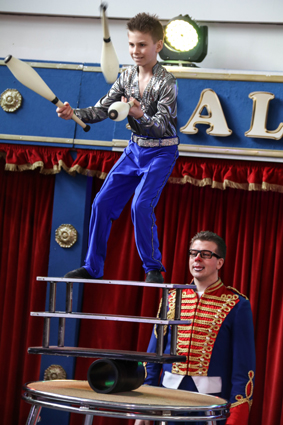 11-year-old Kaya Janacek completed the performance with rola bola at level with what one see adult artists do. Click here to see more of Jacob Boas Leitissten's photos from the show.
Click here to watch a 4½ minute video shot by Ole Simonsen with iPhone.

21 February 2018
Winter Circus 2018 produced by Isabella Enoch Sosman. Jørgen Lorenzen saw the performance in Hobro Arena on February 18 at 3 p.m. and writes (my translation):
There were between 100 and 200 visitors. Among the artists in the performance were the Konyots clown trio. And it's been a long time since we've witnessed a White Clown together with two Augusts. Here she was a woman - not white-faced, but dressed in white. And in interaction with the two Augusts. And especially the elder August mastered the clown profession. He started the performance with the entrée where the music paper descends from the music stand until he tape it - with the unforeseen consequence that he tapes himself.
Isabella Enoch welcomed before Marian presented 6 mountain goats in fine routine where she showed the versatile skills these animals possess - agility and balance. A diabolo act then entered the ring where Duo Markewich juggled with diabolo props - among other things on high monocycle. Henry Fröchte then presented the classic plate spinning act before The Konyots appeared as musical clowns and played on trumpet (two!), clarinet, watches, harmonica, whistle, honk horn - and finally concert for a tube with funnel.
The second part of the performance was initiated with a puddle symphony, presented by Anton Tarbeev. The main trick was probably the dog standing on the forepaw in the hand of the trainer. David Enoch Sosman has grown thinner. It makes his juggling entrée better because he has acquired the springy steps of the juggler. He performed difficult tricks without any drops. What the most difficult in his versatile entrée is he only knows himself. But at last he bounced with 8 balls which seems to be extraordinarily difficult - at least it's spectacular.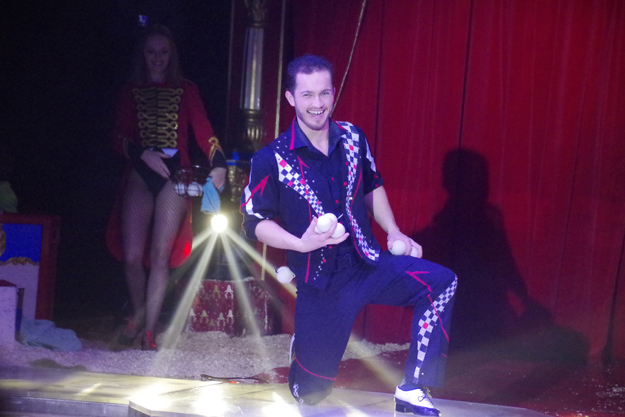 David Enoch Sosman. Photo by courtesy of Isabella Enoch Sosman
An interlude with Katharina as a hula hoop artist was replaced by Henry Fröchte, alias the Indian Winnetou in his robust foot juggling entrée - assisted by his daughter Nathalie. The last act in the performance was a lasso and cowboy number, presented by Lilli Lasso.
And then it was all over. Isabella presented the 11 performers before audience left for the cold winter weather.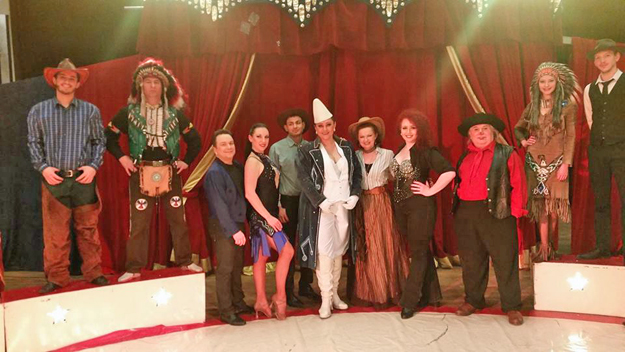 Isabella Enoch Sosman and her team

17 February 2018
Circus Big in Slagelse. Among the winter holiday performances was Circus Big, who performed at the West Zealand Center in Slagelse. As the pictures below show, there were a lot of spectators when Mr. Big (Benjamin Breith), Clown Knud (Thomas Larsen) and Andreas Magic were on the stage. Shops and eateries in the centre undoubtedly enjoyed the occurrence of something that attracted visitors and thus also customers to the centre during the winter holidays.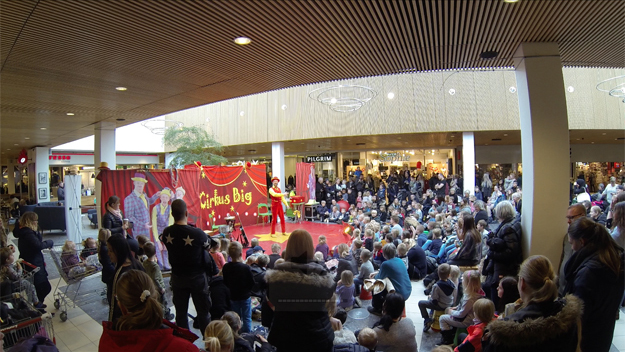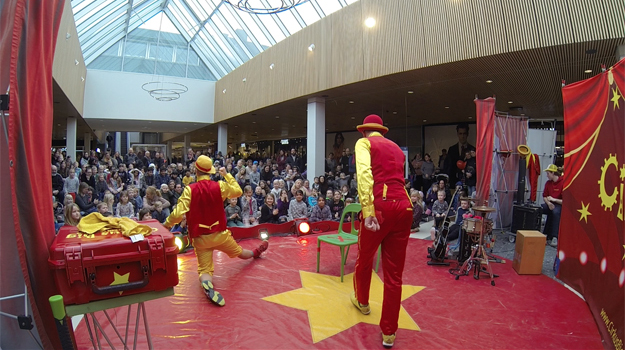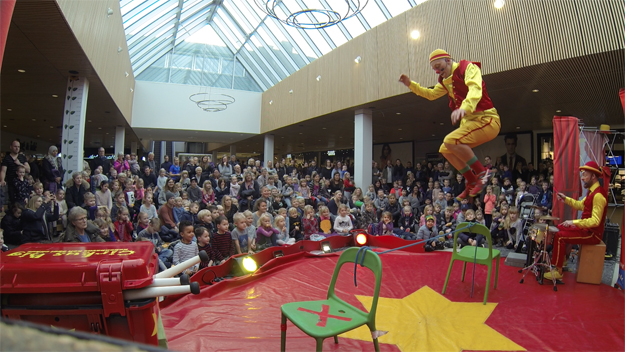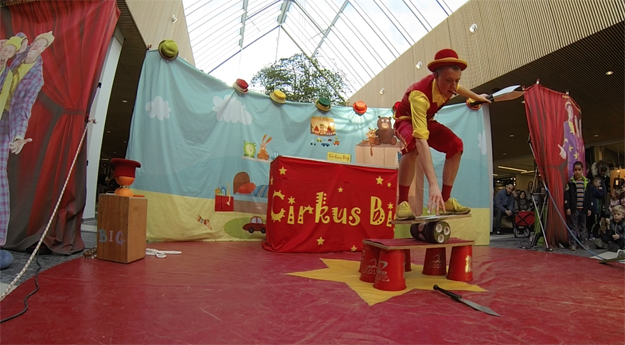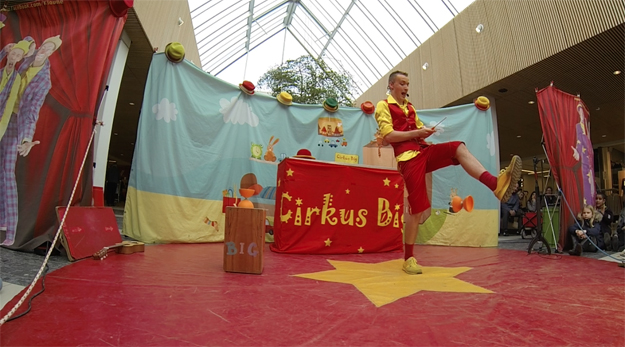 17 February 2018
IT ALL HAPPENS IN PARIS -- THEATRE CLAVEL proudly presents LA COMEDIE MAGIQUE, a theatrical MAGIC SHOW, by and with CARMELO CACCIATO and BERTRAND CRIMET.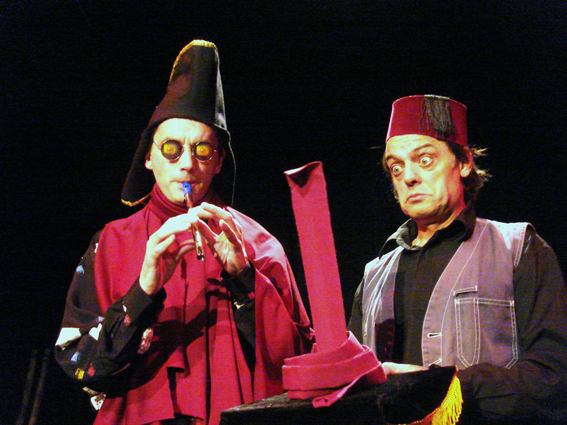 Bertrand Crimet and Carmelo Cacciato. Photo by courtesy of Theatre Clavel
THEATRE CLAVEL is built in the style of an amphi-theater, sporting 120 seats, and a rather large stage, giving plenty of space for the artists to perform.
Both CARMELO and CRIMET are good actors, performing the different sketches in an attractive and pleasant way.
After an hilarious entrée, using a white handkerchief, taking different forms - this stunt is called NAPKINS NONSENSE, a lot of public interaction follows, which all does involve the audience in all that is happening:
We saw paper-cutting, the classic MONEY OUT OF THIN AIR, a vertical levitation, and a sequence where both CARMELO and CRIMET act behind and in a picture, hanging on the wall , difficult to describe but very funny and vivid.
Some sublime effects may have got lost for the smaller fry / 6 - 10 years old/ - but all had a hilarious and pleasant afternoon, both kids and adults.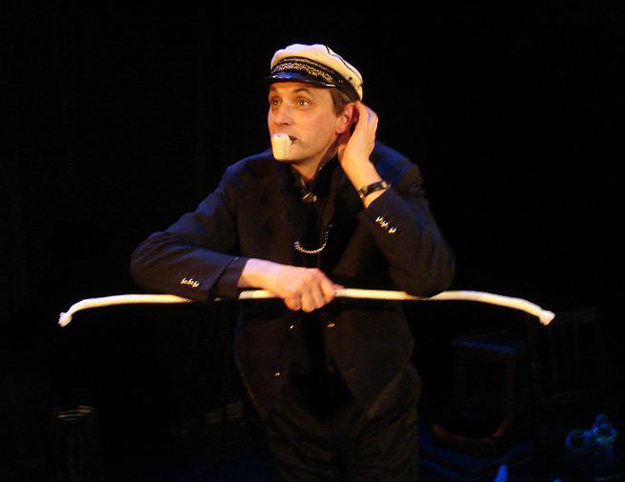 Carmelo Cacciato. Photo by courtesy of Theatre Clavel
Showtime: 60 min.
A sympathic, funny and appealing show - well worth seeing!!
IT ALL HAPPENS IN PARIS!!!
Venue: THEATRE CLAVEL, 3 rue Clavel, 75019 Paris. Metro: Pyrénées.
See more: www.theatre-clavel.com
....................... reported by ZARRO ZARRO.

16 February 2018
Enoch's Circus Show 2018. Jacob Boas Leitisstein has seen the performance and writes (my translation):
Jimmy Enoch has been presenting Enoch's Circus Show for a number of years in the winter holiday at Rosengaard Shopping Center in Odense, and it has to be said that the circus show has become popular among the guests of the center. Long before the show start, all the ringside and tribune seats were occupied, and around the ring there were a lot of people standing up.
This year's edition of Enoch's Cirkus Show featured a number of acts that the Danish circus audience on Zealand probably will remember from the last two seasons in Circus Arli. The show started with a clown entrée with Francesco Fratellini, who had a camera with him in the ring. He was followed by Jimmy Enoch, who entered the ring on bike and did a few tricks before he welcomed.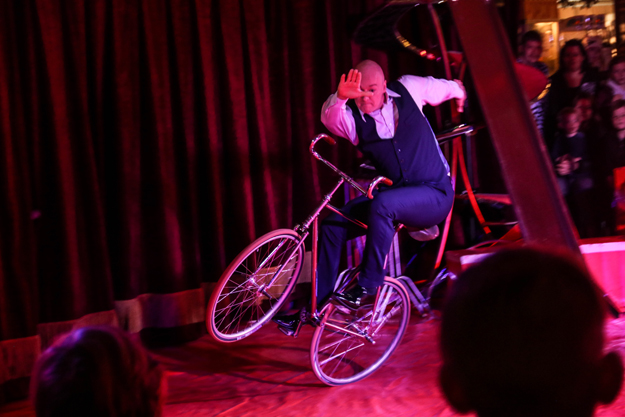 Jimmy Enoch. All photos: Jacob Boas Leitisstein
Francesco Fratellini came back in the ring again - now with juggling and a one-wheeled bike. First juggling with balls and then on the mono-bike on which he with his foot was throwing cups and plates to top of his head.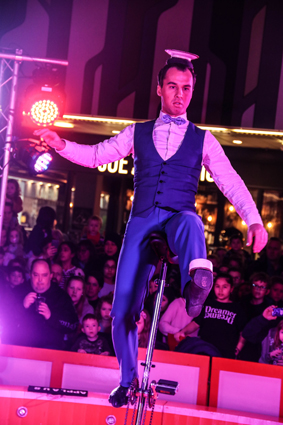 Francesco Fratellini
Now there were animals in the ring - it was Gina Giovanni's dog show. A nice dog act with tricks as jump through hoops and skipping. The act ended with all Gina's dogs getting a roller-coaster ride.
After the dog act the clown Francesco came back - now with a baby and a pram. Next artist was Sarah Florees with a nice hula hoop show. Sarah combined both acrobatics and hula hoop.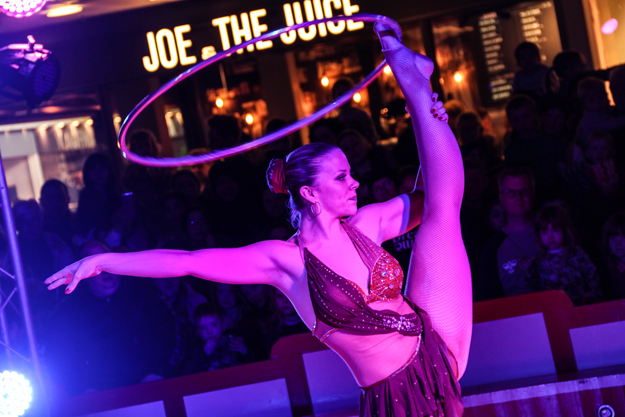 Sarah Florees
The last act in the show was a fun and fast-paced knockabout table act with Alexander Arli and Francesco Fratellini. All in all, Jimmy Enoch once again presented a great winter show!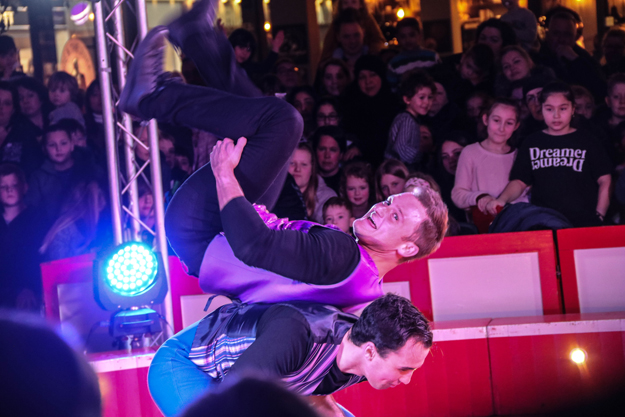 Alexander and Francesco, Click here to see more of Jacob Boas Leitisstein's photos from the show.

14 February 2018
Circus Krone. Jorgen Lorenzen saw the performance in The Concert Hall in Aarhus on 13th of February at 14 and writes (my translation):
The hall was crowded - many children. The spirit became high while the clown Allando walked around and chatted with the children. And when he finally found a way to the ring there were beach balls everywhere. Of course, they had to get out of the ring before the show could get started, and Allando threw them to the audience - who returned them under deafening delight.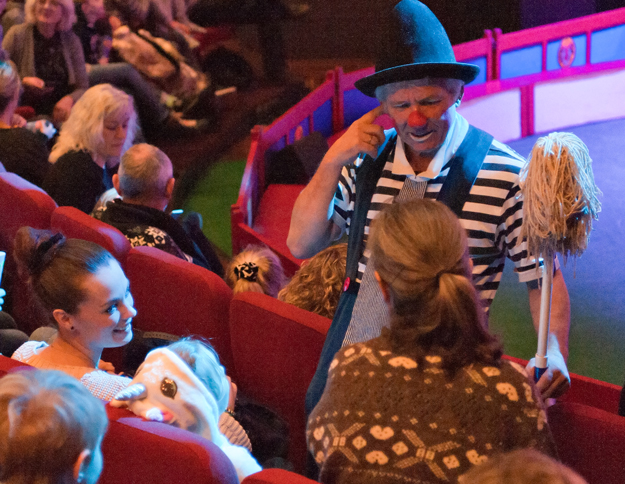 Allando small talks with the audience. Photo: Jørgen Diswal
The Krone Band, more precisely Marc and Frank Thierry played Krone's signature tune before the former director Irene Thierry welcomed the audience using her usual ritual, which ends with the audience bowing for her. And then we were in Denmark's coziest circus. Later in the performance, she presented her successor to the executive chair, her son Frank Thierry.
The Janacek family from the Czech Republic masters 8 different acts. We saw some of them. Rudolf being 5 years old dressed in beautiful, tailored suit was "Kugelläufer", as it is called in German when artist balances on a large ball. He juggled with rings, balls, clubs cones and sword.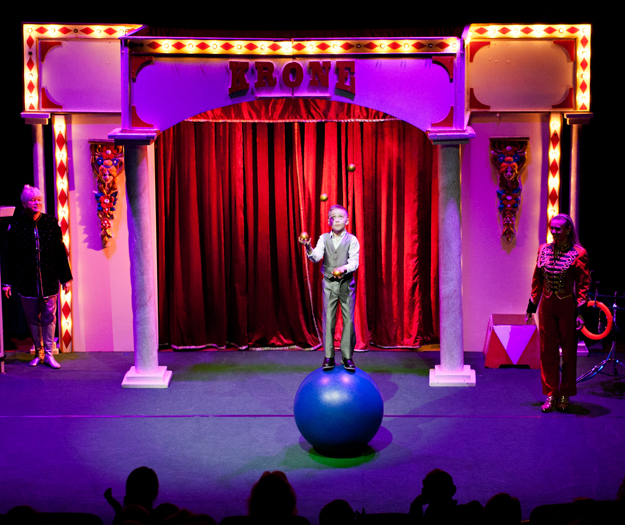 Rudolf Janacek. Photo: Jørgen Diswal
Then we went, or rather Allando went, on a picnic. But a mischievous pony disturbed him, and it would certainly not leave the ring willingly. Great enthusiasm and sympathy with the pony.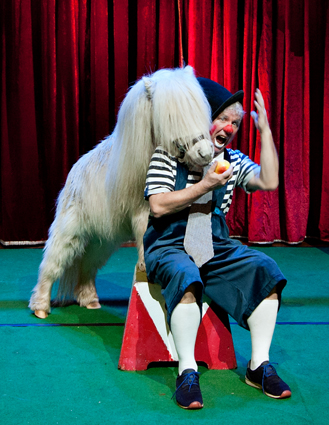 Allando and the mischievous pony. Photo: Jørgen Diswal
Eduard, the father of the Janecek family, performed with chair balance, dressed as Agent 007. 4 chairs in alternate positions with juggling in the top.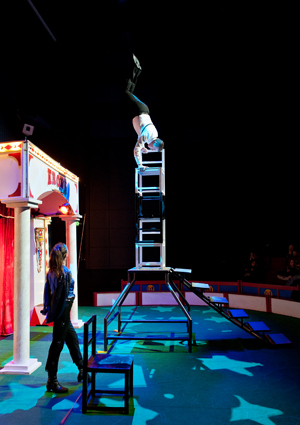 Eduard Janacek. Photo: Jørgen Diswal
Allando entered the ring with an animal of indeterminate nature. Even he was in doubt. Was there a duck, a lion, a dog, a seal or a sea lion? The children helped him with well-intentioned shouts and it was agreed that it was a sea lion. But then a mischievous penguin appeared. Here too, Allando's zoological knowledge failed. Was it a quack-quack, a dinosaur, an ant, a toad scratch or a pingeling? Together with the children, the animal was determined as a penguin, which, however, showed a behavior so that one could be misled to believe that there was a human behind the ham, which actually was the case.
Kaya (= Karel) being 11 years old was a competent rola bola acrobat. He was used 3 and 4 cylinders, and he also mastered the trick in which the artist, standing on his board at the top of the rollers, maneuvers his body through two rings.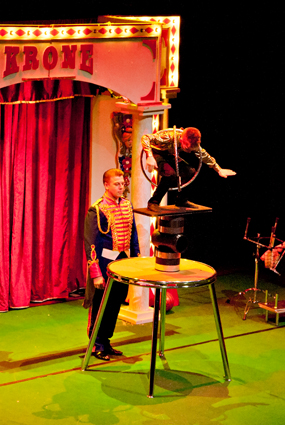 Kaya Janacek. Photo: Jørgen Diswal
And then there was a finale. Irene Thierry is now no longer the director, but employed and certainly not ready for retirement! And we are excited about what the new director has for ideas when Circus Krone starts the season something in the spring.

13 February 2018
Circus Mascot. Jorgen Lorenzen saw the performance in the Herning Shopping Center Monday, February 12th. pm. 14 and writes (my translation):
Daniel Deleuran welcomed. The clown Gulio disturbed before Daniel showed Gulio some magic tricks of which a couple was easily seen through by the kids. Which also was the intention. Husik then presented his beautiful juggling act with "overgrown" rings before Gulio provoked laughter with a kidding and rubbish clothes dog. But soon the real dogs came in the ring when Marianne filled the ring with her pets - in a symphony of dog tricks.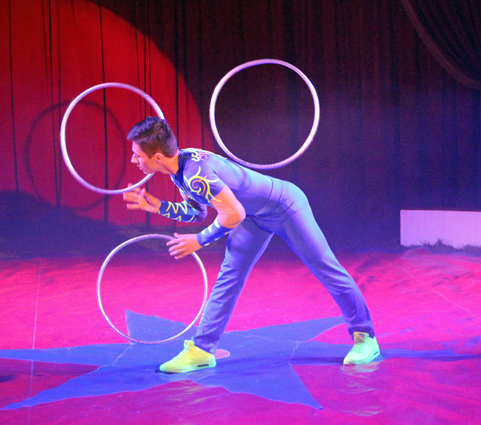 Husik and the hoops. Photo from an earlier performance
Gulio and Julia performed a sketch with a mechanical doll. The same as you could see last summer in Mascot's tent. But the number was further developed so it became more poetic and lively. The new was that Julia's mimic had been refined, so her face radiated many emotions - far more than in the tent. The entire emotional registry from irritation and amazement to banter and fun.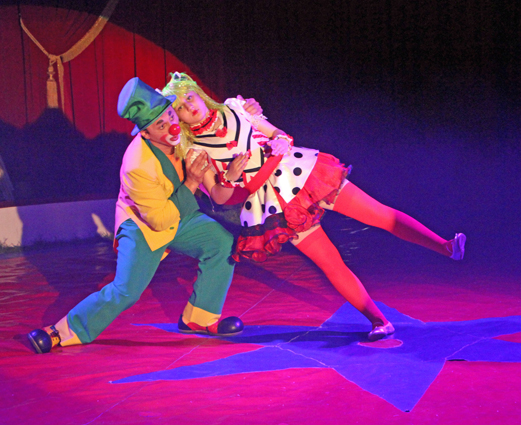 Gulio and Julia. Photo from an earlier performance
Circus is a nice feature in some of the major shopping malls programs during the winter holidays. Large centers may actually seem a little sterile and hurried with the many flagged and glass facades and busy people on shopping. But it is obvious that the shopping centers are trying to add an aesthetic and cultural dimension: green oases and decorations - and also circuses. In the long term, one can hope that there will be space for circus and street performers in the pedestrianized streets - in the centers and in the city streets. There must be opportunities for popular art here. And the shop owners will make the experience that street performers, acrobats and street singers doesn't hinder the sale - on the contrary, they reinforce it because they contribute a nice and relaxed atmosphere and provide space for imagination and amazement.

13 February 2018
Circusland in Slagelse - Winter Holiday 2018. Jacob Boas Leitisstein writes (my translation):
Again this year, Circusland in Slagelse has been open during the winter holiday. This winter holiday was the last chance to experience the theme "The Wild West" in the circus park. In the summer of 2018, Cowboys and Indians will be replaced by pirates.
In addition to the amusements at the playground, circus school, pony rides and the circus museum, there is still greatest focus on live entertainment in the form of various shows. The first show on the program was the Western show, which during the winter holidays presented by Texas Jack.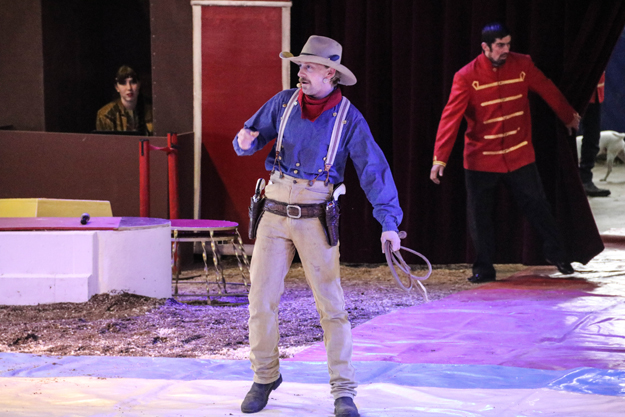 Texas Jack. All photos: Jacob Boas Leitisstein
The first act in the show was a dog act with Stephanie Berdino. She was followed by fun with the clown Christian Folco and the whip-cracking Texas Jack. Then Charmaine Berdino came in the ring with her two beautiful horses. The last two acts in the Western show were revolver juggling with Texas Jack and a pony show presented by Daniel Koscik and Timm Delbosq.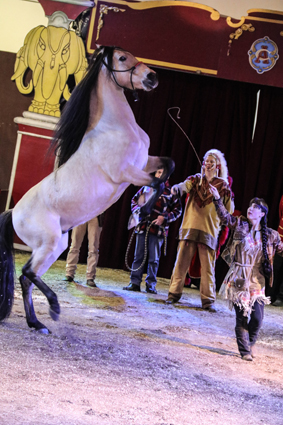 Charmaine Berdino with one of her beautiful horses
After the western show, it was time to meet Arena's own sea lions Luna, Sally and Oscar. During the first part of the sea lion, Stephanie Berdino told a little about how sea lion training takes place in Circusland. Afterwards, the sea lions did a nice show with tricks both on the dry and in the water.
After lunch there was a children's show on the small stage in the playground. Chief Talking Waterfall presented Texas Jack, who did a magic show. In the children's show you also got a little taste on the summer's pirate theme - it was a pirate show with the parrot Gøje.
Circus Landino was now ready for a new, beautiful circus performance, presented by Charmaine and Patrick Berdino. The first act of the show was Laura Berdino with a beautiful liberty act with a total of eight horses.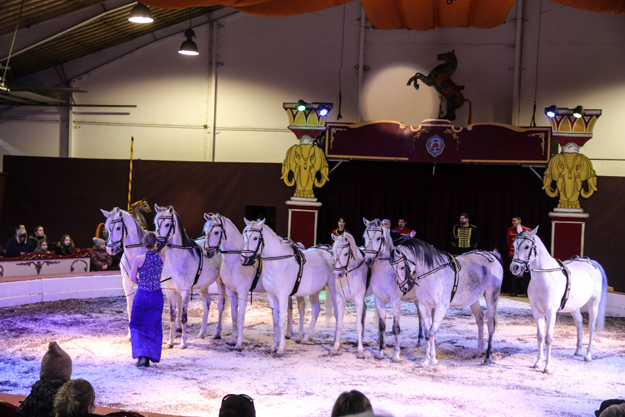 Laura Berdino
The clown Christian Folco, who also was part of Landino's performance during the autumn holiday, had a couple of new entrées. The first gag was one where one from the audience is invited to the assist in a springboard act that does not end as expected.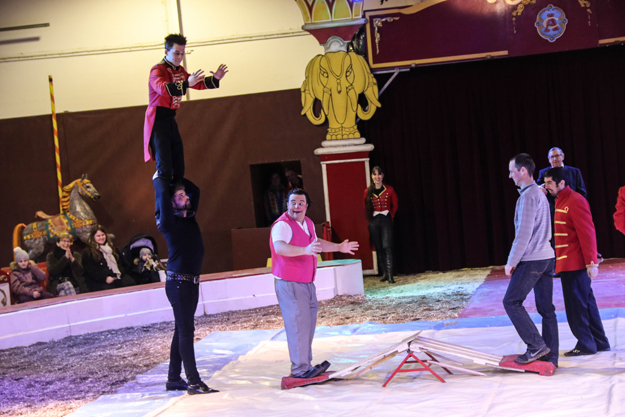 Christian Folco
The next act was an illusion act with Duo Biasini, followed by Daniel Koscik with Indian ducks. Christian Folco now entered the ring with a very "dangerous" animal that ended up flipping his clothes J Then Patrick Berdino and his cousin Oliver Berdino made a nice and fast-paced juggling and knockabout table act.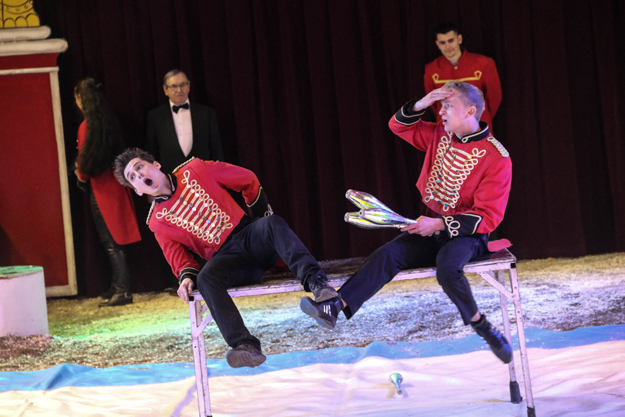 Patrick and Oliver Berdino
The circus performance was completed with lots of circus animals presented by Timm Delbosq - there were both dromedaries, zebras, llamas and a pony.
Click here to see more photos from Circusland

13 February 2018
Magic at the Circus Museum. The circus museum in Hvidovre, Copenhagen, presented during week 7 a 45-minute show with one of Denmark's most internationally renowned magicians and illusionists, Kim Kenneth. He and his two assistants presented also tricks which they never before have presented in Denmark.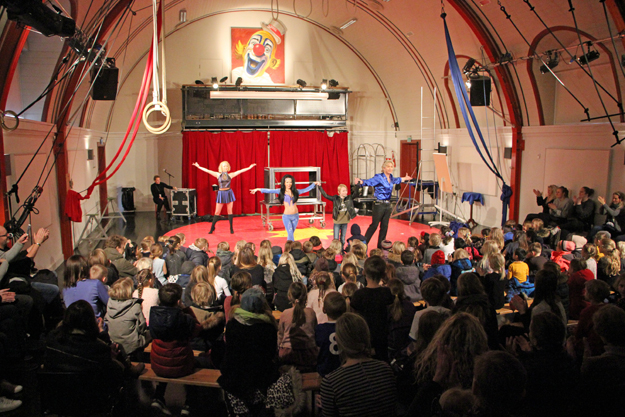 There was a booked up at the performances
Kim started juggling and conjuring with cards, while telling him that he, with his father as teacher as a kid started with doing magic tricks with cards. Later, however, he wanted to do magic tricks with women J - and then he had to change the cards with illusion acts!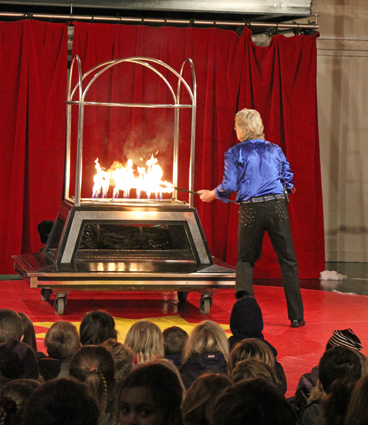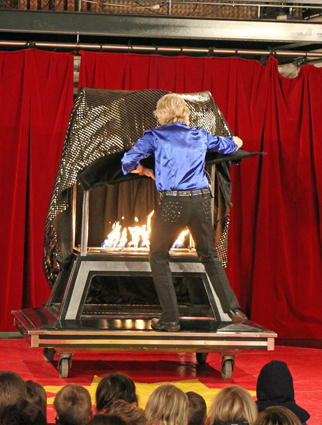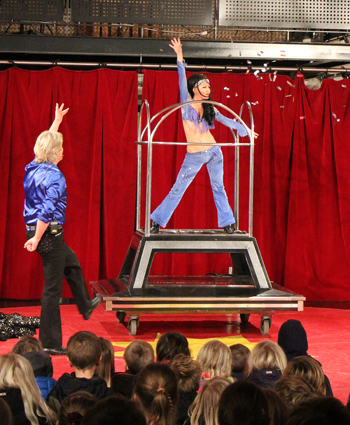 The trick where Kim puts fire on the prop and conjure up his girlfriend Jessica. In addition to this act we saw the illusion in which Jessica is locked into a box which immediately after appears to be empty. Afterwards, it appears to contain both Jessica and an additional assistant Henrika. We also saw the illusion where Jessica is squashed in a box.
The show also offered mind reading. A couple of randomly selected spectators should tell in which town they wanted to see a circus, what the tickets would cost, how they got to the circus lot, , what they bought in the kiosk and what the first act in the performance was. The answers Kim Kenneth wrote on a flip-over. Then Line Vittrup hoisted down a small box down from the ceiling, containing a roll that turned out to contain a paper with the exact answers Kim had written on his flip-over!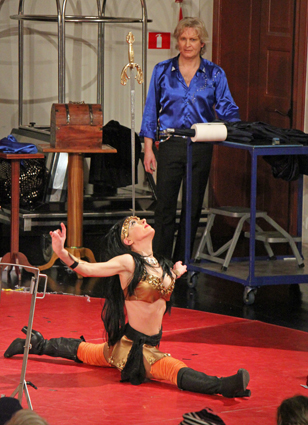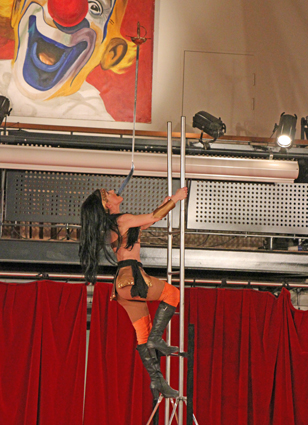 Jessica also presented her own act: elegant sword balance. Due to the fire regulations, however, without her final trick, where she balances swords over a burning ladder.
The final trick in the performance was a nice and original version of the number called the substitution trunk. Click here to see more photos from the show.

12 February 2018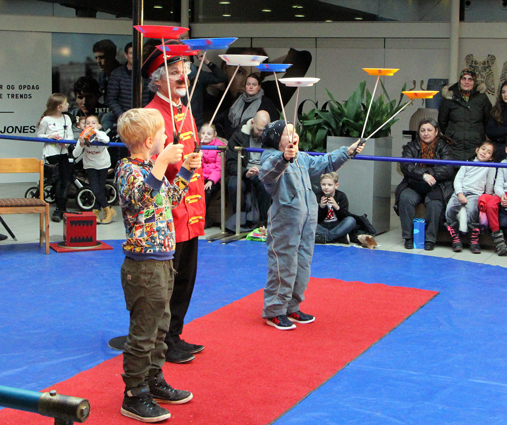 It is a longstanding tradition that Benny Schumann presents a performance in Elsinore City Center during the winter holiday. It is also a tradition that he 10-15 minutes before the show begins inviting some children in the ring. All photos: Ole Simonsen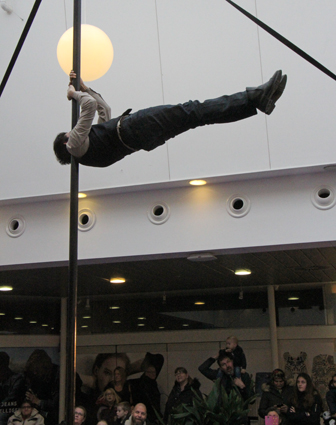 Among the performers in Benny's performance was his niece Laura's husband Luis Torres who years ago was partner for the famous clown Bello Nock. At Benny's performance he did pole acrobatics.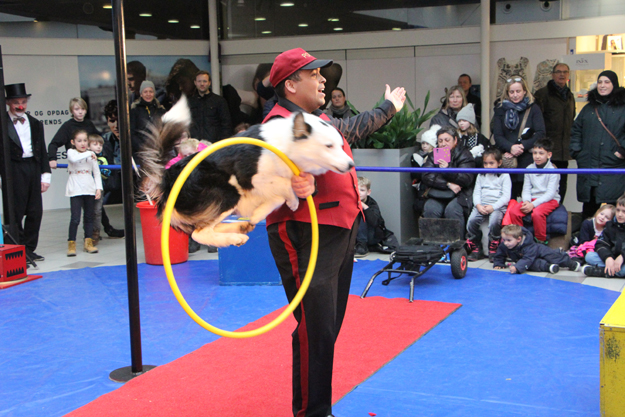 Benny Schumann's 2018 performance also featured Peter Taylor's comic dog show. Benny himself appeared among other things with magic and as ventriloquist. - The Photographer Per "Mr. Sputnik" Krogh Petersen has also visited the performance. Click here to see his photos.

10 February 2018
The Swedish Circus Brazil Jack, which this year is the largest touring Sweden, opens the season at the Mill Square in Malmo Thursday 15 March. They stay in Malmo until Sunday, March 18th. Malmö is the third largest city in Sweden, after Stockholm and Gothenburg, and the sixth largest city in Scandinavia, with a population of above 300,000. There is a tunnel/bridge connecting Malmö with Copenhagen, Denmark.
This year's performance offers artists and clowns, but not on animal acts. Amongst the artist are the outstanding diabolo juggler Pierre Marchand.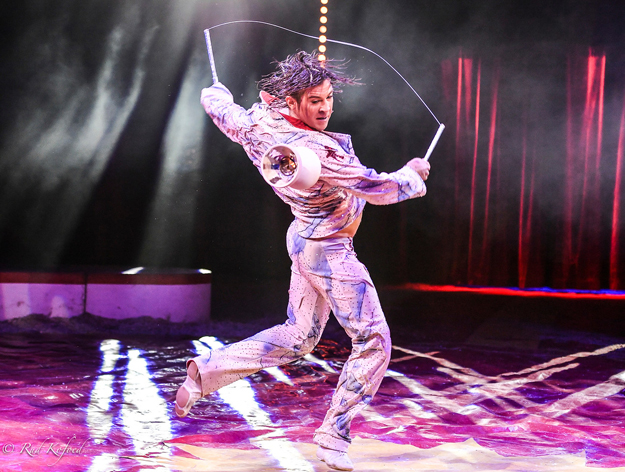 The Danes met Pierre Marchand in the Circus Arena in 2017. The Swedish circus audience remember him from Circus Brazil Jack in 2015. No doubt that the Swedish audience is looking forward to seeing this superstar again. Photo: Rud Kofoed / Ajour Press
The second Swedish circus, Circus Olympia, will open the season on Saturday, March 24, in Oskarström.
Norway's largest circus, Circus Arnardo, has the premiere on March 10 in Arendal.

9 February 2018
Addition to overviev of circuses during the winter holidays. A show at Funen which wasn't mentioned in my overview dated February 2:
Enoch's Circus Show is produced by Jimmy Enoch and can be seen in Rosengaard Shopping Center in Odense from Monday 12th February to Saturday 17th February. You will meet clowns, acrobats, bike show and animal acts. Free admission.

8 February 2018
Book Review: Dick H. Vrieling: The Best of Best - The Unique Circus Collection of Jaap Best. Publishing Special Collections (Amsterdam University). Softcover, 48 pages, 21 x 21 cm. Many illustrations in colour. Reviewed by Ole Simonsen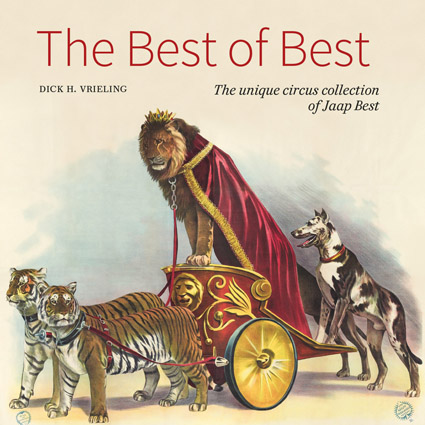 There are many collectors, but far less valuable collections. And many collectors overestimate the value of their own collection. But it happens that a collector has a really valuable collection. One example is Danish Ølund Barly, whose unique collection today is an important part of the Circus Museum in Hvidovre, Copenhagen.
In Holland, one of the most important collectors was Jaap Best (1912-2002). From 1947 to 1961, he worked as a secretary for a number of major circuses. At his death, he left about 9,000 posters and 7,000 photographs, which have since been photographed and digitized and made available on the website www.circusmuseum.nl The site is currently under reconstruction and will be expanded with some other circus collections.
Dutch circus historian Dick H. Vrieling tells in the book about Jaap Best's life and about his unique collection, which just has been transferred to the Amsterdam University's Department for Special Collections. The book is well written, highly presentable and richly illustrated, and includes presentation of some circuses that have been touring Holland. It is available in both English and Dutch. The price is very reasonable; 14.95 Euro + shipping. The book can be purchased at https://bijzonderecollecties.hexspoorwms.nl/NL/webshop/museumwinkel

4 February 2018
In my overview about circuses during the winter holidays dated February 2 I wrote that the clowns in Isabella Enoch Sosman's Winter Circus, the Hungarian The Konyots, not
previously had performed Scandinavia. English John Cooper has corrected me. They were in Norway in 1999 where David Konyot and his wife Ansca together with a third partner toured with Circus Arnardo.
The couple's daughter, Lilli, was born then, but too young to be involved in the performance.
Thus, it was wrong when I wrote that the clown trio never before had worked in Scandinavia. I should have written that "Singing Lilli Lasso, turning and throwing ropes in all sizes and directions" not previously has appeared in a Scandinavian circus ring. .

4 February 2018
IT ALL HAPPENS IN PARIS -- but certainly also in DUBAI - where we during the BIG DUBAI SHOPPING FESTIVAL can see marvelous acts in the various SHOPPING MALLS.
Management: DREAMMASTER.
This year I have chosen to highlight some unique performances that combine physical prowess and musical talent, and all that in a wonderful decoration and becoming costumes.
ELECTRIKA STRING QAURTET are 4 female musicians, who play baroque music, 2 violins, 1 viola, 1 violoncello, they are dressed in costumes from that time, including artful wigs. They walk around playing among the potential shoppers, a great moment for those who never saw anything like that. It is a unique visual and musical show - NEVER SEEN HERE BEFORE.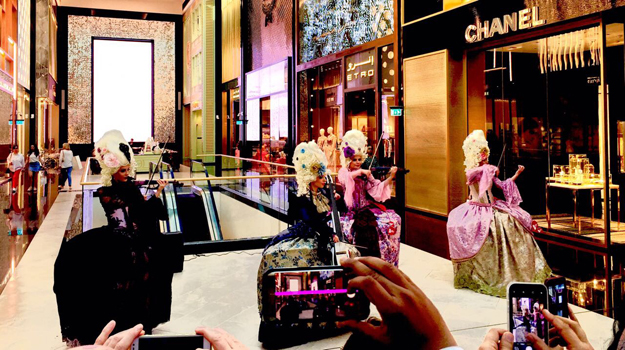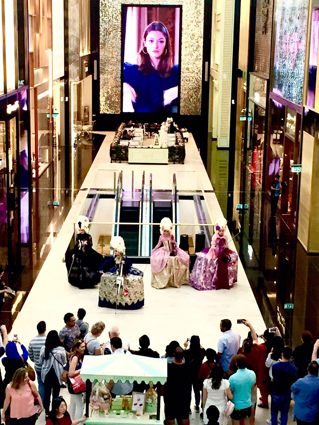 ELECTRIKA STRING QUARTET. By courtesy of Dreammaster. Photographer ADRIAN CHITIC.
SUPER DRUMMERS are 8 musicians who display lots of energy and rhythm, they feature an outstanding show, also musical and visual, as they follow a carefully studied choreography, dressed in colorful costumes with matching hats, and they get big success with the shoppers and showing that much talent, it is evident that they were shortlisted at ARAB GOT TALENT.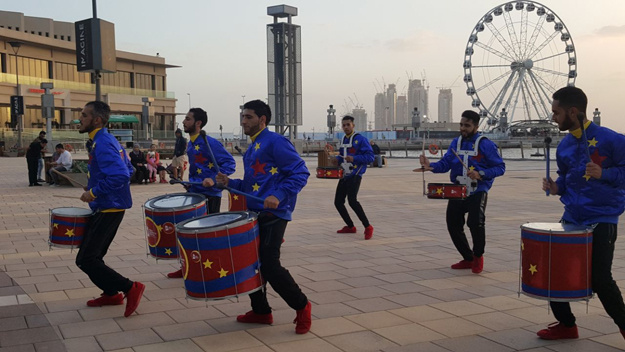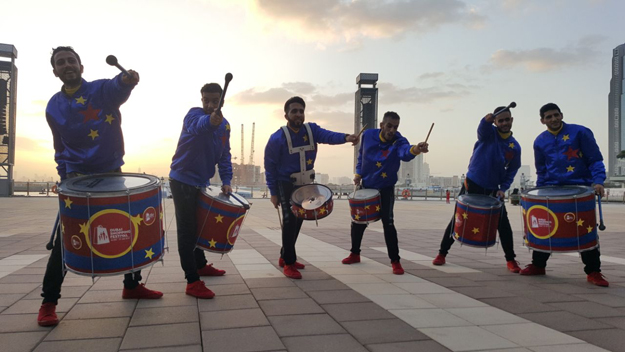 Super Drumners. Photographer Marcela Bello.
In the GLOBAL VILLAGE, a large fun fair, you can meet market sellers and traders from the whole world, the classic fun fair attractions, ethnic restaurants and wonderful shows on several outdoor stages. It was impossible for me to get details this year.
IT ALL HAPPENS IN - DUBAI.
......................... reported by ZARRO ZARRO.

2 February 2018
Circus during the winter holidays. School children in Denmark have winter holidays either in week 7 or in week 8. Whether it is in week 7 or 8 is different from municipality to municipality.
As previous years you can in several shopping malls etc. in Denmark see circus performances etc. during the winter holidays. Here is a summary of what you can see this year:
In Copenhagen and on Zealand
The circus museum in Hvidovre, Copenhagen
From 12 to 16 February you can every day at 11 see a show with the famous Danish illusionist Kim Kenneth. He will be assisted by Jessica Caveagna who also does sword balancing.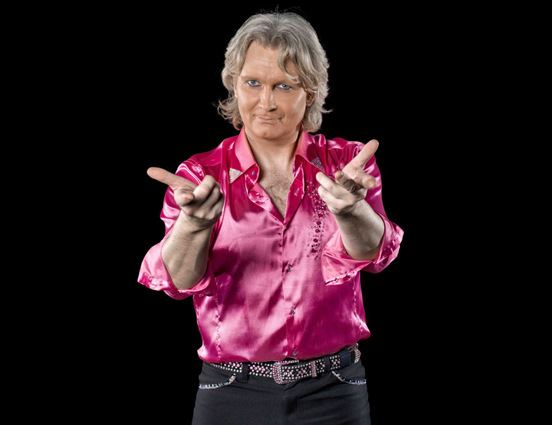 At the Circus Museum you can meet the magician Kim Kenneth and his girlfriend Jessica, who does sword balancing.
Benny Schuman's winter holiday performances in Elsinore City Center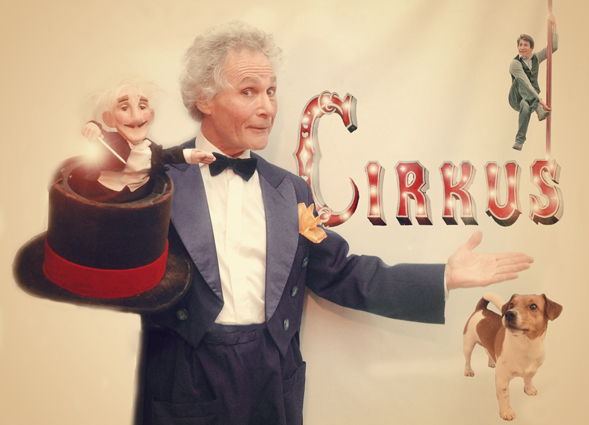 Benny Schumann present from 12th to 18th February a winter holiday performances in Elsinore. Benny celebrates 250 Years of Circus by telling the story between the different acts. In addition to Benny you will meet Luis Schumann-Torres with pole acrobatics and Peter Taylor (Peter Taylor Balder) with his comic dog show. Free admission.
Circusland in Aarslev by Slagelse
From the 19th to the 18th of February there is open every day from 10 to 16. In a press release Circusland writes (my translation):
The winter holiday is the last option if you want to see all the best of the Wild West in Circusland as the summer's theme will be brand new.
Talk to Chief Talking Waterfall, try out gold mining, archery and pony riding in our big playground. All activities and shows are free when the entrance fee is paid. See Circus Arena's sea lions, zebras and other animals inside and outside the ring and have a look into a real circus camping. Get stuck on the prairie, train circus skills with our artists or go for a walk on the water in our waterballs.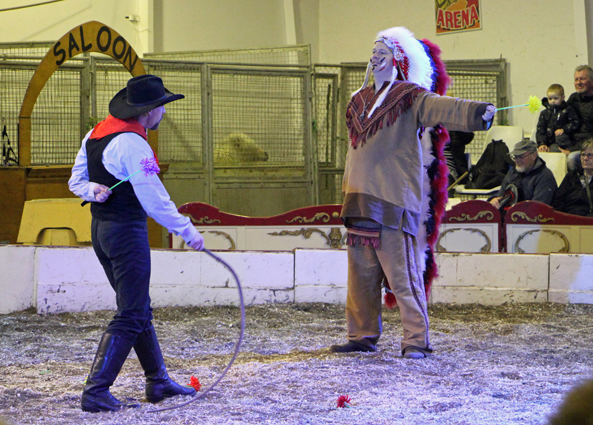 Circusland offers a western show with Texas Jack, here seen together with Chief Talking Waterfall, sea lion show as well as performance and circus school in Circus Landino.
Baldoni's winter circus in Ishøj City Center
From 19th to 24th: Ishøj City Center (Shopping mall in Copenhagen suburb). The performers are in addition to René Moenster Baldoni the clowns Danilo and Cindy as well as the Janacek family from the Czech Republic: The 11-year-old Kaya with rola bola, Maria with hula hoop, and Eddie as part in the clown act. Free admission.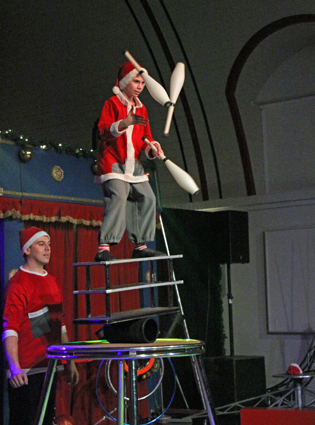 Kaya Janacek was also part of in Baldoni's Christmas circus
In Jutland
Isabella Enoch's Winter Circus.
From 9th to 18th February, Isabella Enoch presents winter circus in a number of Jutland arenas.
The program is
Isabella Enoch welcomes
Gentle goats from the Alps presented by Marian
Beautiful Kathrina from Hungary with hula hoop
Diabolo with Duo Markawich
World-class juggling David Enoch Sosman
Henry Fröchte from Germany foot juggler
The clown trio The Konyots from Hungary
The namesakes David and David. Magic as if they were twins.
Dancing plates presented by Henry and Nathalie.
Dog act presented by Anton Tarbeev from Russia
Singing Lilli Lasso, turns and throws ropes in all sizes and directions.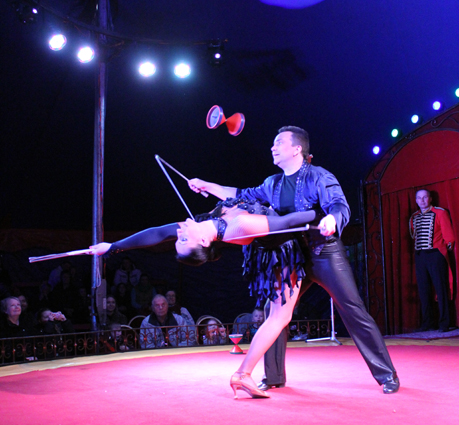 The Zealand circus audience knows Katarina Markawich and Anton Tarbeev from Circus Arli 2013 and Circus Baldoni 2015. The photo picture is from Circus Arli 2013
Henry Fröchte performed for several seasons in Circus Dannebrog under his artist name Winnetou. Together with Katja Enoch, with whom he was married for a while, he has the daughter Nathalie.
The Konyot family is a well-known Hungarian artist family. David Konyot worked for several years as a white clown together with Toni Alexis. As far as I know, The Konyots have not previously worked in Scandinavia.
Circus Krone in Aarhus Concert Hall
From 11th to 19th of February Circus Krone present winter circus in Aarhus Concert Hall.
In the press release, Circus Krone writes (My translation):
Circus Krone & Aarhus Concert Hall present the International Winter Circus 2018
Cirkus Krone and Musikhuset have over the years created a tradition for winter circus in the winter holidays. The music hall's small stage creates the perfect setting for a warm, present and enjoyable experience for the whole family.
NEW! In 2018, there will be a generational change in Circus Krone as Frank Thierry has become managing director. However, this does not mean that former circus director Irene Thierry not will be in the ring this year, just because she has withdrawn from the management of Circus Krone. But the generational change will mean that Cirkus Krone hopefully will continue for many years.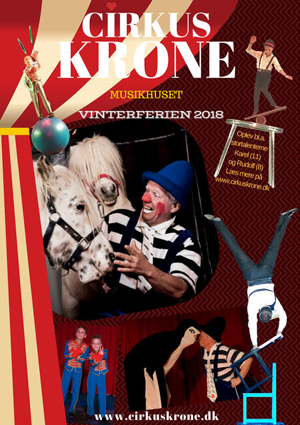 This year we can proudly present acts from the very young generation in cooperation the Czech Janecek family. 11 year old Karel (Kaya) and his family have chosen this year to spend their winter holiday in Denmark with us in Circus Krone. Karel makes a very nice rola bola act on level with what adults can do. Together with him come his smaller brother Rudolf and his father Eduard. Rudolf makes a nice juggling act on the rolling globe. Eduard comes with a slightly different handstand act, where the props consist of kitchen chairs. Mama Maria makes sure that all the boys get their props.
Jan Allan is the clown Allando - in all modesty Denmark's undisputed, best clown! Allando is working with his best friend Pingo this year. With the two together in the ring a lot of things can happen!
Of course, the small ponies are also in the Music Hall. They might tease Allando!.
The circus music is provided by Marc and Frank Thierry, and in Krone's circus café the girls make sure the foyer smells of popcorn!
Irene Thierry is ringmistress and guides as always the audience safely through the performance.
Come and see a very versatile, funny, exciting, dangerous and traditional circus performance for the whole family. Circus delivered as always with the heart ☺
Circus Mascot
Cirkus Mascot visits the Herning Center in week 7 and Aalborg Storcenter in week 8. Free admission.
The performers are members of the Deleuran family as well as the clown Ulmas / Gulio and his family: Mrs. Tatyana and the children Husik and Juliya.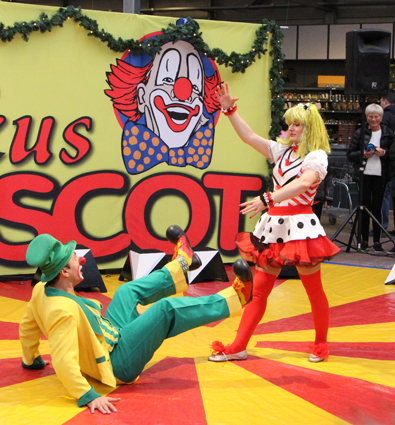 Gulio with the living doll, here his wife Tatyana.

1 February 2018
Konstantin Mouraviev to Zirkus Nemo. Soren Ostergaard has expanded the artist group in the coming season to include the raving Russian rhonrad acrobat Konstantin Mouraviev, also known as The Fat Man.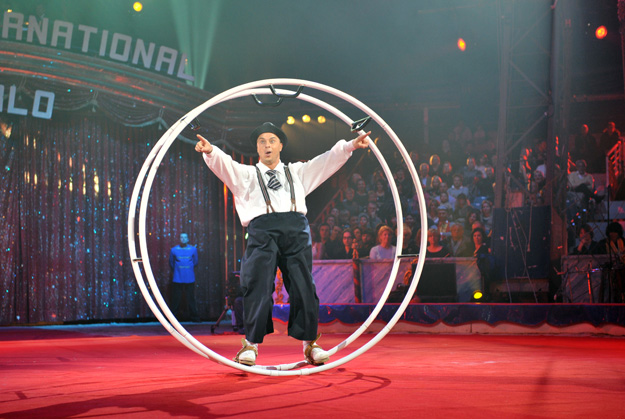 The first time the Danes met Konstantin Mouraviev at Arena in 2001, where he presented a classical act in rhonrad. The comic version with the man on slimming the Danes first time met in 2004 at the Clown festival at Bakken and in Soren Ostergaard's Tivoli Variety. In 2010 he was back at Arena and in 2012 at Bakken and with Soren Ostergaard, this time in Zirkus Nemo. Press photo from Zirkus Nemo, shot in 2009, where Konstantin was in Monte Carlo.
In addition to Soren Ostergaard's own comedy figures Zirkus Nemo will in 2018 present the French-Cuban Duo Solys, the hula hoop star Geraldine Philadelphia, the world's fastest juggler Mario Berousek, Konstantin Mouraviev and Cabaret Deca Dance with their sexy puppets for adults.

31 January 2018
No animal acts in Circus Brazil Jack in 2018. On the Swedish Animal's Right Website you can read (my translation):
In a historical decision, Circus Brazil Jack, Sweden's oldest circus, announces that they stop using animals in their performances.
This year, circus art in Sweden celebrates 250 years and circuses are still something that engages and touches. But what does the circus of the future look like?
The animal's right attitude to the question has always been that circus is fun, but not for the animals. Since early autumn we have had a dialogue with Circus Brazil Jack, who now takes the historic decision to become completely free of animals in their 2018 season!
- Circus Brazil Jack is Sweden's oldest circus and we have always adapted to the time. Stop having animal acts is something we've been thinking of for a long time, and we have phased out the animals for several years now to become completely animal-free," says Trolle Rhodin, Circus Director at Brazil Jack.
To the Swedish newspaper Expressen, the 29-year-old Trolle Rhodin explains the decision as follows:
We adapt and give the audience what they want ... Brazil Jack was an animal circus in the 1940's and 1950's and had a lot of animals but we are adapting to present time. It is important to follow developments. For us, the circus is an art form …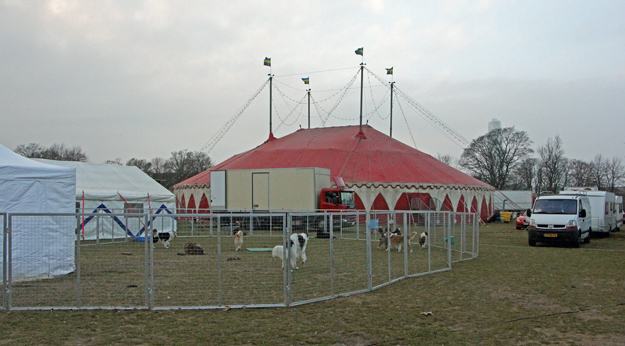 Circus Brazil Jack 2016. In the foreground Rosi Hochegger's large dog pen. But such a thing is history: in the coming season you will not see stables or pens because there are no animals in the Brazil Jack performance
In Germany, Circus Roncalli has previously taken the same decision as Brazil Jack. In Switzerland, neither Circus Salto Natale, Církus Conelly, Cirkus Monti nor Cirkus Starlight have animals in their performances. And German Circus Flic Flac has never had any animals in their performances.
The last few years, Swedish circuses have in many cities had demonstrators outside the tent who have tried to tell the visitors that the circus ill-treats their animals. The demonstrators have usually rejected dialogue with persons of another opinion, just as they have rejected by self-esteem to see how the animals have it.
Circus Brazil Jack's decision is about season 2018. And they have not made a "deal" with the Animal's Right-people. But the Animal's Right organization praises them for the decision they have made about the forthcoming season.
For the last couple of years, Brazil Jack has had only a few animals in the show: in 2017 horses, presented by the Donnert family, and in 2016 dogs and a horse presented by Rosi Hochegger.
As far as we know, the other Swedish circus, Circus Olympia, will as usual have animals in their performance. However, neither elephants nor sea lions, who never have been part of an Olympia performances. But horses, dogs and camels, which have always been an important part of the Bengtsson family's performances. Apart from the very small circuses, Brazil Jack and Olympia will be the only circuses in Sweden this year.

19 January 2018
Lotte Arli turns 75 on 30 January. When Lotte in 1957 met a young and handsome painter's apprentice Soren Arli Hansen both Lotte and Soren fall in love. They became a couple and Soren who a few years earlier have had his debut as an artist at the variety theatre Alhambra at the amusement park Bakken north of Copenhagen persuaded Lotte to try her luck not at a painters wife but as an artist wife and assistant. They created a comical juggling act called Lott and Arli. Furthermore Soren performed as whiteface clown and Lotte did thought reading using the artist name Madame Zarina. With acts like those Soren and Lotte toured with circuses among those the Danish circuses Moreno and Arena.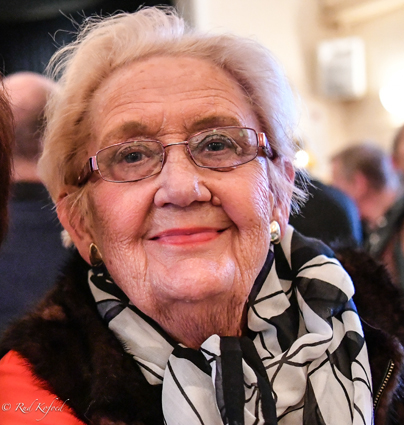 Lotte Arli. Photo Rud Kofoed / Ajour Press
As many artists Lotte and Soren Arli had a dream about establishing his own circus. Not the largest circus in the world but a small show with good atmosphere and close contact to the audience. In 1971 their dream came through when they opened Circus Arli in a tiny 1-pool big top they had made themselves. The staff consisted of Soren, Lotte and their son Martin. The first two seasons was spent in Jutland Mini Zoo in Haustrup. Since 1973 Circus Arli has toured Zealand with a two pole tent with a seating capacity of 220 people with family-friendly performances and performers from the Ali family assisted by a few foreign artists, which is always of good quality. The small circus quickly gained success and has maintained the concept that it must be small, but good.
After Søren Arli passed away in 2011, Lotte Arli continued the operation of the small circus cooperation with her son and daughter-in-law Martin and Bettina Arli, who today are the owners of the circus.
As in many circus families Lotte take care of the ticket office. And many friends of Circus Arli believe that an Arli-performance will be quite wrong if they haven't bought their tickets from Lotte. Today, however, there are more and more who buy the tickets over the internet. It is nice for Lotte, because the work in the box office isn't as stressed as in old days with long queues. Despite turning 80 Lotte will not stop to take care of the ticket office. As her son Martin says, "Mom are allowed to retire as long as she still take care of her duties!"

16 January 2018
No Circus Maximum in 2018. For some time rumours has told that the large Swedish Cirkus Maximum wouldn't tour in 2018. Now they rumours are confirmed: Sweden's largest circus, Cirkus Maximum will not tour this year. The owner Bengt Källquist chooses to take a break and "charge the batteries" and find a new concept for how he wants to run his circus.
Click here to see a video clip where he tells about his decision and the background for it. (Language: Swedish). There are also clips from some of his performances.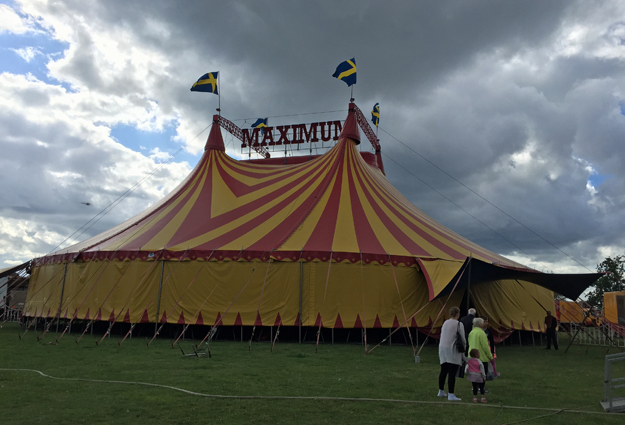 Bengt Källquist (born 1958) started his circus in 1983 under the name of Circus Minimum and with a tent that seated 400 persons. His circus grew and changed its name to Circus Maximum. In his last tent there was room for 1,400 spectators. He always presented an international performance of high quality, often with the same artists which the Danes met in Circus Benneweis and the Norwegians in Circus Merano.
Cirkus Maximum is the fifth major Scandinavian circus which in the recent years has stopped or decided to take a break. Norwegian Circus Merano stopped after season 2014. Danish Circus Benneweis after season 2015. Danish Circus Dannebrog and Swedish Circus Scott after season 2016.
Apart from some very small circuses, the only circuses in Sweden in the coming season will be Circus Brazil Jack and Circus Olympia.
Proposal for a ban against elephants and sea lions are pending in the Swedish Parliament. Strange as no cicus in Sweden has presented elephants or sea lions in their performances since 2013 and none of the circuses have plans to start presenting such animals again …

16 January 2018
Danes in Budapest. The 12th International Circus Festival in Budapest was held from 8th to 14th of January. The artistic level was extremely high and clearly better than in 2016. There were no Danish artists in the performances, but many Danish visitors including 18 on a tour organized by Briano's Circus Travel. The photo shows some of Briano's guests. There were also several Danes who had travelled to Budapest on their own.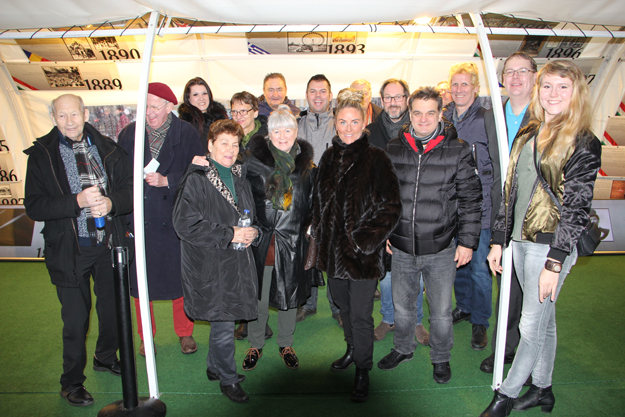 From left: Bent Soelberg (former stable master for Circus Arena), Jørgen Lorenzen (circus historian), Cindy Binau Nielsen (clown's assistant in Circus Baldoni), Sonja Soelberg (former trapeze artist), Britta Thanning Olsen (circus fan), Kim Thanning Olsen (circus fan), Irene Thierry (former owner of Danish Circus Krone), Daniel Dimitrijevic ("Danilo", clown in Circus Baldoni), Camilla Frimann (Circus Baldoni), Ole S. Hansen (almost hidden), Frank Thierry (new owner of Danish Circus Krone), René Moenster Baldoni (owner of Circus Baldoni), Marc Thierry Deleuran (almost hidden), Lasse Nørager aka the well-known clown Bonbon, Briano Behrendt and Julia Myllykangas (artist, daughter of Lasse Nørager)
All the performances of the festival were initiated by Florian Richter and his son Kevin with a horse act: first, elegant high school riding and then the Courier with 20 horses! The most beautiful and impressive horse act I have seen since Schumann stopped in the Copenhagen Circus building in 1969. Click here to see a photo and video clip from the act.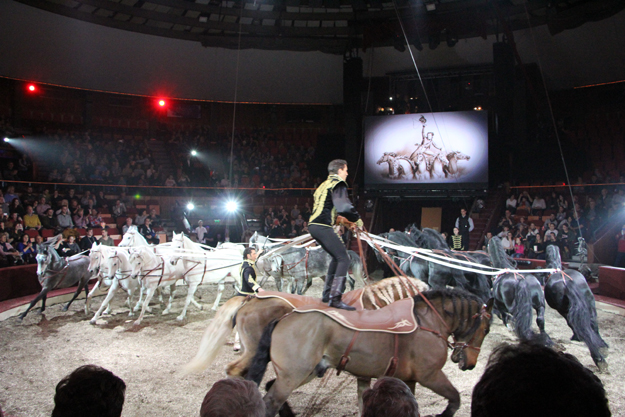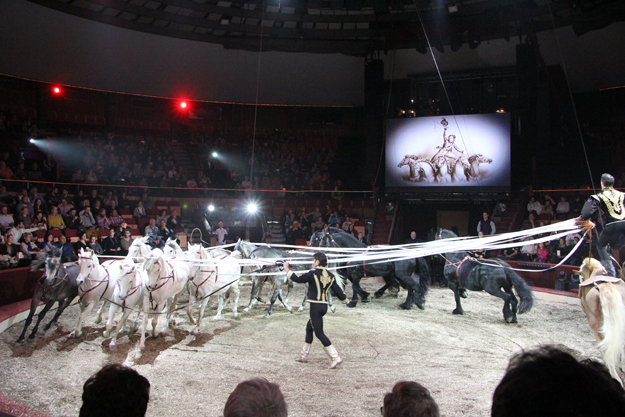 Florian and Kevin Richter presented an outstanding horse act. They did not participate in the competition for prizes.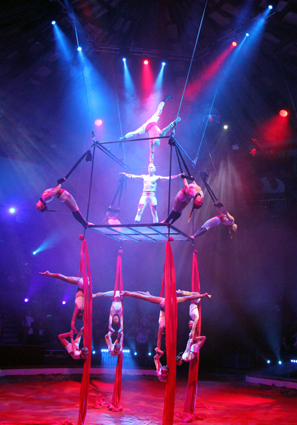 There were two opening acts that did not participate in the competition. In addition to Richters, the Hungarian Rippel Bros., who appeared on a platform hanging from the circus doom, assisted by trainees from The Rippel Bros. Academy.
The Nomuna Troupe and Chinese National Acrobat Troupe won the Gold Award. A Silver Award was awarded to Andrejs Fjodorovs, Duo Funcoholics, as well as the Without Socks clown trio. Stanislav Vysotskyi, the Vodyanik Group, Duo Solys, as well as Adam Fehér and Benjamin Kassai received Bronze Award.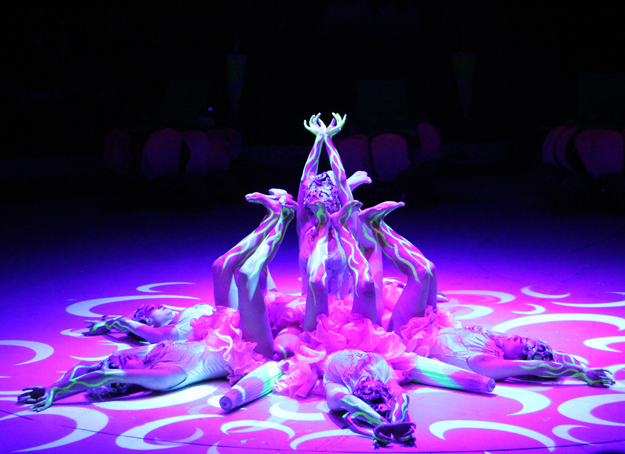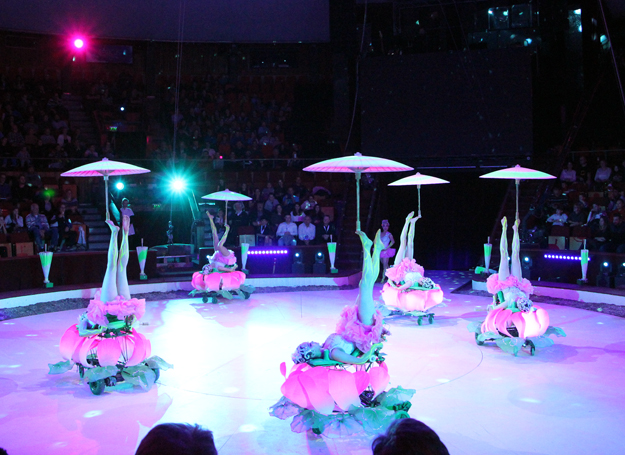 The Gold award winners Chinese National Acrobat Troupe pretended two acts: one where they juggled with umbrellas and one with diabolos. The act with umbrellas was initiated by the artists forming a human lotus flower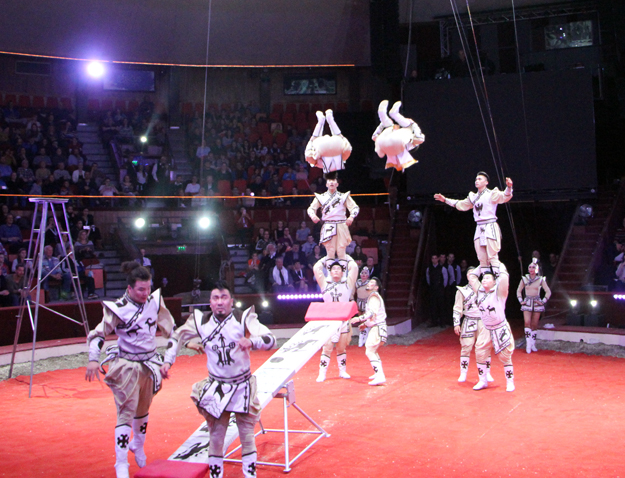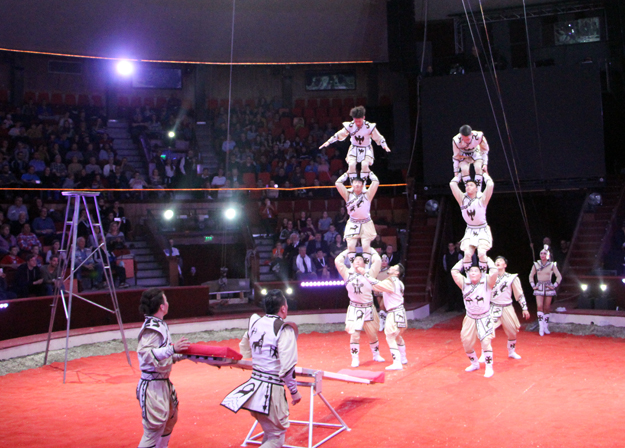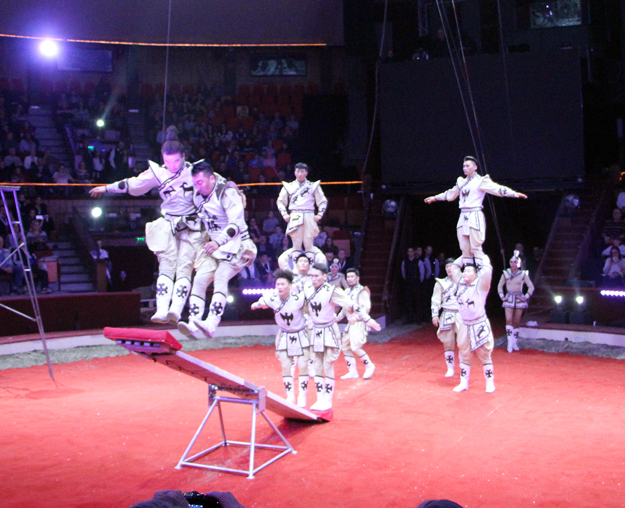 There was also gold for the Nomuna troupe from Mongolia. They presented two acts: springboard and hand voltige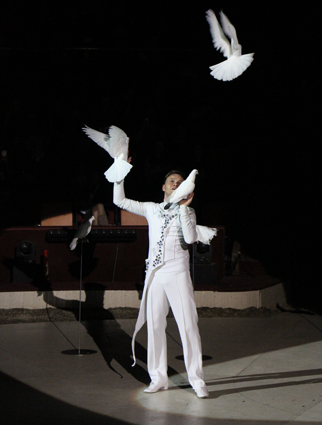 Lord of the pigeons Andrejs Fjodorvs from Latvia started his international career with Einar Trie in the small Danish Circus Charlie. He got his breakthrough at Danish Circus Arli in 2008, where foreign circus directors saw him and spotted his unique talent. In 2015 he was with the Swedish Circus Maximum. The silver medal in Budapest is his most outstanding distinction so far. A participation in the Monte Carlo festival a few years ago "only" got him a special award.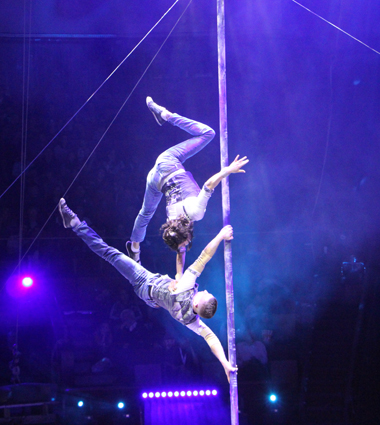 Victoria and Konstantin from Duo Funcolics presented an outstanding act in pole. They come from Russia. They were awarded a silver medal.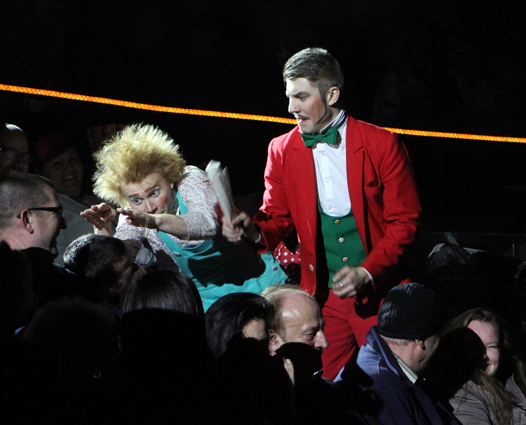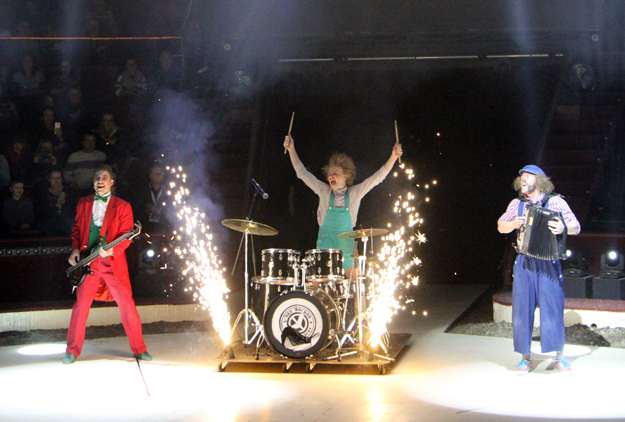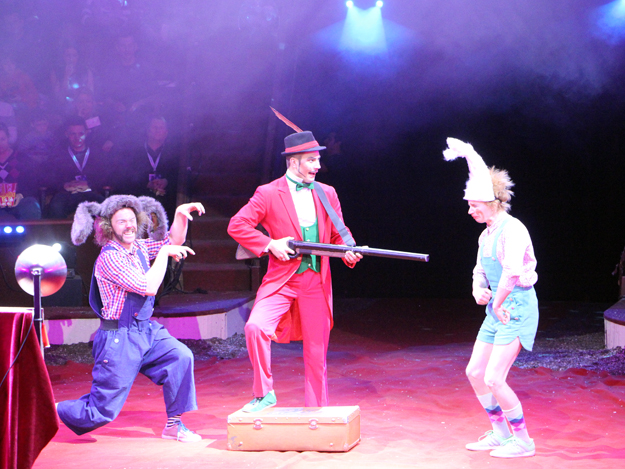 It's rare for clowns to end up with one of the finest awards. But this happened this year when the 3 young Russians who call themselves Without Socks got a well-deserved silver medal. They have four nice and completely original entrées: In the first, a camera with self-timer did not perform as expected. In the next they had fun with a floor that played music when they stepped on it. In the third two of the clowns were mosquitoes in battle with the third clown. Their fourth and last entre was a modern musical entrée.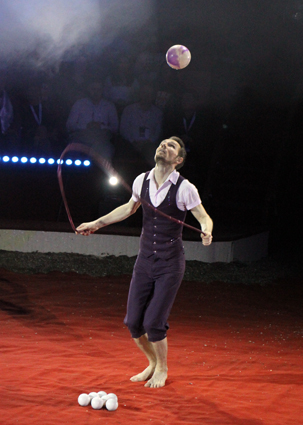 There was bronze to Stanislav Vysotskyi, who uses the ankle and the shin while juggling (not shown in photo) - something I have never seen before.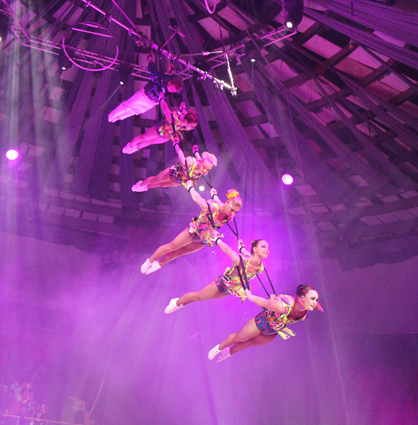 There was bronze to the Vodyanik troupe from Russia for an unusual and spectacular aerial act.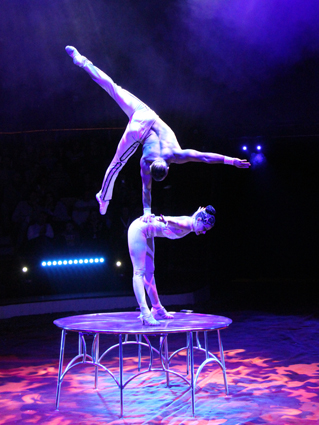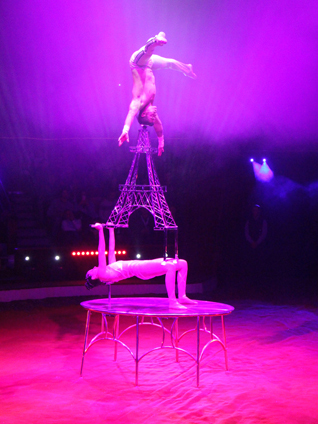 The French-Cuban handstand / hand-to-hand duo Duo Solys, who the Danes met in Zirkus Nemo in 2016, got a well-earned bronze medal at the circus festival in Budapest. The Danes can look forward to see Duo Solys once again in the forthcoming Nemo performance.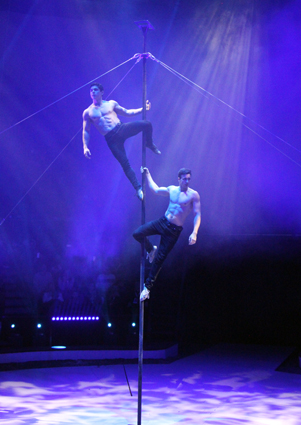 Adam & Benjamin come from Hungary. They got a bronze medal for their act in pole.

14 January 2018
Norwegian Circus Minimax stops. Director Carl-André Hjelvik from the tiny Norwegian Circus Minimax has decided to stop. He writes (my translation):
Circus Minimax shuts down. Unfortunately, we have so far decided to shut down our minicircus. The reason is increasing costs and other things which make running of a circus more and more difficult. We wish to thank everyone who has supported us during our five seasons! It has given us a lot of pleasure these years, but also a lot of struggle to get on the roads. We also thank all the artists who have been through us. And we will miss our amazing audience! We may come back again sometime in the future.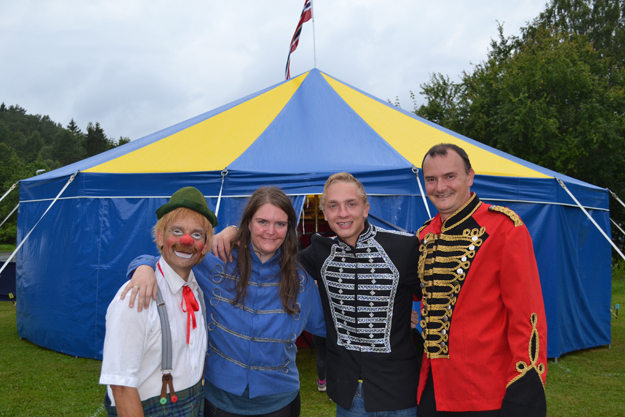 Circus Minimax 2016. The staff was Carl-André Hjelvik, the clown Don Carlos, the box office manager Ingrid Lone and the juggler Oliver Berdino.
Only circuses in Norway this year will be the large Circus Arnardo and the medium-sized Circus Agora.

9 January 2018
Marianne Deleuran in the Danish version of Got Talent. The popular TV show starts a new season and sends the first broadcast on January 20th at 20:00 on TV2. Circus director Marianne Deleuran and the poodle Bobby, both from the Circus Mascot, are ready for audition.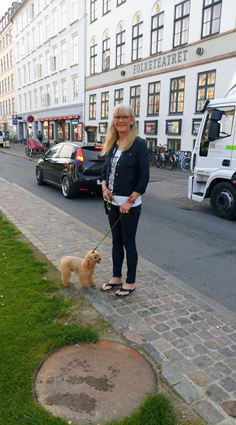 Marianne Deleuran and Bobby ready for audition. Photo: Circus Mascot

5 January 2018
Danish circuses in 2018. Here is an overview in alphabetical order of the circuses that will tour Denmark in 2018, as well as a list of performers in each circus. Many of the artist names have previously been mentioned on this website
Cirkus Arena: Season opening in Copenhagen 'Bellahoj' on March 28th. The performance is presented by Patrick Berdino and the rapper Clemens. The performing artists Laszlo Simet and his astronauts with their Giant Semaphore, the trapeze acrobat Alexander Lichner, the juggler Juan Pablo Martinez, Pat Harrison and his hot dogs, Laura Berdino with Arab stallion, the foot juggler Jan Navratil, Zhang Fan on slack wire, Charmaine Berdino with Spanish horses, the clown Jimmy Folco clown, Rudi Althoff with Circus Arenas elephants, Trio Angelis with Russian bar and artists from the Bingo Troupe.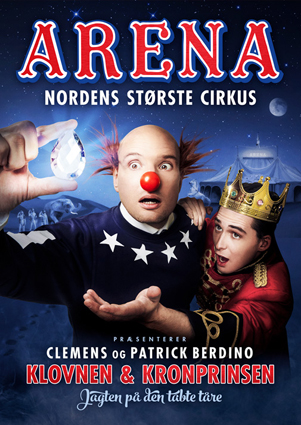 Cirkus Arli: Season opening on 1 April in Flong (Copenhagen suburb). Among the performers are apart from members of the Arli family, Francesco Fratellini and Sarah Florees, both with other acts than in 2016 and 2017. Additional artist names are not yet published.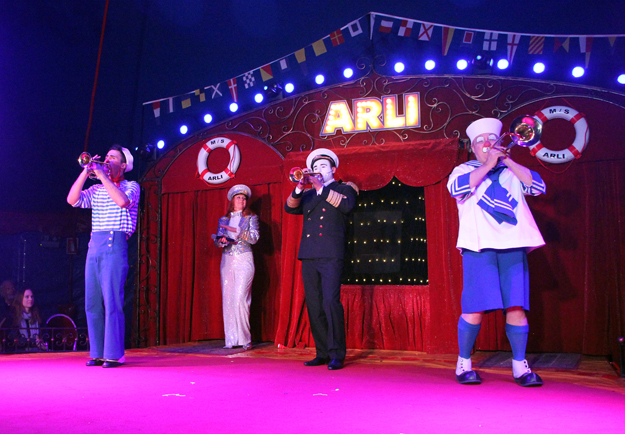 Martino & Co. Photo from 2017
Cirkus Baldoni: Season opening mid-March in Lyngby (Copenhagen suburb). In addition to the owner René Moenster Baldoni and the clown Danilo and his girlfriend Cindy, the performers are the illusionist Kim Kenneth, Jessica Caveagna with sword balance, the acrobats Mombasa Boys (with other acts than in 2017), Kaya Janacek with rola bola, the knock-about acrobat Freddi Steckel and the musical clown Eddie Janacek.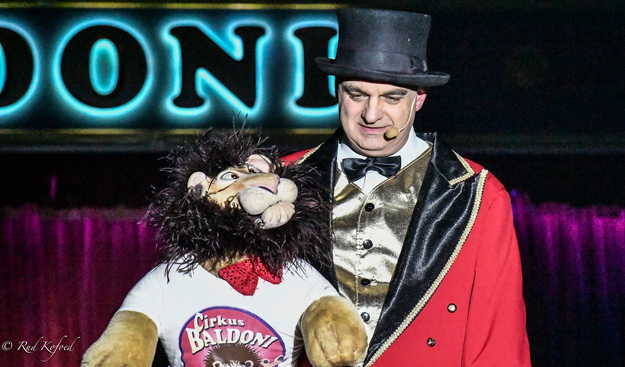 René Moenster Baldoni and the lion Leonardo is an indispensable feature of Baldoni's performances. Photo: Rud Kofoed / Ajour Press
Circus Krone: Premier Date not yet published. Apart from Irene Thierry and the clown Allando, the names of performers are not yet published.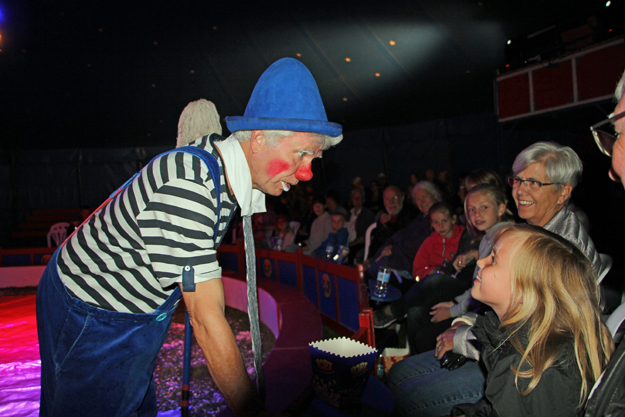 In Danish Circus Krone you can meet the lovable clown Allando
Circus Mascot: Season opening on March 28 in Roslev. Apart from members of the Deluran family and the clown Gulio and his family, the names of the performing artists are not yet published.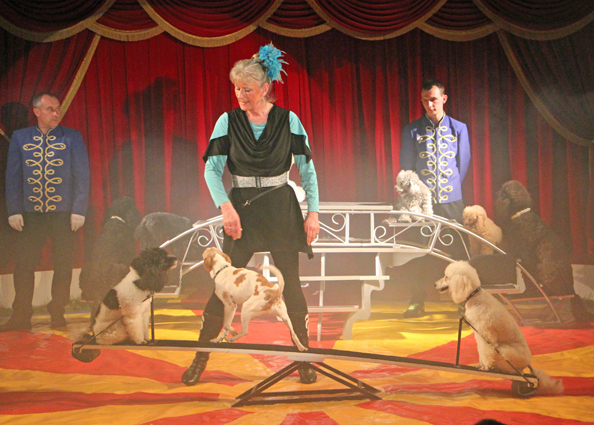 Marianne Deleuran and her dogs is an indispensable feature in a Mascot performance
Zirkus Nemo: Season opening on April 18th in Horsens. In the performance you will meet the comedian Soren Ostergaard, the hand-to-hand duo Duo Solys, the hula hoop star Geraldine Philadelphia, the super juggler Mario Berousek and Cabaret Decadanse with their sexy puppets for adults.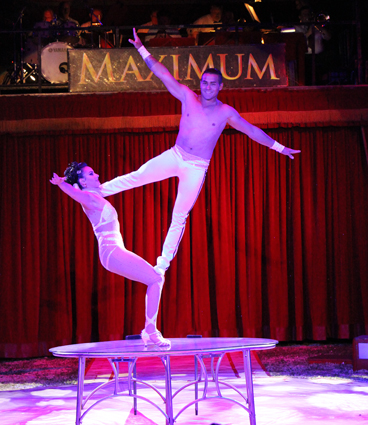 Duo Solys is back at Nemo after a season with the Swedish Circus Maximum
Circus Trapez: Premier Date not yet published. In the performance you will meet three members of the Chaves family: the clown Angelo Chaves, the aerial artist Erica Chaves and the rola bola acrobat Kevin Chaves. In addition, the foot juggler Nathalie Enoch is part of the performance. Furthermore, Bernhard Kaselowsky present his elephant Ramboline as well as with Friesian horses, ponies and donkeys. Band under the direction of Tino Aaby. The performance is presented by the singing ringmisstres Mathilde Gormsen.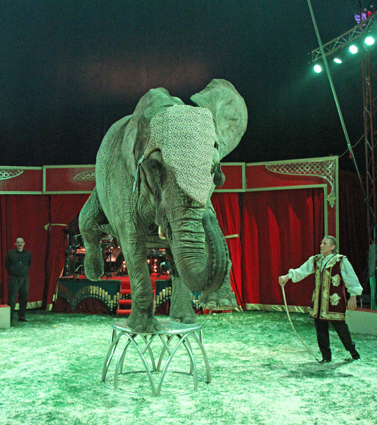 Circus Trapez and Circus Arena are the only two circuses in the Nordic region that still have elephants in the performance. At Arena there is three elephants, at Trapez one, which here is seen here with its owner Bernhard Kaselowsky,

2 January 2018
IT ALL HAPPENS IN PARIS -- cirque PINDER proudly presents a nice family program, geared at the family audience, including all that they might wish to see.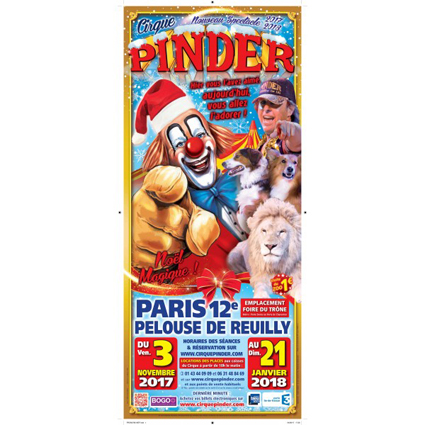 RINGMASTER, in FRANCE called MR LOYAL, guides the spectators thru the performance.
SOPHIE EDELSTEIN has acted as a stagesetter, thus put her competent fingerprints on this production, but we would have liked to see her big illusions show, backed up by 5 acrobatic dancers. We also missed PINDER'S elephants...
SANDRO MONTEZ features with maestria 6 Siberian camels, 6 donkeys, 2 zebras, 3 beautiful horses and - later in the program - he treats us to a sympathetic number where 6 dogs playfully perform tricks that come natural to them.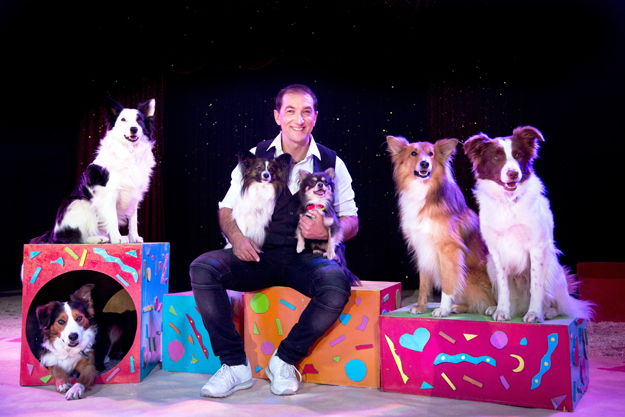 SANDRO MONTEZ © Cirque Pinder
ZDENEK POLACH is an excellent tempo-juggler, mastering up to 7 balls - great!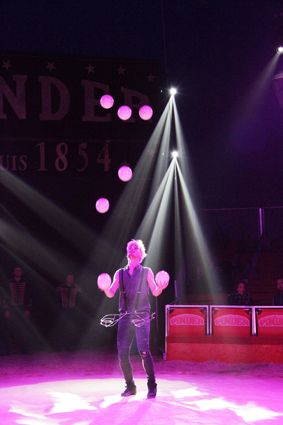 Zdenek Polach © Cirque Pinder
SWING URBANO /ERI and CARLOS/ feature breath-taking acrobatics on Chinese mast/pole.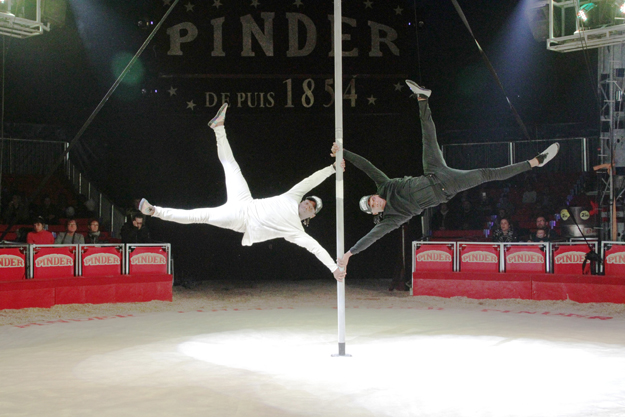 Swing Urbano © Cirque Pinder
FREDERIC EDELSTEIN performs with his 12 lions, 2 males, and 10 females -- all white, beautiful and willing to play, he is sure and kind towards his lions, and they surely like him.
When the big circular cage is being taken down, we saw VALERIY on vertical rope, an act otherwise performed by female acrobats.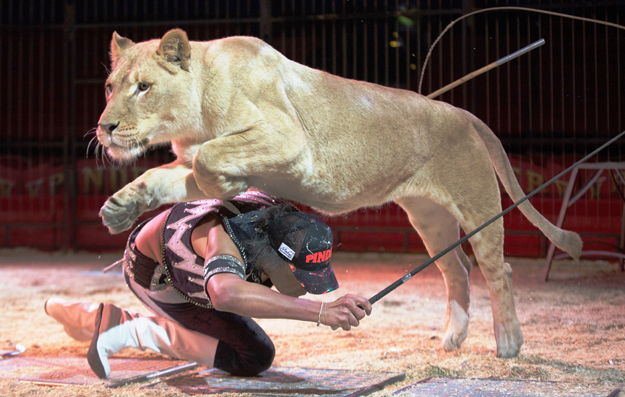 Frederic Edelstein © Cirque Pinder
CLOWNS RAMPINS present the well-known classic sketch "LITTLE BEE, GIVE ME HONEY" against a backdrop that is appealing and in good taste.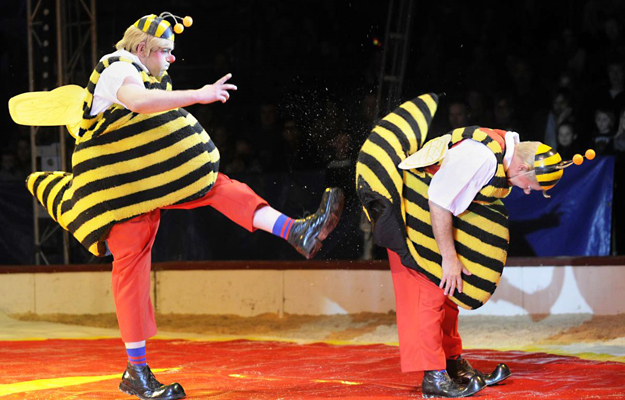 Clowns Rampins © Cirque Pinder
TROUPE HABANA is - to my mind - the highlight of the show - performing salts on bar - at a height where flying trapeze perform -- then stunt on the RUSSIAN SWING , where these Cuban acrobats take off - only to land on a thick "mattress" or on top of a perch pole
I very much liked the only female acrobat's stunts!!
Cirque Pinder is in Paris until 21 January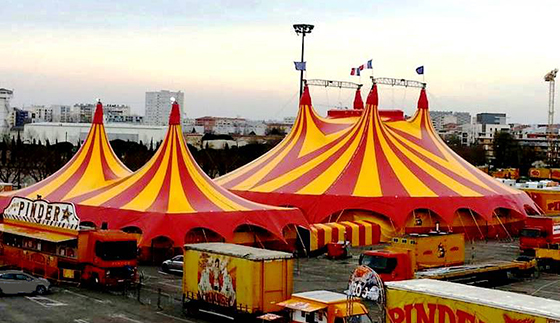 Cirque Pinder use a very large tent seating 5,000. The current tent is from 2017. Unlike the German Circus Krone, which has an oval tent, Pinder has a round tent, which means that it is quite a distance from the backmost row to the ring. Probably this is the reason for the large TV-screens that are positioned around the ring, thus making it possible to see all that is going on in the very ring.
IT ALL HAPPENS IN PARIS!!!
See more: www.cirquepinder.com - in French, a google translation might help out.
Venue: PELOUSE DE REUILLY, Metro: Porte Doree, 75012 Paris.
.............................. reported by ZARRO ZARRO.

1 January 2018.
This website had 34.500 visitors in 2017. The news section and the tour list ("What's on) are usually updated every Saturday. Apart from news and tour list the website has pages with facts about Danish circuses, Danish circus families etc. Links to those pages can be found at the bottom of the opening page

1 January 2018
The circus year 2017 in review
The circus year in review is an annual review published on this website by the end of each year. You can find link to the previous year's reviews at the bottom of the circus news page.
Introduction
It is not easy to run a circus. The cost of live entertainment such as the circus and theatre is high. Due to this ticket prices cannot compete with the cost of a ticket to a cinema. Many adults, unfortunately, believe that visit with their kids to a circus should be much cheaper than when mom and dad are going to a concert or in the theater.
At the same time, the increasing bureaucratization makes it hard to run a circus. There are rules that give both industry and municipalities a number of useless but time-consuming tasks. For example, it's hard to understand why a circus which wants to visit several lots in a municipality must submit an application for each lot and can't do it in a single application. It triggers more work for both circus and municipality. Another example is the rules for putting up and removing posters. They differ from municipality to municipality. And interpreted far from as liberal as when it comes to politicians' election posters. Certain municipalities are also greedy when it comes to cost of renting a lot. Fortunately, there are also municipalities that are happy for circus visits and make a lot available free if charges.
Neither Cirkus Benneweis nor Cirkus Dannebrog toured in 2017. The rest of the Danish circus had a regular tour and most report better visits than in 2016.
As usual, the quality of the performances in the Danish circus was good and the audience well pleased with what they saw.
For the ninth year in row the Danish circuses got competition from DR television's Big Band's and the Muscular Dystrophy Foundation's Circus Summarum. The Summarum-performances are not circus, but children's theatre that takes place in a circus environment. But for sure DR PR for Circus Summarum has moved market shares away from the circuses to Cirkus Summarum.
For the second consecutive year, sponsorship of private sponsors made is possible to give out Danish Circus Awards.
The award ceremony took place on August 9th in the Fencing hall at the Circus Museum in Hvidovre.
The Danish Minister of Culture Mette Bock handed the Danish Circus Award to Søren Østergaard from Zirkus Nemo. This year's talent award went to the AMoC (Academy of Modern Circus) as recognition of their ability to educate talented artists with skills that can be used both in contemporary circuses, in the classical circuses and in theaters. The award for the best act of the year went to Rafaella Honden from Circus Mascot for her beautiful act with 9 large Swiss sheepdogs. A new special effort award was given to former Minister of Culture Bertel Haarder. The award goes to the politician or public person who has done the most for circus in the past year. For many years the responsible ministry for circuses was the Ministry of Justice. This was unsatisfactorily for the circuses which wanted to have the Ministry of Culture as responsible as circuses just as theatre, ballet, opera, film and literature is part of culture. Several ministers rejected a request from the circuses to get the minister of culture as responsible. But in the spring 2016 Bertel Haarder, who at that time was minister of culture, with approval from the Danish Prime minister accepted the request and made the ministry of culture the responsible ministry for circuses.
The year's performances
During the school's winter holidays in February CIRCUS KRONE had performances in Aarhus. BENNY SCHUMANN presented his mini circus in the Elsinore City Shopping Centre. CIRCUS MASCOT had performances in in Herning Shopping Centre and Aalborg Shopping Centre. JIMMY ENOCH produced a show for Rosengaard Shopping Centre in Odense. ISABELLA ENOCH presented winter circus in 6 arenas in Jutland. The Circus Museum in Hvidovre, Copenhagen, featured a show with the ventriloquist
Preben Palsgård.
Russian Cicus on Ice had performances in the Concert Hall in Aarhus and at the Opera in Copenhagen.
From 23 to 26 March, Cirque du Soleil visited Copenhagen's Royal Arena with the show Varekai.
Circus Arena
The largest circus in the Nordic countries Circus Arena opened the season at Bellahoj in Copenhagen on 23 March. Rud Kofoed, journalist and for many years reviewer of theatre and circus performances for the leading Danish tabloid enthusiastically handed out six stars and writes (Zarro Zarro's translation, somewhat shortened compared to the Danish text).
An extraordinary success!!
Pierre Marchand is an outstanding diabolo player, dynamic and super-skillful, featuring an impressive act - second to none.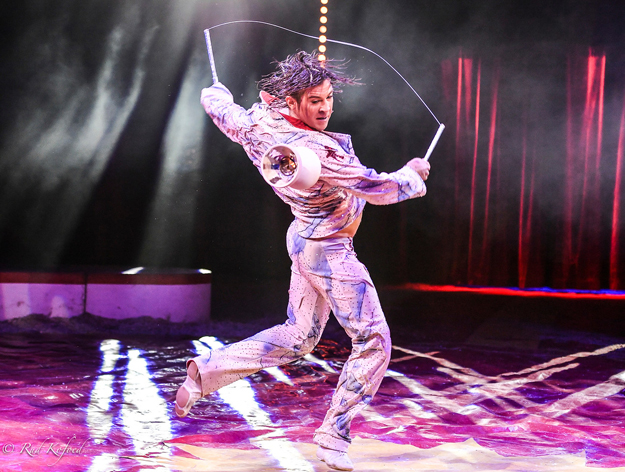 Pierre Marchand. Photo: Rud Kofoed / Ajour Press
Encho present hand-stand as it is seldom seen. Both have won medals in Monte Carlo.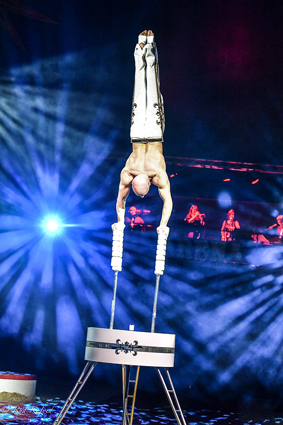 Encho. Last we saw him in Denmark was in 2006. A few months later was awarded both the Audience Award as a silver clown in Monte Carlo. Photo: Rud Kofoed / Ajour Press
The master behind this success is Motor Mikke aka Mille Gori - she is the princess of this show: ideas, scenario, instruction and choreography, as well as the especially composed music. Mille's main idea is that a show can be created by imagination - proving that dreams can become true.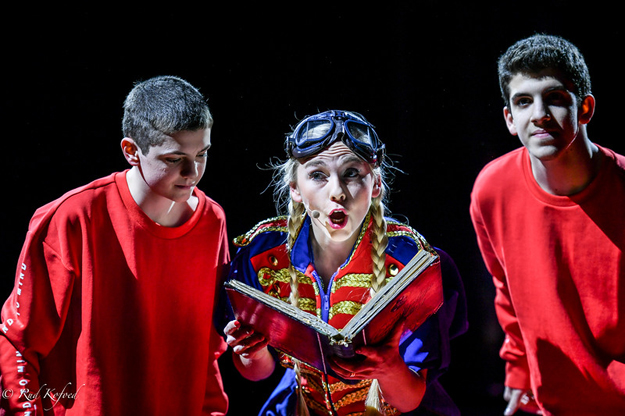 Motor Mille aka Mille Gori. Photo: Rud Kofoed / Ajour Press
Kris Kremo, 65, world famous juggler, juggling three objects of each kind.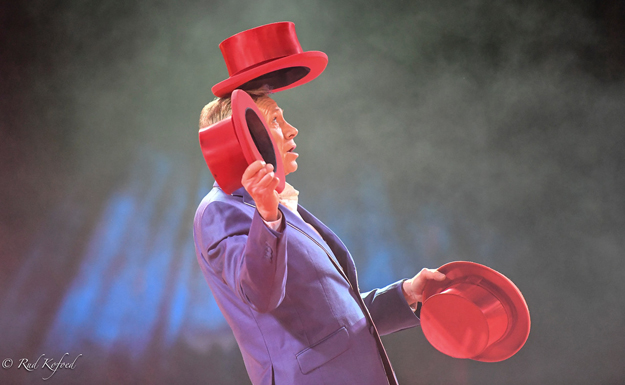 Kris Kremo. Photo: Rud Kofoed / Ajour Press
Jackie Berdino's wife Laura, presents Arab horses, their daughter Scarlett features Shetland ponies, at the age of four - her first appearance in public.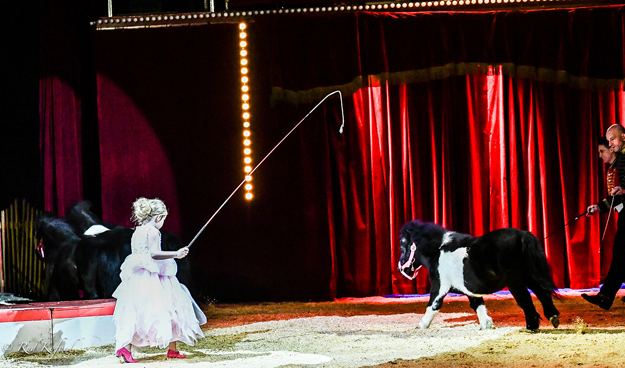 Laura and Jackie Berdino's daughter Scarlet. Photo: Rud Kofoed / Ajour Press
Patrick Berdino, 25, presents with his cousin Oliver, 23, a knock-about-act on table - very funny.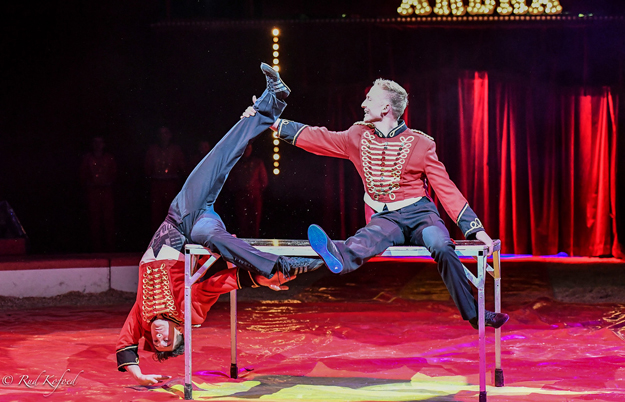 The cousins Patrick and Oliver Berdino. Patrick is son of Jackie Berdino and Oliver of Suzanne Berdino. Photo: Rud Kofoed / Ajour Press
Jidinis Magic Company amazed with spectacular illusions.
Keryazon Brothers: Angel, 17, and Radostin, 14, presented a quick and slick dance-and-acrobatic act. (I believe they are sons of Encho).
Diana showed the spectators that dachshunds can be taught to perform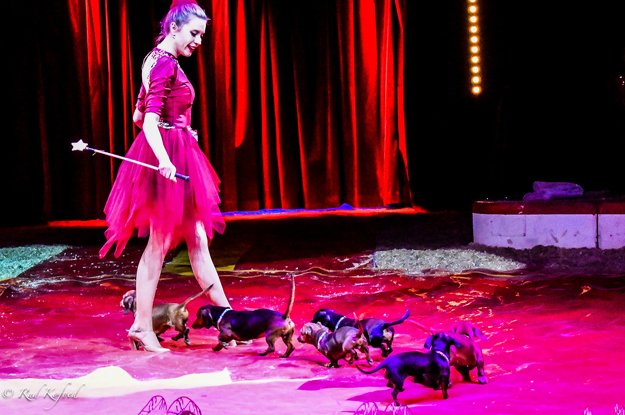 Diana Vedyashkina and her small dachshunds. Photo: Rud Kofoed / Ajour Press
Duo Costache performed a breath-taking perch act.
Mille featured advanced stunts in a swing-trapeze, with bungee-jumps - amazing.
The clown Jimmy Folco, inspired by Buster Keaton - had everyone laughing.
Rudi Althoff displayed an elegant animal show: dromedaries and lamas, then three African elephants.
Ekaterina Karmashova treats the audience to a beautiful aerial act.
All in all -- a wonderful show, also geared at children.
Jacob Boas Leitisstein also visited the show at opening night. Click here to see his photos.
In the middle of the season Bubber replaced Motor Mille as ringmaster as she was booked for Circus Summarum. Motor Mille is well-known and very popular from Danish television's programs for kids and many children wanted to see her live. The same was not to case for Bubber and Mille came back as ringmistress in the end of the season.
Circus Arena closed the season 4 September in Roskilde.
As previous years Circus Arena kept their winter quarters in Aarslev open during the winter holidays, summer holidays and autumn holidays. Circus Land, as it is called, offered sea lion show, wild-west-show, pony rides, playground, museum etc. as well as short performances in Circus Landino. Amongst the performers in the summer season was the clown Don Christian, well-known from several seasons with Circus Benneweis.
Circus Arli
Circus Arli opened their season in Fløng on 26 March.
This year's performance was a themed show called Ship Ahoy. It "took place" on board the good ship M/S Arli. Martin Arli was wearing the uniform of a captain and Bettina Arli of a first officer. And even the grooms were wearing sailor uniforms.
After the opening spec the first act in the show was an excellent knock-about on table act with Alexander Arli and Francesco Fratellini.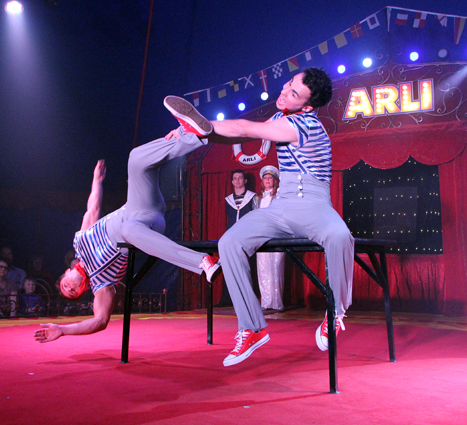 Alexander and Francesco. All photos: Ole Simonsen, unless otherwise stated
Next came Latvian Olga Makejeva with a fine act in a rotating ring. She was also with Circus Arli in 2007 and 2008 and with Circus Baldoni in 2005. At that time her surname was Guseva.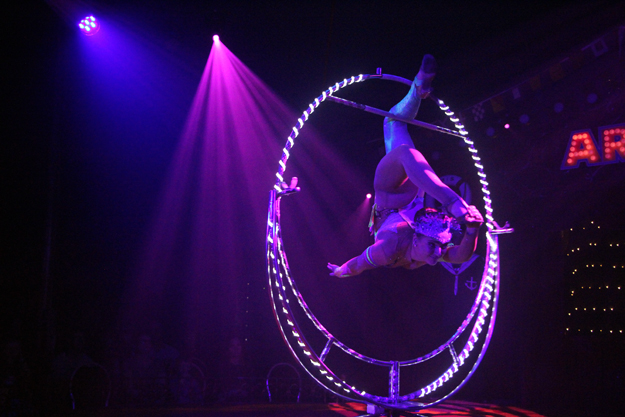 Olga Makejeva
Last year there was many who missed Martin Arli's cozy magic entrée. This year he was back in the ring and conjured with goldfish in an entrée which as far as I know was "invented" by the late Paul Arland (1921-2007) who traveled with it all over world as "The Merry Angler".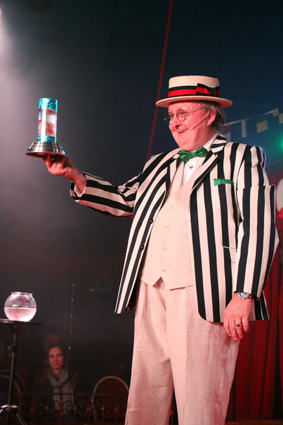 Martin conjures goldfish out of nothing
It's not every day you experience mermaids, and certainly not in an aerial ring. But you did in this year's show. The mermaid came from South Africa and was called Sarah Florees and was the girlfriend of Francesco Fratellini. Both Sarah and Francesco were also with Arli in 2016, but with completely different acts compared to what they presented this year.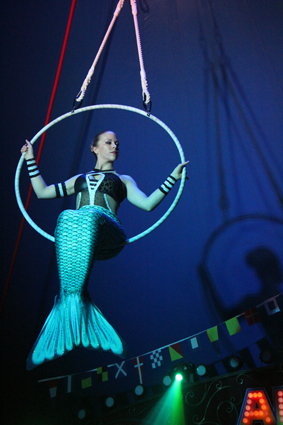 The South African mermaid Miss Sarah
The mermaid was followed by an entrée where Francesco wanted to fish. "You can't fish here," Bettina Arli says and Francesco then goes to the opposite side of the ring, as in the classic "don't play here" -entrée. Eventually Francesco caught a small dog.
In an Egyptian tableau you met the talented Hungarian foot juggler Eva Varadi who juggled with hula hoop rings, balls and cylinders and finally a cross with flames.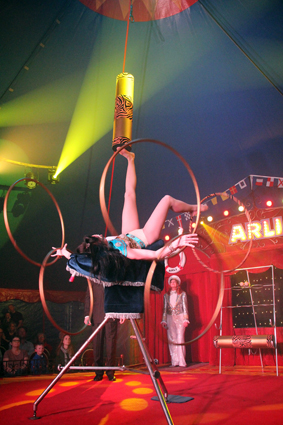 Eva Varadi
Eva Varadi was also featured in the first act after the break: Donnert Quick change when she and her spouse Richard Donnert change clothes at lightning speed. For example she changes dress in a cloud of silver confetti from an umbrella.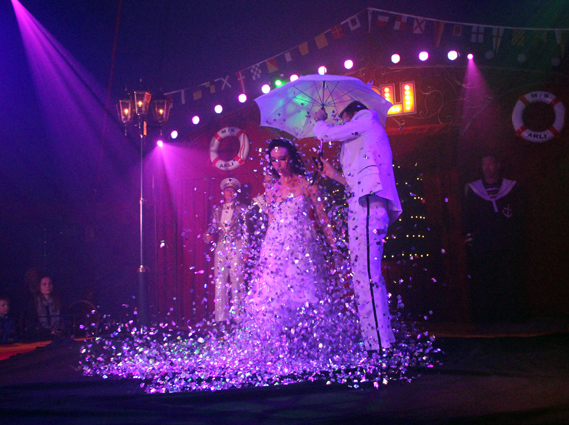 Donnerts with quick change
Next came Francesco in the ring with a chest which turns out to contain a doll (his girlfriend Sarah). A fine act which ends up when he was "twisting" his girlfriend, see photo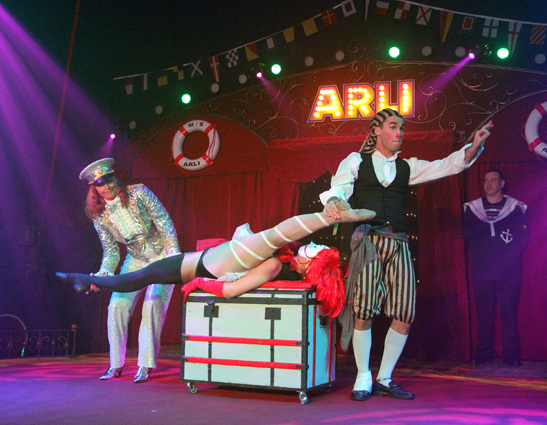 Francesco and Sarah
Olga Makejeva was then back in the ring with an act in vertical rope.
Last act in the performance was the glorious musical clowns Martino & Co. This year with Martin Arli as the August in sailor suits, Alexander Arli as white-faced clown and Francesco as the last man in the trio. Alexander offers Martin 500 DKK if he can play the clarinet. But Martin can't play the clarinet. But Francesco can. Martin offers Francesco 20 DKK if he will hide under a table and play while Martin with a clarinet mimes as is he was playing. There is a lot of fun in this all-new entrée with of course ends with a festive finale in which Alexander and Francesco plays trumpets and Martin trombone.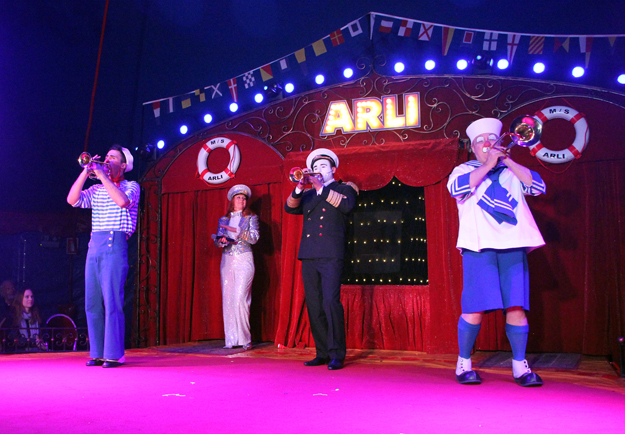 Martino & co.
I the finale Martin Arli paid tribute to his mother Lotte Arli, who in 2017 could celebrate her 60th year circus anniversary. Lotte's debut in the circus took place in 1957 in Circus Moreno. 14 years later, in 1971, she founded together with her husband Soren Arli (1935-2011) the small circus Arli, which since then has been on the roads every summer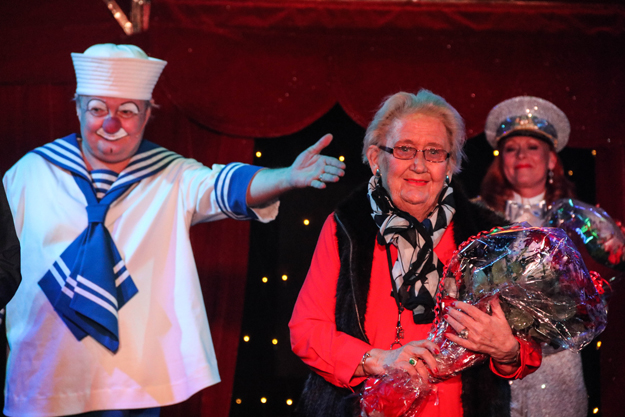 Lotte Arli. Photo: Jacob Boas Leitisstein
The talented young photographer Jacob Boas Leitisstein took numerous photos from the performance. Click here to see them.
Circus Arli closed the season on22 August in Sengeløse. As usual, they toured only on Zealand, including the Copenhagen area.
Just as in 2014, 2015 and 2016 the Arli family arranged from the middle of November and until Christmas the Hans Christian Andersen Christmas Market in Copenhagen. This year, the Christmas market was moved to Nytorv at "Strøget", a much better location than last year.
Circus Baldoni
Cirkus Baldoni opened the season in Lyngby on 21 March.
As something new they have plastic bucket seats instead of benches which had reduced the total number of seats on the two rows of ringside chairs and the 5 rows on the grandstand from 450 to 414.
The performance was Baldoni in top form and with the features which is a "must" for Baldoni fans. For example the lion Leonardo's dialogue with the circus director René Moenster Baldoni. Leonardo, who is a ventriloquist's doll must say "ladies and gentleman, things gets worse and worse" and tell that "I love children - with sauce and potatoes ".
As something new Circus Baldoni had this year musical clowns. Their usual clown Danilo was assisted by the super musical Eddie (Eduard Janacek) who the audience met last year as a juggler and rola bola-acrobat. Between the acts in the show, he also tried the classic juggling gag with throwing 7 teaspoons into 7 glasses. He failed again and again. Then to succeed at the very end of the performance.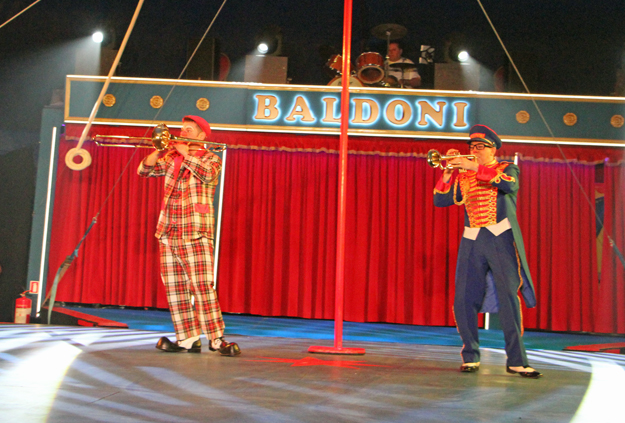 Danilo and Eddie opened the show with music, respectively on trombone and trumpet, which was followed by the opening with all artists in the ring which in Circus Baldoni is a stage. The artists waved with Danish flag and sang Happy Birthday as Circus Baldoni this year could celebrate their 15th year birthday (anniversary).
First artist act was Emmanuel Zuma and his 3 Mombasa Boys, who appeared in pole. Then we saw an elegant and charming act with trained house cats, presented by Fatime (Fatime Horvath) with the assistance of her spouse Peytchev (Peytchev Plamen Metodiev). Also the cats seemed to enjoy the act!
Danilo and Cindy the had an entrée where Danilo first tried to shoot with arrows and Cindy then tried to throw knife with a member from the audience as a target.
Next came Mombasa Boys back in the ring, this time with a well presented Limbo act.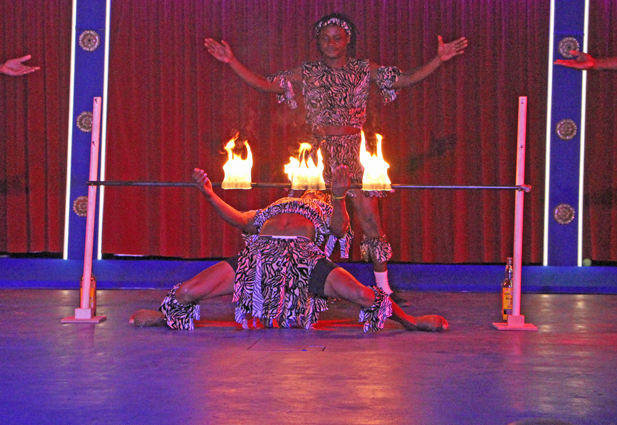 One of the four Mombasa Boys with great limbo
The last number before the break was Agnes Nemeth and Roland Dittmar's excellent entrée where Roland finds a girlfriend in a tiny house.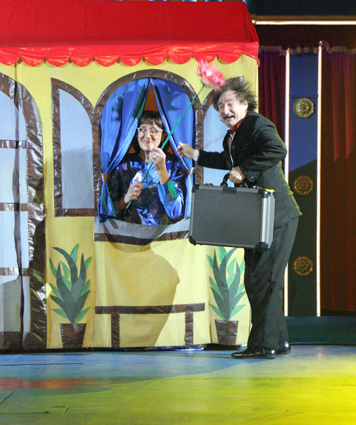 Roland sees a lovely lady in the window of the tiny house
The comical act with the trampoline, which is "dressed" as a swimming pool with a 3-meter diving next, is always a success. At Baldoni it was presented by Mr. Jumping aka Peytchev Plamen Metodiev. He has two times before been with Baldoni, but according to the printed program he is the artist which the audience most times have asked to be allowed to see again.
We've seen it before. But you can enjoy Danilo's version of Renée & Renato old 80's hit Save Your Love again and again. The gag with the mop as wig is as far as I know invented by the Swiss clown Andre Broger, but perhaps best known in José Michel's version.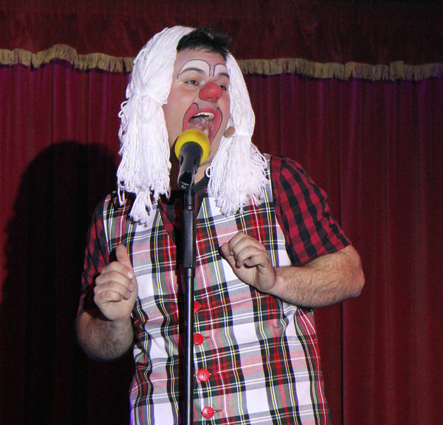 Danilo "sings" Renato's voice in Save your love my darling, save your love
Roland and Agnes Dittmar then came back with a follow-up to their first entrée. This time the crippled Roland find a lamp and the spirit of the lamp grants him 3 wishes.
Maria Janacek had then an entrée in vertical rope.
Danilo and Eddie were then assisted by Cindy in the musical clown entrée "Do not play here" where Eddie managed to play many different instruments (even two trumpets at once) before Cindy was allowed to put head to " My hat, it has three corners ". See photo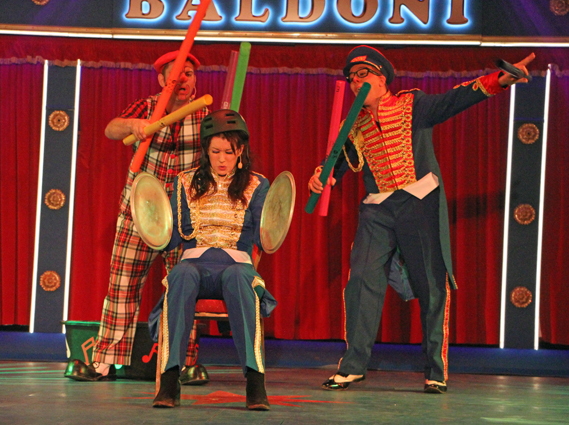 Last artist act was Mombasa Boys partly skipping and partly building impressive human pyramids.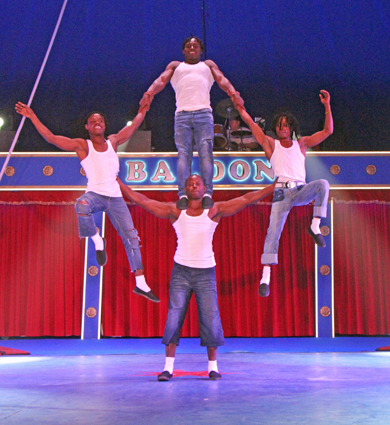 Mombasa Boys.
The closing act was a kind of dance entrée with first Danilo and René and then all the artists wearing boxing gloves. It went into the grand finale with Baldoni farewell song "We've been the best of friends" and all the artists in ring.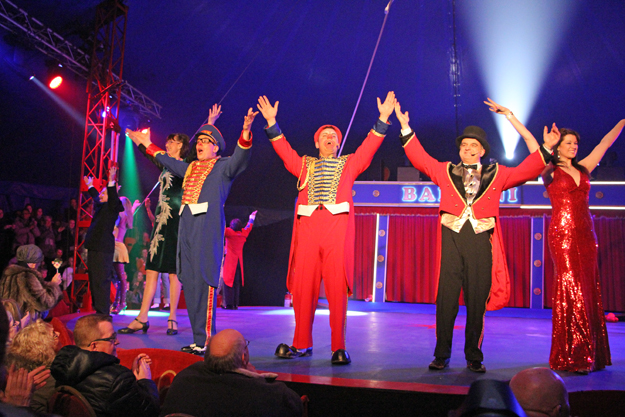 Grand Finale. All photos: Ole Simonsen. Click here to see a number of fine photos shot by the talented young photographer Jacob Boas Leitisstein.
The tented season where Baldoni as usual only toured Zealand and Lolland-Falster ended on August 30 in Algestrup but was followed by visit to the Faroe Islands with performances in the arenas etc.
BALDONI'S CHRISTMAS CIRCUS had in November and December performances in 17 different arenas on Zealand, including in the fencing hall at the Circus Museum in Hvidovre. In addition, they produced under the name CIRCUS PIXIE FUN a number of performances for kindergartens etc.
Circus Krone
The small Danish Circus Cirkus Krone opened the season on 17 April in Salten.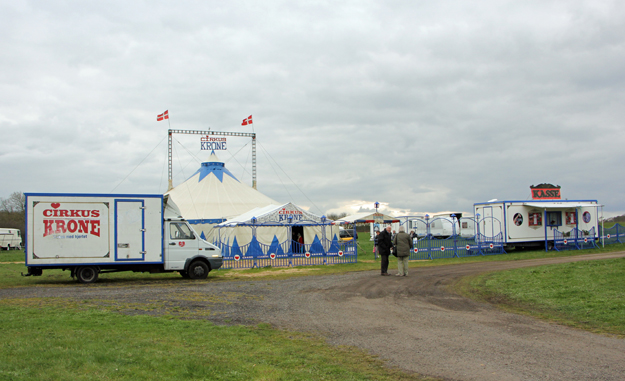 Circus Krone at the circus lot in Salten, where season opening took place on 19 April. All photos: Ole Simonsen unless otherwise mentioned
The performance began with the poetic and slightly naive clown Allando walking around and chatting with the audience. Then he finds that it flows with plastic bags in the ring. When he throw them in the trash bin, runny rabbits throw them out again. Allando figure out that you can juggle with the plastic bags, and at last it rained down over him with plastic bags from a small box under the circus dome.
The first artist act was Nedyalko and Veselka, who in the dark are juggling with glowing sticks.
Eventually, the couple's 8 year old daughter Yana entered the ring wearing a kind of illuminated butterfly wings.
The small family was followed by Allando's beloved entrée where two ponies will eat his apple.
Then charming Yana came back in the ring and showed her skills with hula hoop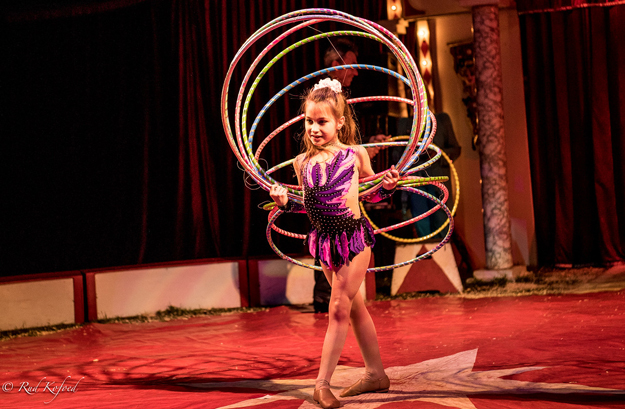 8-year-old Yana. Photo: Rud Kofoed / Ajour Press
Now 4 pirates entered the ring. These are the two Czech Wolf brothers with their spouses. They made nice and fast-paced ladder balance act where they also showed their skills as jugglers. In my opinion, the best act in the performance.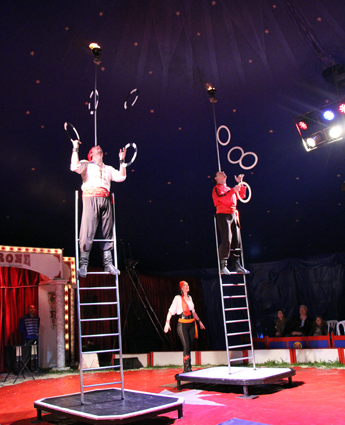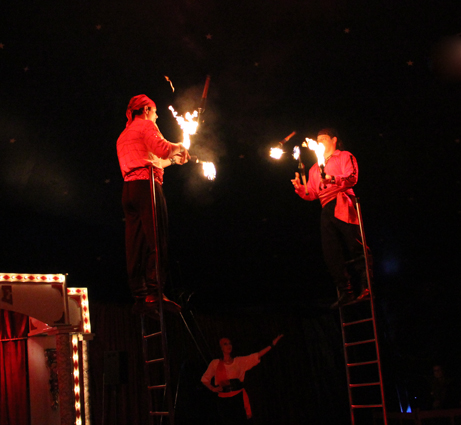 The Wolf family master both ladder balancing and juggling
The first act after the break was Nedyalko with plate balancing on illuminated sticks. Not the talented artists best act!
It is a tradition in Circus Krone that Allando has to fight with a dangerous animal. This year it was an elephant. Both the children and adults cheered over the naive Allando's many ideas and comments in the charming entrée.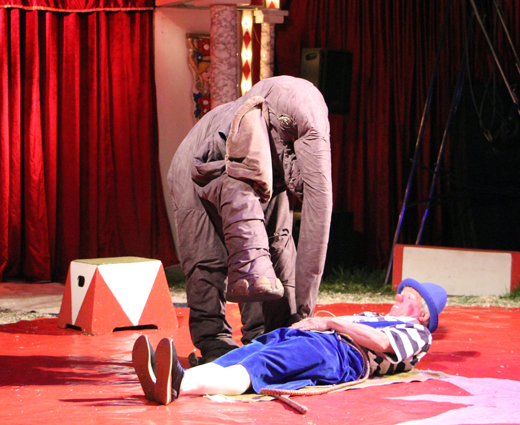 A Krone classic is the act with Allando and a dangerous animal. This year, an elephant, who even the most fanatic animal rights activist cannot protest against being presented in a circus ring
Next number was Nedyalko and Vesalka with a nice adagio balance, where he stood in the ring while he on arms and shoulders was carrying Veselka in various positions.
Then the Wolf family came back again. This time with nice and fast-paced formation juggling act.
The last act in the performance was the not quite young artist couple Alessandro and Christina Gillert. First Christina walked on a tight wire. Then Alassandro continued on a slack wire, where he rode a mono bike, balanced with Christina on his back and ended up balancing on a ladder on the wire.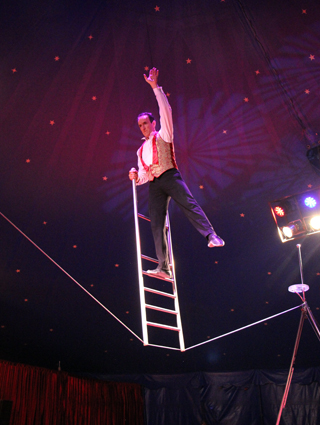 Alessandro Gillert could balance on a ladder, even on a slack wire
Click here to see more photos from the show.
Alessandro and Christina Gillert chose later in the season to leave Circus Krone. They were replaced by the skilled French Chinese pole artist Guillaume Peudon. He was born in 1983 and thus far younger than the Gillert couple.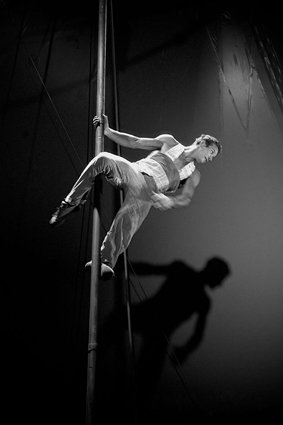 Guillaume Peudon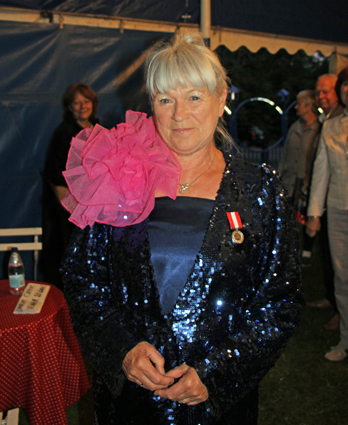 In connection with a performance on Wednesday July 12 in Circus Krone, Irene Thierry was appointed honorary member of Danish Circus Friends Association. Irene has been owner of Circus Krone since 1984. She turned 70 in the spring and 2017 was her last season as owner of Circus Krone.
Cirkus Krone ended the season 3 September in Aarhus after touring in Jutland and Fyn and the isle of Ærø. It was Irene Thierry's last season as circus director. As from 2018 her eldest son Frank Thierry takes over. However, there is still the intention that Irene and Jan Allan aka the clown Allando shall be part of the performances.
Circus Mascot
Circus Mascot opened the season in Roslev in the northern part of Jutland on 29 March.
Jørgen Lorenzen saw the performance at the opening night in Roslev at 18 and wrote (my translation):
Daniel Deleuran presents the show - with a beard, a Prussian War general commendable, and this year he has arrogated a hairstyle that is guaranteed not seen before throughout Roslev and neighbourhood. His speak is enthusiastic and accurately.
The clown Gulio has gradually become a regular part of Mascots show. His gags are new every year – at least most of them. You will enjoy his open face and whimsical twinkle. He is a true children's friend, and the best thing is that the man looks as if he also is enjoying it himself.
After Daniels welcome Marianne enters the ring with her "symphony of dogs". Surprising to see them as opening act, but the explanation is that you this year have two dog acts in the performance. One at each end of the performance.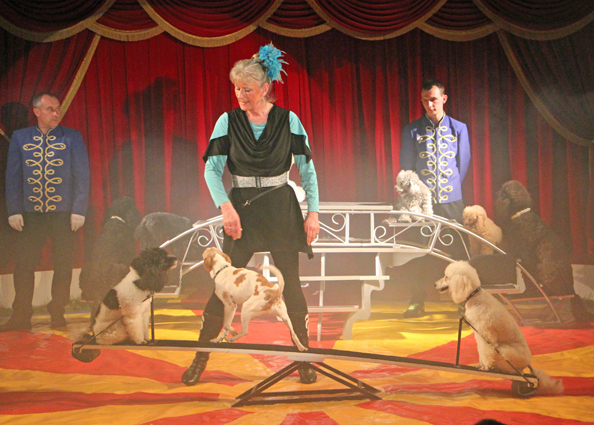 Marianne Deleuran and her dogs is a "must" in a Mascot-performance
Then Rafaela enters in the ring with the horse Amigo and the dog Indy. Amigo wants to go the restaurant but Indy intervenes. And then scene is set for a lot of fun, and of course Rafaela comes short when she will introduce good table manners.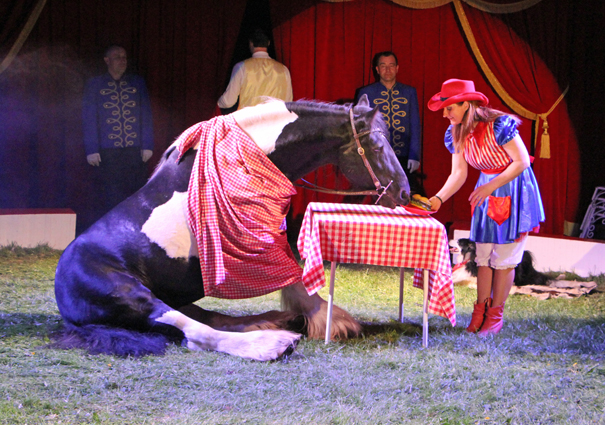 Lunchtime for Rafaela Honden's tinker horse
And then it's time for a nice rola-bola number. Latoya is doing a nice and difficult balancing act. It is for outsiders difficult to see what trick which is the most difficult, but four boards stacked up on shaky cylinder are always impressive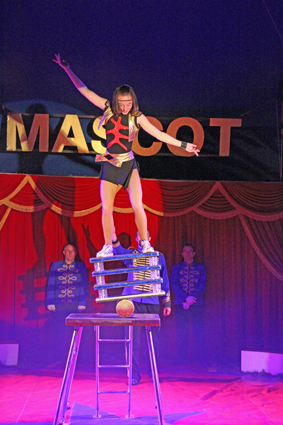 15 year old Latoya is daughter of Rafaela Honden and her spouse Eric Zwart
Gulio now has an entrée with a tame hen who can flap the wings on command. It can also lay eggs on command and of course it ends up with Gulio getting an egg in his head.
Gulio's son Husik is balancing and juggling rings - larger than those usually seen. And his style is becoming the true artist attitude, sure, but not confident - proud but not boastful and self-confident, but not arrogant.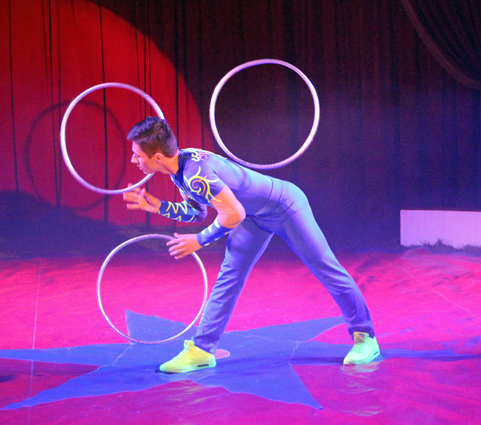 The lord of the rings Husik is son of the clown Gulio and the aerial acrobat Tetyana
Ranco, Rocco, Rikki and Little My. This is the names of Circus Mascot's 4 ponies. And now it's their turn. They are presented by Daniel Deleuran. This year, the delicate green plume not only fits neatly into the tent and sawdust in the ring but also sharpen attention on the ponies.
And there are more animals. Rafaela and Latoya present a bunch of parrots. It's weird animals, not only due to their colourful plumage. But their sound is like a commentary on what is happening - a strange sniggering guttural, which connoisseurs probably can interpret in the same way as they can interpret the sounds from domestic animals. The parrots can balance, grab something with their beaks, keep something in their beaks, ride a bike on a wire and move and push items.
Gulio then have an entrée with his daughter Juliya - a dream world where Juliya is a motionless doll.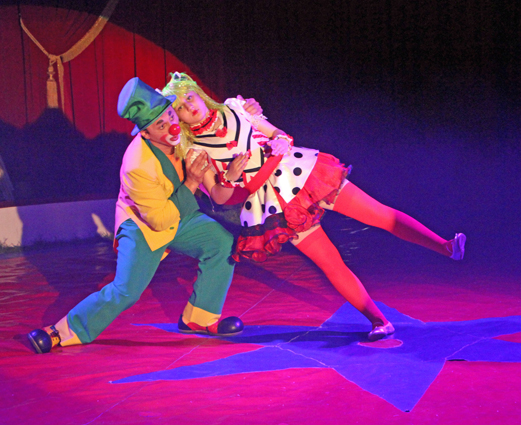 Gulio with his daughter Juliya
Alfred and Luna is the name of circus Mascots Canadian pigs. They play soccer, hoist a flag, run down in slide and go over obstacles. They are vigorously promoted by Marianne Deleuran, but that they do not want to do tricks and must be fed with several delicious titbits is the part of the act. And the cheering will not end when a little baby pig makes enter the ring.
A good circus performance needs an aerial act. Here, it is Tatyana acrobatics in an aerial ring which is provided with two silks, see photo. It is difficult for non-acrobats to tell which trick which is the most difficult to perform. But I believe it is hanging in her feet.
The penultimate act is the performance's second dog act. 8 white Siberian sheep dogs are presented by Rafaela, also dressed in white. The act is both aesthetic and beautiful. The dogs seem happy, relaxed and very well-kept. Finally they behave almost like horses, as Rafaela call them up and ask them to stand on their hind legs. Hind leg dogs (Steigerdogs)! It is a strong act and proof that the animal acts are and shall be an integral part of the circus.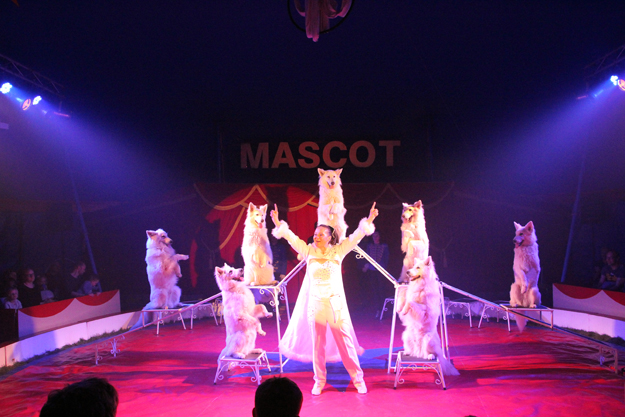 Rafaela Honden with her sheep dogs. By courtesy of Circus Mascot
The last act was before-seen clown act where the clown Gulio invites four men in the ring to participate in the four stools gag. Seen before, but for those who see it first time, it is of course very funny. And with his disarming humour Gulio get the participants to relax, so they get fund out of it.
It is absolutely the best performance Circus Mascot has presented so far! And nice that here we have the proof that animals and circus belongs together.
Click here to see more photos from the performance.
Circus Mascot closed the season on 24 September in Glyngøre. The month of July they spent just as in 2015 and 2017 as "free attraction" in the amusement park Sommeland Zealand.
Apart from performances in Bytorv Horsens shopping mall in week 42 the presented some weekend before Christmas a 30 minute long performance in a number of Plantorama's garden centers.
Zirkus Nemo
From 26 April which was opening night in Horsens and until 16 September Søren Østergaard visited a number of cities with his Zirkus Nemo, which he called Denmark's only circus for adults. Where the other Danish circuses have many one-day cities, Zirkus Nemo staid at least 5 days in a city and had never performances Sunday and Monday. This make the work for both the artists and the tent crew less stressful than in the other Danish circuses.
Apart from the comedy part of the show, this year with Soren Ostergaard and the comedians/actors Michel Castenholt and Laura Kvist Poulsen, you met some very good artists in the show. I quote from a review by Rud Kofoed, who gave the performance 6 out of 6 possible stars (my translation):
As for the Ukrainian top athletes in Crazy Flight, Soren Ostergaard succeeded in inspiring them to return with a brand new act in addition to their groundbreaking signature act. The world premiere of the new act we attended to in a gigantic enthusiasm at the opening night in Horsens. The four five-fold gold winners in sports acrobatics are wildly sovereign and so brilliant that their acts will stand as examples of the human body's ability. It is modern classicalism when it's best.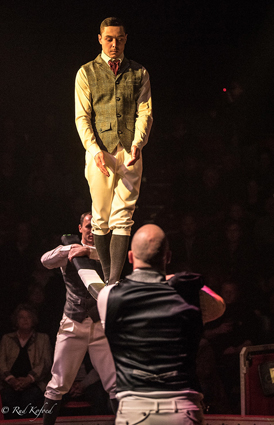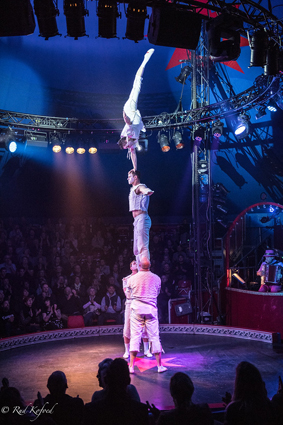 To the left: In the new act Sergey Sakun and his Crazy Flight work with Russian bar. To the right: Crazy Flight with their old act. Photos: Rud Kofoed / Ajour Press
The Englishman Ingo Stiebner and his sea lion Lappy. It is a world class act where animals and humans merge into a symbiosis of beauty. It really looks like Lappy loves to dance with her trainer - and vice versa. Pure enjoyment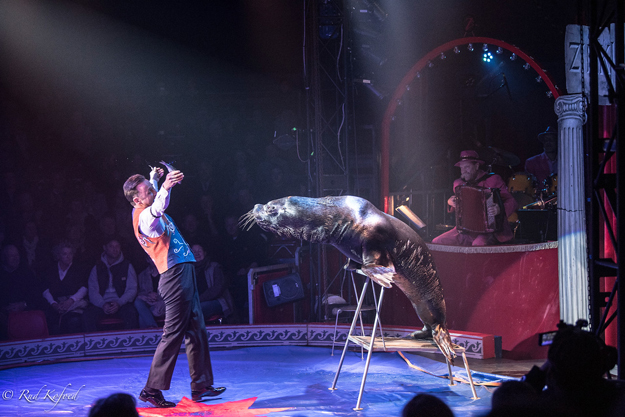 Ingo Stiebner and the sea lion Lappy illustrate how humans and animals can work together ... It is a pleasure to see the couple come out of their shells. Lappy retired by the end of the season. Photo: Rud Kofoed / Ajour Press
Like Stiebner with his seas lion the Spanish juggler Picaso Jr. can get his juggling balls and plates to do what he want. It is so elegant and charming done that one senses the total surrender of the audience in the sold out tent. The circus world's Picaso thus matches the painter world's Picasso.
Picaso Jr. is the son of the legendary juggler El Gran Picaso, who has taught him how to juggle. It is easy to understand why Junior hardly dared to make his entrance to the ring after his famous father. But he has inherited his father's talent and learned his skills to perfection.
I watched when Junior got a silver clown on the most prestigious international circus festival in Monte-Carlo in 2002. He has not gotten worse - on the contrary! He was the first time in Nemo in 2013 - after seasons with Circus Arena in 2008 and 2012. It is not surprising that more than one mantelpiece is needed to get room for all the prizes he has been awarded.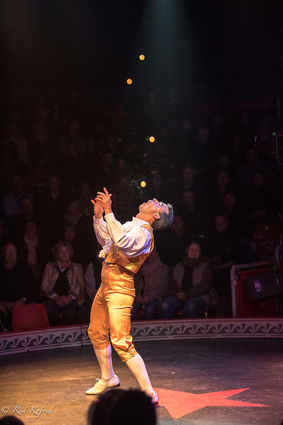 Picaso Jr. Photo: Rud Kofoed / Ajour Press. Click here to see more photos from the performance.
Zirkus Nemo closed the season 16 September in Odense. Sadly enough one of the artists Picaso Jr. passed away on 24 September, just a few days after he ended the season with Nemo, only 47 years old.
Cirkus Trapez
Circus Trapez opened the season in Kolding on 12. April toured during the season Jutland and Funen.
It was Circus Trapez's 2 season on the Danish roads. Artist wise the performance was better than in 2016. Isabella Enoch Sosman had also upgraded its entire set-up: there was live music and she had engaged an experienced ringmaster (ringmisstress).
Tino Aeby was in charge of the music. He was for some years a band master in Circus Dannebrog, where he had eight musicians in his band. At Trapez he has only three hilmself included. But the result is surprisingly good and on par with what you experience in the much larger Circus Arena.
As ringmistress Isabella has hired Judy Glosted who for several seasons was ringmistress in Circus Benneweis. The elegant and always smiling Judy did a great job and demonstrates also her talent for singing.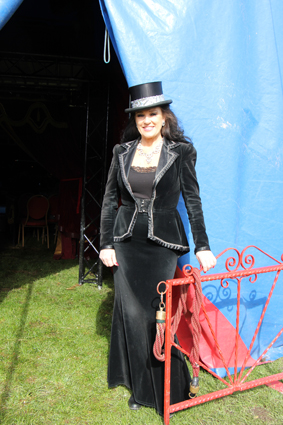 Judy Glosted was back in the circus world as ringmistress.
With 550 seats in the tent Circus Trapez is a somewhat smaller business than Benneweis and Dannebrog and the economy does not allow them to book a lot of top artists. But less can also do it, and the audience seemed contented with the artists, Isabella has chosen: the versatile Spanish Jackson family, the two young German aerial acrobats Seraina and Michelle and the clown and juggler Marc Dorfner. And of course Bernhard and some of his animals: horses, ponies, camels and elephant Ramboline. Others of Bernard animal groups are leased to other circuses.
The show was opened by the run-in clown Marc Dorfner who turned on a radio. After Judy Glosted's welcome Bernhard Kaselowsky presented in the beginning of the season 6 young Frisian horses. Young horses are often skinny, and although a veterinary said they were healthy the very skinny horses resulted in a shit storm. After a few weeks the act was taken out of the performance.
In the original version of the performance the Frisian horses was followed by ponies.
Next act was a nice aerial act with Seraina and Michelle, who the Zealanders saw last year in Circus Arli. At Trapez there is higher to the top of the dome, which gives slightly better opportunities than at Arli, and the two young German artists present the best aerial act which I this year saw in any Scandinavian Circus ring. However, for health reason one of the girls had to leave the act before the end of season.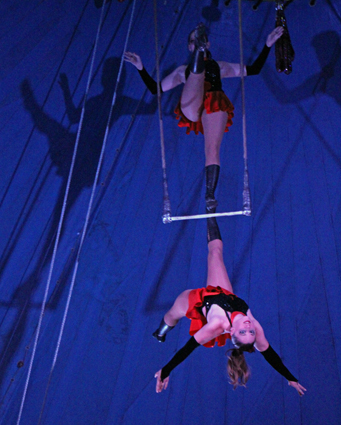 Then, Marc Dorfner had a fine and original run in, which he uses a long balloon as arc. Always great to see a clown doing something you have not seen before.
It must hurt to be hoisted up under the big top while you hang in your hair. But this is what Fina Micaelo Jacksonwas doing while she juggled with torches and later hang in the splits. She was followed by her husband Mr. Jackson in a run in where he says funny sounds and end up boxing in slow motion with a member from the audience.
Next came Marc Dorfner, now as a juggler with both rings and clubs. Eventually he juggled standing on a freestanding ladder.
Then Mr. Jackson was back with a comical entrée, where he was fighting a desperate battle with a microphone while singing "My Way." The idea behind the microphone fight comes probably from the legendary George Karl. Many Danes will remember the combination of singing "My Way" during the fight with a microphone from Circus Dannebrog 2012 when Cesar Dias did it and the audience was enthusiastic. But Mr. Jackson has not "stolen" the act from Cesar. Papa Jackson is Cesar Dias' uncle and has trained Cesar Dias and made his props. And just as his nephew Mr. Jackson made the audience enthusiastic.
The first act after the breakwas a ballet entrée which turned into 17-year-old Lara Jackson's juggling entrée where she sit on a high mono bike and with her foot throw cups and plates up on the head with her twin brother Marco as her assistant. Originally, it was intended that Marco should do some clown run ins. But Isabella skipped it at his gags and style was close to Marc Dorfner's entrées.
A lot of visitors to a circus believe that there has to be one or more elephants in a good circus performance. At Trapez you meet Bernhard Kaselowskys versatile elephant Ramboline.
The elephant act was followed by a by a hula hoop entrée with Lara Jackson and Seraina. In the end of the act they were hoisted up under the dome while they rotated their hoops.
Next act was a combination of camels in the ring and a tissue act with Michelle in tissue. Presented while Judy Glosted was singing "Smile" to Marc Dorfner. Isabella Sosman always does a lot to create such combination acts in the performances she is putting on stage.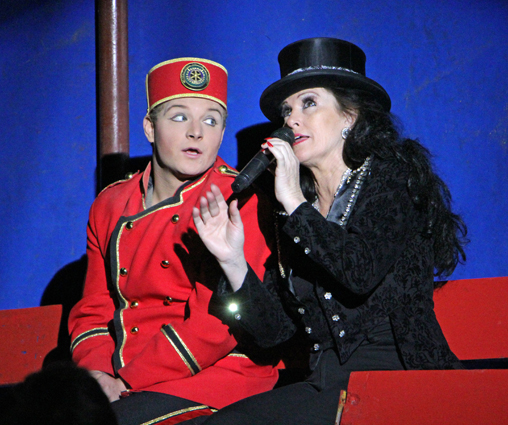 Judy Glosted and Marc Dorfner
After a short run in with Marc Dorfner time has come for the performance's last act: Jackson family's fine bike act which the Swedish audience last year saw in Circus Olympia. Mr. Jackson shows his great skills on a bike, even when he has her wife and their two kids on the bike.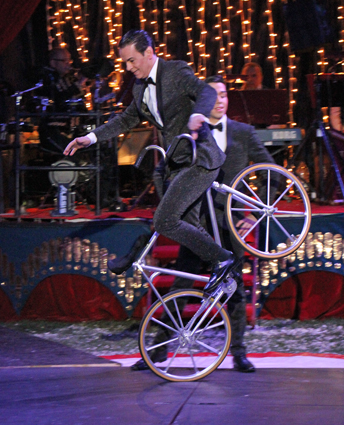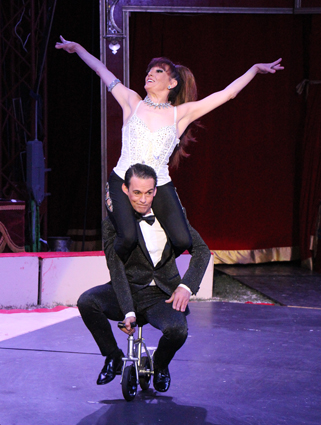 Later in the season, Bernhard Kaselowsky's group of cows joined the show. They had been rented out to Finnish Circus Finlandia, which after a while sent the act back as the act did not match their expectations.
The season was not quite easy for Circus Trapez. In addition to the accusations of neglected animals, there were animals which run away, collapse of seating etc. In the middle of the season, both ringmistress Judy Glosted and Marketing Manager Louise Mandrup left Circus Trapez. And worst of all: disappointing visitor numbers in some cities. The season ended September 28th in Tommerup.
Other performances
Years ago you could see artistes in many amusement parks. But this is unfortunately history.
Katja Schumann has turned a farm outside Løkken in the northern part of Jutland to a circus farm where she during the summer months and until the beginning of October she presented short performances. During the school's autumn holidays CIRCUS MASCOT had performances in Bytorv Shopping Centre in Horsens. CIRCUS ARENA produced a performance for Kolding Shopping Centre. CHARLIE AND BINALTO from Circus 3 appeared in Frederiksberg shopping mall. At the Circus Museum in Hvidovre you could meet Benny Schumann.
Benny Schumann was also one of the stars in Wallman's new dinner show ENTOURAGE, which was premiered in the Copenhagen Circus Building in September. He performed with his plate spinning act which he first time presented in Circus Schumann in the Circus Building in 1967. As the only premiere night performer, Benny was rewarded with standing ovations. My side lady refused to believe me when I told her that Benny was 72 years old!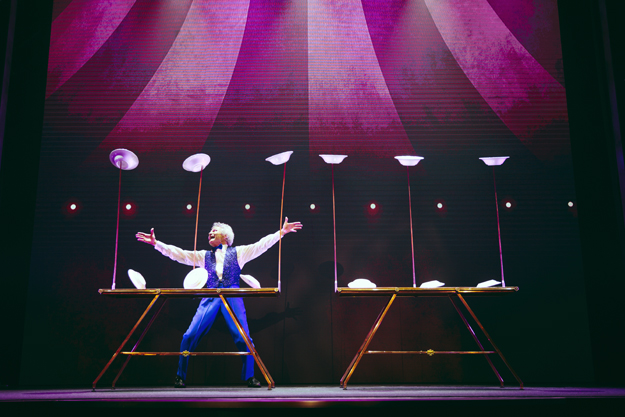 Benny Schumann. By courtesy of Wallmans