Older Circus news from Denmark 2017
31 July 2017
IT ALL HAPPENS IN PARIS - although a lesser number of shows during the holiday period, viz. in AUGUST - as many performers leave doing a summer tour or try their good fortune in Avignon, that features its annual great summer festival, equally in August.
Worth seeing: for the family audience you will find the small theater LA CIBLE, located in the Pigalle area, where FRANK BELLEVIE proudly presents three entirely different MAGIC SHOWS, geared at the family audience.
Already at the entrance the spectators are greeted with a warm welcome, there is going to be family entertainment in a positive mood, including lots of interaction, lots of laughter in the small theater, offering about 50 seats.
This theater has been refurbished in classic style, but happily the architect has kept the old stage floor, made of glass, illuminated from below, that could slowly turn around, and where the strippers of that time could perform!
This MAGIC SHOW bears the hallmark of great joy of performing, lots of funny items and an excellent contact with the audience - making these shows, all the three of them - a memorable moment!
Each show is about one hour - exactly what is needed to make an audience satisfied and happy.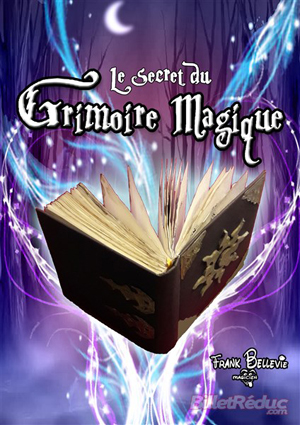 The PIGALLE area was formerly, decades ago, a red-light-district, nowadays rather worn out and without real interest - despite the presence of MOULIN ROUGE that still performs great revues.
You check in L'OFFICIEL DES SPECTACLES, € 1, in all newsstands, when FRANK BELLEVIE performs.
IT ALL HAPPENS IN PARIS!!!
See more: www.frankbellevie.com
Venue: Theatre LA CIBLE, 62 bis, rue Pigalle, 75009 Paris. Metro: Pigalle.
------------------ reported by ZARRO ZARRO.

28 July 2017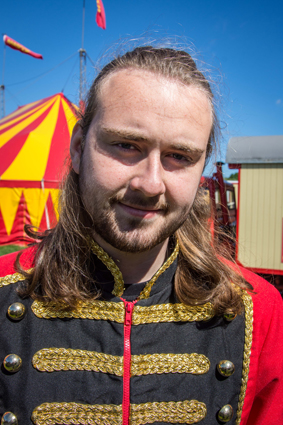 Andreas Deleuran turns 20. On Thursday, August 3, Andreas Deleuran can celebrate his 20 years birthday. He is the youngest son of Marianne and Jess Deleuran, who founded Danish Circus Mascot in 1994. The small circus is today run by his mother Marianne and his elder brother Daniel. As a circus child Andreas got an all-round training, and Mascot's audience has seen him as acrobat, as clown, as a diabolo juggler, in aerial straps and as assistant in mother Marianne's dog act other Mascot animal acts. The last couple of seasons his has, apart from the summer holiday, not travelled with circus as he is in the process of a EUX Business education at Skive Business College. His birthday is celebrated in Höng where Circus Mascot has performance on 3 August.

28 July 2017
Circuses in the southern part of Sweden. If you want to see some good Swedish circuses you will have excellent opportunities in the coming weeks. It's easy to get from Copenhagen to the southern part of Sweden as there is a bridge/tunnel between Copenhagen and Malmö Sweden.
Sweden's second largest circus, Circus Brazil Jack, has performances in Ystad on August 2nd at 19, in Trelleborg, August 3 at 19 and in Höganäs August 4, at 19. "Circus Brazil Jack 2017 - Classical Circus in Top Form" I wrote on this website on March 17th in my review of this year's performance.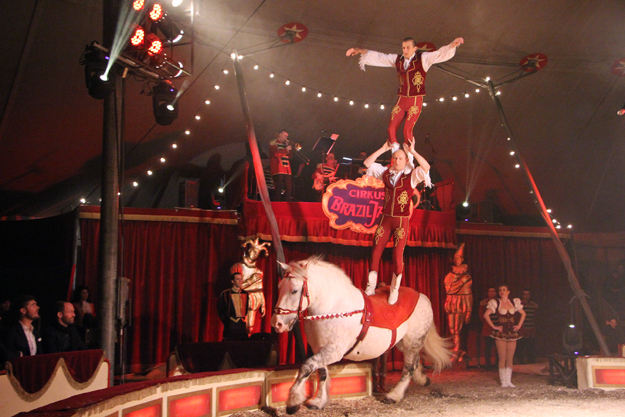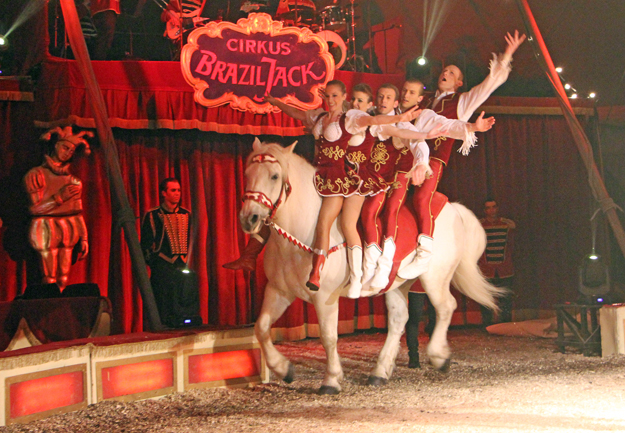 The Donnert family is among the performers in Circus Brazil Jack. Click here to see more photos from the show.
From August 2nd to 13th, Sweden's largest circus, Circus Maximum, visits a number of cities in the southern part of Sweden. On 5th and 6th August at 17 there is performance in Malmö Limhamn and the following day at 19 at Malmö Lomma. This year's performance has not yet been reviewed on this page. Starring is Trio Alambria on a high wire. Diorios has 4 motorcycles in the globe of death. Alex Lichtner (Alexander Lichtner) performs in swinging trapeze. The act is finished with balance on a mouthpiece in Washington trapeze. He will probably be with Danish Circus Arena in 2018. Anton Frank present horses and donkeys. His son-in-law Ramon Maatz presents an act with dogs. Kimo does Egyptian dance. Georgio Hromadko, who toured with Circus Arena in 2012, performs with diabolos. Duo Solys, who last year toured with Circus Nemo in Denmark, does handstand / hand-to-hand. Finally, the audience met the clown Francesco who also was with Maximum in 2016, and whom the Danes know from several seasons with Circus Benneweis.
Sweden's third largest circus, Circus Olympia, will visit the southern part of Sweden from 8 to 31 August. 29 and 31 August at 18, they have performances at the Mill Square in Malmo, approx. 20 minutes walk from the central station. "Circus Olympia 2017 in innovative thinking." Martin Lasson Berglund wrote on April 13th about the year's performance.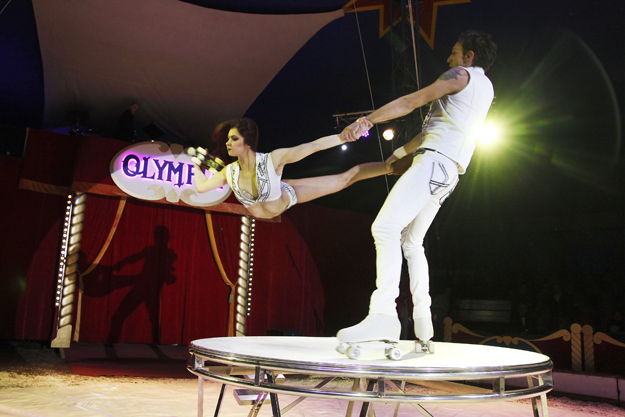 Trio Nisterov is among the performers in Circus Olympia. Press photo from Circus Olympia. Photographer Linda Himsel

27 July 2017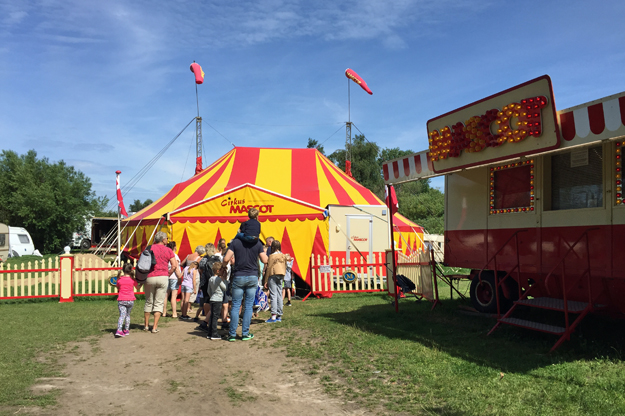 True to tradition Circus Mascot has spent all of July in Sommerland Zealand, where they have had two well-attended performances every day. From August 1, the tour continues. First on Zealand and from August 16 on Funen and Jutland. August 11th to 13th, you can meet them at Roskilde Fair where Michael Deutsch has booked them to present two daily shows with free access for fair's visitors.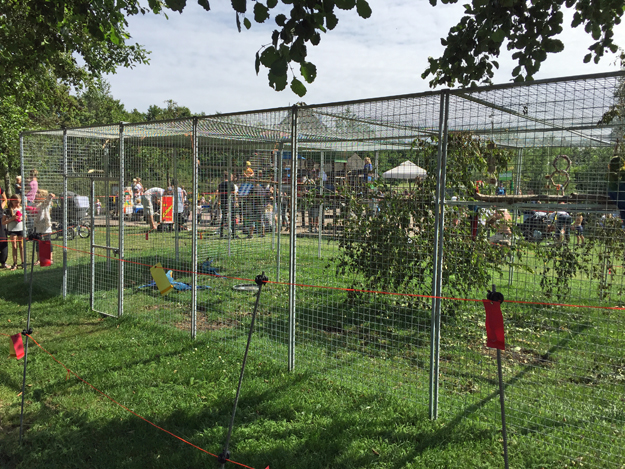 In Sommerland Zealand, guests could see that Rafaela Honden's parrots have a very large aviary.
Marianne Deleuran of Cirkus Mascot is annoyed with the fact that the city of Odense has begun to charge rent for a circus lot. Circus Mascot has to pay 2,500 DKK (336 Euro) for a use of a lot in Hedelunden in Stige.
"We have never had to pay to borrow a small lawn with grass for our circus," she says to Fyens Stiftstidende. "It will smash us completely if all small towns and municipalities across the country charge a rent to let us use their circus lots. A single day and night in Stige will cost us 2,500 DKK. I have paid, but if it isn't changed, Circus Mascot will not come to Stige or Odense anymore. "
For 23 years, Circus Mascot has put their tent and stables up in Stige. They bring their own equipment and get water at a neighbour and have their own generator to make electricity. They have never experienced that neither vehicles nor tents have destroyed anything at the municipal facilities in Odense.
Certain municipalities' requirements for rent for circus lots are generally a problem for the Danish circus industry. Worst example is Aarhus which charge 4,500 DKK (605 Euro) per day. However, many municipalities does not charge any rent for use of circus lots.

21 July 2017
Frank Thierry turns 50. On Monday, July 24, Frank Thierry, Sjelle at Aarhus, can celebrate his 50 years birthday. He is the elder son of Irene Thierry from Danish Circus Krone. From next year he will take over the management of the small circus. As a circus child Frank got the usual all-round training in acrobatics, which he later combined with comedy. He has, among other things, performed with a comic trapeze number and a comic rola bola act. He was also one-third of the comic juggler and acrobat troupe Die Onkels, which years ago was quite successful in Germany. He has also performed in revues. In recent years, he has preferred to work "behind the lines" and runs the company Thierry Production. They assist with artist booking, organize parties and company events, offer entire performances, develop events, etc. They also have a tent rental department. Frank Thierry himself organizes workshops for children and young people, not least circus workshops. Frank is also frequently used as director and has among other things staged performances in connection with the Aarhus Festival. The birthday with a round figure is celebrated in the home in Sjelle.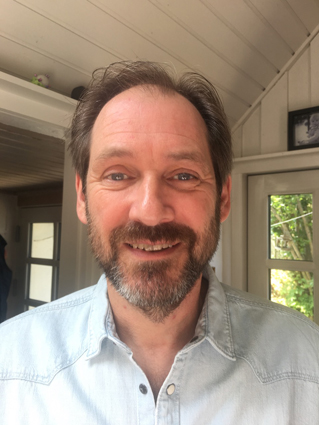 18 July 2017
New Circus Award. This year's Danish circus awards are handed out on 9 August at the Circus Museum in Hvidovre, with the participation of the Danish Minister of Culture Mette Bock. In addition to the honors award, The Danish Circus Award and the talent award and the award for the best act of the year there is after proposal from the association of Danish Circus owners a new award. "We think there ought to be an award to the politician or public person who has done the most for circuses in the past year," Martin Arli, chairman of the association, says. The award which isn't accompanied by a cash amount consists of a painting by the well-known Danish painter Viggo Salting from Kerteminde, who also creates the somewhat larger painting which is accompanying the Danish Circus Award. The names of this year's award winners will not be disclosed until 9 August.

17 July 2017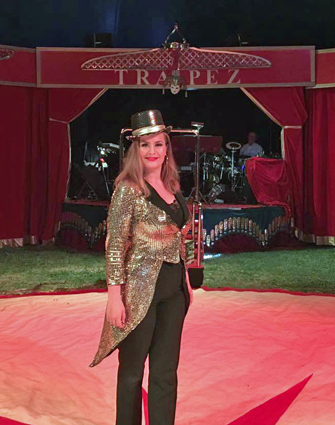 Still singing in Circus Trapez. Judy Glosted was singing ringmaster until the end of June. But neither the new ringmaster David Sosman nor his mother Isabella, who sometimes takes over the task, believes that they are great singers! Thus Circus Trapez has engaged the singer Mathilde, who sings during the performances.

16 July 2017
The Danish Circus Award. The award ceremony will this year take place on 9 August at the Circus Museum at Hvidovre, Copenhagen. The Danish minister of Culture Mette Bock will participate.
Two acts and one circus school are nominated for this year's talent award:
Charmaine Berdino, horses, Cirkusland
Francesco Fratellini, clown and multiartist, Circus Arli
AMoC (the Academy for Modern Circus), Copenhagen
CHARMAINE BERDINO is daughter of Suzanne Berdino and thus Benny Berdino's granddaughter. Like most circus children, she got an all-round training in many disciplines. Like her mother Suzanne, she especially throws her love on horses. For several seasons she has performed in Circusland in Circus Arena's winter quarter in Aarslev at Slagelse, where she this season with great talent present an act with two Spanish horses. In addition to performing, she runs the company CB horse training and also performs at a number of "horse events".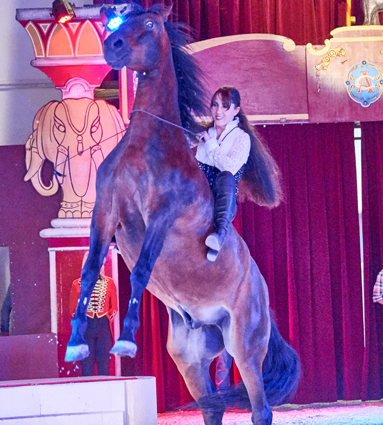 Charmaine Berdino. Photo: Rud Kofoed
FRANCESCO FRATELLINI is the 8th generation of a famous French artist family. For several years he worked in the large French Cirque Alexis Gruss, and Gipsy Gruss is his godmother. There he got an all-round artistic training which enables him to do many different acts with talent and skill. He had his Danish debut at Circus Arli in 2016, and his talent and charm resulted in another engagement for season 2017.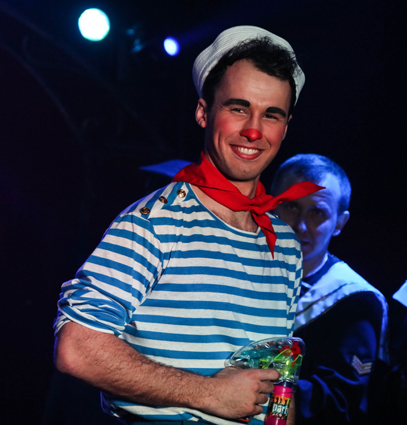 Francesco Fratellini. Photo: Jacob Boas Leitisstein
AMOC. In 2014, the Ministry of Culture approved the AMoC (The Academy of Modern Circus) as Denmark's first higher education program, equivalent to the bachelor's degree at international circus schools. First team students started in autumn 2014, and they finished training in May this year. The nomination is done in recognition of AMoC's talent for educating artists with skills that can be used both in contemporary circus and in the classical circus and at theatres.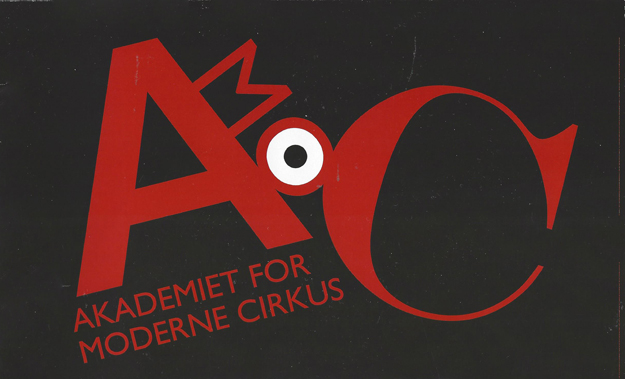 As mentioned on this page on 1 June three acts are nominated for the award to the best act of the year:
Pierre Marchand, diabolo, Circus Arena
Rafaela Honden, dogs, Circus Mascot
Duo Creative, handstand/hand-to-hand, Wallmans at the Copenhagen Circus Building.
The names of the winners will not be disclosed until 9 August.
Apart from the two mentioned awards there will without nomination be an honorary award ("The Danish Circus Award"). Also here the name will not be disclosed until 9 August.

16 July 2017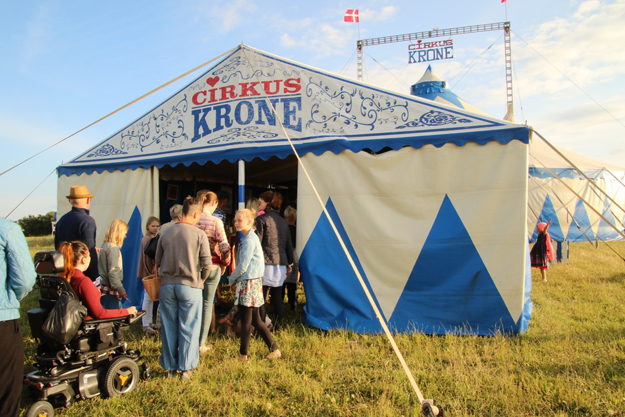 Circus Krone at Langeland. The photographer "Mr. Sputnik" (Per Krogh Petersen) visited Circus Krone when they visited the Danish island Langeland ("Long Island) on Saturday 15 August. Click here to see photos and video clips from the show.

16 July 2017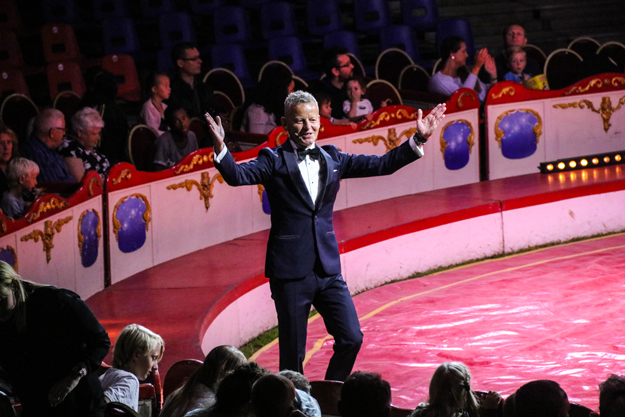 Circus Arena with Bubber as ringmaster. Jacob Boas Leitisstein visited Circus Arena once again when they on July 14 had performance in his hometown Greve. For the time being the TV host Bubber is ringmaster. Earlier in the season Motor Mille aka the young actor Mille Gori, very popular and well-known from children programs in DR television was ringmistress. She had to stop due to other engagements but will be back from 8 August. Click here to see Jacob's photos from Greve - elephant shower, equipment and performance.

13 July 2017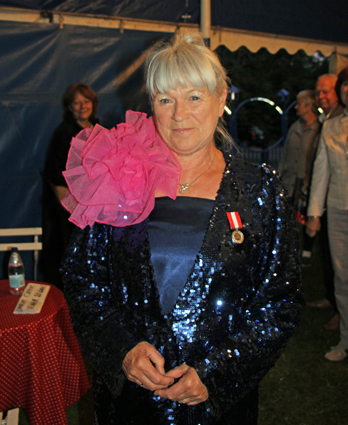 In connection with a performance on Wednesday, July 12, in the small Danish Circus Krone, Irene Thierry was appointed honorary member of Danish Circus Friends Association. A mark of honour which among circus directors so far only has been granted to the late Haddy Enoch of Circus Dannebrog. Irene Thierry's heart beats warmly for the circus. Not only her own but the whole industry. Irene has been owner of Circus Krone since 1984. She turned 70 in the spring and has announced that 2017 will be her last season in charge of the management of Circus Krone.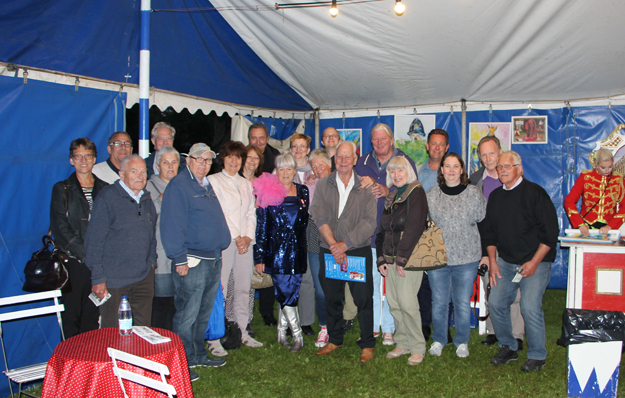 The performance was attended by 20 members of Danish Circus Friends Association. Some of the member had left before the group picture was taken after the show.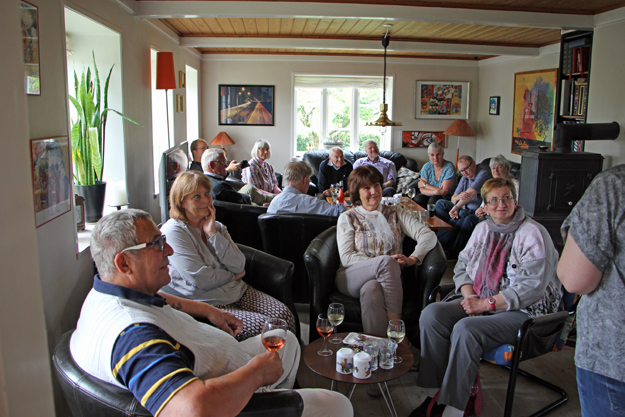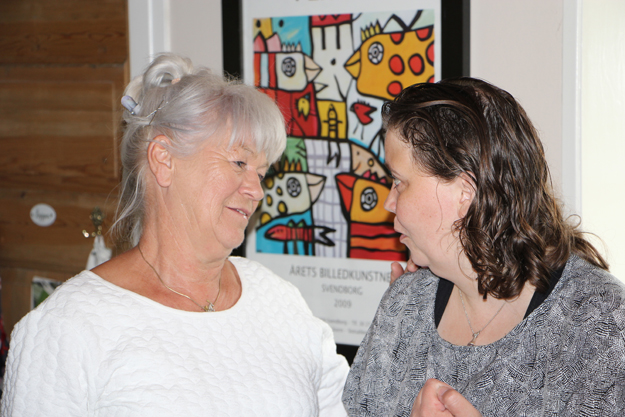 How is it possible to have 21 guests in an ordinary private home? Lise Kokholm tried this on July 12th where 21 members of Danish Circus Friends Association visited her private clown exhibition before continuing for dinner in Lundeborg harbour and performance in Circus Krone. On the bottom picture, Lise is seen in conversation with Irene Thierry of Circus Krone.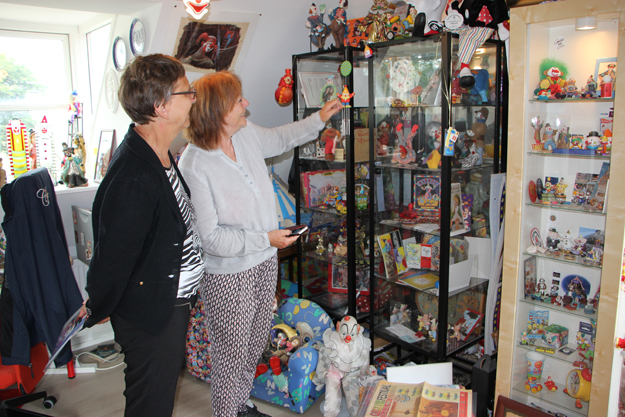 From Lise's clown exhibition. Click here to see more photos from the circus friends' rally to Funen.

10 July 2017
Benny Schumann back in the Copenhagen Circus Building. Wallmans, which are the producer of the dinner shows in the Copenhagen Circus Building, writes: "We are extremely proud to welcome Benny Schumann back here to the Circus Building, where he made his circus debut as a 5-year old. Benny will perform his thrilling plate-juggling routine, which first impressed audiences back in 1967.
Benny got his circus debut as a 5-year-old in in Circus Schumann in 1950. From 1951, he participated in the Matinée performances with different acts, including: as a 9-year-old cowboy on two ponies in full gallop and as a clown in handstand on his grandfather's arm. Circus Schumann started the season in Sweden, and in May the season started in the Circus Building in Copenhagen.
After Copenhagen, they performed in different places in Denmark and elsewhere in Europe, e.g. at the Bertram Mills Circus in London.
As a child, Benny learned to line dance and to train and perform with circus horses (his father was a famous horse whisperer). At the age of 13, he became a part of the evening performances in Circus Schumann. In 1965, he learned to juggle plates from the famous Erich Brenn, and in 1967, he premiered with this act in Circus Schumann.
At the end of 1967, Benny left Circus Schumann. Under the name of Ric Benny, he toured with his plate juggling act in Europe, the United States, Canada and Africa for the next 10 years.
In 1969, Cirkus Schumann was dissolved, and hereafter Benny travelled on tours in different contexts both in Denmark and throughout Europe.
In 1984, Benny successful solo performance "Hi Clown!" premiered. In the show, he performs as juggler, bugger, line dancer, magician, clown and with his own composed music and lyrics.
Since 1993, Benny has performed with Benny Schumann's Mini Circus, in addition to his solo show.
Over the years, Benny has received several awards for his efforts for the circus culture."
Benny Schumann will take part in the new show ENTOURAGE, which will premiere in September and run until June 2018.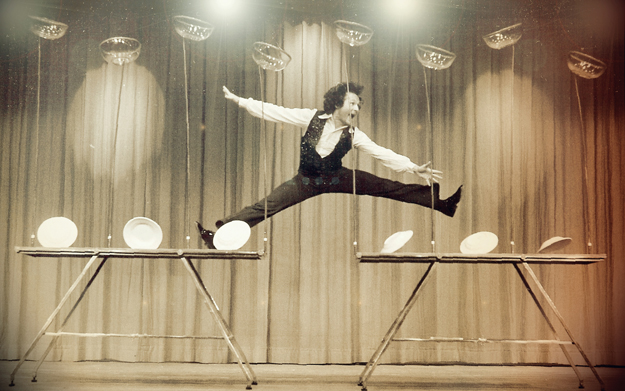 Benny Schumann and the spinning plates. Photo from approx. 1967. Benny Schumann's collection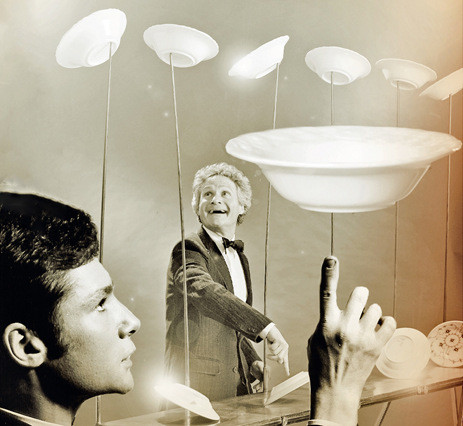 Photos from 1967 and 2017 mixed together. By courtesy of Benny Schumann.

10 July 2017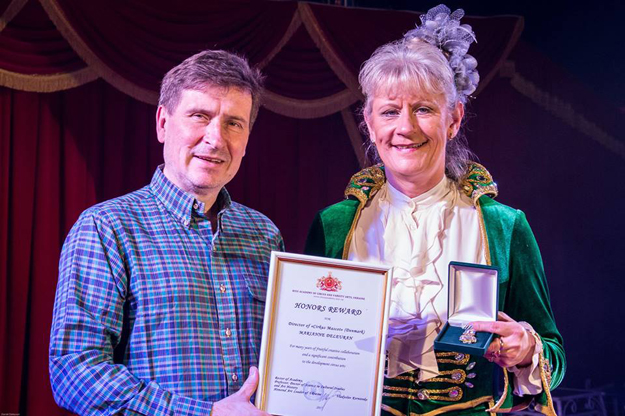 Honors Reward to Marianne Deleuran. Vladyslav Kornienko, head of the Kyiv Academy of Circus and Variety Arts in Ukraine, has been visiting Cirkus Mascot in Denmark. In that connection he presented the school's Honors reward to Marianne Deleuran as a reward for many years of creative cooperation and a significant contribution to the development of circus art.

10 July 2017
In the review on July 6th of a visit to Circusland, there was no link to photo albums, as I knew that the talented young photographer Jacob Boas Leitisstein would visit Circusland and create such an album. Now Jacob has been there - click here to see his photos.

9 July 2017
Obituary: David Jamieson, who for many years has been editor-in-chief of the English circus magazine King Pole, passed peacefully away on 9 July in the morning after a very long struggle with Parkinson's disease.
He was former president of the Circus Friends Association of Great Britain. His enthusiasm for circus has touched many people throughout his life, in person, through his many published works and 'King Pole', which he made a leading circus magazine. He will be sorely missed by many.

9 July 2017
IT ALL HAPPENS IN PARIS --- even during the summer season : a small theatre ESSAION, nicely decorated, seating about 100 spectators, proudly presents LE CLUB DES MAGICIENS, a family-friendly magic show featured by magic entertainer LOIC PIET and his rather burlesque partner JEAN SIFFERMAN.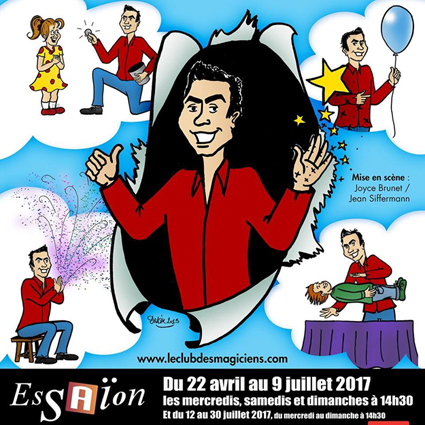 A big screen serving as back-drop displays pictures related to the effects, a certain novelty, not often seen in this context.
The show is performed dynamically, it is hilariously funny and LOIC PIET beams out joy to perform - the spectators are enthralled, both kids and grown-ups. LOIC PIET has adopted the efficient, commercial idea to hand out membership cards to all - LE CLUB DES MAGICIENS - it works as it should, everyone keeps the card - and many will surely return to similar shows.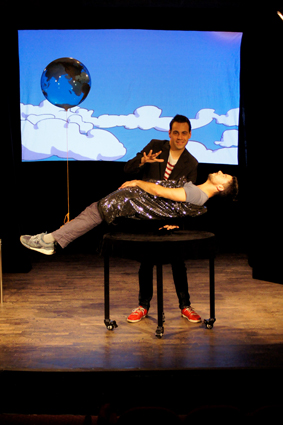 Photo by courtesy of Loic Piet
A most clever idea!!The effects are all classics - but presented in a personal way - the well-known SNOWSTORM IN CHINA has been dolled up as a Japanese feature - very impressive.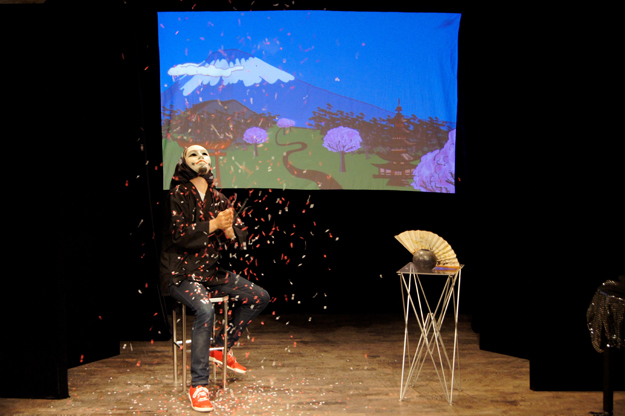 Snowstorm in China. Photo by courtesy of Loic Piet
The adults give a generous applause and they are happy to see their offspring having a good time.
Length of show: one hour, the small ones get a signed poster when leaving the premises.
Excellent entertainment for the entire family!!
Venue: Theatre ESSAION, 6 rue Pierre-au-Lard, 75004 Paris. Metro: Hotel de Ville /= Townhall/.
The performance play from Wednesday to Sunday until July 30, from August 23 to September 3 every day and then from September 6 to September 17 on Wednesdays, Saturdays and Sundays at 2:30 pm for all dates.
This present performance is directed by Joyce Brunet and Jean Siffermann.
This show is produced by the company "1,2,3 Spectacles" directed by Mr. Laurent Chevrier.
See more: Se mer: http://www.leclubdesmagiciens.com/
IT ALL HAPPENS IN PARIS!!!
------------------------------------------- reported by ZARRO ZARRO.

7 July 2017
On Thursday 13 July the twins Nadia and Dawid Benneweis can celebrate their 30 years birthday. Prior to season 2015, Diana Benneweis handed over the daily management of Circus Benneweis to Nadia and Dawid, and by the end of the season, Diana chose to retire. Nadia and David decided to take a break for a couple of years while they are working on a brand new concept for the estimated circus which was founded on 13 July 1887 by their great great grandfather Gottfried Benneweis.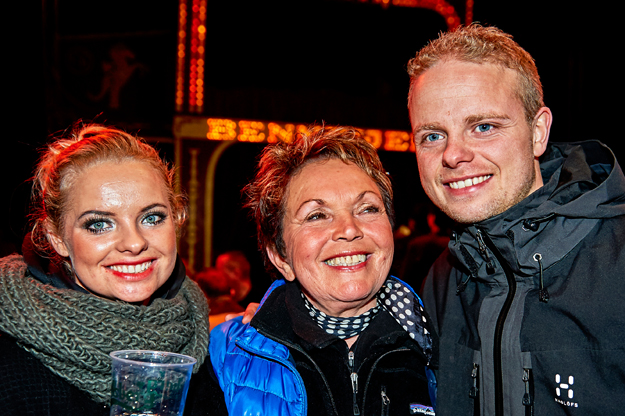 Nadia, Diana and Dawid Benneweis photographed after the premier in 2015. Photo: Rud Kofoed / Ajour Press

6 July 2017
Circusland 2017. Circusland is a theme part in Circus Arena's winter quarters in Aarslev by Slagelse. Is it as Circus Arena owned by the Berdino family. From 1 July to 6 August it is open every day from 10 to 16.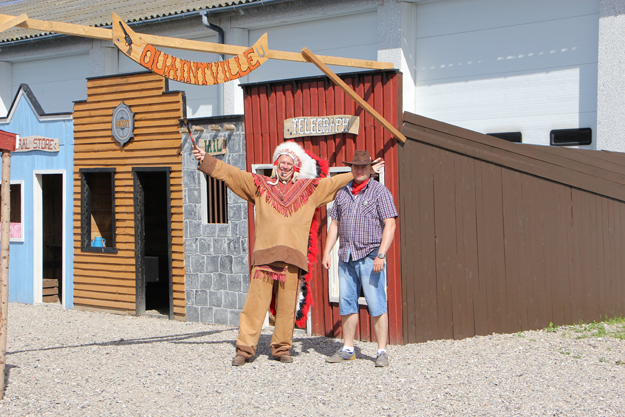 With a formidable mood Chief Talking Waterfall (Brian Behrendt) welcomes visitors to Circusland. Here is Brian and the sheriff photographed in front of the new Western city. With an entrance fee of just 119 DKK (16 Euro) and free parking as well as reasonable prices at the bistro and kiosks there is for families with children up to 10-11 years' better value for money in a visit to Circusland than in a visit to the amusement parks BonBon-Land, Tivoli and Bakken. At least my 9-year-old granddaughter and her girlfriend enjoyed the almost 6 hours spent in Circusland.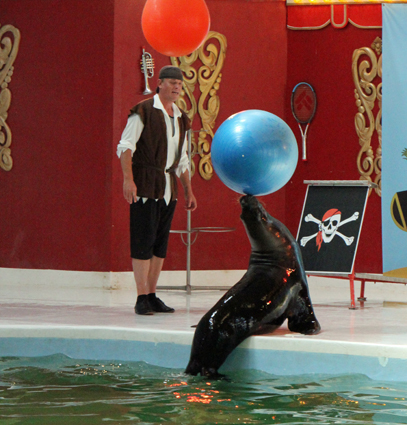 As in previous years, Circusland offers a sea lion show. This year with a pirate theme.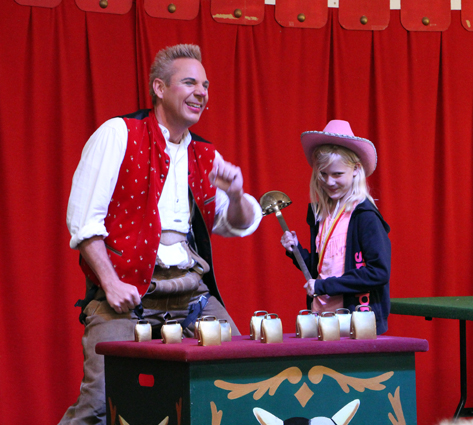 Where other amusement parks focus primarily on "rides" the main attractions in Circusland is live entertainment in form of a wide range of shows: sea lion show, western show, children's show and Cirkus Landino. The individual shows are free of charge when you have paid the entrance fee to the park. On the photo you can see one of the most beloved clowns in Scandinavia: the Austrian Don Christian, with one of his entrées at the children's show. He takes also part in the Western show and the performance in Circus Landino.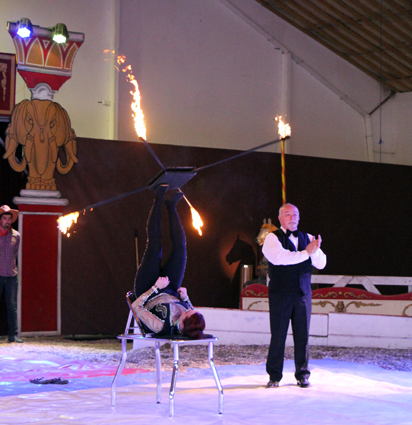 In the almost one hour long show in Circus Landino you will amongst others meet Duo Biasini (Claude and Silvana Biasini). Silvana, 44, has worked in trapeze for many years, but has now switched to the physically slightly less demanding antipode (foot juggling). Her mother, who now is 72, was known as an excellent foot juggler. "And she still can do her act," Silvana told me. Her family is known as bike artists with many seasons e.g. at Circus Schumann in the Copenhagen Circus Building and with Circus Benneweis. In addition to the antipode act she present together with Claude a magic act which also includes a bit of quick change.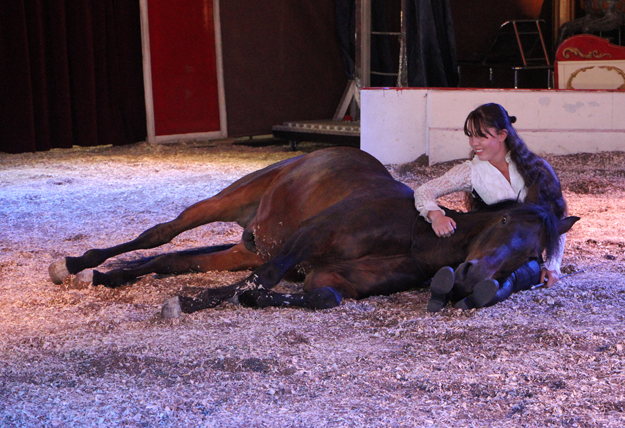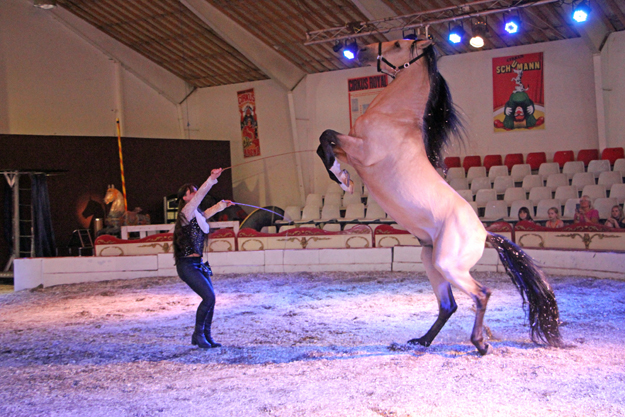 With the well-known horse trainer Suzanne Berdino as park manager there are of course horses in the shows. Suzanne's daughter Charmaine ends the performance in Cirkus Landino with a fine act with two Spanish horses. The act includes both high school riding and liberty dressage. Perhaps the best horse act we this year can see in a Scandinavian circus ring?

4 July 2017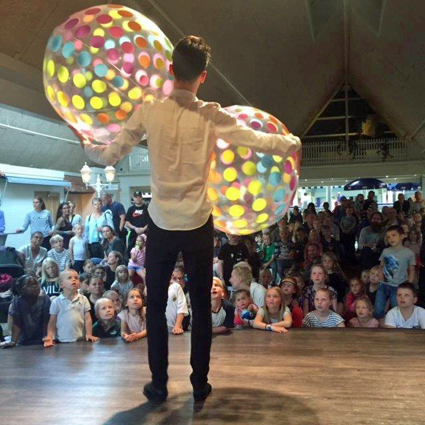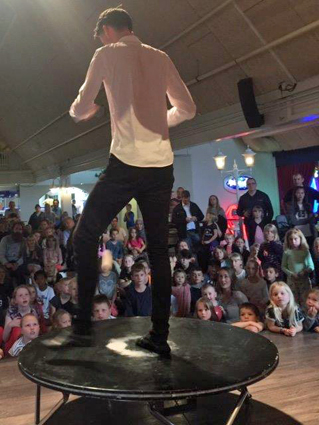 Throughout the month of July you can every Monday, Wednesday, Friday and Sunday at 20.00 see a 25 minute long circus show with Alan Sulc in the holiday resort Lalandia Rødby. Alan Sulc present a slinky show, high-speed juggling with new music as well as ball throwing to the public. Many Danes will probably remember Alan Sulc as the top act in Cirkus Benneweis in 2004. In the autumn 2014 his act was part of Circus Arena's performances in Kolding Shopping Mall just as he was on tour with Arena to Greenland. Photo: Mr. Plys

2 July 2017
New ringmaster in Circus Trapez. On their website, Circus Trapez writes (my translation): "David Sosman is son of the founder of Circus Trapez - Isabella Sosman. David has a glowing heart for circus and is an artist himself. David joins Cirkus Trapez in early July after completing his bachelor In Political Science and History from The University of Glasgow and take over the task as Ringmaster & Performance director".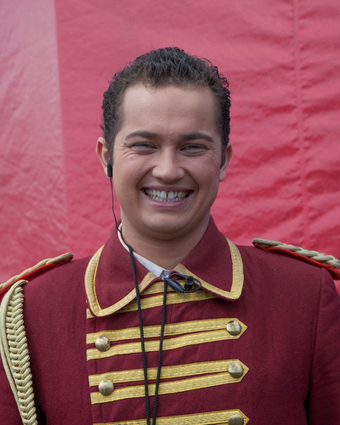 David Enoch Sosman. Press photo from Circus Trapez
Until now the former Benneweis ringmistress Judy Glosted have been ringmistress for Circus Trapez. Now she is replaced by David. Also Circus Trapez's former marketing manager Louise Mandrup has left Circus Trapez.

28 June 2017
David Enoch Sosman, the second-youngest son of Isabella Enoch Sosman and the late Eddy Sosman, has just completed his studies at the University of Glasgow and is now Masters of Arts (M.A.) (Social Sciences) in History and Politics with Honors
At the photo David is seen together with his proud mother, Isabella and his big brother Edward, who, like David, has taken an academic education. However, David has not completely dropped his dream about a career as juggler. Isabella is the owner of Danish Circus Trapez.

28 June 2017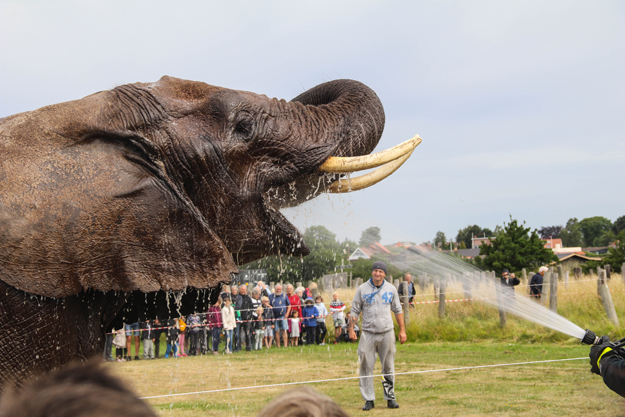 Elephant bath in Karrebaeksminde. When Cirkus Arena visited the seaside resort Karrebaksminde on 28 June, their 3 elephants got a shower with assistance from the local fire department. Until 2015, when an aggressive driver provoked one of the elephants so much that it kicked a car, they got a swim in the sea at Karrebaeksminde. Their swim drew a large audience and the whole city was crowded with people. Today there were only a limited number of people along the fence as you can see at the photo. Photo: Jacob Boas Leitisstein. Click here to see more photos. And here to see a video clip.

28 June 2017
Seating section collapsed in Circus Trapez. On Monday evening, Circus Trapez had two sold shows in Hune at Blokhus in the northern part of Jutland. At 22:08 the police received an emergency call about seats that had collapsed during the performance. They sent several police cars and officers to the lot where they could see that there just were 3 persons with minor injuries such as skin abrasions. They were taken to Aalborg University Hospital for control. No one had to be hospitalized.
The Danish Working Environment Authority was informed of the accident and immediately initiated investigations. They subsequently gave Circus Trapez two so-called prompt orders. A promt order is given if there are serious working environment problems.
As a result of the accident, Circus Trapez canceled a performance Tuesday in Dronninglund. However, a performance in Saeby on Wednesday was implemented as planned.
According to TV2Nord the police as well as the Working Environment Authority consider the accident as an incidentally accident and will expect from the two prompt orders not take further action. Click here to see a short video clip from TV2 Nord of the collapsed seating section.
The accident was mentioned in both regional and nationwide medias.

27 June 2017
Circusland and circus in Sommerland Zealand.
CIRCUSLAND
The theme part Circusland in Circus Arena's winter quarters in Aarslev by Slagelse is open from 1 July to 6 August.
Circusland writes (my translation):
Circusland offers cheerful atmosphere for the entire family. You can experience the special meeting when the Wild West is combined with the circus. Our cowboys and Indians have returned from the prairie, and together with brand new guest stars they will give you some cool hours. The internationally renowned world-class clown Don Christian and Chief Talking Waterfall will make fun in the circus ring.
In Circusland you can dig gold, shoot with bow and arrow, ride ponies, work out with professional artists, take a ride on the carousel, try our air swings or go for a walk on the water in our waterballs.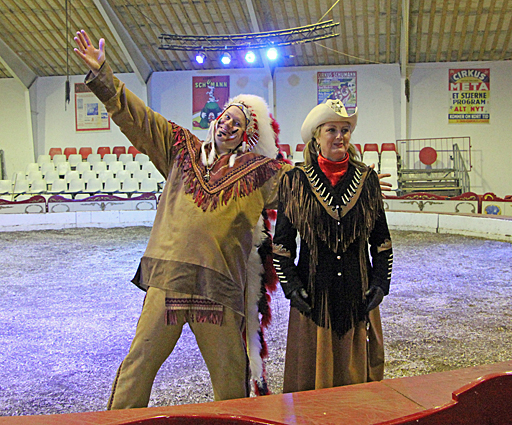 Chief Talking Waterfall (Brian Behrendt) and Park Manager Suzanne Berdino
Discover our brand new western city, built by the local Boys' Brigade in Orslev-Vordingborg. Visit the sheriff, look into the prison and meet the cowboys ready for the duel.
Experience the circus animals outside the ring and have a look in a real circus wagon. Also snap a bite of Arena's family history at our circus museum and experience shows with our four-legged circus friends.
There is a circus show, sea lion show, western show, children's entertainment and much more. Among amusements are Funballz, the maze, crazy golf, the circus town, the cinema, the moon bounce and carousels.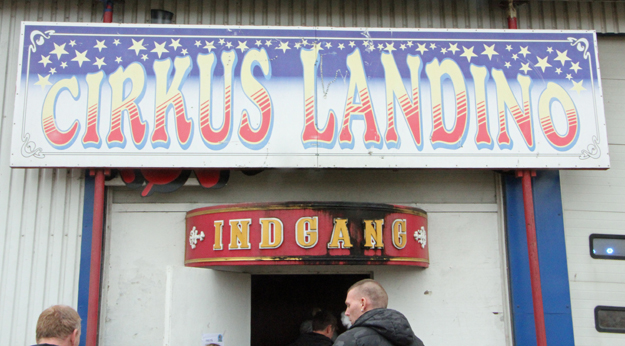 In Circus Landino there are short circus performances where you can meet the clown Don Christian and the siblings Charmaine and Stephanie Berdino
CIRKUS MASCOT IN SOMMERLAND ZEALAND
Throughout July, Summerland Zealand is visited by Circus Mascot which has put up their red and yellow tent in the park and invites guests in the park to attend a circus show twice a day: at 14.00 and at 16.00. The performances correspond to the first and second part of this year's Mascot performance. Free admission for visitors to Sommerland Zealand.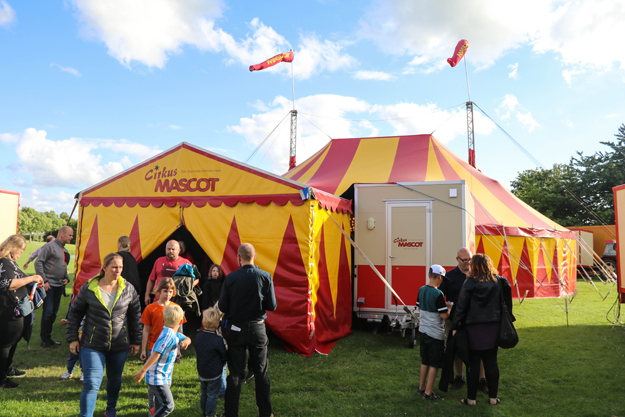 In July Circus Mascot put up their tent in Sommerland Zealand. This photo was shot in Hvalsø by Jacob Boas Leitisstein
Sommerland Zealand is located just south of Nykobing Zealand.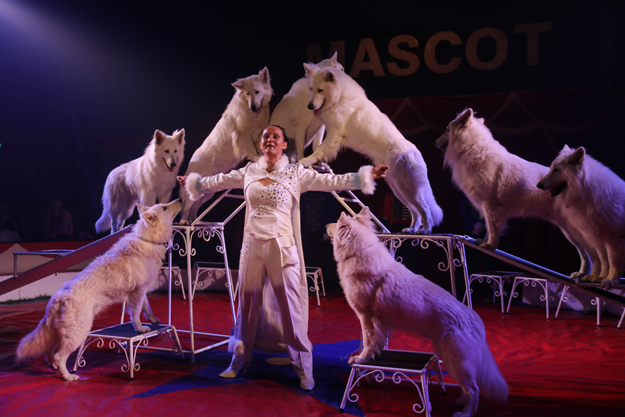 In Cirkus Mascot you can meet Rafaela Honden with her beautiful Swiss shepherd dogs. The act is one of the three acts nominated for the award for the year's best act. Photo: Jacob Boas Leitisstein. Click here to see more of Jacob's pictures from the show.

26 June 2017
Small change in program in Danish Circus Krone. Alessandro and Christina Gillert, who until now have been the last number in Circus Krone's performance with their act at tight and slack wire have chosen to quit. They are not quite young, and the number is not quite as good as it was in their younger days. They are replaced by the French Chinese Pole artist Guillaume Peudon. He was born in 1983 and is thus far younger than the Gillert couple. Click here to see a video with his entrée.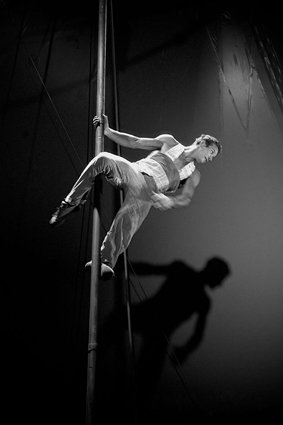 Guillaume Peudon

26 June 2017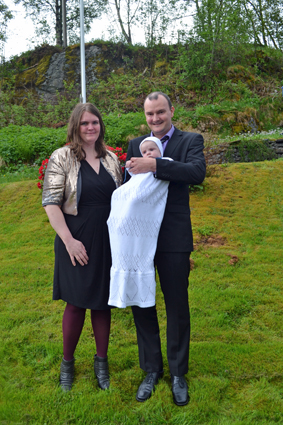 The owner of the tiny Norwegian Circus Minimax, Carl-André Hjelvik and his fiancee Ingrid Lone, got a fine healthy baby on 21 February 2017. He was baptized and named Sander André Lone Hjelvik on May 21 and is today four months old. Circus Minimax took this year their first break in five years, but is busy in the planning for next year's tour. Some new investments will be made. The families are looking forward to meeting their faithful audience with the 2nd generation Minimax in 2018.

23 June 2017
Solveig Enoch turns 80. On Sunday, June 25, the former owner of Circus Dannebrog, Solveig Enoch can celebrate her 80 years birthday. As small girl Solveig Enoch dreamed of becoming a circus artist. The dream came true when she in her childhood home met the bicycle acrobat Haddy Enoch. In 1951 Solveig and Haddy formed a bike trio together with Solveig's sister Grete. Later Grete chose a career as an aerial artist, and Solveig and Haddy continued alone as 2 Haddies. Their breakthrough came in December 1951, when they won first prize at a talent competition at National Scala in Copenhagen and the second price at a similar competition at Lorry, Copenhagen. National Scala and Lorry was at that time leading music halls. This led to an engagement in Circus Moreno for season 1952. In 1953 the Haddies worked in Alhambra Music Hall at the amusement park "Bakken" north of Copenhagen and later the same season in Circus Brdr. Schmidt, before they got a new engagement in Circus Moreno for season 1954.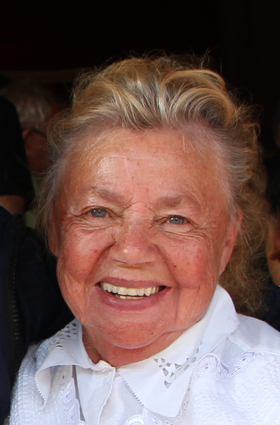 Solveig Enoch
Then they went abroad, where the Haddies for season 1955 was engaged in Circus Löwe in Norway. The same year, Haddy and Solveig was married. And now began a trip all around the world, where Solveig and Haddy worked in circuses, music halls, ice shows and on TV. There was all in all contracts and engagements in 32 different countries. Their favorite place was the Hansa Theatre in Hamburg, where the Haddies worked 18 times. When the 4 children Dennie, Agnete, Isabella and Katja grew up, they were became part of the bike act. In 1977 the Enoch family re-established Circus Dannebrog, which had belonged to the Enoch family until it closed in 1928. But now if was successfully re-established by Solveig and Haddy Enoch.
After Haddy Enoch passed away in November 2009, first Solveig and later the four children took over the circus. After a difficult season 2016, they chose to let Circus Dannebrog take a break in 2017.
The family means a lot to Solveig, and she is most happy when she has children, grandchildren and great grandchildren around her. She celebrates the birthday with a round figure together with family and close friends.

20 June 2017
Travelling entertainer Festival in Viborg. For the 2nd consecutive year there was travelling entertainer festival in Viborg in connection with the Viborg Snapsting festival. This year the festival extended over 1½ day: Friday 16 June from 15 to 17 and Saturday 17 June from 10:15 to 16:30. On various stages in the city you met a lot of entertainers.
Below you can find some photos from the festival.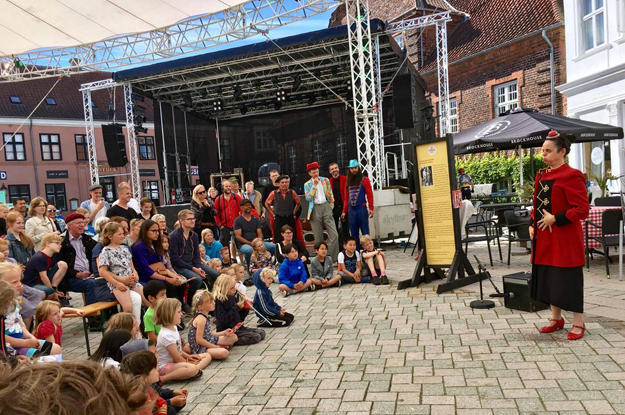 The clown and comedian Marta Carbayo. Photo: Lise Kokholm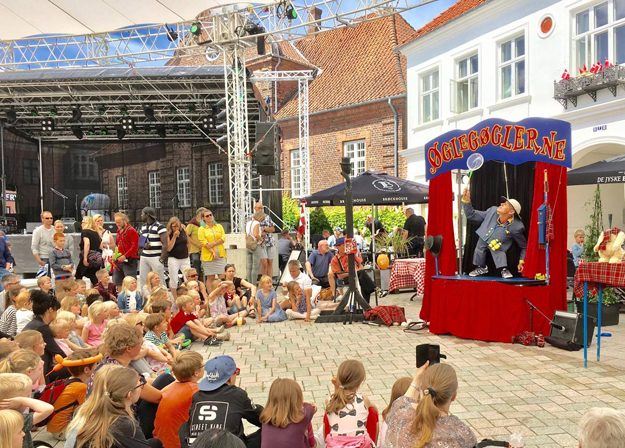 Øglegøgler Sørensen. Photo: Lise Kokholm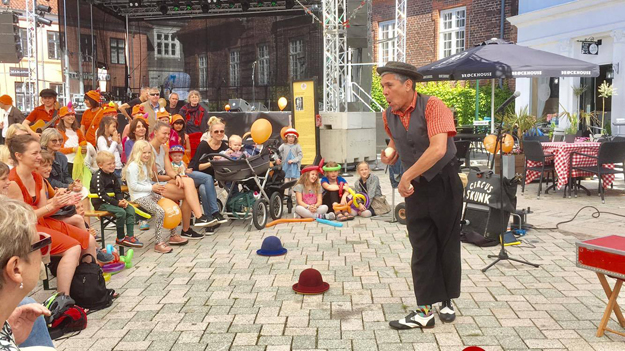 David Skunk. Photo: Lise Kokholm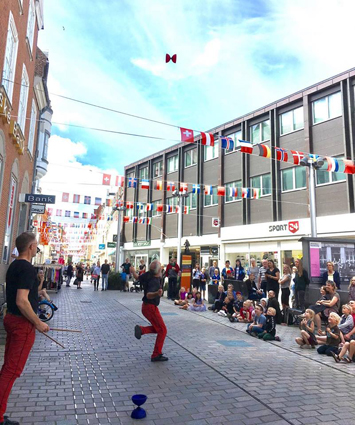 The flying Trunk Circus. Photo: Lise Kokholm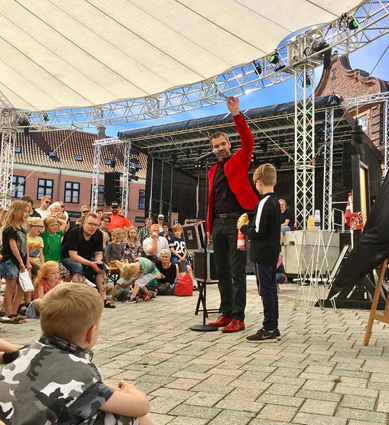 Show with the magician Steen Pegani. Photo: Lise Kokholm

20 June 2017
European Circus Camp in Denmark. Every year there is the first week of the Danish schoolchildren's summer holiday a circus camp at the Circusfabrikken in Nordsalling, Skivevej 90, Roslev. This year it is from Sunday, July 25th to Saturday, July 1st
There are six different shows during the European Circus Camp 2017. Everyone is welcome to see these shows. Admission is DKK 40, - for a show. You can buy a bracelet for DKK 100, and then you can see as many shows as you like.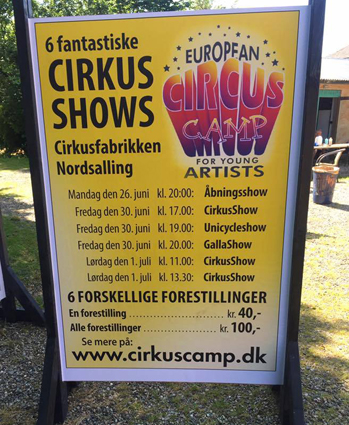 Monday the 26th of June at 20:00 there is an opening show where the teachers will show their skills, along with some of the participating youth artists.
Friday, June 30th, at 17:00 there is a show with some of the acts produced during the circus match there are three different shows.
Friday, June 30th, at 19:00 there is a unicycleshow in the outdoor arena.
Friday, June 30th, at 20:00 there is Gala show with selected acts
Saturday 1st July at 11:00 and 13:30 there is a show with some of the acts produced during the circus camp. There are three different shows.

20 June 2017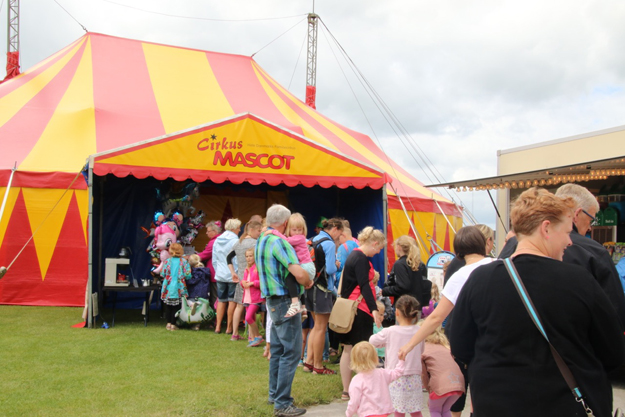 The Photographer Per "Mr. Sputnik" Krogh Petersen visited Circus Mascot when they on June 16 visited Stenstrup at Funen. Click here to see Per's photos and video clips

18 June 2017
IT ALL HAPPENS IN PARIS - CIRQUE GONTELLI comes back to Paris, from MARSEILLE, where they perform during wintertime - this is an event for all the younger children who enjoy, together with their parents, their funny and child-friendly performances.
They put up their SMALL TOP, having the required license from the local TOWN HALL, in the small squares, of which there are many, after the English model.
The program is geared at the small fry who enjoy seeing, and patting and stroking, the performing animals: alternatively cats, doves, white mice and a goat - all this makes the kids happy and the parents are equally happy to watch their offspring in a good mood!
Thus we see: a very child-friendly program: a show including a lot of games: CHRISTIAN playing with his lassoes and clowning together with dad SERGE and sister MARY, --OPHELIE is beautiful and gracious on tight rope and likewise as the QUEEN OF DOVES, MARY swinging her hula-hoop rings and doing the split as well - and the charming cat TOM which really does as it pleases him - but gets applause all the same.
Grande finale featuring the sketch MUSIC IS NOT ALLOWED HERE.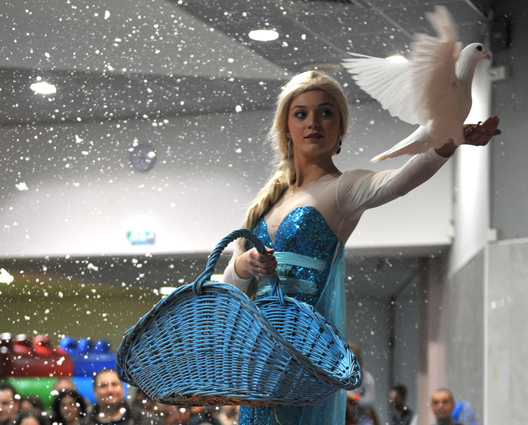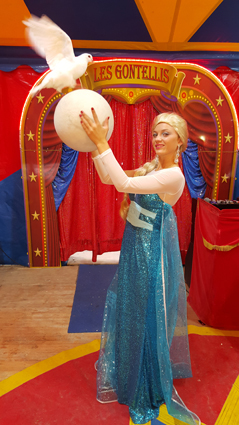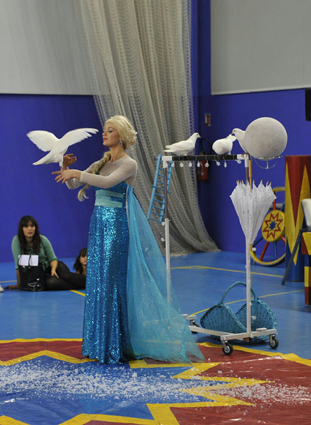 OPHELIE'S very beautiful and classy DOVE ACT is based on the Danish author H.C. ANDERSEN'S adventure tale THE SNOW QUEEN -- French: LA REINE DES NEIGES.
During intermission various funny items are sold: popcorn, twinkling red clown-noses, posters, different twinkling toys and hula-hoop-rings.
The lot of this enterprise is really worth admiring, it brings a first cultural experience to small kids, near where they live and everything under a SMALL TOP - where everything is well maintained, elegant and thus appealing, positive and interesting.
I would like to recommend a visit to CIRQUE GONTELLI, a wonderfully adapted circus for the small fry - and unique offering its specialty: a child-friendly and sympathetic atmosphere where children enjoy themselves - and the show!!
You find their whereabouts in L'OFFICIEL DES SPECTACLES, see headline: cirque traditionnel, € 1.00 in all newspapers stalls.
IT ALL HAPPENS IN PARIS!!!
See more: : http://les-gontellis.e-monsite.com/
---------------------------------------------- reported by ZARRO ZARRO.

15 June 2017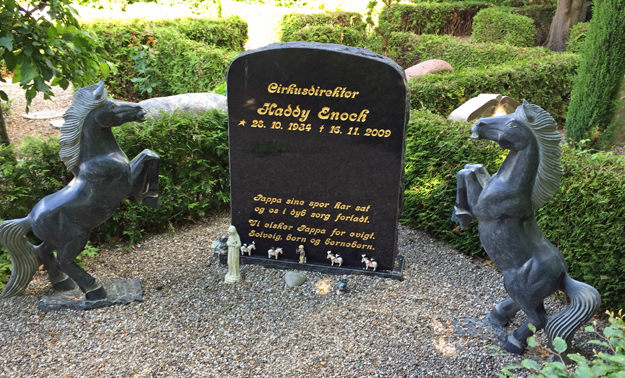 Haddy Enoch's childhood dream was to re-establish the Enoch family's Circus Dannebrog, which stopped touring in 1928. In 1977 Haddy succeeded in restarting Circus Dannebrog. With skill and hard work and help from his spouse Solveig and the couple's 4 children, he made Circus Dannebrog one of Denmark's leading circuses. Haddy passed away in 2009 and is buried at Hejls Cemetery. Circus Dannebrog toured until 2016, but the family has chosen to take a "time out" in 2017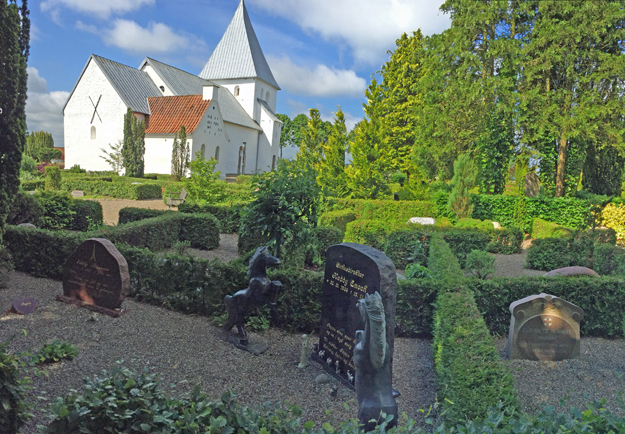 To the left of Haddy's tomb is the clown Eddy Sosman buried. Eddy Sosman was married to Haddy's and Solveig's daughter Isabella Enoch. He died in 2002, only 51 years old. The Danes saw him in 1991 in Cirkus Benneweis, where he appeared together with Petit Gougou. Eddy Sosman was considered one of his generation's most talented clowns. Click here to see more photos from Hejs Cemetery and photos of other circus and artist tombs in Denmark.

14 June 2017
IT ALL HAPPENS IN PARIS - all the year round - CIRQUE BORMANN MORENO proudly presents a wonderful circus program, addressing the whole family, they organize all kinds of festivities like birthday parties and all events where an original setting and a splendid circus program are welcome.
CIRQUE BORMANN MORENO has developed from the rather small CIRQUE MORENO and is now an important circus, being the one and only circus playing all the year in Paris.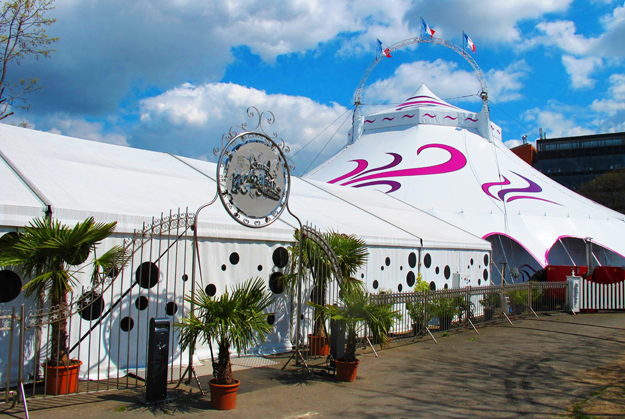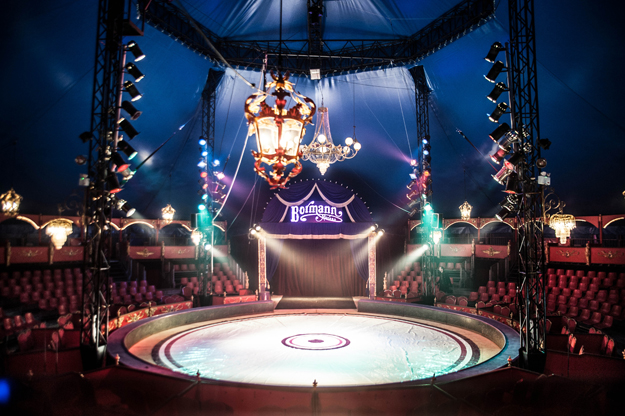 Photo: Piet Hein Out. By courtesy of Cirque Bormann Moreno.
Clown, SACHA DA PAZ is a great asset to CIRQUE BORMANN MORENO. He features several different entrances, all very funny and he shows a lot of joy of performing.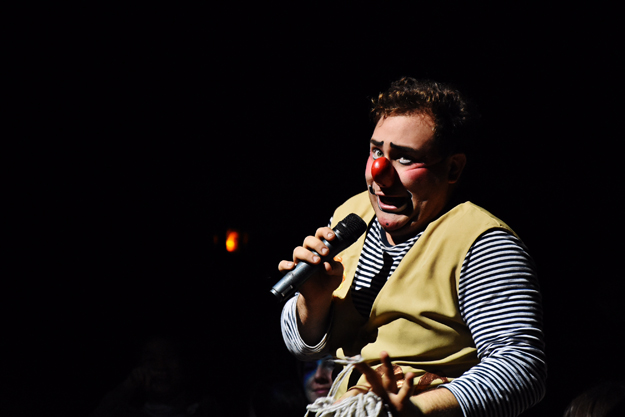 Sacha da Paz. Photo: Piet Hein Out. By courtesy of Cirque Bormann Moreno
ERIC BORMANN introduces his tigers , displaying a lot of pedagogical knowledge, it is important that also the small kids get to know the secret of modern working with animals, which boils down to a sympathetic co-operation between man and animal.
We were treated to the horse act "big and small" - as well at a beautiful group of exotic animals.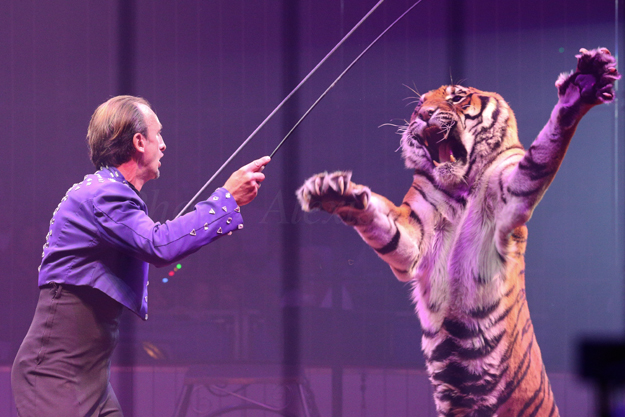 Eric Bormann. Photo: Piet Hein Out. By courtesy of Cirque Bormann Moreno.
ALEXANDRA and SILVANA BORMANN PAUWELS feature a beautiful and stunning act of juggling on a rolling globe, Indian clubs and up to 9 rings - fantastic!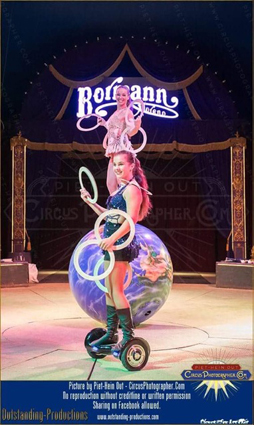 Alexandra and Silvana. Photo: Piet Hein Out. By courtesy of Cirque Bormann Moreno
RICHARD BORMANN PAUWELS is an outstanding hand-stand-acrobat.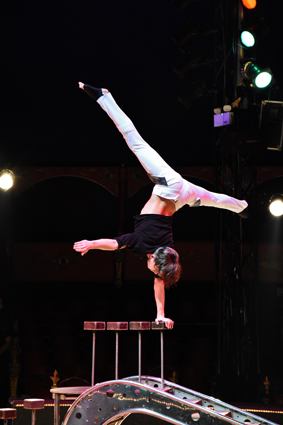 Richard Bormann Pauwels. Photo: Piet Hein Out. By courtesy of Cirque Bormann Moreno.
RODOLPHE MORENO displays an elegant cowboy act, using whip and lassoes - and together with LAURE BROSSERON he performs a trapeze act, that is both spectacular and funny - a kind of act that is seldom seen.
LAURE BROSSERON is RINGMASTER, in France called Madame LOYAL.
ROMARTIC SINOIR closes the program, featuring a funny springboard act.
The program is presented at a good pace, but slowly enough to allow the small kids to follow. The BIG TOP is in perfect condition, everything is new, inside there are artistic decorations, the seating is comfortable and the public is welcomed warmly and sympathetically.
See more:www.cirquebormann.fr/
The venue for the circus is located at the outskirts of Paris: take the Metro, off at PORTE DE LA CHAPELLE, then TRAMWAY T bis, only 2 stations, to PORTE D'AUBERVILLIERS, where you get off.
IT ALL HAPPENS IN PARIS!!!
------------------------------------------ reported by ZARRO ZARRO.

11 June 2017
Circus Popcorn. Martin Lasson Berglund writes: "Now Circus Mustang is back in Sweden, although they have renamed it Circus Popcorn. Season opening took place in Sjöbo. They travel with a smaller tent this year, similar to Circus Bambino. A large caravan and a smaller caravan and the Weisheit family do the entire program themselves. They have 5 large horses and travel with fewer animals this year than they did last time they visited Sweden. At the premiere there were about 25 spectators. "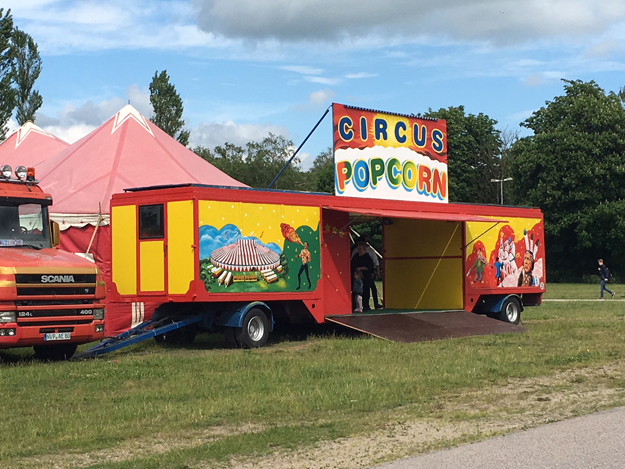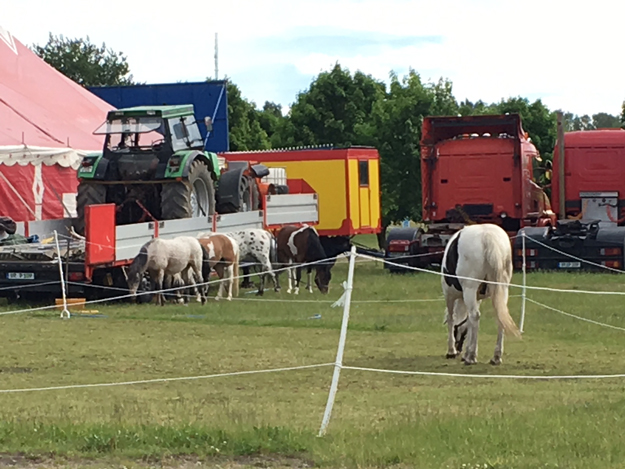 Photos: Martin Lasson Berglund
Sweden receives every year visits from some small German circuses such as the Weisheit family circus. The Danish rules for certification of circus tent mean that such circuses no longer try their luck in Denmark.
Some mistakenly believe that there is something called an EU approval of tents which is valid throughout the EU. It is wrong. Much has the EU harmonized, but not the requirements for circus and fair tents etc. To set up a tent in Denmark, the Danish rules must be followed, using a completely different norm (Euronorm) than in most other countries. Noncompliance with the Danish rules will mean the police will prevent the audience from entering the tent!

9 June 2017
The circus queen, who abdicated
On Monday 12 June Diana Benneweis turns 70.
"The family relationships are a little complicated," Diana usually says when talking about the Benneweis family. In short, the story is that Cirkus Benneweis was founded 13 July 1887 by Diana's great grandfather Gottfried Benneweis. Gottfried was married to Marie, and together they got the son Ferdinand (Diana's grandfather), who took over the circus after Gottfried. Ferdinand was married to Irene (Diana's grandmother), but they did not get any children together. However, Ferdinand had a few children out of wedlock, including the son of Manfred. Ferdinand and Irene also had a few foster children, including Eli, who quickly became Ferdinand's right hand.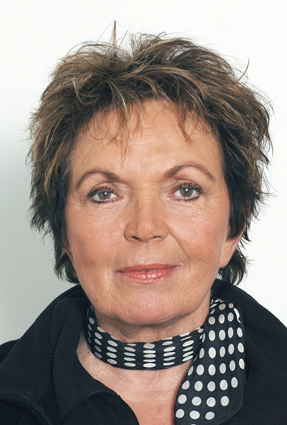 Diana Benneweis. Photo: Arne Magnussen
In 1946, the cleaner Ilse Ankersen from Middelfart on Funen met Manfred when Cirkus Benneweis visited the city. Ilse and Manfred were both 16 years old. They fell in love and were sweethearts for a short time. The result of their romance was Diana. Where a 16-year-old mother today becomes the reality star of the television series Young Mothers, it was in 1946/47 quite embarrassing that such a young girl became pregnant and even without getting married to the father of the child. Thus, Ilse and her parents decided that the child should be adopted. When Irene Benneweis heard of the matter, she chose to adopt Diana, which she then put into care with her own foster child Eli and his spouse Eva. Eli and Eve behaved in every respect as Diana's parents, and were later allowed to adopt her.
In the first years, it was first and foremost Grandma Irene, who took care of Diana, who she told that "your father and mother can't have children so your uncle made you with a 16 year old girl who had no opportunity to take care of you ". Grandma told Diana that she was chosen among many young children as the sweetest.
In the 1970s and 1980s, the Danish circus audience saw Diana as the beautiful circus princess in elegant robes and with beautiful horses. One could rarely open a weekly magazine without seeing photos and stories about Diana mentioned
When Eli died in 1993, Diana inherited Circus Benneweis which she managed until 2015. Season after season, she presented great performances, often with a lot of innovation. For example, the magnificent Classic & New Wave performance from 2000 where not least the pierced hula-hop star Denise Randol disguised many, and the show Super Girls from 2001, where all performers were women.
In 2002, Diana Benneweis gave both the press and the audience a shock when she openly reported that she had mental problems and had been hospitalized at the locked ward. The disclosure was followed by the books Alting har sin pris (There is a prize on everything) and Livet bliver ikke genudsendt (Life will not be reissued) from 2006. The disease also meant that from season 2006, she stopped going into the ring. She had got what actors call stage distress. Today, Diana has learned to live with her mental problems.
At the start of season 2015, she handed over the daily management of Circus Benneweis to her twins Nadia and Dawid, and by the end of the season she chose to "abdicate" completely. Nadia and David decided to let the circus take a break for a couple of years while they are working on a new concept for the estimated circus. Since then, the winter quarters in Dronningmølle, which for long time has been too large and inconvenient for the actual needs of the circus, has been sold.
Diana Benneweis celebrates her birthday together with her twins and a few friends in the idyllically located cottage by a lakeside in the middle of forest Scania in the southern part Sweden. She bought the cottage almost 20 years ago.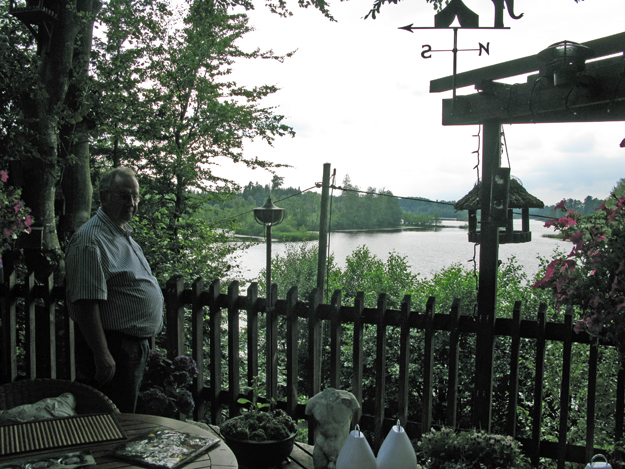 It is this view of the lake that Diana can enjoy from the terrace of her cottage in Scania.

3 June 2017
Royal visit to Circus Baldoni. For many years it was first and foremost Circus Benneweis which was visited by members of the royal family. But Benneweis is for the time being not touring and in recent years also other circuses have had a royal visit. On Friday 2 June Circus Baldoni was visited by their royal highnesses Prince Joachim and Princess Marie, as well as their children Prince Henrik and Princess Athena. "They all thought it's were great show," René M. Baldoni writes.
Prince Joachim of Denmark is the younger son of Queen Margrethe II and Prince Henrik.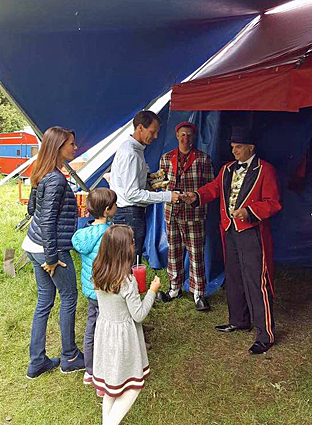 Prince Joachim, Princess Marie, Prince Henrik (8 years) and Princess Athena (5 years) greet René M. Baldoni. In the background the clown Danilo. Photo: Circus Baldoni

3 June 2017
Benny Schumann in Esbjerg. When Benny Schumann recently was in Esbjerg with his show "Hi Clown", the photographer Per "Mr. Sputnik "Krogh Petersen was among the audience. Below you can see a couple of Per's photos.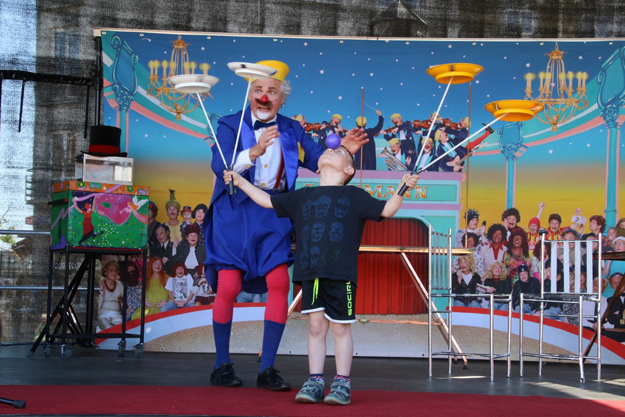 As usual, Benny Schumann has a few children on stage before presenting his one man show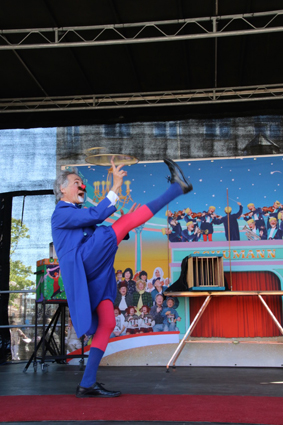 From Benny's own show. Both photos are shot by Per "Mr. Sputnik "Krogh Petersen. To see more of Per's photos: click at www.realshowtime.com/benny-schumann-tour

1 June 2017
The Danish Circus Award - nominations for the award for the best act of the year.
The Jury of the Danish Circus Award has decided which act to be nominated for the award for the best act of the year.
For the award for the best act of the year is nominated:
Pierre Marchand, Circus Arena
Rafaela Dogs, Circus Mascot
Duo Creative, Wallmans in the Copenhagen Circus Building
The award for the best act of the year is awarded at the same time as the honorary award The Danish Circus Award in the beginning of August. The Danish Minister of Culture Mette Bock has promised to participate in the award ceremony. In addition to the honorary award and the award for the best act of the year, a talent award is awarded.
About the acts nominated for the award for the best act of the year
PIERRE MARCHAND is a world-class diabolo juggler. He got his breakthrough when he in 2004 got a gold medal at the European Youth Circus Festival in Wiesbaden. Since then he has performed over most of the world, including for several years at Lido in Paris.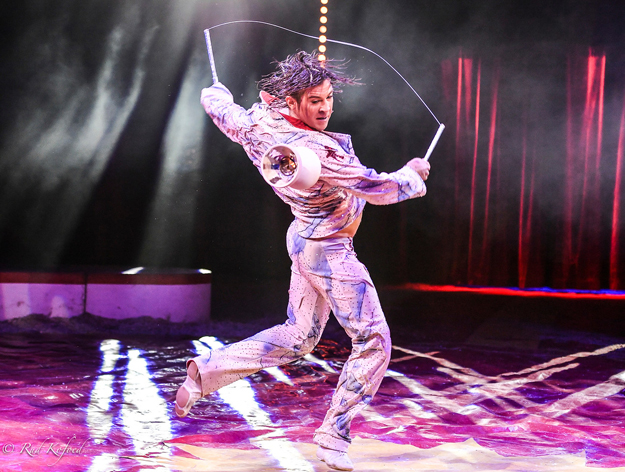 Pierre Marchand. Photo Rud Kofoed / Ajour Press
RAFAELA HONDEN present this year in Circus Mascot an amazingly beautiful act with nine large white Swiss shepherd dogs, which obviously love being in the ring. Apart from her act with dogs she also presents parrots and has a comic horse act.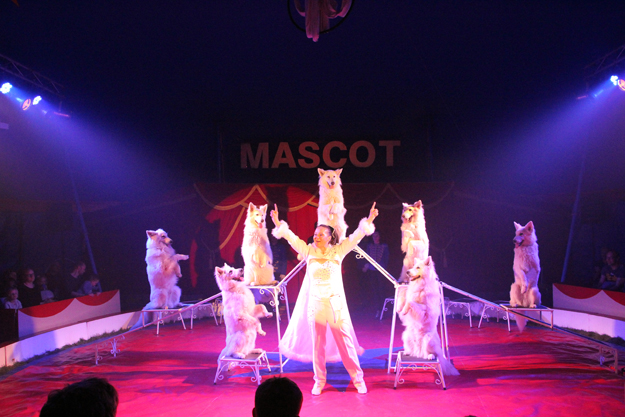 Rafaela Honden. Photo: Ole Simonsen
DUO CREATIVE consists of Michal Nowosadko and Zbigniew Sobierajski, both from Poland. They are the artistic top act in the dinner show which Wallmans has presented in the Copenhagen Circus Building since September 2016. They are impressively balanced in their art. How do you just hold a man horizontally in one hand? It's not just beautiful, it's super strong.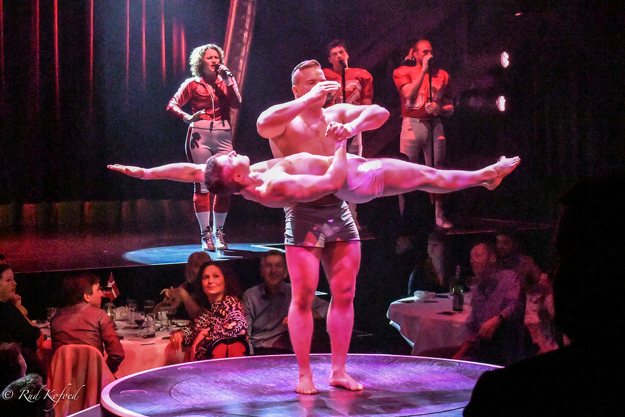 Duo Creative. Photo: Rud Kofoed / Ajour Press

31 May 2017
Hulerodgaard sold. Since 1938, Cirkus Benneweis has had winter quarters at Hulerodgaard in Dronningmolle in the northern part of Zealand. When they bought the estate in 1938 the circus had lots of animals which if they were not booked by foreign circuses were housed on the estate during the winter season: horses, elephants, lions and tigers. There were also training rings where the animals were trained in new acts.
Since 1996, Cirkus Benneweis has not had their own animals but has instead engaged artists with animal acts. Hulerodgaard was mainly used for storage of wagons and other equipment and it was too large and inconvenient for the actual needs of the circus. Due to this the Benneweis family put the property for sale. Now it has as from 1 May 2017 been sold to Hulerødvej ApS (Huleroedvej Private Limited Company) which is a newly established subsidiary of Kjems & Petersen Huse ApS (Kjems & Petersen Houses Private Limited Company).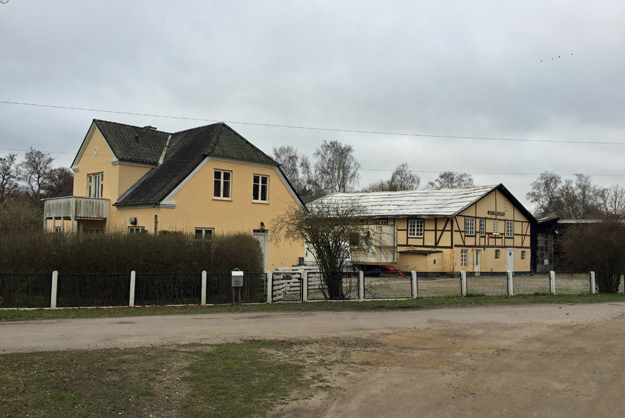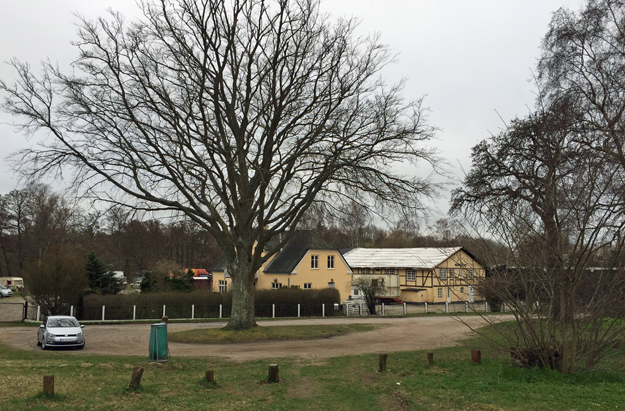 Hulerødgaard, photos from April 7, 2017
David Benneweis tell that all equipment has been moved to rented places. Some equipment which not will be needed in the new concept which he and his sister Nadia are working on has been sold. This includes the blue / red / white tent from 2005 with seating which with its slightly old-fashioned interior design with quarter poles not is suitable for the coming concept. Circus Benneweis toured from 1887 to 2015. No tour in 2016 and 2017. But plans for reassuming Circus Benneweis's long run in 2018 or 2019.

22 May 2017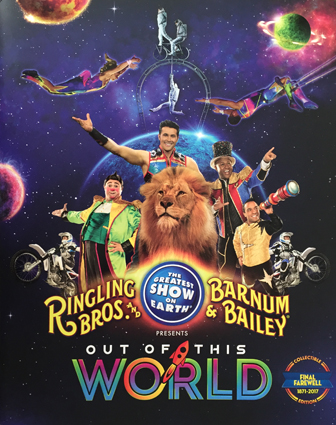 The very last show in the famous Ringling Bros. and Barnum & Bailey Circus took place Sunday, 21st of May at the Nassau Veterans Memorial Coliseum on Long Island, New York. Click here to see a video from the performance.

20 May 2017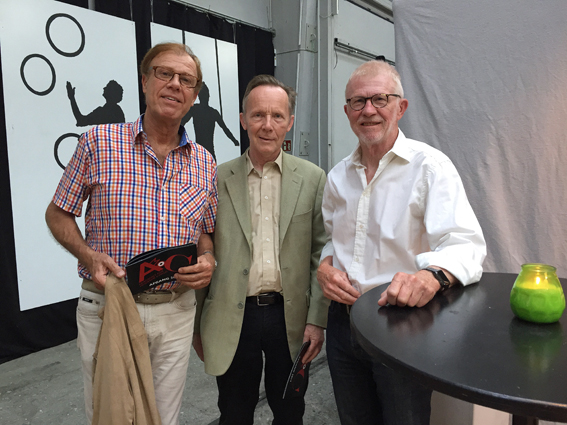 AMoC leaving performance. After 3 years of study, the first team of students at Denmark's Upper Secondary Education program for contemporary circus artist present their final artistic skills for the public on 19 May 2017. AMoC is a shortening for the Academy of Modern Circus. The jury members Jan Hertz, Ole Simonsen and Rud Kofoed of the Danish Circus Award saw the performance and agreed that there were lots of talent when the 7 young artists / artist couples presented their acts.
The municipality of Copenhagen and the Ministry of Culture decided in 2012 to support and initiate a Danish higher education program for contemporary circus artists corresponding to the bachelor level of other International Circus Schools. The education started in autumn 2014, and now AMoC has presented the first team of educated new circus artists in Denmark.
Below you can see some photos from the performance.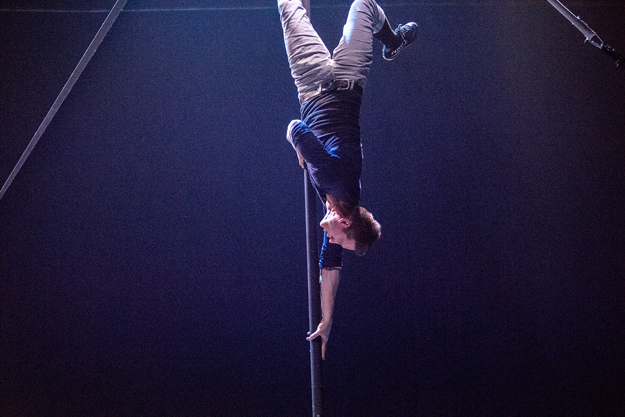 27 year old Mattias works in Chinese pole. And the pole can go up and down!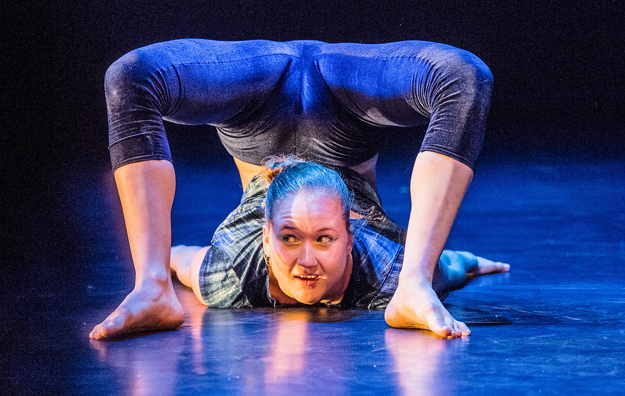 23 year-old Ylva Havndrup is a skilled contortionist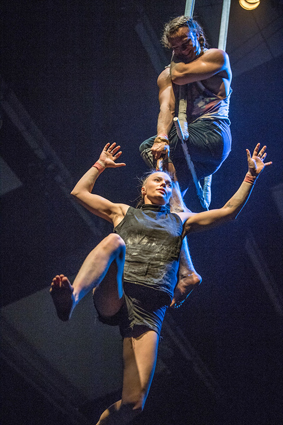 Eivind Øverland, 28, and Lalla La Cour, 27, perform in trapeze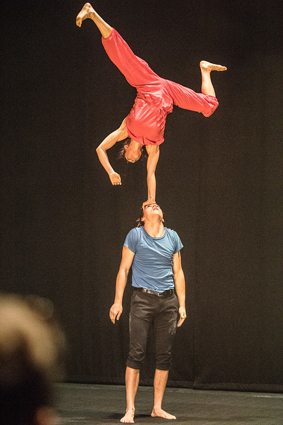 Alfred Hall Kriegbaum, 19, presents together with the Portuguese born 2 year student Sonia adagio acrobatics.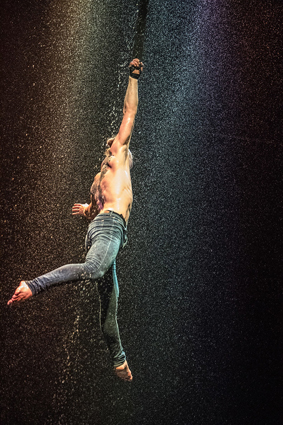 22 year old Anders Bjørklund works in aerial straps. In the end of his act with rain falling down from the dome. The act will work perfect in a "Circus under water"-performance.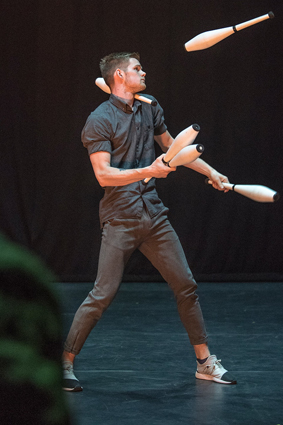 Anders Stehr, 22, is a minimalist ballet dancer, performance acrobat and juggler, taking his 14 clubs with increased calm and great indulgence, as they were of fragile porcelain.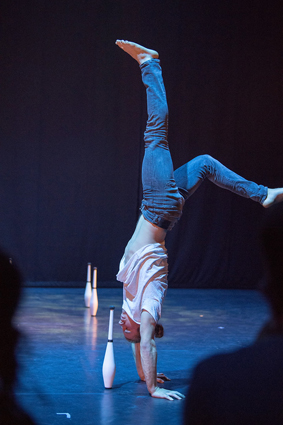 22 year old David Ulrich is a juggler. Following his walk on hands he juggles with the clubs.

18 May 2017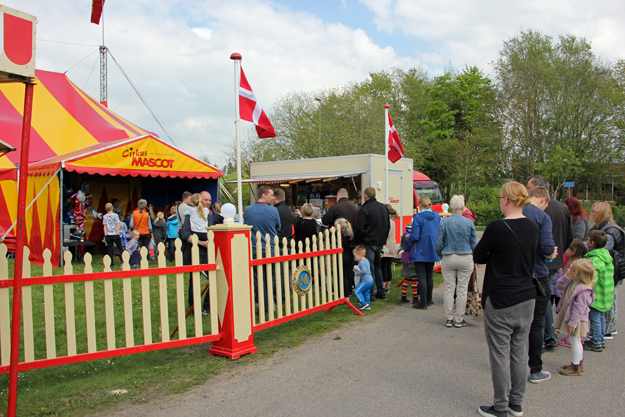 It is always nice to see a queue at the entrance of a circle tent. There was almost full house in the tent with room for 270 persons when Cirkus Mascot visited Gedved on Sunday 14th. Among the visitors was also a representative of the jury for Danish Circus Award. With the visit to Mascot, all Danish circuses have been visited by one or more of the jury members. When members of the jury have seen AMoC's leaving performance on Friday, 19 May, the jury will discuss which numbers to be nominated for the year's awards.
Circus Mascot's performance was reviewed on this page on 6 April 2017. Below are some photos from the show.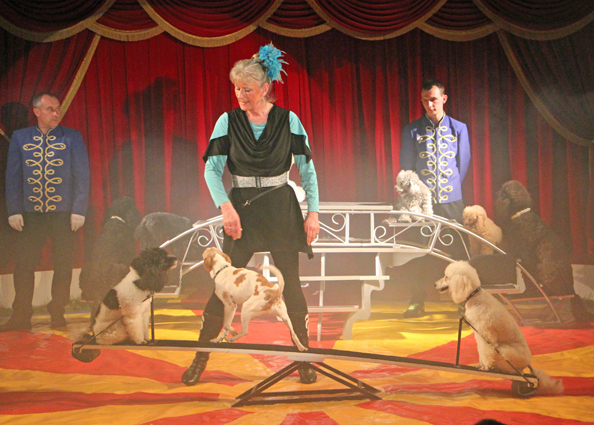 Marianne Deleuran and her dogs are an absolutely indispensable feature in a Mascot show.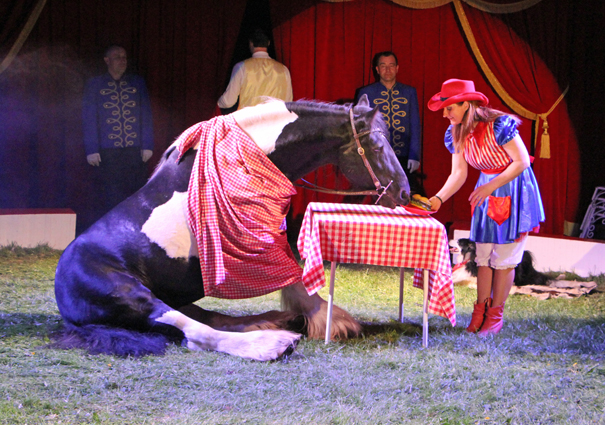 Dinnertime time for Rafaela Honden's tinker horse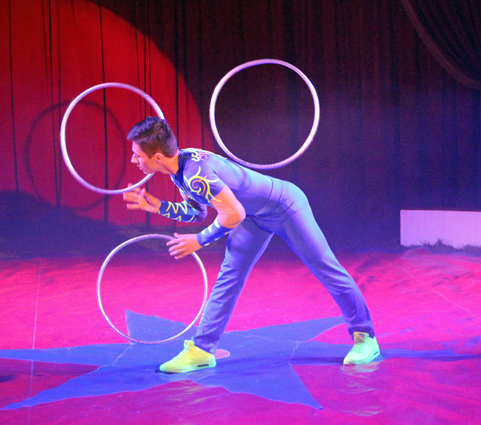 The "Lord of the Rings" Husik is son of the clown the Gulio and the aerial acrobat Tetyana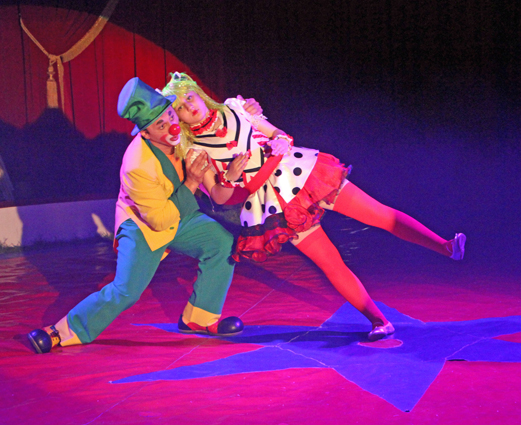 Gulio with his daughter Juliya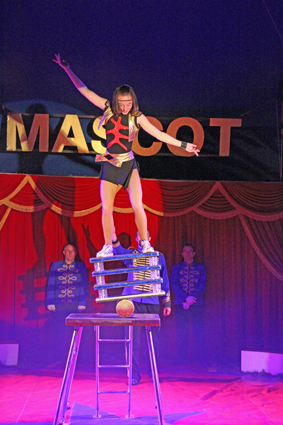 15-year-old Latoya is a daughter of Rafaela Honden and her spouse Eric Zwart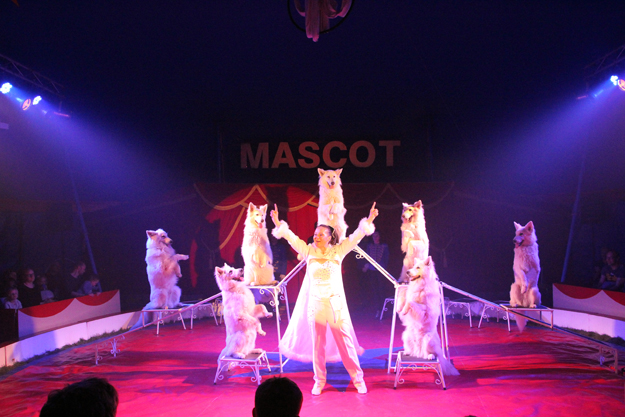 Rafaela Dog and her beautiful white Swiss shepherd dogs
Click here to see more photos from Mascot's performance.

17 May 2017
Travelling entertainer Festival in Viborg. For the 2nd consecutive year there is a travelling entertainer festival in Viborg in connection with the Viborg Snapsting festival. This year the festival extends over 1½ days: Friday 16 June from 15 to 17 and Saturday 17 June from 10:15 to 16:30. On various stages in the city you can meet the multi-artist Sune Lillebroe, the clown Martha Carbayo, the juggler Jon G. Lør, the magician Steen Pegani, the entertainer Øglegøgler Sørensen, David Skunk, the clown Tapé, The Flying Suitcase Circus and the multi-artist Søren Brynjolf.
See the full program at www.goglerfestivalen.dk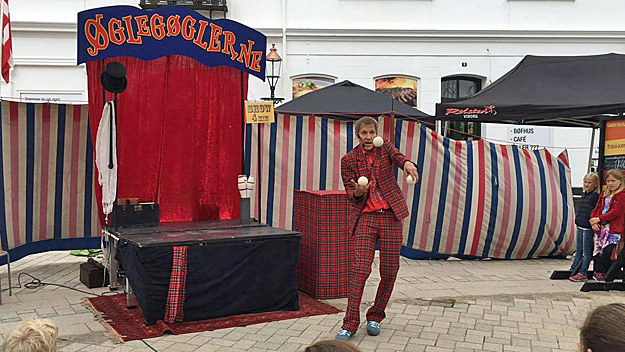 Øglegøgleren Sørensen. Smartphone photo shot by Lise Kokholm in connection with last year's festival

13 May 13 2017
Festival in Porsgrunn, Norway. The annual international theatre festival PIT in Porsgrunn takes place from 13 to 17 June. Porsgrunn is a city and municipality in Telemark county, Norway. The conurbation of Porsgrunn and Skien is considered by Statistics Norway to be the seventh-largest city in Norway.
There are contemporary circus performers at connection with Copplestone Ball which open the festival and at Street of Fools which is PIT's largest stage.
Further information at http://en.pitfestival.no/

12 May 2017
The last-ever Ringling Bros. and Barnum & Bailey Circus show will be broadcast LIVE in its entirety on Ringling Bros. and Barnum & Bailey Circus Facebook page, on Sunday, May 21 at 7:00 pm ET/4:00 pm PT. Tune in and watch with the world as The Greatest Show On Earth takes it final bow!
21 May at 7:00 pm ET is 22 May at 01:00 Central European Time

9 May 2017
Monday Magic Nights - The Players' Theatre - New York.
Text and photos: JORGEN BORSCH, COPENHAGEN.
Free translation: ZARRO ZARRO, PARIS.
The Danish artist agent and circus promotor Jörgen Börsch is on a trip to USA to see Ringling Brothers and Barnum & Bailey - before they close the show.
He also visited New York and writes:
I walked thru Manhattan, saw Little Italy and China Town. Bowery Street, apparently the most ancient street of New York, displayed on a corner a local guide poster, about an old magic shop that formerly was located there, on the corner of 3rd Street. A bit further, there had been a variety theatre, supposed to be the birthplace of the vaudeville.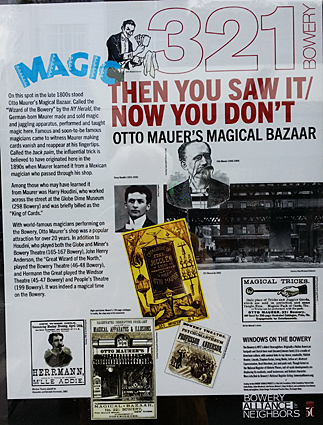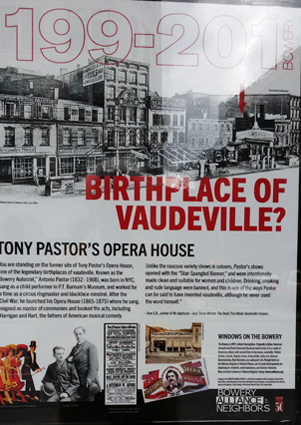 Guide poster for Otto Mauer's Magical Bazar, respectively Tony Pastor's Opera House, where Pastor is said to have invented vaudeville although he never used the word himself. Vaudeville was a theatrical genre of variety entertainment. It was especially popular in the United States and Canada from the early 1880s until the early 1930s. A typical vaudeville performance was made up of a series of separate, unrelated acts grouped together on a common bill.
I had a nice experience of magic at a small theatre /about 150 seats/ - where Monday Magic Night this year celebrates its 20 years' jubilee. Every Monday night, a magic show of two and a half hours is performed, featuring different magic entertainers of high class, either being local artists from New York or American or foreign ones, visiting New York.
Hilariously funny, surprising and super-entertaining!!!
During intermission, two close-up-performers entertained the audience.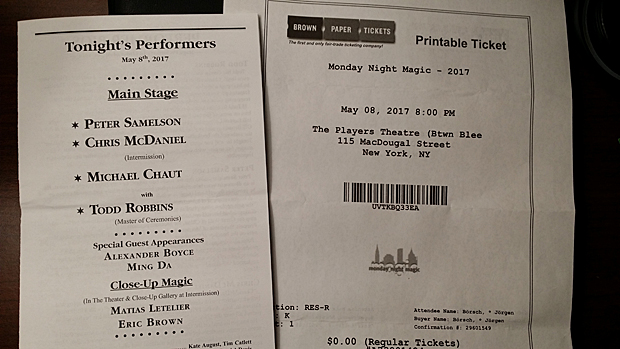 Program and ticket to Monday Magic Night
Monday Magic Night pretends being New York City's longest running Off Broadway Magic Show.
See more: http://mondaynightmagic.com/MainMenu.html
Venue: The Players Theatre, 115 Mac Dougal Street, New York, N.Y.10012 – (/between West Third and Bleecker - just east of 6th Avenue).

8 May 2017
Don Christian. Brian "Briano" Behrendt has told me that the Austrian world class clown's first season in Scandinavia was 2001, where he performed in the Swedish Circus Skratt and during their summer break in the Danish amusement park BonBon-land. Thus his job this summer in Circusland is his 11th season in Scandinavia and not as I wrote on May 2 just his 10th season. Among Don Christ's most popular entrées is the conductor entrée, the entrée with the teasing bee, the boxing entrée, the entrée where he plays on cowbells and the balloon entrée. Click here to see a video clip from the balloon entrée.
Don Christian's civil name is Christian Hofer. He was born 4 August 1972 in Graz in Austria. His father was a health insurance director and his mother housewife not working away from home. The family visited the circus every year. Christian's favorite acts were the clown entrées and he enjoyed acting as a clown for his parents and at school. After he finished school he got an education in industrial management. But then he got an offer from the large Dutch circus Herman Renz, where he stayed for 10 years. In the beginning he worked together with another clown, but quickly he began to work on his own. After the years with Herman Renz, he has worked throughout Europe. Including as mentioned many season in Scandinavian circuses.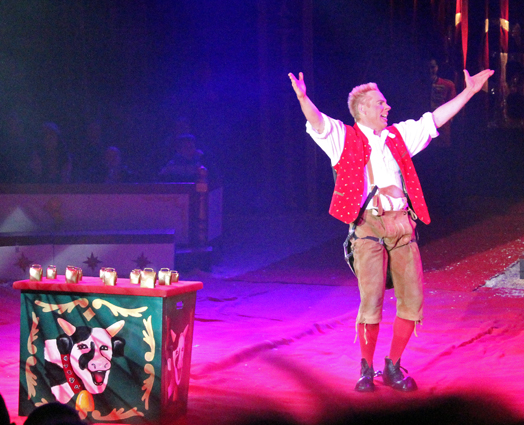 Don Christian in the entrance with the cowbells

7 May 2017
Minor accident in Circus Arena. TV Nord and the tabloid Ekstra Bladet tells that a female artist in Circus Arena 6 May fell down some meters from a pole during the first part of the performance. The accident happened when a male artist shortly before the break carried a perch on which the female artist balanced but which she ended falling down from. The woman, according to Circus Arena's press officer, is unharmed and also participated in the second part of the performance.
It is the artist couple Duo Costache who performs with a perch, where Leonardo Costache is carrying the perch and his wife Vita is working on top of perch. The act ends with her running a BMX bike in a perch with a ring on the top, see photo. And it was during her descent after this trick she apparently lost the grip of the perch and fell down. Fortunately, nothing seriously happened. During the most dangerous parts of perch numbers she uses safety longe.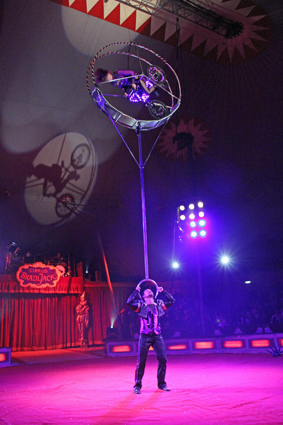 Duo Costache with the trick with the bike. Photo from Cirkus Brazil Jack 2016

5 May 2017
Søren Østergaard turns 60. On Thursday 11 May the owner of Danish Zirkus Nemo Søren Østergaard can celebrate his 60 year birthday. He graduated from The Danish Theatre School in 1980 and has performed at theatres, in film and in revues. In 1993, he received both a Bodil award (the Danish "Oscar") and a Robert award for best male lead in the Niels Malmros' film The pain of love. Many Danes also remember him as the slightly-affiliated businessman Frank Andersen in the TV series The Village which was broadcasted in the years 1991-1996.
In the summer of 1994 and 1995 Søren Østergaard and his good friend Flemming Jensen toured Denmark with the contemporary circus inspired show "Østergaard and Jensen's huge dog show ". In 1996, they tried their luck in Germany, but thanks to an unwieldy German business partner it ended up with a major deficit.
However Søren Østergaard liked the circus life and in 1999 he and journalist and entertainer Anders Lund Madsen started a crazy zirkus, Zirkus Nemo. In the first season, Søren and Anders did most of the acts. The blowing zircus show blasted the boundaries of what had hitherto been thought that a audience would pay to see! Some left the performances. But most staid and soon Zirkus Nemo achieved something close to cult status. However, the show was more show than a circus.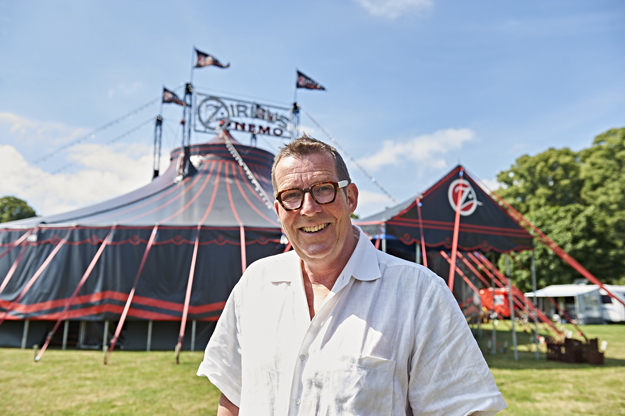 Søren Østergaard. Photo: Rud Kofoed / Ajour Press
In the following years, more and more artists appeared in the performances. It was agreed between Søren and Anders that the project should run for 5 years. Søren Østergaard participated in all the years, Anders Lund Madsen only in 1999, 2000 and 2003.
As a touring circus, Zirkus Nemo took a break 2004-2006, where Søren Østergaard produced Søren Østergaard's Tivoli Variety in Copenhagen's Tivoli Gardens with a program in the best Nemo style. With Søren Østergaard as sole owner, Zirkus Nemo was again on tour in 2007. In 2008 and 2009, Søren Østergaard was back in Tivoli, again with a Nemo show.
During the Tivoli years, Søren Østergaard began to have international top artists in the performances, which he has continued to have since Zirkus Nemo in 2010 resumed the tent tour. An important element in the performances is Søren Østergaard's own characters: Baker Jørgen, The Smash Man, Kim Tim, The Measure Man and others. Søren Østergaard calls his circus for Denmark's only zircus for adults. A fast running performance, many laughs and not least the music and the beautiful waggons and equipment are important for Søren Østergaard.
On his birthday with the round figure the birthday boy and Zirkus Nemo are in Silkeborg.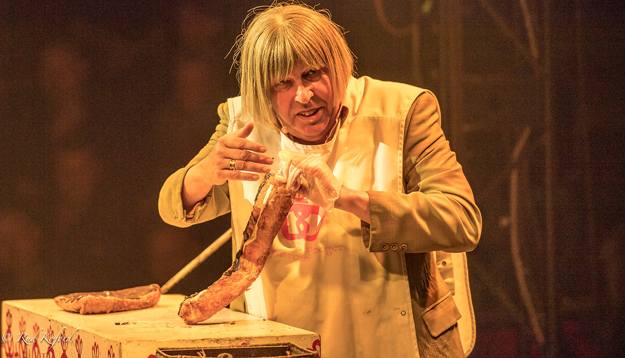 Baker Jorgen is one of Søren Østergaard's most beloved characters. Photo: Rud Kofoed / Ajour Press

4 May 2017
AMoC leaving performance. After 3 years of study, the first team of students at Denmark's Upper Secondary Education program for contemporary circus artist present their final artistic skills for the public. AMoC is a shortening for the Academy of Modern Circus.
Premiere May 19 at 19.00. Other playing times: 20, 22 and 23 May at 19.00. The address is Enghavevej 82 C, 2450 Copenhagen SV.
Free tickets are awarded according to the first-come-first-served principle. Write to amoc@afuk.dk and tell which day you want tickets for.
The municipality of Copenhagen and the Ministry of Culture decided in 2012 to support and initiate a Danish higher education program for contemporary circus artists corresponding to the bachelor level of other International Circus Schools. The education started in autumn 2014, and now AMoC can finally present the first team of educated new circus artists in Denmark. The leaving performance is both a show and a final exam.
12 students will graduate this year.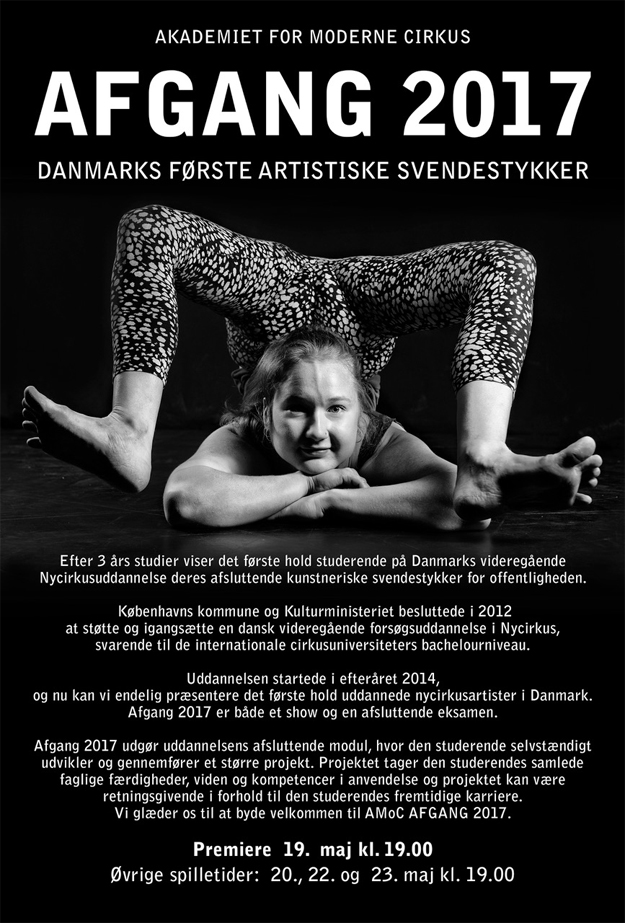 2 May 2017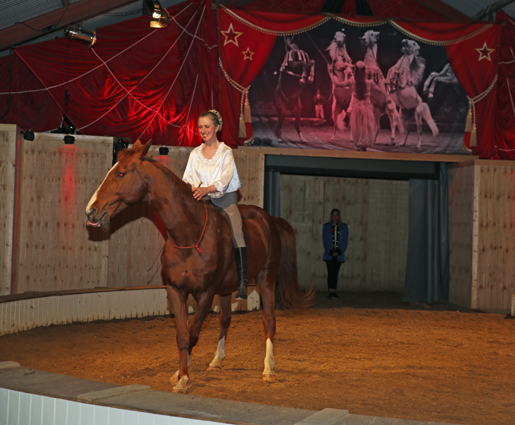 Katja Schumann's Circus Farm in Løkken in the northern part of Jutland has opened the season. There are performances every Saturday and Sunday at 16. In the summer holidays there are daily performances. Jens Chr. Sørensen has visited Katja in Løkken and writes:
"I have visited Katja for the first time this year. The performance is more complete and better than last year - a mix of old movies and performances. They've got a young guy who could be a rising star."
The young guy's name is Victor Abrahamsen. Besides him, Katja and Luffe Bøgh you will also meet Jeanne Tybjerg in the performance. Katja writes:
"The youngsters are a product of our motto: If you have a dream we can teach you to master the dream so that your education and future as an artist can be fulfilled. The Circus farm is the place where experience and knowledge are passed on. "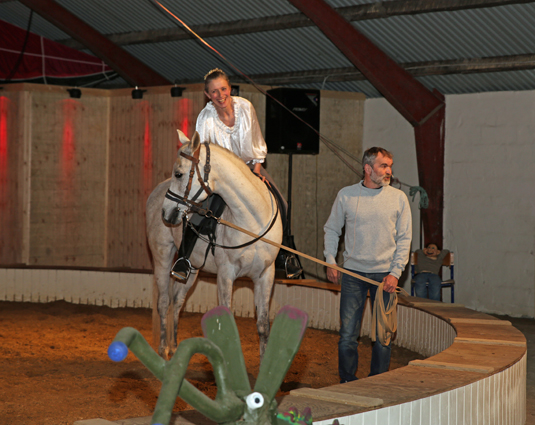 Katja Schumann and Luffe Bøgh. Photos: Jens Chr. Sørensen. Click here to see more photos from the show

2 May 2017
Circusland's Summer Program. As usual Cirkusland in Circus Arena's winter quarters in Aarslev close to Slagelse is open during the Danish summer holidays. This year from 1 July to 6 August.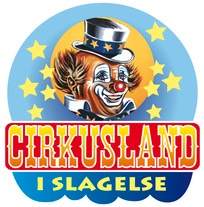 During the day there will be sea lion show, western show, children's show, and a real circus performance with animals, the clown Don Christian and artists.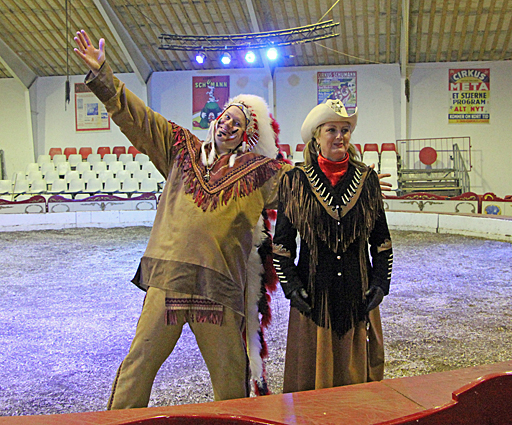 Chief Taking Waterfalls (Brian Behrendt) and Circus Land Park Manager Suzanne Berdino are looking forward to welcoming you to Circusland during the summer holidays.
In Circusland's bistro you can buy delicious dishes at reasonable prices for both young and old.
Opening hours in the summer holidays from 10 to 16. Admission 119 DKK (equivalent to 16 Euro). Family ticket 4 persons 399 DKK (equivalent to 54 Euro).
Once the entrance fee is paid, all shows, rides and parking are free. The address is
Aarslevvej 6, DK 4200 Slagelse.
The clown Don Christian is among the Scandinavian circus audience's favourites. For three seasons he was with Circus Benneweis, last time in 2014. For three seasons he was with Cirkus Merano in Norway. For two seasons he toured Sweden with Circus Maximum and for one season with Circus Brazil Jack. His performance in Circus will be his 10th season in Scandinavia.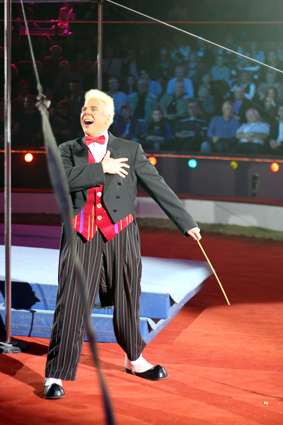 The Austrian star clown Don Christian was among the audience favourites at the circus festival in Budapest in January 2014

2 May 2017
No Schumann horse show on Funen in 2017. Since 2013 Laura and Luis Schumann Torres have every summer presented a horse show at Ditlevsdal Bisonfarm. But there will be no such show in 2017. Laura and Luis writes: "Last year we decided that we will not be making a summer show this year, instead we will be taking some time off to practice in peace with our boys!!!! We still have lots of great Ideas and new training for the future so more interesting posts will come up".
It is the horses Laura and Luis call "our boys" as they "do what they want, they don't want to listen, they are frustrating sometimes and you still love them".
Laura and Luis have two girls: 9 year ole Natalia and 5 year old Adriana.

28 April 2017
Zirkus Nemo 2017. Zirkus Nemo is a combination of a circus and a comedy show owned by Danish actor and comedian Soren Ostergaard. In the later year's Zirkus Nemo have been very successful with their "circus for adults"-concept. Apart from the comedy part of the show, this year with Soren Ostergaard and the comedians/actors Michel Castenholt and Laura Kvist Poulsen, you will meet some very good artists in the show. I quote from a review by Rud Kofoed, who gave the performance 6 out of 6 possible stars (my translation):
As for the Ukrainian top athletes in Crazy Flight, Soren Ostergaard succeeded in inspiring them to return with a brand new act in addition to their groundbreaking signature act. The world premiere of the new act we attended to in a gigantic enthusiasm at the opening night in Horsens. The four five-fold gold winners in sports acrobatics are wildly sovereign and so brilliant that their acts will stand as examples of the human body's ability. It is modern classicalism when it's best.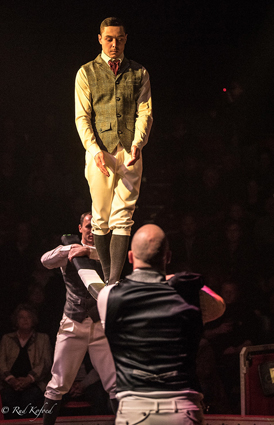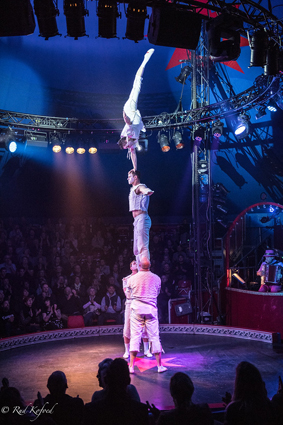 To the left: In the new act Sergey Sakun and his Crazy Flight work with Russian bar. To the right: Crazy Flight with their old act. Photos: Rud Kofoed / Ajour Press
The Englishman Ingo Stiebner and his sea lion Lappy. It is a world class act where animals and humans merge into a symbiosis of beauty. It really looks like Lappy loves to dance with her trainer - and vice versa. Pure enjoyment.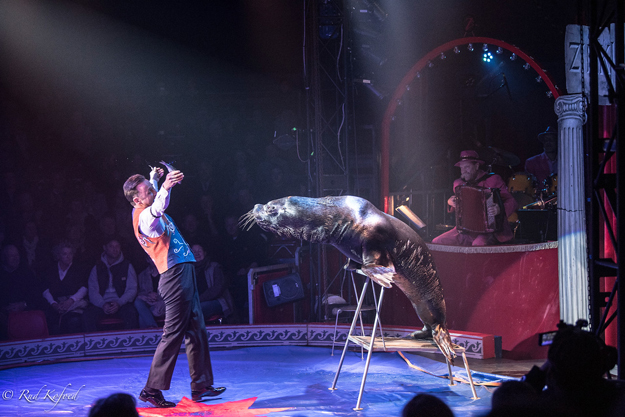 Ingo Stiebner and the sea lion Lappy illustrate how humans and animals can work together ... It is a pleasure to see the couple come out of their shells. Photo: Rud Kofoed / Ajour Press
Like Stiebner with his seas lion the Spanish juggler Picaso Jr. can get his juggling balls and plates to do what he want. It is so elegant and charming done that one senses the total surrender of the audience in the sold out tent. The circus world's Picaso thus matches the painter world's Picasso.
Picaso Jr. is the son of the legendary juggler El Gran Picaso, who has taught him how to juggle. It is easy to understand why Junior hardly dared to make his entrance to the ring after his famous father. But he has inherited his father's talent and learned his skills to perfection.
I watched when Junior got a silver clown on the most prestigious international circus festival in Monte-Carlo in 2002. He has not gotten worse - on the contrary! He was the first time in Nemo in 2013 - after seasons with Circus Arena in 2008 and 2012. It is not surprising that more than one mantelpiece is needed to get room for all the prizes he has been awarded.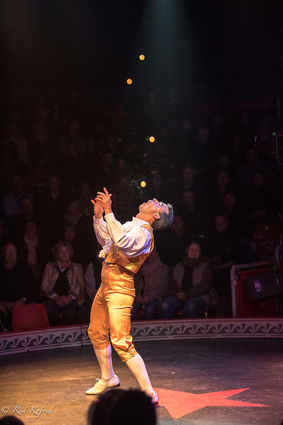 Picasso Jr. Photo: Rud Kofoed / Ajour Press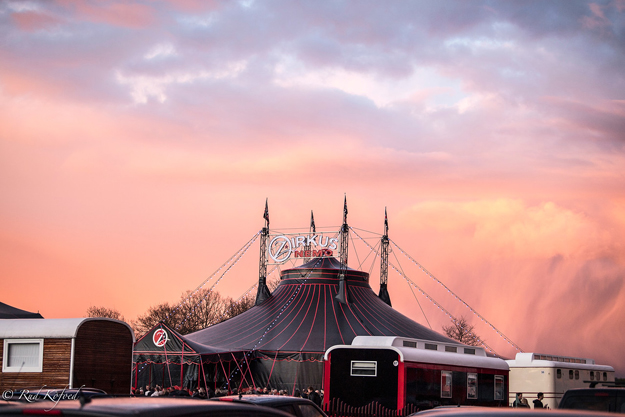 Zirkus Nemo - a sculptural zirkus. In the new four-poled Soren Ostergaard-designed black tent there is room for 588 spectators. They can enjoy the sight of the well-maintained 19 trucks, 9 caravans and 11 campers. Photo: Rud Kofoed / Ajour Press. Click here to see more photos from the performance

27 April 2017
Wallmans 2017/18. Wallman's excellent 2016/17 show FLASHBACK can be seen in the Copenhagen Circus Bulding until 17 June. Then there is a break for a couple of months while preparing for the next season, starting in September. About the upcoming show, Wallmans writes:
Entourage – New show from 1 september
Rock and great missed legends
This year's show, ENTOURAGE, opens with a big rock performance that turns dreams into reality! It is followed by one spectacular act after another, like a string of pearls. In a tribute performance, we honour some of our greatest and most missed stars such as George Michael, Prince and David Bowie.
From Moulin Rouge to H.C. Andersen
Later in the evening, we take a trip to the seductive Moulin Rouge, where glittery costumes and a magnificent stage show creates a truly unforgettable performance. You can also look forward to being drawn into the fairytale world of H.C. Andersen, interpreted through legendary Danish rock music.
Fascinating acrobatics and entertaining circus artistry
There is also no shortage of fantastic and at times completely mind-boggling acrobatics and circus artistry! Look forward to acts such as the return of the popular Duo Creative demonstrating their incredible strength, agility and intense interaction up in the air below the magical dome of the Circus Hall.
Time to celebrate
As we all know, Wallmans is the place where we celebrate life's special moments – big as well as small. We have naturally dedicated an act this year to celebrate your special days and anniversaries – and this year, even more guests will get the chance to enjoy a moment in the spotlight. Look forward to lots of laughs, love and celebration.
Finale with the queen of pop!
Once every special occasion has been marked, the dessert has been eaten and the atmosphere are at its highest, the party explodes in a show finale featuring none other than the queen of pop: Madonna. Get carried away on a musical and visual journey through the queen's colourful and spectacular story. Let go of your inhibitions and just "Express yourself"!
Welcome to ENTOURAGE at Wallmans in the Copenhagen Circus Building!
The word "Entourage" is French and means something like surroundings or surrounding area. The name is also known from an American comedy drama series and a movie.

24 April 2017
Circus Arnardo 2017. Thorbjørn K. Flo saw the performance in the large Norwegian circus in Oslo on April 22 and writes (my translation):
As sure as it will be spring every year in April Circus Arnardo will in every year in April put up their tent close to the Botanical Gardens in Oslo. This year with a newly decorated facade.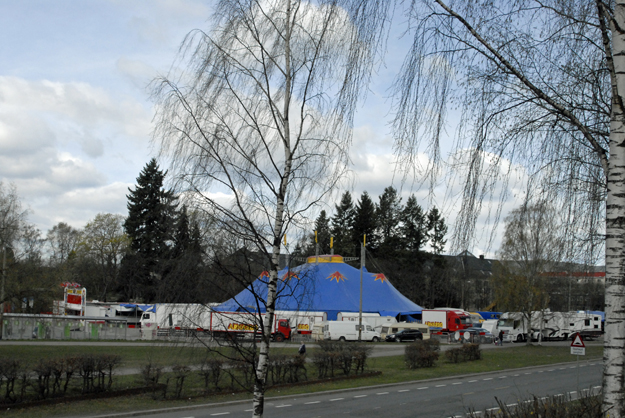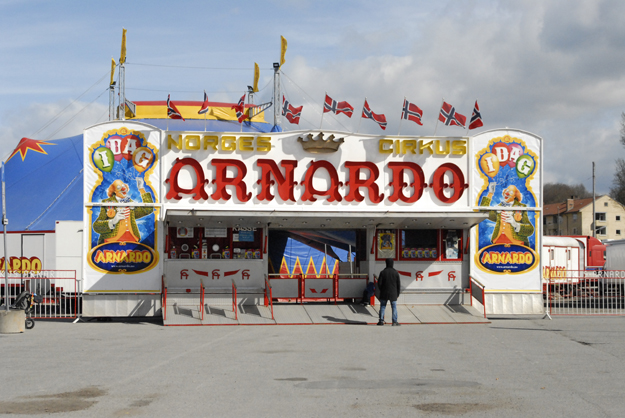 Circus Arnardo in Oslo. The tent, which is from 2016, has a diameter of 32 meters. Photo: Thorbjørn K. Flo
Not many animals but quality of the animal acts presented. Highlights like Zuzanna Smaha's Flying Dogs, Duo Romance in a great act in aerial straps. The same artists also make a great act in Chinese pole.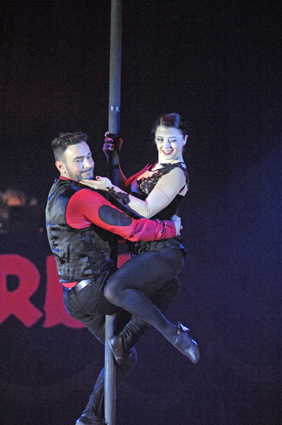 Adelina and Alex in Chinese pole. Photo: Thorbjørn K. Flo
Musical clowns Les Rossyann for the first time in Norway. Sought-after and talented clowns. Perhaps most for the adults.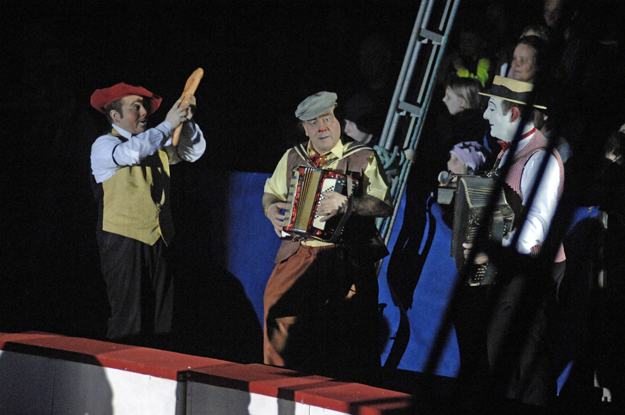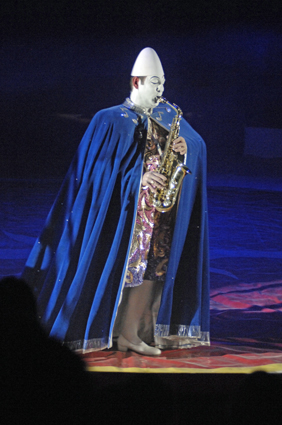 Hector and Ian Rossyan. The latter is the white-faced clown. Photos: Thorbjørn K. Flo
Camels, llamas and a pair of oxen in a nice dressage from Cirkus Olympia, presented by Mirek Masternik.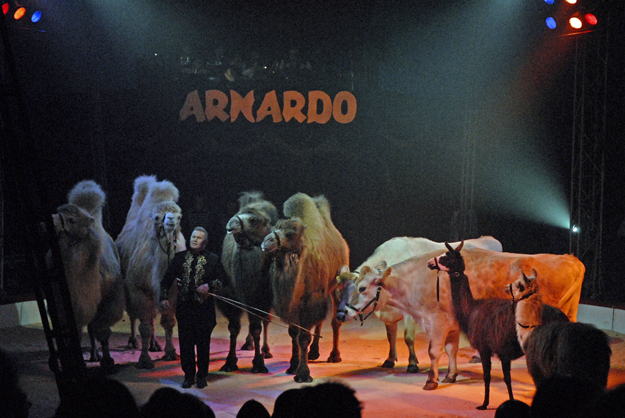 Mirek Masternik with camels, oxen and llamas. The Danish audience remembers him from Circus Benneweis 2015, where he presented camels, and in 2016, where he assisted with the tinker horse act. Photos: Thorbjørn K. Flo
Very good lighting this year. But for too many acts using prerecorded music. Good and warm in the tent on a cold spring day...
The animal welfare group Noah was present at some distance, handing out leaflets. Now, it's not much more to demonstrate against. Good animal welfare at Arnardo, Olympia's animals are known for the quality of animal welfare. When I write this, I would like mention that some of the demonstrators had brought their dogs with them. Not all dogs looked happy with their collars!

21 April 2017
Danish Circus Krone 2017. This year's performance is a classic Krone performance. Irene Thierry has as usually booked some good artists, and Allando's clown character is as wonderful as it used to be.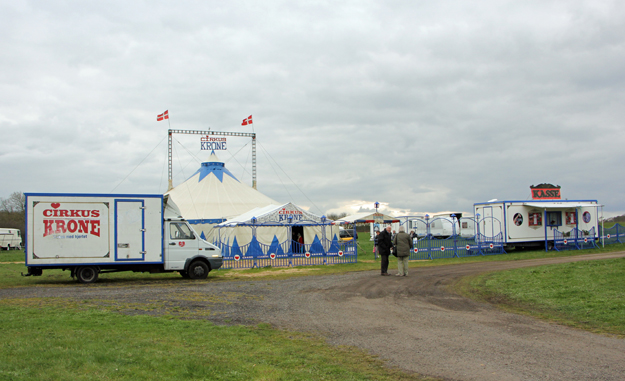 Circus Krone at the circus lot in Salten, where season opening took place on 19 April. All photos: Ole Simonsen unless otherwise mentioned
The performance begins with the poetic and slightly naive clown Allando walking around and chatting with the audience. Then he finds that it flows with plastic bags in the ring. When he throws them in the trash bin, runny rabbits throw them out again. Allando figure out that you can juggle with the plastic bags, and at last it rain down over him with plastic bags from a small box under the circus dome.
Irene Thierry's welcome meets the demands of a Krone Classic. First, the members of the audience are instructed to say hello and shake hand with the persons sitting next to them. Then they are instructed to stand up to greet Irene.
The first artist act is Nedyalko and Veselka, who in the dark are juggling with glowing sticks. Eventually, the couple's 8 year old daughter Yana enters the ring wearing a kind of illuminated butterfly wings.
The small family is followed by Allando's beloved entrée where two ponies will eat his apple.
Then charming Yana comes back in the ring and shows her skills with hula hoop.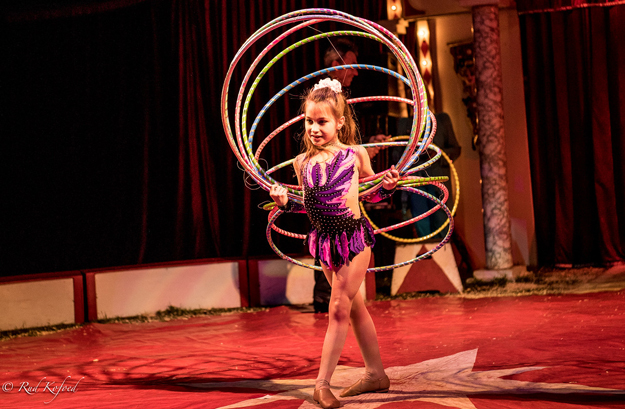 8-year-old Yana. Photo: Rud Kofoed / Ajour Press
Now the time has come for Irene Thierry to tell a little about circus and traditions. Among other things, she shows us "grandfather's pole" - an old wooden pole from her father's circus. It is located next to one of the side canvas steel poles, see photo. And if it's not there, Irene will not go into her circus tent!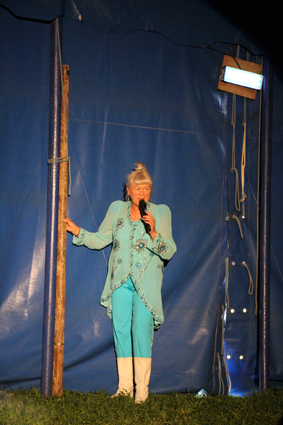 Grandfather's pole.
Now 4 pirates enter the ring. These are the two Czech Wolf brothers with their spouses. They make nice and fast-paced ladder balance act where they also show their skills as jugglers. In my opinion, the best act in the performance.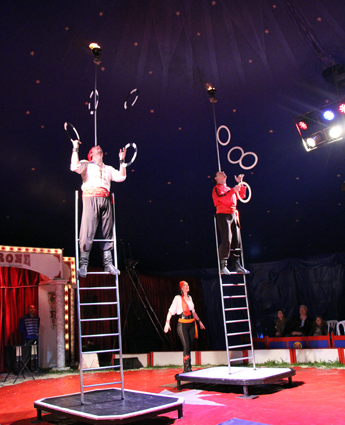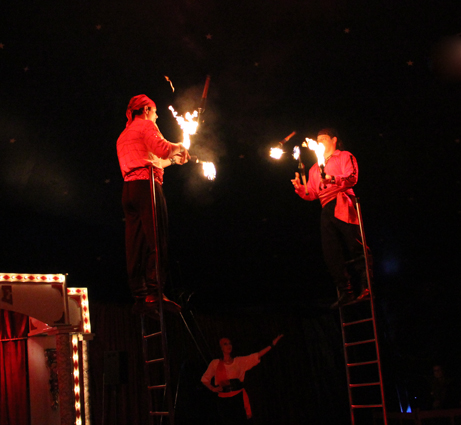 The Wolf family master both ladder balancing and juggling
The first act after the break was Nedyalko with plate balancing on illuminated sticks.
It is a tradition in Circus Krone that Allando has to fight with a dangerous animal. This year it is an elephant. Both the children and adults cheered over the naive Allando's many ideas and comments in the charming entrée.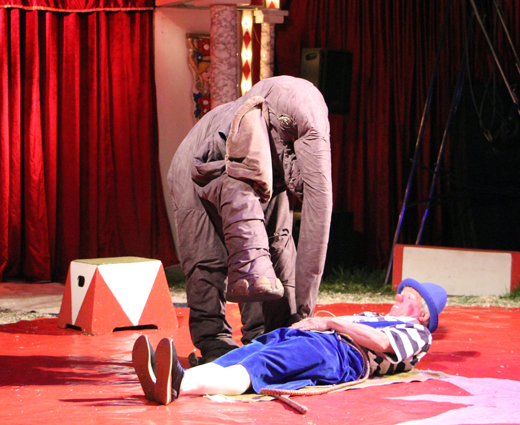 A Krone classic is the act with Allando and a dangerous animal. This year, an elephant, who even the most fanatic animal rights activist cannot protest against being presented in a circus ring
Next number was Nedyalko and Vesalka with a nice adagio balance, where he stood in the ring while he on arms and shoulders was carrying Veselka in various positions. The act was also with Krone at the start of season 2016, but had to be taken out of the performance when Veselka became seriously ill and was hospitalized for a long period of time. Fortunately, she is now well again.
Then the Wolf family came back again. This time with nice and fast-paced formation juggling act.
The last act in the performance was the not quite young artist couple Alessandro and Christina Gillert. "Nice to see that you can make a good act even if you are no longer young," Irene Thierry said. She turned 70 a few days before the premiere! It is 23 years since the Danes first time saw Duo Gillert's act. At that time it was in Circus Arli. The couple present still a nice act where Christina first walks on a tight wire. Then Alassandro continued on a slack wire, where he rode a mono bike, balanced with Christina on his back and ended up balancing on a ladder on the wire.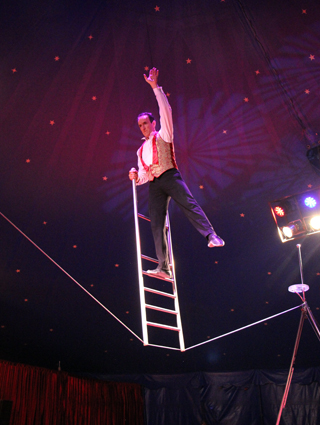 Alessandro Gillert can also balance on a ladder, even on a slack wire
Click here to see more photos from the show.
Cirkus Krone has once again created a performance that will delight both old and new guests in the small circus, which until mid-September tours Jutland, Fyn and Ærø.

18 April 2017
Circus Trapez 2017. After season opening in Kolding on 12 April Circus Trapez had on Easter Day reached Odense, where they had performances at the cattle show grounds. "Circus Trapez is ready to fly and a great innovation," Per Schultz-Knudsen wrote in a number of Jutland Funen Media's newspapers and gave the performance 4 out of 6 possible stars. The got the same number of stars from Rud Kofoed, who saw the show at Easter Day at 15 in Odense and called the performance ​​both entertaining and well composed. I saw the morning show at 11 and agree with the two experienced newspaper reviewers.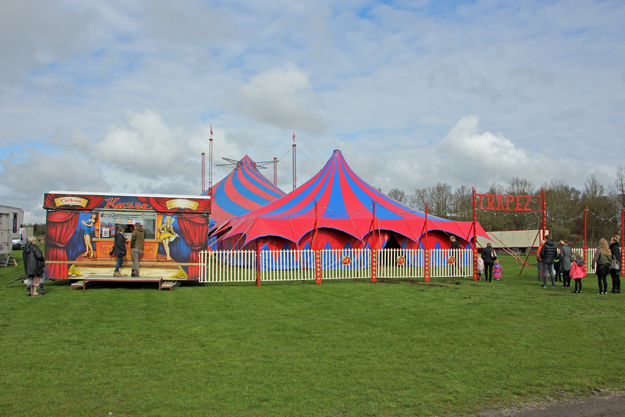 Circus Trapez in Odense. The big top is at last year a 4 pole tent previously used by Circus. All photos: Ole Simonsen unless otherwise mentioned
It is Circus Trapez's season no. 2 on Danish roads. "Trapez" is the Danish word for Trapeze. Last year, the season begun rather hastily because Isabella Enoch Sosman had assumed that she and her longtime boyfriend Bernhard Kaselowsky as in previous years should be on tour with Circus Dannebrog. When it came to nothing, she took out with her own circus, which until then had only toured as winter circus in the arenas.
This year there has been time to prepare for the season, and the performance is better than last year. Isabella has also upgraded its entire set-up: there is live music and she has engaged an experienced ringmaster (ringmisstress).
Tino Aeby in charge of the music. He was for some years a band master in Circus Dannebrog, where he had eight musicians in his band. At Trapez he has only three hilmself included. But the result is surprisingly good and on par with what you experience in the much larger Circus Arena.
As ringmistress Isabella has hired Judy Glosted who for several seasons was ringmistress in Circus Benneweis. The elegant and always smiling Judy does a great job and demonstrates also her talent for singing.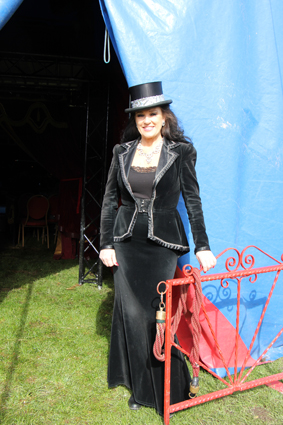 After some years away from the circus business the elegant and well-singing Judy Glosted is back in the circus world as ringmistress.
With 550 seats in the tent Circus Trapez is a somewhat smaller business than Benneweis and Dannebrog and the economy does not allow them to book a lot of top artists. But less can also do it, and the audience seemed contented with the artists, Isabella has chosen: the versatile Spanish Jackson family, the two young German aerial acrobats Seraina and Michelle and the clown and juggler Marc Dorfner. And of course Bernhard and some of his animals: horses, ponies, camels and elephant Ramboline. Others of Bernard animal groups are leased to other circuses.
The show is opened by the run-in clown Marc Dorfner who is turning on a radio. After Judy Glosted's welcome Bernhard Kaselowsky presents 6 beautiful black Frisian horses. As Judy mentioned it is newly acquired horses still in training. The Frisian horses were followed by black ponies. It is the intention that Judy shall take over the presentation of the horses when they have got a little more routine.
Isabella Enoch Sosman has always liked ballet items in the performances she has put on stage. The next feature is a ballet with dancers in clown costumes. Just as you can see it in the large Danish Circus Arena. Arena's dancers are better than the young artists in Trapez's ballet. But at Trapez it is an add value that Judy Glosted during the act sings Be a clown. Overall, the result at as good as in Circus Arena.
Next act is a nice aerial act with Seraina and Michelle, who the Zealanders saw last year in Circus Arli. At Trapez there is higher to the top of the dome, which gives slightly better opportunities than at Arli, and the two young German artists present the best aerial act which I this year have seen in any Scandinavian Circus ring. Judy sings Send in the clown during the act while Mr. Jackson listen.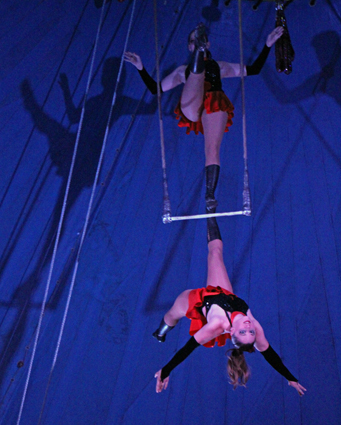 Seraina and Michele who last year was with Circus Arli presented an excellent trapeze act
Then, Marc Dorfner has a fine and original run in, which he uses a long balloon as arc. Always great to see a clown doing something you have not seen before.
It must hurt to be hoisted up under the big top while you hang in your hair. But this is what Fina Micaelo Jackson is doing while she juggles with torches and later is hung in the splits. She is followed by her husband Mr. Jackson in a run in where he says funny sounds and end up boxing in slow motion with a member from the audience.
Next comes Marc Dorfner, now as a juggler with both rings and clubs. Eventually he juggles standing on a freestanding ladder.
Then Mr. Jackson is back with a comical entrée, where he is fighting a desperate battle with a microphone while singing "My Way." The idea behind the microphone fight comes probably from the legendary George Karl. Many Danes will remember the combination of singing "My Way" during the fight with a microphone from Circus Dannebrog 2012 when Cesar Dias did it and the audience was enthusiastic. But Mr. Jackson has not "stolen" the act from Cesar. Papa Jackson is Cesar Dias' uncle and has trained Cesar Dias and made his props. And just as his nephew Mr. Jackson made the audience enthusiastic.
The first act after the break is a ballet entrée which turns into 17-year-old Lara Jackson's juggling entrée where she sits on a high mono bike and with her foot throw cups and plates up on the head with her twin brother Marco as her assistant. Originally, it was intended that Marco should do some clown run ins. But Isabella skipped it at his gags and style was close to Marc Dorfner's entrées.
A lot of visitors to a circus believe that there has to be one or more elephants in a good circus performance. At Trapez you meet Bernhard Kaselowskys versatile elephant Ramboline. Reportedly she will star in a new Danish movie to be shot during the season and with premiere in the autumn.
The elephant act was followed by a by a hula hoop entrée with Lara Jackson and Seraina. In the end of the act they were hoisted up under the dome while they rotated their hoops.
Next act was a combination of camels in the ring and a tissue act with Michelle in tissue. Presented while Judy Glosted was singing "Smile" to Marc Dorfner. Isabella Sosman always does a lot to create such combination acts in the performances she is putting on stage.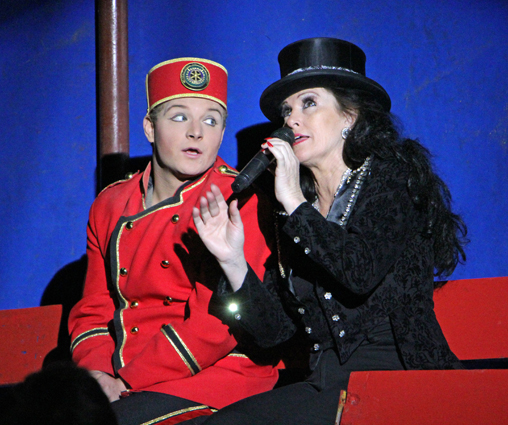 Judy Glosted and Marc Dorfner
After a short run in with Marc Dorfner time has come for the performance's last act: Jackson family's fine bike act which the Swedish audience last year saw in Circus Olympia. Mr. Jackson shows his great skills on a bike, even when he has her wife and their two kids on the bike.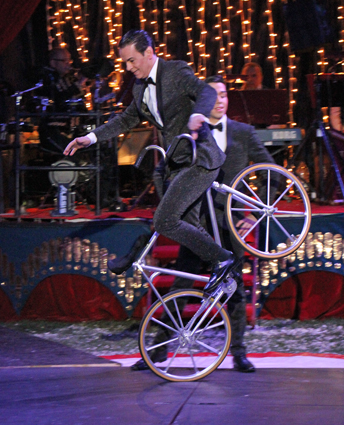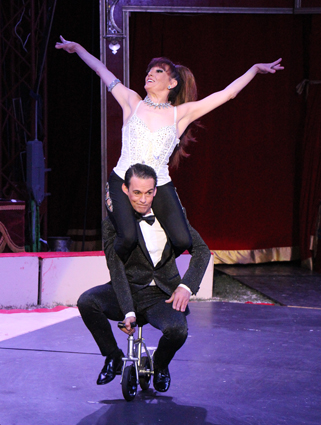 The Jackson family
At the grand finale all artist come in the ring and Judy Glosted presents Circus Trapeze founder Isabella Enoch Sosman who so far hasn't been in the ring. The show ends with Marc Dorfner assisted by Judy Glosted turning off the radio which he turned on when the performance began.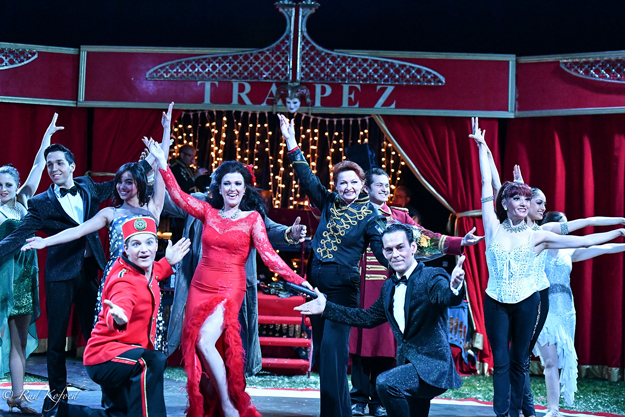 Grand finale. Photo: Rud Kofoed / Ajour Press
In his prefeca to this year's printed program for Circus Baldoni René Moenster Baldoni writes that it is his view that the large animal's popularity in the circus is considerably declining. Isabella Enoch Sosman totally disagree and believe that a good performance required lots of animals, first class artistry class and a lot to laugh about. Only time will tell who is right. But if you like to see beautiful and well-kept animals in a circus, which also present good artists and clowns, a visit to Circus Trapez can be highly recommended.

12 April 2017
Circus Dannebrog takes a break in 2017. Circus People and circus friends have known it for a while although there so far hasn't been an official announcement. But today one can read in Der Nordschleswiger that Circus Dannebrog not will be on tour in 2017. Der Nordschleswiger is the German-language newspaper of the German minority in South Jutland. The newspaper has spoken with Agnete Louise Enoch and writes that it is the first time in 40 years the Jutland based circus with winter quarter in Sommersted doesn't tour. Agnete Louise Enoch hopes that Circus Dannebrog comes out again in 2018. She says that the reason for the break partly is economic problems and partly that a ban on using Ukrainian tent workers has created a shortage of qualified tent workers. The ban affected Circus Dannebrog extra hard because their experienced team of tent workers all came from Ukraine. The other circuses in Denmark used mainly tent workers from Poland and other EU countries.

11 April 2017
Circus Olympia 2017 with an innovative touch. Martin Lasson Berglund visited the Swedish circus on opening night on April 1 and writes (my translation):
On April 1 the Swedish Circus Olympia opened the season in their blue and yellow tent. This year's show offered both classic and innovative circus in an elaborate production designed for both adults and children.
This year they had engaged the clown Sidney Balder, one of the three Balder brothers we have been able to see the Danish Circus Dannebrog. He came with both funny and new entrées e.g. a "water gag" in which his son was involved. The audience loved it!
Diana Nikuliceva performed in silk loops and did an act with modern music and demonstrated both agility and strength. Trio Gaspar is clearly a sensation in the ring. Their witty rola-bola entrée on a white piano impressed many. Later, they returned with their comic taxi where the car breaks down, people is dropping to the floor, simply a comic act.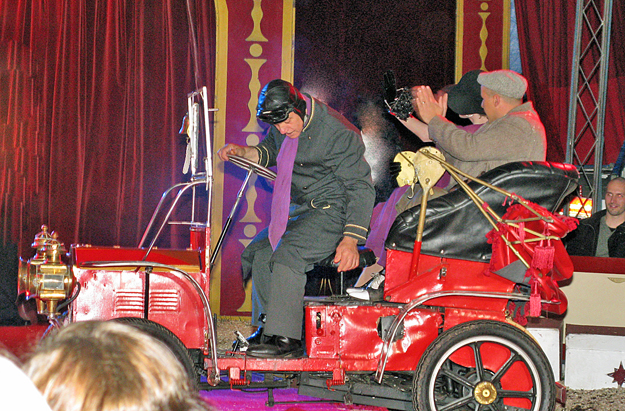 Gaspar's crazy taxi. Photo from Circus Benneweis 2008
No Olympia performance without Henrika's dogs. She is assisted by her daughter-in-law Natascha and her grandson Simon. This year the act has a fire brigade theme and spirited music.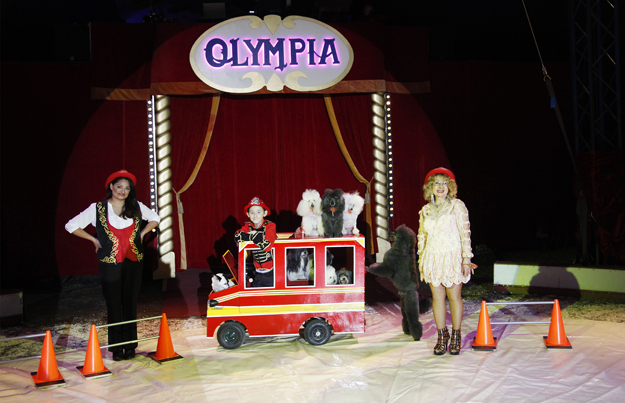 Natascha, Simon and Henrika with a dog act with a fire brigade theme. Photo by courtesy of Circus Olympia. Photographer Linda Himsel
Niklas presented a new composition of animals consisting of horses, camels, llamas and a goat in a very elegant way. Nice with a new exotic animal act!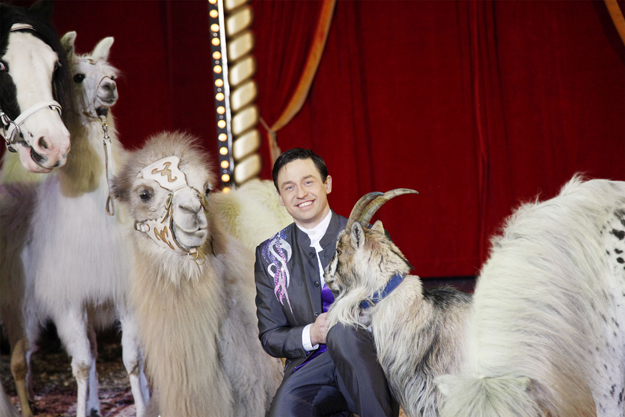 Niklas Bengtsson. Photo by courtesy of Circus Olympia. Photographer Linda Himsel
Jessica presented the circus' Frisian horses in an act accompanied by Finnish Ester Viljanen on cello. Fun with such a thing in a horse act!
Finnish Ester also did an act in solo trapeze. She did it pretty well when you remember that she is newly graduated from the circus school. Rogerio Goncalves, super juggler from Portugal, did a really good act.
The final number in the performance was the Trio Nistorov who also has worked in the large German Circus Flic Flac. There skills impressed a lot and it was really nice to see such a great act in Olympia's ring.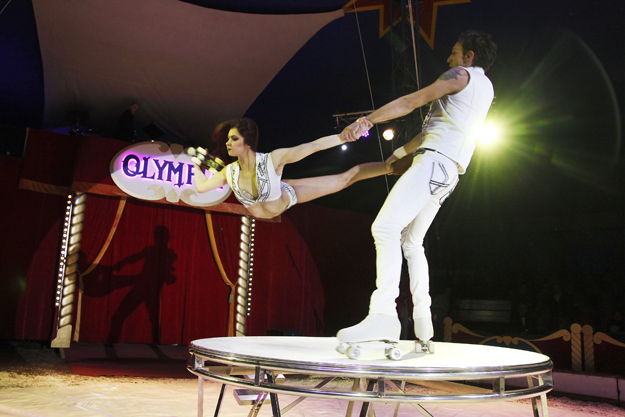 Nisterov. Photo by courtesy of Circus Olympia. Photographer Linda Himsel
Band master Valentin Smirnov and his five man band played more modern music this year than in previous seasons and as always, he and the musicians play an important role in the performance by providing lovely live music.

8 April 2017
World Circus Day 2017. World Circus Day (in Danish "International Cirkusdag") was this year celebrated on 8 April as 13, 14, 16 and 17 is public holidays in Denmark and an event on 15 April not would attract much attention.
For the eighth consecutive year in row the celebration took place at the Circus Museum in Hvidovre, Copenhagen and was arranged by Danish Circus Friends Association in co-operation with the museum and Circus Baldoni. The circus day was well visited and commended on in local Medias and on Facebook.
Throughout the day there were many visitors to the museum, where visitors could explore the exhibition and the children have fun at the museum's creative workshop. Many children participated in Circus Fun in Circus Baldoni's ring. Click here to see a short video clip from TV2 Lorry.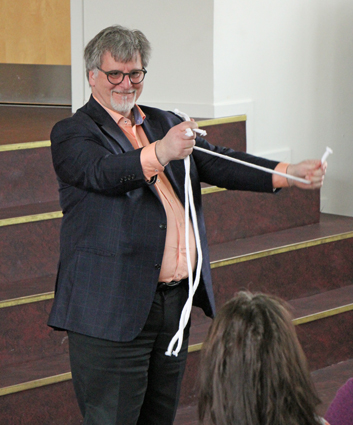 Around fifty people had made their way to the magician Joachim Solberg's entertaining lecture in the auditorium in the former military camp. Joachim he told about his world and stories from a long life with magic. He also did some tricks. Photo: Ole Simonsen
At 13:00 about 100 children and adults attended a performance with Joachim Solberg's son Philip with the artist name Philipokus. Philip specializes in magic show for children.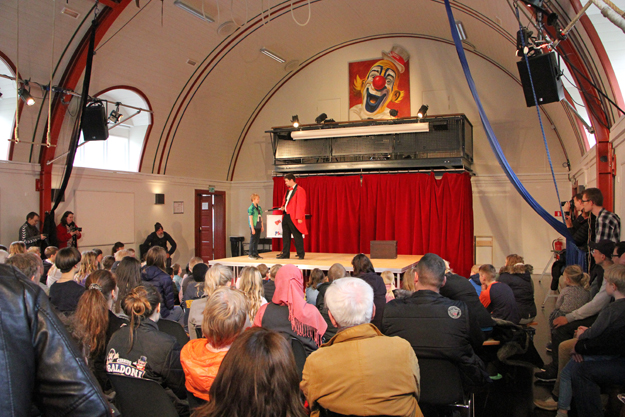 Philipokus on the stage in the museum's fencing hall. The Clown image above the stage is a gift from his father Joachim Solberg. Photo: Ole Simonsen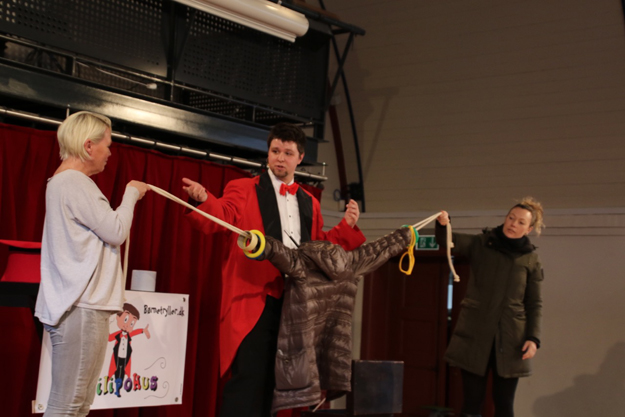 Philipokus. Photo: "Mr. Sputnik "Krogh Petersen
At 14:00 there were gala performance in Circus Baldoni, whose tent as in previous years was made put up at the square behind the circus museum. Everyone enjoyed the performance.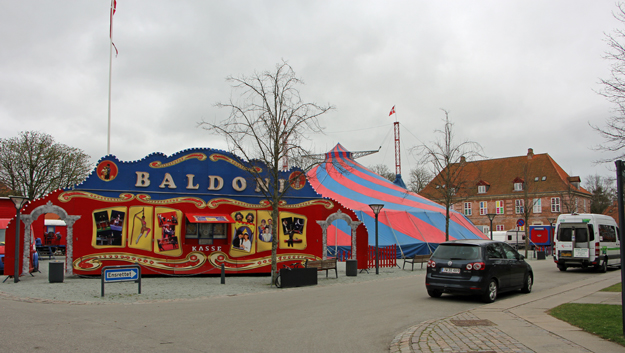 Circus Baldoni on the square behind the museum. The museum can be seen in the rear. Photo: Ole Simonsen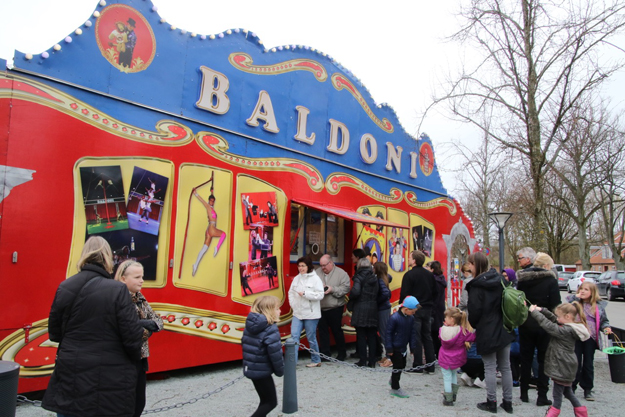 Queue in front of the ticket office. Photo: "Mr. Sputnik "Krogh Petersen
Jacob Boas Leitisstein has made a nice short video from the day. Click here to see it.
Click here to see a series of photos. Jacob Boas Leitisstein took the day.
Also Per "Mr. Sputnik "Krogh Petersen has created a gallery of the day. Click here to see his gallery.
Prior to the circus day the annual meeting in the Danish Circus Friends Association took place. Sören Kastoft was appointed as a new alternate member of the board. Sören is 40 years old.
In connection with the annual meeting Ole Simonsen was appointed chairman of the Danish Circus Friends Association. The former chairman John Lington, who is 82 years old, continues in the board as deputy chairman.
Ole, who is 71 old, has been deputy chairman since 2009. In addition to chair the Danish Circus Friends, he is chairman of the board (jury) of the Danish Circus Award. In the years 2011-2015 he was artistic advisor to Circus Benneweis.

7 April 2017
A Danish circus queen turns 70. On April 14, the Jutland circus queen Irene Thierry who owns the small Danish Circus Krone turns 70. When she's not on tour with her circus, she lives in Salten just south of Silkeborg. Circus Krone is marketed as "Circus with a heart" and there is no doubt that the birthday girl's heart beats warmly for the circus. Not just for her own circus, but for the whole circus industry. Irene's ambition is that Circus Krone by far shall be Denmark's largest circus but instead the cosiest circus in the country. And the audience meets always a warm and cordial atmosphere and feel most welcome in the small circus which is touring in Jutland and on Funen.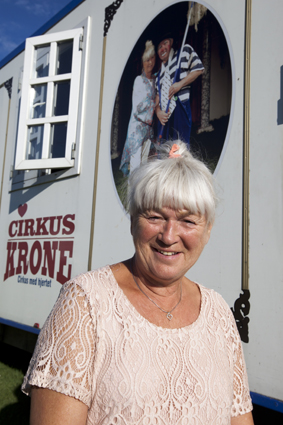 Irene Thierry. Photo: Lise Kokholm
Circus Krone's roots go back to 1937, when Irene Thierry's father Regner Thierry started it as a fairground circus called Circus Thierry. Later, the family bought a travelling fun fair and Irene and her brother Ricard made an aerial act in a swaying pole which was placed at the fairground site. Circus Krone tours then became shorter and shorter. In 1984 Irene Thierry restarted Circus Krone assisted by her sons Frank and Marc and her brother Ricard. The past several years she has also been assisted her spouse Jan Allan, who is the children's favourite as the clown Allando and also has mischievous ponies in the ring. The other artists were in the first years young talents who were apprenticed to try their skills on Circus Krone's summer tour. Many have since used what they were taught in Circus Krone to get a lasting career in the circus. In 1999 Circus Krone stopped to train young talents and has since then every year apart from the family's own acts presented foreign artist of good standard. Irene Thierry is not only the director, but also human resource manager in the word's foremost importance. She has an eye on each finger and notices all the signs of a bad mood or problems with its staff and does everything possible to ensure that everyone feel comfortable.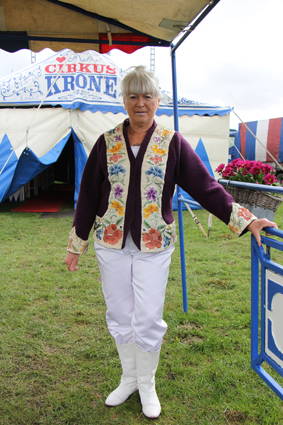 Irene Thierry. The dress is a gift from the late Thyra Miehe. Photo: Ole Simonsen
The birthday is celebrated in her hometown Salten where there is reception from 9-12 in the circus tent at the circus lot of Frisholmvej 3. Circus Krone has season opening in Salten a few days later: on April 19.

6 April 2017
Circus Mascot 2017. Jørgen Lorenzen saw the performance at the opening night in Roslev in the northern part of Jutland on 29 March at 18 and writes (my translation):
From a distance one can see that something has happened. Circus Mascot has got a brand new tent, the same size as the old one. And when you enter the circus lot you observe that there were an unusually large number of vehicles and pens for animals. The explanation for that is that Mascot this year has a performance with lots of animals. And this is the good news as according to many visitors animals has to be a part of a circus performance. Here with a lot of different of species and everything at the cicus lot proves that they live under good conditions. How nice! And it is a knock-out to the destructive animal rights activists who want to destroy the circus with their non-objective criticism. And for children Mascot this year a paradise - a wildlife mecca.
And this year's ring coated with a fine layer of sawdust. It absorbs moisture and takes the shock should someone fall. And it gives a nice, golden colour. Hopefully sawdust now becomes customary in the coming performances.(In earlier seasons there was not much sawdust in the ring).
Daniel Deleuran presents the show - with a beard, a Prussian War general commendable, and this year he has arrogated a hairstyle that is guaranteed not seen before throughout Roslev and neighbourhood. His speak is enthusiastic and accurately.
The clown Gulio has gradually become a regular part of Mascots show. His gags are new every year – at least most of them. You will enjoy his open face and whimsical twinkle. He is a true children's friend, and the best thing is that the man looks as if he also is enjoying it himself.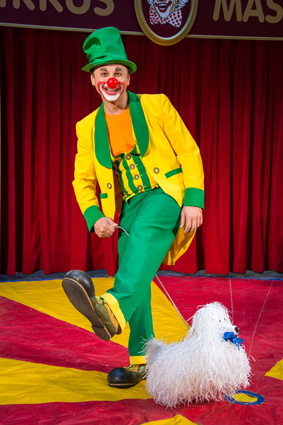 Gulio. By courtesy of Circus Mascot
After Daniels welcome Marianne enters the ring with her "symphony of dogs". Surprising to see them as opening act, but the explanation is that you this year have two dog acts in the performance. One at each end of the performance.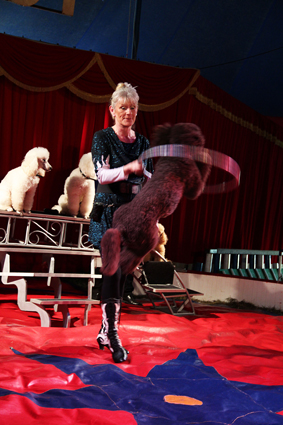 Marianne Deleuran with a couple of her dogs. By courtesy of Circus Mascot
Then Rafaela enters in the ring with the horse Amigo and the dog Indy. Amigo wants to go the restaurant but Indy intervenes. And then scene is set for a lot of fun, and of course Rafaela comes short when she will introduce good table manners.
And then it's time for a nice rola-bola number. Latoya is doing a nice and difficult balancing act. It is for outsiders difficult to see what trick which is the most difficult, but four boards stacked up on shaky cylinder are always impressive.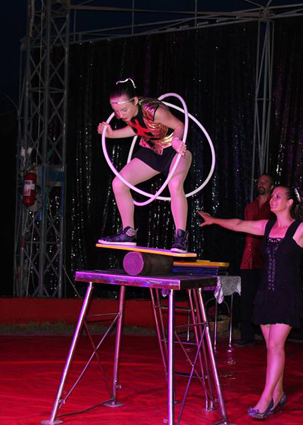 Latoya. By courtesy of Circus Mascot
Gulio now has an entrée with a tame hen who can flap the wings on command. It can also lay eggs on command and of course it ends up with Gulio getting an egg in his head.
Gulios son Husik is balancing and juggling rings - larger than those usually seen. And his style is becoming the true artist attitude, sure, but not confident - proud but not boastful and self-confident, but not arrogant.
Ranco, Rocco, Rikki and Little My. This is the names of Circus Mascot's 4 ponies. And now it's their turn. They are presented by Daniel Deleuran. This year, the delicate green plume not only fits neatly into the tent and sawdust in the ring but also sharpen attention on the ponies.
And there are more animals. Rafaela and Latoya present a bunch of parrots. It's weird animals, not only due to their colourful plumage. But their sound is like a commentary on what is happening - a strange sniggering guttural, which connoisseurs probably can interpret in the same way as they can interpret the sounds from domestic animals. The parrots can balance, grab something with their beaks, keep something in their beaks, ride a bike on a wire and move and push items.
Gulio then have an entrée with his daughter Juliya - a dream world where Juliya is a motionless doll.
Alfred and Luna is the name of circus Mascots Canadian pigs. They play soccer, hoist a flag, run down in slide and go over obstacles. They are vigorously promoted by Marianne Deleuran, but that they do not want to do tricks and must be fed with several delicious titbits is the part of the act. And the cheering will not end when a little baby pig makes enter the ring.
A good circus performance needs an aerial act. Here, it is Tatyana acrobatics in an aerial ring which is provided with two silks, see photo. It is difficult for non-acrobats to tell which trick which is the most difficult to perform. But I believe it is hanging in her feet.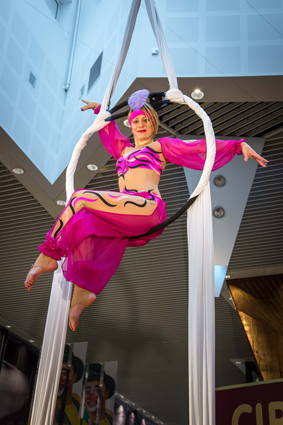 Tatyane in aerial ring. By courtesy of Circus Mascot
The penultimate act is the performance's second dog act. 8 white Siberian sheep dogs are presented by Rafaela, also dressed in white. The act is both aesthetic and beautiful. The dogs seem happy, relaxed and very well-kept. Finally they behave almost like horses, as Rafaela call them up and ask them to stand on their hind legs. Hind leg dogs (Steigerdogs)! It is a strong act and proof that the animal acts are and shall be an integral part of the circus.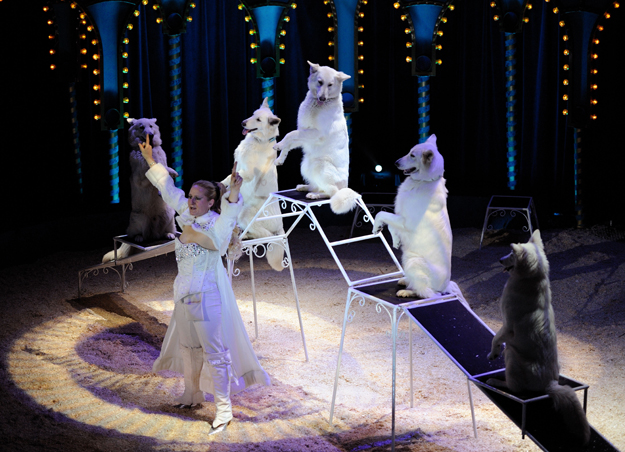 Rafaela Honden with her sheep dogs. By courtesy of Circus Mascot
The last act is before-seen clown act where the clown Gulio invites four men in the ring to participate in the four stools gag. Seen before, but for those who see it first time, it is of course very funny. And with his disarming humour Gulio get the participants to relax, so they get fund out of it.
It is absolutely the best performance Circus Mascot has presented so far! And nice that here we have the proof that animals and circus belongs together. Mascot deserves to get a lot of full houses during the season. Get away from the computer, away from the smartphone, away from the television – go to Mascot to get live, genuine entertainment. The living circus cannot be replaced by anything else. And this show is a tribute to Mascot which certainly enriches the Danish entertainment universe.

5 April 2017
Danish Cirkus Krone 2017. In a press release the small circus which will open the season in on 19 April write (my translation):
This year is a special year. Circus Director Irene Thierry's 70th birthday. She has now been a performer for 66 years! With Circus in her heart. The joy and the spark of circus life are still intact, so Irene is once again ready to be on the roads with an international circus performance and terrific entertainment for the whole family!
With all the good times three is it with pride Krone presents Veselka and Nedyalko from Bulgaria. With great agility and elegance Duo Acrobatics presents the art of balancing with Veselka bend in any direction! With precision and high voltage Nedyalko get plates to spin, and with Veselka he presents furthermore the luminous act "glowing sticks"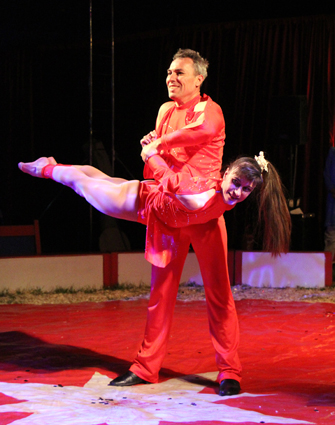 Veselka and Nedyalko. Photo from one of the couple's previous seasons in the Circus Krone
From the Czech Republic comes Wolf Family. A fast-paced juggling act, where all four juggles to each other. And look forward to the "balancing ladder" act inspired by the movie "Pirates of the Caribbean". It is an action adventure for the whole family!
Finally we have managed to get a world class artist! Alessandro Gillert, providing a thrilling slack wire act. Two man high on the wire. Bicycle on the wire and much more!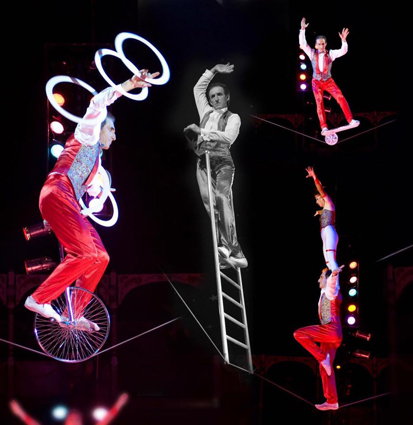 Alesandro Gillert. By courtesy of Circus Krone
Without the clown Allando - our very own world best clown – there would not be any Circus Krone! He captivates and delights all children and young at heart. You never know what Allando will figure out. But it surely will be fun!!
Circus Krone's trademark - the small naughty ponies - is of course also find the ring.
Director Irene Thierry guides as always the audience through the program.
The versatile Soloman Wolf Family was in 2015 first at Circusland at Slagelse and from August with Circus Dannebrog where they replaced the Cuban Estrella troupe which had to stop due to problems with their work permit.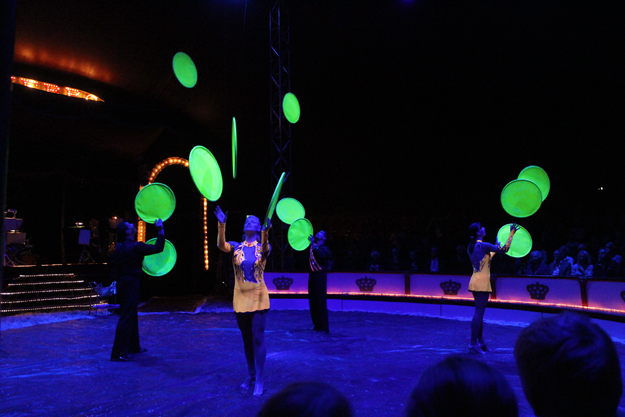 The Soloman Wolf Family in Circus Dannebrog 2015
The slack wire acrobat Alesandro Gillert toured with the Swedish Circus Olympia in 2012. In 2015, he was together with his female partner Christina Moia with Circus Arnardo in Norway. Alasandro and Christina was also with Danish Circus Arli in 1994,

4 April 2017
New stage and summer artist to Lalandia Rodby. Mr. Plys has sent me this photo of his brand new stage in the tropical holiday centre Lalandia Rodby. "I find it really nice and a good eye catcher when people go by. There is no doubt that this is where there is entertainment. The scene is 6x4 meters"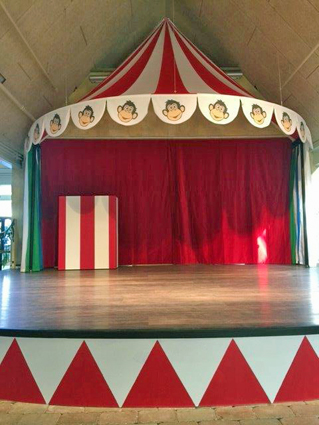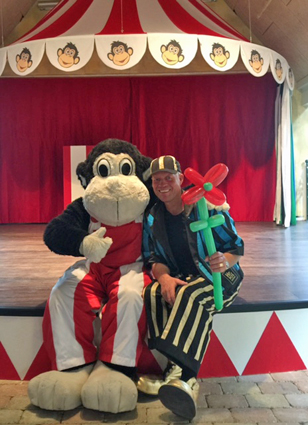 As in previous years, in addition to shows with Mr. Plys there are artist performances throughout July. This year with the juggler Alan Sulc from Czech Republic. He is on the stage Mondays, Wednesdays, Fridays and Sundays at 20:00. Many Danes will remember Alan Sulc from Circus Benneweis in 2004 when Alan, who at that time was only 13 years old, to the tune of Safri Duo bounced balls into the floor and was clearly the year's best act. Last year he was for some time in Sweden with the Swedish Circus Wictoria. Circus Wictoria however had to stop the tour due to financial problems. At Wictoria the audience could also see Alan's wife Veronica Sulcova with a handstand act. But she will not be on the stage in Lalandia as she is pregnant.
Mr. Plys himself is on stage every Tuesday, Wednesday, Thursday and Saturdays all year round with shows at 17 & 19:00. Fridays he is on stage at Lalandia Billund. During the summer holidays he is 2 times weekly in Billund. Mr. Plys started in Lalandia when they opened in 1988, so next year he can celebrate his 30th anniversary.

31 March 2017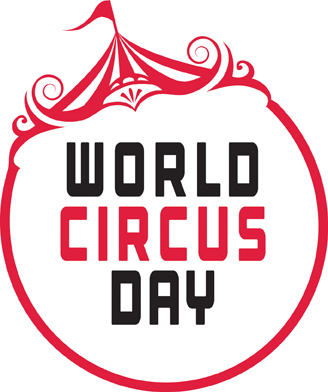 In the Nordic countries World Circus Day is celebrated in Denmark as well as in Sweden. Usually held on the third Saturday each April, World Circus Day is a special day to celebrate Circus Arts and Culture. However, since the third Saturday in April this year is Saturday before Easter which is considered as part of the Easter holidays in Denmark and Sweden celebration takes in those countries in 2017 place on 8 April.
In Denmark World Circus Day is for the 8th year in row celebrated at the Circus Museum at Hvidovre, Copenhagen, in a co-operation between the museum, Danish Circus Friends Association and Circus Baldoni.
The museum will open at 10am. Explore the exhibition or have fun at the Creative Workshop. The entrance is free.
At 11am-12.30pm you can participate in Circus Fun in Circus Baldoni's circus tent. Try out everything from juggling to trapeze.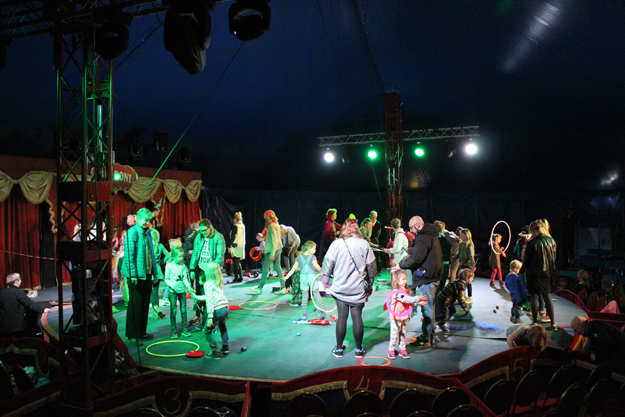 Circus Fun in Circus Baldoni's tent is always a hit amongst the children.
At 1pm you can experience the magician Philipokus in 'Fægtesalen' behind the museum. The entrance is free.
At 2pm you can enjoy Circus Baldon in the tent at the square behind the museum. Tickets for the circus must be obtained directly at Circus Baldoni. Reduced ticket prices this special day.
At 2pm the museum closes.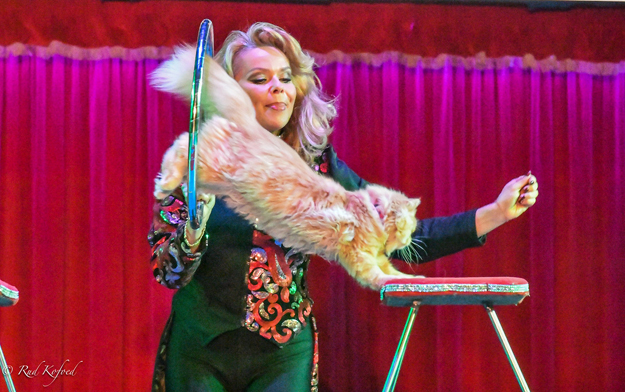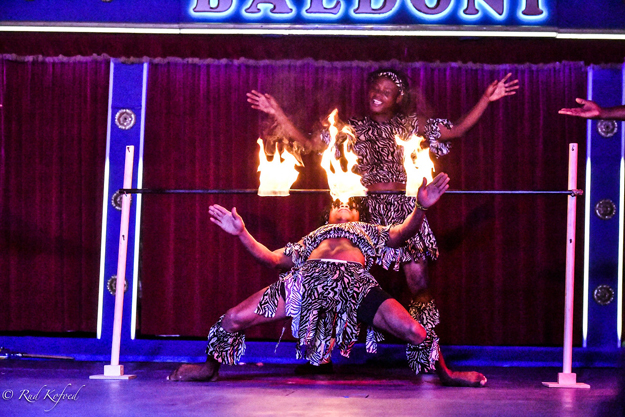 In Circus Baldoni you can amongst others meet Fatime and her cats and Mombasa Boys. Photo: Rud Kofoed / Ajour Press
In Sweden the day is celebrated in Gothenburg in co-operation between the Swedish Circus Academy and Circus Brazil Jack,
At 10 there is open house in Cirkus Brazil Jack. The Donnert family will present their horses and show how they are training.
At 10.45 there is a lecture by Toni Rhodin about his grandfather Brazil Jack and the Rhodin family. At 11.45 Carmen Lupescu-Rhodin, born in Romania, 7th generation circus artist, now circus director in Sweden will tell about her life in circus.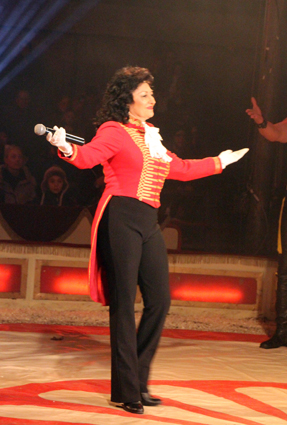 The Swedish circus queen Carmen Rhodin
At 13.00 gala performance in Circus Brazil Jack.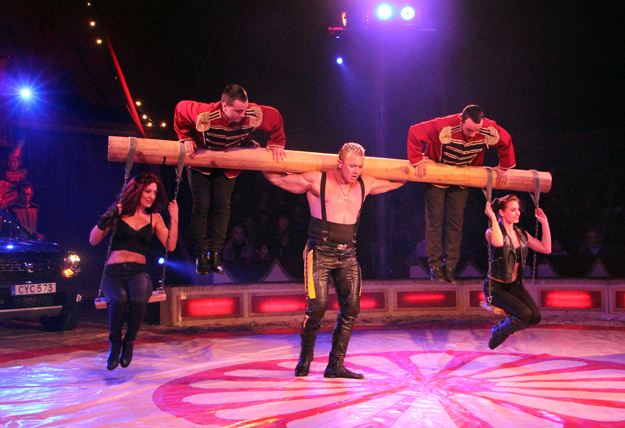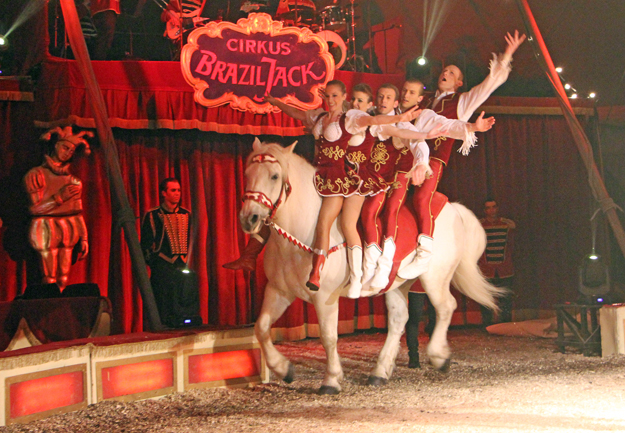 In Circus Brazil Jack you can amongst others meet the strongman Deniz Ilchenko and the Donnert Family

28 March 2017
Circus Arli when they are very best. The season opening in the Copenhagen suburb Floeng took place on 26 March in glorious sunshine. And there was not only outside the tent is was sunshine. "The best Arli performance I've seen," my wife Susanne said. And everyone in the tent will agree and call Arli 2017 for one of the best among many good Arli-performances.
This year's performance is a themed show called Ship Ahoy. It "takes place" on board the good ship M/S Arli. Martin Arli is wearing the uniform of a captain and Bettina Arli of a first officer. And even the grooms are wearing sailor uniforms.
After the opening spec the first act in the show is an excellent knock-about on table act with Alexander Arli and Francesco Fratellini. Even the old artist Charley Kaye who years ago did a similar act was thrilled. It is Charlie who some years ago taught Alexander how to do such act. "But be careful with your back when you fall," Charley warned Alexander.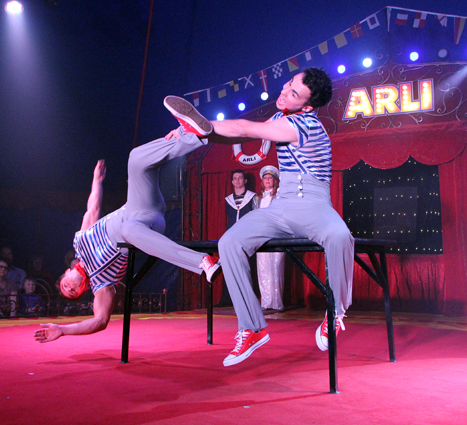 Alexander and Francesco. All photos: Ole Simonsen, unless otherwise stated
Next came Latvian Olga Makejeva with a fine act in a rotating ring. She was also with Circus Arli in 2007 and 2008 and with Circus Baldoni in 2005. At that time her surname was Guseva. Since she has been married and got a son, but fortunately she is still active in the circus business. Her husband is an IT professional and has his own business in Latvia, where the couple's son is staying together with his father to care for the school. Both husband and son will of cause visit Olga during the season.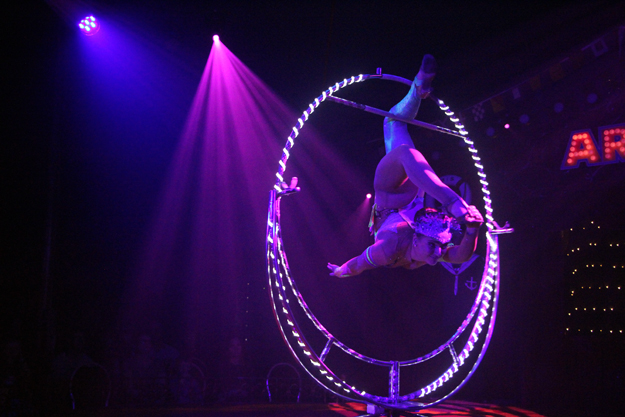 Olga Makejeva
Last year there was many who missed Martin Arli's cozy magic entrée. This year he is back in the ring and conjures with goldfish in an entrée which as far as I know was "invented" by the late Paul Arland (1921-2007) who traveled with it all over world as "The Merry Angler". Fine that the tradition for a cozy magic act now has been taken up again.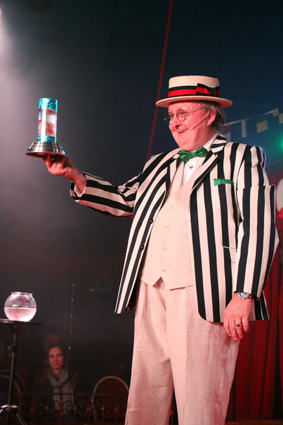 Martin conjures goldfish out of nothing
It's not every day you experience mermaids, and certainly not in an aerial ring. But you do in this year's show. The mermaid comes from South Africa and is called Sarah Florees and is the girlfriend of Francesco Fratellini. Both Sarah and Francesco were also with Arli in 2016, but with completely different acts compared to what they present this year.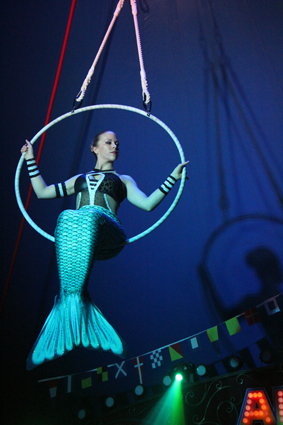 The South African mermaid Miss Sarah
The mermaid was followed by an entrée where Francesco wanted to fish. "You can't fish here," Bettina Arli says and Francesco then goes to the opposite side of the ring, as in the classic "don't play here" -entrée. Eventually Francesco cought a small dog.
In an Egyptian tableau you meet the talented Hungarian foot juggler Eva Varadi who could juggle with hula hoop rings, balls and cylinders and finally a cross with flames. Last year she entertained the audience the small Jutland Circus Krone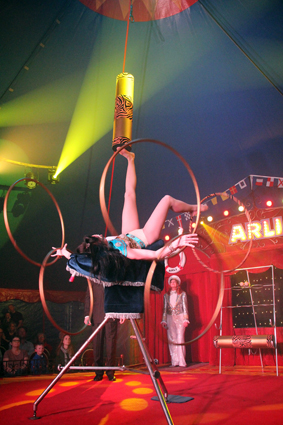 Eva Varadi
Eva Varadi is also featured in the first act after the break: Donnert Quick change when she and her spouse Richard Donnert change clothes at lightning speed. For example she changes dress in a cloud of silver confetti from an umbrella.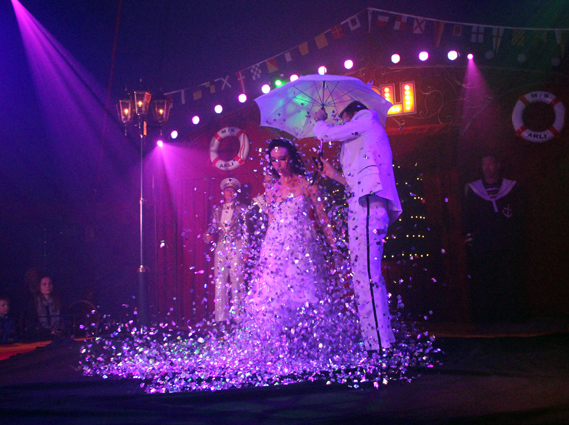 Donnert with quick change
Next came Francesco in the ring with a chest which turns out to contain a doll (his girlfriend Sarah). A fine act which ends up when he is "twisting" his girlfriend, see photo, My wife was not keen to try the same thing when we got home...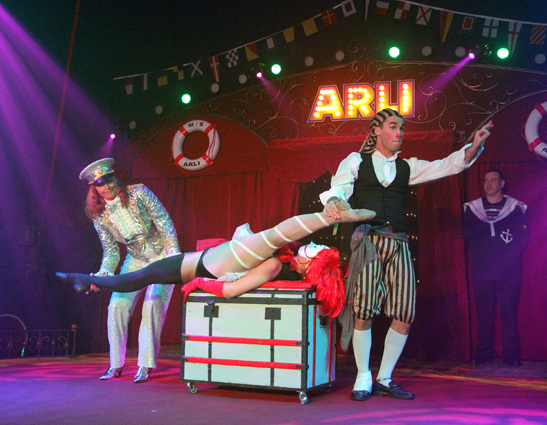 Francesco and Sarah
Olga Makejeva was then back in the ring with an act in vertical rope.
Last act in the performance was the glorious musical clowns Martino & Co. This yeat with Martin Arli as the August in sailor suits, Alexander Arli as whitefaced clown and Francesco as the last man in the trio. Alexander offers Martin 500 DKK if he can play the clarinet. But Martin can't play the clarinet. That, in turn, Francesco can. Martin offers Francesco 20 DKK if he will hide under a table and play while Martin with a clarinet mimes as is he was playing. There is a lot of fun in this all-new entrée with of course ends with a festive finale in which Alexander and Francesco plays trumpets and Martin trombone.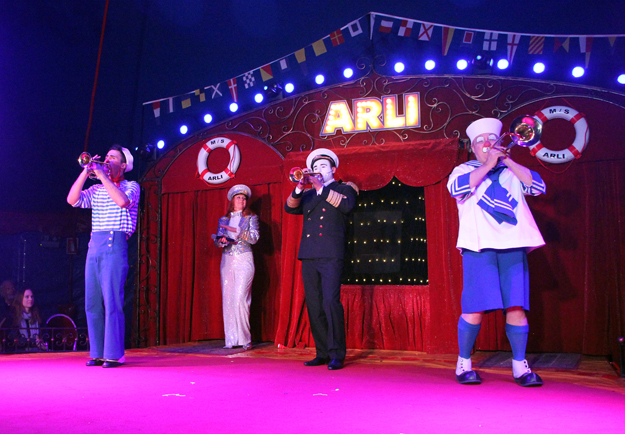 Martino & co.
The audience felt very well entertained during the nearly two-hour long show. A length of performance which is absolutely perfect for the many children in the audience.
I the finale Martin Arli paid tribute to his mother Lotte Arli, who this year celebrates her 60th year circus anniversary. Lotte's debut in the circus took place in 1957 in Circus Moreno. 14 years later, in 1971, she founded together with her husband Soren Arli (1935-2011) the small circus Arli, which since then has been on the roads every summer.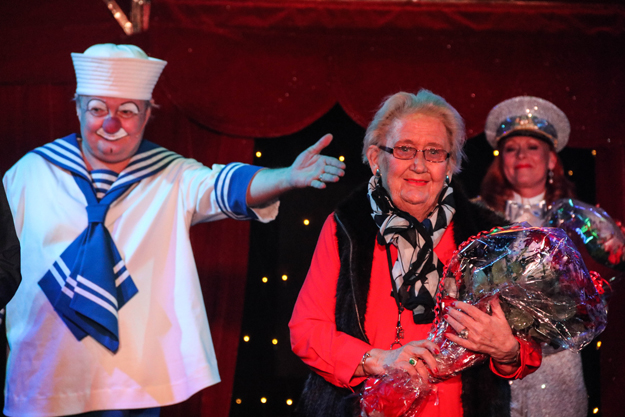 Lotte Arli. Photo: Jacob Boas Leitisstein
The talented young photographer Jacob Boas Leitisstein took numerous photos from the performance. Click here to see them.

28 March 2017
Circus Olympia 2017. The Swedish Circus Olympia will open the season in Oskarström on Saturday, April 1. In their press release they write (my translation):
For the 33rd consecutive year Circus Olympia, which has its winter quarters in Drängsered in Halland start on a six-month tour through Sweden. 170 Places to be visited from Skillinge in the south to Stockholm in the north and planning to have 200 performances.
The Bengtsson family has built Circus Olympia, from nothing to a large modern entertainment company. Each year they present a completely new international circus program. Circus Olympia is one of the most international workplace and has this year booked exciting artistic groups from 10 different countries. Most of them have never before worked in Scandinavia. It also features its own animal groups which also has been presented in some of Europe's most prestigious circuses.
The German clown Sidney Balder is back in the Circus Olympia with all new funny and original numbers. Trio Gaspar from Portugal presents two comic acts, one an advanced acrobatic act where the performers are balancing on wheels (rola-bola), the second the classic clown act with the comic taxi. The performance has two different aerial acts: Diana Nikuliceva from Latvia working high under the circus dome with what in circus language is calles tissue or silks. Ester Viljanen from Finland will get her debut as a circus performer in swinging trapeze, after studying at the circus school in Lahti. Rogerio Goncalves from Portugal does tempo juggling. The show ends with roller skate virtuosos Trio Nistorov from Italy.
Circus Olympia's own animal acts is of course part of this year's show. Niklas Bengtsson presents a new mixed group of animals, camels, horses, llamas and goats. Jessica Bengtsson present a group of six black Frisian horses. Henrika Bengtsson and Natascha Jarz appear with their mischievous but well-trained dogs.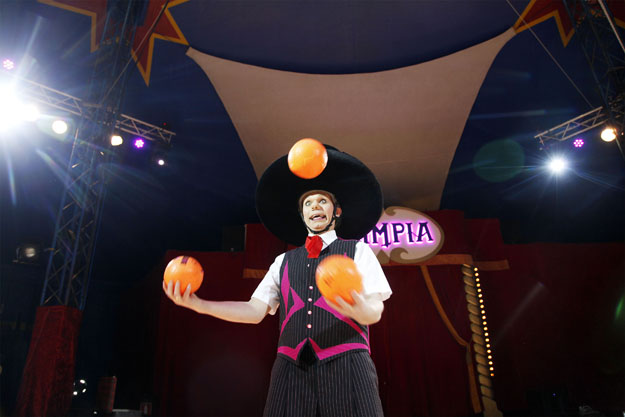 Sidney Balder. Until 2010 he worked together with his two brothers as the Balder clowns. They toured Denmark with Circus Dannebrog in 2008 and 2009. Then the brothers parted. Not as enemies, but because it became more and more difficult circus directors who could afford to employ a three-man clown trio. Photo: Linda Himsel (by courtesy of Circus Olympia)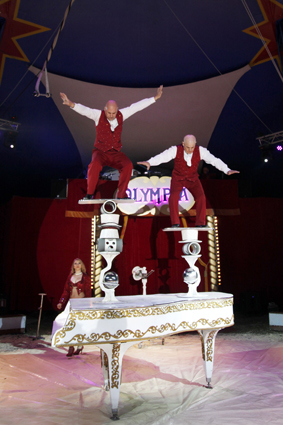 Trio Gaspar - rola-bola-acrobats from Portugal. The Danes saw them in Circus Benneweis in 2008. Photo: Linda Himsel (by courtesy of Circus Olympia)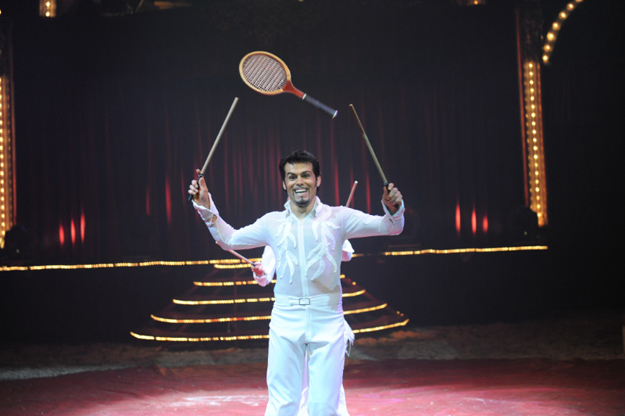 Rodgerio Goncalves - juggler from Portugal. The Danes saw him in the Circus Dannebrog in 2009, when Rud Kofoed took this photo and called the number for the year top act were Rodgerio almost hung his tennis rackets in the air. Rodgerio was also with Circus Olympia in 2012.

28 March 2017
Small circuses in the southern part of Sweden. Currently, you may experience a few small circuses in Scania (the southernmost province in Sweden).
Circus Rhodin, which is owned by Diana Rhodin open the season on 1 and 2 April at Bunkeflostrand just south of Malmo. Diana Rhodin is an accomplished horsetrainer and toured Denmark with Circus Dannebrog in 2000 and Circus Benneweis in 2002. Circus Rhodin use a tent, she a few years ago bought from the Danish Circus Arli. After Bunkeflostrand Circus Rhodin will visit Tygelsjö south of Malmö.
The German / Swedish Circus Bambino owned by the Weisheit family back in Sweden. Currently they play in the vicinity of Lund.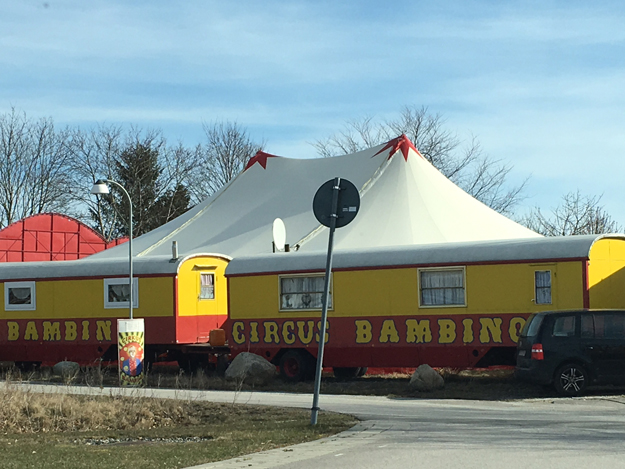 Circus Bambino. Photo: Martin Lasson Berglund

26 March 2017
Circus Arena 2016. Season opening took place in Copenhagen on 23 March. Rud Kofoed, journalist and for many years reviewer of theatre and circus performances for the leading Danish tabloid enthusiastically hands out six stars and writes (Zarro Zarro's translation, somewhat shortened compared to the Danish text).
An extraordinary success!!
Pierre Marchand is an outstanding diabolo player, dynamic and super-skillful, featuring an impressive act - second to none.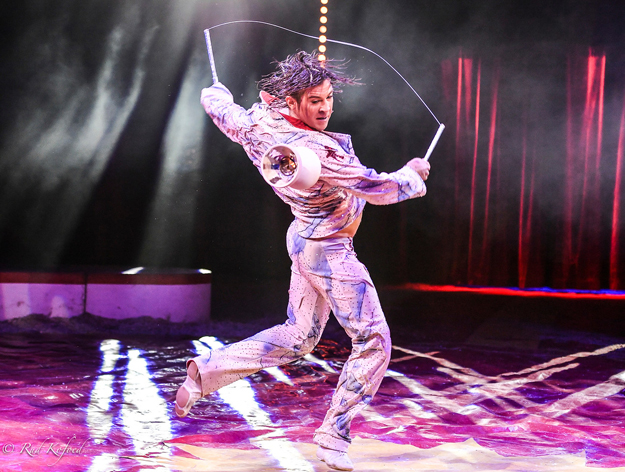 Pierre Marchand got his breakthrough when he in 2004 got a gold medal at the European Youth Circus Festival in Wiesbaden. Photo: Rud Kofoed / Ajour Press
Encho present hand-stand as it is seldom seen. Both have won medals in Monte Carlo.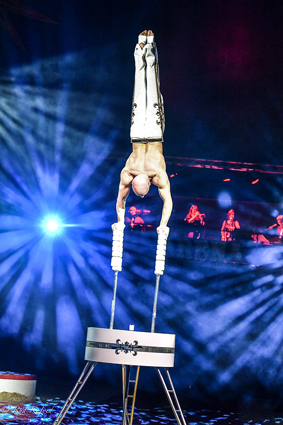 Encho. Last we saw him in Denmark was in 2006. A few months later was awarded both the Audience Award as a silver clown in Monte Carlo. Not many understood why the jury did not give him a gold clown. Photo: Rud Kofoed / Ajour Press
The master behind this success is Mille Gori - she is the princess of this show: ideas, scenario, instruction and choreography, as well as the specially composed music.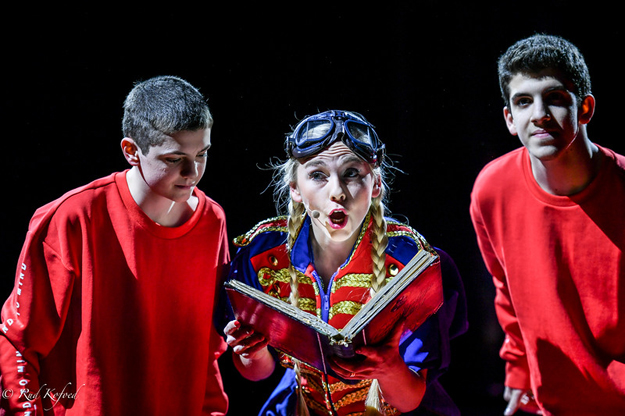 Motor Mille aka the young actor Mille Gori, well-known from children programs in DR television. Photo Rud Kofoed / Ajour Press
Mille's main idea is that a show can be created by imagination - proving that dreams can become true.
Kris Kremo, 65, world famous juggler, juggling three objects of each kind.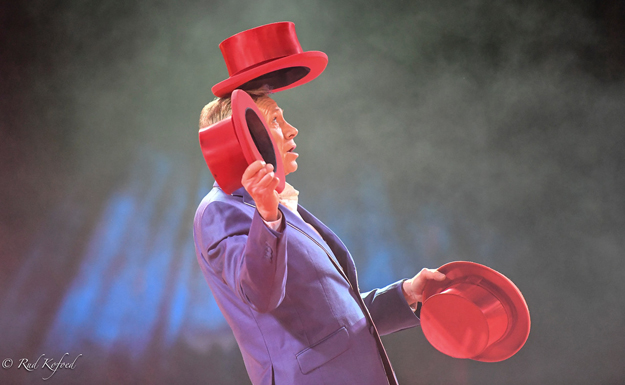 Kris Kremo. He was for several seasons at the Open Air Stage in Copenhagen's Tivoli Gardens also spend a single season - 2002 – with Circus Benneweis. Photo: Rud Kofoed / Ajour Press
Jackie Berdino's wife Laura, presents Arab horses, their daughter Scarlett features Shetland ponies, at the age of four - her first appearance in public.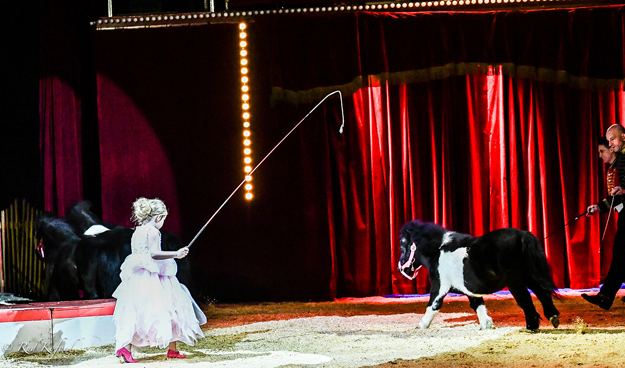 Laura and Jackie Berdino's daughter Scarlet. Photo: Rud Kofoed / Ajour Press
Patrick Berdino, 25, presents with his cousin Oliver, 23, a knock-about-act on table - very funny.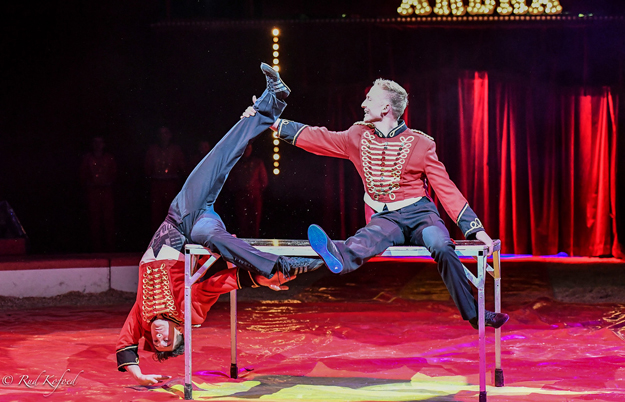 The cousins Patrick and Oliver Berdino. Patrick is son of Jackie Berdino and Oliver of Suzanne Berdino. Photo: Rud Kofoed / Ajour Press
Jidinis Magic Company amazed with spectacular illusions.
Keryazon Brothers: Angel, 17, and Radostin, 14, presented a quick and slick dance-and-acrobatic act.
Diana showed the spectators that dachshunds can be taught to perform.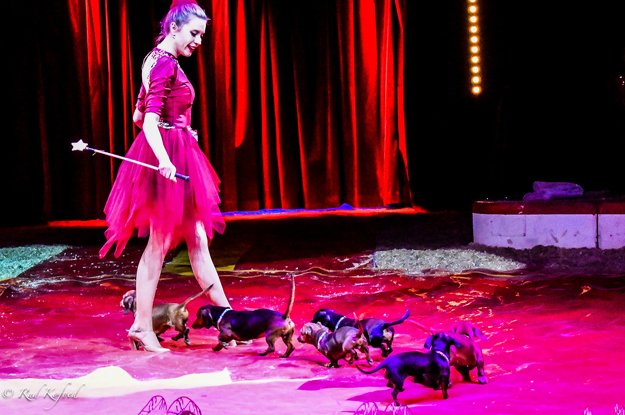 Diana Vedyashkina and her small dachshunds. Photo: Rud Kofoed / Ajour Press
Duo Costache performed a breath-taking perch act.
Mille featured advanced stunts in a swing-trapeze, with bungee-jumps - amazing.
The clown Jimmy Folco, inspired by Buster Keaton - had everyone laughing.
Rudi Althoff displayed an elegant animal show: dromedaries and lamas, then three African elephants.
Ekaterina Karmashova treats the audience to a beautiful aerial act.
All in all -- a wonderful show, also geared at children.

24 March 2017
Circus Arena 2017. Jacob Boas Leitisstein was among the visitors when Circus Arena opened the season on 23 March. Click here to see his photos from the show (slide show will not be completely ready until sometime Saturday 24 March).
You can read a review of the performance when this website is updated on 1 April.

24 March 2017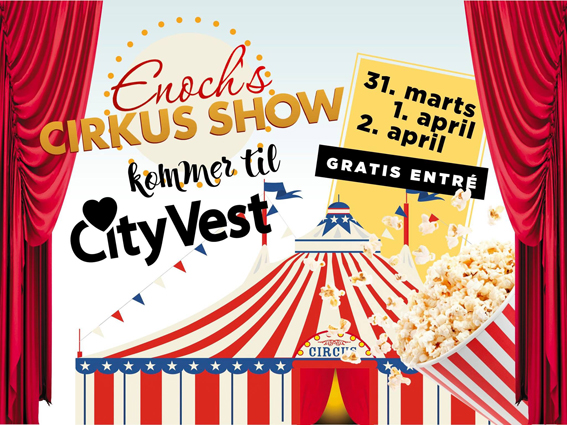 Enoch's Circus Show in City West, Aarhus. So far it has only been during the winter holidays you have been able to see Jimmy Enoch's Circus Show in various shopping malls. But the weekend 31 March to 2 April Jimmy produces a performance for City West shopping centre in Aarhus. In the show you can see Jimmy himself with glass balance on bicycle, Josefine Igen's dogs, the clown Don Christian and Flying Superkids Junior. Free admission. See time for the performances at What's on.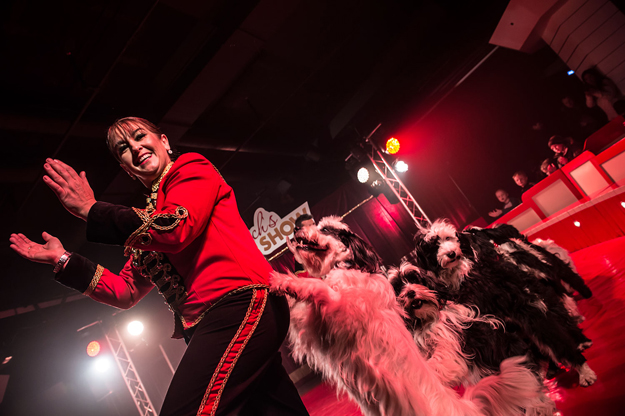 Josefine Igen's lovely dog ​​act could be seen in Denmark in Circus Dannebrog in 2006 and in Circus Baldoni in 2013.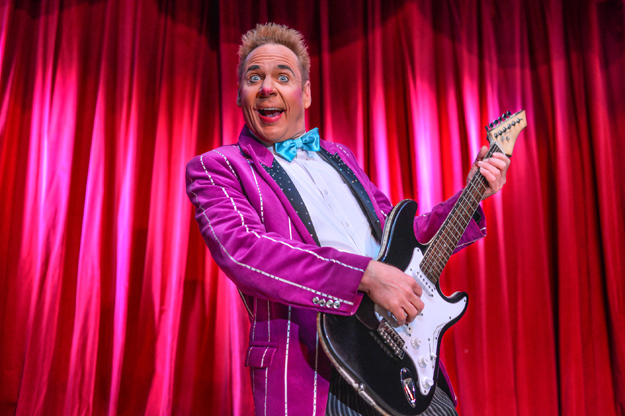 The Austrian clown Don Christian had great success in Circus Benneweis in 2010, 2013 and 2014.

24 March 2017
End for Circus Zorba. The Norwegian Circus Zorba has announced that it is definitely over. The Swedish magician and circusfriend Mr. Toledo tell that Ronja Gujord writes (my translation):
"Spring has come and many expect to see Cirkus Zorba on the Norwegian roads. Unfortunately, we have now taken the difficult decision to close down the operations of Circus Zorba. Thus, you will not any longer meet us on the Norwegian roads. It has been an honour to be allowed to take over the circus from my father. Running a circus is both difficult and hard but at the same time it has given me memories and experiences for a lifetime. Thank you so much to everyone who has supported us and visited our show - you have made it possible for us to bring unique and entertaining culture to people all over Norway!"
Cirkus Zorba was a medium sized circus which was started by Thor Gujord in 1991. They did not tour in 2014 and 2015, but resumed the tour in 2016 with Thor Gujord's daughter Ronja as director. But now it is definitely over. The only two circuses on Norway's roads this year is Circus Arnardo and the just restarted Circus Agora.

22 March 2017
Circus Baldoni - now with musical clowns. Baldoni was the first Danish circus to open the season. Season opening took place in Lyngby 22 March 2017. As something new they have plastic bucket seats instead of benches which have reduces the total number of seats on the two rows of ringside chairs and the 5 rows on the grandstand from 450 to 414. But it has clearly improved the comfort for the visitors. New this year is also a nice new backdrop. And the "orchestra" consists this year apart from pre-recorded music of a drummer with real drums and not just a few acoustic drums.
The 2017 performance is very nice. It is Baldoni in top form and with the features which is a "must" for Baldoni fans. For example their welcome song and their closing song. And then of course the lion Leonardo's dialogue with the circus director René Moenster Baldoni. Leonardo, who is a ventriloquist's doll must say "ladies and gentleman, things gets worse and worse" and tell that "I love children - with sauce and potatoes ".
As something new Circus Baldoni has this year musical clowns. Their usual clown Danilo is this year assisted by the super musical Eddie (Eduard Janacek) who the audience met last year as a juggler and rola bola-acrobat. Between the acts in the show, he also tries the classic juggling gag with throwing 7 teaspoons into 7 glasses. He fails again and again. Then to succeed at the very end of the performance.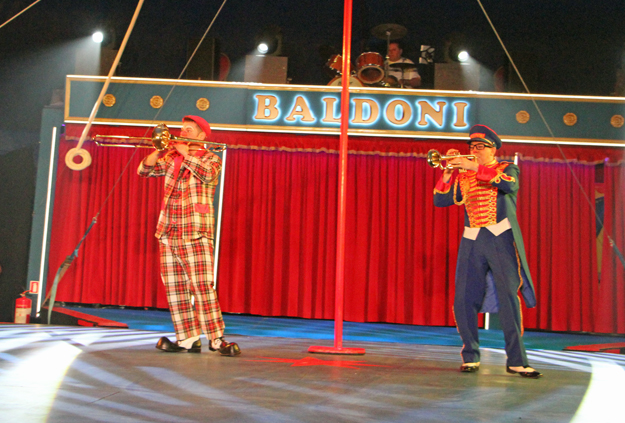 Danilo and Eddie opened the show with music, respectively on trombone and trumpet, which was followed by the opening with all artists in the ring which in Circus Baldoni is a scene. The artists waved with Danish flag and sang Happy Birthday as Circus Baldoni this year can celebrate their 15th year birthday (anniversary).
First artist act was Emmanuel Zuma and his 3 Mombasa Boys, who appeared in pole. Then we saw an elegant and charming act with trained house cats, presented by Fatime (Fatime Horvath) with the assistance of her spouse Peytchev (Peytchev Plamen Metodiev). Also, the cats seemed to enjoy the act! Years back Fatime did a great hula-hoop act where Peytchev lifted her in several positions. Then she switched to the act with cats, which is less physically demanding than her old entrée – nobody is getting any younger. Then outcome has been one of the best cat acts you can see today. .
Danilo and Cindy the had an entrée where Danilo first tried to shoot with arrows and Cindy then tried to throw knife with a member from the audience (on opening night the magician Robert Mark) as a target.
Next came Mombasa Boys back in the ring, this time with a well presented Limbo act.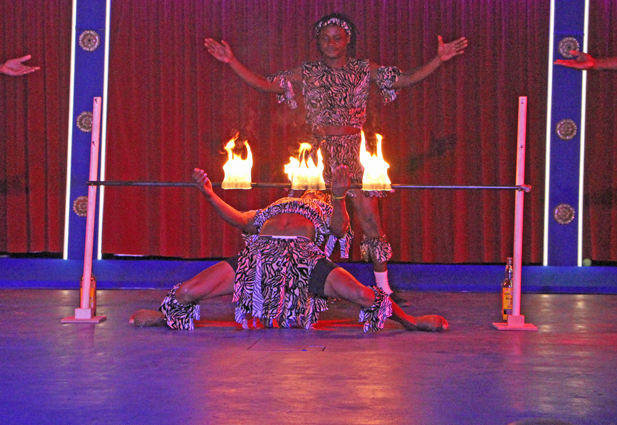 One of the four Mombasa Boys with great limbo
The last number before the break was Agnes Nemeth and Roland Dittmar's excellent entrée where Roland finds a girlfriend in a tiny house. As those wo has seen the act will know Agnes is much higher than Roland. Her height is above 2 meters and Roland is a but higher than 1.60 meters. The married pair both have big spoon spiced with humor… Last year they toured Jutland and Funen with Danish Circus Krone. This year time has come for persons from Zealand to be entertained by the odd couple. The couple toured Denmark with Circus Arena in 2008, but the number didn't work well in Arena's large tent. Furthermore Dittmar's act is today far better than in 2008. The Germans know the act from Circus Flic Flac.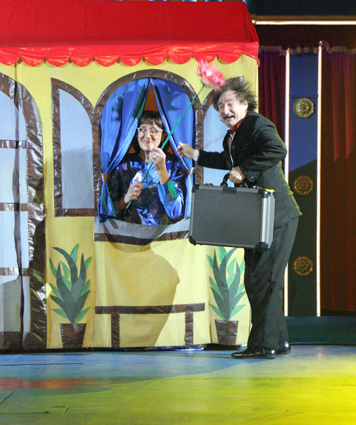 Roland sees a lovely lady in the window of the tiny house
The comical act with the trampoline, which is "dressed" as a swimming pool with a 3-meter diving next, is always a success. At Baldoni it was presented by Mr. Jumping aka Peytchev Plamen Metodiev. He has two times before been with Baldoni, but according to the printed program he is the artist which the audience most times have asked to be allowed to see again.
We've seen it before. But you can enjoy Danilo's version of Renée & Renato old 80's hit Save Your Love again and again. The gag with the mop as wig is as far as I know invented by the Swiss clown Andre Broger, but perhaps best known in José Michel's version.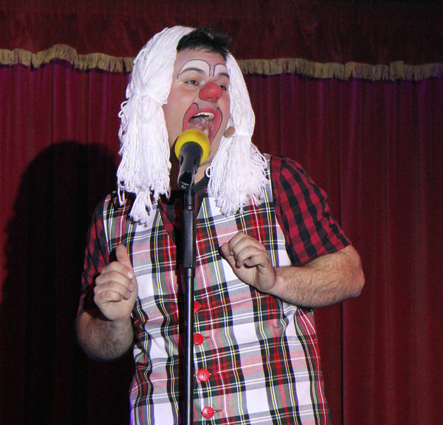 Danilo "sings" Renato's voice in Save your love my darling, save your love
Roland and Agnes Dittmar then came back with a follow-up to their first entrée. This time the crippled Roland find a lamp and the spirit of the lamp grants him 3 wishes. How he uses them, I will not reveal.
Maria Janacek had then a entrée in vertical rope.
Danilo and Eddie were then assisted by Cindy in the musical clown entrée "Do not play here" where Eddie managed to play many different instruments (even two trumpets at once) before Cindy was allowed to put head to " My hat, it has three corners ". See photo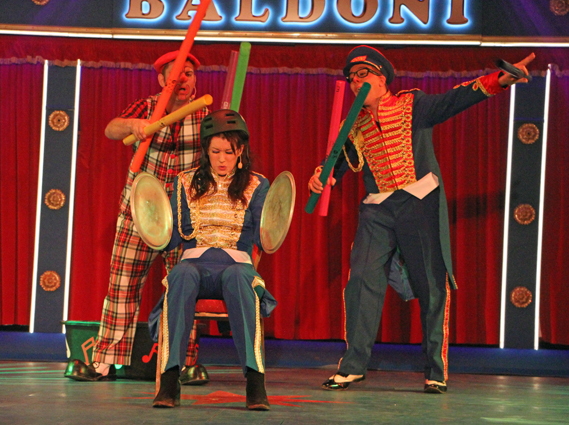 Last artist act was Mombasa Boys partly skipping and partly building impressive human pyramids.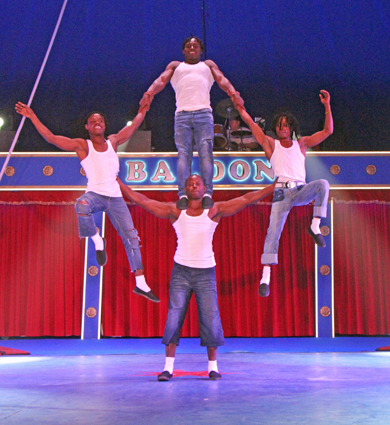 Mombasa Boys
The closing act was a kind of dance entrée with first Danilo and René and then all the artists wearing boxing gloves. It went into the grand finale with Baldoni farewell song "We've been the best of friends" and all the artists in ring.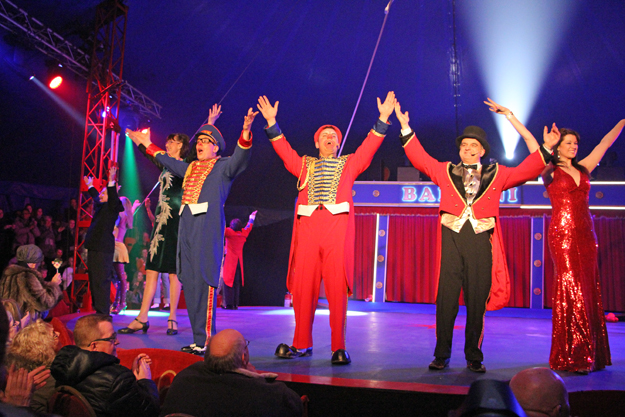 Grand Finale. All photos: Ole Simonsen. Click here to see a number of fine photos shot by the talented young photographer Jacob Boas Leitisstein.

22 March 2017
New tent for Circus Summarum. Enoch Show Production ApS has taking over the enterprise of renting tent to DR Television's Big Band's and the Muscular Dystrophy Foundation's performance Circus Summarum. Enoch Show Production has bought a brand new tent for the purpose. In previous years Circus Summarum has rented tent from Circus Arena / the Berdino family.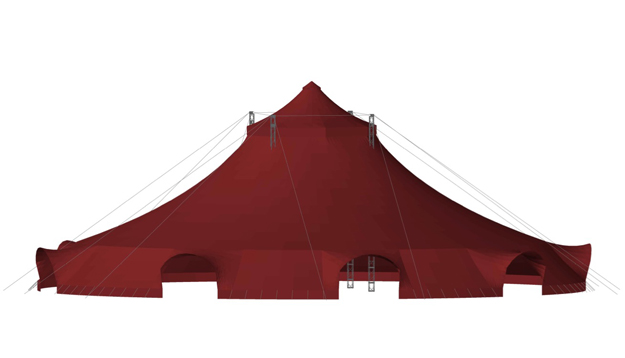 Drawing of the new tent
Jimmy Enoch has provided me with some facts about the new tent:
- Northern Europe's largest tent for events, entertainment, shows and circus
- The tent is the only of its kind in Scandinavia.
- Spectator capacity of 2,500 guests, all on fixed and numbered chairs
- Spectator capacity of 5,000 standing persons to concerts / events.
- The tent is 60 meters in diameter and has a height of 23 meters.
- The height of the side of the tent is 5.5 meters, which means that you without problem can drive a van and a semitrailer into the tent
- The tent dome has a diameter of 15 meters.
- You need no less than 10 semitrailers to transport the tent and the grandstand
- Everything is produced in Italy by some of the best tent specialists available. (The tent is a Scola Teloni tent. Poles and grandstand is made by Anceschi)
- Both tent and grandstand is of course, approved and certified.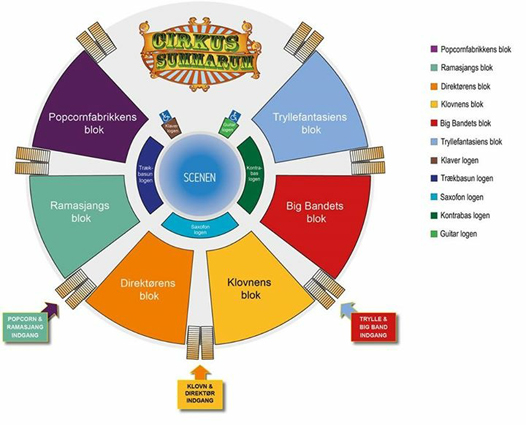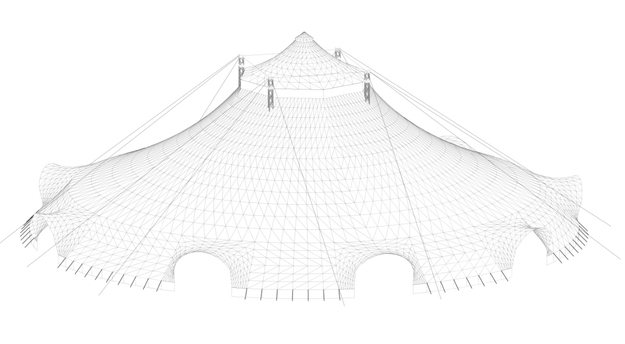 Another drawing of the tent and Summarum's seating plan in the tent.
Despite the name Circus Summarum is not at circus but a children's theatre performance taking place in a circus environment. The performers are actors, not artists.

18 March 2017
Katja Enoch turns 50 on 21 March. Katja Enoch is the youngest of Solveig and Haddy Enoch's 4 children. She is a real circus child who grew up in Circus Dannebrog, where she has participated in numerous performances since the Haddy Enoch family restarted Circus Dannebrog in 1977. Her versatile artist training allows her to know all the artist's basic disciplines and she has used her skills in many contexts: as part of the family bike act The Haddies, as aerial acrobat (vertical rope and Roman rings), with quick change and as a talented magician. She masters tap dance, and as a dancer, she has several times been part of Circus Dannebrog's circus ballet. For some years it was Katja who presented Circus Dannebrog's horses until the family after Haddy Enoch's death in 2009 decided not to have their own animals. In the following seasons Katja has been working in the ticket office and with kiosk sales. Until she and her husband Abdelaziz left Circus Dannebrog at the end of season 2016 she was head of the ticket office.
Today Katja and Abdelaziz lives with their son Joseph at nearly 4 years in Sdr. Hygym by Rødding in the southern part of Jutland. Katya's daughter Nathalie from a previous marriage goes in 3 grade at Ribe Secondary School and is as her father a skilled foot juggler. And the circus blood still flows in the veins of the family so they has not left show business although they no longer are traveling with a circus. Instead Katja and Abdel Aziz give lectures at schools, colleges and shopping centers, etc. all over Denmark. They train pupils in juggling, acrobatics and aerial acrobatics. The pair also offers entertainment with balloon animals, coin catch, adagio acrobatic and a fire show. The birthday is celebrated in the home in Sdr. Hygum.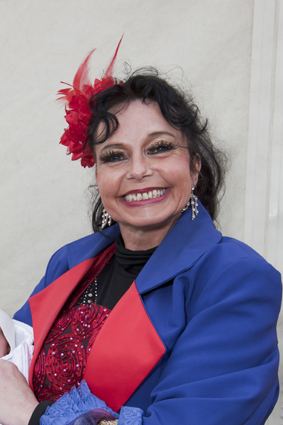 Katja Enoch. Photo: Lise Kokholm

17 March 2017
Circus Brazil Jack 2017 - classical circus when it is best. Brazil Jack opened the season in Malmö in the southern part of Sweden on Thursday 16 March. Everything went well and without the imperfections that sometimes can be seen on an opening night.
The approximately 2 hour long performance is a very strong performance presented in a brisk pace and without any superfluous breaks. There is not a single act of the kind you sometimes sees just as a "filler". As usual in Brazil Jack there's no ringmaster. Just the circus queen Carmen Rhodin, who welcomes and says goodbye when the performance is over. Brazil Jack deserved many full houses during this year's tour.
The tent is old with quarter pools and seating on wooden benches with and without backs. But the lighting is now with modern LED spotlights, and the 6-man orchestra is extremely well-playing.
This year's run-in clown is Mr. Lorenzo from Italy. He is clearly better than when I saw him at the Budapest Festival in 2016 and does not pull his entrées to long. And the few times he invites spectators in the ring, he has etiquette enough to accept a rejection. Many run-in clowns could learn something from that!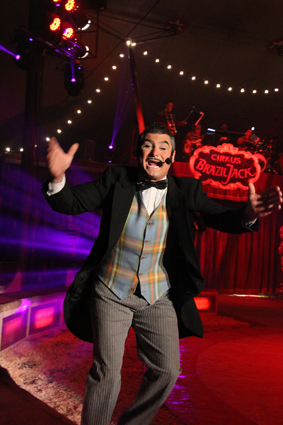 Mr. Lorenzo
The show begins with the well-known clap your hands gag where the clown divide the audience into 3 sections clapping / shouting in line - or at least trying to do so.
Then all the artists enter the ring, and Carmen Rhodin welcome.
First artist number is Steacy Giribaldi who with charm and elegance run up and down a ladder that stands freely in the air, She can even can go from podium to podium on her ladder (see photo). The Danes saw her last year in Zirkus Nemo.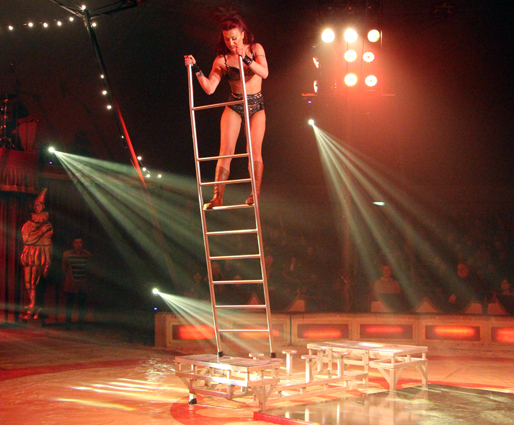 Steacy Giribaldi
Lorenzo now has a short reprice where he hunts a mosquito, tries his luck with ladder balancing and finally is stripping.
Next comes the Wolf brothers in the ring and show their formidable comedic trapeze entrée which could also be seen at this year's circus festival in Monte Carlo. The Swedish audience saw them last time in Circus Olympia in 2013, but since then they have become much better. Danes will remember them from Circus Arli 2011 and 2014.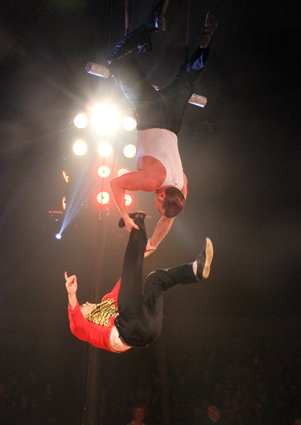 Wolf Brothers
Next act was Toni and Emilia from Donnert family riding pas de deux.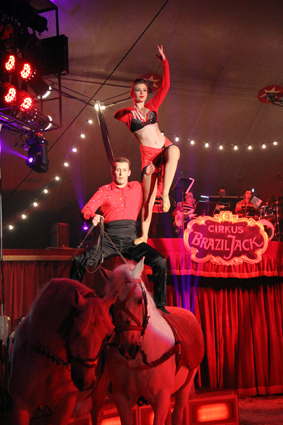 Toni and Emilia Donnert
Then we meet the 32-year-old Ukrainian strongman Deniz Ilchenko. Strongmen in circus are today a rarity – Danish Circus Baldoni had, however, in 2016 the not quiet young Hungarian Hercules Jozsef Pakuza in their performance. Deniz is clearly better - but also much younger - than his Hungarian colleague. He juggles with tires, pull a car by a bit and spins a tree trunk around his the neck. A feat, which he then repeats with 4 people on the tree trunk, see photo. At the end of the entrée he is run over by a car.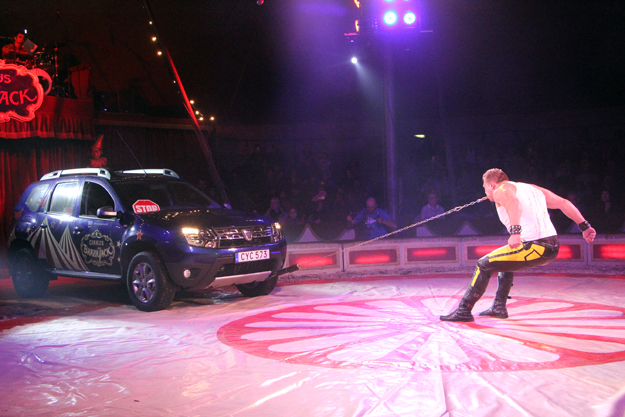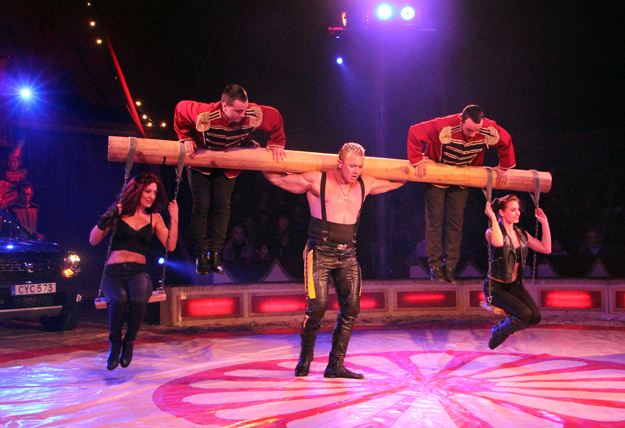 Deniz Ilchenko
The last number before the break is a kind of charivari, headed by Mr. Lorenzo together with the Wolf-brothers and three members of Donnert family. It is a cheerful entrée with human pyramids, Mr. Lorenzo's attempt to be a strongman and the classic gag where at springboard breaks as a spectator jumps down on it.
After the break we met Neyenne Frank who is also a member of the Donnert troupe with an elegant and spectacular contortion act.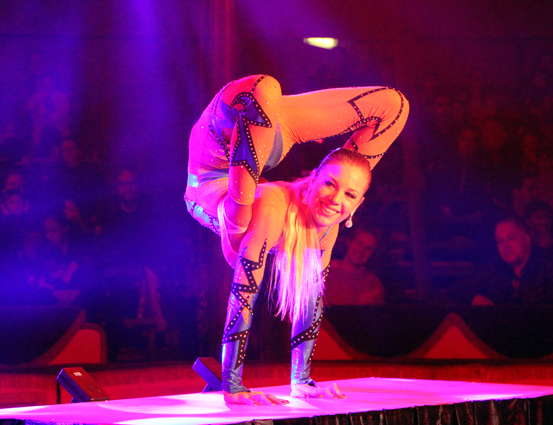 Neyenne Frank
After a short reprice with Mr. Lorenz time has come for the Wolf brothers' well-known knockabout table act where they are dressed as Scotsmen.
Then Mr. Lorenzo presents his version of the well-known entrée where first the clown and later members from the audience is playing O sole Mio on bells.
Last but not least the audience meets the Donnert family with trick-riding. They are today clearly better than when they were with Benneweis in 2013 and Brazil Jack in 2014. In addition to the classic jumps to and from horses they master both a forward and a backward somersault on horseback. They also master the backward somersault from horse to horse and even in a version where the jumper stands on the back of another acrobat.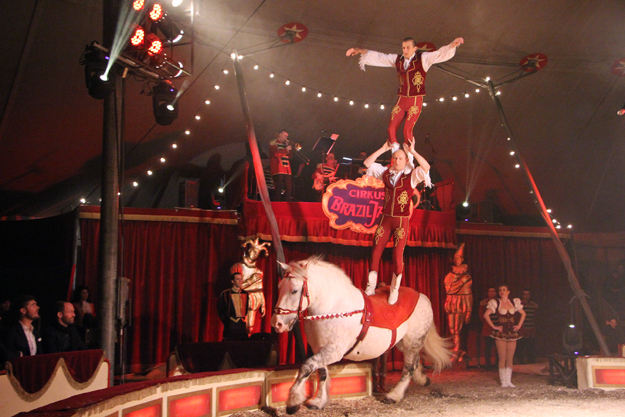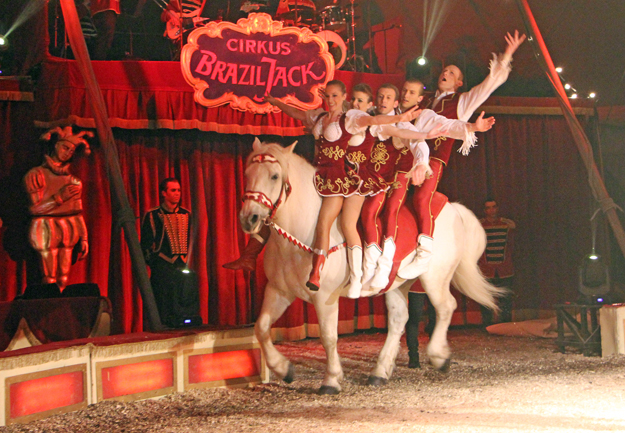 Donnert Family. Click here to see more photos from the performance.
In the grand finale you are surprised to realize that only 10 artists can make such a great circus. Well done. Hals- und Beinbruch as you say in the circus language.

13 March 2017
IT ALL HAPPENS IN PARIS As our readers surely have noticed, this headline has recently been brought less often than in earlier years.
Circus and other visual shows have lost a number of fans - this is true worldwide, thus also for Paris, that has lost a sizable portion of tourists, linked to the terror attacks Paris has suffered.
Together with my Paris correspondent ZARRO ZARRO, I have decided not to repeat write ups that grosso modo are the same as previous ones. However, ZARRO ZARRO will continue to send write ups on mainly visual shows, that deserve mentioning.

11 March 2017
On March 10, I mentioned Benny Schumann's 50th anniversary as a juggler with plates, etc. in spin. There are no video clips of the act as it looked in 1967. But Benny has found an 8mm movie from 1968, where he did the act at the music hall Lorry in Copenhagen. Click here to see the movie.
As you can see on the film Benny used at that time glass bowls and no plates on the sticks. At that point, he was inspired by Eric Brenn, who had been lucky to find some light weight glass bowls in U.S.A. with a small rim. Unfortunately, it was only possible for Benny to find bowls, weighing more than 1 kg per peace. It made the act more complicated in terms of both table and sticks concerned. This meant, unfortunately, that there was so much space to "play" during the act when bowls were about to fall down and Benny was tied to make sure everything just ran properly. It was not without danger with these bowls both if you got one in the head or if they fell down creating risk for large pieces of broken glass that could even hit members of the audience. Due to this Benny later switched from bowls to plates. "But I still look after bowls every time I come into a porcelain / glass store" Benny Schumann says.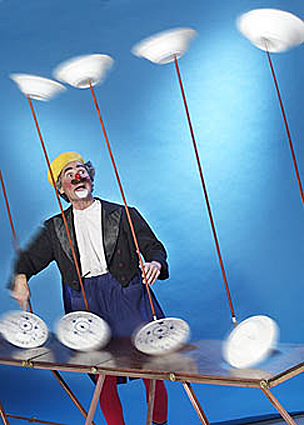 Here is a photo where glass bowls are replaced by plates

10 March 2017
50 years with spinning plates. Today, Friday 10 March, it is the 50 years ago since Benny Schumann first time presented his plate spinning act. It happened when Circus Schumann opened the season in Funen Forum in Odense. As son of Pauline and Albert Schumann he had had spent his entire life in circus and was trained as a horse trainer, rider and multi-artist. His aunt Adele had taught him to dance on the tight wire and when Circus Schumann in 1964 had the plate spin juggler Eric Brenn among the performers Adele said to Benny that it would be nice if he did such an act. A few weeks after, Benny started training. In 1967 the act was ready for presentation to an audience and he made his debut as plate spin juggler first under Circus Schumann's performances in Funen Forum and later during the season in the Copenhagen Circus Building. After this season started Benny Schumann his own carrier as a solo artist in Malmo on the Crown Prince, now using the artist name Ric Benny. With this act he toured worldwide for the following 10 years. Then Benny and his wife Marianne felt that it was time to stop travelling when the children Julia and Patricia were to begin school. They could see that there was many children's theater, which had great success with performances at schools, libraries, etc. But there were no artist performances for such institutions. This gave Benny Schumann the idea to begin making the child-friendly artist and clown performances, which he still does today. The plate spinning act is still included in his solo performances, but sometimes replaced by other acts when he is visiting a place where he has shown it several times before.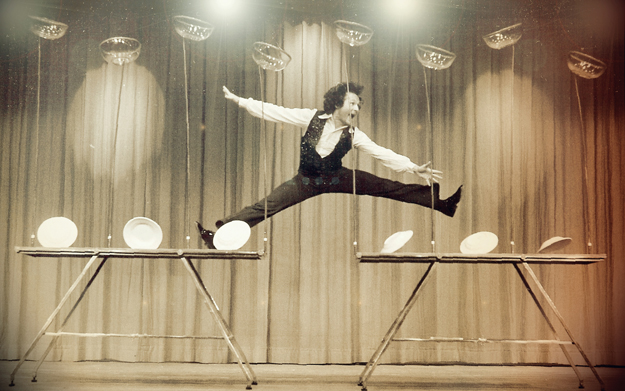 Benny Schumann with the flying plates. From Benny Schumann's collection.

8 March 2017
Circus Agora 2017. The Norwegian circus Agora was established in 1989 by the tight wire acrobat Jan-Ketil Smørdal, who then was 25 years old. It grew and quickly became a medium-sized business with nice programs. Since Agora got problems and was declared bankrupt in November 2008. It started up again in 2009, but the season ended with another bankruptcy. Since they have not been touring, but Jan Ketil has always had a dream to restart his circus. And he hopes this year to fulfill his dream with season opening in premiere at Straume Næringspark in Godvik close to Bergen on 22 March.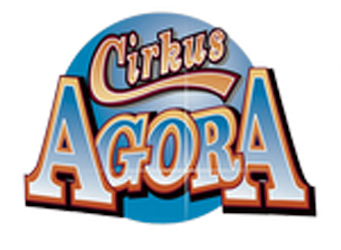 I quote from the website www.cirkusagora.no (my translation)
From Moldova Cirkus Agora gets a visit by the juggler Antonin Rapolli. Together with his partner Helena he has thrilled thousands of people in some of Europe's largest and most renowned circus.
Boffo is perhaps the world's smartest dog, and he loves to train and perform. Along with beautiful Helena from Slovenia Boffo present his unique tricks for the first time in Norway.
With his funny and silly gags the clown Pepino is this year funny highlight. Pepino comes from the Czech Republic.
Leroy Quaiser from Germany is an excellent hand stand acrobat. His technical skills are second to none in this exciting and demanding discipline.
High under the big dome Sandra Quaiser present her act in tissue.
Roberto from Italy serves pizzas on spinning plates at a furious pace.
David Roberto from Italy does breakneck balancing on rola bola.
Additionally there is a pony act, an adorable duo from Finland and a Slinky.
David Roberto is probably the same as David Robert, who in 2014 appeared in the Swedish Circus Brazil Jack and the following year in the Circus Arli.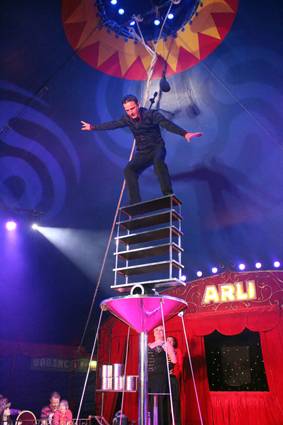 David Robert Circus Arli in 2016
The large Norwegian Circus Arnardo starts as mentioned earlier on this page the season on 11 April. Circus Minimax is on tour in 2017. The same applies probably to Cirkus Zorba. Circus Merano has not toured since 2014. Thus, Arnardo and Agora seems to be the only circuses which this year will be touring Norway.

4 March 2017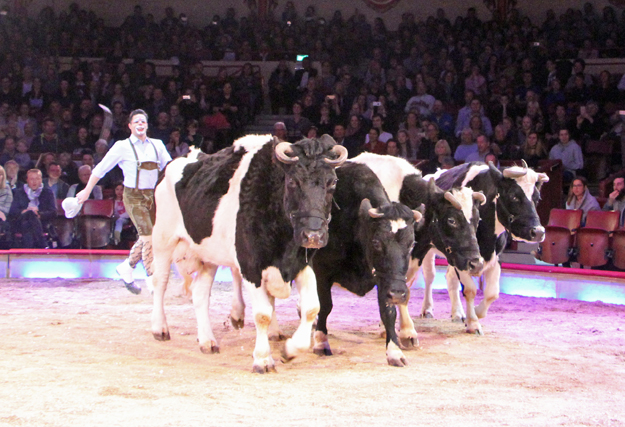 Danish stars in Munich. At the premiere on March program at Circus Krone in Munich the audience saw 4 Danish - or at least the Danish-owned - stars: 4 of Bernhard Kaselowskys cows sort funny interlude where they were presented by the star clown Tonito Alexis. On opening night with Bernhard standing in the background. Bernhard has six cows, but Bernhard's spouse Isabella Enoch Sosman of Danish Circus Trapez told med that the act worked best for Tonito with just 4 cows in the ring. Isabella Sosman was in Munich together with her son David and her staff members Judy Glosted and Louise Mandrup. Click here to see a number of photos from the performance.
Circus Krone's performances in the circus building in Munich are always some of the best you can see in Europe. There are 3 different programs: one in December / January (premiering 25 December), one in February and one in March. Click here to see various photos from the February show.

3 March 2017
Circus Arli 2017. Circus Arli's 2016-performance is a themed show, which is in the maritime component. The show is called "Ship Ahoy". It has of course the elegant ringmaster Bettina Arli as ringmistress
The signature act in Circus Arli has for all their 47 seasons been the clown act. In this year's show is the clown duo become a trio as Alexander and Martin Arli this year are joined by Francesco Fratellini - even with a brand new entrée.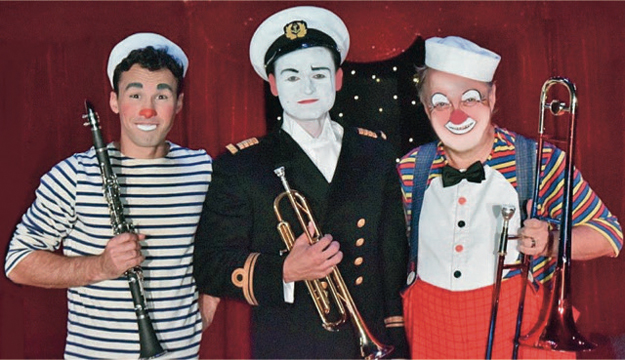 Francesco, Alexander og Martin. By courtesy of Circus Arli
The two crazy sailors "Francesco & Alexander" makes a terrific comical knock-about table act. Francesso Fratellini was also at Arli in 2016, but with completely different acts. But he began in 2016 together with Alexander to train on the knock-about act.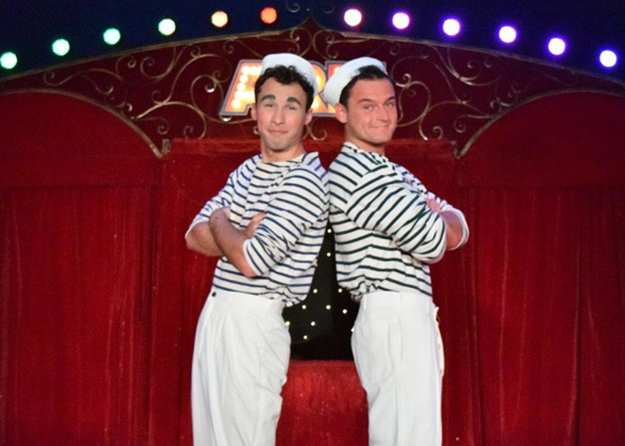 Francesco and Alexander. By courtesy of Circus Arli
Elegant floating under the circus dome the audience is meeting Francesco's girlfriend Sarah Florees in aerial hoop. Sarah also presents a dummy act. She was also with Arli in 2016, but with with hula hoop and contortion.
New to the audience in Circus Arli is the talented Hungarian foot juggler Eva Varadi. The audience in Jutland knows her from some seasons with the Danish Circus Krone. A single year, 2008, she was with Baldoni's Christmas Circus. Aside from this, she has not yet appeared on Zealand.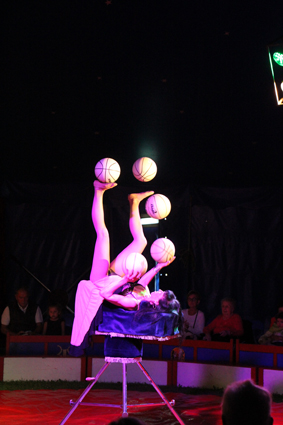 Eva Varadi. Photo from Circus Krone 2016
She brings her husband Richard Donnert. Together, the couple the present the fine quick-change act which you last year could see in the Danish Circus Krone, where the couple had their debut with the number.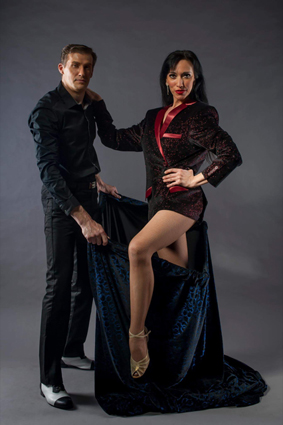 Quick Donnerts. By courtesy of Circus Arli
In addition to those mentioned the audience will meet Olga Makejeva from Latvia with vertical rope and acrobatics in the rotating ring. She was also at Arli in 2007 and 2008, but her surname was at that time Guseva. Previously, she has worked both in Danish Circus Baldoni and in Swedish Circus Olympia.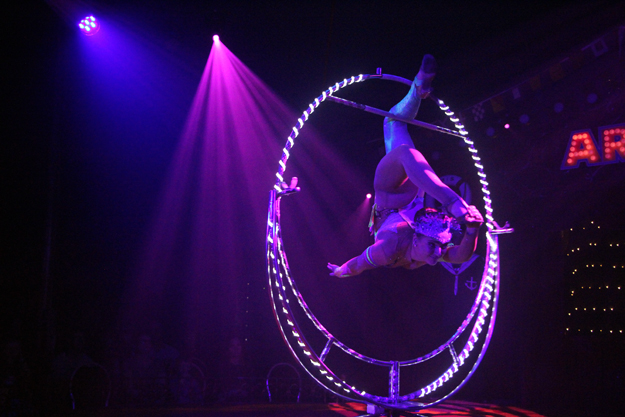 Olga Makejeva. By courtesy of Circus Arli
Circus Arli start the season on Møllebakken in Fløng (Copenhagen suburb) on 25 March.

3 March 2017
Circus Arnardo 2017. The Norwegian Circus Arnardo has published the names of the performers in the forthcoming season.
As usual, the circus princess Helen Arnardo will welcome the audience to this year's show. Among the performers are as earlier mentioned on this page the musical clowns Les Rossyann.
Further the audience will meet Zusana Smaha's Flying Dogs - three border collies on the Frisbee-hunt. Zusana Smaha is also one half of the juggling Duo Smaha which the Swedes met in 2014 in Circus Maximum.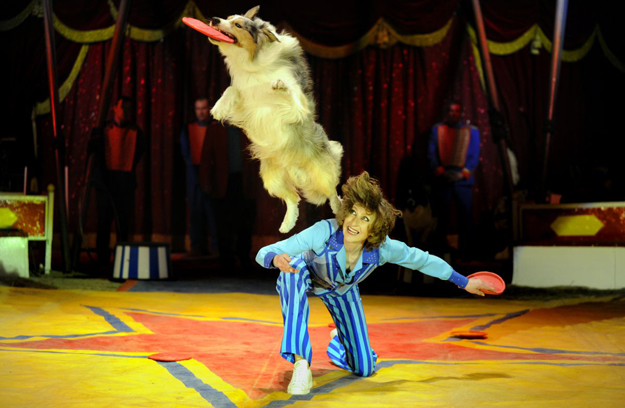 Zusana Smaha and one of the dogs. Press photo from Circus Arnardo. Photographer: Fridgeir Walderhaug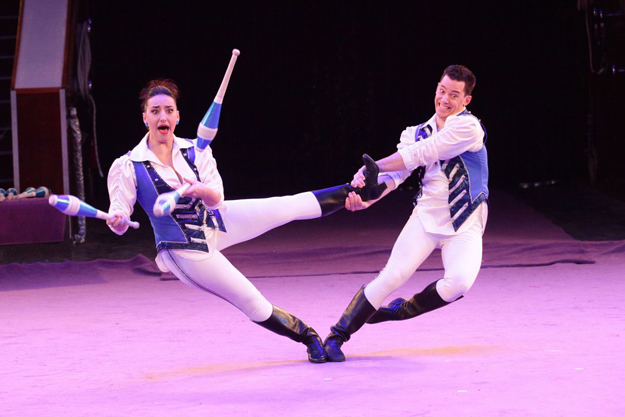 Duo Smaha. Press photo from Circus Arnardo
Nicoleta Badea does cloud wing high up under the big top.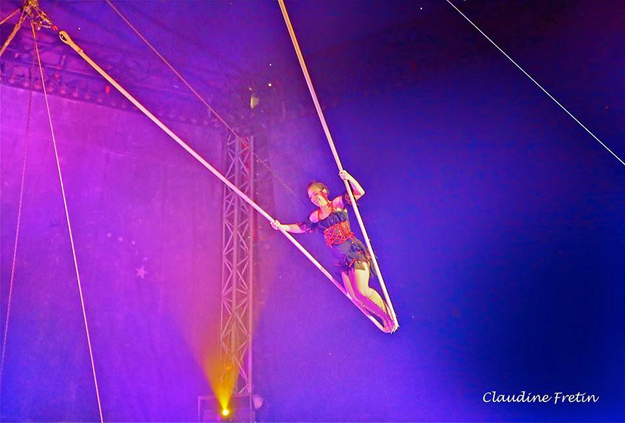 Nicoleta Badea. Press photo from Circus Arnardo. Photographer: Claudiene Fretin
Are and Paolina Arnardi enters this year in the ring with newly developed magic illusions. Ares grandfather, the Circus King Arne Arnardo, was Norway's most famous magician.
Their son Arne Otto Luigi Folco Arnardo present ponies in liberty dressage.
Peter & Klara shows a comical knock-about table act. I guess that it also is those who under the name of Adelina & Alex present a pole act which also includes hand-to-hand acrobatics.
From the Swedish Circus Olympia comes a group of camels, llamas and cows / oxen.
Truppe Cheban works partly in Russian swing, partly with a kind of rubber tires on which they jump. The Danes met the troupe in Circus Benneweis in 2011.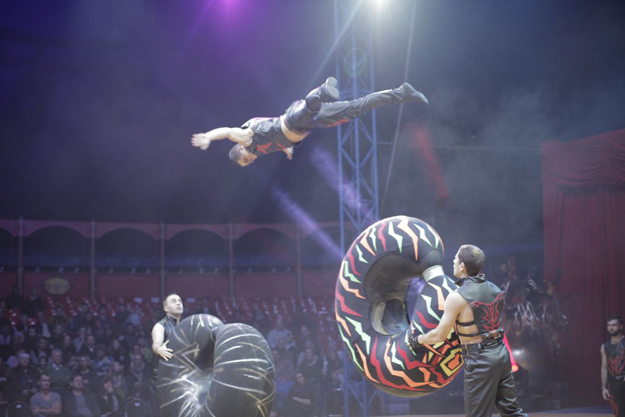 The Cheban troupe. Press photo from Circus Arnardo
Daniel Badea does with ladder balance.
Finally, the audience can look forward to see Duo Romance with a great romantic act in aerial straps.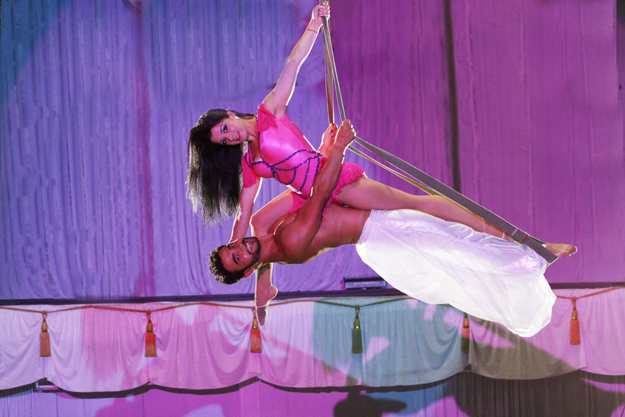 Duo Romance. Press photo from Circus Arnardo
There is season opening in Vaagsbygd (Kristiansand) on Saturday 11 March 11. From April 21 to 30 Circus Arnardo visits the Norwegian capital Oslo.

28 February 2017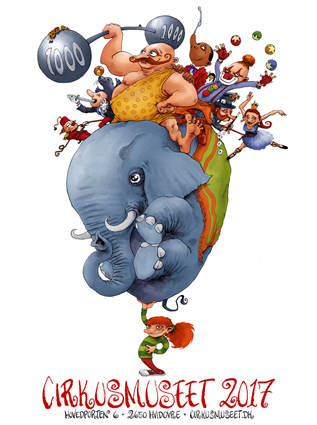 New annual poster from the Circus Museum. The Circus Museum at Hvidovre, Copenhagen Circus Museum continues the tradition with having an annual poster.
The 2017 poster is now on the street, and the museum is very pleased with the results which that they hope will create great joy on many walls. The poster is created by cartoonist Adam O. who among other things, has made several critically acclaimed books.The poster can be purchased in the museum shop for 50 DKK

24 February 2017
The sea lion trainer Addie Jepsen turns 75. On Wednesday 1 March the sea lion trainer Addie Jepsen can celebrate her 75 years birthday. Addie was born into a circus family: Her grandmother was married to director Joseph Bruun from the Danish Circus Royal and had from the time before she met Joseph a daughter Rosa, who was Addie's mother. Addie's father was the actor and entertainer Albert Watson. Addie was attracted to life in the circus and worked e.g. as tightrope dancer in Circus Royal. However, her desire was to work with animals and in 1963 she joined the newly established Circus Vivi, which had rented some horses from Joseph Bruun. The owner Vivi Schmidt, who was adopted by Louis Schmidt, who for many years ran the large Circus Louis, was Addie aunt as she was sister of Albert Watson. In the following years Addie Jepsen worked in Circus Vivi and learned how to handle sea lions as Vivi Schmidt was a well-known and talented sea lion trainer. Circus Vivi closed at the end of the 1968 season, and Vivi Schmidt took in 1969 engagement elsewhere with her sea lions and offered Addie to follow her as her assistant. Thus, Addie debut as sea lion trainer was in 1969. The following Addie presented Vivi's sea lions in the Norwegian Circus Berny. In 1971 she toured with the act with the Norwegian Circus Arnardo and in 1972 with the Swedish Circus Scott. From 1973 to 1975 Addie presented sea lions in the large German Circus Barum. In the following years she had engagements in many parts of Europe. In 1981 she presented the act in Benneweis in the Copenhagen Circus Building and in 1987 in Circus Arena.
At one point Addie Jepsen bought her own sea lions, which she later sold to the large Swiss amusement and animal park Connyland. At the same time Addie got a job in Connyland, where she presented the sea lions, which had been her own.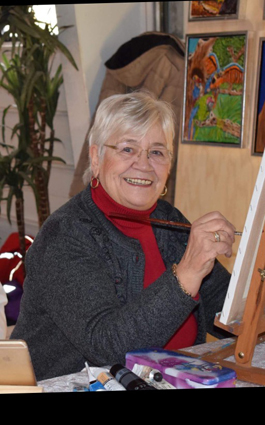 Addie Jepsen
In 2003 Benny Berdino of Circus Arena persuaded Addie to return to Denmark to present sea lions in the amusement park Bonbonland which from 2003 to 2008 rented sea lion acts from Benny Berdino. Originally Addie was just engaged for the season in Bonbonland. After Benny Berdino some years ago expanded his winter quarters in Slagelse with a huge sea lion pool - much larger than the pool in the Zoo in Copenhagen - Addie has lived in Denmark where you until she retired a few years ago could see her and the Berdino –family's sea lions during the winter, summer and autumn holidays when Circusland in Arena's winter quarters at Aarslev is open. She still helps the Berdino family with advice about sea lions. After being retired she started painting. Originally most pictures of animals, e.g. animals. But lately also paintings of people together with animals. Her paintings have among others places been exhibited in Circusland.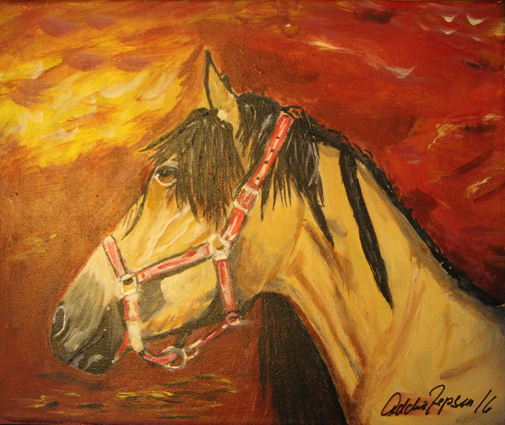 One of Addie Jepsen's paintings: Charmaine Berdino's Spanish horse Meloso.

23 February 2017
Historcal Benneweis costumes to the Circus Museum at Hvidovre, Copenhagen. Diana, Nadia and Dawid Benneweis have just donated a few of the splendid costumes which Diana Benneweis used to the museum. One of the costumes is the beautiful blue dress (skirt, top and hat) which Diana used in season 1991, when it was pictured on the front of the printed program. The dress has also been used in later seasons. In addition, the museum has got the costume which Diana used when she on horseback offered the audience welcome in season 1995 and the following seasons. A number of other, less valuable costumes, etc. was recently sold on auction at lauritz.com. But family felt that the above mentioned two costumes had such value that should go to the Circus Museum and not to a private collector, even though the family could undoubtedly have achieved a good price through such sale. Although it is two magnificent costumes it is also costumes which today are "outdated" as they are both heavy and impractical to use and which Benneweis due to this no longer had need for.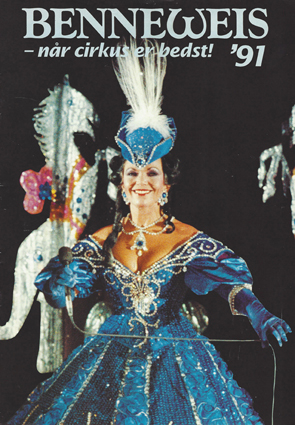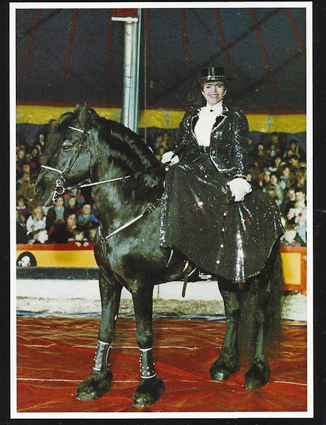 The two dresses, which now are at the Circus Museum in Hvidovre

23 February 2017
Circus Mascot Winter Circus. Jørgen Lorenzen saw the performance in Aalborg Shopping Centre on 22nd February at 13 and writes (my translation):
There were probably 200 spectators to the show. The clown Gulio warmed up the audience with gags in front of the curtain which he could not get up when he wanted to go out. Many children had to help him - and finally succeeded.
Daniel Deleuran welcomed the audience before Husik juggled with hula-hoops and finally a giant hoop. Gulio made then a da capo-entrée where he asked the audience to help him with hula-hoop. A glimpse of his professionalism you could see when two excited children volunteered at the same time. Who should you take into the ring? Of course, both of them! And later he had trouble in getting a female member of the audience to participate, but also here his routine overcame crisis, so he managed - and the situation ended up with laughter.
Then Marianne Deleuran entered the ring with her dog symphony - with several new tricks, including a dog that wanders around a cylinder which Marianne is inside. Then it was Julia's turn in an intermezzo with an inflated / inflatable elephant.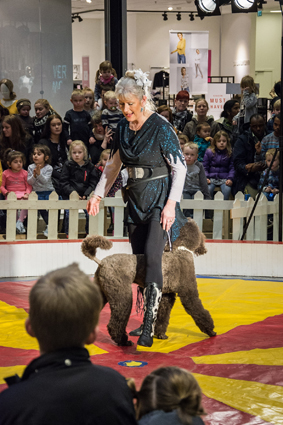 Marianne with one of her dogs. By courtesy of Circus Mascot
And then Preben Palsgaard showed his skills as a ventriloquist. In this performance was with the pig Yodel-Knud, who was afraid to be slaughtered and eaten as roast pork. But Preben would not have roast pork, he would just have something to eat. Knud misunderstood. There were several comic language games before the two were united in Auld Lang Syne where Preben - not pig - yodelled.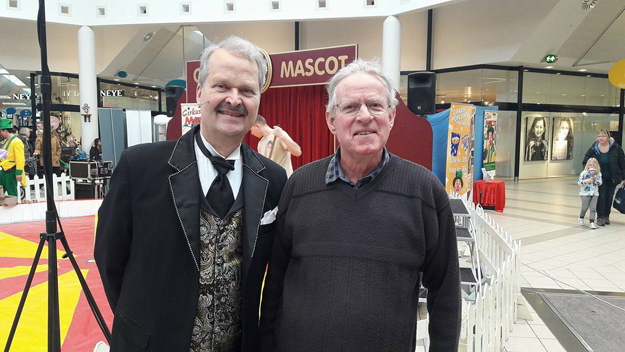 After the performance Jørgen Lorenzen was photographed together with his good friend Preben Palsgaard
The last act was Gulio with the famous gag where the clown shoots a fictitious golf ball up in the air which then with a bang lands in a paper bag. Again he had to get help from the audience, and it was here that he had to work hard to get a female audience members to assist. But he managed it.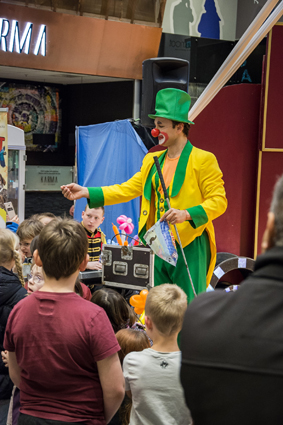 Gulio with the golf ball gag. By courtesy of Circus Mascot
In the grand finale Daniel presented the artists once again - and invited the audience to visit Circus Mascot in the upcoming season.

22 February 2017
Norway's largest circus, Circus Arnardo, starts the season Saturday, March 11 in Vaagsbygd. Among the artists in the upcoming season is the musical clowns Hector and Ian Rossyan. The two musical brothers were in Danish Circus Arena in 1993 and 2004. In 2002, 2003, 2005 and 2010 the toured Sweden with Circus Maximum. Since they were several seasons with the German Circus Krone and have also worked in German Circus Roncalli.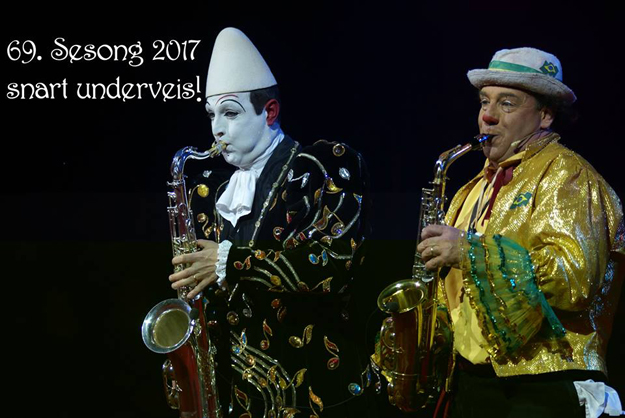 Rossyan clowns. Press photo from Circus Arnardo

21 February 2017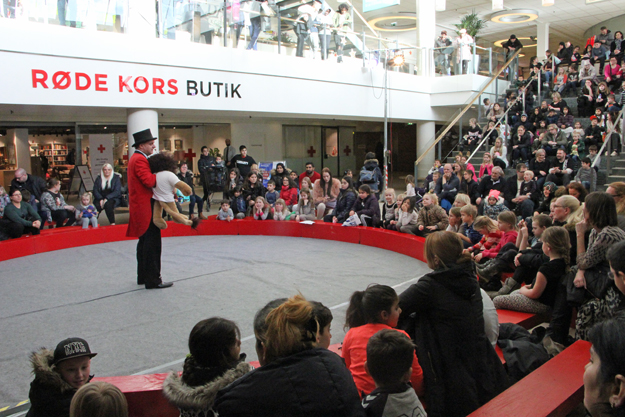 Baldoni winter circus. In most Danish municipalities the school-children's winter holidays are in week 7. But in some of the suburban municipalities south of Copenhagen it is not until week 8. Due to this Ishøj Shopping Centre offered this week an about 30 minute long performances by Circus Baldoni.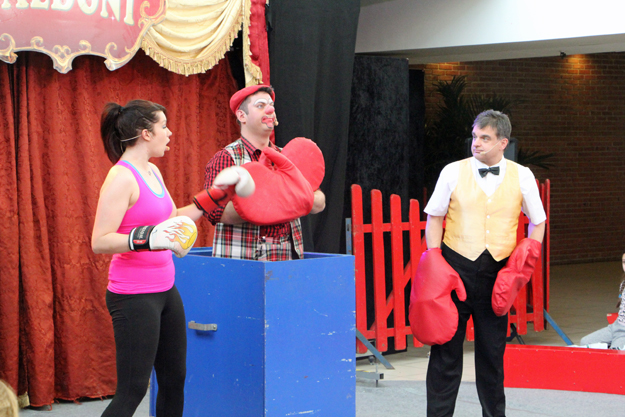 Among the acts was the classic clown entrée "The boxing robot" with Cindy, Danilo and René Moenster Baldoni.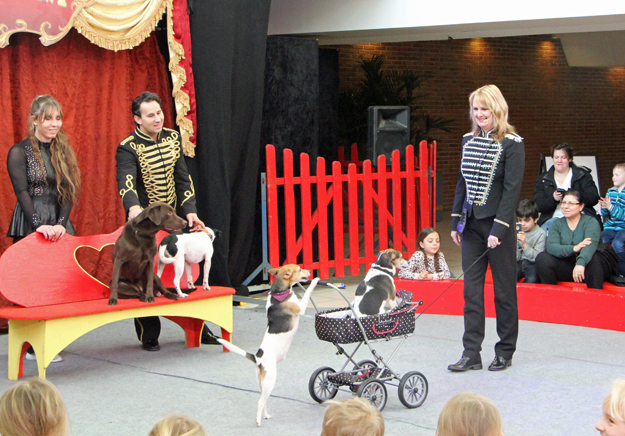 The audience also met Suzanne Berdino with her dogs. Suzanne's daughter Charmaine did hula-hoop and Suzanne's husband Daniel presented his parrot
To see some of Jacob Leitisstein's photos from the show: click here

21 February 2017
The Swedish Circus Brazil Jack has just published a promo video for the forthcoming season. Click here to see it.
Among the performers at this year's show is as previously mentioned on this page the Donnert family with jockey ride and pas de deux. In addition, the audience will meet Steacy Giribaldi with ladder balance. Last year she toured Denmark with Zirkus Nemo.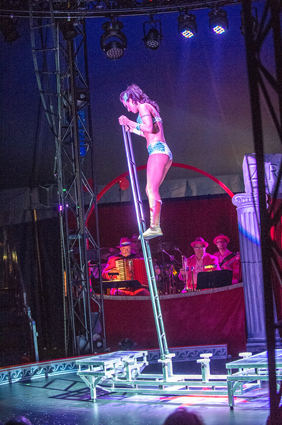 Steacy Giribaldi in Zirkus Nemo. Photo Rud Kofoed / Ajour Press
Wolf Brothers will do a knockabout table act and a comic trapeze number. They have just won one of the special awards at this year's Monte Carlo festival. In 2011 and 2014 they toured Denmark with Circus Arli. In 2013 they toured Sweden with Circus Olympia.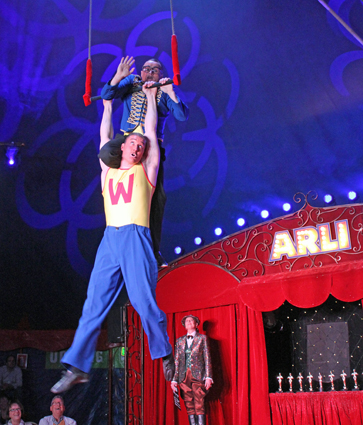 Wolff Brothers Circus Arli in 2014
In addition, the audience can look forward to see Neyenne with contortion, the strongman Denis Ilchenko (Hercules) and the clown and comedian Lorenzo Carnevale (Mr. Lorenz).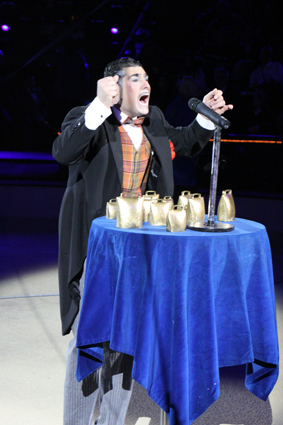 Mr.Lorenz. Photo from the Circus Festival in Budapest in 2016

21 February 2017
Tino Aeby to Circus Trapez. In 2016 Isabella Enoch's Circus Trapez used pre-recorded music. But this year they will have a 3 person live band led by Tino Aeby. In the years 2013, 2014 and 2015 Tino Aeby was bandmaster in Circus Dannebrog, where he had 8 musicians in his band.

19 February 2017
Jacob Boas Leitisstein has made a slideshow with photos from Enoch's Circus Show in Odense. Click here to see his photos.

18 February 2017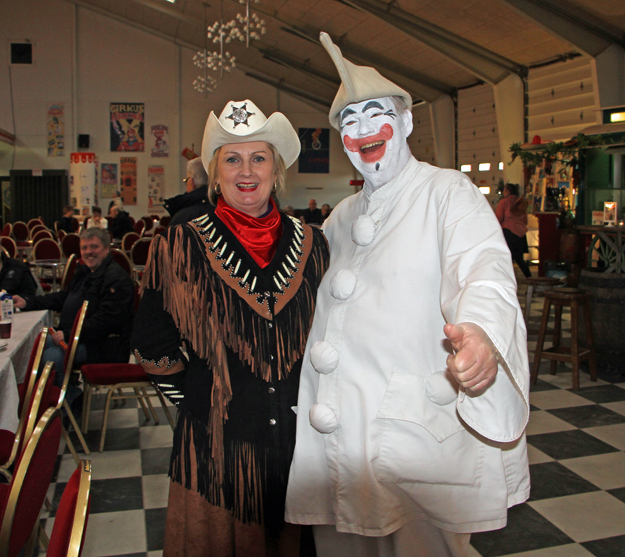 Circusland during the winter holidays 2017. Denmark's prettiest sheriff says Circus Arena's Pierrot about this picture where he stands together with Circusland's daily manager Suzanne Berdino. Circusland in Aarslev was open in week 7 and is now closed until July 1. Circusland was very well visited during the winter holidays and the guests enjoyed the many good shows: Western Show, sea lion shows, Circus Landino and children's shows. The cast in winter performances were Suzanne Berdino and her children Charmaine, Stephanie and Oliver, her husband Daniel, her sister-in-law Laura Berdino, her nephew Patrick Berdino, the clown Berty Balder, the cowboy Texas Jack, Tim Delbosq and chief Talking Waterfall aka Brian Behrendt.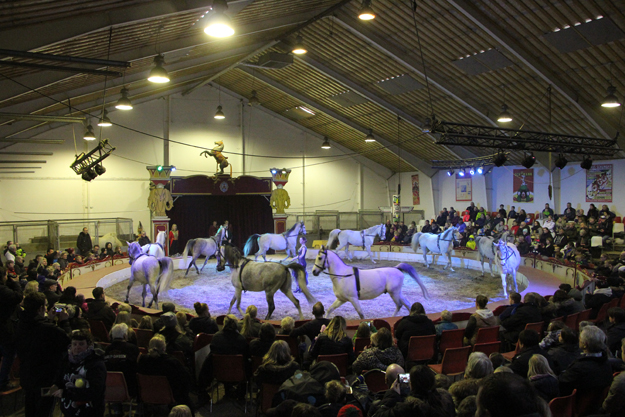 One of the acts in Circus Landino in Circusland was Laura Berdino with 10 beautiful white Arabs. This act will be part of the upcoming performance in Circus Arena. Click here to see more photos from Circus Land.

17 February 2017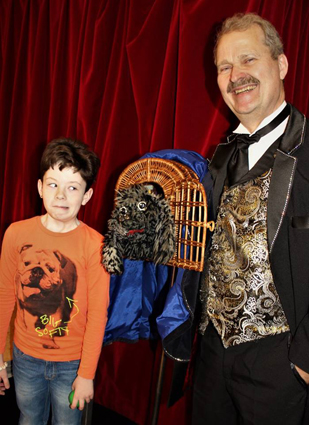 During week 7 visitors at the Circus Museum in Hvidovre could see a tremendous ventriloquist show with Preben Palsgaard. Here he is seen together with Jack Quinn, son of the well-known gentleman thief. In week 8, you can see Preben Palsgaard in Circus Mascot performances in Aalborg Shopping Centre. Photo: Kenny Quinn

16 February 2017
Enoch's Circus Show. Jørgen Lorenzen saw the performance in Rosengaadcentret in Odense Wednesday 15 February at 13 and writes (my translation):
There were probably about 500 spectators.
Jimmy Enoch welcomed the audience, of course riding his bicycle. His charm, professionalism and timing are great and he knows what a good show is about: creating great expectations for the audience - and then fulfil them.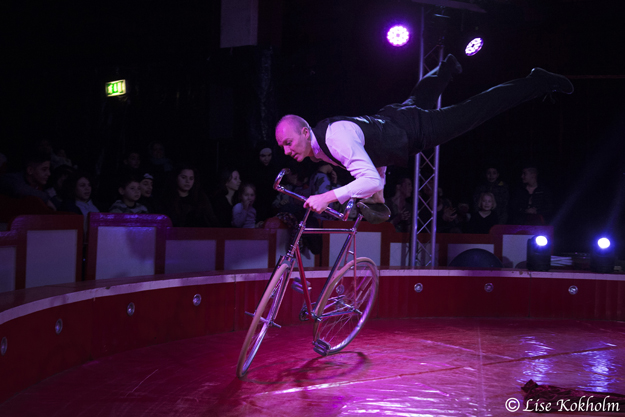 Jimmy Enoch. Photo: Lise Kokholm
The first act was Josie Casselly - in a classic tissue act. Her silks were dark red - not white as they use to be. This change gave the act a number of new expressive possibilities. It felt like something new and different - although many other female artists do the same feats.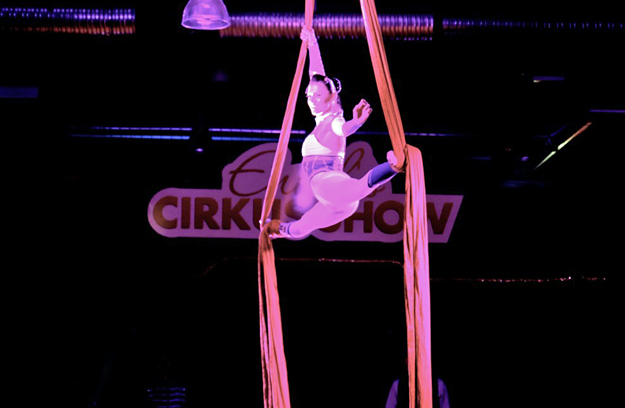 Jossie Casselly. Photo: Per "Mr. Sputnik" Krogh Petersen
Then came the clown André Broger. He has never worked in Denmark before, but he will be welcome back, for his clowning was good. The first entrée was his own: he will fly a kite. It is not easy inside a building, but he gets the audience to help him blowing air. With the result that the kite falls to pieces.
Eddy Carello has been seen before. His dress is still black, his face still inscrutable. But he is a skilled juggler. First he juggled with small juggling balls (not the big soccer balls which he also masters), a hat, a drumstick and a tray before he put seven balls in the air. He held the 7 balls up in several cascades. Then he went straight into his main feat bouncing the balls before the drums are rolled on the stage. Also this time it caused shouts of joy when the tennis ball was spat out and hit the drums so the rhythm was kept and the ball returned to its starting point.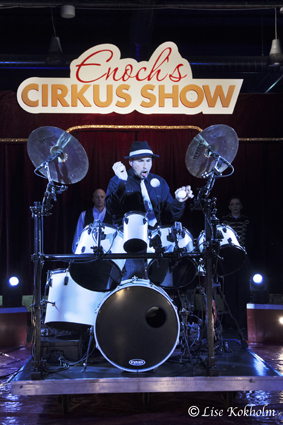 Eddy Carello. Photo: Lise Kokholm
André came in again, now with the well-known entrée we also know from Jimmi Folco - the one with the bathtub where the clown will fight with a large, dangerous fish, which finally comes up as skeleton.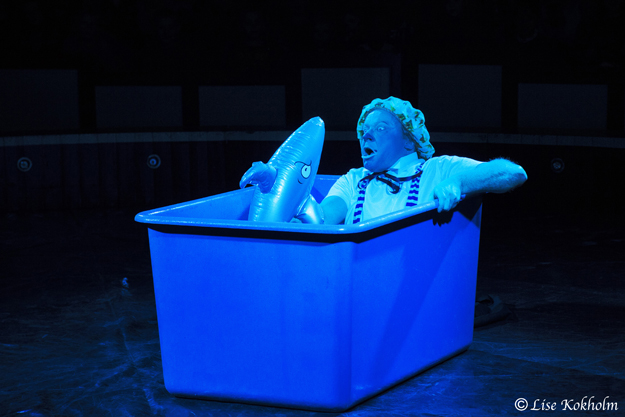 Clown André and the shark. Photo: Lise Kokholm
The last number was unbeatable. Lars Hölscher and his assistant presented 6 fully grown pigs. And do not say that pigs are stupid. There were no bastards, for they looked like playful poodles and made also the same tricks, we see in a good act with poodles. We would like to see him again!
Lars Hölscher and his pigs. Photo: Lise Kokholm
An act had to be taken out of the performance due to an injury. It was Lars Hölscher's assistant who should have presented a pole act.
The show lasted half an hour. And no doubt that the audience got an appetite for more!
Click here to see a few video clips from the performance. Photographer Per "Mr. Sputnik" Krogh Petersen.

15 February 2017
Danish Circus Krone winter circus. Jørgen Lorenzen saw performance in Aarhus Concert Hall, small stage, on Tuesday, February 14 at 12 and writes (my translation)
There wasn't full house, but there were many grandparents with grandchildren. At the main stage there was at the same time Ronia, The Robber's Daughter and this may have affected the turnout for the circus.
The clown Allando walked around and greeted all the children. Several would tell him of their rocking tooth. A grandfather could tell Allando that he too has a rocking tooth. And the remark is indeed difficult to return!
The show was a "Krone classic". Irene Thierry welcomed and said goodbye – in the same way as known from summer circus: the audience greet each other and especially the director. And the money that comes in the box is used by the staff still for crusty rolls in the morning.
Allando is a skilled clown, being gentle, friendly and responsive to the audience's reactions. Jovial, silly and angry - on children's terms. His universe is populated by animals which he struggles with and against: a giraffe, an elephant - and a real pony. The kids' squeals and shouts: shall they support the mischievous animals or help the clown?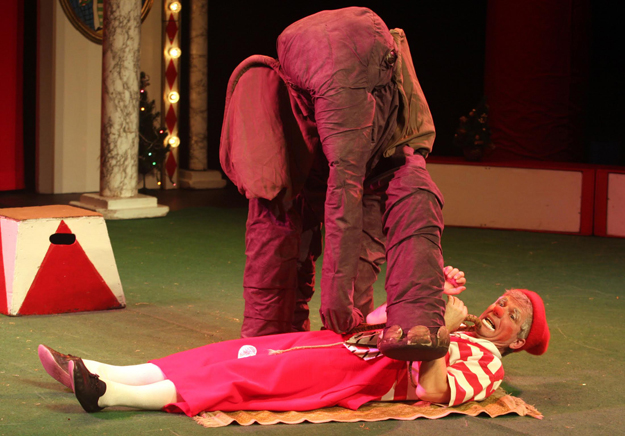 Allando and the elephant. By courtesy of Circus Krone
There were 3 great artist acts. Valeri Tkach is an accomplished and versatile juggler who juggles with rings which are dancing on and around his body. His special trick is a balance with two upright bars, one swirling before it lands on the tip of the second prop. And he also masters juggling with a dagger in his mouth, on which the rotating bars land.
Elisabeth Axt has a fine handstand act. Her charisma is worth studying. A little mysterious, for what will she express? And behind her beautiful costume conceals an extremely well-shaped smooth and athletic woman's body. Her special trick is a head stand where she juggles with her feet.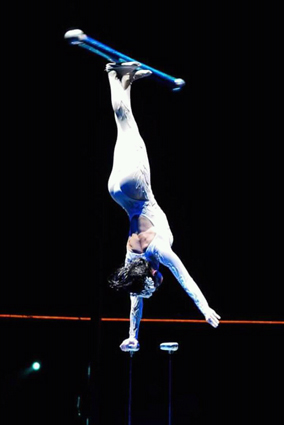 Elisabeth Axt with handstand. By courtesy of Circus Krone
Her second act is a classic act in tissue. This made it a strong impression as she was working very high up in the air - right up under the stage ceiling - far higher than in a tent.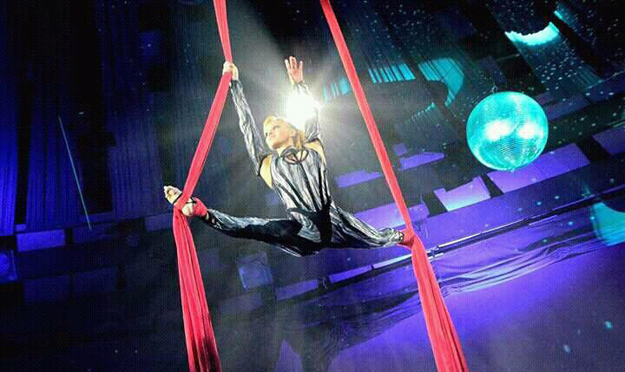 Elisabeth Axt in tissue. By courtesy of Circus Krone

14 February 2017
Benny Schumann holiday circus is the name Elsinore Town Centre has chosen to use for Benny Schumann's performances in the centre in Week 7. As always Benny Schumann's performances are visited by a lot of children with their parents / grandparents, and with three daily performances, the total audience during the winter holidays is close to 4,000 persons.
The waiting time before a show is always long. This, Benny Schumann discovered years ago. Due to his he is on stage about 20 minutes before the show starts. In the 20 minutes he invites children from the audience to come in the ring and helps them to balance with plates, spin with lassos, do hula hoop, etc. In this way he gets an engaged audience even before the performance starts.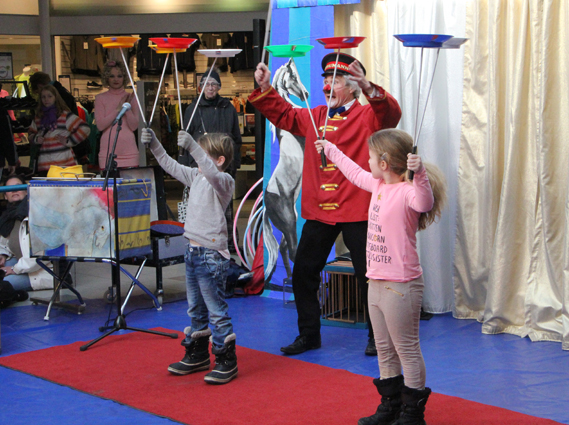 The first performer is Benny Schumann himself. First with his top hat with a built-in doll and then with a few balance tricks. Then follows a comical magic entrée where he gets good help by heckling from the kids. Finally, a ventriloquist act with the dog Hunni and a bird. And again with a super committed audience.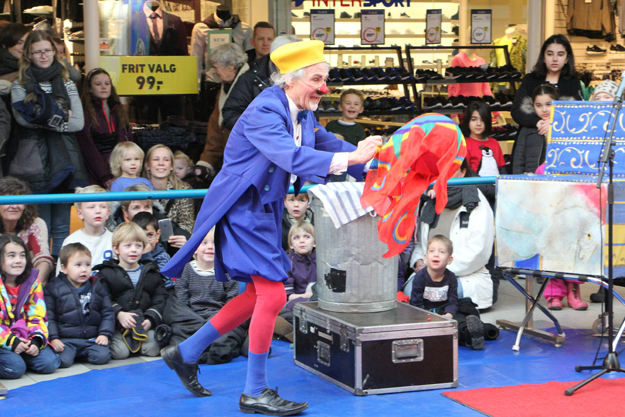 Benny Schumann chasing his flying ball
The next act is Florin with his dog Cato. Danes saw first time this charming act in Circus Dannebrog in 1990. Florin and Cato has several times later been part of Benny Schumann's performances. In all fairness is should be mentioned that the original Cato for long has been asleep in his dog heaven. As something news Florin is this year assisted by Felicitas wearing a smart cabaret costume. There are plenty of 'go' in Felicitas which gives the act a nice facelift. Cato can both count, jump through hoops and eventually become magically transformed into a tiny skinny dog. I met Cato after the show, when he told me that he feels good about his new mate Felicitas. And Cato was certainly both happy and playful when I after the show met him and Florin in the wardrobe.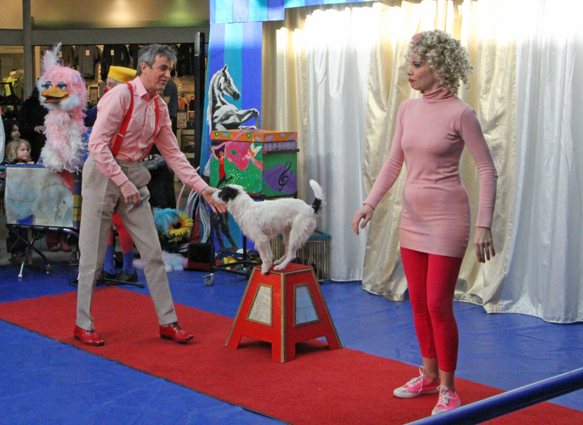 Florin, Cato and Felicitas
The last act in the show was the talented mime clown Herr Niels (Niels Weberling). "Such act you can see in no other circuses," Benny Schumann explained.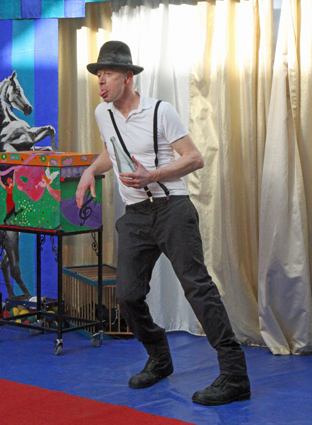 Herr Niels. Click here to see more photos from the show
There is no doubt that both children and adults felt well entertained during the approximately 40 minute long performance, and that it draws many customers to the Elsinore Town Centre.

13 February 2017
Isabella Enoch's winter circus 2017. Soren Kastoft saw the performance on February 12 and writes (my translation):
When you come to the Music Theatre in Holstebro you can see that not everything is as it used to be. In front of the large auditorium circus wagons are parked and camels goes well pleased around on the lawn and eat while together with goats and horses in their outdoor enclosures in front of the main entrance. Great is the pleasure when the audience realizes that the elephant Ramboline stands in her wagon. Thus, even a cold, windy February day giving the illusion of spring and circus in town.
Through many years Isabella Enoch has visited the Music Theatre with her Winter Circus, and you can hear that it for many in the audience is a tradition to come here every year and it is also this year again a well visited performance.
Inside the Music Theatre you will find a circus ring, ringside chairs, and benches from Circus Trapez, but also the Music Theatre's usual amphitheatre construction. It's hard to create the intimate atmosphere we know from the circus in such a large room, but if you choose to sit on some seats from the circus, one senses a bit of tent intimacy.
The music is taped and Isabella Enoch is an elegant ringmaster.
The animals has central role in the performance. There are goats, camels, "large and small", liberty ponies and of course the performance's big star the elephant Ramboline. Apart from the goats presented being presented by Stine Marie Grejsen all the animals are presented by their owner and trainer Bernhard Kaselowsky in the his usual quiet way, where you sense that there is great trust between animals and the trainer.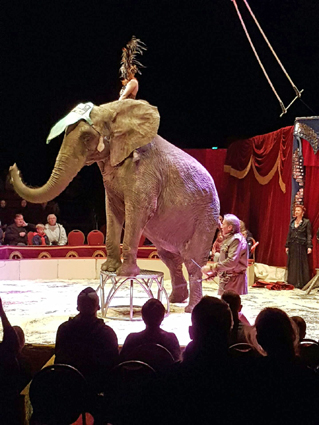 Ramboline and Bernhard. All photos are taken by Flemming Laursen
The performance's great surprise for me was Gina Giovanni and her dogs. The former handstand artist has created a great act. In my opinion it is one of the best dog acts I've seen.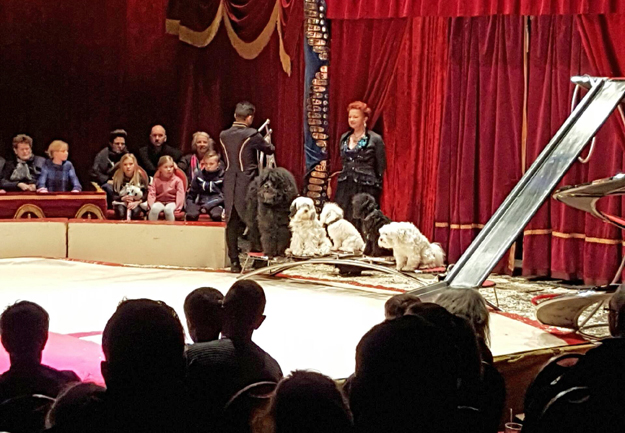 Gina Giovanni's dogs.
Sydney Balder has job the job as clown and as my wife said, he's just cosy. Besides classic gags as the orchestra with audience participation and water fight with a kid from the audience, he had an amusing illusion trick where he conjures his head up and down on the body - well, hard to describe, but amusing.
Among the artists I will particularly highlight Nathalia Fröchte - daughter of Katja Enoch - who inherited her father's ability to juggle with the feet. A fine act that may I would like to see in a Danish circus ring. Particularly the final trick where Nathalia does juggling / balance both with hands and feet and also partly legs / arms is nice.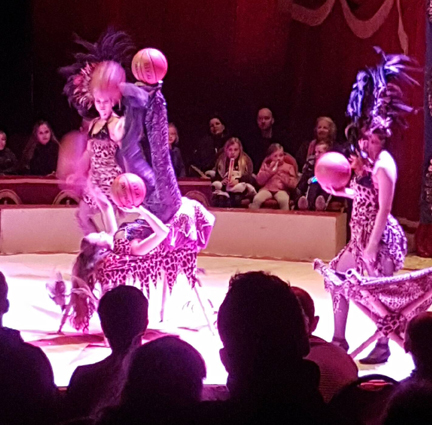 The 19-year-old Nathalia Fröchte.
The handstand Quincy Azzario (formerly part of Duo Azzarios / Azzario Sisters) presented a really nice handstand act where the final trick was classic with "crash" from "the blocks"". A great, great act.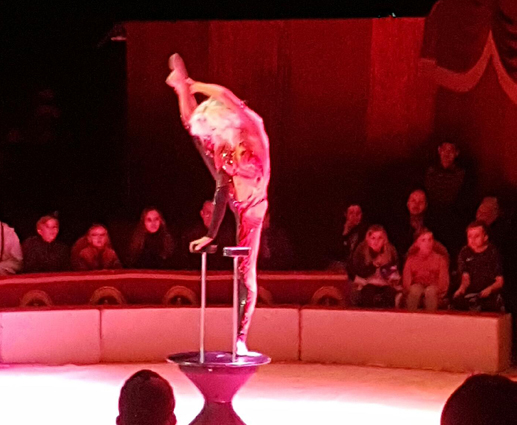 Quincy Azzario.
In the trapeze we met Heidi Mary from Finland. Whether it was due to technical reasons or supposed that the trapeze should hang so low, as was the case, is not known, but it unfortunately hurt the act.
My son Carl, 1½ years made its debut as circus fan this day. Whether it's genetics or not, he was thrilled from start to finish, and it may say a lot about the performance's quality as family circus that one can keep such a small child interested in every act.
It was with the joy of a good circus experience that we left the Music Theatre but also with anticipation for the upcoming circus season.
The only thing you can criticise is that the interval with the option of elephant riding, etc. lasted for 45 minutes. It is a long time for young children. It is understandable that the income from animal riding is important for the circus. But it would be an advantage if they through a promise of various activities could persuade the audience to come in good time before the performance so riding could be settled before the performance. This would also benefit the kiosk sales during the break.

12 February 2017
IT ALL HAPPENS IN DUBAI -- in the GLOBAL VILLAGE --a joyful funfair that indeed mixes commercial, cultural and festive events.
We saw an excellent, elegant and sympathetic circus-show, featured by JUAN MANUEL NAVARRO and friends, all of them from Colombia, 7 clever acrobats, jugglers and comedians.
They performed juggling footballs and Indian clubs, together and individually, salto on springboard, forwards and backwards, also adding twists to the saltos, chair balancing, Chinese pole,hand-to-hand and hand-to-head balancing, riding a monocycle with comedy twists, everything performed in a hilarious way.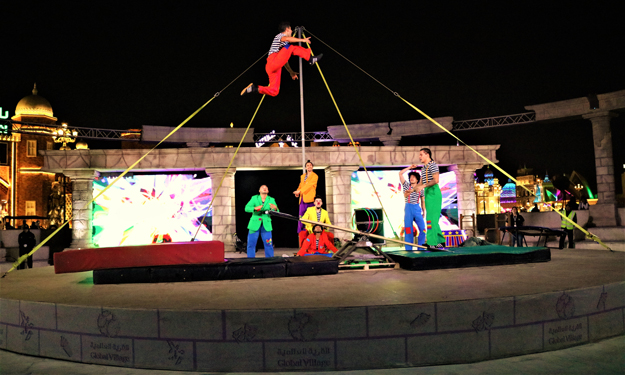 Photos: IMAD DUBAI
Their obvious joy of performing carried the entire show along towards a big success - they were all beaming from joy of entertaining their audience!!
Colorful costumes and appropriate background music confirmed their success, presenting a show all of us would like to see again - 20 minutes of happiness!!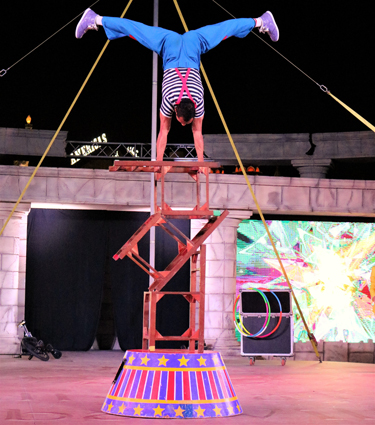 This show took place in a replica of a Roman amphitheater, rather small but offering a good visibility. The show was introduced by a lady, speaking both Arabic and English - a good idea. When we left after the show, we were all feeling refreshed from seeing youthful skill and great enthusiasm!!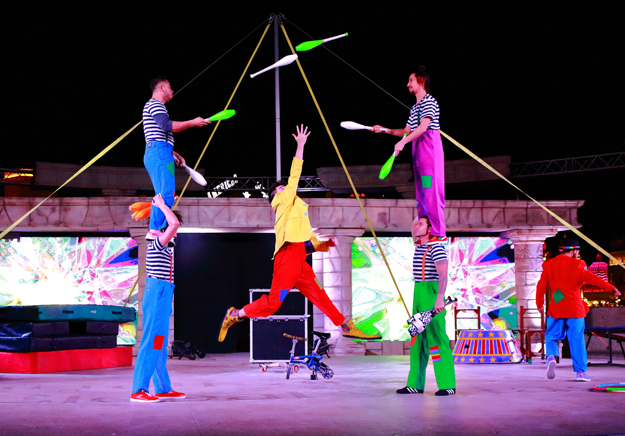 DOLPHIN SHOW and BIG ILLUSIONS SHOW. See more: www.dubaidolphinarium.ae "Watch as our Master illusionist Max dazzles & dumbfounds audiences of all ages with an incredible display of the most astonishing illusions ever to be seen on stage. A non-stop show is packed with thrilling escape feats, lasers & much more followed by our dolphin & seal show extravaganza! Watch in wonder as the dolphins & seals perform incredible acrobatics, dance, sing & even paint!"
In the nearby emirate Sharjah, MONTE CARLO CIRCUS (no relationship with the festival) can be admired, featuring as usual an excellent program. See more: on www.alqasba.ae/events/monte-carlo-circus/27 - they will play until March, usually they perform in DUBAI, have a look at my previous write ups.
Monte Carlo Circus is a Libanese circus that changes its name as ... time goes by ..., they always feature pleasant and beautiful programs,live music and they recently have had a brand new BIG TOP made, everything first class. Being disappointed after having had too few people in DUBAI, they now try their luck, BARAKA, in Arabic, in SHARJAH, although this emirate is somewhat smaller.
IT ALL HAPPENS IN DUBAI!!!
............................. reported by ZARRO ZARRO.

6 February 2017
Circus Mascot 2017. The small Danish Circus Mascot writes (my translation):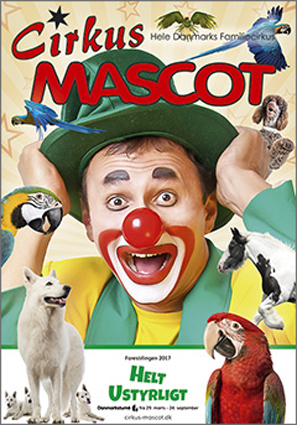 The Danish family circus is back with renewed ferocity!
Once again, we have assembled a team of wonderful people and a lot of amazing animals and created the "wildest" circus performance ever in our small ring. Look forward to getting close to both artists and animals when we start our 24th circus season and visit a city in your neighbourhood
In this year's performance you will meet 9 Swiss Shepherd dog, beautiful parrots, Canadian mini-pigs, the tinker horse Amigo, funny poodles of all sizes, the cock Oskar and our cute Shetland ponies.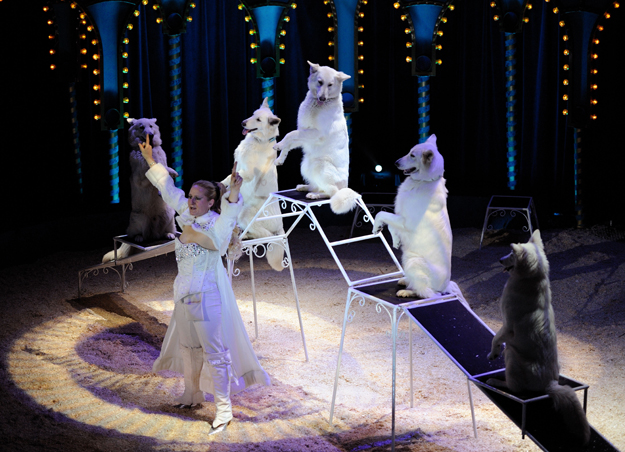 Rafaela Honden with her sheepdogs. By courtesy of Circus Mascot
Hey! Now we must not forget the artists!
We have a talented girl who makes a rola bola act. You can also look forward to breath-taking juggling with both balls and rings. High above the ring, we present aerial act in the oriental style, acrobatics provided by the circus youngest member being just 11 years old. Clown Gulio is obviously around with new gags.
It's all made up to a few hours of happy entertainment where both adults and children can be together in our new circus tent. The tent can still just accommodate 270 guests. This means that even if you sit on the rear bench, there is still only 4-5 meter to the ring.
We are pleased to offer an exciting performance with live entertainment at its very best.
The shepherd dogs, parrots and the tinker horse are presented by Rafaela Honden
The rola bola artist is named Latoya Swart.
The other performers are
Husik Gulyamov with juggling
Juliya Gulyamov with acrobatics
The clown Gulio aka Ulmas Gulyamov
Tetyana Primachenko with an aerial act
Marianne Deleuran with poodles and pigs
Daniel Deleuran with ponies. Daniel is also ringmaster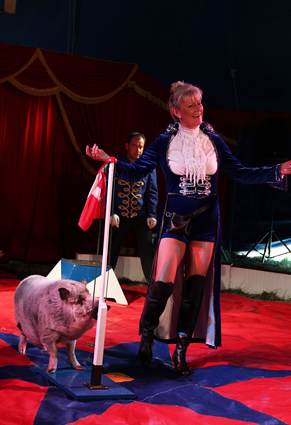 Marianne Deleuran with one of the pigs. By courtesy of Circus Mascot

4 February 2017
Circus Brazil Jack 2017. As the first of the Nordic circus, the Swedish Circus Brazil Jack has opening night on Thursday 16 March. The premiere is true to tradition in Malmö in the southern part of Sweden, close to Copenhagen. (There is a bridge/tunnel between Copenhagen, Denmark and Malmö, Sweden). Amongst the performers in the upcoming season are the trick riders the Donnert Family. The troupe toured Denmark in 2013 with Circus Benneweis and Sweden in 2014 with Circus Brazil Jack.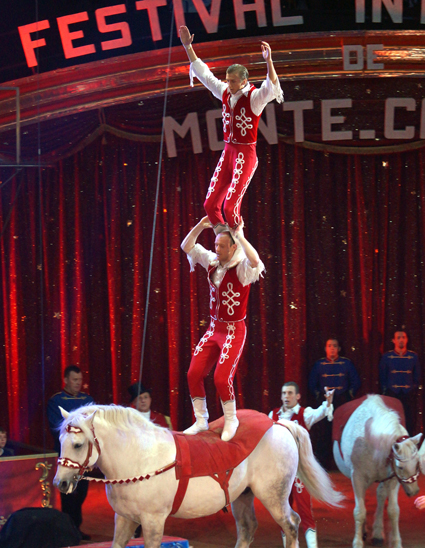 The Donnert family got a bronze clown in Monte Carlo in 2013

4 February 2017
IT ALL HAPPENS IN PARIS – but indeed also in DUBAI during THE DUBAI SHOPPING FESTIVAL, where Marcela Bello and Javier Galeano from DREAM MASTER ENTERTAINMENT DUBAI regularly produces outstanding shows and top class artists.
These events are produced within the framework of the huge shopping malls, where we as well can see and admire a gorgeous decoration, an example is the IRANIAN HALL, displaying a number of artful pieces chosen from classical Persian architecture - wonderful to see and this is well worth a visit!!
In THE MALL OF THE EMIRATES we were treated to DANCING IN THE AIR -- a kind of ballet I never saw before, combining dancing on the stage-floor and evolutions in mid-air, suspended in a kind of trapeze. Accompanied by a female violinist, playing electric violin, the two dancers performed an entirely esthetical dance-show - their background as classical dancers was obvious - the female partner was bearing a kind of belt under her long dress, with attaches on the sides, this allowing her to be airlifted in a kind of trapeze to be able to perform various positions.
She was now wearing a super large and long cape, color red, and this effect made us all think that this was incredible, viz. when the cape developed to form very large wings.
The synchronization between the dancers and the violinist was perfect, and all in all a real treat.
The performers: ALEX NORENA - JULIA MASAVET - ANNA PAVLOVA.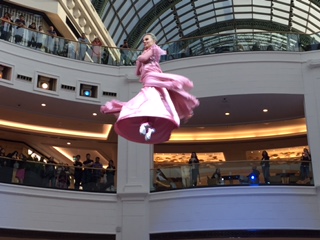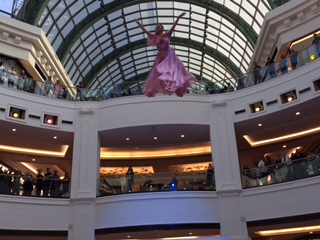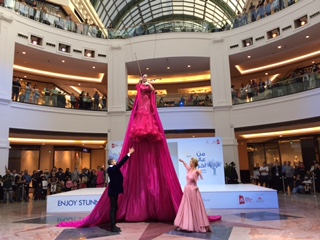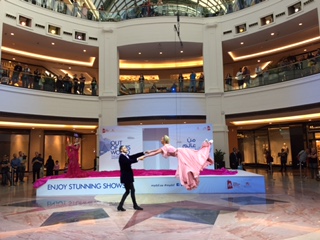 Photographer: IMAD DUBAI.
Marcela Bello and Javier Galeano from DREAM MASTER ENTERTAINMENT DUBAI furthermore proudly presents an interesting version of ALICE IN WONDERLAND, spiced up by clever and charming artists and circus acts.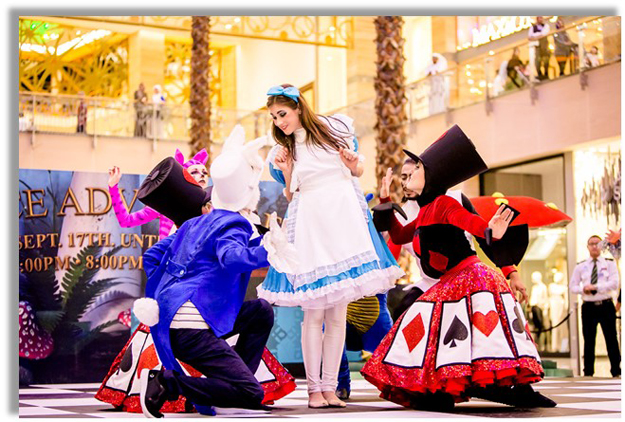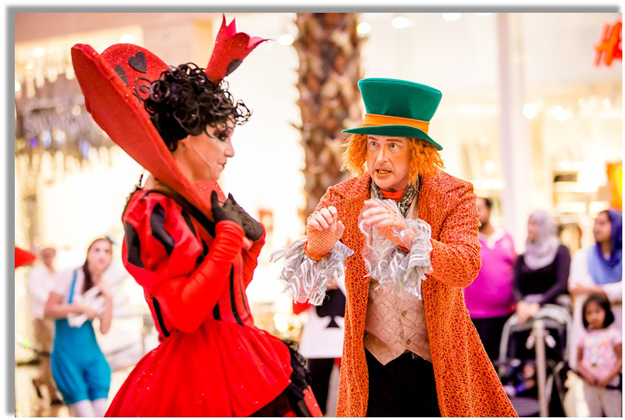 Photos by ADRIAN CHITIC will forward a good idea about this unique show.
IT ALL HAPPENS IN DUBAI!!!
.................................... reported by ZARRO ZARRO.

3 February 2017
Circus during the winter holidays. School children in Denmark have winter holidays either in week 7 or in week 8. Whether it is in week 7 or 8 is different from municipality to municipality.
As previous years you can in several shopping malls etc. in Denmark see circus performances etc. during the winter holidays. Here is a summary of what you can see this year:
In Copenhagen and on Zealand
At the Circus Museum in Hvidovre, Copenhagen
From 13 to 17 February you can every day at 11 see a show with the ventriloquist Preben Palsgaard and his dolls.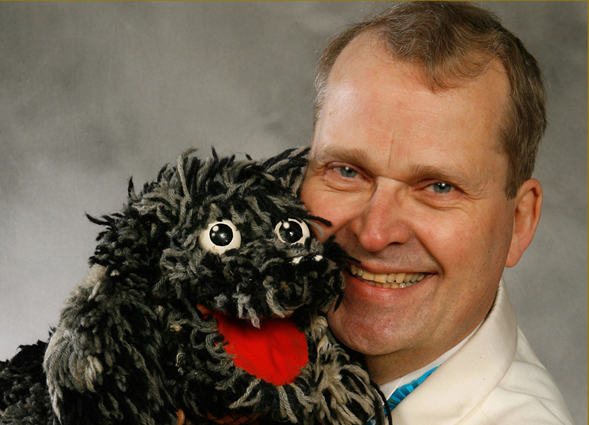 Preben Palsgaard with the dog Poppe
Benny Schuman's winter performances in Elsinore Town Centre
Benny Schumann present from 13 to 18 February winter performances in Elsinore Town Centre. Apart from Benny Schumann himself you can meet Florin, Cato and Felicitas with their enchanting and charming comic dog show and Herr Niels with his formidable virtuoso acrobatic comic mime act.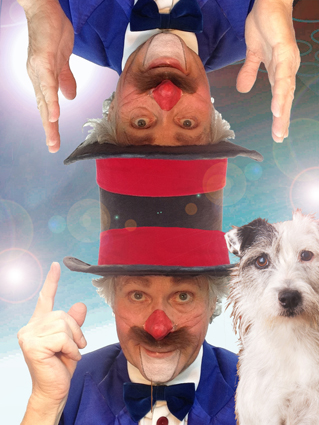 Benny Schumann with hat and dog. By courtesy of Benny Schumann
Circusland in Aarslev close to Slagelse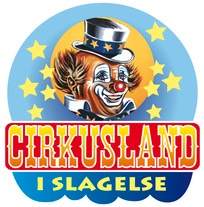 From February 11 to 19 open every day from 10 to 16. There are wild Western shows with with Texas Jack and chief Talking Waterfall aka Brian "Briano" Behrendt. And the Cowboy girl Rose (Stephanie Berdino) and the Indian girl Small Flower (Charmaine Berdino).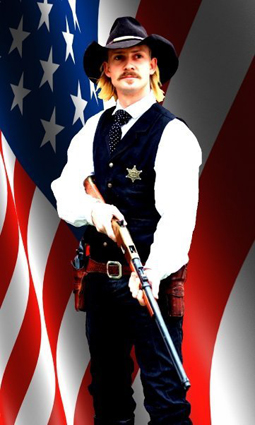 Texas Jack aka Martin Maiböll. By courtesy of Circusland
There are sea lion performances with the large sea lion Viktor and his son Oscar. And short circus performances with e.g. the clown Berty Balder and as well as the four-legged artists from Circus Arena's stables, presented by Suzanne Berdino
On the children's stage Texas Jack and chief Talking Waterfall present their skills.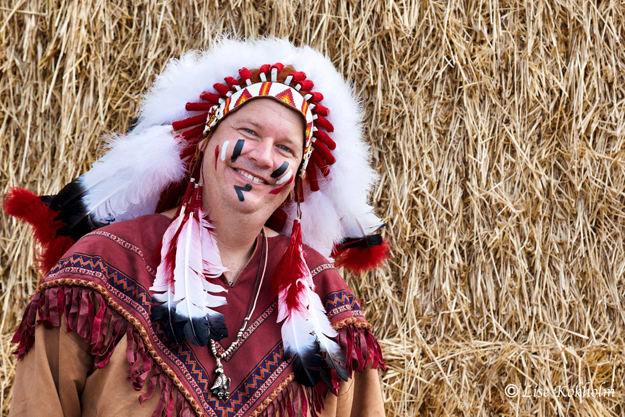 Chief speaking waterfalls aka Brian 'Briano' Behrendt. By courtesy of Circusland
Circus Big in the West Zealand Shopping Mall in Slagelse
Different shows every day from 13 to 18 February 2017.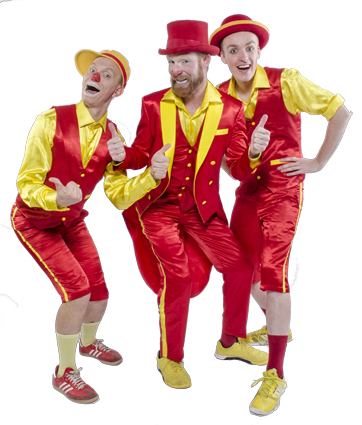 The 3 clowns from Circus Big
Baldoni's winter circus in Ishoj Shopping Centre
Performances from 20 to 25 February. The performers are Suzanne Berdino with dogs, Charmaine Berdino with hula hoop and Daniel Koscik and his parrot. In addition Baldoni's core team: director René Moenster Baldoni and the clown Danillo and his partner and girlfriend Cindy.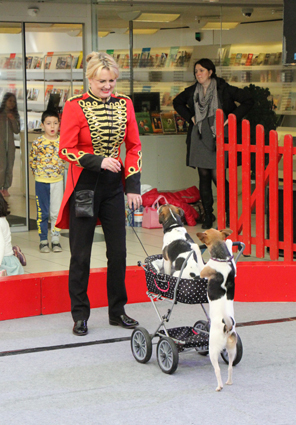 Suzanne Berdino with her dogs. Photo from Baldoni's winter circus 2016
In Jutland
Isabella Enoch's Winter Circus.
From February 10 to 15 Isabella Enoch present circus in a number Jutland arenas. The performers are:
Jose Belton juggler from Portugal
Stine Marie with goats
Bridget Hula Hoop
Birgitta Quick Change
Gina Giovanni with dogs
The clown Pepe with reprises
Bernhard with the elephant Ramboline
Bernhard with camels
Heidi trapeze from Finland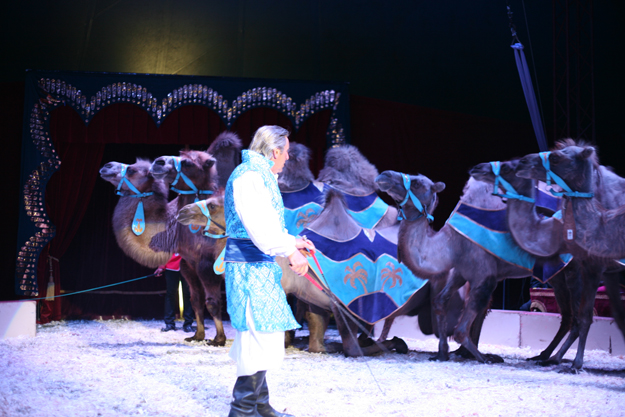 Bernhard Kaselowsky with his camels. Photo from Circus Trapeze 2016. Photographer: Jens Chr. Sørensen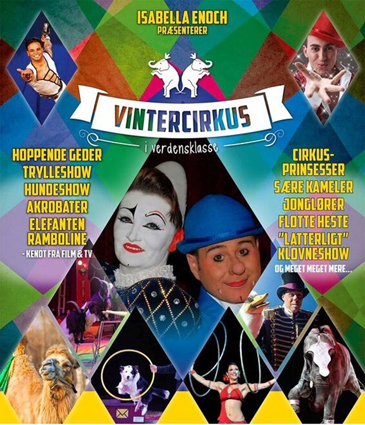 Poster for the winter circus. The poster is from previous years
Circus Krone in the Aarhus Concert Hall
From February 11 to 19 the Danish Circus Krone present winter circus in the Aarhus Concert Hall. Ringmistress is circus owner Irene Thierry. Her spouse Jan Allan is the clown Allando. Furthermore you will meet the juggler Valeri Tkach and the trapeze star
Elizabeth Axt.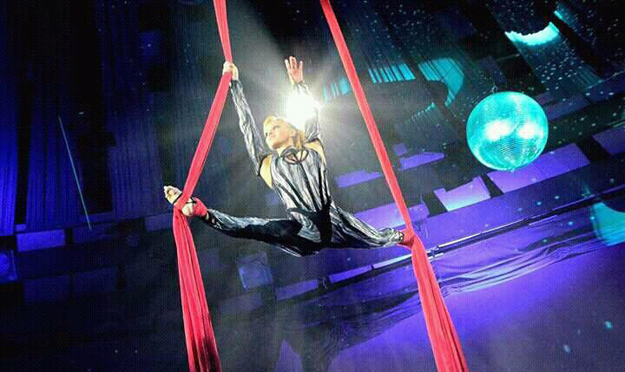 Elisabeth Axt - a world star in Circus Krone. In 2007 she participated in the Circus Festival in Monte Carlo. By courtesy of Circus Krone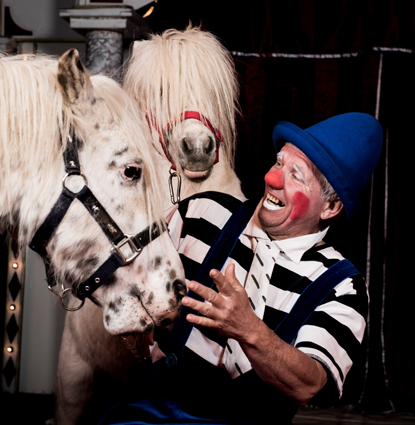 Allando with the ponies. Bu courtesy of Circus Krone
Circus Mascot
Circus Mascot is visiting the Herning Shopping Centre in Week 7 and Aalborg Mall in week 8.
The performers are members of the Deleuran family and the clown Ulmas / Gulio with his family: Mrs. Tatyana and their children Husik and Juliya. As an added feature, the ventriloquist Preben Palsgaard is part of the performance in Aalborg.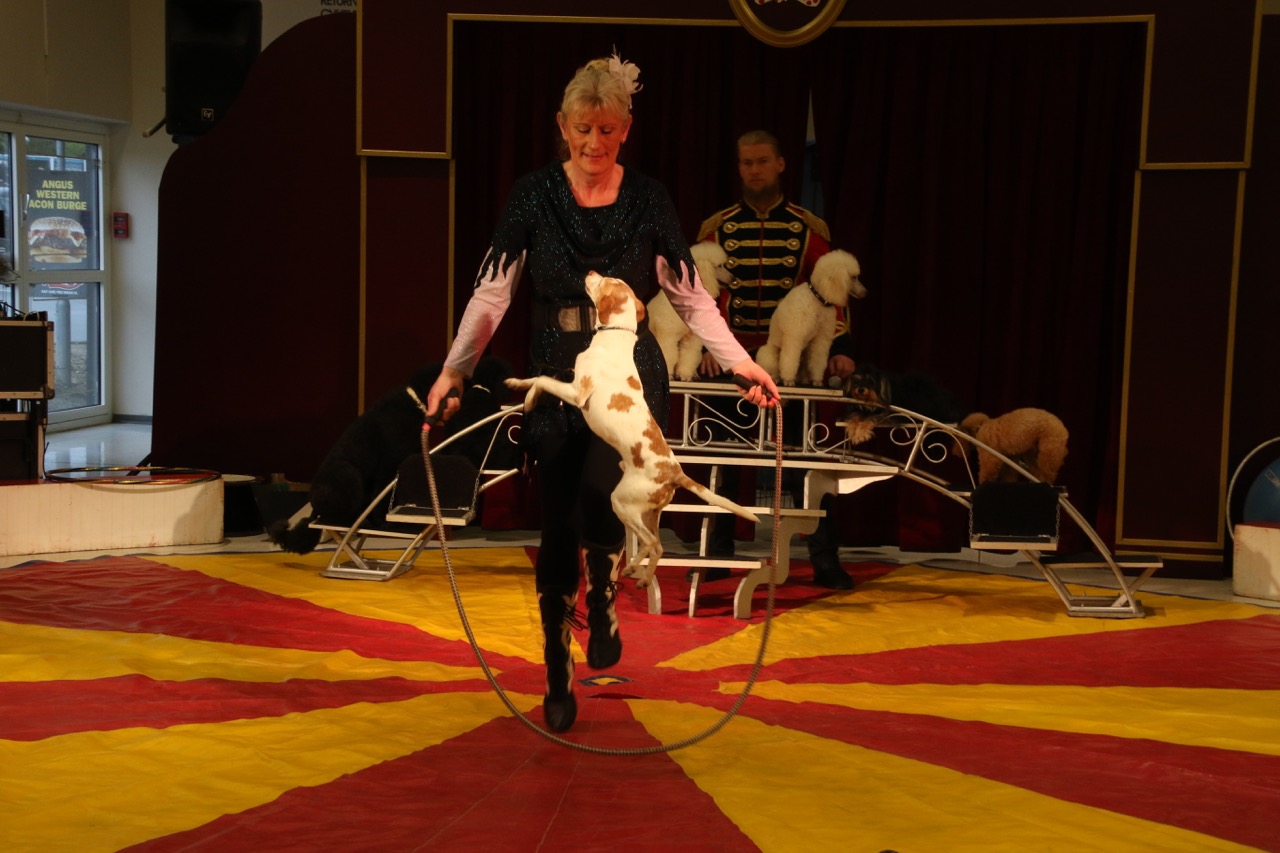 A beloved part in a Mascot performance is Marianne Deleuran with her dogs. Here photographed during a mall show in the autumn holiday. Photo: "Mr. Sputnik "Krogh Petersen
On Funen
Enoch's Circus Show
The sho, which you can see in Week 7 at the Rosengaard Shopping Centre in Odense is produced by Jimmy Enoch.
The performers are
Eddy Carello, juggler
Josie Casselly, aerial act
Jimmy, bike show
Lars Hölschner, trained pigs
Miss Hölscher with pole dance
In addition, Jimmy has booked the clown André Broger from Switzerland. He has appeared in a number of leading circuses, but never before in Denmark. The Swedes met him in Circus Scott in 2003.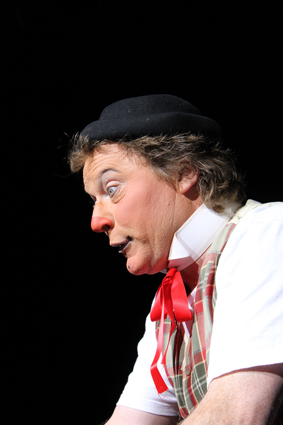 The clown André Brogger. Photo from Circus Charles Knie 2012

2 February 2017
Circus Maximum 2017. The Swedish Circus Maximum has now published the full program for the upcoming season. Trio Alambria on high wire. Diorios has 4 motorcycles in globe of death. Alex Lichtner (Alexander Lichtner) works in swing trapeze. The act ends with balance on a bit in Washington trapeze. Anton Frank presents liberty horses and donkeys. His son-in-law Ramon Maatz presents a dog act. Kimo does Egyptian dance. Georgio Hromadko, who toured Denmark with Circus Arena in 2012, performs with diabolos. Duo Solys, who last year toured Denmark with Zirkus Nemo, does handstand / hand-to-hand. Finally, there is a reunion with the clown Francesco, who also was at the Maximum in 2016 and who the Danes know from several seasons with Circus Benneweis.

2 February 2017
Danish member of the jury in Monte Carlo. In the circus world it is considered as a point of honor to be invited to be a member of the jury at the Circus Festival in Monte Carlo. This year there was a Danish jury member: Isabella Enoch Sosman, for many years artistic director of Circus Dannebrog and now director of her own Circus Trapez.
Only four Danes have previously been members of the jury: Eli Benneweis, Nelly Jane Benneweis, Diana Benneweis and Benny Berdino. The latter has been a member of the jury twice. This year the honourable post was given to Isabella, who says she is both pleased and proud of it.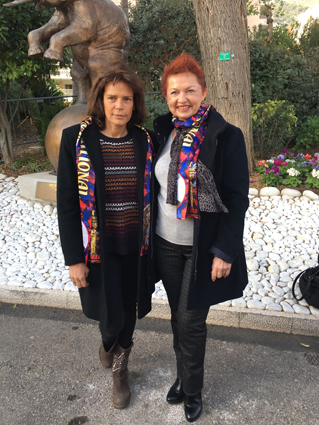 HSH Princess Stephanie and Isabella Enoch Sosman. Photo courtesy of Isabella Enoch Sosman.
The Monte Carlo jury is always under the presidency of HSH Princess Stephanie. Apart from the princess there are 6 other members of the jury.
After the unique 40th Festival jubilee, the 41st International Circus Festival returned in January 2017 with a big competition of new acts being presented for the first time in Monte-Carlo.
From 19 to 29 January 2017, more than 120 artists from 16 countries performed under the Fontvieille Big Top. The stars of the Russian circus, the Zapashny Brothers presented their mixed tiger – lion act for the first time in Europe and Erwin Frankello's elephants and see lions, both his friends and partners, showed great skills. The 41st Festival featured the most spectacular and thrilling acts as artists on high wire, a double wheel act from the Gerling Troupe and much more attractions from all over the world… the audience could enjoy again all the magic and wonders of the circus.
An international jury under the presidency of HSH Princess Stephanie awarded the best acts of the Festival with the famous Golden, Silver and Bronze Clowns:
CLOWN D'OR
Troupe Trushin
Sky Angels
CLOWN D'ARGENT
Troupe Acrobatique de Xianjiang
Chilly & Fly
Marek Jama
Erwin Frankello
Frères Zapashny
CLOWN DE BRONZE
Troupe Gerlings
Sons Company
Troupe Holmikers
Mario Berousek
Alexandre Batuev
Troupe Skokov
One of the bronze clown winning acts are contemporary circus artists from Sweden: Sons Company consists of the two Swedish acrobats Einar Kling-Odencrants and Anton Graaf. In addition to a bronze clown they got a special price. In February, they are back in Sweden where they perform in Circus Cirkör's performance Limits.

18 January 2017
Cows to Munich and Finland. Many Danes will remember the charming act with large black and white cows which Agnete Louise Enoch and Bernhard Kaselowsky presented in in Circus Dannebrog in 2014. The cows which belong to Bernhard Kaselowsky are part of the March program in the large German Circus Krone's performance in the circus building in Munich. Here, it is Bernhard himself, who present the act. After Munich, the cows continue to Cirkus Finlandia in Finland.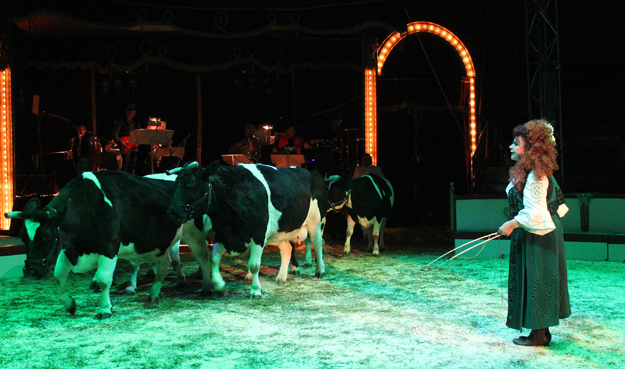 Agnete Louise Enoch with cows in Circus Dannebrog in 2014. It is not Agnete who shall present the act in Circus Krone or in Circus Finlandia.

16 January 2017
Circus Trapez 2017. Isabella Enoch has now published the program for the upcoming season. She is proud for the coming season to have Judy Glosted as ringmistress. Judy Glosted will furthermore present Circus Trapez' liberty horses. Judy was for 7 seasons ringmistress in Circus Benneweis.
A recurring character in the performance will be the clown Marco Jr. from Spain spreading joy and laughter with his antics and clowning.
The Jackson family will prove their skills as acrobats on bikes. They toured last year with the Swedish Circus Olympia.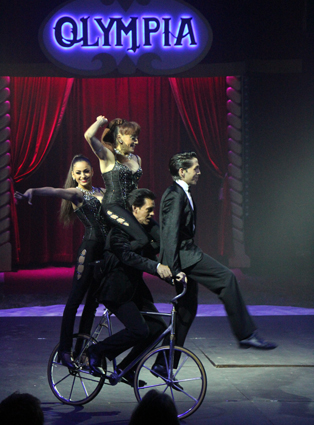 The Jackson family at Circus Olympia
With a high technical level Seraina and Michele will present their double trapeze act which requires synchronization and concentration. They toured in 2016 with Circus Arli.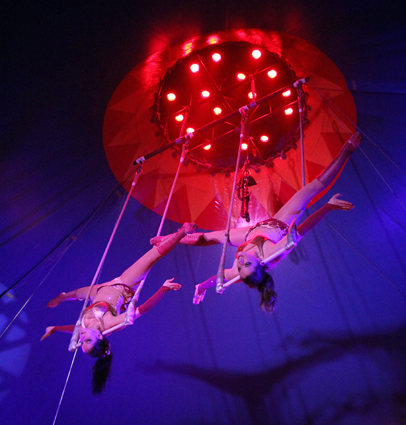 Seraina and Michele at Cirkus Arli
Just as in Circus Arli Seraina will also present her act with the dog Lolek. And Seraina and Michelle will along with Lara from the Jackson family prove their skills with hula hoop rings.
Lara Jackson will apart from doing hula hoop do an act where she sitting on a unicycle while her feet is throwing cups and plates up landing on her head. Probably a bit similar to what Francesco Fratellini did in Arli in season 2016th
Fina Macaele is also a member of the Jackson family. Just as in 2016 in the Circus Olympia, where she performed under the name Maria Fina Michaelo, she does an act where she hanging in her hair up under the dome juggles and does other acrobatic tricks.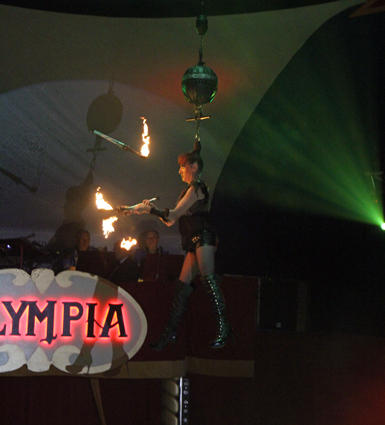 Fina Michaelo at Circus Olympia
Marc Dorfner - what's a circus without a clown and a juggler? Marc Dorfner coming from Austria masters both arts. In this year's show we will both see clowning and juggling. Marc Dorfner appeared in Isabella Enoch winter circus in February 2016.
And then there are the animals, which mean a lot for Circus Trapez: camels, donkeys, horses and elephant the Ramboline. All trained by Isabella Enoch long time boyfriend Bernhard Kaselowsky who has devoted his whole life to the circus and his work with animals.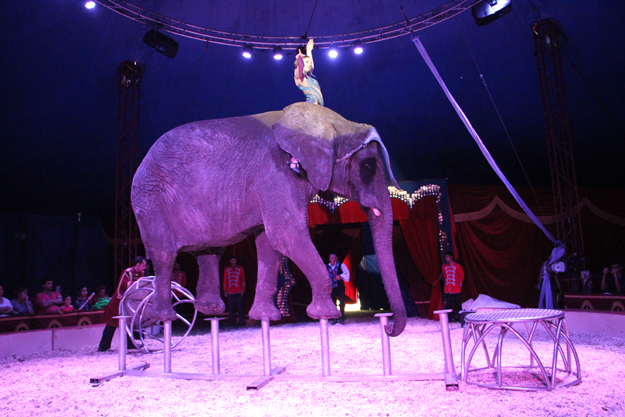 Ramboline. Photo from Circus Trapeze 2016

15 January 2017
Zirkus Nemo 2017. Amongst the performers in this year's performance is the Ukrainian handstand / hand-to-hand troupe Crazy Flight, the juggler Picasso Jr. and the sea lion trainer Ingo Stiebner and his sea lions. Crazy Flight was also with Nemo in 2015, but present in the upcoming season apart from there old act an act in Russian bar. Ingo Stiebner's charming act was most recently with Nemo in 2014. The world class juggler Picasso Jr. was most recently with Nemo in 2013.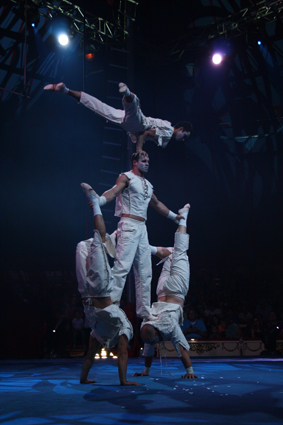 Crazy Flight. By courtesy of Zirkus Nemo

12 January 2017
Two birthdays with a round figure:
On Tuesday, January 17 the magician and artist agent Henrik Mortensen can celebrate his 60 years birthday. Apart from being a magician, he as an artist agent and books artist for e.g. the Aarhus Festival's Night Cabaret and for Zirkus Nemo.
On Friday, January 20 the multi artist Alexander Arli turns 30. As son of Martin and Bettina Arli and grandson of Søren and Lotte Arli of Circus Arli it was obvious that he would become an artist. Only 2-year-old he made his debut in the circus ring. Thus, he has 3 years ago celebrated 25th anniversary as artist. In 1994, he was fortunate to receive the Simon Spies Foundation's artist award of no less than 50,000 DKK (equivalent to 6,666 Euro). In 1999 he was amongst the performers in Lars von Trier's film "Dancer in the Dark". For many years he has every season presented a new and impressive act in Circus Arli. In the winter seasons, he has appeared in a number of revues and music hall shows including in Aalborg Winter Revue and the actor and comedian Jan Schou' Schou Tur shows. The birthday is "celebrated" in such a show: there is dress rehearsal of Schou Tur 2017 at Østergaards Hotel in Herning, where Alexander together with Jan Schou, Peter Nørgaard, Anna Kaack, Sara Gadborg and Lone Rødbroe offers the audience terrific entertainment with cabaret, vaudeville, singing, artistry and dance in a lively, musical, imaginative, witty and lavish show. For his special talent, including his strong personal charisma and artistic daring Alexander Arli received in August 2016 the Danish Circus Awards special talent award.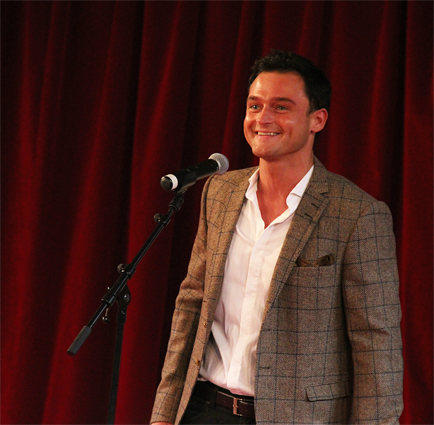 Alexander Arli. Photo: Jacob Boas Leitisstein

9 January 2017
IT ALL HAPPENS IN PARIS -- now towards the end of the Christmas season, I saw CIRQUE PINDER featuring a solid program: Ringmaster JOSEF /Monsieur LOYAL, in French, guided us thru a nice program:
SANDRO MONTEZ features exotic animals, camels, lamas - also donkeys and horses, he returned giving us the pleasure of an unusually pleasant dog act, where the dogs clearly took pleasure in performing.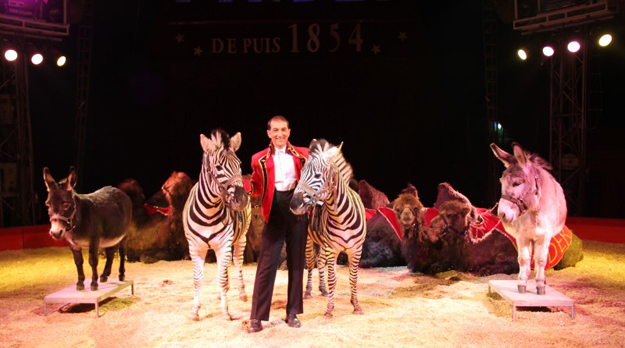 SANDRO MONTEZ. By courtesy of Cirque Pinder.
MONASTYRSKY, a Russian couple performing QUICK CHANGE of costumes at an incredible pace, spiced up with acrobatic dance - really top class artists.
GIORGIO very skillful playing the diabolos.
CAI YONG hand acrobatics and contortion, rarely seen.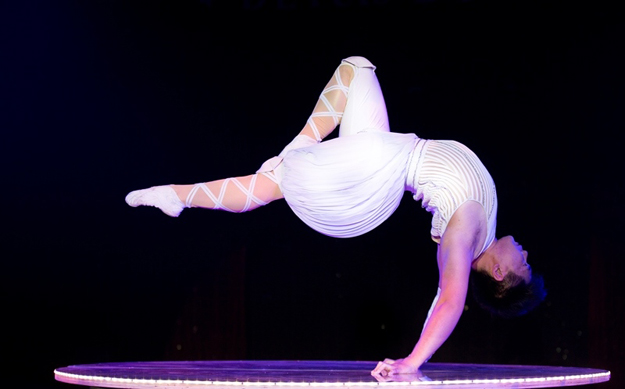 Cai Yong. By courtesy of Cirque Pinder.
VALERIY acrobatics in textiles, swift and elegant.
FLYING SERGIO, flying trapeze from Brazil, precise and beautiful.
FRÉDÉRIC EDELSTEIN featuring his 12 white lions - an act that clearly shows friendship and confidence between man and animal - although a predator always remains a wild animal.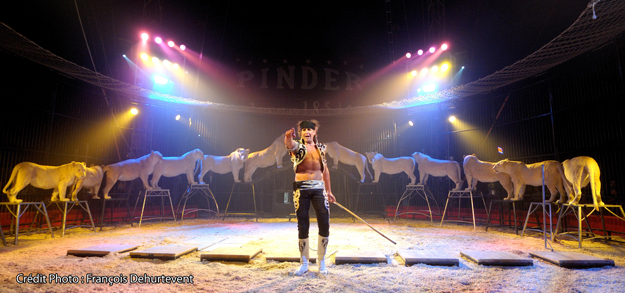 FRÉDÉRIC EDELSTEIN. By courtesy of Cirque Pinder. Photographer: Francois Dehurtevent
LA COMPAGNIA HABANA, Russian bar, saltos with twists - a delight to see.
BRAT GARCIA, comedy on trampoline.
LOS RIVELINOS, Spanish clowns featuring many hilarious actions.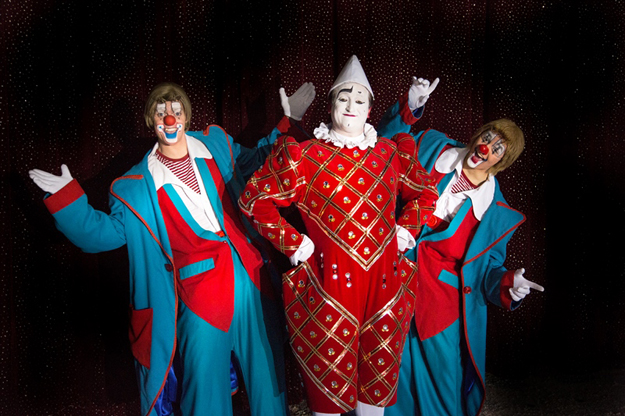 Los Rivolinos. By courtesy of Cirque Pinder.
-------------
Comfortable seating, big top heated, but we are still missing a circus orchestra.
CIRQUE PINDER is, to my mind, the best circus for a family audience - lots of animals and clowns.
Info: CAI YONG got a golden clown in Monte Carlo 2012, he was with Cirkus Arena, DK, in 2014. MONASTYRSKYS were with Cirkus Maximum, Sweden, 2014, also at Helsingborg's Christmas Circus, and 2004 at Copenhagen outdoor stage PLÆNEN in Tivoli, 2004.
RIVELINOS were with Cirkus Arena, DK, for 5 seasons, with Cirkus Maximum, Sweden, 2 seasons. GIORGIO HROMADKO was with Circus Arena, DK, in 2012.
See more: http://cirquepinder.com/
IT ALL HAPPENS IN PARIS!!!
This write up comes a bit late, for reasons out of my control, PINDER ends in Paris on JAN 22, then touring France: Tours, Poitiers, Toulouse....
................................................... reported by ZARRO ZARRO.

5 January 2017
Circus Minimax takes a break. Carl-André Hjelvik from the tiny Norwegian Circus Minimax tells that his circus will spend one year off the road because he and his girlfriend Ingrid Lone will have an addition to the family and will focus on this. "But we will be back on the road in 2018 with a brand new and fascinating program," Carl-André promises.

4 January 2017
IT ALL HAPPENS IN PARIS At the update on January 14th of this page you can read a review of the performance of the large French Cirque Pinder. They have performances at Pelouse de Reuilly in Paris to and including January 22. Then they continue the tour to Tours, Poitiers and Toulouse.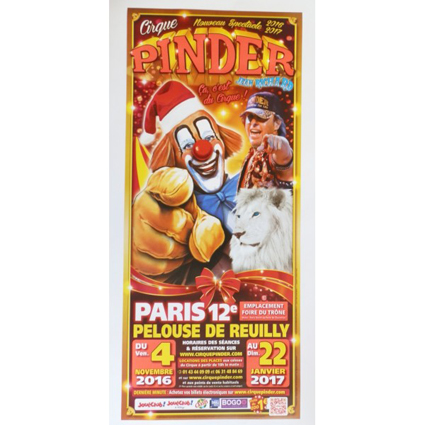 1 January 2017
Birthdays with a round figure in 2017. Several persons from the Danish circus and artist world are celebrating a birthday with a round figure in 2017.
On 17 January Henrik Mortensen, magician and artist agent turns 60
On 20 January Alexander Arli from Circus Arli turns 30
On 1 March Addie Jepsen, sea lion trainer, turns 75
On 23 March Katja Enoch, artist, turns 50
On 14 April Irene Thierry, owner of the Danish Circus Krone, turns 70
On 11 May the actor and comedian Søren Østergaard, owner of Zirkus Nemo, turns 60
On 12 June Diana Benneweis turns 70
On 13 July the twins Nadia and Dawid Benneweis turns 30
On 24 July Frank Thierry, artist, turns 50
On 3 September Andreas Deleuran from Circus Mascot turns 20

1 January 2017.
This website had 41,750 visitors in 2016. It is 3,250 more than in 2015. The news section and the tour list ("What's on) are usually updated every Saturday. Apart from news and tour list the website has pages with facts about Danish circuses, Danish circus families etc. Links to those pages can be found at the bottom of the opening page