Circus news from 2007
28 December 2007
In 2007 8 tented circuses toured Denmark from late March/early April. 3 large circuses: Circus Arena, Circus Ben­neweis and Circus Dannebrog and 5 dog and pony-shows (what Americans call high grass circuses): Circus Arli, Circus Baldoni, Circus Charlie, Circus Krone (Irene Thierry's circus using the same name as the mighty German Circus Krone) and Circus Mascot. All of the Danish circuses offered performances of high quality. Even the small circuses had some foreign performers of good quality.
The summer was plagued by rain and floods and will not go down in history as the most successful for most Danish circuses. Circus Charlie closed its season on 18 June however continuing during part of the summer in a much reduced format with only a few artists performing at camping lots. The other circuses closed their season in September which is standard in a northern country as Denmark. Subscribers to the excellent English Circus Magazine King Pole can read a review by Don Stacey of the performances in Benneweis, Dannebrog and Arena in number 166 from December 2007.
In Jutland Luffe Bögh assisted by Bjoern Schult-Bjoernlys from April to September presented Circus No Name in the Team LA Park in Solbjerg.
20 May was opening night for Zirkus Nemo, owned by the Danish actor and comedian Soren Ostergaard. Zirkus Nemo was a travelling variety-show. Apart from Soren Ostergaard you met some good circus artist in the performance. Zirkus Nemo toured until September.
Some youth organisation produced circus-performances with kids as performers, using names as Circus Flik-Flak (the most established of the youth circuses), Circus Arcus and Circus Tvaers.
Two German family circuses toured Denmark: the tiny Circus Astoria was in Denmark a couple of months in the autumn. The somewhat larger Circus Renz Berlin spent the entire season in Denmark, touring Zealand from March to August and Funen and Jutland in September and October, closing the season with a Christmas Circus in Aalborg from 20 to 30 December. As far as I have been informed Circus Renz Berlin intent to stay in Denmark in 2008. Almost all acts are done by members of the Bernhard Renz family and their performance is certainly not as strong as their Danish competitors' performances. But using the "kid free" sale gimmick they do attract some audience. None of the Danish circuses are offering "kids free".
Circus Baldoni presented in December a Christmas circus at sport centres etc. at Zealand.
Below you can find some photos and link to slideshows from some of the performances in 2007.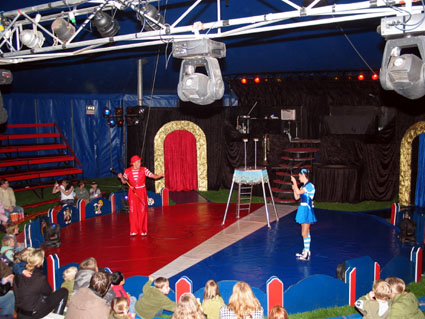 At Circus Charlie things are red and blue. The clown Red tells the audience that the red-painted seats are the best seats and that there a most fun in the red-painted part of the ring. Try to guess Blue's opinion! Click here to see a slideshow from the performance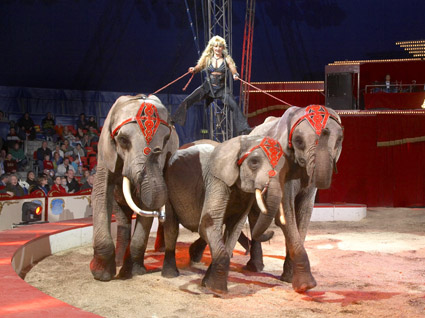 Alexia Casselly riding the Courier on elephants in Circus Arena. Photo: Christian Warrer/Circus Arena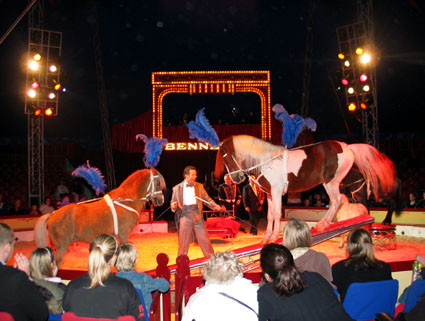 Karl Ferdinand Trunk and his ponies in the Benneweis ring. Clich here to see a slideshow with more photos from the performance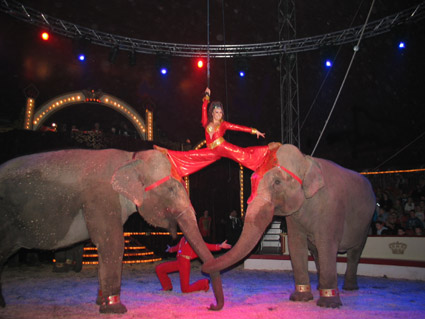 Errani's elephants at Circus Dannerbrog. Click here to see more photos from the performance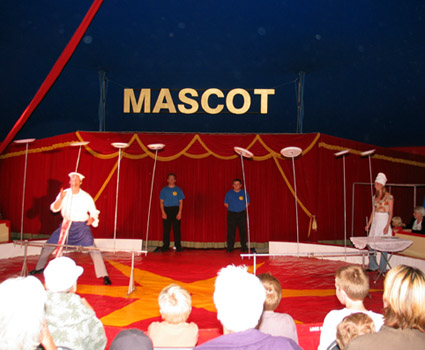 Then plate spinning juggler Zdenek in Circus Mascot' ring. Click here to see more photos from the performance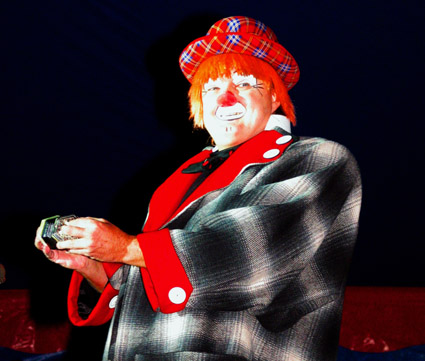 Martin Arli with the old concertina he last year got as a present from the old bike acrobats Leif & Anna Conradi. Click here to see a slideshow with more photos from the performance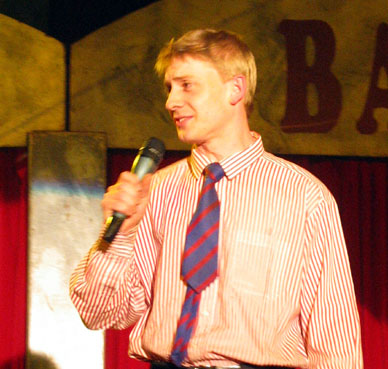 Martin Maiböll at Circus Baldoni. Click here to see a slideshow with more photos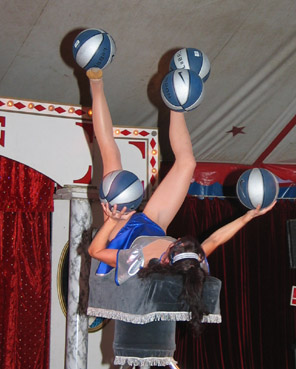 Eva Varadi (Circus Krone). Click here to see some more photos from the performance.

20 December 2007
Stars in der manege is a very popular German TV-show which the day after Christmas day for the last 45 years have been broadcasted by German TV channel ARD. In the show you can met a number of popular German actors, TV-hosts etc. trying their luck as circus stars. In addition you can meet some professional circus artists. Among those are this year the Danish clown Bonbon and his Finnish wife and partner Tiina, presenting their fantastic comical badminton entrée. Other professional circus stars in the program which run for two hours are Flying Warriors (arial reck), White Crow (Russian bar, winner of a silver clown in Monte Carlo this year), Stewe Rawlings (comical entrée), Micha Usov (clown) and Dima Shine (equilibrist).

20 December 2007
No goats in Danish circuses. The dreadful cattle plague Bluetongue has resulted in severe restrictions for transport of goats and sheep in Denmark. In reality those restriction will mean than a touring circus not can bring goats (or sheep) with them on their tour. There have recently been a number of cases of Bluetongue in many countries in Europe including a single incident in October in Denmark. Commission Regulation (EC) No 1266/2007 introduces the obligation for the Member States to carry out bluetongue monitoring programmes in the restricted zones and surveillance programmes outside the restricted zones. These programmes must include clinical, serological and entomological components. Bluetongue (and the related Epizootic Hemorrhagic Disease) are caused by Reoviruses that are transmitted by the insect vector Culicoides varripennis and can infect cattle sheep, goats, and wild ruminants.

17 December 2007
From Paris Zarro Zarro writes: More CHRISTMAS CIRCUS in Paris -- CIRQUE MESSIDOR presents a thematic show NOEL EN RUSSIE/ CHRISTMAS IN RUSSIA. CIRQUE MESSIDOR comes every year to Paris for the X-mas season, the Big Top is located in the BOIS DE BOULOGNE, the vast park intra muros in Paris. Formerly, other themes were exploited, we saw X-mas in Lapland with Nordic folklore and reindeer, apparently flown in from Northern Sweden. This year we were treated to CHRISTMAS IN RUSSIA, featuring Russian X-mas music, Russian folklore and good artists: acrobats, jugglers, clowns, horses and brown bears - all in all very ---- Russian. The location in the Bois de Boulogne is somewhat awkward, from the nearest Métro station Rue de la Pompe or Ranelagh, there is a 20 min' walk, and signs provided by the circus are - all too often -pulled down by irresponsible persons. CIRQUE MESSIDOR is well worth seeing - take down a note about it - for your next visit to Paris !!!
THE LIDO family Christmas program 2007. MARION AND HER BROKEN DOLL. A fairy tale in a fairy land ...the story is about a little girl and her lost and broken doll -- and how she found it -- all mended and in good shape - thus a HAPPY ENDING. A fantastic show, using the top-class, high-tech stage technique including the aeroplane, the skating rink, the illuminated fountains and -- the superb LIDO dancers. The story is built around five big Magic Illusions, well integrated in the plot and thus playing an important part in the show.
An enjoyable show for kids and parents alike -- highly recommended as an excellent family Christmas entertainment !!! Read more at LIDO's spectacular website http://www.lido.fr/us/cabaret-paris.html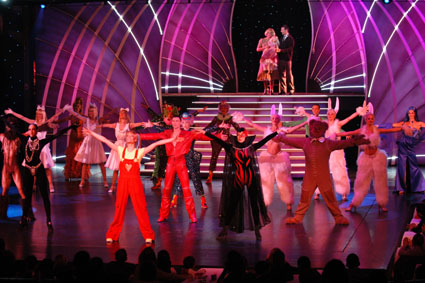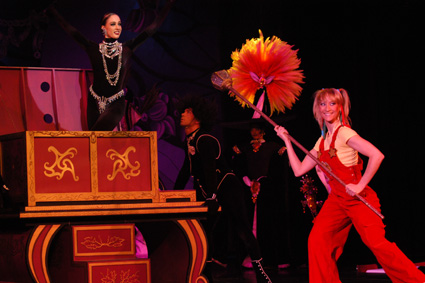 From Lido's show Marion. Photo by courtesy of Lido

16 December 2007
Circus owners Thessa and René Moenster has every week-end in December presented Baldoni's Christmas Circus. Click here to see a slideshow from the performance.

16 December 2007
As mentioned on this page on 9 December 2007 The Swedish Circus Academy's honorary award "the Charlie" was given to Bo Rönnberg at the gala dinner Saturday 8 December at the collectors fair at the Circus Arena winter quarter at Slagelse. Roy Himsel of the Circus Academy has provide me with the photos below. Further photos can be seen at http://picasaweb.google.com/Cirkus.dk/SamlerweekendISlagelse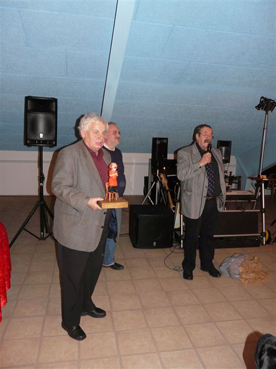 Bo Rönnberg with "the Charlie". To his right you can se the chairman of the Swedish Circus Academy Roy Himsel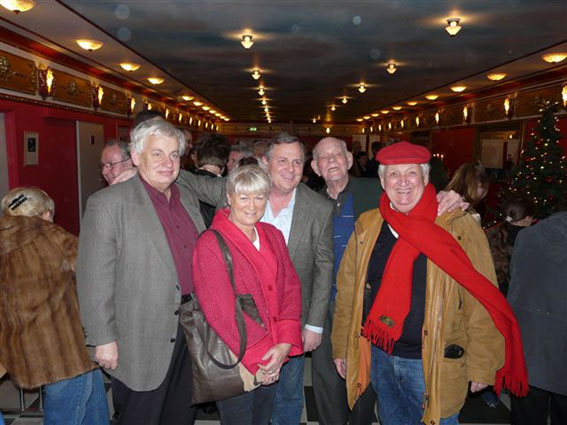 At the gala dinner you could meet a number of Nordic Circus owners. From left you can see Bo Rönnberg (Circus Skratt), Irene Thierry (Danish Circus Krone), Benny Berdino (Circus Arena), Åke Skogh (Circus Wictoria) og Søren Arli (Circus Arli).

11 December 2007
ECA EUROPEAN CIRCUS ASSOCIATION had a well-attended meeting in Paris, DEC 10, 2007, where we were cordially invited into the BIG TOP of CIRQUE ARLETTE GRÜSS - very generous indeed, my Paris correspondent Zarro Zarro writes:
Director ARIE OUDENES extended his welcome to all and then gave the floor to MICHEL LOUIS, director of the ZOO in Amnéville, France. MICHEL LOUIS briefed us thoroughly on the animal preservation initiatives carried out by this ZOO, and he suggested ways and means as to how the circus world could contribute and back up on all this. He also suggested ideas as to how zoos and circuses could co-operate in an efficient way.
ECA REPRESENTATIVE in Brussels, LAURA VAN DER MEER, then gave an extensive and clear picture of propositions concerning an ECA reglementation re: aninmal welfare, transport of animals and their presence in the circus ring. She pointed out the extensive work that is being done in Brussels to base reglementation on scientific evidence and not on emotional and irresponsible outbursts from various activist groups.
Lunch was offered by CIRQUE ARLETTE GRÜSS - on behalf of all, I would like to extend a BIG THANK YOU!!
Member of the ECA BOARD, ZSUZSANNA MATA, explained the idea behind the European Circus Day, proposed for April 18. All were exhorted to participate and to produce ideas to make this promotional campaign a success.
JACK MERVIL, director for the Control and Verification Office /BVCTS/ re: big tops, tents and similar structures, suggested that the circus might now be exempt from obligations to have fire watchmen, since the modern tent canvas doesn't catch fire. Important savings could thus be made. He advocated the instalment of a European Office in each country.
We were all asked to continue supporting ECA and looking after the interest of the circus.
Info: www.europeancircus.info

10 December 2007
More CHRISTMAS CIRCUS IN PARIS --- THE GIANT CIRQUE PINDER. From Paris Zarro Zarro writes:
Every year CIRQUE PINDER plants its BIG TOP on the Pelouse de Reuilly in Paris, where DIRECTOR GILBERT EDELSTEIN, assisted by his family and a big staff, presents a wonderful program, this year we had the pleasure to see RINGMASTER FREDERIC COLNOT roll out this cast: GARY YAHN, UK, with trained exotic animals - camels and zebras, XELO, super-champion with diabolo, THE BALDERS, funny clowns and good musicians, LES MUNOZ with clever and well-trained sealions, TRIO LARUSS, acrobats in the style of living statues, SCHMARLOVSKY, in a parody of a magician including funny small animals and - with the lady's coat that transforms into a lot of ferrets !!!
TROUP BAETA, flying trapeze, with the female partner performing in a triangular net as start of the act, SUSAN performing in textile up in the air, SACHA HOUCKE presents Cirque Pinder's own, Indian elephants, GINA GIOVANNI presents excellent hand-stand-acrobatics, THE JASTERS, knife-throwing and shooting arrows from a crossbow towards the female partner.
FREDERIC EDELSTEIN is no doubt the highlight of the show - alone in the central cage he confronts 16 lions and tigers in a thus mixed group - unique worldwide. SOPHIE EDELSTEIN presents a MAGIC ACT, in the Las Vegas style - together with, rather than assisted by, five excellent acrobatic male dancers, she performs five amazing and stunning illusions.
Considering that the CIRQUE PINDER stays for two months in Paris, with a BIG TOP holding 5000 persons, sold out every day, plus an nine-month tour covering all of France - about two million people watch a wonderful circus show with a startling MAGIC ACT as part of the program - this means that the general audience get just what they want. GOOD,CLEAN and HEALTHY ENTERTAINMENT. Se more at http://www.cirquepinder.com/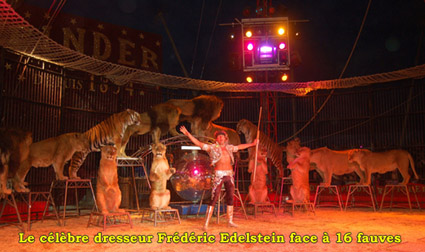 Photo by courtesy of Cirque Pinder
CIRCUS IN PARIS -- ALL THE YEAR AROUND !!!!
Paris is - as far as I know - the only European city where you can watch circus shows at any time of the year. CIRQUE MORENO has already been covered -now I just saw CIRQUE ALEXANDRA FRANCONI, OF THE WELL-KNOWN CIRCUS DYNASTY.
The main artist in the show is her husband, CLOWN BOBOSS - a wonderful artist playing several instruments as well as being a good juggler with ping pong balls.
The whole circus is manned by four persons only: daughter STEPHANIE /aerial acts in ring and trapeze/, she also assists BOBOSS in clown entrées which are rather original, always with a personal twist. This year they have an Italian artist on the cast: fire juggling, cowboy act with lassos and twirling the big cube, made of metal tubes, of Russian origin - I take it. The program is presented in a four-mast big top, beautifully decorated for Christmas, the whole outfit is freshly painted and everything is well kept. The program also holds ALEXANDRA with an act showing performing budgies, STEPHANIE with performing ducks and aerial acts /as above/. If there is poetry in any circus program, I trust that this is the case here - the entire presentation is .... just about what dreams are made of!! Let's hope that CIRQUE ALEXANDRFA FRANCONI will ---- keep going strong!!!! Read more at http://www.franconi.net/histoire/
CHRISTMAS CIRCUS in Paris - more info, maybe of interest.
Cirque Phénix, Direction Pacherie, presents the Beijing Circus, apparently the best of ....
Cirque Alexis Grüss and Cirque Arlette Grüss are present with X-mas circus, write-up will follow later.
LA VILLETTE Cultural Center, Paris, has now and then New Circus performances.
A very cute little circus, ALIBORO, has a pleasant show based on performing donkeys and clowning, interspaced with some juggling and magic tricks. Unpretentious, sympathetic and - very appreciated. They often play together with other arrangements, showtime 50 minutes - or so...
CIRQUE PINDER is constructing a theme park outside Paris, named PINDERLAND.
On the circus theme, there will be a big top holding 3000 persons, and a number of circus-related activities.

9 December 2007
The Swedish Circus Academy's honorary award "the Charlie" to Bo Rönnberg. At the gala dinner Saturday 8 December at the collectors fair at the Circus Arena winter quarter at Slagelse the president of the Swedish Circus Academy Roy Himsel awarded the Swedish Circus owner Bo Rönnberg of Swedish Circus Skratt the Academy's award the Charlie. Back in Bo Rönnberg was manager of an advertising agency in Gothenburg, Sweden. In the autumn 1982 he arranged guest performances in Sweden by Danish Circus M Schumann. In 1984, 1985 and 1986 he arranged guest performances by Danish Circus Arena. Bo Rönnberg was in charge of the ticket sale and had the full financial risk. Circus Arena's owner Benny Berdino was in charge of the performance which however was strengthened by adding some artist and the Swedish entertainer Thore Skogman. For season 1984 and 1985 the name Circus Skogman was used. From 1986 onwards Bon Rönnberg used the name Circus Skratt (Skratt is the Swedish word for laughter). From 1987 to 1993 Bo Rönnberg cooperated with Haddy Enoch of Circus Dannebrog, using the Dannebrog equipment and the Dannebrog artist when touring Circus Skratt in then autumn. Since 1994 Benny Berdino of Circus Arena has been Bo Rönnberg cooperation partner. Bo Rönnberg sells the tickets and has the financial risk, renting the circus, tent and all, from Benny Berdino. However, not as in 1984-1986 using equipment or acrobats from Circus Arena, but by using a special Circus Skratt tent and engaging special performers for the Skratt performance.

8 December 2007
A slideshow with photos from the collectors fair (Tausch- und Verkaufsbörse) at the Circus Arena winter quarter on 8 and 9 December will be ready December 9 in the evening. Click here to see the slideshow.

5 December 2007
Katja Schumann to Circus Dannebrog. Those who are lucky enough before 1970 to have seen Circus Schumann in the Copenhagen Circus Building will certainly remember two members of the younger generation: Katja Schumann, daughter of Max and Vivi Schumann and her cousin Benny Schumann, son of Albert and Paulina Schumann. Both were as the rest of the Schumann family outstanding horse trainers. When Max Schumann in 1977 started his own tented Circus M. Schumann Katja was of great help both as performer and in practical issues. I remember seeing her driving one of the circuses large trucks. When Circus M. Schumann closed forever after season 1982 Katja went to the USA where she until spring 2004 performed at New York's Big Apple Circus and was married to the managing director Paul Binder. From 2005 to 2007 Katja has worked for Circus Flora in St. Louis, Missouri. In then autumn 2006 she toured Sweden with Robert Bronett's horseshow Levade Noble Horse Gala. She told me at that time that she wouldn't mind once again to tour Denmark or other countries in Europe for a season.
One of the reasons for Katja now to join Circus Dannebrog for a season is the very good relations her late father had with Circus Dannebrog. Max Schumann toured with Circus Dannebrog from 1987 to 1992 and presented every of those years world class liberty horses. Max Schumann passed away in 2004. 80 old Vivi Schumann does still live in Jutland, giving Katja an opportunity to get closer to her mother (Katja is a family person) during her season with Circus Dannebrog.
By engaging Katja Schumann circus owner Haddy Enoch has got one of the world's greatest horse trainers. And the Danish audience will get the opportunity once again to see a member of the famous Schumann dynasty in a Danish circus ring. Apart from Katja Schumann Circus Dannebrog has for the 2008 season re-engaged the Errani-family with elephants, juggling, antipodian act and hula hoop. Furthermore they are said to have engaged the Balder clowns, Hans and Vicky Pedersen with their sealions and penguins, the Messoudi family and Garcia's arial rocket act. Members of the Enoch family themselves will probably also present their famous bike act.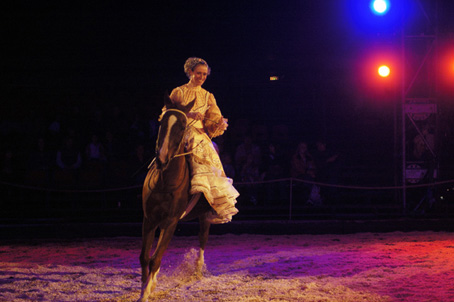 Katja Schumann at Ushastik. Photo: Roy Himsel

4 December 2007
X-MAS CIRCUS IN PARIS ----- AND ELSEWHERE. Circus News from Zarro Zarro
The Christmas season for circus is just starting up in Paris, a city where the TOWN HALL proudly claims: Paris aime le cirque /Paris loves circus.
The Italian circus IL CIRCO DI VENISE presents a nice and solid family program featuring tigers, horses, high-school riding, camels, zebras and lamas - all in very attractive settings where the animals perform only what is natural to them. There is also a very comic act with a performing dog and the Director as partner-clown. The highlights of the show, were - as far as I can see - a young girl, member of the family LANDRI, performing on trapeze, aerial ring, textile and also, on the ground, a quick and slick Hula Hoop act. The LANDRI family succeeds in putting together a quality show and travels with a Big Top that holds about 800 people. All in all the show is well worth seeing.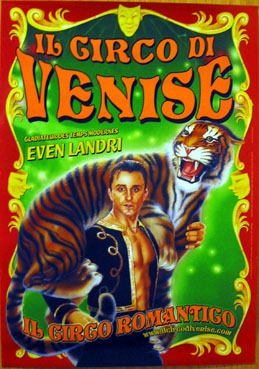 IT ALL HAPPENS IN PARIS - also shows that you as a visiting tourist never get your eyes on. Here comes a short list with some suggestions:
There are many small theatres in Paris, some of them present family-friendly programs on Wednesdays/ when French kids are free from school to attend sports activities or whatever/ and on Saturdays and Sundays, always scheduled as afternoon performances.
You can find these shows in L'OFFICIEL DES SPECTACLES and PARISCOPE, the latter has info also in English, but with a minimum of school-French you will be able to find your way in L'OFFICIEL DES SPECTACLES, both publications are sold at newspaper-stalls.
Theatre COMEDIE DE LA PASSERELLE features MAGICIAN PATRICK BIEQUES, who presents a nice and pleasant MAGIC SHOW - original, humorous and full of surprises, involving the kids and their parents in the show. Read more: www.patrickbieques.com
Address of theatre COMEDIE DE LA PASSERELLE: 102, rue Orfila, Métro Gambetta.
THEATRE CLAVEL, 3 rue de Clavel, Métro Pyrénées, features CARMELO CACCITO with partner CRIMET in two different shows:
PARIS PALERME, telling the story of a journey between these two cities and LA COMEDIE MAGIQUE -- a nice and pleasant comedy based on classical magic effects but presented and concocted in a new and original way.
Both artists being actors and mimes as well as magicians -- gives them the possibility to create a great, funny and pleasant show and having success in front of any audience.
This magazine sees to the interests of circus-lovers, and this being so - I do think that the above-mentioned shows will be equally appreciated.
Try your way around in Paris and GOOD LUCK!!! ZARRO ZARRO.
IT ALL HAPPENS IN PARIS - CIRQUE JEAN RICHARD AS CHRISTMAS CIRCUS.
Paris has a great tradition for X-mas circus - The CIRQUE PINDER DIRECTOR GILBERT EDELSTEIN brings the Dutch national circus HERMANN RENZ to Nanterre, a Parisian suburb, and he does so every year.
ROBERT RONDAY GOLDSTEIN together with CHRISTOPHE ROUSSELEAU takes care of the general management and artistic setting, thus creating a great program:
MILKO STEIJVERS, equally managing many of the circus' activities, performs in various clown entrées together with BRUNO and FRENKY. SIMONA AND ELENA present juggling and acrobatics in a high tempo, TAMARA is an aerial antipodist on trinka and suspended to a wire, very original indeed, MICHEL JARZ has an elegant act with horses, THE FALTING FAMILY perform stunning tricks on various bikes, MILKO is also a solo clown with great success, PEDRO AND TATJANA are adacious aerial acrobats on trapeze, STEVEN PEDERSEN, assisted by wife and daughter features very well-trained and funny sealions, and a couple of penguins as well, TAMARA reappears in an original aerial act, "caught in a net", - CLOWN FRENKY lets loose his hilarious trained geese causing roaring laughter, - TOM DIECK JUNIOR, rewarded in Monte Carlo, presents three male lions and two female ones, PEDRO CARRILO TRIO, two young men and a young girl walk the high-wire, we noted a backwards salto, seldom seen on a high-wire, - SIMONA is a gracious contortionist and EMIL has a balance act on ladder, very sure, quick and slick.
A band, eight musicians, not named in the printed program accompanied the show - live music IS important!!! When we add a "barriére" of ten circus hands - and an elegantly decorated BIG TOP, we have - all in all -a very pleasant and high class circus performance. On behalf of an enchanted audience - I would like to convey a BIG THANK YOU to Gilbert Edelstein and Robert Ronday Goldstein!!! - ZARRO ZARRO.

3 December 2007
ECA-meeting at Paris. European Circus Association will have a meeting at Circus Arlette Gruss in Paris on 10 December. At the agenda is:
Circuses and Zoos – Mr.Michel Louis – director of Parc Zoologique d'Amnéville. Conservation work undertaken by the zoo and suggestions for the contributions that could be made by the circus community. How can the circus and zoo communities collaborate more effectively.
ECA Proposed Model Regulation for the Care, Transport, and Presentation of Animals in the Circus – Laura van der Meer – Brussels representative ECA
A European Circus Day – Zsuzsanna Mata – executive board member ECA
Central verification offices for Circus tents in all European countries? - Jack Mervil - director of the French 'Bureau de Vérification des chapiteaux tentes et structures'.

3 December 2007
New tent for Circus Renz Berlin. When the German Circus Renz Berlin on 20 December invites the audience to Christmas Circus at Skalborg at Aalborg they plan to use an almost new tent with a diameter of 36 meter and with no quarter poles. As far as I know the German family circus intent to winter in Denmark and to start their 2008-season by touring Jutland.

1 December 2007
Christmas circuses in Denmark. Denmark has no tradition for circuses performing at Christmas time. However, in 2006 both Danish Circus Baldoni and the German family Circus Renz Berlin presented Christmas Circus performances in Copenhagen. Both circuses will this year again present a Christmas circus: Circus Baldoni in a number of cities on Falster and Zealand and Circus Renz Berlin in Aalborg in Jutland. The Baldoni performance will be opened by Santa Claus, introducing the Christmas elfs Nis and Nisseline who sings, dances and make a lot of fun. The Christmas pig Anton Antonius (a ventriloquist doll) will tease everyone and talk the hind leg of a donkey. Acrobat elfs, juggling elfs, magician elfs, funny dogs and a lot of other Christmas elfs will enter the ring accompanied by sweet Christmas Music proving that it now once again is Christmas time. Behind the elf costumes you will find international top artist: the rola bola artist and jugglers Anna & Anton from St. Petersburg, then plate spinning jugglers Barbi Family from Latvia, The Raymond's foot jugglers and dog act, the Swedish acrobat David Hammerberg and the magicians the Baldoni´s. Apart from Baldoni's Christmas Circus circus owners Thessa & René Moenster tour with Circus Nissesjov which offers an 45 minutes long performances for kids from 3 to 12 and all other childlike Christmas loving persons.
At the performance in Circus Renz Berlin you can meet the clowns Charlie and Bimpo, Miss Amara with hula hoop and foot juggling, the juggler Adriano, who also present liberty horses, the wild west acrobats Eldorados, ponies presented by Frants Renz Jr. Miss Scarlett in roman rings, Miss Ronja presenting hand stand acrobatic and Leika and Mara assisted by Frants Renz presenting the Renz elephants. All or most or the performers are members of the Renz family.

1 December 2007
Weekend for collectors of circus posters, programmes etc. What in German is called a Tausch- und Verkaufsbörse is scheduled for 8 and 9 December at the winter quarter at Aarslev close to Slagelse of Danish Circus Arena. Slagelse is approximately one hour by car from Copenhagen. The week-end is arranged by two Circus Magazines: the German Circus Journal and the Swedish Circuläre Notiser in cooperation with Circus Arena, being the largest circus in the Nordic countries. Hopefully a lot of circus friends from Denmark, the southern part of Sweden and the northern part of Germany will visit the fair which will open on Saturday at 12 noon. However, visitors are welcomed from 10 a.m. Apart from possibilities for purchase, sale and exchange of collectors items such as posters, programmes, films etc. the Arena winter quarter can bee seen, including the stables, the training ring (there will be a display of training), the performing sealions, the Arena museum etc. Benny Berdino will present his newly acquired African elephant – Benny has for many years dreamed about getting his own elephants. His daughter Suzanne Berdino will tell about her new book on horse training and give examples of such training. There will be a photo exhibition with circus photos taken by Roy Himsel and his daughter Linda. Father and daughter are among the best circus photographers in Europe. Also the Danish photographers Lise Kokholm and Kenneth Severinsen will display some of their photos. Saturday evening circus owner Benny Berdino will host a gala dinner for special invited guests. If you have a GPS: the address is Aarslevvej 6, Slagelse, Denmark.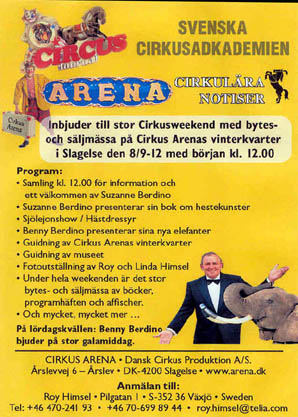 30 November 2007
Exhibition of Nelly Jane Benneweis' portraits of clown. After her retirement former Circus Benneweis ringmistress and press agent Nelly Jane Benneweis started to make drawings of the white faced clown. She created a beautiful 2006 poster for the Circus Museum at Hvirovre, Copenhagen. From 30 November 2007 to 4 January a number of her beautiful drawings can be seen at the Art Gallery Bastillen at Frederiksberg, Copenhagen.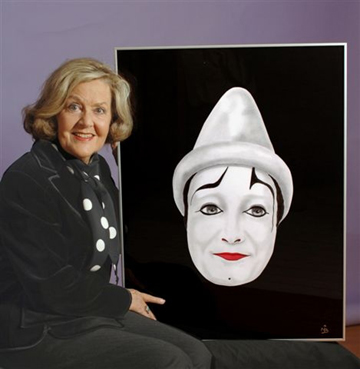 Nelly Jane Benneweis sitting next to her drawing of Matini Llata of the Spanish Rudi Llata family. Matini Llata worked for Circus Benneweis in 1976.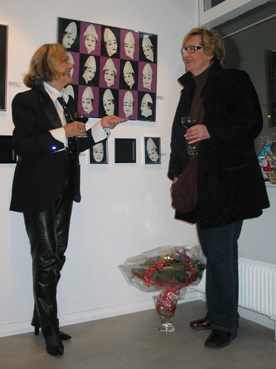 Nelly Jane and Pia Ville. Pia Ville is one ot those who a couple of years ago persuaded Nelly Jane to take up again making drawing – something the young Nelly liked to do before she started her carrier as dancer and ringmistress.

28 November 2007
English report on animals in circuses. ECA writes:
The Report of the Chairman of a Circus Working Group established more than a year ago to assess scientific evidence concerning circus animal welfare was released on 20 November. This Report includes the unanimous findings of a panel of academic and practicing experts, nominated by both the circus industry and activist organizations, which agreed that:
"Whilst it was accepted that animals kept in circuses were more confined than in the wild the opinion of most of the Panel was that this did not, necessarily, lead to adverse welfare." Para. 5.3.4.
"[A]lthough circus animals are transported regularly, there is no evidence that this, of its own nature, causes the animals' welfare to be adversely affected." Para. 5.4.3.
"[T]here is little evidence that the health of circus animals is any better or worse than animals in other captive environments." Para. 5.6.2
The remit of the Circus Working Group was to consider scientific evidence to carry out the Government's commitment to ban species of animals whose welfare needs could not be met in a travelling circus environment. The Panel of Experts concluded that the evidence was insufficient to justify a ban of any species presented in U.K. circuses (currently including elephants, tigers, lions, camels, zebras, reindeer, llamas, snakes, kangaroo, and crocodiles).
The Circus Working Group Chairman, a professor of law, concluded that, given the lack of scientific evidence, any ban brought forward by the Government under existing legal authority would be vulnerable to legal challenge.
While proposals for a law to ban animals in circuses may still be brought forward in the Parliament as new legislation, the Chairman describes a path forward in which the Government could establish regulations for circus animals to provide greater certainty for the circus community and to respond to critics' concerns by creating more transparency and accountability. Both the U.K. zoo licensing act and the ECA's Model Regulations are identified as possible sources of the content of such regulations.
The report can be downloaded from DEFRA's website. (Defra: Department for Environment Food and Rural Affairs).

9 November 2007
Last performance for Duo Pelmeni. Two of the best and most successful Danish new circus artist Josephine Wulff Randrup & Rasmus Aitouganov has for many years been known as Duo Pelmeni. They could be seen in the Stockholm version of the ABBA musical Chess and most recently in the Royal Bones performance Fusk (based on Shakespeare's Hamlet). However, Rasmus has now started as a full-time instructor at the Copenhagen Circus School AFUK and will due to this stop his carrier as an international performer. The very last performance given by Due Pelmeni could be seen today in connection with a reception given by AFUK in order to celebrate the AFUK manager AnneSophie Bergmann Steen's 50 year birthday and that the City of Copenhagen have granted 25 million DKK to AFUK for rebuilding of an old tram depot to training facilities for the AFUK students.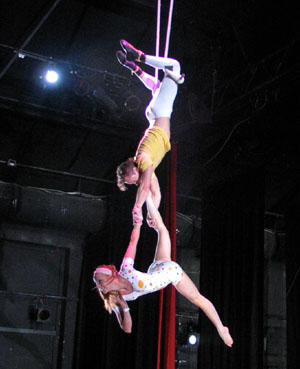 Duo Pelmeni. Photo fro AnneSophie Bergmann Steen' new circus performance Roundabout in December 2005

4 November 2007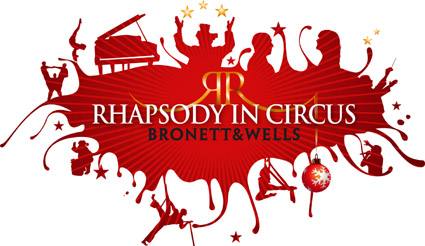 Christmas Circus in Sweden. The Swedish singer and band leader Robert Wells and his namesake Robert Bronett will from 26 December 2007 to 5 January 2008 present the performance Rhapsody in Circus in Stockholm and Gothenburg in a tent seating 4,300 persons.
The Swedish pianist, composer and singer Robert Wells are well-known in Sweden for his musical show Rhapsody in Rock. Robert Bronett is known as former co-owner of Circus Scott and the man behind the horseshow Levade.
In the Christmas performance you can meet the arial and handstand acrobats Duo Imago (Etienne Deneault and Darren Bersuk) who for several years worked for Cirque du Soliel. Velez Brothers comes from Ecuador. The will perform on high wire (the act was awarded a silver clown in Monte Carlo in 2005) and in a wheel of death. A troupe from China will present mast acrobatics. The troupe has also been invited to present their act at the Circus Festival in Monte Carlo in January 2008. A 15 person acrobat troupe On the Edge comes from Ukraine and is especially created for Rhapsody in Circus. Also from Ukraine comes the contortionist Opium. Least, but not last, you will meet the clown Francesco. The performance is not just acrobatics but also music. Rhapsody Symphony Orchestra was established by Robert Wells in 2002. The same goes for the song trio Vocalettes singing in the Andrew sister style. Read more at http://www.rhapsodyincircus.se/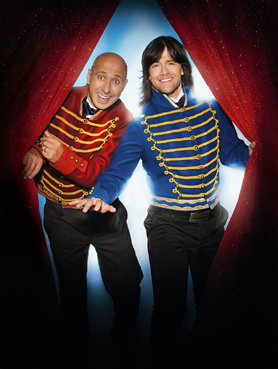 Robert Bronett and Robert Wells

2 November 2007
AnneSophie Bergmann Steen can celebrate her 50 years birthday on 9th November. AnneSophie Bergmann Steen is the Danish/Swedish manager of the Danish Academy for untamed Creativity (AFUK) which is running the Danish circus and acrobat school. AnneSophie Bergmann Steen is one of the promoters or "founding fathers" of the Academy. In 1998 she staged and directed the first Danish new circus performance. In 2001 and 2005 she created to other new circus performances Apropos and Roundabout. On 9th November she can celebrate her 50 years birthday. A reception from 15 to 17 will be held at AFUK's new premises at Remiserne, Enghavevej 82 B, Copenhagen.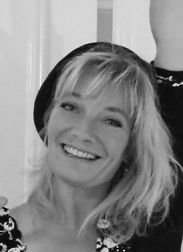 AnneSophie Bergmann Steen

1 November 2007
Christmas Circus at Rold
A Christmas circus performance can in December be seen in riding-school in Rold builded in 1912 to Circus Miehe. The riding-school is situated next to the Circus Museum at Rold. It will be a traditional circus performance with a lot of animals and clowns from Circus No Name. After the circus performance a three course dinner will be served at then Old Inn in Rold. Ticket ordering at + 45 98 56 17 00.

1 November 2007
Danish stars in the ring. Stars in der manege are the name of a yearly gala performance shot for TV at the Krone Building in Munich. In German the show is presented like this: "Die große Eurovisionsgala des Bayerischen Rundfunks ist längst eine lieb gewonnene Tradition, die alle Jahre wieder Millionen Menschen vor die Bildschirme lockt: Seit 45 Jahren strahlt der Bayerische Rundfunk am 2.Weihnachtsfeiertag die Eurovisionsgala "Stars in der Manege" aus. Gemeinsam mit Weltklasseartisten sind Stars aus Bühne, Film, Fernsehen und Sport mit überraschenden Künsten zu bewundern. Sie funkeln wie Sterne unter der Circuskuppel und verzaubern die Zuschauer in einer rauschenden Nacht im Circusrund. Lassen Sie sich verführen! Zu sehen sind diese Super-Leistungen von Stars und Promis am 26.Dezember 2007, um 20.15 Uhr im Ersten."
This year a Danish/Finnish couple is amongst the stars: the clown Bonbon and his wife and partner Tiina. They will present their famous comical badminton entrée.

30 October 2007
CIRCUS IN PARIS -- by ZARRO ZARRO. In the winter season 2006/2007 the Swedish magician Zarro Zarro who for many years have been living in Paris send me a number of reports from circuses etc. in Paris. Many readers appreciated those reports. Due to this I have persuades Zarro Zarro to also in the winter season 2006/2007 to provide me with such reports. Here comes the first report of no less than 4 great performances:
The big CIRQUE AMAR is touring all the year around with a pleasant and family-friendly program:
JOHN FALCK with his Siberian tigers and 2 African elephants, one is a male.
LOS EMILIANOS - crazy taxi.
ANDRE FALCK - horses in liberty.
LOS DIORIOS - wheel of death and Death Globe, where the 3 of them are racing around inside the globe.
THE NERY FAMILY - Magic Act in Las Vegas style and the clown entrée THE HAUNTED CASTLE. Very funny and propped up by brass music which makes the big top swing!
CRISTINA ROY - aerial act in textile, like the vertical rope.
LES GASPARDS - ROLA ROLA with a comical touch.
ANOUCHKA BOUGLIONE - hula hoop and feminine beauty.
The entire installation is freshly painted and elegantly illuminated after nightfall.
A brief historic survey: The young AHMED BEN AMAR EL GAID left his native Kabylia, North Africa, to take a belly-dancer show on the road. He produced this show at the MOULIN ROUGE with great success, married MARIE BONNEFOUX and developed a circus show with wild animals. Their three sons, AHMED, ABDELAH and MUSTAPHA continued the shows and toured North Africa, Egypt, Greece, Turkey, Bulgaria, Romania, Hungary, Austria, Italy - and back to France. Today, the circus is run by the FALCK, a well-known circus family. Further info at www.cirque-amar.com
NEW CIRCUS CIRCO AEREO had a show at the Finnish Cultural Centre/Institute Finlandais, performing juggling, modern dance and music played on electric guitar and bass - respectively by MAKSIM KOMARO, SANNA SILVENNOINEN and MARKUS LAHTINEN. The juggler showed a high degree of skill, juggling white balls and orange plastic buckets, the female dancer was graceful and well trained and the musician followed their movements very accurately. A lot of juggling was performed, to my mind it eventually became too long for the audience, since people's attention span is rather short today.
The artists were all very sympathetic, the public was pleased and there were three curtain calls. It is questionable, though, if this show can hold the children's interest, it was meant for kids as of 5 years old. I quote Mr EDELSTEIN, director of the CIRQUE PINDER, who says: the New Circus would do well in finding a new name, more fitting to this kind of show. I agree.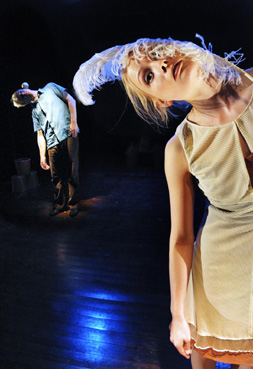 From the performance in Circo Aereo. Photo by courtesy of Circo Aereo
LE CIRQUE DU GRAND CELESTE. This circus is an absolute MUST for any circus-lover - a dark blue top seating about 800 persons, no sawdust but a round, wooden floor on which very good artists perform: various kinds of acrobatic acts, aerial act on rope and textile, jugglers, particularly a young, excellent diabolo-player, cyclists on low unicycles and on giraffe, magic effects are put in here and there - there are lots of laughter and surprises throughout the show.
The CIRQUE DU GRAND CELESTE is developing: in partnership with the local Town Hall it will move to a better place nearby, but still at LA PORTE DES LILAS, Métro same name.
Leisure activities will there take place: circus workshops and a circus scool - these activities are presented as leisure time opportunities, the young ones are thus clearly informed that no professional career is waiting in the pipe-line for them. In connection with the show, there is a restaurant and a bar where people can dine, wine and meet each other.
You'll find out about the CIRQUE DU GRAND CELESTE by looking in the publication L'OFFICIEL DES SPECTACLES, 0.35 Euro at all newspaper stalls, look under headline "cirque". Further info at http://www.grandceleste.com/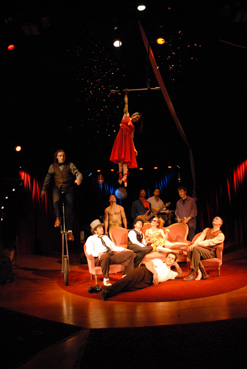 From the performance in CIRQUE DU GRAND CELESTE. Photo by courtesy of CIRQUE DU GRAND CELESTE.
CIRQUE BOUGLIONE. Now playing in the newly refurbished CIRQUE D'HIVER: CIRQUE BOUGLIONE, presenting a wonderful program:
REGINA BOUGLIONE with an animal farm-act: goats, pigs, dogs and a pony - excellent for a family audience.
HOUSH-MA-HOUSH, Ukraine, excellent, funny and original clown.
DUO URUNOV, Russia, high school riding and horsemanship.
DUO PASSION, France, aerial act in a poetical mood.
DIANA RHODIN, Sweden /not mentioned by her name in the program, presenting the big, African male elephant MICKI.
ROBIN VALENCIA, US, the living cannon projectile - a seldom seen stunt.
MARIOU BEROUSEK, Czech Republic, tempo juggler /seen at Circus Benneweis season -07/.
MICHAEL AND VENKO, Bulgaria, the Wheel of Death.
IRINA BOUGLIONE, aerial act in ring with finale in water-basin.
DE DALIAN, China, 7 beautiful young girls performing on two-wheel-bikes - very elegant and original.
LES CURATOLA BROTHERS, Italy, hand to hand acrobats with seldom seen skill /seen at Circus Dannebrog season -07./
And - on top of it all: TOTO CHABRI with partners, as funny and original as ever - a real pleasure to see this excellent clowning again !!! SERGIO is Sprechstallmeister/ Ringmaster/ in France called Monsieur LOYAL, assisted by ALBERTO CAROLI, Italy. An excellent band /no name in the program/ accompanied the show and the house ballet SALTO DANCERS had several entrances in perfect rhythm. A show that should be seen by all! Further info at http://www.cirquedhiver.com/bouglione.html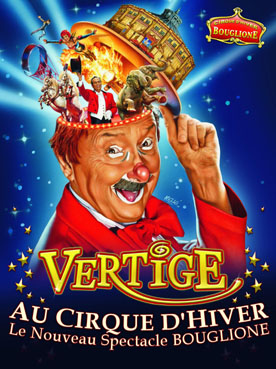 A drawing of Toto Chabri can be seen at the poster for this winters performance at Cirque d'Hiver. Photo by courtesy of CIRQUE BOUGLIONE.

26 October 2007
Circus at Bytorv Horsens. The shopping centre Bytorv Horsens at Horsens can celebrate its 1 year's anniversary in week 44. To celebrate the anniversary the shopping mall has engaged Circus Mascot which every day from 29 October to 4 November will give performances in the centre as free attraction.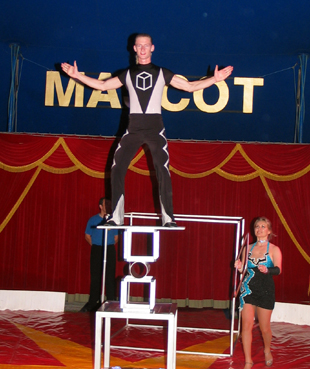 Amongst the performers in Circus Mascot is Daniel Deleuran, who on 26 October could celebrate his 18 years birthday. Congratulations to the talented young acrobat.

24 October 2007
The main attraction in Landauer Christmas Circus 2007/08 is two Danes: the gentleman thief couple JOAN & KENNY QUINN. You can see posters with Kenny Quinn's photo all over Landau and get flyers with Kenny Quinn and some of the other star performers. Amongst those are
* The musical clowns Salvini (Gino and Paulina Salvini), who in the summer season has toured with Circus Nock in Switzerland.
* John Burke with his Blues Bros. sealion act
* Circus owner Urs Strasser from Circus Medrano in Switzerland with horses
* A tight wire act and several other acts
Everything can be seen in Landauer Christmas Circus 2007/08 from 21 December to 6 January 2008. The performance is every year shot by the German TV channel SWR which in the beginning of the New Year will broadcast a shortened version of the performance.
The city of Landau is situated in the southern part of Rheinland-Pfalz close to the German/French border. It is a University town which on 1 October 2007 had 43,193 inhabitants.
Kenny and Joan Quinn has made an appointment prior to the opening night with the local police head office teaching cops how a professional pick pocket thief works. You can read more about Landauer Christmas Circus at http://www.landauer-weihnachtscircus.info/index.html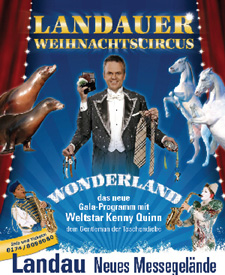 24 October 2007
Circus Baldoni's Christmas Circus. Danish Circus Baldoni writes: The performance will be opened by Santa Claus, introducing the Christmas elfs Nis and Nisseline who sings, dances and make a lot of fun. The Christmas pig Anton Antonius (a ventriloquist doll) will tease everyone and talk the hind leg of a donkey. Acrobat elfs, juggling elfs, magician elfs, funny dogs and a lot of other Christmas elfs will enter the ring accompanied by sweet Christmas Music proving that it now once again is Christmas time. Behind the elf costumes you will find international top artist: the rola bola artist and jugglers Anna & Anton from St. Petersburg, then plate spinning jugglers Barbi Family from Latvia, The Raymond's foot jugglers and dog act, the Swedish acrobat David Hammerberg and the magicians the Baldoni´s.
The Barbi family has been with Circus Baldoni since 2002. Swedish David Hammerberg
Is born New Delhi 1987 and came to Sweden when he was 7 months. He lives in Gävle. Education: 6 years in Furuviks Youth Circus and 3 years at Circus Highschool in Gävle. (Graduated 2006). Prizes: A lot of gold, silver and bronze medals. Two of the silver medals are from the Swedish championships in team gymnastic (2005, 2006). He also got a prize at the Kupla Circus Festival in Finland 2004. In the summer 2007 he toured whit Swedish Circus Wictoria, presenting a fine trapeze act and a very good handstand act. You can read more about David (also in English) at http://www.flyingdavid.com/om_mig.html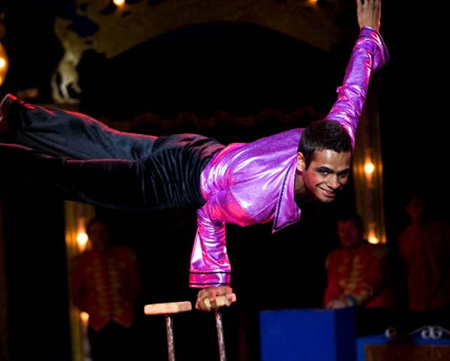 David Hammerberg
The performance in Baldoni's Christmas Circus will last for 2 hours. Opening night is 30 November in Greve (Copenhagen suburb). After the opening performance the show can be seen at various sports centres etc. every Friday, Saturday and Sunday until Christmas.
Apart from Baldoni's Christmas Circus circus owners Thessa & René Moenster will in week 47-51 tour with Circus Nissesjov which offers an 45 minutes long performances for kids from 3 to 12 and all other childlike Christmas loving persons.

24 October 2007
Roskilde Christmas Circus – but this year only as "rent i event". Luka Odhiambo Onginjo better known as the African multiacrobat Samson produced last year a Christmas Circus in Roskilde, where he lives with his Danish wife and the couples two children: Rebecca of two and Casper of 12. The 2006 performance was good, but the audience very limited. Due to this Samson who runs the agency Power Events has from 1 November to 31 December this year decided to offer a Christmas performance as a"rent i event" to companies and private persons willing to purchase an entire performance. Samson tells:
"In this year's show we have new artists in the production. The name of the show is XMAS- SUPRISE 2007. The performing artists are: Manasei, sword, glass, and football balance. Feuer-show, magic-Show and Power-show with Samson power. Dogs and Leider comedy from THE ROOTS. The act is two years old. The Roots come from Holland, but live in Switzerland. They are very good and they trill the public with there funny choreography. Janny from Berlin is doing antipode, bell dance & trapez. Kalombau is a music comedy trio as clowns. They just make the public laugh because of there stunts. We can get camels and ponies from Germany on request of the company renting the show.
The show is presented in a tent wherever the company purchasing the performance likes it or on locations we use. We are flexible to move the show anywhere in Denmark or the southern part of Sweden."
You can find further informations about the show and Power Events at http://www.power-events.dk/

22 October 2007
Success for Circus Arena at Greenland and the Faroe Islands. Martin Arli who was one of the performers at Circus Arenas tour to Greenland and the Faroe Island tells that the tour was very successful with large audiences, especially at the Faroe Island where Circus Arena sold more tickets than ever before despite the fact that another circus (Circus Baldoni) visited the Faroe Island two weeks before Circus Arena. It has for many years been a tradition for Circus Arena to tour Greenland and the Faroe Islands with a special unit after the close of the Danish summer season.

19 October 2007
Circus performances during the autumn holidays. As earlier mentioned at this page week 42 is holiday week for the Danish school children. Due to this several shopping malls etc. have short circus performance as free attractions: Frederiksbergcentret in Copenhagen, Hvidovre Stationscenter close to Copenhagen, Kolding Storcenter, Naestved Storcenter, Rosengaardcentret in Odense and the West Zealand Centre in Slagelse. I managed to see three of those performances: Benny Schumann's performance at the Frederiksbergcentret, Circus Kenny at Rosengaardcentret and Circus Mascot at the West Zealand Centre. Three fine performances attracting large audiences and proving that such sort of family entertainment are popular and bring a lot of customers to the shopping centres. At Frederiksbergcentret we met Benny Schumann with several of his well-known and loved entrées: as balancing acrobat, as magician (assisted by the pony Laban), as ventriloquist and the restaurant entrée with the pony Shadow. Next act was Florin with his dog Cato. Impressive, at Cato has trained his master (or is it the other way round?). Last act in the performance was Benny Schumann with his dancing plates. In his younger days Benny was among the very best plate spinning jugglers. And he can still present the act better than most of his younger colleagues. At Circus Kenny in Odense's Rosengaadcenter ringmistress Agnete Louise Enoch could introduce the Spanish Munos-family with a nice comedy tight wire act (papa Munos, followed by one his sons in a usual tight wire act, including a backwards somersault) and the son Erik Andrea who is a skilled and very fast juggler. The German Duo Posna presented their charming dog act. Most applause was for good reasons given to two Danes: the gentleman thief Kenny Quinn and his partner Joan. Certainly what Americans would call a centre ring attraction. At Circus Mascot in the West Zealand Centre you met the Danish clown Don Carlos with a number of fine entrées, Marianne Deleuran and her skilfully trained dogs and Daniel Deleuran as talented juggler and as cleaning boy, assisted by the dog Davinci. Click here to see a slideshows with photos from three performances.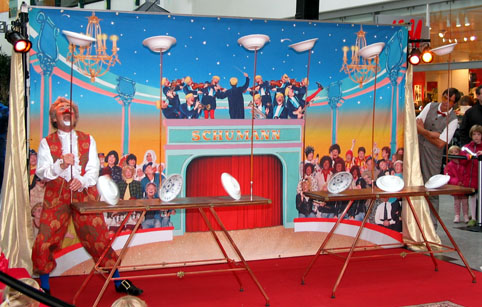 At the Frederiksbergcentret you could meet Benny Schumann and his dancing plates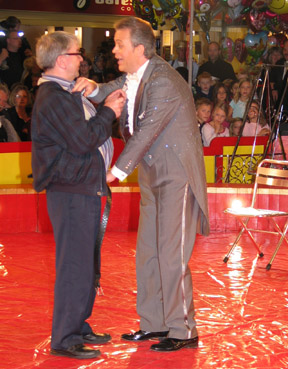 Kenny Quinn in action at Circus Kenny. As you can see the client's belt is almost untied. Of cause Kenny managed to steal the belt, the wristwatch and the valet without the client noticing is. Luckily enough Kenny is an honest thief always giving the stolen effects back.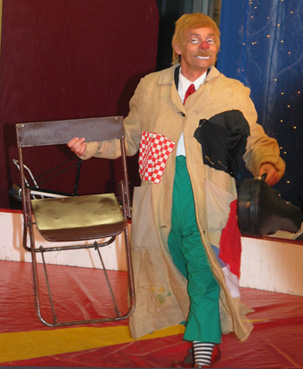 At Circus Mascot in the West Zealand Centre you could amongst other meet the clown Don Carlos

12 October 2007
A lot of circus performances during the autumn holidays. In week 42 all schoolchildren in Denmark are having their autumn holiday. Due to this several shopping malls etc. have short circus performance as free attractions. You can find further info in the What's on

10 October 2007
A successful trip to the Faroe Island for Circus Baldoni. "I am back after a great trip to the Faroe Island," René Moenster of Circus Baldoni writes. He continues:"Our visit to the Faroe Island was very successful with at large audience and two capacity houses in the capital Torshavn. Especially the African tumblers Mombasa Boys was popular amongst the people on the Faroe Island. The acrobats had almost the same status as rock stars with the audience screaming, wolf whistling and shouting with joy.
Martin Maiböll (Texas Jack) and Franck Bech stayed at the Faroe Islands until Thursday as they was going back by boat together with our equipment. The were lucky enough to get through Bill Clinton's body guards and have their photo take together with the former president of the United States. It was even a body guard who took the photo. Probably Bill Clinton was amazed seeing Martin's large cowboy hat."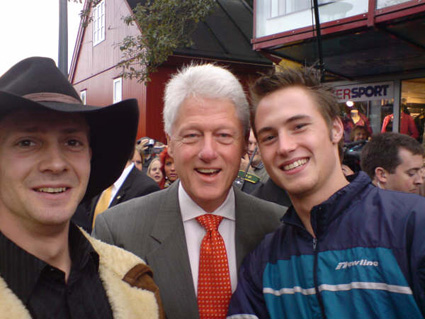 Martin "Texas Jack" Maiböll, Bill Clinton and Frank Bech
Former US President Bill Clinton and the chairman of the Weapons of Mass Destruction Commission, Hans Blix from Sweden spoke at a business conference about globalization in the Faroe Islands' capital Torshavn on 1 October.
René Moenster tells that 2007 have been Circus Baldoni's best season so far. Circus Baldoni was established by René in 1998 under the name Cirkusteatret Aloe ("The circus theatre"). In 2002 René Moenster changed concept to a more traditional show touring under the name Circus Baldoni.
Late November Thessa and René Moenster will start touring sports centres etc. with Baldoni´s Christmas Circus.

8 October 2007
EUROPEAN CIRCUS ASSOCIATION COVERS THE WORLD. (Press release). The European Circus Association will be out and about over the next months, taking part in circus Festivals and holding open meetings to help and advise members and non-members.
On Monday 22 October at the Latina Festival, members of the Ente Nationale Circhi will hear an update of ECA activities and plans. That same afternoon, ECA will host a general discussion about organising a European Circus Day. The ECA will contribute to the Colloquium in Wiesbaden on 2 and 3 November. Laci Endresz from Britain's Blackpool Tower Circus will be the keynote speaker as the meeting discusses "Artistic Trends and Developments".
On 14 November, the ECA will host an informal meeting at the Circus Victor Hugo Cardinali in Lisbon, Portugal. The session aims to put us in touch with Portuguese circus people, and we will also open contact with the Portuguese Government regarding the regulation of circus animals. On 20 November, there will be a similar presentation at the Nikulin Circus in Moscow. Russian Federation circuses are invited, and the ECA will give details of Western requirements concerning the training, care and transport of circus animals.
The ECA will follow up last year's successful Paris meeting with a further session in the French capital, hosted this year by Cirque Arlette Gruss on 10 December. ECA will give details of its progress and its ongoing work, and the meeting will enhance insight into the situation in France concerning animals in the circus.
On 18 and 19 January next, the ECA continues its series of Symposia in connection with the Monte Carlo Circus Festival. After a members' Meeting on the morning of 18 January, the 2008 Symposium will take place that afternoon. Confirmed speakers include Mr Bernard Petiot, Vice-President of Cirque du Soleil for Casting and Performance, who will speak about the international implications of casting of circus artists. The Circus Federation of Australasia Inc will present information about the situation of circuses in Australia and New Zealand. A number of others from the international circus community also are invited to give an in-depth picture of the state of circus around the world.
The ECA's programme of international meetings continues during the Budapest Circus Festival in January 2008. The ECA will organise a study meeting in cooperation with Maciva on Monday morning 28 January. The central theme will be education in circuses. Attention will be given to the education of circus children and the professional training of circus artists.
CIRCUS PARTNERSHIP WORKS TO REDUCE BURDEN. (Press release). In July 2007, the European Circus Association (ECA) established a partnership with the French Association Syndicale des Propriétaires Exploitants Chapiteaux (ASPEC). Under the leadership of Président Jack Mervil, ASPEC has been instrumental in demonstrating to French authorities that the materials used for modern circus tents do not create a risk of fire; all circus tents are now made of material that will neither burn nor melt.
This development guarantees public safety to such an extent that the French authorities now accept it is no longer necessary to have a fireman on standby, resulting in substantial savings for French circuses. In cooperation with ECA, ASPEC now is working to set up new 'verification offices' in all European countries. This work contributes to ECA's long-held objective to unify safety regulation of circuses in all European countries. According to ECA Managing Director Arie Oudenes, "ECA is pleased to work with ASPEC, whose status and influence provide us with a strong partner in working towards simpler and more harmonious safety rules for circuses throughout the EU."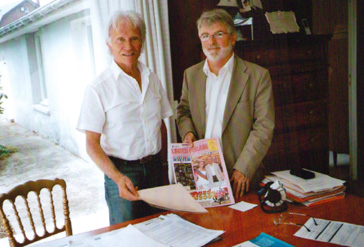 ECA Managing Director Arie Oudenes (standing to the right) with the President of ASPEC Mr. Jack Mervil.

3 October 2007
Amazing Enoch Variety. Jorgen Lorenzen writes: Isabella Enoch's dinner show was on 28 September booked by Bygteq It at Vejle. The red carpet was rolled out. A wonderful 3 course dinner was served and the show was very good indeed. The main thread was 5 dancers and the entertainers and comedians Jens Hvitved Larsen and Leon Norgaard. After the first course Isabelle welcomed the audience, the ballet entered the stage and Jens Hvitved song the welcome song from Cabaret. Josephine (daughter of Bernhard Kaselowski) worked in trapeze and Jimmy Enoch did glass balancing on unicycle – 15 layers! Then the bagpipe playing Simon Mikkelsen introduced the comical casceadeurs Caden and Caden (members of the Munoz family).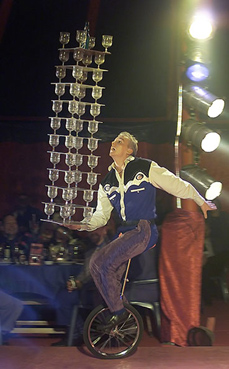 Jimmy Enoch – glass balancing unicycle. Photo from performance in 2005. Photographer: Ronald Timmermann
After the main course Jens Hvitved had a stand up comedian monolog, followed by the dancers and the juggler Eric Andrea (Munoz). Jimmy and Edward presented their excellent bike act, followed by Isabella opening her hairdressing saloon, assisted by Bernhard Kaselowskis elephant. Then Jens Hvitved and Leon Norgaard song a potpourri of Beatles-songs.
After the desert the gentleman thief Kenny Quinn entered the stage. It is impressive what he unseen by his clients can get out of their pockets while stealing their wristwatches and ties! The Joshi presented a cloudswing entrée and Eric Munoz did tight wire dancing until Jens Hvitved finalised the show with the song: New York, New York. After the show there was dance to a live band.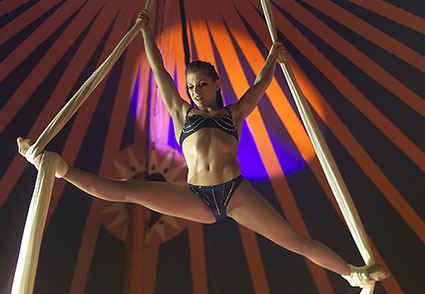 Josephine Kaselowski. Photo from performance in 2005. Photographer: Ronald Timmermann'

2 October 2007
Weekend for collectors of circus posters, programmes etc. As mentioned on this page on 21 September a large "Tausch- und Verkaufsbörse will be held at the winter quarters of Circus Arena on 8 and 9 December. The week-end are be arranged by the German Circus Journal (known for their many colour photos mainly exteriors and transport of European circuses), the Swedish Circus Academy and their magazine Circuläre Notiser in cooperation with Circus Arena. Entry (anmeldung bei) Roy Himsel at tel + 46 470-241 93 or + 46 70-699 89 44 or at email roy.himsel@telia.com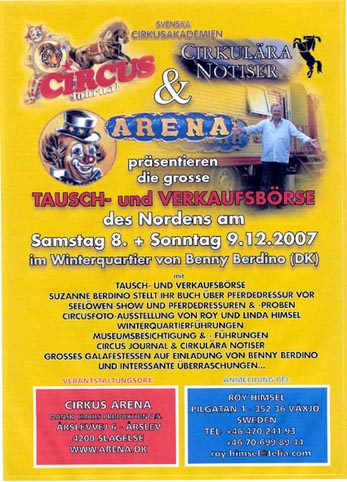 1 October 2007
Circus Arena 2007. Circus Arena's head of arrangements and presale Carsten Maersk and his team has always sold a lot of tickets to companies etc. before the start of the season. This might be the reason why Circus Arena by tradition in October releases the full program for the coming season. Most other circuses prefer not to disclose their programme until one or two months before the opening night. Most of the programme at Circus Arena in 2008 has been known for a while as circus owner Benny Berdino see no reason for keeping the names of the artists booked for a coming season as a secret. In a newly released press release Benny Berdino writes:
Circus for millions. In 2008 Circus Arena welcomes you in a brand new tent with excellent comfort for the audience. For the ring I have chosen some of the best and most famous artists in the world and I look forward to introduce them to the audience. Diorios globe of death has been with Arena in earlier seasons. But this time the Brazilian dare devils will try to have 5 bikes in the globe at the same time! I love the mystic of the Far East. From China comes 11 Shaolin monks and give a breathtaking presentation of the thousand years old Asian martial arts. With spectacular stunts, dramatic show effects and classic martial arts scenes we will get a colourful and entertaining insight in a foreign world. For me animals and circus are indissoluble connected. At our winter quarter at Slagelse we have a population of 45 horses, and during the winter season we are goal-oriented training the many animals. From our own stables my daughter Suzanne Berdino will present a beautiful classical liberty act with 6 white Arabian horses. Arena Kids will after a further training winter present new tricks on horseback. The Spanish juggler Picasso Junior has in short time been proclaimed as on of the legends of the circus world. When you see him you will understand why. Out elephant trainer Rene Casselly take part in this winter's circus festival at Monte Carlo. It will be exiting to see if I can introduce a winner of a golden clown. Then we have the clowns: our own Bonbon, Italian Jimmi Folco and all his crazy ideas and Hungarian Dittmar in a surprising and kitsch wedding séance. Ingo Stiebner will be there with his sealions and Robin Berousek will present ladder balancing. Play tricks on the death or the law of gravity – at least playing trick with the audiences nerves when Carlos and Lucio challenge their fate in a giant rotating wheel of death. Welcome to circus for millions – it will be an exiting circus year. – The performance will run for approximately 2 hours 20 minutes. Opening night will be on 18 March at Bellahoj in Copenhagen and will then tour 107 cities all over Denmark until mid September.
Diorios was first time with Circus Arena in 2002 and again in 2005 when their globe opened during their entrée. Both years there was up to 4 bikers in the globe. The record for number of bikes in a globe of death is held by German Circus Flic Flac: 9 bikers in the globe at the same time. However the globe used in Flic Flac is larger than the one used by Diorios. Carlos and Lucio working in a wheel of death is probably members of the Diorios troupe. We have not earlier seen Shaolin-monks in a Danish circus ring. The act is probably somewhat similar to the act presented by Chy Fu Dey and Shaolin Kung-Fu-troupe at the German Circus Krone. Rene Casselly and his family have been with Circus Arena since 2004 – as a matter of fact they were also with Arena several times during the 1990'ies and in 2001. Bonbon has assisted by his wife Tiina performed with Arena since 2001. Jimmi Folco was last time in Circus Arena in 1999. Robin Berousek (Robert Berousek) did ladder balancing in Circus Arenas in 2002 and juggling in 2007. Together with his famous brother Mario Berousek and his parents he was member of the juggling 4 Fredies which toured with Arena in 1994. Roland and Nemeth Dittmar toured with tiny Danish Circus Krone in 2004 and was in the following years with German Circus Flic Flac. In 2007 they worked for Circus Skratt in Sweden. Picasso JR toured with Circus Scott in Sweden in 2001. Picasso JR juggles ping pong balls both with a table tennis racket and with his mouth before sending boomeranging dinner plates up to the rafters. Click here to see a clip from one of his performances.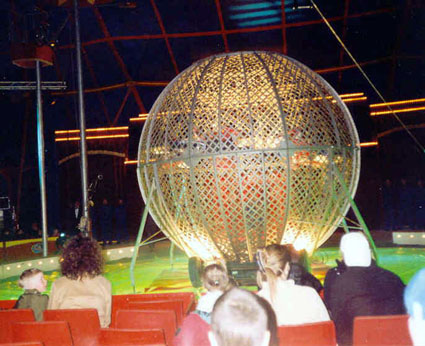 Diorios in their Globe of Death. Photo from 2002.

27 September 2007
Magical show and magical training at the Circus Museum: Week 42 is a holiday week for all school children in Denmark. Due to this children (and adults) can from 15 to 18 October meet the Danish magician Michael Frederiksen (Magical Michael) at the Circus Museum at Hvidovre, Copenhagen. He will give a performance each day at 12, and from 12 to 14 he will teach children between 8 and 14 how to do magical tricks.

27. September 2007
It's magic – Vegas has to wait. For 13 year in row the magician Henrik Christensen will present a magical show in Odense. This year the show can be seen 20 October at 16.00 and 21 October at 13.00 and 16. Apart from Henrik you can meet the talented young juggler Chri-Va and the soprano Helene Hvass Hansen. At http://www.henrikchristensen.com you can find a trailer from one of Henrik's earlier show.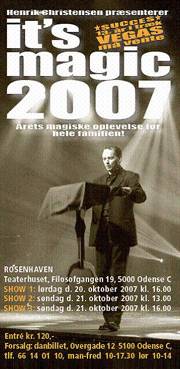 26 September 2007
Circus Arena at Greenland and the Faroe Islands. As earlier mentioned an Arena unit will tour Greenland and the Faroe Islands from 2 to 11 October. Circus owner Benny Berdino will, assisted by Pjerrot (Ib Groth Rasmussen) introduces the following performers: The mimic clown Mr. Chap who also toured with Circus Arena during its summer season. The contortionist Elena Fiesta, also known as the women with the rubber skeleton. The German devil stick juggler Andy Gebhardt, who also has an entrée with a classic tap dancing rhytmperformance whilst juggling his cigar boxes with clockwork precision around him. The ventriloquist Preben Palsgaard – by far the best ventriloquist in the Nordic countries. The clowns Martino & co. (Bettina, Martin and Alexander Arli). The escape artist Alexander (Arli) trying to do one of Houdini's famous escape trick. The acrobats Los Fiestas. And last, but not least, Pjerrot doing some of his bellowed magical tricks.

21 September 2007
Weekend for collectors of circus posters, programmes etc. What in German is called a Tausch- und Verkaufsbörse is scheduled for 8 and 9 December at the winter quarter in Slagelse of Danish Circus Arena. Slagelse is approximately one hour by car from Copenhagen. The week-end will be arranged by two Circus Magazines: the German Circus Journal and the Swedish Circuläre Notiser in cooperation with Circus Arena, being the largest circus in the Nordic countries. Apart from possibilities for purchase, sale and exchange of collectors items the Arena winter quarter can bee seen, including the stables, the training ring (there will be a display of training), the performing sealions, the Arena museum etc. There will be a photo exhibition with circus photos taken by Roy Himsel and his daughter Linda. Father and daughter are among the best circus photographers in Europe. Saturday evening circus owner Benny Berdino will host a gala dinner. Sunday Suzanne Berdino will tell about her new book on horse training. René Casselly will tell about how to train an elephant and show how he is doing it. The clown Bonbon will tell about his life as an artist. Some changes in the programme might happen. The final program and how to register for this event will be mentioned on this page when info is available.

20 September 2007
Several circuses at the Faroe Islands. Usual only one circus will visit the Faroe Islands: Danish Circus Arena. But this year also Danish Circus Baldoni will visit the islands where performances are given from 24 to 29 September. According to the largest newspaper at the Faroe Islands, Dimmalætting, Torshavn was in July also visited by a small Spanish circus. Circus Baldoni visited the Faroe Islands some years ago. The Faroe Islands are a group of islands in Northern Europe, between the Norwegian Sea and the North Atlantic Ocean, roughly equidistant between Iceland, Scotland, and Norway. They have been an autonomous region of the Kingdom of Denmark since 1948. Both Circus Arena and Circus Baldoni will at the Faroe Islands perform in sports centres. During Circus Baldoni's tour at the Faroe Island the audience can meet some of the artist who have toured with Baldoni during the summer season at Zealand: Martin Maiböll as assisting ringmaster and as Texas Jack, the mimic clowns Ibaccala (Simone Fassari and Camilla Pessi), the African tumblers Mombasa Boys and the owners Thessa and René Mønster as the magicians The Baldonis. New compared to Zealand are the jugglers Bald with Balls (Swedish David Eriksson and his Finnish/Tunisian partner Fouzia "Fofo" Rakez). David & Fofo are using ping-pong balls and acrobatics to present odd and spectacular tricks. To the extent the facilities in the sports centres make is possible the couple will also present a trapeze act. If an arial act due to facilities is impossible they will present a combined acrobatic and juggling entrée. You can read more about the duo at http://www.baldwithballs.com/ and http://www.davidandfofo.com/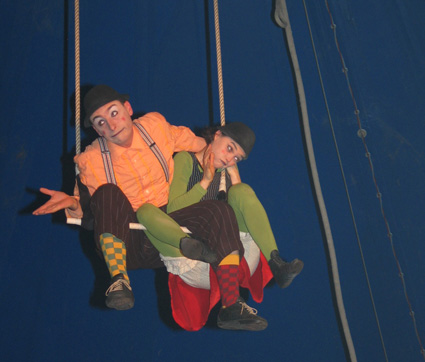 Ibaccalas are amongst the performers during Circus Baldoni's tour at the Faroe Islands

19 September 2007
Duo Aerius. The Danish arial cradle acrobats Duo Aerius (Maja and Esben Aerius) have had break for some time. During the break Esben has worked together with Tuvali. But from 15 November and a couple of months on the original Duo Aerius will be back. First at Tiergarten in Hamburg and in January 2008 at Nauheim Variete at Frankfurt.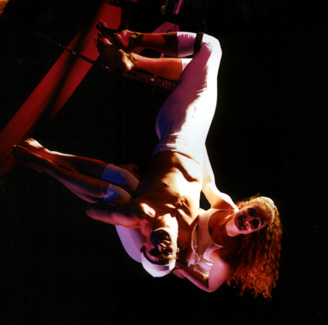 Duo Aerius

12 September 2007
No Name Circus. "16 September will be the last day in season 2007 for No Name Circus at Solbjerg / Bælum," the artistically director Bjoern Schult-Bjoernlys tells. He continues: "It has been our third season and it has been much more successful than we have dared to hope. What started in 2005 as an animal show with an outdoor ring has developed into a real circus since we got our own big top in 2006." So far the No Name circus have mainly presented animal acts. They have approximately 35 animals all of which can do some tricks. But for season 2008 some acrobats and an arial act will be engaged. No Name Circus is not a touring circus but a permanent circus performing at the Team LA Park in the northern part of Jutland.

9 September 2007
Close of season for Circus Arena. At the end of the season in Køge on 9 September circus owner Benny Berdino thanked his performers, his tent crew, his orchestra and every one else working for Circus Arena for a well done job during season 2007. Circus Arena visited more than 200 cities in Denmark and more than 300,000 persons saw the performance. Benny Berdino is now looking forward to a more relaxing period. "A circus day and night has 25 hours," he often says with a twinkle. "And that is managed by getting up one hour earlier". However the Berdino family will not just relax for the coming 6 months. In October a special Arena Unit headed by Benny Berdino will visit Greenland and the Faroe Islands. Among the performers will be Bettina, Martin and Alexander Arli and the ventriloquist Preben Palsgaard. Arena Kids are going to Nice and after that to other jobs in Europe. In the schoolchildren's autumn holiday Arena will arrange a show for a shopping centre in Kolding, starring some of the Arena horses, Martino & Co. (clowns and magicians), the acrobats Elena and Ingo and the comedian Mr. Chap. From 24 November to 24 February Arena Winterland (the Arena winter quarter) will be open to the public (sometimes however only Saturdays and Sundays). Apart from that Circus Arena own a number of tent used for festivals and galas in Belgium, France and Holland. For some of those shows the Berdino family is also involved in booking the performers. The Arena owned tent has in total a seating capacity of approximately 10,000 persons. – Season 2008 for Circus Arena will open on 18 March in Copenhagen. Among the performers will be Suzanne Berdino, Arena Kids, Bonbon, the Casselly family, Ingo Stiebner with two sealions, the juggler Picasso JR., Jimmy Folco and Diorio with a globe of death with more bikes than ever before presented in a Danish circus ring. Benny Berdino believe that the 2008 performance will be the strongest he ever has presented.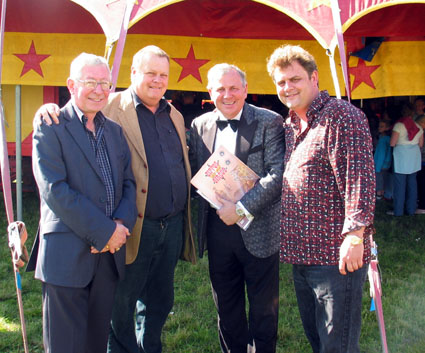 A lot of persons from the circus world have during the season paid a visit to Circus Arena. At the last performance in Køge circus reporter Don Stacey (for many years press agent for Holiday on Ice and a number of circuses including Ringling during their tour in Europe in 1963-64) and circus owner Martin Burton of the English Zippos Circus was among the guest. They are here seen together with Benny and Jackie Berdino (standing to the right).

9 September 2007
Several foreign circus people and -friends visit the Circus Museum at Hvidovre, Copenhagen. Sunday 8 September in the morning a group of Swedish and Dutch circus friends visited the Circus Museum at Hvidovre, Copenhagen. At the same time the museum was visited by the Danish circus promoter Jorgen Borsch together with the circus reporter Don Stacey and Martin Burton from the UK Zippos Circus. Showing round was done by former Benneweis ringmistress Nelly Jane Benneweis, Nina and Arne Norager (parents to the clown Lasse "Bonbon" Norager) and Ole Simonsen. After the museum the group continued to Koge where Circus Arena gave the last performance in 2007. Circus Benneweis and Circus Dannebrog were visited Friday and Saturday.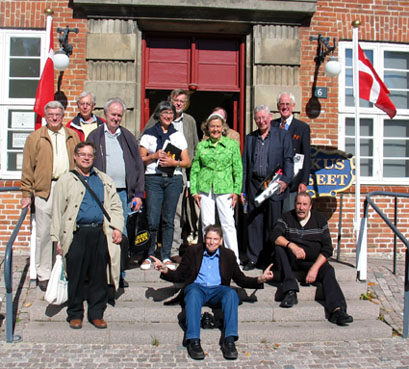 Some of the foreign visitors in front of the Circus Museum. Sitting in the front in the middle is John de Vries (editor of De Piste). Behind him Nelly Jane Benneweis. To the right of Nelly Don Stacey and Jorgen Borsch. Sitting in front of them the president of the Swedish Circus Academy Roy Himsel.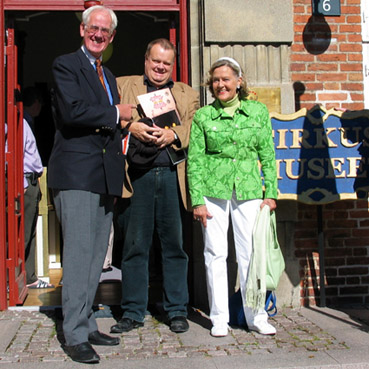 Jorgen Borsch, Martin "Zippo" Burton and Nelly Jane Benneweis in front of the museum

8 September 2007
Gala performance at Circus Benneweis. Circus owner Diana Benneweis had donated the entire income from a gala performance on 8 September in Copenhagen to the national association SIND. SIND's purpose is to improve the conditions for psychiatric patients. The Danish crown princess Mary is patroness of the association and the crown princess who is extremely popular in Denmark attended the gala performance which was very successful.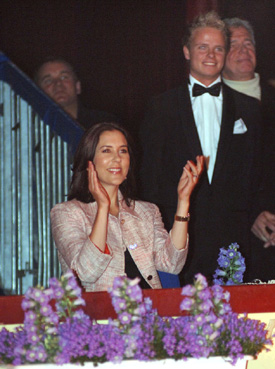 Crown princess Mary. Behind the princess you can see Dawid Benneweis and Freddy Bergmann Kolding. Photo: Arne Magnussen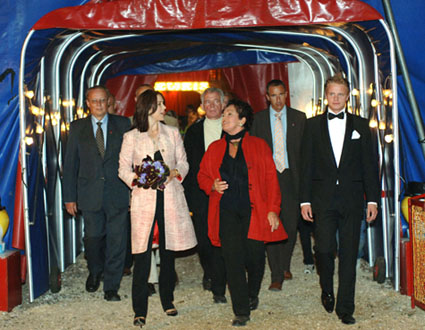 The crown princess, Diana Benneweis and Dawid Benneweis on their way out of the big top. Behind Diana you can see Freddy Bergmann Kolding. Photo: Arne Magnussen

7 September 2007
Several foreign circuspeople and -friends in Copenhagen. Several foreigners are visiting Copenhagen during this week-end due to the fact that it is possible to see all the three large Danish circuses: Arena, Benneweis and Dannebrog. Among the visitors are Martin Burton, owner of the English Zippos Circus, the circus reporter and former press agent Don Stacey, the Dutchmen John de Vries and Alfred van Maasakkers (editors of DE PISTE) and a group of Swedish circus fans headed by Roy Himsel.

7 September 2007
Denmark is a kingdom in northern part Europe, the southernmost of the Scandinavian countries. The tented circus season in Denmark, Norway and Sweden runs from March to September. It is in general too cold to continue performances in tents in October and November. Among the Danish circuses Circus Arli had its final stand for this season on 30 August. This year they visited 107 cities on Zealand. Circus Arena will close its season on 9 September in Koge south of Copenhagen. A special Arena-unit will tour Greenland and the Faroe Islands in October. Circus Benneweis will close its season 16 September in Copenhagen. Circus Charlie closed its main season in June and let most of their performers off. Since then they have with a few acrobats toured camping sited in Jutland and lately given some performances at the Aarhus Festival. Their last scheduled performance in 2007 is on 10 September at Vodskov. Circus Baldoni will close their season on 22 September somewhere at Zealand. Circus Krone will close its season on 23 September in Aale. The same day Circus Dannebrog will close the season with a sold performance somewhere in the southern part of Jutland. Circus Mascot will as the last of the Danish circuses close its season on 1 October. Several of the circuses will be active during the winter season with performance at shopping malls etc. The German family circus Renz-Berlin has toured Denmark since the summer 2006. Their press agent says that their season will close on 20 November somewhere in Jutland and that they in December will present Christmas Circus performances in Herning. Last year they presented Christmas circus performances in Copenhagen for a rather limited audience. A try in the much smaller town Herning will probably be even less successful!

7 September 2007
As previous seasons several circuses produce indoor performances at shopping malls etc. during the Danish school children's autumn holiday in week 42..
In Odense the Haddy Enoch family will at the Rosengaard Shopping Centre from 12 to 20 October produce CIRKUS KENNY with another Kenny as star attraction: the Danish gentleman thief couple Kenny Quinn & Joan. Also starring at Circus Kenny will be the Posnas with their trained poodles and the Munos-family with no less than three acts: a very good comical tight wire act, the gifted young juggler Eric Andrea and the comical cascadeurs Caden & Caden. All three acts are for the time being on tour with Swedish Circus Olympia. The Kenny performance will be staged by one of the best circus directors in the Nordic countries Isabella Enoch. She has amongst other things planed a very special introduction to the cascadeur-entrée Caden & Caden!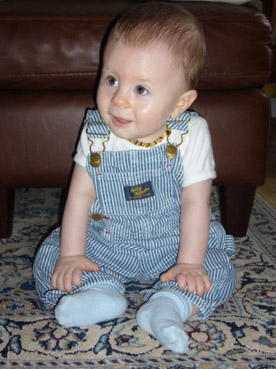 This young gentleman intent from his push-chair to watch the performances at Circus Kenny. His name is Jack, he was born 1 November 2006 and his parents are the gentleman thief couple Kenny and Joan Quinn.
At the Frederiksberg Shopping Centre in Copenhagen you can from 15 to 20 October meet Benny Schumann with the ponies Laban and Shadow, Benny's head groom Briano and Florin and Catocalling themselves 'the comedian duo on 6 feet arousing enthusiasm in the hearts of the spectators by the combination of comedy and animal humour - an animal training and comedy-act on the highest level'. You can read more about Florin and Cato at http://www.florin-cato.de/engl/index.html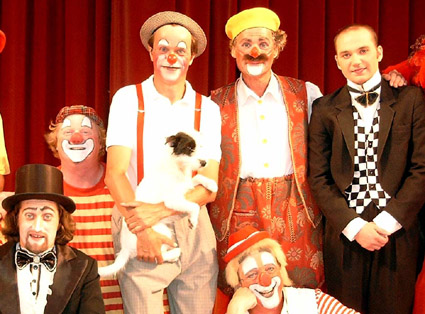 From the International clown festival at Bakken 2002. In the middle of the photo you can see Florin with Cato and Benny Schumann. At the bottom you can see Alfredo Rastelli.
At the West Zealand Centre in Slagelse you can from 15 to 20 meet Circus Mascot which apart from the Deleuran family's own act present the clown Don Carlos (Mogens Koelmeyer).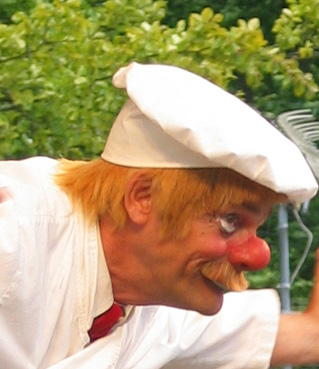 Don Carlos. Photo taken at the clown festival t Bakken in august 2007
Circus Arena will produce an autumn performance for a shopping centre in Kolding from 15 to 20 October. Amongst the performers are Bettina, Martin and Alexander Arli.

27 August 2007
For several years the Danish clown and multi-acrobat Benny Schumann has in August produced a circus gala performance in a large variety theatre tent at the Danish amusement park Bakken north of Copenhagen. It is a closed performance produced for a specific company. This year the performance took place on 19 October. Apart from Benny himself the performers were the gentleman thief Kenny Quinn, the Curatola Brothers, the bike acrobats Jimmy and Edward Enoch and the magician Mr. Mox. Apart from Curatola Brothers all of the performers were Danes, Kenny Quinn and the Enoch cousins being international world class performers. The audience was very pleased with the show.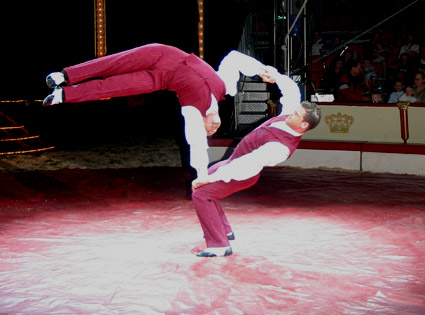 Curatola Brothers. Photo taken at Circus Dannebrog where the brothers can be seen until close of season 23 September

26 August 2007
Equipment from Circus Barum. When I visited German Circus Barum in Flensburg on 10 August I took a number of photos of the wagons and other equipment. Click here if you would like to se those photos.

24 August 2007
See Denmark's best clowns in LEGOLAND the amusement park Legoland in Billund writes. They are on 8 and 9 September arranging an event called Clown Days. In the press release it is said: "We guarantee laughter when some of Denmark's best clowns take part in Clown Day at LEGOLAND. See clowns such as Don Carlos, David Skunk, Tony Trifolikum, Charlie & Binalto, John Newman and others. Throughout the weekend there will be crazy competitions and great prizes. Put your red noses on and set a course for LEGOLAND on Clown Day." – In connection with the clown days the Circus Museum at Hvidovre, Copenhagen, will arranged a small clown exhibition in the Legoland Park. In charge of the exhibition are museum curator Anja Olsen and the circus photographer Lise Kokholm.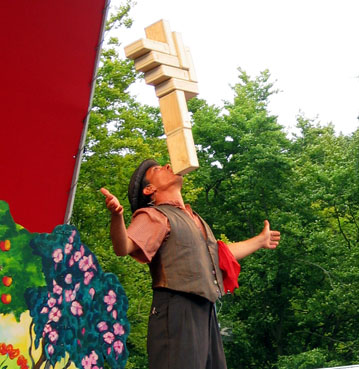 David Skunk is among the performing clowns in Legoland

22 August 2007
Swedish circus friends to Copenhagen. By tradition a group of Swedish circus friends headed by the chairman of the Swedish Circus Academy Roy Himsel will visit Copenhagen in September as it is possible to during a week-end to see all the three large Danish Circuses. This year their program is:
Saturday 8 September at 15.00: Circus Benneweis at the Bellahoj circus lot
Saturday 8 September at 19.30: Circus Dannebrog at the Trianglen circus lot.
Sunday 9 September at 13.00: Cirkus Arena in Køge.

22 August 2007
Danish Circus Krone at the Circus Museum in Rold. The Circus Museum in Rold is situated in the northern part of Jutland. The museum was established in 1982 in connection with the riding-school builded in 1912 to circus Miehe. For several years if have been a tradition that the Danish dog and pony show Circus Krone in the autumn visit Rold and give a performance in the riding-school building. This year the visit will take place on 15 September with a performance at 3 p.m.

21 August 2007
As mentioned on this page 16 August the 14 year old StarSearch winner Lauge Benjaminsen was a guest artist in Circus Benneweis when Circus Benneweis visited Silkeborg from 17 to 19 August . Lauge is himself from Silkeborg. His entrée was very popular circus owner Diana Benneweis tells. Freddy Bergman Kolding of Circus Benneweis has kindly sent me these photos from Lauge's performance.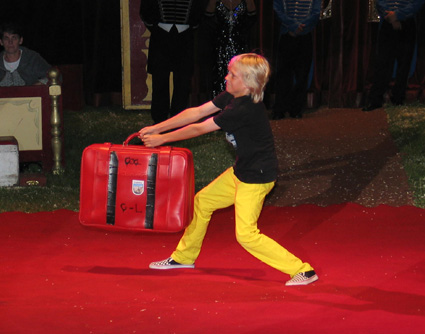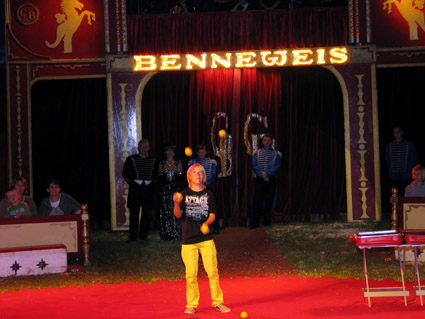 Lauge Benjaminsen at Circus Benneweis. Photos by courtesy of Circus Benneweis.

17 August 2007
Kenny Quinn & Joan – Mozart of the pick-pockets will be rather busy during the coming winter season. The talented Danish gentleman-thief couple will start their Christmas season on 29 November at Luxembourger Advent Circus. This show will run until 17 December. Then Kenny and Joan will go to Landau in Germany where they will perform at Landauer Weihnachtscircus from 20 December 2007 to 6 January 2008. Between Luxembourg and Landau they will find time to a couple of gala performances. After the Christmas season they will continue to Kassel where they for the fifth time since 2002 will star at VARIETÉ STARCLUB from 9 January to 3 March 2008.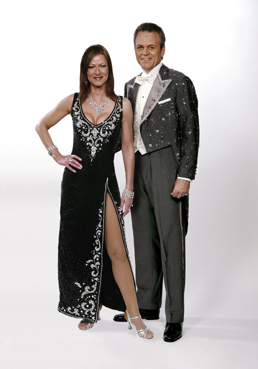 Kenny Quinn and his wife and partner Joan

16 August 2007
StarSearch winner as guest artist in Circus Benneweis. When Circus Benneweis is visiting Silkeborg from 17 to 19 August a very talented young juggler Lauge Benjaminsen will be among the performers. Lauge is from Silkeborg and became know all over Denmark when he earlier this year won the first prize in the Danish version of the TV-program StarSearch.
"I saw Lauge at TV and realises immediately that he was an outstanding talent. I believe that we have a duty to promote such talents. For this reason we contacted him and asked if he would like to perform for a large audience in Circus Benneweis during our visit to Silkeborg. Luckily enough he accepted our offer," circus owner Diana Benneweis tells.

13 August 2007
Swedish Circus Olympia. Ordinary you will not expect to find info on a Swedish circus on at website called Circus in Denmark. At least not at the English version of the website. The Danish version does actually also contain information about circuses in Norway and Sweden.
But I know that many circus friends are interested in photos of wagons and other equipment. When I visited the medium-sized Swedish Circus Olympia on 12 August a friend has asked med to take some photos of the equipment. Click here if you will like to see these photos.
I did also take some photos from the performance. Click here if you will like to see those photos.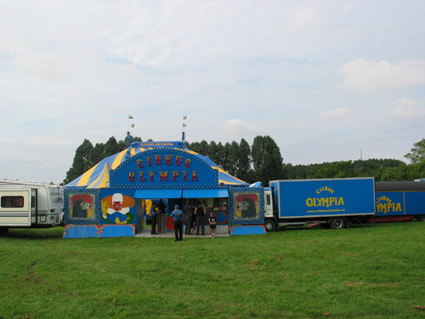 12 August 2007
A lot of new wave circus performances. In August and September you can see a lot of new wave circus performances in Denmark. One of the performances is Freaks, produced by two of the leading new wave circus companies in Denmark Cikaros and TinCanCompany. Opening night in Copenhagen for the outdoor performance was on 11 August. Click here to see some photos from the performance starring Allan Hansen, Camilla Becker Madsen, Michiel van Leeuwen, Signe Løve Anderskov, Gry Lambertsen and Leo Sicard. The performance is a clear evidence of the fact that we do have a lot of young talents in the Danish new wave circus world.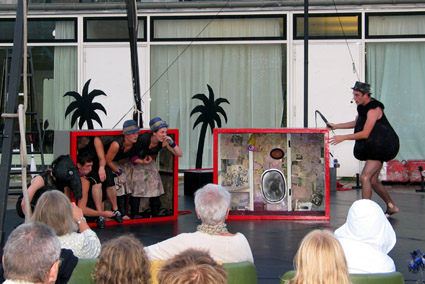 Allan Hansen and his freaks.

10 August 2007
FREAKS – a new Danish new circus performance. Two of the leading new wave circus companies in Denmark Cikaros and TinCanCompany present a new performance called Freaks. Freaks are the history about a travelling circus freaks show which under a thunderstorm has to taker shelter in a strange universe.
The performance runs for 1 hour 15 minutes. Performing artist are Camilla Becker Madsen, Cikaros (swing trapeze, double rope), Michiel van Leeuwen, Cikaros (arial straps, double rope, dance), Signe Løve Anderskov, Cikaros (handstand), Gry Lambertsen, TinCanCompany (Chinese pole, clown), Rune Andersen, TinCanCompany (slack wire, manipulation), Leo Sicard (juggling), Allan Hansen (clown, music).
Direction: Mikala Bjarnov Lage. Stenography: Lina B. Frank.
The performance can be seen as an open air performance in 11 and 12 August at 19 in Copenhagen at the Culture centre at Islands Brygge. Later it can be seen in Malmö (Sweden) and some places in Denmark.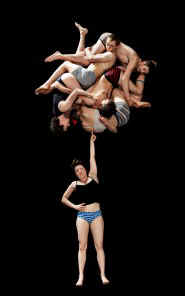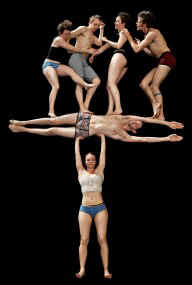 Freaks. Photo by courtesy of Cikaros

10 August 2007
Lott & Joe. A retired Danish acrobat Johan Meyer Andersen (born 1923) passed away on 1 August 2007. Years ago he had together with his wife Lott an excellent bike acrobatic act Lott & Joe which toured in several countries including USA. When their daughter and son grew up they joined the troupe which then changed its name to Somays. Johan acted then as a nice lady from the audience who was persuaded to enter the stage and participate in the bike act.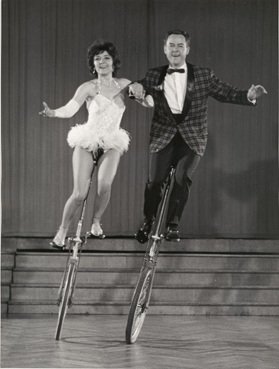 Lott & Joe. Photo from the collection of the Cirkusmuseet at Hvidovre, Copenhagen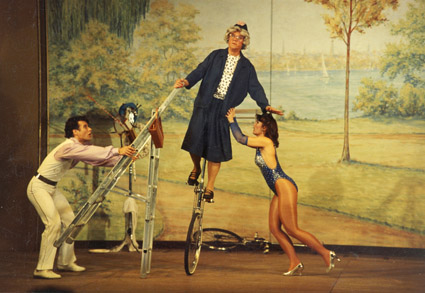 Johan Meyer Andersen and Somays. Photo from the collection of the Cirkusmuseet at Hvidovre, Copenhagen

5 August 2007
Circus Astoria. "Now they are back in Denmark!", Henrik Søndergaard of Circus Benneweis writes, adding: "On my way from Tønder (Tondern) and north I saw in three small cities posters from the tine German Zirkus Astoria which also tried its luck in Denmark in Agust and September 2006." Last year they used a two pole tent with a diameter of 26 meter. All acts were done by the owner Ricardo Köllner and his family. As then other German family circus touring Denmark the audience in Denmark for an unknown German circus was rather limited. But both Astoria and Renz-Berlin might do even worse in Germany where between 300 and 400 circuses are touring. And when all acts are done by the family which also does the tent crew work cost of running a circus is not that high.

1 August 2007
Cirkusbladet (The Danish Circus Magazine). The association of Danish Circus Friends has for many years had a dream about publishing a magazine. And now the dram has come through as the association a week ago published issue no 1 of Cirkusbladet. It is a 24 page magazine in A5 format and full colour front, back and middle pages. It is published in association with the Circus Museum at Hvidovre, Copenhagen. 12 pages are written by the circus friends and 12 pages by the museum. The language is Danish. The Danish Circus Friends hopes to be able to publish the next issue of Cirkusbladet in December 2007.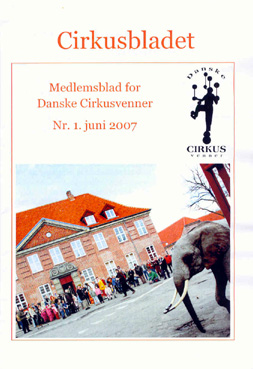 31 July 2007
Clown festival at Bakken. Since 1996 Dyrehavsbakken (Denmark's oldest amusement park situated north of Copenhagen) has every year in August held an International Clown Festival with Benny Schumann as artistically director. The festival has got a very good international reputation and has presented a number of world class clowns. However, after the festival in 2006 Benny Schumann decided at least for at while to stop as artistically director.
Dyrehavsbakken has for 2007 decided to run the festival as a pure Danish festival with only Danish performers. This year's festival runs from 30 July to 5 August and is presented by Sir Benny (Benny Fjeldsoe) as ringmaster. At the performance the first two days you met the clown Don Carlos (Mogens Koelmeyer) with his violin entrée. The David Skunk, who is born in Puerto Rico but for many years has lived in Denmark entered the stage with his skunk. Then we met the clown, contortionist and juggler Tapé (Henrik Rasmussen). Following him Don Carlos was back with a chef entrée. He was followed by David Skunk with a comical juggling routine with cigar boxes. Last act in the performance was Mr. Toons (Palle Bay Henriksen) with his mega balloon. Mr. Toons claims to be the first who presented the routine with the comical striptease before entering the mega balloon. Many other artists have copied the routine.
As usual the Circus Museum at Hvidovre, Copenhagen, has put up a small tent with an exhibition, which this year tells a bit about the history of Dyrehavsbakken which claims to be the oldest amusement park in the world established in 1583. (1746 might be a truer year of establishment).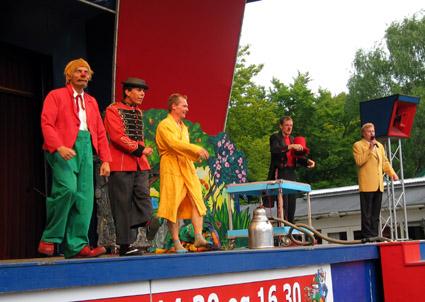 Don Carlos, David Skunk, Mr. Toons, Tapé and Sir Benny. Click here to see some photos from the performance 31 July in the afternoon

28 July 2007
News from ECA. The European Circus Association has sent out the following press information:
Alleging maladministration by the Director-General (Markets) of the European Union, the European Circus Association has brought a complaint before the European Ombudsman, pursuing an Infringement action against Austria concerning its absolute ban on non-domesticated animals in the circus.
The ECA claims its previous Case against the Austrian ban was dismissed "to satisfy activists", and that the EU principle of 'proportionality' has been breached.
The European Parliament and many Member States across Europe have pledged to preserve the cultural tradition of Circus. European Commissioner Mr Charles McCreevy is said to have opened and then closed a Case against Austria "for political reasons".
Mr McCreevy's previous stance had originally been set out in a letter to Austria in which he said that "the aim to protect animals in circuses can be achieved with less restrictive measures".
The ECA points out that it kept faith with a request from the EC to avoid Press contact. In spite of the ECA's integrity, there was an instantaneous 'leak' from either the Commission itself or from the Austrian Government to an Austrian animal rights organisation, which then informed the media.
In assembling its Case, and in spite of Freedom of Information laws, the ECA has been unable to obtain several key documents from the Commissioner's office. ECA was not advised that the Commissioner intended to close the Case against Austria; that decision only came to light when the German Press covered the story.
The ECA's argument is endorsed by the continuing refusal of the UK Government to impose a blanket ban on wild animals in circuses. The EU is also investigating Belgian Government policy against animal circuses.
The ECA insists on "reinstatement of the infringement proceedings and deliverance of a reasoned opinion to rectify the situation the Commission has created with its actions in this case", and points out the implications of these events on free trade and the 'Internal Market' within the EU.
The classical Circus is one of Europe 's great traditions, acknowledged by the European Parliament as an essential part of popular culture.
But Circus is under threat from rising levels of legislation, often designed to control other industries and which fail to allow for the exceptional circumstances of travelling entertainment.
It's only five years since the European Circus Association was founded, but the organisation has already achieved much on behalf of circus companies and the circus community throughout the European Union.
The ECA imposes high standards on its members; standards of animal care, of transportation, of public accommodation. And we also defend our members by talking to national and European Governments about legislation which will affect circuses, such as Visa regulations for non-EU performers.
The ECA's newest initiatives were discussed at a Board meeting held on 9th June in Freiburg, Germany. A major concern is to counter claims that circuses treat their animals badly; to ensure this can't happen, and to demonstrate our professionalism to observers, the ECA already enforces a Code of Conduct on its members.
But we're also working with national Governments within the EU to produce detailed animal care rules as an example of possible regulation. These are known as Model Regulations for the Care of Animals in Circus. They cover housing, transport, general husbandry, and the use of exterior / exercise areas. By formulating these strict rules, we can ensure that practical and workable rules are developed within the EU which will allow circuses to go on providing the most up-to-date facilities for their animal performers.
The ECA's belief is that new rules should follow the new Animal Welfare plan of the EU, which assesses each animal's individual needs by using 'objective indicators' which recognise that animal's living environment. This is a way of guaranteeing the welfare of animals in all contexts, and has enormous benefits over the old idea of providing fixed-size enclosures for each species.
The ECA is already working to help bring in a practical European system of registration of circuses with their national authorities.
The ECA's input over new Animal Transport laws has resulted in confirmation from the EU that the regulations do not apply to the transport of circus animals. As soon as this verbal agreement is confirmed in writing, the ECA will publish it for the benefit of members.
And we've also negotiated a written statement that a new regulation, part of the animal health passport rules, governing contact between different species prevents contact between circus animals and non-circus animals, but does not apply to different species living within the circus.
The ECA is helping set standards of training at professional circus schools, and has sent tutors to three of a series of Workshops under the EPE project which were designed to improve the teaching and learning of circus techniques and skills. ECA involvement will continue in cooperation with FEDEC (Fédération Européenne des Écoles de Cirque).
The ECA supports campaigns to preserve and enhance the natural habitats of endangered species, especially those species closely associated with Circus such as elephants. We continue to support the International Elephant Foundation and we share opposition to the trade in furs, bones, and body parts of all species. We are encouraging our members and friends to use the power of the circus to support this and other genuine conservation projects.

26 July 2007
Circus Bonbon 2007. The Swedish Circus Skratt does never tour from mid June to mid August. During that period you have for a number of years could see a short version of their performance in the amusement park Bonbon-land in the southern part of Zealand. As in 2005 and 2006 the performance, which is produced by Benny Berdino of Danish Circus Arena, is presented in Circus Skratt's blue and yellow striped tent seating 1,200 persons.
The performance in Circus Bonbon is presented by the Danish ring mistress Judith (in Sweden is it the tight wire dancer Johanna Abrahamsson who is ring mistress). First act is the German/Russian couple Marina and Yvo as Bubble Gums. The sympathetic couple did also tour Denmark in 2005 with Circus Arli. Then Roland Dittmar has a run-in. Usually he is working together with his tall wife Agnes (that was the case when he in 2004 toured with the tiny Danish Circus Krone 2004 and in 2005/2006 with the large German Circus Flic Flac. Agnes takes also part in the Skratt performance. But she is not present at Bonbon-Land). Following Roland former Cossack rider Mignon Bratuchin presents 6 beautiful Arabian horses in a liberty entrée. Next come Alex Mruz (Alexey Mruz) in a very good rola-bola entrée for which he use his father the run-in clown Robert Mruz (Robby) as assistant. Then Marina is back with a fine hula-hoop-act. Following her we meet Valentina Mruz (married to Robert and mother to Alex) with a great trapeze act. Then comes probably the best act in the performance: Yvo Antoni's acrobatic entrée together with his tiny dog Klopstock. Also an act which I do remember from Circus Arli 2005. Last act in the performance is Duo Staubertis from Czech with a well presented perch entrée in which Enrica Stauberti shows that she can more than just be on top of the perch balanced by her brother Dimitr.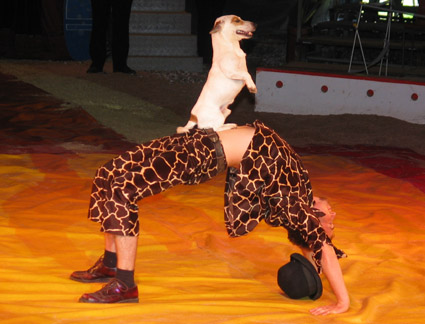 Yvo Antoni with the dog Klopstock. Click here to see a slideshow with more photos from the performance.

25 July 2007
International Night Cabaret in the Palace of Mirrors. Aarhus Festival is running from August 31st to September 9th. During the festival there will be a variety show at the Palace of Mirrors, starring the Danish actress Sidse Babett Knudsen, the Chinese magician Juliana Chen, the German comedians Collins Brothers, the female handstand acrobats Duo Credo and the Swedish bike artist Malte Knapp.
v
23 July 2007
Bonbon-land sold. The Danish amusement park Bonbon-land has been sold to Parques Reunidos which is owned by the British Private Equity house Candover.
For several years Bonbon-land has as a free attraction when entrance to the park has been paid presented Circus Bonbon during the summer holiday. Circus Bonbon is produced by Benny Berdino of Circus Arena. And Addie Jepsen has during the season presented Berdino's sealions at Bonbon-land. It is unknown if the new owners want to continue with circus and sealion shows. However, no changes will take palace during this season. Thus, you can meet circus Bonbon at Bonbonland until 12 August and Addie Jepsen and the sealions until 26 August.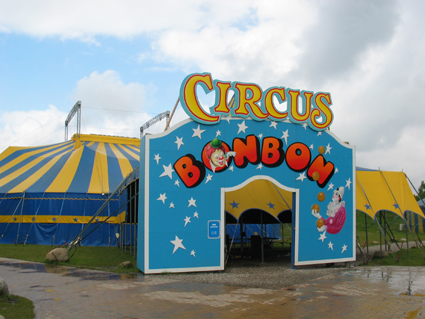 Circus Bonbon – 2008 could be its last season

23 July 2007
Arena Kids to Lille. When Circus Arena close the season in Denmark on 9 September the trick riders Arena Kids – Réne Casselly JR being 10 years old, the triplets Stephanie, Charmaine and Oliver Berdino being 13 years old, Patrick Berdino being 15 years old and Marylou Casselly being 15 years old – are going to the circus festival at Lille, France. As a matter of fact the festival will take place in a tent owned by Circus Arena's owner Benny Berdino. Rumours telling that the 5 young talents also shall participate in the Monte Carlo festival in January 2008 are rejected by Circus Arena's assistant director Jackie Berdino. "But maybe the can go to Monte Carlo in January 2009, "Jackie Berdino tells and add that Arena Kids also will tour with Circus Arena in 2008. Jackie is happy to notice that the youngsters out of witch Patrick is his own son day for day are becoming better and better. Also Réne Casselly who is considered to be one of the best elephant trainers in Europe has together with his wife Alexis been reengaged for Circus Arena in 2008. In January 2008 the Casselly's have been invited to present their elephant act at the Circus Festival in Monte Carlo.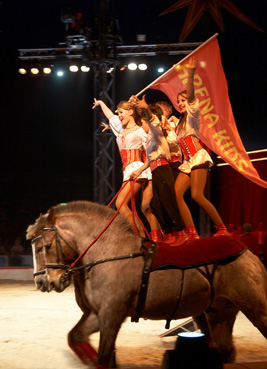 Arena Kids. Photo: Christian Warrer/Cirkus Arena

22. July 2007
Circus Charlie. On 21 June I wrote that the small Danish Circus Charlie had closed their spring/early summer season after a performance in Frederikshavn. According to the circus' website it is involved in a show in Kids Fun Park, Barcelona, Spain from 15 July to 20 August. However, the information about a show in Spain is not correct. The first week of July circus owner Einar Trie was involved in a European Circus Summer camp in Selde. After that Circus Charlie has with a few acrobats toured camping sites in Jutland. It is not know to me if they still are touring camping sites.

20 July 2007
Circus Mascot. Circus Mascot which calls itself "Denmark's family circus" is for the time being touring Zealand. As always they present a nice and family friendly performance. Circus owners Marianne and Jess Deleuran's youngest son Andreas welcomes the audience with a circus song. He is followed by a juggling routine presented by Ulmas and Daniel. Then Marianne Deleuran presents her trained dogs. She is followed by Gulio the clown with a short run-in, introducing Gulio' wife Miss Prymachenko in tissues. Next entrée is a Mascot tradition: two kids are invited to participate in a competition in the ring. Then Gulio has another run in as "strong man", this time skilfully assisted by Andreas. After Gulio and Andreas the plate spinning juggler Zdenek enters the ring, choosing a female from the audience as assistant as his wife always is drunk (of cause not true – later in the performance we meet his sympathetic wife in aerial ring). He is followed by Gulio and Andreas in their very own plate spinning entrée, involving a male member of the audience. Last act before the interval is the sleeping pony Ricky, skilfully presented by Marianne. The second part of the performance is opened by Daniel Deleuran with his cube rola bola act. He is followed first by Gulio with a short run-in and then by his younger brother Andreas with a diabolo entrée. Then comes another Gulio run-in before Jess Deleuran enter the ring with his four ponies. The ponies are followed by Miss Maria in arial ring while her husband Zdenek and their son is playing saxophone. Last act in the performance is a somewhat longer run-in with Gulio as bus driver, inviting one male and two female members of the audience to take a trip with his bus.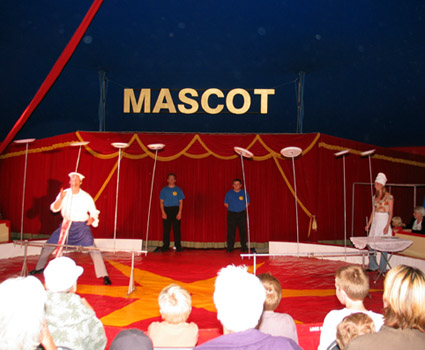 Among this years performers at Circus Mascot is the plate spinning juggler Zdenek, using a member of the audience as assistant. Click here to see a slideshow with more photos from the performance.

18 July 2007
Museums of Circus, Artists and Showmen. A circus interested Danish librarian Dan Roneklint Sorensen made some years ago a survey of museums of Circus, Artists and Showmen. So far the survey has only be available as a paper based document. However, after a recent update Dan has made the survey available at the internet at the address http://www.cirkus-dk.dk/cirkusmuseer/
The language is Danish, German and English. The survey introduces more than 150 museums all over the world. To the extent known information is given on opening hours, email-addresses and websites.
This survey contains only collections with admission to the public. It contains both museums in being and museums which were or hope/hoped to open. Both museums which have these subjects as main subjects and museums of civilisation with a fair amount of objects about them are included.
The survey is arranged according to a broad classification. Under the specific headings the countries are arranged alphabetically and under each country the museums are arranged alphabetically according to their original name or the name mentioned in the source.
It is Dan Roneklint Sorensen's intent to update the survey twice a year, next time in December 2007. He will be happy to receive any comments and suggestions. Send me an email and I will forward it to Dan Roneklint Sorensen.

16 July 2007
Circus Krone calls itself the smallest circus in Denmark. This year's performance proves that the artistically quality in the smaller Danish circus is high – much higher that what you often can see in medium sized circuses south of the Danish/German border. First act in Circus Krone's 2007 performance after circus owner Irene Thierry's welcome is Jan Allan (husband of Irene Thierry), with three ponies. Then the young juggler Nandor Varadi enters the ring. It is his first season with Circus Krone. His sister Eva and his parents Diana and Michi did also tour with Krone in 2002 and 2003. Following Nandor come the children's favourit: Jan Allan as the sympathetic clown Alando, assisted by Irene. Next act is Eva Varadis entrée in vertical rope. The Dani Bedea presents a very good ladder balancing act. Then Eva Varadi is back, this time with an excellent foot juggling entrée. The Alando has another entrée. Diana and Michi Varadi shows what they have trained their dogs to do: happy and joyful dogs in a sympathetic routine. Last trick is a dog climbing a ladder with a titbit reward at the top of the ladder. They are followed by Jan Allan and Irene in a comical magician act. Last act at the programme is something you do not expect to find in a small dog and pony show: a 4 person teeterboard troupe. Irene Thierry found the Bedea-truppen in Rumania and it is easy to understand that she and Jan Allan are mighty proud of being able to present such an act.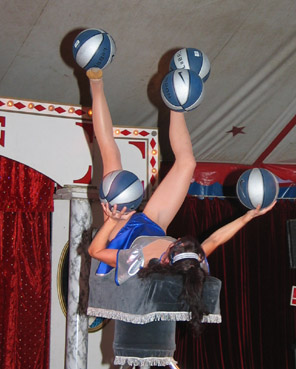 The foot juggler Eva Varadi. Click here to see a slideshow with more photos from the performance.

13 July 2007
Want to visit the leading Danish circuses? As usual the three largest circuses in Denmark: Circus Arena, Circus Benneweis and Circus Dannebrog will be in the Copenhagen area in the beginning of September, making that time at the year an excellent choice for foreigners who want to pay a visit one or more of the leading circuses in Denmark. Circus Dannebrog will be in Copenhagen from 31 August to 16 September. Circus Benneweis will be in Copenhagen from 5 to 16 September at in the Copenhagen suburb Greve from 31 August to 2 September. Circus Arena is in different Copenhagen suburbs from 21 August to 31 August and again from 2 to 3 September. On 7 and 8 September Circus Arena will be in HIlleröd (35 minutes by train from downtown Copenhagen – train service every 20 minutes). Season will close on 9 September in Köge (35 minutes by train from downtown Copenhagen – train service every 20 minutes). Here it the phone numbers to the ticket offices: Circus Arena: + 45 40 30 30 40. Circus Benneweis: + 45 40 40 20 20. Circus Dannebrog: + 45 30 26 36 36

12 July 2007
Circus Zalmov. In July and September you can find tiny Circus Zalmov at the Danish holiday resort Henne in the western part of Jutland. The tent can seat 150 persons and equipment looks like the equipment circuses used in the 1950'ties. Apart from some animals performers are the owner Venzel Zalmov and probably one or two other artists. The show is a music/comedy show with no spoken words. Venzel Zalmov is Danish and his Christian name is Per Mikkelsen. He was born in 1946 at Circus Miehe where his father was bandmaster. You can find further information on Circus Zalmov at http://www.zalmov.dk/
German text: Ab Sommer 2007 präsentieren Købmand Hansen Ferienhausvermietung, Cirkus Zalmov mit einer Vorstellung jeden Sonntag bis Freitag ab 19.30 Uhr im Juli und August. Der Clovn Venzel Zalmov sorgt für Unterhaltung für die vielen Gäste, die jedes Jahr nach Henne Strand kommen.
Die Vorstellung wird vorgefürt mit Tieren, Musik und Mimik, also alles ohne Worte, so alle können das verstehen, egal welche Altersgruppe.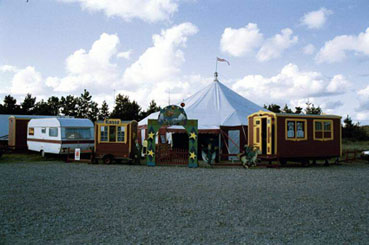 Circus Zalmov. Photo from 2005. Photo by courtesy of Venzel Zalmov.

6 July 2007
Party at Circus Benneweis on 13 July. When circus owner Diana Benneweis on 12 June reached 60 years she preferred to be "out of office" and no birthday party was given. But the birthday with a round figure will be celebrated in Aarhus on Friday 13 July. On this day Diana's children, the twins Nadia and Dawid, can celebrated their 20 year birthday and Circus Benneweis can celebrate its 120 years jubilee, having been established in 1887. Whilst it may not be the oldest circus in the world, it is considered to be then oldest in sense of being owned by the same family for such an extensive period. Diana Benneweis' great grandfather Gottfried Benneweis (1865-1933) founded the show. His son Ferdinand Benneweis (1888-1945) took over after Gottfried. In turn it was run by Eli Benneweis (1911-1993) and since 1994 by the present owner Diana Benneweis. The performance on 13 July will be a gala performance followed by a dinner for the invited guest and after that dance, firework and breakfast for those who can keep on dancing and celebrating all night!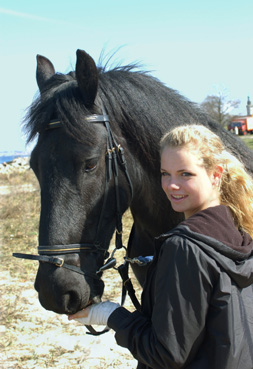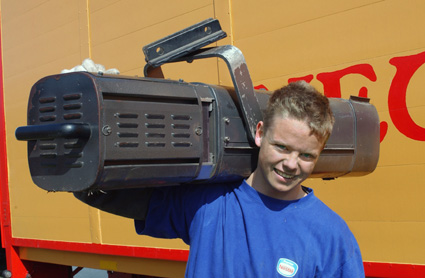 Nadia and Dawid Benneweis. Photos from 2005. Photographer: Arne Magnussen

5 July 2007
Glen Nicolodi as substitute in Circus Dannebrog. In the beginning of July circus owners Haddy Enoch had permitted his star equilibrists Curatola Brothers to take a few days of in order to go to an audition regarding an interesting job in season 2008. Luckily enough the gifted hand stand acrobat Glen Nicolodi had at the same time a few days of from his engagement in the Danish travelling variety theatre show Zirkus Nemo while Nemo was moving their equipment from Copenhagen to Svendborg. And Nemo owner Soren Ostergaard kindly permitted his colleague Haddy Enoch to "borrow" Glen Nicolodi for the days Curatola Bros was away from Circus Dannebrog. - Guiseppe Curatola (born 1978) and his smaller brother Emanuel Curatola (born 1983) was graduated from the Italian Circus Academy in 1994. Since then they had performed in theatres, varieties and circuses all over Europe. The Curatola brothers present their acrobatic hand-in hand number in elegant and original way showing to the audience their special ability and athletic force. When Circus Dannebrog closes their season in September the brothers will go to Cirque d'Hiver Bouglione in Paris.

30 June 2007
Problems for Circus Renz at Roskilde. The German family circus Renz-Berlin continues to have problems in Denmark. When they played an indoor date at Himmelev in Roskilde in February they had problems in getting the necessary permissions from authorities. When they left they "forgot" to pay the owner of the premises the agreed rent. During their visit at Roskilde on 22 to 24 June they tried to avoid fulfilling the requirements from the fire brigade (such requirements apply to all circuses – Danish and no Danish). Apparently the Renz people had hoped that no one from the fire brigade would care about "arme circusleute" (they often called themselves such) from a circus from Germany. However, having looked at the tent and realised that cars parked right next to the tent was used as guy ropes (sic!) and that no of Circus Renz's own "fireguard" was familiar with the Danish language the head of the fire brigade found the situation too dangerous and forbid Circus Renz to have audience in the tent! Rather reluctantly Circus Renz had to accept to pay 400 Euro per performance as salary to two of the local firemen and rent of a road tanker with water. Circus Renz have to pay the 400 Euro before "einlass" as the fire brigade had heart rumours of Renz being bad payers.

27 June 2007
Circus Flik-Flak goes to Iceland. Tommy Hardam of Circus Flik-Flak tells:
Circus Flik-Flak is one of the largest youth circuses in Denmark. In 2000 Circus Flik-Flak visited several cities at Greenland. In 2002 Iceland was visited where number of workshops and performances was arranged in cooperation with Lágafellskirkja. In the spring 2006 16 youngsters from Lágafellskirkja participates in lectures and training at Circus Flik-Flak in Odense.
On 30 June 34 Danish children and youngsters and their 12 adult trainers will leave for another two week trip to Iceland. The will make a performance together with youngsters from Iceland. The performance can be seen at Mosfellsbär, Akranes, Reykjavik, Keflavik at and the Vestmanna islands and in Kópavogur.

24 June 2007
Solveig Enoch's birthday party. A birthday party was given on 23 June at Lökken in Circus Dannebrog's tent. 110 guests were invited. Among those Lotte and Soren Arli of Circus Arli with their grandson Alexander, the author of circus books and producer of circus documentaries Jorgen Lorenzen and a large number of Solveig and Haddy Enoch's old artist friends. Amongst those were the Conradis and Birgit and Walter Potthoff.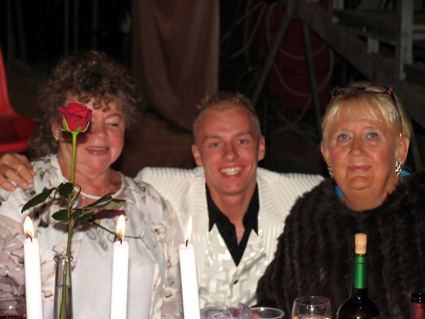 Solveig Enoch (partly hidden behind a rose) together with her grandson Jimmy Enoch and Lotte Arli. Photo: Rene Lahnen

22 June 2007
Solveig Enoch 70 years old. On 25 June Solveig Enoch, the wife of circus owner Haddy Enoch of Circus Dannebrog, can celebrate her 70 years birthday. As a girl she dreamed about being a circus star. Her dream came through when she in her childhood home met the bike acrobat Haddy Enoch. That meeting became her fate and her fortune. Since that meeting Solveig and Haddy have been partners – both as acrobats and in their private life. In 1951 they started a bike acrobat trio together with Solveig's sister Grethe. Grethe left the troupe to become an arial artist. Solveig and Haddy continued as 2 Haddies. In 1953 and 1954 they worked at Danish Circus Moreno. After that they went abroad and toured until 1976 32 different countries working in circuses, variety shows and ice shows. Their favourite place was the now closed Hansa Variety Theatre in Hamburg. 18 times
they were engaged at the Hansa Theatre, each engagement lasting one month. When their four children Dennie, Agnete, Isabella and Katja grow up they were involved in the bike act which then was named 4 Haddies. Today Solveig and Haddy Enoch have stopped their carrier as active acrobats. But the family tradition continues: their son Dennie and their grandson Jimmy have taken over the act, often assisted by Solveig and Haddy's other grandchildren. In 1977 the Enoch family re-established Circus Dannebrog. The first Circus Dannebrog was owned by the Enoch family but stopped touring in 1922. The present Circus Dannebrog has toured Denmark since 1977 and is today one of the leading circuses in Denmark.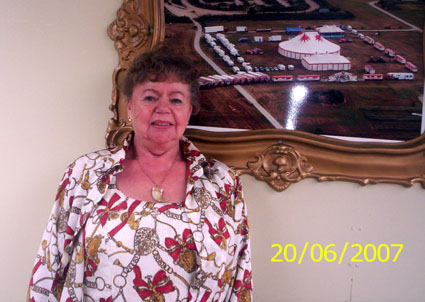 Solveig Enoch. Photo: Inge Ruberg

21 June 2007
Circus Charlie has closed its spring/early summer season. On 18 June Circus Charlie closed their spring/early summer season after a performance in Frederikshavn on the date when Circus Charlie was established 20 years ago. The first week of July circus owner Einar Trie is involved in a European Circus Summer camp in Selde. According to the circus' website it is involved in a show in Kids Fun Park, Barcelona, Spain from 15 July to 20 August. No performances are scheduled for in Denmark until a few performances in early September.

21 June 2007
Aquanaut. The circus photographer Lise Kokholm has sent me the photos shown below of the performance given by the new wave circus troupe Aquanaut at the harbour in Faaborg on 21 June. Unfortunately heavy rain harmed the performance which should have been given on the deck of the schooner Lovise. But the rain made the deck slippery and the somewhat shortened performance was mainly given at the quay. About 200 persons watched the performance.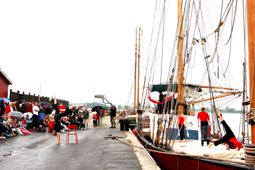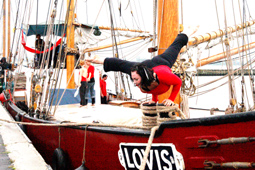 Photos from the performance at Faaborg 21 June. Photo: Lise Kokholm

21 June 2007
Flying Superkids at Le Plus Grand Cabaret de Monde. The Danish kid troupe Flying Superkids is amongst the performers in French TV5's program Le Plus Grand Cabaret de Monde on 23 June at 21:02. Flying Superkids - founded in 1967 - is the elite team of the gymnastic club and non-profit organization "Gymnastikgaarden" (aka "The gymnastic farm"). Over the years, millions of spectators in more than 33 countries have experienced the kids dance, sing and fly. It started out as a traditional gymnastic team, but through the years, Flying Superkids has evolved into a unique show ensemble. Other performers at Le Plus Grand Cabaret are Yunke, la table à repasser (Espagne) ; Michael Goudeau, jongleur comique (USA) ; Lakto, magie moto (Argentine) ; Trio Csazars, bascule (Hongrie) ; Bernard Bilis, hommage à Gainsbarre ; Les Chats, acrobatie (Russie) ; Yunke, main et faucon (Espagne) ; Akhmetzyanovs, le fil (Russie) ; Mukhtar, l'homme désarticulé ; Hans Davis, ombroman (Belgique) ; Julie Lavergne, la roue (Canada) ; Bastrakov, poupées (Russie) ; Les Perezoff, monocycles (Cuba) ; Carlos Vaquera (Belgique) ; Duo Scarlette, trapèze (Canada) ; Dani Lary, l'homme canon.

21 June 2007
In 2001 DR television broadcasted a series of documentaries about life in Circus Dannebrog. The programmes are for the time being repeated at DR TV Monday to Thursdays at 8:30

20 June 2007
Alexia and René Casselly to Monte Carlo. Circus Zeitung tells that Alexia and René Casselly who for the last couple of seasons has presented elephants and horses at Circus Arena will be amongst the performers at the 32nd Circus Festival in Monte Carlo in January 2008. Probably they will present the impressive courier ride on elephants which they are presenting this year in Circus Arena. It could very well be awarded with a bronze or silver clown. According to the Danish weekly magazine Billed-Bladet also the couple's two talented children René JR. and Marylou joined by 4 of Circus owner Benny Berdino's grandchildren (Charmaine, Stephanie, Oliver and Patrick) will go to Monte Carlo with their trick riding act Arena Kids.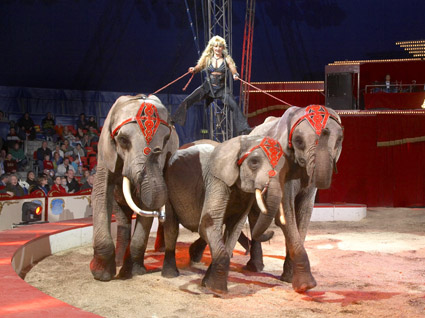 Alexia Casselly riding the Courier. Photo: Christian Warrer/Circus Arena

14 June 2007
AFUK Festivitas & and untamed night cabaret 2007: The Copenhagen Circus School AFUK invites to their annual Festivitas Thursday 21 June from 17 to 23 and Friday 22 June at their training premises at Kigkurren 1-3, Copenhagen. A detailed program can be seen from 19 June at www.afuk.dk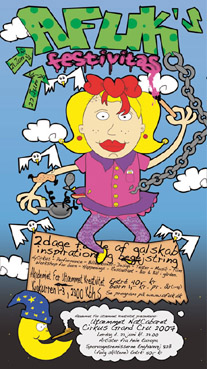 Saturday 23 June at 11 p.m. AFUK invites to Untamed Night Cabaret Circus Grand Cru 2007 with new circus artist from all over Europe. This event takes place at Enghavevej 82, Copenhagen. The Copenhagen culture fund has sponsored the arrangement.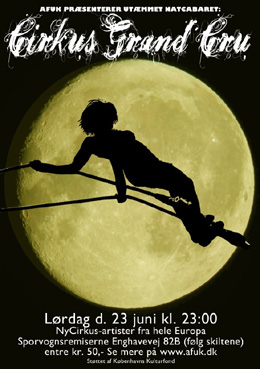 14 June 2007
Great success at Mögeltönder. On Circus Arena's website you can read that the circus as previous years hosted a charity performance in Mögeltönder on 11 June. And the performance was a great success. The entire income from the ticket office was donated to the Danish children's cancer foundation. The donated amount was 31,000 Euro. Amongst the guest were Prince Joachim (youngest son of the Danish queen), his ex-wife Alexandra and the couple's two kids Prince Nikolai and Prince Felix. Click here for link to photos from the event.

8 June 2007
Diana Benneweis 60 years old. On Tuesday 12 June circus owner Diana Benneweis of Danish Circus Benneweis can celebrate her 60 years birthday. When Eli Benneweis and his wife Eva in 1947 learned that the only 17-year old Manfred Benneweis had got a daughter with a only 16 year old girl from Funen they took a quick decision: they adopted the baby girl who at the christening ceremony 13 November 1947 at Fredriksborg Castle Church got the name Diana. The first years it was first and foremost her grandmother Irene who took care of the tiny Diana who she told:"Your mum and dad can not get any children. That's why you uncle made you together with a 16 year old girl who couldn't keep you". Grandmother told Diana that she had been chosen between many tiny children as the sweetest one.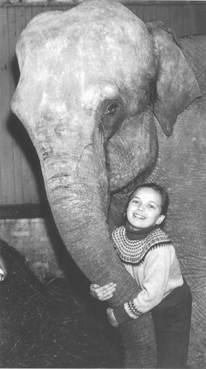 Diana Benneweis in 1956. Photo: Arne Magnussen
Shortly before her 15 year birthday Diana had her debut in the circus ring. And for the next many years the Danes met Diana as a extremely beautiful girl presenting beautiful liberty horses. Her trainer was Wenzel Kossmeier. A skilled but a bit old-fashioned trainer who according to rumours once in a while used his whip at horses as well as at Diana. But this part of Diana's life was unknown to the public. A few years later she became engaged to the horse trainer Claus Jespersen and in the beginning of the 1970'ties the couple was in charge of Circus Building in Copenhagen and was considered as happy member of the Danish jet-set. The truth was quite different: the relationship between Claus and Diana wasn't good and Diana was not happy. But she kept her image as the pretty glamour-girl always smiling and presenting horses in elegant robes. Many circus goes does probably remember the circus princess much better than the horses she presented! In 1986 she married the Polish acrobat Marek Zielinski. Diana and Marek adopted the twins Dawid and Nadia. However, the relationship with Marek broke in 1994. Marek left Benneweis for some years. However, today he is back as ring manager.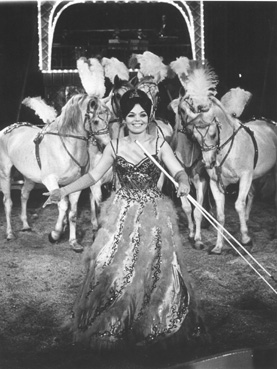 Diana at her debut in the ring in 1962. Photo: Arne Magnussen
Diana as many will remember her. A beautiful girl surrounded by beautiful horses. Photo: Arne Magnussen
When Eli Benneweis passed away in 1993 Diana inherited the circus after her father. Many Danes was surprised and had expected the heirs to be Diana and her two cousins Kim and Miller Benneweis. Many were sceptical and believed that such a glamour girl couldn't survive in the hard circus business. But Diana was much more than a beautiful girl and managed to run the circus. Kim and Miller were less happy with the new owner and in August 1995 Kim Benneweis left the circus with short notice. By the end of the season also Miller left Circus Benneweis.
However, Diana could manage the circus without her cousins and presented several times splendid performances with a lot of new thinking. Performances such as the impressive Classic & New Wave from 2000 where especially the pierced hula-hoop-star Denise Randol shocked part of the audience and the performance Super Girls from 2001 being an all-woman performance. Also in the later years Diana have had courage enough to present performances as she like a performance to be. In this connection she for several years decided not to have liberty horses or other horses on her program. " Every circus in Denmark has horses – and why should we be exactly as the rest? I love horses – especially if the can run free on the fields, playing, kicking and being happy …" Diana told me in 2006. To skip the horse act might have been at bit too much for the tradition loving Danish circus audience out of which many believe that a horse act is a must for a circus. As a matter of fact Circus Benneweis does in 2007 have horses (ponies) at the program. And a very good act!
I 2002 Diana Benneweis gave the newspapers as well as the audience a shock when she openly admitted that she had mental problems and for a short while had been a patient at a mental hospital. The news was followed by a book Alting har sin pris (There is a price on everything) from 2002 and Livet bliver ikke genudsendt (Lift is not repeated) from 2006. Especially the last book discloses that her illness (she is manic depressive) has been quite serious. But Diana has learned to live with her sickness and is still in charge of the now 120 years old Circus Benneweis, assisted by her boyfriend Freddy .
Congratulations to Diana with the birthday. You are a girl with a lot of courage and we thrust that you skilfully assisted by your boyfriend Freddy will continue to run the circus until the time when you two kids are prepared to take over and you are prepared to retire from the business world. May the future be bright for you, Freddy, Dawid and Nadia!
Diana is out of town on her birthday. But her birthday will be celebrated in Aarhus on 13 July being Nadia and Dawid Benneweis' 20 years' birthday and the day the circus has decided to celebrate their 120 years anniversary.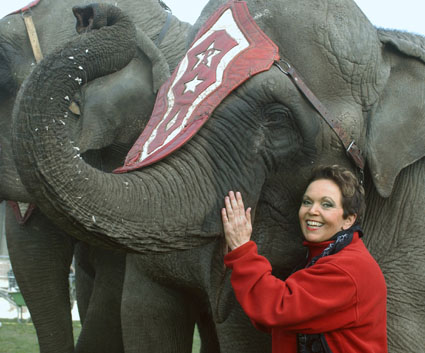 Diana Benneweis 2006. Photo: Arne Magnussen

8 June 2007
Problems for German Circus Renz Berlin at Nivaa. In Danish newspapers you have several times within the last couple of weeks read about problems with a group of youngsters in the Copenhagen suburb Nivaa. The Danish circuses are reading Danish newspapers and some of them had earlier years had disappointing experiences in Nivaa. Thus, they will consider very carefully if a visit to Nivaa is a good idea. But the tiny German family circus Renz Berlin which have toured Denmark sine July 2006 seems not to be familiar with the situation in Nivaa and decided to visit the town from 4 to 6 June. A visit which they will remember for long! Problems started when they arrived at the lot on 4 June. Some local kids wanted to feed the elephants. And that isn't aloud by the Renz-people. Then the youngster according to Mandy Renz threw soft roles with pieces of broken glass into the elephant tent. However, the Renz people took up the soft roles before the elephants were injured. According to the Renz people the youngsters became more and more provocative. According to the youngsters the circus people bothered them with racist shouting. After the performance Wednesday nigh thing went really wrong. According to a witness between 20 and 30 youngsters run in direction of the circus, some of them wearing some sort of hand weapons (not guns!). A Renz employee became upset and started a tractor trying to run down the young kids. Unfortunately he hit a 20 year old female employee from the circus who was running in direction of the youngsters with a club. She was severe injured. The local kids blame the circus for the episode and the circus blame the local kids most of which are so called second generation immigrants.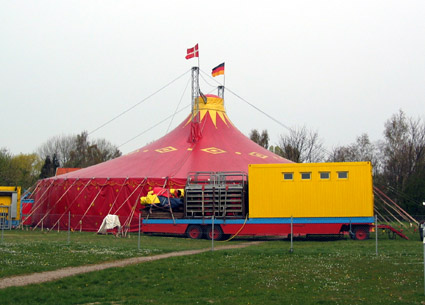 German Circus Renz-Berlin. It's a small family affair with several animals and a limited number of performers. On some places they are using a larger tent.

5 June 2007
Nordic Juggling Congress. At the Whitsun holiday a Nordic juggler congress took place in Köge. Among the performers was John Nations, the Tin Can Company http://www.tincancompany.dk/ (no juggling, but very entertaining) Johan Wellton http://www.johanwellton.com/, Clown Tape (Henrik Rasmussen) http://www.klovnentape.dk, Leo Sicard http://www.leopole.net, Loyal Club (Pall and Mugge) http://www.loyalclub.dk/ and Frida Brinkmann (2006 IJA Bouncing Balls winner) http://www.bouncepage.com/competition.html,

4 June 2007
Royal command performance at Circus Benneweis. Circus owner Diana Benneweis has decided to donate the entire income from a gala performance on 8 September in Copenhagen to the national association SIND. SIND's purpose is to improve the conditions for psychiatric patients. The Danish crown princess Mary is patroness of the association. And the crown princess who is extremely popular in Denmark has promised to attend the gala performance. Ticket's can be ordered at telephone + 45 40 40 20 20 or by clicking at this link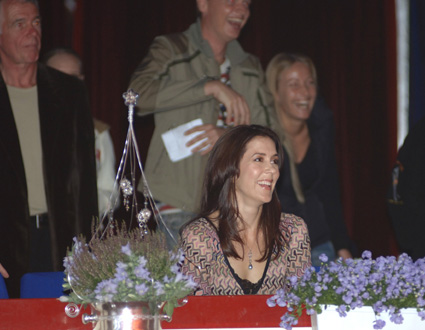 Also in 2006 the crown princess attended a gala performance in Circus Benneweis. Photo: Arne Magnussen

1 June 2007
Clown Festival 2007 Svendborg. From 23 - 27 May an international clown festival took place at Svendborg at the Funen Island. Similar festivals have for several years been held once a year at Svendborg. A large number of clowns from all over Europe participated in the 2007 festival. The circus photographer Lise Kokholm has sent me the photos shown below from the festival.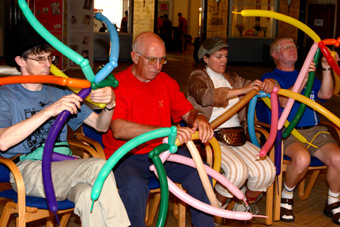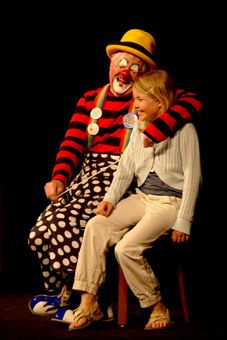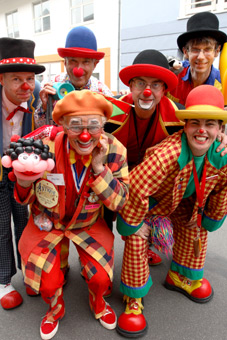 Photos from this years international clown festival. Photographer: Lise Kokholm

24 May 2007
European Circus Camp 2007 in Denmark. From 1 to 7 July a European Circus Camp with participants from different countries will take place in Selde, Nordsalling in Jutland. Einar Trie of Circus Charlie has for a number of years arranged such camps, however until now mainly for Danish kids and youngsters. The Circus camp is this year expanded with one day. Accommodation and show with Circus Charlie will be Sunday 1 July and the Circuscamp will end the following Saturday 7 July with 3 shows. A number of professional artists will train the kids in various forms for circus acts. Price: 110 EUR include Circusschool, food and camping in own tent or camping wagon. Click here for further information. Or call Camp Leader Steffan Trie at +45 23 42 42 20

21 May 2007
20 May was opening night for Zirkus Nemo, owned by the Danish actor and comedian Soren Ostergaard. Zirkus Nemo is a travelling variety-show. Apart from Soren Ostergaard you will meet some good circus artist in the performance. The best acrobat acts was the handstand acrobat Glenn Nicolodi and his tiny dog and the comical acrobats Duo Blind Date (Svetlana and Konstantin Dementiew). Especially their rola-bola act with Svetlana dressed as a lion trainer and Konstantin as an office worker with briefcase is very funny. Most hula-hoop entrées are done by young and slim girls. The comedy hula-hoop dancer Viktoria Lapidus is not slim! But she presents a very entertaining entrée doing the splits. Caroline Schroeck makes a nice and a bit different trapeze act and the clown and contortionist Kotini JR. have a couple of run-ins. The rest of the performance is done by Soren Ostergaard presenting a number of entertaining sketches. Most of the easy to understand also for a non-Dane. This year Zirkus Nemo is at Charlottenlund north of Copenhagen until 30 June and will after that continue to Svendborg (4 July - 15July), Horsens (17 July - 28 July), Aarhus (31 July - 18 August) and Aalborg (28 August - 8 September). Link to ticket ordering (language English).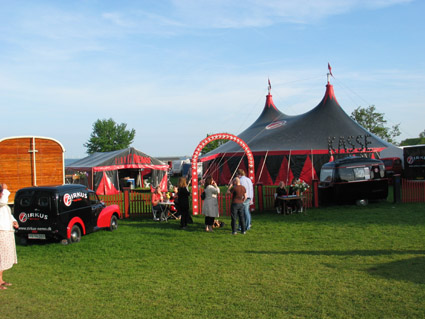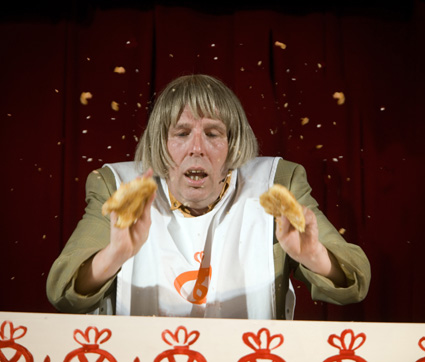 Soren Ostergaard in a sketch with 'the dancing wienerbreds'.Photo Zirkus Nemo/Steen Brogaard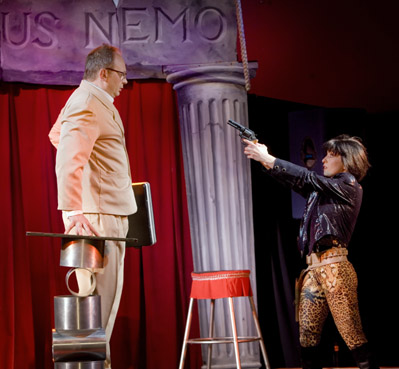 Duo Blind Date in their great rola-bola entrée. Photo: Zirkus Nemo/Steen Brogaard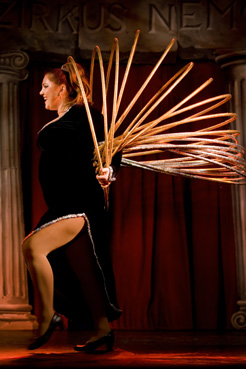 The comical hula-hoop dancer Viktoria Lapidus. Photo: Zirkus Nemo/Steen Brogaard

17 May 2007
As previous years Einar Trie's Circus Charlie from Jutland are in last weeks of May visiting Charlottenlund 5 miles north of downtown Copenhagen. It is Circus Charlie's season number 20. By tradition the clowns RED and BLUE are the leading figures during the performance. This year Einar Trie himself plays the character BLUE. RED is the Danish entertainer and musician Henrik Silver. Apart from RED and BLUE the audience meets Adreis family (Oksana Ržišceva with her son Emils Ržišcevs and her daughter Elvira Ržišceva) from Riga in Latvia with foot juggling (dressed as apes), Risley acrobatic and Emil as juggler with sticks. The family was with Charlie some years ago and toured with Danish Circus Arli in 2005. Katya (Ekaterina Mikhaylova) from the Moscow Circus present a fine sword balancing act and an act in vertical rope. She toured Denmark with Circus Baldoni a couple of years ago. Other performers at the show are Jevgenijs Tomilovs, Kristine Maskina, Genadijs Kantorovics, Natalija Bragina and Tatjana Kutnevska, all of them from Latvia. And not to forget: Einar Tries wife Vibeke Hördum who apart from being in charge of the ticket office takes part in an illusion entrée. The performance run for 2 hours and is an all-human performance. It is accompanied by a 3 pieces band.
Circus Charlie will stay at Charlottenlund until 28 May. Visit What's on to see where and when you can find Circus Charlie and other circuses in Denmark.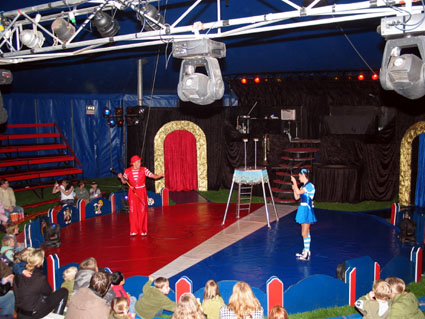 At Circus Charlie things are red and blue. The clown Red tells the audience that the red-painted seats are the best seats and that there a most fun in the red-painted part of the ring. Try to guess Blue's opinion! Click here to see a slideshow from the performance.

16 May 2007
On their way back from WM in tight wire in Korea the tight wire stars The Simets (László Simet and his wife Olga) visited the Circus Museum at Hvidovre, Copenhagen. The couple has special relations with the museum as the first bike they used for their outdoor motorbike tight wire act is on display at the museum together with some of their dresses and a monitor showing their performance in 2001 in Copenhagen's Tivoli Gardens. László remembered that the bike sometimes had some problems by starting. Not very convenient when you are balancing at a tight wire 21 meter over the ground!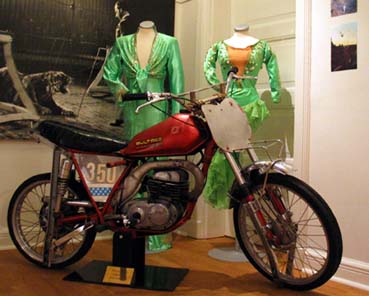 László Simet's motorbike

16 May 2007
Bachelor programme Circus Arts. Guido Severien of Codarts, University of Professional Arts Education in Rotterdam, has asked me to publish the following: Are you creative, physically talented and adventurous? Do you have a passion for the circus, and do you aspire to a career in the circus world? If so, you can enter the Circus Arts programme of Codarts, University of Professional Arts Education. This bachelor's programme is the first study programme to train circus artists at the highest level in the Netherlands. Circus Arts is a four year bachelor study programme for both specialists and generalists and aiming for a high level of skills. Circus Arts integrates circus and other arts disciplines of the Rotterdam Conservatoire and the Rotterdam Dance Academy. Circus Arts also offers the possibility to experience other art disciplines like dance, music, and music theatre.
Apply now for the auditions Circus Arts at Codarts, University of Professional Arts Education in Rotterdam, deadline June 8 2007. The auditions will take place between Monday June 18 and Friday June 22 in Rotterdam. If you want to apply for the auditions, please send the application form with enclosures to Codarts, University of Professional Arts Education, Central Student Administration, Kruisplein 26, 3012 CC Rotterdam, the Netherlands. For more information: click here or send an email to circusarts@codarts.nl

14 May 2007
New Circus Festival 2007. For more than 25 years Copenhagen International Theatre (KIT) has presented international performing arts in Denmark and collaborated with a huge amount of international partners. Now Copenhagen International Theatre has decided to dedicate some of the current work to focus on the establishment of a favourable milieu for the development of the New Circus field in Denmark.
KIT, the Copenhagen International Theatre, will in 2007 present a New Circus festival in Copenhagen as they have done for many years. The festival will take place in August.
Opening the festival will be the Australian New Circus troupe Acrobat with their performance "smaller, poorer, cheaper". The title is the essence of the show. "smaller, poorer, cheaper" is the naked truth (in all senses of the word) from some of the worlds best acrobats living "on the edge" of normality and society. In this new production searing guitars meet naked screaming bodies telling very personal stories. For some of us - just mind blowing.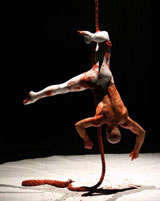 From Acrobat's performance. Photo by courtesy of KIT
Next troupe will be the Danish New Circus company Royal Bones with their performance FUSK, staged by the Swedish director Lars Rudolfsson. The performance will be showed at the castle Kronborg (Hamlet's castle) in Elsinore. Four musicians stand up and one raises her hand to speak. Will sweet music arise in the space between body and lyricism? Are the circus artists piercing loneliness with her weightlessness? The story begins telling itself - a unique blend of circus acts, outstanding experimental pop played live and a burlesque of Shakespeare's Hamlet at the fascinating site of Kronborg Castle.
Performering artist are Rasmus Aitouganov, Lars Gregersen, Mille Lundt, Josephine Wulff Randrup, Camila Sarrazin, Scott Ackerman, Hanne Raffnsøe, Maja Romm, Henriette Groth and Johan Segerberg.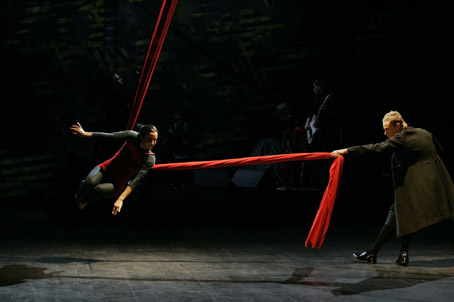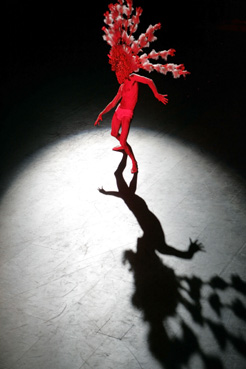 Photos from Fusk. Photographer: Martin Skoog
Known from Cirque O, Que Cir Que and Cirque, former circus artist, poet and mentor Ueli Hirzel has created some of the most aesthetically simple, beautiful and technically brilliant work in the new circus genre. Now he returns after months in the Chilean Andes rehearsing with 6 sensational Chilean trapeze artists who as Cirque's inhabit their aerial cage with astonishing acts while reflecting on live and death in a country where expressions such as freedom, longing, searching, regretting and daring are words, which have a completely different meaning.
Combining the Finnish quirkiness and edginess, a phenomenal cinematic landscape and some jaw dropping tricks and stunts, the unpronounceable duo of Ville Walo and Kalle Hakkarainen take us on a magical, surreal journey through the city.
The Portuguese solo artist Joao P. Pereira Do Santos is not just "king of the Chinese pole" with some mind blowing and seemingly impossible feats of acrobatics defying laws of gravity. Together with a musician who creates a pulsating and trembling electronic sound environment, the pole becomes Joao's partner, mistress, confessor and master - his alter ego - an almost mystical and life enhancing duet in a performance called O Ultimo Momento.

João P. Pereira Dos Santos at his Chinese pole. Photo by courtesy of KIT
Last performance during the festival will be Cantabile2 with the performance "Bycircus Berserk". It is a theatrical circus performance, in which a big silo situated in Copenhagen harbour is the stage and landscape for a unique visual and sensual experience. The Performers from Cantabile 2 is joined by some of most exciting circus artists in Europe. Together they bring life to a poetic mixture of tragic-comical stories.
Click here for link to further information including possibility for ticket ordering.

13 May 2007
CIRQUE DU SOLEIL now playing in Paris, May thru June 2007. From Paris Zarro Zarro writes:
The BIG TOP of the CIRQUE DU SOLEIL is planted near the STADE DE FRANCE, on the outskirts of Paris. The program, called ALEGRIA /"joy" in Spanish/ features acrobats, clowns and musicians -making it a top total event, well worth seeing. This is only one of the productions, called CIRQUE DU SOLEIL, there are four others playing in Las Vegas, according to my sources. The question is if this type of entertainment should be called circus, as it differs a lot from the traditional one, having clown troupes and beautiful, trained animals which perform stunts that come natural to their species - which are in fact the only things that animals can be taught. Maybe the question remains a purely academically one - as it cannot have any definite answer. Surely the two types of circus entertainment will continue having their audience!!!! - Click here for further info on Alegria in Paris

11 May 2007
Circus Arena 2007 is the title of a TV-program which will be repeated several time at the Danish TV channel dk4: 11 May at 21:30, 12 May at 5:30 and 23:00, 14 May at 17:00, 15 May at 12:00 and 18:30, 16 May at 01:00, 17 May at 10:00, 19 May at 04.:30 and 22 May at 11.

11 May 2007
The Danish actor, comedian and 'circus'owner Soren Ostergaard can today celebrate his 50 years birthday. Apart from being a theatre and movie actor he is involved in a travelling variety-show called Zirkus Nemo. It was established in 1999 and toured until 2004. In 2005 and 2006 Soren Ostergaard presented a variety theatre performance in Zirkus Nemo-style in Copenhagen's famous Tivoli Gardens.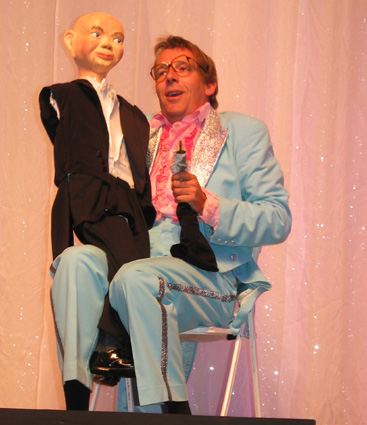 Soren Ostergaard. Photo taken at the clown festival at the amusement park Bakken in 2004
This year Zirkus Nemo will tour again with opening night at Charlottenlund north of Copenhagen on 17 May. The show will stay at Charlottenlund until 30 June and will after that continue to Svendborg (4 July - 15July), Horsens (17 July - 28 July), Aarhus (31 July - 18 August) and Aalborg (28 August - 8 September).

Zirkus Nemo's tent can seat 360 persons. In the performance this year you will apart from Soren Ostergaard meet the German trapeze star Caroline Schroeck, the handstand acrobat Glenn Nicolodi and his tiny dog, the acrobats Duo Blind Date (Svetlana and Konstantin Dementiew) from Ukraine, the comedy hula-hoop dancer Viktoria Lapidus from Ukraine and the clown and contortionist Kotini JR. (sometimes spelled Kontini JR).
Caroline Schroeck has performed at a number of variety theatres in Germany. It is her first visit to Denmark. Glenn Nicolodi's charming act using a tiny dog as assistant could be seen in German Circus Barum in 2001 and in Danish Circus Benneweis in 2003. He has won several awards. However it is not true when you on some websites can read that he was awarded a silver clown in Monte Carlo in 2005. Duo Blind Date has as far as I know not been in Denmark before. Viktoria Lapidus is a comedy hula-hoop dancer from the Moscow State Circus. It was at the Moscow State Circus that she received her training. Since 1998 she has been living in Germany ( Hamburg), where she successfully completed her degree as dance pedagogue and choreographer. She has performed in Circuses as Roncalli, Fliegenpilz, Bush- Roland ant at several variety theatres. She has also been performing in performing in the Tiger Lilies Circus. The clown Kotini Junior participated in the International Clown Festival at Bakken north of Copenhagen in 1996 and 2003. In 2003 he was awarded the festivals first price The World Artist and Clown Award. A few months earlier he had together with Jigalov & Csaba under the name Konstantin Junior received a silver clown in Monte Carlo. In 2005 he took part in Soren Ostergaards variety in the Tivoli Gardens.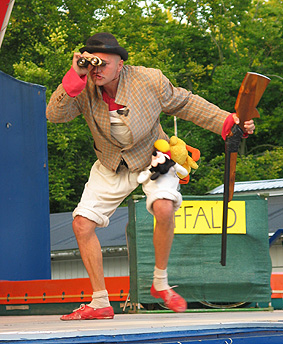 Kotini Jr, photo taken at Bakken 2003

7 May 2007
Menestrellis. When I on 4 May mentioned that Menestrellis with their court jester's dog theatre has joined Circus Benneweis where they will stay until Benneweis close the 2007 season on 16 September I could unfortunately not find a photo of the charming couple in my archives. Freddy Kolding of Circus Benneweis has now provided me with the photos below, both taken by Arne Magnussen who for several years have been Circus Benneweis favourite photographer.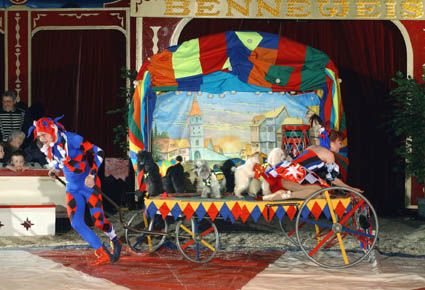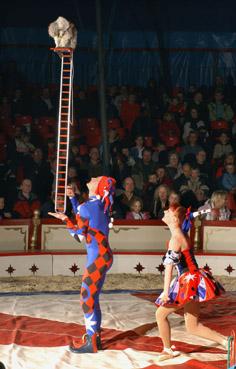 4 May 2007
Lasse "Bonbon" Norager celebrates his 25th anniversary. On 8 May 1982 the then 16 year old Lasse had his début as professional artist in the Swedish Circus Regal. Thus, Lasse can celebrate his 25th anniversary when Circus Arena on 8 May this year is in Hjorring in the northern part of Jutland.
Lasse is born 20 July 1965 and grew up in the Copenhagen suburb Vaerlose. His farther Arne was art teacher at a college of education and his mother Nina teacher at a local school. Lasse was very interested in music and became only 9 years old member of the "Tivoli Garden Guard" (a youth band) as percussionist. In 1982 he was offered a contract as run-in clown with Swedish Circus Regal. His mom and dad were a bit reluctant but accepted Lasse's dream about becoming a circus clown.
After Circus Regal Lasse continued making a life out of clowning. During a tour in 1986 with Circus Finlandia in Finland he met his wife to be Tiina. First time the Danes met Lasse in a Danish circus was in 1992 where he worked as reprise clown in Circus Benneweis and together with Tiina presented their now famous comical badminton entrée. Bonbon was back at Benneweis in 1994. 1999 was the first year he toured with Danish Circus Arena. Since 2001 Bonbon and Tiina has every summer season toured Denmark with Circus Arena where Bonbon not only have run-ins as clown but also are arranging the music and the light-setting. In the winter season Bonbon and Tiina can be seen in other leading circuses in Europe such as Circus Krone in the Munich-building. In January this year Bonbon took part of the Circus Festival in Monte Carlo where he was awarded an honorary price.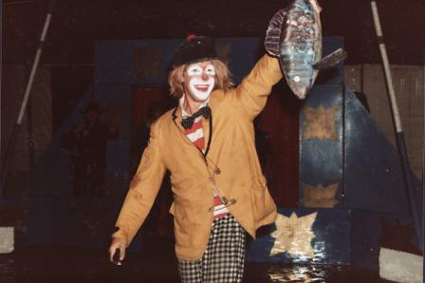 Lasse and the fish. Photo from Circus Regal 1982. Photo by courtesy of Nina Norager
I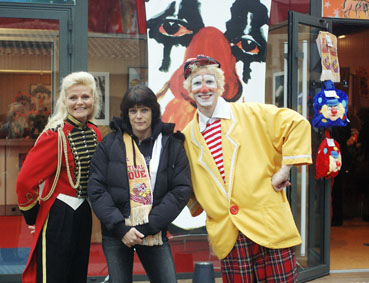 Tiina, Princess Stephanie and Bonbon in Monte Carlo January 2007. Photo: Roy Himsel

4 May 2007
New dog act for Circus Benneweis. First act in this year's Benneweis performance was at the opening night Diana Vedyaskina with her trained dash dogs. A nice act, although the dogs were that small and difficult to see unless seated at the first row. And it was not an act with great charm. After three weeks Diana Vedyaskina for personal reasons decided to leave Circus Benneweis. Circus owner Diana Benneweis has now engaged another act as replacement: Menestrellis with the court jester's dog theatre – a young and charming couple from Rostov on Don in Russia presenting 10 small and happy clown-dogs. Menestrellis was also with Circus Benneweis in 2003.

1 May 2007
From Paris Zarro Zarro tells: CIRCUS DIANA MORENO BORMANN - performing all the year around in Paris.
This circus has grown from a small one, playing in the green parks of Paris - to a middle-sized circus playing the whole year on some ground that they can rent from the Paris City Council. The Big Top is nicely decorated and the 900 seats offer a certain comfort - important to be able to compete with other forms of entertainment. The activities include special dinner-shows for various businesses and corporations, the concept is a pleasant evening in attractive surroundings.
The program features tigers, presented by Eric Moreno Bormann, a world-class juggling act performed by his wife Alexandra, daughter of Marquis Pauwels. Furthermore: goats, dogs and poneys in a very family-friendly act, a flock of 8 geese presented in the way we saw Annie Fratellini use, exotics like camels, zebras, lamas and a yak, clowning in between each act, a beautiful horse act, presented by Alexandra, hula hoop, acrobats on table and the classical clown sketch "Little bee - give me honey". The audience consists mainly of school-classes and groups from open air- and leisure centers, and as the program and the clowning are geared towards ther younger kids, the feedback and reactions from the audience are excellent. On the practical side, it is hard to get a good and suitable venue in Paris, as more and more empty grounds are being built upon,the rent is fairly high, as the price of the square meter is -- very high!
It is worth noticing that it is unique in Europe that Paris offers a couple of circuses, playing all the year around - as far as I know this has still to be seen in other countries. When you visit Paris next time - have a look in l'OFFICIEL DES SPECTACLES, a brochure mentioning every show /in news stalls, Euro O.35/. You will then see the circuses advertising, look for headline "Pour les Jeunes" and "Cirques". Enjoy the show !!!!!!!!!!
Click here to get to the shows website with further informations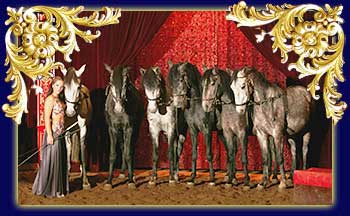 Horses at Circus Diana Moreno Bormann

27 April 2007
Circus Amara is the name painted on some of the caravans used by the German family circus Renz-Berlin which for the time being is touring Zealand. The explanation seems to be that German/Austrian Circus Amara belongs to the same part of the large Renz family as Bernhard Renz who owns Circus Renz-Berlin. Apart from a very old four pole tent Renz-Berlin is on some lots using a smaller two pole tent which might come from Circus Amara.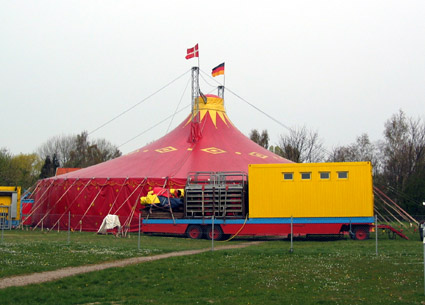 The small Renz-Berlin tent.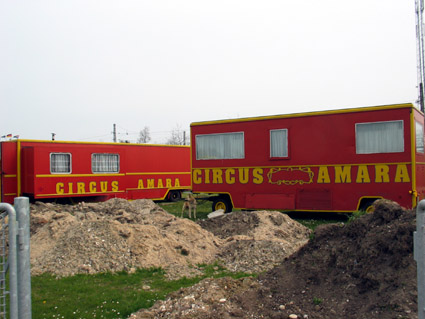 Amara-caravans.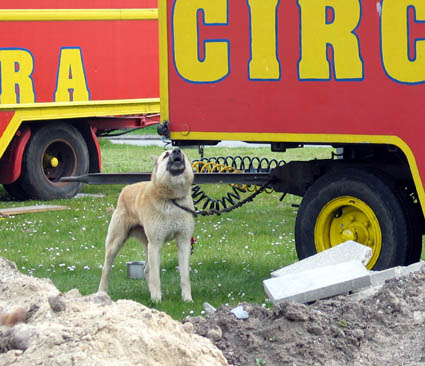 Chained dog at Amara-caravan. All photos taken at Solrod on 22nd April

26 April 2007
Not yet time for generational change at Circus Benneweis. An article about Diana Benneweis in the Danish newspaper BT could be read as Diana had decided to retire and hand over the responsibilities to her children Nadia and Dawid. But such reading is a misunderstanding. Diana confirms to me that the intention never has been that Nadia and Dawid here and now should take over the responsibilities from their mother. The intention is that Diana through a couple of years will teach the two kids how to run a circus. When this task has been completed they can take over. Thus, Diana Benneweis is still the owner and manager of Circus Benneweis.

25 April 2007
Circus and artists in Paris. From Paris Zarro Zarro tells:
CIRCUS AND VARIETY -- JOY AND ATMOSPHERE IN PARIS.
The small entertainment enterprises are disappearing but they still exist, to some extent, in France. The difficulties are legion: it is hard to find a good and convenient place for the show within the towns - and the ground rent is high.
LES GONTELLIS CIRCUS AND VARIETY SHOW perform in the parks of Paris from APRIL thru NOVEMBER, featuring a pleasant program including antipodist-juggling, performing goats, cats and mice /although not together .../, OPHELIA, 11 years old, performs acrobatics in a ring/trapeze and there is magic with rabbits, clowning, unicycling and brass music /trumpet and trombone/ and also club juggling. Mrs GONTELLI is Ringmistress, in France called Madame Loyal. This is certainly not a sensational program, but a very pleasant one, allowing parents and their children to have a nice afternoon together, since the program is very family friendly. Showtime 75 minutes, entrance fee Euro 5, capacity of tent is about 150 persons, fairly comfortably seated. All in all, it is a show of human dimensions, a good, healthy entertainment where everything is TRUE and REAL, with no faking and no false stardom which is too often seen in other contexts.
We will extend our thanks and congratulations to the GONTELLIS FAMILY for continuing this great tradition of popular entertainment. - Click here for link to Les Gontellis' website
-------------------------------------------------------
SHOWBOAT METAMORPHOSIS IN PARIS.
The French and international entertainer JAN MADD started this unique magic venue in Paris - the year was 1990. Previously he had been performing his MAGIC SHOW in Circus Roncalli and Circus Krone, Germany where he had lions, tigers and panthers in his show -
this was roughly from 1964 thru 1970, then he had a career as a cabaret magician with an ACT BLACK AND WHITE, featuring doves and big white billiard balls, an ACT that took him over most of the world. With the same act he played various revues: Alcazar, Lido and Olympia in Paris
At the age of 45, he then decided to open the METAMORPHOSIS MAGIC SHOWBOAT, which has existed since 1990 and --- up to this day. The Program is a mixture of big illusions with 2 Asian girl assistants, there is lots of audience participation when performing smaller effects such as the Razorblades, Cut and restored scarf, Penetrated glassplate and smaller dove illusions. His wife and partner CHANTAL SAINT JEAN, stagename CHOUPINET intervenes regularly in the show impersonating a clowngirl, performing a very charming act based on the classical Umbrella Illusion, in a nice and pleasant setting.
The Grande Finale consists of a super-big production: flags, flowers, streamers and ... the 2 assistants! A rain of soap-bubbles, a snowfall of confetti -- from the ceiling ... and --- SUCCESS.
The CONCEPT: A total event, Dinner-Show, Bar, French cuisine, Magic Show, Panoramic view over the river Seine with view of the Louvre Museum and the Notre Dame Cathedral -- all on board the tastefully decorated showboat. Point of Interest: A good, healthy entertainment for all, adults and kids /children's show each Sunday PM/. Everything is geared, not towards "magicians" but towards the great general audience. This is what explains JAN MADD's success, together with the fact that this is UNIQUE IN EUROPE, the only magic dinner show open all year around , playing 6 days a week. AN ABSOLUTE MUST --- when you visit Paris !!!!!! Click here for link to website with further information. -

23 April 2007
The Circus Museum at Hvidovre, Copenhagen has given their website a facelift. You can now find much more information than before the facelift. The languages are English and Danish. Click here to visit the website

22 April 2007
Sailing circus again on their way to Faaborg. Ann Alakazam tells that the sailing new wave circus Aquanaut most likely for the third year in row will visit Faaborg at the Isle of Funen. The local city council has given a grant of 10,000 DKK (1,350 Euro) to the project. The performance will most likely take place on 20 or 21 June. Artist and musician from several European countries are members of the Aquanaut Company.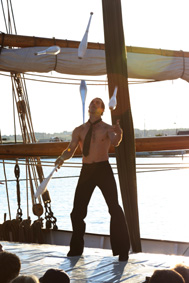 Aquanaut. Photos taken in Faaborg in 2006 by Lise Kokholm

22 April 2007
The Fishing and Family Park West in Hee north of Ringkobing in the western part of Jutland will as earlier mentioned during the season have elephant riding and circus performances as attractions. The park opened the 2007 season during the Eater holidays and until the summer holidays there will be elephant riding every weekend at 12.00, 14.00 and 16.00.
On 2, 9 and 16 June there will be variety theatre performances produced and staged by Isabella Enoch. There will be show dancers from Denmark, the comedians Fis & Ballade (Leon Nörgaard and Jens Hvidtved Larsen), the artists Freddy Anthony, Martina, Bernhard, Melanie and Josefine Kaselowsky, Isabella Enoch, Edward and David Sosman. Maybe also Jimmy Enoch will be part of the show.
During the Danish summer holiday there will be circus performances lasting approximately one hour. Here you will again meet show dancers, the elephant Rambo presented by Bernhard, Josefine and Melanie Kaselowsky, the barber elephant Rambo, 6 camels presented by Josefine Kaselowsky on horseback, cloudswing with Josefine and juggling done by Edward and David Sosman. Furthermore you can meet the comedians Comedy and Limited (Bobby Dixon and Anoushka), Isaballa Enoch tells. There seems to be good reasons for circus interested tourist visiting Jutland to pay a visit to Fishing and Family Park West.

20 April 2007
Problems for Circus Renz-Berlin. Circus Renz-Berlin has toured Denmark since last summer. In February Circus Renz-Berlin had rented a sports centre in Roskilde for their performances. But when the performance was over they could not pay the agreed rent and was not willing to leave. The police had to assist the local sport club owning the centre in getting the Renz people out of the building. The club has never received the rent ant probably learnt always to demand payment up front if an unknown foreign circus want to buy or rent something from you. A pity for the majority of circus owners who always pay their debts.
A few of days ago Renz people was involved in another incident: a couple of Renz employees became very upset when Danish Circus Baldoni was setting up posters for a performance on 30 April in the town in which Renz-Berlin had decided to perform this week-end. They attacked the Baldoni crew – a man and a female - using baseball-bats. The Baldoni employees had to go to the hospital. The police are investigating the matter which might result in 60 days in prison for the Renz-employees followed by expulsion from Denmark.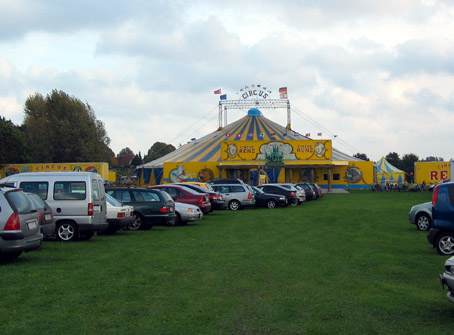 The German family circus Renz-Berlin has problems with violent employees and unpaid bills. Despite the size of the tent it is a small family circus with several animals but very few artists.

20 April 2007
Good news from the Danish new wave circus world. The two Danish new wave circus companies Cikaros and TinCanCompany has received 450,000 DKK (33,500 Euro) in state subsidies for production of a new performance called Freaks. Performing artists will be Camilla Becker Madsen, Michiel van Leeuwen, Signe Löve Anderskov, Gry Lambertsen, Rune Andersen and Leo Sicard. Regi: Mikala Bjarnov Lage. Opening night will be on 1 August. The performance will tour Denmark, Holland and France in August and September.

19 April 2007
Lucy's reisendem Restaurant-Theater should be the name of a dinnershow established by Lucy Berdino in cooperation with Sönke Krob. Lucy was for several years married to Jackie Berdino of Circus Arena but the couple decided to split some months ago. The dinnershow is as far as I have been informed for the time being in Haderslev where it will stay until Sunday 22 April.

18 April 2007
Circus No Name 2007. The circusfriend Hand Vedel tells: On 17 April Luffe Bögh could welcome an invited audience to dress rehearsal at the new circus program in Solbjerg. It is season number three the enterprising circus fans present great entertainment in the TEAM LA flower and activity park situated 11 kilometres north of Hadsund in Jutland.The first year it was an outdoor performance with Bernhard Kasselowsky's camels as main attraction. In 2006 a tent was acquired and the main attraction was Sharon Folco with an African elephant and 5 beautiful Frisian horses.
This year the Team LA -crew are producing the entire performance themselves - and thanks for that! For why book a single star attraction when you has a lot of beautiful animals in your own stables and have engaged Bjoern Schult as trainer – and what a great trainer! His liberty act starting with two horses at their own and the supplemented by another two horses show what a gifted animal trainer can get out of his horses. It is certainly the best act in the performance and second to none liberty acts you can see in any other circus in Denmark. Other fine acts are Luffe Böghs pony revue with 12 ponies and his funny act with a goat and a tiny pony. The clown Jesper who gets better and better fighted with mules and donkeys reminding me of Carl Kossmayer. It was also nice to se that a pupil from the institution No Name - Darja – was aloud to present ponies and also other pupils took place in several acts.
All in all No Name Circus 2007 present a good and entertaining and varied performance in the exiting activity park in Solbjerg.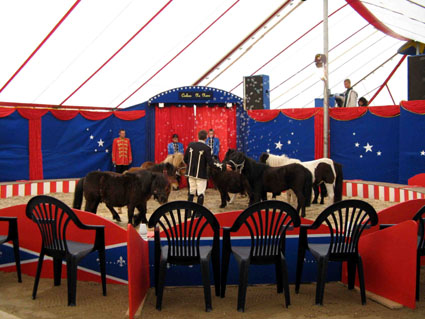 Ponies in Circus No Name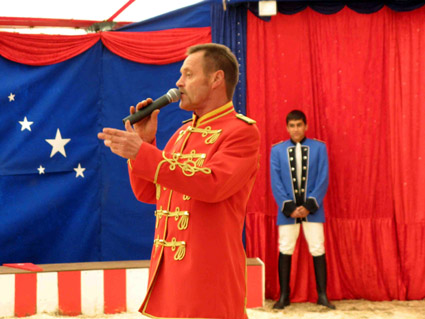 Bjoern Schult-Bjoernlys – ringmaster, animal trainer and artistically director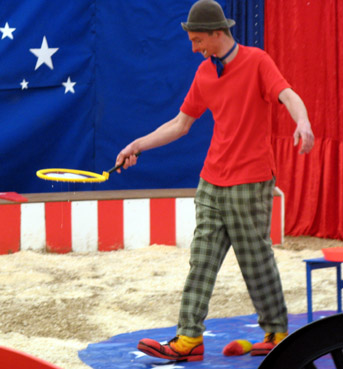 Jesper the clown

15 April 2007
Wallmans dinnershow in the Copenhagen Circus Building. A photographer from the newspaper Politiken has created a very nice slide show from the performance. Click here for a link to the slide show and click then at Wallmans – forklædt som tjener. In the performance you will meet 14 singers and dancers and 4 circus acrobats. The singes and dancers but not the acrobats are also working as waiters.

13 April 2007

Circus Baldoni had its opening night at Lyngby on 12 April. First the mimic clowns Ibacala entered the stage (Baldoni is using a stage in stead of a traditional ring). Then circus owner René Moenster welcomed the audience. As previous years he is as ringmaster assisted by an assistant: this year Martin Maiböll, also known as Texas Jack. René asked Martin to find an elephant for his circus and Martin left for his elephant hunt. First act in the performance was Maria Picard in a hula hoop entrée in which a small dog participated in a most charming way. Then Rene Moenster assisted by Leonardo the Lion (a ventriloquist's doll) introduced a Slinky-act with Miss Ernita Barbi and her mother. Then Martin came back from his elephant hunt bringing an elephant which the directors for good reasons said looked like a dressed-out vacuum cleaner. It could blow up a giant balloon used for the traditional and popular entrée where a man climbs into the balloon. Then the Ibacala-clown was back with a fine mimic entrée showing that they also are very skilled acrobats. The clowns were followed by Maria Picard in a nice entrée in vertical rope. Then Martin Maiböll entered the stage with yodel-entrée. Last act before the interval was the skilled Kenyan tumblers Mombasa Boys with a limbo-act. After the interval Martin Maiböll presented another act with Mombasa Boys: mast acrobatics. Then we met Mr. Richter in a comical dance routine where he was dressed as a couple. Then came the Ibacala-clown with the best act in the performance: a great comical trapeze act. Martin Maiböll entered now the stage as Texas Jack with his popular Wild West entrée. After a short run-in with the Ibacalas The Baldonis (the owners Thessa and René Moenster) entered the stage with a fine illusion act including a perfect version of the substitution trunk. The last act in the performance which runs for 2 hours was a human pyramid building act with Mombasa Boys.

Click here to se a slideshow with photos from the performance.

11 April 2007
The Danish dog and pony show Circus Mascot had its opening night in Roslev in the northern part of Jutland on 29 March. In this year's performance you will meet Daniel with cube rola-bola, his smaller brother Andreas in a diabolo-entrée, Jess Deleuran with his ponies, Marianne Deleuran with her dogs, Miss Prymachenko in arial straps, the jugglers Ulmas and Daniel, the clowns Gulio (alias Ulmas) and Andreas, Marianne with the sleeping horse Ricky, Maria in arial ring and the plate spinning juggler Zdenek. Ulmas (Gulio) and his wife Prymachenko have been with Mascot since 2003. Maria and Zdenek toured with Circus Mascot in 2003 but was not with Mascot in 2004-2006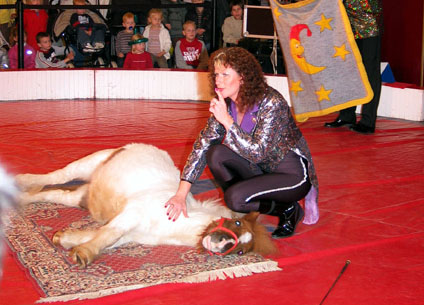 Marianne with the sleeping horse Ricky.

11 April 2007
Artist in Danish amusement parks. In 2006 five of the Danish amusement parks offered circus performance as free attractions when entrance fee to the park was paid: Bonbonland, Sommerland Syd, Sommerland Sjaelland, Djurs Sommerland and Team LA parken. In addition to this Faarup Sommerland presented a sealion and parrot show with Tina and Johnny Dubsky.
But for season 2006 Sommerland Syd, Sommerland Sjaelland as well as Djurs Sommerland has skipped the circus entertainment. And Faarup Sommerland has skipped the sealion and parrot show.
At Bonbonland you will still in main season be able to see a circus performance. Furthermore there will be performing sealions every day during the season. In the Team LA parken at Baelum north of Hadsund in Jutland the audience can again this year from 18 April meet Circus No Name. As something new The Fish- and Family park West at Hee close to Ringkoebing in the Western part of Jutland will present Bernhard Kasselowsky, his camels and his elephant Rambo. In the main season there will also be other artists making it a real circus performance.
Copenhagen's famous Tivoli Gardens stopped two year agro to present acrobat acts as free attraction. Also Tivoli Friheden in Aarhus has skipped acrobat performances at their open air stage. Bakken north of Copenhagen has only artist performance when they for one week in the beginning of August are presenting a clown festival.

10 April 2007
The horse trainer Suzanne Berdino of Circus Arena (the owner Benny Berdino's daughter) has just published a book: Hestekunster – laer din hest at lave sjove tricks (Horse tricks – teach your horse how to make funny tricks). The hard copy book has 88 pages with a lot of illustrative photos. The language is Danish. Publisher is Gyldendal being the leading publisher in Denmark.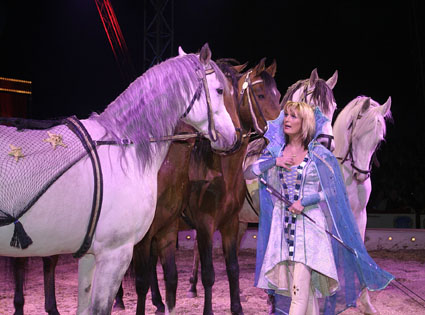 Suzanne Berdino with some of Circus Arena's horses. Photo: Circus Arena/Christian Warder

9 April 2007
Clown festival at Bakken (amusement park north of Copenhagen). After the 11th international clown festival at Bakken in August last year the festival's artistically director through all the years Benny Schumann informed Bakken that hey had to find somebody else to bee artistically director if they wanted to continue with the festival. Luckily enough Bakken decided to keep the festival however in a new format without international performers and running only for one week. Ringmaster will be Sir Benny (Benny Fjeldsoe). He will introduce the Danish clowns and artists Mr. Toons, David Skunk, Don Carlos, Tapé the clown, Dr. Bo and Tonny Trifolikom. The festival will take place from 31st July to 5th August.

Paul Arland passed away. The dean of Danish magicians Paul Arland passed away on 5th April. Paul Arland was born on 30 March 1921. For some time he had not been feeling quite well and those who met him at Circus Arena's opening night in Copenhagen on 20 March and Circus Benneweis opening night in Hilleroed on 22 March got the sad feeling that is probably would be the last time they met Paul. As magician Paul Arland had toured most of the world as the merry fisherman. He had performed at Ed Sullivan's famous TV-show in New York and together with celebrities as Stan Laurel and Oliver Hardy. Later he became artist agent at Glaesnershow and later again producer for the Danish television.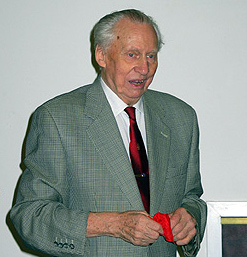 Paul Arland. Photo from a seminar at the Circus Museum at Hvidovre, Copenhagen, in October 2003.

7 April 2007
Preben Palsgaard 30 year as professional ventriloquist. The best ventriloquist in Denmark, Preben Palsgaard, could on 1 April celebrate his 30 year anniversary as professional performer. Years ago you could frequently see him in Danish Television. Unfortunately none of the Danish TV channels are making much use of artist anymore. In 2005 and 2006 Preben toured with the Danish Circus Krone.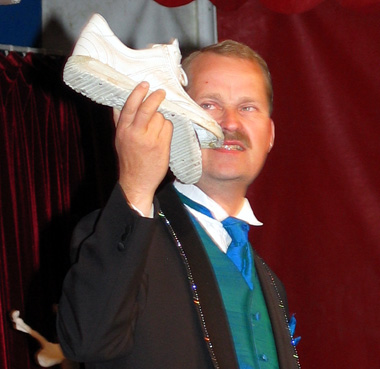 Preben Palsgaard with his talking shoe. Photo taken in Circus Krone in 2006

6 April 2007
Irene Thierry of Danish Circus Krone 60 years old on 14 April. On 14 April the owner of the smallest of the regular touring circuses in Denmark Irene Thierry can celebrate her 60 years birthday. Her dog and pony show tours mainly in Jutland and Funen. On 14 April Circus Krone will be in the small village of Uldum giving an ordinary performance at 4 p.m. Irene's late father Regner teached her not to miss a show just because you passed a birthday with a round figure! Circus Krone was founded in 1939 by Irene's father Regner Thierry. In 1984 Irene took over the show assisted by her sons Frank and Mark and her brother Ricard. Today she is also assisted by her husband Jan Allan who besides presenting his ponies is the kids' favourite as Allando the clown. Apart from the family members Circus Krone always present a couple of foreign acrobats of good standrad.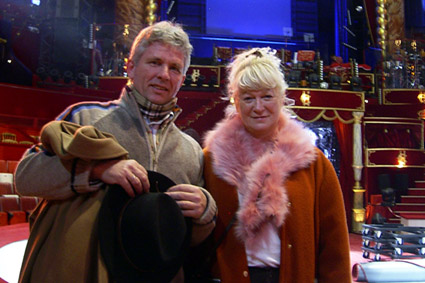 Irene Thierry together with her husband. Photo taken in Paris during a visit earlier this year. Photo by courtesy of Circus Krone.

5 April 2007
Circus Dannebrog 2007. About a month ago Isabella Enoch called me and was sure that I could get her the text as well as the music to the song "Come to the Circus" from the movie "The greatest show on earth". This years Dannebrog-permance, which was presented to the press in Odense on Maundy Thursday, learned me shat the song was to be used for: The show was opened by the Circus Dannebrog ballet and one of the Nicol-brothers singing Come to the Circus. A great start for at performance staged by Isabella Enoch in the fancy and elegant show-stile which is her trademark. After circus owner Haddy Enoch had welcomed the audience his youngest daughter (Isabella's sister) Katja Enoch entered the ring and presented assisted by head groom Rachid Nouri Circus Dannebrog's beautiful horses in a nice liberty entrée. The act was closed by the entrée Big (horse) and Small (pony). Next act was the first of The Quiddler's run-ins. A nice and different entrée in 'dwarf-format' although the two Quiddlers when not dressed up are fully grown up persons. Then a charming young Spaniard Nicol Nocols showed what he was able to do on tight wire including a perfect made backwards somersault. Next in the ring was the Italian juggler Moressa Marco. He was followed in another run-in by The Quiddlers clearly inspired by Michael Jackson. As their previous entrée a very nice and entertaining act. The antipodian (foot juggler) Miss Zendy used a motorbike as trinka in her spectacular act. It is difficult to day to find classical musical clowns. But Circus Dannebrog tries to keep the tradition up and presented this year Los Nicols – a white faced clown and two Augusts'. Apart from playing music they presented the classical boxing robot entrée. First act after the interval was the Qiddlers with an Elvis-inspired entrée. Then the circus ballet introduced The flying Costas in flying trapeze. A fairly short act with only two flyers and one catcher. But they were charming and skilled and made a double as well as a triple! Senorina Priscilla from Italy presented a charming hula hoop act. She was followed by the young juggler Michael Olivares. Then you met Curatola Brothers in a fine acrobat and handstand entrée. Last act in the performance was 3 Indian elephants presented by only 17 years old Elvis Errani who neither used whip nor elephant stick. The performance run for 2 hours 15 minutes was accompanied by Ryszard Murakowki's 6 man band – probably the best circus band in Denmark this year.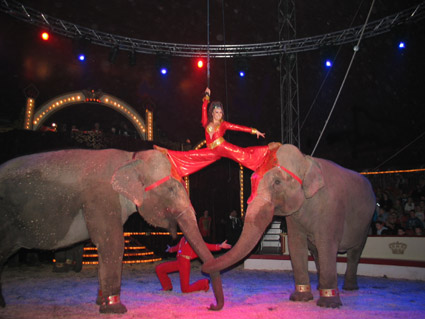 The Errani elephants. Click here to see a slideshow with more photos from the performance.

3 April 2007
Circus Krone. Denmark's probably smallest regular touring circus, Circus Krone, will have its opening night on 10 April at Törring in Jutland. Then year you can meet the Waradi Family from Budapest with traditional juggling as well as foot juggling, with a vertical rope entrée and presenting a dog act. From Bucharest comes Troup Badea presenting a teeter-board act and doing balancing including juggling. The kids will love to meet circus owner Irene Thierry's husband Jan Allan presenting his ponies and as Allando the clown. Irene will probably assist him in some of the clown entrées.

3 April 2007
Circus Arli had opening night in the Copenhagen suburb Flöng on 1 Aril. "COMMEDIA DELL´ARLI - romantic and poetic performance make the small Circus Arli a great adventure", the largest Danish Newspaper Ekstra Bladet wrote in their review. Is is a true statement. After circus owner Soren Arli had welcomed the audience Ailona pretended a very nice hula hoop entrée. The ringmistress Bettina Arli introduced her husband Martin as the magician Martino Arligo. Next act was also a family act: Bettina and Martins talented son Alexander Arli with a fine step dance and handstand entrée. He was followed by 2 Engeni with a short but nice juggling act where father and son assisted each other in a most charming way. Then Bettina wanted to introduce this season's star performer: the trampoline acrobat Jean Ferry. But sadly enough Jean had disappeared and a young stage assistant (of cause Jean Ferry) had to try is luck in the trampoline. It was very nice to see a comical trampoline entrée which not just tried to be a copy of Don Martinez' famous drunken person entrée. After the interval Vasily (Engeni junior) has a short diabolo-entrée. Then you meet Olga Guseva in a spectacular entrée in vertical rope. She was followed of the kid's favourite: the musical clowns Martino & co. (Martin and Alexander Arli) in a very charming entrée. Last act in the performance was Jean Ferry in a ladderbalancing entrée superior to many other ladder balancing acts. Not doubt shat Circus Arli's audience in the coming season will be pleased with the performance running for a little less than two hours.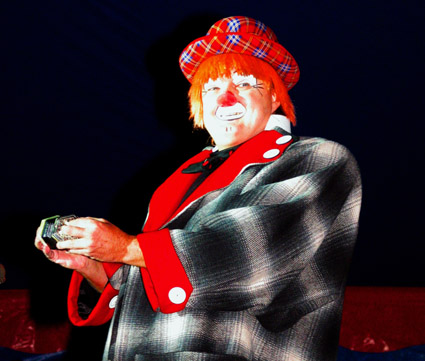 Martin Arli with the old concertina he last year got as a present from the old bike acrobats Leif & Anna Conradi. Click here to see a slideshow with more photos from the performance.

30 March 2007
Circus Dannebrog had its opening night in Vojens on 29 March. Stefan Rothmann has sent me the photos shown below from the performance. The press is invited to see the performance 5 April in Odense. A review of the performance can be seen on this page when it is updated on 7 April.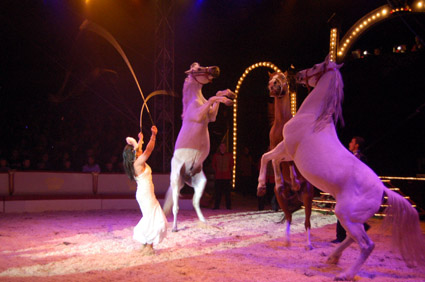 Katja Enoch with some of Circus Dannebrog's horses. Photo: Stefan Rothmann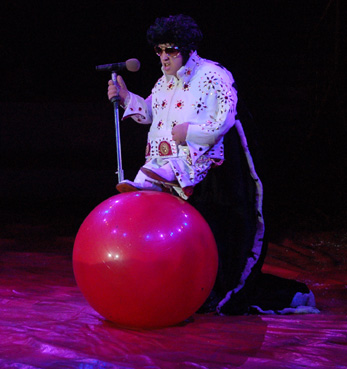 Quiddlers as Michael Jackson. Photo: Stefan Rothmann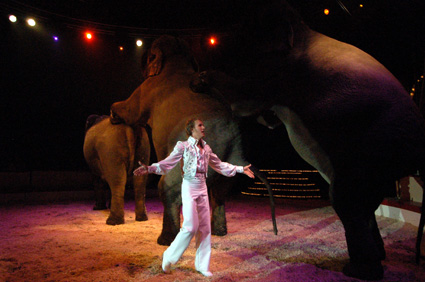 Elvis Errani with his three elephants. Photo: Stefan Rothmann

27 March 2007
Circus Benneweis in Copenhagen Maundy Thursday. Ordinary Circus Benneweis will not visit Copenhagen until September when the season is closed at the circus lot "Bellahoej". But visitors to Copenhagen who can't wait until then to see the 120 years jubilee performance will this year have the chance on Maundy Thursday 5 April where the circus can be seen at a downtown parking lot at Mitchellsgade at 19. – Click here for link to an arial photo of the lot Beneweis is going to use. It has never before been used by a circus.

25 March 2007
Circus Benneweis 2007. It is season number 120 for Circus Benneweis. This does not make Benneweis the oldest circus in the world. But no other circus has for that many years been owned by the same family. The present owner is the great granddaughter of the founder Gottfried Benneweis. The 120 years jubilee is celebrated with a very good performance.
As in 2006 Judy Glosted is the charming ringmistress. First act is Diana Vedyaskina with her trained dachshunds. Incredible what she with love and titbits has been able to teach her tiny dogs. Next act is the Russian reprise clowns Bobylevs with the first of many fine and original run ins where Ms. Olga suddenly enter the ring as Alexey's legs! Next act is the Spanish tight wire acrobat Miguel Ferreri who with Spanish temper is able both to skip, jump and make a backward as well as the difficult forward salto. Then Karl Ferdinand Trunk enter the ring with ponies of all sizes, large ones as well as tiny ones. They are not only able to do the traditional liberty tricks but even to sit in a chair , bob up and down on a seesaw, ride a merry-go-round and go to bed. A great act which also the kids loved. Then came Miss Kai with her "Ceiling work". Then Bobylevs was back with another fine entrée where the played Ping-Pong, Alexey using his mouth in stead of a table tennis racket. Last act before the interval was Fausto Scorpions with a Risley act also involving members from the audience. Very entertaining and charming. After the interval Christian and Alex Gärtner presented their wheel of dead. They were followed by Bobylevs in an entrée which you could call the living grand piano. Then Karl Ferdinand Trunk was back with an entertaining act with pigs, goats and dogs. The next Bobylevs run in could be called the Swann-lake. The clowns were followed by the brothers Christian and Alex Gärtner and their two Indian elephant. A very pleasant act presented without whips or elephant sticks. Last act in the performance was the world fastest juggler Mario Berousek juggling with high speed with up to 7 clubs.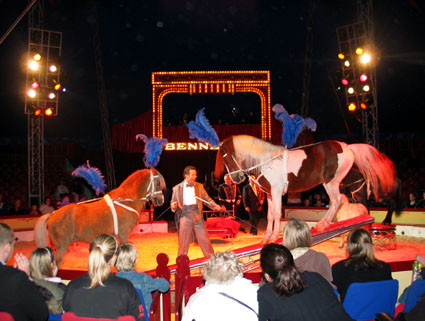 Karl Ferdinand Trunk and his ponies on the seesaw. Click here to see a slideshow from the performance. (The slideshow will not be completed until 26 March at noon).

23 March 2007
Larbi can celebrate his 60 years birthday. Circus Benneweis' popular boss canvasman Larbi Bouhou can on 26 March celebrate his 60 years birthday. Circus Benneweis can on this day be found at Hilleroed 35 kilometres north of Copenhagen. Larbi is born in Morocco and has worked for Circus Benneweis since 1973. For the last 6 years he has been boss canvasman. He is married to another highly valued Benneweis employee: Margit, who is boss in the ticket office.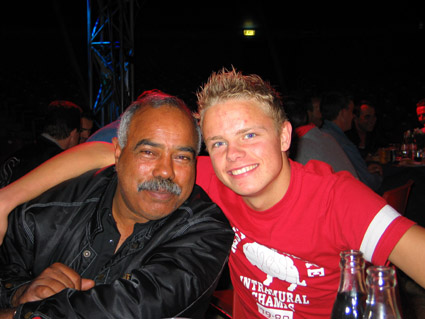 Larbi Bouhou seen together with Dawid Benneweis. Photo by courtesy of Diana Benneweis

23 March 2007
Circus Benneweis had its seasons opening at Hillerod on 22 March. A review with photos can be seen at this page from Sunday 25 March round noon. Circus Arena had its season opening in Copenhagen on 20 March. A review can be seen when this page is updated next week.

23 March 2007
Not Thai and India. Several Danes do remember the two Benneweis elephants Thai and India, which were sold in 1995. Several persons believe that Thai and India now are owned by the Gärtner brothers who this season are touring with Circus Benneweis. However Diana Benneweis told me months ago that the Gärtner elephants weren't her old elephants. But I have met some persons who believe that Diana was misinformed. Now one of the old elephant grooms Henrik Moeller has visited Circus Benneweis. And he would certainly be able to recognise his old friends. Henrik's statement is crystal clear: The Gärtner elephants are not Thai and India.

18 March 2007
Film about Carl Mundeling. The Danish author and filmmaker Jorgen Lorenzen is preparing a documentary about the wild animal trainer Carl Mundeling. The association of Danish artist has just granted him 2,000 Euro for the project. Carl Mundeling is born in 1969 as son of the high school horse rider and circus owner Viola Mundeling who for many years was involved in circus business in Norway. In 1986 Viola Mundeling together with her mother Erna Mundeling re-established Circus Mundeling in Danmark. The circus closed after season 1987. Viola and her son then worked some years for Danish Circus Arena and Norwegian Circus Merano. The later years Carl Mundeling has worked for circuses in Germany and Italy. The founder of the Mundeling circus family was Erhardt Gustaf Mundeling (1860-1947) who founded the Danish Circus Mundeling in 1897. His circus toured until 1926.

19 March 2007
Katja Schumann in Herning. in connection with The National Stallion Show 2007 in Herning in March 2007 Katja did on Friday 9 March Katja assisted by Morten Thomsen and Ute Lehman show the audience how a modern horseman can train his horse using some of the methods used in circuses. Furthermore Katja rode high school and documented that she still is a world class artist. She received standing ovations! A lot of people from the Danish circus world saw the performance including Diana Benneweis with her daughter Nadia and several members of the Enoch family. Katja Schumann has lived in USA since her fathers Circus M. Schumann stopped touring after season 1982 .

16 March 2007
Katja Enoch of Circus Dannebrog 40 years old on 21 March. Katja Enoch is then youngest of Solveig and Haddy Enoch's 4 children. She is a true circus child who has been growing up in Circus Dannebrog and has participated in numerous performances since the Enoch family re-established Circus Dannebrog in 1977. She is trained as a multi-artist and has taken part in the family's bicycle act, performed in vertical rope and roman rings, as a magician and as a dancer. Since 2002 she has been Circus Dannebrog's horse trainer and is especially fond of liberty acts.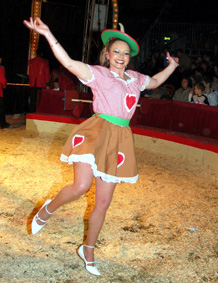 Katja Enoch

15 March2007
Circus Arli which has its season opening on 1 April in Flöng has released their 2007 program. As in the later years circus owner Soren Arli's daughter in law Betting will be ringmistriss. 2 ENGENI is called an outstanding juggler duo. JEAN FERRY will present ladder balancing and AILONA a hula hoop-entrée. The audience favourites MARTINO & CO. (Martin, Alexander and Bettina Arli) is classical musical clowns. MR. JEAN presents a comical trampoline act. ALEXANDER ARLI is a skilled handstand acrobat. His father MARTIN ARLI is a gifted magician. OLGA GUSEVA performs in vertical rope. VASILY present a diabolo entrée.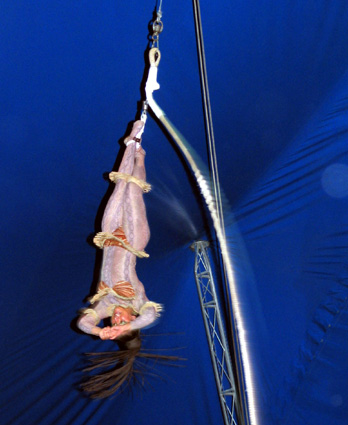 Olga Guseva. Photo taken in Swedish Circus Olympia 2006



15 March 2007
Animals in circus. In the summer 2003 the Danish ministry of justice considered a ban of elephants and sea lions in circuses. However the plan was put on hold. Then minister has now set up a committee which task it is to evaluate the conditions for animals in circuses and come up with a proposal for rules in this subject. The Danish circus owners are in the committee represented by Suzanne Berdino of Circus Arena.

14 Marts 2007
The Danish Gentleman Thief Kenny Quinn has for more than 20 years together with his wife Joan been known under the artist name Quinn although the couple's family name was Kim and Joan Thygesen. But the Danish authorities have now granted the couple the right to use the family name Quinn. The name has also been granted to their son Jack, whose full name is Jack Elliott Quinn. The tiny "gentleman Jack" is now almost 5 months old. He and his parents are doing well.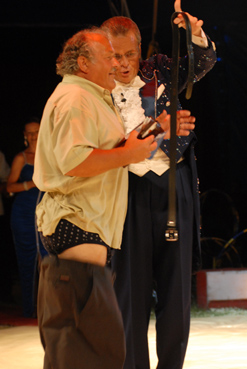 Action photo of Kenny Quinn in the ring of Swedish Circus Olympia in the summer 2006. Please note: Kenny is returning a "stolen" belt to his client.

14 March 2007
Circus Baldoni which have their opening night in Lyngby on 12 April has released their 2007 program: The super acrobats from Kenya MOMBASA BOYS (not the same troupe as presented in 2004 under the name Mombassa Boys), the Italian reprise clowns IBACALA, BALDONI´s with illusions and magical acts with animals, the arial acrobat MARIA PICARD, the cube juggler MR. JURIJS, comical dance with MR. RICHTER, the joyful Slinky MISS BARBI, the cowboy TEXAS JACK (Martin Maiböll) and last, but not least, LEONARDO THE LION (a ventriloquist doll).

23 February 2007
Circus Kenny is by far the largest of the circus productions which shopping centres in Denmark during the school children's winter holidays have presented for their customers as free attraction. The Danish circus author and film maker Jorgen Lorenzen has provided me with the following review of the performance:
"It has for many years been a fine tradition that Circus Kenny/Dannebrog a paying a visit to Odense's Rosengaard Shopping Centre a week during the school children's autumn- and winter holidays. The performance running for 45 minutes gave the audience appetite for more circuses! You could surely feel that from the applause! The big news this time was Katja Enoch's 9 year old daughter Nathalie having her début with her own act as hula hoop girl. Also the other acts were new in Denmark: George Alexis, a brother of Tony, was August together with his wife while a son was white-faced clown. They presented a mixture of well-known clown entrées. George Alexis` make-up is much similar to the one used by Tony. The 5 members of the Massoudi family (papa Said, mama Heidi and their three sons) presented two good acts. First a juggling entrée with three persons. The final trick was amassing: one of the jugglers are sitting at a chair with hat, glasses and a cigarette while the clubs are getting that close to him that all three items are thrown off. The troupe's other entrée was a handstand act for 5 persons, starting with some parterre acrobatic. The final trick was the well-known with the white blocks being pushed away. Gina Giovannis made it and the master above all, Encho, did it last year in Circus Arena.
The Enoch was apart from Nathalie represented by Katja with big and small (horse and pony) and Agnete Louise Enoch's daughter Victoria with 4 ponies."
The photos below are taken by the circus photographer Lise Kokholm and Stefan Rothmann of Circus Dannebrog. Circus Kenny is produced by Haddy Enoch of Circus Dannebrog.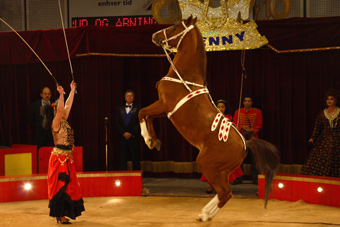 Katja Enoch with one of Circus Dannebrog's horses. Photo: Lise Kokholm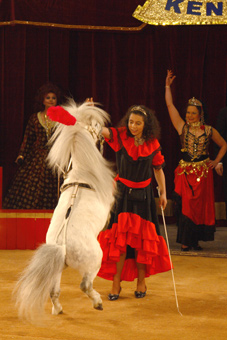 Victoria Enoch with one of Circus Dannebrog's ponies. Photo: Lise Kokholm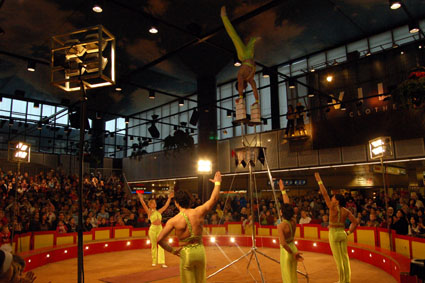 The Messoudi Family. Photo: Stefan Rothmann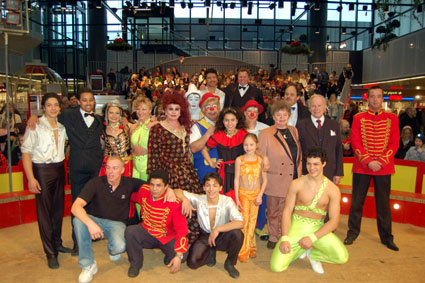 The entire ensemble together with Solvej and Haddy Enoch. Photo: Stefan Rothmann

21 February 2007
Troubles for Circus Renz Berlin. On 6 February 2007 I mentioned that Circus Renz Berlin had wintered in Denmark and planned for a very early season opening: 17 and 18 February at Himmelev. However despite the fact that their poster showed both a tent and lions and tigers it turned out to be an indoor performance without wild animals (big cat acts are not allowed in Denmark and Circus Renz Berlin have no such animals!) in a riding centre. Apparently the Renz family was not aware of the fact that permission from the fire authorities are required for such performances. First the permission was denied, later it was given for no more than 200 spectators. Actually only about 50 persons attended the performance. Circus Renz Berlin's animals and some of their wagons are still parked at a private owned lot in the Copenhagen suburb Herlev despite the fact that the circus 3 weeks ago was ordered to leave the lot within one week as keeping of animals apart from pets are not allowed in the area. It seems not unlikely that Circus Renz Berlin is in deep troubles and that we in a not to far future might see the end of what once was a well-known and well-established circus.

20 February 2007
ECA meeting. Arie Oudeness of ECA writes: We once again want to invite you to visit the meeting which the ECA in association with FEDEC - the coordinating organisation of professional circus schools organises on SATURDAY 3 MARCH IN TOURNAI (Belgium).
The meeting starts at 18.00 hours. During that meeting we will speak with representatives of a number of circus schools of which students will give a presentation during the ` Circle project'.
Before the meeting we will visit the 'Circle show'. This show starts at 16.00 hours. Place: Maison de la Culture in Tournai, Boulevard des Frères Rimbaut. The Circle festival gives a selection of 12 numbers, selected from the offer of 18 professional circus schools. Artists, school and country of origin and their discipline you will see below:
- Loïc Quesnel et Kristina Dniprenko : roue allemande et bicyclette acrobatique (Ecole Nationale de Cirque de Montréal - CDN)
- Evelyne Laforest : danse et acrobatie (Ecole Nationale de Cirque de Montréal - CDN)
- Mathilde Hueber : chaise aérienne (Arc en Cirque – Centre des Arts du Cirque de Chambéry - FR)
- Stéphane Fillion : jonglerie massues (Ecole de cirque du Lido - FR)
- équilibre (The Circus Space - GB)
- Kimmo Hietanen et Anna Von Grünigen : fil mou et saxophone (Ecole Nationale Supérieure des Arts du Cirque de Chalons en Champagne - FR)
- Peter Åberg et Sergi Parés : main à main (Danshögskolan University College of Dance - S)
- Emma Serjeant : acro cannes (National Institute of Circus Arts of Melbourne - AUS)
- Jérémie Arsenault : diabolo (Ecole de Cirque de Québec - CDN)
- Thomas Kleindienst : jonglerie chapeaux (Théâtre Cirqule – Ecole de Cirque de Genève - CH)
- Jacqui Levy : jonglerie balles rebond et rolla bolla (National Institute of Circus Arts of Melbourne - AUS)
- Vasil Tasevski : manipulations d'objets, danse, acrobatie (Centre des Arts du Cirque Balthazar à Montpellier – FR
- Intermèdes entre les numéros : les élèves de 1er année de l'Ecole Nationale de Cirque de Rosny-sous-bois (FR)
The Circle festival is the result of contact between the ECA and representatives of the FEDEC schools. We looked for a way to present a large number of graduates at one place, so that you yourself do not have go to visit all the different presentations of the schools. The acts that are presented can in the way they are presented work in a travelling circus production. We hope that you can be present. With that presentation the circus industry proves that it is important for them that young West - European artists are working in their companies.
You can also visit the show 'Nìbáo'. That show starts at 20.00 hours in same the theatre.
This is a show presented by third year students of the ESAC school from Brussels.
When you sign up in time at the ECA office, care we will care for tickets for the programmes which you want to visit.

19 February 2007
MORE ABOUT CIRCUS IN PARIS - ZARRO ZARRO REPORTS:
CIRQUE ALEXIS GRÜSS plays every year in Paris, location Bois de Boulogne, where the tremendous big top structure is installed. This circus was just a small family enterprise until the beginning of the seventies, when André /Dédé/ Grüss and his son Alexis got in contact with the famous theatre actress and promotor Silvia Monfort. This allowed them useful further contacts and the result was that they got permission to play in the centre of Paris, particularly in the old area of Le Marais where some empty building grounds could be found.
The CIRQUE GRÜSS thus developed into LE CIRQUE NATIONAL, producing and presenting circus performances on various themes, sometimes with the label "cultural exchange", which allowed them to get big troups from China, among others. This THEME concept has been kept - and this year we can see ALLEGRO SPORTISSIMO, a performance which is a dream of lights, music, colors and physical performance.
Alexis Grüss and his wife Gipsy, maiden name Bouglione, take part in the performance presenting various tableaux and splendid horseman-ship, the like of which we haven't seen since the days of Albert SCUHMANN - at least is it so as far as I can see.
The CIRQUE GRÜSS plays NOV thru MARCH, 5 shows a week, WED-SAT-SUN, all matinés except Saturday evening. To get there: Métro to station Ranelagh, then 20 minutes' walk, following the direction arrows. - Further information at http://www.alexis-gruss.com/

15 February 2007
Circus Dannebrog's press agent Agnete Louise Enoch has kindly sent me their press release for the coming season. From Spain comes The Nicol Family. The family will present a traditional musical clown entrée and one of the younger members of the family is a skilled juggler. But most sensational it is when one of the male members of the family can be seen on tight wire, doing a salto backwards as well as forwards! Form Italy the management has invited The Errani Family. The Errani-named is well-known and respected in all circuses and they will bring 3 large elephants to Denmark. Furthermore the family presents a spectacular juggling entrée where a female artist lays on a motorbike doing foot-juggling. From Italy comes The Curatola Brothers. The two handstand acrobats come from an engagement with the famed German Circus Roncalli. Furthermore there is an act from USA. The Quiddlers is their name. Difficult to explain what those artists are doing in their vaudevillian-styled pantomime act. The last act in the performance is The Flying Souzas. This talented flying trapeze act from Brazil was a few years ago appointed as the year's best flying act by the British circus fans. And of cause members of the Enoch family can bee seen in the performance: Katja Enoch will present liberty horses from Circus Dannebrog's own stables. Agnete Louise Enoch is ringmistress and circus owner Haddy Enoch welcomes the audience and say goodbye at the end of the show. Circus Dannebrog's conductor Ryszard Murakowski will one again be standing at the bandstand with his well-playing band.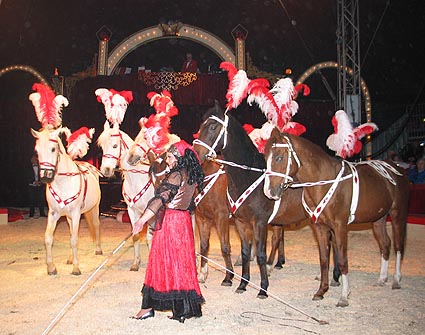 Katja Enoch with some of Circus Dannebrog's horses. Photo from 2006

13 February 2007
Heinz Saxburger honored. The 76-year old Danish magician Heinz Saxburger was in the middle of January awarded the newspaper JydskeVestkystens Cultural award of 7,000 Euro. Heinz Saxburger began as professional magician in 1960 and has toured most of the world. It is not the first time a person from the world of performing artists is awarded the cultural award: a couple of years ago it was given to Haddy Enoch of Circus Dannebrog.

12 February 2007
Luis Schumann Torres who is married to Laura Schumann Torres has created a beautiful website called www.schumannship.dk. Languages English and Danish. The website tells about horse training and the Schumann family. It contains many interesting photos and a video clip from the late Albert Schumann's famous liberty horse act Rhapsody in blue. Laura is the youngest of Philip and Susanne Schumann' daughters and thus granddaughter of Max and Vivi Schumann. She spent two seasons with New York's Big Apple Circus at the time when her aunt Katja Schumann was connected to that show. That's where she met Luis. Today the couple lives in Horsens very close to Laura's parent's house.

11 February 2007
"Visit Arena Circusland - 10.000 square meters of indoor entertainment" the Danish Circus Arena writes. Benny Berdino and his team have at the shows winter quarters at Aarslev on Zealand opened a large part of the quarter to the audience. They can see the training ring, the sealion basin, working repair shops, stables with a lot of animals, a museum section, circus wagons, an area with moon bounces etc, pony and elephant riding etc. Two times every hour there are a show with sealions, horses, camels, dogs or goats. Suzanne Berdino or Tim Delbosq shows the visitors how circus animals are trained. Pjerrot and Samson Power does magical acts etc. And of cause there is a cafeteria.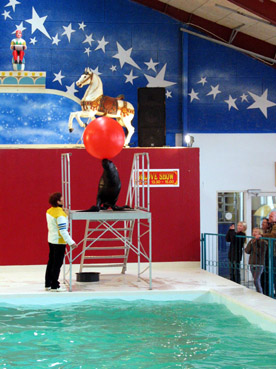 The three performing sealions, presented and trained by Addie Jepsen, has excellent quarters.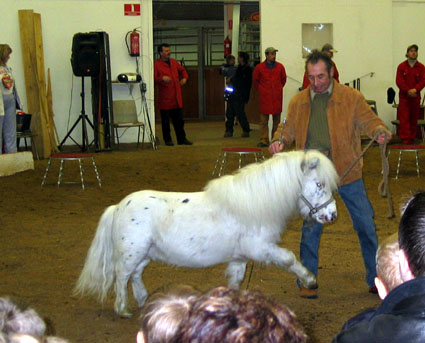 Tim Delbosq training a pony in Spanish walk
Until 25 February Arena Circusland is open daily from 10 to 16. When the entrance fee of 112 DKK all shows etc. is free of charge.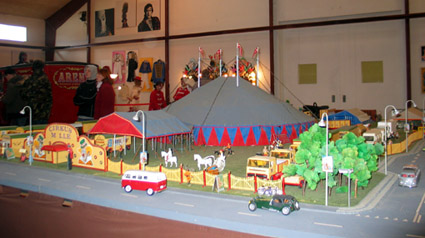 One of the most impressing model circuses in Europe, Circus Mille, build by Knud Munch, is on display at Arena Circusland together with other models and model wagons.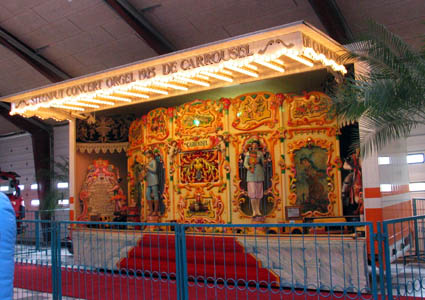 Benny Berdino has recently bought a Dutch street organ. It will be on tour with Circus Arena.

9 February 2007
Circus during the winter holidays. Scholl children in Denmark have winter holidays either in week 7 or in week 8. During the holiday you can in several shopping malls etc. see circus performances as free attraction. During week 7 you can meet Benny Schumann with guests at the West Zealand Shopping Centre in Slagelse, Circus BonBon at the Ballerup Shopping Centre and Circus Mascot in the Herning Shopping Centre. During week 8 you can find Circus Kenny at the Rosengaard Shopping Mall in Odense, Benny Schumann with guests in the Glostrup Shopping Centre and Circus Mascot at Aalborg Shopping Mall. Further details can be seen at What's on.

9 February 2007
Small change in the program for Circus Kenny. I have earlier written that the Dubsky clowns would be among the performers in Circus Kenny in Odense in week 8. Due to illness 80 year old Joseph Dubsky has been forced to cancel his engagement. The Dubsky clowns will be replaced by Gorge Alexis, a brother of the well-known clown Toni Alexis. The rest of the performance is unchanged: Messoudi Family, handstand, the jugglers Messoudi Boys and Victoria Enoch with ponies from Circus Dannebrog. Ringmaster will as always be Victoria's mother Agnete Louise Enoch.

8 February 2007
ECA writes: From 1 – 4 March in Tournai – Belgium – will be organised the Festival 'La Piste aux Espoir'. New this year is the presentation of the 'circle project '. An initiative from the professional circus schools organised in the FEDEC association. In one show, during 2½ hours, 12 numbers from 9 different schools will be presented. The ECA invites there members to take part and have a look on what professional circus schools present on Saturday 3 March. Starting at 16.00 hours. After the show there will be a meeting organised with representatives of several professional circus schools to talk about expectations the circus industry has from the circus schools. The complete program you can find on: http://www.lapisteauxespoirs.com/

6 February 2007
Circus Renz Berlin has wintered in Denmark. Their animals and some of their wagons have been parked at a private owned lot in the Copenhagen suburb Herlev. Some neighbours found it great fun, other was very unhappy. However, the Herlev city council have ordered Circus Renz Berlin to leave the lot within one week as keeping of animals apart from pets are not allowed in the area. Circus Renz Berlin plan for a very early season opening: 17 and 18 February at Himmelev. The programme is most likely the same as in 2006: a lot of animals and very few artists.

4 February 2007
PHOTO EXHIBITION, photographer LINDA HIMSEL, Sweden, - in PARIS. From Paris ZARRO ZARRO writes: Photographer LINDA HIMSEL presents a rather small, but nicely organized exhibition where we can see about 20 photos, mainly from Swedish Circus MAXIMUM. The public gets a close view on circus life, also behind the curtain where the general audience seldom enters. The exhibition is located in a small restaurant which also is a food shop - on the first floor there is an exhibition area where the photos are exposed. This event is worth seeing - but it is not easy since the name of the street LA RUE NEUVE TOLBIAC does not appear on the street corners as it should. Get on Métro Line 14, get off at BIBLIOTHEQUE /the national library Francois Mitterrand/, exit to the right, you'll find an escalator which will take you up to LA RUE NEUVE TOLBIAC, continue straight on downhill to 12 rue NEUVE TOLBIAC, the shop with the exhibition is called FIL O FROMAGE. FEBRUARY 3 THRU 28. This interesting event may spur interest for the circus art among the very general public. Thanks LINDA for this initiative !!!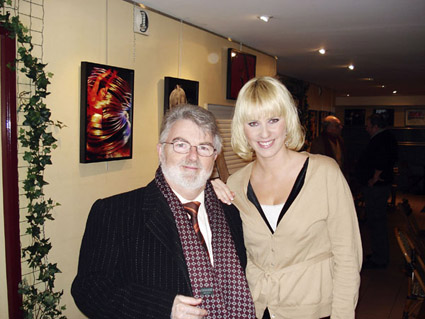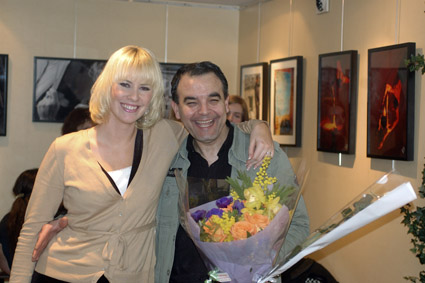 From the opening of the exhibition. ECA's Secretary Arie Oudenes and Linda Himsel. Below: Linda Himsel and the arranger of the exhibition Clément Chérif Boubrit. Photo: Roy Himsel

4 February 2007
FESTIVAL MONDIAL DU CIRQUE DE DEMAIN -- THE CIRCUS OF TOMORROW -- in Paris. ZARRO ZARRO writes: This event was originated 30 years ago in order to discover and encourage young talents. This year the show was presented under the big top of CIRQUE PHENIX, a tremendous chapiteau where it is impossible to get the same circus atmosphere as in the CIRQUE D'HIVER BOUGLIONE, where it was previously presented.
I had the firm impression that the selection of artists had been geared more to pure -and very advanced - technique, than to entertainment value and to the taste of the general, family audience. With a few exceptions it was clear - as I saw it - that only a handful of these acts could have been included in a normal circus program. An acrobatic act, performed by a white man and his African female partner was one of the exceptions - wonderful, funny and pleasant. A /probably/ Russian juggler, juggling white balls was funny and appealing, though more of the kind of a variety/cabaret act. All circus disciplines were represented, and the show can thus be recommended to all interested in the circus arts. The event takes place in Paris, each year in February. – You can find more about CIRQUE DE DEMAIN at http://www.cirquededemain.com/

2 February 2007
As in 2006 Copenhagen's International Theatre (KIT) will in 2007 arrange a New Circus Festival. The festival will take place in August. Among the performing companies will be the Australian company ACROBAT with their new performance smaller/poorer/cheaper and O ULTIMO MOMENTO with the wonder child João P. Pereira Dos Santos and Guillaume Dutrieux. Also the Danish new circus company Royal Bones can be seen during the festival with their new circus performance FUSK. You can also meet Royal Bones and FUSK when KIT invites for an intensive circus week-end in Copenhagen from April 12th to 14th April 2007. FUSK can be seen at the Albertslund Music Theatre on 13th April. A seminar focusing on text, playwrights and dramaturges for New Circus will take place at the Copenhagen University from 12th to 14th April. The seminar will be held in English. A detailed program and list of invited speakers can be seen at www.kit.dk in the beginning of March

1 February 2007
A reception at the Circus museum at Hvidovre, Copenhagen, marked the opening of some new exhibitions. Among those an exhibition about Danish circuses with posters, info on each circus and in the middle of the room a playmobil circus rebuild to a model circus with figurines of performers such as Ingo Stiebner, the clowns Bonbon and Tiina, the Arli clowns and the horse trainer Suzanne Berdino. The model circus is created by Bonbon's father Arne Norager and Bonbon and Tiina's two children Joakim and Julia. Also on display in the room is one of Paulina Schumann's elegant robes, one of her saddles and one of the late Albert Schumann's costumes.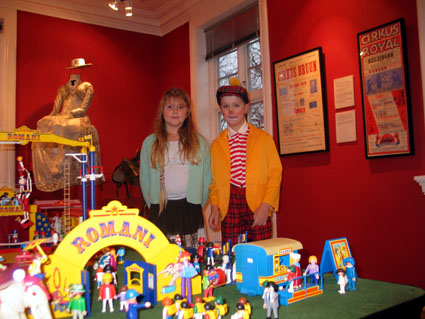 Julia and Joakim Norager standing next to the playmobil circus. In the background Paulina Schumann's robe and saddle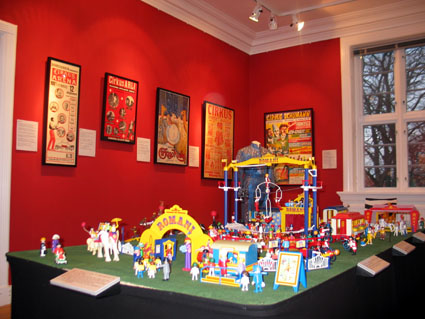 From the exhibition about Danish circuses. The costume in the background was used by Albert Schumann.

1 February 2007
Well-known Danish painter creates the 2007 poster for the Circus Museum at Hvidovre, Copenhagen. The Circus Museum has persuaded the circus loving artist Jeppe Eisner to create this year's poster for the museum. Jeppe Eisner has made a number of paintings from the world of circuses and artists. Some years ago he made a poster for Danish Circus Arena. The museums 2006-poster was created by Nelly Jane Benneweis.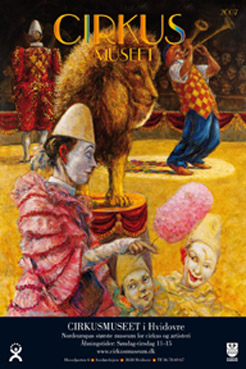 Jeppe Eisners poster for the Circus Museum

31 January 2007
"Has just returned from the Monte Carlo Circus Festival," Danish reprise clown Lasse "Bonbon" Norager writes. Lasse tells that the performance became better and better in the days after the gala show. There was a full house every day.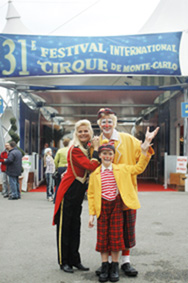 Tiina, Bonbon and their son Joakim at the entrance to the big top in Monte Carlo. Photo: Roy Himsel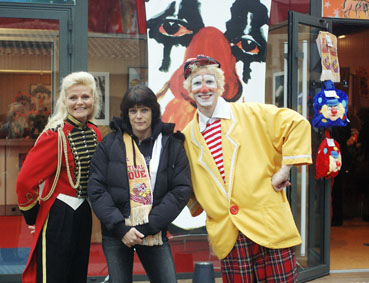 Tiina, Princess Stephanie and Bonbon. Photo: Roy Himsel

30 January 2007
Arena winter circus. An Arena-produced performance will in the coming week visit some sporting halls etc. in Jutland. The performers are the Danish clowns Martino & Co. (the Arli family), the Swedish unicycle act Malte Knapp, the contortionist Marylou Casselly, Suzanne Berdino with 6 Arabian liberty horses, the foot juggler Jan Navratil, the Danish cascadeur duo Steckel's and the young and talented Danish acrobat Alexander Arli.

29 January 2007
Season 2007 for "No Name Circus" at the Team LA Park in Solbjerg in the northern part of Jutland are getting closer and closer artistically director and animal trainer Bjoern Schult-Bjoernlys writes. The season will start on 18 April and the performance will be called 'Fantasy 2007'. 22 animals are trained for the performance where you can see a lot of animal acts, among those a farm animal entrée. You can find further information at www.Team-LA.dk

26 January 2007
Circus Mascot will during the Danish schoolchildren's winter holiday in week 7 and 8 (week 7 in some areas and week 8 in other areas) present an indoor performance at the Herning shopping mall (12 to 17 February) and in Aalborg shopping mall (19 to 24 February). You can meet the clowns Picco and Picolina from Czech, Daniel Deleuran with his rola bola entrée and with a slinky act, Marianne Deleuran with her dogs and in week 7 furthermore Andreas with his diabolo entrée.

24 January 2007
The gala performance at this years International Circus Festival in Monte Carlo took place on 23 January at 8 p.m. The performance was not over until 1 a.m. Thus, the 2 hour TV-version which several TV stations will broadcast during the spring is a shortened version of the entire gala. First act in the performance was the Italian Casartelli-families spectacular liberty horse act with 12 beautiful Arabian horses. They were followed by the charming, speedy and skilled diabolo juggler Pierre Marchand. The audience loved him although the jury didn't grant him any awards. Then the Danish reprise clown Bonbon entered the ring and presented in English himself as animal trainer. The ringmaster asked him to speak French. Bonbon then tried his luck in Danish before he was escorted out of the ring which then was entered by the fabulous show girls fro Circus Clobus in Bucharest with their spectacular entrée "Arial Tango" with acrobats in strapates, trapeze and tissue. Then Bonbon has his wonderful run-un with his trained (mechanical) turtles. Then we met the acrobat- and juggling couple Ruslan and Ilona Sadoev with juggling, hula hoop and saltos on horseback. Ruslan can to a salto both forward and backwards and backwards with twist. The Domchyn-troupe presented their act with 2 Russian swings and impressive jumps, including a double passage. Next came the 3 acrobats from White Crow with their Russian bar entrée. The female partner masters the triple – both forwards and backwards. Before next act the clown Francesco has one of his fine run-ins. Then more than 50 persons from the Casartelli-troupe entered the ring in an Oriental tableau in colourful costumes, a flying carpet and several exotes: camels, lamas, buffalos, a kangaroo, emus, 2 giraffes and 3 elephants. Spectacular but as animal training not impressive. After the interval German Tom Dieck JR presented his lions and tigers. Francesco and the ballet assisted in taking down the cage after Tom's act. Then we met the gifted teeterboard troupe Dosov in a striking act.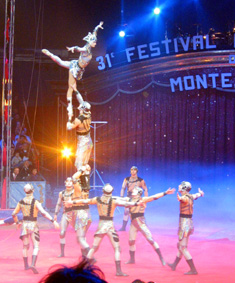 The Dosov troupe
After them the Russian Mikas clowns has a short run-in. Then the audiences favourite Encho entered the ring with his marvellous hand stand act. The applause was mush higher than for any other act during the performance. Few amongst the audience understood why this wonderful acrobat only was awarded a silver clown. Encho was followed by Freres Taquin with their Mechanical man entrée. Copied by many others. But no "doll" equals Olivier Taquin. Then the Monte Carlo-veterans Duo Guerrero entered the ring with their high wire act. Impressive that Ada sings during the act which even without her song would rank amongst the top act in the high wire business. After the veterans you could enjoy Bonbon's run-in as 5 x Bonbon. He was followed by Duo Bobrovi in vertical rope and then by Braian and Ingrid Casartelli's poetic and impressive pas des deux on horseback.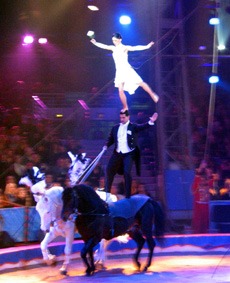 Braian and Ingrid Casartelli
Last act in the performance was the Chinese Guangzhou-troupe's spectacular foot-juggling act with 16 antipodistes. Then it was time for the awards from the jury: First an extremely happy Encho got the Prix du Public. Then the charming kids from Les Chiens de Peluche received the prize as the best young artist act. Duo Guerrero received the jury's special mentioning award. Then the artist in the jury presented the bronze clowns to Duo Bobrovi, Tom Dieck JR, Ruslan Sadoev, Frères Taquin and the Show-girls from Circus Globus. Princess Stephanie presented silver clowns to Encho, The white Crow, Dosov-truppen and Domchyn-truppen. The Guangzhou-troupe's silver clown was handed over by Prince Albert. And last but not least the Casartelli-family received the only golden clown awarded during the festival. Click here to see a slideshow with photos from the gala. (Some photos will not be ready until 27 January).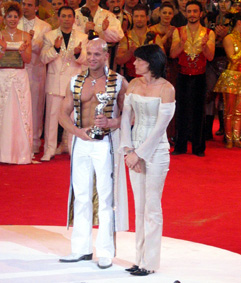 Encho with his silver clown, standing next to princess Stephanie

22 January 2007
The jury at this year's Monte Carlo festival has now taken their decision on awards. As often seen they have not quite reached the same result as the audience based on an applause test would reach. No act received as much applause as Encho. But he was "only" awarded a silver clown. The only gold clown was awarded to the Casartelli's for their gypsy liberty horse act and for Braian and Ingrid Casartelli's marvellous pas des deux. The Danish reprise clown Bonbon was awarded on of the special prices: the Polish Z.P.R. De Varsorvie. Furthermore he was invited to present his turtle entrie at the gale performance Tuesday evening.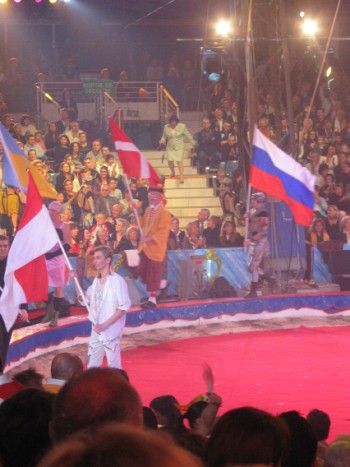 Lasse "Bonbon" Norager during the opening of the performance ceremony in Monte Carlo
Here is the full list of winners of a clown award:
The golden clown
The Casartelli family for their pas de deux and other acts. Their Gypsy act was furthermore awarded Prix Emilien Bouglione.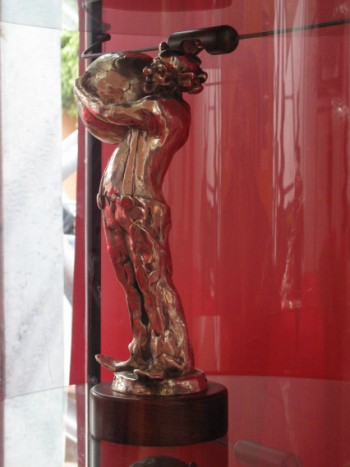 One of the clown statuettes. This one is a silver clown.
The silver clown
The hand stand acrobat Encho. He was also awarded Prix du Public and another special prize.
The white Crow for their act at Russian bar. They were also awarded the City of Monte Carlo's award and the German Circus fans award.
Goungzhou-truppen for their act with 16 antipodians.
Dosov-truppen for their teeterboard act.
The Domchyn troupe for their act with double Russian swing.
The Bronze clown
Duo Bobrovi for their act in vertical rope.
Tom Dieck JR for his big cage act.
Ruslan Sadoev for his acrobat and juggler on horseback act.
Frhres Taquin for their entrie with the mechanical man.
The show-dancers from Circus Globus in Bucharest.
The jury's special award was given to the high wire acrobats Duo Guerrero. Coupe de S.A.S. la Princesse Antoinette, being the jury's award for young acrobats, was given to Chiens en Peluche d'Izhevsk.
The acts awarded by one or more of the 39 special prizes are only to a limited intent mentioned above.

22 January 2007
The first circus festival in Monte Carlo took place in 1974. The following year a Dane was awarded a silver clown: the fabulous hand stand acrobat Little John. So far John is the only Dane who has received on of the prestigious Monte Carlo Clown awards.

22 January 2007
When I 20 January mentioned the high wire act Duo Guerrero I wrote that is looked as the female partner was singing during the entire act. It has now been confirmed: Ada is singing and not just miming to prerecorded song. Members of the Guerrero-family were awarded a silver clown in 1990 and 1992.

22 January 2007
When I on 20 January mentioned the so-called performance number two I unfortunately forgot to mention one act: Russian Duo Bobrovi who did a nice act in vertical rope. The male partner has earlier been at Monte Carlo as member of the high wire troupe Voljansky which was awarded a silver clown in 1998.

21 January 2007
Saturday evening was the second time performance number one from the Monte Carlo festival was presented to the jury and the audience. The show opened with a shot: the female cannon ball Robin Valencia was shot out of her canon and landed safely at her large inflatable "canon ball air back". The count down was done by the reprise clown Francesco, well-known by Danes from several seasons with Circus Benneweis.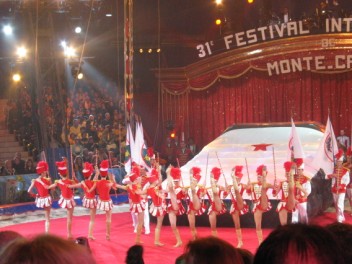 The Monte Carlo-ballet at the opening
First act in the competition was a 16 piece large troupe of female antipodians (foot-jugglers from the Guangzhou-troupe. An impressive and very spectacular act.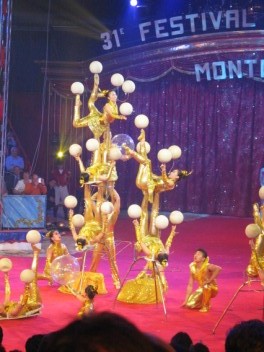 The Guangzhou troupe
Then came one of the best acts of the evening: the diablo juggler Pierre Marchand.
His elegant and speedy act should bring him at least a silver clown. Pierre was followed by the Voladas troupe in an act with fixed bare. Very good, but maybe more gymnastics than acrobats. The equilibrist Palchikov had an elegant act in a spectacular elastic dress, however of an artistically standard being somewhat lower that Encho whom we saw Friday evening. He was followed by the Mikos clowns doing somewhat better than Friday evening. White Crow, two males and a female did a very good act in Russian bar with among other things a triple salto. Certainly also a candidate for an award. Second last act before the intermission was the spectacular act Arial Tango from Circus Globus in Bucharest. 14 persons in strapats and one in Washington-trapeze. They were followed by the Casartelli family's liberty acts with 12 beautiful Arab horses and a lot of artist dressed as gypsies.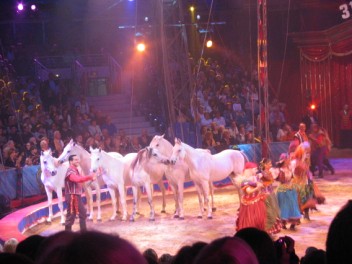 First act after the intermission was as Friday Tom Dieck JR with his big cats. Then came Duo Milany with an impressive arial cradle entrie. Duo Kosnyrov did a nice but in no way sensational juggling act. They were followed by a possible award-winner: the Dosav troupe's teeterboard act. Certainly worth a clown of gold or silver.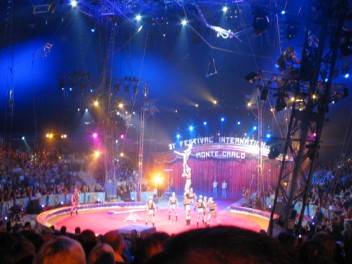 Braian and Ingrid Casartelli rode a beautiful pas des deux on horseback where she balanced on his head standing one leg. I will be surprised if they are not awarded a clown. Then we met Freres Taquin with their mechanical man. Seen at an earlier festival. But the "statue" (Olivier Taquin) has got a new partner and was invited to participate in the competition once again. Last act in the performance running for almost 4 hours was the acrobat and dancing entrie done by the troupe Believe in Swing.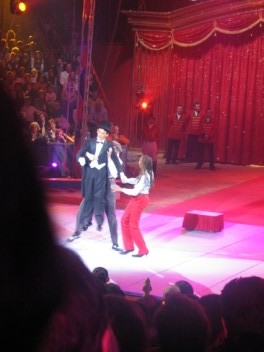 Freres Taquin

21 January 2007
The International circus festival at Monte Carlo presented Saturday afternoon as free attraction an Open air circus show in the Port Hercule area. Amongst the performers was the Danish clown Bonbon assisted by his 7 year old son. We also met the repriceclown Francesco, Les Chiens de Peluches and a young monobike juggler of the Caroli family. Last act was the human cannonball Robin Valencia.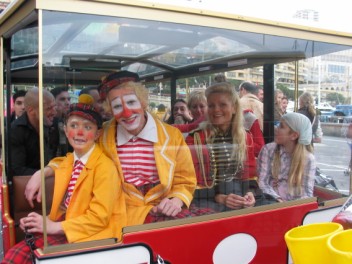 Bonbon and Tiina and their two kids: a seven year old son and a daughter being nine.

20 January 2007
The jury at the Circus Festival at Monte Carlo has traditionally mainly been chosen from the world of circus owners etc. 4 times the jury have had a Danish member: Eli Benneweis, Nelly Jane Benneweis (1990), Diana Benneweis and as the latest Benny Borodino. From Sweden Carmen Rodin has not long ago been a jury member. But this year principles for setting the jury has been changed: the majority of jury members are top artists or former top artists: the juggler Kris Kremo, the flying trapeze star Tito Gaona, Marco Lorador of Alexis Brothers, Angelo Munoz from the well-known Portuguese clown and tight wire family, Yasmine Smart world top class horse trainer and Wu Zhengdan from the Canton Acrobatic school. President of the jury is Princess Stiphanie.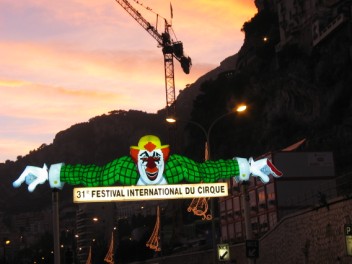 20 January 2007
The Friday evening performance at the Circus Festival in Monte Carlo was one out of the 4 performances during which the jury members are going to pick out this year's award-winning acts.
It was an outstanding performance with several world class acts. First act was the young Les Chiens de Peluche most of them dressed in colourful dog costumes. Then the Danish clown Bonbon tried to enter the ring, presenting himself in English as professor in badminton. When the ringmaster told him that the language was French he tried in Danish! However the ringmaster managed to get him out of the ring which then was entered by Elisabeth Axt in her excellent act in Washington-trapeze. After her Bonbon managed to enter the ring where he assisted by his wife Tiina presented their well-known comical badminton entrie. Later in the performance Bonbon had several run inns: the purple entrie, 5 x Bonbon and the cannonball entrie.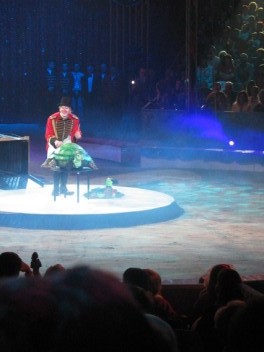 Bonbon and the turtle. Sorry about the rather low quality of photos – difficult to take pictures in such a large tent when you have to stay at your seat.
Next act was Rislan and Ilona Sadoev from Ukraine in a juggling and acrobat act on horseback. Ilona did hula hoop one horseback. Rislan's most impressive tricks were several forwards and backwards summersaults, one with a twist. Could very well give him a silver clown. Russian Mikos had a rather strange "strip-tease" entrie. At least half of the audience obviously disliked the entrie. But apparently Princess Stephanie liked it. Troupe Domchyn did a good job in double Russian swing, including a double passage. Clearly a clown award candidate. Last act before the intermission was the Casartelli family's "Aladdin". A spectacular tableau with many acrobats in colourful costumes and camels, lamas, several different long horns, a kangaroo, some ostriches, two giraffes and there elephants. As animal training nice but not impressive.
After the interval 23 year old Tom Dieck JR presented his big cats: 3 male lions, 2 females and 2 young tigers. Nice but not as impressive as the Lacey brothers and their mother. Then artist from the Circus School in Shanghai entered the ring a fabulous flying trapeze act. Clearly a golden clown candidate until on of the flyers – as far as I could see only a young girl - missed the triple three times. Unless she does better on Sunday the troupe will probably have to do with a silver clown.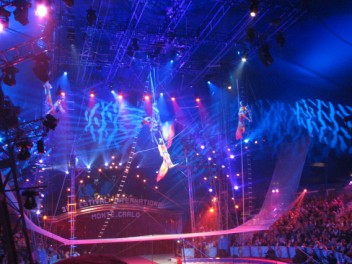 The Shanghai troupe
They was followed by the female cannonball Robin Valencia. A nice stunt!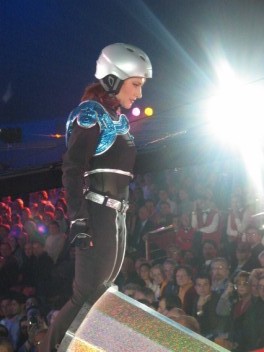 Robin Valencia
After her we met Duo Guerrero at the high wire. Several fine tricks, some with the female partner as the "under man". She was singing during the entire act (could be she was only "miming" to taped music). Absolutely a possible award winning act. They were followed by the hand stand acrobat Encho with an outstanding act which got more applause than any other act Friday evening. I believe he will be awarded a well deserved golden clown.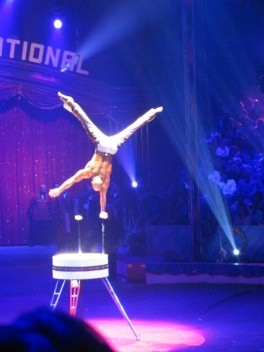 Encho
Duo Bobrovi did a nice act in vertical rope and Some like it hot from the Kiev Circus School presented a fine comical casceuadeur act. Last act in the performance running for almost 4= hour was the Casartelli family with beautiful and skilfully trained liberty horses.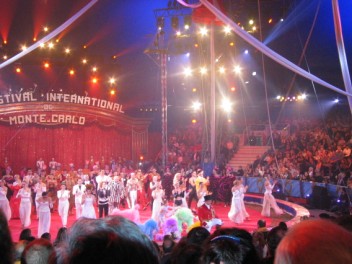 From the grand finale. Bonbon and Tiina at the left

19 January 2007
A number of Danes travelling with Briano's Circus Travels arrived at a sunny Nice at noon today. This evening they will see their first performance in Monte Carlo starring amongst others the Danish/Finnish clown couple Bonbon and Tiina. - Review of the show will follow tomorrow!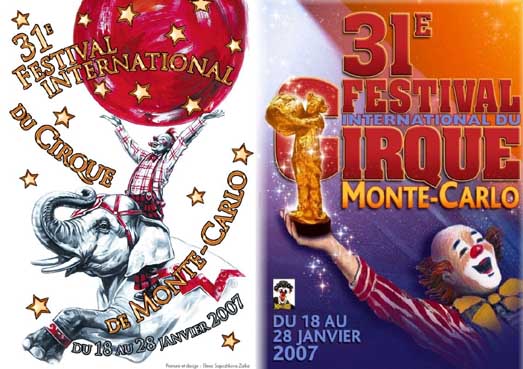 13January 2007
Circus Benneweis 2007. Diana Benneweis has provided me with the following information on the artists in Circus Benneweis in 2007, which will be the 120th season for Benneweis: Miss Kai (Maria Graziella Galan Buena from) performs as the only woman in the world with the exceptional arial act 'Ceiling Walk'. A beautiful young girl from Russia Diana Alexandrovna Vedyashkina present her trained dachshunds. The Russian clowns Olga and Alexey Bobylev are among other acts known for their 'The Ping-Pong Play' entrie. Fausto Scorpions present a Risley act where members from the audience are invited to join the act. The brothers Christian and Alex Gdrtner present their elephants. Spanish Miguel Ferreri performs at the tight wire. Horse training in a new and original way is Karl Ferdinand Trunk's speciality. Apart from horses he presents dogs and goats in the ring. Guiness Book of Record has registered Mario Berousek as the fastest juggler in the world. For several years he was a main attraction in German Circus Krone,

12 January 2007
Circus Kenny can be seen in the Rosengaard Shopping Mall in Odense during the Danish school childrens winter holiday. Isabella Enoch tells that the performers are Messoudi Family, handstand acrobats from Australia/Marocco, the jugglers Messoudi Boys, Dubsky's clowns with Dennie Enoch as white faced clown and Victoria Enoch with ponies.

11 January 2007
Tiina and Lasse "Bonbon" Norager on the way to Monte Carlo. The Danish clown Bonbon and his Finnish wife Tiina are on their way to the circus festival in Monte Carlo. They will be among the performers at "performance 2" on 19 January at 20 and 21 January at 15. And hopefully also at the gala performance on 23 January. It is 25 years since there last time was a Dane in the competition. And as far as Tiina knows it is first time a Finn participates.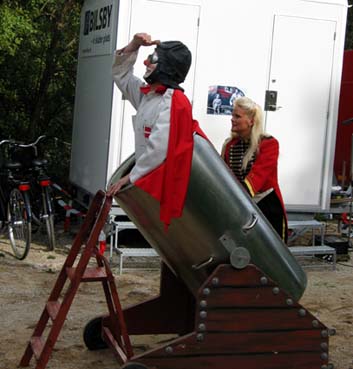 Bonbon and Tiina's canonball entrie. Photo from 2004

11. January 2007
ECA informs. Arie Oudenes of European Circus Association writes:
In our most recent newsletter (ECA Information Volume 5 no. 3) we informed you about new European regulations concerning animals. PLEASE NOTE THAT ECA IS WAITING FOR LETTERS AND DOCUMENTS TO CONFIRM the information presented below. DUE TO THE HOLIDAYS, IT MAY BE SEVERAL MORE DAYS OR EVEN LONGER UNTIL WE HAVE THE NECESSARY CONFIRMATION. We are pleased to provide you with the following updated information:
Legal Case against Austria: As reported, the European Commission decided on 12 December 2006 to close – for political reasons - the legal case it has opened against Austria concerning its ban on non-domesticated animals in the circus. In anticipation of the closure, the ECA filed a complaint with the European Ombudsman alleging maladministration (because of the responsible Commissioner's promises to Austrian activists to close the case). ECA is extremely pleased to inform you that the Ombudsman has decided to open an inquiry into this matter and has prepared a letter that will be sent to the European Commission demanding the complete file of the case and an explanation as to why the case was closed. The Commission will have until the end of March to respond and the ECA will be permitted to react to the Commission's response. The Ombudsman will decide what action to take (ranging from no action to requiring the Commission to reinstate the case against Austria) based on these documents.
Animal Transport: As we previously reported, a new regulation on animal transport takes effect on 5 January 2005. This regulation applies only to those engaged in transport as part of "economic activity." As discussed at the Paris ECA meeting, ECA believes that the regulation should NOT be applicable to circuses because its provisions are unjustified in the circus context, because there is no legal basis for the Commission to apply such rules to circuses, and because the circus industry was not consulted, nor was an analysis undertaken concerning the impact of the regulation on circuses. While different countries are interpreting the regulation differently (some believe it applies to circuses), we are pleased to report that our Commission contacts have informed us that the regulation is NOT intended to apply to circuses.
Animal Health Passport: The new system requiring registration of circus animals and use of passports with animal health information to cross borders within the European Union takes effect 1 January 2007. As expected, our efforts to delay implementation – due to the fact that the Member States have not yet prepared the necessary documents, etc. – have not been successful (it is not possible to delay the entry into force of a European law). However, the European Commission is sympathetic to our concerns and intends to send a letter to all of the European Member States to tell them that if they have not yet properly established the passport system, they should not block movements of circuses. The Commission will send us a copy of this letter and also will provide us with contact points in every country. In the meantime, anyone intended to move to another country in the next few years should send a letter to their official veterinarian or other official government contact asking to be registered. The purpose of this is to obtain a written acknowledgement from the government to demonstrate that you have carried out your responsibilities under the regulation, even if the Member State is unprepared to register you. With such a letter, you should be able to avoid being blocked from movement. Please remember that registration should occur or at least be requested more than 40 days before the first time the circus crosses a national border after 1 January 2007. ECA has drafted a sample letter.

9 January 2007
Not easy to start a Christmas circus. It is not easy to sell tickets to a Christmas circus in a country where circus by tradition is a summer season entertainment. Benny Berdino and Kenn Anker Petersen made that experience back in 1973 where they presented a Christmas performance at a theatre in Copenhagen. Carlo and Diana Rhodin learned the same lesson when the in 2001 tried their luck with a Christmas Circus in Malmv, Sweden. And Thessa and Rene Mvnster and Samson made the same experience when they in December 2006 presented Christmas Circuses in Copenhagen and Roskilde. Both show had good programmes. But the audience didn't come in the expected number. Thessa and Reni Mvnster will not try their luck again in 2007 with a Christmas Circus in Copenhagen. In stead they will tour some sporting arenas etc. with such show. Samson plan to give his Roskilde Christmas Circus another try in 2007 hoping to create a local tradition for such show and realising the audience, which actually turned dup was very satisfied with the performance.

8 January 2007
Wintercircus in the Ballerup Shopping Mall. As usual the comedian Finn Bendixen presents a circus performance in the Ballerup Shopping mall during the school children's winter holiday from 12 to 16 February. This year the performers are the juggler and antipodist Jan Navratil, the bike acrobat Malte Knapp and Toby the clown.

8. January 2007
Birthdays with a round figure in 2007. Several personalities from the Danish circus world can in 2006 celebrate a birthday with a round figure. On 21 March Circus Dannebrog's owners Haddy and Solvej Enoch's youngest daughter Katja Enoch can celebrate her 40 years birthday. Irene Thierry of the Danish dog and pony show Circus Krone can celebrate her 60 years birthday on 14 April. Circus Benneweis' owner Diana Benneweis can celebrate her 60 years birthday on 12 June. On 25 June Solveig Enoch can celebrate her 70 years birthday. On 24 July Irene Thierry's oldest con Frank Thierry can celebrate his 40 years birthday.

8 January 2007
Exhibition of Circus Photos in Paris. The Swedish photographer Linda Himsel writes: I invite you to my opening in Paris the 3rd February to the exhibition Circus Photography. It will last to the 28th February and if you can't come to the opening and meet me you are more than welcome to visit it later on. Some of you may know me as Linda at Circus Maximum in Sweden but I also have my own company as photographer. I hope I can share my photos and circus-experience with you the 3rd! Welcome!". The venue of the exhibition is fil o fromage, 12 rue neuve tolbiac, 75013 Paris. It's in the 13th arrondisement in Paris and the closest metro is purple line, station Bibliotheque Francois Mitterand. Linda Himsel is one of the best circus photographers in Europe. She is daughter of Roy Himsel, CEO of the Swedish Circus Academy and himself an excellent photographer.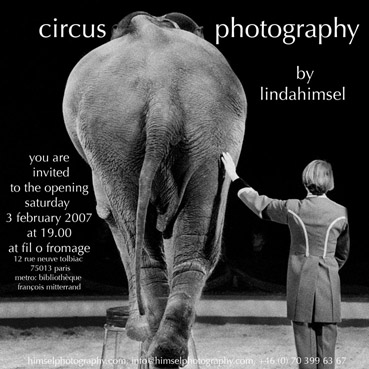 4 January 2007
Michel Lauzihre in the Dansk Melody Grand Prix 2007. Michel Lauzihre is a man of many talents. He is a visual humorist, a fantasy artist and a musician. On stage, Lauzihre is a master in grasping the audience's attention and drawing them into his world of the unusual. With his incredible talent and imagination, he can make music out of anything. He began his solo career in 1989, after working with a partner for a few years. Since then, he has performed in more than 45 countries, on the 5 continents. And when DR TV on 2 February present the semi final of the Danish Melody Grand Prix Michel will be part of the show. However not participating in the song competition but playing classical music with his unique horn suit.
Here you can se how he got the job: On 11 December 2006 I received an email from producer Birgitte Lorentzen of DR TV. She asked me if I know an artist playing music on honk horns and believed that his name was Freddy Anthony.
I know Freddy Anthony very well. But when I send Birgitte a photo of Freddy she told me that it was the wrong person! She sent me a video clip of the performer she was searching for. I recognised it as a clip from Le Plus Grand Cabaret du Monde but could not remember the name of the artist. But my Swedish friend Christer Nilsson of the Swedish Magic Archive was able to help me by referring to this website: http://www.michellauziere.com/
DR TV was happy to find the name of the artist they was searching for and on 4 January they informed me that Michal had been engaged for their show. Michael is also happy:"THANK YOU for the contact you established, it is highly appreciated," he writes.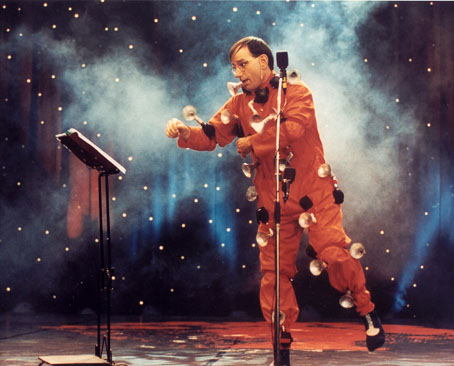 Michel Lauzihre. Photo by courtesy of Michel Lauzihre.

3 January 2007
Magic Day at Aarhus Shopping Mall North on 20 January. The magician Jorgen Johansen of Gospel Magic is the man behind the magic day with seminars, performing artists at the mall and a magical show in the evening, starring Pjerrot, Mark Shortland (UK), Peter Pan, Bugislaw, Gospel Magic, Jozima (Sweden), the ventriloquist Signe & Naughty Rikke, Lambert Magic (S) and others.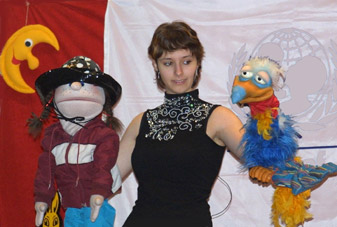 The ventriloquist Signe. Photo: Lise Kokholm



3 January 2007
Circus Renz Berlin has as earlier mentioned on this page presented Christmas Circus in Copenhagen since 22 December. The quality of the performance is somewhat lower than the Danish audience is used to from Danish circuses. Best act is a liberty act with 4 Andalusians (hardly pure breed). Apart from a couple of Christmas trees the performance has nothing to do with Christmas.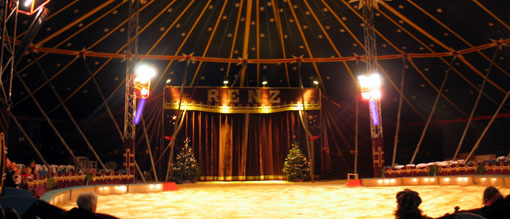 Interior from the tent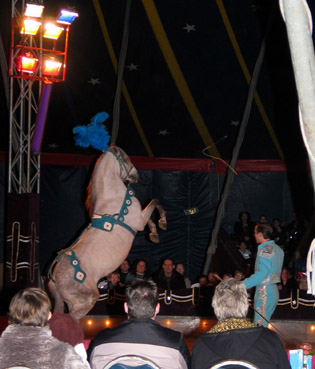 One of the andalusians
Frau Renz, the wife of the 86 year old circus owner Bernhard Renz (who you don't see in connection with the performances) tells that Circus Renz will find a winter quarter in Denmark and will start season 2007 by touring Zealand. She does not want to return to Germany. "To many circuses," she says. Her and Bernhard's oldest son is touring Germany with another section of Circus Renz Berlin.
As Renz Berlin will stay in Denmark they will in the future have to comply with the fairly complicated rules which Danish circuses have to comply with. They will need working permissions for the Polish tent crew (three persons) and for their only foreign artists, a couple from Romania. Their cars will need Danish license plates. They shall comply with Danish fire regulations rules and Danish rules on marketing. The will have to pay fees to KODA and Gramex and to pay the 25 % Danish VAT etc.
On 1 January the new EU guidelines for border crossing by circuses with animal acts entered into force. According to the guidelines circuses are only aloud to enter other member states if they are registered in their home country and comply with the regulations of guideline 1739/2005. The animal passports are part of this registration.

1 January 2007
This website had 31.550 hits in 2006. The counter can be seen at the bottom of the opening page.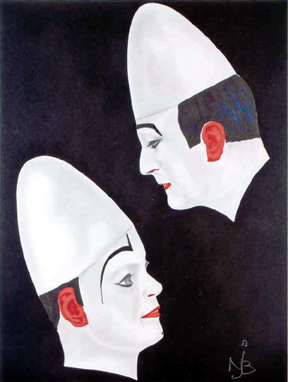 Nelly Jane Benneweis has kindly permitted us to reproduce this beautiful drawing of Francesco and Alberto Caroli. The drawing was on the Christmas cards Nelly has sent her friends.