Circus Dannebrog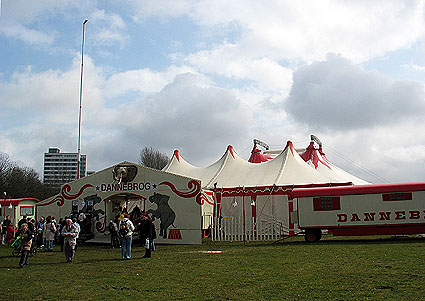 Circus Dannebrog 2006
Founded: 1880 (touring 1880-1928, 1948 and 1977 to 2015)
Present owner: The Enoch family
Present tent: red and white 4 pool tent from 1998 with a seating capacity of aprox. 1,023 people.
Summer Season : Late March to late September. Not touring since 2016
Winterquarter: Slotsvej 3, Mølby pr. Sommersted
Link to homepage: www.cirkusdannebrog.dk (language: Danish)
Brief history of the show:
Dannebrog is the name of the Danish flag as Union Jack is the name of the English flag and Stars and Stripes of the United States Flag.
Theodor Justus Campmann Enoch (1847-1909) was a musician. In 1876 he married Wilhelmine Schultz (1847-1922) and joined the Schulz family's circus, circus Skandinavien, as circus musician. In 1878 and 1880 Theodor Enoch owned circus Skandinavien in partnership with his brother-in-law Emil Kunckel. In 1880 the Danish king granted Theodor Enoch permission to perform as artist and musician. The same year Theodor and Wilhelmine established their very own circus Dannebrog assisted by their five children: Peter (born 1877), Louise (born 1879), Georg (born 1881) and the twins Johanne and Dorthea (born 1883).
When Theodor Enoch died in 1909 Wilhelmine became owner of circus Dannebrog. Her sons Peter and Georg assisted her. When Wilhelmine died in 1922 ownership was transferred to Theodor's and Wilhelmine's to sons Peter and Georg who was in charge of the show until 1928. Ownership was in 1930 transferred to the youngest daughter Dorthea and her husband Louis Alexander Steckel (born 1893) and the name were changed to circus Reinsch. However, this show survived only for one season.
In 1928 Oscar Eriksen (born 1894) and his wife Eva (born 1897), née Enoch (a niece of Theodor Enoch) for a few month toured a show called circus Dannebrog. For a week in 1948 two Danes without any connection to the Enoch family operated an outfit called circus Dannebrog.
But the family dream about owning a circus survived and in 1977 Haddy Enoch (1934-2009) and his wife Solveig (born 1937) re-established circus Dannebrog using an old tent bought from circus Royal which gave up touring after the 1972-season. Haddy Enoch's father was Haddie Enoch Sr. (born 1900), son of Theodor's and Wilhemine's daughter Louise. Haddy and Solveig had for a number of years performed in other shows with a fine bike act 2 Haddies. When re-establishing their family circus they were assisted by their 4 children: their son Dennie (born 1955) and their 3 daughters: Agnete Louise (born 1956), Isabella (born 1960) and Katja (born 1967) - all four of them being skilled artist, Isabella a very gifted trapeze artist. The first years were pretty rough to circus Dannebrog but today it is fine circus calling itself the national circus of Denmark. Dennie and Agnete Louse (being ringmistres and press agent and from 2010 also general manager) have been with the show since 1977.
Also Isabella and Katja has been with Dannebrog for several seasons. However, in 2016 Isabella Enoch established her own circus, Circus Trapez.(Claude Enoch, great grandson of Theodor and Wilhemine Enoch and grandson of Georg Enoch has kindly provided information of the Enoch family).
According to Danish circus historian Anders Enevig, Circus Dannebrog was not established in 1880 but in 1897 with their first performance 19 April 1897 in Nykobing Falster. No documentation can be found for any performances under the Dannebrog name prior to that date. According to Haddy Enoch Circus Dannebrog bought their first tent in 1897 but had before that performed in village halls etc.
From 1977 to 2009, Circus Dannebrog was run as a personal-owned company, owned by Haddy Enoch. After Haddy Enoch's death in November 2009, the operation was transferred to a limited company, Cirkus Dannebrog A / S, owned by Solveig Enoch. From season 2016 the 4 Enoch siblings Dennie, Agnete Louise, Isabella and Katja took over the ownership. Season 2016 was not succesful and Circus Dannebrog has not toured since that season. In season 2016 Isabella Enoch Sosman established her own circus, Circus Trapez.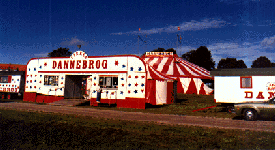 Circus Dannebrog 1985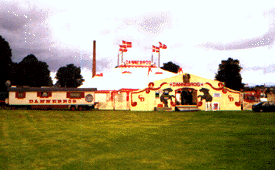 Circus Dannebrog 1998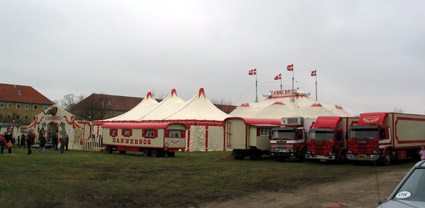 Circus Dannebrog 2004